Arizona may be known for its majestic Grand Canyon and Sedona's red rocks, but there is so much more to discover in this gorgeous state. In one day you can hike among cacti and then drive north 2.5 hours to ski past snow-covered pine trees. We've called upon a local to share her insider knowledge about the most exciting day trips from Phoenix.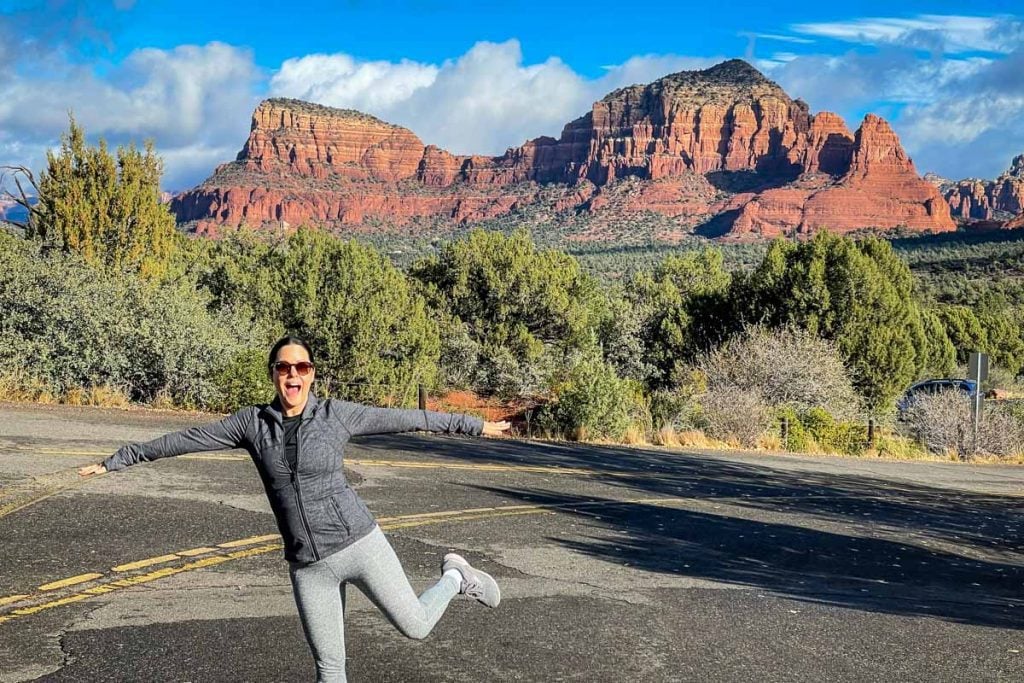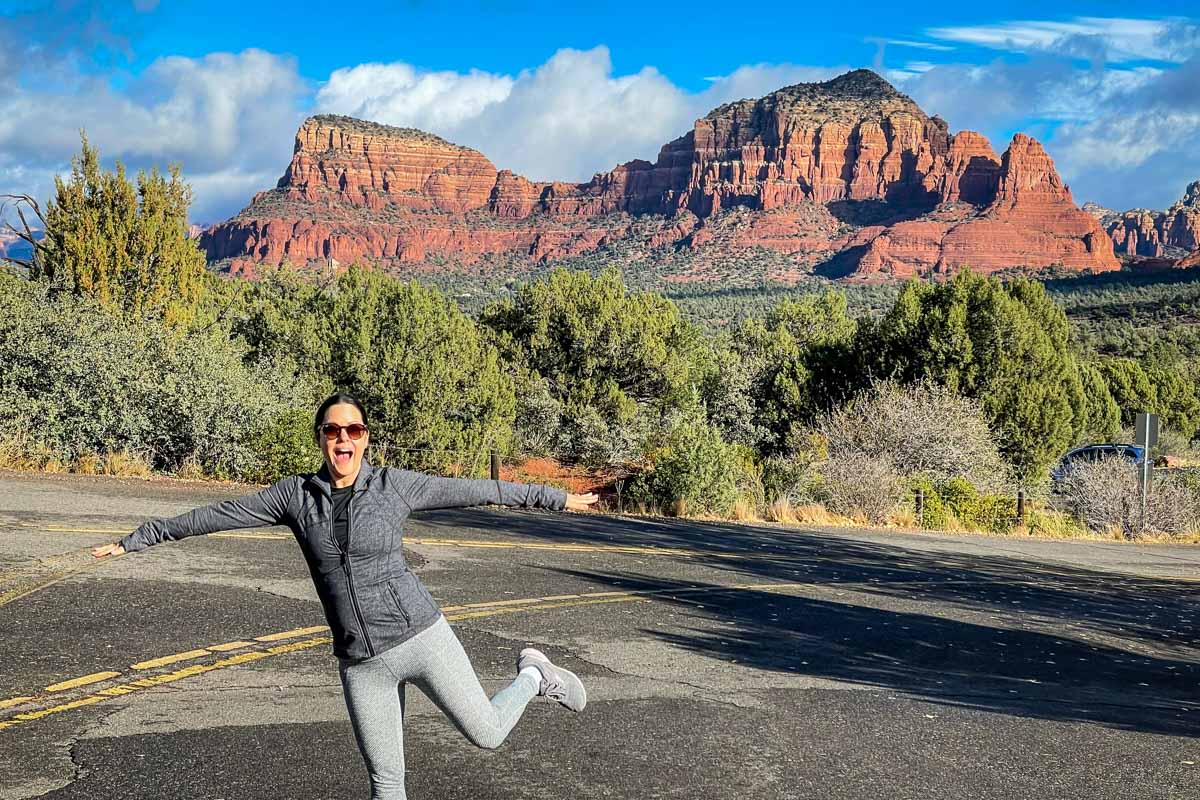 By Guest Author: Rachel Harris
Even though parts of Arizona can reach summer temperatures of 120 degrees, I promise you that those of us who call this desert state home are not crazy. State 48 is known for breathtaking scenic sunsets, the magnificent Grand Canyon, beautiful cactus-lined desert landscapes, and a vibe that is a combination of influences from Native American, Mexican and Californian cultures.
Varied experiences are aplenty in Arizona with a diverse geography that spans the vast desert in the southwest part of the state to the rich pine forests to the north. This makes for ample opportunities for day trips from Phoenix, a worthy homebase for your Arizona travels.
See the Old Wild West in towns like Tortilla Flat or go from sunny palm trees to snow-covered pine trees in just two hours with a venture to Northern Arizona. And while many of you will freeze beyond reason during the winter months, we central Arizona peeps will be smiling in the sun with temperatures of envy from October through early May.
So without further ado, here are 15 of the best day trips from Phoenix to experience an array of Arizona culture and the varied natural landscapes we Zonies (yeah, we are called that by some out-of-staters) are so proud of.
---
Psst! Katie and Ben here…
Before we get to the good stuff, we have a few helpful resources we wanted to share with you.
America the Beautiful Annual Park Pass

A few of the destinations on this list are among the protected lands covered by the NPS. Those entrance fees can stack up. For this reason, we'd highly encourage you to look into getting an annual park pass.
For just $80 per year, you can purchase the America the Beautiful park pass. This pass grants you free access to all of the U.S. National Parks.
Plus it also covers your entrance to over 2,000 natural, historical, and recreational sites across the United States (including Red Rock Canyon and Lake Mead Recreation Area from this list!).
If you still need convincing, check out our article: America the Beautiful Annual Park Pass: Is it Worthwhile?
Getting a rental car in Pheonix
Having your own vehicle when visiting will give you a lot more freedom to explore the best day trips from Phoenix.
We personally like using Discover Cars when we rent vehicles around the world, as they gather options from all sorts of rental companies in one place. It makes it really easy to compare prices and vehicles so you can determine which is the best option for you.
Search & Compare Rental Car Prices
Discover Cars: We personally use this aggregate site to compare rental car prices from all the big name companies and get the best price possible.
RentalCars.com: We've had good experiences finding rental cars with this site in the past.
And now to the good stuff…
---
1. Sedona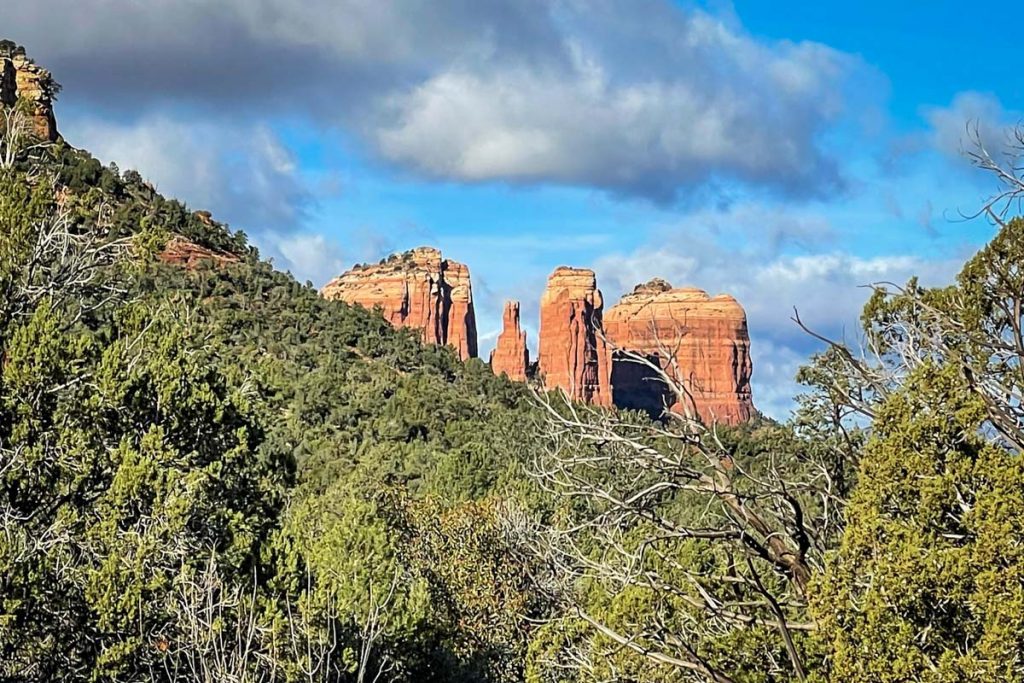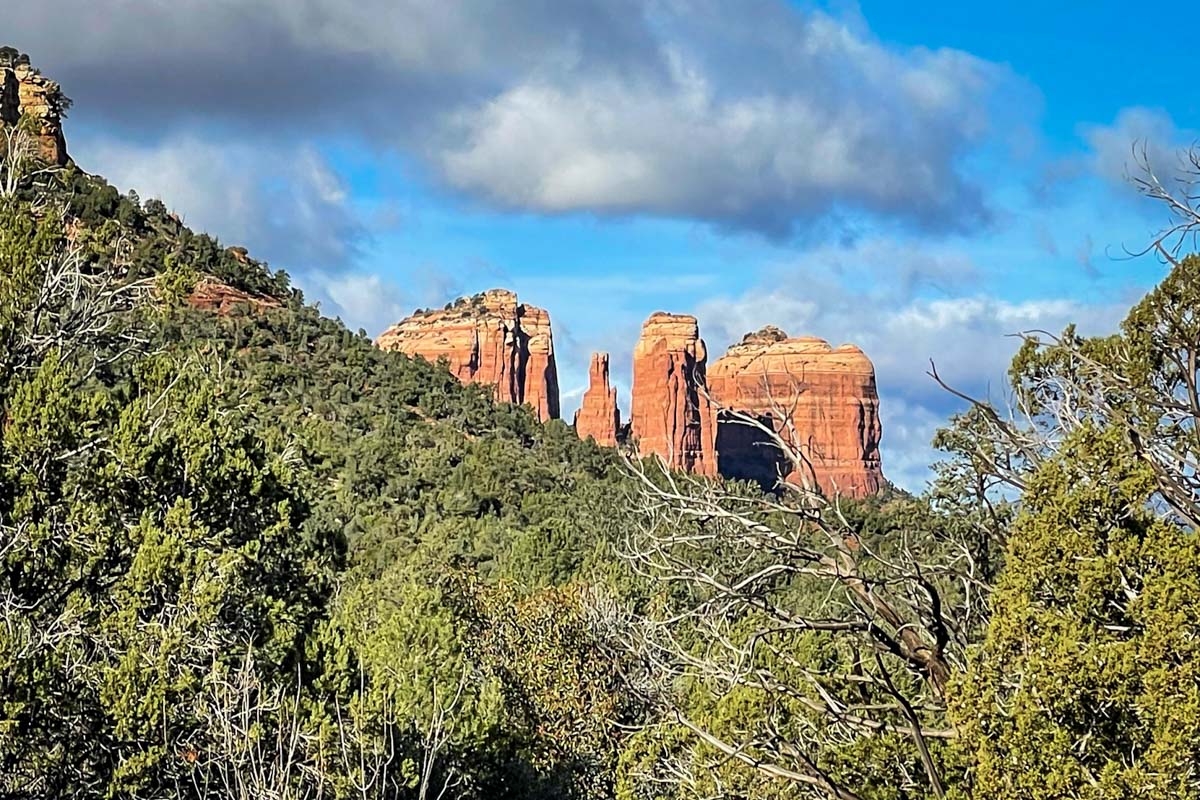 At a glance: One of the most visited Arizona towns, Sedona is known for stunning red rocks, funky shopping boutiques, and a spiritual aura that is relaxing and fun!
Distance from Phoenix: 116 miles; 2-hour drive
Stunning Sedona is one Arizona town that can not be missed. This unique part of the state is known for majestic red rocks, a mystic vibe, great shopping, and numerous outdoor fitness activities, which makes this city a favorite. Locals and tourists alike put a trip to Sedona high up on their adventure list.
What to do in Sedona
Hikers have a lot of terrific options in Sedona with many beautiful scenic trails. The clean air and gorgeous views make hiking an absolute pleasure in this part of the state. We set out on two hiking trails on our day trip from Phoenix and both were thoroughly enjoyable.
Little Horse Trail Bell Rock Pathway: The red ground matches the red rocks that are brilliant to view on this 4.3-mile hike, an easy-to-moderate trail to navigate. Make sure you have your camera ready because you will want to snap pictures of Bell Rock and other stunning landmarks. Throughout the hike, you will encounter tall pine trees coexisting with prickly pear cacti along with coyotes, quails, roadrunners, jackrabbits, and other wildlife that call this area home.
Yavapai Vista Trail: This .5-mile trail is a popular one that works well for all skill levels. Yavapai Trail is a favorite hike because it's short and provides incredible photo backdrops. Additional trails intersect with this one that includes the Coconino, Kaibab Trail, and Yavapai Trail. A cool sign with a diagram and description of the canyons is strategically placed, giving the visitor details about the mountains as they appear in the distance.
Other popular Sedona trails:
Devil's Bridge Trail: 3.9 mile out round trip, easy to navigate with rock scrambling.
Cathedral Rock Trail: 3.7 mile round trip, moderate-to-difficult with rocky sections.
Doe Mountain Trail: 2.3 mile round trip, a popular trail with moderate-to-difficult rating.
Fay Canyon: 2.3 mile round trip that locals recommend for this trail's ease and beauty.
Munds Wagon Trail: 8 mile round trip that is rated as a moderate trail with magnificent views of the red rocks.
In addition to hiking, try an adventure jeep tour. A favorite family memory of ours is when we took the Pink Adventure Jeep Tour. It is a beautifully scenic (my favorite part) and thrilling rough ride (my kids' favorite part) that provides a good look at Sedona's enchanting red rocks.
Horseback riding, rafting, fishing, golfing, rock climbing and more are all exciting and plentiful activities readily available in Sedona. For a full list of recreational things to do, see the Visit Sedona website.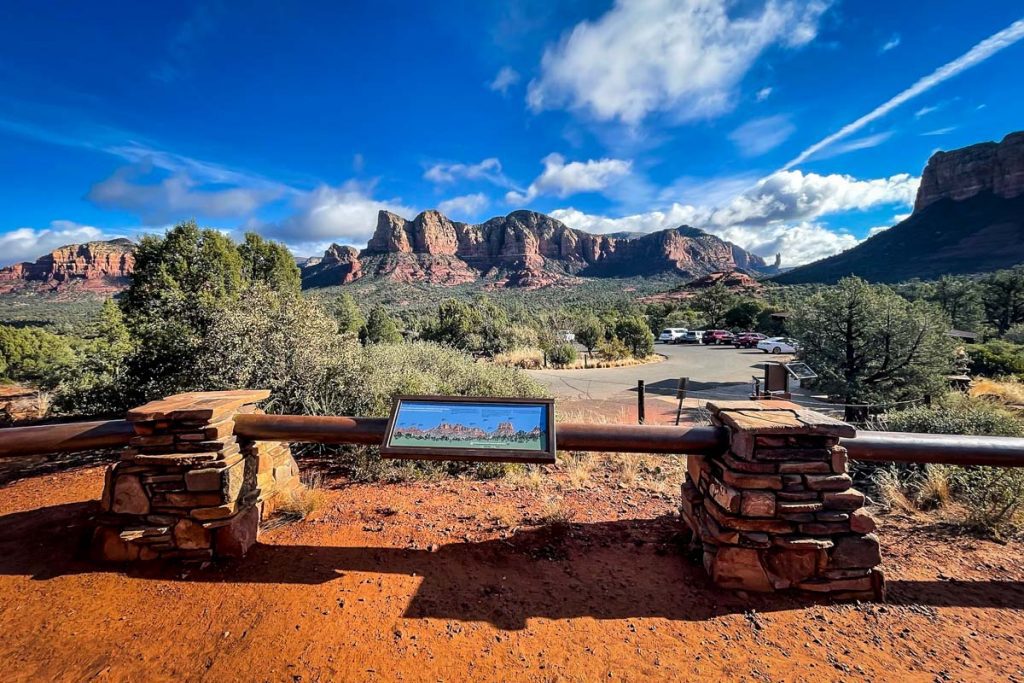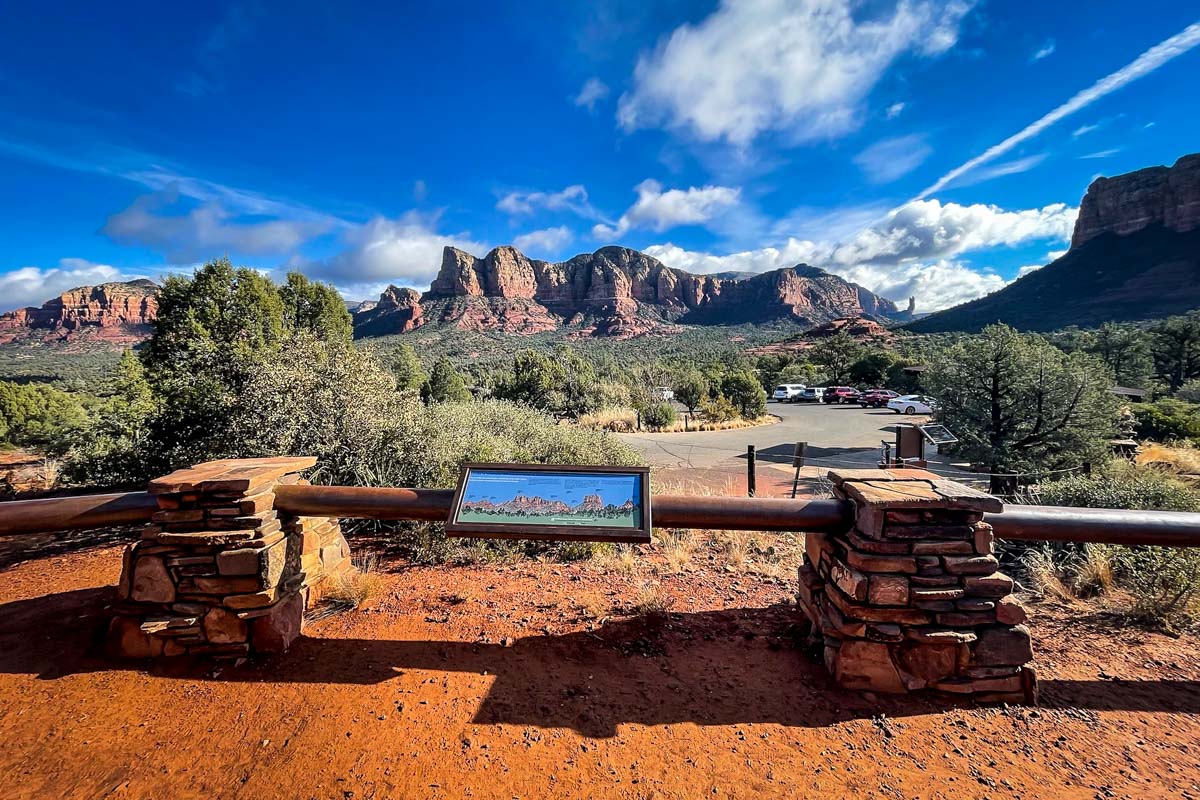 Sedona Shopping: Sedona is a beautiful place to shop, both inside the unique boutiques and outdoors in the charming shopping centers. My favorite center to browse and purchase truly fabulous items is the Tlaquepaque Arts & Shopping Village located along majestic Oak Creek.
The outdoor center houses a charming courtyard that's styled like a Mexican village with cobblestone walkways, walls covered in vines; and Southwestern tiled stairs leading up to a second-floor that is dotted with cozy shops.
A few of my favorite merchants in this center are:
Cake Couture for the coffee and irresistible and artistic cakes. Try the Tiny Succulent flourless chocolate mini cake that's decorated like a colorful field of bright green cacti. This is truly a desert dessert!
El Rincon, a two-generation family-owned Mexican eatery that blends Mexican fare with Navajo recipes.
Eclectic Image Gallery is perfectly named. The locally owned gallery offers an extensive collection of eye-catching canvas images, colorful works of art of beautiful landscapes, hand-tinted photography, and much more.
Adorn Collection boutique to shop for thoughtful gifts made by local artisans. Adorn also sells lovely clothing styles and other eclectic items that reflect the nearby Verde Valley Trail and copper mining history of the area.
Shop Uptown Sedona for walkable access to unique boutiques, galleries, cafes, and gift shops. Considered Sedona's hub for all things interesting, fun, and tasty.
Insider Tip: Book dinner ahead at Sedona's prized restaurant, Elote Cafe, run by celebrity Chef Jeff Smedstad. This award-winning Mexican restaurant features worldly entrees with locally grown quality seasonal ingredients.

Chef Smedstad traveled through Mexico extensively to learn exactly how to master his authentic dishes. This desert gem books up fast so make reservations as early as you can and ask to be on their guest cancellation list. Walk-ins aren't accepted. Don't miss the mouthwatering Elote Corn and everything else on this irresistible menu, including the handcrafted cocktails.
2. Tucson
Recommended by Katie & Ben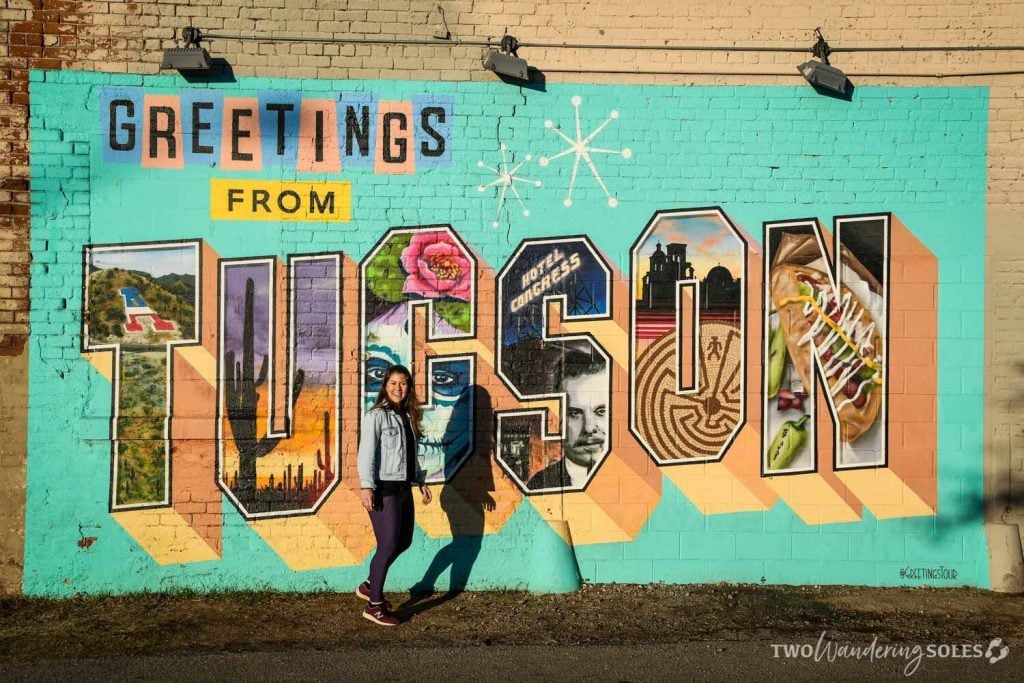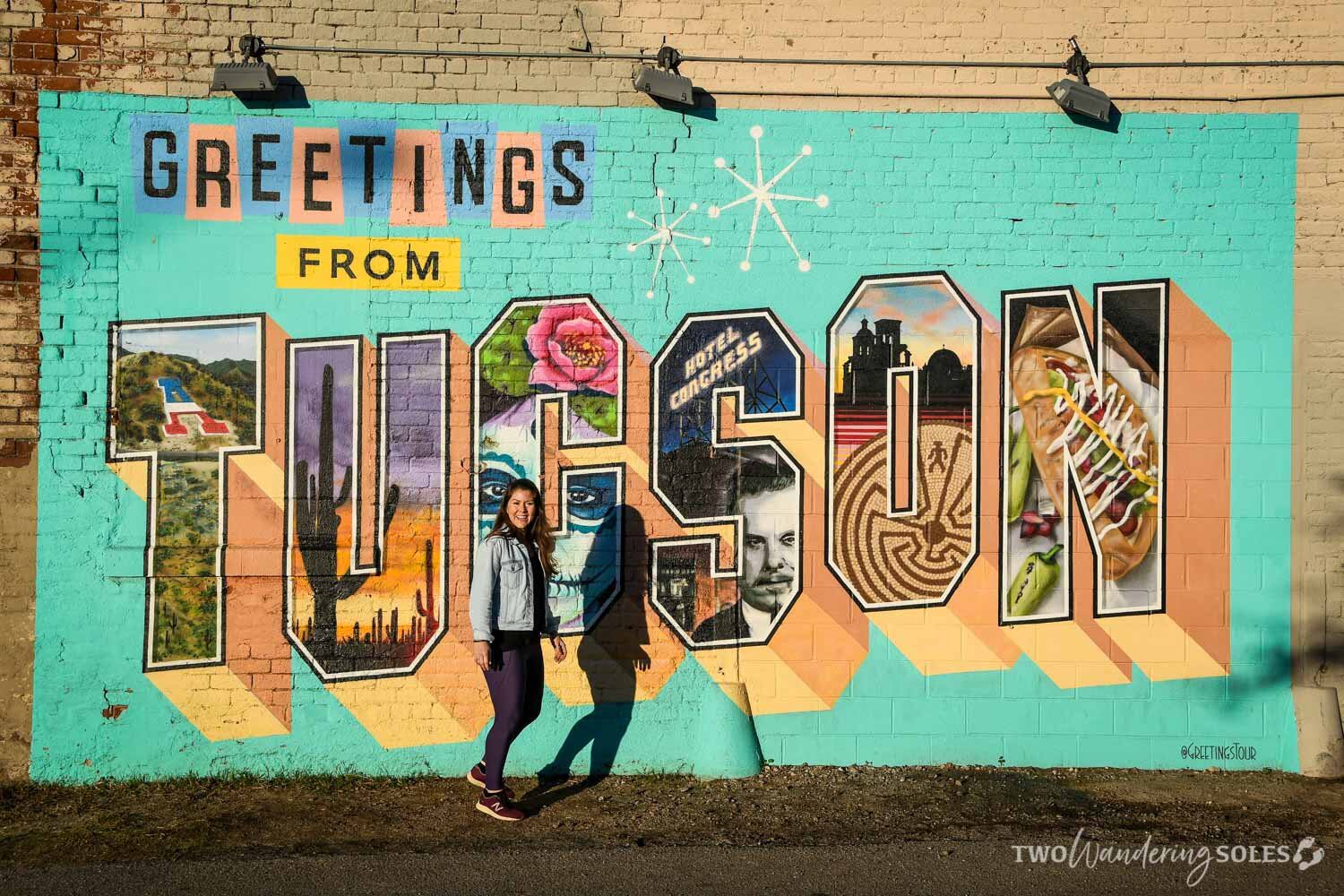 At a glance: A small city with plentiful outdoor adventures, ahh-mazing Mexican food, and lively nightlife
Distance from Phoenix: 146 miles; 2 hours and 30 minutes
Surrounded by the Sonoran Desert, Tucson is a small city with BIG outdoor adventures, a promising food scene and exciting nightlife. Honestly, this city wasn't really on our radar until we were invited by the Visit Tucson Tourism Board to visit in 2019, and boy did this place surprise us! We'd recommend visiting Tucson as one of the top day trips from Phoenix.
Top things to do in Tucson
Go horseback riding/mountain biking in the desert: This place has plenty of trails!
Eat ALLL the Mexican food: At just over 60 miles from the border, it's no surprise Tucson has some incredible Mexican fare
Hike past 40-feet tall cacti in Catalina State Park and Sabino Canyon
Tour a model city biosphere with different ecosystems which range from rainforest to the ocean
Catch some live music on 4th Ave: Wander downtown in the evenings and follow your ears to the nearest live show
Check out our complete guide for more things to do in Tucson!
3. Carefree/Cave Creek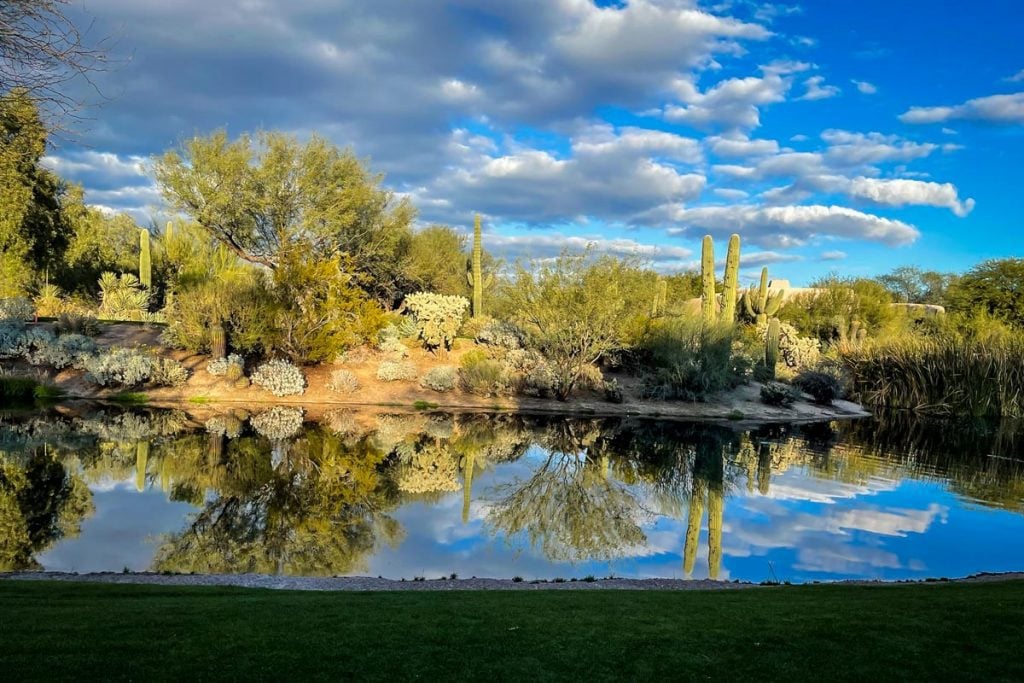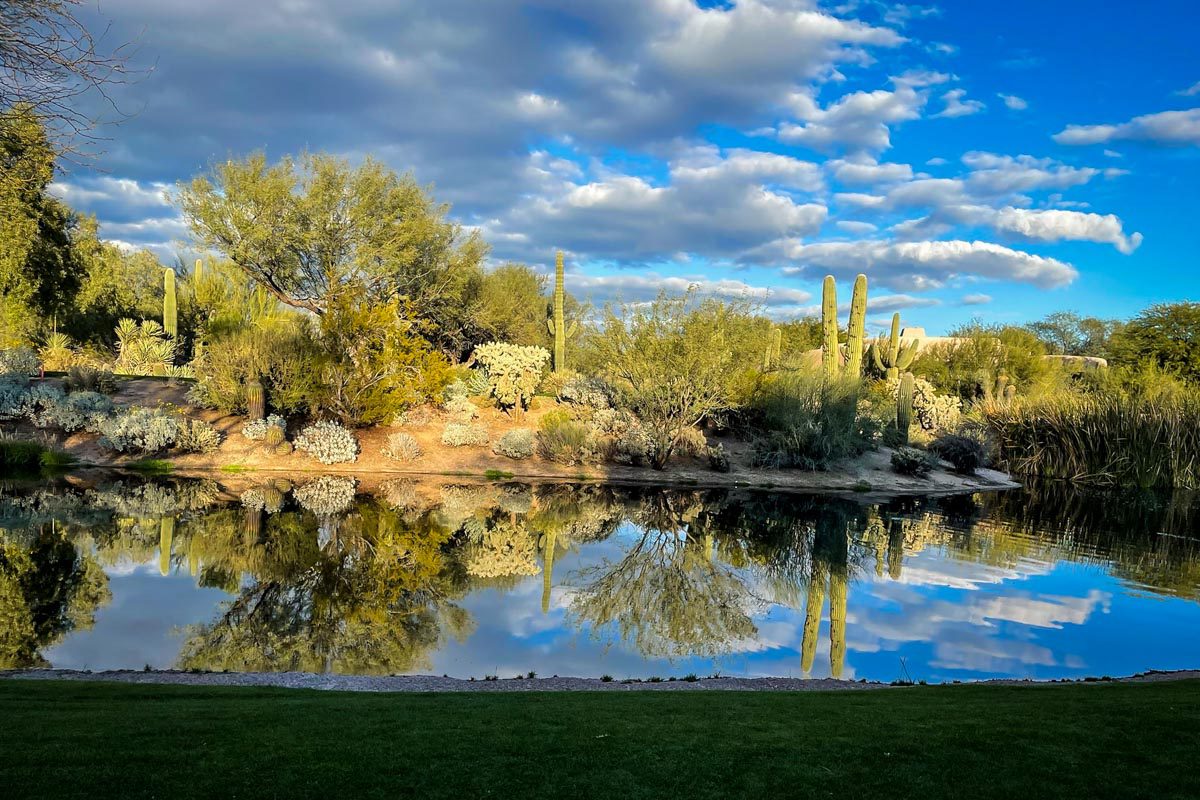 At a glance: Visit neighboring Carefree and Cave Creek to enjoy two distinctive towns that are charming and friendly with plenty of outdoor activities paired with unique shops and tasty restaurants.
Distance from Phoenix: 35.5 miles; 40 minutes north of Phoenix
Leave your cares behind when you take a day trip to Carefree. I know that sounds cheesy, but that's exactly how I felt when I spent the day in this beautiful area.
Carefree sports a desert landscape of red rocks and beautiful boulders that pair well with the local charm of this small welcoming town. Then head to neighboring Cave Creek to experience a nod to the Wild West with western-themed shops and restaurants.
Cave Creek also boasts a park that welcomes both hikers and horses on the trails. In both communities, the air is clean, the people move at a slower pace and the ambiance is friendly.
Things to do in Carefree and Cave Creek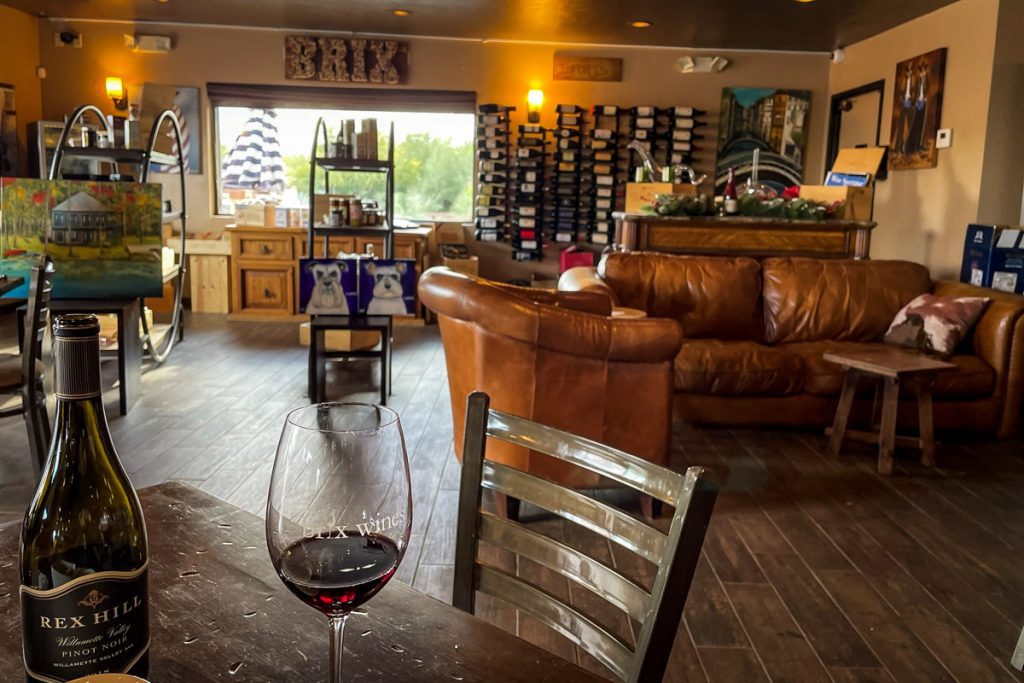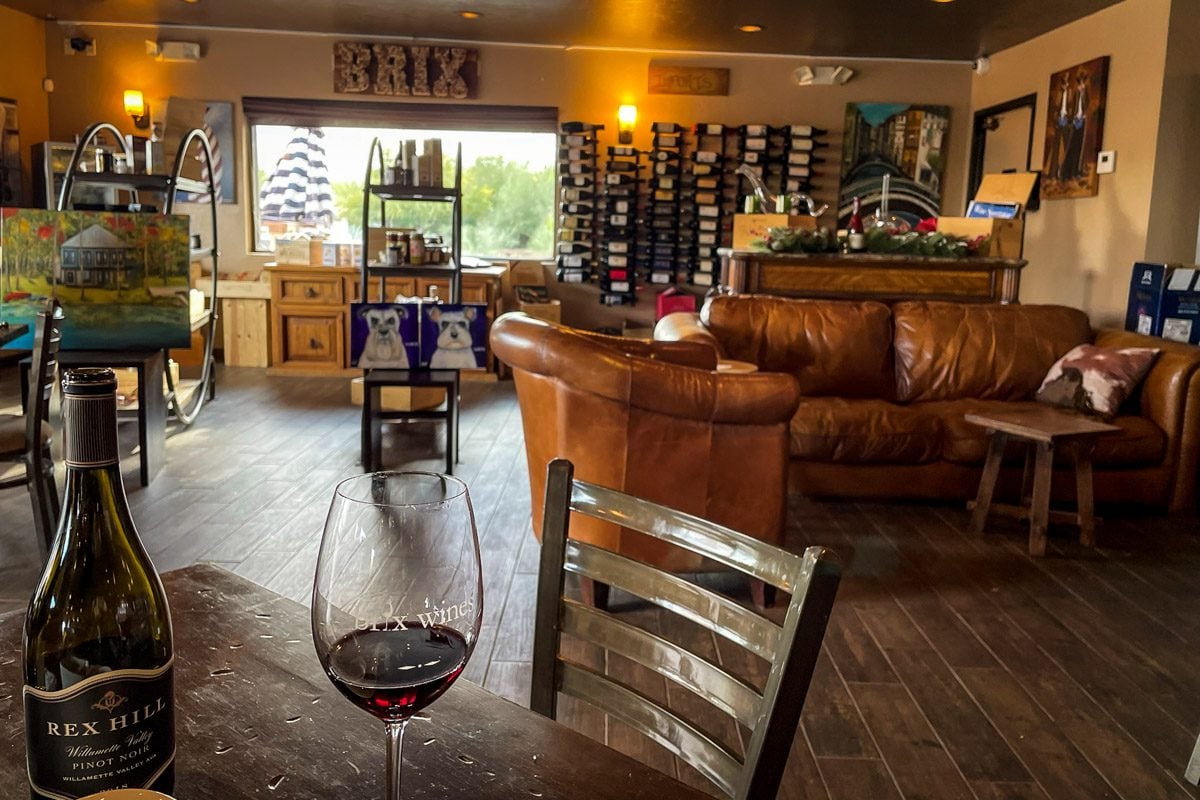 Head to downtown Carefree to experience unique restaurants, Native American influenced art galleries, Old Western-themed establishments, and wine tasting
Hike with the horseback riders in the scenic Cave Creek Regional Park

Admission is $7 per car and it is money well spent
Guided horseback riding tours start at $59 ($54 for ages 6 to 12 years old) for a one-hour loop ride

Put your mind in the gutter (yes, you read that right!) and check out the popular Carefree rock formation called Phallic Rock. Judge for yourself if you think it lives up to its name.
For authentic Indian fry bread and good enchiladas, dine at the Indian Village Restaurant. Don't miss the chicken spinach enchiladas and save room for the sweet fry bread that comes in several spicy and sweet variations.
Just down the street from the casual Indian Village sits a charming wine bar called Brix Wines, a Mom and pop shop with a selection of wines from around the world. Sip wine while savoring a stunning sunset from the establishment's outdoor patio. Shop the snack area and Brix will transfer your selections to a charcuterie board to nibble on as you wine and dine.
Spend a Friday in Carefree to attend the Carefree Farmers' Market that is open rain or shine every Friday year-round. In addition to fresh fruit and veggies, local vendors also offer unique items like flowers, arts and crafts.
Insider Tip: Consider staying the night in Carefree's stunning Boulders Resort. Named one of the best hotels by Conde Nast Traveler, this property checks all the boxes for the perfect resort getaway. If you don't mind the heat, book this luxury property for 50% less in the summer. Rates at this resort (and other Phoenix five-star resort properties) are significantly reduced in the off-season here.
4. Verde Valley Wine Trail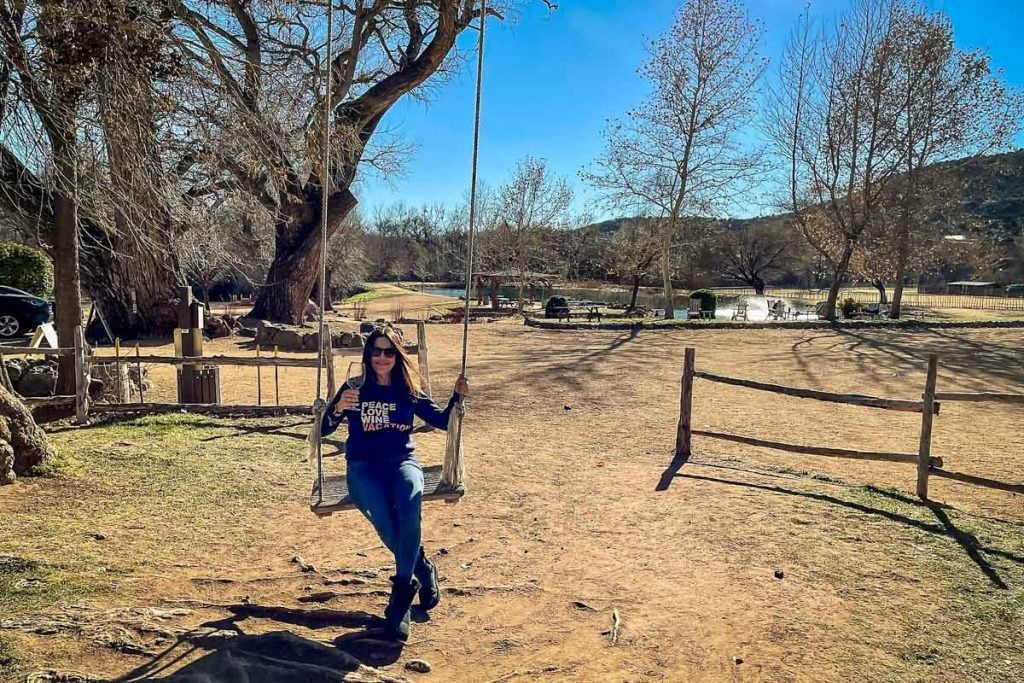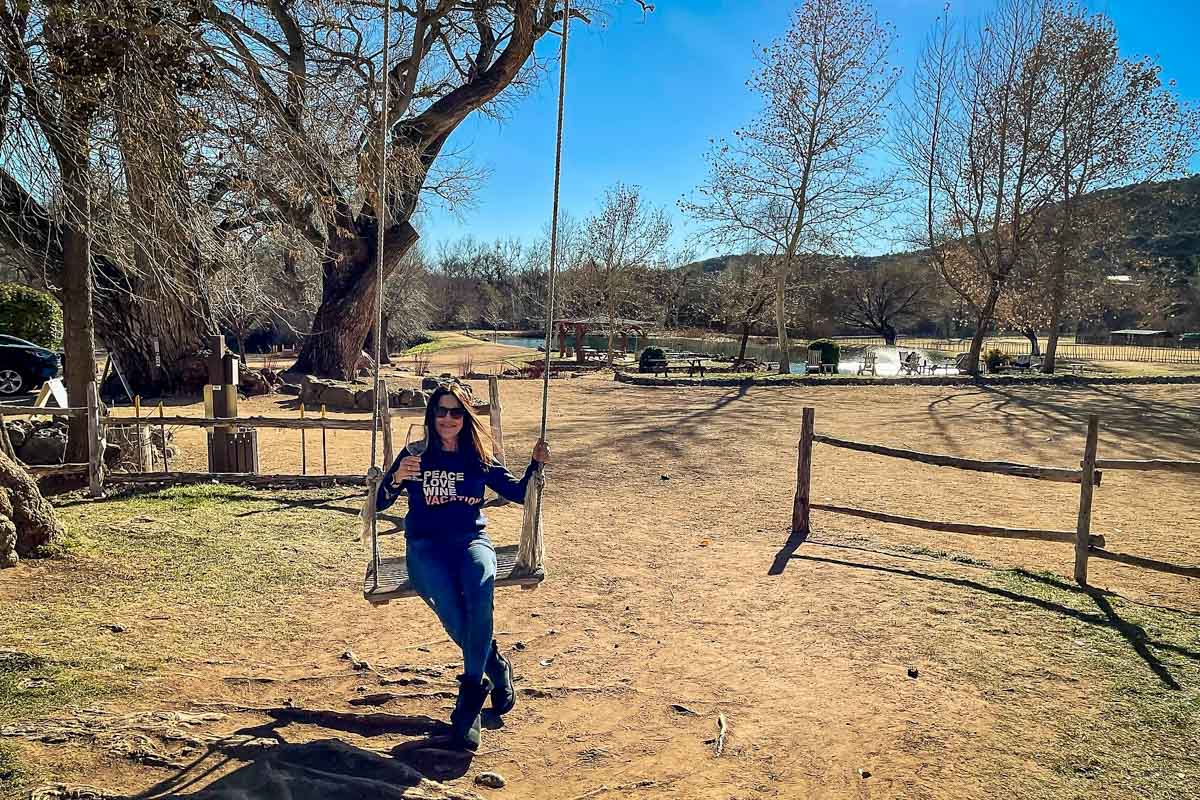 At a glance: A fun, full, and tasty day awaits the wine lover on the Verde Valley Wine Trail located in Northern Arizona
Distance from Phoenix: 103 miles; 1 hour and 40 minutes (recommended starting point in Cottonwood)
Cost: See each location for wine tasting and food pricing. Wine Crawler shuttle pass: $57 from Cottonwood, or $69 from Sedona
To my delight, there are over 20 wine tasting locations in Cottonwood, Jerome, Sedona, and Cornville, Arizona—the places that make up the region known as Verde Valley.
All of these unique vineyards offer a wonderful diversity of wine and will fill your day and your glass with flavors to remember. Most sell bottles of their vino so you don't have to leave empty-handed.
Before you hit the road for your wine tasting trip, do yourself a favor and visit the Verde Valley Wine Trail website to print the helpful wine trail map. The site will help you decide which vineyards and wine tasting rooms to visit.
I highly recommend booking a day tour of the AZ Wine Crawler Shuttle. The cost of the hop-on-hop-off shuttle is $57 a person for a day pass from Cottonwood, Cornville, or Clarkdale or $69 a person from Sedona to Verde Valley Wineries. Both shuttles will take wine lovers on a wine tasting route that includes four to six different locations.
If you don't have a designated driver, you can stay one night in the charming town of Cottonwood or beautiful Sedona to catch the Wine Crawl shuttle. We stayed in Cottonwood and we had an absolute blast (and that's not just the wine talking!).
Psst! If you want to make this a true day trip and not worry about driving, check out this Verde Valley wine tasting tour that includes lunch and round trip transportation from Phoenix.
A few Cornville/Clarkdale vineyards we visited: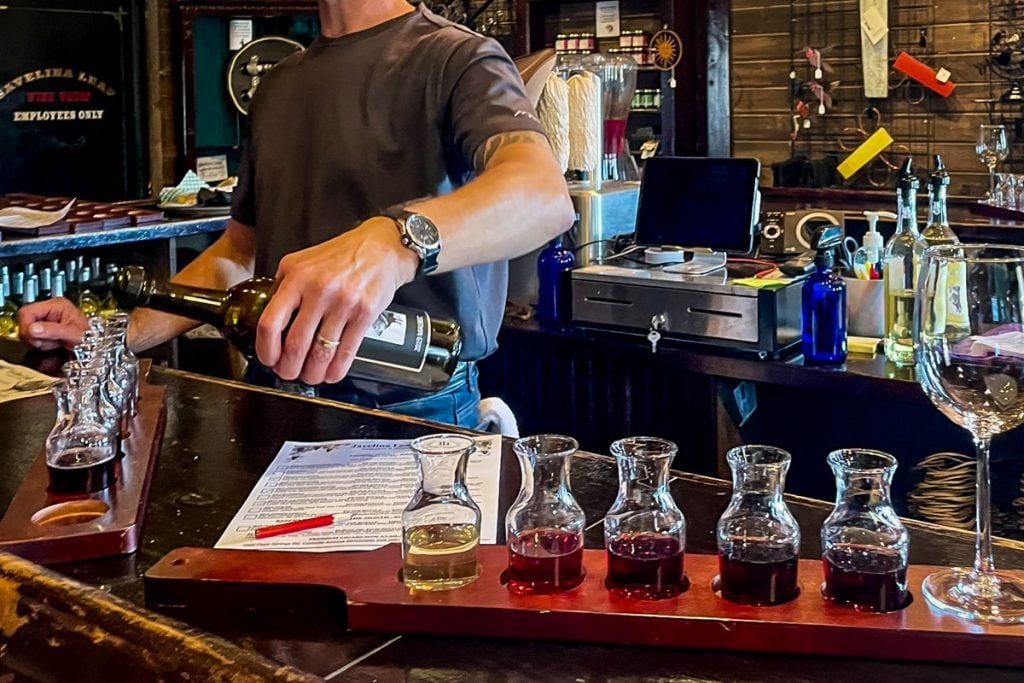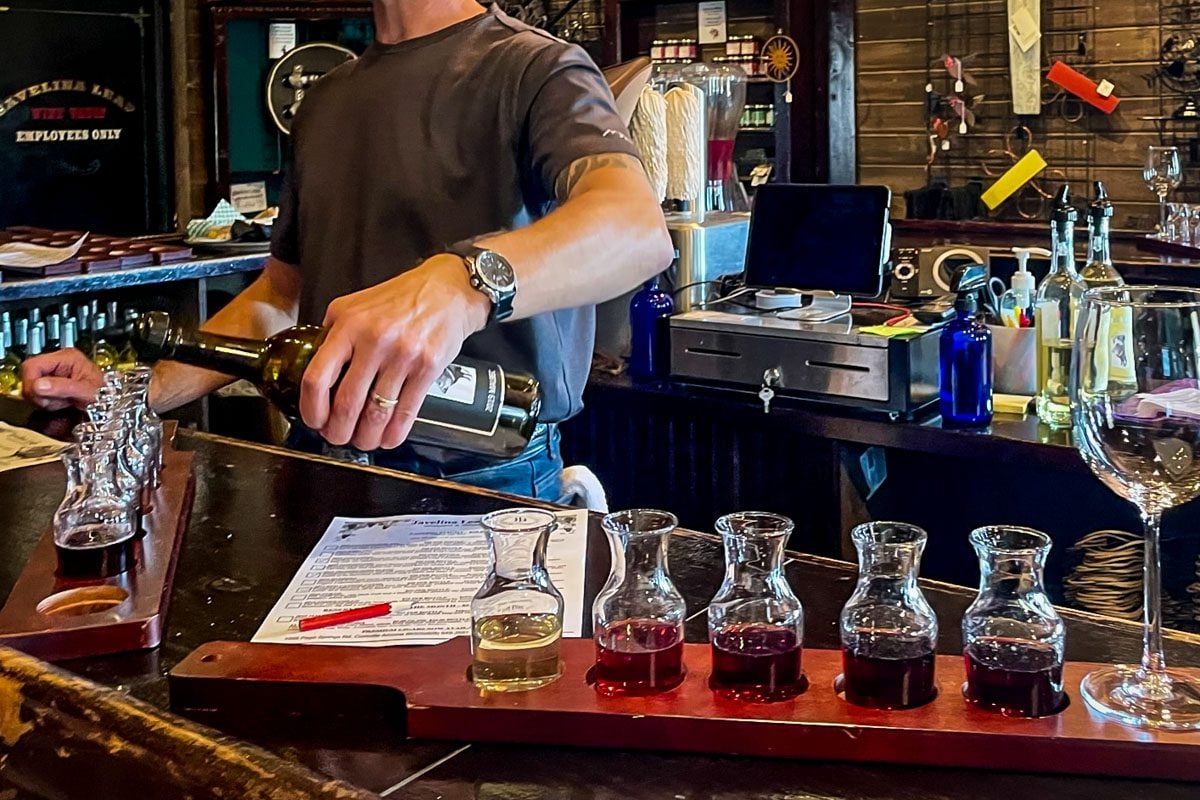 Insider Tip: View the Verde Valley Wine Trail map to print the bonus site passport. Take the passport that lists each vineyard with you to obtain a stamp at the locations you visit. Once your passport has 10 stamps, mail it in to be entered in drawings for prizes, one of which is the chance to win a vintage wine weekend for two. Now that would be my dream prize!
5. Cottonwood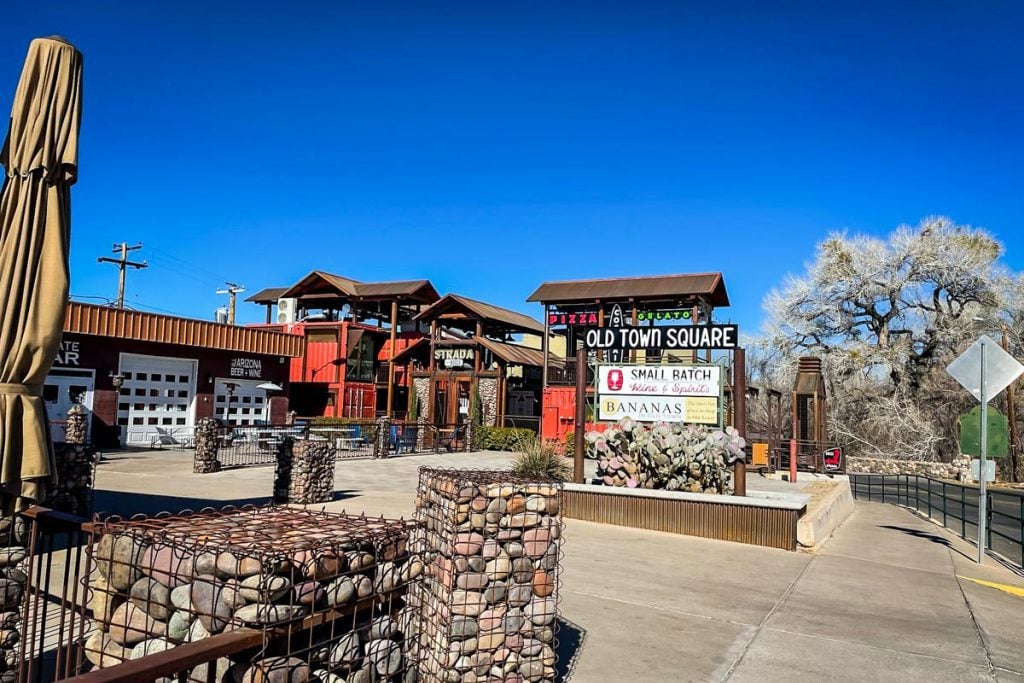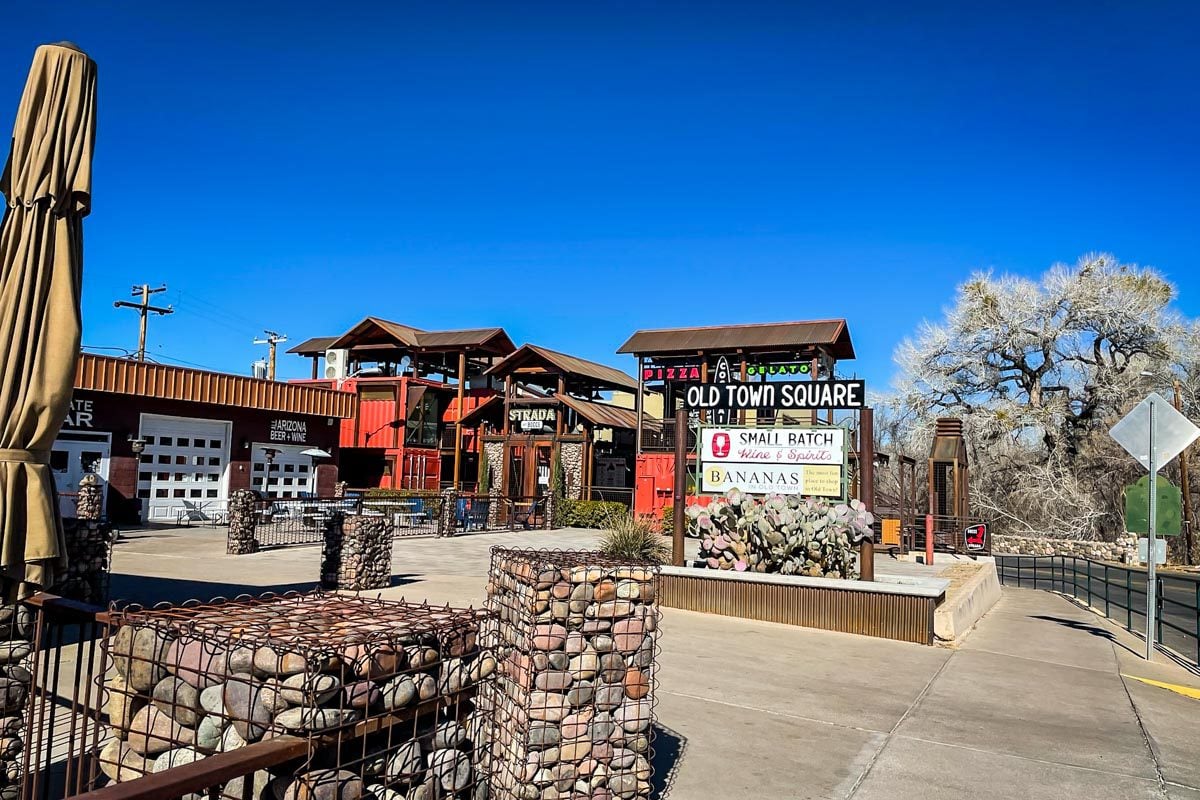 At a glance: Historic Cottonwood welcomes visitors with open arms to shop at local boutiques, sample area wines, dine at farm-to-table restaurants and all are within walking distance.
Distance from Phoenix: 103 miles; 1 hour 40 minutes
A friendly small town with a variety of tasty eateries and vineyard-to-glass tasting rooms, historic Cottonwood is located in the center of Arizona wine country. This quaint township is conveniently located near Sedona's red rocks and Mingus Mountain. This makes Cottonwood a place that gives locals and visitors alike the best of both worlds.
This town is proud to be known as the heart of Verde Valley Wine Country and was one of my favorite day trips from Phoenix.
Things to do in Cottonwood
Insider Tip: Guests who check-in at the Tavern Hotel receive a complimentary cocktail at The Tavern Grille and a free cup of a specialty coffee at the cozy Crema Craft Kitchen & Bar. Visit Crema's cheery outdoor coffee window to order your cup of Joe on the go or venture inside for brunch. Fair warning because the tempting bakery case will stop you in your tracks.
6. Montezuma Castle & Montezuma Well
At a glance: Mountainside cave dwellings that housed the Sinagua tribes long ago and a limestone sinkhole that is so unique it is one of the most studied bodies of water in the world.
Distance from Phoenix: 95 miles; 1 hour and 30 minutes north of Phoenix (Montezuma Castle) + 10 miles; 15 minutes (Montezuma Well)
Cost: $10 admission fee, kids 15 and under get in free but check the website for free entrance days. There was no admission fee the day I visited.
Montezuma Castle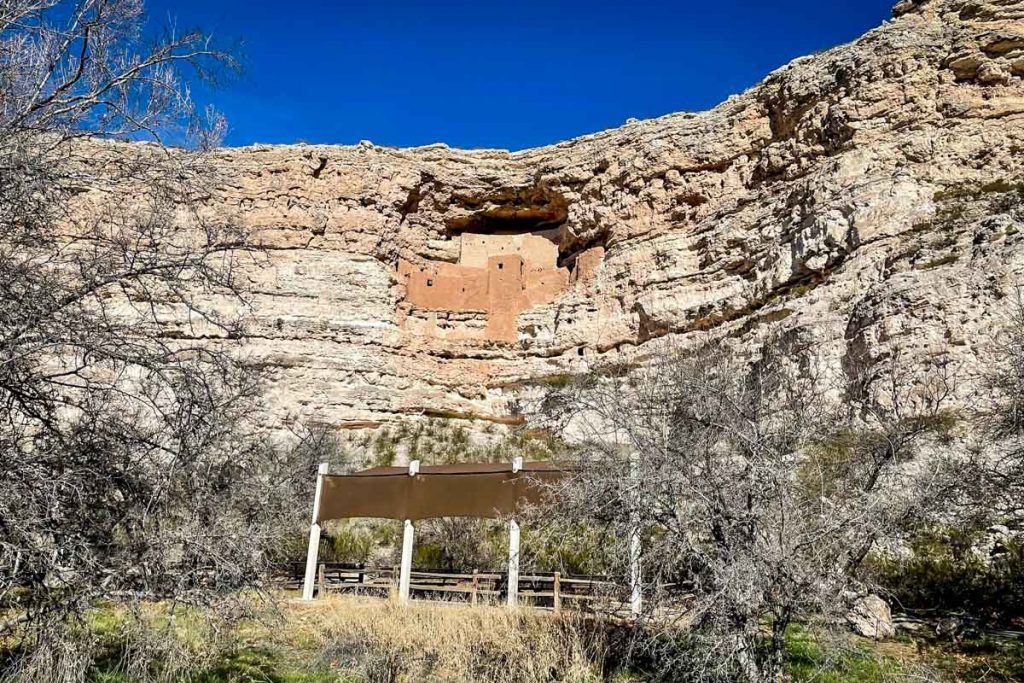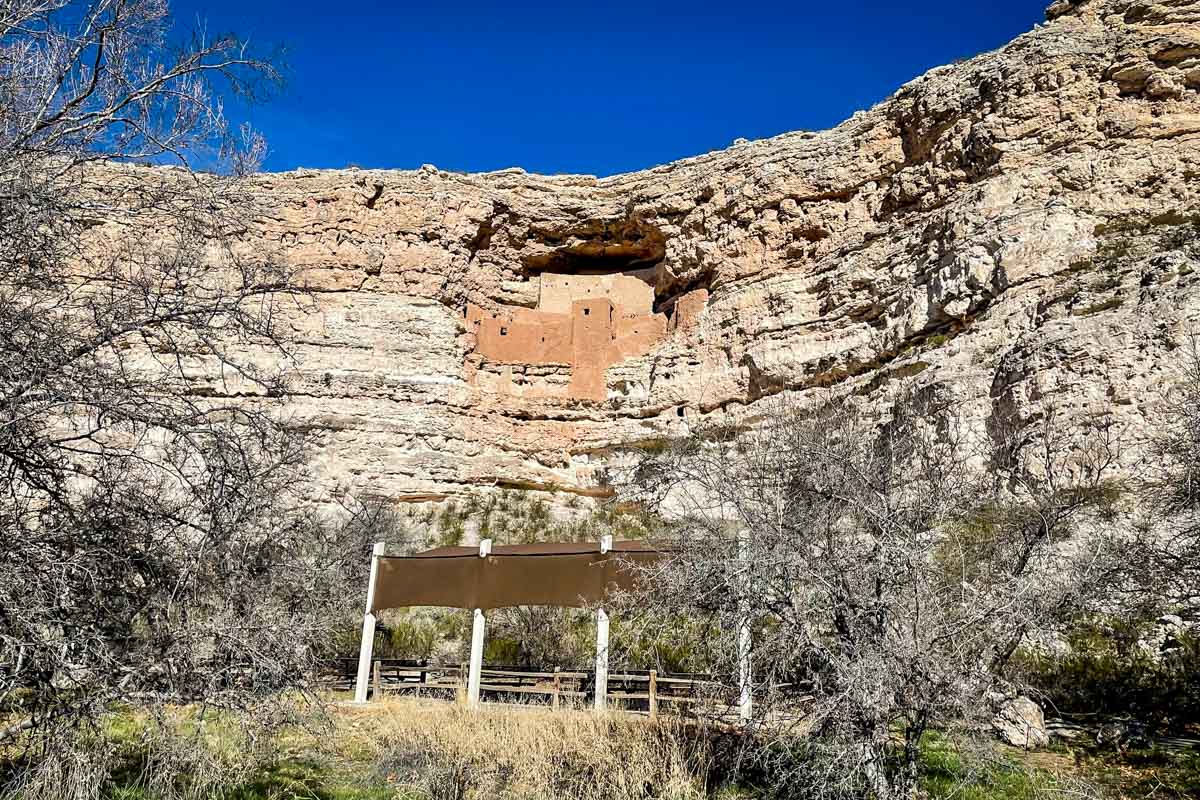 Go back in time with a short ⅓-mile stroll down the easy trail to observe the historic dwelling that once housed the Southern Sinagua people hundreds of years ago. The marvelous mountainside structure is now called Montezuma Castle.
Bring the older kids along for an easy hike that is a fascinating history lesson. Take a moment to visualize the hunting and gathering families that called the Verde Valley land home with the park's museum that contains historic artifacts.
Ancient items displayed include clothing, medicine, food, and other necessities. One interesting exhibit shows a rabbit's leg bone that was used to create a needle to sew shoes.
Landscape signs along the walk explain which plants were consumed and which ones were used to medicate.
Check out the audio program framed castle replica that contains model figures of what daily life may have looked like within the structures. Although so long ago, similarities between past days and today's modern life give visitors an eye-opening perspective of common human traits of existence.
Montezuma Well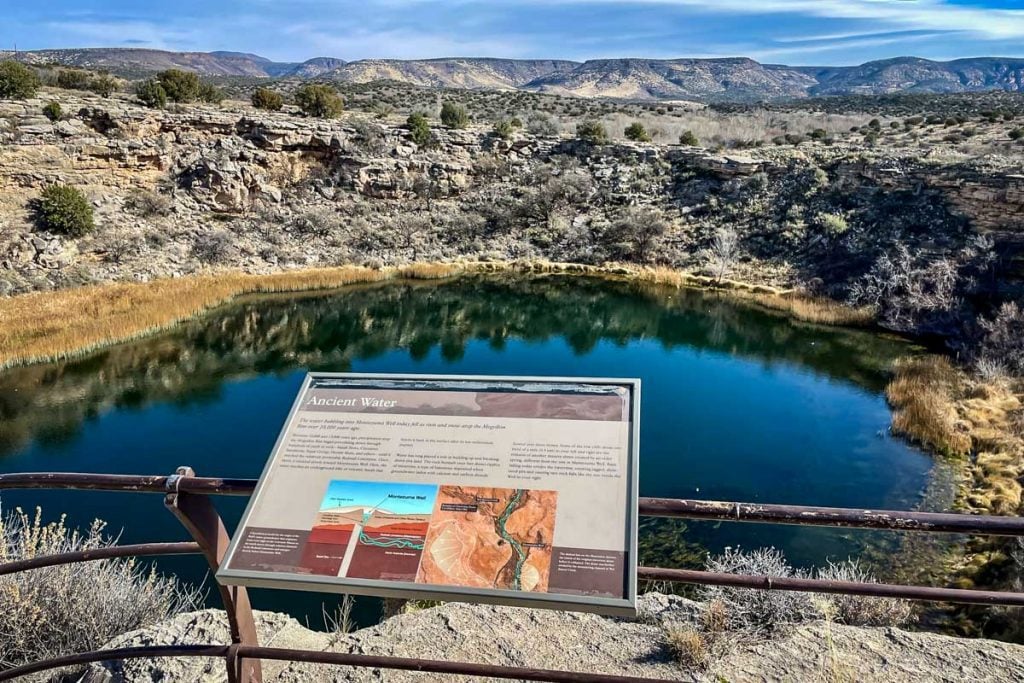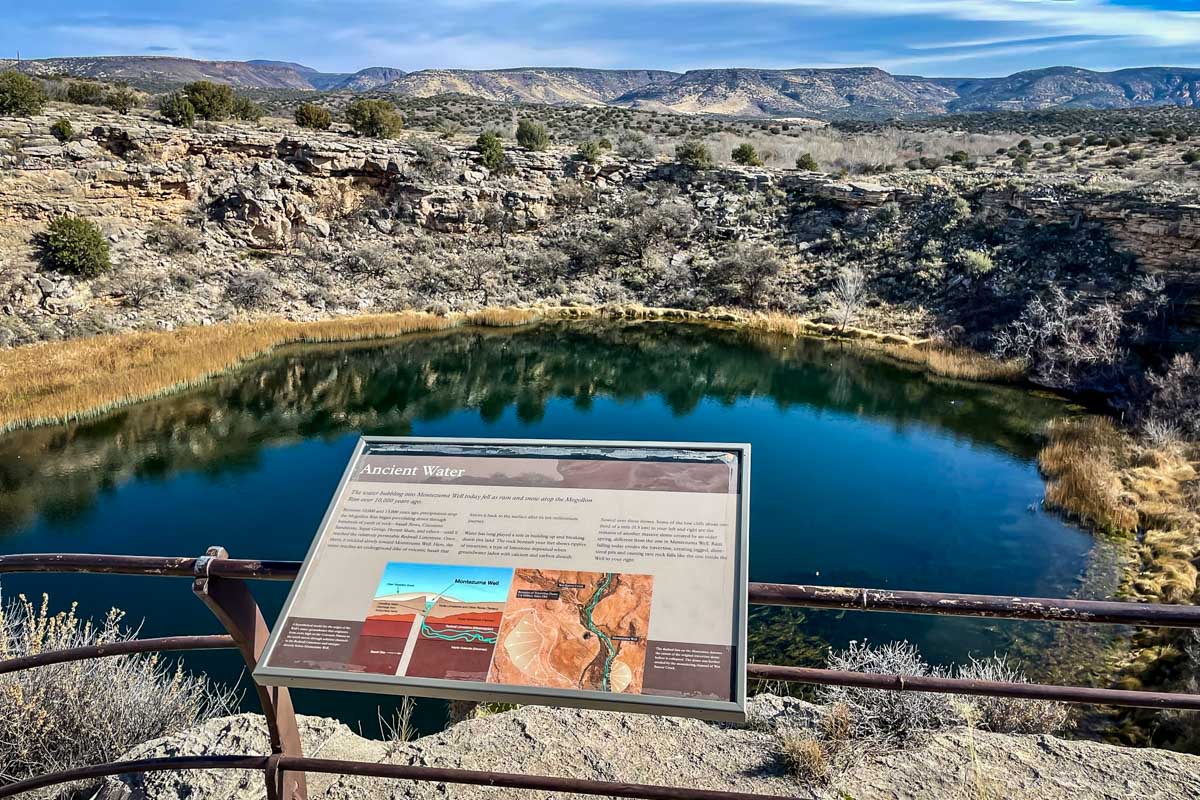 Even though it is another 11 miles north, be sure to make a stop at the Montezuma Well, a naturally occurring spring in the desert, on your day trip from Phoenix. Park your car in the free lot and take the easy ⅓-mile hike to the well.
What was once a farming community is now a state park that gives visitors a look back with the structures still standing along the rim of the well. The stone pueblo ruins and abandoned cliff houses are fascinating to observe.
The well itself is interesting to study as the ancient water flows constantly from a deep underground sunken spring. The signage around the well explains how the 15 million gallons of spring water enabled communities of people to reside in this area dating back from 1100 to 1400.
Be sure not to miss the quiet hiking path beyond the well that takes you to a serene creek. These soothing waters were formed by the water from the well that emerges from an underground passage. The sound of the creek's peaceful water is calming to the soul and is a quiet refuge.
Insider Tip: Drive a quick 18 minutes south to Camp Verde, Arizona to experience truly top-notch Italian food. The Moscato Ristorante Italiano serves handmade pasta dishes paired with a fitting selection of fine wines. The food is as enjoyable as the setting since the restaurant is located inside the historic Montezuma Inn, established in 1900.

In addition to the wide selection of mouthwatering pasta dishes made by local Chef Salvatore, Moscato also serves creative entrees that include Tuscan, Sicilian and Italian cuisine. If you can, save room for the decadent Italian desserts made by his mother. Try the beautifully presented and delightful espresso affogato for dessert.
7. Tempe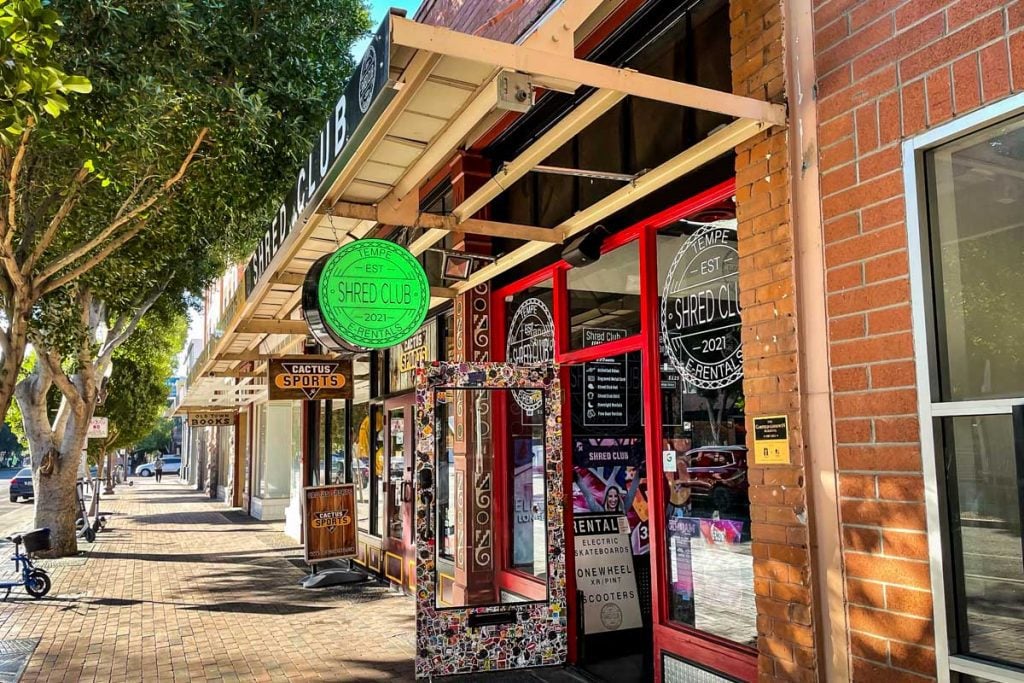 At a glance: More than just a college town, Tempe has become the "it" place that has stayed unique, even with its growing popularity.
Distance from Phoenix: 11.5 miles; 20 minutes
Known for fun, fitness, food, theater productions, pubs, funky neighborhoods with character, local grub, and more, Tempe is home to Arizona State University, where you will see tan ASU students zipping around on scooters. You will also see longtime locals and visitors alike taking full advantage of awesome outdoor fitness activities in Tempe.
Things to do in Tempe
Start your day at Cartel Roasting Co. for your morning cup of joe and the best pumpkin donut and bakery Pop-Tarts I've tasted. Sit and sip for a bit to view the funky art exhibits and wall paintings by local artists that grace the walls of this unique neighborhood coffee shop.
For a unique hike, head to Papago Park to climb the massive red buttes. Don't miss the .2-mile Hole-in-the-Rock trail that leads to a big viewing hole located in the butte.
For a delicious post-hike refuel, walk to nearby Cornish Pasty Co. to enjoy a place locals love. The restaurant's 45-plus yummy stuffed pasty sandwich varieties are a popular pastime in Tempe.

Try The Pilgrim turkey pasty for Thanksgiving in a sandwich or the Red Curry Chicken Tikka Masala for an Indian pasty version. There is something for everyone on the interesting menu with vegan and vegetarian options as well.

Walk off the lunch calories with a stroll or bike ride around Tempe Town Lake. Runners, joggers, walkers, in-line skaters, bikers, boaters, families, and dog walkers all share the 7.4-mile waterside walkway.

Check out the historical Old Railroad Bridge that still stands from 1912.
Tempe Beach Park is one entrance to the lake that connects to five miles of paths. Stop for a minute to observe the park's public safety memorial called Answering the Call. Read the signs to learn about the park's history that dates to 1931. Be sure to check the Tempe Town Lake website to see the annual schedule of big outdoor events that take place here.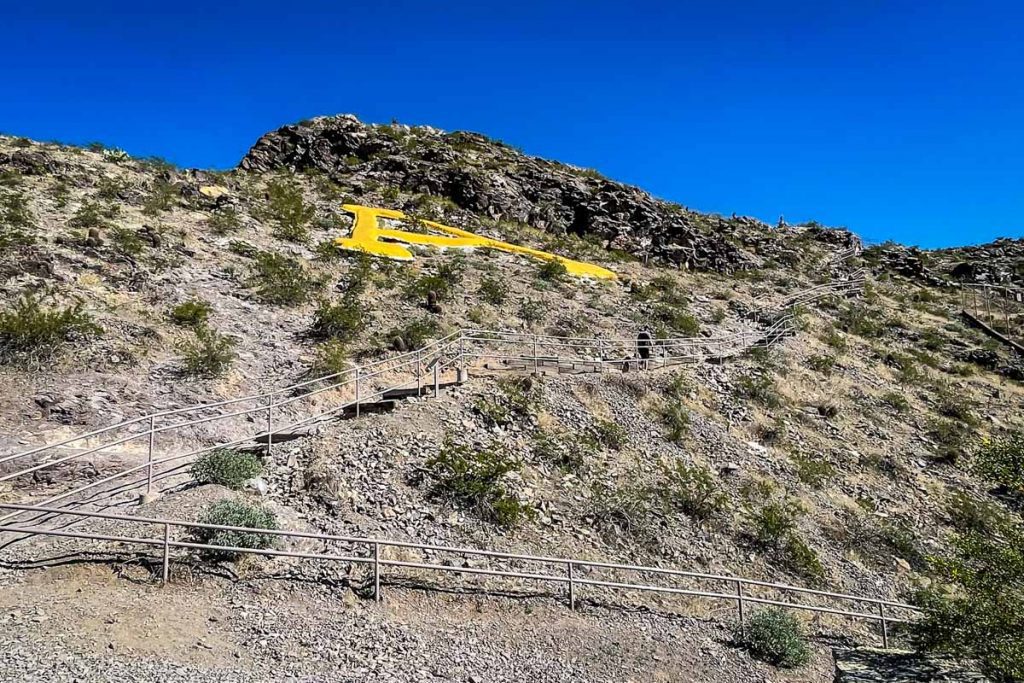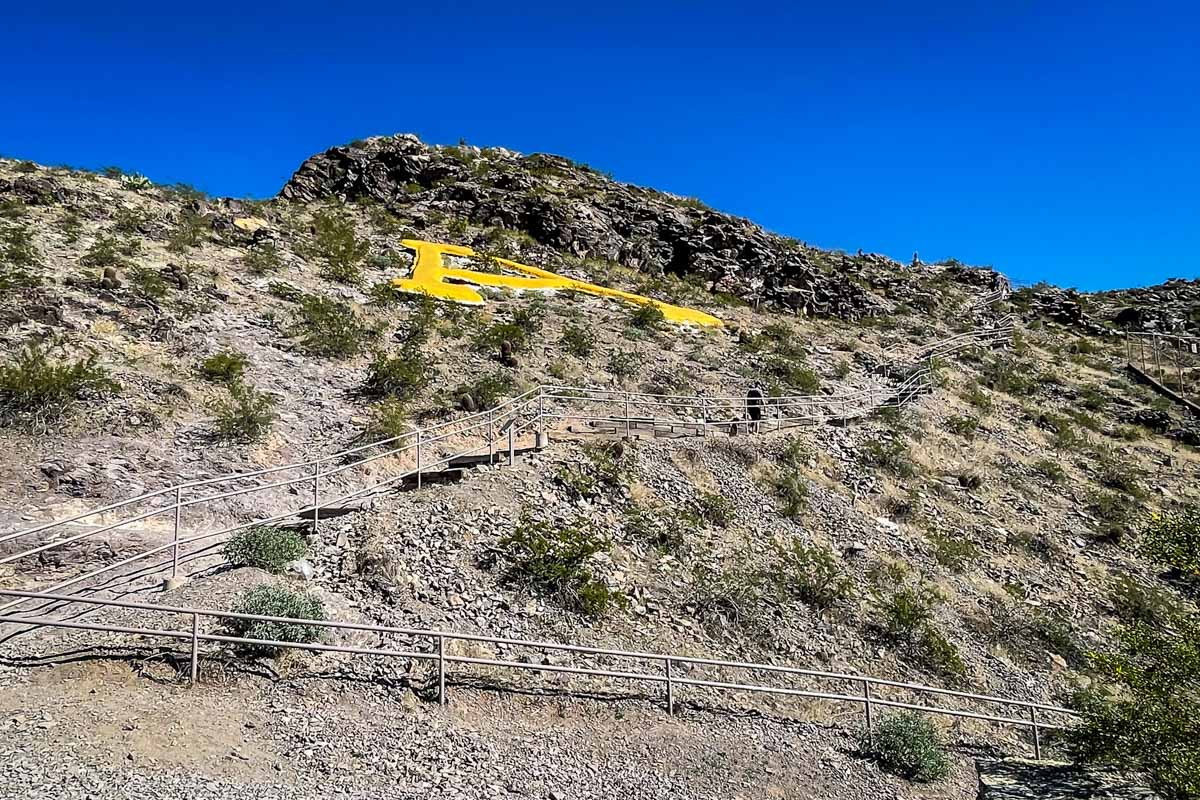 Hike the big hill on the nearby 'A' Mountain. See the massive yellow 'A' up close that graces the side of this popular Tempe landmark as you make your way up to the 1,495-foot summit. The mountain's real name is Hayden Butte Preserve.

The Leonard Monti Trail on 'A' Mountain has recently become my favorite hike in the Valley of the Sun. This is because it's easier and quicker! The trail is less than one mile and takes about 20 minutes to hike to the top. It's still good exercise as the steep paved uphill path and winding mountainside concrete stairs get your heart pumping. At the top, hikers enjoy views of the Tempe Town Lake and her beautiful bridges below as well as the Sun Devil Stadium, ASU, and the ever-growing city of Tempe.

Catch a visiting Broadway production at ASU's elegant Gammage Auditorium or see concerts, comedy acts, and more at the distinctive Tempe Center for the Arts that is located waterside to Tempe Town Lake.
Now for my favorite thing to do in Tempe…a brewery tour! Tempe has a number of enjoyable beer-tasting pubs, most within walking distance from the lake.

Try The Beer Shop Co. which is located off the beaten path for tasty brew samples, a hip tasting room inside, and a funky outdoor patio. I could lounge there drinking quality brew with pals all day! It is also interesting to note that this place, built in 1952, was home to former Tempe Mayor, Harry Mitchell.

Other Tempe places to wine, dine, and spirit taste in Tempe:

Taste of Tops offers 30 rotating craft tops, 600 bottles/cans of craft beer varieties, and 20 by-the-glass wines. There is something for everyone at this liquor store that houses a tasting room. Locals love this place that is run by a third-generation family.
The Arizona Distilling Company offers a scheduled 1-hour tasting tour of barrel-aged whiskey samples. This historic place is Phoenix's first whiskey distillery since prohibition. Enjoy the spirits with wood-fired pizza.
Casey Moore's Oyster House for great brew, good pub grub, and quality oysters that are flown in daily.

Mill Avenue is for walking, shopping at unique boutiques, and treating yourself to decent food and decadent ice cream at Sparky's.

Check out the new Shred Club on Mill to rent electric skateboards, scooters, and one-wheels to roll around Tempe.
Visit my favorite local gift shop on Mill Avenue called Lotions & Potions Perfume Store. This amusing shop is not affiliated with the national chain that bears the same name and this eclectic place sells more than just the handcrafted perfumes and oils they boast. Worth a visit!
There are so many more places to share in terrific Tempe, but I can't fit it all into this one section so head to the Tempe Tourism Guide website for a full list of what to do, eat and drink in this very cool town.
8. The Dolly Steamboat Tour/Tortilla Flat
At a glance: Take the relaxing Dolly Steamboat Tour for a quick getaway along scenic Canyon Lake and then head to Tortilla Flat to go back in time to the Wild West.
Distance from Phoenix: 50 miles; 1 hour
Cost: Dolly Steamboat Scenic Nature Cruise – $25 a ticket for adults; $15 a ticket for kids 5-12; $6 for kids 1-4
Arizona may not have an ocean, but this desert state boasts several impressive waterways. Colorful Canyon Lake winds through the scenic Superstition Mountains and is where you can find the Dolly Steamboat, offering scenic sightseeing tours and dinner cruises.
The captain of the ship is also the tour guide directing boat floaters where to look to observe wild animal sightings and desert scenery. His interesting narrative along with the sound of the calming waters makes for the perfect sightseeing tour.
After the boat ride, head two miles down the road to experience the Wild West preserved at Tortilla Flat which is nestled in the spectacular Superstition Mountains.
The Dolly Steamboat Tours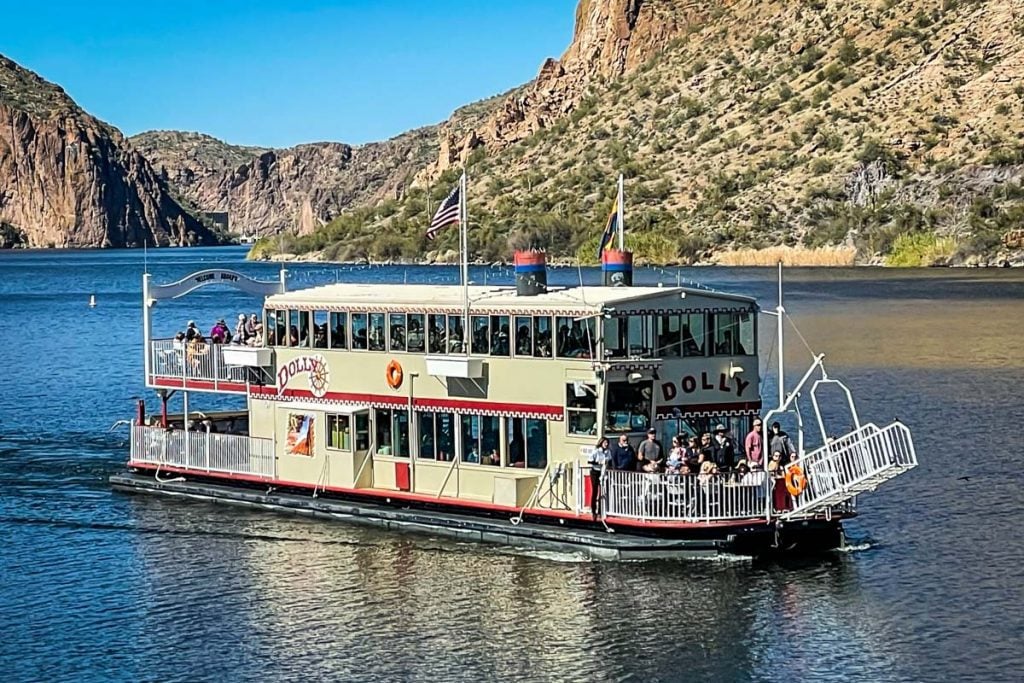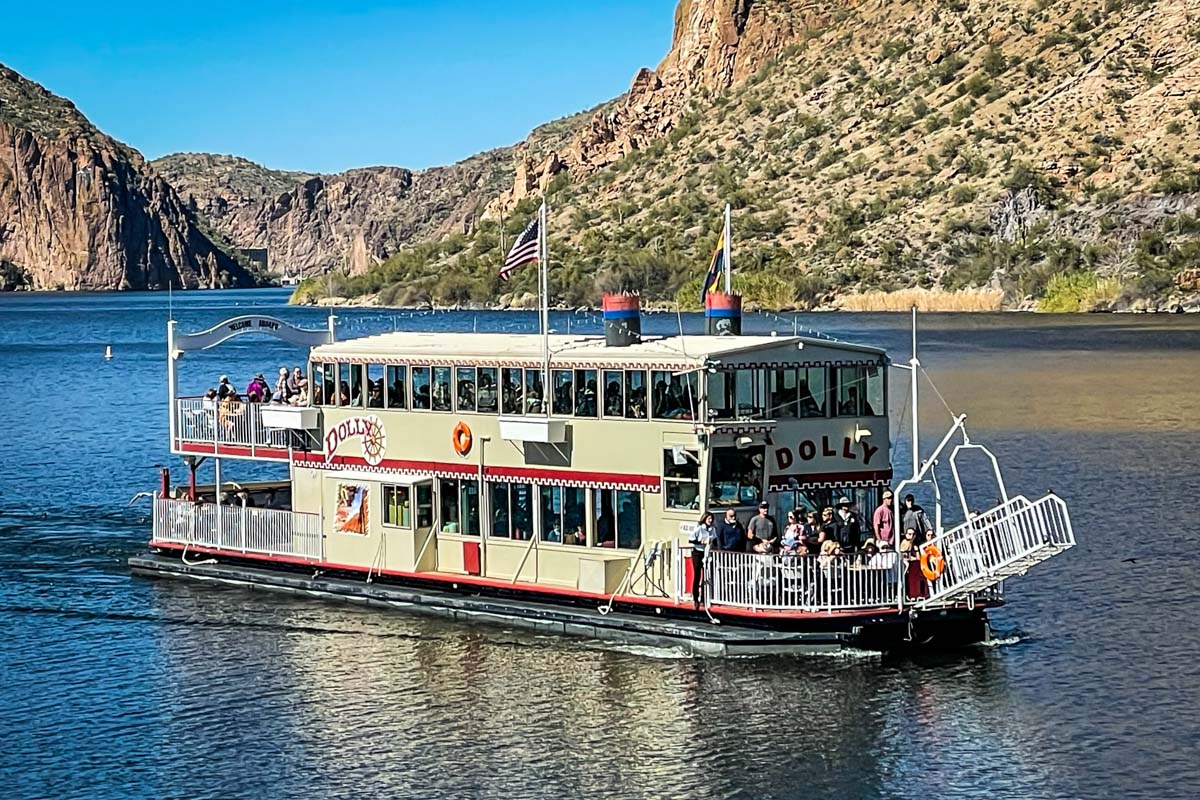 A 1 ½ hour ride on the relaxing Dolly Steamboat is a fantastic way to experience the stunning desert landscape. Cruise along the water to spy on some of the animals who call these parts home.
We took the 2 p.m. boat tour that was the perfect ride from start to finish. We spotted bighorn sheep and our captain pointed out a beautiful bald eagle flying above us.
The weather was just right on this mid-February day and our boat ride was comfortable. We enjoyed moving around the vessel to the upstairs outdoor deck. The ship's onboard snack bar sells light food and refreshing cocktails. We met friendly crew members who recommended that we return in the future for the sunset dinner cruise.
Insider Tip: Arrive early to the Dolly Steamboat tour and have lunch at the Well Done Grill. Enjoy refreshing cocktails and filling fare on the restaurant's comfortable deck that looks out over Canyon Lake. The pleasant patio gives diners a splendid view of the Dolly Steamboat arrivals and departures. The restaurant and the boat facility share the same free parking lot, another advantage to dining at the grill before or after your boat ride.
Visiting Tortilla Flat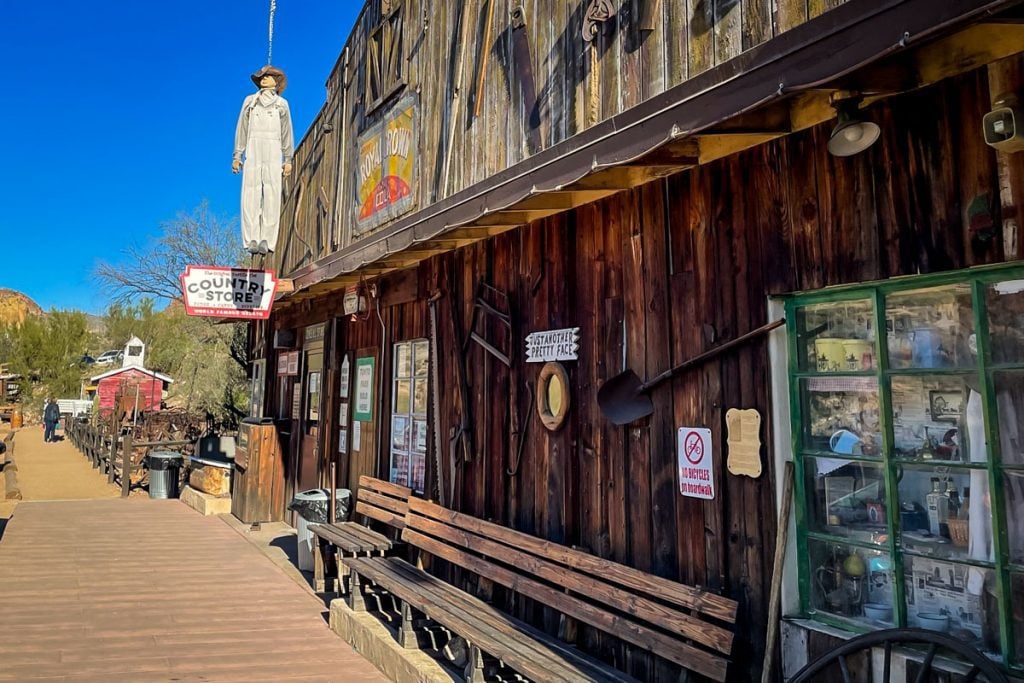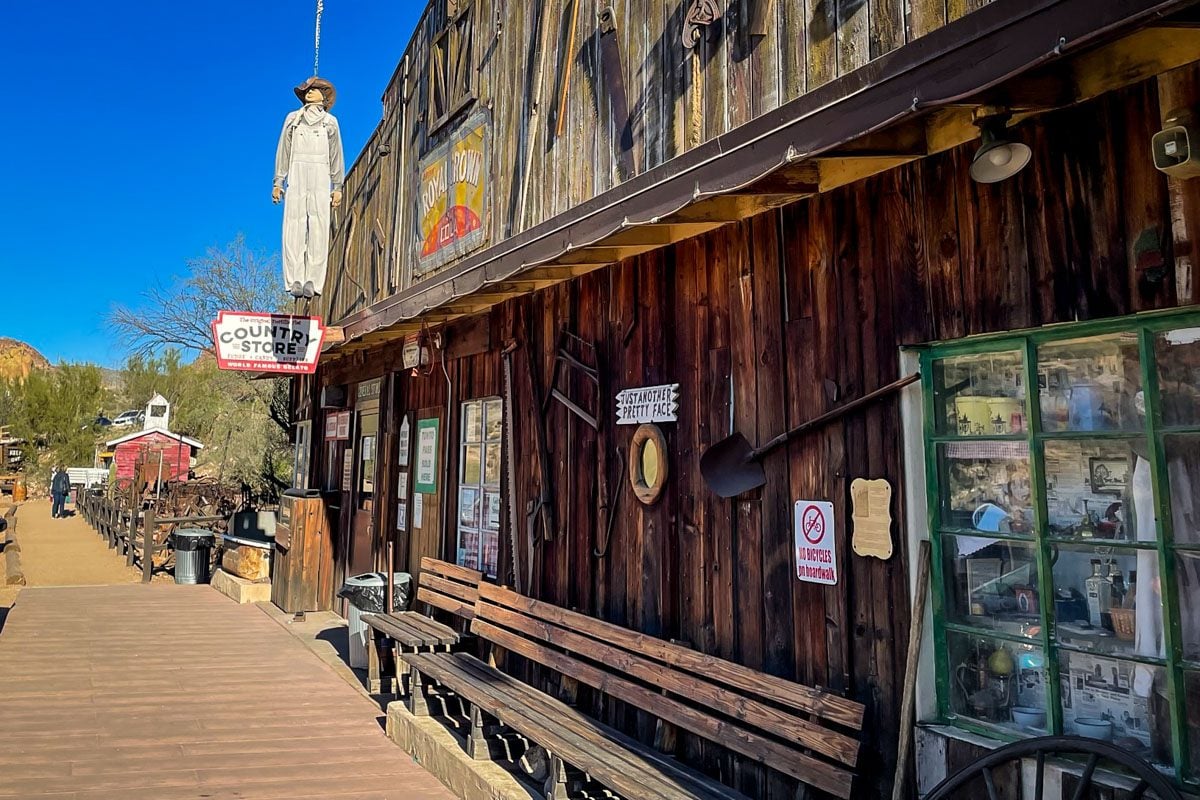 Two miles up the road from the Dolly Steamboat lies the small town of Tortilla Flat. This unique area is reminiscent of another era. It boasts a population of only six (yes, you read that single digit right) and this stagecoach stop along the historic Apache Trail is like stepping back into the Wild West.
Located in the Tonto National Forest, the community is surrounded by nice views of the Superstition Mountain Range. A long boardwalk lines old western buildings that still stand, reconstructed with parts from the original structures that date back to 1904.
The Tortilla Flat website says that neither flood nor fire could completely destroy this historic locale. Live music, hearty grub, and saddle bar stools are all part of the fun at this recommended desert stop.
While in Tortilla Flat, treat yourself to a scoop of Prickly Pear gelato. We did and we are not ashamed to admit that we had ice cream for dinner and cocktails on the boat. We did this day trip from Phoenix just right!
9. Kartchner Caverns State Park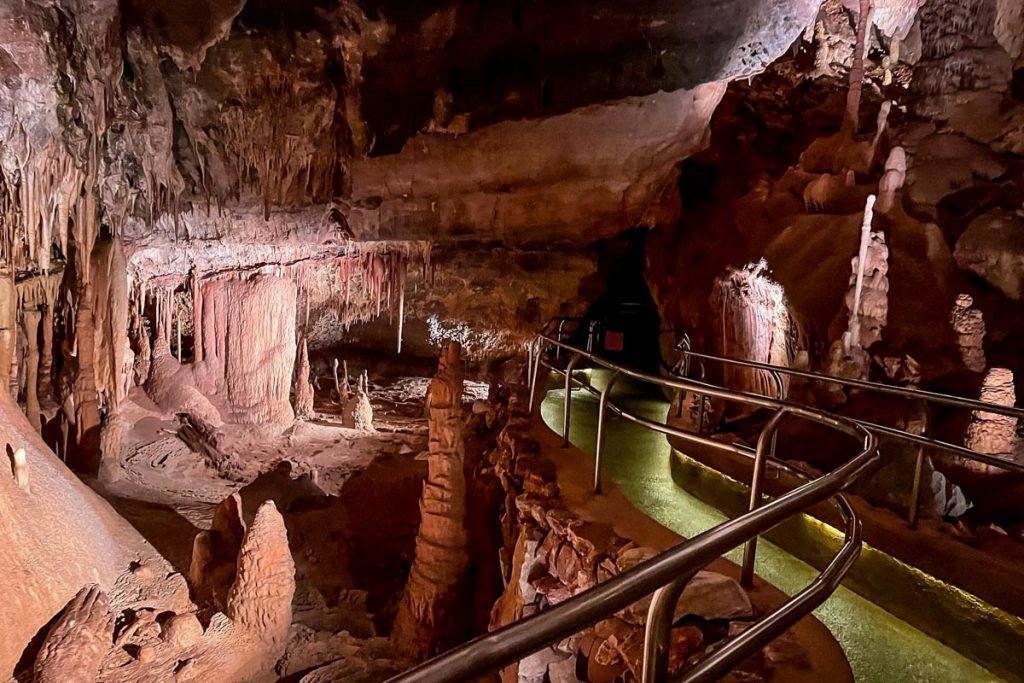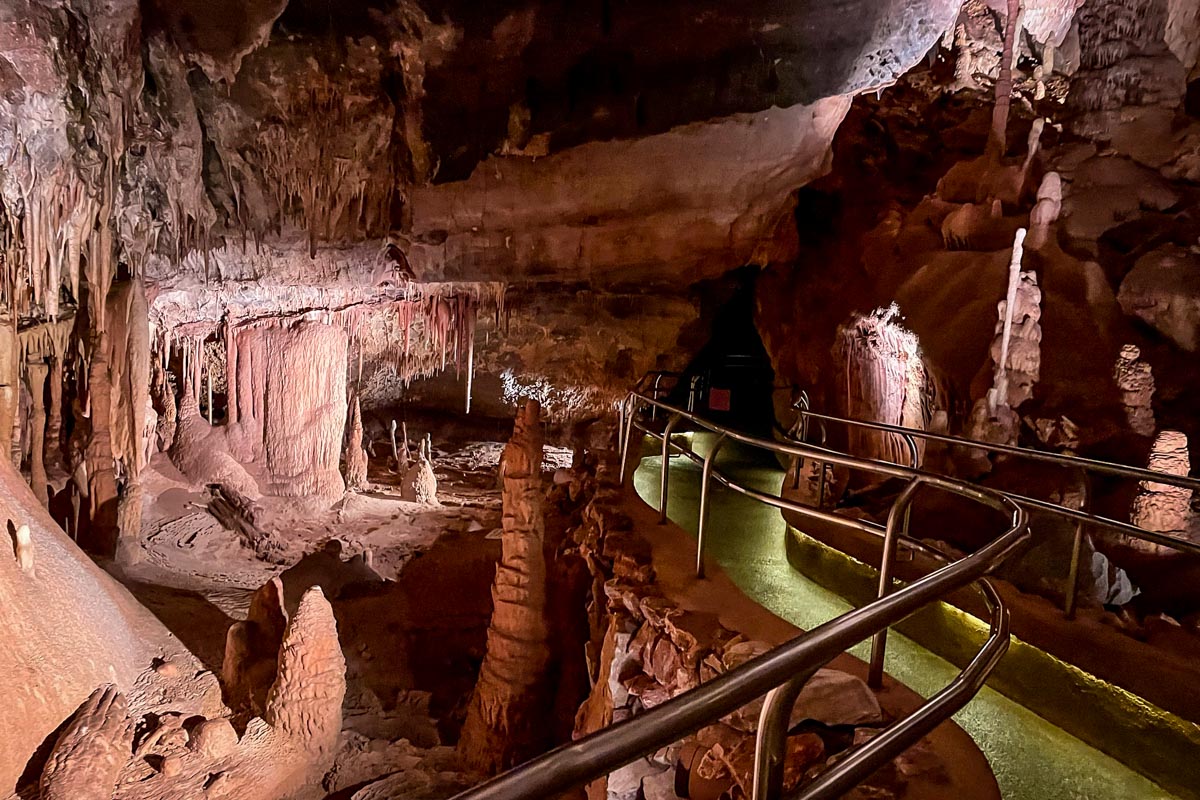 At a glance: Kartchner Caverns State Park offers exclusive cave tours, bird watching, hiking trails, camping, and panoramic views of the San Pedro Valley.
Distance from Phoenix: 167 miles; 2 hours and 30 minutes
Cost: $7 per vehicle but the fee is waived with paid booked tour. Tour prices are $23 a person for adults 14 and older, $7 for kids aged 7-13, free for children under 7 for the Rotunda/Throne tour. Kids under 7 are not allowed on the Big Room Tour.
The caverns at this Southern Arizona state park are magnificent to witness, a true marvel of Mother Nature's mysterious work. Guided and specialty tours are offered, which include the new Photo Tour and the fun Helmet & Headlight tour.
I was thrilled to discover that Kartchner Caverns State Park recently added exclusive photo tours inside the impressive Big Room cavern. Photography tours are available on the third Saturday each month. The $125 tour fee is expensive but is worth it to those serious about setting up a tripod in the majestic cave to get their quality shots. It is an exceptional experience!
Big Room Tour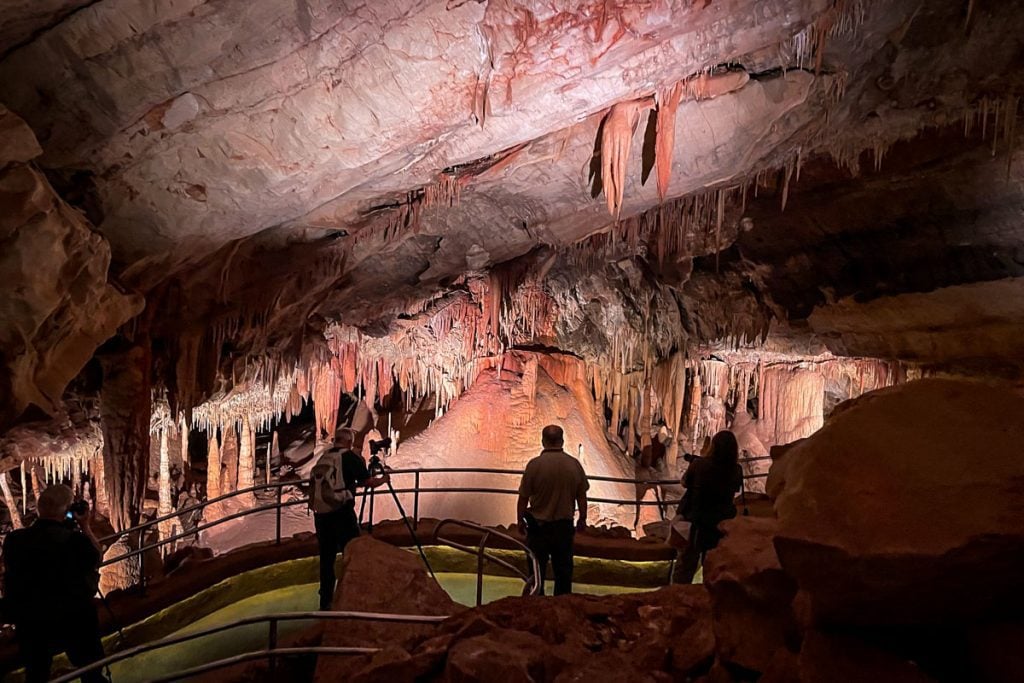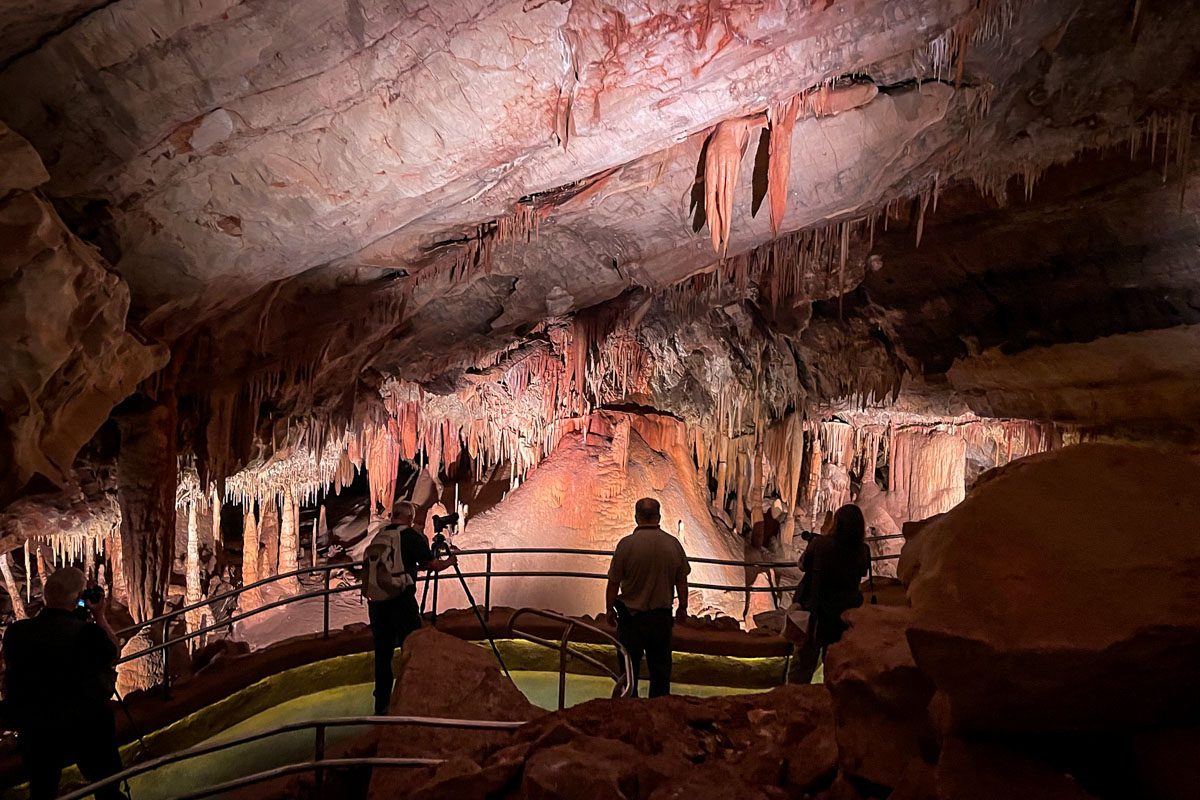 Every year the Big Room tour runs October 15 through April 15 due to the annual spring arrival of the migrating bats. Kids under seven years of age are not allowed on the Big Room tour.
We took the 2-hour Photo Tour. An informative tour guide led us through a big steel door to what seems like another world upon our entrance. We instantly felt the humidity as the heavy door closed behind us. The door is necessary to protect the delicate environment that gives life to the cavern's world.
The interior of the cave was warm and damp, but comfortable. We were told not to touch the formations and walls inside the cave. When an accidental touch occurs, a park ranger quickly descends to clean the area because the oils on human skin can damage and even destroy the delicate formations and environment that exists inside.
Our tour guide was enthusiastic about the cave explaining that both new and ancient creations reside inside the majestic cave. It is a remarkable sight and cool to photograph. I felt like we were walking through a sci-fi movie set as the colors, textures, and size of the cave's interior are absolutely astonishing to witness!
Rotunda/Throne Tour
I look forward to returning to the park to see this cave since our schedule didn't allow for both tours. On the Rotunda/Throne tour, visitors enjoy a 50-minute underground tour of the original trial that led to the cave's discovery in 1974. The biggest column formation in Arizona, the "Kubla Khan" and a bat guano that is 45,000 years old are both observed on this tour.
Other park attractions
The Discovery Center offers a museum, theater presentation, gift shop, and concessions. Arrive one hour before the scheduled tour to experience this additional attraction. A campground situated among the Whetstone Mountains and rental cabins is also available on site. Do note that the cabins do not include plumbing with restrooms and showers located close by.
Insider Tip: Be sure to use the restroom and eat before your cave tour adventure. Once the cave door closes behind you, there is no leaving the cavern until the formal tour is over. The door must stay shut and sealed to protect the delicate environment that protects the cave. The park's Bat Cave Cafe is only open from 11 a.m. to 2 p.m. on most days.
10. Saguaro National Park
Recommended by Katie & Ben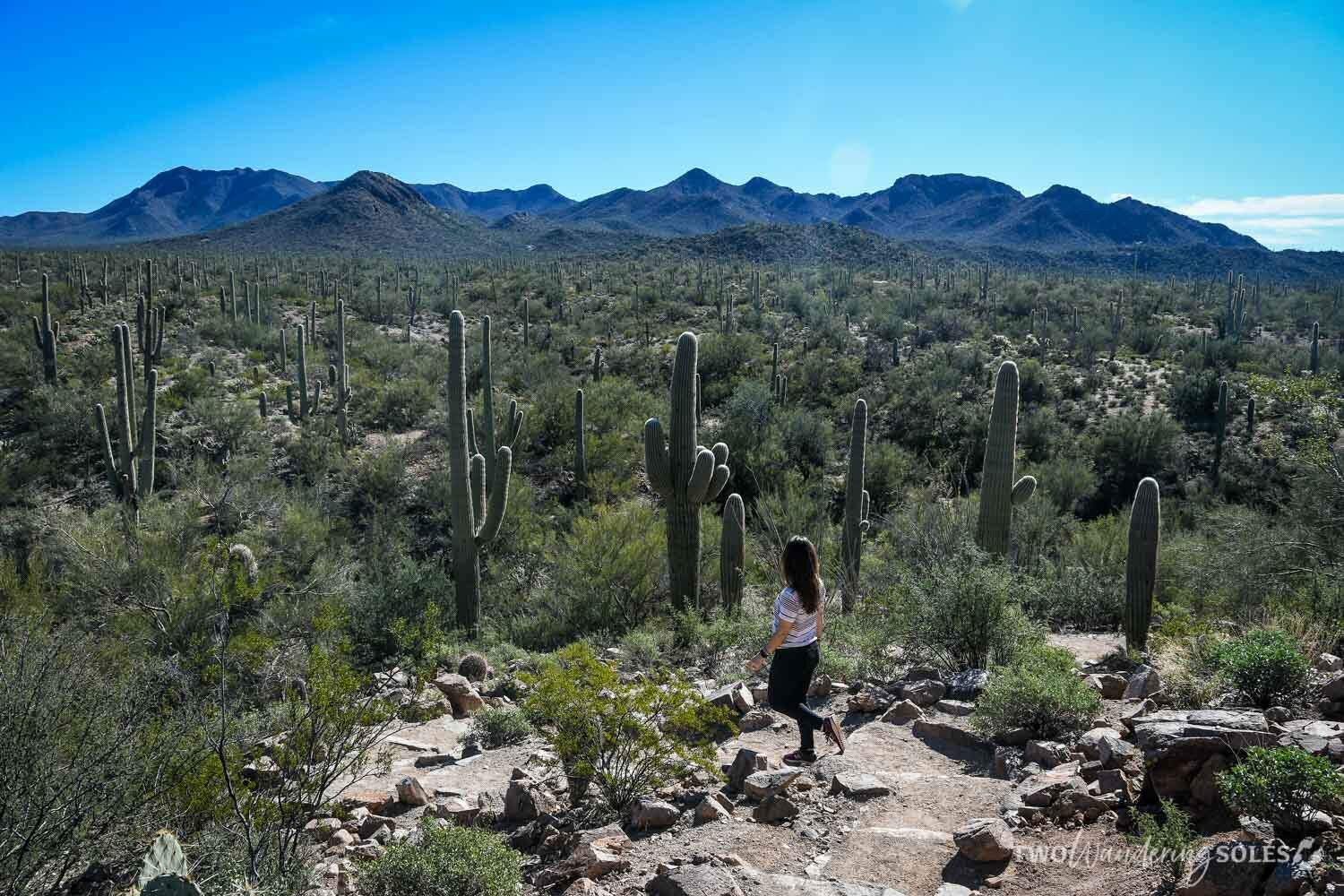 At a glance: This National Park has cacti, hiking trails and viewpoints, making it a nature-lover's playground.
Distance from Phoenix: 104 miles; 1 hour 40 minutes
Cost: a 1-week pass to Saguaro National Park is $25 per vehicle, or free with annual National Park Pass ($80)
Saguaro National Park is home to the nation's largest cacti, after which the park is named. Split into two sections on either side of Tucson, this National Park has a variety of hiking trails for all levels and abilities. Be sure to start your day early and pack sun protection because there isn't much shade throughout the park.
Best hiking trails in Saguaro National Park
Valley View Overlook Trail: 0.8-mile one-way (out and back) easy trail that is relatively flat. There are signs along the way pointing out the different types of plants and the final destination is a viewpoint over the vast valley below that is full of cacti.
King Canyon Trail (West Side): The trailhead starts opposite of the Arizona-Sonora Desert Museum, this 7.1-mile moderate trail winds its way up to Wasson Peak. Many reports say it's tough on the way up and you should start early, but you'll be rewarded with an amazing view of the saguaro cacti filled desert.
Cactus Forest Trail: Splits the East Saguaro National Park from North to South. 5-mile return, mostly flat, but you'll be surrounded with saguaro cacti the entire time.
Insider Tip: Once you've worked up an appetite, head into Tucson for some incredible Mexican food. If you want something cheap and casual, try the famed local Sonoran Dog at El Güero Canelo. If you're craving authentic Mexican food at the oldest establishment in town, head to El Charro Café. And for a great vegan Mexican option, look no further than Tumerico.
11. South Mountain State Park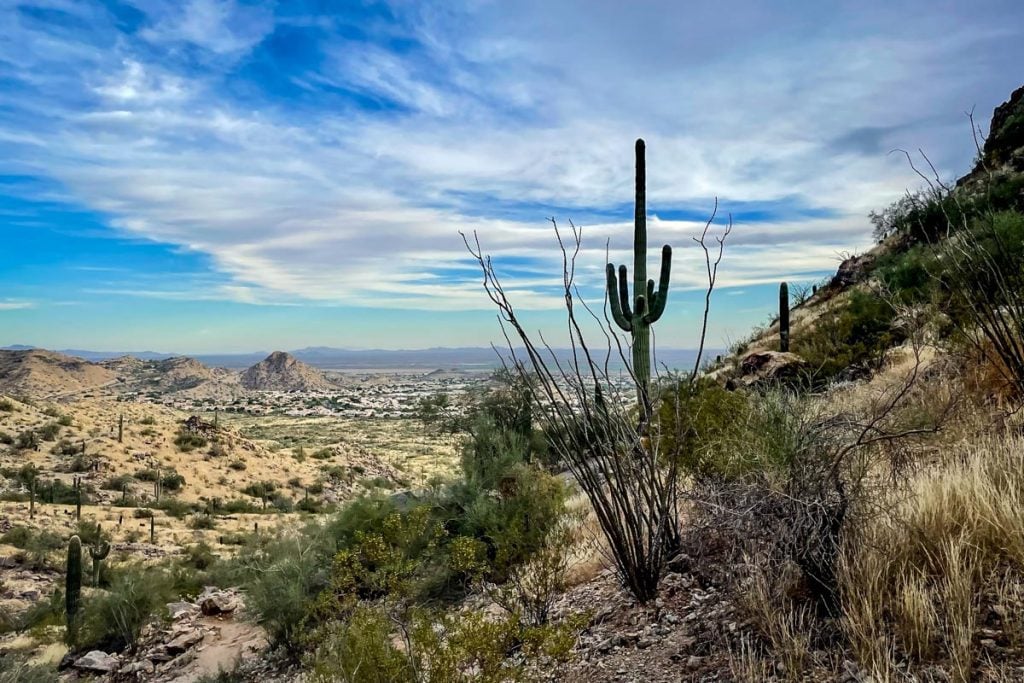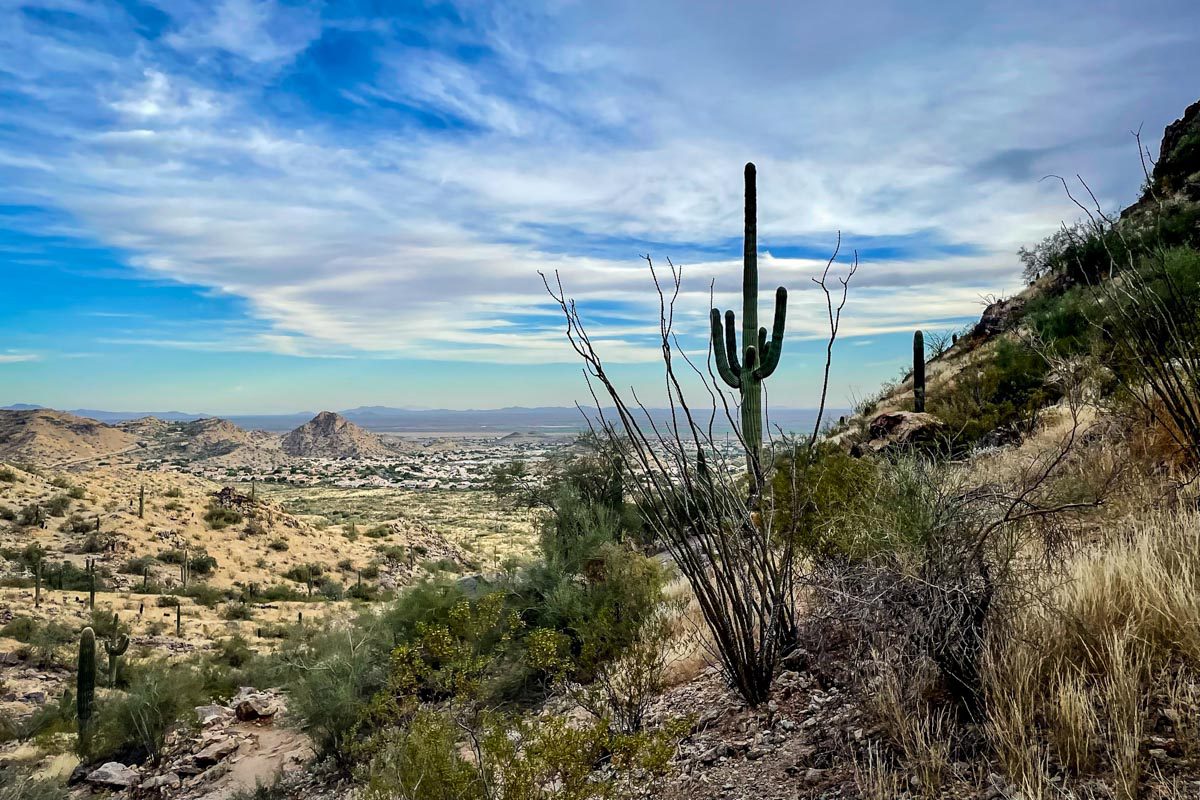 At a glance: A state park with three mountain ranges and over 50 miles of trails for the outdoor enthusiast
Distance from Phoenix: 22 miles; 30 minutes
Cost: Free & complimentary parking
South Mountain State Park boasts over 16,000 acres making it one of the largest municipally managed parks in the United States. It encompasses three mountain ranges that include the Ma Ha Tauk, Gila, and Guadalupe, and offers over 50 miles of trails for the outdoor enthusiast on foot, bike, horseback and more.
Ahwatukee is nestled in the attractive foothills of the scenic South Mountain Park Preserve. This location gives residents and visitors ample hiking trails. All offer a nice dose of moderate exercise but are not overly difficult making these hikes family and dog friendly. Telegraph Pass, the main trail in the Desert Foothills, is a popular hiking path loved by both locals and visitors alike.
With the harsh seasonal temperatures, it is best to avoid these trails in the summer months. Instead, the trails come alive with enthusiastic hikers taking advantage of the mild temperatures that occur from late October through early April.
Whatever time of year you decide to visit, make sure you bring sufficient water, always wear sunscreen and observe the safety suggestions listed on the signs at the beginning of the trailhead.
Best hiking trails in Desert Foothills: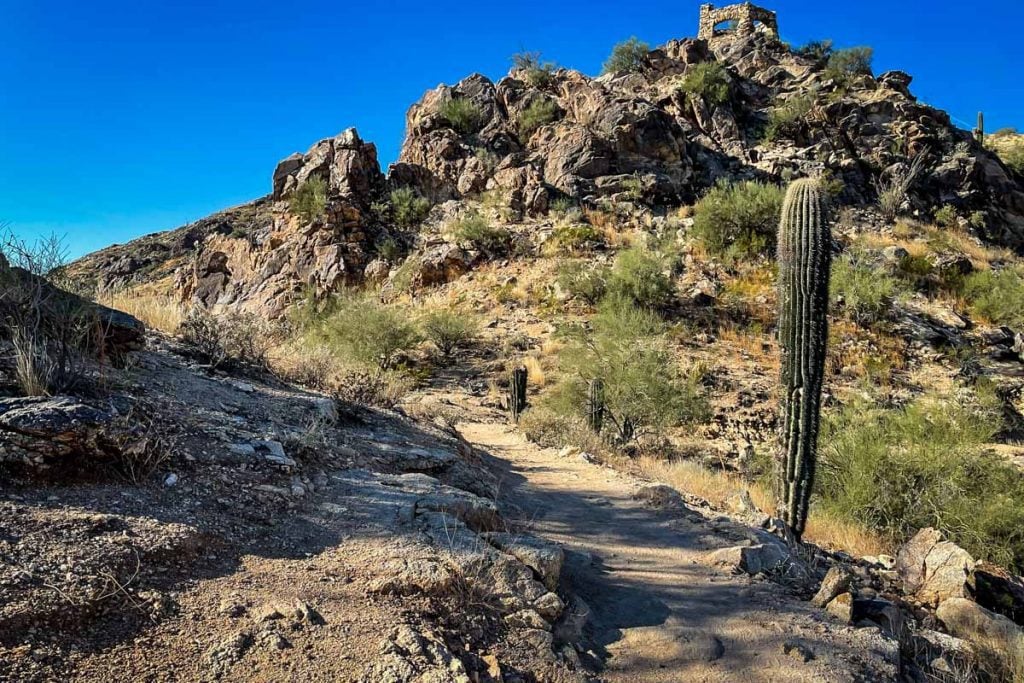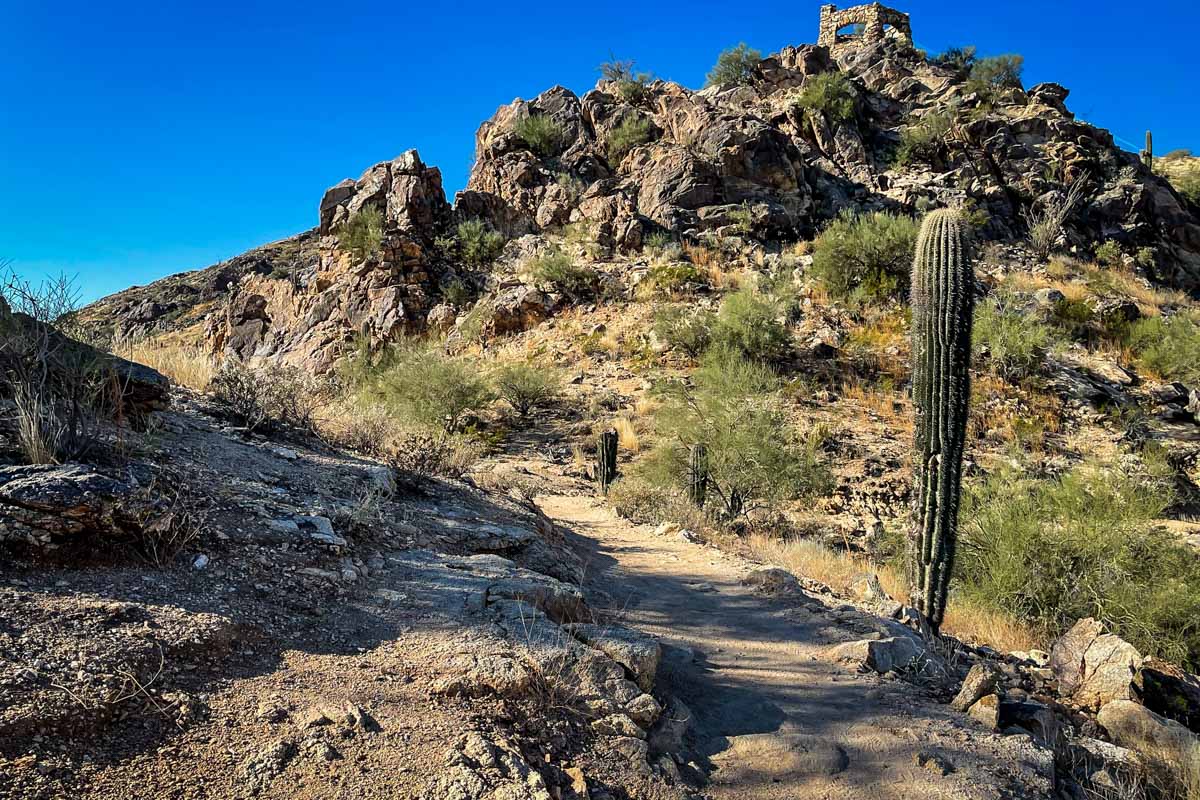 Telegraph Pass Trail: A moderate 2.3-mile out-and-back trail that gives hikers a spectacular panoramic view of the Valley of the Sun below. It can be done alone or hikers can continue to several connecting trails.

Tip: Be sure to stop along the trail at the fencing area to see the petroglyph images that are preserved in stone. The Pima Indians believe that the animal and other symbols carved into the rocks by the Hohokam nation signify an important spiritual significance.

National Trail: Adventurous hikers can continue on to the National Trail from the summit of the Telegraph Pass. This part of the hike has a scenic and enjoyable payoff as it leads to the unique Eagle's Nest shelter—a relaxing place to snap some photos and refuel.

The Eagle's Nest was built by the Civilian Conservation Corps in the 1930s. This structure provided shelter to the horseback riders from strong and sudden monsoon storms that plague the area. The roof is gone but the rest of the building still stands.
Insider Tip: Start your morning in Ahwatukee with a scrumptious sweet Cubano hot espresso at the locally owned WhereUBean coffee shop. Don't miss the bakery case that houses irresistible goodies made daily by a local gifted baker. Following a good day of hiking in Desert Foothills, head to the family-owned Hillside Spot Café for a delicious refueling stop.
12. Phoenix Mountains Preserve Piestewa Peak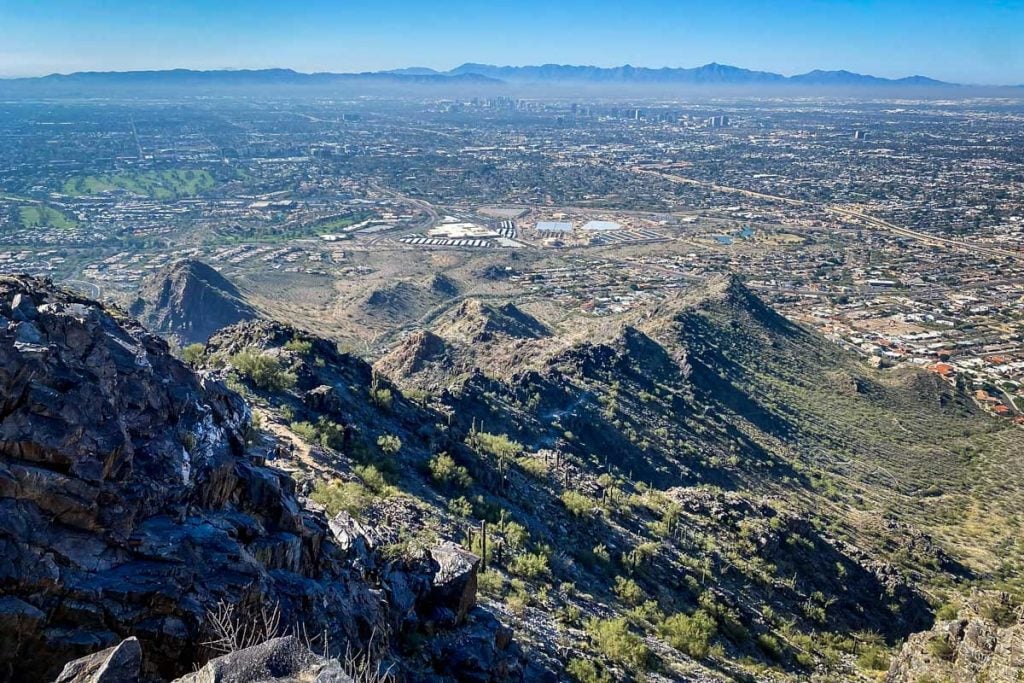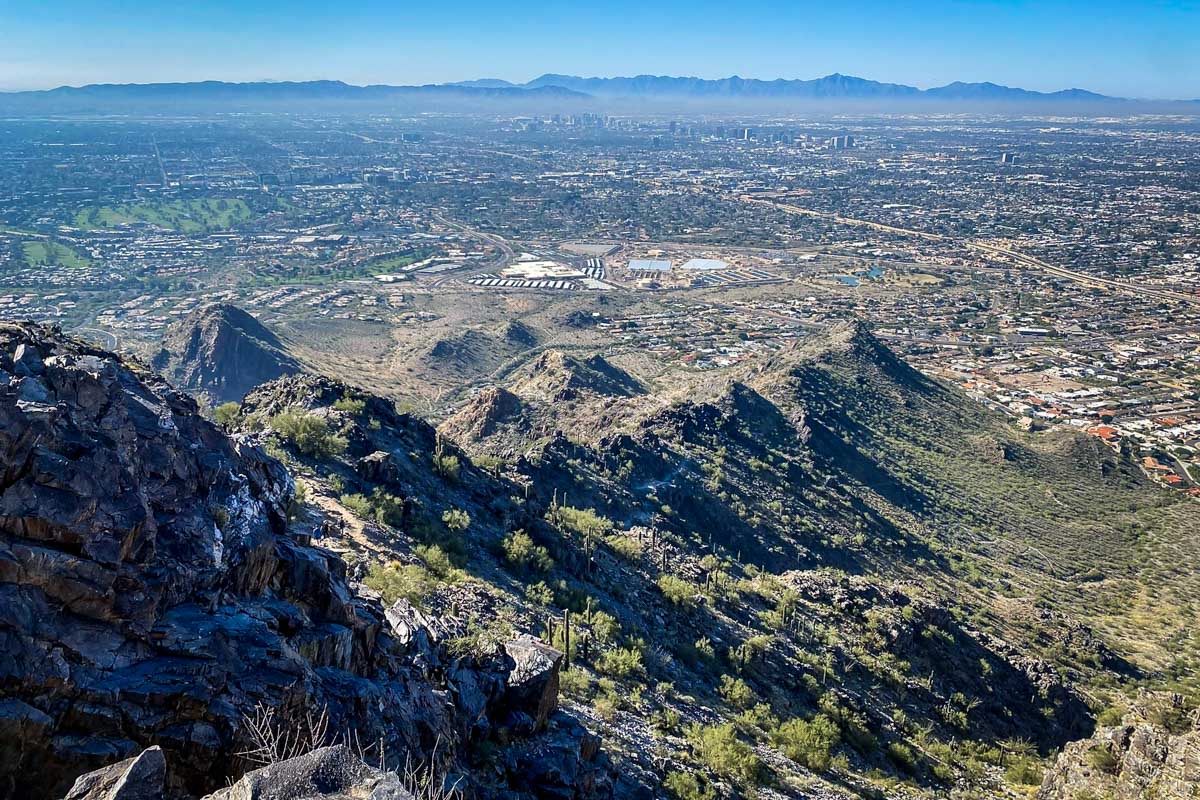 At a glance: A favorite local hiking spot close to some great restaurants
Distance from Phoenix: 20 minutes; 11 miles
Hours: open daily from 5 a.m. to 11 p.m.
Cost: Free admission with free parking
I call Piestewa Peak the "stair climber mountain." The unique path up the popular Summit Trail resembles a stone staircase. As I made my way up the mountain, I felt like I was burning calories on a stair climber that was naturally placed in the beautiful desert.
The hike is loved by locals and is close to some great restaurants making this a perfect day trip from Phoenix.
An interesting note about this mountain is that it was formally called Squaw Peak, renamed in 2003 to Piestewa Peak. This was done to honor the first known Native American woman to die in overseas combat. Lori Ann Piestewa was killed in action in the Iraq War in 2003.
Best hiking trails in Piestewa Peak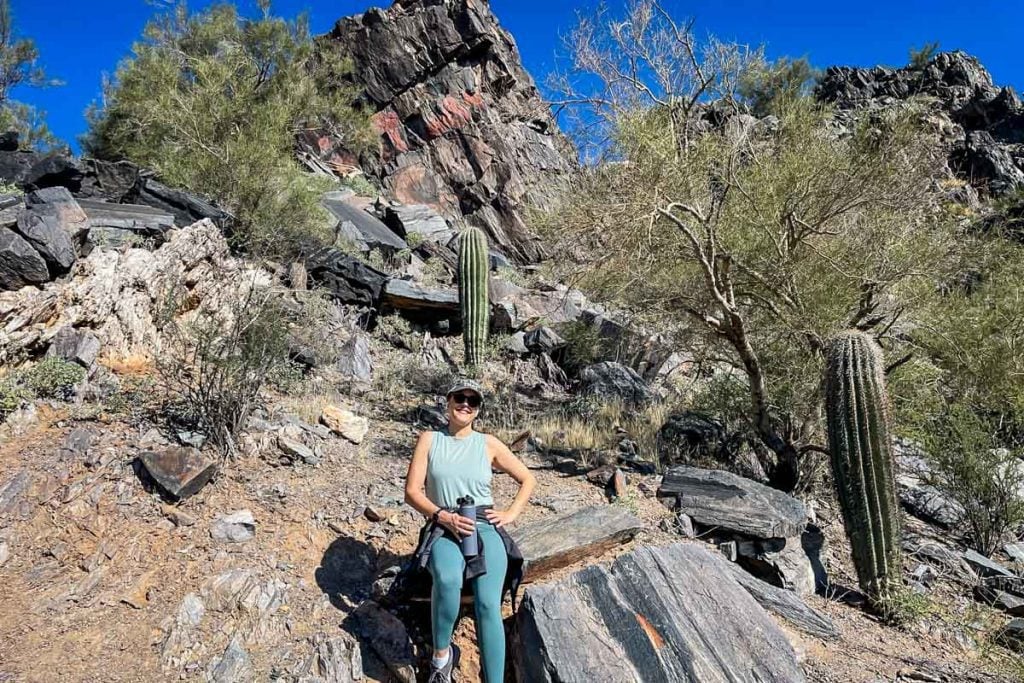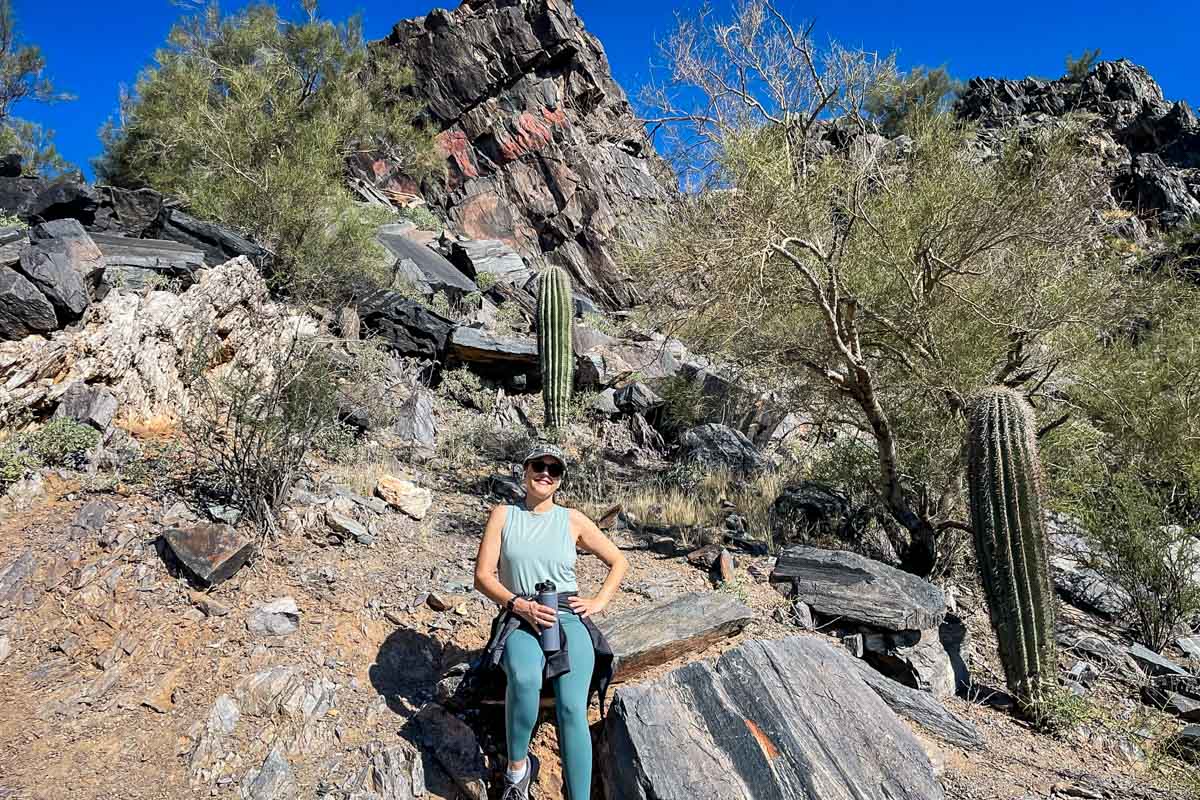 Summit Trail: With an elevation of 2,612 feet, this 2.4-mile hike is difficult, so it helps that several inviting scenic rest areas are located on the way up. And you're rewarded with expansive views over the Valley of the Sun at the summit. Out-and-back this hike takes over an hour to finish depending on the individual hiker's pace.

Tip: Be sure to wear sun protection as there is not much shade on this trail.

Dreamy Draw Nature Hike: This 1.5-mile path is an easy hike and boasts splendid views of Saguaro cacti and the desert landscape city below. Take a minute before or after your hike to read the park signs about the different flora and interesting desert wildlife that live on the mountain.
The Freedom Trail: A moderately difficult rocky 3.5-mile hike. Take this trail to snap pictures of the peak of Piestewa above and of desert flowers, Palo Verde trees, and wildlife such as chuckwallas and ring-tail cats.
This park also has a large covered picnic table area complete with grills. Decent bathrooms and outdoor fully functioning sinks with soap are located close to the trail start. Multiple parking lots are provided with ample parking, but this is a popular park so you may have to wait to find a spot.
Insider Tip: Before your hike, stop at Luci's Marketplace to perk up at the coffee bar and fuel up with a meal from the delicious breakfast menu that includes healthy fare like the Morning Run Breakfast Burrito and decadent rich french toast. The eatery doubles as a market shop with all kinds of unique merchandise. Celebrate with a post-hike cocktail at the restaurant's funky bar.

For authentic New Mexican fare after a day of hiking, try Richardson's Restaurant. The tasty green chile entrees are plentiful and are served on hot iron plates.
13. Desert Botanical Garden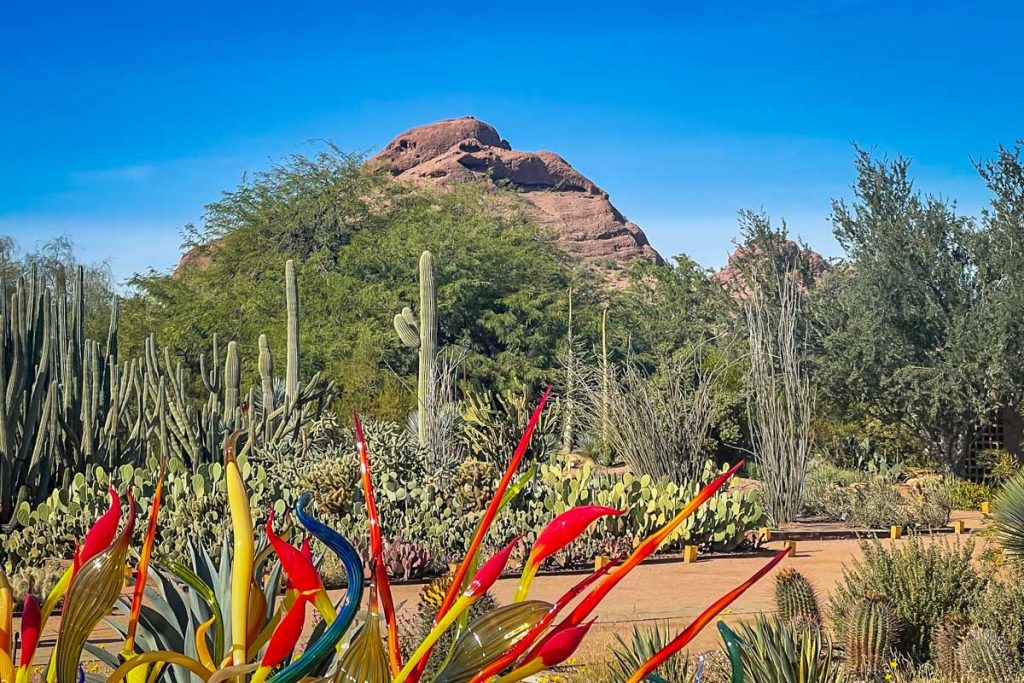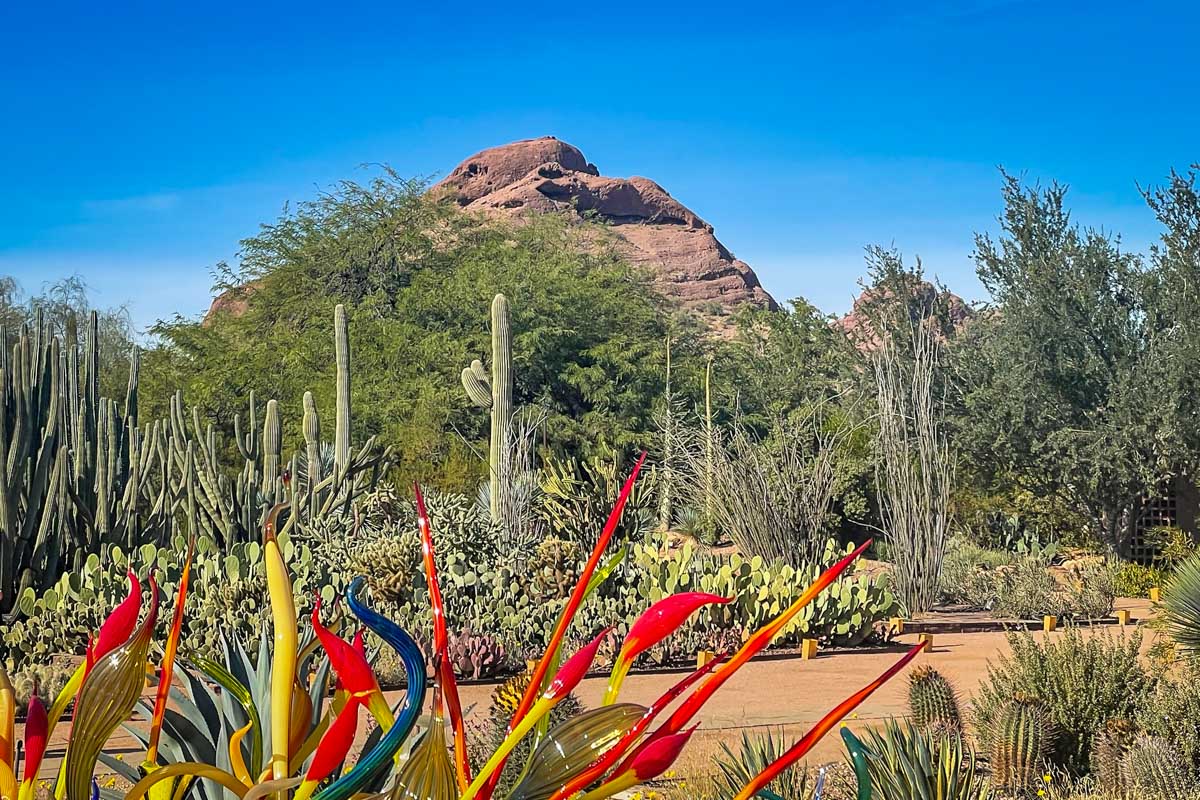 At a glance: 140 acres of this visually pleasing botanical garden with easy walking paths
Cost: Ticket prices start at $29.95 for adults/$14.95 for kids. Advance ticket reservations are required. The garden is open 8 am to 4 pm and 4 pm to 8 pm for evening garden events.
Distance from Phoenix: 20 minutes; 10 miles
Located in the scenic Papago Buttes, the Desert Botanical Garden is truly a gem in the desert. All 140 acres of this visually pleasing botanical garden provide visitors easy walking trails to view, photograph, and learn about diverse desert plant and animal life.
A scenic and pleasant way to exercise with a stroll through the colorful desert landscape. Five different trails with over 50,000 plant exhibits explore the history of the Sonoran Desert. All the trails are easy on the feet and simple to navigate.
My favorite path is the Plants & People of the Sonoran Desert Loop Trail. The unique exhibit takes you back in time through the eyes of the Native people who once struggled and thrived on this land.
One interesting feature is a tree branch hut that is a replica of an ancient Western Apache home. Park visitors venture back in time and enter a kitchen that was constructed with all available resources like stones and other materials that were indigenous to the area. You will also learn which plants had medicinal properties and which desert greens were cooked for meals.
The different scenic trails include signs about the variety of cacti, flowers, animals, butterflies, and more. A day spent here is truly a beautiful way to learn about the desert.
The garden hosts interactive seasonal events throughout the year. Take in the holiday season with an evening hike that sparkles in the dark with trails that are lit with festive luminarias.
Check the site calendar to see when the Dog Days events are scheduled for a day at the garden with your pooch. One event I can't wait to attend is a Corks & Cactus night that combines wines from around the world with a Sonoran Desert sunset dinner. Yes, please!
Insider Tip: Upon arrival at the garden, visit the park's scrumptious farm-to-plate Gertrude's Restaurant to make reservations for a terrific post-trail meal. Do this before you start the hike so you will be sure to get a table.
14. Camelback Mountain State Park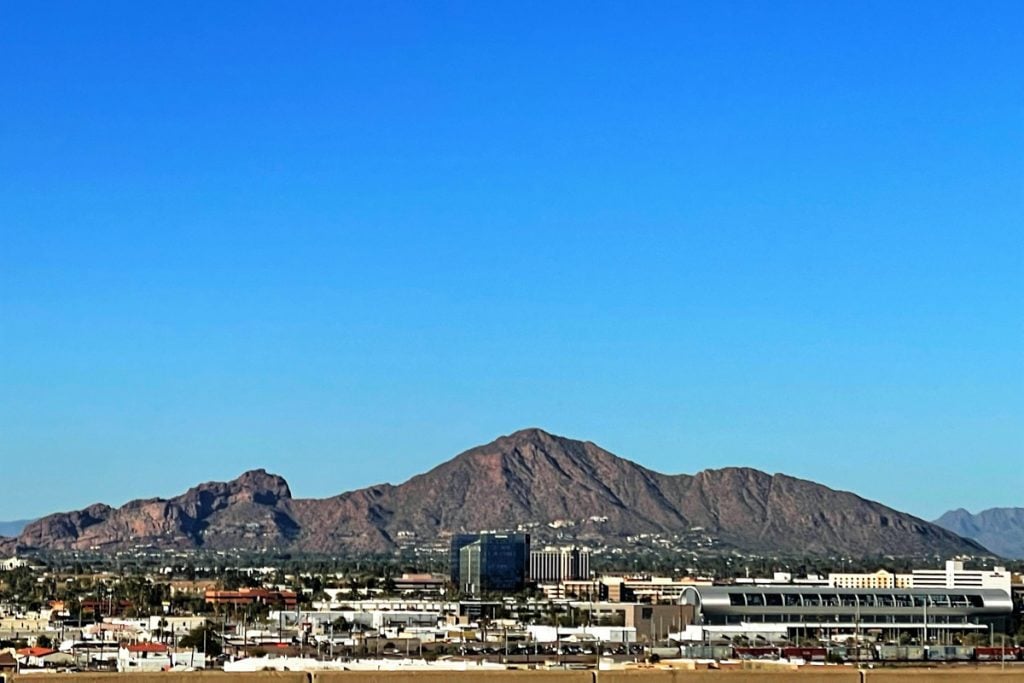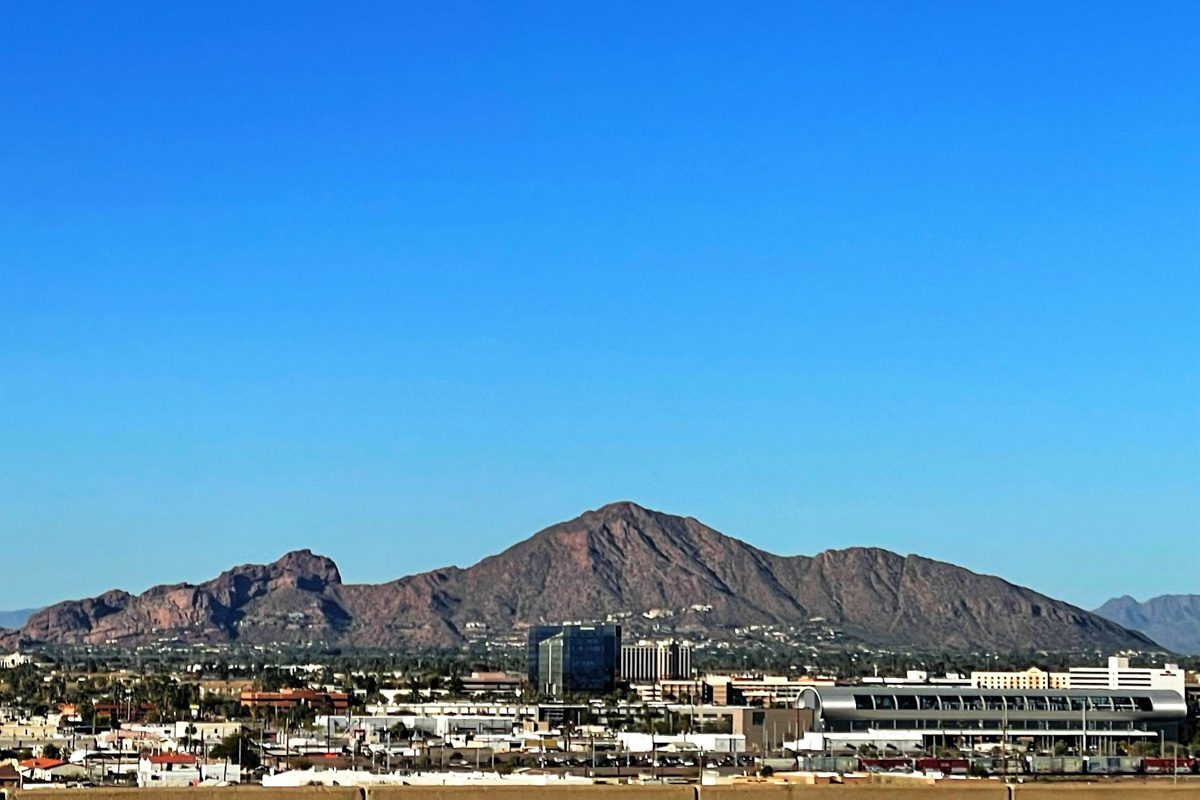 At a glance: Another great state park for hiking opportunities with great views
Distance from Phoenix: 24 minutes; 12 miles
Located in Scottsdale, the iconic Camelback Mountain is shaped exactly like a kneeling camel, and it is known for some of the best hiking in Phoenix. Locals adore this state park, especially those who crave a challenging hike that includes rock climbing to get to the top. 
Camelback Mountain Hiking Trails
Echo Canyon Trail: A 1.6-mile hike to the top and one of the most challenging mountains to climb in the area. This is partly due to the hike transitioning to rock climbing as the summit is neared. There is a reason this trail houses a helipad for rescue helicopters! Fortunately, handrails are provided to help with the uneven terrain. Once near the top, the hike becomes a rock scramble so some hikers wear gloves.

Make sure to wear the right kind of shoes for the rock scramble part of this mountain and bring lots of water.
Bobby's Rock Loop, just off the main trail, is an easy part of the journey. I recommend taking this little detour to experience the loop. It offers a built-in bench and nice views of the surrounding boulders and canyon.

Cholla Trail: A demanding 1.4-mile hike with a 2,707-foot elevation gain, loose gravel, and rock scrambling.
Insider Tip: A Camelback mountain climb is sure to give you an appetite so head to either La Grande Orange or Ingo's Take Away in the Arcadia area. Both restaurants offer delicious food, are casual, and are loved by locals.
13. Prescott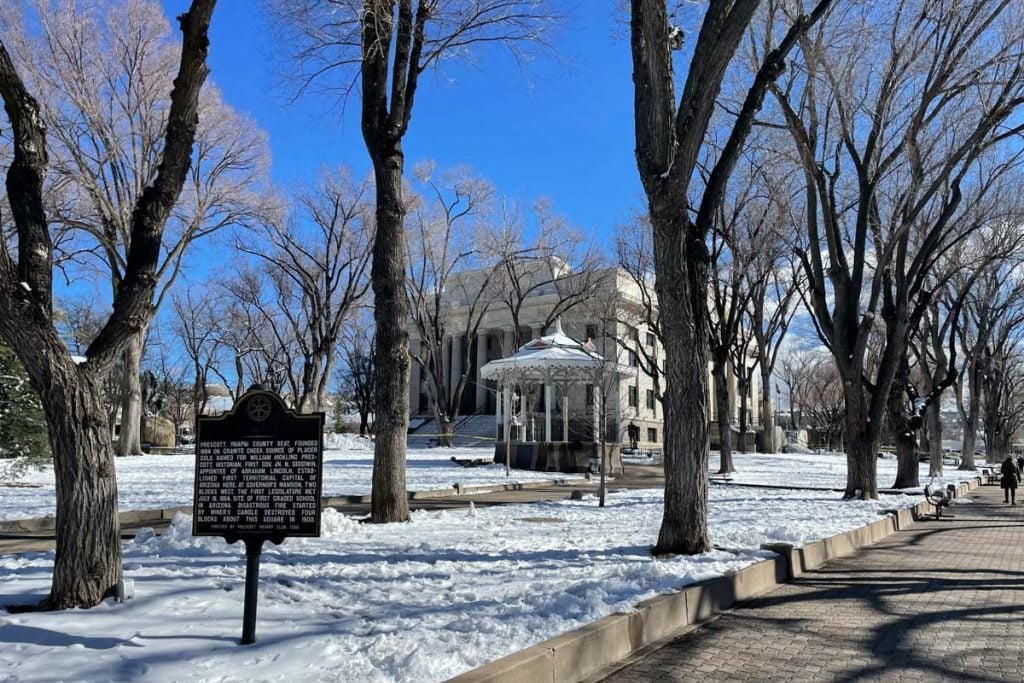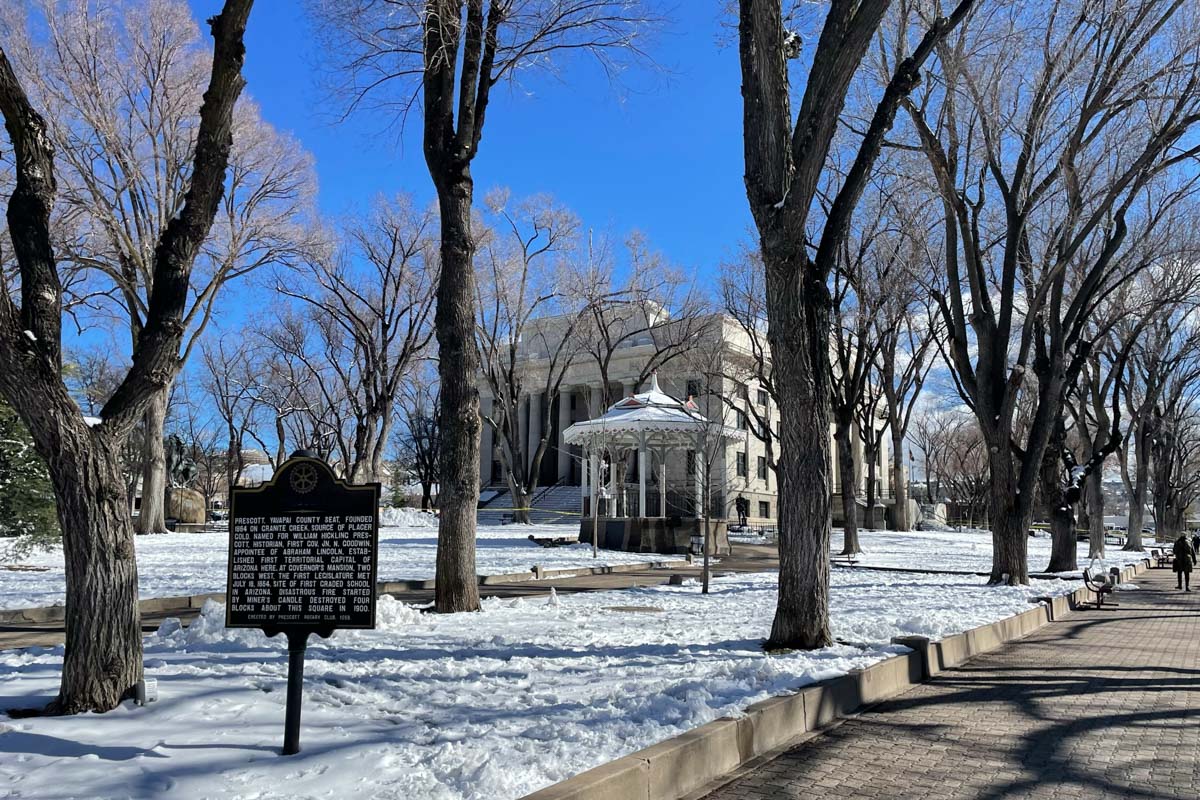 At a glance: Visit Prescott for the day to experience a friendly small-town ambiance, scenic hikes, and historic places that share the town's history.
Distance from Phoenix: 1 hour 45 minutes; 100 miles
Street signs dubbed "Everybody's Hometown" make tourists feel welcome in downtown Prescott.
Things to do in Prescott
Visit the famous Whiskey Row on Montezuma Street. The area is called Whiskey Row due to the saloons, hotels, and gambling halls that thrived here in the early 1870s. Today visitors flock here to wine and dine in the restored saloons.

In The Palace, guests pass through the old-fashioned swinging bar doors and are greeted by waiters and bartenders adorned in old-time western wear. The Palace's two-story building is filled with memorabilia that tell entertaining stories of the bar's colorful historic Wild West past. USA Today named this place one of the top ten historic bars in America.
In the middle of the town sits Prescott's Yavapai County Courthouse. Take a walk around the historic structure, which was built in 1916, to see interesting exhibits that stand around the perimeter.
Check out the Plaza Bandstand, a constructed gazebo that sits on the lawn of the courthouse. Originally built in the late 1800s, the structure held performances by brass bands.
Hike the Thumb Butte Trail, a popular 1-hour hike to the Groom Creek Vista which sports impressive views of Prescott and the surrounding mountains. From there, pretty views of the Bradshaw, Sierra Prieta, Granite, and Mingus Mountains can be seen.
Rent a paddleboat on Lynx Lake, which is less crowded than the popular Watson Lake. Five miles east of Prescott, Lynx Lake offers fishing, camping, hiking and even gold panning.
To experience Prescott's main lake, the action is at Watson Lake. Only four miles away from downtown Prescott, Watson Lake offers something to do for everyone. Activities offered include rock climbing, fishing, hiking, canoeing, picnicking, kayaking, and more.
Where to eat in Prescott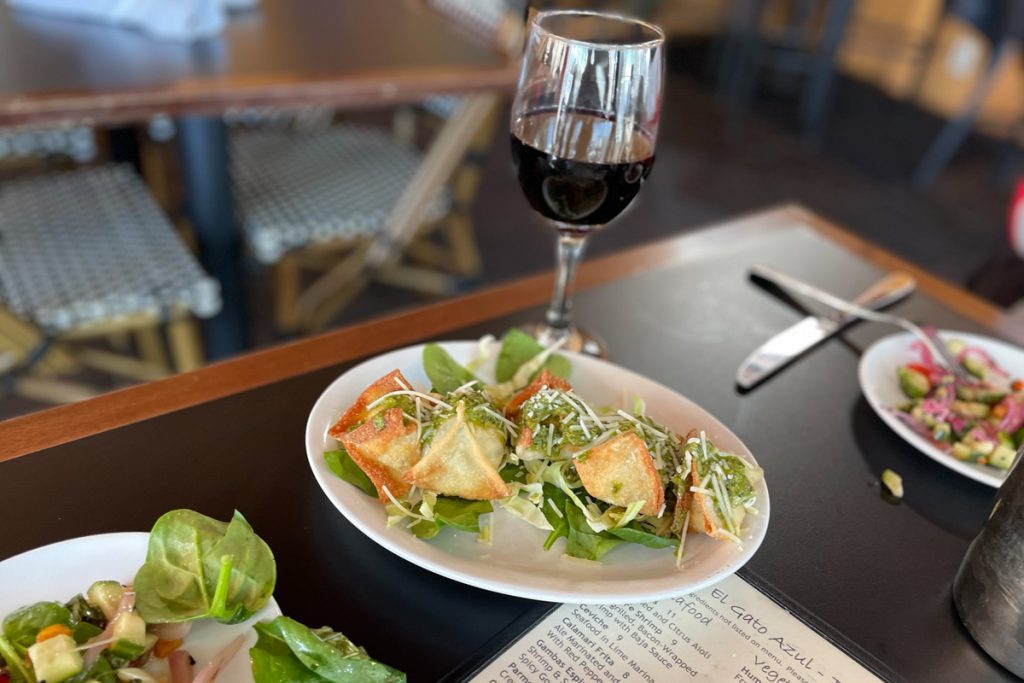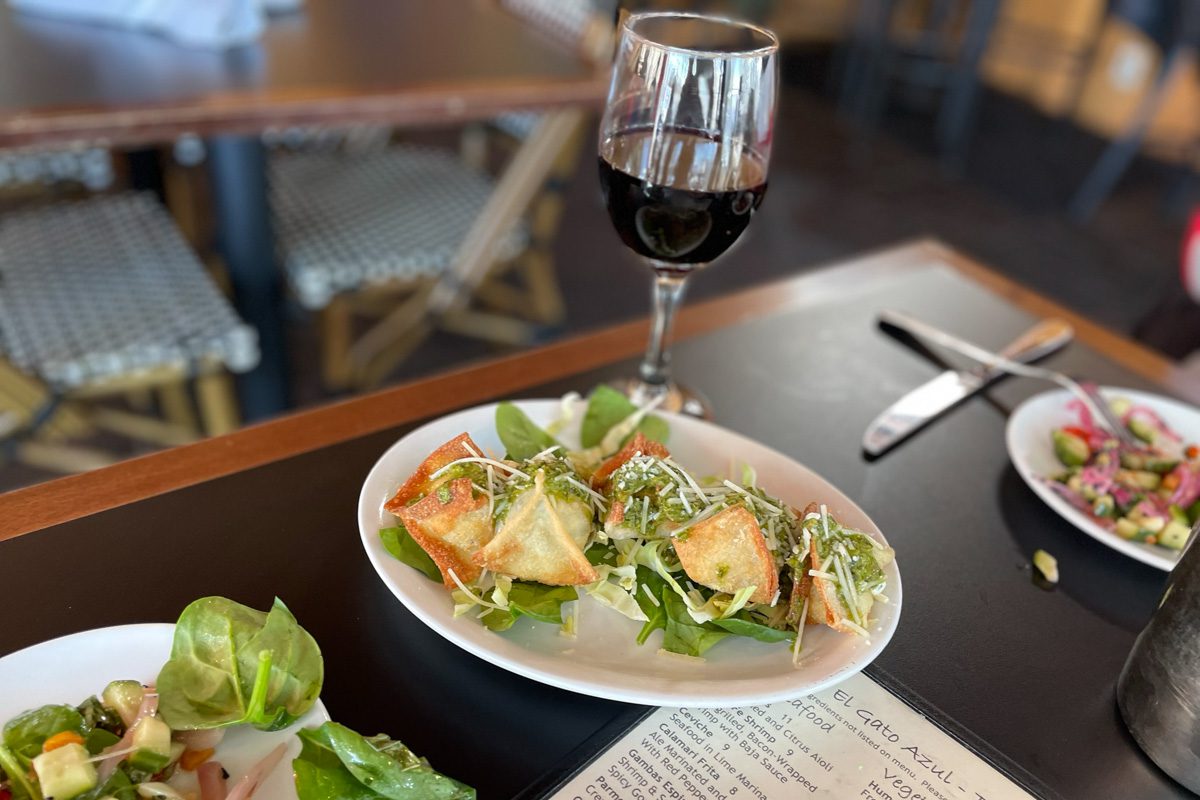 The food options are delicious here, especially if you like craft beer. Wine tasting places exist for the wine lover too.
Insider Tip: If you plan to stay one night in Prescott, I'm told by locals that the Motor Lodge on Montezuma Street is the funky and retro place to stay. It's a colorful boutique hotel with hip rooms and a fun vibe, conveniently located just 3 blocks south of the famous Whiskey Row.
Bonus: Grand Canyon Railway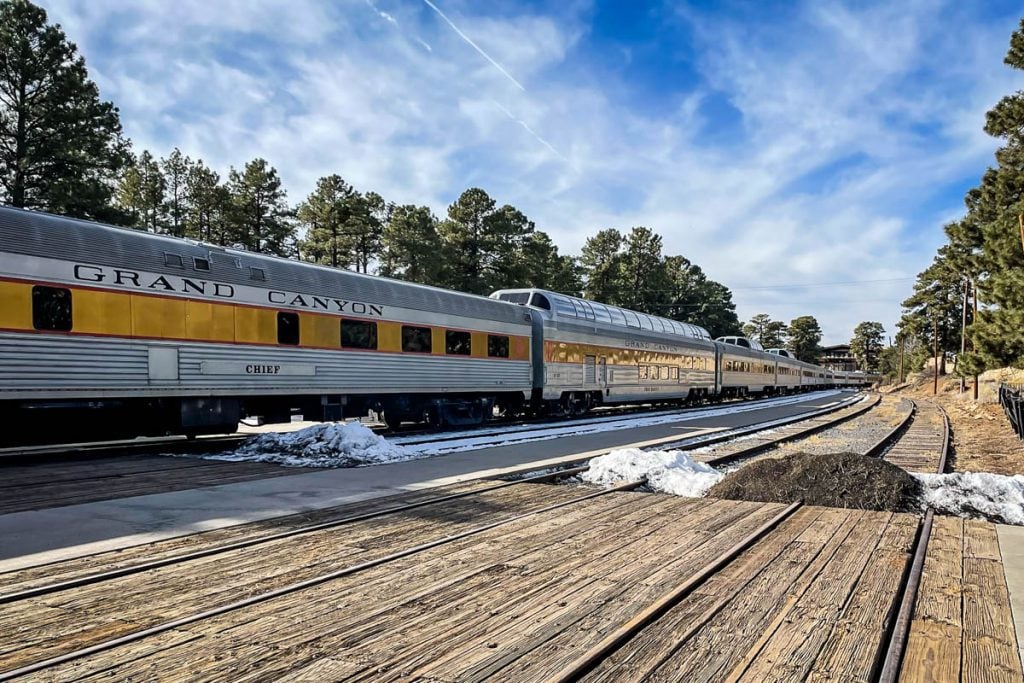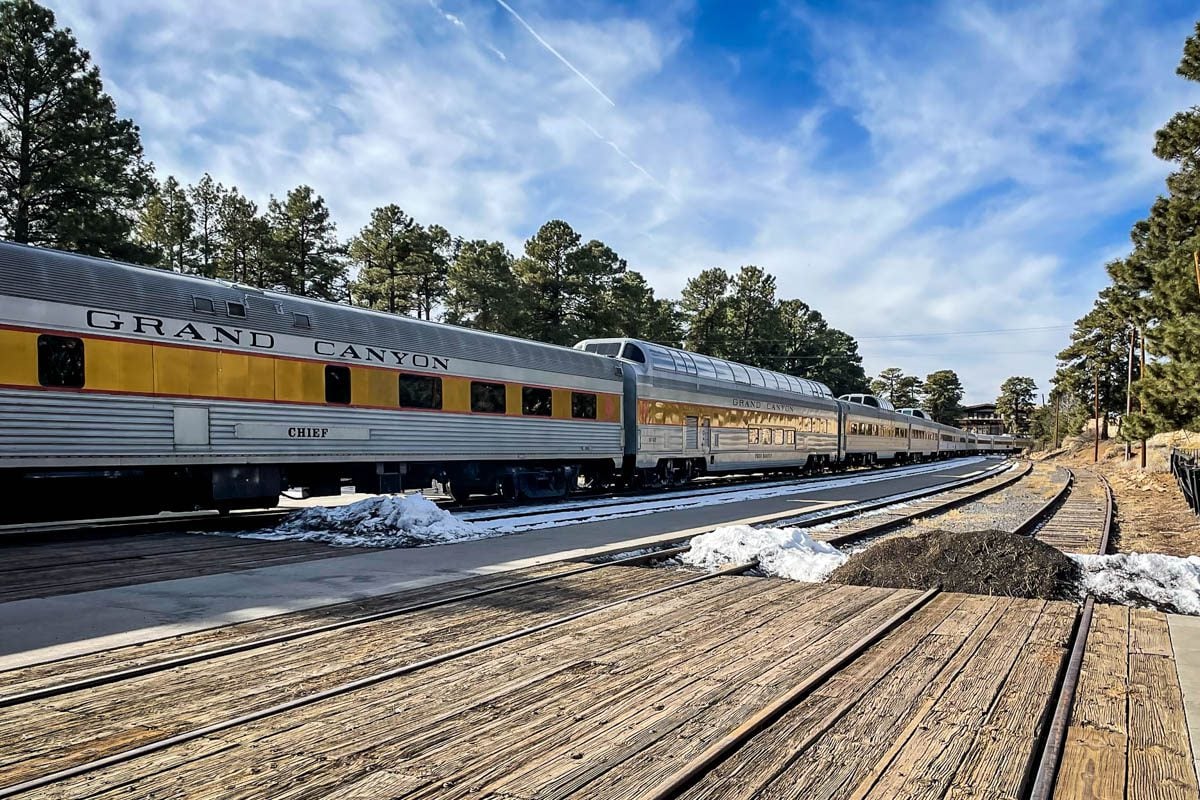 At a glance: A unique way to make the journey to the Grand Canyon is to ride the rails on the Grand Canyon Railway from Williams, Arizona to the Grand Canyon Depot.
Distance from Phoenix: 175.3 miles; 2 hours & 35 minutes to Williams
Cost: Range is $65 to $230 per train ticket depending on the class of train car service
Visiting the Grand Canyon from Williams, Arizona by train is worth mentioning in this article because the entire experience is so fantastic! Since this requires more time than a day trip, I am including it as a "bonus" activity. Here is the scoop:
The incredible Grand Canyon National Park is not even one bit overrated so if you haven't seen the Grand Canyon, which is officially one of the seven natural wonders of the world, put this on your bucket list.
The Grand Canyon Railway offers six different classes of service giving riders a lot of options to fit all budgets. No matter which class of service you ride in, the train windows give great views of the passing desert landscape as you make your way up and back.
I decided to splurge on the first-class train car with access to the Luxury Parlor. It was luxurious with a complimentary champagne toast on the return ride.
The entire roundtrip train experience was fabulous with onboard musical entertainment, a cash bar that had us toasting multiple times, snacks and even the theater antics of the masked train bandits and the following sheriff who stopped the train to pretend to ransack the cars. It was pretty fun stuff!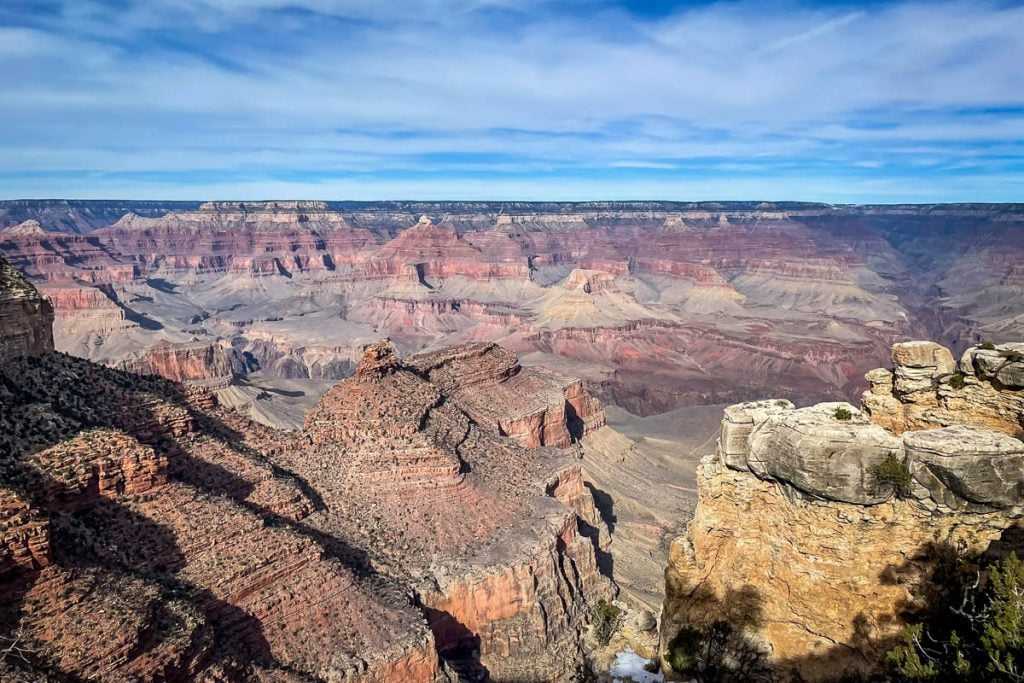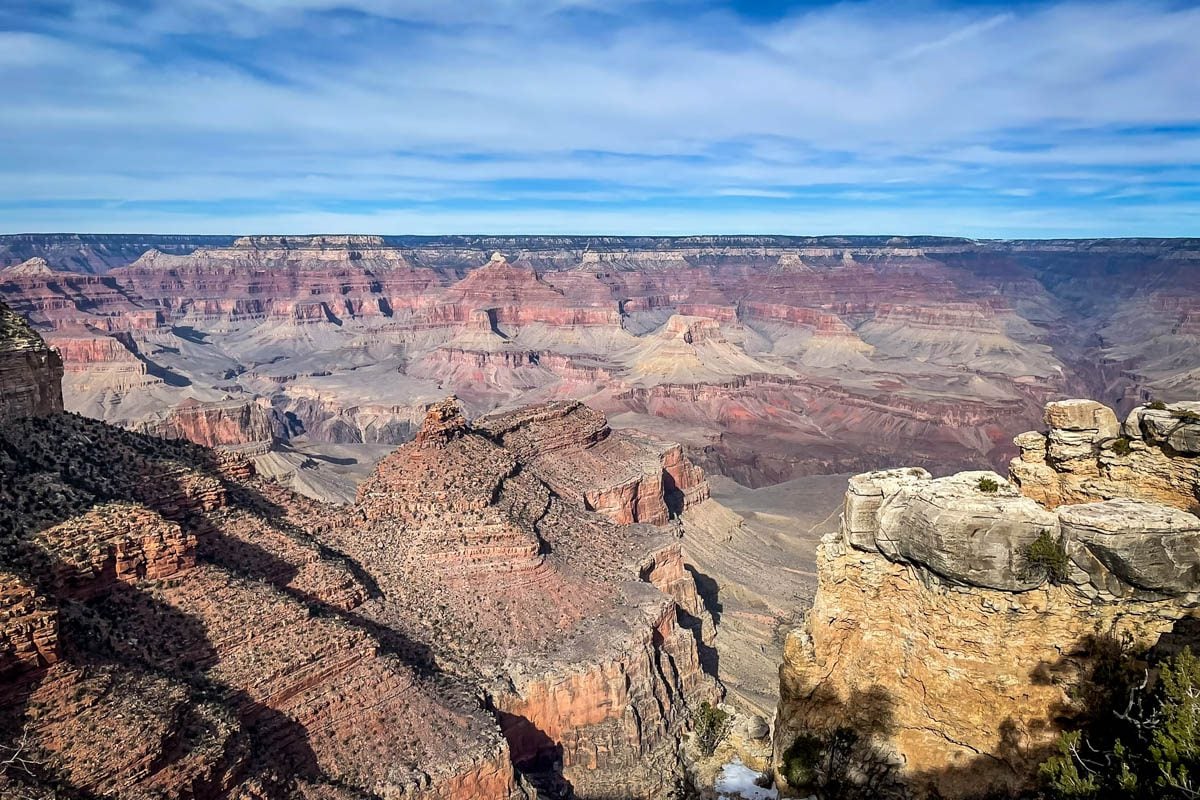 The 2-hour and 15-minute train ride takes passengers to the South Rim of the Grand Canyon in the Historic Village part of the National Park. Passengers are given three hours to enjoy breathtaking views of the expansive, sweeping, and truly stunning colorful Grand Canyon.
In addition to the canyon itself, historic buildings and exhibits share the magical history of the canyon. Seeing the majestic Grand Canyon and riding the train on the same tracks that explorers rode years ago to the canyon is absolutely one of my all-time favorite experiences. I can't recommend this enough!
Insider Tip: Dine at the El Tovar Hotel's Dining Room that sits directly on the Grand Canyon rim. Some of the tables give diners terrific views of the canyon and the food is good. In Williams, stay at the Grand Canyon Railway Hotel, a refurbished property that is nice and lies directly next door to the Williams Train Depot. Discounted price packages that combine the hotel lodging and the train to the Grand Canyon are offered through the hotel's website.
---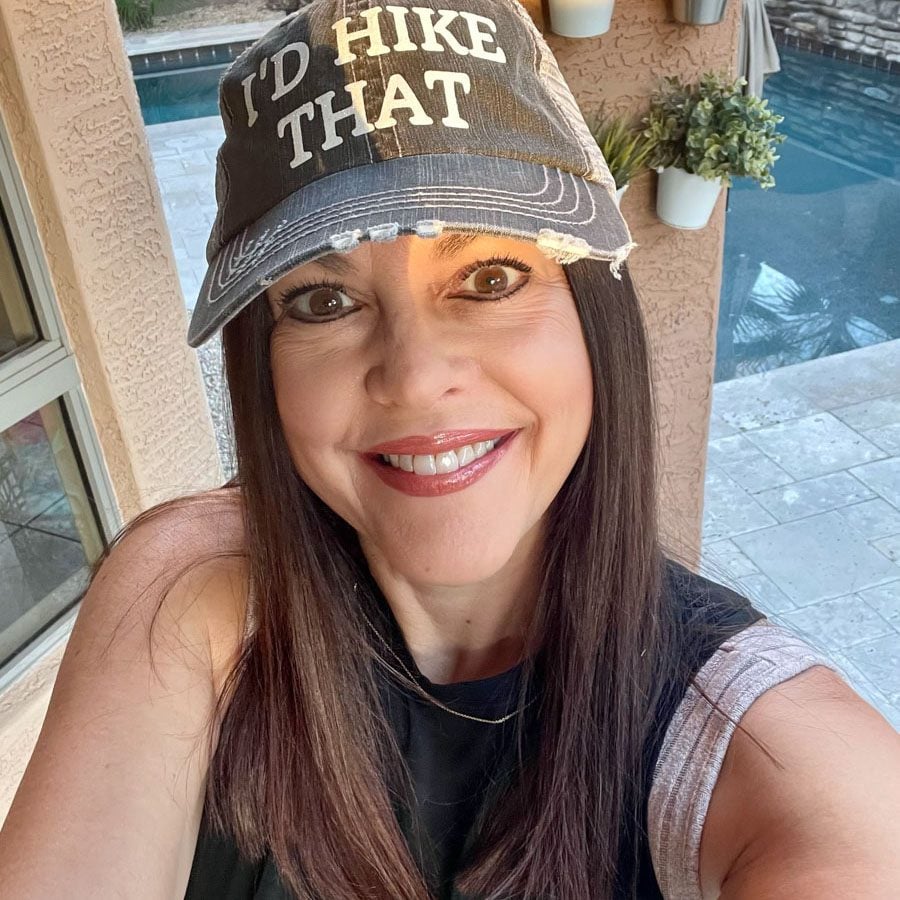 About the Author
Rachel Harris, known as the Manic Managed Mom on several Phoenix morning shows, is a brand-new empty nester who has embraced her new chapter with more wine and a lot more travel! Rachel's blog, Managed Moms provides her readers with helpful travel tips, easy recipes, relatable parenting talk, what's trending in beauty, health, and fitness and more. You can follow along with Rachel's empty nest traveling adventures on her Instagram.
---
Planning a trip out west?
We have TONS of resources on travel in the US and how to make the most out of your trip. Check out our Ultimate USA Travel Guide for everything you need to know, or read some of our favorite articles below.
Save this article on Pinterest for later!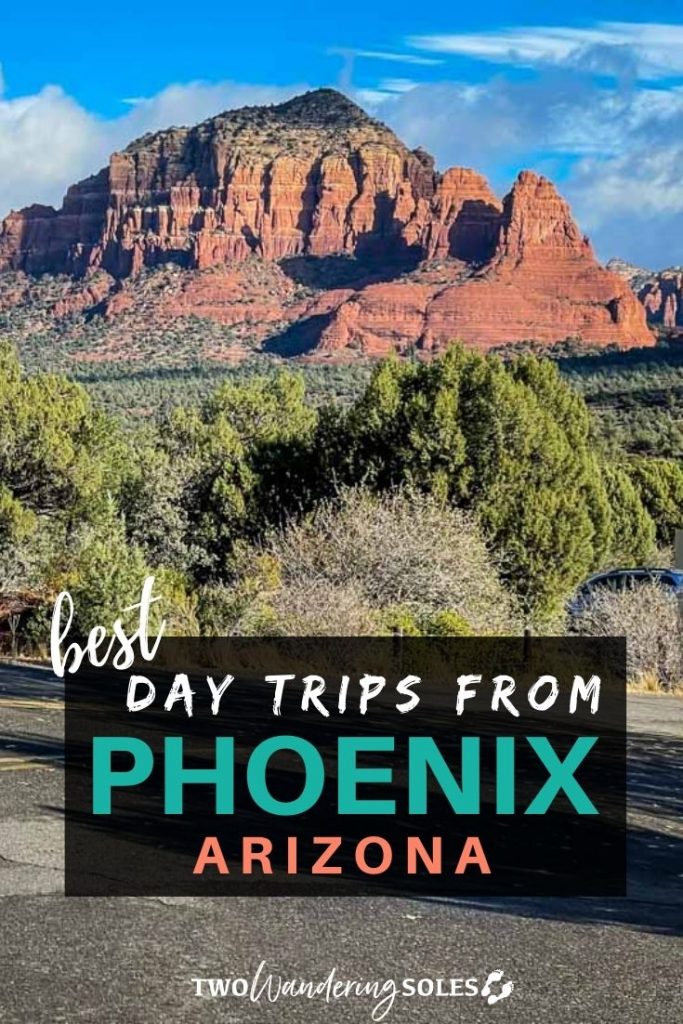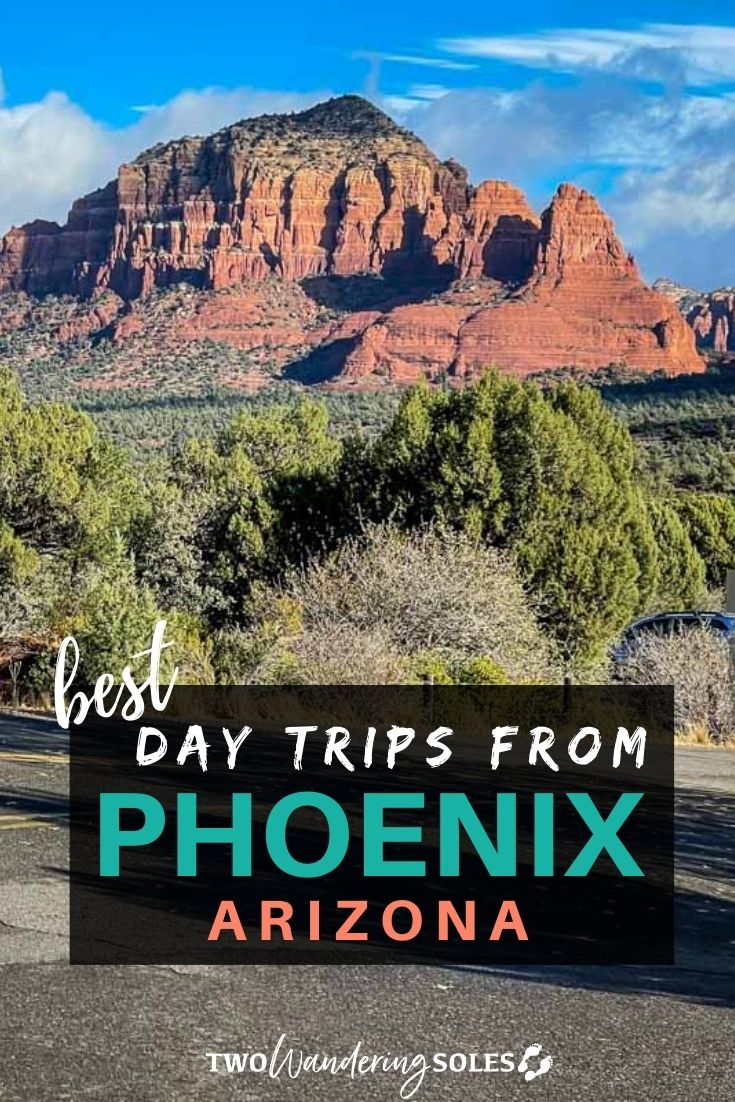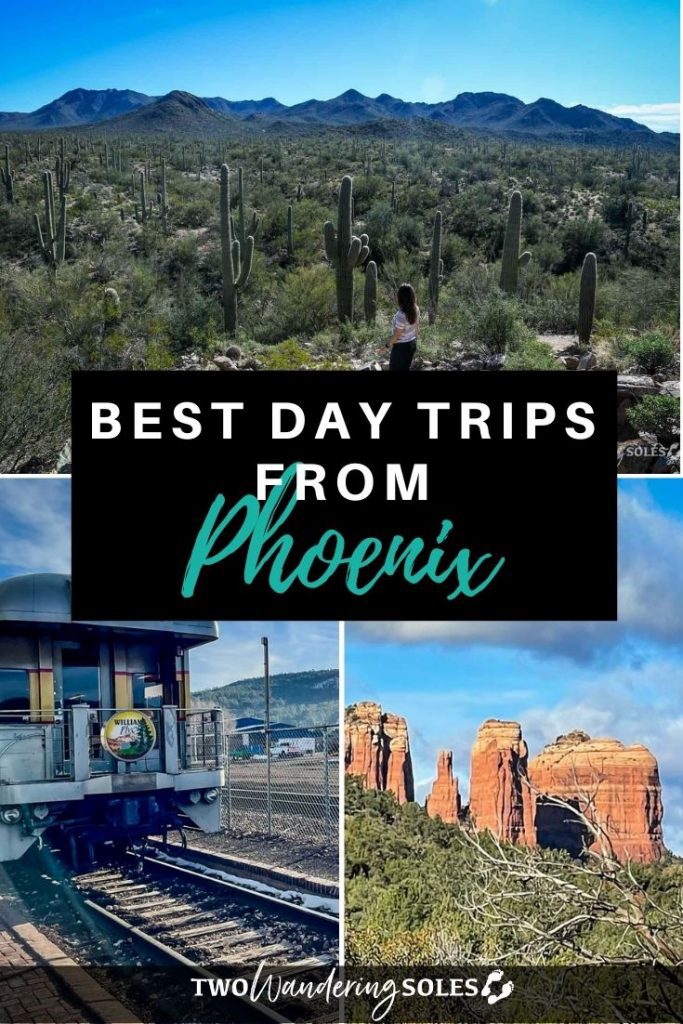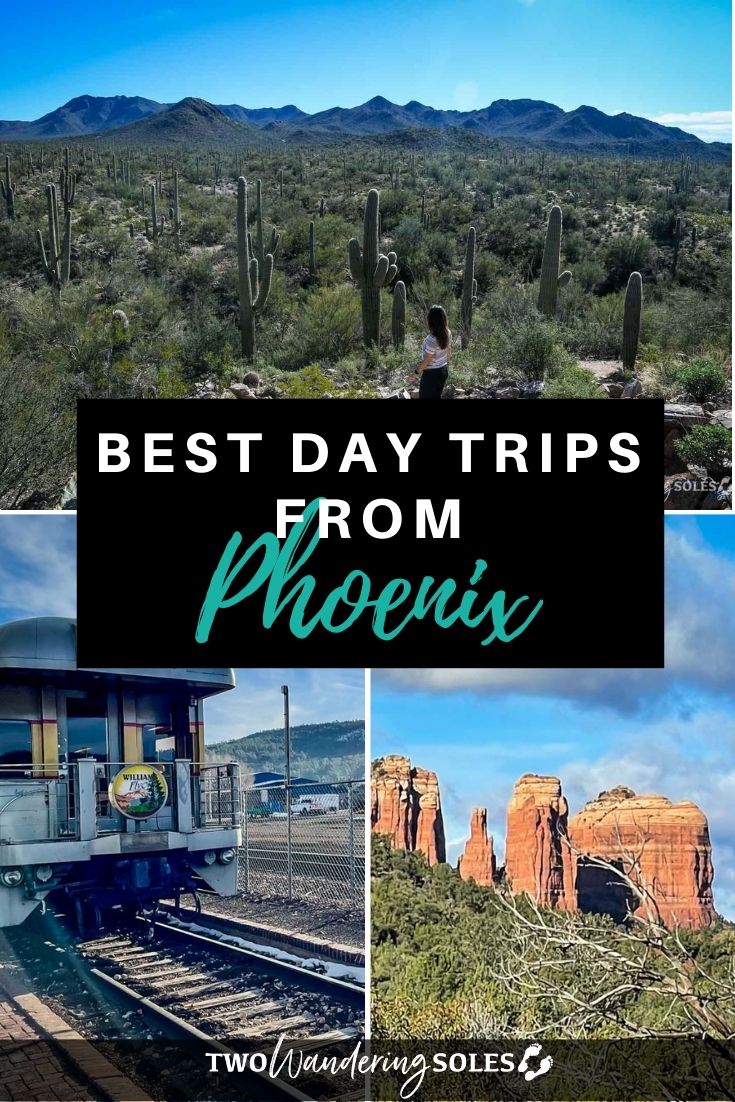 We want to hear from you!
Have questions about planning your day trips from Phoenix? Anything you think we missed? Let us know in the comments below and we'll do our best to get back to you!