We have put together the epic list of things to do in Namibia that can comfortably fit into an 8-day road trip on a budget, and while traveling as responsibly as possible.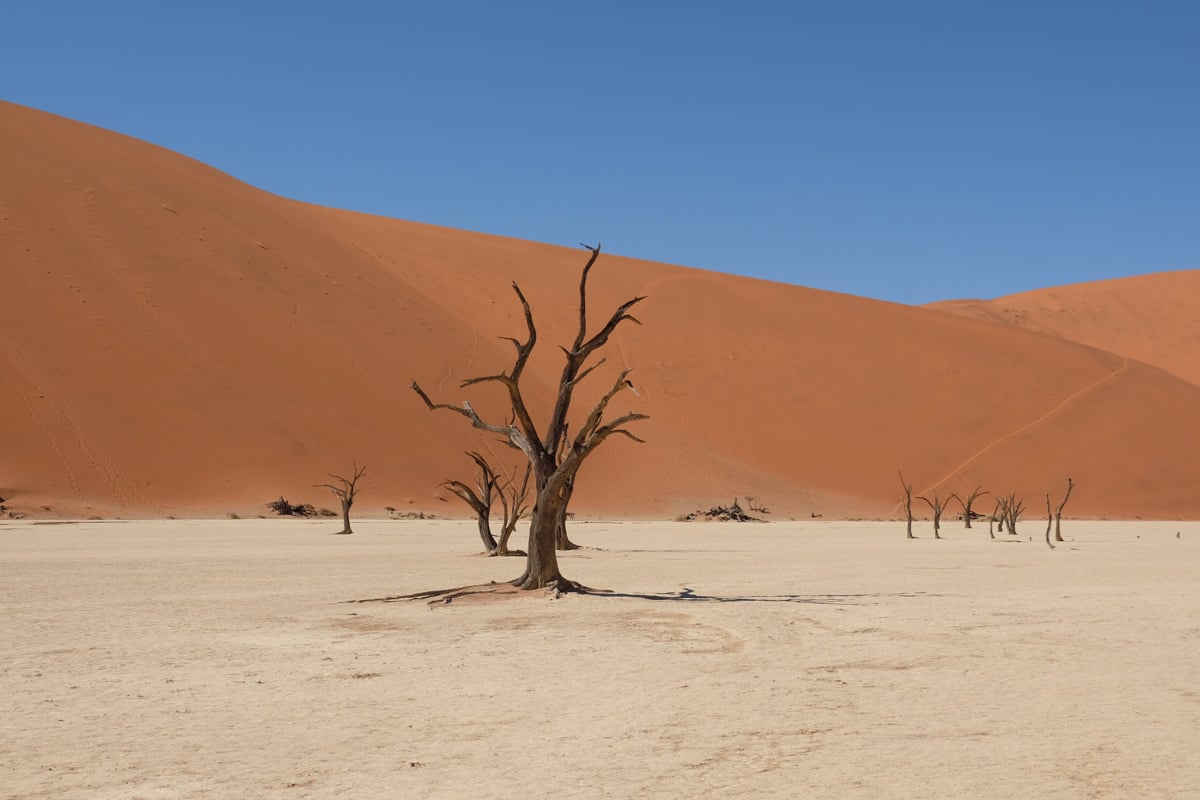 By Guest Authors: Joy & Lyall
With deserts, wildlife, and coastal towns, Namibia is climbing higher and higher on our travel dream list. And after reading all of these fun things to do, we are itching to get there soon!
We called upon South African guest authors, Joy and Lyall, to write about a place that borders their home country: Namibia.
Without further adieu, let's turn the tables over to our guest authors who share some epic things to do in Namibia, as well as some important travel tips for visiting this African gem.
---
Having grown up in South Africa and with a love of the African bush in our bones, we've been fortunate enough to do a lot of traveling on this diverse and unique continent. One of our favorite trips has to be Namibia (and not just because Prince Harry and the Duchess of Sussex, Meghan Markle decided to honeymoon there!).
While we visited this incredibly surreal spot on the globe to interview some truly inspirational people about how they're approaching sustainability in their neck of the woods (desert?), we still found time to explore some of the gems Namibia has to offer and put together our favorites in one epic list of things to do in Namibia on a budget.
Why did we love this other-worldly place so very much?
You'll soon find out below but in summary, we loved the freedom to self-drive and explore safely. We loved the people and we loved the incredibly unique and varied landscapes!
For us, adventures like this are about doing things slowly, consciously and really taking the time to enjoy whatever it is we're exploring. So this list is not a checklist of things to tick off, instead it's a suggestion of slow-travel experiences in Namibia, one of the most surreal landscapes the world has to offer.
Below we have prioritized the epic activities that can comfortably fit into 8 days in Namibia on a budget, and while traveling as responsibly as possible. There is so much more to do however, so check out our additional Namibia travel bucket list for things we would love to do on our next visit!
1. Road Trip Your Way Around Namibia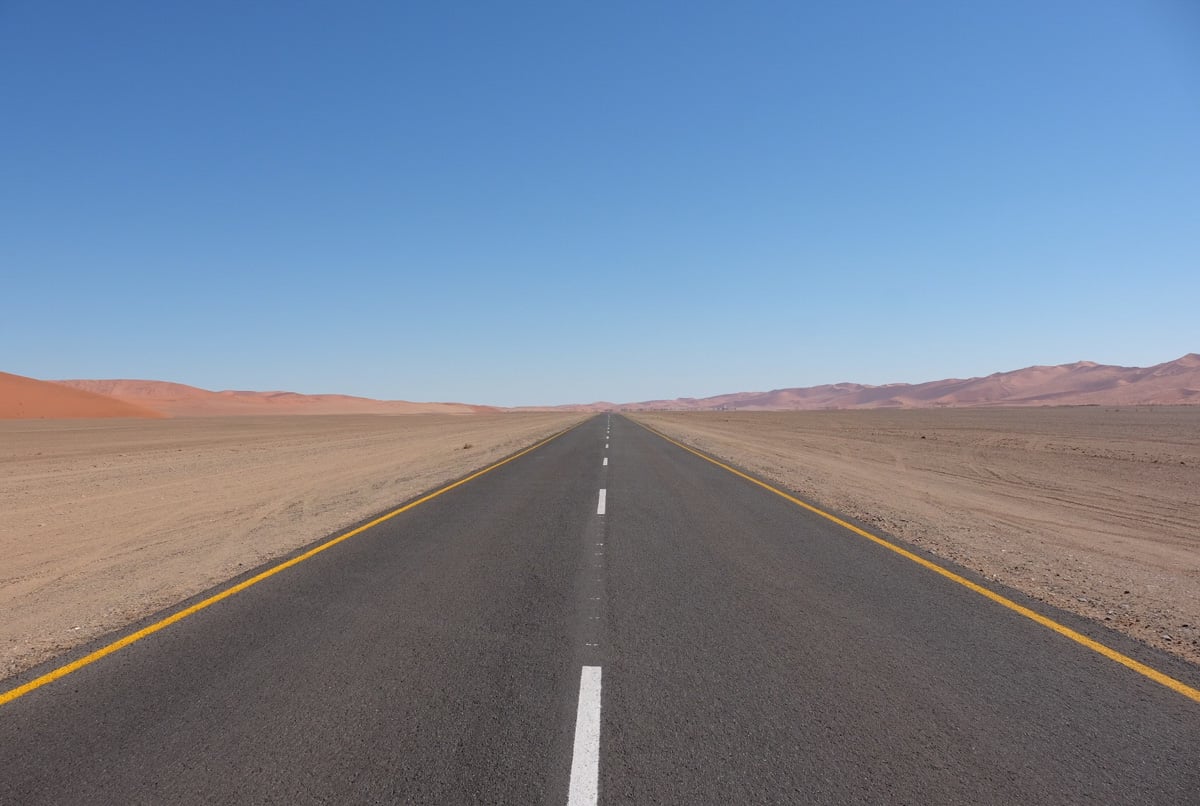 Road tripping around Namibia was particularly exciting for us as most of the places we've visited in Africa really need to be done with a guide. Unless you're a quasi-Land Rover mechanic with a desire to do some serious travel deep into the most untouched and riskiest parts of Africa… which we are not (sadly).
We had both grown up doing self-drives into the Kruger National Park in South Africa and have always loved this experience, so it was really special to be able to self-drive our way around Namibia.
We felt exceptionally safe. The roads are mostly very good (for a 4×4 – see below for more info). We experienced no bribery requests, corruption or drama and found everyone on our various stops to be nothing but friendly and welcoming. Namibia is actually one of the safest African countries to visit.
During our 8-day trip, we did 4 big day-long driving trips, where we stopped often along the way to admire the bizarrely beautiful landscape and cheeky baboons, hike up rocky outcrops and of course eat and enjoy a coffee or two!
Things you should know about road tripping in Namibia:
Don't waste your time considering driving anything but a 4×4 vehicle. Trust us, we went through the motions to try and avoid the extra expense and carbon emissions. It just isn't worth it because you're going to be driving on some rough roads and you'll want to explore the sand dunes.

For car rental, we can highly recommend Advanced Car Hire in Windhoek. We have no affiliations with Advanced Car Hire and you can believe us when we say we have never bothered to recommend a car rental agency to anyone EVER, until now. This team was not only ultra-professional, they also picked us up at the airport, went through our vehicle with us in an extraordinary amount of detail and gave us very clear instructions on what to do in an emergency. We really felt like we were in safe hands and were so grateful to them for helping make our trip trouble-free.

Take the time to learn how to let down the tires when driving on the sand dunes and how to drive the 4×4 properly. The team at Advanced Care Hire can show you how. There are a few extra gears that you'll no doubt need to engage on the trip. For simplicity, avoid turning the wheel while in 4×4 mode and especially when you're in 'donkey gear'.

Don't drive after dark outside of towns and cities. Not only is it prohibited in your car rental agreement, it's just not safe for you or Namibia's precious wildlife which move around a lot more after dark.

Take A LOT of water with you in the car. You could breakdown in the middle of the desert and Namibia is actually the second most sparsely populated country in the world (after Mongolia) so it might take a while before help arrives.
2. Get Your Bearings in Windhoek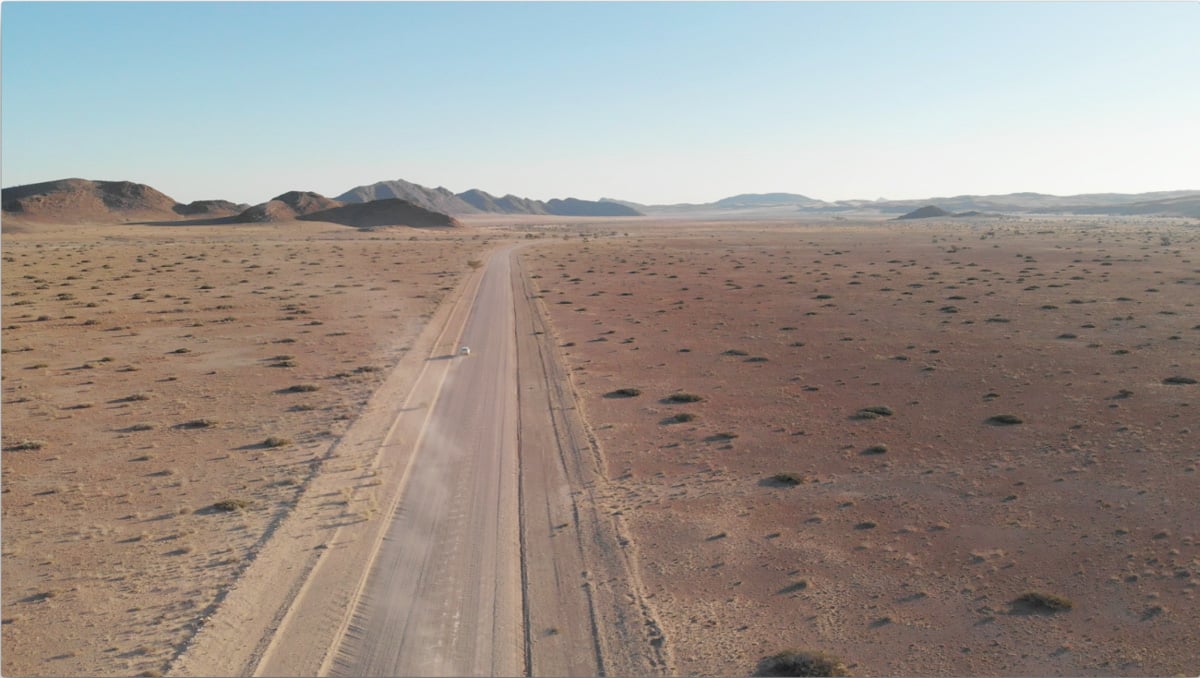 Windhoek is Namibia's capital, and like most cities in Africa has had a tumultuous history. It is where you'll most likely fly into if you come in by air (we flew in from Johannesburg), so why not spend a day taking a look around and getting a feel for the place.
Additionally, Windhoek is the best place to get yourself set up for the trip with local currency (Note: you can also use South African Rands in Namibia), a local Sim card, a car and supplies. Other than these essentials, you can also explore a handful of highly rated tourist sites:
While we were there, we tried to do what locals do. We stayed in an Airbnb, met the locals, shopped for groceries at the local supermarket, and enjoyed the local eateries and bars.
We have loads of info on how to book Airbnbs, red flags to watch out for when booking, and our favorite Airbnbs in our Airbnb article. Plus, we'll give you our Airbnb coupon code for up to $55 off Airbnb.
Where to Eat & Drink in Windhoek:
The Wolfshack: We visited The Wolfshack with one of our interviewees. A truly local hangout and excellent wine bar with wines from Southern Africa and creative but delicious food choices.
Addicted to coffee? We recommend these coffee shops in Windhoek:

Slowtown Coffee Roasters: For a quick coffee for the road in our reusable cups, this was a proper hipster coffee shop, they even had Pastel de Nata… Portuguese delicacy in a German-influenced city in the middle of Africa – go figure… anyway the croissants here were outstanding!

Vintage Coffee Shop and Restaurant: We enjoyed coffee and a scrumptious toasted sandwich – this might sound simple but Southern Africa make the best toasted sandwiches in the world, don't miss the chance to try one!

The Taste Academy @ Utopia Boutique: Recommended to us by locals, we stopped here on our way out to enjoy breakfast and coffee in a tranquil, garden setting
3. Self-Drive Safari Through Etosha National Park in Namibia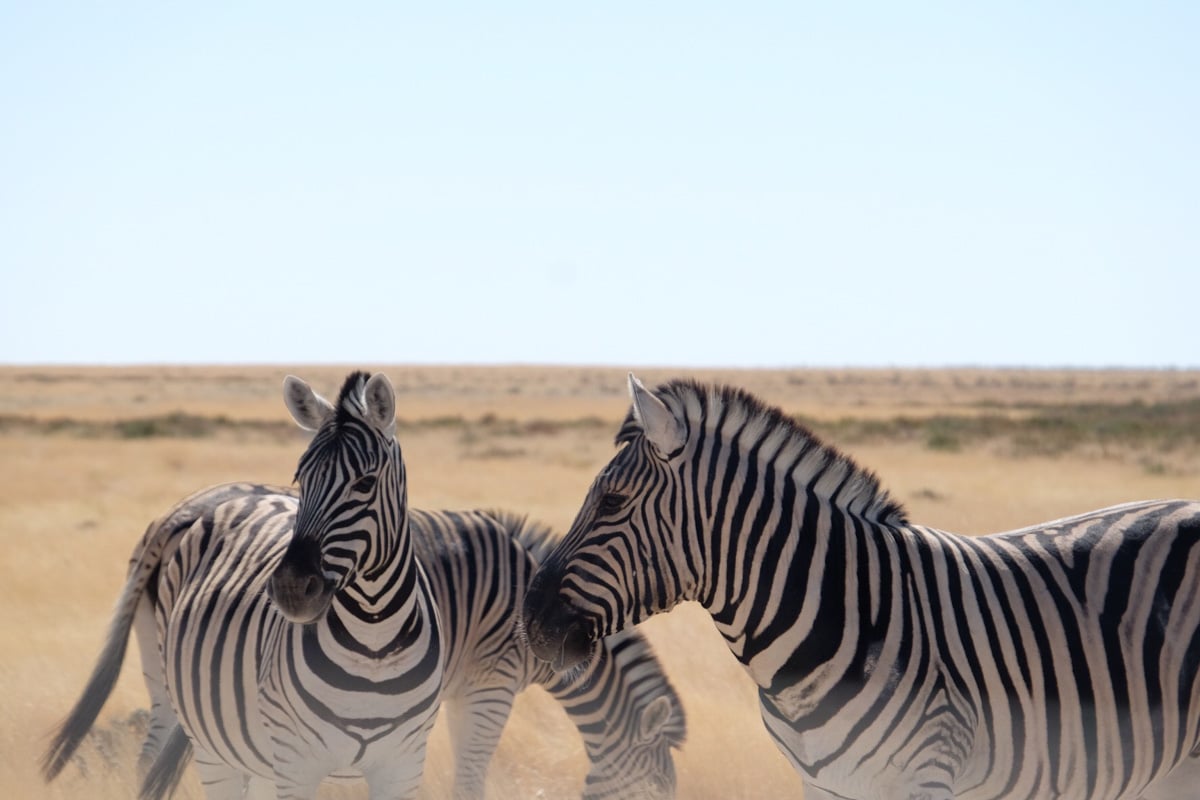 Given we are suckers for wildlife, this was our highlight. We were only here for two nights and if we could do it again, we would stay MUCH longer. For those that have never been on a Safari, this National Park is like many in Africa in that it is a huge fenced off area (we're talking thousands of square miles), in which Africa's wildlife is allowed to be as it should be. Wild.
You're allowed to drive around the park in your own vehicle by yourself (much like the Kruger National Park in South Africa) which is an incredible experience as you get to make your own decisions and take your own gambles on where to go, when to wait, what to watch… it really is quite the thrill!
Etosha has a huge clay pan in the middle of the park and you can drive your car into designated areas of this vast white, nothingness. It looks like a bizarre movie set for a Mad Max film. Which makes it even more outrageous and surreal when you see a lone antelope or giraffe hanging out in the middle of nowhere.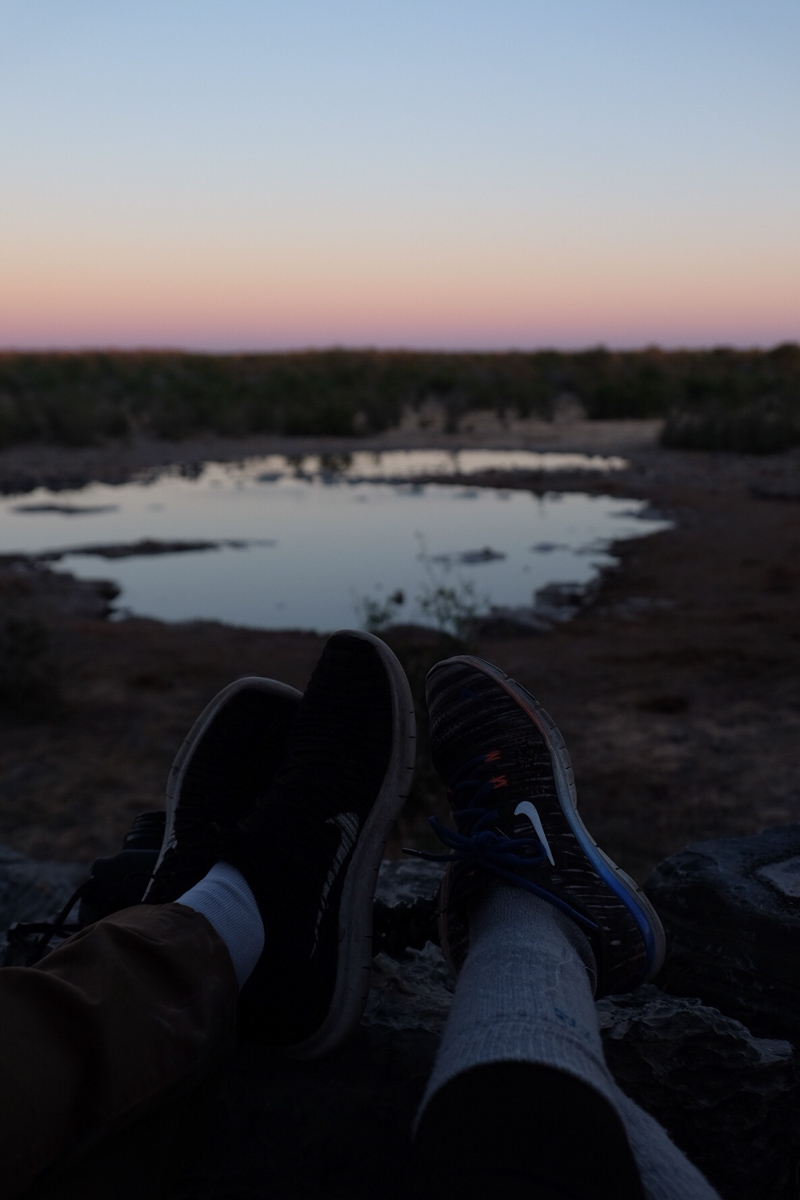 Probably our favorite feature of this park is that many of the camps inside have watering holes where you can sit safely behind a fence and watch the animals come for a drink. Viewing a watering hole from outside of your car is a special experience as you're typically not allowed outside camp gates after 6pm (which is when most of the action is happening).
One of our favorite memories from this trip was a leopard sighting. It takes a lot of patience and stillness to observe these beautiful creatures in the wild so we count ourselves very lucky to have seen one.
Other animal sightings we came across in Etosha included a couple herds of elephants, the extremely rare black rhino (with a baby!), a pack of hyenas on a hunt and some mildly horrifying birds of prey in action.
Things to know about visiting Etosha National Park:
Support of National Parks around the world is important to help keep these protected lands for the good of the animal population and for generations to come. If you can, opt to stay in accommodation inside the park itself to get the full experience.

We stayed at the Halali Camp which we highly recommend. They had a lovely restaurant and a pool for escaping the midday heat.

Whenever you're in the presence of wild animals, but particularly when self-driving without a guide, it's really important to follow the rules of the park and be respectful of the animals and their space. Keep at a reasonable distance and never get out of your car when wild animals are present. If an animal is looking distressed (stamping, ear flapping, mock charging), get out of there as fast as you can. Not only do you not want to put stress on the animal, it can be dangerous for you as well.

When in the park and the camps, never feed the animals or birds and make sure you dispose of your trash correctly. Animals and birds that are fed by humans (even indirectly) can become aggressive in search for more.
4. Mingle with Locals in Swakopmund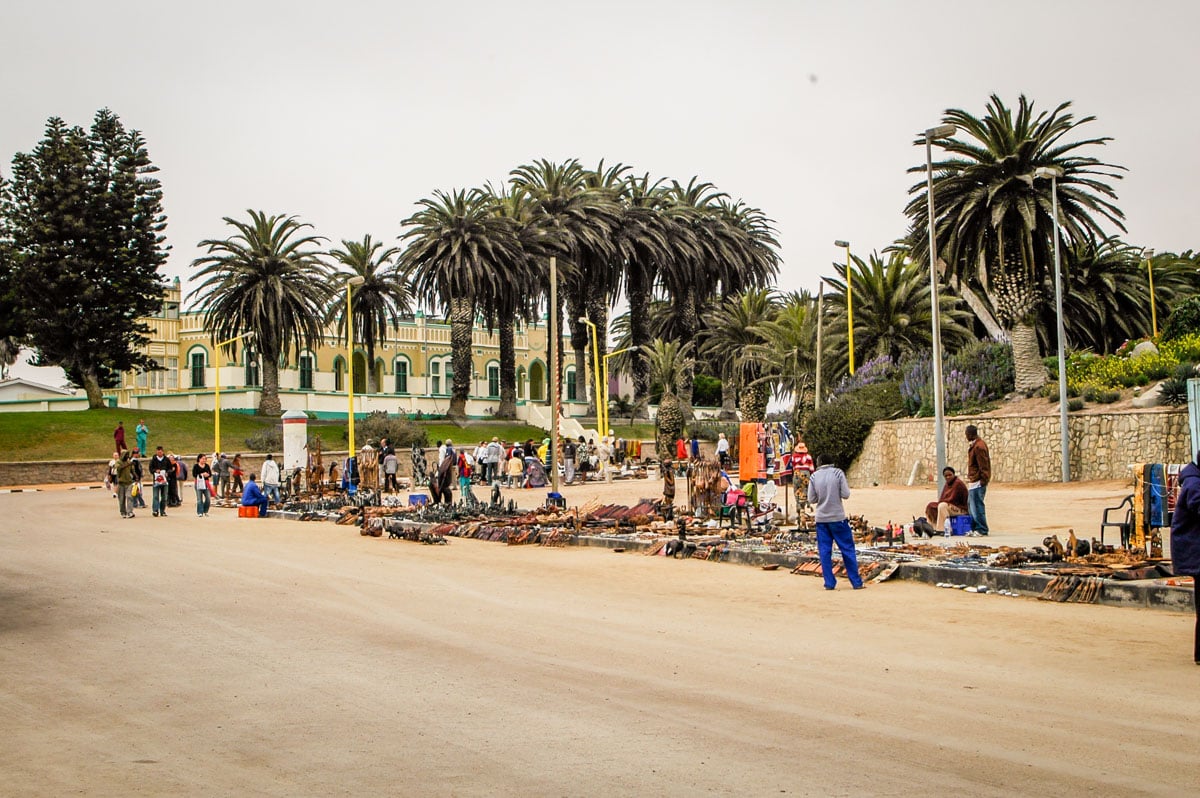 Swakopmund is a coastal town that was once used as the main harbor for the Imperial German Colony. We found it to be a relaxed, quaint little town worth a bit of exploration.
We used our time in Swakopmund to re-fuel and wander around, especially along the beachfront where we enjoyed chatting with the locals. We happened to stay in an Airbnb (Click here for $55 off your first stay on Airbnb) owned by a conservationist and learned a thing or two about the local seabird colonies.
While we didn't try it ourselves, we also heard the surfing in Swakopmund is also pretty epic!
5. Take a Tour of the Namib Desert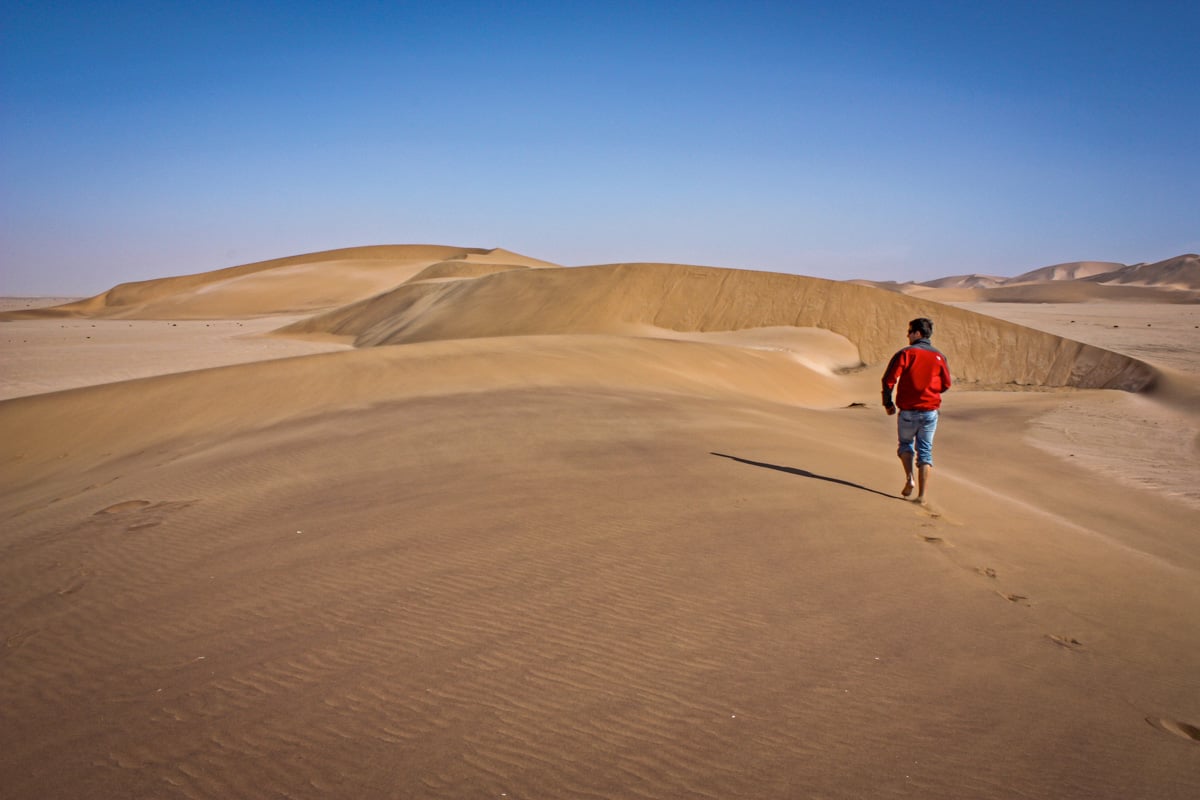 Much like the rest of Namibia, the landscape near Swakopmund is spectacular. Sandwich Harbor is the place where the Namib Desert plunges into the ocean. You will also find Dune 7, which is the highest sand dune in Namibia (at 1,256 ft tall) near Swakopmund and Walvis Bay.
While the sand dunes of the Namib Desert are an adventurer's dream, one caution we received from the locals was to avoid the dune buggy tours as these can be damaging to the small creatures and birds that nest in the dunes.
Instead, try a tour with Living Desert Adventures – something we were super keen to do, but unfortunately we left it to the last minute and missed out. So learn from our mistake and book ahead of time!
6. Spot Wildlife in Walvis Bay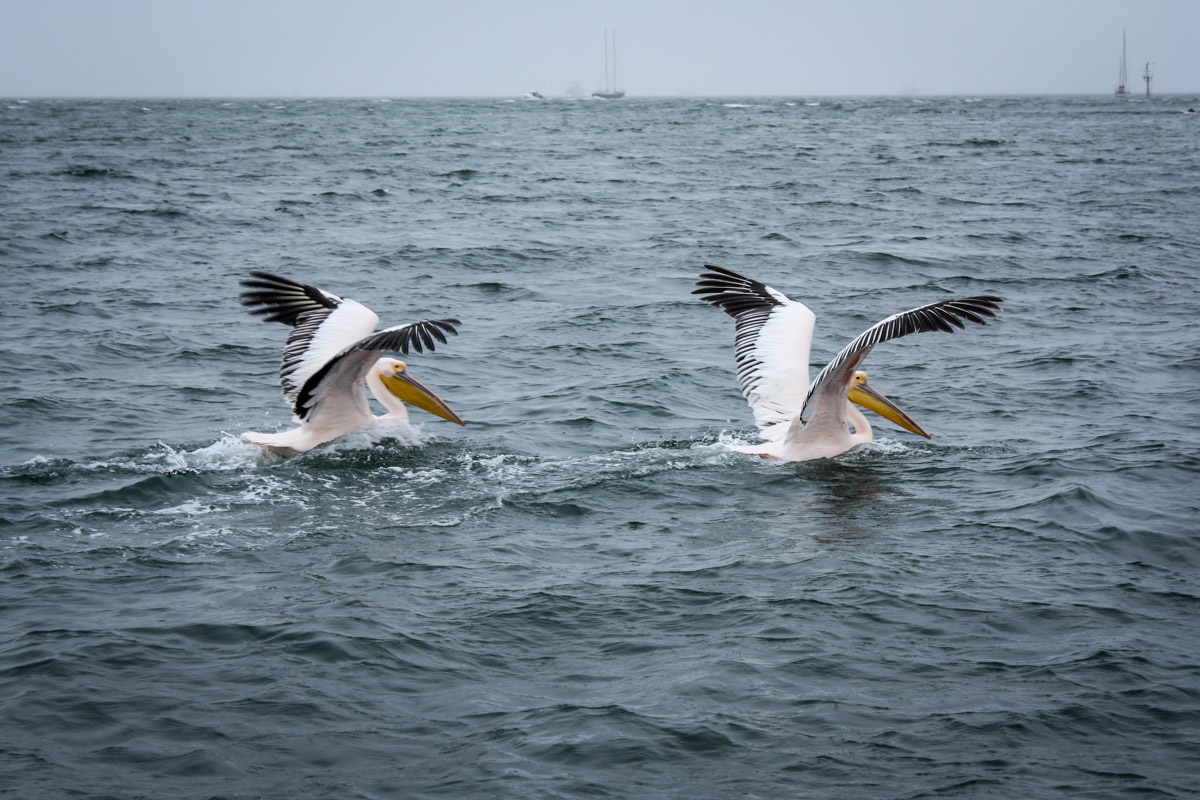 It's also worth a visit to Walvis Bay, a small town only 40 minutes south of Swakopmund. The port's name, meaning "Whale Bay," was awarded because of the large number of Southern Right Whales that frequent the bay.
Walvis Bay is an important tourism destination for Namibia with its proximity to so many interesting attractions. In addition to its proximity to Sandwich Harbor and Dune 7, Walvis Bay offer's wildlife tours of the bay that include whale watching, seal encounters, and a huge abundance of the most beautiful flamingos along with plenty of other sea birds.
7. Visit the Multi-Colored Salt Works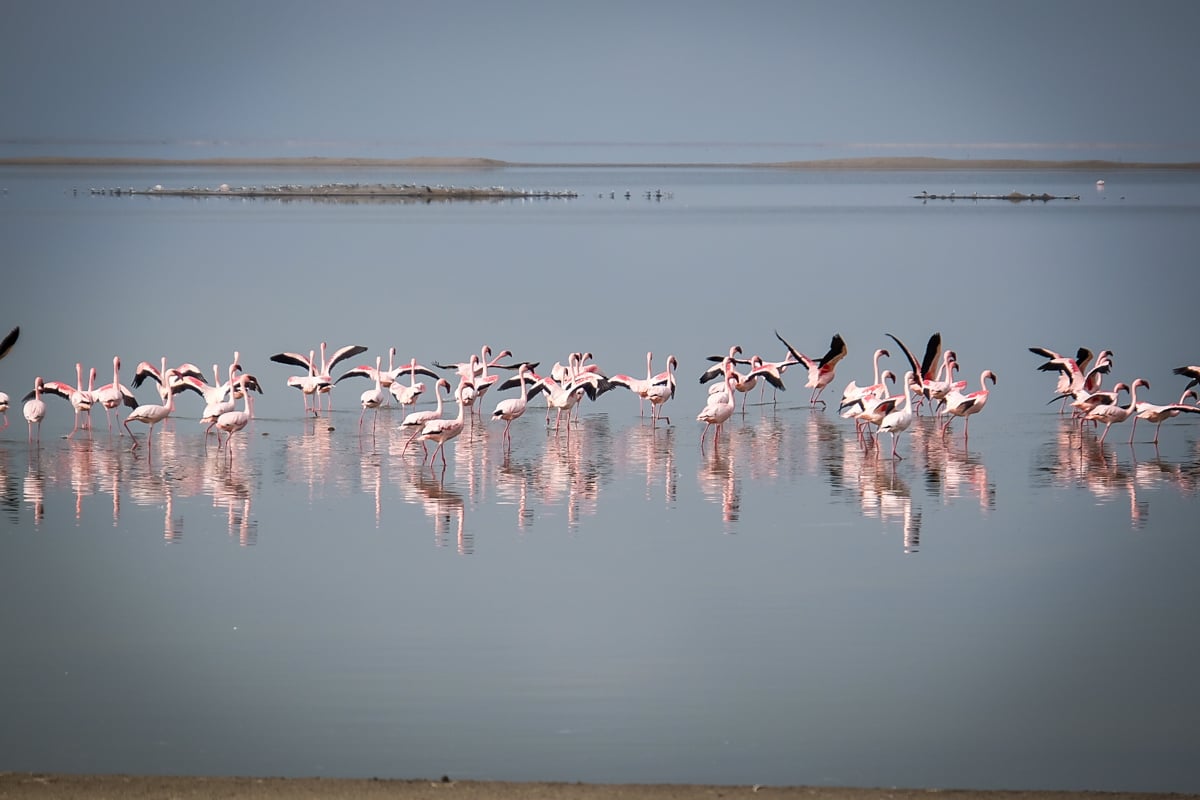 Another fascinating part of Walvis Bay is the salt works, an 8,600 acre salt-pan which produces 700,000 tons of salt per year. That's over 90% of the salt in South Africa. But the coolest part is these salt pools show up in bright pink and sometimes green.
We were driving through on our way to Sossusvlei so we decided to stop at the salt works which was yet another surreal experience. Just imagine no one around for miles, large expanses of salt pans, bright pink lagoons (for the pink salt) and large flocks of flamingos. Once again, we found ourselves feeling like we were on another planet!
For us, the flamingos were fascinating. We saw both the Lesser (deep pink in color) and the Greater flamingos (white to light pink) in huge flocks. They are attracted to diversity of food options in the wetlands and the salt pans of Walvis Bay, which include invertebrates, small crustaceans and mollusks.
8. Strike a Pose at the Tropic of Capricorn Sign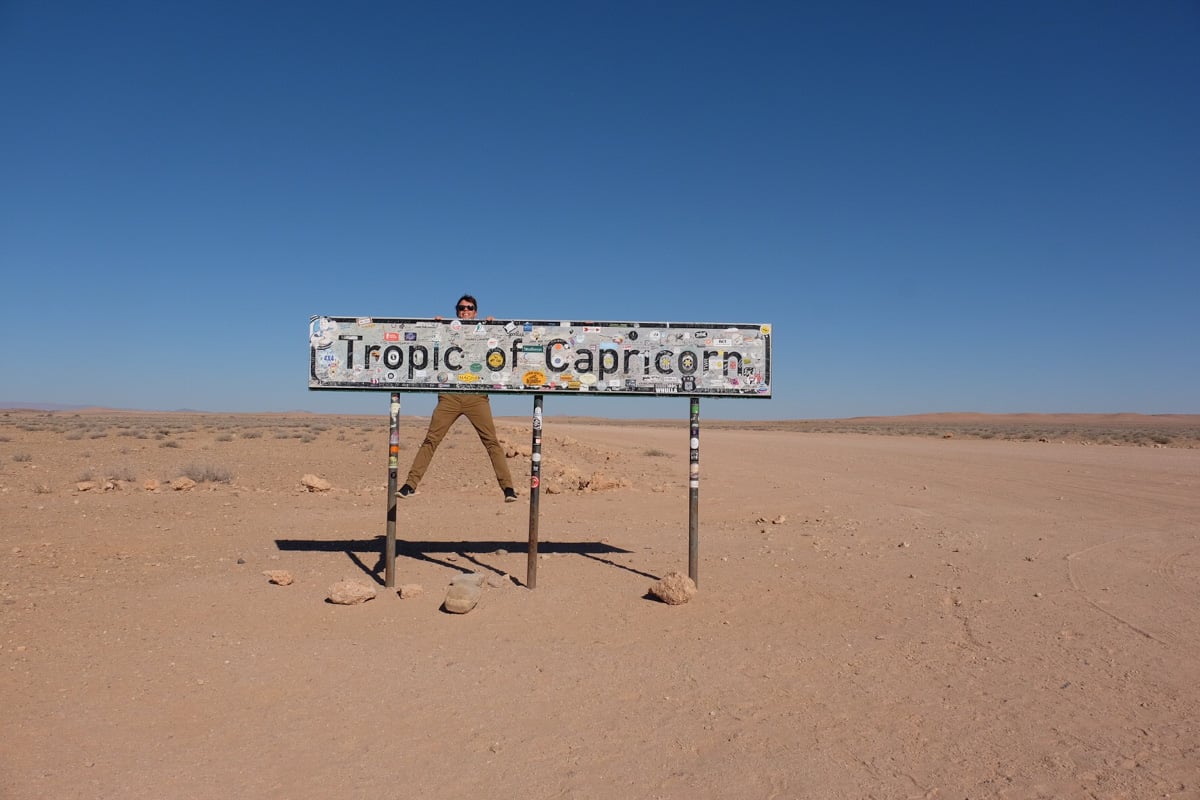 One of those ultra-touristy things to do (but nevertheless, quite fun) is making a quick pit stop at the increasingly famous Tropic of Capricorn sign. We somehow managed to spend 15 minutes here striking various silly poses and we really enjoyed ourselves.
You can find the sign by just typing it into Google Maps but if you'd rather the less contrived version, keep your eyes peeled on the sparse dirt road between Walvis Bay and Sossusvlei.
9. Climb a Dune in Sossusvlei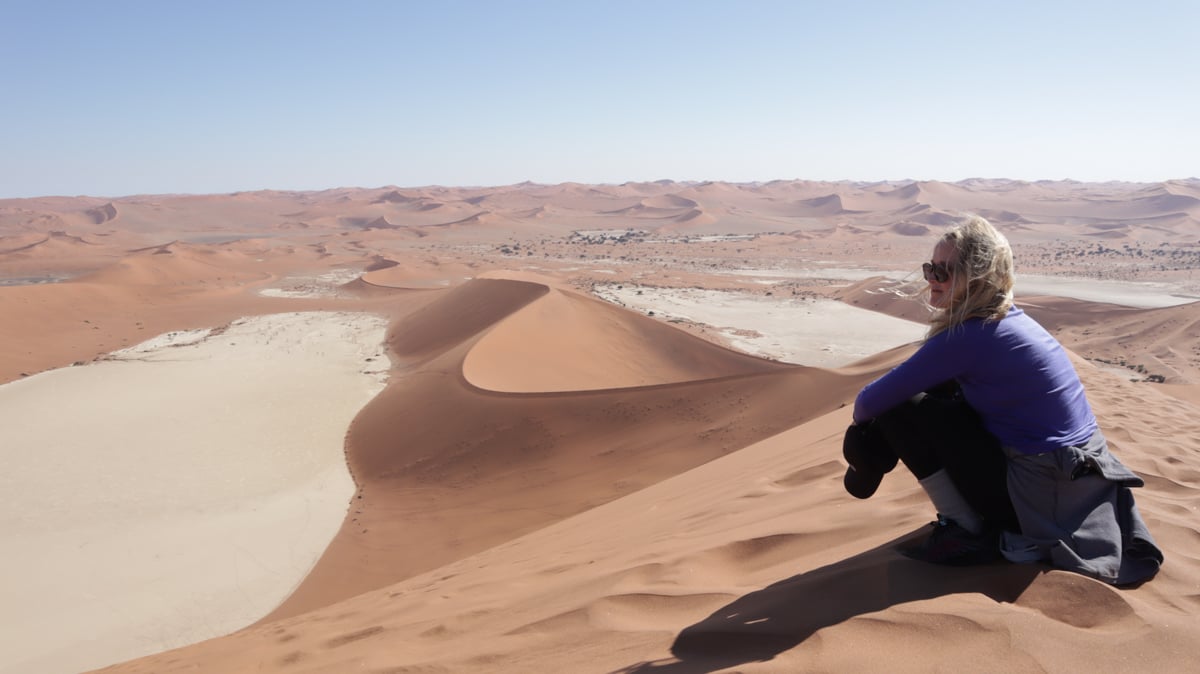 This was the second highlight of the trip for us (after Estosha) and is truly one of those big bucket list destinations. Neither of us have ever seen anything quite as other-wordly and beautiful as the dunes of Sossusvlei, in the southern part of the Namib Desert.
Sossusvlei is technically a salt and clay pan surrounded by high red sand dunes. In practice, the name Sossusvlei seems to refer to the whole area including the particularly famous and distinctive Deadvlei. The dunes are impressive, mostly between 650 to 1000 ft high and rise out of the flat desert earth which provides quite a contrast in landscape.
You can climb most of the dunes (here's a handy map) and you'll definitely want to have your camera to experiment with perspective in this photographer's playground. You'll want to head to the famous Dune 45 at sunrise for the iconic shot with one side of the dune completely covered in darkness and the other in light.
Just note that to be allowed access to the Namib-Naukluft National Park with enough time to make it to Dune 45 for sunrise, you need to stay at either the Sesriem Camp or the Sossus Dune Lodge.
We were on a budget so we stayed at the Desert Camp which was by no means roughing it. It was beautiful, but sadly this meant we could only start lining up for entry to the park at sunrise. We didn't mind much though, we were able to avoid the crowds of tourists and do things at our own pace.
We ended up climbing Big Daddy, the largest of all the dunes in the park, and with an incredible view of the other dunes and of Deadvlei, we were more than satisfied. We were also able to descend down Big Daddy on the other side and approach Deadvlei from the opposite direction, which gave us a different perspective.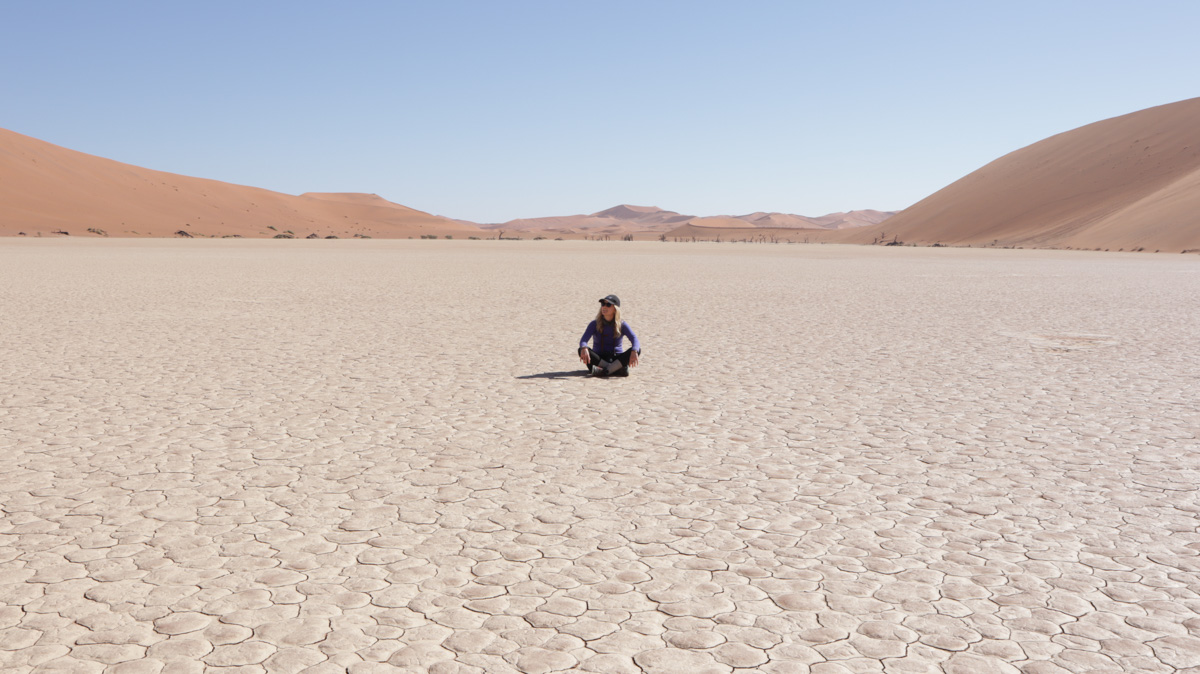 As we mentioned before, Deadvlei has become fairly well-known to photographers and tourists alike, and is certainly worth a visit.
It means "dead marsh" in English and is simply a white clay pan nestled amongst the dunes with an eerie set of dead trees just hanging out in the middle of the pan. This makes for some fun photos with the contrast of the blue sky, red dunes, white clay and dead trees!
Things to know about visiting Sossusvlei:
You need a permit to enter the national park which you can buy in the town of Sesriem, near the entrance to the park.

This is when the 4×4 vehicle really comes in handy. You will have to drive through thick, soft sand on the last few miles to the Sossusvlei parking area. Make sure you let your tires down for this (and find out how to do it properly before you go). You'll also need to pump them up again before hitting the road to avoid punctures – a sharp stone can easily pierce a tire.

You can take a guided tour if you'd prefer not to drive this last bit in your own car as it can get a little hairy if you're not an experienced 4×4 driver. However, you'll sacrifice the freedom to explore the dunes at your own pace and avoid other tourists when possible.

When climbing the dunes, remember that the hike is quite a bit harder than it looks! The sand is really soft, so making ground requires a LOT of time and effort. Take plenty of water for the way up.

We stayed at the Desert Camp which we loved! We had an outdoor BBQ overlooking the wide open nothingness, listened to the sounds of the desert and watched the stars at night. It was quite peaceful!
---
If You Have More Time and a Larger Budget to Explore Namibia:
There is never enough time to explore a remarkable place like Namibia. If you are lucky enough to have the time and the extra budget, consider also exploring the following areas (which are very firmly on our own bucket list):
Visit the mythical Skeleton Coast

Check out the scenic region of Damaraland

Explore the many other national parks in Namibia

Stop in some of Namibia's historical old towns

Visit a Himba Tribe and learn about their history and culture
---
Other Useful Things to Know About Visiting Namibia:
Currency: Namibian dollar, South African Rand is also accepted interchangeably.

Local sim card: Easy to get from any convenience store and very cheap. We bought one from MTC. Though, because most of the country is not developed, signal can be limited so pre-load your Google maps!

Plan ahead: The country is mostly desert so plan your gas station stops. Be prepared to have enough water and food for a day or two if you get stuck or breakdown. If you have any jerry cans for extra fuel – stock up just in case.

Best time to visit Namibia: We were visiting in June (winter in the Southern Hemisphere) which was perfect for game viewing. In the summertime, temperatures can reach a sweltering 100° F and above, but those are some of the best months for bird watching. So it really depends on where you want to go and what you hope to see. Here is a good guide to the seasons in Namibia to consider when planning your travel timing.

Driving times: Google Maps is pretty accurate and as we said the roads are mostly well marked. Our route, which is fairly well traveled, was:

Windhoek to Etosha: ~4 hours

Etosha to Swakopmund: ~5 hours

Swakopmund to Sesriem: ~5 hours

Sesriem to Windhoek: ~5 hours
---
How to Travel Sustainably in Namibia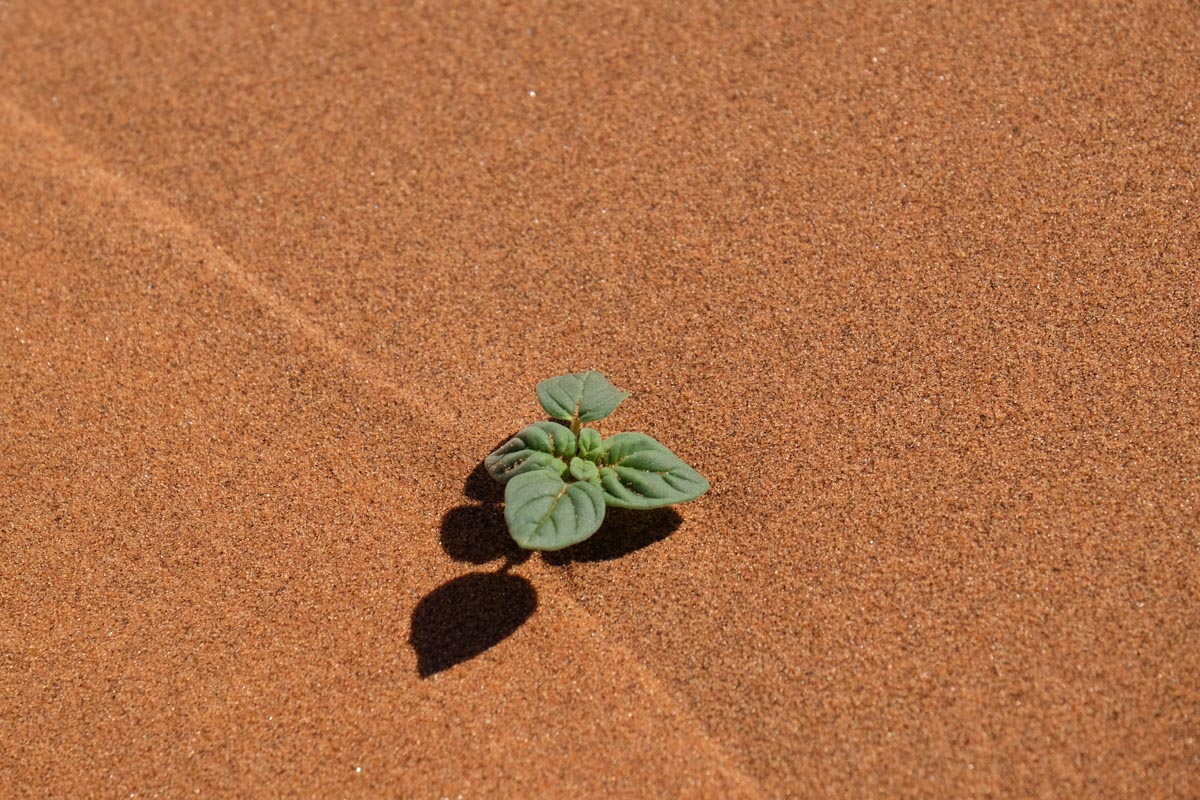 Support local: Local establishments, individuals and National Parks thrive on tourism support and in our experience, their offer and service is better and more genuine. For example, our favorite Advanced Car Hire is a locally owned and operated provider. By supporting them, you are contributing to local jobs and not the big international chains like Budget or Avis.
Offset your emissions: Diesel 4×4 driving and traveling in general is hardly sustainable… it's not ideal but carbon offsets do have value. We used My Climate because you can offset road trip emissions with their handy calculator.

Use reusable water bottles: We now know the devastating impacts of plastic so take advantage of safe drinking water in camps and the big cities and fill up before you go. The water is typically safe to drink in Namibia but do check first with wherever you are staying.

Water is scarce: Take short showers and have a general respect for water usage. Conservation techniques are key!

Wild Animals: Be respectful and cautious when viewing wild animals. This is critical for your safety and their protection. If there is a negative interaction with a human (often at the fault of the human), it's possible the animal will be caught and killed to avoid further incidents.

Leave only footprints: It sounds cheesy and you've heard it all before, but so many tourists are still not quite there yet. Most remote places in Namibia will not have municipal trash collection so come prepared with trash bags and take your trash with you. Otherwise, some simple yet effective zero waste travel tips, like bringing your own reusable cutlery, reusable shopping bags and reusable napkins goes a long way to reducing your overall waste.

Most importantly: Talk to the locals, they're a warm and friendly bunch and often very interested in your own story!
---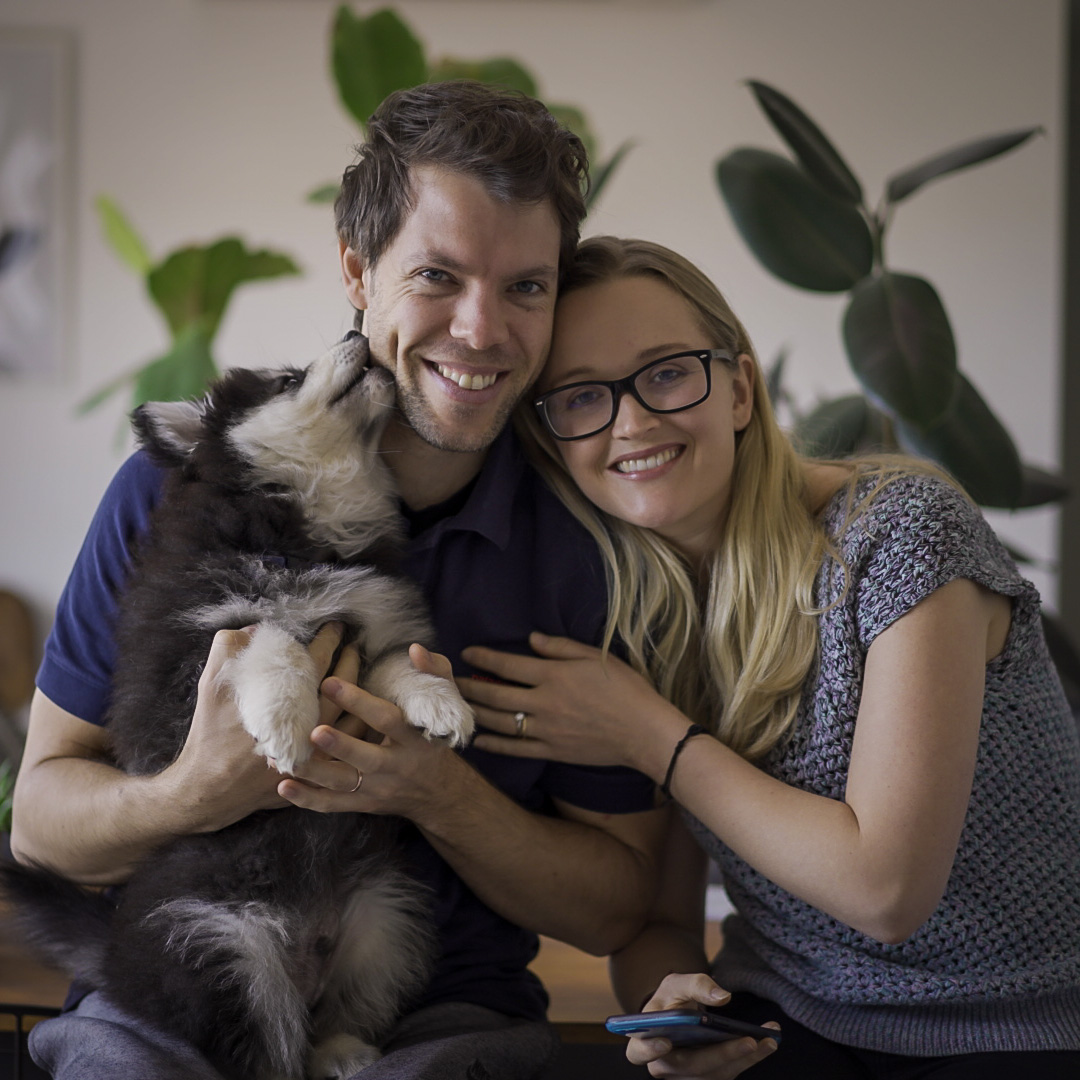 Joy and Lyall are the couple who runs Sustainable Jungle, a space to encourage and galvanize positive change. Sharing sustainability related ideas, hacks, brands and stories of those doing meaningful work. This article refers to the Namibian leg of their 6-month journey around the world to learn from and interview inspiring people who are changing the world for the better.
---
You might also like…
Are you planning a trip to Namibia sometime soon? Save this article on Pinterest for later!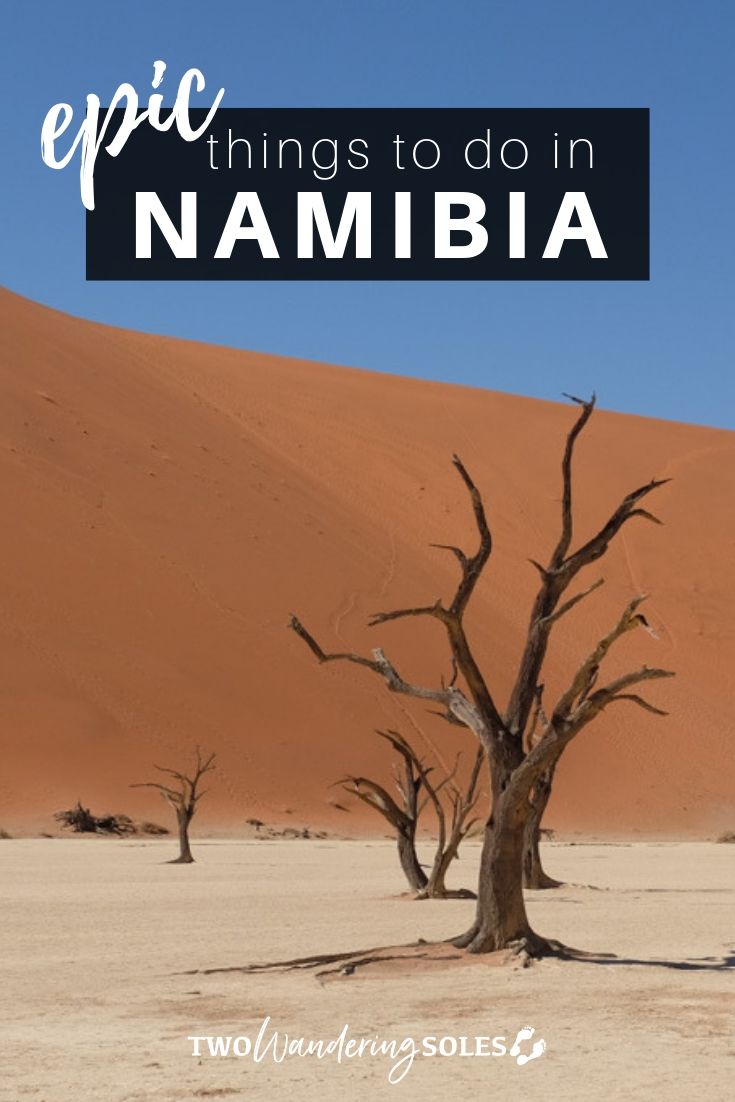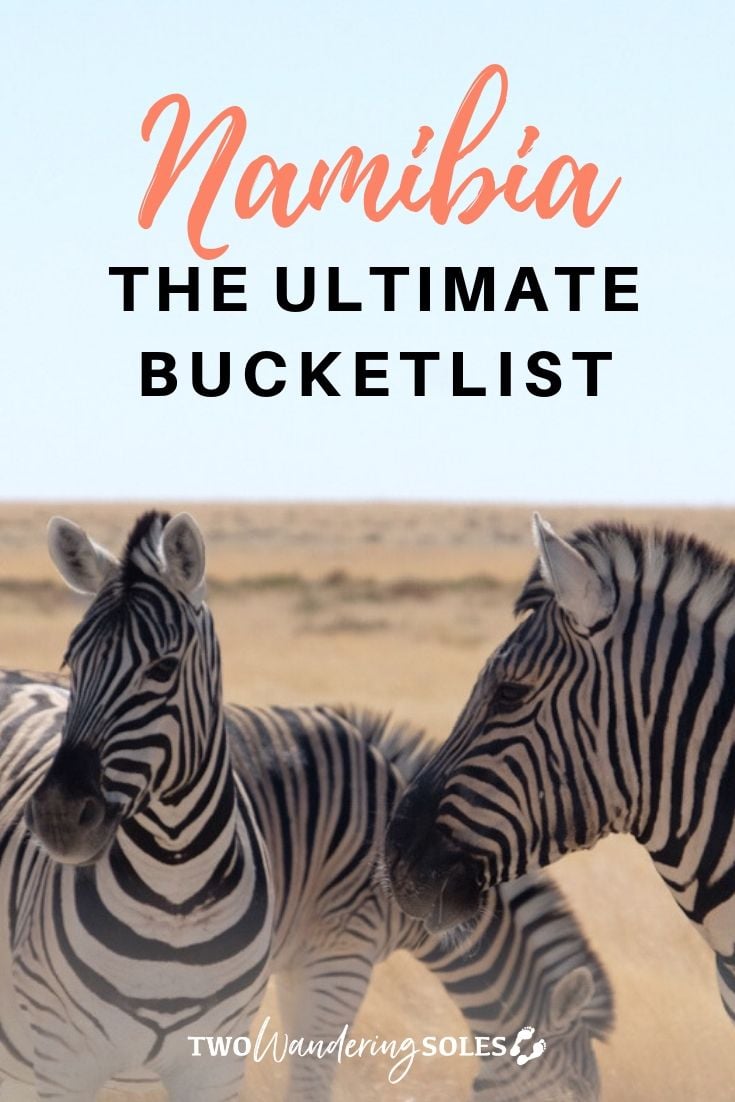 We want to hear from you!
Have you been to Namibia? What was your favorite experience there?
Are you planning a trip and still have questions? Comment below and we'll do our best to get back to you!