Planning a trip and looking for some of the best things to do in Yellowstone National Park? From can't miss attractions to day hikes, we're covering the best of Yellowstone so you can create the ultimate itinerary.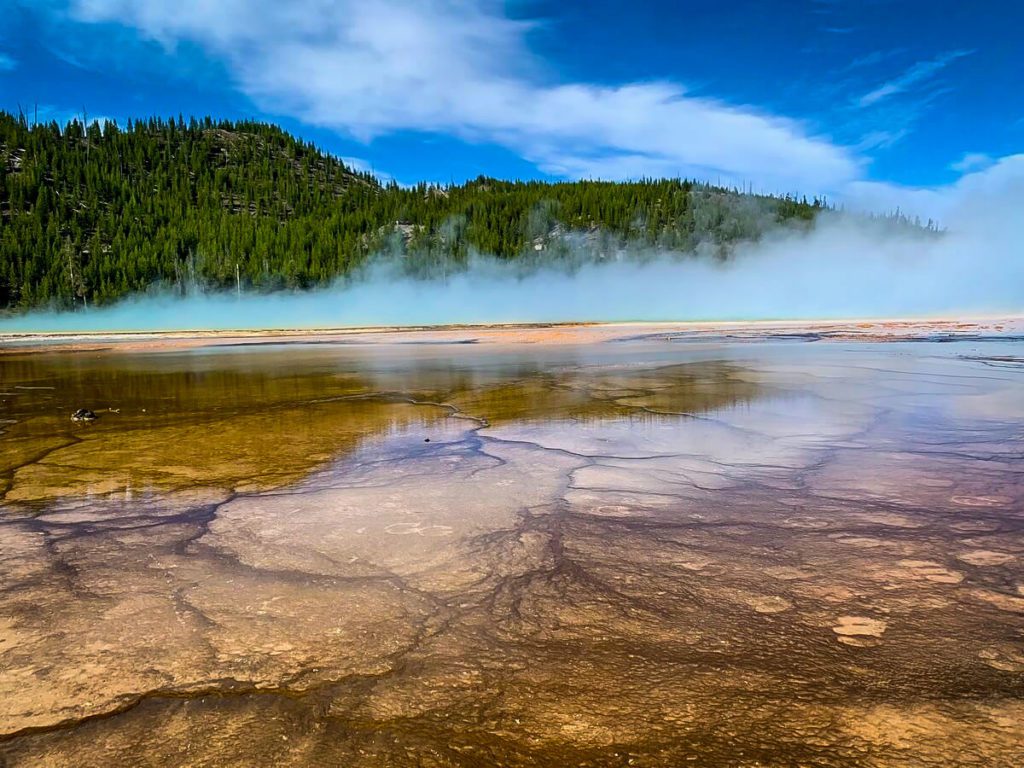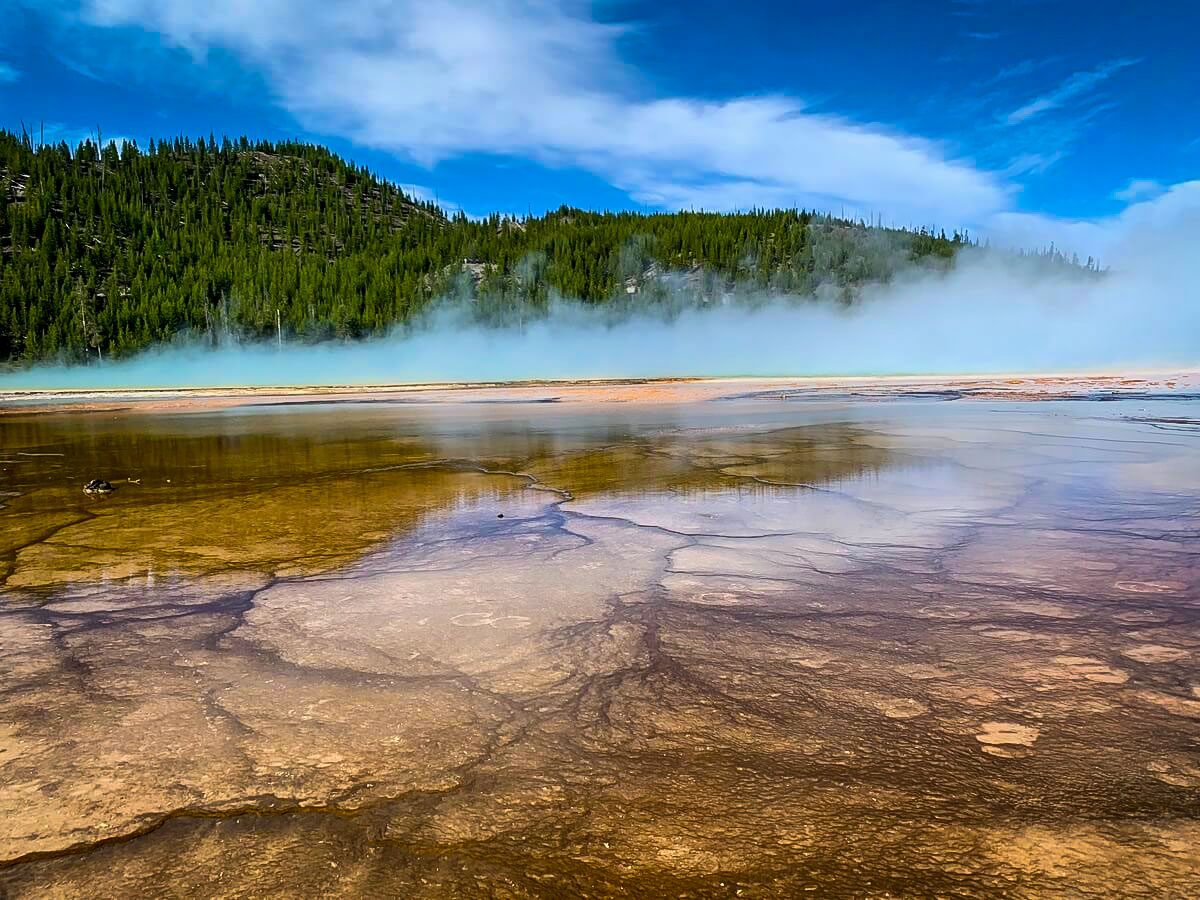 Written by Guest Author: Lauren Stuart
Yellowstone is the oldest National Park in the United States and is home to some of the most unique ecosystems in the world. As you drive along Yellowstone's scenic loop road, you'll pass by hydrothermal hot springs and geysers, encounter wildlife, and witness geologic sites like the Grand Canyon of the Yellowstone.
From geological wonders to epic day hikes, there are so many things to do in Yellowstone National Park. Oh, and did you know Yellowstone is home to more geysers and hot springs than any other place on earth? Pretty cool, right?!
The park is not only unique in its ecosystem, but also in its location. Yellowstone National Park straddles three U.S. states. Located primarily in Wyoming (96% of it) with small portions of the park reaching into Montana (3%) and the rest in Idaho (1%).
Whichever state you decide to enter the National Park from, one thing is for sure, you'll have plenty of things to see and do in one of the most popular National Parks in the US. In this article we'll go over all the details you need to plan the ultimate Yellowstone National Park experience, from the logistics to the bucket list experiences.
Article contents

Yellowstone National Park at a glance
Open: All year round, but certain areas of the park are only accessible during certain times of the year.
Entrance Fee: $35/vehicle, $30/motorcycle, $20/hiking & biking or free as part of an annual America the Beautiful Pass
Wildlife: Bighorn sheep, bison, elk, moose, grizzly bears, mountain lions, and wolves
Established: March 1, 1872
Ancestral Lands: Given the vastness of Yellowstone, 27 tribes called this land home. Tribes like the Crow, Umatilla, Shoshone, Bannock, and Blackfeet used the area for hunting and gathering.
Area: 2,221,766 acres
How to get to Yellowstone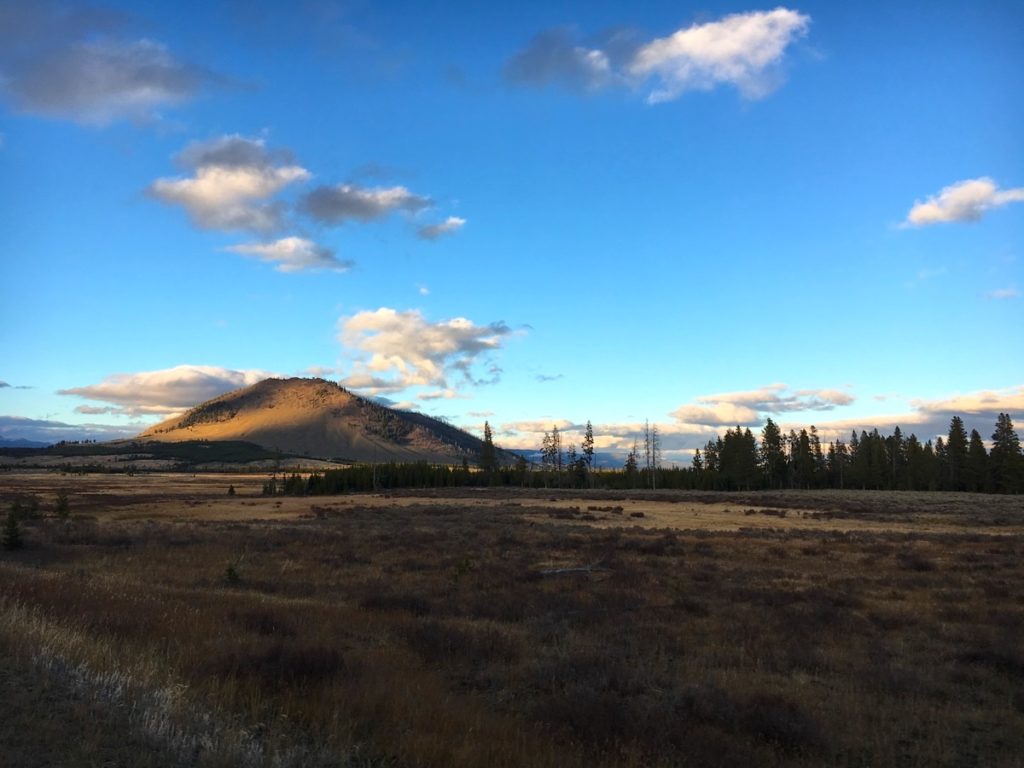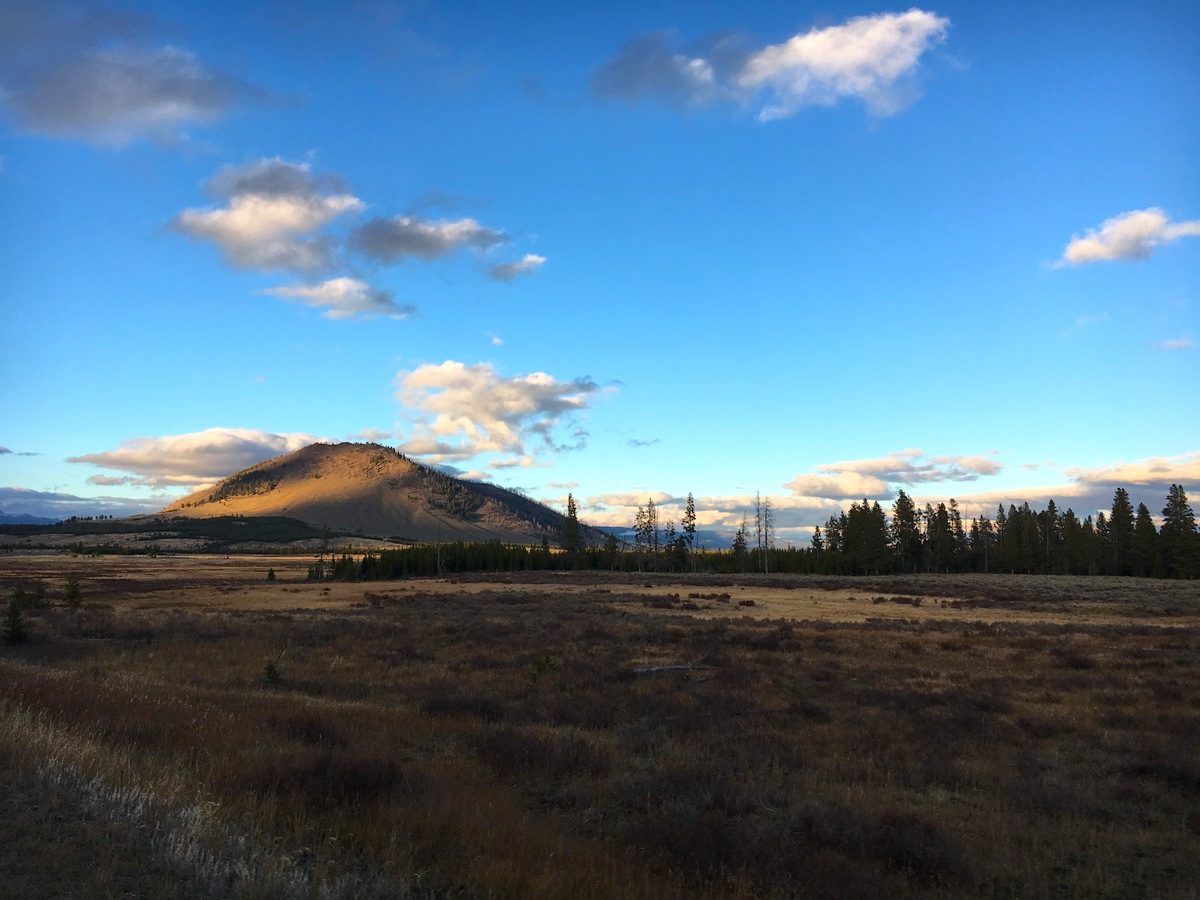 If you are not road tripping to Yellowstone, you'll need to book flight arrangements. The closest airports to Yellowstone National Park are its two small regional airports:
Yellowstone Airport (WYS) located in West Yellowstone
Yellowstone Regional Airport (COD) located in Cody, Wyoming
Jackson Hole Airport: 70 miles, 1.5 hour
Bozeman Yellowstone International Airport: 80 miles, 1.5 hours
Idaho Falls Regional Airport: 110 miles, 2 hours
Salt Lake City International Airport: 325 miles, 5 hours
Yellowstone park entrances
There are a total of five entrances to Yellowstone National Park. Three of which are in Montana and the other two are in Wyoming.
For those looking to fly into larger airports, Jackson Hole and Bozeman Airport will be your two closest options.
Tip: If you plan to see nearby parks like Grand Teton and Glacier, plan to purchase an America the Beautiful Pass to help save on National Park entrance fees.
When is the best time to visit Yellowstone?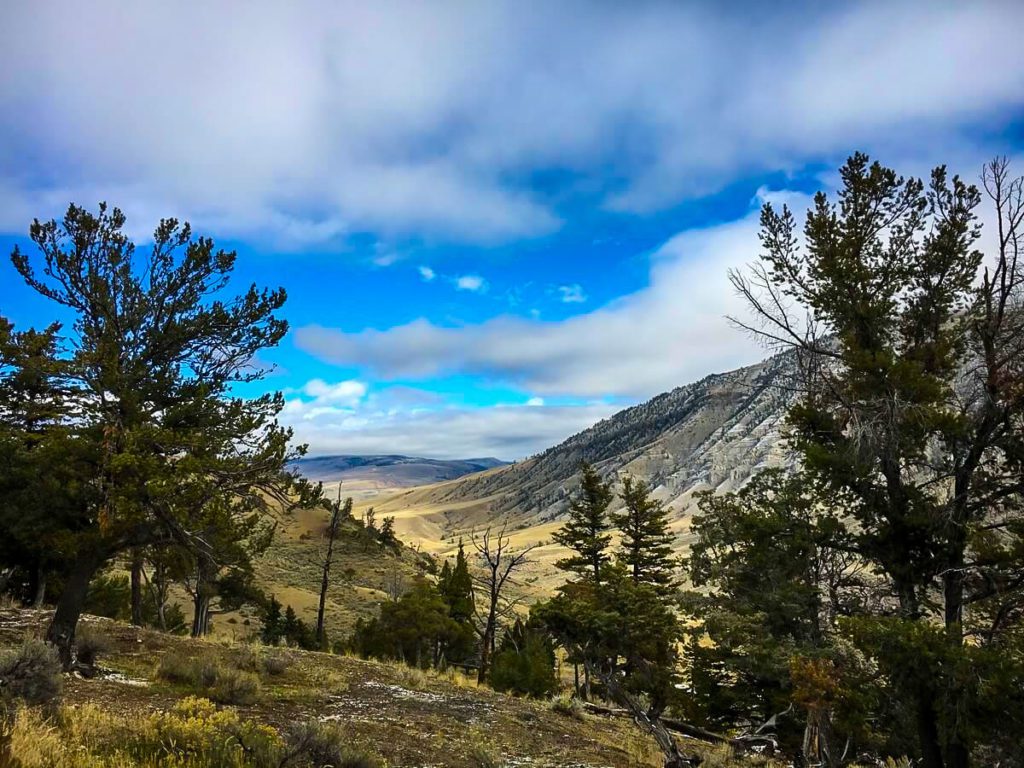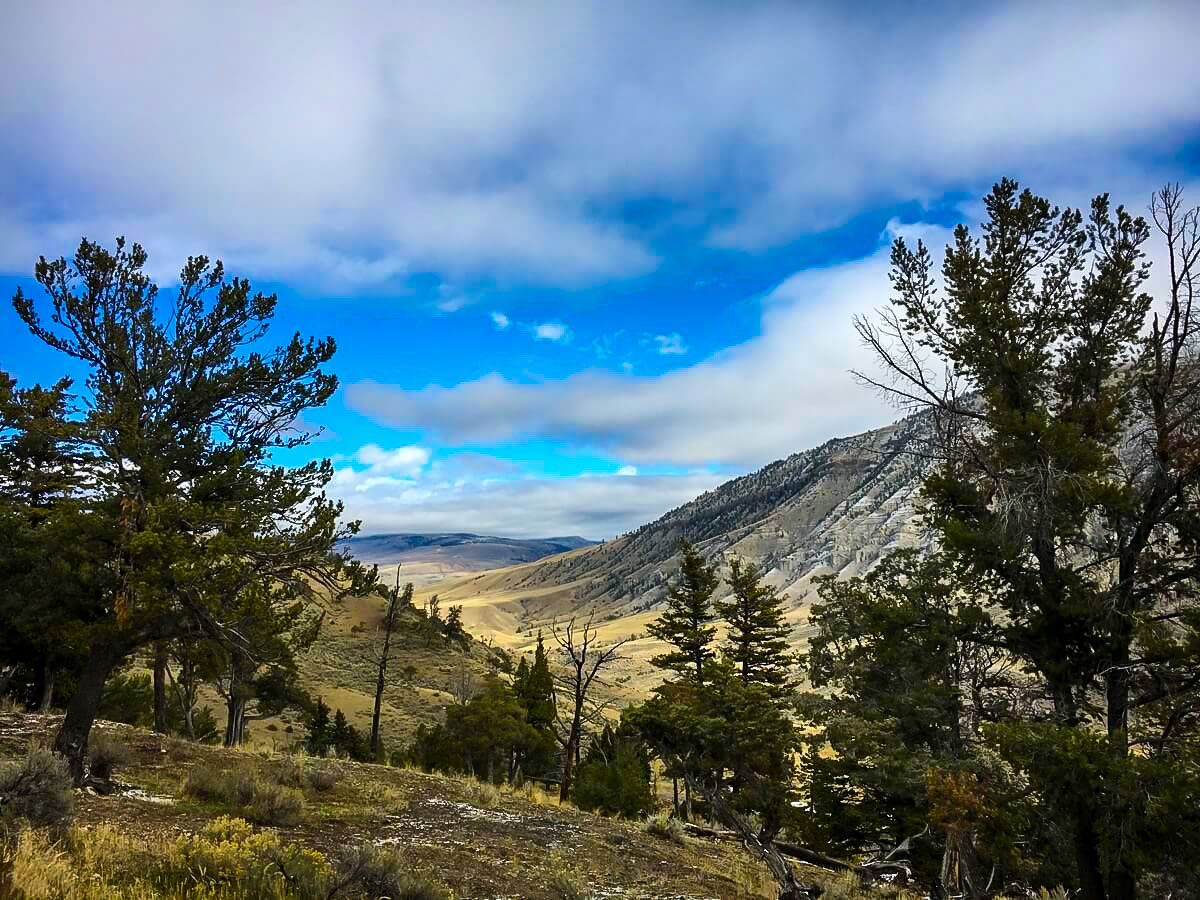 While Yellowstone National Park is open all year round, the best time to visit the park is from mid-May to the beginning of mid-September. During the summer months, the weather is nice and all the facilities in the park are open and accessible. However, the summer months are also considered peak season, which means lots of crowds, especially from June to August.
The shoulder seasons, like spring and fall, are options for those looking to avoid the crowds. If visiting during shoulder seasons, be prepared for inclement weather—maybe even snow! During our first visit to Yellowstone in October, we had a nice little snowfall welcoming us to the park.
Visiting Yellowstone during the winter months is also possible, you'll just have to plan for limited access to facilities. The best way to explore the park during the winter months is to book a snowmobile or snow coach guided tour.
Psst! Did you know Yellowstone is one of the best national parks to visit in winter?
How many days do you need in Yellowstone?
Can you see all of Yellowstone in one day? No way.
The Park is massive, like REALLY massive, and without skipping sites, seeing Yellowstone in one day is pretty much impossible. At the bare minimum, plan to spend at least two days in Yellowstone National Park.
Two days allows you to break up the park into two sections, the North Loop and the South Loop. By having two days, you'll be able to see the park highlights at a nice pace. Our tip is to start early. The earlier you start, the fewer crowds there will be.
If you have the time, spending three days in Yellowstone is amazing. Not only will you have more time to see the lesser-known sites, but you'll also have the time to take a day hike and experience the best things to do in Yellowstone at your leisure.
Best way to get around Yellowstone
Since the national park is so vast, the best way to explore Yellowstone is by car. Plan to rent a car from the airport you fly into, or you can book a tour with a reputable Yellowstone Tour company.
Biking through Yellowstone National Park is another option. If you plan to bike the park, please be sure you are in shape and are an experienced road biker. There are lots of vehicles in the park and with the elevation, it is highly recommended you are prepared, both with gear and in physical shape before exploring Yellowstone by bicycle.
If you have a campervan, travel trailer, or RV, exploring Yellowstone is totally possible with these forms of transportation. The only warning is parking. Parking is already hard to come by during peak season, but if you have a larger/longer rig, you may find it difficult to navigate parking lots and to find room along the side of the park road to pull off. When planning an RV trip or Van trip through Yellowstone, the smaller your rig size, the better.
Psst! Want to try out vanlife while visiting Yellowstone? If you don't have the time for (or interest in) building your own conversion but you still want to give vanlife a test drive, we've got the info you need! We put together an entire guide to the best campervan rental companies in the US, including exclusive discounts for our readers!
Yellowstone National Park map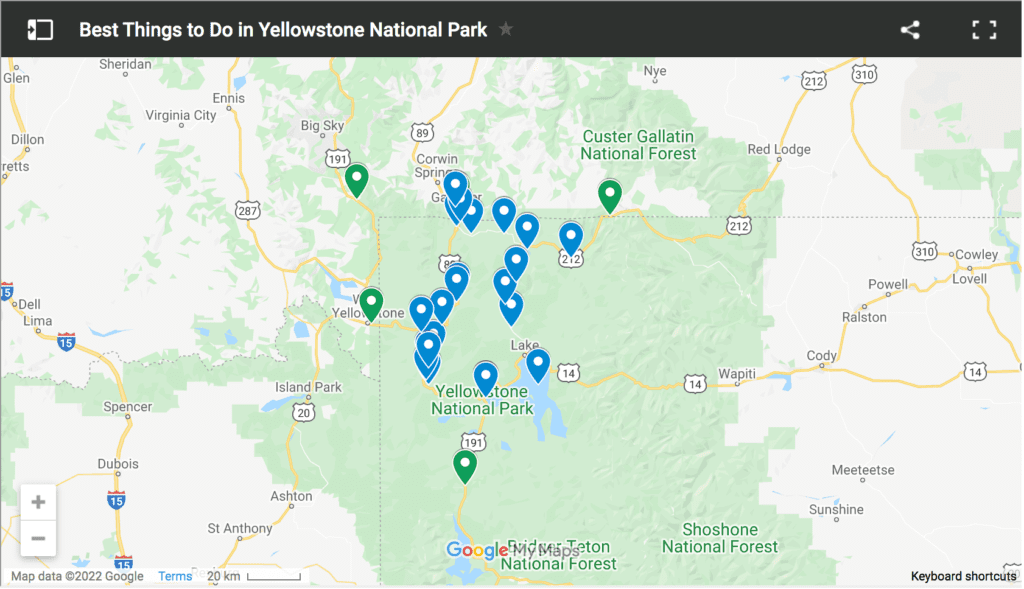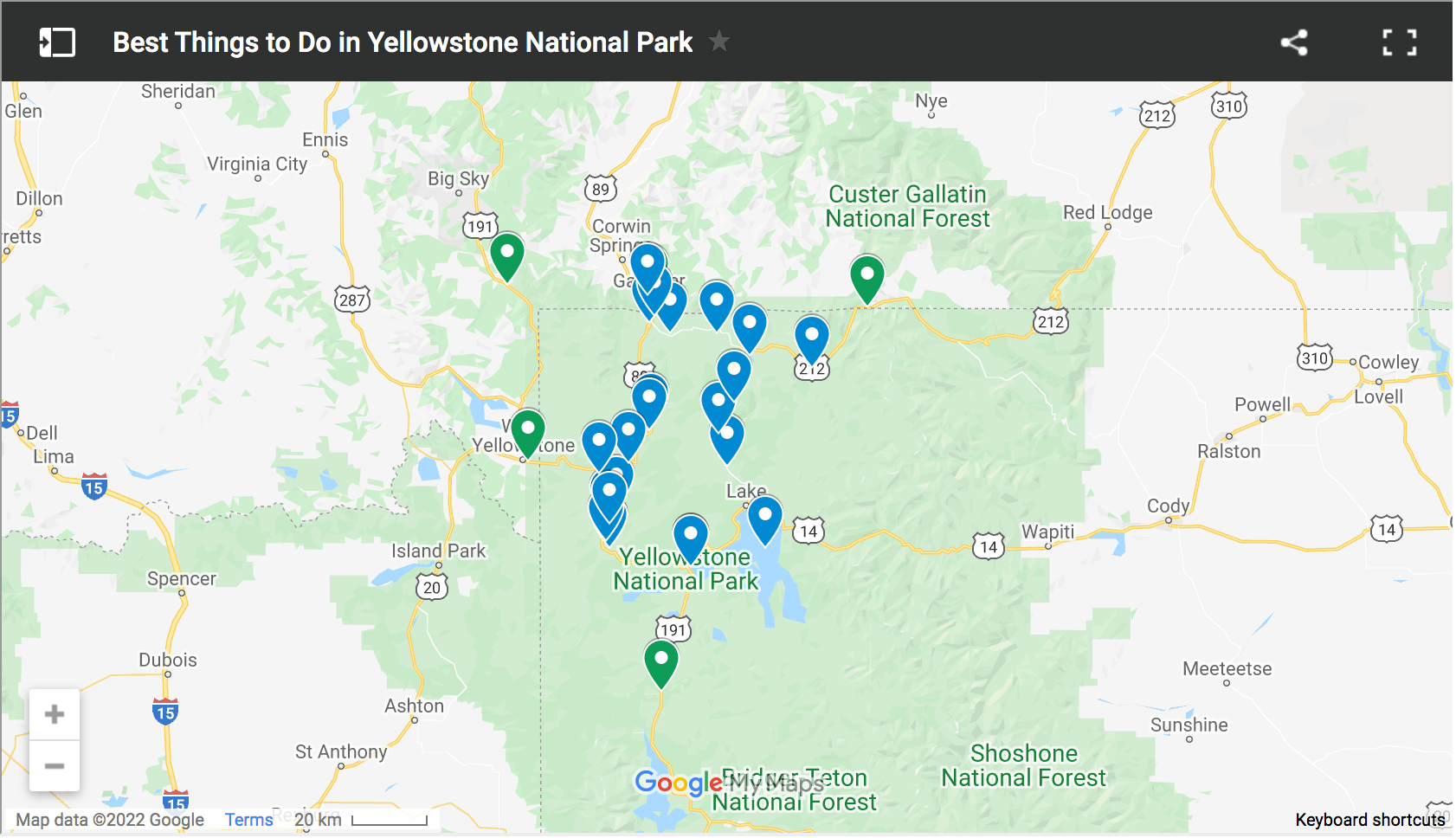 This map shows all the best things to do in Yellowstone, plus logistical information like entrances. You'll see it covers a fair bit of ground so it's best to plan your trip in sections.
---
Best things to do in Yellowstone National Park
While it would take years to compile a list of everything there is to see and do in this park, we did our best to put together a list of the best things to do in Yellowstone including the must-see attractions and sites. We think this list will give you a good idea of where to start your itinerary planning.
1. Drive Yellowstone's Scenic Loop Road, The Grand Loop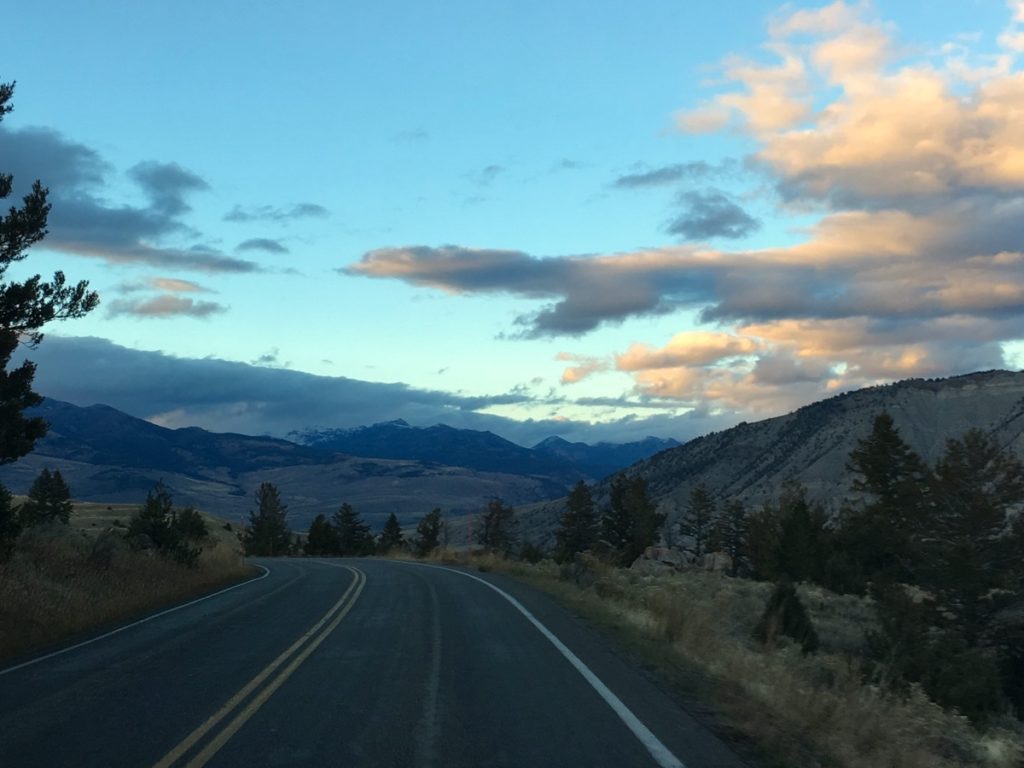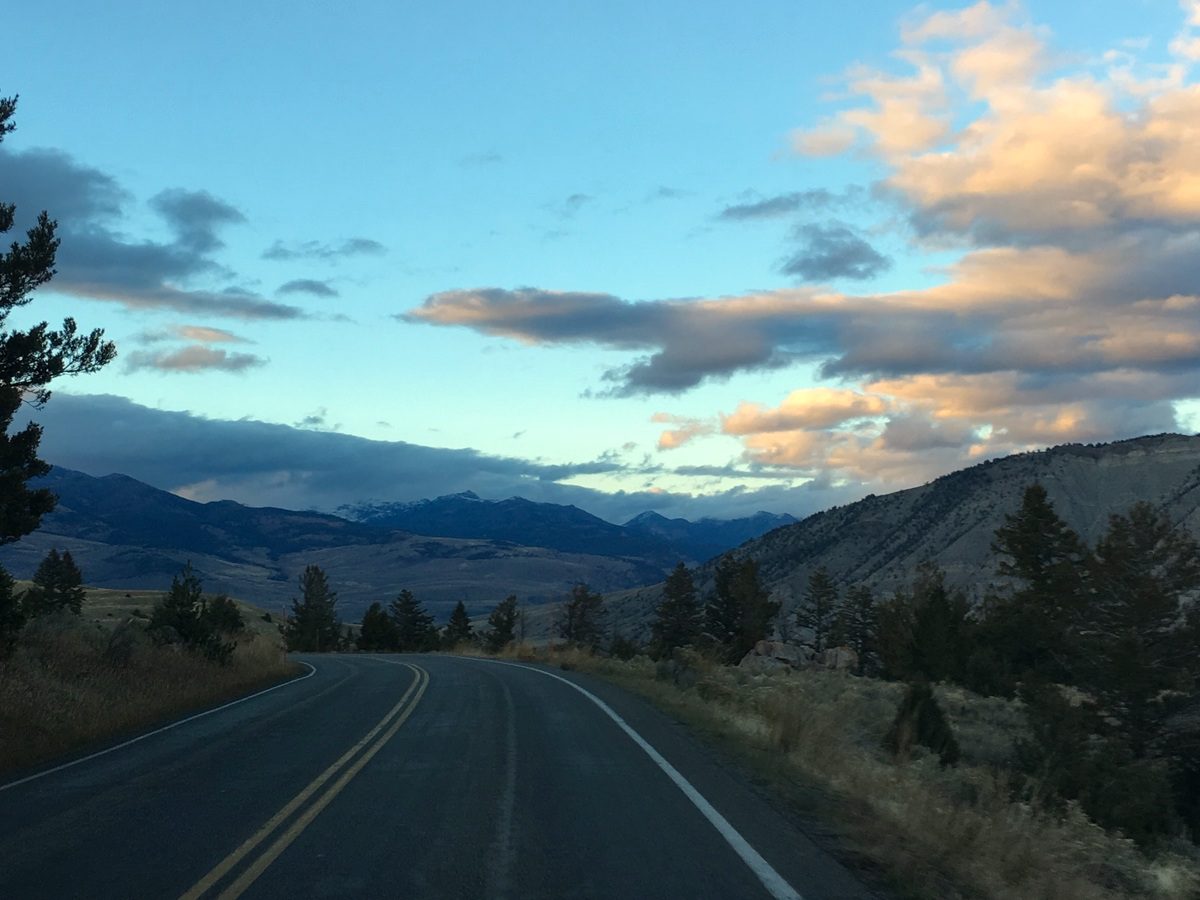 First up is to drive Yellowstone's Scenic Loop. The only way to circumnavigate the entire park is along the scenic loop. Sometimes also called the Grand Loop, Yellowstone Scenic Loop is 142 miles and takes visitors through the national park.
When planning your trip to Yellowstone, it's best to break the Scenic Loop Road into two parts, the North Loop and the South Loop.
The North Loop consists of popular sights like Mammoth Hot Springs and Lamar Valley. Whereas the South Loops has popular park sights like Old Faithful, Grand Canyon of the Yellowstone, and Yellowstone Lake, just to name a few.
Tip: If you are short on time, or only have one day in Yellowstone, plan to explore the South Loop. The South Loop covers more of the best things to do in Yellowstone versus the North Loop.
2. Spot wildlife in Lamar Valley & Hayden Valley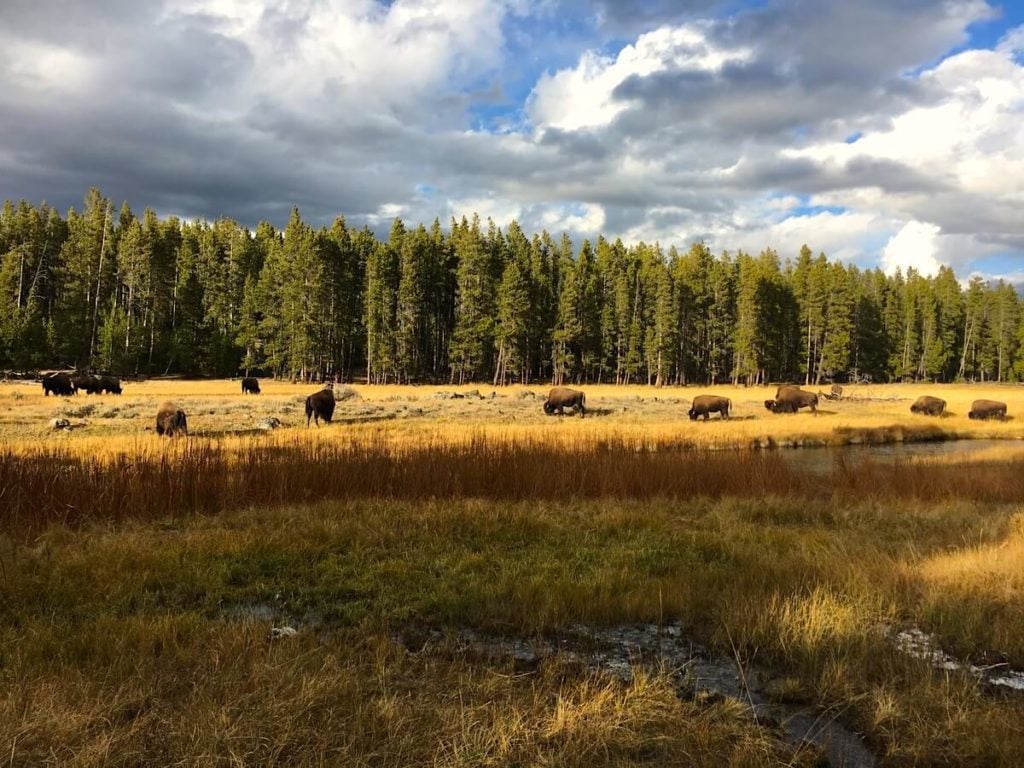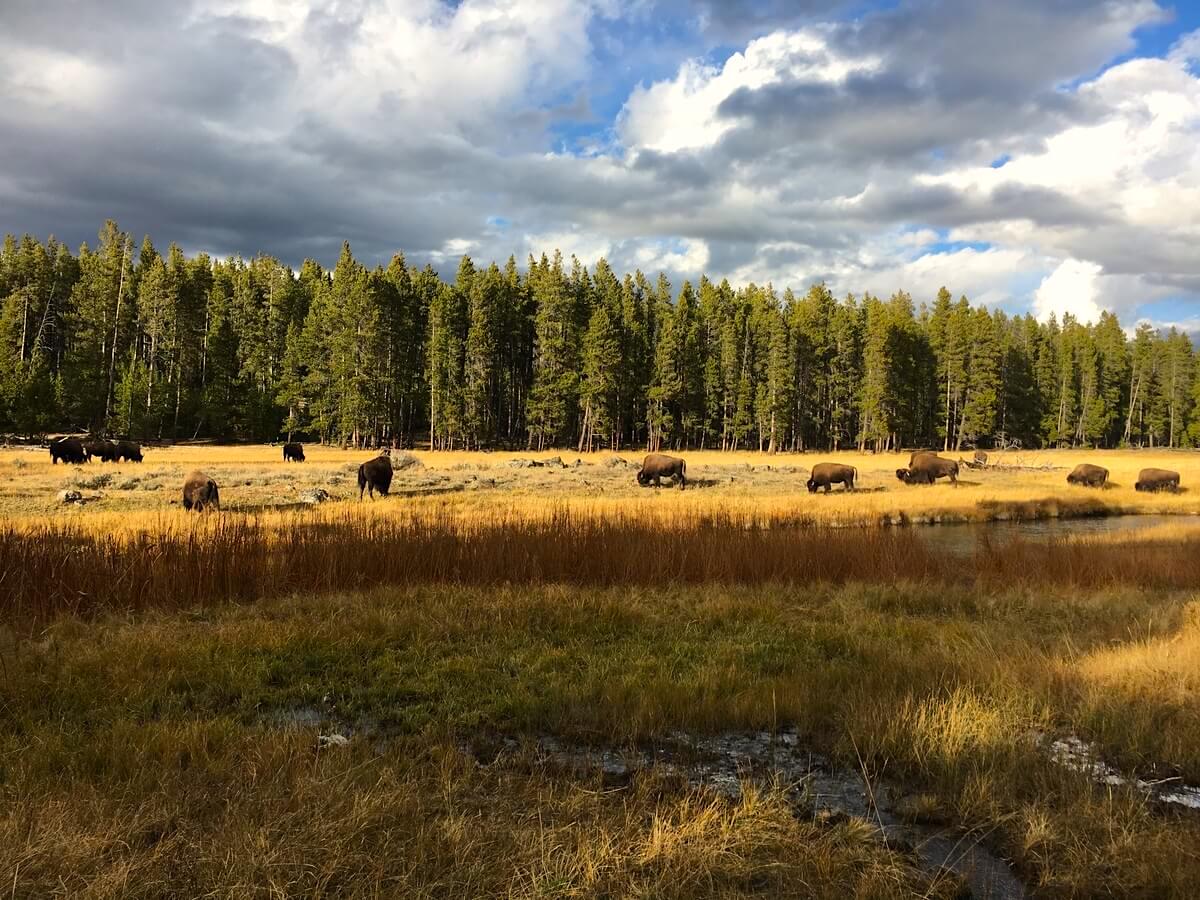 No trip to Yellowstone is complete without spotting a field of bison or a moose wading through the river. From endless deer to the ever-sneaky black bear and pack of wolves, Yellowstone is home to a variety of birds, reptiles, and mammals.
The best places to catch wildlife are at Lamar or Hayden Valley.
Tip: Plan to bring some binoculars. Really, the only animals that are close to (or on the road for that matter) are the bison. More than likely, any moose, bears, or wolves you'll see will be far away and will require a pair of binoculars to get a better view.
Visitors to Yellowstone often skip Lamar Valley for Hayden Valley due to the fact that Lamar Valley isn't located near many other Yellowstone attractions. However, if you are looking to spot moose or wolves, Lamar Valley is your best bet.
We were VERY lucky to see both during our trip in October. As they say, the early bird gets the worm. So aim to get to Lamar Valley at sunrise to see what wildlife you can spot.
When exploring Hayden Valley, understand a traffic jam is always caused by bison. It's just another normal day in the park!
3. Discover the rainbow colors of Grand Prismatic Spring at Midway Geyser Basin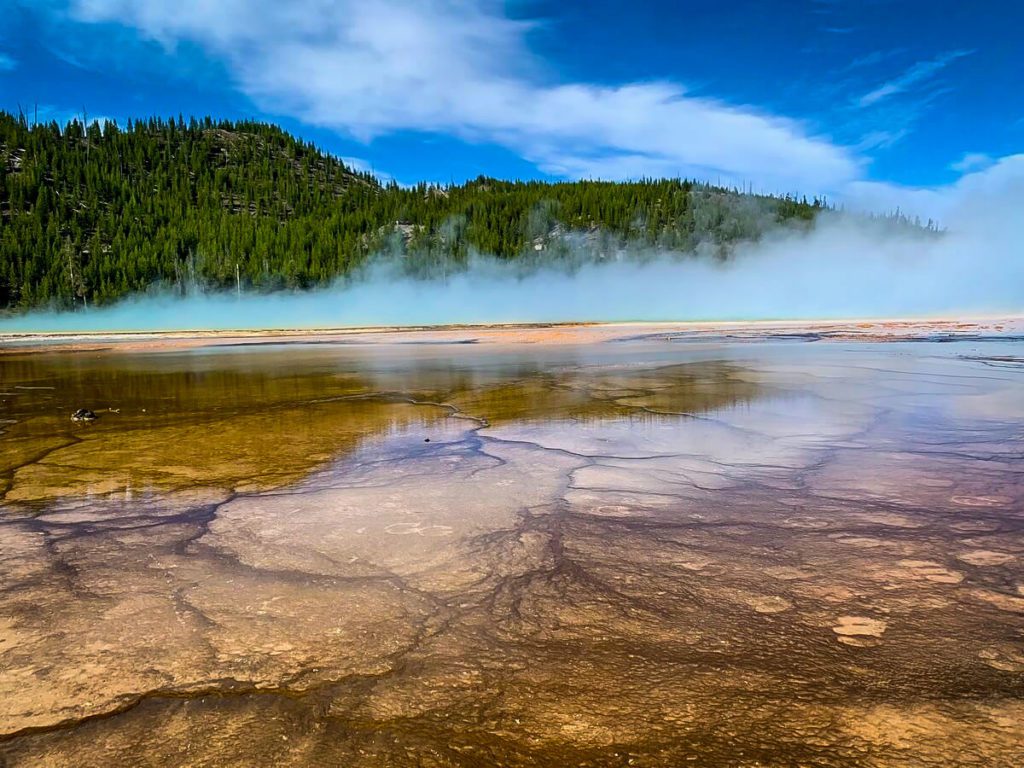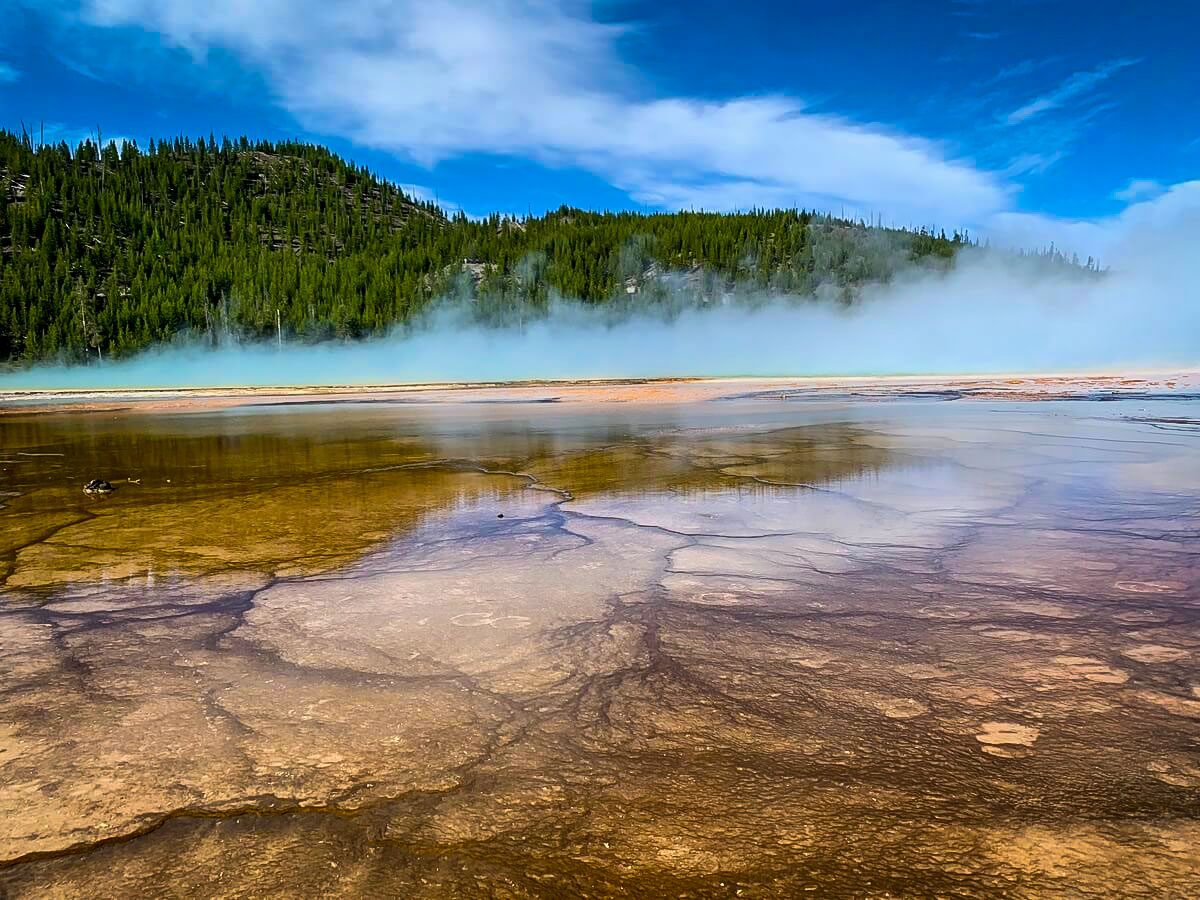 One of, if not the most popular geyser in all of Yellowstone is Grand Prismatic Spring which is located in Midway Geyser Basin. Grand Prismatic Spring is one of the iconic photographed landmarks of Yellowstone and rightfully so.
So, what makes Grand Prismatic Spring so, well, grand?
It's the largest geyser in the United States and the third-largest geyser in the world. It's larger than a football field and packed with bold rainbow colors like orange, yellow, green, and blue.
To say it's beautiful and impressive is an understatement (in our opinion) and a must-see stop as it ranks among the best things to do in Yellowstone National Park.
4. Watch Old Faithful erupt
Seeing Old Faithful erupt as it sends steaming water 100-180 feet into the air is something to experience. First discovered in 1870 by the Washburn Expedition, Old Faithful was named for its timely eruption schedule. Erupting on average every 90 minutes (give or take 10 minutes), an Old Faithful eruption lasts around one minute to a minute and a half.
You have several options for where to watch the Old Faithful eruption:
The Boardwalk: Great for those with accessibility needs, the boardwalk offers paved walkways and benches for views to watch the eruption.
Observation Point: To get a bird's eye view of Old Faithful, you'll need to hike around 1.1 miles uphill (it's a fairly strenuous hike up) to get to the Old Faithful's Observation Point.
Old Faithful Inn: The Old Faithful Inn has a viewing deck for visitors to use. Grab a drink and wait for the next eruption to take place.
The boardwalk is the most popular option for visitors, so if you are looking to avoid crowds, you should try to avoid peak viewing times. The earlier you get to Old Faithful, the better. Once tour buses start to arrive, it can be hard to find a decent place with a good view to watch the eruption.
Tip: To get a better idea of when Old Faithful's next eruption is estimated to be, you can check the posted prediction at the Old Faithful Visitor Center, follow @GeyserNPS on Twitter, or view the Old Faithful eruption schedule online.
5. Explore Upper Geyser Basin & Morning Glory Pool
If you arrive at Old Faithful a little too early and have some time to kill before the next eruption, no worries at all. There is plenty to do in the area. Old Faithful sits on what is called the Upper Geyser Basin.
Home to other geysers, like the famous Morning Glory Pool, Castle Geyser, and Black Sand Basin, Upper Geyser Basin is not only the largest basin in Yellowstone but has the highest concentration of geysers in the world. Spanning between the Old Faithful area and the Grand Loop Road, the Upper Geyser Basin has more than 150 geysers for visitors to see.
It's easy to spend a half day exploring the Upper Geyser Basin. The entire Upper Geyser Basin loop is a 4.5-mile paved boardwalk with Morning Glory Pool being the furthest away at 1.5 miles from Old Faithful.
6. Experience the Grand Canyon of the Yellowstone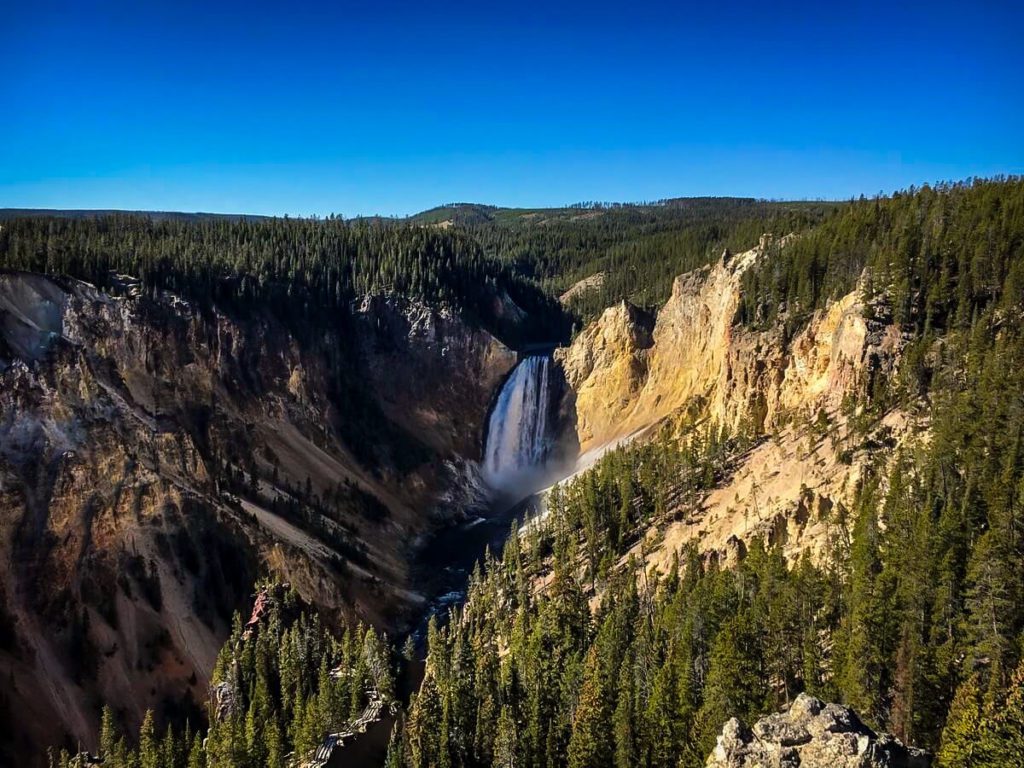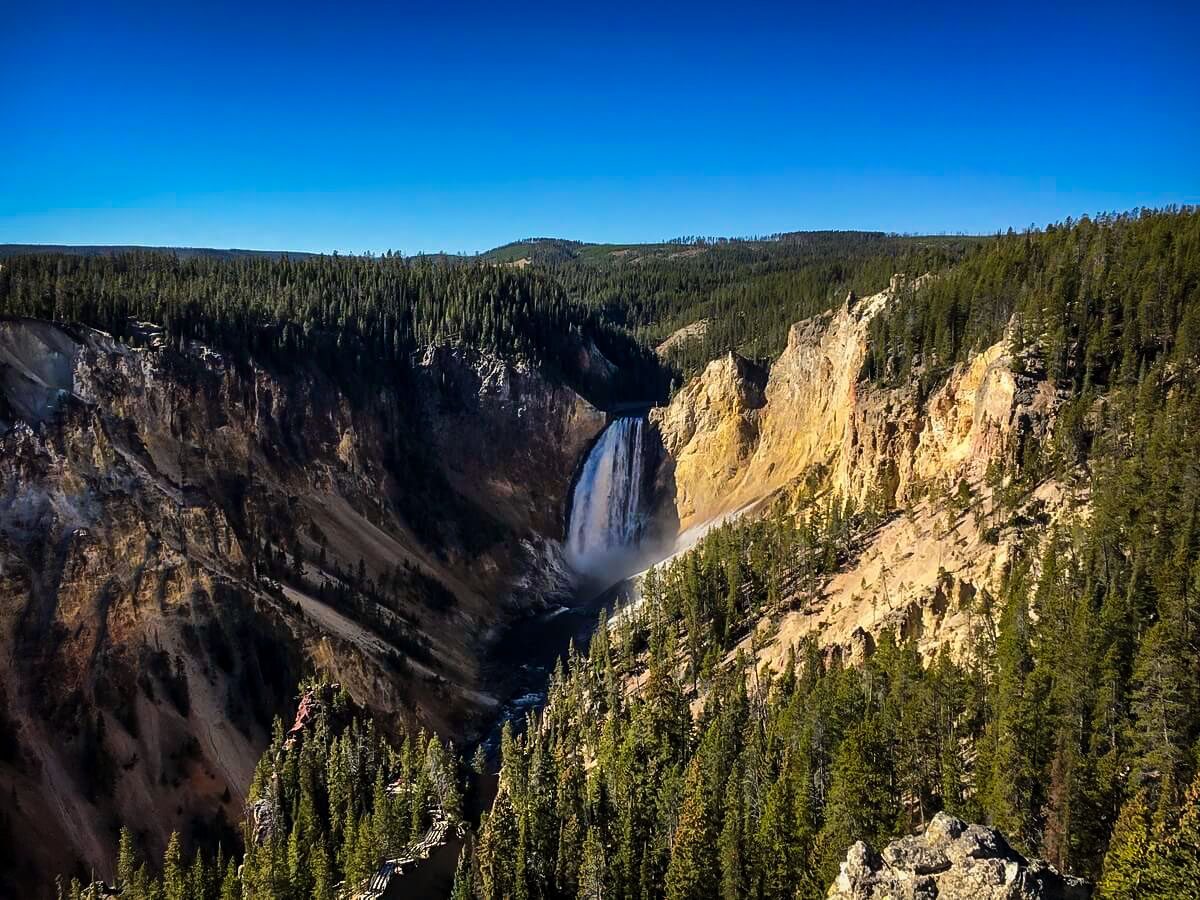 If you only have one day in the park, be sure the Grand Canyon of the Yellowstone makes your list of things to do. It really is one of the best places in Yellowstone National Park and should be included in anyone's itinerary.
So, why is the Grand Canyon of the Yellowstone so special? Let me explain…
Yellowstone Canyon is 4,000 ft wide, over 1,000 ft deep in some sections, 24 miles long, and home to two Yellowstone waterfalls, the Upper and Lower waterfalls of the Yellowstone.
With observation viewing points like Artist Point and Inspiration Point, visitors can get expectational views of the waterfalls and canyon below. In addition, both the North Rim and South Rim of the Grand Canyon of the Yellowstone are accessible to those looking to get a little hike in with Uncle Tom's Trail being among the most popular trails in the area.
Note: We've since discovered that as of February 2021, the stairs leading down to Uncle Tom's Trail have been closed indefinitely. Check back on Alltrails for the latest updates.
7. Walk around Mammoth Hot Springs
If you are coming from Gardiner, Montana, one of the first things to do when you enter the park is to explore Mammoth Hot Springs, a unique geothermal area unlike any other in Yellowstone.
Mammoth Hot Springs is a set of terraced limestone hot spring formations making up some 3,472 square miles. Broken into two sections, you can walk the upper and lower terrace boardwalks to get expansive views of not only the park but of the hot springs themselves.
8. Hit the trails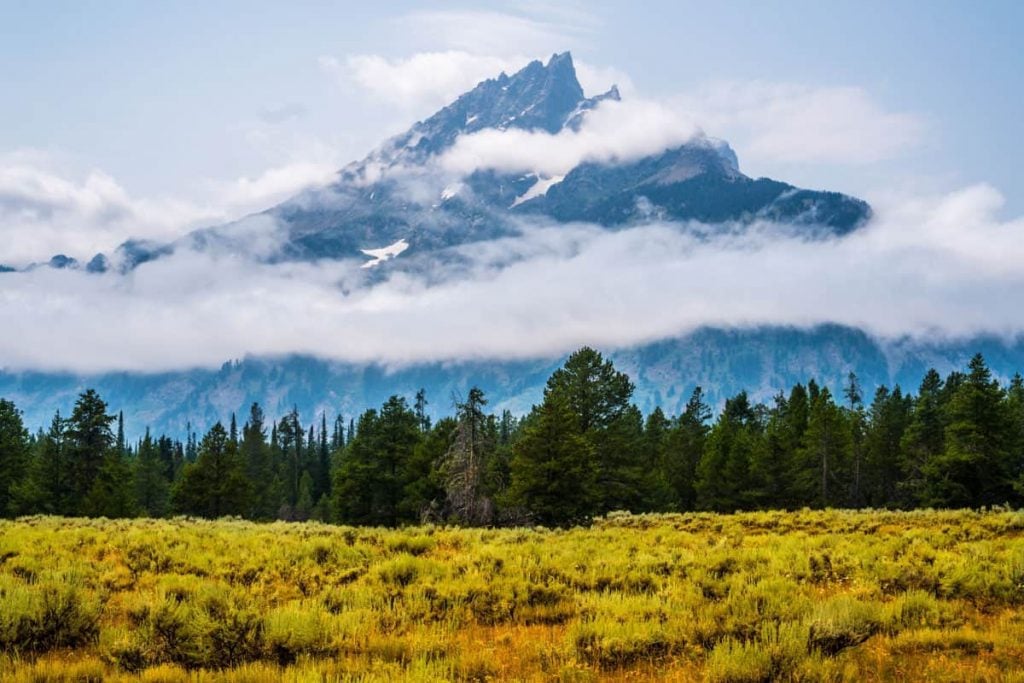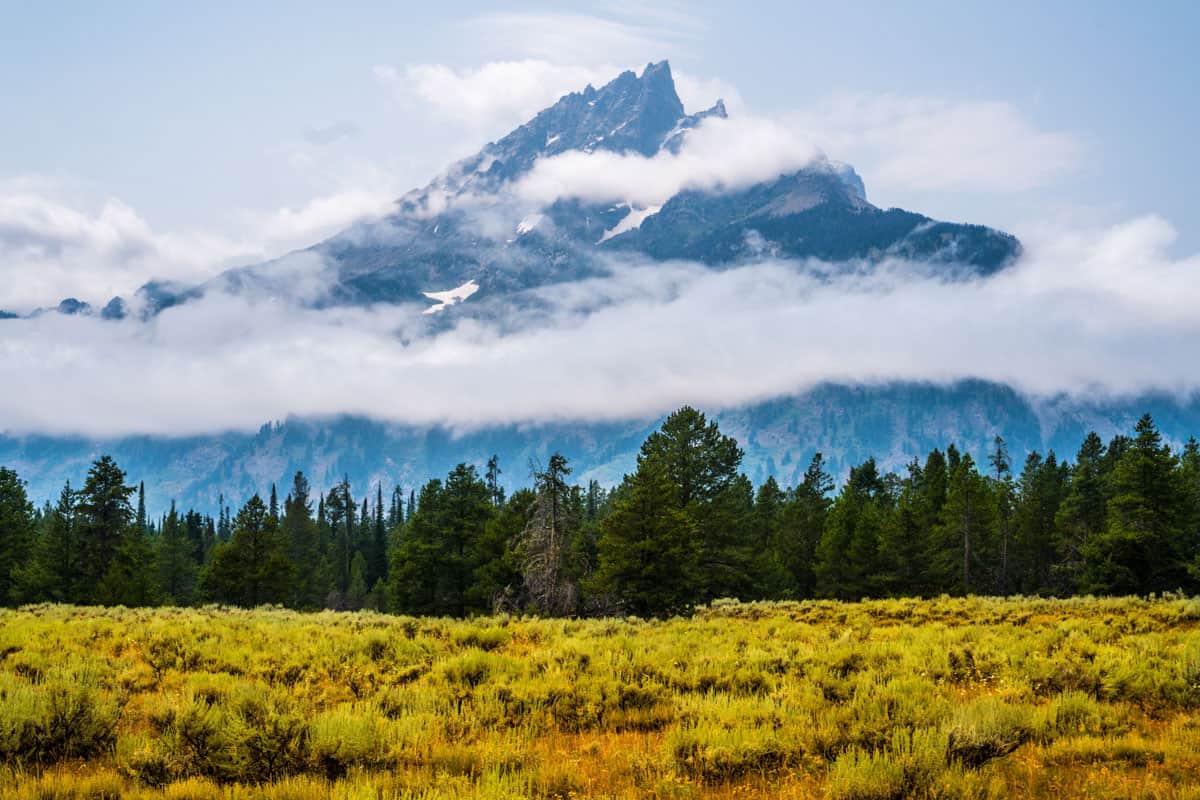 From stunning summits and meandering riverside trails to tranquil lakes and boardwalks that get you up-close and personal to the park's geysers and springs, there are some pretty incredible hikes in Yellowstone to discover. Many of the best trails lie well away from its star attractions.
See our round up of the best hikes in Yellowstone National Park on our sister site to get some inspiration and help you prepare to hit the trails!
9. Take in the view at Yellowstone Lake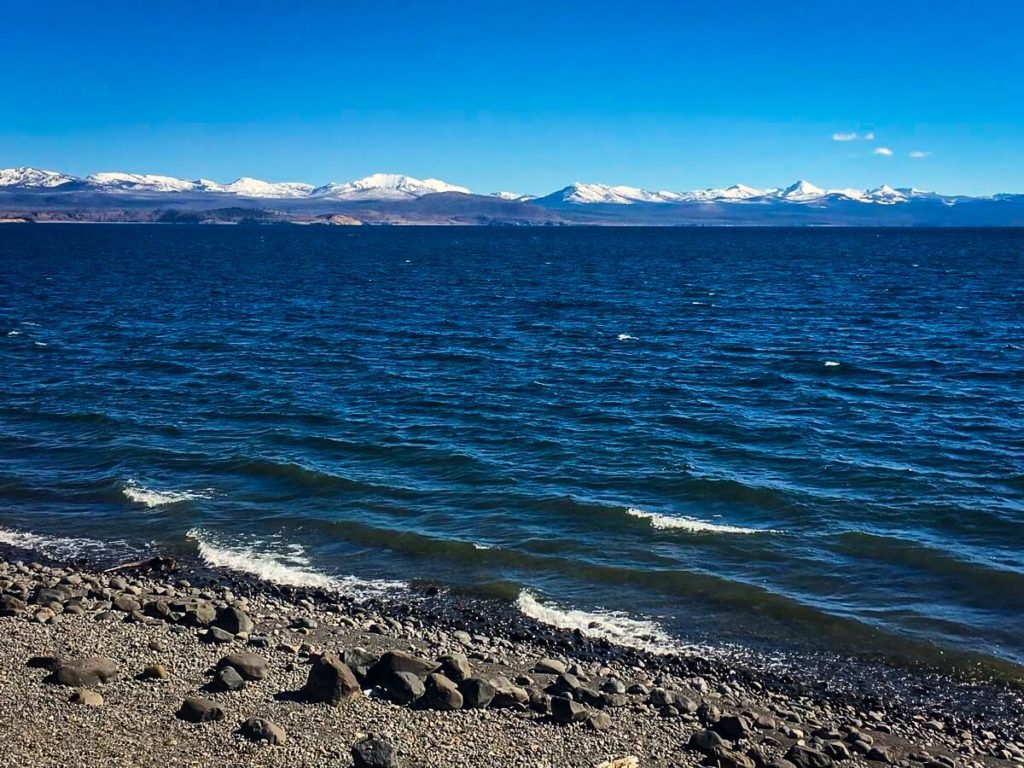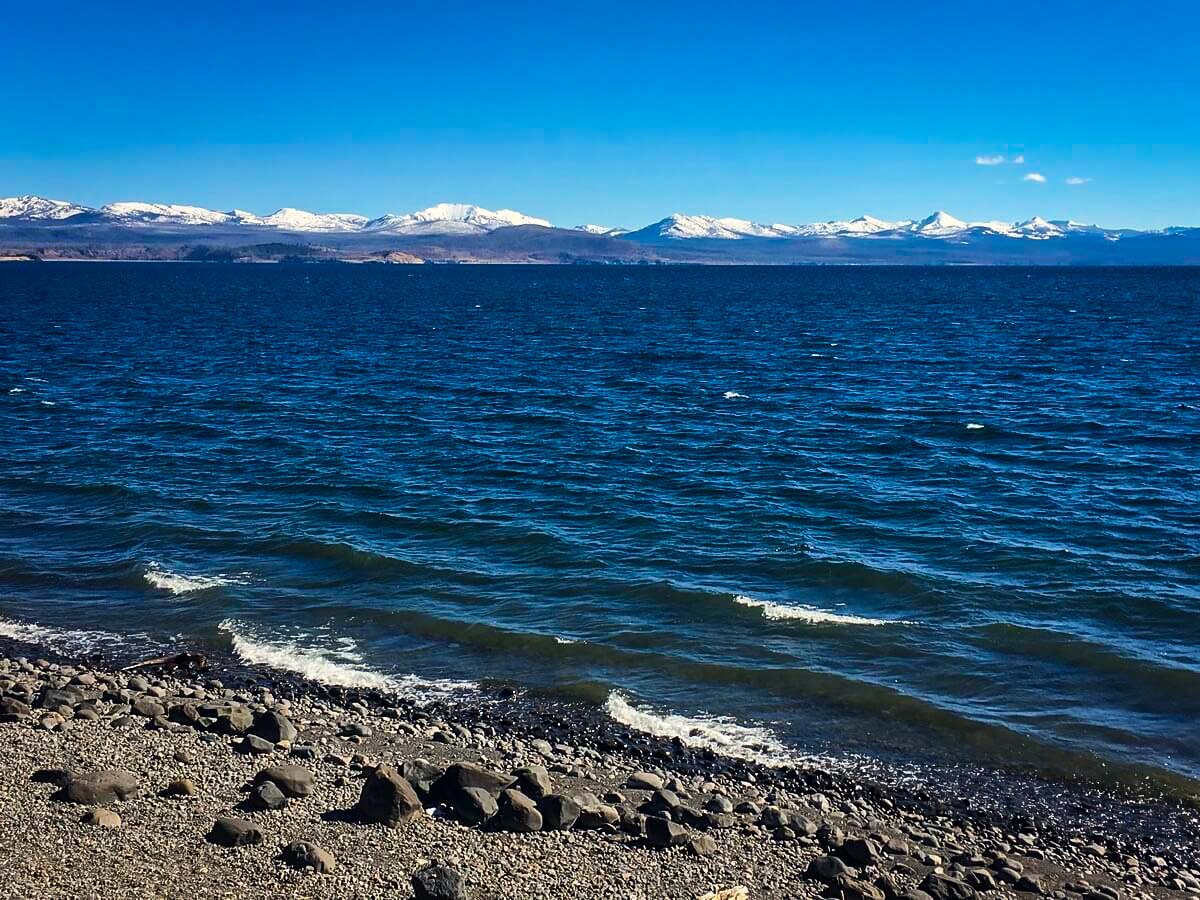 Located in the southern end of the park, Yellowstone Lake is the largest high elevation lake in North America. Sitting at 7,730 ft above sea level, Yellowstone Lake is best explored and enjoyed by boat. Even during the summer months, the lake water temperature sits at around 41°F making it a little too cold to swim.
With its blue waters and mountain peaks in the distance, Yellowstone Lake is perfect for a quick pitstop if you are short on time. If you have more time to spare, you can hike to Storm Point or pack a lunch and have a meal along the lake shore.
Storm Point Hike
Distance: 2.5-mile loop
Elevation: 98 ft
Difficulty Rating: Easy
A moderately trafficked wooded loop trail that passes by Indian Pond and Yellowstone Lake. With varied scenery, spectacular views and the chance to encounter wildlife on the trail, it is recommended you carry bear spray if you attempt this hike.
10. Explore the beautiful West Thumb Geyser Basin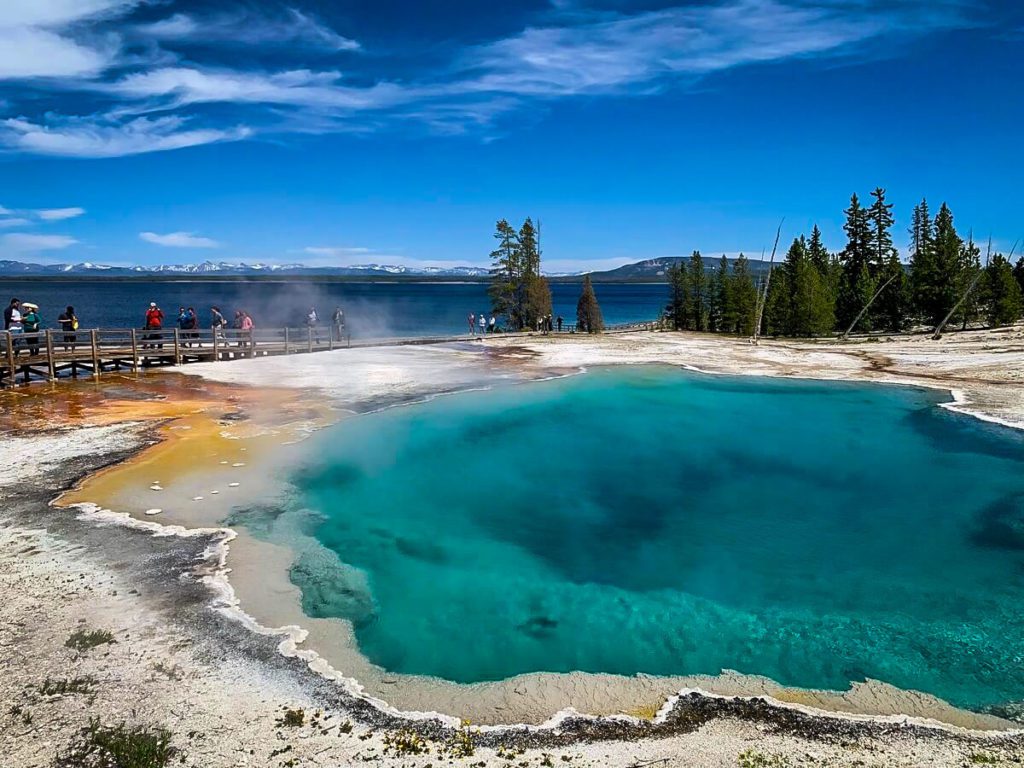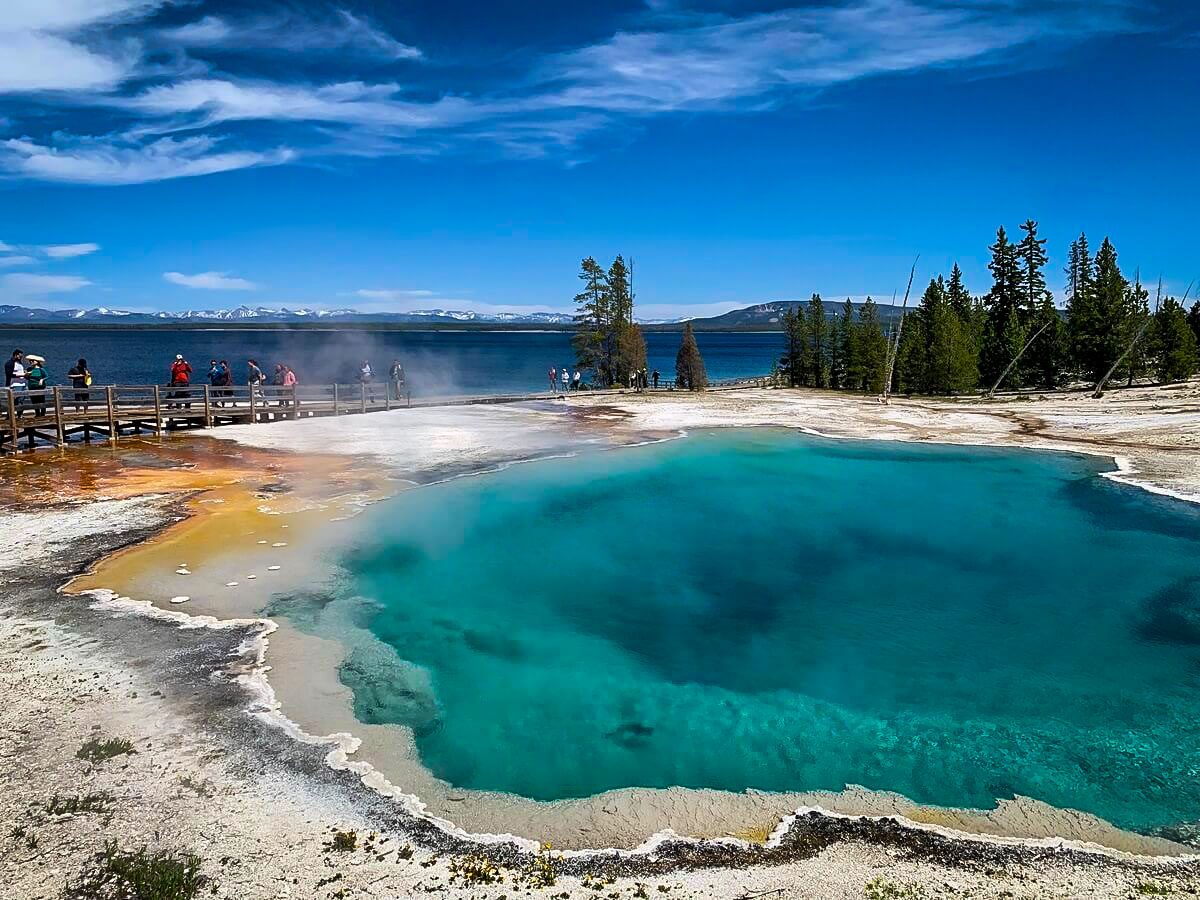 Even though West Thumb Geyser Basin is the smallest geothermal area in Yellowstone, it happens to be one of our favorites. We're not sure if it's the beautiful backdrop of Yellowstone Lake and mountain peaks, but this small geyser basin is one not to miss.
Visiting the West Thumb Geyser Basin is easy. The boardwalk is a 1.1 mile paved path and can take around 30 minutes to one hour to complete. Home to the Abyss Pool, Yellowstone's deepest hot spring, West Thumb is just gorgeous and well worth the stop!
11. Wander around Norris Geyser Basin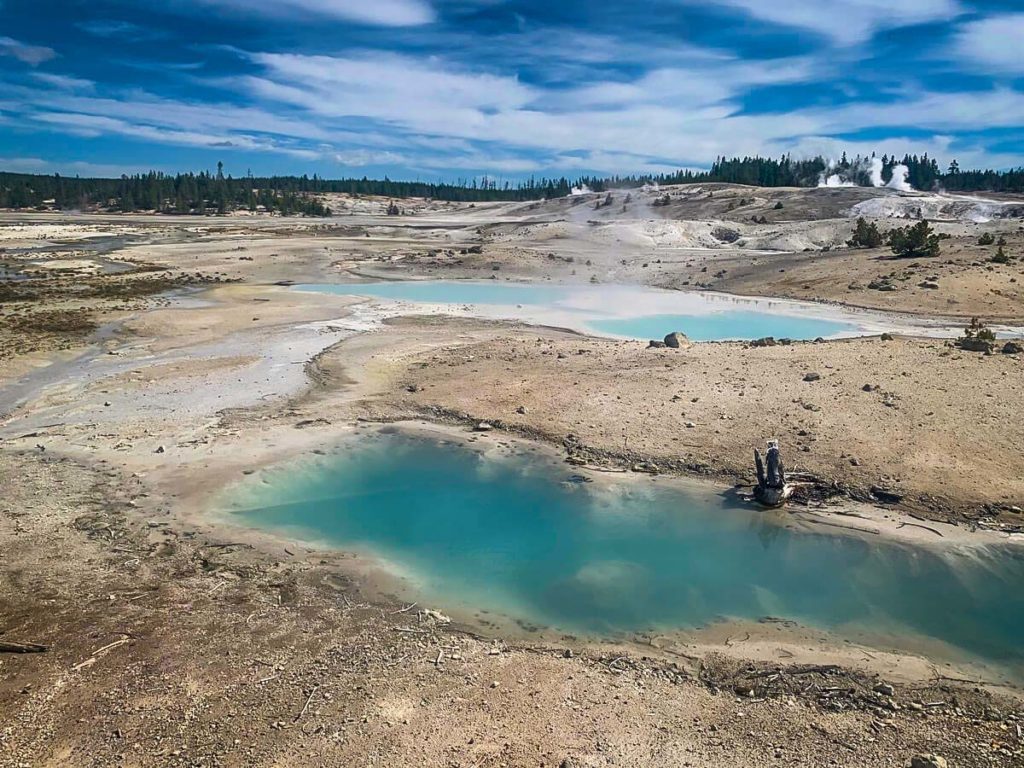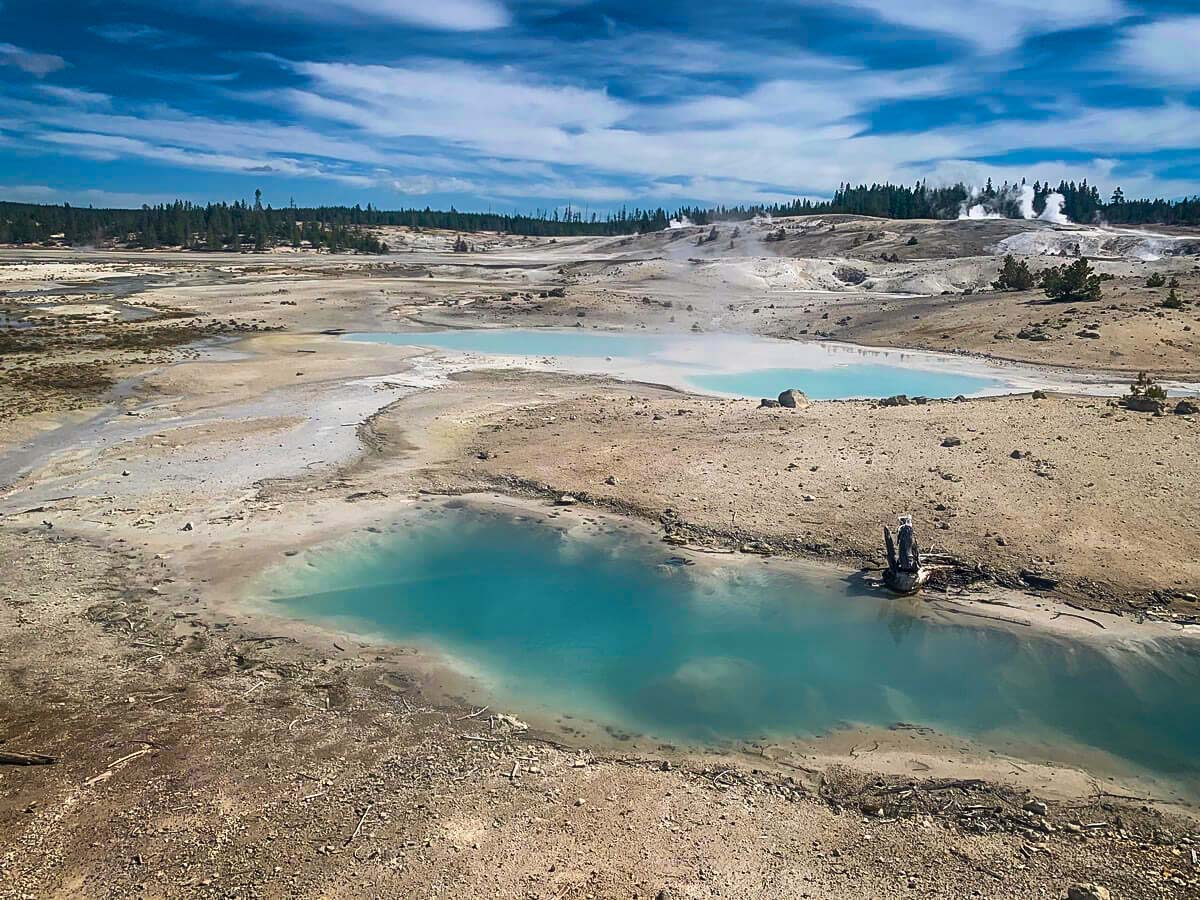 Of all the geyser basins in Yellowstone, Norris Geyser Basin is the one that is rapidly changing the most. Norris is broken up into two sections: Black Basin and Porcelain Basin.
Back Basin is the larger of the two and home to popular thermal pools like Steamboat Geyser.
Porcelain Basin, while smaller, offers much more to look at when compared to Back Basin. From bubbling thermal pools to turquoise hot springs, if you must choose between the two, we'd suggest spending your time at Porcelain Basin.
Psst! Want to combine your trip to Yellowstone with another of America's greatest national parks, check out our 4 day Grand Teton to Yellowstone itinerary on our sister site to help you plan an epic road trip!
12. Visit the Fountain Paint Pots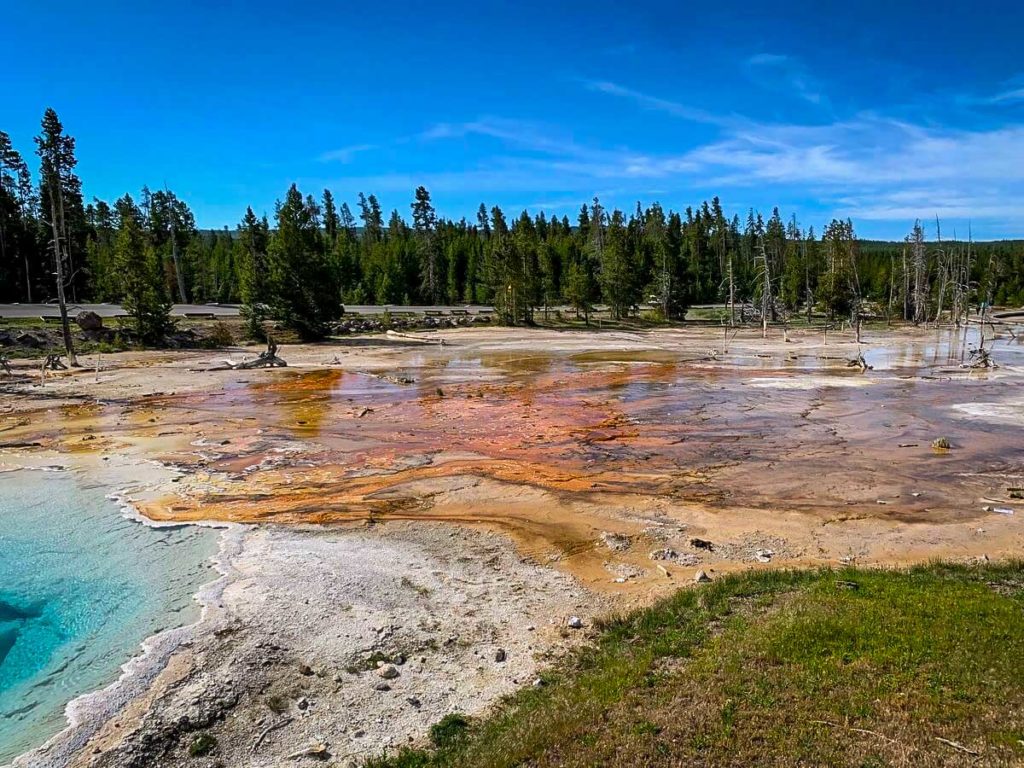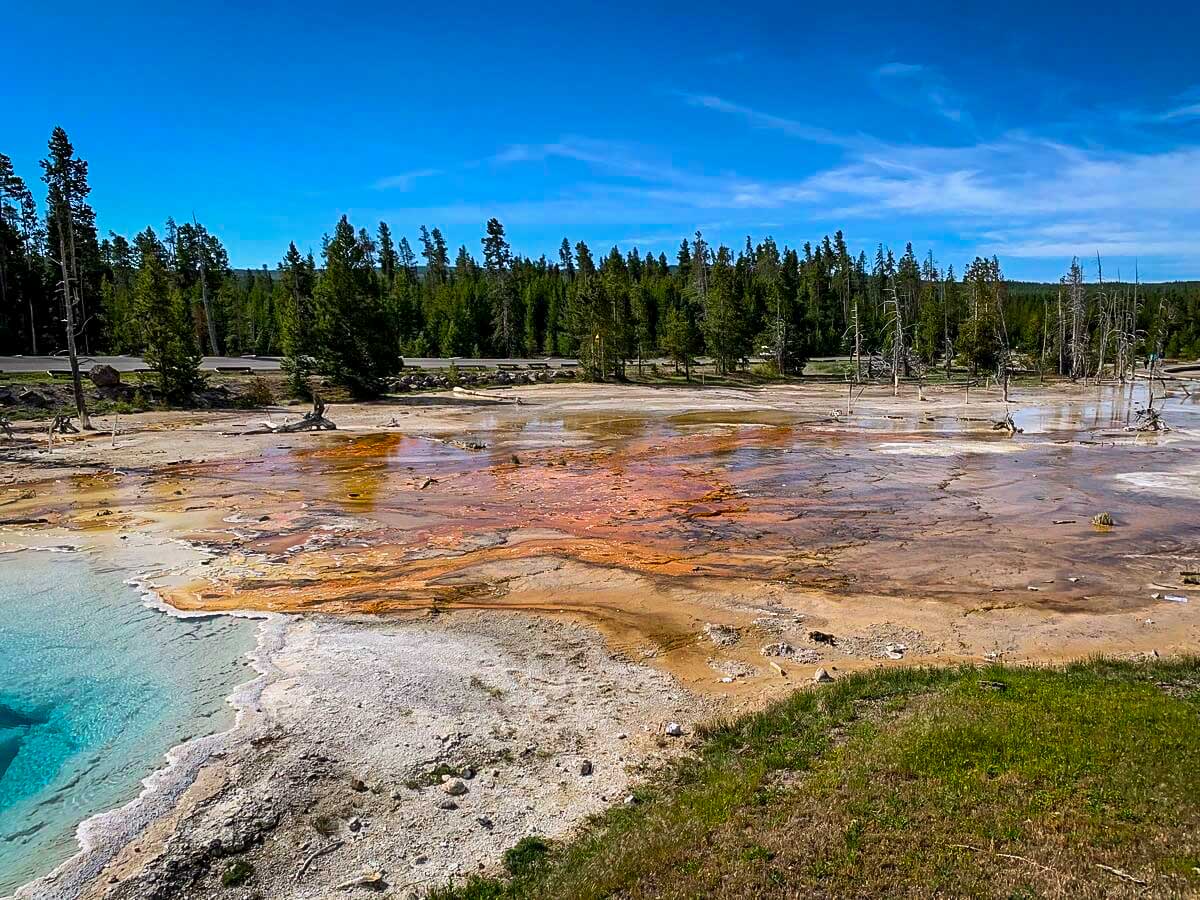 A quick stop at Fountain Paint Pots is nice as it highlights all of Yellowstone's geothermal features in one stop: hot springs, geysers, mud pots, and fumaroles.
However, in relation to other hot springs and geysers you'll visit, the Fountain Paint Pots are a little lackluster in comparison. Nevertheless, the half mile long boardwalk loop makes visiting quick and easy.
13. Chase a Yellowstone waterfall… or five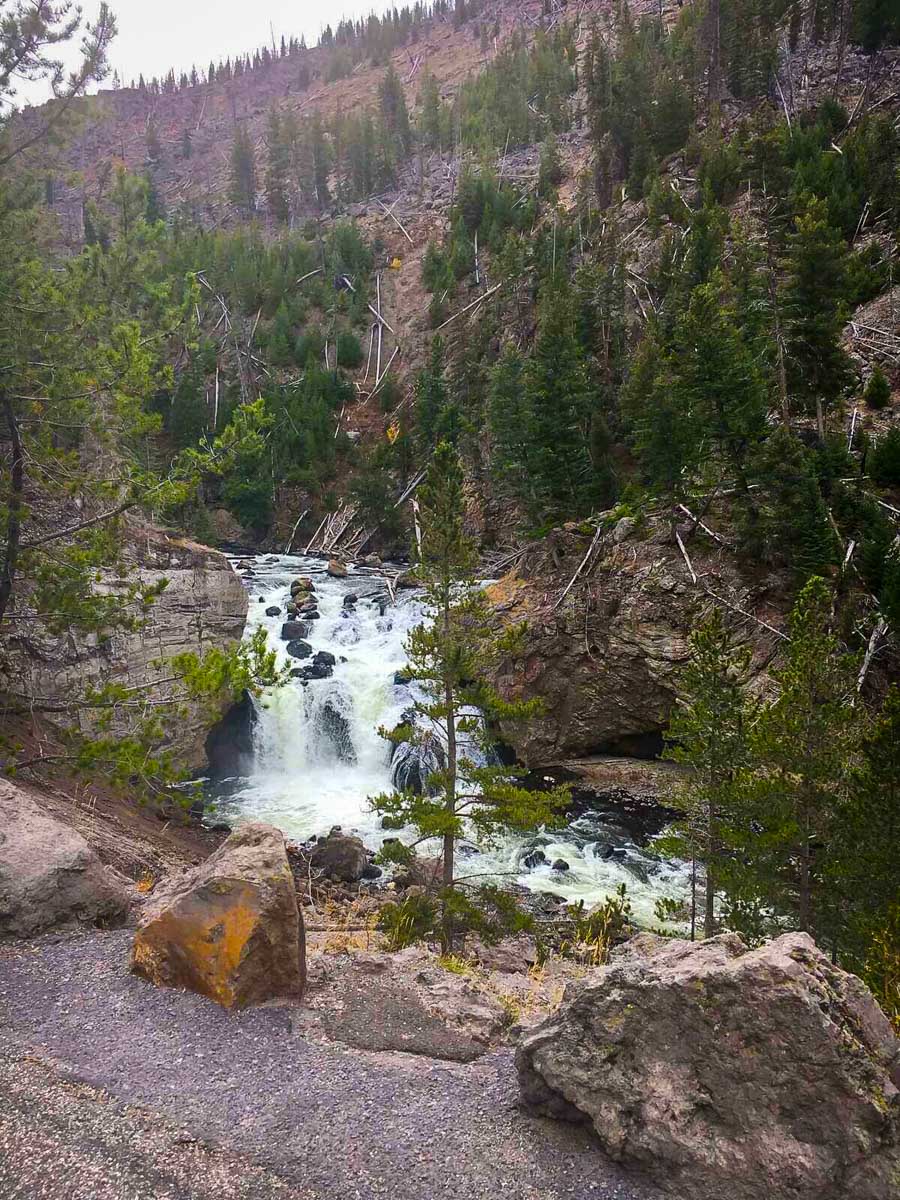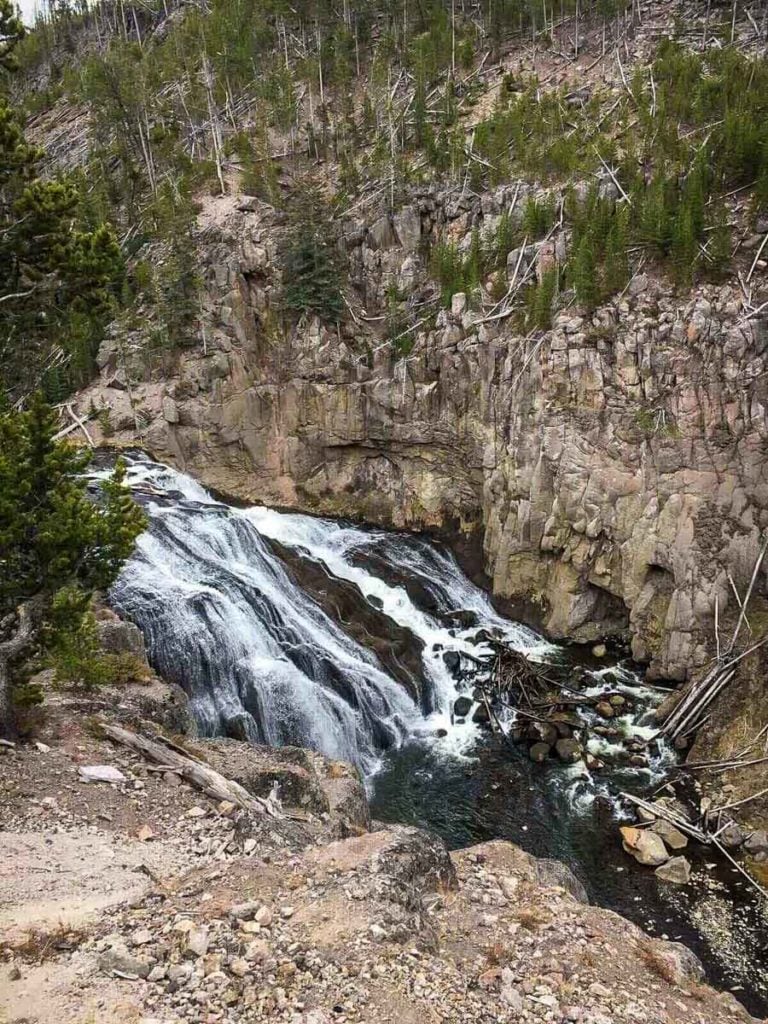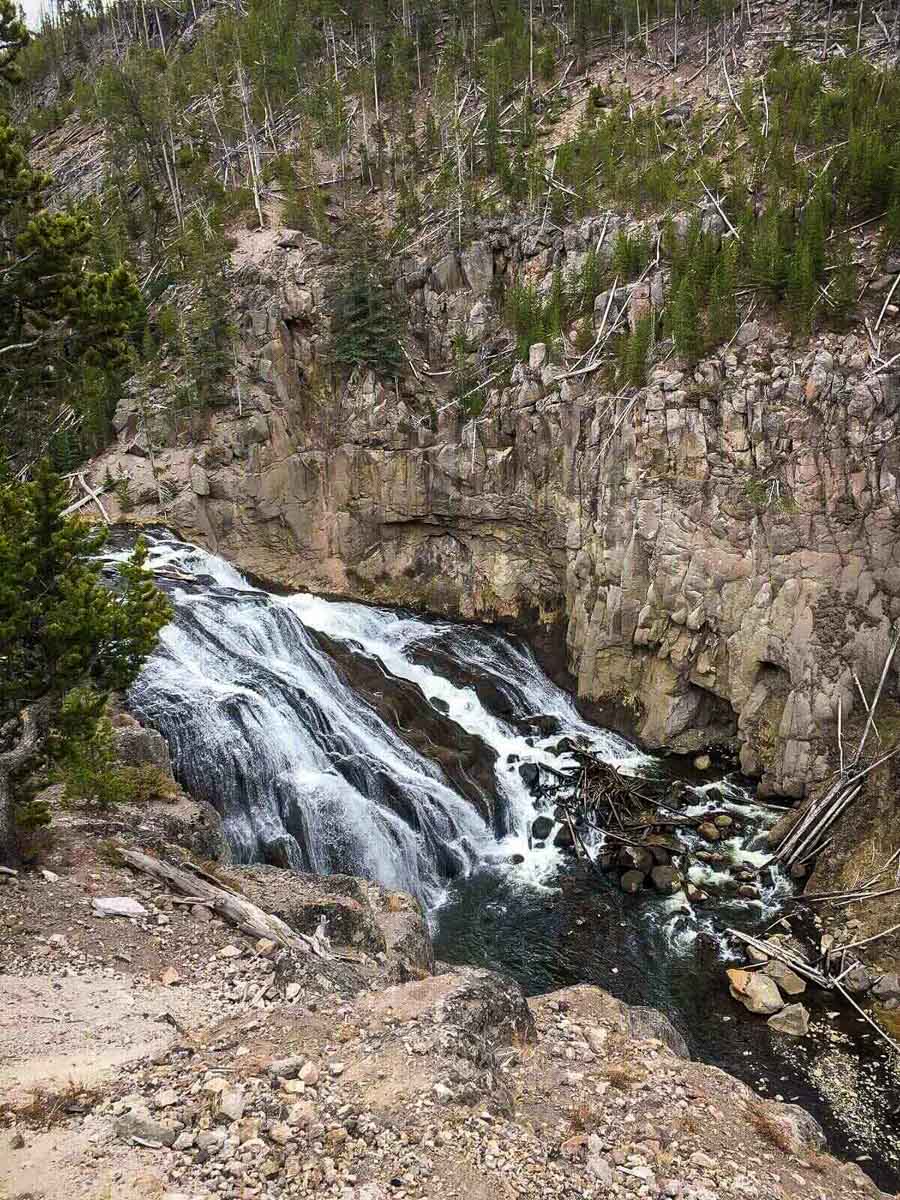 Scattered through Yellowstone National Park is a series of around 300 waterfalls. Some are found along the side of the road, others requiring a bit of a hike to get to.
Regardless of whether you want to chase as many as you can find or just a few, be sure to at least see one waterfall during your visit to Yellowstone.
Below are a handful of the most popular waterfalls to see in Yellowstone:
Udine Falls: Located about 10 minutes south of Mammoth Hot Springs and can be viewed from the road.
Fairy Falls: Requiring a 4.8-mile hike, you can access the trailhead near Grand Prismatic Spring.
Tower Fall: Located about a half-hour away from Udine Falls, lies Tower Fall, a 132ft waterfall that requires a 0.8-mile hike.
Gibbon Falls: Dropping 84-ft into the Gibbon River is the Gibbon Falls. This waterfall requires a short walk along a paved path to get your sights on it.
Firehole Falls: Located along scenic drive in Firehole Canyon lies Firehole Falls. You can witness this 40ft fall easily from the road.
14. Relax in Yellowstone's Boiling River Hot Spring
If you are near Mammoth Hot Springs and want to rest for a bit, consider resting and soaking in the boiling river!
We know, not the most welcoming name, is it?
You can find the boiling river parking lot along the road between the North Entrance and Mammoth Hot Springs. Once parked, a half-mile walk along the Gardiner River will take you to the designated swimming area of the Boiling River.
Tip: Please use eco-friendly sunscreen to protect Yellowstone's waterways from harmful chemicals sunscreens can place in our environment.
15. Trek the Mount Washburn Trail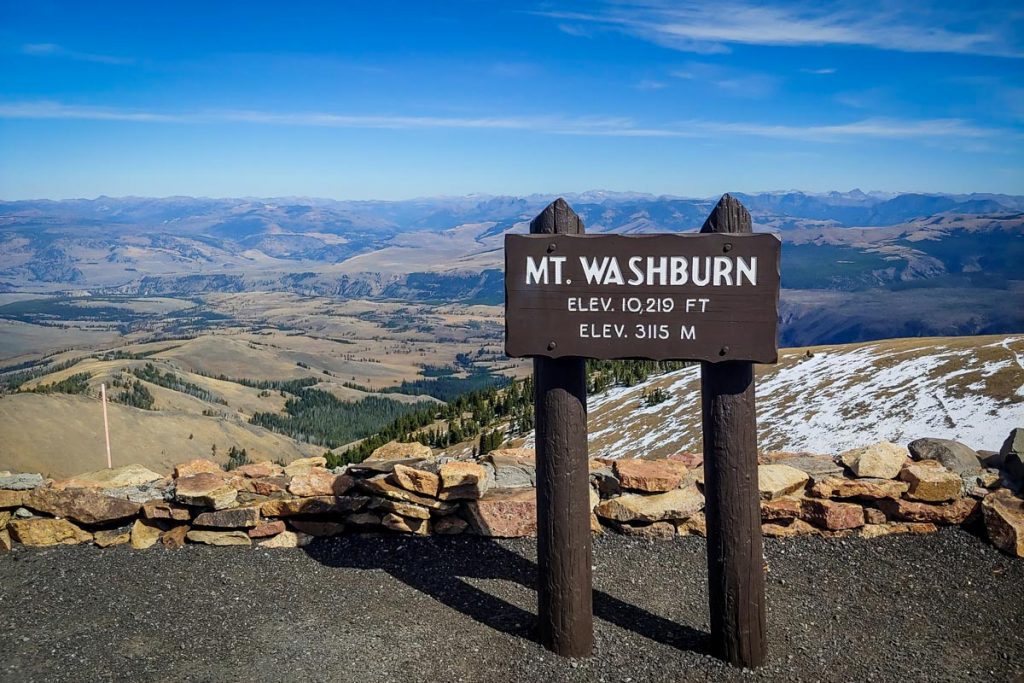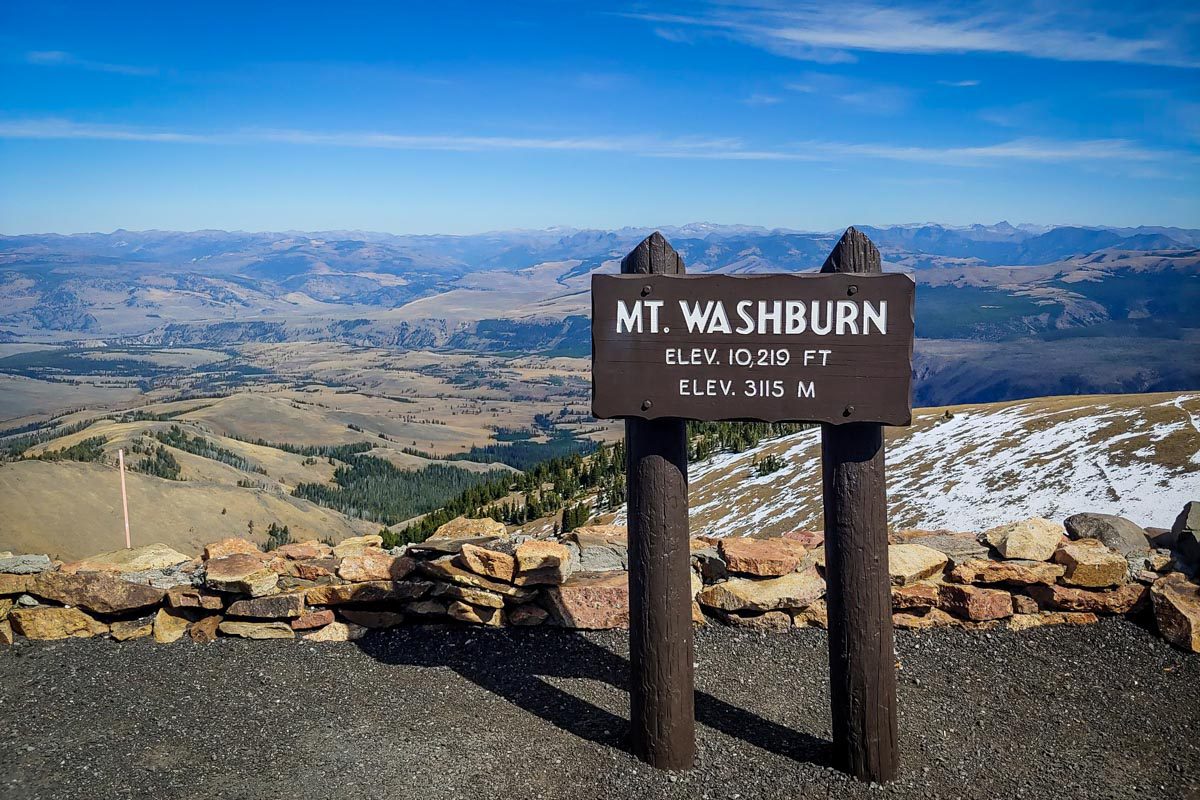 Distance: 6.8 miles, out and back
Elevation: 1,394 ft
Difficulty Rating: Moderate
If you are looking for one epic day hike in Yellowstone with expansive views of the park, hiking the Mount Washburn Trail is for you! The most popular place to start this hike is from Dunraven Pass.
From Dunraven Pass, the trail is a nearly 7-mile out and back trail that may take you anywhere from 3-6 hours to complete depending on your physical fitness. Along the way, you'll have the chance to spot bighorn sheep and wildflowers.
Tip: Plan to pack some bear spray. It's better to be safe than sorry!
16. Drive through the Roosevelt Arch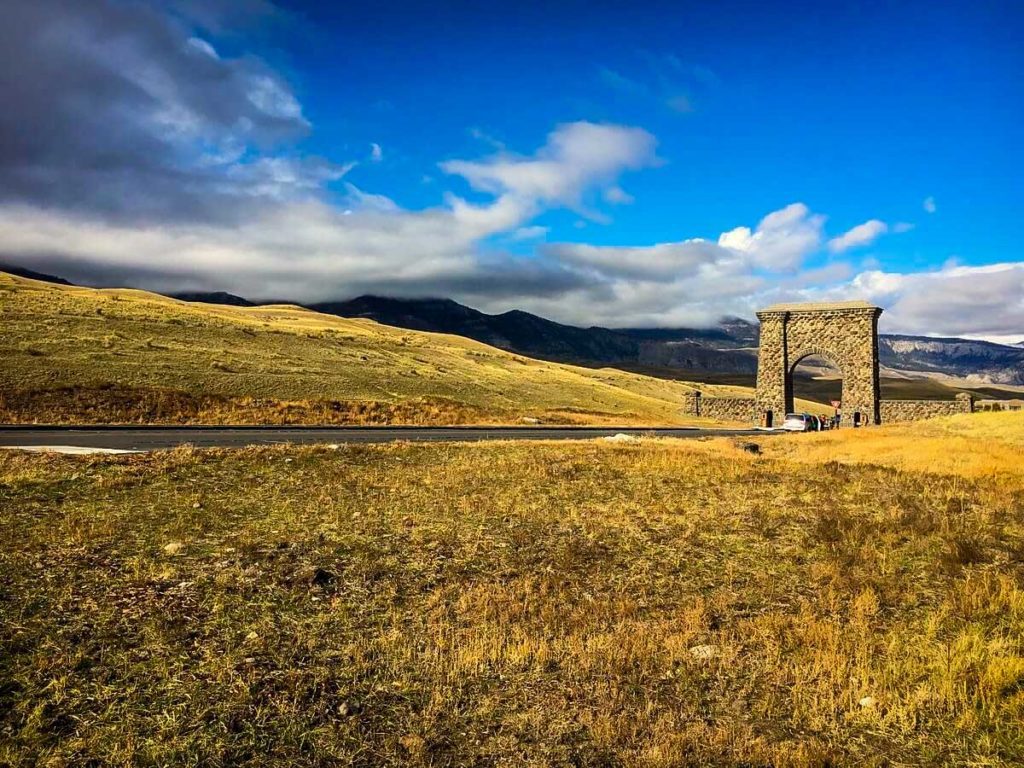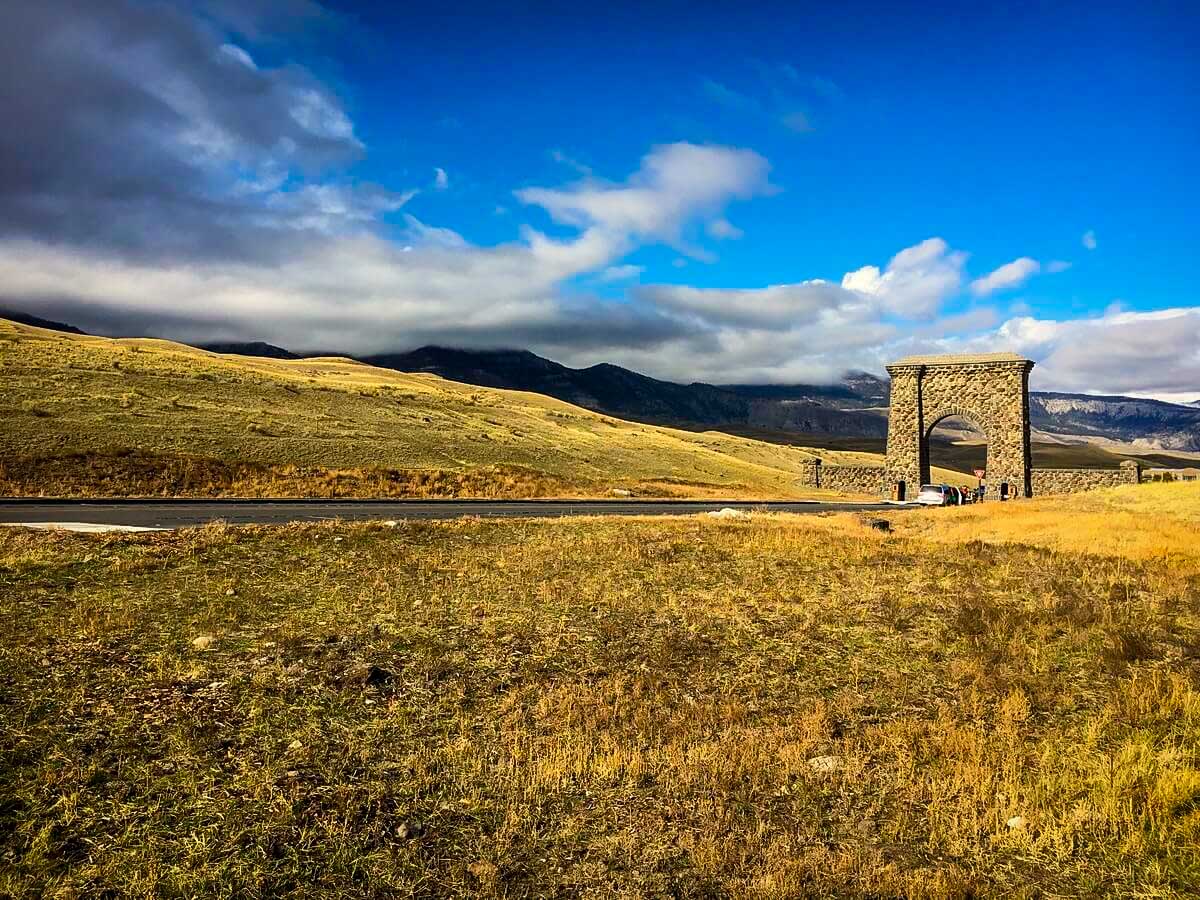 If you are coming from or exiting through the North Entrance of the park, you'll notice a giant stone archway. In 1903, the Roosevelt Arch was constructed with the cornerstone laid by President Theodore Roosevelt.
As you drive through the arch, you'll notice the inscription on the top sets the tone for your trip into the park, "For The Benefit and Enjoyment of the People."
17. Take a scenic drive along Blacktail Plateau Drive
Looking to experience an additional scenic drive in Yellowstone National Park? Blacktail Plateau Drive should be added to your list.
Blacktail Plateau Drive is a 7-mile lightly trafficked dirt road which takes around 20-30 minutes to drive. However, if you plan to stop to take in the view along the way (which you should) the drive will take much longer.
Ranking among the best places to spot wildlife in the park, Blacktail Plateau Drive is in the northern loop section of the park, about 25 minutes from Mammoth Hot Springs.
Psst! Want to combine your trip to Yellowstone with another incredible U.S. National Park? Check out our 5-Day Glacier National Park to Yellowstone on our sister site to help you plan an epic road trip!
---
Things to Know Before Visiting Yellowstone National Park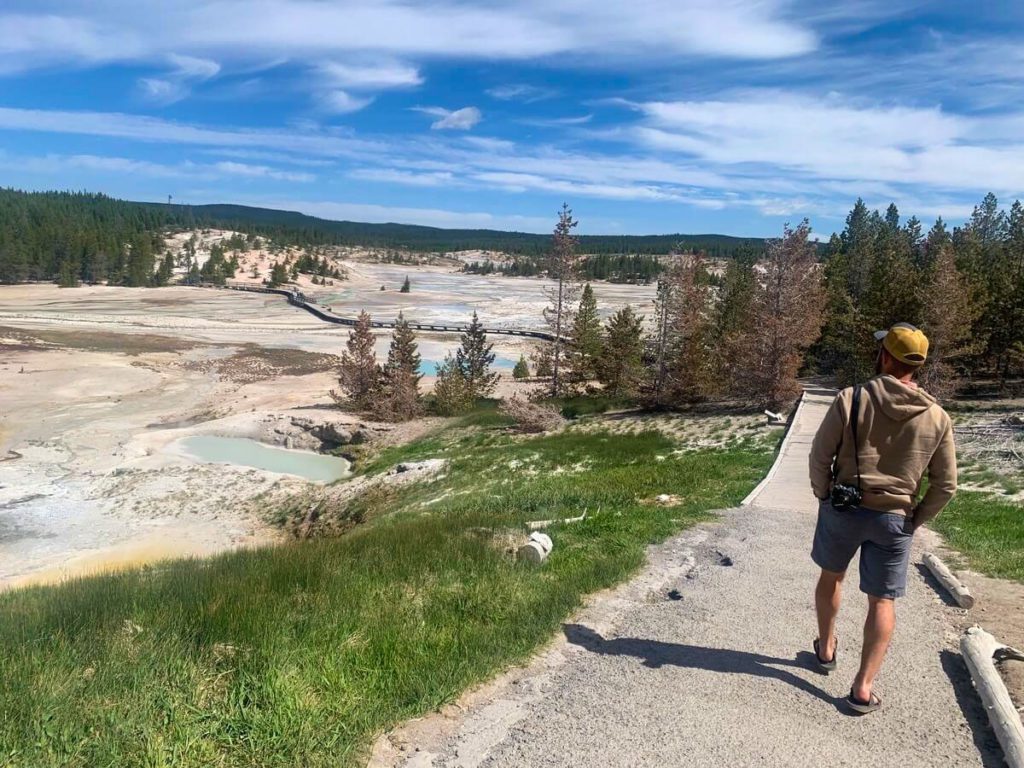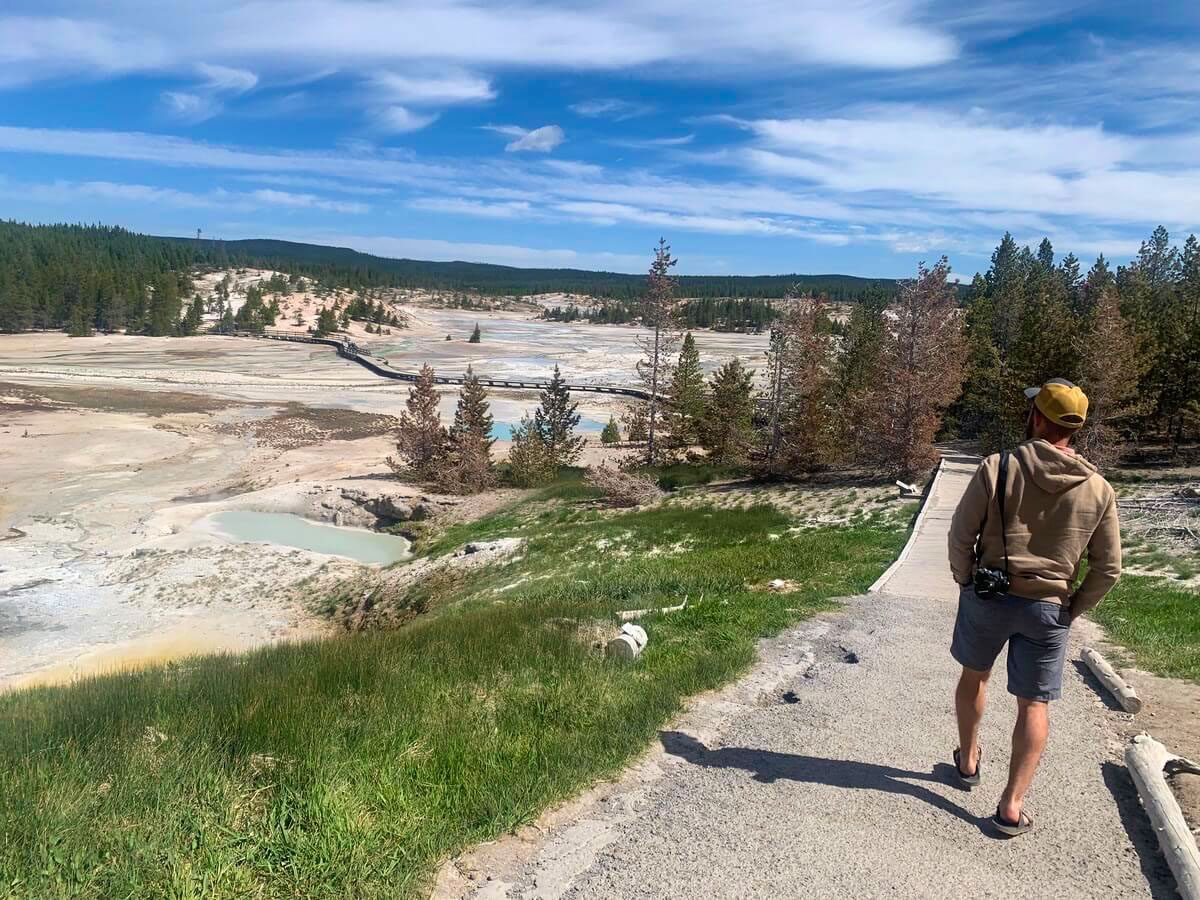 Road closures: For information on current or upcoming road closures in Yellowstone National Park, check out the latest updates on road conditions here.
Accommodations & tours: Whether you're staying in the park or nearby, camping or looking for a hotel, you should book accommodations and any tours well in advance as things book up quickly!
Cell phone reception: Limited to nonexistent in the park, so download offline Google maps to help you navigate before you go.
Park restaurants: For a full list of Yellowstone restaurants, check out the NPS site here.
Be bear aware & respect the wildlife: Do not leave food out and do not feed the wildlife, keep your distance from all animals, and please pick up after yourself.
Bathrooms: Bathrooms can be found at Visitor Centers and entrances to popular geyser basins and sites
Gas stations: Old Faithful Service Station, Grant Village Service Station, Fishing Bridge Service Station, Tower/Roosevelt Junction Service Station and Mammoth Hot Springs Service Station
Where To Stay In & Near Yellowstone
Within Yellowstone National Park, you have 9 accommodation options to choose from. For any reservations at the below in-park accommodations, visit the Yellowstone National Park website to reserve your stay.
Lake Yellowstone Hotel and Cabins
Mammoth Hot Spring Hotel and Cabin
Old Faithful Inn
Old Faithful Snow Lodge and Cabins
Canyon Lodge and Cabins
Old Faithful Lodge Cabins
Roosevelt Lodge Cabins
Grant Village
Lake Lodge Cabins
If you want to stay outside the park, the closest accommodation options to Yellowstone will be in Gardiner, Montana (North Park Entrance) or West Yellowstone, Montana (West Park Entrance).
Gardiner, Montana Accommodations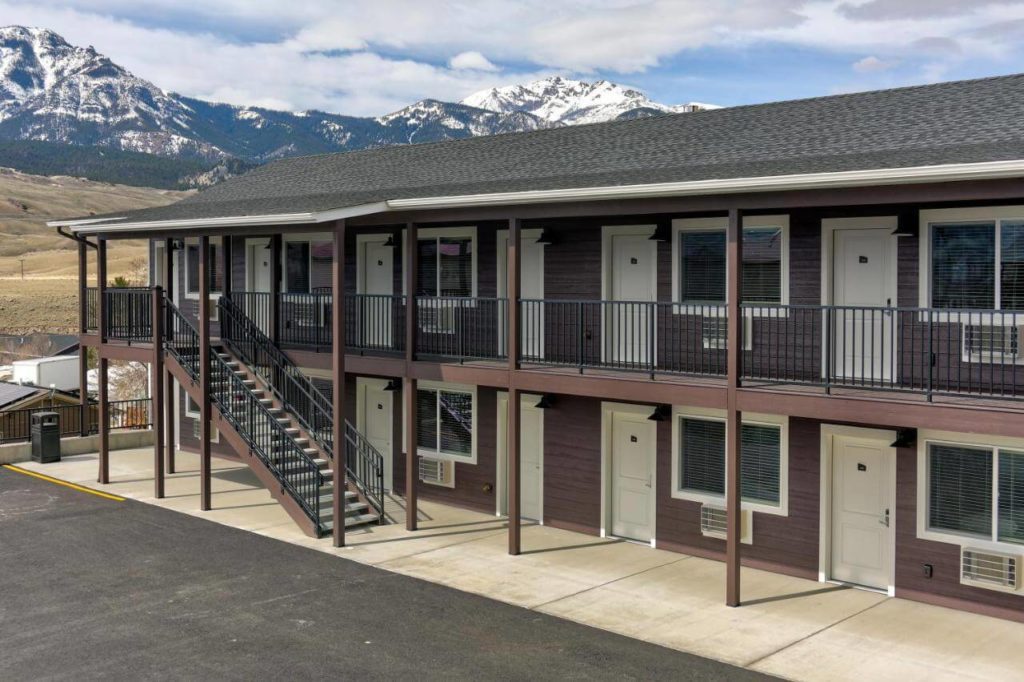 Clean, comfortable, and quaint. If you are looking for friendly staff and a great location to not only Gardiner but Yellowstone, The Roosevelt Hotel is a great option to consider.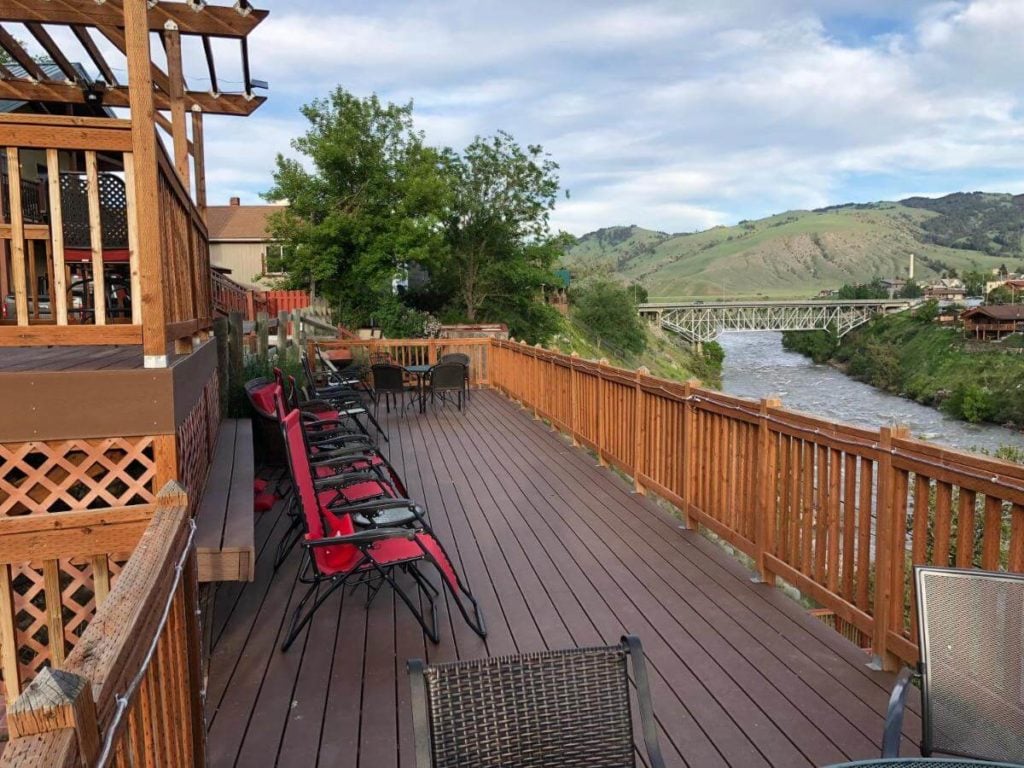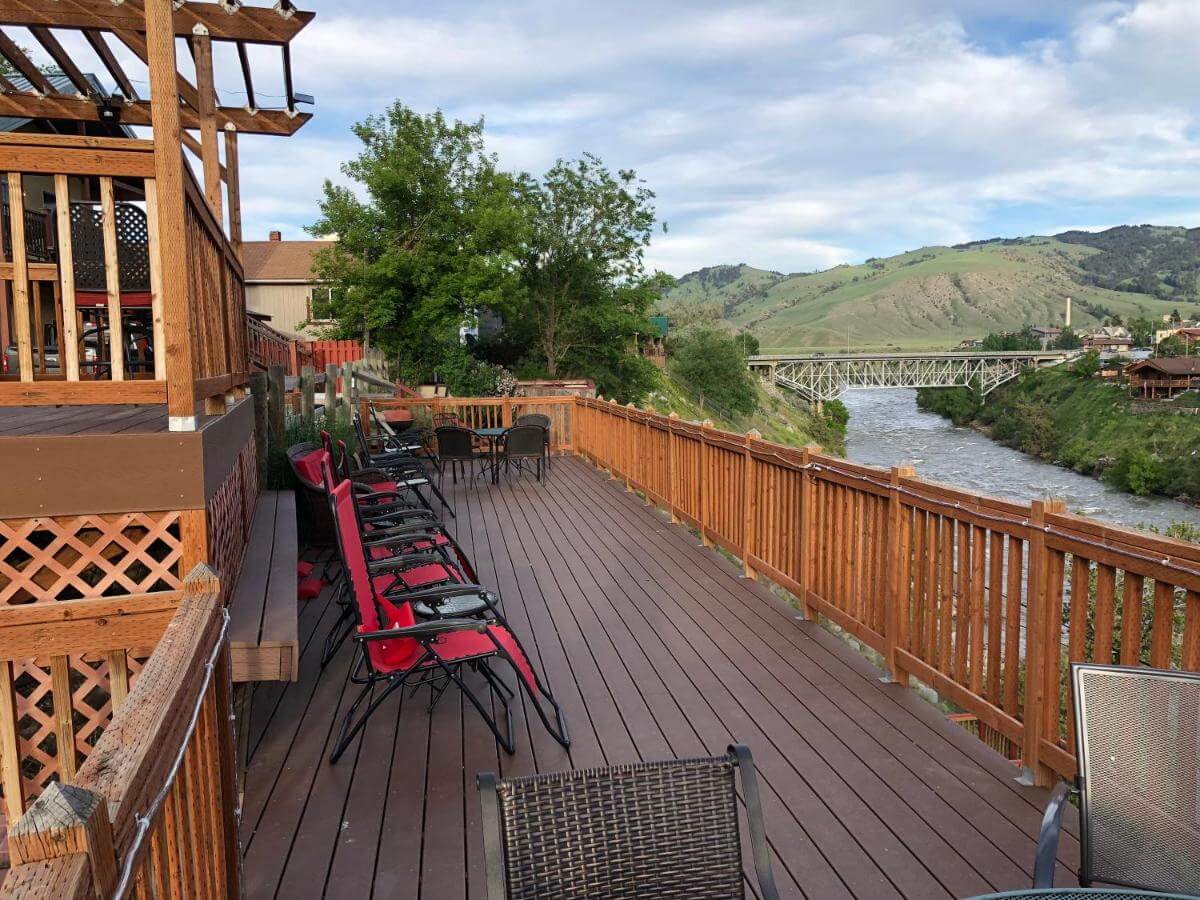 Yellowstone Riverside Cottages:
Overlooking the Yellowstone River, these charming cottages are a perfect place to cozy up and take in the views after a day of exploring Yellowstone Park.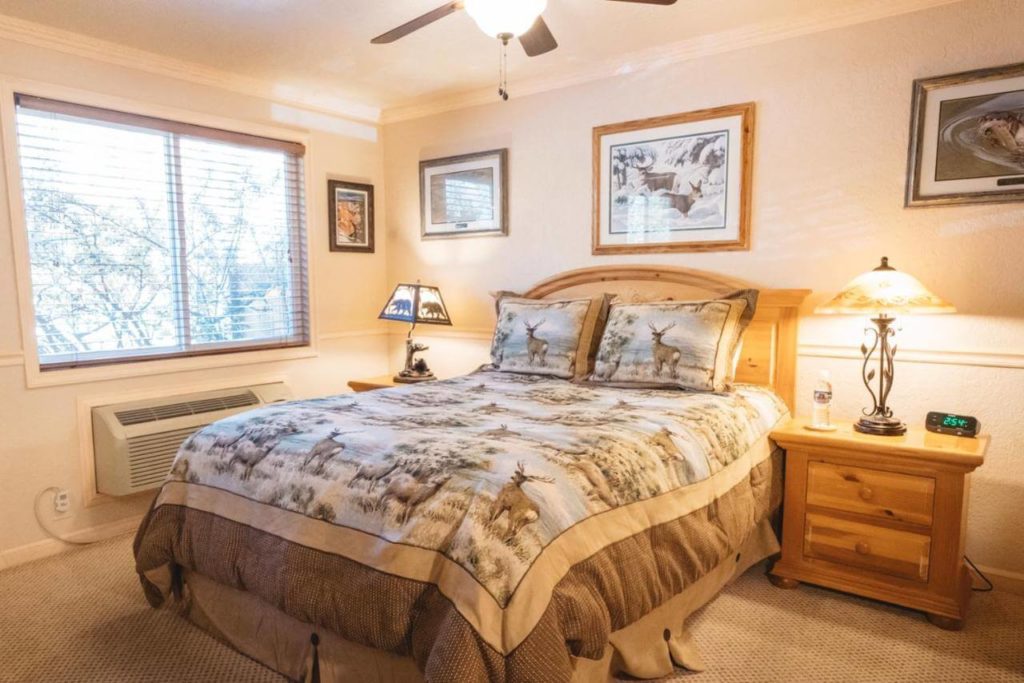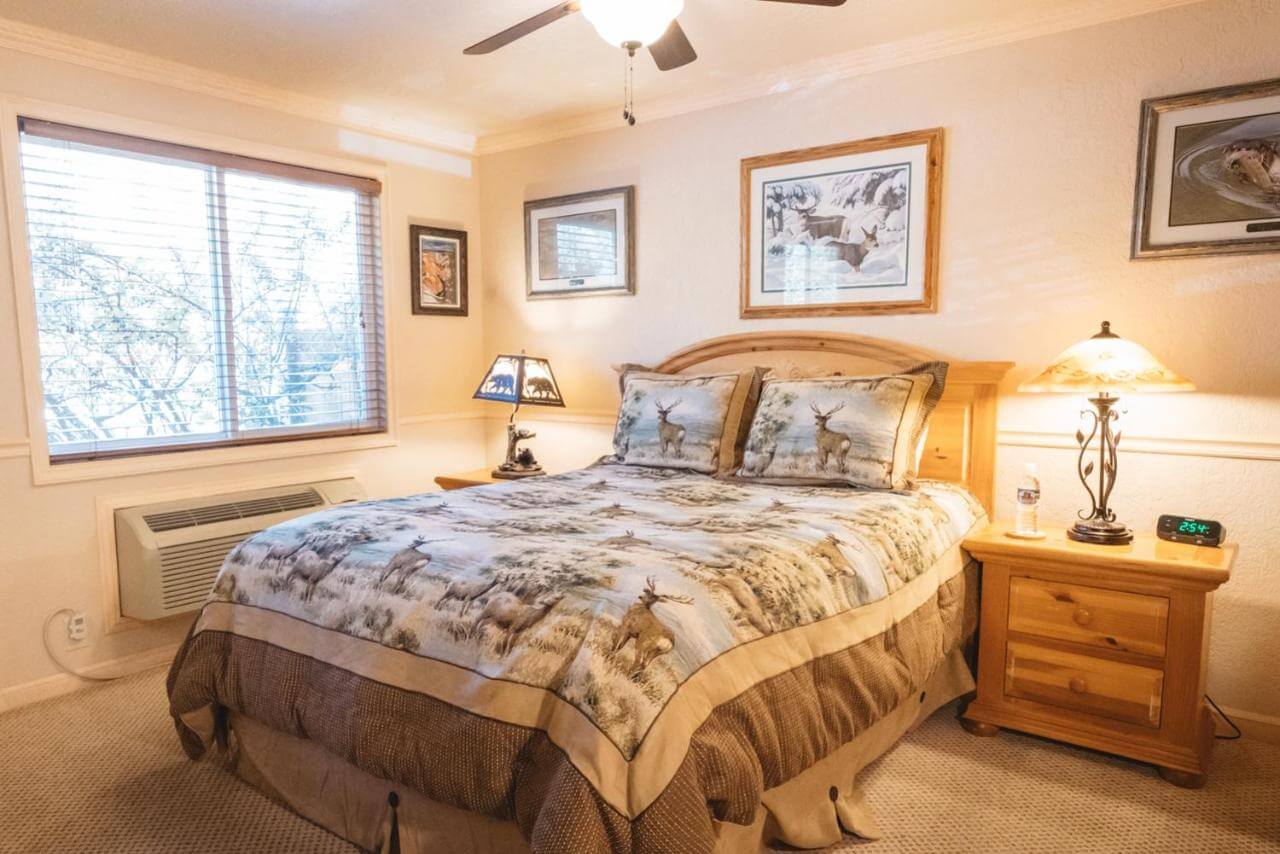 Located next to a National Forest and 2 miles from the park entrance, the Gateway Inn offers private cabins to those looking for a quiet and comfortable stay.
West Yellowstone, Montana Accommodations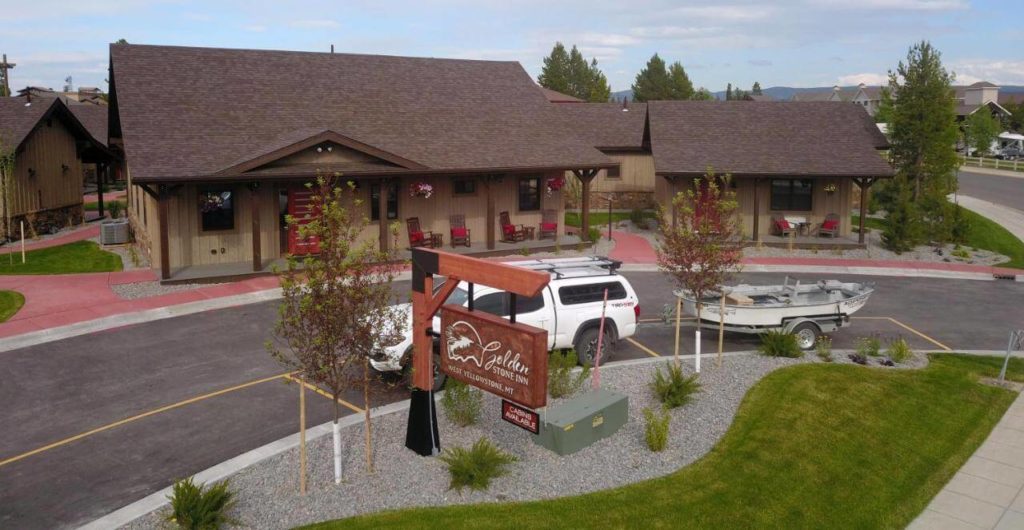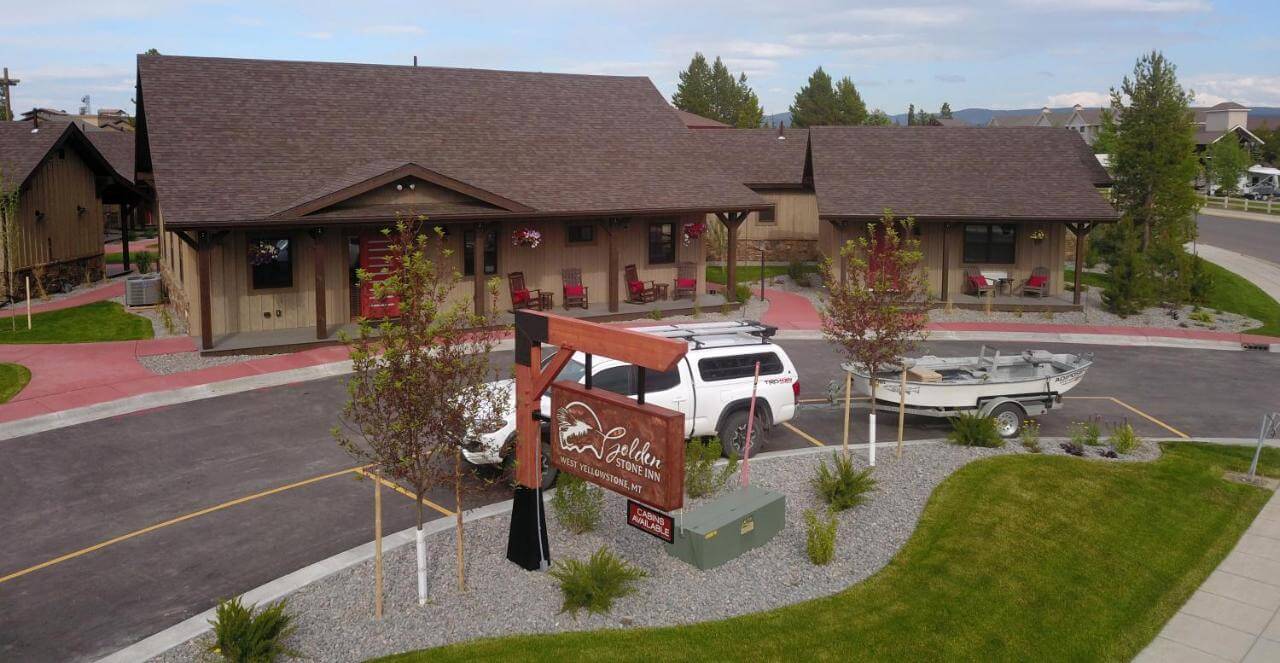 Friendly staff, excellent location with a modern log cabin twist, it's no wonder why Golden Stone Inn ranks among the top accommodation choices for West Yellowstone.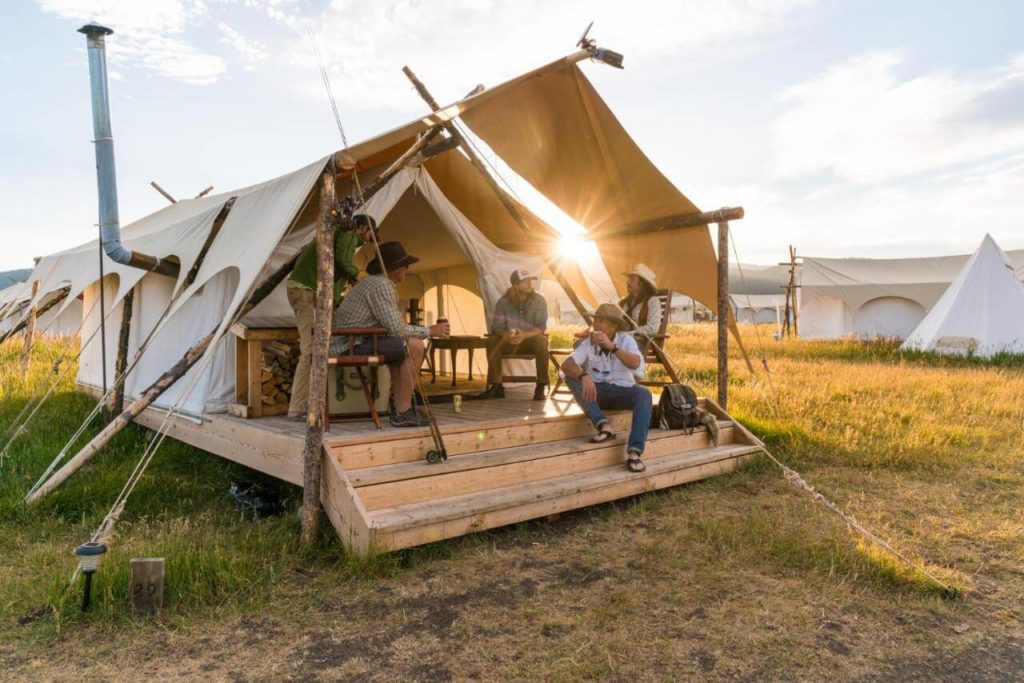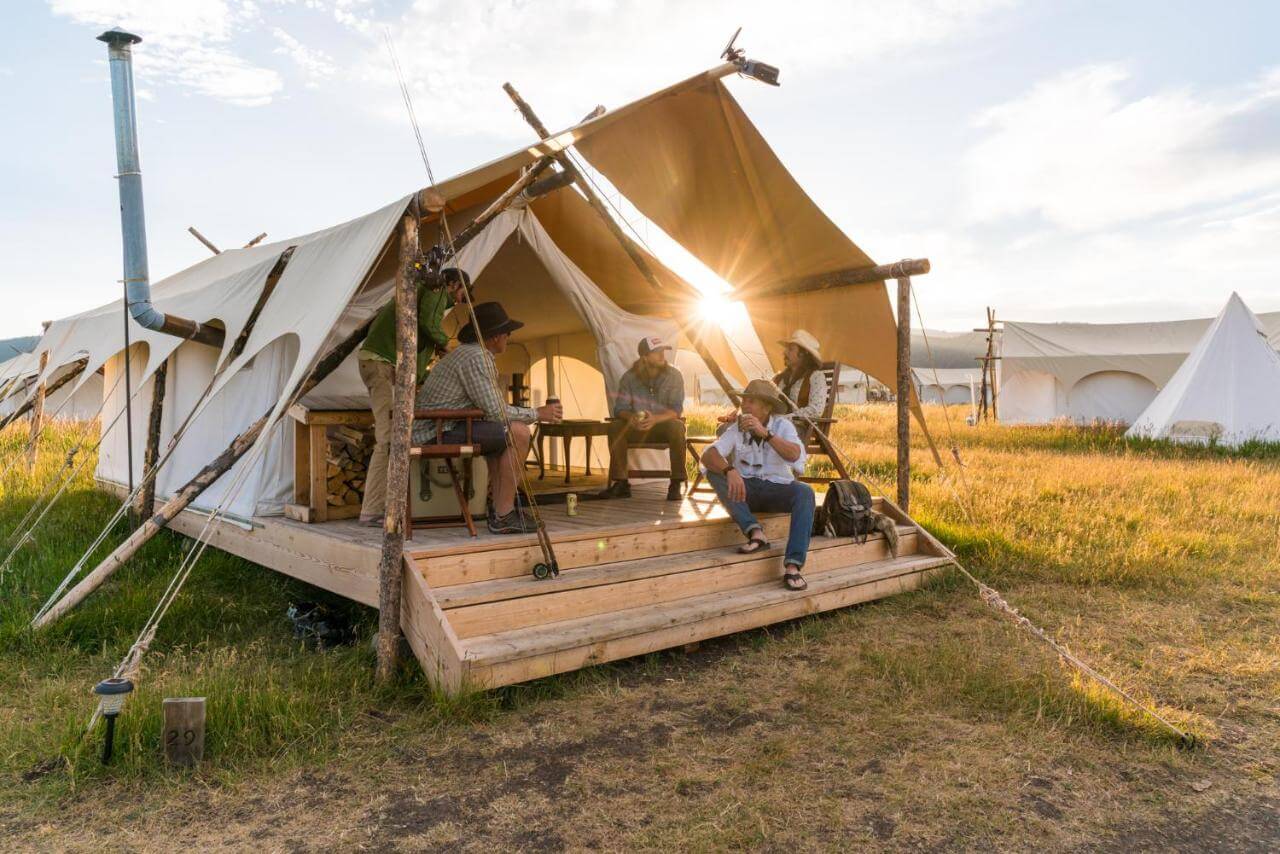 If you're looking for a unique accommodation experience, consider glamping just outside of Yellowstone! Cozy and welcoming luxury canvas tents with comfortable beds and fireplaces await you.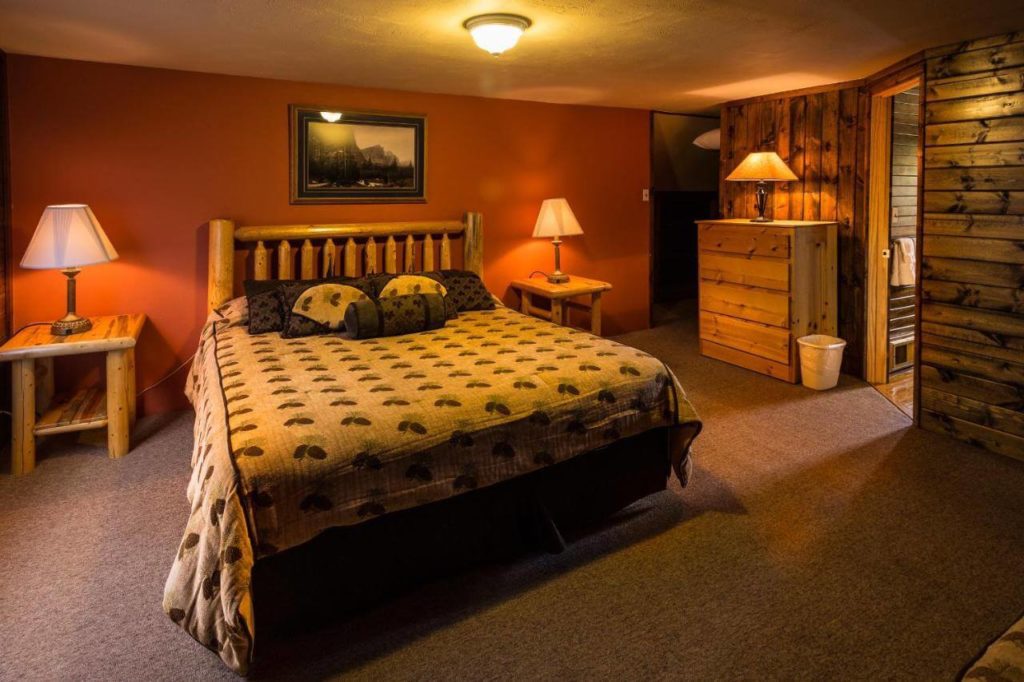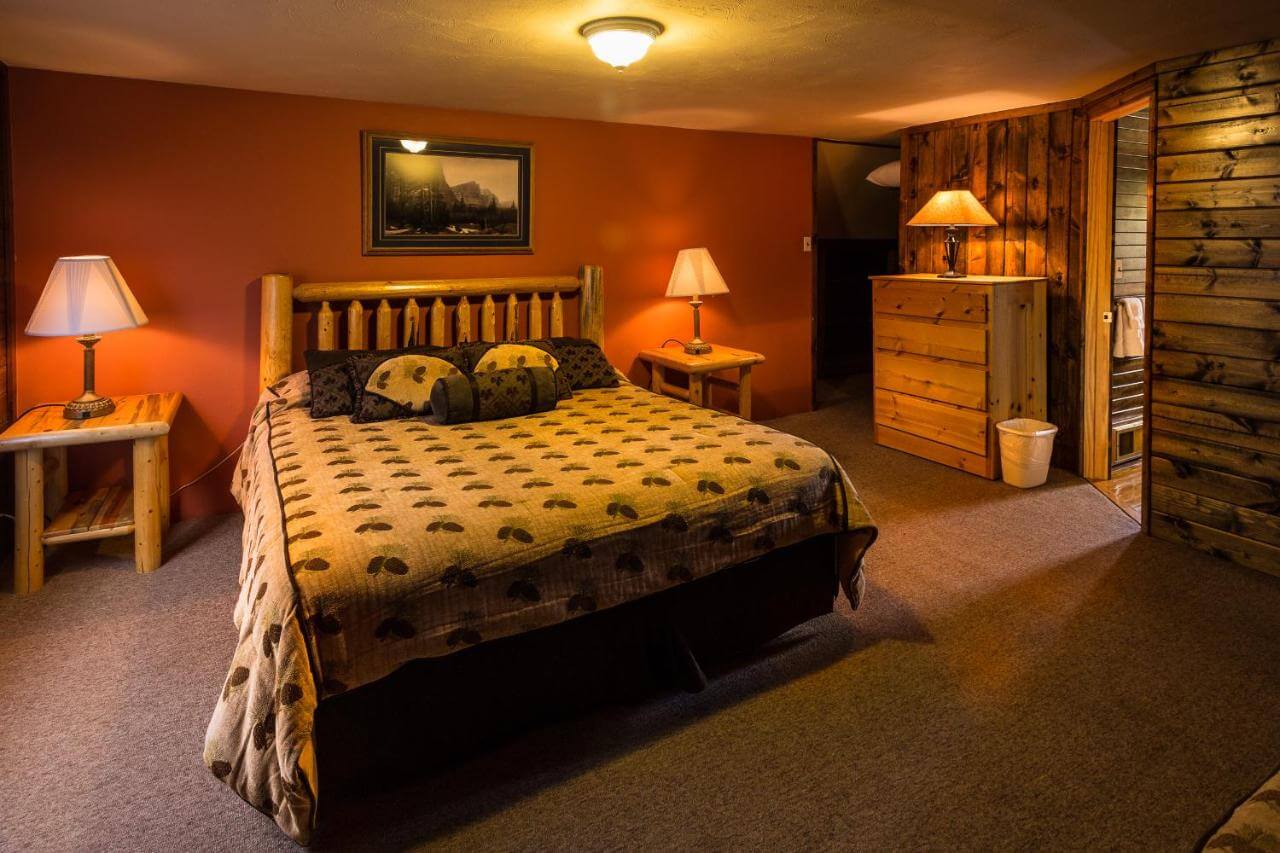 Clean and comfortable cabins located in West Yellowstone and close to Yellowstone is what you can expect from Faithful Street Inn. They are a little rustic, but cozy, nonetheless.
Tip: As soon as you know the dates of your Yellowstone visit, BOOK YOUR HOTEL room. Places within and near the park book up fast. To secure your desired accommodation type and location, book well ahead of your planned visit.
Camping In Yellowstone National Park
If you are looking to pitch a tent or park your campervan or RV, Yellowstone has 12 in-park campgrounds with over 2,000 sites for you to choose from.
Fair warning: these sell out fast! Like, really fast.
Of the 12 campgrounds, five require reservations. The rest are first-come, first-serve. The five that require reservations are listed just below.
For more information on Yellowstone Camping, reference the NPS site for the latest information on site availability and pricing. If sites are all booked up, try using the popular camping app The Dyrt to find additional camping sites near Yellowstone National Park.
A Note about Camping: If you're traveling in a campervan or simply hoping to save money on your visit to Yellowstone National Park by camping along the way, we have a deal for you!

The Dyrt is our favorite campsite locating app with the largest database of campgrounds (44,000+ campsites and counting!) and over 1 million user-submitted reviews. Plus, it's super user-friendly, and has some pretty cool features, like outdoor gear contests and forums to connect and seek advice from fellow campers, that you won't find on any other camping app.

Try their Pro Membership for FREE for 30 days and gain access to the offline version of the app, utilize their trip planning feature AND get exclusive discounts on campsites and gear!
What To Pack For Yellowstone National Park
Snacks: You'll be in your car a lot and your days will be busy so having snacks is key. You'll be spending long days in Yellowstone, and no one wants to be hangry.
Sunscreen: You're at a higher elevation and spending loads of time outside. Lather up and protect that skin of yours. If you can, go the eco-friendly route to protect our lovely little planet of ours.
Reusable water bottle: Avoid plastic bottles. Do your part to limit waste and opt for a reusable water bottle instead.
First aid kit: For any blisters or accidental cuts. It'll save you the hassle (and pain) of trying to track band aids/medicine down from strangers or park rangers.
Layers: In the mornings and evenings, the temperatures are chilly. Plan to have a jacket or fleece with you. Something you can take off as the day heats up.
Comfortable footwear: Comfortable sandals like Chacos or Tevas are great options, especially for summer! If you're going on any trails or looking for a closed-toe shoe, sneakers with tread or a hiking boot is a great option.
Bug spray: The mosquitoes are alive, well and THRIVING in Yellowstone.
Binoculars: We can't tell you how many times we used our binoculars to see and spot wildlife. You'll be able to see wildlife much better if you have a pair of binoculars with you.
Portable charger: Whether it's a portable charger you can take with you or a USB you can plug into your car, you'll want to have something with you to keep your phones charged up.
Offline Maps: Cell phone reception is practically non-existent in the park so if you require GPS, make sure to download offline Google maps or Maps.Me to help you navigate the park when reception is not available.
If you plan to have lunch on the go, plan to pack a cooler in your vehicle. However, if you are driving a truck, just make sure to keep the cooler out of your truck bed as it could attract bears.
---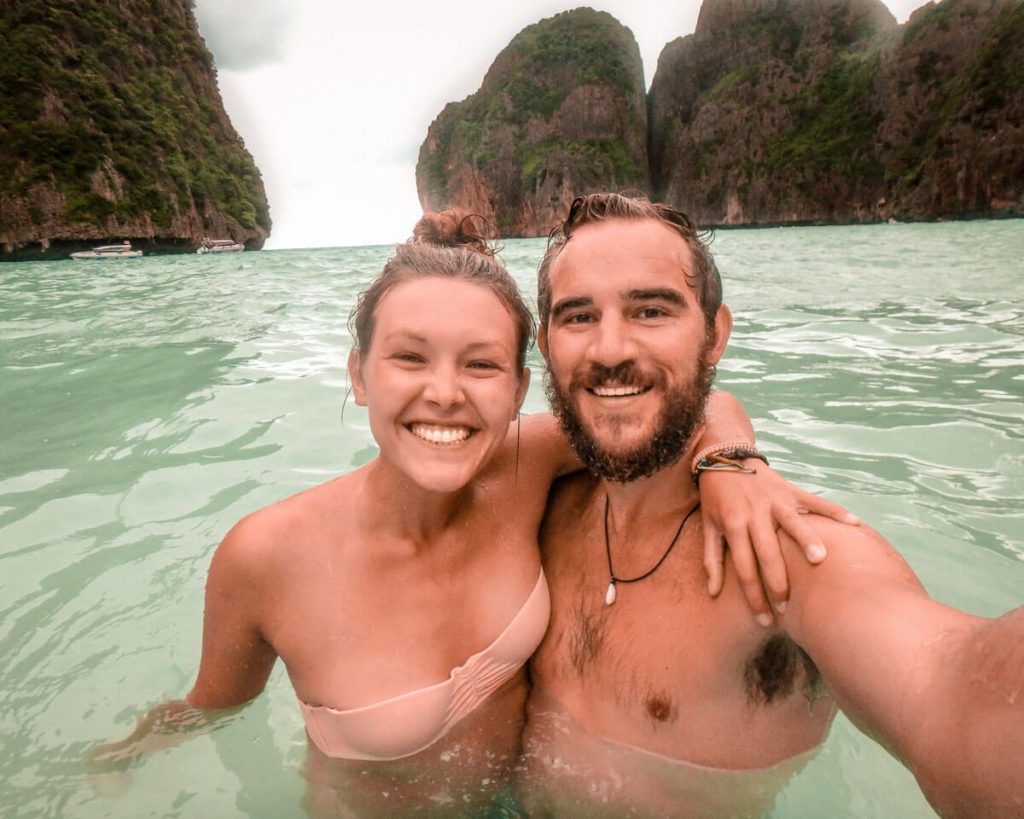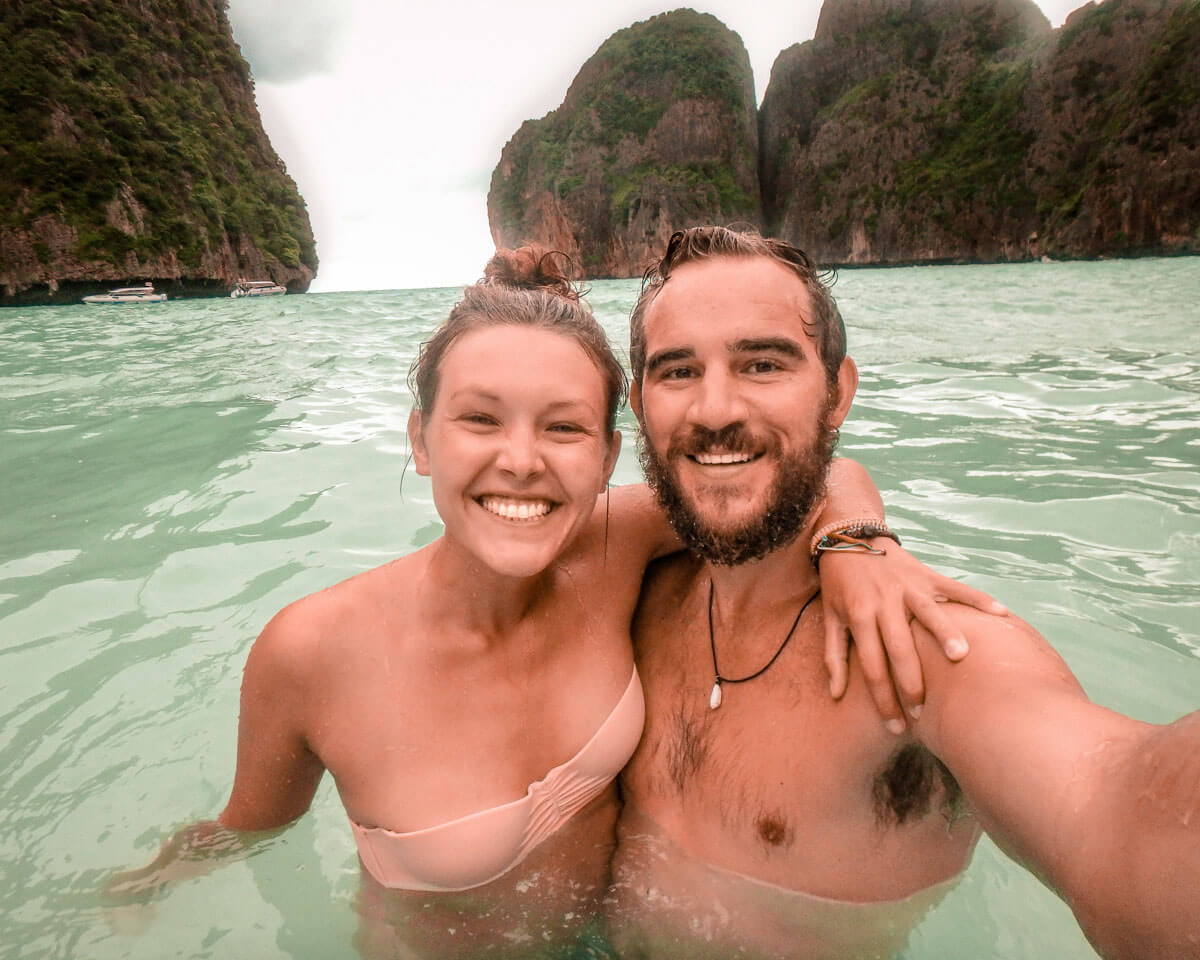 About the authors
Lauren & Jesse from the Wandering Stus are a free-spirited travel couple whose appetite for adventure and faraway places fuel their wanderlusting souls. They give you travel tips, epic itineraries & overall travel inspiration to help you plan your next adventure! Follow along on @Wanderingstus on Instagram as they tell their stories of the places they've been and furthermore, where they are going next.
---
Are you planning travel around the U.S.A.?
We have TONS of resources on travel in the US and how to make the most out of your trip. Check out our Ultimate USA Travel Guide for everything you need to know, or read some of our favorite articles below.
Save this article on Pinterest for later!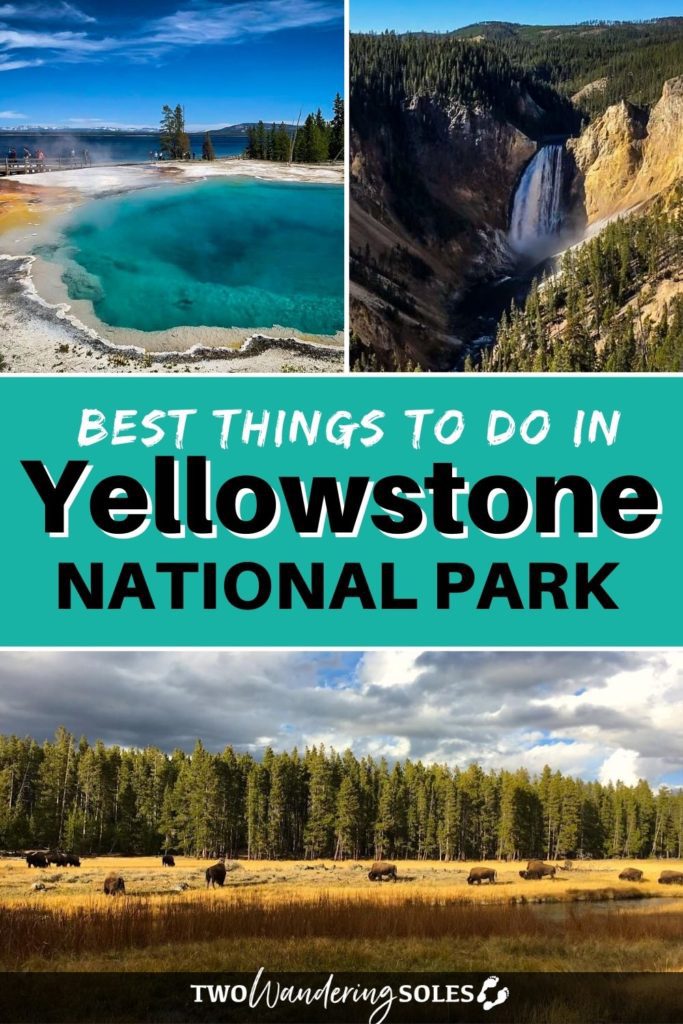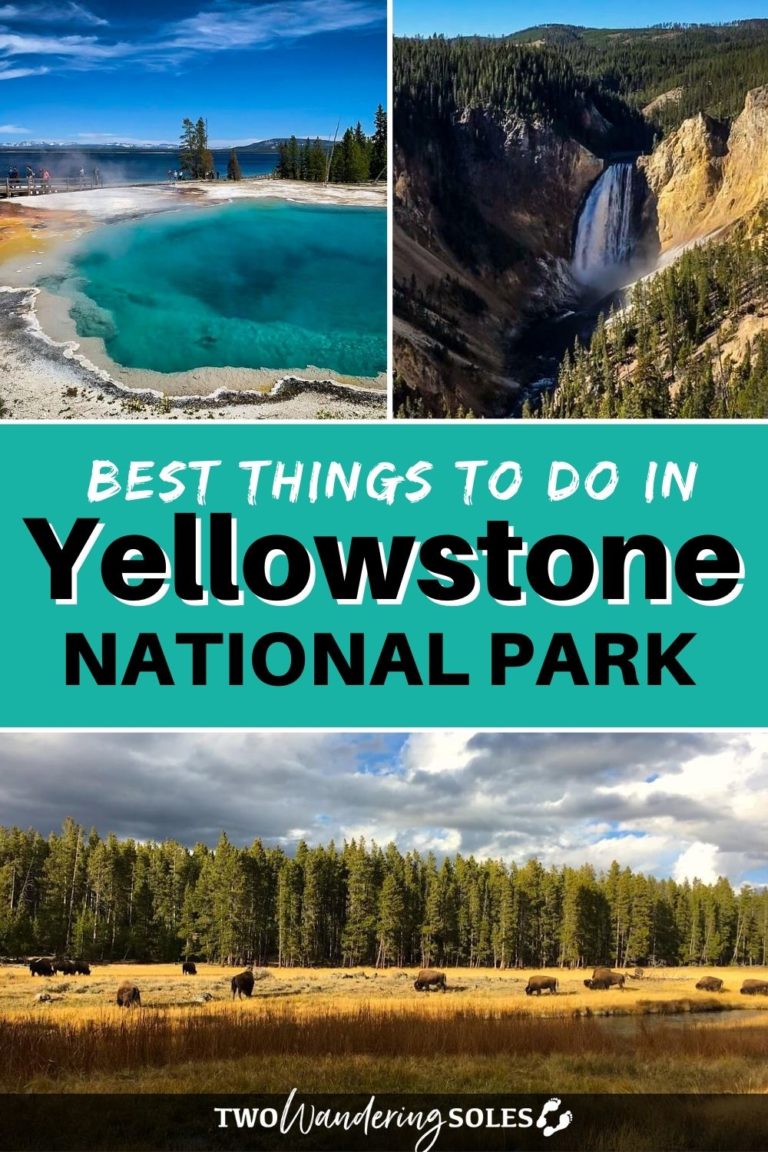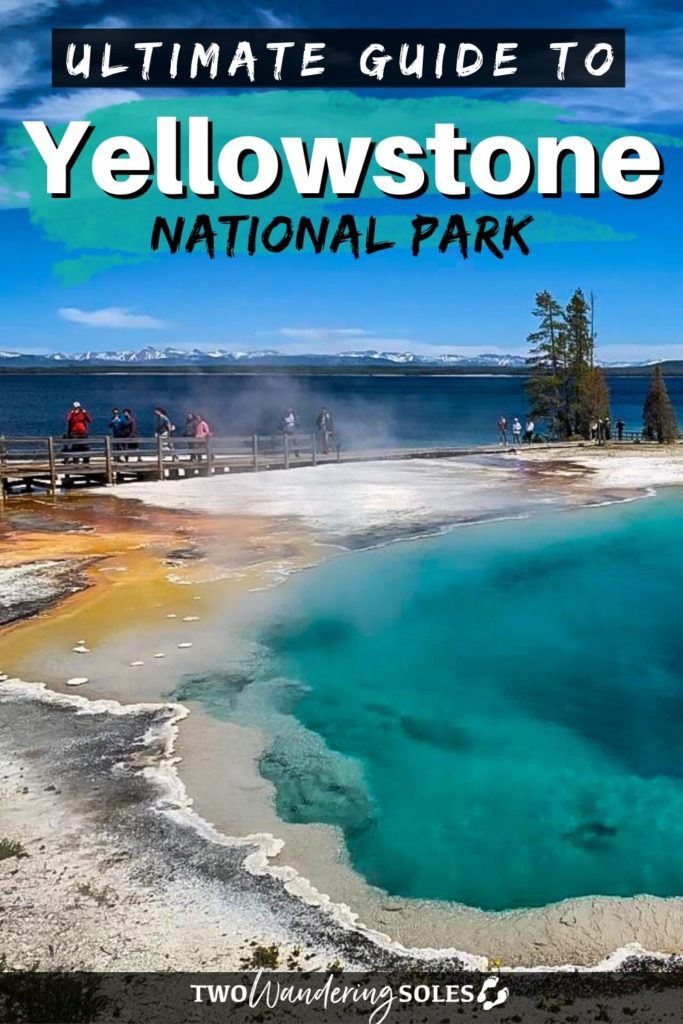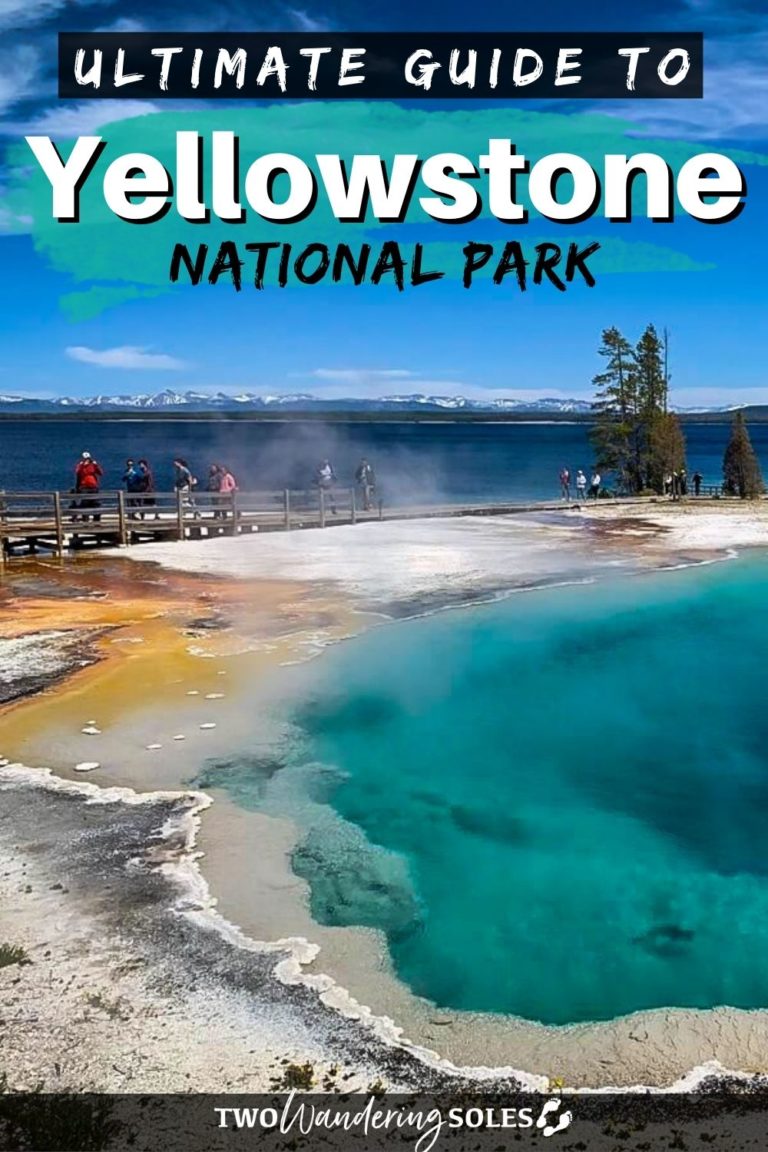 We want to hear from you!
Have you been to Yellowstone National Park? What was your favorite part? Still have questions about the best things to do in Yellowstone? We'll do our best to get back to them in the comments below.