The scuba diving in Belize is known to be some of the best diving in the world. This guide will walk you through all you need to know to experience the underwater world of the Belize Barrier Reef for yourself and what to expect along the way.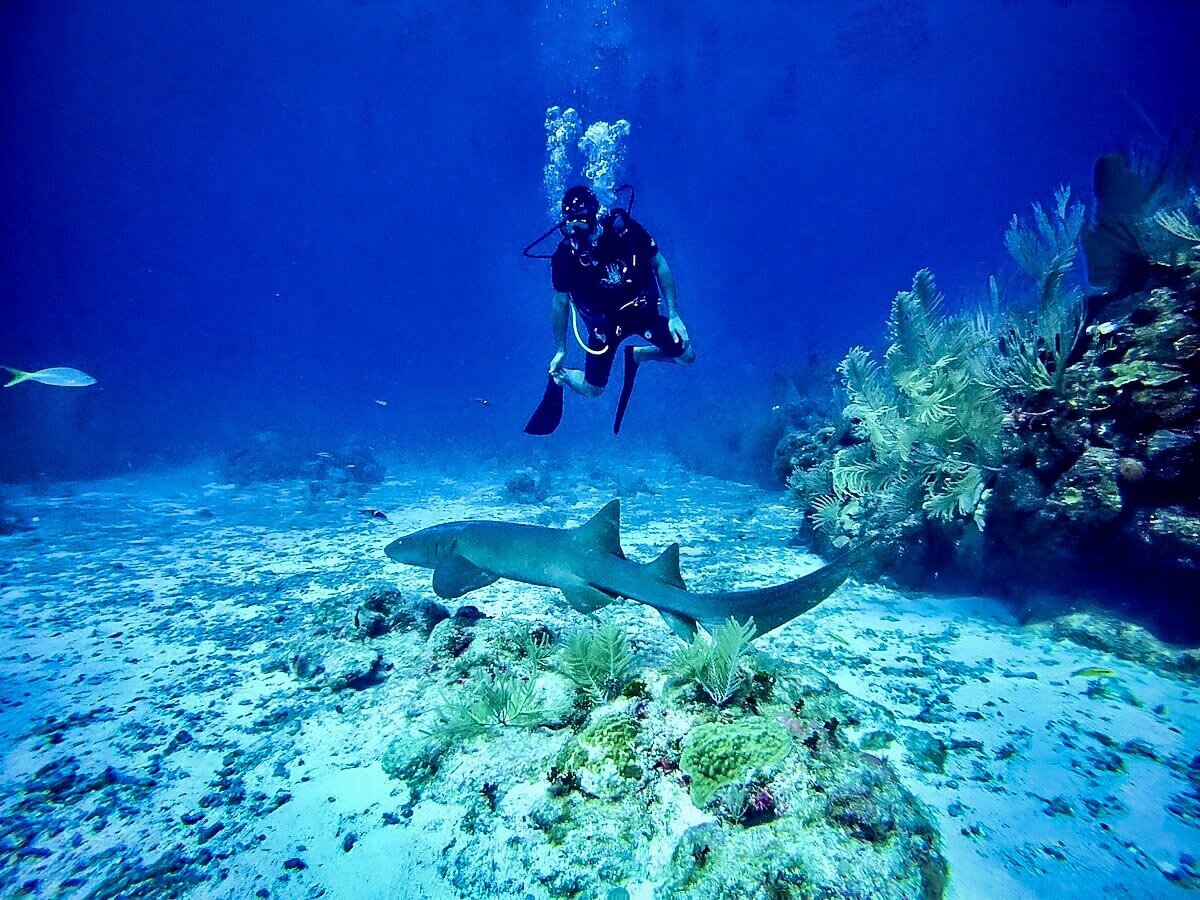 Guest Author: Charles Breitbart
The scuba diving in Belize is known to be some of the best diving in the world. Whether it be the variety of coral life or diversity of fish you're looking for, diving in Belize has you covered.
This guide will walk you through all you need to know to experience the underwater world of the Belize Barrier Reef for yourself and what to expect along the way.
---
Diving in Belize Article Contents
Jump to the section you are interested in, or just scroll down the page.
---
Belize Overview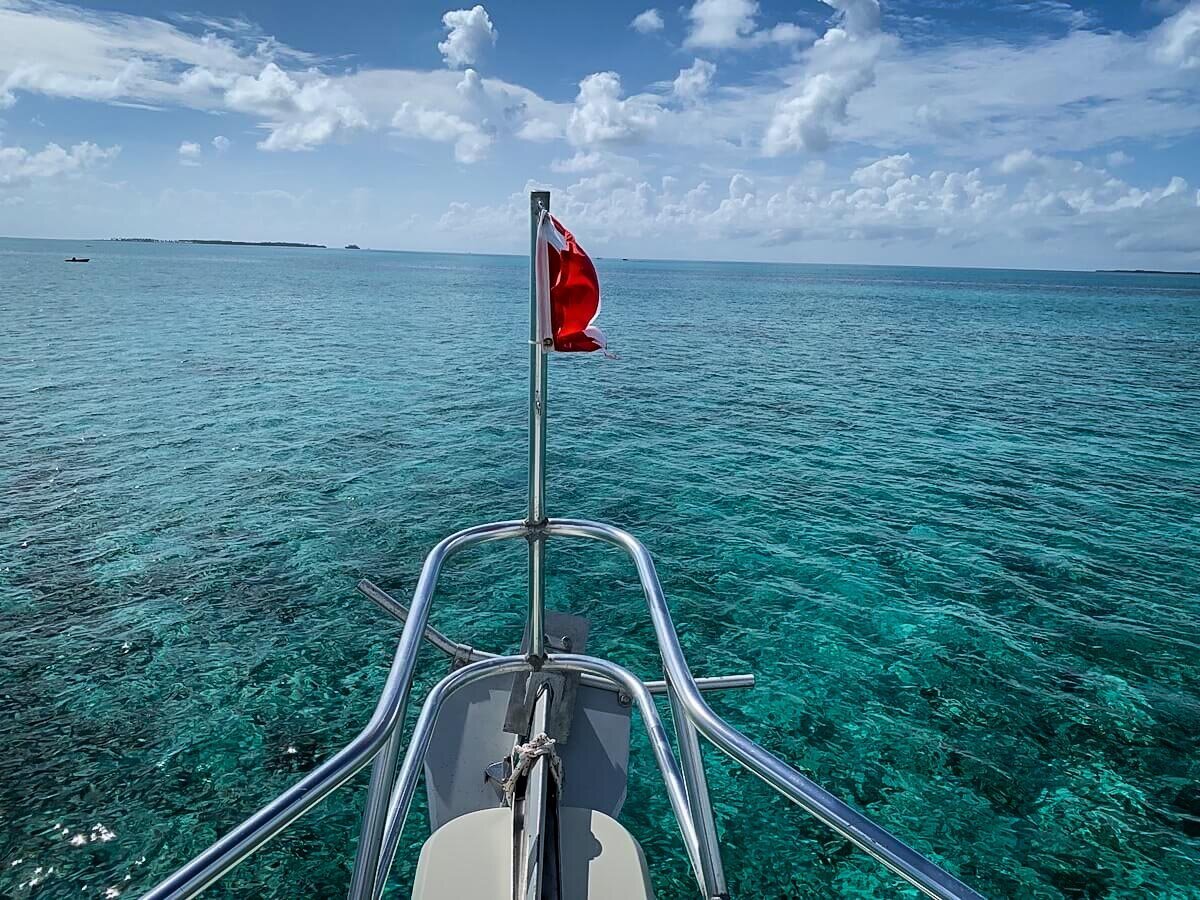 Belize is a tiny country located in Central America squeezed between Mexico to the north, Guatemala to the west and south, and the Caribbean Sea to the east. It is easily navigable by car, spanning just 174 miles north to south, with its widest point 68 miles long.
Despite its small geographic footprint, Belize offers one of the largest reef systems in the world – The Belize Barrier Reef – second only to Australia's Great Barrier Reef. At 190 miles long, the Belize Barrier Reef is longer than the country itself and is even designated as a world heritage site.
Beyond its beautiful diving opportunities, Belize also offers visitors a chance to explore cultural heritage sites and natural wonders. One can explore the various Mayan ruins, including Xunantunich, Cahel Pech, and Caracol, as well as the Actun Tunichil Muknal Cave, which Natural Geographic named the #1 sacred cave in the world.
If hiking is more your thing, the Cockscomb Basin Wildlife Sanctuary has you covered with waterfalls, rainforest views, and a ton of wildlife to take in.
So, if you are looking for a place where you can combine some of the world's best diving with unique mainland activities, Belize may be the right place for your next getaway.
Read Next: Adventurous Things to Do in Belize: the Ultimate Guide
About the Belize Barrier Reef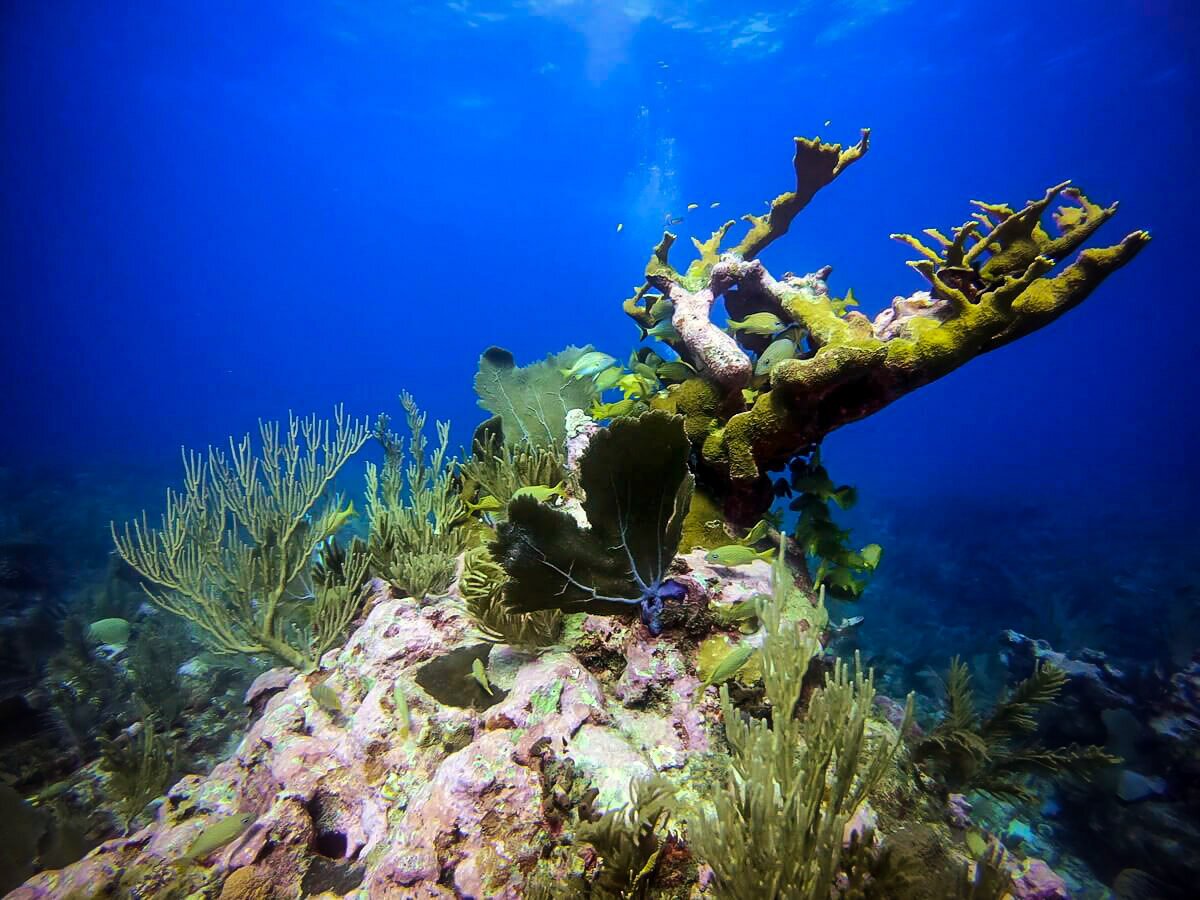 Experts continuously rank the Belize Barrier Reef as one of the best scuba diving locations in the world. Located just off the mainland of Belize, the reef offers a tremendous variety of dive sites. Below you can find some fun facts about the reef and what to expect when heading underwater for yourself.
The Belize Barrier Reef is 190 miles in length and is part of the larger Mesoamerican Barrier Reef System, which spans 560 miles.
The reef is also the world's largest double barrier reef (where one barrier reef is formed outside an existing one). There are only 6 of these in the world!
It is comprised of 400 cayes, 3 atolls (Lighthouse, Glovers, Turneffe), and 7 key marine reserve zones.
In 1996, the Belize Barrier Reef was named a UNESCO World Heritage Site.
The reef is home to more than 500 species of fish and 100 species of coral all throughout the reef system.
It is home to The Great Blue Hole, a dream dive site for many scuba divers. At 1,043 feet wide and 407 feet deep, it makes for one incredible site to both dive into and see from above.
Best Time for Diving in Belize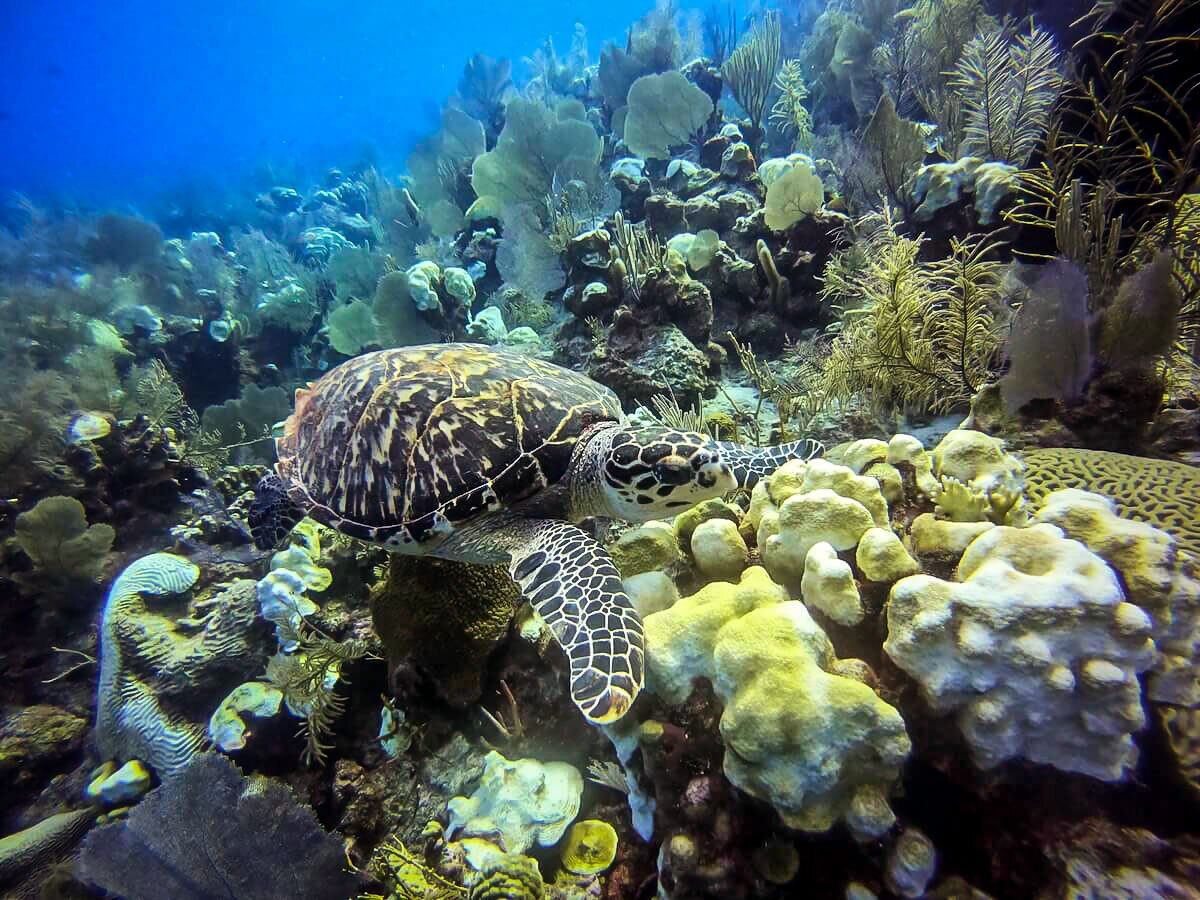 Since Belize has a tropical climate with consistently warm temperatures all year round (75 to 81° F / 24 – 27° C), there are just 2 main seasons – wet and dry. The wet season runs from June to November and the dry season from December to May.
I would recommend visiting Belize during dry season. Not only will you enjoy less rain, but there is a much lower likelihood that your dive will be impaired by rainy or overcast conditions which can impact underwater visibility.
Having clear skies and sunlight shining down will brighten up the coral and marine life, noticeably enhancing your diving experience.
Belize Diving Tip: Do you want to dive with whale sharks?! Well, luckily whale sharks make their migration (right off the coast of Placencia) in the March – June time period. If you are looking for a once-in-a-lifetime experience, plan your diving trip in the spring right around the full moon for the month.
Best Dive Sites in Belize
There are countless dive sites in Belize. Literally you cannot ride for more than 5 minutes on a boat in any direction before coming across another unique site to explore. Below are some of the most notable dive sites in Belize.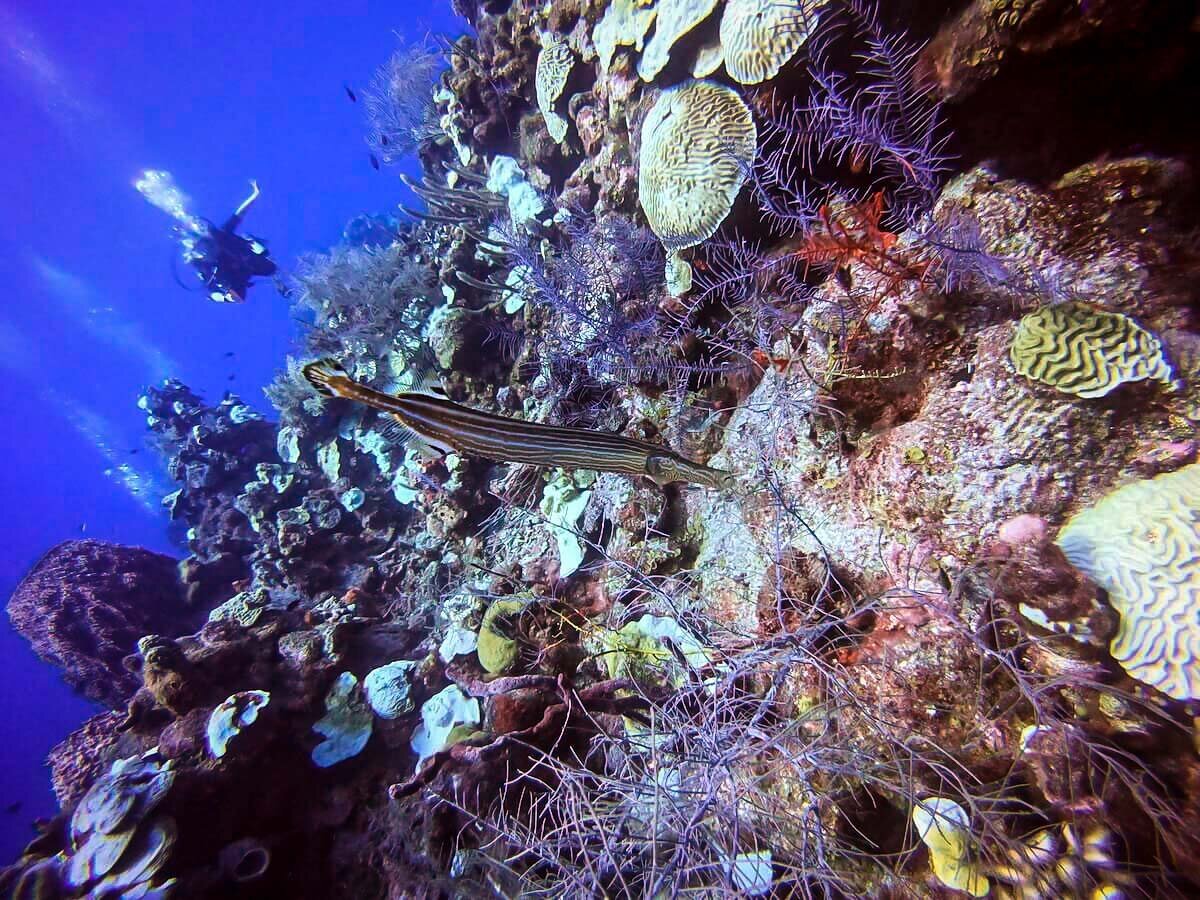 Atolls
In addition to the multitude of dive sites directly off the mainland, you will also find three atolls further out in the open water – Lighthouse, Glovers, and Turneffe.
Lighthouse Reef
Lighthouse Reef is about a 3-hour boat ride from San Pedro. There, you will find the famous Great Blue Hole (more details below). Beyond the Great Blue Hole, Lighthouse Reef also offers several other pristine dive sites full of sharks, rays, and eels.
Turneffe Reef
Another popular day trip option is to head out to Turneffe Reef, about a two-hour boat ride from San Pedro. There, you will find some of the more untouched dive spots in the region. Trips to Turneffe are not run daily by every dive shop, so if you are interested, be sure to consult with the dive shop beforehand to get a better sense of their schedule.
Glovers Reef
Lastly, you have Glovers Reef, located much further south than the previous two reefs. Accordingly, you will need to base yourself in Placencia and then take a two-hour boat ride to reach it. Of these three reefs, Glovers Reef is probably the least visited only because of its distance from San Pedro. So if looking for a dive spot off the beaten path, Glovers Reef could fit the bill.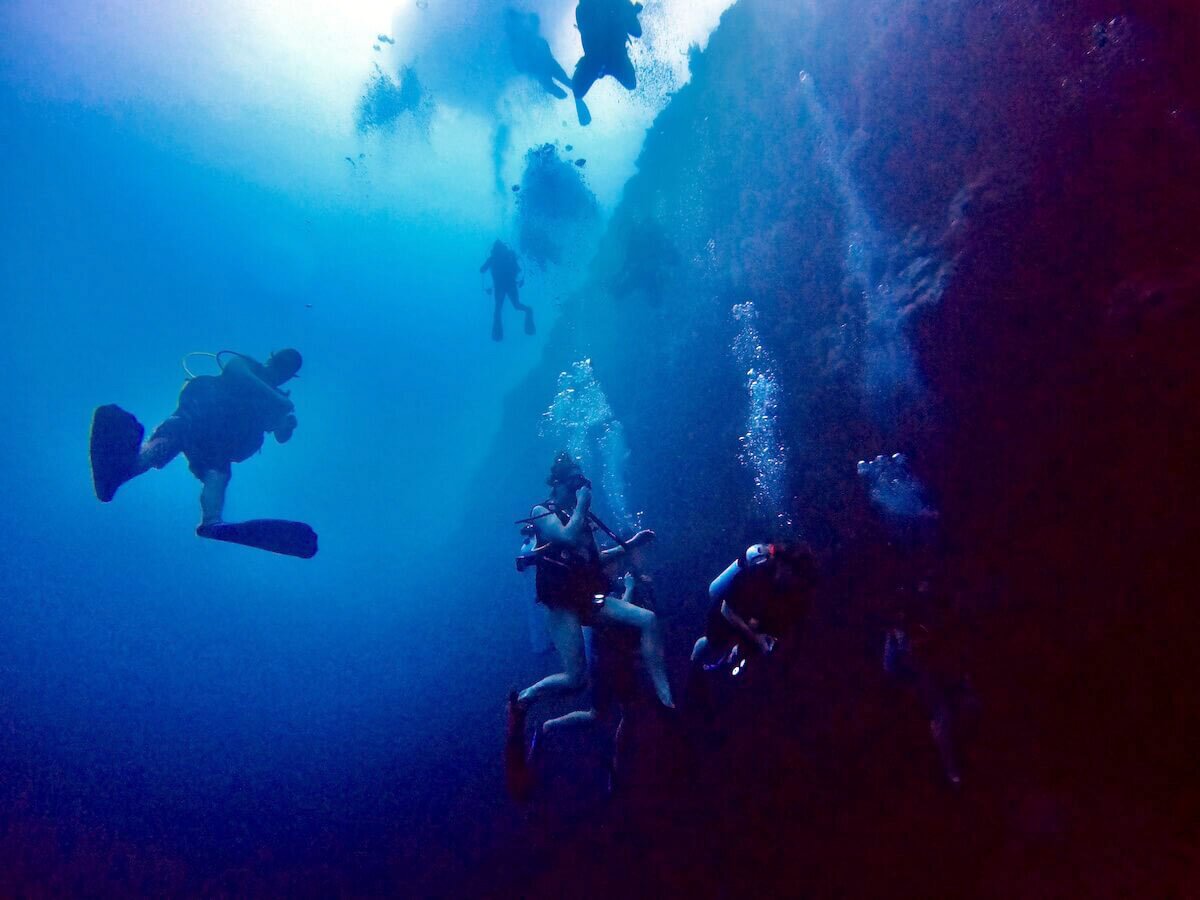 The Great Blue Hole
The Great Blue Hole in Belize is probably the most well known underwater formations in the world. At 1,043 feet wide and 407 feet deep, it is one of the largest sinkholes ever discovered. A dive down the Great Blue Hole is on many divers' bucket list, and for good reason!
Don't expect to find an abundance of aquatic life or coral down there though. Instead, you will encounter massive stalactite formations that were formed over thousands of years. Since you will be heading down 130 feet (40 meters), the dive will not last much more than 30 minutes, including a longer than usual safety stop.
As the Great Blue Hole is located within the larger Lighthouse Reef, a day trip there will also include two additional dives in the atoll and lunch on an island. You can expect a Blue Hole day trip to look something like this:
5:30 AM: Registration at Dive Shop

6:00 AM: Departure

8:45 AM: Preparation & Blue Hole Dive

10:30 AM: Lighthouse Reef Dive #1

12:00 PM: Lighthouse Reef Dive #2

1:00PM: Lunch

2:00PM: Return to San Pedro

4:30PM: Arrive in San Pedro
There are limited operators that organize day trips to the Great Blue Hole. If you decide to dive with a company that does not offer the trip, they will refer you to a company that does.
Amigos del Mar (San Pedro) and Frenchies Diving Services (Caye Caulker) are two of the main dive operators that run this trip (provided enough sign-ups and adequate weather conditions).
Note: Since the Great Blue Hole is a more advanced dive and goes 130 feet underwater, not everyone can take part in the dive. Certain dive shops have different requirements, so be sure to check with them beforehand.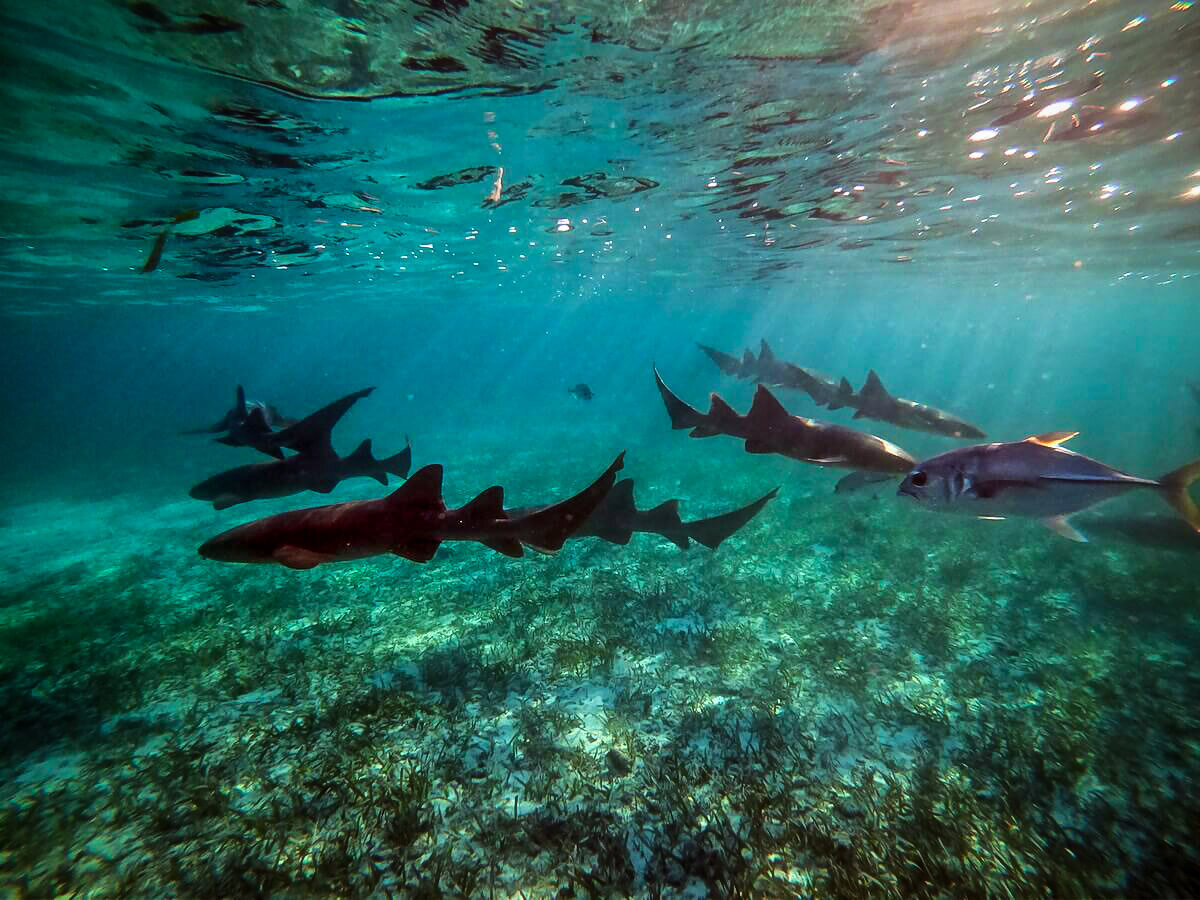 Hol Chan & Shark Ray Alley
Another famous dive trip available in Belize is the Hol Chan and Shark Ray Alley combo. This half-day trip consists of one dive in the Hol Chan Marine Reserve followed by a snorkel in Shark Ray Alley.
The Hol Chan Marine Reserve is a marine protected area 15 minutes away from San Pedro that is packed with all types of marine life. Since the dive is pretty shallow (25-30 feet) you can expect longer than usual dive times (up to 60 minutes!) to really enjoy the vast underwater surroundings.
After diving Hol Chan, you will change into your snorkel gear and jump into Shark Ray Alley. As you can imagine, sharks and rays routinely frequent this spot. Fishermen have been known to throw their chum into the water here, which in turn attracts the sharks, rays and other fish.
Now, every time a boat pulls up, the animals will swarm your boat looking for food. Jumping into the water and swimming among all these sharks and rays is one of the most unique experiences Belize has to offer. Don't worry though, these sharks and rays won't go after you so just keep some distance and enjoy the site!
Aquatic Life in Belize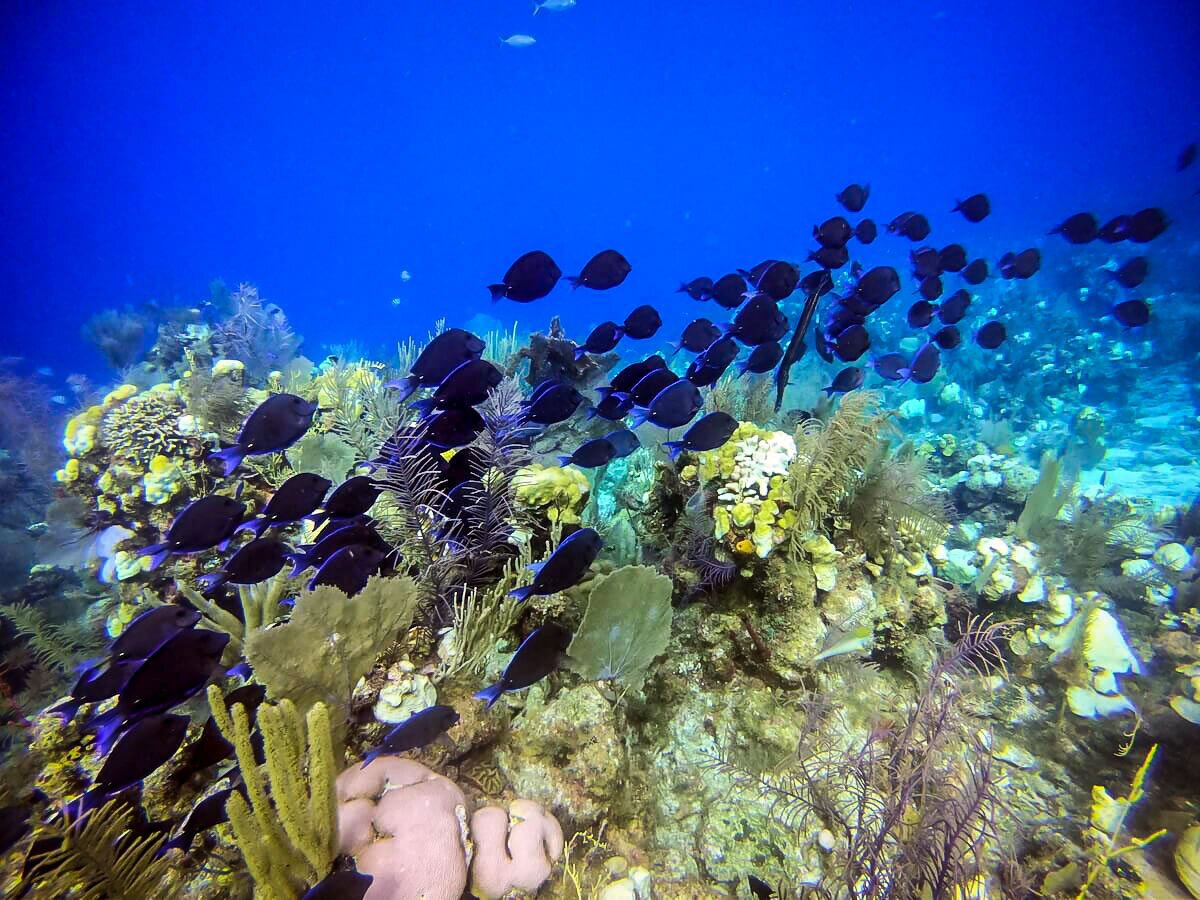 When I first signed up to scuba dive for 5 days in Belize, I thought I may be overdoing it and that I would get bored diving at the same reef. But after more than 10 dives at the Belize Barrier Reef, all I could think about was how I could squeeze in more!
The diversity of fish and coral on each dive continued to amaze me time after time, and each dive had its own unique qualities. Whether it be the huge number of sharks right off of San Pedro or the moray eels slithering away in Lighthouse Reef, there was always something unique to take in.
With over 500 species of fish and 100 species of coral throughout the Belize Barrier Reef, there is always a chance to see different marine life from one dive to the next.
Below are just some of the highlights of the marine life I encountered when diving in the Belize Barrier Reef.
Reef & Nurse Sharks

Moray Eels

Eagle Rays

Puffer Fish

Barracuda

Trumpetfish

Turtles
And plenty more!
The coral life was just as impressive. Some of the unique coral formations you are sure to come across are from Elkhorn to Sea Fans and everything in between, the Belize Barrier Reef will have it all.
Belize Scuba Offerings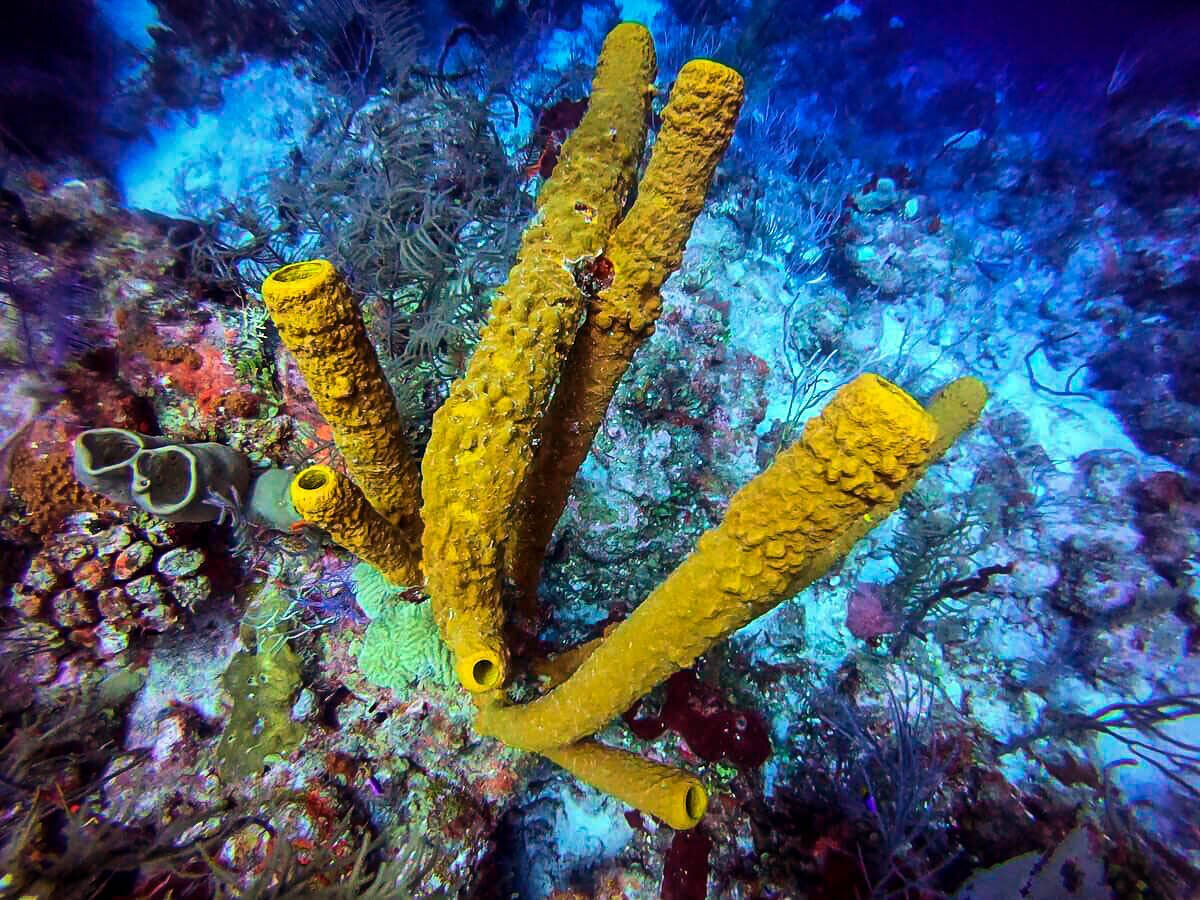 Whether you are a first-time diver or a dive master, Belize has something to offer you.
Below are some of the main options to choose from when heading off to Belize:
Two Tank Dives
The most popular choice for those that are already scuba certified is to head out on morning or afternoon two tank dives. During this half-day experience, you will make your way to two different dive sites along the Belize Barrier Reef and enjoy all that the underwater world has to offer.
Here is a quick overview of what to expect when heading off on a typical two tank dive day in San Pedro:
The day will start off at the dive shop around 8 AM, when you will be outfitted with your equipment and gear. From there you will head onto a small boat alongside your fellow divers and instructors (around 4 divers per instructor). The dive sites are within a 10-minute boat ride, so you should be there in no time.
Once you approach the dive site, your instructor will provide you with background on the upcoming dive, and what to expect down underwater. After the briefing, you will gear up and jump into the water.
You can expect these dives to last around 45 minutes and go to a maximum depth of 60 feet.
After finishing up with your first dive, the boat will head back to the dive shop, where you can take a quick break and prep for the second dive of the day. You will then head back out on dive #2 to a new dive spot and enjoy another scuba diving experience on the Belize Barrier Reef.
Open Water Certification
For those that know they want to get Open Water certified, every dive shop will offer a multi-day course for certification. As an Open Water certified diver, you will be able to dive up to 60 feet underwater (18 meters) alongside another certified diver.
The certification process is broken up in three main categories: classroom work, shallow water / pool sessions, and individual dives.
You can complete your Open Water course by either:
Taking the entire certification in Belize over the course of 3-4 days; or

Taking the classroom sessions at home (through e-learning modules offeredby PADI), and then completing the shallow water / pool sessions and individual dives in Belize in as little as 2 days.
Advanced Open Water Certification
If you are already Open Water certified and are looking to take the next step in your diving career, you can select the Advanced Open Water certification ("AOW").
Essentially, the AOW certification will comprise of 5 additional advanced dives (deep dive, underwater navigation, buoyancy, night dive, etc.). Once certified, you will be able to dive down to a depth of 100 feet, enabling you the opportunity to take some of the world's most advanced dives.
The AOW certification can be completed in two days and all you need to do beforehand is complete some course work that you will be tested on outside and inside of the water.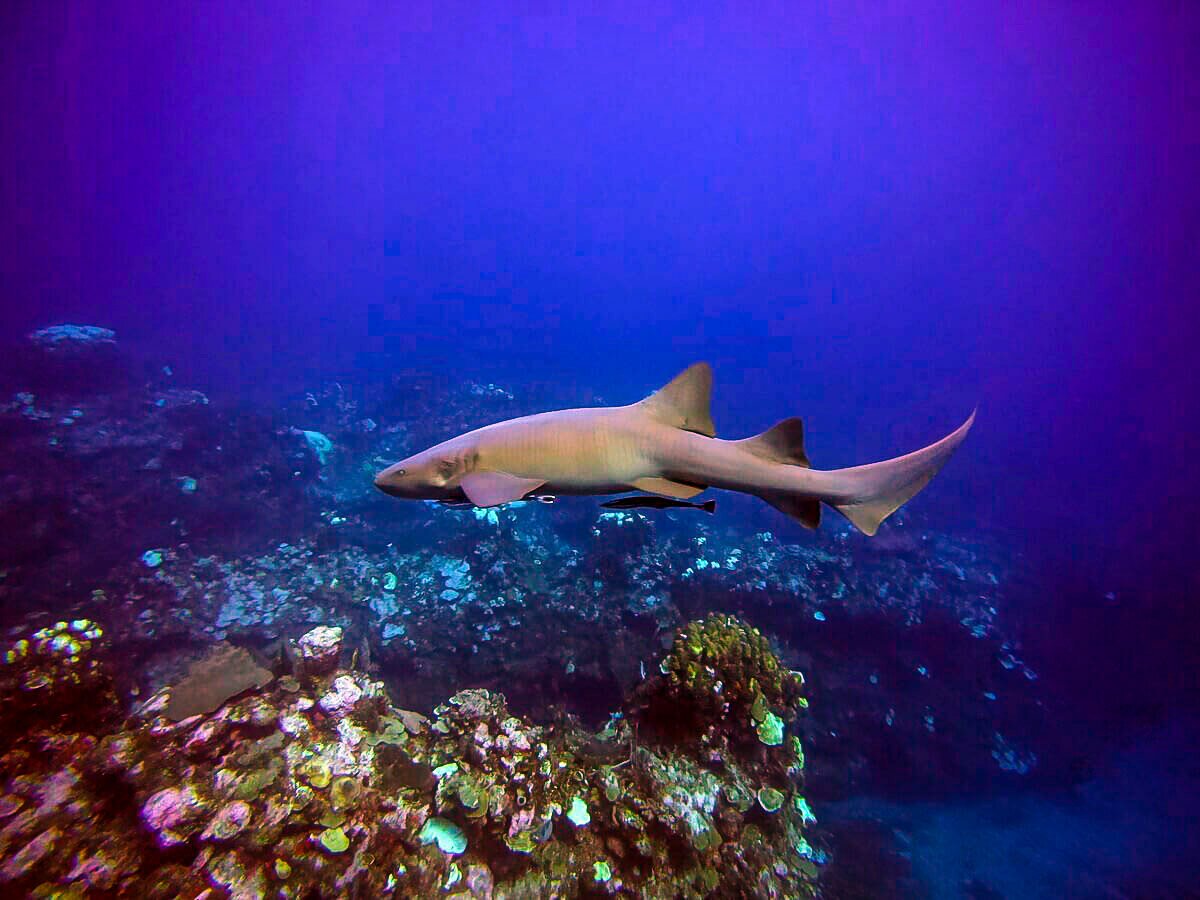 Other Certifications
Not every dive shop will offer every certification out there, but you should have no problem finding a place that offers other more advanced certifications, such as Rescue Diver and Divemaster, along with specialty courses (Enriched Air Diver, Digital Underwater Photography, Night Diver, etc.)
First-Time Diving Experience
If you have never been scuba diving before, a Discovery Dive (sometimes called a "Try Dive") can be your perfect introduction to breathing underwater. This one-day course will teach you the basics of scuba diving outside of the water combined with some shallow water exercises so that you can practice basic skills and get a feel for what breathing underwater is like.
After a morning of learning and practicing some shallow water exercises, you will head off to a dive site, where you will participate in an actual dive and witness the incredible Belize marine life for yourself.
Note: A discovery dive does not count towards any official certification. However, many dive shops will allow you to count your discovery dive towards your Open Water Cert if you decide to come back right away and do the course with them. Be sure to ask about this before you go!
Cost of Diving in Belize
Below are some average prices for diving from San Pedro. Prices vary somewhat by dive shop, but this should provide you with a better sense of how to budget for your trip. All prices in USD without tax.
One Tank Dive: $50

Two Tank Dives: $80

Blue Hole/Lighthouse Atoll Day Trip: $260 + $40 park entry fees

Turneffe Atoll Day Trip: $220

Glovers Atoll Day Trip (from Placencia): $220

Hol Chan / Shark Ray Alley: $70 + $10 park entry fee

Discovery Dive Experience: $150

Open Water Certification Complete Course: $500

Open Water (without e-learning): $350 (course) + $190 (e-learning) = $540

Advanced Open Water Certification: $350

Daily Equipment Rental: $25 per day – In Belize, it is common to pay an additional cost for rental equipment, which includes BCD, regulator, mask, fins, wetsuit, and snorkel.
Recommended Dive Companies in Belize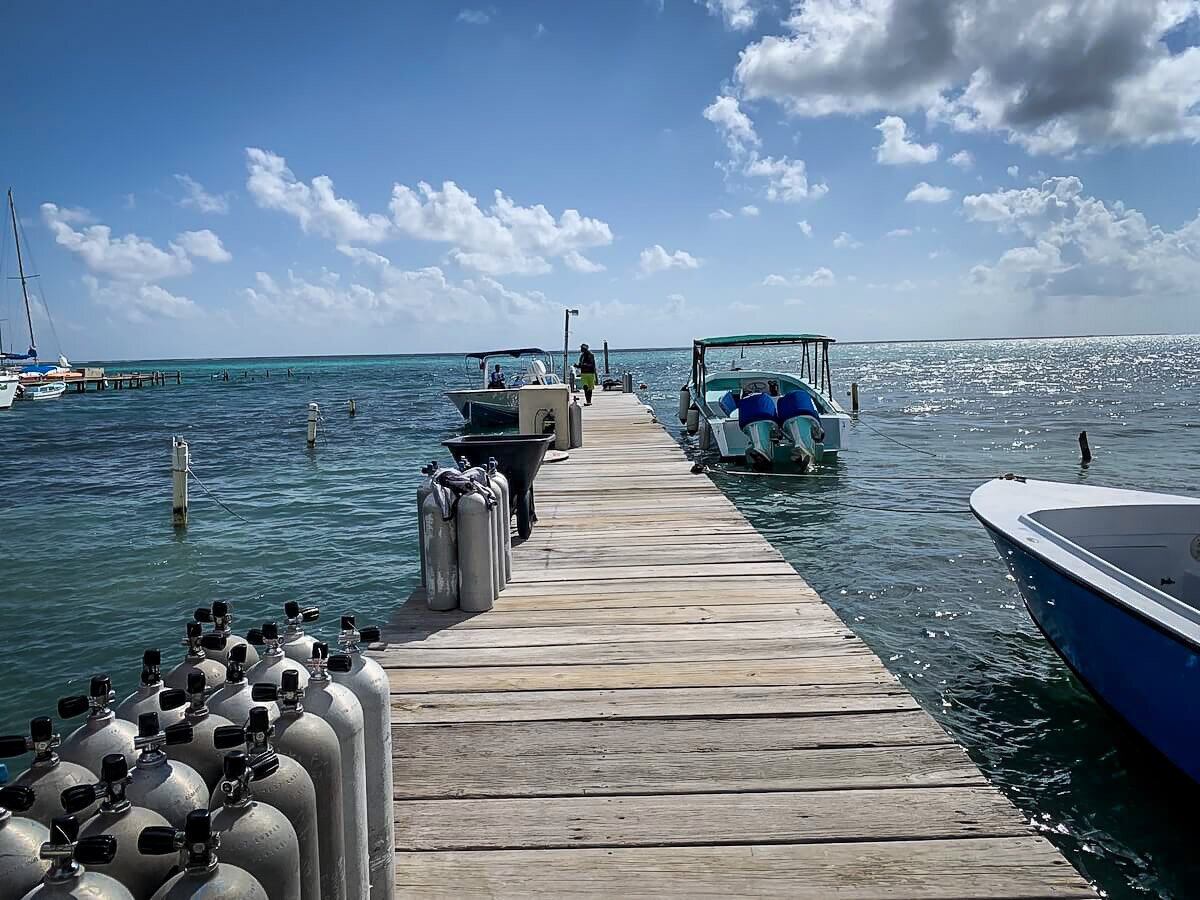 Before heading off to Belize for your diving trip, I recommend that you sign up for your diving experience with a reputable company. A few options for each of the three major diving hubs can be found below.
Ambergris Caye / San Pedro
Scuba School Belize (This is who I went with and highly recommend!)

Belize Pro Dive Center

Coral Divers Belize
Caye Caulker
Belize Diving Services

Frenchie's Diving Services

Scuba Sensations
Placencia
ReefCI

Splash Dive Shop

Seahorse Dive Shop
Recommended Liveaboard in Belize
To make the most of your diving experience in Belize, why not try a Liveaboard trip? Multi-day Liveaboard diving trips have recently become popular among divers who want to find a more immersive experience. On a Liveaboard trip you eat, sleep and dive for days on end, all while living on the ship.
With Liveaboard you will have the opportunity to visit the top dive sites in Belize, some of which cannot be reached on a typical day trip. This means you'll experience diving in remote places that are untouched by most tourists.
Belize Aggressor III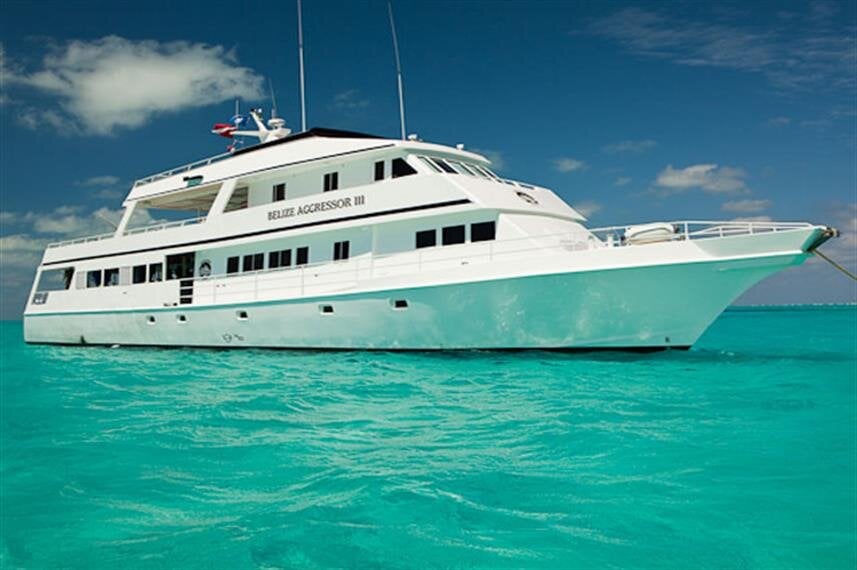 Length of Voyage: 8 days
Accommodates: Up to 18 guests
Cost: $281 USD / day
Known for: Excellent service and great food
The Belize Aggressor III Liveaboard offers up to 5 dives per day, including the option for night dives. Climate controlled cabins with private ensuite bathrooms, an entertainment salon, sundeck with loungers and a hot tub are all things that make this boat a comfortable home for your Liveaboard experience.
Diving facilities onboard include a dive deck with personal gear bins, rinse tanks, air/nitrox fills, and a three-tiered camera table with low-pressure air hoses, E-6 photo lab, and camera rinse tank.
Wondering what a Liveaboard trip is all about? Read all about our experiences in Thailand and Indonesia.
Where to Stay in Belize for a Diving Trip
While the Belize Barrier Reef itself is big in size, there are really just a handful of locations to consider when deciding where to dive in Belize.
Ambergris Caye / San Pedro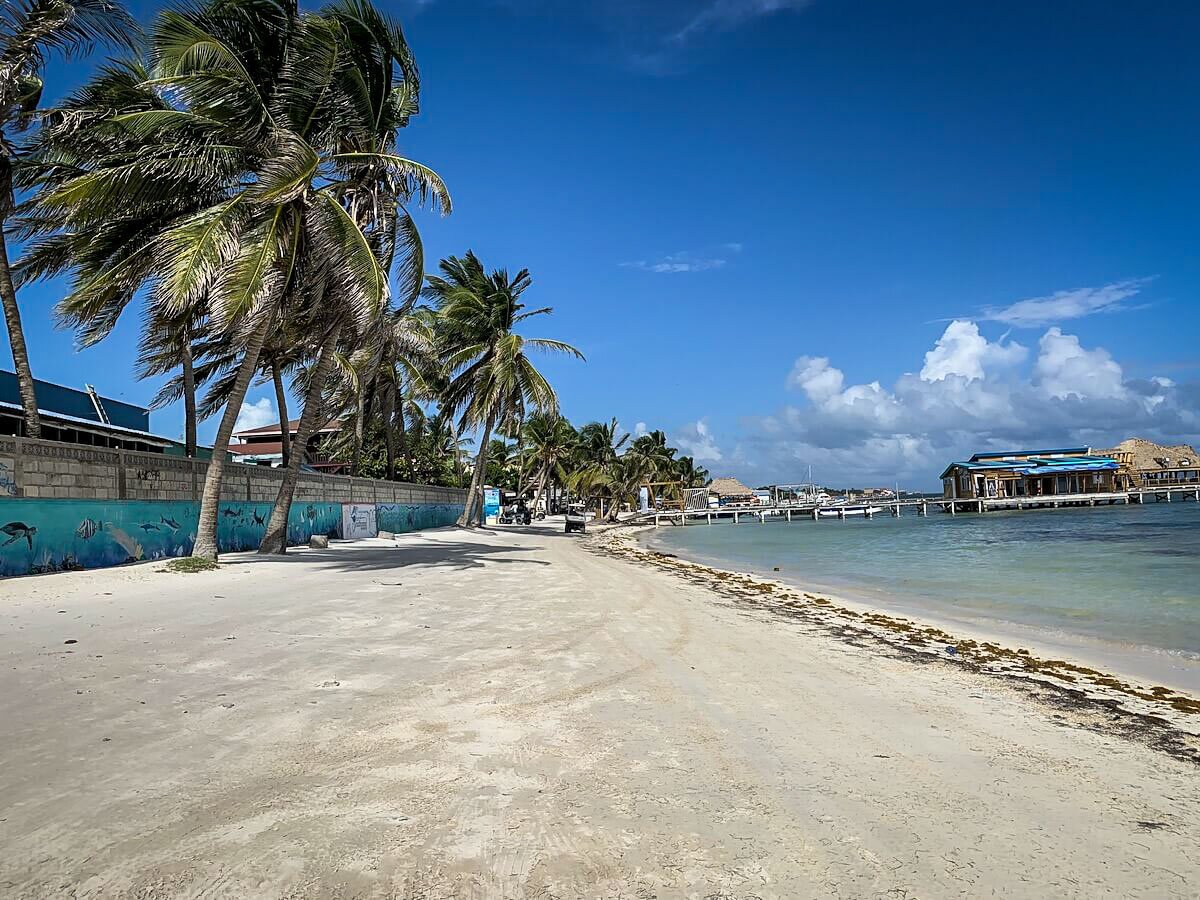 Most dive shops you will come across are located on Ambergris Caye, Belize's largest island, and particularly the island's main town of San Pedro. Just minutes from San Pedro by boat you will find various dive sites, where you can dive right in and immerse yourself in the underwater world.
San Pedro is a vibrant small town with plenty of restaurants, bars, and accommodations. You can stay right in the town center itself or head a bit further up or down the coast to some more secluded, high-end resorts. Whatever you decide, you really cannot go wrong.
Good to Know: If you are not located within the confines of San Pedro, some dive shops will remove any logistical hassle and send a golf cart or boat to pick you up from your hotel or a nearby dock.
From Belize City, where the main international airport is located, the two best options to get to Ambergris Caye are:
Flight: A 20-minute propeller plane will take you from Belize City to the San Pedro airport, right by the town center. Two airlines, Maya Island Air and Tropic Air, run multiple routes per day. A one-way ticket costs approximately $45 – $100 (depending on flight choice).

Boat: If you want to save some cash, you can hop in a 20-minute taxi from the Belize City airport to the city's ferry terminal ($25 USD), and then take the 90-minute boat ride to San Pedro. Two major ferry companies, Belize Water Taxi and Ocean Ferry Belize, both run trips.

Belize Water Taxi: $28 USD one-way / $38 USD round trip

Ocean Ferry Belize: $23 USD one-way / $35 USD round trip
Caye Caulker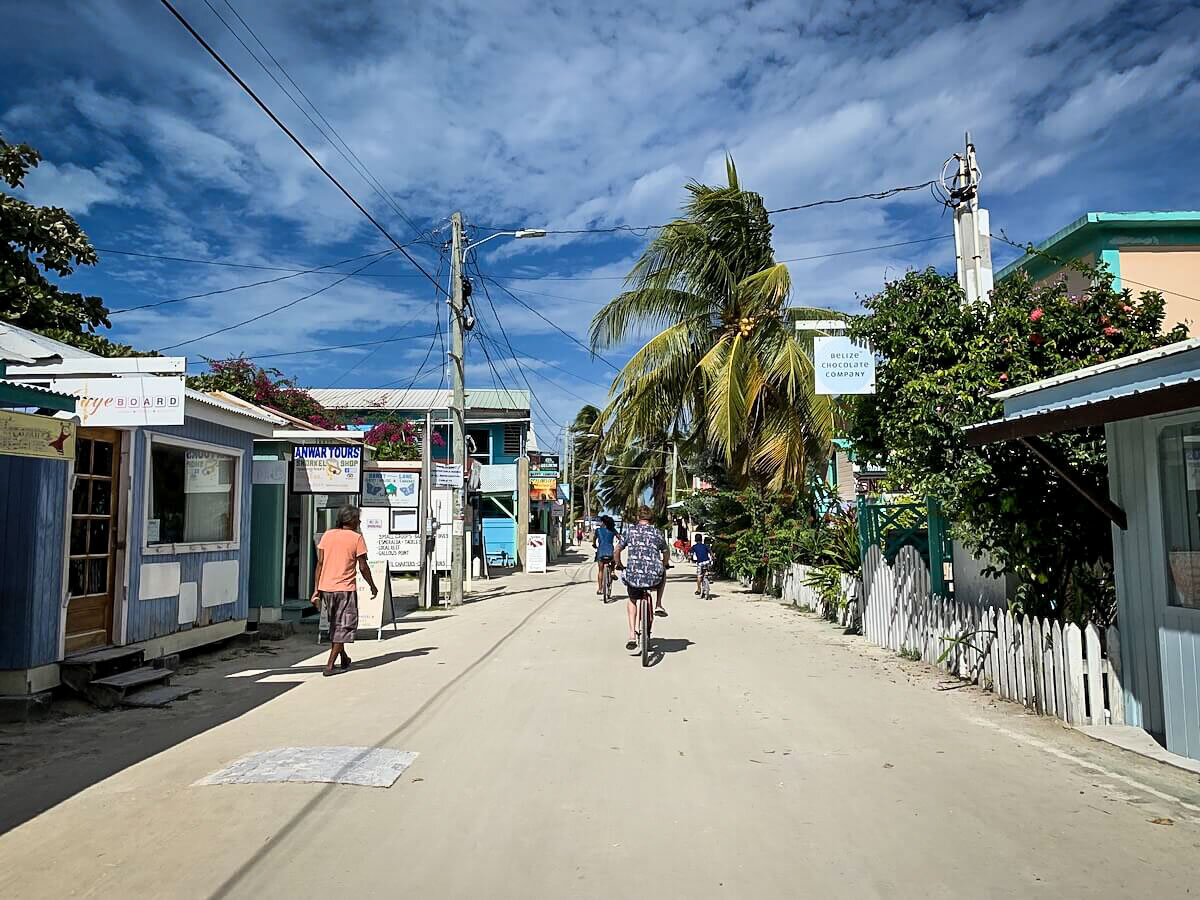 Another ideal base location is the island of Caye Caulker, just a one-hour boat ride south from Belize City (or 30 minutes by boat from San Pedro). Caye Caulker is much less developed (I mean their main road isn't even paved), but it comes with some of the best island vibes you can ask for.
There are far fewer dive shop options in Caye Caulker, with just a handful to choose from. But if you are looking for a more laid-back atmosphere without sacrificing quality diving, then Caye Caulker may be your best bet.
Like San Pedro, you can reach Caye Caulker from Belize City by either flight or boat.
One-way flights from Belize City cost approximately $60 – $80 and schedules are more limited than flights to San Pedro. If you opt to take the ferry, ticket prices can be found below (+$25 USD to get from the airport to ferry terminal):
Belize Water Taxi: $18 USD one-way tickets / $28 USD round trip

Ocean Ferry Belize: $15 USD one-way tickets / $25 USD round trip
Placencia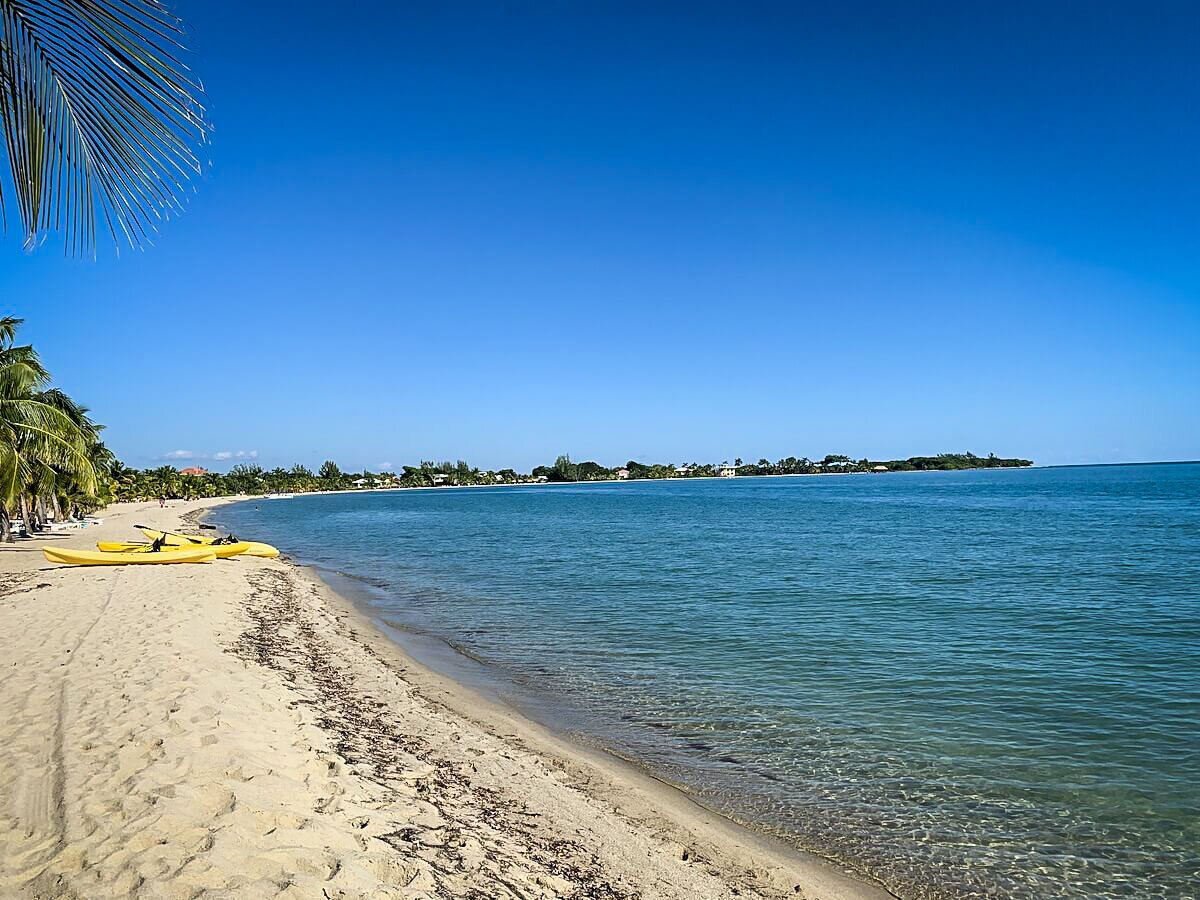 One more place to note is actually located on the mainland of Belize – Placencia. Located further south than San Pedro and Caye Caulker, Placencia offers additional dive sites to explore, including easy access to Glovers Atoll.
Like Caye Caulker, Placencia also offers only a limited number of dive shops. However, there are a handful to choose from if you want to dive in Belize's southern region.
While you can fly into Placencia from Belize City, there are no nearby ferry services to take you to Placencia. Instead, you can opt for a few different options:
Flight: A 30-minute flight from Belize City will take you right to Placencia. Airlines run multiple routes daily that cost anywhere from $60 USD to $100+ USD.

Private Transport: Your second option here is to take private transport from the airport directly to your hotel in Placencia (around 3 hours). This can be a bit costly (around $200 -$250 USD), but may be the most economical choice for larger groups.

Public Bus: Lastly, you can opt to take the public bus down to Placencia. First, you will need to grab a taxi from the airport to the bus terminal in Belize City ($25 USD), and from there hop on the bus towards Placencia. The bus ride will only cost around $10 USD, but the entire trip can take 5+ hours.
Well then, that wraps up your complete guide to scuba diving in Belize. I hope you now have a better idea of what to expect while diving in the Belize Barrier Reef and how to go about planning a trip there. Have fun out there and safe travels!
---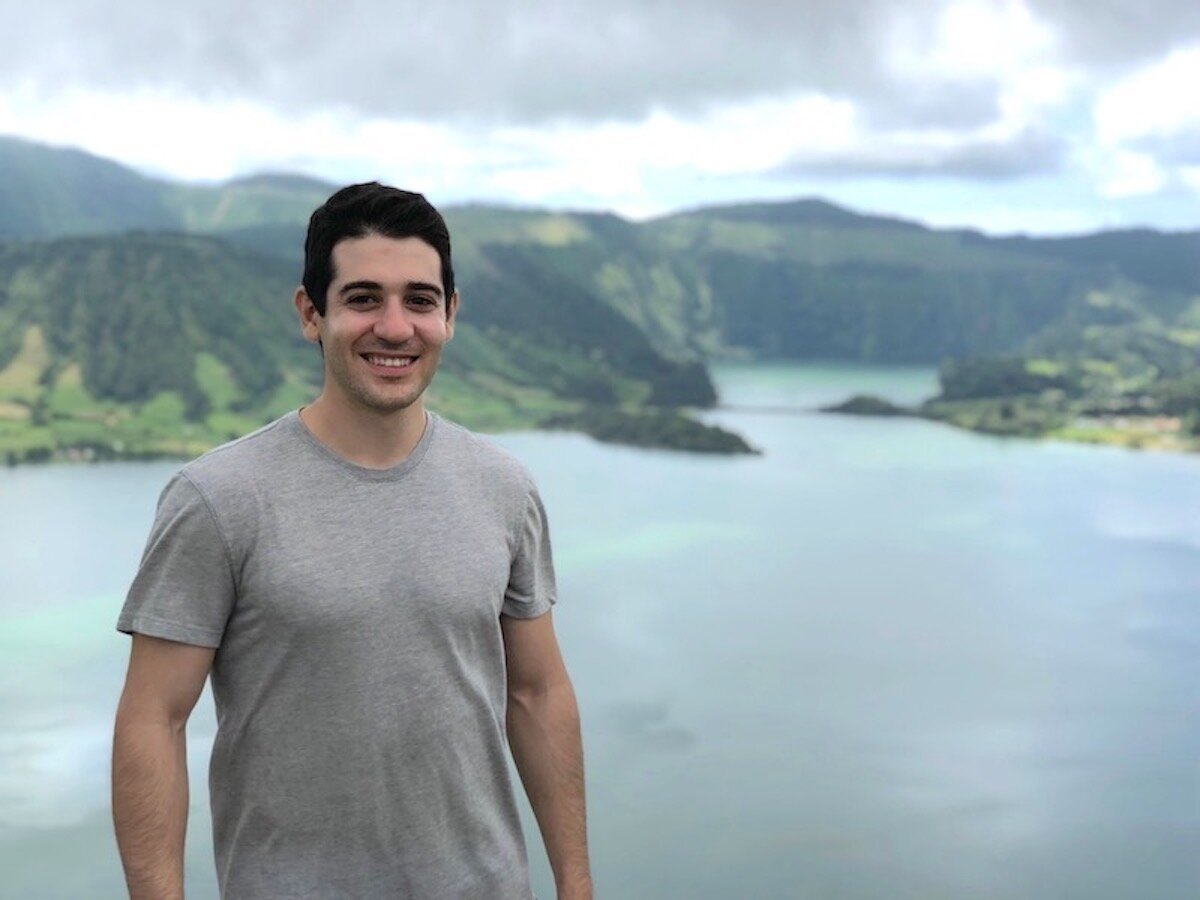 Charles Breitbart is the founder of TripTins, a travel website full of detailed iTINeraries and comprehensive guides that take the hassle out of travel.
---
You may also like…
Save this article on Pinterest for later!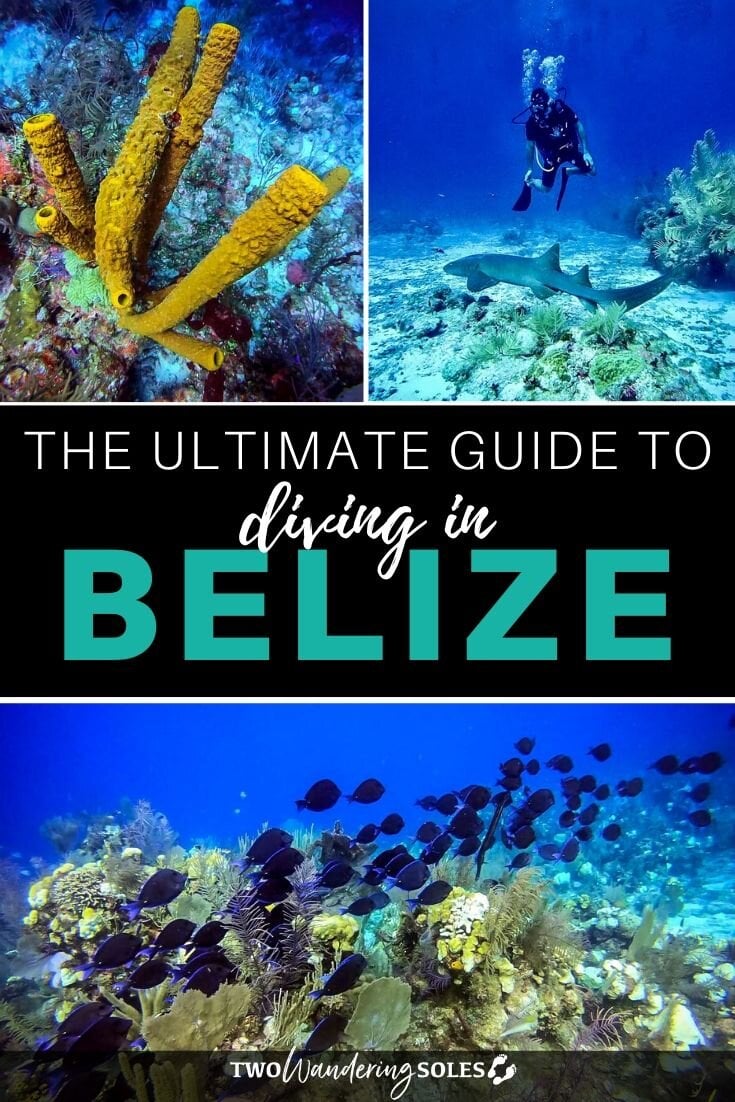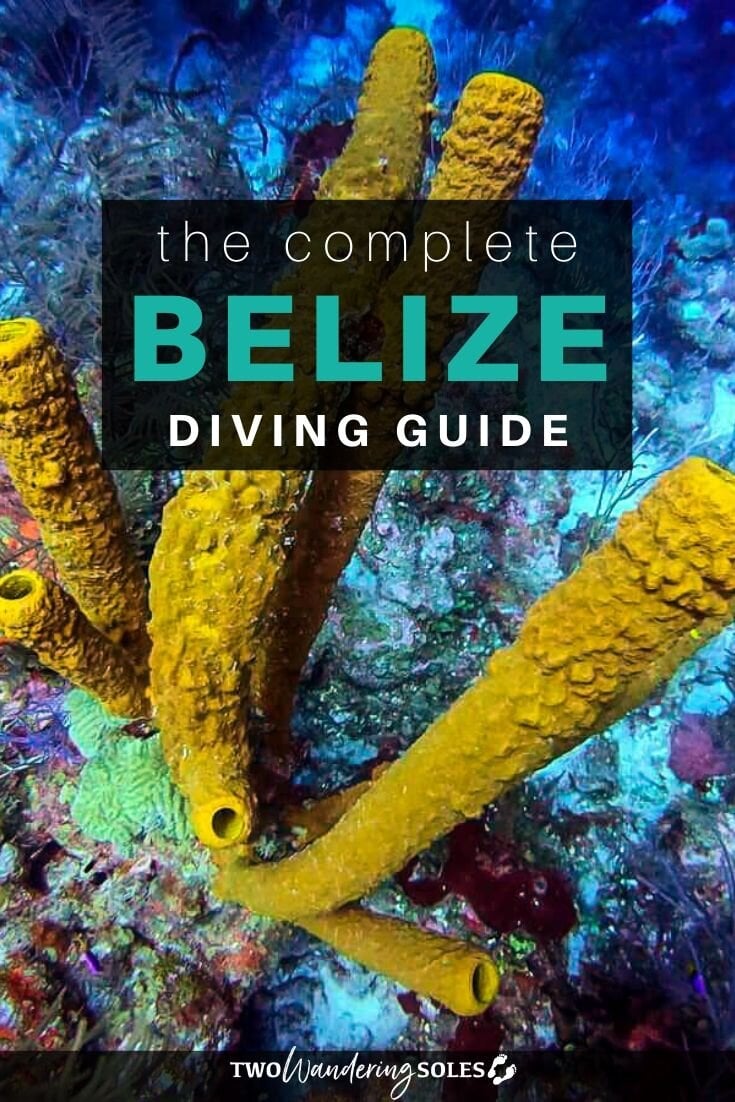 We want to hear from you!
Have you ever been diving in Belize before? What was your experience like? Do you have any tips we left out of this article? Comment below and let us know!