From the tropical coral reefs of Okinawa, to the temperate, rocky coastline along the mainland and all the way up to the icy waters of Hokkaido, there are countless opportunities for fantastic diving in Japan. This guide will walk you through everything you need to know to plan an epic diving trip to Okinawa or elsewhere in Japan.
Written by Guest Author: Corinne Klein
If you've never thought of Japan as a place to go scuba diving, you're not alone…
Many divers overlook Japan as a destination, which is a shame because there are countless opportunities for fantastic diving in Japan.
From the tropical coral reefs of Okinawa, to the temperate, rocky coastline along the mainland and all the way up to the icy waters of Hokkaido, Japan has something for every diver. 
This guide will walk you through everything you need to know to plan an epic diving trip in Japan.
Psst! If you'll be traveling more throughout the country, be sure to check out our bucket list of crazy fun things to do in Japan!
Why go scuba diving in Japan?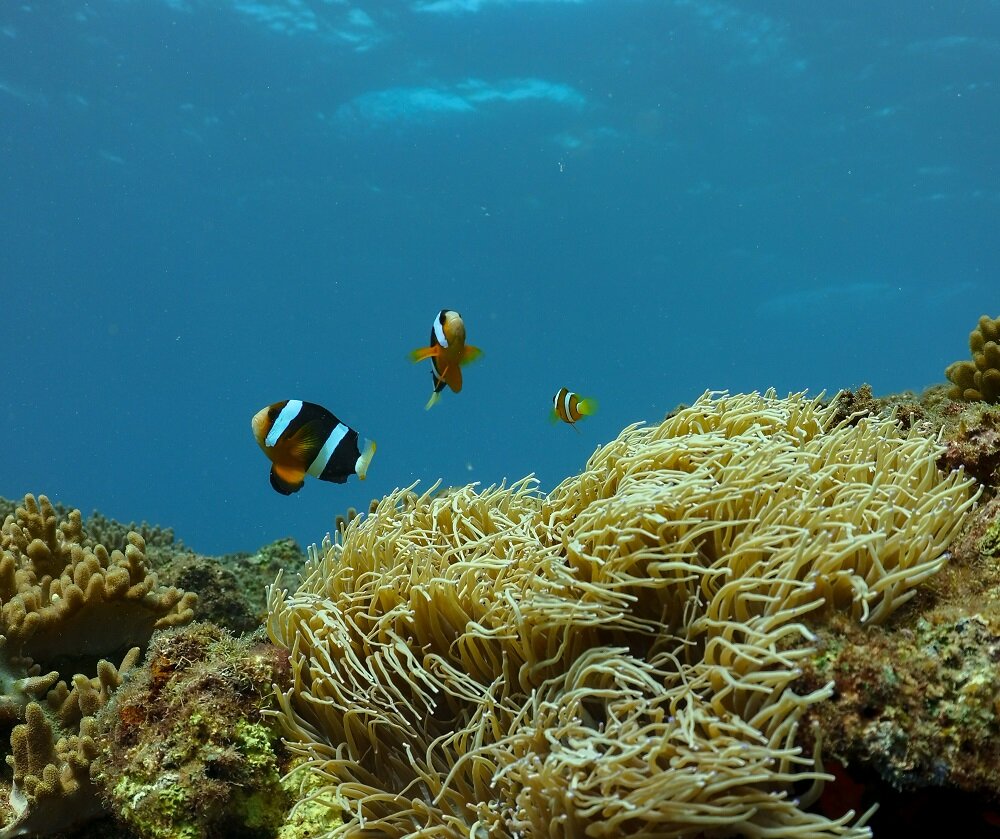 Japan has so much to offer on land, it's not surprising that it gets overlooked as a dive destination. But honestly, it's quite the diving hidden gem. This only means that it's generally much less crowded than places like Thailand and Indonesia where many dive boats and divers can be found clustered together at popular dive spots. 
The biodiversity of marine creatures in Japan is extraordinary, and you will quickly find yourself amongst fields of brilliantly colored soft coral with moray eels poking their heads out to watch you drift by while schools of fish swim all around you.
For macro lovers, there are a plethora of adorable nudibranchs (there's even a pikachu one!!), seahorses, and if you're lucky you might spot the elusive blue ringed octopus.
On the opposite end of the spectrum, Mikomoto on the Izu peninsula and Yonaguni Island just north of Okinawa, offer drift dives with hundreds of schooling hammerheads. If that's not enough to get you in the water, the underwater topography is phenomenal with massive boulders, intriguing rock formations, swim throughs and caves to explore.
Japan's volcanic nature can also be enjoyed on the surface where, more often than not, there's an onsen to warm up in after your dive.
Planning a trip to Japan? Find out the best time to visit Japan based on seasonal weather patterns and your personal travel style.
Challenges of Diving in Japan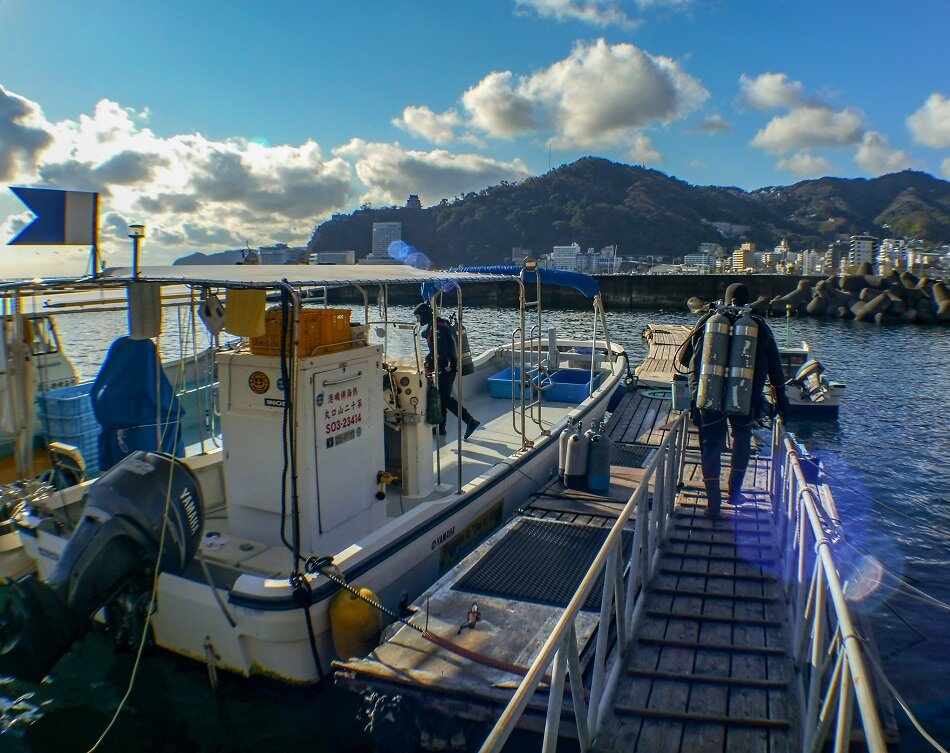 One of the primary reasons Japan has remained a hidden gem from foreign visitors in the scuba world is due to the limited number of dive operators that cater to English speakers. However, this is beginning to change.
There is an expat dive group based out of Tokyo, called Dive Zone Tokyo, that plans monthly trips. A few dive shops including Izu Ocean Diving Park and Bommie Divers also welcome English speakers. Okinawa, probably Japan's most popular dive destination, has many more English-speaking options as well. 
Diving in Japan is also not cheap, and you can expect to pay around 16,000-18,000 yen ($145-165 USD) for a 2-tank boat dive. It might be a solid hit to your Japan travel budget, especially compared to what other Asian countries charge for diving, but adding the magic of Japan's underwater world to your itinerary will be well worth it.
Marine Life in Japan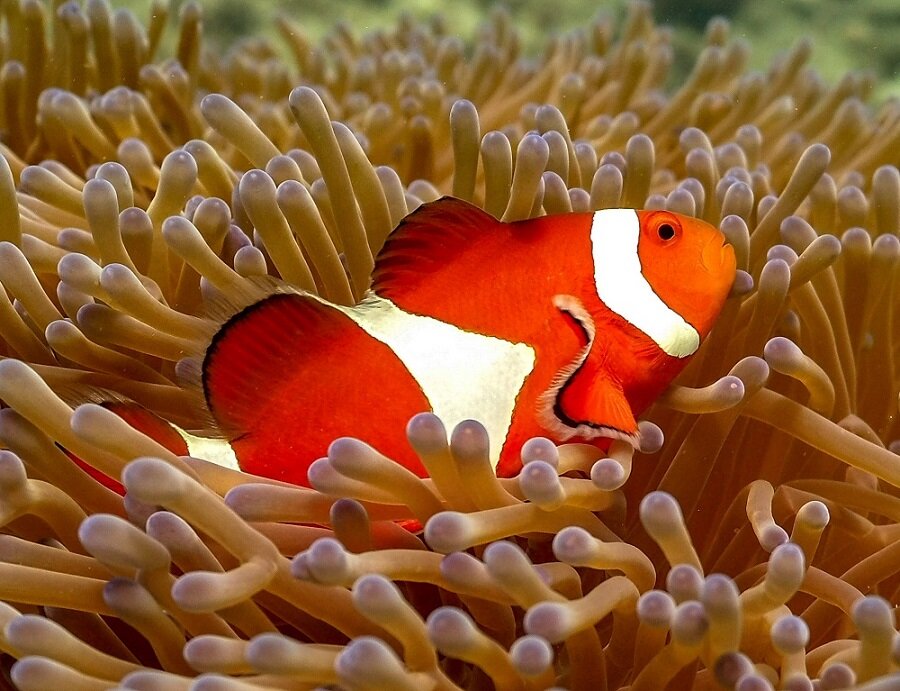 Japan has everything! From the big (sharks and whales) to the teensy tiny (nudibranchs and seahorses), and everything in between. There are over 30,000 recorded marine species living in Japanese waters which make up 14.6% of all marine species found worldwide.
The mixture of differing topography, currents, water temperatures and depths results in diverse marine environments leading to species richness. Japan is a marine biodiversity hotspot with more going on in it's small area than many other parts of the world. 
Fun Fact: The recently abdicated Emperor Akihito is a keen ichthyologist. He has published 30 scientific papers on goby fish and even has one named after him. 
Best Time of Year for Diving in Japan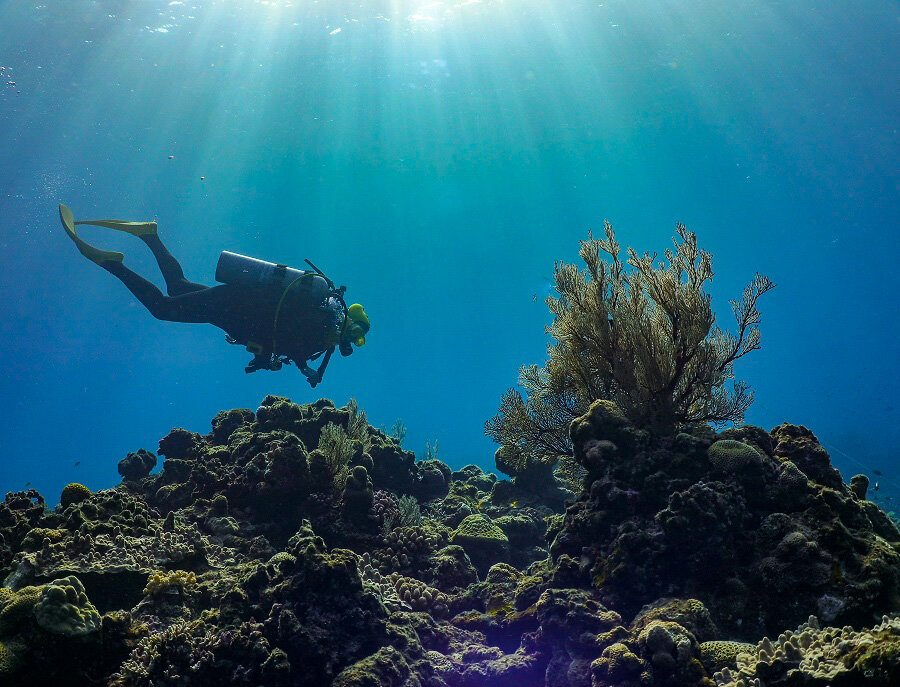 The Japan archipelago spans 1,800 miles (3,000 km) so there is a massive difference in water temperatures and what to expect from one end to the other. Below are some of the most popular areas for diving in Japan and when to go. 
Okinawa: Water temperatures never dip below 68°F (20°C), so Okinawa diving is good all year round. You can forego a wetsuit during the summer but 3-5mm wetsuits are needed during the winter months.
Honshu (mainland): Water temperatures fluctuate from 50°- 80°F (11°- 27°C) throughout the year and there is a wetsuit and drysuit season. Wetsuit season goes from June to November when water temperatures are above 68°F (20°C) and drysuit season is during the winter months where water temperatures are 50°- 60°F (11°- 17°C). I know people who dive in a 7mm wetsuit in the winter which is doable, just be prepared to get extra frozen at the surface where temperatures are in the high 30's and low 40's (3°- 8°C).
Hokkaido: Unlike diving in Okinawa, water temperatures here rarely get above 68°F (20°C), hovering near freezing in the winter. Diving is possible here year round, but of course, you'll want to wear proper protection from the elements. 
Important to note: The rainiest month is June with typhoon season lasting from July till October. With the increase in temperatures in the summer months, waters can become green with algal blooms and typhoons bring in heavy swells that can lead to dive cancellations.
Best Areas for Diving in Japan
With 18,486 miles (29,751 km) of coastline spanning 6,852 islands, Japan has endless opportunities to get your scuba gear on and hop into the ocean. 
Okinawa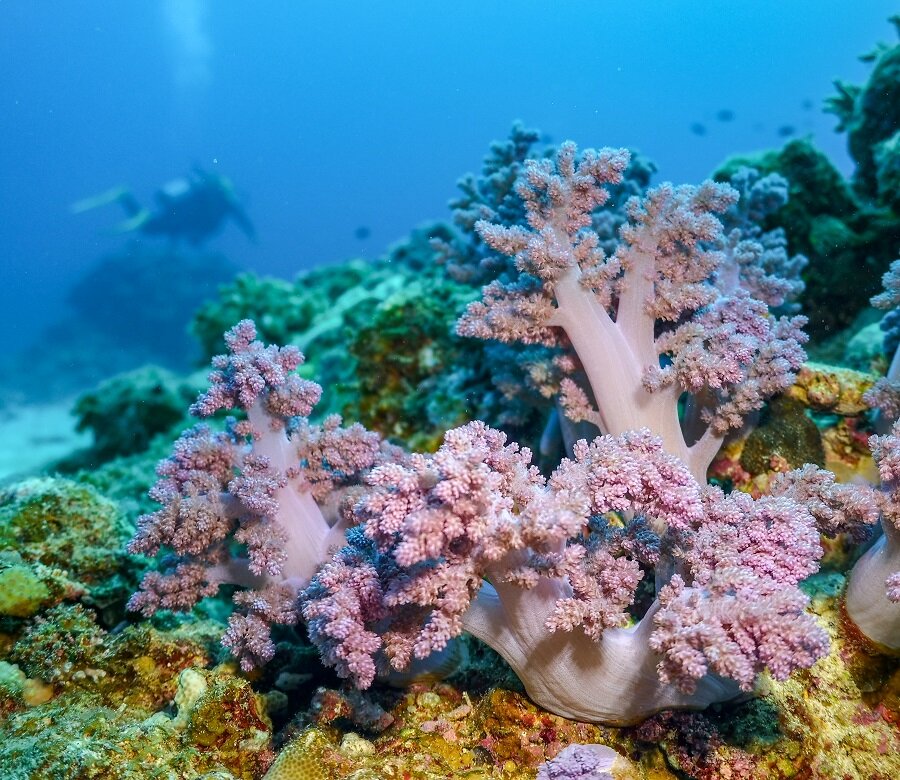 Known for: Being Japan's tropical getaway.
Okinawa is a prefecture in the South China Sea comprised of over 150 tropical islands between Taiwan and Japan's mainland. Known for it's white sand beaches, tropical climate and spectacular coral reefs, diving in Okinawa is one of the highlights of visiting this region. 
Tip: Dive sites in Okinawa can get fairly crowded during the summer months (high season) so it's best to visit the region for diving during the shoulder seasons in spring and fall. 
The islands have fantastic shore and boat diving opportunities. Okinawa diving boasts beautiful coral reefs, shipwrecks, sharks, mobula rays, turtles, sea snakes and so much more. Below are some of the top sites for diving in Okinawa.
Kerama Islands: A national park less than an hour by boat from Naha, with sea turtles, sharks, colorful coral and nudibranchs.

USS Emmons shipwreck: An advanced and deep dive lets you check out a 100m long US Navy destroyer that was sunk by Japanese kamikaze aircrafts in WWII. 

Miyagi Coast: Tons of shore diving opportunities right off the seawall where coral reefs full of tropical fish, turtles, nudibranchs and sea snakes await.

Yonaguni Island: Underwater pyramids and schooling hammerhead sharks on Japan's westernmost island.
How to get there: Take a 2.5 hour flight from Tokyo (either Haneda or Narita airport) to Naha (ANA airport)
Average cost of a dive: 8,000 yen ($70 USD) for a shore dive with guide, 14,000 yen ($130 USD) for a 2 tank boat dive
Izu peninsula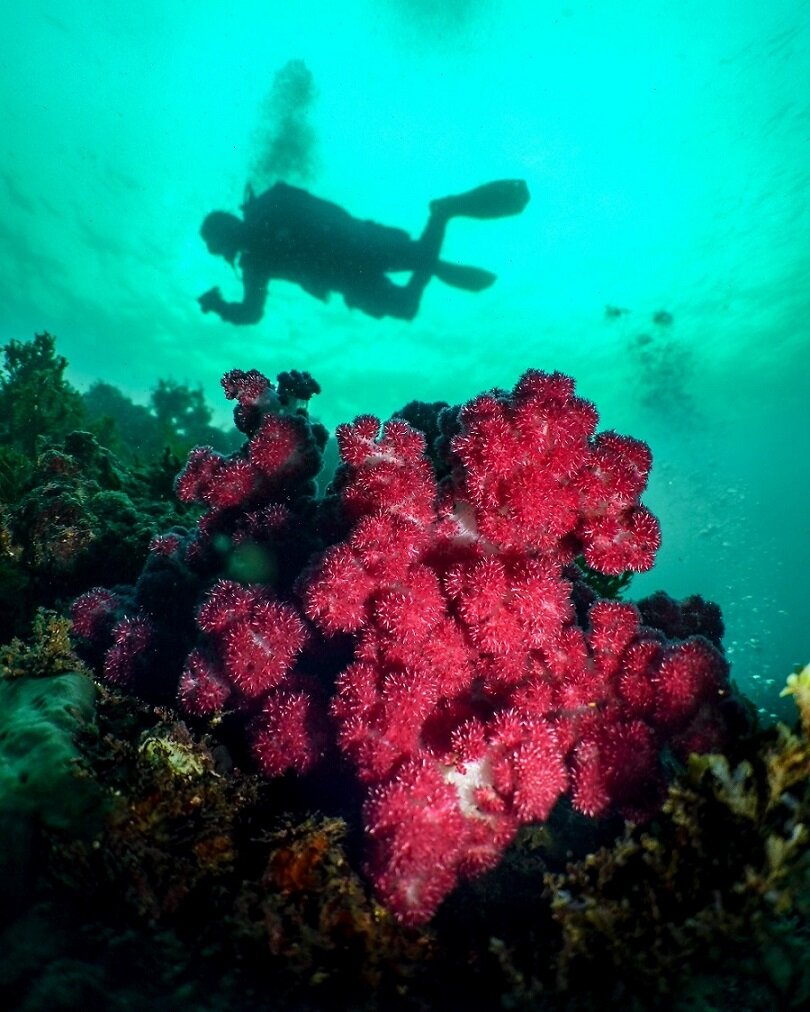 Known for: Amazing diving right off the shore with shipwrecks, caves, and rocky reefs to explore.
The Izu peninsula sticks out from mainland Japan to the west of Tokyo. There are dive sites dotted along the entire peninsula for every level of diver. Some of the highlights include stunning soft corals, shipwrecks (Atami), tons of macro opportunities (Ozesaki) and schools of hammerheads (Mikomoto Island).
How to get there: Either a 2-3 hour drive from Tokyo or a 45 minute bullet train ride from Tokyo Station to Atami Station. From Atami, an extra 40 minute train ride will bring you to Jogasaki-Kaigan station which is closest to Izu Ocean Diving Park.
Average cost of a dive: 2,300 yen ($20 USD) for facility usage fee for shore diving, 16,000 yen ($145 USD) for a 2 tank boat dive
Tateyama, Chiba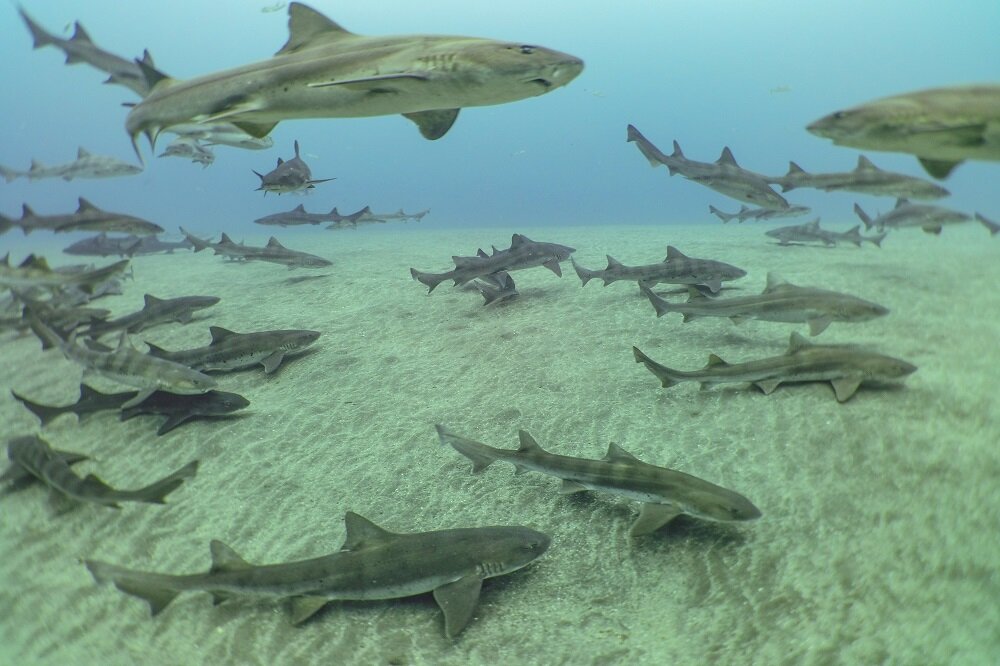 Known for: Diving with sharks
Get up close and personal with the ocean's greatest predator. This famed dive site is known as the "shark scramble" where Japanese banded hound sharks gather. It's a deeper dive so you'll need an Advanced Open Water certification to participate.
Note: The sharks here are fed daily by the dive operator who set up the site as a conservation effort to keep the sharks from ending up in fishermen's nets.
How to get there: Best option is to rent a car and drive from Tokyo which will take about 2 hours. There's a train/bus option but it will take you forever.
Average cost of a dive: 16,000 yen ($145 USD) for a 2 tank boat dive
Jogashima, Miura Peninsula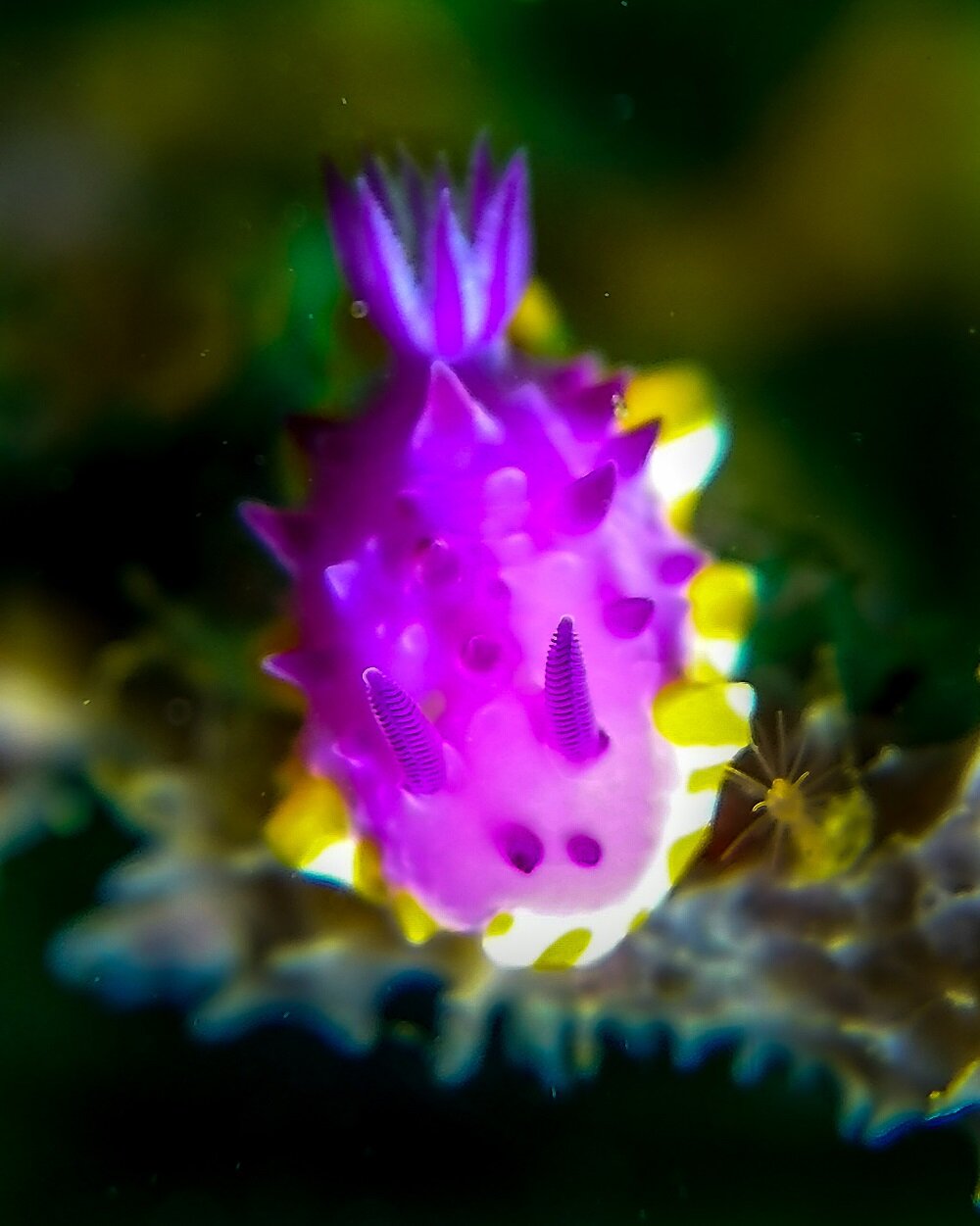 Known for: The nudibranch diversity is off the charts – this is macro heaven!
At the bottom of the Miura peninsula is a tiny island with one dive shop that lets you access both Tokyo Bay and Sagami Bay with only a 5-minute boat ride. Rocky reef walls, nudibranchs, soft corals and an array of anemone species greet you under the surface here.
How to get there: Either a 1.5 hour drive from Tokyo or 1.5 hours on the train ride from Tokyo Station to Misakiguchi Station. You can arrange for the dive center shuttle to pick you up or it's a 30 minute bus ride on route #9 from the station to the shop.
Average cost of a dive: 16,500 yen ($150 USD) for a 2 tank boat dive, 4,000 yen ($36 USD) shore dive
Izu Islands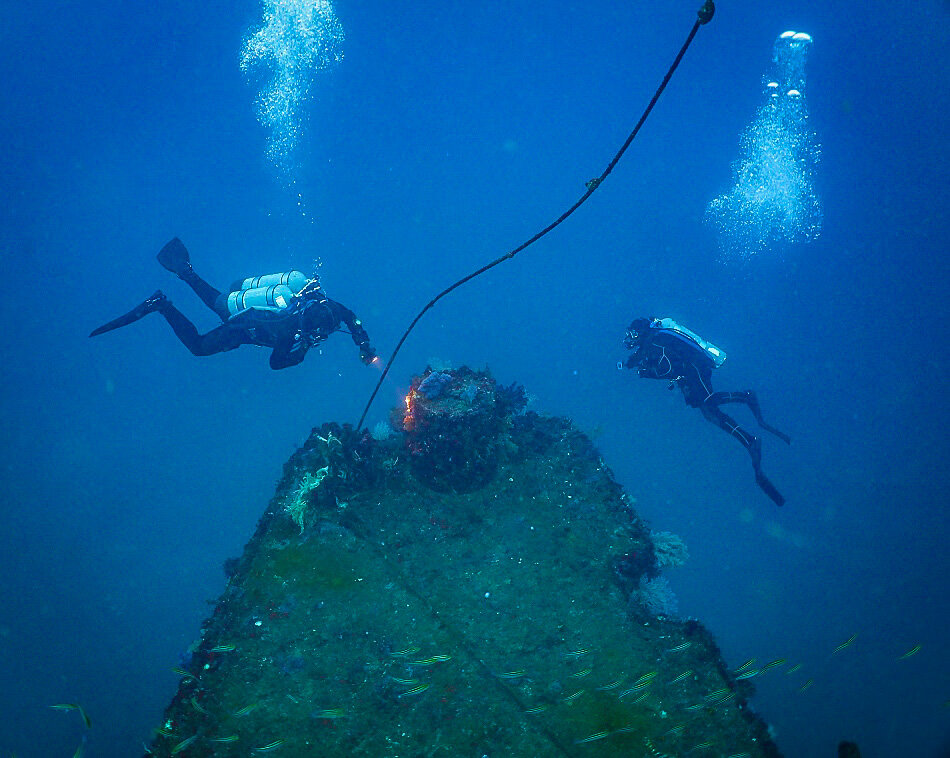 Known for: Easy beach entries that bring you face to face with dolphins, turtles, and a diverse array of marine species.
An overnight ferry from Tokyo will get you to islands like Oshima, Miyake-jima, Mikura-shima, and Hachijojima (just to name a few). Here you can dive with turtles, dolphins, and all kinds of fish in a tropical underwater paradise. Miyake-jima is known to have a resident dolphin population so there's a good chance you will see them while diving or snorkeling, and Hachijojima is known for their sea turtles.
How to get there: The Tokai Kisen Ferry leaving from Tokyo Takeshiba Terminal and Yokohama International Passenger Terminal services all the Izu Islands. Options are an overnight ferry (available all year round) or a high speed jet ferry that takes about 3 hours (available during the summer months). Alternatively you can fly from Haneda Airport to Oshima, Nijima, and Miyakejima Islands.
Average cost of a dive: 10,000 yen ($90 USD) for 2 dives on Oshima Island
Hokkaido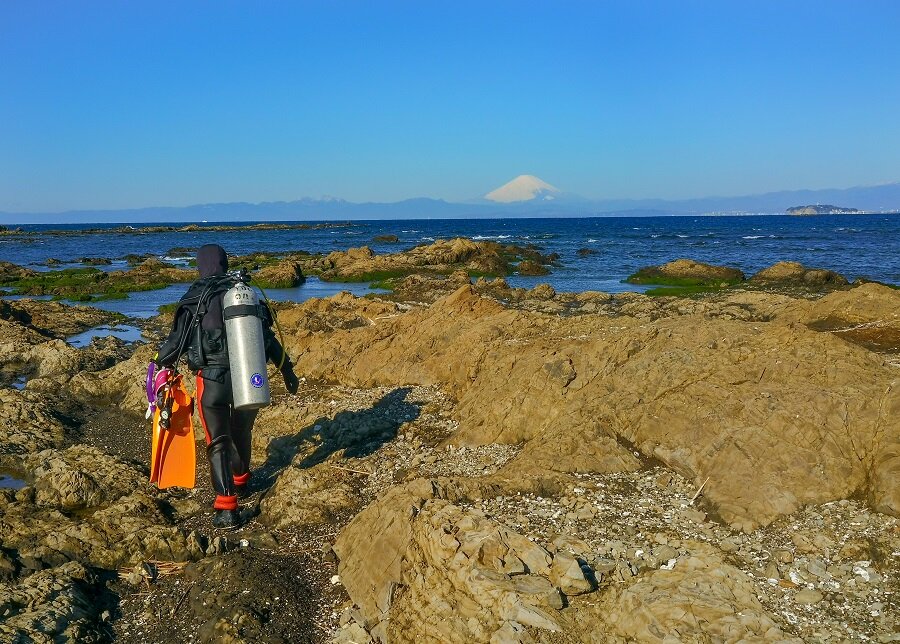 Known for: Ice diving, kelp forests, and home to the giant pacific octopus
The largest island to the north of mainland Japan has year-round (cold) diving. You'll be amongst kelp forest and nutrient rich waters that bring in whales, sea lions and giant pacific octopus.
During the winter, at the northernmost tip of the island, you can dive under massive sheets of ice and catch a glimpse of a sea angle, a translucent sea slug that flaps through the water.
There's also diving in Lake Shikotsu, Japan's clearest lake, with 25m visibility throughout the year.
How to get there: Take a 40 minute flight from Tokyo to Sapporo airport.
Average cost of a dive: Packages start at 54,000 yen ($490 USD).
Important Note: Robinson Dive Center runs ice diving during February and March but they will only accommodate English speakers if you have a Japanese translator with you.
---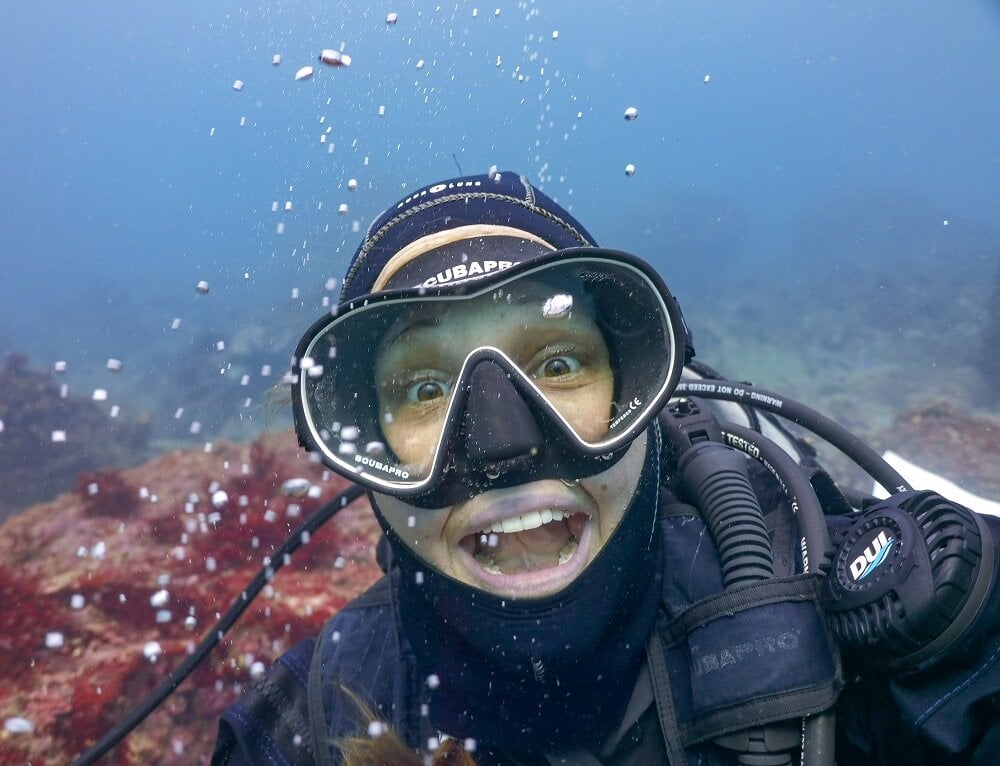 Corinne has been living and diving in Japan for the past 2 years. Most weekends you'll find her diving in Sagami or Tokyo Bay, or taking trips to the Izu peninsula and Okinawa whenever she can. You can read more about Corinne's adventures in Japan and her scuba experiences around the globe on her website, Corinne Loves Nature.
---
Are you planning a trip to Japan?
We have TONS of resources on travel in Japan and destinations throughout the country. Check out our Ultimate Japan Travel Guide for all the answers to your most burning questions, or read some of our favorite articles below.
If you're an avid diver, be sure to check out our round up of the best places for scuba diving around the world and other articles on our scuba diving page.
Save this article on Pinterest for later!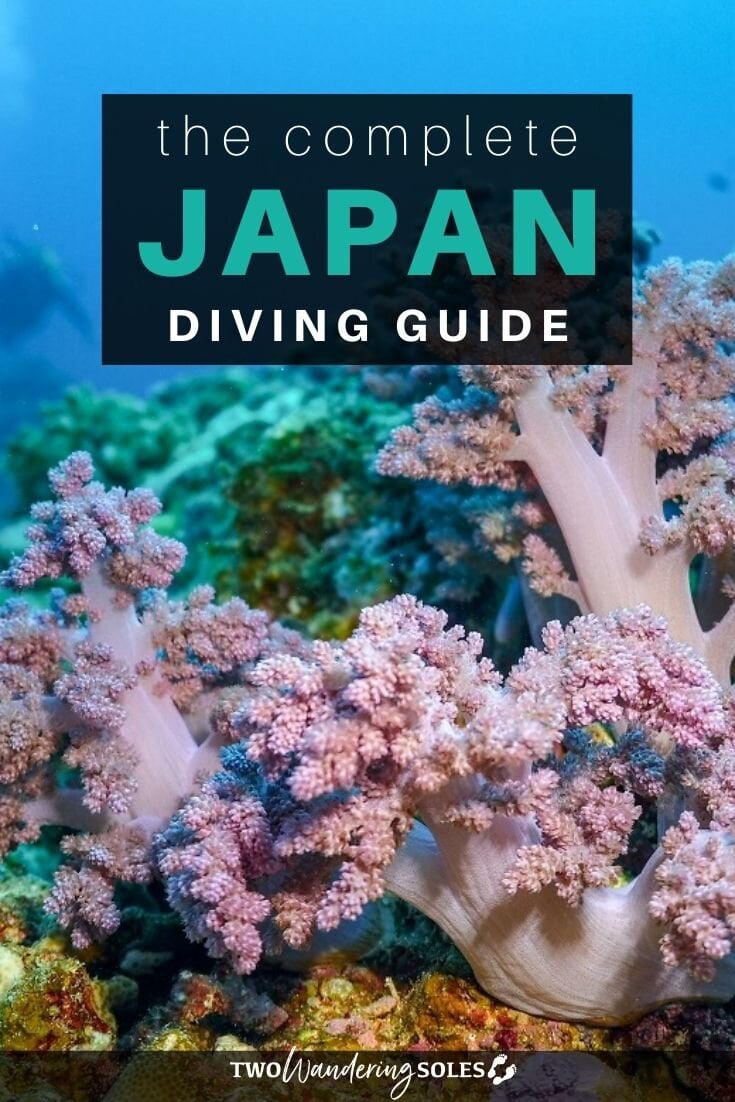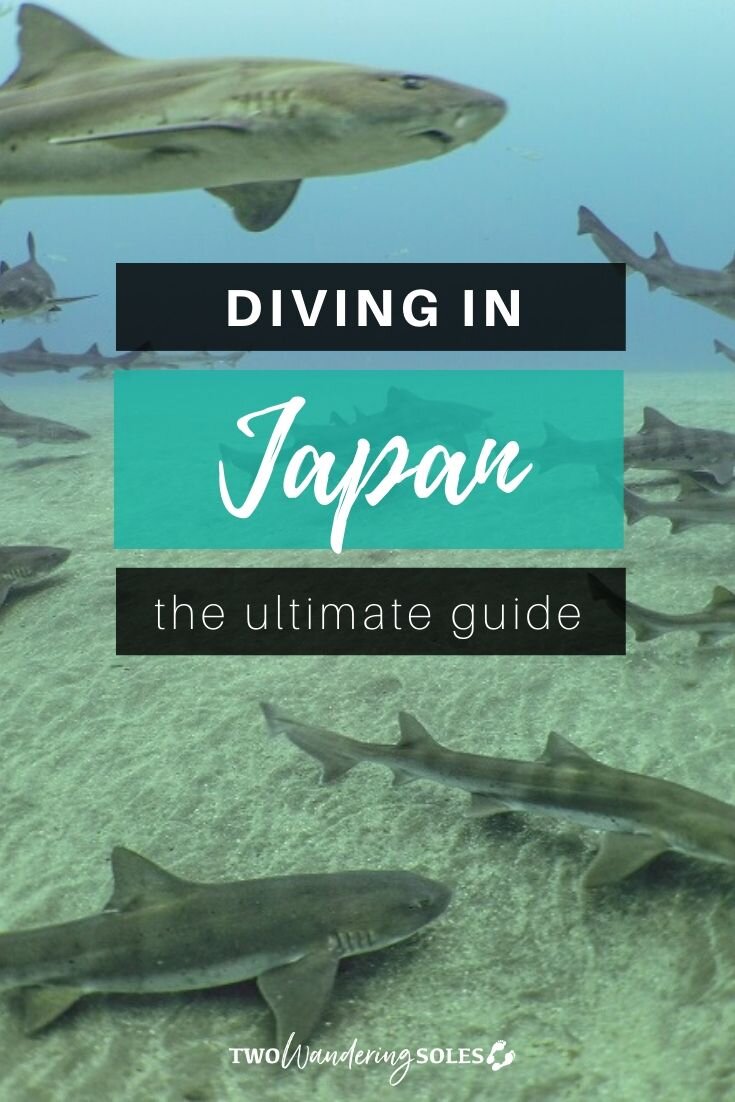 We want to hear from you!
Have you ever been diving in Japan? After reading this guide do you think diving in Japan needs to be added to your bucket list (if so, you're not alone, us too!)? Leave your comments below and we'll do our best to get back to you!