Well, hello there!
I'm Ben. A recovering Type-A personality that quit a career in engineering to travel the world.
Crazy? Maybe. Regrets? None.
I am the sous chef to Katie's head chef, and I am the navigator to her "let's get lost" attitude. I love that we work as a team whether we're traveling, cooking, or working on this blog.
Wanna know more? You got it!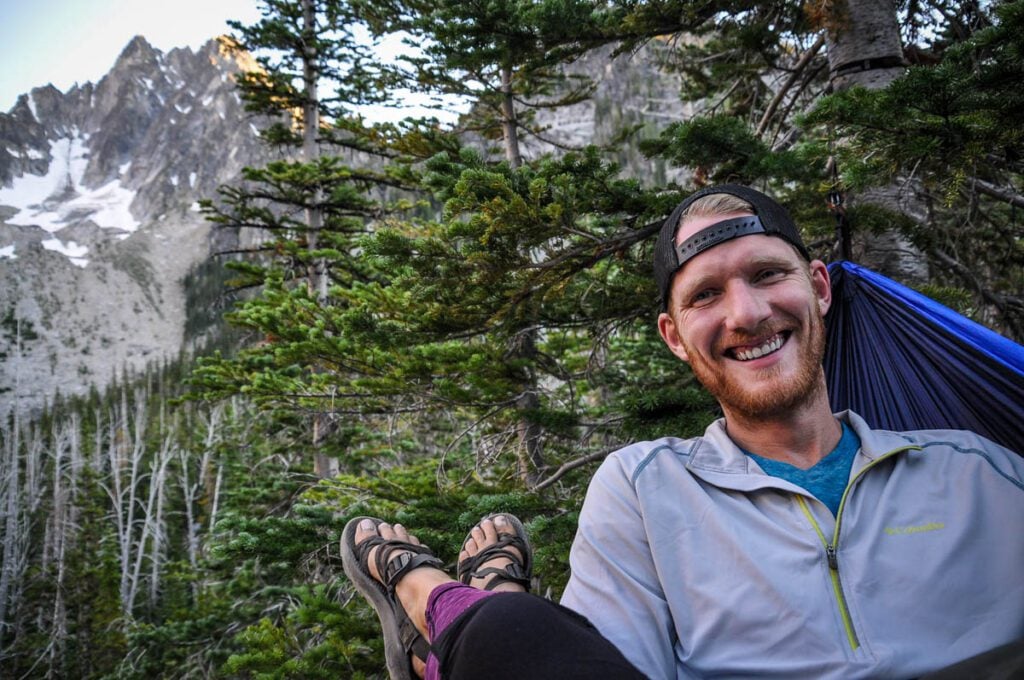 Get to know Ben
Things to know about Ben
1. I graduated from university with my engineering degree and my MBA. 
2. Together with my wife, Katie, I founded Two Wandering Soles in 2014 as a place for us to share our best travel tips and experiences.
3. Katie and I are high school sweethearts and have been together since we were 17 years old. Read more about our story here! 
4. I have traveled to more than 50 countries.
5. I have my advanced PADI certification and love scuba diving. Katie and I have gone on 2 liveaboard trips, and I can't wait to do another. I highly recommend looking into a liveaboard for your next vacation if you're a diver!
6. Along with Katie, I have built 3 campervans from scratch! We love campervan travel, and have even gone on international campervan trips in New Zealand, Iceland, Scotland and Ireland (coming soon!).
7. I occasionally write articles on Two Wandering Soles, but a lot of what I do is behind the scenes work with SEO, affiliates, videos and all the other stuff nobody realizes goes into travel blogging!
8. Katie and I have a daughter, Juniper, and we have loved learning how to travel with a baby. In Juniper's first year of life, she traveled to 13 US states, 4 US National Parks, and 9 countries!
My Travels
I've currently traveled to more than 50 countries, but I didn't do much traveling until I studied abroad during university.
2009: Study Abroad in Florence, Italy
I was 21 years old when I got my first passport stamp, and my eyes were quite literally opened up to an entire world I had only dreamt about.
Katie was also on that study abroad stint, and we did as much traveling around Italy and Europe as we could (while not having unlimited funds in our bank accounts).
During our 4 months studying abroad, we traveled to:
Germany (for Oktoberfest!)
Austria
Switzerland
Malta
Spain
Ireland
England
and all around Italy, of course!
Honestly, that 4-months changed my life in so many ways, and I think every student should have the opportunity to study abroad.
2011-2013: Dipping our toes into international travel
After studying abroad in Italy and having our eyes opened to this huge and beautiful world we live in, we were never going back.
During this time, we took a handful of trips together and on our own:
Katie and I took a short but action-packed trip to Costa Rica
We visited the Dominican Republic with some of our best friends
We decided we wanted an adventurous honeymoon, and after much research, we landed on Banff! We had the best time (even went skydiving!).
2014: 3 months in South America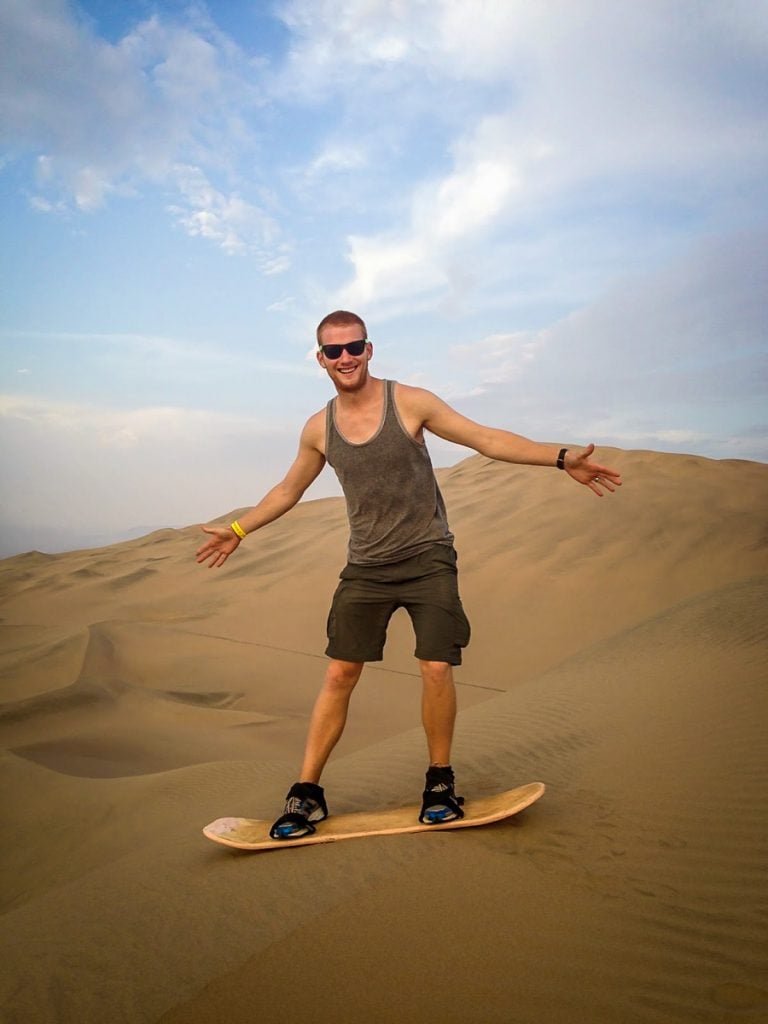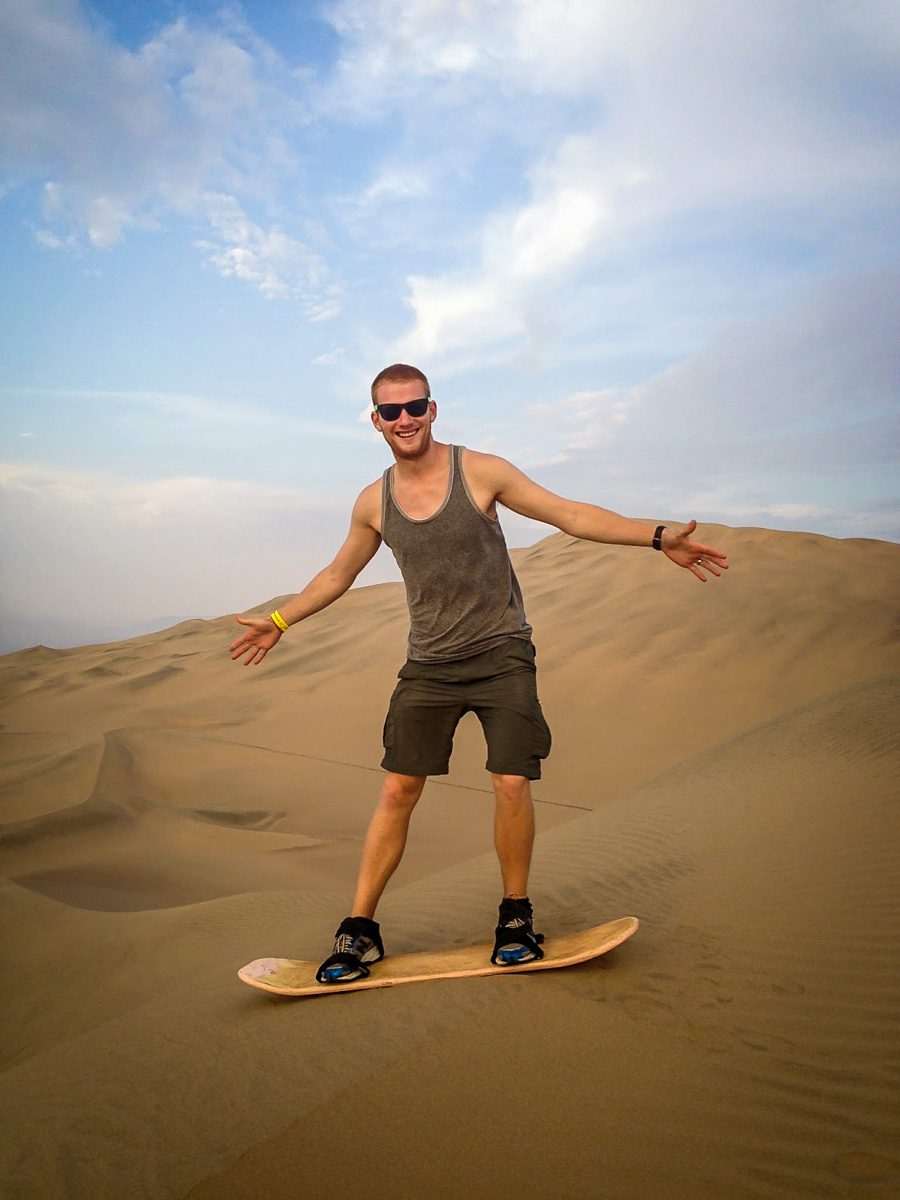 This was the trip that started it all! We hadn't even been married for 6 months when we quit our jobs and boarded a one-way flight to Colombia.
During our 3 months, we traveled to:
We were on a very tight budget, but we still look back at this trip as one of the best (and most free!) trips of our lives.
2014-2015: Teaching English in South Korea
While teaching English in South Korea, we were able to explore the country extensively – from the major cities, like Seoul and Busan, to places far off the beaten path that I couldn't even find on a map.  
We also used our school breaks to travel to the Philippines and Japan.
One thing from this year that we're really proud of is that we saved $44,000, which was essentially the nest egg we used to fund a year-long round-the-world trip. 
2015-2016: 1-year RTW trip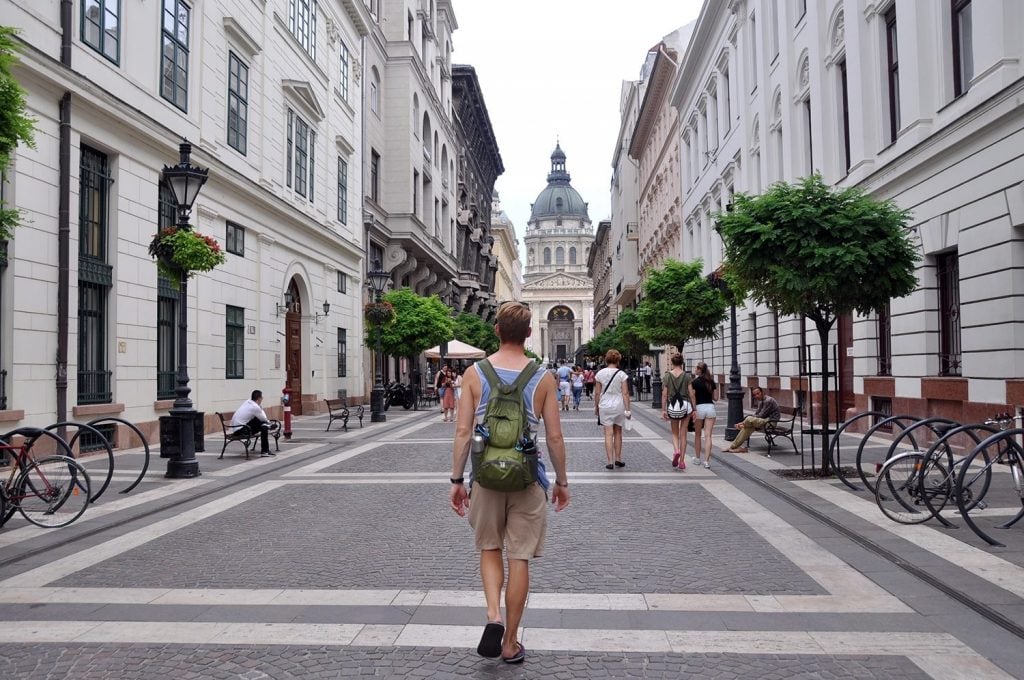 Using the money we saved in South Korea, we spent the better part of a year traveling. We started in Southeast Asia, made our way to Nepal and India, then traveled around Eastern Europe.
In total, we visited 21 countries during this year (some of them for more than a month!).
This was our route:
Thailand
Laos
Vietnam
Cambodia
Thailand (again!)
Myanmar
Thailand (again!)
India
Nepal
India (again!)
Dubai
Turkey
Bulgaria
Romania
Serbia
Bosnia & Herzegovina
Croatia
Slovenia
Hungary
Poland
Czech Republic
Hungary (again!)
London
Amsterdam
Iceland
2017: USA by Campervan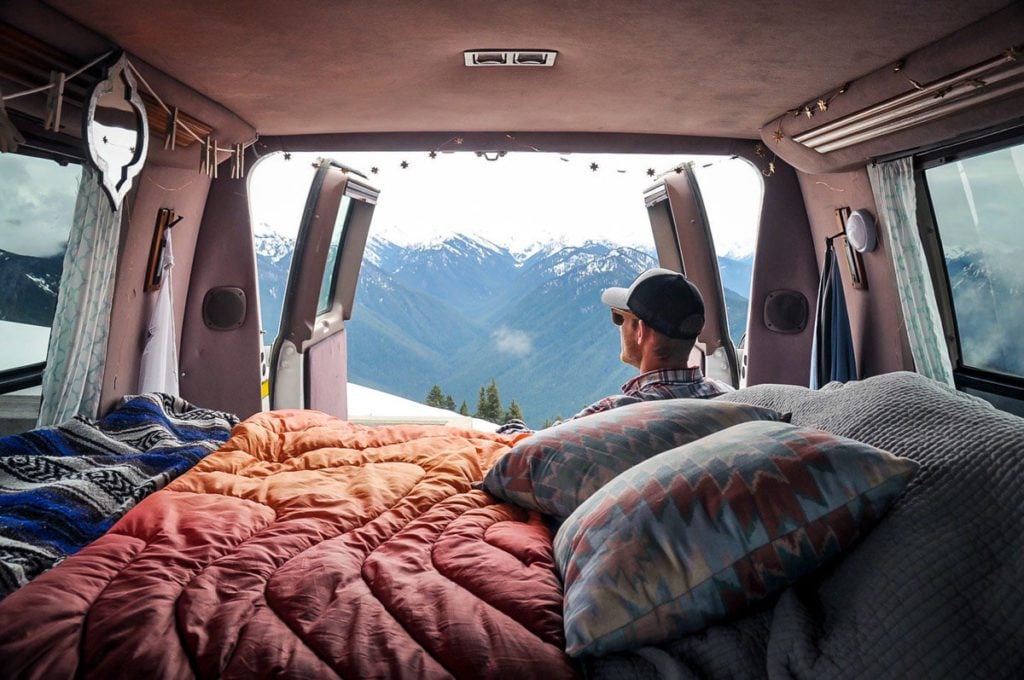 We applied for a visa to work at a ski chalet in Morzine, France (after hearing about this job from other travelers). We were seriously disappointed when our visa was denied (unemployment rates in France were high at the time and they weren't accepting non-EU applicants).
Instead, we ended up getting jobs working at a ski resort in Washington State, and we fell in love with the Pacific Northwest. (So maybe the rejected visa was a blessing?)
After that ski season, we wanted to road trip around the West Coast, and figured the cheapest way to do so would be by building a DIY campervan. 
It ended up being one of the best (and most free!) summers of our lives.
2017-2019: Digital Nomading
During these 2 years, we spent the majority of our time hopping between Thailand and Bali. We'd rent apartments for a handful of months and spend our days mostly working on growing our blog.
We'd take weekend adventures and we traveled around SE Asia pretty extensively during this time.
It was also the time in our lives when we truly started looking at our blog like a business and working on it full-time.
2019 – Present: Home Base in Bend, Oregon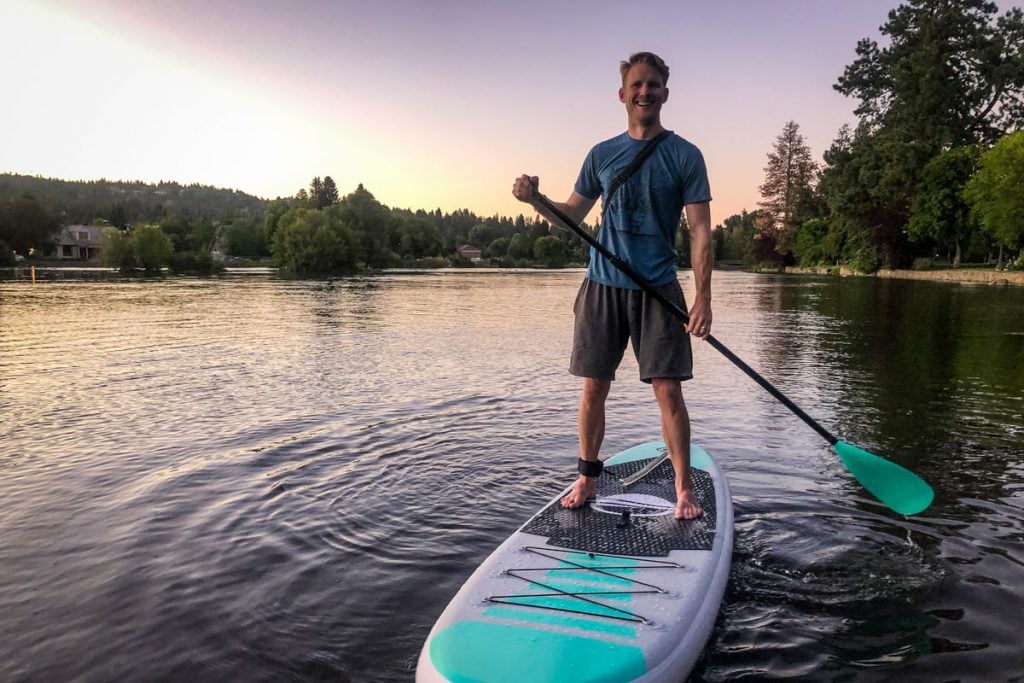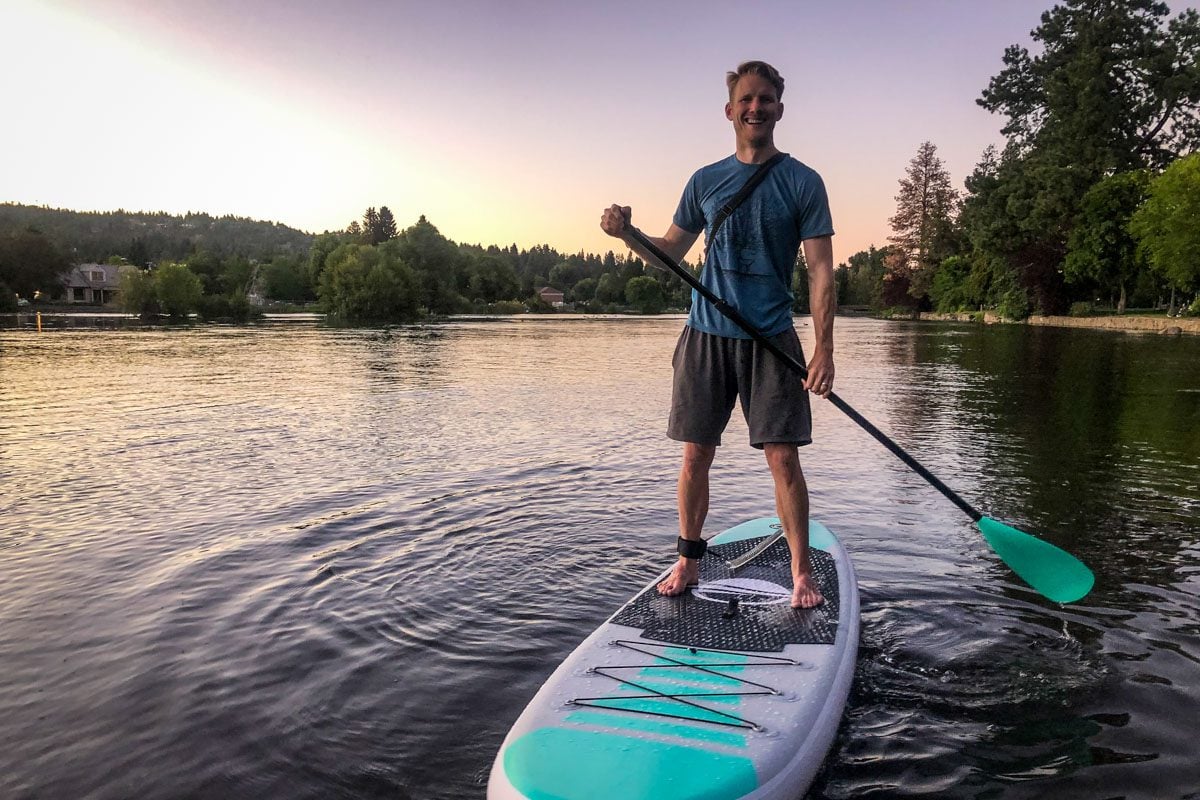 After years of living out of suitcases, we were craving something more permanent. And we had fallen in love with the PNW, so we decided to take a leap and move to a town we had only just passed through for a few days in 2017 on our campervan road trip.
We have now been calling Bend home for 3+ years, and really love this town.
We're really enjoying having a place to call ours, but we also travel really often – whether it's a weekend getaway in Oregon, an extended road trip in our campervan, or an international trip – travel is still very much an integral part of our lifestyle.
Education & Career
I got my undergraduate degree from Iowa State University in industrial engineering as well as a concurrent MBA.
After graduating from university with my engineering degree and my MBA, I started working at a manufacturing company back home in Minnesota. It was a great job and I got to work with nice people; but of course, there were frustrations.
The biggest issue I had was this thought in my head that kept saying, "This will be the next 40 years of your life." That ate away at me, until Katie and I talked it over and decided to sign up for a TEFL course and thus began our plans to travel and teach English in Korea.
So in February 2014, I left my comfortable salary and took the plunge into a new way of life. And I have not looked back since.
Travel Favorites
This is just a fun section filled with some of my favorite (and least favorite!) things:
Travel Likes
Trying the local food (& spirits)
Campervan travel
Off-the-beaten-path experiences
Epic hikes
Festivals
Splurge-worthy bucket list adventures
Supporting companies that are doing good in the world and their community
Authentic interaction with locals
Meeting other travelers and having good conversations
Airport lounges
Travel Dislikes
Bus tours (for the most part)
Going to a place just to take a photo
Missing holidays at home
Companies that don't care for the environment and their community
Mega chains
When I forget my sunscreen
Small talk
Peak tourist season
Favorite travel memories (so far!)
There's no way I can create a comprehensive list, but here are just some of my favorite travel memories…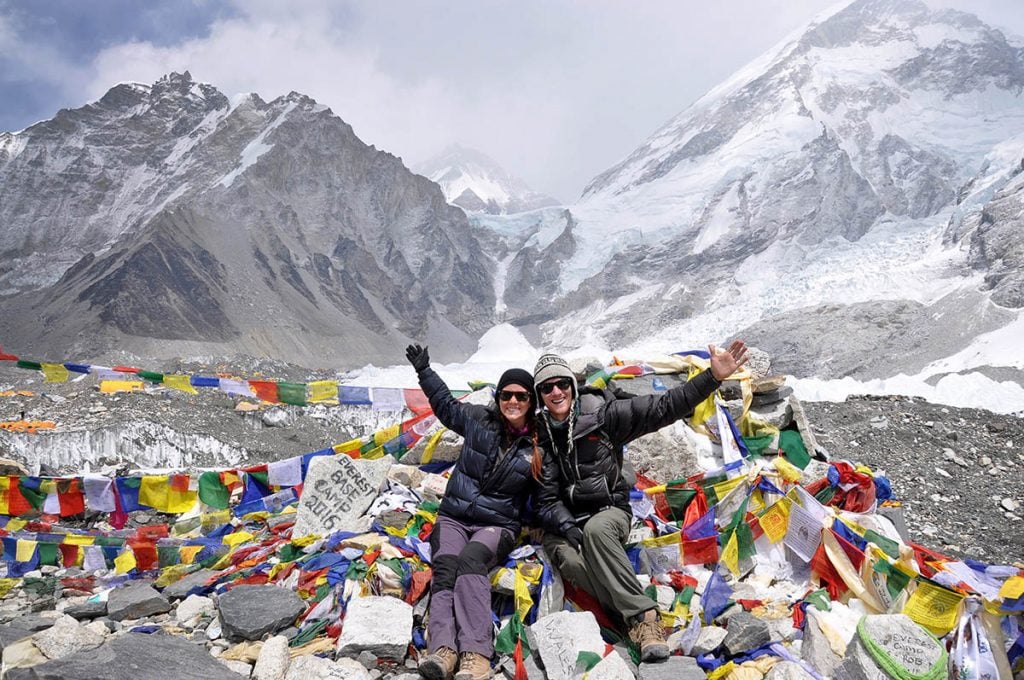 Volunteering on an organic farm nestled deep in the Andes mountains of Ecuador
Making our dream of traveling to the Galapagos Islands come true even though we were on a super tight budget
Camping on Freedom Island during Sziget Festival in Budapest
Celebrating New Years with new friends on a Halong Bay cruise in Vietnam
Camping in Iceland (we've done both a tent and a campervan here!)
Taking a 3-day boat trip from Panama to Colombia via the San Blas Islands
Road tripping around New Zealand in a campervan
Going on what's called the "Secret Tour" in Dalat, Vietnam
Doing a meditation retreat in Thailand at a Buddhist Monastery
Doing a homestay in Laos in a village that had never had foreigners spend the night.
Making lifelong friends with our countryside biking tour guide in Bali. We've gone back to see him several times & he invited us to partake in 2 different ceremonies in his village.
Trekking in Nepal to Everest Base Camp and the little-known Mohare Danda.
Riding motorbikes with 2 of our best friends to the Lampang "white temples" in the middle of the Thai countryside.
While exploring Utah's 5 National Parks, we hiked to Delicate Arch and overheard someone say the conditions that night were going to be amazing with the Milky Way behind the arch (which very rarely happens). We hadn't planned for it, but we decided to stay there all night (and split a granola bar for dinner – the only food we'd packed).
Favorite Places for…
Favorite Hikes
Trips on my bucket list:
Campervan trip in Norway
Surfing in Sri Lanka
Hiking in Patagonia
Liveaboard in Raja Ampat
Snowboarding in Japan
Northern Lights in Finland
Exploring the Pyramids of Giza
Favorite Travel Gear
This or that: Travel Addition
Backpack or Suitcase? I love traveling with a backpack – nothing feels more free! But ever since having a baby, we've made the switch to (mostly) traveling with suitcases.
Hotel or Hostel? I love the energy of hostels and meeting other travelers. But a private room!
Sunset or Sunrise? Both!
Mountains or Ocean? Mountains. The beach means I will get very burnt! #gingerproblems
City or Nature? 100% nature!
Ben's favorite articles on TWS
Katie does nearly all the writing on the blog, but I was able to sneak this one by her. I bring to light some hard truths (and some cute tidbits) about traveling with a girl.
Building our first campervan quite literally changed our lives. We fell in love with campervan travel and have had so many adventures because of this. 
Our first build was done on a super tight budget – in total, we spent less than $3,000 for the vehicle and everything that went into the build, and we documented it all for anyone who wants to know how they can do a simple build.
After a few years of blogging and not working any "traditional jobs", we'd get bombarded with questions from well-meaning friends, family and strangers all wondering if we could really make a living on our blog.
Well, we started creating income reports for a while. And my nerdy engineer brain loved creating these reports. Eventually, we sort of stopped doing them (for a number of reasons), but I've considered doing one or two more "final income reports"… Thoughts?
Fun Facts about Ben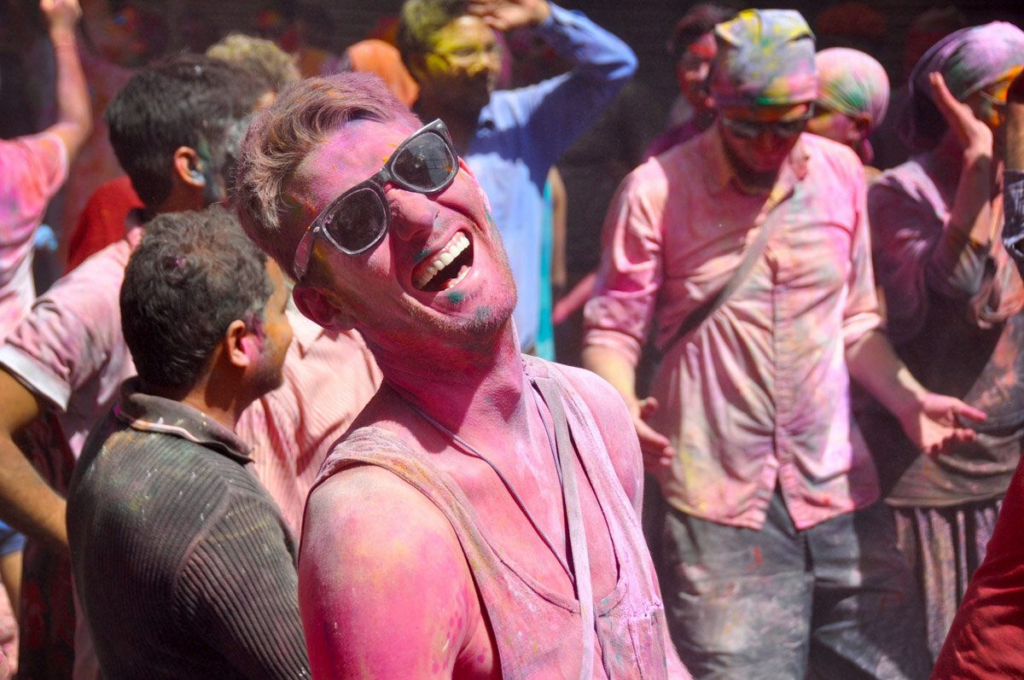 1. I've been a huge fan of the show "Survivor" since Day 1. I even applied twice. Still waiting on their response! (Speaking of which, I haven't heard back from "Amazing Race" either!) #callmeback
2. Even though I went to university to study engineering and get my MBA, I've had some odd jobs – I've been a "pizza artist" at Papa Murphy's, a janitor at my university, an Econ tutor, a sign painter, a window washer – and that's only a handful of the jobs I've done.
Some of my favorites have included being a camp counselor for 2 summers (with Katie!), teaching English in South Korea, and working as a snowboard instructor in Washington State. And of course, the very best job I've ever had is being a travel blogger!
3. I can't roll my "Rs" for the life of me. (Hablar español es muy difícil para mí.)
4. I've lived in 22 different houses/apartments in my life.
5. I secretly love to dance. Wedding dance floors are my specialty. Do I know any real dance steps? No. Does it look good? I'll let you be the judge. Is it fun? HECK YES!
6. I have a weird thing for maps. I am pretty good with directions, but even still, I do get lost sometimes. And that's part of the adventure, right?!
7. I prefer the mountains to the ocean, mainly because the latter requires more sunscreen. And being that I'm a ginger, I need a lot of it.
8. My most embarrassing moment was when I was in a talent competition in high school, and my talent was juggling. I'll start by saying that I'm not that great of a juggler. While on stage in front of hundreds of people, I lost all my balls (get your mind out of the gutter!) except one and had to stand there for the last 30 seconds throwing one ball in the air and catching it until the song was done. Longest 30 seconds of my life.
9. I love puns. (Hence the name Two Wandering Soles.) If you can tell me a good pun, we will be instant friends!
10. Give me a good beer, good people, and a good place, and I will be happy. I'm a pretty simple guy!
Current Status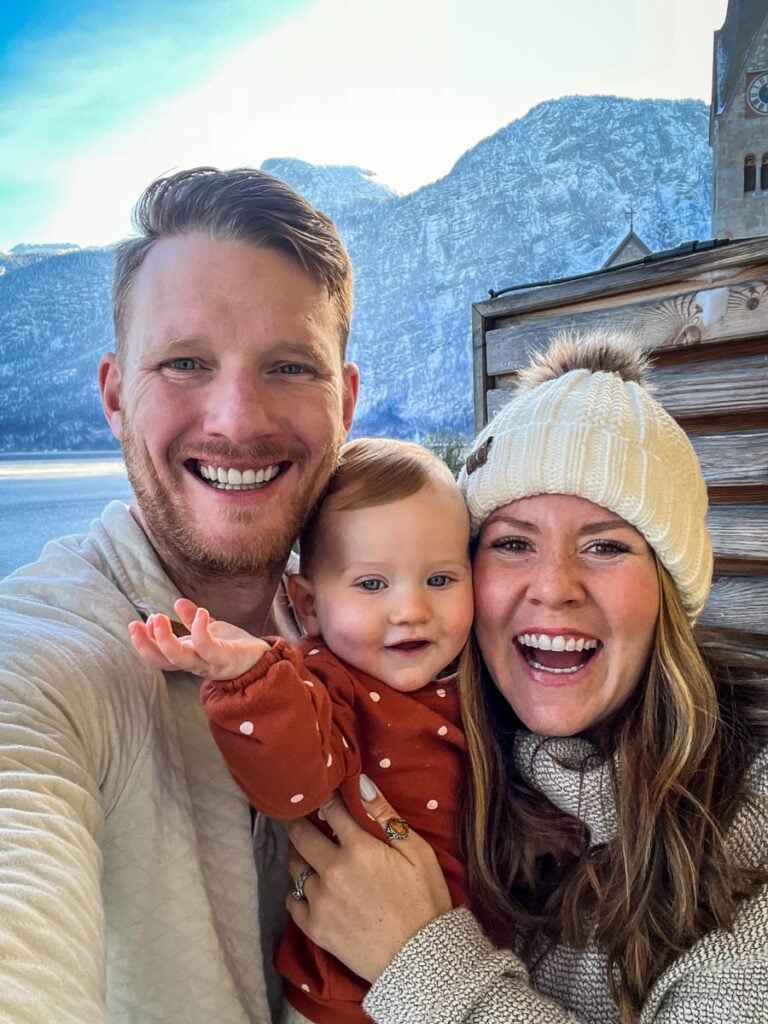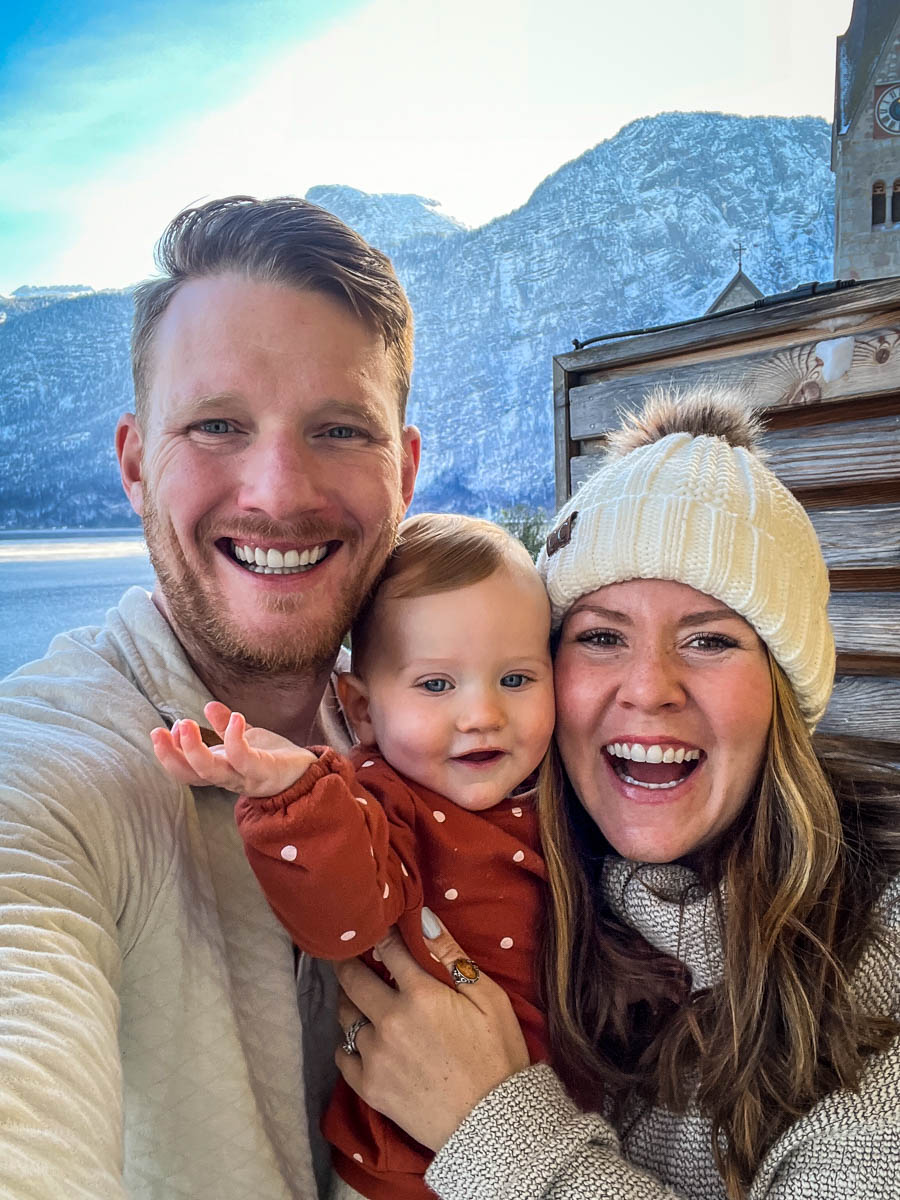 Katie and I currently live in Bend, Oregon with our daughter, Juniper. 
After years of traveling and living out of backpacks, we were craving a place to call our own.
In September 2021, we closed on our first house; and three months later, welcomed our baby girl into the world. It was a whirlwind, to say the least.
We love being able to consistently go to the gym (Orange Theory, heyyy!), meal prep healthy food, and have walls to hang the art we've collected from around the world.
But don't get things twisted… While we love all the home-y stuff, we still LOVE to travel.
You know all that stuff they say about "slowing down once you have kids" or "traveling less when you buy a house"? Yeah, we didn't really heed that advice. In fact, in 2022, shortly after Juniper turned 6 months old, we left on a 6-month adventure in our campervan! And we've got all sorts of trips in store for the years to come as well. 
Even though we have a home base, travel is still a huge part of our lives (it is our job, after all!). We think that we've got the best of both worlds – a home we genuinely love as well as the flexibility to travel quite often.