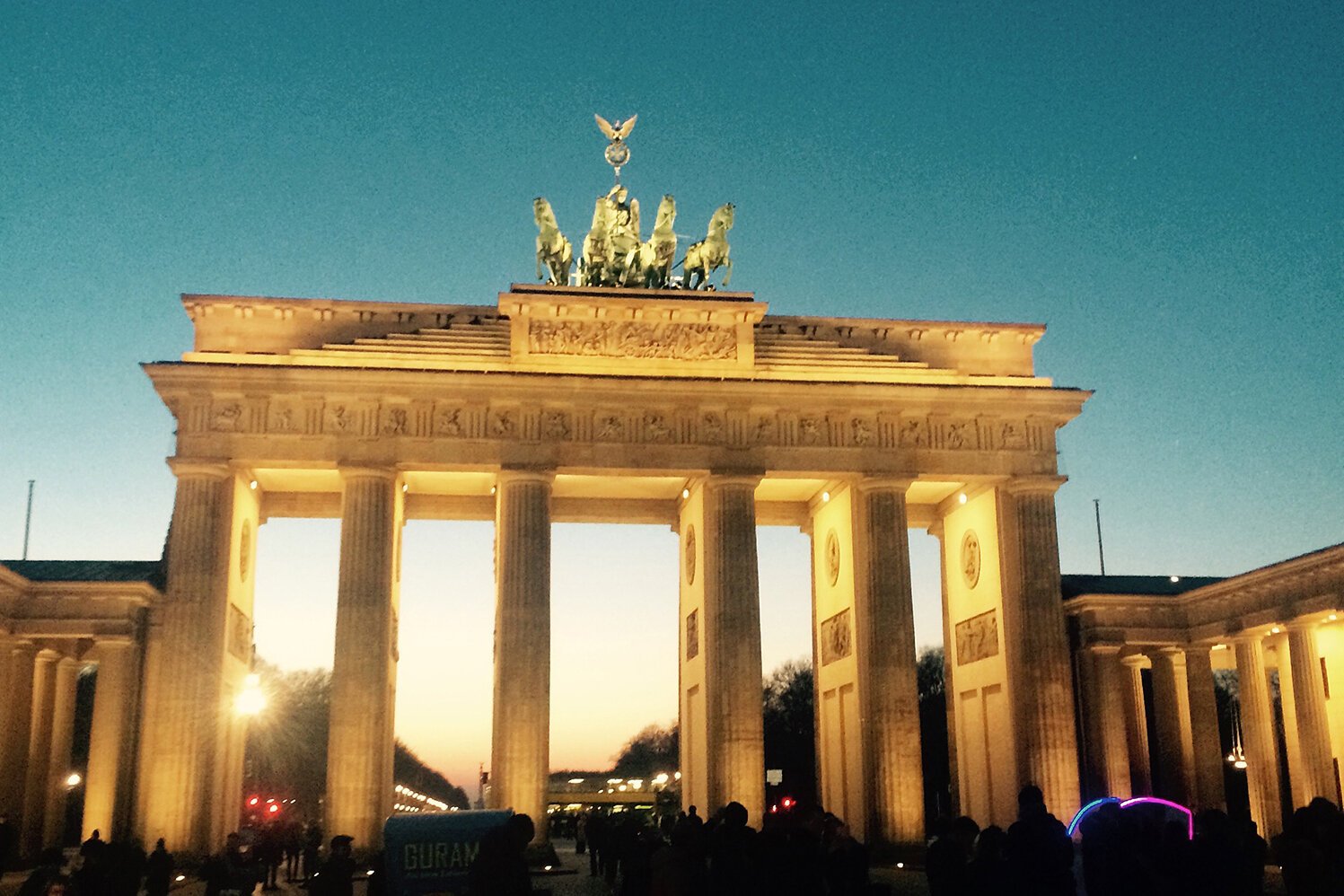 Co-Authored by Guest Author: Grant Simon
Berlin is one of the best cities to visit in Europe for many reasons. Some people come for the party scene, some for the history, and some come just to soak in the culture of this famously open-minded city.
There are plenty of fun things to do in Berlin, but if you want to get off the tourist trail you'll have to plan a bit more.
You can easily spend months exploring Berlin, but even if you're on a short holiday and only have a couple days, you'll still get a good feel for the city. And if you're anything like me, you'll want to come back for more!
I originally came to Berlin on a 6-month study abroad program in 2015. I loved living in the city so much, I came back and stayed another 3 months over the summer in 2016.
After having lived in this city for a total of 9 months, I've rounded up some of the best unusual things to do in Berlin.
1. Watch the sunset at Klunkerkranich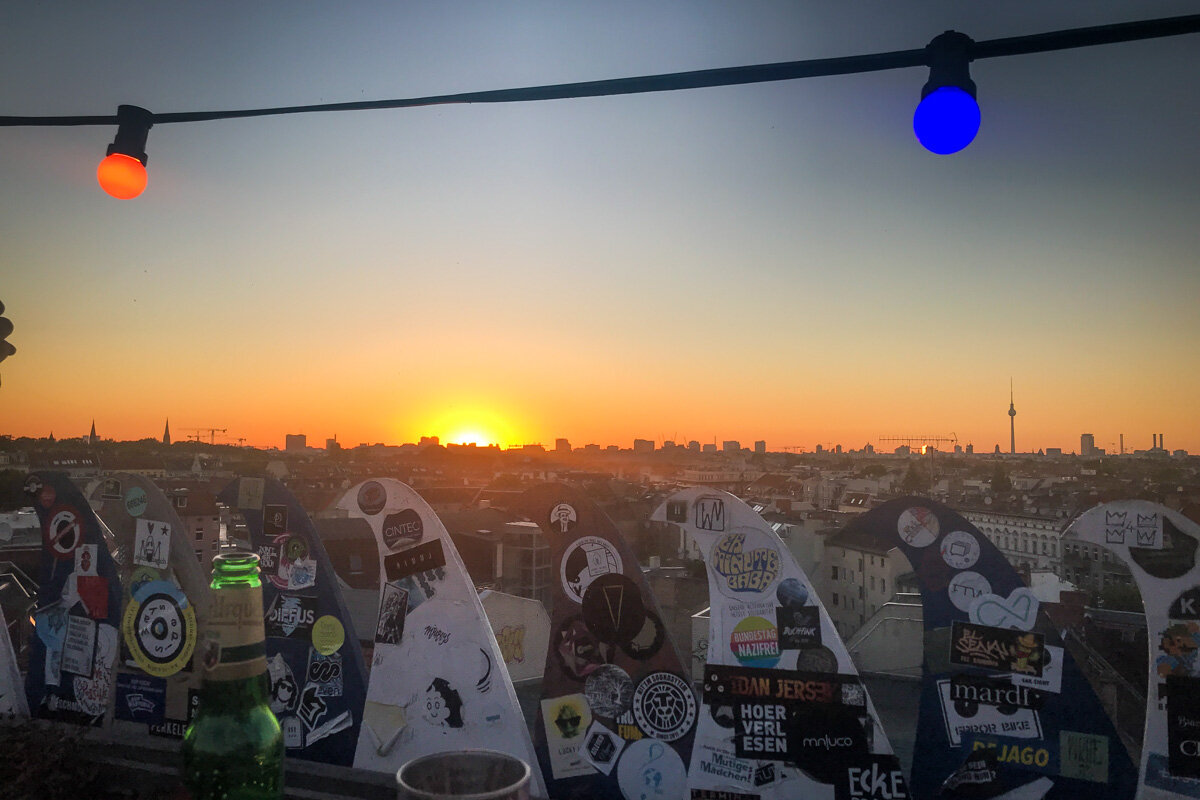 Like most European cities, Berlin comes to life during the summer months, but it has entirely different feel.
The city's energy is so contagious it tempts visitors to stay an extra week or two. This is quite apparent enjoying a cocktail and the sunset at Klunkerkranich Bar in Neukolln. The open air rooftop bar is popular with locals and for good reason.
The drinks are reasonably priced and the sun setting behind the TV Tower engulfs the city in a beautiful fire orange hue. On a warm, summer evening it is difficult to find any place that is better.
2. Take The Berliner Unterwelten Tour
Berlin is a city that is constantly reminded of its not so distant past. While there are tons of tours on World War II/Cold War history in Berlin, the Berliner Unterwelten Tour (Berlin Underground Tour) is the one tour that blew my mind.
It is an underground museum that uncovers the secrets of Berlin, including former escape tunnels and WWII bunkers. The tour is well researched by experts who lead groups several times a day in various languages.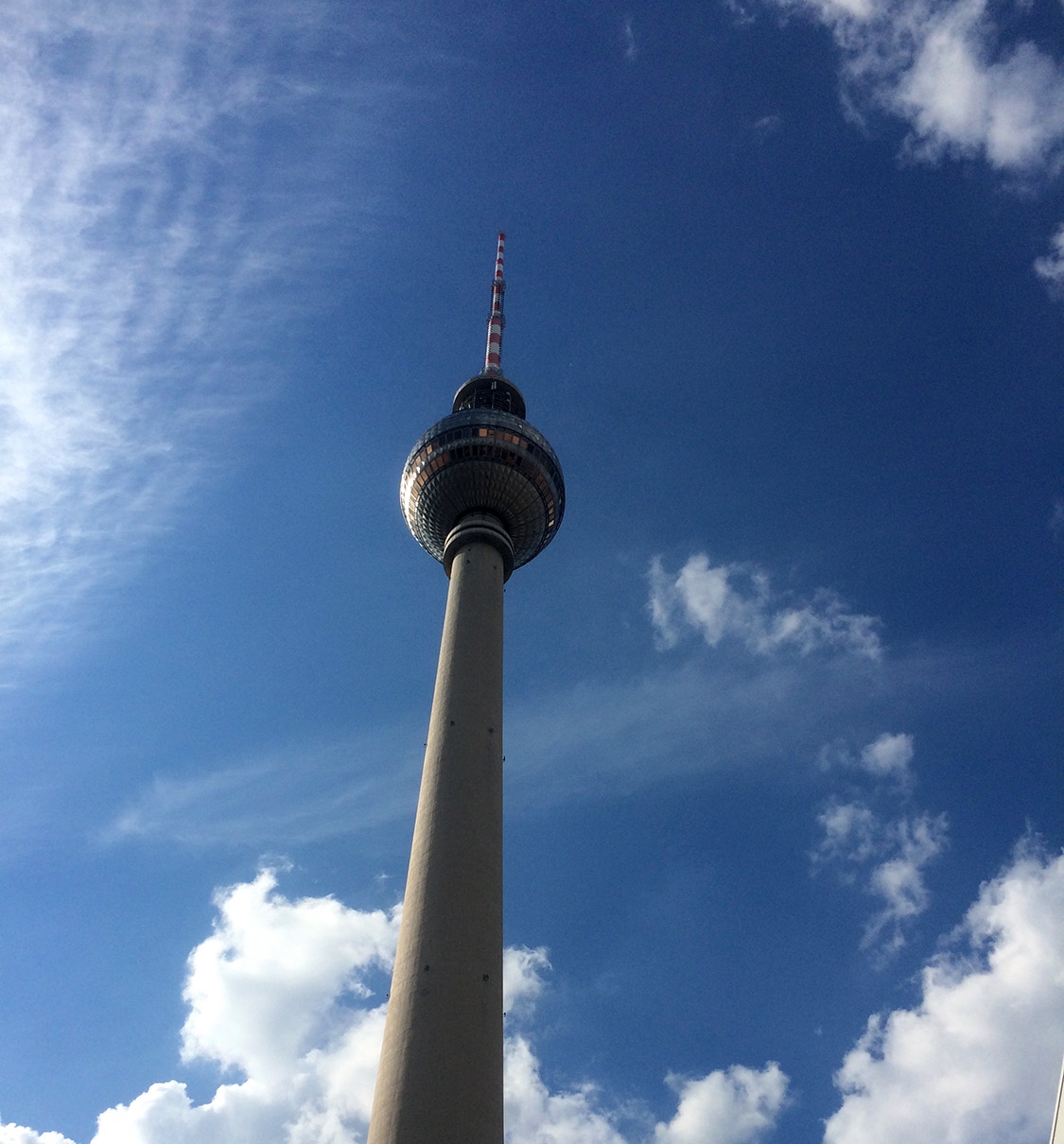 Be sure to book ahead to reserve a spot on these popular tours. As an added bonus, head across the street to the park and walk around the "Flak Towers" that were built by Hitler to defend the city from enemy aircraft.
3. Swim at Badeschiff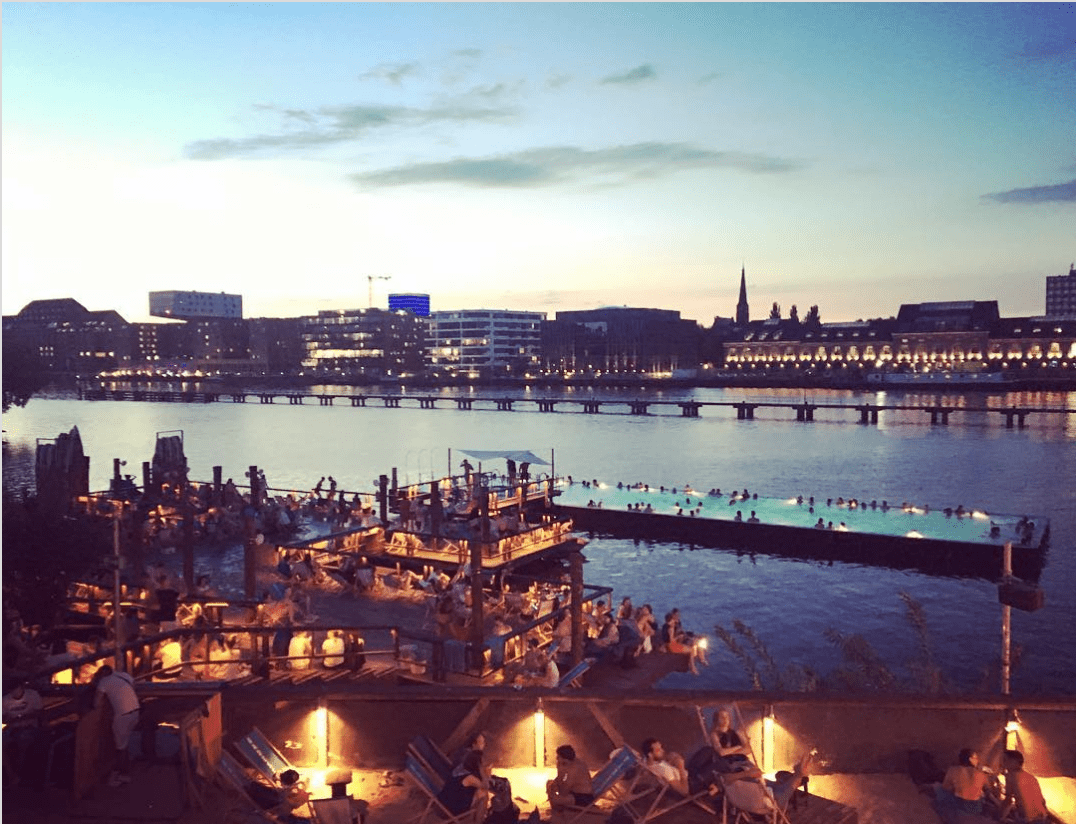 Badeschiff is one of those places that you wish you could freeze time at. Open from May to September, the recreational area complete with a bar, restaurant, and a pool in the Spree River is the place to be in summer.
You can easily spend entire days, lounging in the poolside chairs, basking in Berlin's hot summer sun. It is a popular local spot that deserves at least one full day when traveling in Germany. After a long winter, Berliners practically live outside in summer andyou'll find the majority living it up at Badeschiff.
4. Stroll in Schoneberg
I have a fond place in my heart for this neighborhood. It was where I first lived when I arrived in Berlin and I quickly fell in love with the area's laid back vibe.
It feels as if you are in a different city, but yet close enough to the hustle and bustle of Kreuzberg and Friedrichshain if you want that. There are many historical sites in Schoneberg. Home to Berlin's LGBTQ community, Schoneberg has its own charm and appeal.
Buy local produce at the farmer's market in Winterfeldtplatz

Take in the beautiful early 20th century architecture of Heinrich-von-Kleist Park

Finish a long day of adventure, enjoying hand-crafted cocktails at Berlin's top-rated cocktail bar, Green Door
I always stumble upon something new whenever I return to visit Schoneberg and I am sure you will too!
5. Eat at Thai Park
20 years ago, Thai Park started off as a get together of Berlin's Thai community in the Wilmersdorf neighborhood to celebrate their food and culture. The gathering slowly grew from yearly to monthly to weekly, and now daily.
The park where it happens is now known as "Thai Park" and it unofficially kicks off summer. Recently, there have been calls to close down the technically illegal gathering, but with over 19,000 likes on its Facebook page, I would say that'd be pretty difficult to do.
It is a chance to enjoy the sunshine and some amazing Asian food. There are even cultural events that take place now such as movies or dancing. This cannot be missed if you are in Berlin during the summer!
6. Day Trip to the Forbidden City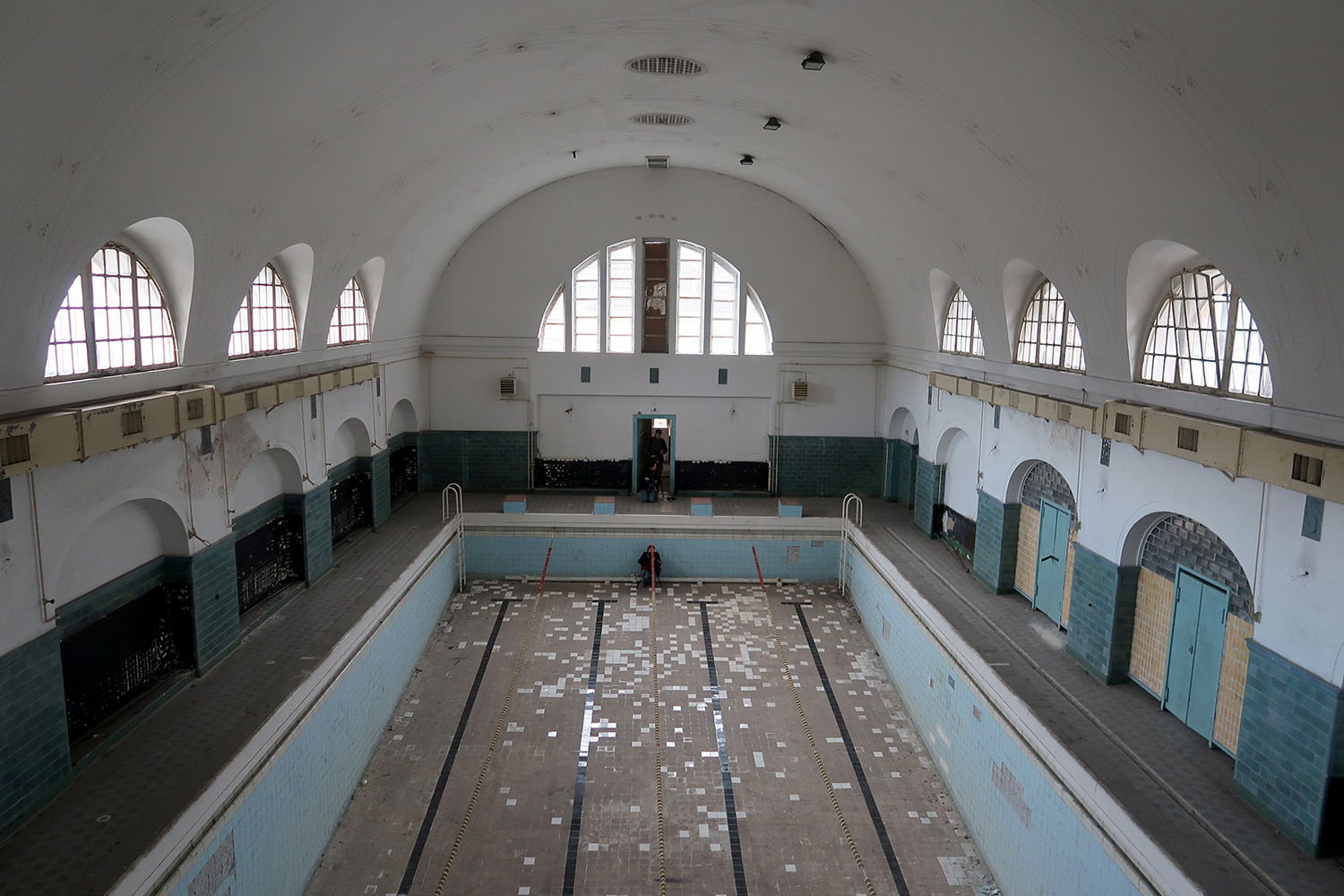 Calling all history buffs, abandoned building lovers, and adventurers. Located an hour south of the city limits, the "Forbidden City" is loaded with history stretching back to the 19th Century, and it makes a great day trip from Berlin.
It all started as a military area for the Prussian Army, then home to the Nazis' command center during World War II, and finally, the area became the headquarters for the Soviet forces in Eastern Germany until September 1994. It has been abandoned since then, left rotting and battered by the elements.
Today, you can pay 15 Euros to visit the "Haus Der Offiziere" and see a Lenin statue, old Soviet maps, a theatre hall, and a swimming pool used by the 1936 German Olympic Team, the year Berlin played host to the Olympic Games. This is only a small section of the thousands of acres that were abandoned, but the place is teeming with history and incredible photo opportunities.
Be sure to wear sturdy walking shoes and use caution when walking around the site. This is an extremely unique side to Berlin that most travelers don't get the chance to see first hand. It is well worth the day trip.
7. Chill out at HolzMarkt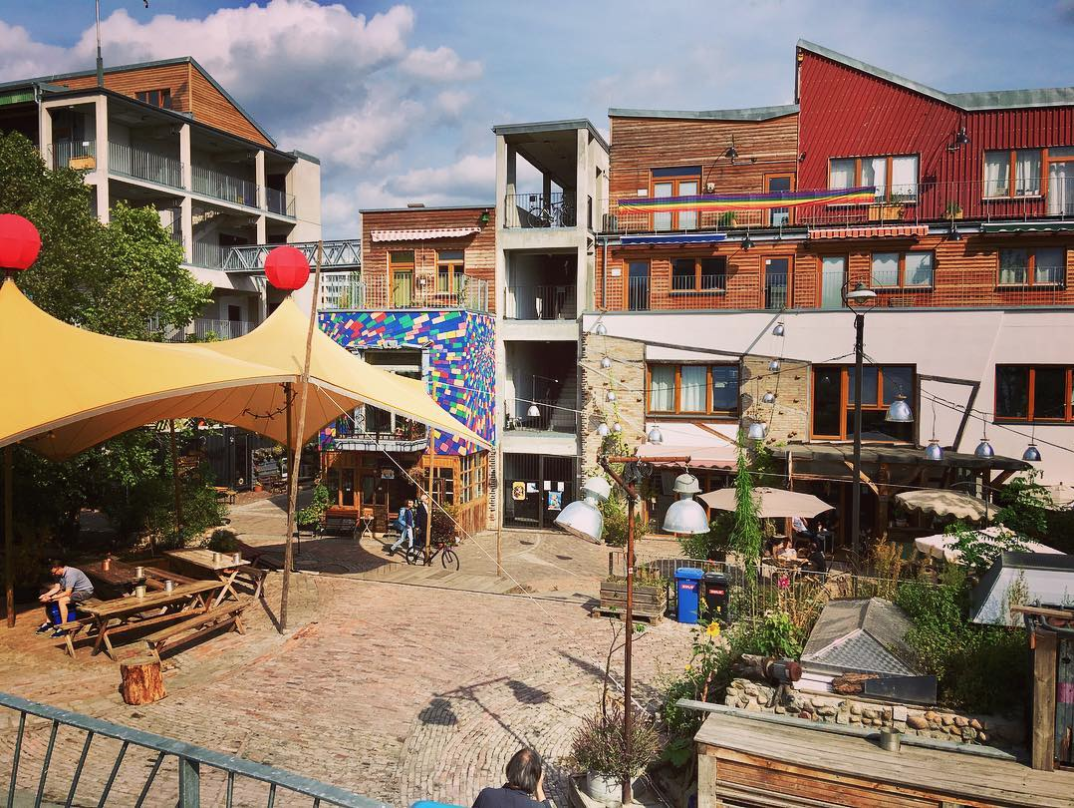 HolzMarkt is not one of those places you seek out. The only way you find a place like HolzMarkt is stumbling upon it. Luckily for you, I've already done that.
HolzMarkt is a community run area that includes a bar, restaurant, and coffee shop. It holds cultural events such as movie screenings.
The main attraction at HolzMarkt is its riverside seating that is fantastic for hanging out and watching the world sail by. It's a great place to unwind after a long day of exploring Berlin.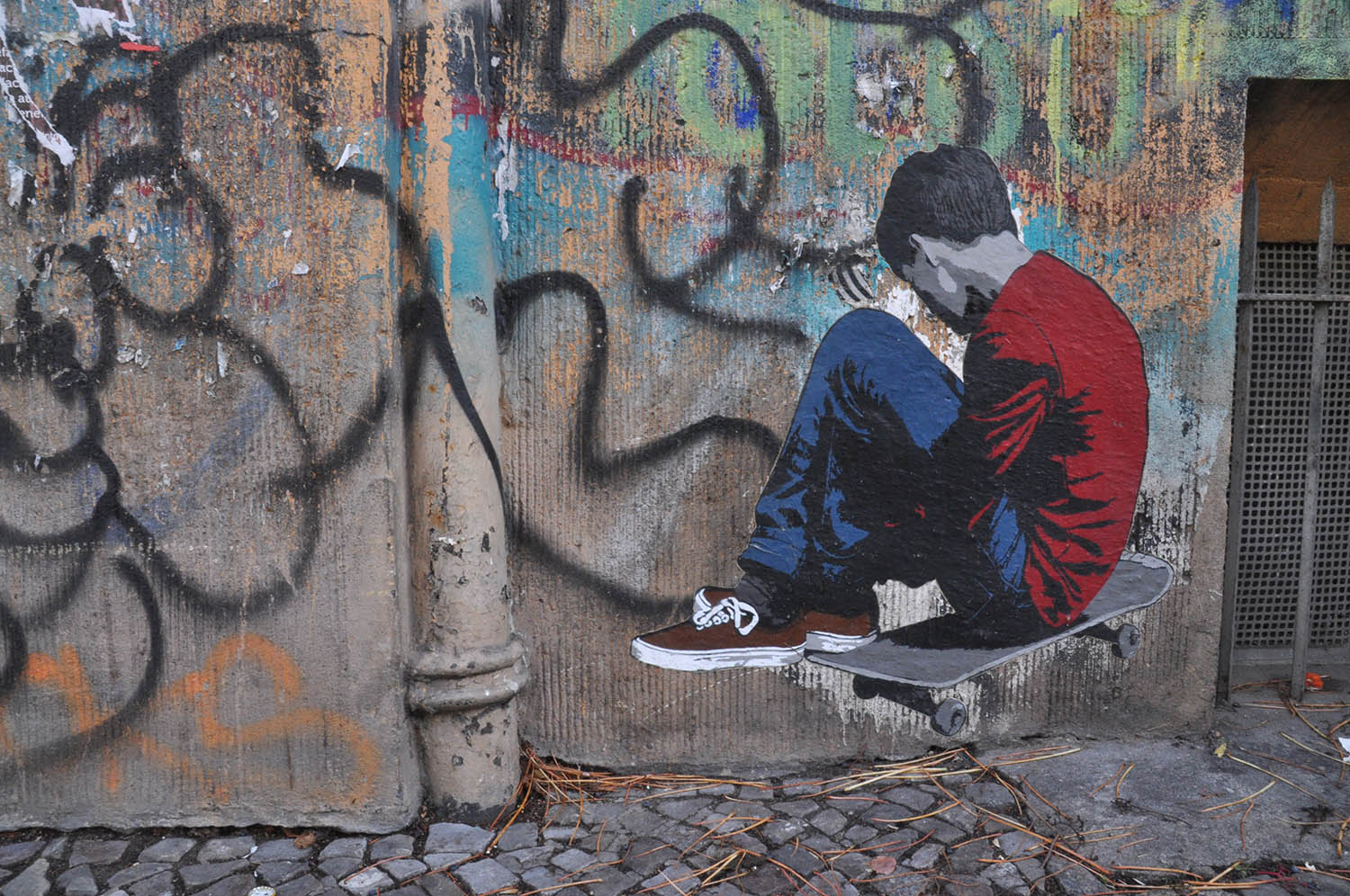 8. Hip-Hop Night at Badehaus     
It's no secret that Berlin has endless options when it comes to nightlife (Yes, I have gotten into Berghain…) Many people that come to Berlin overlook some of the smaller events that happen in the city, and that is a shame because I think those are the best for really understanding what Berlin is all about.
My favorite nightlife activity takes place on Tuesday nights at Badehaus Szimpla, located in the R.A.W area in Friedrichshain. The hip-hop night, put on by a group called SWAG Jam, is a lot of fun. It's a great place to go and listen to some awesome music.
They've been at it for 6 years and they bring a great energy to the stage and they bring special guests out from all over the world. Sit back and let these talented artists blow your mind.
9. Enjoy a Spa Day
One thing you should know about Germans is that they love their spas. Almost every weekend I lived in Berlin, almost without fail, one of my German friends would invite me to go to a spa with them.
At first it may seem a bit strange, but who doesn't love to hang out all day in comfy robes and slippers? There are tons of different spas in Berlin, but my favorite is Vabali. Located in Mitte, Vabali is centrally placed within the city. They have indoor and outdoor areas complete with saunas, baths, hot tubs, a restaurant, and bar. You will not be disappointed.
10. Have Dinner with Refugees
While touring and exploring the city, you may wonder about the refugee crisis that Germany was deeply affected by. While the crisis is still ongoing, the issue is hard to connect with without a name and face to think of. This is your chance to change all of that.
An extremely popular in thing to do in Berlin called Weekend Refugee Dinner is run by a Hungarian woman named Anna through the website Withlocals (here is Anna's profile). The dinner is made by local Syrian refugees who then break bread with paying guests.
The unique opportunity allows you to get to know some of stories behind the crisis and is a great experience for anyone that wants to open their mind to how these refugees live day in and day out. The dinners are often booked months in advance (and sometimes Anna is busy, like everyone else) so be sure to contact Anna as soon as possible.
If you can't book the dinner, there are plenty of other Withlocal experiences to try our around Berlin.
11. A Walk in Grunewald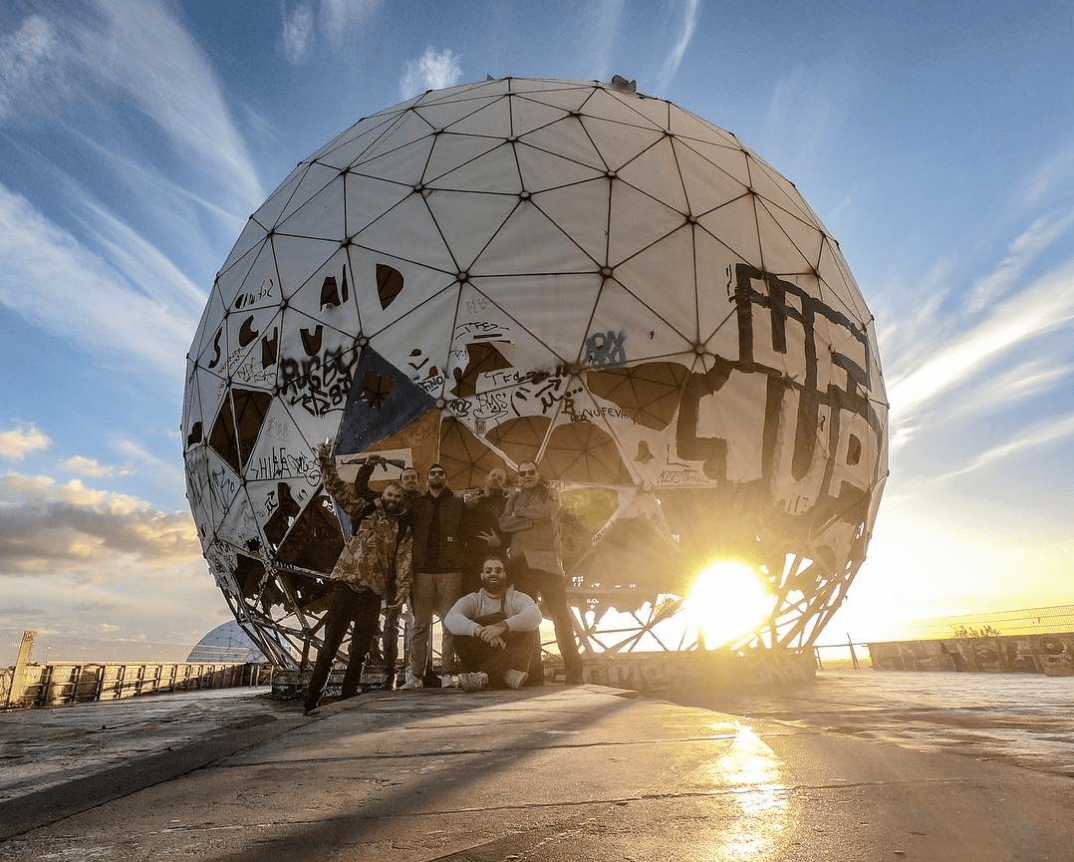 If you ever go outside of Berlin, you'll notice how green the scenery is. That's because Berlin used to be a swamp. The swamp is long gone and filled in, but you can still get a healthy dose of nature on the edge of Charlottenburg in Grunewald (Green Forest).
While walking in the forest, you may stumble upon Teufelsberg (Devil's Mountain), a former British and American spy tower that is now a museum.
12. Stammtisch at Prater
Germany loves their stammtisch. Stammtisch, German for an informal gathering of a group usually after work, is a time honored tradition. Nowhere does it better than Prater Beer Garden in Berlin's Prenzlauer Berg neighborhood.
On warm days, they have benches outside to have a cold beer and enjoy the great weather. You can grab your own bench, but later in the night as more beers are served, people get up and mingle. It's hard not to walk away with new friends at the end of Stammtisch.
13. Visit the DDR Museum
Berlin has TONS of museums from everything from history to sausage to cars. It even has its own Museum Island that is a UNESCO World Heritage Site.
The most unique museum, however, is right next to Museum Island. It's called the DDR (GDR) Museum and it details life in the former German Democratic Republic or East Germany as it's more commonly known.
Inside the museum, they have a old typewriters, a typical car, and model of a 120 square meter apartment. The wallpaper looks terrible! It's fascinating to imagine what life would have been like in the former communist country.
14. Eat a vegan meal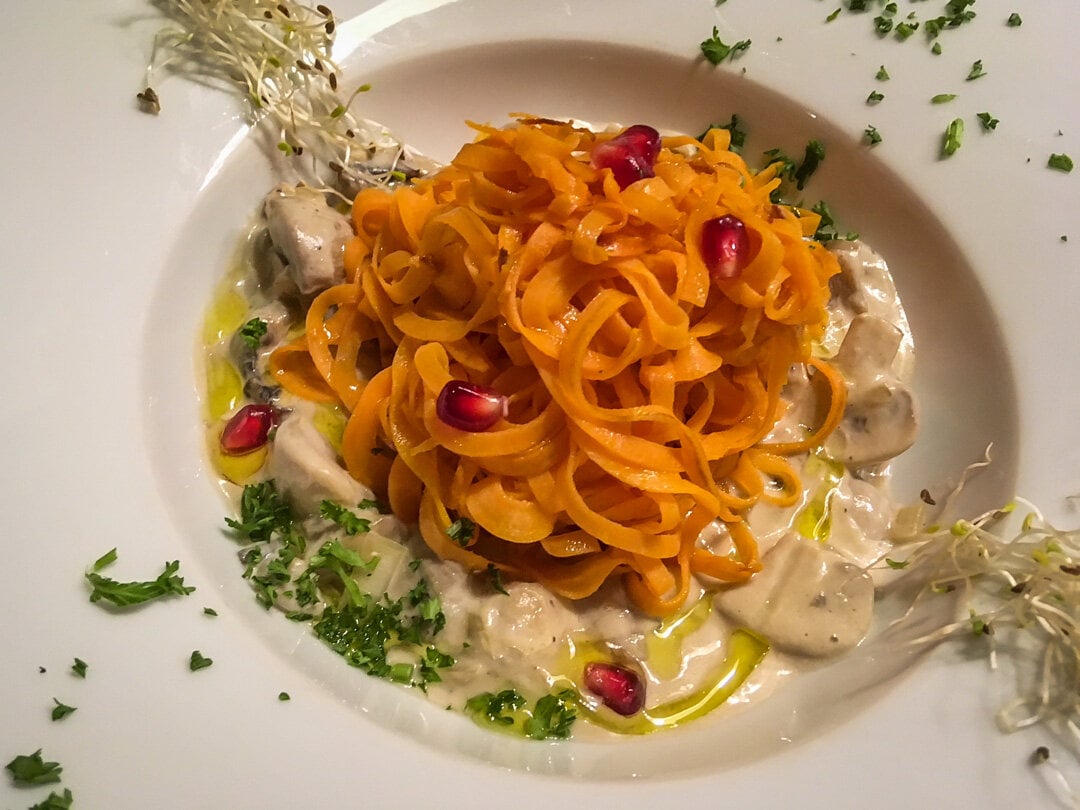 Though the first German food most people think of is bratwurst, Berlin actually has a huge variety of vegan restaurants. And with stiff competition, the quality is high.
Simply type "vegan" into Google Maps and you'll see a plethora of options to choose from.
Here are a few of Berlin's top-rated vegan restaurants and cafes:
15. Spot the street art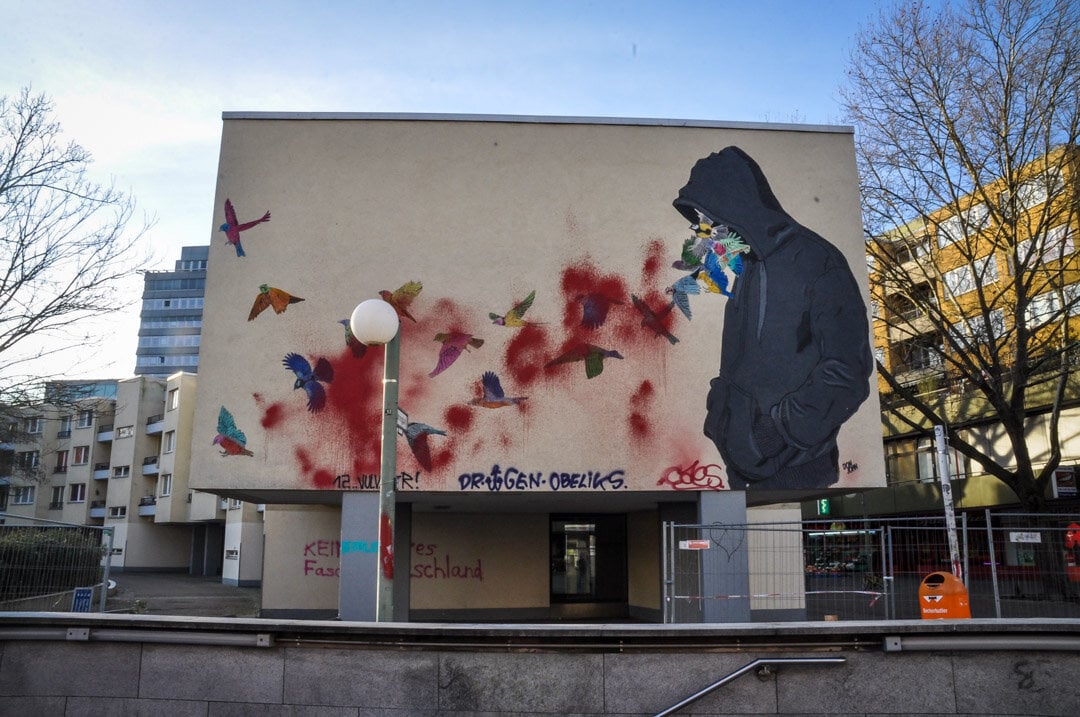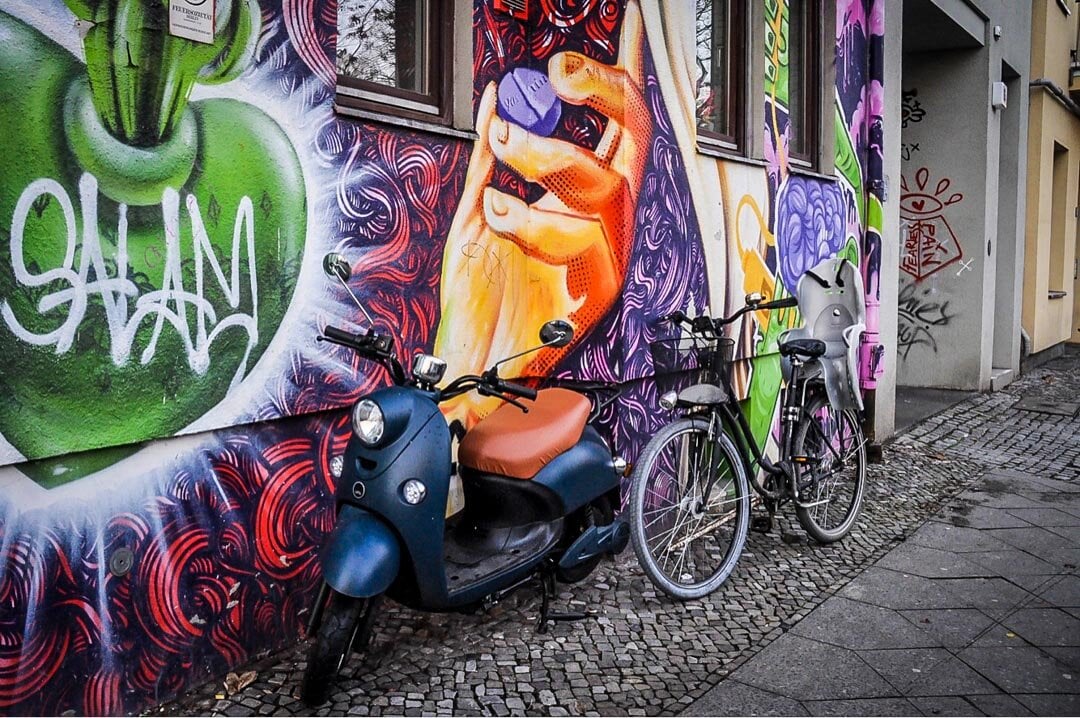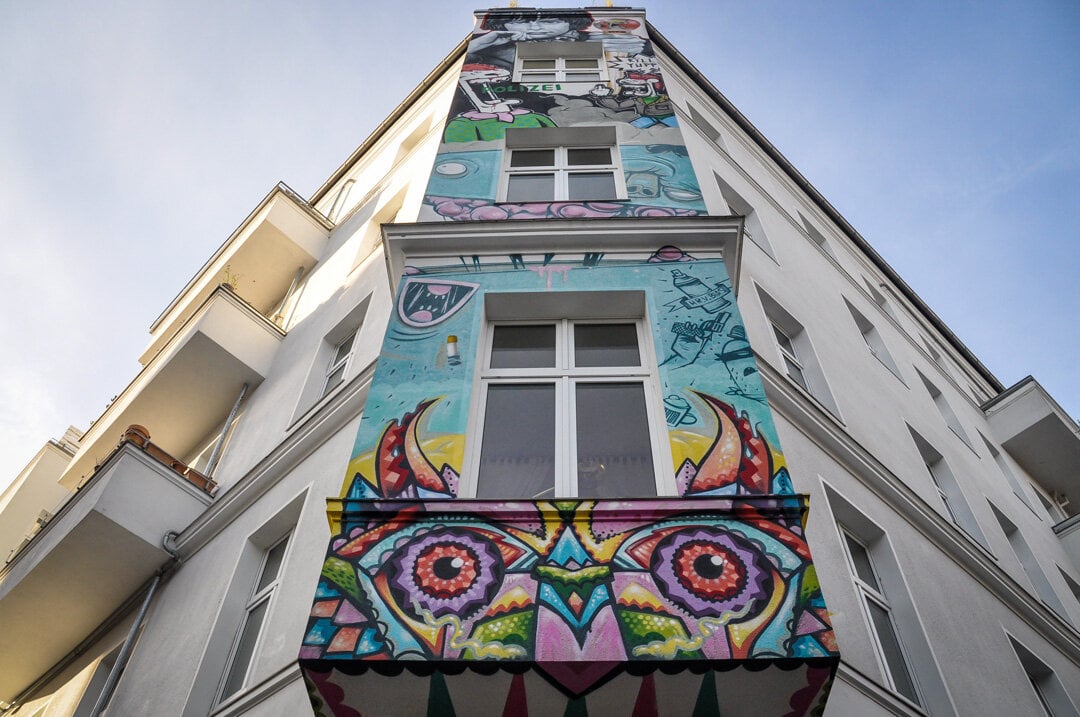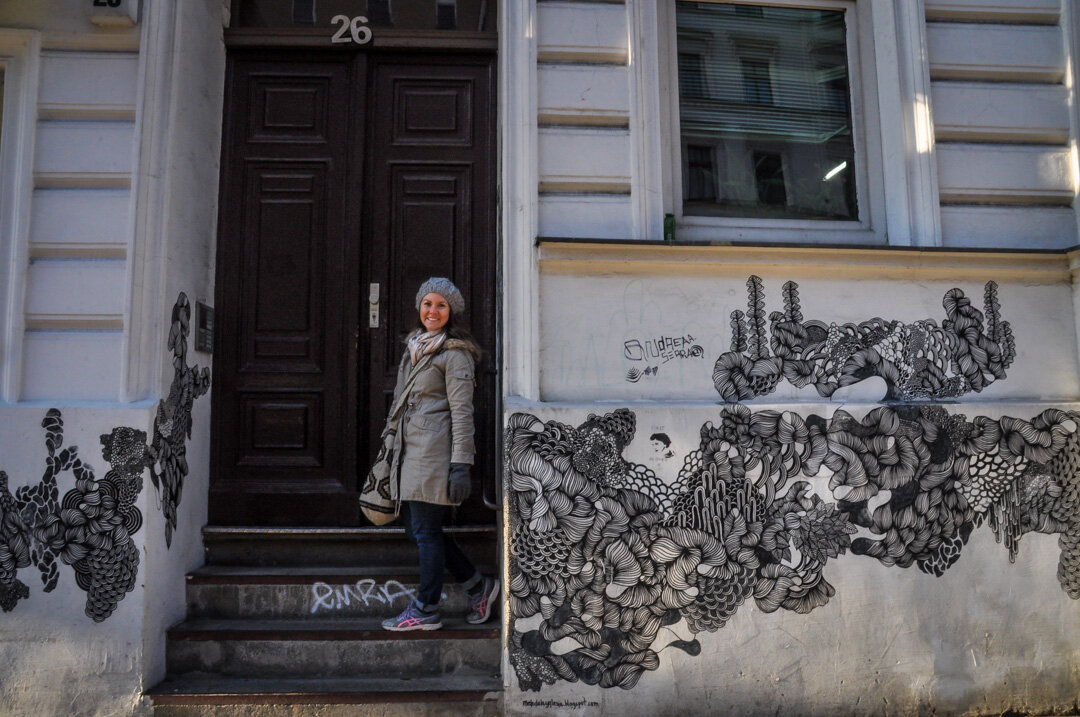 Berlin has mural after mural, and if you're a fan of street art, you'll feel like you're on a scavenger hunt! From the beautiful, thought-provoking murals to the downright strange pieces of art, Berlin truly has it all!
Simply wander the city and you'll find lots, or if you don't want to miss any big pieces, follow this Berlin street art map to help guide your way.
16. Visit Prinzessinnengärten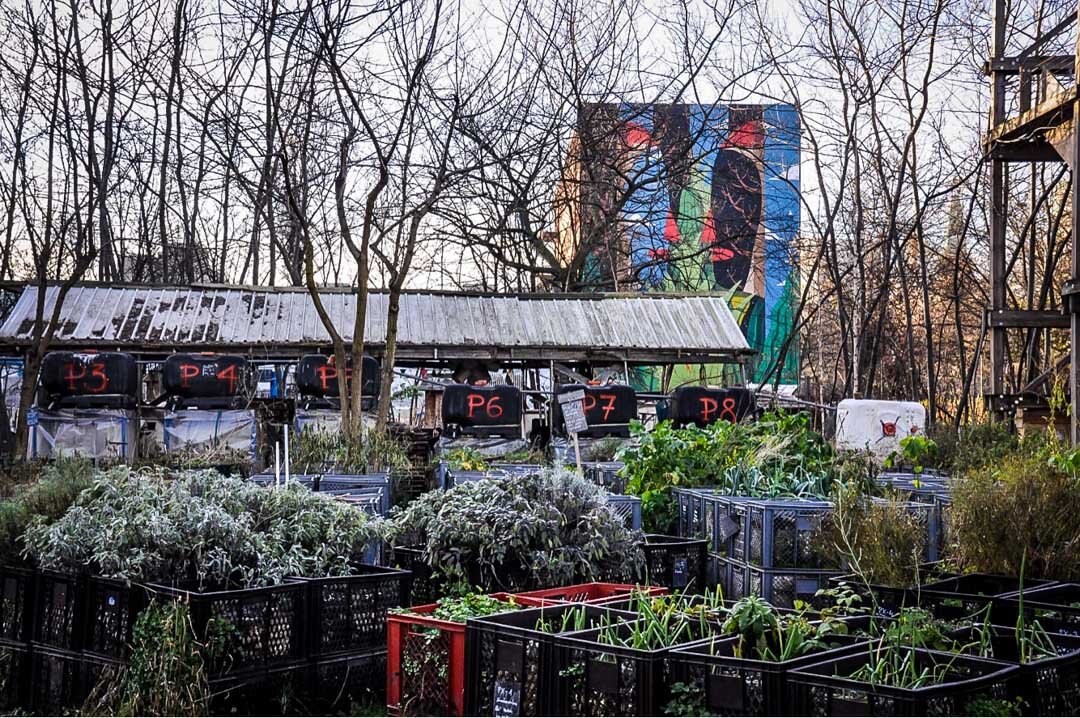 This urban garden project in the heart of Kreuzberg is supported by the neighborhood volunteers. Part community garden, part art space, part cafe, a wander through Prinzessinnengärten is relaxing and uplifting.
Grab a coffee or a bite to eat in order to support the projects happening here.
17. Pick an unusual Airbnb Experience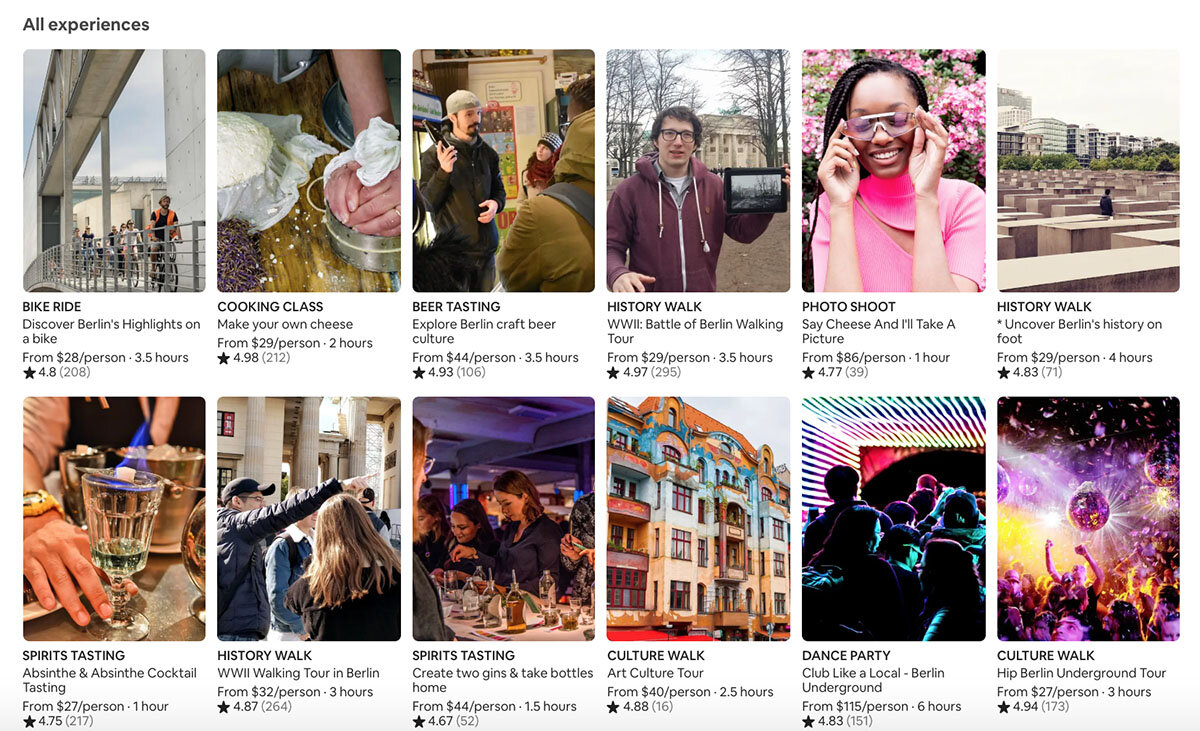 We love the idea of Airbnb Experiences because it gives you the opportunity to meet and support a local and do something interesting or quirky in their hometown.
Berlin has a ton of unique Airbnb Experiences to choose from, like cheese-making, absinthe cocktail tasting, and an underground dance party tour! It could be the most unusual thing to do in Berlin that you try!
18. Grab food at Markthalle Neun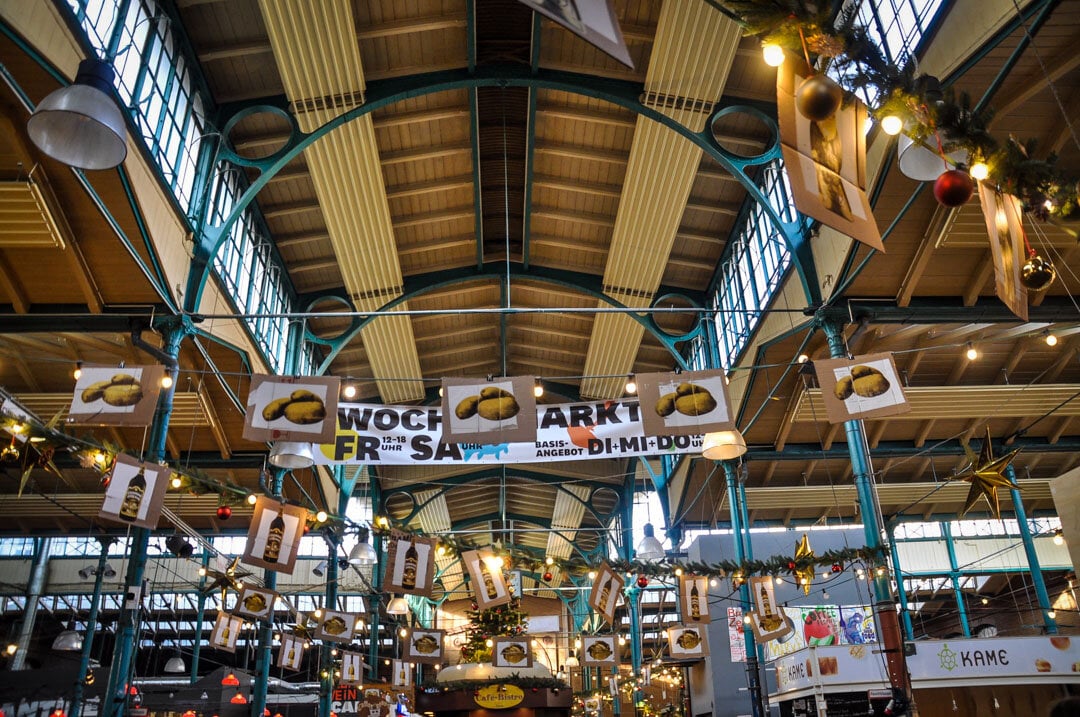 This indoor market and food hall is fun to visit year round, and you can find everything from butcher stalls selling fresh cuts of meat to artisan chocolate stands. It's a great place to wander, people-watch, buy some local products or grab a bite to eat.
Insider Tip: If it works out with your travel schedule, check out "Street Food Thursday" which is each Thursday from 5 – 10 p.m.
19. See a Comedy Show
Laughter is universal, and one of the best ways to get your giggle on is to find a comedy show. Luckily, there are many comedy clubs where performers speak in English, making it easier for all us non-German speakers to get the joke.
Check out this schedule to see if there is a comedy show during your travel dates in Berlin.
---
Where to stay in Berlin
Berlin has no shortage of options when it comes to hotels. From seriously luxurious digs to private Airbnb apartments to funky and social Berlin hostels, there's something for every type of traveler. 
Splurge Hotel in Berlin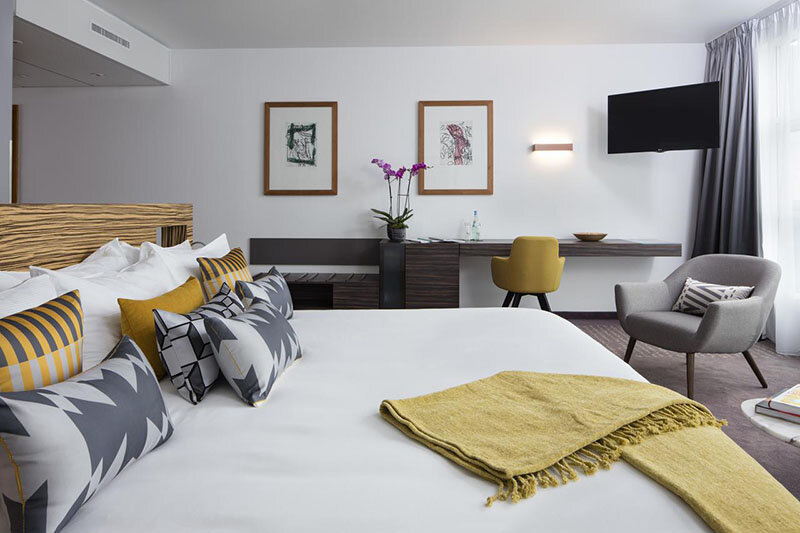 Art Otel Berlin
With stunning rooms and some extra comforts, this Berlin hotel is perfect for couples wanting a special and memorable stay. Check availability on Booking.com.
Mid-Range Hotel in Berlin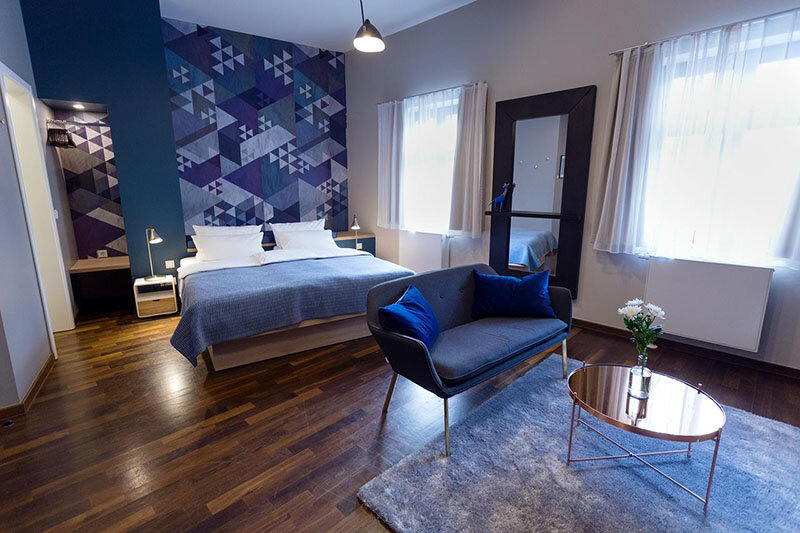 The Circus Hotel
Located in the heart fo the city, this hotel has quirky decor, a cozy restaurant, bicycle rentals and affordable rates. Check availability on Booking.com.
Budget Hostel in Berlin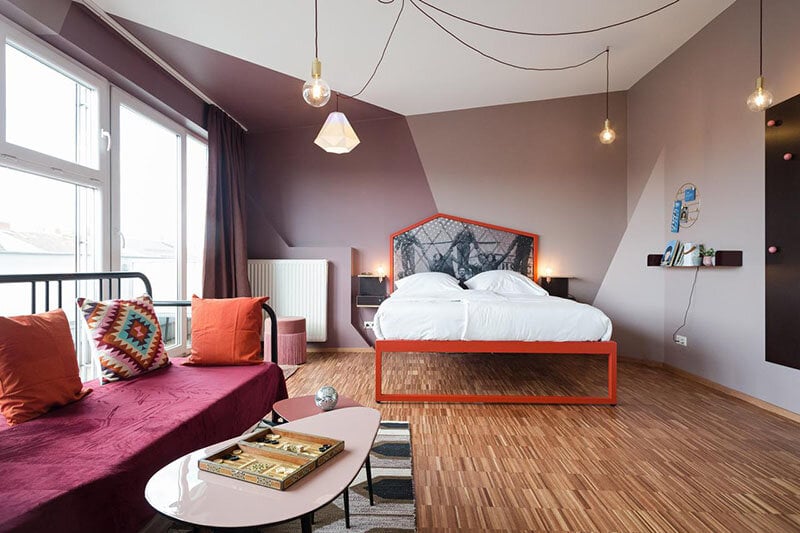 The Circus Hostel
With dorms and private rooms available, this hostel has a social atmosphere and vibrant designs. Check availability on Booking.com.
Private Apartment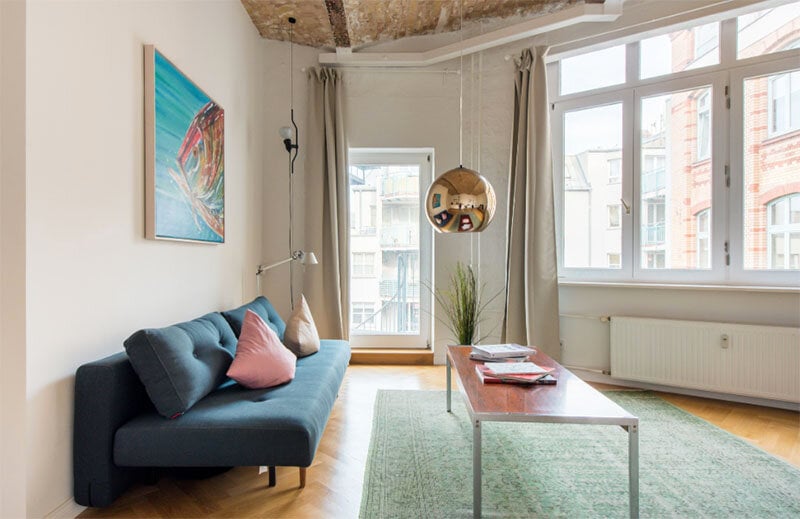 Airbnb Loft
This Airbnb is well-located, beautifully decorated and affordable. Check availability on Airbnb.com.
We have loads of info on how to book Airbnbs, red flags to watch out for when booking, and our favorite Airbnbs in our Airbnb article
---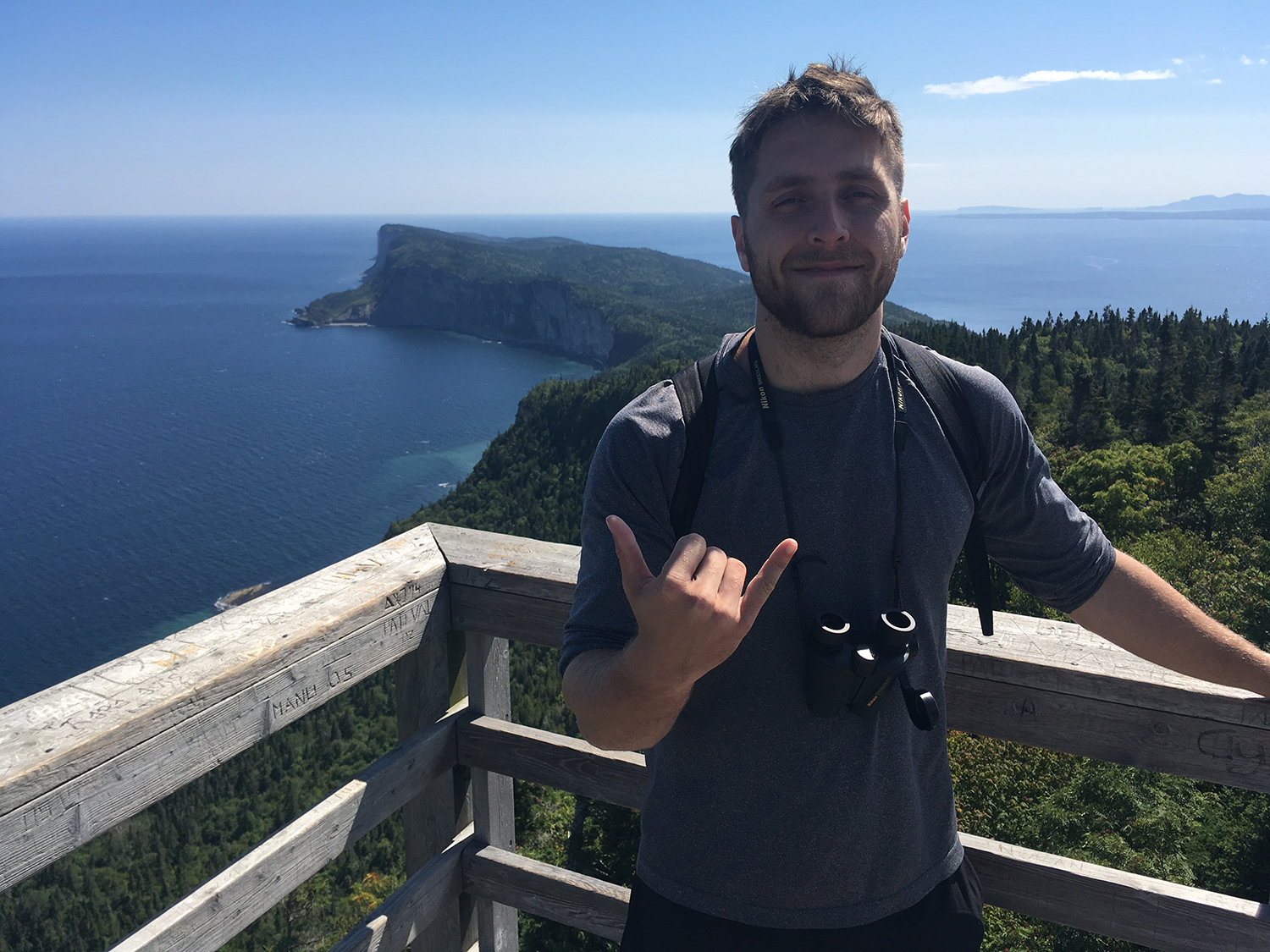 About the Author
Grant Simon is an entrepreneur, writer, personal trainer, Brazilian Jiu-Jitsu practitioner and an endorphins chaser. He has climbed a volcano in Chile, swam with sharks in the Galapagos Islands, and survived a motorcycle crash in Thailand. Besides raising his heart rate in over 35 countries, the Chicago native enjoys birdwatching, reading the newspaper, and eating too many pancakes in one sitting. He is currently based in Montréal, plotting his next bold move.
Check out his blog at Carryon Travel Fitness.
---
You might also like…
Planning a trip to Berlin soon? Save this article for later!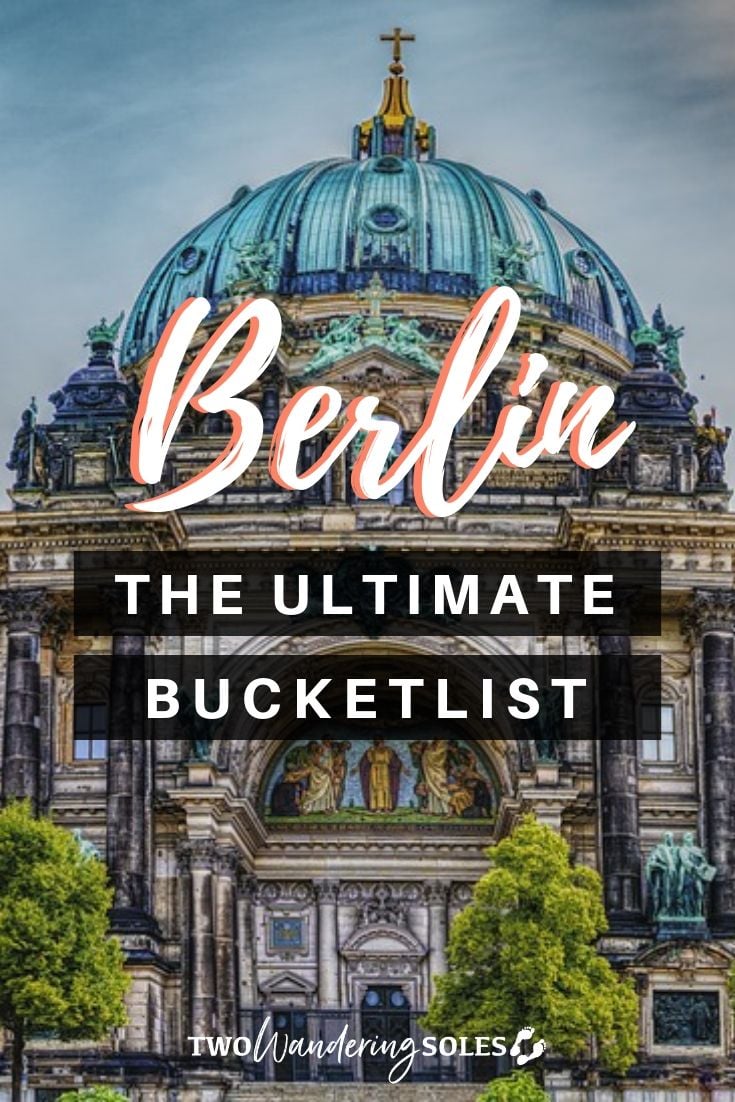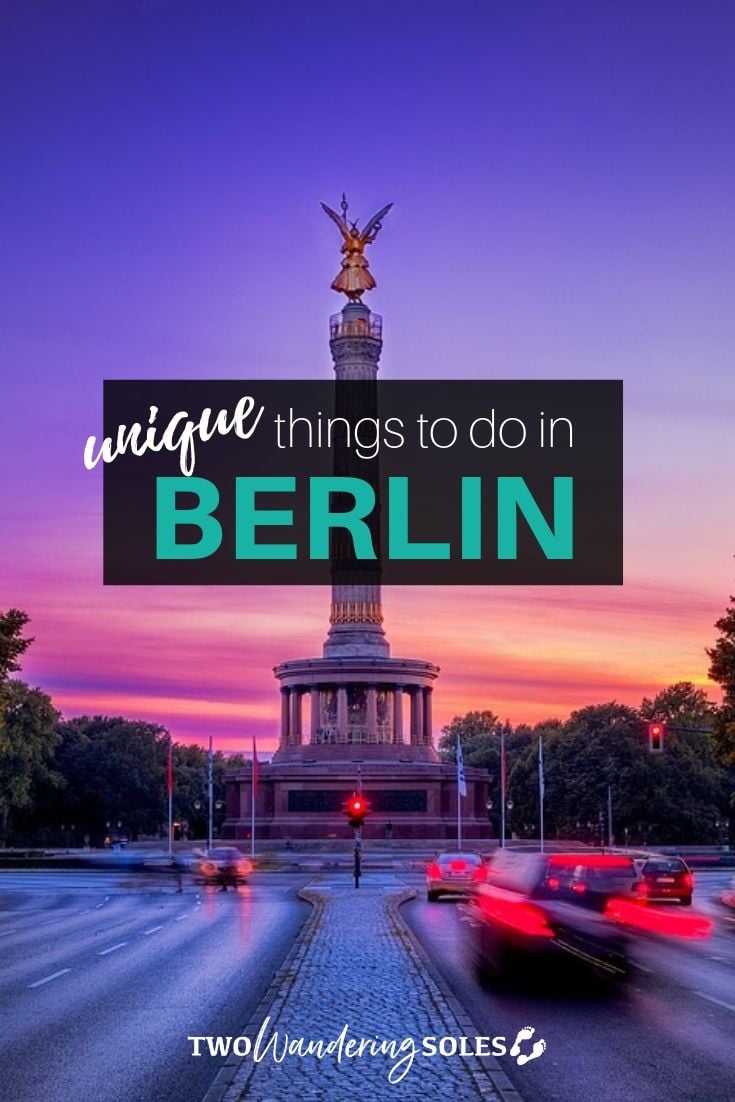 We want to hear from you!
Have you traveled to Berlin? Do you have more unique things to do in Berlin to add to the list?
We want to hear it all so write your comments and questions below and we'll try our best to get back to you soon