The Routeburn Track is one of the most diverse and beautiful hiking trails in New Zealand. As one of New Zealand's Great Walks, it is important you are properly prepared before hitting the trail. In this article you'll learn how to book your hike, important packing tips, and other essential info to know before you go!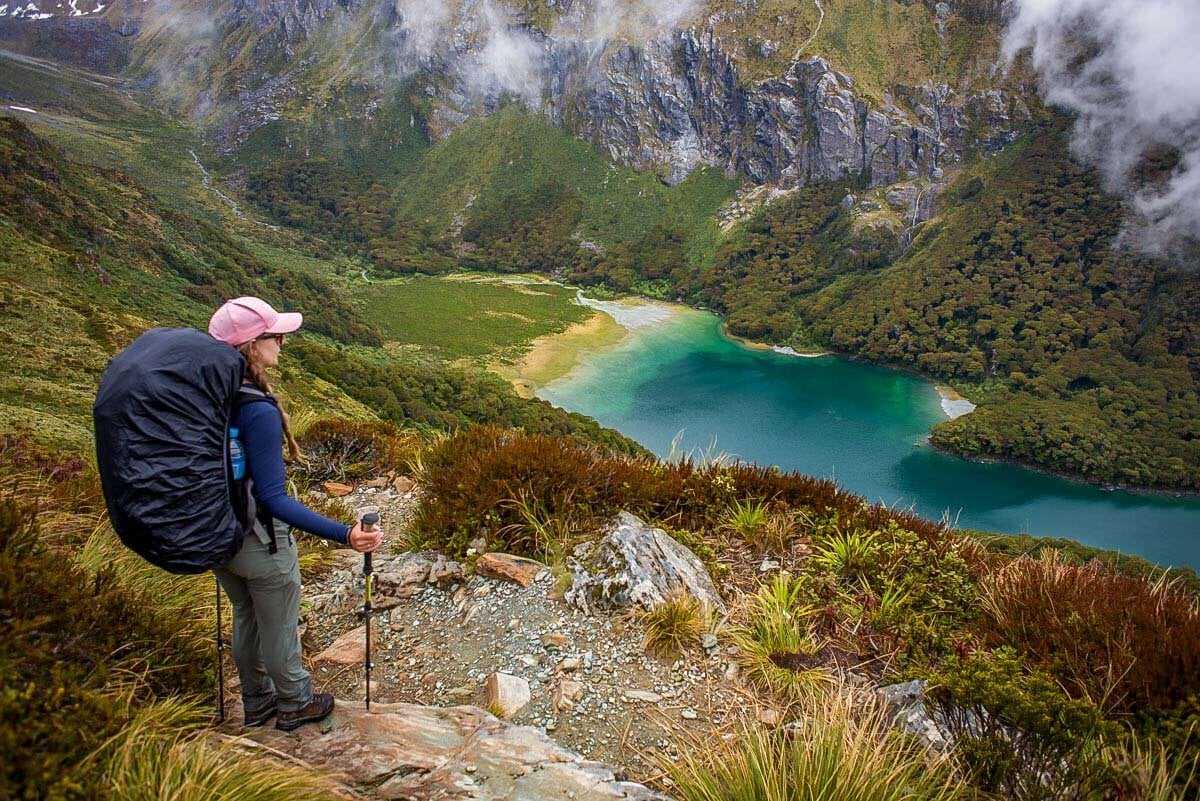 Written by Guest Author: Bailey Busslinger
The Routeburn Track is often touted as one of New Zealand's most incredible hikes, and rightly so.
This 33-kilometer-long trail (that's more than 20.5 miles, folks!) stretches across both Mount Aspiring National Park and Fiordland National Park, boasting some of the South Island's most unique and stunning landscapes.
We're talking about towering mountain cliffs, powerful waterfalls, and turquoise alpine lakes. It's no surprise the Routeburn Track is a bucket list trail for hikers all over the world!
However, views like those on this Great Walk don't come easily. Not only is the Routeburn Track a challenging hike, it also takes a bit of planning and preparation to be ready to tackle this beast of a trail.
After hiking the trail on three different occasions, I've become somewhat of an expert when it comes to the Routeburn Track. From booking the huts and campsites to all the things to pack for the unpredictable weather – I've got all the tips you'll need!
So without further ado, here is everything you need to know about hiking the Routeburn Track, in one very detailed guide.
Routeburn Track Guide
---
Routeburn Track trail stats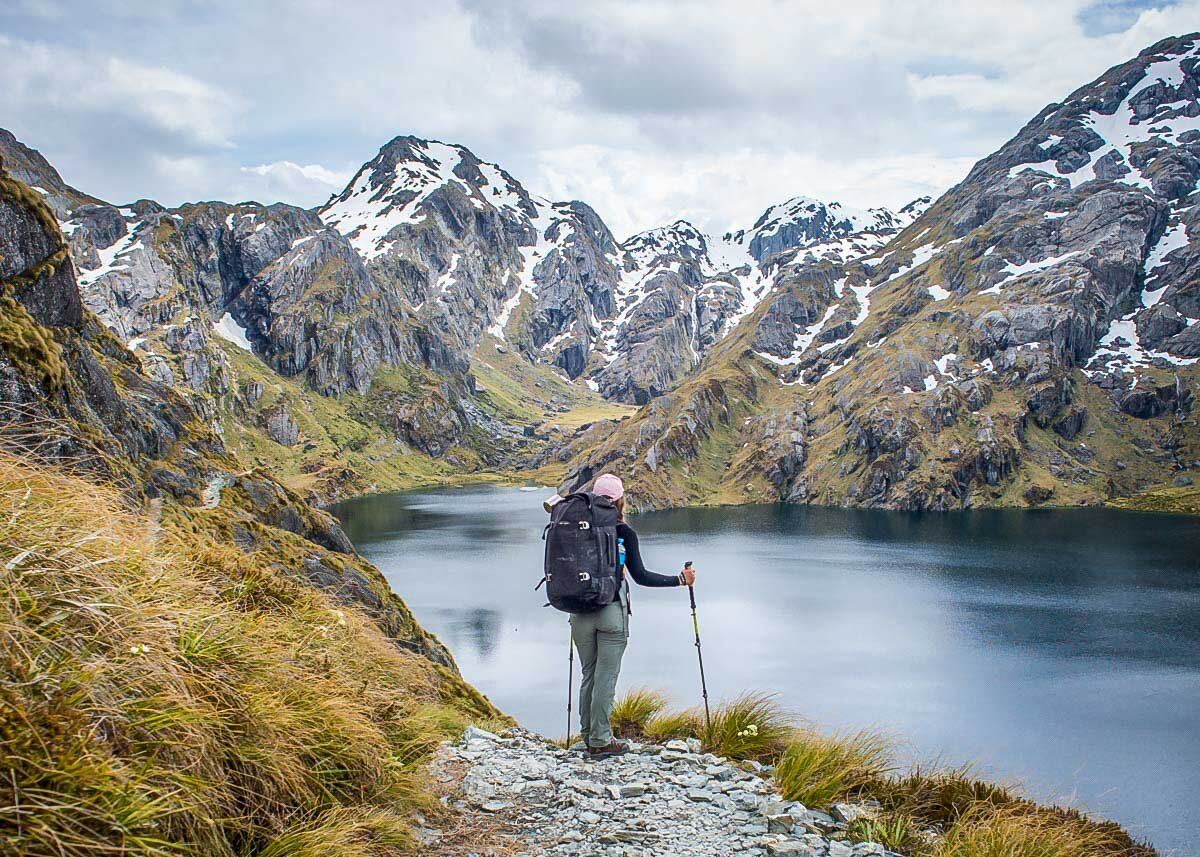 Location: Mount Aspiring National Park and Fiordland National Park, South Island
Distance: 33 km (20.5 miles)
Type of trail: Point-to-point
Elevation gain: ~800 m (2,624 ft)
Difficulty rating: Moderate
Timing: avg. over 2-3 days
Pets allowed? No
Permits: You'll need an advanced booking for the huts and campsites on the trail
Routeburn Track overview
The Routeburn Track is one of New Zealand's Great Walks. These 10 officially designated Walks are famous throughout the country and offer some of the most diverse and breathtaking scenery New Zealand has to offer. You can expect landscapes that look like they're straight out of a Lord of the Rings novel.
The popularity of the Routeburn Track also presents its own set of challenges. If you plan on completing the entire 33-kilometer trail, you must book well in advance the huts and campsites for each night you spend on the trail.
Additionally, the Routeburn Track is located on the South Island in a region that is famed for its very unpredictable (and wet!) weather. Landslides have closed the trail on occasion, and in the winter, certain parts of the trail are dangerous due to avalanche risk and safety concerns.
It is a challenging hike, but as someone who has completed it on three different occasions, I can tell you with confidence that it's totally worth it.
Honestly though, you're going to love it! Having hiked the trail three times before, I still want to do it again – it's just that beautiful! The Routeburn Track is easily one of the best things to do in New Zealand, that much is for sure.
Routeburn Track map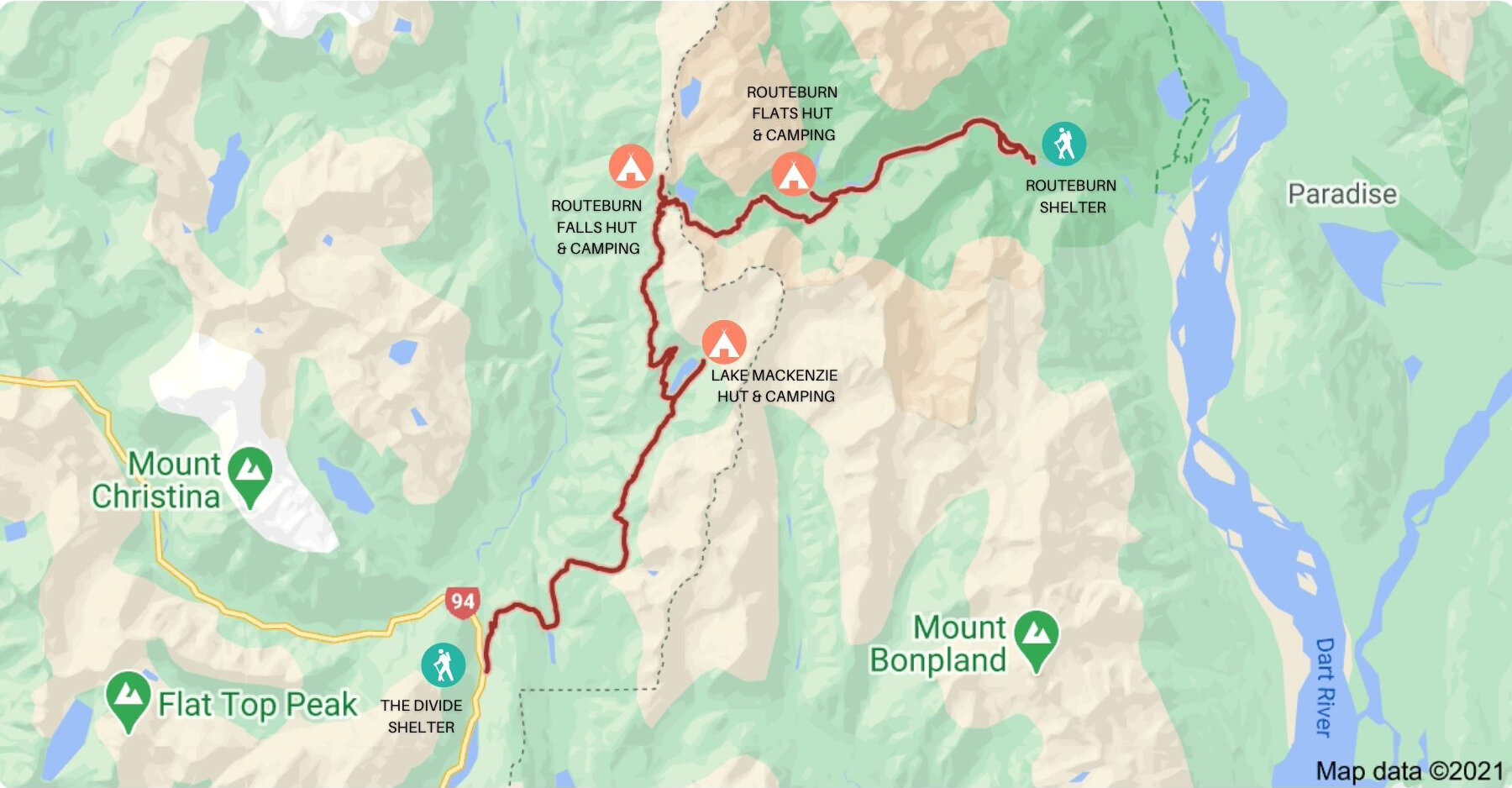 Best time of year to hike the Routeburn Track
The summer is one of the best times to visit New Zealand because it's the best time for hiking.
"The Great Walks season" refers to the months that are best for hiking any of the Great Walks including the Routeburn Track. Although the exact dates change annually, the Great Walks season generally starts each year at the beginning of November and runs until the end of April.
During the Great Walks season is when you'll get the best weather and have the easiest time hiking the Routeburn Track. Outside of these months, there is a chance of trail closures, avalanches, and limited facilities in the huts.
In the winter months, hiking the entire Routeburn Track is not recommended due to severe avalanche risk at the Harris Saddle.
If you want to hike the Routeburn Track in the winter then I recommend only doing shorter day hikes instead. My recommendations would be the hike from the Routeburn Shelter Carpark to Routeburn Falls Hut, or the hike from The Divide to Key Summit or Lake Mackenzie.
The only downside to hiking the Routeburn Track during the Great Walks season is that it can be busy. This means you need to book your huts/campsites well in advance as well as transport. More on that later…
Things to know before you go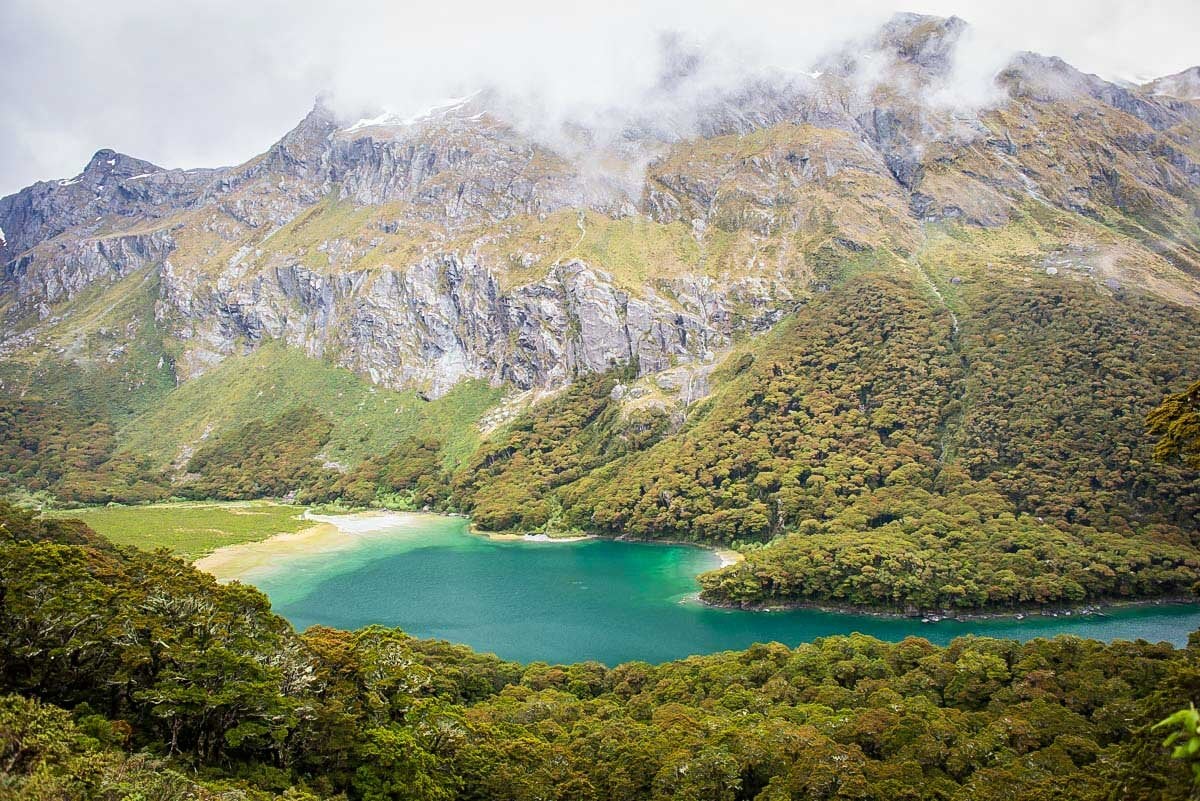 There are a few things to consider and planning to be done ahead of time before you can begin your hike on the Routeburn Track.
How long does it take to hike the Routeburn Track?
Most people choose to complete the Routeburn Track in either two or three days, with the latter option being the most popular. The number of days you choose should reflect how much hiking you want to do per day.
In my opinion, hiking the trail over three days is more enjoyable because you have less distance to cover each day. You can stop for more photos, breaks, and enjoy your evenings each night with other hikers.
Plus, with the limited places to stay along the trail, three days spaces your daily walking distance out more evenly than any other duration of time.
How difficult is the Routeburn Track?
The entire trail is 33 kilometers long in total and gains more than 750 meters (2,462 feet) in elevation, so it's definitely not an easy hike.
Alltrails rates this trail as "moderate" but I'd go so far as to say it's a bit challenging, considering the endurance and skill it takes to tackle a multi-day backpacking trip.
Psst! If you are a newbie to backpacking and not sure where to start. We have a guide to backpacking for beginners on our sister site that has everything you need to know to feel comfortable hitting the trails.
Choosing your route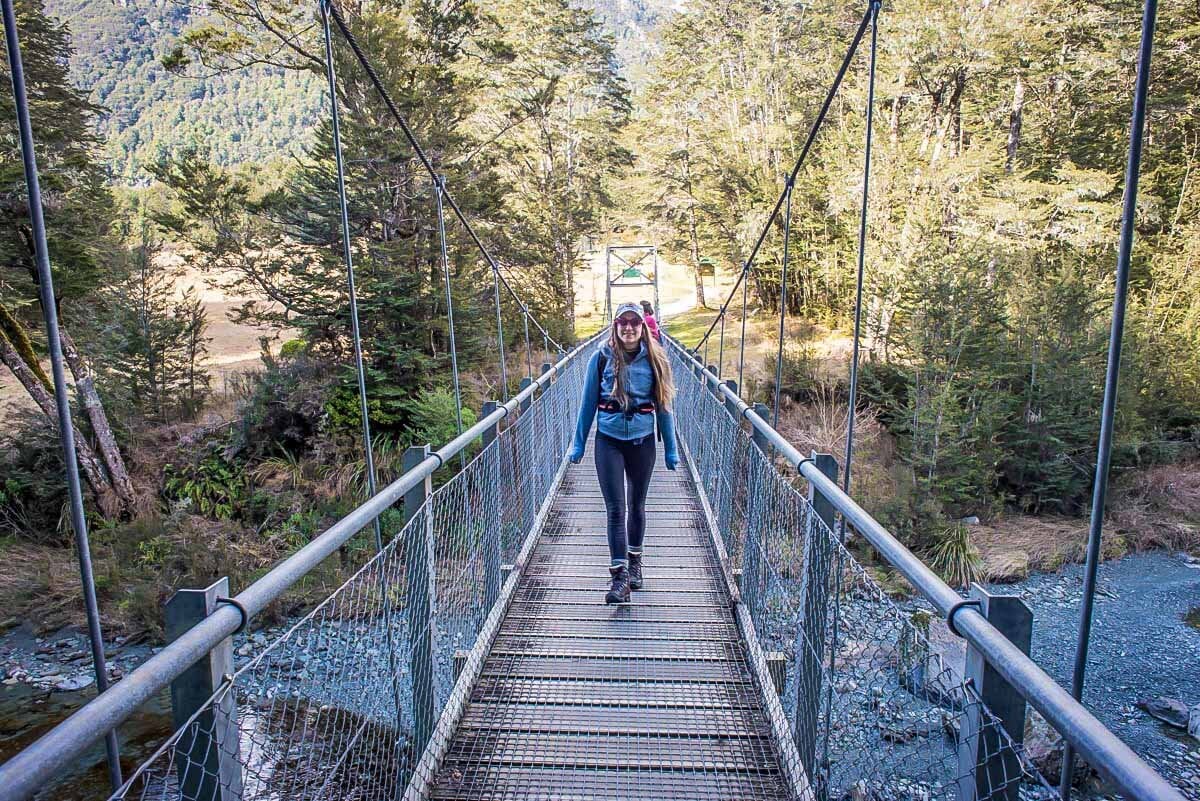 There are lots of different ways you can choose to hike the Routeburn Track, and planning your itinerary carefully is your first step to tackling this epic trail.
One of the things that sets the Routeburn Track apart from most hiking trails in New Zealand is that there are two different trailheads to choose from.
Since it is a point-to-point trail, the hike ends in a different location than it starts, and you can choose to start from either end.
a) Starting at Routeburn Shelter
Begin on the northeast end of the trail, near Glenorchy
Hike in a southwest direction
Slightly more popular route
One option is to begin at the Routeburn Shelter trailhead, which is located just outside of the small town of Glenorchy in Mount Aspiring National Park.
Glenorchy is a small town that most people visit from Queenstown. It is only a short 45-minute drive from Queenstown to Glenorchy and this stretch of road is often referred to as one of the most scenic drives in all of New Zealand.
b) Starting at The Divide Shelter
Begin at the southwest point of the trail, near Te Anau
Hike in a northeast direction
Slightly less popular route
The other trailhead is located along the road to Milford Sound in Fiordland National Park. It's called The Divide.
You'll find the exact location about an hour's drive from the town of Te Anau and 40 minutes from Milford Sound. It's a large parking lot that is also used for a popular day hike in the area called the Key Summit.
Whichever trailhead you don't choose will become your endpoint.
Good to know: It's important to note that while each trailhead is only 33 kilometers from each other via the Routeburn Track, by car they are actually 324 kilometers from one another. This is because of the huge mountains that separate them and no road connecting via the most direct route. So, you will need to arrange transport from one end of the hike back to your car at the start (more on that below.) It will take you about 4 hours to drive from one trailhead to the other – so be sure to account for that in your planning!
Routeburn Track hiking itineraries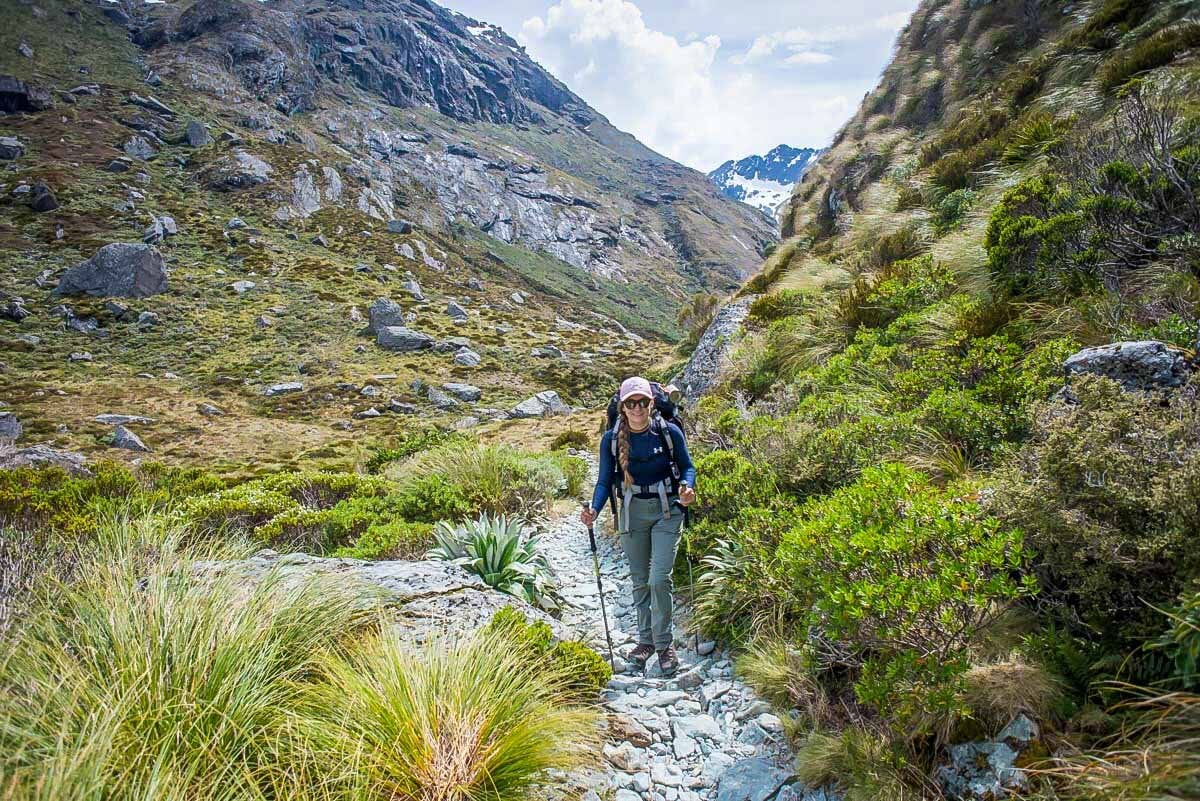 Below, you'll find itineraries that you can copy to fit your starting point and the number of days you plan to spend on the trail.
Hiking the Routeburn Track over 3 days
If you want to hike the Routeburn Track over three days, the most ideal itinerary is:
Day 1: Routeburn Shelter to Routeburn Falls Hut, 9.8 kilometers
Day 2: Routeburn Falls Hut to Lake Mackenzie Hut, 11.3 kilometers
Day 3: Lake Mackenzie Hut to The Divide Shelter, 12 kilometers
Hiking the Routeburn Track over 2 days
Good if you're short on time
If you want to challenge yourself and complete the entire Routeburn Track in only two days, the most ideal itinerary is:
Day 1: Routeburn Shelter to Routeburn Falls Hut, 9.8 kilometers
Day 2: Routeburn Falls Hut to The Divide Shelter, 23.3 kilometers
Why is Day 2 so much longer? For this itinerary, although the first day is shorter it involves hiking uphill the majority of the elevation gain. This way, although day two is longer, it involves a long section of downhill which will make it more achievable.
Hiking the Routeburn Track in 1 day
Only recommended for very experienced hikers or trail runners
Some people do hike the entire Routeburn Track in just one day, but unless you are a super experienced hiker or trail-runner, I really wouldn't recommend it.
Day hikes on the Routeburn Track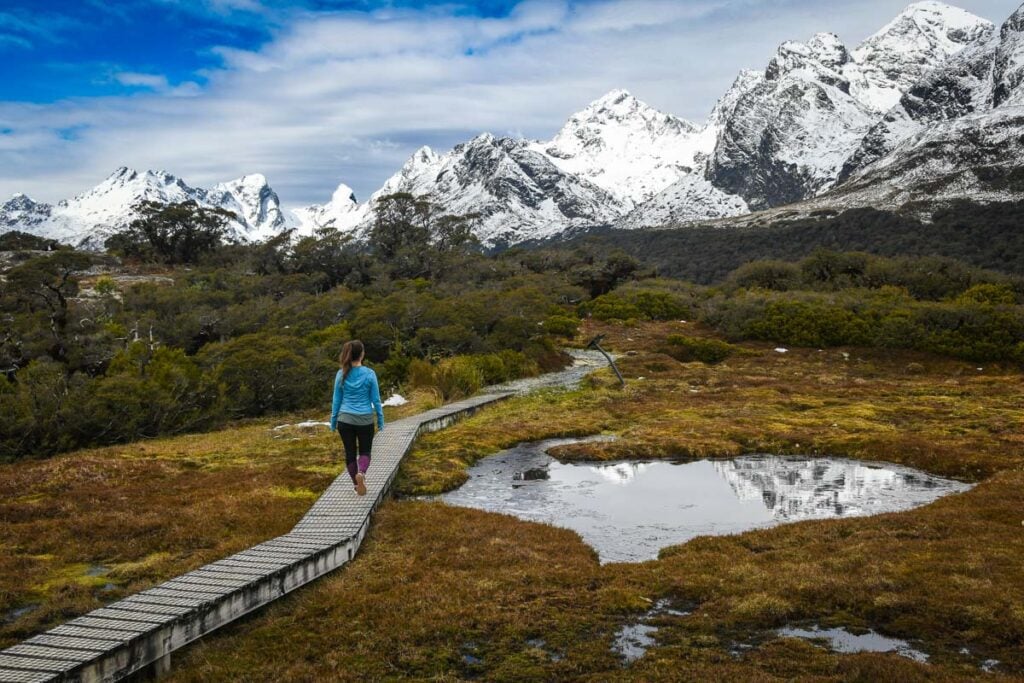 If you don't have time to complete the entire Routeburn Track, you can still hike sections of the trail on day hikes. This way, you don't need to worry about booking the huts or campsites, and still get to enjoy portions of one of New Zealand's most spectacular hikes.
In fact, hiking the beginning section of the Routeburn Track from the Routeburn Shelter out and back in one day is one of the best things to do in Glenorchy or if you're staying in Queenstown.
Some great day hikes on the Routeburn Track include:
Huts vs. campsites on the Routeburn Track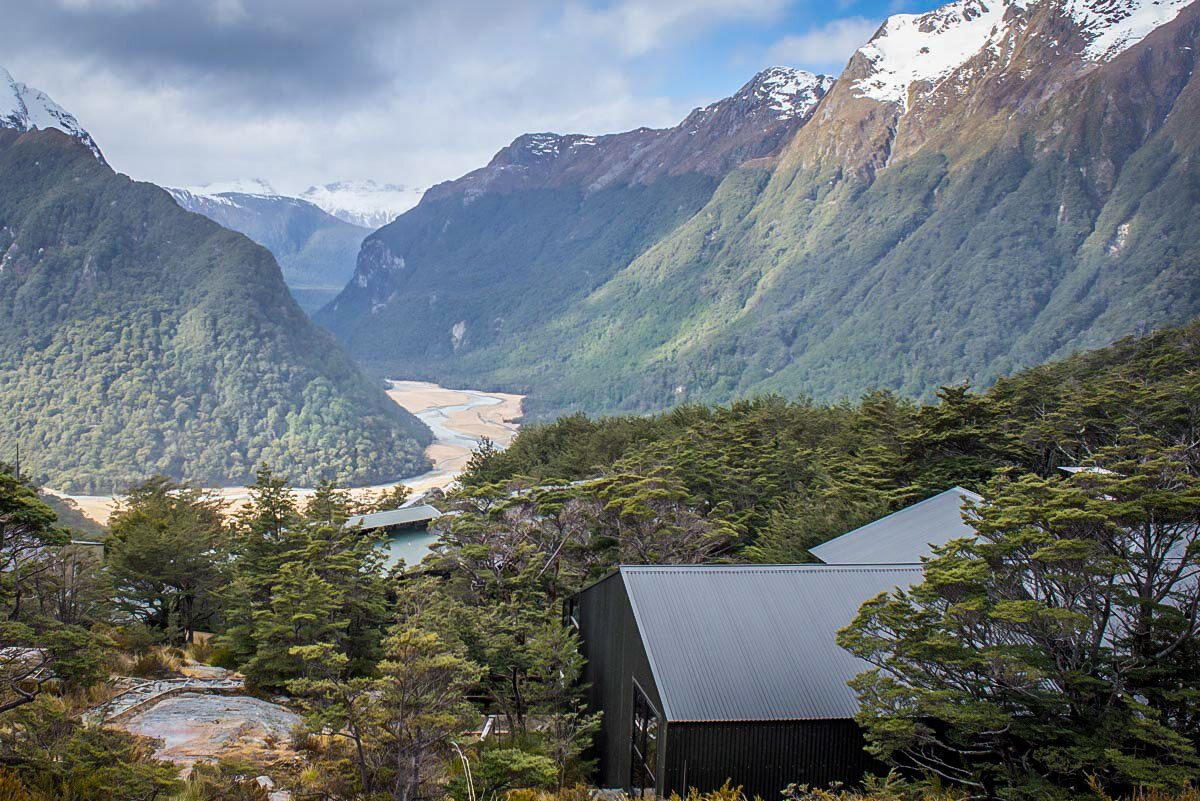 Because the Routeburn Track is one of the Great Walks in New Zealand, you need to stay in allocated campsites or huts when spending the night. Dispersed or wild camping is forbidden on the trail.
Whether you choose to stay in huts or camp depends mostly on your budget and gear. Here's what you can expect from each:
Huts on the Routeburn Track
More expensive
You need to carry less gear
Huts in New Zealand are shelters with bunk beds and basic kitchen facilities that hikers can stay in overnight.
If you stay in huts, then you don't need to bring a tent or mattress, and only need to carry your sleeping bag, clothing, and food. During the summer months, huts on the Routeburn Track also have gas stoves for cooking.
The huts cost $65 NZD per adult per night during the Great Walks season (beginning of November to the end of April) and $15 NZD outside of this time.
Children (17 and under) who are residents of New Zealand stay for free, whereas children who are international visitors are charged $32.50 per night during the Great Walks season.
Camping on the Routeburn Track
You'll need to supply & carry your equipment
It's a much cheaper option
Camping is significantly cheaper than staying in huts, and therefore better if you're traveling New Zealand on a budget. The downside is that you definitely need to bring more gear with you.
First of all, you'll need to bring your tent and sleeping pad/mattress. You also won't have access to the hut kitchens meaning you'll need all your own cooking equipment too.
Campsites on the Routeburn Track cost $20 NZD per adult per night during the Great Walks season and $5 NZD during all other months. Children who are residents of New Zealand stay for free, but international children pay $10 NZD per night during the Great Walks season.
It's important to note that you can't just freedom camp on the Routeburn Track. You need to stay in designated campsites. This rule is in place to protect the trail and if you don't follow it you risk a hefty fine.
Psst! Check out these delicious and easy backpacking meals to plan your food for the route!
Where to stay on the Routeburn Track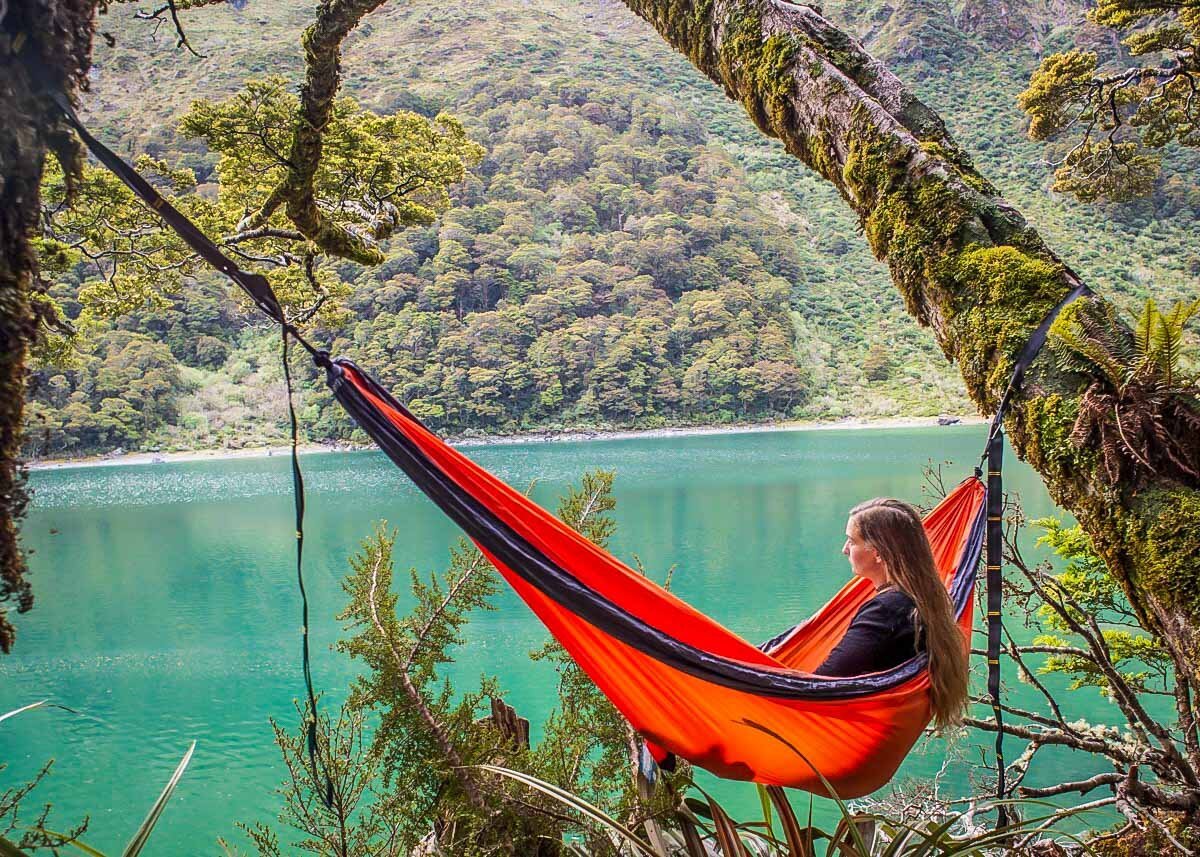 There are three different places you can stay on the Routeburn Track. Starting from the closest to the Routeburn Shelter, they are:
Routeburn Flats Hut and campsite
Located only 7.5 kilometers from the Routeburn Shelter and Carpark, Routeburn Flats Hut and Campsite is the easiest place to get to.
The hike to get there is mostly flat and really quick. For this reason, many people choose to skip staying here completely and instead continue on to spend their first night at the following accommodation.
In the Flats hut, you'll find 20 bunk beds with mattresses, a large kitchen and common area, heating, lighting, gas stove tops for cooking, and bathrooms with flushing toilets and running water.
The campsite, on the other hand, is very basic with only pit toilets (outhouses) and flat areas to pitch your tent.
When I camped here I really enjoyed it and the views of the Routeburn Valley from our tent were stunning. However, sandflies (or little black flies as they are commonly called in NZ) are everywhere – be sure to bring bug repellent as these guys bite!
Routeburn Falls Hut and campsite
A further 2.3 kilometers from Routeburn Flats Hut and Campsite is the very popular Routeburn Falls Hut. This new hut is modern and huge! Seriously, it has 48 bunk beds and the common area is massive.
Around the hut is an outdoor patio that offers a view over the valley – it's breathtaking!
Besides bunk beds and mattresses, Routeburn Falls Hut also has large bathrooms with flushing toilets and running water, a kitchen area with plenty of seating, heating, lights, and gas stoves.
Routeburn Falls Hut is one of the most luxurious huts in New Zealand. It is also the most popular place to stay on the Routeburn Track, and for that reason, it often books up quickly. Most people stay at the Flats Hut if the Falls Hut is already completely booked.
Psst! Planning to camp elsewhere in NZ? Check out our list of the best campsites in New Zealand to help you plan your route.
Lake Mackenzie Hut and Campsite
The final hut and campsite on the Routeburn Track is Lake Mackenzie. It is located 11.3 kilometers from Routeburn Falls Hut and this hike involves passing the Harris Saddle (the most difficult part of the Routeburn Track, but also the most beautiful).
From the Divide, Lake Mackenzie is 12 kilometers.
The Lake Mackenzie Hut has 50 bunk beds and all of the other luxuries you'd expect from the huts on the Routeburn Track.
The camping is more basic with pit toilets and a covered cooking shelter. Individual campsites are flat, but the campsite itself is spread out on a hilly area through the forest. It is really quite nice and is located only steps from Lake Mackenzie.
Lake Mackenzie is a bright blue lake that —if you can brave the cold —you can take a refreshing dip in! It's really a spectacular lake and my personal favorite place to stay along the Routeburn Track.
Important Note: Lake Howden Hut is no longer open. It was damaged in a landslide in 2020 and is no longer an option for a place to stay on the Routeburn Track.
How to book the Routeburn Track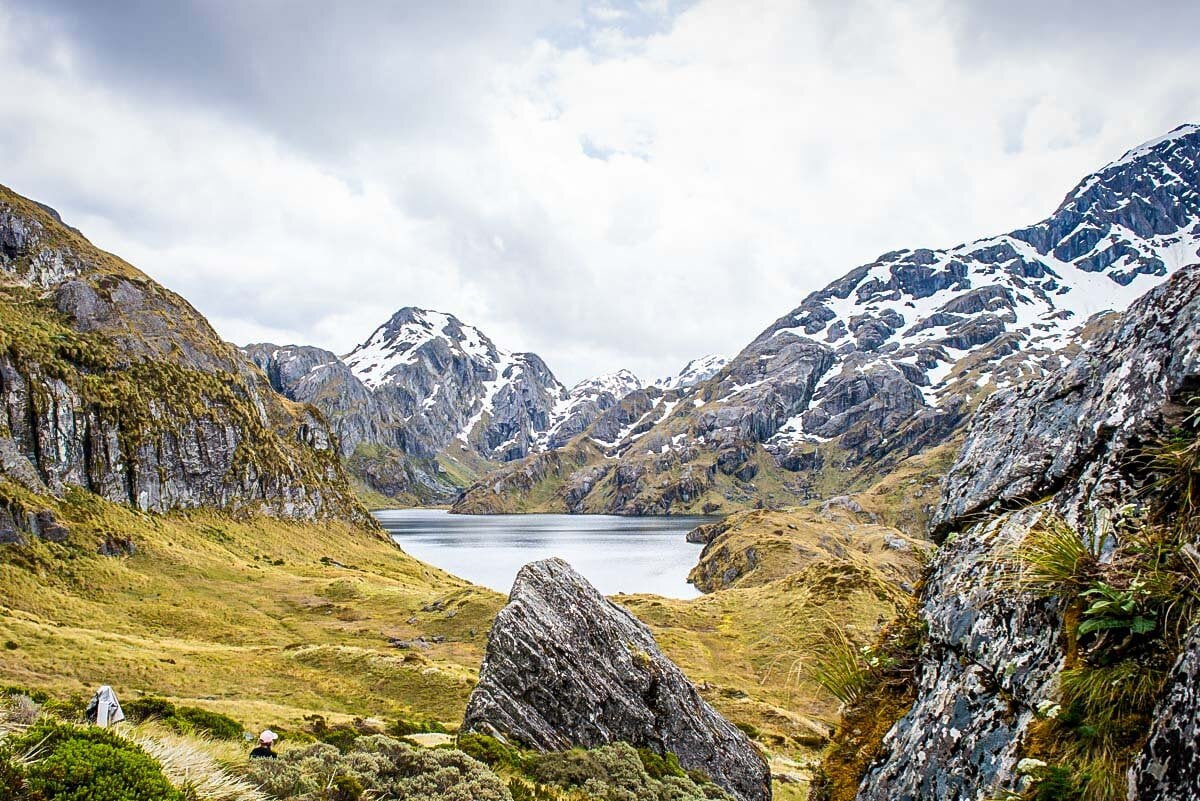 It is important to make the correct bookings well in advance before you begin your hike on the Routeburn Track. You need to book your overnight stays in either huts or campsites, in addition to shuttle transportation.
Booking huts and campsites
During the "Great Walks season", it is essential that you book your stay at any of the huts or campsites on the Routeburn Track well in advance. In fact, they often are fully booked months in advance, so the sooner you get around to it the better!
Huts and campsites are both booked online on the Department of Conservation website.
Bookings for the Great Walks seasons usually open in July prior to the season start, but the exact date changes each year so it is best to follow the DOC for updates. If you have exact dates you want for hiking the Routeburn Track, then I recommend booking on the day that bookings open just to ensure you don't miss out.
Outside of the Great Walks season bookings are not required. However, you must still pay for your stay. Visit a nearby DOC office the day of or before your hike to make this payment and obtain your payment receipt. The closest DOC offices to the Routeburn Track are located in Te Anau and Queenstown.
Insider Tip: If a hut or campsite is fully booked on the Track for your desired dates, keep checking back on the website as cancellations happen all the time and spaces do become available, sometimes even a day or two in advance!
Shuttles and transfers
Since the Routeburn Track ends in a completely different place than it starts, you'll need to organize transport. There are a couple of companies that provide a shuttle service for hikers specifically for the Routeburn Track including Glenorchy Journeys and InterCity.
These shuttles will pick you up at one end of the Routeburn Track and then drive you back to the other (where you parked your car). If you don't have a car, they also provide transport from Queenstown to the beginning of the trail, and then again from the end of the trail back to Queenstown.
Rates vary but you can expect to pay between $50-85 NZD for a one-way transfer depending on the route.
An alternative to booking and paying for a transfer is to organize a vehicle relocation. With this, a professional company will drive your car to your chosen endpoint on the Routeburn Track.
Although this is generally more expensive, it is handy if you want to continue on with your South Island road trip from there.
What to pack for hiking the Routeburn Track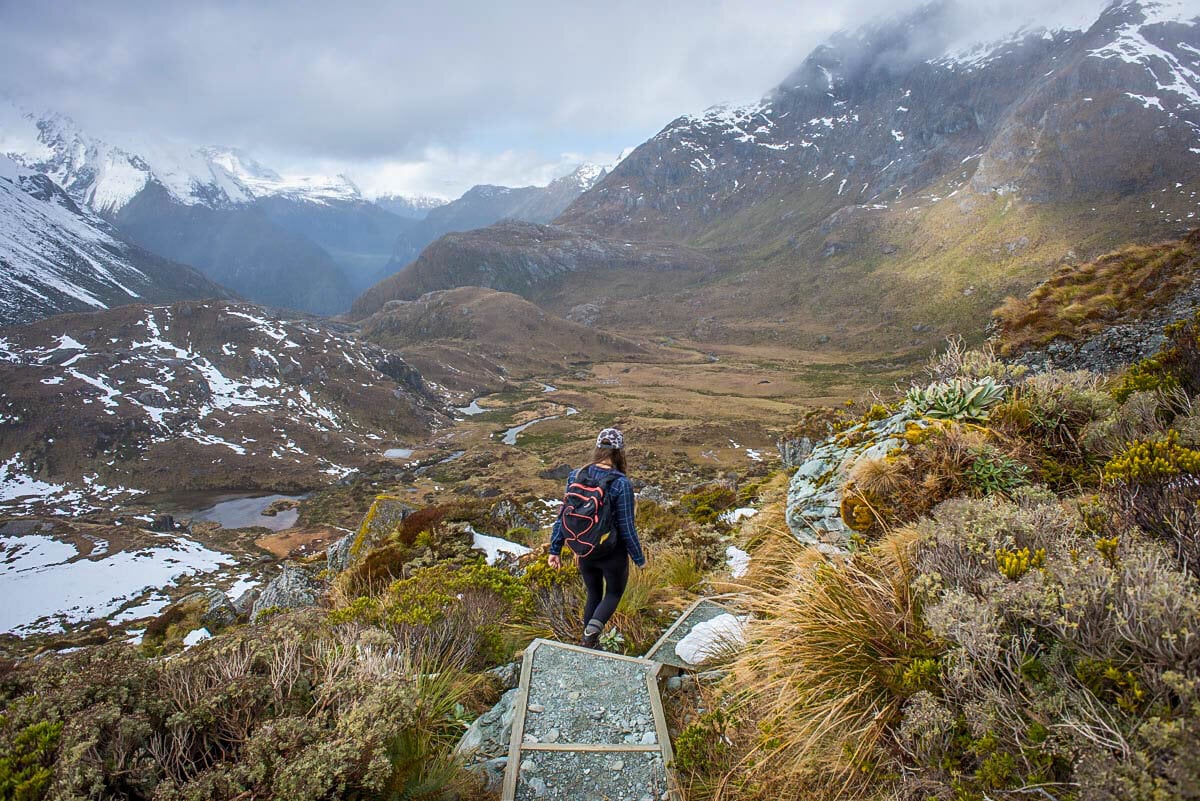 There are some essential items you should bring with you on the Routeburn Track. Some things to remember include:
Backpacking pack: Make sure you get a good one that fit for your body and has the right capacity to carry all of the essentials.
Sleeping bag: One with compression straps will be easier to store in your backpack.
A tent and mattress: Only required for campers. Those staying in huts are provided a bunk bed with a mattress.
Booking receipts/confirmations: Proof of your hut/campsites bookings and payment is required. Print it off as a paper copy as it's often required.
Insulated water bottle and/or bladder for your Camelbak: There are lots of streams that you can safely drink from on the Routeburn Track along with taps at huts. A 750 ml bottle per person should be sufficient.
Way to purify your water: We love our Grayl water bottles, and before them we always brought along our Steripen
Food: There is nowhere to buy food on the trail so you need to bring all of your own.
Cooking dishes and equipment: Although the huts have gas stoves during the Great Walks season, you'll still need your own pot, plates, cutlery, etc. Campers need to bring a gas stove for cooking as the hut stoves are only for those staying in the huts.
Garbage bag: You must pack and take out any garbage you bring in or create on the trail.
Insect repellent and/or baby oil: Sandflies (New Zealand's version of mosquitos) are common on the Routeburn Track. While these tiny bugs aren't dangerous, they leave an itchy bite that's super annoying. Insect repellent helps keep them away. Alternatively, rubbing a little baby oil on your ankles (where they typically swarm!) will prevent these pesky critters from landing on you, making them far less annoying.
Sun protection: Sunscreen, sunglasses and a hat. The sun in New Zealand is notoriously harsh. Sun protection of all kinds is a must!
Waterproof layer and bag protection: It rains a lot on the Routeburn Track. Be sure to have a waterproof jacket handy and a backpack cover to keep all your belongings dry in case you have to hike in the rain!
Proper hiking clothes: Wearing moisture-wicking clothing and packing layers will keep you comfortable during this multi-day hike. Check out this guide that goes over what to wear hiking in all types of weather.
Be sure to download our complete packing list for New Zealand! It's packed with good suggestions and insider tips to help plan your campervan trip in New Zealand. And it's completely FREE, so why not!?


In addition, there are a few items we'd recommend bringing when hiking in New Zealand.
---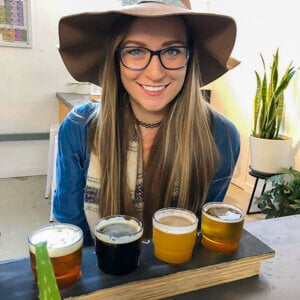 About the author
Bailey is a lover of road trips, craft beer, and mountain peaks. When she isn't out on a hiking trail, you'll find her writing all about her life and adventures living on the South Island of New Zealand on her blog, My Queenstown Diary.
---
Other epic hikes to add to your bucket list
If you're reading this article, I imagine you're a hiking enthusiast.
Tongariro Crossing, New Zealand: If you're traveling in New Zealand, you'll want to add this hike to your list as well. Widely considered to be the best day hike in the country, this is a can't miss if you're visiting the North Island.
Fimmvorduhals Hike, Iceland: This is one of our very favorite day hikes ever, and if you like the Tongariro Crossing, this should also be on your list!
Old Man of Storr, Scotland: This hike on the Isle of Skye brings you up close to some otherworldly rock formations.
Kumano Kodo, Japan: This multi-day pilgrimage trek in Japan is a perfect blend of adventure, nature and culture.
Volcan Acatenango, Guatemala: This overnight hike just outside Antigua allows you front seat views to watch the neighboring Volcan Fuego erupt all night long.
Ijen Crater, Indonesia: This classic sunrise hike in East Java ends with epic views over a neon blue crater lake.
Inca Trail: This classic trek in Peru is worthy of a top spot on your hiking bucket list.
Everest Base Camp: If you're looking for a hike you'll be telling your grandkids about, this is it! Stay at tea houses along the way and make lifelong friends.
Are you planning a trip to New Zealand?
We have TONS of resources on travel in New Zealand and destinations throughout the country. Check out our Ultimate New Zealand Travel Guide for all the answers to your most burning travel questions, or read some of our favorite articles below.
Save this article on Pinterest for later!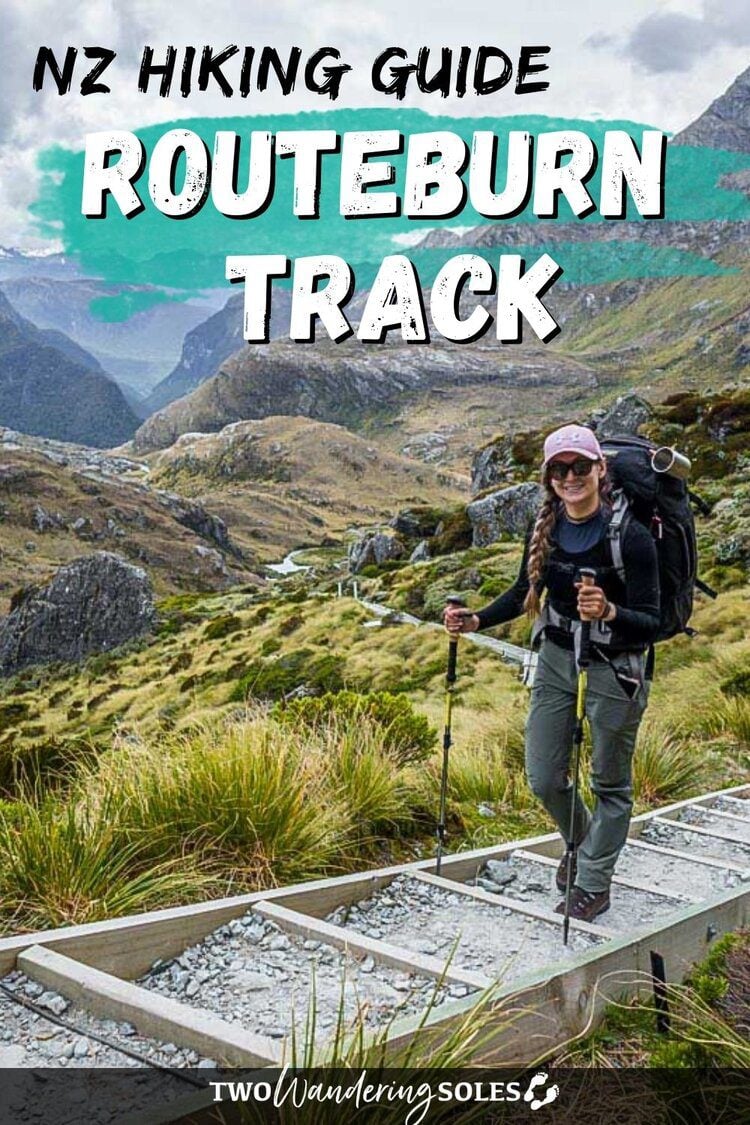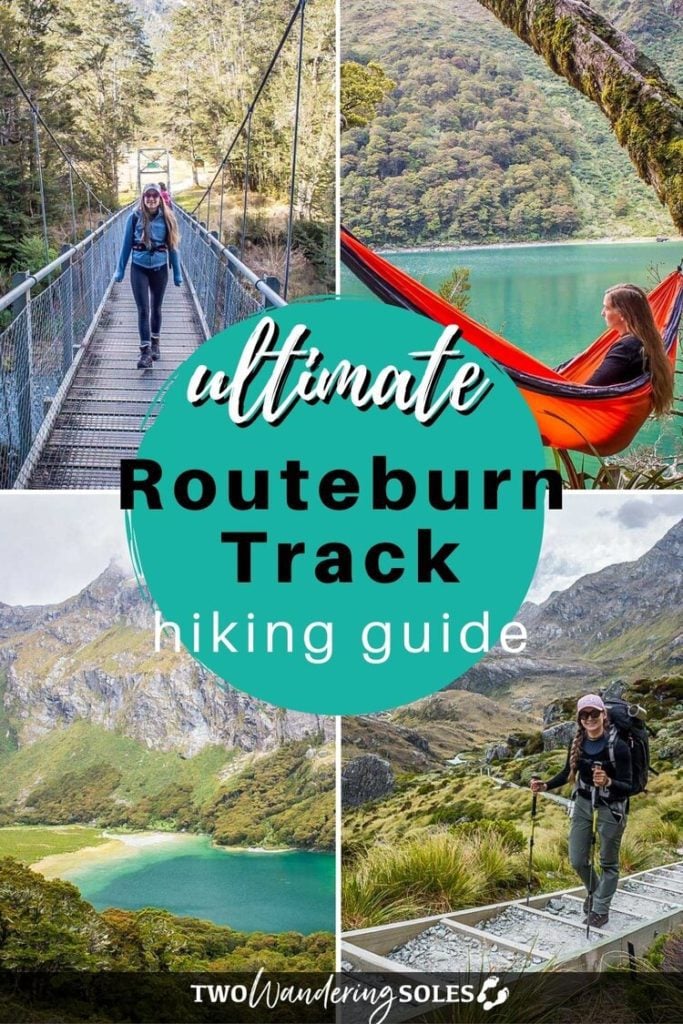 We want to hear from you!
Would you ever attempt the Routeburn Track hike? Do you have any more questions for Bailey about how to prepare? Drop us a comment below and we'll do our best to get back to you!