Known for enormous granite monoliths and towering waterfalls, Yosemite National Park has inspired generations of outdoor enthusiasts. In this guide, we'll break down the quintessential things to do in Yosemite and offer tips to maximize your stay in the park.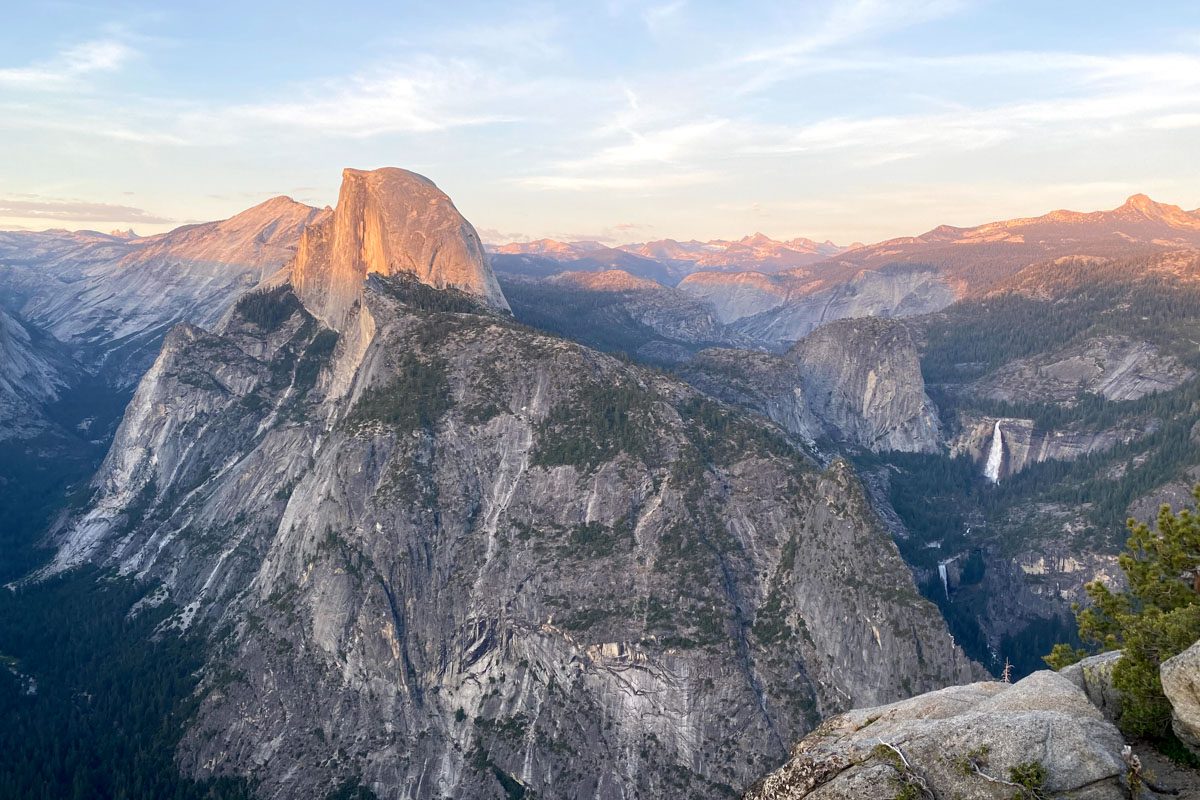 Written by guest author: Paul Fuchs
Yosemite National Park needs little introduction. The iconic park protects the most scenic swath of California's Sierra Nevada mountains. Its colossal granite monoliths, expansive pine forests, towering waterfalls, and crystal-clear water have captured visitors' imaginations for nearly 150 years.
Every year, millions of people flock to the park to climb, hike, sightsee, and relax. With so much to see and so many things to do in Yosemite, it's no wonder that it's one of the most visited national parks.
I first visited Yosemite in 2018. At the time, it was the only national park I'd been to. But still, after visiting nearly 30 national parks, Yosemite is my favorite. So much so that in 2021, I returned to the park for a week of climbing, hiking, and camping.
Both visits taught me so much about safe outdoor recreation, thanks in part to a near-fatal climbing accident during my 2021 visit. To me, Yosemite National Park is nature at its best, and I can't wait to return again and again.
In this article, I break down the best things to do in Yosemite to make the most of your visit. I'll discuss where to go, when to go, how to avoid crowds, and what to pack!
It doesn't matter if you only have a few hours or an entire week… you will make unforgettable memories at Yosemite National Park.
Yosemite National Park at a glance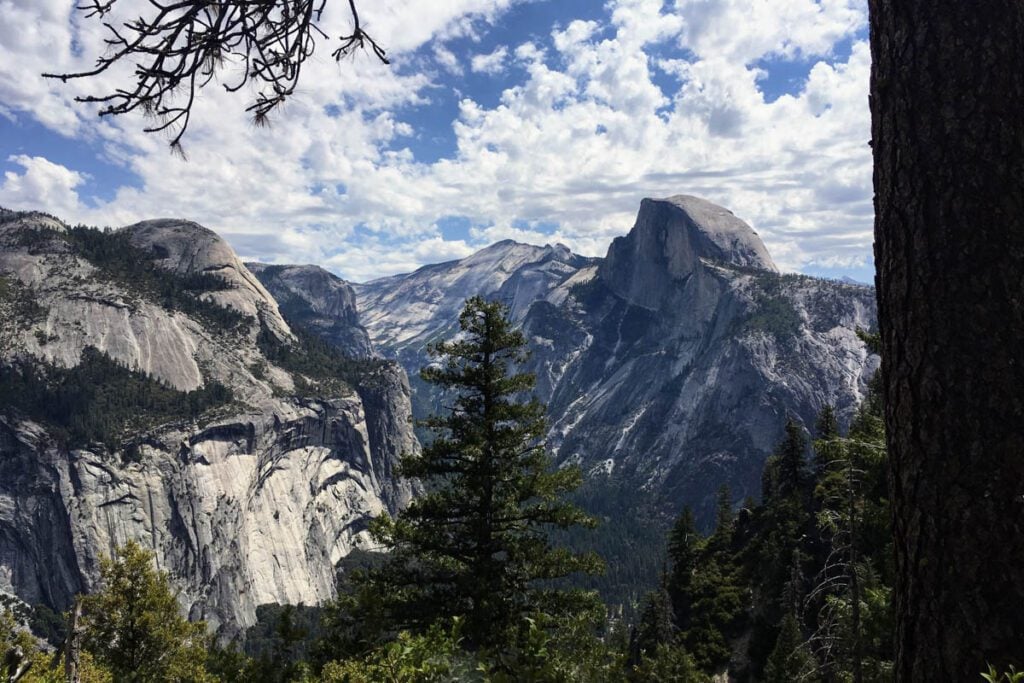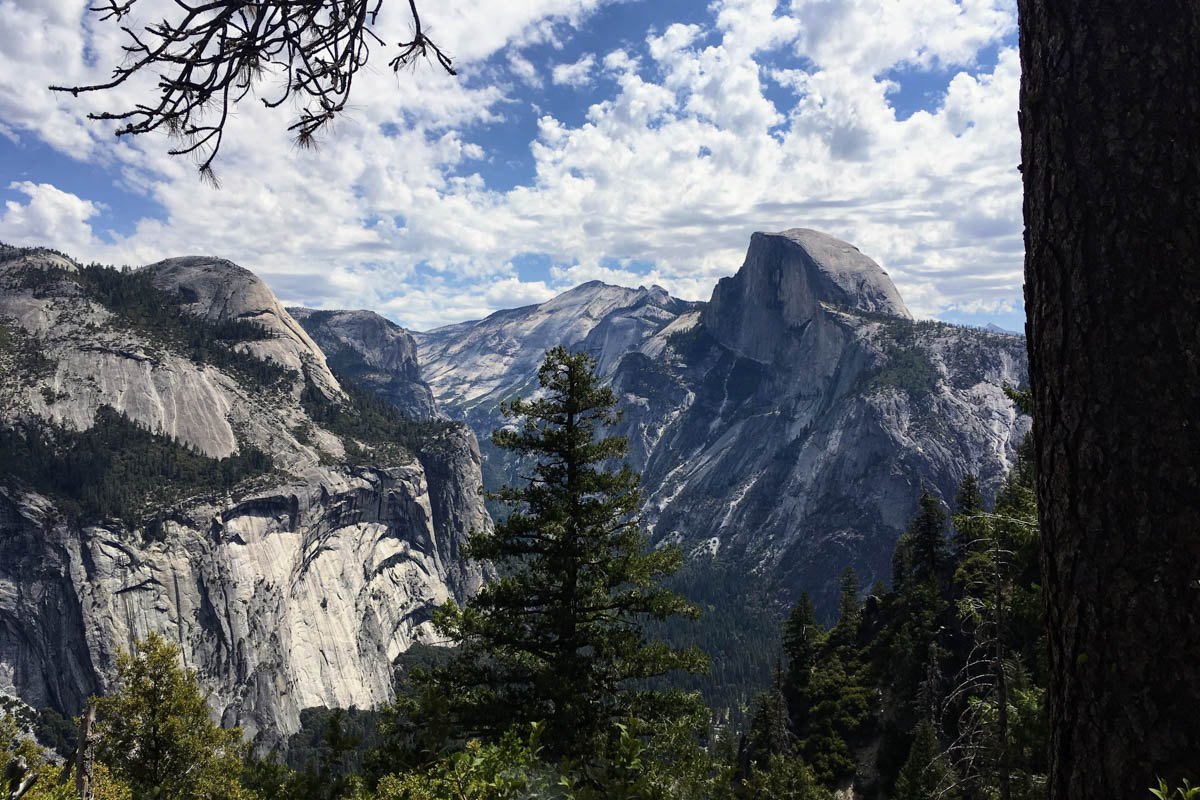 Open: Year-round, but Tuolumne Meadows and Glacier Point close in winter due to snowfall
Entrance Fee: $35/vehicle, $30/motorcycle, $20/hiking & biking, or free with your America the Beautiful Pass
Wildlife: Mule deer, black bears, bighorn sheep, ground squirrels, marmots, foxes, lots of bird species
Established: October 1, 1890
Ancestral Lands: Ahwahneechee people
Area: 759,620 acres
Yosemite National Park Guide
---
Best things to do in Yosemite National Park
If you're looking for the absolute best things to do in Yosemite National Park, here are my top 5 recommendations:
Visit Yosemite Valley
Conquer Half Dome
Admire the view at Glacier Point
Snap a photo at Tunnel View
Go rock climbing
Keep reading for more detailed information on each of these activities and more ideas of fun things to do in Yosemite.
1. Explore Yosemite Valley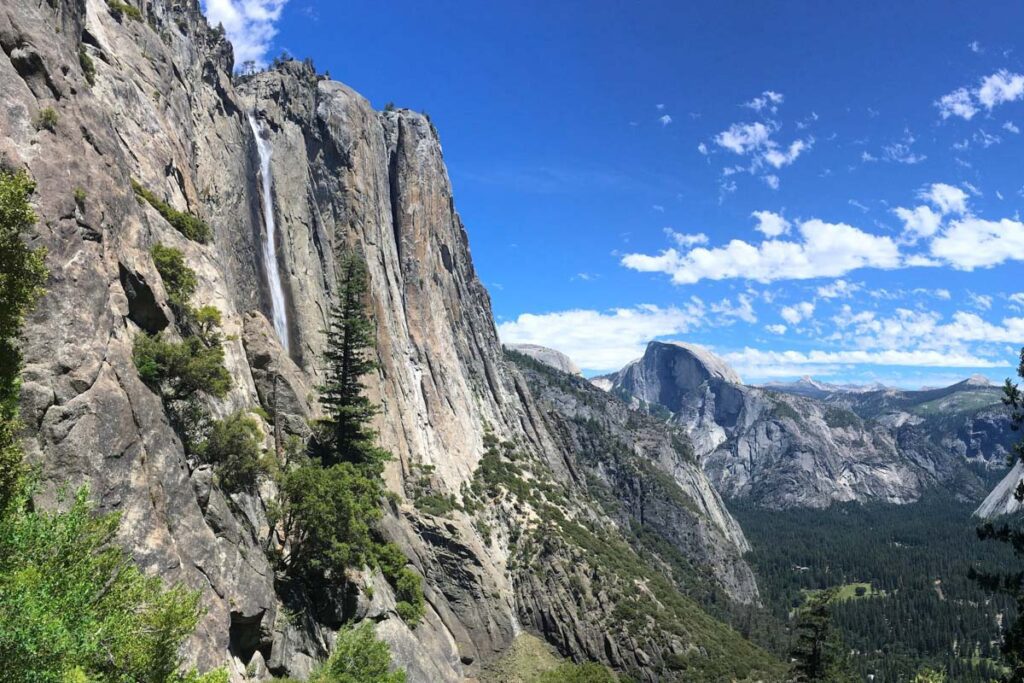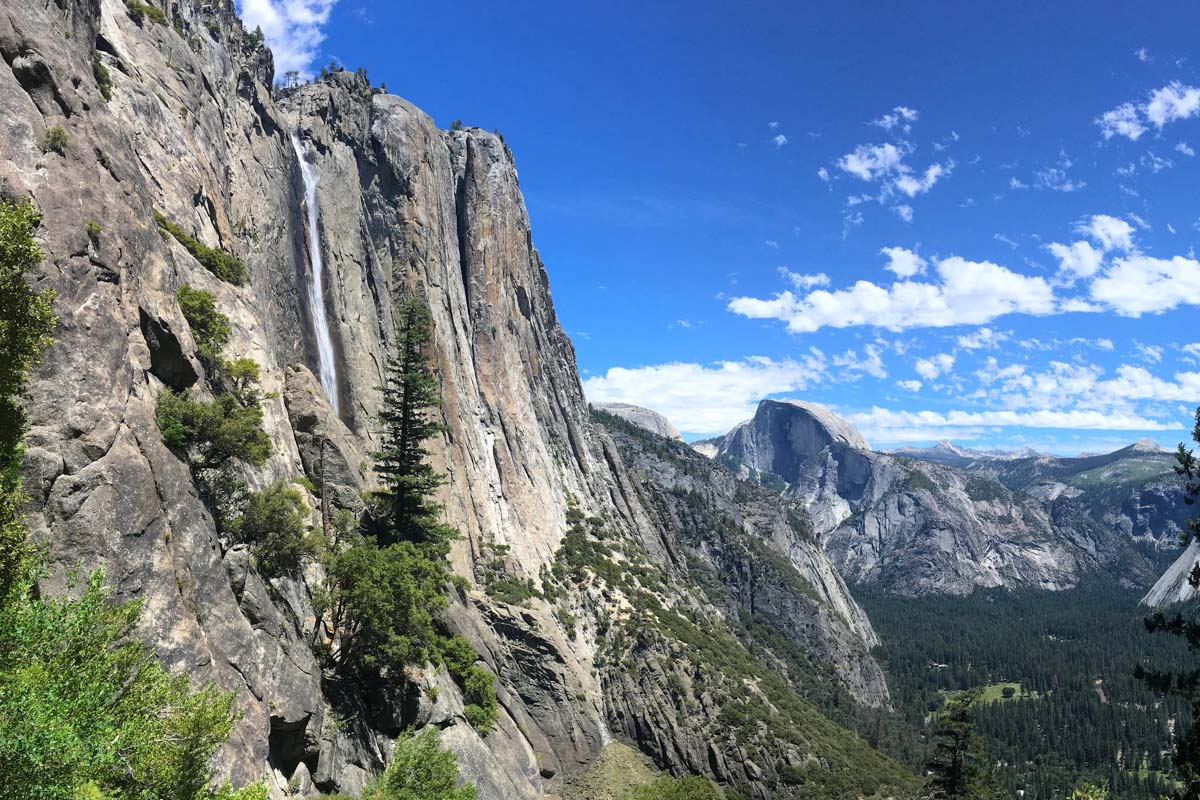 If you only have a few hours to spend, or it's your first time in Yosemite National Park, Yosemite Valley should be your first stop.
It's one of the most beautiful places on the planet. Yosemite Valley is the reason most people visit the park. In the valley, you'll find jaw-dropping views of massive granite rock faces and unfathomably tall waterfalls, which rise thousands of feet above the valley floor.
When you arrive in the valley, don't be surprised if you get emotional. So far, I've shed a few happy tears both times I've entered Yosemite Valley.
Yosemite Valley highlights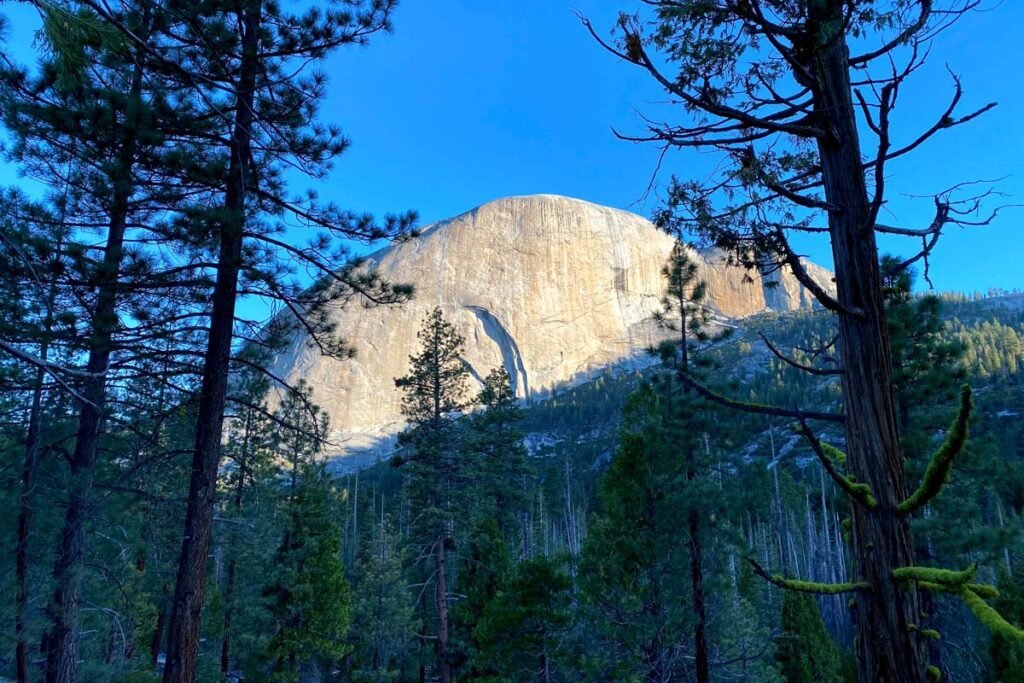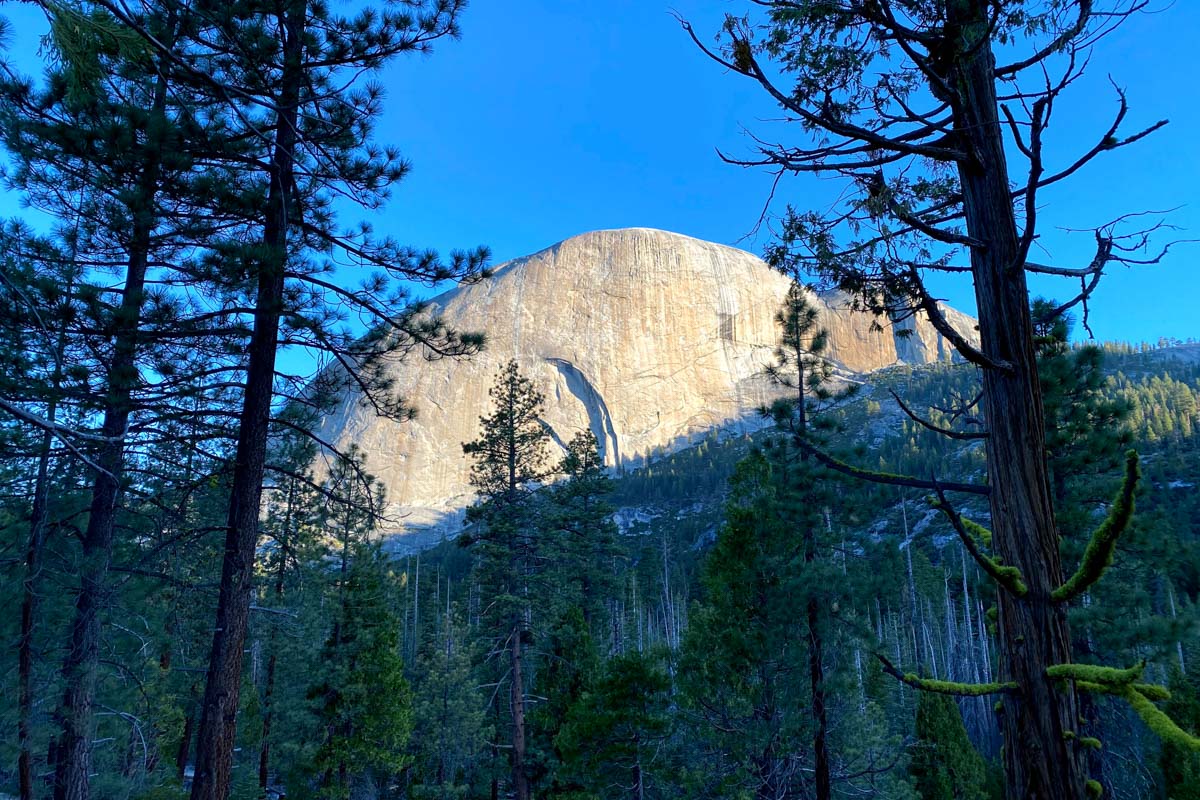 If you arrive by car, you'll quickly catch views of some of the valley's highlights.
El Capitan: a 3,000-foot rock face and world-famous climbing destination
Half Dome: the iconic granite rock face that rises above the valley floor
Yosemite Falls and Bridal Veil Fall: Fed by snowmelt, these two beauties cascade from high above into the valley below
The Merced River: cuts across the valley floor, bringing life to a vibrant pine forest filled with wildlife
As you drive deeper into the valley, you'll pass campgrounds, Yosemite Village, and parking lots that will likely be swarming with people.
Best hikes in Yosemite Valley
Yosemite Valley provides the largest concentration of things to do, so naturally some of the best hikes in Yosemite National Park reside here. Here are some of its most popular:
In addition to its hikes, Yosemite Valley houses a variety of lodging, camping, and dining options. You can also find lots of things to do here that don't involve hiking.
Tip: Yosemite National Park operates a shuttle service that stops at most locations in Yosemite Valley. If you don't want to deal with the hassle of parking, consider utilizing this shuttle service.
2. Conquer Half Dome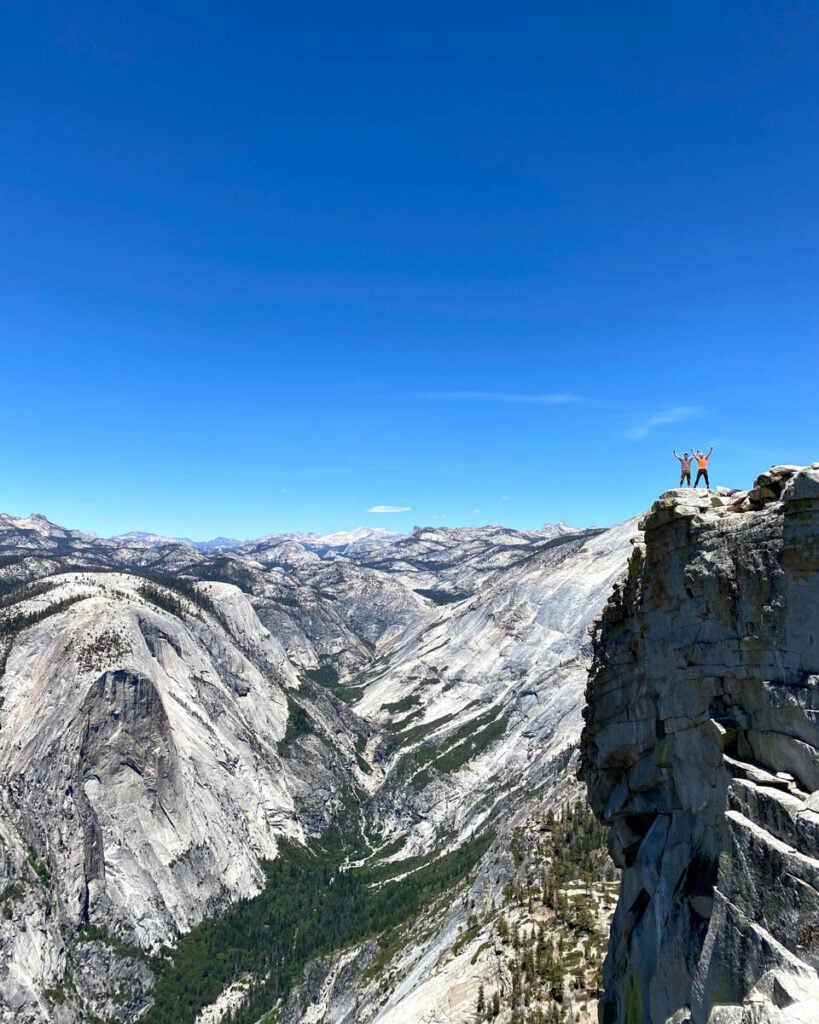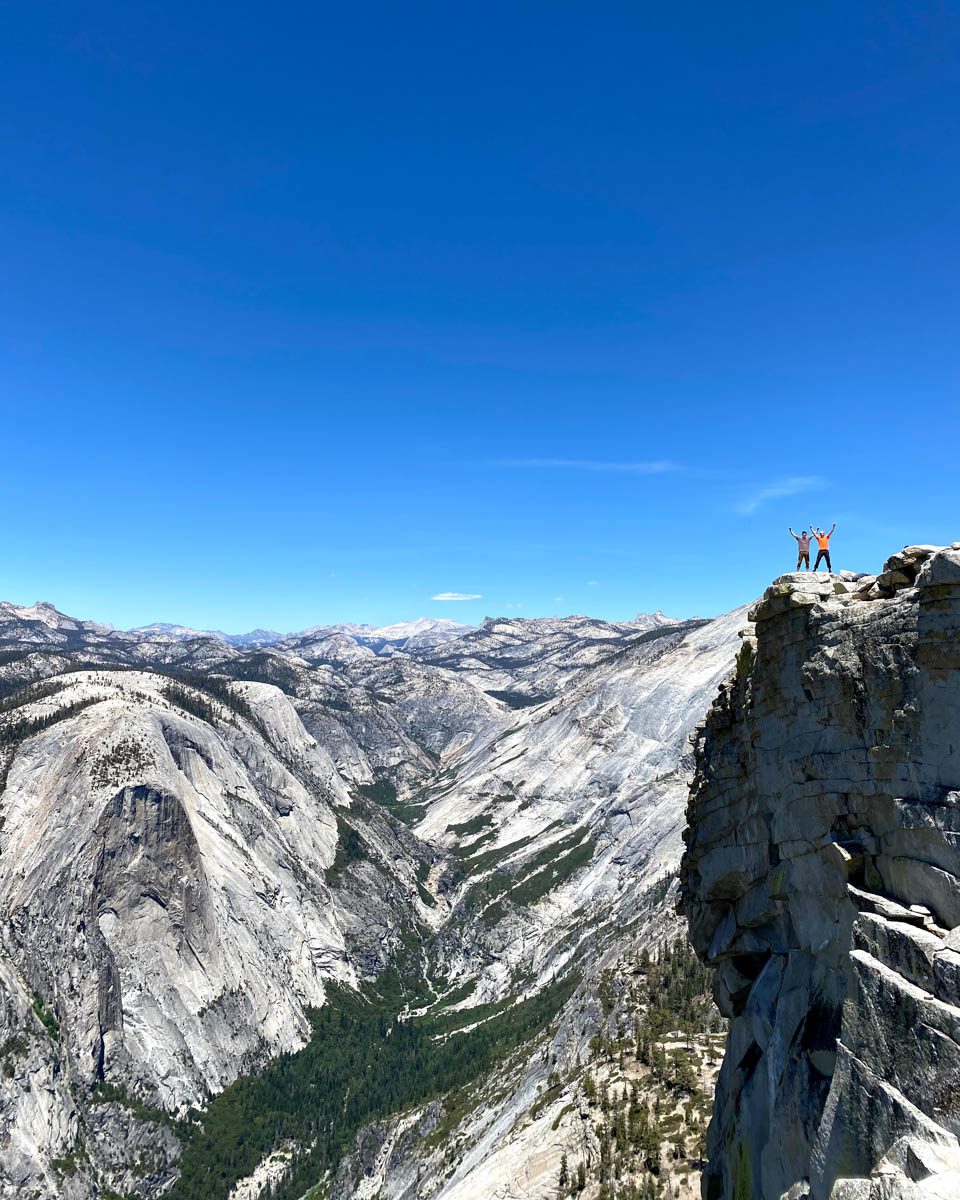 One of the penultimate hiking experiences in the country is the journey to Half Dome's summit.
Half Dome is Yosemite National Park's most recognizable feature, evident in its use on most advertising material and merchandise for the park. The huge rock formation rises nearly 5,000 feet above the valley floor.
Though Half Dome's steep walls may suggest that it's only accessible by rock climbing, think again!
A cable system was installed on Half Dome's northeast side in 1911, allowing everyday hikers access to the rock's summit. Summiting the feature is one of the most sought-after things to do in Yosemite National Park.
The cables are installed each year from late-May through October. To summit Half Dome via the cables, you need a permit.
Most permits are issued through a lottery system that accepts applications in March. A small number of permits are available through a day-before lottery. These permits are very hard to acquire, since lots of people apply for them.
Read more about the permit system and apply to the lottery at Recreation.gov.
Half Dome hike stats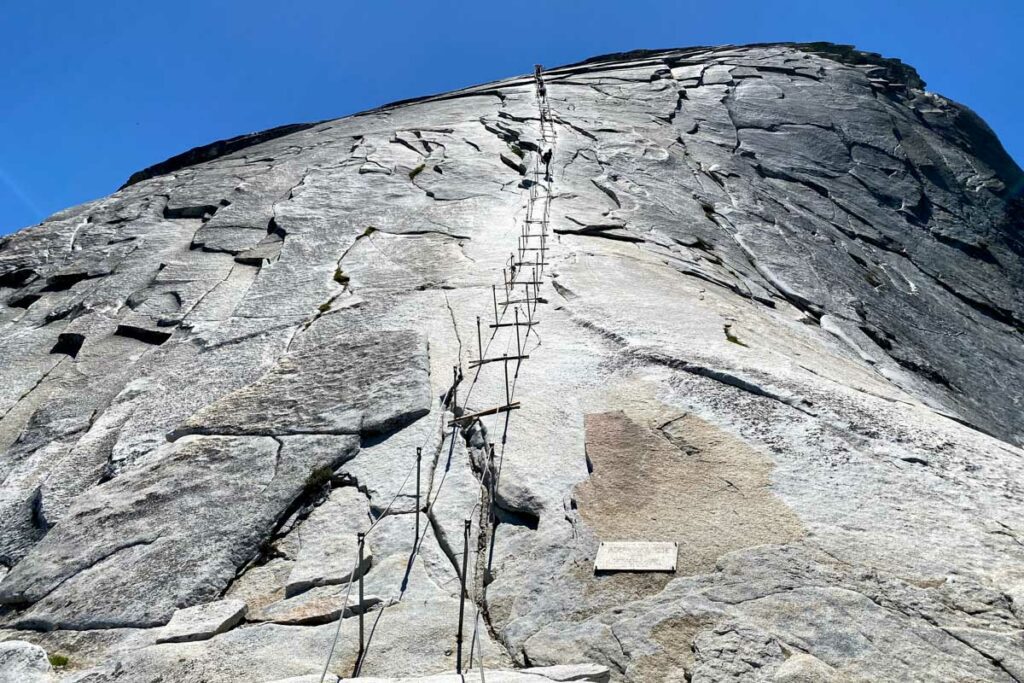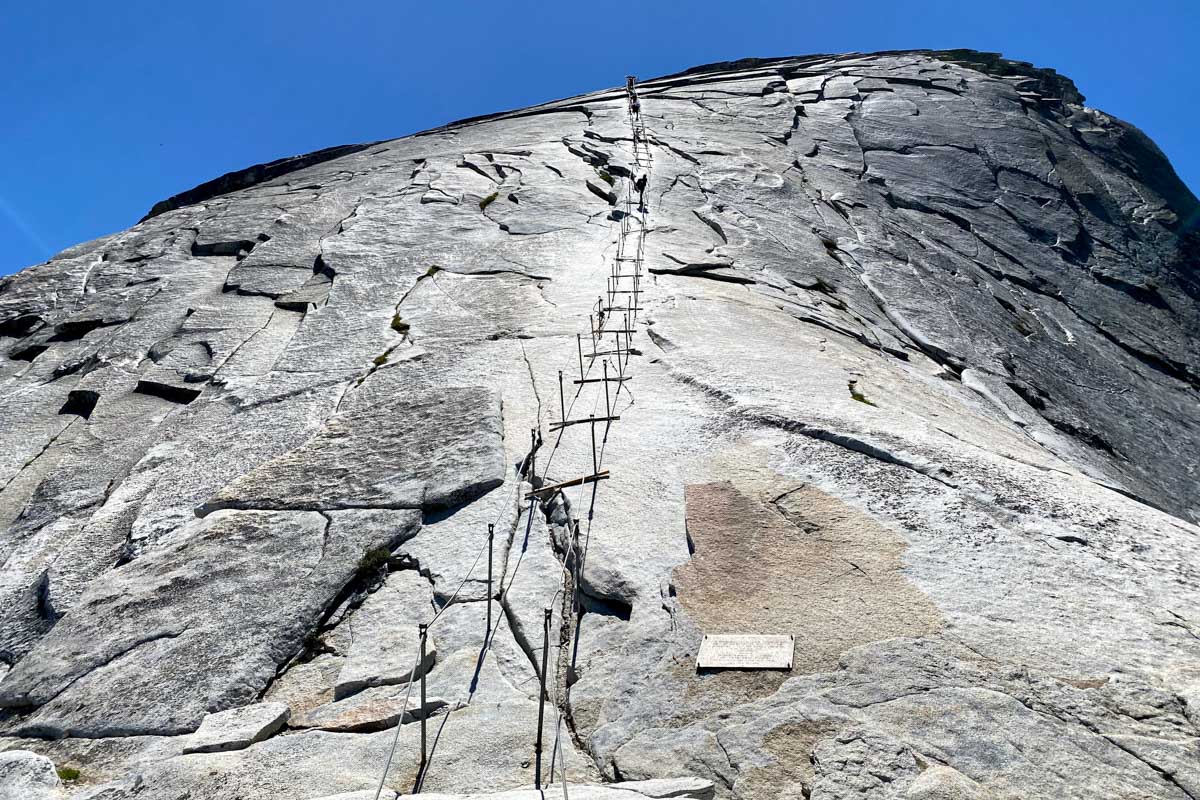 Here are a few things to know about the Half Dome hike:
Distance: 15.3 miles, out and back
Elevation gain: 5,213 feet
Difficulty: Strenuous
Time to complete: 10-12 hours
Many people start the hike as early as 4 a.m. to ensure they return before the sun sets.
Conquering Half Dome requires a high level of fitness, advance preparation, and lots of food and water. If you're up for the challenge, it will be one of the most rewarding (and exciting) days of your life.
What to pack for hiking Half Dome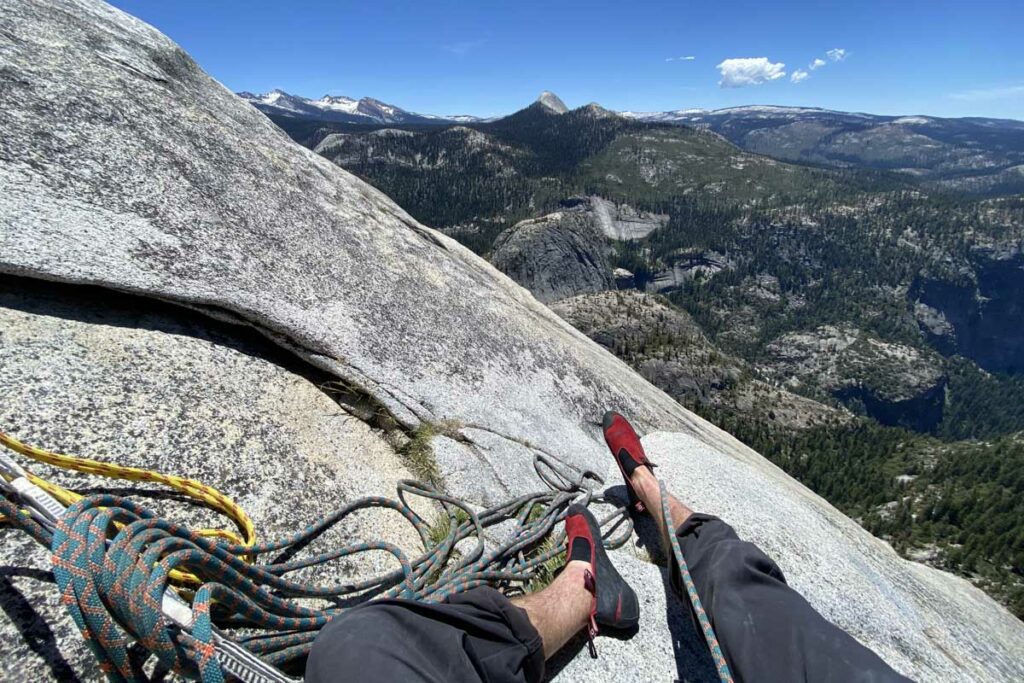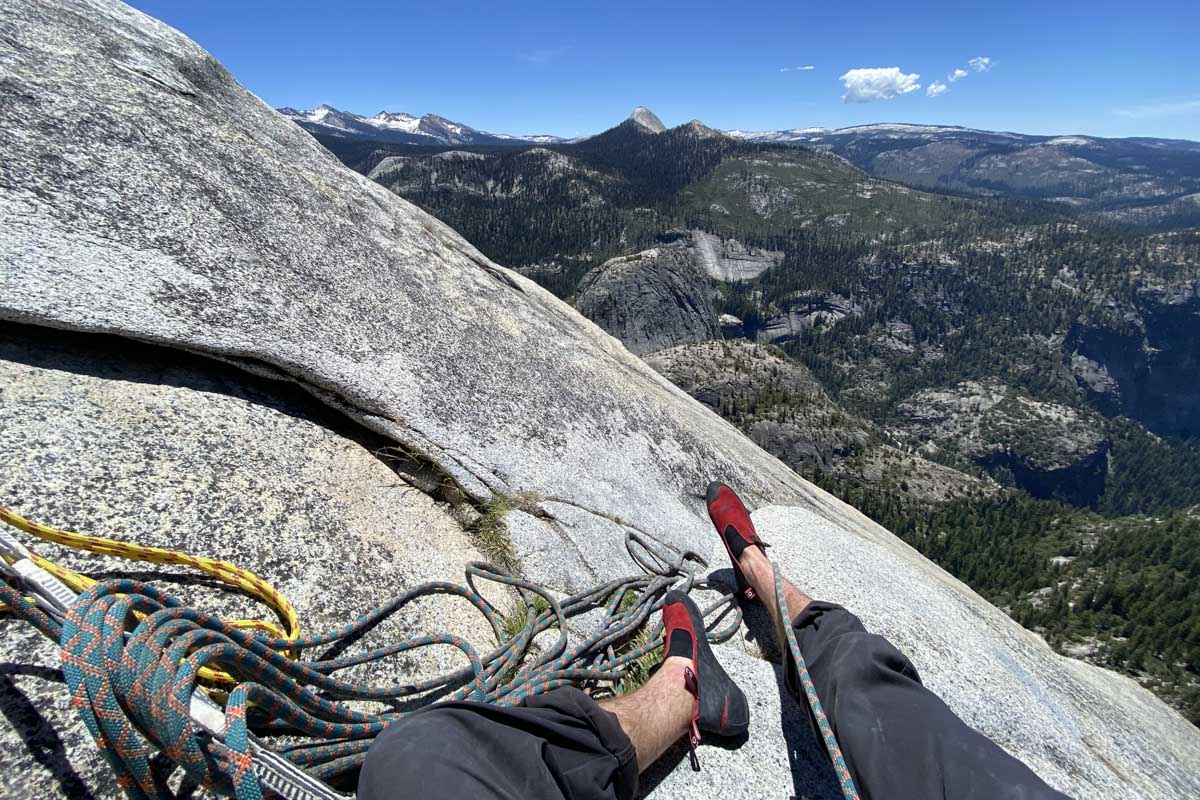 Bring the following items if you plan to summit Half Dome via the cables:
Be sure to check the weather forecast before embarking on the Half Dome hike. The cables are a dangerous place to be during a thunderstorm.
Note: It is possible to summit Half Dome without a cables permit via technical rock climbing. Snake Dike (5.7) is a popular 8-pitch route that ascends Half Dome's southwestern face and can be completed in a day. It is also possible to climb the face of Half Dome on a multi-day climbing expedition, which requires a Wilderness Climbing Permit. Climbing Half Dome requires a high-level of experience, confidence, and specialty gear.
3. Admire the view at Glacier Point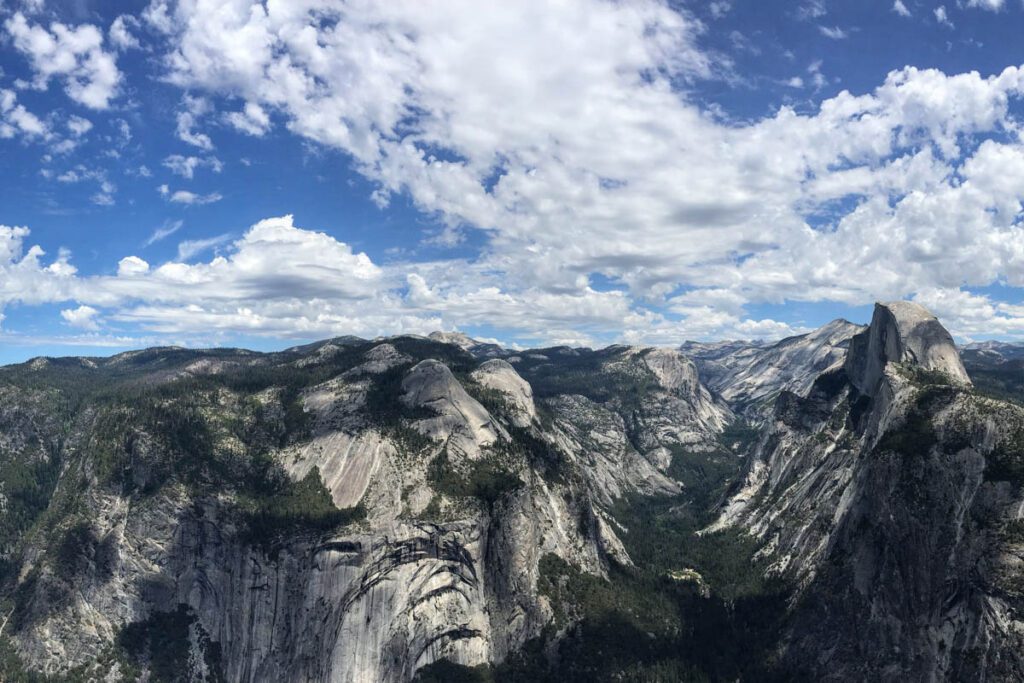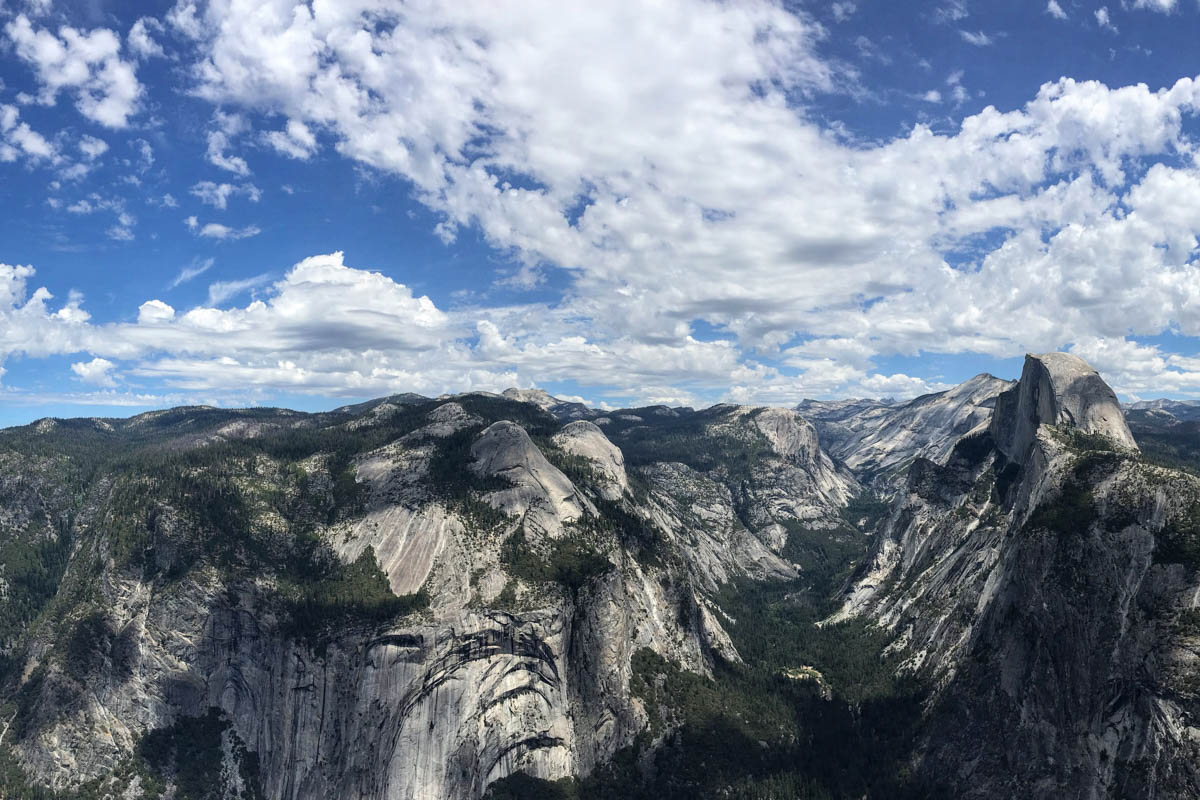 Perched thousands of feet above Yosemite Valley's floor, Glacier Point is a famous vista point in Yosemite National Park. Here, you can find an up-close look at Half Dome and an expansive view of the national park.
Though accessible by trail, most visitors choose to drive to Glacier Point using Glacier Point Road.
While there's not much to do at Glacier Point, you could spend hours here just soaking up the view. Grab a pair of binoculars and try to spot as many landmarks in the park as you can find. Peer over the cliffs to look down at the valley floor below, but don't get too close to the edge! And—of course—don't forget to nab a photo of the iconic view. Glacier Point is often filled with crowds of tourists, so bring your patience.
Glacier Point is an incredible place to watch the sunrise or sunset, and also to stargaze. Crowds are thinner at dawn, dusk, and at night, so these can be great times to visit this scenic overlook.
Note: Glacier Point Road typically closes from November to May every year due to snowfall. Check current conditions to see if the road is open when you visit. If the road is closed during your visit, you can reach Glacier Point by hiking the Four Mile Trail (9.7 miles round trip). This trail begins at the Yosemite Valley floor and climbs up to Glacier Point.
4. Snap a photo at Tunnel View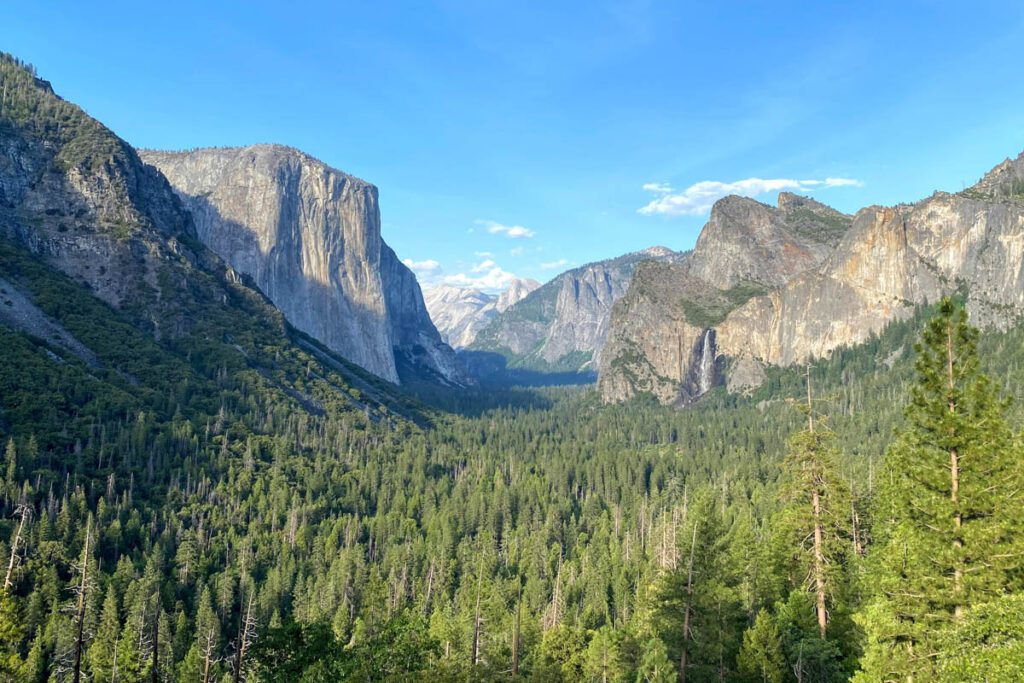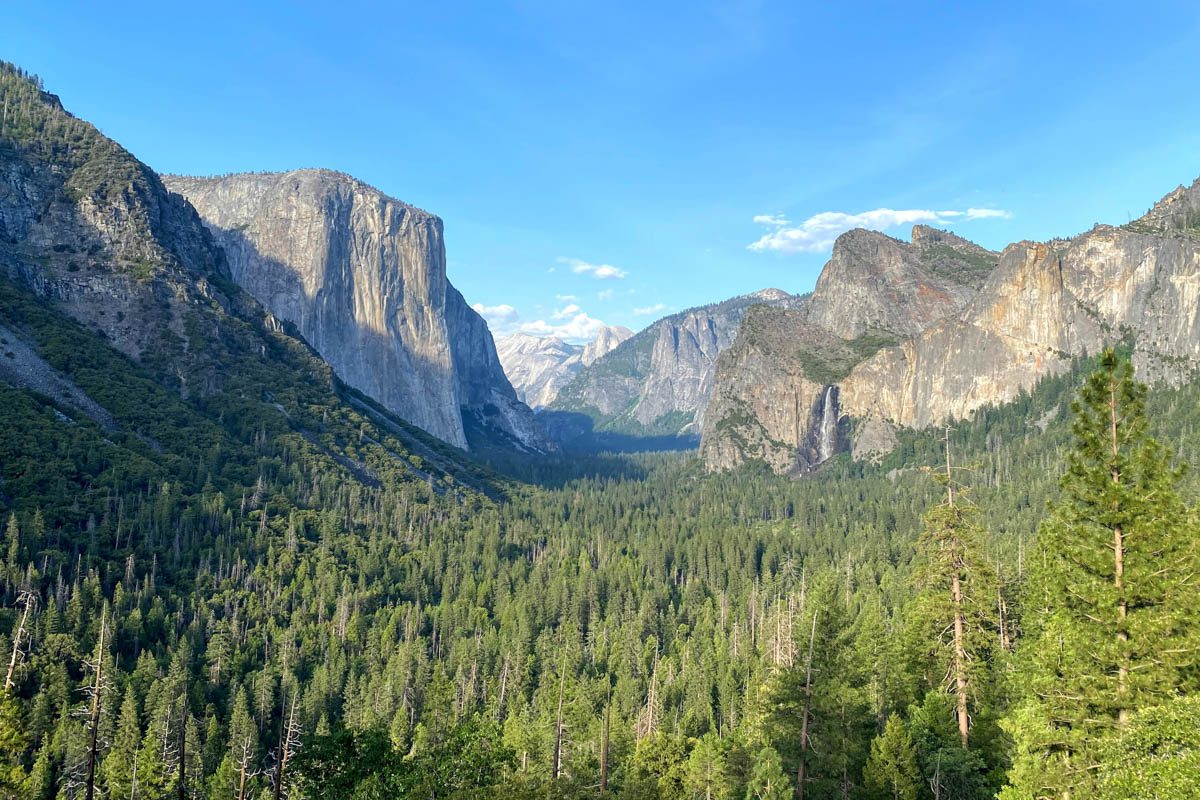 At Tunnel View, you'll find the most famous perspective of Yosemite Valley.
Named for the tunnel that leads to this viewpoint from the south, Tunnel View has made the national park famous through countless promotional images and postcards. Here, you'll find an unforgettable vista that includes El Capitan, Bridalveil Fall, and Half Dome.
If you're interested in avoiding the cars, RVs, and tour buses at Tunnel View, consider hiking to Inspiration Point.
The trail departs from the Tunnel View parking lot and is a 2.3-mile round trip journey. Inspiration Point offers a perspective of the valley similar to Tunnel View, but sees a much smaller crowd.
5. Go rock climbing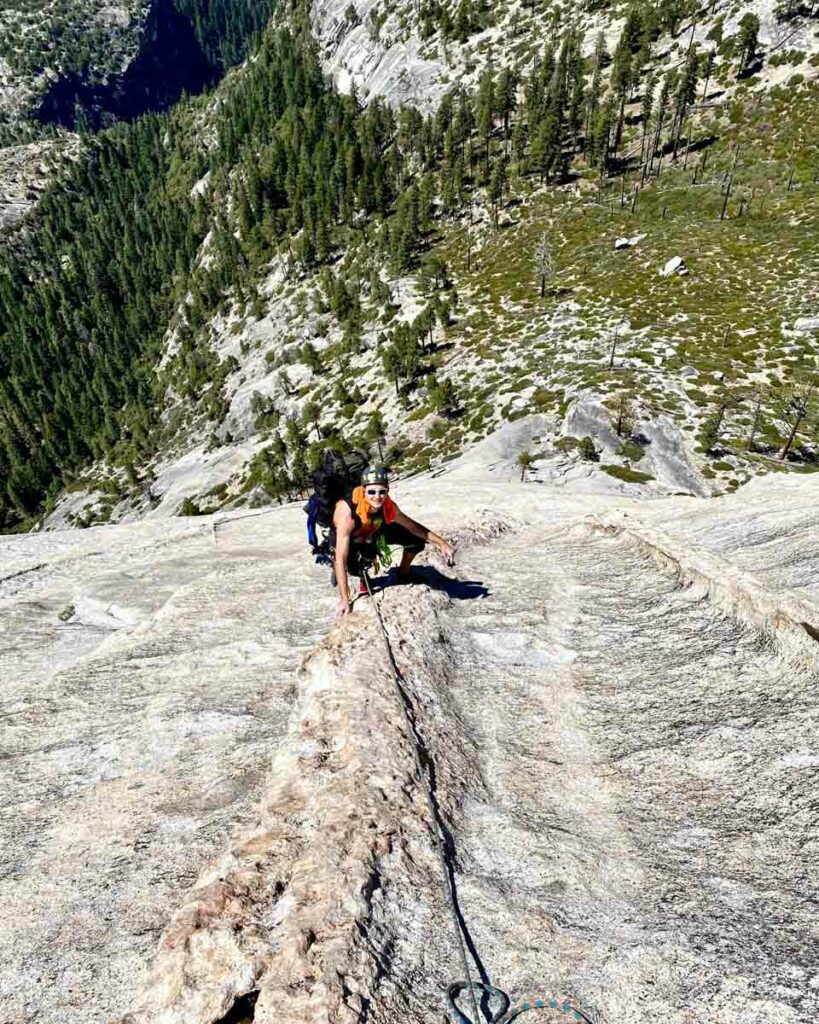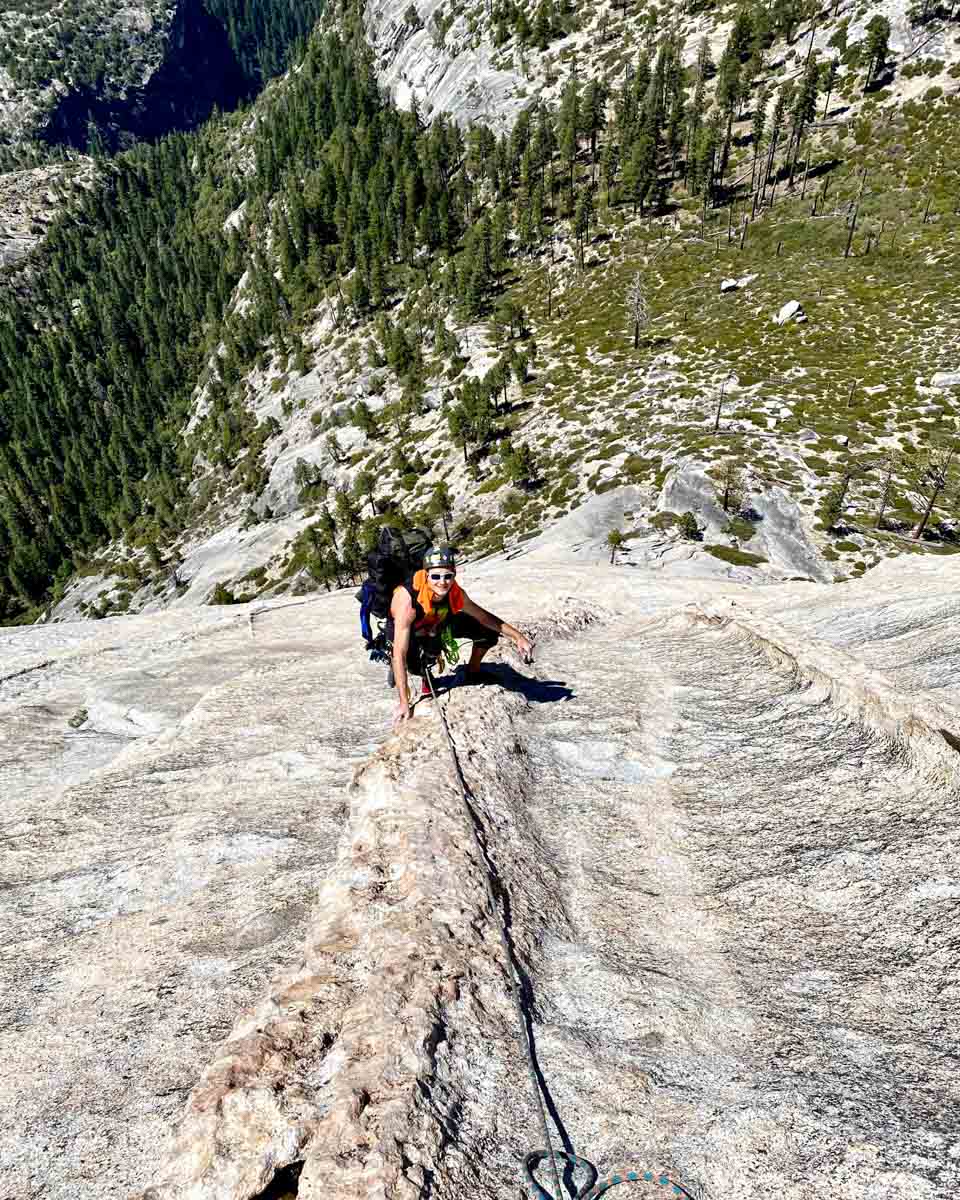 Yosemite National Park is widely considered the birthplace of American rock climbing. If you take one look at Yosemite Valley, you'll understand why.
For many climbers, scaling the face of El Capitan or Half Dome is a lifelong dream that takes years to train for. The valley alone offers thousands of established climbing routes that would take a lifetime to complete.
Longtime climbers and those new to the sport will find nothing but satisfaction in the park's climbs.
In addition to the park's big wall climbs and occasional sport routes, Yosemite also houses a collection of world-famous bouldering problems. No matter what form of climbing you enjoy, Yosemite is the place for you to scratch that climbing itch.
Popular spots for climbing in Yosemite National Park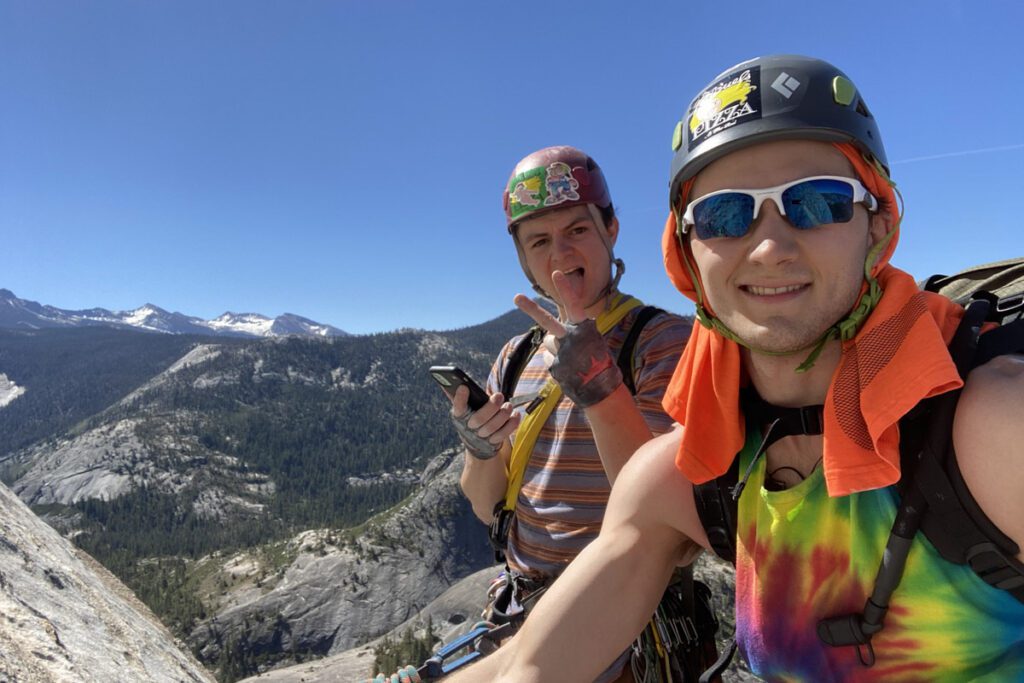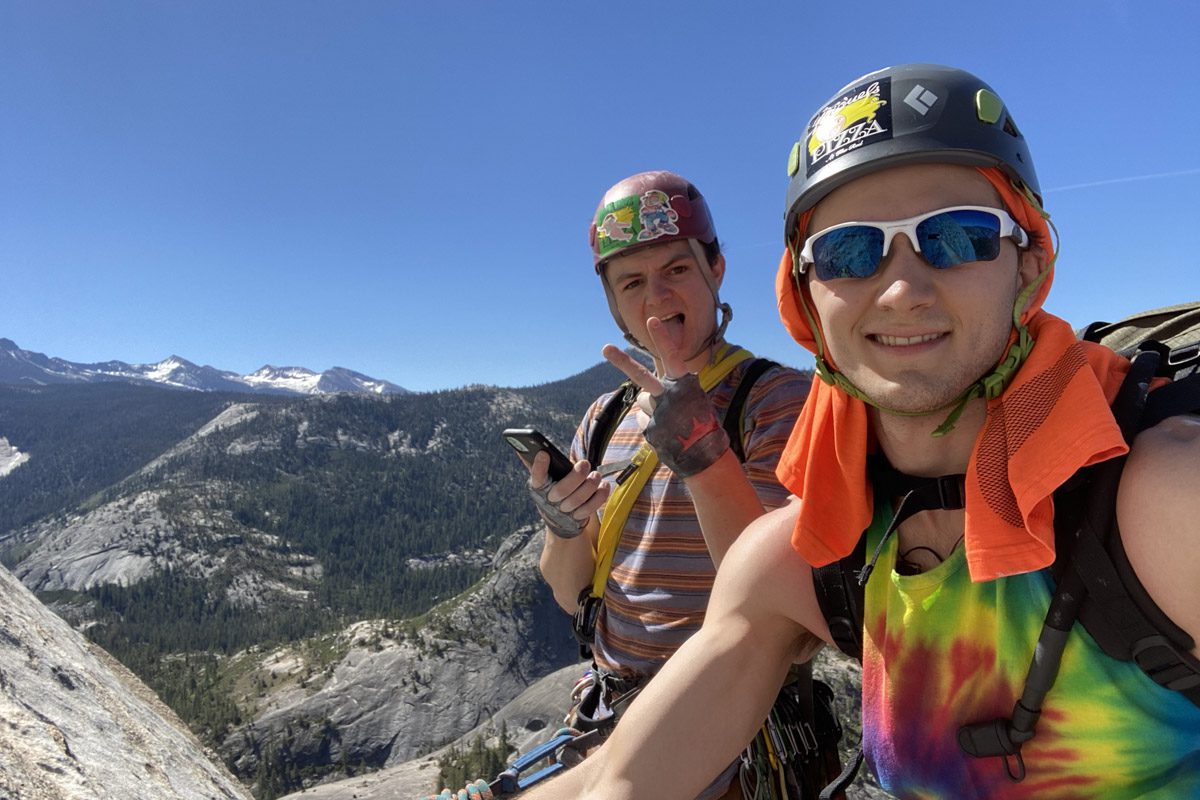 Half Dome: Several routes lead up the vertical face of Half Dome, requiring 2-3 days to complete. A handful of routes also ascend Half Dome's lower-angle faces, like the famous Snake Dike, an 8-pitch 5.7 route that climbs its southwest face.
Camp 4: Sitting in Yosemite Valley near Yosemite Falls, a large number of granite boulders surround Camp 4. World-famous boulder problems like Midnight Lightning (V8) and Bachar Cracker (V4) reside here.
Tuolumne Meadows' domes: Huge rock formations, including a large concentration of gently-sloping domes, provide ample opportunity for alpine climbing. Cathedral Peak and Matthes Crest are two formations in the meadows popular with climbers.
Tuolumne boulders: If it's too hot to boulder in Yosemite Valley, check out the boulders in Tuolumne Meadows. A solid collection of boulders sits along Tioga Road near Tenaya Lake, offering plenty of problems to keep climbers busy.
El Capitan: standing over 3,000 feet tall, El Capitan features dozens of multi-pitch climbing routes. Most of these routes take 2-3 days to complete. Completing any of these routes takes years of planning & training and requires a large amount of specialty gear.

El Cap was the subject of the 2018 documentary Free Solo, which featured Alex Honnold free soloing (i.e., no protective gear) one of the routes to the summit.
More info on rocking climbing in Yosemite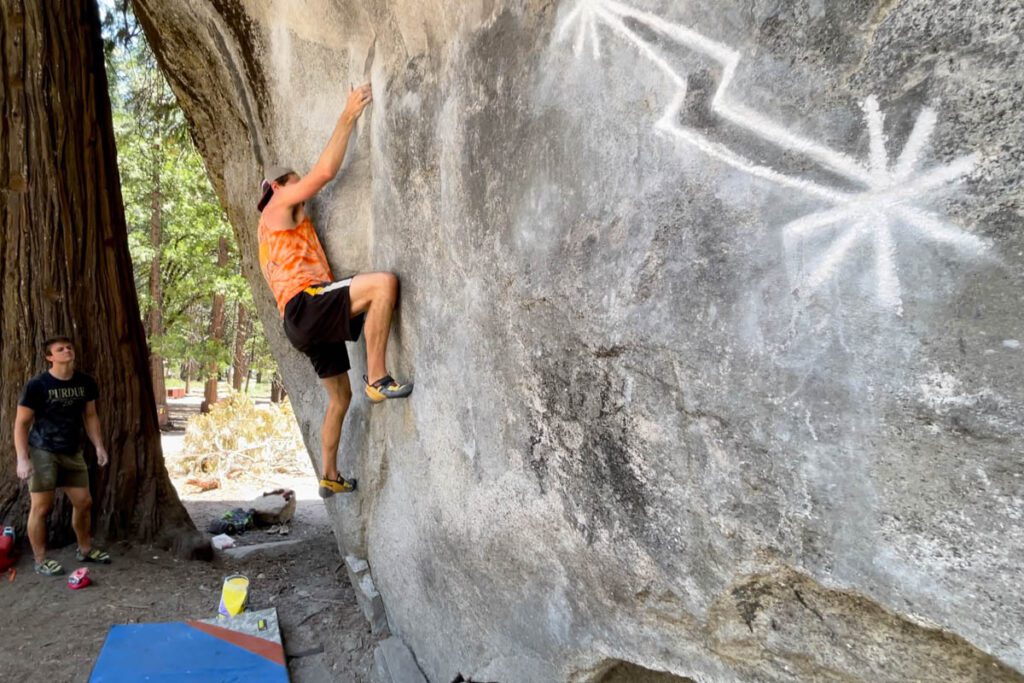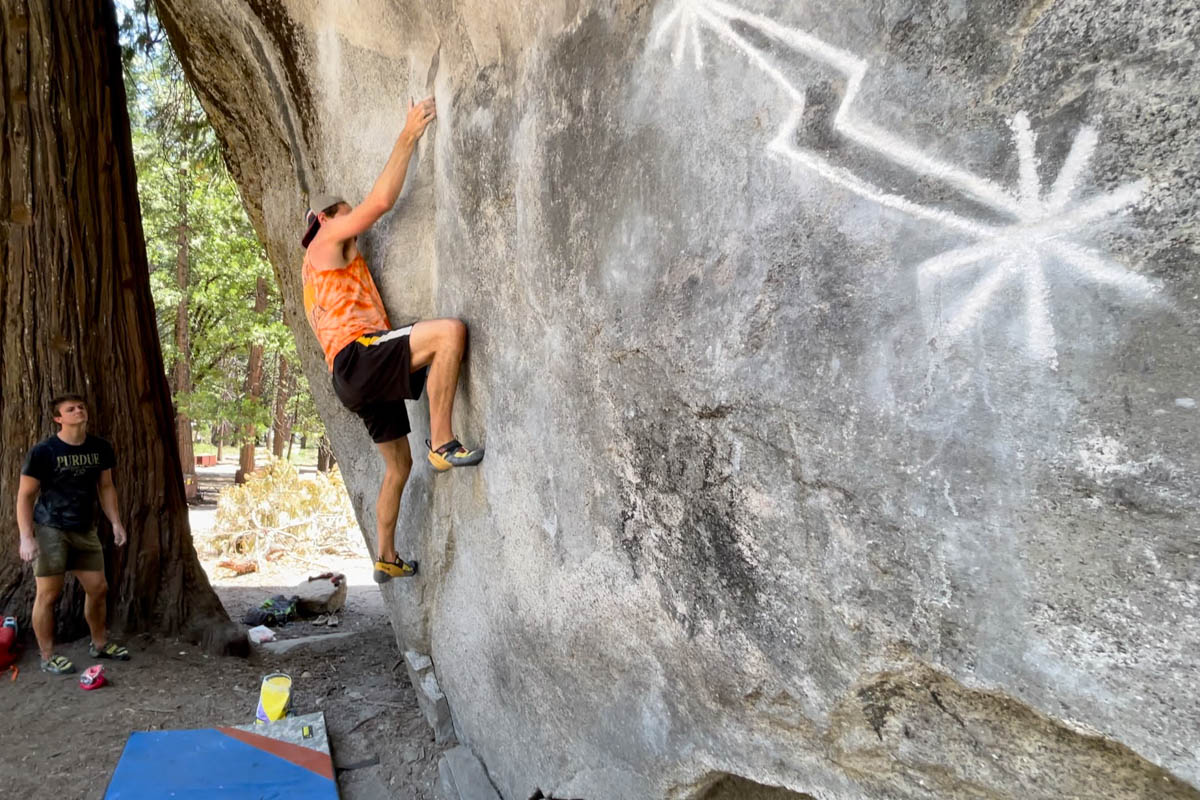 Mountain Project offers valuable free guidance to climbs in Yosemite National Park. It also provides a list of guidebooks that make navigating the park's climbs much easier. If you plan to climb, I would recommend investing in one of these guidebooks.
Are you new to climbing, in need of gear, or unsure how to climb safely? No problem!
Yosemite Mountaineering School & Guide Service offers climbing lessons and guided climbing tours. They provide a wide range of services for any skill level or type of climb. Check them out if you want to climb but don't know where to start.
Did you know? A climbing route that takes several days to complete is called a "big wall" climb. Climbers on big wall routes often utilize portaledges—a deployable tent system—to sleep on the wall. Rope-based climbing routes use a different grading system than boulder problems. Learn more about the Yosemite Decimal System—which rates climb difficulty and length—at REI.com.
6. See Yosemite Falls up close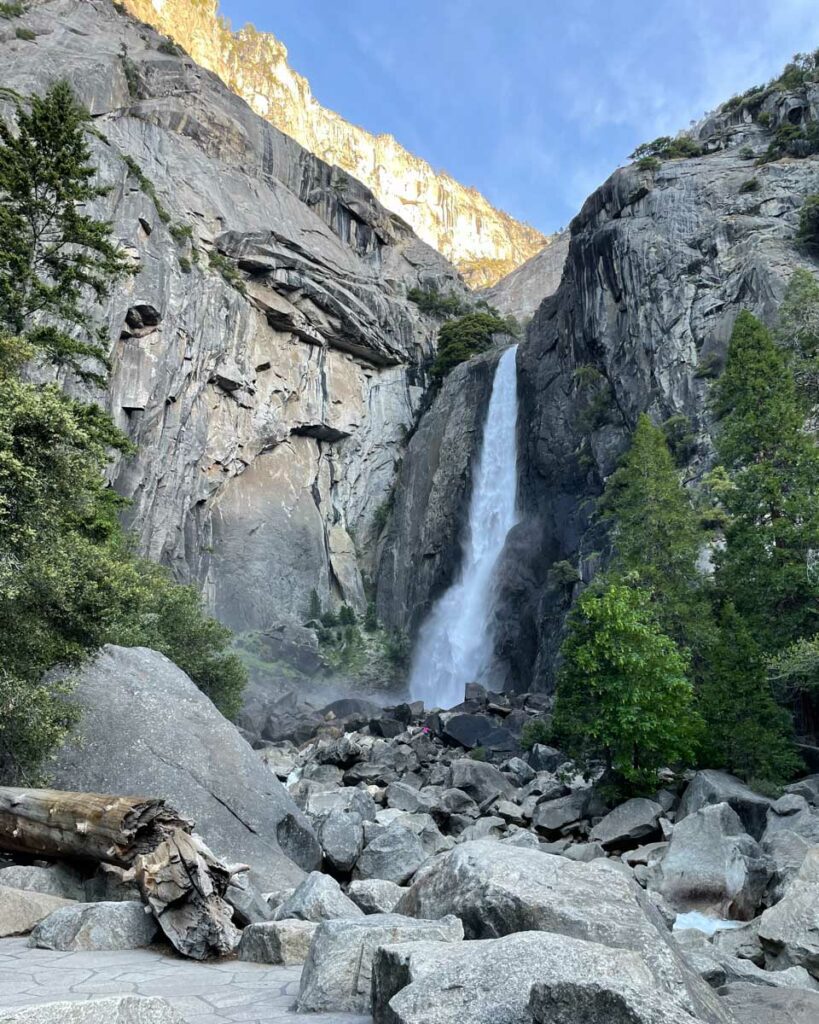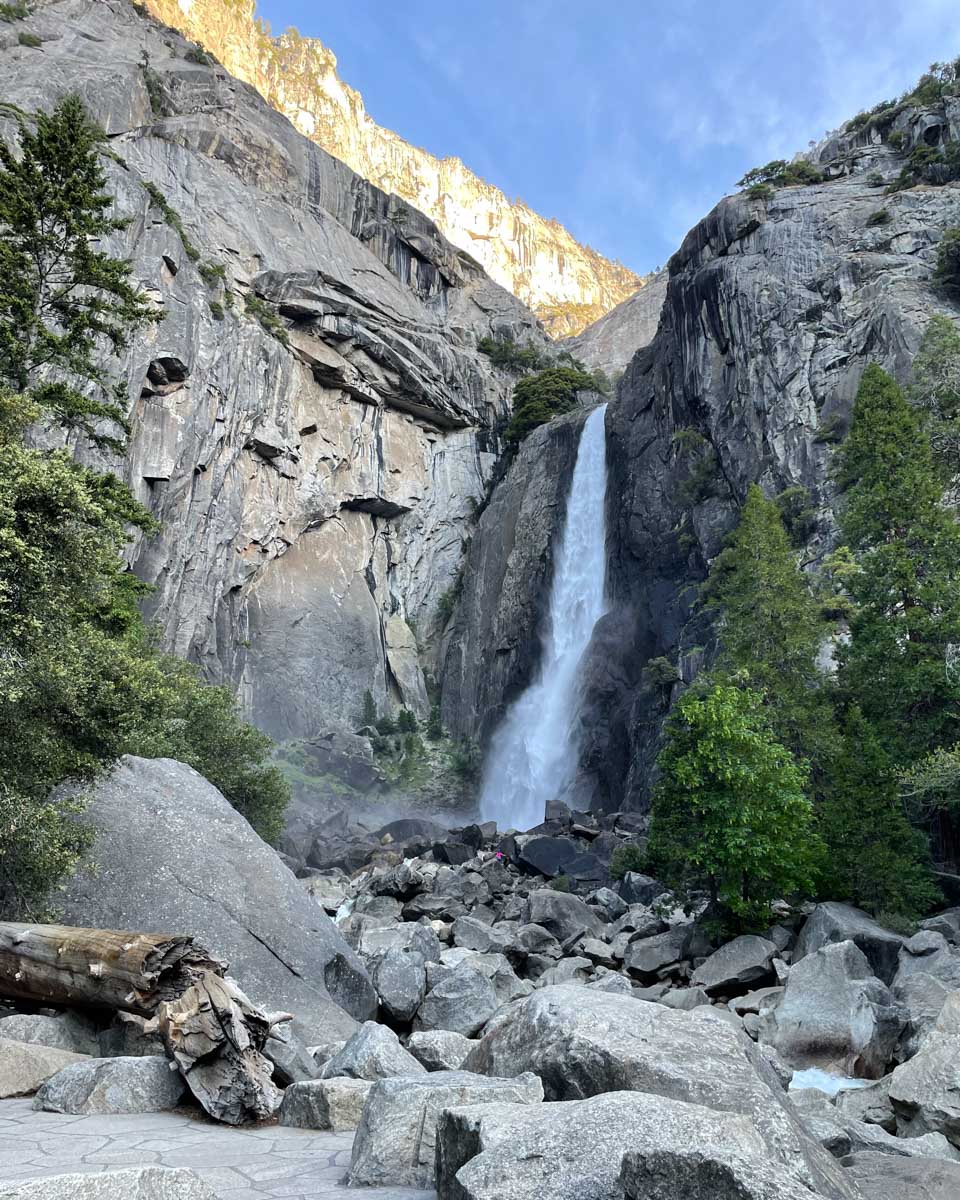 Yosemite's namesake waterfall is one of the first things you see when entering the valley. At nearly 2,500 feet tall, you can't miss it.
The falls are split into "Upper" and "Lower" Yosemite Falls. You can see Lower Yosemite Fall via a short, wheelchair-accessible trail in the valley. You can reach Upper Yosemite Fall via a long, strenuous hike that takes several hours to complete. Either or both hikes are well worth your time!
Note: Yosemite Falls flows at its fullest in May & June. If you visit in late summer or fall, the waterfall is typically dry.
7. Hike the Mist Trail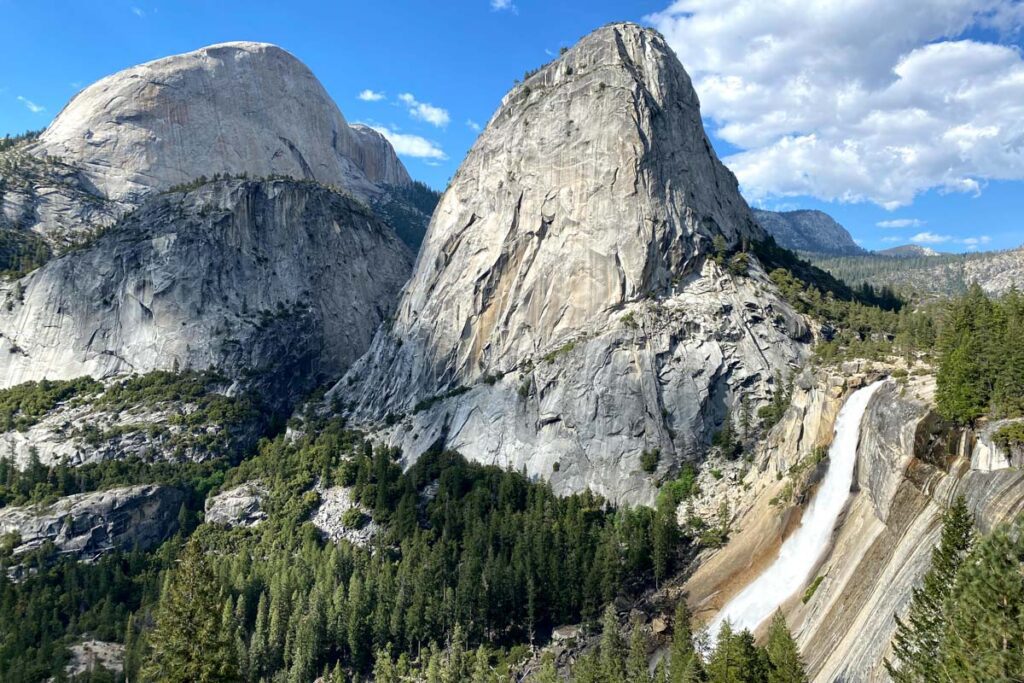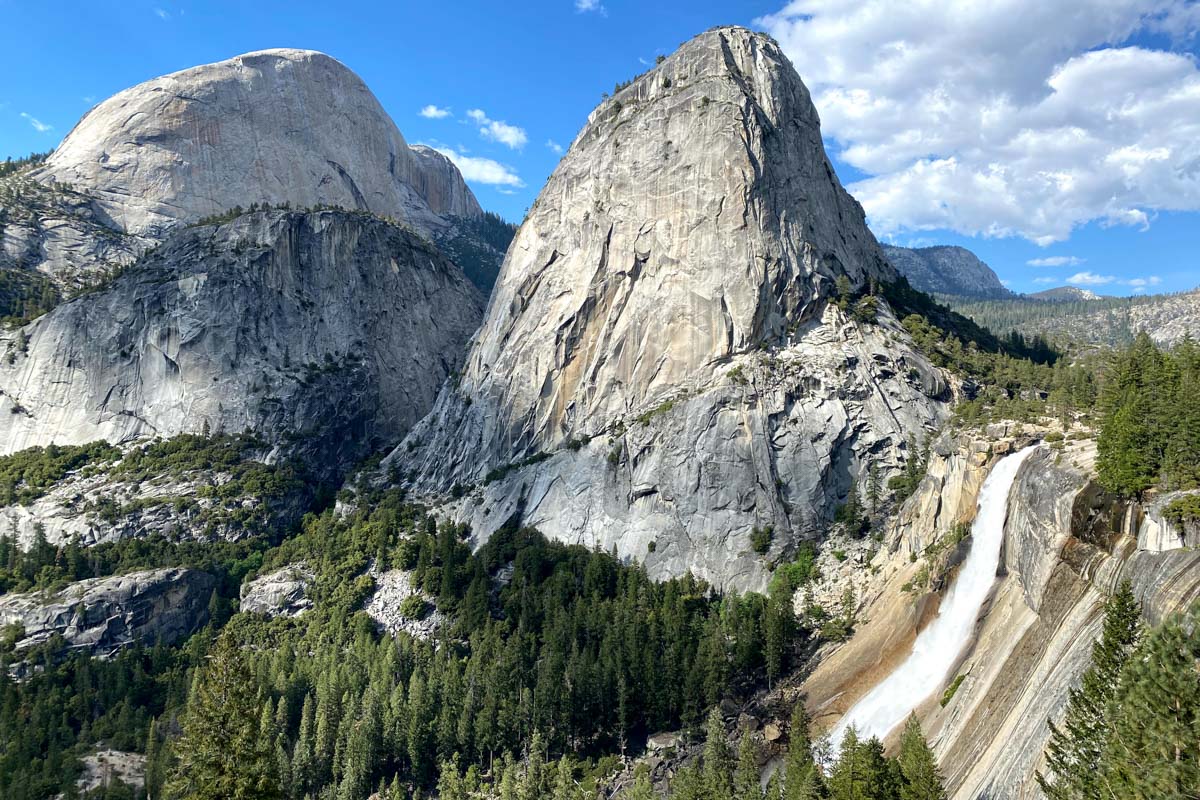 The Mist Trail is potentially the most scenic hike in Yosemite. On this trail, you won't find sweeping vistas of the park like you might elsewhere. Instead, you get to see two of the park's most impressive waterfalls—Vernal and Nevada—up close.
The Mist Trail begins near Upper Pines Campground and starts with a steep ascent up a paved walkway. Before long, you'll reach the Merced River and hear the distant roar of Vernal Fall.
At Vernal Fall, the Merced River cascades 300 feet down a cliff. As the water crashes into the rocks below, it creates a tremendous spray that will soak you as you pass by. If you hike to the waterfall at the right time on a sunny day, you might see rainbows in the mist.
The trail then turns into a stone staircase soaked by the mist (hence the trail's name) from Vernal Fall.
Further up the Mist Trail, you'll find Nevada Fall. At nearly 600 feet tall, it's twice the height of Vernal Fall and just as memorable. And, with views of Half Dome's backside and Liberty Cap on the way up, the scenery is stunning.
Note: Emerald Pool is a calm section of the Merced sitting just above Vernal Fall. Swimming is prohibited in Emerald Pool. Strong undercurrents in the pool have killed hikers in the past.
Vernal Fall Hike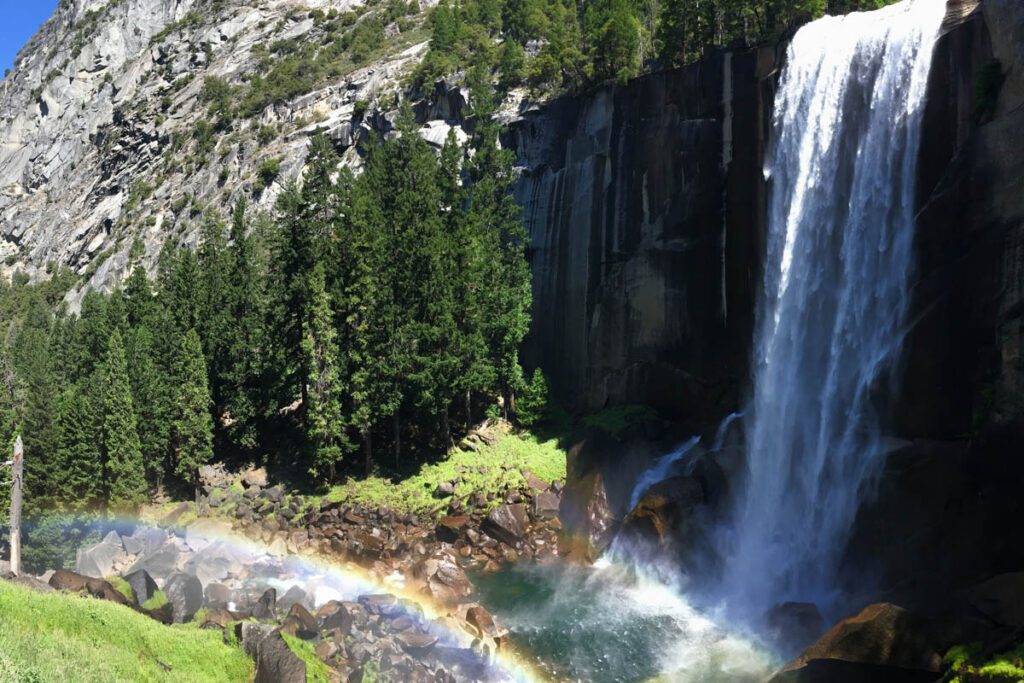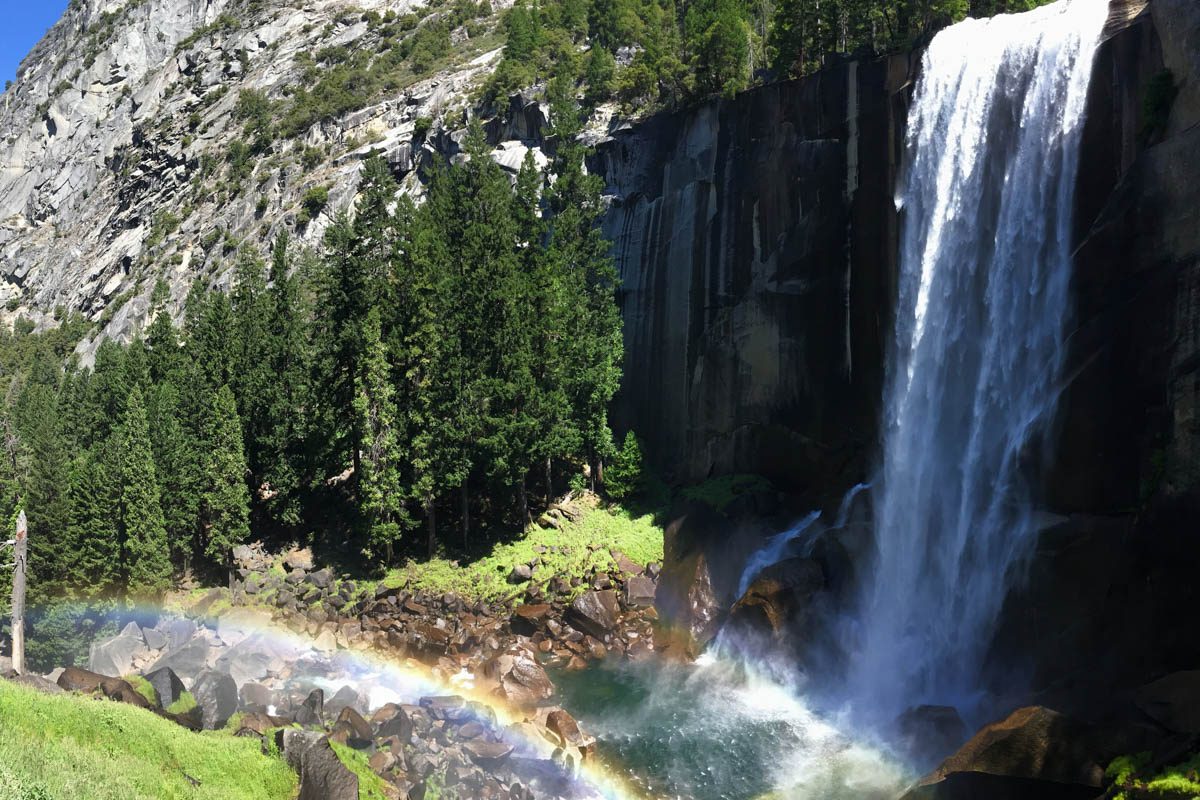 Distance: 3.1 miles, out and back
Elevation gain: 1,131 feet
Difficulty: Challenging
Nevada Fall Hike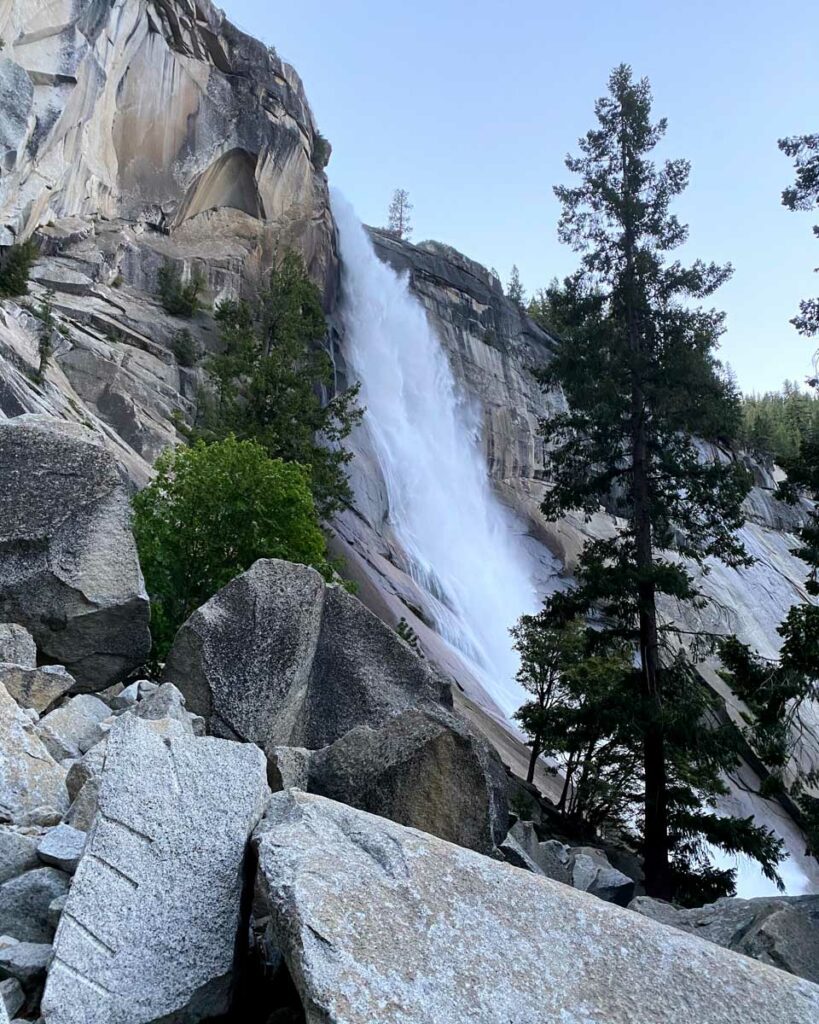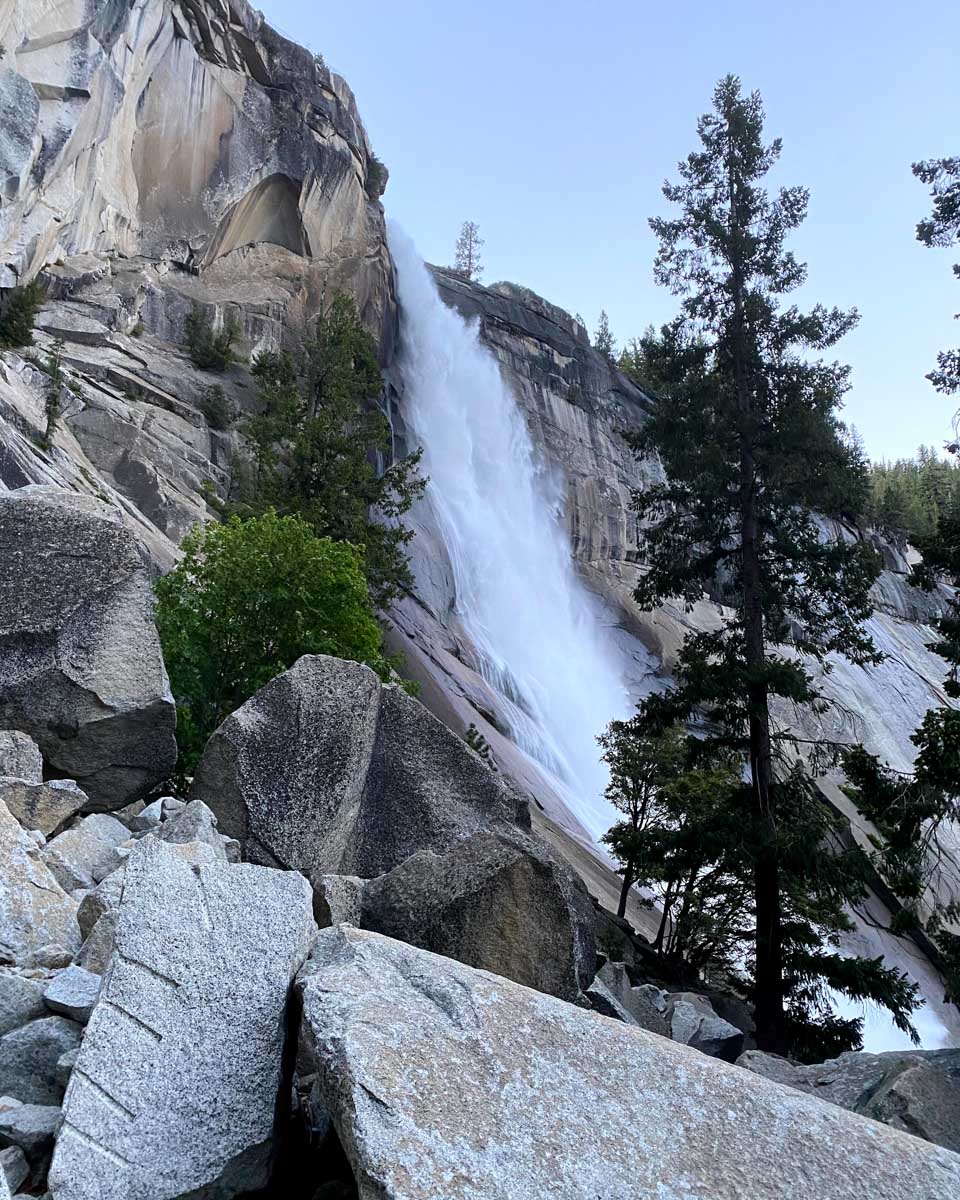 Distance: 5.7 miles, out and back
Elevation gain: 2,129 feet
Difficulty: Challenging
Tip: Many people who hike to Nevada Fall choose to utilize the John Muir Trail to return to the valley, which changes up the scenery on the way back.
8. Visit Tuolumne Meadows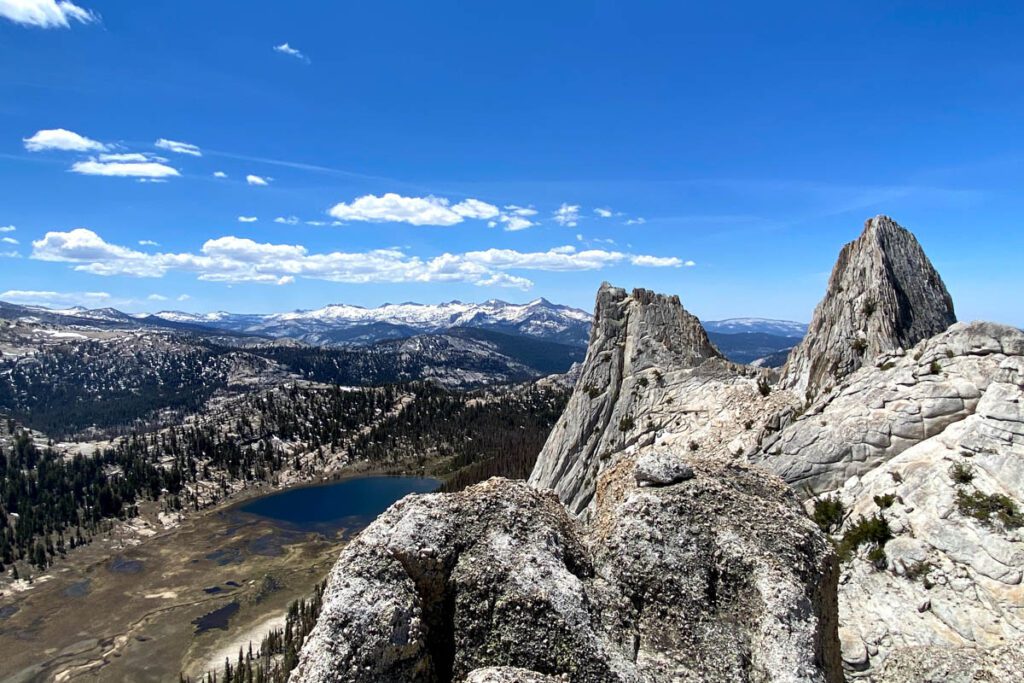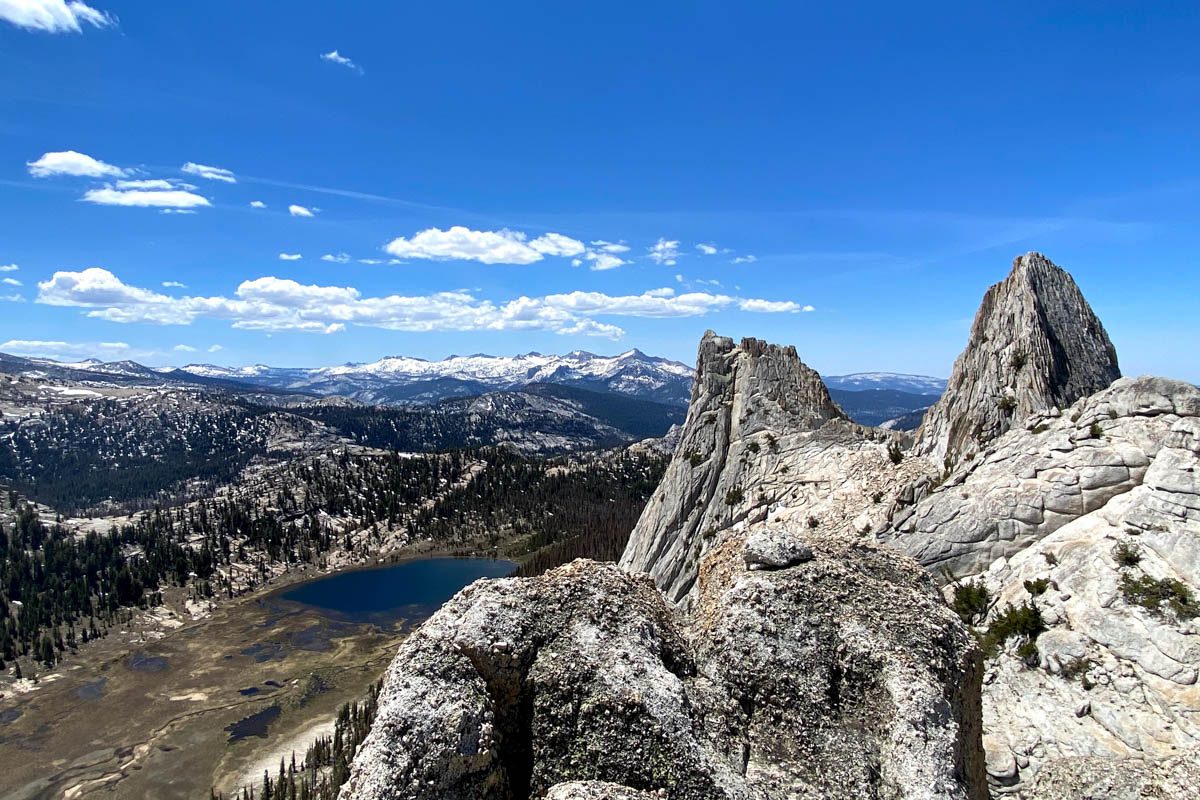 Some of the best experiences in Yosemite National Park require you to escape the crowds. Tuolumne Meadows is the perfect place to do that.
The meadows sit north of Yosemite Valley and have an average elevation over 8,000 feet, making the area pleasantly cool during the heat of summer.
You can find several great hikes in Tuolumne Meadows. Here are my favorite:
While you're in Tuolumne Meadows, be sure to check out Tenaya Lake. This beautiful lake is perfect for swimming, kayaking, and relaxing.
Note: Tuolumne Meadows is only accessible via Tioga Road. Tioga Road closes every year from November until late May due to snowfall. Check on road closures before you visit to make sure the road is open!
9. See the giant sequoias at Mariposa Grove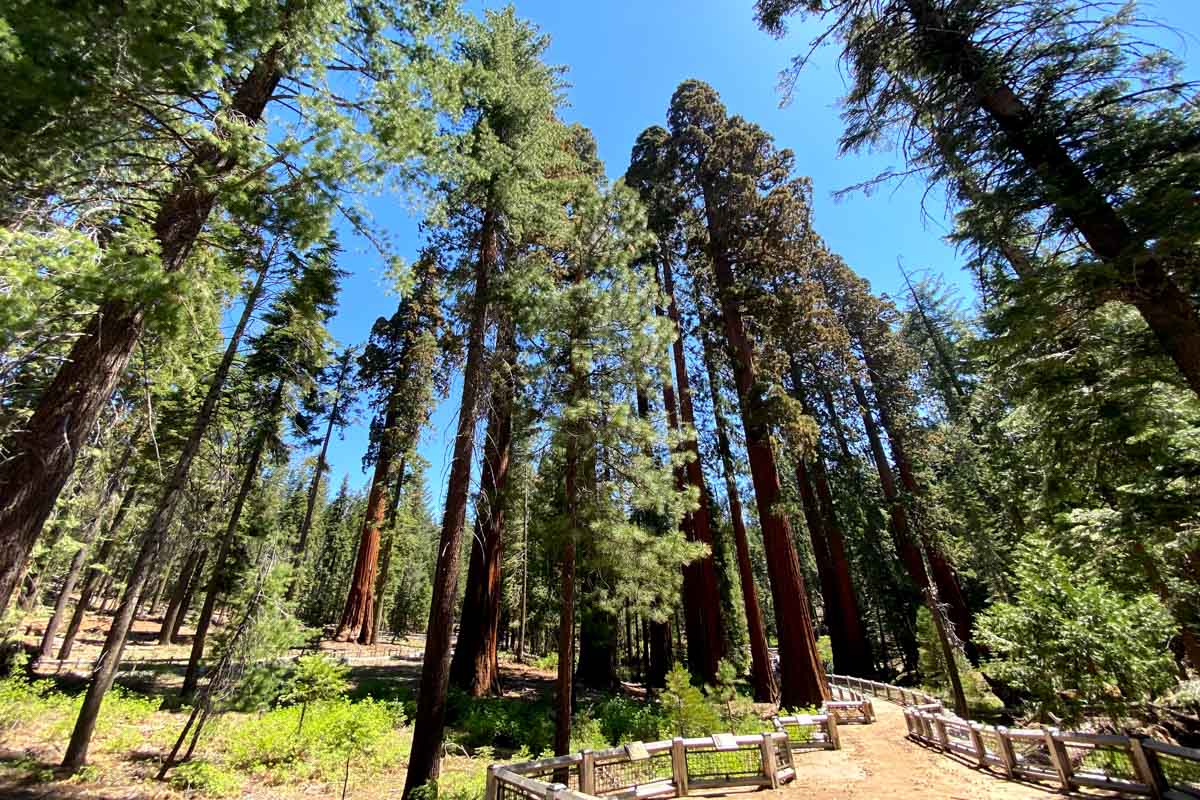 Did you know that Yosemite National Park houses some of the largest trees in the world? Mariposa Grove, an area near Yosemite's southern entrance, features several trails that navigate the park's grove of giant sequoias.
My favorite hike at Mariposa Grove is the Grizzly Giant Loop. It's not too long, not too short, and takes you past some of the coolest trees in the grove. These include Grizzly Giant, the 26th-largest sequoia in the world, and California Tunnel Tree, an instantly-memorable sequoia named for the tunnel carved at its base.
If you're looking to see as many sequoias as possible, check out the Mariposa Grove Trail to Wawona Point and the connected Guardians Loop.
Getting to Mariposa Grove can be a little tricky. Visitors must park at the Mariposa Grove Welcome Plaza, which can fill up with cars early in the day. Arrive early if you can.
Once parked, you can reach the grove by hiking the Washburn Trail (two miles each way) or by utilizing a free shuttle. The shuttle operates from April until November every year.
10. Take a dip in Yosemite's crystal-clear waters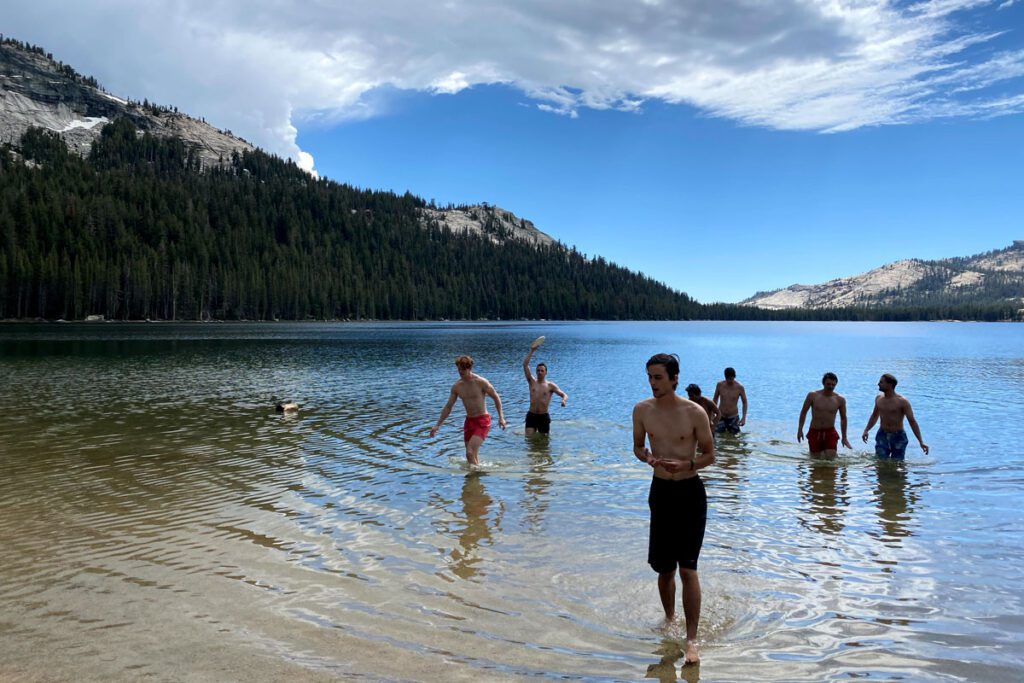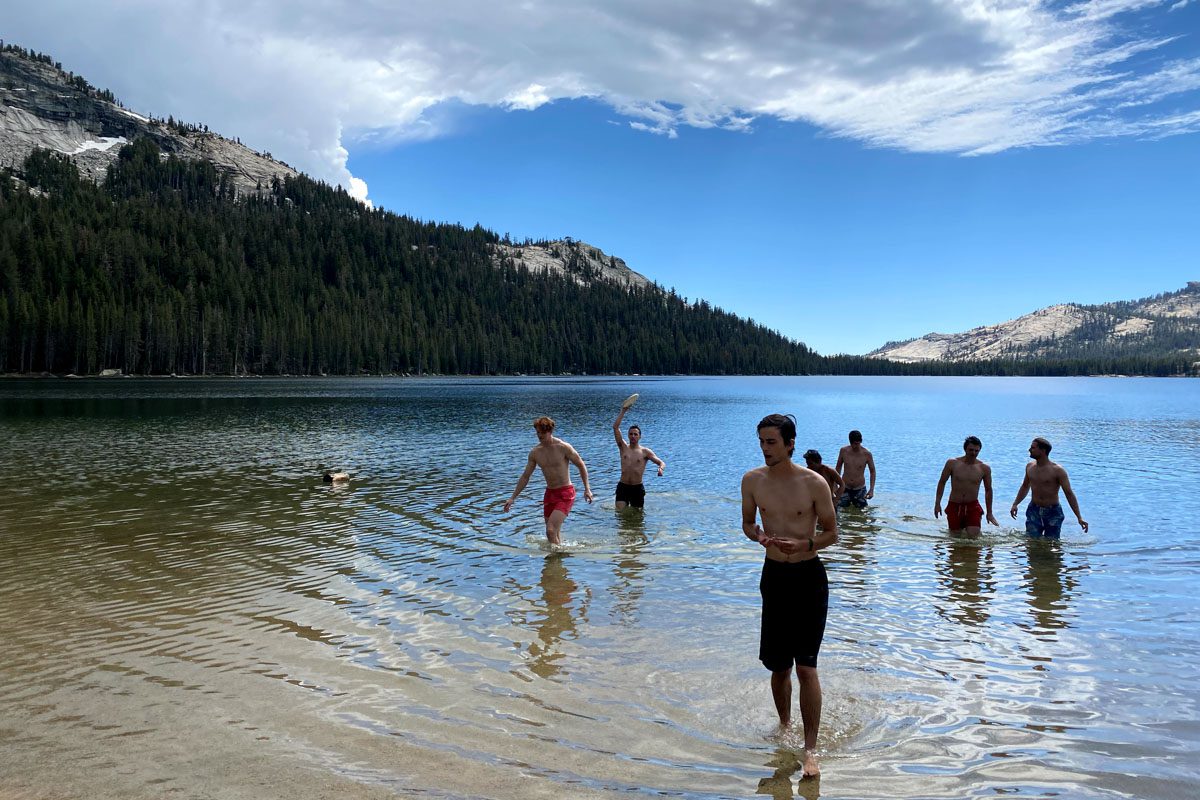 Once you finish a long day of hiking under the hot sun, consider going for a swim! The Merced River, which runs straight through Yosemite Valley, has several banks that provide easy access to the river and are close to the road.
My favorite spots include Devils Elbow (near El Capitan), Cathedral Beach, the Swinging Bridge, and Sentinel Beach.
And if you're near Tuolumne Meadows, check out Tenaya Lake!
This huge, impressive lake lies mere feet away from Tioga Road, making it easy to access. The lake is perfect for swimming and kayaking and sees fewer visitors than the Merced River.
You're allowed to swim in most bodies of water in the park. Exceptions are noted on the park's website. When swimming in moving water, be sure to follow these safety tips to keep yourself out of harm's way.
In addition to swimming, you can also float down the Merced River on a raft. Curry Village offers raft rentals when the water in the Merced is high enough.
Psst! If you're curious about trying kayaking for the first time, you'll want to read this guide to kayaking for beginners.
11. Camp in the park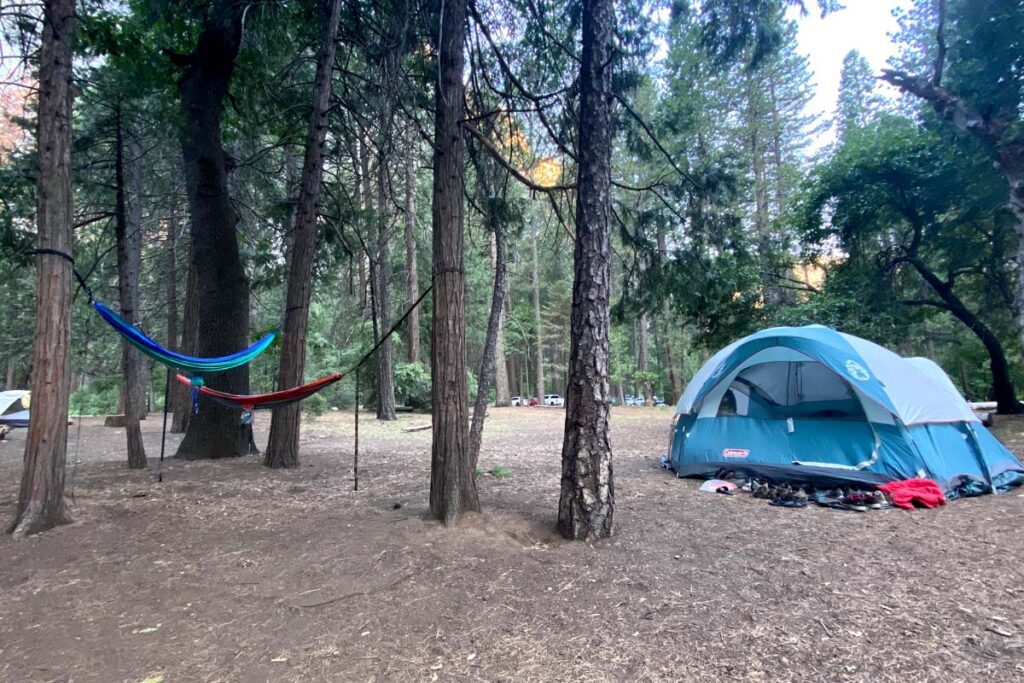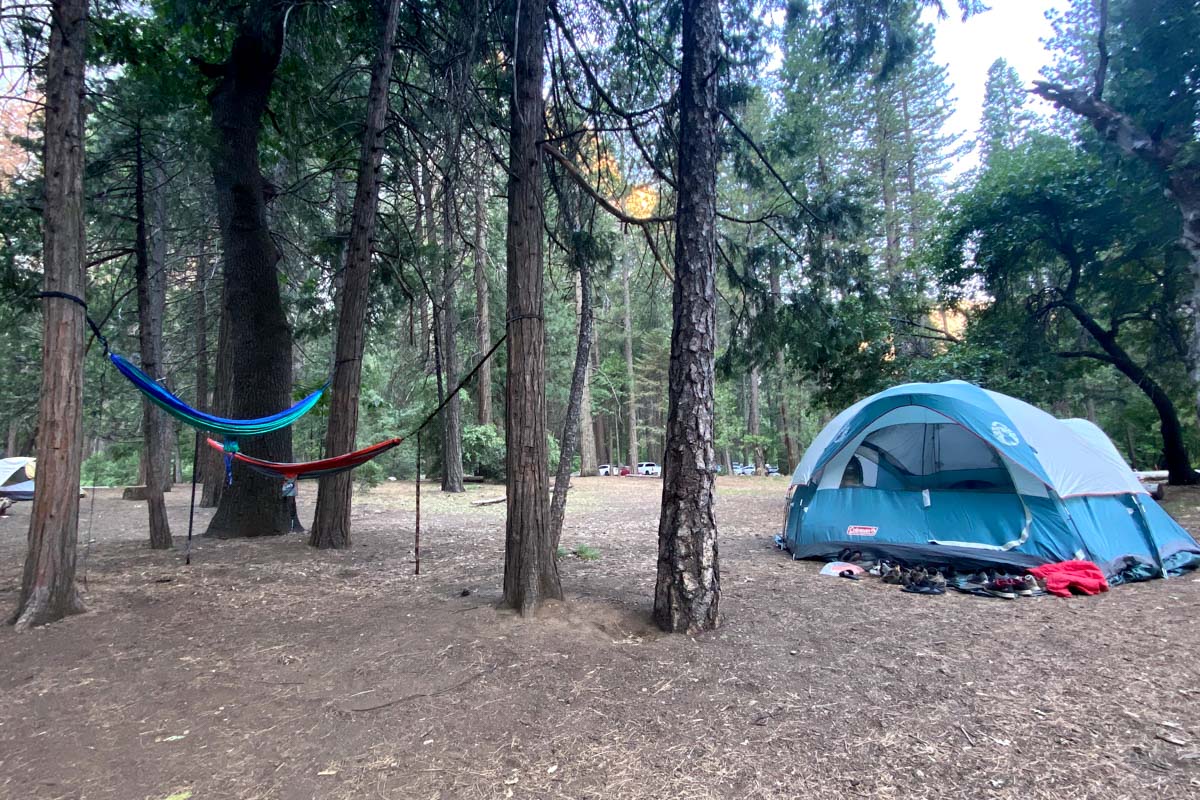 There's no better way to experience Yosemite National Park 24 hours a day than by camping! When camping, you never have to leave the park. You also get to sleep under the stars and listen to nocturnal wildlife as you sleep.
Yosemite features 13 campgrounds. All 13 offer stunning scenery of the park. The park's campsites generally feature amenities like showers and running water, and most require reservations.
As one of the most popular national parks, Yosemite's campgrounds fill up quickly.
It is common for campgrounds to be fully booked several months in advance, which is especially true for the 4 campgrounds in Yosemite Valley. In fact, some campsites fill up within seconds of reservations being made available.
We have more information about the campgrounds in the where to stay section below.
12. Cycle through Yosemite Valley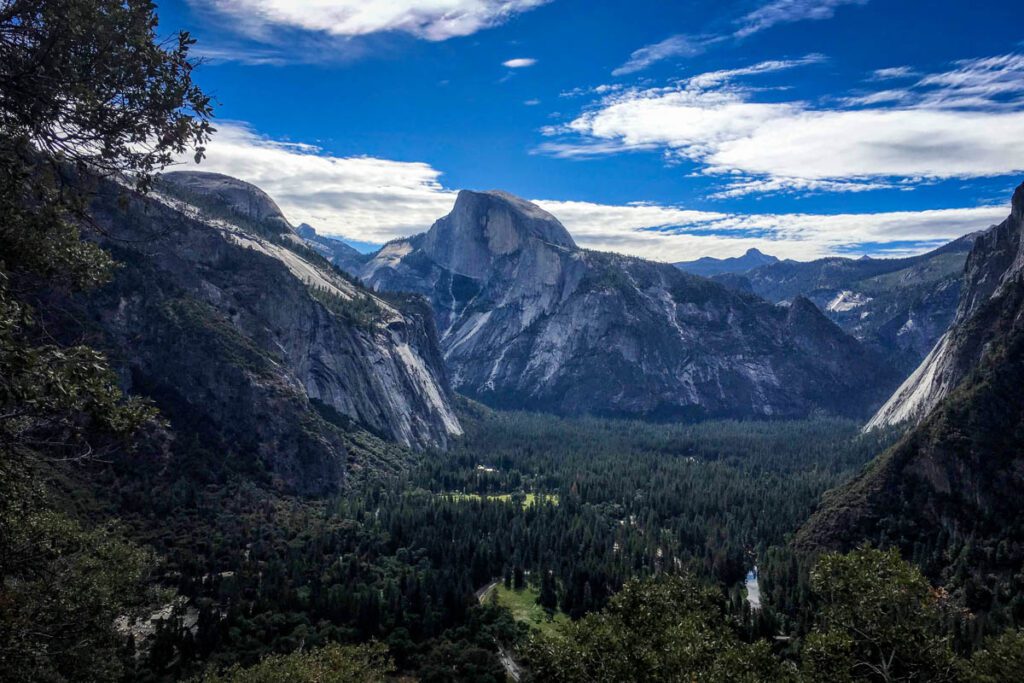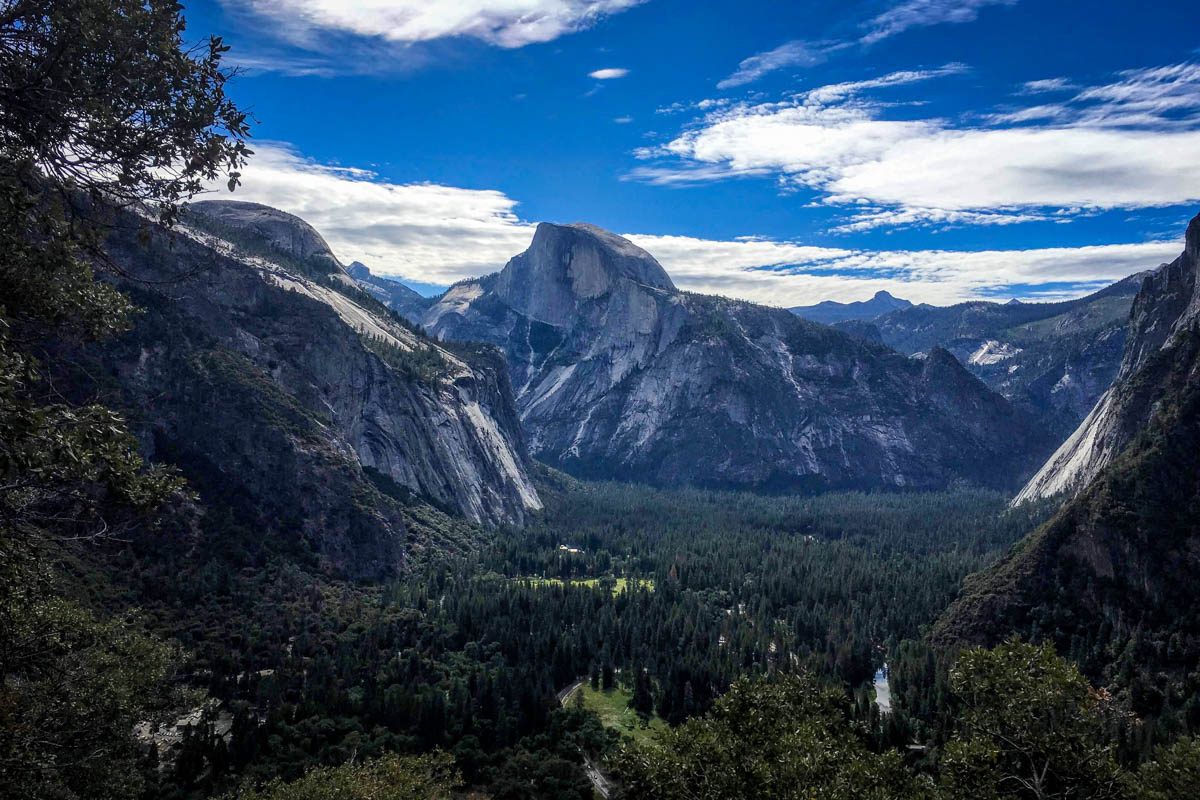 If you want to avoid headaches caused by crowds, parking fiascos, or traffic, consider cycling around Yosemite National Park.
Yosemite Valley features 12 miles of paved bike paths and bike racks at most popular stops. You can also ride on the park's roadways as long as you obey traffic laws.
Bike rentals are available in Yosemite Valley for those who can't bring their own bikes. The park also has an excellent bike share program.
Hardcore cyclists will find plenty of challenge and satisfaction on Tioga Road. The road is open to bicycles from May to November, allowing the most fit athletes to tour Yosemite's high country on two wheels.
13. Discover Yosemite Village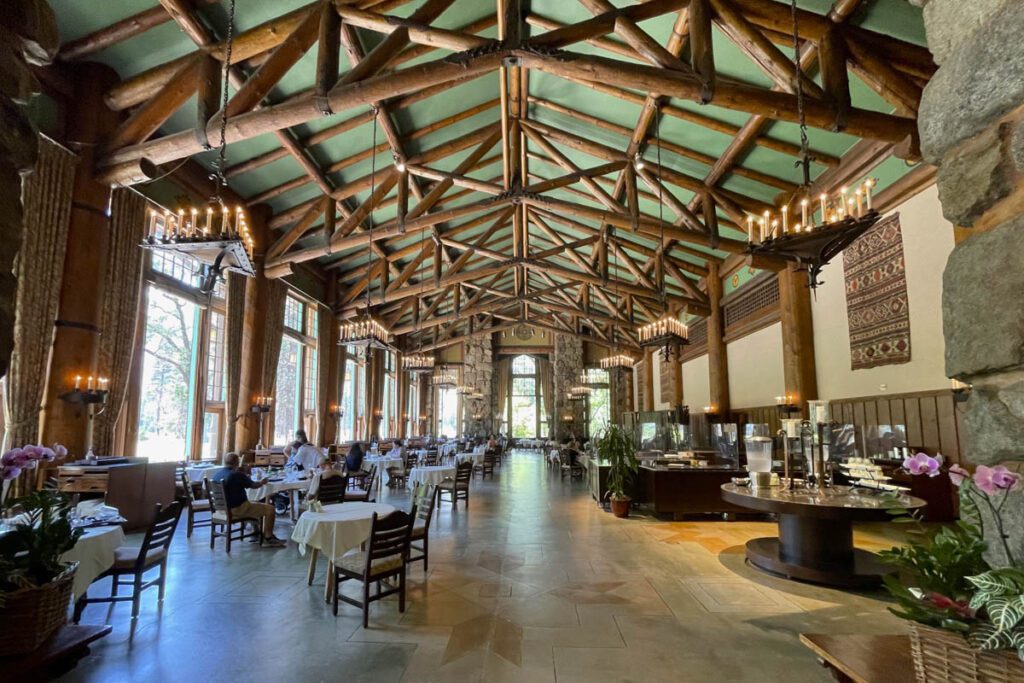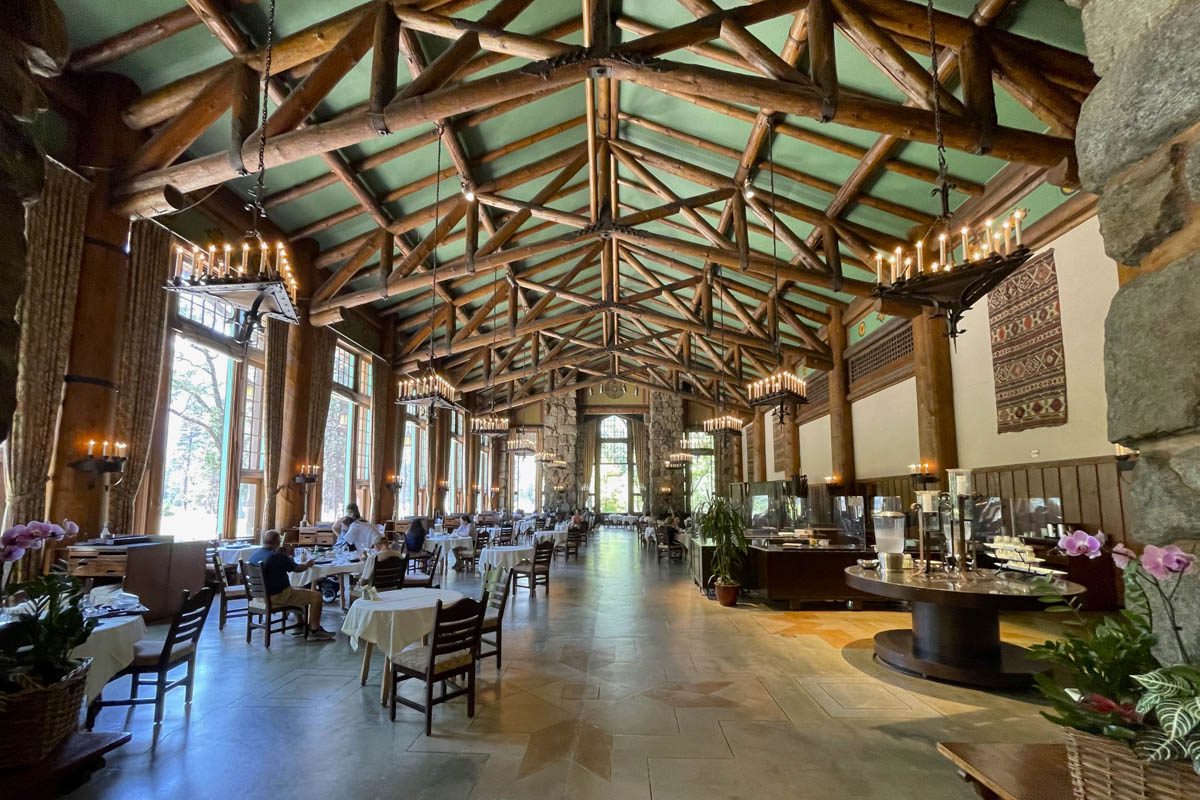 Did you know that Yosemite has an art gallery? Or a historic hotel? Or a collection of shops and restaurants?
When you think of things to do in Yosemite, these activities may sound odd among the incredible natural scenery in the park. Nevertheless, if you've made it to the park, it's not a bad idea to stop in and take a look.
Yosemite Valley features all of these things and more in and around Yosemite Village and Curry Village. It's easy to spend a half day or even a full day exploring the attractions here.
Points of interest around Yosemite Village
Where to eat in Yosemite Valley
You can find several options for food and drinks around the valley.
For a full list of restaurants in Yosemite Valley and other parts of the park, check the park's website.
14. Go on a backpacking trip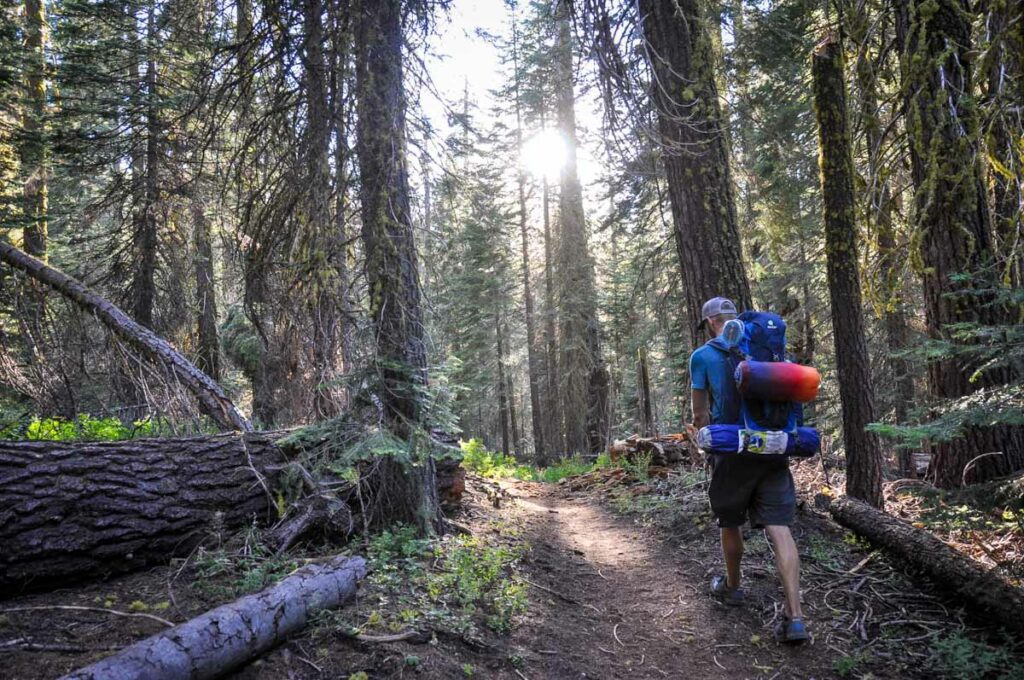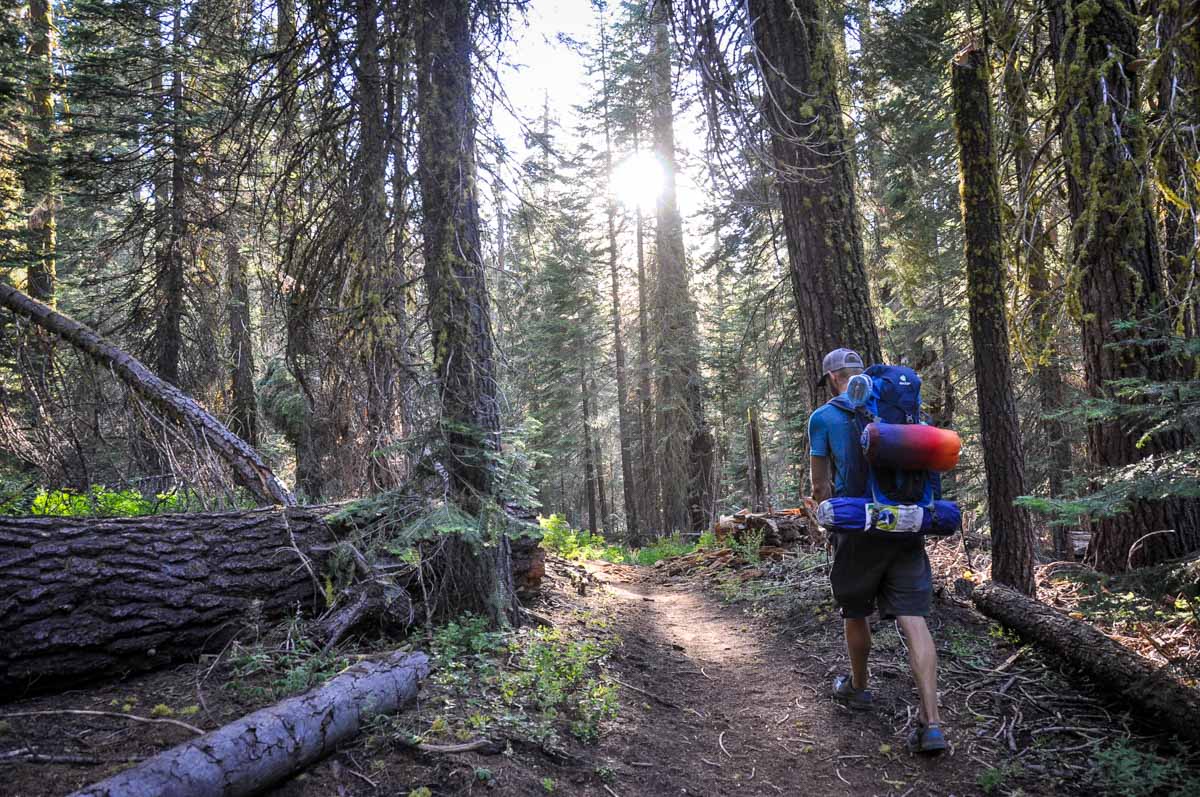 The best way to escape the crowds at Yosemite National Park is to go on a backpacking trip. Yosemite includes over 750 miles of maintained trails, making it a paradise for backpackers.
Any overnight stay in Yosemite's wilderness requires a wilderness permit. The park releases 60% of permits 24 weeks in advance, which are awarded through a lottery system. The remaining 40% of permits are released on Recreation.gov a week in advance of a trip's start date.
These first-come, first-served permits go quickly, so you'll have a better chance of getting a permit if you apply for the advance lottery. Read more about wilderness permit reservations on the National Park Service's website.
Wilderness permits restrict the number of overnight stays at any time per trailhead. Popular trailheads are therefore difficult to nab a permit for.
The National Park Service offers a useful trailhead map to help you plan your trip. Generally, you can camp anywhere in the wilderness during your trip, so long as you follow wilderness regulations.
Yosemite National Park also offers several backpacker's campgrounds that you can use if you're about to start or have just finished a backpacking trip. These campgrounds can be useful if you're visiting from far away. You need a valid wilderness permit in order to use one of these campgrounds.
Psst! If you are a newbie to backpacking and not sure where to start. We have a guide to backpacking for beginners on our sister site that has everything you need to know to feel comfortable hitting the trails!
15. Visit the Hetch Hetchy Reservoir
Visitors to Yosemite often overlook Hetch Hetchy, a secluded area in the park's northwestern corner.
Once a beautiful valley rivaling Yosemite Valley, the U.S. government authorized the construction of the O'Shaughnessy Dam in 1913. The dam underwent construction until 1923, when it was finished and formed the Hetch Hetchy Reservoir.
While the area arguably isn't as beautiful as it would have been without the dam, it's still a stunning part of the park. At Hetch Hetchy, you'll find tall granite domes, waterfalls, and quiet trails with few hikers.
Best day hikes in the Hetch Hetchy area
Hetch Hetchy can be a great place to seek peace and solitude in Yosemite National Park. Plus, its relatively low elevation means it has warmer weather and a longer hiking season than much of the rest of the park.
16. Watch a sunrise or sunset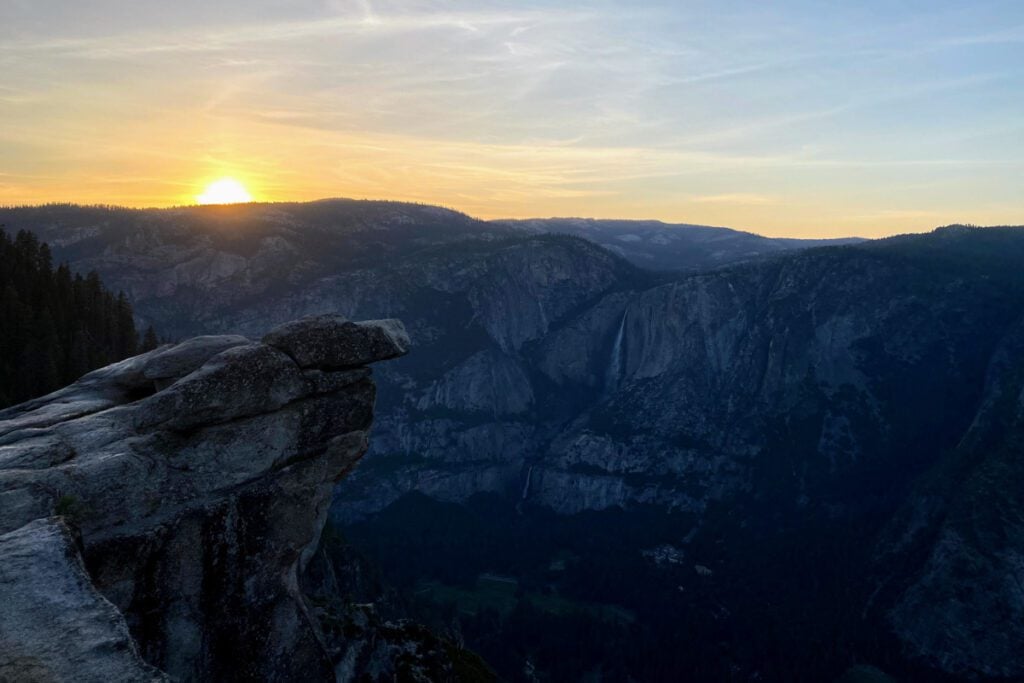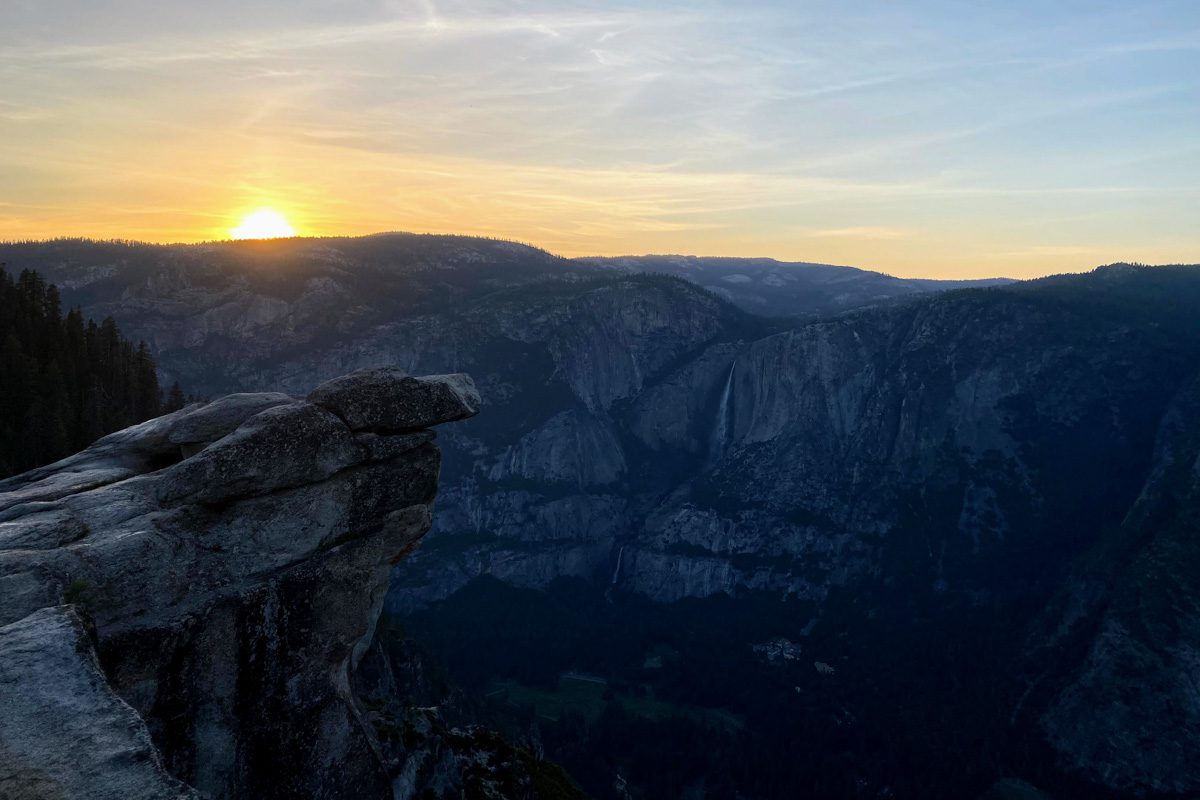 Yosemite National Park is one of the most stunning places in the world. The park's scenery looks even prettier during golden hour, when the rising or setting sun casts brilliant light and shadows on its granite features.
Luckily for us, Yosemite houses some incredible (and accessible!) spots to watch a sunrise or sunset.
Glacier Point is by far the best place to catch golden hour in Yosemite. Its sweeping views of the park offer unobstructed views of the rising and setting sun. The vista looks incredible early or late in the day, when vibrant colors light up the park.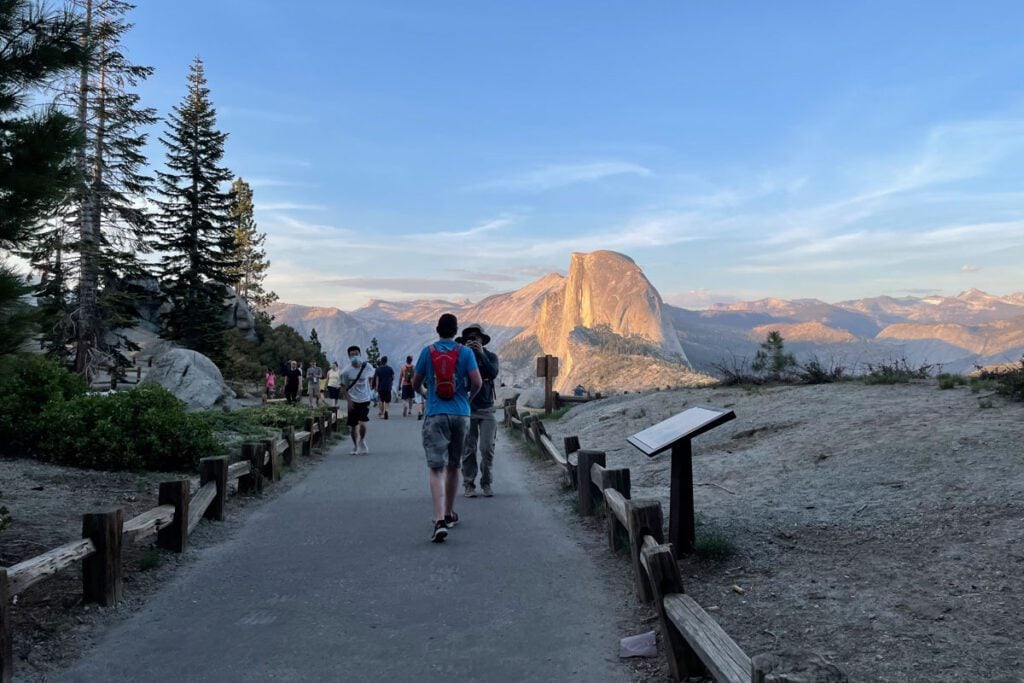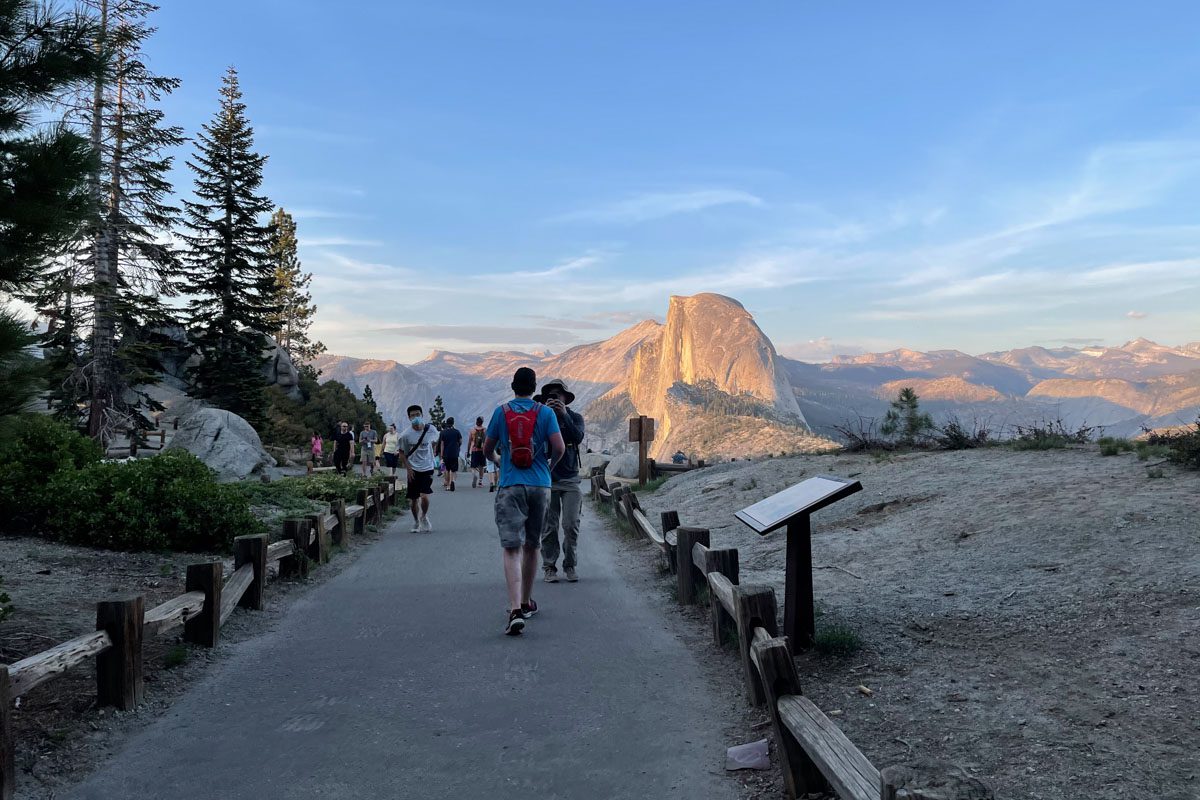 If you're interested in spending the night on the trail, Dewey Point is a fantastic place to watch the sun set. This overlook sits on Yosemite Valley's southern rim, providing an awesome view of El Capitan. It's a 7.8-mile round trip hike and can be accessed from Glacier Point Road.
If you visit the park in February, be sure to check out Horsetail Falls. This waterfall, which flows over El Capitan in winter, will occasionally glow orange on evenings in mid-to-late February. This is one
If you're visiting Yosemite in winter, check the park's website or talk to a ranger for details.
17. Gaze at the beautiful night sky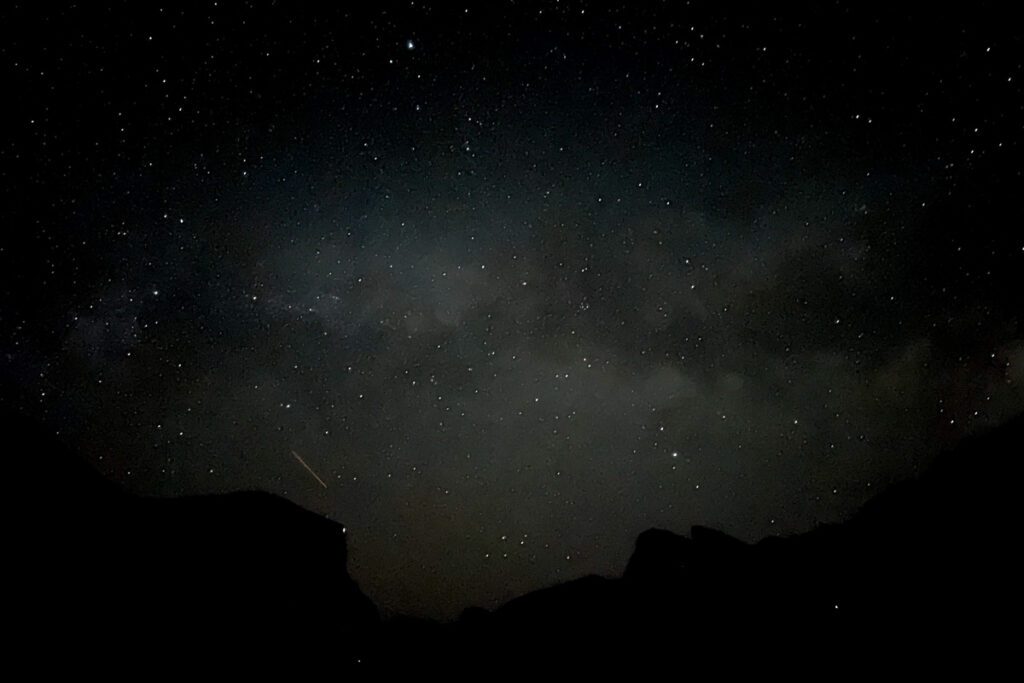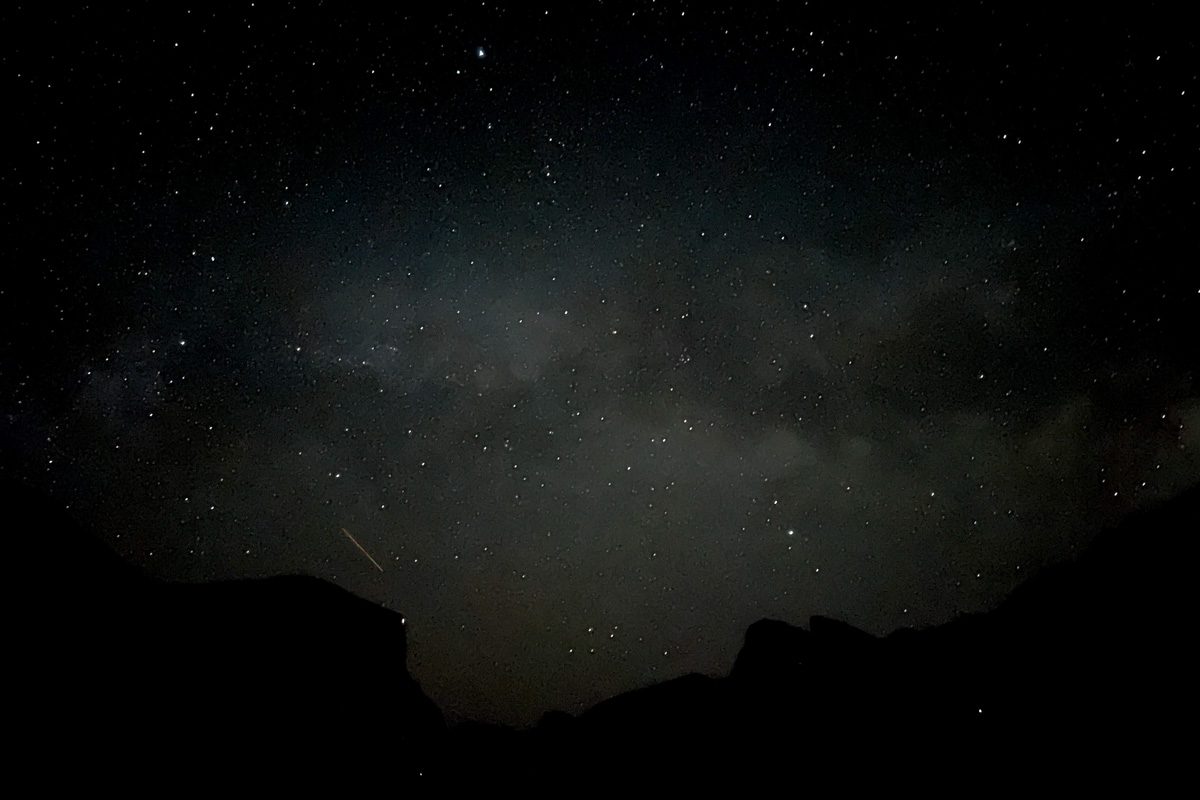 Though it's not an International Dark Sky Park, stargazing is still one of the top things to do in Yosemite. The park's night skies are clear and largely free of light pollution.
You can stargaze just about anywhere… Every clearing, lake, overlook, or meadow can give you an astounding view of the night sky.
My favorite spots to stargaze in Yosemite are Glacier Point and Tunnel View. Both locations offer expansive, unobstructed views of the park and are easy to reach by car. If you're backpacking, try to camp near a clearing to give yourself easy access to stargazing viewpoints.
Be sure to bring binoculars and a good stargazing guide to get the most out of your experience. I highly recommend the paid app SkyGuide for an elevated stargazing experience.
Tip: Most headlamps include a red light. Utilize this red light when stargazing so that you don't impair your or others' adjustment to the darkness.
---
Round up of things to do in Yosemite
Yosemite Valley
Half Dome
Glacier Point
Tunnel View
Rock climbing
Yosemite Falls
Mist Trail
Tuolumne Meadows
Mariposa Grove
Go swimming
Camping
Cycling in Yosemite Valley
Yosemite Village
Backpacking
Hetch Hetchy Reservoir
Catch a sunrise or sunset
Stargazing
How to get to Yosemite National Park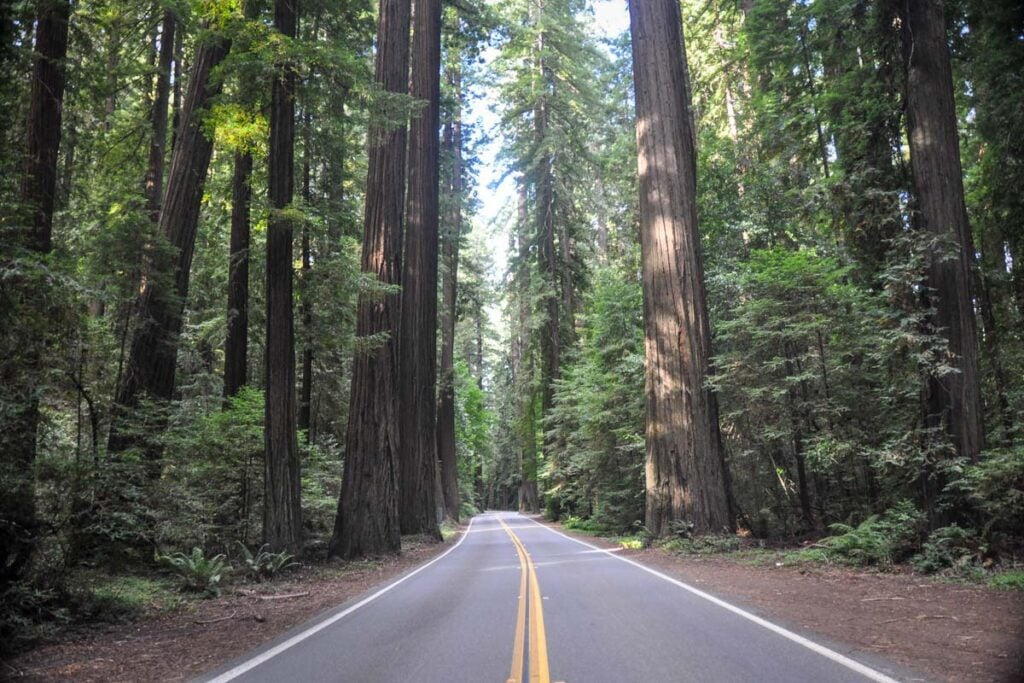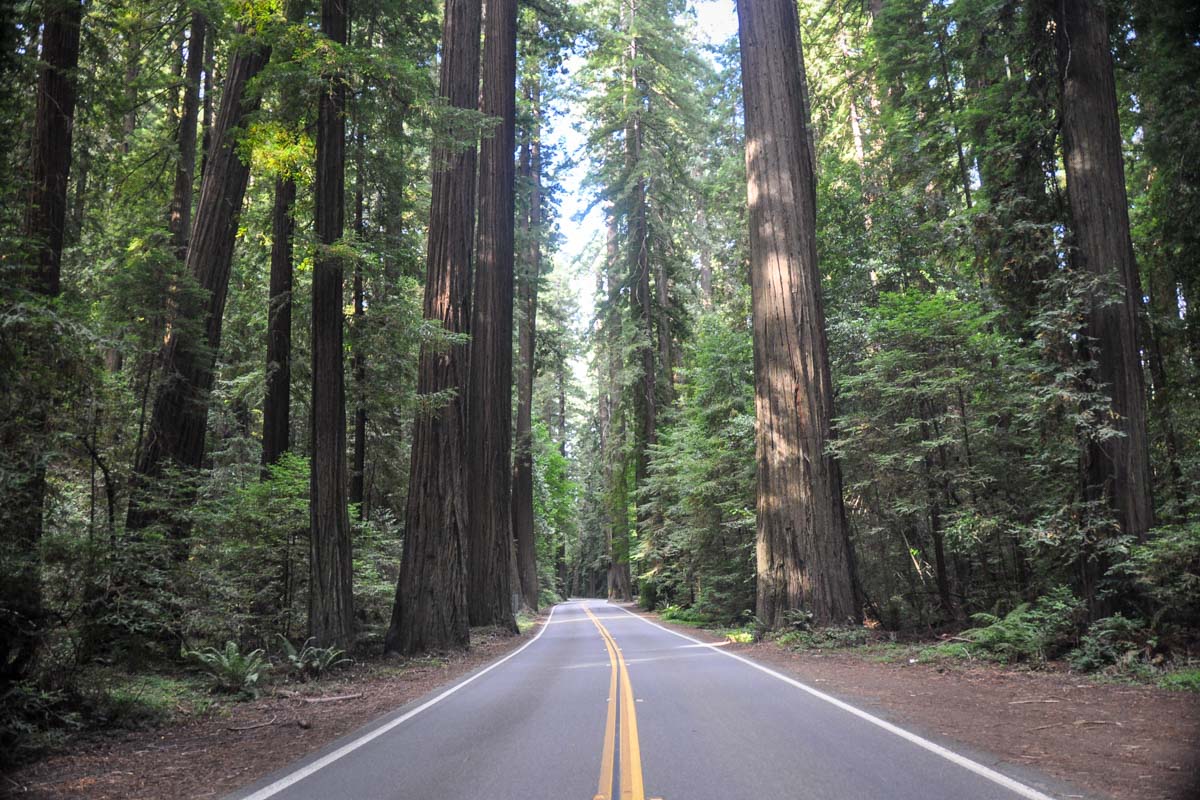 It takes several hours to reach Yosemite by car from nearby cities. San Francisco, San Jose, and Oakland (known collectively as the Bay area) are the closest major cities to Yosemite: about 4 hours away.
If you're flying into California, fly into San Francisco (SFO) or San Jose International Airport (SJC).
From the Bay area, take I-580E to I-205E to Highway 120, which leads all the way into the park. If leaving from the southern part of the Bay area (i.e., San Jose), take Highway 140 into the park.
Approaching Yosemite from the east is easiest in the summer, when Tioga Road is open. In summer, it takes about 6-7 hours to reach Yosemite Valley from Las Vegas. In winter, however, it takes closer to 8-9 hours.
Public transportation can take you to Yosemite from most major cities in California.
Note: Tioga Road is the easiest way to enter Yosemite National Park from the east. Tioga Road is typically closed from November to May every year due to snowfall. Check current conditions in the park to determine the road's status.
Getting around in Yosemite National Park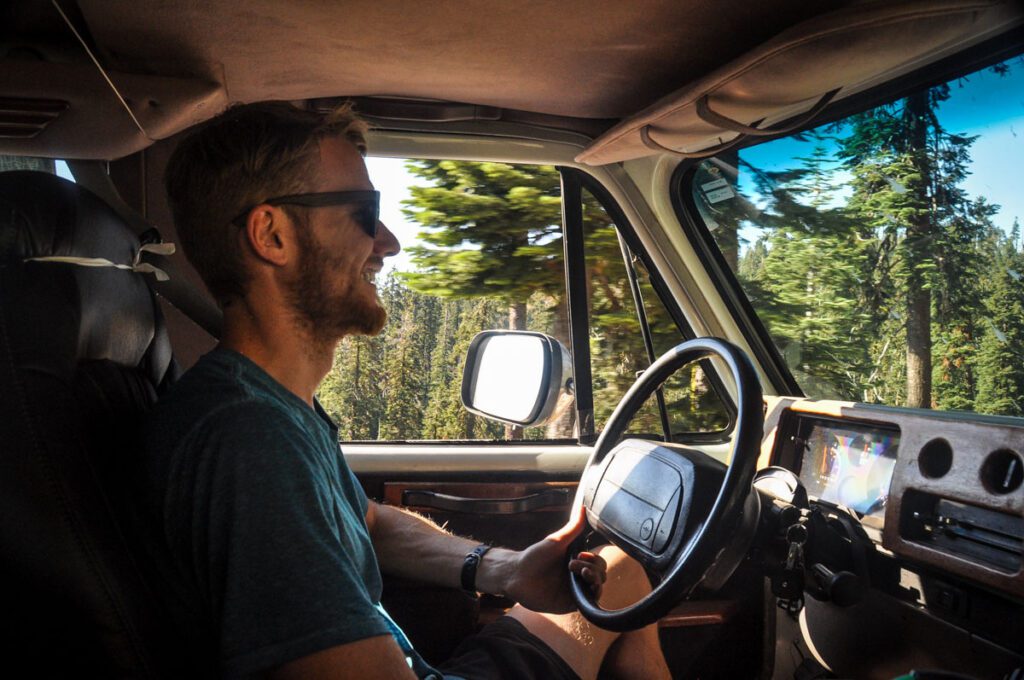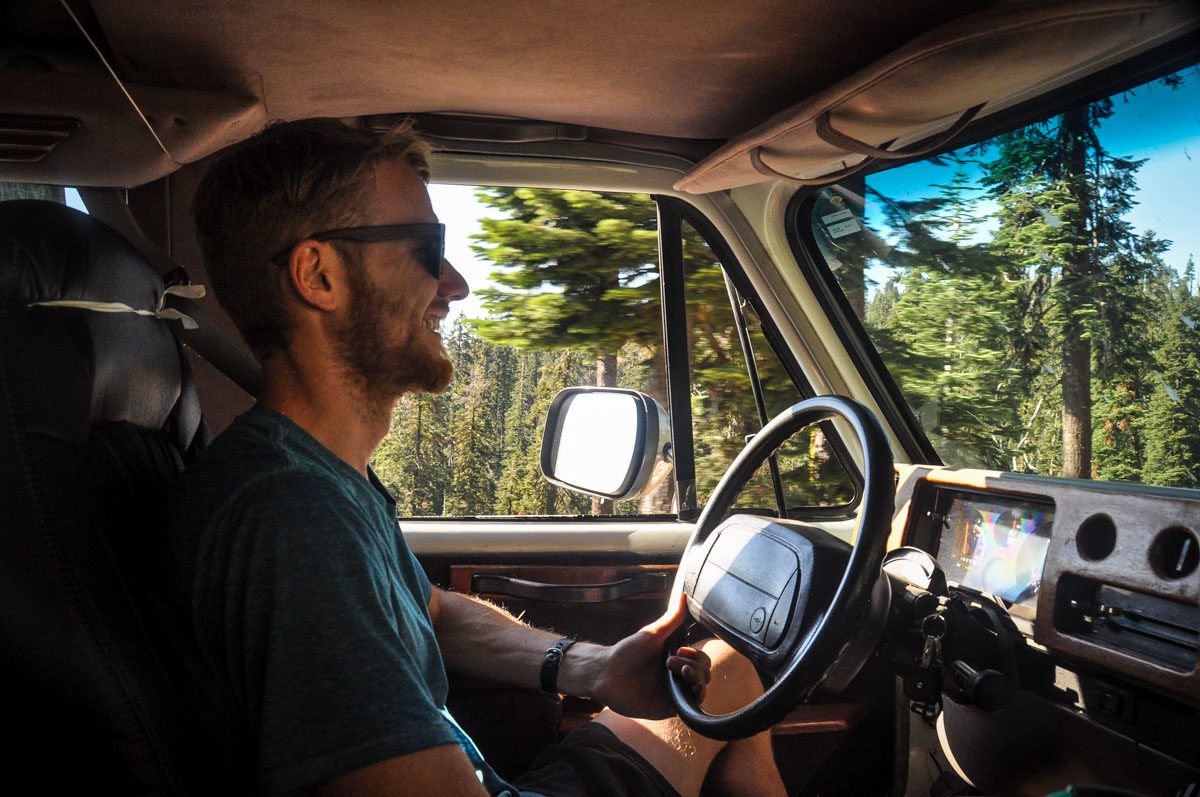 It's possible to navigate Yosemite by several methods, including car, bike, and public shuttles.
Driving in Yosemite National Park
Driving is the easiest way to get around in Yosemite. All of the park's major roads are accessible by 2WD vehicles, and parking lots exist just about everywhere.
The following roads close every winter from November until May:
Glacier Point Road, which leads to Glacier Point
Tioga Road, which accesses Tuolumne Meadows and connects the park's east and west sides
Shuttles in Yosemite National Park
Various shuttles operate in and around Yosemite National Park. Let's break down the most used shuttles in the park:
Yosemite Shuttle System: This shuttle system consists of two shuttles in Yosemite Valley. Collectively, they stop at 19 stops in the valley, including trailheads, campgrounds, Yosemite Village, and Curry Village. The shuttle is free and operates year-round.
Mariposa Grove Shuttle: There is limited parking at Mariposa Grove. So, the only people allowed to park there are those displaying a disability placard. Most people, therefore, reach Mariposa Grove by taking this shuttle. The shuttle operates from April to November and leaves from the Mariposa Grove Welcome Plaza.
Tuolumne Meadows Shuttle: This paid shuttle stops at many locations in the Tuolumne Meadows area. Check the shuttle's schedule to see rates. This shuttle only operates when Tioga Road is open.
Yosemite Area Regional Transportation System (YARTS): The local public transit system provides access to Yosemite from nearby towns and communities. If you're staying outside the park, YARTS is a good way to reach the park. Check the YARTS website for schedules, routes, and fares.
Read more about Yosemite's public transportation systems.
---
Psst! Katie & Ben here….
Wanna try out vanlife while visiting Yosemite National Park?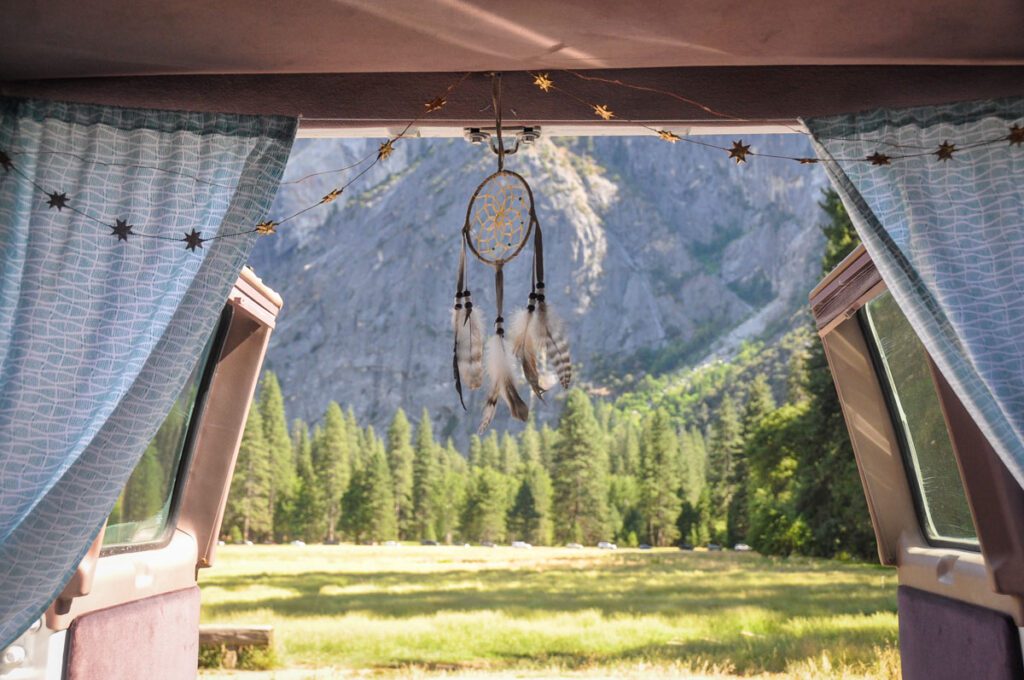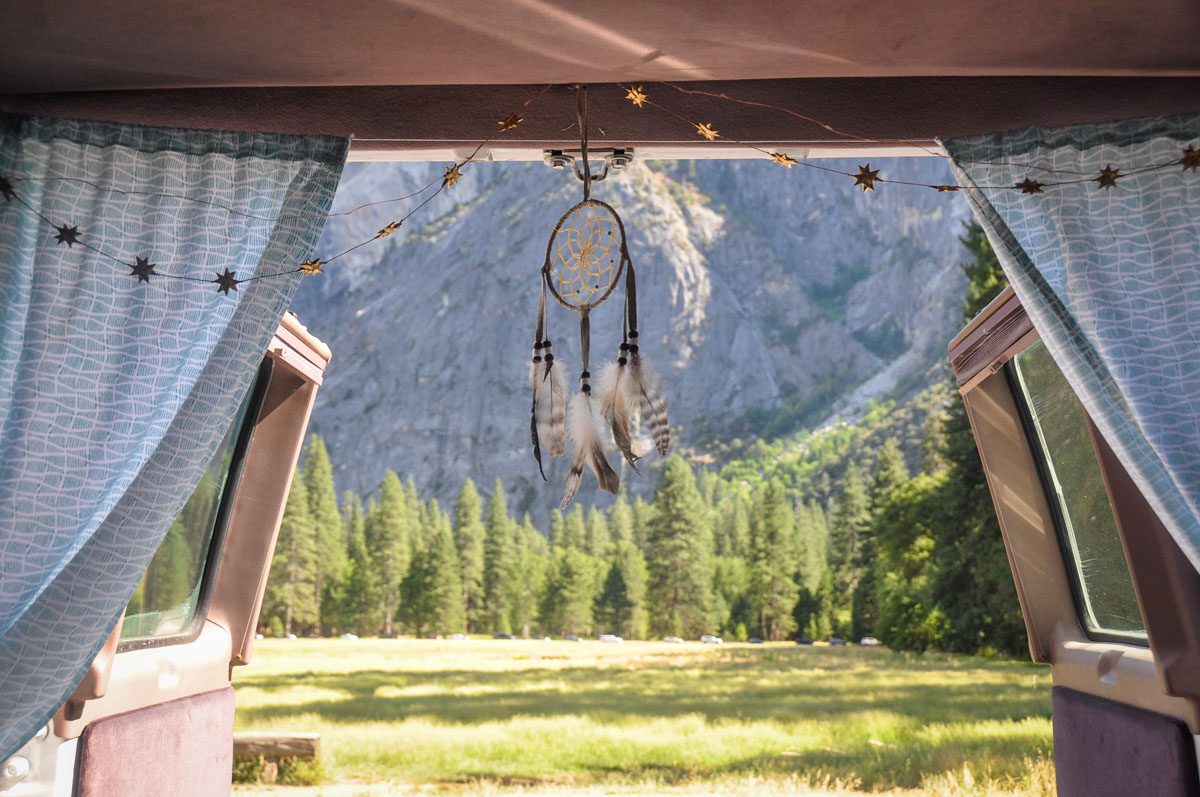 It's no secret we're obsessed with #vanlife. If you don't have the time (or interest!) in building your own conversion but you still want to give van life a test drive, we've got some ideas for you…
Check out our list of top companies for USA Campervan Rentals, from budget to bougie, we've even included some exclusive discounts for our readers!
One company we'd recommend looking into is Escape Campervans. They have 12 different locations across North America (including California!) and come fully loaded with all the gear you need for an epic road trip. Plus, their rates are fair and affordable.
BONUS: We've partnered with them to give you a 10% off discount when you use our link!
We have plenty of recommendations for campervan-friendly campsites in the where to stay section below.
---
Yosemite National Park map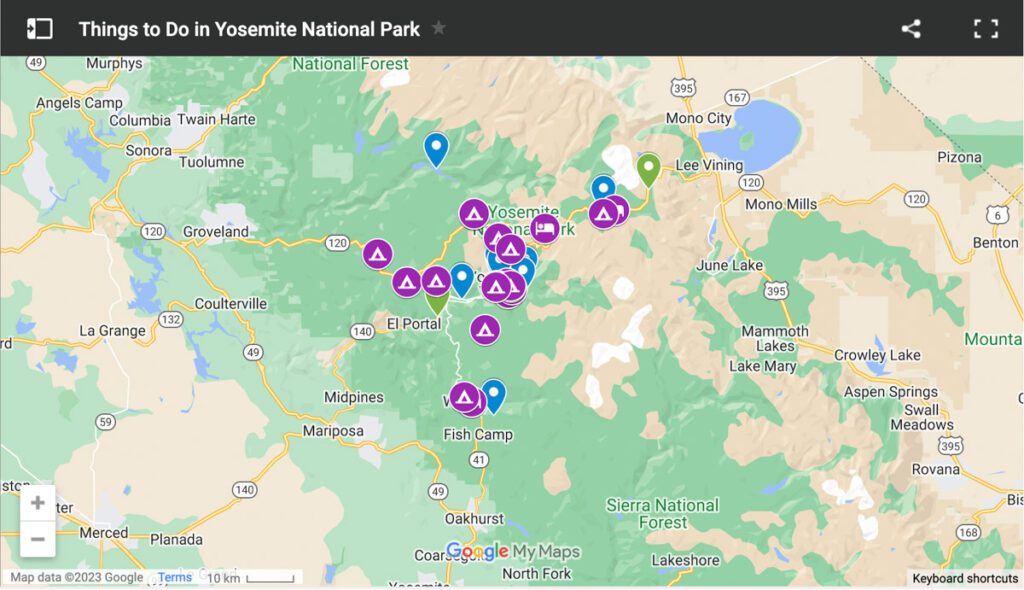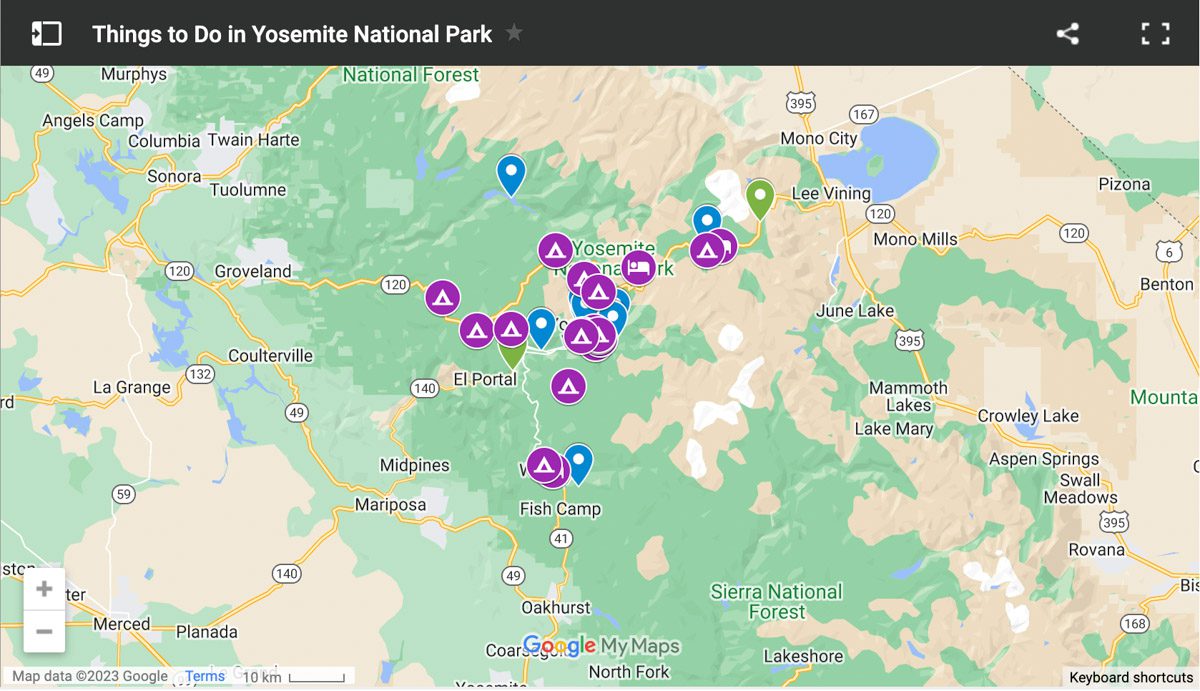 The map above displays the main entrances, campgrounds, lodging options, and locations for the best things to do in Yosemite National Park.
Entrance tickets and fees
Private vehicle: $35, valid for 7 days
Motorcycle: $30, valid for 7 days
Per person: $20, valid for 7 days
Yosemite National Park began enforcing a timed entry permit system in 2020. However, as of 2023, timed entry permits are no longer required to enter the park.
---
Psst! Us again…

If you're planning to visit more than one of the U.S. National Parks, we'd highly encourage you to look into getting an annual park pass. At $35 per vehicle, entering Yosemite along with other national parks in the U.S. can get expensive.
For just $80 per year, you can purchase the America the Beautiful park pass. This pass grants you free access to all of the national parks. Plus it also covers your entrance to over 2,000 natural, historical, and recreational sites across the United States.
If you still need convincing, check out our article: America the Beautiful Annual Park Pass: Is it Worthwhile?
---
When is the best time to visit Yosemite National Park?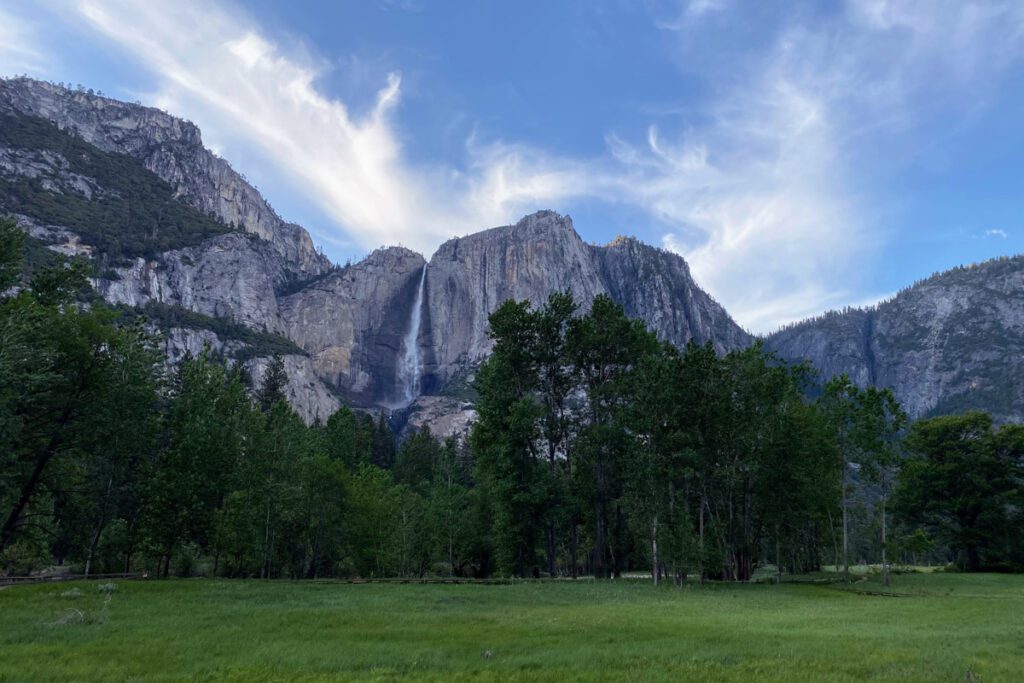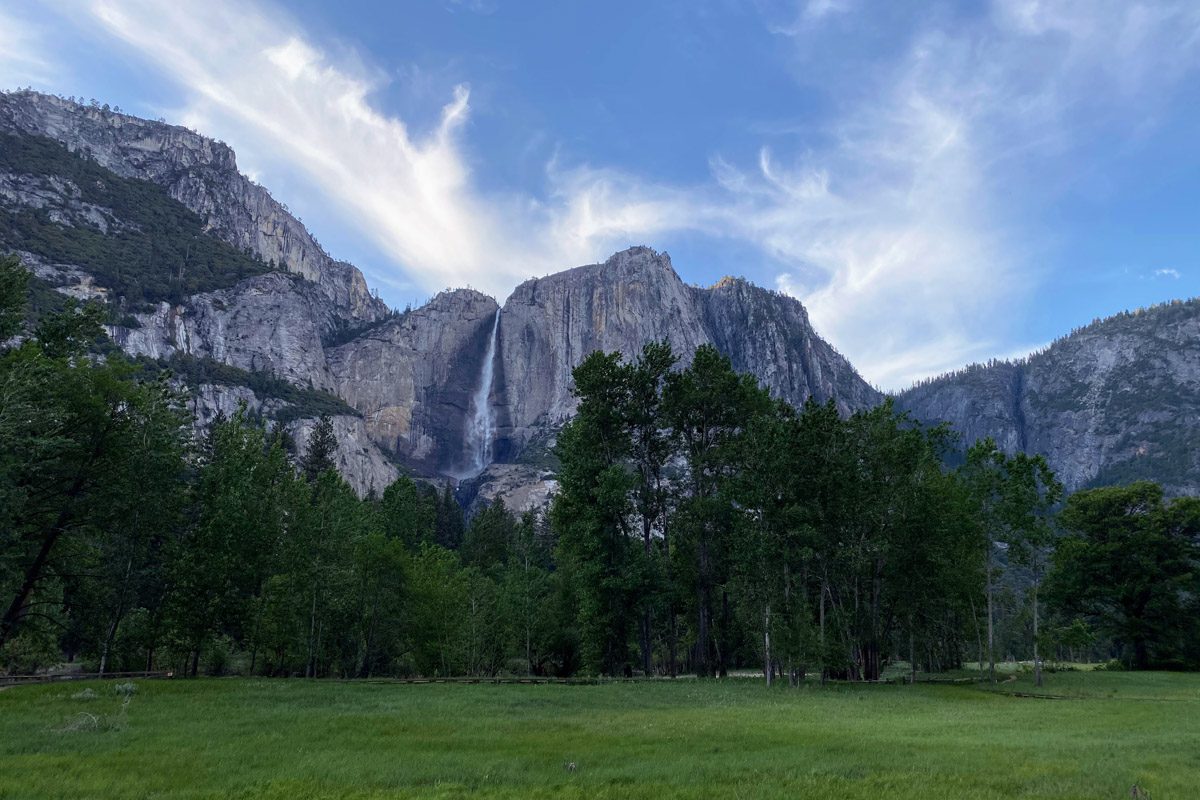 The best time to visit Yosemite is typically May through October. During these months, the entire park is open, the weather is pleasant, and wildlife is abundant.
May through October is the park's peak season, so you will undoubtedly face crowds during these months.
December to March, Yosemite's winter, is another great time to visit the park. Though there's generally less to do in the park during these months, there are also fewer crowds and shorter lines.
Yosemite Valley is open year-round, even when there is snow on the ground. Learn more about visiting in winter at the park's website.
Note: Wildfire season in California used to occur in late summer. However, the wildfire season has lengthened in recent decades, largely thanks to climate change. So, wildfires can occur almost any time of year. Be sure to check on wildfire conditions before visiting the park.
How many days do you need in Yosemite National Park?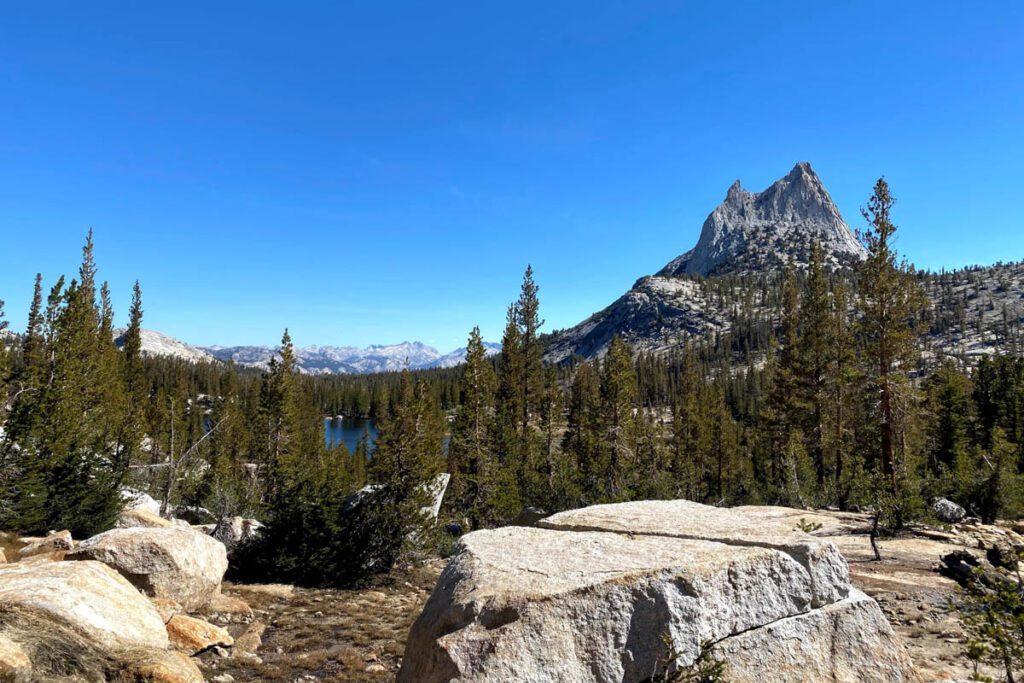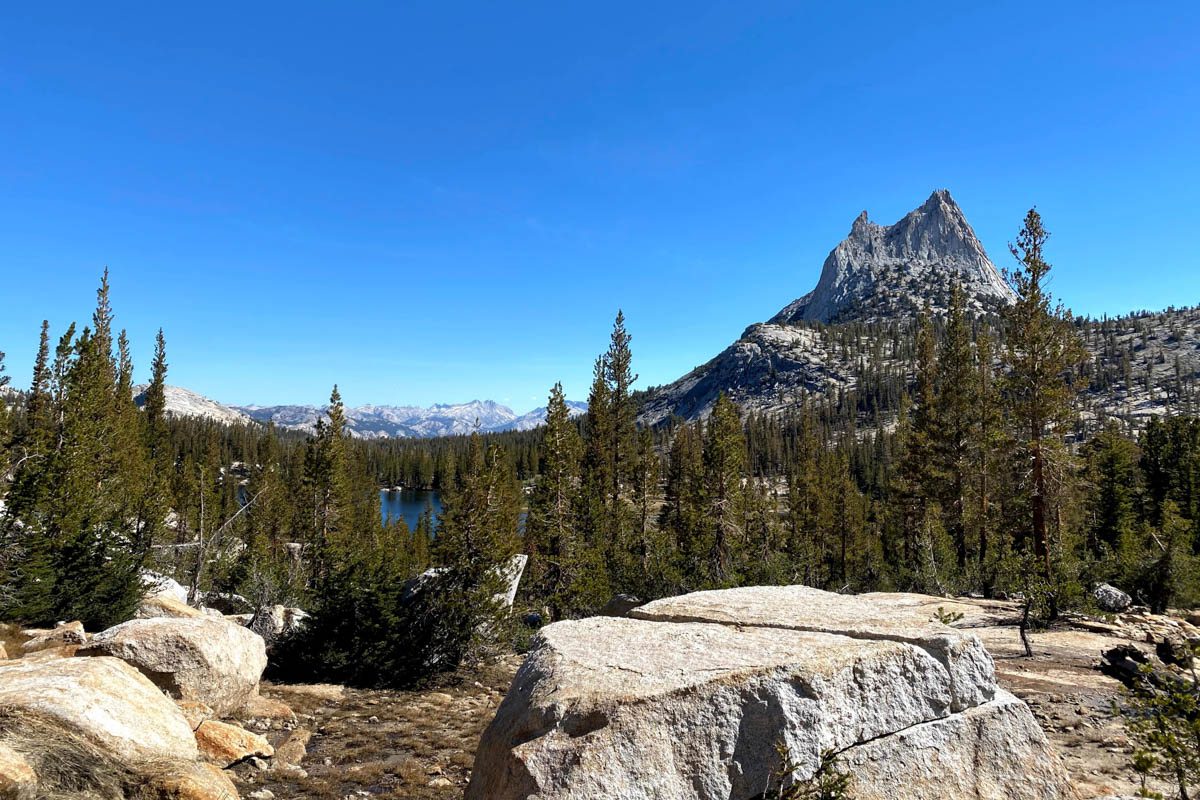 If anyone ever tells you that one day is long enough in Yosemite, they are wrong! You could spend your entire life in Yosemite and not get bored.
Yosemite is huge. With so many distinct areas, it's impossible to see the entire park in only a day! I'd recommend 5 days to get the full experience.
Here's what 1-5 days looks like in Yosemite National Park:
1 day: Visit Yosemite Valley, Tunnel View, and Glacier Point. Do a quick hike. Not enough time.
2 days: Explore and hike around Yosemite Valley and spend a night in the park. Summit Half Dome if you have permits. Better, but there's more to Yosemite than just the valley!
3 days: Days 1 & 2 plus a visit to Tuolumne Meadows. Now we're talking!
4 days: Pay a visit to Mariposa Grove and/or Hetch Hetchy. That's more like it!
5 days: Spend some time relaxing in the park. With 5 days, you have plenty of time to hike, camp, climb, and see every major area of the park. Perfection.
Where to stay in Yosemite National Park
Yosemite National Park offers a LOT of options for overnight stays, including 13 campgrounds and several lodges. The campgrounds and lodges typically fill up fast. So, if you're planning a trip to Yosemite, be sure to book accommodations at least 4-5 months in advance.
Lodging inside the park
There are 9 lodging options in the park. Most lodging is available to reserve a year in advance, and some require lottery applications.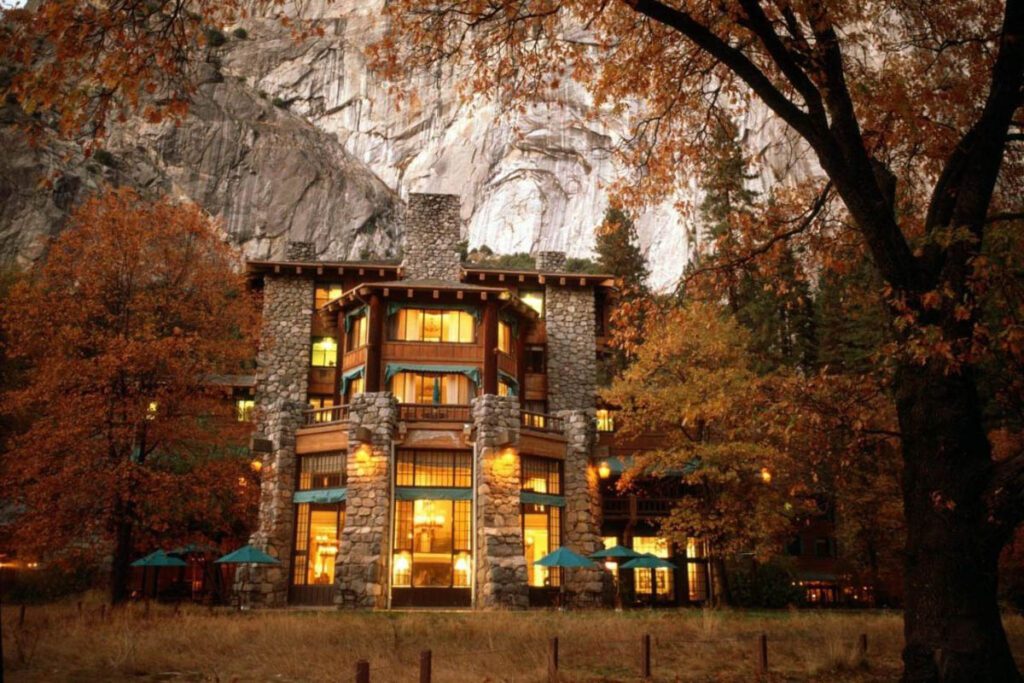 The Ahwahnee: This historic luxury hotel in Yosemite Valley is known for its role in inspiring the interior design of the Overlook Hotel in The Shining. The hotel's rustic architecture is iconic and its amenities make for a memorable and relaxing stay in Yosemite. Just watch out for Jack Torrance or creepy ghost twins prowling the hallways…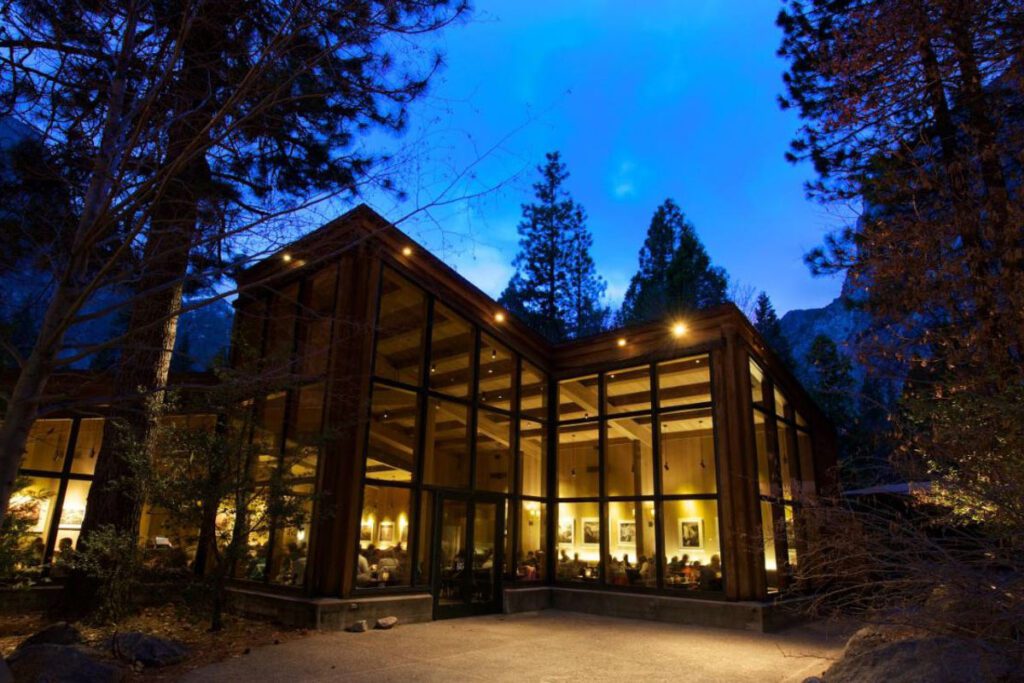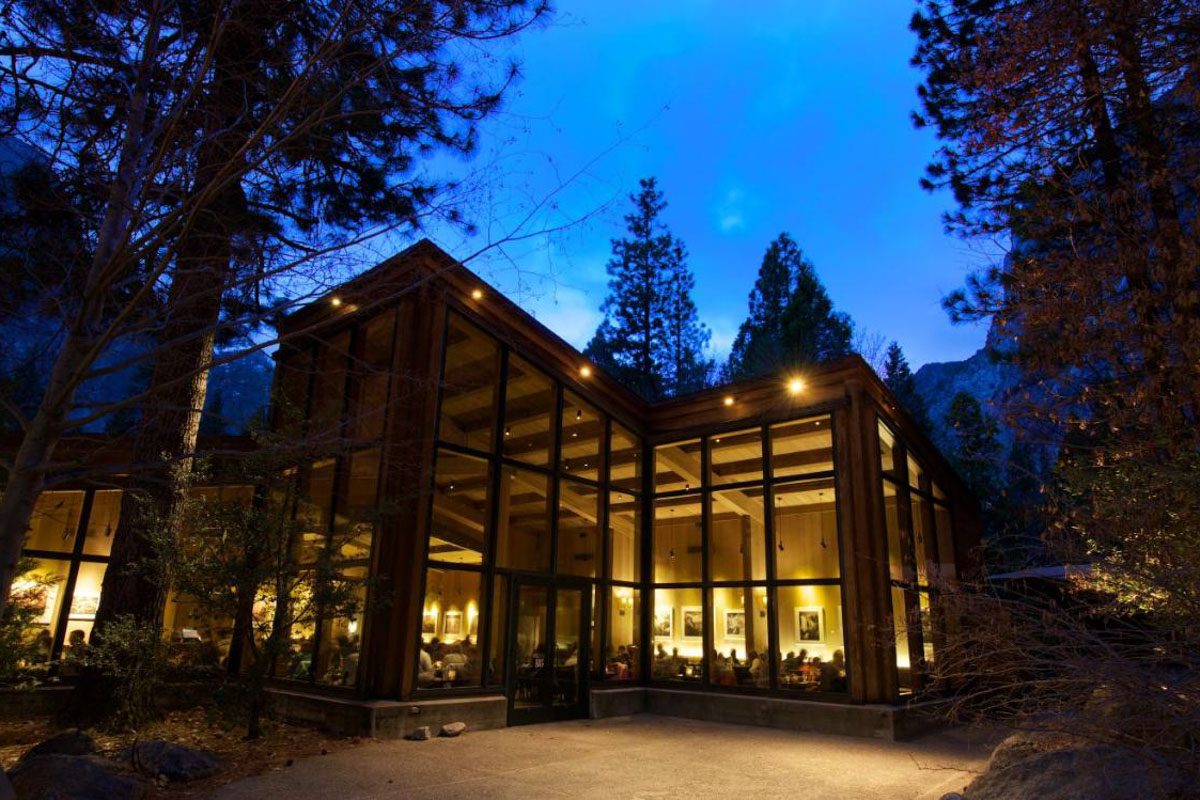 Yosemite Valley Lodge: This popular lodging spot in Yosemite Valley offers great views of Yosemite Falls and is a great basecamp for exploring the park. It's a more affordable alternative to the Ahwahnee.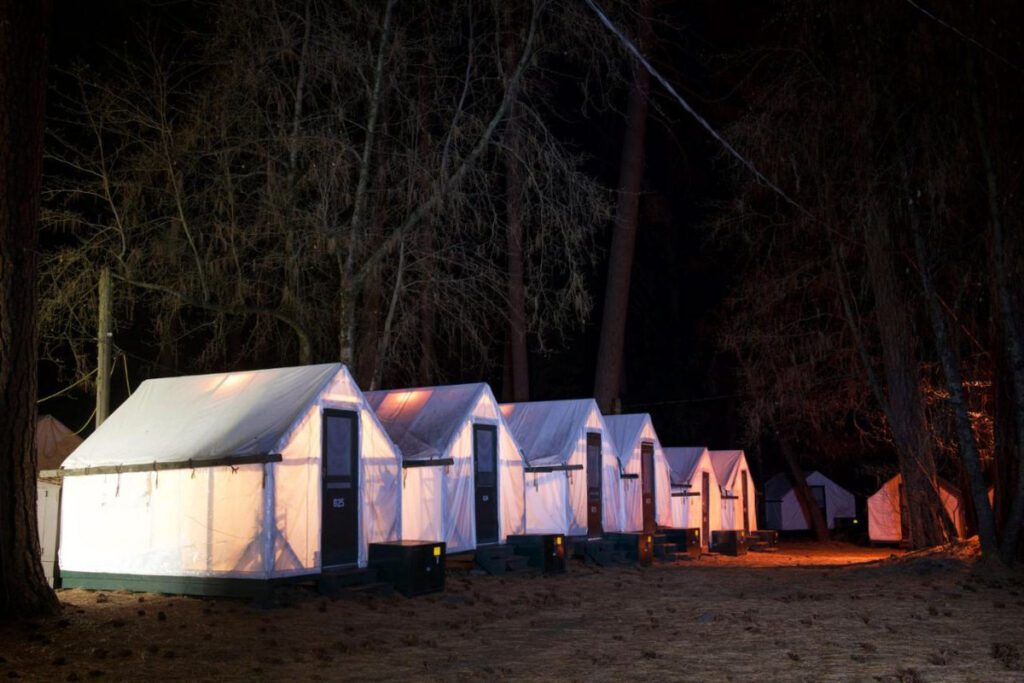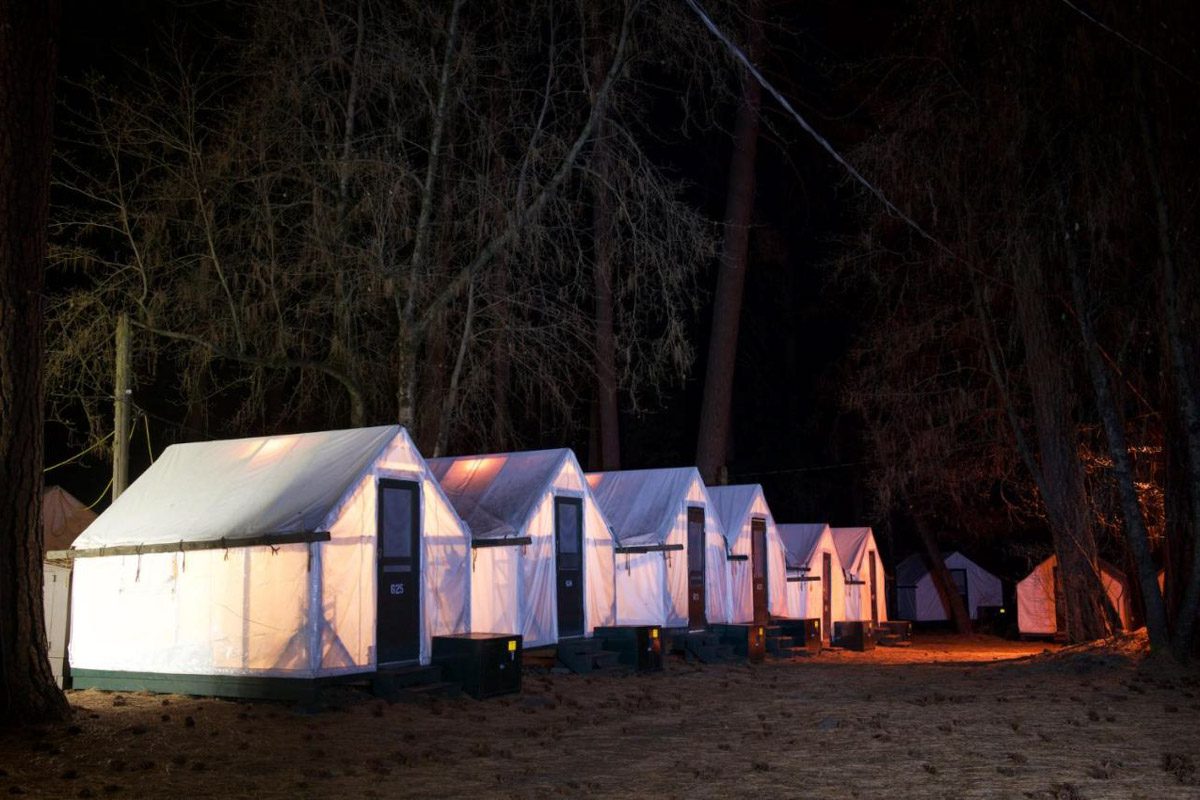 Curry Village: Sitting below Glacier Point, Curry Village is another great lodging option for those looking to stay in Yosemite Valley. It offers a range of accommodations, from standard hotel rooms to canvas glamping tents.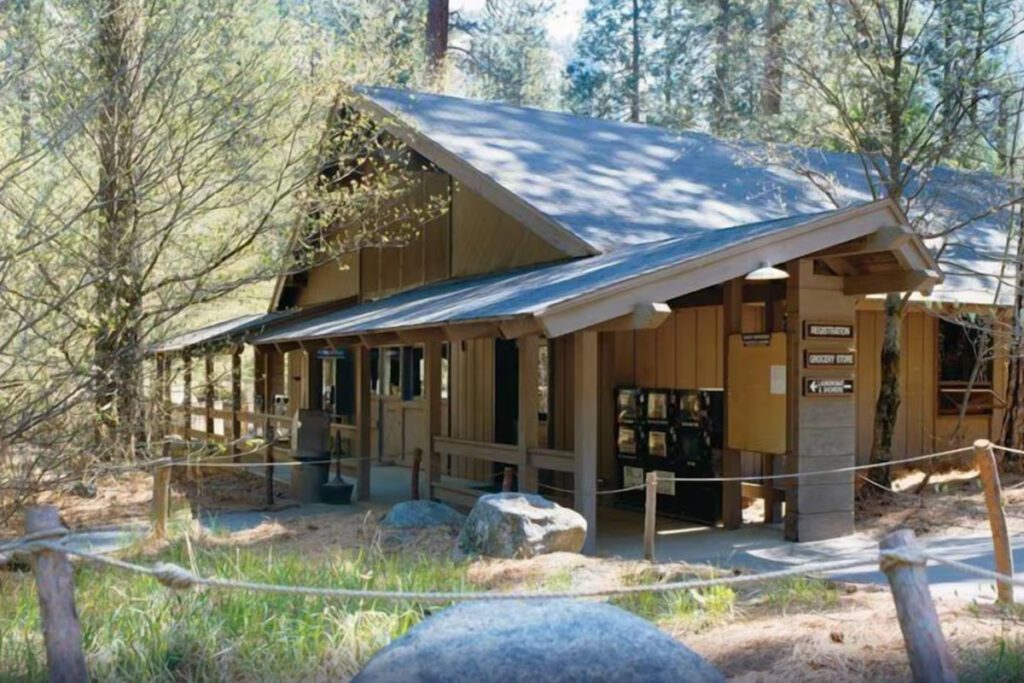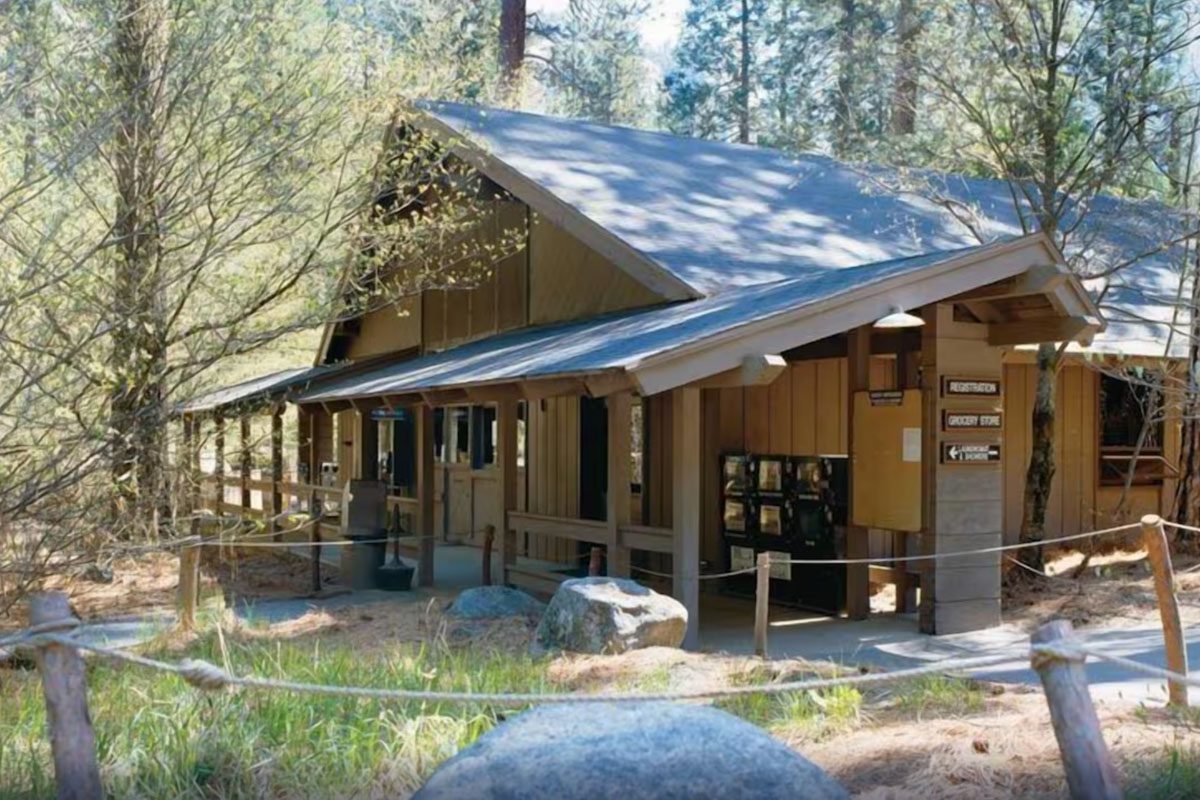 Housekeeping Camp: This hybrid camping experience is yet another lodging option in Yosemite Valley. This camp features 3-sided concrete structures with privacy curtains and electric outlets. If you want to camp but don't want the hassle of bringing your own equipment, this is a great option.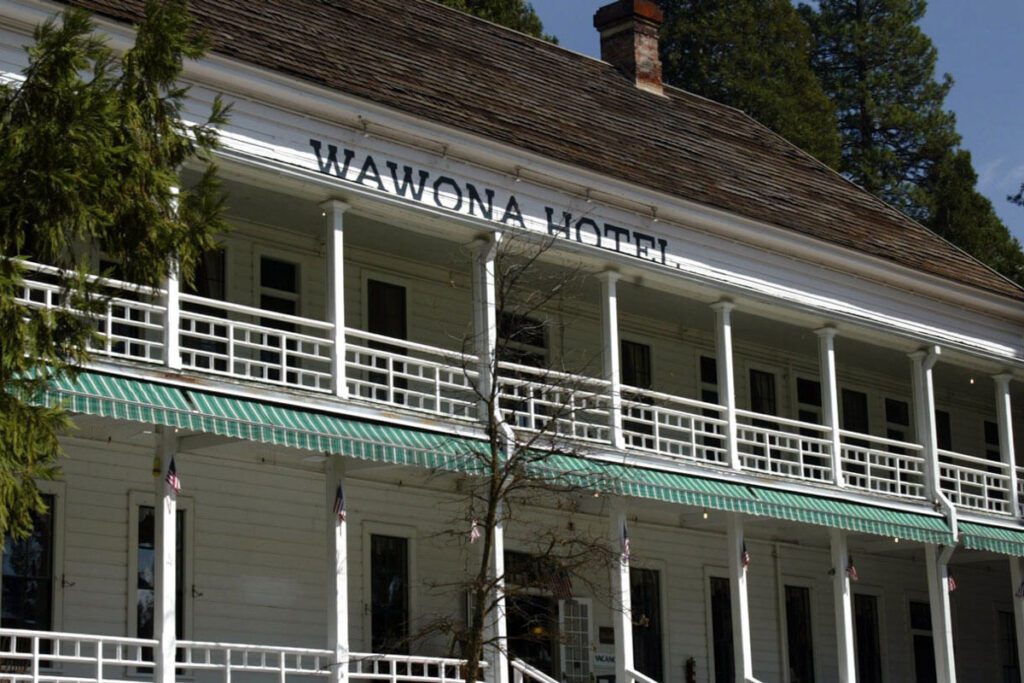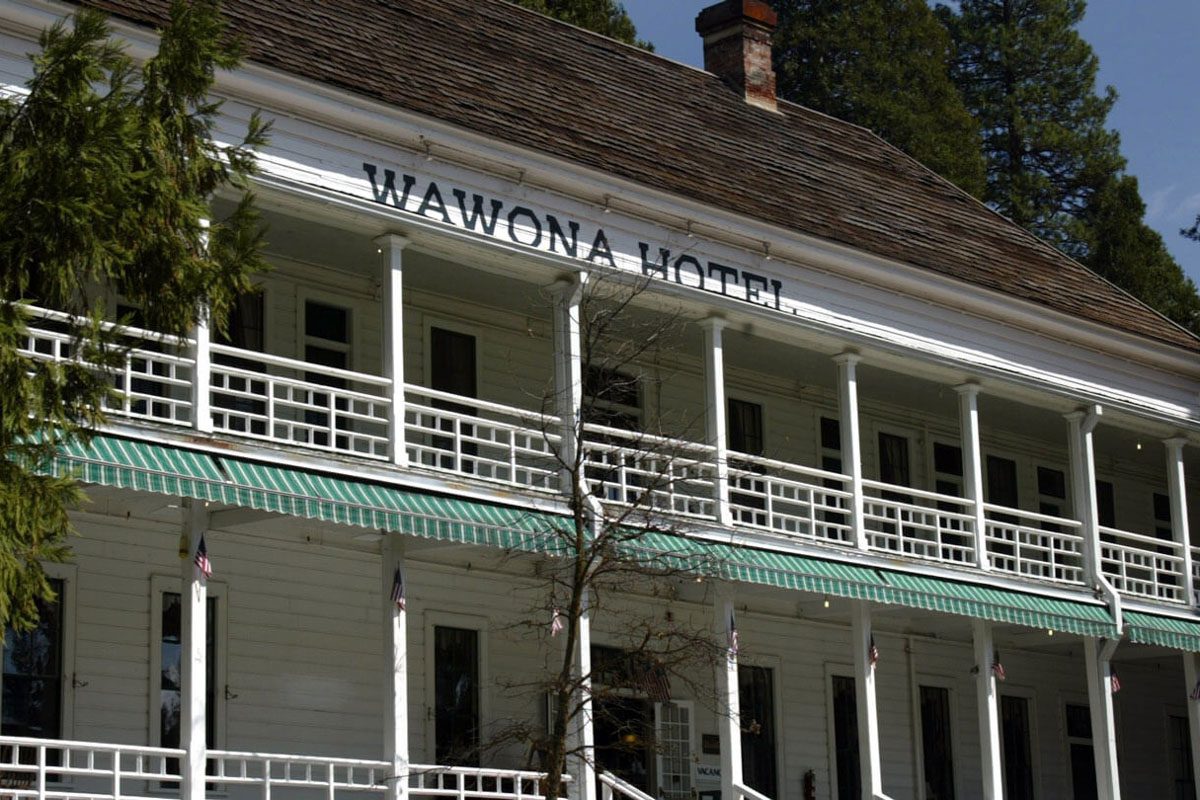 Wawona Hotel: Opened in 1856, this historic hotel offers a glimpse into the early days of tourism in Yosemite. Modern hotel accommodations can be found inside, and the building sits in close proximity to Mariposa Grove.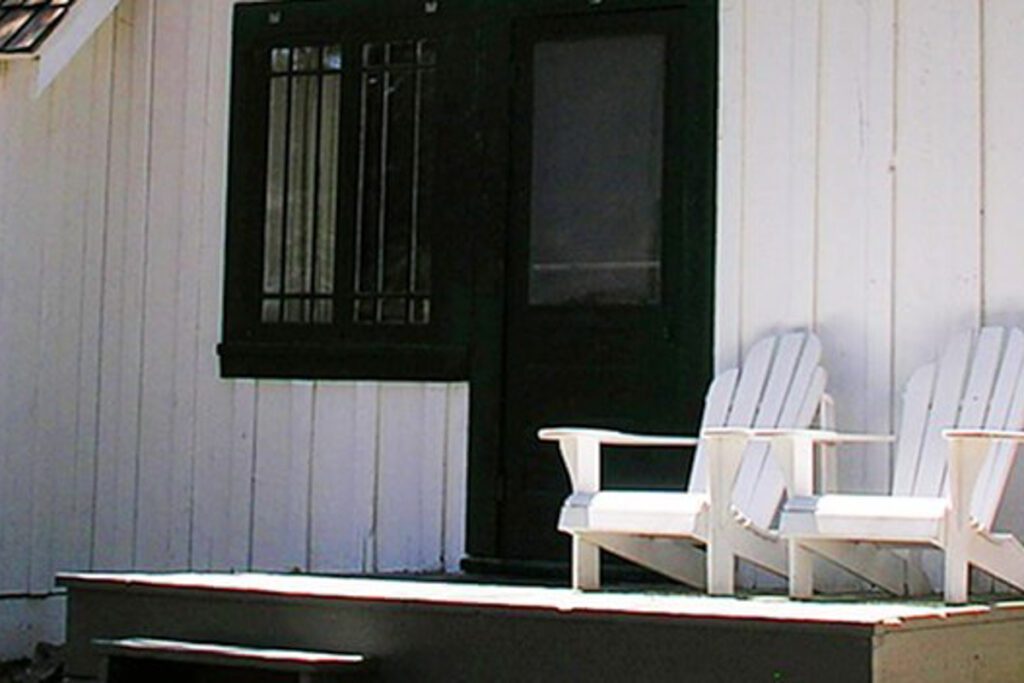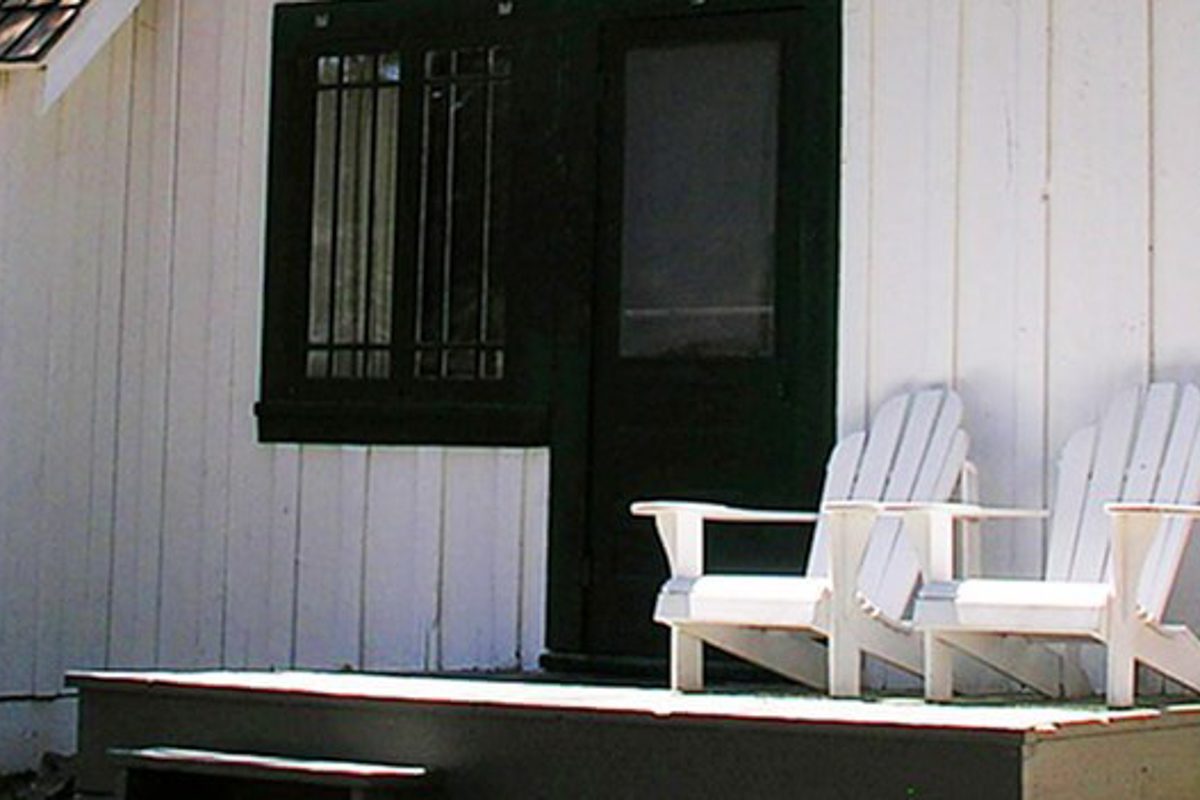 White Wolf Lodge: This remote lodge resides in Yosemite's high country. It offers a few private cabins in addition to canvas glamping tents.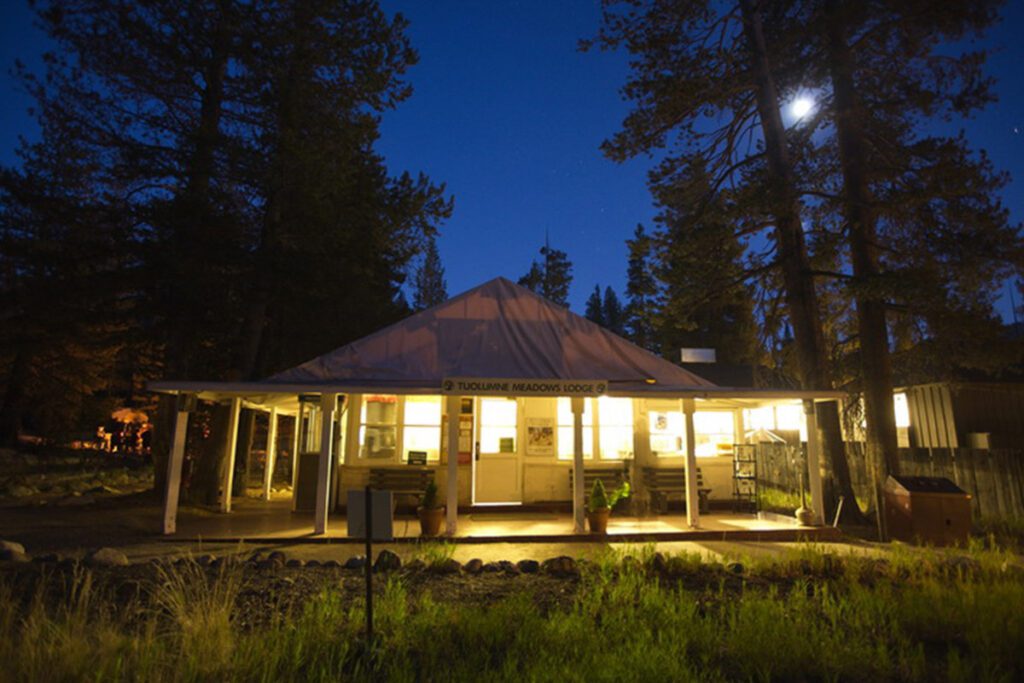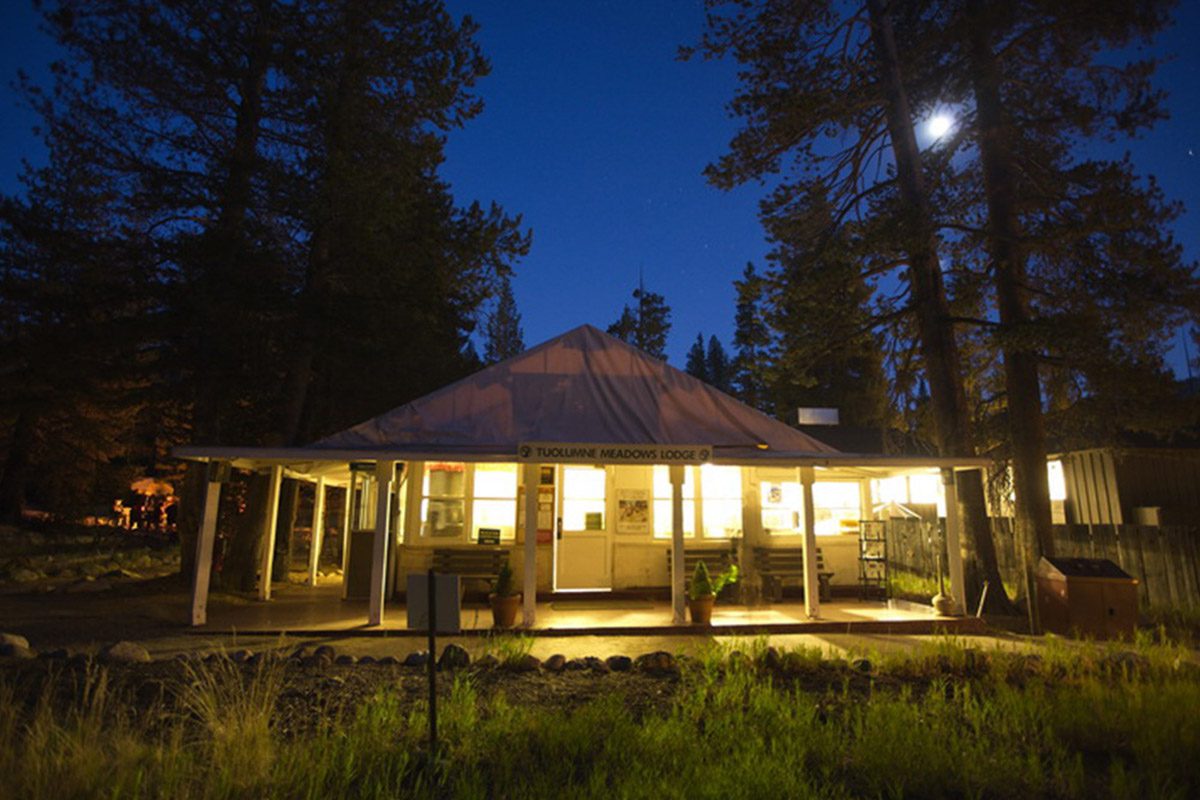 Tuolumne Meadows Lodge: 69 canvas glamping tents are available at the Tuolumne Meadows Lodge. This is a great lodging option if you're interested in exploring Yosemite's high country and aren't interested in spending much time in the valley. From here, it's a 90-minute drive to Yosemite Valley.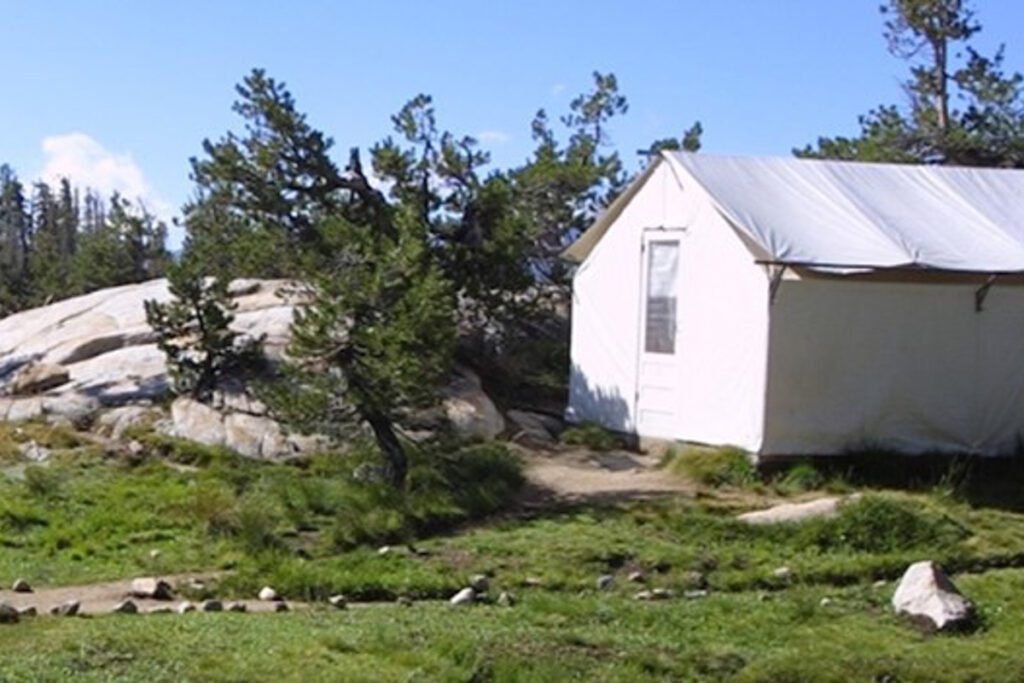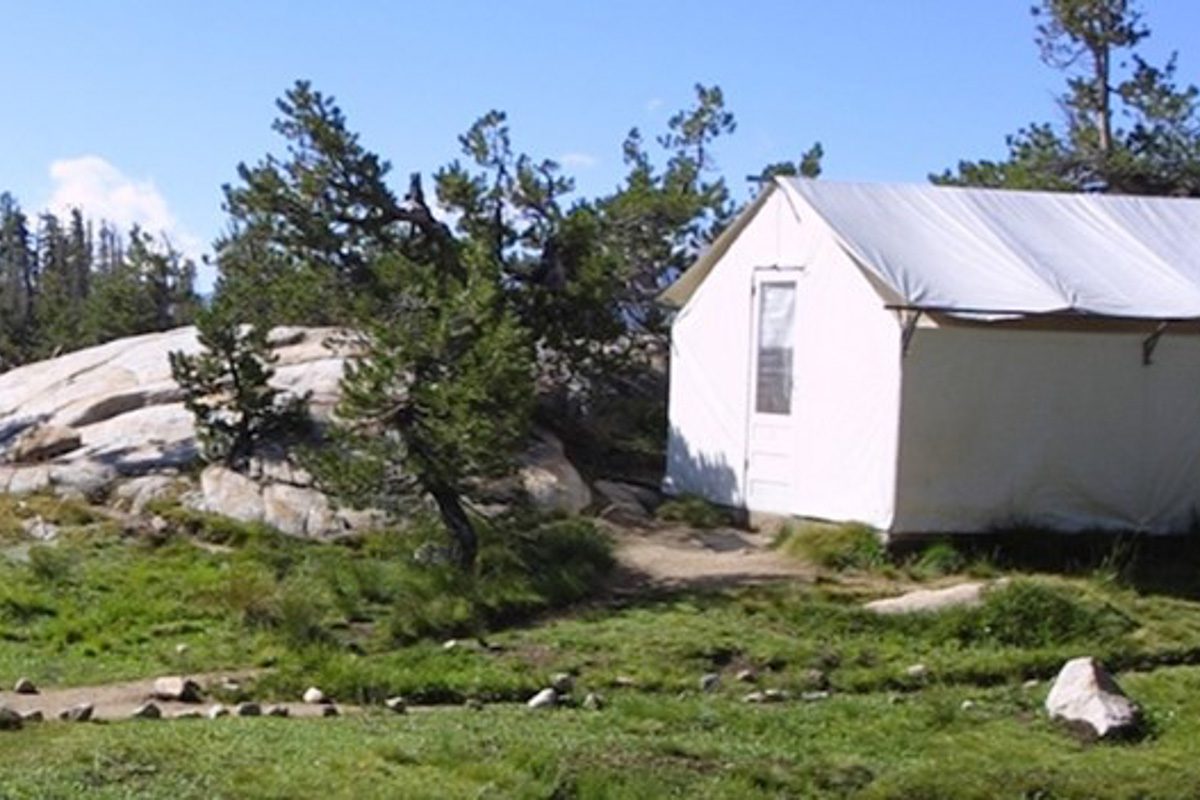 High Sierra Camps: These "luxury wilderness" camps – for lack of better term – are only available through a lottery. Five of these camps are spaced throughout Yosemite's backcountry, offering comfortable accommodations for those on wilderness trips.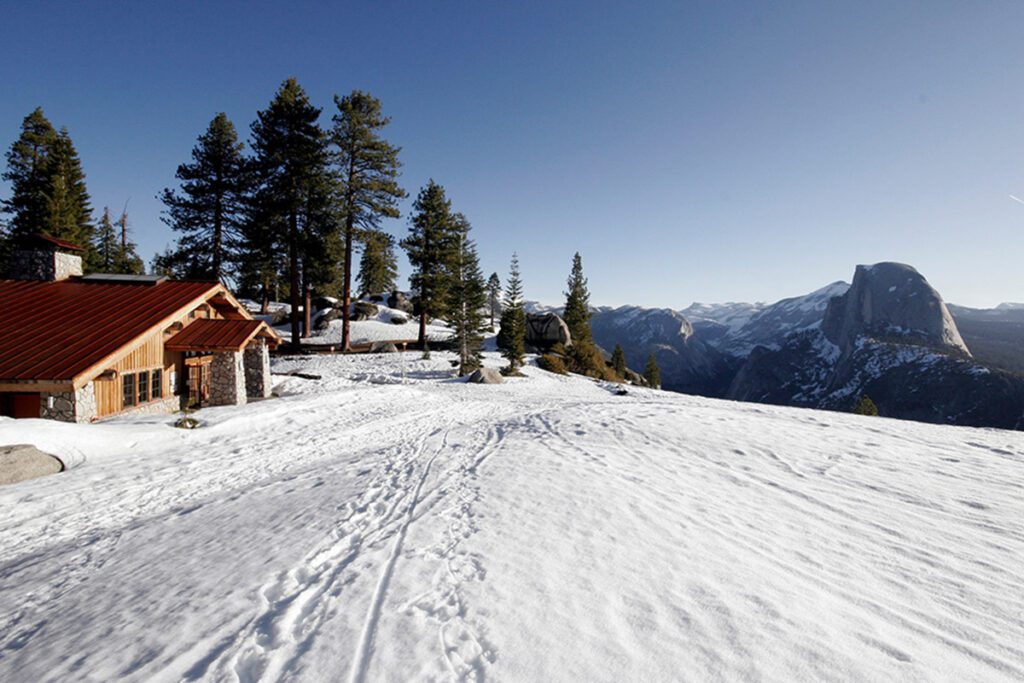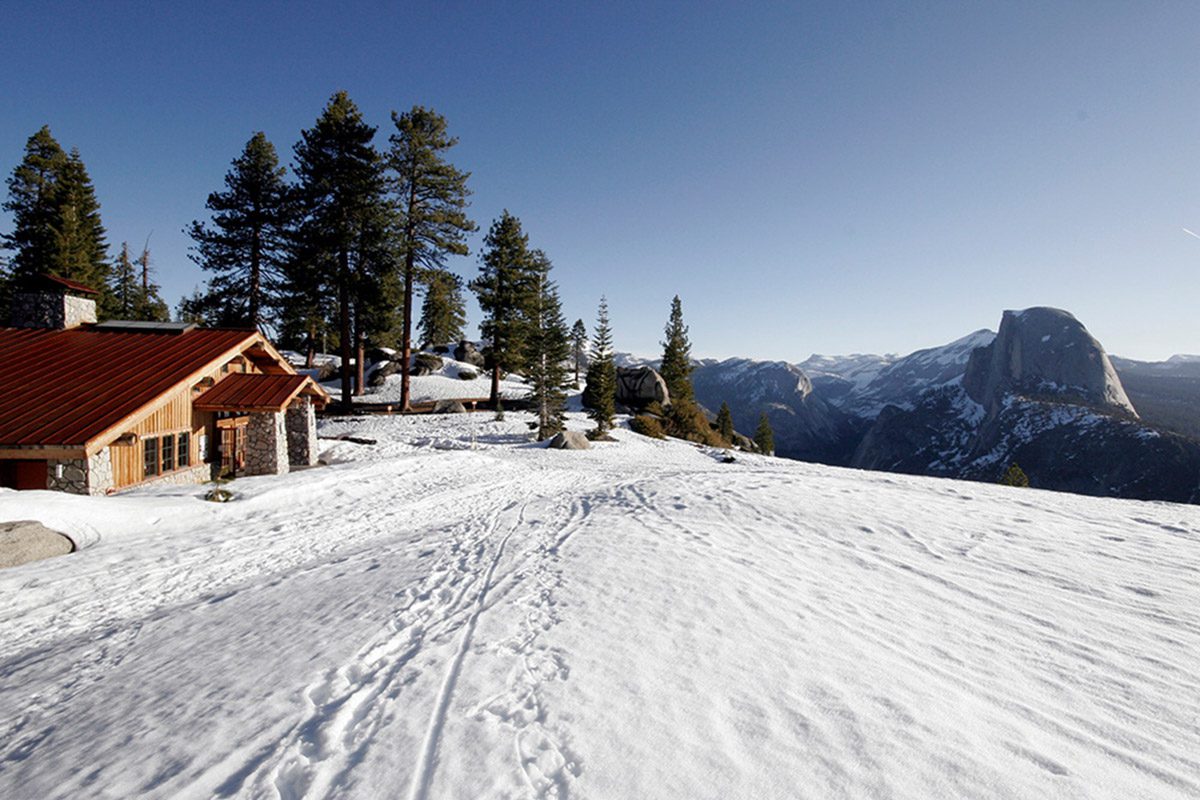 Glacier Point Ski Hut: Only open in winter when Glacier Point Road is closed, this hut can be reached via a 10.5-mile cross-country ski trip. Those that make the trip will find peaceful solitude at the usually-crowded Glacier Point.
Check Yosemite National Park's website for suggestions on lodging outside the park.
Campgrounds in Yosemite National Park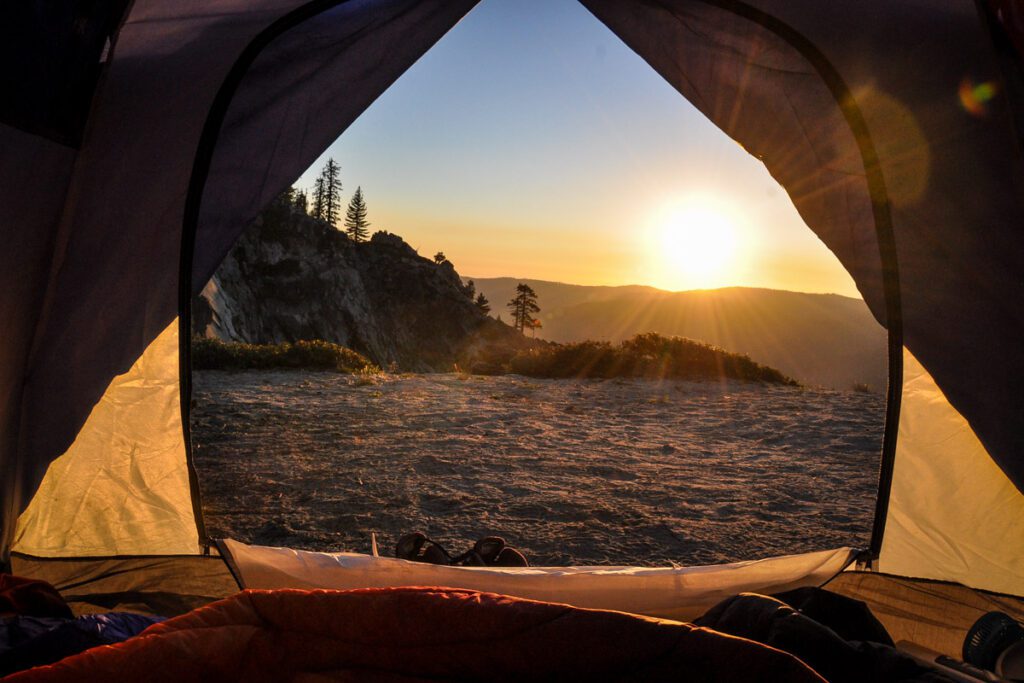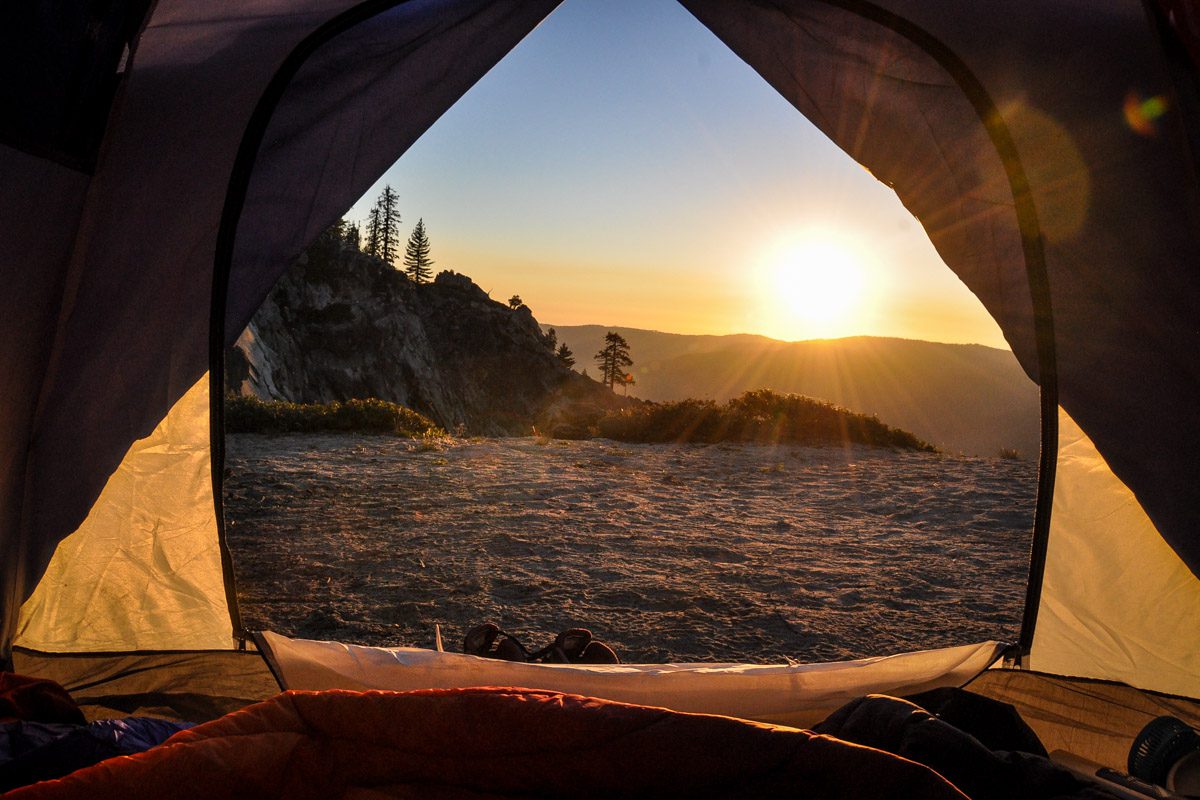 There are 13 campgrounds spread through Yosemite National Park. Most campsites are reservable 2 or 5 months in advance.
Since Yosemite's campsites are so popular, they are often fully booked mere minutes after campsites are made available. Let's break down every campground in the park.
Upper Pines, Lower Pines, & North Pines campgrounds: The "Pines trifecta," as I like to call them, sit in the shadow of Half Dome, surrounded by trees. They offer amenities like bathrooms and tap water. Many sites sit along the banks of the Merced River.

People often reserve these sites seconds after they're made available, so be online the moment they're released!

Camp 4: Popular with rock climbers, its location in Yosemite Valley has made it an important part of the park's climbing history. The park's best bouldering problems are a few minutes' walk from the campground.
Bridalveil Creek campground: Situated along Glacier Point Road, this site is only accessible from late May to November. Bridalveil Creek offers easy access to Glacier Point and nearby hikes.
Wawona campground: The only campground near the park's southern entrance provides easy access to Mariposa Grove. It is near a general store and a visitor center.
Crane Flat campground: Nestled in the woods just a few miles from Yosemite Valley, Crane Flat is a quieter camping option that still provides easy access to the valley. The campground is a few minutes' drive to a gas station.
Hodgdon Meadow campground: This is the closest campground to the Hetch Hetchy area. Like Crane Flat, it sits in a more remote area of the park, making it a great option for solitude and peace.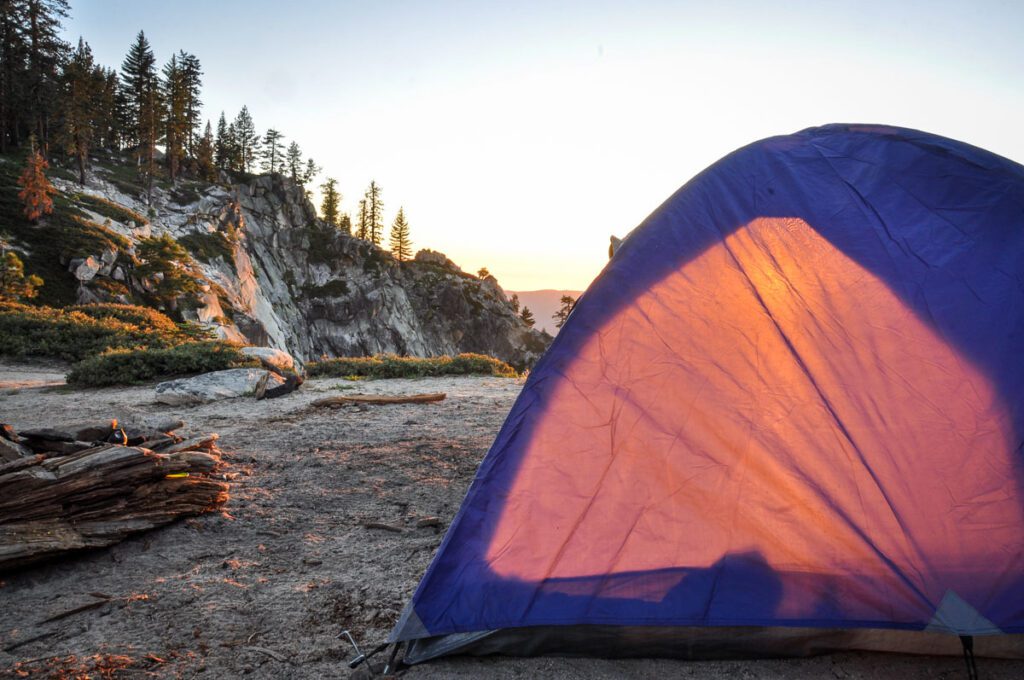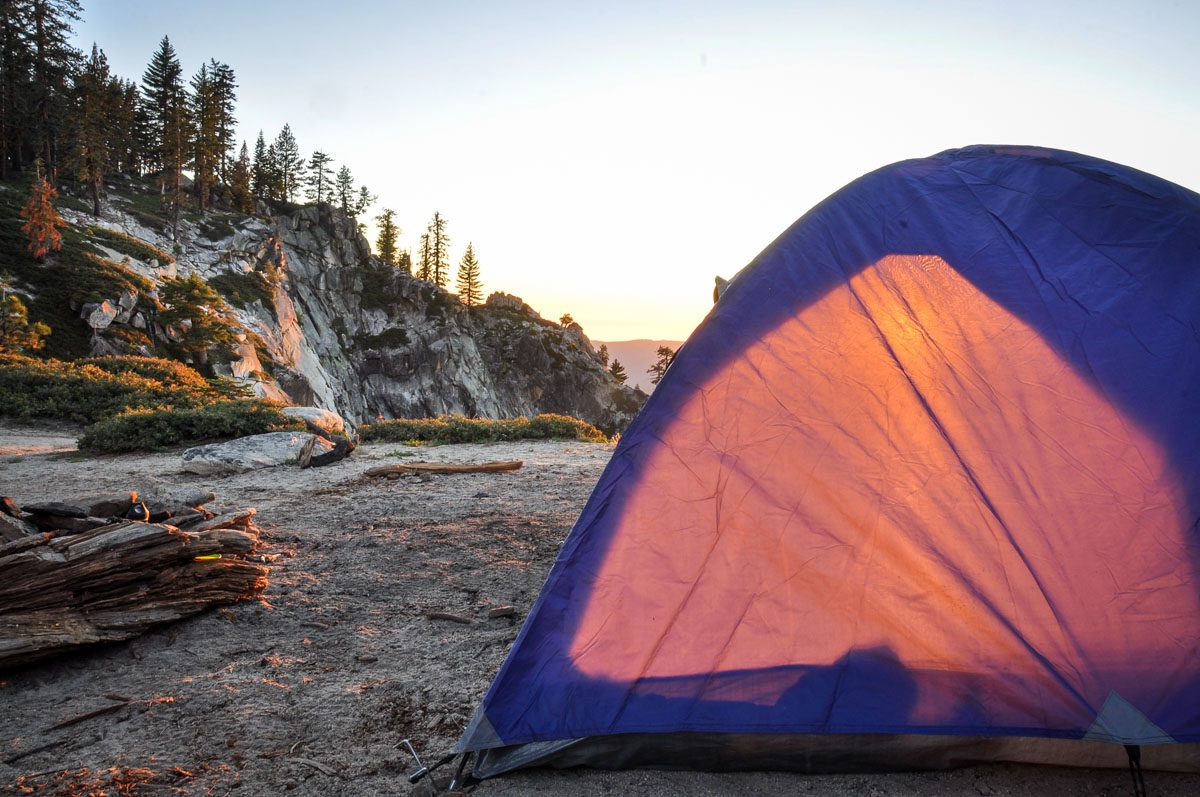 Read more about Yosemite National Park's campgrounds.
---
Psst! Katie and Ben here again…
A note on campgrounds outside the park
Camping inside Yosemite National Park is more convenient but, if you aren't able to get a spot in the park, there are many campgrounds located around the park as well.
If you're traveling in a campervan or simply hoping to save money on your visit to Yosemite National Park by camping along the way, we have a deal for you!
The Dyrt is our favorite campsite locating app with the largest database of campgrounds (44,000+ campsites and counting!) and over 1 million user-submitted reviews. Plus, it's super user-friendly, and has some pretty cool features, like outdoor gear contests and forums to connect and seek advice from fellow campers, that you won't find on any other camping app.
Try their Pro Membership for FREE for 30 days and gain access to the offline version of the app, utilize their trip planning feature AND get exclusive discounts on campsites and gear!
---
What to pack for visiting Yosemite National Park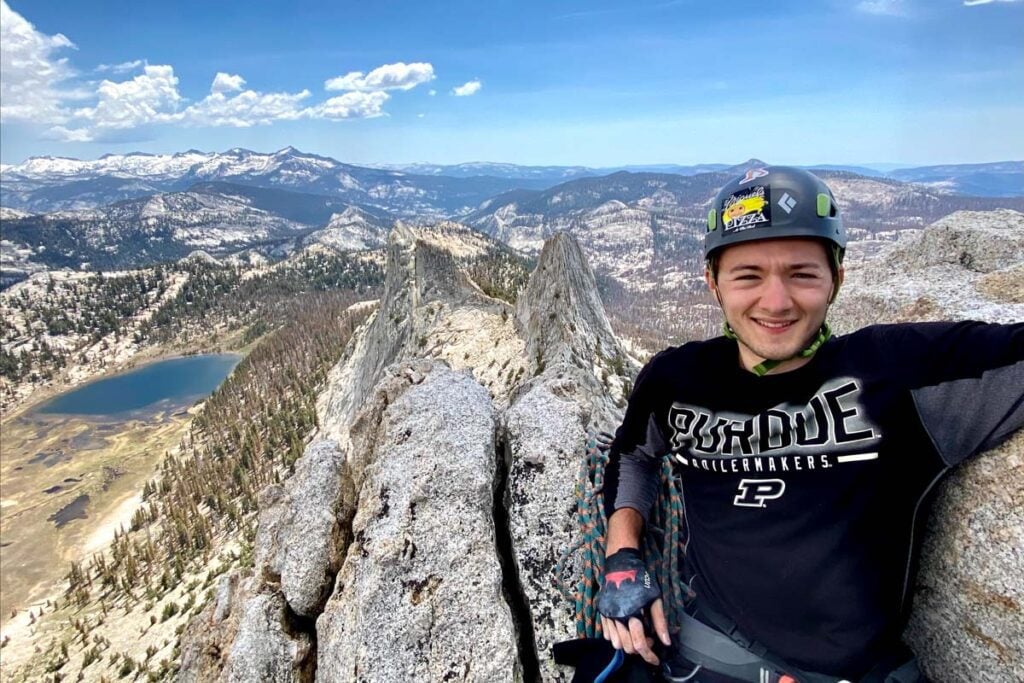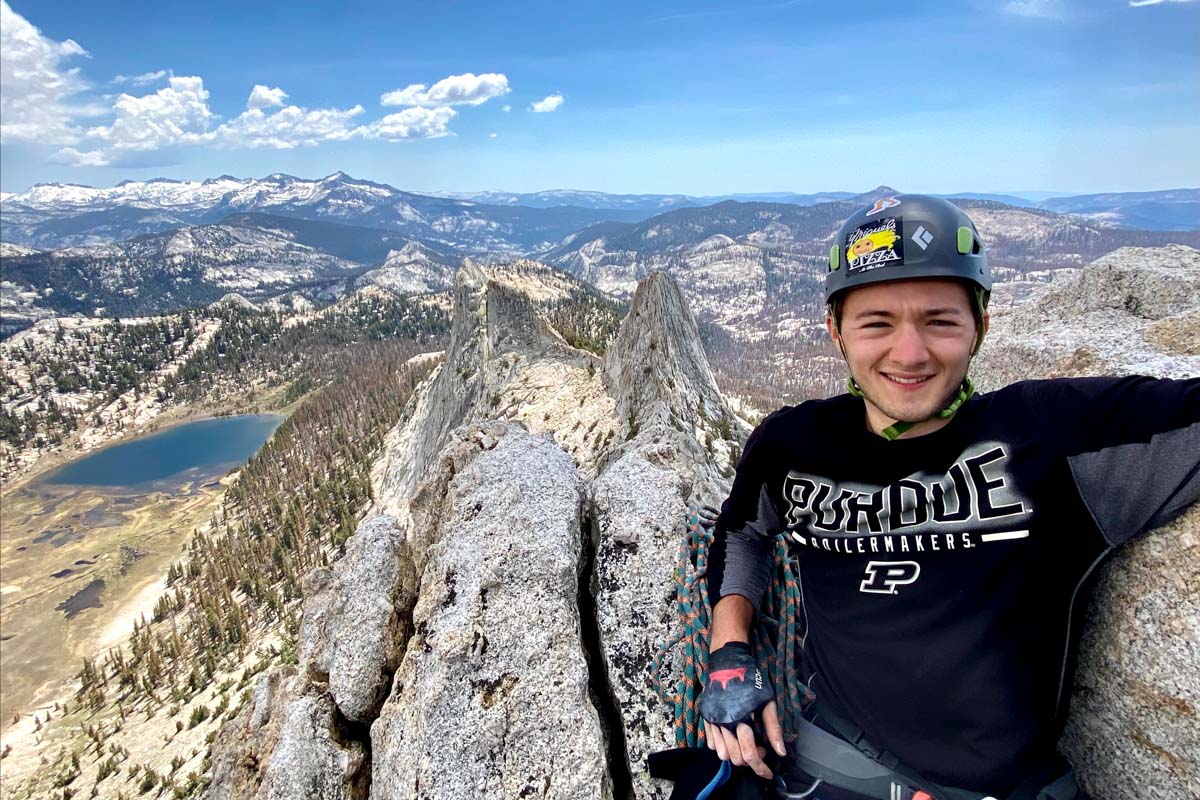 Hydration pack and/or water bottles
Sun protection: sunscreen, sunglasses, hat
Bug spray (we prefer the natural stuff)
Camera (be sure you have a bag so you can put away your camera for the Half Dome hike!)
Hiking shoes or boots
Binoculars
Comfortable hiking clothes (always dress in layers!)
Snacks
AllTrails Pro (or download Google Maps offline for the area in case you lose service)
Optional: Mountain Project or a Yosemite climbing guidebook if you intend to climb
Optional: Garmin Inreach (or similar device) to call for help in a backcountry emergency
Note: DO NOT pack bear spray. It is not allowed in Yosemite National Park.
Tips for visiting Yosemite National Park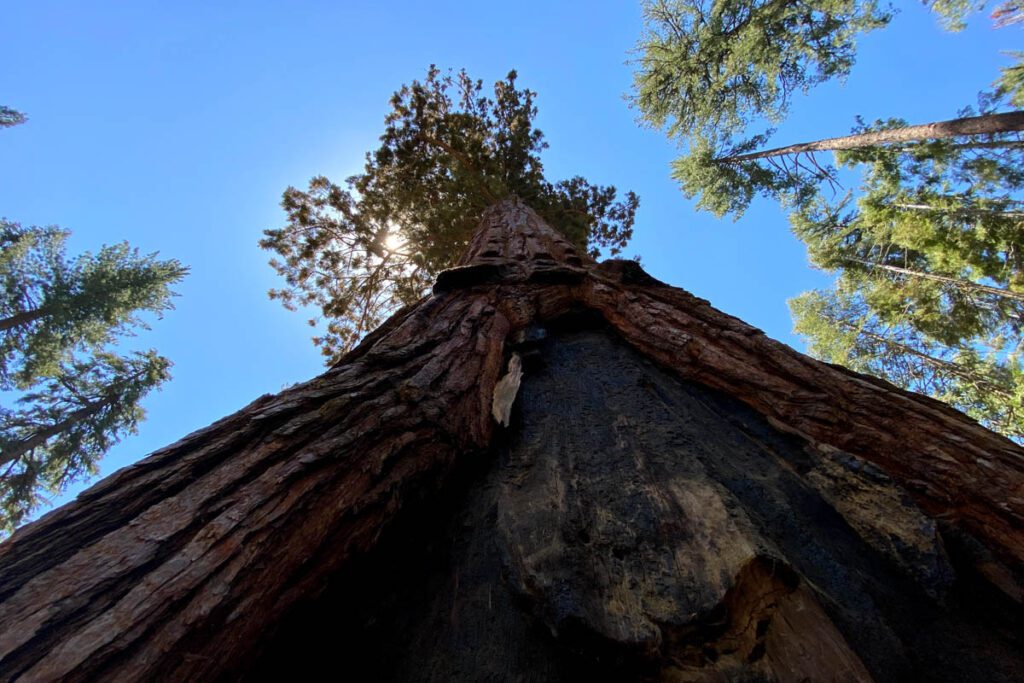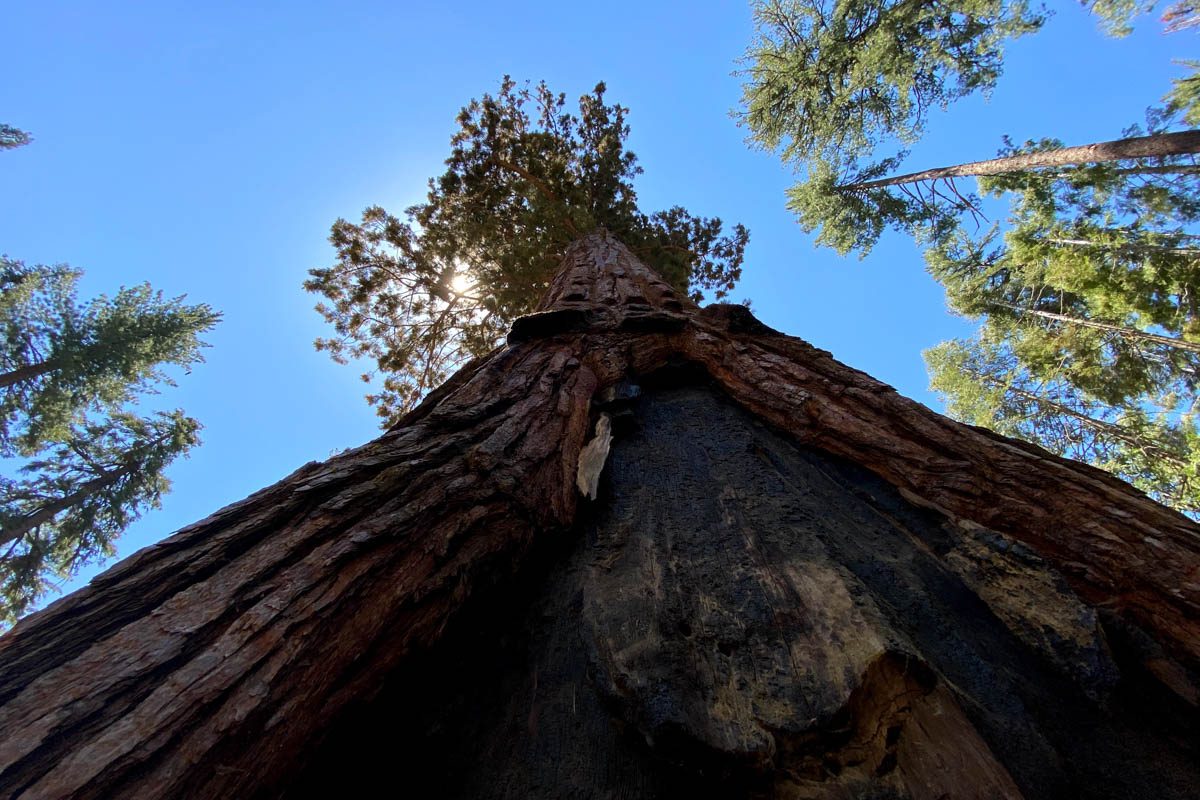 These are some of my top tips for visiting Yosemite National Park to make the most of your experience.
Start your day early during peak season to avoid the worst of the park's crowds. When possible, get started at or before sunrise.
Build flexibility into your plans! Unexpected weather can often change your schedule.
Plan downtime during your stay. If you try to do a strenuous hike or activity every single day you're in the park, you will get burnt out.
Avoid holiday weekends, since this is when you'll encounter the largest crowds. Visit during the week if you can.
Check the forecast before you start long activities.
DON'T FEED WILDLIFE!!! Just don't.
Book accommodations several months in advance. Yosemite is known for its lodging and camping filling up quickly. They even have a page titled "Help, I can't find a reservation!" on their website.

Yosemite's most popular campgrounds release sites 5 months in advance on the 15th of each month at 7 a.m. Pacific time. I strongly recommend that you get online to nab a campsite the second they become available. In 2021, me and four other friends did this, and only one of us successfully nabbed a campsite. The rest were gone in less than a second.

Bring lots of water. Always pack more water than you think you need.
---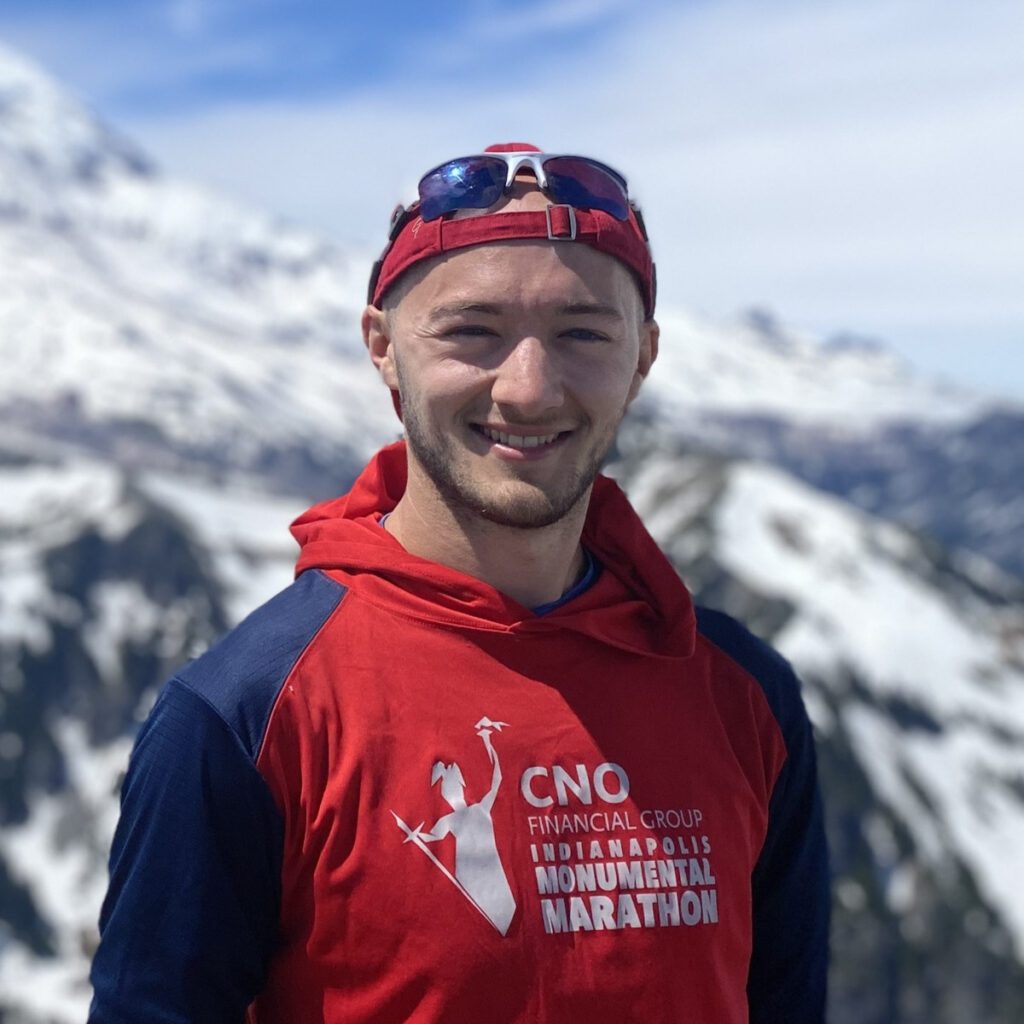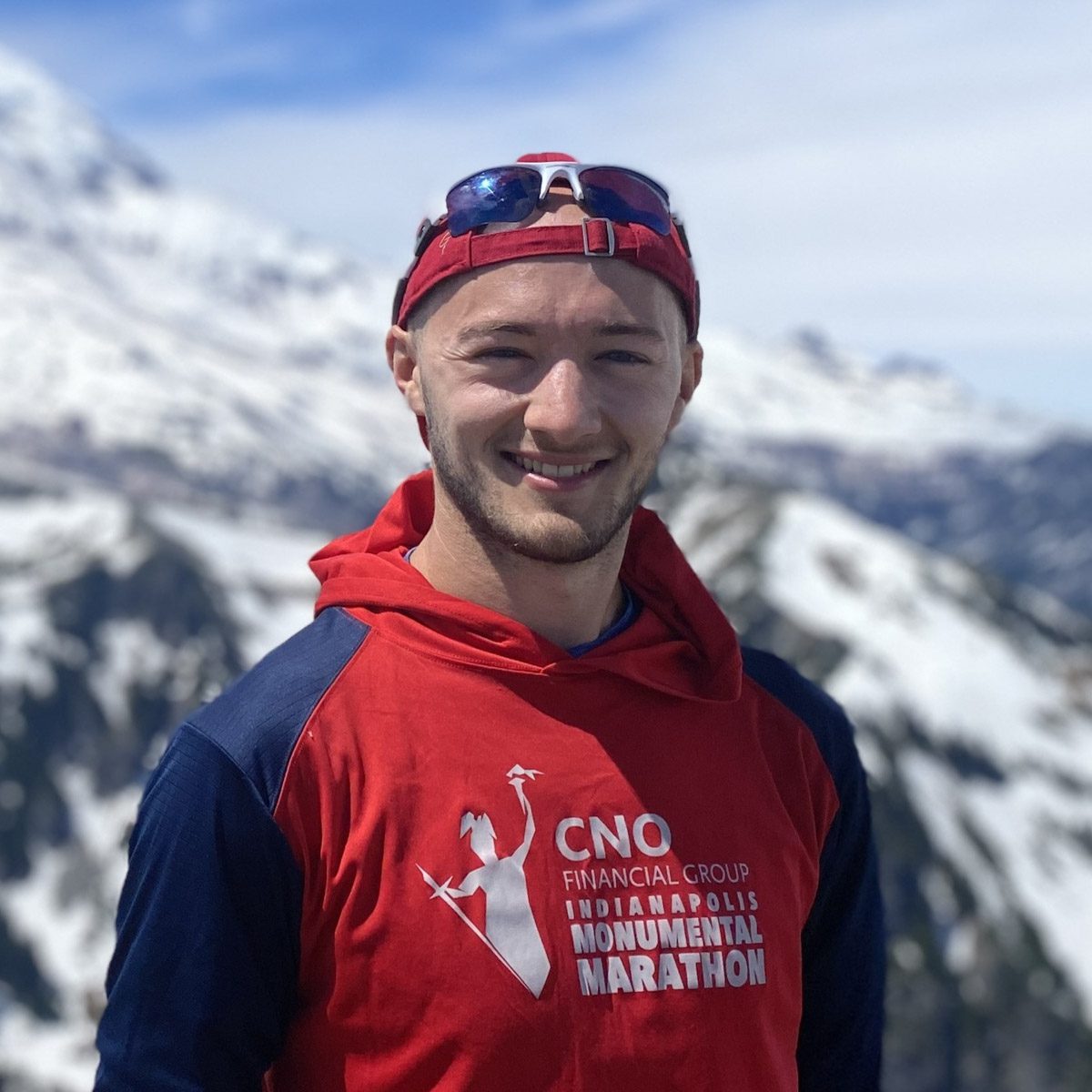 About the author
Paul is an outdoor enthusiast, blogger & vlogger, and engineer living in Indianapolis, Indiana. In 2018, he began a quest to visit every national park in the USA, and has since made it to 26… with plans to visit 7 more in 2023. He documents his travels and shares tips for visiting the parks on his website, Paul in the Parks. He spends his free time hiking, rock climbing, backpacking, running, cycling, and exploring the country with his fiancée, Maria, who shares his love of the outdoors.
---
Planning a trip out west?
We have TONS of resources on travel in the US and how to make the most out of your trip. Check out our Ultimate USA Travel Guide for everything you need to know, or read some of our favorite articles below.
Save this article for later on Pinterest!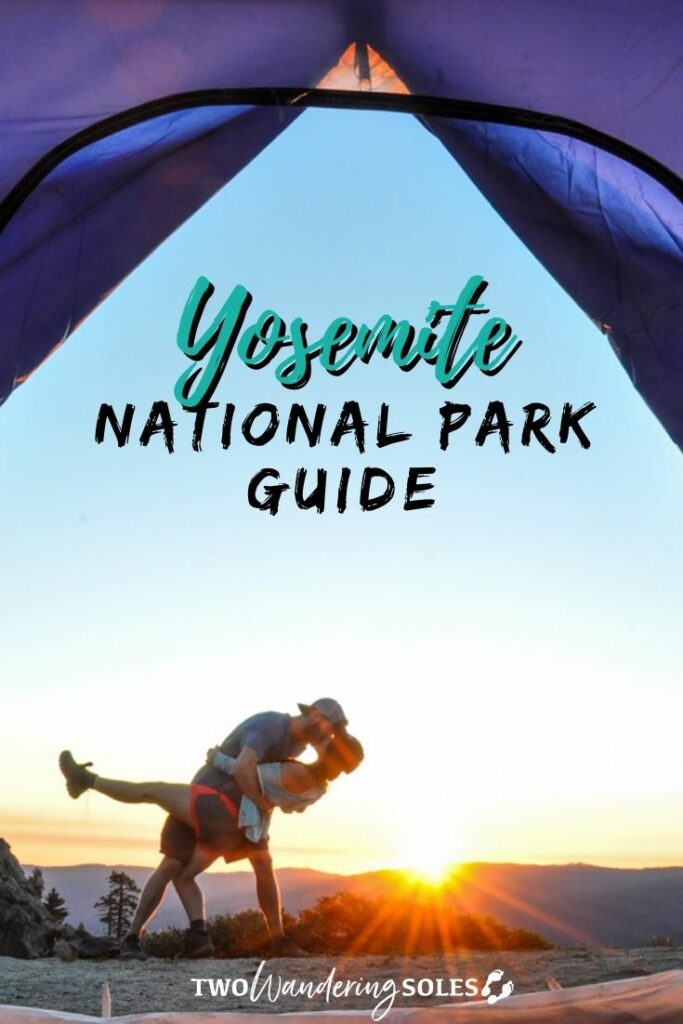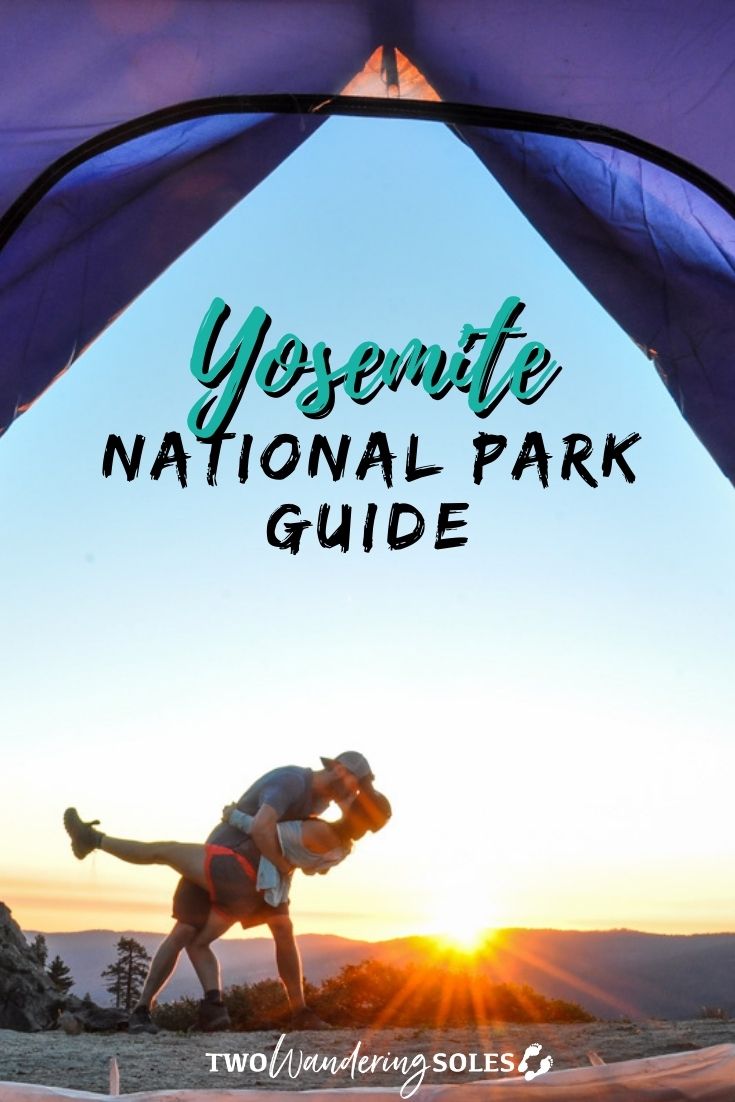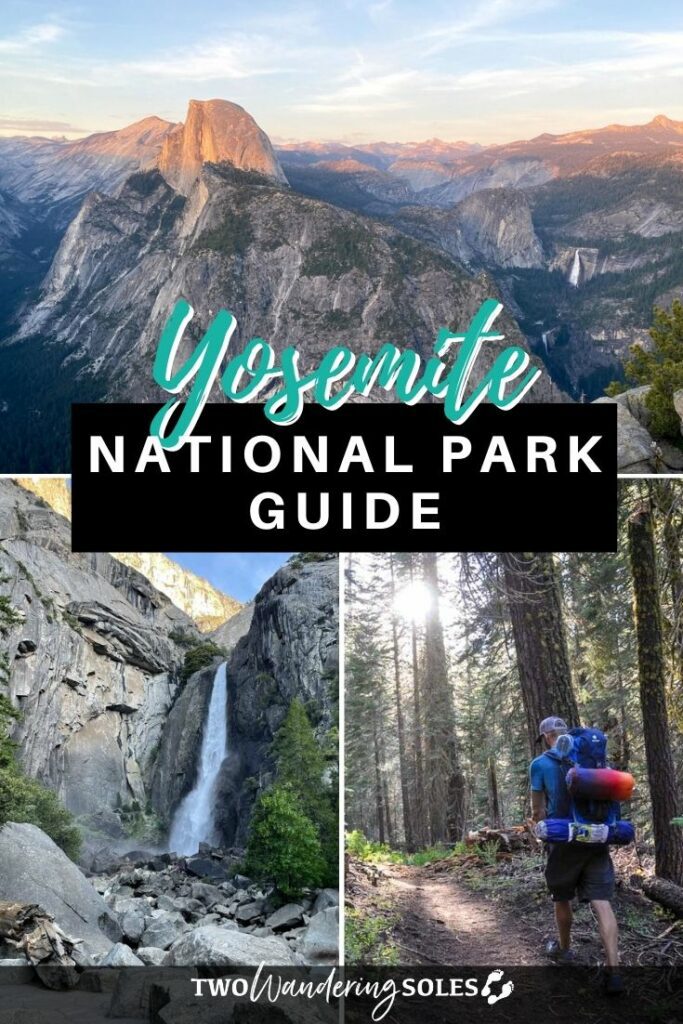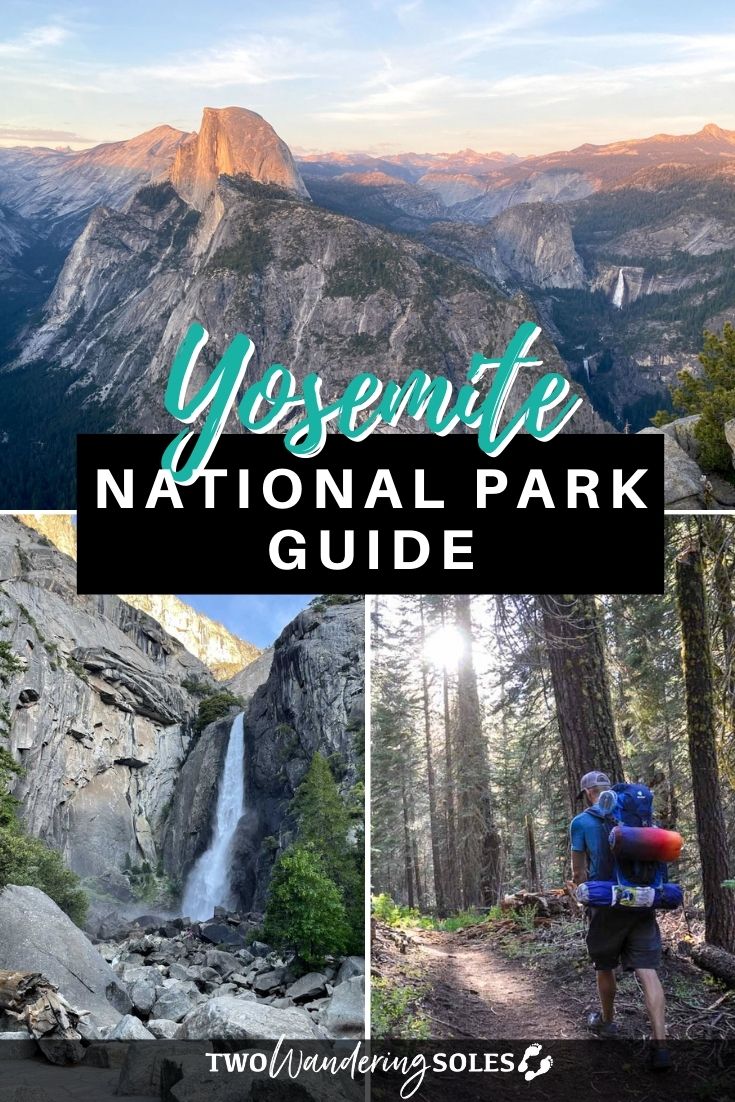 We want to hear from you!
Which of these things to do in Yosemite National Park is at the top of your list? Have questions about planning your trip to Yosemite? Anything you think we missed? Let us know in the comments below and we'll do our best to get back to you!