In this guest post, travel experts from Gemtrack helped us round up some exciting things to do in Lombok, Indonesia. Most of which have some component of sustainability or community outreach making this the perfect travel guide for the responsible traveler.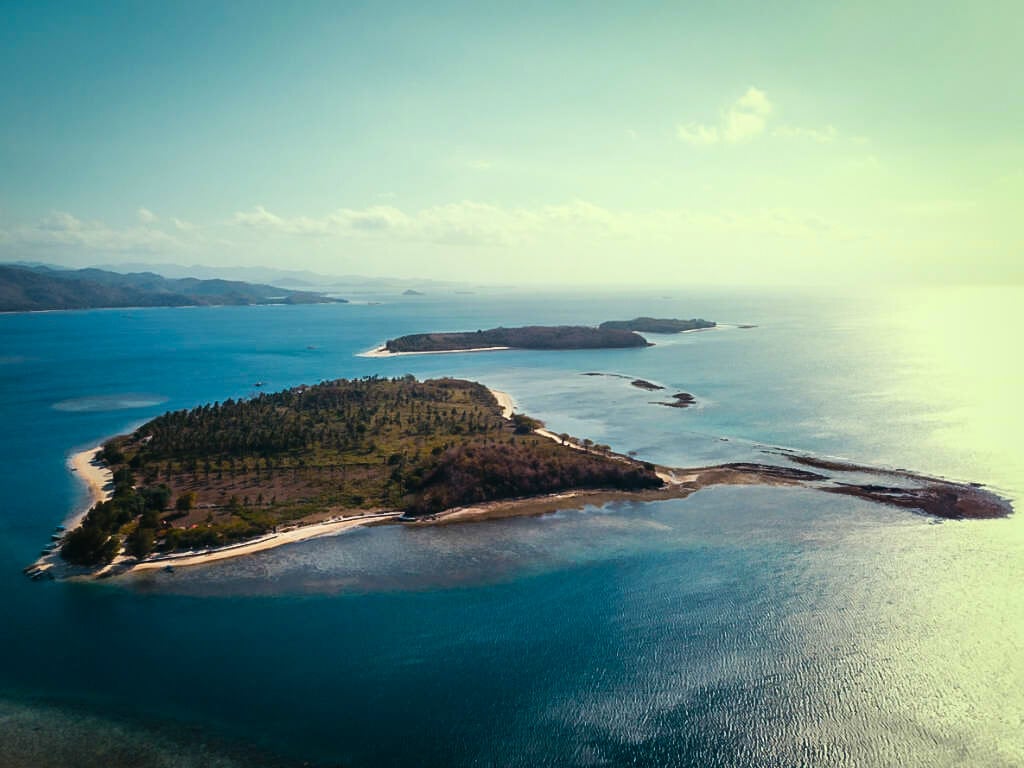 This article was written by our friends at Gemtrack Travel.
Indonesia – this huge archipelago consists of over seventeen thousand (!) islands spread across the Indian and Pacific Ocean. There are so many islands and regions to discover there that one might become quite overwhelmed by the choices. 
Most travelers tend to gravitate towards Bali, the small tear shaped island just East of Java. And it's no wonder! This stunning island is heavily promoted and it sometimes seems like every travel blogger you follow on Instagram is there at the same time… 
Usually, when a traveler tells us that they are traveling to Bali, we try to ask them if they've thought about jumping over to Lombok as well.
Lombok is an island located to the east of Bali, that is bursting with natural beauty! Picture vast beaches, rugged coastlines, thick jungle canopies and fertile volcanic soil. All which surround the island's majestic volcano: the holy Mount Rinjani. The island is predominantly Muslim, which makes the cultural experience very different than Bali, where the religion is Balinese Hinduism.
We think that adding Lombok to your list of "islands to hop on" while traveling in Indonesia will add so much to your overall experience of the region!
Having spent quite some time in Lombok over the last two years, we've fallen in love with the island. At the same time we've become very aware of the devastating effects that tourism has had in these corners of the world. And we've made it our mission to promote a side of Lombok that is amazing and ethical at the same time!
---
Lombok Article Contents
Jump to the section you are looking for, or just scroll down the page.
Regional breakdown of Lombok
---
Lombok Overview
Lombok's ecosystem is incredibly varied. Along the coast you'll find large cliffs and hilly areas that lend themselves perfectly for cracking open a cold Bintang and enjoying the view. The south is well known amongst surfers, as there is an abundance of surf spots to choose from for all levels. 
The most iconic part of Lombok has to be Mount Rinjani: Indonesia's second highest mountain peak. Climbing this active volcano is a popular trek, where you will traverse many different landscapes before making the challenging ascent to the summit. 
Lombok has a rainy and dry season, but compared to the surrounding islands, the wet season in Lombok is relatively less rainy. If you want to avoid the rain, we recommend traveling between April and October. 
Psst! Want to check out more of Indonesia outside of Bali? We've put together the ultimate list of epic things to do in Java, plus an entire guide for planning your perfect trip.
Regional breakdown of Lombok
South Lombok: We recommend starting your trip to Lombok in Kuta. This area is perfect to explore on two wheels, meet fellow travelers and maybe try your hand at surfing. 
West Lombok: Sengiggi is known for its many resorts and hotels, but the west has more undiscovered places like Gunung Sari and the beautiful Secret Gilis.
Central Lombok: Tetebatu is the green heart of Lombok – lush and fertile land at the foot of Mount Rinjani.
Gili Islands: These tiny islands surrounded by pretty beaches and coral reefs, enjoy regular visits from sea turtles and other marine life. Gili Trawangan, or Gili T for short, is the "party island", while Gili Air and Gili Meno are very quiet and laid-back.
---
Things to Do in Lombok
We always try to recommend places that are just a little different, off beat, with their own little quirks. On top of that, we promote places that are contributing to Lombok in a positive way, this means that many of our things to do in Lombok have some component of sustainability or community outreach. We call these places "travel gems." 
1. Stay at an organic farm in Tetebatu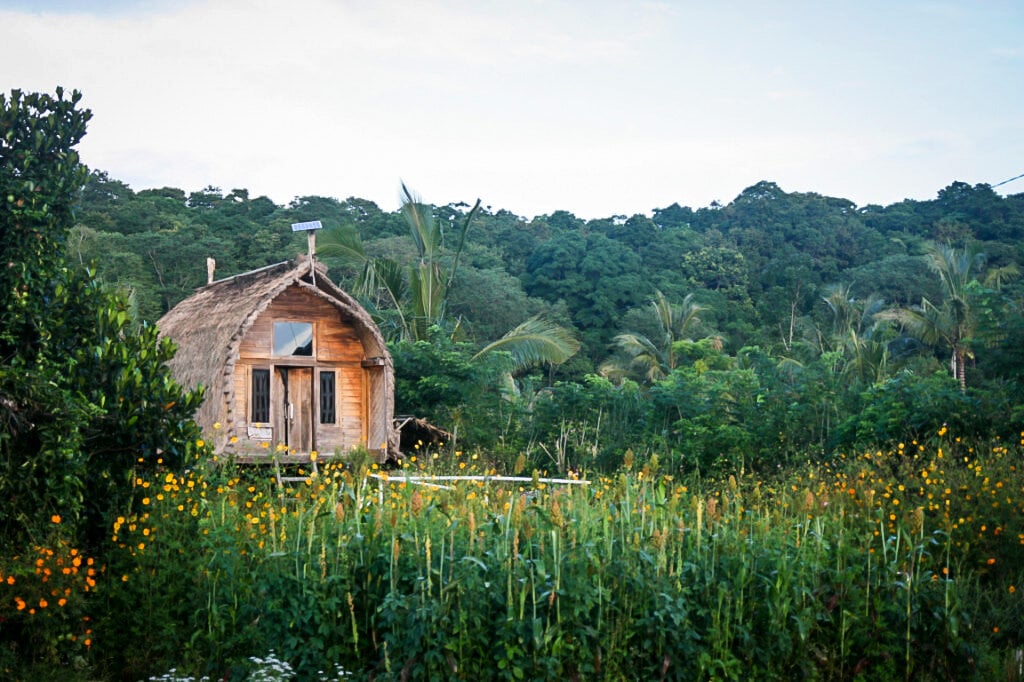 Tetebatu is the beautiful fertile land just below Mount Rinjani. For the true adventurers, we recommend diving deep into the jungle and staying at Lombok Organic Farm. The farm is surrounded by rice paddies and lush jungle area and you'll definitely feel one with nature as you enjoy the view. The Organic Farm does everything according to the principles of permaculture. 
Heads up: This one is truly one for the traveler who doesn't mind to live simply! There are no restaurants around and you're expected to get by mostly by yourself. 
Related Reading: Learn more about sustainable tourism and what it looks like around the world.
2. Go paragliding in Kuta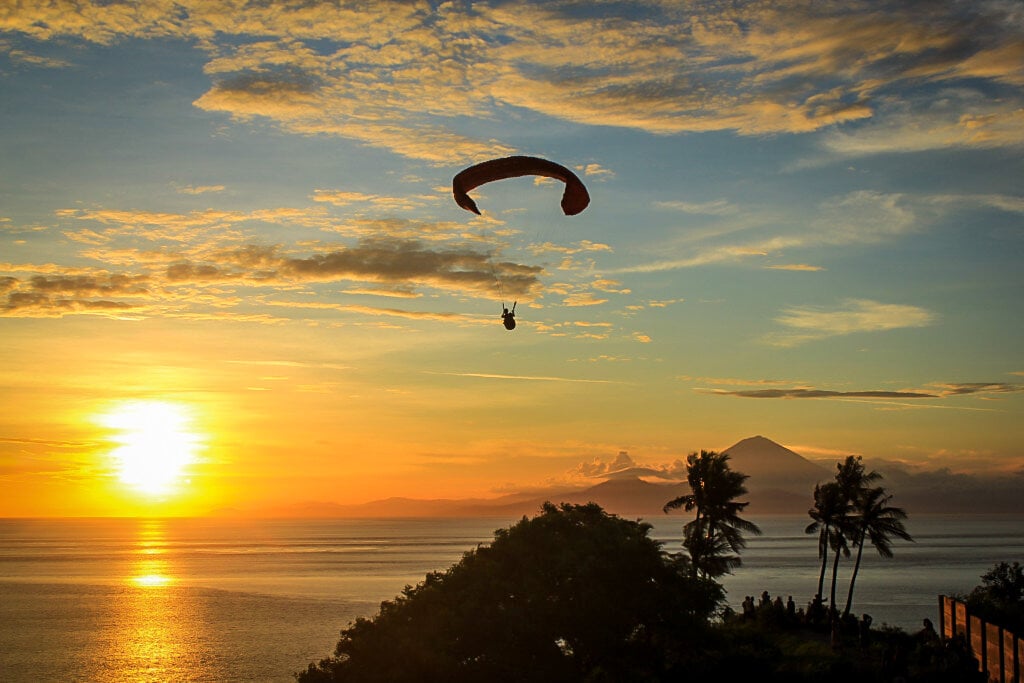 Hover above the most beautiful valleys and bays in Lombok and enjoy the incredible view from high up in the sky. Our favorite paragliding instructor is Dodi, who will make sure you have the best experience possible. Dodi also organizes paragliding trips in the Rinjani area where you can hike up the mountain, do a couple of flights and sleep in a tent!
You can read more about the tour and contact them directly on their Facebook page. 
3. Learn how to surf
Have you always been intrigued by surfing? Or are you looking to improve your shredding skills? Lombok is a great place to have some fun in the water. With many surf schools to choose from it can be quite a challenge to choose what will work for you. We recommend Surf Camp Lombok for an immersive and intense journey, Drop In Surf Camp for a laidback and comfortable environment and Kura Kura Surf Camp for shorter surf packages. 
4. Discover the secret Gili's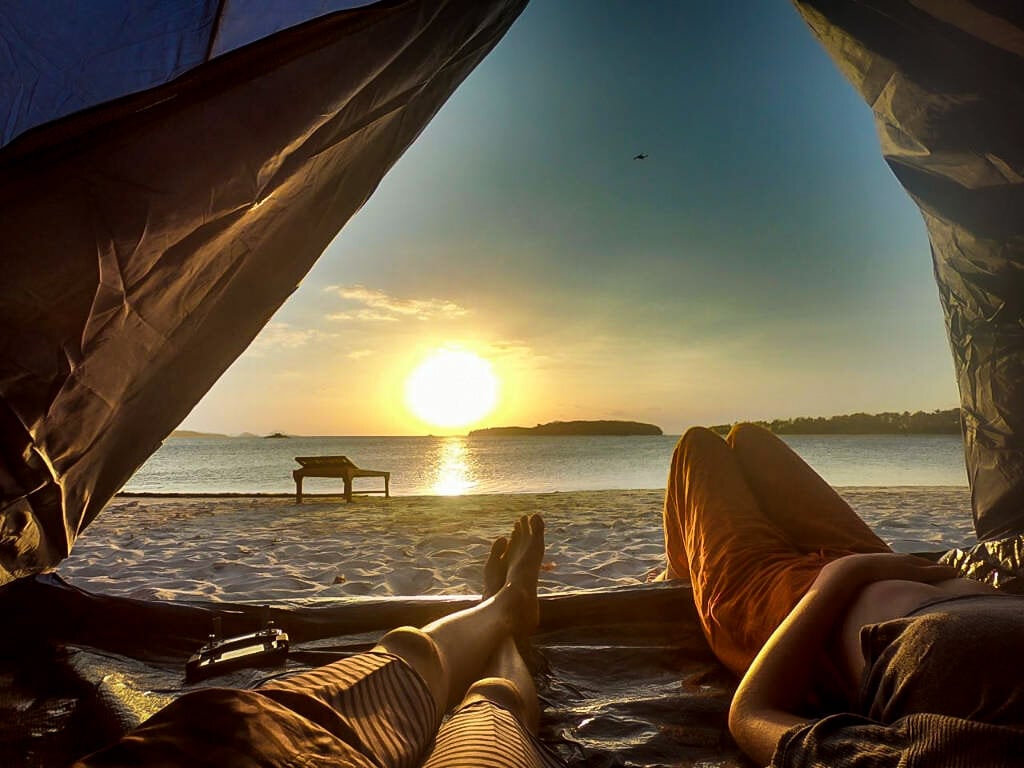 Just off the south west coast of Lombok you can find some of the prettiest little islands in the world: the secret Gili's! These tiny specks of white lend themselves perfectly for camping trips with friends. Yang Nomads is a small tour company that specializes in intimate trips to the island of Gili Kedis.
Who doesn't love the wonderful combination of a warm group of people, the awe of nature and a bonus addition of a cold beer (or bottle of rice wine)?
5. Dance your heart out at the Bus Bar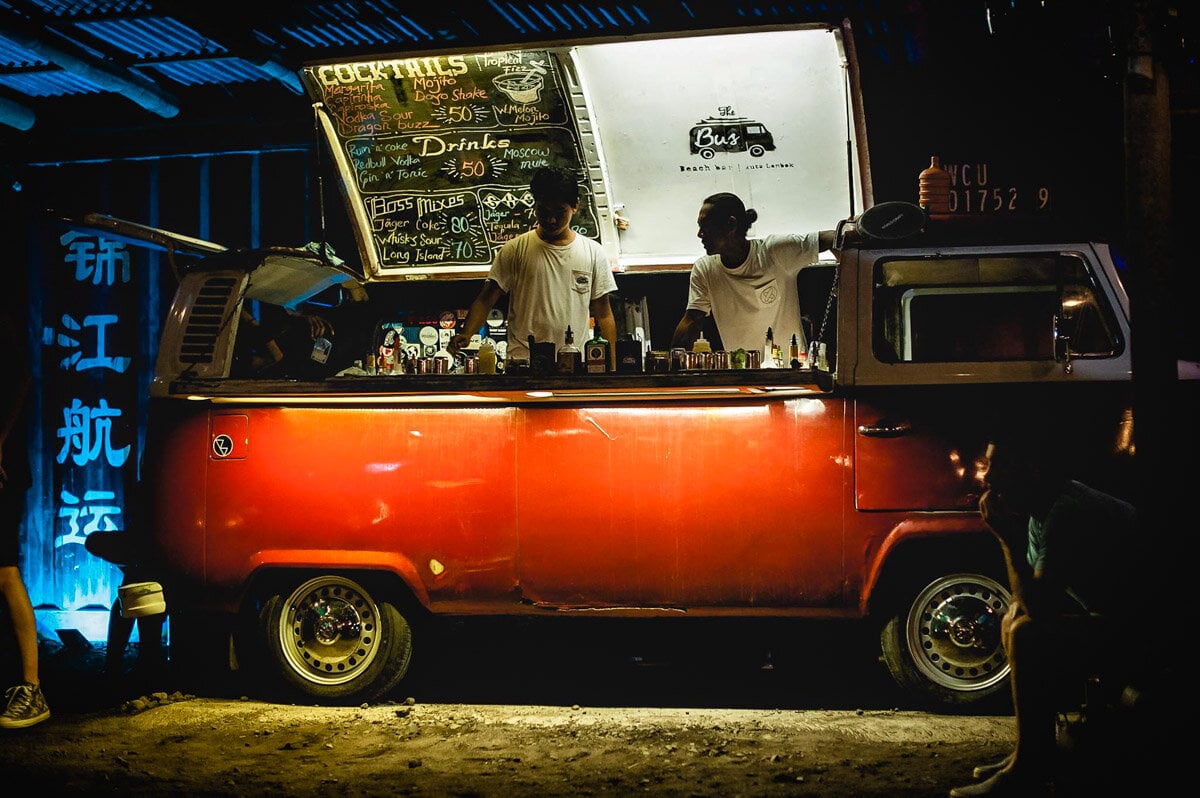 Feeling like dancing the night away? The Bus Bar is a fully operational Volkswagen surf van that has been remodeled to function as a portable bar. They serve homemade pizzas, cocktails and the grooviest tunes! The bus opens up every day at 5 pm and only serves dinner and drinks. A lot of people come here to start off their night or meet for drinks during happy hour from 6-8 pm.
6. Go on a village tour in Ebunut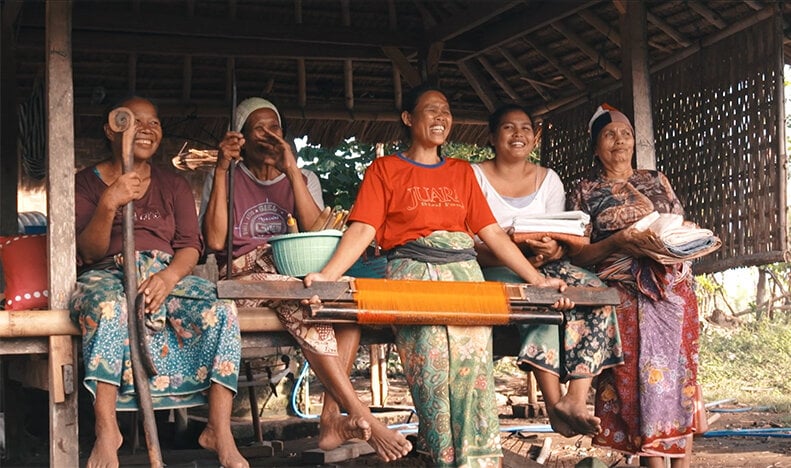 Lulu is the delightful Frenchwoman who runs FabuLous Place, a boutique B&B in Ebunut, just outside of Kuta. Having married a local from Ebunut, she has the unique combination of insider perspective on the village and their culture as well as the experience of being a foreigner there, new to everything.
She can organize a village tour in Ebunut and introduce you to all the people along the way and explain the most intriguing aspects of daily Sasak life!
7. Mount Rinjani Trekking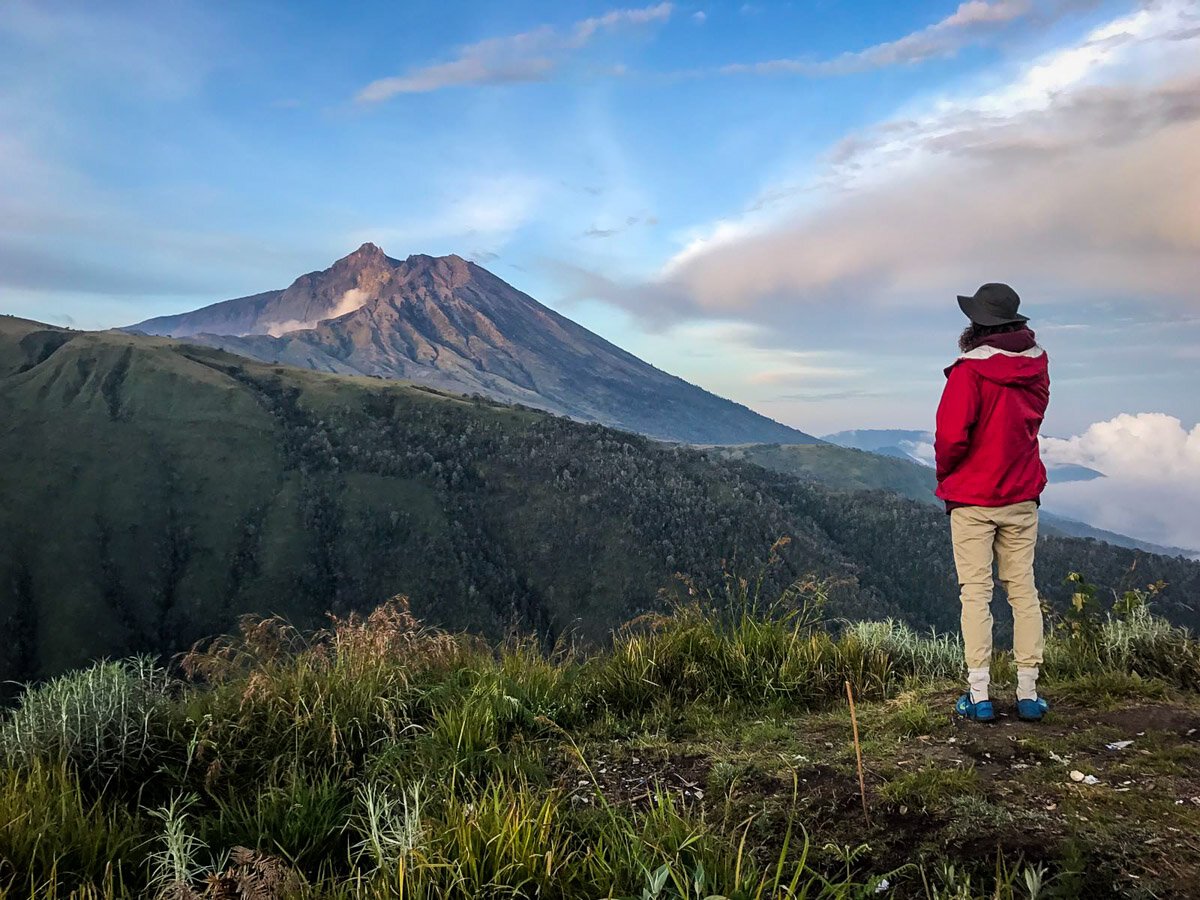 The active travelers among us will be excited to climb Mount Rinjani. The trek is not for the faint hearted, it can actually get quite intense!
If you do decide to trek up the mountain (which we think is totally worth it!) we recommend Green Rinjani – a company that plants a tree every time they go up the mountain or Rinjani Women Adventure – a company that empowers local women to become trekking guides!
8. Do a yoga retreat at Mana Yoga Retreat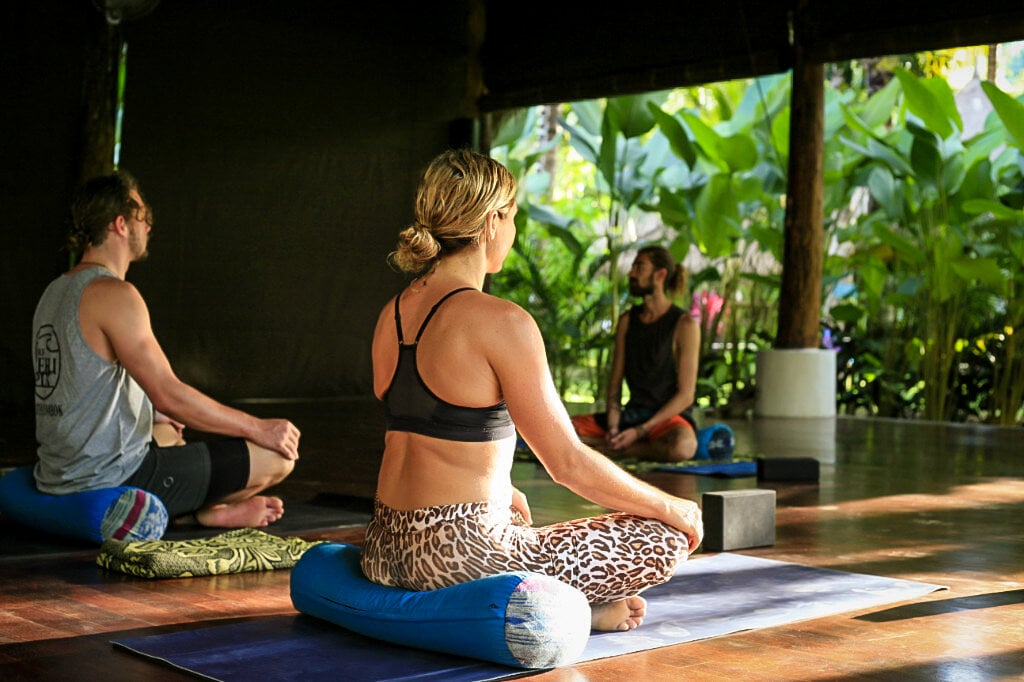 Following the Indonesian saying, 'adeng adeng', (which means 'slowly slowly'), Mana Yoga Retreat wants to inspire people to create a slow, serene and laidback lifestyle.
To make you feel at home, they facilitate everything you need: daily yoga classes to connect with yourself, a restaurant with a vegetarian menu to nurture your body, a spa for lovely massages and several accommodation options for various budgets.
9. Join a community dinner at Terra
With the aim of nourishing whilst pampering your taste buds, Terra is known for their community dinners on Wednesdays. You can enjoy a multi-course spread of delicious cooked and raw vegan delights, picked from Ashtari's organic farm and served to you on a lovely community table. They also offer cooking classes for those who want to get your hands on the food before you eat it. 
10. Camping trip in Kenawa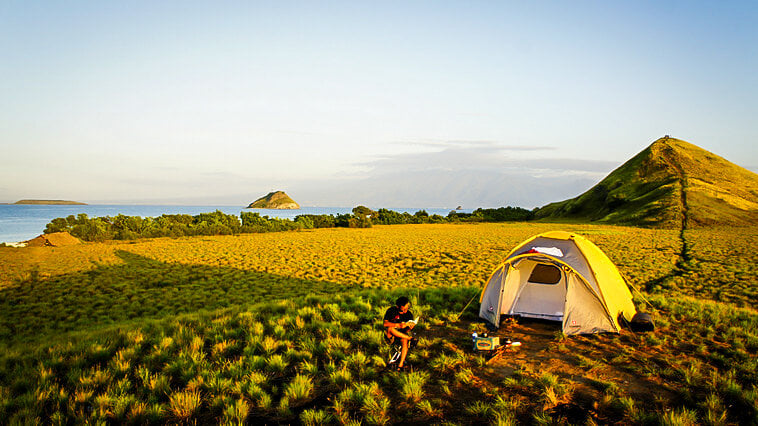 Tris, who organizes camping trips in Lombok, discovered Kenawa "by accident" during a scroll on Google maps. The island turned out to be an amazing destination for a camping trip.
By connecting with local warungs, she attempts to stimulate the local economy through tourism. Just drop Tris a message on Facebook to book with her!
11. Join a beach cleanup on the Gili's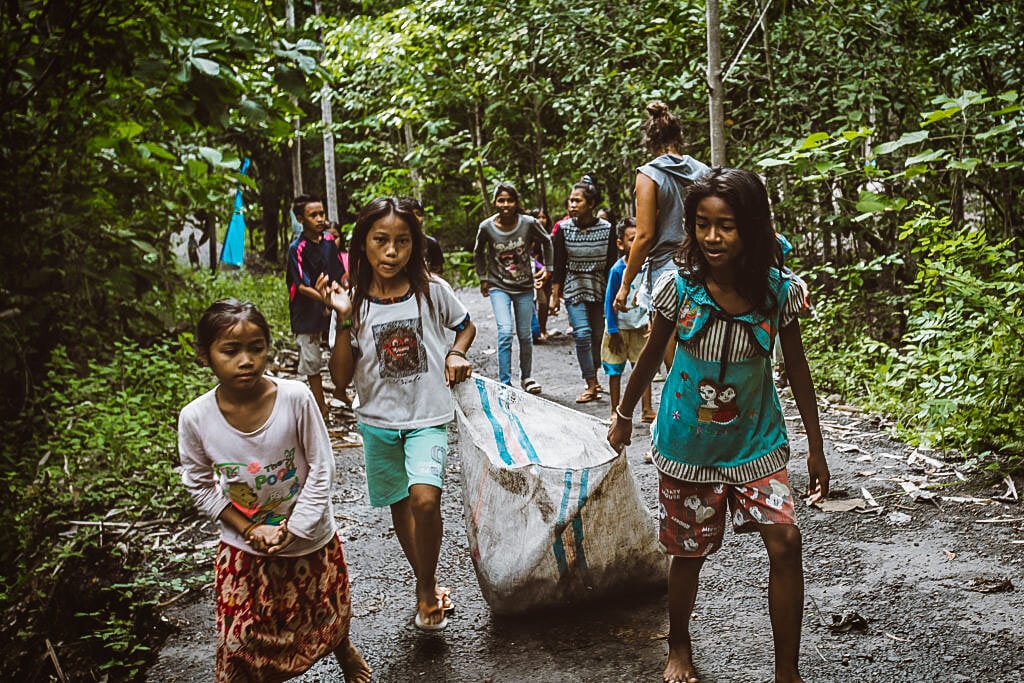 What  better  waytoget  involved with the community than to roll up your sleeves and get together to pick up trash from the beach? Gili Eco Trust organizes a beach clean up on Gili T every Friday at 5 pm with Sea Made, their own dive staff, tourists and locals.
It's a great way to meet like minded environmental enthusiasts – you even end the clean up with a complimentary ice cold beer! Sign up for "Debris free Fridays" as soon as you get there.
Related Reading: Check out these tips for being a more responsible traveler. 
12. Get inked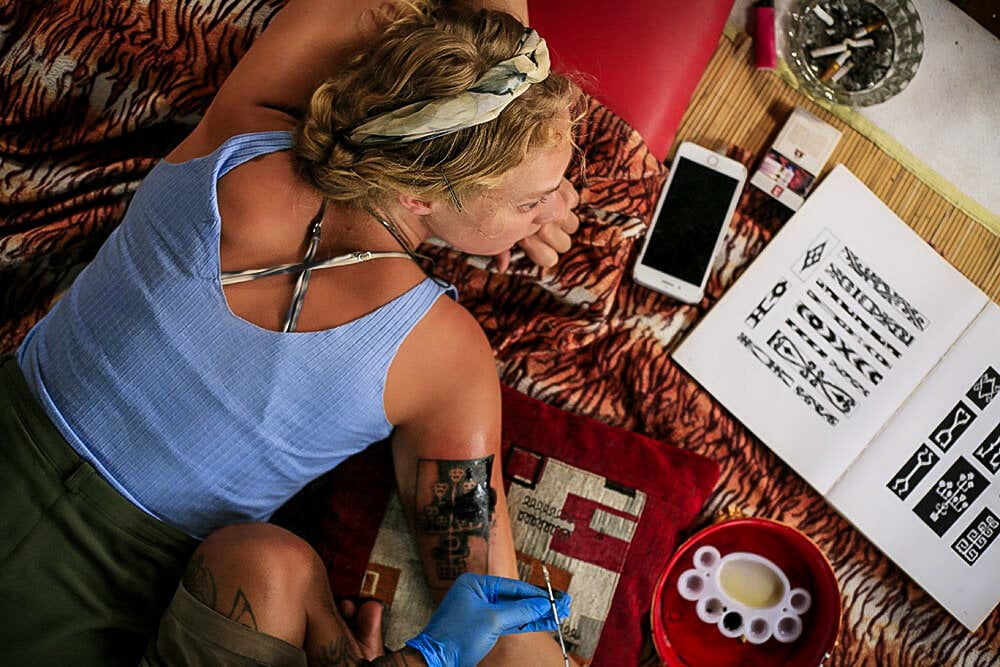 It's  notuncommon  tofeelthepull  togetinkedwhile traveling. For a truly special  tattooexperiencewe recommend Songteng – a traditional tattoo artist.
Sonteng decorates the skin using a traditional stick and poke  technique.Notwithbamboo,likemanyotherplaces in South East Asia, but with a special metal needle, easily recognizable by the sound it makes! Songteng is incredibly talented and makes exceptional works of art.
13. Snorkeling with sea turtles
One thing you should definitely not miss out on during your stay on Gili Meno, is a possible encounter with one of the most chilled-out sea creatures around: the sea turtle! Gili Meno Eco Hostel is located at one of the best turtle-watching spots of the island.
The best time to go is early morning or just before sunset. Searching  forturtleswhilefloating around is the perfect day activity for many. You can usually rent gear at the beach, or borrow it from the hostel while you are staying there.
14. Explore Lombok's hidden waterfalls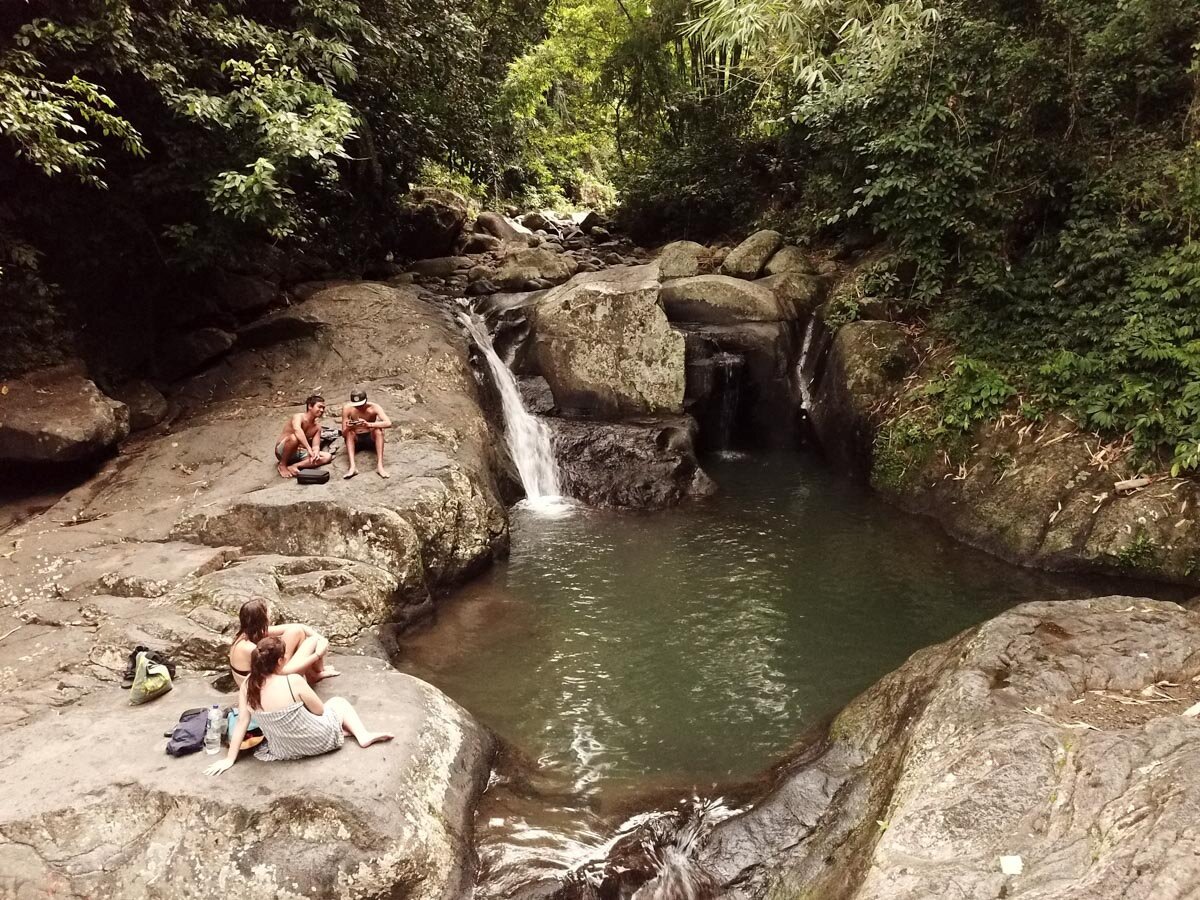 Can you really say you've visited Lombok if you didn't make the hike to at least one waterfall? Most people would definitely say no!
Feel Lombok has crafted an awesome one day trip to visit Sendang Gile and Tiu Kelep: two waterfalls that will bring out the adventurer in you! Tiu Kelep is set deep within the jungle and can be reached only by walking up river and into a clearing. Get ready for some action!
15. Go on a road trip in Sengiggi
Another worth-while tour from Feel Lombok. Get ready to challenge some of the most spectacular views you've seen in South East Asia on their road trip along the northern coastal roads in Sengiggi.
There are vast coconut plantations, long and winding roads with cliff drops, and soft volcanic sand beaches. Immerse yourself in nature and meet amazing people along the way. 
16. Build a bonfire on Merese Hill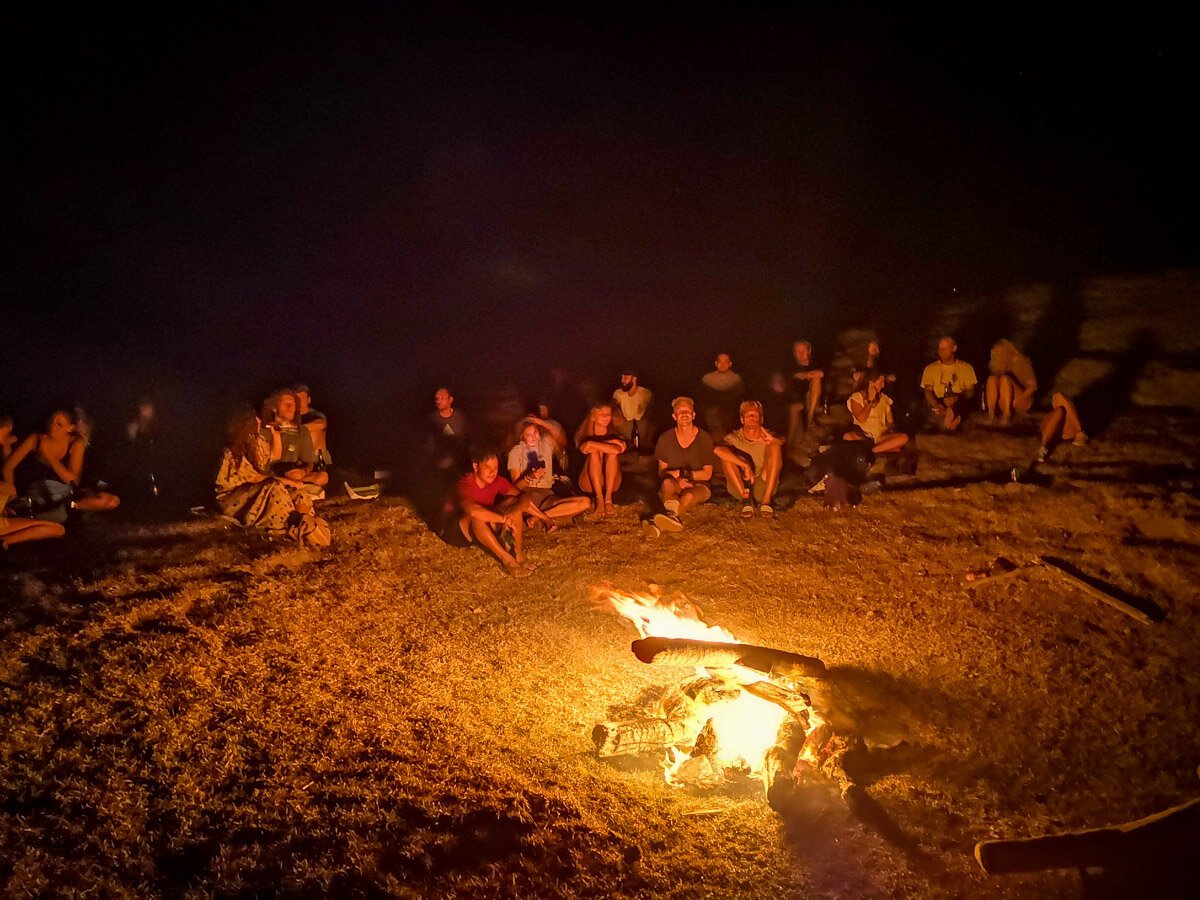 Just a 20 minute scooter drive East of Kuta town lies Merese Hill. This wonderful stretch of hilly grasslands is definitely one of the best spots to watch the sunset. But what does one do once the sun has set?
Create some more heat of course! This place is perfect to gather a group of friends, find a secret little spot and build a bonfire. Listen to the waves in the distance and gaze at the starry sky.
---
How to Get to Lombok
There are flights to and from Lombok at Lombok International Airport. If you are planning to visit Bali as well, you can easily fly between these islands for a very low air-fare! From Bali you can also travel to Lombok by ferry boat from Padang Bai harbour.
Katie and Ben typically use 12go.asia to find transport times and book ferries between Bali and Lombok. You can also book flights on it too.
---
Where to Stay in Lombok
There are many lovely hostels and homestays popping up in Lombok. Below are a few of our recommendations.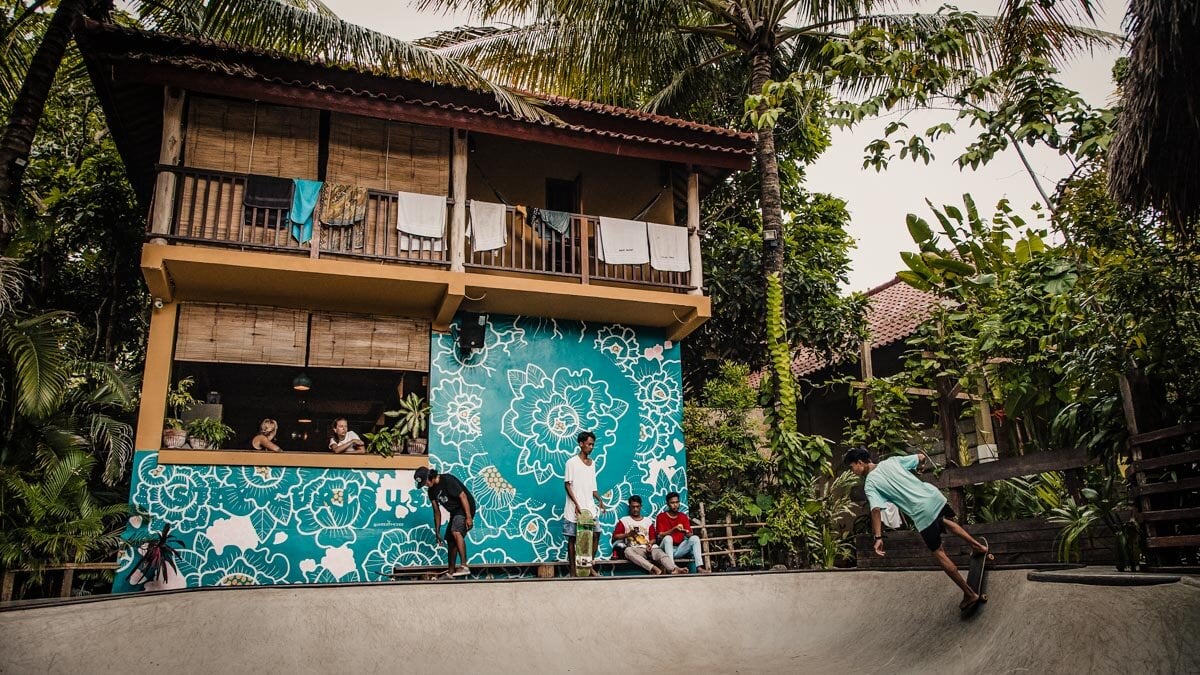 Pipes Hostel is the perfect laid back hostel for surfers and people who want to make friends and chill out. You can really feel that the place is built for people who want to connect and enjoy their stay together. If you want, you will easily get sucked into Kuta's amazing surfing scene.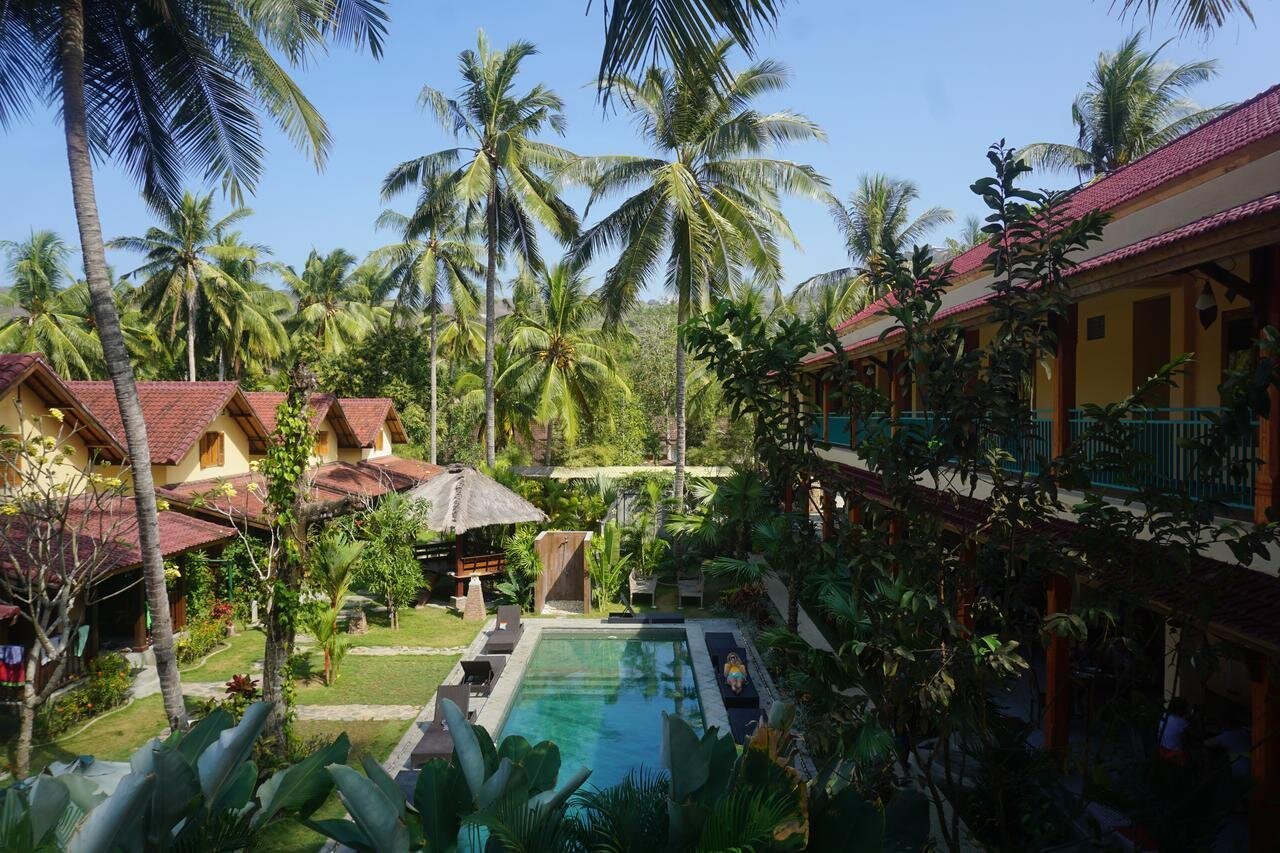 Botchan Hostel is the ultimate backpacker paradise. You can start your day with their all-you-can-eat pancake breakfast and end it on the rooftop, enjoying movie night with your fellow travelers. Botchan has a homely vibe; owners Ikes and Yuna go out of their way to make you feel at home.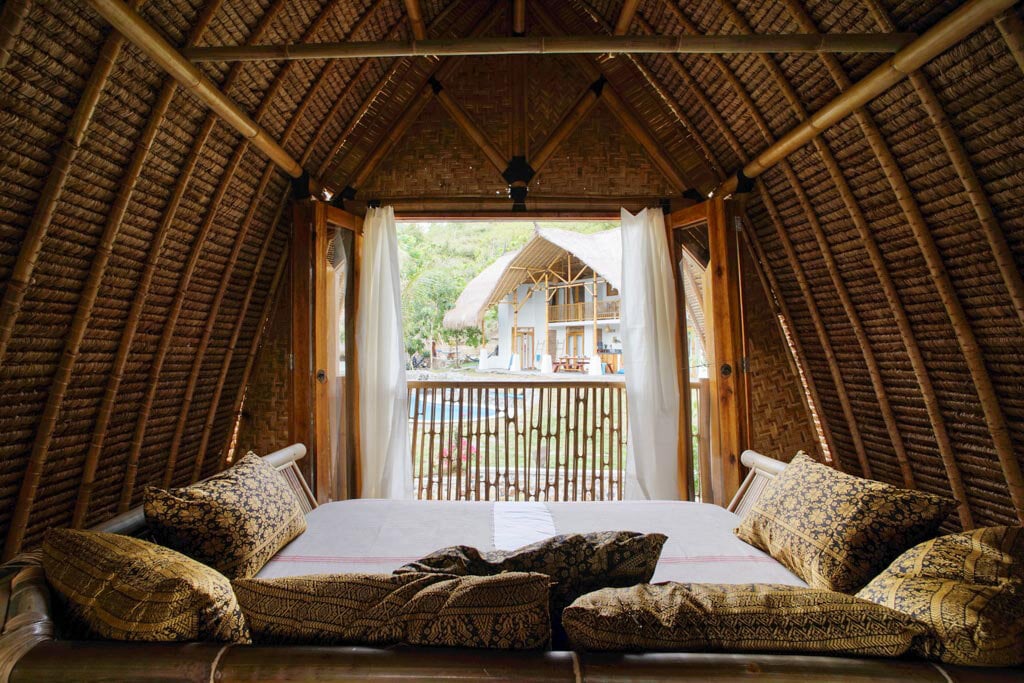 A few minutes out of Kuta, set in a serene valley, you will find Batu Bambu guesthouse. Utilizing the unique skills of local tradesman, they've built a space that is beautiful, simple and comfortable. Elisa, the owner, has also set up the Batu Bambu Kids foundation with the aim to empower local kids and offer them financial help to go to school!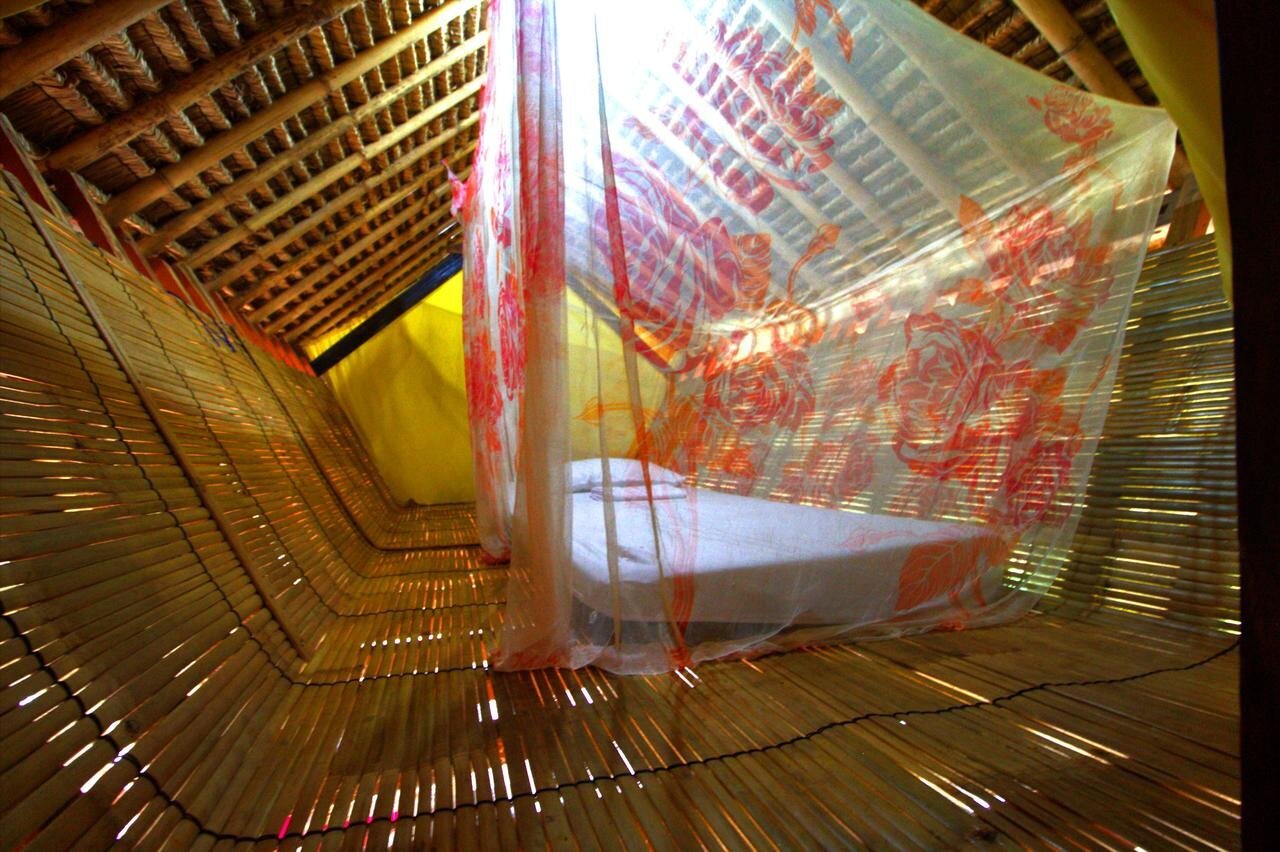 The Rabbit Tree Hostel in Gili Meno is truly a place unlike any other. Built from the parts of two traditional houses and various other quirky materials, the hostel is a maze of colorful, organic forms and funky shapes. The community here loves to get together for drinks, but also does beach cleanups together once a week!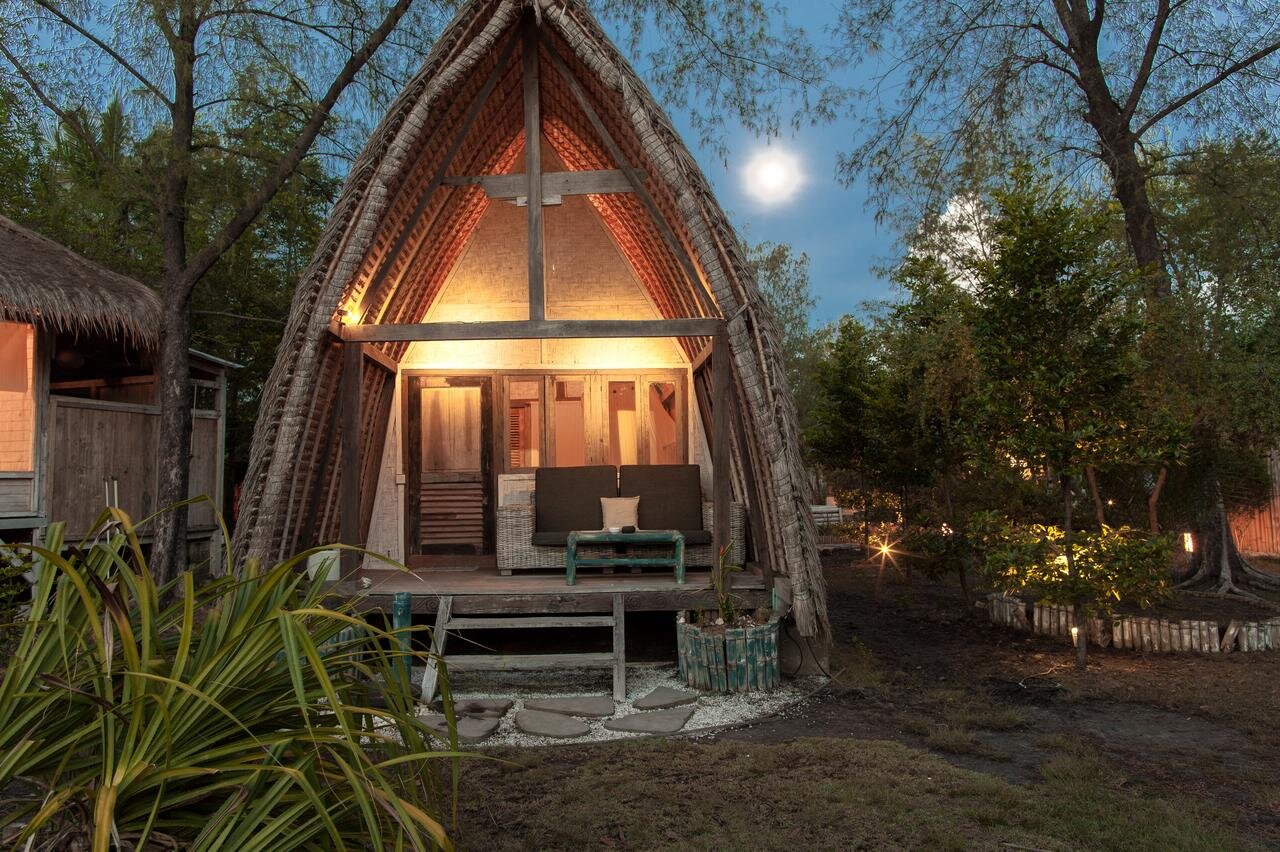 The beautiful holistic MaoMeno Resort is in tune with nature and wellness. Allow yourself to enjoy the peaceful ambience. Invest this time for contemplation, inner discovery, art, daily yoga in the yoga shala and enjoy nutritious meals. They host yoga retreats and teacher training workshops here if you want to dive even deeper.
Gili Meno Eco Hostel is a beachfront hostel on the sunrise side of Gili Meno. It has a super relaxed, laidback atmosphere and is filled with an ever changing group of travelers keen to experience an eco-friendly lifestyle: compost toilets, natural air conditioning (i.e. the sea breeze) and so much more!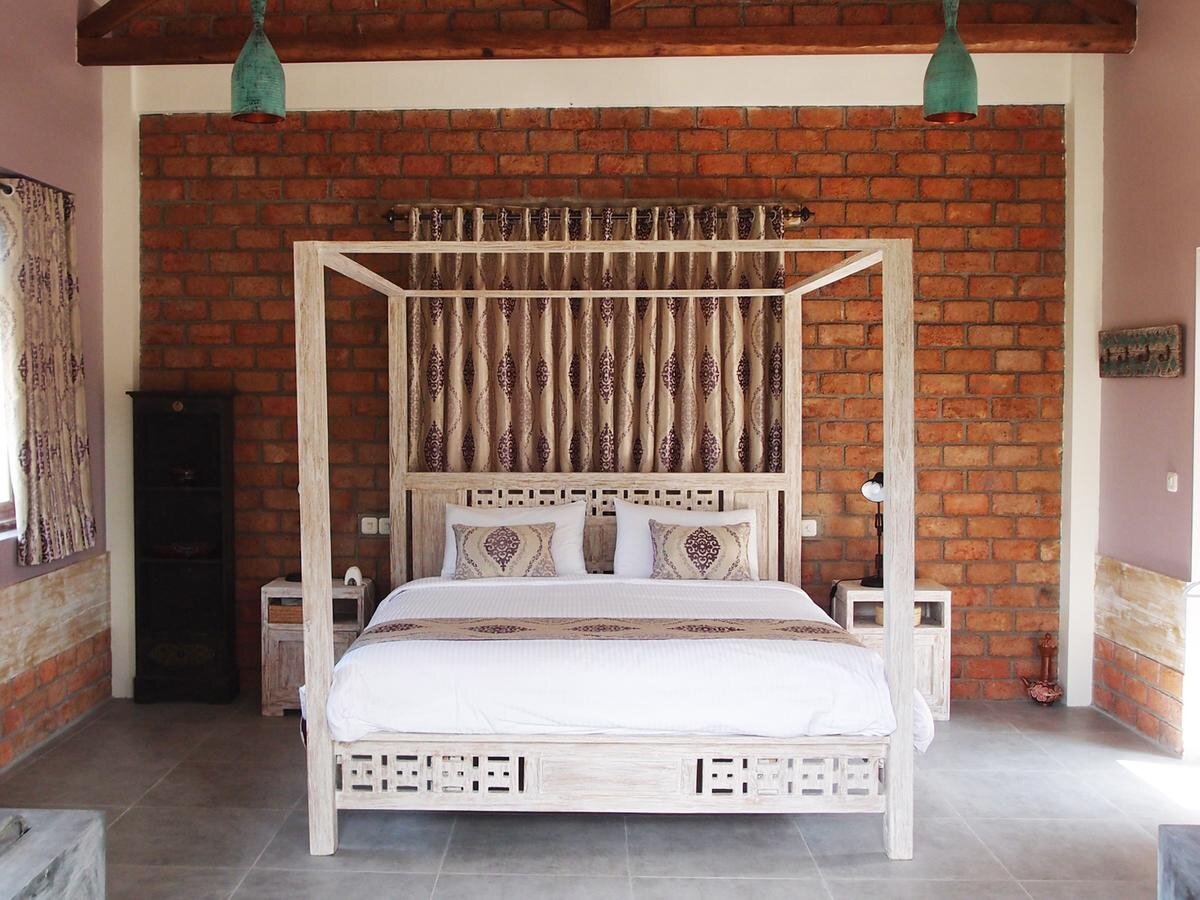 Les Rizieres guesthouse is nestled in the middle of the rice terraces and lush jungle of Tetebatu. It is a place to relax, enjoy nature and discover the area through the many activities offered. Rice field hikes, treks, bike trips and rafting: Les Rizières will make sure there is always something to do.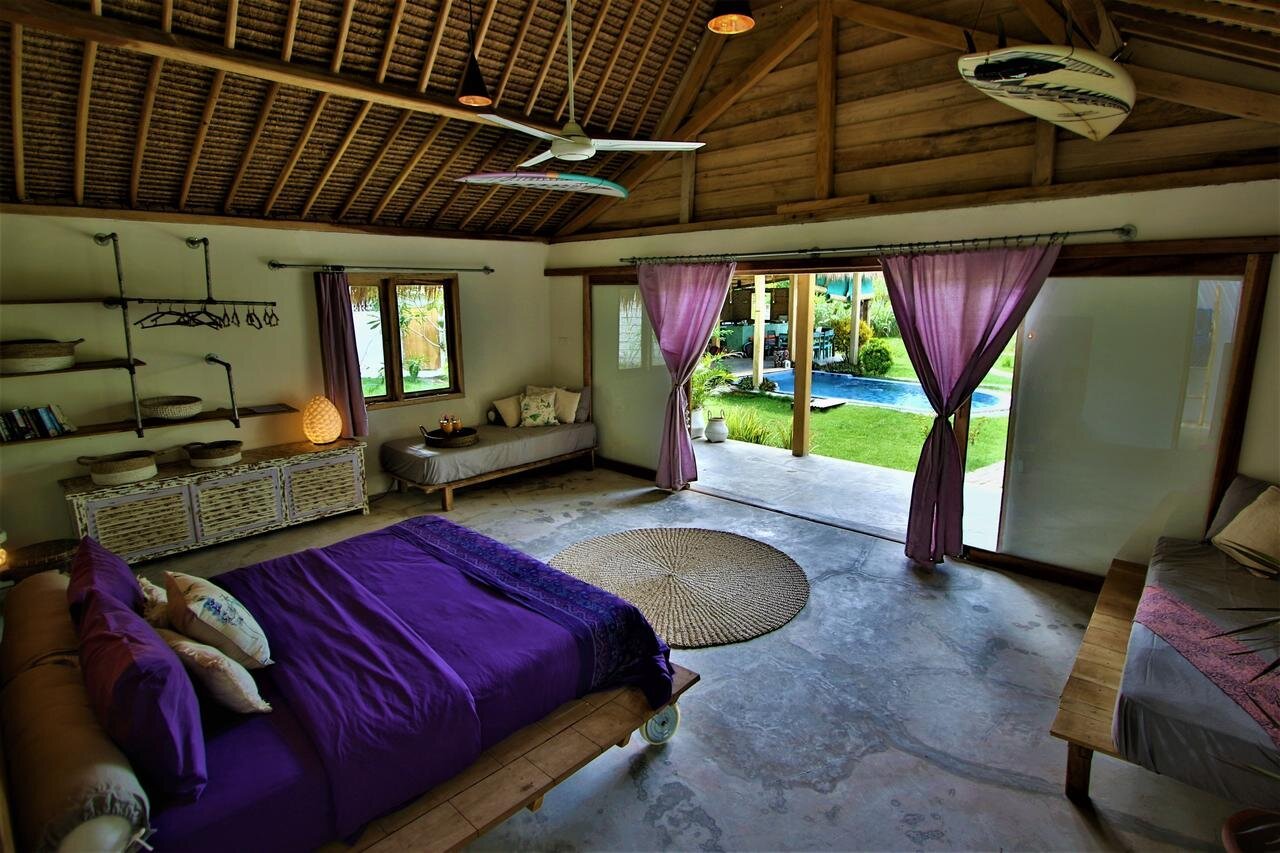 Fabulous Place is a boutique B&B in the village of Ebunut, just outside Kuta Lombok. Three bungalows stretch out over a vast, grassy lawn with a swimming pool at the center. Located close to several of the area's best surf breaks, FabuLous Place invites you to combine adventure with tranquility in the heart of a traditional Sasak village.
---
Where to Eat in Lombok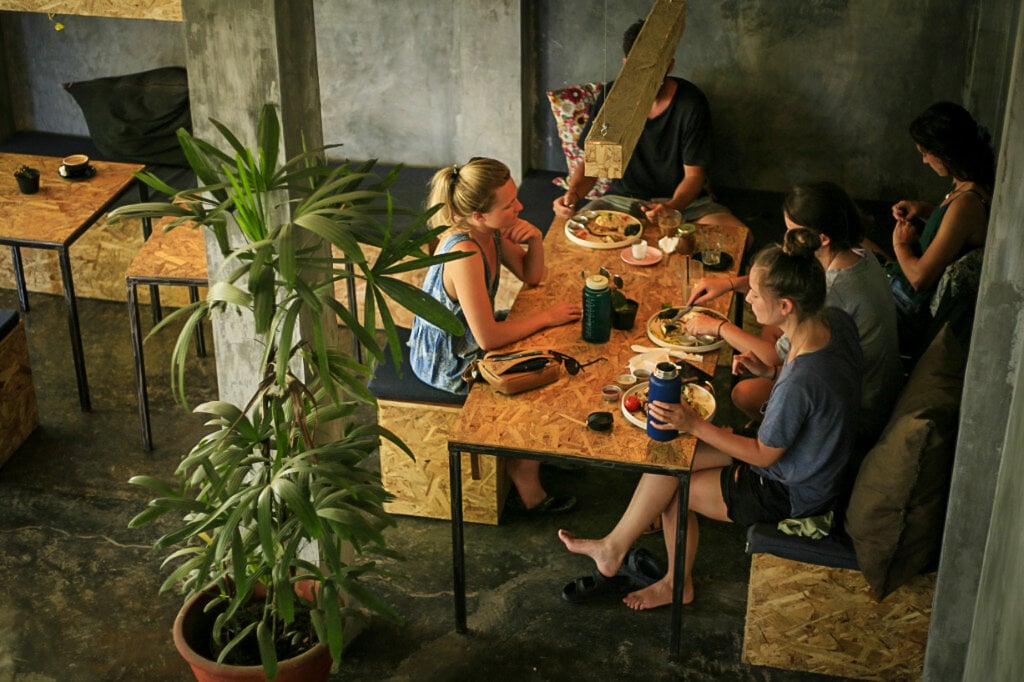 Bush Radio is an industrial style cafe located right in the center of Kuta. They specialize in colorful and hearty homemade food. Try their homemade bread, pesto, peanut butter and granola. And the coffee, wow! Combined with good music and a relaxed, welcoming vibe it is the perfect place to have a chill meal or get some work done.
Terra is a wholesome health food eatery that offers delicious raw as well as cooked food. Our favorite thing about Terra are the community dinners they do on Wednesdays.
Warungs in Kuta:
Masakan Padang warung is a haven for traditional Nasi Campur di bungkus! Right opposite Indomaret on the main road in Kuta, they serve up the most mouthwatering jackfruit curry and tempeh kering.
Warung Jawa Ricki Daniels is a big hit with the locals as well as surfers. After a powerful surf sesh, all you need is a visit to Ricki's where you will eat one of the best Nasi Campurs. Ricki asks you whether you'd like a vegetarian or meat based plate and will make you a yummy one with love, serving it to you with a big smile.
---
Best Way to Get Around Lombok
The best way to get around in Lombok is definitely by scooter or taxi. Your accommodation should be able to connect you to the right people. Since they know the area and local community well, they can point you to trustworthy drivers and rental companies and advise you on what fair prices are.
When you arrive at Kuta airport many taxi drivers will try to convince you to travel with them. For an affordable, fixed price, we recommend walking past these hoards of taxi drivers to the back of the airport. Here you can ask for a "fixed price taxi". The ride from the airport to the center of Kuta should not be more than IDR 90,000.
---
Tips for Traveling Responsibly in Lombok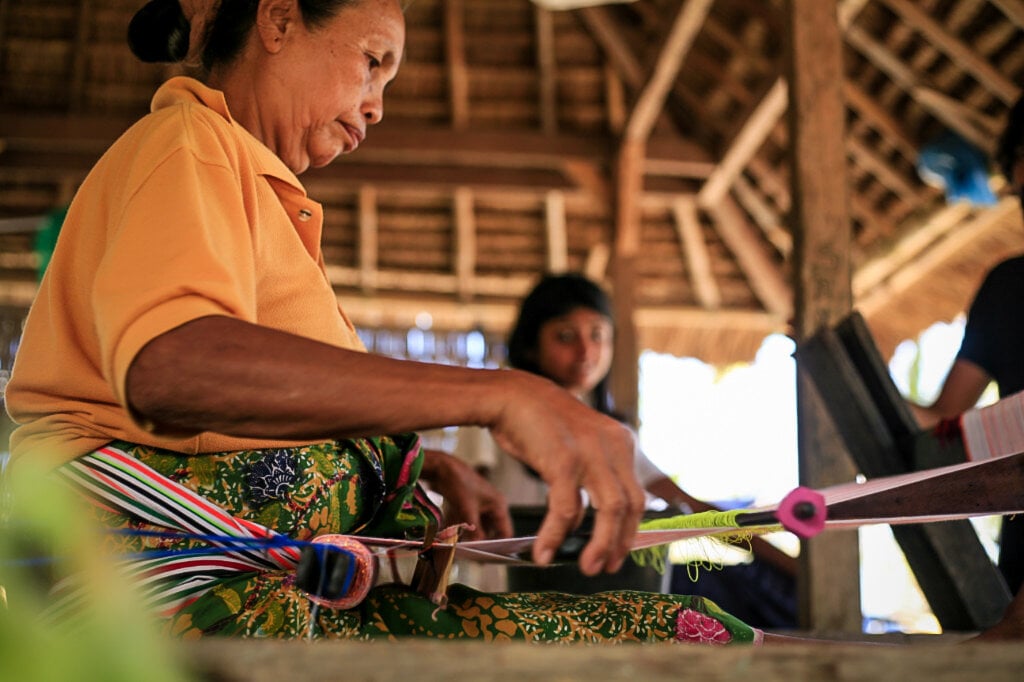 How can you be a responsible traveler? This is not an easy question to answer. We think that you can keep certain basic things in mind, but that you should also consider the challenges that are specific to the region you are visiting.
Sustainable travel is not only about being eco-friendly, but also about supporting local culture and tradition. To make things a little clearer for ourselves we have defined five pillars of slow & sustainable travel. We think it really helps to consider all of these in the country you visit!
1. Engaging & exchanging
Taking the time to have authentic encounters, connecting more deeply with the local community, exchanging knowledge & skills, learning from each other, making friends.
2. Slowing down
Freeing yourself from the pressure of having to see all the famous highlights. Be open to new, exciting experiences!
3. Being informed
Learning about local culture and customs and being aware of the potential negative effects of tourism.
4. Making environmentally friendly choices
Taking part in preserving the natural beauty of the place you visit. Leave only footprints!
5. Supporting the local economy
The local economy should benefit from tourism. Support this by shopping local and making fair bookings.
The Slow & Sustainable Travel Guide by Gemtrack Travel
Over the last few years, Gemtrack has dived into the communities of our destinations and built a network of businesses, organizations and people that support the mission of slow & sustainable travel. We realized that during the time that we spent in our destinations, we had gathered an immense amount of valuable information and knowledge on how to be a conscious traveler.
The knowledge we have obtained over that time is now bundled in one comprehensive, beautiful guide. And… since inspiring as many people as possible to travel more consciously is our goal, we have decided to give out this guide for free! 
Whether you're traveling to Lombok or just want to get inspired. Or if are you interested in Slow & Sustainable travel. Download it here for FREE! 
And we have a little secret… many of the places in the guide offer a small discount when you tell them you've found them via Gemtrack and book directly. Check out which ones in the guide!
---
Are you planning a trip to Indonesia?
We have TONS of resources on travel in Indonesia and destinations throughout the country. Check out our Ultimate Indonesia Travel Guide for all the answers to your most burning questions, or read some of our favorite articles below.
Save this article on Pinterest for later!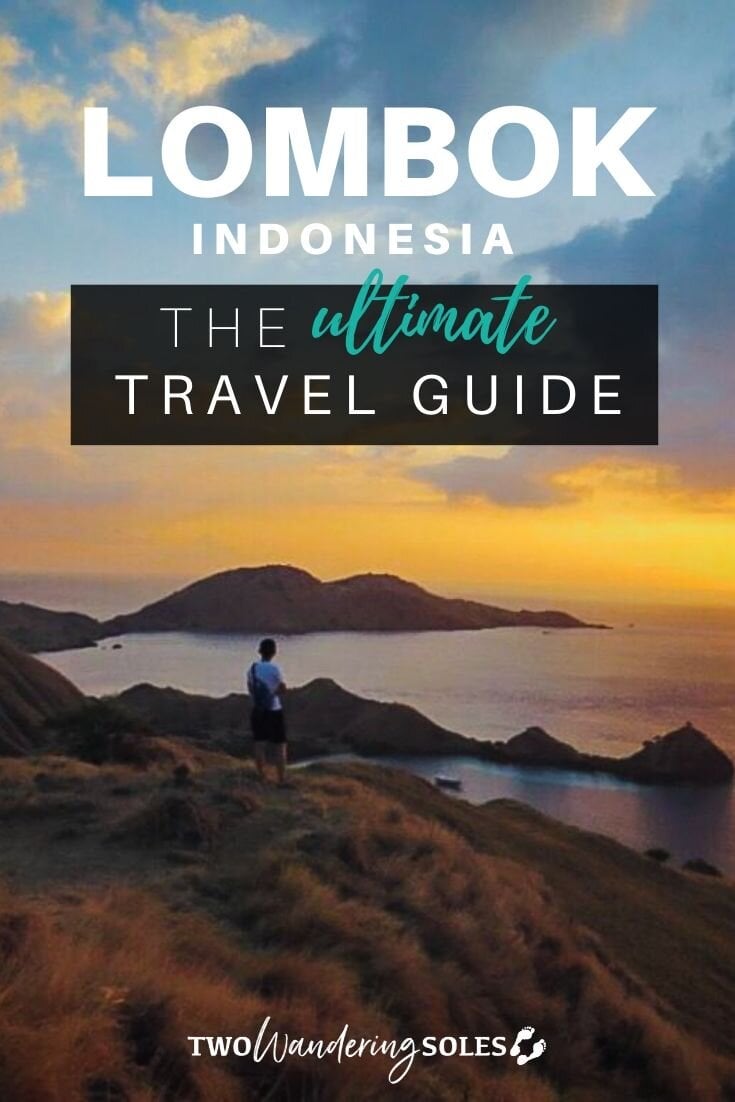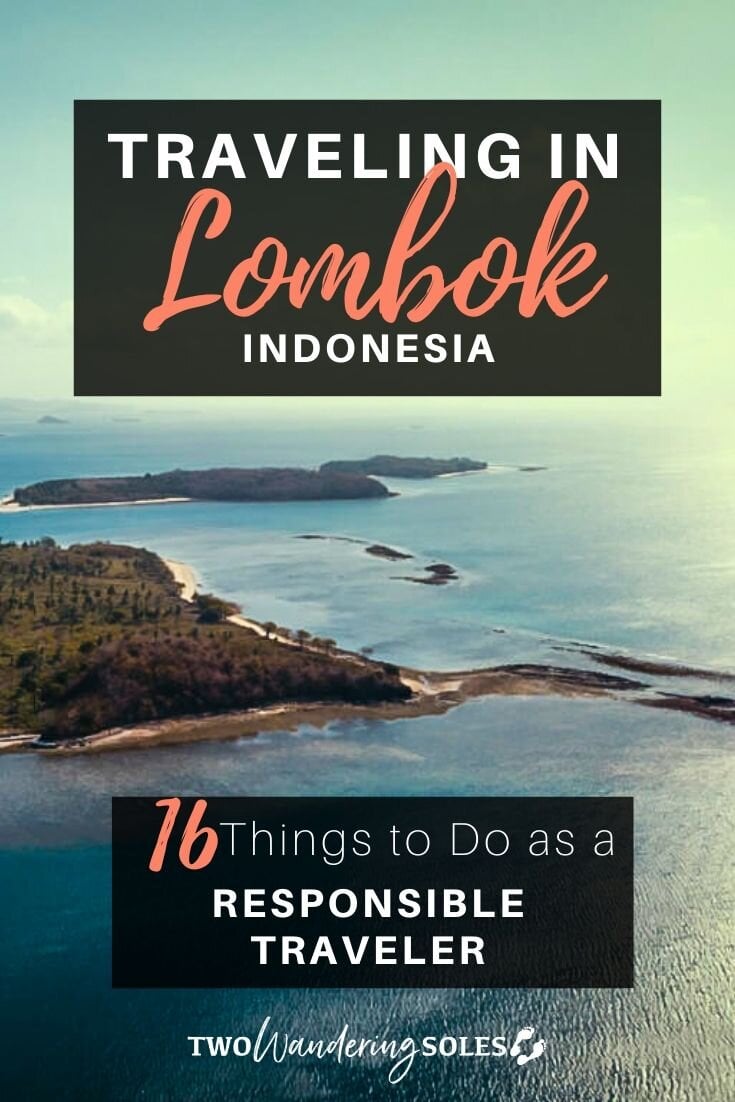 We want to hear from you!
Have you ever been to Lombok? What was your favorite thing to do on the island?
Are you planning a trip to Indonesia soon and still have questions? Let us know in the comments below and we'll do our best to answer.