Thinking of taking your dog along on your next adventure? The truth is flying with a dog isn't as complicated as it sounds. This ultimate guide will break down the fundamentals of flying with a dog, both in-cabin and in cargo, domestically and internationally.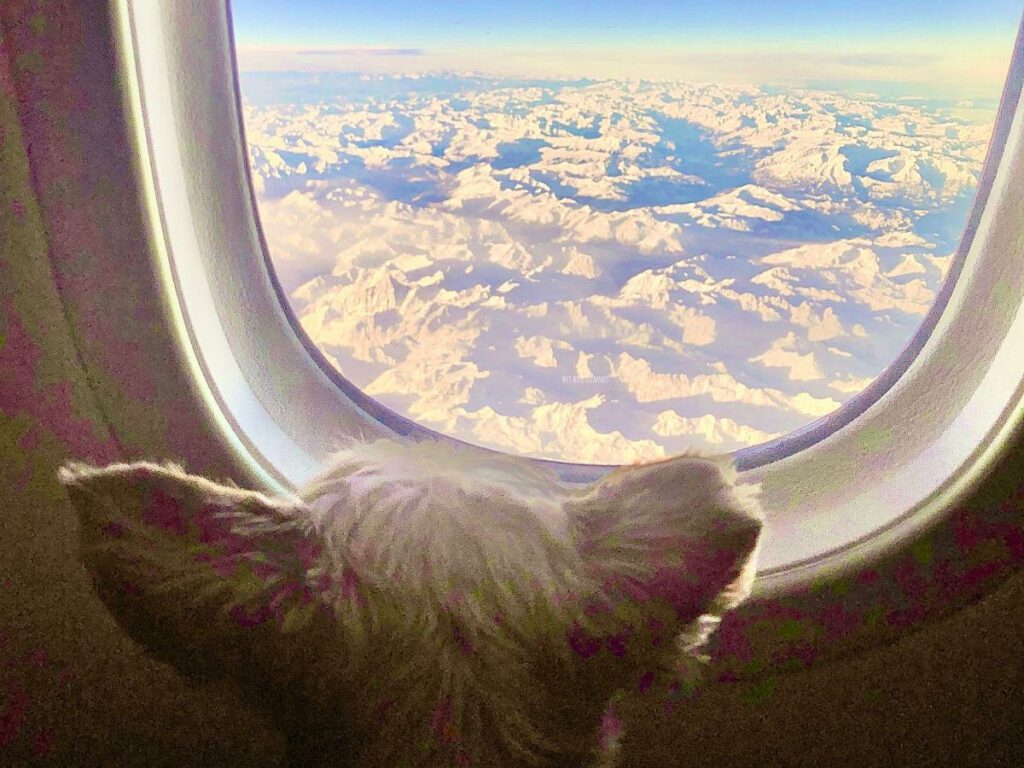 Written by guest author: Gigi Chow
These days, flying with a dog is hardly a novelty. Oftentimes, travelers are pleasantly (or unpleasantly) surprised by little furry passengers under the seat right next to them.
With dog ownership on the rise (largely thanks to the pandemic), many new pet parents are now traveling with their dogs for the first time. Besides the typical road trips, more people are flying with their dogs than ever before, whether going on a business trip or globetrotting with remote work.
Find out everything you need to know about flying with a dog in this ultimate guide. From preparing your dog for a flight to taking your dog to Europe, you'll get all the tips and tricks on turning your dog into a world traveler!
Article contents
---
Flying with a dog cargo vs. in-cabin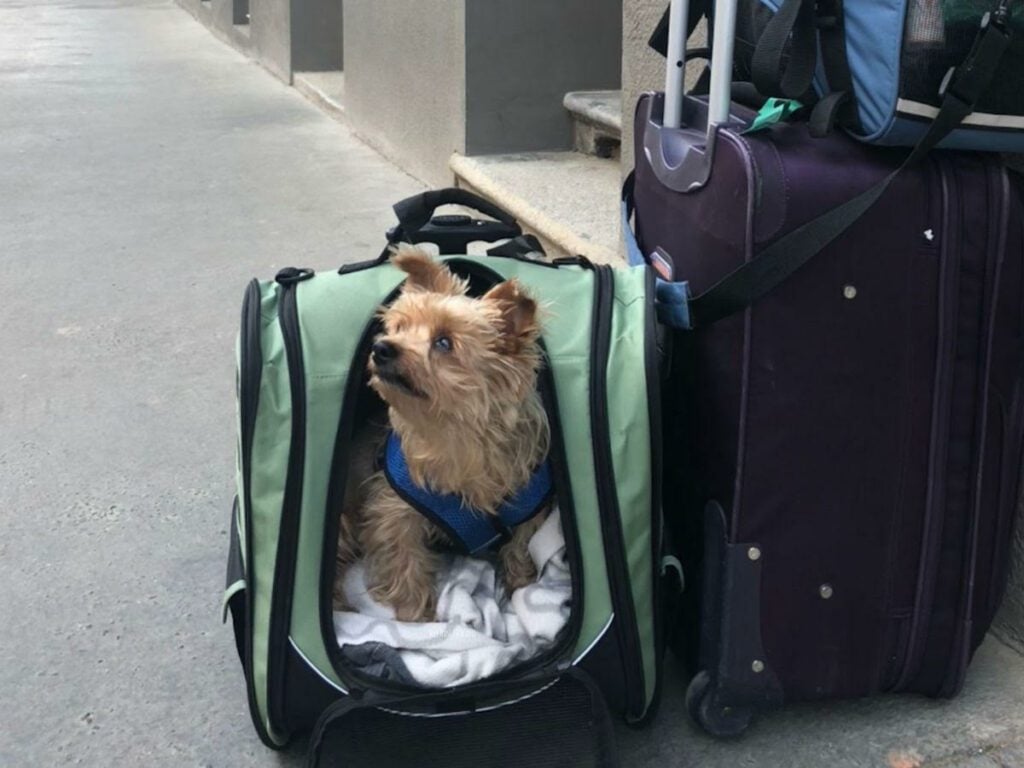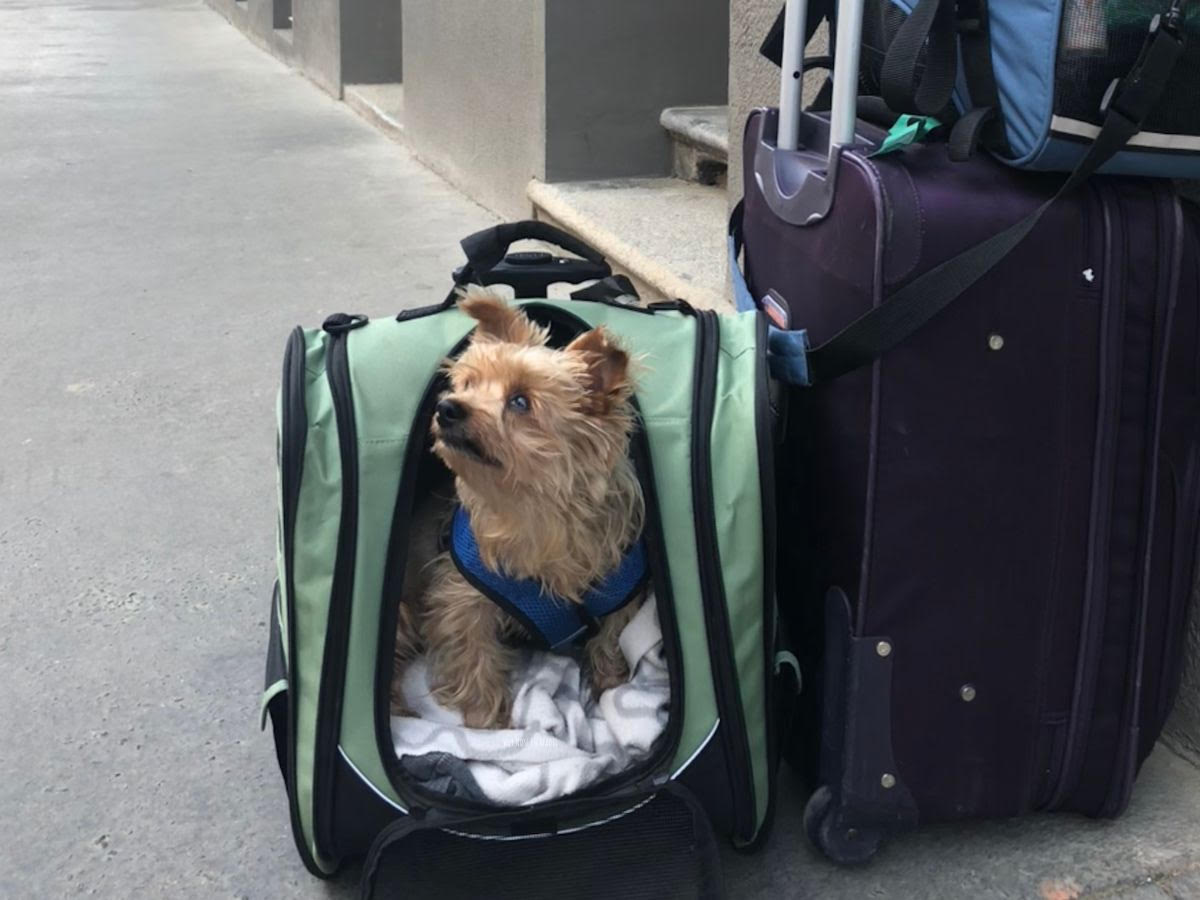 When it comes to flying with a dog commercially, there are really only two options: in-cabin or cargo.
Well, technically there is a third option called "checked pet" or "checked baggage." This is essentially the same as flying your dog in the cargo hold except flying with a dog as checked baggage means you and your dog fly on the same plane.
Here is a more detailed explanation of the two main options:
Cargo
Whether you fly your dog as "cargo" or "checked baggage," your dog must remain in the cargo hold on the plane where luggage is typically stored. Due to extreme temperatures in the cargo hold and lack of monitoring, it is generally not recommended for your dog to travel in cargo unless it's for a permanent or long-term move.
Flying your dog as checked baggage or shipped cargo may have unpredictable outcomes due to the fact that most animal air travel-related deaths occur with this mode of transportation. Even if your dog makes it to the destination safely, it could still be a very traumatizing experience.
In-cabin
The most common way to fly with a dog is in-cabin, which is also the safest. After all, it's the only way to keep an eye on your furry little traveler at 30,000 feet up in the air.
Dogs small enough to fly in-cabin have the luxury of being next to their humans throughout the entire travel day, from airline check-in all the way through collecting your luggage and departing the airport at your destination.
With my two dogs Roger and Penny under 10 pounds each, I'm fortunate that they are small enough to travel in the cabin with me. I'll share more on these requirements below…
Requirements for flying with your dog in-cabin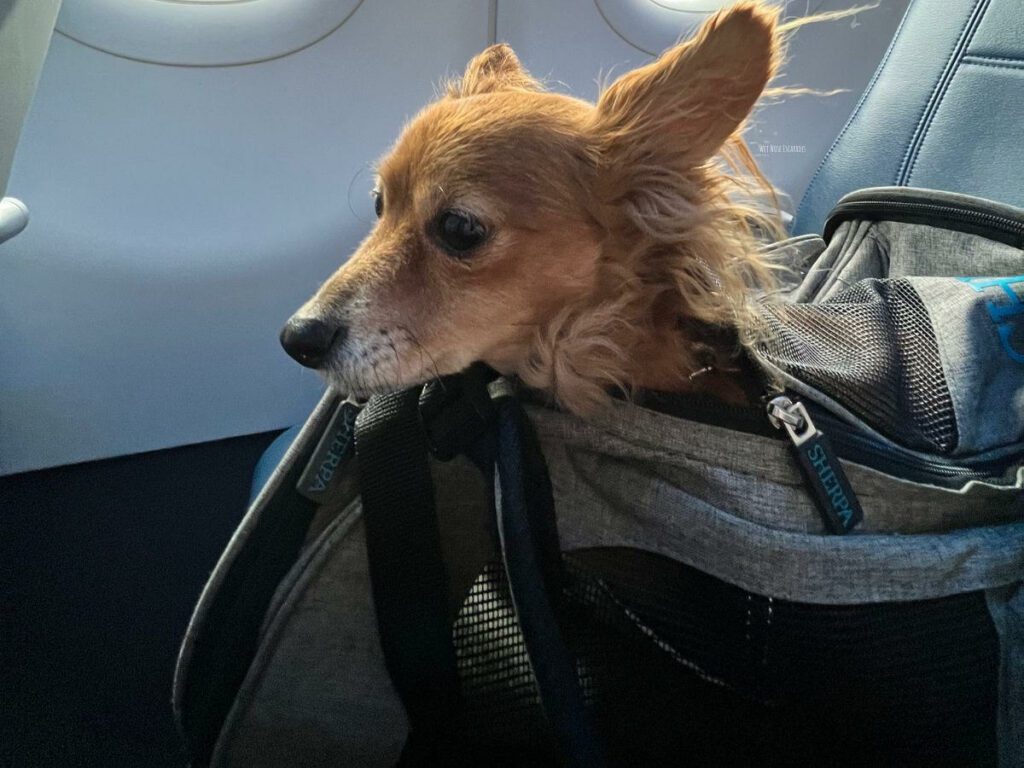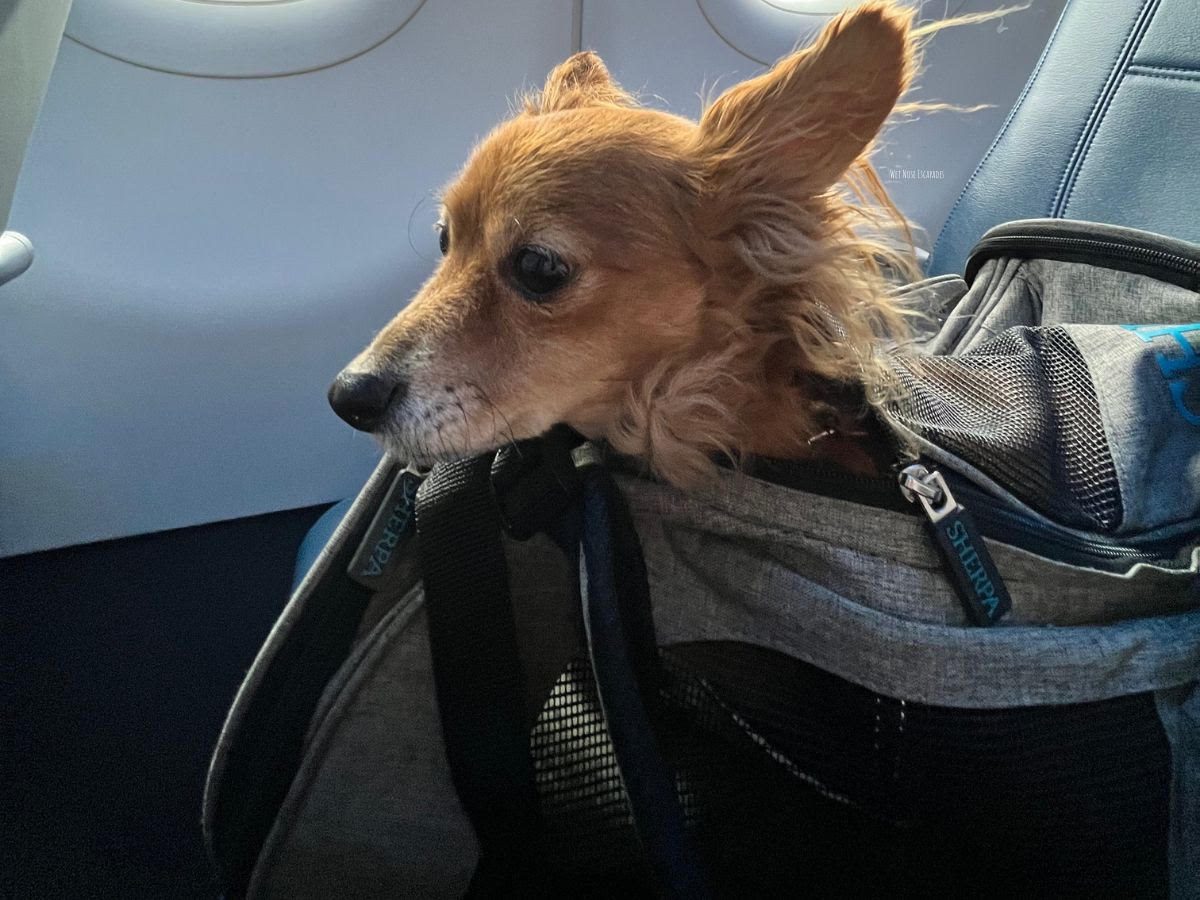 There are quite a few requirements for flying with your dog in-cabin. Although airlines may differ slightly in size and weight restrictions, in-cabin air travel is still, nonetheless, a small dog's escapade.
Unfortunately, dogs who don't meet the in-cabin size limit must travel via cargo or checked baggage – unless you have the means to charter a flight.
Weight limits
Except for service dogs, only small dogs 20 pounds or under are typically allowed to fly in-cabin. Some airlines may even cap your dog's weight at 16 pounds or have a combined weight limit for your dog and carrier.
Besides weight limitations, dogs who fly in-cabin must also travel inside an airline-compliant pet carrier, which means the carrier (with your dog inside) must fit under the seat in front of you.
Health/vaccination requirements
If you're flying with a dog domestically, you won't necessarily need to take your dog for a veterinarian check-up. However, it's always a good idea if you have concerns regarding your dog's health.
Although some airlines will state on the website that your dog must be up to date with the rabies vaccine, documentation is not required during check-in for domestic flights. Nonetheless, it doesn't hurt to carry a copy of your dog's health records – either digitized or physical.
For international travel, your dog will likely need a Veterinary Health Certificate, rabies vaccination, and physical exam (along with other requirements depending on the destination country, such as the DHPP vaccine and external/internal parasite treatment).
Regardless of your route and destination, I always recommend that you discuss your plans with a veterinarian before flying your dog, especially if your dog has pending health issues.
How much does it cost to fly with a dog?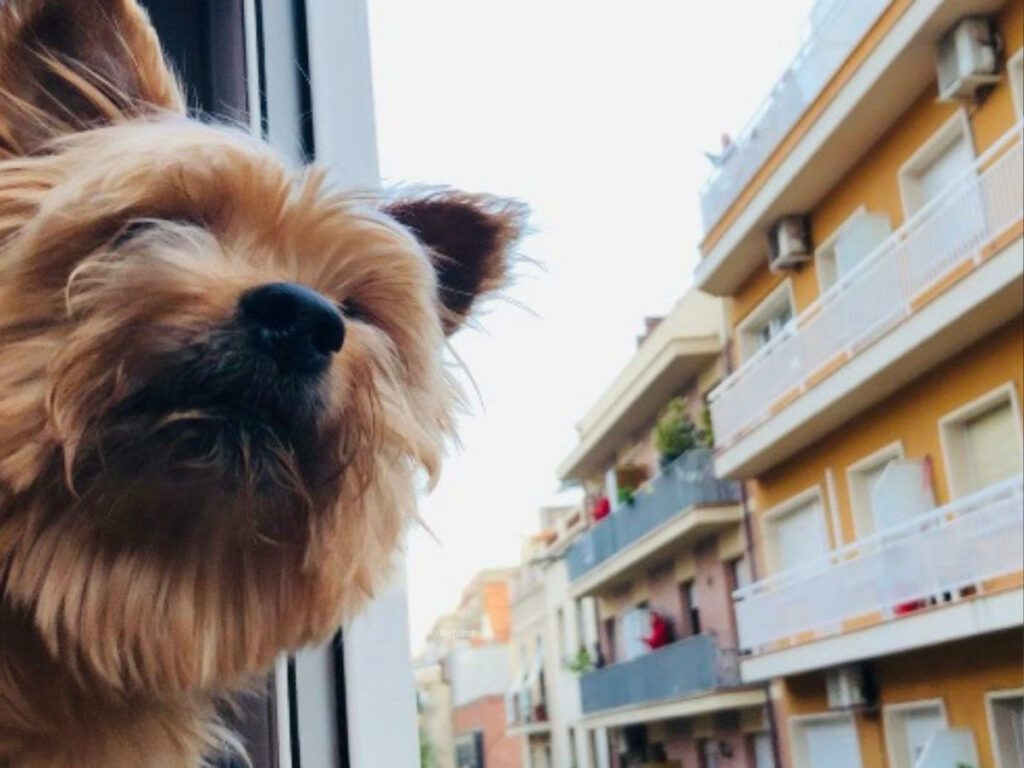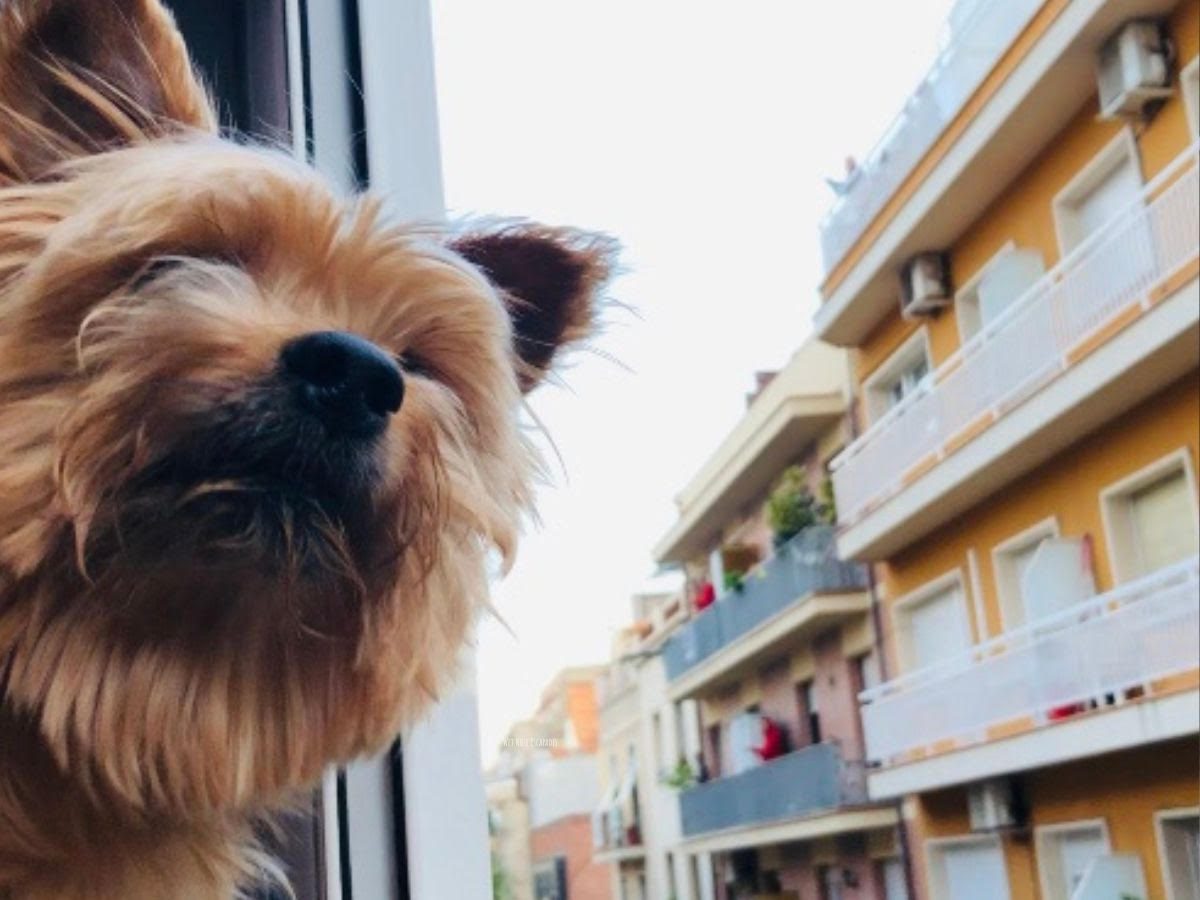 Flying with your dog in-cabin typically costs between $95 – $200 one way for the pet fee. This varies depending on the airline and whether you're traveling domestically or internationally.
Some other costs to consider…
When flying with your dog in-cabin, your dog and carrier automatically becomes your carry-on baggage allowance.
Losing your carry-on allowance may also mean you'll have to check your baggage, which will cost an additional fee depending on your ticket. This is where the costs of flying with a dog start to add up.
Flying your dog via cargo or checked baggage costs more than flying your dog in-cabin, ranging anywhere from $150 to thousands of dollars, depending on the route.
How to book a flight for your dog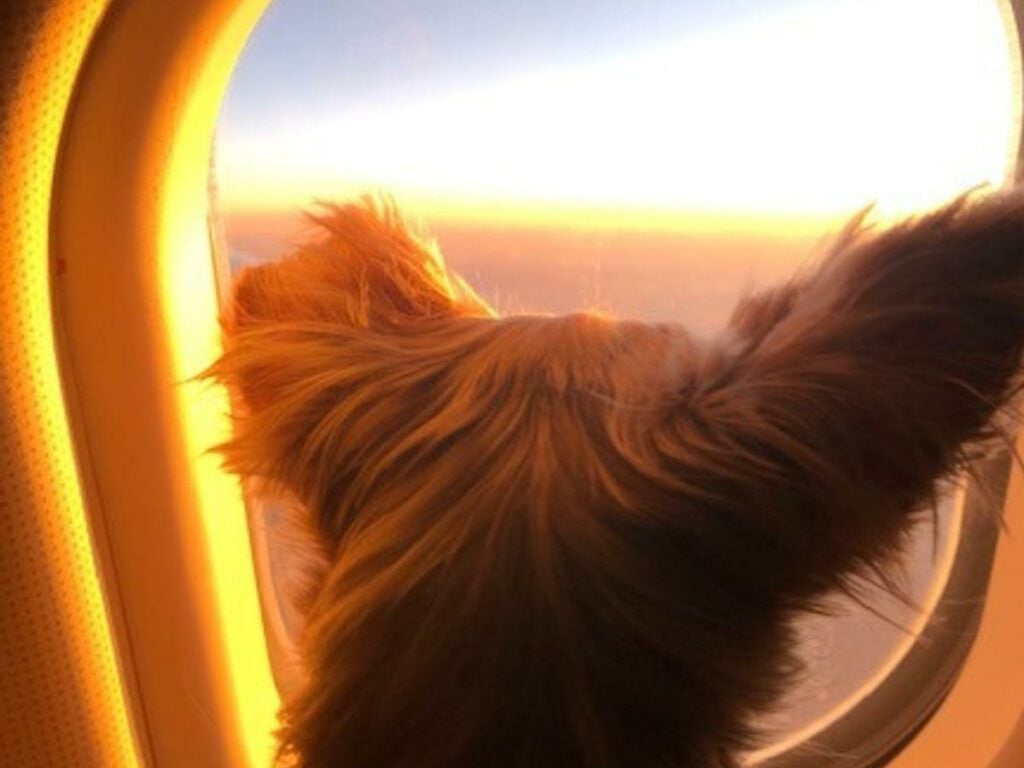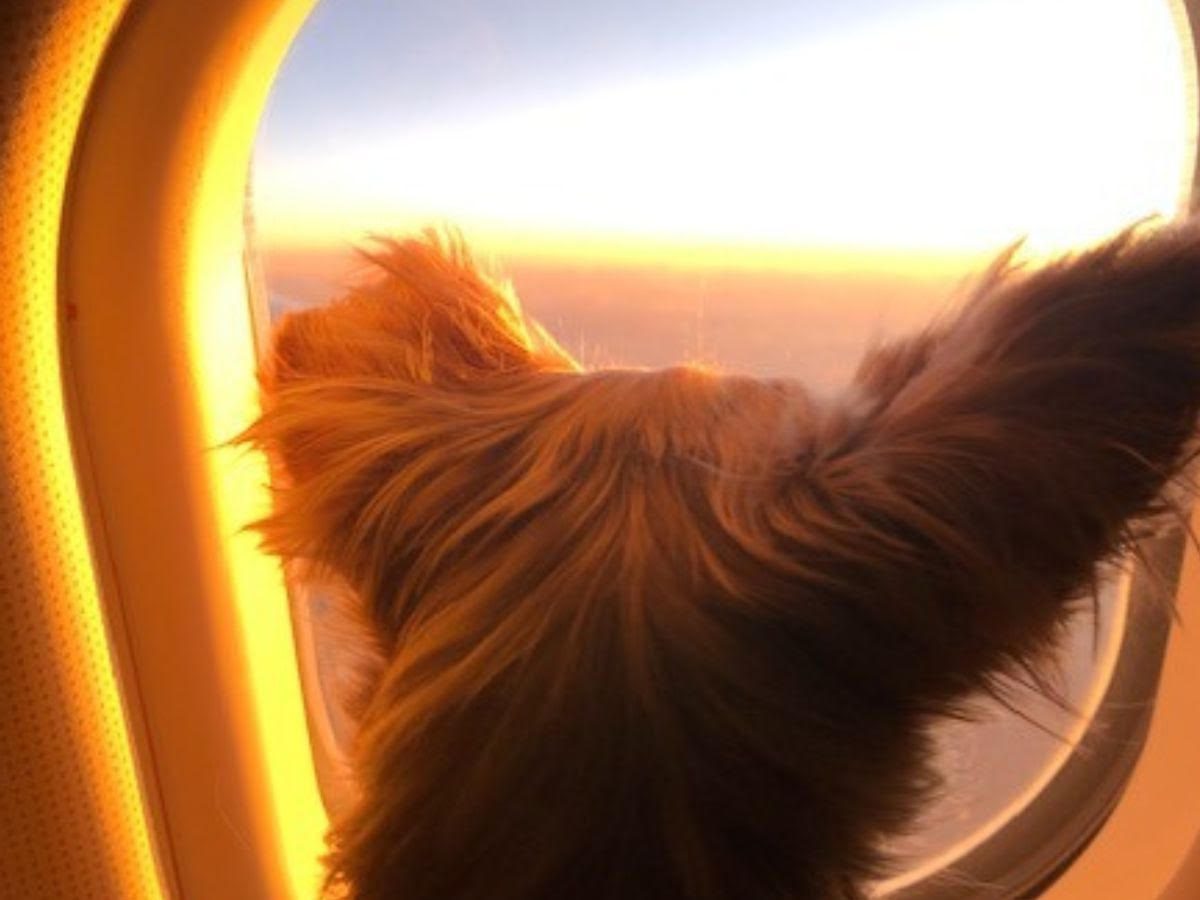 Most airlines require that you secure a spot for your dog over the phone as soon as you've booked your flight reservation. However, some airlines (usually European ones like Lufthansa) will let you register a pet online so be sure to look for that option.
Payment options for your dog's flight ultimately depend on the airline policy – I've paid over the phone, online, and in-person.
Again, there is limited space available for your dog so be sure to book ASAP. Also, airlines will only allow one or two pets per passenger and typically have a limit to the number of pets allowed on a single flight, which will be determined on a first-come, first-served basis.
Dog-friendly airlines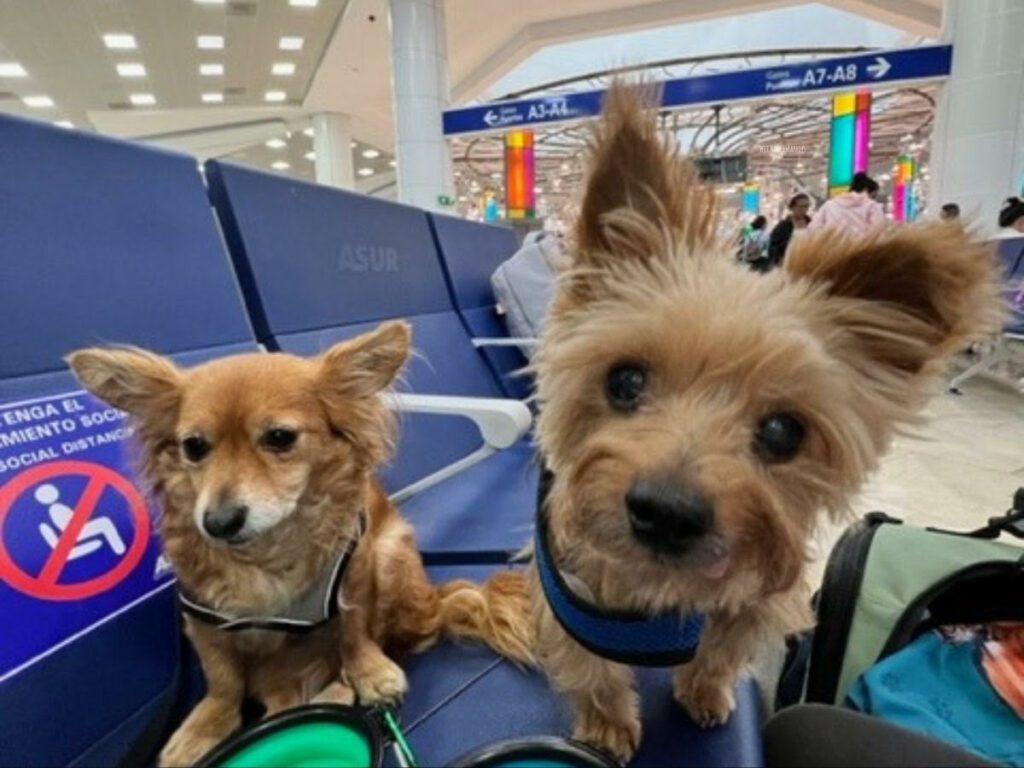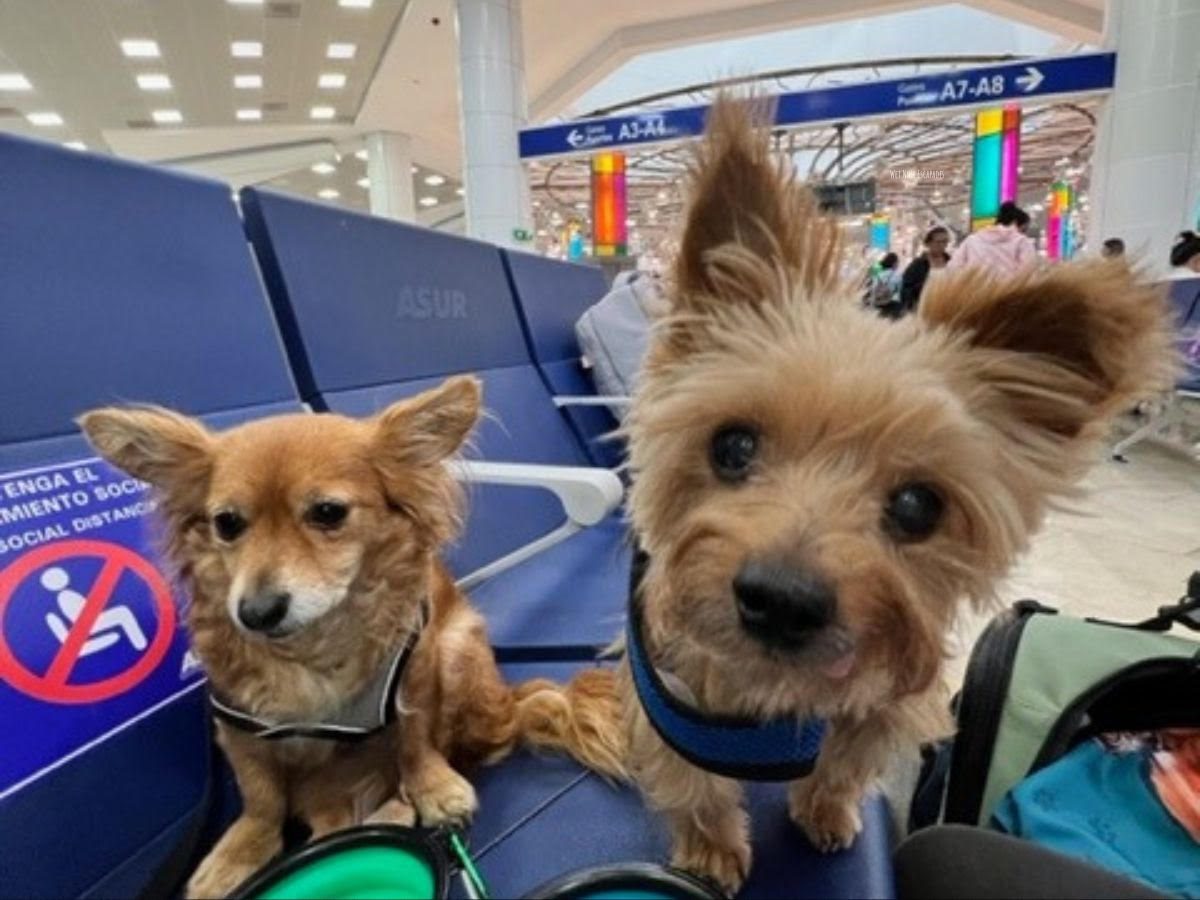 Unless you have a legitimate service dog to assist with a disability, you'll have to find a pet-friendly airline to book a flight with your dog. By "pet-friendly," I mean an airline that allows dogs either in-cabin or in cargo/checked baggage.
Even so, such airlines will have a strict cap on the number of pets allowed in-cabin, anywhere from two to six. Therefore, it's imperative to reserve a spot for your dog as soon as you've secured your flight.
I've found that the best dog-friendly airlines in the U.S. are Delta, Southwest, Alaska, and American Airlines.
It's not necessarily that these airlines have done anything out of the ordinary for my dog Roger W., but the staff on-site made the dog travel process seamless for every flight I've taken. Hence, I have no complaints so far.
For international airlines, I've had great experiences with Air Canada, Lufthansa, KLM, Air France, Aegean, and Copa. However, there are probably plenty of other international airlines out there with pet policies. A quick Google search should tell you whether or not the airline you're considering offers such services.
Top domestic dog-friendly airlines
Top international dog-friendly airlines
How to prepare your dog for a flight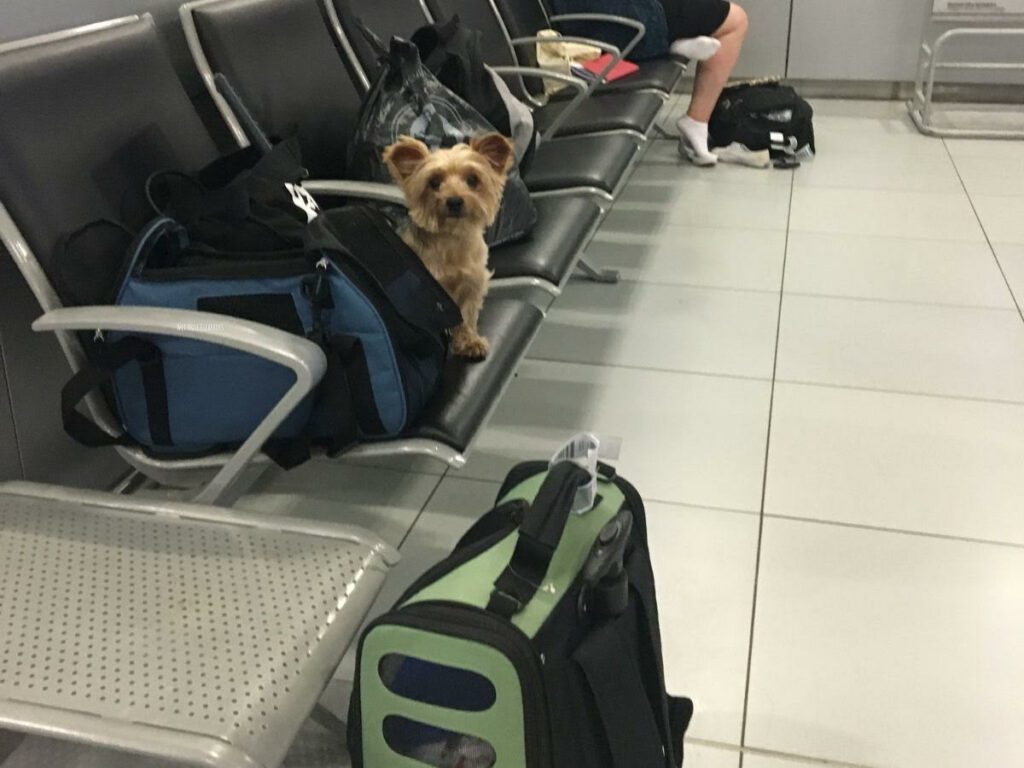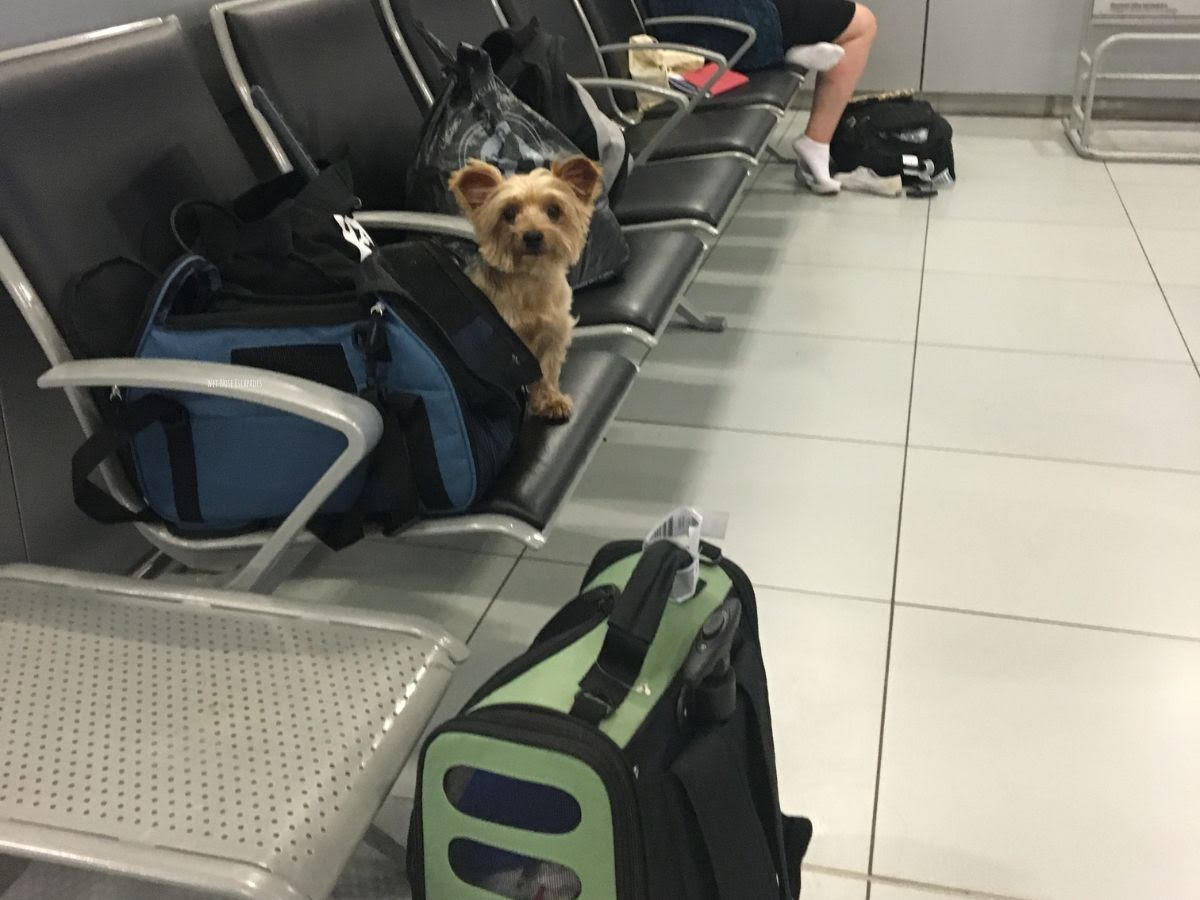 The TRUTH is: Some dogs will make better travelers than others.
Flying with a dog almost always looks glamorous on social media, but don't let those pup influencers fool you! It's important to recognize that not every dog can or should be a world traveler.
Although preparation and training can help ease your dog's way in, some dogs simply travel better than others (like humans). Factors that can come into play include health, age, and behavior (e.g. excessive barking, reactivity, anxiousness, timidness, etc.).
It's important to note that flying CAN be stressful for your dog.
Whether your dog is flying in-cabin or cargo, taking off and landing are the scariest times. In addition, the entire travel day can be very stressful and overwhelming for your dog, from checking in at the airport to boarding to deplaning.
The good news is that you can slowly prepare your dog for the journey by taking him out and about, acclimating him to crowds and noise, and even going on a quick outing to the airport for familiarity.
Carrier training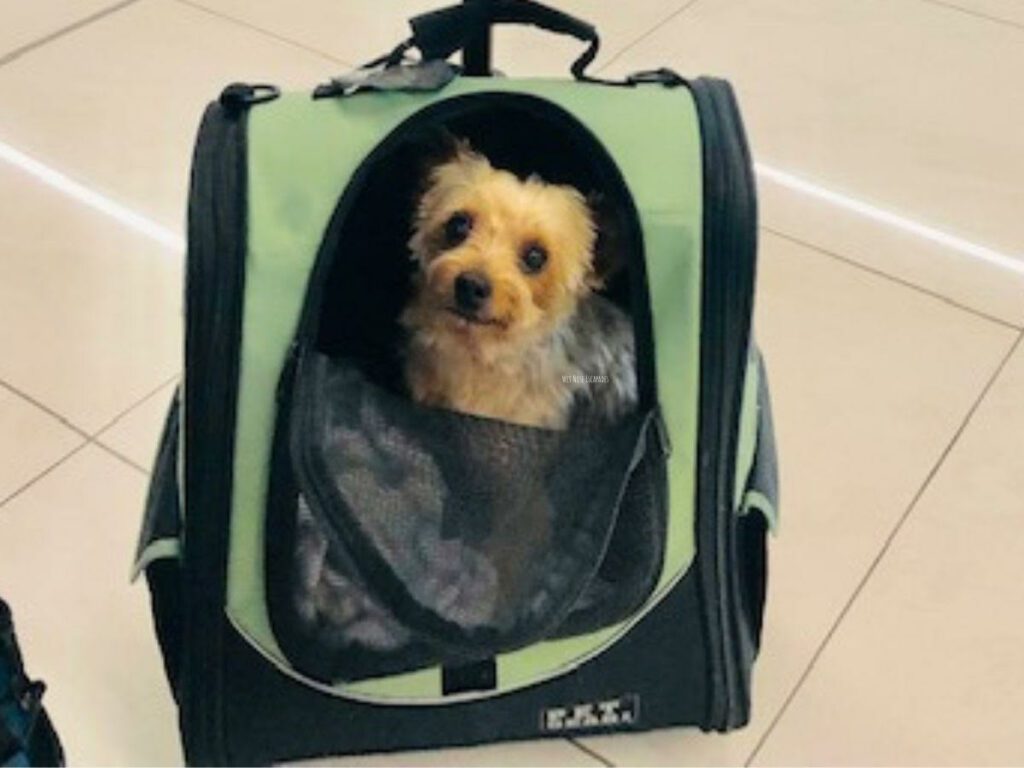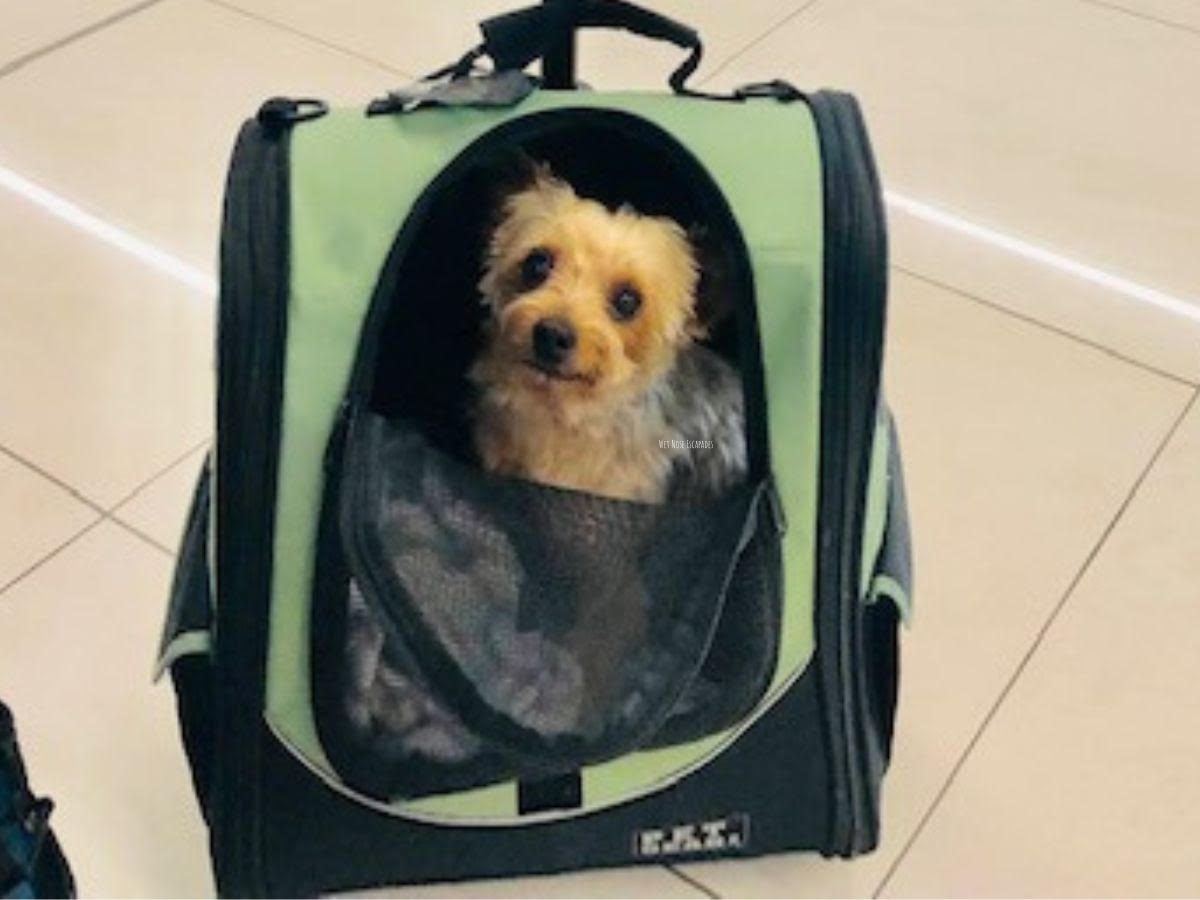 Quick tip: It's ALL about the carrier.
Carrier training is arguably the most pivotal step to flying with your dog. Unless your dog is a service dog, he must travel in an airline-compliant carrier (in-cabin) or kennel (in cargo or as checked baggage) and technically remain inside at all times.
Even though some flight attendants may be lax about your dog getting a breather, finding the right airline-complaint carrier with ample space and ventilation is crucial for your dog's comfort and well-being.
After selecting the right carrier or kennel, you should start training at least 2-3 months before the flight (especially if this is his first flight).
For your dog to associate the carrier as a fun, safe place, start by tossing some treats inside to entice him. Once he voluntarily goes in and out for a sniff, you can slowly zip up the carrier and gradually increase the time spent inside.
Best carriers for flying with a dog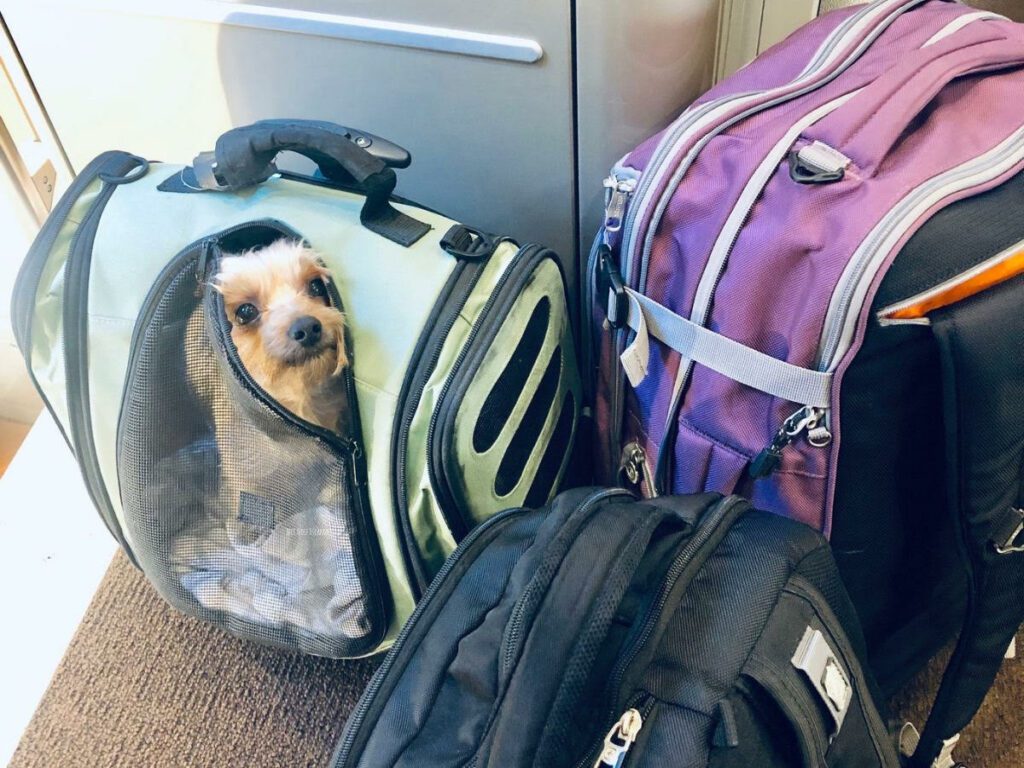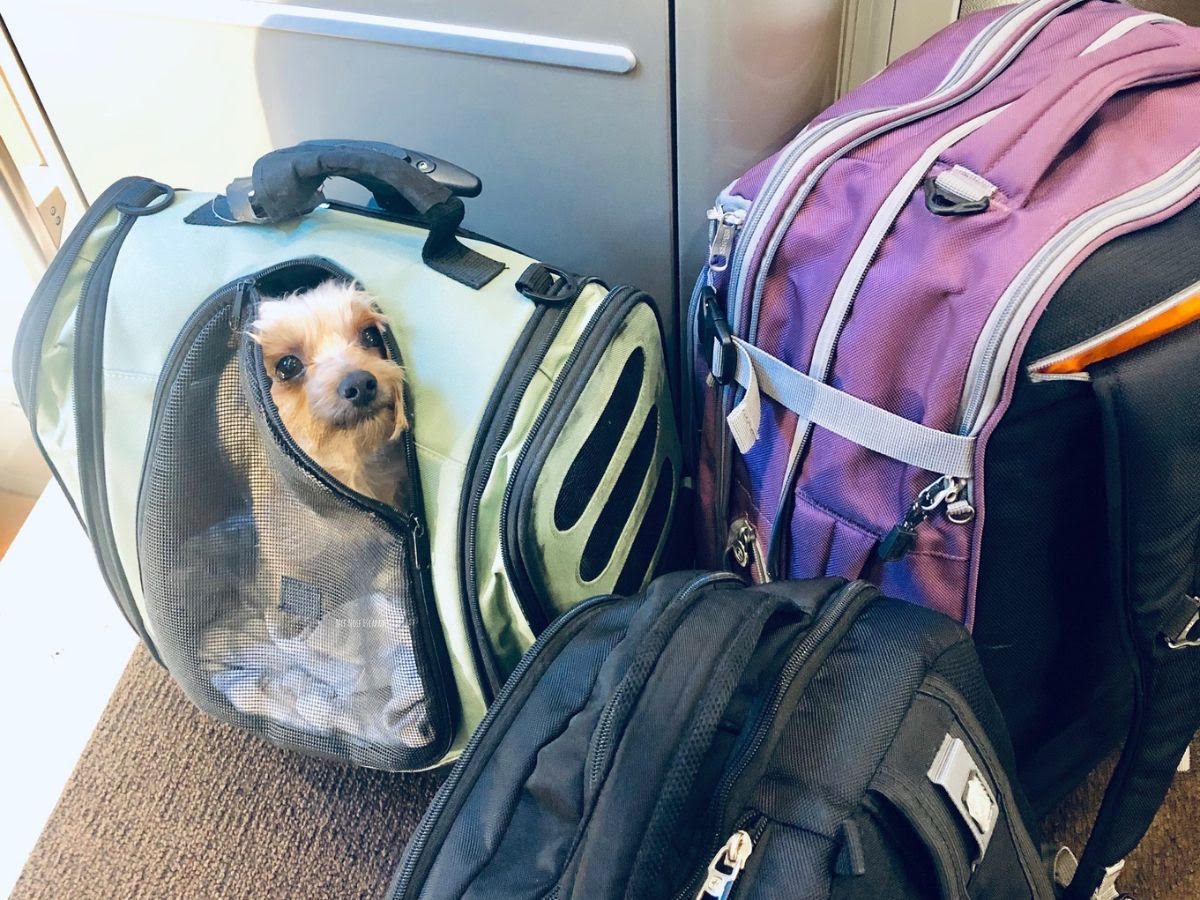 It's important to note that every airline may have slightly different maximum dimensions for a carrier. Therefore, you should double check the allowable dimensions before purchasing to ensure the carrier will fit effortlessly under the seat in front of you.
5-in-1 roller backpack from Pet Gear
My favorite carrier is a versatile 5-in-1 roller backpack from Pet Gear, which is the one that has been with Roger W. on most of his flights. It appears in most of his photos while traveling.
I love it because it's a carrier, backpack, car seat, roller bag, and tote: FIVE-IN-ONE. Weighing only 3.4 lbs, it's pretty lightweight (especially considering its versatility and expandability).
Compared to soft hand-held or shoulder carriers, this roller backpack offers more space and comfort for Roger W., which is essential for a long-haul flight. I usually wheel the carrier around with him inside.
2-in-1 gray soft carrier/backpack from Sherpa
My second favorite carrier is a 2-in-1 gray soft carrier/backpack from Sherpa, which I've been using for Penny.
This soft shoulder carrier works well when I travel with excessive baggage and may not have free hands to wheel it around. Hence, I can easily transport the carrier on my shoulder.
This Sherpa carrier may be smaller than the Pet Gear carrier, but it comes with a Guaranteed On Board program which gives me much-needed assurance if I'm worried about meeting stricter-than-usual carrier dimensions.
All in all, both carriers meet most airline standards. Again, because every airline may have slightly different acceptable dimensions, you must check with your airline to ensure that there won't be a problem fitting either carrier under the seat in front of you.
Tips for flying with a dog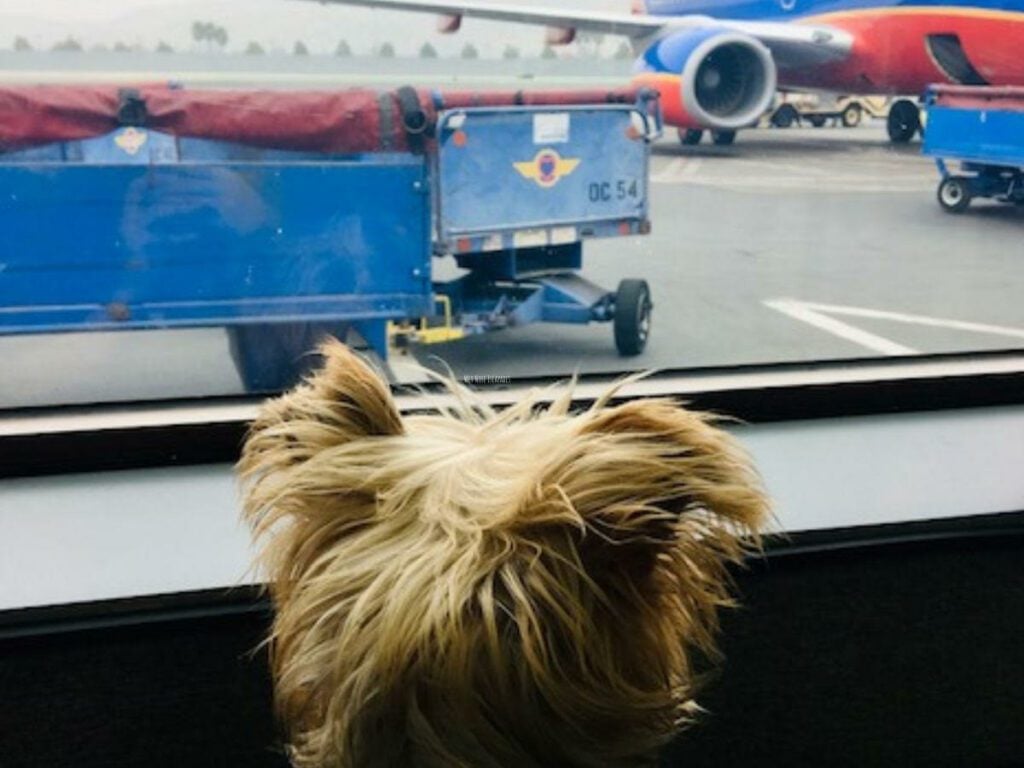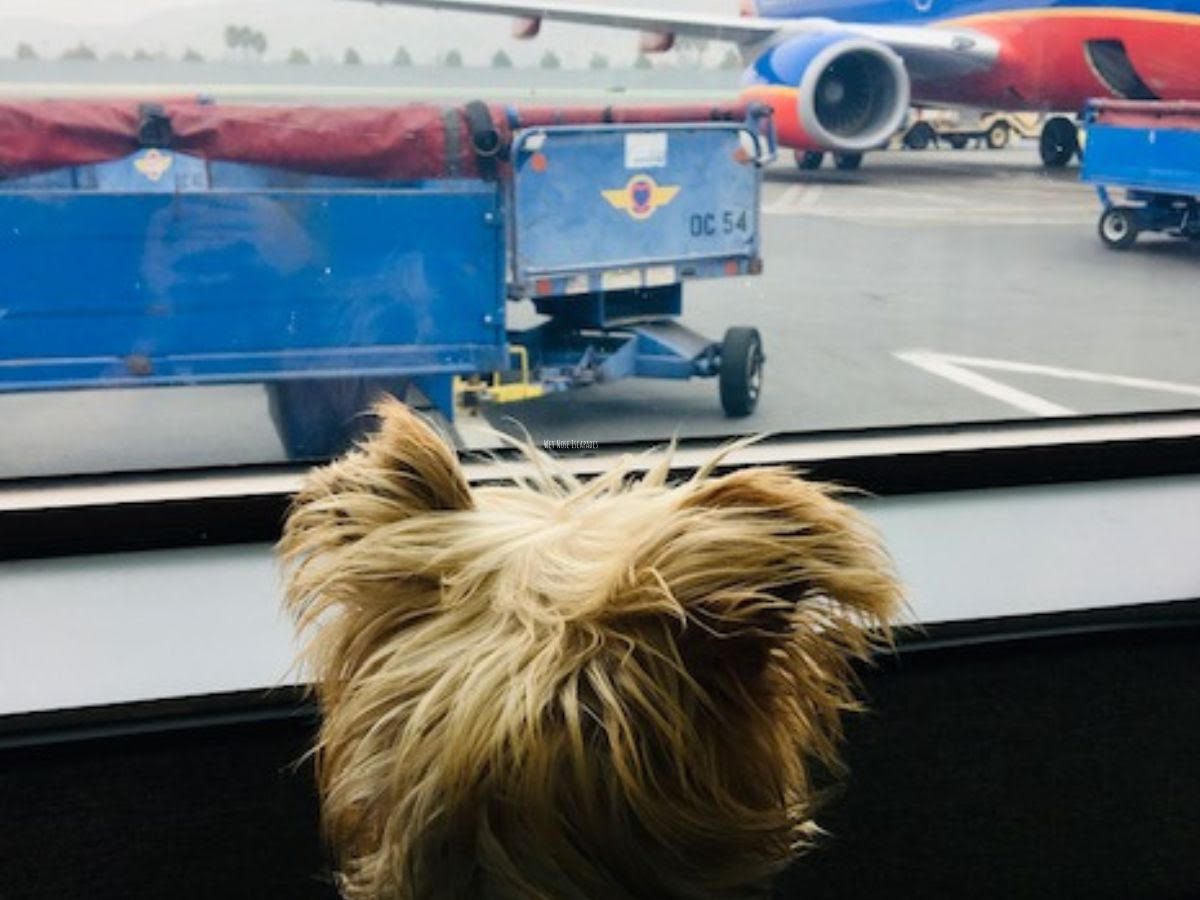 I've been traveling with both my dogs on domestic and international flights many times now. Here are some of my top tips for flying with a dog.
1. Keep your dog under control at the airport
It's best to keep your dog leashed or inside the carrier when walking through the airport. Although you'll encounter many people smitten by your furry traveler, you may also come across people who fear dogs, suffer from allergies, or simply dislike dogs.
If your dog is inside the carrier, you must take him out for the security checkpoint. Thus, be respectful of others by keeping your dog close to you and under control at all times.
2. Exercising your dog before the flight can work wonders
As the old saying goes, "a tired dog is a happy dog." The last thing you want is an antsy dog "stuck" inside a carrier during a flight (regardless of the duration).
Unless directed by a veterinarian, I would never recommend giving sedatives to your dog for a flight. Instead, the best and safest way to keep your dog calm and relaxed during travel is to exhaust his energy beforehand. Exercising your dog before heading to the airport also allows him to relieve himself.
3. Utilize pet relief areas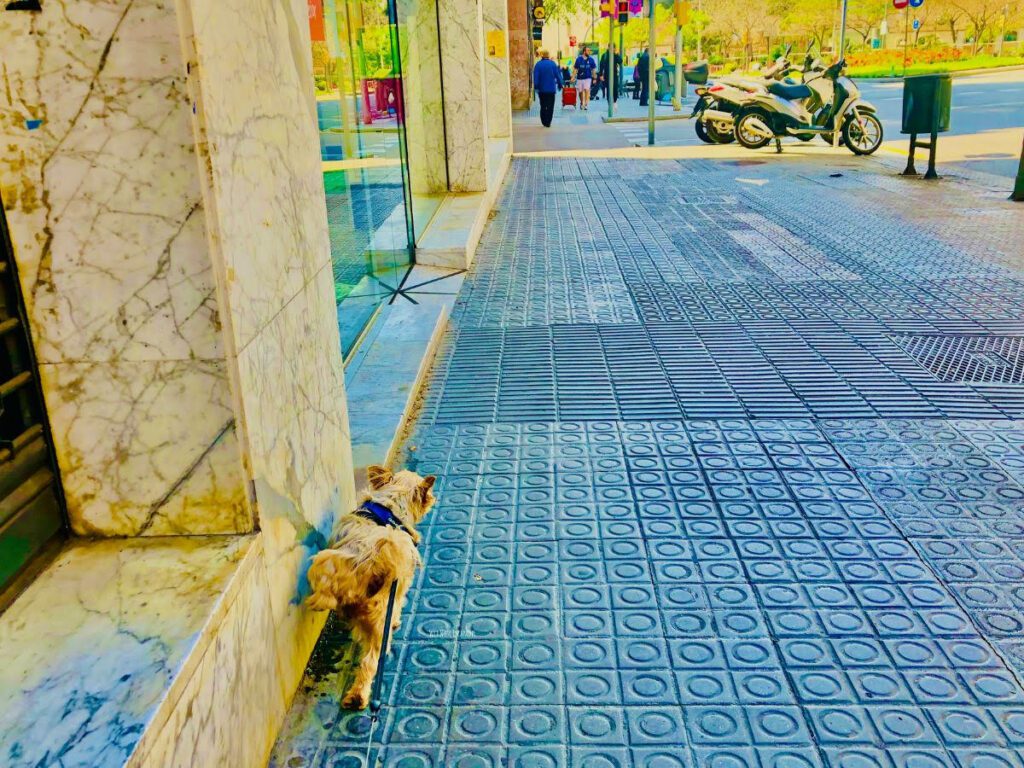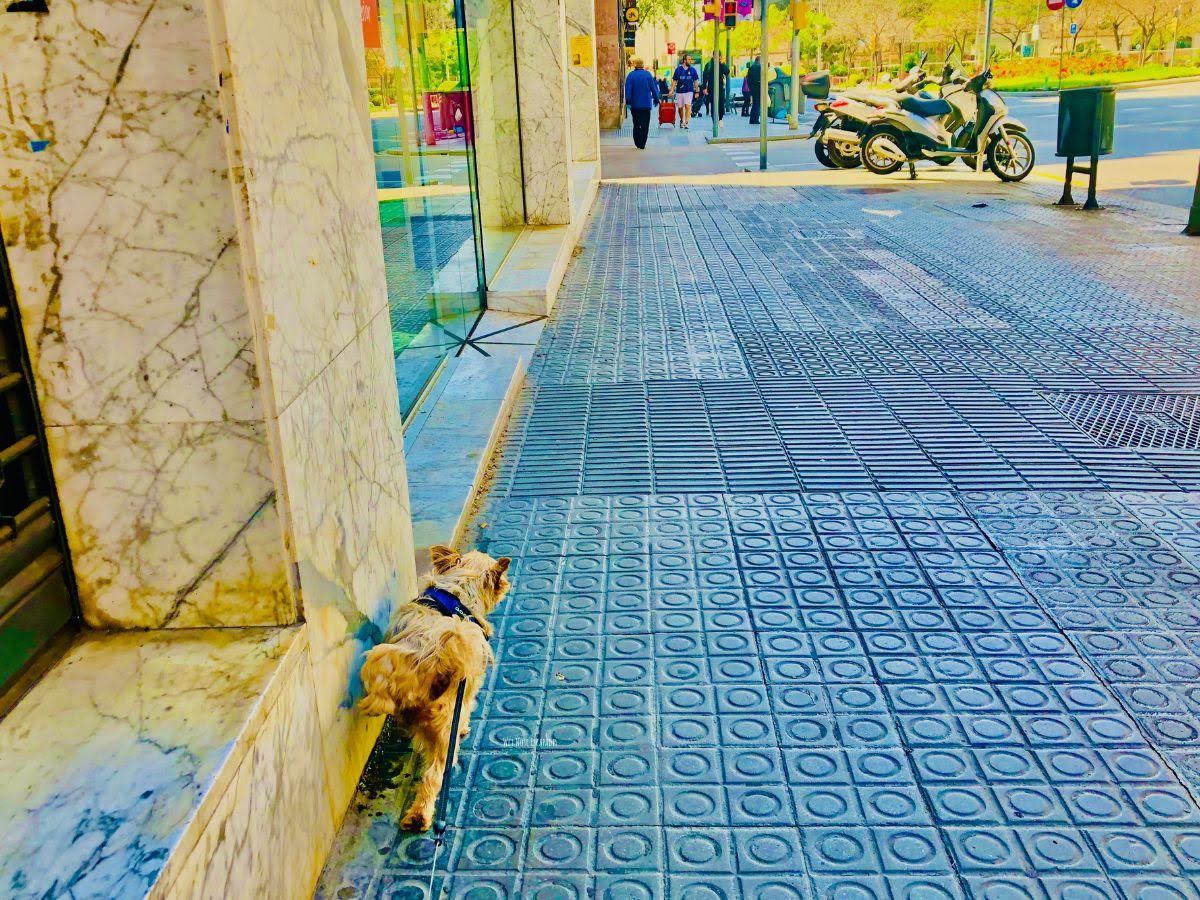 Luckily, you can find pet relief areas at most U.S. airports, which helps provide your dog a much-needed potty break while waiting to board or during a layover.
Featuring pee-mail from other furry travelers, these pet relief areas are equipped with a patch of artificial grass, water hose, and poop bag station. They are usually small rooms inside terminals, but some may be outdoor at bigger airports.
The only downside is that it may take a while for your dog to utilize them if he is used to doing his business outside (in the case of Roger W.).
4. Be prepared for emergencies
Anything can go wrong at 30,000 feet in the air, especially if it's your dog's first flight. Therefore, you should always prepare for emergencies.
Besides getting veterinarian clearance for your dog to travel, you should pack all your dog's medications and supplements.
Before your dog's travel day, research the nearest emergency veterinarian at your intended destination. It's best to digitize all your dog's medical records so you can conveniently access them on your phone wherever you go.
Taking an international flight with a dog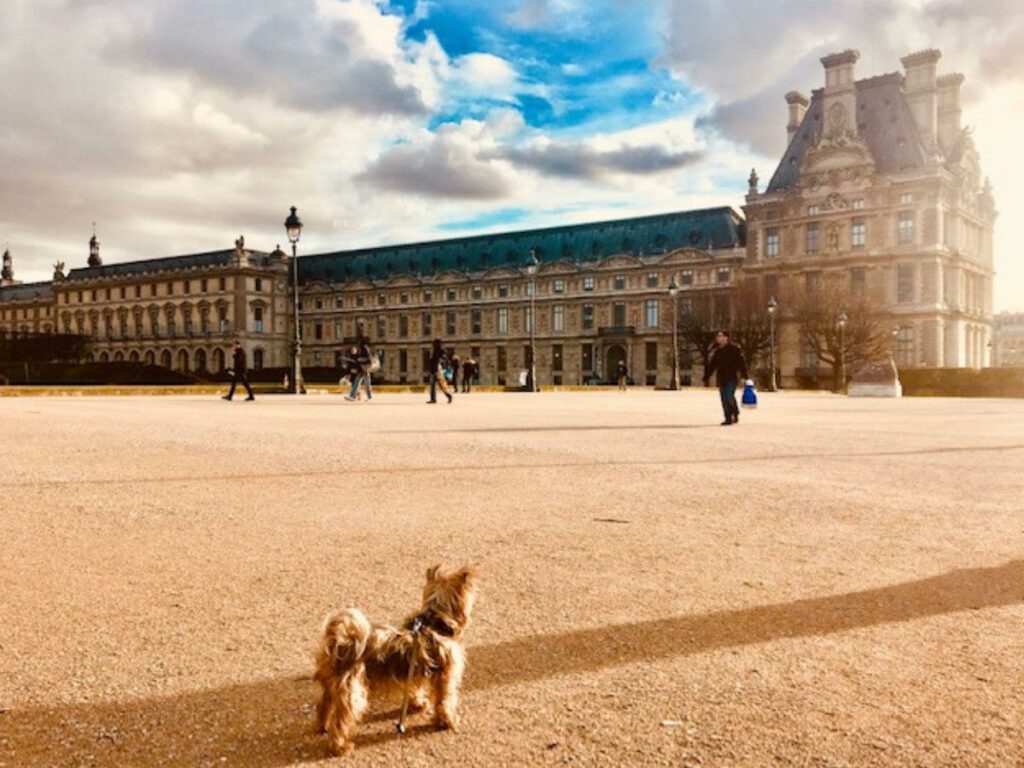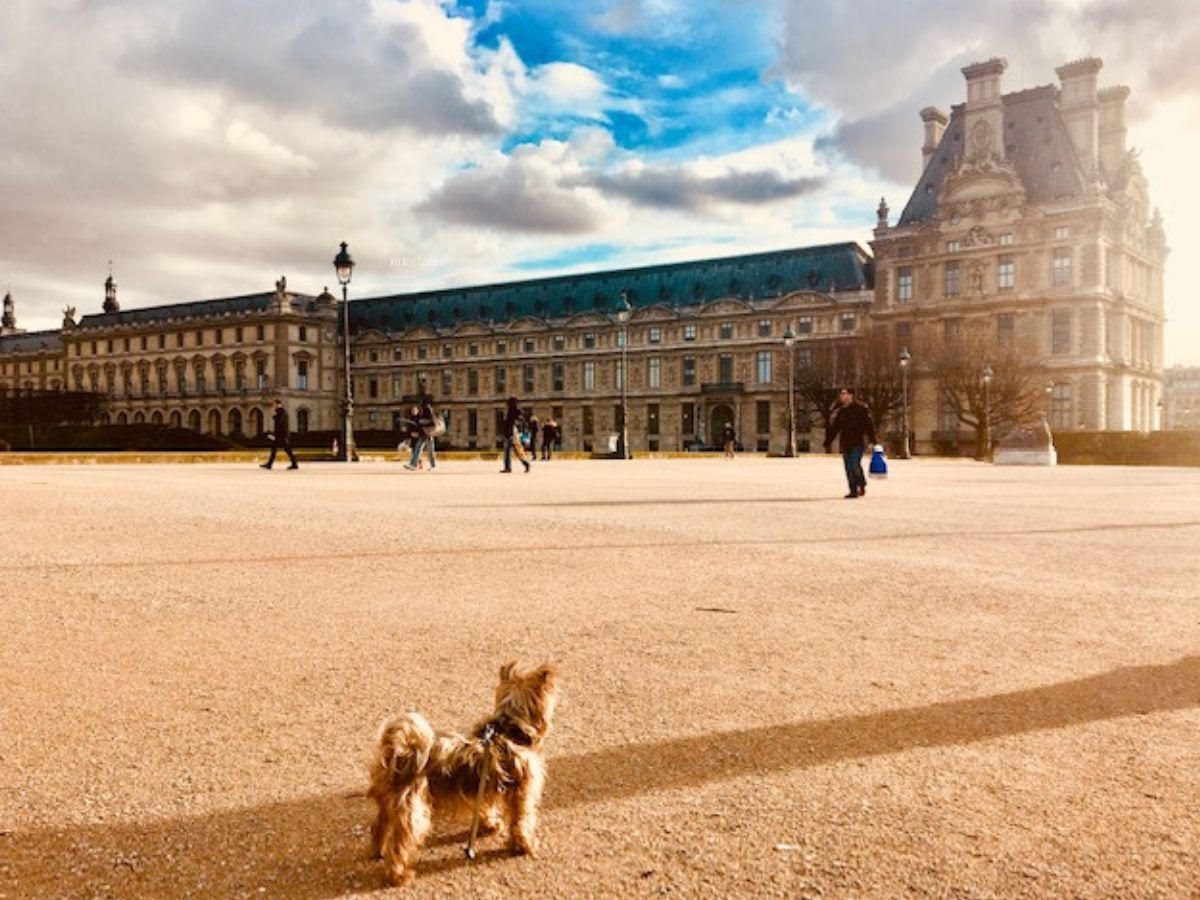 Flying internationally with a dog is possible, but the requirements ultimately depend on two main factors:
the rabies status of your originating country
the rabies status of your destination country
For instance, Japan's rabies-free status requires two rabies vaccinations and a rabies titer for dogs coming from all countries NOT considered rabies-free by Japan (e.g. the U.S.).
And, since the U.S. is rabies-controlled, the only vaccine requirement for rabies-controlled E.U. is a rabies vaccination.
Most countries require a veterinarian health certificate with different requirements for vaccinations, external/internal parasite treatment, port of entry, and quarantine – depending on your country of origin.
To find specific country requirements for dog import, please visit APHIS USDA.
Flying with a dog to the E.U.
With the rise of dog ownership and remote work, traveling with a dog to Europe has become more popular than ever. Every week, I get countless emails and messages about how to travel to Europe with a dog.
Here's what you'll need coming from the U.S. and Canada:
ISO-compliant 15-digit Microchip: The ISO-compliant 15-digit microchip is the standard for international dog travel. If you can't get one from your veterinarian, you'll have to travel with your own scanner (which sounds like a pain, so it helps to get the correct microchip from the get-go).
Rabies vaccination (or proof of vaccination if your dog already has one): Vaccination must be done at least 21 days before entry, and your dog must be at least 12 weeks old. Keep in mind that the rabies vaccination must be administered after your dog is microchipped. However, the vaccination can be on the same day as the microchip.
E.U. Health Certificate (non-commercial): The Veterinary Health Certificate must be issued and completed by an accredited veterinarian. I had to make an appointment with a specific vet specializing in travel so check with your veterinarian office.
Upon obtaining the completed E.U. Health Certificate from the veterinarian, you must get the paperwork endorsed by your local APHIS Veterinary Services Office (U.S.) for $38 or Canadian Food Inspection Agency (Canada) for $20. Your dog must arrive in the E.U. within ten days from the date of endorsement.
Once it's stamped, the E.U. Health Certificate is valid for travel within the E.U. for up to 4 months (or until the rabies vaccination expires, whichever comes first)!
Insider Tip: If you plan on traveling frequently to Europe with your dog, you should take your dog to an accredited veterinarian upon arrival to exchange your existing E.U. Health Certificate for an E.U. Pet Passport. The Pet Passport especially comes in handy if you want to return to the E.U. with your dog.
Service dogs: what are the rules/do they differ for service dogs?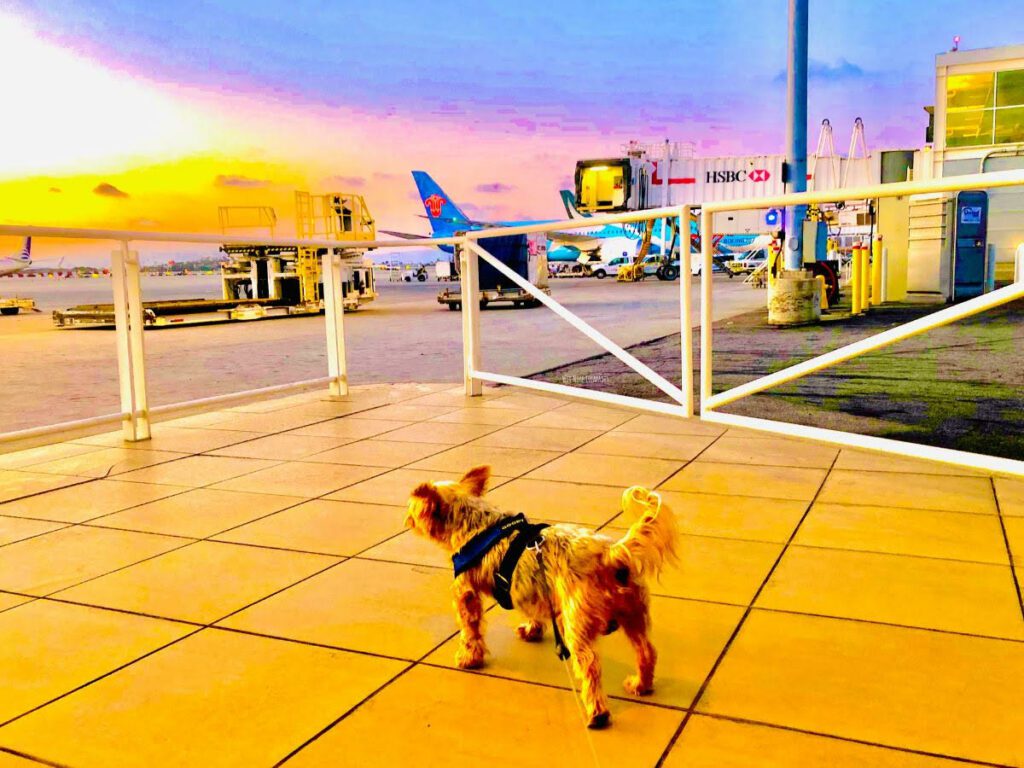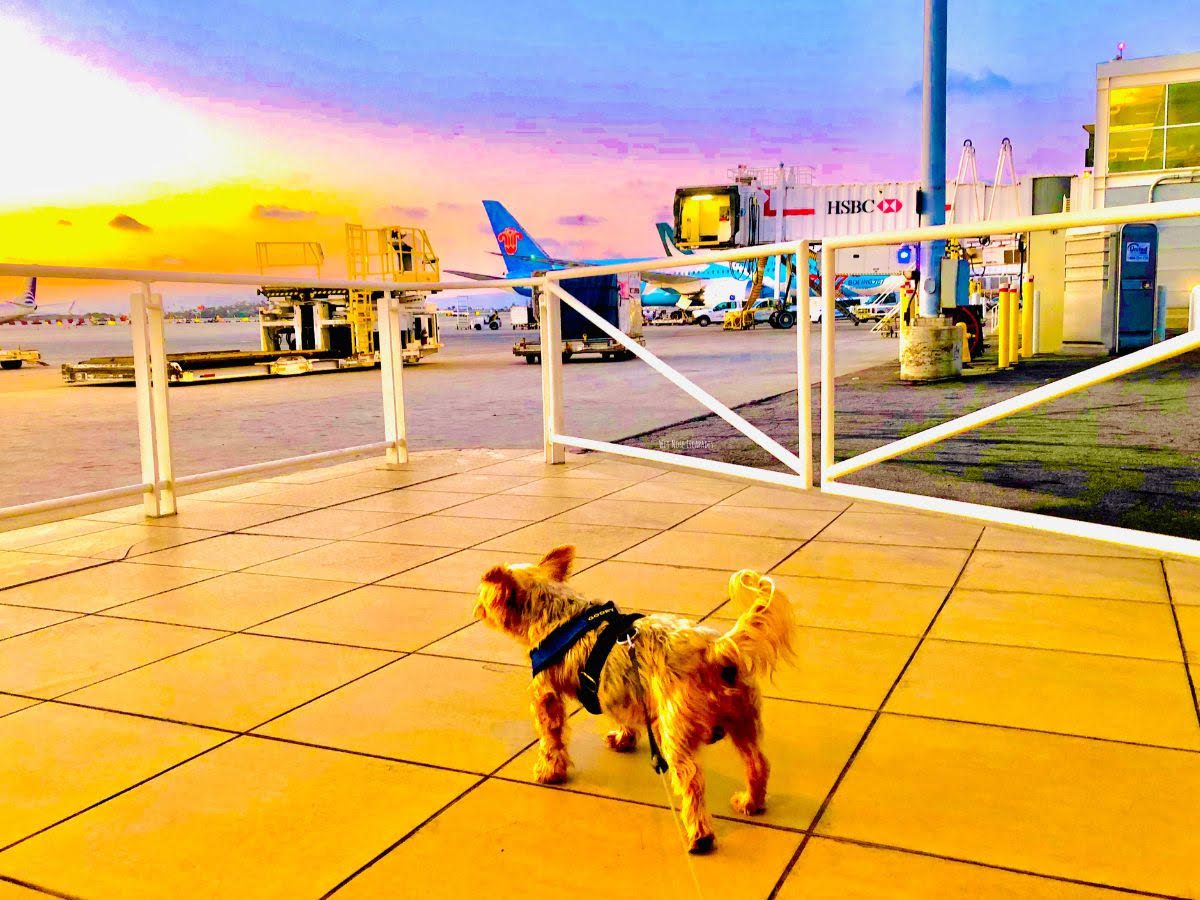 As working dogs, service dogs are not considered pets because they have been trained to perform a specific task to assist a person with disability.
Due to their function, they are granted access in-cabin regardless of size. They also fly for free domestically and on routes to/from the U.S.
It's important to note U.S.-defined service dogs are not necessarily recognized by other countries, especially the ones requiring service dogs to be trained by specific organizations.
However, a U.S.-defined service dog generally can fly for free in-cabin and without a carrier on routes to and from the U.S., although exceptions exist (such as flights to/from the U.K. will only allow U.K.-defined service dogs in-cabin).
Health concerns for your dog
Besides acquiring the required paperwork for dog travel, your dog must get a thorough physical examination from the veterinarian to ensure that he is healthy enough to fly.
Many airlines have banned or restricted the transport of snub-nosed dogs (brachycephalic breeds) like Frenchies and Pugs from cargo holds due to their genetically predisposed difficulty in breathing.
Any health or behavioral concerns (including anxiety) must be addressed with a veterinarian before travel.
---
Final thoughts on flying with a dog
Flying with a dog may seem hasslesome (and even costly), but I have zero regrets after 6+ years on the road with Roger W. (and now Penny R.). 
Together, Roger W. and I survived a strict Covid lockdown in Barcelona, island-hopped in Greece, and partied at ruin pubs in Budapest. We've explored Stanley Park in Vancouver, celebrated the Day of the Dead in Mexico, and got our feet sandy at Copacabana in Rio de Janeiro—among other amazing memories. 
Through careful and strategic planning, you and your dog will have a spectacular bonding experience venturing the world together.
---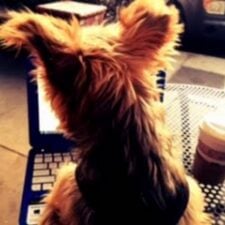 Since resigning from the conventional office in 2016, Gigi Chow has been living the nomadic life with her Yorkie, Roger Wellington. She is the creator behind Wet Nose Escapades, the international dog travel blog narrated by Roger W. himself. Since 2016, she has flown with Roger W. on over 60 flights across 24 countries.
She is also the author of How to Travel with Your Dog: Roger Wellington's Expert Guide to International Dog Travel. Follow their escapades on YouTube, Instagram, and Facebook.
---
Need help planning the perfect trip?
Be sure to check out our Travel Planning page for resources on everything you need to know from how to get started to packing, budgeting and more! Or you can read some of our favorite articles about planning your next trip below.
Save this article on Pinterest for later!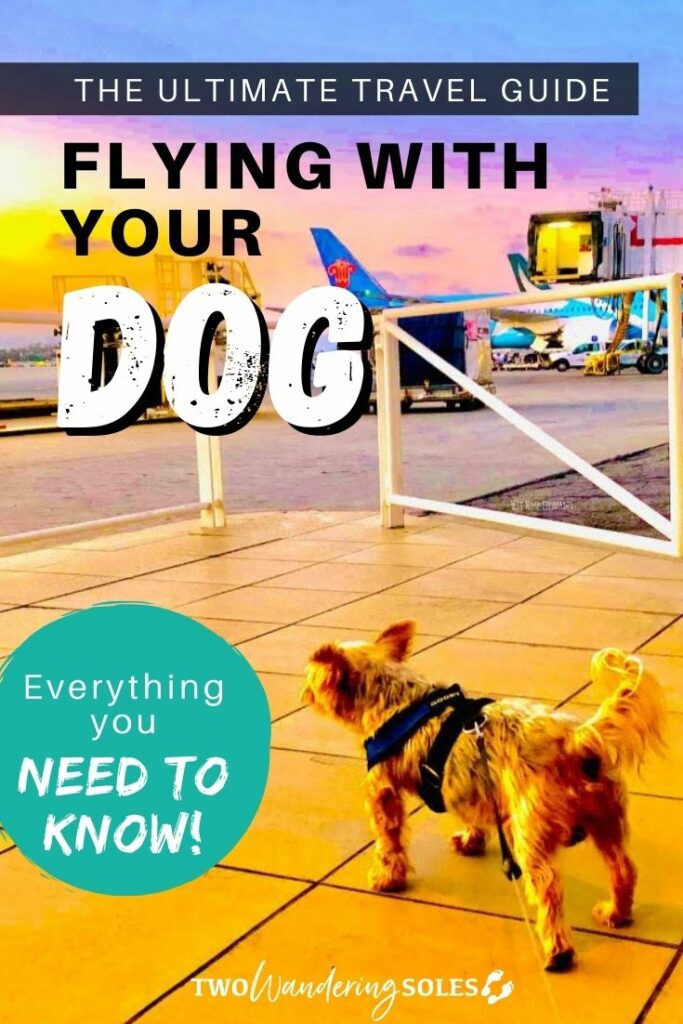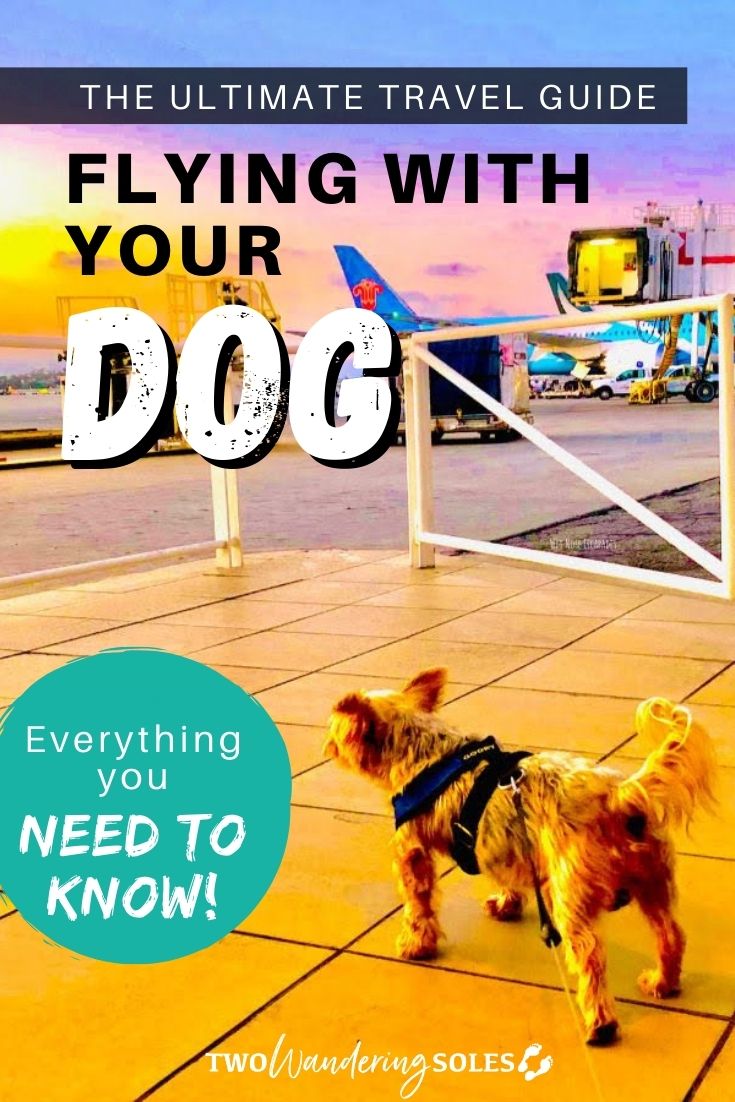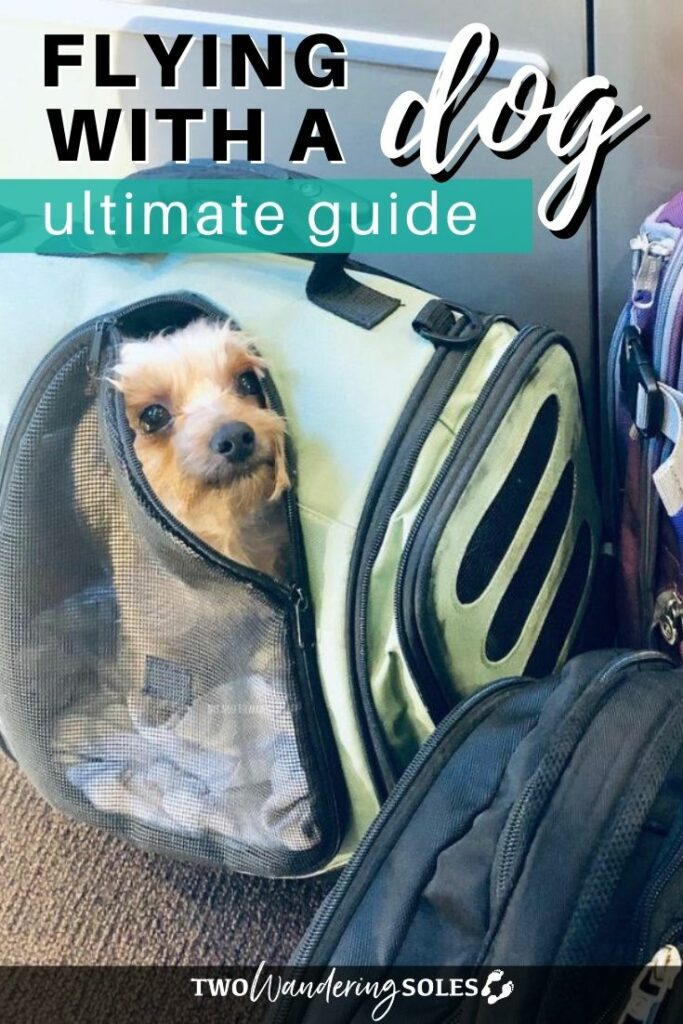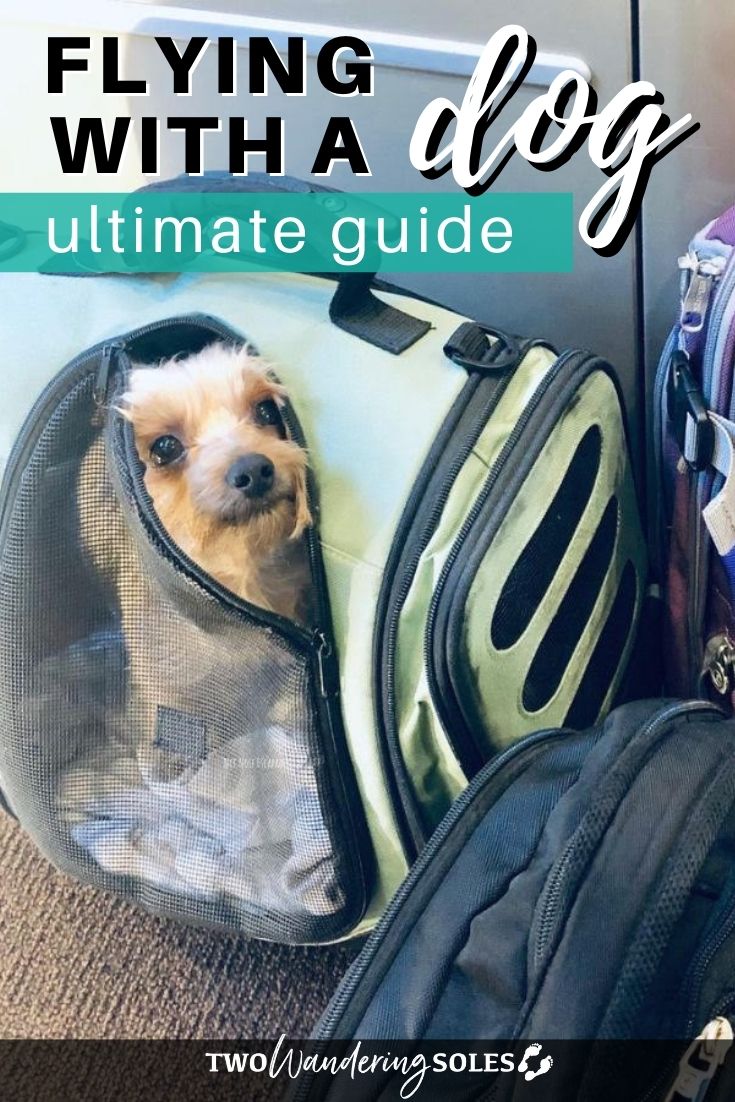 We want to hear from you!
Do you have more questions about flying with a dog or traveling with pet? Leave your comments below and we'll do our best to get you the answers you're looking for.