We've called on a fellow travel blogger and hiking enthusiast to go over everything you need to know to hike the Laugavegur trail, one of Iceland's most difficult, yet rewarding, multi-day treks. From planning your route to budgeting for your trip and a day-to-day trail breakdown, this article has you covered.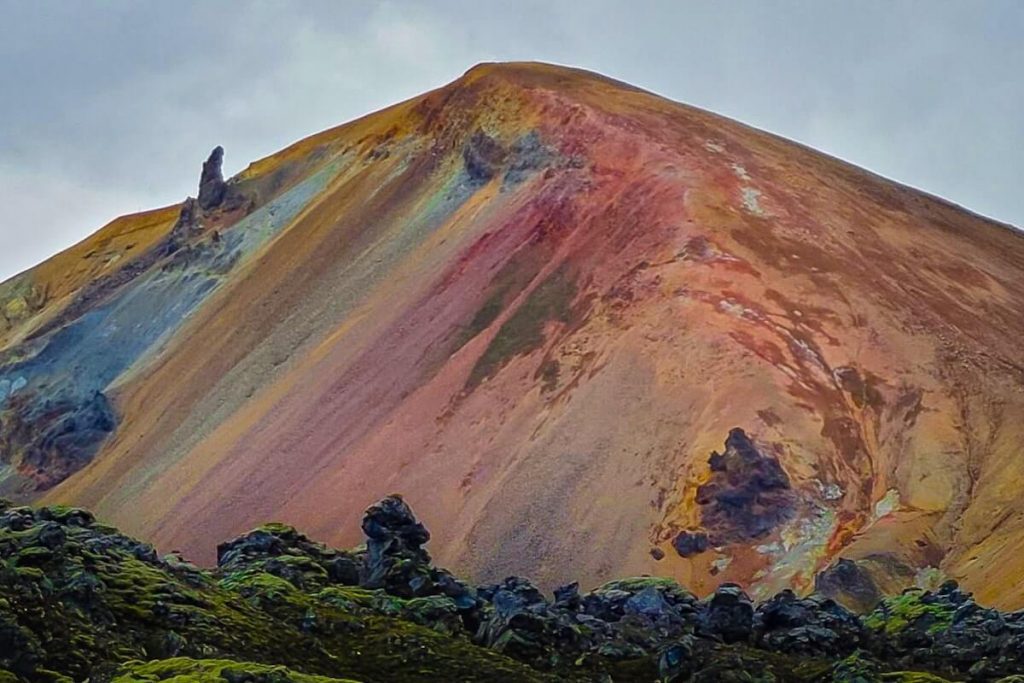 By Guest Author: Natasha Karcz
Amidst the vast, unspoiled terrain of the Icelandic Highlands sits the renowned Laugavegur trail; a notoriously difficult-yet-rewarding trek famed for its unparalleled rugged landscapes. It's here, surrounded by Iceland's acclaimed "rainbow mountains", black sand deserts, and moss covered volcanic peaks that you'll come to know the true definition of otherworldly.
While hiking Laugavegur certainly isn't for the faint of heart, the trail does boast some of Iceland's most idyllic and untouched scenery, ultimately attracting backpackers and thru-hikers from all corners of the world as one of the most incredible Iceland hikes.
Despite Laugavegur's daunting intensity, each hiker is seemingly more keen than the last to uncover some of Iceland's best kept secrets (and photo opportunities!) in this otherwise largely unexplored but remarkably worthwhile region.
If—by chance—I'm describing you, then you've come to the right place! Laugavegur is a multi-day hike that one should attempt only if remarkably confident in their ability to complete, meaning you should have a thorough understanding of exactly what you're up against.
In this article, we'll cover everything you need to know from first arriving at the trailhead, to what you'll need to bring, and more to make hiking the Laugavegur trail a success.
Article Contents
---
Laugavegur trail overview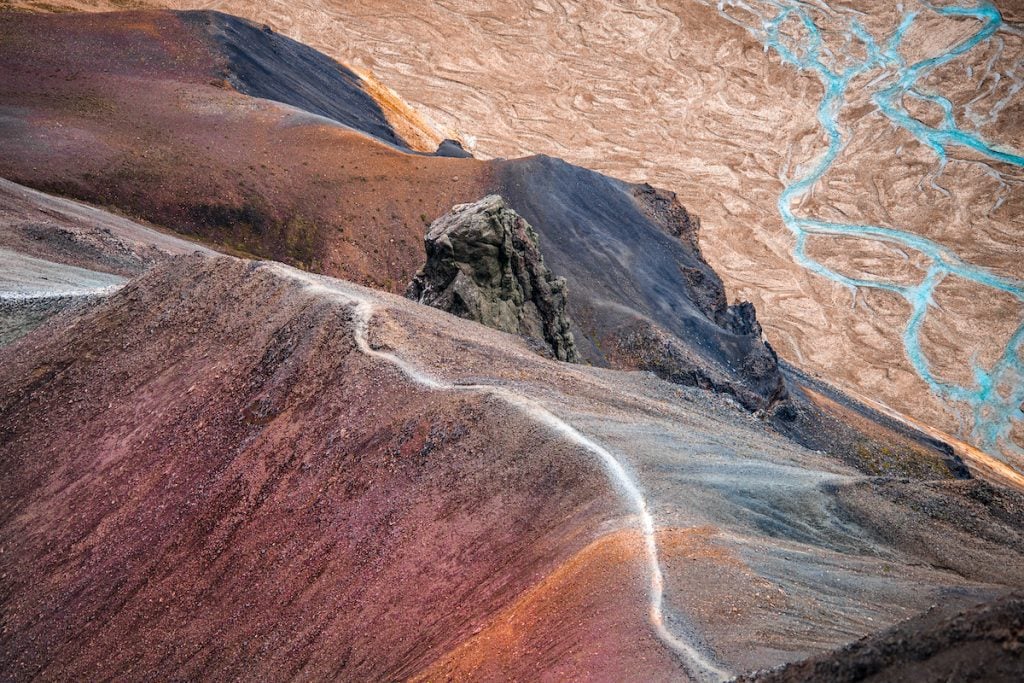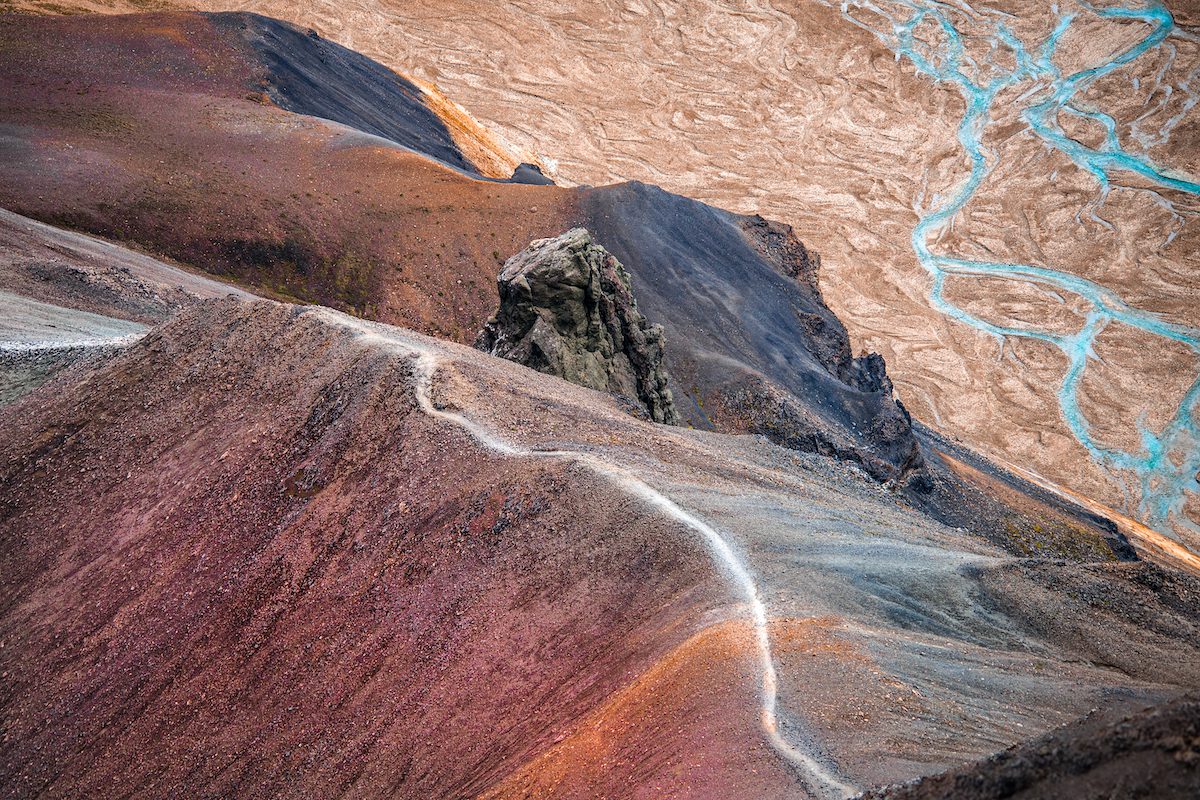 Distance: 52.1 km (32.4 miles)
Elevation Gain: 1,701 meters (5,583 ft)
Type of trail: Point to point
Difficulty: Hard
Hiking Time: 8 to 10 hours, depending on your pace
Starting Point: Skógafoss
Ending Point: þórsmörk (Básar Hut)
The Laugavegur trail is a point-to-point trail, meaning where you start your trek and where you finish it are two different locations that do not create a circuit. To pull this off, some advanced coordination will likely be required to ensure that you are dropped off at one end, and are equally capable of returning from the other.
Given that there is significant ground to cover between the two points, it's imperative that you prepare in advance your transportation method both to and from the trail (which we'll touch on more later!).
There is also an option to connect this hike with the famous Fimmvörðuháls trail, Iceland's best day hike. Since both hikes are point-to-point and start and/or end in the Thorsmark Valley, you can combine the two if you should choose to add an extra day.
In addition to the distance covered, the Laugavegur trail has nearly 2,000 meters of elevation gain, ranking it "difficult" in terms of skill and/or fitness level required. Fortunately, with that being said, Laugavegur is considered "moderate" in terms of its technical ability as the trail is well-worn, signed, and moderately trafficked.
Duration and trail accessibility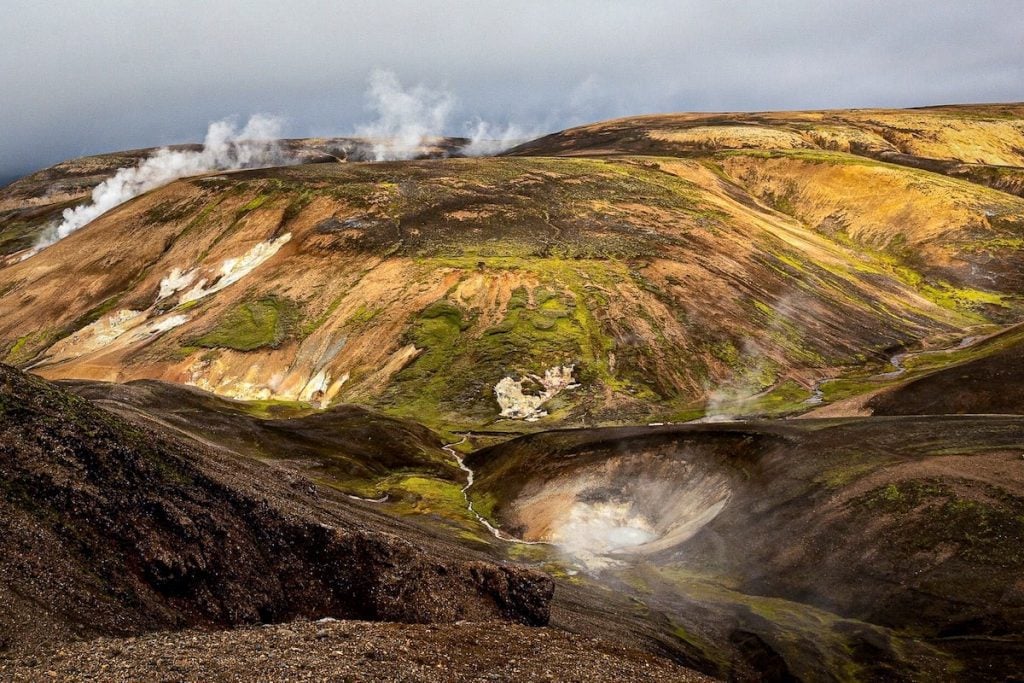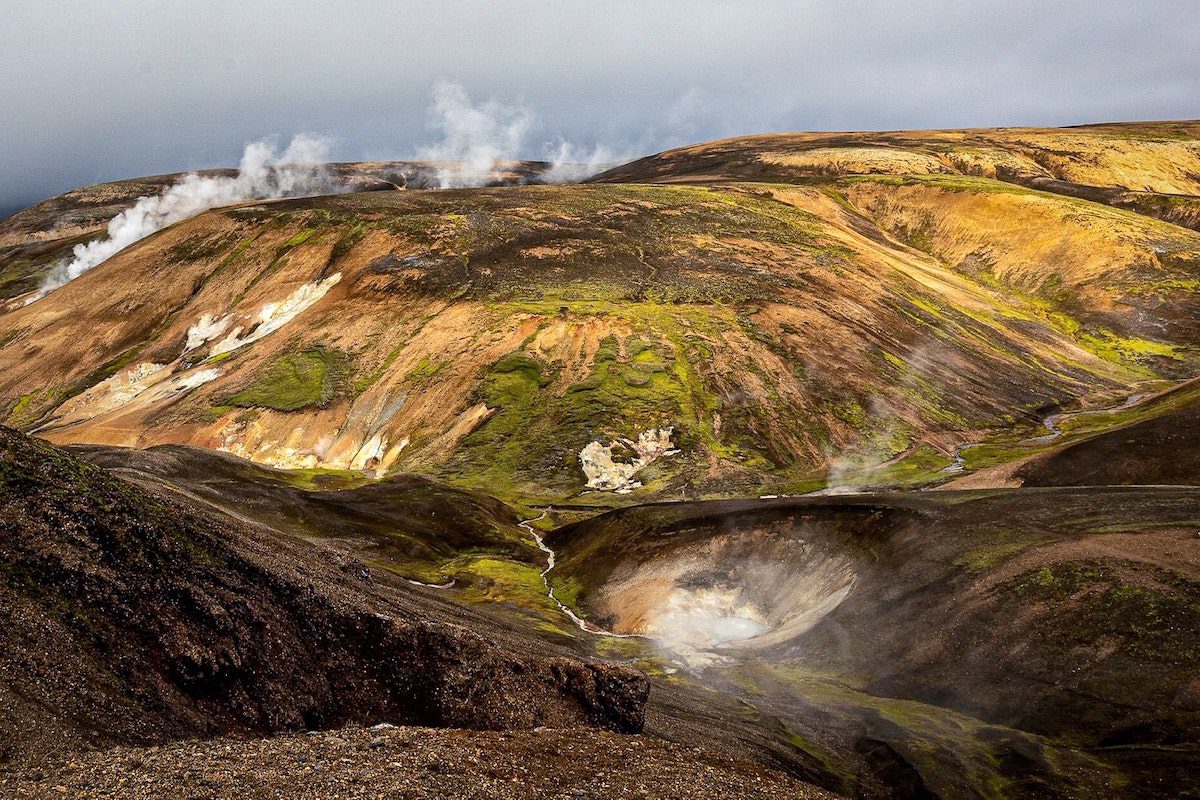 While the recommended duration of the Laugavegur Trail is 4 days and 3 nights, it's worth mentioning that there's no medal for adhering to or exceeding this timeframe.
If you've budgeted a particular amount of time for the trail or are bound by your permit dates, that's understandable –but don't rush your way through this scenic region of Iceland just for the sake of it. Take the trail at your own pace, and enjoy the plentiful sights to be seen along the way.
Given the reputation that the Icelandic Highlands has for being so unforgiving by nature–think freak rain or snow storms in what's supposed to be the heat of summer—and the region's overt inaccessibility, you never can be too cautious.
Laugavegur trail is open between the months of June through September, with optimal hiking conditions most commonly found in July and August. During this time of year, not only will you be hiking in some of Iceland's most temperate climates but you'll also find no shortage of daylight given that you'll have the distinct advantage of hiking under the "midnight sun".
Psst! Wondering when to go? Find out the best time to visit Iceland based on your travel preferences and planned activities.
Laugavegur trail routes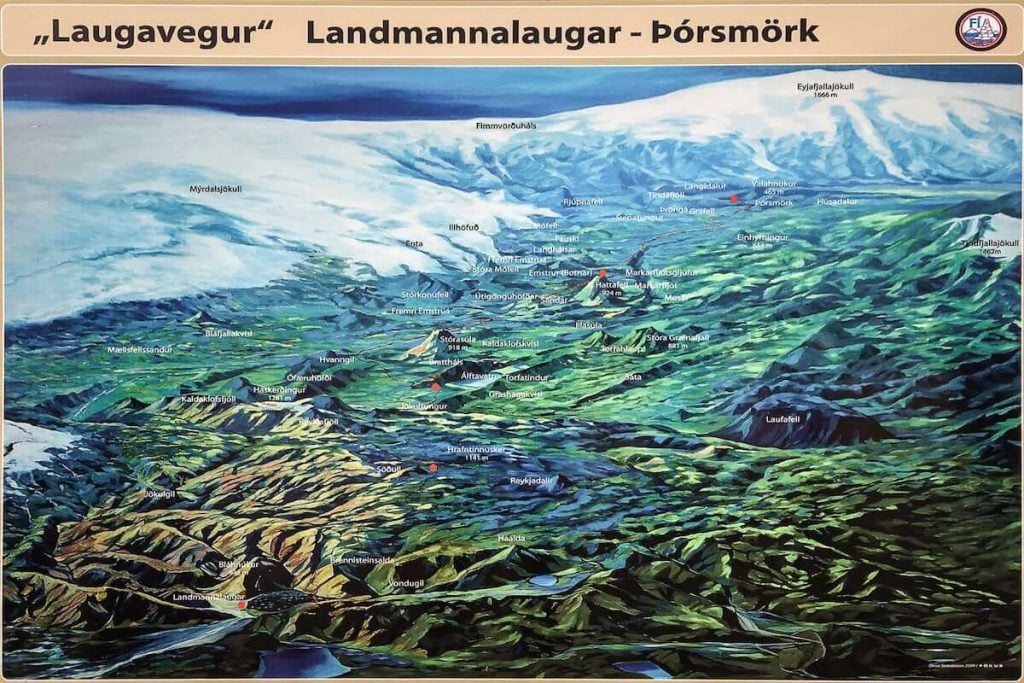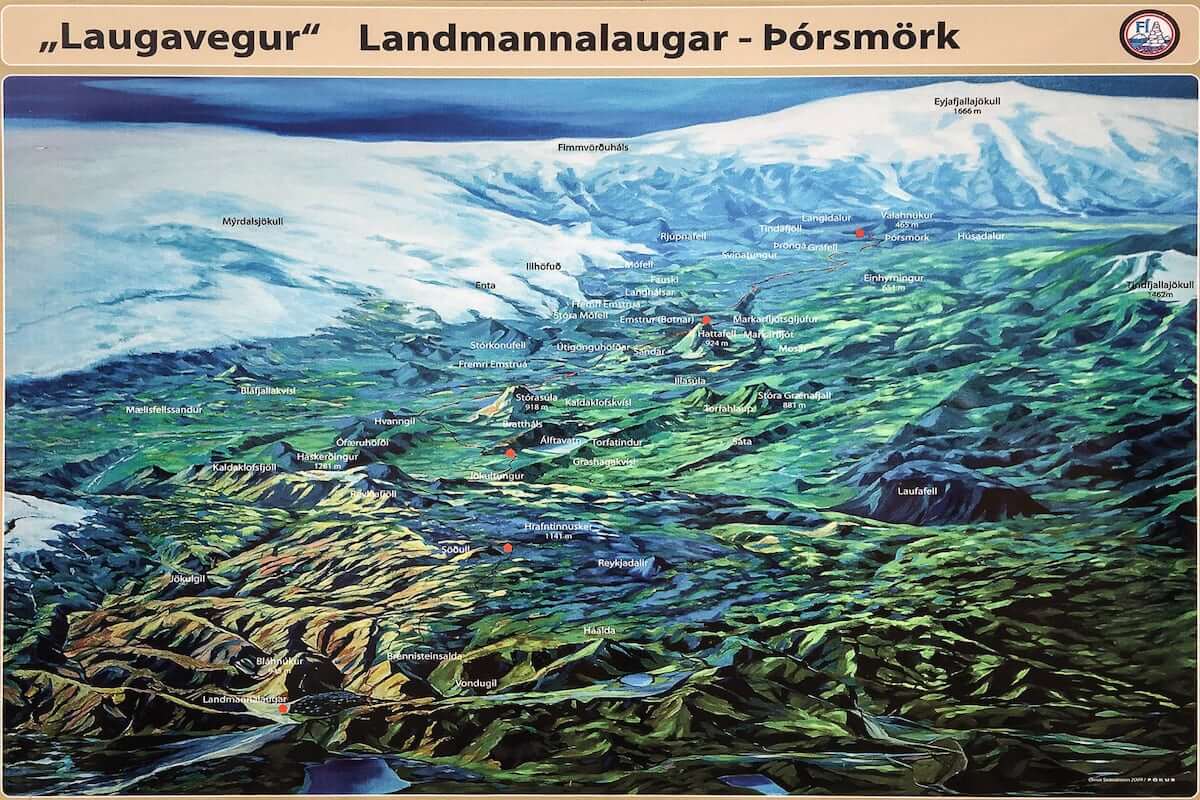 The next step is determining the route you intend on hiking for the Laugavegur trail.
You could opt to take the ever-popular SoBo (southbound) route, and hike from the Landmannalaugar to Þórsmörk (or "Thorsmark" when translated to English spelling), or hike the reverse NoBo (northbound) route from Þórsmörk to Landmannalaugar.
Of course, each route offers its own variety of benefits and challenges.
SoBo: Landmannalaugar to Þórsmörk
PROS
Most hikers opt to tackle Laugavegur heading SoBo, due to its (comparatively) forgiving elevation gain/loss ratio.
When hiking SoBo, you descend into the valley that Laugavegur trail is so widely known for amongst photographers and other view-seekers. If you were headed NoBo, you'd be climbing out of the valley, and therefore the view would be behind you.

CONS
Greater potential to have to fight for a campsite if the trail is otherwise heavily trafficked, as most hikers tend to arrive at the overnight accommodations within the same few-hour period.
NoBo: Þórsmörk to Landmannalaugar
PROS
Sharing the trail or battling crowds is a virtually non-existent issue when traveling from Þórsmörk to Landmannalaugar as they'll, for the most part, be headed in the opposite direction as is typically seen on the Laugavegur trail.
Ending the trail in Landmannalaugar means that you'll be ending the trail in a geothermal hotspot, meaning lots of natural hot springs and ample opportunity to rest up and soak in the warm waters after a few demanding days on trail.

CONS
Most transportation providers offer pick-up from Þórsmörk given that it's Laugavegur's more popular end-destination, which may result in a pricier return trip to Reykjavjik given the 50km/30mi+ additional distance.
Needless to say, hike your own hike and opt for whichever route sounds the most appealing based on your hiking ability and preferences.
If you're a view-driven hiker or are someone who enjoys meeting fellow travelers on your adventures, it may be worth following the conventional Landmannalaugar to Þórsmörk route.
If you're instead drawn to the physical challenges that a hike of this caliber may constitute and prefer to find connection to your surroundings through solitude, a NoBo trek might make the most sense despite being the path less traveled – literally!
Tip: If you are planning to combine this hike with the Fimmvörðuháls trail, your direction will determine whether you start with Laugavegur trail or Fimmvörðuháls trail first.
Reservations and facilities on the trail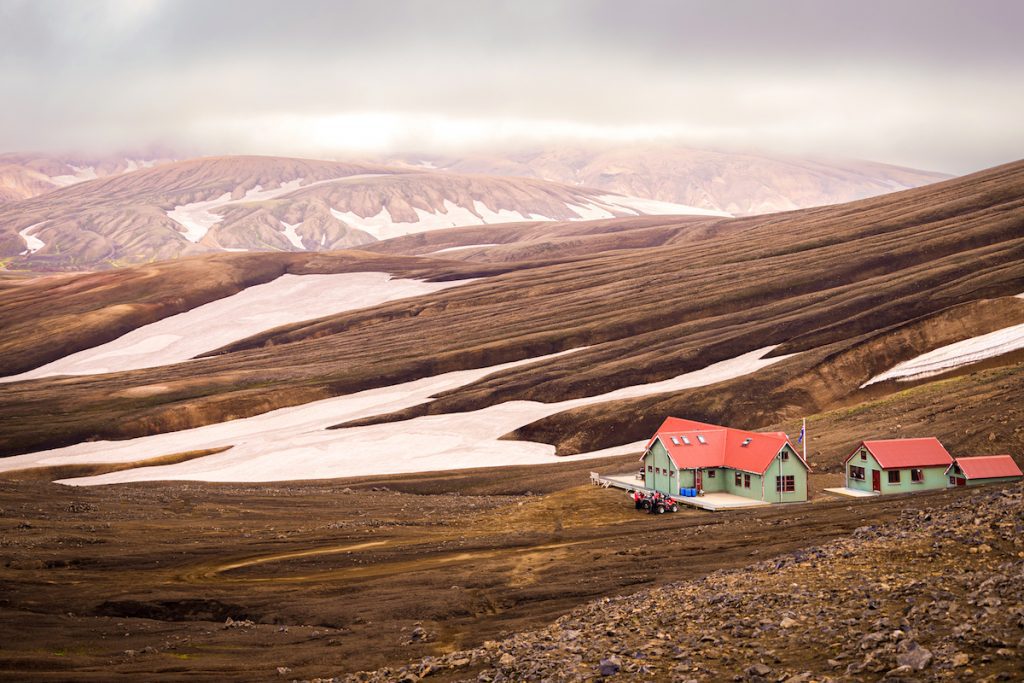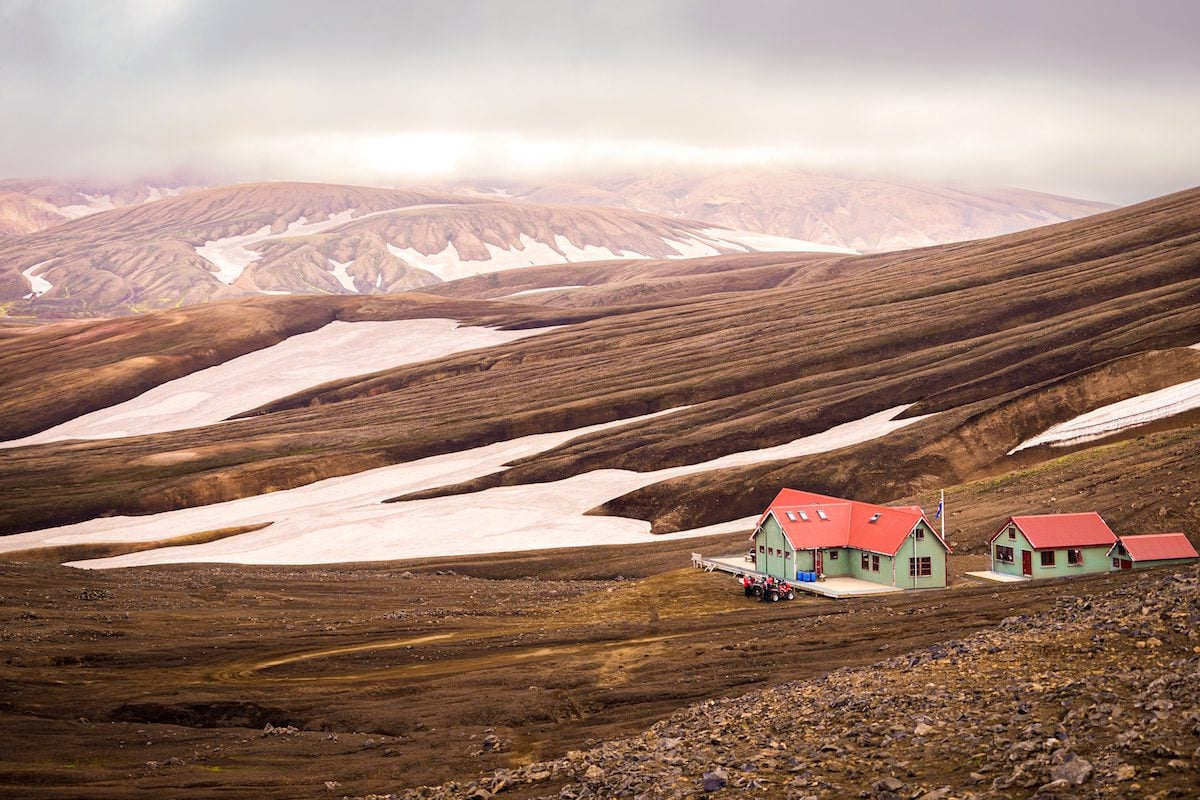 Laugavegur is Iceland's most popular thru-hike–and with good reason!—so naturally, its annual visitor numbers reflect that. It's estimated that up to 10,000 hikers trek the route each season.
Therefore it's highly recommended to book your Laugavegur huts well in advance here (especially so considering that, on average, each of the huts hold up to an average of 60-75 persons per night). However, if you wish to camp in the allocated sites next to each of the huts, no reservation is required as this operates on a first-come, first-serve basis and payment can be made upon arrival.
Note: Wild camping is illegal on the Laugavegur trail. Despite any misinformation that may advise contradictory to this, park wardens regularly patrol the area and will fine you for camping anywhere other than the designated sites found at the trail huts. The trail huts are both inexpensive and provide most amenities hikers may require, so please utilize them!
All huts are equipped with bathrooms and showers (with the exception of Hrafntinnusker hut, which does not include a shower), and so while it is requested that patrons utilize these facilities, it is an expectation that if you are unable to make it to one of the huts before you "go", that you pack out any waste as needed.
---
Planning your Laugavegur hike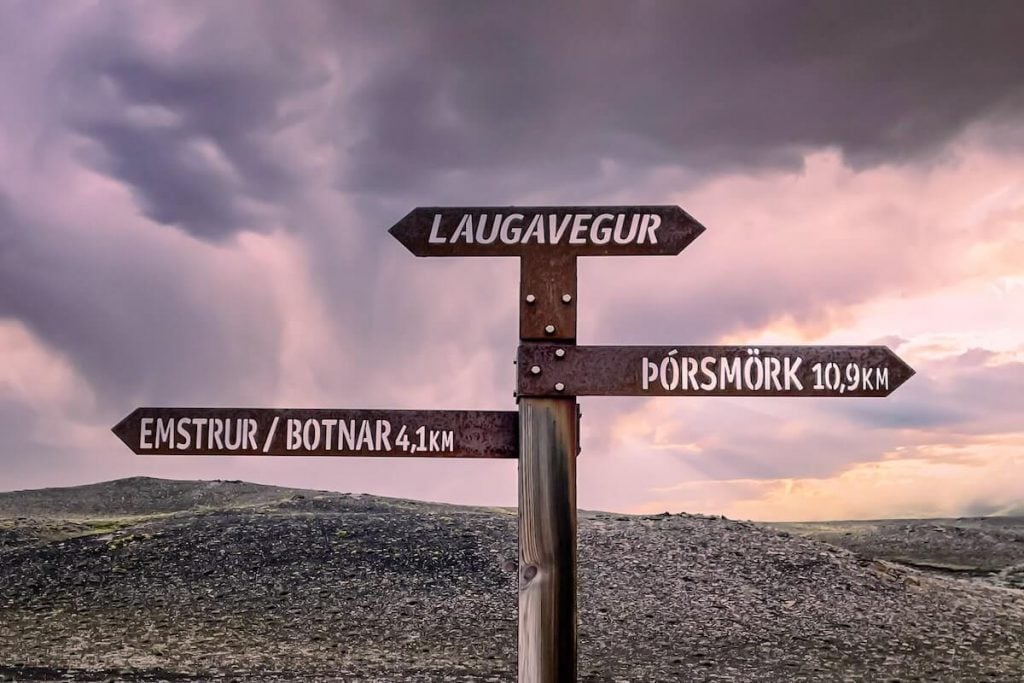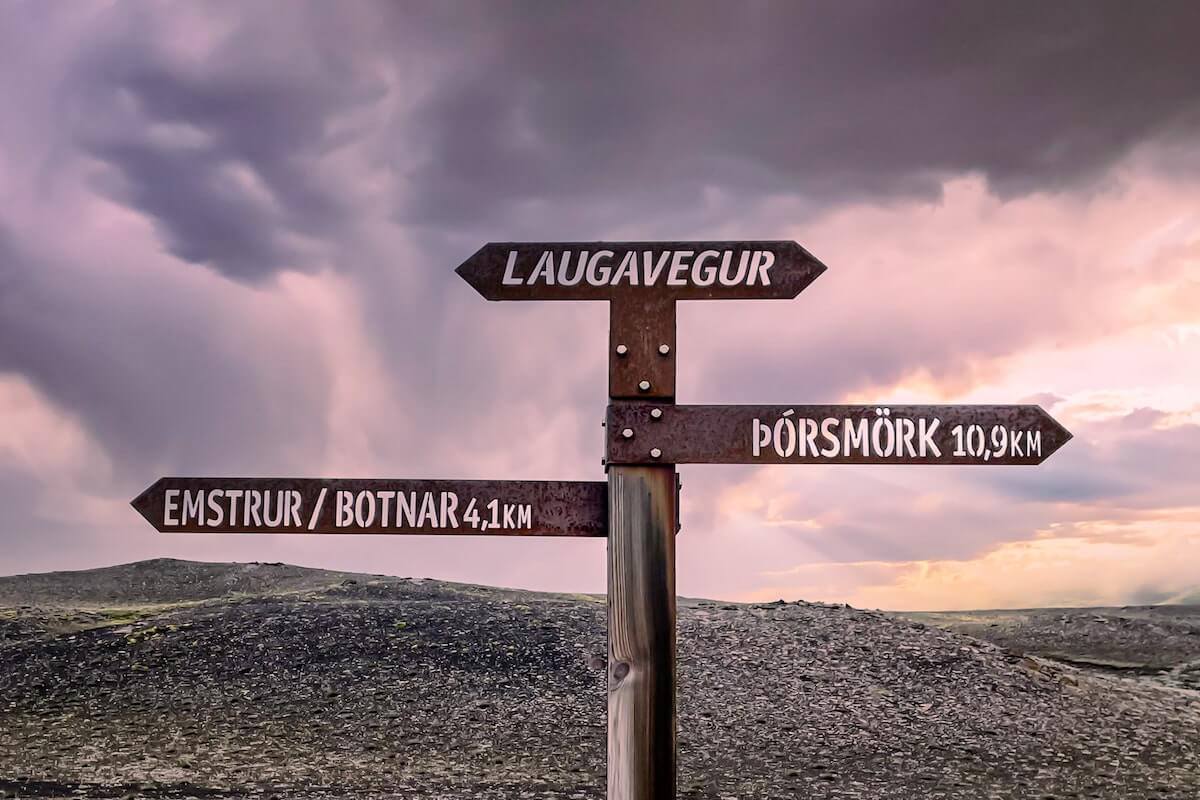 Trail conditions, weather warnings and more
First things first (and as mentioned previously), Icelandic weather is unpredictable at best. Keep up to date on weather warnings and trail conditions alike with use of safetravel.is, where you can input your travel details–be it general travel, driving, hiking or whatever else—for free, and receive updates and alerts in real time that may impact your trip.
This resource even includes up-to-date river crossing advisories (of which there are at least three on the Laugavegur trail), which most hikers know can change drastically given the least bit of inclement weather.
Psst! Check out our other recommended Iceland travel apps.
So while it's understandable to want to unplug for the majority of your thru-hike, it's worth tuning in every once in a while to ensure the safety of you and those around you; which lends well into our next point…
Cell service and contacting emergency services
Surprisingly, cell service is pretty readily available on the Laugavegur trail (with the exception of Hrafntinnusker or Emstrur), especially in places of high elevation such as mountaintops or ridgelines.
Even so, it is good to be prudent anyway and don't plan for your cellular device to be your only means of alerting emergency services in the event of something going wrong. Bring an off-grid GPS—even a downloadable/offline AllTrails map is better than nothing!—and a portable battery pack, just in case, as it is not always possible to recharge your devices en route.
As for contacting emergency services, know that the emergency services number in Iceland is 112 and should be contacted if you are in need of the police, fire department or rescue services.
Fitness level and advanced training
Given that the Laugavegur trail is ranked "difficult" in terms of skill and fitness level, it is not recommended to attempt this trail as your first multi-day trek. However, if you're someone who is competent in the backcountry, including having experience with carrying your own overnight gear and supplies, then you'll likely find this trail to be a pleasant and totally rewarding experience.
Like any hike, the more prepared you are, the more enjoyable the experience will be.
Laugavegur isn't so physically demanding that any sort of rigorous training regime is required in order to be able to complete it successfully. Be mindful of the distances between overnight stops and ensure that that's well within your wheelhouse before attempting the Laugavegur trail, and you'll be fine!
Note: this trail is not accessible to those with limited mobility due to its often uneven, challenging terrain and significant elevation gain/loss.
Budget for hiking the Laugavegur trail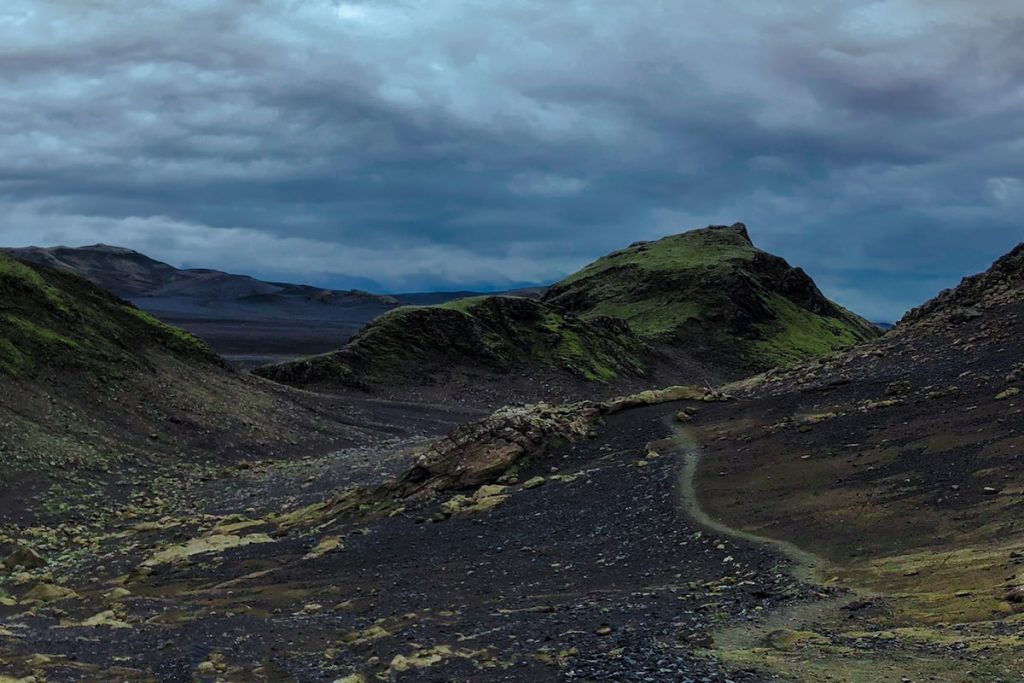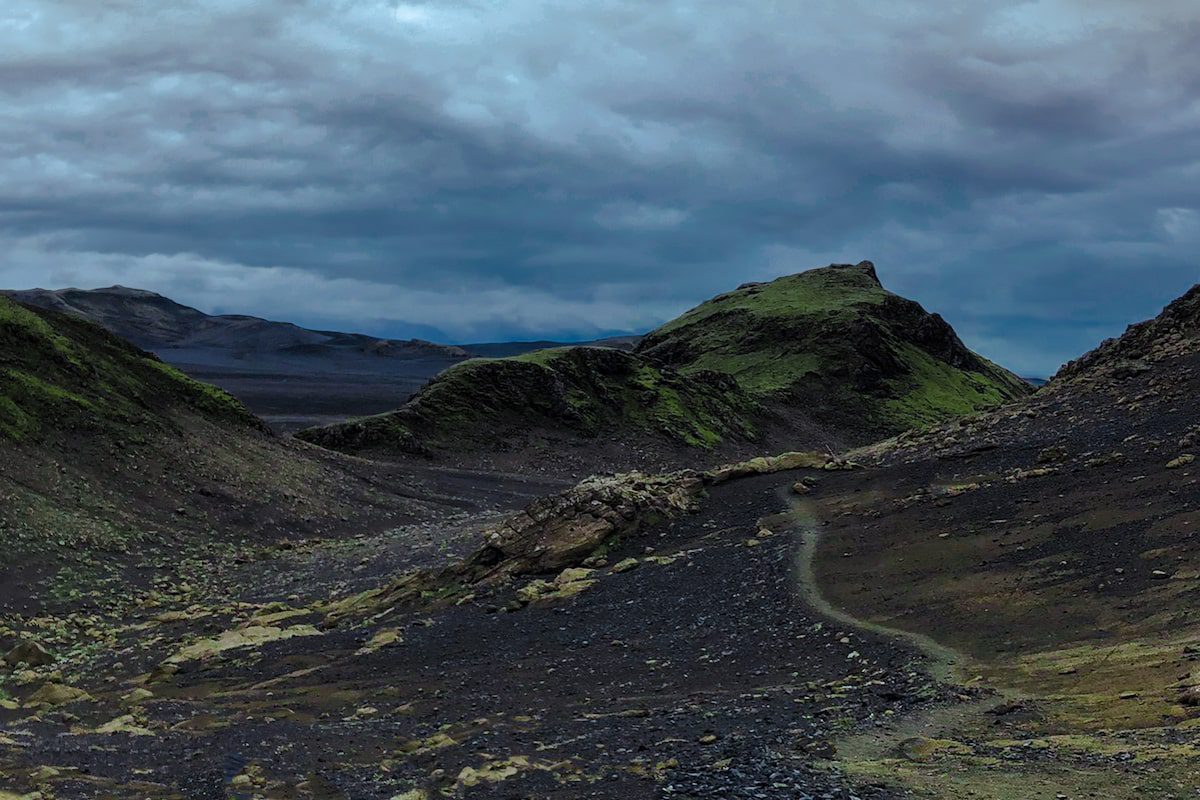 Local currency is the Icelandic Krona, and it is largely the preferred payment method nationwide (though major credit cards are widely accepted as well).
Given the isolated nature of some of Laugavegur trail's overnight huts, it's strongly recommended you carry cash with you in the event of power outages or simple lack of debit/credit machines.
Accommodation costs
The average cost of a bed in one of Laugavegur's huts is 9,500 ISK ($75 USD) per person and is typically paid in advance to reserve your spot. So assuming you're staying the recommended minimum of 4 days and 3 nights, expect to spend at least 28,200 ISK ($225 USD) on lodging if utilizing the huts.
To cut back on costs, camping is a much more affordable option along the Laugavegur trail. Campsites cost roughly 2,000 ISK ($15 USD) per person. Though, if planning to camp, be mindful that you'll then have to carry your overnight hiking equipment with you on trail.
Keep in mind, whether you're paying to transport your own equipment, or rent camping gear in Iceland, sometimes it works out to actually be cheaper to opt for a hut. And remember, whether you opt to stay in a hut or at the campsite, five minutes in a hot shower will cost you 500 ISK ($4 USD).
Food on the trail
If there's one thing that's common knowledge when it comes to budgeting for Iceland, it's that food is outrageously expensive. So much of your costs will be dictated by personal preferences, dietary requirements, and how much food you intend to bring and where you shop.
However, it's worth mentioning that planning for four days worth of food–especially considering the intensive physical activity you'll be enduring–could very well be the most expensive portion of your Laugavegur trail hike.
Use our guide to supermarkets in Iceland to find money-saving tips so you can budget accordingly and stock up on groceries for your hike!
Transportation costs
The final consideration when budgeting for your Laugavegur trek is transportation costs.
As mentioned earlier, you'll need to coordinate how to get to the trailhead to begin your hike, and given that the Laugavegur trail is a point-to-point hike, how to get back to either your vehicle that's been left at the trailhead or back to the closest major city (Reykjavík) where you can resume your travels.
Since there are no public transportation services available at either end of the Laugavegur trail, you'll need to arrange private transportation in advance.
The overwhelming recommendation on this one (passed on from hiker to hiker as the most inexpensive option by far) is to purchase a hiker's pass for 14,000 ISK ($120 USD), which includes round-trip transportation to each end of the trail, where you can take as long as you need to complete the hike.
What to pack for hiking the Laugavegur trail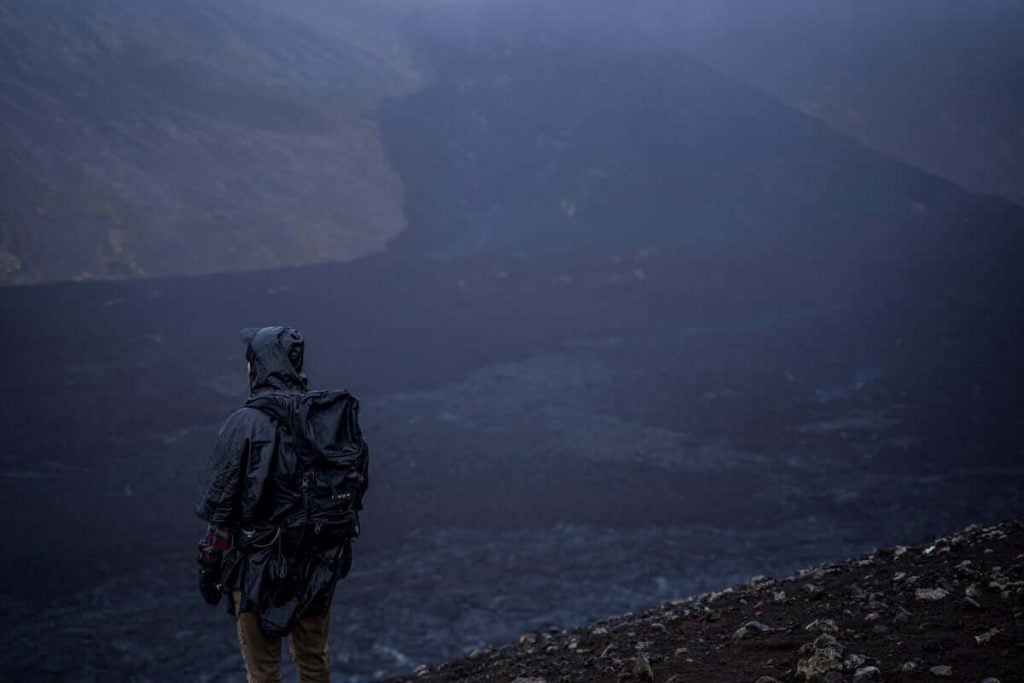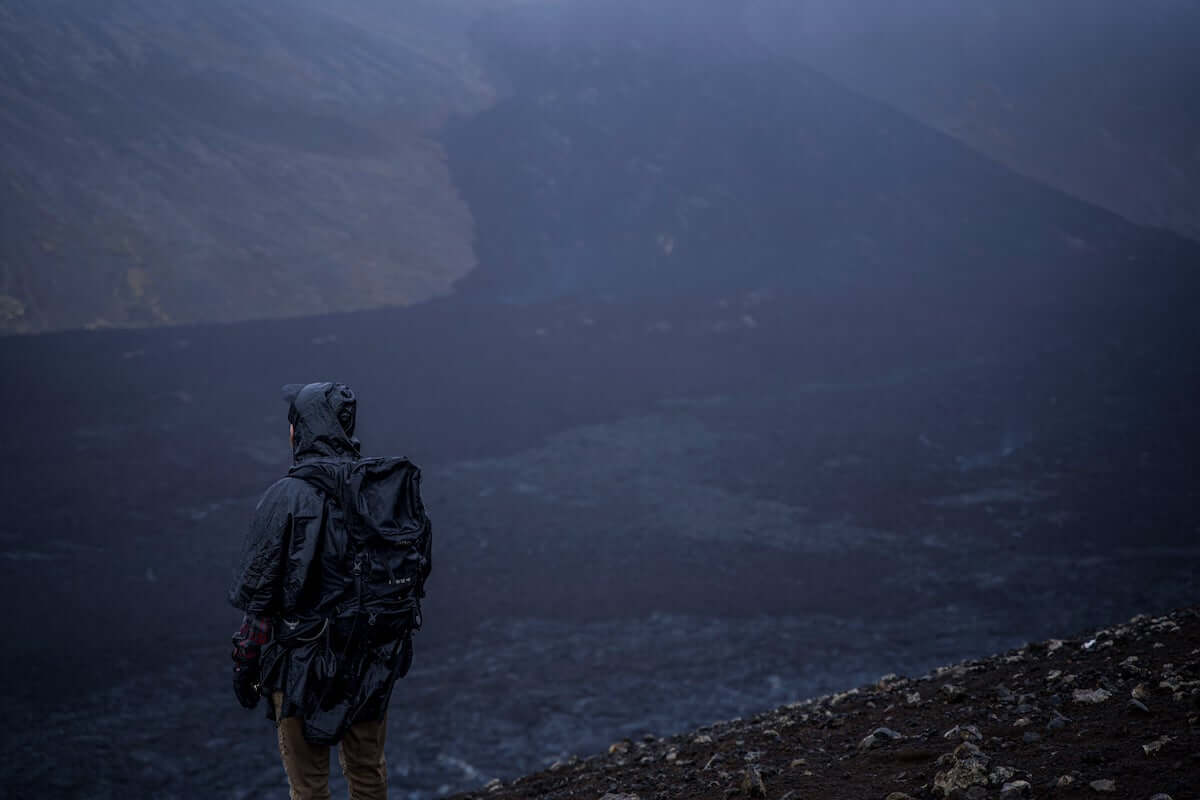 While everyone's gear setup is bound to look a little different based on their hiking competency, experience and skill level, one thing is never contested: you'll want to keep your backpacking base weight as low as possible.
While there is a myriad of reasons as to why one might want to do this (such as to take compressive force off your joints while enduring extreme physical activity, to move quicker with less of a weighted load to tote around, and generally just for a more pleasant hiking experience…to name a few!), it's an absolute must on the Laugavegur trail.
Given Laugavegur's remote nature, there's no opportunity to unload excess weight off your pack like you might on a day trip. That, in combination with the fact that you'll have to pack out your own waste, means needing to keep space in your pack available for such eventualities.
Now, with that being said, there are some staples that every hiker should bring with them before attempting to hike the Laugavegur trail.
Hiking clothes: ensure that you are packing the minimum amount of clothing necessary to cut down on needless weight, while still opting for water resistant/lightweight materials and layers wherever possible to accommodate Iceland's fickle weather. Find out what to wear hiking in every season.
Hiking boots: the ever-changing terrain of the Laugavegur trail is not kind to those who aren't equipped with appropriate footwear. And given that your legs are the only thing carrying you from point A to point B, you'll want to ensure your shoes are properly broken in and include ample tread for those rockier sections of trail.
Trekking poles: a must-have on the Laugavegur trail (and on any trail, really!). Trekking poles will help take the pressure off your joints while traversing over the Laugavegur's many elevation gain/loss points. So, while they may not seem like a necessity, trust me that you'll thank yourself for having brought them!
Hydration line: a hydration line is by far the most convenient method for staying hydrated while on trail. Gone are the days of having to stop and offload your pack to pull out a water bottle when you can simply sling a hydration line over your shoulder straps. And given that Iceland's water is notoriously pure and potable, you can fill up at any water source found along the trail—of which there are many.
Microspikes: I wouldn't say that microspikes are a must have at all times of year, but having them or not will make or break your trek depending on recent trail conditions. Given Laugavegur's significant altitude, the weather in the mountains here can be a total 180° flip from elsewhere in the region. Be sure to check conditions in advance and decide if microspikes are right for you. Worst case scenario, they add an extra pound to your pack and you don't use them; but at least you were prepared to!
Headlamp: helpful in the event that you get a late start to your day and/or the sun starts dipping over the horizon before you've reached that night's overnight hut. While this is less of a concern during the summer months given Iceland's remarkable midnight sun phenomenon, you may find it useful during periods of cloudiness outside, or if you're getting an early start to the day in a hut and don't want to turn on lights to disturb any other hikers.
Food: while a cook kit can largely be disregarded given that overnight huts are equipped with virtually everything you'll need (pots, pans, utensils, etc), you are on your own in terms of food and snacks brought to keep you energized along the Laugavegur. Pack your favorite hiking snacks and plenty of healthy camping meals.
First aid kit: would any hiking equipment list truly be complete without mention of a first aid kit? While no one hopes or plans to have to use a first aid kit while on trail, it's important to remember that in the Icelandic Highlands, you're a long way from appropriate medical attention. Should anything go wrong—be it a serious injury or a minor blister—this can put an unfortunate end to yours or any other hiker's ability to complete the Laugavegur trail. Ensure you're prepared for worst case scenarios!
Electronics: be it a cellphone, GPS, camera or drone, you'll likely want some method for contacting the authorities in the event of an emergency, as well as a method to document this once in a lifetime trek! While camera and/or drone gear is often bulky, heavy and overall unpleasant to pack, the landscapes you're bound to encounter along the Laugavegur trail are truly unlike any others you'll find during your time in Iceland; which is really saying something. Ensure to capture them while you can!

While overnight huts/campsites are posted no-fly zones, the remainder of the Laugavegur trail is free game and no drone permits are required. Just bring extra batteries as there will likely be little to no opportunity for you to charge your electronics along the way.
Be sure to download our complete packing list for Iceland! It's packed with good suggestions and insider tips to help plan your Italy trip. And it's completely FREE, so why not!?


---
Day-by-day breakdown of the Laugavegur trail
In this section, we'll go over what to expect along this trail each day of your hike. The days here are listed in order of hiking the more popular SoBo route, Landmannalaugar to Þórsmörk. However, they can be reversed to represent the NoBo route as well (keeping in mind the elevation gain/loss is reserved as well and the timing may differ).
Day 1: Landmannalaugar to Hrafntinnusker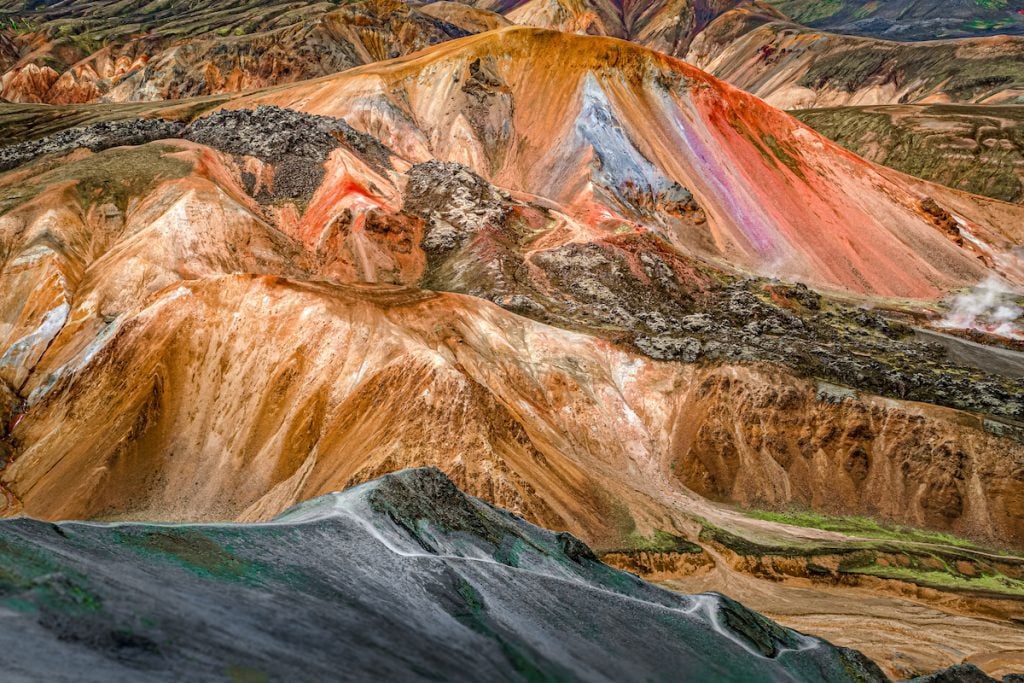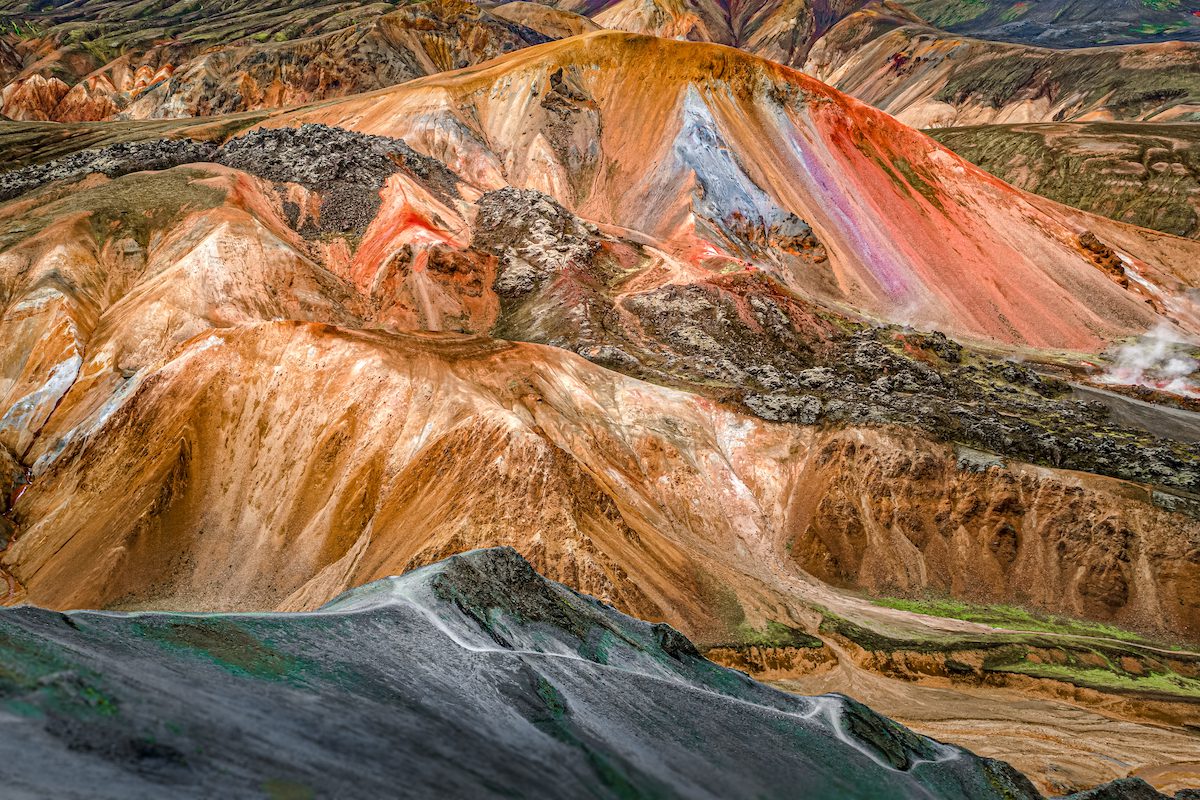 Distance: 8 km (4.9 mile)
Elevation gain: 470 m (1,540 ft)
Hiking Time: 4 hours
As soon as you depart from Reykjavík, you can already expect to be met with stunning views of south Iceland as you make the 3-4 hour drive toward Landmannalaugar.
Upon arrival, the trailhead is obvious. Follow it and you'll be immediately met—and rewarded with—bubbling pools of hot, geothermal water, Landmannalaugar's signature rhyolite mountains (which give them their distinct "rainbow striped" appearance), and the stark black Laugahraun lava fields.
Despite its consistent elevation gain, the first day on the Laugavegur trail is actually a rather tame one, as it is a rather gradual incline toward the rustic Hrafntinnusker hut. Expect to spend a modest 4 hours making the trek up ever-changing terrain. When completed, you'll take a well-earned rest amidst your first stop along the revered Icelandic Highlands!
Day 2: Hrafntinnusker to Álftavatn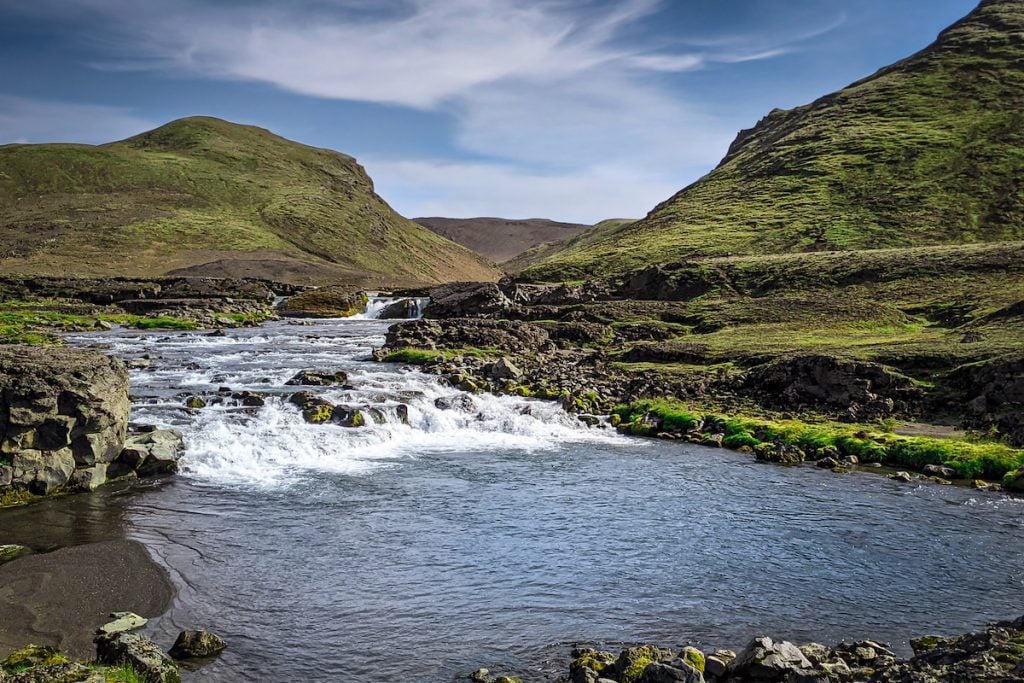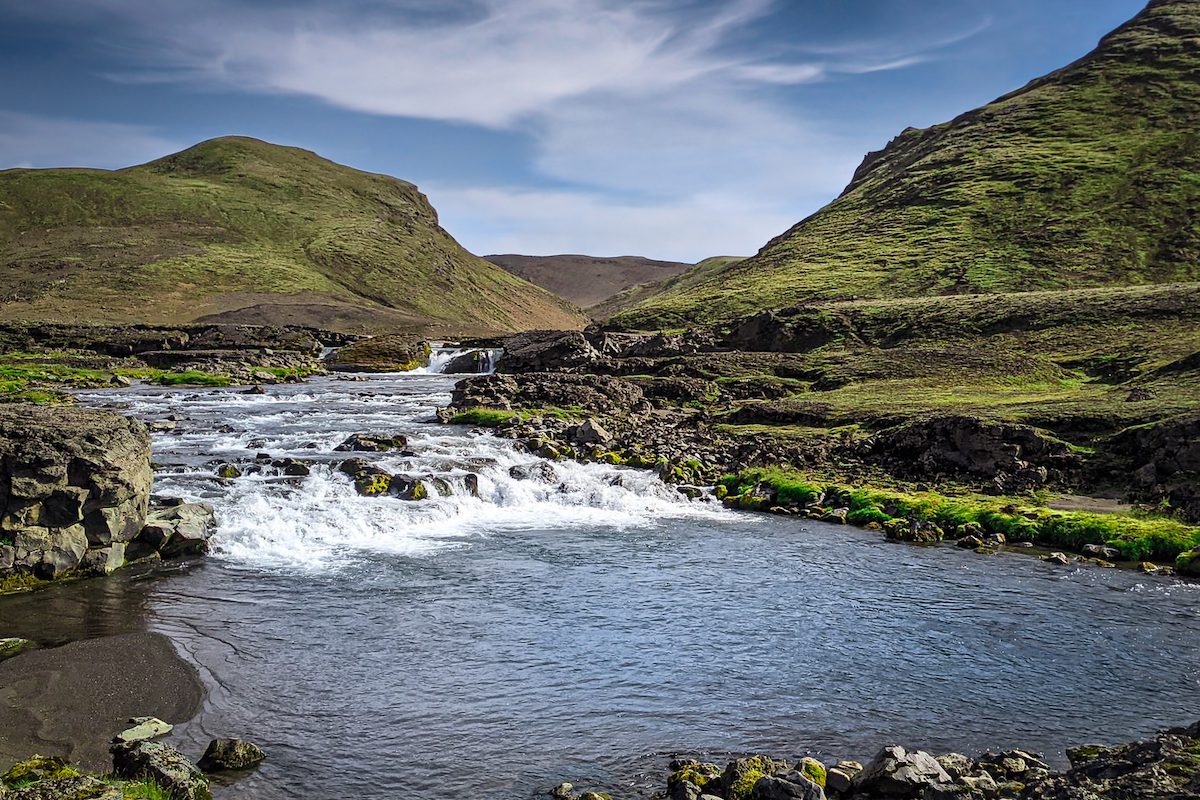 Distance: 12 km (7.45 mile)
Elevation loss: 490 m (1,607 ft)
Hiking Time: 4-5 hours
Hopefully your first night on trail proved to be restful, as you're surely in for a more challenging trek on day two. After all, it's between Hrafntinnusker to Álftavatn that the trail reaches its highest elevation point, meaning a lot of climbing (read: switchbacks).
Fortunately, you'll have even better views of the rhyolite mountains during this section of trail—and without the Landmannalaugar day crowds!—as well as can expect to encounter the rather eerie, yet enchanting, black obsidian desert before descending into the lush valley towards the lakeside Álftavatn hut. But first, a notable river crossing on the final stretch.
All in all, despite how steep this leg of trail is, day two brings about our first elevation loss of the trek and in total, will account for a good 4-5 hours of your day.
Day 3: Álftavatn to Emstrur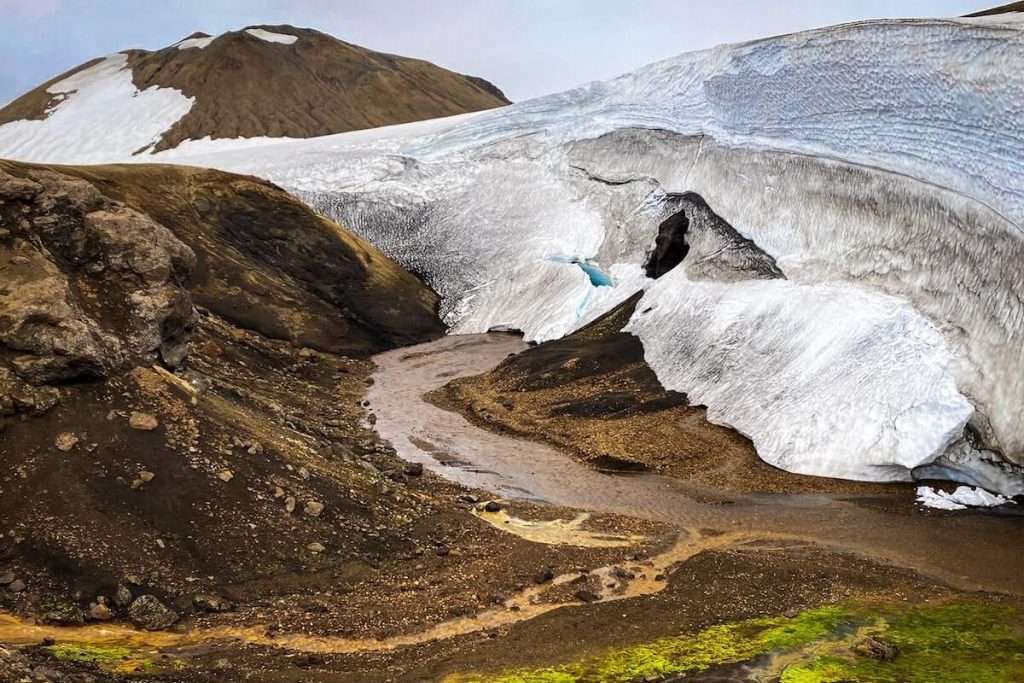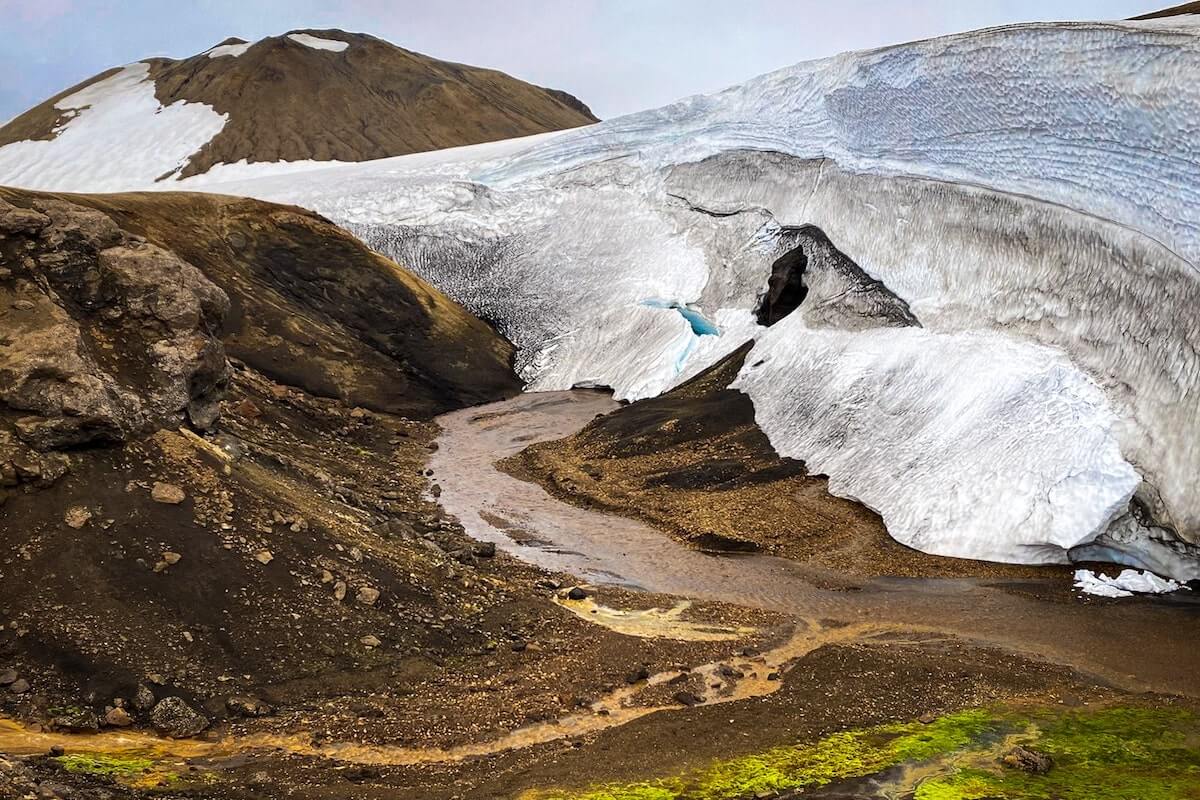 Distance: 15 km (9.3 miles)
Elevation loss: 40 m (131 ft)
Hiking Time: 6-7 hours
Day three brings about the longest distance yet. Fortunately, there is little change in elevation on this day though that doesn't inhibit the views whatsoever.
Traversing past volcanoes and glaciers in the same stretch of trail really reminds one why Iceland is referred to as "the land of fire and ice".
Prepare for perhaps the most daunting river crossing yet. It's recommended you bust out those trekking poles and follow proper pack-safety protocol here (unbuckling your pack from your chest and waist in the event that it gets caught in the current, it won't pull you under or downstream).
Once you've made it safely across, it's easy following the lava rock-riddled trail up to a fork in the road where you'll follow the path toward Emstrur hut. It's here that you'll begin to see yet another dramatic change in landscape, as more of Iceland's otherwise elusive vegetation begins to make an appearance.
Day 4: Emstrur to Þórsmörk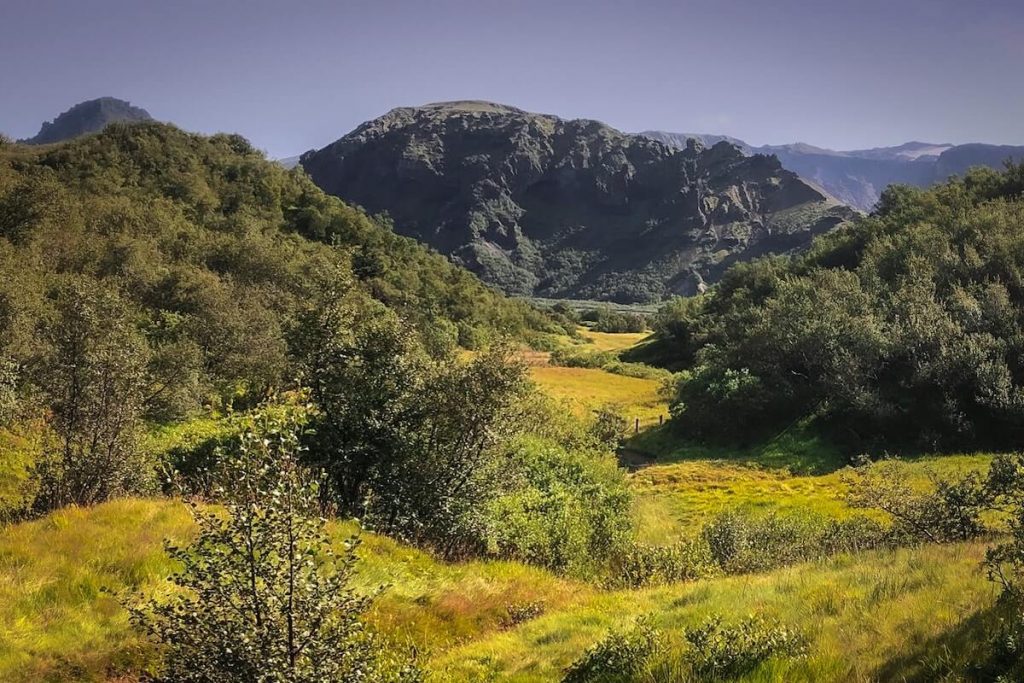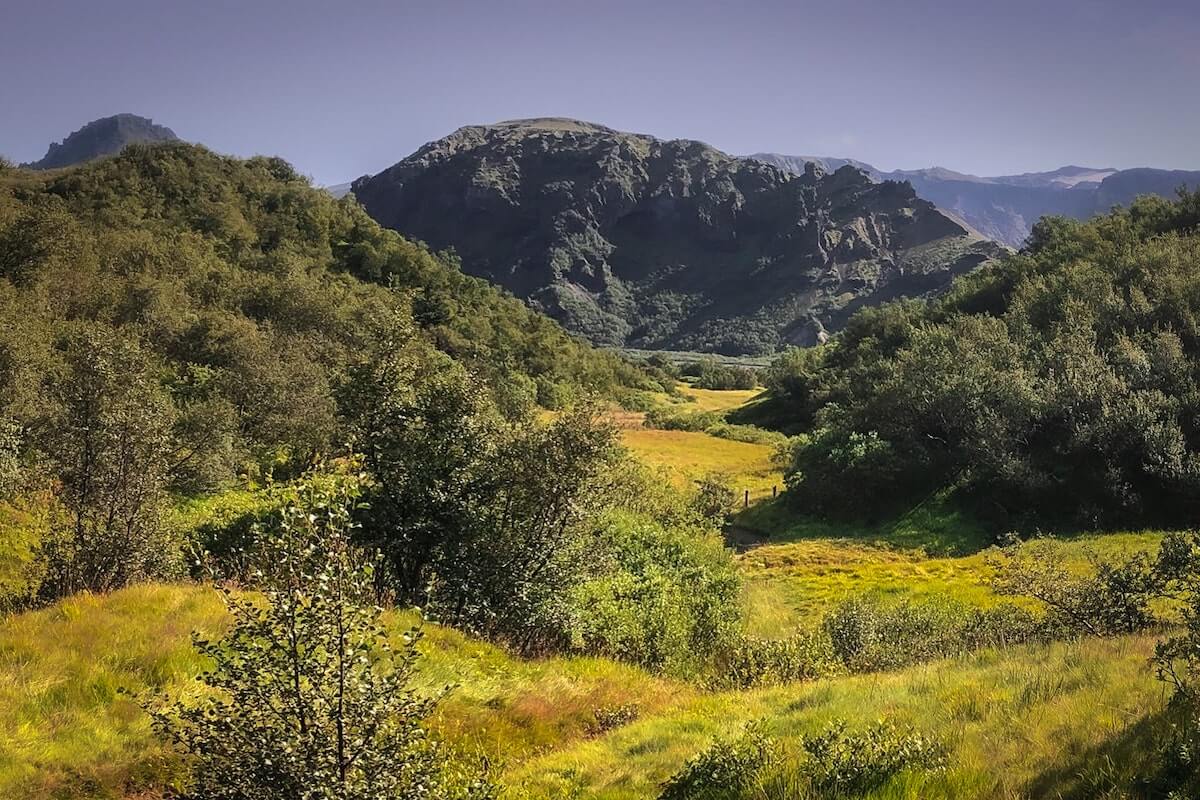 Distance: 15 km (9.3 miles)
Elevation loss: 300 m (984 ft)
Hiking Time: 7-8 hours
On day four, you'll get to know the phrase "what goes up, must come down" rather intimately as you make the rather steep ascent into a nearby canyon. In this canyon will be yet another fast flowing river, though fortunately, this one has a bridge to aid you in your crossing.
You'll spend the majority of this day in the valley named after Thor, the norse God himself, whose hammer is believed to have struck the land so hard it created the very gorge you find yourself hiking through!
Here, you'll notice a swift shift in landscape from barren mountain ranges and the dichotomy of fire and ice, to the more earthly terrain found elsewhere in Iceland (though it's still intensely beautiful!).
While this day was another long slog, you'll lose significant elevation on the descent into the canyon. And the fun isn't over yet, as you cross your third and final river crossing amongst the Laugavegur trail.
Optional "Add-on"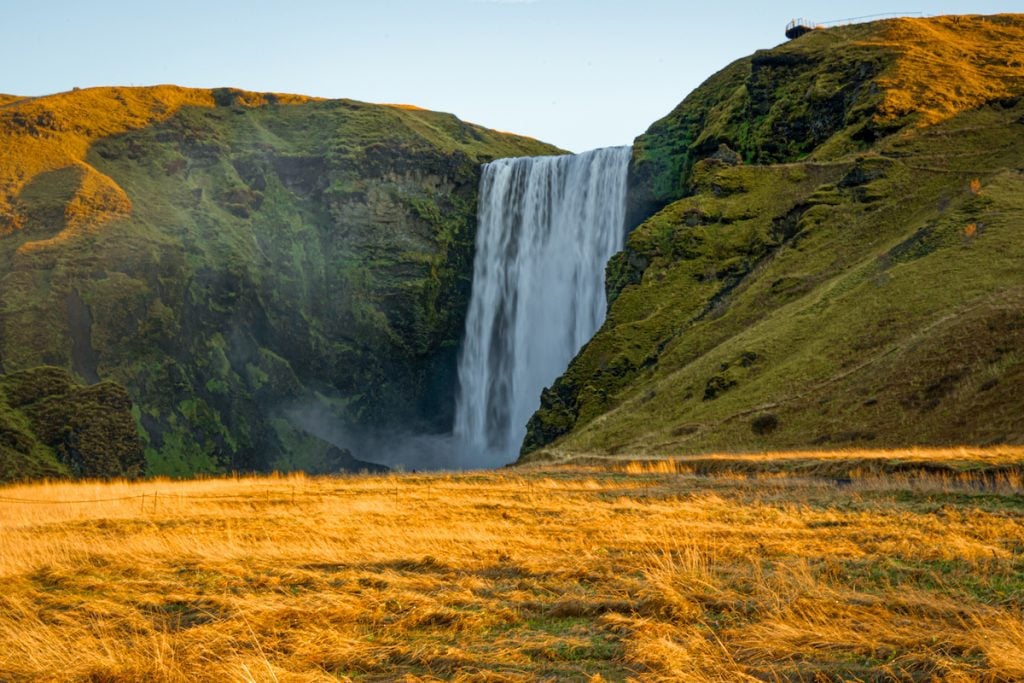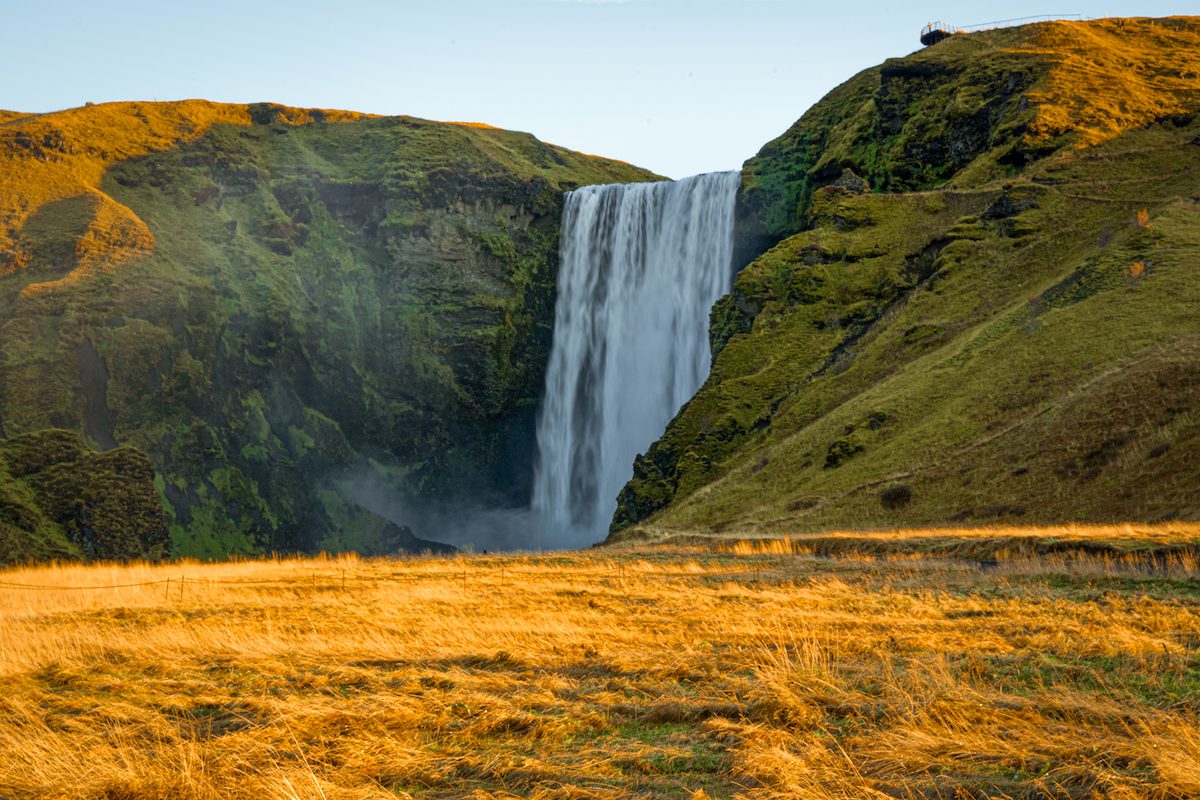 If time—and potentially aching muscles—permit, consider the 1-2 day addition of Þórsmörk to Skógar. As mentioned above, this section is known as the Fimmvörðuháls trail, Iceland's most famous day hike.
Adding another 1,900 m (6,233 ft) of elevation gain over 25 km (15.5 miles) of distance proves to be challenging, without doubt, but is also a great way to bookend the Laugavegur trail with yet even more remarkable views of lush vegetation and plunging waterfalls.
Read up on our Fimmvörðuháls hike guide for everything you need to know about this additional stretch.
---
Final thoughts and the importance of "Leave No Trace"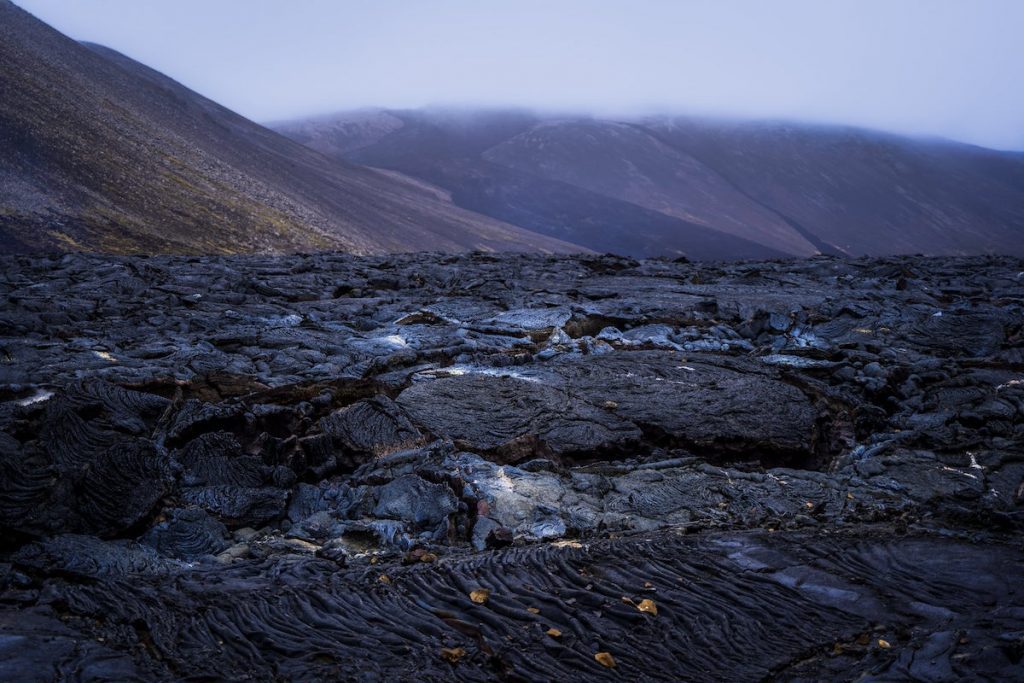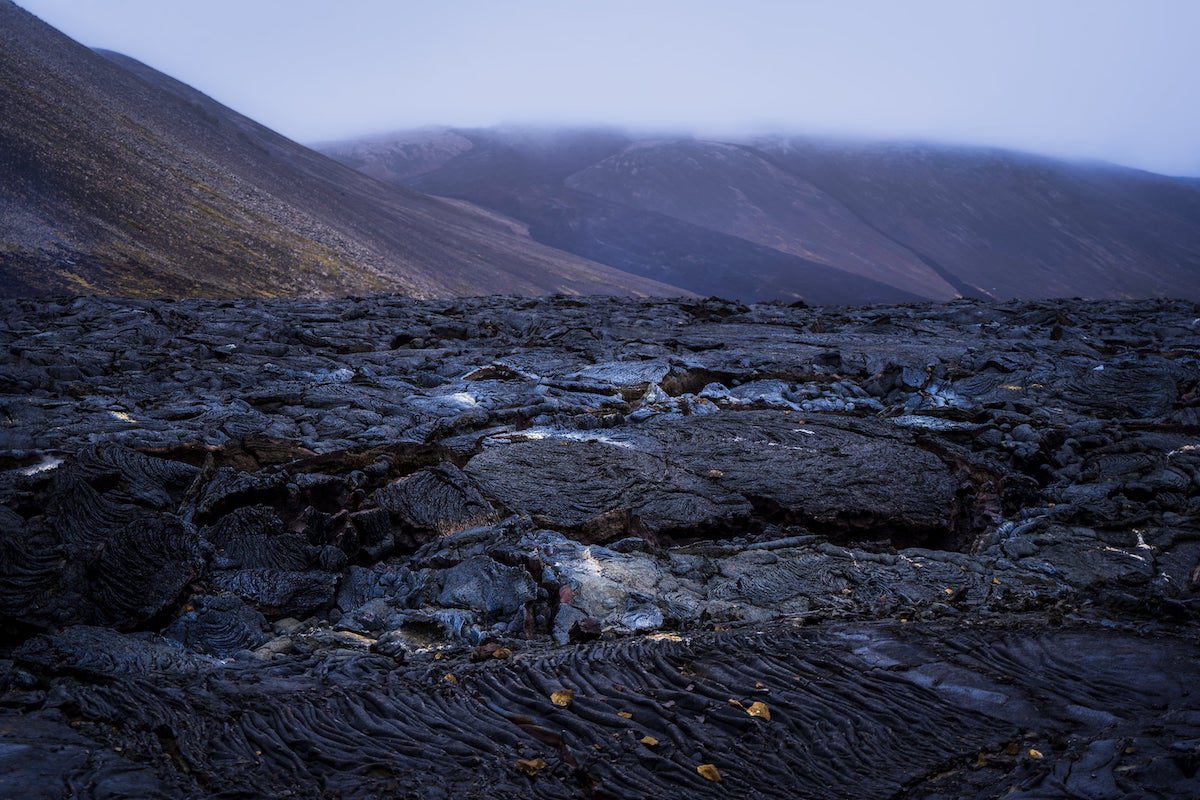 Laugavegur is one of Iceland's most popular hikes, and attracts nearly ten thousand backpackers each year to its illustrious, raw landscapes. Between the rolling boil of Landmannalaugar's vast geothermal network and the tree lined descents into Þórsmörk's lush canyon, you'll encounter kaleidoscopic mountain ranges, jet black volcanic peaks and majestic crystal glaciers.
It's the kind of destination that sits atop bucket lists of outdoorsmen and women for years, each intent on witnessing Iceland's striking Highlands region.
Iceland's wilderness is, in a word, pristine. And it's up to those of us who revel in its spoils to keep it that way. Ensure to respect the flora and fauna of Laugavegur by packing waste out with you, and staying on-trail to avoid damaging the surrounding vegetation (specifically Iceland's signature wild mosses, which can take up to several hundred years to grow back!).
While it's unlikely that you'll encounter much, if any, wildlife along the trail, there's always the possibility of running into a rogue sheep or herd of wild horses. Though they are generally friendly, it's best not to approach wildlife but instead maintain a respectful distance and admire these creatures from afar.
Of course, that's not to say that these animals might not walk right up to you. I've had wild Icelandic horses nudge me into petting them and try eating at my clothes all in one fell swoop. Do your part to avoid putting yourself in a position where either yourself, other hikers or the animals themselves could be in danger.
Read more about the 7 principles of Leave No Trace.
Now that you're appropriately equipped to tackle this arduous four-day journey, it'll hopefully become a reality a lot sooner than later! Next time you find yourself in Iceland during the months of June through September, ensure to carve out the time needed to add Laugavegur to your itinerary. You won't regret it.
---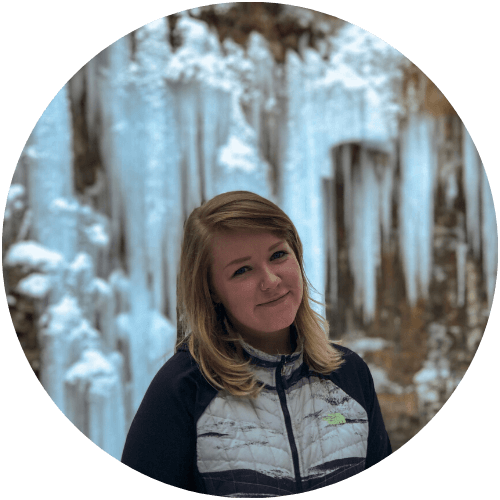 About the author
Natasha is a lover of all things outdoors—hiking, road trips, conservation—you name it. With over a decade of experience (mis)adventuring her way through a few dozen countries, she's gotten the opportunity to live out some of her wildest dreams, and nowadays chronicles all about them over at her blog, Planes, Trains and Karcz, to inspire you to follow yours!
---
Are you planning a trip to Iceland?
We have TONS of resources on travel in Iceland and how to make the most out of your trip. Check out our Ultimate Iceland Travel Guide for all the answers to your most burning questions, or read some of our favorite articles below.
Save this article on Pinterest for later!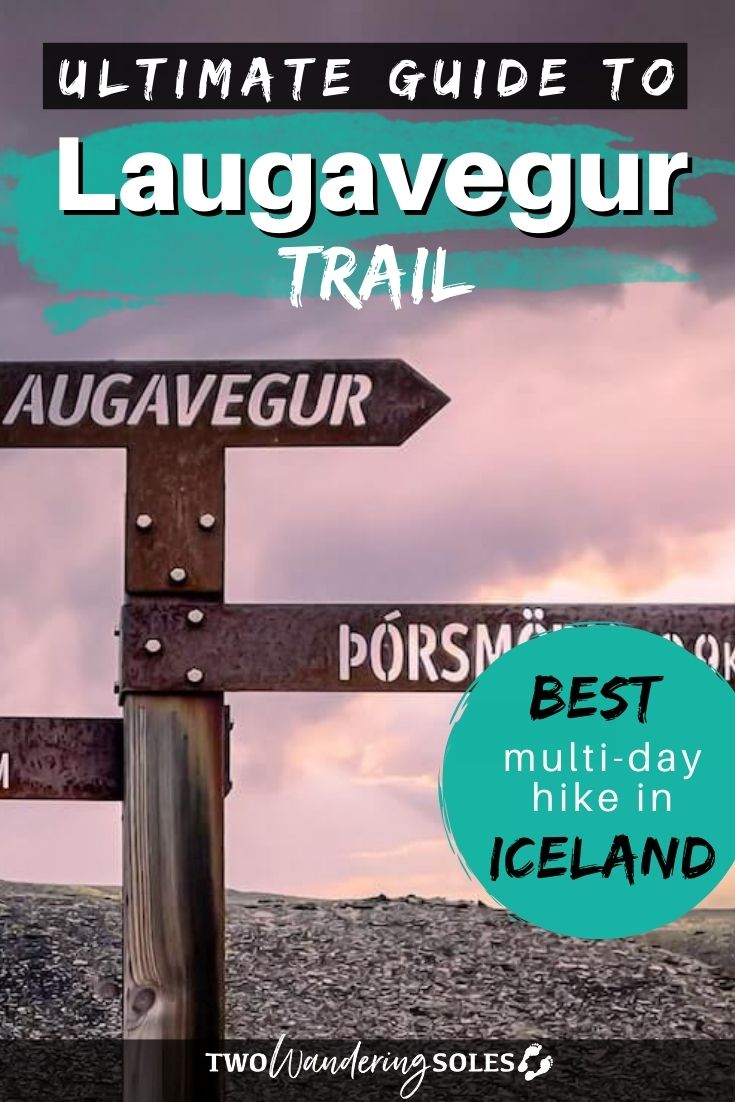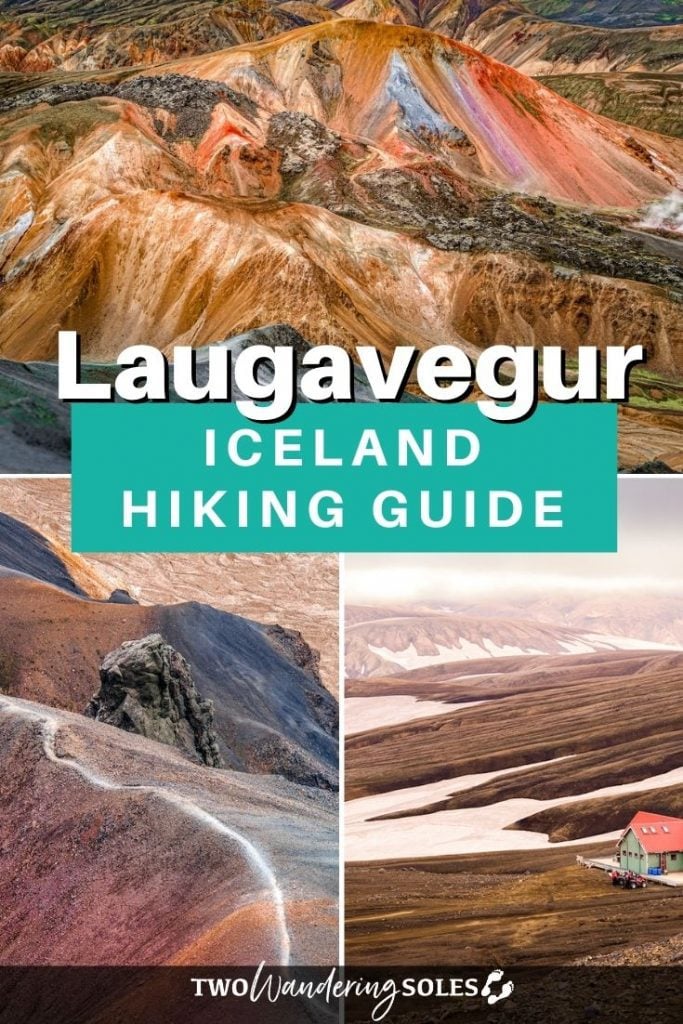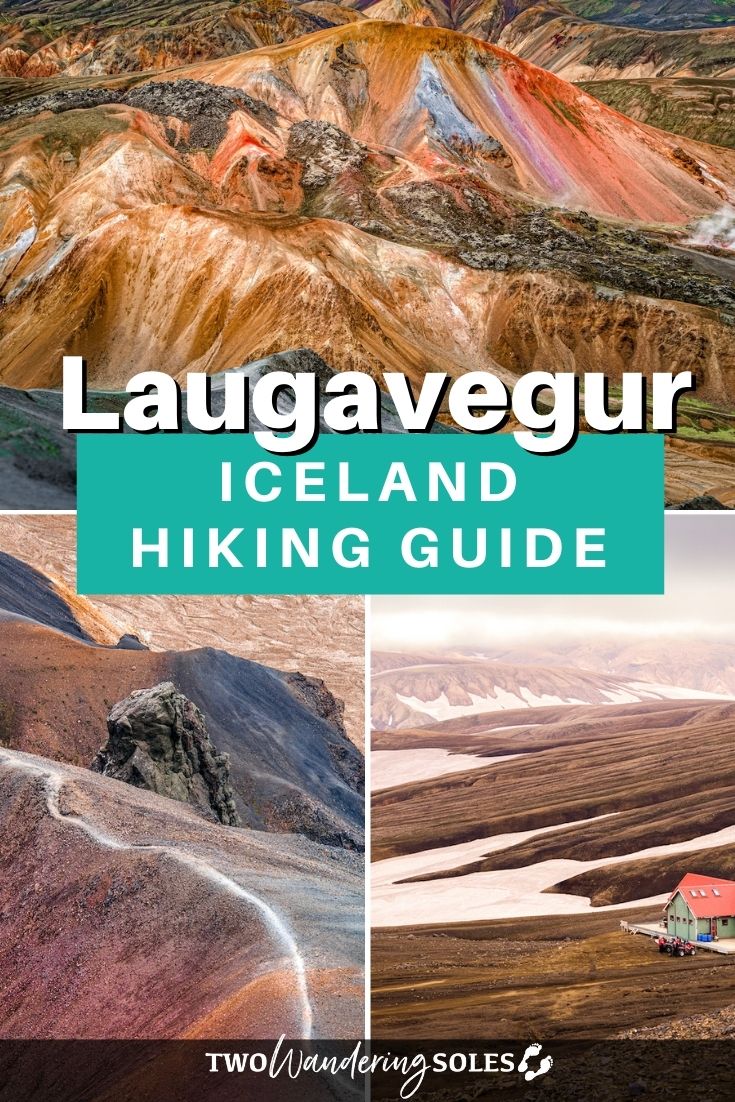 We want to hear from you!
Do you have more questions about hiking the Laugavegur Trail? Leave your comments below and we'll do our best to get you the answers your looking for!