Cali, Colombia is known as the salsa capital of the world. People from all over the world flock to Cali and many stay longer than they expected. This is what happened to our friend, Courtney, and she shares why Cali draws in people and makes them fall in love with this place.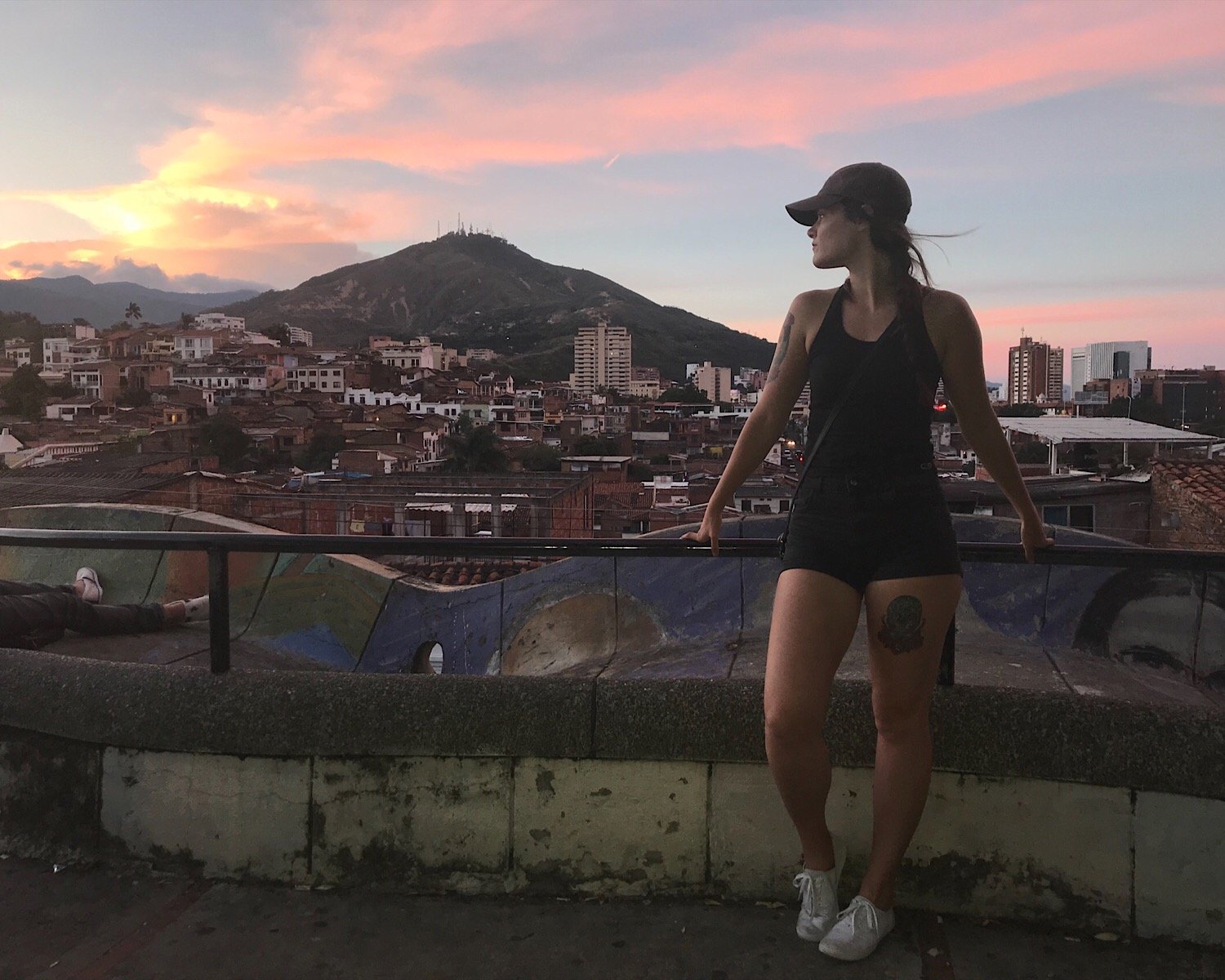 By Guest Author: Courtney Vondran
I've traveled almost all of South America, went to Machu Picchu, Tayrona National Park, and Uyuni Salt Flats — all of those special places South America is famous for. You know the place I cannot stop thinking about?
Cali, Colombia.
I'll admit, it's not the most tourist-friendly place I've ever been. And it's not the most beautiful. But damn, it is special.
It has a completely different vibe than the Caribbean city of Cartagena and the digital nomad favorite: Medellin.
I've compiled a list of 6 reasons why Cali is one of the best cities in Colombia. I'm sharing what makes this such a magical city you should NOT miss, followed by a few things to do in Cali and some travel tips for when you get there!
1. There are lots of things to do in Cali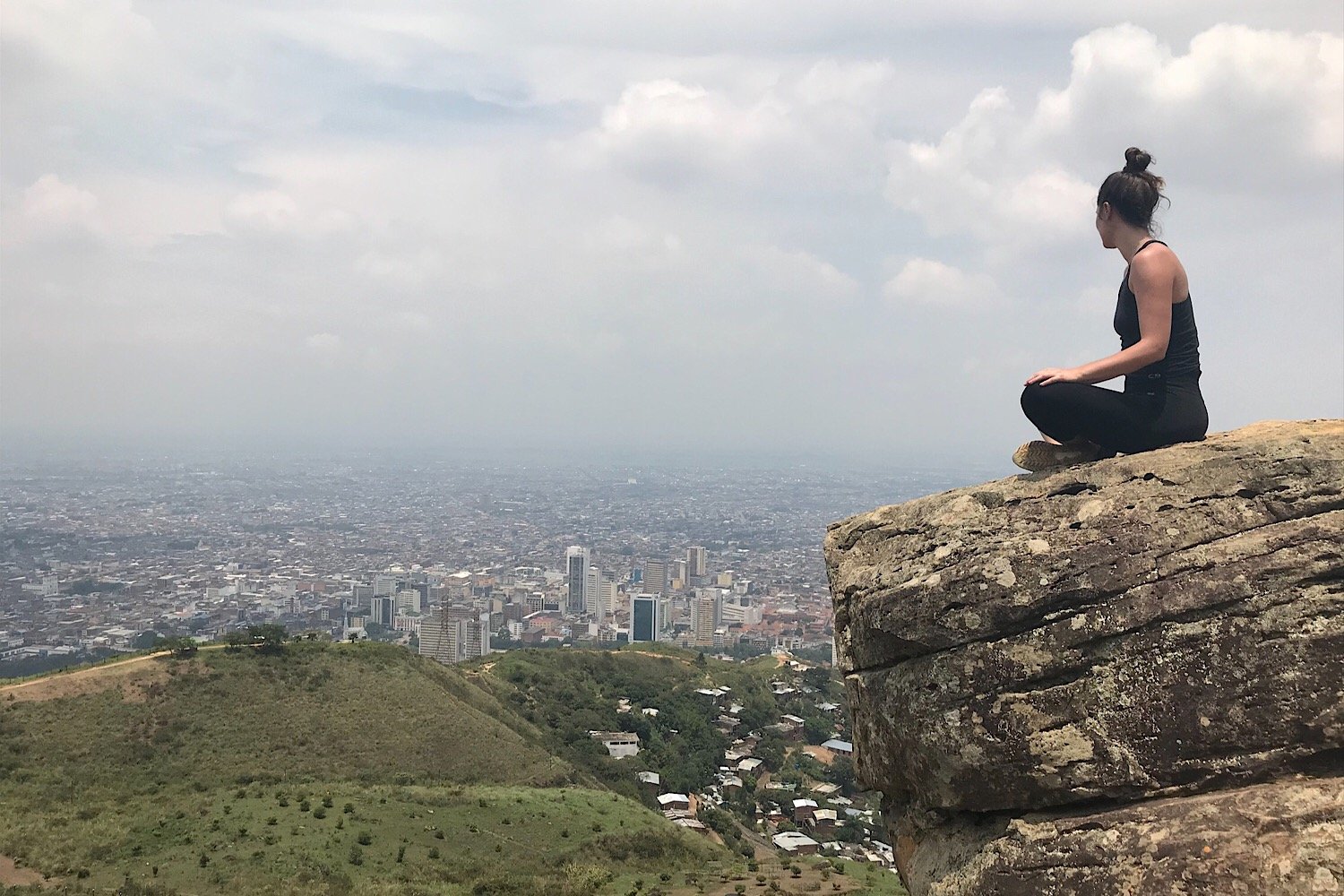 Go hiking
An "easy" hike within the city is Cerro de las Tres Cruz. It takes about an hour to hike up and there's fresh juice at the top. My friend was able to sprint up, but I had to take a couple breaks. I blame the altitude.
Many locals hike up daily for exercise. I recommend hiking up early between 5 a.m. and 1 p.m. when police are on duty, anytime after locals warn it is dangerous. Remember to wear sneakers or hiking boots.
Experience Colombian cuisine
Eat your way around the best restaurants in town or take a cooking class and really delve into Colombian cuisine.
Try salsa dancing
As the "capital" of Salsa dancing, you have to give it a try while you're here. More recommendations on where to try it below!
Practice your Spanish
With affordable course options and a fun place to base yourself, Cali makes a great hub for learning (or improving) Spanish. 
2. It's the capital of Salsa Dancing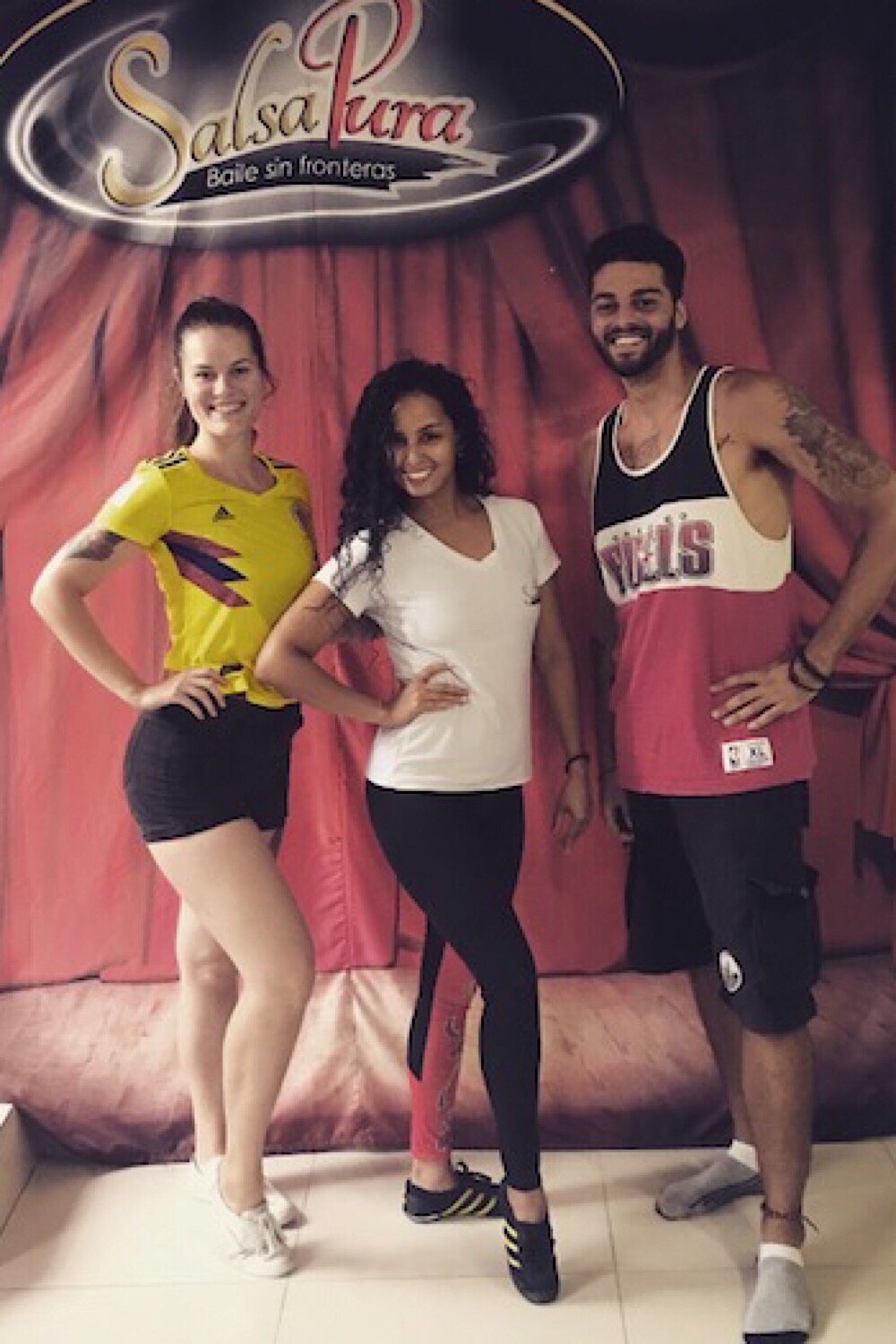 Cali is the salsa dancing capital of the world and boy, does it live up to it's name. It is absolutely incredible. I am a dancer, my passion is movement.
I've danced in cities all across Latin America and the United States. Never have I ever witnessed dancers with such passion and rhythm in my entire life. The locals dancing in the famous clubs of Tin Tin Deo and La Topa Tolondra give every last drop of energy to the dance floor. I can't stop smiling just thinking about it.
I took 4 weeks of private salsa classes at Salsa Pura. I highly recommend classes with Dalia (pictured above), but all of the instructors are fantastic. I learned the unique salsa Caleña style. It's worth taking private classes.
I also took group classes at Salsa Pura and Arrebato Caleño. If you are intermediate, I recommend Arrebato for their challenging group class twice a week.
3. It's the perfect place to improve your Spanish
If you're taking salsa classes, might as well learn some Spanish while you're here. In my opinion, it's the perfect combo. I took classes at Viva La Lingua, the more classes you take, the cheaper they are. I believe the classes are around 55.000 pesos/hour. It includes activities, a school and resources. I really enjoyed my time there.
If you want to save a bit of dinero, I highly recommend Linda. She was my teacher at Viva La Lingua, but has recently become independent. After one month, I was able to lead a yoga class in Spanish and converse with locals on a higher level.
Her classes are very engaging and less expensive than going to a Spanish school. I can honestly say I was never bored in her class (which is a problem for me)
Contact info: Linda Monsalve +57 319 7650862 (WhatsApp) La Pro de Espanol (Facebook)
4. Cali is Cheap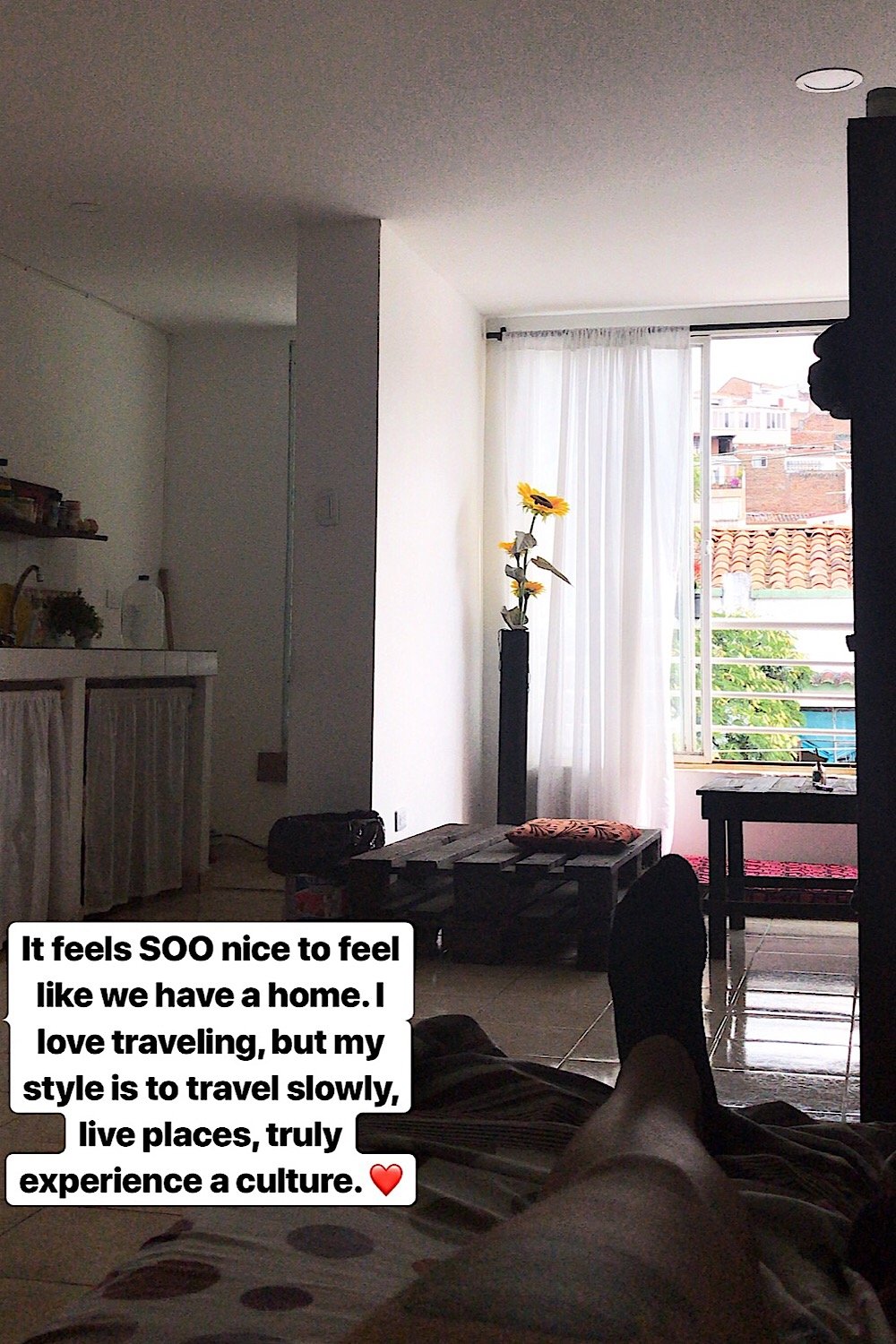 Just about everything is cheap in Cali. Accommodations and food are super cheap, if you know where to go. Upon arrival, we stayed in a simple private room through Airbnb for $10/night (Click here for $55 off your first stay on Airbnb).
We eventually rented a centrally located furnished studio apartment for $300/month. If you are traveling solo, there are many cheap hostels in San Antonio. I recommend El Viajero hostel.
We have loads of info on how to book Airbnbs, red flags to watch out for when booking, and our favorite Airbnbs in our Airbnb article. Plus, we'll give you our Airbnb coupon code for up to $55 off Airbnb.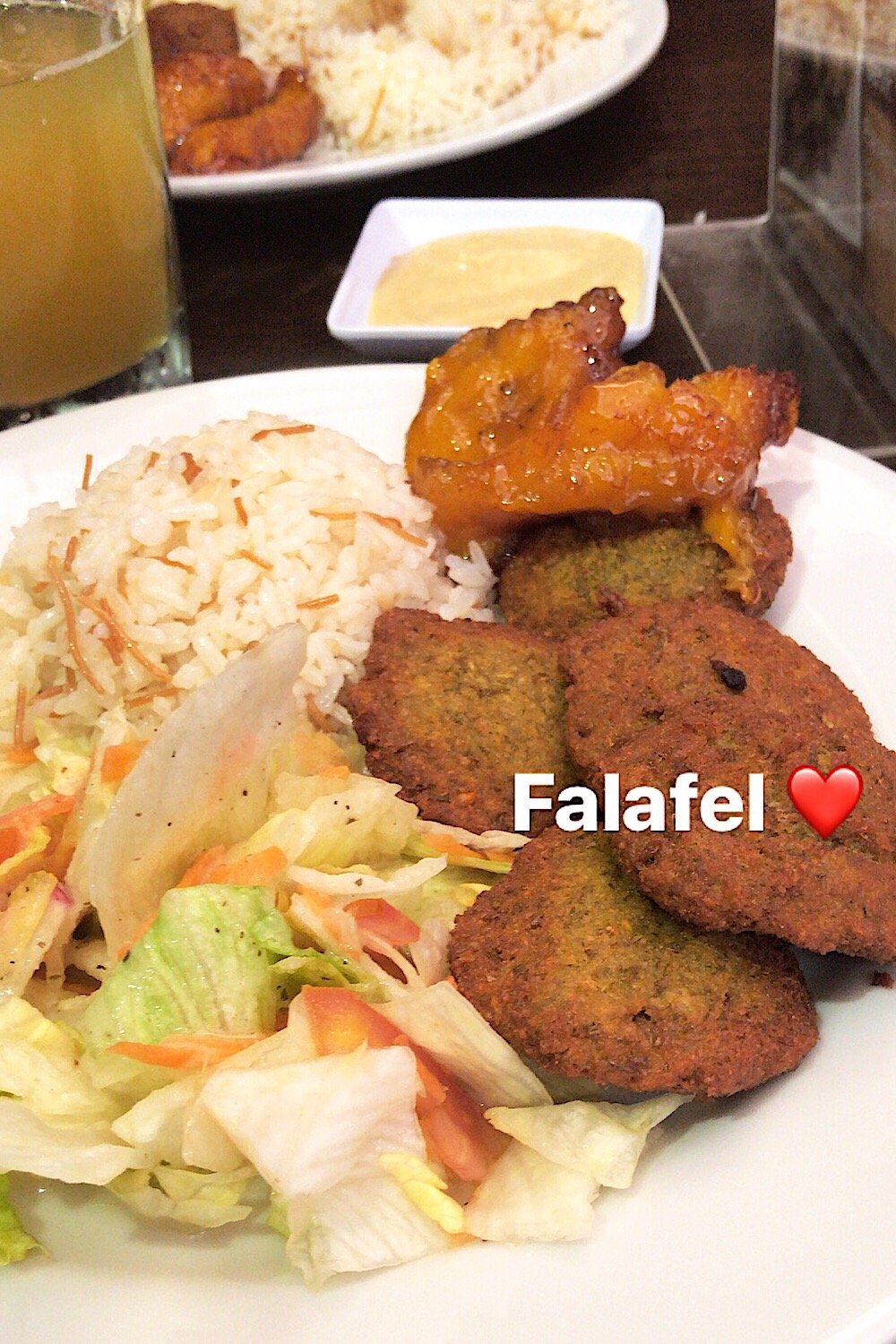 And who doesn't love cheap delicious food? A lunch menu is around 10.000 pesos ($3.50). I recommend Pita Majita, El Buen Alimento, and Vegetariano Flor de Loto for cheap vegan/vegetarian food. If you're in the mood to treat yourself, go to Pão for a yummy cold brew with almond milk.
5. There are awesome day trips from Cali
I'll be honest, I did not leave Cali while I was there. I did not want to miss out on any dancing! Here are three day-trips my lovely Spanish teacher, Linda, recommends:
San Cipriano
A small peaceful village with a beautiful crystal clear river, waterfalls, and nature walks. She recommends getting up early, leave Cali around 6 a.m. It takes about 2.5 hours to get there, but is worth the visit.
Pance River
A popular place for locals for swimming and leisure activities. There are various points: Chorro de Plata, La Voragine, La Chorrera del Indio, etc. The river is about 2 hours from Cali depending on which point you visit.
Pico de Loro
If you're up for the challenge, Pico de Loro is one of the most recommended hikes around Cali. The mountain is viewable from Cali. It's possible to do in a day trip or as a 2 day hike, depending on your level. A guide is required and only a certain amount of people are allowed to hike per day, so it is recommended to arrive early.
Next Read: Guide to Salento: A Colombian Town with Culture, Coffee and Charm
6. The people (and dogs!) in Cali are friendly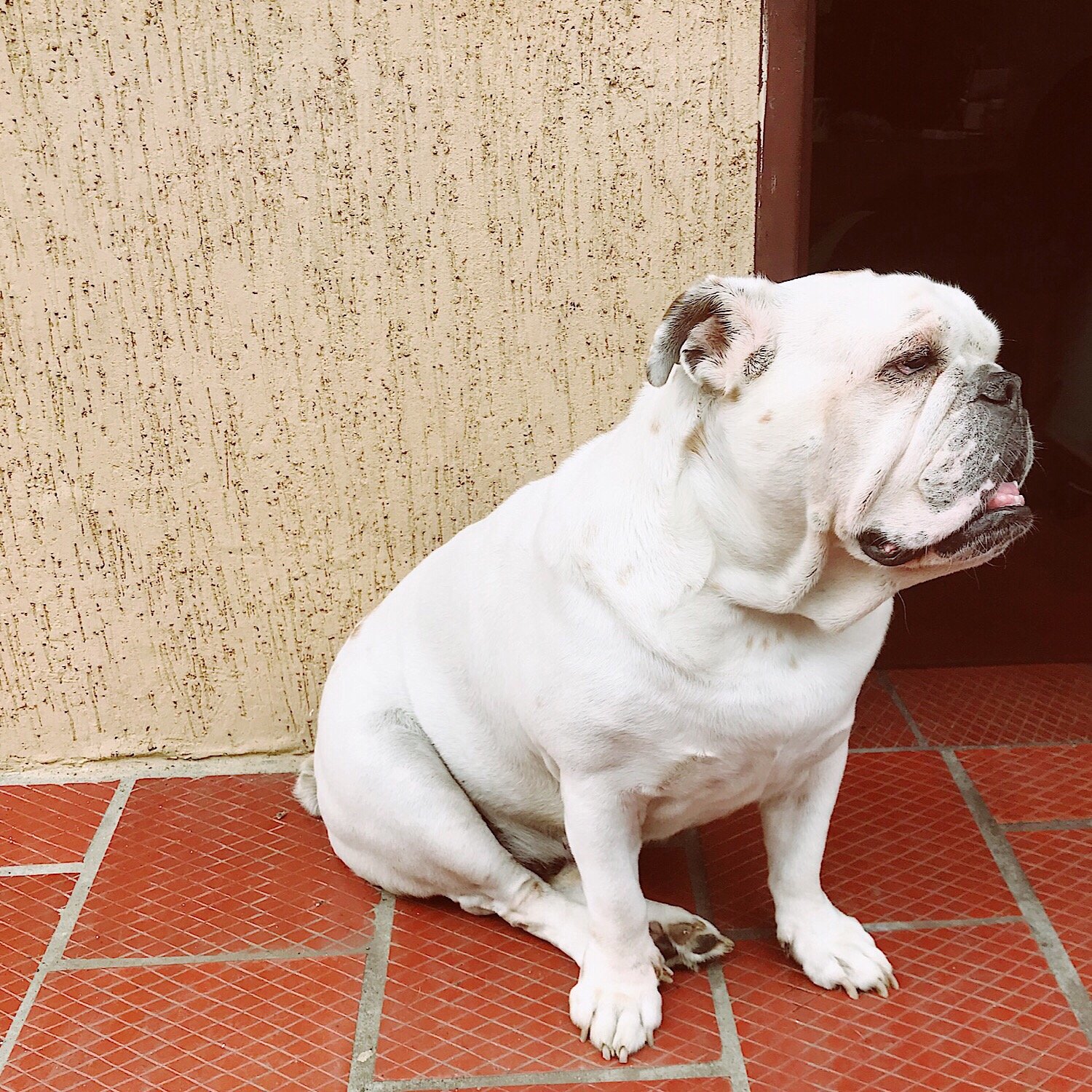 In Cali, I befriended the neighborhood juice lady. She hit on my boyfriend and we laughed about it every time I would see her on my way to school.
One day I sat for hours talking with the owner of a small panaderia (bakery) in San Antonio. I met a neighbor and sat in his living room chatting about life in Colombia for 2 hours.
Darien and I spent many of our nights sitting in the main park of San Antonio where families, friends, and lovers gather to eat and socialize. The locals have magnetic, friendly personalities. They made me feel at home.
7. You won't want to leave!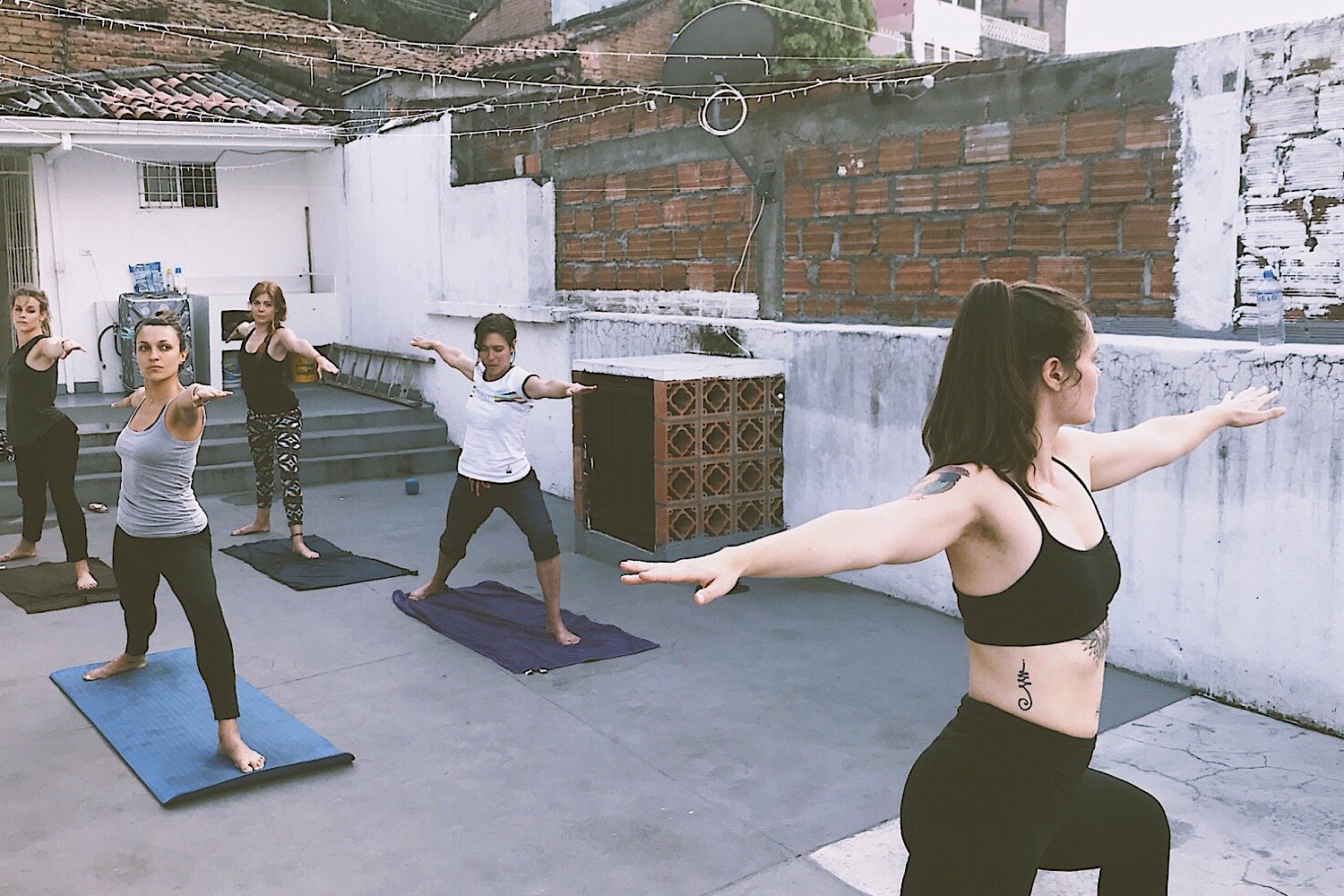 Okay, I think I should warn you. You may get stuck here. My partner and I spent a month and a half in Cali pondering whether we should end our trip, buy a house, retire at the age of 27 in Cali, Colombia.
It was within hours of being in San Antonio, the touristy neighborhood of Cali, that I just knew I wanted to stay here. The city holds a warm energy that filled my soul.
We weren't the only ones. Travelers and locals I met often joked about how people say they are only going to stay for a week, but then end up staying for months, even years.
Travel Tips for Cali, Colombia
Get out of your comfort zone: If you feel like doing something a bit out of your comfort zone/want to practice your Spanish skills in a different way, I recommend going to a pole or twerk class at Vertical Pole. The owner and the instructor's are kind and will make you feel at home!
Safety in Cali: Be extra careful with belongings (especially at night). There is a high rate of theft on the streets. I encountered many travelers who had gotten their phones and wallets stolen. Be aware of people on motorcycles. I was on high alert most of the time, but felt safe walking alone at night in San Antonio.
---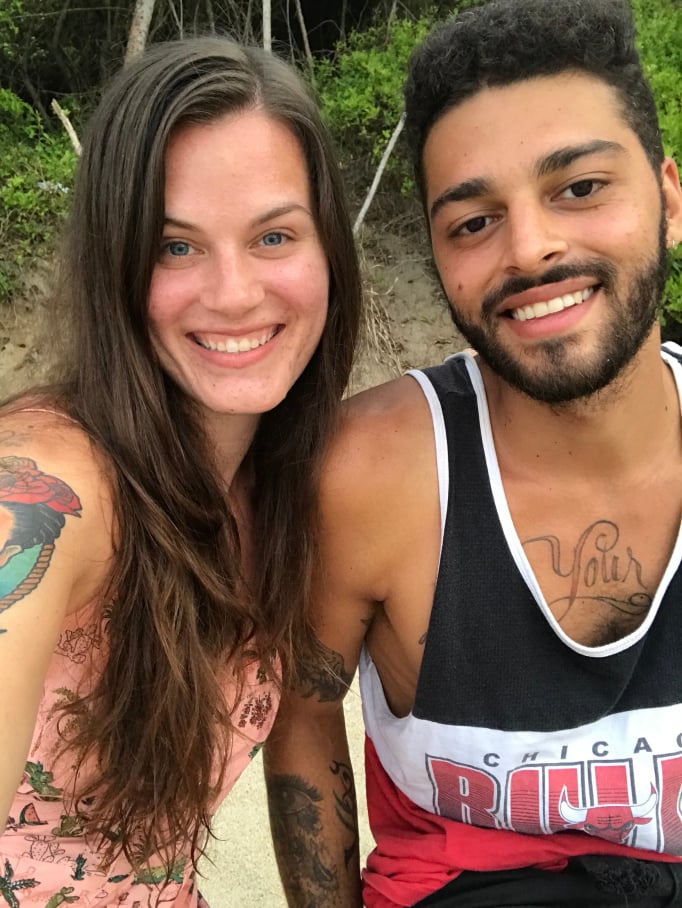 My name is Courtney Vondran. I've been living as a nomadic human for the past 5 or so years wandering mostly in Latin America because salsa dancing is life. I am currently on an 8 month trip throughout parts of South and Central America with my beautiful partner, Darien.
I enjoy writing about embarrassing travel stories, rare vegan finds, and sex/relationships abroad. If you have questions or would like to chat about travel or life, let's connect! Contact me through Instagram @courtneytheexplorer or check out my blog Courtney the Explorer.
---
You might also like…
Planning a trip to Cali? Save this post to Pinterest!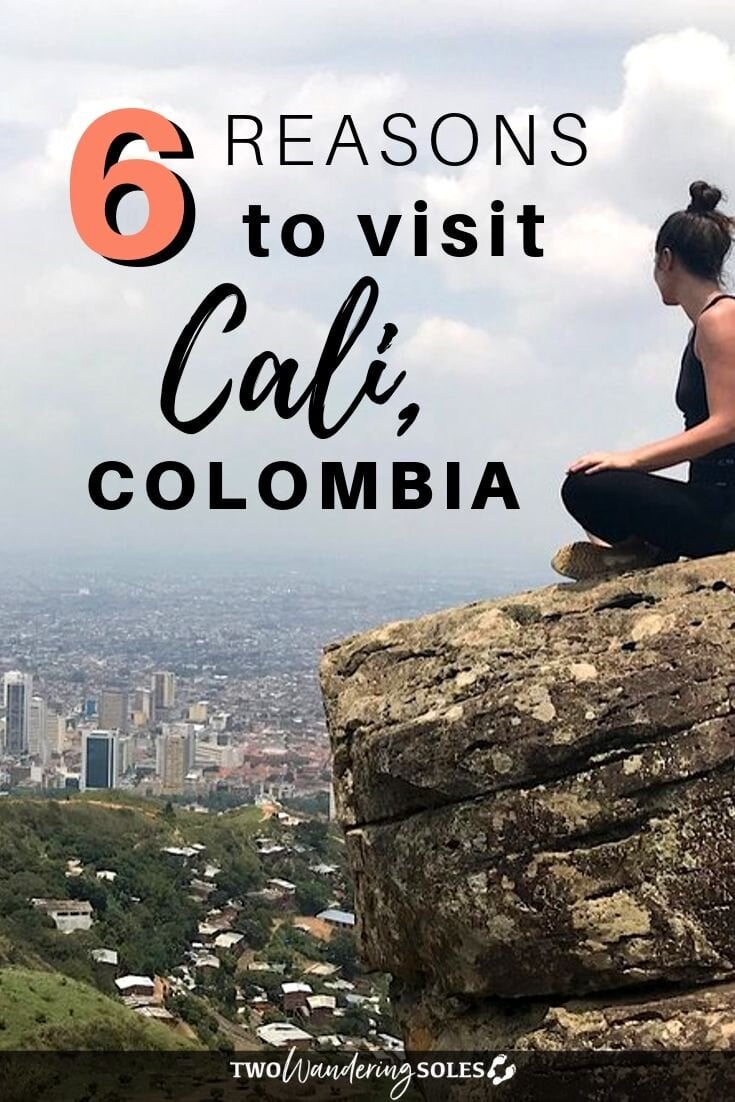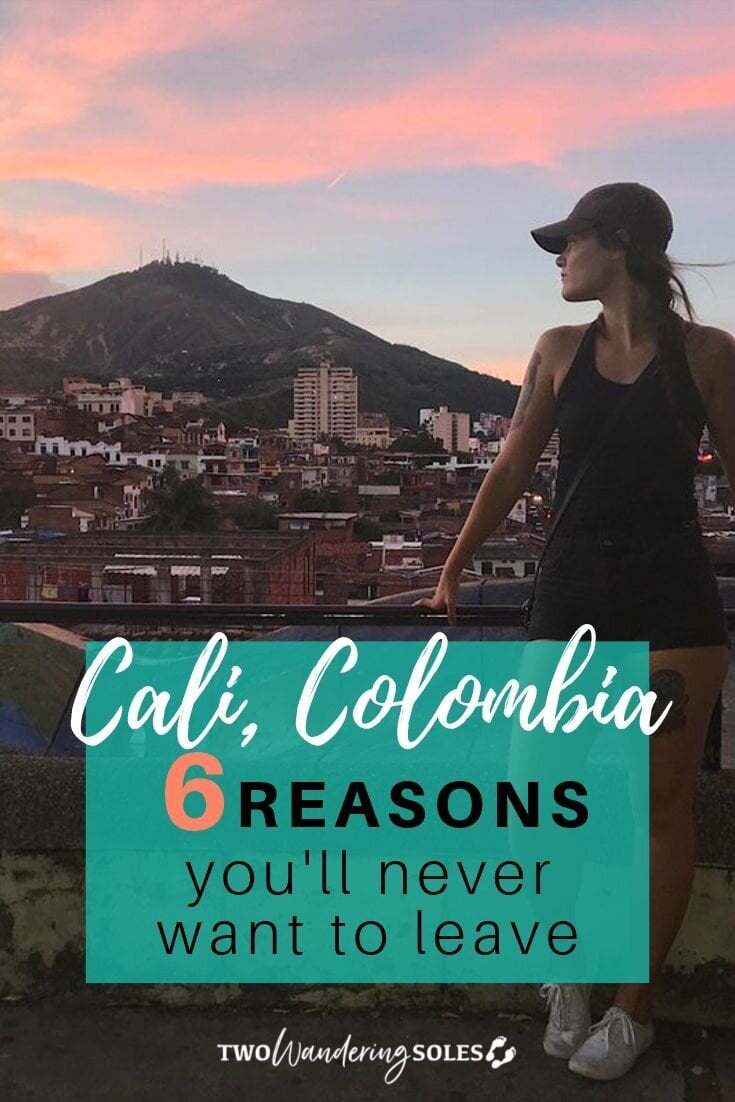 We want to hear from you!
Have you been to Cali before? What do you think of the place? Comment and we'll do our best to get back to you!