The best way to take in the sights at Yosemite is lacing up your hiking boots and hitting the trail. An avid hiker rounds up some of her favorites in this handy guide to the best hikes in Yosemite National Park.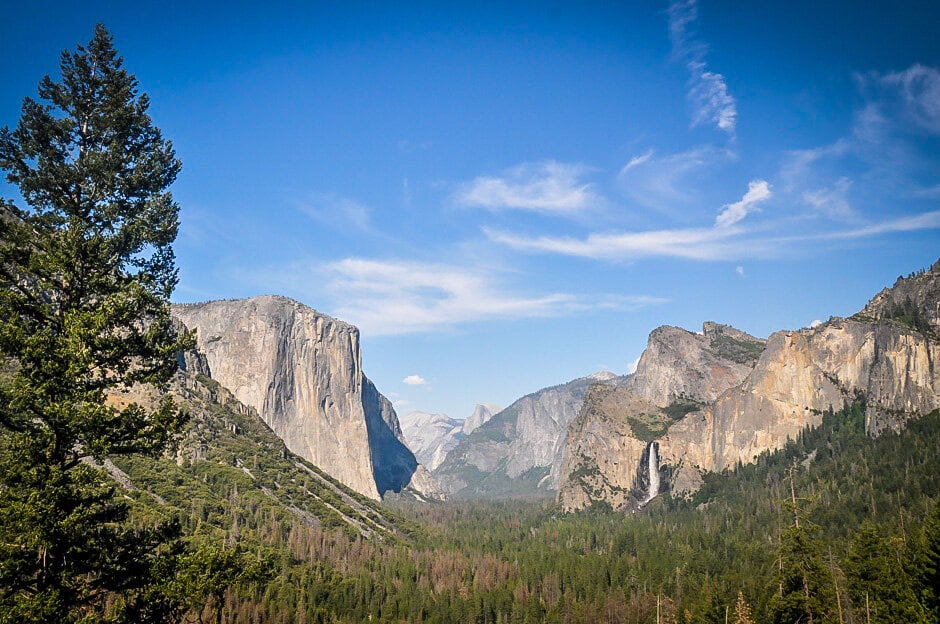 By Guest Author: Kristin Hanes
Yosemite National Park, with its tumbling, frothy waterfalls, soaring granite rock formations and shimmering meadows, is one of the most stunning places in the United States.
I've been to Yosemite dozens of times, and it never ceases to take my breath away. 
While you can take in Yosemite sights while walking, driving or riding a bike, I think lacing up your hiking boots is the best way to see this iconic national park. Within the park's 1,200 square miles, there are dozens of Yosemite hikes leading to spectacular vistas and hidden mountain lakes.
Best time to visit Yosemite National Park
The best time to hike in Yosemite is between May and October. Often, in the off-season, trails are closed to hazards like falling rocks or ice.
Plus, the best higher elevation Yosemite trails will be covered with snow. That might work for an experienced mountain climber with crampons and snowshoes, but not for the average hiker.
That said, there are some unique draws to the off-season, like the Firefall phenomenon that makes Horsetail Falls light up in an orange glow, as if on fire. This happens when conditions are right, and usually can be seen for just a couple of weeks in February. Due to the popularity of this rare event (especially with photographers), restrictions have been put in place for the number of visitors.

Tips for hiking in Yosemite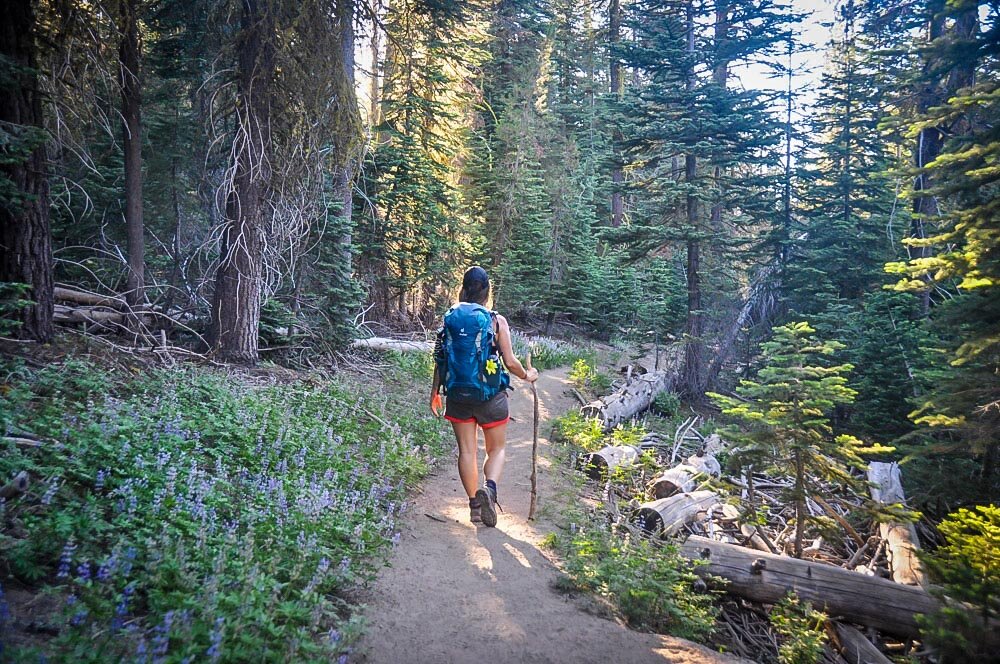 Keep in mind that many of the best hikes in Yosemite listed here are in higher elevations, above 8,000 feet. High elevation hiking can cause altitude sickness with symptoms like light-headedness, shortness of breath and headache.

Know your own limitations and make sure to bring plenty of water on any Yosemite hike. I personally have issues with altitude so I bring Advil anytime I hike Yosemite, or I get a prescription for Diamox for longer High Sierra backpacking trips.

Parking can be a challenge in Yosemite during summer months, so I'd encourage you to check out the Yosemite Valley Shuttle System. You can also take a shuttle from the Valley up to Tuolumne Meadows.  

With four million people visiting Yosemite National Park every year, many of the best hikes in Yosemite are packed with people. That's why in this guide, we'll cover Yosemite's most iconic hikes as well as some hikes that are off-the-beaten-path so you can avoid the crowds. No one wants to hike single-file, amiright?!

I've found one of the best ways to get away from people in Yosemite is to go on a backpacking trip. Most of Yosemite's visitors will stay close to the valley floor, so once you start climbing in elevation, you'll lose most of the tourists.
Related: Follow this guide to find the best photo spots in Yosemite on your visit. 
Without further ado, here are the best hikes in Yosemite you should try this summer…
Best hikes in Yosemite National Park
Yosemite National is one of the most iconic places in the entire United States, so it is well worth a stop on any California road trip.
Once you get to the park, it can be a bit overwhelming knowing where to begin because there's just so much to do and see. You could spend a lifetime near this nationalpark and still not see it all, so know that you're going to have to pick and choose what you want to fit in.
That's where we come in! We're going to go over some of the most iconic hikes in Yosemite and go over the distance, difficulty level and highlights so you can choose the ones that sound most appealing to you.
Alright, let's dive in so you can plan your visit to this American gem!
1. Half Dome Hike via The Mist Trail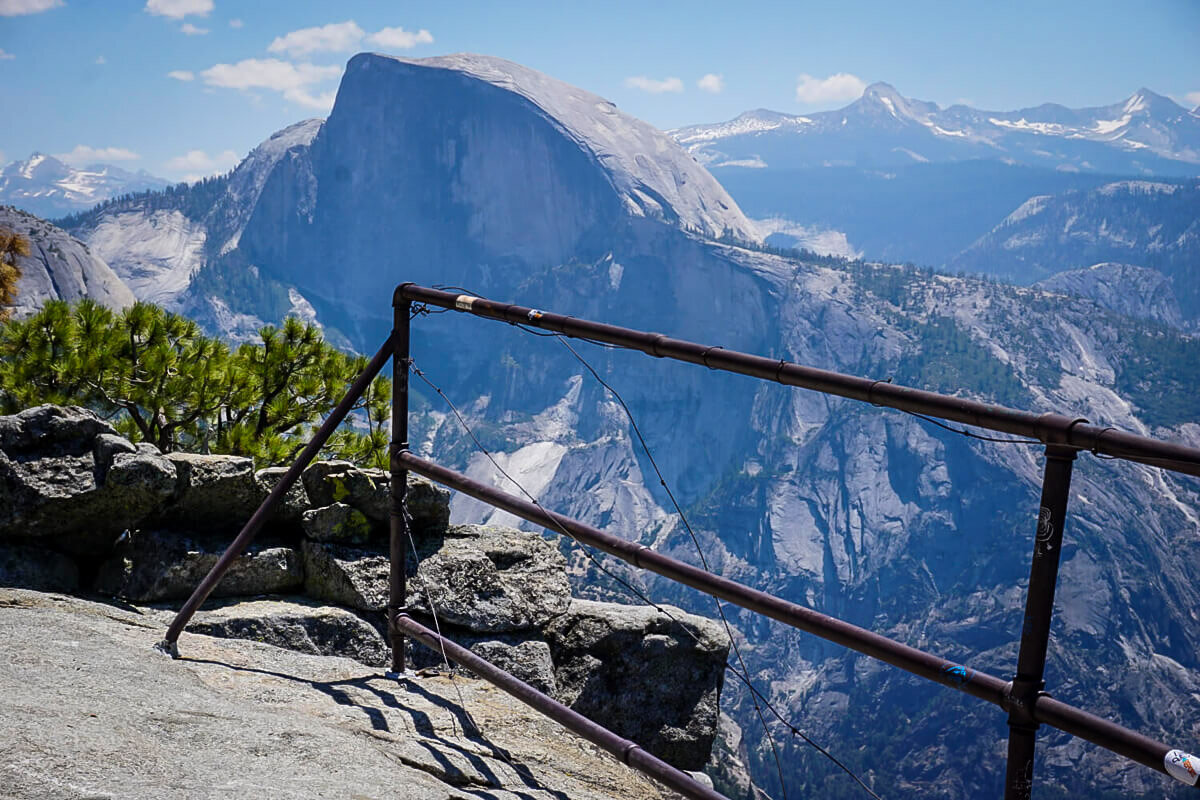 At a glance: This difficult hike begins at the valley floor and climbs 4,800 feet to the top of Half Dome, offering some of the most iconic Yosemite views. A permit is required. 
Distance: 14-16 miles 

Elevation Gain: 4,800 feet

Difficulty: Difficult

Type of Hike: Out-and-Back Day Hike
Be prepared to wake up early to tackle this monster of a hike from Yosemite Valley to the top of Half Dome, which soars 8,000 feet above sea level. This hike begins with a grueling climb up flights of slippery stairs on the Mist trail, which passes gorgeous waterfalls such as Vernal and Nevada Falls.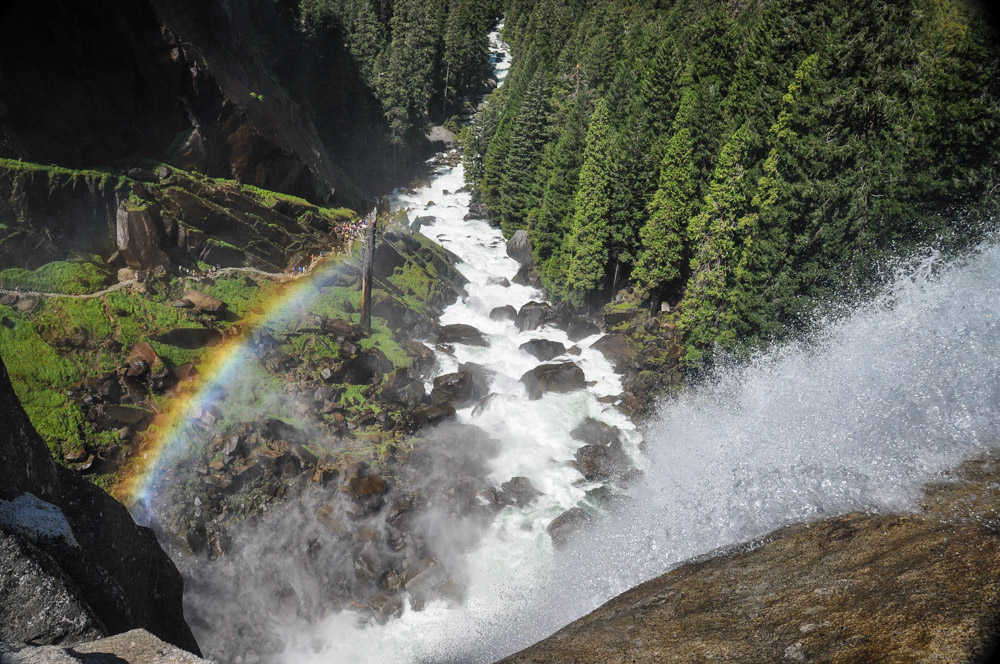 The most famous part of the Half Dome trail is a series of cables that allow hikers to climb the last 400 feet to the summit without rock climbing equipment. It's not advised to hike this trail if you have vertigo or a fear of heights. Nor should you start using the cables if you see storm clouds, or if it starts raining. The granite can become very slippery when wet, and the last thing you want to worry about it plummeting to your death while using the cables.
You should be in good shape to take on this trail. It takes most hikers between 10 and 12 hours to complete. Even though this is one of Yosemite's most difficult hikes, you'll be rewarded with incredible views from the top.
2. Taft Point Hike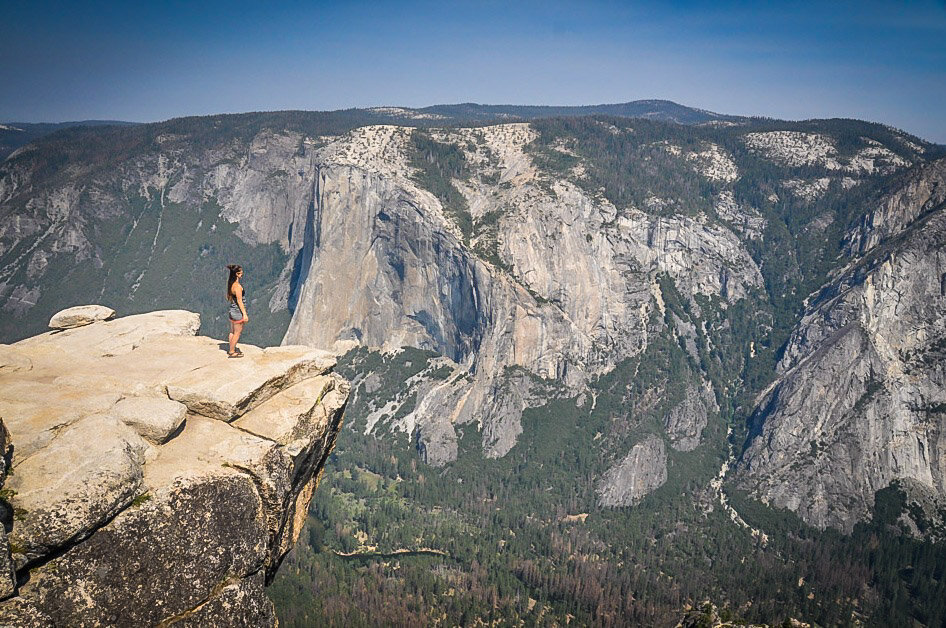 At a glance: This easy and short hike from the Glacier Point area leads to magnificent views of Yosemite Valley and El Capitan.
Distance: 2.2 miles

Elevation Gain: 200 feet

Difficulty: Easy

Type of Hike: Out-and-Back Hike
Taft Point is an easy out-and-back hike popular amongst photographers and hikers. If you're able, try starting this hike an hour before sunset so you arrive at your destination just in time to see streaks of orange and pink fill the sky.
The views from Taft Point are some of the most amazing in Yosemite, and you'll actually be looking down on the granite face of El Capitan.
Be careful out at Taft Point, though. There isn't much fence to prevent you from toppling thousands of feet. Keep your distance from any edges. 
Looking for another California hiking experience? Check out Death Valley National Park, which makes an excellent day trip from Las Vegas.
3. Four Mile Hike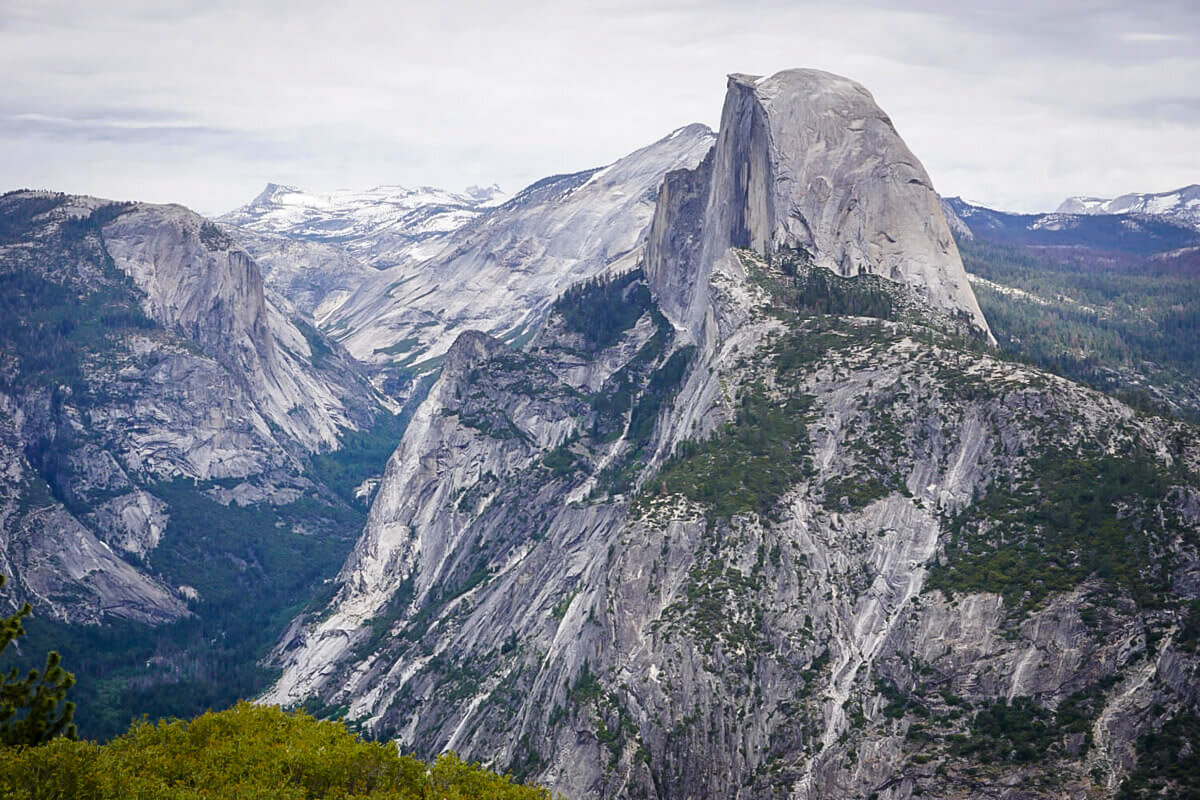 At a glance: This difficult hike starts in Yosemite Valley and switchbacks up steep granite walls to end at Glacier Point, offering stunning views.
Distance: 9.6 miles, or 4.8 one way to Glacier Point

Elevation Gain: 3,200 feet

Difficulty: Difficult

Type of Hike: Out-and-Back Hike or Car Shuttle
This strenuous hike begins at the base of Sentinel Rock and maintains a continuous steep climb all the way up to Glacier Point. Not for the faint of heart, the trail follows an old toll road built in the late 1800s and takes most hikers 6 to 8 hours roundtrip.
Make sure to stop two-thirds of the way up to enjoy the view of Yosemite Valley from Union Point, also a nice spot to take a break during the heat of the day.
The Four Mile Trail ends at Glacier Point, where you'll find restrooms, water and a snack bar. You can either turn around and start descending back to Yosemite Valley at this point, or arrange for a friend or family member to pick you up and drive you back to the valley floor.
4. Bridalveil Falls Trail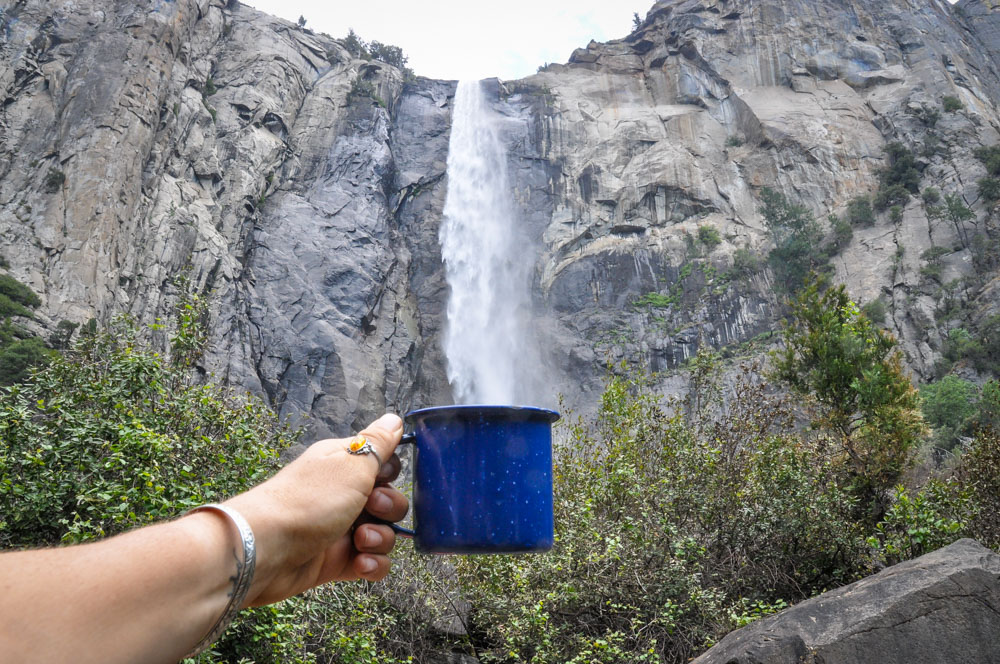 At a glance: Walk on an easy paved trail to the base of Bridalveil Falls, one of the first waterfalls you'll see upon entering Yosemite. 
Distance: 1.2 miles

Elevation Gain: 200 feet

Difficulty: Easy

Type of Hike: Out-and-Back Hike 
This easy and crowded hike provides incredible views of Yosemite's Bridalveil Falls, which dumps water for 620 feet. This waterfall flows year round but is especially stunning in spring, when snowmelt increases the fall's volume. 
If you stand close enough to the base of Bridalveil Falls, be prepared for a good soaking from the waterfall's mist.
This short hike is for the entire family or hikers of varying levels to enjoy.
Hiking Tip: If you're like us, hiking makes you hungry! We always prepare for our hikes by bringing along some healthy & delicious trekking snacks to curb our appetites.
5. Cloud's Rest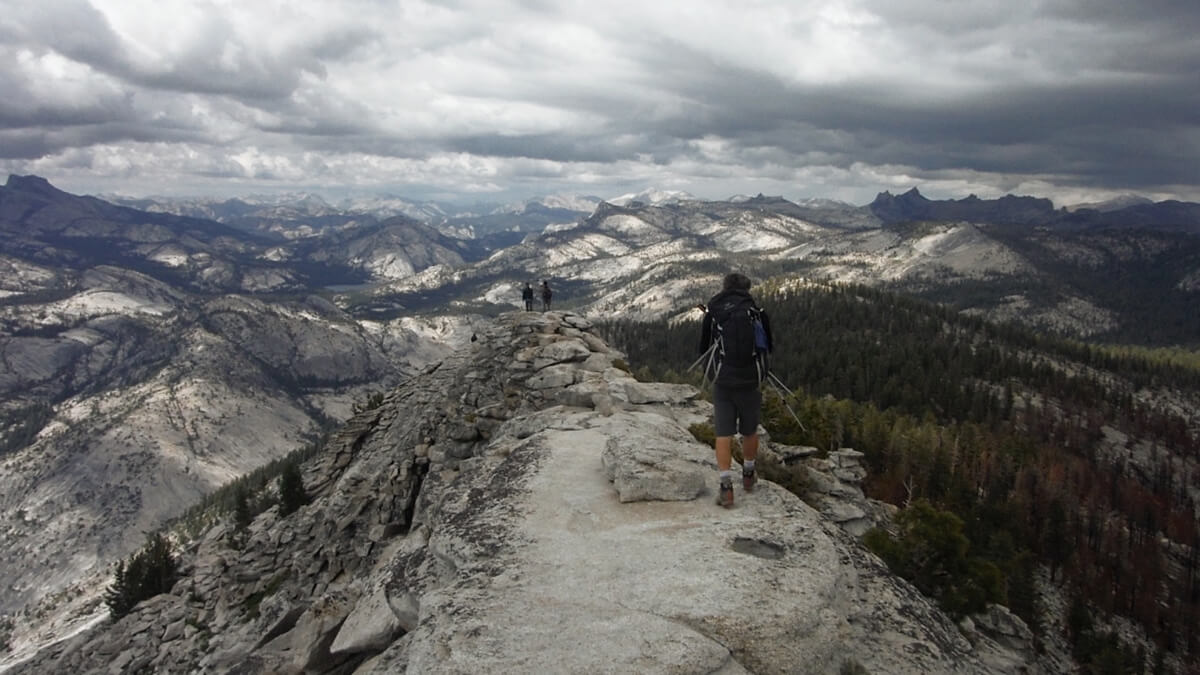 At a glance: This high elevation hike winds through dense forest and past meadows fit for Bambi before arriving at a rocky point with views of Yosemite Valley.
Distance: 14.5 miles

Elevation Gain: 1,775 feet

Difficulty: Difficult

Type of Hike: Out-and-Back Hike 
You'll access the Cloud's Rest hike from Tioga Road, which is typically closed until mid-summer due to snow. The hike begins with a gentle climb through High Sierra forests, where you'll enjoy crystal-clear streams, large granite boulders and bright green meadows.
If you're afraid of heights, be extra careful at the end of Cloud's Rest. The top is a narrow ridge with a sheer drop-off. But if you do manage to make it to the very end, you'll be rewarded with sweeping views of Yosemite Valley and Half Dome in the distance.
Tip: Use this National Parks checklist and guide to keep track of which national parks you've visited throughout the US!
6. Wapama Falls Hike
 

 

View this post on Instagram

 

 
At a glance: A moderate hike in the less-crowded Hetch Hetchy part of Yosemite with views of Wapama Falls, which may leave you with a good soaking.
Distance: 5.5 miles

Elevation Gain: 200 feet

Difficulty: Moderate

Type of Hike: Out-and-Back Hike
The Hetch Hetchy Valley was one of John Muir's favorite spots before it was dammed and flooded to provide drinking water for San Francisco. This area of the park is still one of the least visited, but doesn't lack in natural beauty.
The hike to Wapama Falls hugs the reservoir and has footbridges at the base of the falls. If you venture out on the footbridge, you're likely to get a good soaking. The water is heaviest in the spring as snow melts from the peaks, which can create slippery and dangerous conditions.
You'll also see the granite monolith Kolana Rock on this hike, a dome-shaped formation over 2,000 feet tall, which you can see in the image above. (If you can't see the image, turn off your ad blocker.)
Good to know: This is a good hike for spotting wildflowers in the springtime!
7. Upper Yosemite Falls Hike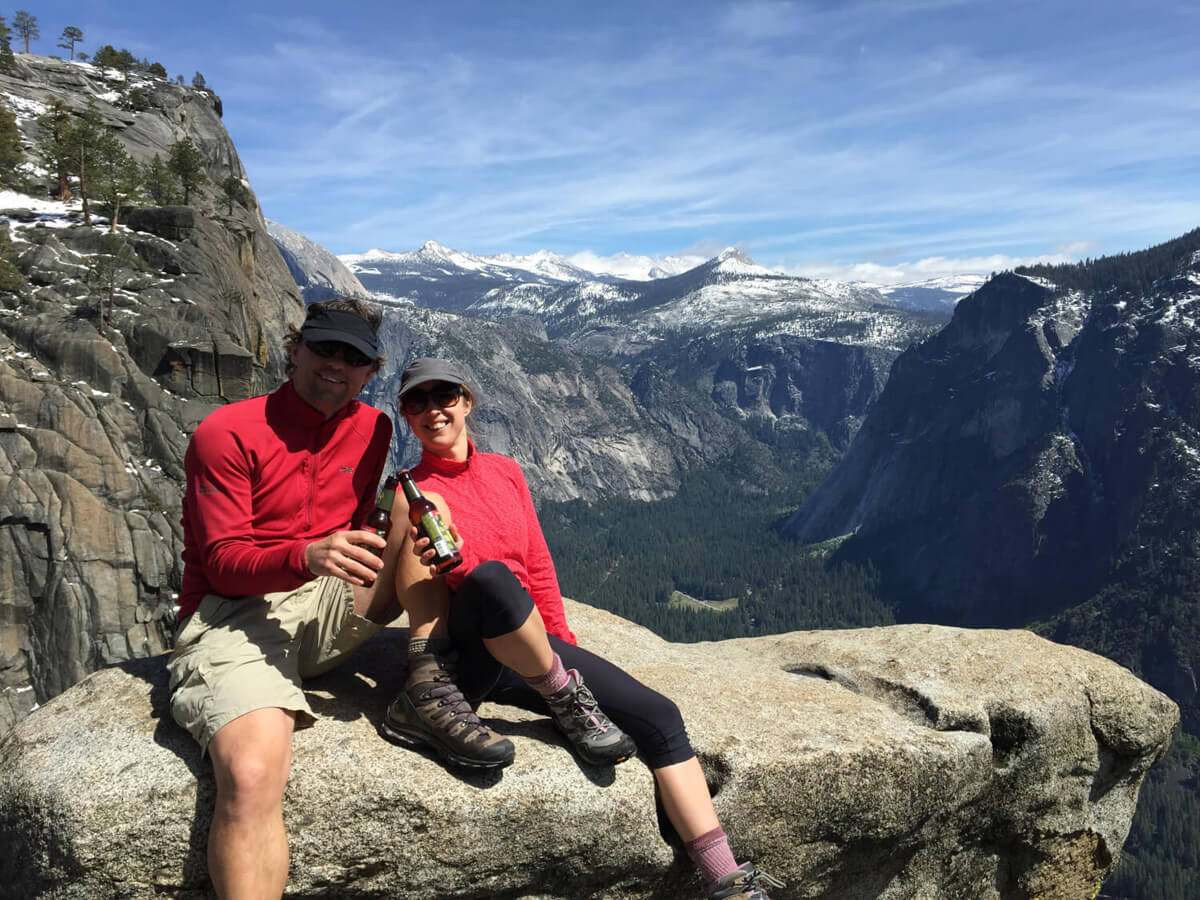 At a glance: This strenuous hike switchbacks up from the valley floor to the top of Yosemite Falls, featuring spectacular views of Yosemite Valley and Half Dome.
Distance: 7.2 miles

Elevation Gain: 2,700 feet

Difficulty: Difficult

Type of Hike: Out-and-Back Hike 
Considered one of the best hikes in Northern California, you'll want to bring plenty of water for this arduous climb to the top of Yosemite Falls. You'll follow steep switchbacks to the top of North America's tallest waterfall at 2,425 feet. The trail begins in the shade of oak trees, then climbs to exposed plateaus which offer glimpses of the view to come.
The upper part of the Upper Yosemite Falls trail is steep and rocky, but you'll be rewarded by incredible views at the top. You'll also get to see the crystal-clear Yosemite Creek, which feeds this dramatic waterfall. 
Take a lunch and sit on large rocks that overlook the valley before starting your descent. If you're up for even more hiking, you can add another 1.6 miles by visiting Yosemite Point and North Dome.
8. Cathedral Lakes Hike
 

 

View this post on Instagram

 

 
At a glance: Hike past pristine alpine lakes on this trek off Tioga Road, where you'll be rewarded with views of Cathedral Peak, Echo and Tressider Peaks. 
Distance: 7 miles

Elevation Gain: 1,000 feet

Difficulty: Moderate

Type of Hike: Out-and-Back Hike 
The popular Cathedral Lakes hike is part of the iconic John Muir Trail, a 220-mile thru-hike that ends at the Mount Whitney Portal. This hike starts at 8,500 feet with a steep climb, where you'll see just how well you handle high elevation. 
After three miles of hiking, you'll have to choose whether you want to hike to lower Cathedral Lake or stay on the John Muir Trail to Upper Cathedral Lake. If you're doing a thru-hike, you can backpack all the way to Yosemite Valley and take a shuttle back up to your car.
Either Cathedral Lake is a wonderful place to relax with lunch and enjoy the alpine views.
9. Lyell Canyon via The John Muir Trail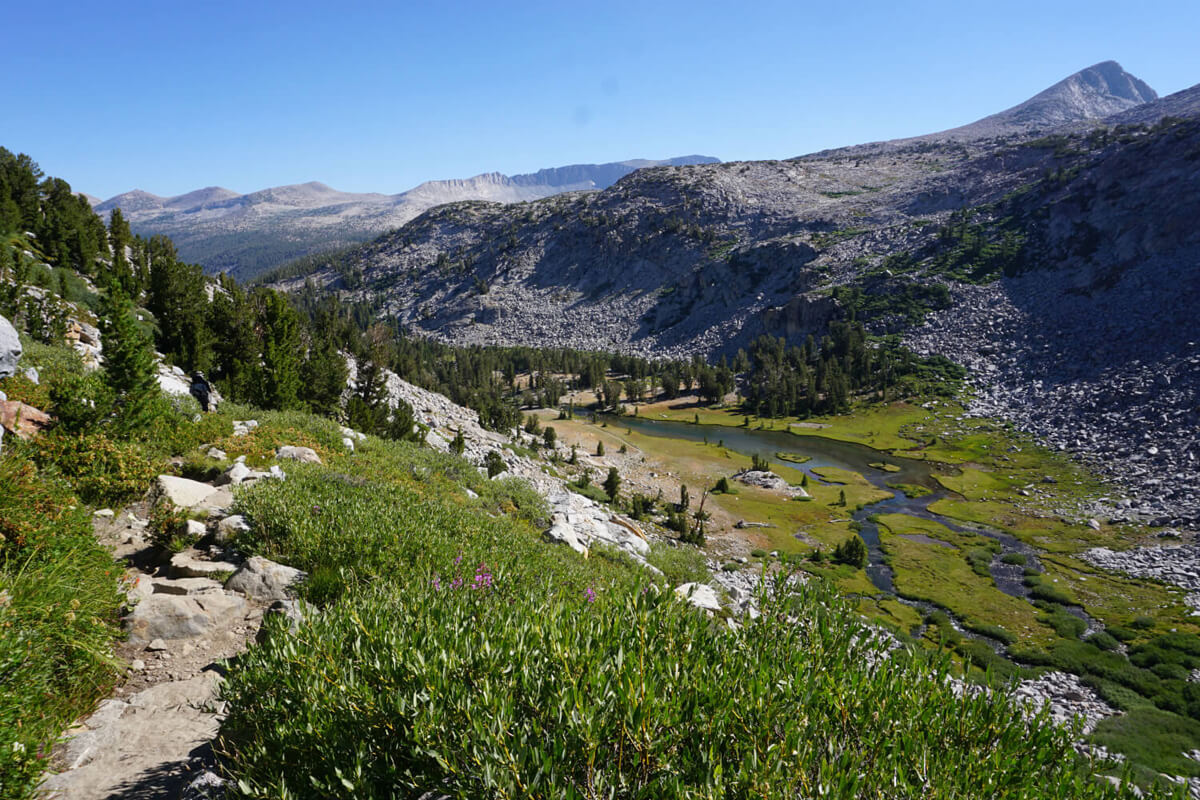 At a glance: This flat and easy hike along the bottom of Lyell Canyon features beautiful canyon walls and crystal clear streams.
Distance: 8 miles

Elevation Gain: 200 feet

Difficulty: Easy

Type of Hike: Out-and-Back Hike 
The only tough thing about this beautiful hike is the starting elevation of 8,800 feet. Luckily, the entire hike is flat, and meanders alongside the crystal clear Lyell Fork of the Tuolumne River. Around the 8-mile mark, look for spectacular Kuna Creek, which cascades down the side of the east canyon. 
This hike along the John Muir Trail goes through woods and meadows, and you can go as far as you want. If you're feeling extra energetic, climb up the switchbacks to Donahue Pass, where you'll be rewarded with stunning views of the canyon. 
10. Dewey Point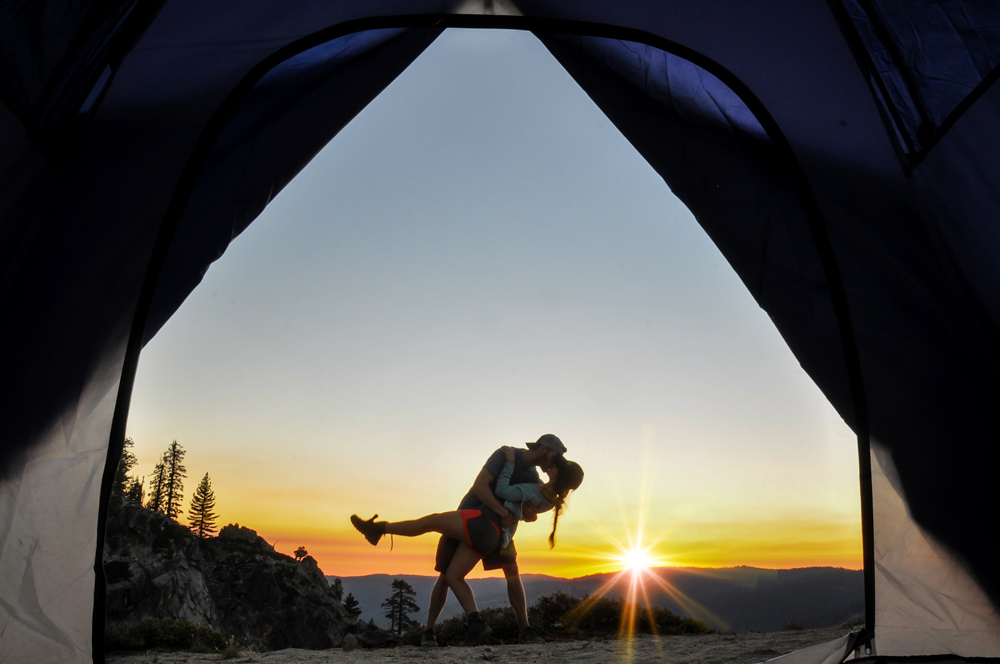 At a glance: This is a bonus hike added by Katie and Ben! This relatively flat hike is great to get away from the crowds and still have incredible views.
Distance: 7.8 miles round trip

Elevation gain: 300 feet

Difficulty: Easy to Moderate (not hard, but long)

Type of hike: Out-and-Back Hike 
We visited Yosemite on a weekend in July, and were desperate to get away from the crowds. A kind park ranger recommended this hike, as it's a lightly-trafficked trail, yet has very minimal elevation gain, making it a good option for beginners. It offers some incredible views of the top sights in Yosemite National Park without the challenging trails or long mileage of some of the other popular hikes.
The trail itself is quite flat and meanders through forests and fields of wildflowers. Once you reach Dewey Point, you'll be rewarded with panoramic views of El Capitan, Sentinel Dome, and the rest of the Yosemite Valley.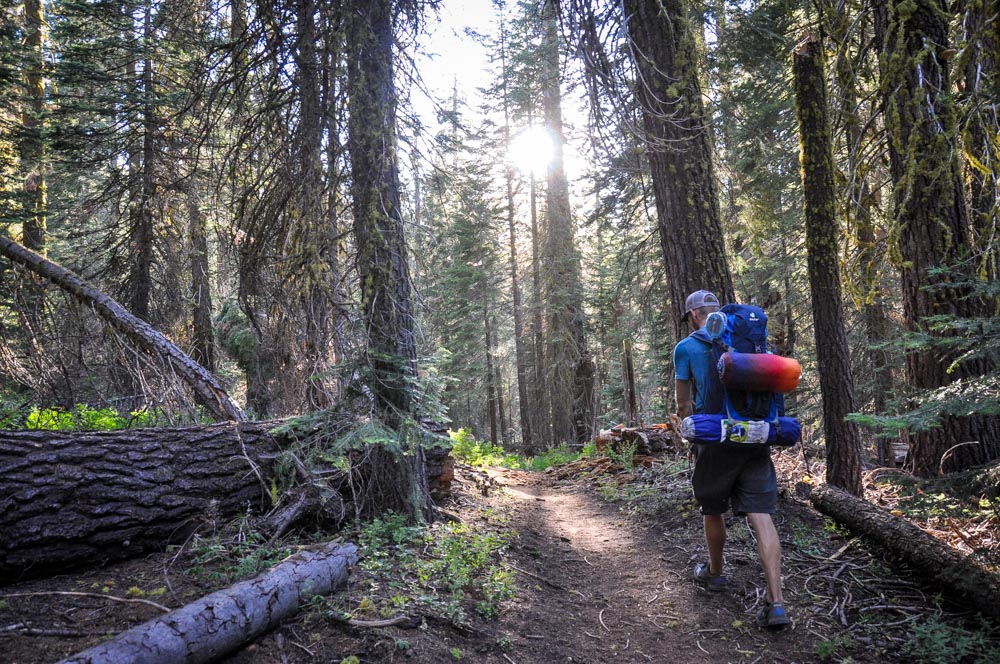 While you can do this hike as a day trip, we'd recommend pitching a tent if you have the time. We arrived at Dewey Point just before sunset and had the entire place to ourselves! We pitched our tent beneath the stars and saw the sunrise over Yosemite Valley.
Insider Tip: We noticed there were a lot of mosquitoes, and while we were prepared with insect repellant, we wished we had long pants to keep them from biting us!
---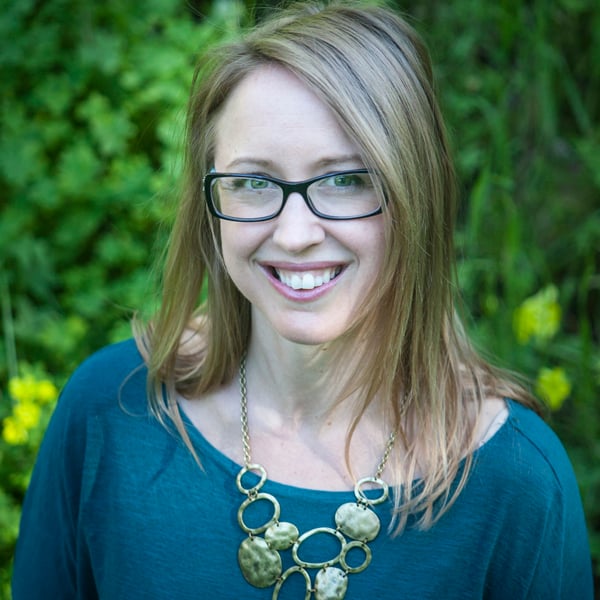 About the Author
Kristin Hanes is a lover of the great outdoors who lives on a sailboat and in a van in the San Francisco Bay area. Her website, The Wayward Home, is a resource for people who want to live in campervans, RVs, sailboats and tiny homes.
---
You might also like…
Save this article on Pinterest for later!
We want to hear from you!
Have you been to Yosemite National Park? What were your favorite hikes in Yosemite? What should we add to this list? Let us know in the comments below!