Volcano + acidic lake + blue flame combination makes the Ijen Crater hike a bucket list experience that is unlike anything you've ever seen. Seriously, there isn't anywhere in the world quite like it. We're sharing tips about our Kawah Ijen Crater sunrise hike and how you can do it too!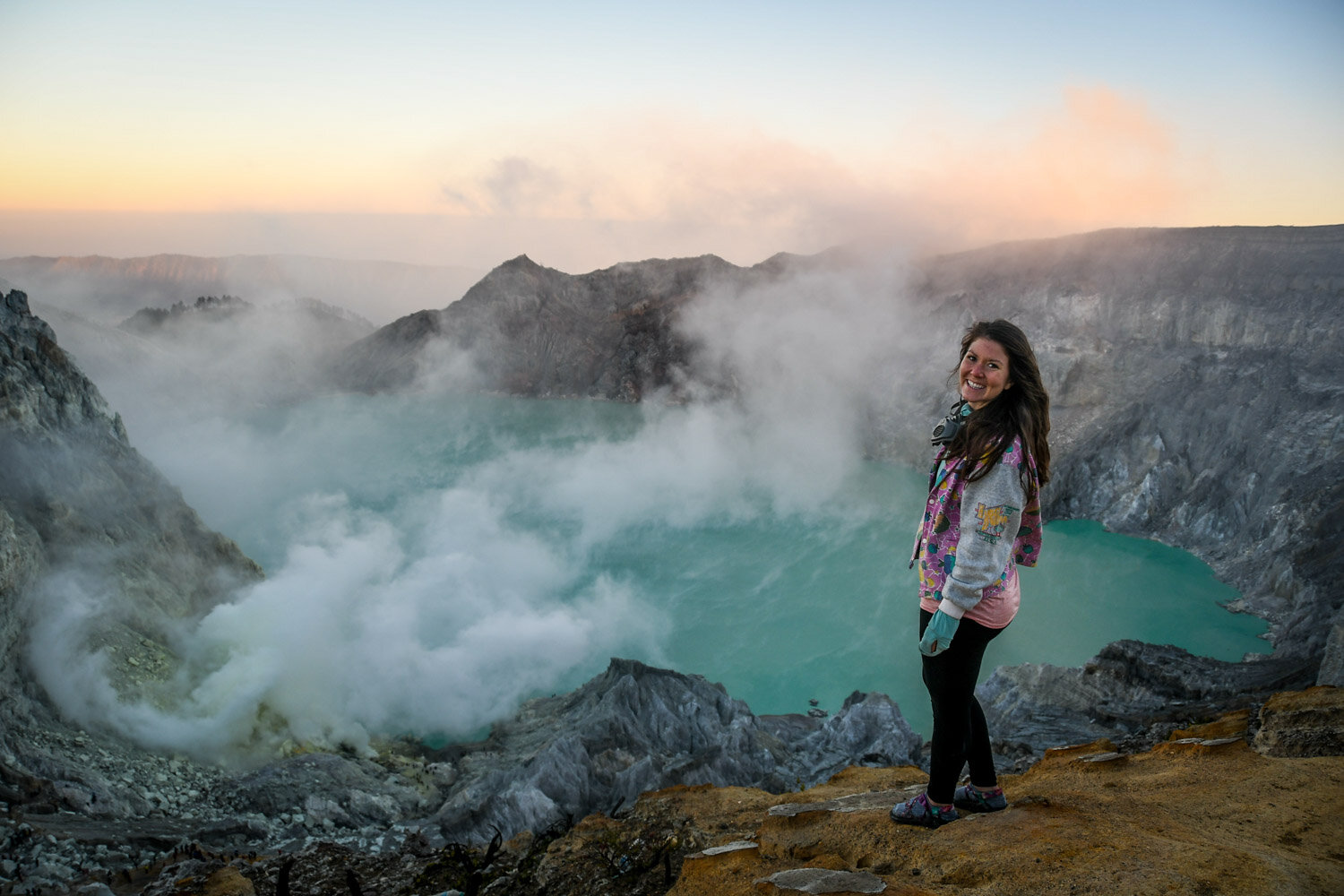 With 41 active volcanoes, Java is the most volcanic island on earth. And one of the most spectacular and unusual volcanoes in Java – and all of Indonesia for that matter – is Kawah Ijen.
This volcano is known for having a crater inside which is the world's largest acid lake. It is a turquoise color so brilliant that it almost looks unreal, but the cool factor doesn't end there… This volcano has one of the highest concentrations of sulfur in the world, creating a natural phenomenon known as the Blue Flame.
It's one of the coolest volcanoes out there, and it's easier than you might think to see experience it for yourself. Located on the very eastern reaches of Java, you can hike to the top of Ijen, see the elusive Blue Flame, witness the sunrise over the spectacular crater lake, and get back to your hotel by breakfast time. I'm not even exaggerating.
It's not an easy trek (and it requires a really early morning) but there's no doubt that hiking to Ijen Crater is one of the best things to do in Java and will undoubtedly be a highlight of your trip.
Psst! If you like to watch the sunrise, a sunrise tour of Mount Bromo is another great way to experience the early morning hours in Java.
Hiking to Ijen Crater at a Glance
Hiking to Ijen Crater is one of the most popular things to do in Java for both domestic and foreign travelers. This means it can get crowded.

It is also called Kawah Ijen, as kawah means "crater".

This activity involves hiking up an active (but quiet) volcano.

The lake inside Ijen's crater is known as Lake Kawah Ijen. It is the largest acidic lake in the world. The water is not only hot, but it is more acidic than battery acid!

You have the opportunity to glimpse the elusive natural wonder known as the "Blue Flame." Don't worry, we'll explain!

Hikers will see an operating sulfur mine, and you will pass by many incredibly hard working miners going about their daily work.

At the top you'll see the sunrise over a crater with the largest acid lake in the world, Kawah Ijen, which is a brilliant turquoise color.
Are you intrigued yet?! This volcano + acid lake + blue flame combination makes the Ijen Crater hike a bucket list experience that is unlike anything you've ever seen. Seriously, there isn't anywhere in the world quite like it.
We're going over exactly what to expect on a hike to Ijen Crater, plus, we're sharing what you should wear and pack, how to arrange your hike, and some insider tips you won't want to miss.
Psst! Are you planning a trip to the island of Java? We're put together the ultimate guide with all the best things to do in Java, plus insider tips and a perfect 1-week itinerary.
The Hike to Ijen Crater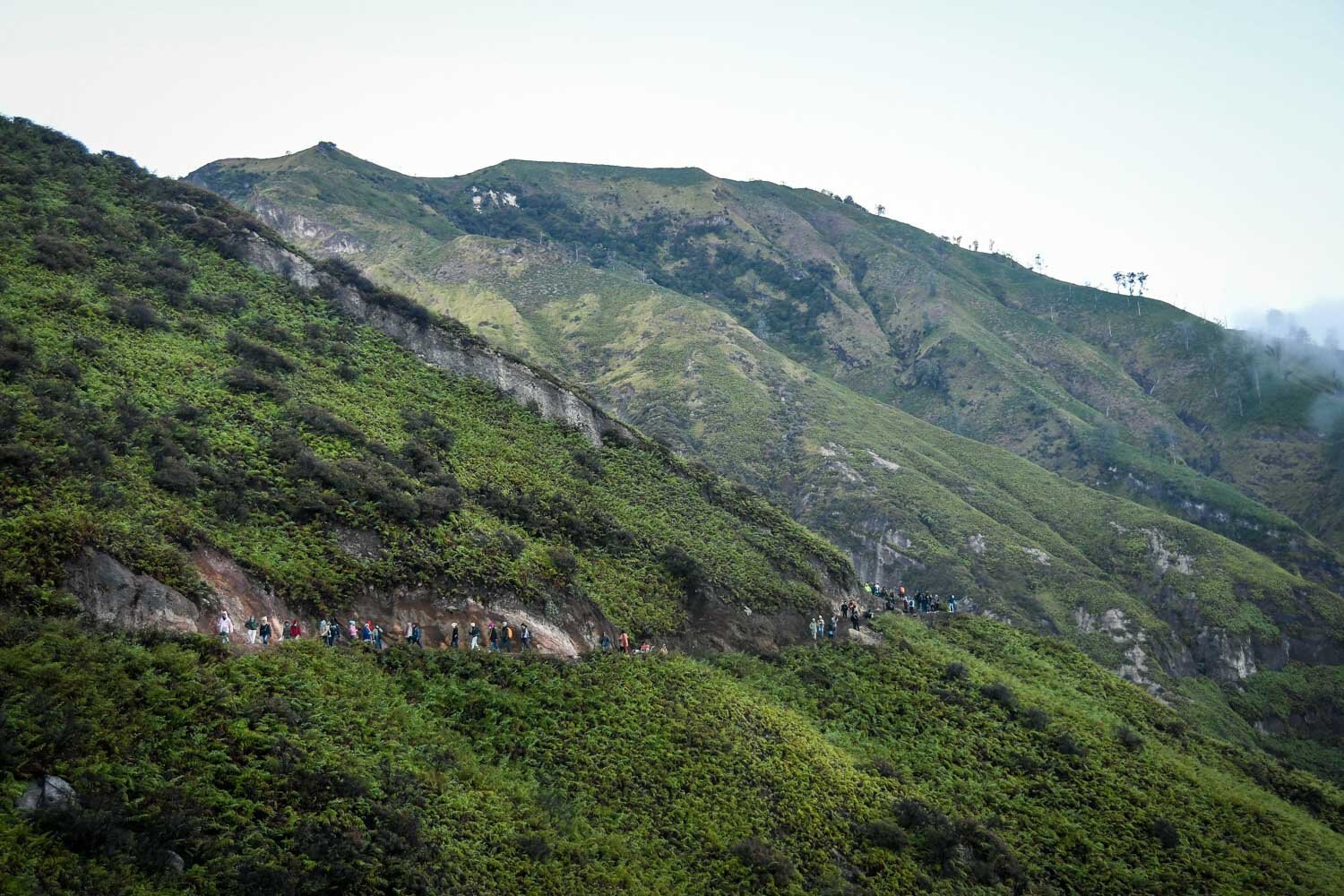 This hike is an out-and-back trail and we're not gonna sugar-coat it: It's a steep one. Personally, we didn't find it all that bad, as the trail is well maintained and you know there's a big reward waiting for you. But the hike up is completely in the dark, so it was kind of… boring.
Tip: If you're lucky and have a clear night, look up and you'll see a beautiful display of stars. We had a somewhat cloudy night, but every once in a while the clouds broke and we saw a glittering sky.
How difficult is the hike to Ijen Crater?
The answer to this really depends on your personal fitness level. Like we said, the hike is steep and you're doing the climb in complete darkness, so there aren't any sights to motivate you until you get to the top.
We've heard people who thought it was easier than they expected, and also those who thought it was more difficult than expected. So there's not really a definitive answer to this question.
If we had to give it a rating, we'd say it is intermediate, as the trail to the rim is steep, yet well-taken care of. The trek into the crater is where it gets a little more sketchy (loose rocks and dusty paths).
Another thing worth mentioning is the hike down was pretty hard on my already sensitive knees, so keep that in mind if you also have knee issues.
Insider Tip: If you think music, an audiobook or a podcast will help motivate you on the long, steep and dark hike up, pack headphones.
An Important Note on Bathrooms: There is a bathroom facility in the parking lot. Be sure to use this before you begin the hike, as there are no facilities on the hike or at the top.
Length of the hike to Ijen Crater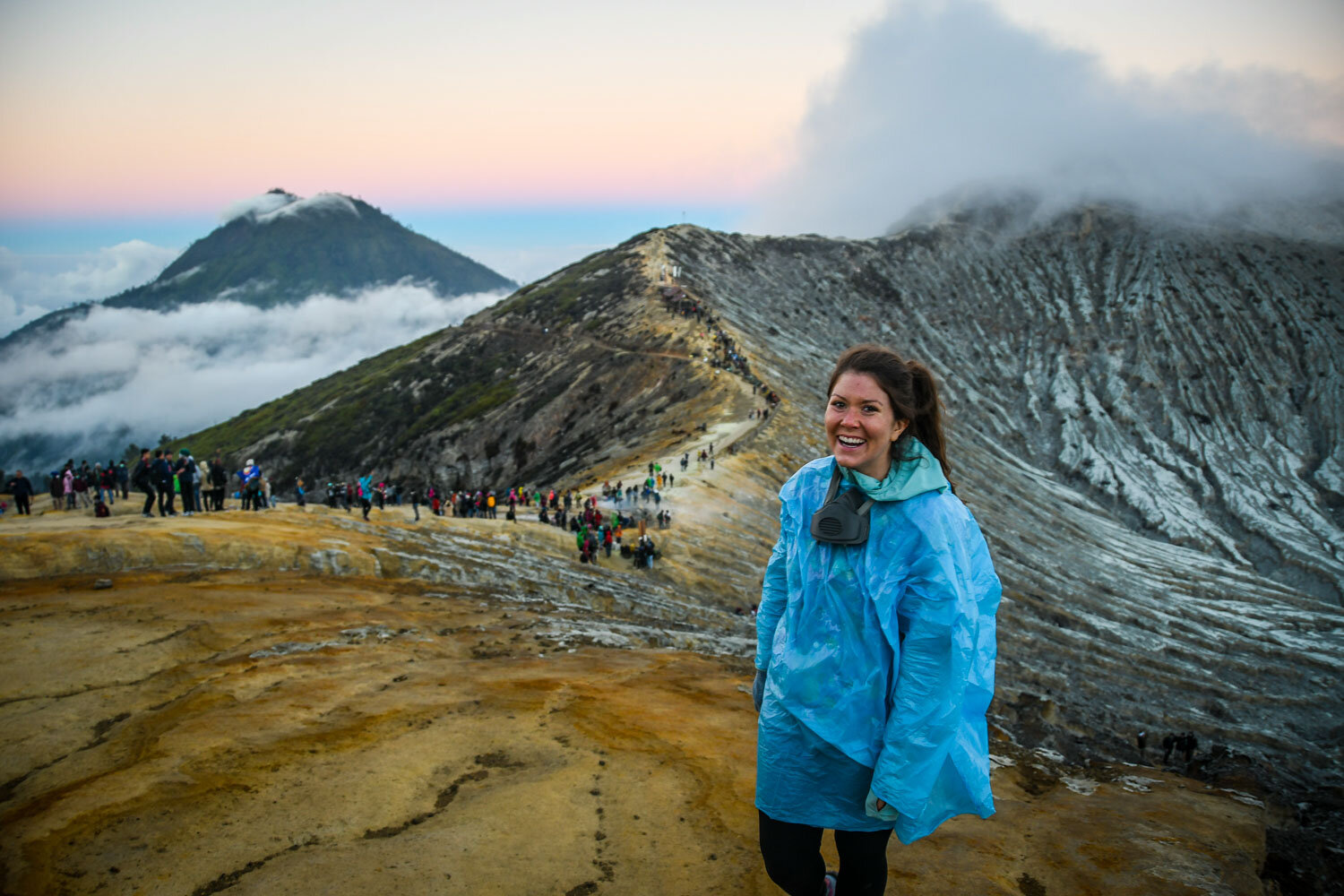 Truthfully, there's so many varying stats out there. I found no less than 5 different distances (and they varied quite a bit!). We used Google Maps and Maps.me to manually calculate each section of this hike for you!
Part 1: From the base of the volcano to the crater rim
1.9 miles to the crater rim (3 km)

1,467 foot elevation gain (447 meters)
Part 2: Into the crater (to see the sulfur mine & Blue Flame)
0.3 miles (0.5 km) down into crater

600 feet (200 meters) change in elevation
Note: You will need to climb back out of the crater, so you'll need to double the distance and elevation gain in this section.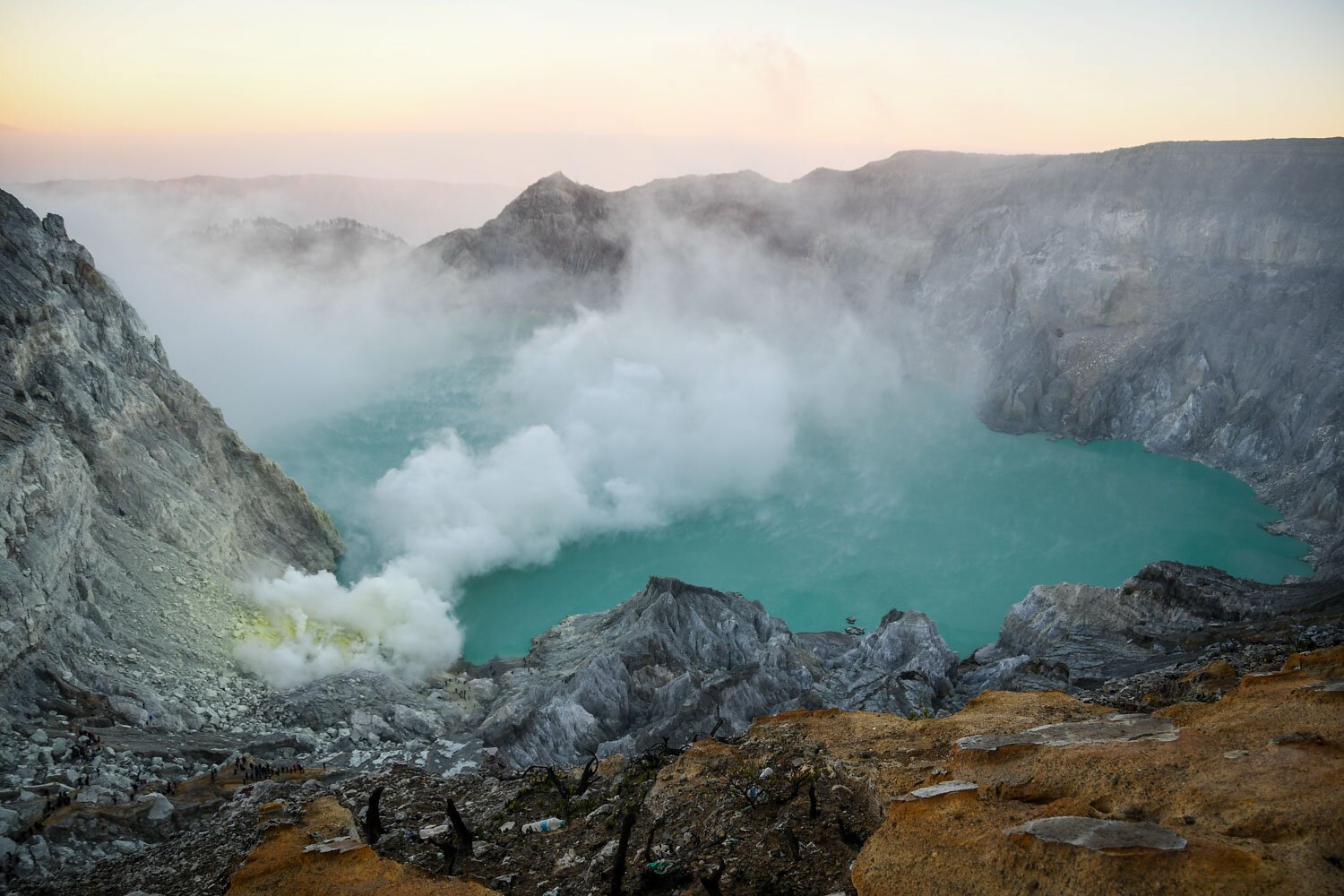 Part 3 (optional): Along the crater rim
If you want, there is a trail that continues along the crater rim for about 0.8 miles (1.3 km), though you certainly don't need to walk all of it. Just be careful as the trail can get dusty and windy, and there are no guardrails.
Note: However far you walk along the rim, you'll need to double that distance for the return trip.
Total hike length:
So if you hike up to the crater rim, down to the Blue Flame, all the way along the rim trail and back down the mountain, you're looking at a roughly 6-mile (9.7 km) hike. The total elevation gain (up to the rim and up from the crater) is around 2,067 feet (630 meters).
How long does the hike take?
In total, we spent just over 3 hours hiking. This includes hiking up and down the volcano, as well as going down into the crater to see the Blue Flame and back out again.
However, when you factor in the time we spent observing the Blue Flame and sulfur time as well as the time we spent hanging out and photographing sunrise, it took us 5 hours from start to finish.
The Blue Flame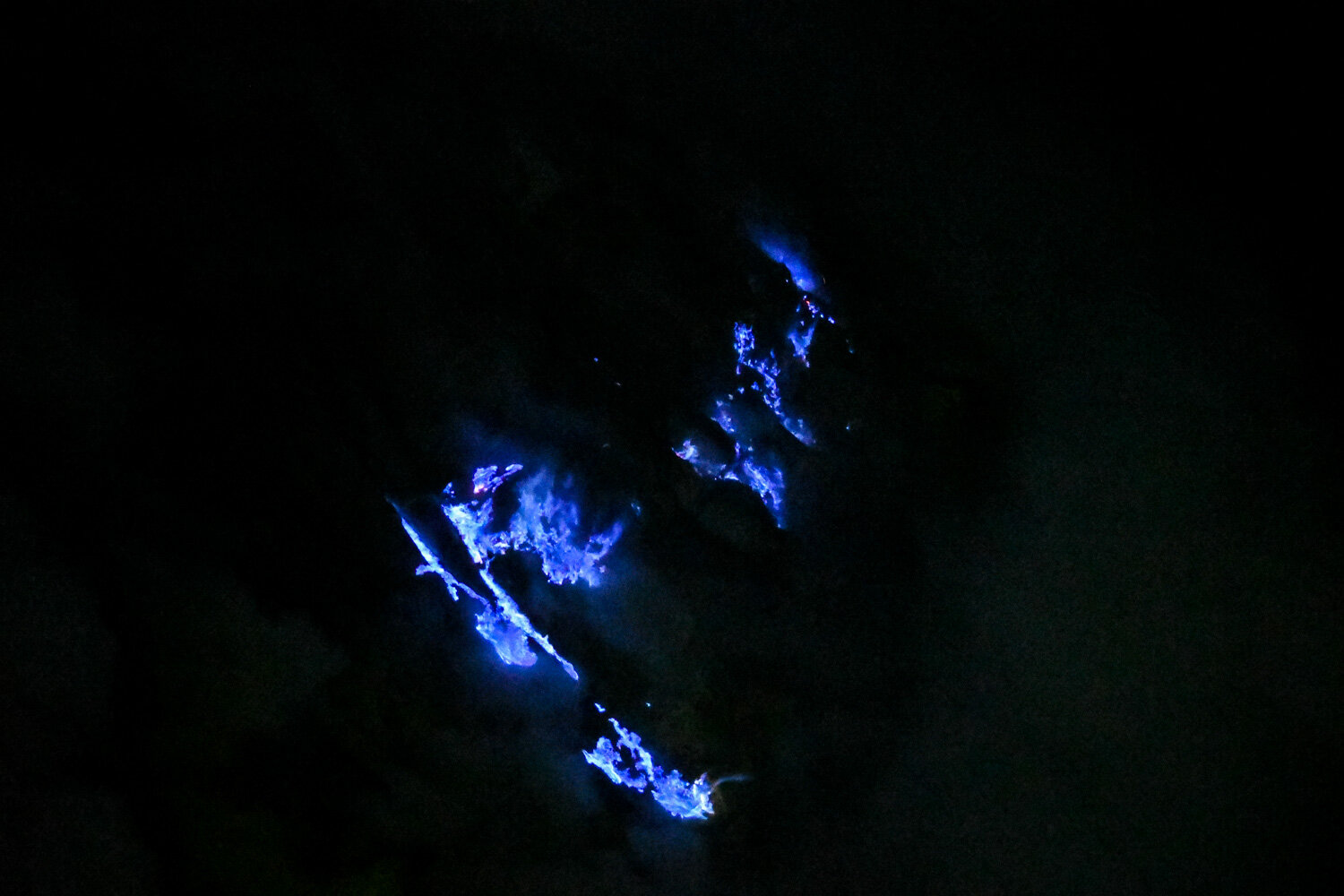 One of the major draws of Ijen Crater is the legendary "Blue Flame" that can be glimpsed. Ijen is one of only two places in the world where you can see blue flames (the other place being Iceland), and in all truth, this is a pretty incredible sight to behold.
Once you reach the rim of the crater, follow the masses and descend downhill for the first time on this hike. It is here that local guides will be telling everyone to put on their gas masks (very important!).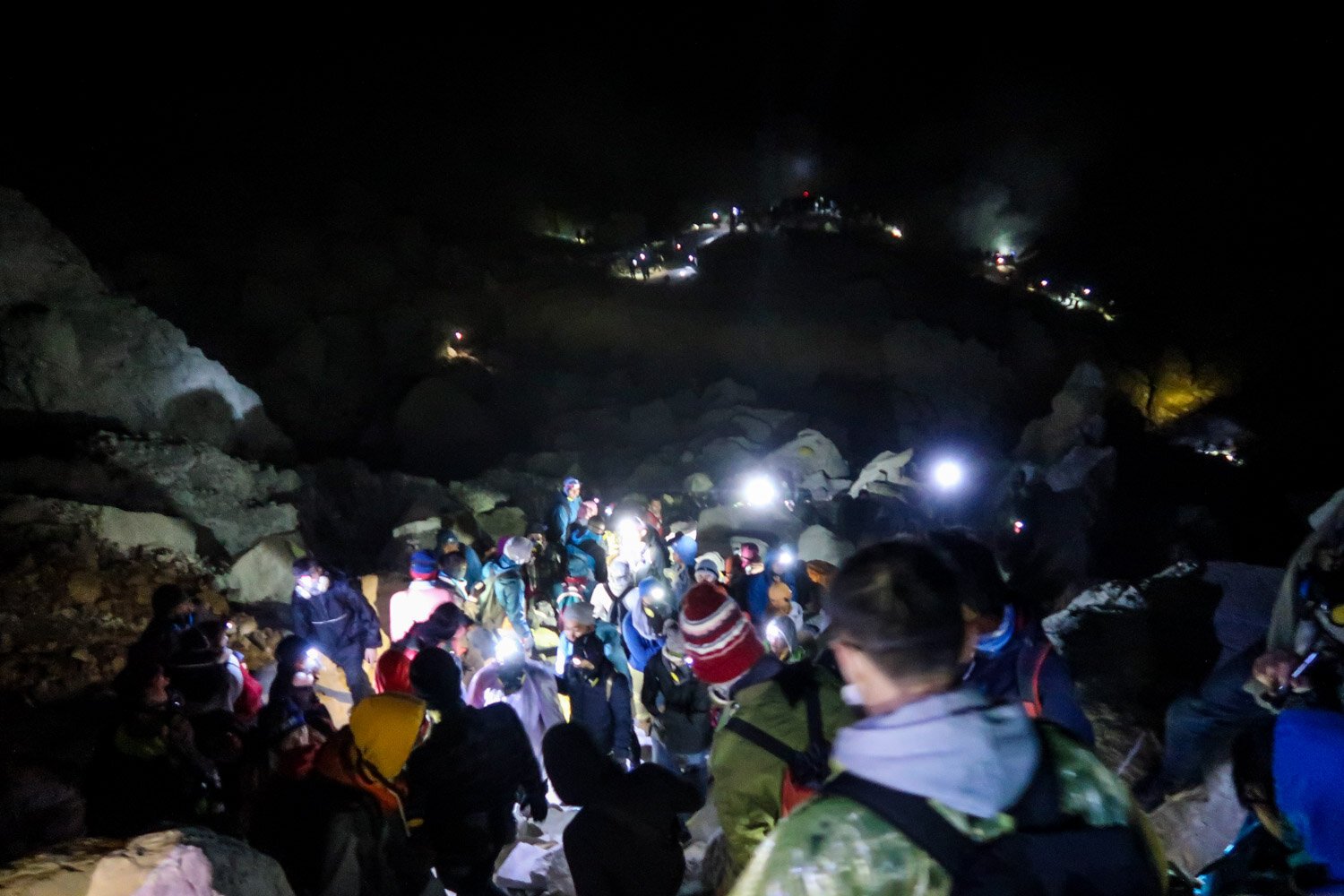 The hike down is a little sketchy, with a narrow path and many places where dust and rocks can make the trail slippery. So be cautious. There's really no way you can rush down this trail because you'll likely be behind a line of other hikers.
It took us roughly 35 minutes to reach the bottom, and here's where things get interesting…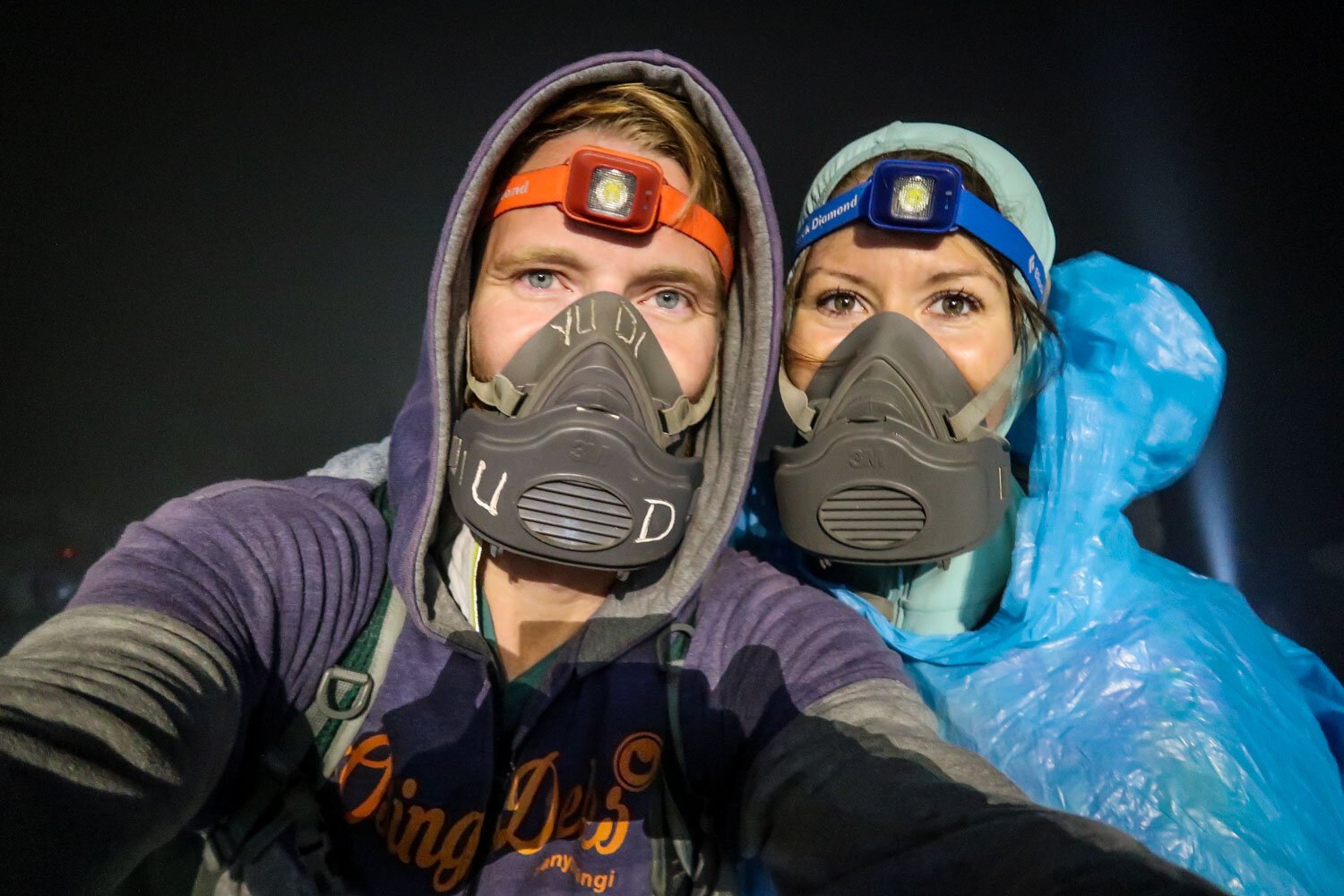 You'll start to notice a strong sulfur smell, and you'll see huge clouds of white/yellow smoke billowing up. This is sulfur gas, and is the reason each hiker is provided a gas mask.
Every once in a while when the wind changes, the smoke will dissipate and you'll see it… the Blue Flames.
Honestly, I wasn't expecting much. I thought it would be similar to seeing a pilot light on the stove – fire that was slightly blue. But instead, we were mesmerized by the undulating glow that was a deep and brilliant cobalt. Electric blue, if you will. And instead of flames like you'd see in a bonfire, what we saw looked almost like a mixture of lava and gas, flowing and almost hovering. That may sound strange, but I can't really find another way to explain it.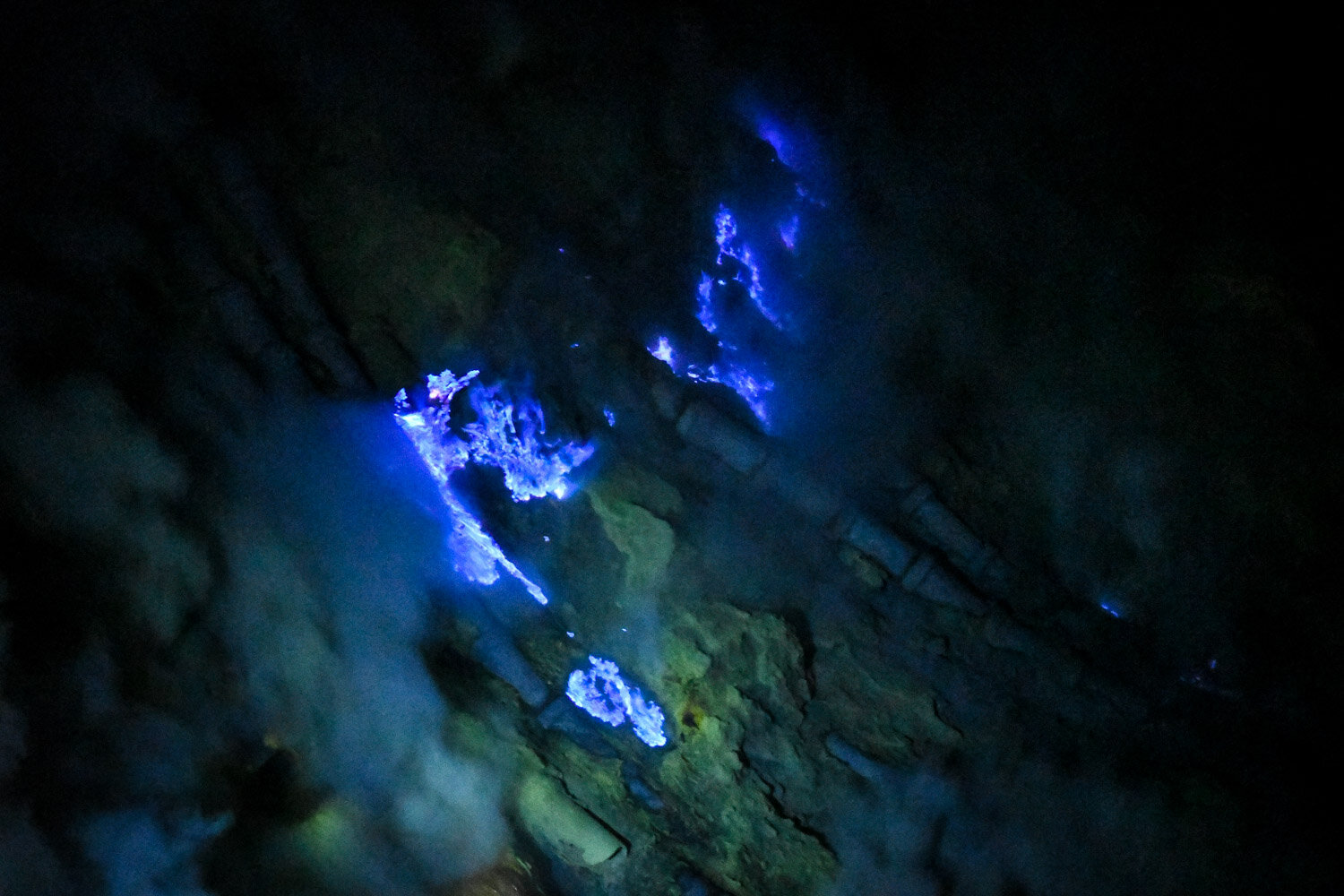 Take it all in while it's visible because as quickly as it appeared, it can disappear into another cloud of sulfur gas and can remain hidden for quite some time. There is a rocky ledge where you can view the flames from a distance that's great enough to not be affected by the sulfuric gasses, but close enough to get a great view (and picture with a zoom lens).
It is possible to get up closer to the Blue Flame, but we'd suggest doing so quickly for two reasons:
Don't create unnecessary crowding: As you get close to this natural phenomenon, you'll also be right up by the sulfur mine where miners are working. Be mindful about this and know they are doing a very difficult and dangerous job. Be respectful and don't crowd them. (We're going over the sulfur mine in detail in the next section.)

Sulfuric gases can be harmful: While you're standing near the Blue Flame and the sulfur mine, you will be in the space where toxic gasses can come in and engulf you at any moment. Even with a gas mask on, it can be unbearable. I'd imagine it affects everyone differently, but for me, it felt incredibly difficult to breathe and my eyes burned so much that it was nearly impossible to open them. I suddenly felt nauseous and had to walk away. I've never experienced anything quite like it, and it was worse than I had initially thought it would be. It made me really think about the miners who do this every single day.
In summary: We'd still recommend walking up to the mine and flame if you feel up for it, but just be prepared to make it a quick stop in case you are affected by the sulfuric gas like we were.
What causes the Blue Flame?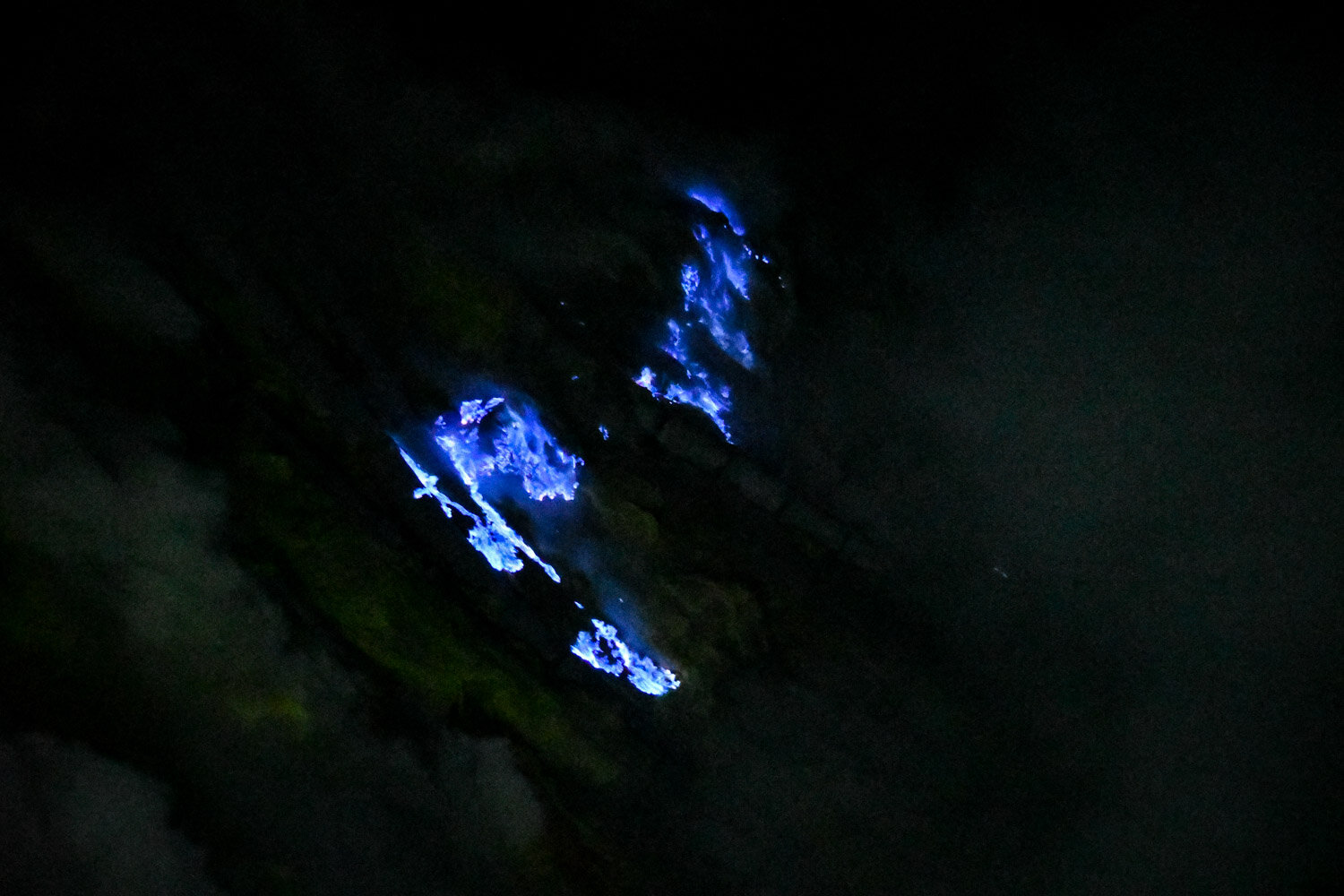 This other-worldly sight may look magical, but it's actually created by the combustion of sulfur. On a very basic level, the volcano's sulfuric gases seep through the rocks until they reach the earth's surface and are met with air. This causes a reaction that turns the gas blue, creates flames as well as liquid sulfur.
Important caveat: It is not guaranteed that you will see the Blue Flame. We've heard they tell you it's a 50/50 chance of seeing this phenomenon, as the conditions are unpredictable, and at times are too dangerous for people to hike down into the crater.
Another thing to note is that the Blue Fire is only visible in complete darkness and once the sun starts to rise, you won't be able to see it. Additionally, depending on the conditions, it can be a spectacular sight or just meh. We thought it was super cool, but we've heard of others who didn't get great views of the flames on the day of their hike.
The Sulfur Mine at Ijen Crater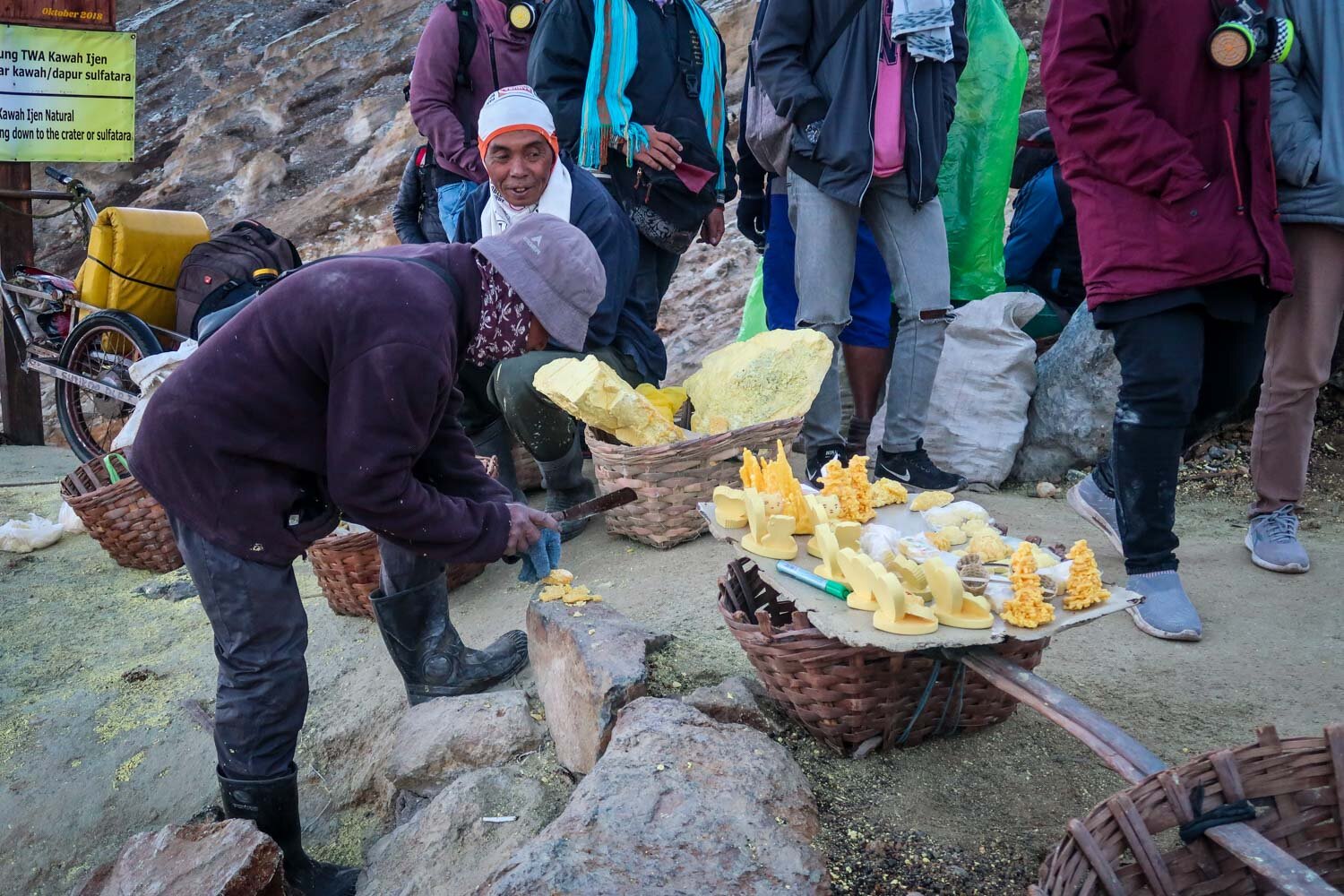 At the base of the Kawah Ijen lake sits one of the most concentrated sulfur deposits in the world. Since 1968, this has been a working mine that is known today as the most dangerous sulfur mining operation in the world.
In fact, it was featured on the BBC's Human Planet and was described as one of the "most toxic places on the planet". Pair that with the dangerous work conditions and lack of safety equipment, and it's easy to see why the men working as miners here have one of the world's most dangerous jobs.
Instead of the gas masks that all tourists wear, the miners use only a damp cloth to cover their nose and mouth.
Each day, they make the arduous climb up to the mine on foot, then brave noxious gases to extract chunks of sulfur, aptly nicknamed "devil's gold", from the volcano.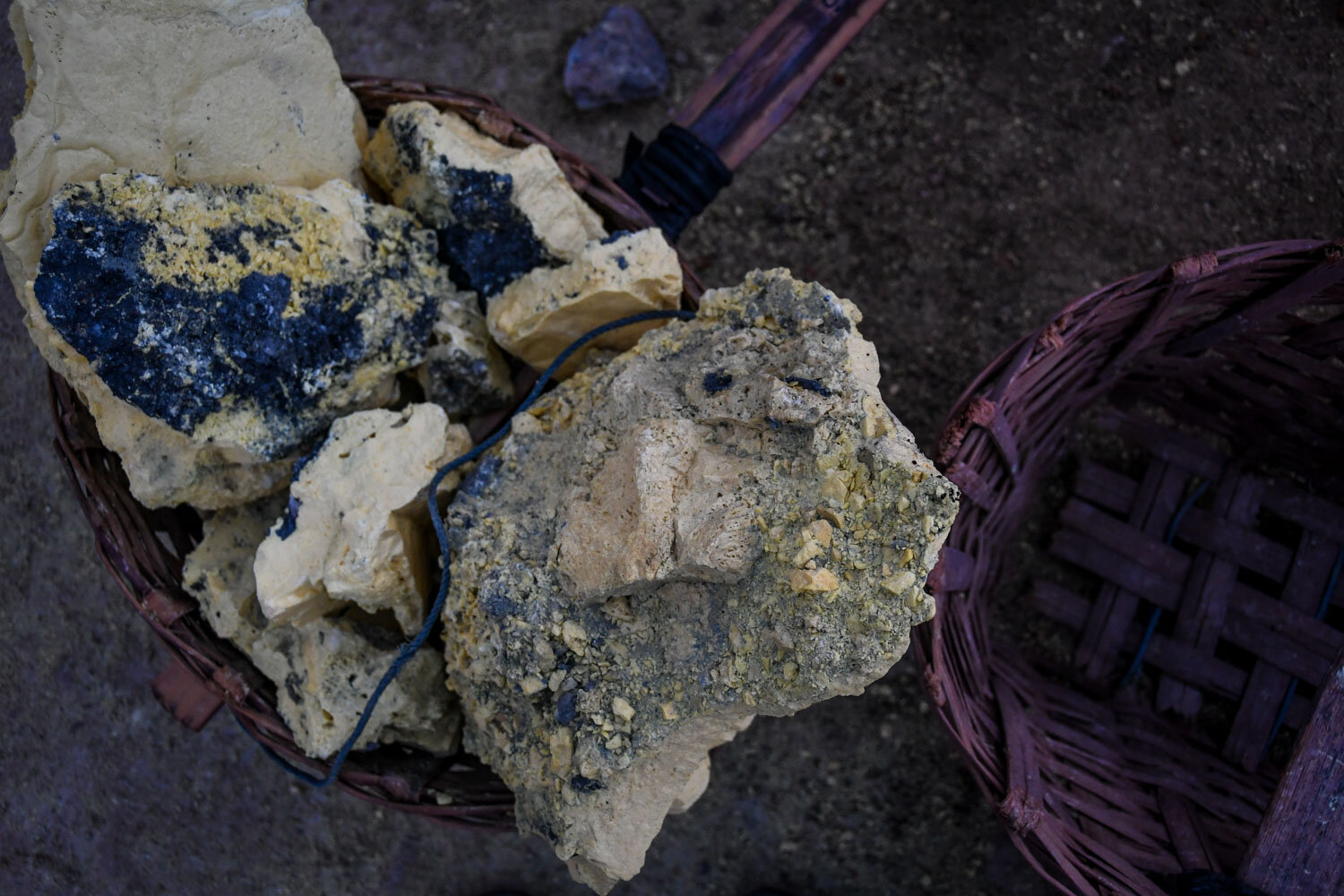 These pieces of sulfur are then placed inside woven baskets until they have a full load, which can weigh up to 200 pounds. And their work isn't done yet. Now, it's time to carry the load out of the crater – past crowds of tourists – and down the mountain. The miners often make this journey twice per day.
For this back-breaking and dangerous work, they're paid between $10 – $15 USD per day. (Payment is based on the weight of sulfur they extract.)
To get a glimpse of the conditions these miners work in, we'd highly recommend watching this clip from the BBC's Human Planet, in which the camera equipment can't even work properly because of the toxic air.
If this sulfuric gas is corrosive to camera equipment, what does it do to the miners' health? Many miners experience long-term health problems after being exposed to these conditions day after day. The sulfuric gases can start to dissolve their teeth and can corrode their skin. According to the BBC, 74 miners have died over the last 40 years from these dangerous conditions.
In this video, you'll hear BBC cameraman Keith Partridge say that in all his years of filming in locations all over the world, he's never seen anything like Ijen. In his own words, he said it felt like you're entering "the jaws of hell".
Keep in mind:
Always give right of way to the miners. They are at work and need space.

Be respectful and ask permission before sticking cameras in their faces (this is true for anyone).

Some miners sell small sulfur carvings to make extra money. I'm not exactly sure what you'd do with a piece of sulfur, but it is a way you can help support the miners.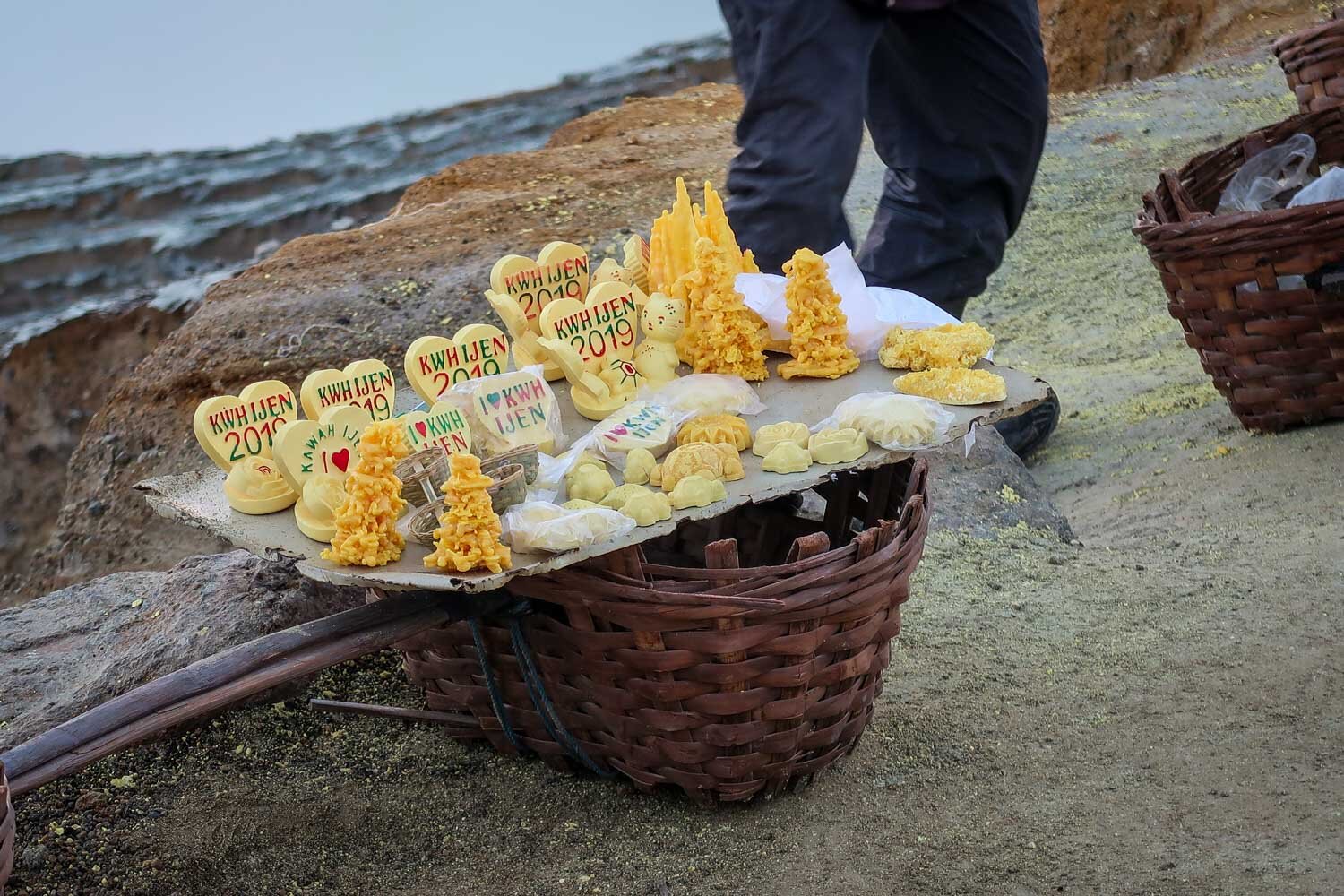 Things to know about sulfur gas
Sulfur gas can really irritate your eyes and lungs, causing a burning sensation and uncontrollable coughing. And apparently if you breathe in too much, some people can experience diarrhea.

Take off jewelry before this hike because the sulfuric gasses can tarnish it. Tip: If you forget to take it off (or don't want to), toothpaste makes a good cleaner!

Contact lenses can get irritated with the sulfuric gases, so it may be a good idea to pack your glasses just in case.

Your clothes will smell like sulfur after this trek. We borrowed jackets from our guesthouse (because we hadn't properly packed – don't make this mistake!) and they reeked of sulfur from the previous hikers who had used them. As long as you shower and change clothes after the hike, you should be fine. And after washing our clothing, the smell went away.
Lake Kawah Ijen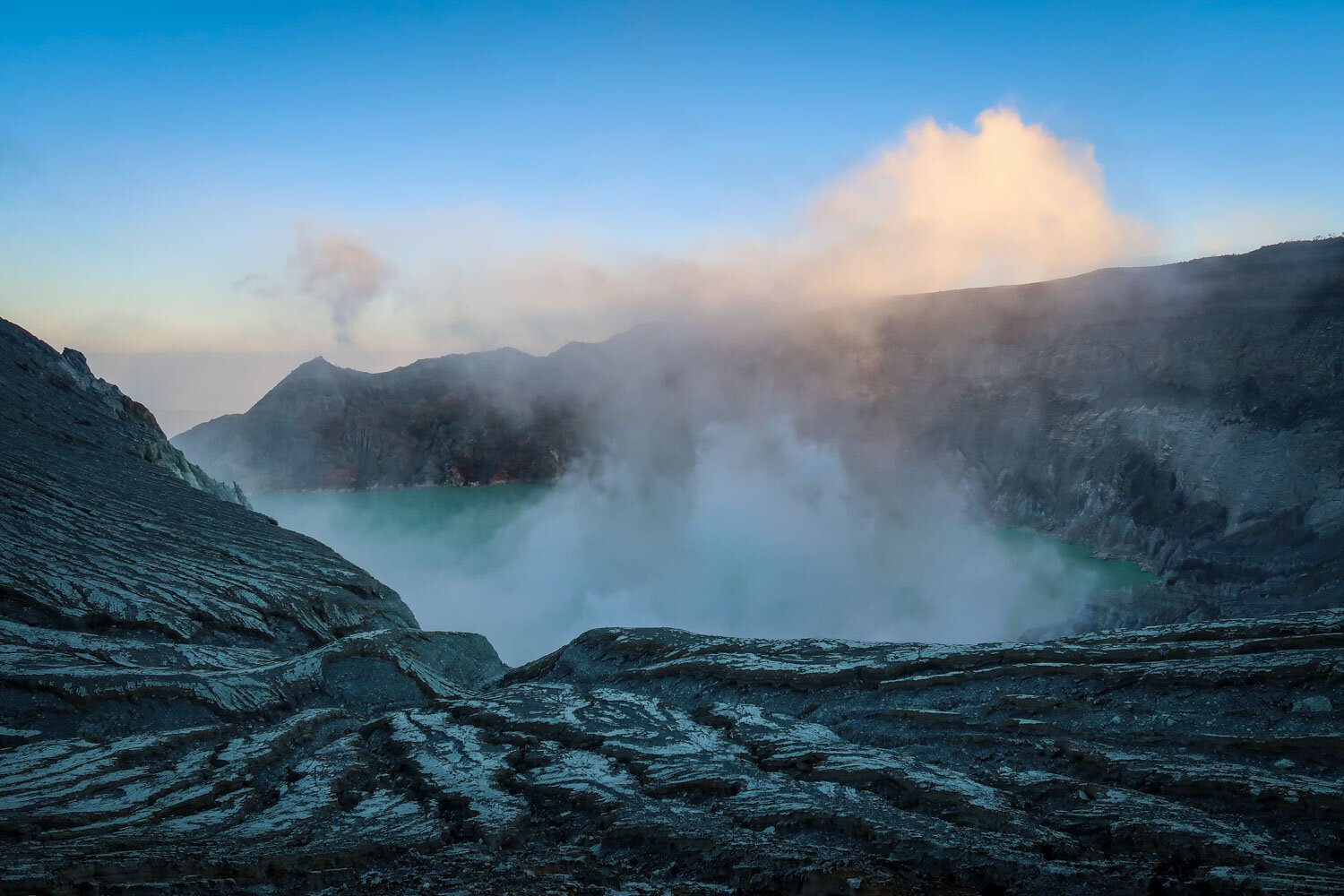 This is the largest acidic lake in the world. And while its vibrant turquoise waters might remind you of those at a tropical beach, it is definitely not a lake for swimming…
The water in Kawah Ijen contains toxic levels of hydrochloric and sulfuric acid. Plus, it has a pH level that is more acidic than battery acid and caustic enough to dissolve metal. Yikes!
While dangerous, the lake is stunning and is a sight you won't soon forget.
Hiking out of the crater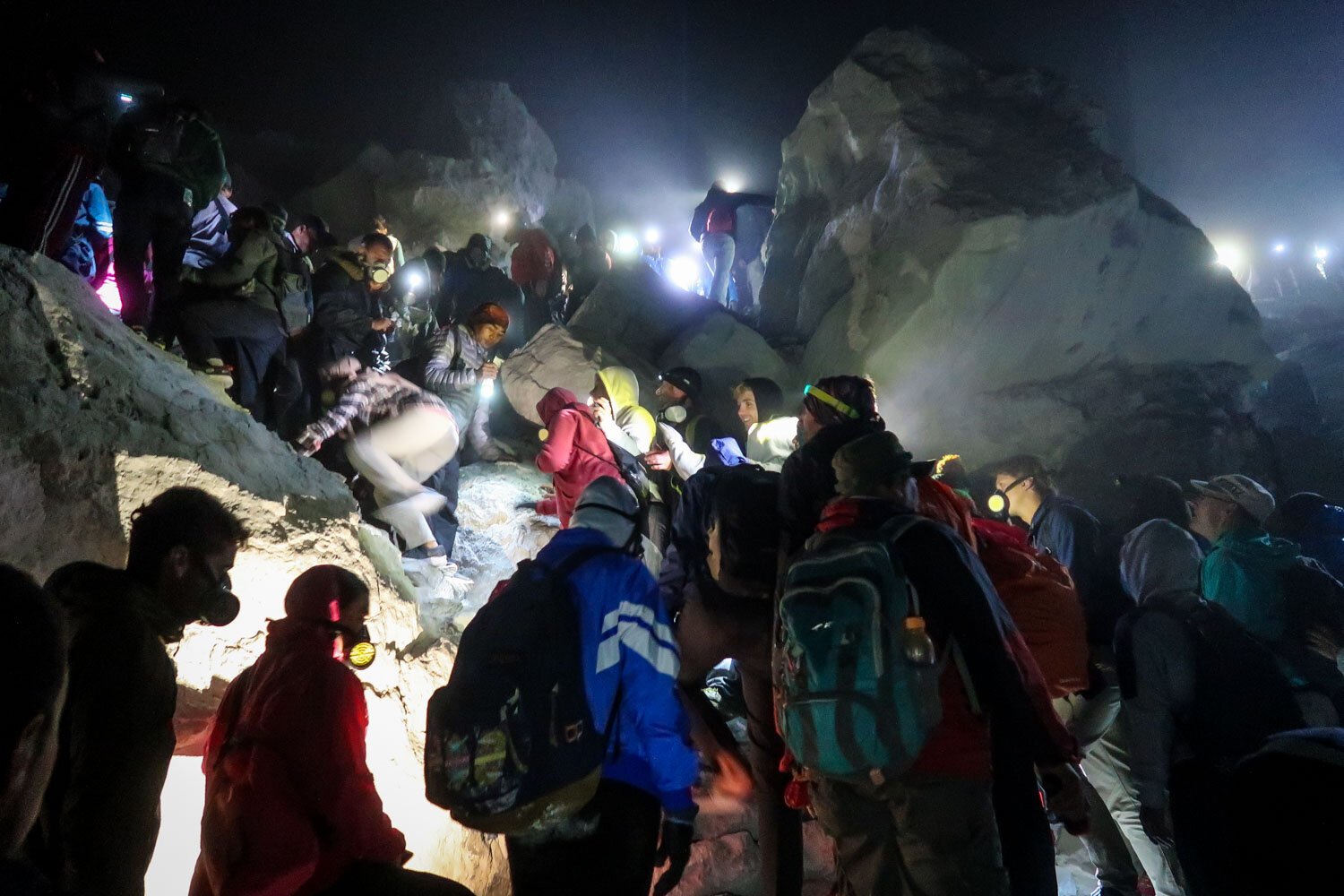 After you've had your fill at the Blue Flame, start your hike back up to the crater's rim because the sun will be rising soon, and you'll want to scope out a spot to watch the sunrise.
To be blunt, our hike on the way back up was absolutely chaotic. There were still many people making their way down to the Blue Flame, and the narrow and rocky path should really only accommodate one-way traffic in most places, so as you can imagine, it was very congested.
Many of the local guides were stopping everyone who, like us, was headed uphill. Since the Blue Flame is only visible for a short period of time, they were trying their best to get everyone down to see this phenomenon.
But this caused serious backups and there was pushing, arguments, people going off trail, and somewhat dangerous situations. A large rock fell on Ben's foot at one point in the scuffle.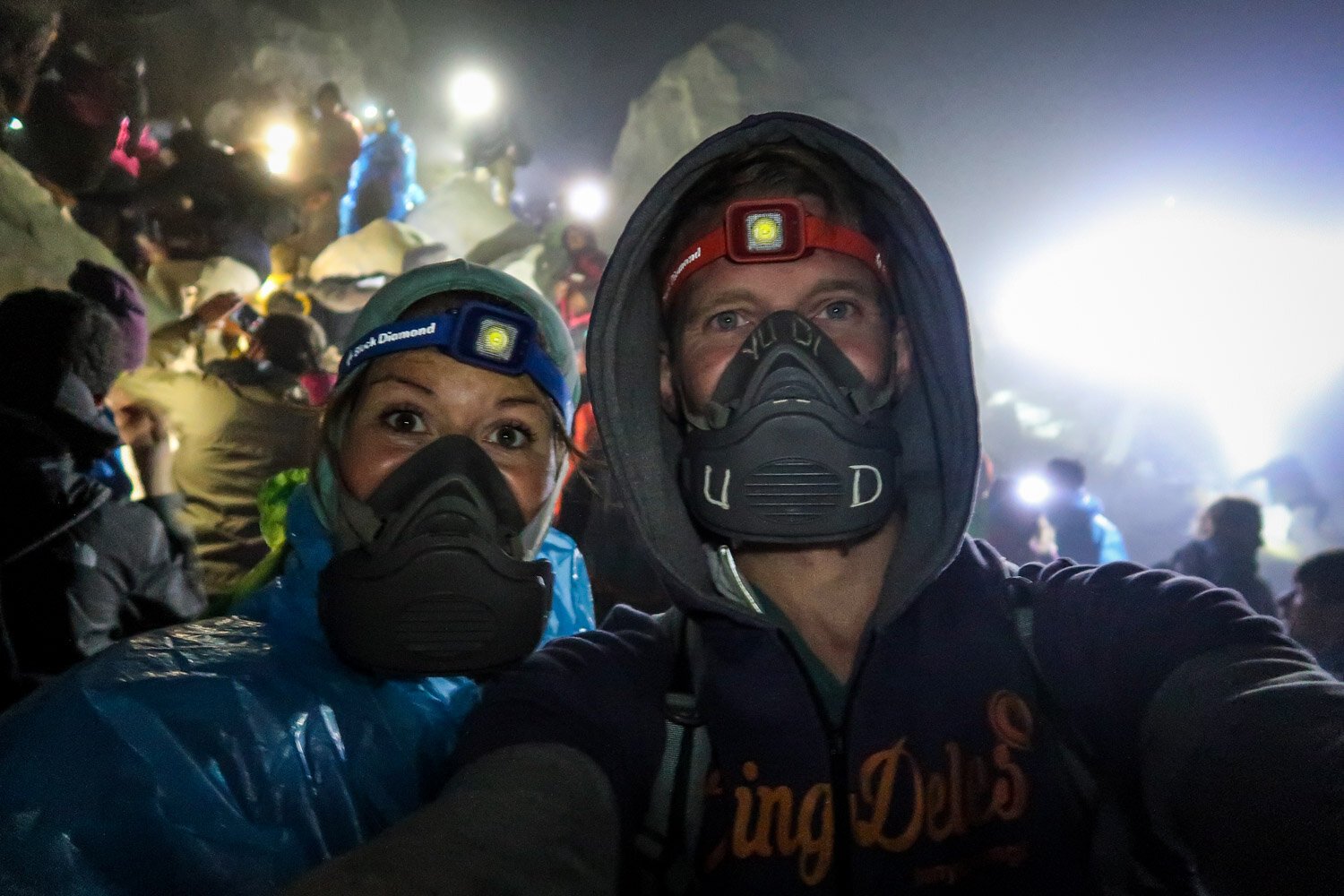 How to avoid the madness: Be prepared to be patient, and it probably goes without saying that the sooner you get to the Blue Flame and start heading back up, the better.
This also illustrates how crowded it can get on the weekends (which is when we hiked). We've had friends hike on weekdays and said it was not nearly this crowded, so avoid weekends if possible.
Sunrise at Ijen Crater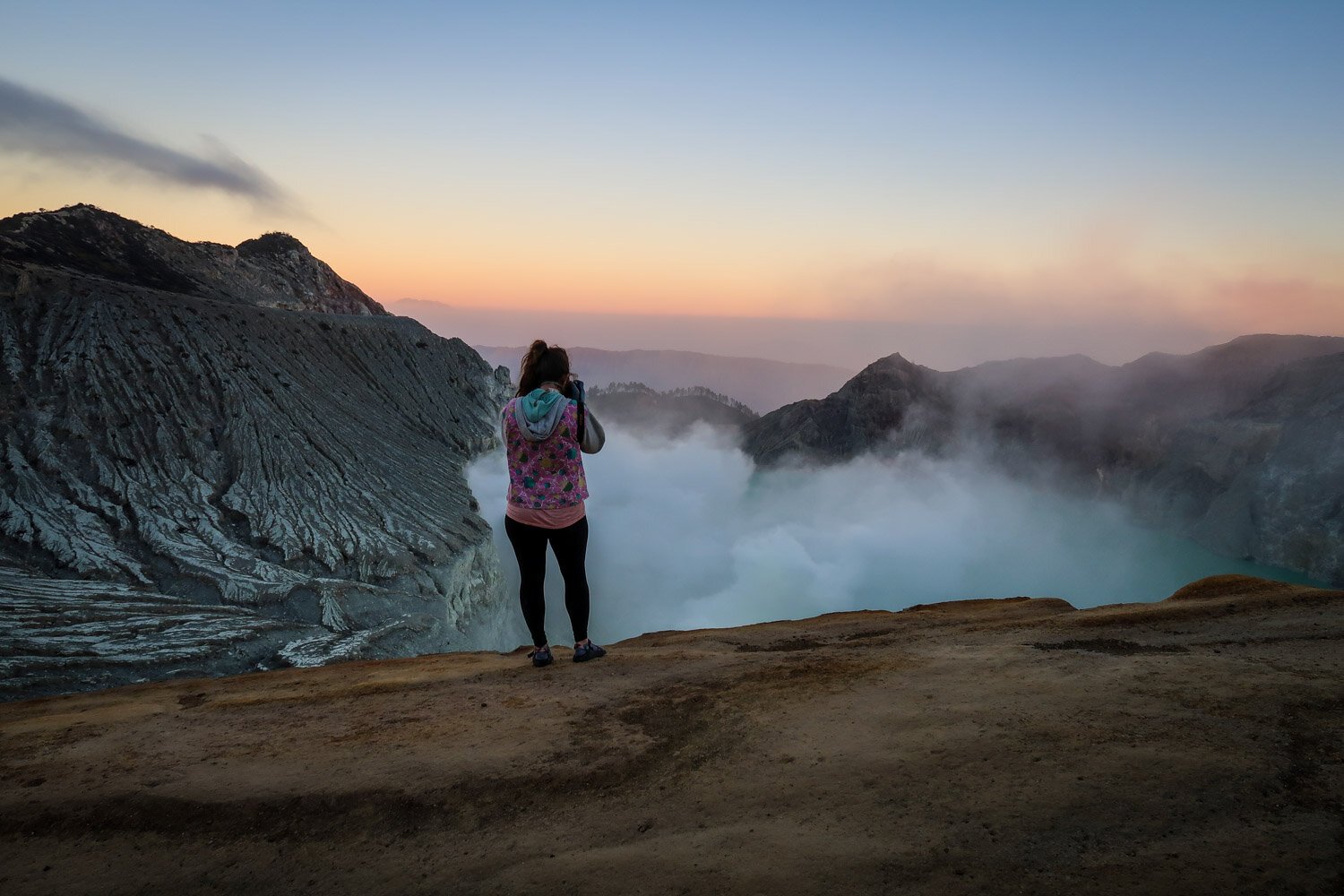 Up until now, most of your experience will have been in complete darkness, and now is the time for you to finally lay your eyes upon this magnificent place!
Once you make your way back up to the crater and walk further along the rim. You can continue moving or look out for a spot to snag where you can sit and watch the beginning of sunrise.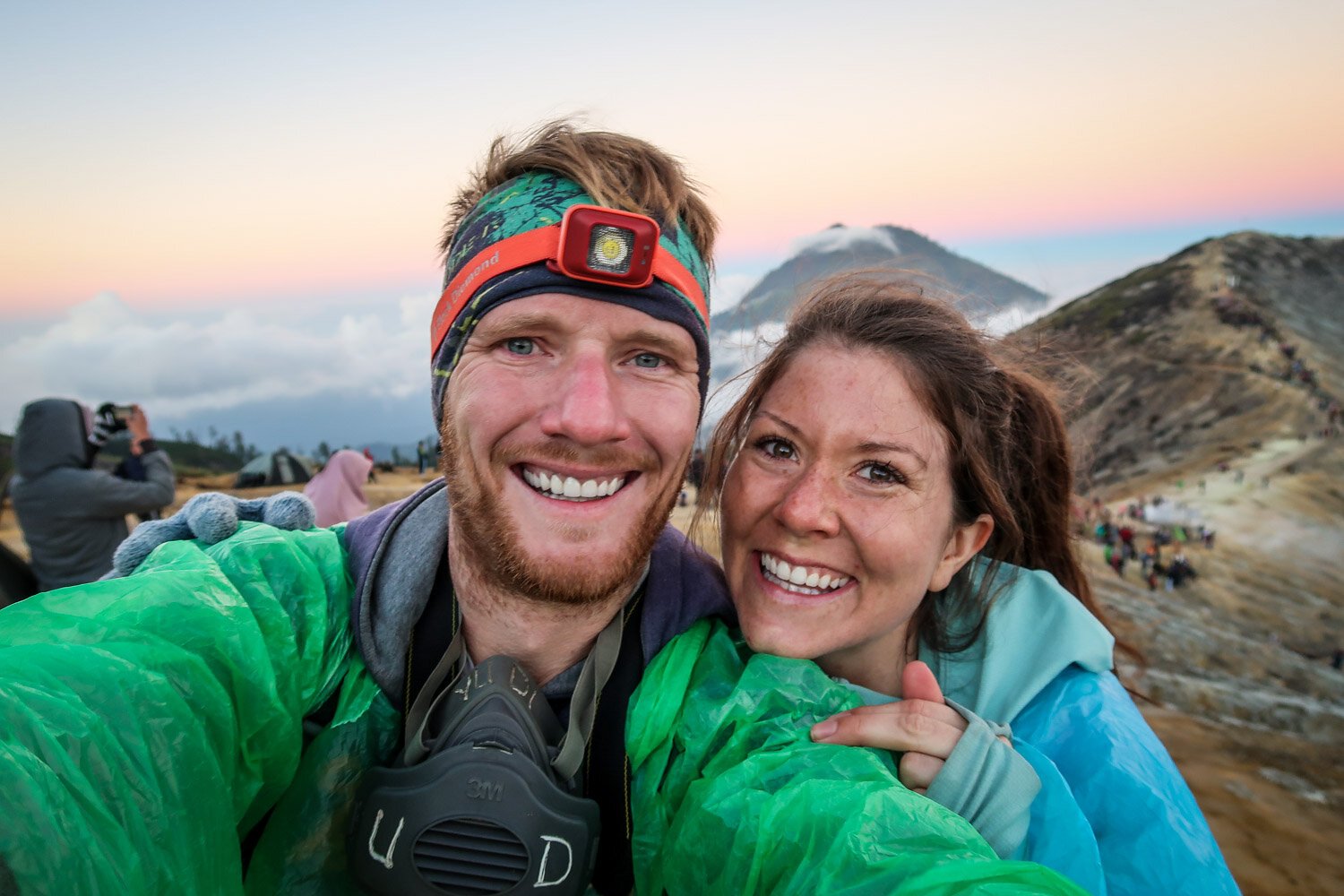 You'll likely have a bit of time to wait as the sun starts making its way up in the sky. We'd recommend packing a sarong or blanket to sit on (and to cover up with, as it can get very cold and windy!). It might also be nice to have some light snacks, or even headphones to chill out with for a while.
Photography Tip: As the sun rises in the sky it'll cast a beautiful pink glow over the crater, so get all your sunrise pictures before the lighting gets too harsh. Walk around and get lots of different angles!
Hiking back down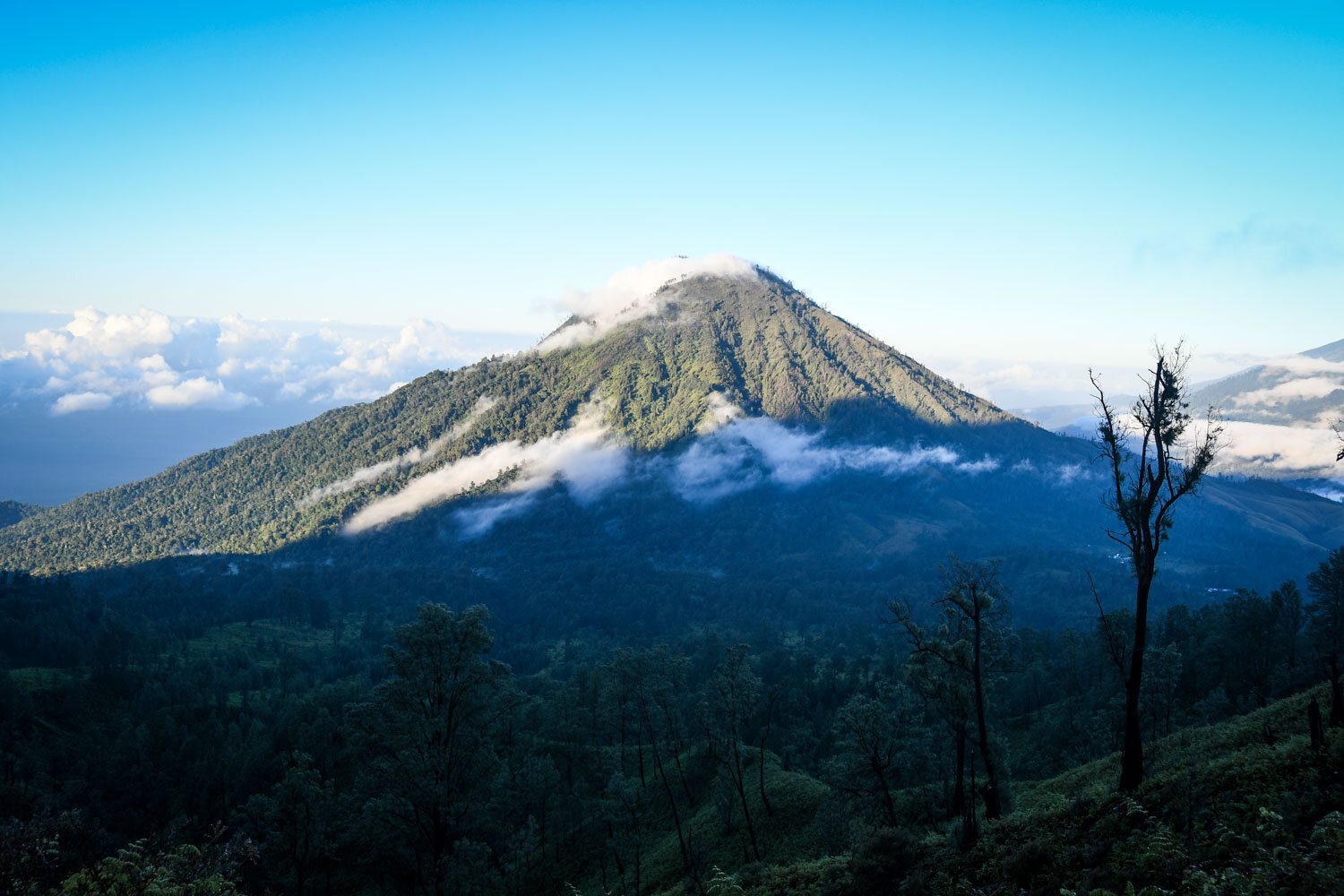 First off, now that it's light out, you'll be able to enjoy the views on your way down a little more. Keep your camera out because there are some nice mountain viewpoints as soon as you start heading downhill.
And speaking of downhill… the steep hike down can be really tough on your knees. (It was for me!) You'll also notice some of the sulfur miners shift job roles and offer "taxi" rides down to the bottom of the mountain.
For a ride in these push carts, we saw them charging 300,000 IDR ($22 USD), but it's an option if you're too tired to walk down on your own.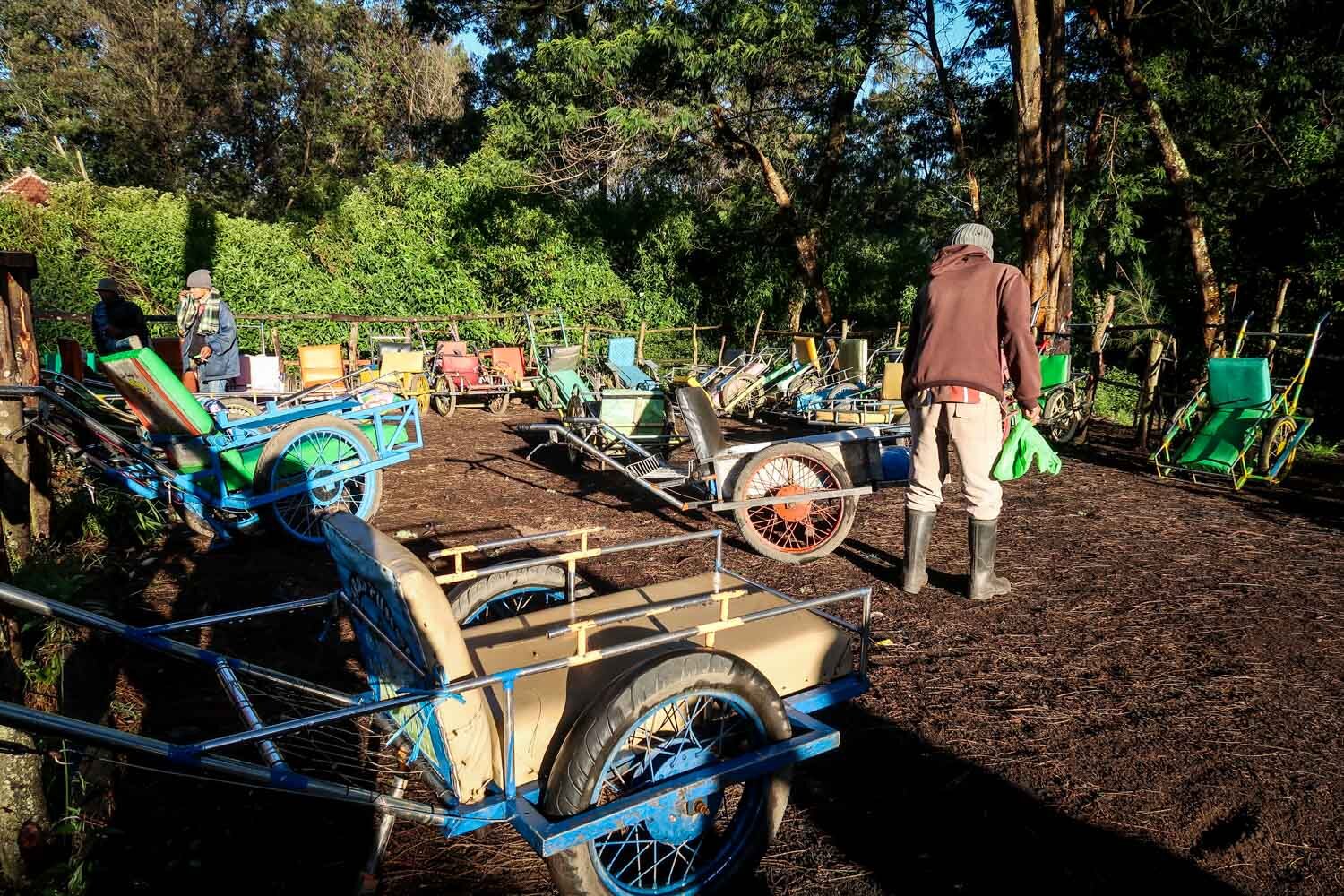 Ijen Crater FAQs
Now that you know what to expect during the hike itself, let's talk logistics…
Do you need a guide to hike Ijen Crater?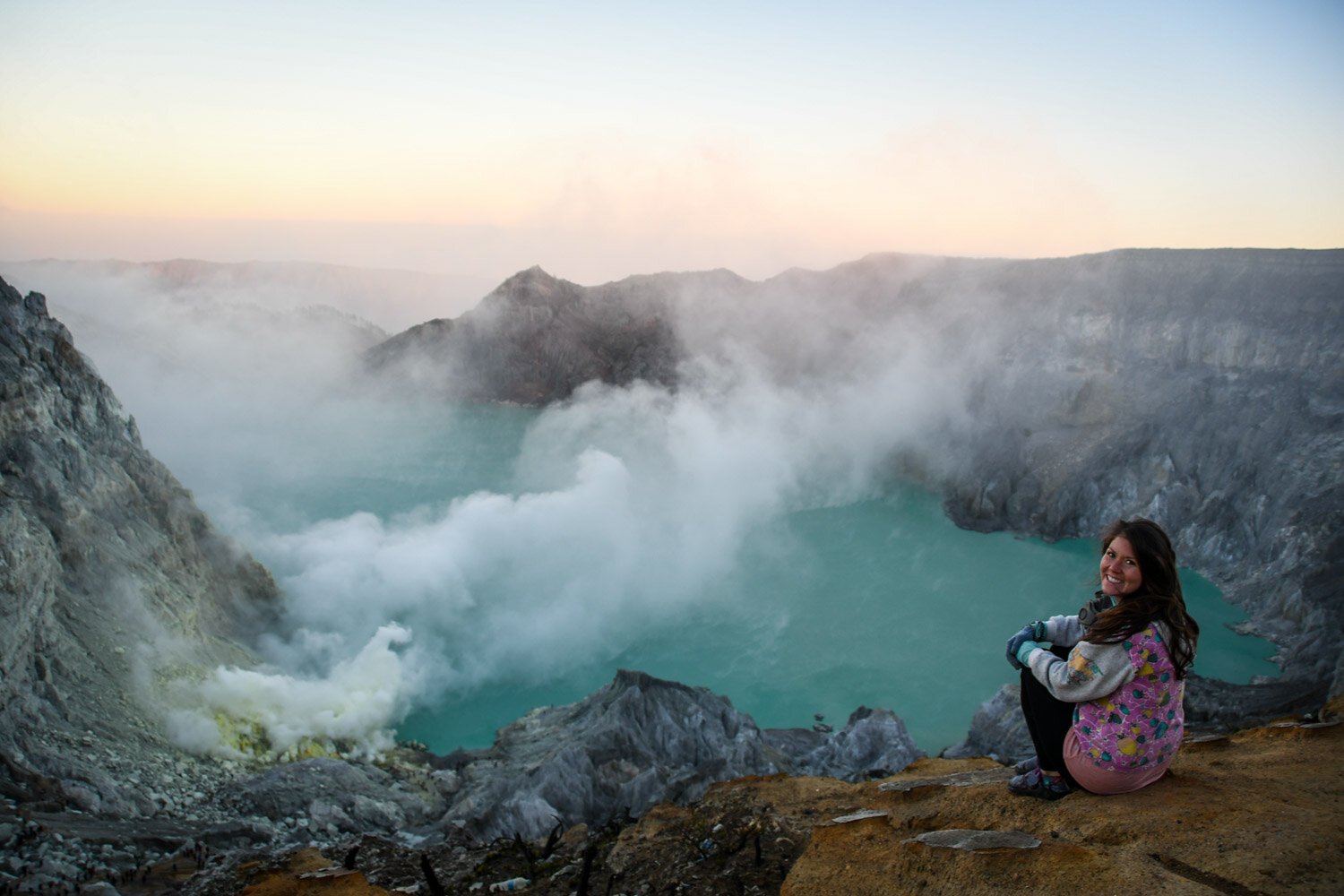 The short answer is no.
There's really no way you can get lost on the trek. It is one path and there will be many, many other people doing it at the same time as you. And unless you book a private guide, you will likely be separated from your tour leader and won't really even have a guide with you at all (this is what happened to us).
We had our guesthouse book a tour for us, and we were picked up at midnight in a van with a handful of other people). Once we arrived at the starting point of the trail, we were put into a larger group of nearly 20 people.
Side note: I think they may split people up depending on age because it seemed everyone in our group was around our age or younger. There seemed to be other groups made up of just older people.
We then had to wait around until our tour guide decided to start. Within 15 minutes, our entire group was split up. We didn't see our "guide" again until we got down to the bottom after our hike.
In our experience, it seemed like many of the guides eventually lost their groups along the way, but then offered support to all hikers passing them by. In certain places, the random guides told people when to put on gas masks, or helped to direct the flow of "hiking traffic".
How much does it cost to hike Ijen?
The answer to this is going to vary based on if you go through a tour or on your own.
We arranged a tour through our guesthouse and these were the prices (in 2019):
Weekday tour: 275,000 IDR ($19.80 USD)

Weekend tour: 325,000 IDR ($23.40 USD)
Our "tour" included the following:
Transport to and from Ijen Crater

Entrance Ticket

Guide (who didn't really stick with anyone in the group)

Gas mask

Headlamp

Bottle of water

Snack of banana fritters after the hike

Short stop at a waterfall on the drive back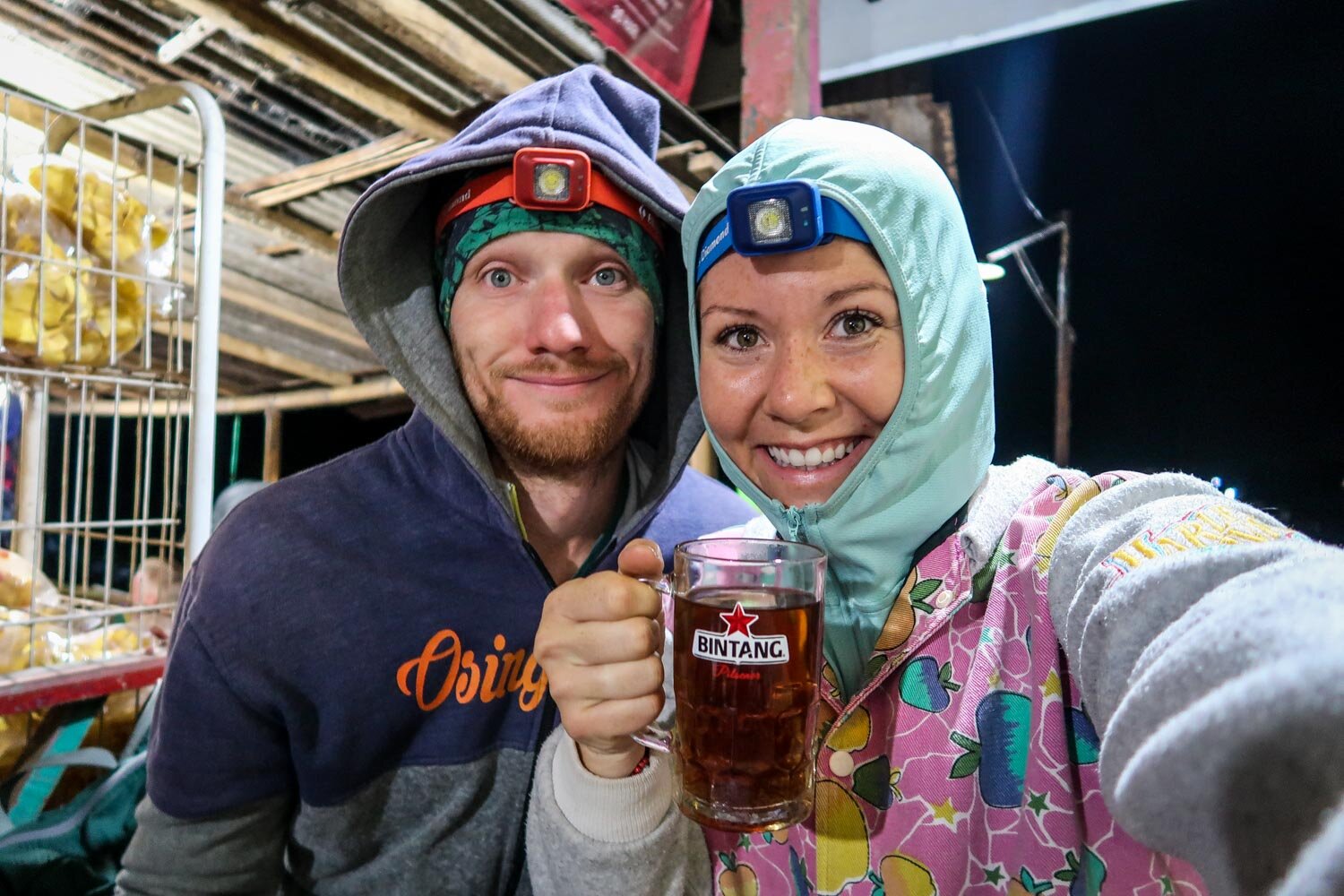 Costs for going on your own:
If you go on your own, you will need to arrange transportation or drive yourself (remember, you'll need to start driving around midnight or shortly after).
In addition to paying for transport, you'll also have to pay for the following:
Entrance Fee:
150,000 IDR for foreign visitors ($10.80 USD)

5,000 IDR for domestic visitors ($0.36 USD)
You'll need to get a gas mask (trust us!), which you can rent for around 40,000 IDR (under $3 USD) at the starting point.
Tip: Be sure to pack your own headlamp!
Conclusion: As we already mentioned, you don't really need a guide, per se, but when you add up the costs of the entrance fee, the gas mask, and transportation to and from the crater, it won't save you a ton of money to do everything on your own. Plus, just having everything taken care of for you can be nice.
Ijen Crater Itinerary & Hike Notes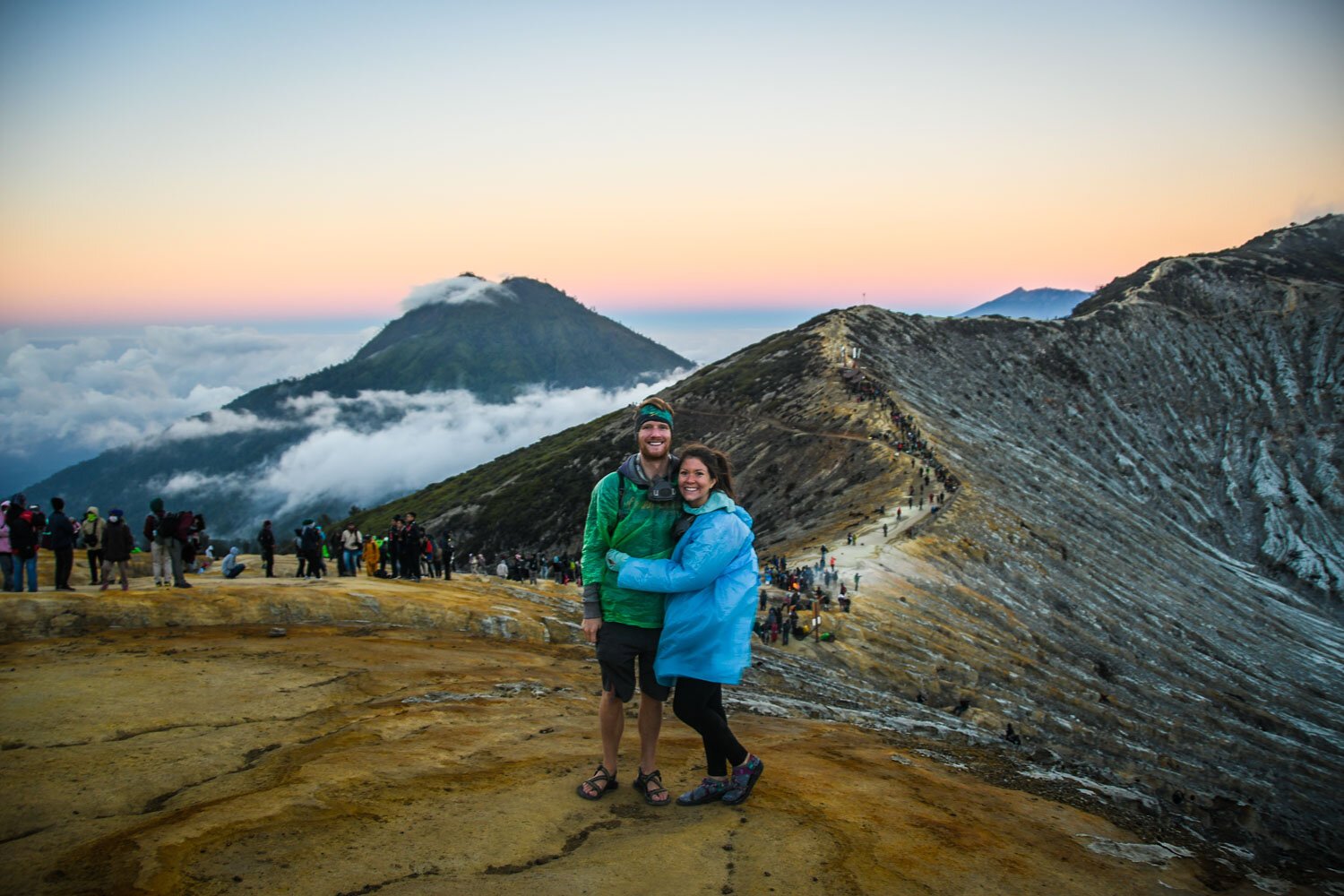 We took notes during our experience to give you a better idea of what to expect timing-wise. You're welcome! Times may vary based on your tour operator.
Note: We booked our tour through Banana Homestay, and people in our group were from all sorts of guest houses throughout Banyuwangi, so I don't think it really matters who you book through.
12:00 am: Pickup from guesthouse (we've heard some other tours pick up at 12:30 a.m.)

1:15 am: Arrived at Ijen park

ordered coffee/tea from a small shop

went to the bathroom

bought ponchos because it was starting to rain

group started to gather (roughly 20 people) and we got short "orientation" from our guide

2:10 am: Started the hike, even from the beginning it was pretty steep (people started going their own pace, and after about 15 minutes, we weren't really in a group anymore).

2:45 am: The trail started to flatten out a bit, so it started getting easier.

3:15 am: We arrived at the top edge of the crater where we started to descend to the Blue Flame. This is where we were told to put our gas masks on.

3:50 am: Arrived at the bottom of the crater where we could see the sulfur mine, the blue flames and the lake up close.

4:20 am: After hanging out in the crater for a bit, we began the hike back up. The tiny path had a massive traffic jam with people trying to go both ways.

4:50 am: Made it back up to the top after being super backed up on the trail. We found a spot to sit down and watch the sunrise.

5:20 am: Lighting started to get really nice, so we got up and started walking around to take photos from different angles.

6:00 am: Sun was fully up and the lighting wasn't quite as nice, so we decided to start heading down the mountain.

7:00 am: We reached the parking lot where we were supposed to meet our guide and driver. They told us to wait for the rest of the people, so we walked around a bit and bought snacks (boiled corn and hot tea).

7:40 am: We left the park

8:20 am: We stopped at a small waterfall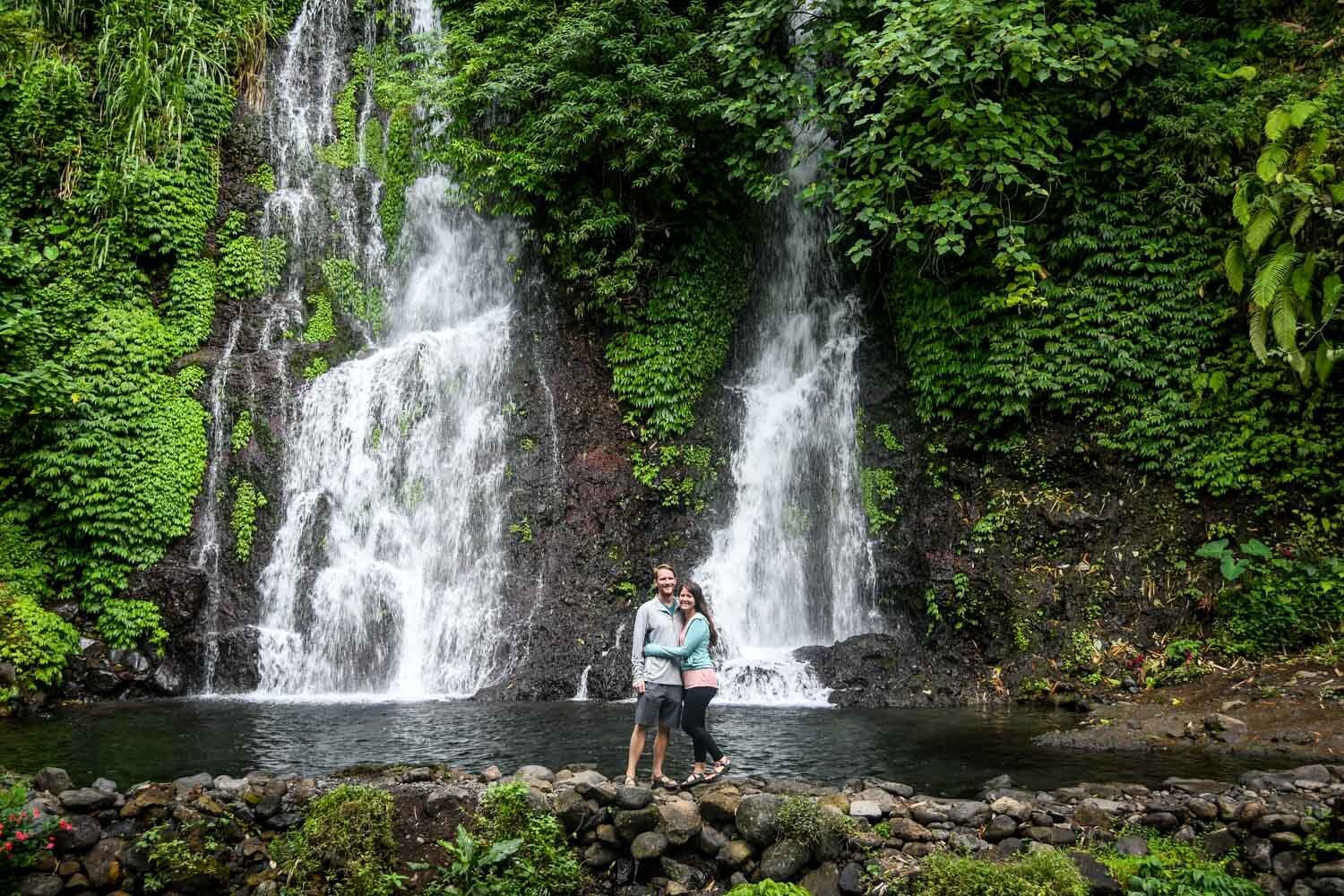 9:15 am: We started heading back to Banyuwangi

9:45 am: Dropped off at our homestay in Banyuwangi
Things to know about hiking to Ijen Crater
Try to avoid this activity on weekends or holidays if possible. According to the Jakarta Post, roughly 1,000 tourists climb to Ijen Crater each day and that number doubles on the weekends. Unbeknownst to us, we visited during an Indonesian holiday (that also fell on a weekend) and this hike was incredibly busy. The section of trail going down to the Blue Flame was almost unbearable (and dangerous) with so many people trying to go down and up. We've heard from friends who visited on a weekday that it was not so crowded for them.

The hike up is completely in the dark. There are no viewpoints or really any good places to rest. You'll likely be tired and bored, but push through! Sometimes just knowing what to expect helps a lot. Oh, and if it is a clear night, look up to the sky to see a brilliant display of stars. It was cloudy for most of our hike, but every once in a while the clouds would part and we'd see the stars!

The Blue Flame is only visible until just before sunrise. This means anyone who takes a bit longer on the hike will be rushed to get down and see the flame. There were many people still waiting in line during our visit who likely missed this sight.

Your trip leader will provide a gas mask and a headlamp. Don't worry, you will be told (by the many guides on the trail) when to put on the gas mask. You don't need it for the majority of the hike.

The sulfur gas can be unbearable, even with a gas mask on. I've never experienced anything like it. From afar, you can smell the sulfur and notice a slight stinging in your eyes, but if you go up next to the sulfur mine and get wrapped up in one of the frequent clouds of sulfur gas, it can be nearly impossible to breathe or open your eyes. I got sick to my stomach and had to walk away from the sulfur. I don't want to scare you away, but we think it's best you are prepared…

We're not lying when we say it gets cold (and windy!) up at the top. Temperatures can get down to 40ºF (5ºC), so pack those layers! If you didn't pack properly, there vendors selling cheap gloves and hats at the start of the hike. You can also check to see if your guesthouse has any warm clothing you can borrow (ours did!).

Don't wear jewelry on this hike, as the sulfuric gasses can tarnish it. If you forget to take it off, toothpaste has worked for me to clean off tarnished jewelry!

There are no bathroom facilities on the hike. Be sure to go before you start the trek.

Have your camera ready for the hike back down. There are some really beautiful views that you can now enjoy in the daylight.

Pack out ALL waste you create. If we see any litter on the ground, we like to collect it and bring it down with us as it requires little effort and is a nice way to "give back" to Mother Nature for providing the beauty we just encountered.
Best time to hike to Ijen Crater
Java's dry season falls between April and October, meaning you'll have better chances of clear skies during this time. We hiked in late July and started the hike in a drizzle, but the rain cleared up eventually, so it's possible to encounter rain even during the dry season.
The park is open year round, so you can still make this hike during other parts of the year, but you'll definitely want to be prepared with rain gear.
What to wear & what to pack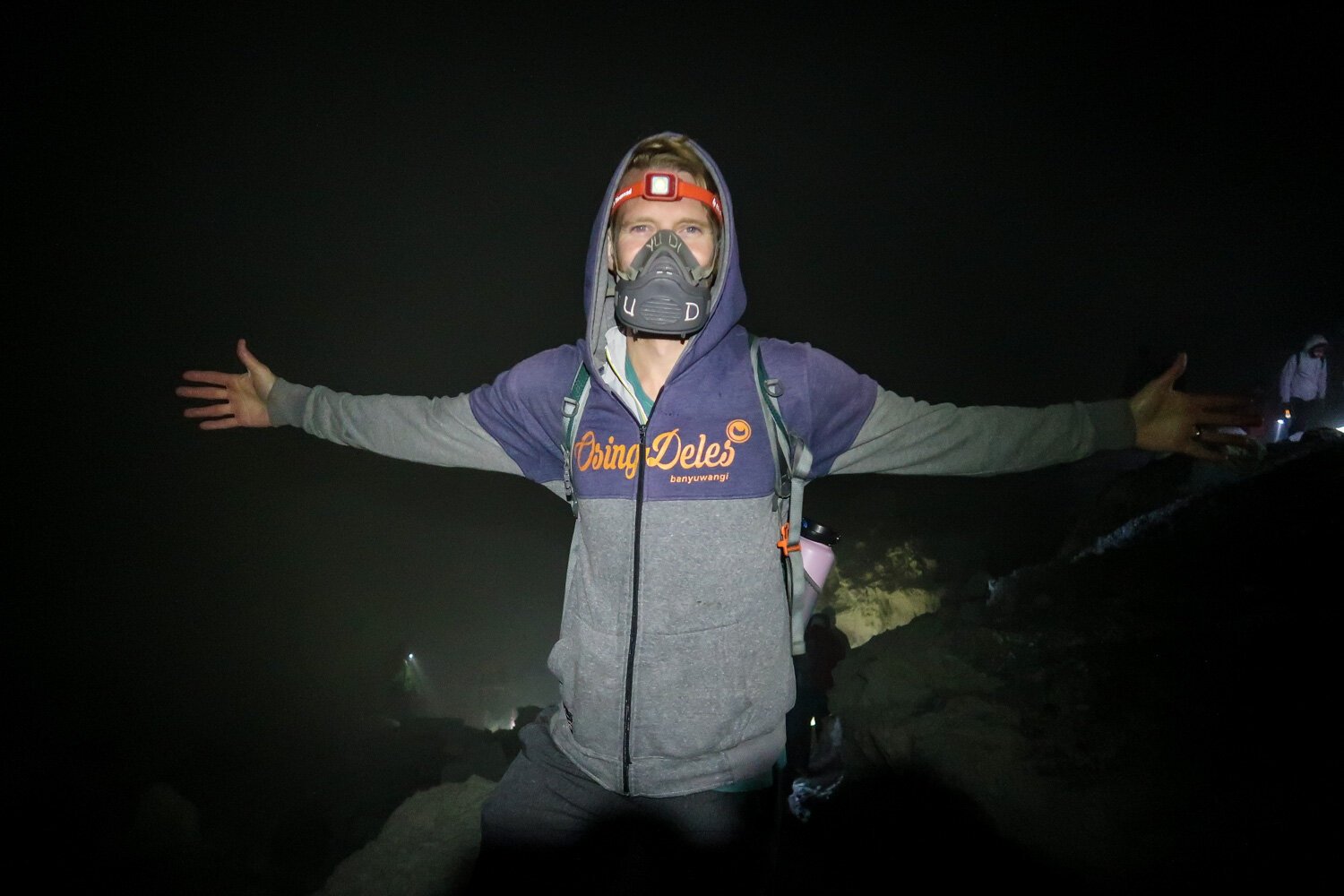 warm layers: it gets very cold and is windy at the top of the crater

gloves and hat: like we said, it gets COLD! If you don't have any with you, there are some cheap ones available for purchase near the start of the hike. They should cost less than $5 USD.

rain coat: It rained during our hike and since we hadn't planned ahead, we had to resort to buying a poncho from local vendors at the start of the hike for 15,000 IDR ($1 USD). We wished we had brought our more durable rain coats, if even just to protect us from the wind at the top of the crater.

headlamp: Our tour leader provided headlamps, but if you prefer you can bring your own.

gas mask: If you're on a tour, you'll usually be given a gas mask, but you can also rent one for around 40,000 rupiahs in the parking lot at the start of the trek if it's not provided.

closed toe shoes for hiking

water

toilet paper: As with most places in Java, it's a good idea to BYOTP (bring your own toilet paper) because many restrooms don't provide tissue. As explained, there are no bathroom facilities on the hike itself (only at the entrance).
Optional things to pack:
hiking poles: this is up to personal preference, but the hike is very steep and can be hard on your knees (especially on the way down)

sarong or blanket: for sitting on and wrapping up with while waiting for sunrise

headphones: Not gonna sugar coat it, the hike up is boring. It's steep and completely in the dark, so if you think music, an audiobook or a podcast will keep you awake and motivated, bring a pair of earbuds.

snacks: This hike is so early that you likely won't be all that hungry until you're sitting around and waiting for sunrise. We had packed granola bars, which was nice while we sat and waited for the sun. There are also limited snack options available at the base of the volcano – like boiled corn, instant noodles, and cookies, as well as instant coffee and tea – that you can purchase before or after your hike.
How to get to Ijen Crater
The closest major town to Ijen is Banyuwangi, and this is likely where you'll stay before and/or after your trek. You can easily get to Banyuwangi via a short ferry ride from western Bali, or you can fit this in as your last stop on your Java itinerary.
Psst! There are so many more things to do on the island of Java, that we'd highly recommend planning your trip to Ijen Crater as part of a 1-week trip around East Java (or longer if you have time!).
But if you don't have the time and are just traveling around Bali, it is possible to book a tour that will bring you from Bali, to Kawah Ijen, and back to Bali again.
Book your Ijen Crater Tour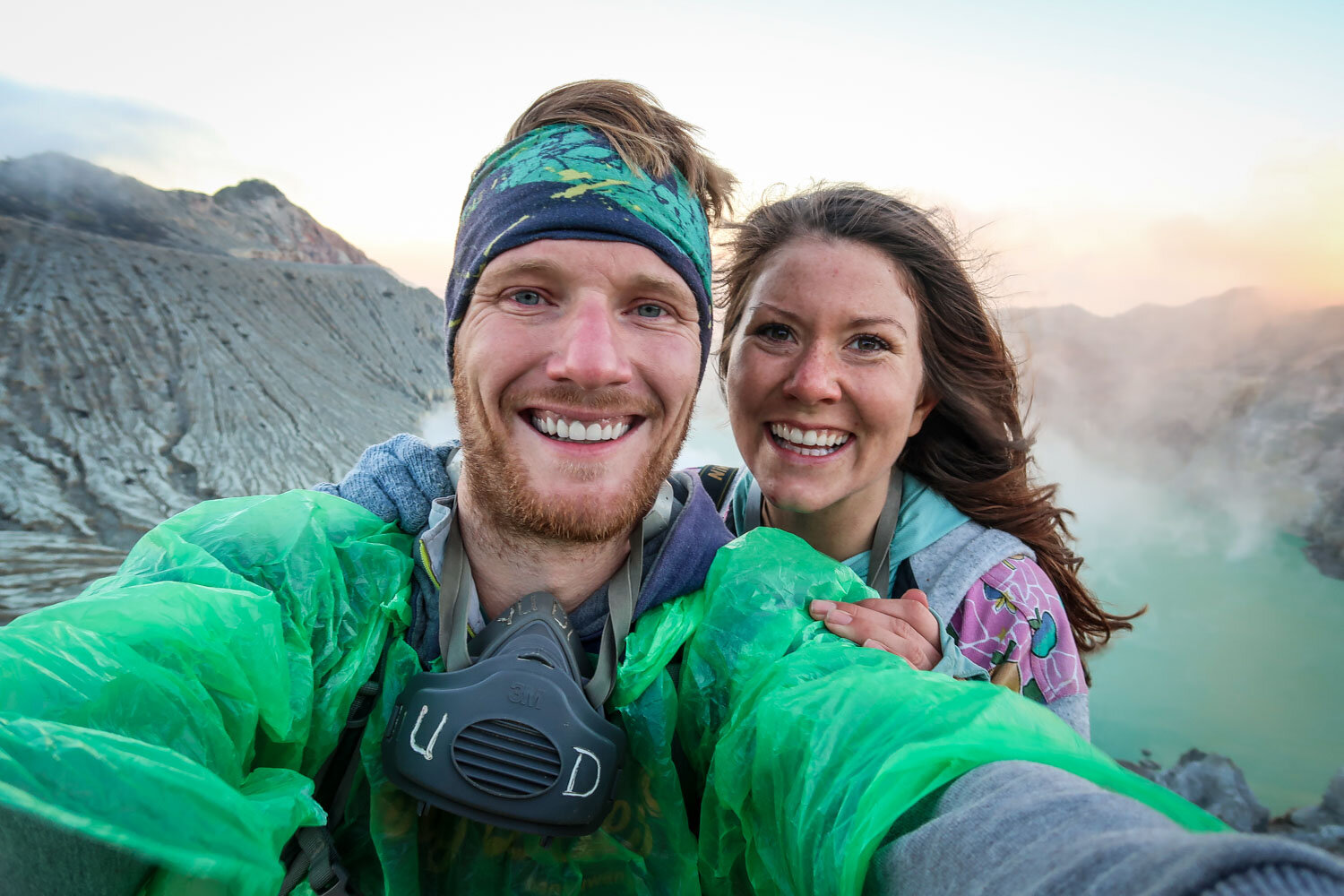 Like most of our activities in Java, we made arrangements through our guesthouse. This seemed like a fine way to do it, however as we already explained, if you book a "general tour" through your guesthouse, you can expect it to be less of a guided experience and more on your own.
We were fine with this, but if you would prefer to have a guide who actually stays with you (don't blame ya!), this tour looks like it would be a good choice.
Where to stay in Banyuwangi
While you won't find many options when it comes to luxury (there's one on this list that checks that box!), you'll find plenty of good budget options. Since our stay in Banyuwangi, a handful of new guesthouses have opened that look really nice! And almost all accommodation in this town includes a hearty free breakfast, which is always a win in our book!
Budget Stays
Even though these guest houses are cheap, they all have wonderful hospitality, rave reviews, and fantastic (free!) breakfasts. Can we get a hell yeah?!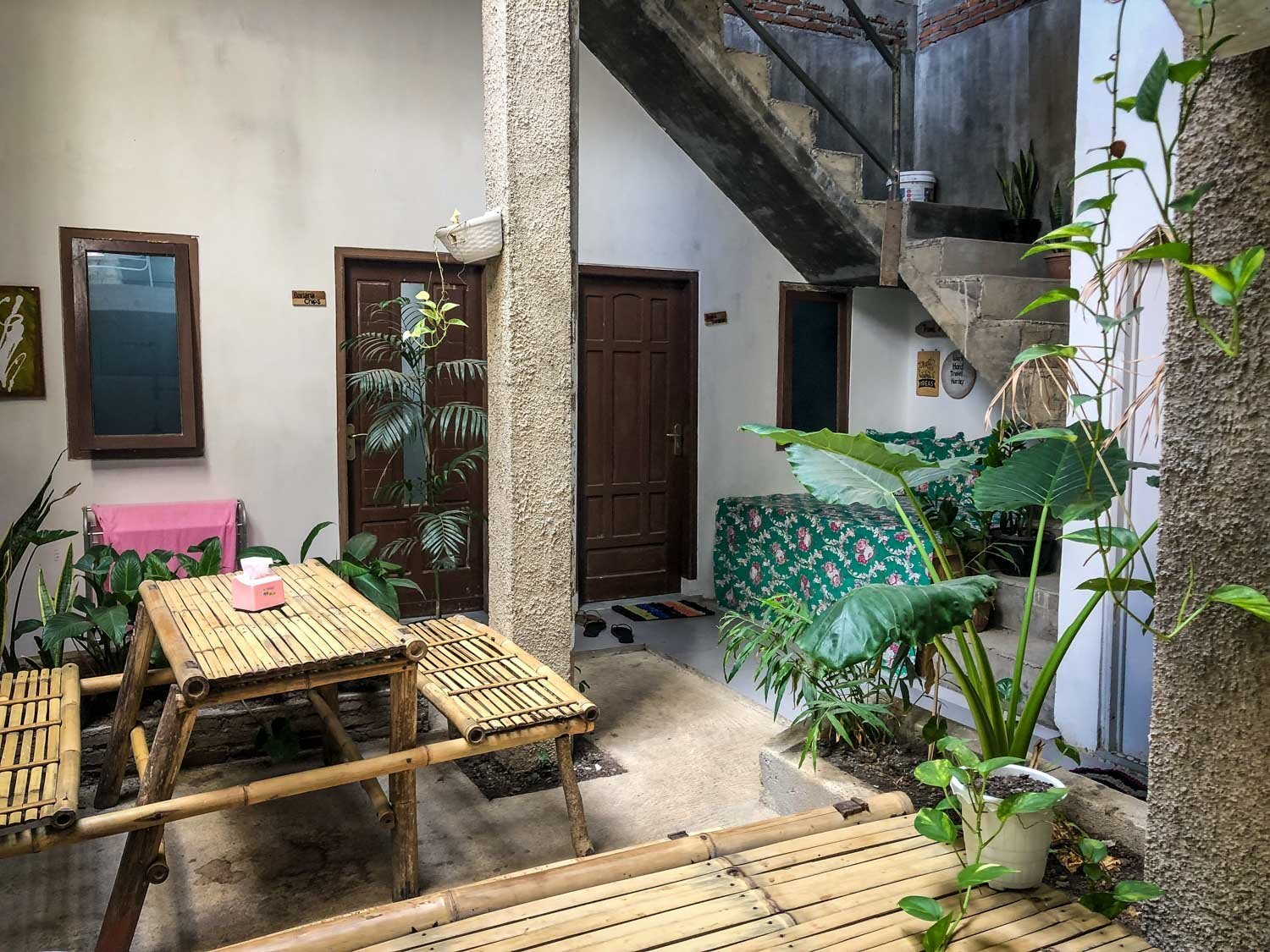 We stayed at Banana Homestay and felt incredibly welcomed by the husband and wife who run this place. We were very hungry when we arrived late at night, and they even drove us on motorbike to their favorite noodle shop. They also let us borrow warm jackets for our Ijen Crater hike. Seriously kind people.
The accommodation itself is basic (with options for private or shared bathrooms). There is no hot water in the shower, but it was just fine for our short stay.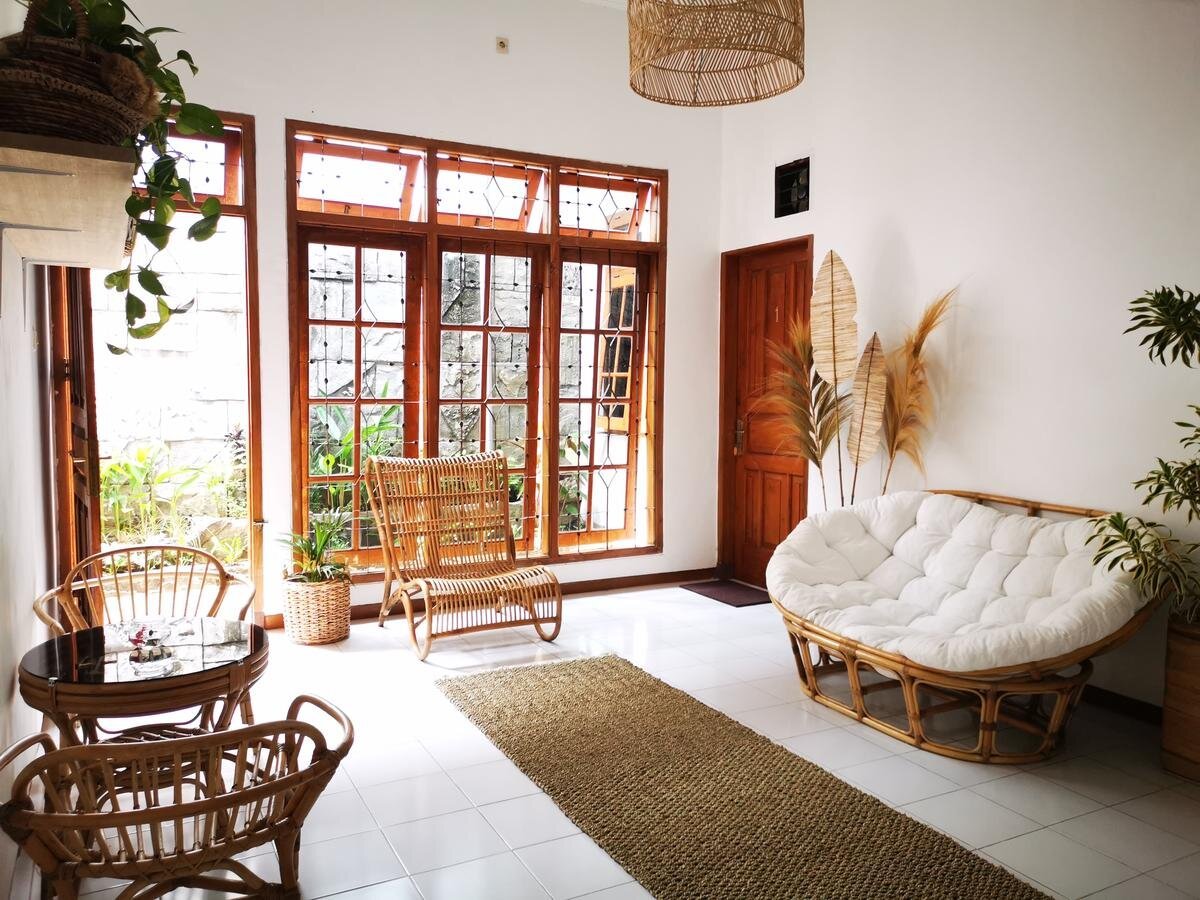 This place is brand new, and had it been open during our visit we probably would have chosen to stay here. With a beautiful design, many room options, and rave reviews, this looks like a good choice for many types of travelers.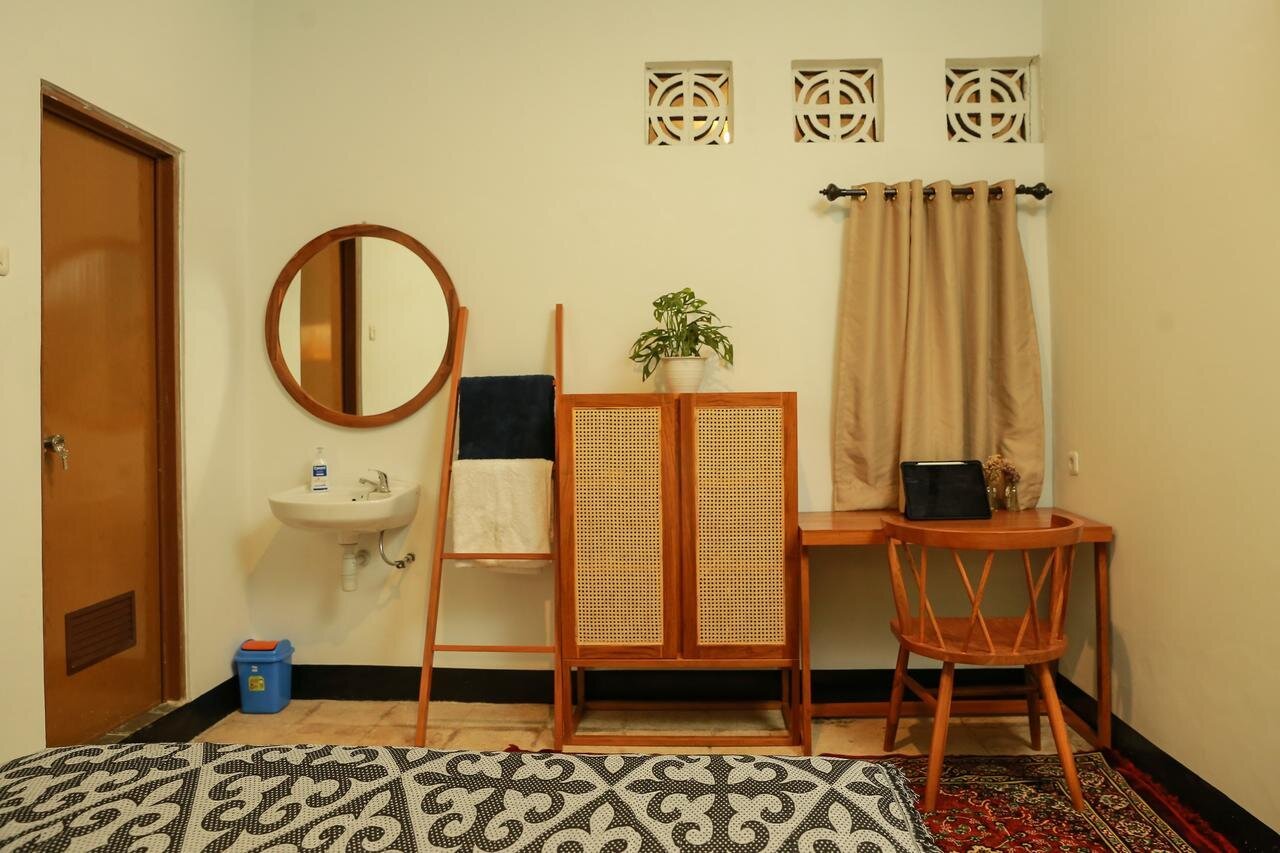 This is another guesthouse that has opened since our stay, and it looks really comfortable, nicely designed and affordable.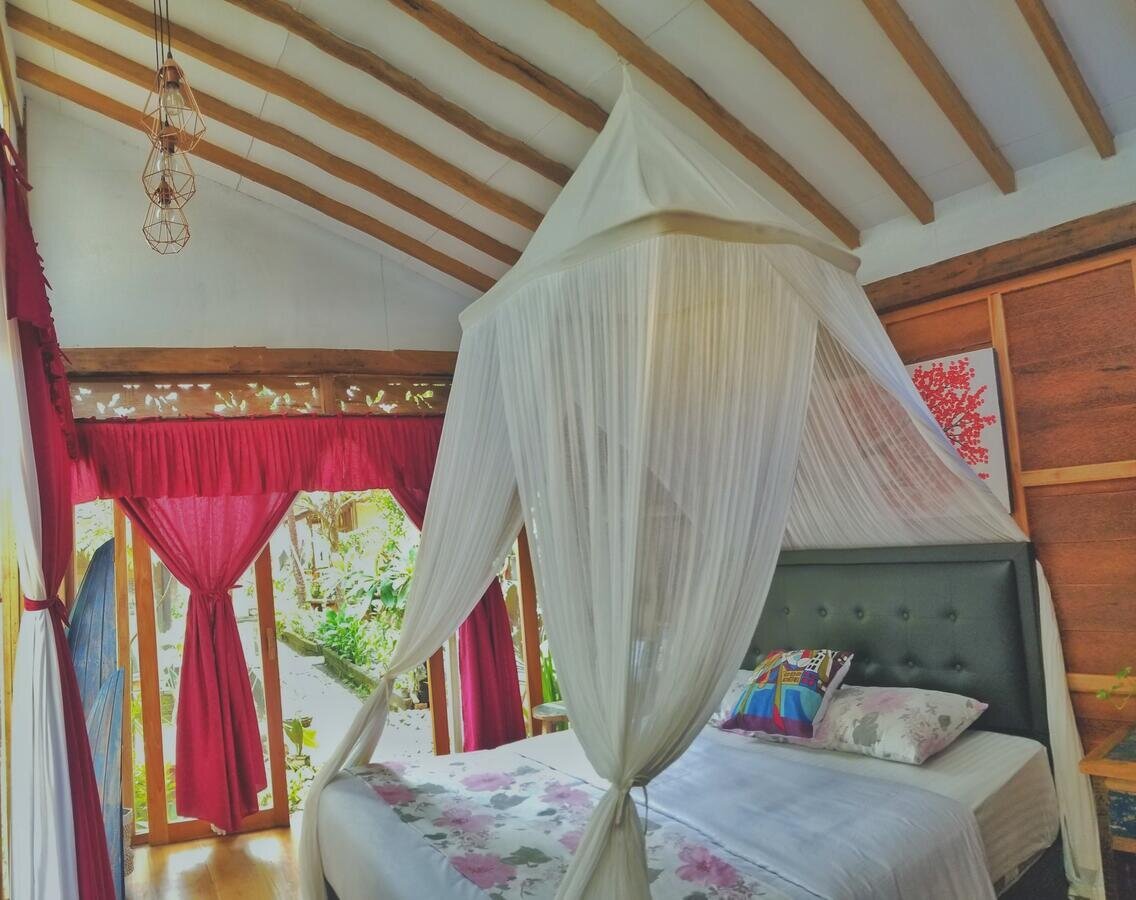 Mid-Range Stays
If you have a bit more of a budget to work with and are looking for a hotel with a pool, we've got a few options for you!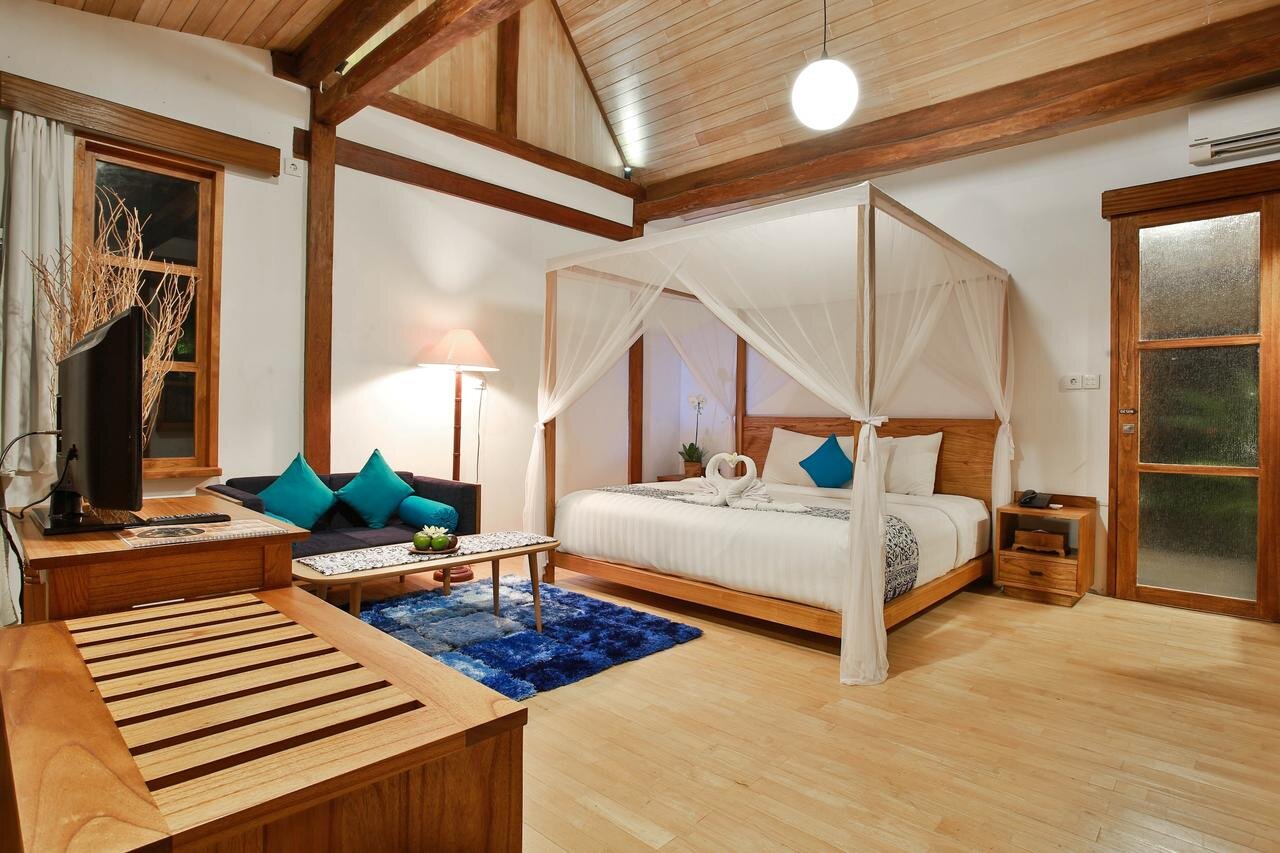 If you're looking to splurge (and by splurge, we're still looking at under $100, but it is still significantly more expensive than most accommodation in the city), Villa Solong would be our pick.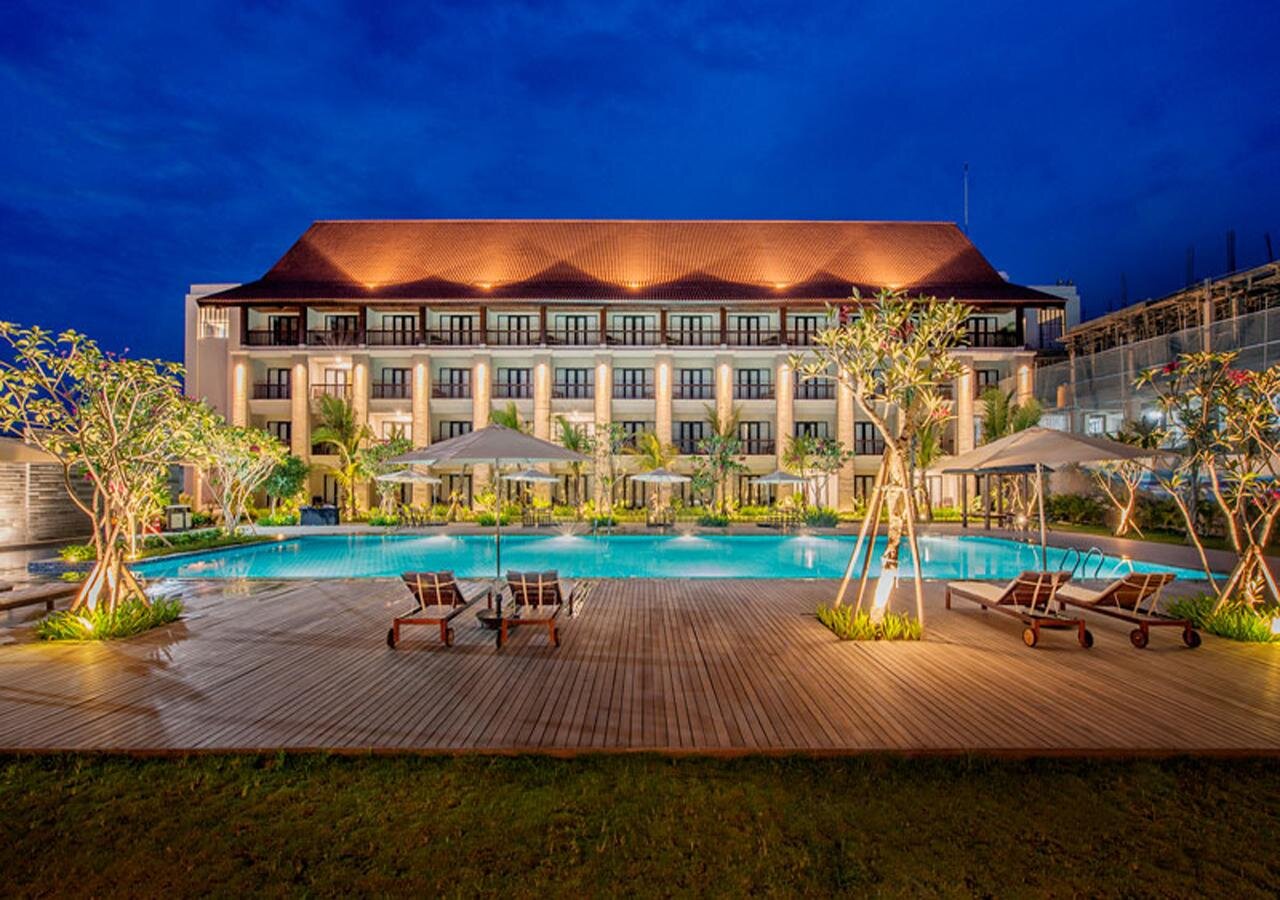 This large resort-type accommodation has a pool and massive dining area. For the reasonable rates, it looks like a good choice for those seeking a larger hotel on their stay.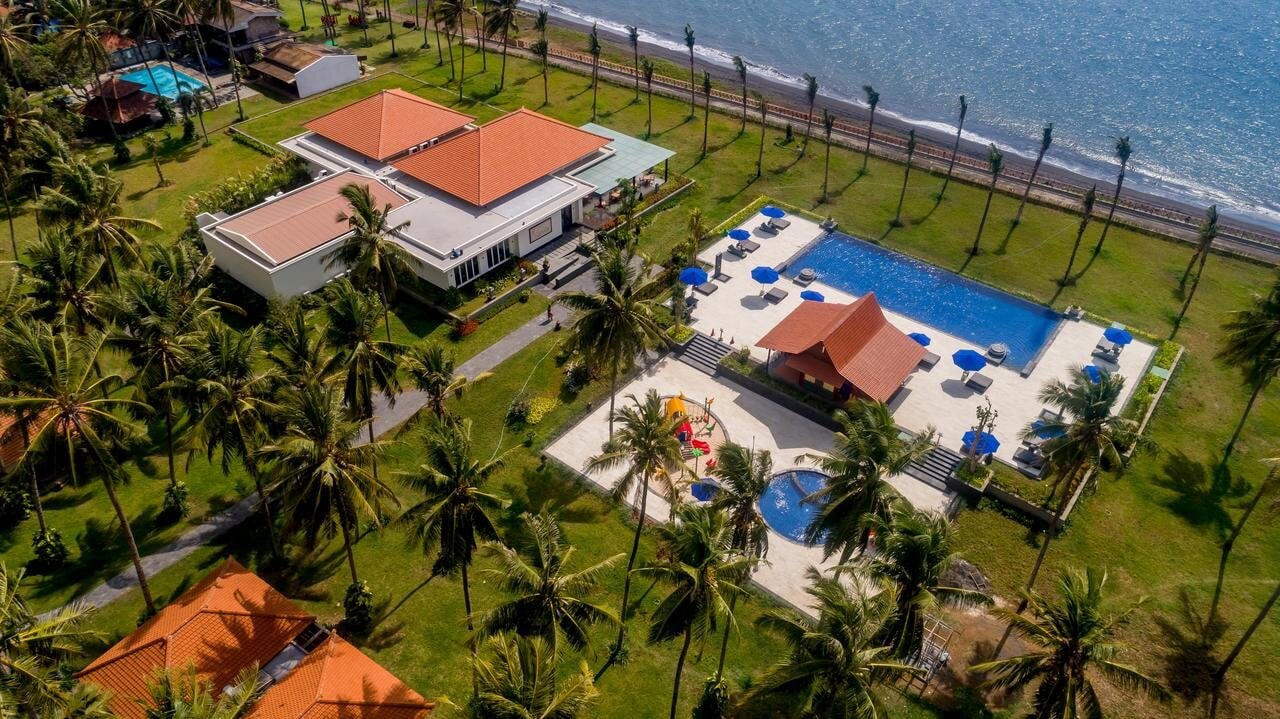 Beachside hotel with a pool and affordable rates. Some rooms appear to be quite nice while the less expensive rooms look pretty basic.
Other epic hikes to add to your bucket list
If you're reading this article, I imagine you're a hiking enthusiast. 
Tongariro Crossing, New Zealand: Widely considered to be the best day hike in New Zealand, this is a can't-miss if you're visiting the North Island. 
Routeburn Track, New Zealand: If you're traveling in New Zealand, you'll want to add this hike to your list as well. This multi-day trek on the South Island is one of the best hikes in the country.
Fimmvorduhals Hike, Iceland: This is one of our very favorite day hikes ever, and if you like the Tongariro Crossing, this should also be on your list!
Old Man of Storr, Scotland: This hike on the Isle of Skye brings you up close to some otherworldly rock formations.
Kumano Kodo, Japan: This multi-day pilgrimage trek in Japan is a perfect blend of adventure, nature and culture.
Volcan Acatenango, Guatemala: This overnight hike just outside Antigua allows you front seat views to watch the neighboring Volcan Fuego erupt all night long.
Inca Trail: This classic trek in Peru is worthy of a top spot on your hiking bucket list.
Everest Base Camp: If you're looking for a hike you'll be telling your grandkids about, this is it! Stay at tea houses along the way and make lifelong friends.
---
You may also like…
We have TONS more resources on Java, so if you're planning an Indonesia trip, you'll definitely want to check out our other articles too!
Save this article on Pinterest for later!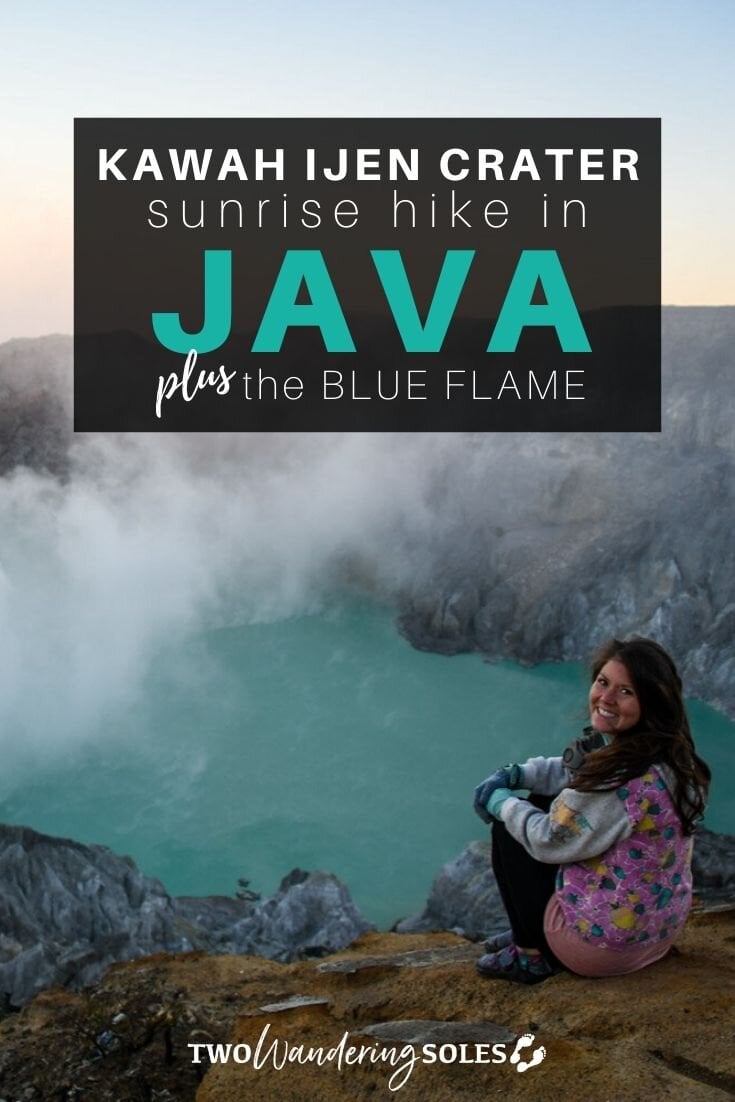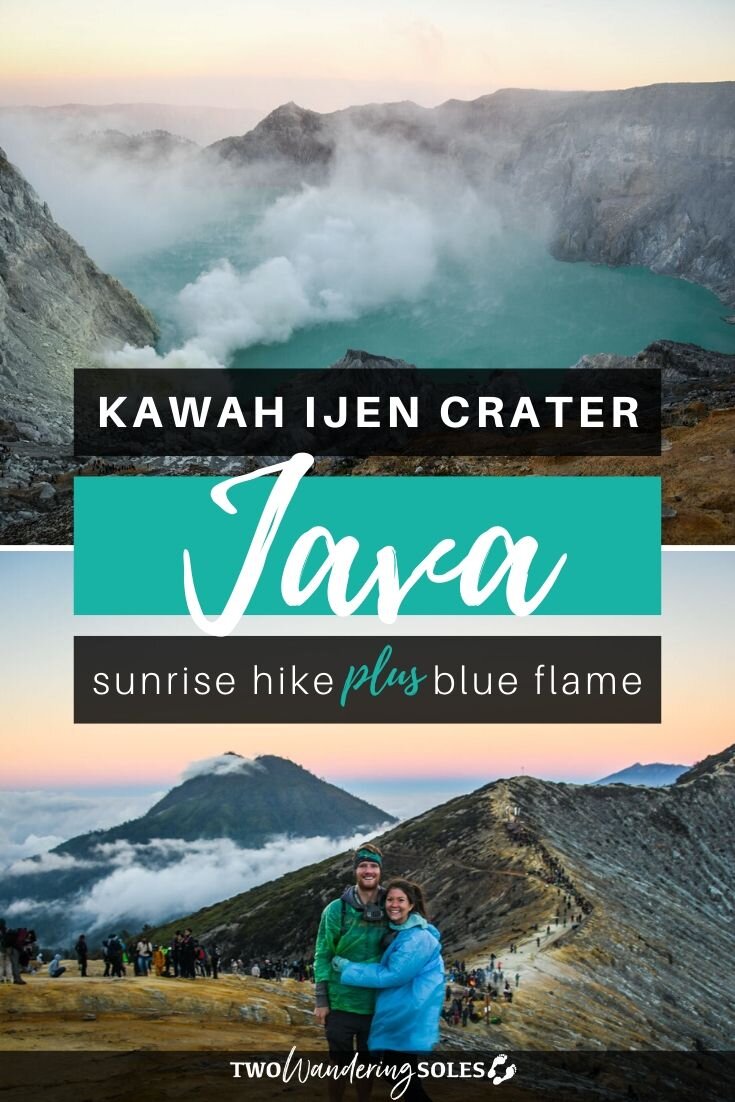 We want to hear from you!
Are you planning a trip to Ijen Crater? What questions do you still have? Comment below and we'll do our best to get back to you!