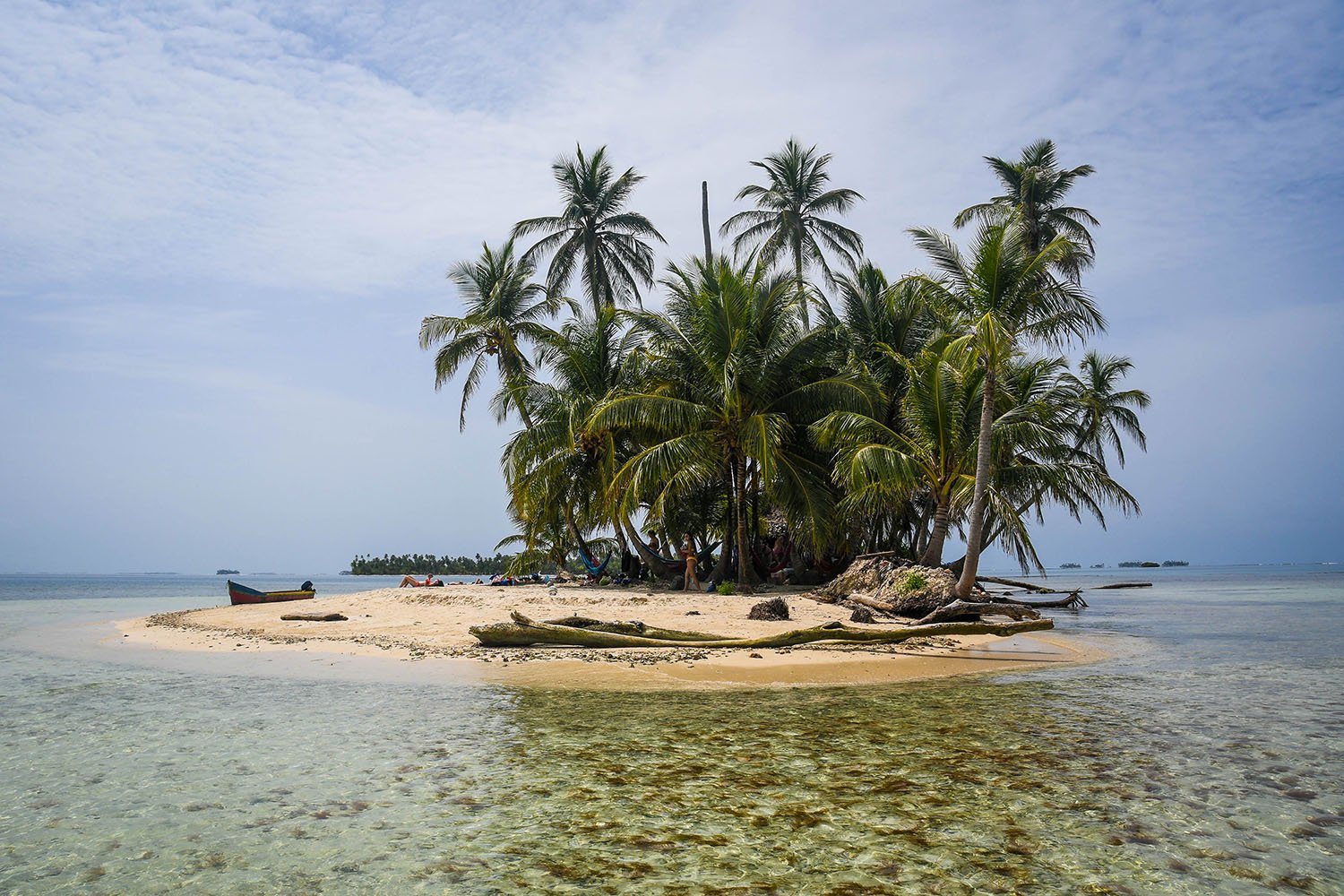 Just off Panama's Caribbean coast lies a collection of 365 islands that are straight out of a dream: Palm trees, white sand beaches, starfish and coral reefs.
If you've ever dreamt of island hopping in a tropical paradise (who hasn't?!), sit down right now, grab a coffee and prepared to be blow away by the San Blas Islands.
The San Blas Islands
This idyllic archipelago might look familiar to you, and there's a reason for that. One of Microsoft's original desktop wallpapers was a picture of one of the San Blas Islands, and it was a welcomed midday daydream for millions of people stuck in cubicles all over the world. (Just check out the picture below!)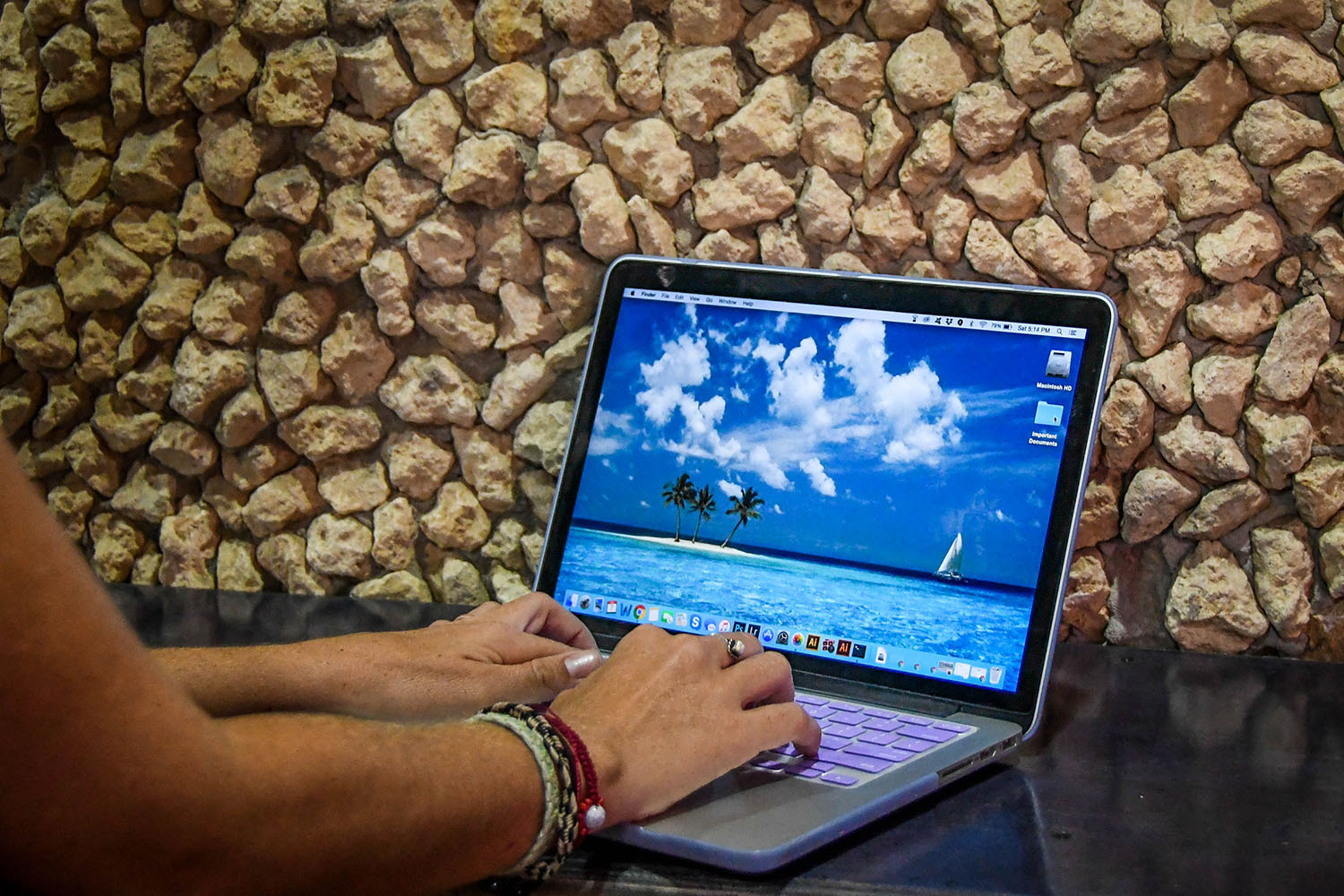 It's one of those places that is so beautiful in pictures that you may wonder if it really does exist. The good news is you can enjoy this stunning place in real life instead of just staring at your computer screen! Be sure to watch the short video below showing our time traveling through the San Blas Islands.
Disclaimer: Our trip with San Blas Adventures was sponsored. But as always, all opinions are 100% honest.
---
Contents
---
How to get to the San Blas Islands
If all this talk of white sand beaches and turquoise waters has you ready to pack your bags, keep reading because we're going to explain how to plan your trip to the San Blas Islands.
Visiting the San Blas Islands is a popular way to get from Panama to Colombia, or vice versa. This is typically done as a 4-day trip that will surely be a highlight of your travels in Central America, and it's certainly one of the best things to do in Panama.
There are a 2 ways to visit the San Blas Islands:
Option 1: Speed Boat to San Blas Islands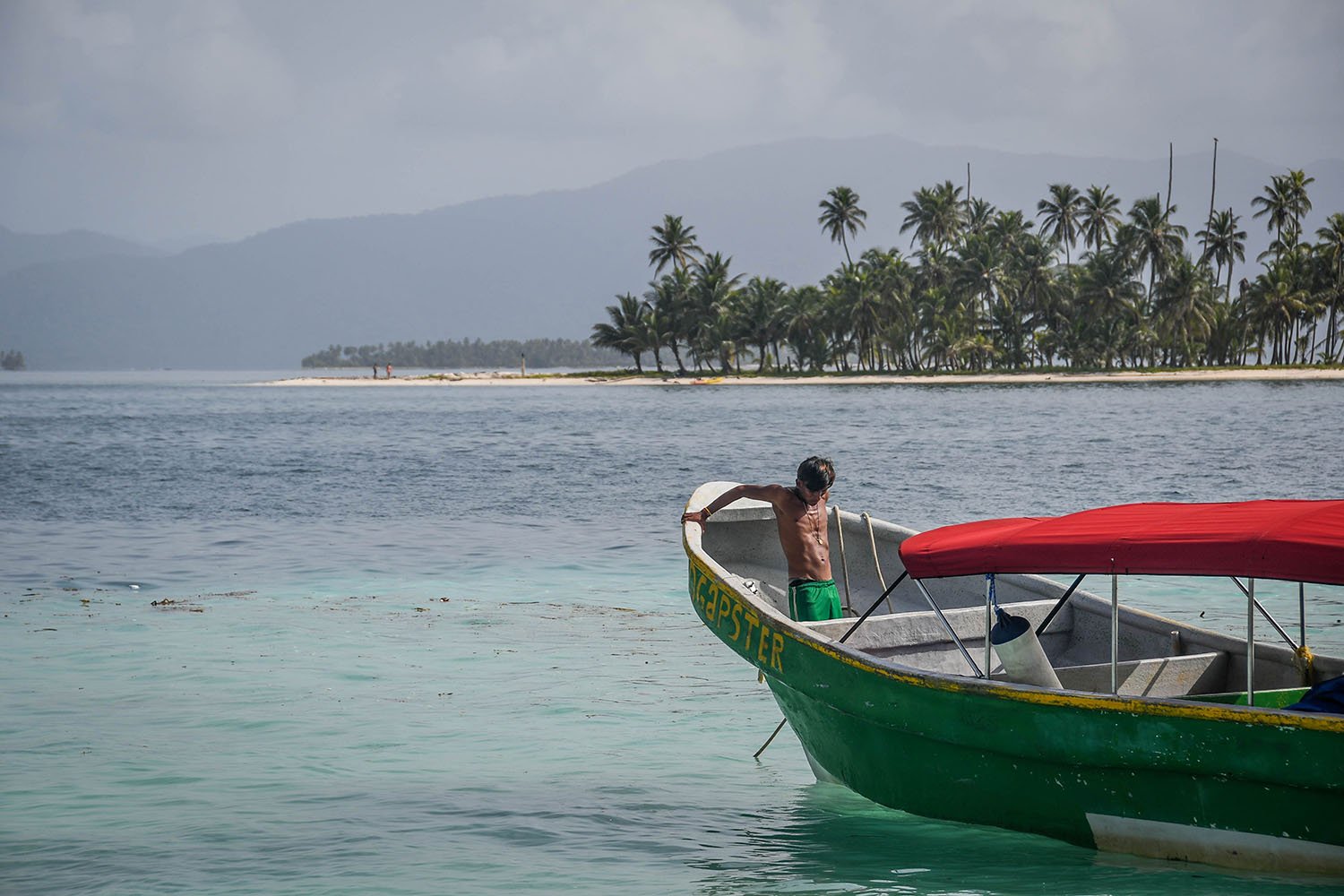 Taking a speed boat means you spend minimal time crossing the sometimes choppy waters. Instead, you'll spend the majority of your time on the islands themselves.
Option 2: Sailboat to San Blas Islands
Exploring the San Blas Islands by sailboat means you'll spend some time on the islands, but you will be sleeping on a boat. Sleeping quarters can vary from luxurious to stuffy depending on which sailing company you choose.
Short on time? If you only have a couple days to spare and don't want to go all the way down to Colombia, you can do an overnight trip to the San Blas Islands. We wouldn't recommend this option unless you're truly pressed for time because you won't have all that much time to explore the islands. But it's good to know this option is available!
San Blas Speedboat vs. Sailboat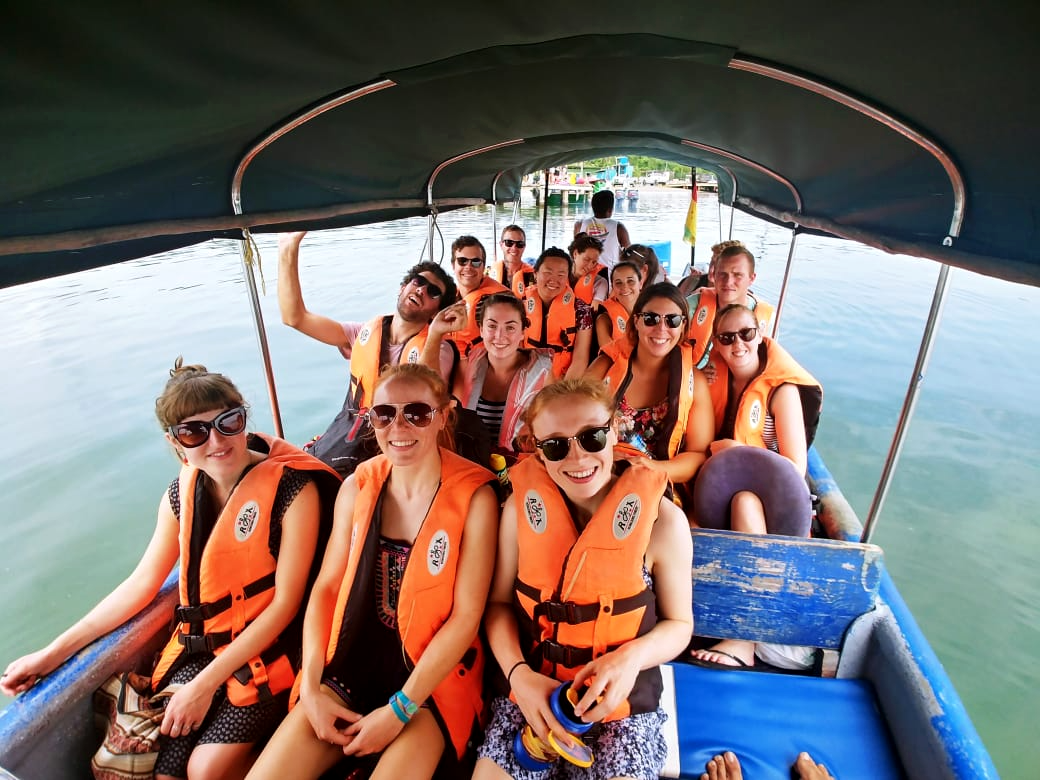 There are pros and cons to each type of trip, and what was best for us might not be best for you.
To explain more about the differences of sailing versus taking a speed boat, we have created a PDF download (that's totally free!) that we can email to you. It will help you determine what type of trip is best for you. Just enter your email below and we'll send you the PDF.
San Blas Adventures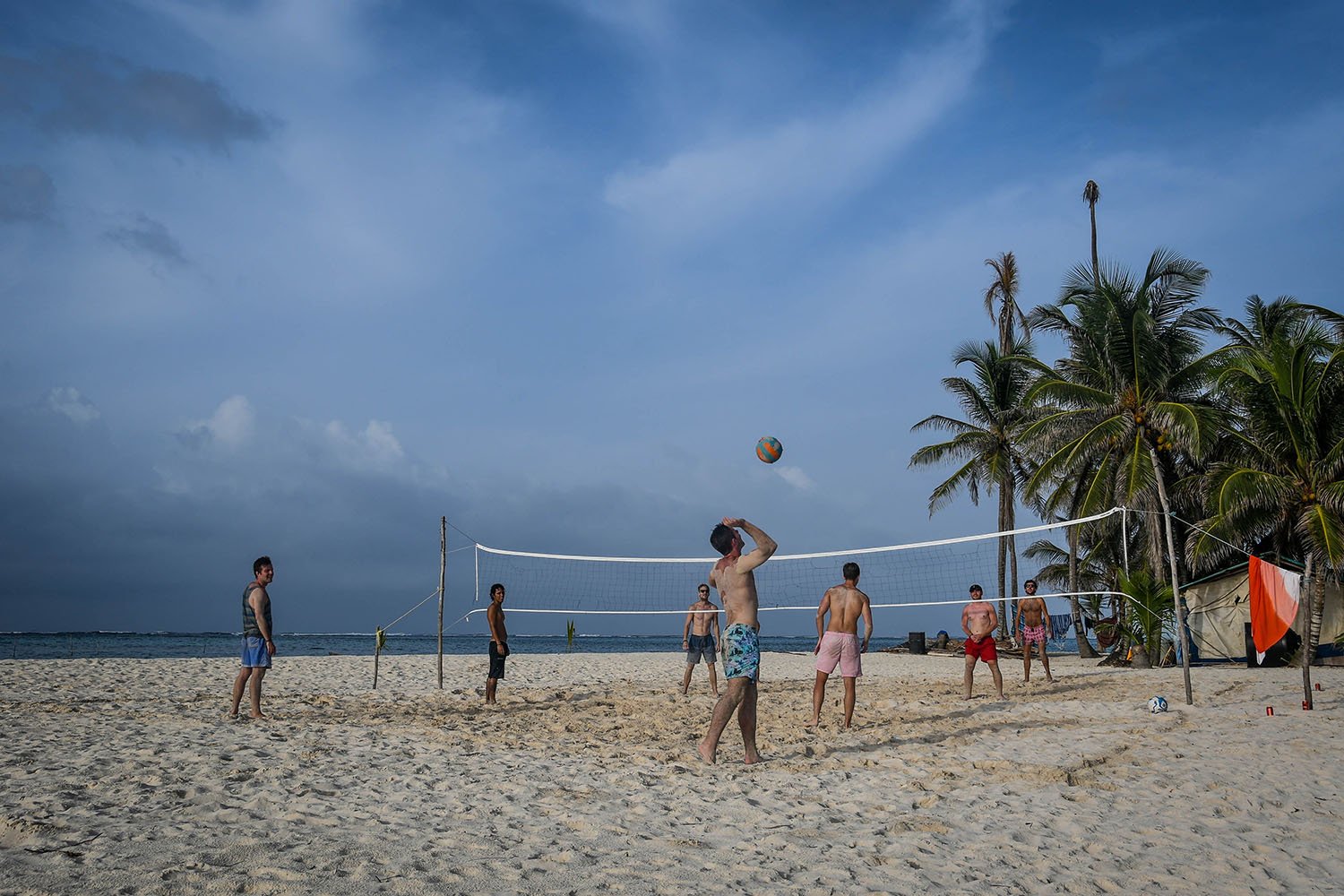 We decided that taking a speed boat sounded like the better option for us (find out which option is best for you by downloading this FREE pdf!).
San Blas Adventures is a reputable company that operates speed boat trips from Panama to Colombia through the San Blas Islands, and planning our trip was as simple as confirming our booking!
This 4-day trip brought us through the stunning San Blas archipelago and allowed us to spend as much time on the islands as possible.
We played volleyball, went snorkeling, ate delicious meals, relaxed in the sun, drank rum cocktails around a bonfire, and slept in hammocks. We also had the unique opportunity to interact with the Kuna people and learn a bit about this indigenous culture.
If you're ready to book, be sure to let them know that Katie and Ben form Two Wandering Soles sent you! Continue reading for tons more info about the trip to the San Blas Islands!
The Kuna People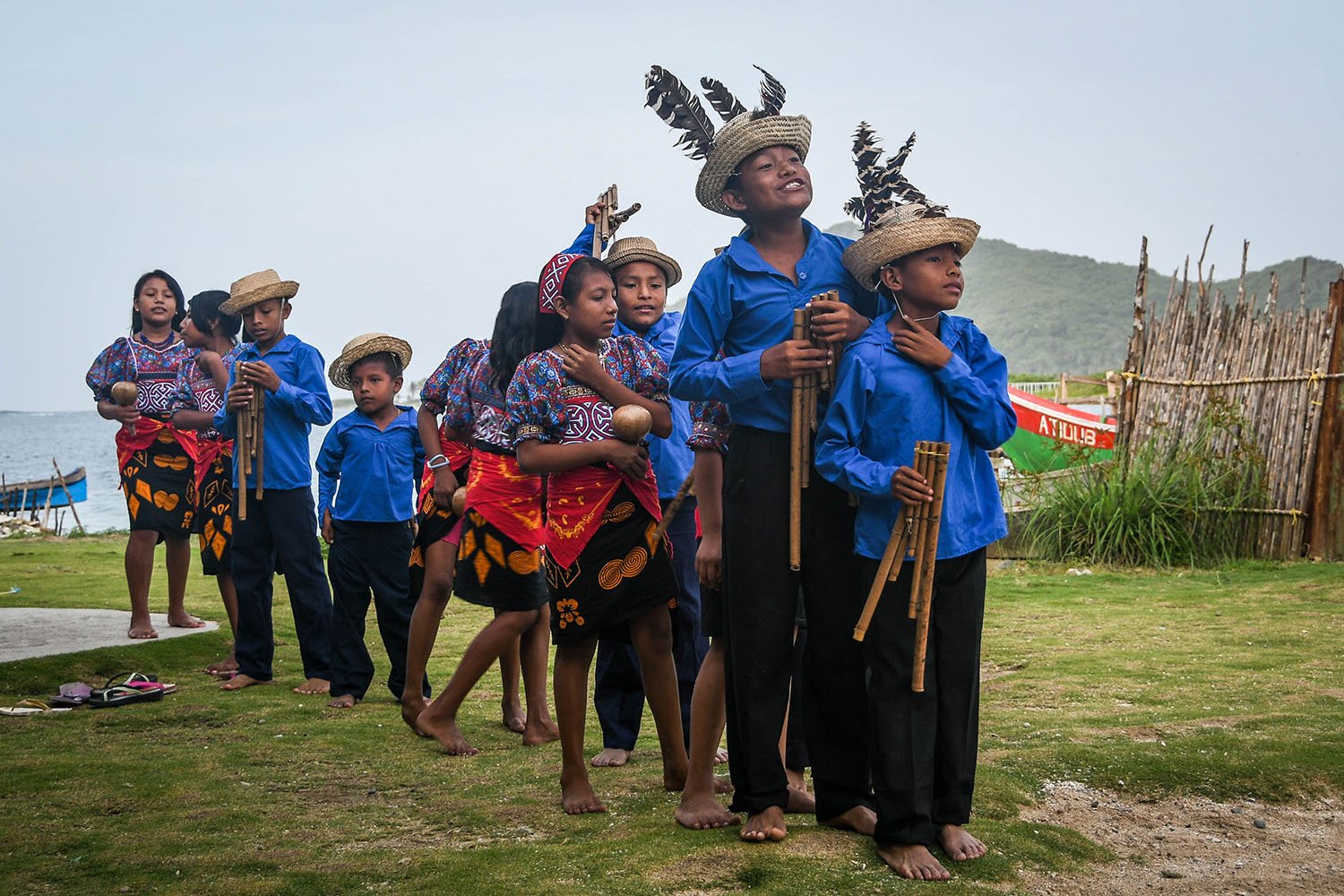 While the San Blas archipelago is made up of 365 islands and cays, only 49 of them are inhabited. The people who call this paradise home are an indigenous group called the Kuna (sometimes spelled "Guna"), and interacting with them will surely be a highlight of your time in the San Blas Islands.
San Blas Adventures works closely with the Kuna people and provides them with jobs and opportunities to share their culture with visitors. This is one of the major reasons we chose to go with this company as opposed to the sailboat trips.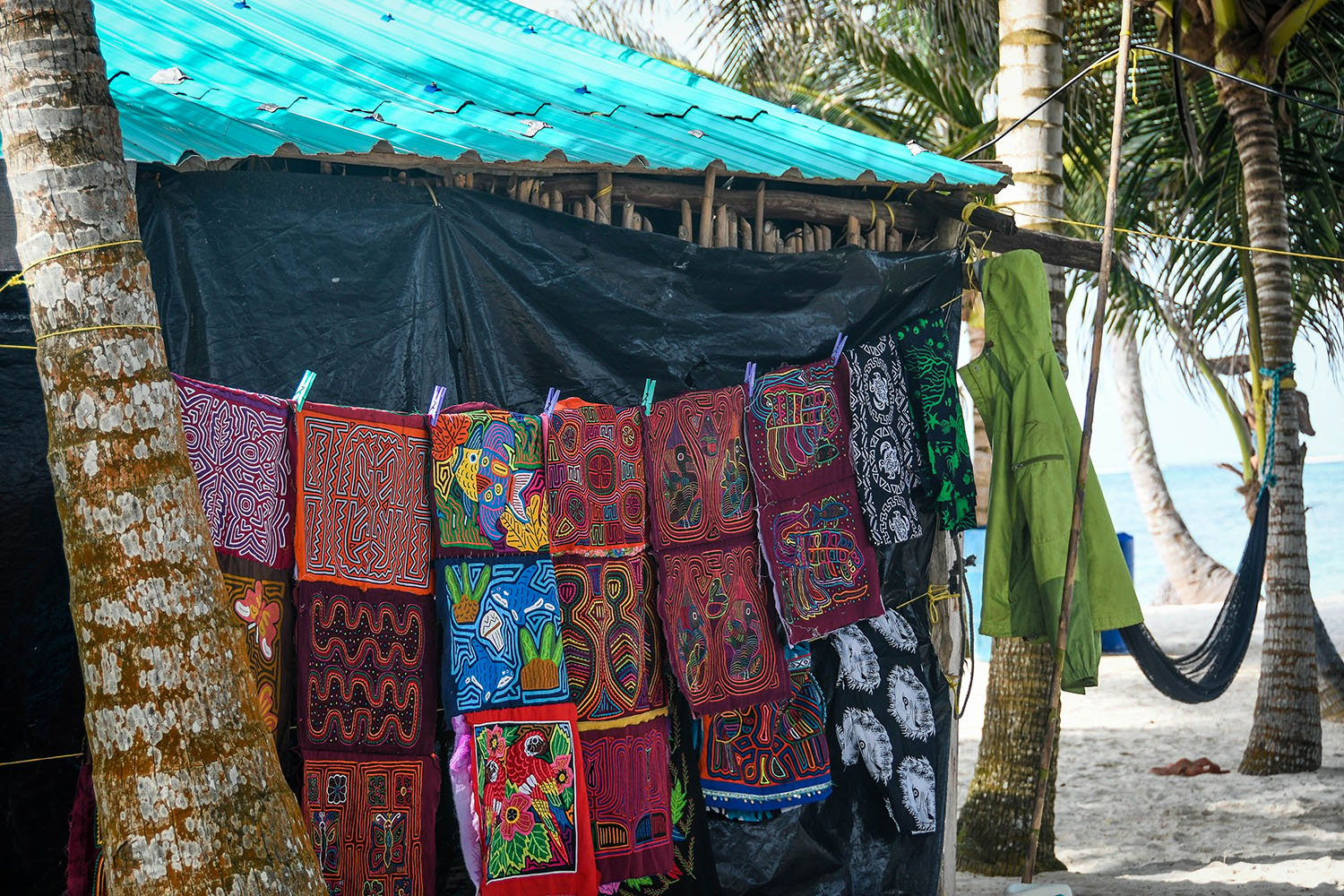 The first two days of the trip were spent on uninhabited islands, that were straight out of a dream. While nobody actually lives on these islands full time, the local Kuna people take turns as caregivers and "hosts" when San Blas Adventures groups come through. They sell handicrafts and drinks and help prepare some of the meals.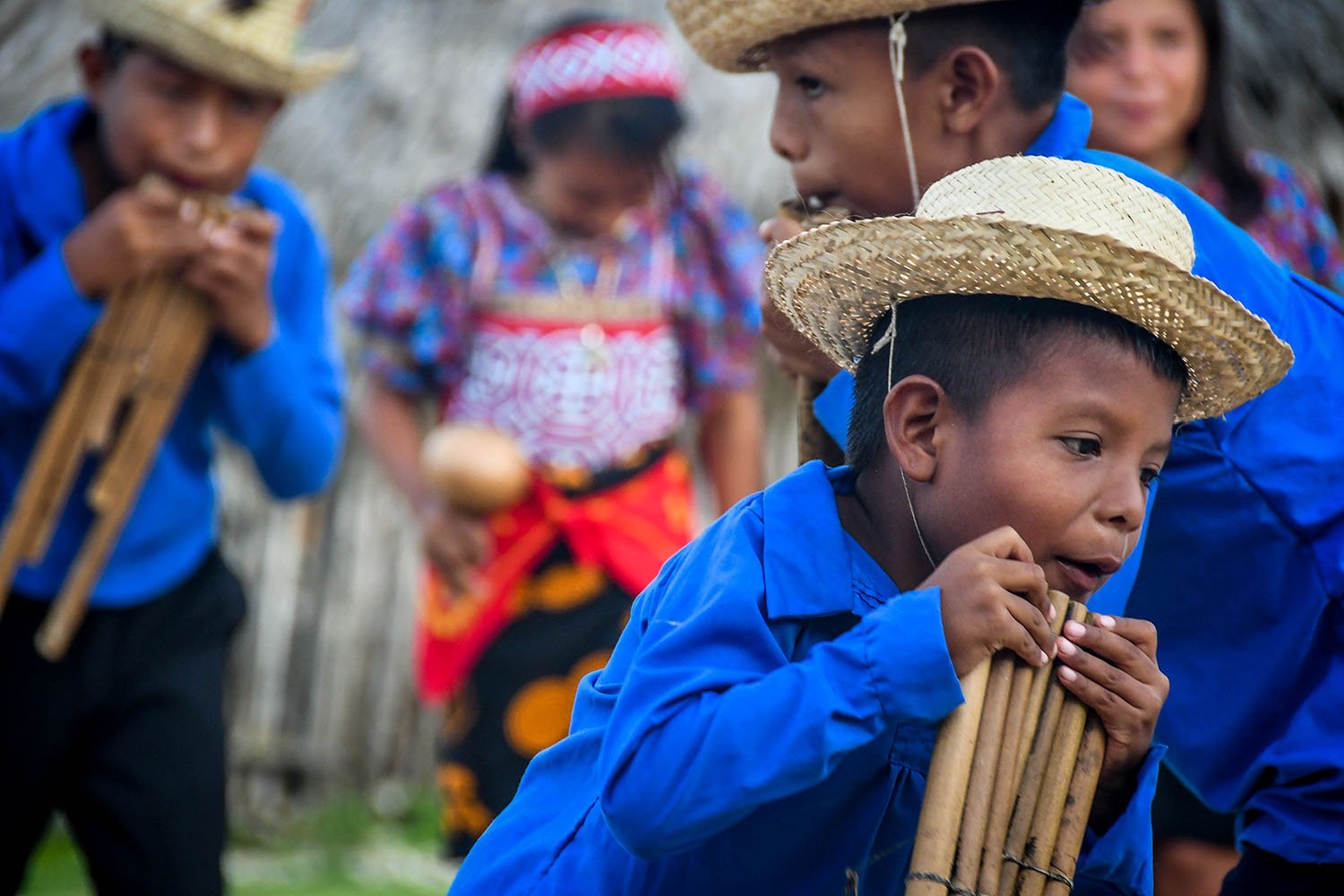 The last night of the San Blas Adventures trip was spent in a Kuna village on a large island. A group of local children had prepared a traditional dance for us to watch, and we were able to play with them afterward before enjoying dinner at a local restaurant.
Sustainability in the San Blas Islands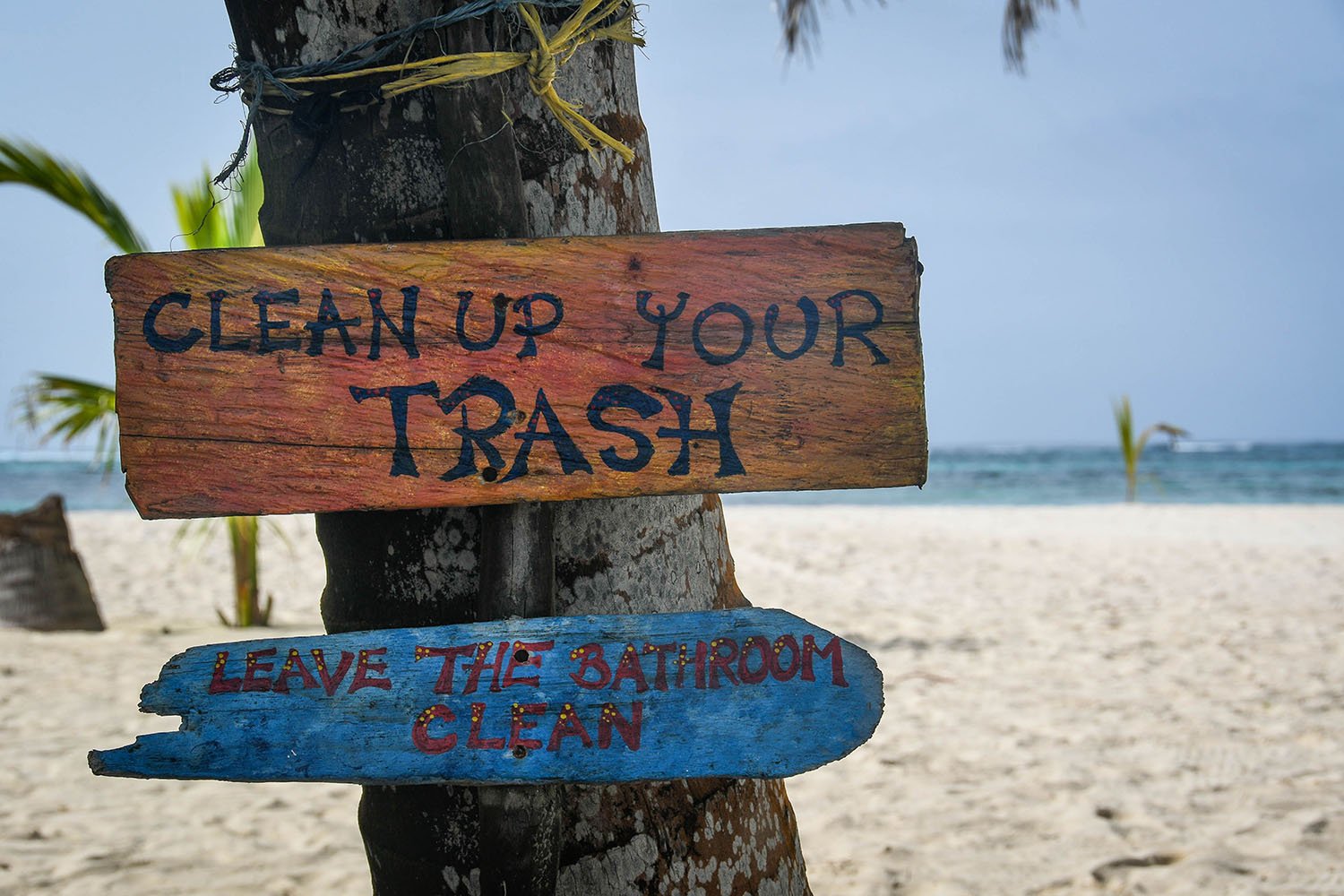 One wonderful part about visiting the San Blas Islands is you're not going to find any resorts or chains. A portion of your money will go back into the Kuna communities, which is wonderful to see.
That said, there is certainly room for improvement when it comes to sustainability in the San Blas Islands. Being that this archipelago is a fragile environment, it is especially important to be aware of the impact visitors are having on the environment.
Sadly, we saw some trash in the waters while snorkeling in the San Blas, and on some of the islands there were small piles of rubbish near the shore. We assume most of this trash is brought in by the tides from the mainland and isn't from people visiting the islands.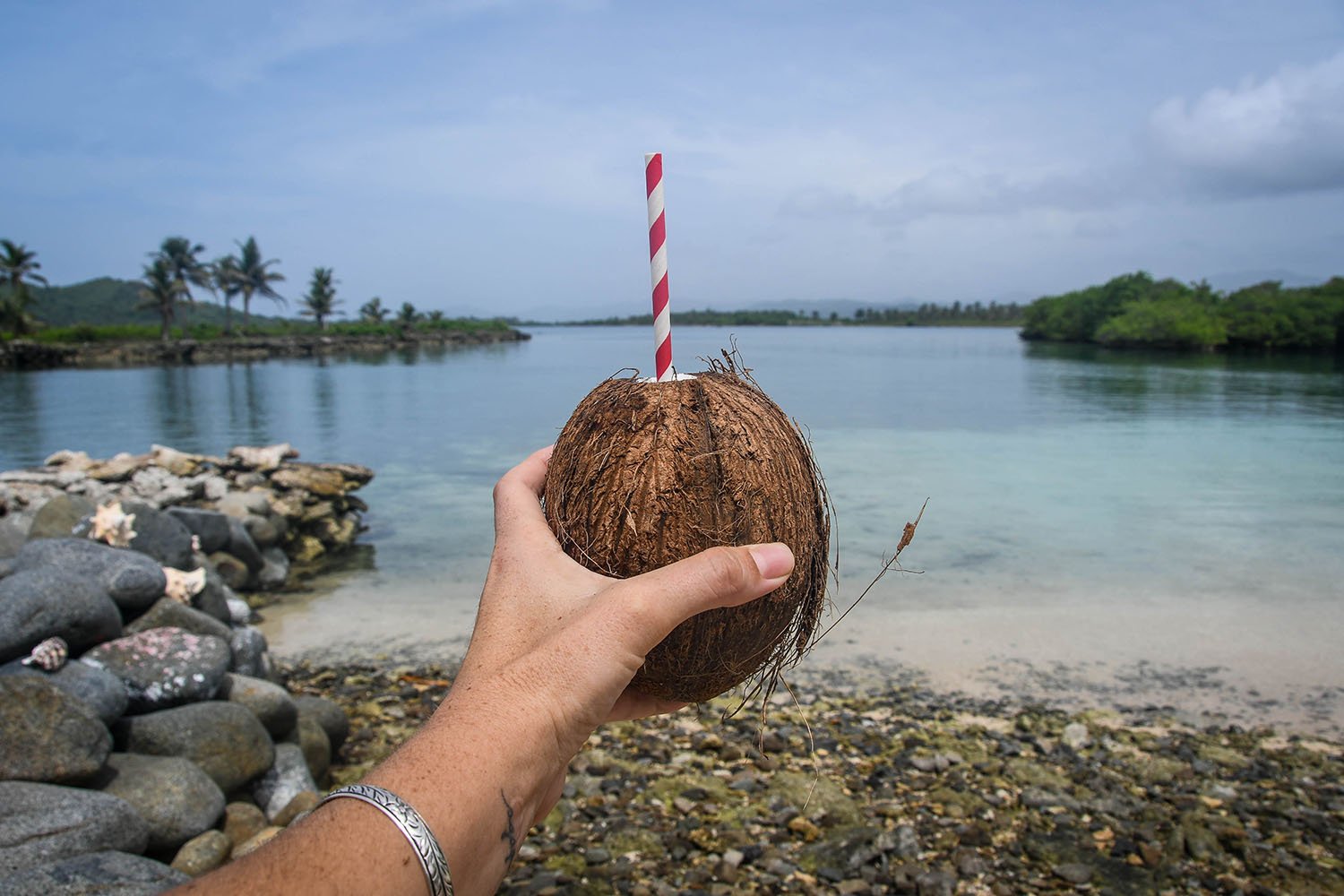 That said, do your part by carrying a bag in which you can pack out all the trash you create. Anything you leave on the islands may not get properly disposed of.
While traveling, we try not to buy any plastic water bottles. Instead, we fill up at water stations or use our Steripen to purify tap water. However, our trip to the San Blas Islands was an exception and we had to bring 2 plastic gallon jugs of water with us. There is no potable water on the islands that would even be good to sterilize.
Food on San Blas Adventures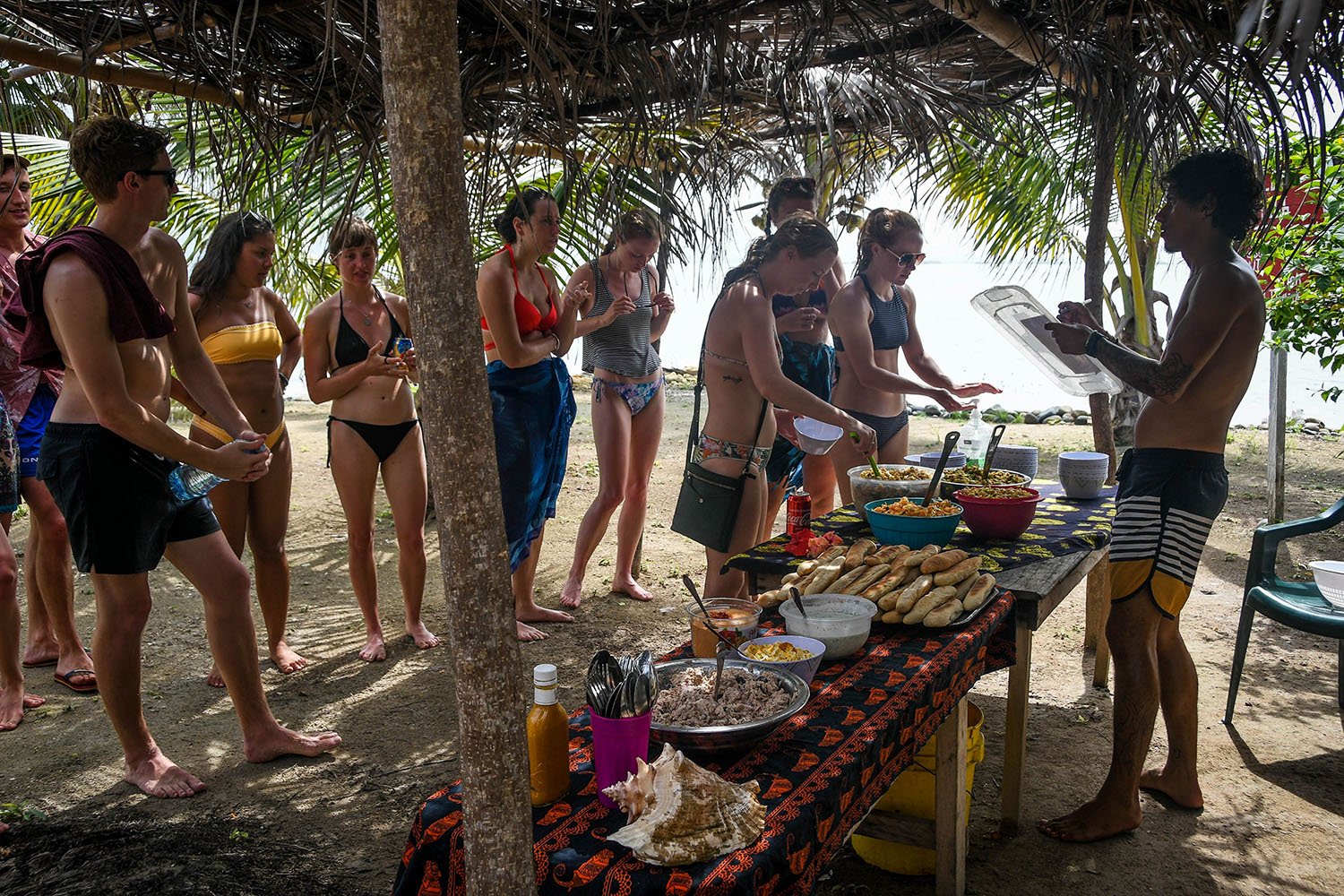 From grilled fish to fresh salads and tropical fruit, you'll be eating really well in the San Blas Islands. Some of the meals are prepared by the Kuna people while others are made by San Blas Adventures staff.
Meals vary depending on the season and availability of seafood, but there are always several dishes to choose from and plenty of food to go around.
Note: They are able to accommodate meals for vegetarians. And don't worry if you don't like seafood: there are always other options too. If you have any dietary restrictions, let them know in advance so they can be prepared!
Even though the meals are filling, we would recommend bringing snacks to munch on in between mealtimes. Nobody wants to see your hangry self!
Accommodation on San Blas Adventures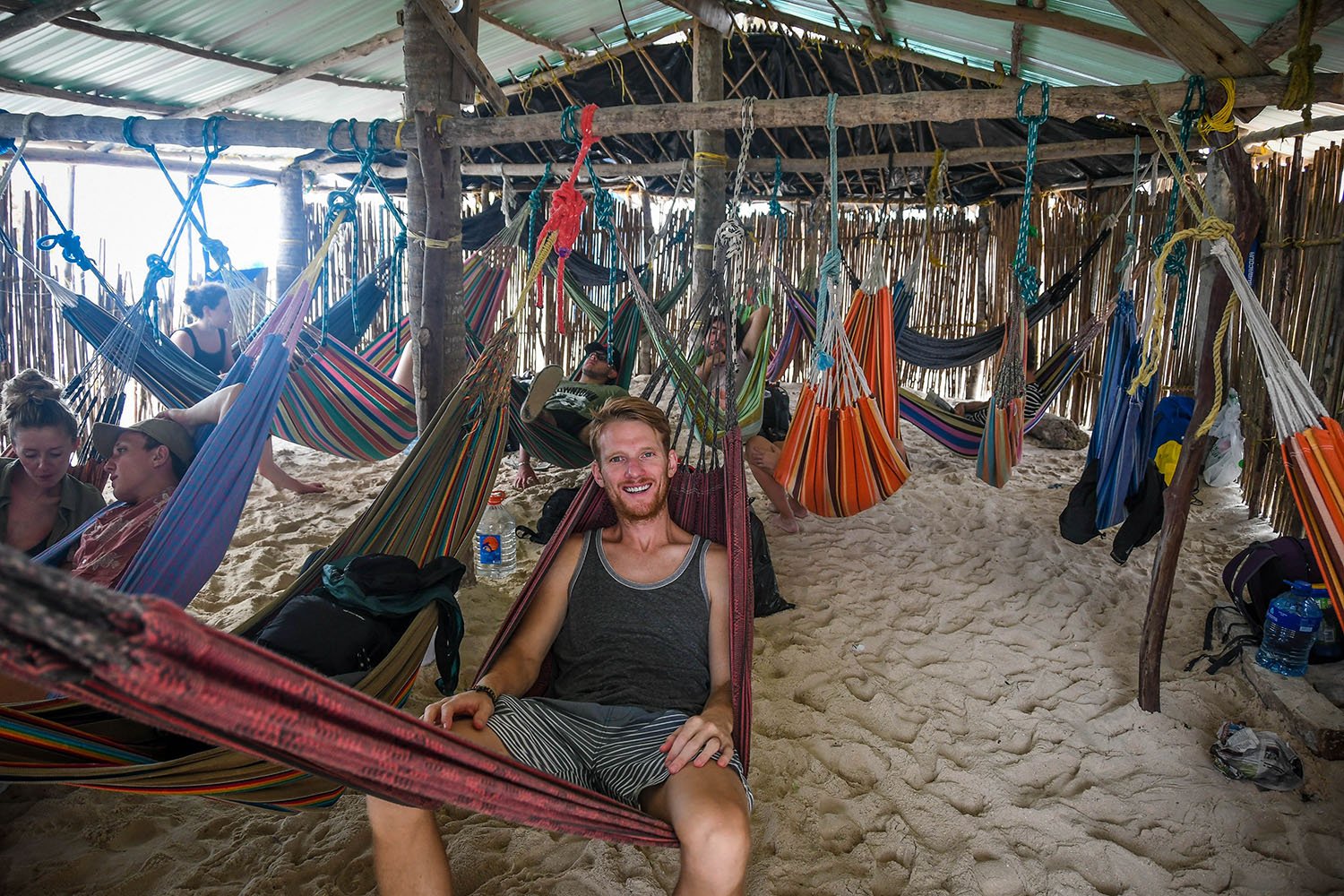 Accommodation is comfortable yet rustic, and there is little privacy. You'll be staying at a new place each night of the trip. The first 2 nights are spent in hammocks in one big communal sleeping area. If you've never slept in a hammock, it is a fun new experience.
Hammock tip: Lay diagonally on the hammock so your body lies flat rather than curved (like a banana!). This will give you the most comfortable sleep. Trust us!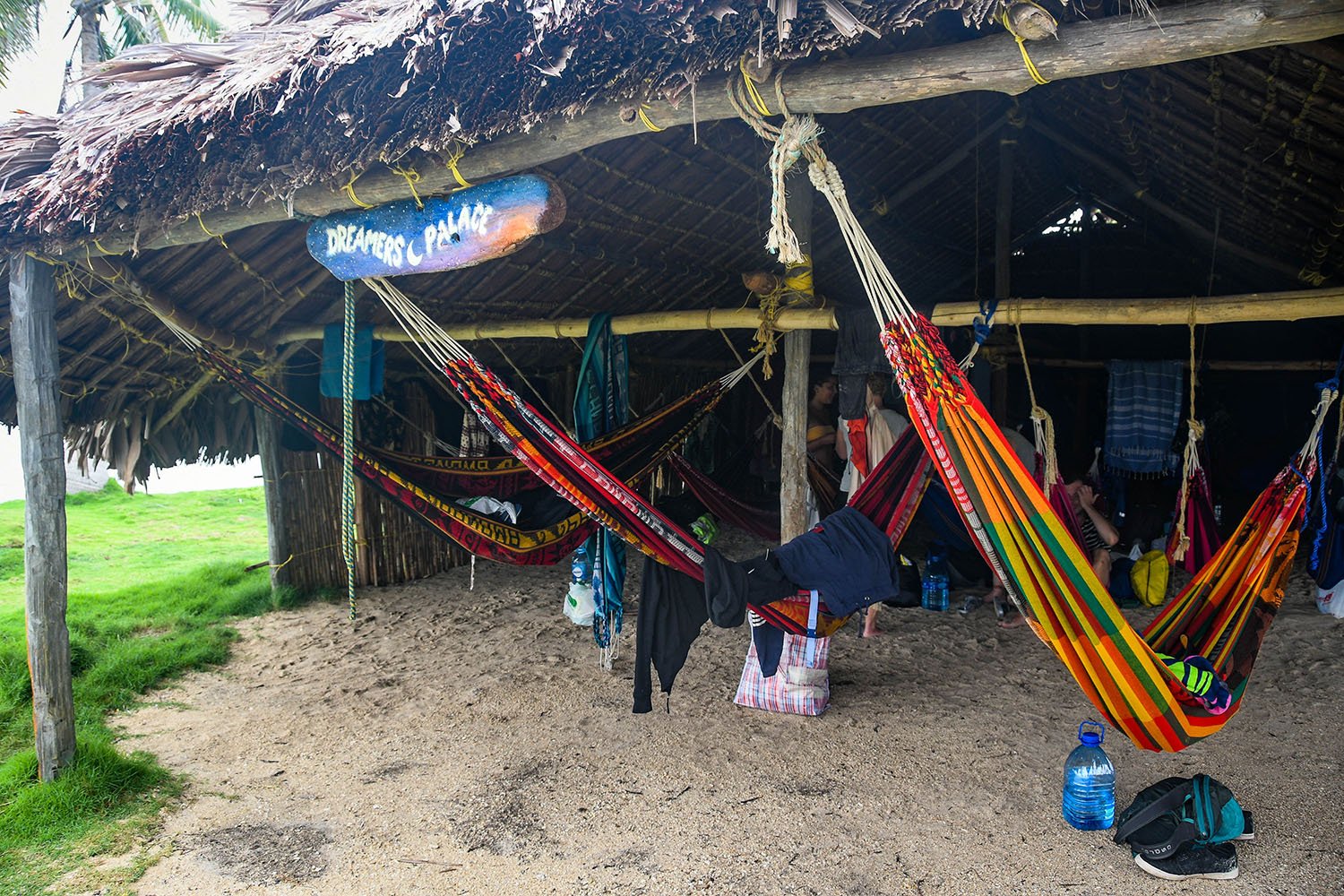 On the final night, you'll stay in a guesthouse in a Kuna village. If you're traveling as a couple, you will be able to have a private room (if availability allows), and if you're traveling solo or with friends, you'll share a dorm room.
Note: The accommodation differs a bit if you are traveling from Colombia to Panama.
Bathrooms and showers on San Blas Adventures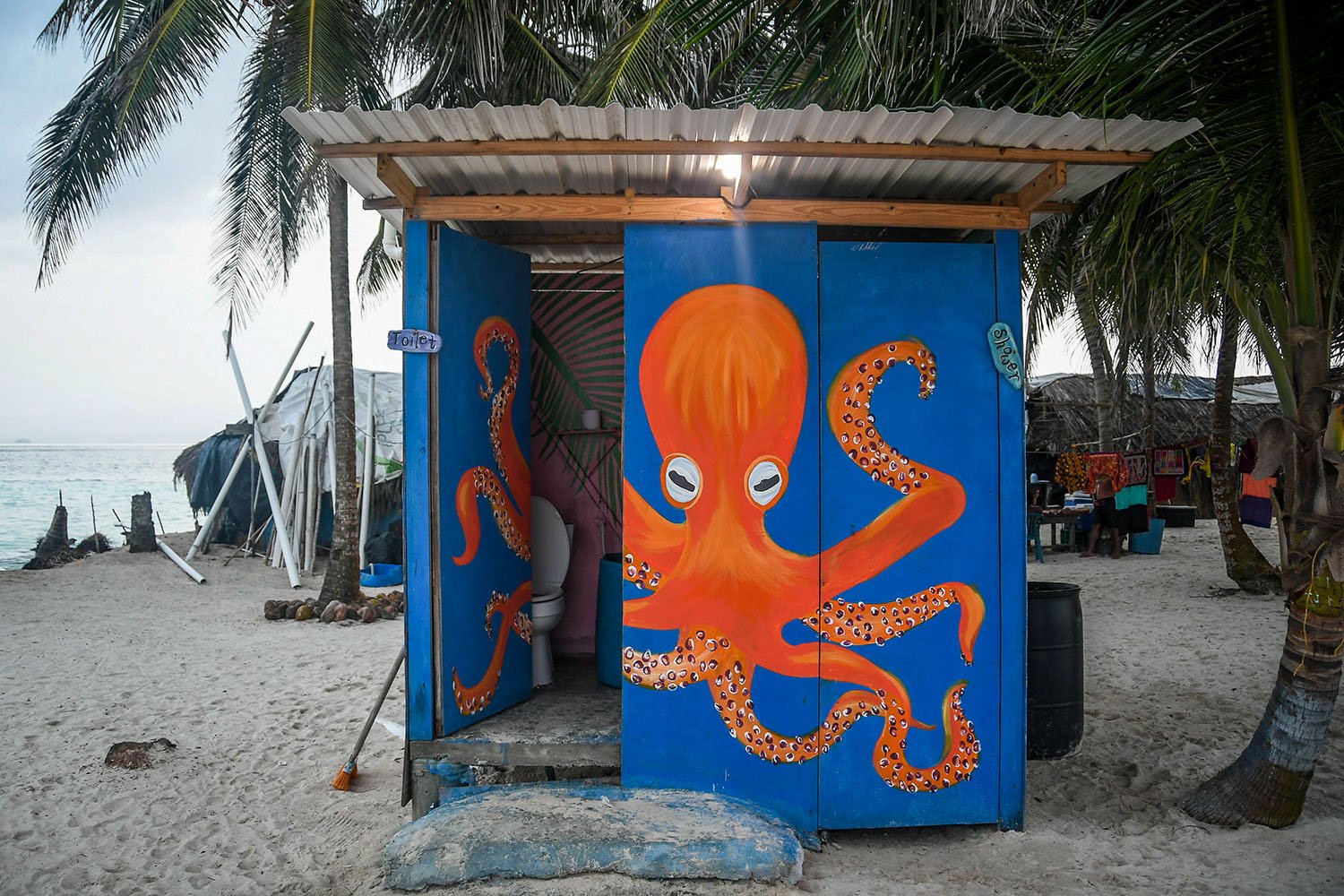 So what happens when you need to go number two on a remote island? Awkward, I know, but we know you're wondering about it, so here's the scoop…
Don't worry, you won't need to dig a hole and "pop a squat". There are facilities on the islands, but they vary a bit.
One island had a Western style toilet with a bucket of water you use to flush. On another island, there was a composting toilet (similar to an outhouse), and when we stayed in a local village we had drop toilets where you wee directly over the ocean (it was pretty interesting as long as you didn't plan to swim below!).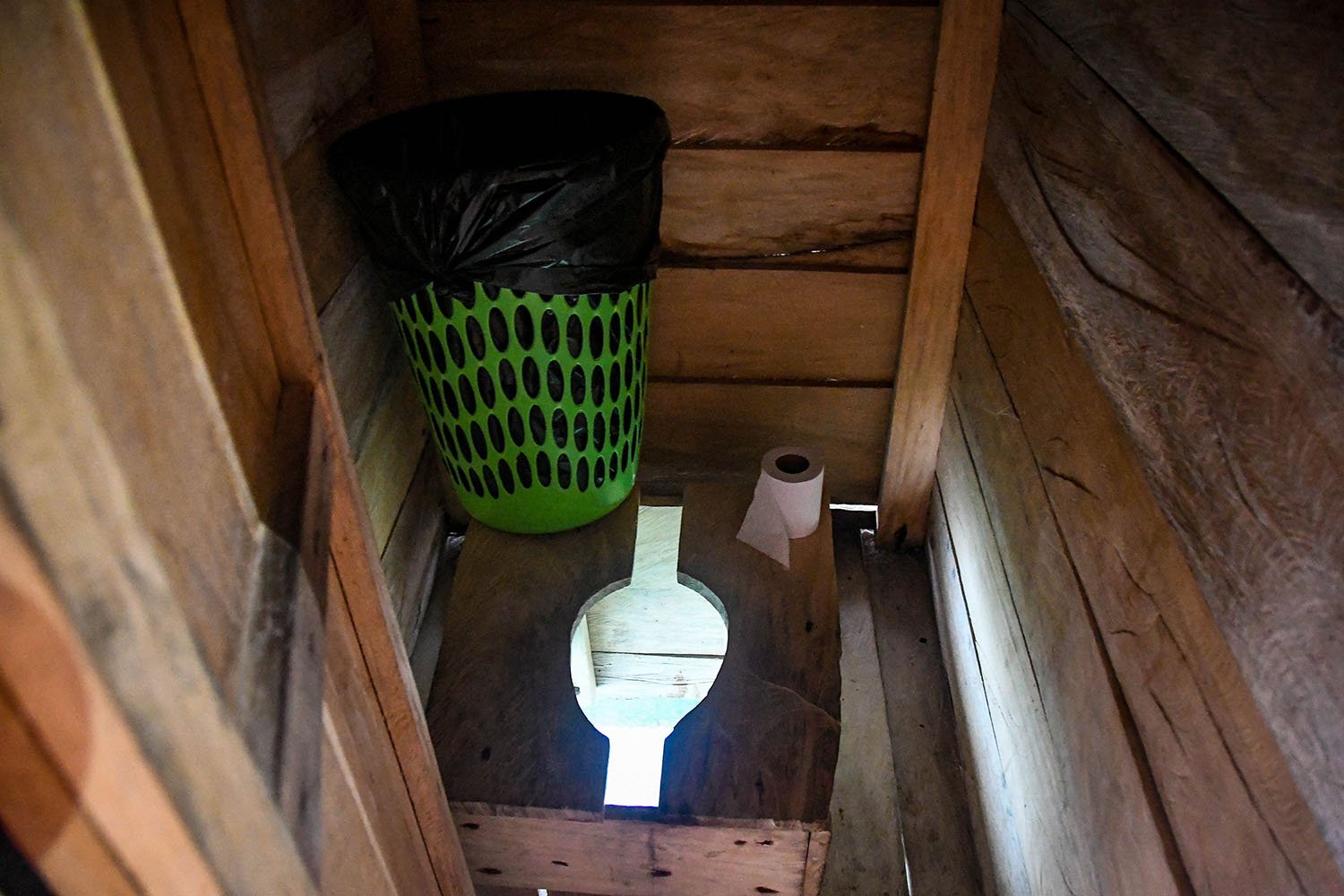 And the showers are rustic as well. You will have access to bucket showers (with cold rain water). It's actually a lot more refreshing than it sounds!
If you have an open mind and are okay "roughing it" for a few days, the bathroom and shower situation shouldn't be too much of a problem.
Tip: Bring a roll of toilet paper (you can share with a couple people if you want). Some of the toilets have a roll, but some didn't. And sometimes that roll would have fallen into a puddle of water and become useless.
Who is San Blas Adventures for?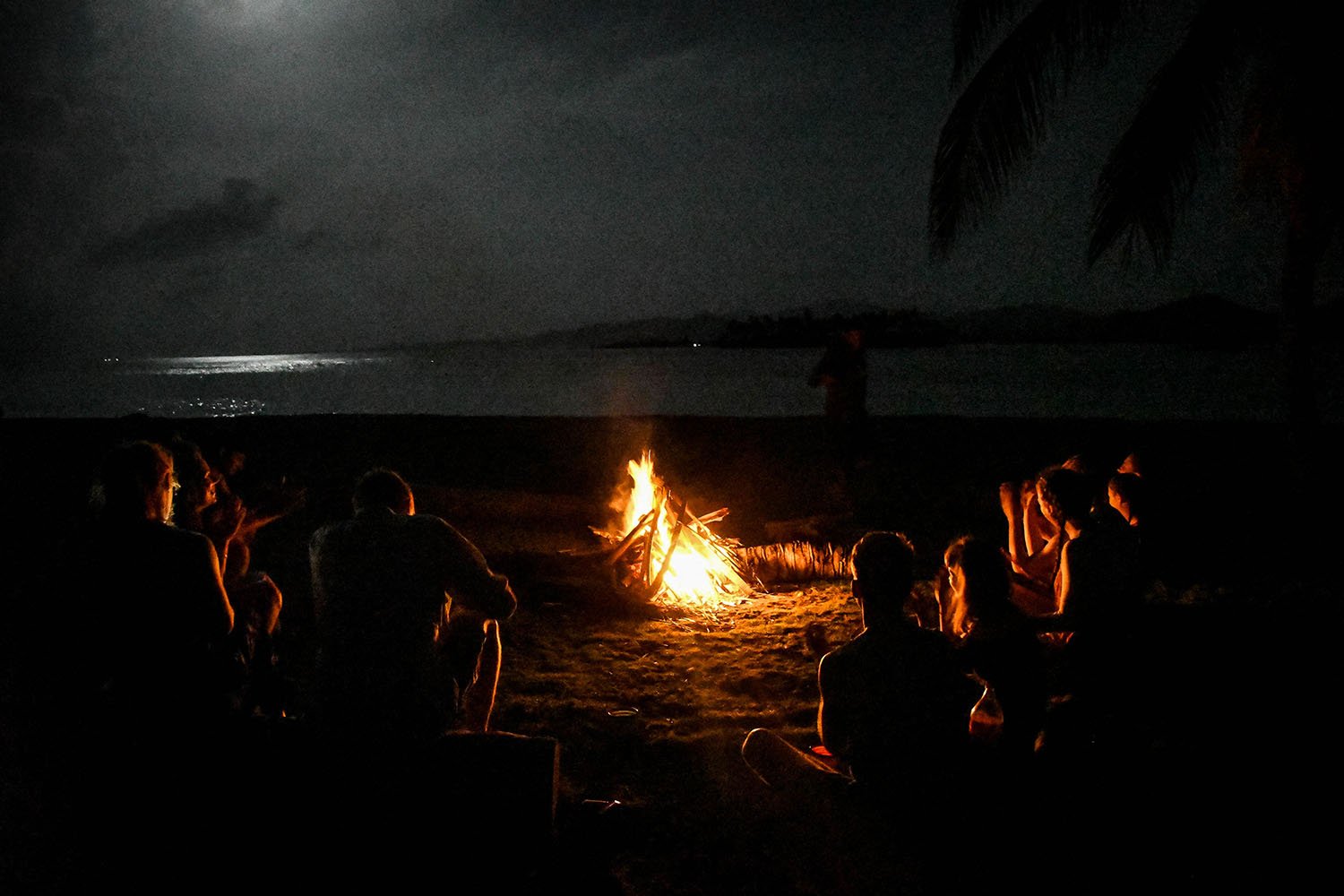 San Blas Adventures is for anyone who wants an island-hopping adventure of a lifetime! On our trip there were couples, groups of friends and people traveling solo.
You'll love this trip if you:
Have an open mind

Are okay "roughing it" for a few days

Love beaches

Enjoy experiencing new cultures

Have a sense of humor and adventure

Are young (at heart!)

Are excited to meet new friends from around the world

Are okay without much privacy

Are looking for the adventure of a lifetime!
While we had a fantastic experience, this trip isn't for everyone.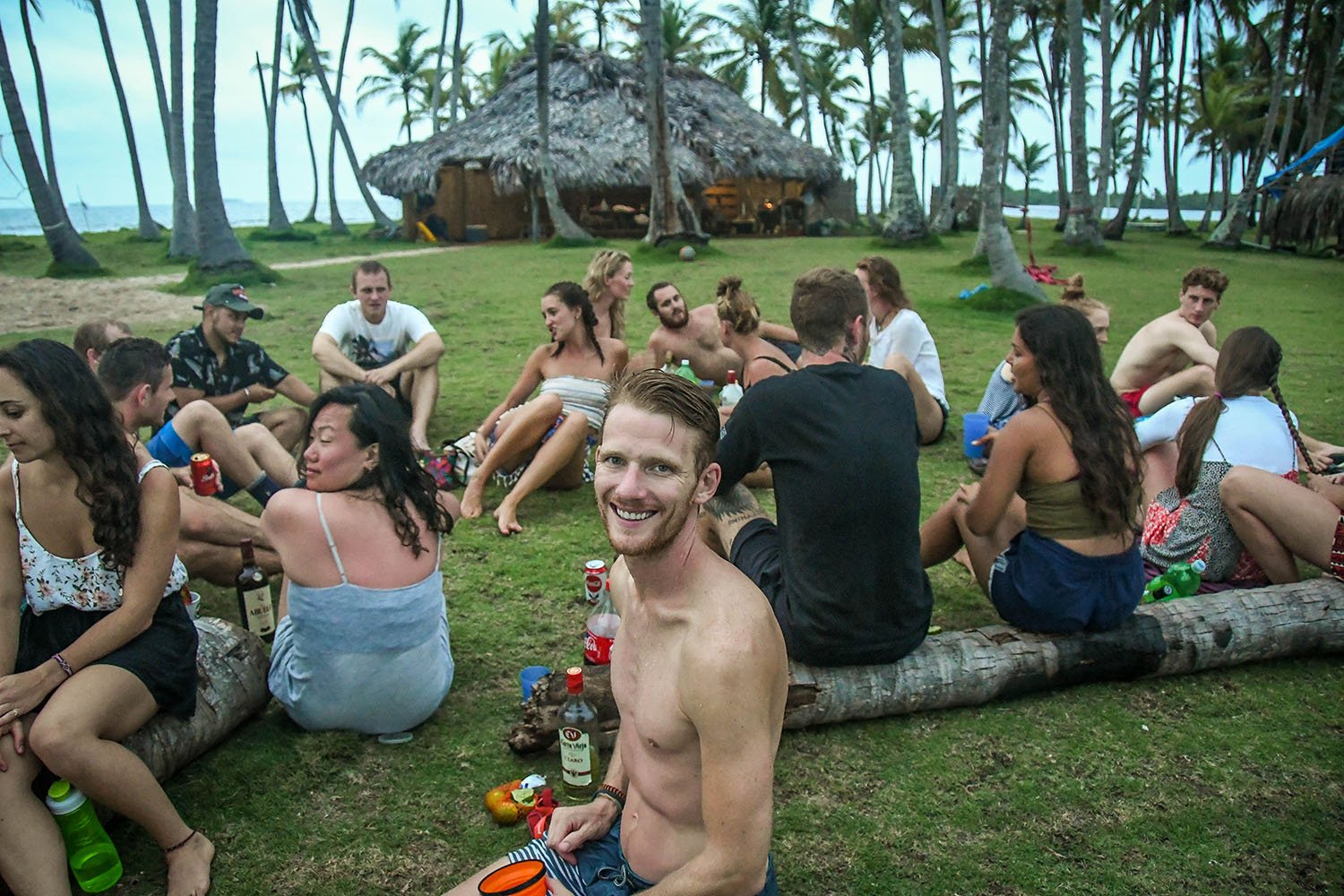 Our group of nearly 30 people ranged in age, but it was a relatively young group overall. The youngest group member was 18 years old and the oldest was 36. We were the second oldest people (at 30 years old), and it seemed like the average age of people in the group was between 23 and 27. This might be something to keep in mind as you plan your trip.
Also, if you aren't all that excited to meet others and socialize, this trip might not be for you. You'll spend lots of time with the others in your group – from sleeping in a communal area (with very little privacy) to drinking around a bonfire at night to relaxing on the beach during the day.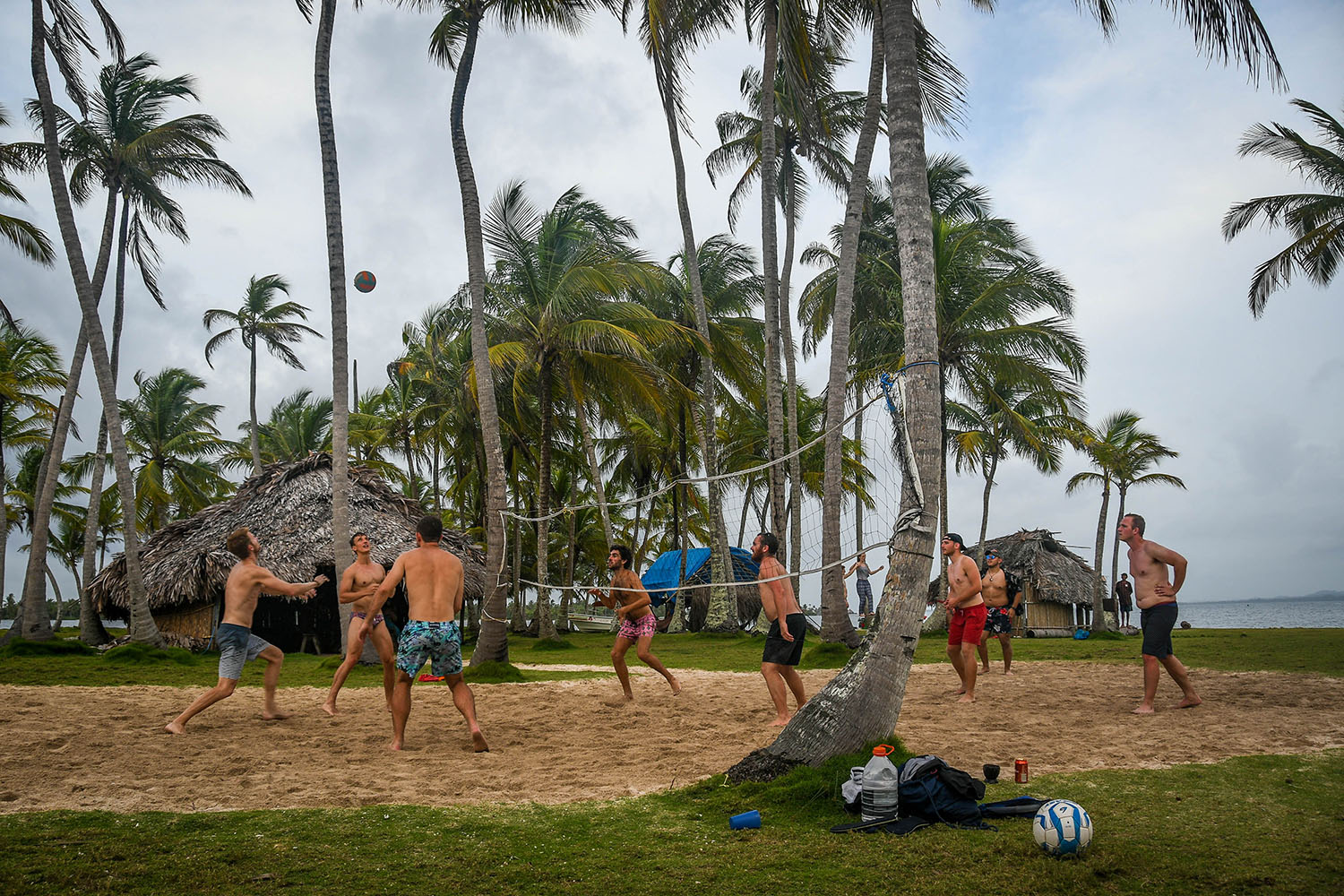 We loved having the opportunity to meet new friends from all over the world, and we couldn't get over how in a group of nearly 30 people everyone was SO COOL. We now have 30 new friends thanks to San Blas Adventures.
But if you're looking for a more intimate experience or don't like to be around others that are drinking or partying, you might not enjoy the atmosphere.
---
What to pack for San Blas Adventures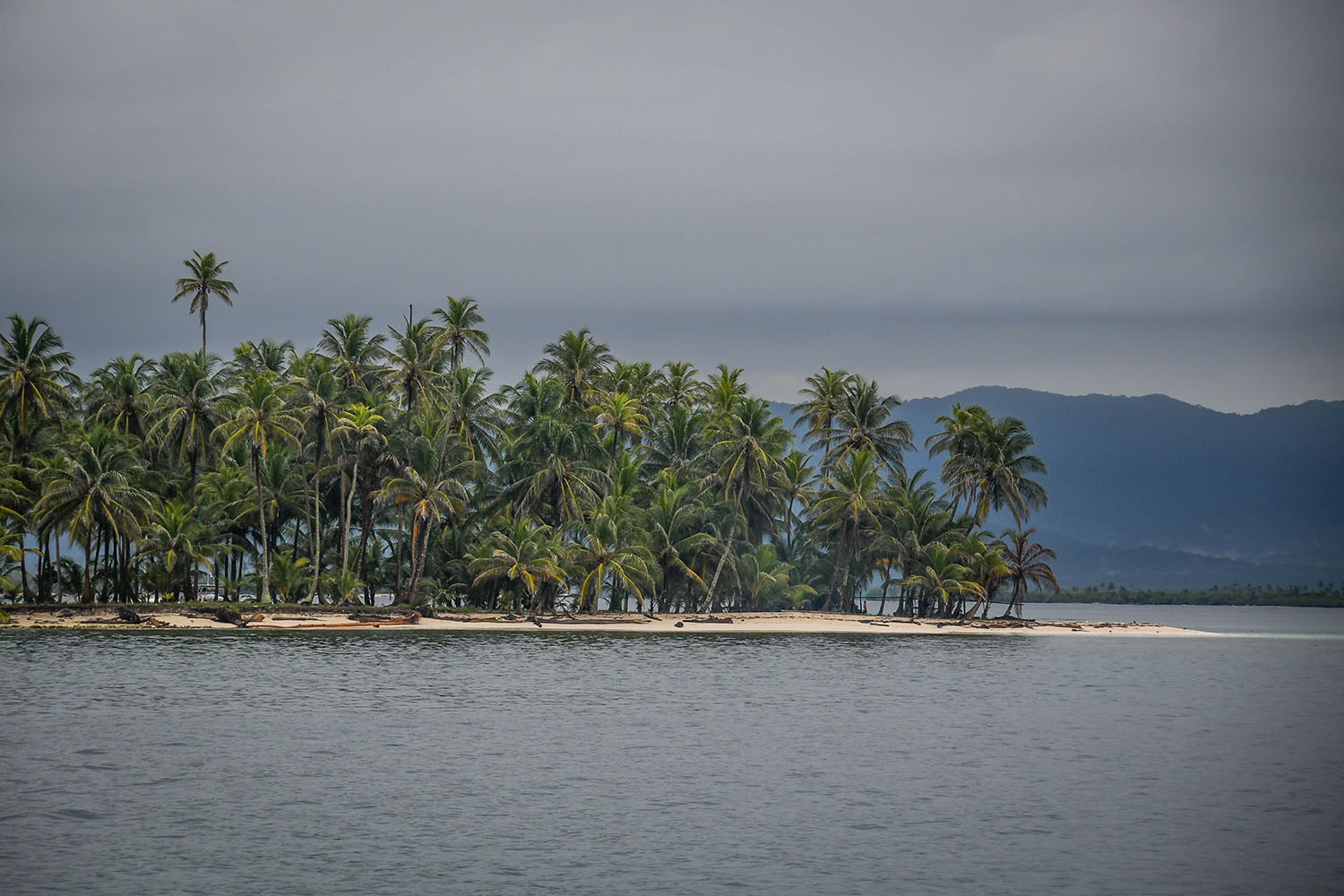 Packing for San Blas Adventures requires some thought.
First, we'll start with some very important instructions: You will need to separate your belongings into a big bag and a small bag. If you want to know what gear we bring on our travels, check out our detailed Packing List.
Big Bag: Everything you DON'T need on the trip
You will NOT be able to access your big bag (40 liter to 70 liter backpacks) during the trip, unless absolutely necessary, so try to pack accordingly. The crew will be handling your big bag, so you won't see it until the end of the trip.
Tip: San Blas Adventures recommends "waterproofing" this bag because there is a very good chance it will get wet. Our hostel in Panama City had a bunch of plastic bags from the supermarket (something we typically try to avoid), and we put our packing cubes inside these so they would be protected in case the bag got soaked. As an extra safety measure, we put our entire backpack inside a large garbage bag, per their recommendation.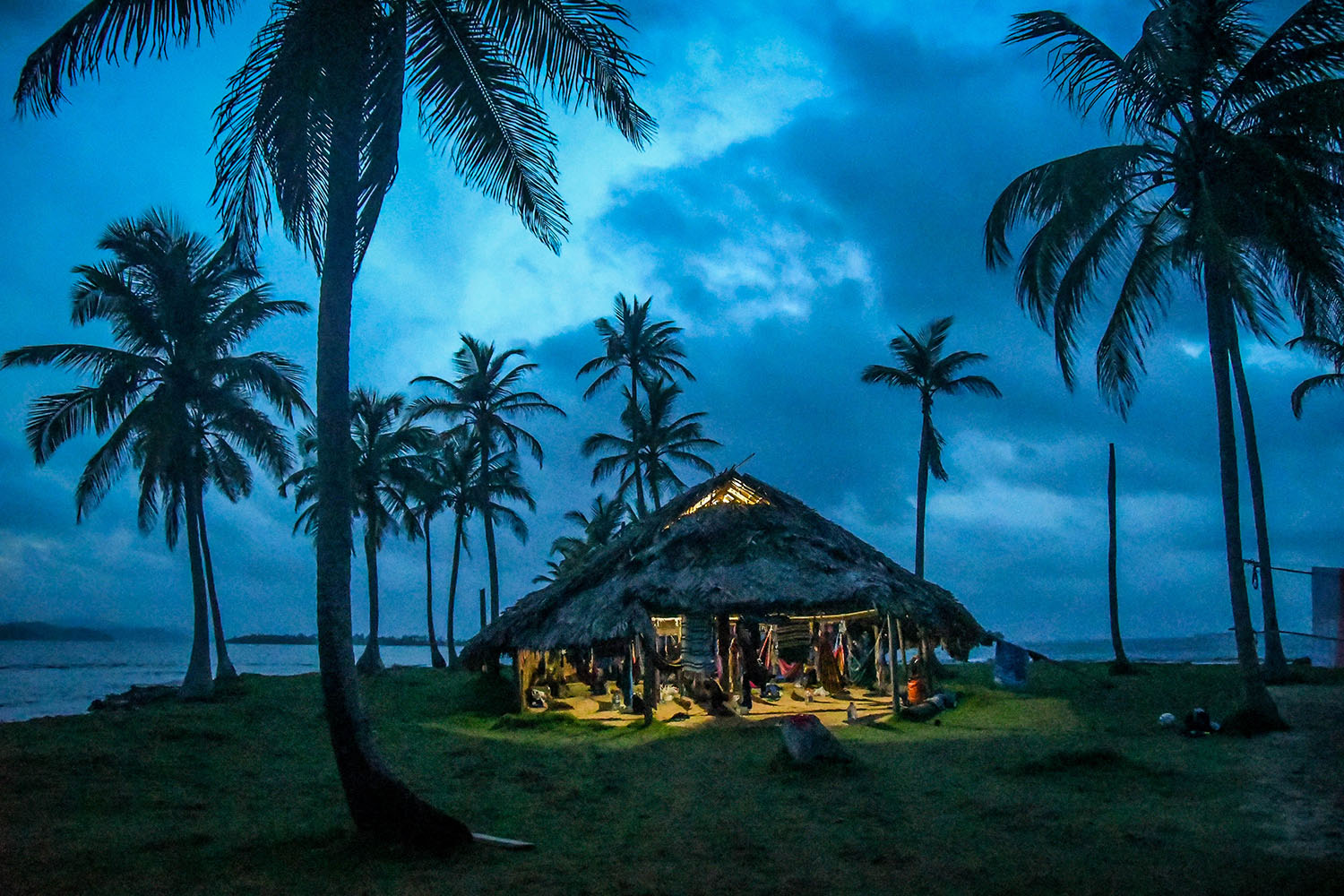 Small Bag: Everything you DO need on the trip
You will carry your small bag(s) (day packs) with you and make sure you have everything you'll need for the trip inside. Additionally, you'll want to have any important documents and electronics in the bag you carry with you. Keep in mind that there is a really good chance this bag will also get wet, so pack accordingly.
Dry bag: You WILL get wet and so will your belongings. If there is anything (like a camera or other electronics) that can't get wet, you will definitely want to bring a dry bag.

Reef Safe Sunscreen: Since you'll be swimming near fragile reef systems, it is especially important to make sure your sunscreen is labeled "reef safe". Look for ones without oxybenzone, because this chemical bleaches the coral.

Sunglasses

Swimsuit (or 2!): You'll basically be living in your swimsuit

Clothes: You will most likely be wearing the same couple outfits, so you don't need to pack too much. Bring lightweight clothes and a warmer layer, as it can get a little chilly at night.

Raincoat or poncho: It can rain quite suddenly in the islands

Towel: microfiber or Turkish towels are good lightweight options and they dry quickly

Camera (or iPhone): You'll definitely want to document your experience!

Tip: We've written an article with tons of practical photography tips for travelers. Read up before your trip with San Blas Adventures to get some epic captures!

Motion sickness bands: If you're prone to seasickness, you'll want to be prepared with motion sickness bands or medicine like Gravel or natural ginger pills

Book or Kindle: You'll have lots of reading time!

Pro Traveler Tip: We love the feel of reading a book, but you can't argue the convenience of a Kindle while traveling. To save money, rent your books from your local library on your Kindle! It's free and you can rent it even if you're in a different country via their online portal. All you need is your library card number. We even download Lonely Planet on them so we don't need to carry around the thick guidebooks!

Eye cover: There is not much privacy at night, so an eye cover will keep you from waking up.

Tip: Ben uses a buff to cover his eyes, and I sometimes use a headband like this one. Yay for multi-purpose items!

Basic First Aid Kit (band-aids, etc.) & any medication you typically take

Reusable straw: We carry ours with us everywhere and liked it for our mixed drinks

Bug repellant: We use a solid balm that smell delicious

Baby oil: a couple of the islands have sand flies, and they can be very pesky. Rubbing baby oil on your legs will prevent them from biting you. When we were there we didn't notice them at all and we never used our baby oil, but we've heard they can get worse during other times of the year.

Facial Wipes: wipe off all that sand, saltwater and sweat and feel fresh

Other toiletries

Hand sanitizer: There isn't hand soap in many of the island bathrooms, so it's a good idea to carry your own hand sanitizer

Vaccination record: Technically, you need your yellow fever vaccination to enter Colombia, so you will want to carry this documentation on you. That said, we've traveled to Colombia 3 times and have never been asked to present it.

Waterproof bag: Keep your passport, vaccination card and other important documents dry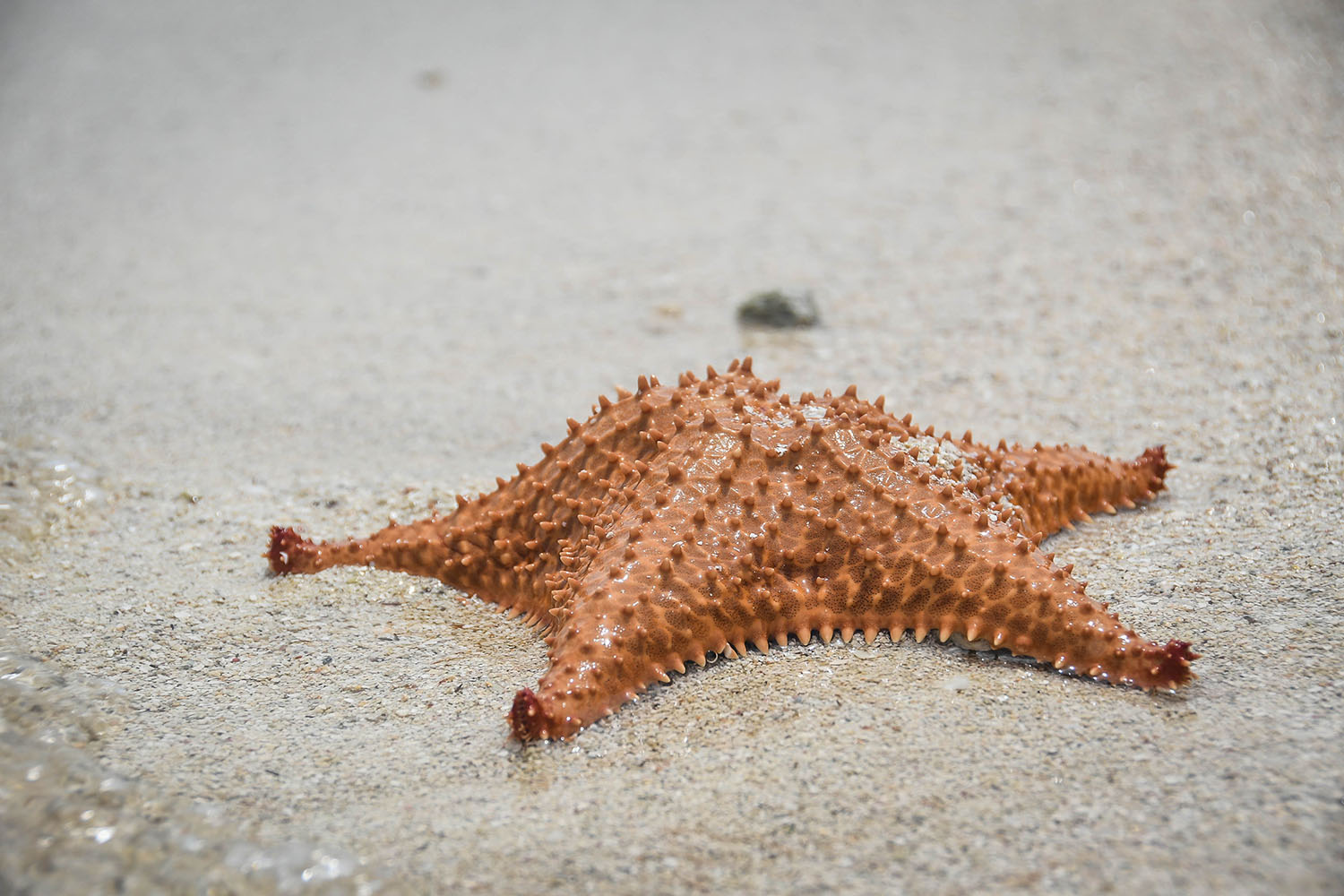 Things to pick up in Panama City
3 photocopies of your passport (you need this for immigration): It's easy to get this done in Panama City (most hostels will do this for a small fee), or you can get it done at home before your trip.

Snacks: Remember, you'll need to pack out your trash so purchase snacks with minimal waste.

Alcohol (and mixers): You can also buy beer and Coke on the islands, but they cost $2 USD each.

Roll of toilet paper

Water: This is an important one. You will need to bring your own water on this trip, and you won't have access to fresh water until the 3rd day. Ben and I each brought our 1 liter Hydroflask water bottles. Plus, we each bought a 1-gallon jug of water to bring with (buying bottled water is something we hardly every do while traveling, because we try to reduce our plastic use).

Tip: If we were to do it again we might bring 3 gallons to split between the two of us because by the 3rd day we were running low on water. This totally depends on how much water you drink though, because some other people still had plenty left.

Cash: You must bring cash with you to pay for drinks on the islands. You will also need to pay for at least one night of accommodation ($25-$40 USD) in Capurganá (your ending city) and a ferry/bus ticket out of the town (175,000 COP/$60 USD). There is no ATM in Capurganá, so you will need to take enough cash with you to cover all costs until you get to Cartagena or Medellin. San Blas Adventures recommends bringing $150-250 USD per person.

Note: While in Panama, you will pay in US dollars, but in Colombia you will need to pay in Colombian Pesos. You can exchange money in Capurganá, but the rate is not great (2,500 COP to $1 USD, in July 2018). If you have time to get pesos in Panama City ahead of time you will save money.
---
How much does San Blas Adventures cost?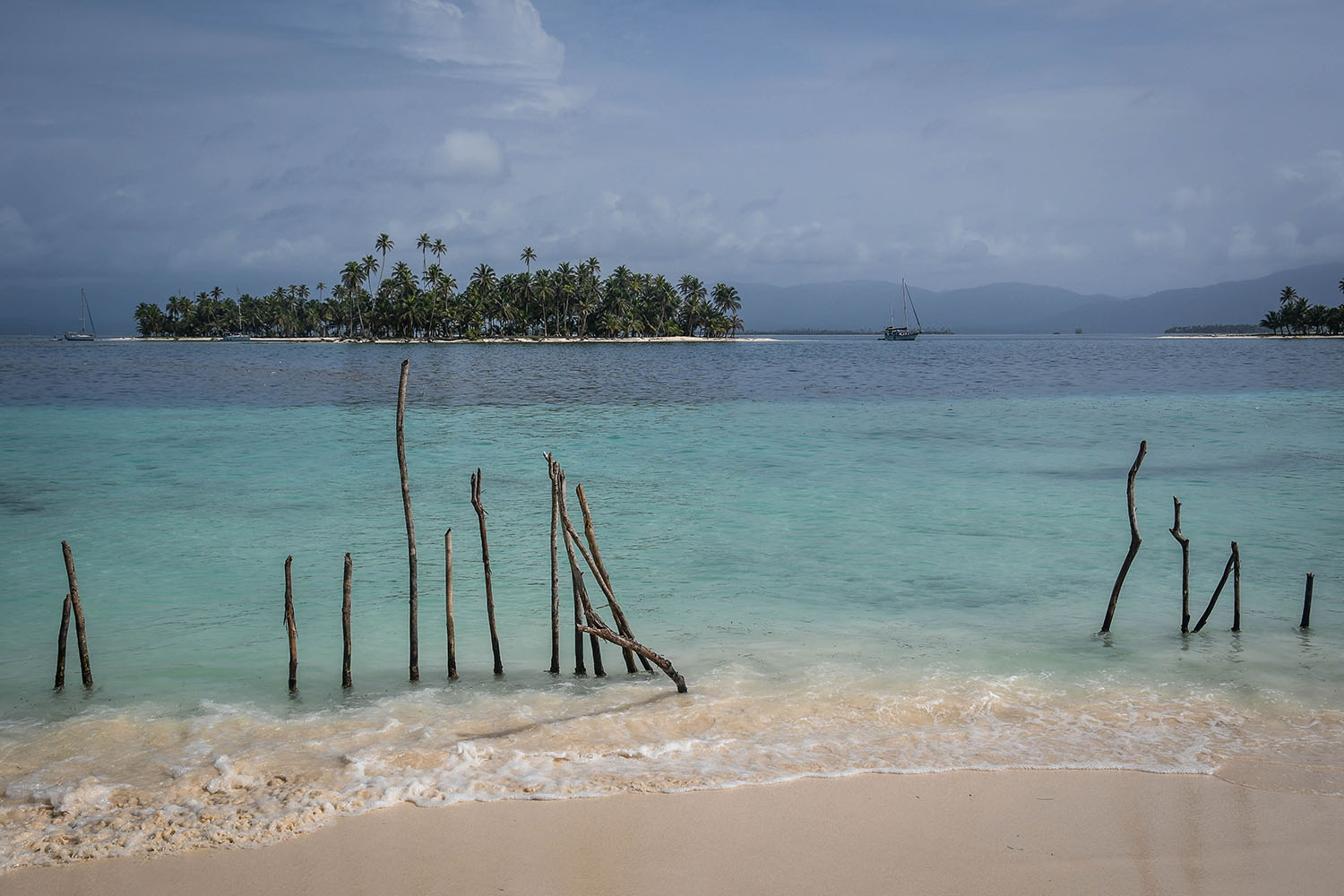 The total amount that you will pay to San Blas Adventures is $399. (Note: Mid-December through Februay it costs $445 per person. Check the calendar for departure dates). This will be paid in 2 installments: a $120 USD deposit online about 2 weeks before your trip, and $279 USD in cash the day before departure.
There are some additional costs you should know about, because it total, you'll be paying a bit more than what is stated on the San Blas Adventures website.
Below, we've broken down all the costs of a San Blas Adventures trip (these are per person costs).
$399: total payment to San Blas Adventures

$30: Jeep ride to the departure point. The journey starts at the small town of Carti on the Panamanian coast, about 3 hours from Panama City. San Blas Adventures works with a transportation service and arranges it for you, but you have to pay them an additional $30 for this.

Visa entrance fee to Colombia (Canadians only have to pay 190,000 COP/$65 USD)
Optional Costs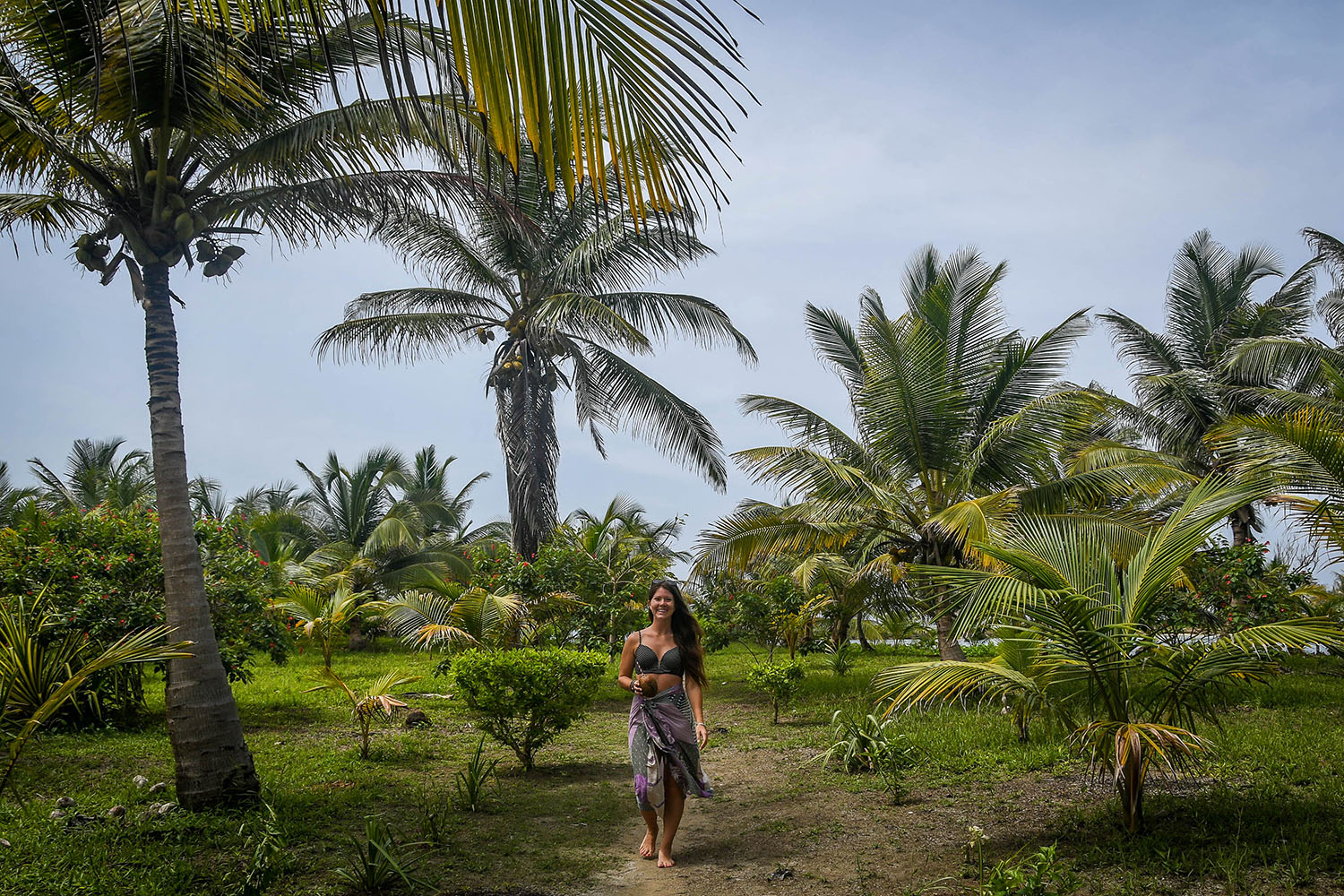 Beer, Coke or Coconuts on the islands: drinks on the islands are all $2 each. This means if you have 6 beers in 1 night, you'll end up paying $12. Multiply that by 3 nights and you can expect to budget $36 on beer. Or if you bring your own rum and mixers, you might not spend any money on alcohol on the islands.
Souvenirs: There are a couple opportunities to buy souvenirs from the Kuna people. They sell bracelets and mola (intricate fabric designs), and it is one more way you can support the local community.
We like collecting fabrics, so we bought a mola for $15 USD, which is a pretty fair price considering it takes quite a bit of time to sew these patterns by hand.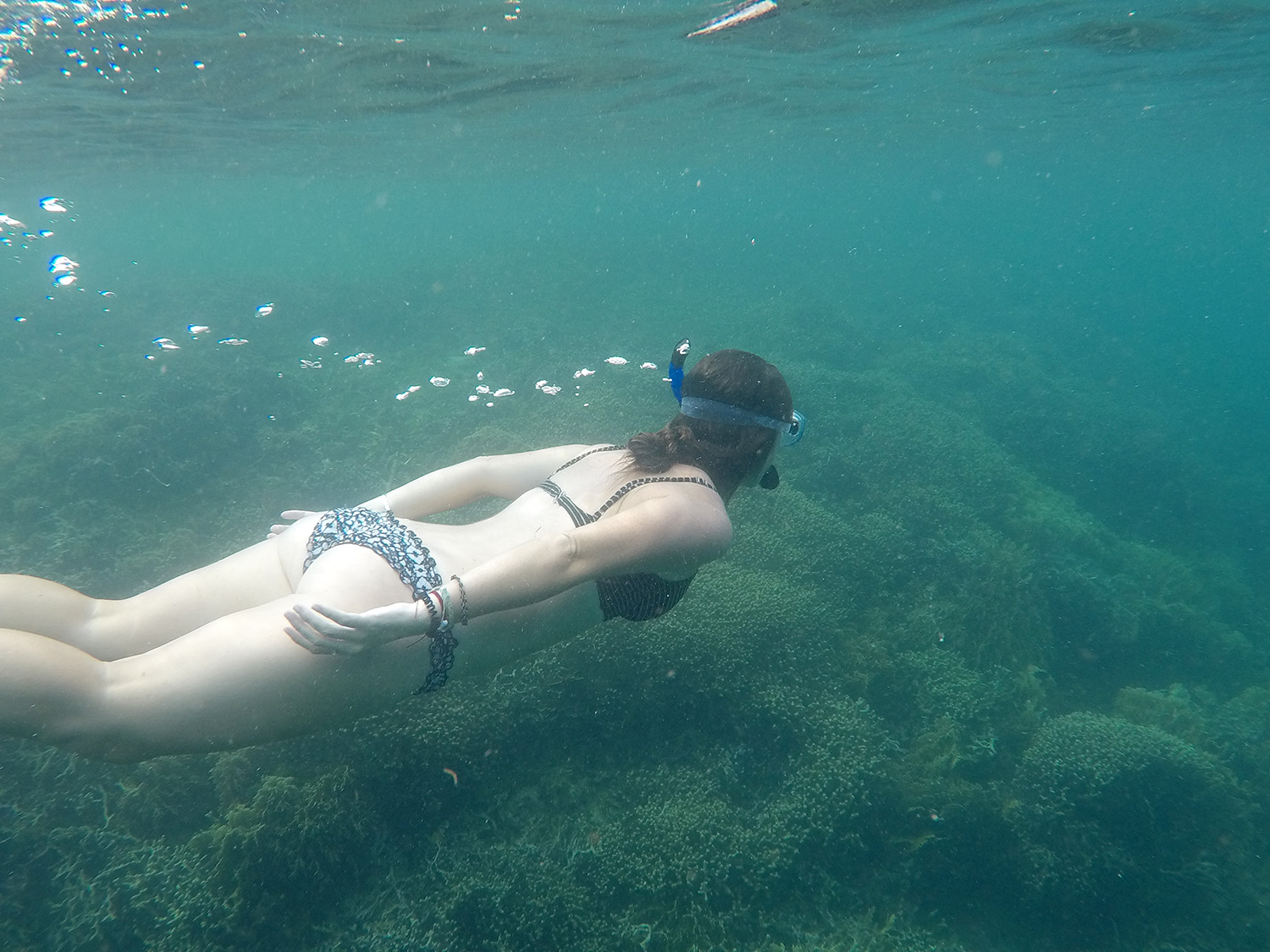 After the trip
$15 per night (at least) for dorm accommodation in Capurganá, private rooms start at $25 per night

Boat and Bus ride to Cartagena* – $60 USD for a 10-hour journey.

*You can also get transportation elsewhere, like Medellin, which cost $50 USD
Total Cost of San Blas Adventures Trip
$399 cost of trip

$30 jeep transportation to departure city

$27 drinks on the islands (what we bought)

$5 snacks/water bought before hand

$15 hotel in Capurganá

$10 food (dinner) in Capurganá

$60 ferry & bus to Capurganá

Total Cost per person from Panama City to Cartagena: $546
The biggest factor in terms of your final cost is how much alcohol you plan to drink. If you purchase all your alcohol beforehand and don't plan to go too crazy, this cost could be lower. But if you buy beer each day and cans of Coke to mix with your rum, it could be a bigger expense.
---
San Blas Adventures Sample Itinerary: Panama to Colombia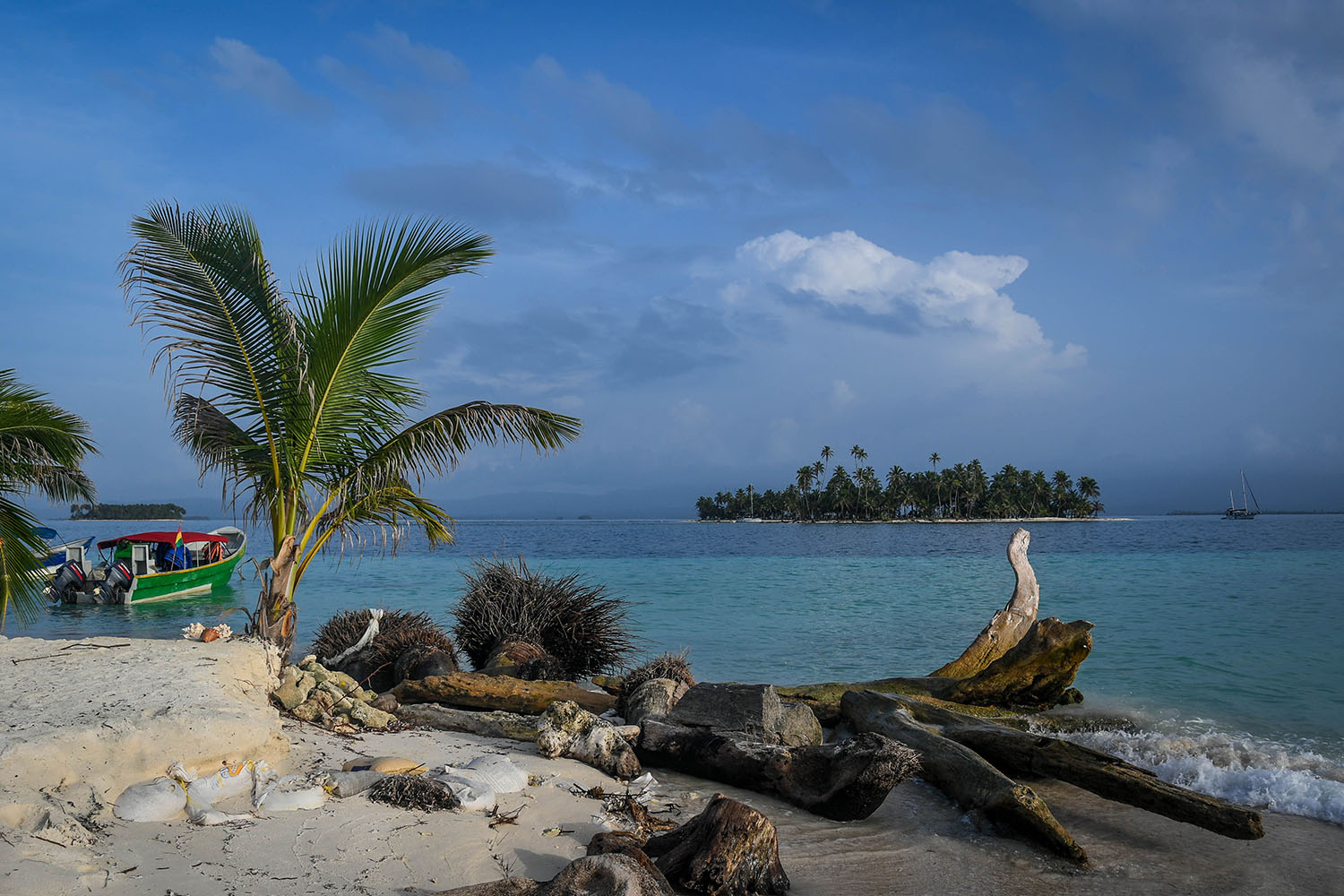 Depending on the weather and season, this schedule may vary.
Day 0 (Day before Departure)
You shold plan on being in Panama City the day before your departure, because there is a briefing at 11 a.m. at Luna's Castle Hostel. The meeting lasts about an hour and they'll go over the details on the trip (though if you've read through this article, you will probably already know most of what they go over). During this briefing, you'll also pay the remainder of the trip cost.
Day 1
Morning
5 a.m. pickup at your hostel in Panama City (stop at supermarket for bathroom and last-minute snack run)

8:30 a.m. Arrive at departure point around (small restaurant, but not great food or bathroom)

10:15 a.m. Load boats and depart
Afternoon
11:30 a.m. arrive at first island (Pelican Island), relax, snorkel and have lunch prepared by local fisherman, spot starfish

2:30 p.m. depart for 2nd island (this is where you'll spend the night); relax, play volleyball, snorkel, slackline, shower
Evening
6 p.m. seafood dinner at big community table

7 p.m. drinks, card games, and socializing

9 p.m. Bonfire and more drinks into the night
Day 2
Morning
8 a.m. wake up and have breakfast and pack bags

9 a.m. depart for island hopping
Afternoon
11 a.m arrive at island (this is where you'll spend the night); lay at the beach, snorkel, play volleyball, swim to surrounding islands, slackline, swim with starfish and pufferfish

1 p.m. eat a delicious seafood lunch

2 p.m. more chilling at the beach, volleyball, lay in a hammock, grab a beer
Evening
6 p.m. dinner time at big communal table

7 p.m. drinks with group, play cards, watch sunset

9 p.m bonfire and more games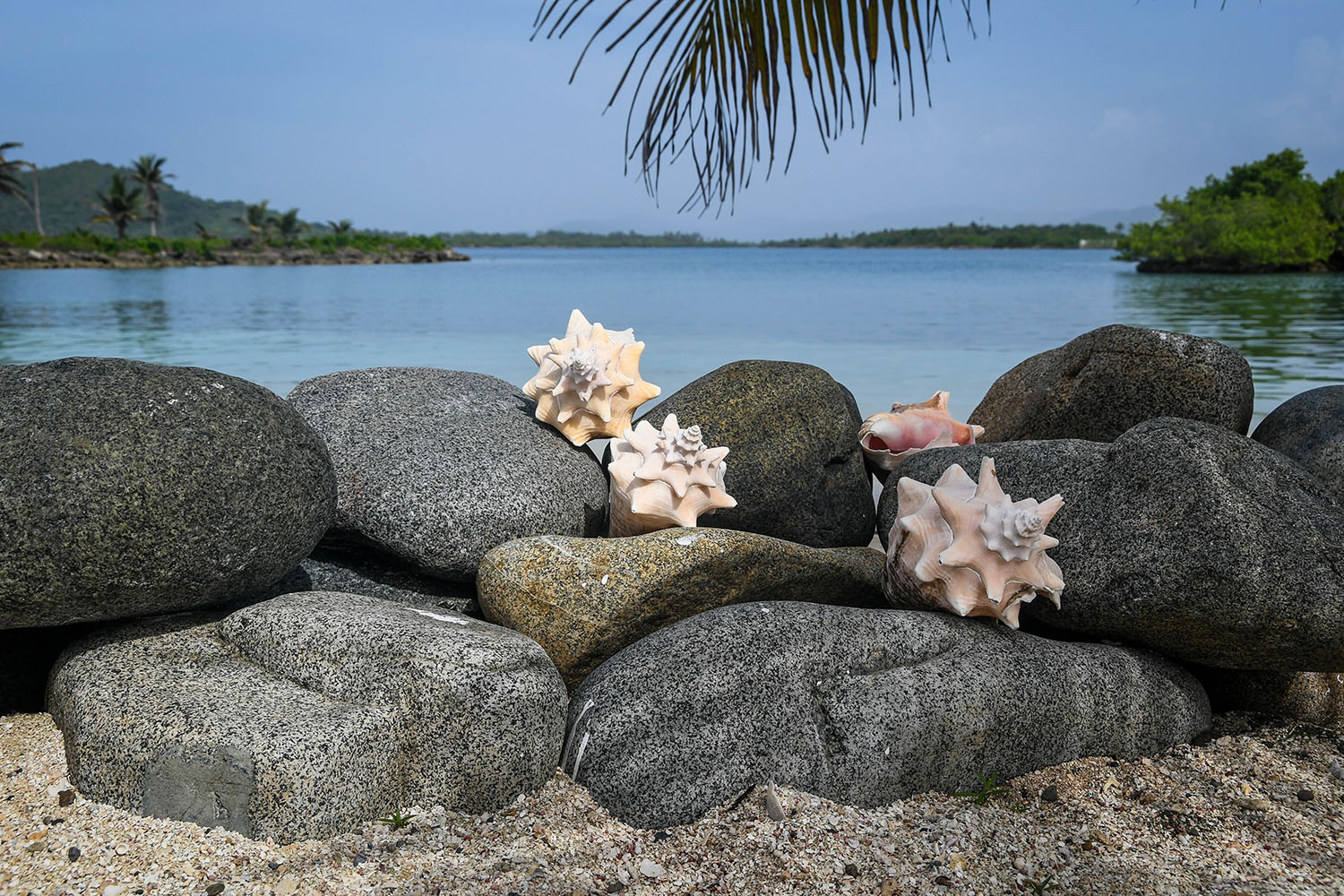 Day 3
Morning
8 a.m. breakfast and pack up bags

9 a.m. depart for island hopping

10 a.m. arrive at island, chill in a hammock, buy a coconut ($2), swim to other islands, snorkel in crystal clear water
Afternoon
1 p.m. seafood lunch with Kuna-made bread

2 p.m. more relaxing on island

3 p.m. locals arrive with wooden canoes

3:30 p.m. paddle from lunch island to Kuna village where the Kunas are waiting for you. (20-30 minutes)
Evening
5 p.m. dance ceremony preformed by local Kuna children

6 p.m. walk through village, say "Hola" to locals and interact with children, play basketball or soccer with kids at the park.

7 p.m. seafood (or chicken) dinner at local Kuna resturant

8:30 p.m. head back to Kuna hotel and sleep in beds in dorm rooms or private rooms for some couples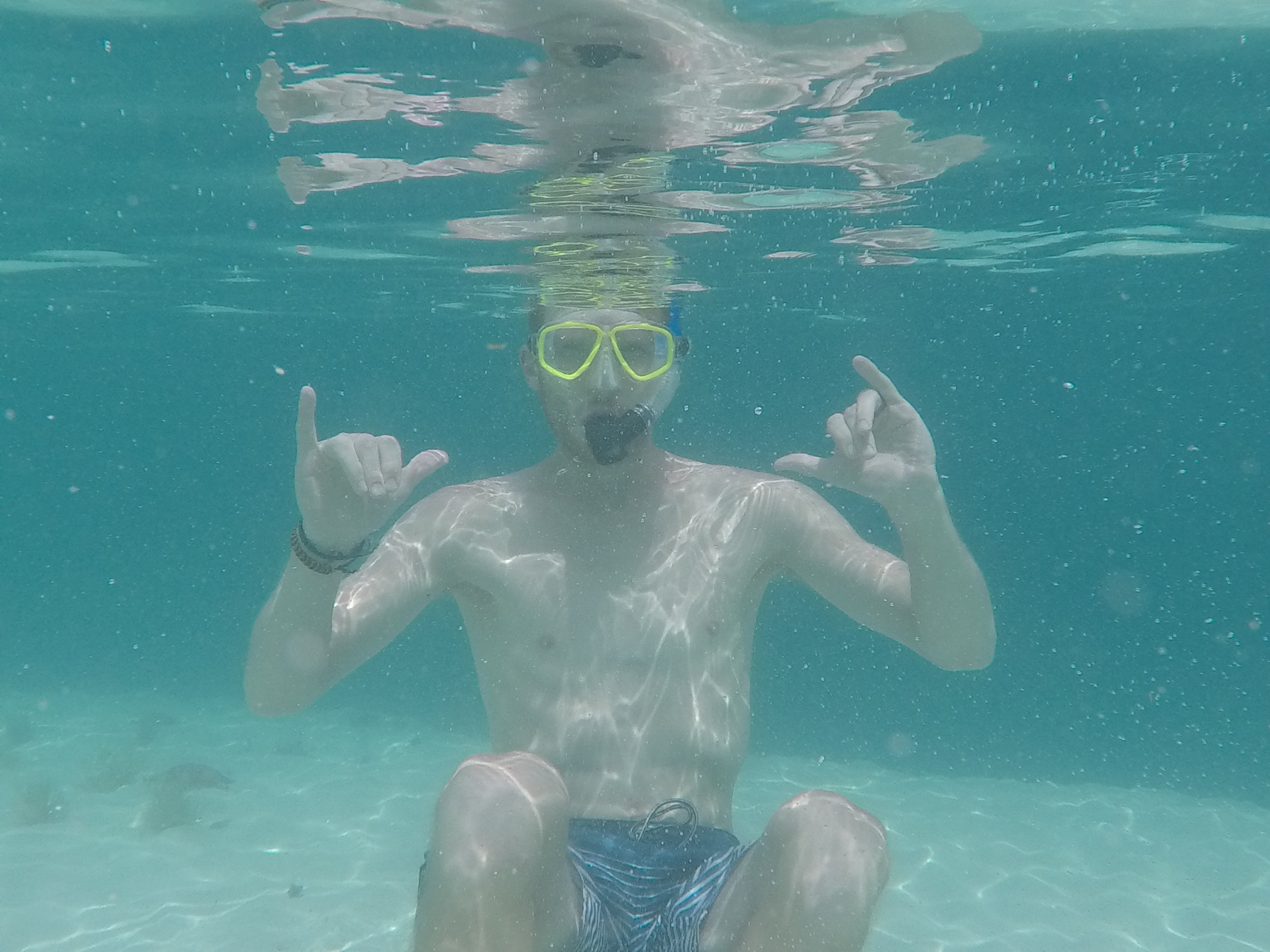 ---
Border Crossing Panama to Colombia
On the last day of the trip, you will cross from Panama to Colombia. The nice thing is San Blas Adventures takes care of all the immigration fees for leaving Panama because it is built into the cost of yoru ticket.
First you'll go to the small town of Puerto Obaldía to get your stamp out of Panama. Now this town is in the middle of nowhere and the border guards don't have much to do, and what we heard is that they tend to take their time with people crossing to Colombia.
We were told this checkpoint could take as little as 1 hour or up to 4 hours. Unfortunately for us, the guards we extra particular with our group and it took 3.5 hours for us to get through this spot.
But once that was over, we took the short 20-minute boat ride to Sapzurro, Colombia! Here we chilled at the beach for a bit, had a delicious leaf-wrapped tamal and then hopped on another boat to Capurganá.
Capurganá is the final destination of San Blas Adventures. This means you will have to arrange your own transportation to Cartagena or Medellin (or wherever else you plan to go next).
Depending on how long the border crossing process takes, you will arrive in the small town in the mid-afternoon, and you will need to stay at least one night. The immigration office is in town, so be sure to go there before it closes to get your entry stamp.
Typically, San Blas Adventures arranges an optional dinner in town that everyone in our group attended. It was fun seeing everyone showered and wearing something other than a bathing suit!
Where to stay in Capurganá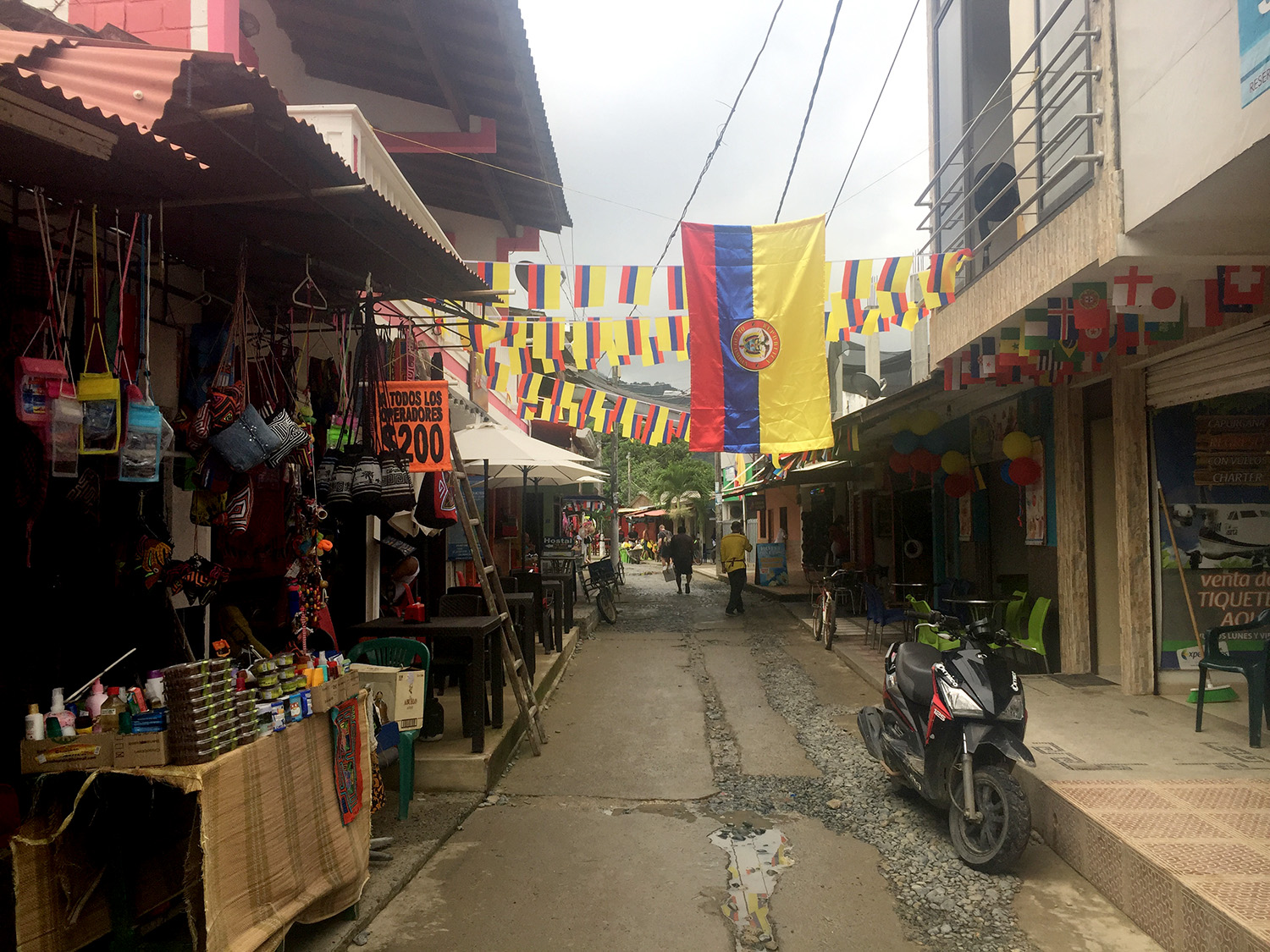 There are a handful of hostels in the town, and we would recommend staying 2 nights (unless you're tight on time). We'd also recommend booking in advance because the last thing you want to do after a long day of being in a boat and crossing the border is to search for a hostel in the mid-afternoon heat.
Katamaran Hostel: After another popular hostel overbooked beds, many people in our group had nowhere to stay. They stumbled upon this hostel located right next to the dock and were rewarded with clean AC rooms, a cool outdoor hangout spot and a super sweet owner who taught us all to salsa dance! For value and location, this is the hostel we'd recommend.
Acuali Eco Hostel: We stayed in the dorm room with a few other girls from our group, and it was nice. The property was beautiful, the breakfast was really nice and there was a cool outdoor shower. That said, it is located a 15-minute walk from town which is not all that convenient to make in the Caribbean heat. It is nice if you're looking for somewhere quiet.
Things to do in Capurganá
This small town on the border of Panama and Colombia is actually a pretty cool place to spend a couple days if you have time. It isn't super touristy, so explore this hidden gem before it gets more discovered.
Drink fresh juice at stand down the street from the immigration station: there are tons of exotic flavors you've probably never heard of. We recommend lulo!

Hike to Sapzurro (2-3 hour one way)

Soak in the natural pools – there is a path along the beach that will lead to natural pools created by the tides.

Go dancing – Capurganá definitely has good nightlife so get ready for a party

Relax at the beach (if you're not sick of beaches yet!)
---
How to book your trip with San Blas Adventures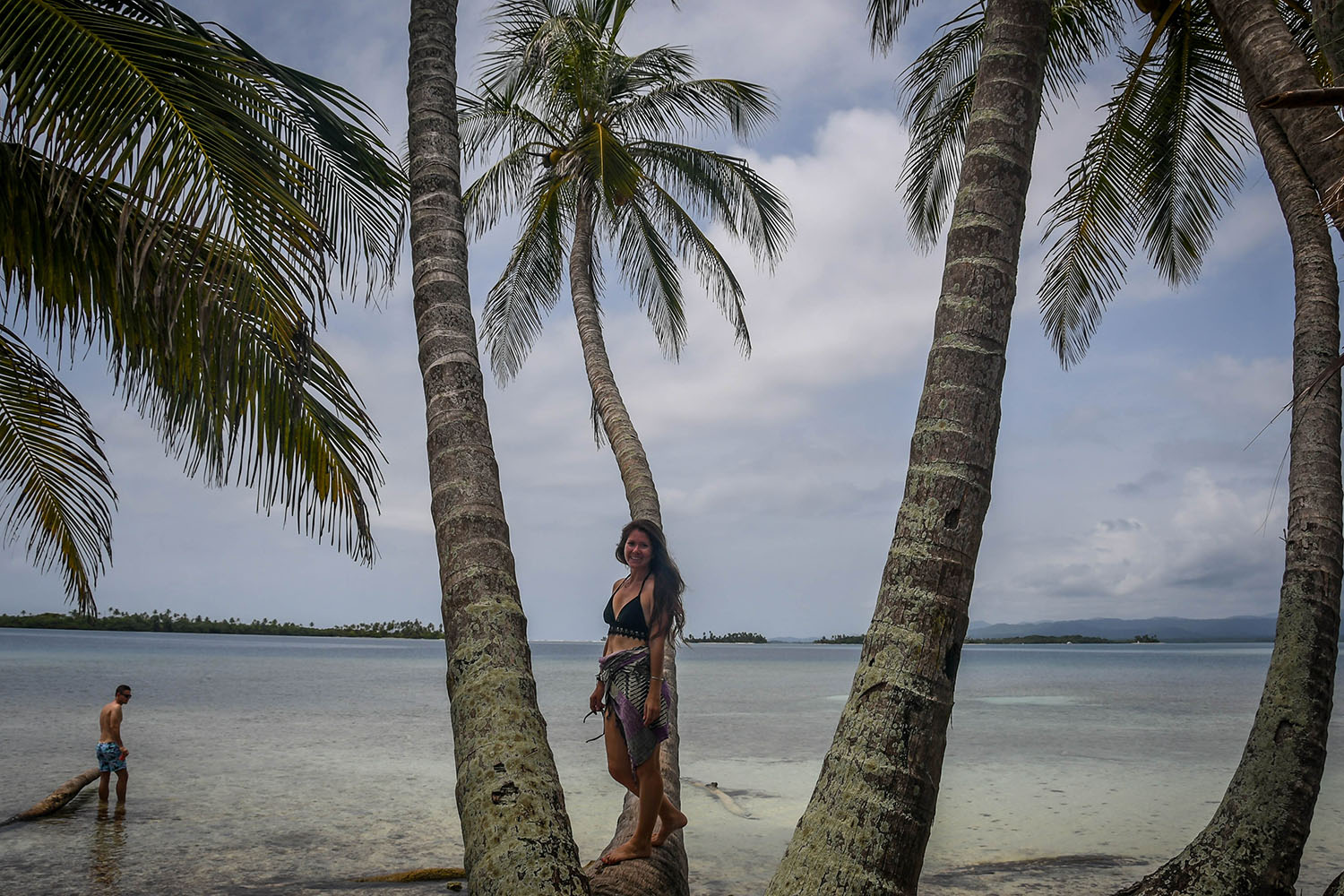 It's important to point out that since San Blas Adventures is one of the only companies that use speedboats, they book up rather far in advance. We met some people on our trip who had friends that wanted to go on this trip with them, but by the time they tried booking, it was already full.
Don't wait until the last minute! While certain times of the year fill up more quickly than others, it is a good idea to reach out in advance if you know you want to do a San Blas Adventures trip. Be sure to tell them Katie & Ben from Two Wandering Soles sent you!
If they are full, or you're looking for another way to explore off the coast of Panama, be sure to check out LiveAboard.com. We've used them before and are great for finding scuba diving trips or small cruises anywhere in the world.
You might also like…
---
We were guests of San Blas Adventures, and would like to thank them for their hospitality. And as always, all opinions are our own.
---
We want to hear from you
Are you planning on traveling Central America? Have you thought about traveling from Panama to Colombia? Do you have any other questions about San Blas Adventures? Let us know in the comments below!