You've probably heard of the Old Man of Storr walk — it's one of the most popular hikes in Scotland, and for good reason! We put together this guide with everything you need to know about how to do this iconic hike yourself and what to expect.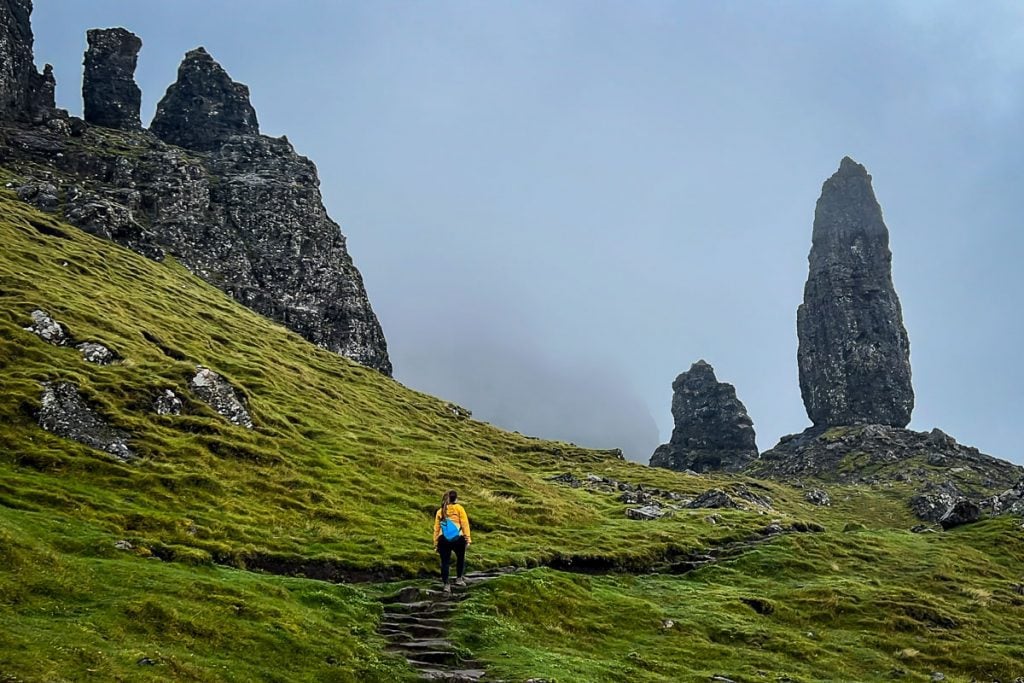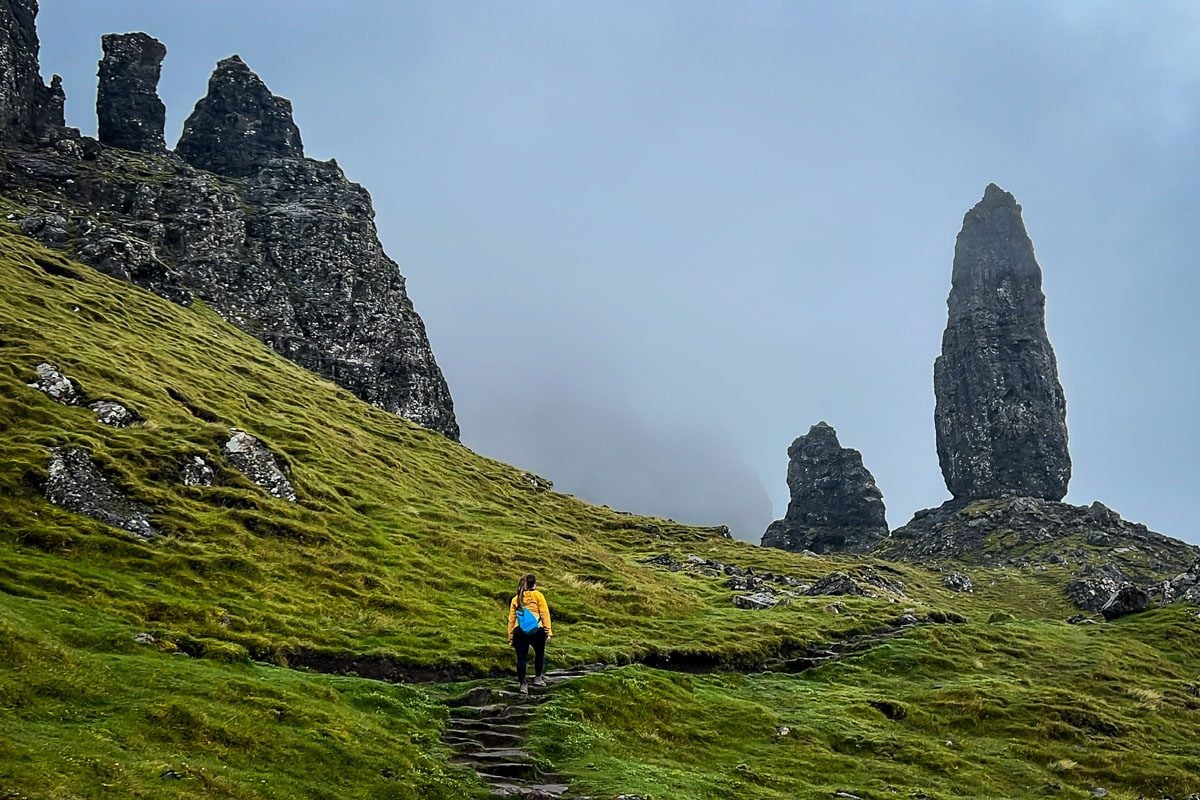 One of the best, and most popular, hikes in all of Scotland is the Old Man of Storr. Situated on the eastern coast of the Isle of Skye, this trail takes hikers through a moss-covered landscape, strewn with otherworldly rock formations.
When we started this hike, it was gently raining and we asked ourselves if this hike would be worth it.
Spoiler Alert: Turns out it absolutely was! To say this is an epic hike is an understatement.
So even if it is lightly raining (which it very well might be – it's Scotland, after all!), we'd still encourage you to lace up your hiking boots, zip up that rain jacket, and go!
Hiking the Old Man of Storr trail was definitely a highlight of our time on the Isle of Skye, and we'd highly recommend including it on your Scotland itinerary.
In this article we're going to share exactly what to expect on this hike, essential things to pack, as well as some insider tips that'll make your experience even better!
Article contents
Planning a trip to Scotland? Find out the best time to visit Scotland based on seasonal weather patterns and your personal travel style.
---
Be sure to download our complete packing list for Scotland! It's packed with good suggestions and insider tips to help plan your Scotland trip. And it's completely FREE, so why not!?
---
How the Old Man of Storr got its name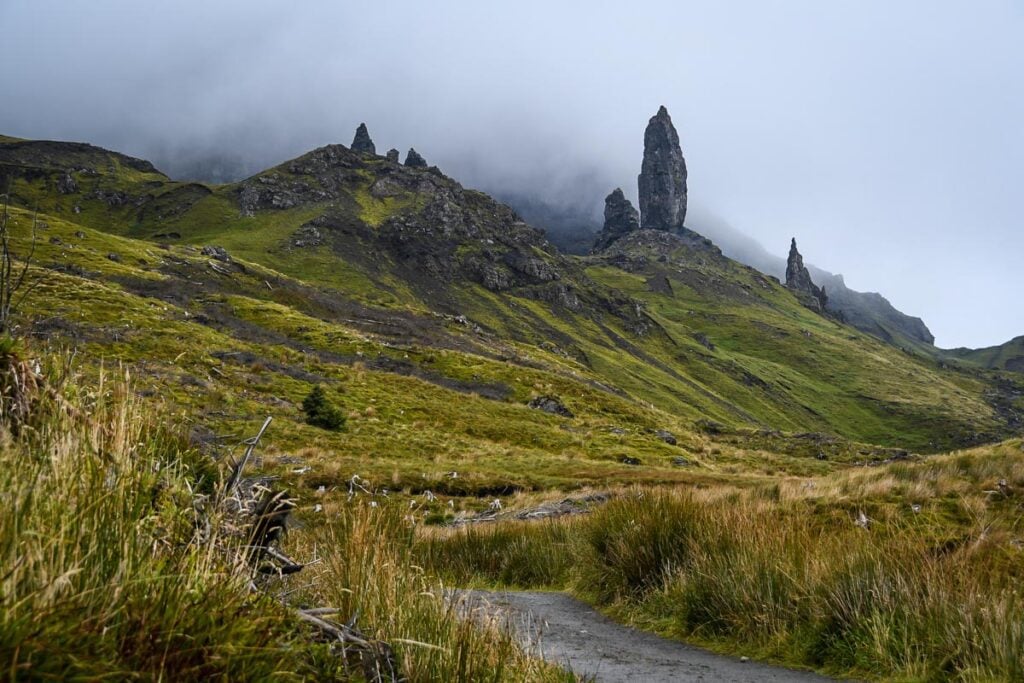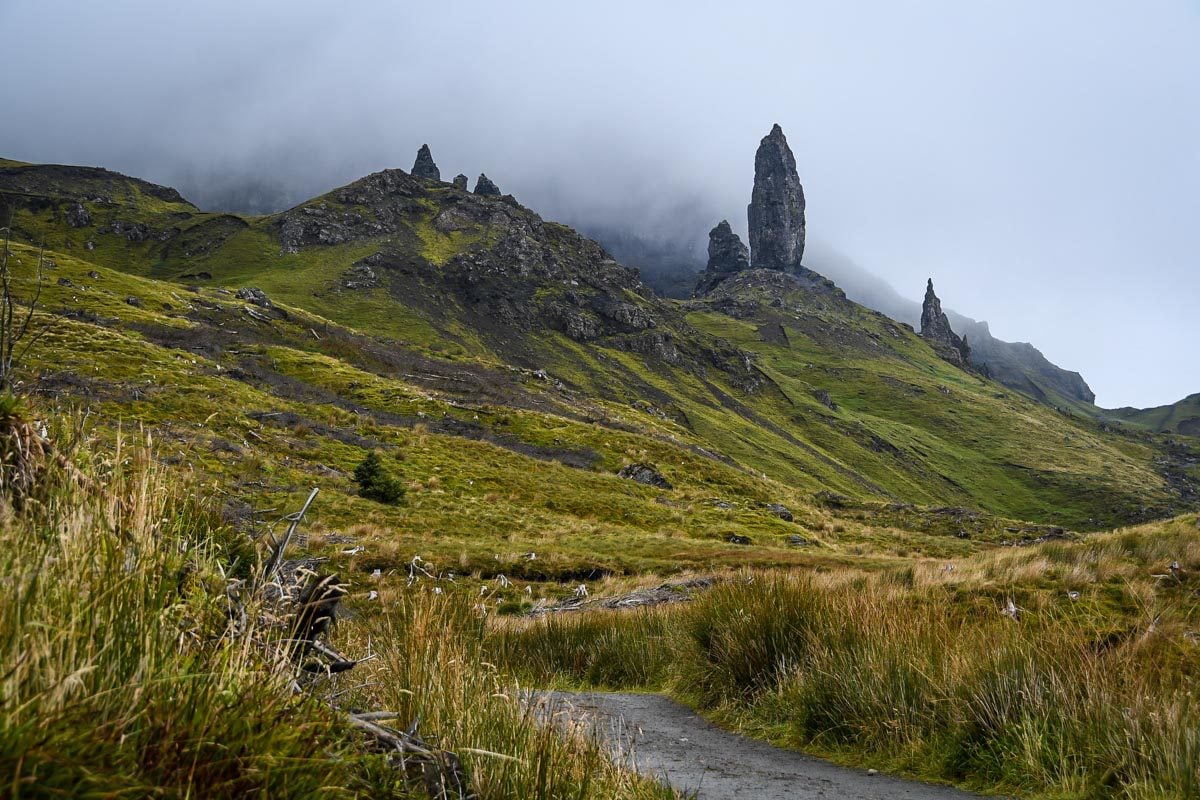 With such a unique name, you may be wondering how Old Man of Storr came to be. Storr itself means "great man" in Norse and refers to a large or powerful man. That description is certainly fitting for the prominent 165-foot-tall rock formation! The "old man" part, however, is a bit more subjective.
There are a few variations on local legends, but one of the most common explanations is that the rock formation resembles an old man's face (do you see it??). Another popular folktale is that a giant was buried in the hills below the ridgeline and the large rock formation represents his thumb, which was left sticking out from the ground.
Regardless, the Old Man of Storr has an appropriately distinct name!
Old Man of Storr Hike Details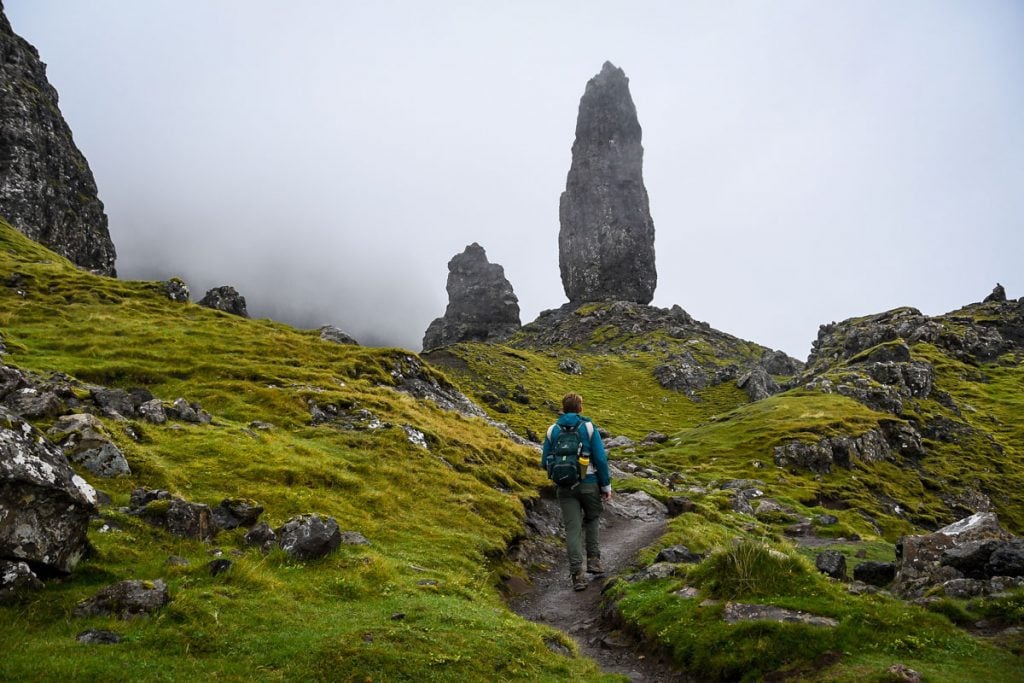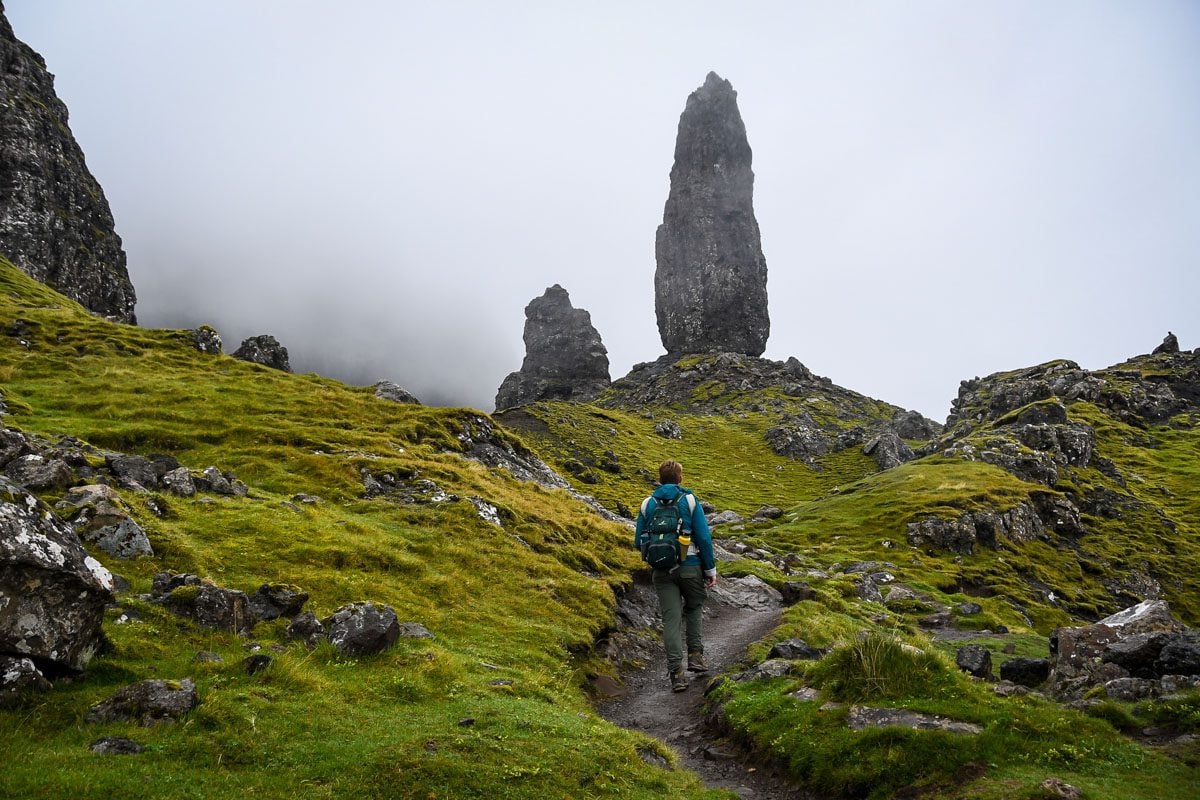 Distance: 3-mile/4.8-kilometer loop
Elevation gain: 1,050 feet/320 meters
Difficulty: Moderate
The Old Man of Storr walk is relatively moderate, mostly due to its steepness and ever-present mud. Hikers gain significant elevation in a short distance on the way up, which means that coming down isn't necessarily any easier!
Having said that, it's a very straightforward climb with nothing technical to worry about, so anyone in reasonably fit shape and with some hiking experience will be fine.
The hike starts out as a wide gravel trail and the climb starts immediately. Halfway through, gravel turns to dirt on the trail and, more often than not, mud. Depending on the weather—you'll know as soon as you start to approach the iconic rock formation.
There are several small footpaths all over where people have veered off-trail exploring. You'll find excellent views and photo-ops of Old Man of Storr anywhere, but the majority of crowds follow the main path to the right.
Psst! If you have time to discover more of the country, don't miss these epic places to visit in Scotland.
Insider Tips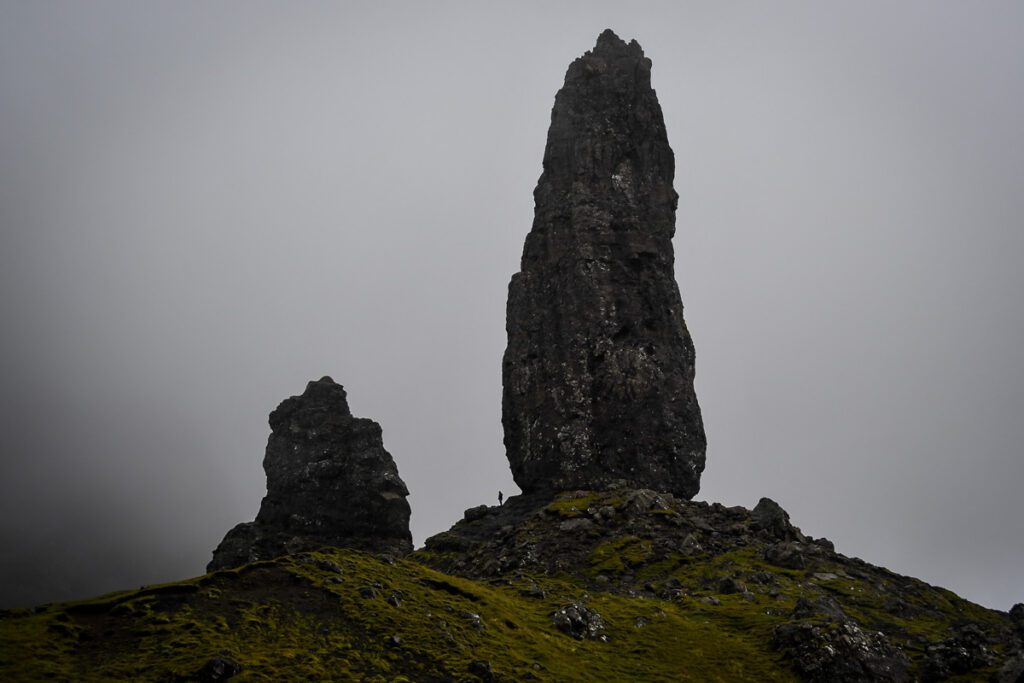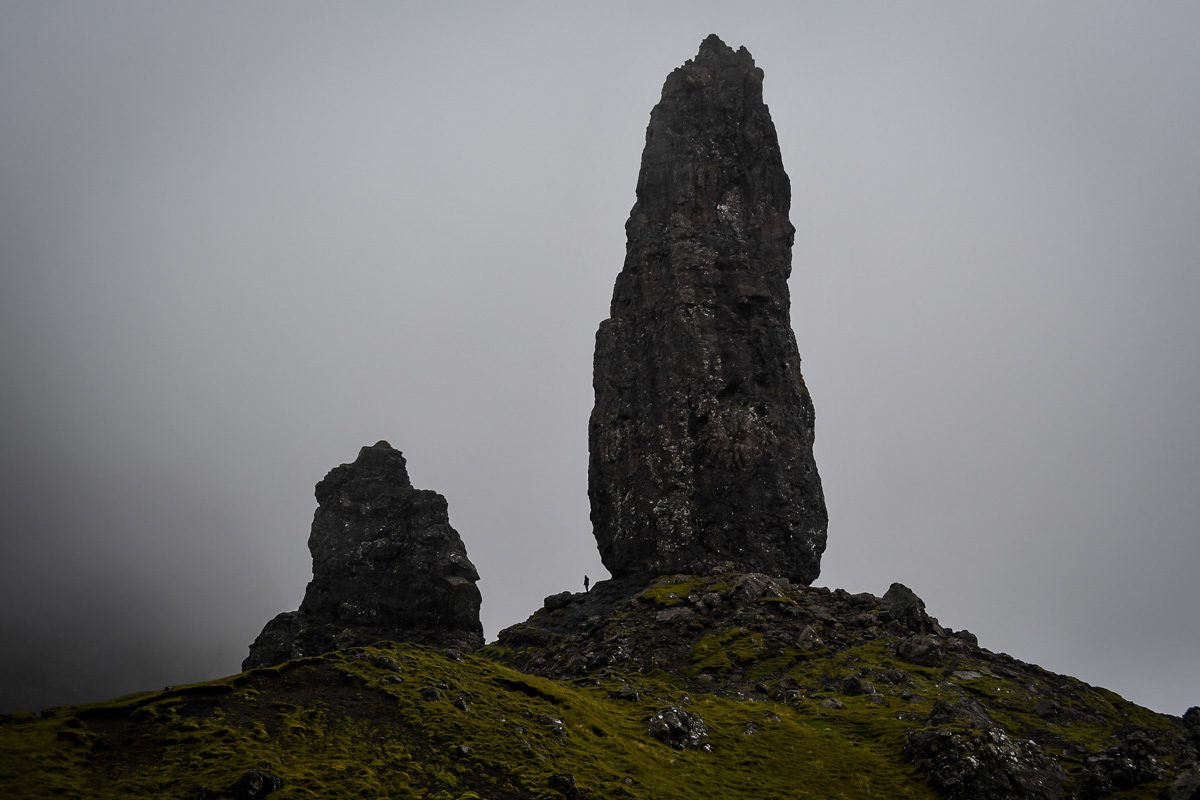 There are a few things we were glad to have figured out before we hiked the Old Man of Storr trail.
Use Alltrails to track your GPS location
It's always smart to track your hikes using AllTrails. This is especially true on a popular hike like the Old Man of Storr, where there are tons of faint spur trails and it's easy to get off-trail and become disoriented.
If you have AllTrails Pro, you can also download the trail map ahead of time. This lets you access it even if you have zero cell service!
Take this detour to avoid the crowds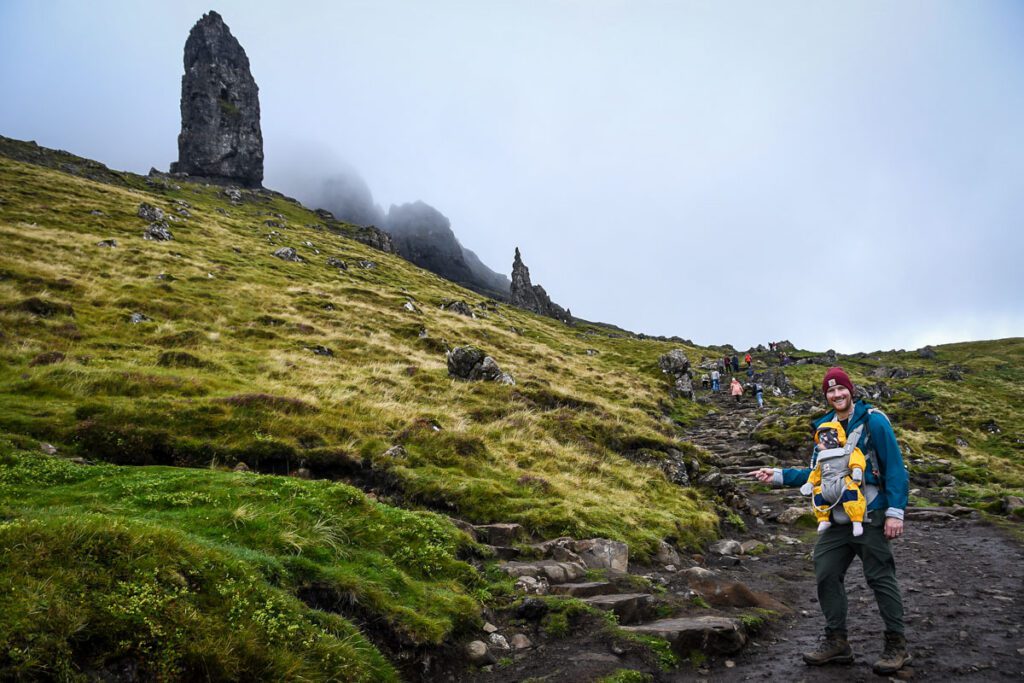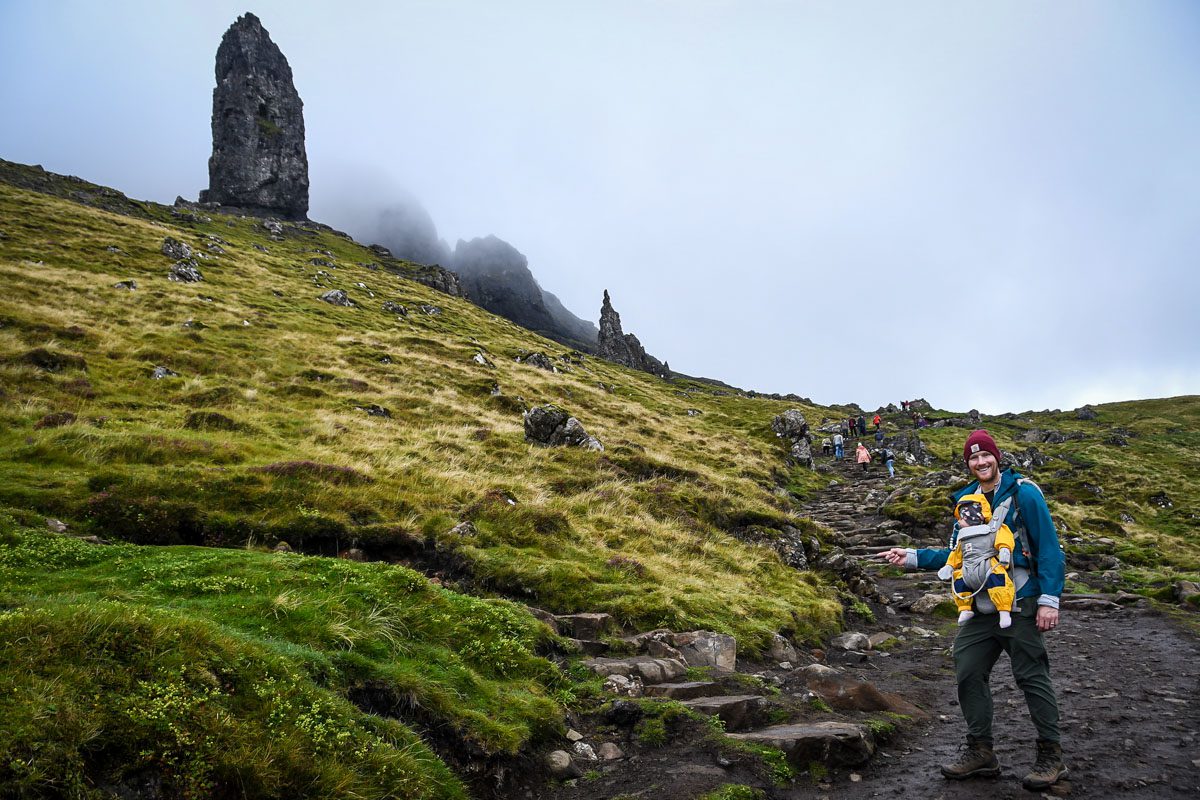 When you get near the top, look for a small pathway to the left. Most hikers miss this, so it is a good way to avoid the crowds. Plus, it brings you to some of the most picturesque spots on this hike.
Hint: If you're using Alltrails, it should be easy to see your current location in relation to this detour.
Weather in the Isle of Skye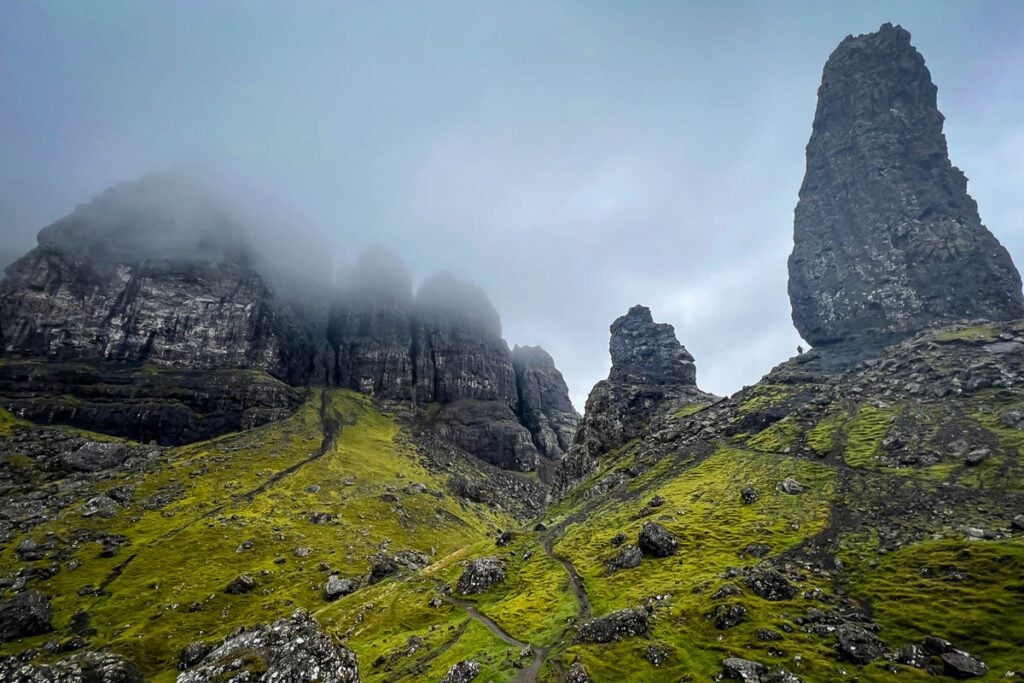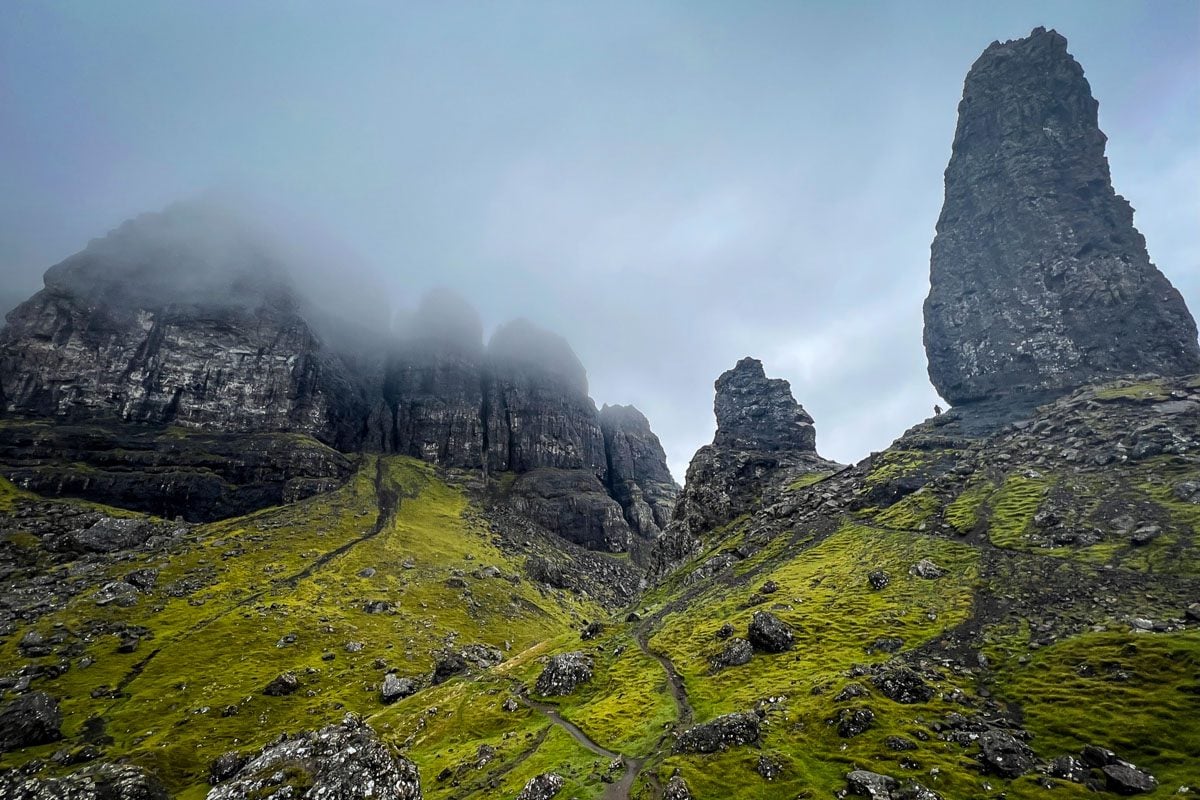 Weather plays a huge factor in Scotland and especially on the Isle of Skye — clouds, rain, or fog may obstruct your view of the Old Man of Storr in any season.
Good to know: The weather can change at a moment's notice and it can go from being sunny to rainy or vice versa. Also, it's worth noting that it can be very windy at the top of this trail.
However, if you do experience any of these on your hike, wait it out for 15-20 minutes. With such dramatic weather, things often change quickly on Skye. If the weather clears up, you'll have a better view and as a bonus, most other people will have probably left!
What to pack to hike to Old Man of Storr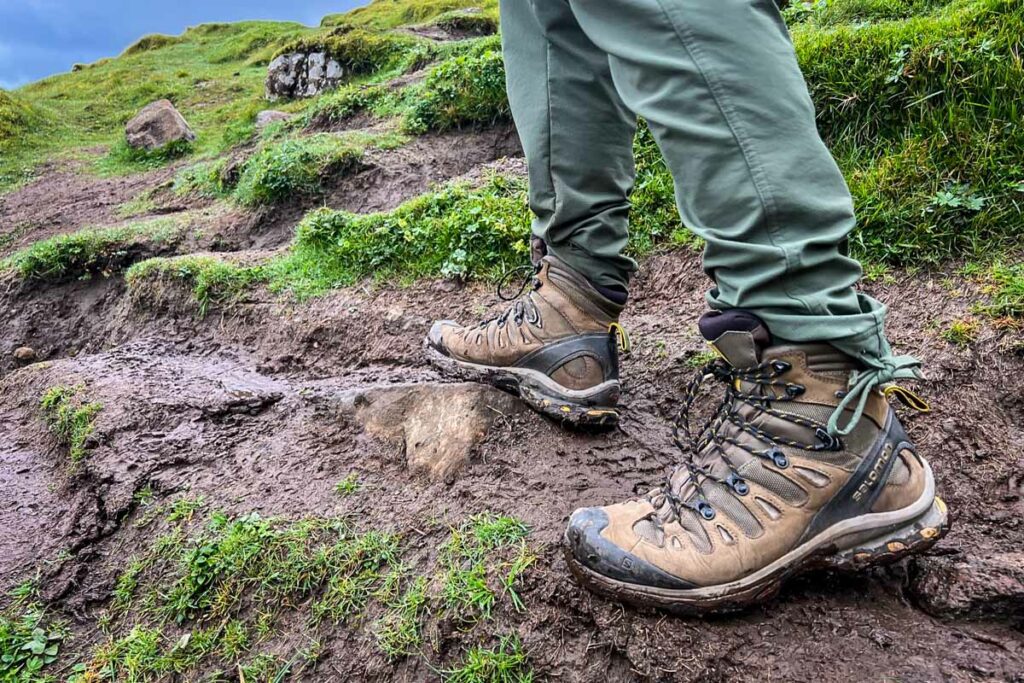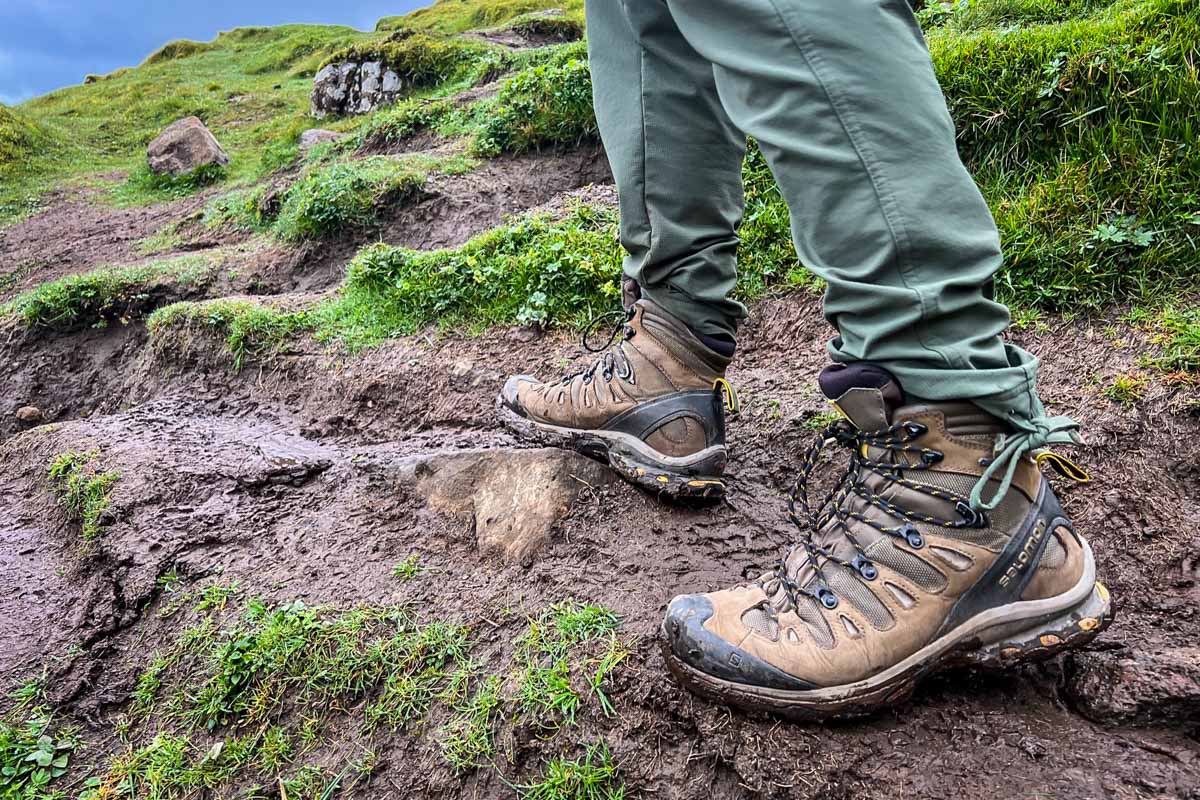 Here are some key items you'll want to have in your pack no matter what your hiking plans.
What to wear
Rain jacket
Beanie and gloves (it can be very cold and windy at the top)
Hiking boots
Wool socks
What to bring with
Dry bag (to keep your valuables dry in case of rain)
Snacks and/or a picnic lunch (here are some of our favorite hiking snacks)
Water (in water bottles or a bladder for your Camelbak)
Camera and tripod (optional)
Good to know: Drones are not allowed here.
Old Man of Storr FAQs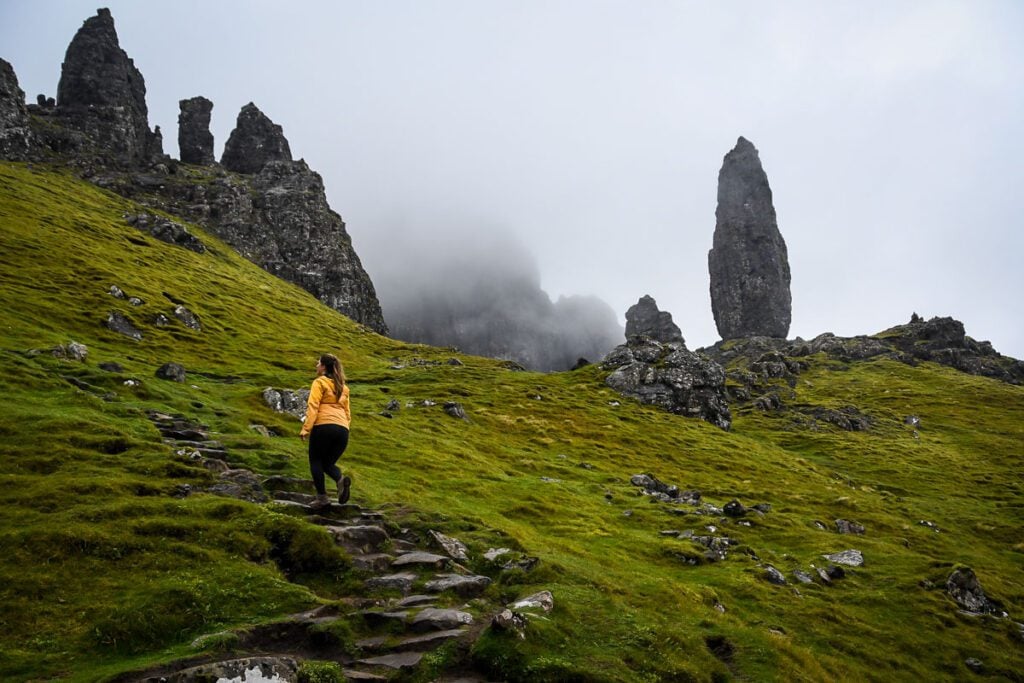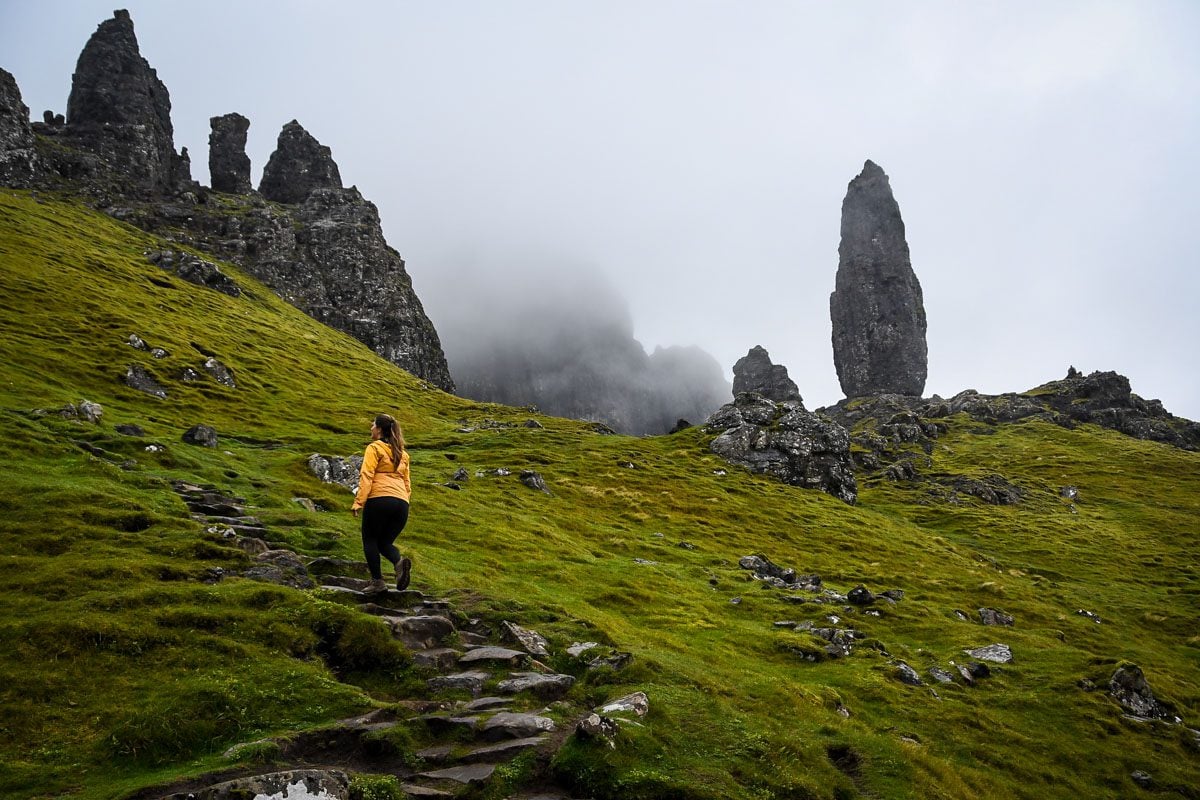 If you still have questions, stick around. We've got answers!
How long does this hike take?
Plan for about two hours to do the Old Man of Storr walk, which includes your hike up and back, plus some time for taking photos.
Hiking itself should take 1-1.5 hours, but it's a good idea to factor in some extra time in case you need to wait out inclement weather or crowds at the top.
Are dogs allowed on this trial?
Yep! Furry friends are welcome, as long as they are on a leash.
Can I do this hike with kids?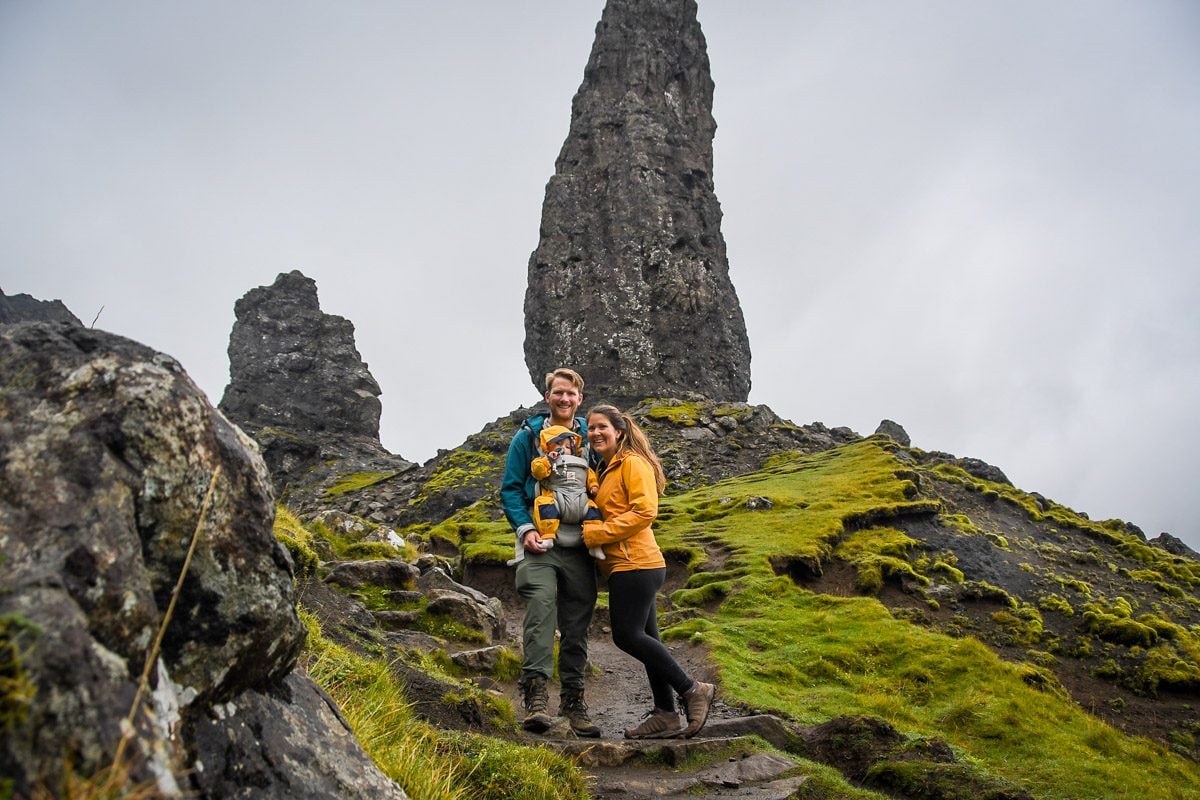 Absolutely! We did! Our daughter was 9-months-old when we did this hike. She came along in our Ergobaby carrier and she loved it. She was waving at other hikers and having an all-around great time.
That said, the answer to this question really comes down to you and your kids and your comfort level with hiking.
Don't forget to pack rain gear for your kiddo! We like this child rainsuit.
How to get to the Old Man of Storr trail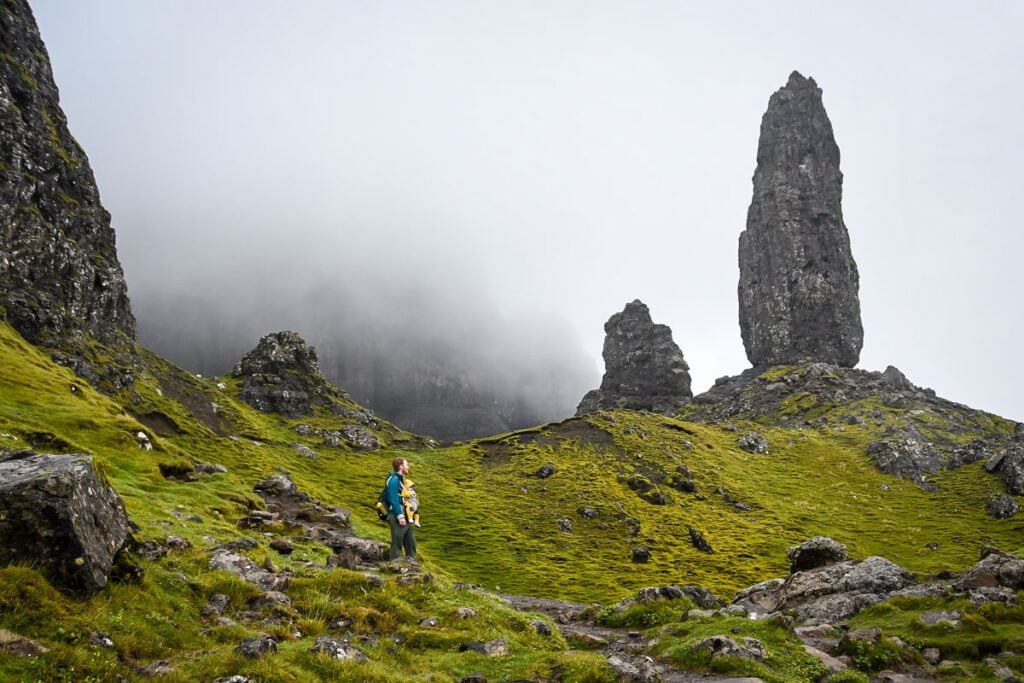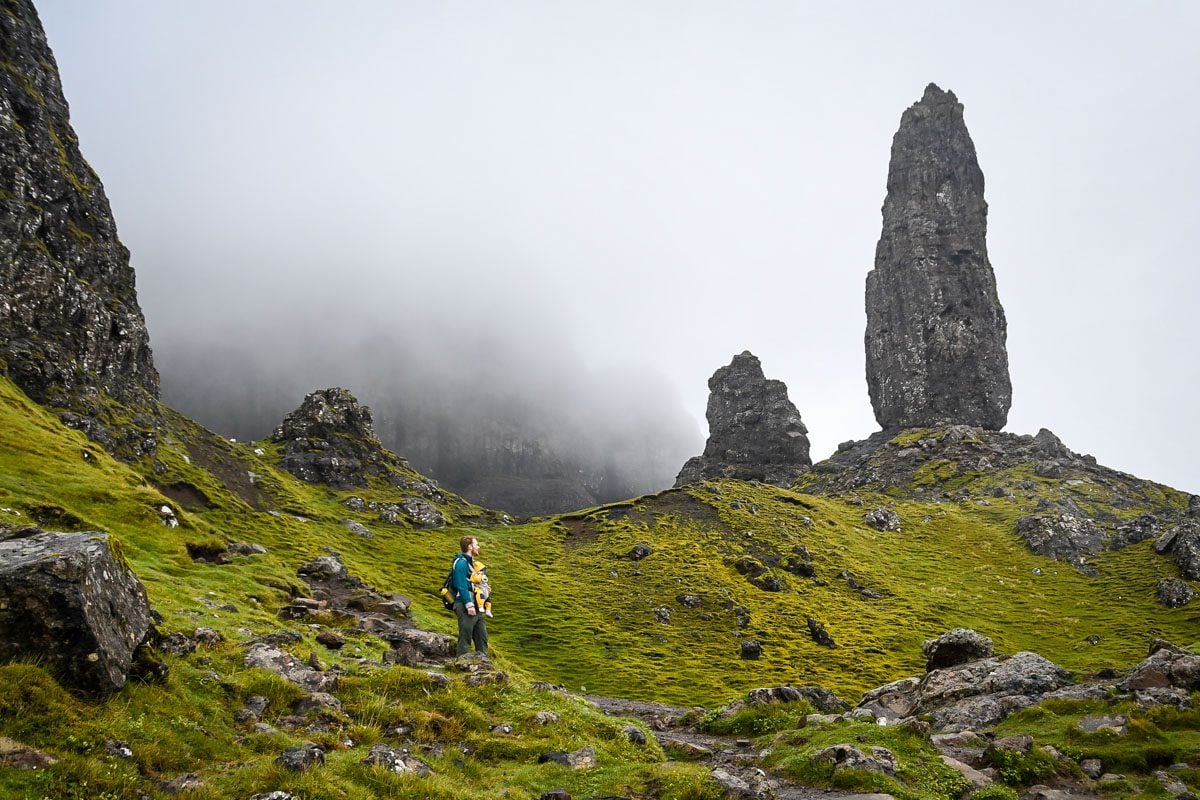 Located just seven miles from the bustling town of Portree in an area known as Trotternish, it's simple and straightforward to get to Old Man of Storr.
You can drive yourself and park in the lot on A855. Another option is to take a bus, which is ideal if you'd prefer not to deal with traffic and parking. From Portree, take bus 57. The ride takes less than 15 minutes and the bus takes you to the car park.
Buses run both directions several times a day between 7:00 a.m. and 5:00 p.m., with reduced hours on Sunday.
Parking for the Old Man of Storr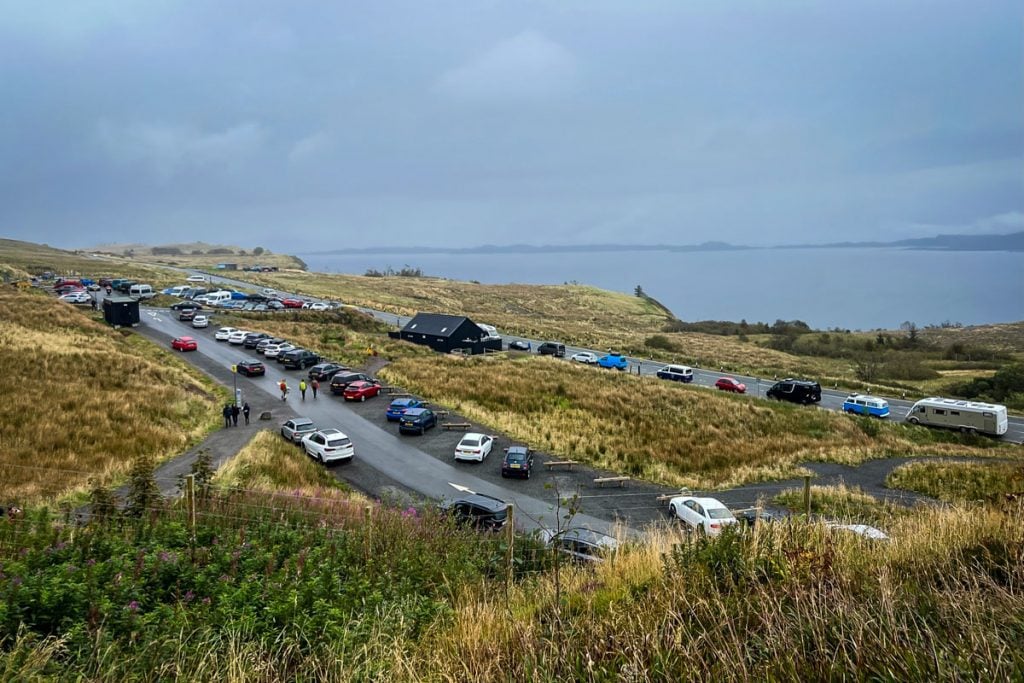 While the parking lot near the trailhead is rather large, this is a popular path and the lot does fill up. You may have to park alongside the road, like we did, if you get there and there aren't any spots left.
This is a paid parking lot:
Up to 3 hours = £3
Up to 6 hours = £5
Up to 12 hours = £7
FYI: You shouldn't need more than 3 hours if you're just parking here while doing the hike.
Other things to do in the Isle of Skye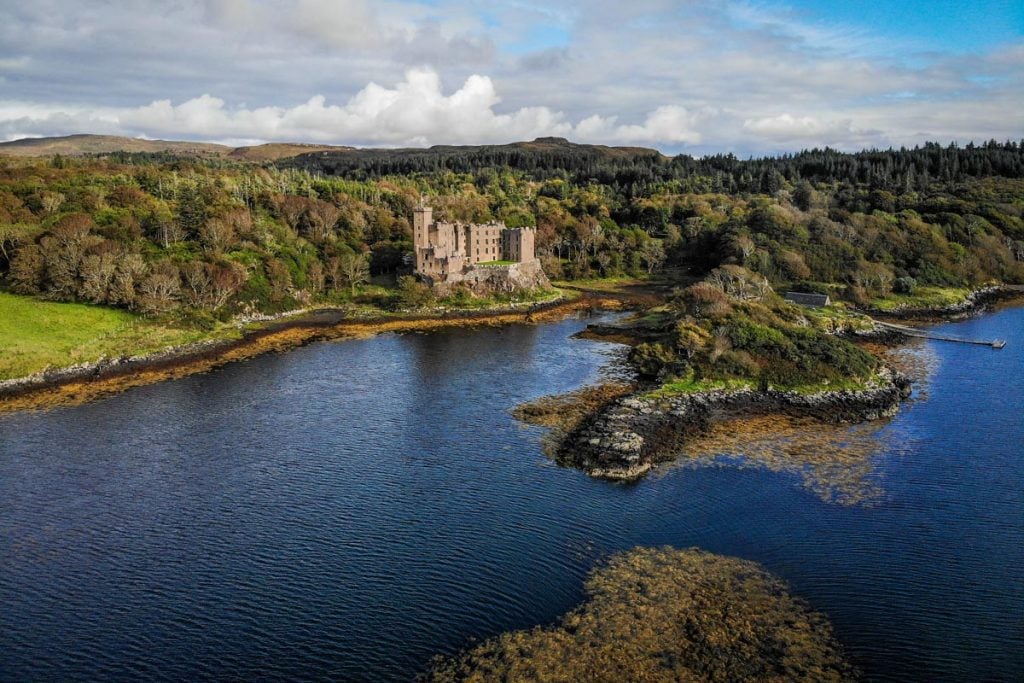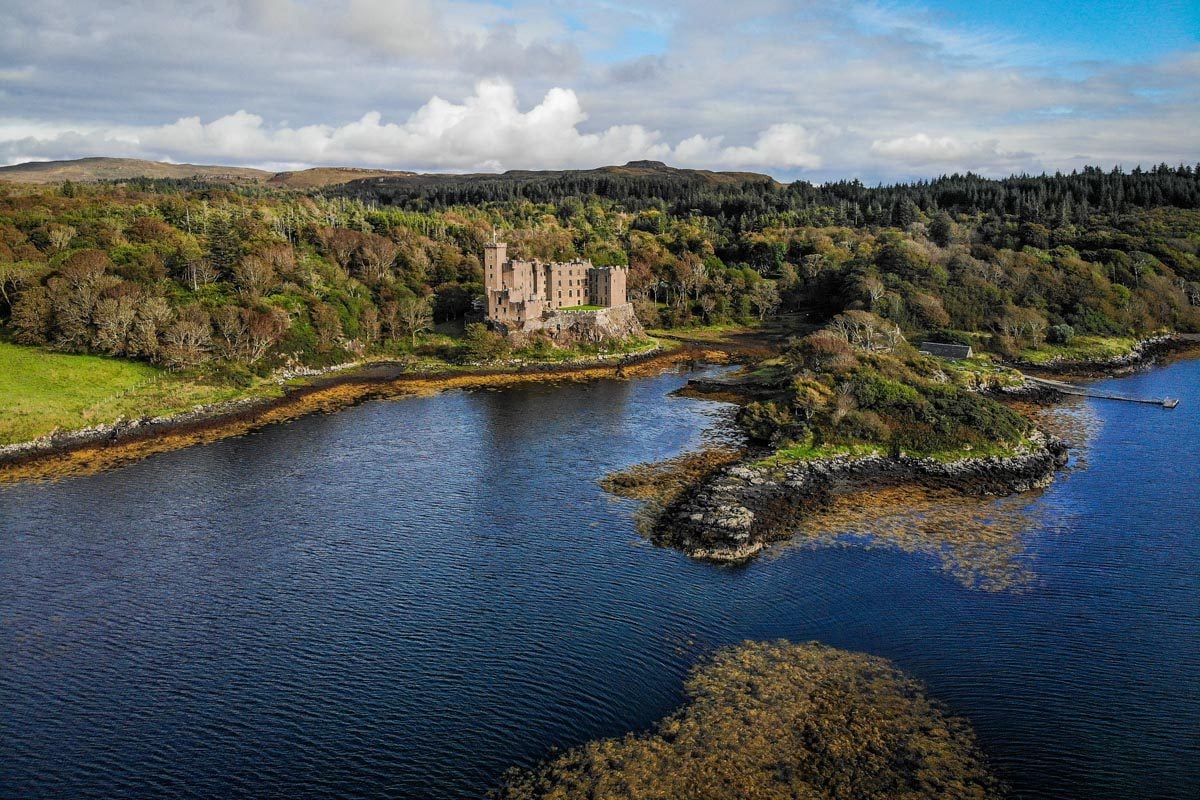 Visit the Skye Fairy Pools: a series of crystal-clear natural pools and waterfalls easily reached on a 2.3-mile/3.7km hike.
Talisker Distillery: sample local Scotch whisky or take a tour!
Brother's Point (Rubha Nam Brathairean): one of the least-known hikes on Skye.
Dunvegan Castle: tour the isle's only castle.
The Quiraing: One of Scotland's most photographed landscapes, reached via an awesome 4.5-mile/6.8km hike or a viewpoint you can drive up to.
The Oyster Shed: 15 minutes from the Fairy Pools in Carbost, this tiny, rustic place is a local institution.
Want even more unique things to do? Check out our complete guide to Isle of Skye!
---
Are you planning a trip to Scotland?
We have lots of resources on travel in Scotland and destinations throughout the country. Check out our Scotland Travel Homepage for everything you need to know, or read some of our favorite articles below.
Save this article on Pinterest for later!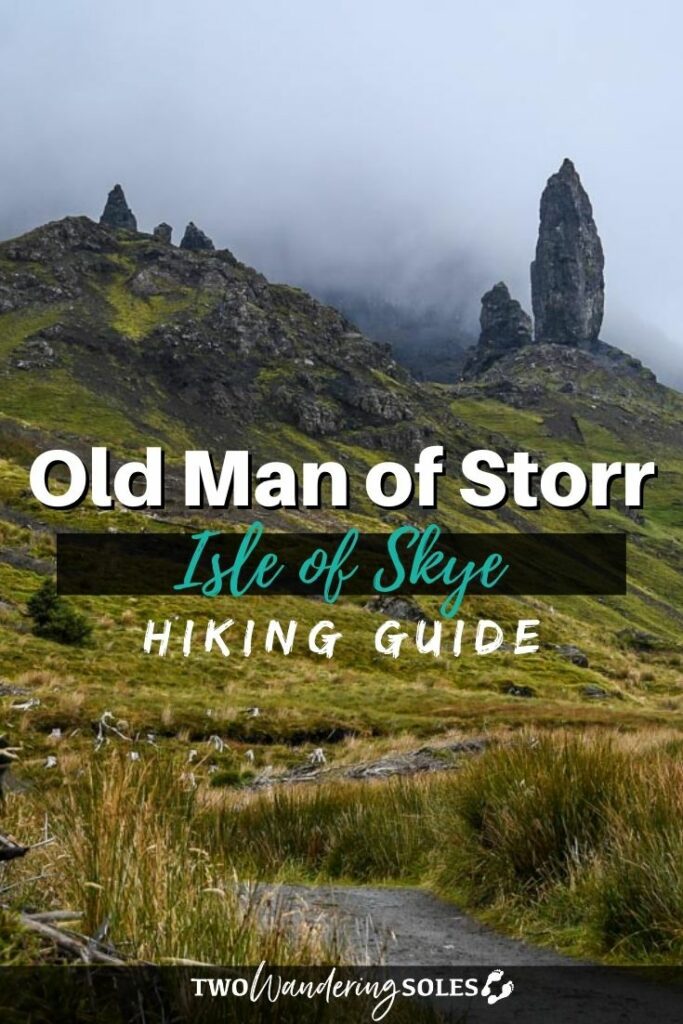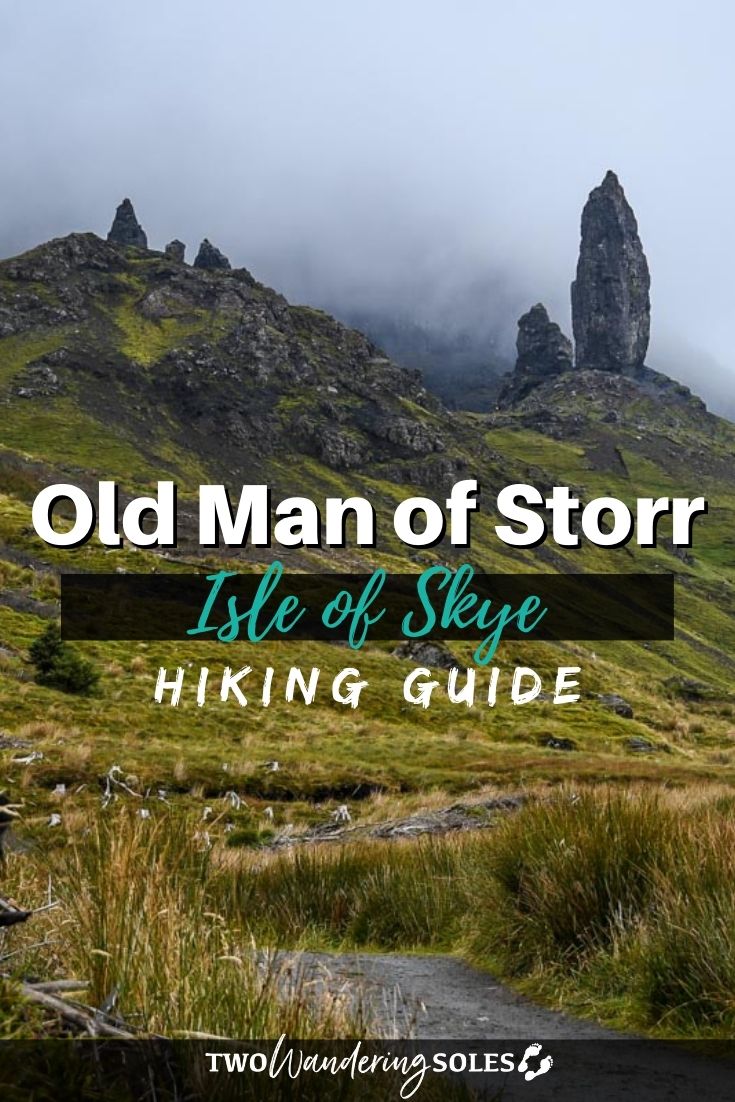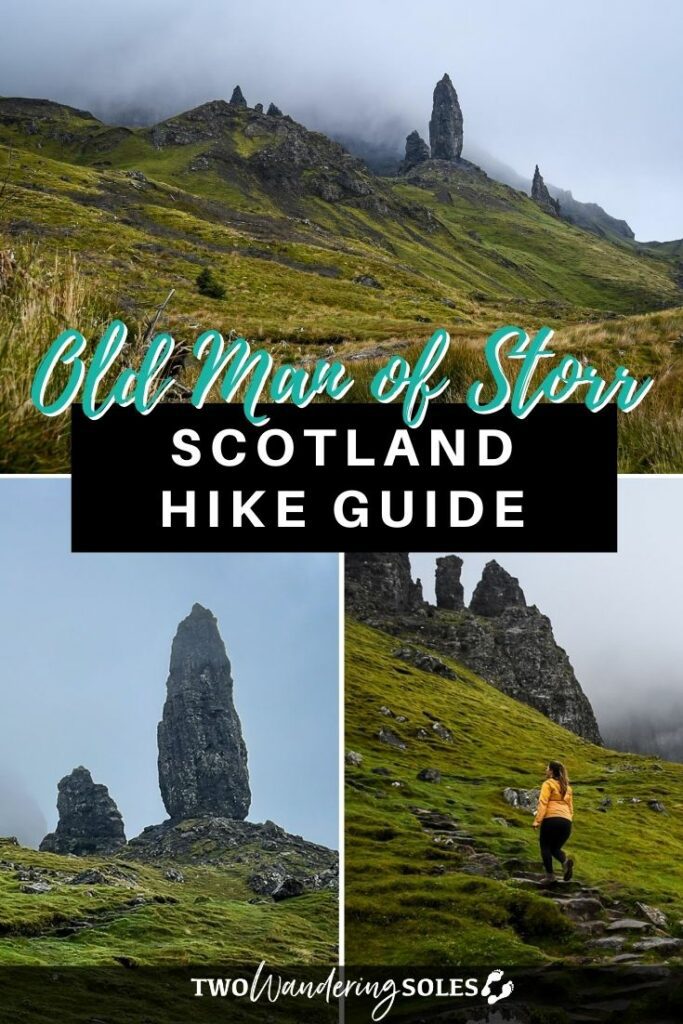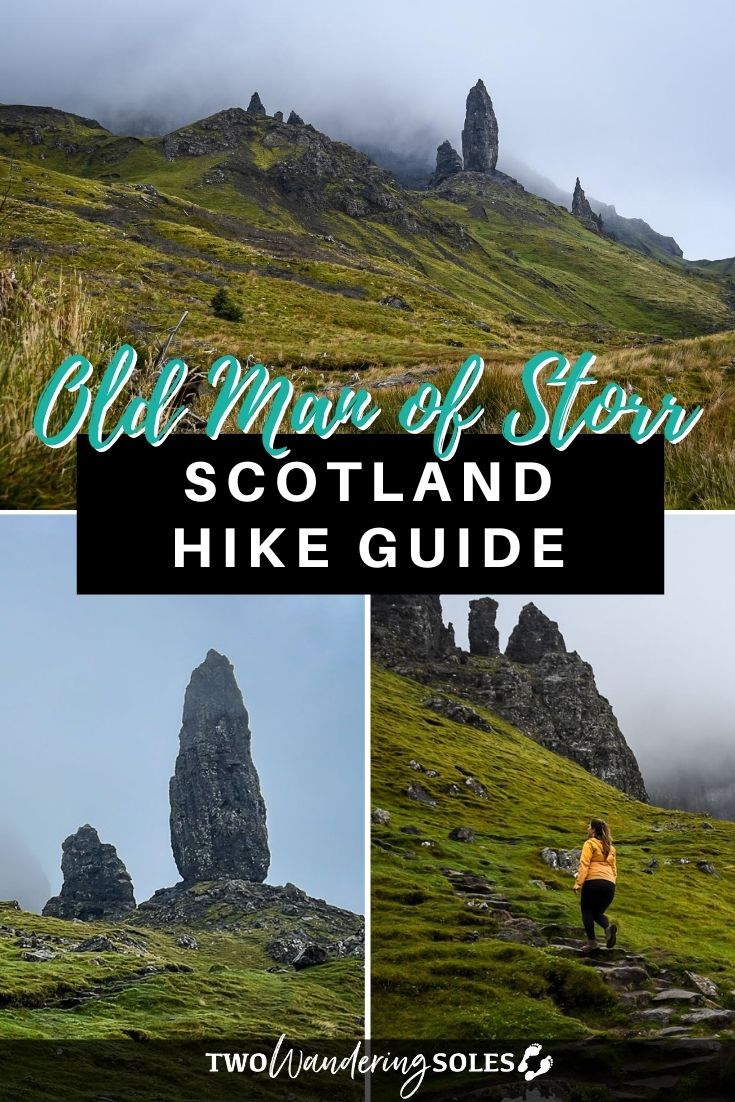 We want to hear from you!
Would you attempt this moderately challenging hike to get to the Old Man of Storr? Are you planning a trip to Isle of Skye and still have questions? Leave a comment below and we'll do our best to get back to you!