Are you planning a trip to Vietnam and on a budget? Then, this Vietnam travel guide is just for you!
Traveling in Vietnam you will find large urban cities, island-filled bays, rice terraces, caves, and some of the best food you've ever eaten. The locals are friendly and will make you feel welcome in their country.
Vietnam offers a plethora of flavors, sounds, landscapes, and people. Once you visit this place, you'll never want to leave.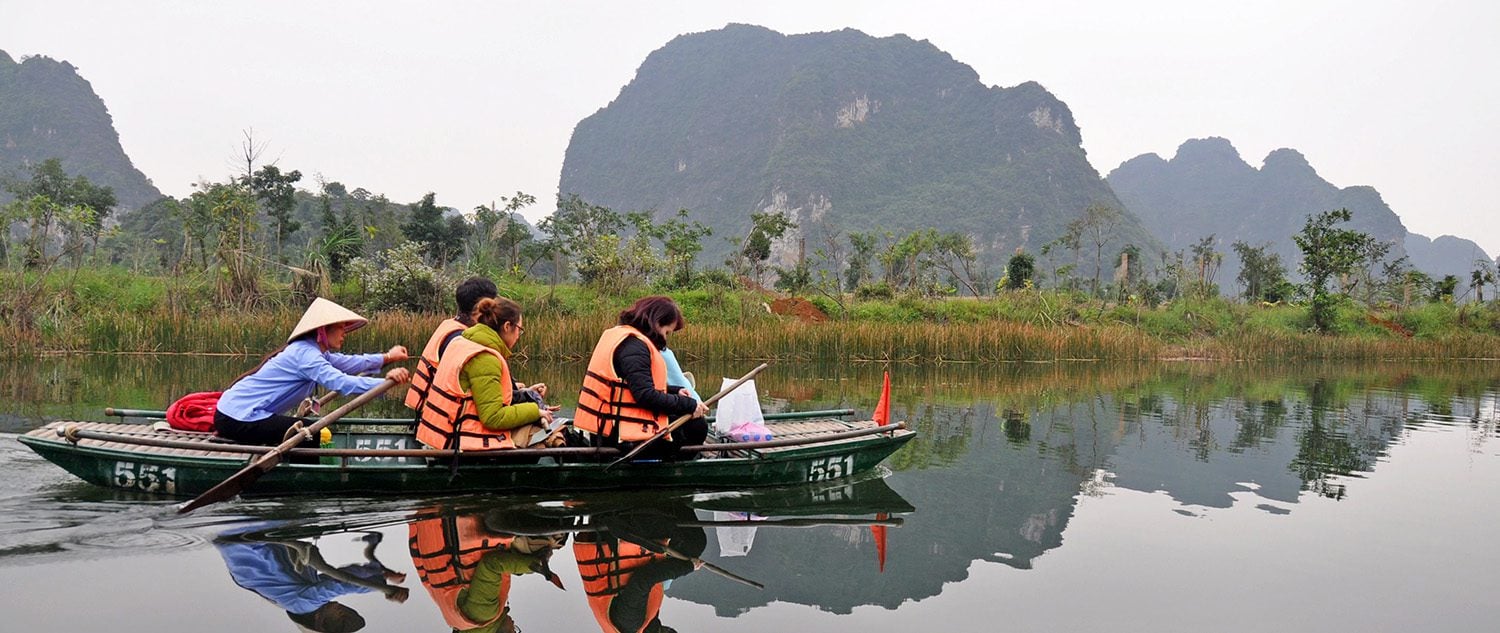 Important Information about Vietnam
Vietnam at a Glance: Located in Southeast Asia, Vietnam is one of the most beautiful countries in the world. With its stunning beaches, Buddhist shrines, lush mountains, sleepy rural villages, and bustling cities, Vietnam has everything for every type of traveler.
Hanoi: bustling city in the north of the country with lots of character

Sapa: small mountain town known for rice terraces and homestays

Halong Bay: take a boat cruise through these stunning rock formations

Hoi An: this beautiful UNESCO town is located in the middle of the country and has a charming architecture and a laidback vibe

Dalat: set in the mountains, this town is less hot and humid than the rest of the country and is known for adventure activities

Ho Chi Minh City (Saigon): modern and busy city in the south of the country
Currency in Vietnam: Vietnamese dong | 2018 Conversion Rate: 10000 VND = $0.43 USD
Tipping in Vietnam: In Vietnam, tipping is not customary but it is highly appreciated. The locals don't have a habit of tipping unless you go to upscale restaurants or get a massage from spas. You could say that the tipping culture here is at its infancy.
However, most of the tourist cities including Hanoi, Saigon, Hoi An and others are becoming more familiar with tipping. Some high-end services may add a service fee to your bills from 5 percent to 15 percent.
Headed to Vietnam soon? Don't forget to get a visa lined up before you go! Not sure if you need one? We'll explain if you need one and how to get a Vietnam Visa On Arrival.
Language & Helpful Phrases: Vietnamese
Hello = xin chào

Thank you = Cám ơn

Beer = bia

Delicious = Thơm ngon
Bathroom = Phòng tắm

How much? = Bao nhiêu?

Too expensive = Quá đắt

Don't want = Không muốn
Religion and Culture: More than 70 percent of Vietnam's population are Buddhists. Other official religions recognized by the government are Catholicism, Islam, Protestantism, Hoa Hao, and Cao Dai. Most of the religion in Vietnam has been greatly influenced by the Tam Giáo, also known as triple religion – Taoism, Confucianism and Buddhism.
Transportation around Vietnam: When you're in Vietnam, your transportation will depend on your budget, time, flexibility and love for adventure. The safest and best way to go around Vietnam is by car. Buses, on the other hand, can either be delighted or unpleased. It depends on your expectations. There are also trains running along Vietnam's coast. Always book ahead if you are planning on traveling during the weekend.
Transportation Tip: 12go.asia is a great site is you want to book your transportation in advance or look at the time tables!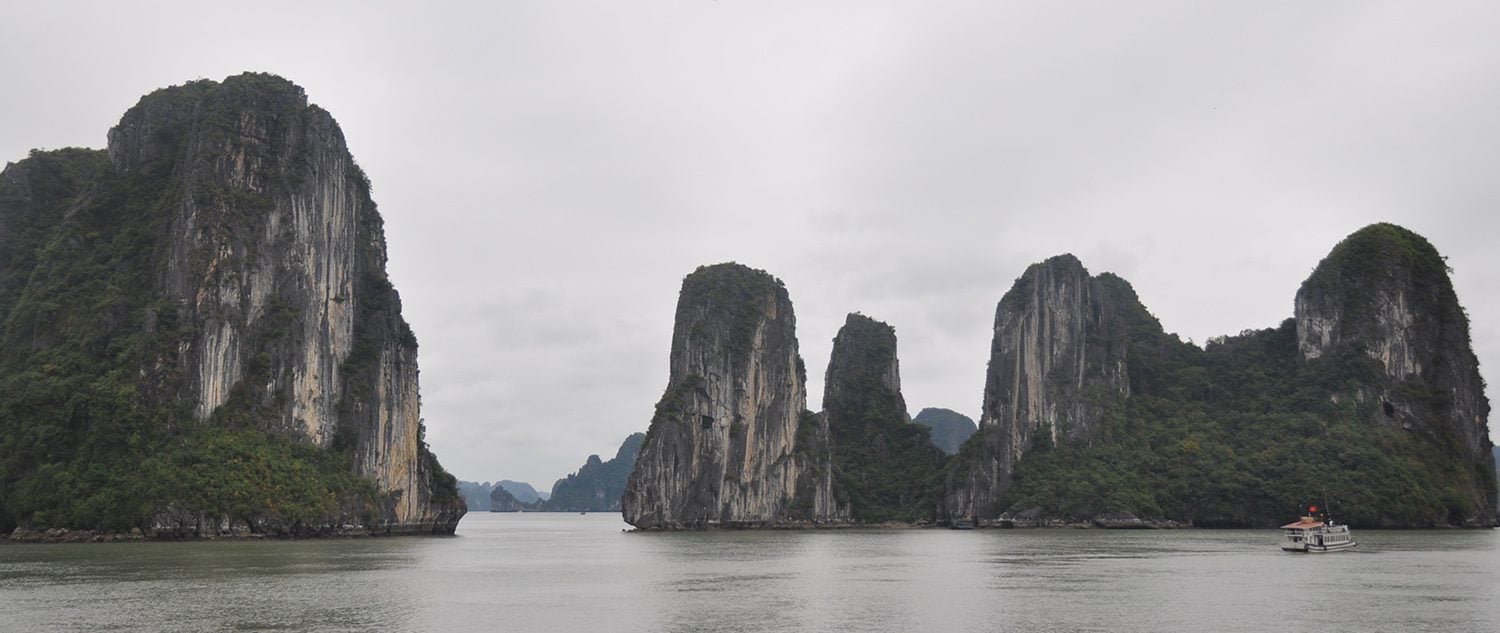 Best Time To Visit Vietnam
For an in-depth guide on the regional seasons, weather patterns and other factors, check out our complete guide on the best time to visit Vietnam. We've also listed out some of the basics below to give you a general idea.
Climate in Vietnam
Vietnam's weather differs between each region, so planning can be a bit tricky if you're not careful.
Hanoi and The Northern Part of Vietnam:
Hot and rainy season: May to October

Cool season: December and January

Dry season: November to April
Central Vietnam:
Hot and dry season: January to August

Rainy season: September to November
Southern Vietnam:
Hot and dry season: November to April

Rainy season: June to August
Peak season for tourists is during the summertime around June and July. However, this time is also the monsoon season so expect a lot of rain showers.
Times to avoid traveling in Vietnam
It is best to avoid early February during the Tet or Vietnamese New Year, because the locals will be traveling as well and prices will be high.

Ho Chi Minh City: Avoid May to November because of the heavy rain. Often, there is flood on the main streets so it is best that you do not travel during this time.

Phu Quoc Island: Avoid the months June to October. This is often the time of strong winds and heavy rain.

Dalat: April to October is the raining season.

Nha Trang: Expect that there will be a lot of rain from September to December.

Hoi An: Heavy rains occur around August to December.

Halong: Avoid the local summer holiday around June and July.

Hanoi: Aside from the hot weather, May to September is the time of heavy rains and storms.
Major Festivals in Vietnam
If you want to experience Vietnam at its best, you should definitely check out the major festivals in the country. Here you will get up close and personal with the myths and culture of Vietnam.
Tet Nguyen Dan, around late January or early February: Tet Nguyen Dan is one of the major festivals in Vietnam. It marks the arrival of spring according to the Lunar calendar but most importantly, it is the Vietnamese New Year.
Hoi An Lantern Festival, every month: The Hoi An Lantern Festival is celebrated every month during the full moon. The lanterns are its biggest feature. At around 8 pm, you will witness the beauty of the floating lanterns.
Mid-Autumn Festival, September 15: Mid-Autumn Festival is unlike any other. It originates to around 20,000 years ago. Here, family relationships are celebrated and mooncakes are eaten.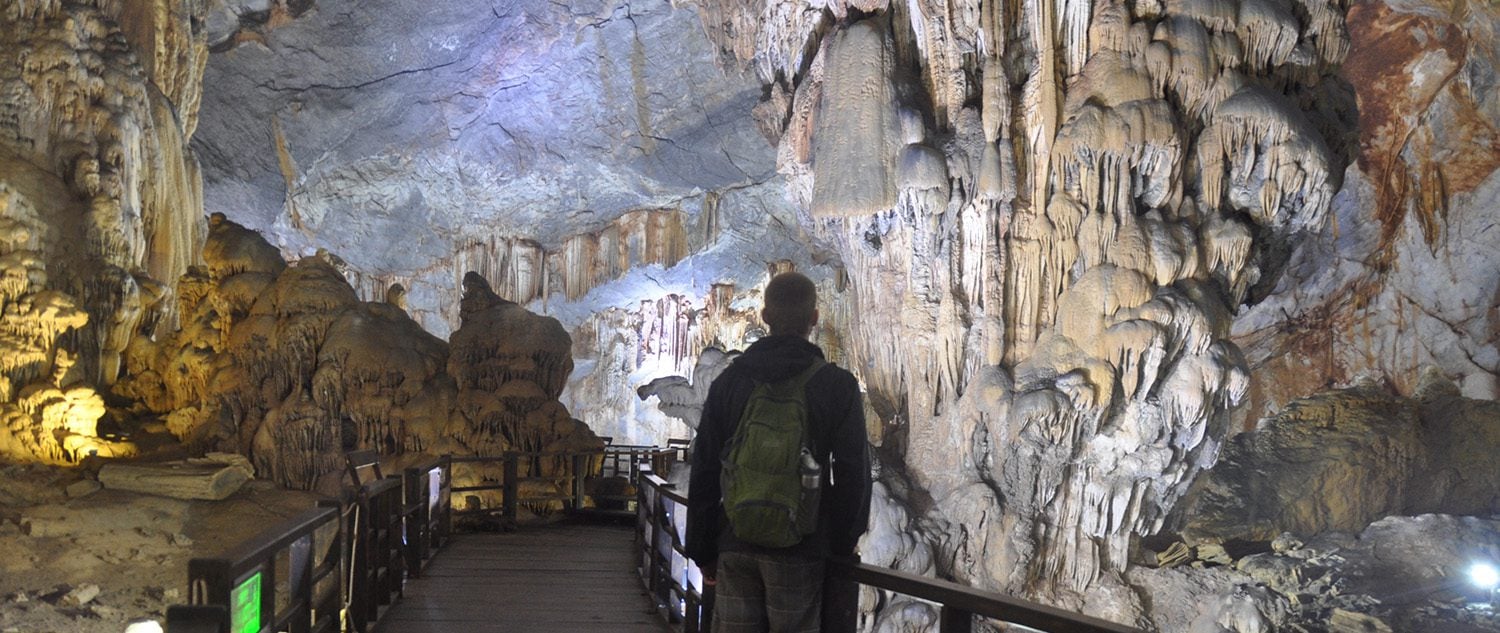 Top Things to Do in Vietnam
Eat all the food that you can
When in Vietnam, you have to eat all the food that you can. One of the best places to be in is Hanoi. It has some of the best and cheap street food in the world.
Take a trek in Sapa
Just 6 hours away from Hanoi, Sapa boasts of stunning rice terraces and waterfalls especially when the weather is clear. Book a bus online from Hanoi to Sapa so you don't have to worry about transportation when you're there.
Visit Paradise Cave and Dark Cave
If you love caves, then you'll definitely love Dark Cave and Paradise Cave in Phong Nha. In the Dark Cave, you can trek, zip-line, and swim in a cave lake. On the other hand, Paradise Cave is one of the most gigantic caves in the world. It used to be the largest cave until Son Doong took its place.
Go Canyoneering in Da Lat
For more adventures, don't miss going to Da Lat. You can go cliff jumping and repelling down waterfalls in this fantastic place.
Insider Tip: For the highlight of your trip to Vietnam, don't forget to take the secret tour in Da Lat.
Did you know Vietnam is a great place to teach English? Find out how to get certified to teach English abroad.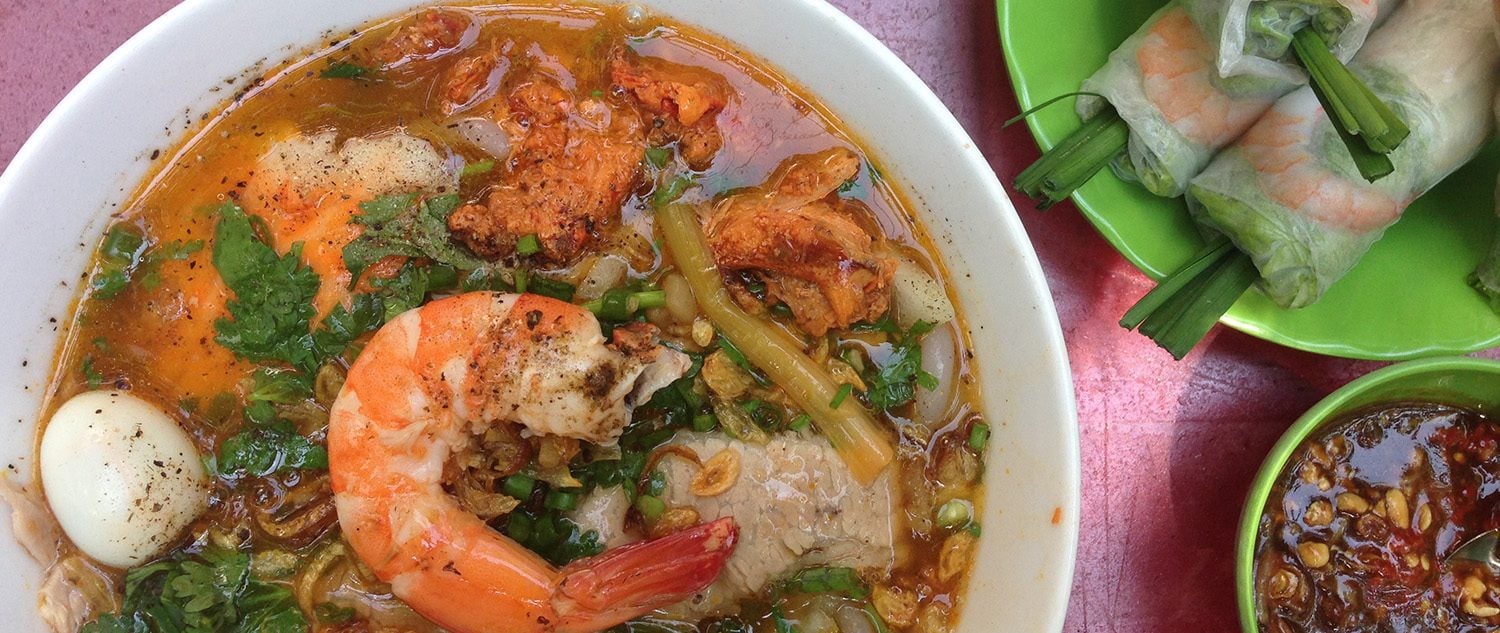 Best Food to Eat in Vietnam
Most households in Vietnam eat vegetables and noodle soups. A typical meal would be a vegetable dish, a seafood or meat dish, soup, fish sauce, and rice.
Here are some of our favorites:
Grilled Chicken: fresh and ordered half or whole

Banh Bot Loc: great as an appetizer with shrimp-stuffed tapioca dumplings

Banh Khoai: savory pancake

Bun Bo Hue: vermicelli noodle beef soup that's spicy

Bánh mì baguette sandwich: cheap and tasty street food

Cao lầu: noodle soup
Insider Tip: Happy Cow is a great resource for finding vegetarian and vegan restaurants all around the country!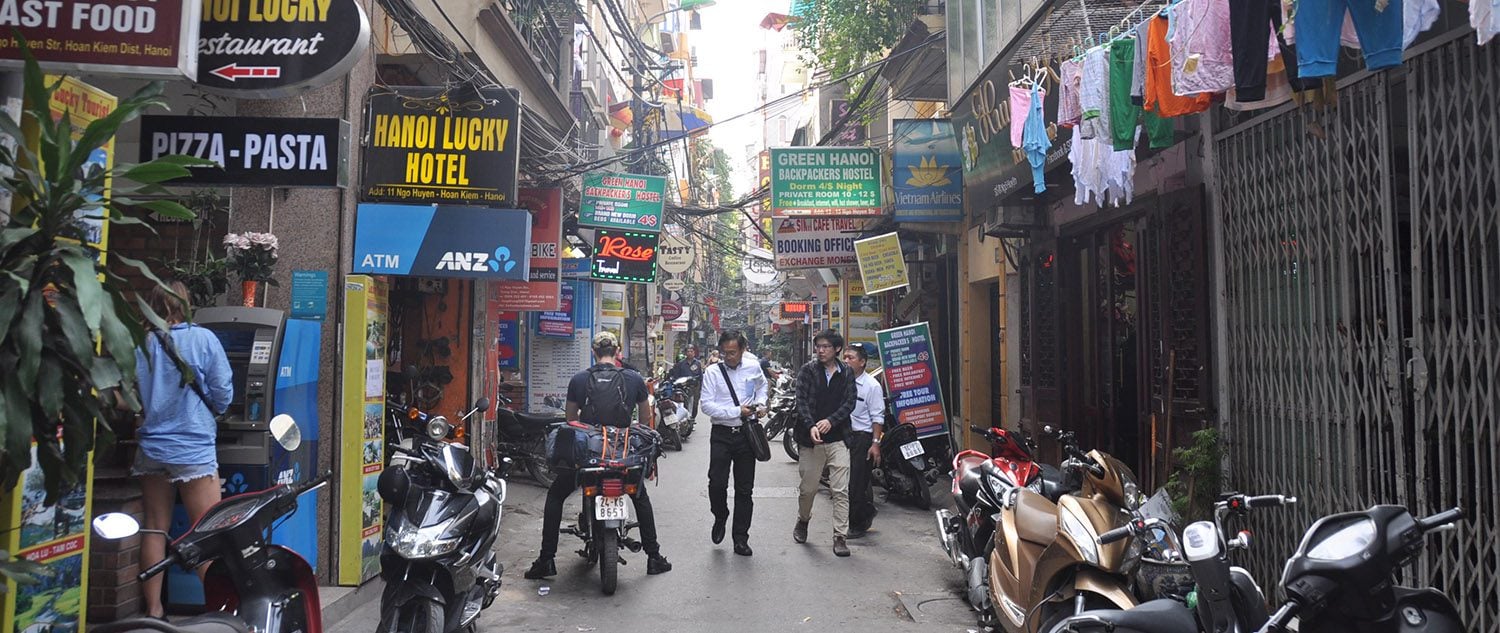 Typical Budget for Vietnam
Vietnam is such a large country that offers a lot of things to do and places to see. For travelers on a budget, Vietnam is a dream come true. For as low as $20 per day, you can survive on a shoestring budget and travel around the country.
Good to know: If you know how to drive a motorbike, you can rent one on the cheap and save on your transportation costs. Plus, Vietnam has some pretty epic drives that are best discovered on two wheels!
How Much to Budget in Vietnam Per Day
Budget traveler: If you are on a tight budget and watch your spending closely, $20 – $30 could be a sufficient daily budget.
Mid-range traveler: If you want to have a few splurges and stay in nicer accommodation, plan to budget $30 – $50 per day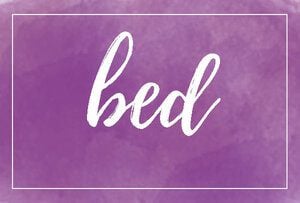 Dorm bed = $5-8
Budget room = $18-25
Mid-range = $30-45
Luxury hotel = $60+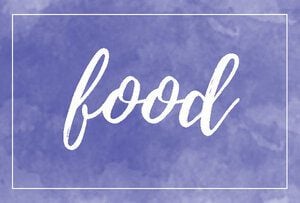 Street food = $1-$2
Mid-range restaurant = $3-$6
Fancy restaurant = $10+
Local beer = $0.88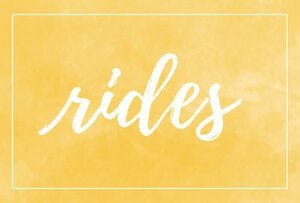 Domestic flight = $36-$45 (Jetstar or Vietnam airlines)
Open bus tickets = $68-$70 through country
Taxi = $5-$10
Airport shuttle bus = $2
Trains = $11.50-$50 depending class and length of the route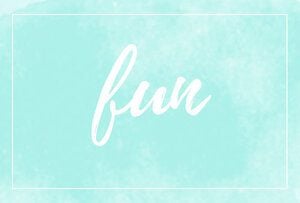 Trekking in Sapa = $19 with a guide
Halong Bay Boat Trip = $64 for a 2-day cruise
Thang Long Water Puppet Theatre in Hanoi = $3-$5
Vietnamese Cooking Class in Hoi An = $30

Responsible Travel Tips in Vietnam
We are passionate about sharing tips anyone can use to travel more responsibly. Here are some easy ways you can travel better in Vietnam.
1. Plan your itinerary well
Vietnam can be a tricky place to visit. If you want to see the best that the country has to offer, it's best to avoid forcing everything on your itinerary. Allow at least 3 to 4 weeks to explore the Vietnam from North to South. Book tours with ethical companies throughout the country. Check out reviews and discover organizations that are giving back to their communities. You can check our one-month Vietnam itinerary to help you.
2. Go easy on the haggling
Prices in Vietnam are cheap but most things don't have fixed prices so you can haggle. However, with prices so low, inform yourself of what a good price is and don't argue over 50 cents. The local people need make a living and tourism helps support that.
3. Say no to plastic straws
When buying a drink, ask for no straw (không rơm in Vietnamese) and start reducing your plastic use. A single plastic straw may look convenient and simple but it contributes a lot of harm to our environment. It is one of the top five items that's found in most beaches and adds to the millions of plastic wastes in the oceans.
Related Article: Eco-Friendly Packing List for Responsible Travelers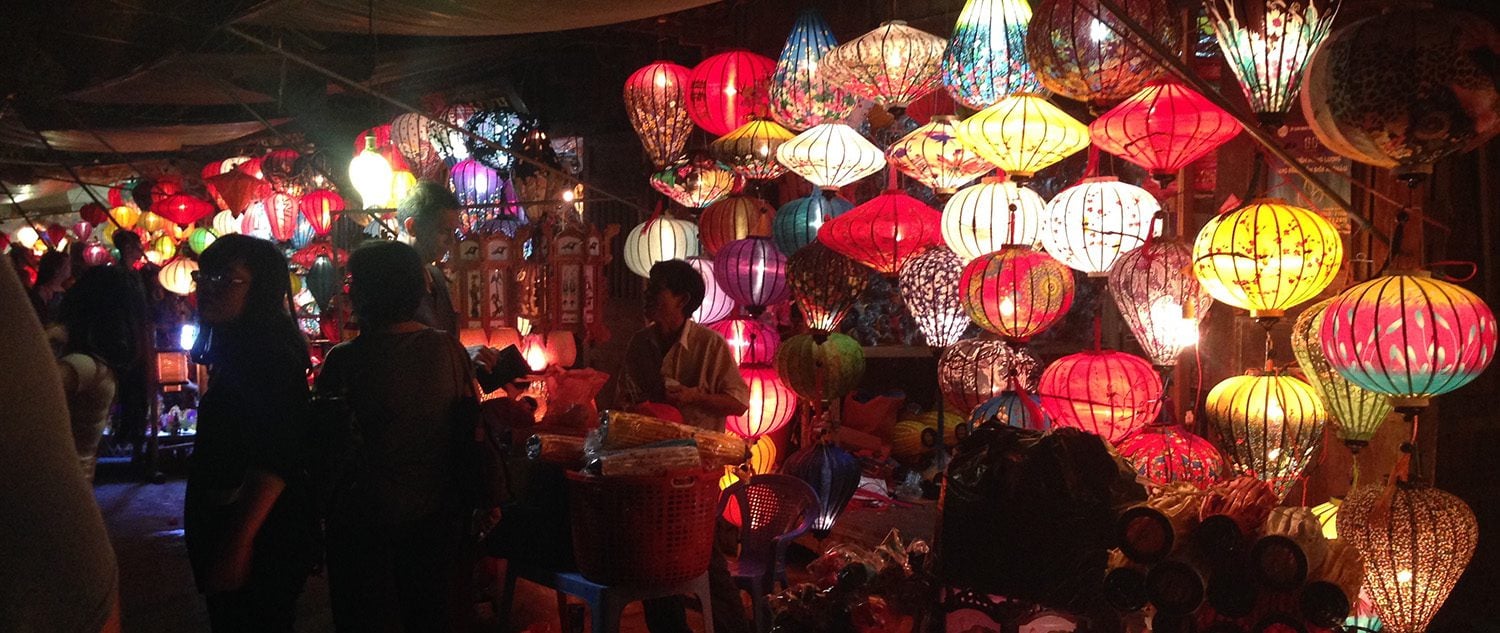 When going to Vietnam, loose-fitting, layers and lightweight stuff are what you should go for.  Don't overpack. It's impractical to bring all of those home comforts with you.
Here are some Vietnam-specific items we'd recommend packing:
bug repellant (solids are the way to go)

reusable straw & reusable bag (say no to single-use plastic!)

loose, lightweight clothes & layers

rain jacket (it can rain during any season, so you'll want to be prepared!)

swimwear

diarrhea medication (in case you get hit by a stomach bug)

Chaco sandals (we'd recommend these instead of hiking boots as they are less bulky and are good for walking through water)
Backpacking for over five weeks in Vietnam was nothing short of incredible. Vietnam has some of the most naturally beautiful landscapes in the world. Find all kinds of information on traveling to Vietnam to help you plan your trip. From how to get a Vietnam visa to fun things to do in Vietnam.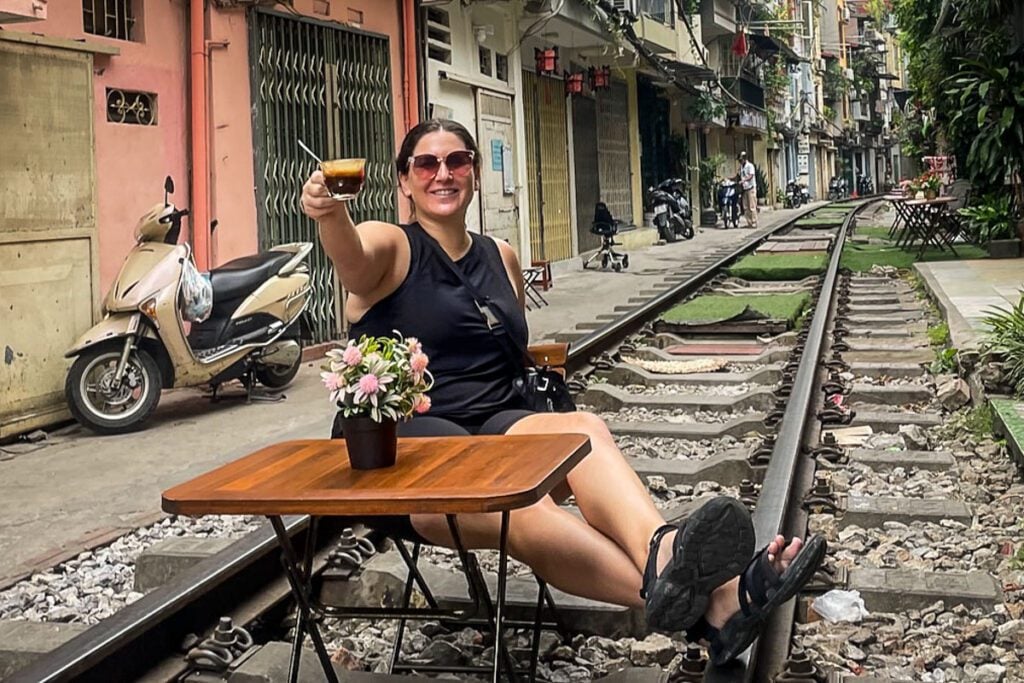 Discover traditional ingredients and the best local spots to savor Vietnamese cuisine. Whether you're a seasoned foodie or a curious traveler, this list promises a tantalizing exploration of popular Vietnamese dishes....