To this day, hiking the Inca Trail to Machu Picchu was one of the most incredible experiences of my life. There's nothing like seeing the morning fog roll over this ancient site. Follow along with us as we describe what life was like on the trail and what we did at the "Lost City of Incas".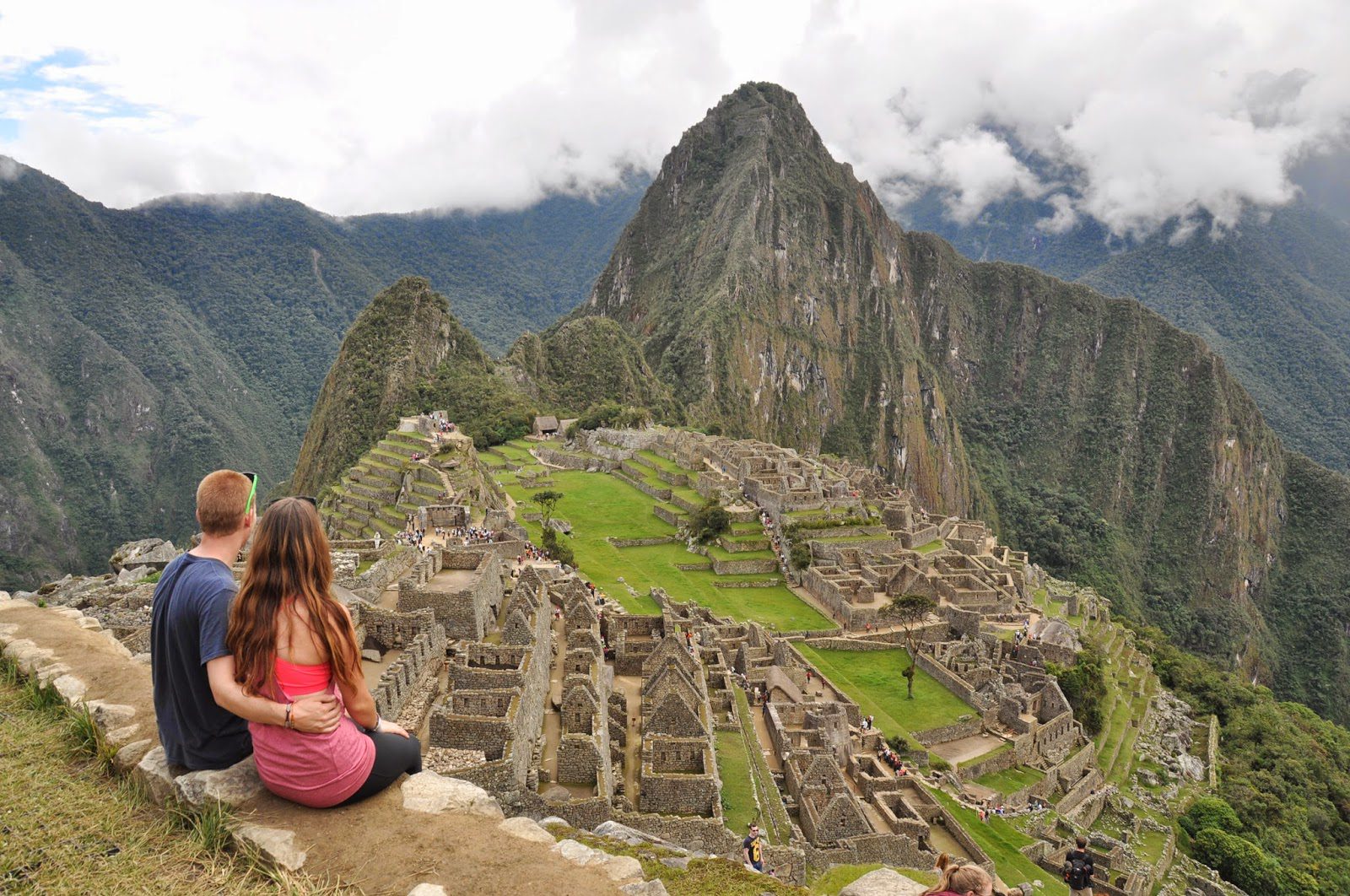 While Peru is a massive country with many places to see, it seems that glimpsing Machu Picchu in the flesh is on just about every traveler's bucket list.
We are no exception. In fact, I've been twice.
Back in 2012, I traveled to South America with some friends and, like most backpackers, Machu Picchu was on our itinerary. We did a one-day hike and arrived at the ruins early in the morning as the fog was beginning to disappear.
Seeing these ancient ruins as llamas meandered past was really spectacular. To this day, it is one of the most incredible things I've seen.
But I had one big regret about my visit to Machu Picchu: Not hiking the famous Inca Trail.  I have been itching to go back ever since.
Lucky for me, I have a husband who has been dreaming of hiking the Inca Trail since he was young, And it's always been on my South America bucket list, so I got a second go at something that for many is a "once in a lifetime" experience. 
We actually booked our 2 spots for the Inca Trail months before we even purchased our flight to South America.
Ballsy, huh? Yeah, we're badasses.
Choosing a tour company for the Inca Trail trek
With nearly one million tourists visiting the famous ruins each year, there is a seemingly endless amount of tour companies to pick from. So as you can imagine, choosing one to go with was a daunting task. 
Ranging from minimalist and dirt cheap to over-the-top luxury, we had our work cut out for us.
After reading reviews and researching multiple companies, we decided upon Peru Treks. With five stars on TripAdvisor and a reasonable price, we were happy with our decision and started counting down the days 'til our journey began.
Peru Treks did not disappoint us. We were served delicious four-course meals, and although we had to wake up before sunrise each day, the porters greeted us with tea in hand outside our tent. Talk about "room service".
The thing that we appreciated most about Peru Treks is they have a reputation for treating their porters right. We always try to travel responsibly, so knowing they have fair business practices was very important for us because not all the tour agencies can say the same. 
Note: We are in no way affiliated with them and did not receive any discount. We just truly liked our experience. 
Insider Tip: We loved our trek on the Inca Trail, but it is getting more and more popular by the year. If you'd prefer to escape the crowds but still have the same end point, consider doing the Choquequirao trek, which you can actually do without a guide.
Inca Trail to Machu Picchu
Our group of 14 was from all over the world. Australia, Sweden, Brazil, and the United States. And we were of all ages. There was even a family in our group with four kids ages 12, 11, and two 8-year-old twins!
The four-day trek itself was pretty difficult at times – Day 2 in particular.
The second day is known for being the toughest, so we set out early for a 5 hour hike. 
Completely uphill. Oh, and don't forget about the altitude. At more than 4,200 meters (13,800 feet) at times, we all got short of breath without much effort. Still, it was not as bad as hiking above 5,000 meters on our the Everest Base Camp trek.
The landscape along the way was stunning and made up for all the out-of-breath moments.
When I would stop to breathe and readjust my pack – which was a common occurrence – porters would whiz past me. They carried packs four times the size of mine, wore sandals, and some were old enough to be my grandfather. They were incredible.
And made me feel a bit inadequate.
Dead Woman's Pass on the Inca Trail
Arriving at "Dead Woman's Pass" – the point at which the path starts going downhill – was an incredible feeling of accomplishment. We had the hardest part behind us.
Exploring Machu Picchu
We woke up at 3:30 the last morning of our trek, which just happened to be my birthday, in order to make it to our destination before the gates opened to the tourists arriving by bus.
Before arriving to our final destination, we needed to read up on the history of Machu Picchu. There's so much to learn and we didn't want our faces buried in books as we walked around the ruins.
When we reached the grounds, the fog was hanging so thick and low that you couldn't see more than just a couple meters ahead. Needless to say, when we took a group picture at the famous viewpoint, it looked more like we were inside a cloud than at the famous Inca ruins.
Soon after though, the fog began to lift, and Machu Picchu began to emerge from the mist in all its glory.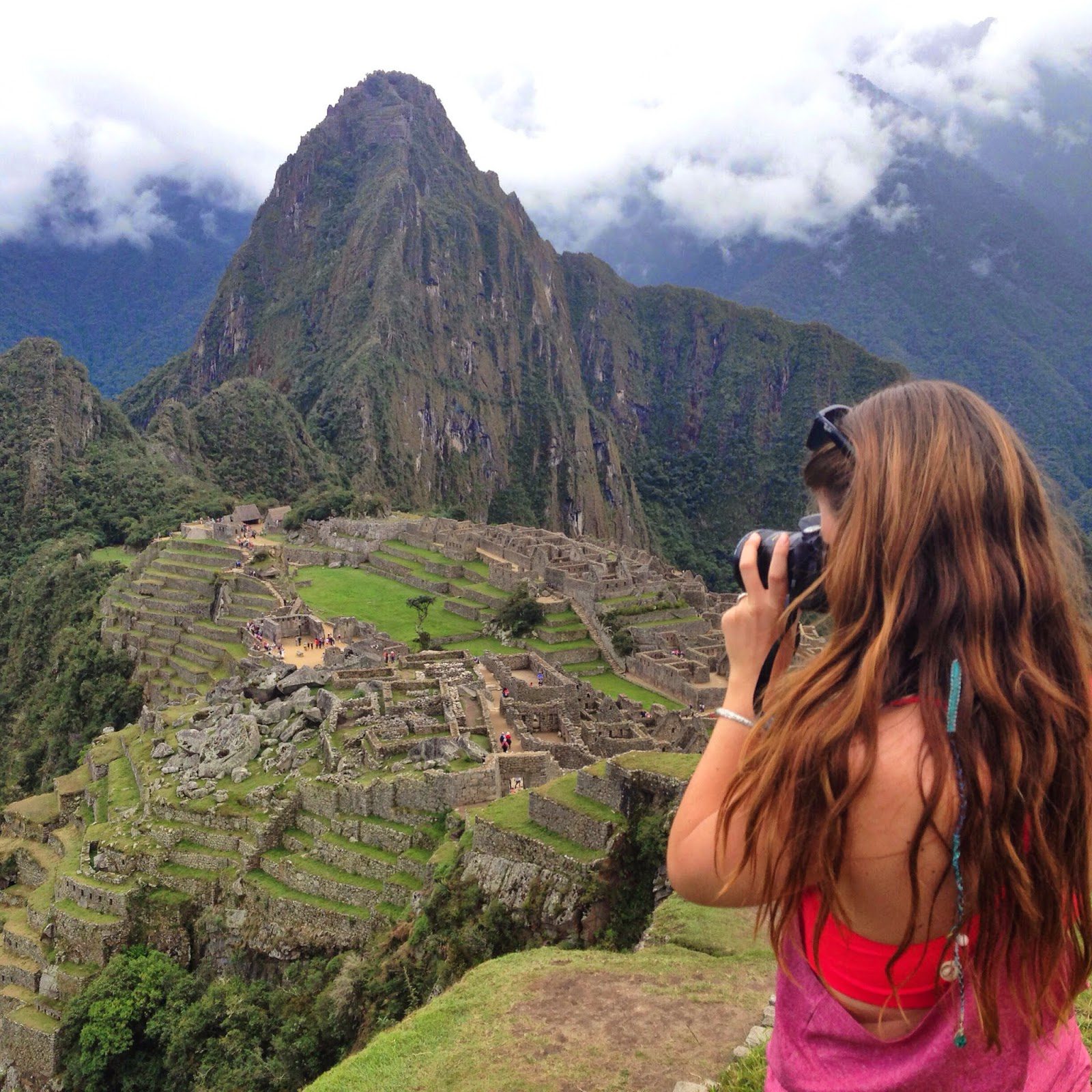 It was an unforgettable sight. And since we were there early, the only people at the site were people who had just completed a trek. There was a certain camaraderie amongst us.
Before long though, people started arriving in all directions. Large packs of middle aged foreigners wearing wide-brimmed hats and carrying massive cameras swarmed around tour guides reciting the history of the ruins in just about every language.
Machu Picchu is listed as one of the 7 New Wonders of the World and is on countless lists of places to see before you die – deservingly so. You can't, however, deny the shift in atmosphere from peaceful during the early morning hours, to crowded and buzzing with people as morning slips away.
People. Were. Everywhere.