If you're planning an Iceland camping trip, there are some things you should know before setting off on your adventure. We've been camping in Iceland twice, once in a tent and once in a campervan, so we're sharing all of our insider knowledge to help you plan the Iceland camping experience of your dreams.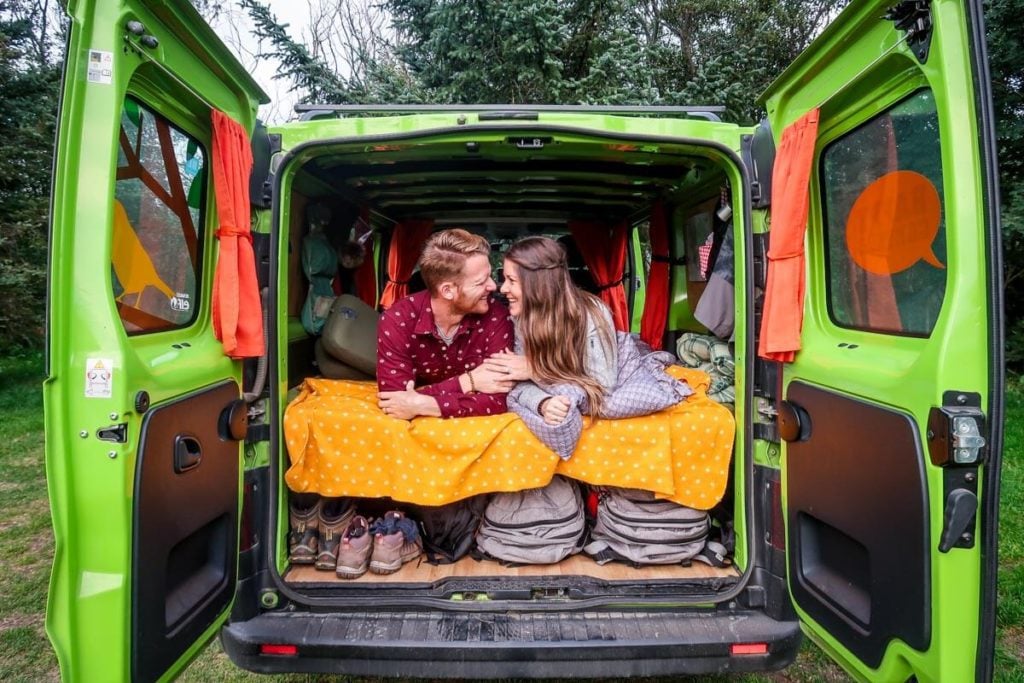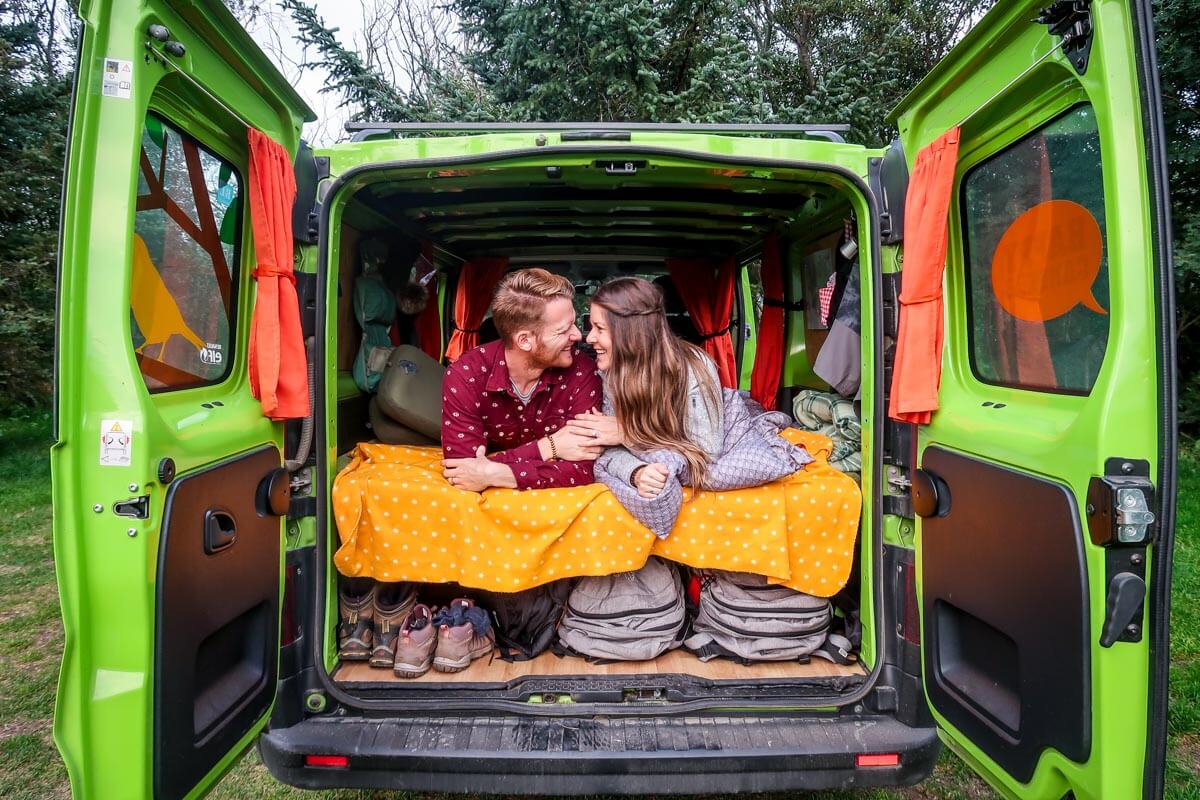 If you're planning a camping trip in Iceland, you're in for the journey of a lifetime. There are few countries in the world that are better suited for camping. You'll find yourself waking up surrounded by incredible scenery and spending your days on adventures you'll talk about for years to come.
Whether you're a total camping newbie or you're a pro, there are some things you should know specifically about camping in Iceland before setting off on your trip…
And that's where we come in!
We've gone on two different Iceland camping trips: one in a tent and one in a campervan rental. We're here to share all our insider tips, the best campsites in Iceland, and what to expect along the way so you can have one epic Iceland camping adventure!
Psst! Camping is one of the best ways to explore Iceland's famous Ring Road. Check out our article for the best stops to help you plan your road trip.
Article Contents
---
Want to save time and energy on planning?
We've traveled to Iceland 3 times now and spent weeks living in a campervan, traveling around the country. We've been able to explore a lot of what Iceland has to offer!
We've compiled our experience to create the perfect Iceland itinerary. Our itinerary is for 7-9 days and meant to be explored while traveling in a campervan. It includes the highlights of the southern coast of Iceland. 
We'll send you our complete 7-9 day customizable itinerary, filled with tips and advice. Just click below to get your perfect Iceland itinerary today!


---
Why camp in Iceland?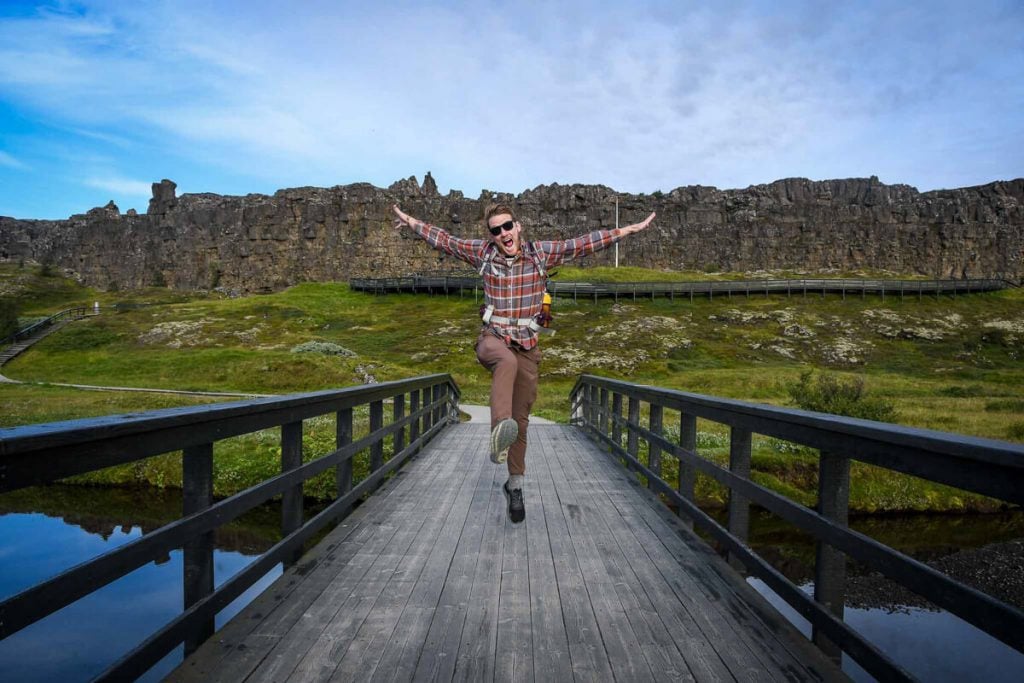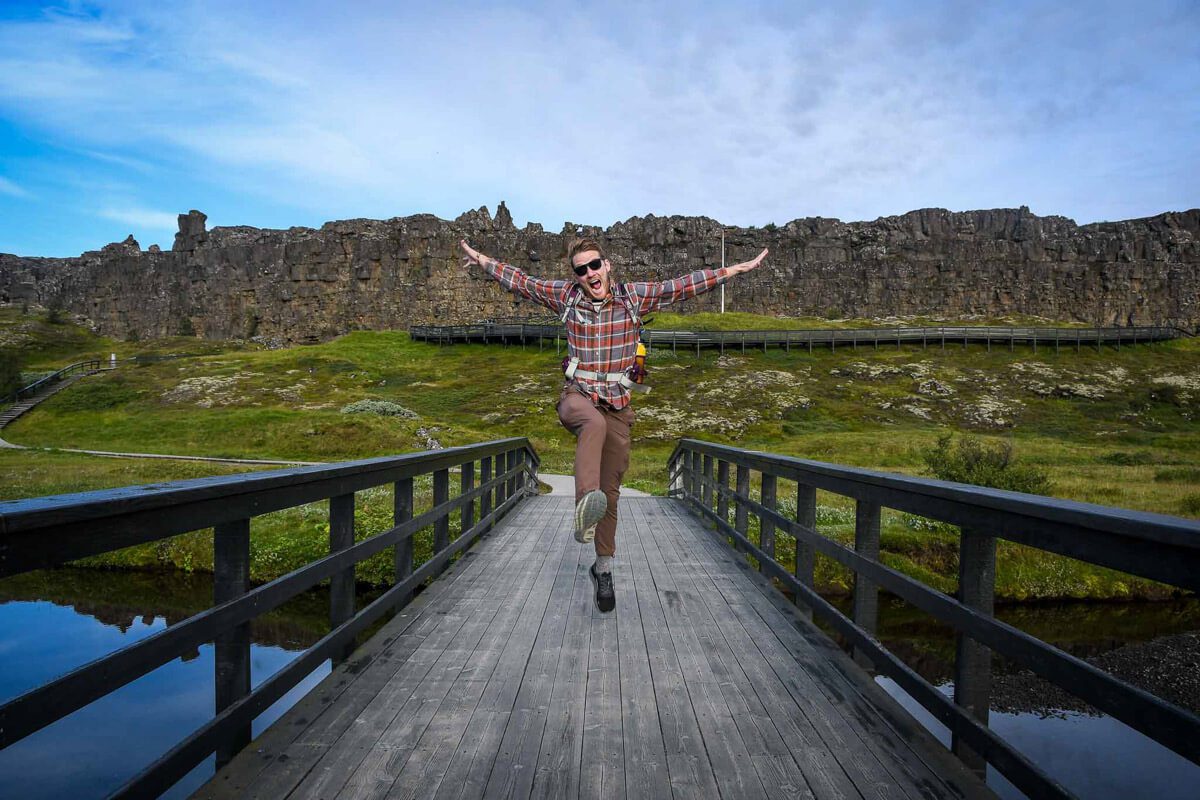 We may be biased, but we think camping in Iceland is the best way to experience this country. Here's why we think camping in Iceland is pretty amazing…
1. Iceland is very well set-up for camping
There are campgrounds located all around the country with facilities like hot showers, bathrooms, water fill ups, and kitchens, making camping quite easy (even if you're a newbie!).
2. It's safe
The roads in Iceland are more or less easy to drive and navigate. There's really just one main road that encircles the island, after all! Plus, Iceland is ranked time and time again as one of the safest countries in the world.
3. Camping is cheaper than staying in hotels
If you're traveling Iceland on a budget, camping can save you a lot of money overall. Not only will a campground cost (much) less than a hotel, but you can also cook your own meals in the onsite kitchens, allowing you to save lots of money on food.
Psst! We've got everything you need to know about grocery shopping in Iceland.
4. It's an adventure you'll never forget
There's nothing quite like enjoying your morning coffee with epic views, a tank full of gas, and a day of adventuring ahead…
Best time to go camping in Iceland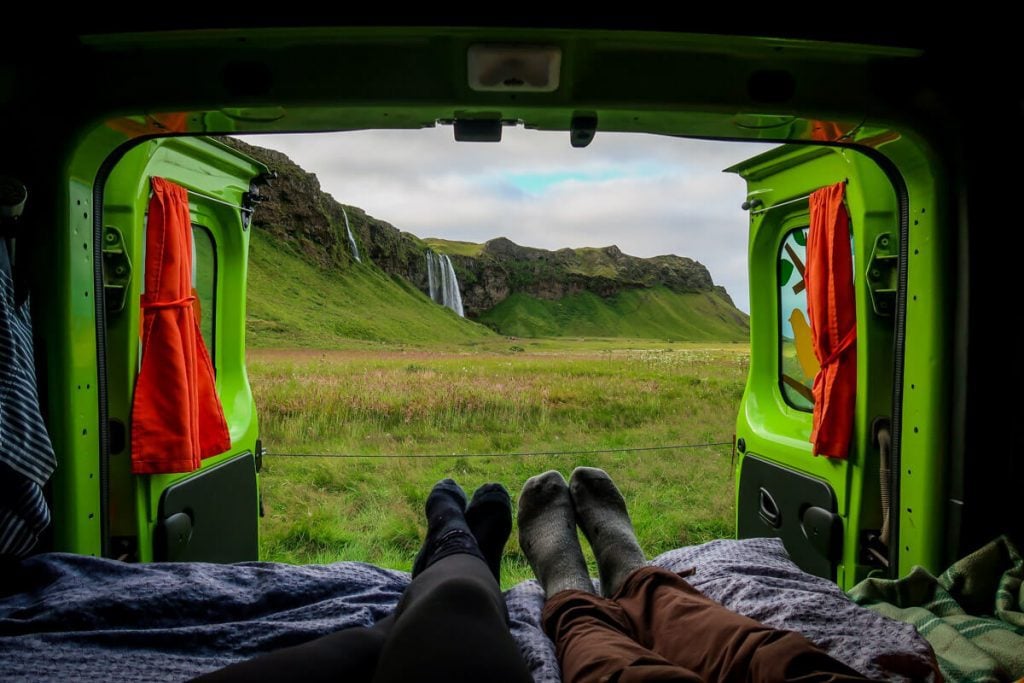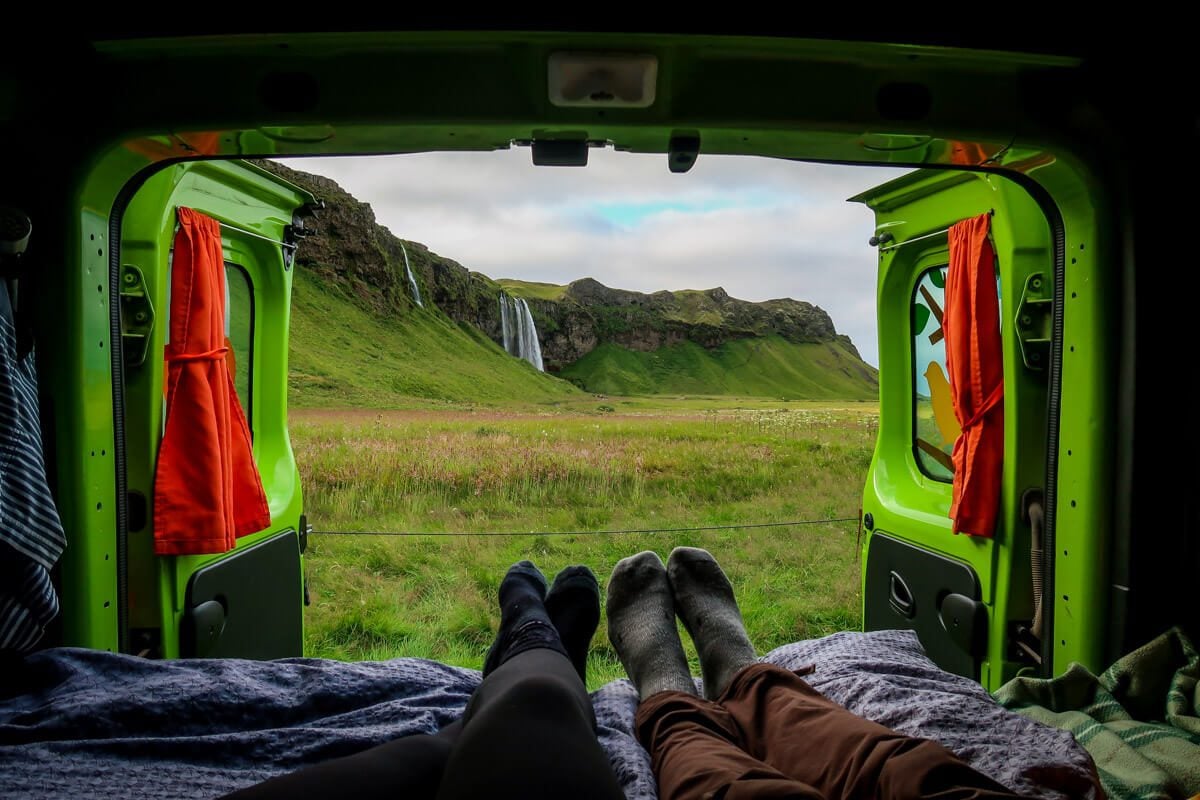 The summer months (June – August) are the most popular time of year for tourists in Iceland. And for good reason…
During this timeframe, visitors are rewarded with the best chance of good weather (ie. less rain and warmer temps). Having mild weather is definitely a perk when you're sleeping in a tent or campervan! Plus, daylight hours are long during the summertime, allowing travelers to pack in adventures well into the evening.
All this said, since summer is peak tourist season, prices for everything – including campervan rentals – are at their highest. If you plan your trip during "shoulder season" (aka spring or fall), you can sometimes save quite a bit of money. Just be sure to do a little research and see if all the attractions you want to hit will be open outside of the summer months.
Curious about seasons and weather throughout the year? We've broken down what to expect in this article about the best time to visit Iceland.
Can you camp in Iceland during the winter?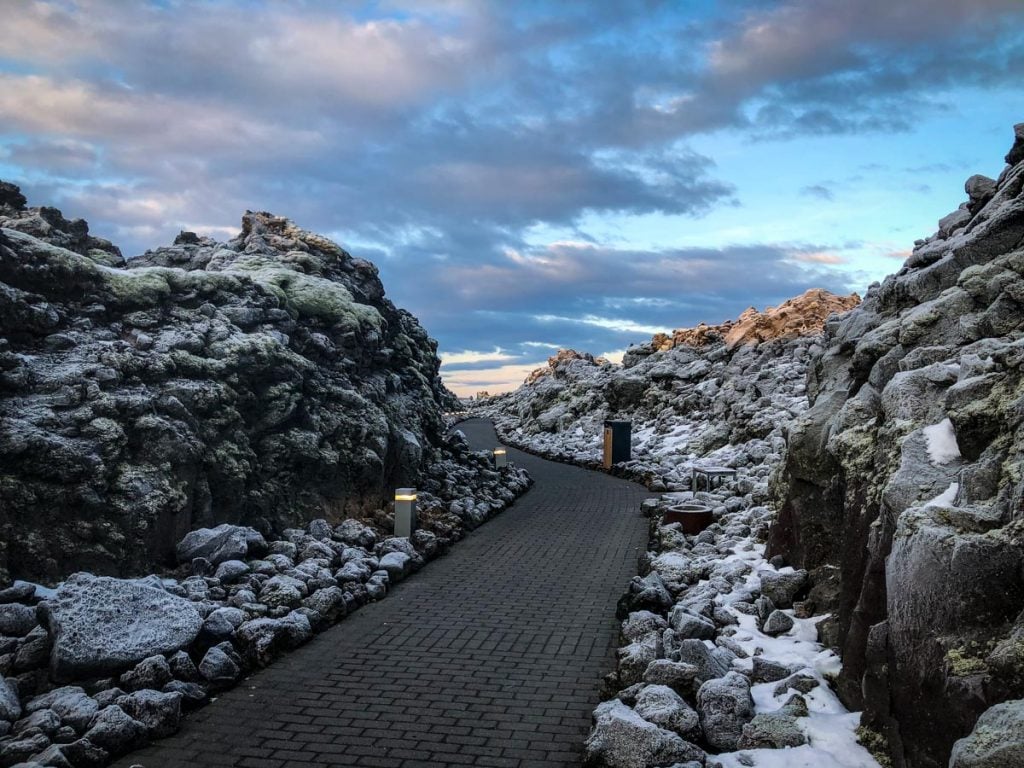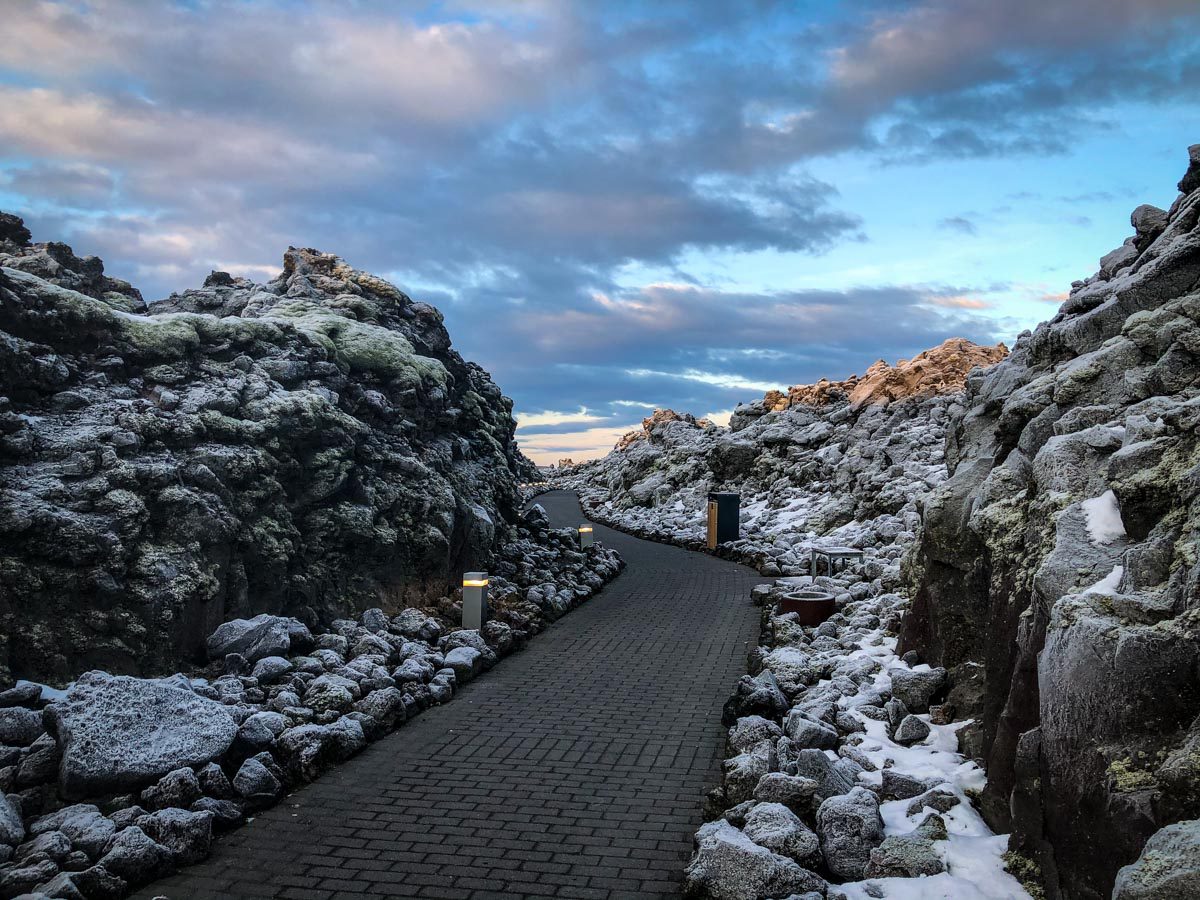 In short, yes, and it can be a really cool experience (if you're prepared). Camping in Iceland during the winter months is one of the best ways to see the Northern Lights. You can get far away from the city lights and the crowds.
However, there are some major things to consider. You'll want to make sure you book a campervan through a company that specializes in winter camping (like Happy Campers), and you'll want to be sure you've packed ample warm layers and light sources (as the daylight hours will be very limited during this time of year).
It's also worth noting that many attractions throughout Iceland are closed during the wintertime, so do a little research to see if you can still do everything you'd like during this time of year.
Additionally, keep in mind that many campgrounds close during the winter months. Some still allow people to park, but don't have any facilities for campers to use. Our advice is to plan your route around campsites that remain open throughout the winter (there are some!) so you can have hot showers, toilets and kitchen facilities to make your experience more comfortable.
Tent camping vs. Campervan
Are you debating whether you should rent a campervan or try your hand at tent camping? We've done both in Iceland and can speak from personal experience about the pros and the cons of each.
Pros & Cons of Hiring a Campervan in Iceland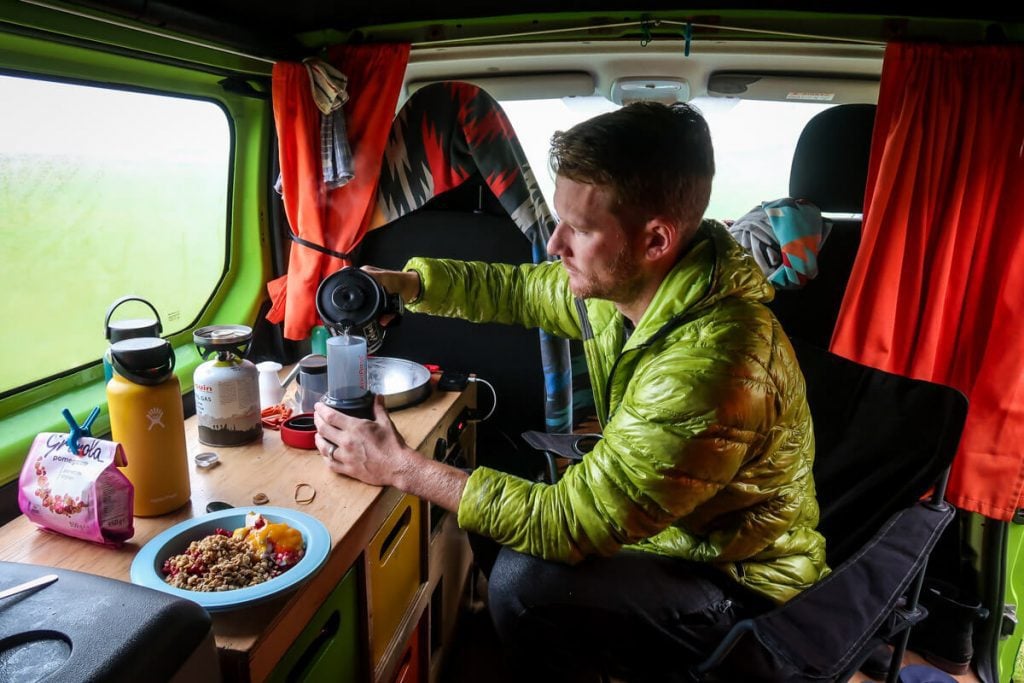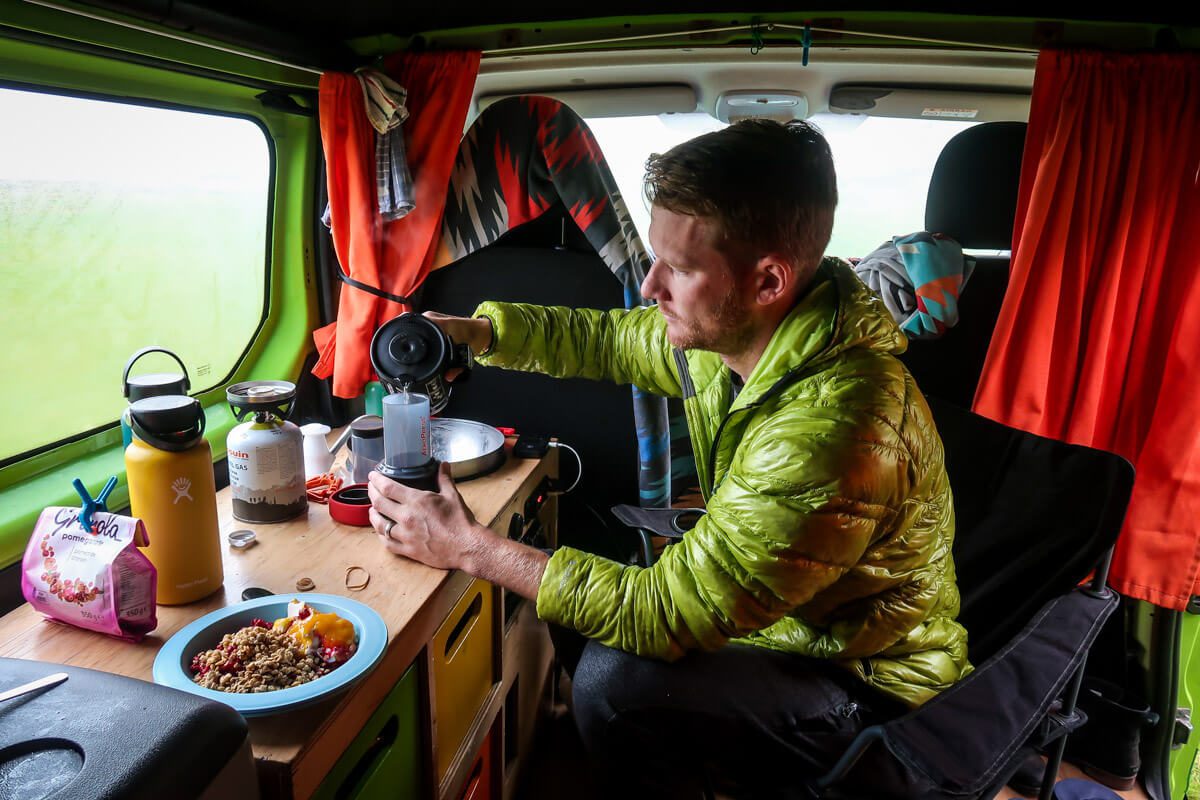 Campervan Pros:
It's more comfortable than a tent as you'll sleep on an actual mattress rather than on the ground.
A campervan will protect you from the elements like rain and wind.
Campervans come with a built-in kitchen, so cooking is easy (even in the rain!).
As soon as you park, your camp is ready. And in the morning, you're ready to leave whenever you want. No setting up or tearing down tents!
You only need to deal with one rental company. When you rent a tent and a car, you'll need to make two different stops when you enter and leave the country.
Campervan Cons:
You will go through gas more quickly than with a small car. The 2-person campervans have significantly better gas mileage than those that fit more than two people. So our advice would be to choose the smallest model that fits everyone in your group.
You'll need to feel comfortable handling a larger vehicle. Plus, many campervans in Iceland are manual transmission, so you should know how to drive a stick shift or be prepared to pay a bit more (and book far in advance!) for automatic transmission.
It is slightly more expensive than renting a tent and a rental car.
Pros & Cons of Tent Camping in Iceland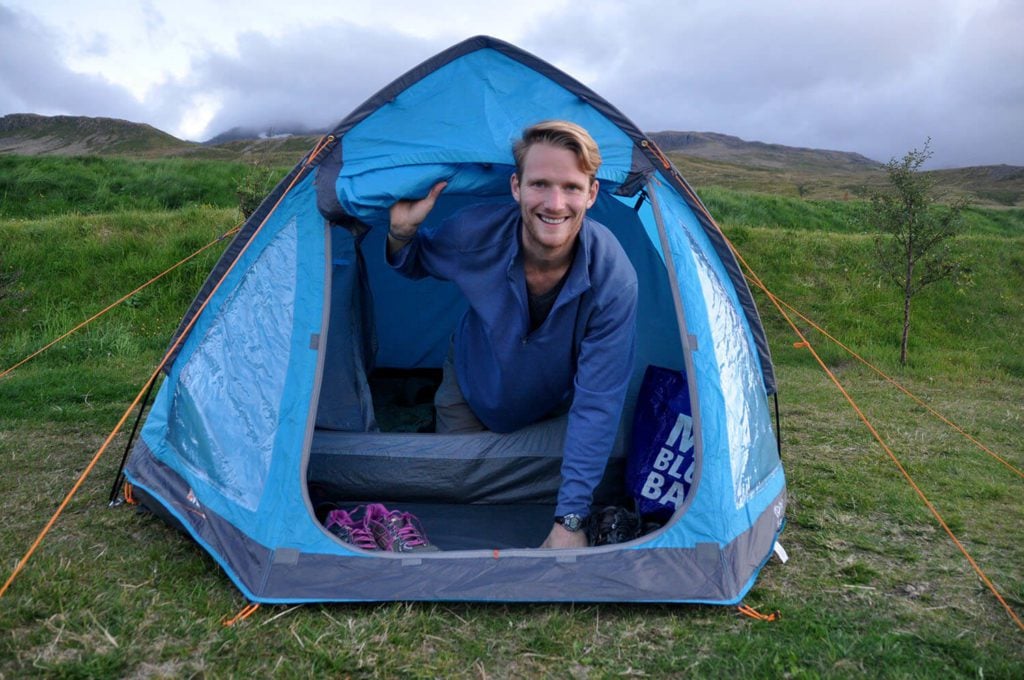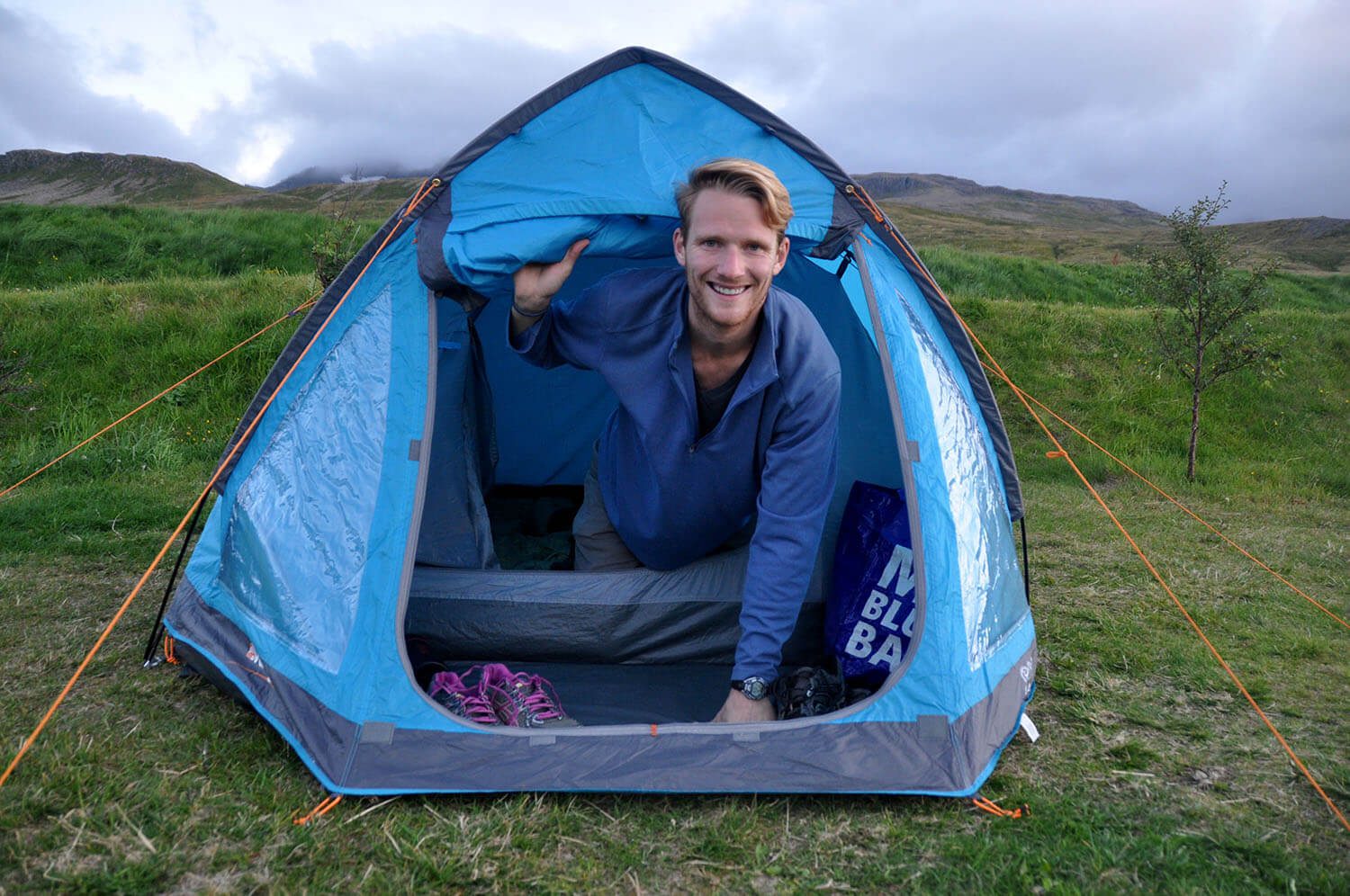 Tent Camping Pros:
This is the absolute cheapest way to see the country.
Hiring a smaller car will get you better gas mileage than a campervan.
If you have a lot of camping gear at home, you already have much of what you'll need.
Tent Camping Cons:
Rain can happen at any time of year, and a tent doesn't protect you from the elements very well.
Iceland gets cold at night and a tent can only keep you so warm.

Yes, it's cold even during the summer! One morning we woke up to frost (in August!). Needless to say, we didn't sleep all that well the night before.

Cooking when it rains is tricky, meaning you'll want to be sure to stay at campgrounds with kitchen facilities. This can limit you a bit and the campground kitchens vary a lot in cleanliness and crowdedness.
You need to set up your tent each night and take it down in the morning, which can be a big task.
Need more help deciding? Both options are great, and we think you'll love Iceland no matter which you choose. But if you need just a little extra help choosing, this should push you in the right direction.
A TENT is right for you if…
You have a super tight budget.
You don't mind "roughing it".
Are visiting during the summer months.
You're not sensitive to the cold.
A CAMPERVAN is right for you if…
You want a bit more comfort.
You want to cook more easily.
You have a bit more money to spend.
You're visiting Iceland during a colder time of year.
Iceland Campervan Rental Recommendations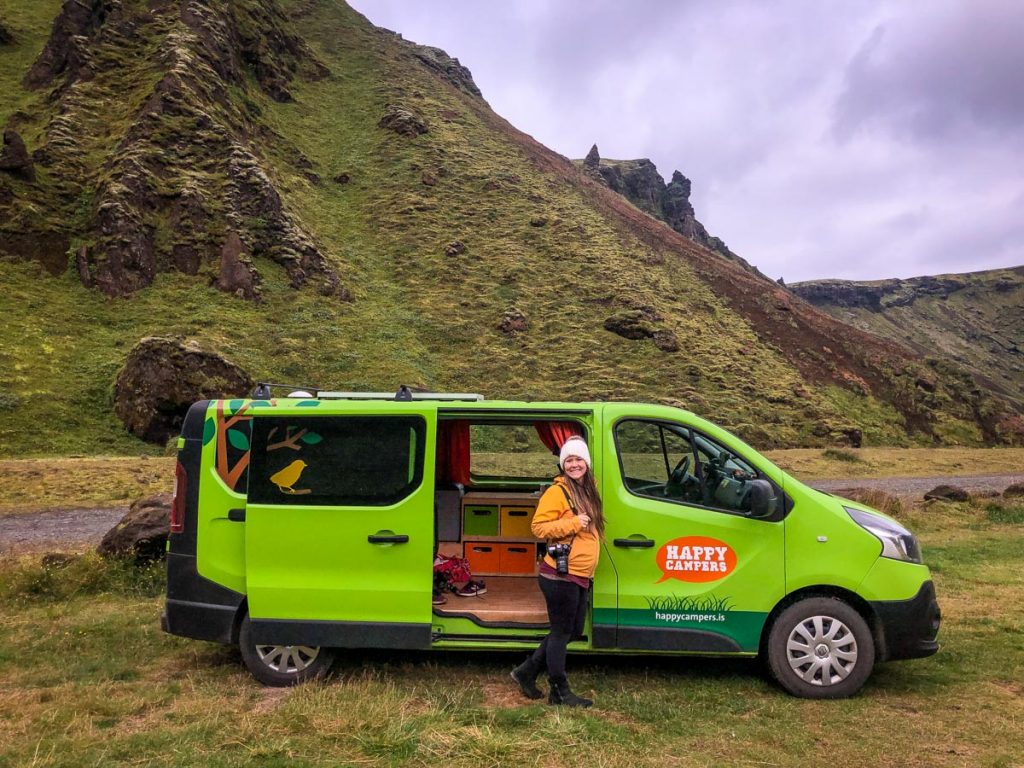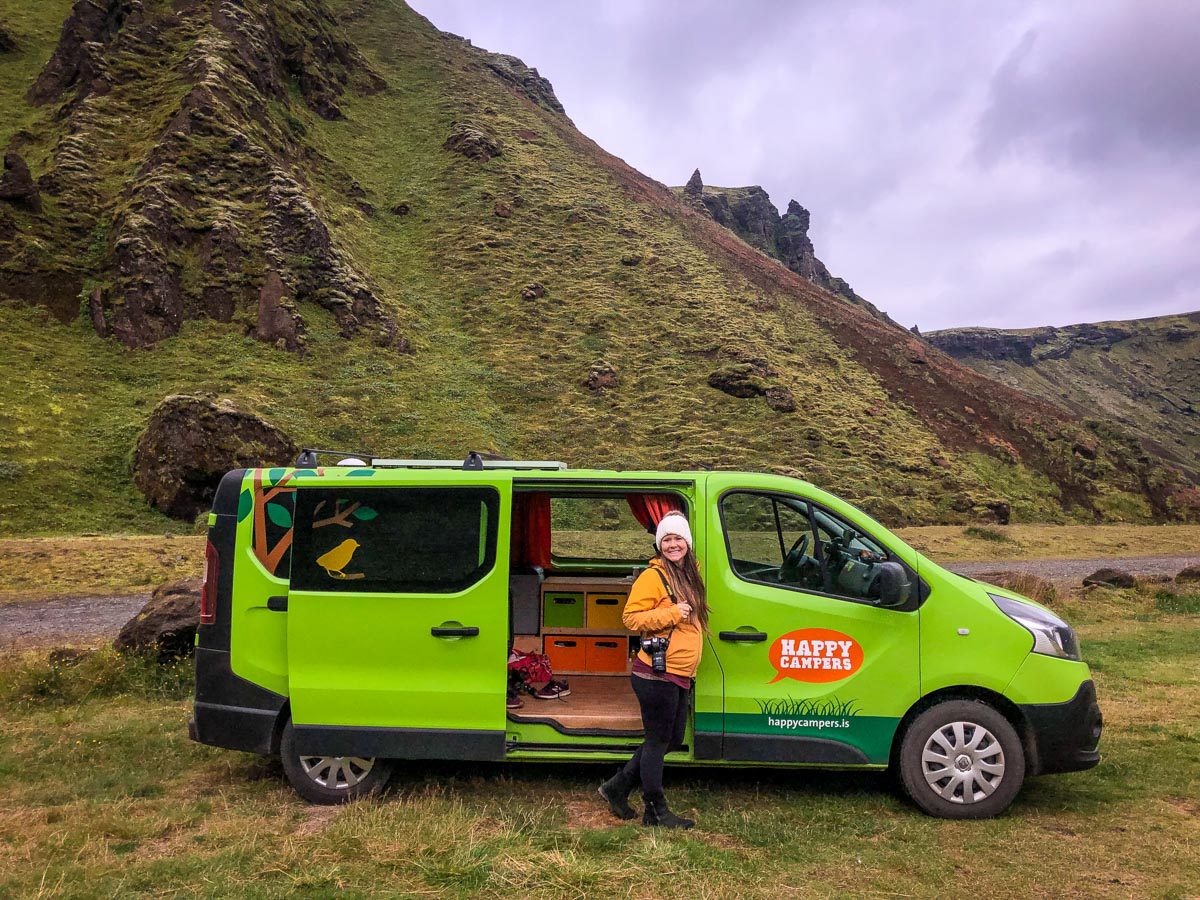 Personally, we rented a van through Happy Campers and were very impressed with them. They have lots of different floor plans as well as choices for travelers on a variety of budgets.

We've written an entire guide that goes over how to choose a campervan rental in Iceland, so be sure to check it out.
Iceland Car Rental Recommendations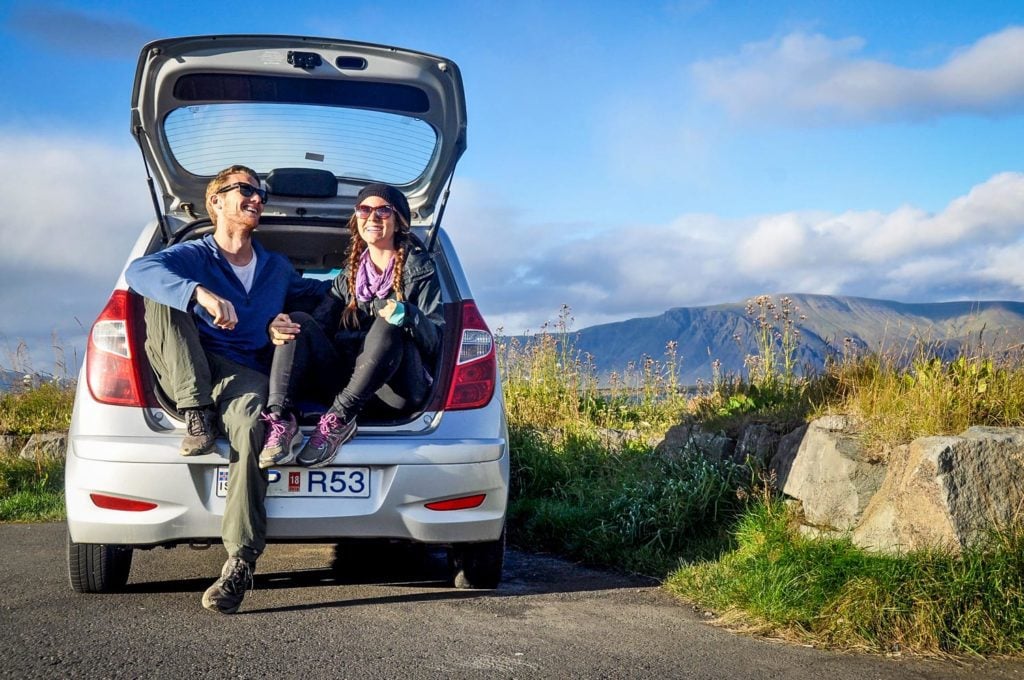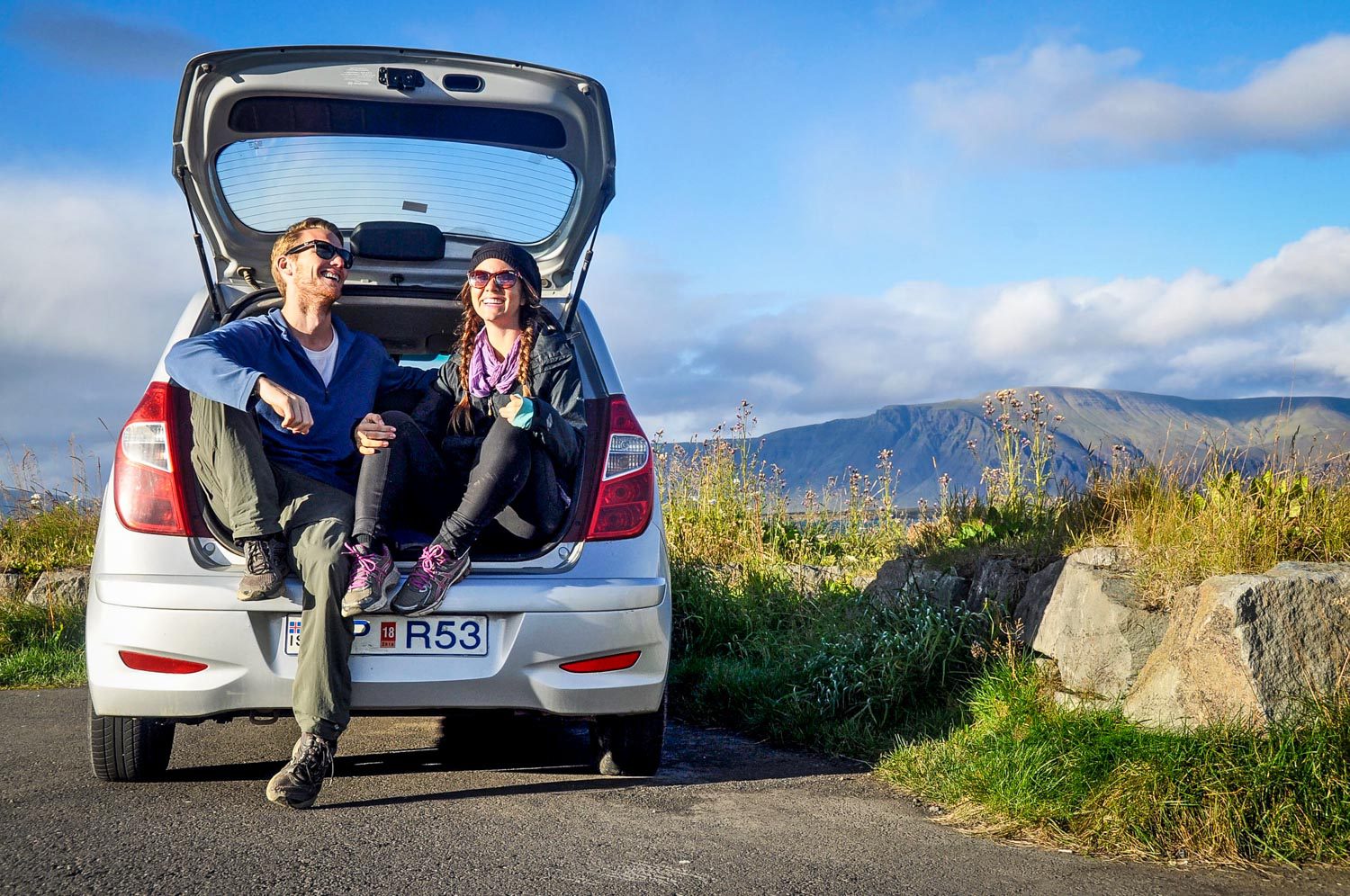 If you're planning to tent camp, you'll need to book a rental car to get around the country. Our biggest piece of advice is to make your reservation as far in advance as possible since there is a limited supply of vehicles for hire in this island nation. We've personally seen prices skyrocket as you get closer to your intended travel dates.
We've rented cars a couple of times in Iceland and have had good experiences with rentalcars.com, as they compare several rental companies' prices, availability and reviews.
Before reserving your vehicle, be sure to check out our article that goes over how to find the best rental cars in Iceland.
Iceland Camping Gear Rental Recommendations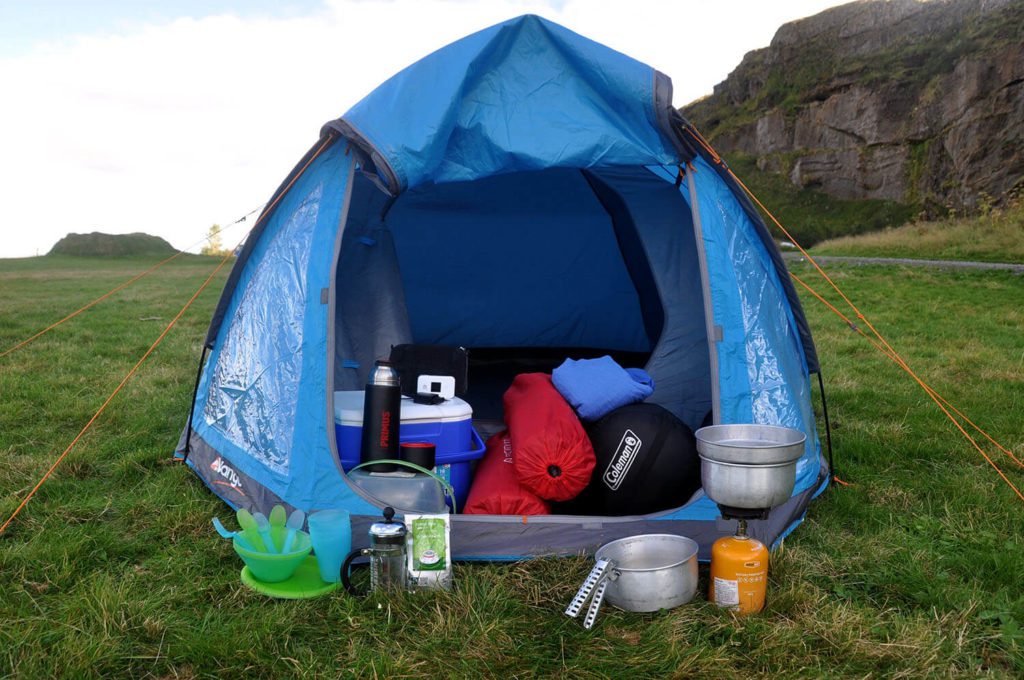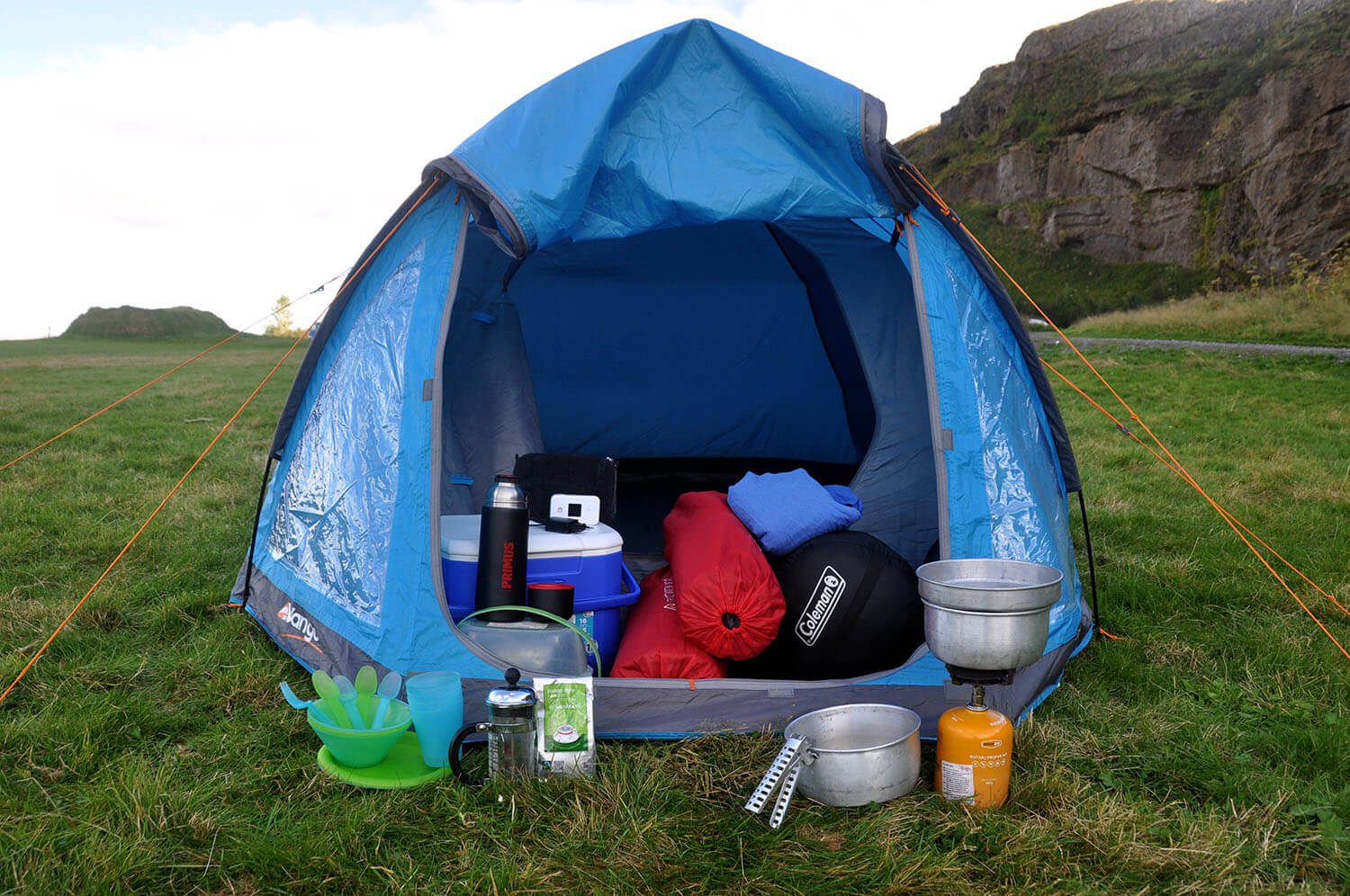 Don't have all the camping gear you need? Don't worry, there's a simple solution.
If you've decided to rent a campervan, these companies typically have additional items you can rent at an additional cost, like coffee presses and camp chairs.
However, if you plan to tent camp, there's a company that rents all sorts of camping gear that'll be just what you're looking for.
On our first Iceland camping trip, we rented almost all of our gear from Iceland Camping Equipment and had a really great experience.
Obviously, if you have gear you can bring from home, that'll save you money in the long run. But if there are certain items you just don't want to fly with, renting them in Iceland may make a lot of sense.
Iceland Camping FAQs
After going on two epic camping trips in Iceland, we've got a lot of tips to share with you. Camping in Iceland is quite a bit different than in some other countries, so it's important to read up so you're fully prepared for the adventure you deserve!
In this section, we're answering the most common questions we've been asked about camping in Iceland as well as all the things we think are essential to know before pitching your tent or hopping in that campervan!
What are campsites in Iceland like?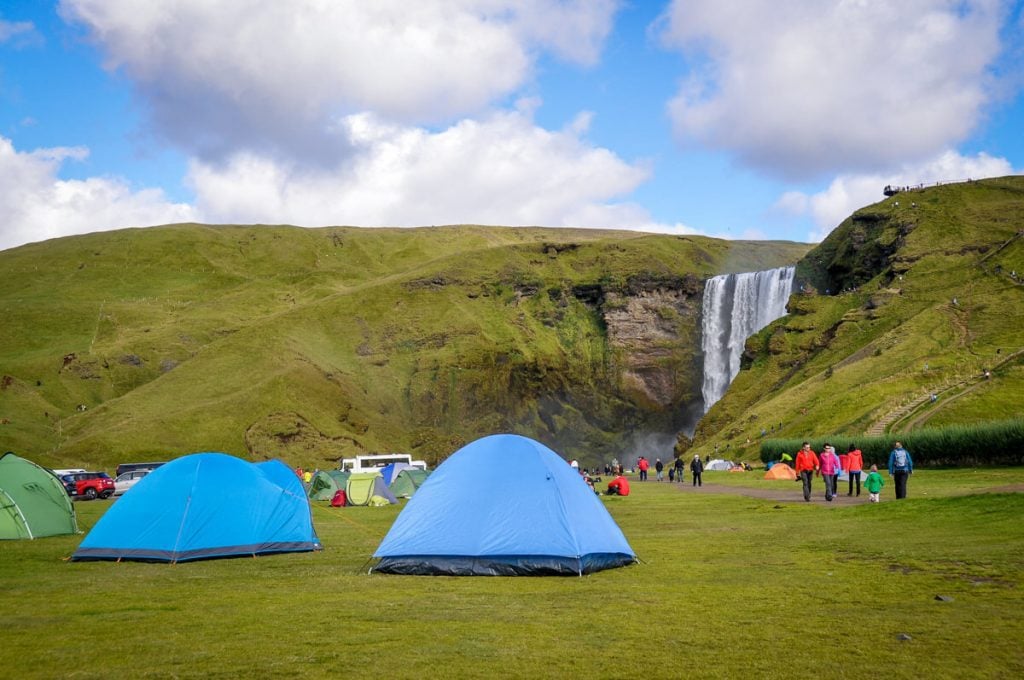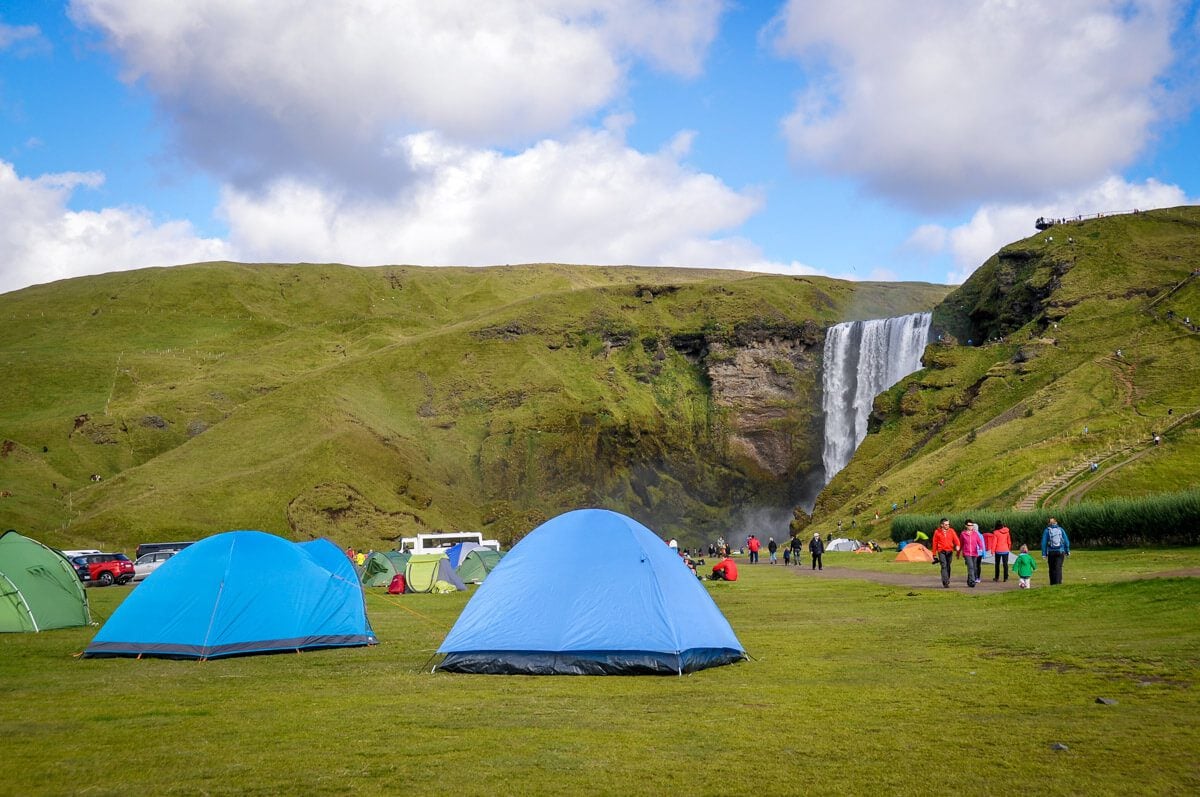 If you're used to camping in the USA or Canada, the camping situation in Iceland will be a bit different from what you're used to. Here's what you can expect…
You can't build campfires
First of all, there's a strict no campfire rule in Iceland, so forget about spending the night next to the fire ring making s'mores.
Sites aren't very private
Unlike in North America, where you typically have a designated site that's all yours, in Iceland it's kind of a free for all. Instead of sites surrounded by trees for privacy, you'll be pitching your tent or parking your van in more or less a wide open field. Depending on the specific campground, people may be pretty spaced out or quite close together.
You may have access to common areas
The facilities vary widely, but all campgrounds have some sort of bathroom. Most have showers, and many have a kitchen and common area.
How much do campsites in Iceland cost?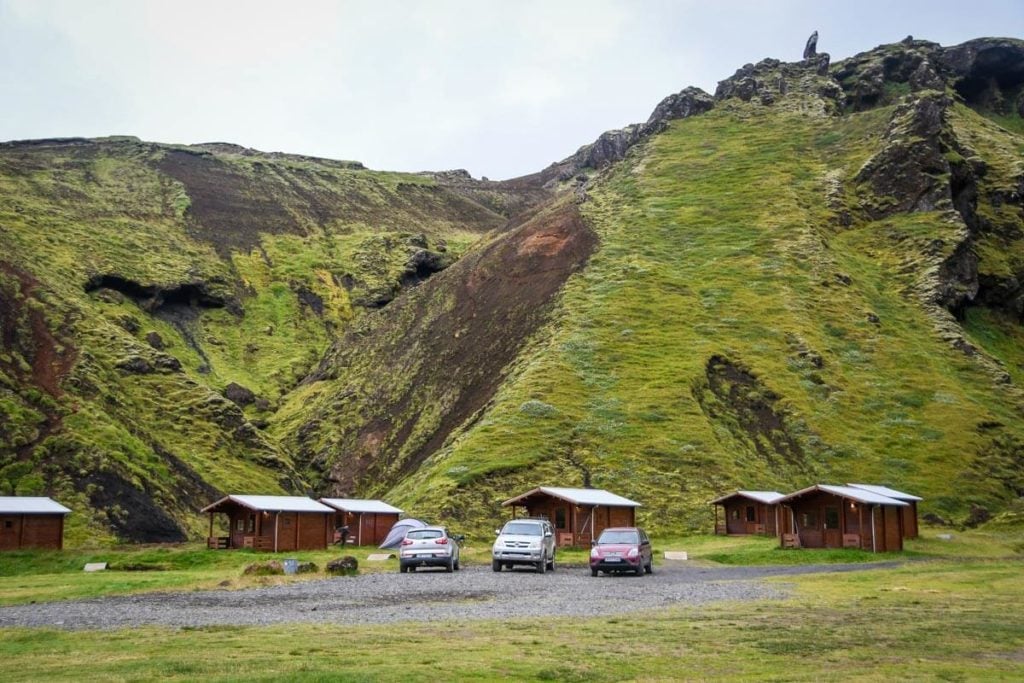 It varies a bit, but you can expect to pay between 1300 ISK and 2300 ISK per person per night. (That's roughly $10 – $18 per person.) There are a rare handful of campsites around the country that are free as well, but for the most part, expect to pay a nightly fee.
On average, we paid about 1500 ISK ($12) each per night. In total, on our 10-day camping trip, we paid roughly $240 on campsites for two people.
Compare that to the hotel we stayed at in Reykjavík which was $210 per night (one of the more budget-friendly options we found during peak season), and I'd say that the campgrounds are not too shabby!
Good to know: One thing you'll want to pay attention to is whether or not showers are included in the price or if it's an additional fee. When deciding between two campgrounds, we purposely chose campgrounds where showers were included whenever possible. During our 10-day trip, we only stayed at one campground that charged for showers.
Can you pay with a credit card?
Yes!
There may be a couple of exceptions out there, but we've stayed at more than 15 campsites (some of them being independently run by families), and they've all accepted credit cards.
At one campsite, the owner walked around at dusk collecting payment on a portable credit card reader or through a PayPal link. Even though it was somewhat remote and wasn't a huge operation, they still accepted credit cards.
Is dispersed or wild camping legal in Iceland?
In some countries (the U.S., Canada, and New Zealand, for instance), it is possible to camp for free on public lands (aka dispersed camping). However, this is not the case in Iceland. Even if you have a fully self-contained vehicle, you must still camp in a designated campground.
In the past, many tourists were disrespectful with their camping choices. They camped on fragile ecosystems and left behind human waste and trash. Locals got fed up with it and eventually laws enacted in 2015 essentially made wild camping illegal.
There are two exceptions to this:
You have written permission from a landowner to camp on their property.
You are in the wilderness (for example, on a multi-day hike). In this case, you are allowed to pitch a tent (no campervans) away from any roads or infrastructure.
You will likely not fit into these categories during the majority of your trip.
Psst! Are you interested in hiking?? We have a whole guide to the best hikes in Iceland with photos, details and insider tips to help you plan your trip.
Is the Iceland Camping Card worthwhile?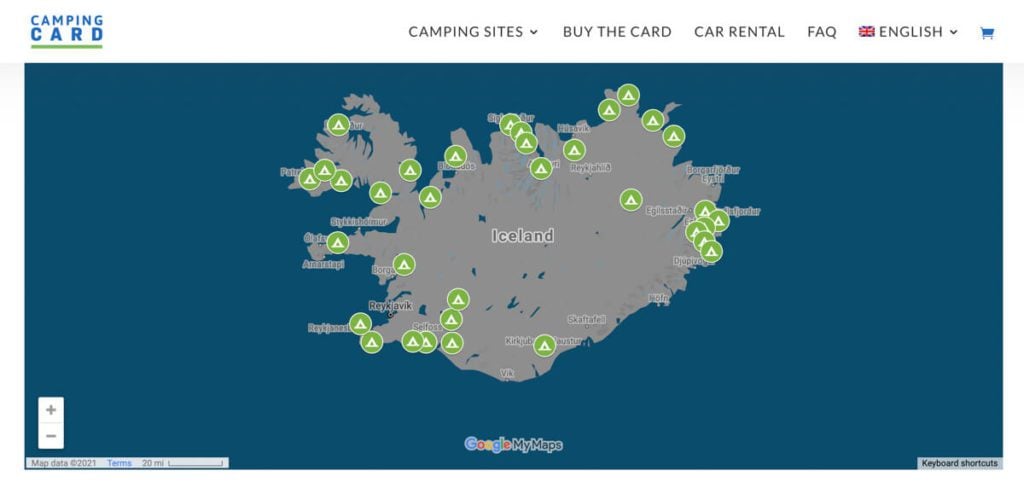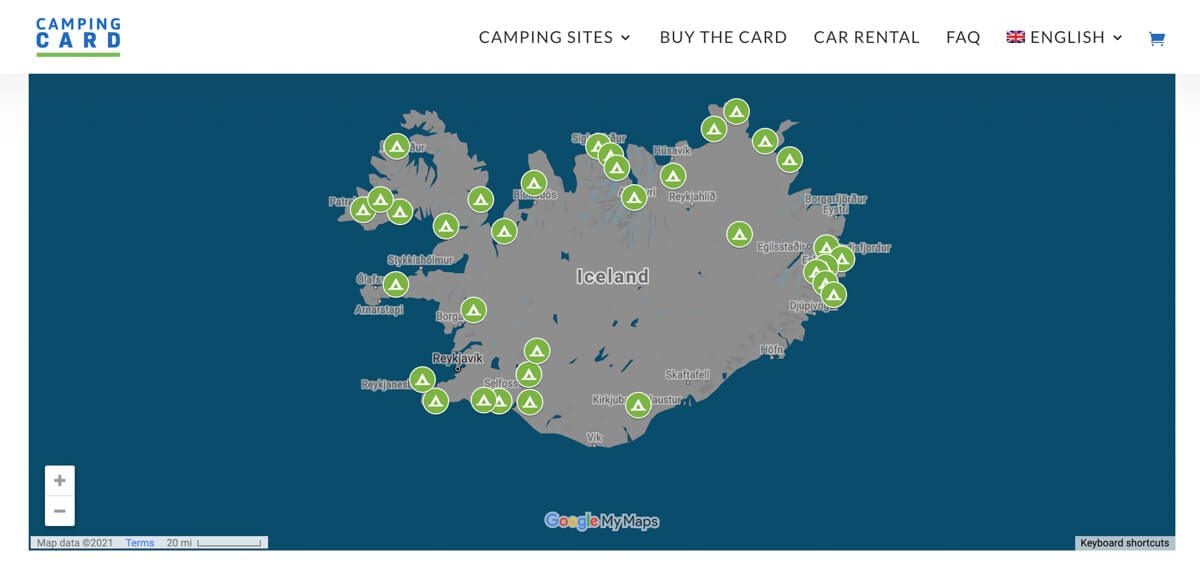 For most travelers, the answer to this question is probably not.
Let's back up for a second and go over exactly what the Iceland Camping Card is…
Iceland Camping Card:
A pass you can purchase online or in person at these resellers
Gives you access to 35 campgrounds around the country
Costs €159 ($185)
Covers 2 adults (16 years+) and 4 children (under 16 years old), in ONE campervan or ONE tent
Valid May 15 – September 15
You can use the card for a maximum of 28 consecutive nights
Campsites may still charge you an "overnight tax", which is 333 ISK ($2.50)
You may still need to pay for some services, like power, showers, or washing machines
Our (honest) thoughts:
Sure, it can save you some money in the end if you camp only at participating campgrounds, but in our opinion, that will limit you quite a bit with where you're able to stay. You might even find yourself driving out of the way in order to stay at one of the designated campgrounds, costing you gas money (which ain't cheap in Iceland!).
Unless you're on a super tight budget and have a pretty flexible itinerary, we'd recommend choosing campgrounds that work best with your route (and also ones that have good reviews).
The camping card is a good choice if:
You have a very flexible itinerary
You are on a very tight budget
You're traveling with kids
One factor to consider is that the camping card is one price per vehicle, so if you're traveling with a family of 4, this could be a bit more of a money-saver being that you won't have to pay for each person individually (though kids under 12 are typically free at most campgrounds anyway).
Our experience: We chose not to get the camping card, and in total, we paid $240 for campsites for 10 nights (for two people).
The camping card costs $185, and would have saved us a total of $55. That said, we would have had to adjust our route quite a bit, which didn't seem worthwhile to us.
Do I need to make reservations at campgrounds?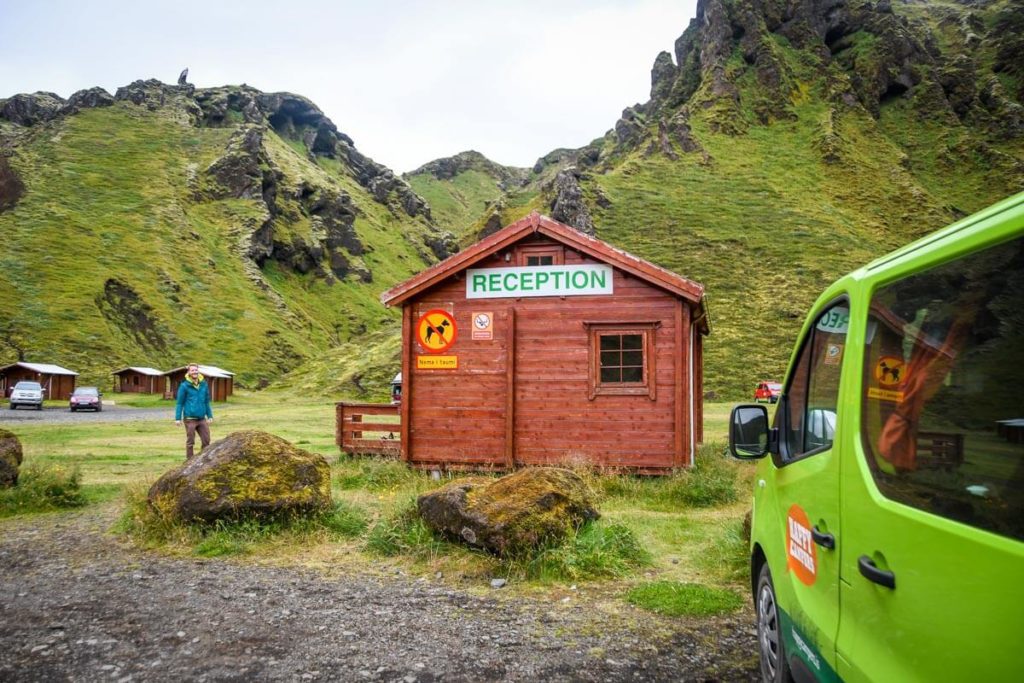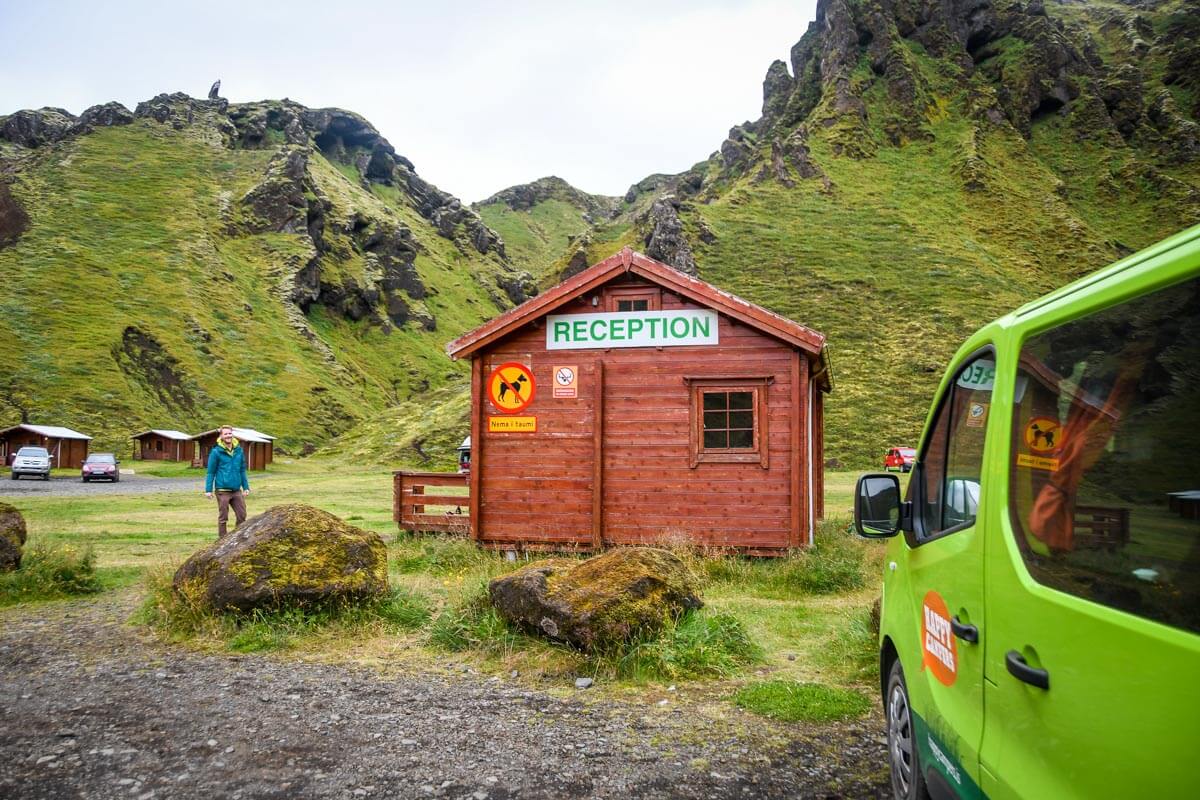 Most often, no.
We never made a reservation during our two Iceland camping trips (both in August) and we were never turned away.
In most campgrounds in Iceland, there aren't exactly individual sites, so cars and vans kind of just pull in wherever they can find room. Also, it's worth noting that many campgrounds in Iceland don't even accept reservations.
All this said, campsites in Iceland can fill up. We got a couple of messages from readers who showed up to campgrounds that were full and they had to find an alternative place to stay.
Apparently, this occurs most often when the weather is really good in one area while the surrounding regions have bad weather (meaning lots of people converge in one spot all at once). If this might be the case, you could call the campground ahead of time to see what their availability is like.
What about bathrooms?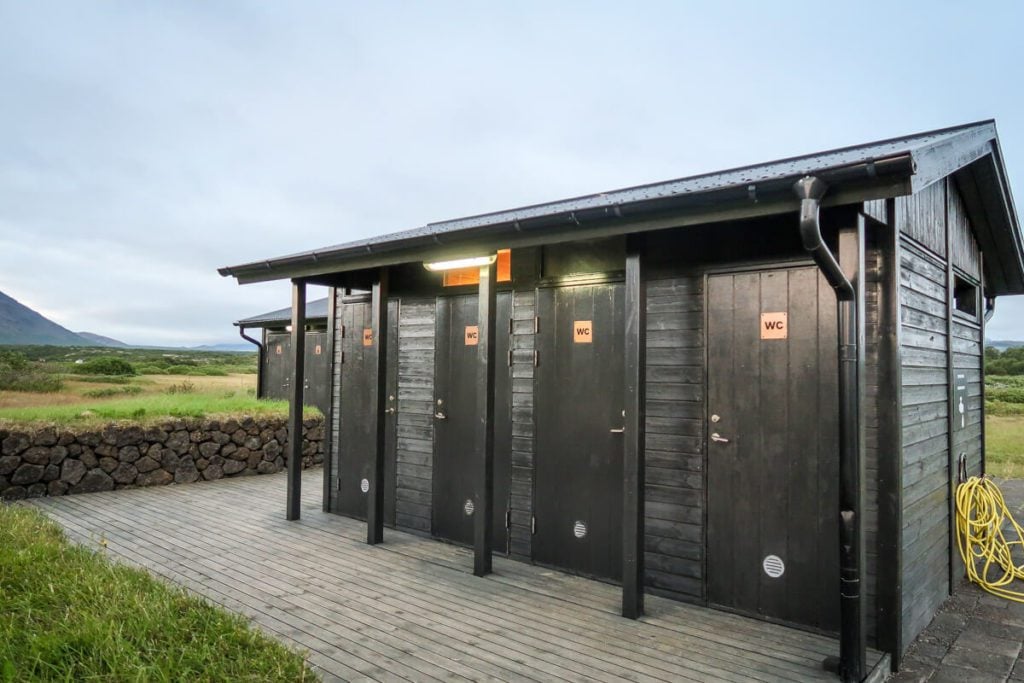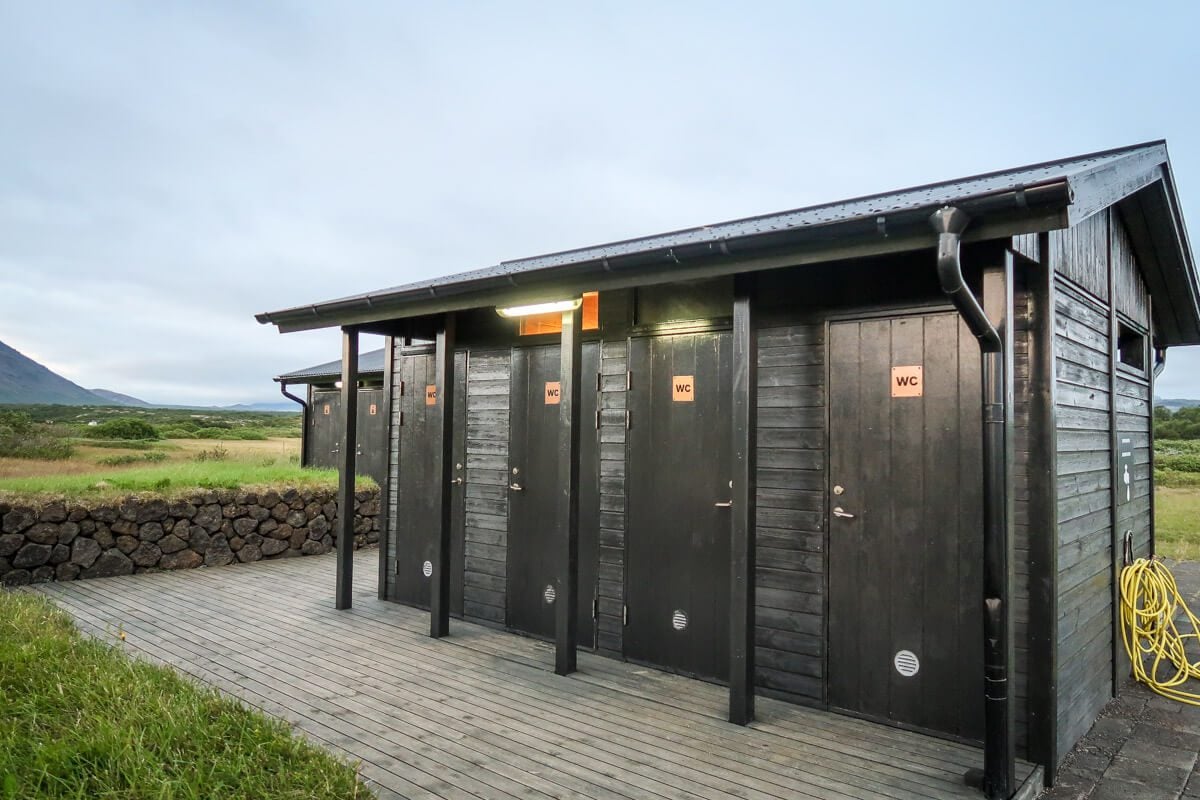 All campgrounds in Iceland have bathrooms. Let's all do a collective sigh of relief. Phew!
In our experience, the campground tended to be pretty clean (for public bathrooms), and with the exception of one or two campgrounds, there are usually plenty of toilets.
Insider Tip: If you think you'll need to go in the middle of the night (I'm right there with ya!), consider parking close to the bathrooms so you don't have far to walk.
In addition to finding bathrooms at all campgrounds in Iceland, you'll find them pretty frequently on the road too (attractions, gas stations, restaurants).
Good to know: In rare cases, there are fees for using public bathrooms.
Where can you shower?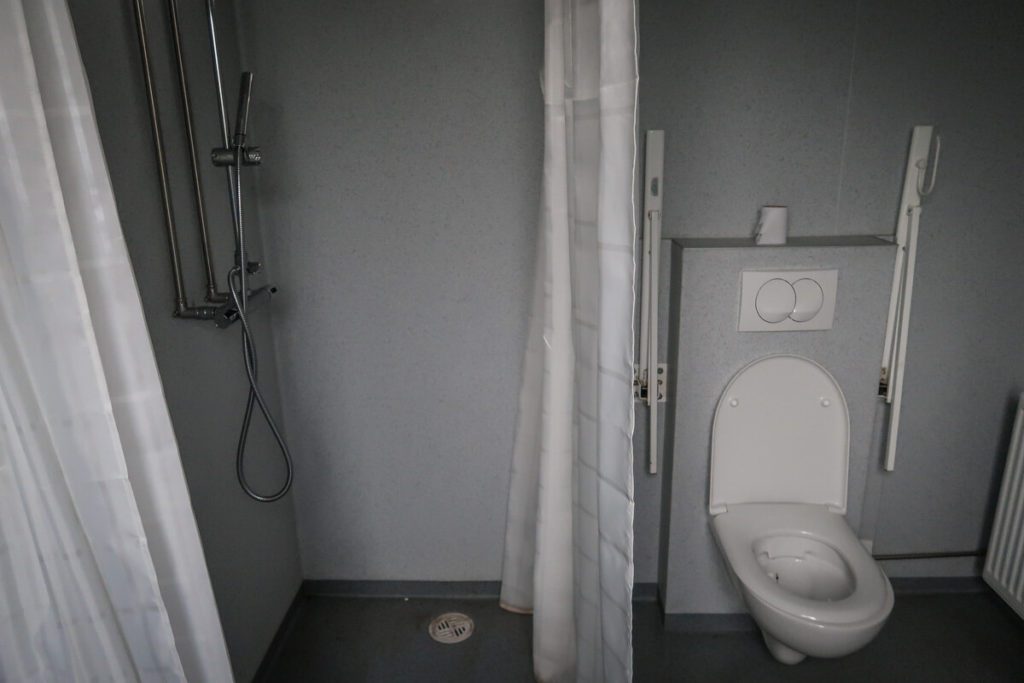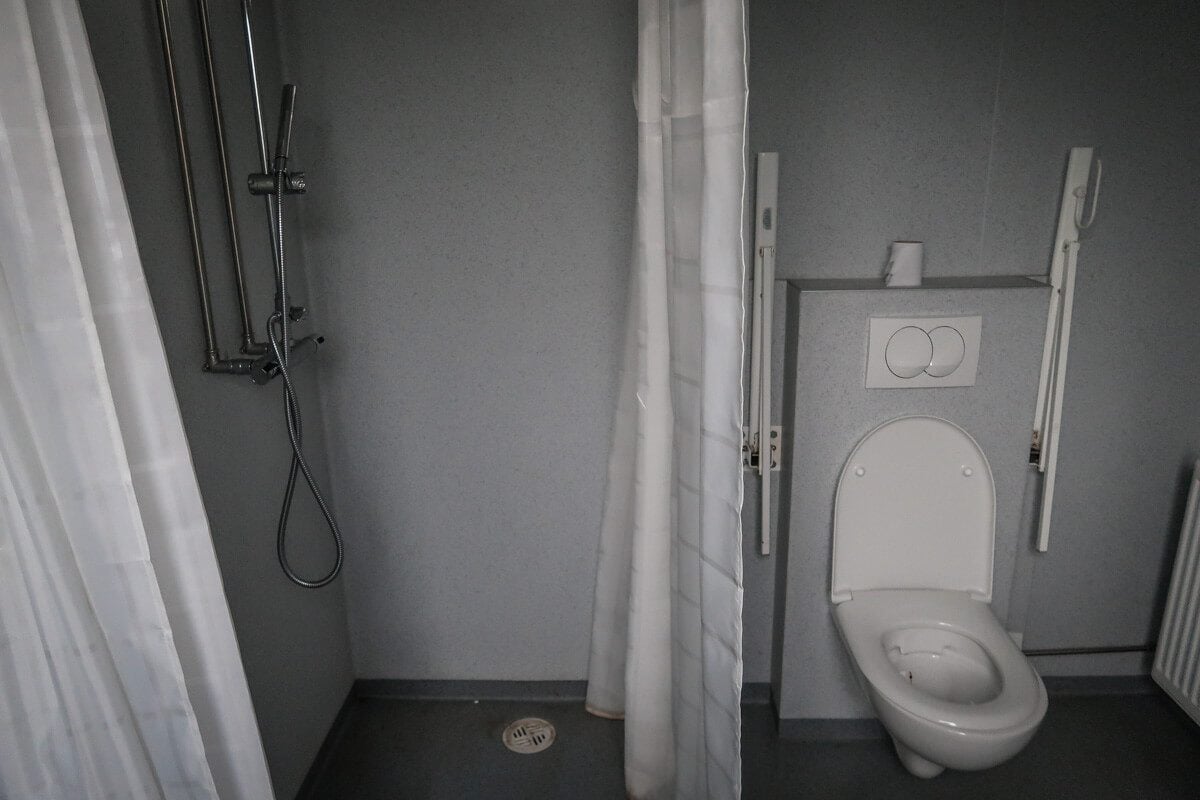 Most (but not all) campgrounds have showers. Sometimes they are included in the nightly fee, but sometimes they are an additional cost.
You should be able to tell from a campsite's description whether or not this is included in the campground's nightly rate. We typically chose campgrounds where showers were included, but in the cases where they weren't it was about $3 for 3 minutes of hot water.
Can I do laundry while camping in Iceland?
If you're traveling for less than 2 weeks, we'd recommend packing so you don't need to do laundry. However, if you're on a longer trip or just want to get the stank smell outta your campervan, you'll be happy to know that it is possible to do laundry while on an Iceland camping trip.
Some (but not all) campgrounds have washing machines that you can use for a fee. There's typically also detergent you can use, or you can pack laundry detergent sheets like these.
How can I get WiFi while camping in Iceland?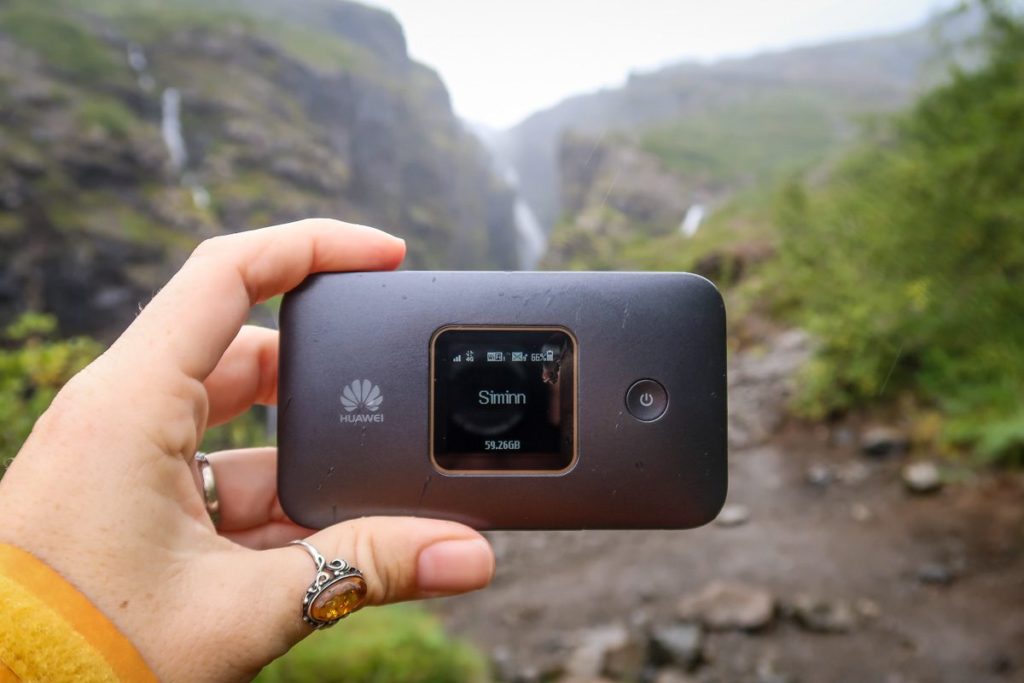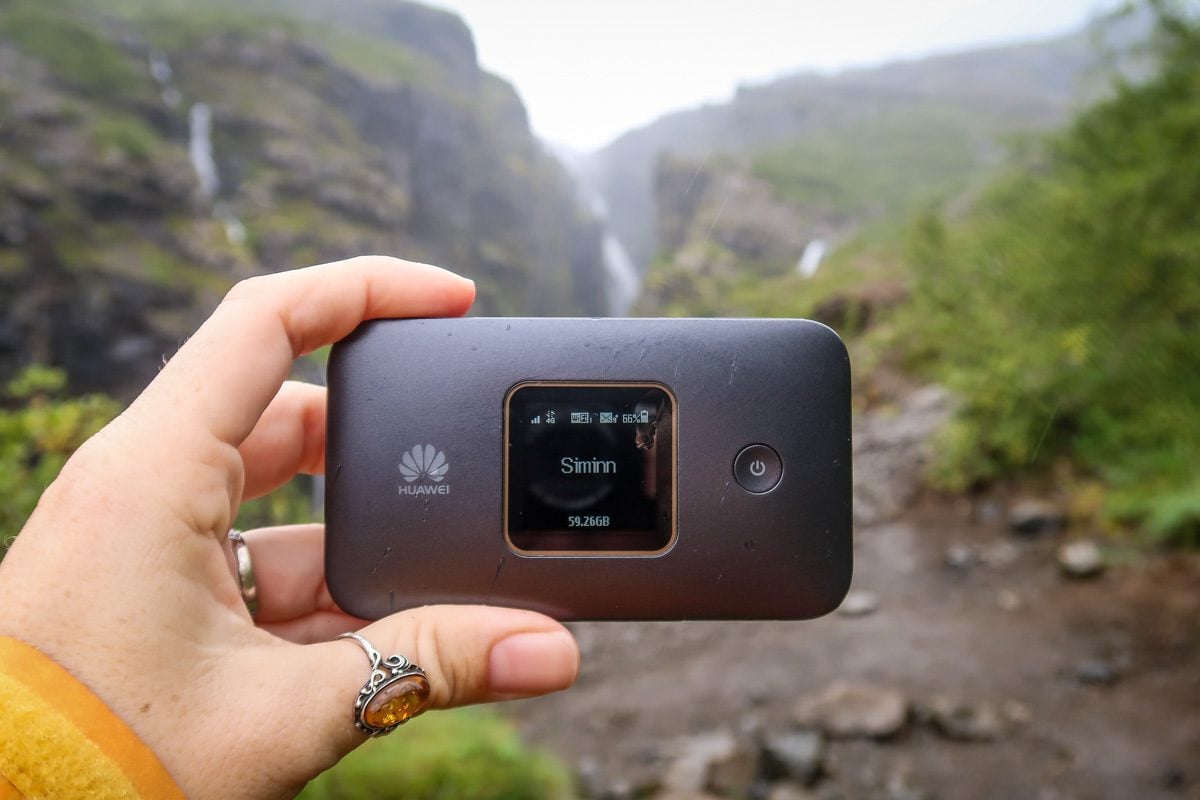 Getting Internet access in Iceland is actually quite simple, and there are a few different options:
SIM card: You can pick up a local Icelandic SIM card at the airport or at just about any gas station. Simmin is the best network, and it should cost about 3,000 ISK ($23) for 10GB of data.
Campervan Connectivity: If you're renting a campervan, check to see if it comes with a WiFi device. Our Happy Campers van came with a tablet that was preloaded with a GPS system and unlimited Internet access that could be hotspotted to our other devices. It was wonderful!
WiFi Hotspot rental: You can rent a small hotspot that will connect to several devices and can be carried with you (great for taking on hikes and into towns).
Campground WiFi: Most (but not all) campgrounds have WiFi. Speed varies, but it's usually pretty good. You could rely solely on this or use it to supplement one of the other methods of getting Internet access.
Where can I fill my water?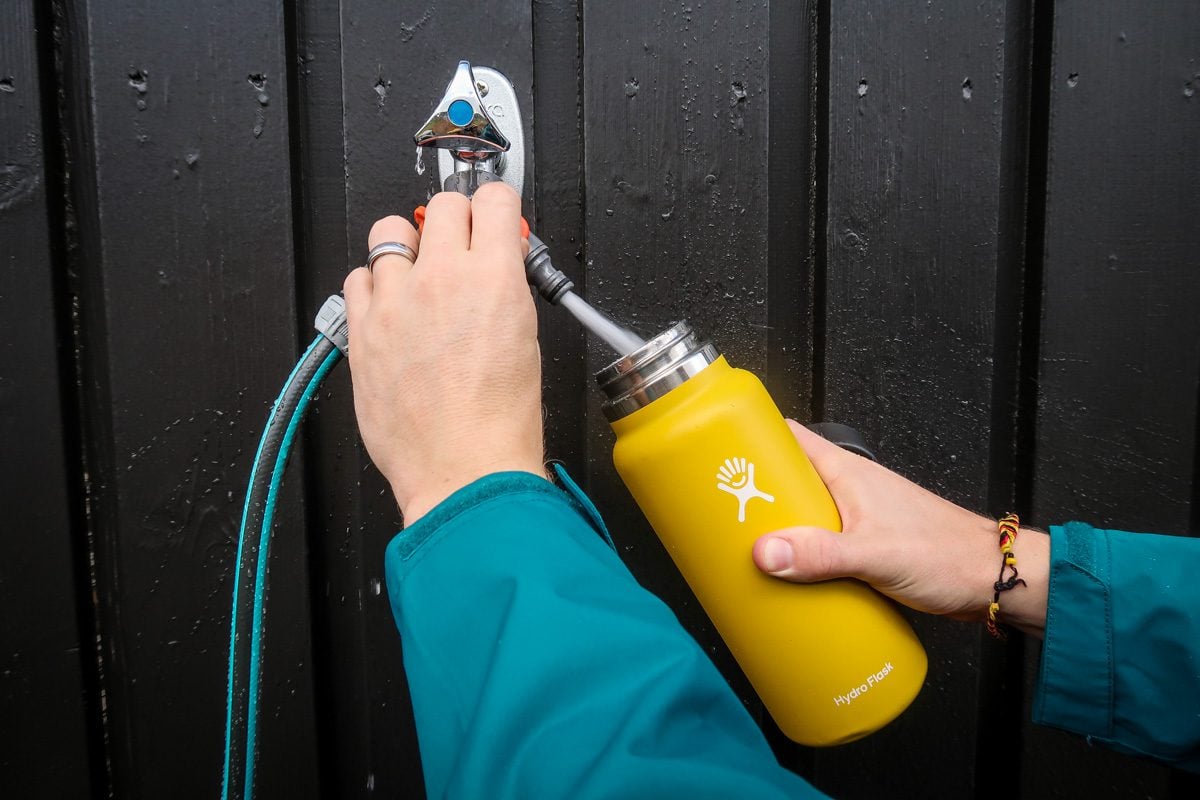 All campgrounds will have a water fill station.
When you pick up your campervan, you should get a brief orientation during which they'll show you how to fill your water tank. If you're traveling in a car, you can simply use the stations to fill up your water bottles.
Where can I dump my grey water?
Many (but not all) campgrounds have a grey water dump station where you can empty your dirty water tank (if you have one). Our rental van was designed where the water goes directly from the sink to the ground so there is no need to empty a tank.
Personal note: In both campervans we've built, we have always had a grey water holding tank so we can properly dispose of our grey liquid, so not having one was kind of a new concept to us. We packed Dr. Bronner's biodegradable soap, so we felt a little better doing dishes without a holding tank.
How do you choose a good campground?
Step 1: Plan out your general route.
Step 2: Use a campground map like this one to see all the campsites in the area. You'll be able to click on the tent icons and get a description of what to expect at the campsite as well as the cost per night.
Step 3: Type the campground name into Google Maps so you can read recent reviews. If a campground has overall really negative reviews, we would go back to the map and see if there are nearby alternatives.
Step 4: Keep track of the campgrounds you like, and list them on your itinerary along with at least one "backup" in case you don't get that far or the campground is full.
Now when you begin your trip, you'll have a destination in mind each night but you'll also have some flexibility in case your plans change.
Psst! In the next section, we have a list of our personal favorite campgrounds in Iceland, so take note if any of these would work with your route.
Do I need a 4×4 vehicle?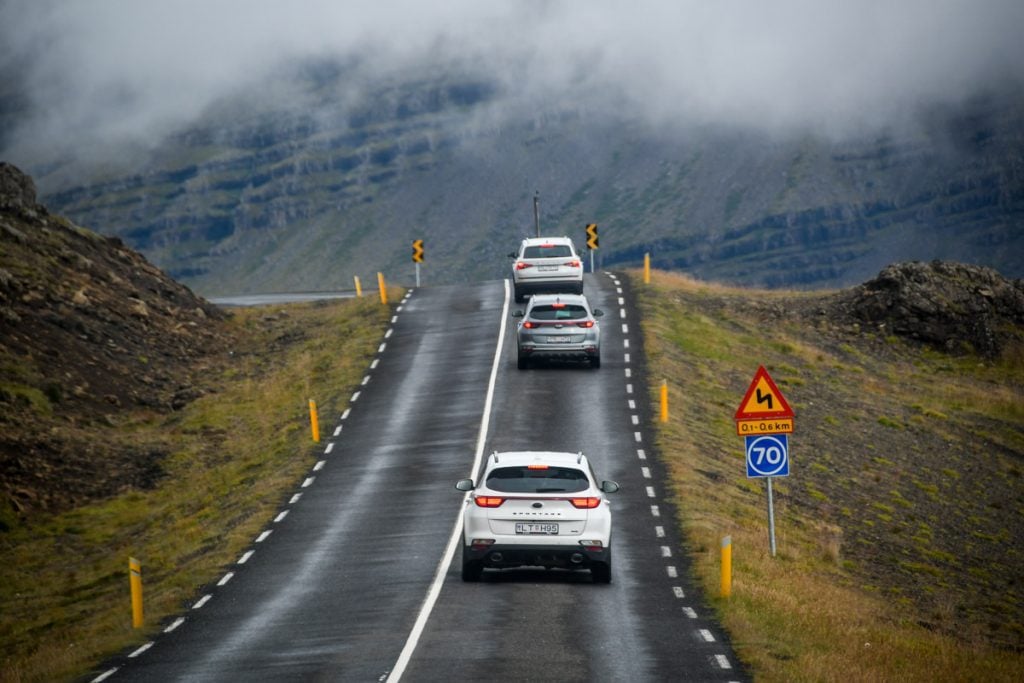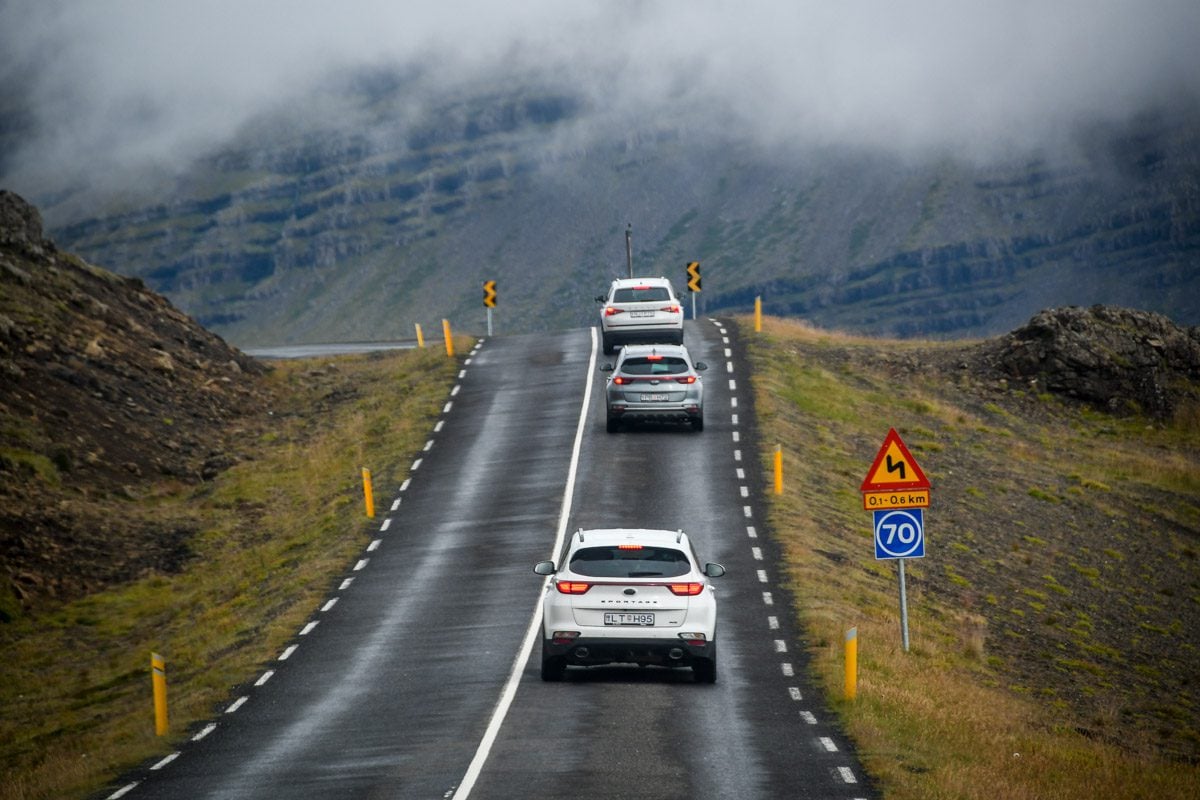 You likely do not need a 4×4 vehicle.
If you are planning to drive the Golden Circle or explore on the Ring Road, you can see all the major sights with a regular (non 4×4) vehicle.
However, here's why you may want to consider a 4×4:
You plan to visit the Highlands. This remote part of Iceland is only accessible via "F roads", which can only be driven with 4×4 vehicles.
Another region where we'd recommend having a 4×4 is the Westfjords. We were told we could still go there in a non-4×4, but the roads are in pretty rough condition, making a 4×4 pretty handy.
You plan to be spontaneous and get off the beaten path often. If you don't want to be limited to which sights you can see, having a 4×4 vehicle might be a good choice. While you can drive on many gravel roads in a normal vehicle, a 4×4 will handle better. In truth, there were a few spots we wanted to visit during our trip but couldn't since we did not have a 4×4.
You plan to visit Iceland in the wintertime. While not crucial if you're sticking to the main roads, it could give you a little more peace of mind knowing you have more control in potentially slick conditions.
Final thoughts: All in, 4×4 vehicles aren't too much more expensive, so if you're on the fence, it might be an upgrade you're happy to make. That said, there are far fewer 4×4 vehicles in Iceland, so they tend to book up quickly. If having a 4×4 is important to you, be sure to make reservations as soon as you're able.
Is camping in Iceland safe?
While bad things can happen anywhere in the world, Iceland is repeatedly ranked as one of the safest countries on earth. Add to that the fact that there is not any dangerous wildlife in Iceland, and I'd say you've got yourself a pretty safe place to camp.
The most common bad situation travelers get into in Iceland is driving accidents (which can happen whether you're camping or staying in hotels along the way). Before getting behind the wheel, be sure to read our guide to driving in Iceland so you know exactly what to expect and how to be sure you stay safe.
Best campsites in Iceland
Throughout our two Iceland camping trips, we've realized that all campsites are not created equal. Some have amazing facilities and are destinations in themselves, while others are dirty and don't have much to offer other than a place to park for the night.
Below, we're sharing some of our personal favorite campsites and we're explaining what it is we like about each.
Psst! If you're wondering where to start, we compiled all our experiences from 3 trips and put together what we think is the perfect 7-day Iceland itinerary for your first visit.
Camping 66.12 NORTH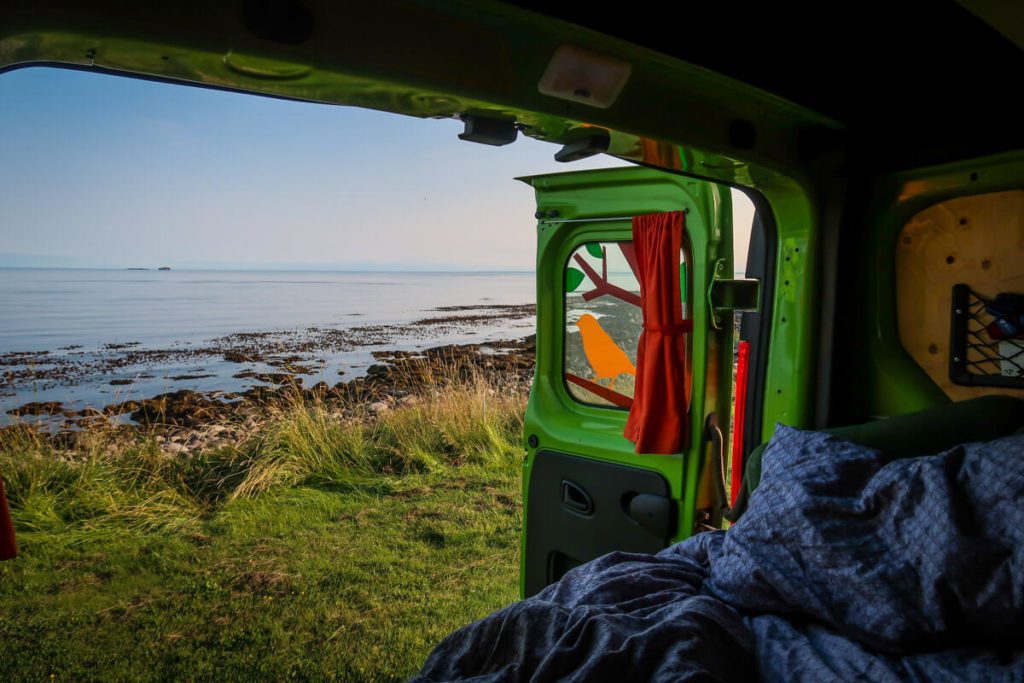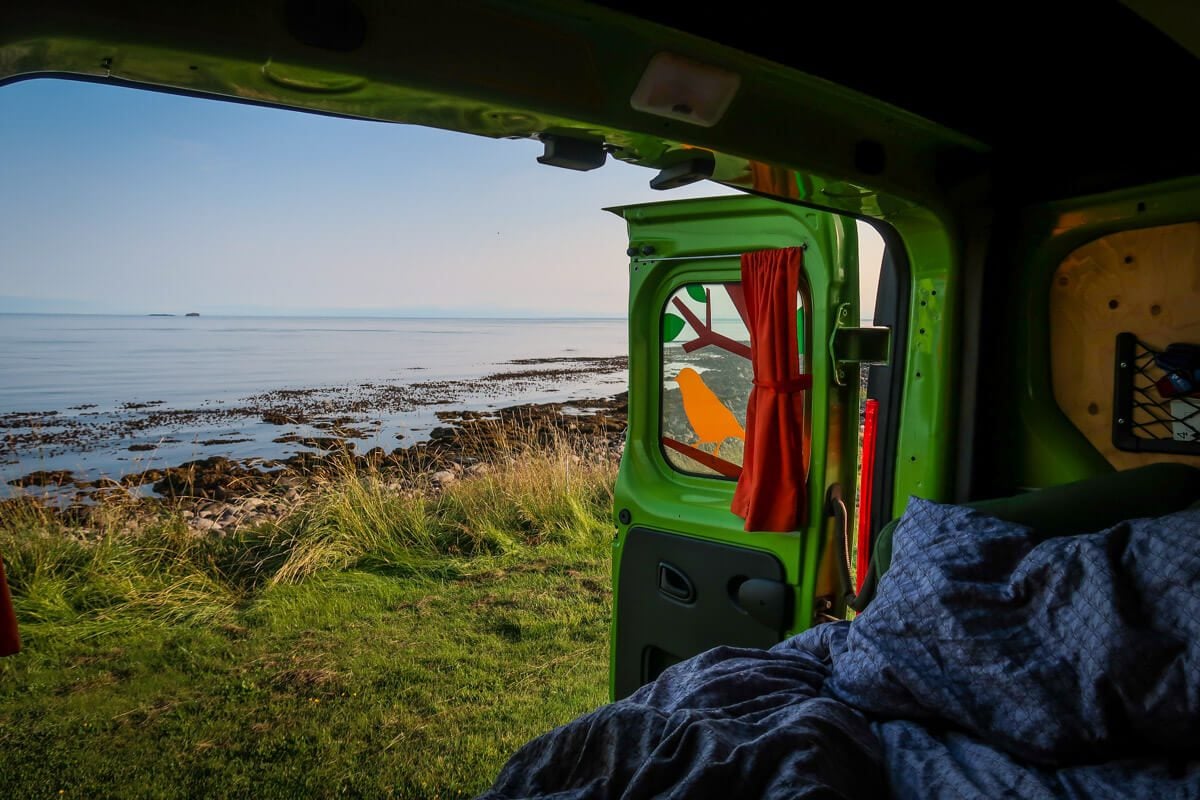 Just a 20-minute drive north of Húsavík, this campground is well worth the little detour. The owner is very kind and the facilities were nice enough, but the real draw here is the unobstructed sea views. There are few places in the world where you can fall asleep just beside the ocean without shelling out hundreds of dollars, after all!
Cost: 1,500 ISK per person ($12)
Camping Varmahlíð
This campground actually had trees – gasp! And parking spots had a bit of separation, giving us more privacy than at any other campground we stayed at in Iceland. If you're doing the full Ring Road and find yourself in the north of Iceland, Camping Varmahlíð makes a great homebase for the night.
The showers were very clean and spacious, and the family that owns this campground is really nice. Supposedly there are some hiking trails near the campground, but we didn't have time to check them out.
Insider Tip: Not too far from this campground is Fosslaug, one of our favorite hot springs in Iceland! Be sure to check it out if you have time.
Cost: 1,500 ISK per person ($12)
Hamragarðar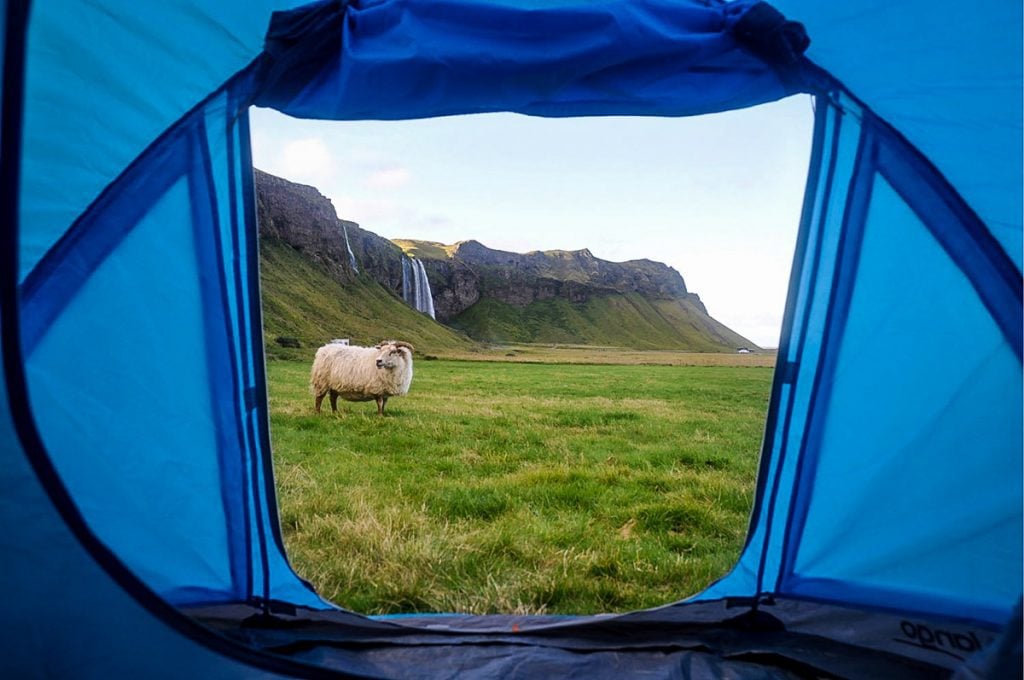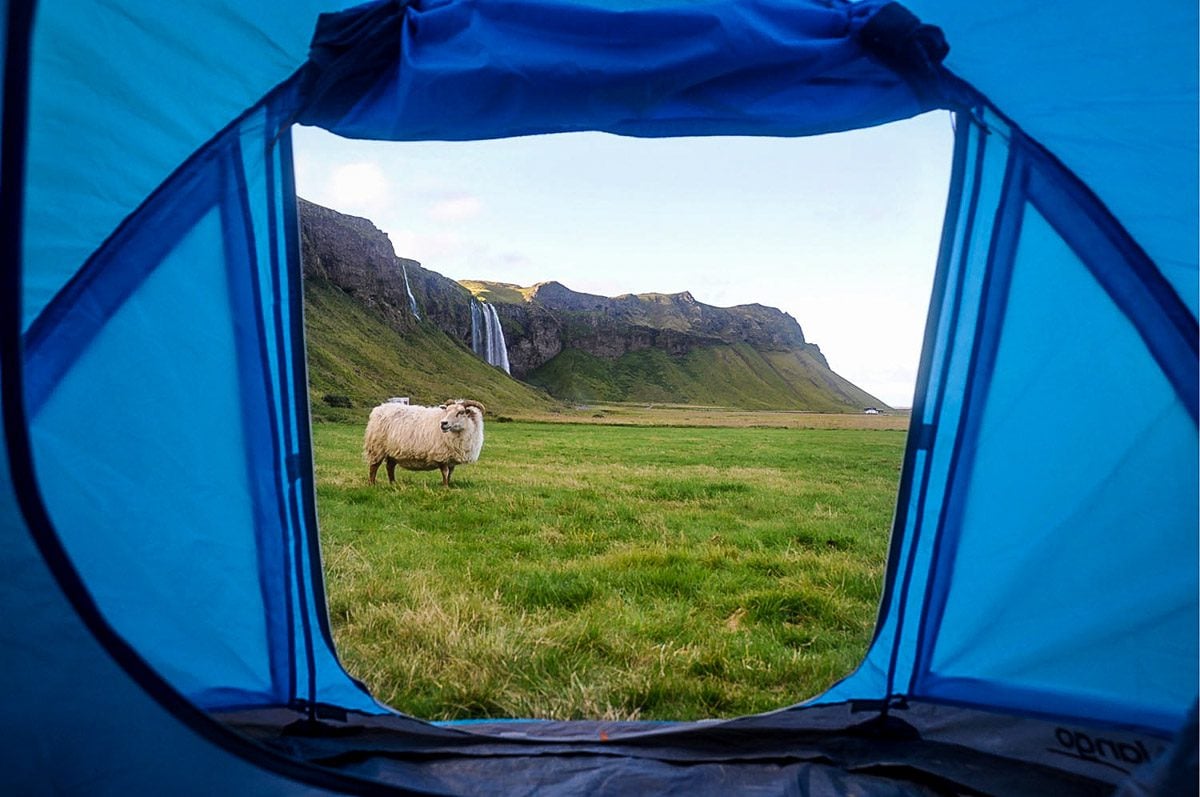 We've stayed at this campground twice – back in 2016 and again for two nights in 2021. Now, it doesn't make the list because of great amenities. In fact, the showers here were an additional charge (boo!), and left something to be desired.
The reason this site is on this list is because of its location. Situated just a short walk from the spectacular Seljalandsfoss waterfall, this is a really great stopping point on the Ring Road as it is very close to many attractions. Plus, this makes a perfect base if you plan to hike the Fimmvörðuháls Trail.

Insider Tip: Just behind this campground is a hidden waterfall called Gljufrabui. To find out how to get there, check out our round up of Iceland's best waterfalls.
Cost: 1,500 ISK per person ($12)
Note: Showers cost an additional 300 ISK ($2.25) for 3 minutes of hot water.
Alternative: Just a 30-minute drive east on Ring Road will bring you to Skogafoss, one of Iceland's most famous waterfalls. Just beside it is Skógar Campsite. Like Hamragarðar, it's not known for its facilities, but instead for its great location.
Básar Hut & Campsite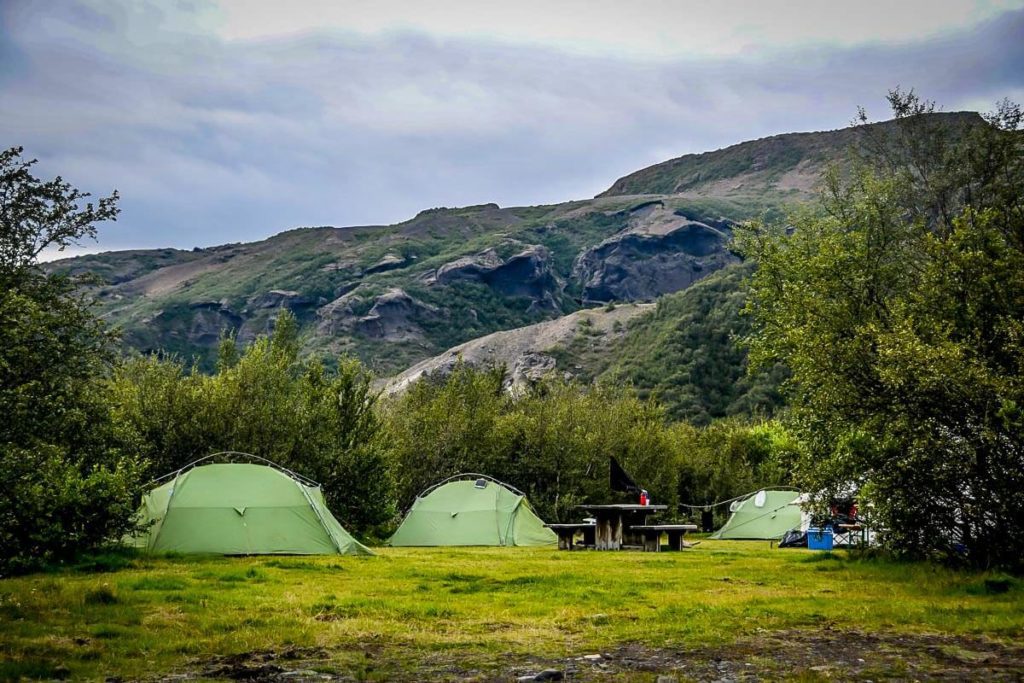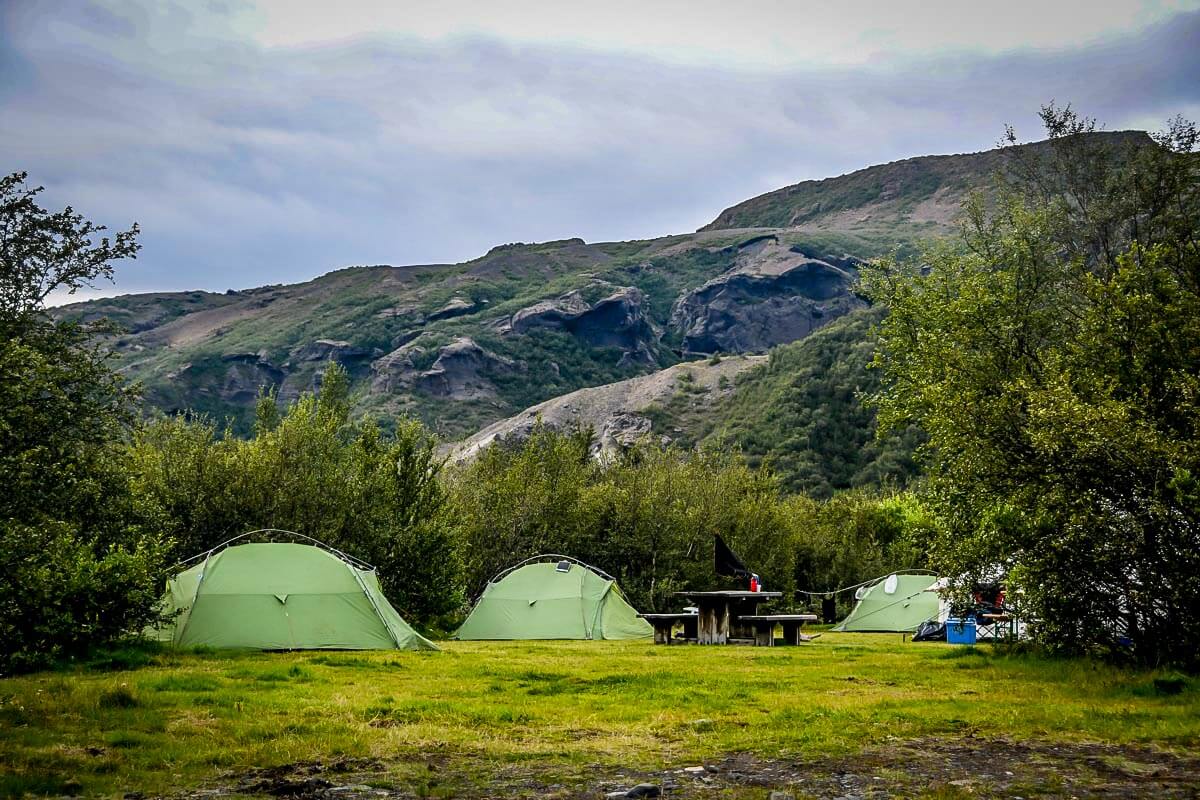 This one is not going to suit most travelers to Iceland, as staying here requires quite a bit of planning. However, if you're looking for a truly spectacular stay, this is it.
Básar Hut & Campsite is located in the remote nature reserve called Þórsmörk. To get here, you must book a 4×4 bus or hike. This campground is at the end of the Fimmvörðuháls Hike, making it a good place to rest your feet for the night if you have figured out the logistics.
With spectacular views, trees, hiking trails, and a wild river, this is most certainly a magical spot. The facilities are basic but nice.
Cost: 2,000 ISK ($15) per person
Note: We've read that showers cost 500 ISK ($4)
Hengifoss Guesthouse Camping site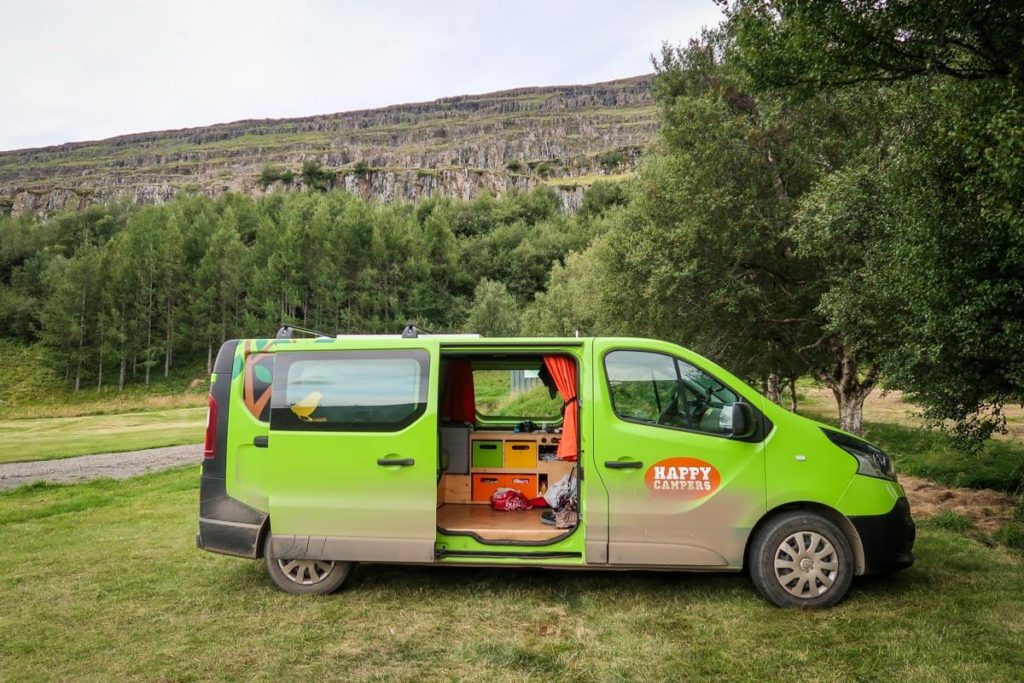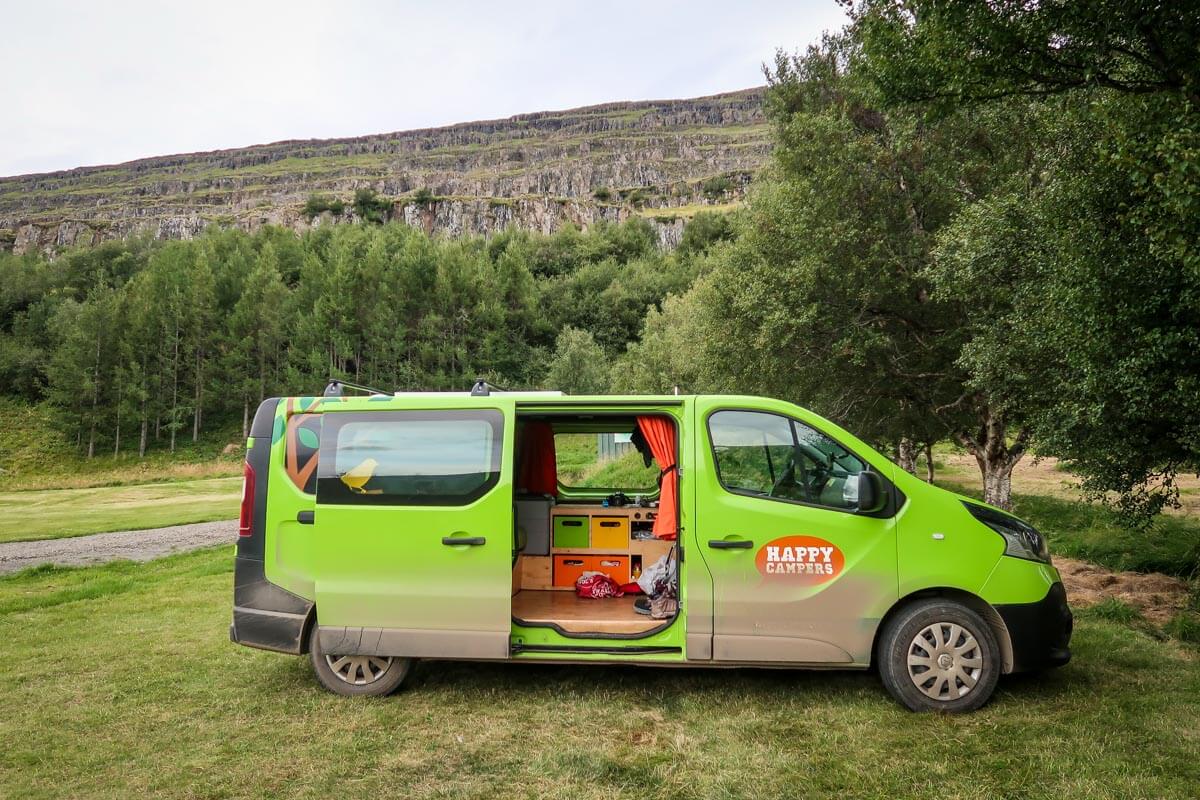 This small campground is a great choice if you're in the area. There is only one shower, but it is very nice. Additionally, there isn't an indoor kitchen, just a dishwashing station, but there is an onsite cafe if you'd like a place to sit indoors.
Cost: 1,500 ISK per person ($12)
Mosskogar Camping
This is the only campground on the list that we haven't personally been to, but from reviews and photos, it looks pretty great! Not too far from Reykjavík, this could be a good base at the very end or start of your trip. Reviewers say that the facilities are very clean and there's even an onsite greenhouse.
Cost: 2,000 ISK ($15) per person
Note: We've read that they only accept cash at this campground.
Reykjavík Campsite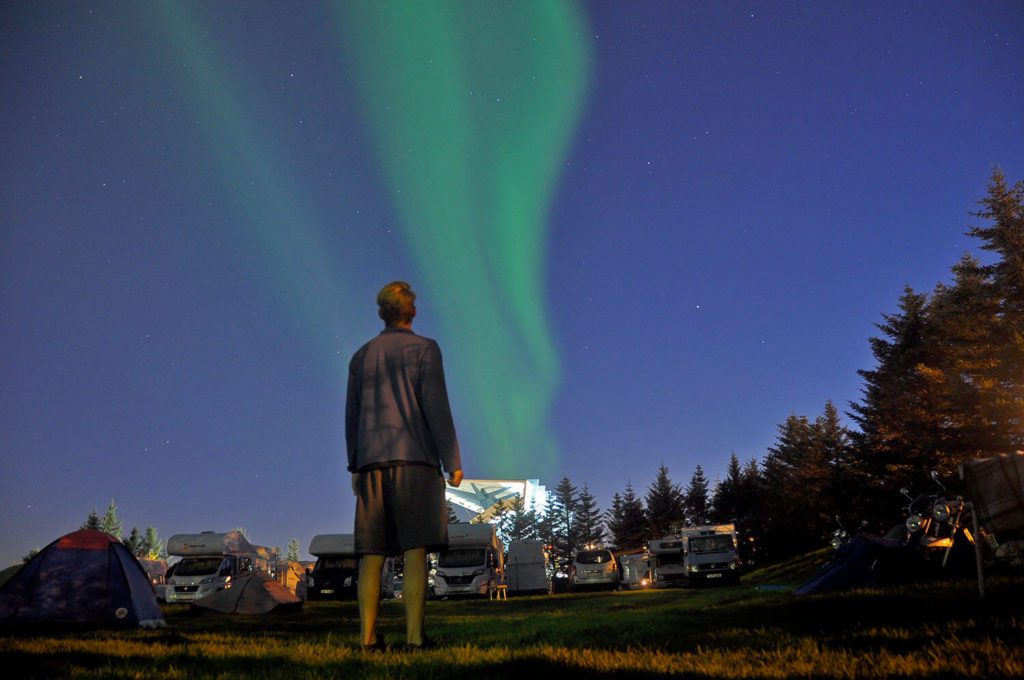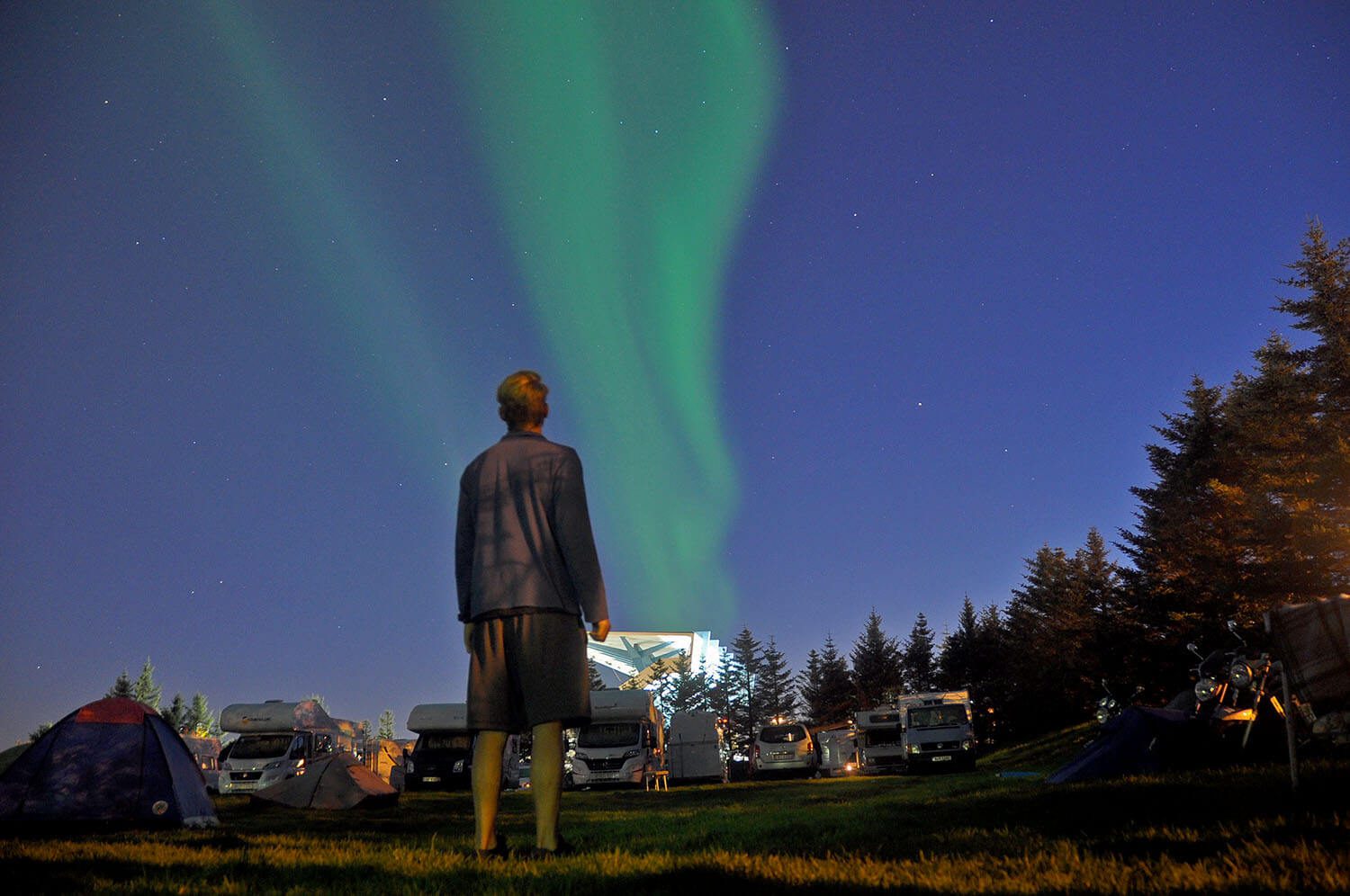 If you're looking for a spot to camp very close to Reykjavík, you won't find a better (or closer!) campground than this one. We stayed here the night before a morning flight and it was a great stay.
The facilities are large and clean – some of the best we encountered in all of Iceland. While you won't have the same experience of being in nature as you'll get at many other campgrounds around Iceland, you can't beat the proximity to the city. You're still a ways from the city center (about a 40-minute walk), but you can catch a local bus to get downtown.
Cost: 2,400 ISK ($18) per person
Skaftafell Campground
This campground is situated in the middle of some of the best attractions in Southern Iceland, making it a very convenient spot to camp for the night. It's reasonably priced, very close to some great hiking trails in Skaftafell National Park, and has decent facilities.
Cost: 1,500 ISK ($12) per person
Alternative: Not too far away is Svinafell Campground. With a similar location and amenities situation, both of these make good choices. Svinafell has one of the largest campground kitchens we saw in all of Iceland, making it a great place to escape the rain and wind. That said, it can get very busy (it was packed at dinner time when we were staying there in August).
Cooking while camping in Iceland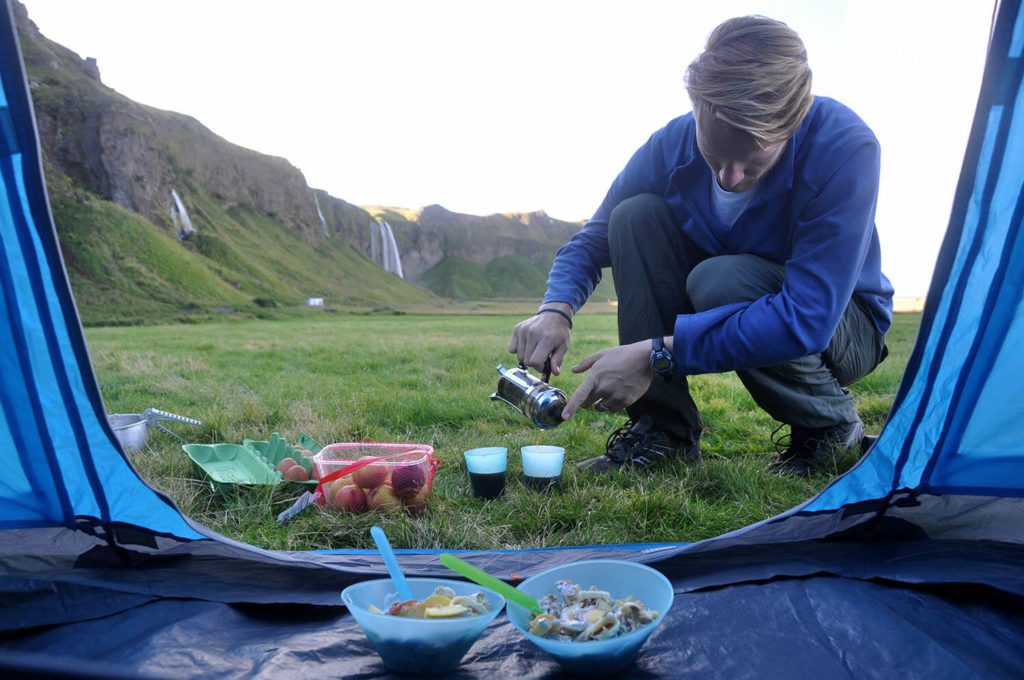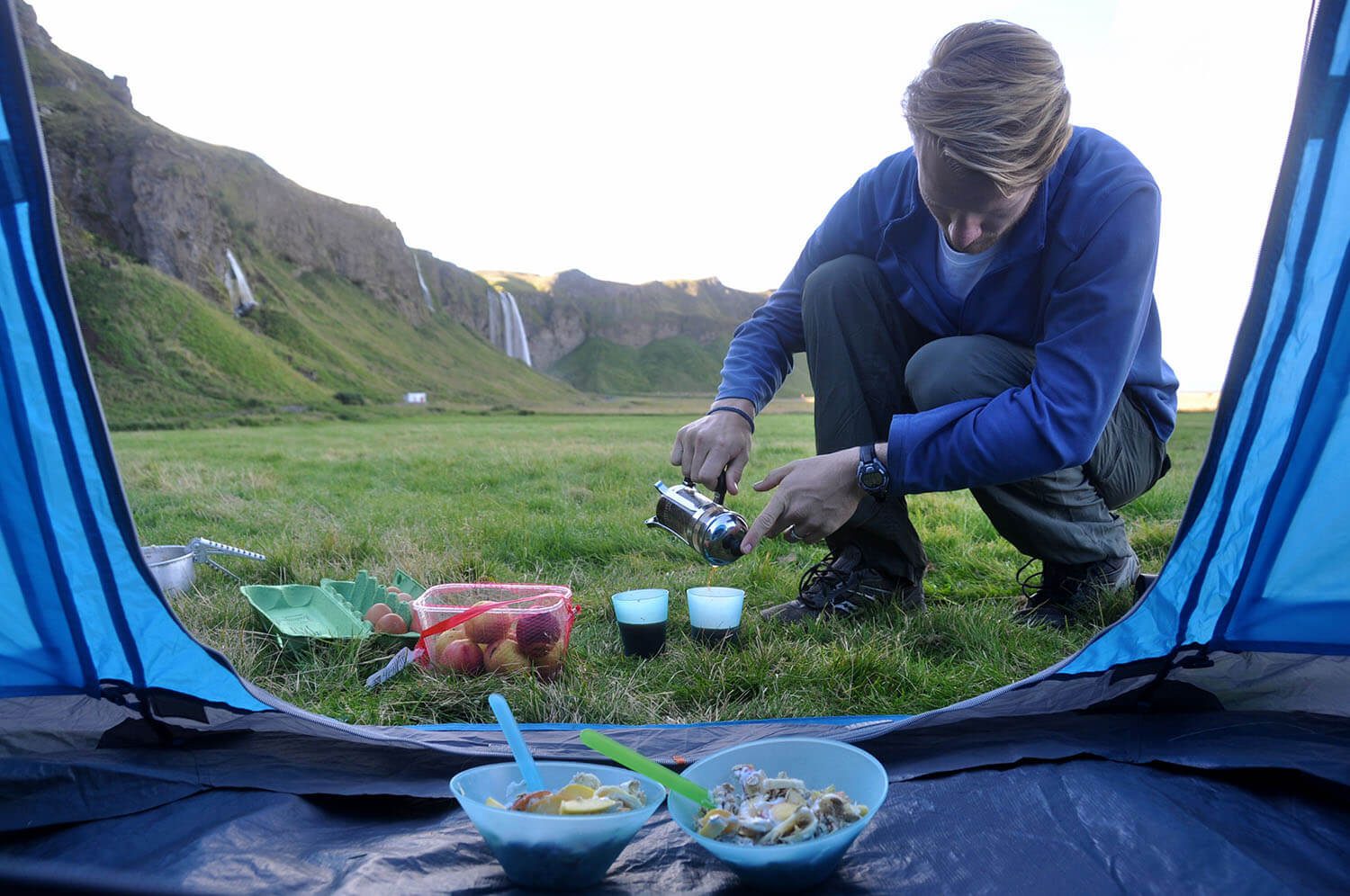 One of the major perks about camping in Iceland (instead of staying at hotels) is that you can cook as many meals as you'd like. There are some amazing Icelandic foods you should try on your trip; however, you'll soon learn that like most things in this country, food ain't cheap! Cooking can actually save you a ton of money!
Many campgrounds have kitchen facilities, though we will say they vary quite a bit. Some have a large indoor shelter complete with stoves, pots and pans, utensils, sinks with hot water and soap, and just about anything else you could need. But more often than not, it's a little more simple than that. Some campgrounds just have an outdoor sink for washing dishes and that's it.
If having a nice kitchen is important to you (maybe you don't have a stove or perhaps it's raining and you'd like to cook indoors), read the descriptions on a campground map (like this one!) so you know what to expect.
Personally, we love cooking while camping, but we know it can be a little daunting if you're not used to it.
Lucky for you, we've created a guide that'll help you know what to expect at Icelandic grocery stores as well as give you some ideas of meals you can make along the way. We think it's much easier if you come with a plan!
Budget Tip: While at campgrounds in Iceland, be sure to check to see if they have a "free food bin". These are more common at campgrounds near Reykjavík, as people like to unload things they haven't yet eaten before the end of their trip. Sometimes you can score some great food, like unopened boxes of pasta, canned beans, garlic bulbs, olive oil, etc.
Driving in Iceland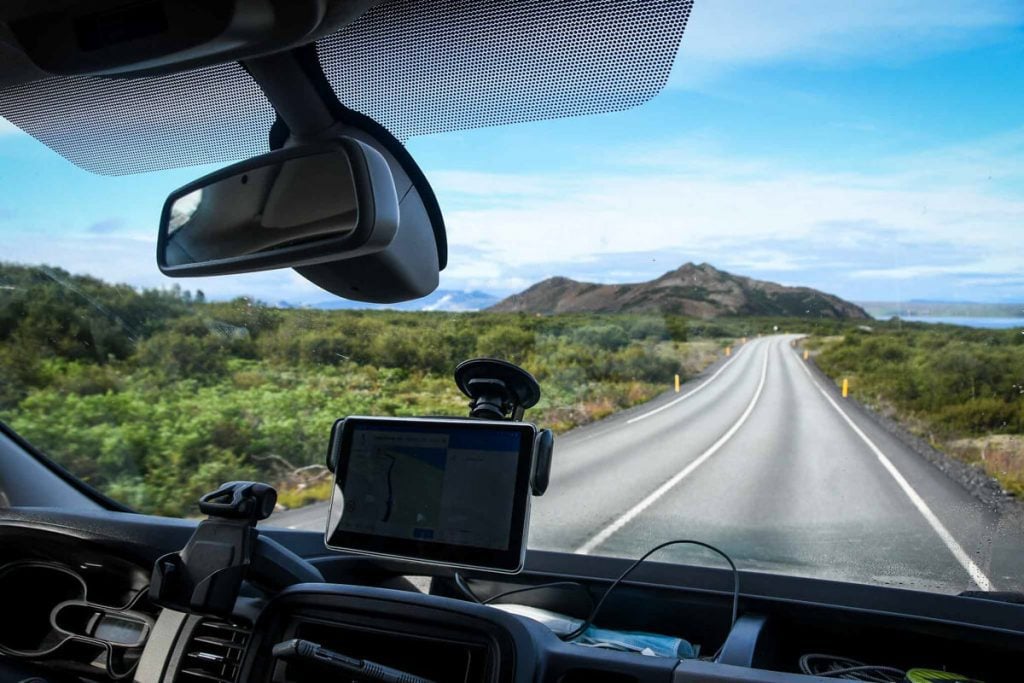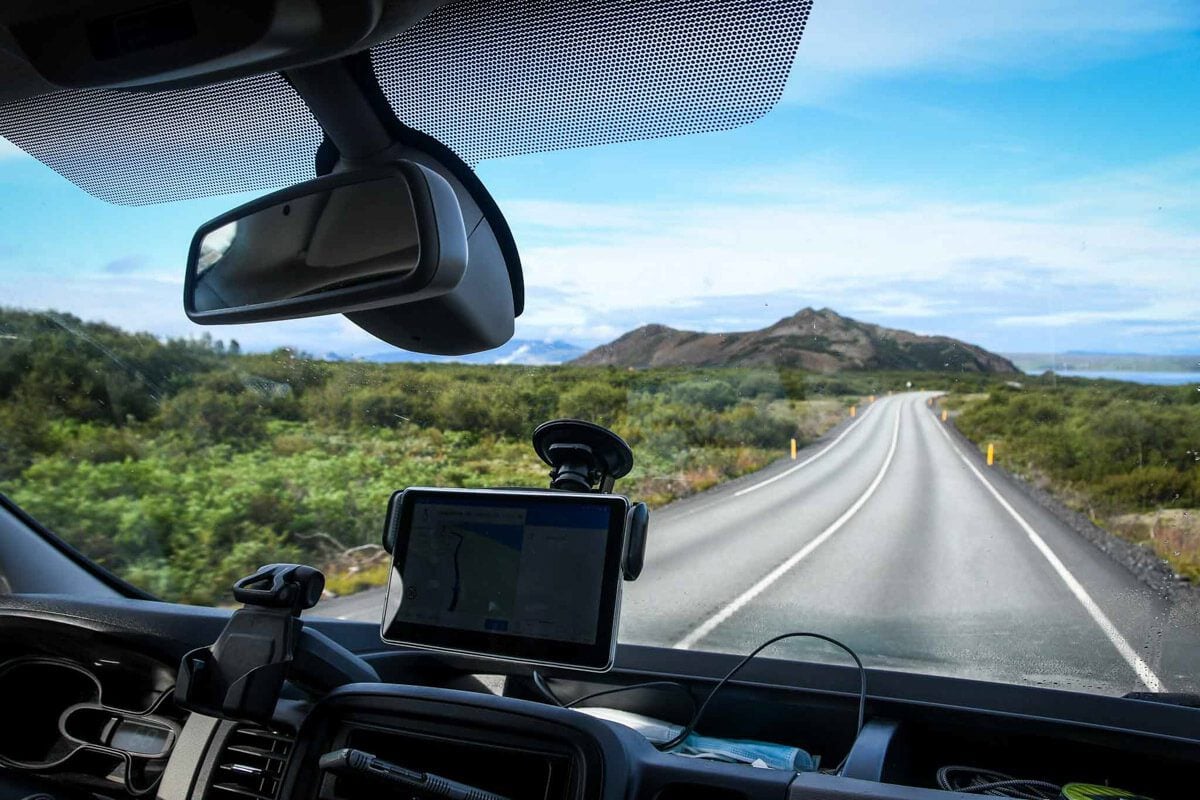 We've driven in many countries around the world, and in our opinion, Iceland is one of the easier places to drive (even as a foreigner). I will say that while the roads and traffic aren't particularly challenging, there are some things specific to Iceland that you should really know before getting behind the wheel.
Hold onto your car doors in the wind. The winds here are so powerful they have been known to rip off vehicle doors (no exaggeration). It's more likely that the door will be flung into a neighboring car or a gas pump, so hold on tight. We've had a few close calls ourselves!
Watch out for sheep. Seriously. They cross the roads quite often, so be prepared to brake when you see them.
Be prepared to drive on gravel roads. Many attractions in Iceland are located on unpaved roads. Many are just fine to drive with non 4×4 vehicles, however, use caution and watch out for large rocks.
Get familiar with roundabouts. There are a lot, especially near Reykjavík.
Read more: We've got tons more tips for driving in Iceland that you'll definitely want to read and review before your trip. And be sure to check out our guide to planning your Iceland road trip.
What to pack for an Iceland camping trip
Here are some items we'd recommend packing specifically if you are tent camping in Iceland:
Psst! If you're planning on renting a van, we've got a campervan packing list just for you!
Organization
Packing cubes: an essential for keeping your van organized
Dry bag: essential for keeping valuables dry in Iceland's wet climate
Reusable baggies: come in super handy for snacks and storing small items
Kitchen
Jetboil or mini camping stove

Note: You can't fly with propane, and will need to pick one up once you land in Iceland. Your campervan rental company may even offer these.

Mess kit: pot, utensils and all the necessities for cooking
Knife or multi-tool (you can only pack this in checked luggage): for cutting fruits and veggies
Rubber bands & chip clips: Trust us, you'll need a way to keep those food bags closed so they don't spill all over your car.
Garbage bags: Pack a couple of small garbage bags from home to keep your trash in one place. Regular plastic bags could work too, but you must pay for them in the stores in Iceland.
Spices (see what spices we packed)
Snacks: dried fruit, nuts, protein bars
AeroPress Go: If you are a coffee drinker, this is super handy!
Dehydrated meals (optional): These are a super quick meal idea and work great for a quick hot lunch or dinner.
Dr. Bronner's biodegradable soap: to wash dishes
Toiletries
Body wipes: For a way to freshen up on days you don't feel like showering
Dry shampoo
Hand sanitizer (this one is our favorite!)
First Aid Kit
Sleeping
Sleeping pad: essential since you'll be sleeping on the ground
Sleeping bag: a warm bag that's rated for 3 seasons is recommended, as it can still get really cold in the summer months.
Eye mask: especially helpful during the summer months when the sun sets very late
Travel pillow
Hat and gloves: yes, even during the summertime!
Hot water bottle or electric hand warmers: pop these into your sleeping bag at night to stay toasty
Electronics
Portable battery pack: keep your phone and other devices charged
Headlamps: Nice for midnight runs to the toilet
Inflatable solar lamp: nice for lighting up the van at night, as we felt like the lighting inside wasn't quite enough
Portable jumper cables (optional): This tiny little device has a power pack that effectively jumps your vehicle (without another car). Our campervan battery died in the middle of nowhere during a torrential rainstorm, and it took us hitchhiking to a nearby farm to find jumper cables. We wished we would have had one of these (in fact, we bought one as soon as we got home!).
Be sure to download our complete packing list for Iceland! It's packed with good suggestions and insider tips to help plan your Italy trip. And it's completely FREE, so why not!?


Are you planning a trip to Iceland?
We have TONS of resources on travel in Iceland and how to make the most out of your trip. Check out our Ultimate Iceland Travel Guide for all the answers to your most burning questions, or read some of our favorite articles below.
Save this article on Pinterest for later!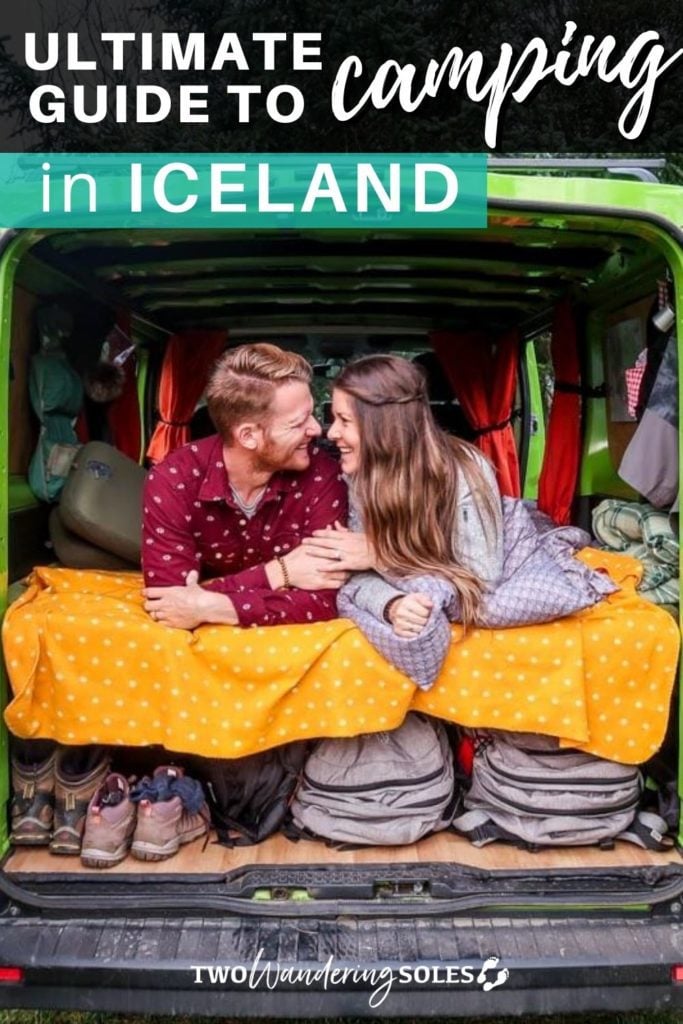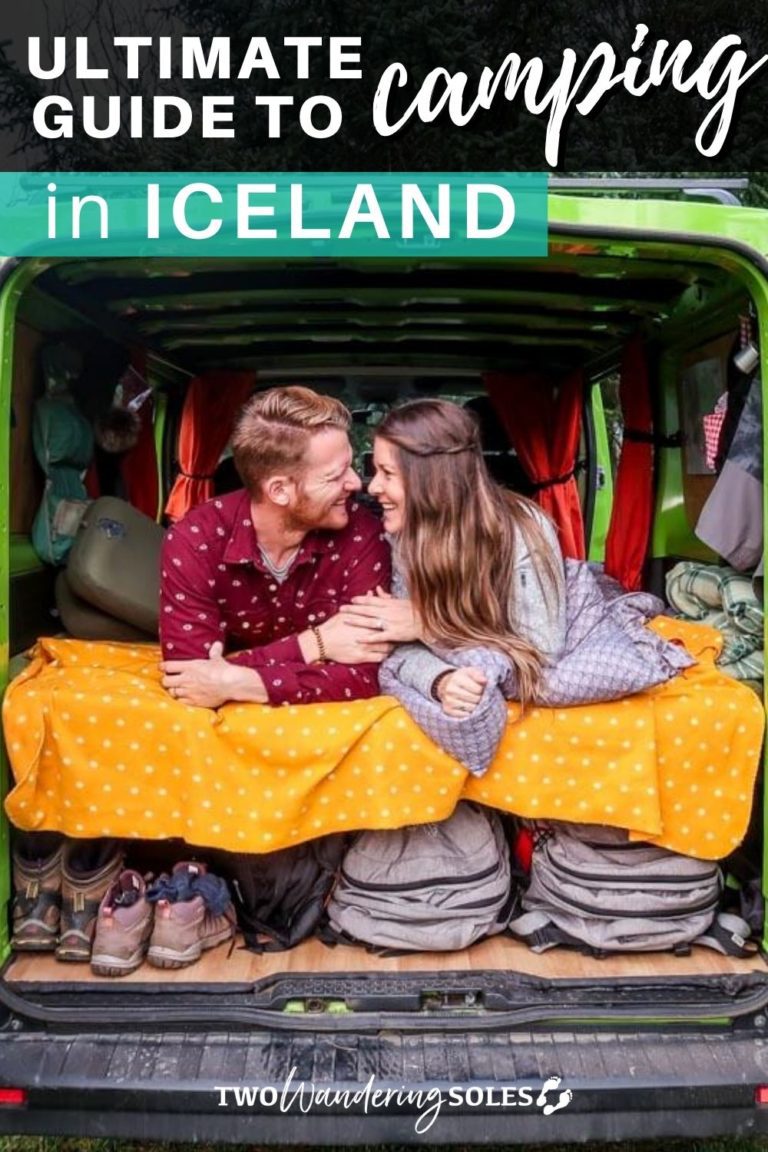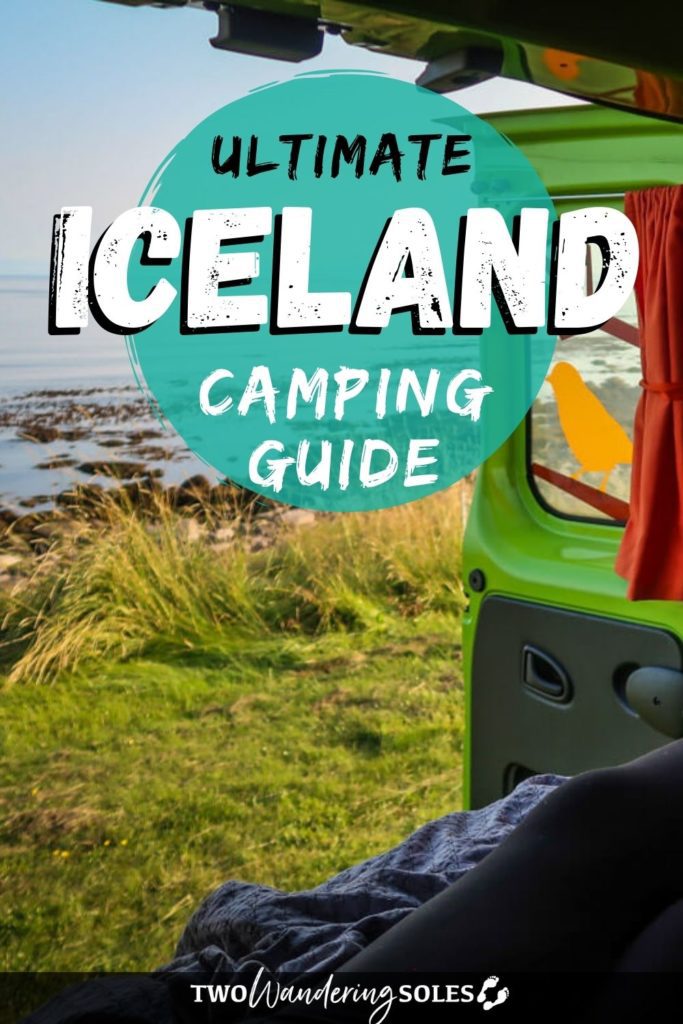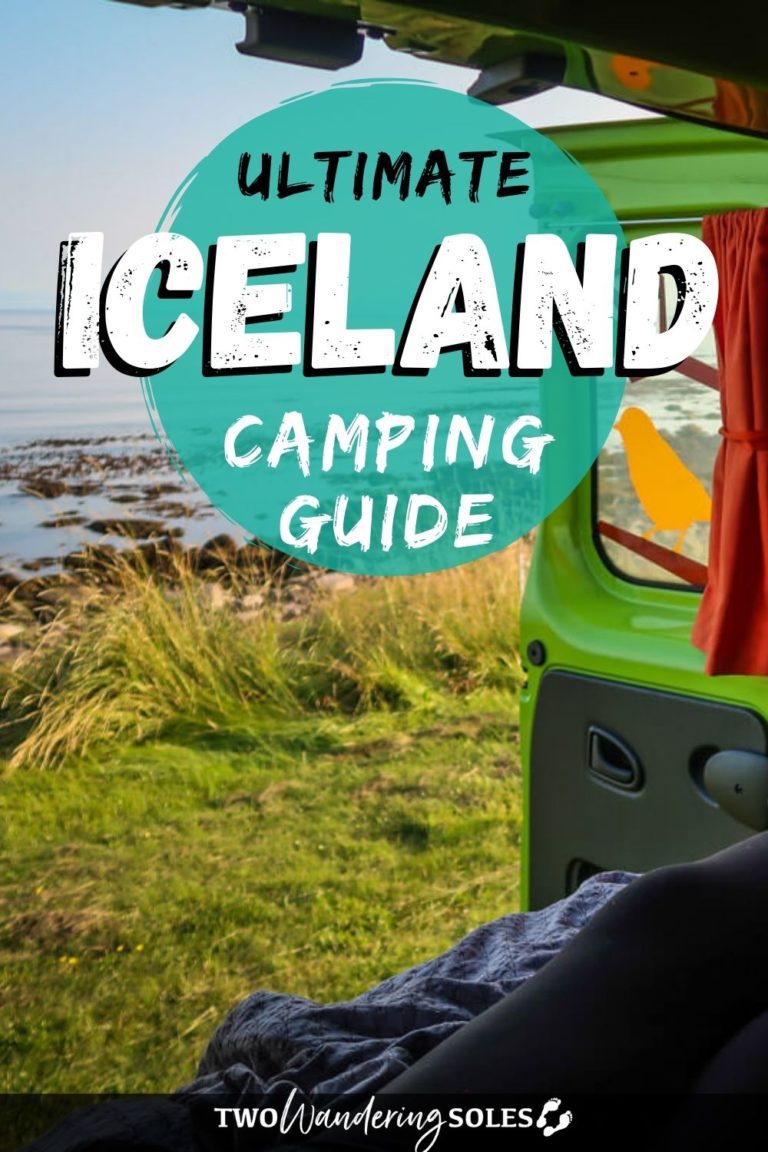 We want to hear from you!
Do you still have questions about planning the ultimate Iceland camping trip? Leave your comments below and we'll do our best to get you the answers you're looking for!