If you have a sense of adventure and want to get away from the tourists while traveling in Thailand, we've got the perfect off the beaten path day trip for you! The jaw-dropping mountaintop pagodas of Wat Chaloem Phra Kiat near Lampang are still a secret to many tourists, so you can enjoy this hidden gem without crowds. Plus, getting there is an epic motorbike road trip through the Thai countryside.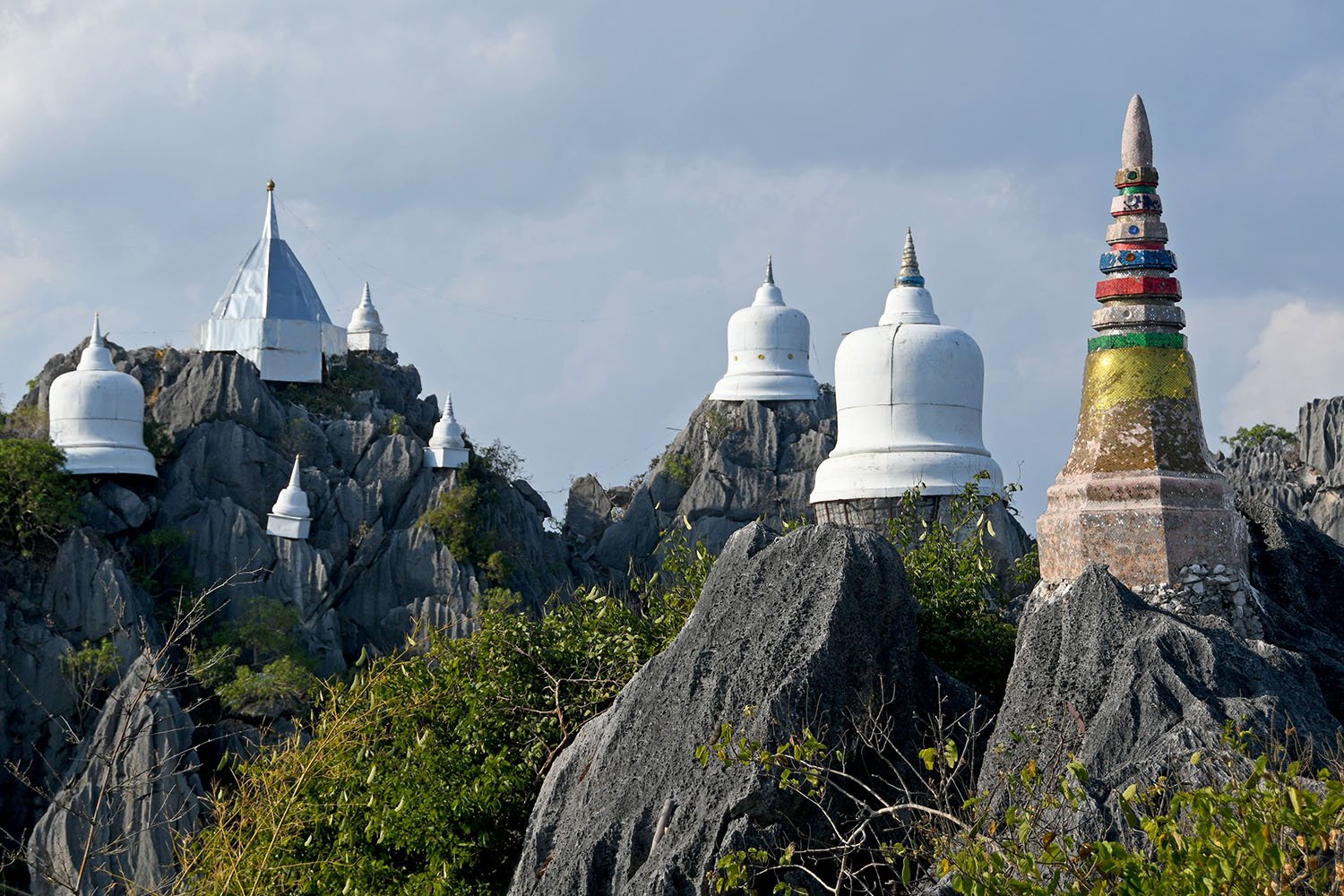 If you're traveling in Thailand and are sick of the crowds of tourists (join the club!), we've got the perfect off the beaten path destination to add to your Thailand itinerary!
The white pagodas perched high in the cliffside near Lampang, known as Chaloem Phra Kiat Temple, are not super well-known in the tourist circuit (yet).
Not only are they breathtaking, but you can enjoy the view without being surrounded with elephant pants and selfie sticks that you find in popular tourist spots like Chiang Mai and the Thai islands. (When we were there, we only met one other foreigner. The rest of the visitors were Thai.)
There are so many fun and unique things to do in Chiang Mai, but renting a motorbike and taking a day trip to this incredible temple was our very favorite thing we've done while living in Thailand.
Best "off the beaten path" Day Trip from Chiang Mai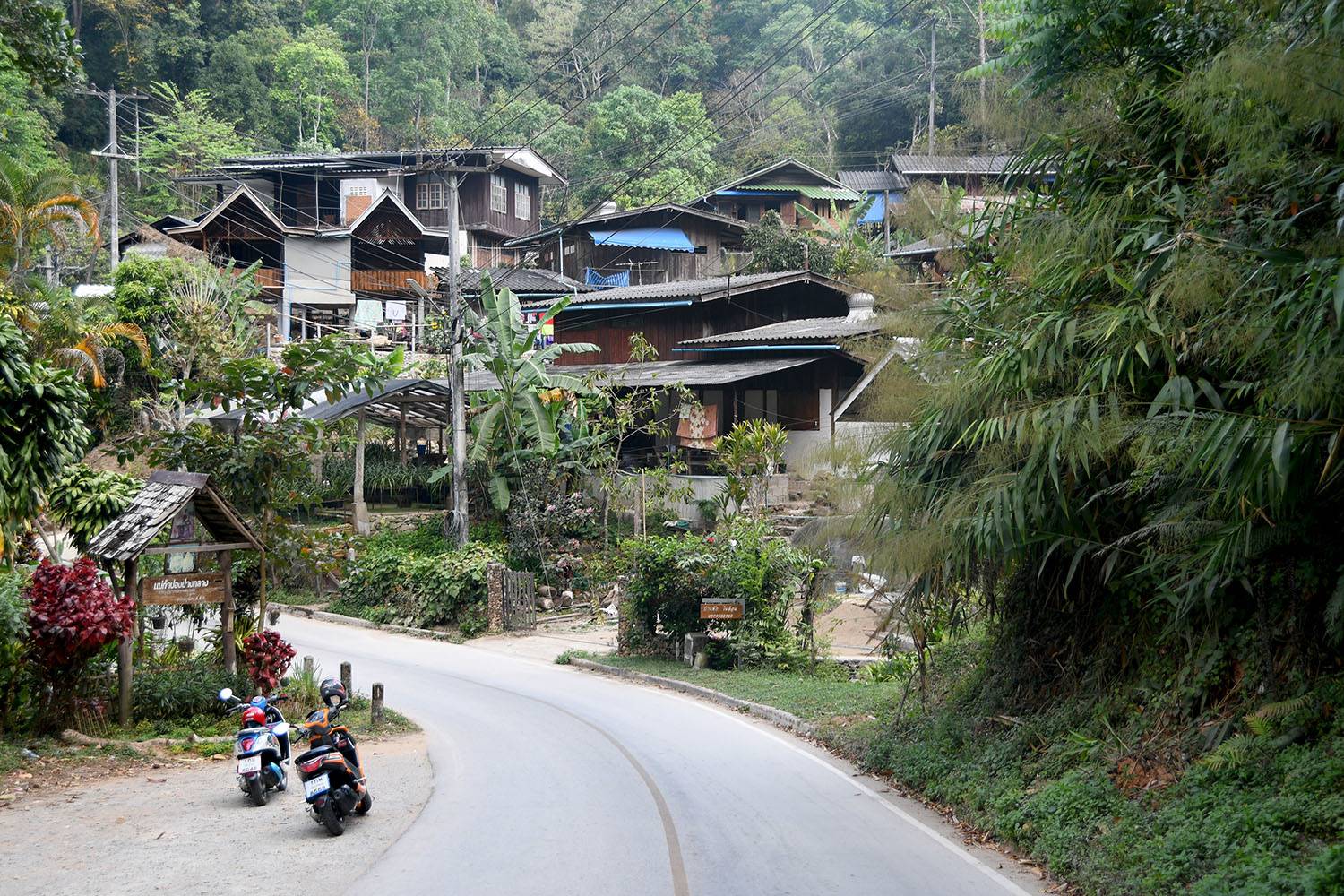 It is possible to get to visit Wat Chaloem Phra Kiat Temple as a day trip from Chiang Mai, and we're going to explain exactly how you can do it yourself!
The best part of visiting this collection of picturesque white pagodas is the journey: there are so many things to do and places to see along the drive from Chiang Mai.
From a charming riverside coffeeshop to traditional Thai villages to waterfalls and hot springs, this is the ultimate road trip in northern Thailand. We think this is one of the best ways you can experience the real Thailand, even if you have a short amount of time.
First, we're going to explain how to visit Wat Chaloem Phra Kiat, and then we're going to share our exact route on a little-traveled road so you don't miss out on the good stuff along the way!
Arriving at Wat Chaloem Phra Kiat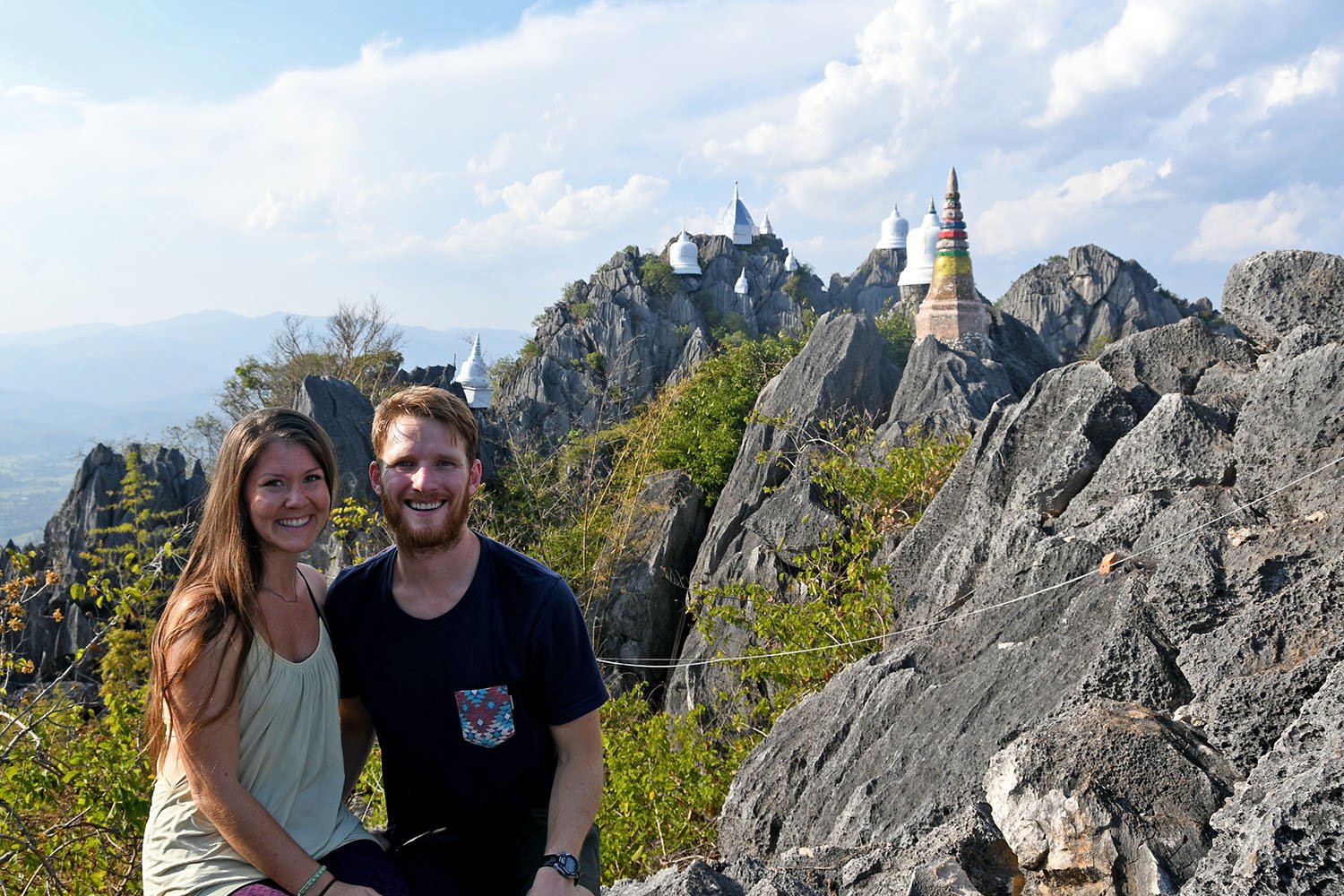 While traveling in Thailand, you might feel a little "templed out", and we totally get that. Temples start to blend together and they don't feel all that special.
But there are a few exceptions; Wat Chaloem Phra Kiat being one. There is nothing else in Thailand (or the rest of the world) quite like these stunning pagodas dotting the mountain top, and we can pretty much guarantee you will not be disappointed.
As you approach this temple, you will see a mountain looming in the distance with white pagodas shimmering on the cliffs.
Once you park your motorbike or car, you will be ushered to a ticket booth where you will be required to pay a 200 baht foreigner entrance fee (local fee is 20 baht). You will also need to pay 60 baht (per person) for a round-trip ride in a songthaew to the top of the mountain. You're not allowed to drive to the top yourself (and you won't want to — trust us!).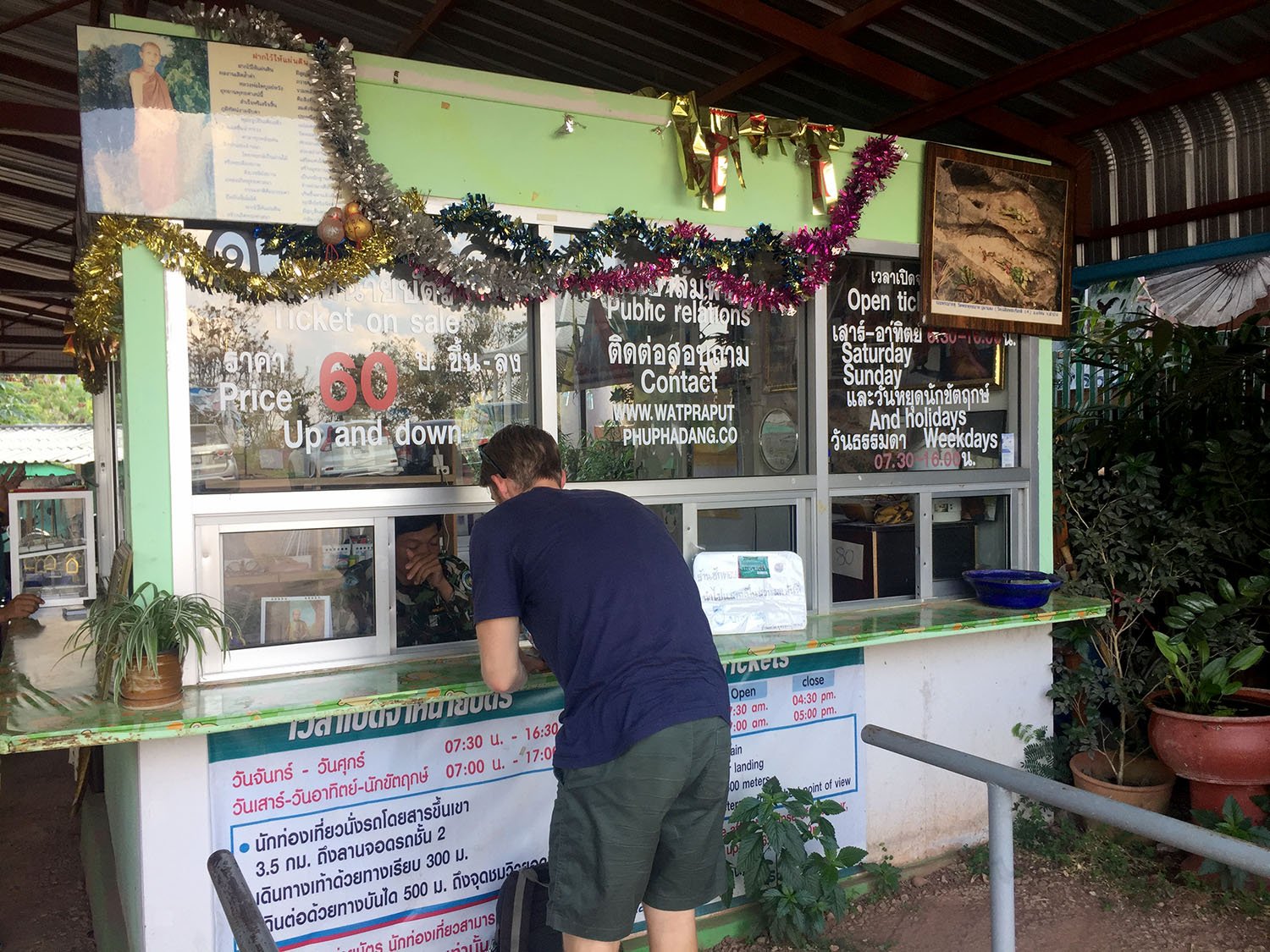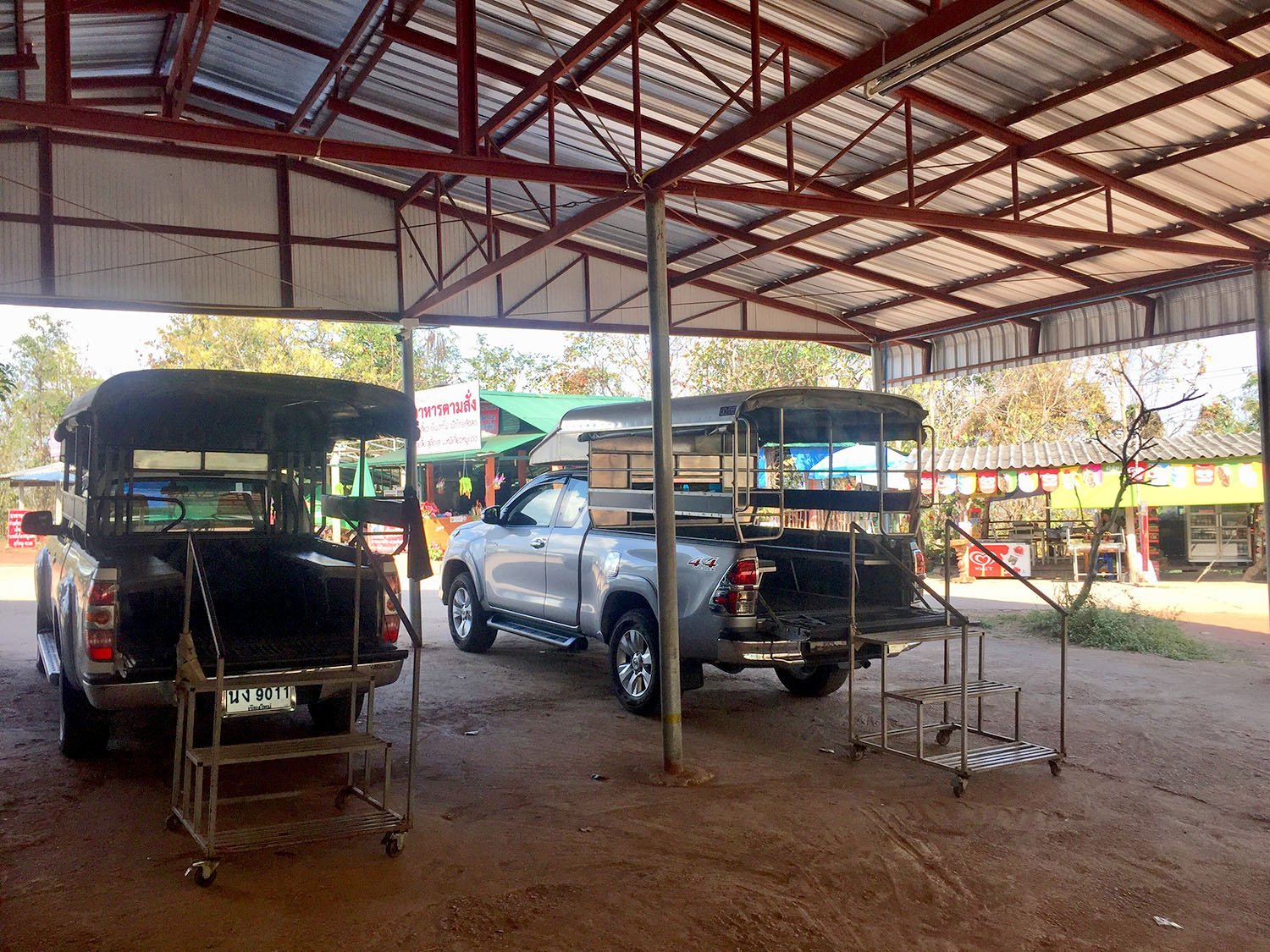 While you wait for the truck to fill up (took us about 10 minutes), you can use the free restroom and fill up your bottle from a jug of purified water. If you're hungry, there are a couple shops and restaurants next to the parking lot.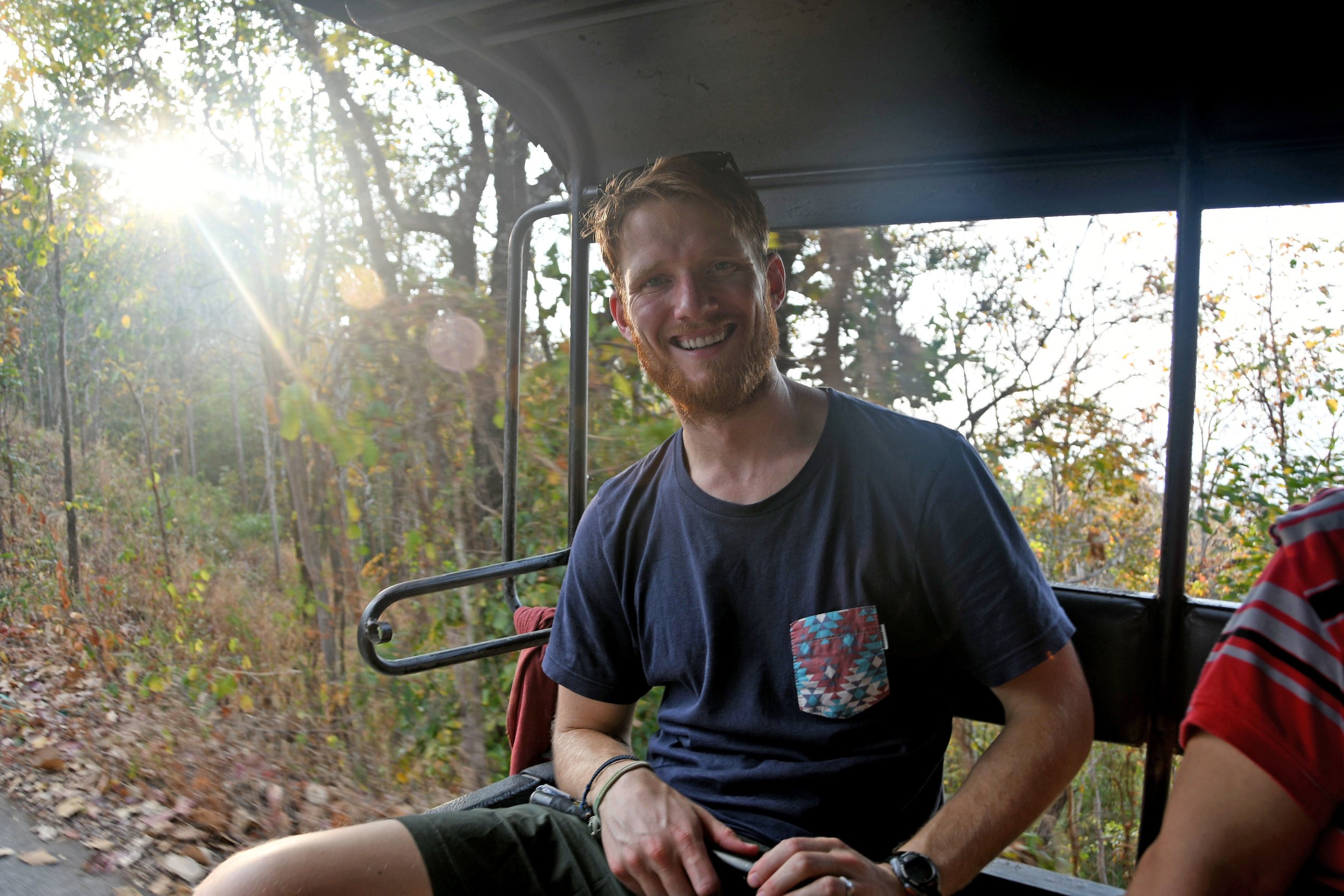 When the truck is ready to go, be sure to hang on tight. The steep dirt path is quite an adventurous ride! The driver will let you out next to a set of metal stairs and walkways, and this is where you'll climb the remaining 800 meters to the top. Expect the climb to take between 15 and 30 minutes depending on your fitness level and how many stops you take.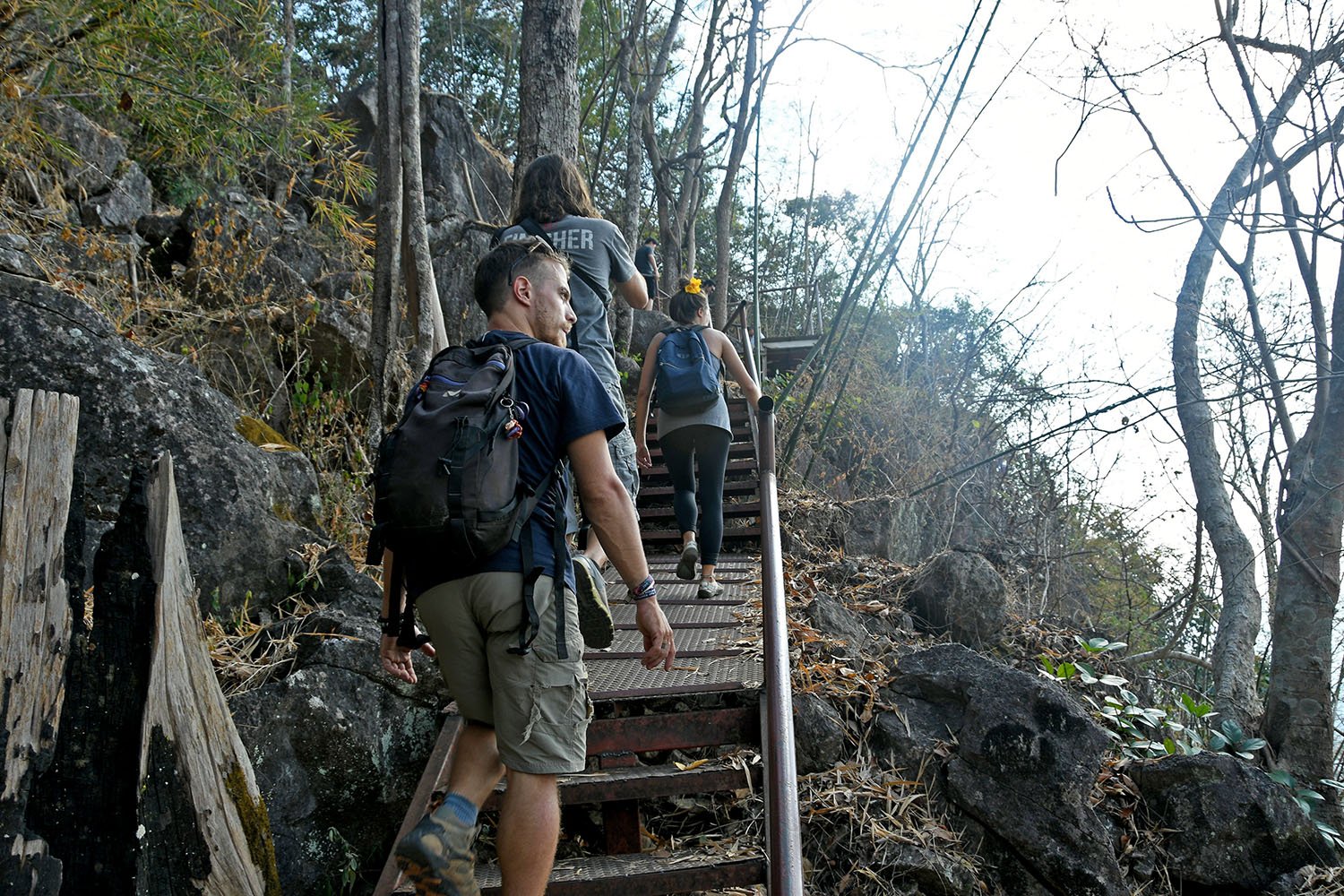 Once you make it to the top, you can explore and enjoy many different views. Climb up the different sets of stairs and see panoramic views of the villages and countryside below. Plus, get up close to the white pagodas you came to see!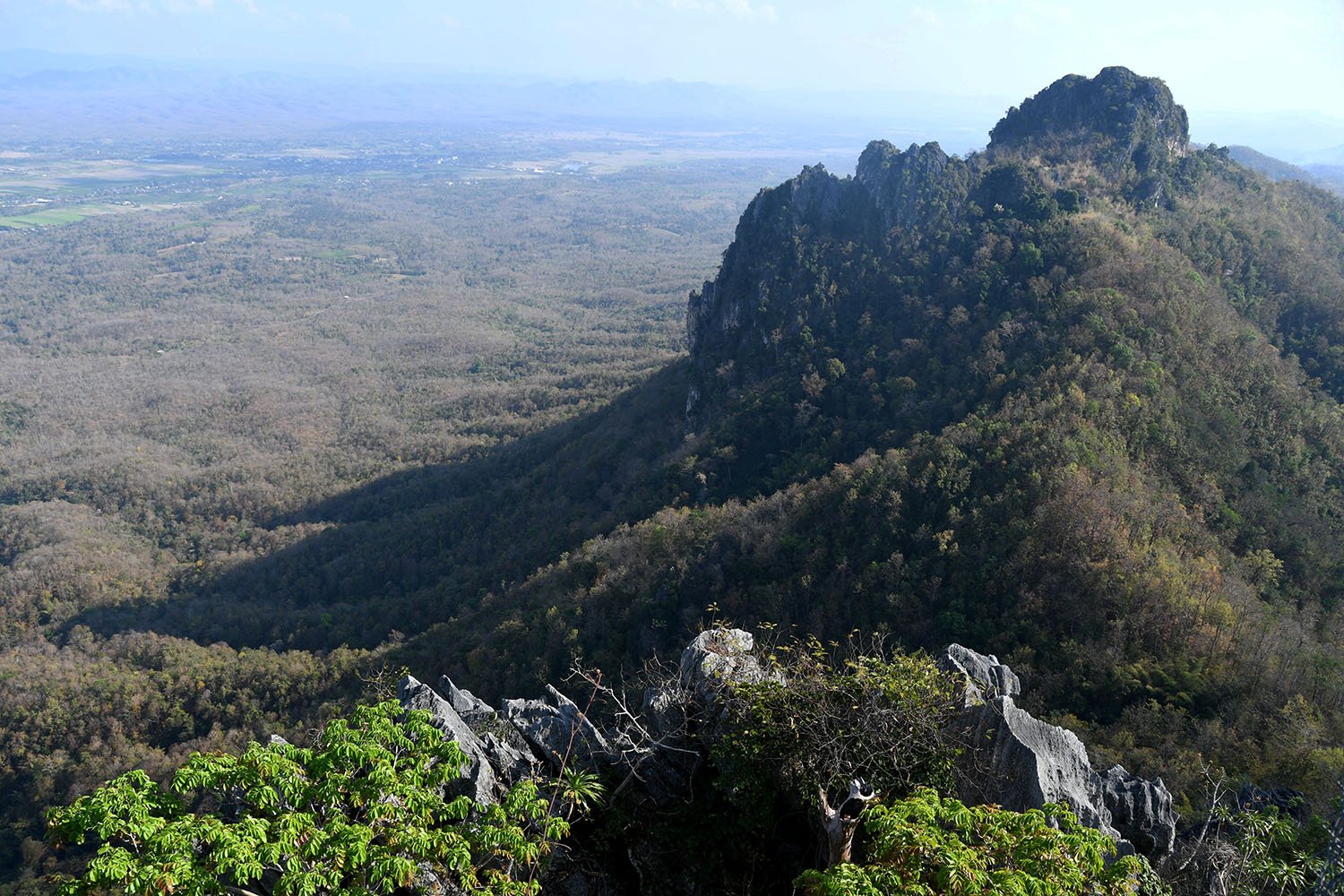 There are small worship spots, Buddhist relics and gongs that can be rung. Spend some time exploring and taking pictures of this incredible sight.
Tip: Be mindful of signs that ask you to remove your shoes. They are on many of the platforms but can be hard to see if you're not looking.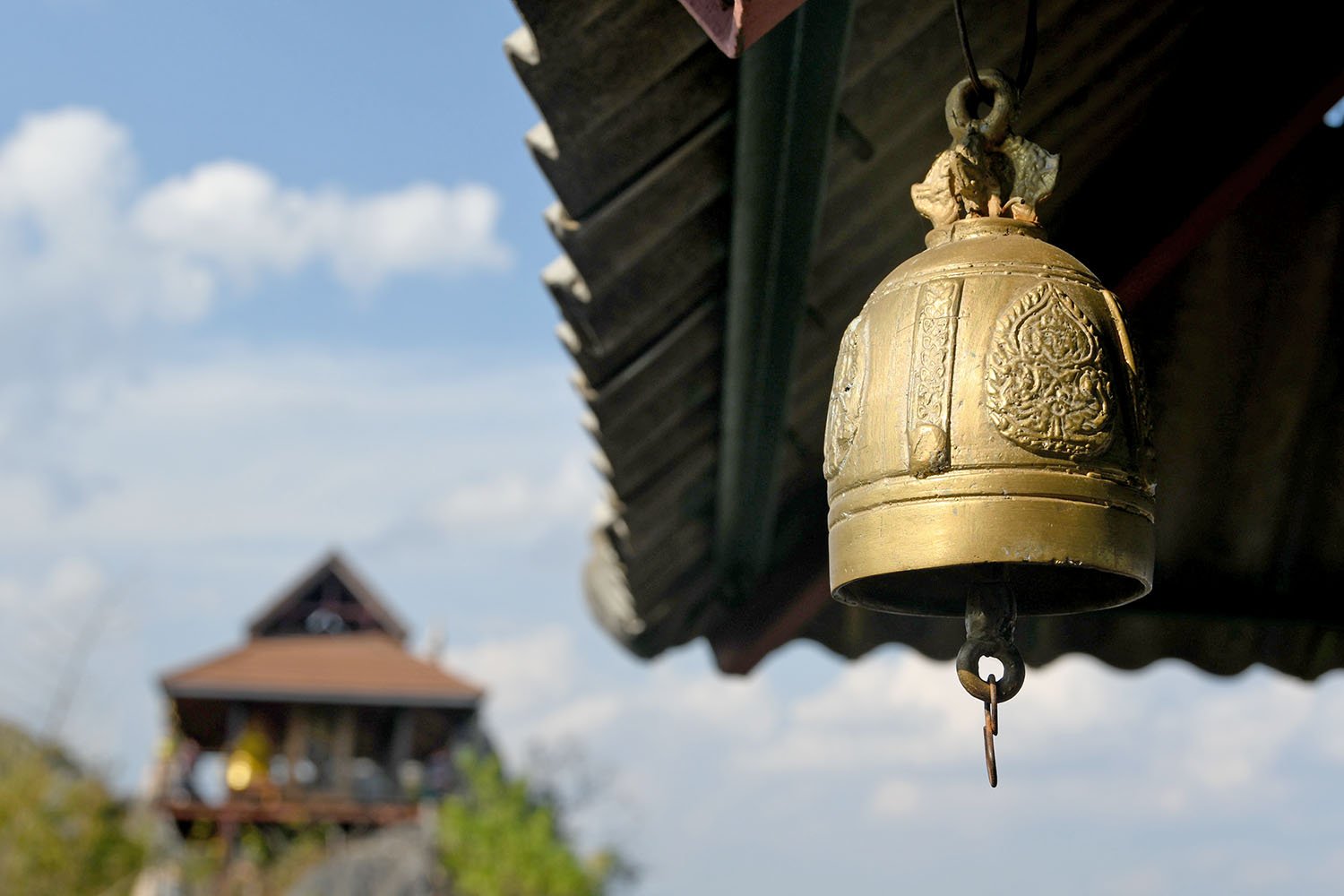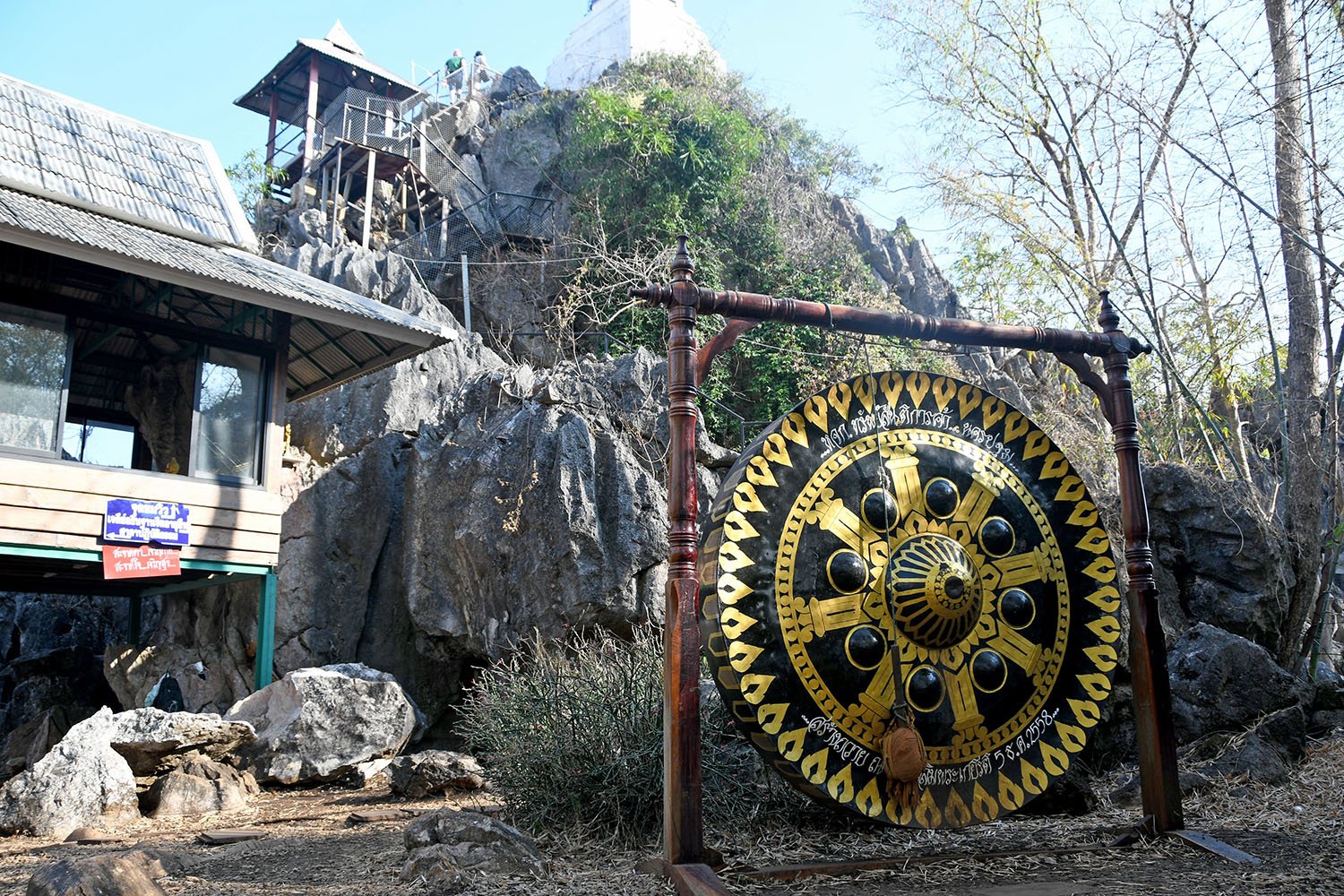 When you're ready to make your way back down to the parking lot, simply walk back down the stairs (much easier on the way down!) and wait for a truck to fill up before returning to your vehicle.
Looking for another adventure near Chiang Mai? Check out our guide to visiting the Sticky Waterfall (Bua Tong).
History of Wat Chaloem Phra Kiat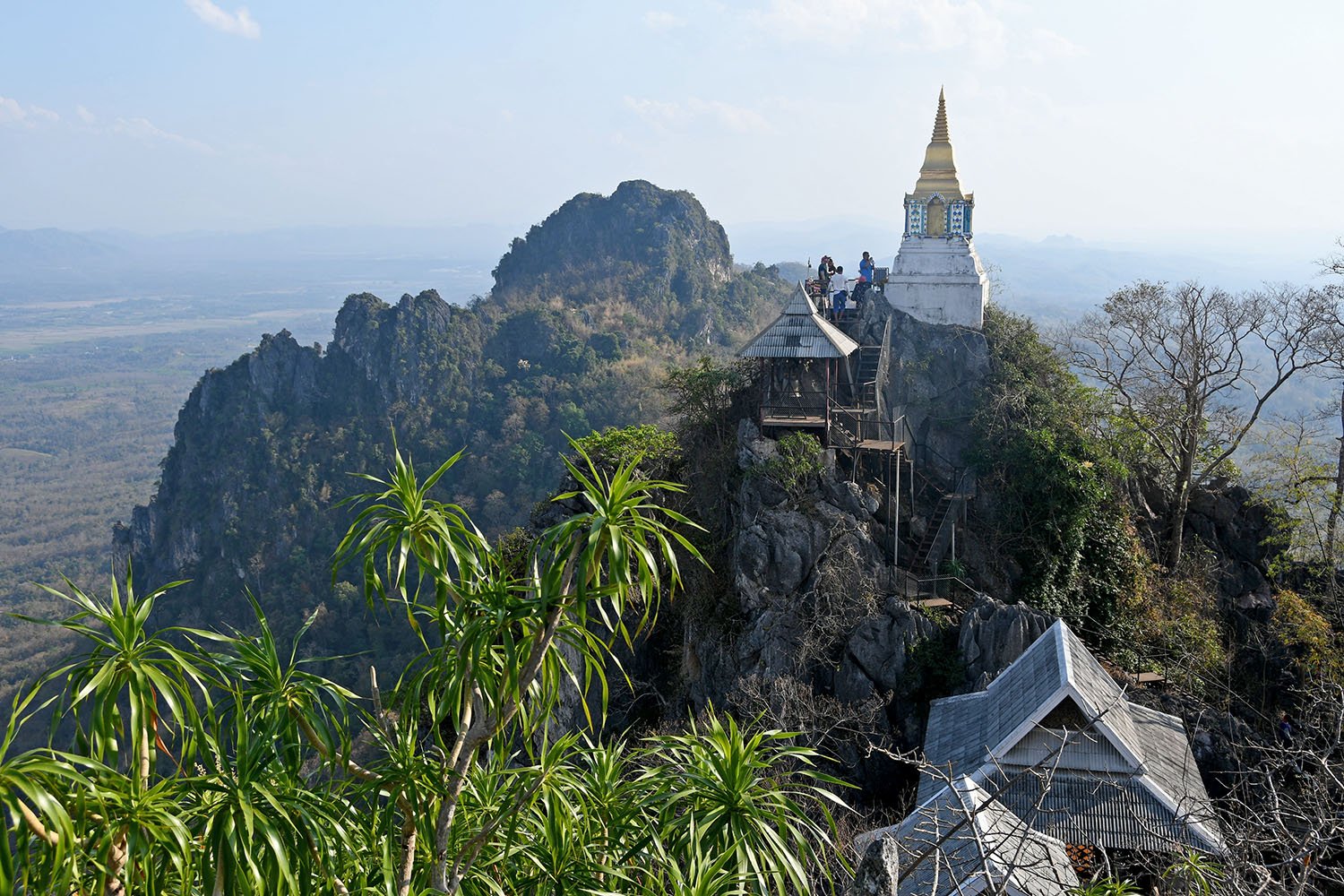 Unlike many of the temples elsewhere in Thailand, these pagodas don't have a long history. Along with a team of 50 workers, a well-loved monk from the area carried pieces of the pagoda up the mountain where they were assembled.
Wat Chaloem Phra Kiat Hours
Ticket sales start at 7:30 a.m. and finish at 4:30 p.m., though visitors are allowed to stay at the top until 6 p.m. to watch the sun start to set. On popular Thai holidays, the hours are extended by 30 minutes in the morning and the evening.
Wat Chaloem Phra Kiat Ticket Price
200 baht for a foreigner ticket (100 baht for a foreigner child)

20 baht for a Thai national ticket (10 baht for a Thai child)

Plus, 60 baht per person for a compulsory round-trip ride from the parking lot to the top of the mountain and back down.
How to get to the Wat Chaloem Phra Kiat from Chiang Mai
One of the reasons this attractions is not more popular with foreign tourists is it's a little difficult to reach. There are no direct buses and finding a driver to take you there and back can be incredibly difficult.
That said, if you feel comfortable driving a motorbike or renting a car, it is not hard to navigate. There are a few routes that will take you to Wat Chaloem Phra Kiat:
Option 1: The South Route, Highway 11
Large highway with many big trucks and no sightseeing opportunities, this is the fastest route to Wat Chaloem Phra Kiat.
Option 2: The North Route, Highway 4063 to Highway 1252:
This route is a mountain pass so it has many turns and some of the roads can be rough. It will bring you by Tabsadet Waterfall and many small hill villages. This is the route Google Maps will tell you to go.
Don't make the mistake that most people make
Most people just drive straight to this temple on a highway and miss out on the spectacular road trip through the Thai countryside.
If you have time, a little experience driving a motorbike and a sense of an adventure, our suggestion would be to skip the routes above and follow our instructions below…
Option 3: The BEST Route, road connecting Ban Pang Kong (Highway 3005) – Ban Mae Kampong – Chae Son National Park:
Along this mountain road (which doesn't have a highway number), you'll come across incredible viewpoints, drive through traditional Thai villages and have the chance to stop off at waterfalls and hot springs. Need we say more?! This is the route we are going to describe below!
Tip: Download the app Maps Me, as this route is difficult to find on Google Maps.
Epic Road Trip to Wat Chaloem Phra Kiat
We set off early in the morning with two good friends, our cameras and an adventurous spirit! We had little idea of what to expect on this spontaneous adventure, and we were absolutely blown away.
We were mesmerized by the beauty of the mountain roads that carve through the countryside and past villages and waterfalls. We found ourselves stopping frequently along the way because there was so much to see.
Here are the stops we would recommend you take along the way:
Stop #1: Coffee Break at ForRest
Grab coffee and a sweet treat at The ForRest just before the village of Mae Kampong. Not only does this newly built coffee shop have a spectacular setting next to a picturesque river, but the staff and owner are very friendly and speak English. The coffee is good and so was the chocolate lava cake we ordered!
Note: If you miss this coffee shop, there are a few more along the way!
Stop #2: Mae Kampong Waterfall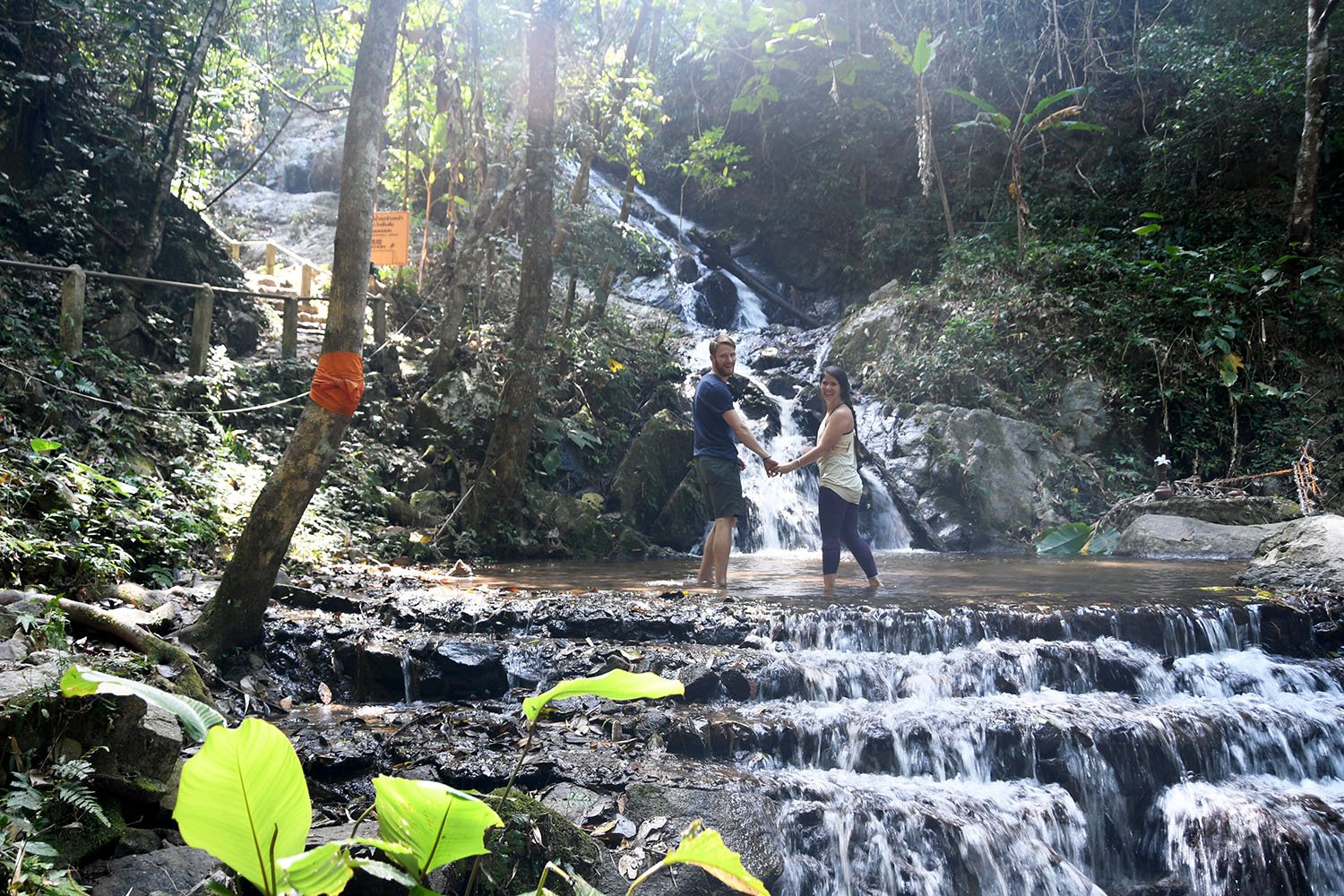 This waterfall was a pleasant surprise along the drive and is well worth a stop. Walk up the stairs to the left of the waterfall to see the higher tiers. It really is a beautiful sight as the sunlight streams through the trees and hits the water.
Note: While Mae Kampong Waterfall was not crowded, there was a small group of people who arrived together, and we assume they were part of the Flight of the Gibbon zip-line tour which takes place nearby.
Stop #3: Mountain Pass Viewpoints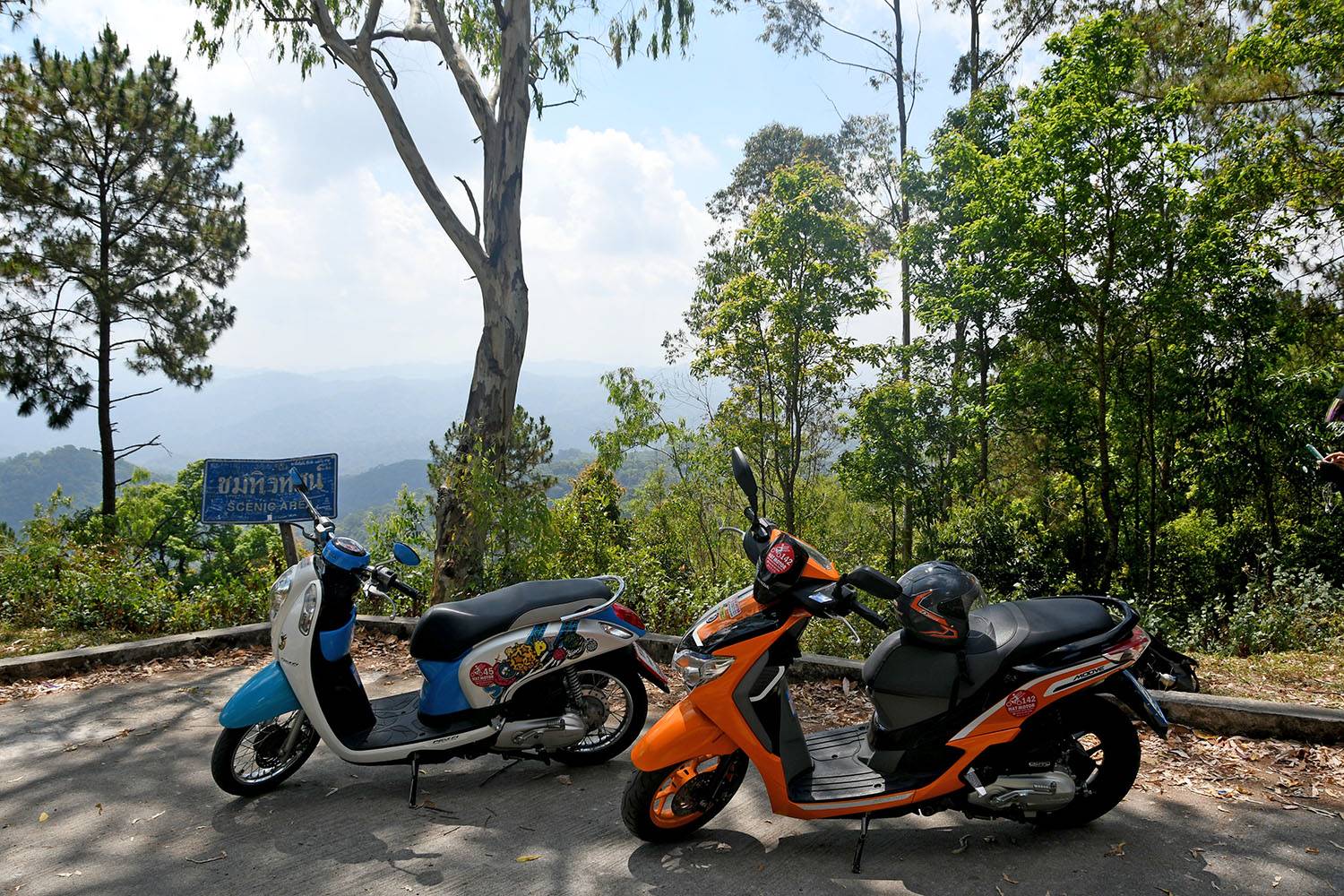 There are a couple marked areas to stop along the road, and we encourage you to take advantage of the epic mountain views.
Stop #4: Hot Spring Park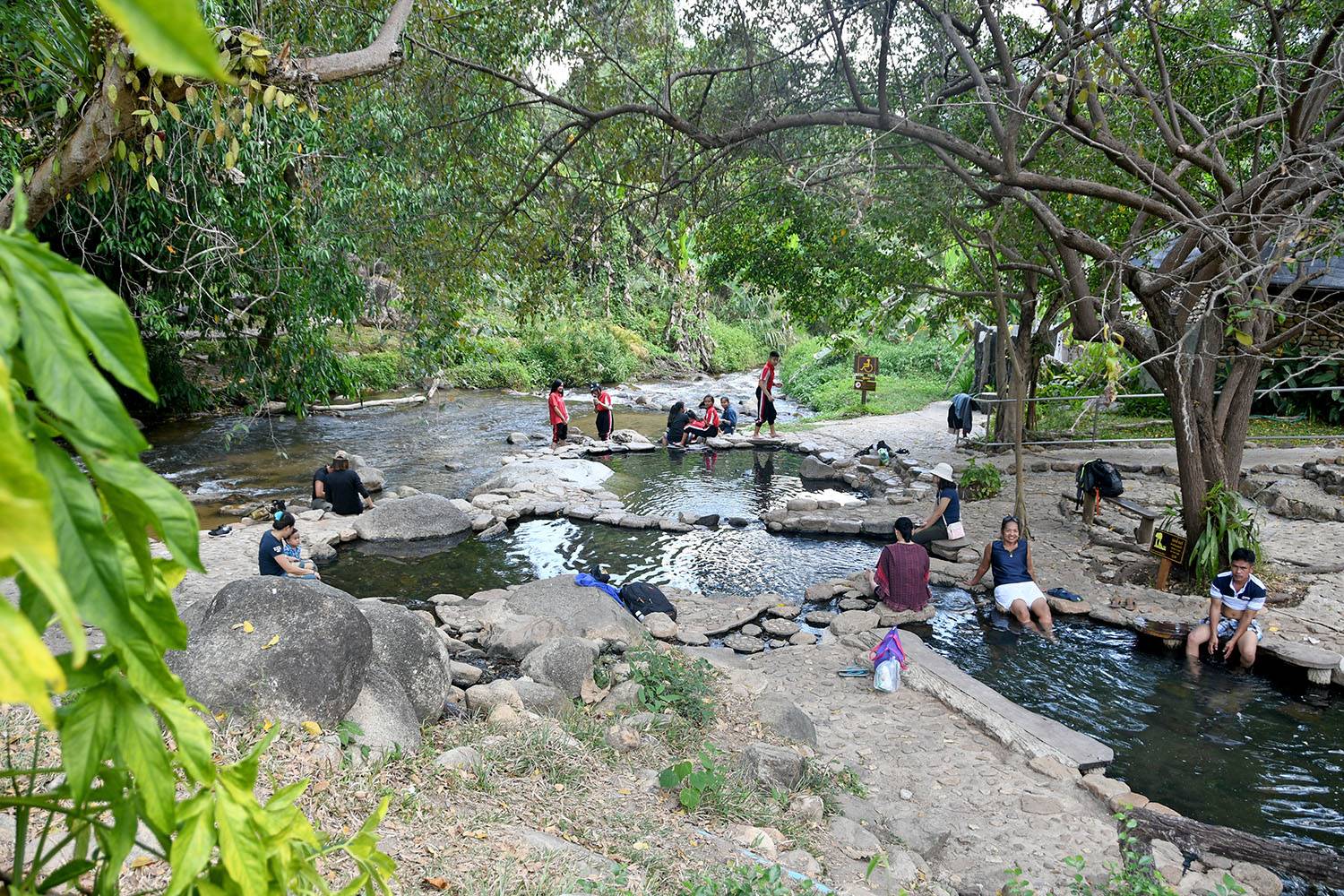 We accidentally entered this National Park and were a little taken aback by the 200 baht foreigner fee (per person). But we were pleasantly surprised to find a bunch of hot springs ranging in temperature — from nearly boiling to a comfortable soaking temperature.
We wandered past Thai families boiling eggs in the extremely hot pools and groups of Thai teenagers soaking their feet in the coolers pools while small children splashed around.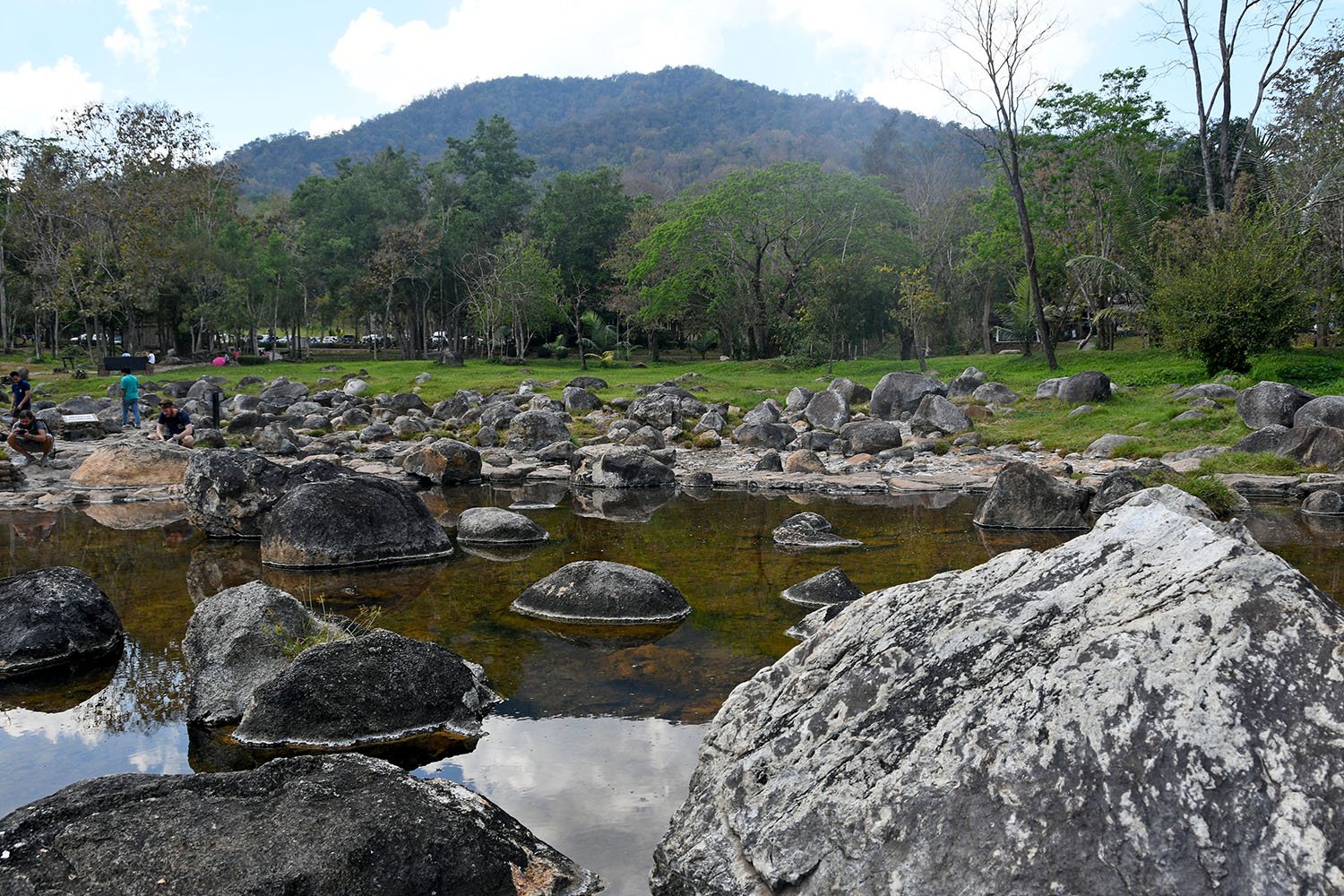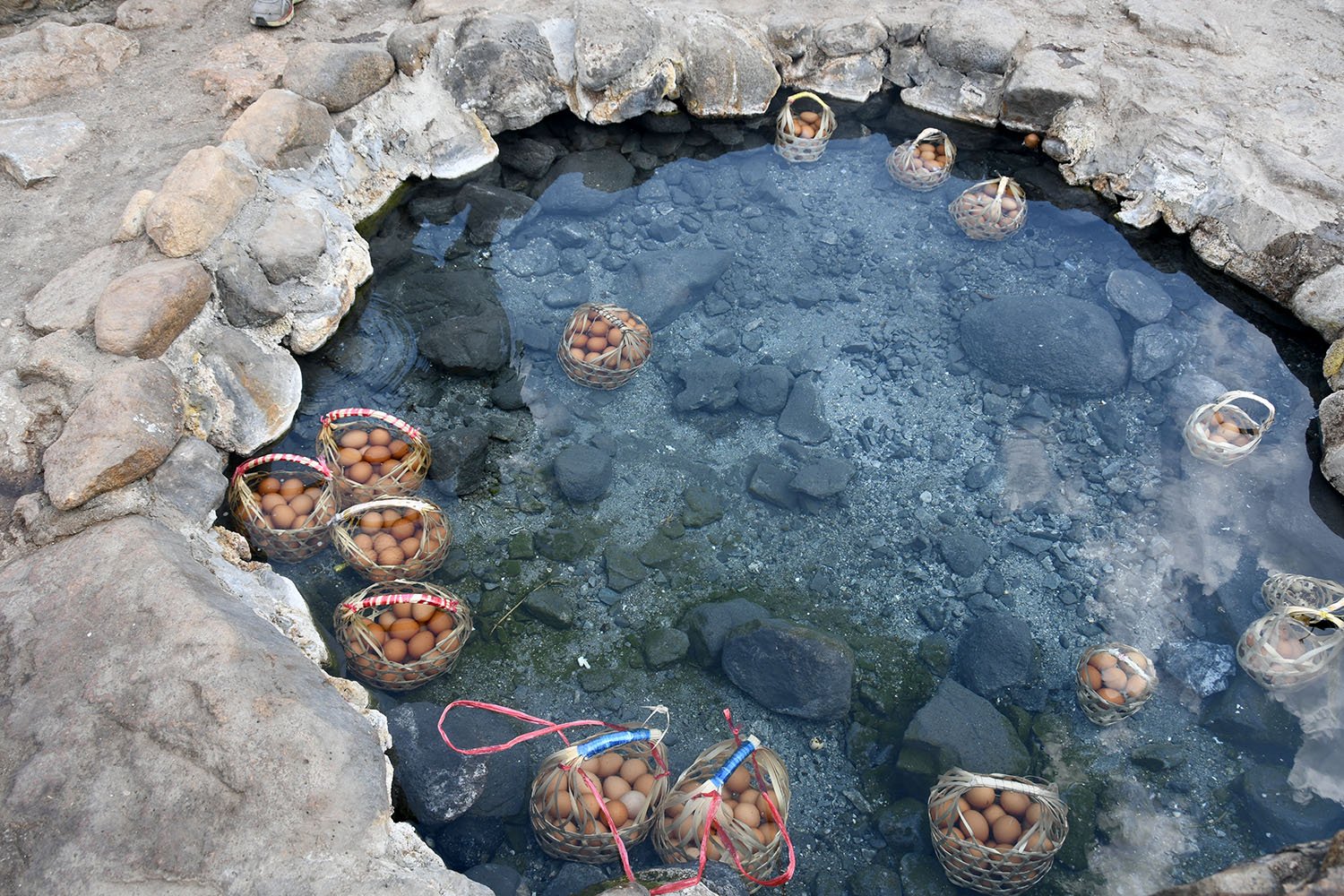 The group of 4 of us was quite the spectacle, as we were the only non Thai people in the park. Everyone was very friendly and curious.
There are a few restaurants in the park. Our meal was cheap (40 baht) a piece, though nothing special. It seemed like there were also little huts that you could stay in also.
Stop #5: Vibrant Flower Forest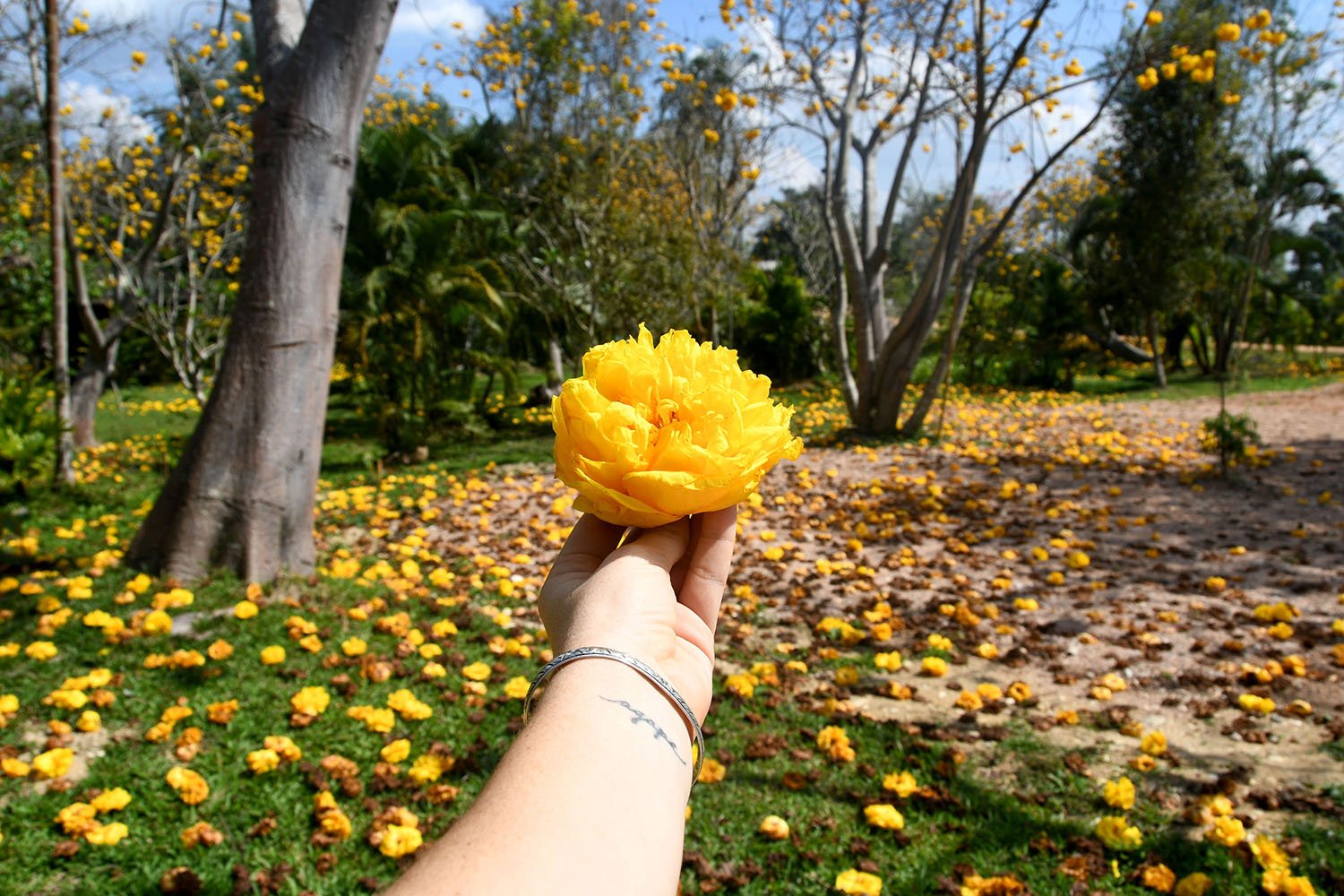 Depending on the time of year, you may notice a cluster of trees with vibrant yellow flowers to your left about 2.5 km after the hot springs. There's a small pond and a few buildings here, and we just pulled over for a few photos. It looked like a scene straight out of the Wizard of Oz. 
The property is owned by a resort called Phayao Resort (ฝ้ายคำรีสอร์ท), so make sure you are respectful. We drove on their driveway to take pictures of the flowers and they did not seem to mind.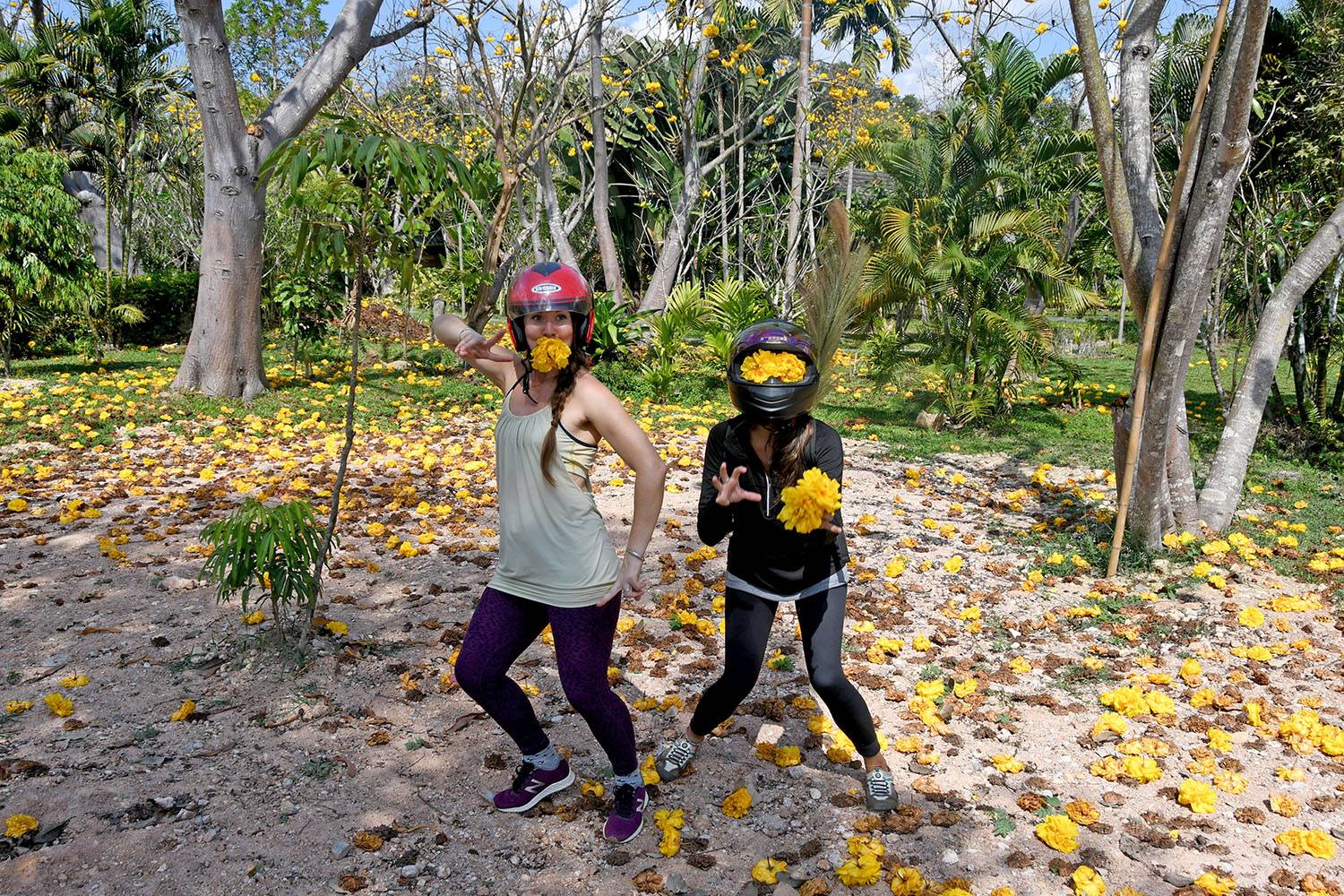 Note: If you know the name of this tree, please let us know in the comments! We've tried searching for it, but can't find the name!
Stop #6: Wat Chaloem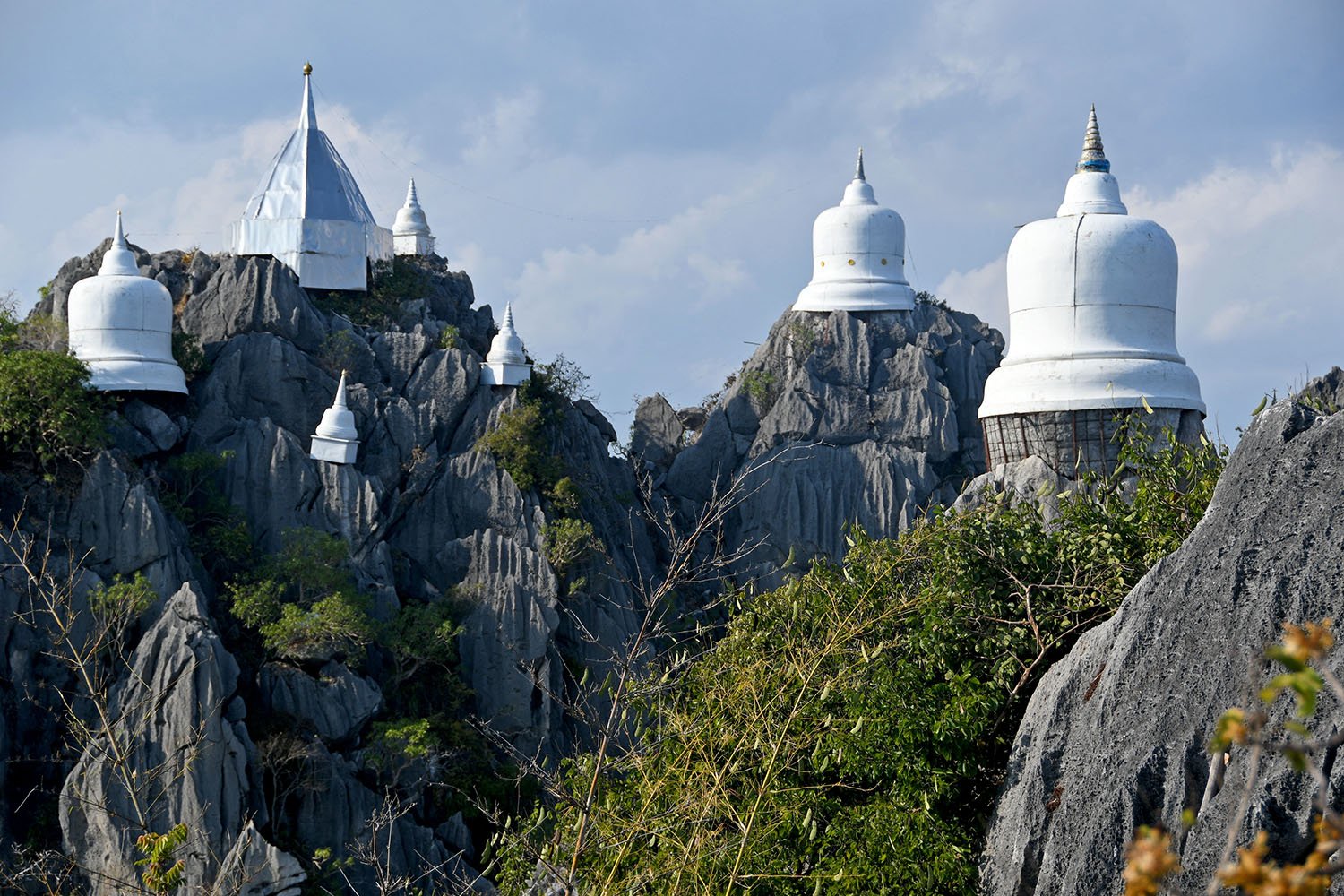 You're finally at your final destination, and even though the road trip is epic, we don't think you'll be disappointed by this final stop. From parking your bike to returning to the parking lot, expect to spend between 1.5 hours to 2 hours exploring these beautiful mountain top pagodas. 
How to return to Chiang Mai
Now that you've reached your final destination, you have 2 options: You can either return straight to Chiang Mai or you can spend the night in Lampang and return the following day. 
Option #1: Return to Chiang Mai
If you are visiting Wat Chaloem Phra Kiat as a day trip and need to return to Chiang Mai, we recommend taking highway 11 back to the city. It is faster than the mountain road on which you arrived and has streetlights.
This drive is not very interesting, but there are gas stations along the way and it is the most direct way back to the city. 
Option #2: Stay in Lampang
Staying in Lampang is a great idea if you want to catch the morning light or stay for sunset at Wat Chaloem Phra Kiat. Plus, this will allow you more time on the journey so you don't feel rushed!
BEST LOCATION CLOSE TO TEMPLES: The Little Earth Farm View — Located close to the Chae Son National Park (the one with the hot springs) is a wonderful setting with private rooms and a yurt. It's a perfect getaway from the busy city. Check prices on Agoda (not available on Booking.com)
BEST COUPLE STAY: Baan Suchadaa Lampang Resort — With a pool, onsite restaurant and traditional Thai design, this hotel is a favorite among couples. Check prices on Booking | Agoda
BUDGET STAY: Kanecha's Home — This colorful hotel has air conditioned rooms and a lovely garden patio. You can hire a bicycle and pedal into town or along the river. Check prices on Booking | Agoda
BEST HOSTEL: Memmoth Hostel — This hostel has a beautiful design, a comfortable common space and options for dorm beds or a private room. Check prices on Booking | Agoda  
Bonus Stop: Friends of the Asian Elephant Hospital
If you return to Chiang Mai the next day on Highway 11, consider making a stop at the Elephant Hospital. It is located just off highway 11 (you'll see signs) between Lampang and Chiang Mai.
One of the most famous resident elephants here is name Mosha and was found when she was 7 months old missing a leg caused from a landmine explosion. The Elephant Hospital has crafted her a new prosthetic leg each year as she grows so she can lead a healthy life.
Learn about the other things being done at this hospital by making a stop here. Visiting hours are between 8:30 a.m. and 5 p.m. We really wanted to visit, but were too late in arriving. 
Extend your adventure!
Option #3: Continue on to Chiang Rai
Often left out of the average northern Thailand itinerary, Chiang Rai is an underrated destination with a jaw-dropping white temple, stunning landscapes and fewer crowds. Plus, it's the gateway to crossing the border into Laos via a boat ride on the Mekong Delta. 
---
Answers to all your questions!
Now that you know the route and the sights along the way, we're going to answer all your questions so you're totally prepared for this epic day trip!
How difficult is this drive?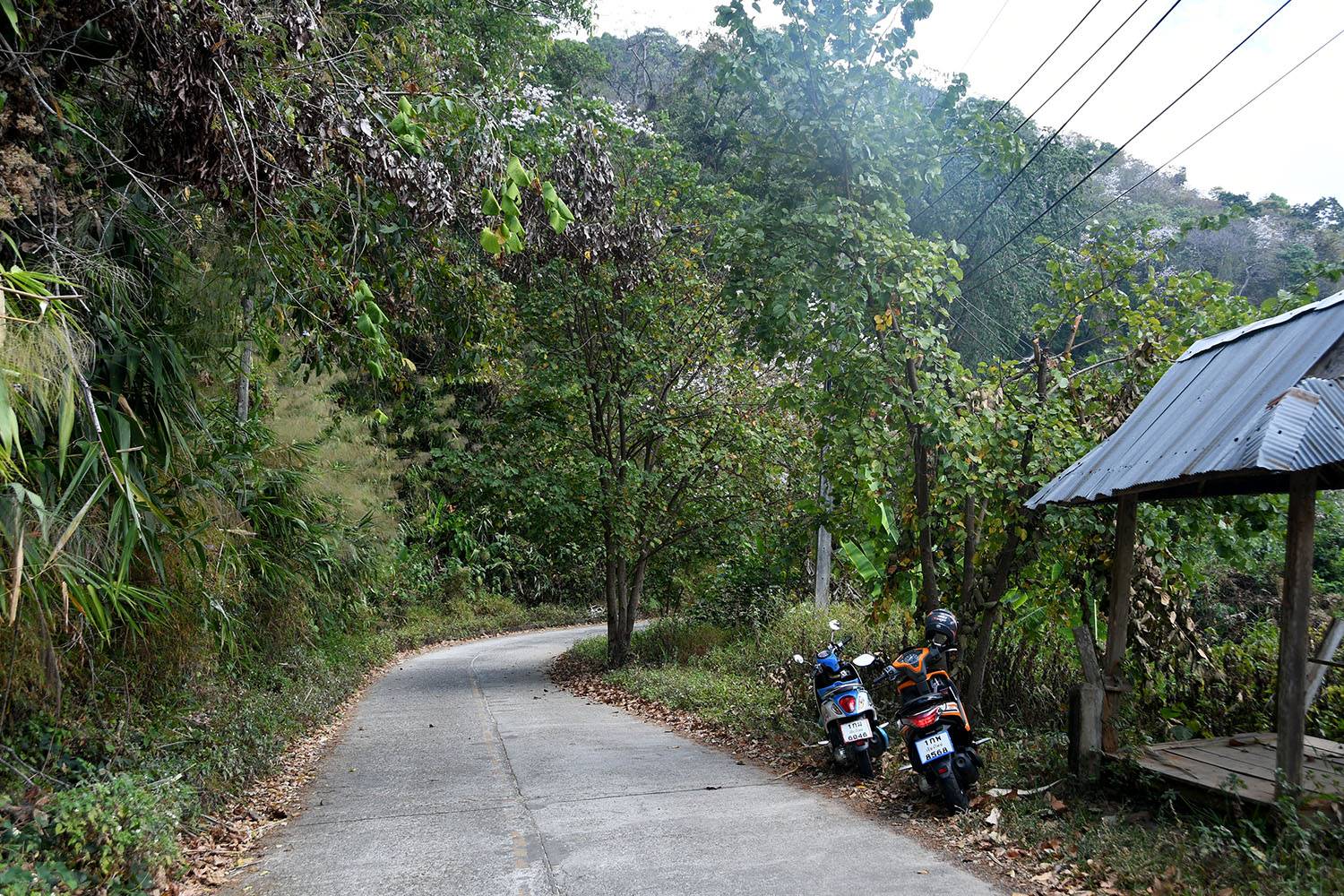 While we wouldn't recommend this drive if it's your first time on a motorbike, it wasn't as difficult as we expected.
The road is paved and well-maintained, but there are a couple places where it gets steep and narrow. Our advice is to take it slow and be especially cautious when coming around curves. 
If you are unfamiliar with mountain roads, but don't mind driving on highways, you could bypass the scenic drive (and skip all the attractions on the way) and take highway 11 (info above) the entire way. If you go this route, be careful of other drivers, as this highway is quite busy.
Important Tip: Be sure you have a full tank of gas before setting off on this journey. We didn't see any gas stations until we were quite close to Wat Chaloem Phra Kiat. We made it with a full tank, but it was getting close to empty when we finally filled up.
What type of motorbike should I rent?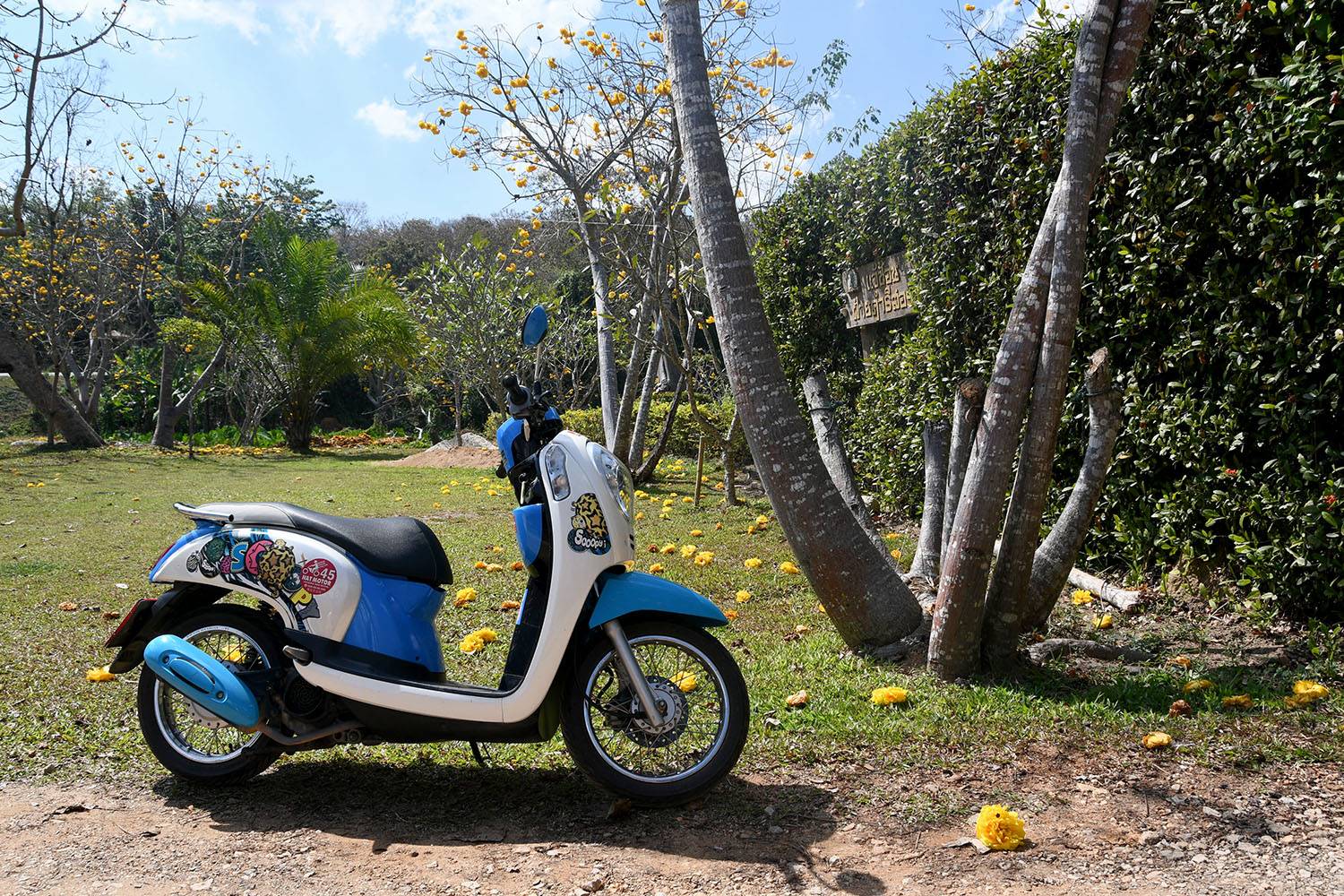 If there will be two people riding on the motorbike, we'd recommend renting one with a 120cc engine.
There wasn't much to choose from when we showed up at the motorbike in the morning, so we were stuck renting a motorbike with a 110cc engine.
While it was fine most of the time, there were a few times when I had to jump off and walk up the hill because the bike couldn't handle the weight of both of us. Aside from those 2 times though, the drive wasn't too bad with the 110cc engine with two people riding. 
Where can I rent a motorbike & how much does it cost?
There are plenty of motorbike shops around Chiang Mai. Expect to spend anywhere from 250 – 400 baht for the day, depending on the quality of bike and engine you choose.
WARNING: Don't do this trip without Travel Insurance!
This trip is not without danger: Motorbike accidents are common in Thailand, so if you choose to take this road trip it is absolutely imperative that you have travel insurance. 
This article walks you through how we select the best travel insurance policies.


How long does this day trip take?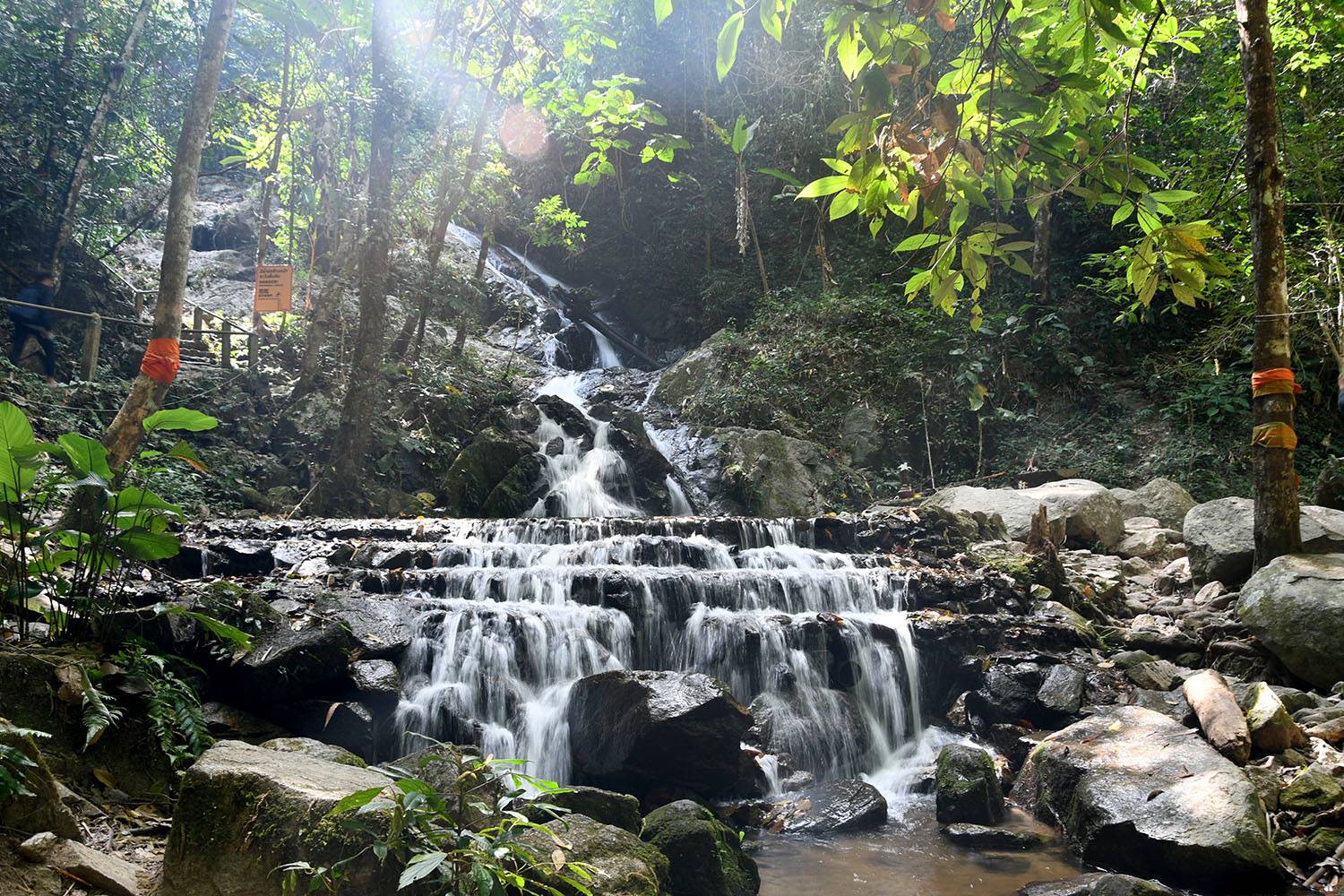 You can do it in one (long) day trip like we did, or you can spread this road trip over 2 days in order to see even more in this beautiful region and not feel rushed.
We left Chiang Mai at 8:45 a.m. (took us a little longer than expected to get our motorbike rental squared away), and we arrived back in Chiang Mai at 9 p.m. (Nearly a 12 hour trip). We made several stops along the way and enjoyed about 2 hours at Wat Chaloem Phra Kiat in total.
Next time, we would rent our motorbike the night before and leave at 7 a.m. so we wouldn't have to return in the dark. Or, we would spend the night in Lampang so we could enjoy sunset at Wat Chaloem (or sunrise the next morning) and stop at the elephant hospital (info above) on the way back to Chiang Mai.
Total cost of road trip and visit to Wat Chaloem Phra Kiat
We had one hell of a day exploring the Thai countryside, and it turned out to be really inexpensive!
$22.24 per person (700 baht per person)
This includes motorbike rental and gas (2 people per bike), meals and snacks along the way, as well as National Park and Temple entrance fees.
Note: This does not include accommodation, so you'll want to budge ta bit more if you plan to spend the night near Lampang.


Are you planning a trip to Thailand?
We have TONS of resources on travel in Thailand and destinations throughout the country. Check out our Ultimate Thailand Travel Guide for all the answers to your most burning questions, or read some of our favorite articles below.
Save this article on Pinterest for Later!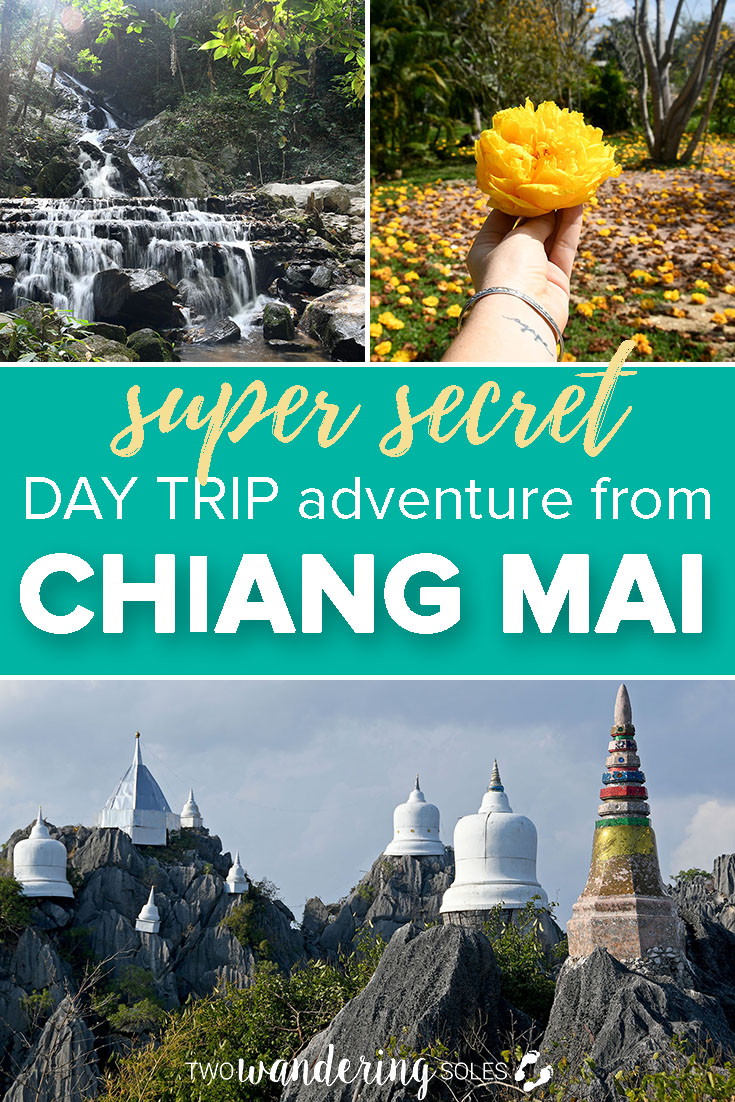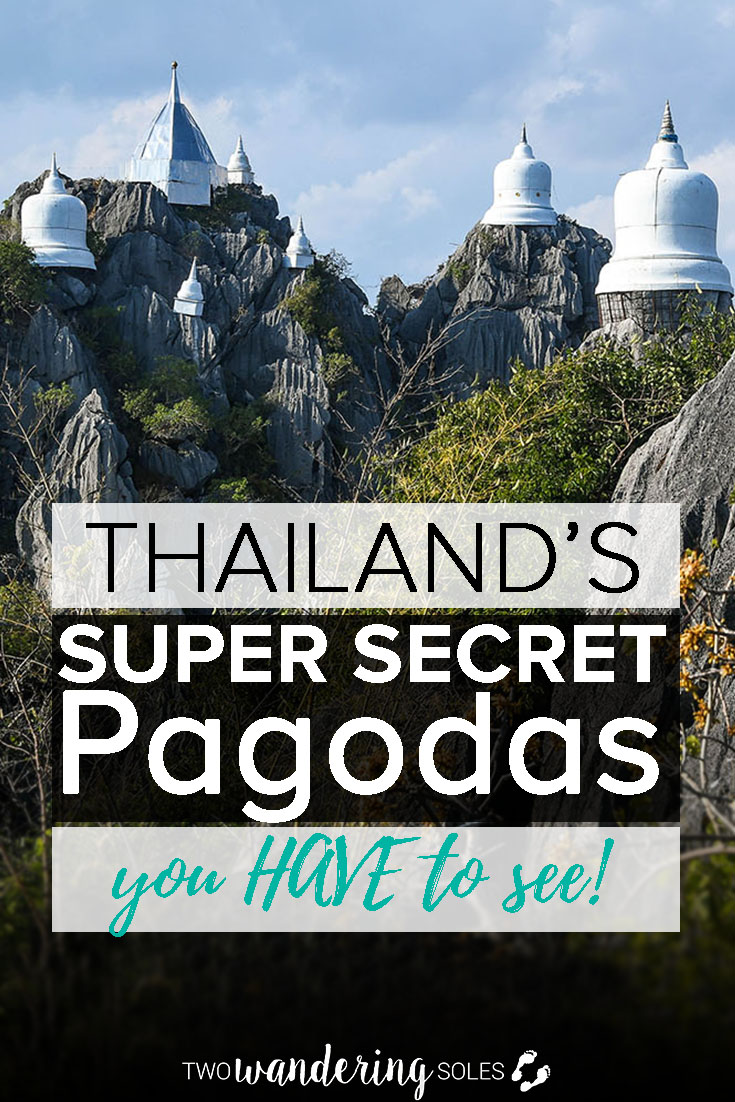 We want to hear from you!
Have you ever heard of Wat Chaloem Phra Kiat? Have you been inspired by this epic road trip through northern Thailand? Let us know your thoughts or questions in the comments below!