Bosnia and Herzegovina is a gem in Eastern Europe that is often looked over. There are so many things to do in Bosnia and Herzegovina, from exploring historic Sarajevo to the countryside of Mostar. And of course you can't miss the Stari Most, one of the most famous bridges in Europe. We're sharing our top travel tips that make Bosnia and Herzegovina the perfect destination for any visitor.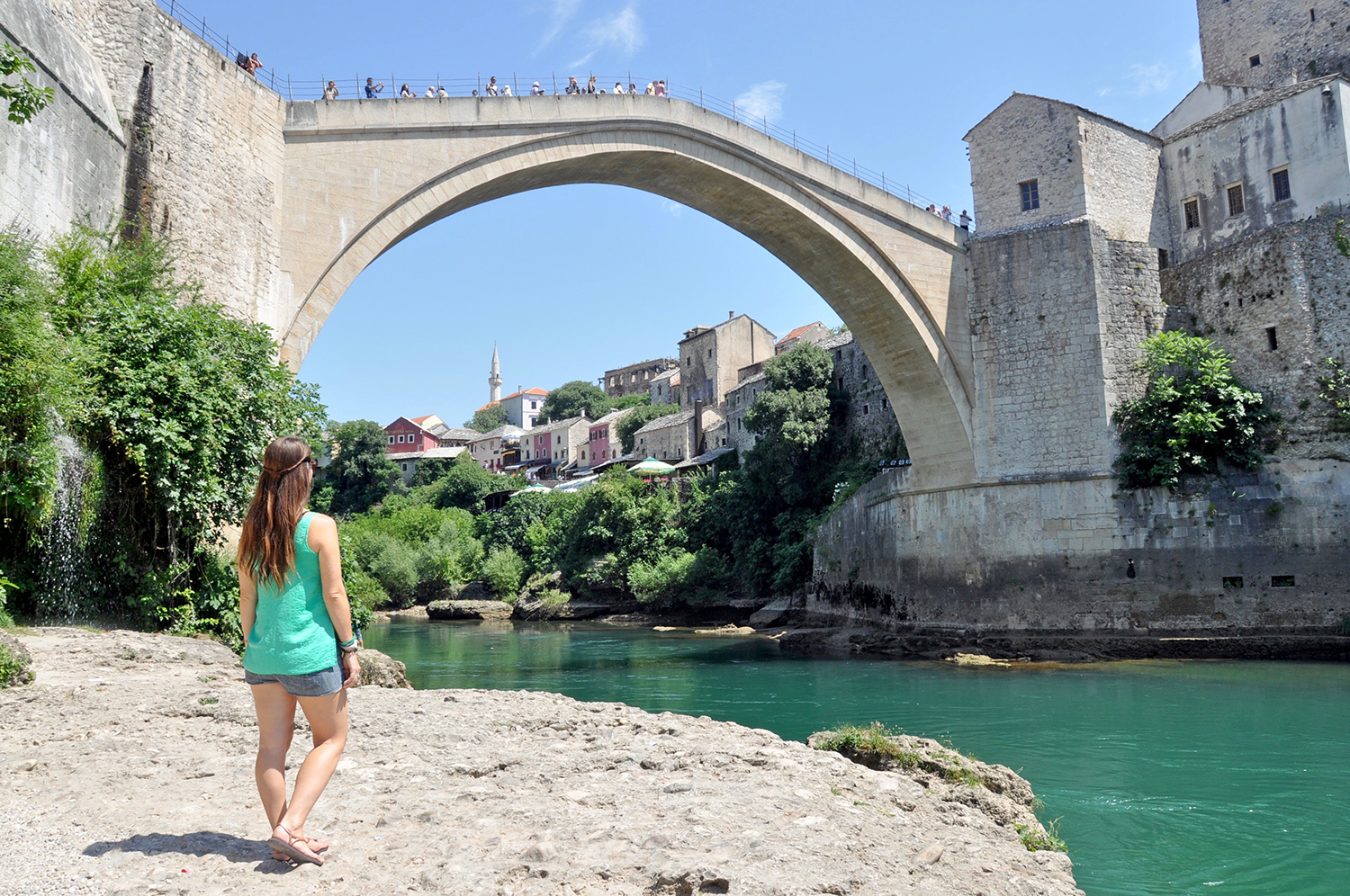 The one thing that sticks out in my mind when I think of traveling in Bosnia and Herzegovina is the people. They're kind, welcoming, sincere and strong. And it's unimaginable how their country got torn apart during the not-so-distant Yugoslav Wars.
The city of Sarajevo was at the edge of complete and utter destruction in the 1990's. But some 20 years later, this Bosnian capital has been largely restored and is a fascinating stop on any Eastern European itinerary.
The mixture of Ottoman, Yugoslavian and Austro-Hungarian architecture is a combination you won't see anywhere else in the world, and the still-visible bullet holes dotting the city are harsh reminders of the horrors the Bosnian people endured just over two decades ago.
Where to Travel in Bosnia and Herzegovina
Sarajevo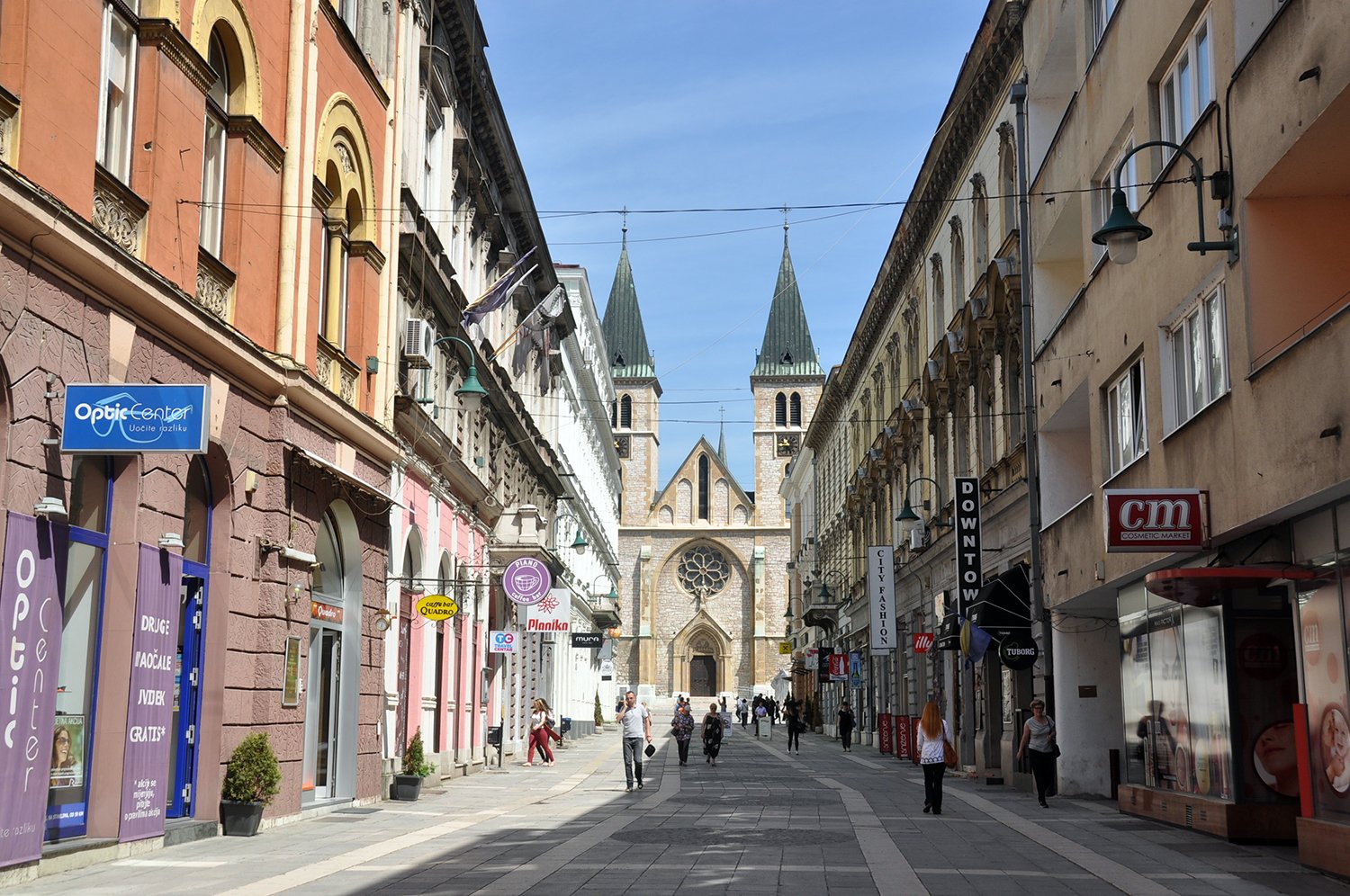 Things To Do in Sarajevo
1. Free Walking Tour of Sarajevo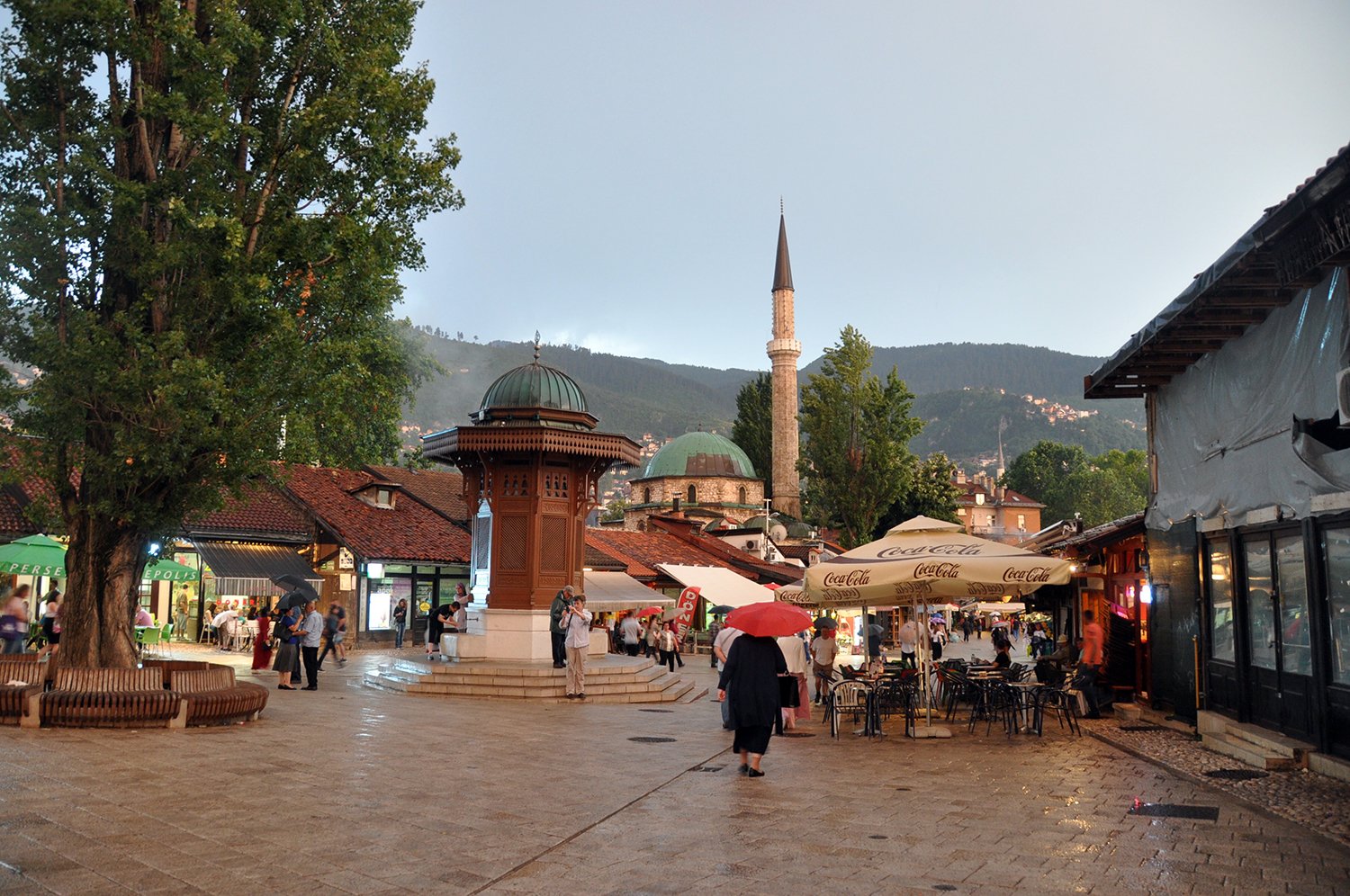 As with most new cities we traveled to in Europe, we took the free walking tour of Sarajevo that was organized though our hostel (Hostel Franz Ferdinand).
This tour was quite unique because the guide actually lived in Sarajevo throughout the war. She told us stories of running through the streets and praying that you would not get shot by a sniper. 
2. See the spot of the "shot heard around the world"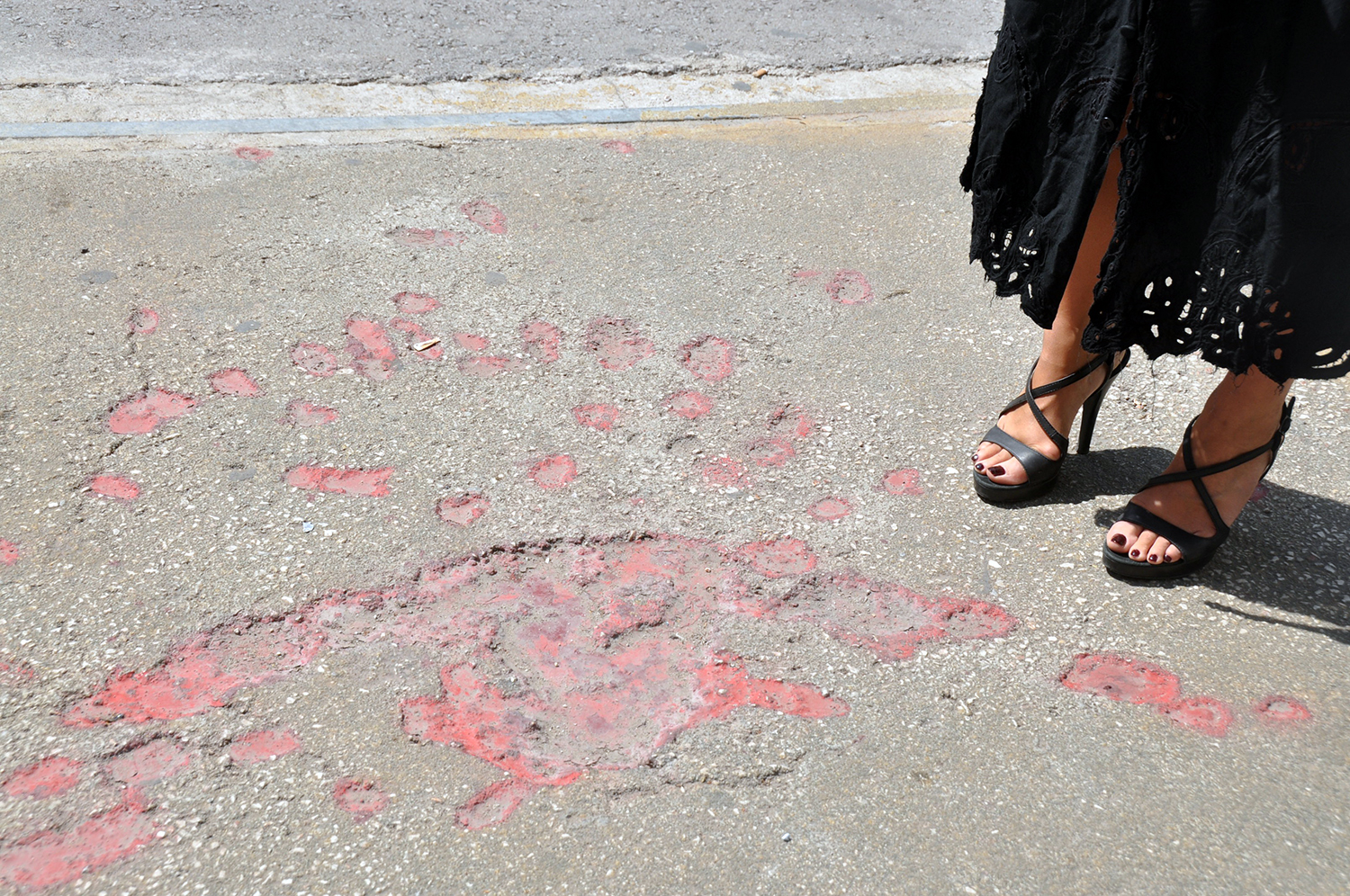 The tour took us through the main walking street that stretches along the center of the city. The guide brought us to the exact corner where Franz Ferdinand, the archduke of Austria, was assassinated, forever known as the "shot heard around the world" and thus starting the first World War.  
3. Stroll between cultures
As you walk along the walking street, you can travel from Christan area around the Sarcred Heart Cathedral to the Muslim quarter all within half a kilometer.  
4. Visit Sarajevo's Abandoned Bobsled Track & Learn the History of the City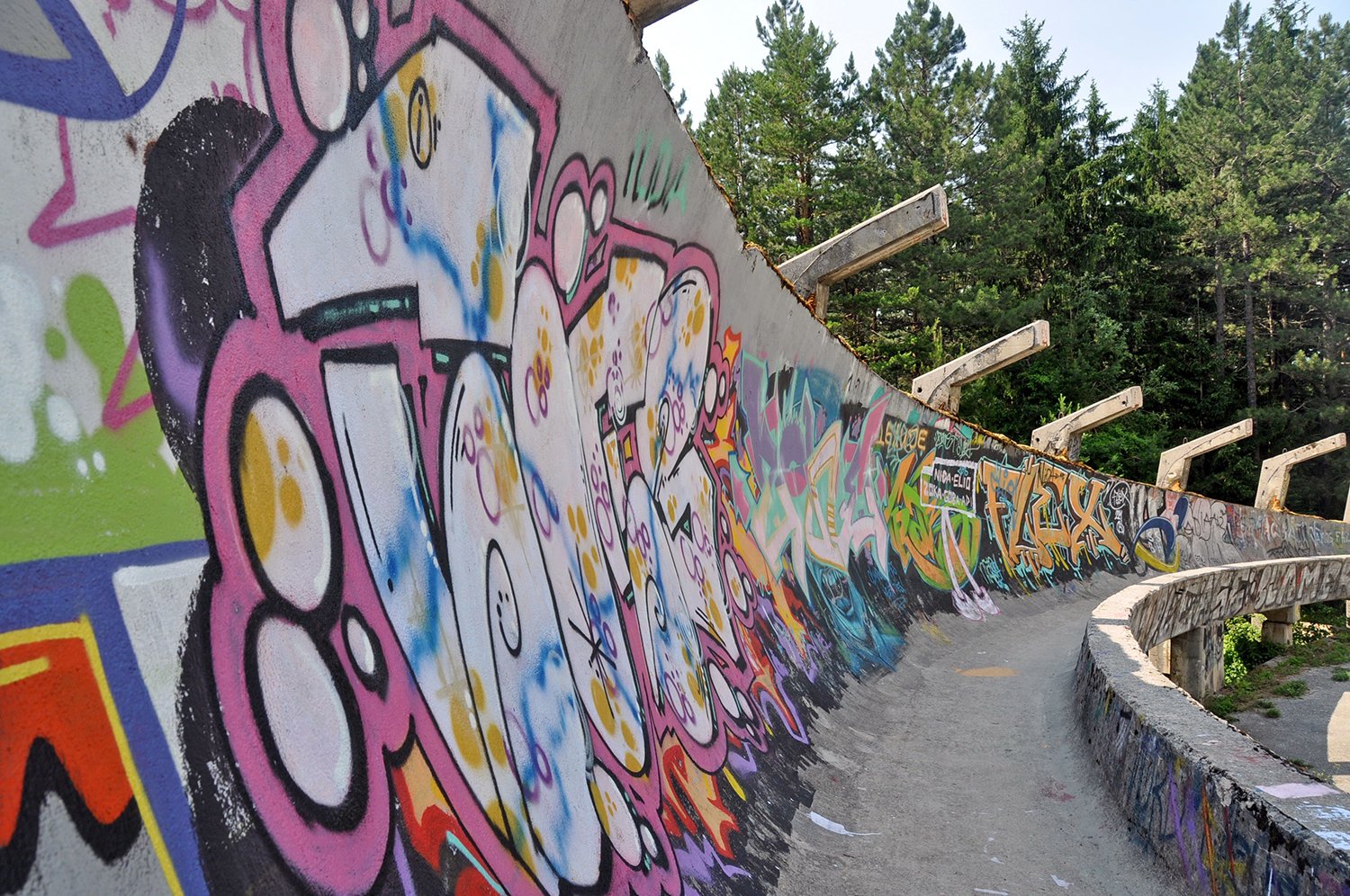 The bobsled track is surely an Instagram worthy spot, but it is just one stop on the Under the Siege tour run by Hostel Franz Ferdinand. (Note: There are a few tours like this, so you don't have to go through the Ferdinand Hostel). 
This day-long tour takes you to specific locations around town that were affected by the war, including the snipers perch and a portion of the tunnel that allowed citizens to escape under the airport.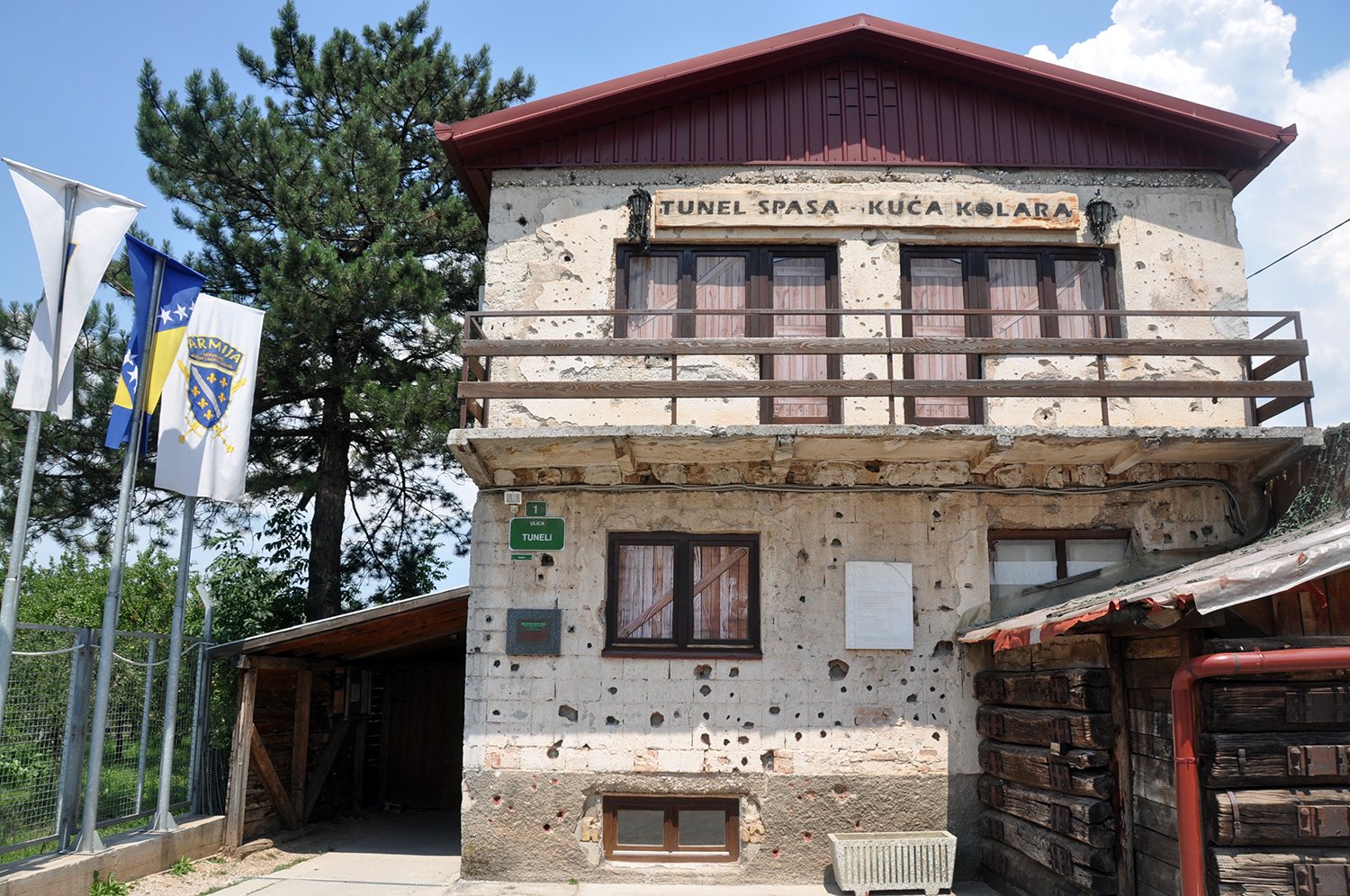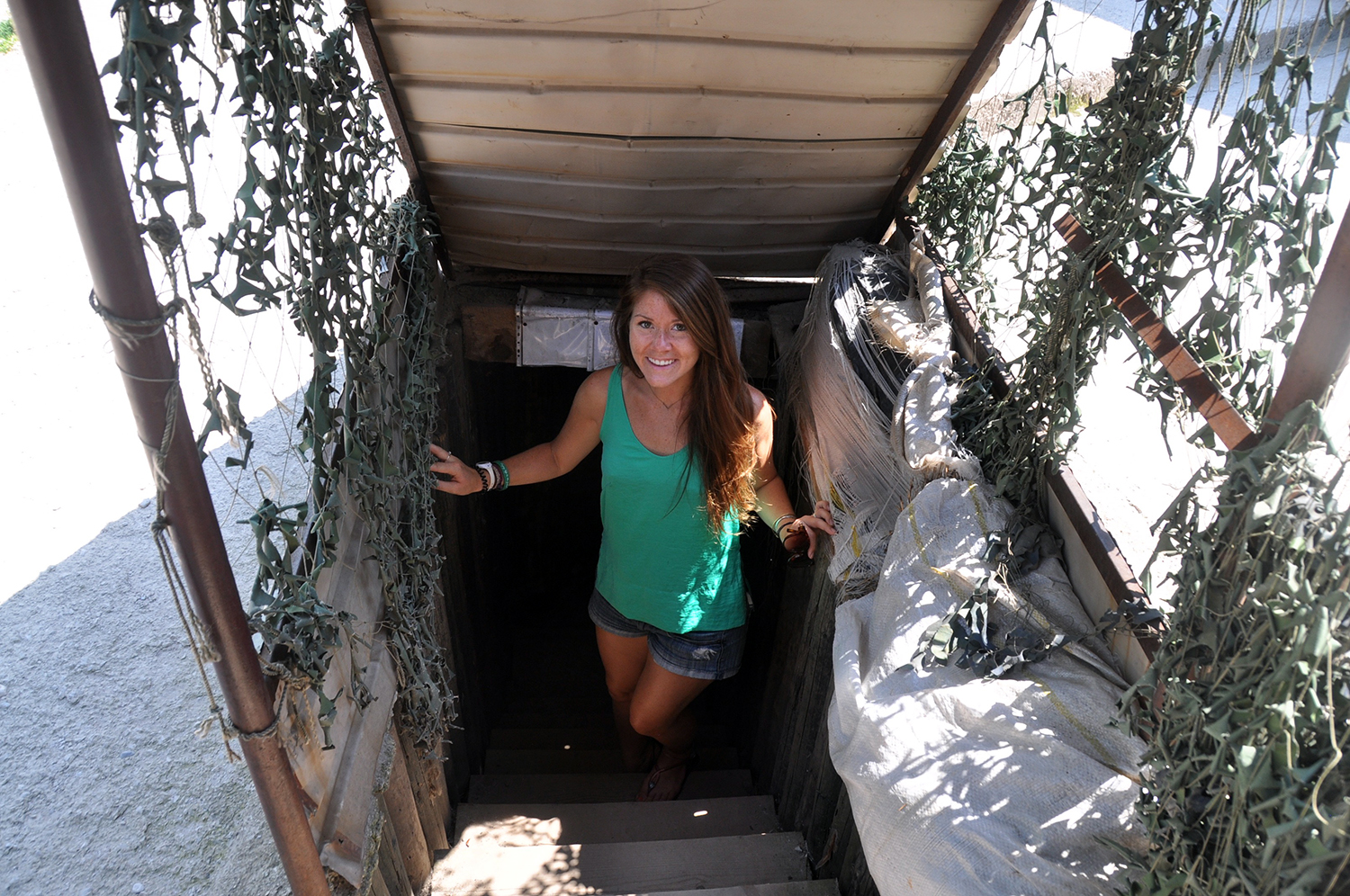 It is utterly fascinating to see these important parts of history and to learn about this country's troubled past.
One of the major highlights of the tour is visiting the abandoned (and graffitied) bobsled track that was used in the 1984 Sarajevo Winter Olympics. And if you don't want to do the whole tour, you can actually hike to the Sarajevo bobsled track independently.
5. Srebrenica Genocide Museum in Sarajevo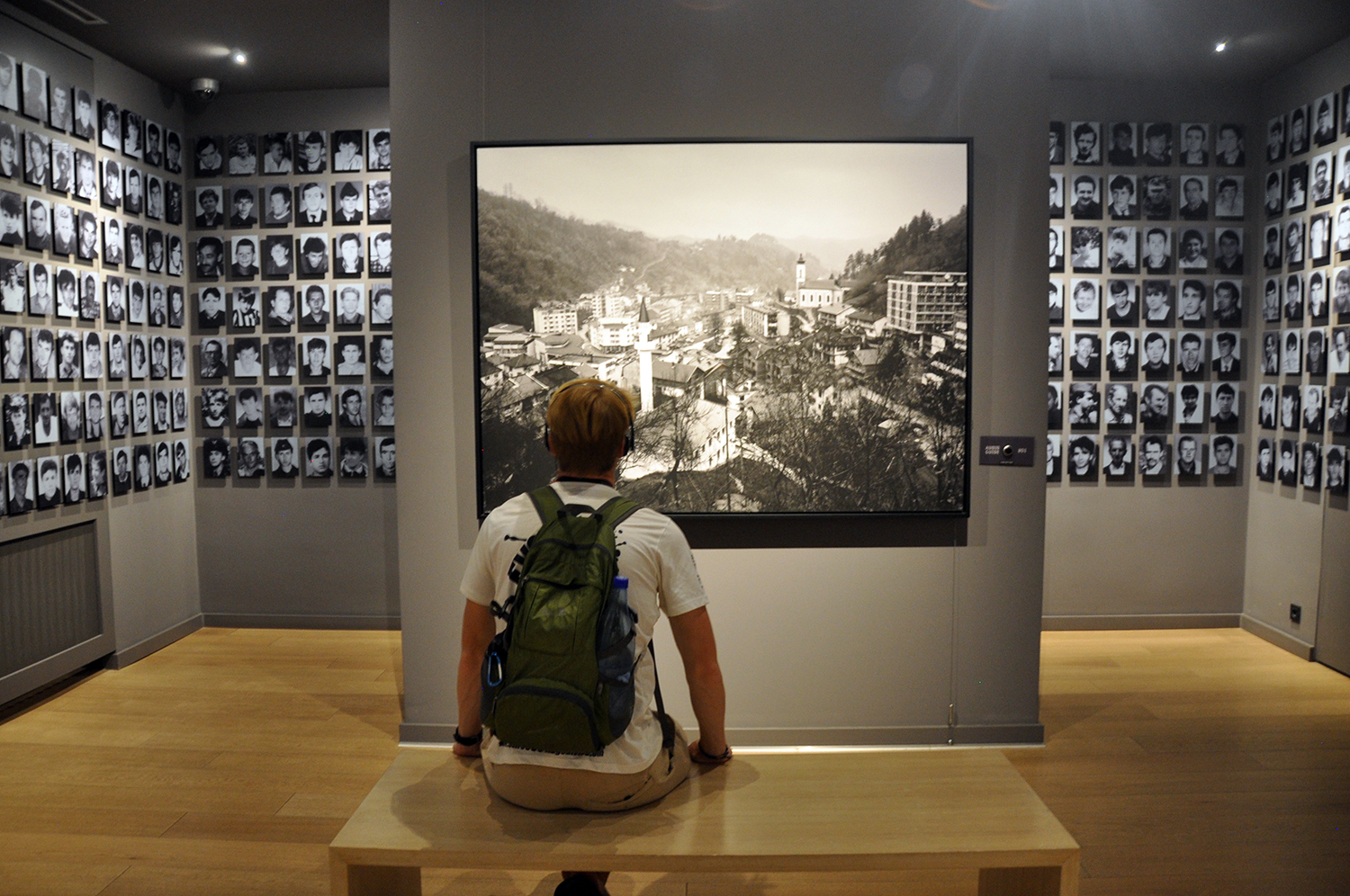 If you only have a day in Sarajevo, we would highly recommend visiting the Srebrenica Genocide Museum called Gallery 11/07/95. It walks you through the day where more than 8,000 Muslim Bosniaks were killed, mainly men and boys in the small town of Srebrenica during the Bosnian War in 1995.
It's a very somber experience, but it tells the history of the country that not many people outside of Bosnia know about.
It reminded us about the time we visited the Killing Fields in Cambodia or Auschwitz Concentration Camp. Both are hard histories to learn, but so necessary so humankind does not repeat these horrors. 
6. View of the City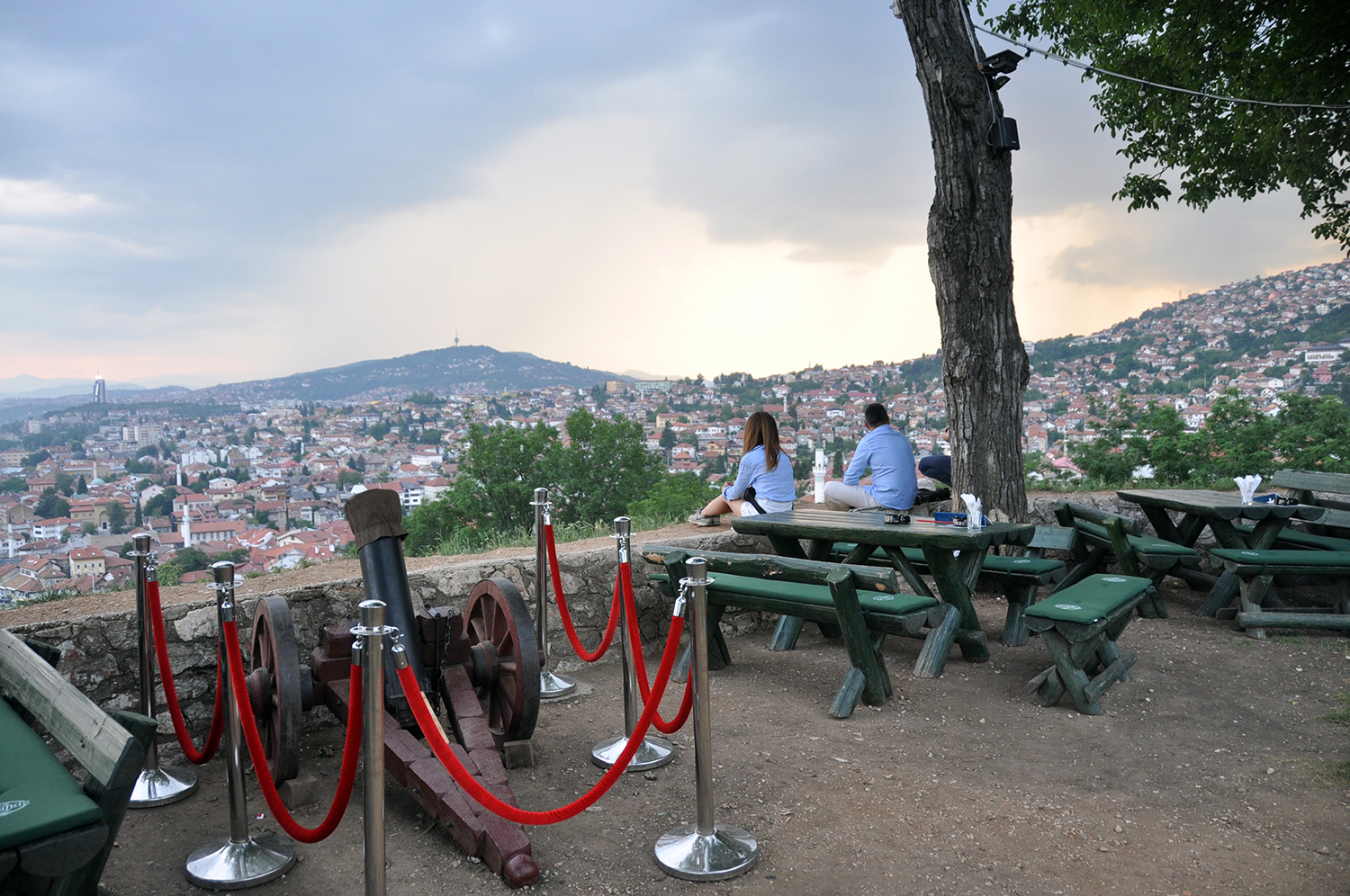 Our favorite sunset viewpoint of Sarajevo is east of the city, up on the Yellow Bastion lookout. You could even bring a picnic dinner and watch the sunset from one of the many picnic tables.
Sarajevo was one of our favorite cities in Bosnia. If need more reasons to visit Sarajevo, our friend David has a whole article about it.
Hotels in Sarajevo
Couple Stay/Mid-range: Old Town Hotel – In the center of old town, rave reviews perfect for couples. 
Budget Friendly/Social Atmosphere: Hostel Franz Ferdinand – great beds, good tours, very helpful staff. We stayed here and loved it. 
Bonus adventure near Sarajevo
If you want to get your adrenaline pumping, check out this article about whitewater rafting on the Tara River Canyon, located 90 km (56 miles) from Sarajevo. 
---
Traveling from Sarajevo to Mostar
Trip from Sarajevo to Mostar is beautiful. We took a bus so we could not stop and get out, but if you have time hire a car. That way you can stop and take pictures of the Lake Jablanica valley. None of our pictures do it justice because we have the bus window in the reflection, but it is GORGEOUS — trust us. Or Google-image it! 
If you are traveling through Eastern Europe by car, be sure to check out this road trip through the Balkans.
---
Mostar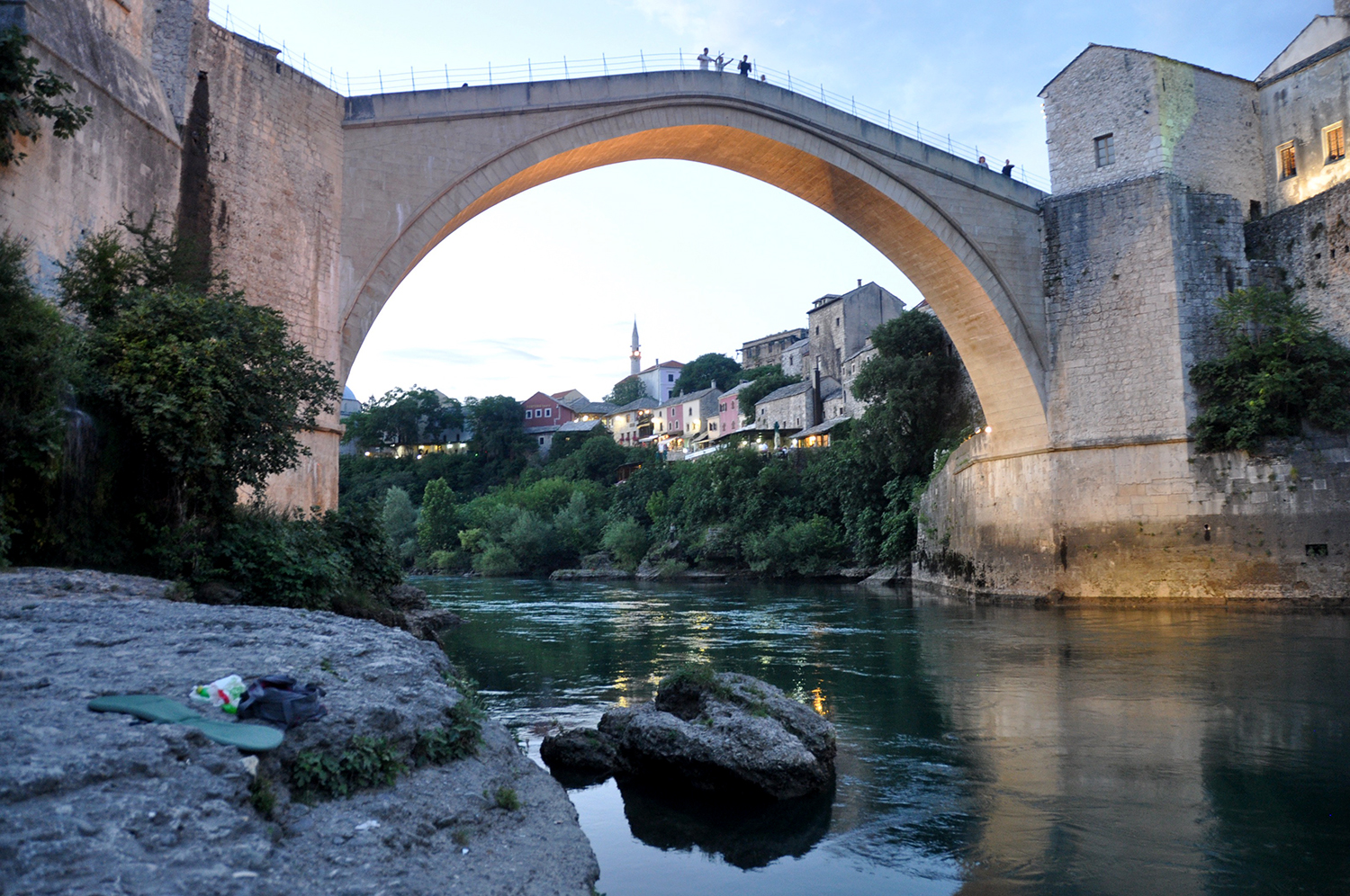 We actually heard about this town before we even thought of going to Eastern Europe. One of our friends we met traveling told us about this tour that we HAD to go on. In fact, when we took the tour, nearly everyone had heard of it from a friend or family member who persuaded them to sign up. 
It's one of those tips travelers pass down, and once you've been on this tour, you feel the need to tell others about it. So consider yourself in on the secret. 
Things To Do in Mostar
1. Bata's Crazy Tour
The tour is called Bata's Crazy Tour and is guided by (you guessed it) Bata. And yes he is crazy and he would be the first to tell you. This tour is an entire day and is part sightseeing, part history lesson, part adventure and part food tasting.
2. Splash around in Kravice Waterfalls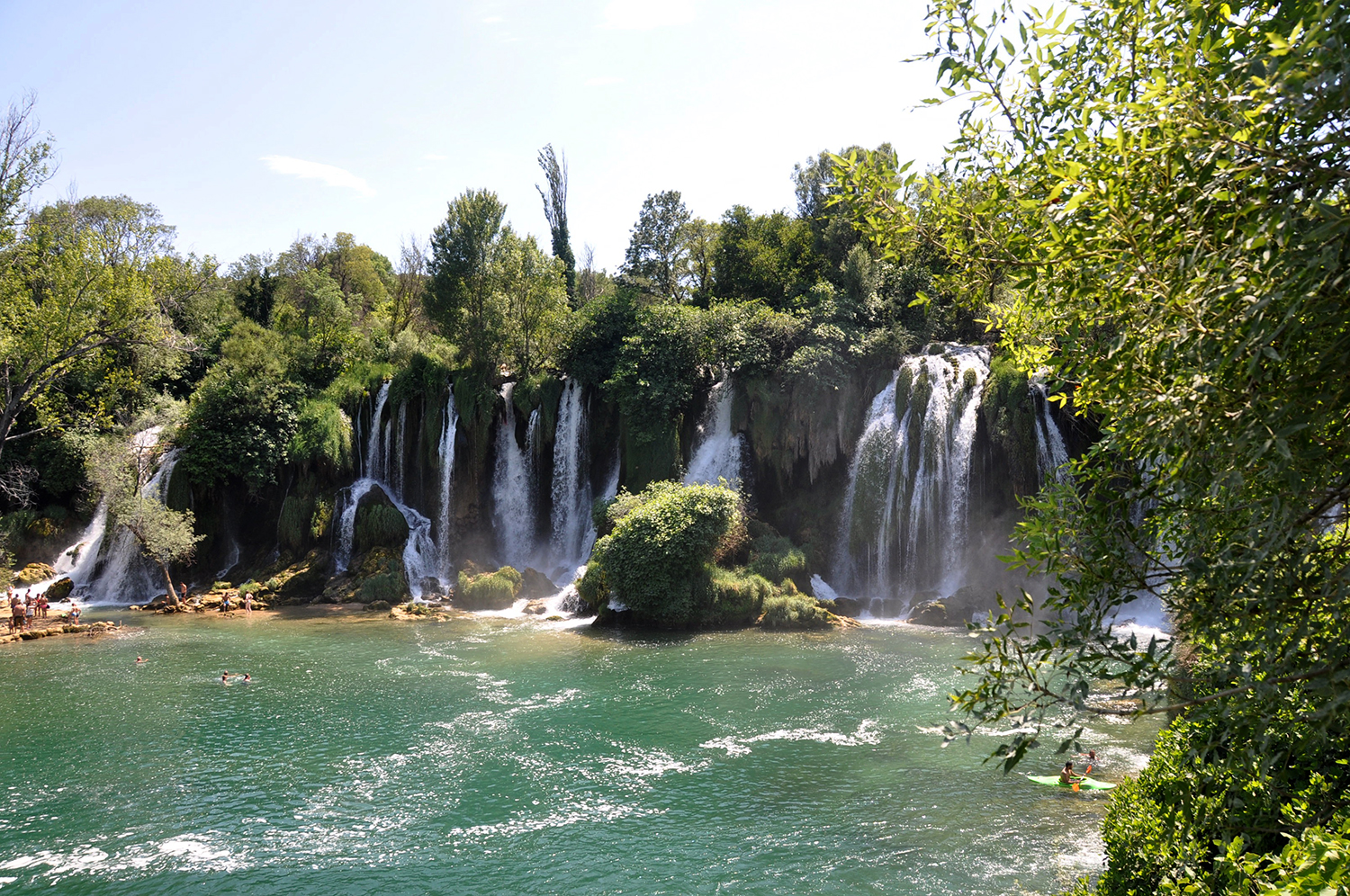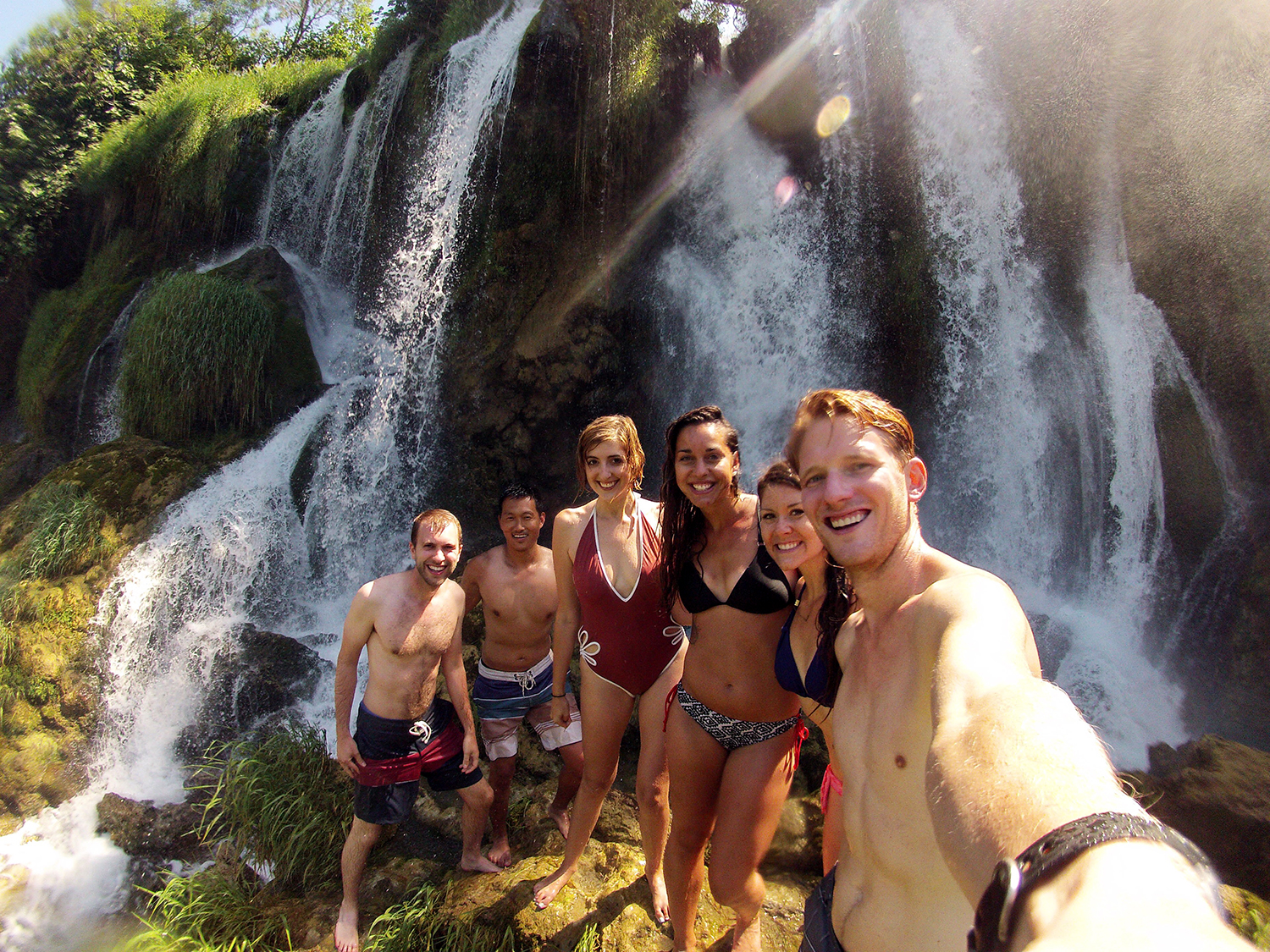 Swim under the rushing Kravice Waterfalls on the tour away from Mostar. There is a restaurant onsite, so if you get hungry you can pick up a bite to eat (and if you're part of the tour, they provide a traditional (meat-heavy) lunch).
3. Explore the medieval town of Pocitelj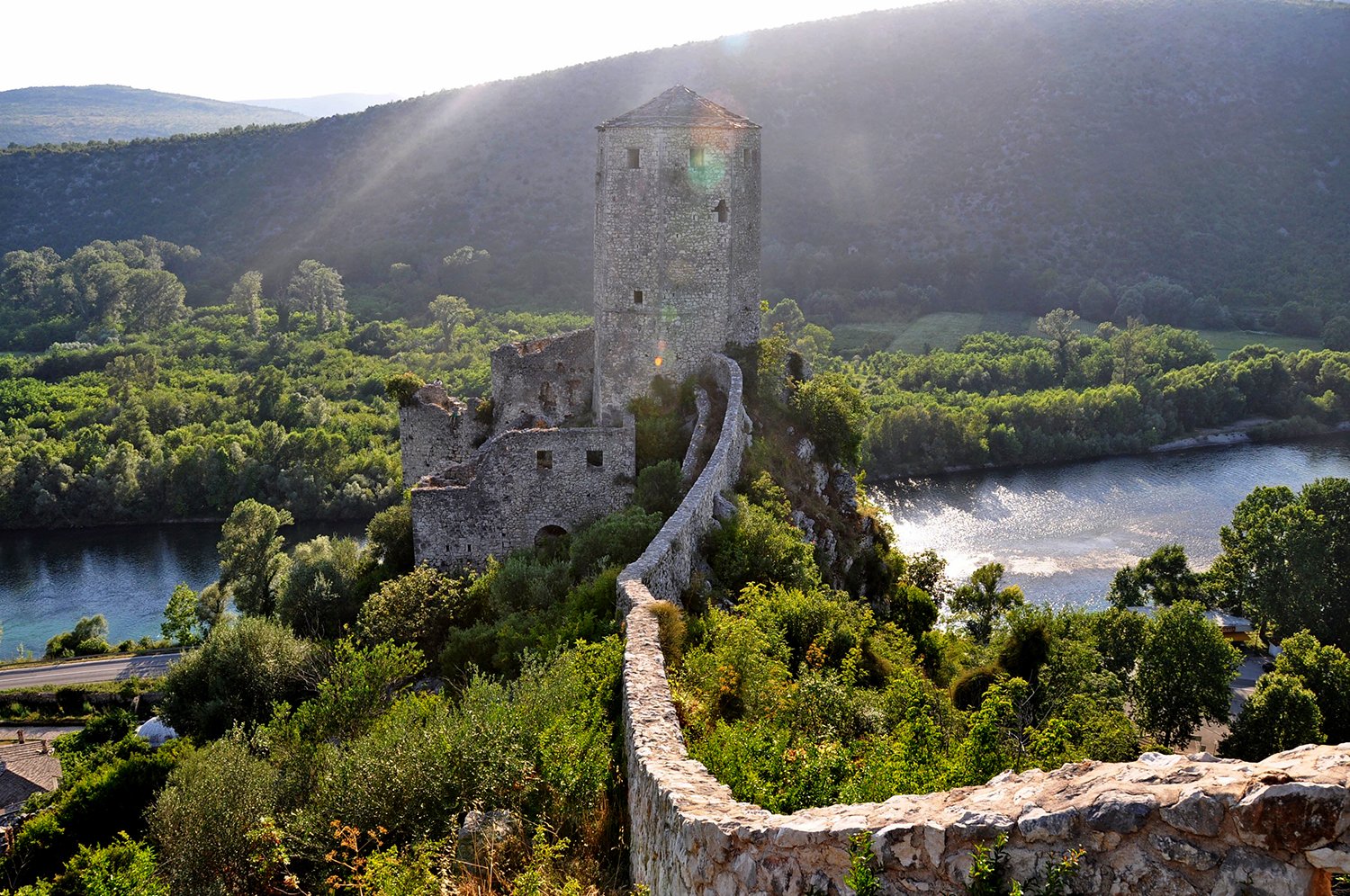 The next stop on the tour was the tiny old medieval town of Pocitelj. We got to climb up the watchtower (picture above) and gaze from the archer's platform. It was a nice stop to have Bata explain the history of this people. After this we visited a local woman's house to sip Bosnian coffee, which was a pretty fun experience. 
4. Visit the Blagaj Dervish House Monastery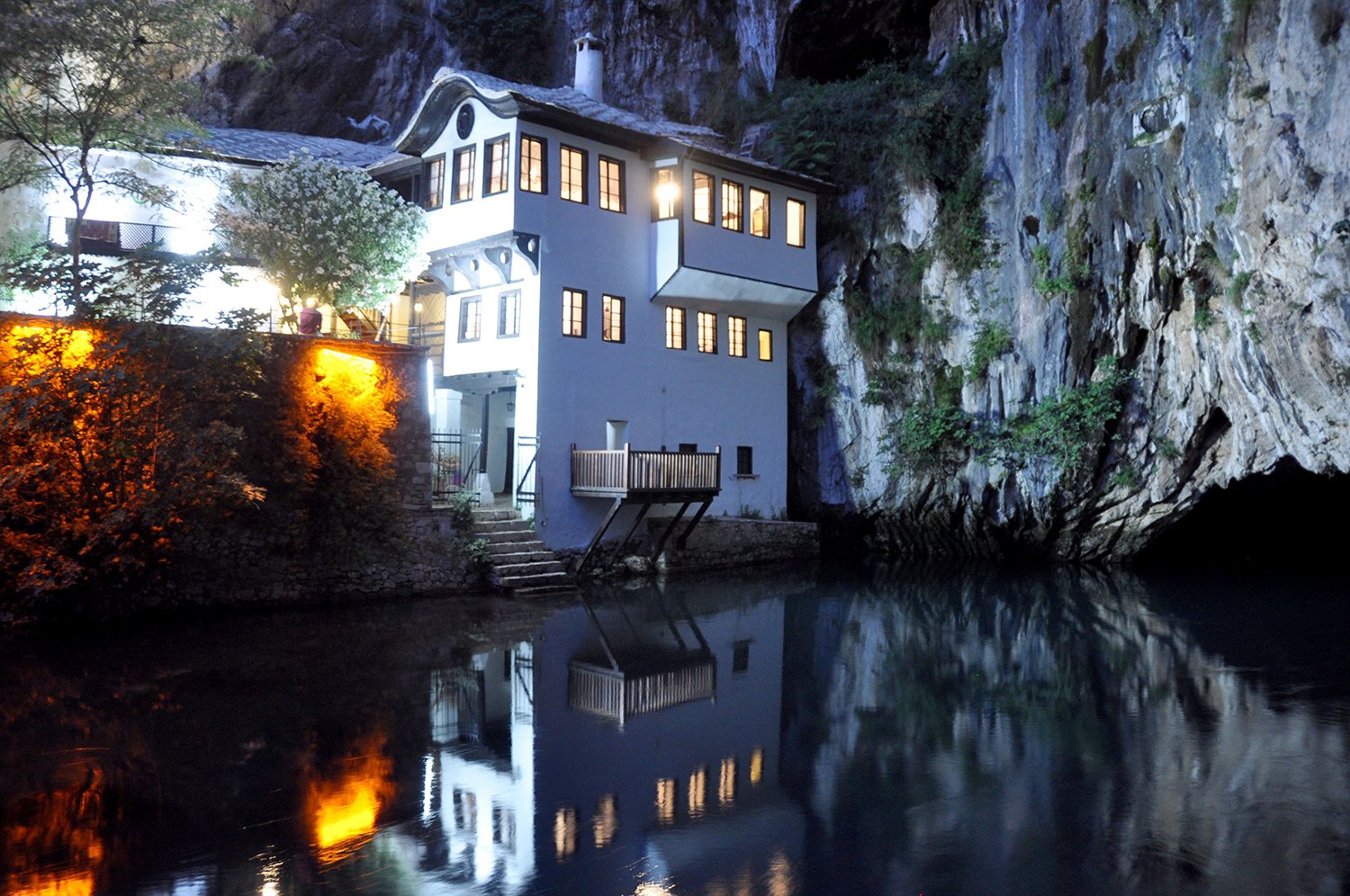 The last stop of our tour was to the Blagaj Dervish House Monastery at the foot of a cave. Legend has it, that naturalist don't know the source of the river that flows beside the monastery. 
We visited all these spots in one day and got to know our van-mates pretty well. Oh, and sprinkle in a heavy dose of history and witty banter from Bata for a 10-hour experience you won't soon forget.
Even if you were only to spend one day in Bosnia, this tour would give you a wonderful taste of the country and its people. 
Note: There are a few of these tours run by guesthouses in Mostar. Each has a cult following, and everyone swears the one they took is the best. Honestly, after talking to a few other travelers who did other tours, it seems that in general they are pretty similar, with a few minor differences here and there.
So whether you take your tour from Bata's Crazy Tour from Majdas Hostel, Hostel Nina's day tour, or some other day tour in Mostar, you will see most of the same things and will learn a ton about this country.
5. Walk across the Old Bridge (Stari Most)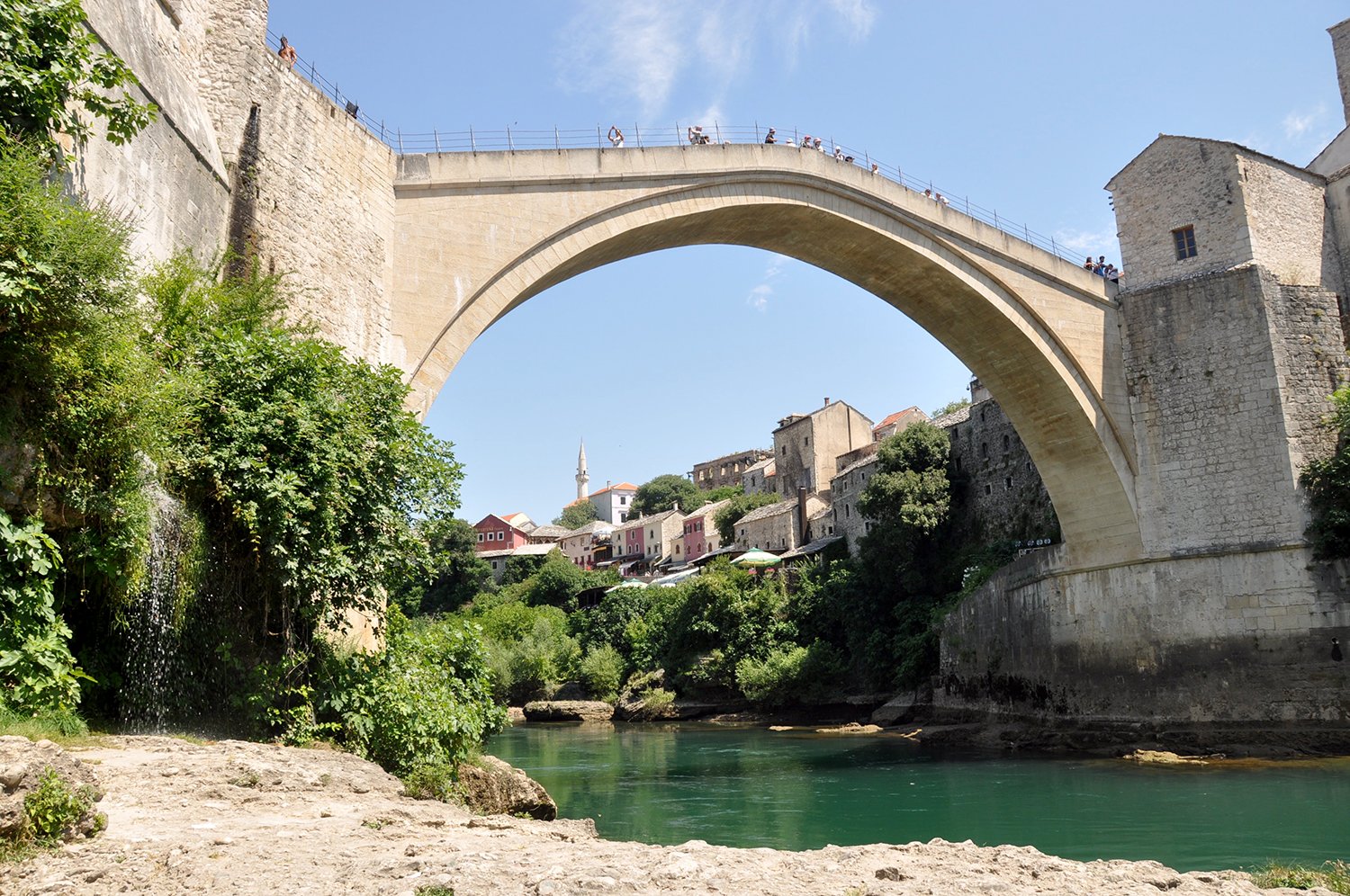 Besides the crazy tour, the main attraction of Mostar is the Old Bridge (Stari Most). Once destroyed in the war, and built again to the same beauty, the Stari Most is one of the most iconic images in all of Eastern Europe.
Highly symbolic, the bridge literally is uniting two sides of the country. Walk across the bridge to get a view of the 24 meter (80 foot) drop to the water, and then head down to the river side and watch as jumpers collect money to put on a show for everyone as they dive into the river. 
6. Tip-toe through the Sniper's Tower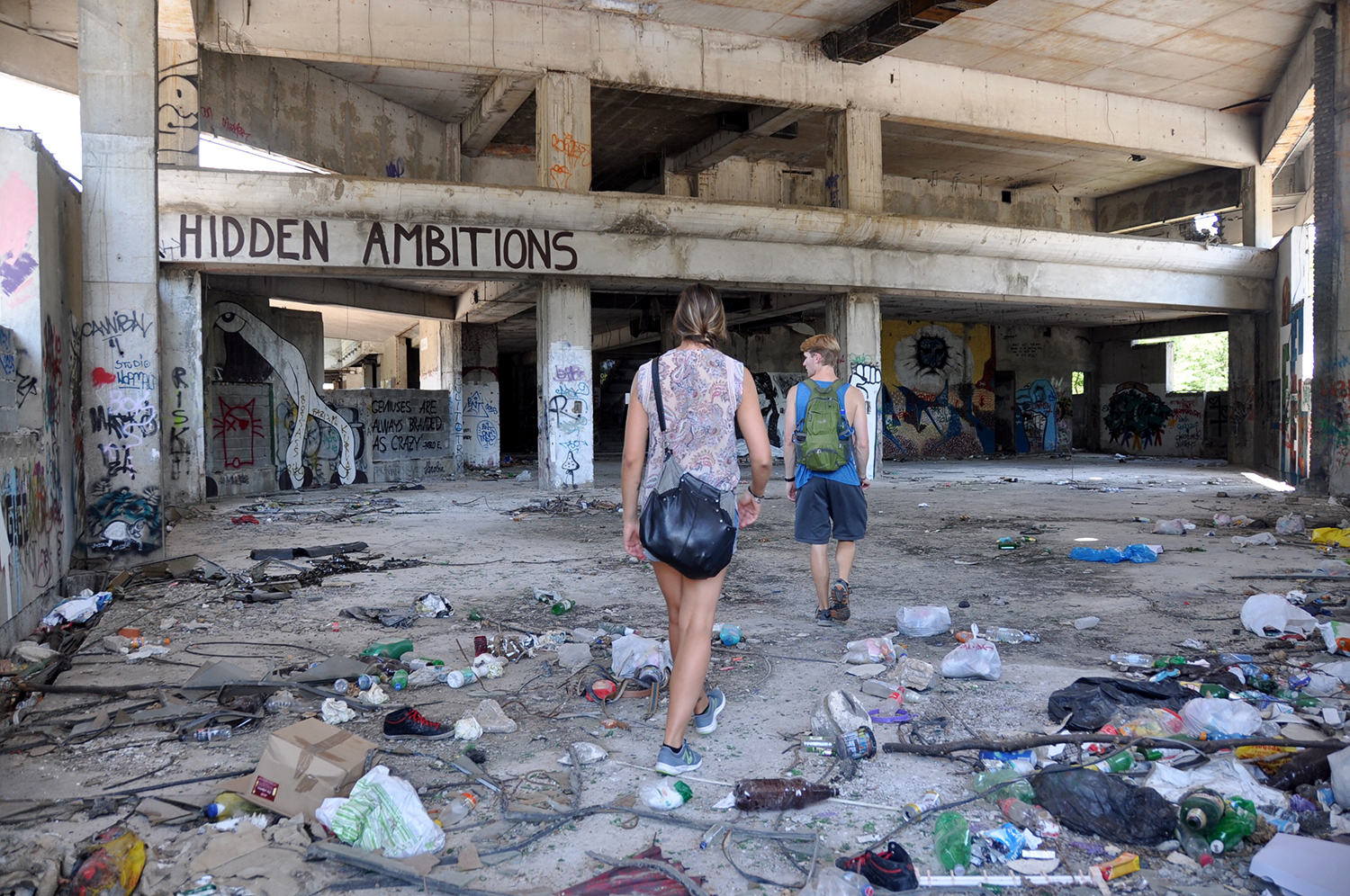 Another spot to check out is an abandoned bank building that was used as a Sniper's Tower during the war. Today, it is relatively safe to walk in, you just have to avoid broken bottles and cracked stairs. It's a hot spot for street artist to tag and create incredible, thought provoking art.
Hotels in Mostar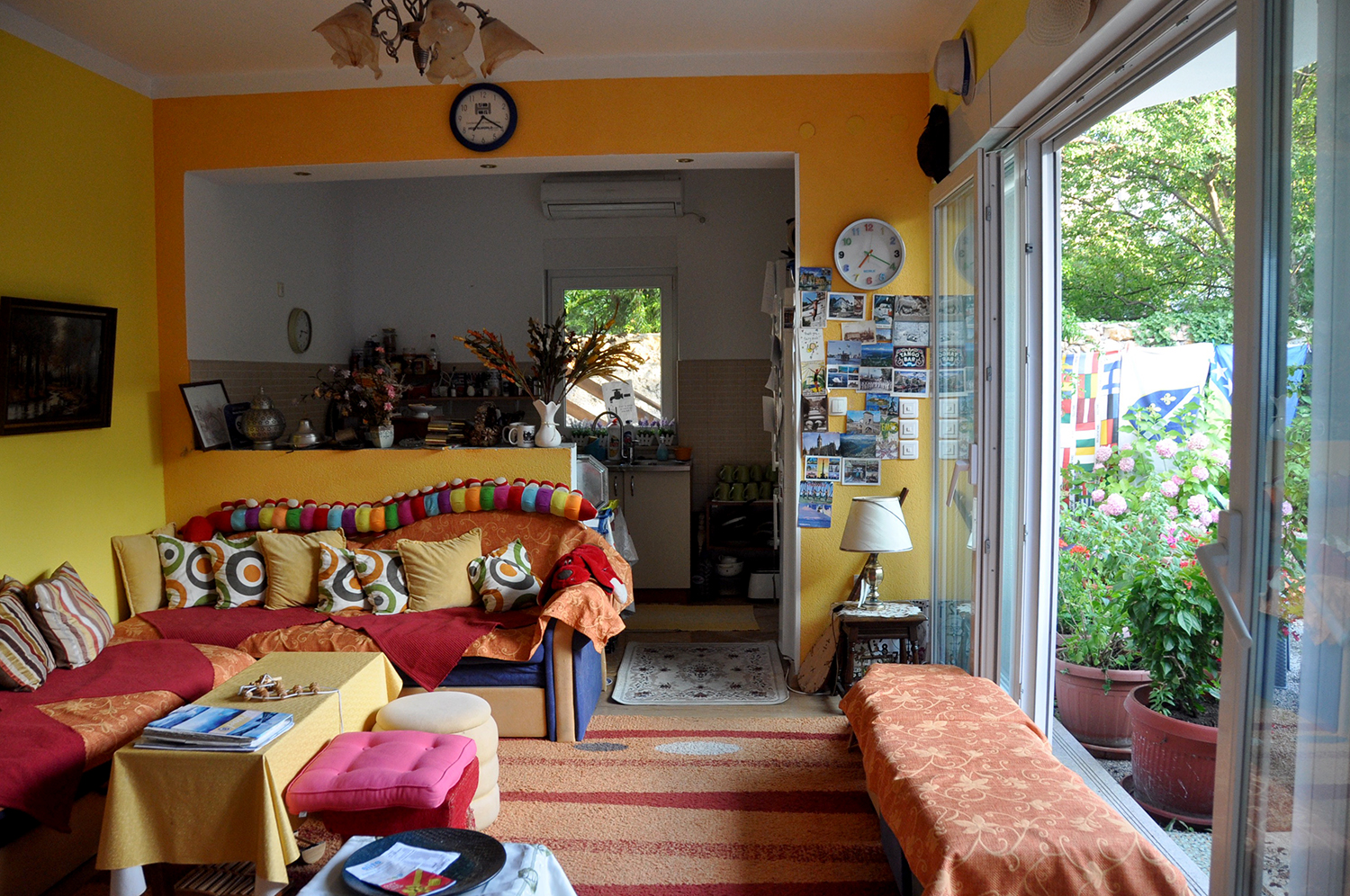 Budget Friendly/Social Atmosphere: Hostel Majdas – Wonderful staff, great common areas, and awesome days tours. We stayed here and could not recommend it highly enough if you want to meet the kindest host and have a very social atmosphere.
Couple Stay/Mid-range: Apartments Solis – If you prefer more privacy, but are still traveling on a budget, these beautifully decorated, spacious apartments are an incredible value (averaging $15-18 per person), and they're located close to city center. 
Were these already booked, or are you still looking for a place to stay? Check out this list of hotels in Mostar.
---
Foods to Try in Bosnia and Herzegovina