If you are dreaming of an Iceland honeymoon, you've come to the right place! This guide has all sorts of ideas for romantic experiences and once-in-a-lifetime adventures that will make your Iceland honeymoon the perfect blend of luxury and adventure. We even have a perfect Iceland itinerary curated just for honeymooners!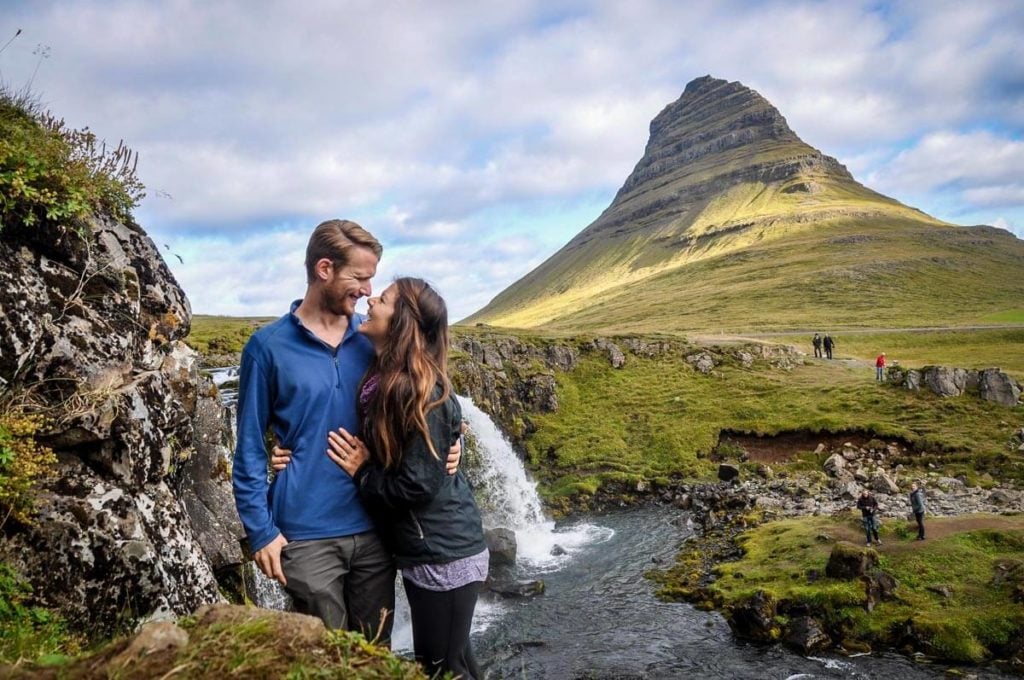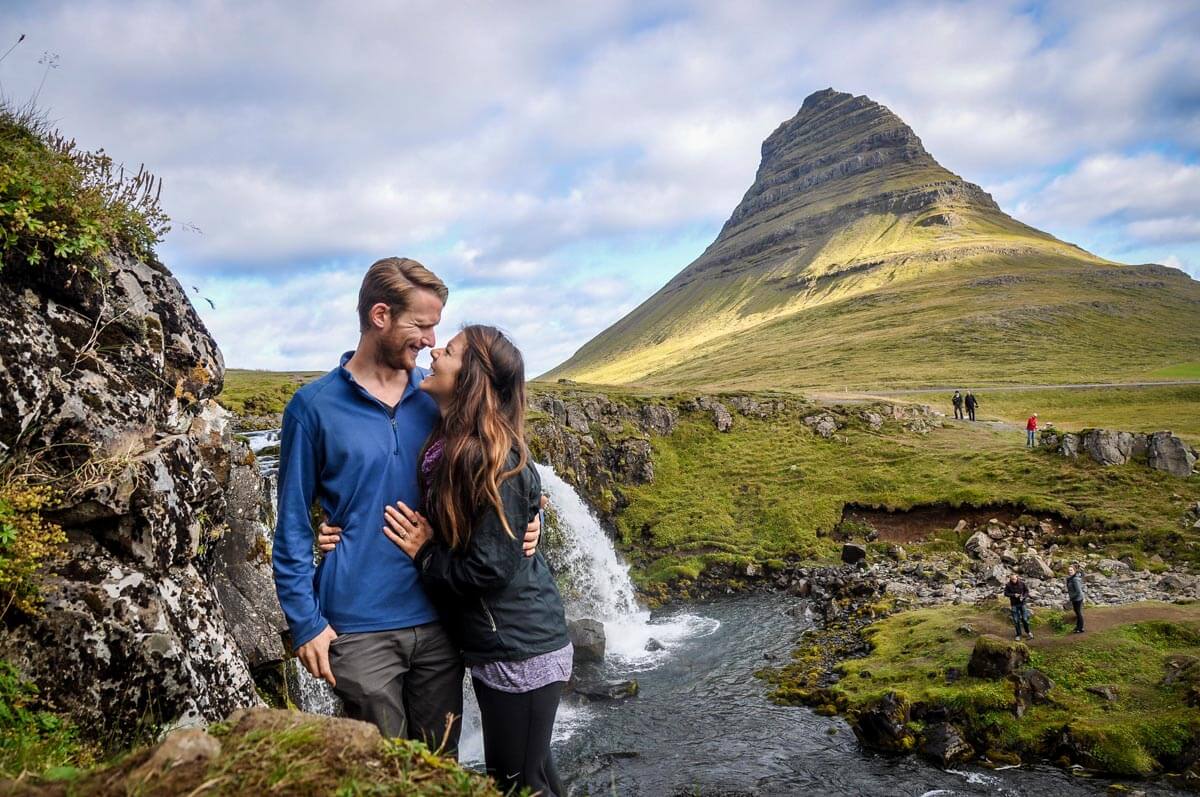 I feel like there are 2 types of honeymoons:
a) total relaxation (think a resort in Mexico or Tahiti)
b) epically adventurous, non-typical honeymoon
If "b" sounds more like you and your partner, we think an Iceland honeymoon would be a perfect fit!
With a healthy blend of once-in-a-lifetime adventures as well as luxury experiences Iceland may just be the perfect place to take an adventurous honeymoon. (Or a romantic anniversary trip!)
Still not sure? See exactly why we think Iceland makes the perfect honeymoon.
We're going to fill you in on the best Iceland honeymoon experiences, including both the ultra adventurous (like trekking on glaciers and hiking to epic secret waterfalls) as well as the more refined experiences (like jaw-dropping hot springs and bougie hotels).
Iceland Honeymoon Guide
---
Want to save time and energy on planning?
We've traveled to Iceland 3 times now and spent weeks living in a campervan, traveling around the country. We've been able to explore a lot of what Iceland has to offer!
We've compiled our experience to create the perfect Iceland itinerary. Our itinerary is for 7-9 days and meant to be explored while traveling in a campervan. It includes the highlights of the southern coast of Iceland. 
We'll send you our complete 7-9 day customizable itinerary, filled with tips and advice. Just click below to get your perfect Iceland itinerary today!


---
5 Best Iceland honeymoon experiences
If you're looking for some quick recommendations for the very best things to do on your Iceland honeymoon, here are some of our favorite experiences…
Soak in luxurious hot springs
Explore Diamond Beach and Jökulsárlón Glacial Lagoon
Stay in a remote & romantic hotel
Go on a once-in-a-lifetime Icelandic adventure
See the Northern Lights
Want more info on how to do these yourself? Or do you want more ideas for things to do on your Iceland honeymoon?
We've gotcha covered. Keep scrolling for all the good stuff…
1. Stay in Iceland's most romantic guesthouses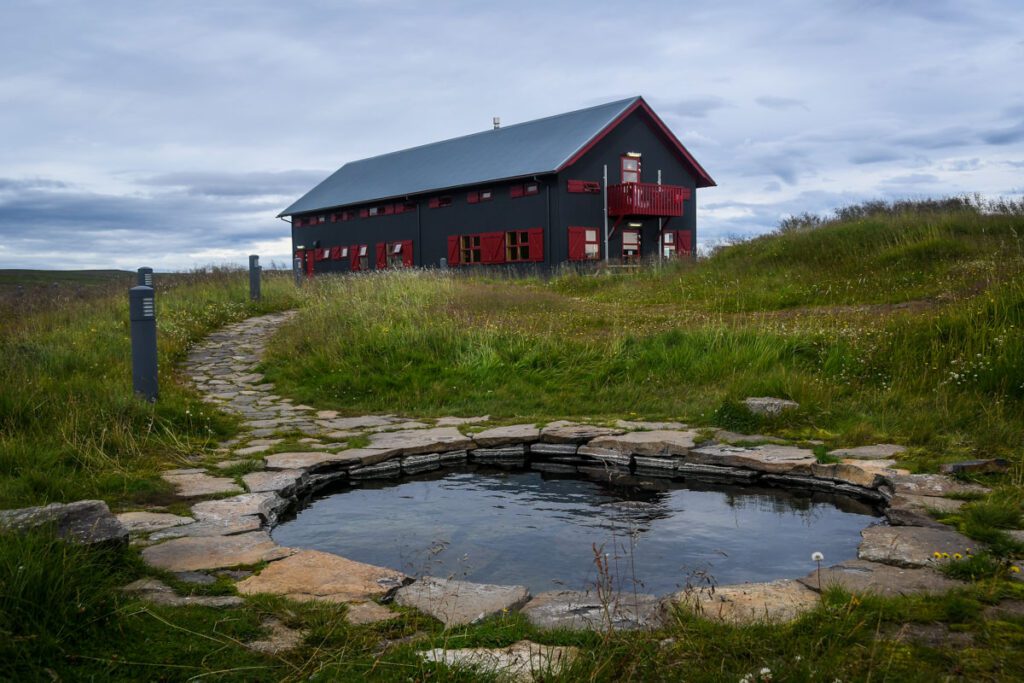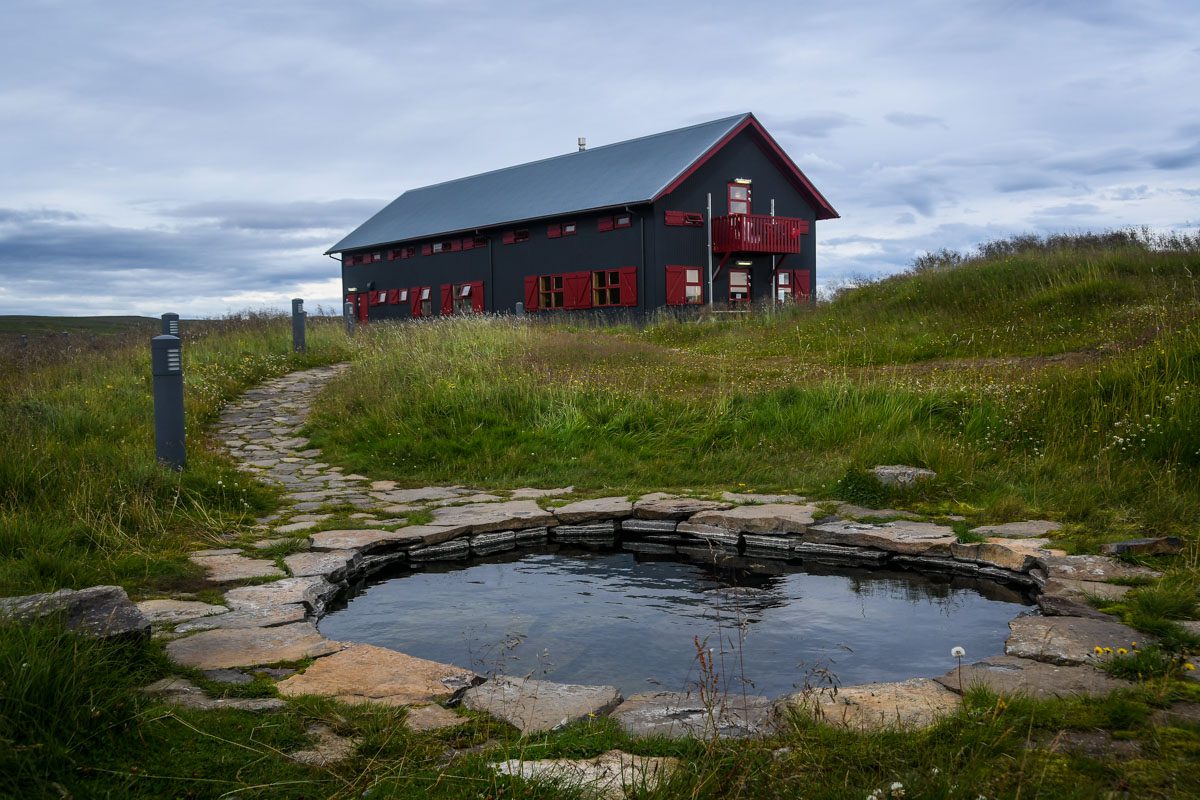 For a small country, Iceland has an incredible assortment of accommodation.
From cozy cottages with unparalleled hospitality to unique glamping experiences in the middle of the Icelandic countryside to stylish apartments in Reykjavik's city center, Iceland truly has it all.
You could stay in a different type of accommodation each night of your Iceland honeymoon to experience them all.
Want some specific hotel ideas? Jump down to some of our favorite romantic hotels that will be perfect for your Iceland honeymoon.
2. Indulge in Iceland's cuisine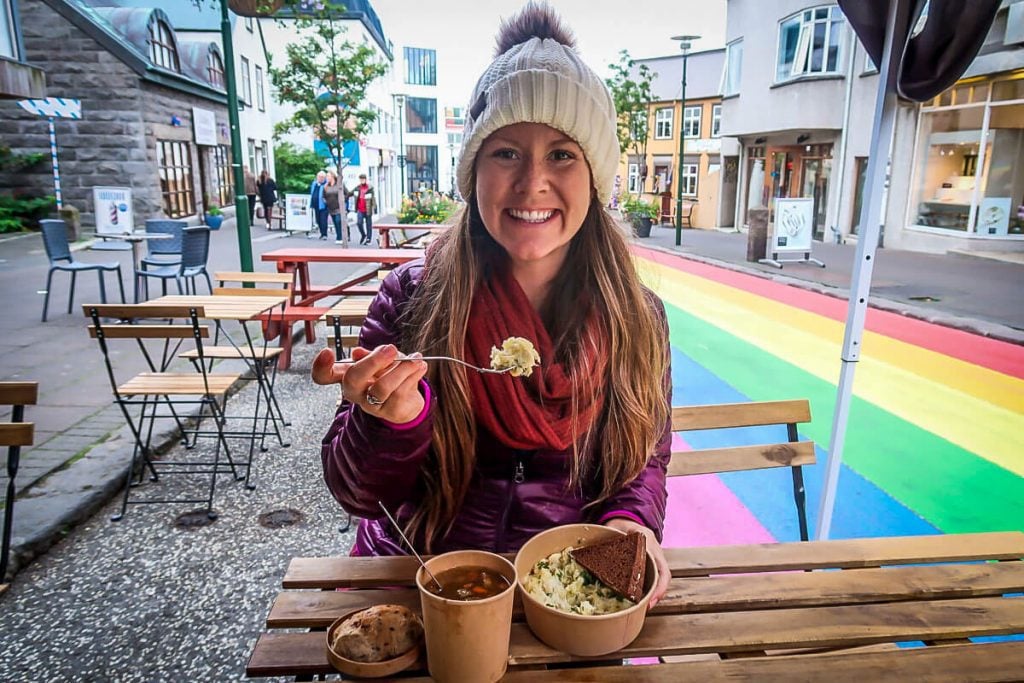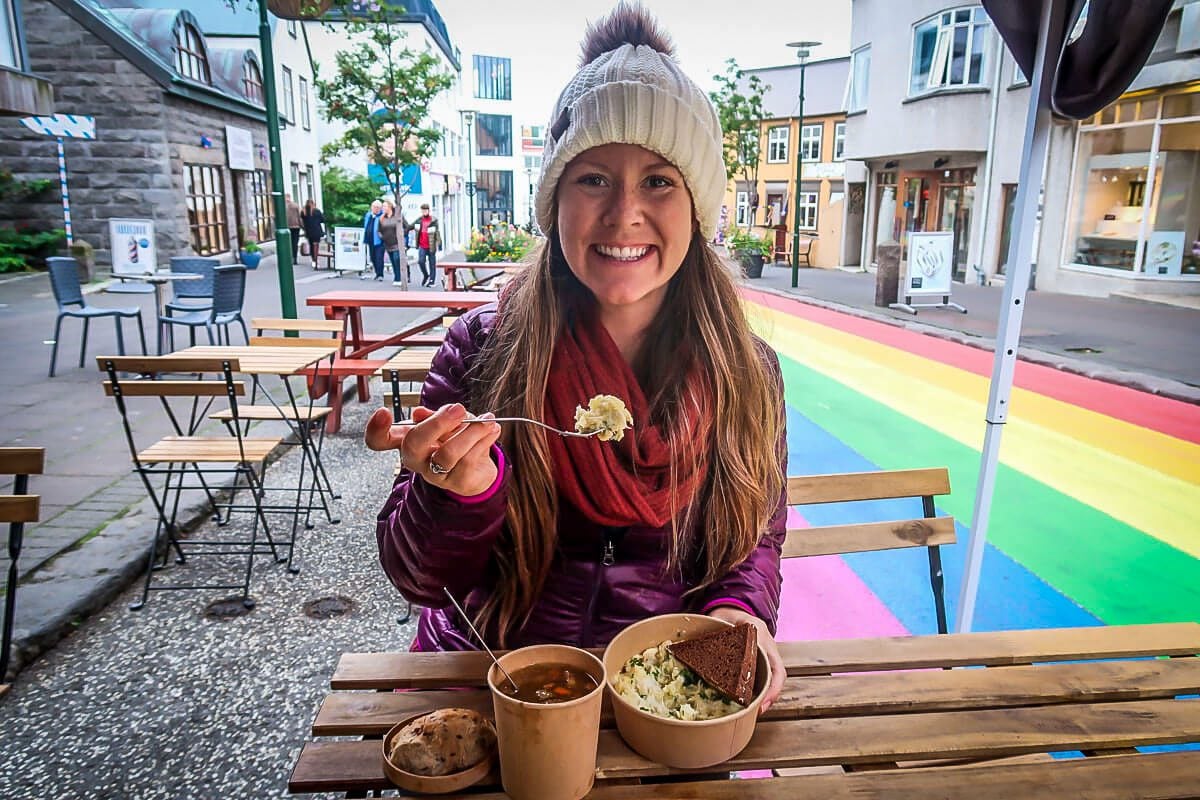 Icelandic cuisine is heavy on fresh seafood, lamb, and creative preparations.
Being that Iceland is an island nation at the edge of the Arctic, they are innovative when it comes to growing their own produce using geothermal powered greenhouses. So you'll see a focus on sustainable and locally-grown ingredients.
If you and your partner like food (hello fellow foodie!), there are some incredible foodie experiences you'll definitely want to include on your Iceland honeymoon:
Bake rye bread underground using geothermal power.
Eat lunch in a greenhouse where all the vegetables in your meal are grown.
Have the freshest langoustines of your life with ocean views.
Splurge at one of Reykjavik's many high end restaurants.
Take a Reykjavik food tour.

Use the code TWS10 for a 10% discount on your tour.
Want more info on any of these foodie experiences? We've got everything you need to know right here.
3. See Diamond Beach sparkle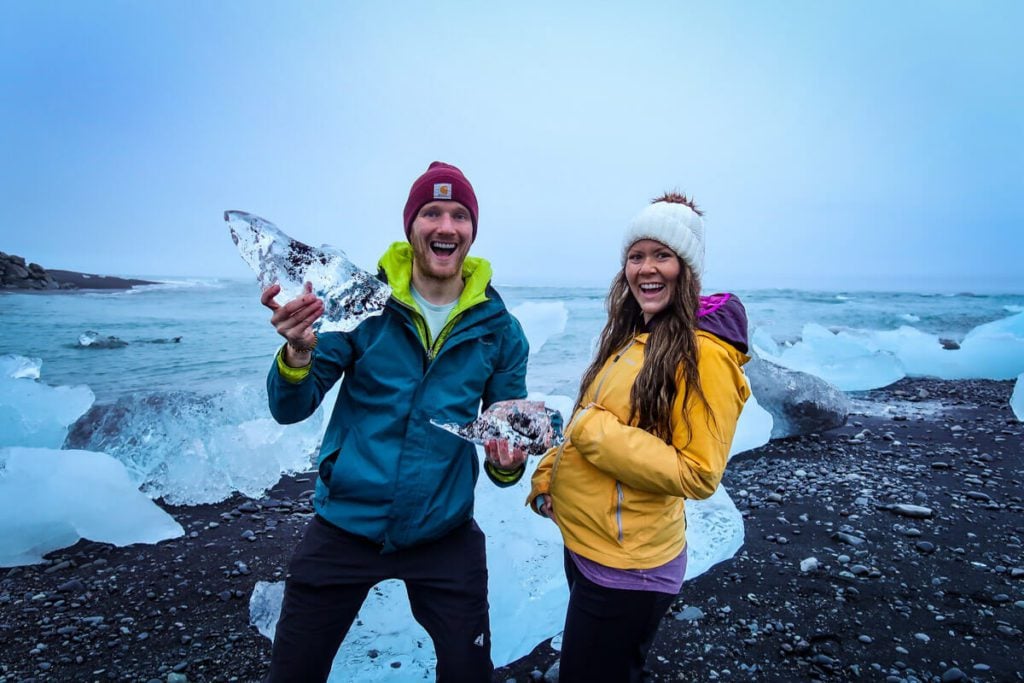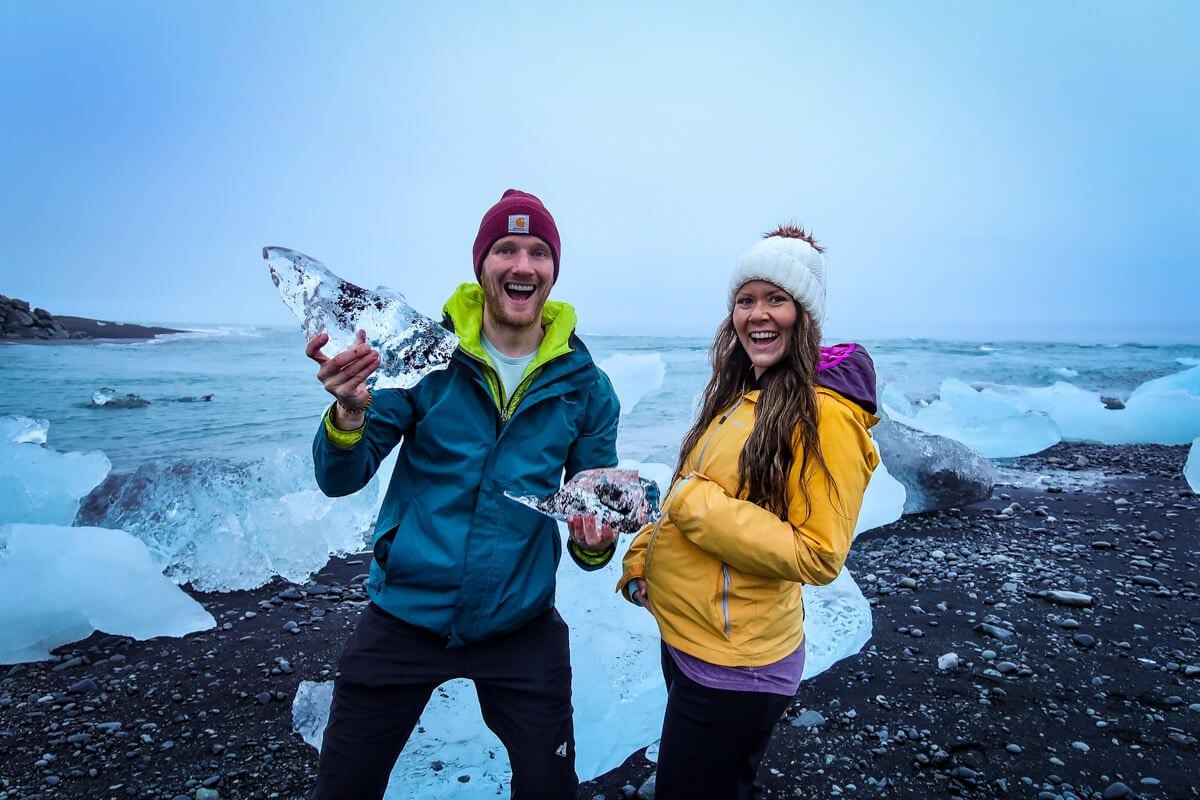 One of the most unique places in Iceland is Diamond Beach and the neighboring Glacier Lagoon.
Watch the waves crash on this black sand beach amid sparkling chunks of ice that look like gemstones. It really is magical.
Corny photo alert…
If you (or your partner) has a diamond wedding band, this could be a fun, albeit a little corny, photo op! #diamondsondiamonds
Psst! If you're a photographer, you'll want your tripod here. (We love this inexpensive and lightweight travel tripod.)
When you're done at Diamond Beach, a short walk brings you to Jökulsárlón Glacier Lagoon. Here, you'll find icebergs of all shapes, sizes and shades of blue and white.
Insider Tip: Budget enough time here to sit with your hunny and see if you can spot seals popping in and out of the water amongst the icebergs.
Both of these landmarks will surely be a highlight of your Iceland honeymoon.
4. Soak in luxury hot springs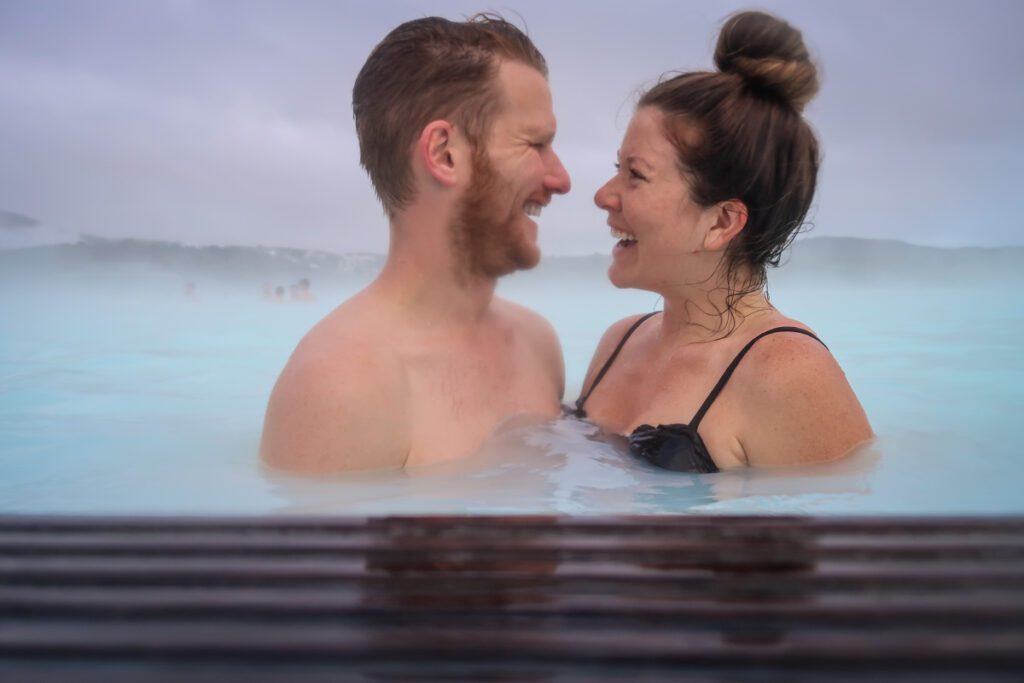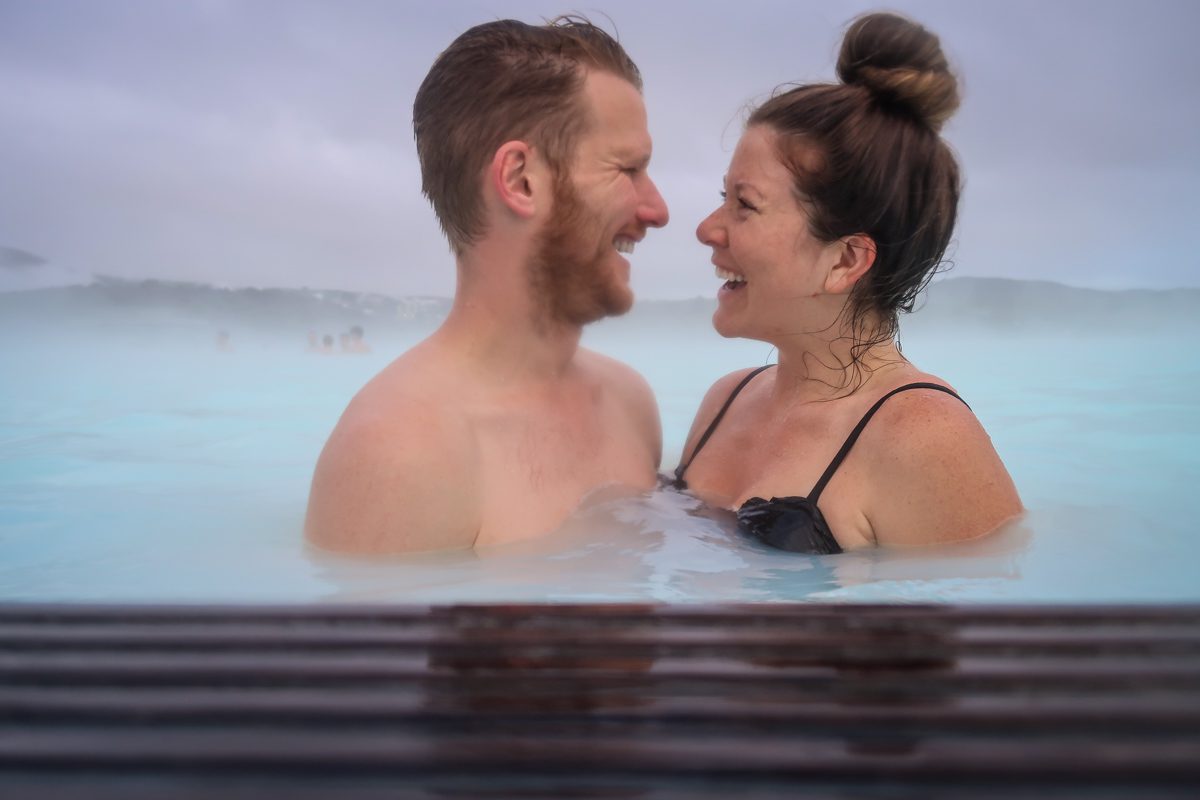 If you want to feel pampered, there's no better place at one of Iceland's many luxurious hot spring resorts.
Blue Lagoon
The most famous of them all is the iconic Blue Lagoon. Being that it is located very close to Keflavik Airport, this makes a perfect stop at the beginning or end of your trip.
Yes, it's popular, but for good reason. We would definitely recommend adding it to your Iceland honeymoon itinerary.
Sky Lagoon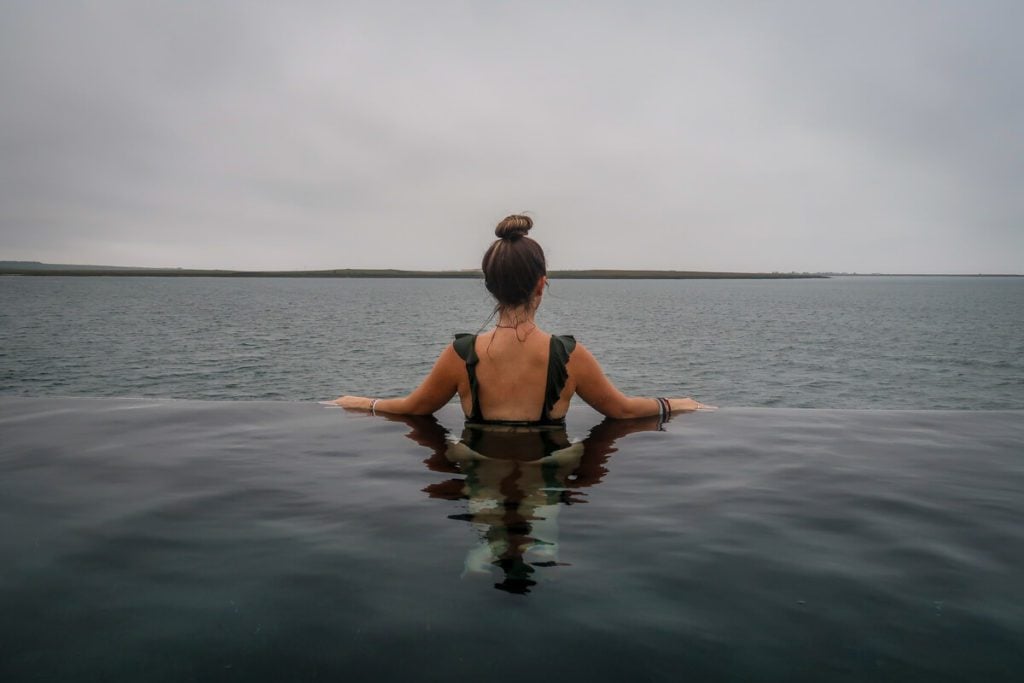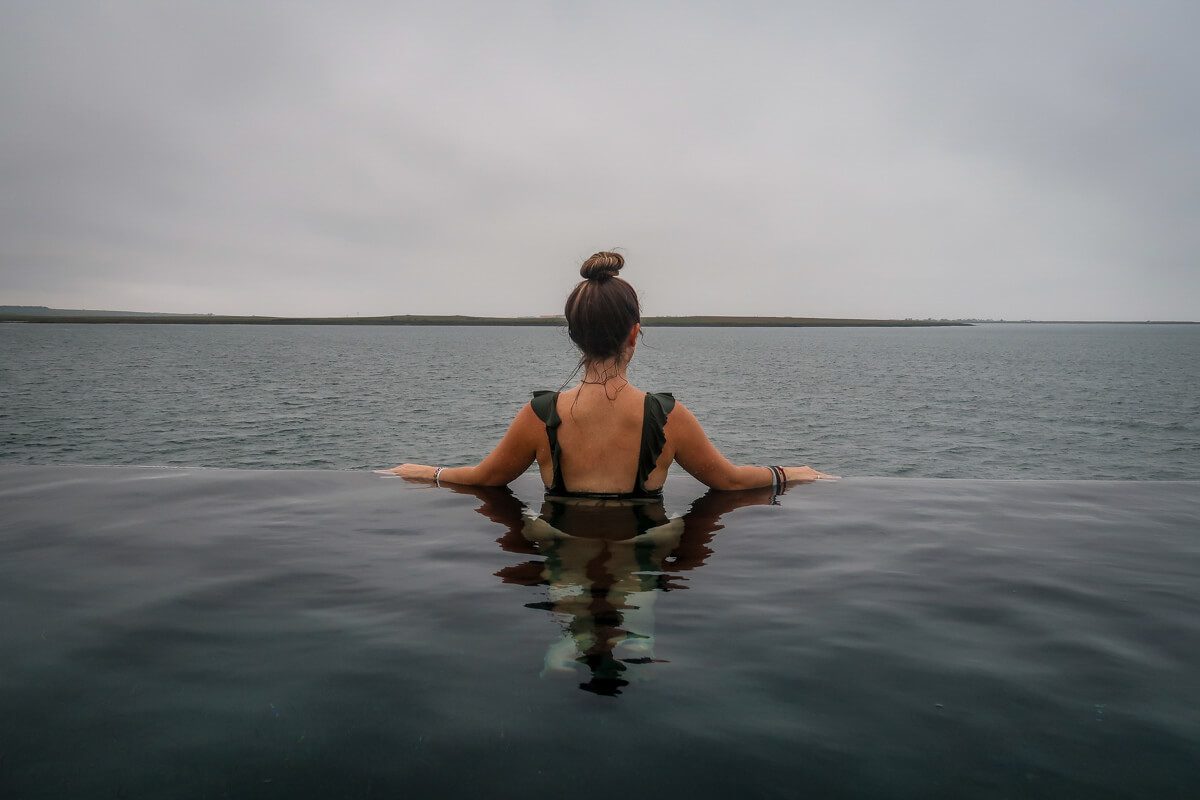 Another fantastic option is the newly opened Sky Lagoon. Not far from the center of Reykjavik, this luxurious infinity pool-style hot spring doesn't (yet) have the same iconic status of the Blue Lagoon, but it likely will soon.
There is a 7-step "Ritual" experience you can add to your entry ticket for an additional cost, which grants you access to a (stunning!) sauna, plunge pool, body scrub, cool mist, and other luxuries.
If you're into hot springs, we'd recommend both the Sky Lagoon and Blue Lagoon as they are quite different experiences.
Hvammsvik Hot Springs
Just 45 minutes from Reykjavik, these hot springs are a nice blend of natural and luxury.
This is an established hot spring resort, but the pools are situated at the edge of the ocean and change with the tides.
5. Soak off the beaten path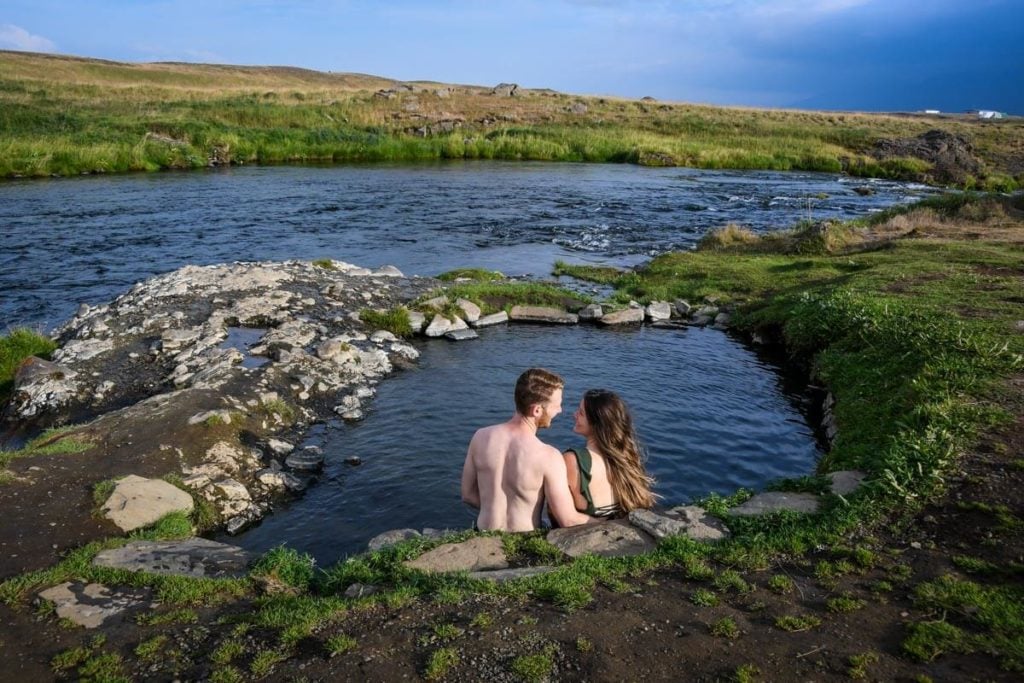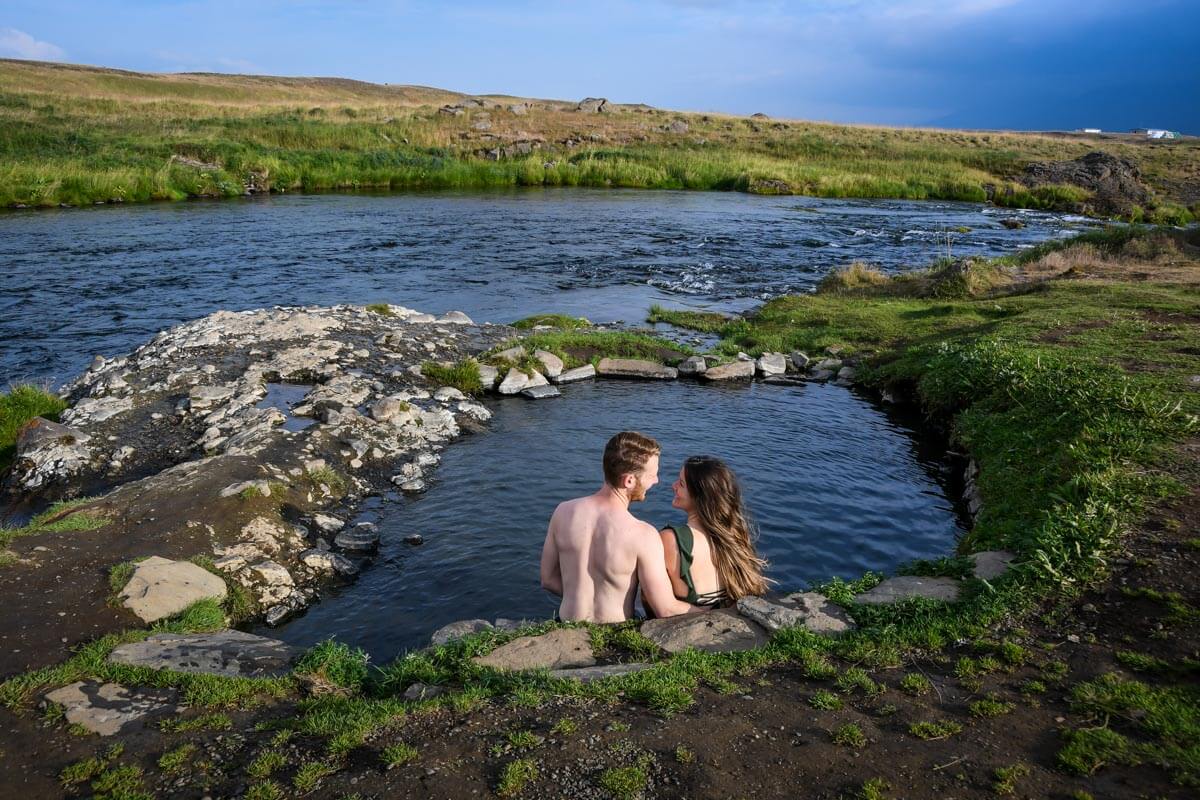 If getting off the beaten path turns you on, this might be more your style…
As much as we love the indulgent experience at hot spring resorts, like those mentioned above, we personally are even more obsessed with natural hot springs.
While not as polished as the resorts, we find wild hot springs to be romantic in their own way. There's something special about soaking in nature and feeling like you've discovered a hidden gem.
You may be lucky and have the hot spring all to yourself (aka the epitome of honeymoon romance), or a more likely scenario is that you'll share the spring with a handful of others who you can chat with (if you're feeling friendly).
Here are two of our favorite natural hot springs in Iceland:
Reykjadalur Thermal River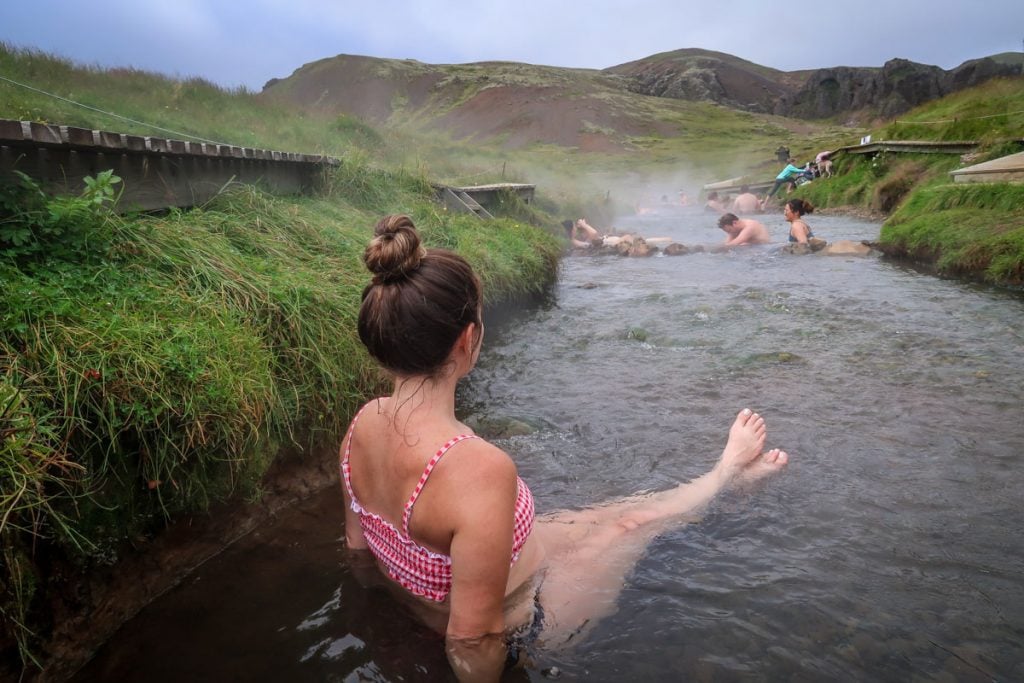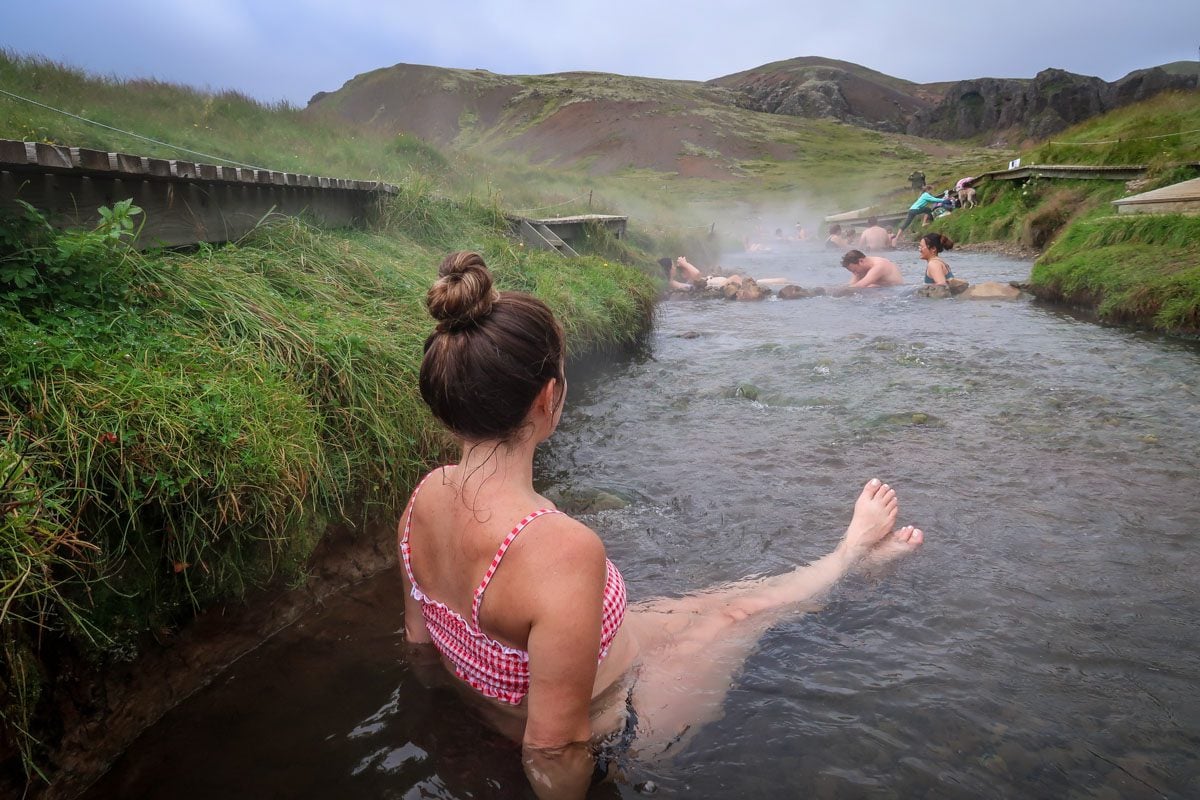 Getting to this spot requires a bit of a hike (about 1 hour each way), but when you see a steaming river carving its way through the grassy hills, you'll be happy you made the effort.
Find out everything you need to know in our ultimate guide to Reykjadalur Thermal River.
Fosslaug Hot Springs
Located not far off the Ring Road in the north of Iceland, this hot spring is a bit off the beaten path, but it's pretty dang scenic. We got lucky and had this one completely to ourselves for a romantic soak!
We also have a complete guide to visiting Fosslaug & nearby Reykjafoss Waterfall.
Psst! For more hot springs (both luxury and natural), see our Iceland hot springs guide.
6. Hire a photographer for the best Iceland souvenir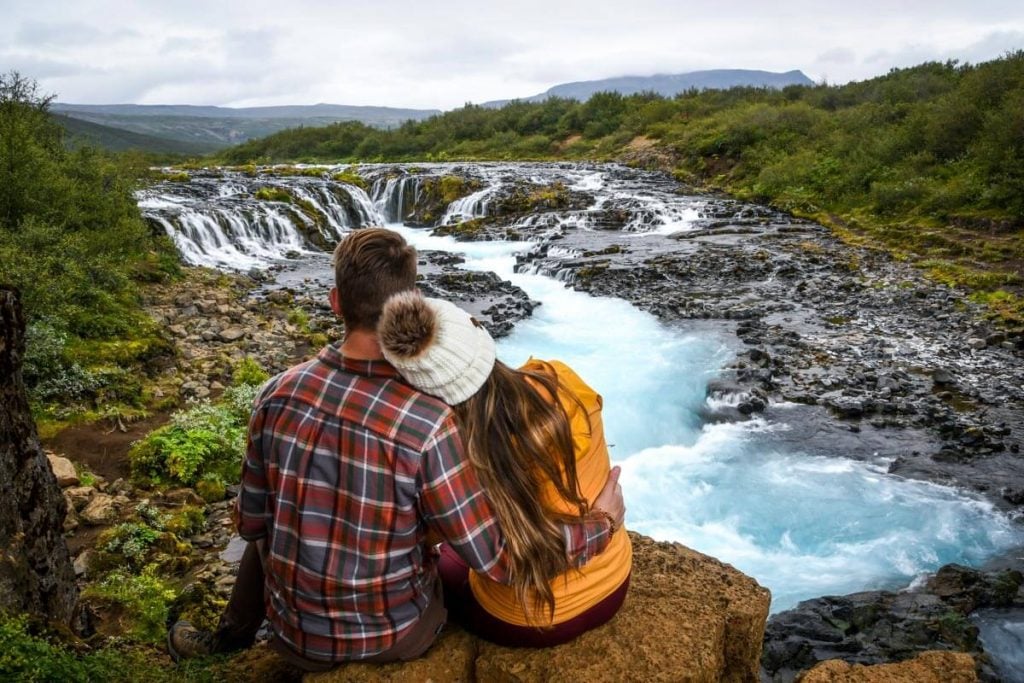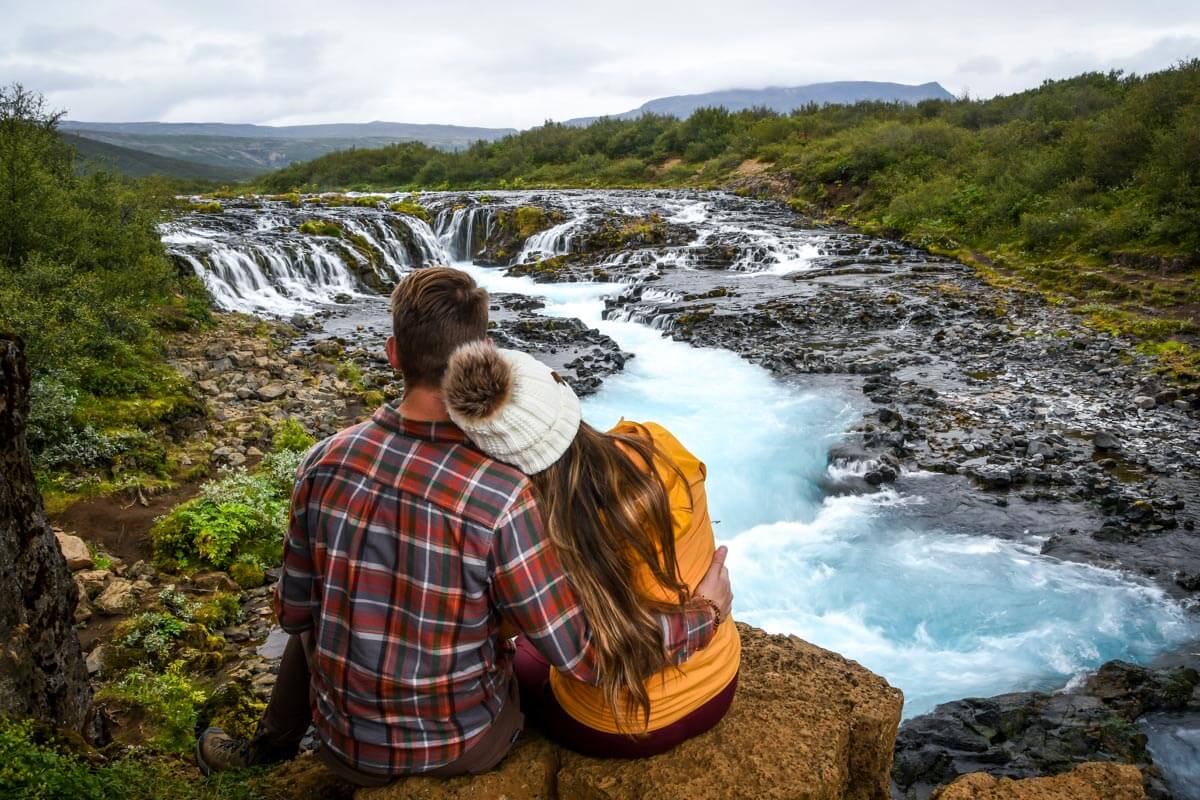 What better souvenir from your honeymoon than photos of you and your new beau in a place that will forever be special to you. And the backdrop for photoshoots in Iceland is just unreal.
On a recent trip, we hired a local photographer through Airbnb Experiences and had the best time. We will 100% be doing this on future trips, as it was the perfect way to get quality pictures of ourselves on a special trip.
One thing I've realized is I will never regret paying for photos. You can never go back to that moment and capture it again. So it really is a special experience.
Plus, you get to hang out with a local for a couple hours and see things you might otherwise miss.
There are lots of super talented photographers in Iceland that specialize in these types of photoshoots.
Here's a fun idea: Book a photographer and surprise your new husband/wife on your honeymoon with a fun "date" day and the most special souvenir!
Here are some recommendations for Icelandic photographers:
Photographer's name: Luke
Location: start and end in Reykjavik
Duration: 7 hours
This full-day photo tour starts and ends near Reykjavik and includes 4×4 transportation to some incredible, off-the-beaten-path sights.
While this is one of the more expensive photo tours, the pictures Luke takes are stunning and guests rave about this experience, with more than 100 reviews (almost all are 5 stars).
Here's what guests are saying:
"Amazing experience in Iceland. It is worth every penny. The locations and pictures were fantastic and Luke was a great tour guide and photographer. I would highly recommend." -Chelsea, August 2022
"Don't think twice, just book this tour with Luke! He's very professional and friendly with lots of cool stories to share. We were very fortunate to be the only couple with him that day, not to mention the weather that day could not have been more perfect for us! As many of the reviews have already shared here, the places he took us were out-of-this-world beautiful! He made sure we had lots of amazing photos from the trip! He does great work. Definitely going to be a memorable experience!" – Maribeth, August 2022
Most epic locations: Southern Coast Photo Tours
Location: Southern Coast (pick up and drop off in Reykjavik)
Duration: 10 hours
If you want the backdrop of your photos to be some of the most iconic spots in Iceland – think Vik, Skogafoss or Reynisfjara Beach – book a tour where you'll get to learn about these places from a local while they document the experience in beautiful photographs.
These photo tours are also a really good idea if you are limited on time but want to see some of the top attractions in Iceland.
There are 2 highly-reviewed photographers that lead similar tours in this region:
Photographer name: Danny
Here's what guests are saying:
"If you're looking for a special experience with memories for a lifetime with a special photographer look no further and book now the trip from start to finish was amazing and exceeded all expectations across-the-board knowledgeable kind patient recommended great restaurants took us to an amazing lunch by the waterfall he also specializes in the northern lights book him if you have the opportunity." – Samantha, August 2022 [Southern Coast Tour]
Psst! Danny also has a highly-sought-after Northern Lights photo experience. So if you happen to be traveling in Iceland during peak Northern Lights season (October – March), this might be worth looking into!
Photographer name: Michal
Here's what guests are saying:
"Best. Tour. EVER! Mike is super knowledgeable and flippin' hilarious. He's so thoughtful to make sure everyone has an amazing experience down to the little details like bottled water, wifi, rain slickers, etc. Small group (just four of us) was ideal, and by the end of the day we were all besties. Visited beautiful and amazing Iceland sights but honestly Mike is what made this day so special. I'd pay money just to hang out with him more." – Katie, January 2023
Short & Budget Friendly: Photowalks in Reykjavik
Location: Reykjavik
Duration: 1.5 – 2 hours
If you would prefer a shorter photoshoot experience and like the idea of a city backdrop rather than going on a full day excursion, there are a handful of Reykjavik photographers to choose from.
Here are 2 options that we'd recommend:
Psst! If you're really into photography, we have a list of the best photo spots in Iceland that you won't want to miss!
7. Feel small next to Iceland's most impressive waterfalls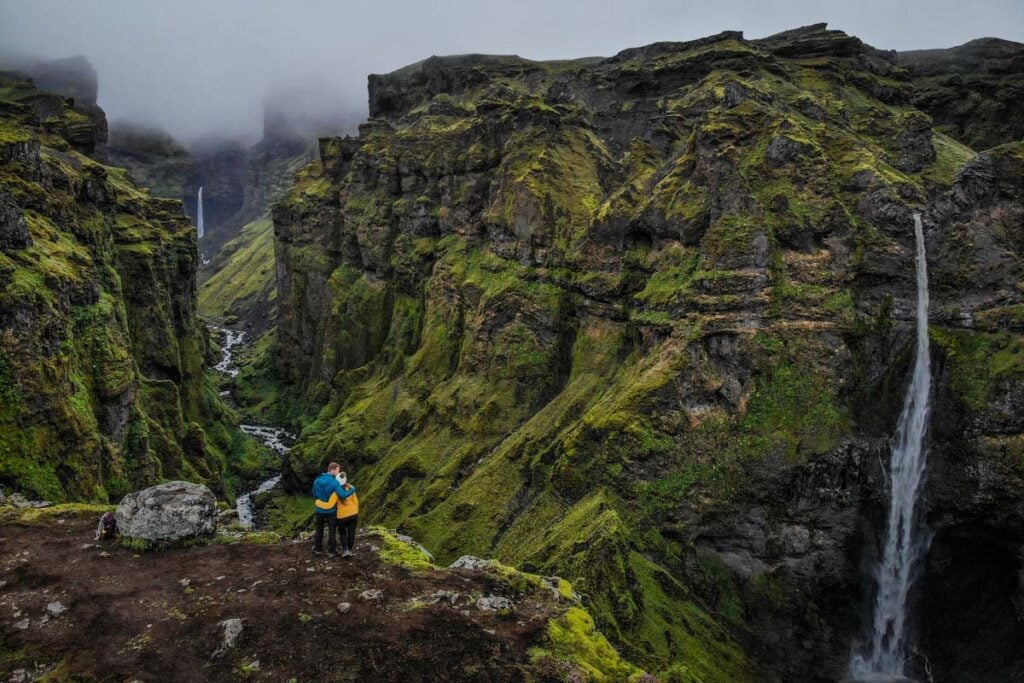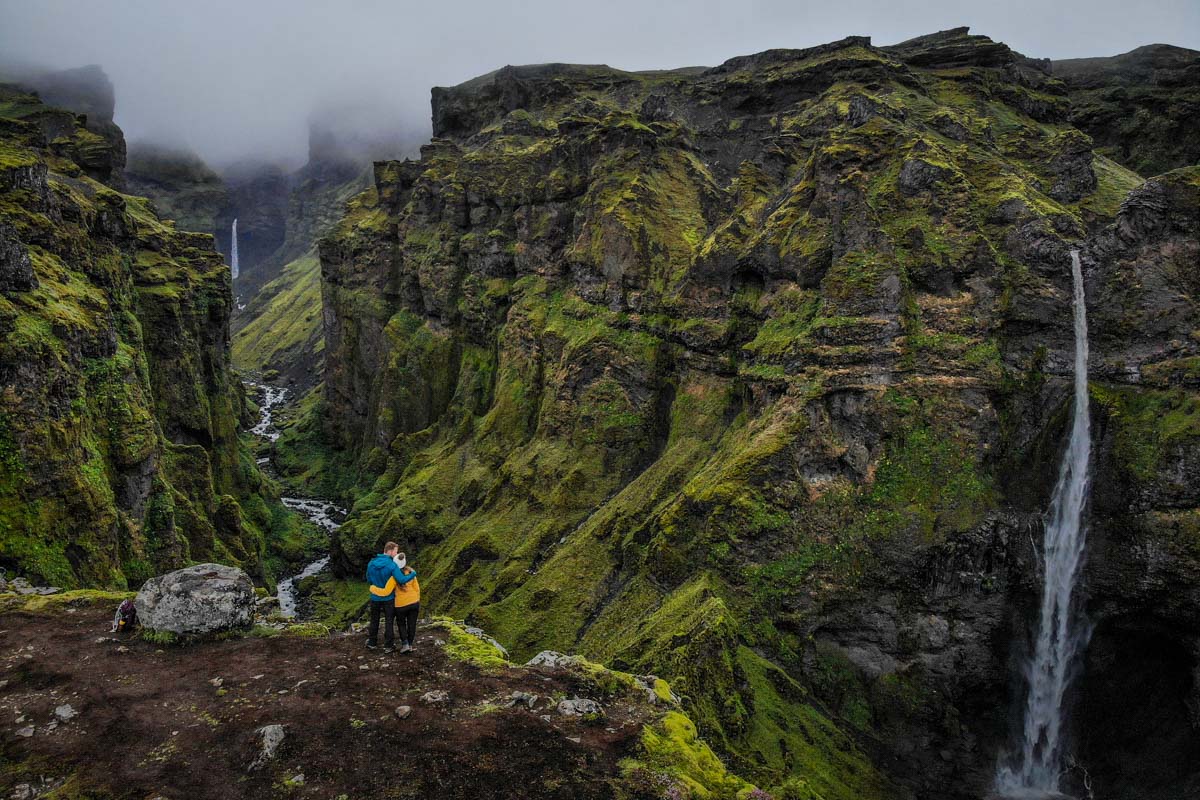 We've never been anywhere with nearly as many waterfalls as Iceland.
They come in all types and sizes:
There are the massive, iconic waterfalls just about every Iceland tourist visits. And then there's those that require a hike to reach and feel like a secret spot.
Whatever kind of waterfall you fancy, you'll be able to find it!
Check out our favorite waterfalls in Iceland for inspiration.
8. Take a long walk on a Black Sand Beach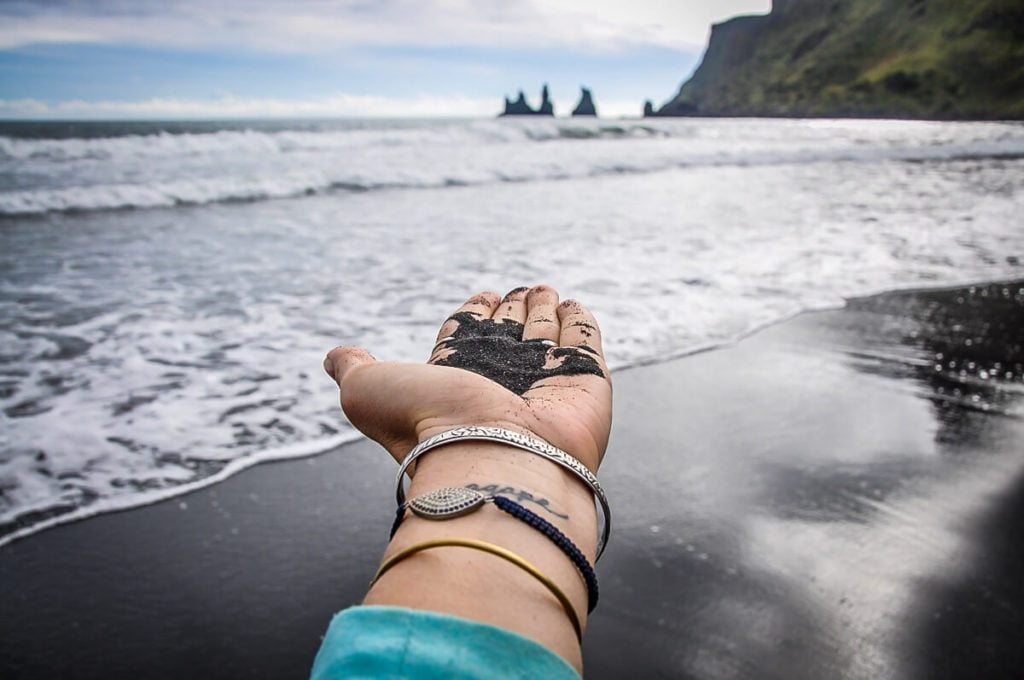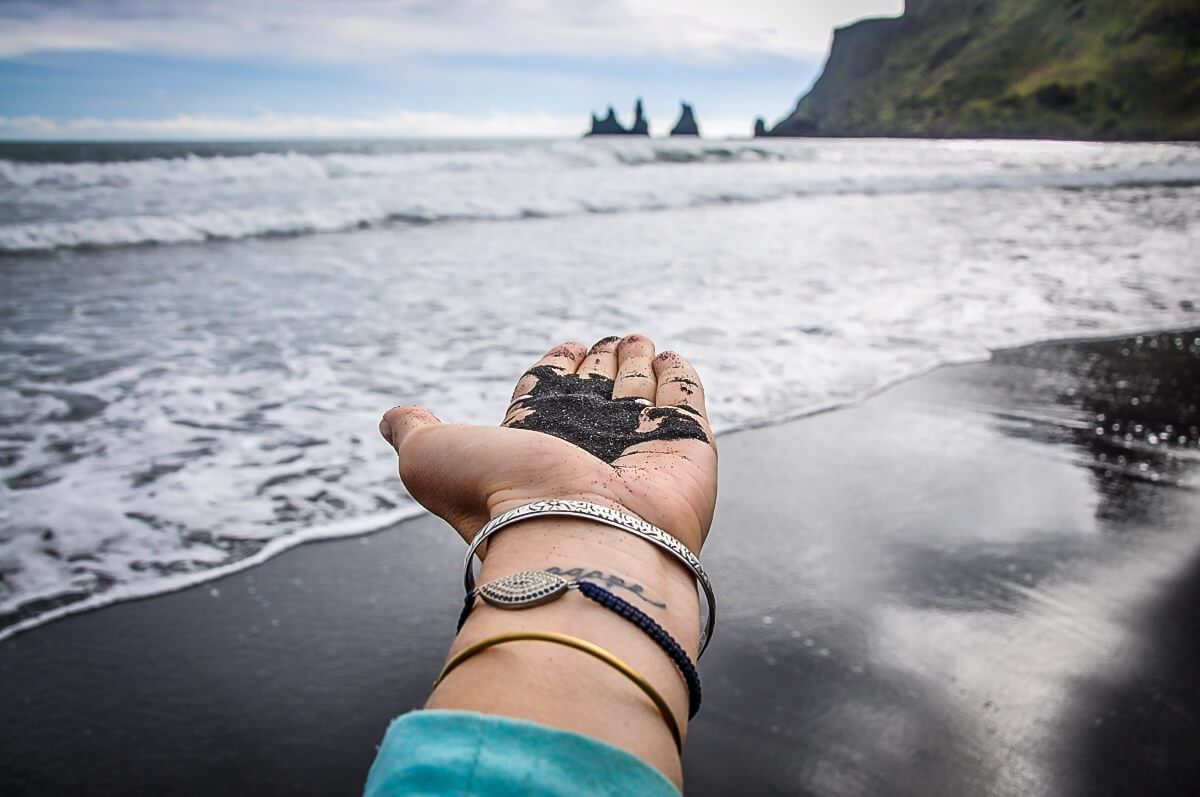 While you won't be able to kick back with a piña colada beneath palm trees while in Iceland, you can do something even more unique…
Lace up your hiking boots (trust me, you won't want to go barefoot very long!), and take a long walk down one of the most famous black sand beaches in the world.
Located just minutes from the town of Vik, Reynisfjara Black Sand Beach is an otherworldly sight and is well worth a stop on your Iceland honeymoon.
9. Drive the Ring Road (or part of it)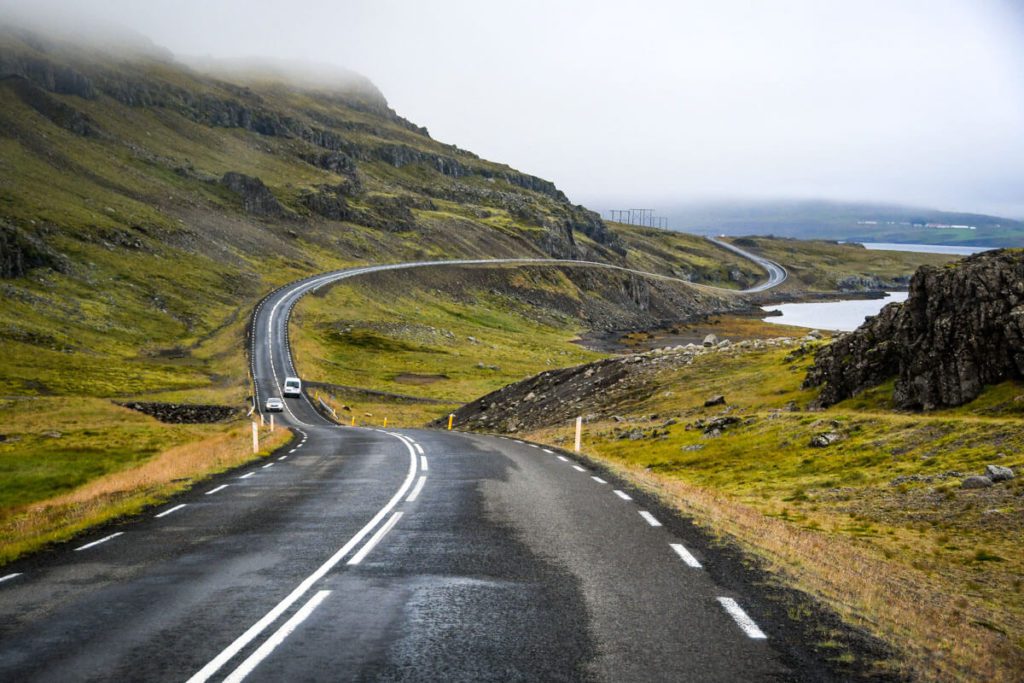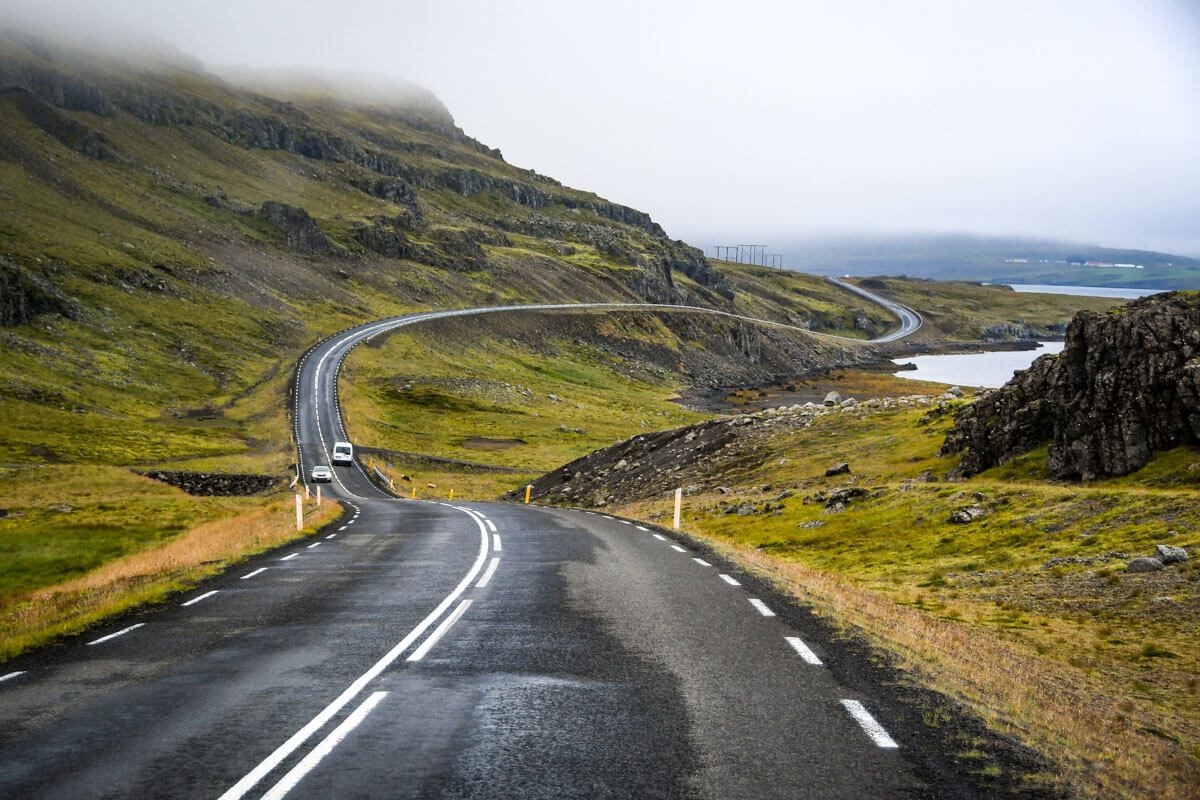 Encircling all of Iceland, driving the Ring Road makes one of the best road trips in the world.
The entire drive totals in at 828 miles (1,332 km) and would take roughly 13 hours if you drive it straight through. That said, the best part of driving the Ring Road is all of the epic stops along the way.
Our advice is if you have 1 week in Iceland or less, only do part of the Ring Road. There are guides out there for 1 week Ring Road itineraries, so why do we recommend against this?
If you only have 1 week to drive the entire Ring Road, it will feel very rushed and you will need to skip lots of the most epic stops. You will also be driving long days, arriving at your accommodations late at night. You won't be able to do many hikes or hot spring soaks.
I don't know about you, but all the rushing around doesn't sound very romantic.
And here's the thing…
Iceland's Southern Coast is arguably the most beautiful and has the highest concentration of epic stops. So we recommend you concentrate your time in this area so you have less time in the car and more time for adventuring.
And for, well, romantic stuff, too.
FYI: Our Iceland honeymoon itinerary includes the very best stops in the Southern Coast region and is set up so you're not too rushed.
Have longer? If you have 10 days to 2 weeks in Iceland, driving the Ring Road is more doable and you won't feel too rushed.
10. Have a once-in-a-lifetime adventure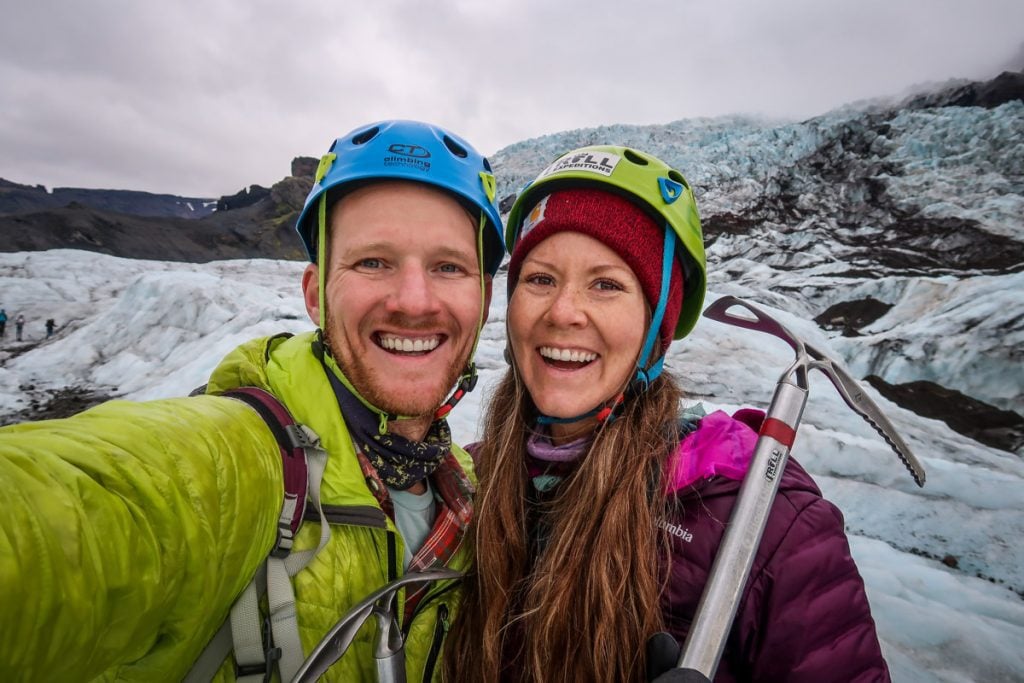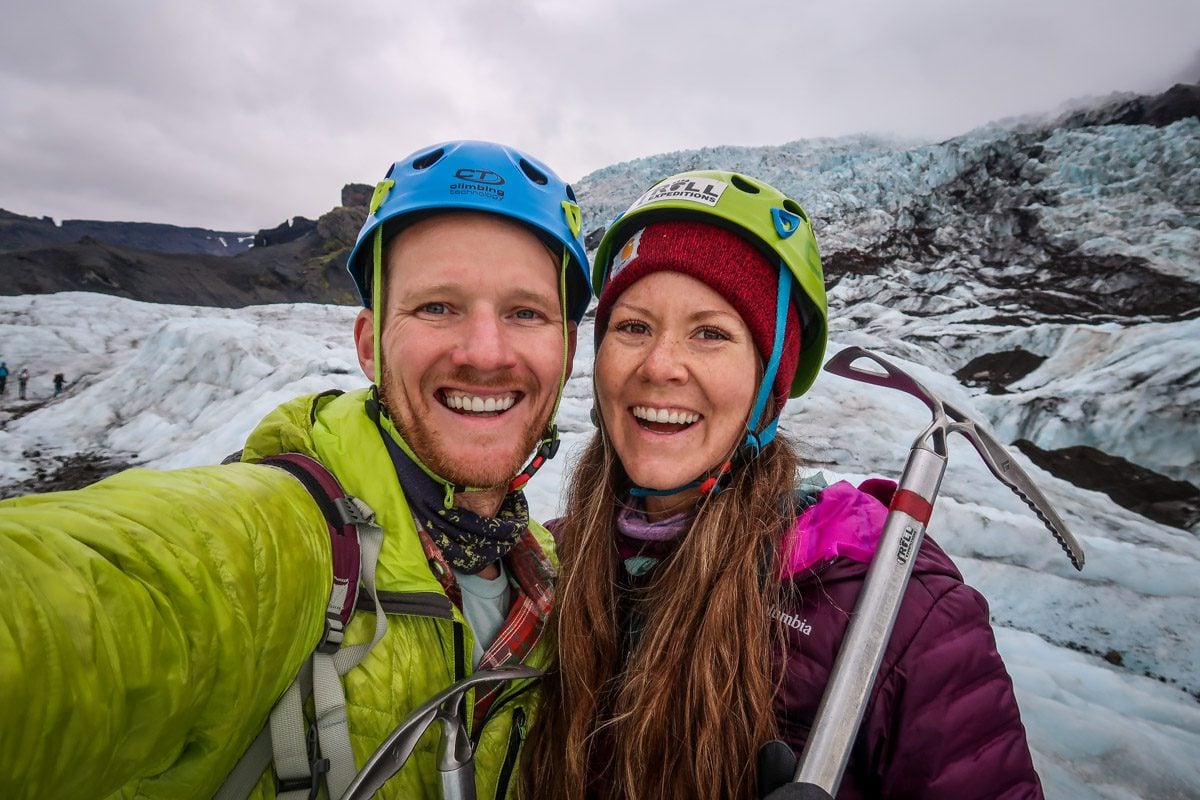 If you're excited to tick off bucket list items or do something a little crazy, Iceland makes the perfect honeymoon.
There truly are so many unique adventures in the land of fire and ice, and once you visit, you'll agree that there's no other place like it on earth.
So what is it that you want to do?
Well, you can do all of the above (and more!) in Iceland, making this country the perfect choice for adventurous couples.
Check out these other top things to do in Iceland to add to your bucket list!
11. Be mesmerized by the Northern Lights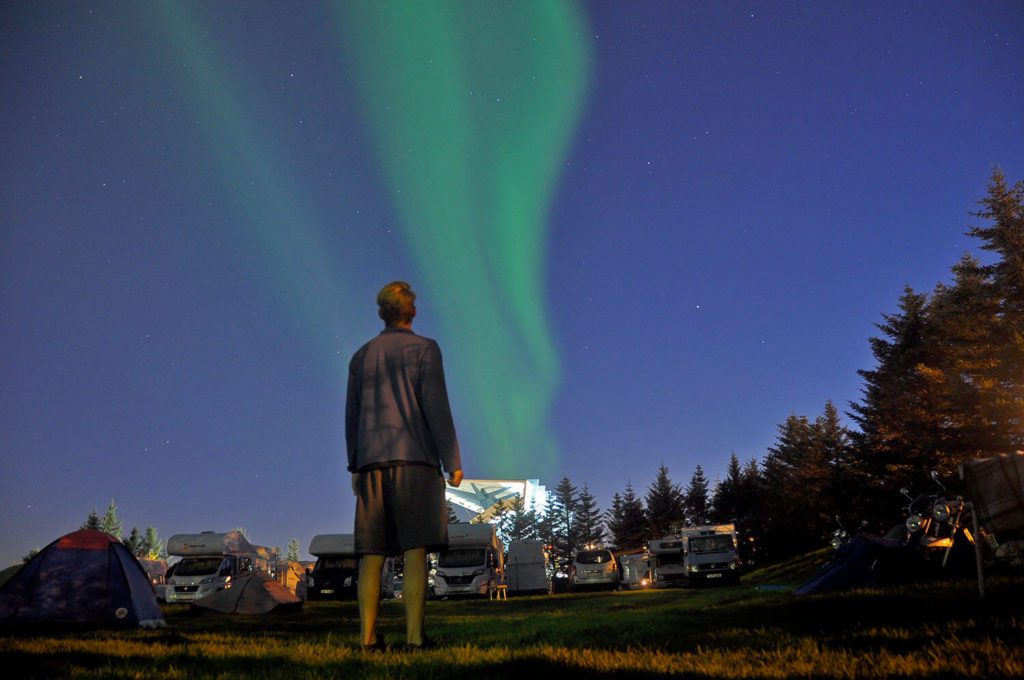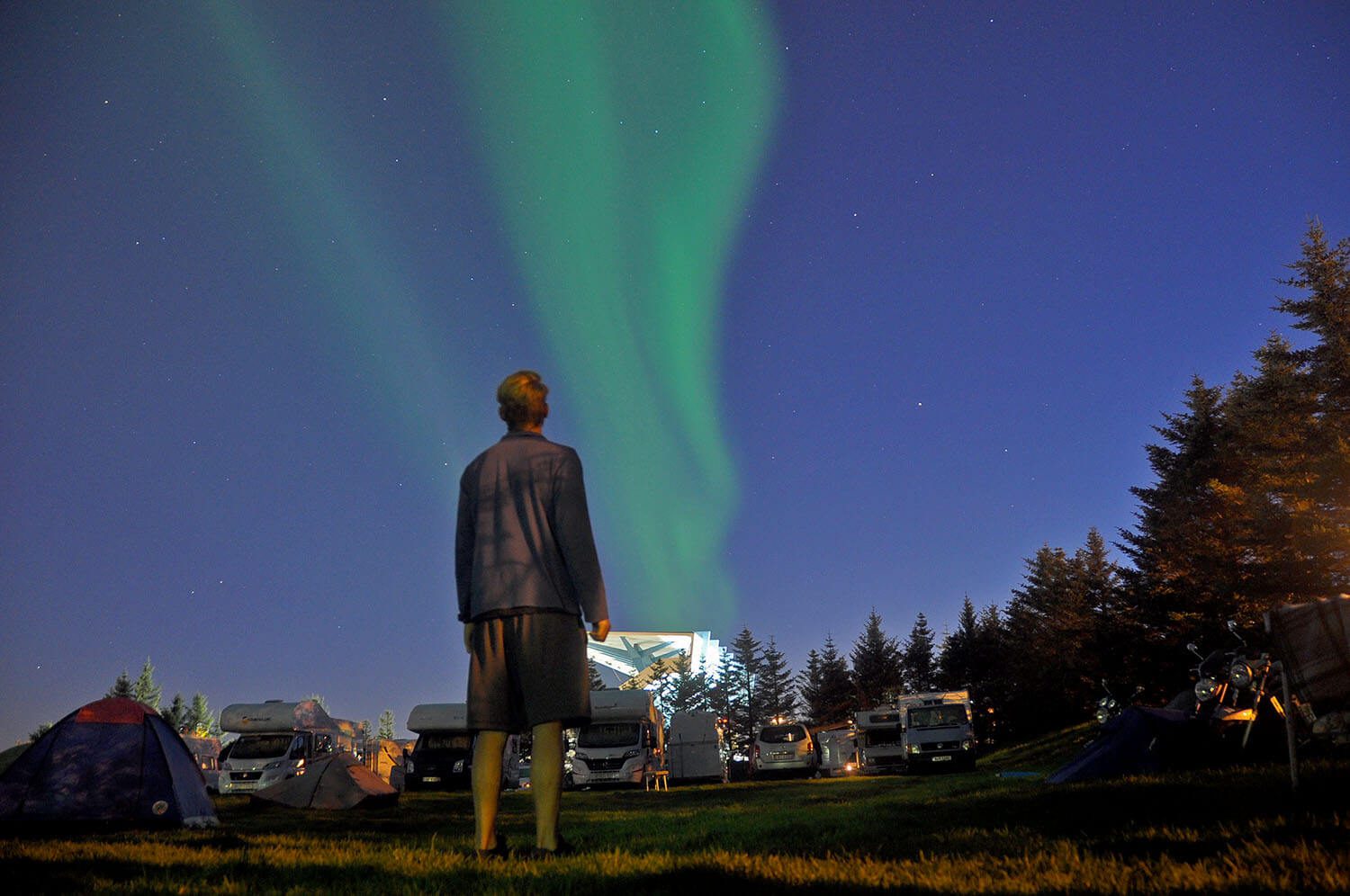 Seeing the Northern Lights would make your Iceland honeymoon complete, wouldn't it?
This magical dancing phenomenon is on many travelers' bucket lists, and Iceland is one of the best places in the world to see them.
Things to know about seeing the Northern Lights in Iceland
You'll be most likely to see them between the months of October through March
Download the app My Aurora to track the conditions on your trip
Stay in a remote area (away from the city) for the best conditions
Even though they are most common in the winter (and you have longer periods of darkness), it's not impossible to spot them at other times of the year
If seeing the Northern Lights is top priority for your Iceland honeymoon, consider booking a guesthouse that is in the countryside and has large windows for optimal viewing.
Psst! Check out this highly-sought-after Northern Lights photo tour. It would be the perfect way to document this bucket list experience.
12. Go on an unforgettable hike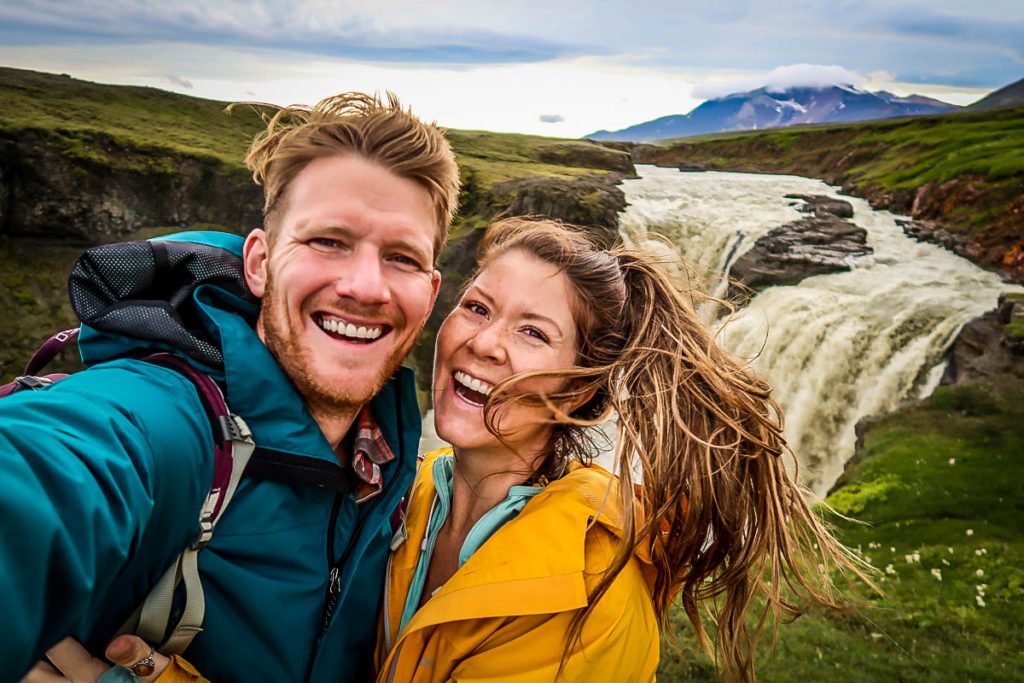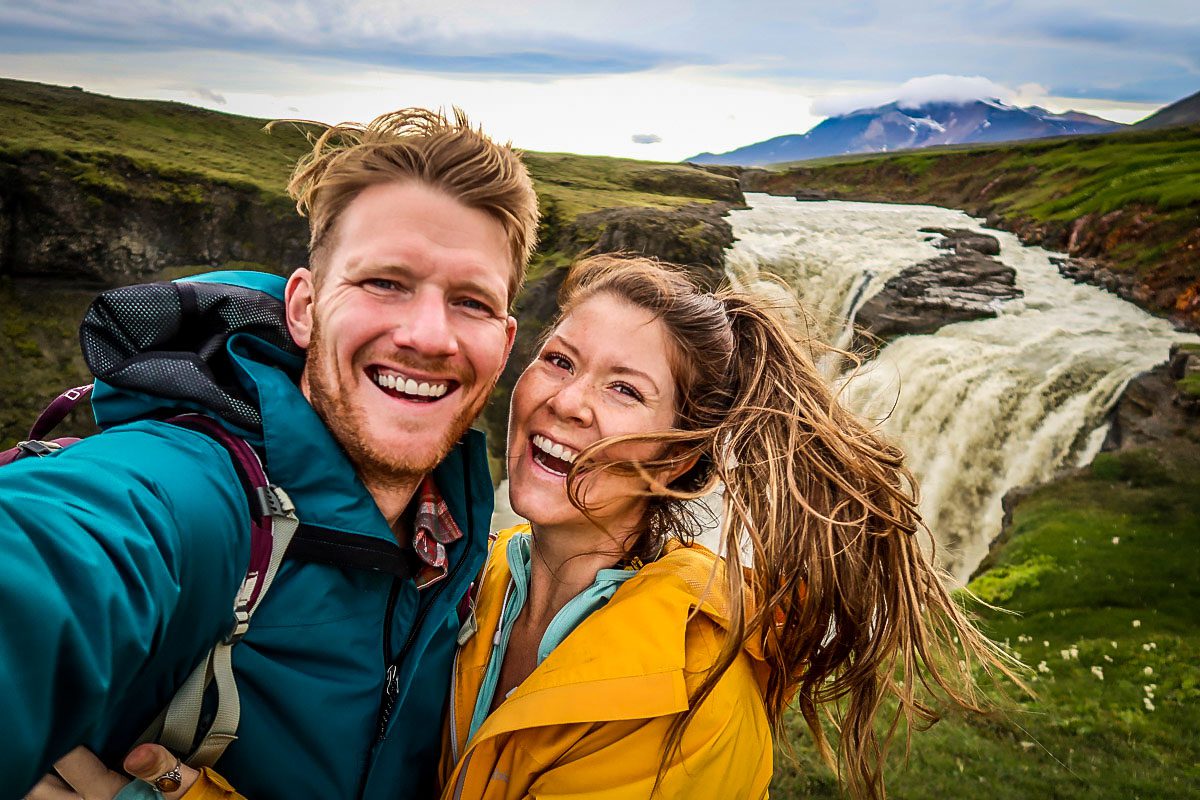 If you're an avid hiker, you'll be happy to know there are tons of incredible hikes in Iceland.
From short and sweet trails that bring you to epic viewpoints to treks that are truly adventurous and require a bit of planning, there are hikes for every type of traveler.
Be sure to pack a pair of waterproof hiking boots, as you'll likely encounter some rain (and therefore muddy trails) on your trip.
Our recommendations for a challenging hike:
Fimmvörðuháls Hike
If you want a challenging and bucket list worthy hike suggestion, we recommend the Fimmvörðuháls Hike. It's a long day trip and requires some planning, but we've got everything you need to know in our Fimmvörðuháls Hiking Guide.
Glymur Waterfall Hike
For another challenging hike that won't take all day, the trek to Glymur Waterfall is incredible. It is the second tallest waterfall in Iceland and is well worth the effort required to get there.
And… If you want suggestions that are, well, shorter and easier, we've got you covered there too with a list of amazing hikes in Iceland.
13. Get really adventurous in a campervan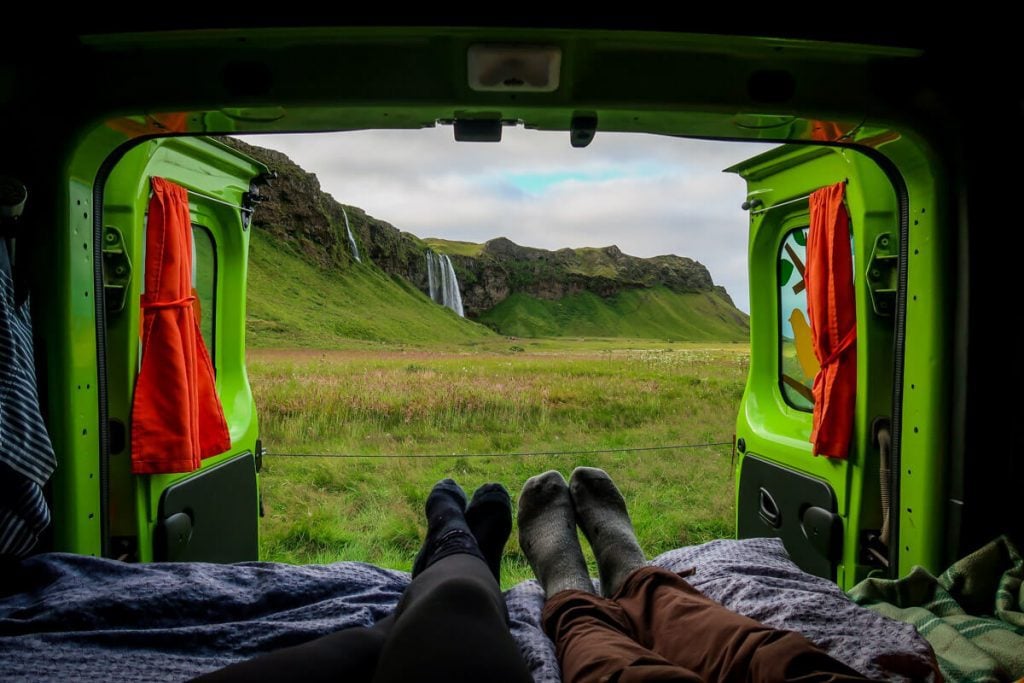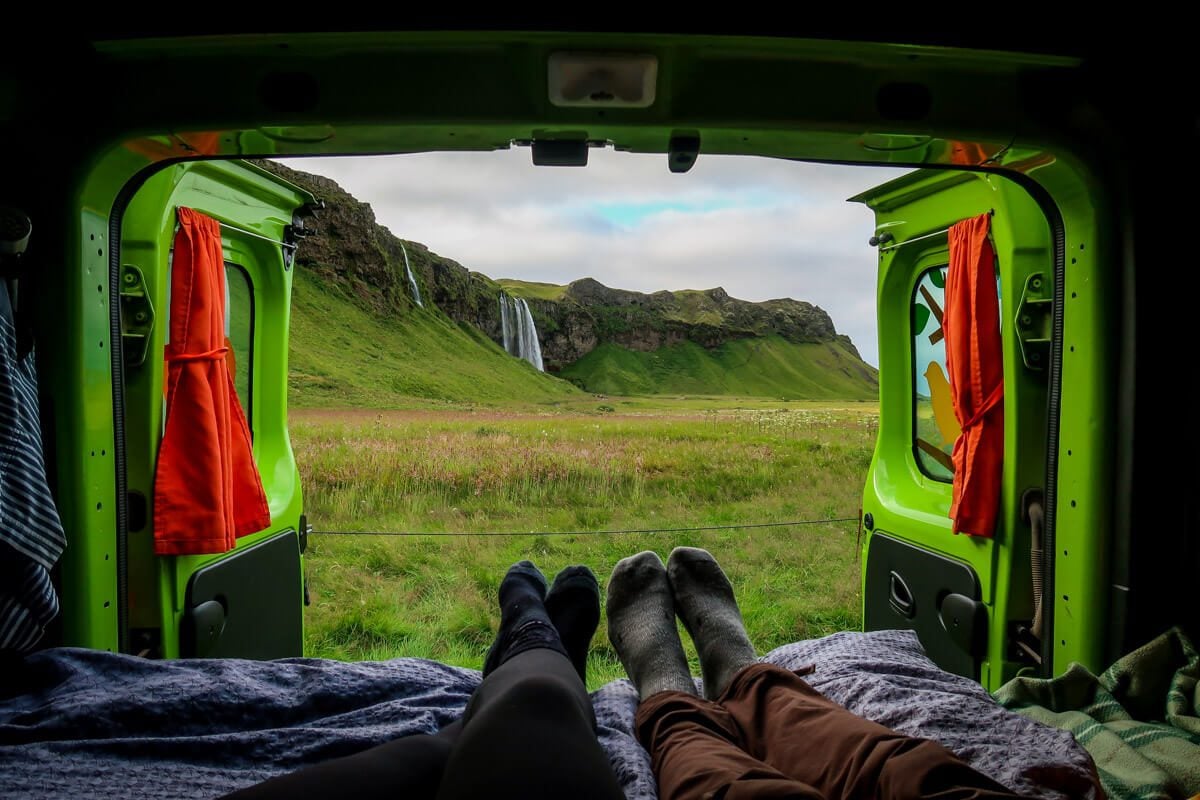 Going out on a limb here, but if you're a really adventurous couple, like really adventurous, you might want to consider renting a camper van for your Iceland honeymoon!
We are really into all things related to vanlife (and have built 3 of our own campervans!), but we know it's not for everyone.
If you're leaning toward a more luxurious and romantic honeymoon, we'd recommend opting for getting a car rental and guesthouses along the way.
But if you think you might be interested in the motorhome route, we've got a guide to choosing the best Iceland campervan rental for your trip. We've got personal experience and all sorts of tips to share with you to make planning this epic adventure easier.
14. Explore the romantic seaside town of Vik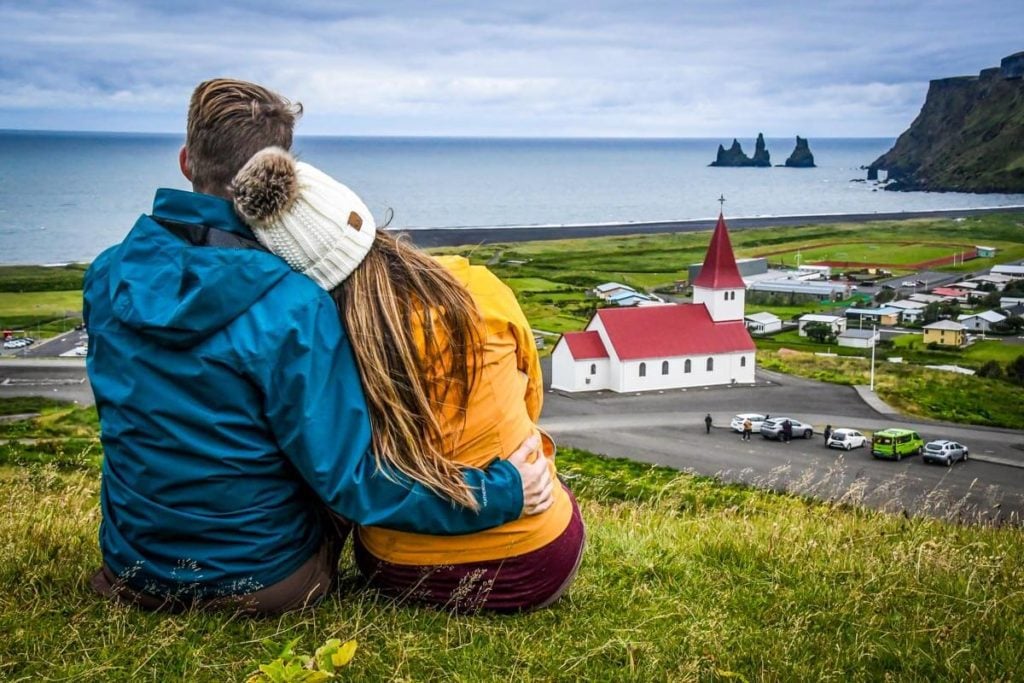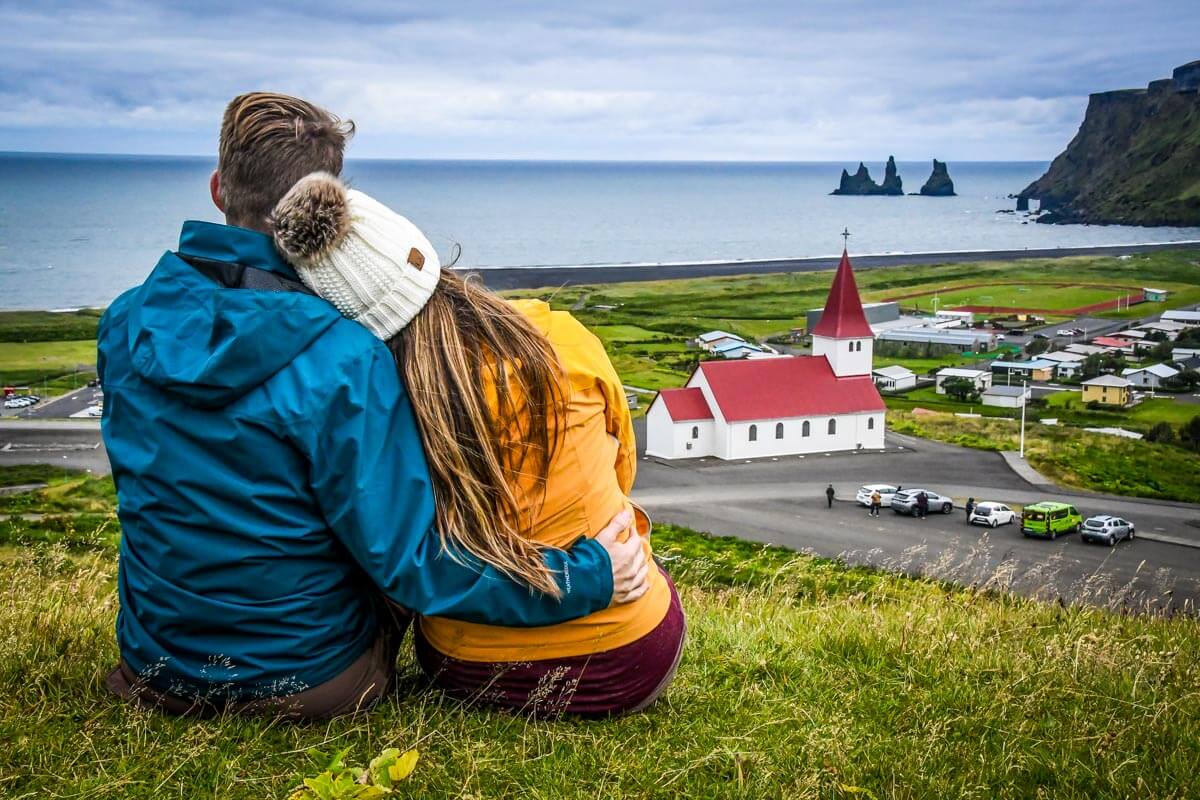 There are all sorts of cute towns in Iceland, but few are as picturesque or packed with things to do and see than Vik.
We'd recommend saving a spot for Vik on your Iceland honeymoon itinerary, as this is a good base for lots of adventure (and good eating!). We've rounded up the best things to do in Vik as well as where to eat and stay in our Vik, Iceland guide.
15. Cozy up with cocktails in Reykjavik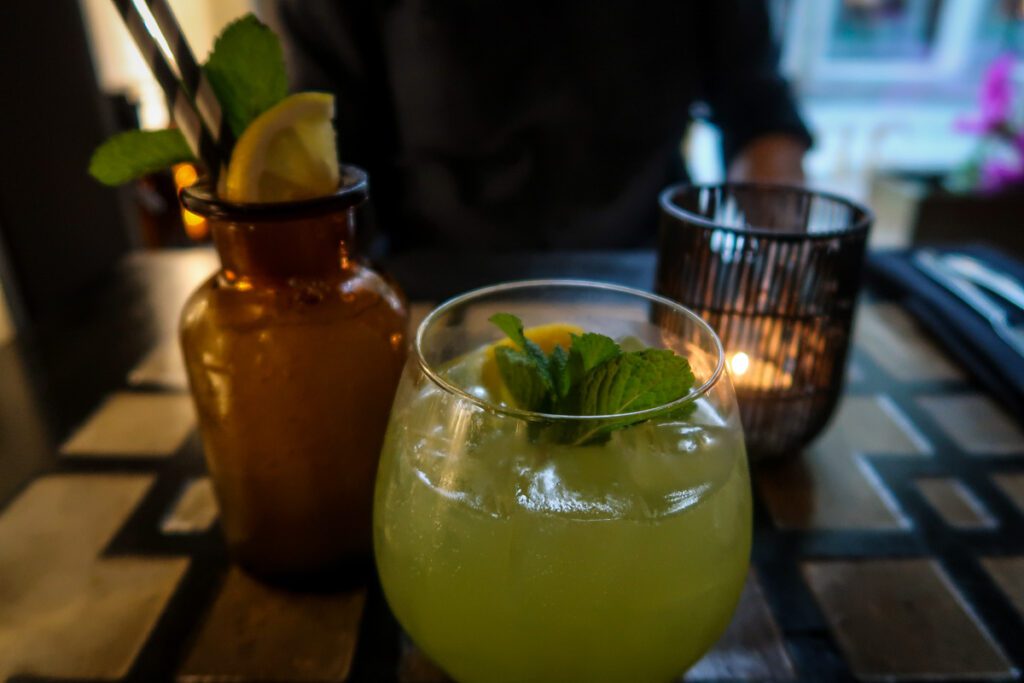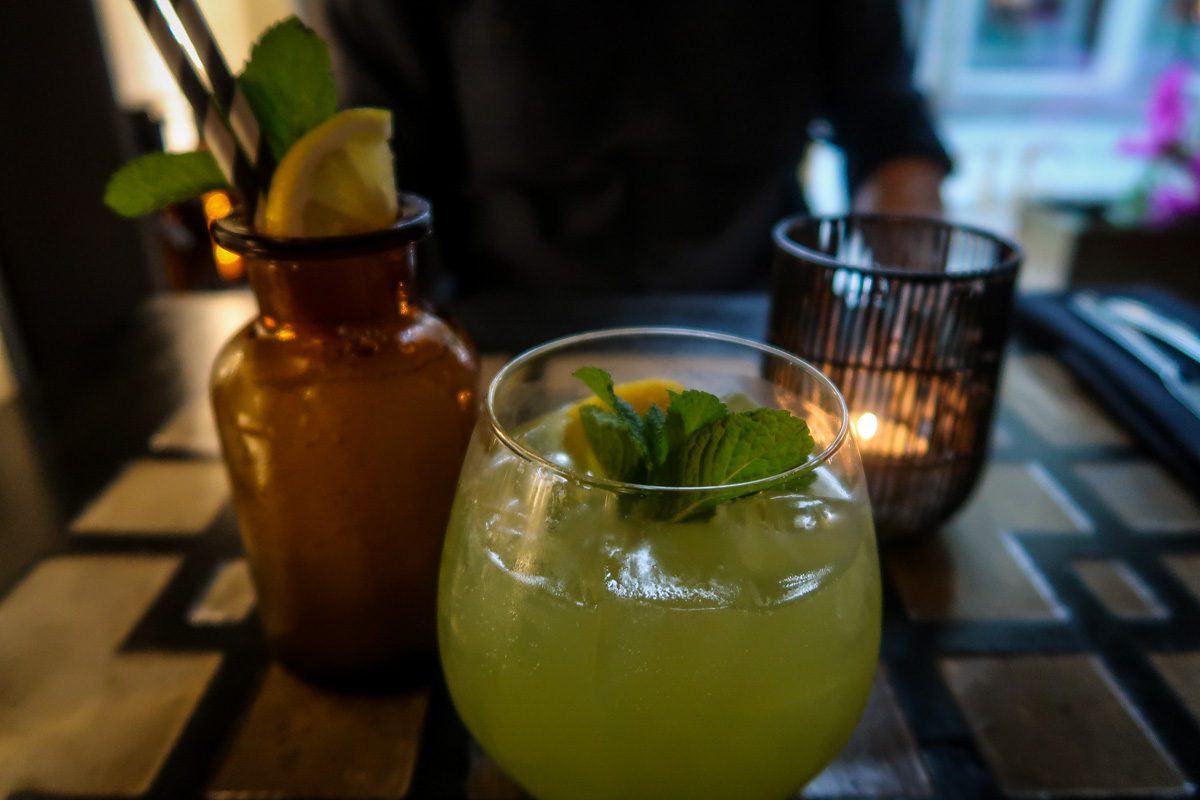 Reykjavik is a small but mighty city, with world-class restaurants and bars to choose from.
Snuggle up in a booth with handcrafted cocktails and decompress and reminisce about your wedding. Or stop in an intimate lounge at the end of your trip and talk about your favorite memories you made on your Iceland honeymoon.
It doesn't get much more romantic than that.
Want more fun ideas? We've got a list of the very best things to do in Reykjavik (plus a can't-miss bakery that you will definitely want to visit!).
16. Drive the iconic Golden Circle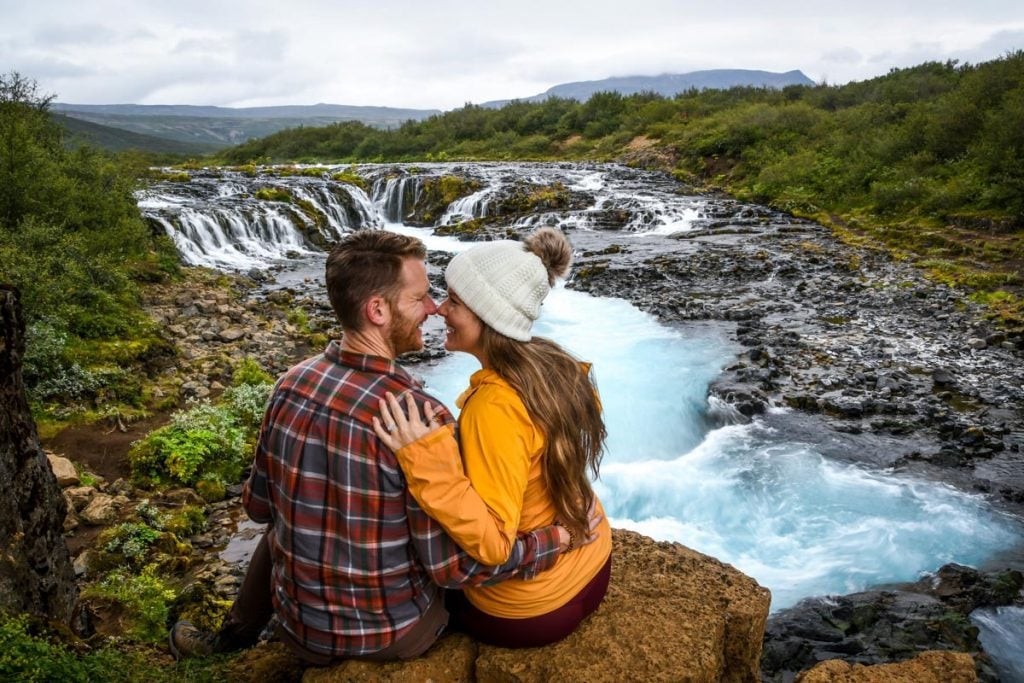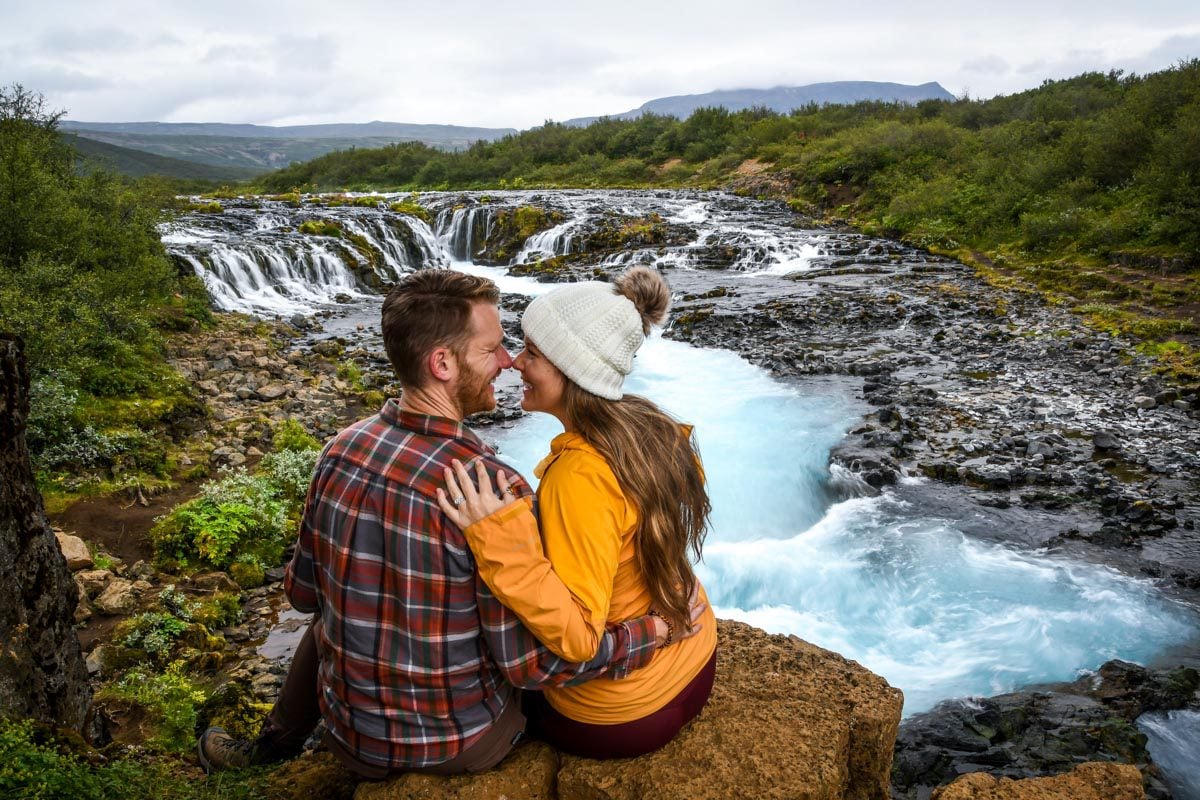 If it's your first trip to Iceland, the Golden Circle is one of those must-do attractions.
This famed driving route consists of a waterfall, a geyser and a national park, and all can be explored in just a few hours to 2 days.
We have the ultimate Golden Circle route that includes the 3 must-see attractions as well as some off-the-beaten-path spots most travelers miss.
17. Explore the magical Studlagil Canyon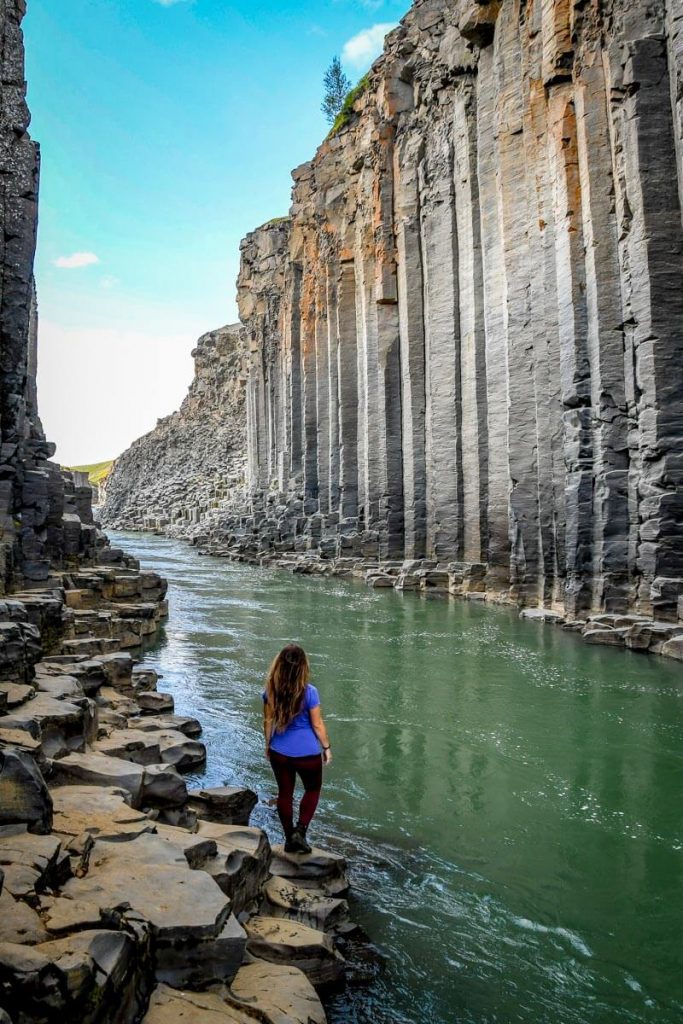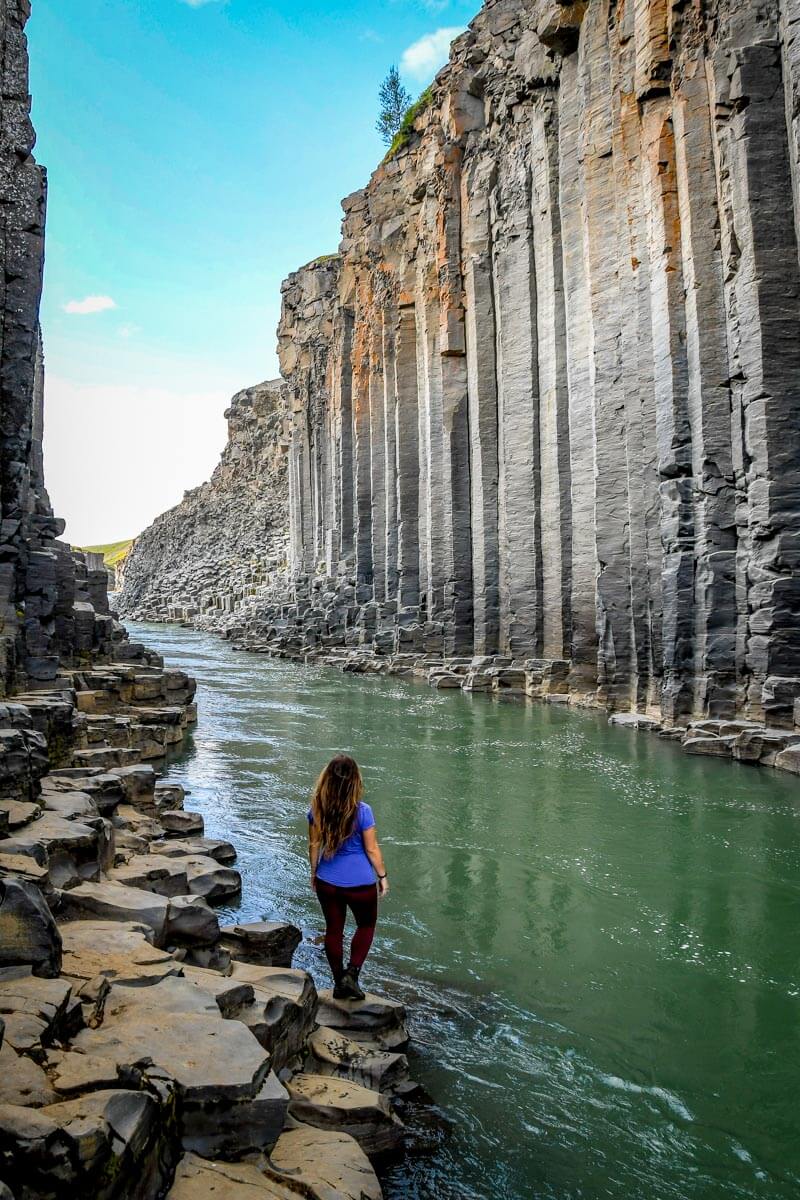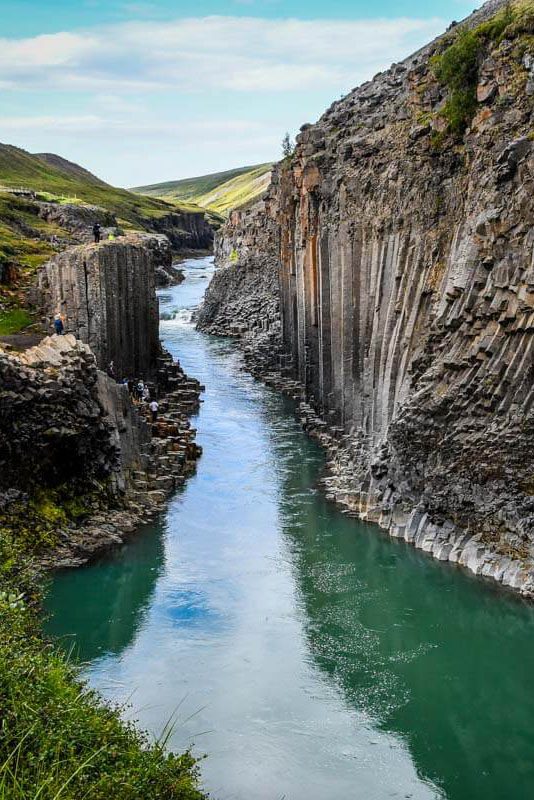 The hexagon basalt columns of Studlagil Canyon are unlike anything you've ever seen, making this one of the most unique places to visit in Iceland.
If you and your hunny are up for a bit of adventure, make the detour off of the Ring Road and hike to this magical spot.
Insider Tip: Our advice is to get there as early as possible because this spot is Insta-famous, meaning you'll be sharing it with lots of other people if you get there later in the day. It will be much more intimate and romantic if there are fewer crowds. Trust us!
We've got everything you need to know about exploring Studlagil Canyon (including how to get there which is actually a bit confusing!).
Ultimate list of best things to do on your Iceland Honeymoon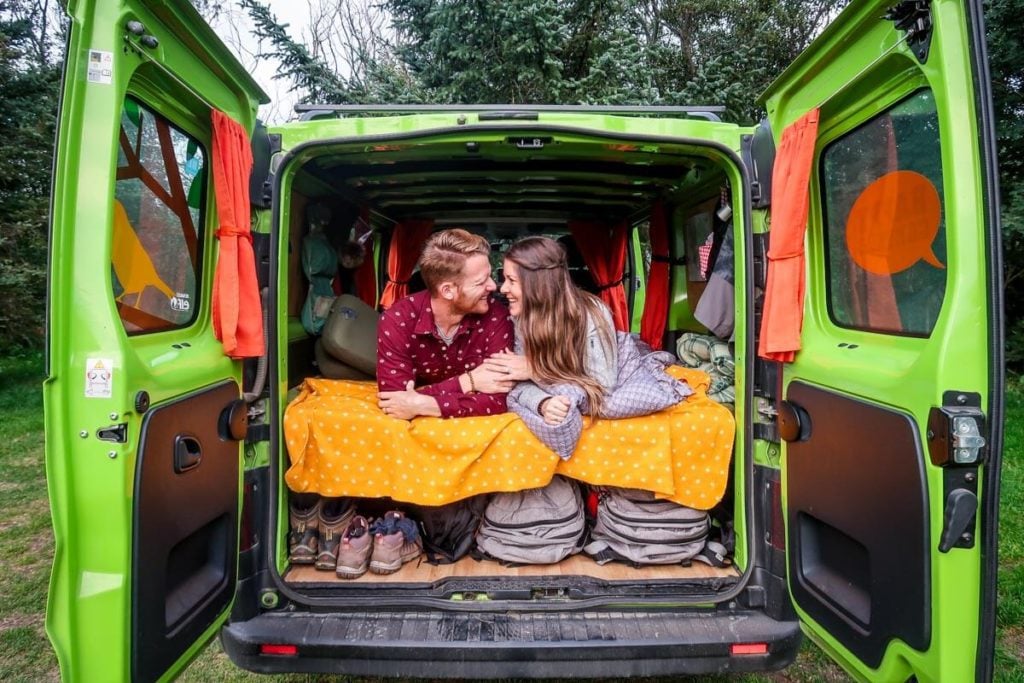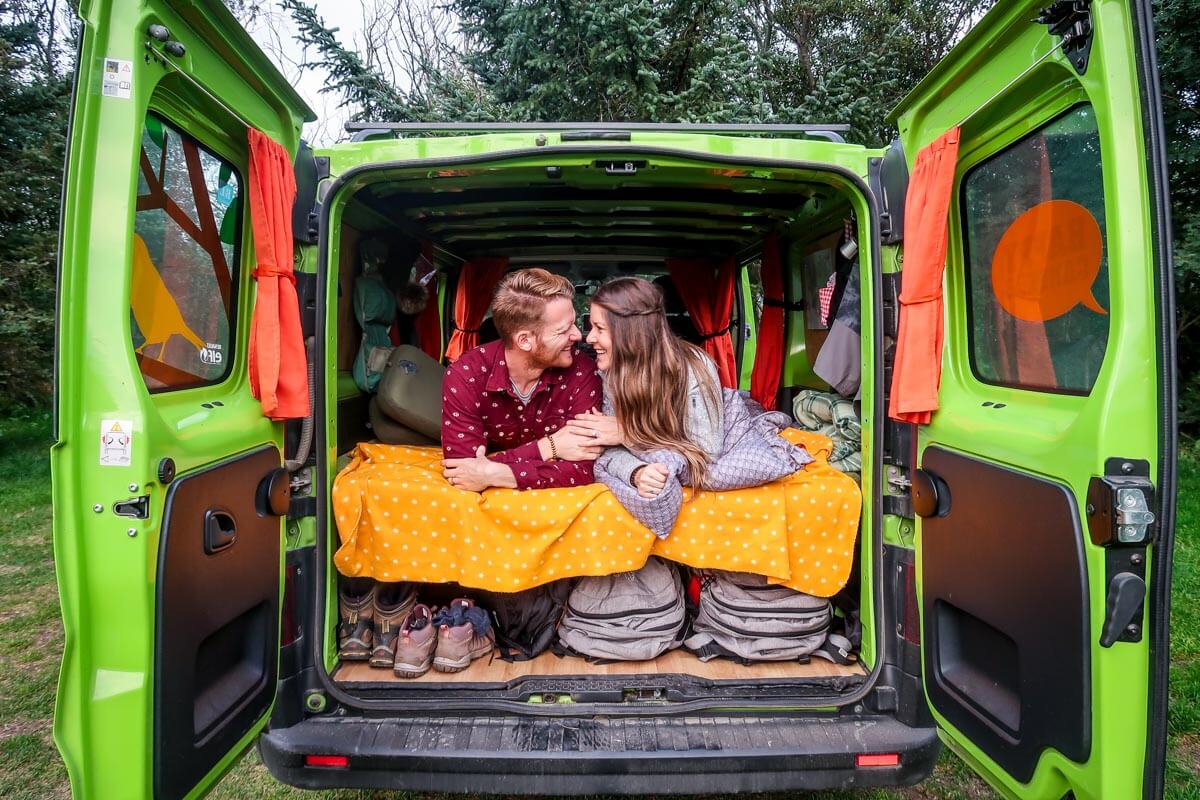 Here's a round-up of all the incredible Icelandic honeymoon experiences we've covered in this article:
Stay in Iceland's most romantic guesthouses
Indulge in Iceland's cuisine
See Diamond Beach sparkle
Soak in luxury hot springs
Soak off the beaten path
Hire a photographer for the best Iceland souvenir
Feel small next to Iceland's most impressive waterfalls
Take a long walk on a Black Sand Beach
Drive the Ring Road (or part of it)
Have a once-in-a-lifetime adventure
Be mesmerized by the Northern Lights
Go on an unforgettable hike
Get really adventurous in a campervan
Explore the romantic seaside town of Vik
Cozy up with cocktails in Reykjavik
Drive the iconic Golden Circle
Explore the magical Studlagil Canyon
Want your Iceland Honeymoon planned for you?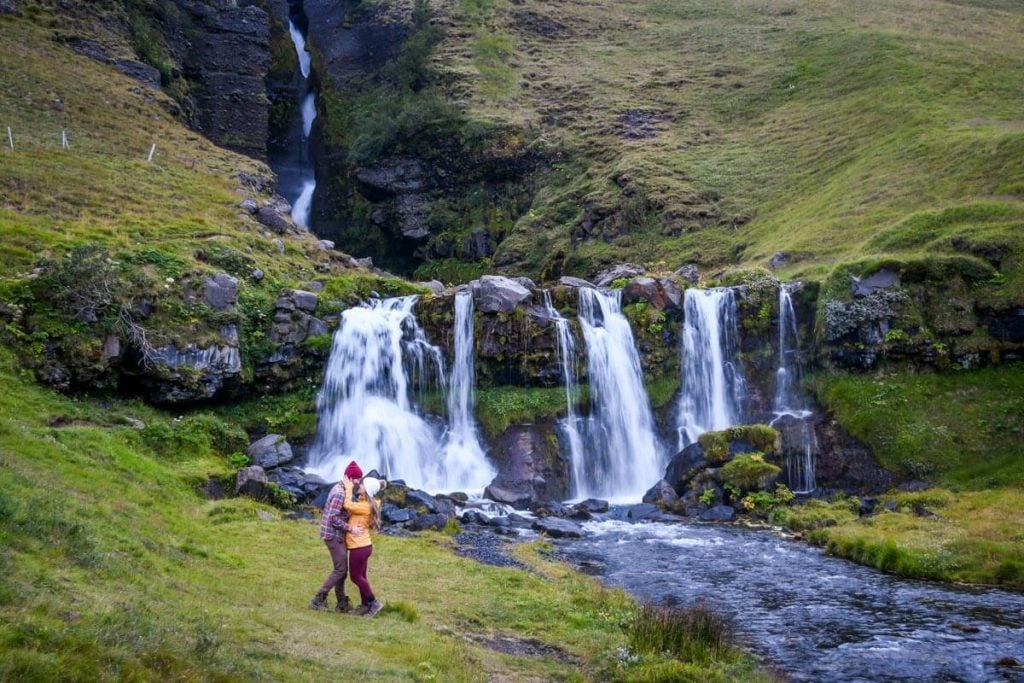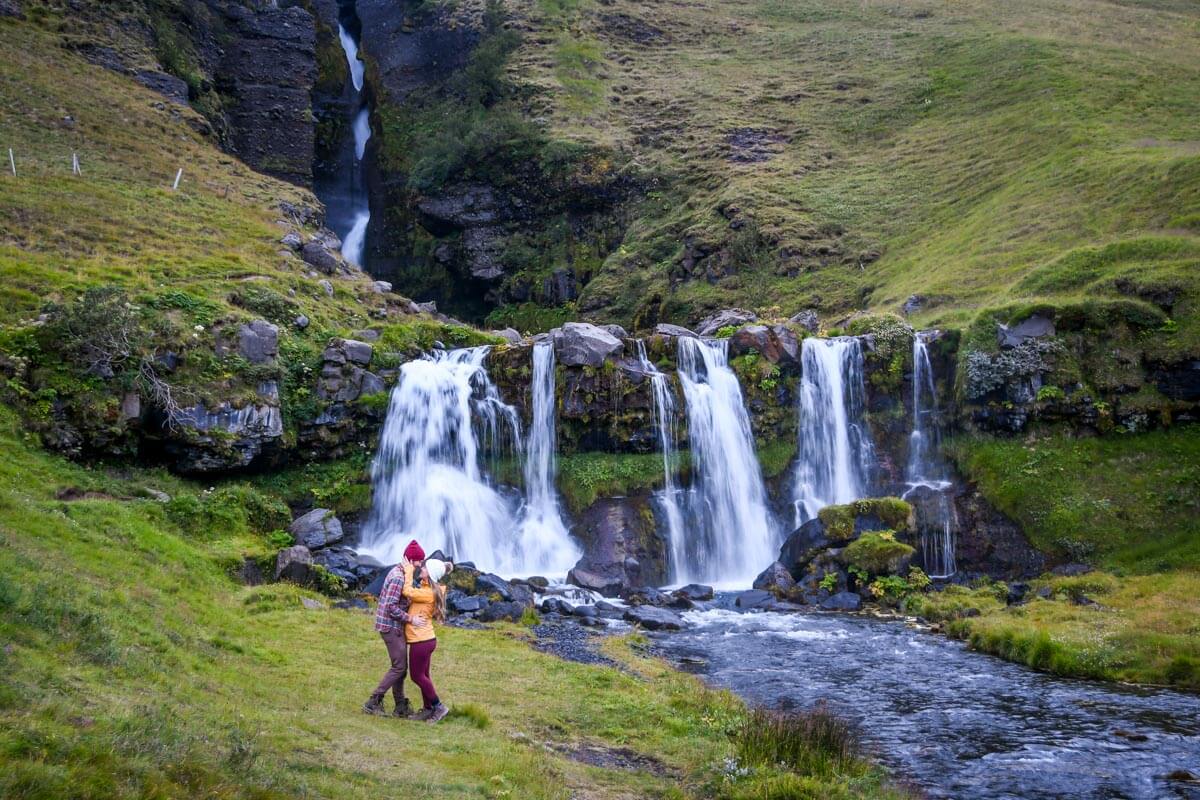 Your wish is my command. Yes, for real.
We spent hours upon hours planning the perfect Iceland honeymoon for one of my best friends.
We dialed in everything.
From the perfect romantic hotels to the best restaurants along the way (complete with tips on what to order!).
We included the top sights in Iceland that you just have to see as well as some epic off-the-beaten-path adventures so they felt like the only two people in the world.
And they had the best time…
Here's what they had to say:
"We had the most amazing time in Iceland for our honeymoon! We followed the TWS itinerary almost exactly and it made everything so easy (talk about stress free vacation planning after a wedding, yes please!). Honestly, we just keep raving about it.

The itinerary is so well organized and has an incredible amount of detail! We loved it and it made our trip flow very smoothly. We cannot thank them enough for putting this content together and would highly recommend it for anyone looking to adventure in Iceland. There are a ton of options to pick and choose from so you can customize your own perfect trip." – Tracy & Steve, 2023
If you want to copy the exact itinerary I made for them, you can grab it by clicking the button below.
Trust me when I say, this is an absolute steal. It will save you countless hours of planning, and will ensure your honeymoon goes seamlessly.
7 Reasons Iceland makes a perfect Honeymoon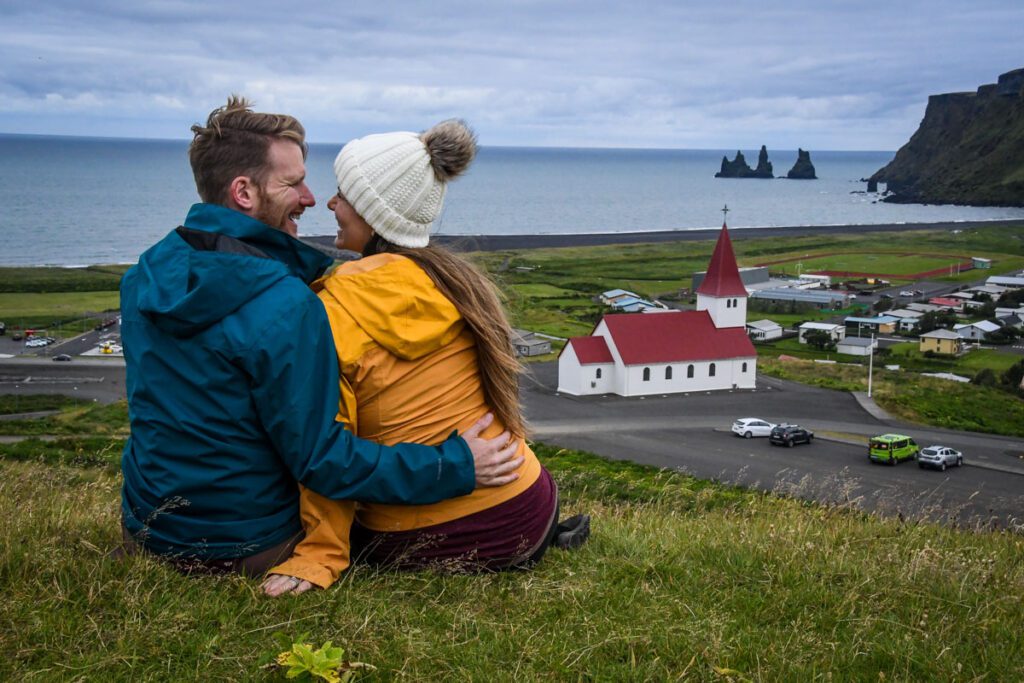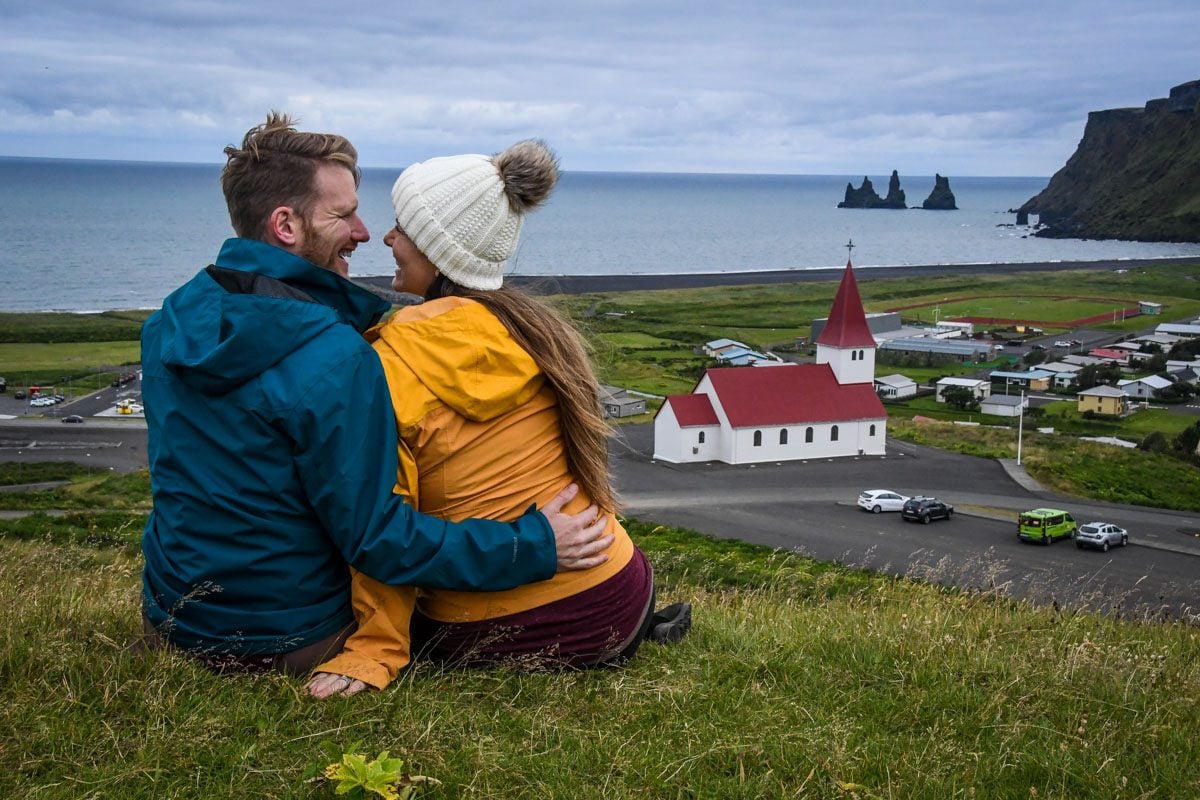 Are you still not totally sold on Iceland as a honeymoon destination?
Spoiler Alert: We think you will be after reading this list!
We're sharing exactly why we think Iceland makes a perfect honeymoon!
1. Blend of Luxury & Adventure
There aren't many places in the world that have such a perfect blend of luxury and adventure.
Climb glaciers and go hiking by day, then enjoy world-class dining, spa treatments and comfortable accommodation by night.
If you're anything like us, you'll want your honeymoon to be full of unforgettable adventures you'll be reminiscing about for decades to come, paired with romantic accommodation and a handful of splurge-worthy meals and a dash of pampering.
If this sounds like the ideal recipe for a honeymoon, you will love Iceland. Trust us.
2. Once-in-a-lifetime Experiences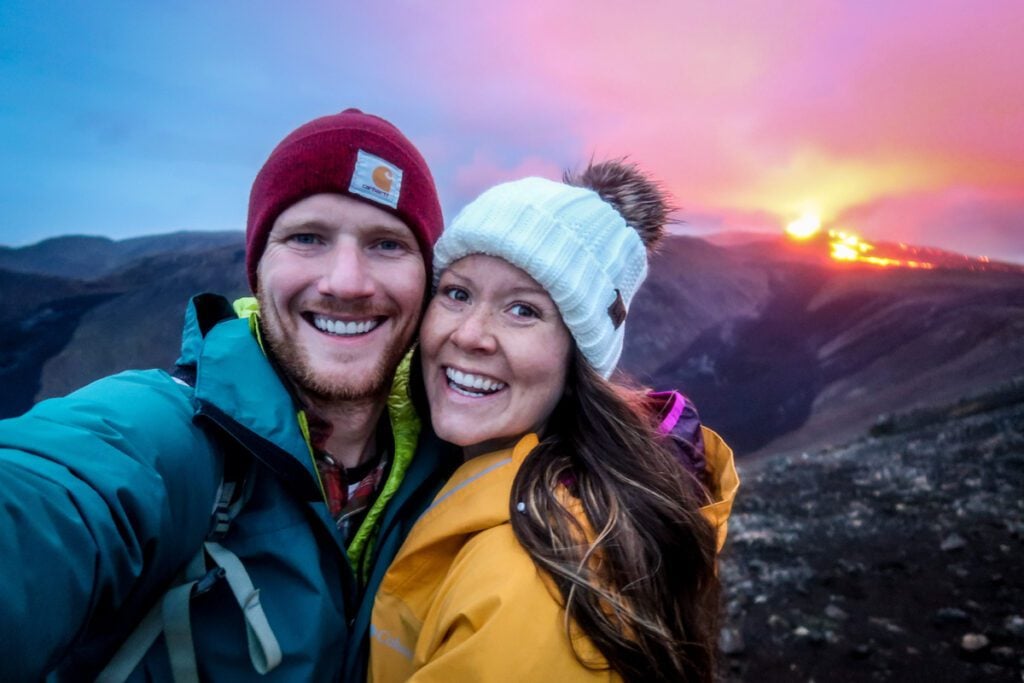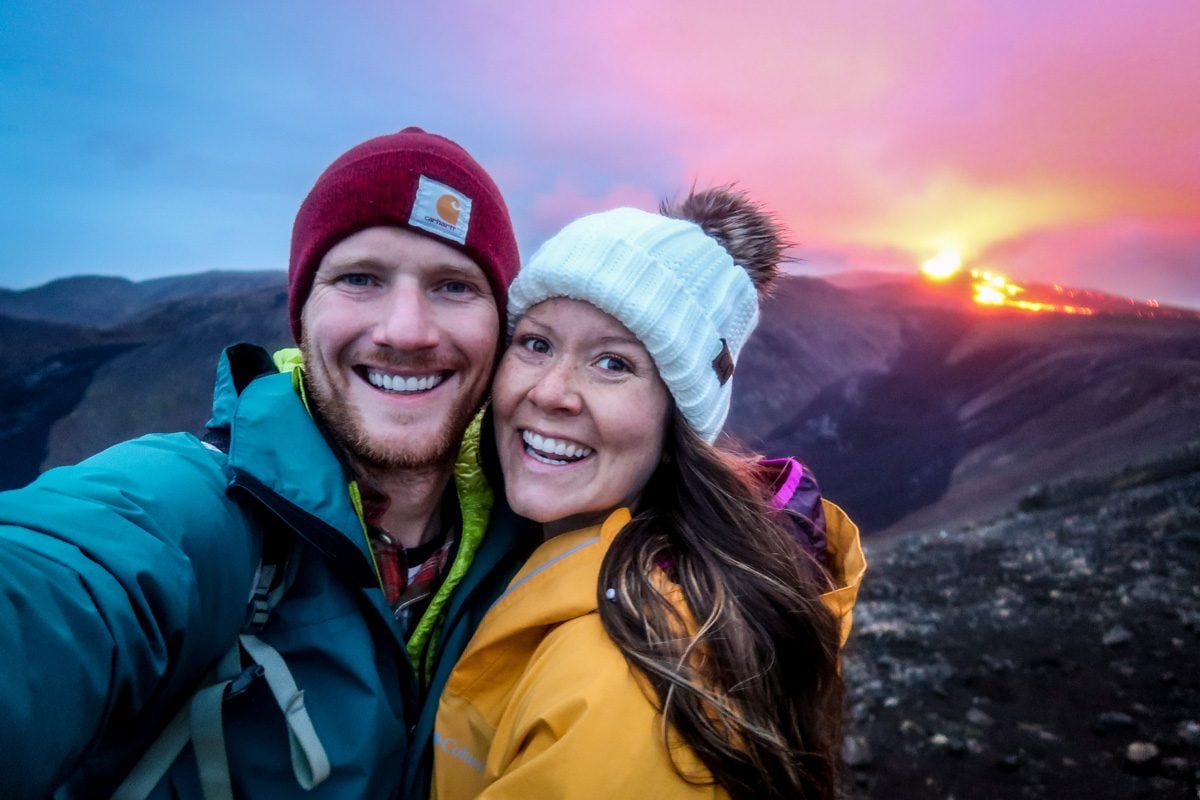 Packed with adventures, Iceland is the perfect place to check off bucket list experiences.
I mean, there aren't many places in the world where you can go whale watching, hike on a glacier, walk through an ice cave, see the Northern lights, and soak in world famous hot springs!
Plus, the landscapes in Iceland are unlike anywhere else in the world. You'll see volcanoes, black sand beaches, interesting rock formations and more waterfalls than you can count.
There's truly no other place in the world like it.
3. Easily accessible
If you live in North America or Europe, getting to Iceland is actually pretty easy (and usually quite affordable).
There are many nonstop flights directly to Reykjavik, making this island nation more accessible than you might think.
4. You'll feel like the only people in the world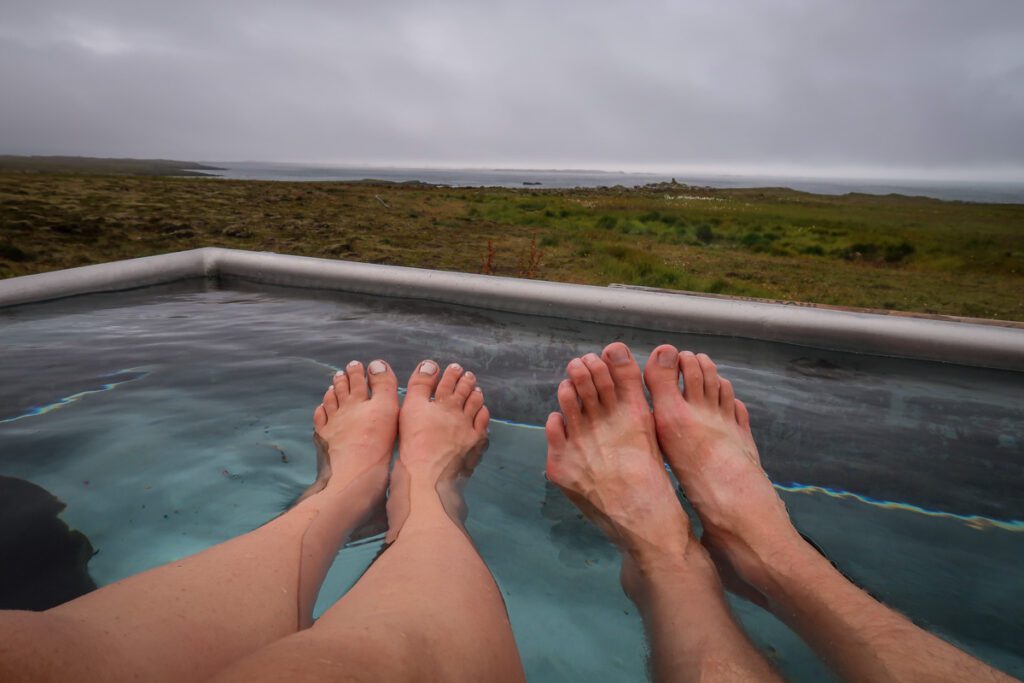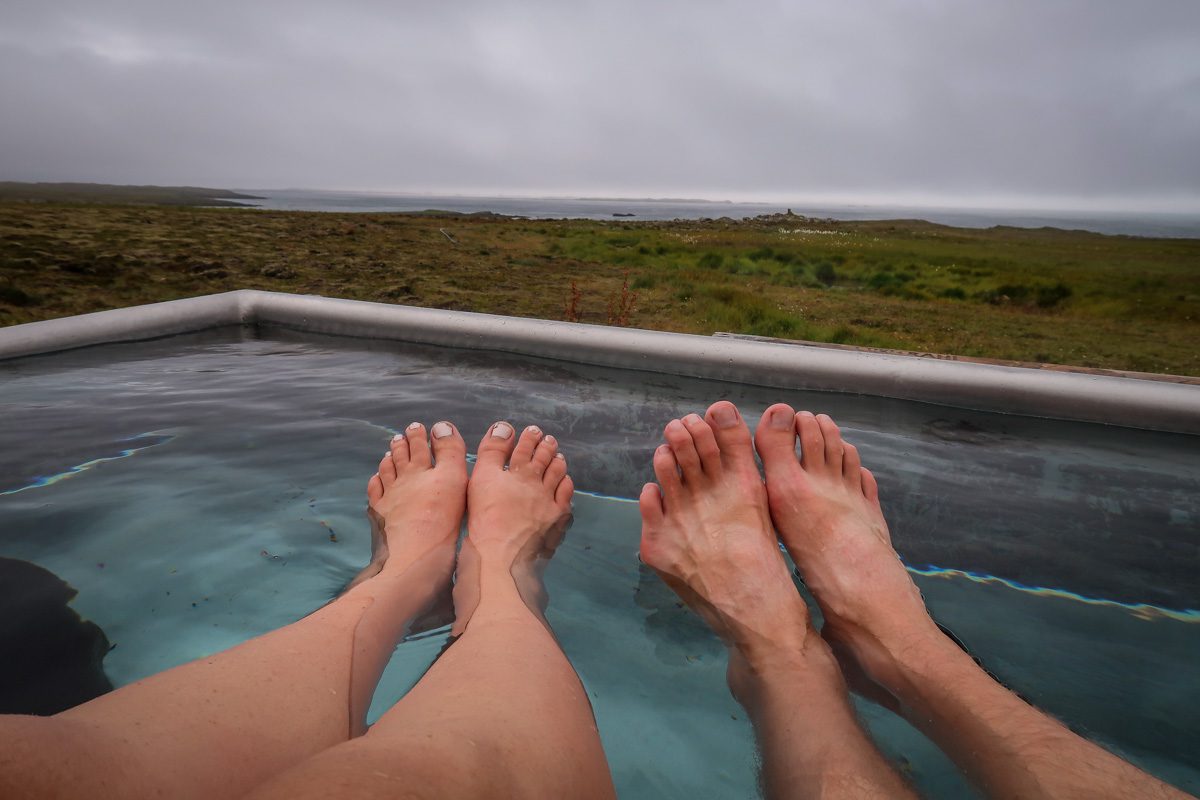 There are few places in the world as wild as Iceland.
If you want, you can find spots that you have completely to yourself.
You'll feel wild and free and small all at the same time. And you will certainly feel like the only two people in the world at some point on your Iceland honeymoon!
5. It's unique
Choose a honeymoon that's as unique as you are!
If you and your partner are looking for something different than the typical honeymoon, Iceland sure fits the bill.
This definitely won't be your standard sit-on-the-beach-with-a-daiquiri honeymoon, after all.
An Iceland honeymoon will mean you start off your marriage with a trip that feels undeniably like you.
6. It's a perfect splurge trip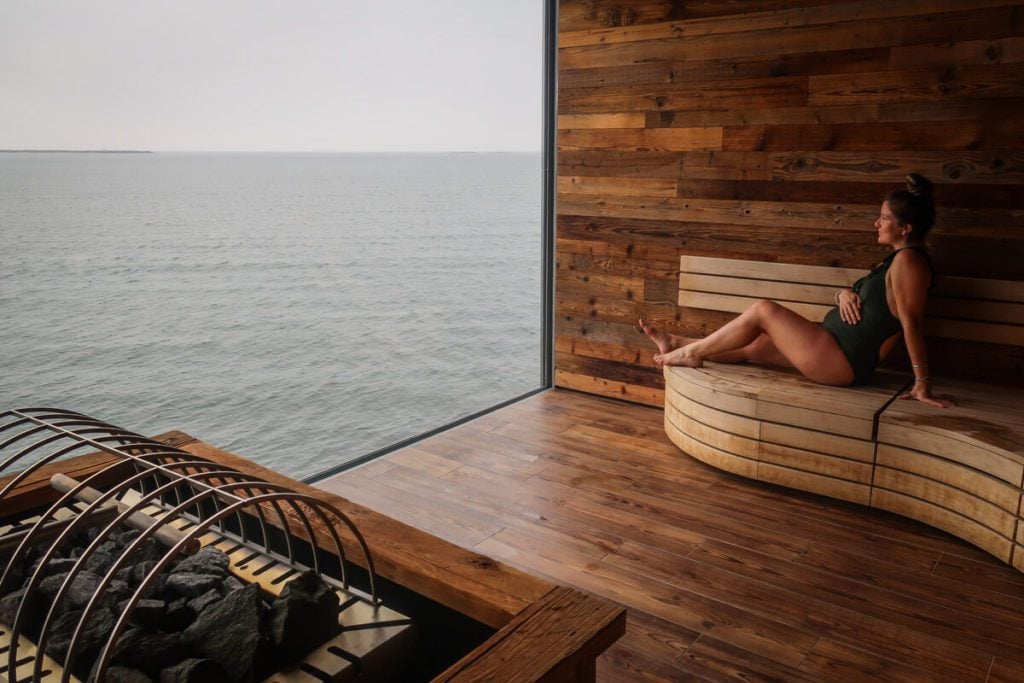 I'll be totally transparent with you: Iceland isn't a great budget destination. Sure, you can travel to Iceland with limited funds (our first trip to Iceland was on a very tight budget, and we had a great time!).
Psst! We even have some money-saving tips for Iceland to help you out!
However, if you want to do some bucket list tours, take a road trip, or experience the local cuisine, it's not going to be cheap.
And in our opinion, it's not the best solo trip either. We know plenty of people who have traveled to Iceland alone. But due to the high cost of accommodation and tours, many solo travelers end up joining tour groups.
So what better time of your life than your honeymoon to visit this splurge-worthy destination?!
Since it's a (hopefully!) once-in-a-lifetime trip, you'll feel more willing to splurge on an expensive tour or a meal at a nice restaurant (both of which Iceland has plenty). This way, you'll be able to do the best things this country has to offer.
Plus, you'll be traveling with your person so you can split the costs and have someone to make memories with.
7. Your itinerary is already planned
Yep, you read that right.
One of my best friends asked me to plan her Iceland honeymoon for her, and I spent countless hours curating the perfect itinerary with equal parts luxury and adventure.
And I'm sharing this perfect itinerary with you!
We've been to Iceland 3 times and have included all sorts of insider tips and things we've learned along the way so you don't need to make any mistakes on your honeymoon.
If you want to save the time and headache of planning, grab your very own Iceland honeymoon itinerary and get ready for the trip of a lifetime!
5 Most romantic hotels to stay at on your Iceland honeymoon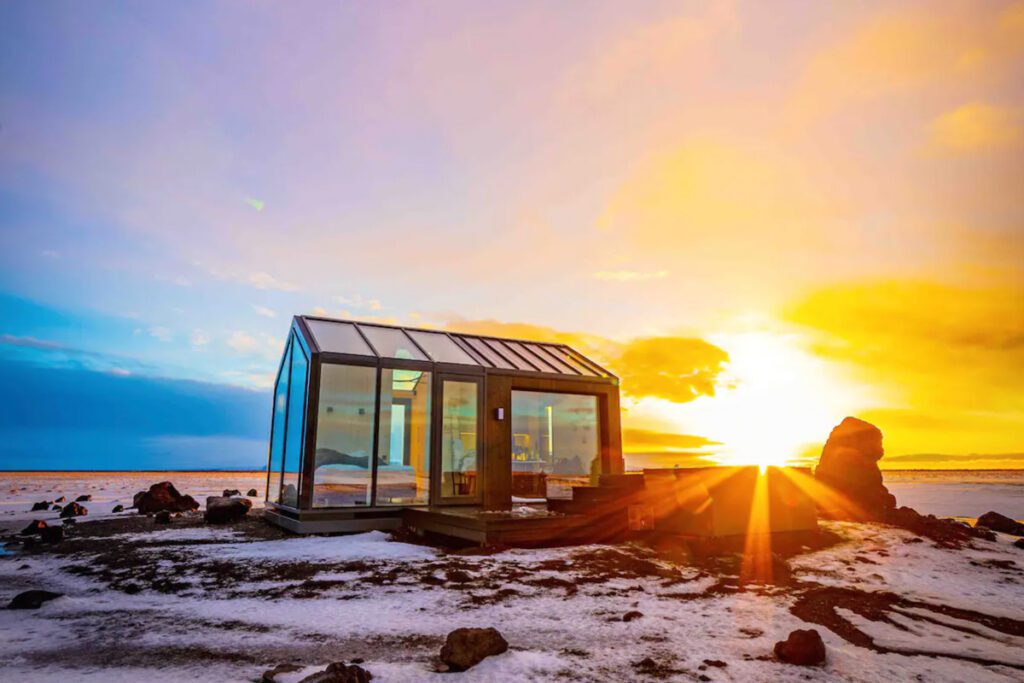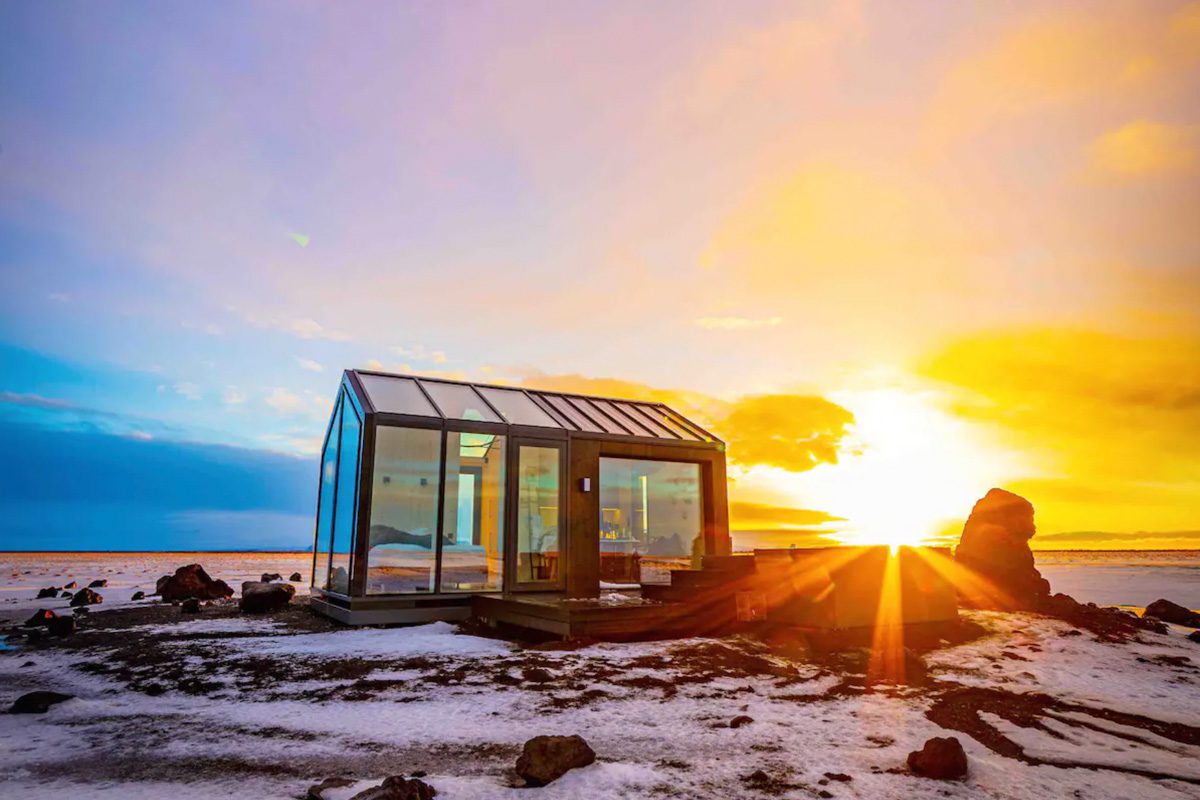 If you're searching for romantic hotels to stay at on your Iceland honeymoon, look no further.
We've rounded up some of the dreamiest guesthouses and Airbnbs in Iceland to include on your itinerary.
Is camping your idea of romance?
Yep, us too. We have a guide to everything you need to know about camping in Iceland to make your trip go seamlessly. We'd encourage you to stay in a romantic hotel at the beginning and end of your trip so you get both the camping and luxurious hotel experiences on your honeymoon!
What to pack for your Iceland honeymoon


Here are our top 5 things you definitely don't want to forget:
Waterproof hiking boots
Raincoat

Skip the umbrella! Trust us, it won't do well in Iceland's notoriously strong winds.

Eye mask (if you're traveling to Iceland in the summer months, this will help you sleep even if the sun doesn't set)
Portable battery bank so your electronics don't die
Travel tripod (if you're into photography)
But don't stop here… we have an entire packing list we created just for you so that you don't forget a single thing. We're also sharing what to leave at home.
Our Iceland packing list is free, so grab your copy now!
Iceland honeymoon planning guide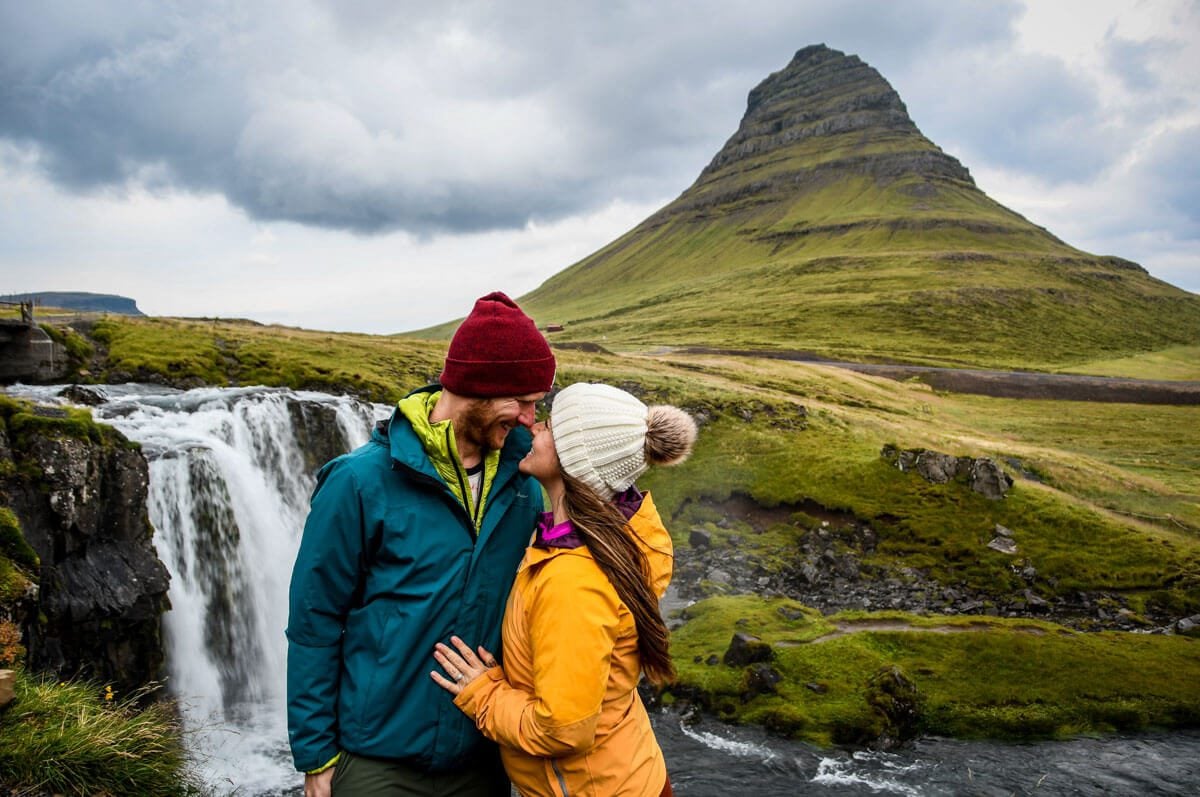 Are you 100% in on an Iceland honeymoon? Yay! *Cue me happy dancing for you!*
This will truly be a trip of a lifetime, and we want to help it go smoothly.
Here are all the resources you need to plan your dream Iceland honeymoon:
Those are the basics, but we have tons more Iceland travel guides here to help you plan.
We truly want to wish you the best of luck with planning your perfect Iceland honeymoon. Congratulations and cheers to a trip of a lifetime!


More adventurous honeymoon destinations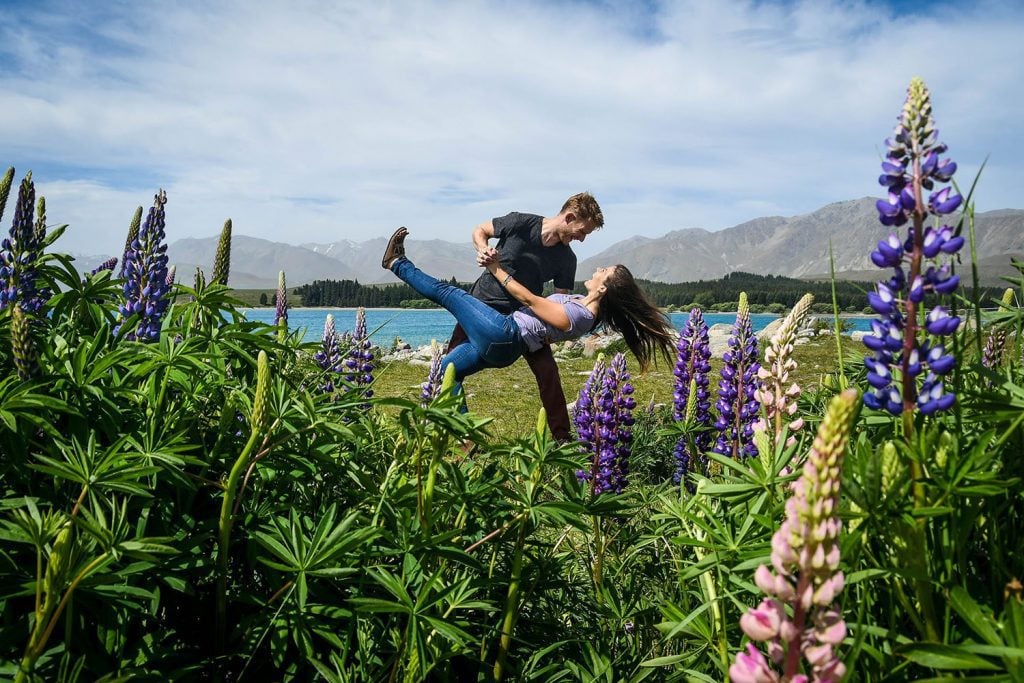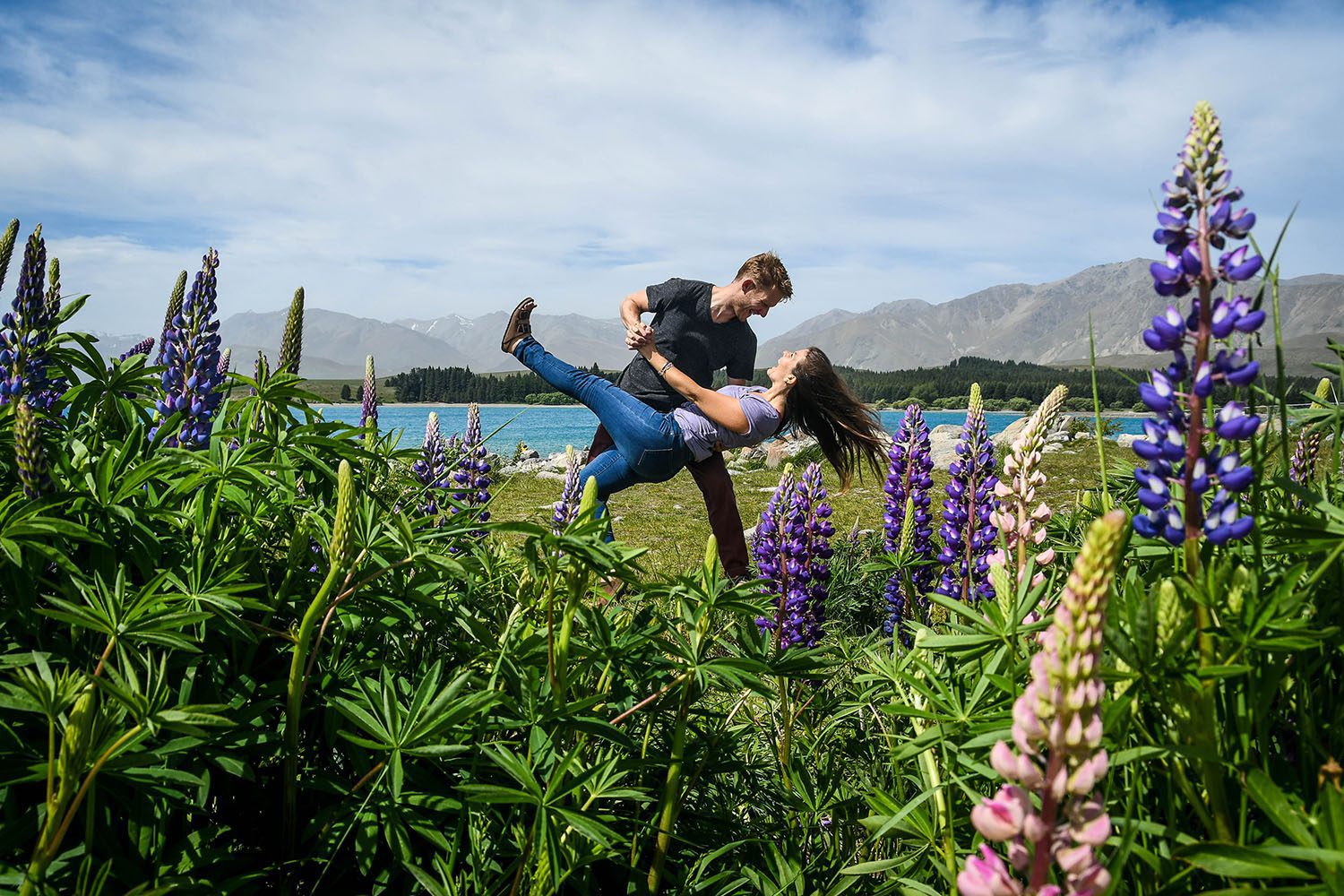 If you're on board with the idea of an adventurous, non-typical honeymoon, but aren't completely sold on Iceland (or maybe it's not the best time of year to visit), we have some more ideas that might suit you better.
New Zealand: This is one of our favorite countries ever, and we have so much info to get your planning started. We also have a perfect New Zealand itinerary.
Banff: This is where we personally honeymooned, and we absolutely loved starting our marriage with a non-typical trip and lots of adventure.
Thailand: If you're undecided between relaxing on a beach and going on adventures, Thailand makes a perfect compromise.
Scotland: With lush landscapes, dreamy castles and seaside villages, Scotland would make a very romantic honeymoon destination. We even have a Scotland road trip itinerary that's all ready for you!
---
Are you planning a trip to Iceland?
We have TONS of resources on travel in Iceland and how to make the most out of your trip. Check out our Ultimate Iceland Travel Guide for all the answers to your most burning questions, or read some of our favorite articles below.
Save this article on Pinterest for later!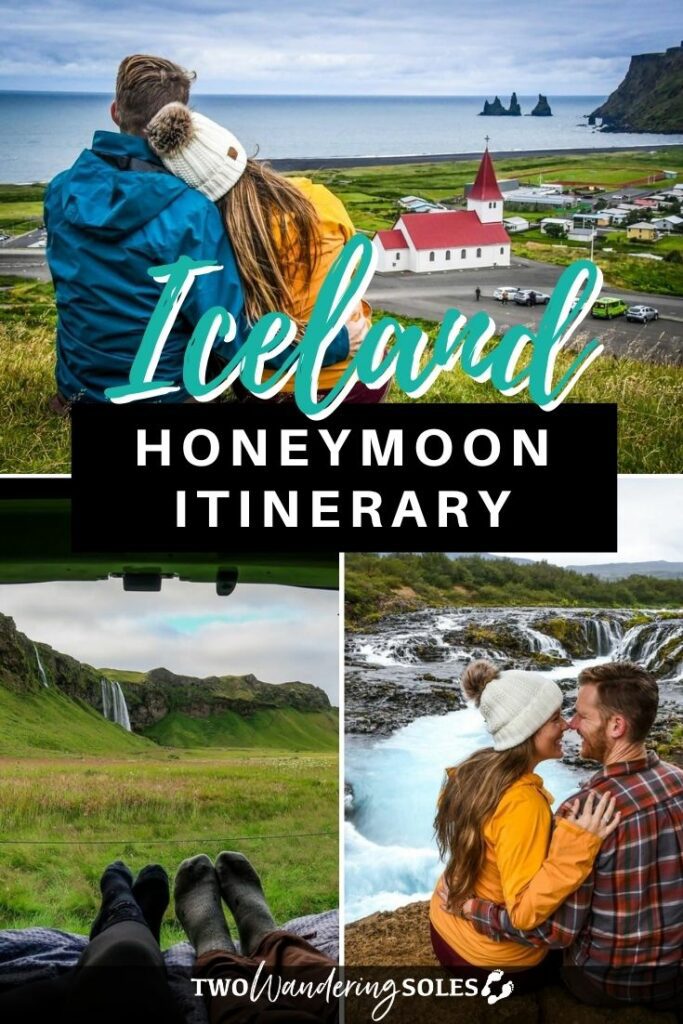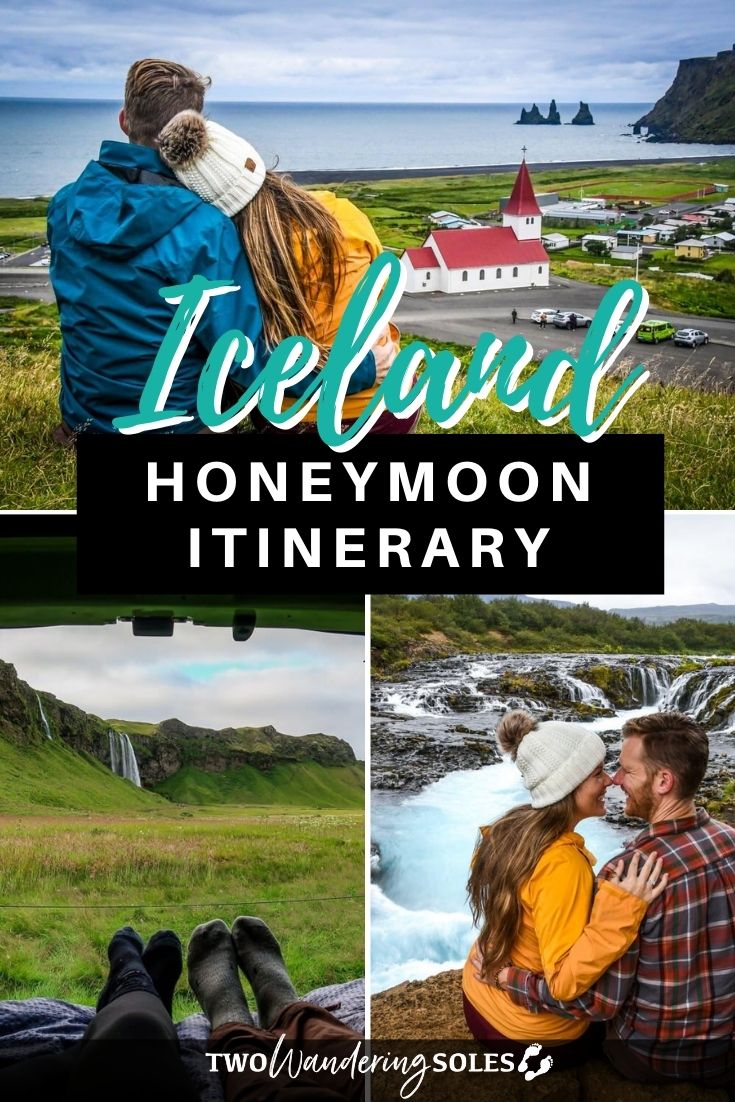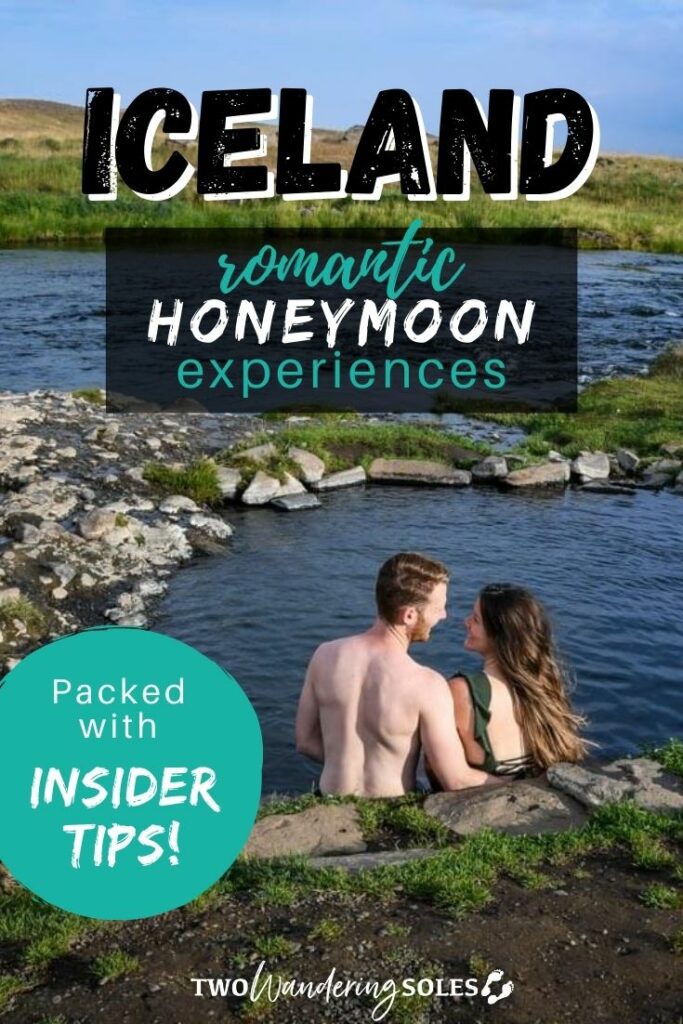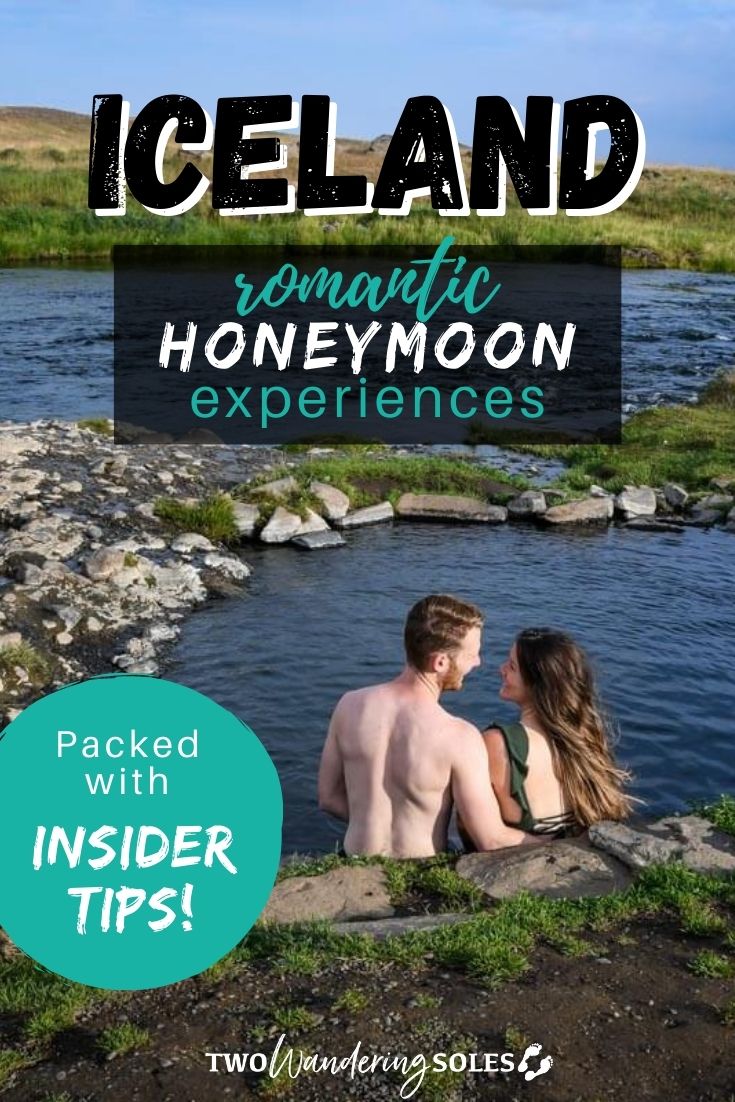 We want to hear from you!
Would you consider taking your honeymoon in Iceland? Are you planning your Iceland honeymoon and have more questions? Leave your comments below and we'll do our best to get back to you!