Nestled in the Icelandic countryside, Fosslaug Hot Springs is a natural soaking pool that's free to enter. This article breaks down exactly how to reach the idyllic Fosslaug Hot Springs, and nearby Reykjafoss Waterfall, in Iceland.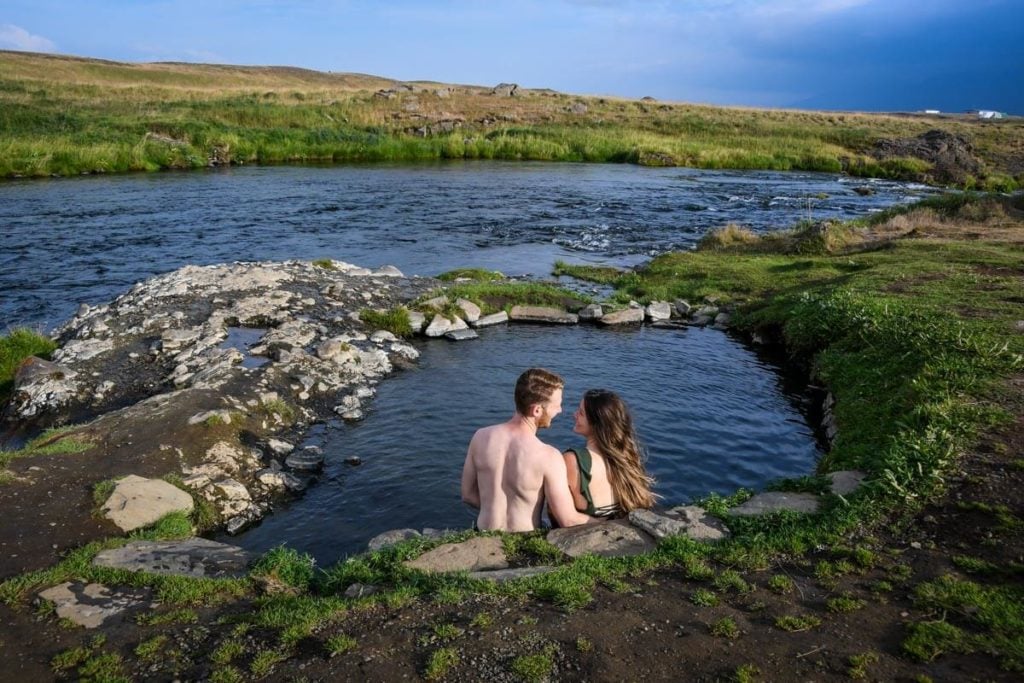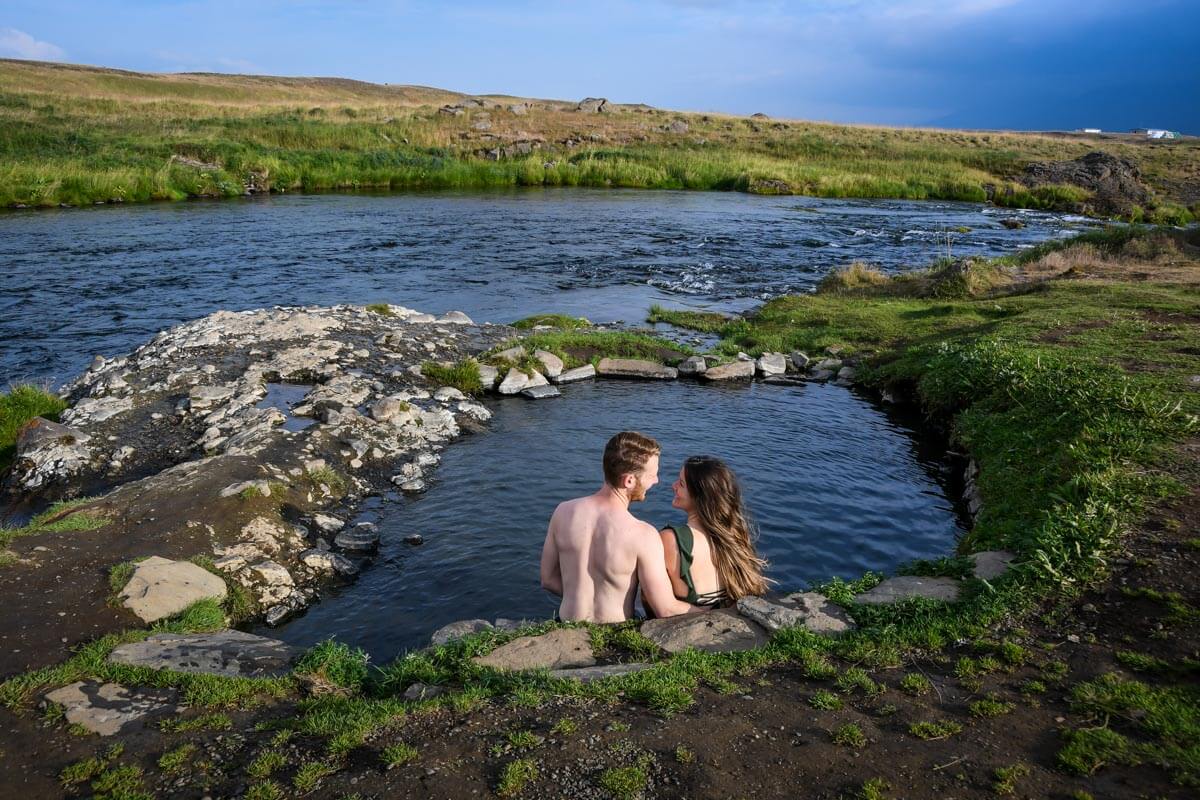 When it comes to hot springs, Iceland has no shortage. From the super popular and iconic hot spring resorts, like the Blue Lagoon, to totally off the beaten path natural springs that are in the middle of nature, there are plenty of hot springs around Iceland to choose from.
Fosslaug hot springs are one of the latter – natural springs that are nestled in the picturesque Icelandic countryside that don't require a fee to enter.
Located not far from the Ring Road in northern Iceland, Fosslaug is a warm natural pool situated beside a small river. The hot spring is lined by rocks and has room for a handful of soakers to enjoy the warm water and bucolic landscape views.
If we had to choose our favorite hot spring in Iceland, Fosslaug would be near the top of the list. We were here on a perfect day and were the only ones at the hot spring – adding to the magic of it all.
If you want to add Fosslaug hot springs to your Iceland itinerary, this guide has everything you need to know about how to get there and what to expect.
Article Contents
---
Want to save time and energy on planning?
We've traveled to Iceland 3 times now and spent weeks living in a campervan, traveling around the country. We've been able to explore a lot of what Iceland has to offer!
We've compiled our experience to create the perfect Iceland itinerary. Our itinerary is for 7-9 days and meant to be explored while traveling in a campervan. It includes the highlights of the southern coast of Iceland. 
We'll send you our complete 7-9 day customizable itinerary, filled with tips and advice. Just click below to get your perfect Iceland itinerary today!


---
Fosslaug Overview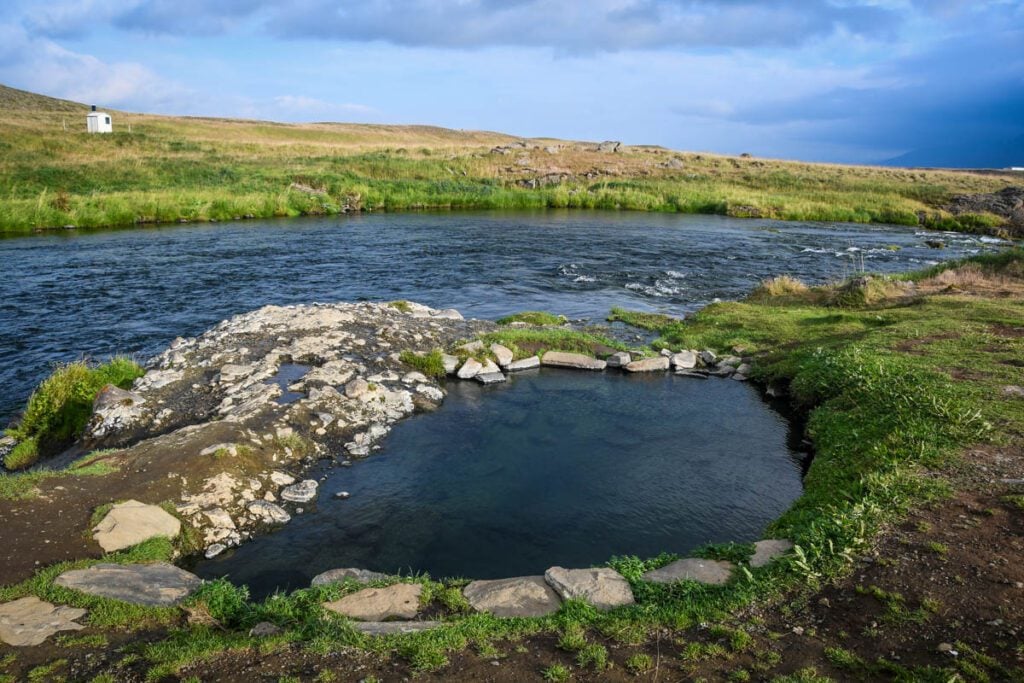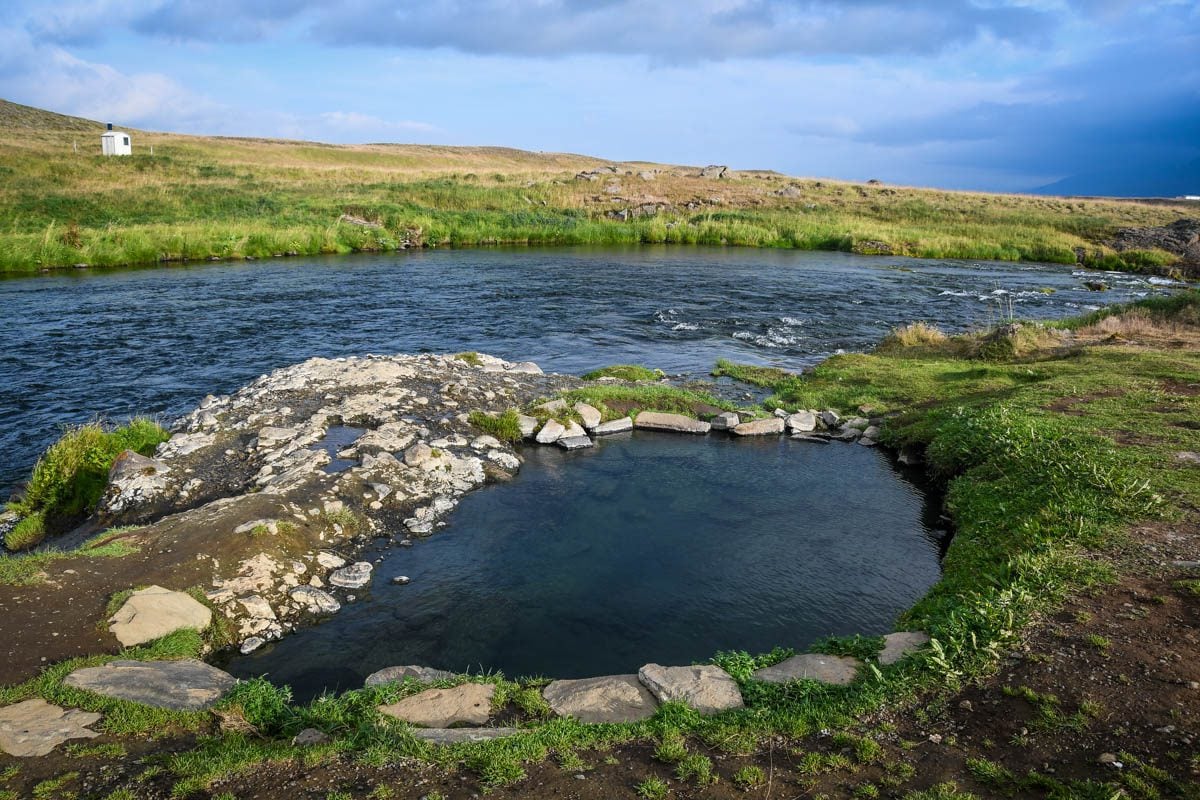 Just a small detour off the Ring Road, this idyllic hot pot nestled in Iceland's bucolic countryside is a gem worth visiting.
The lukewarm waters of this riverside hot spring create the ideal conditions for a longer soak so you can spend more time soaking up those mineral-rich waters and taking in the picturesque views. It tends to stay around 40 C (100 F) year round.
Like many other remote hot springs in Iceland, this pool is rather small and can only fit around 6 people comfortably, so you'll want to arrive early in the morning or late evening for the best chances of having this pool all to yourself.
Depending on the strength of the river, some opt to take a chilly dip in the river, then warm back up in the waters of the hot spring.
Reykjafoss Waterfall Overview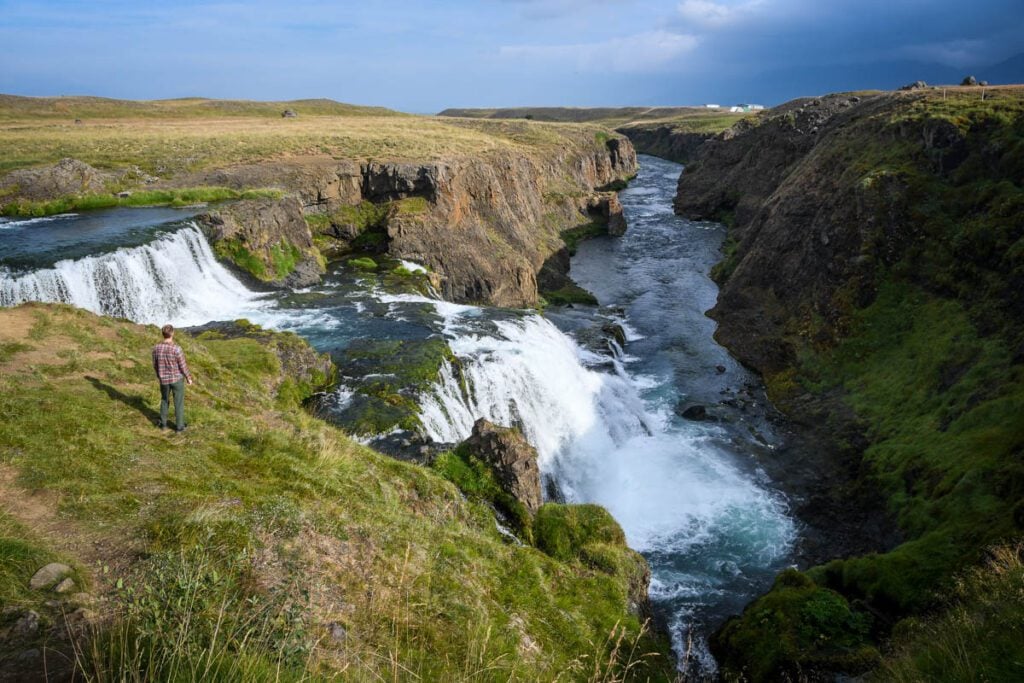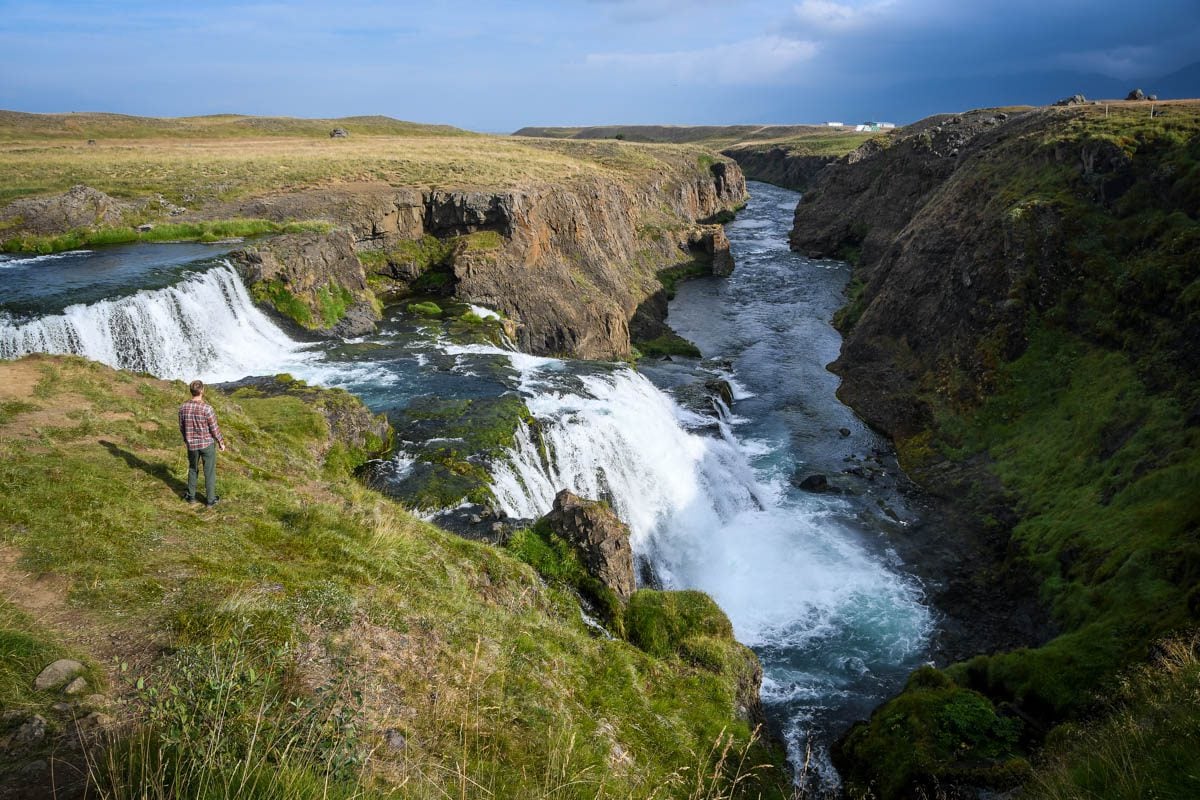 Nestled among the treasures in north Iceland, Reykjafoss Waterfall cascades nearly 20 meters (65 feet) before pouring into the Húseyjarkvísl River and eventually meeting the north Atlantic Ocean.
In its panoramic setting you can view the waterfall with distant mountains and rolling fields as its serene backdrop. You can grab stunning captures of this area for some frame-worthy Iceland photos.
There are two different viewpoints of the waterfall you can hike to, you'll pass both on your way to Fosslaug Hot Spring.
Good to know: Visiting after or on a rainy day is the best time to see Reykjafoss Waterfall since the water flow will be the strongest. Prepare for the trail to be a bit muddy!
How to get to Fosslaug & Reykjafoss Waterfall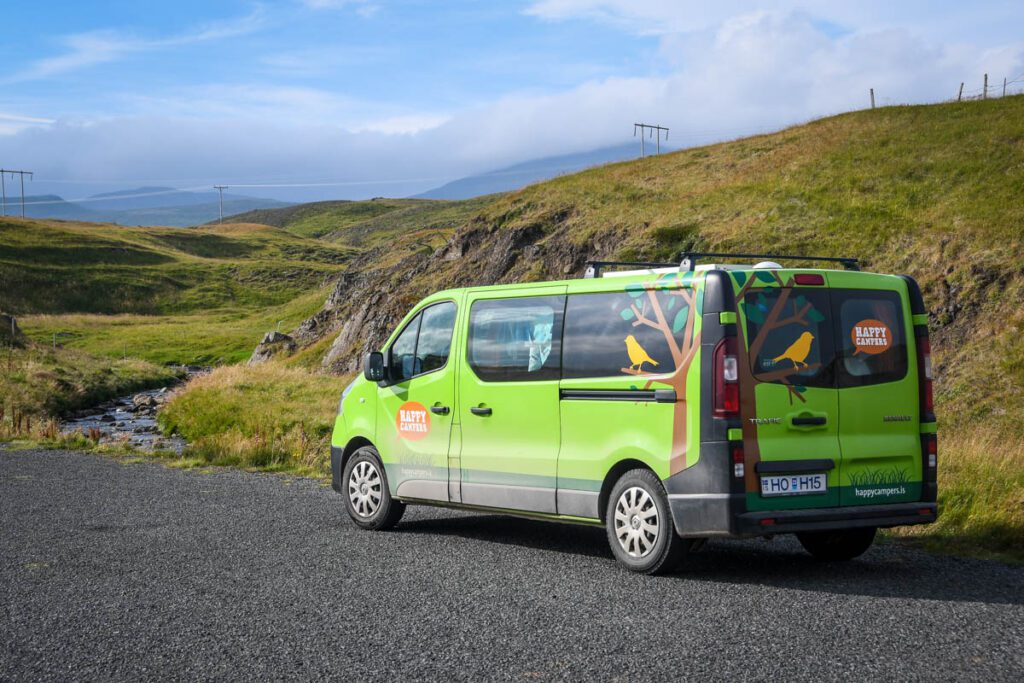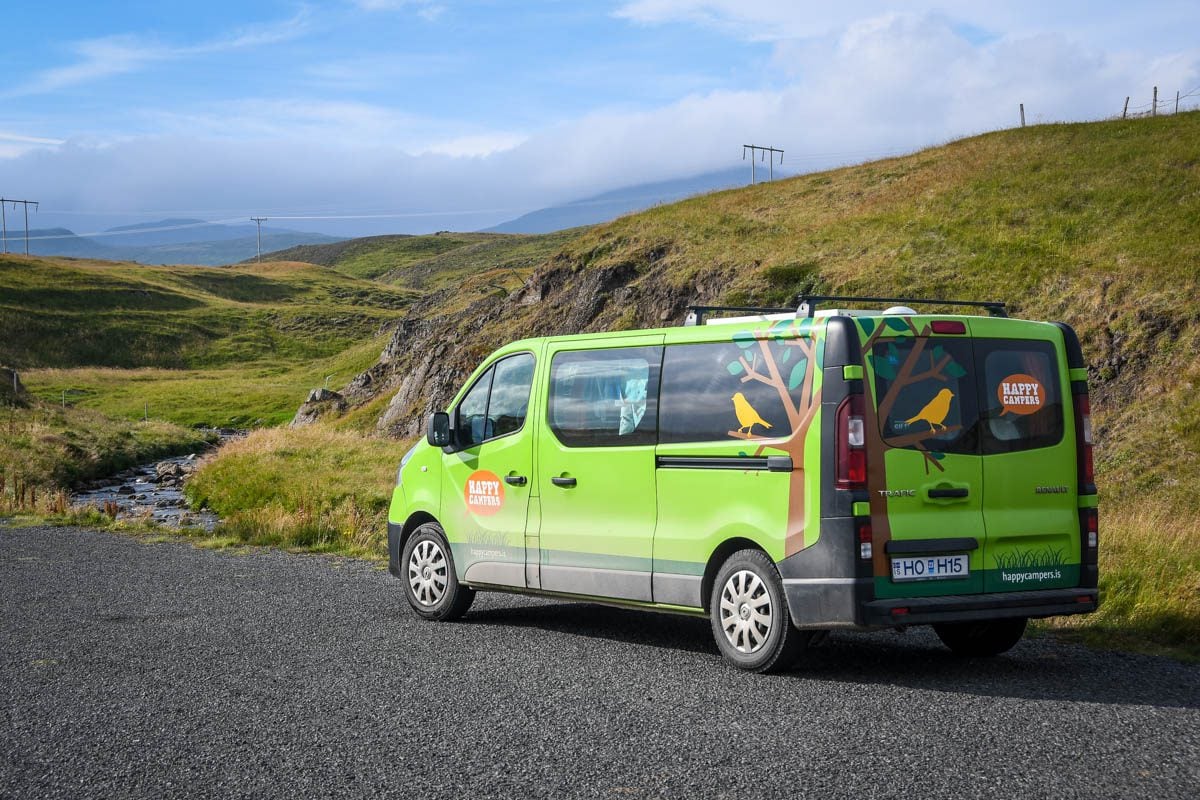 Fosslaug and Reykjafoss Waterfall are about 7 km (4.4 miles) south of Varmahlíð.
Getting to both is pretty straightforward, but Google Maps tends to be finicky, so we've outlined the exact driving directions below so you don't get turned around.
Directions to Fosslaug & Reykjafoss parking lot
From Varmahlíð, you want to take Highway 1 to 752 (Skagafjarðarvegur)
Follow 752 for around 4.9 km (3 miles). You'll know if you've gone too far if you spot the "you've gone too far" sign posted by a local farmer up the road
Next, you'll turn onto 753 (Vindheimavegur)
Follow this road for 0.8 km (0.5 miles) then turn right on Vindheimamelar (it's a gravel road)
You continue straight until you see the sign and reach the Reykjafoss Car Park.
Good to know : No matter where you're driving from, use the search "Reykjafoss car park", otherwise it will take you to the wrong side of the river.
Driving times from popular locations nearby
From Reykjavik: 3 hours, 50 minutes
From Godafoss: 1 hour, 47 minutes
From Akureyri: 1 hour, 26 minutes
To reach both locations, you'll take one trail from the same parking lot. You'll pass the waterfall first, then continue to the hot spring.
Hiking details
Distance: 580 meters (0.36 miles), one way
Elevation Gain: 0 feet
Type of hike: out-and-back
Difficulty: easy
Hiking time: less than 30 minutes
The trail is pretty well-worn and straightforward, so you shouldn't have any trouble along the way.
The first point of interest you'll pass is viewing location #1 for Reykjafoss Waterfall, about ¾ of the way to the hot spring after the first gate. The trail will jut out slightly to the right. You'll pass the viewpoint and the trail will meet back up with itself.
Continuing on, you'll cross a bridge with the second gate until you reach Fosslaug Hot Spring. Opt to soak when you arrive or when you're on your way back from the second viewpoint.
The second viewpoint is just around the corner of the hot spring and it gives a more up close look of the falls and river. This is where the trail ends, so once you've taken in the view, you'll turn around and go back the way you came.
Good to know: If you're visiting in the winter months, consider bringing a pair of crampons or microspikes since the trail can get slippery.
Best time of year to visit Fosslaug & Reykjafoss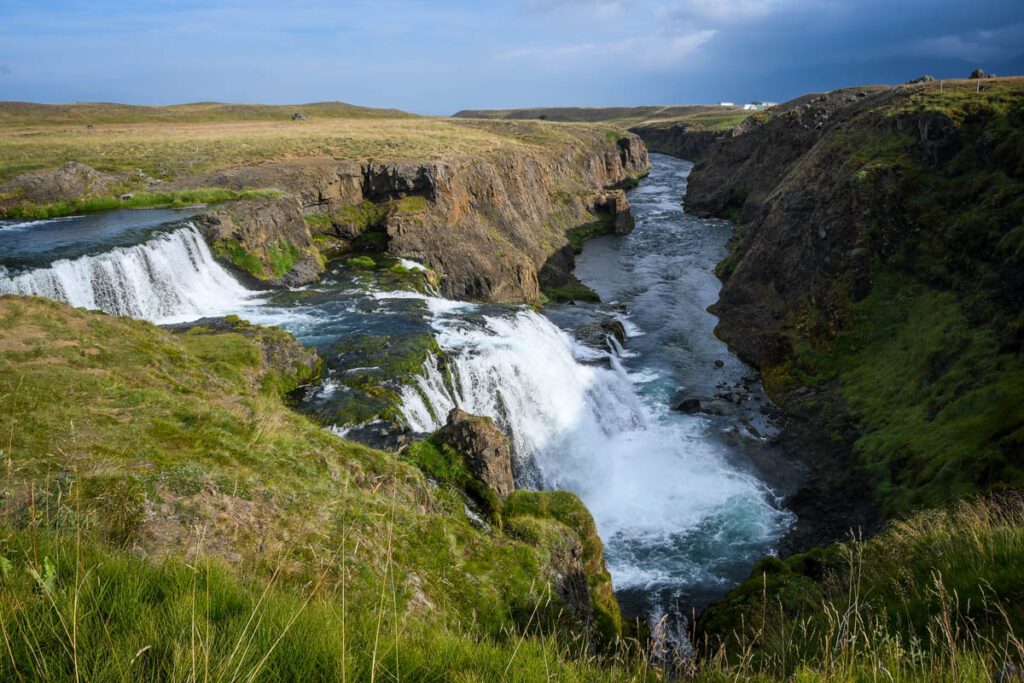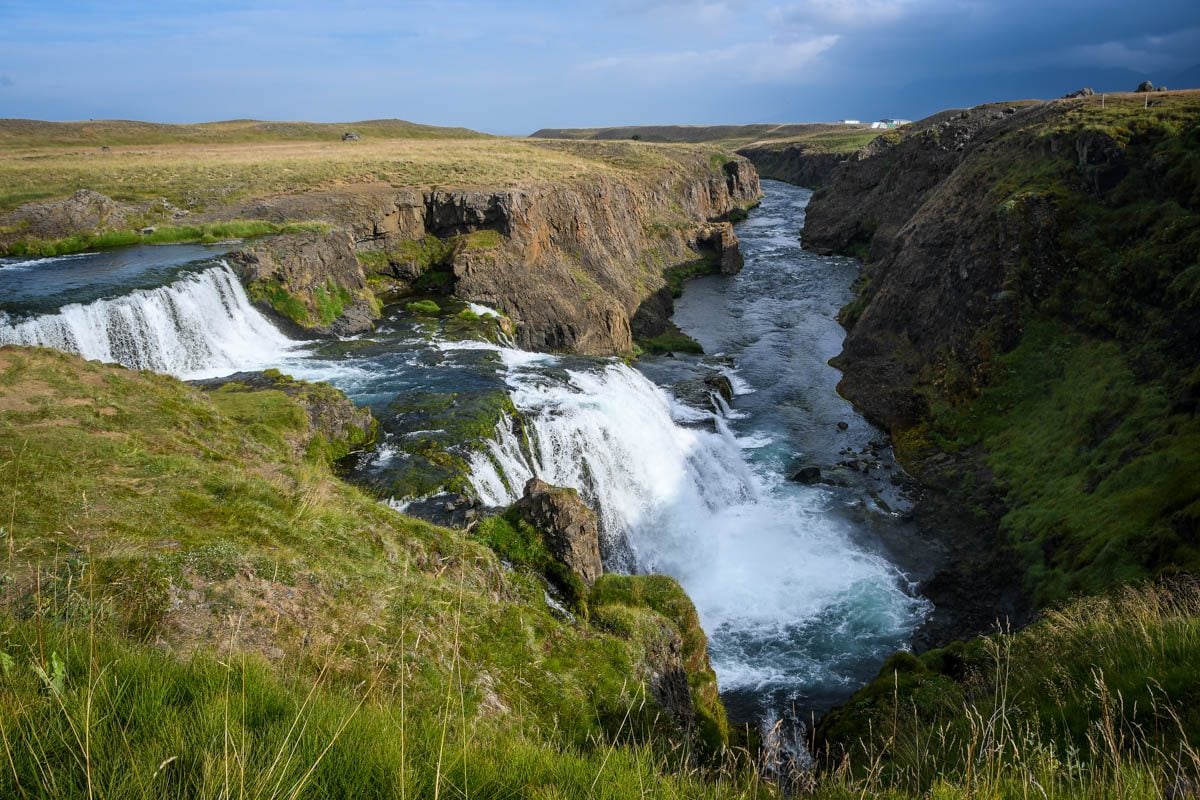 Fosslaug and Reykjafoss waterfall can be enjoyed year round, which makes planning a visit dependent on your own preferences since Iceland has four distinct seasons, each with their own pros and cons.
Summertime is the most popular season to visit Iceland since the weather is favorable for outdoor activities like this all over the country, and you have seemingly endless daylight thanks to the midnight sun.
However, some consider hot springs and an Icelandic winter or fall a match made in heaven. The crowds, prices, and temperatures decrease dramatically during these seasons, which is a huge perk if you're traveling on a budget.
Psst! Use our detailed guide on the best time to visit Iceland to see exact breakdowns of each season and advice for planning your trip.
Our personal experience at Fosslaug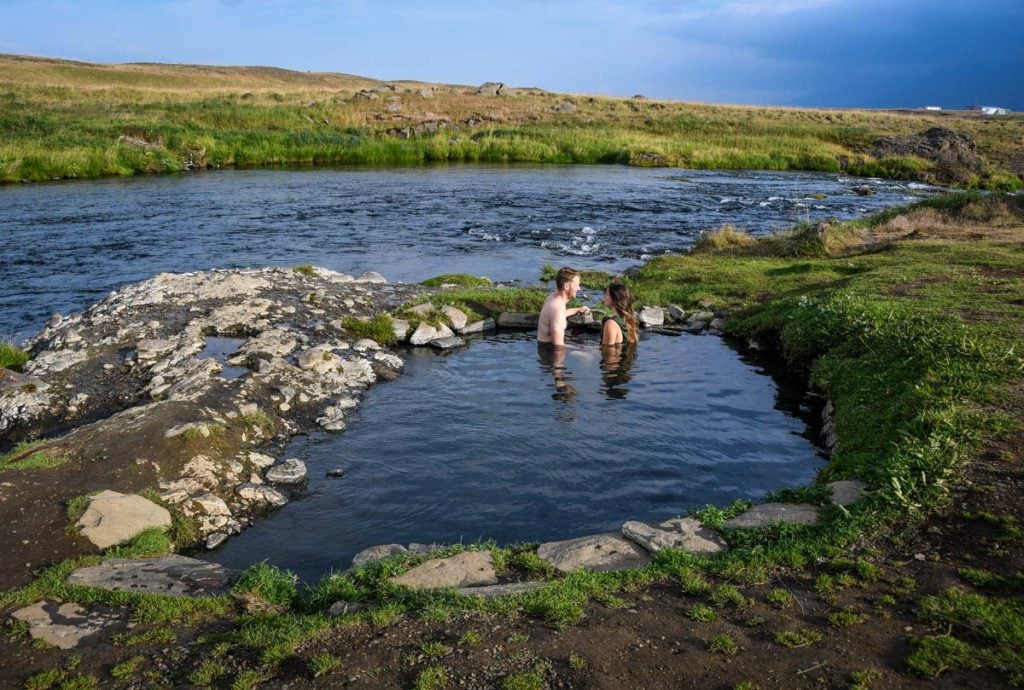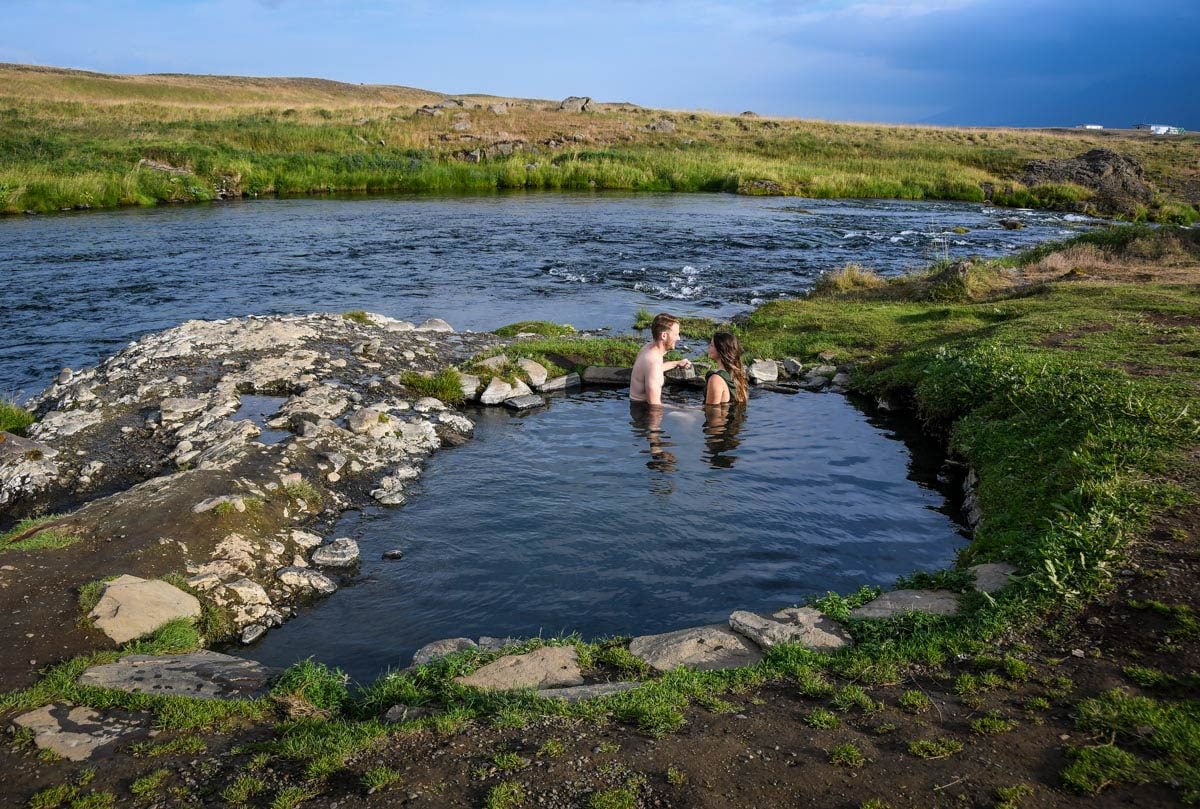 This was one of our very favorite hot springs in all of Iceland. It's situated on the edge of a scenic river in the heart of Icelandic countryside, making it one of the most beautiful natural hot springs in the country.
On top of that, it's located in northern Iceland, which is an area that most visitors to Iceland never reach, which means there are not the same crowds you'll see at other hot springs in Southern Iceland or along the Golden Circle.
Even though it's somewhat off the beaten path, Fosslaug is actually really easy to reach if you're in the area.
Not far off of the Ring Road, the directions are simple. You then need to walk a ways to get there, but the path is short and easy.
We stayed at a campsite nearby (here's another nearby campsite), so we were able to arrive somewhat early in the morning and had the hot spring entirely to ourselves. It was the perfect start to our day!
On our walk back to our campervan, we passed one family that was heading to the hot spring. If you want to have the best chance of soaking alone, come early or stay late. It would be a stunning place for sunset!
FAQs about Fosslaug & Reykjafoss Waterfall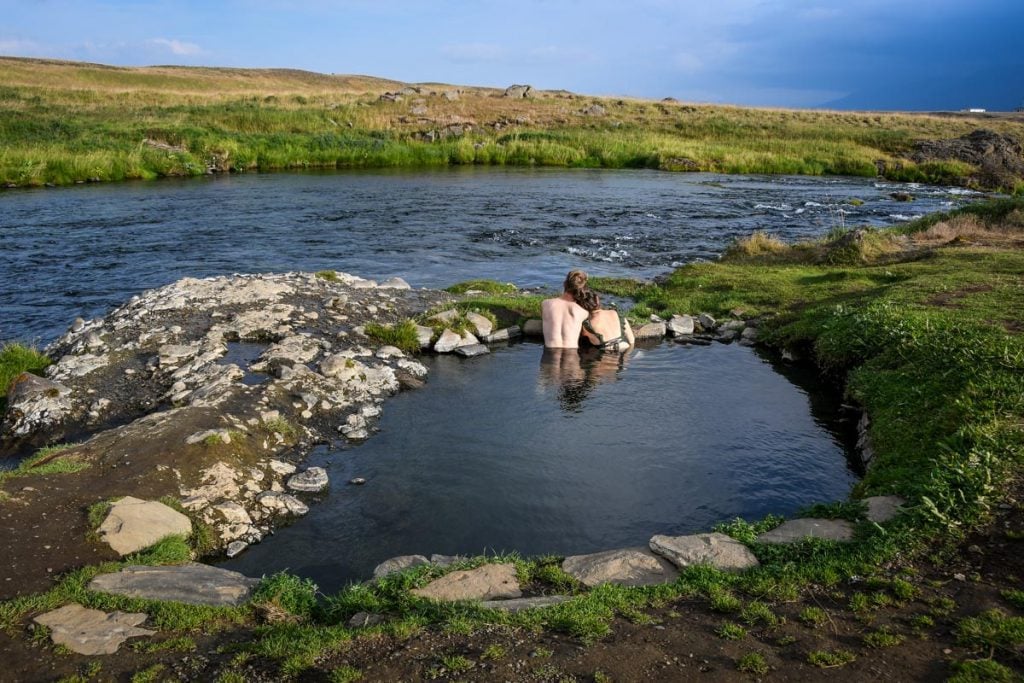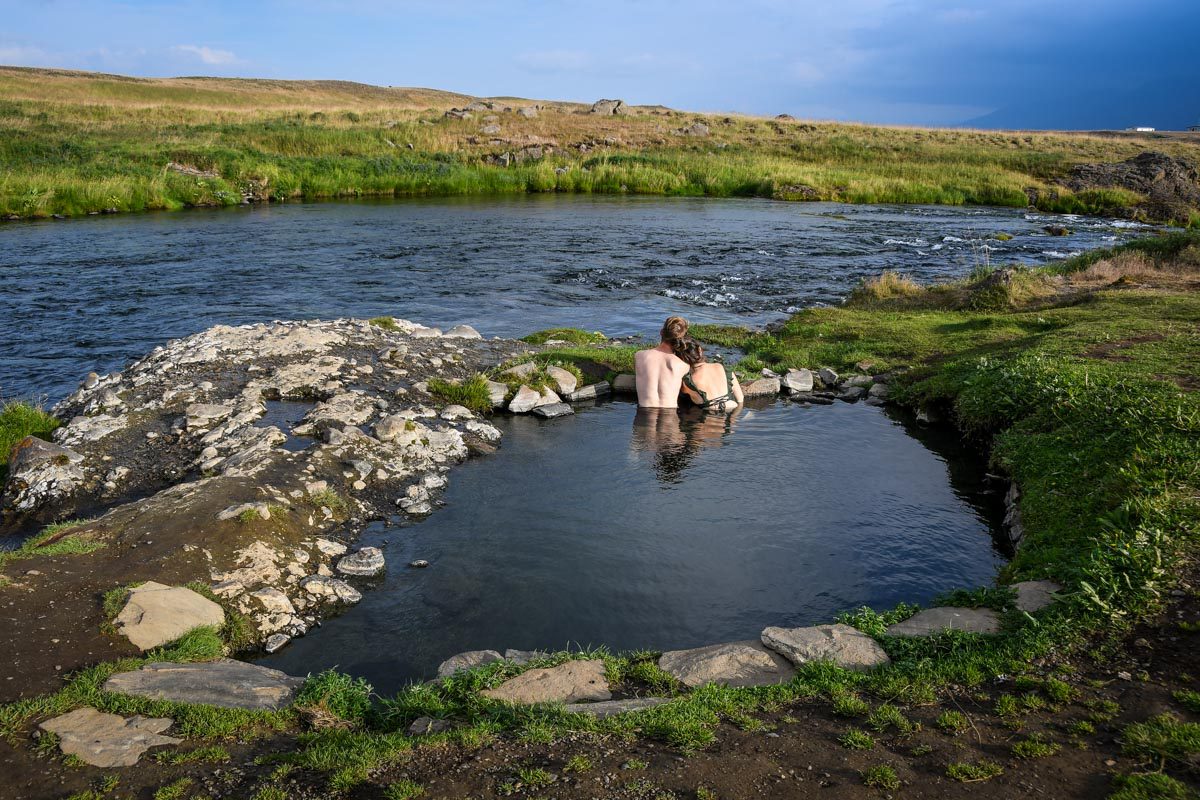 Still having burning questions about visiting each of these locations? We have you covered! Here are some of the most commonly asked questions about visiting Fosslaug and Reykjafoss Waterfall.
Is Fosslaug worth visiting?
Yes! Fosslaug is located right off the Ring Road, making it the perfect stop to break up the drive, stretch your legs, and get off the beaten path in the most remote area of Iceland.
Is Reykjafoss Waterfall worth visiting?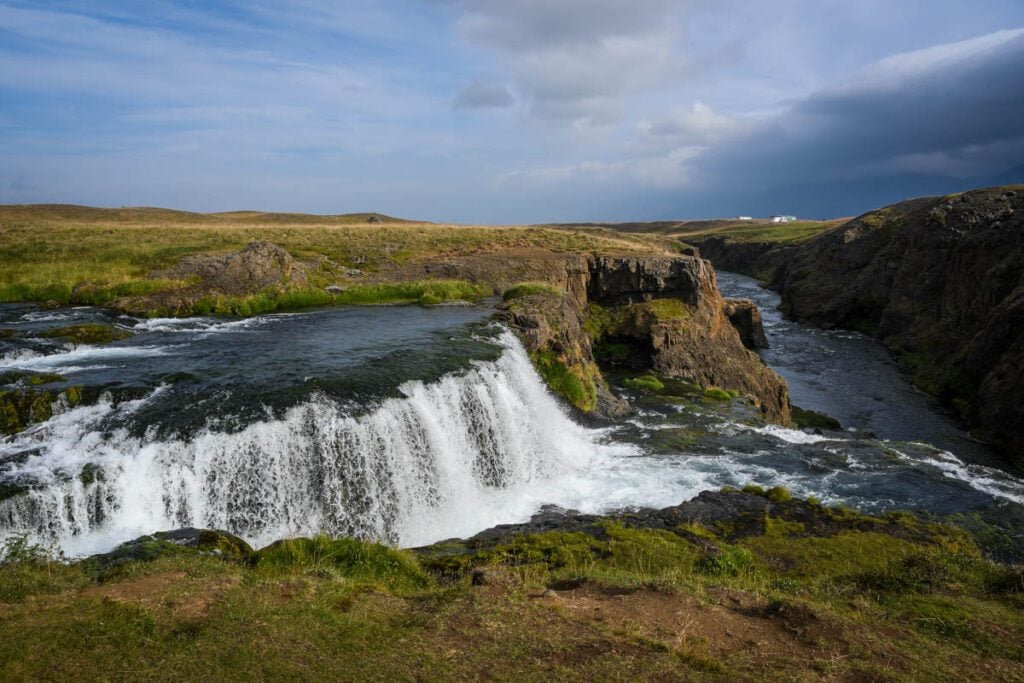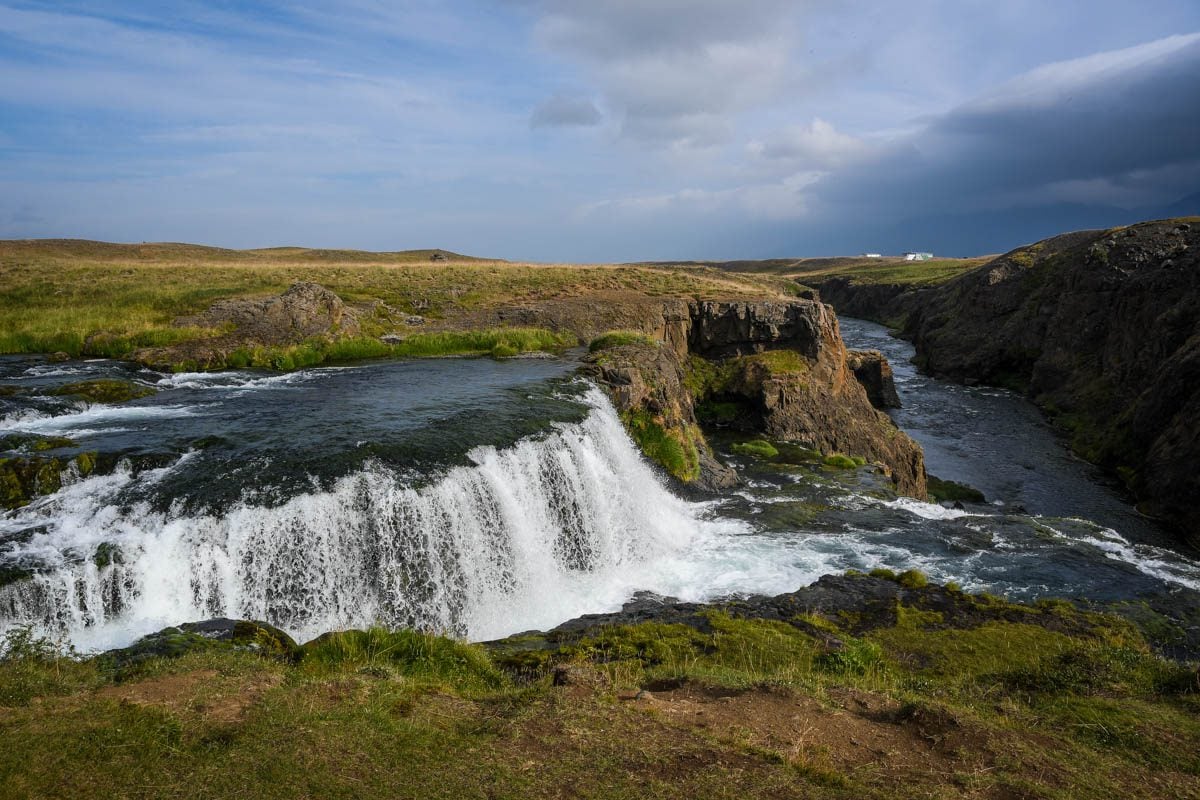 Yes! If you're planning on visiting Fosslaug, Reykjafoss is on your way to the hot spring, so it only makes sense to visit them both.
Regardless of its proximity to the hot spring, Reykjafoss Waterfall is one of many hidden gems in Iceland, making it worth a visit in its own right.
How long does it take to hike to Fosslaug & Reykjafoss?
The entire trail to both locations is less than a mile round trip, so you can make the whole route in under 30 minutes, not including the time you spend soaking.
How much does it cost to visit Fosslaug?
Nothing! It's completely free to park and visit the hot spring.
Tips for visiting Fosslaug & Reykjafoss Waterfall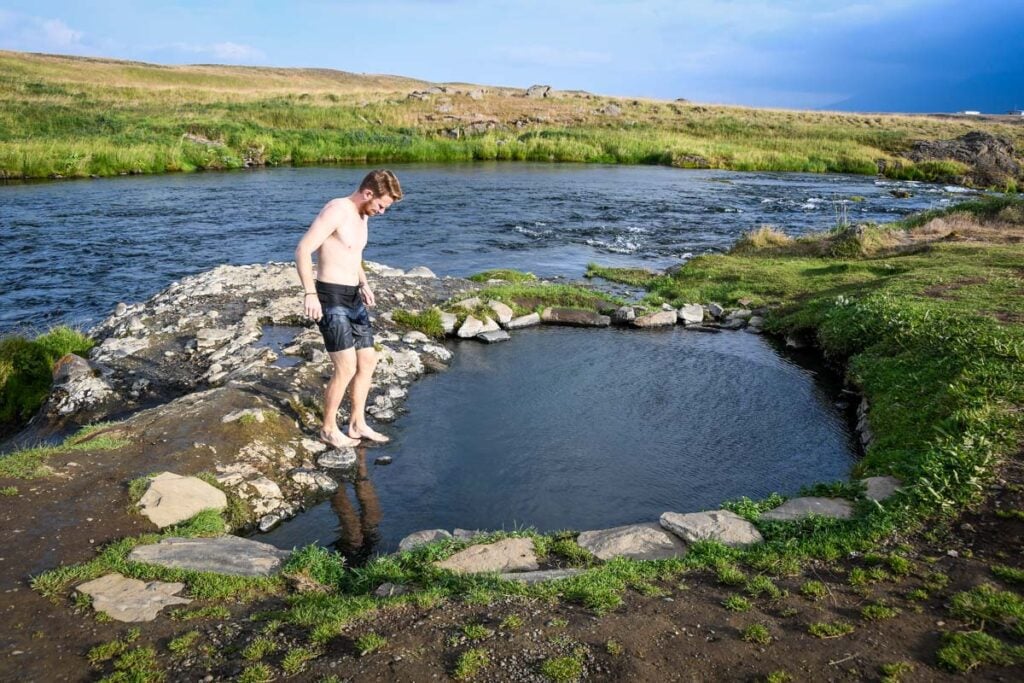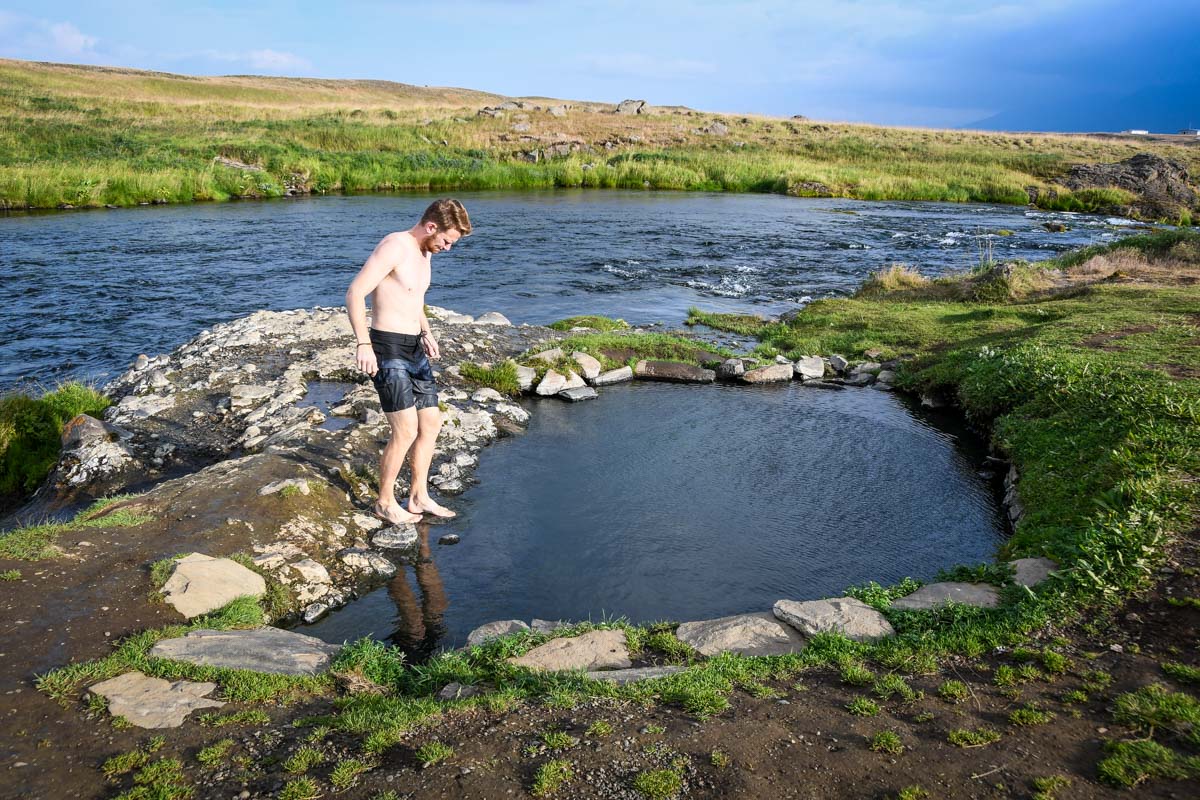 There is no changing room, so we'd recommend changing into your swimsuit before starting the short hike.
Visit early in the morning or around sunset to have these locations to yourself.
Bring warm clothes to keep warm on the walk back. Even in the summer months, the 0.5-mile stroll back to the car park can be chilly.
Respect the local signage. Be sure to close the gates behind you as indicated by the signs.
Leave no trace. This gem is still off the main tourist radar, so pack out all your trash to keep it pristine for the next visitors.
Where to stay near Fosslaug & Reykjafoss Waterfall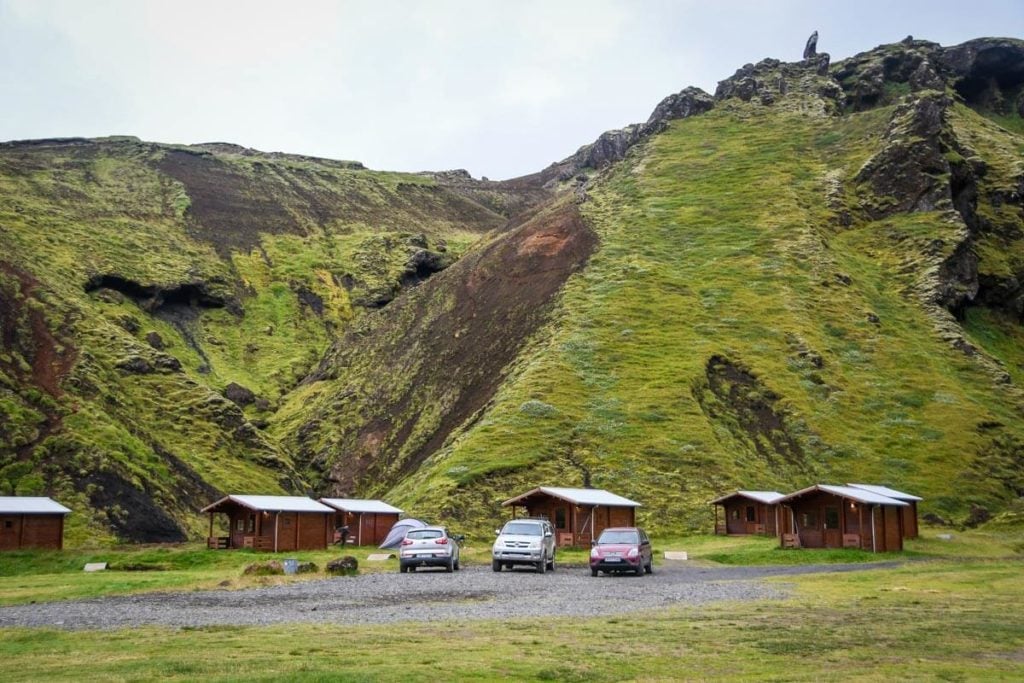 There are many accommodation options nearby with all the amenities you'll want for your basecamp. The north Icelandic countryside makes for a serene and peaceful stay on your Iceland road trip.
Holar Campsite: Spend the night nestled in the magical history of the Holar Forest. You can truly disconnect here since there are only toilets and running water, and no electricity. Nearby there are many historical sites and hiking trails worth exploring.
Camping Varmahlíð: Just a short drive away from the car park, this campsite has toilets, hot/cold water, swimming pool, showers, and hot tub all nestled in a wooded area. It's a popular stay for local families.
Frostastaðir Guesthouse: Tucked into the Icelandic countryside, this stay has stunning views of distant mountains with all your favorite comforts of home: a kitchen, washing machines, wifi, spacious living areas, and garden.
Hestasport Cottages: This quaint cottage is located right off the Ring Road and has a hot tub of its own for you to soak in. Experience the serenity of North Iceland just a short ways away from town in the Valley of Horses.
What to pack for visiting Fosslaug & Reykjafoss Waterfall
Hydration pack and/or water bottles
Swimwear
Sun protection: sunglasses, hat, sunscreen
Comfortable walking shoes or sandals
Camera and tripod (this is our favorite for hiking)
Be sure to download our complete packing list for Iceland! It's packed with good suggestions and insider tips to help plan your Italy trip. And it's completely FREE, so why not!?


---
Are you planning a trip to Iceland?
We have TONS of resources on travel in Iceland and how to make the most out of your trip. Check out our Ultimate Iceland Travel Guide for all the answers to your most burning questions, or read some of our favorite articles below.
Save this article on Pinterest for later!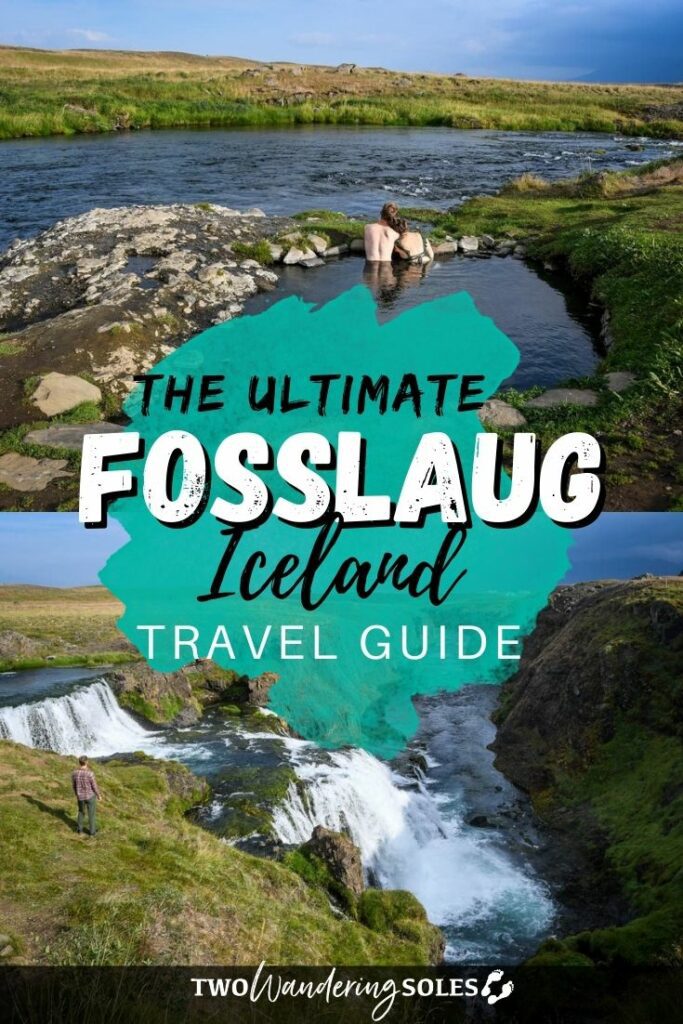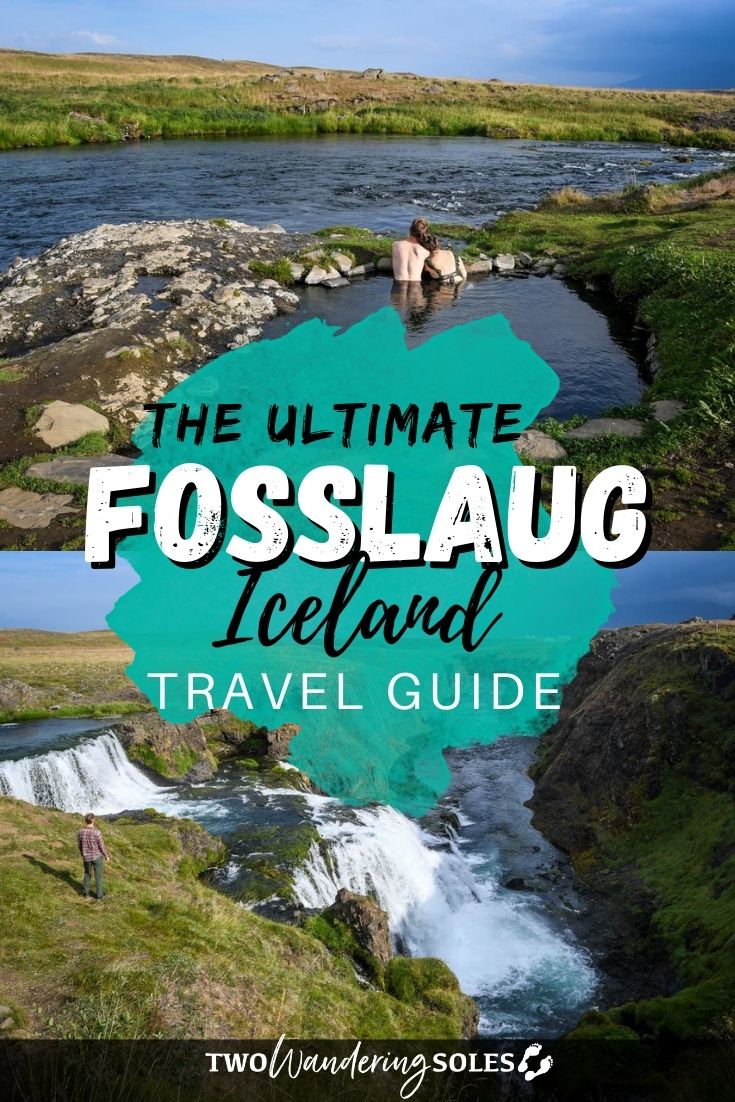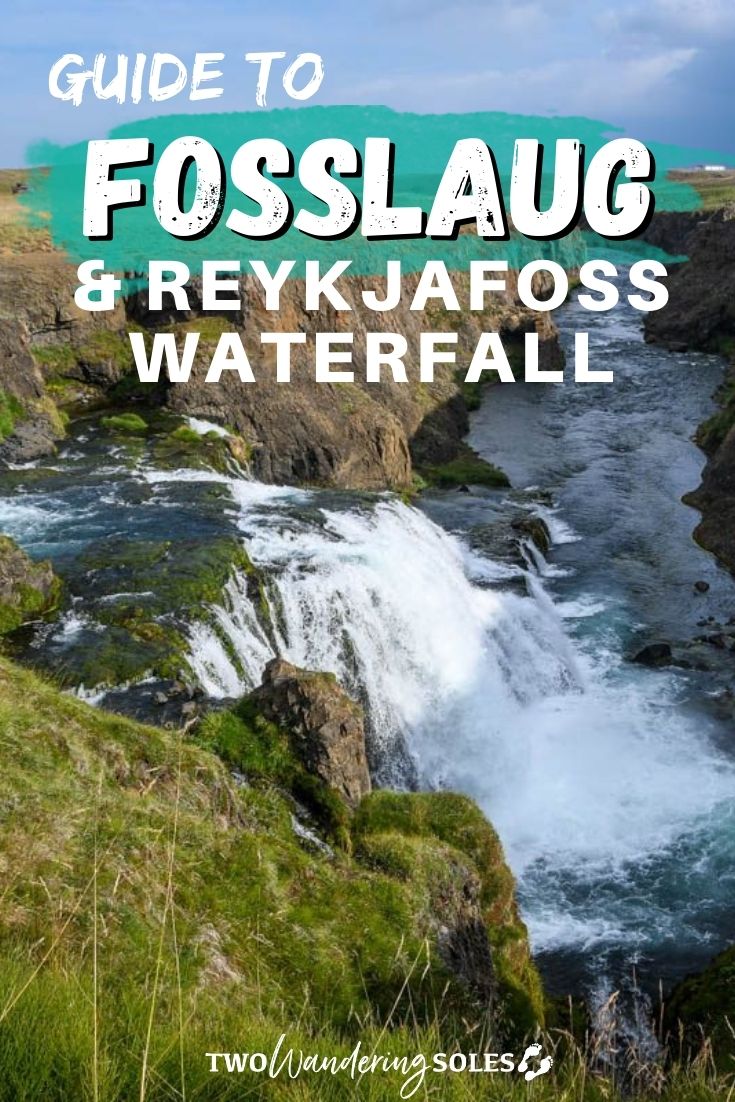 We want to hear from you!
Are you planning to visit Fosslaug Hot Springs and Reykjafoss Waterfall on your trip to Iceland and still have questions? Leave your comment below and we'll do our best to get back to you!