How expensive is Iceland? We're breaking down exactly how much a trip to Iceland costs. Plus, we're sharing our top (super practical!) money-saving tips for traveling Iceland on a budget to help you travel the land of fire and ice without blowing the bank!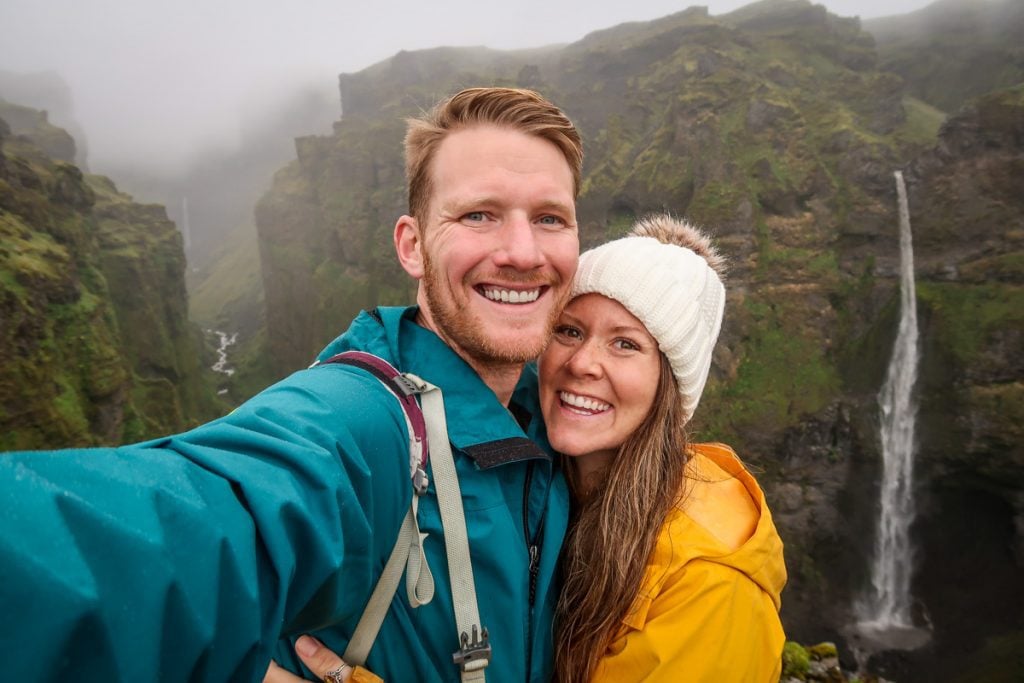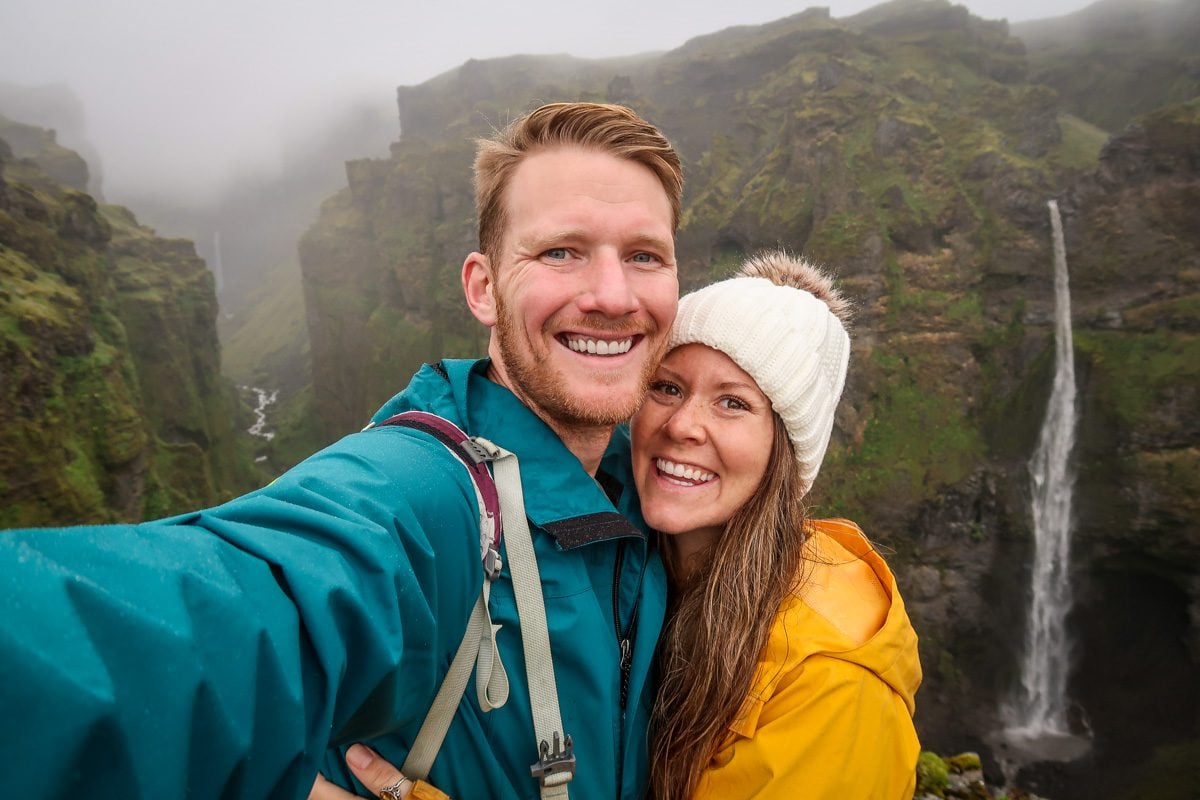 Let's get one thing straight: Iceland is an expensive country. I'd be lying if I told you anything different. And it makes sense when you think about it – almost all goods have to be imported to this volcanic island in the North Atlantic.
Here's the blunt truth… Iceland is one of the most expensive countries we've ever visited. But there certainly are ways to save money and make it a more affordable destination, even if your budget is small.
In fact, we're about to spill some super sneaky budget tips (39 of them to be exact!), just you wait and see.
Want budget tips now? Jump down to our top money-saving tips!
Iceland Trip Cost Guide
In this article, we will answer two main questions:
In the first portion of this article, we'll share our average costs for things like accommodation, food and transportation. This should give you a really good idea of how much traveling to Iceland costs.
We've visited Iceland two times (plus, a 48-hour layover!), and we've collected all sorts of nerdy and actionable budget tips that we'll be sharing in the second section of this article.
---
Want to save time and energy on planning?
We've traveled to Iceland 3 times now and spent weeks living in a campervan, traveling around the country. We've been able to explore a lot of what Iceland has to offer!
We've compiled our experience to create the perfect Iceland itinerary. Our itinerary is for 7-9 days and meant to be explored while traveling in a campervan. It includes the highlights of the southern coast of Iceland. 
We'll send you our complete 7-9 day customizable itinerary, filled with tips and advice. Just click below to get your perfect Iceland itinerary today!


---
Why is Iceland so expensive?
First things first…
Iceland isn't just expensive for travelers. It's regularly listed in the top most expensive countries in the world when it comes to living expenses.
There are several factors that determine the cost of living (and therefore travel) in any given country.
For starters, Iceland is an island nation to which many goods are imported.
Things that you wouldn't even think about – like the agricultural equipment used in farming – needs to be shipped in. This means the price trickles down into the food at restaurants and grocery stores. Now, consider that gas must be imported. This means that not only is it expensive to get around, but it also becomes very costly to ship goods around the country.
Add to that the fact that Iceland has become an increasingly popular tourist destination, leading to an influx of hotels and Airbnbs. This in turn has made the cost for housing rise for locals, creating a cycle of rising prices.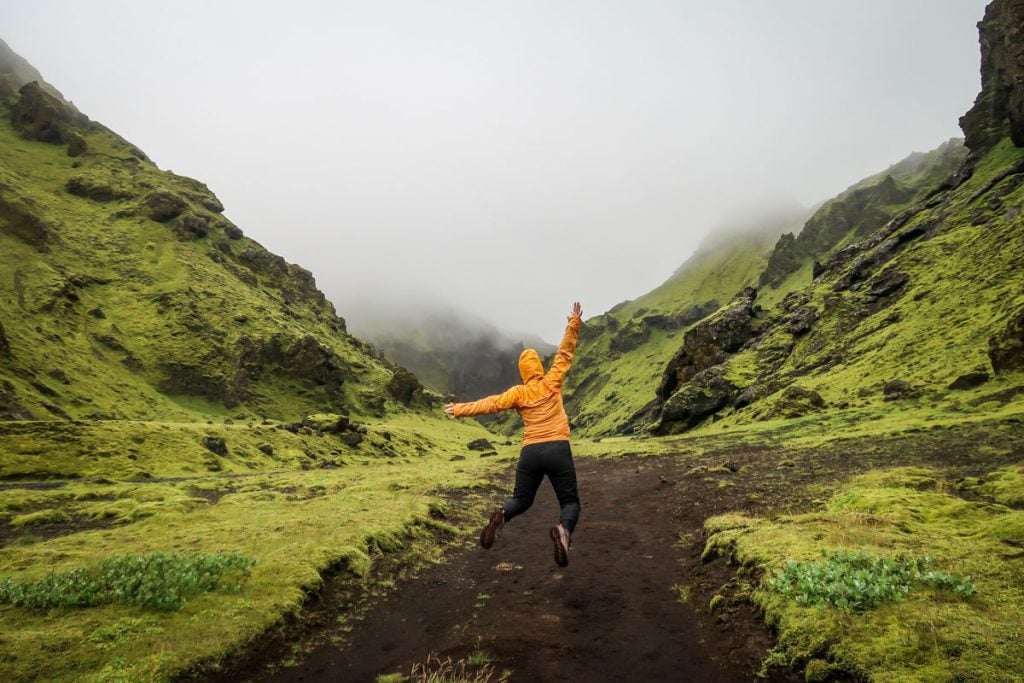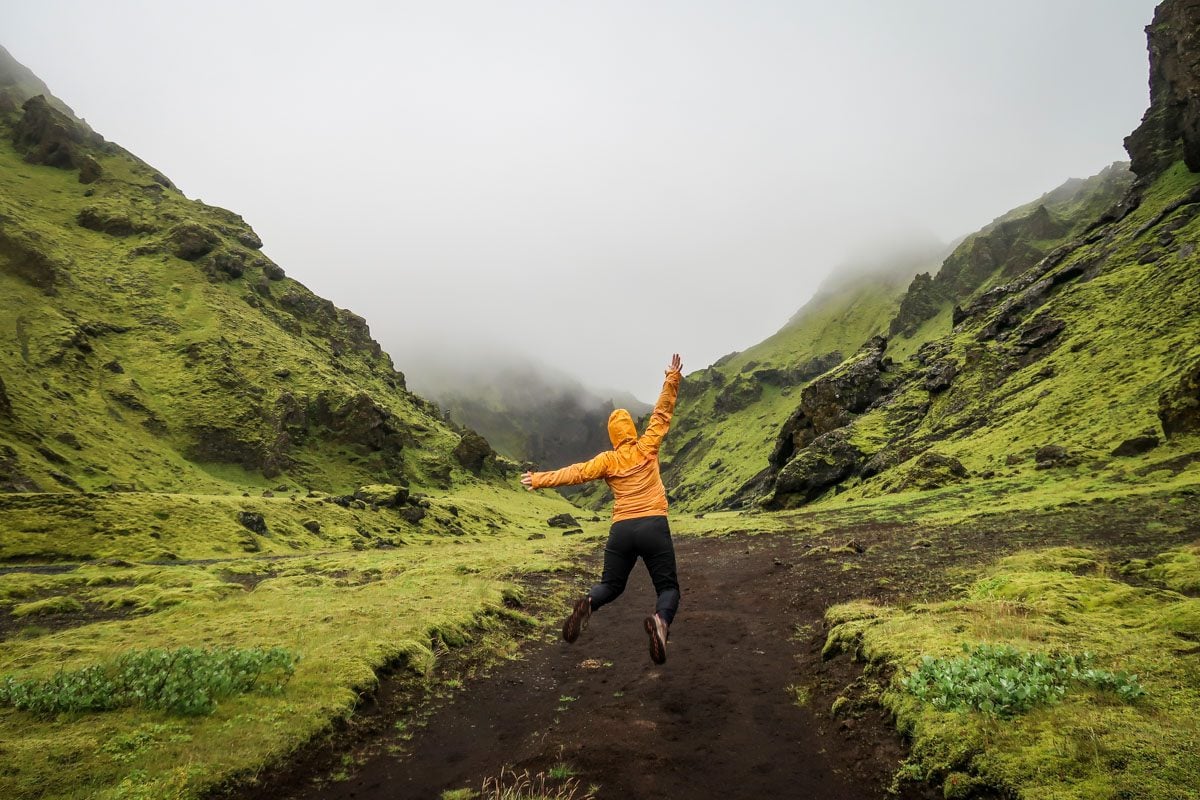 How much does a trip to Iceland cost?
Important Note: Prices listed below are based on our own personal experience and our own research. They are averages and are meant to give you a starting point as you plan your Iceland budget. The numbers in this article are from August 2021. We will do our best to keep them updated, but know that prices fluctuate greatly throughout the seasons and will rise with time.
---
Accommodation Costs in Iceland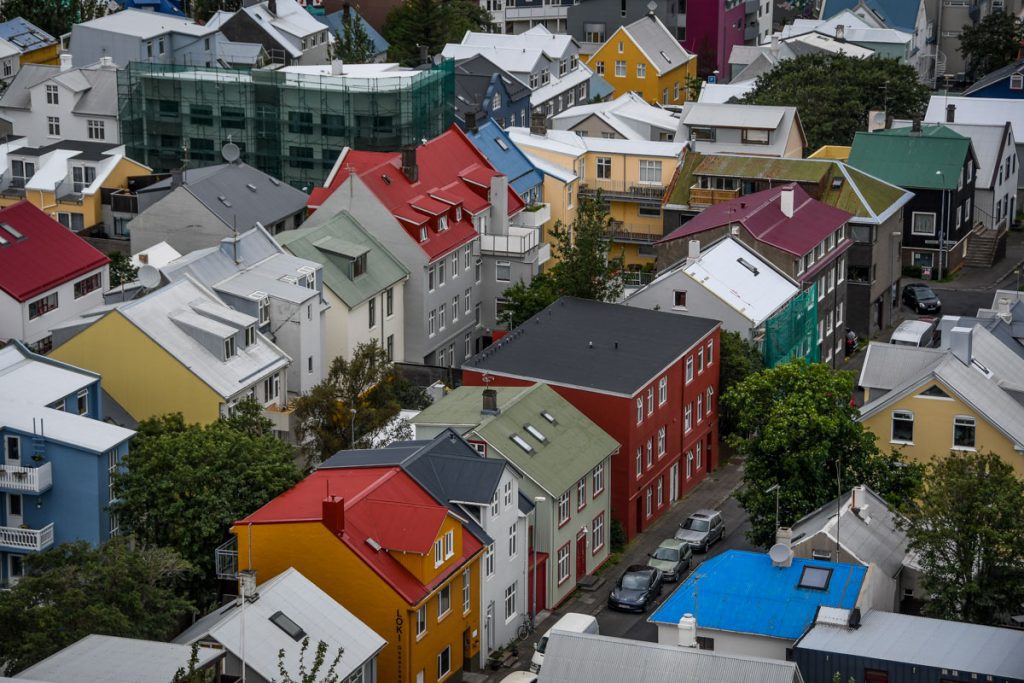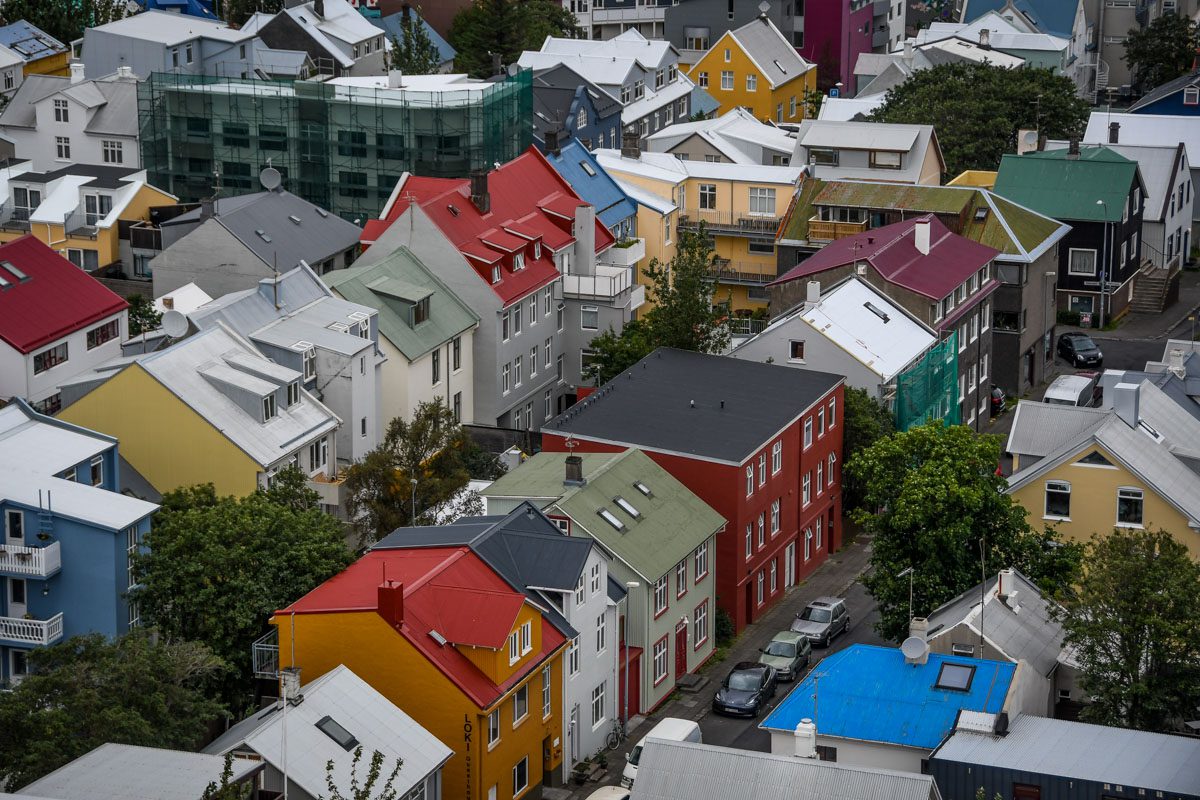 When it comes to finding places to stay in Iceland, there are all sorts of options:
Traditional Hotels
Guesthouses
Airbnbs
Hostels
Campgrounds
And it should come as no surprise that some of those options are going to be (much!) more expensive than others.
We've stayed at a handful of different types of accommodation in Iceland, and we'll be the first to tell you camping is the absolute cheapest option. However, we know that camping is not for everyone.
So how much should you expect to spend per night on accommodation?
Well, it depends on a few factors:
Type of accommodation: A night at a campground will cost far less than a hotel, for instance.
Time of year: It's worth pointing out that hotel prices can fluctuate significantly throughout the year. Prices in peak season can be much higher than in the winter months. For instance, I stayed at a guesthouse in downtown Reykjavik during the month of December for a cool $120 per night. When I looked at that same property for the following August, it was more than double the price. Yikes!
Average accommodation cost per night:
Hotels, Guesthouses, Airbnbs: $150 – $275 per night
Hostels: $30 / dorm bed or $120 / private room with shared bathroom
Campgrounds: 1,500 – 2,300 ISK per person ($11 – $18)
Note: The prices listed above are meant to give you an idea of the cost of accommodation in Iceland. They are by no means exact. During high season, they can get more expensive, and during low season, you may find better deals.
How to estimate your total accommodation cost:
Use the information above paired with your travel plans to come up with a good guess.
For example, we planned to camp for the first 11 days of our trip. Then, we stayed at a hotel in Reykjavik for the final 3 days in Iceland. So our total estimate would look like this:
Campgrounds: 11 days x $30 = $330
Hotel: 3 days x $210 = $630
Estimated accommodation cost = $960
How much we spent on accommodation in Iceland
In reality, we spent a total of $946 on accommodation in Iceland, which is pretty darn close to that estimate! That was the total cost for 15 nights, so it worked out to be $63 per night.
Transportation costs in Iceland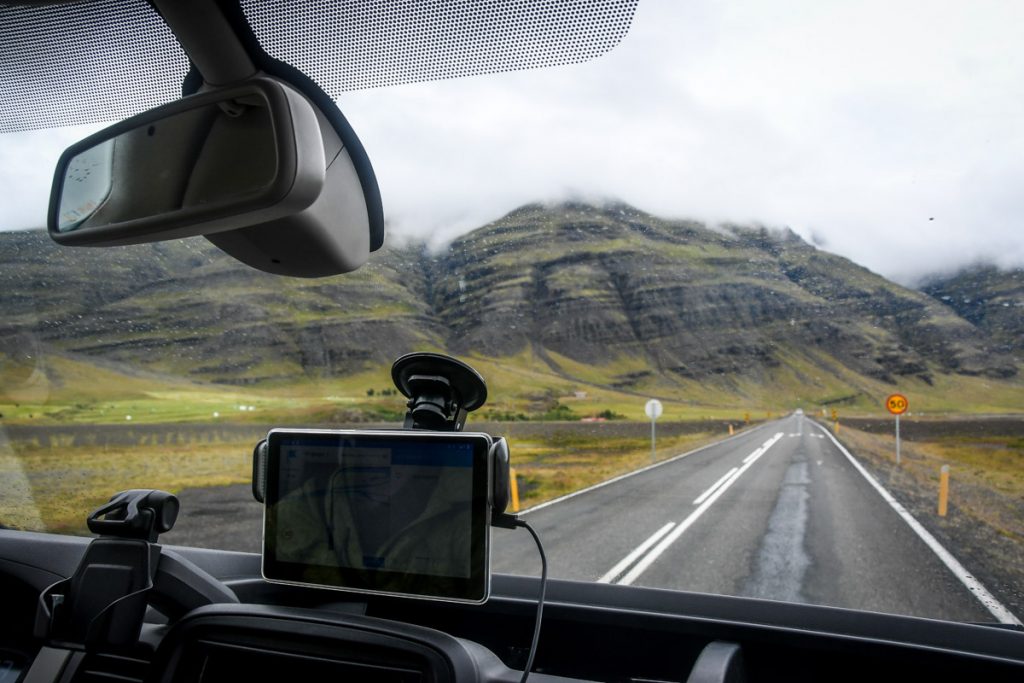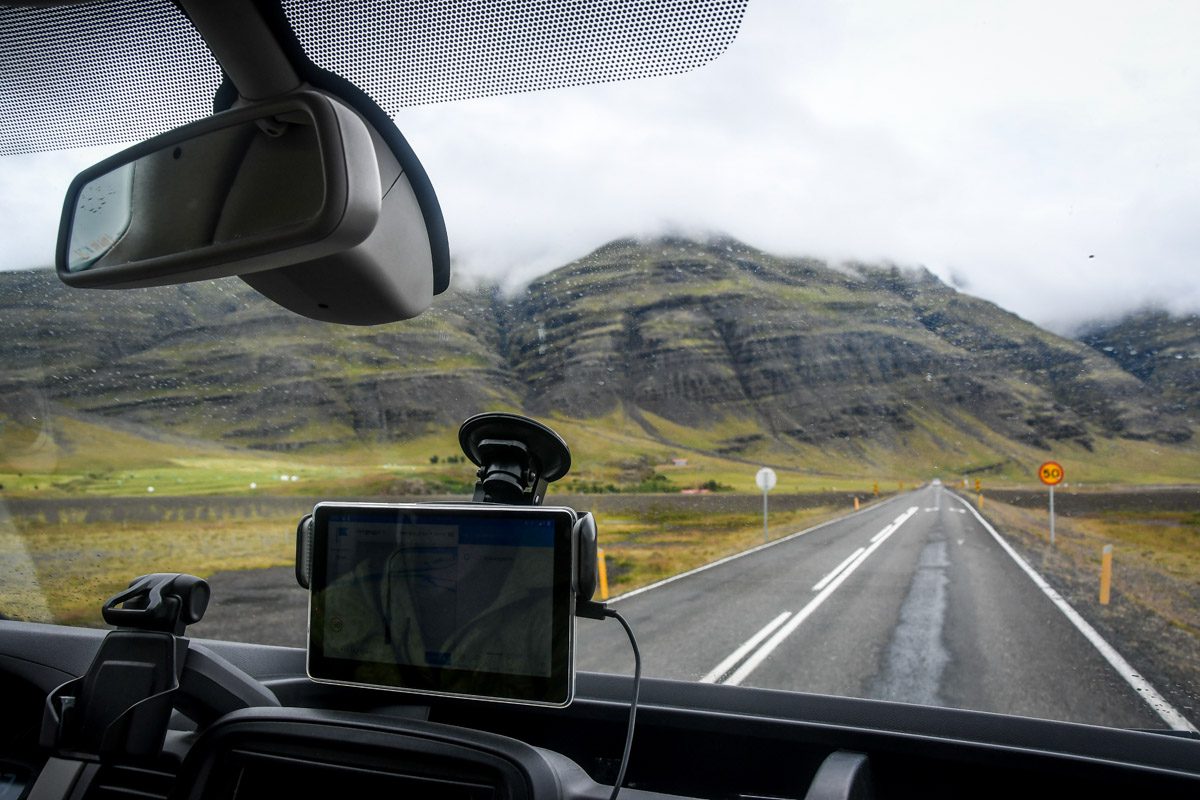 This category is a biggie! Depending on the type of trip you plan to take, these costs are going to vary significantly.
For instance, if you're renting a car or campervan, you'll need to pay the cost of the rental and gas. You may also encounter some parking fees during your Iceland road trip.
On the other hand, if you're only staying in Reykjavík, you may be able to get along with only paying for an airport shuttle and the occasional bus ticket.
We'll share average prices for all types of transportation costs which you can then use to come up with your own estimate.
Vehicle rental costs
These prices rise significantly during the summer months. In the wintertime, you'll find much cheaper prices, and we've tried to reflect that in the information below.
Car rental cost
High Season

Manual: $85 – $125 per day
Automatic: $100 – $150 per day

Low Season

Manual: $40 – $50 per day
Automatic: $55 – $70 per day
Important: Know that these prices are meant to give you an idea of what to expect, and they aren't going to be exact. Additionally, if you are searching very close to your departure date (especially in peak season), the prices will be much higher.
We've rented two different cars in Iceland, and we can tell you there are a few ways you can save money in this category. Jump down to read our tips for saving on your rental car.
Related: We have a whole article detailing what you need to know about renting a car in Iceland.
Campervan Rental Cost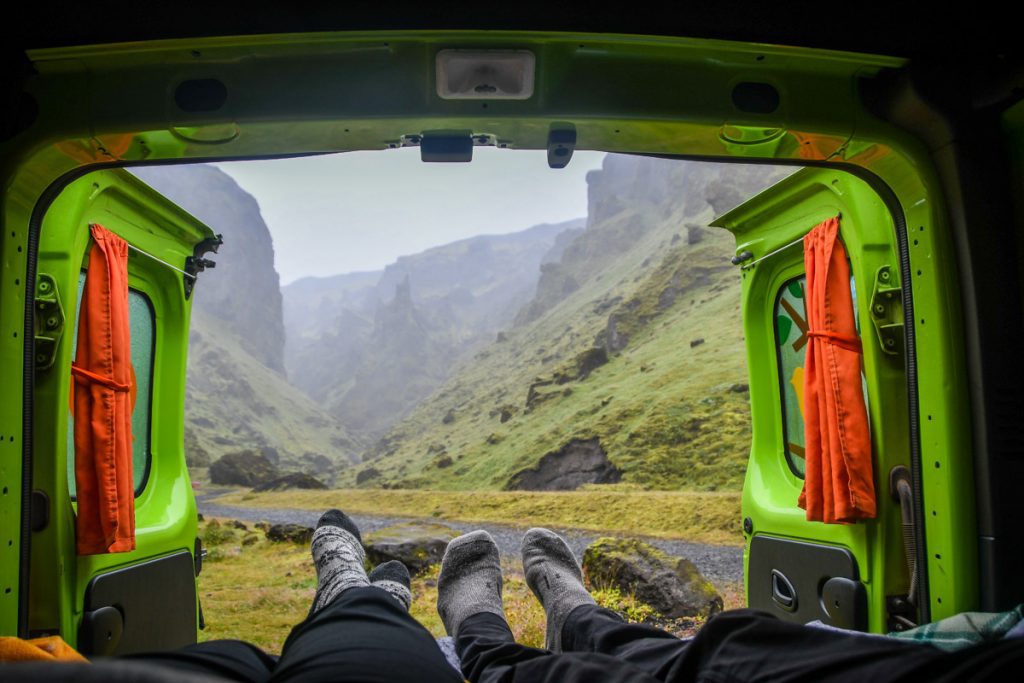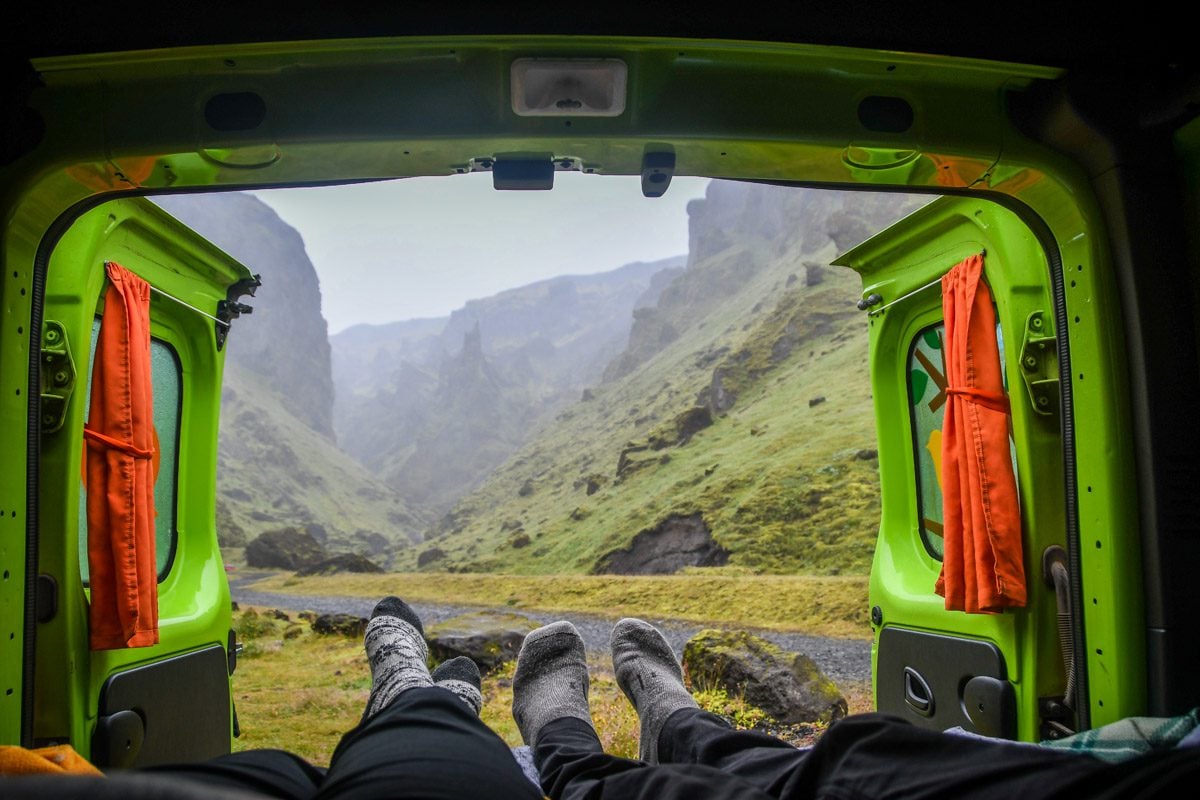 High Season

Budget campervan rental: $140 per day
4×4 campervan rental: $360 per day

Low Season

Budget campervan rental: $80 per day
4×4 campervan rental: $240 per day
Insider Tip: If you know you'll be traveling during peak season, book your rentals as early as possible. As supply drops, prices can increase. While researching for our summer 2021 trip, we saw prices spike to crazy high amounts as we approached our departure date.
Want to save money on your campervan rental?
Good news! We've partnered with Happy Campers to give our readers a 5% off their campervan rental when you use our coupon code: TWS5. Just enter the coupon code TWS5 at checkout on Happy Campers website. 
Related: We have a whole article detailing what you need to know about Iceland campervan rentals.
Vehicle rental insurance
$10 – $25 per day*, depending on the type of coverage you select
*You can forgo insurance, but then you run the risk of having a surprise expense. Roads in Iceland can be notoriously rough, and replacing something like a damaged windshield can be quite costly.
Before your trip to Iceland, take a bit of time to really understand car rental insurance because you'll be asked to select your policy when you arrive (if not before).
In many countries, there is a blanket insurance policy and there's not much to decide other than if you'll take it or leave it. However, in Iceland it's a bit more complicated.
You'll have the option of adding all different types of coverage:
Gravel protection
Sand & ash
Scratch & dent
Tire protection
Theft
It can be downright confusing… I mean, to think that sand and ash damage is categorized differently than gravel (and requires different coverage) is pretty intense if you ask me.
Do the research ahead of time so you aren't caught off guard.
Still confused? We've got some tips and advice on how to select your car rental insurance policy.
Gas
You can't drive a car very far without gas, and unfortunately it's hella expensive in Iceland. (Yeah, I just said "hella".) Since petrol has to be imported to this somewhat isolated island nation, it's easy to see why it's pricey.
Like everywhere in the world, gas prices vary, but they tend to hover around 250 ISK per liter. That works out to be about $7.30 USD per gallon. And it can certainly be higher than that. Yowza!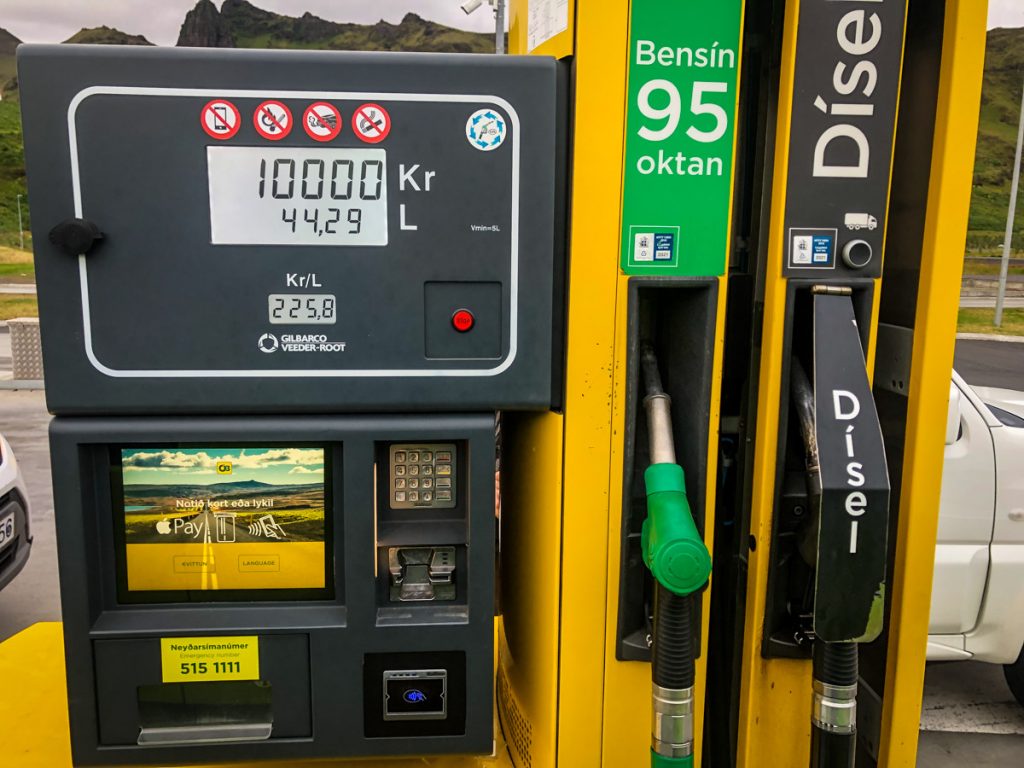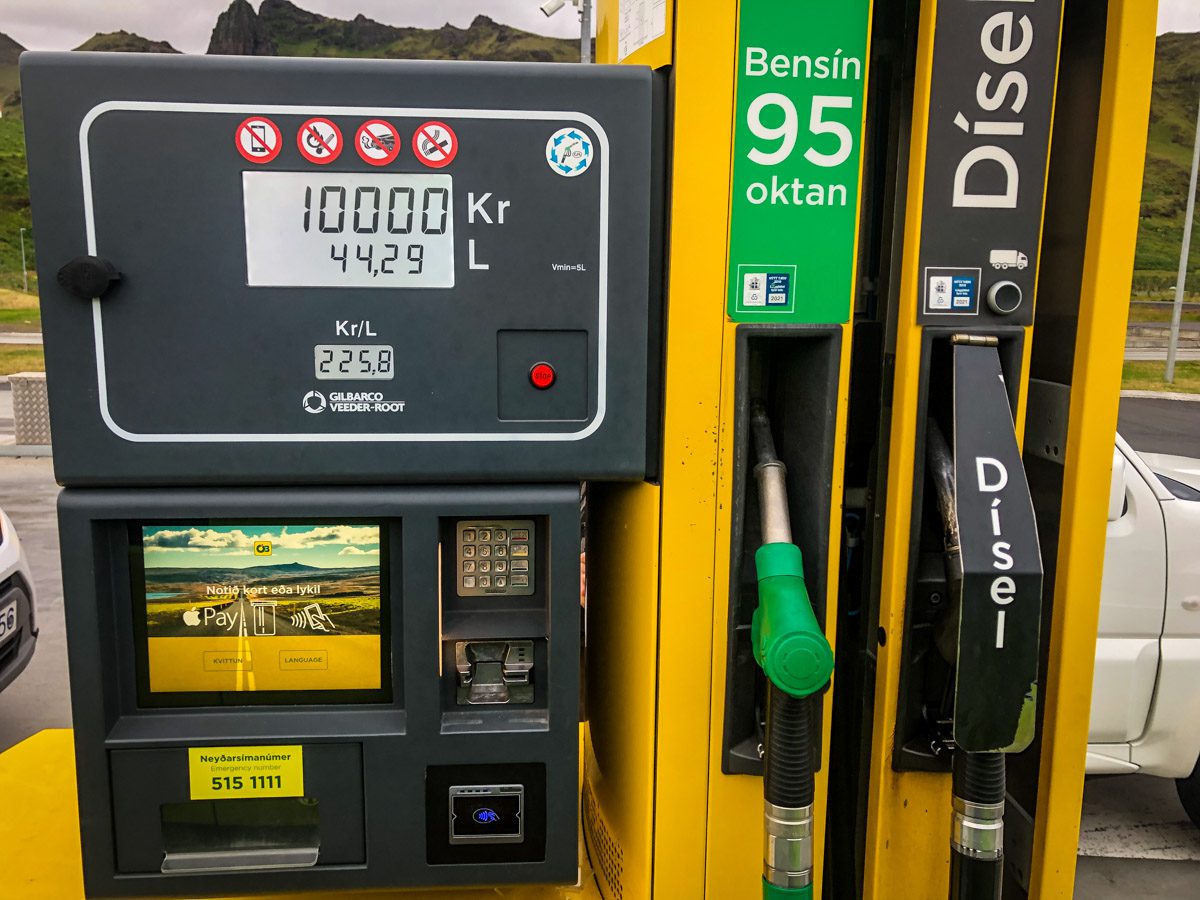 How much we spent on gas in Iceland
To give you an idea of how much overall to budget for gas, we spent a total of49,000 ISK $380 during our 11-day Ring Road road trip that encircles Iceland. That equates to just around $35 per day in gas. We were driving a campervan and went to some off-the-beaten-path spots that are located off the main route.
Wanna save money on gas?
Sure you do! We've got some tips for you right here.
Flights to and from Iceland
This is a hard one to put a number to, as it will vary drastically depending on where in the world you're flying from. Our advice is to look at flight prices between your home and Reykjavík several months before you're ready to purchase. Set price alerts so you'll be notified of drops, and watch the trends. This should give you an idea of what to expect when it comes to the price of flights to Iceland.
Psst! We have more tips on how to save money when booking flights!
Other transportation costs in Iceland
Parking fees:

These can vary, but you can expect to pay somewhere around 200 ISK per hour ($1.50). Outside of Reykjavík, parking fees aren't all that common. In our 2-week trip, we only had to pay for parking twice.

Reykjavík bus fare:

490 ISK (just under $4) is the typical cost of a bus ticket within the city. If you're coming from outside the city, it can be more. We took 3 different buses in and around Reykjavík, and each of us paid a total of $23.

Airport shuttle:

If you need transportation to or from the airport, you'll be looking at spending between $26-$36 per person, depending on how you book it. Head down to our transportation tips to find out how to book the cheapest shuttle.
Food & Drink Costs in Iceland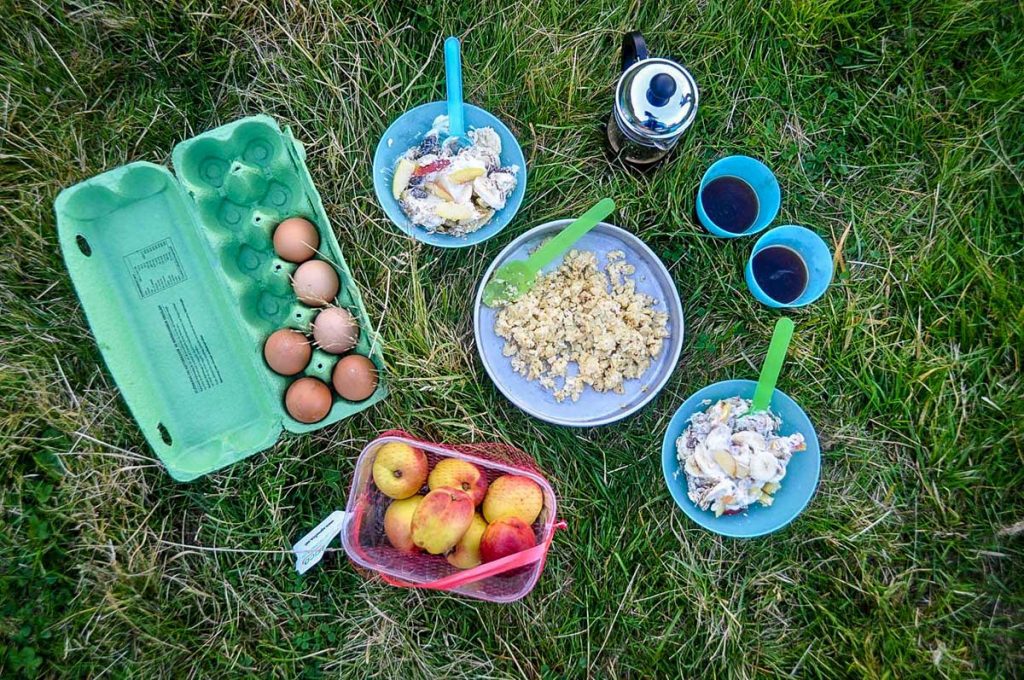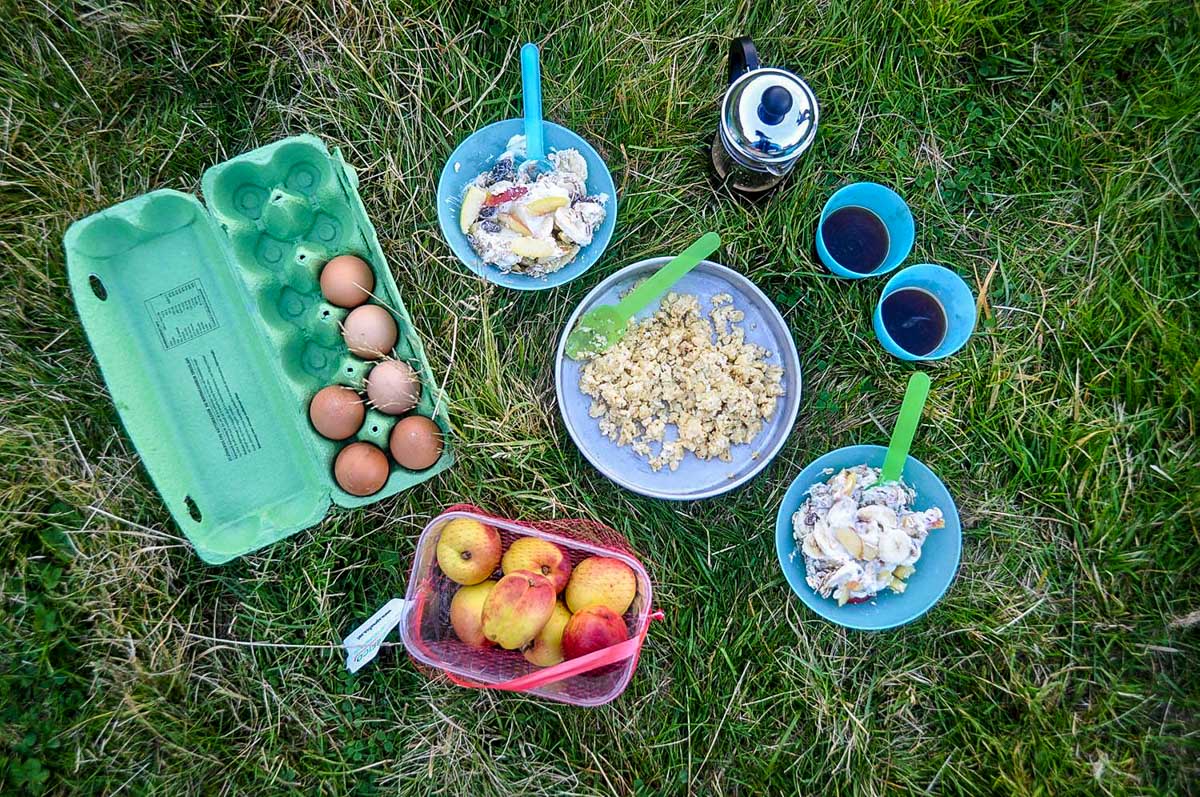 Ahh, food – our favorite topic! I have some good news and some bad news for the category.
Let's get the bad news out of the way… Eating at restaurants in Iceland can be very expensive. But the good news is that food is a category you can save a lot of money on (if you have some tips under your belt!).
If you're on a budget, we'd recommend planning on cooking as many of your meals as possible and eating out for a handful of special meals.
Insider Tip: We've rounded up the best Icelandic foods to try as well as which foods to skip to help you prioritize where you want to spend your money.
Meal for two at a gas station: 3000 ISK ($23)
Meal for two at a "fast food" restaurant or food truck: 3700 – 5000 ISK ($30 – $38)
Meal for two at a mid-range restaurant: 6,000 – 9,000 ($45 – $70)
Meal for two at a fancy restaurant: 12,000 – 22,000 ISK ($93 – $170)
Restaurants in Iceland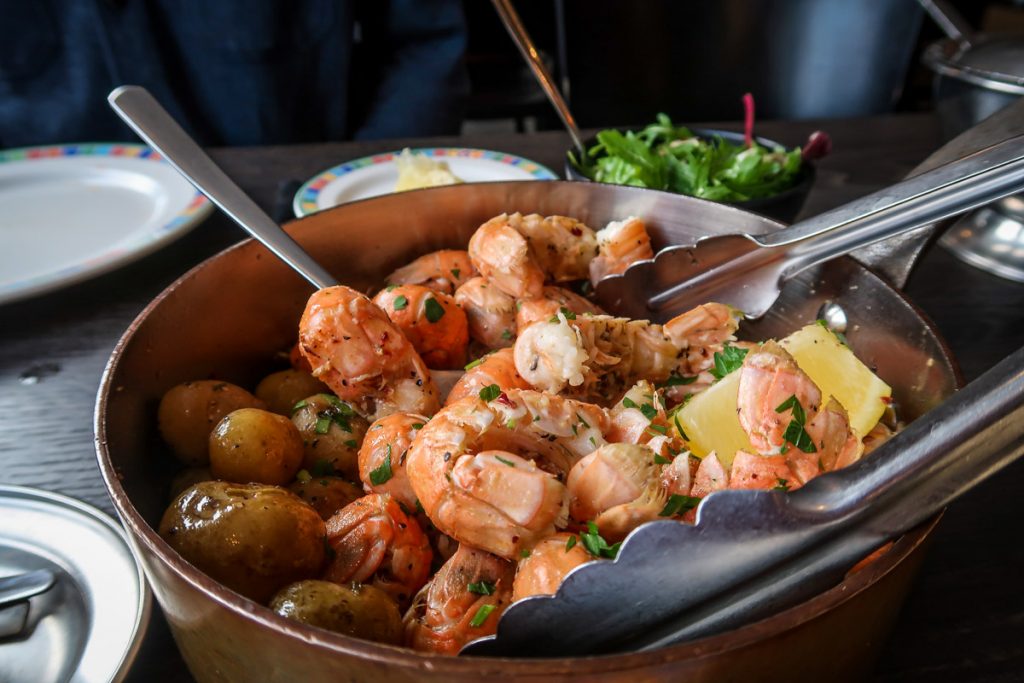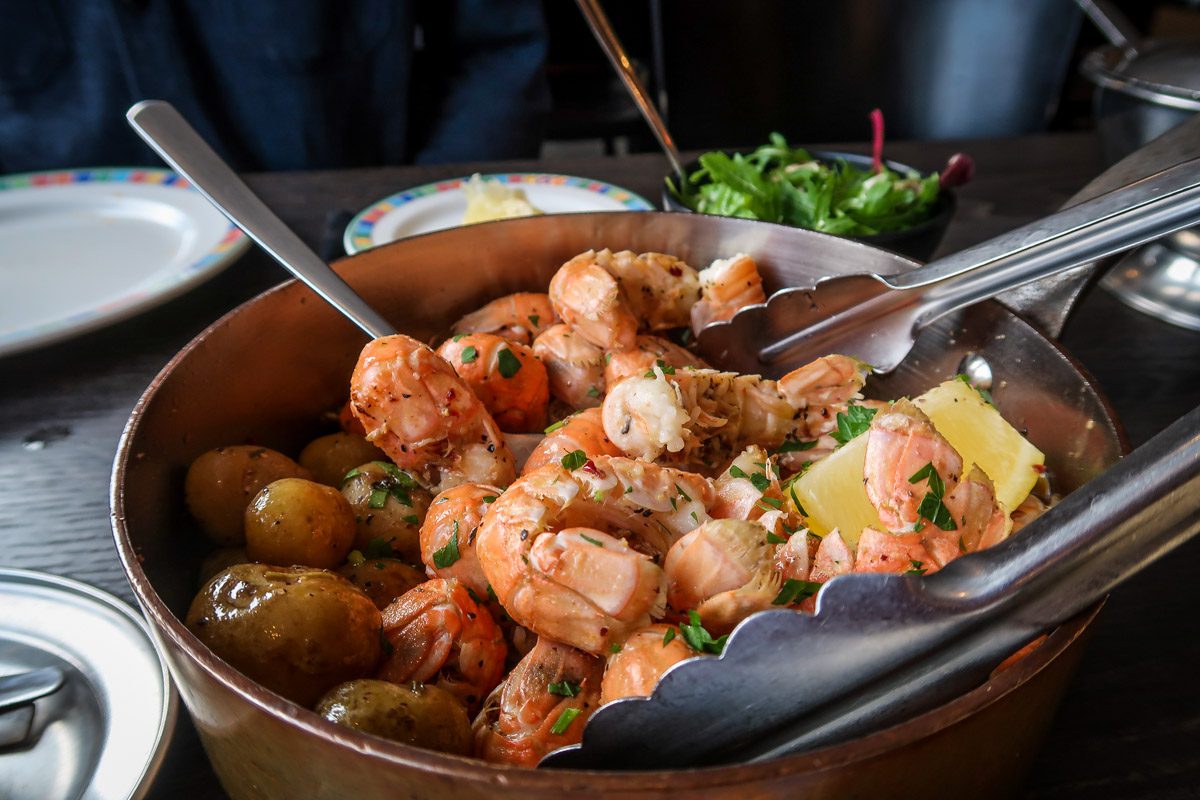 How much we spent on restaurants in Iceland:
We ate at 10 restaurants in total during our trip, and we spent a total of $520.
That is an average of $52 per restaurant (for two people). The most expensive bill we had was $145 and the cheapest bill we had was $17 (where we split one fish and chips between the two of us).
Groceries for two people
How much we spent on groceries in Iceland:
On our first trip to Iceland,

we spent about $10 per day on groceries

for the two of us.
On our second trip to Iceland,

we spent about $15 per day on groceries

for the two of us (but we did eat out a fair amount too).
Other food & drink costs in Iceland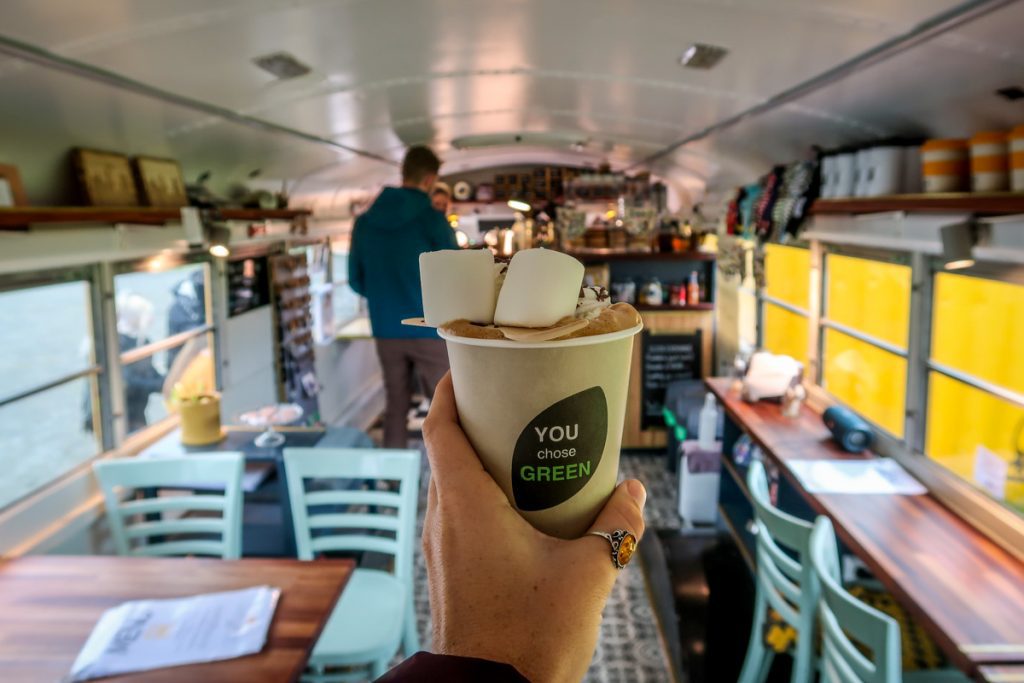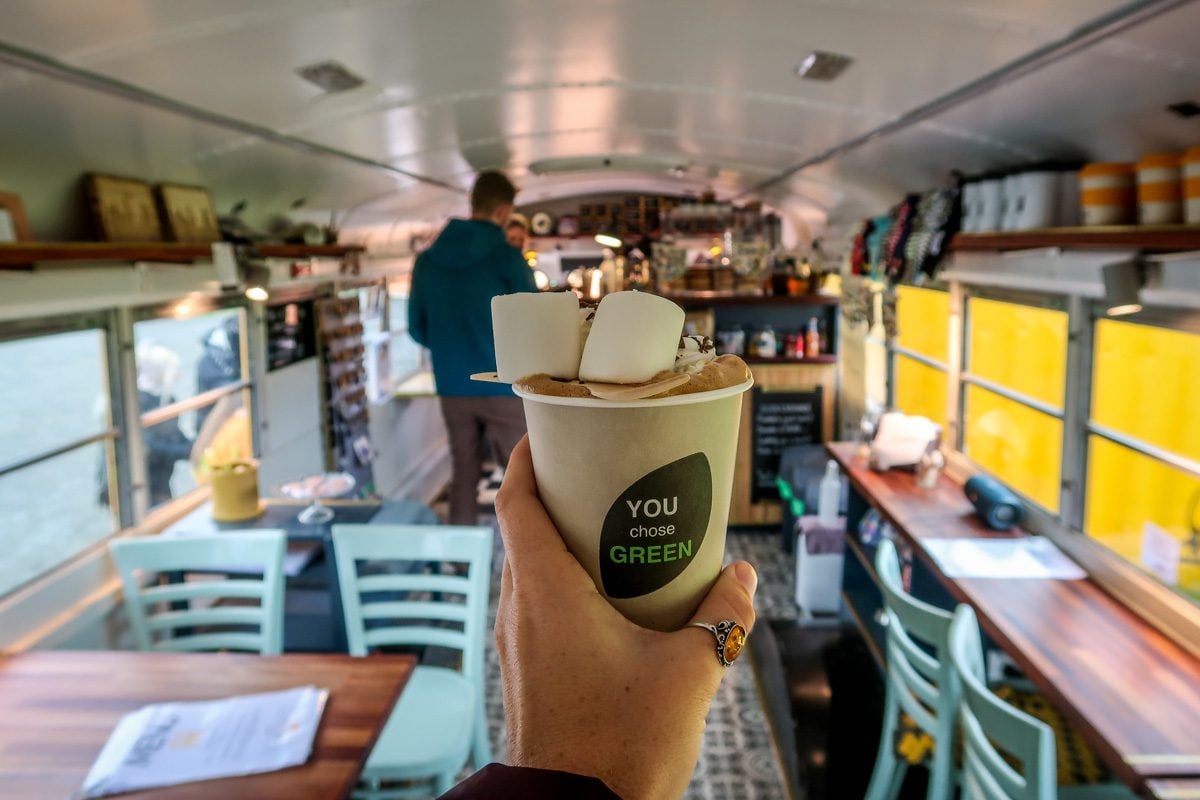 If you like to indulge in the occasional ice cream cone or pastry, this will be another expense to consider. In total, we spent about $80 for two people over our 2-week trip on snacks. That works out to be about $5 for two people each day.
If you'll be stopping at cafes for a daily cuppa joe, the cost can add up. Expect to pay around 500 ISK (just under $4) for a regular cup of coffee, and more for fancy drinks.
Alcohol isn't cheap in Iceland. If you plan to indulge, here are some prices you can expect. A beer or glass of house wine will cost between 1000 -1500 ISK ($7.75 – $11.50), and a cocktail at a fancy restaurant can be as much as 2800 ISK ($22).
On our first trip to Iceland, we bought one bottle of alcohol at duty free and that was it (remember, we were on a very tight budget!). And on our second trip to Iceland, Katie was pregnant, so Ben's indulgences were minimal.
Activities & entertainment costs in Iceland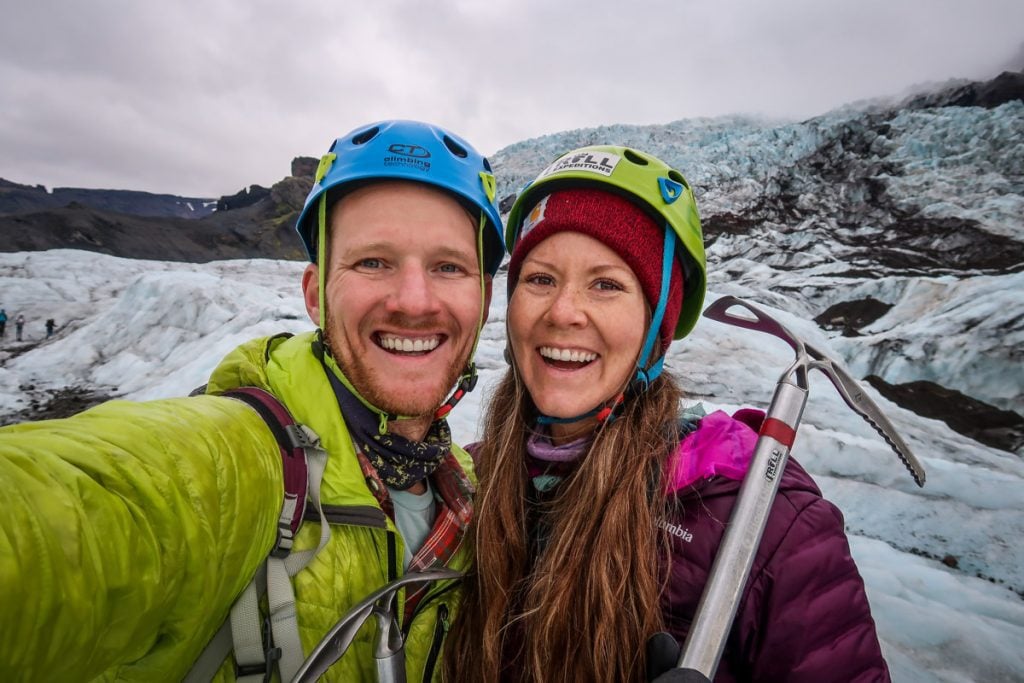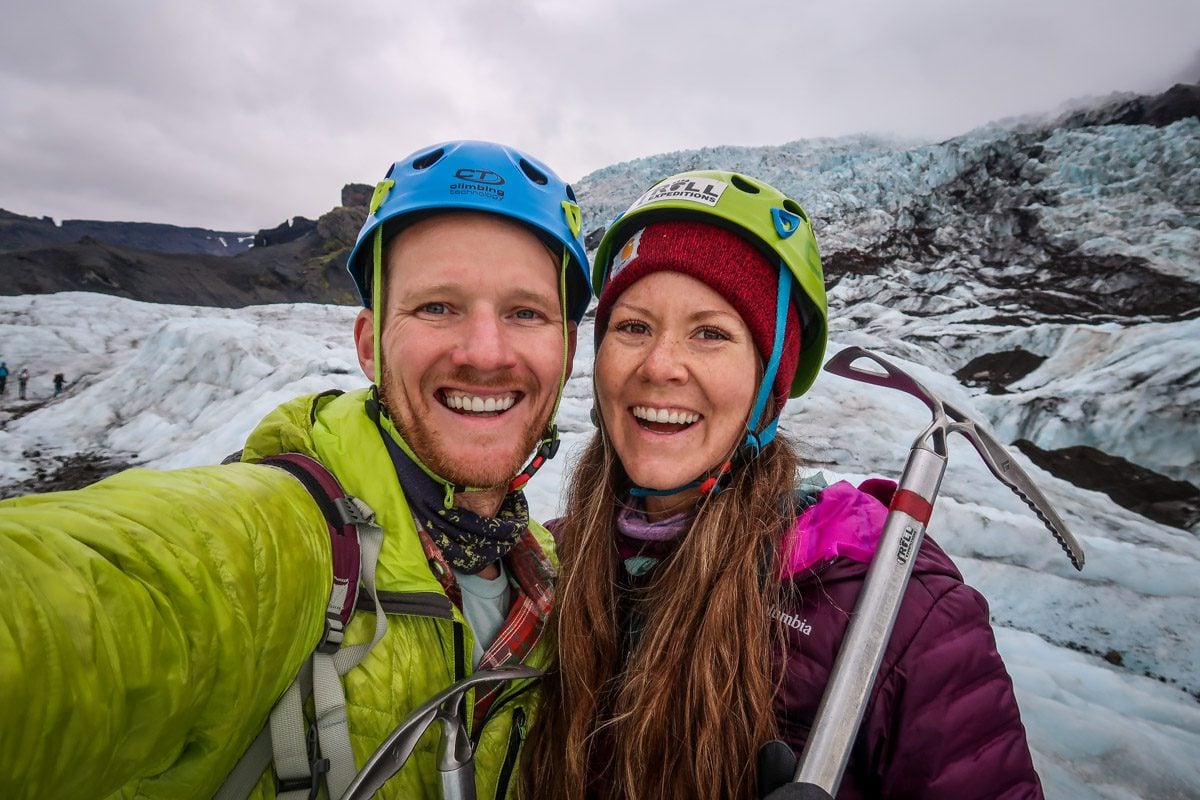 One of the wonderful things about traveling in Iceland is that most of the major sights are totally free. You can easily travel around the country and not pay a single entrance or tour fee. In fact, on our first trip to Iceland, we did just that.
However, if you have a specific tour in mind, like glacier hiking or whale watching or soaking at a hot spring resort, you'll want to be sure to include these costs in your overall budget.
Here are a handful of prices for activities around Iceland:
Glacier Hiking (5-hour tour): 15,500 ISK ($125)
Silfra Snorkeling Tour: 17,400 ISK ($135)
Rye Bread Tasting: 1,700 ISK ($13)
Vik Lava Show: 5,900 ISK ($45)
Whale Watching: 11,610 ISK ($90)
Reykjavík Food Tour: 13,900 ISK ($110)

Psst! If you do the food tour (we highly recommend it!), use our exclusive discount code, TWS10 at checkout to get 10% off your tour.

Blue Lagoon: 8,990 ISK ($70)
Sky Lagoon: 11,610 ISK ($90)
Public Pool: 1,060 ISK ($8)
GeoSea Thermal Baths: 5,385 ISK ($42)
Hallgrimskirkja Church Entrance Fee: 1,000 ISK ($8)
Guided Hike of Fagradalsfjall Volcano: 10,320 ISK ($80)
Horseback Riding: 15,500 ISK ($120)
Note: The prices can fluctuate throughout the year. The rates reflect high season (summer), but if you're traveling at other times of the year, you may find less expensive prices.
Our advice: Do some research into the activities listed above and determine which are your "must do" experiences and which you can skip (or save for your next trip!). It can be overwhelming to see all the amazing tours that are offered, but if you pick just a few, you can still stick to your budget.
Miscellaneous expenses
As much preparation and research that you'll do before your trip, there's a good chance you'll have some incidental expenses along the way. Personally, when we make travel budgets, we always like to add a 10% "cushion" that will cover little expenses that we didn't foresee.
Here are some things to think about adding to your overall budget:
Travel Insurance
Don't forget to include travel insurance in your overall trip cost. We never travel without it, and would strongly encourage you to get a policy so that you're covered in case something goes wrong.
Contrary to what you may believe, travel insurance isn't necessarily expensive. In fact, for our 15-day trip to Iceland in 2021, our travel insurance policy cost just $45.76 for two people. (The price of your policy may vary depending on your needs.)
We have an entire article about travel insurance comparison which explains the ins and outs of choosing a travel insurance policy, but if you're curious about which company we went with for our trip to Iceland, we're sharing the details below:
Example Travel Insurance Policy
(this is the info for the policy we personally had)
Number of people: 2
Date: August 2021
Duration: 15 days
Destination: Iceland
Company: Safety Wing
Total cost: $45.76
Coverages:
Travel interruption up to $5k
Travel delay up to $100 per day
Lost luggage $3k
Natural disaster up to $100 per day
Medical emergencies (up to $250k)
Emergency dental
and more
WiFi Hotspot Rental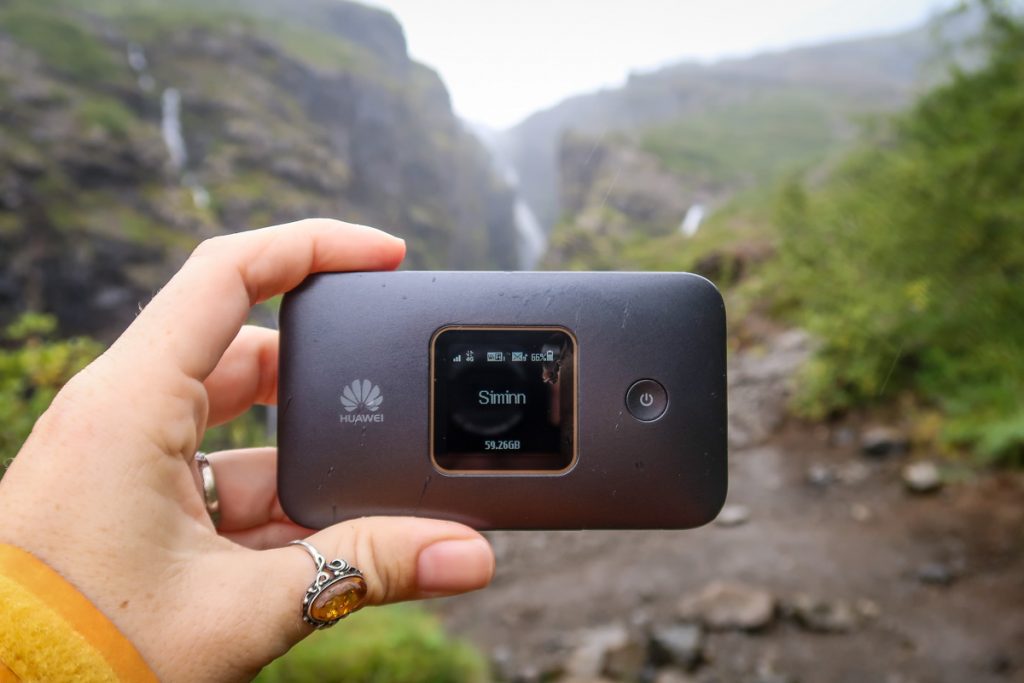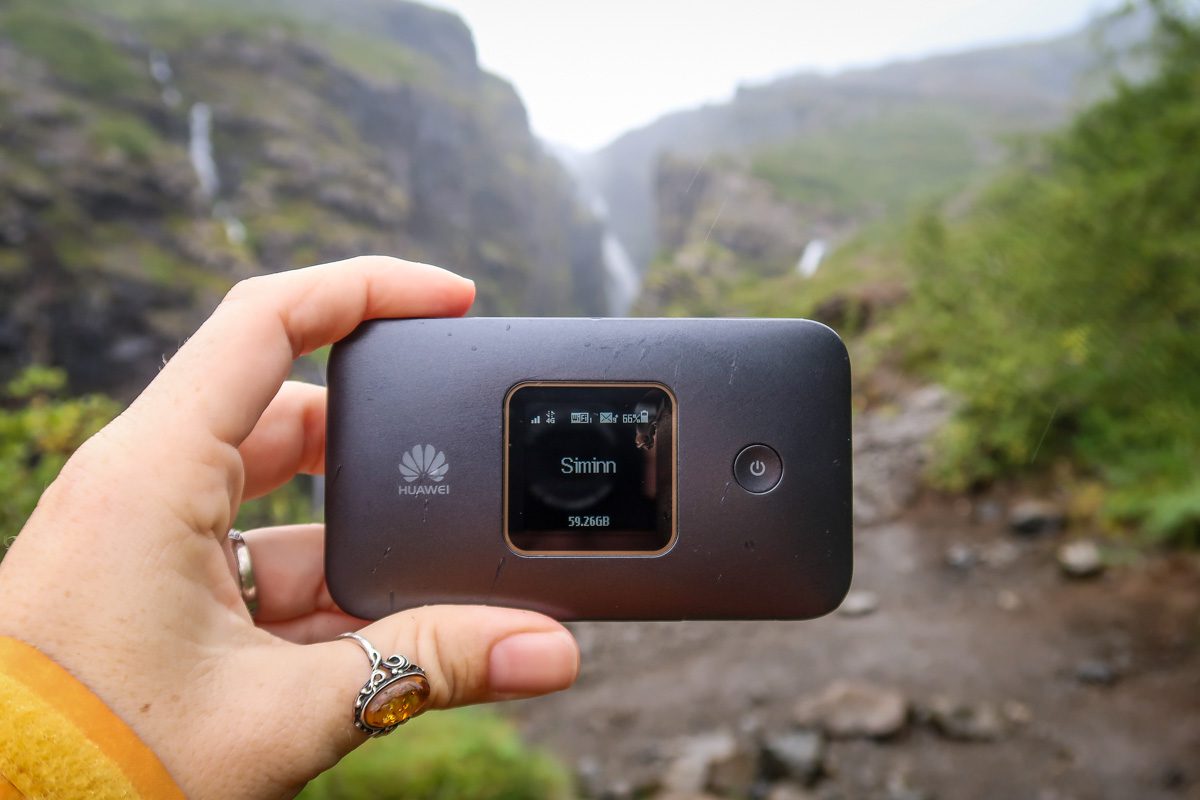 We'd highly recommend having some sort of WiFi hotspot device while in Iceland as it will make your life SO MUCH easier. Trust us. With these handy little gadgets, you can connect multiple devices to a WiFi signal. It's pretty wonderful.
If you're renting a campervan, chances are you may have a hotspot device incorporated into your navigation system (our campervan rental company included this). If not, you can certainly rent one. We had a built-in hotspot device but also rented a portable device we could bring with us on hikes, which turned out to be very helpful. The cost may vary from company to company, but ours was $12 a day.
Souvenirs
This will vary depending on what you get, as small knick knacks or food items can be found for less than 1000 ISK ($$7.75), but a traditional Icelandic sweater (lopapeysa), for instance, can be upwards of 25,000 ISK (nearly $200)
Bathroom fees
Some attractions have fees for the restrooms, which are typically around 200 ISK.For example, Studlagil Canyon where it costs 230 ISK to use the restroom, even if you've already paid the overnight camping fee! The good news is, restroom fees can be paid using a credit card in Iceland. During our 2-week trip, we only had to pay for one bathroom (because pregnant Katie was desperate!).
Shower fees at campgrounds
Many campgrounds have free showers, and we tried to only choose campgrounds that had this included in the overall cost. However, we did encounter one campground where showers were an extra charge of 600 ISK ($4.50) for 6 minutes of hot water.
Grand total Iceland trip cost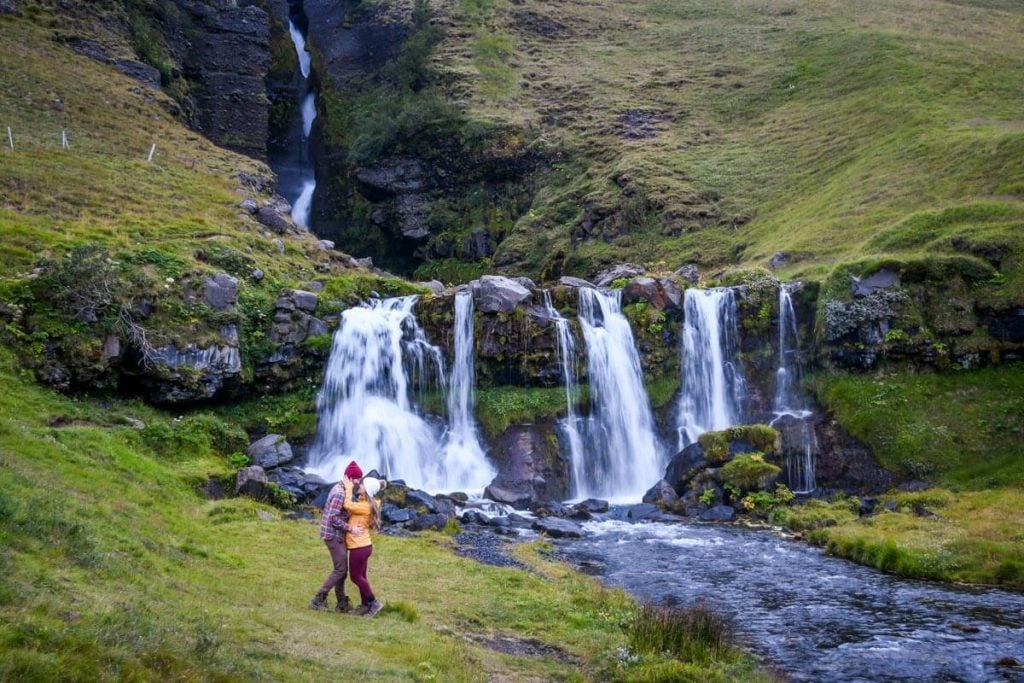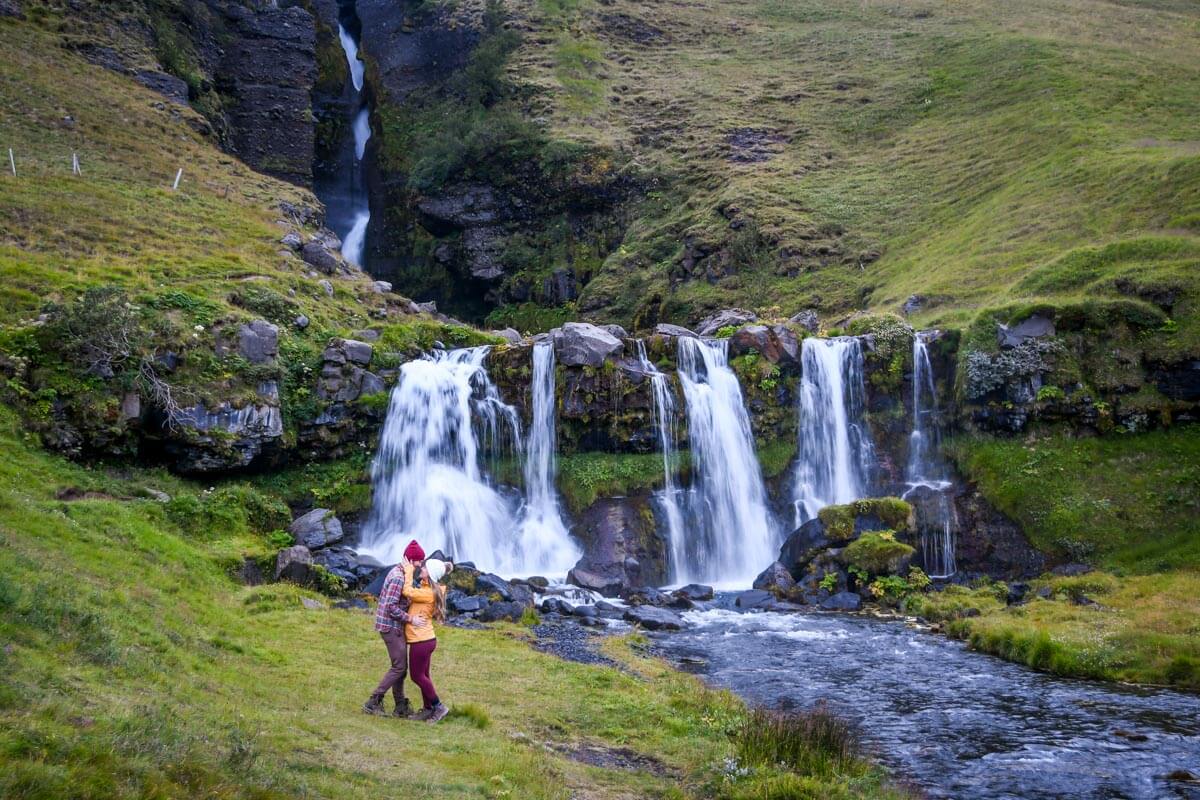 Using the information from the categories above, you should have a really good idea of how much to budget for your trip to Iceland.
Consider how you plan to travel as well as the length of your trip. And don't forget to include travel insurance and money for incidentals along the way.
Everyone's budget will look different. We've traveled to Iceland a few times, and our overall expenses have varied drastically. Both of our Iceland trips were incredible – albeit very different experiences.
Budget Trip
On our very first trip to Iceland, we were traveling on a teensy-tiny budget and managed to spend just about $75 per person per day ($150 per day total). We camped in a tent, didn't eat at a single restaurant, and only did free activities.
Our advice: If you will be watching expenses very carefully and are planning to forgo most paid activities,

we'd recommend budgeting $75-$100 USD per person per day

.
Moderate Trip
On our most recent trip to Iceland, we had a bigger budget to work with and spent just about $200 per person per day (a total of $400 per day for both of us). This time, we rented a campervan, went on a handful of once-in-a-lifetime tours, ate a few meals at splurge-worthy restaurants, and soaked in both free and paid hot springs. That said, we did watch our spending, and could have easily spent more (it's not hard in Iceland!).
Our advice: If you will be traveling with a middle-range budget – watching your spending but also partaking in some bucket list experiences –

we'd recommend budgeting $125 – $250 USD per person per day

.
---
39 Practical Iceland budget tips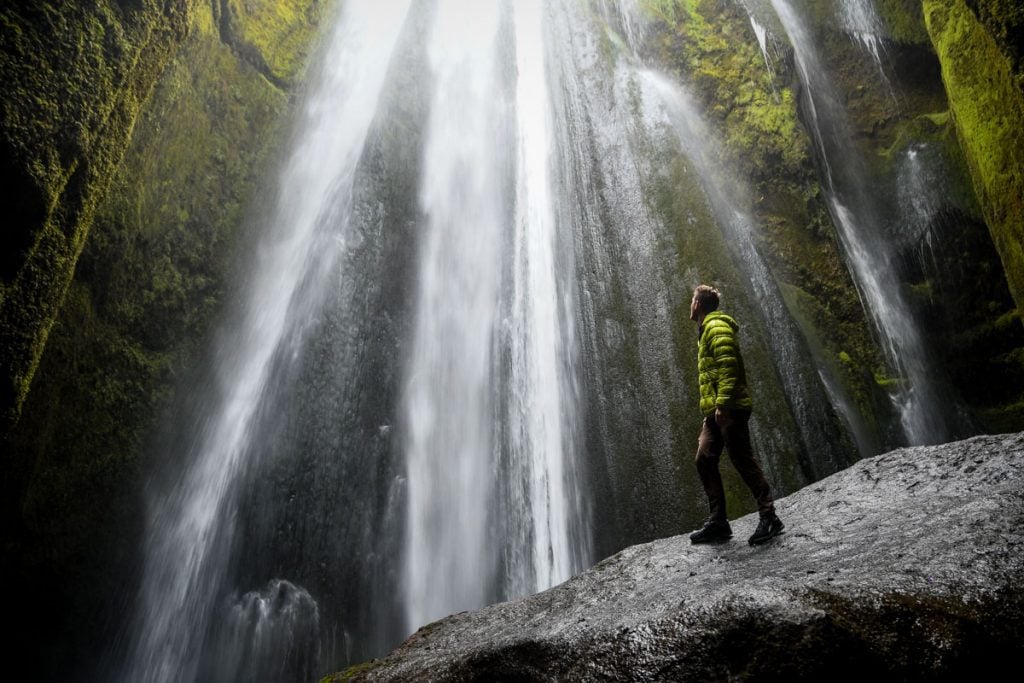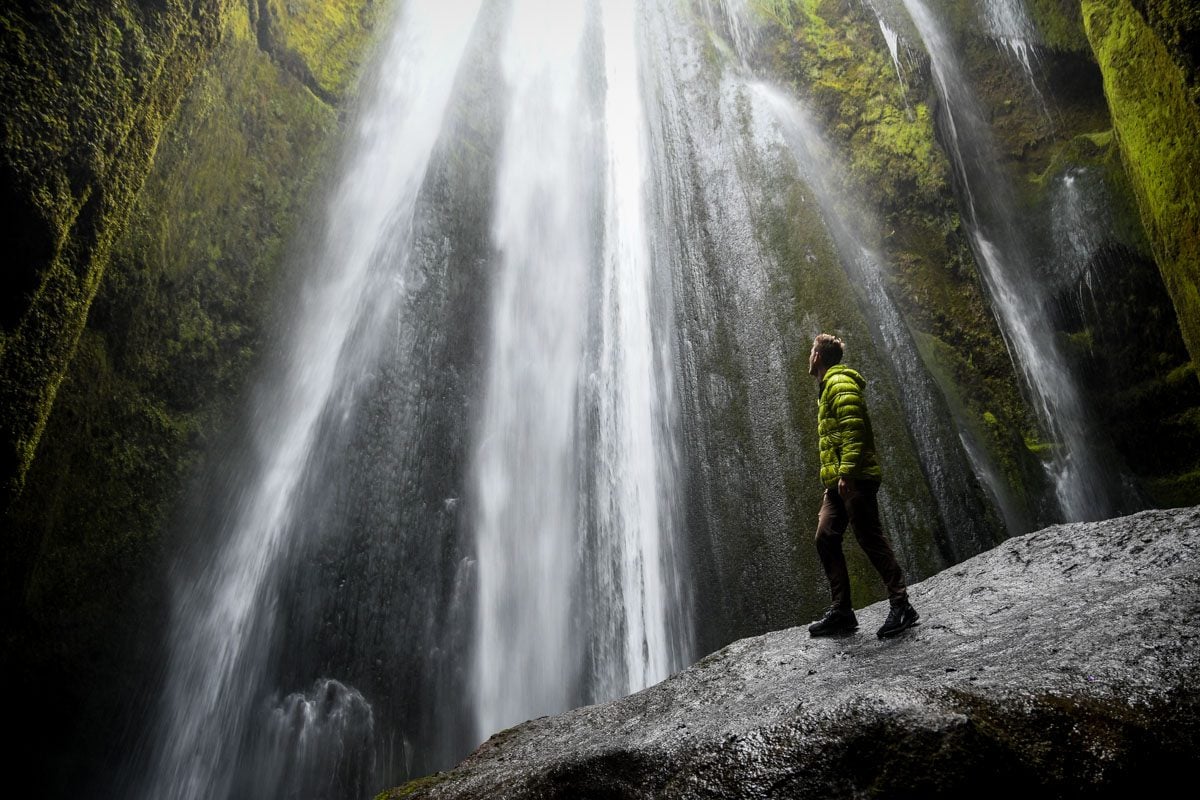 While this country is notoriously expensive, we are proof that you absolutely can travel to Iceland on a budget. A very tight budget, in fact.
In the next section of this article, we've put together some of our top money-saving hacks that helped us keep our costs down in Iceland. We're sharing them so that you can follow in our footsteps and visit this beautiful country on a budget.
Before your trip
Before you pack your bags and board that plane, there are many things you can do to ensure you don't overspend on your trip to Iceland.
1. Create a travel budget
If you want to be mindful about spending, how will you know when you've gone overboard if you don't set boundaries? Creating a realistic travel budget will help you stay on track during your trip.
Before any major trip we take, we sit down and have a serious budget talk that goes something like this…
Ben: "I think our total budget should be [blank]."
Katie: "But I want to do [insert splurge activity] and eat lots of [insert local food]. I think our budget should be [number higher than Ben's]."
Ben: *Rolls eyes and knows he lost the argument.*
I'm exaggerating a bit, but only slightly.
How to make a travel budget
Before your trip, come up with a total number that you feel comfortable with. Now, do some research on the types of activities you want to do and the type of accommodation you plan to stay at. Jump up to this section of the article where we have all the info you'll need to make a budget.
Want more details on making a fail-safe travel budget? We've got a breakdown of exactly how we make travel budgets (no matter where in the world we're exploring)!
Once you've made sure your overall budget is in fact realistic, divide that number by how many days you'll be traveling in Iceland. This should give you a daily spending goal. Personally, we always like to add a bit of a "cushion" to this number so incidentals are covered (or we have a bit of extra money for things like souvenirs!).
Important: Don't forget to factor travel insurance into your total budget.
Now you have your daily budget in mind, but the work's not over. In our next tip, we'll share what we do with our daily budget so we don't blow it…
2. Keep track of your spending
One of our all-time favorite ways to stay on top of our travel budget – no matter where in the world we are – is by keeping track of our expenses.
I mean, you can travel with the intention of sticking to a budget, but if you don't know how much you're spending you'll definitely blow the bank.
There are tons of handy apps out there for this purpose. We personally like Trail Wallet because it works seamlessly between currencies and allows you to create categories. That way, we always know how much money we're spending on gas, accommodation, food, etc. and we can decide to cut back in certain areas if necessary.
Psst! We've got more Iceland travel apps we'd recommend downloading before your trip!
3. Understand the conversion rate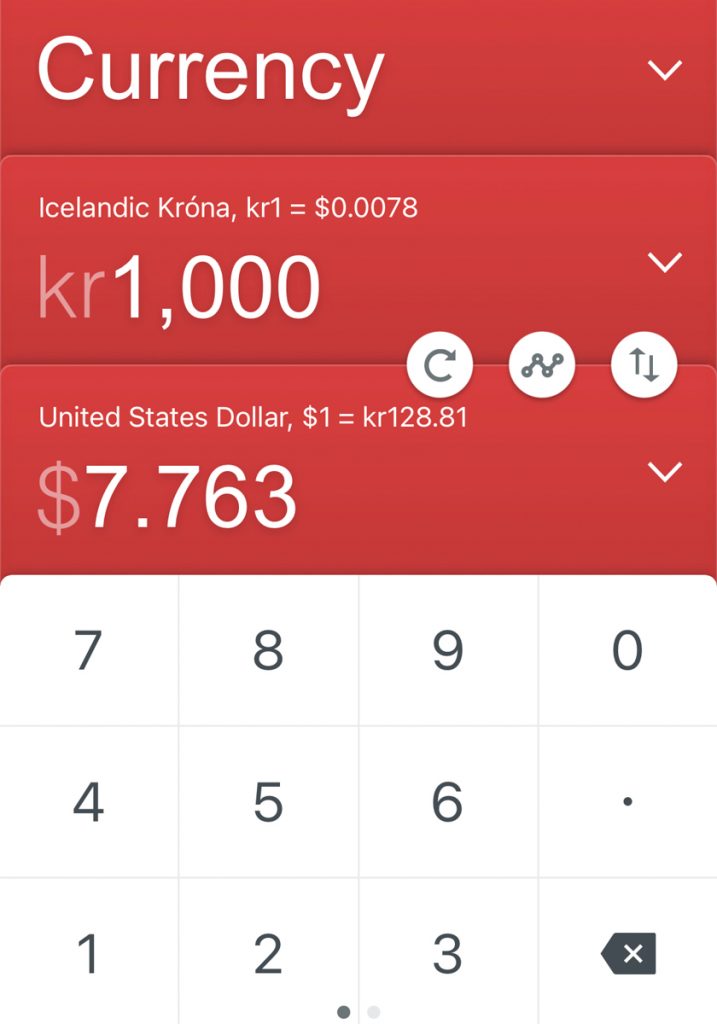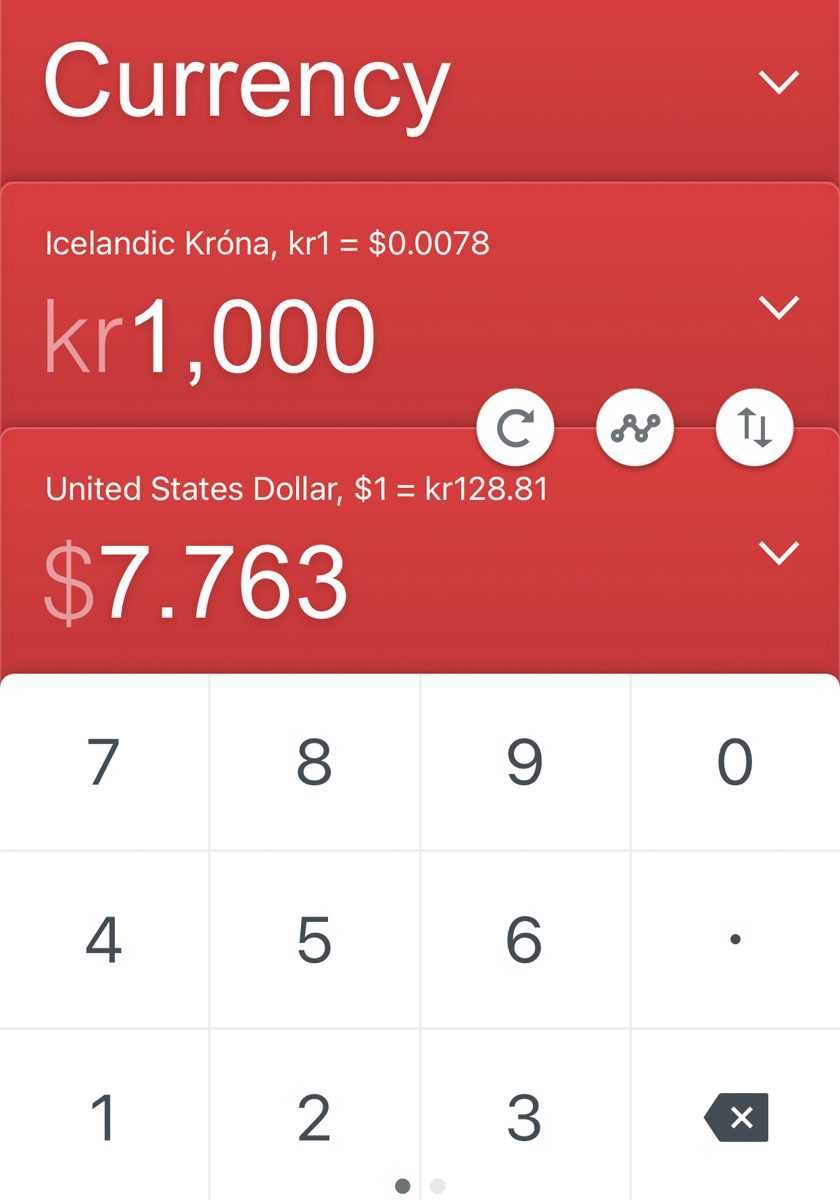 One of the biggest mistakes we see people make while traveling in a different country is not understanding the exchange rate. And thus, not know how much money they're spending on any given item.
I remember standing in line behind a traveler who was paying for an incredibly overpriced souvenir. They handed the cashier a wad of bills and then turned around and said to me, "It's all Monopoly money, amiright?"
They were clearly joking, but we see this mindset a lot on our travels: People not paying attention to prices because they simply don't know how much it equates to in their home currency.
Luckily, there is an app for that. Well, there are probably several apps, but we personally use GlobeConvert. Not only does it have the most recent exchange rates for all world currencies, but it also allows you to convert between distances (kilometers to miles) and temperatures (Celsius to Fahrenheit) – silly USA! This app will be especially helpful for fellow US travelers in Iceland.
4. Book early for peak season travel
I'm going to be honest with you: We're usually kind of lazy about booking things before our trips. Often, we'll be making reservations for hotels and activities just a couple of weeks before we depart.
But NOT for Iceland.
Being that Iceland's climate allows such a short window of time with daylight and comfortable temperatures for exploring, most travelers choose to visit Iceland between the months of June and August.
This means that most visitors are in Iceland during a 90-day span.
Imagine what that means for hotels and tour operators.
For the best prices (and to ensure that you get to do all the things you want to on your trip!), start making reservations for your Iceland trip early. Even if you are a serial trip-planning procrastinator, like us.
5. Don't take out krona
While traveling in most places around the world, we get local currency as we almost always need it and sometimes you can get better prices with cash versus credit cards.
However, while traveling in Iceland, our advice is this: Don't take out cash at all.
Pretty much everywhere in Iceland will accept credit cards. Yes, even remote farm stands and campgrounds. During multiple trips to this country, we've spent nearly a month in Iceland and have never once had to use cash.
You don't want to be stuck with krona at the end of your trip that you're just trying to spend to get rid of.
Credit card tips
It should go without saying, but make sure the cards you take have zero foreign transaction fees.
Be sure to let the bank or credit card company know that you'll be traveling to Iceland so they don't flag your purchases as suspicious.
It's a good idea to bring a credit card that has a PIN number with you. This can be useful for paying for gas as some gas stations require a PIN in order to pay without an attendant.
Since you'll be using your credit card for just about every purchase in Iceland, it may be a good idea to look into opening a new credit card account that offers a sign-up bonus. We sometimes do this before a big trip or a time when we know we'll be making many credit card purchases. You can get some pretty sweet bonuses! Here are some of our favorite credit cards.
Still want to travel with cash?
If you don't feel comfortable traveling without cash (or maybe you want to keep some currency as a souvenir), we have another tip for you…
AVOID currency exchange booths (if you can help it).
This would be our advice no matter where in the world you're traveling because they have pretty crappy rates and typically charge commission. If you really need to seek one out, do NOT go to an exchange booth at the airport as these typically have the worst rates. Instead, try to find one that doesn't charge commission and compare their rate to the current rate of exchange (by doing a simple Google search).
What we usually do instead of using currency exchange booths is to withdraw local currency from an ATM. We have a Charles Schwab debit card that we use for this because they reimburse all ATM fees (yep, it's pretty awesome!). If you're from the United States and qualify for this card, get it because it's pure gold!
6. Pack wisely


Oftentimes when we're traveling in a different country, picking up a sweatshirt or an extra pair of shoes along the trip doesn't impact our budget too much. That means if we forget to pack something, it's not that big of a deal.
Heck, there are some countries where it makes sense to do a bit of shopping because prices are so low. Iceland is not one of those places.
If you realize on day two of your vacation that you need more layers, you'll be shelling out quite a bit of krona to get what you need. Plus, unless you're in Reykjavík, you may not have all that big of a selection of items to choose from.
Our advice is to pack light but smart. Bring clothing items that will work in many situations. Be sure you have lots of layers. Bring comfortable shoes, and at least one pair that can get wet.
Feeling lost when it comes to packing? Lucky for you, we created a super detailed Iceland packing list that you can download for free! This way you won't forget anything.
7. Visit Iceland during low or "shoulder" season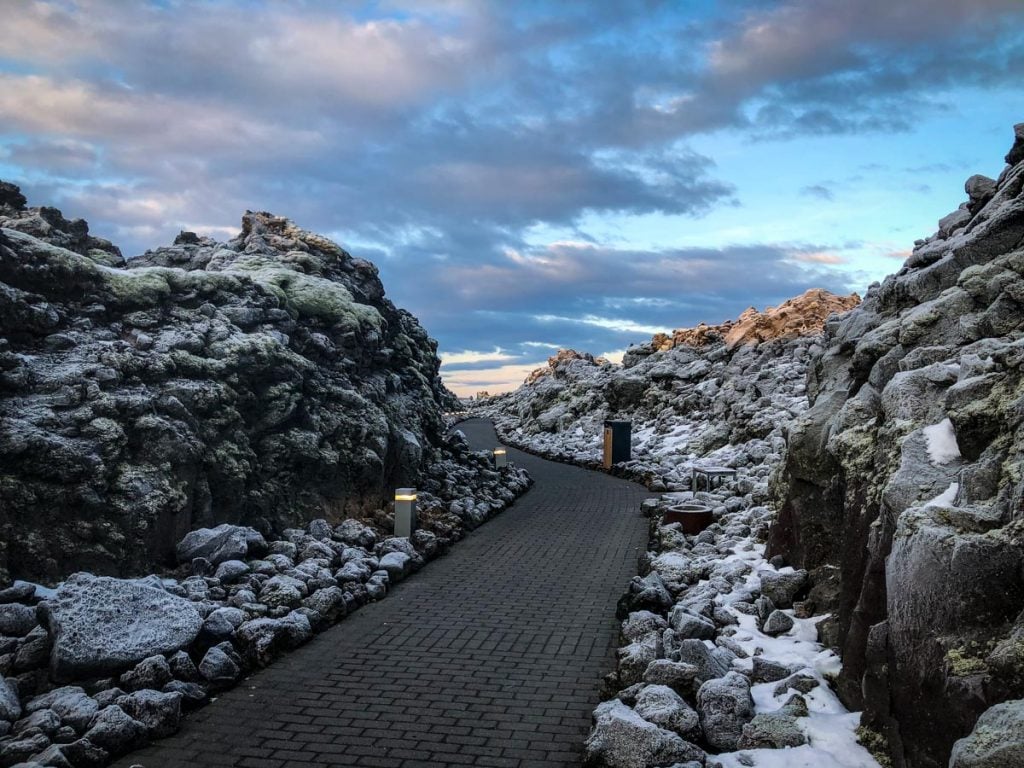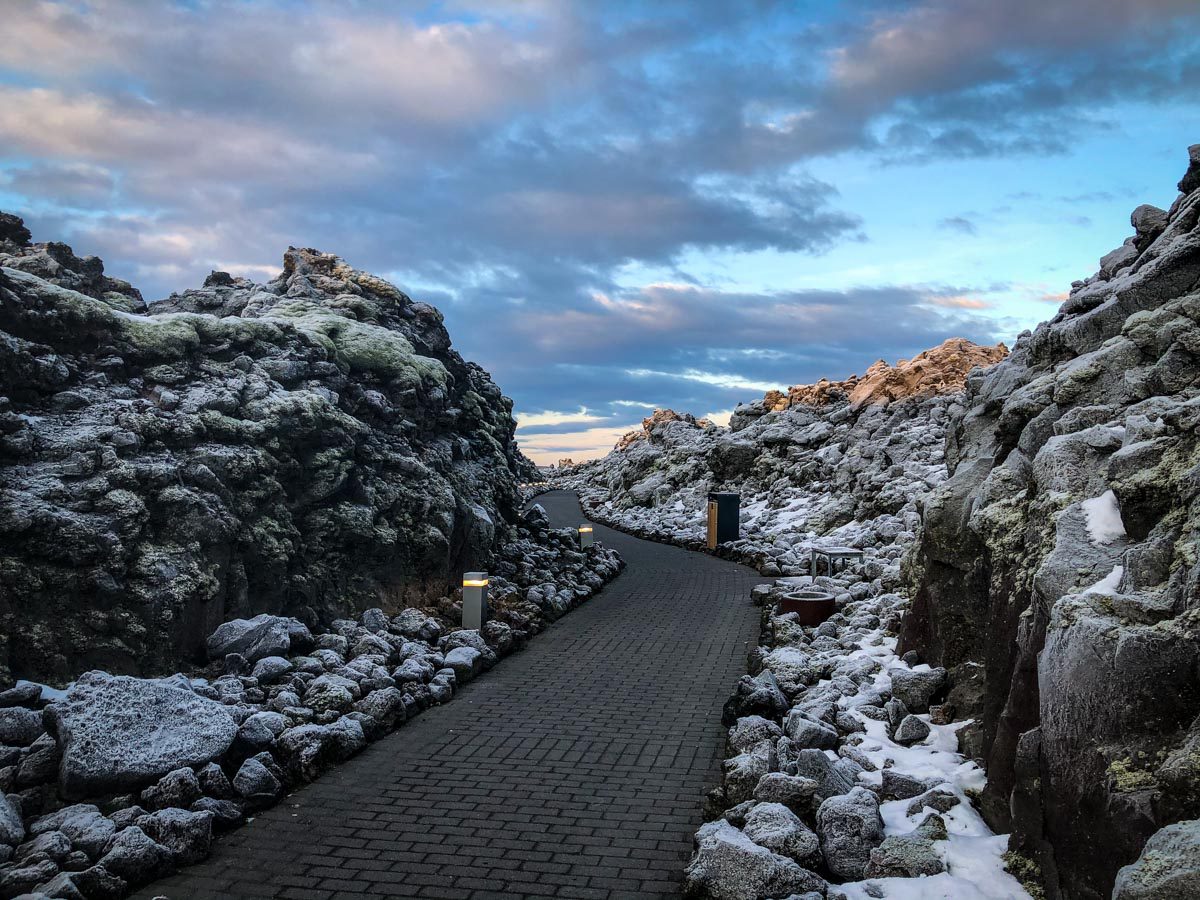 Visiting Iceland during peak season means you'll likely be paying top dollar and missing out on deals that are available later on in the year. For example, rental cars are almost half the price in the winter than they are in the summer season. Same goes for hotels.
All seasons are beautiful in Iceland, and each has its own draw. We would really love to go back during the winter (aka cheaper!) months to see the Northern Lights. However, up until this point, we've only visited during the summer months (with the exception of a 48-hour layover in December!).
Truth be told, summer is likely the best time to visit Iceland, especially if it's your first visit. You'll have more daylight hours to explore, whereas the cheaper winter months have many more hours of darkness which will limit what you're able to see and do during the day.
However, if you're able to book during "shoulder season" – the months just before or after peak season – you'll find better prices and fewer crowds. And if a winter trip is what you're after, you'll be rewarded with some pretty killer deals!
8. Make your trip to Iceland a layover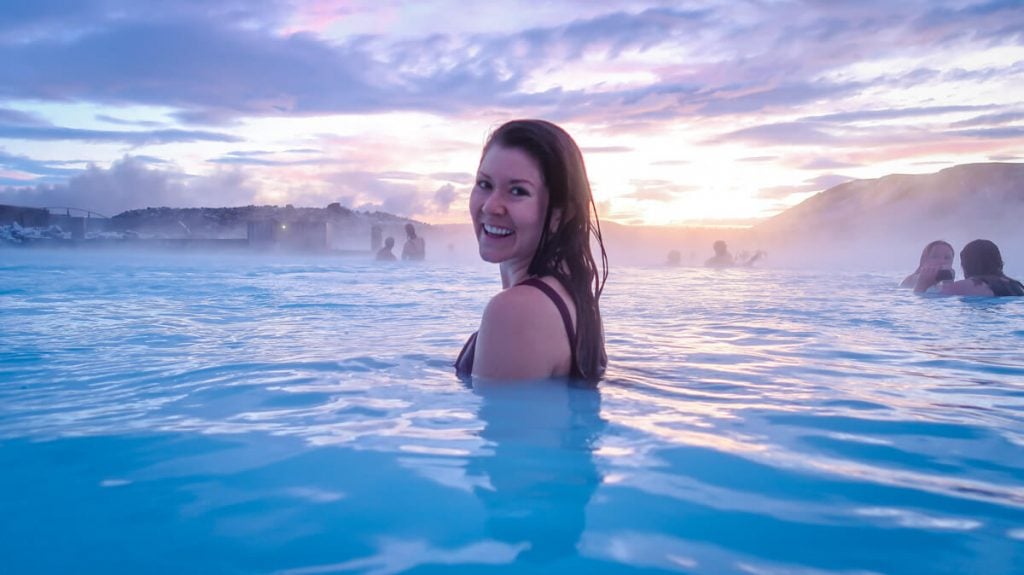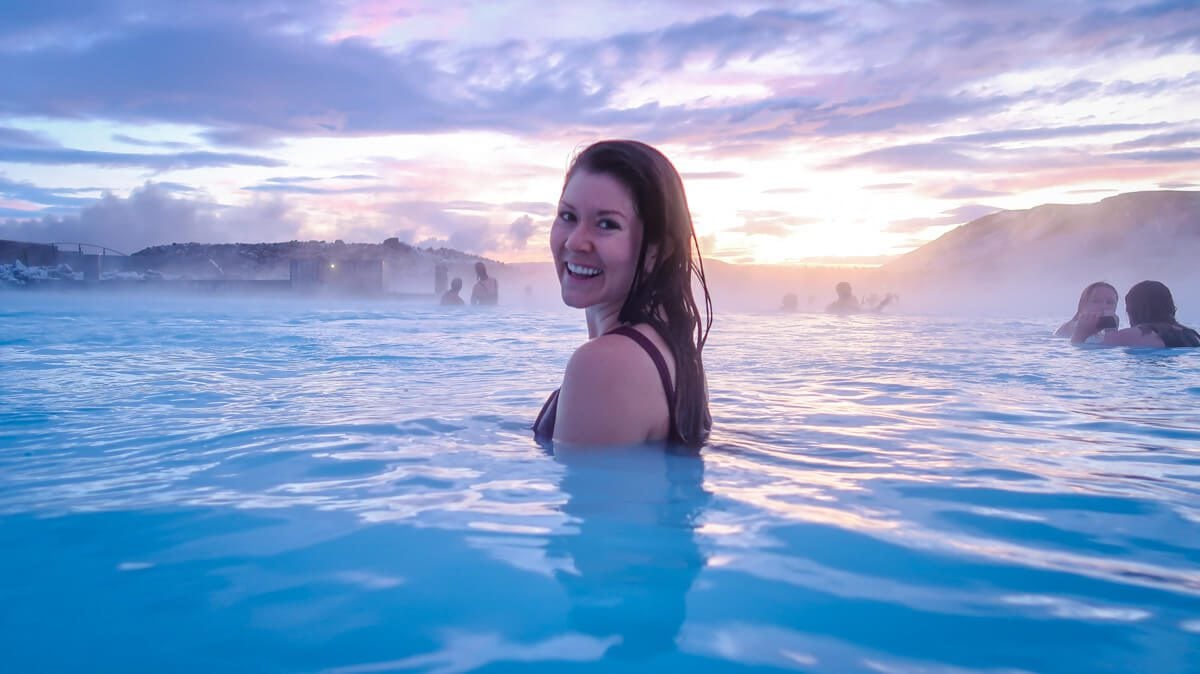 Iceland may seem like a very remote destination, but due to the curve of the earth, it's actually closer to North America and the rest of Europe than it may seem.
In fact, the shortest route for almost all flights between North America and Europe is right over Reykjavík. This is great news if you live on either continent, as it means you can get some great deals on your airfare if you make your trip to Iceland a layover.
Some airlines have programs where you can buy a ticket from the U.S. to Europe (and vice versa) with a multiple-day layover in Iceland. Sometimes buying a ticket with a layover in Iceland is often cheaper than a direct cross Atlantic flight. Crazy, huh?!
And even if you're not planning on making your trip a layover, flights to Iceland (from North America and Europe) tend to be pretty affordable.
Further reading: Discover our top tips for finding cheap flights. Also, set airfare alerts and sign up for a flight deal newsletter, like Thrifty Traveler. They dig through airline websites, find the best deals and send them straight to your inbox.
---
Save money on Accommodation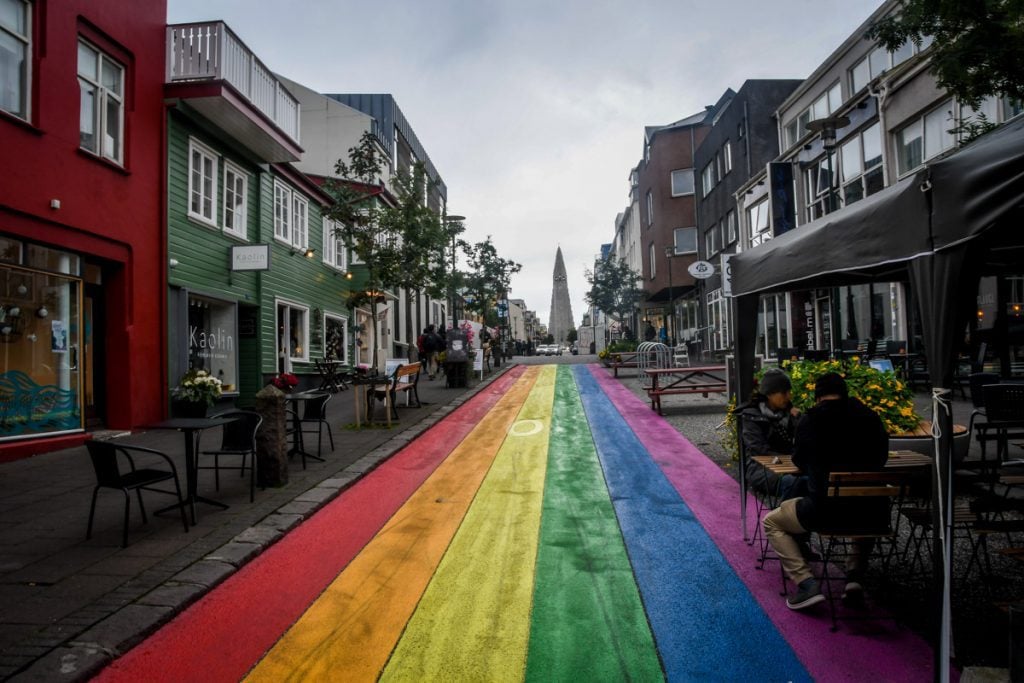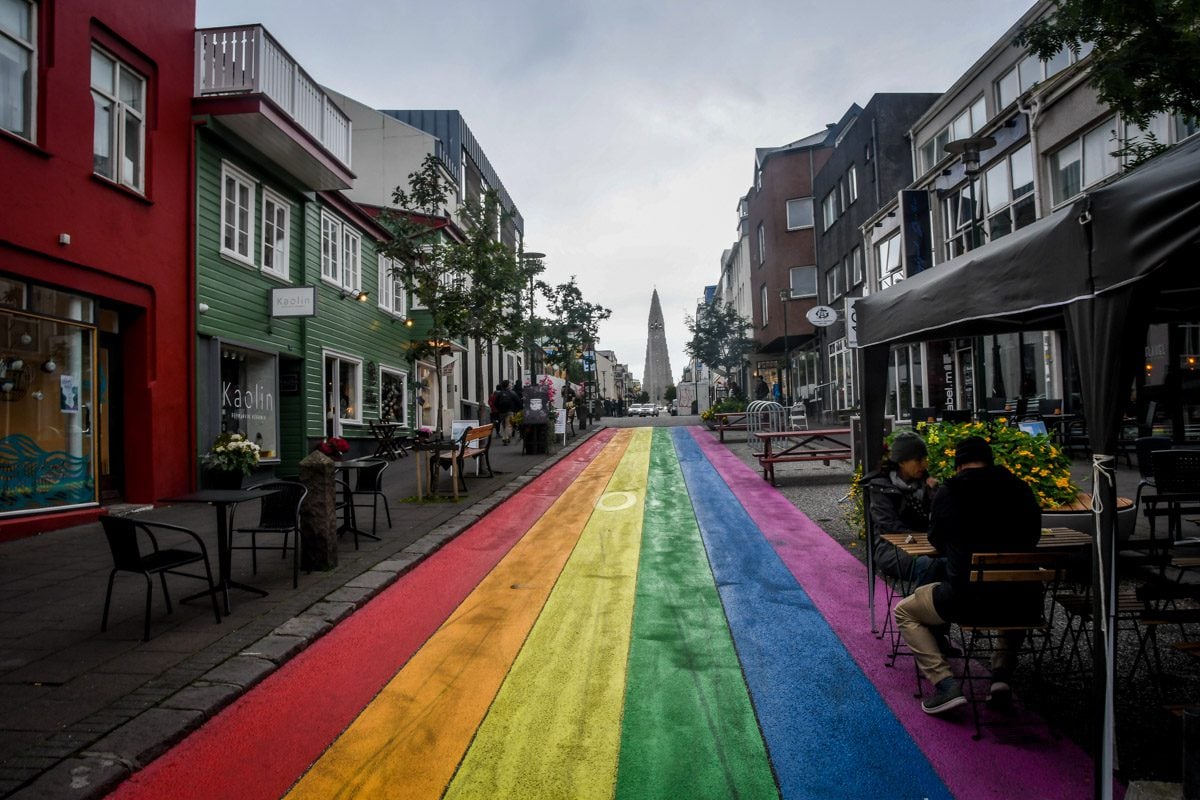 I'll get straight to the point: Accommodation in Iceland is not cheap. That said, if you have an open mind, there are some ways you can save major money in this category.
9. Choose your hotels wisely
If you're not into the whole camping thing, or maybe you want to do a hybrid trip with some camping and some shall we say more "traditional" accommodation, you're gonna want to listen up.
Accommodation in Iceland can add up real quickly, especially during peak tourist season. Even the most budget-friendly hotels can sometimes start at well over $200 USD per night. I don't know about you, but that's a lot more than we typically like to pay for hotels.
Here are a few things to keep in mind as you're searching for accommodation so you can be sure you're getting the best price possible:
Start your search early
The best way to find a good deal is to be able to compare all the options. This tip is especially important if you'll be traveling between the months of June and September, as hotels book up very quickly. Our experience: We started our search for hotels in Reykjavík about 2 months prior to our trip and found okay deals, but a few of the places we would have liked to stay were fully booked for our dates.
Be flexible with your dates
If possible, try a few different date combinations and see if the prices vary. Obviously, this isn't always possible, especially if you have already purchased your flight.
Is breakfast included?
I'm all about booking hotels or guesthouses that have breakfast included. And the hotel breakfasts we've had in Iceland have been really good (rye bread, smoked fish, meats, cheese, eggs, fruit and coffee!). Not having to buy breakfast in the morning can save a bit of money, especially if you're fond of having a hearty morning meal. However, if you're more of a "I'll eat an apple on the go"-type of person, having an included breakfast may not be a big perk for you.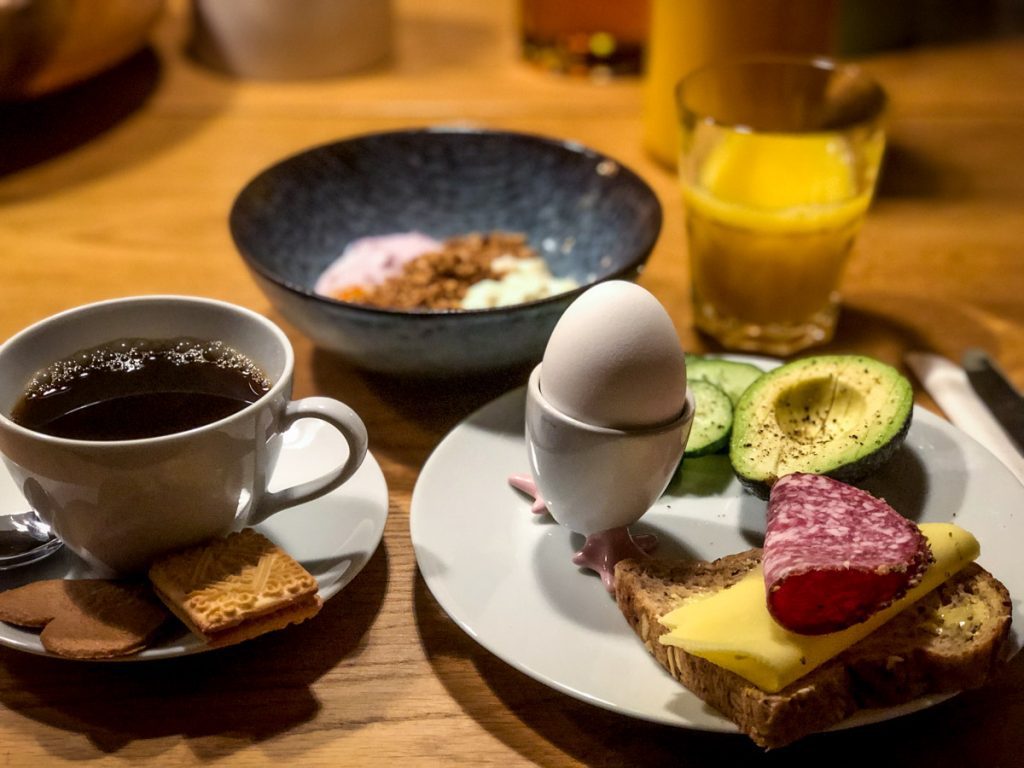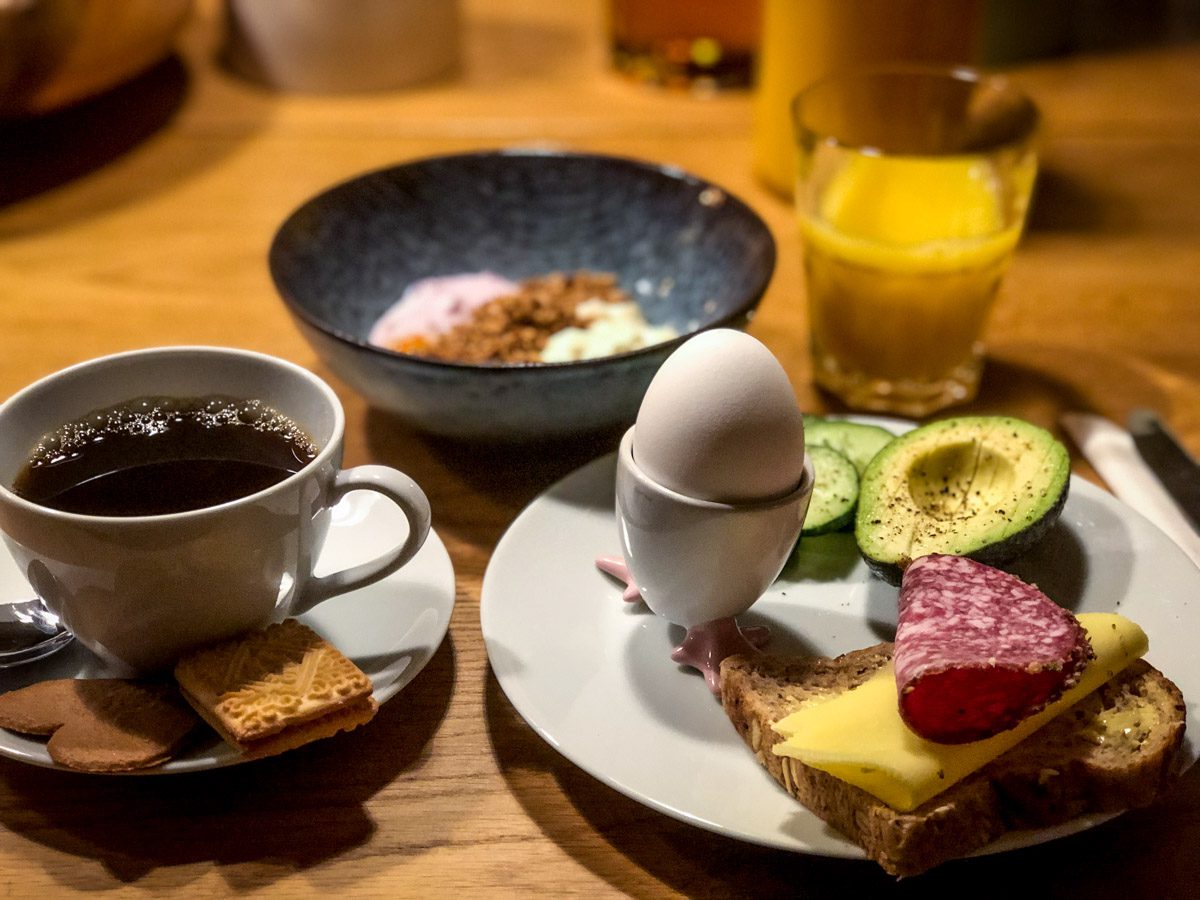 Is it well-located?
When booking a hotel in Reykjavík, we'd highly recommend choosing accommodation that is walking distance to the main sights. While Reykjavík isn't a huge city, transportation can really add up. If you need to take taxis or buses everywhere, you'll be spending more money than you would on a hotel situated in the city center.
It's all about balance
If you'll be staying in several places in Iceland, be ready to splurge in Reykjavík (where prices tend to be higher), and try to spend less per night elsewhere. Likewise, if you spend a couple of nights in bougie accommodation, balance it out with a few nights in a moderately-priced hotel.
10. Make it a camping trip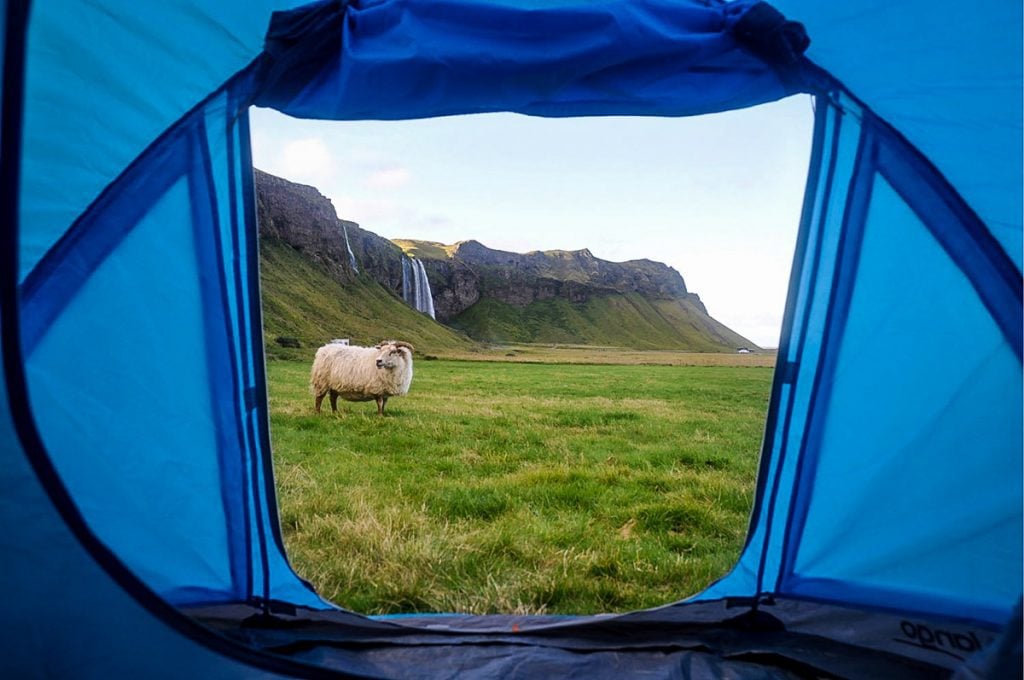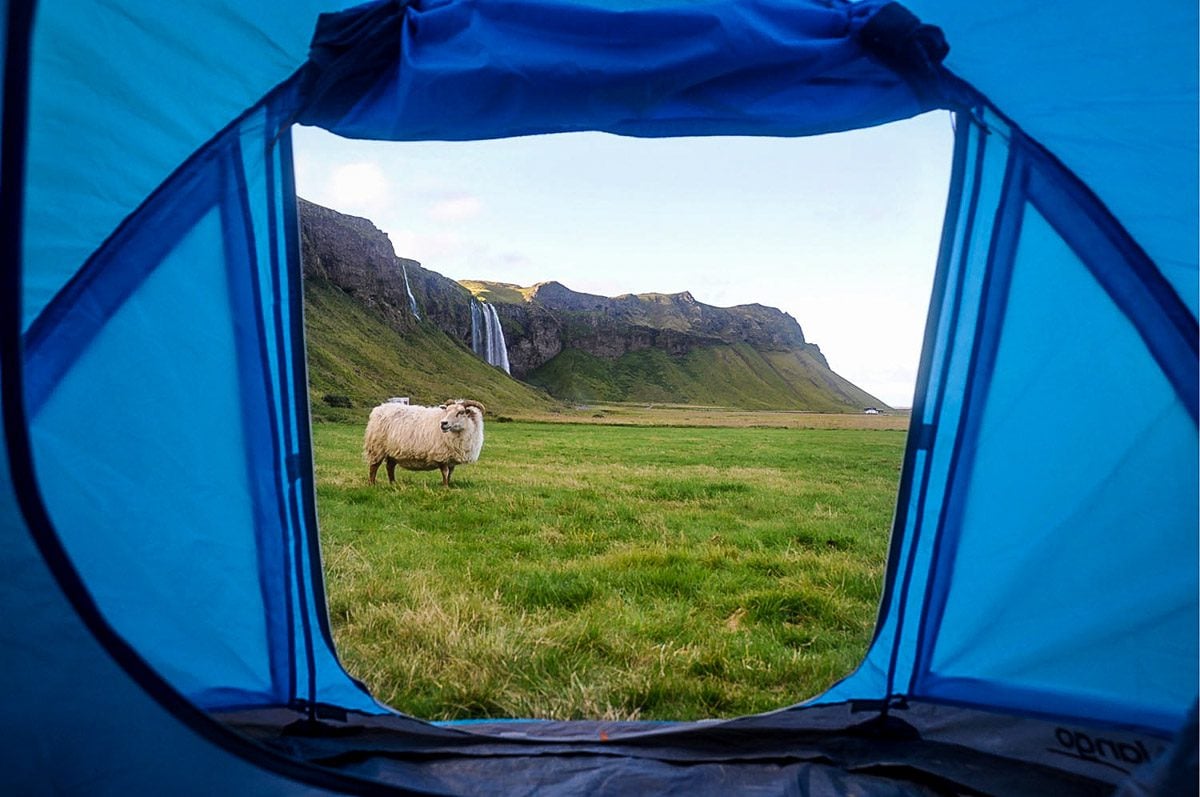 One of the best ways to save money while traveling in Iceland is to camp.
There are two main reasons for this:
Campgrounds are cheaper than hotels. Like, a LOT cheaper.
You have the ability to cook your own meals. Food can really add up in Iceland, so this can save quite a bit of money.
And then there's just the fact that camping in Iceland is AWESOME. The country is very well set up for campers, and you'll have the opportunity to see so many beautiful places that you'd otherwise miss.
If you're considering camping in Iceland, you'll have one major decision to make:
Will you tent camp or travel in a campervan?
We have done both in Iceland and think each has its own draw:
Tent Camping: Overall, tent camping will be the absolute cheapest way to see Iceland. Bonus points if you have camping gear you can bring from home so you don't have to rent any in Iceland.
Campervan: On the flipside, campervans are arguably more comfortable, especially in Iceland's famously windy and cold weather. Plus, you won't ever have to worry about setting up camp in the rain, which is a huge perk! So perhaps the bit of extra money will be worth it for you.
Our opinion: While we enjoyed both trips immensely, we much preferred renting a campervan in Iceland over sleeping in a tent.
Wanna save money on your campervan rental?
Of course you do! We've partnered with Happy Campers, a family-run campervan rental company, to give our readers an exclusive 5% off their campervan rental when you use our coupon code: TWS5
Happy Campers has reasonable rates and a range of vehicles for all different types of travelers. Plus, they earn rave reviews for their fleet of vans. We should know – we spent 10 days in one and had an amazing time!
Just enter the coupon code TWS5 at checkout on Happy Campers website.
11. Look into Airbnbs
They can sometimes work out to be a better price than staying at a hotel. But the biggest opportunity for savings is that depending on the Airbnb, you may have access to a kitchen. This means you can cook some meals and thus save quite a bit of money.
We've rounded up a list of some of the dreamiest Airbnbs in Iceland, including a few that are budget-friendly.
If none of those fit what you're looking for, use the Airbnb filters to sort by location and price. And don't forget to make sure you know exactly how much the cleaning and service fees are, as those can sometimes add up to a hefty sum.
Psst! Here are some more of our favorite tips for booking with Airbnb around the world.
12. Consider staying in a hostel
This may not be for everyone, but staying in a hostel can be a great way to save money (especially if you're traveling solo). While dorm beds are going to be the absolute cheapest option, some hostels have private rooms that are less expensive than traditional hotels.
13. Stay at campgrounds
Yes, even if you're not planning on actually camping, some campgrounds actually have cabins or guest rooms onsite that can be on the more affordable side. Another perk to this option is that you'll likely have access to their kitchen facilities which will allow you to cook your own meals.
---
Save money on transportation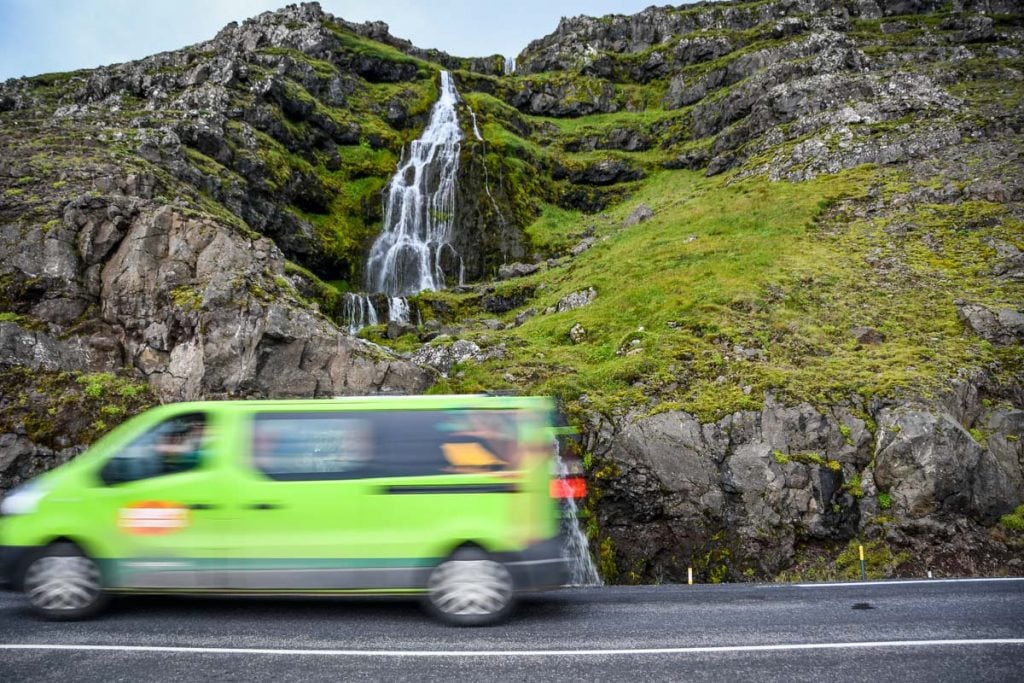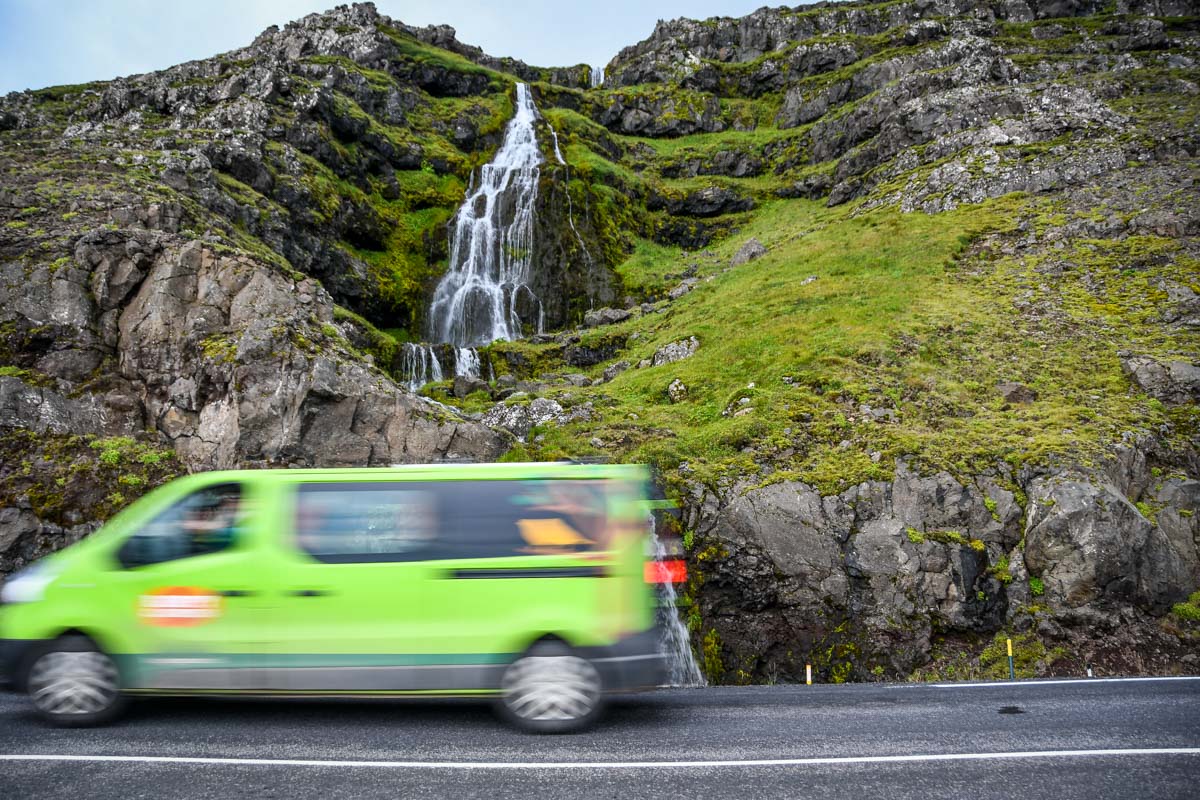 Being that gas is imported to this island nation, transportation around the country is not cheap, but there are definitely ways you can save money.
14. Save money on your rental car
Rental car prices in Iceland can fluctuate from affordable to straight-up crazy. Here are a few tips that will hopefully help you save money on your rental vehicle.
Compare different companies
With RentalCars.com. This is the booking platform we typically use for car rentals no matter where we are in the world because we can see prices from all companies compared. They also allow free cancellations on most bookings and there are no hidden fees.
Start your search early
Rental car prices are one of the costs that can increase dramatically as you get closer to your travel dates. As the supply dwindles, the companies charge more.
When planning our most recent Iceland trip, we saw prices for average sedans skyrocket to more than $500 USD per day. PER DAY. That's just insanity.
Avoid getting stuck with ridiculous prices as your only option by making your reservation as early as you possibly can. Some car rental companies (RentalCars.com, for instance) will allow you to cancel for free, so you might as well book even if you're not 100% certain. Just be sure your booking is eligible for free cancelation before you confirm.
Check SADcars prices
Just for comparison's sake, check out SADcars and see what their rates are like. In short, they rent used cars that have, how shall we say, been around the block – err island – a time or two.
Back in 2016, we found their prices to be significantly cheaper than other rental companies; however, when we were looking for our most recent trip, they weren't all that much different.
Check them out and see what you find.
Determine if you really need a 4×4
In Iceland, there are routes known as F-roads that are off limits to all vehicles except those that are 4×4.
If you have specific locations in mind (like the Highlands) that are on F-roads, you'll definitely want to spend the extra money and get a 4×4 vehicle. But for most travelers, a regular car should be fine (and should save some money).
For example, we did the entire Ring Road (plus some really cool off-the-beaten-path) locations without a 4×4. That said, next trip we'll be splurging for a 4×4 upgrade so we can see even more of the country.
Save with a manual transmission
If you know how to drive stick, you can save some money by booking a manual vehicle. However, if you're not comfortable with stick shift, opt for the automatic transmission and save money elsewhere.
Skip the rental in Reykjavík
If you plan to spend time in Reykjavík during your trip, you do not need a rental car during your stay. The main attractions in the city are all within a central location, so if you book a well-located hotel, you shouldn't need a vehicle of your own. Plus, you won't need to worry about paying parking fees.
Book a rental car from Keflavik
Instead of picking up your rental car in downtown Reykjavik, it makes sense for most people to get their vehicle immediately after landing at the airport. This way, you don't have to book the shuttle to the city, which costs about $32 per person.
Most rental companies have a free shuttle service to their facility if it's outside of the airport.
Further reading: Check out our guide to renting a car in Iceland. It's packed with even more tips and essential information you should know before getting onto those Icelandic roads.
15. Save money on gas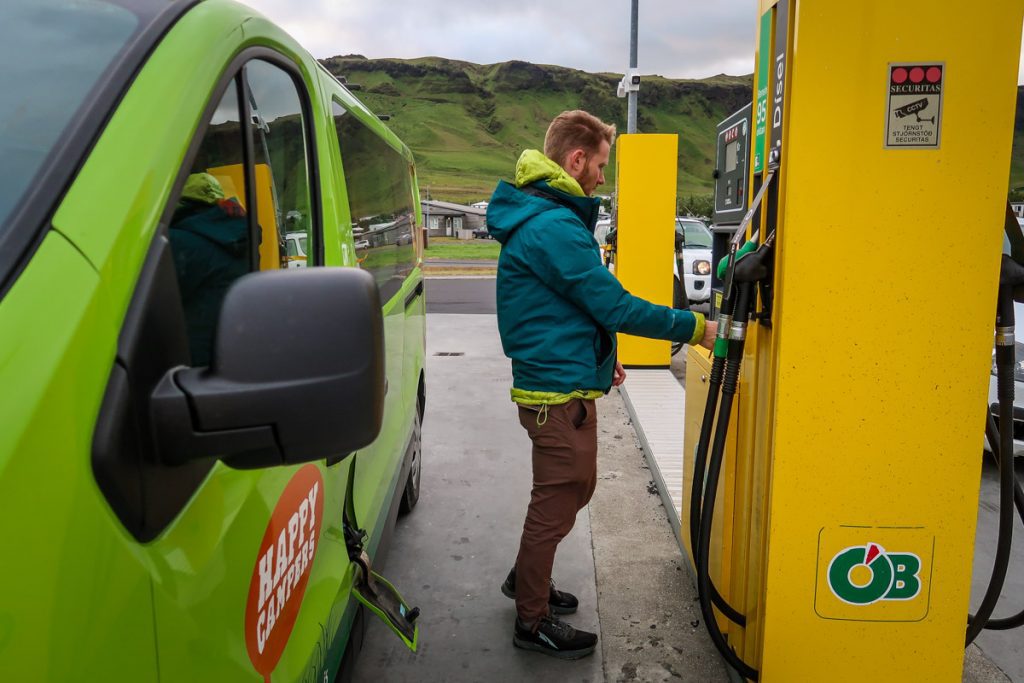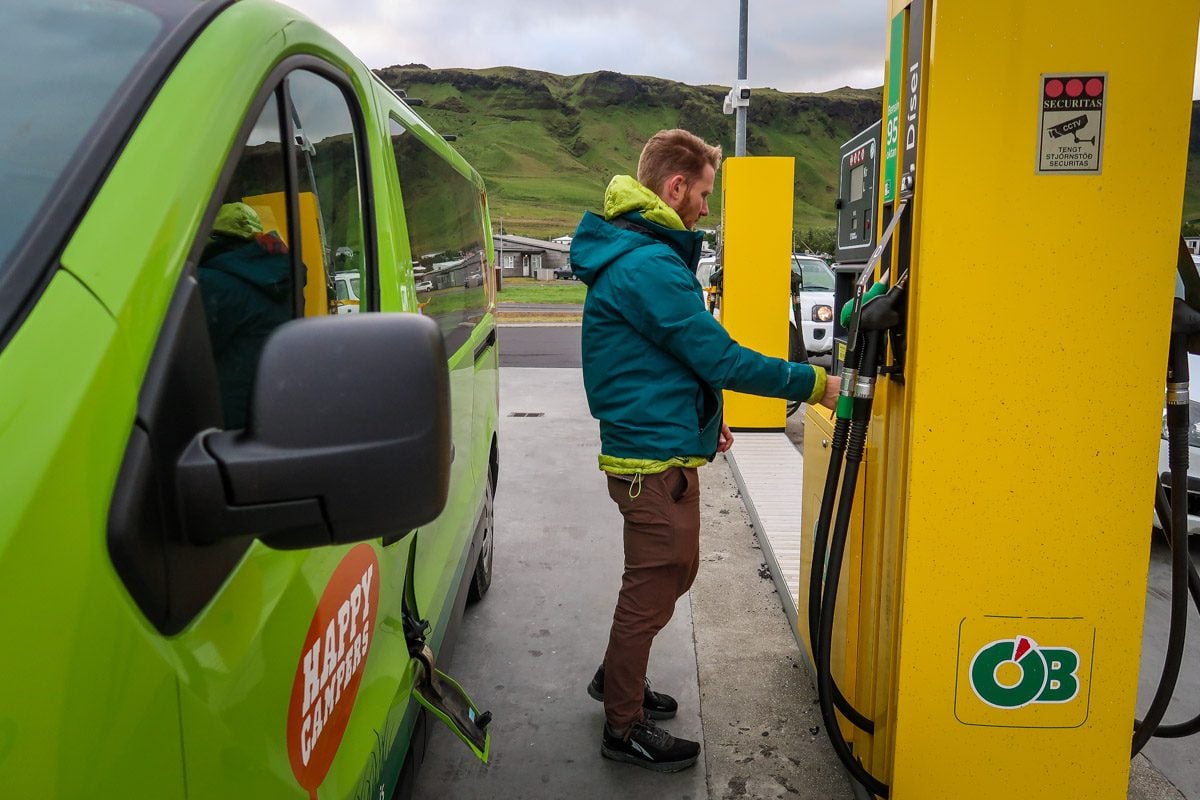 Gas will likely be one of your biggest expenses while traveling in Iceland, so it's good to know there are a couple of ways to save money in this category.
Get a discount card
First of all, ask your campervan rental or car rental company if they have any loyalty cards with local gas stations. Our campervan rental company gave us discount cards for two gas station chains. When searching for places to fill up, we'd always seek out one of those two stations (by searching for them in Google Maps by name).
Compare prices using apps
Before rolling up to a gas station and paying whatever they're charging, wouldn't it be cool if you could shop around and compare prices? Well, there's an app for that!
Bensin is an Icelandic app that displays current gas prices near your location. That way you know you're getting the best deal around. Alternatively, Google Maps typically also shows current gas prices. We found Bensin to be less user-friendly than Google Maps, but more accurate with pricing.
Psst! Here are more essential apps to download before your trip to Iceland!
Get free coffee
If you need a pick-me-up when you fill up, here's a hot tip: Some gas stations offer free coffee to those that have just filled their tanks.
Ask if this is the case (some gas stations, especially those in more remote areas, don't participate in this). Additionally, ask your rental company if they have any coffee coupons. Ours gave us a whole brochure filled with free coffee coupons for N1 gas stations.
Good to know: When at the gas station, you can pay at the pump, but make sure you have a debit card with a PIN number. At gas stations in some of the bigger cities, a PIN is not required. However, at many smaller stations, it requires you to enter a PIN in order to pump. If you're having trouble and there is an attendant, you can have them help unlock the pump and pay inside without a PIN. That said, it's good to be prepared with a card that'll work without hassle.
16. Avoid backtracking
Since gas is so expensive in Iceland, it's a good idea to plan your route in the most efficient way possible. Backtracking equals gas money, so just keep that in mind when you're designing your Iceland itinerary and choosing which sights to include.
17. Try a rideshare
This tip probably won't be applicable for all that many travelers, however, if you are flexible this could save quite a bit of money.
If you're a solo traveler or have extra space in your rental car, there are a few rideshare forums for like-minded people to meet up and explore Iceland together. Just post where you want to go, your intended travel dates, whether you have a car or not, and a little description of yourself.
It's a win-win for everyone: solo travelers get a ride and drivers can split gas money (plus, this means there are fewer cars on the road so Mother Nature is happy).
One of the more popular rideshare forums is called Samferda (which means "traveled" in Icelandic).
18. Hitchhike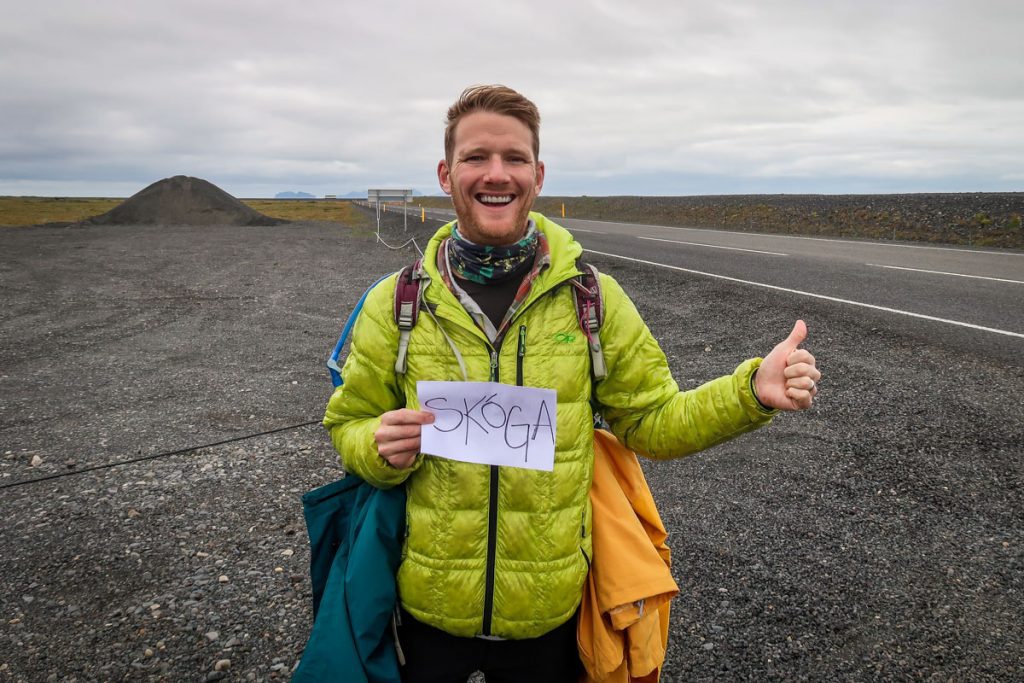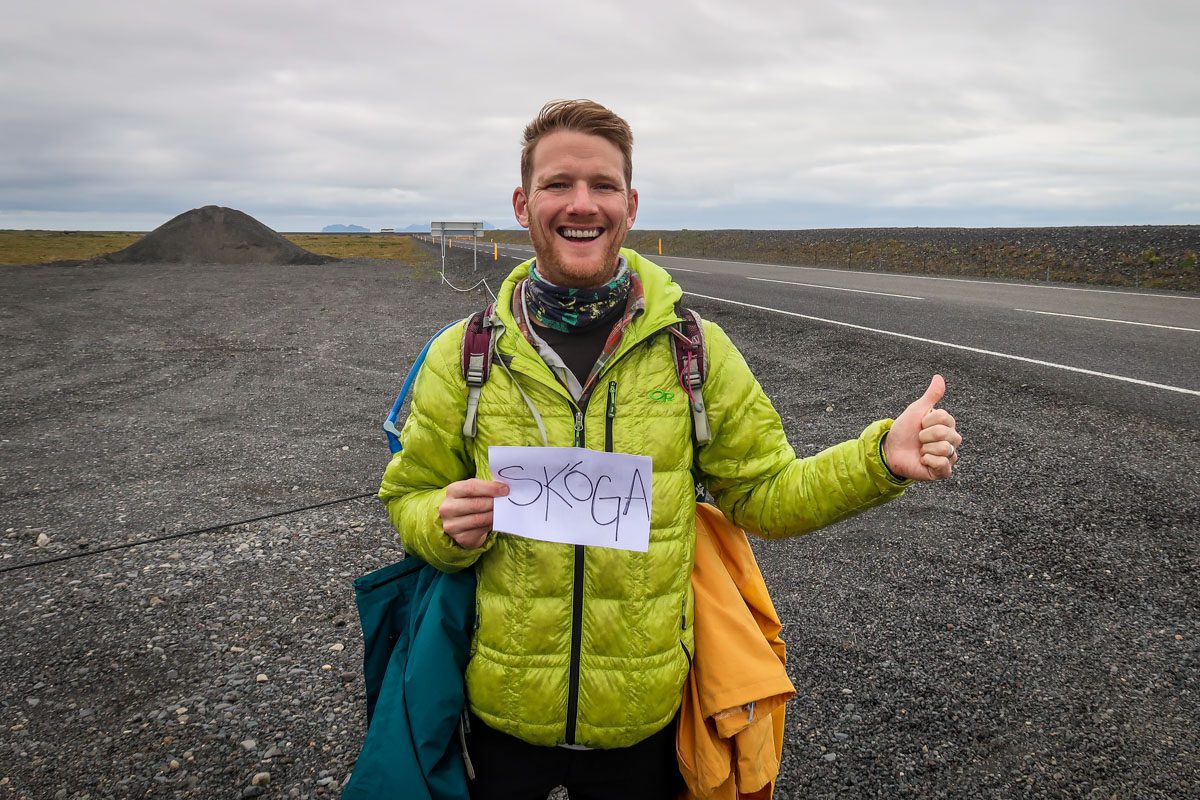 Another tip that won't be for everyone, but hear me out…
Being that transportation in Iceland can be so expensive, you'll likely see a handful of intrepid souls on the side of the road with their thumbs up.
Iceland is extremely safe, so it's not a bad place to try hitchhiking for the first time. Additionally, there is one main road around the island, so there are likely people who will be headed in the direction you're trying to go.
Planning your entire trip in Iceland with hitchhiking as your only source of getting around is going to require that you are very flexible and extremely patient. If you're relying purely on strangers for transportation, you can't really come in with an itinerary that's set in stone or reservations that you must be on time for.
Another thing to think about is your luggage. If you plan to hitchhike, you shouldn't carry much with you since someone may not have much space. Many cars in Iceland are small and people often travel with camping gear, leaving little room for you, dear hitchhiker.
If that's not a dealbreaker, you could potentially save a huge amount of money and come away from your trip having met many interesting people.
Even if you have a rental car of your own, you may find yourself hitchhiking on your trip – we did…
Our experience hitchhiking in Iceland
We did the Fimmvörðuháls Hike, which starts and ends in different places. After doing some research, we found that taking a taxi the 25 minutes between the two points would cost us an insane amount.
Instead, we held up our thumbs and a sign with our intended destination (a popular waterfall). Within 5 minutes, a sweet German couple on their honeymoon picked us up as they were headed that direction anyway.
If you find yourself in a similar situation, just know that hitchhiking could be an alternative to taking a taxi.
---
Save money on transportation in Reykjavík
We've got some tips specifically for getting around Reykjavík. If you plan to spend any time in this city, you'll want to keep these tips in mind.
19. Avoid taxis
…like the plague. Well, I suppose not really. But if you can, avoid taking taxis on your trip unless you want to cry at the total bill.
And on a related note, no, Uber is not available in Iceland. So how can you get around? Keep reading for a couple options.
Our advice: When in Reykjavík, book your accommodation with location in mind so you don't have to take taxis. Saving $20 per night might not actually be worthwhile if you're going to have to pay more than that in the cost of getting around town. Not to mention the time spent on transportation.
20. Take the city buses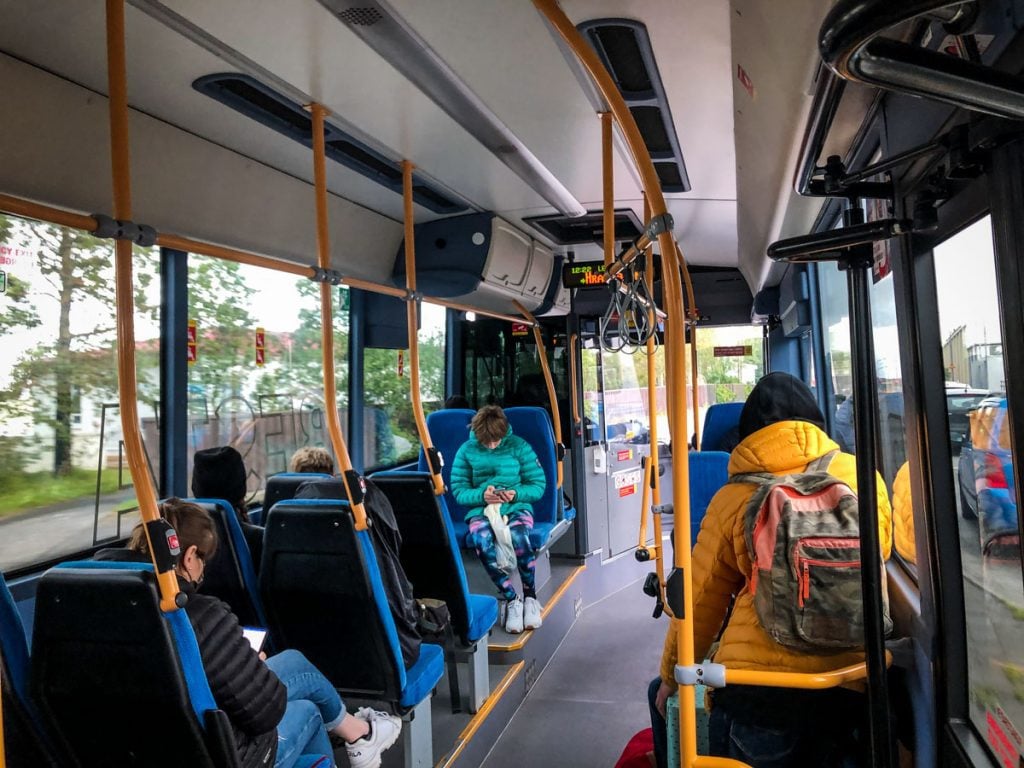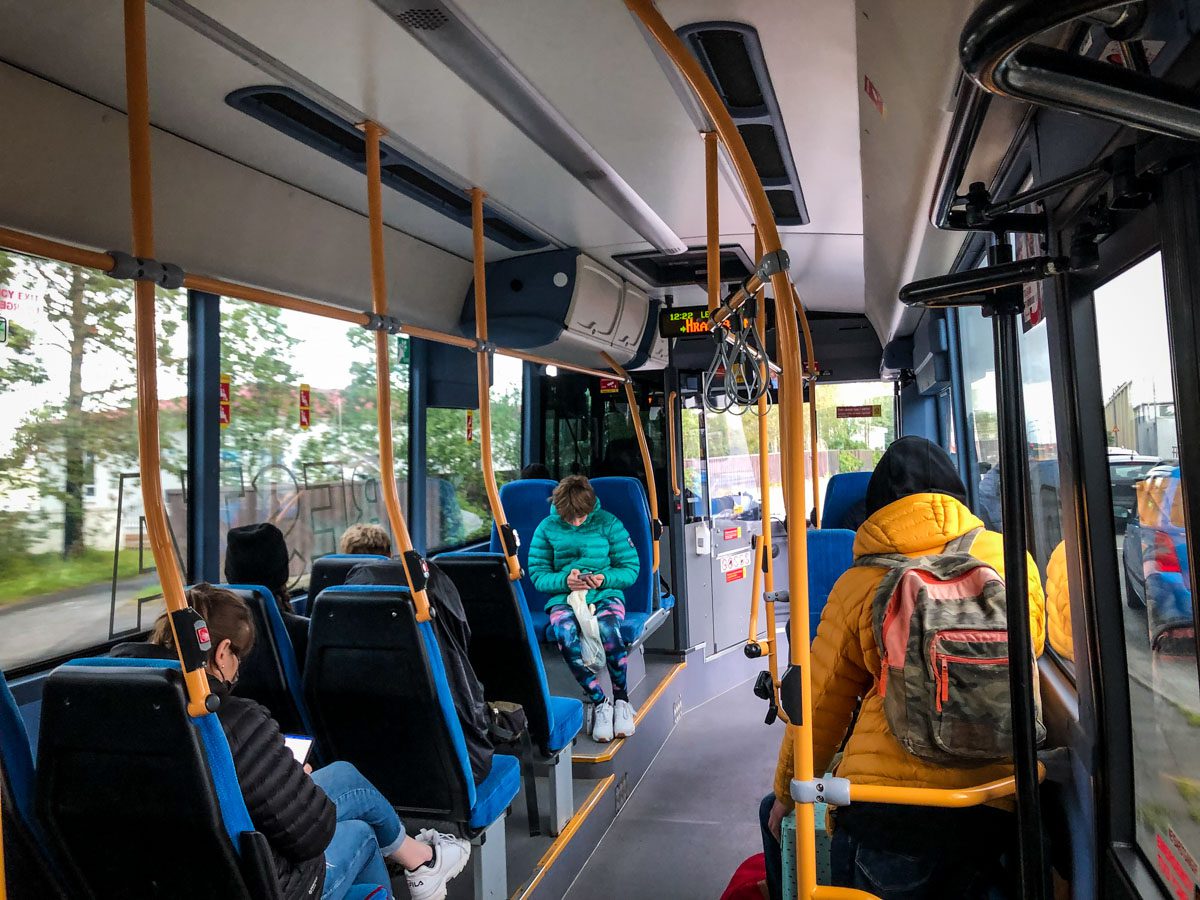 The city bus system in Reykjavík is clean, comfortable and cheaper than the alternative (aka taxis). However, it's not as inexpensive as you may expect. Expect to pay 470 ISK ($3.65) for a single ride. Again, still better than a taxi.
Before you hop on a city bus, here are a few things you should know:
The buses are very punctual, almost to a fault. In fact, we were making a transfer and were a few minutes early at the stop, but the bus left right as we were walking to it. Three minutes EARLY! Don't just be on time, be early.
The buses don't run very frequently. On the more popular routes, expect buses to run every 30 minutes or so. On less popular routes, you might find there are several hours between buses.
You can't pay for your fare using a credit card. You can purchase tickets at convenience stores, but the simpler way to do this is by downloading the Strætó app. On this app, you can connect it with your credit card and purchase a single ride, triggering a screen to pop up on the app. You'll show this screen to the bus driver when you enter.
21. Rent a scooter to get around Reykjavík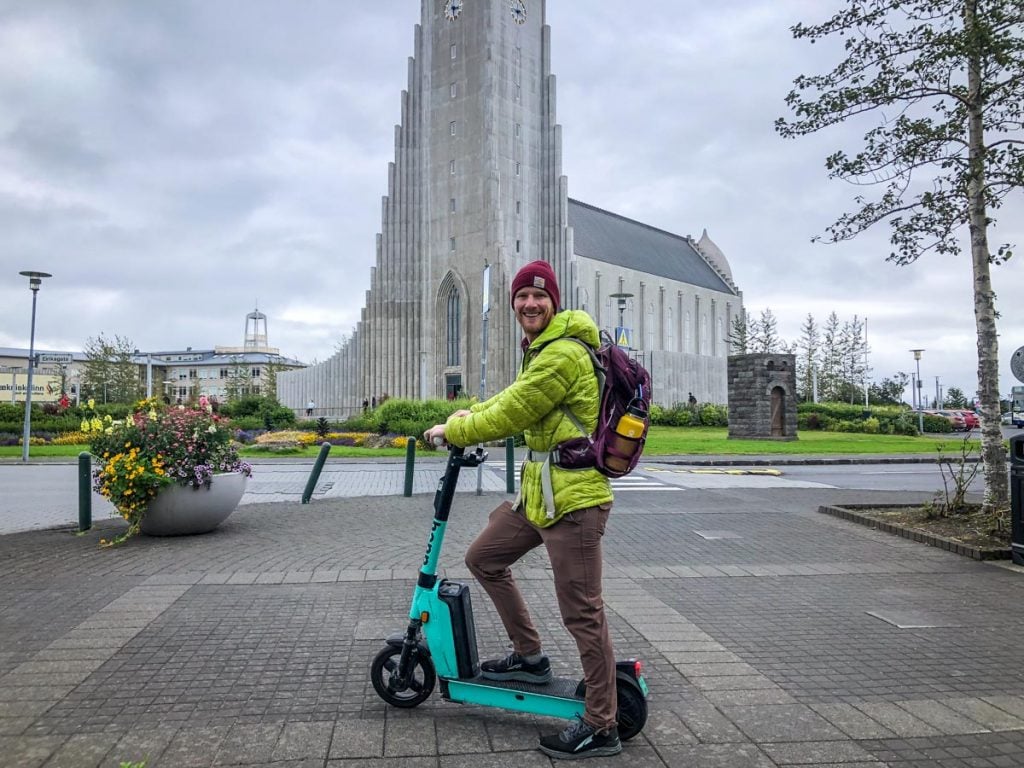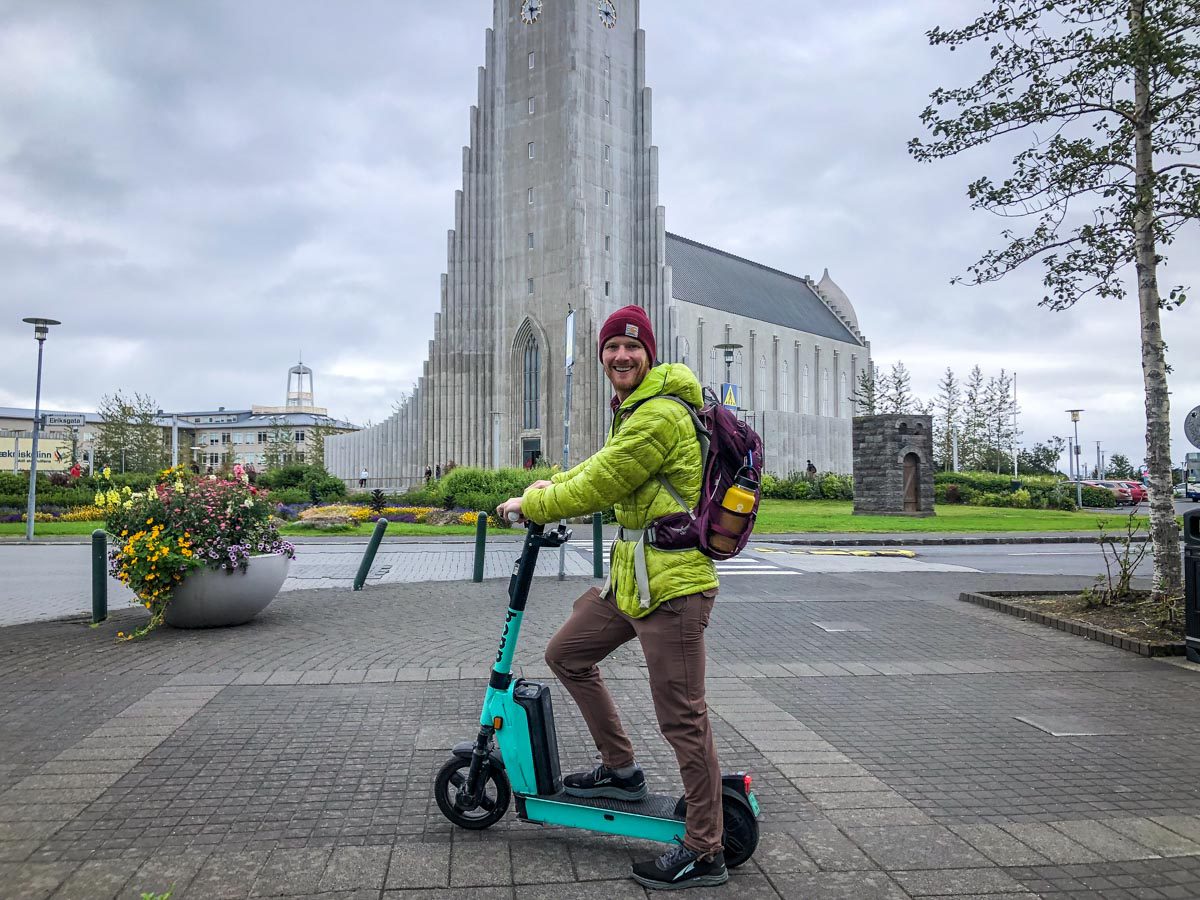 Looking for a somewhat inexpensive way to get around Reykjavík? Have a sense of adventure?
If you answered yes to both questions above, we think you'll love renting an electric scooter to get around the city.
While not exactly dirt cheap – we spent about $25 USD each on one day of scooter rentals – it sure beats the price of taxis. Plus, it's a lot quicker (and more fun!) than walking everywhere.
How to do it yourself: There are a few companies that have scooters around Reykjavík, and they each have an app. Personally, the one we saw most frequently was Hopp. If you plan to rent a scooter, it's very handy to have a WiFi hotspot or cell service of some sort, as you'll need a signal in order to begin and complete your rental.
22. Book this airport shuttle
If you need to get to Reykjavík from the airport, or vice versa, skip the taxis and instead book a shuttle bus. Unless you have a large group of people traveling together, this will save you money!
Flybus is the most popular shuttle service that runs from Keflavik airport to Reykjavík and back.
Booking your shuttle through Get Your Guide is the cheapest price we found (and we did quite a bit of searching). While it isn't a ton cheaper, we got our shuttle tickets for $32 each (saving $8 from what we saw elsewhere).
Insider Tip: When you're reserving your ticket, you have the option of selecting two different options for pick-up/drop-off location in Reykjavík: Hotels or the BSI Bus Terminal. These tickets are two different prices, with the bus terminal being a few dollars cheaper. However, the bus terminal is quite a ways outside of the downtown area (where most of the buses are). Unless you're staying near the terminal, we'd highly recommend booking a ticket that picks up/drops off at the hotels, as the little money you'd save wouldn't be worth the inconvenience of dragging your luggage all around town.
---
Save money on food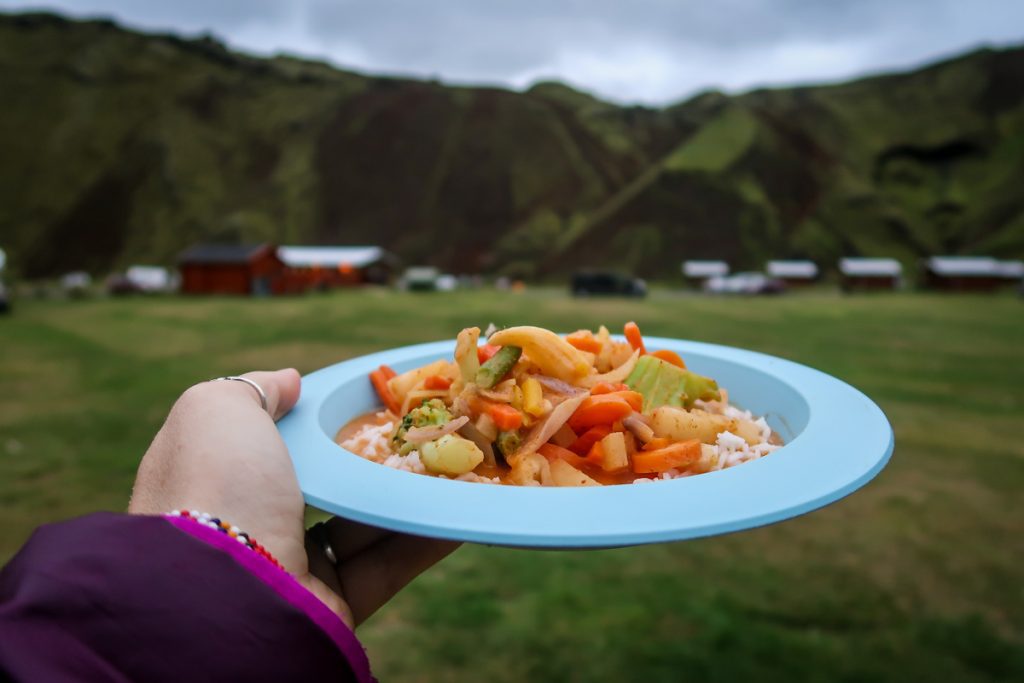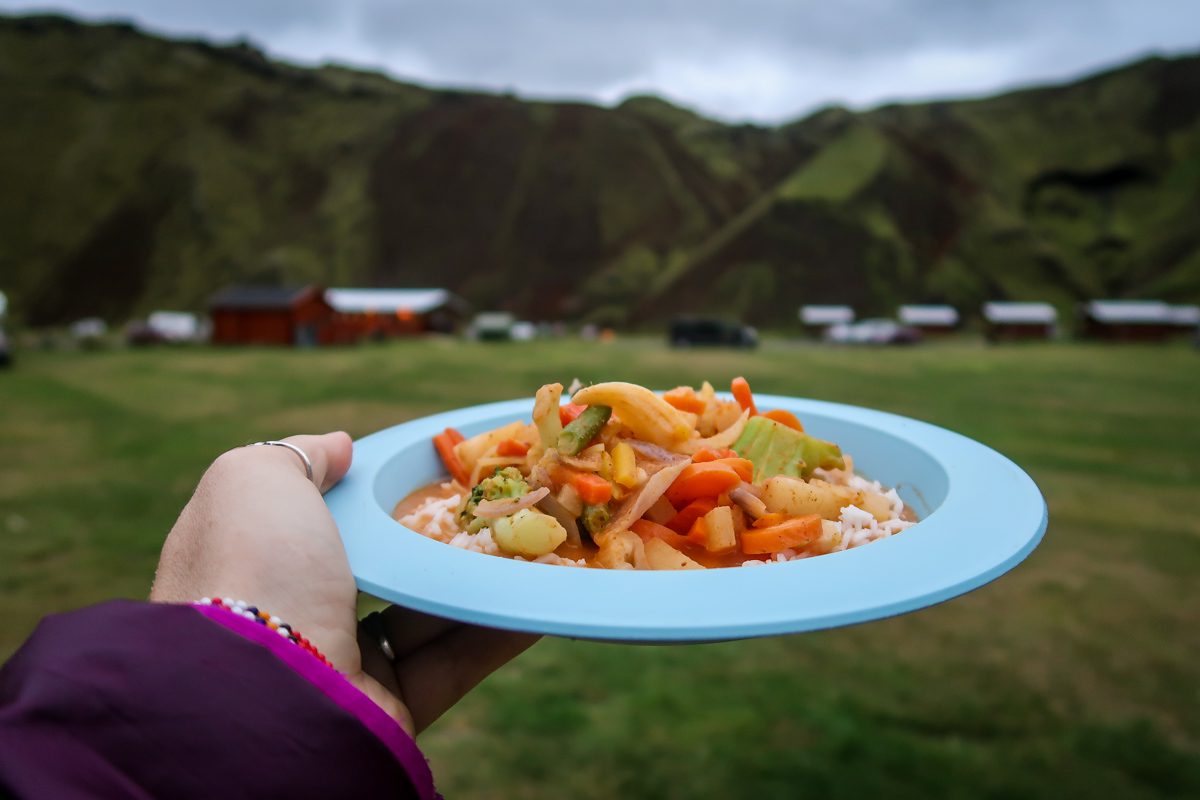 One of the easiest categories to save money while traveling in Iceland is food. We've got all sorts of insider tips to help you out…
23. Cook your own meals
Sitting down for a meal in Iceland will make your wallet noticeably thinner. If your budget affords, splurging on a nice meal or two during your trip can be an amazing experience.
Psst! We've got a whole list of the best Icelandic foods to try (aka the ones that are worth your money), and which ones to skip.
But if you're trying to avoid those eye-watering bills altogether, you'll want to plan on cooking as many meals as possible.
We actually found groceries to be pretty reasonable in Iceland. That is, if you avoid a couple of things…
Money-saving tips for groceries
Go veggie: Cooking vegetarian meals will save quite a bit of money. Plus, it's easier not having to deal with raw meat. Instead, incorporate beans for a healthy dose of protein.
Shop the frozen aisle: Produce in Iceland is pretty darn expensive, and when you consider it's a volcanic Iceland just outside the Arctic Circle, it's easy to understand why. Instead, buy frozen berries (to go with your Skyr!) and frozen veggies to put in pastas, curries, and stir fries.
For more budget tips, we put together a huge guide to help you understand groceries in Iceland. It's filled with plenty of money-saving hacks and insider advice you won't want to miss.
Want some easy meal ideas? Here are our all-time favorite camping recipes! Bonus: They're healthy, easy AND cheap!
24. Bring food from home
If you're planning to cook many of your meals, it may be a good idea to pack some ingredients from home. That's right – you can bring up to 3 kg (6.6 pounds) of food into Iceland.
There are some things that are affordable and easy to get once you're in Iceland, and other staples that are expensive or difficult to find.
To help you determine what exactly to pack from home, we made a detailed list of foods that make sense to travel with. You can find it in our guide to Icelandic grocery stores (under the "tips for shopping" section).
One more thing to bring from home: Most grocery stores in Iceland charge for grocery bags, so pack a reusable shopping bag from home. Not only will you reduce the amount of waste you create (good for you!), but you won't have to pay for bags.
25. Shop at Bónus for your groceries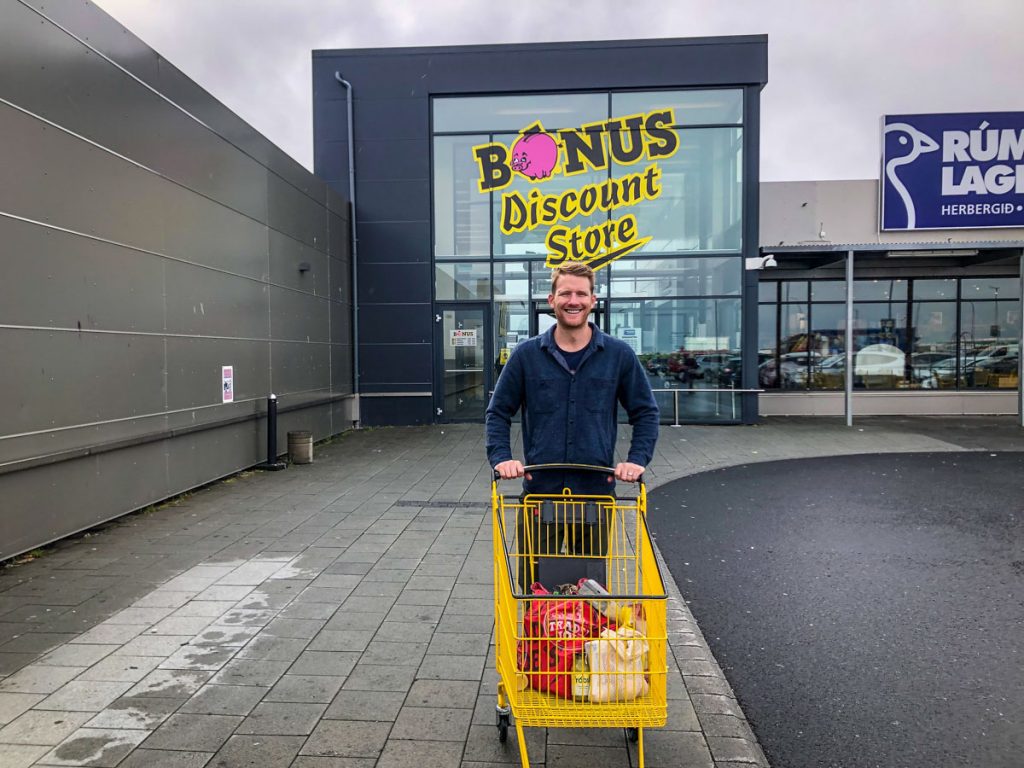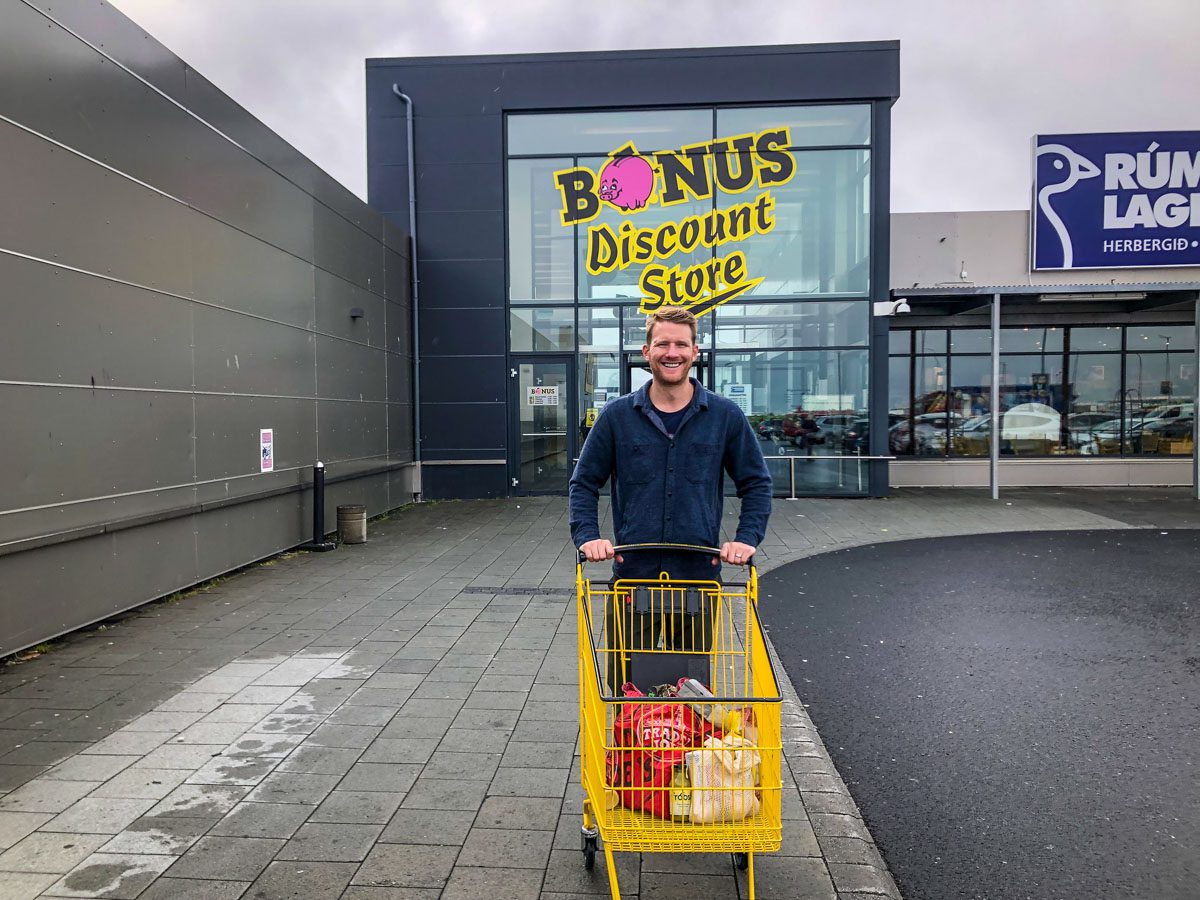 It's pretty widely-known that Bónus supermarkets have the lowest prices on groceries in Iceland. If you're on a budget, try to do your shopping here. Krónan is another good option for thrifty travelers.
For more grocery shopping tips, we've got a big ol' article just for you with all the Icelandic supermarket tips you'll need!
26. Score free food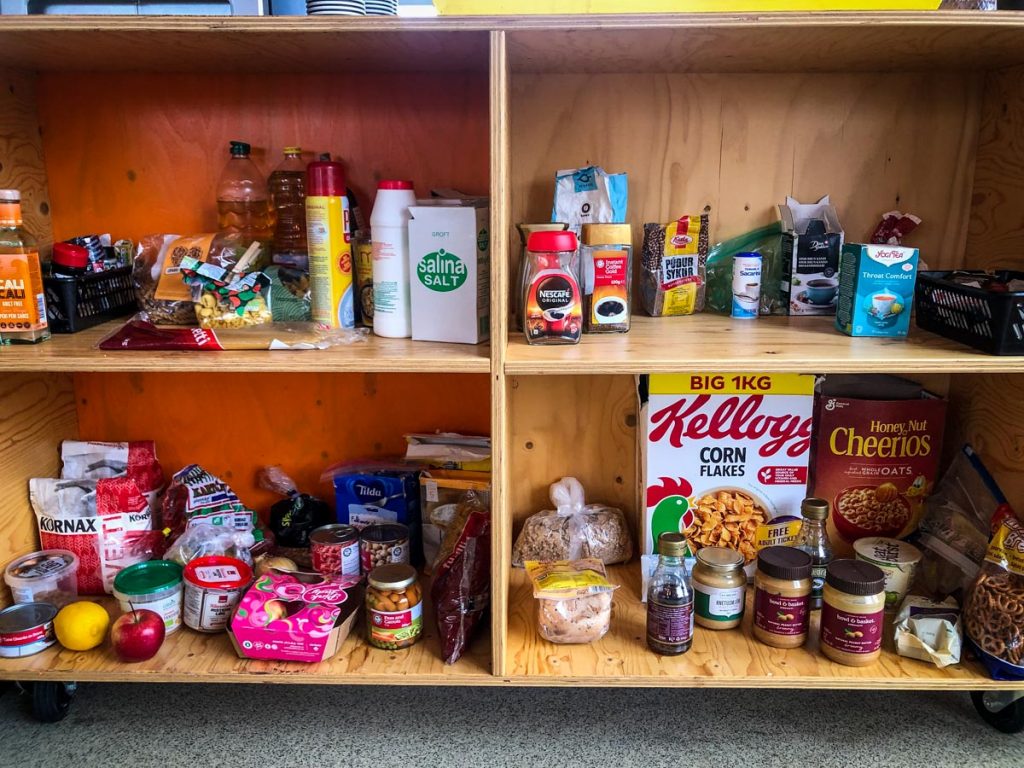 If you're planning to cook, try checking the free bins at campgrounds and campervan rental companies to score some staple items for the best price out there… FREE.
When travelers end their trips, a lot of times they'll leave any remaining food items in these bins for others to be able to use. Lucky you! It's a good place to look for things like spices, pasta, rice, and canned goods.
We actually found quite a few things that were totally unopened, so give those bins a check!
27. Eat at gas stations (when you don't want to cook)
Gas stations in Iceland are known for tasty and relatively cheap food – namely hot dogs.
I'm not exactly a hot dog person, but I will admit the ones we had in Iceland were good. That said, some people make it seem like you can live off gas station food during your trip to Iceland in order to save money. And while I think it's a good option in a pinch (or to try it for the experience), it's not a solution for the majority of your meals. I mean, unless you like having fast food every day.
On our most recent trip, we found a typical hot dog with fixings to run between 450 and 700 ISK ($3.50 – $5.50). A meal of a hot dog, fries and a soda is about 1,400 ISK ($11).
Sure, eating at gas stations is a cheaper alternative to traditional restaurants, but if you're tight on money, we wouldn't recommend solely relying on them for budget-friendly meals.
28. Split (if you can)
If you're traveling with a partner, you will have the option to split meals if you feel comfortable doing so. For instance, there were some restaurants we wanted to try, but we weren't all that hungry or the portions were huge. So instead of ordering two meals and throwing some away, we'd order just one. A win for food waste and a win for our wallet!
Obviously, there are some places where it wouldn't feel appropriate to do this, so use your discretion. But at many casual dining places or food truck-style restaurants, this can be a great way to save money.
29. Buy alcohol at Duty Free
Relaxing with a drink after setting up camp is a treat. But if you plan to indulge, you're gonna want to read this…
Alcohol in Iceland is heavily taxed, and is therefore expensive AF.
Fun Fact: Did you know that beer was outlawed in Iceland until 1989? NINETEEN-89!!!
Finding a liquor store in Iceland can be tricky (alcohol is not sold at grocery stores), and when you do, be prepared to shell out a lot of cash for a bottle of even the low-shelf stuff. We read somewhere that a standard bottle of vodka sells for $65 in Iceland, where the same stuff goes for $20 in the United States. Yikes!
And if you plan to go out on the town, expect to pay $10 USD for a pint of beer and $12 for wine. Cocktails are even more expensive.
So if you plan to do some drinking in Iceland but don't want to spend top-shelf prices for bottom-shelf value, buy your supplies at duty-free.
Or if you're planning ahead, pack your own booze! That's right – you're allowed to pack alcohol in your checked bag. The Keflavik Airport website does a good job explaining the specific customs regulations, but basically, you're allowed to bring one liter of spirits and either one liter of wine or 6 liters of beer.
And if you're on an uber-tight budget, just refrain from drinking altogether. DUH.
30. Drink from the tap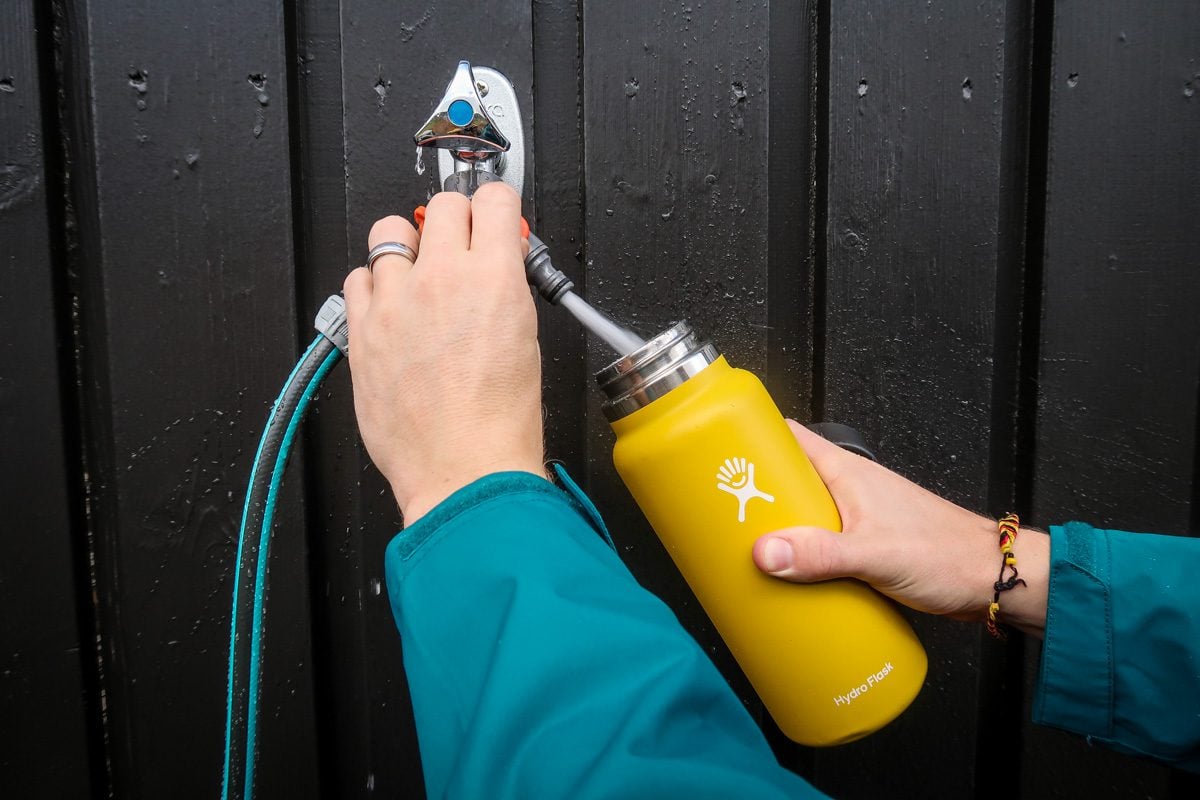 There are some countries where drinking tap water will give you tummy problems, but Iceland is not one of them.
We met a local who joked that the bottled water companies just fill up with the same water that comes out of the taps, then make crazy money off the tourists. Not sure if that's actually true, but we can tell you with certainty that the tap water is delicious and FREE. It's some of the best water in the world, and you can find taps everywhere.
Fill up a reusable water bottle at gas stations or campgrounds to avoid using plastic and to save some money (the bottled stuff ain't cheap!).
31. Make your own coffee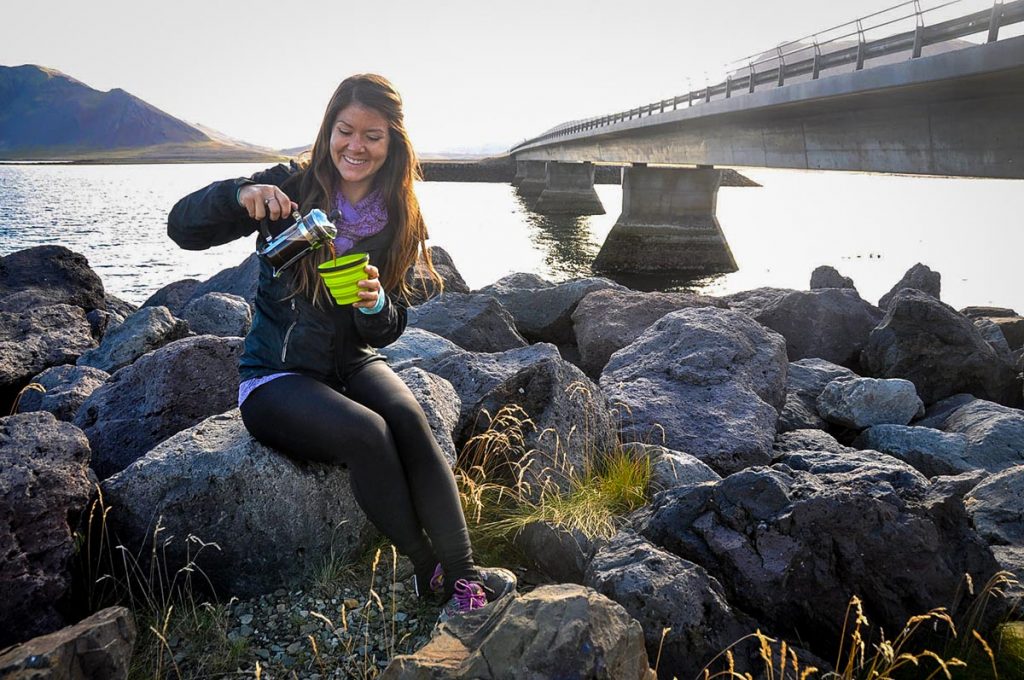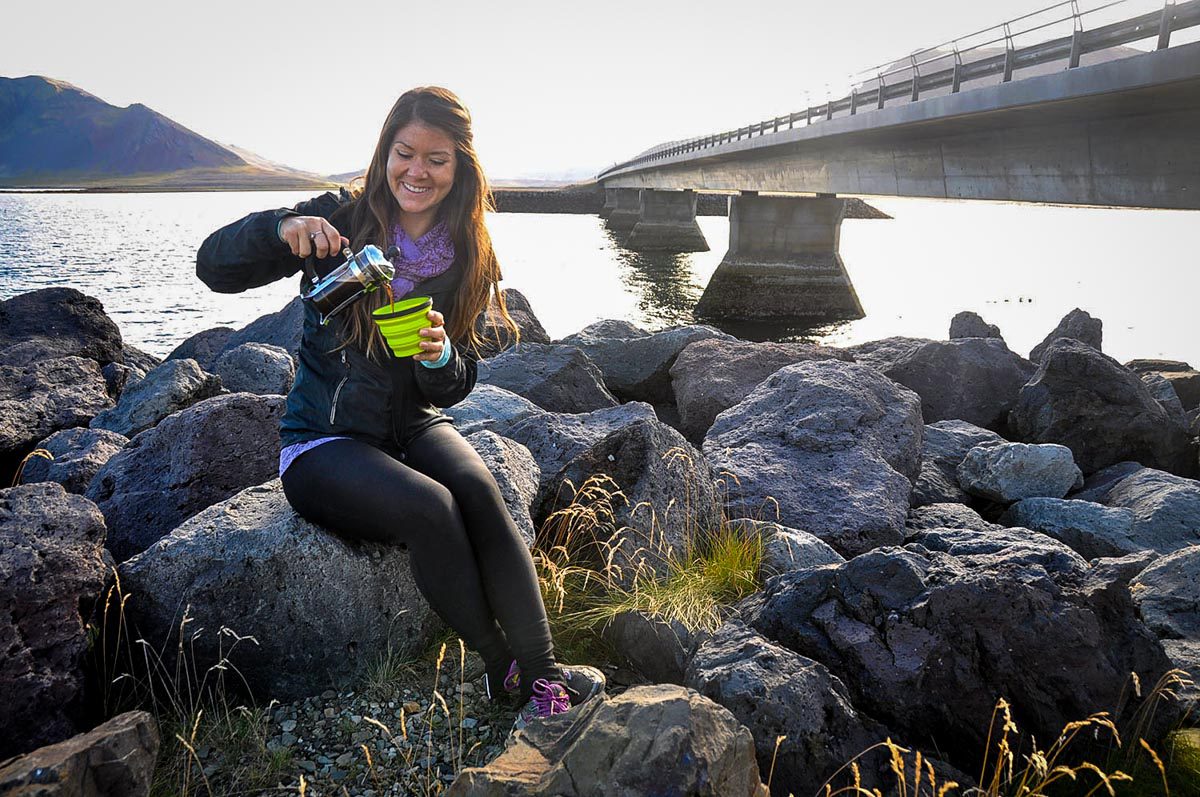 If you have a caffeine habit (guilty as charged!), this tip will help save dough on your morning joe. Those daily coffees will start to add up, so it's nice to have the ability to make your own.
Most campervan rental companies will have the option to rent a small French press, which we did on our first trip to Iceland and it worked really well. However, on our most recent trip, we brought a travel Aeropress with us and loved it. It was our first time using an Aeropress, and while it doesn't make nearly as much coffee as our trusty French press at home, it sure makes an excellent brew.
If you plan to make your own coffee, here are some things worth considering:
Pack a thermos. It's nice to have something to keep it in while you're driving.
It's nice (but not necessary) to have a JetBoil. This is a handy device that heats up water in 60 seconds, and we use it all the time when we're camping. It's handy for making coffee because you don't have to clean out a pot in which to boil water. It's not totally necessary and I don't think I'd recommend buying it just for this trip, but we thought it's worth mentioning if you have one at home. The downside is that you will have to purchase propane once you're in Iceland since you cannot fly with it.
Buy coffee in Iceland. We didn't find it to be too much more expensive than what we're used to buying in the United States, so we'd recommend just picking up a bag at the grocery store when you land in Iceland. Unless you pack a manual grinder, be sure to buy coffee grounds instead of whole beans.
Too lazy to make your own coffee? You can get it for free at many gas stations when you fill up. Plus, at many car or campervan rental places, you can find brochures with free coffee coupons for N1 gas stations!
32. Save on food & drinks in Reykjavík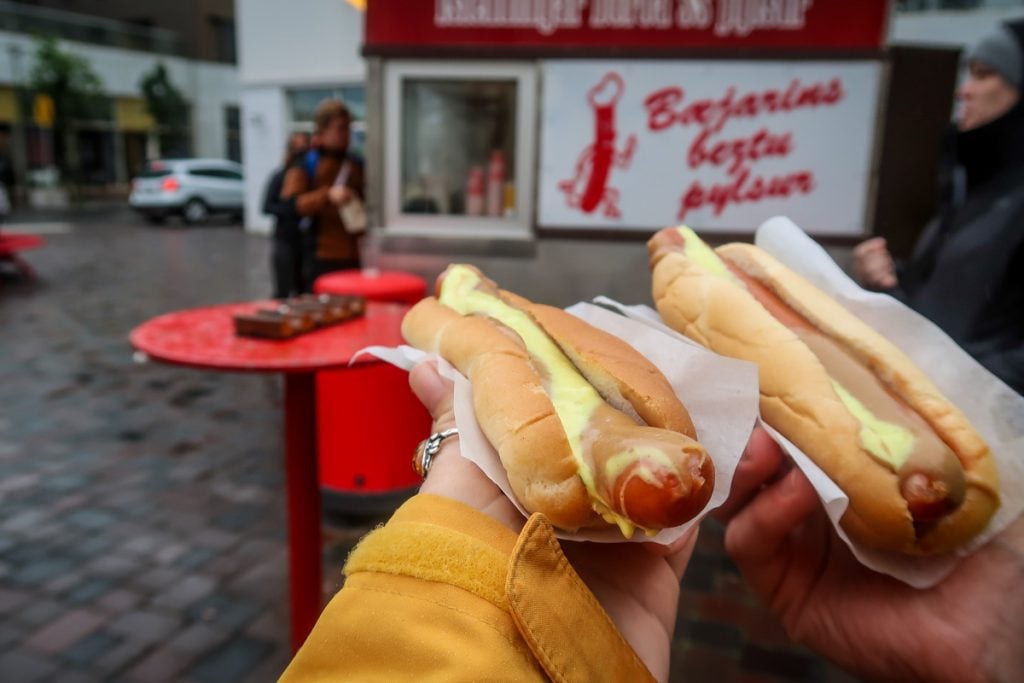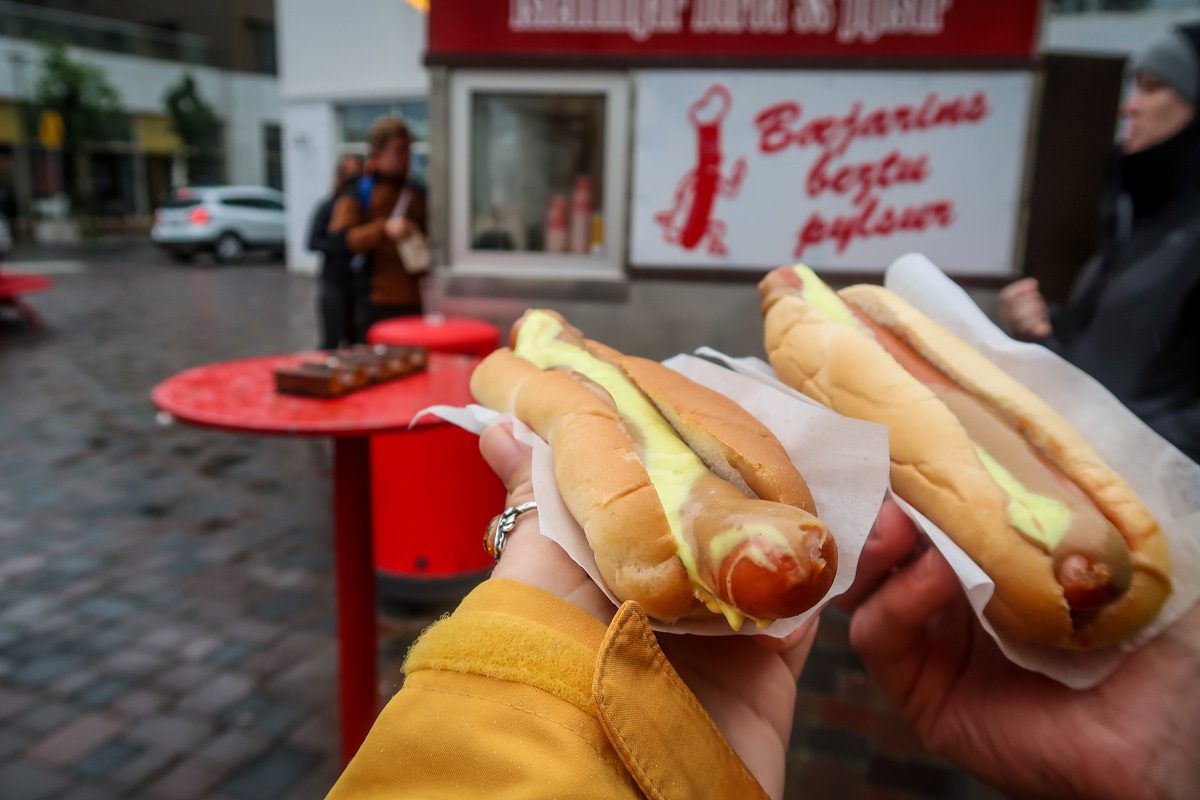 Eating out in Reykjavík ain't cheap.
These tips will help you save money on food in this notoriously expensive city:
Get the famous hot dog
Bæjarins Beztu Pylsur gets a lot of hype for their hot dogs. And budget travelers will delight knowing this "must eat" place lives up to the rave reviews and is super budget-friendly. At just 550 ISK ($4.25), it makes a good cheap light lunch or a good afternoon (or late night!) snack.
Sample classic Icelandic food for cheap
101 Reykjavik Street Food is a popular restaurant that serves up classic Icelnadic food at a fair price. You can get a meal for around 1,850 ISK ($14).
Seek out Happy Hour
If you want to go out for a beverage at night, consult this article to find the best deals in town. Alcohol is notoriously expensive in Iceland, after all, so it makes sense to plan ahead if you're on a budget.
Picnic
Grab some staples at Bónus (the cheapest supermarket chain in Iceland), and enjoy a picnic instead of eating out. Choose from items like flatbread, tuna, skyr (similar to yogurt), apples, crackers and cheese for a simple meal that requires no cooking.
Go big for lunch instead of dinner
Many restaurants in Reykjavik have a lunch menu that is similar in offerings to their dinner menu, but has lower prices. Make lunch your biggest meal of the day, then get something smaller at dinnertime to save money.
---
Save money on entertainment
There are plenty of ways to have fun for free in Iceland. We're sharing our tips for finding free things to do as well as how to save money on some paid activities.
33. Take advantage of free activities
One really amazing thing about traveling in Iceland is that most of the attractions are absolutely free. That's right – you don't need to pay an entrance fee to view the iconic waterfalls or to walk along the ice lagoon. There are incredible viewpoints throughout the entire country and all you have to do is drive up to them.
Some of our favorite free activities/sights in Iceland are:
If you follow our 7-day Iceland road trip itinerary, you won't have to pay a single entry fee!
34. Free things to do in Reykjavik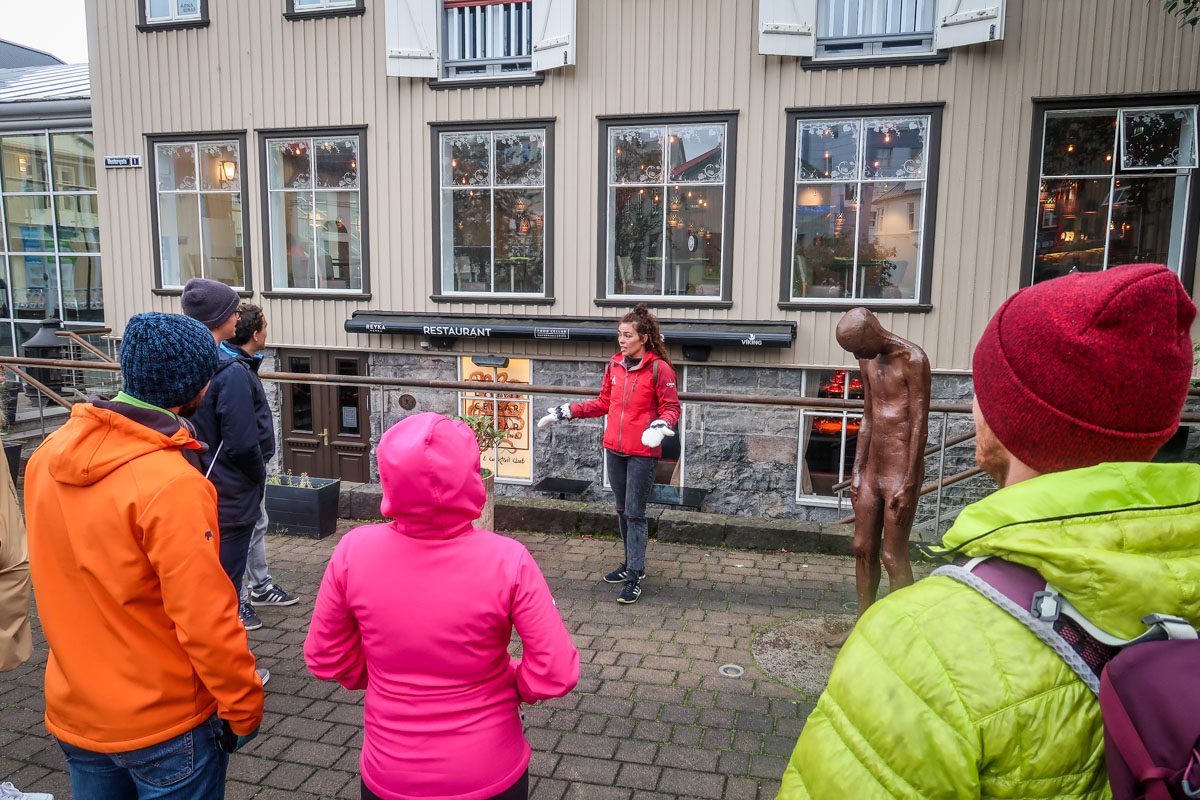 Reykjavík may be an expensive city when it comes to food, drink and accommodation (yikes!), but luckily, there are tons of free things to do.
Free (or cheap) sights in Reykjavík
Take a Free Walking Tour: Get to know the city with a local guide. The tour is free but it's worth noting that tips are expected.
Walk around the harbor: The harbor area is pretty cool, especially in the late afternoons when it comes alive.
Pufa: If you're near the harbor, check out this quirky spot. It's a circular little hill which you can climb and get a unique view of the city.
Photograph Hallgrimskirkja: This iconic church is quite a sight, especially as it looks behind the rainbow painted street leading up to it. Getting a view of the city from the top of the church costs 1,000 ISK, but photographing it from below is totally free.
Harpa Concert Hall and Sun Voyageur: Both of these iconic sights are located on the water and can be seen together.
Soak in a public pool: If you want a thermal bath experience but don't want to pay Blue Lagoon prices, search "public pool" in Google Maps and choose one of the many options in Reykjavík. Entrance to these local establishments is around 1,000 ISK (just shy of $8).
Want more ideas of things to do? Check out our guide to Reykjavík, which is packed with tips!
35. Bathe where the locals do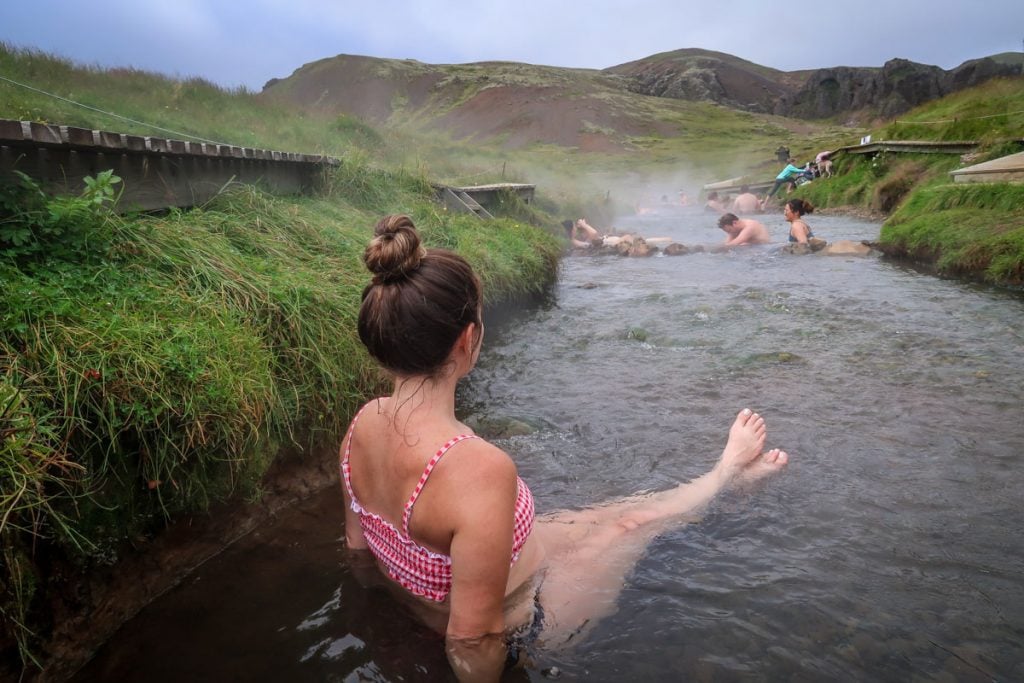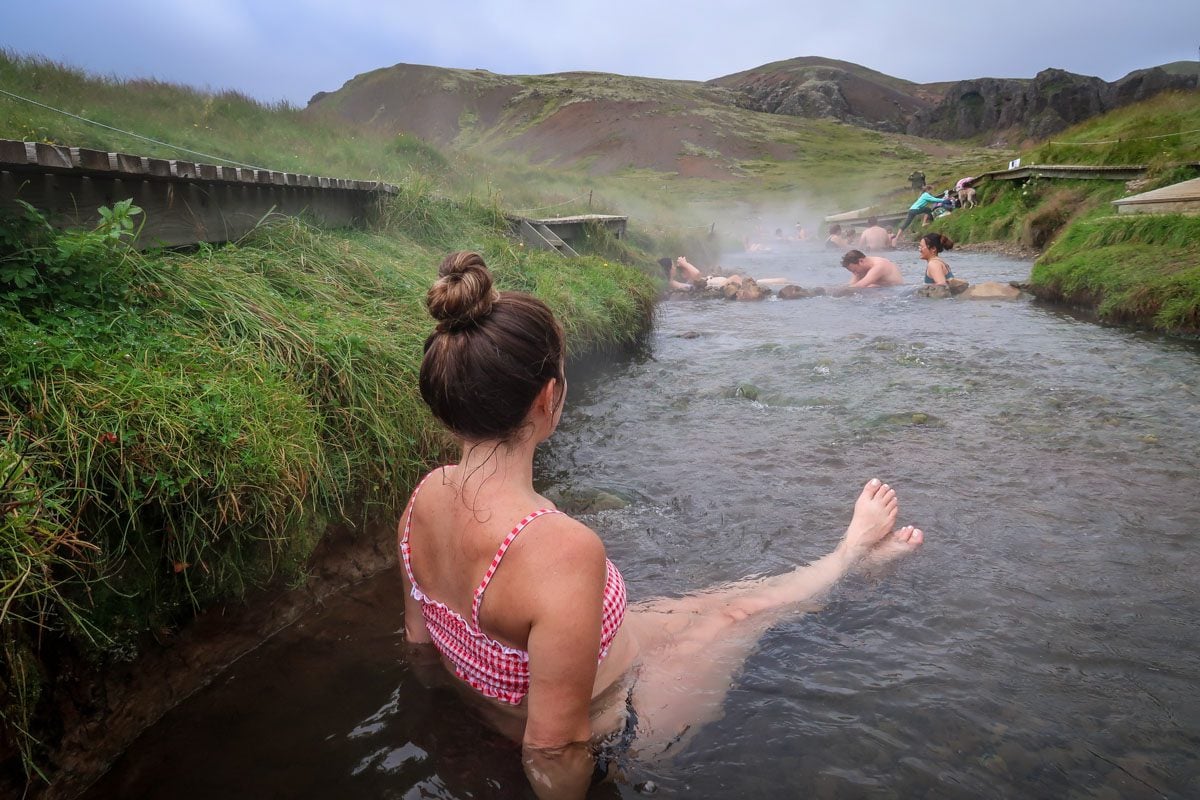 Soaking in hot springs is one of the most popular things to do in Iceland. And the good news is that you can totally do this on a budget.
While the most famous of all the thermal springs of them all – the Blue Lagoon – costs a pretty penny (entrance starts at around $70 per person during peak season), there are plenty of free and cheap places to bathe in Reykjavík and all around Iceland.
I do want to pop in and say that if your budget allows, the Blue Lagoon is a very cool experience (we're definitely not hating on it!). We skipped it during our first trip to Iceland because, well, our budget allowed us to eat rice, sleep in a tent, and not much more.
Since that first trip, I've gone to the Blue Lagoon twice and can say, yes, it's touristy, and yes, it's expensive, but yes, it's pretty damn cool.
But if you're on a rice-and-tent budget, don't worry, you can certainly experience hot springs in Iceland, and while different from the luxury thermal resorts, they can be pretty freaking incredible.
Free hot springs in Iceland
Simply type "hot spring" into Google Maps and you'll be astounded at how many there are around the country. With a bit of digging, you'll surely have a long list of free hot springs around the country that fit into your itinerary.
Things to know about free hot springs in Iceland:
They aren't maintained as frequently as paid hot springs. Expect algae and mud. If you're not cool with this, you may want to stick to the resorts.
Don't leave anything behind. If you bring snacks, clean up after yourself. And if you want to earn karma points, pick up any litter you see and carry it back with you. Some free hot springs have been so disrespected by tourists that locals are starting to close them off to public access.
Be respectful of others. If you're sharing the pool with other people, respect their space.
Wear a bathing suit. Unlike some of the hot springs in the PNW, nudity at hot springs is not the norm in Iceland.
Public pools in Iceland
Pretty much every town throughout the country – no matter how small – has a public pool. Now, these aren't your average cold-water swimming pools. These are heated and are typically outdoors. There is usually a lap swimming pool, which will be more or less like tepid bathwater, as well as some hotter soaking pools, which is more our style.
Public pools typically have an entrance fee, but instead of the eye-watering prices of the fancy resorts, it'll be a much more digestible amount, like less than $10.
While at these pools, don't expect luxury. What you can expect, though, is to be surrounded by locals and to have a much more authentic Icelandic experience than you will be lathering on silica mud facials at the Blue Lagoon (though, I've gotta say, that is pretty fun too!).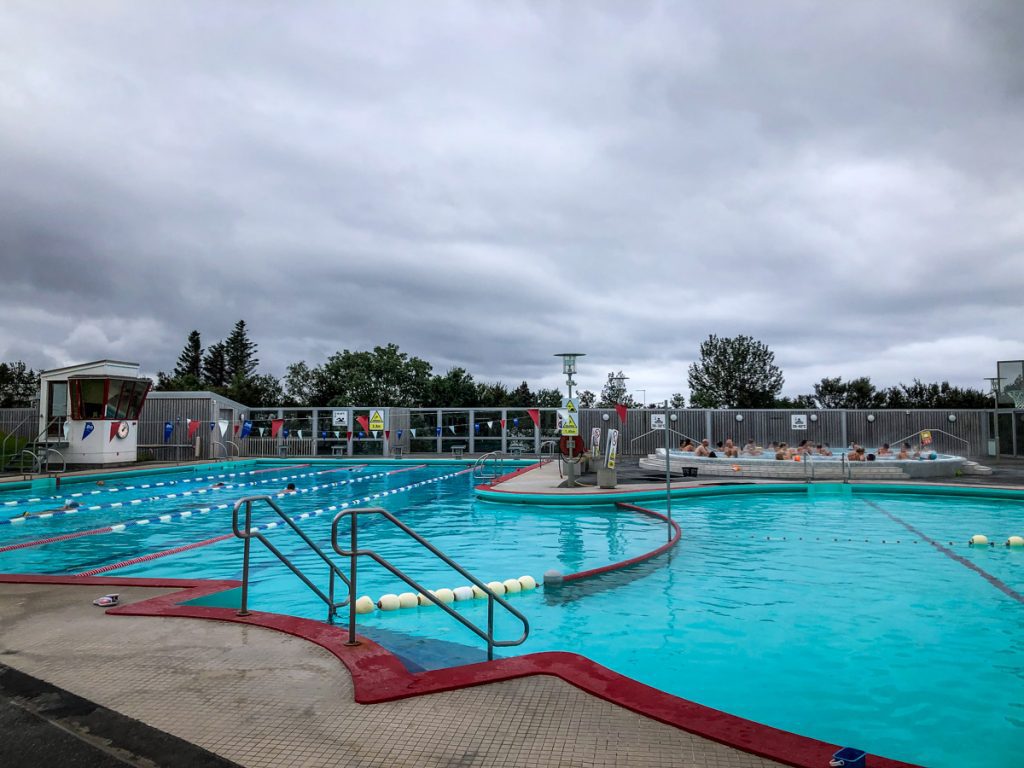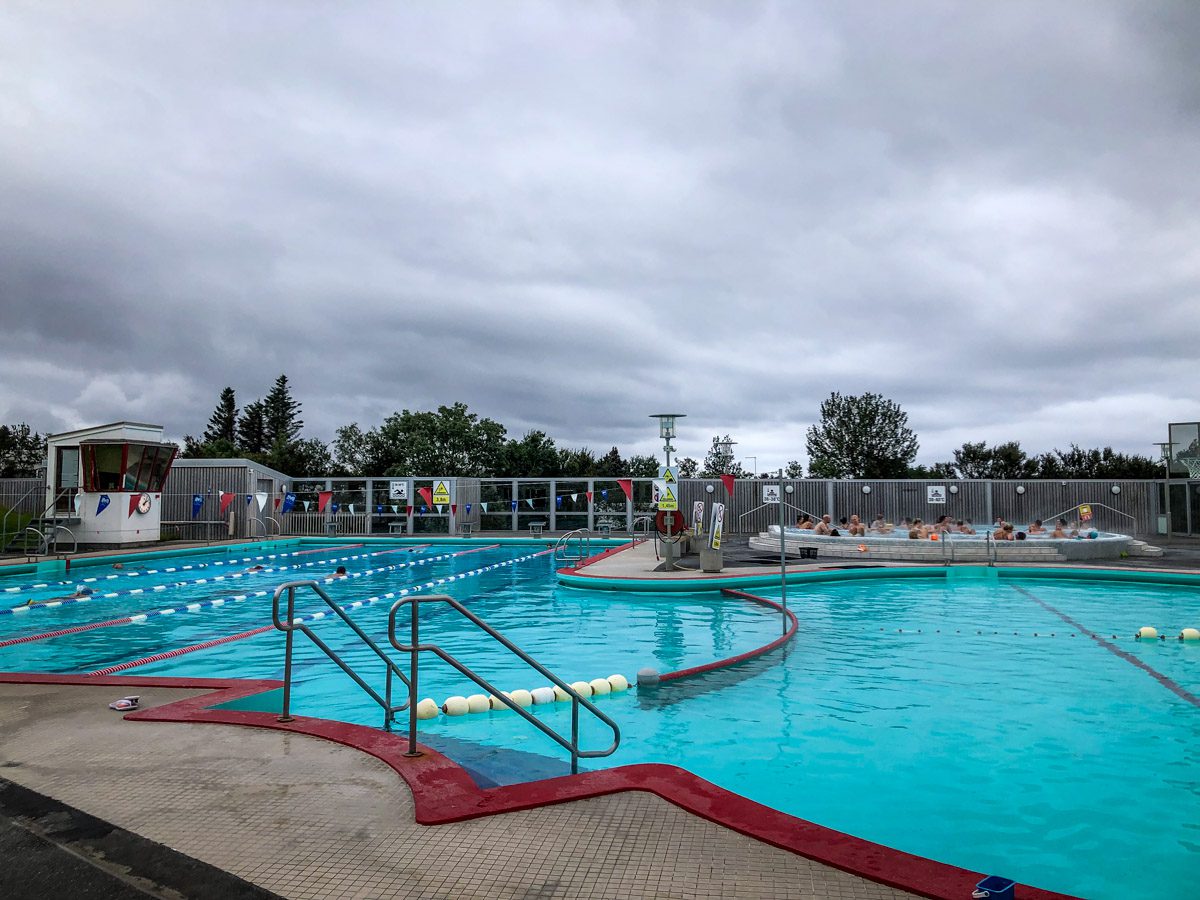 Things to know about public pools in Iceland:
This is where locals often go to hang out and catch up with friends, so you'll likely be surrounded by Icelanders talking about their weeks.
It is expected that you shower naked – yes, naked – before putting on your swimsuit and entering the pool. This is considered good hygiene and it can be seen as rude to skip this step. And no, there are usually not private showering stalls at the public pools.
Icelanders go to these outdoor pools in all weather conditions – wind, rain, snow, it's always "pool weather" in Iceland!
Pack a towel, as you'll likely need it at the public pools and free hot springs around the country. Even if you go to a fancier hot spring, some resorts will charge you for a towel rental, so it's a good idea to bring your own.
36. Plan out your splurges
With an abundance of once-in-a-lifetime experiences, it's smart to figure out what's on your "must-do" list before you hop on a plane.
Research all the things you're interested in and narrow them down to the ones you really can't live without. This will prevent you from making impulsive decisions on your trip.
Save everything else for your next trip to Iceland. That's right, I'm pretty confident that you, too, will want to return a second and even a third time!
37. Be picky about guided tours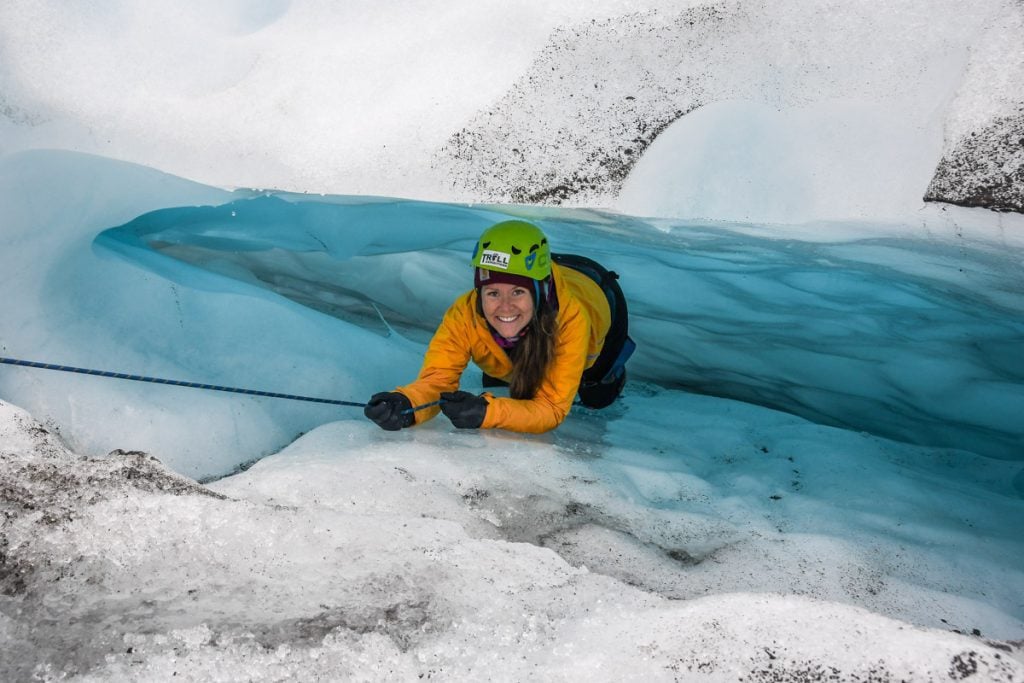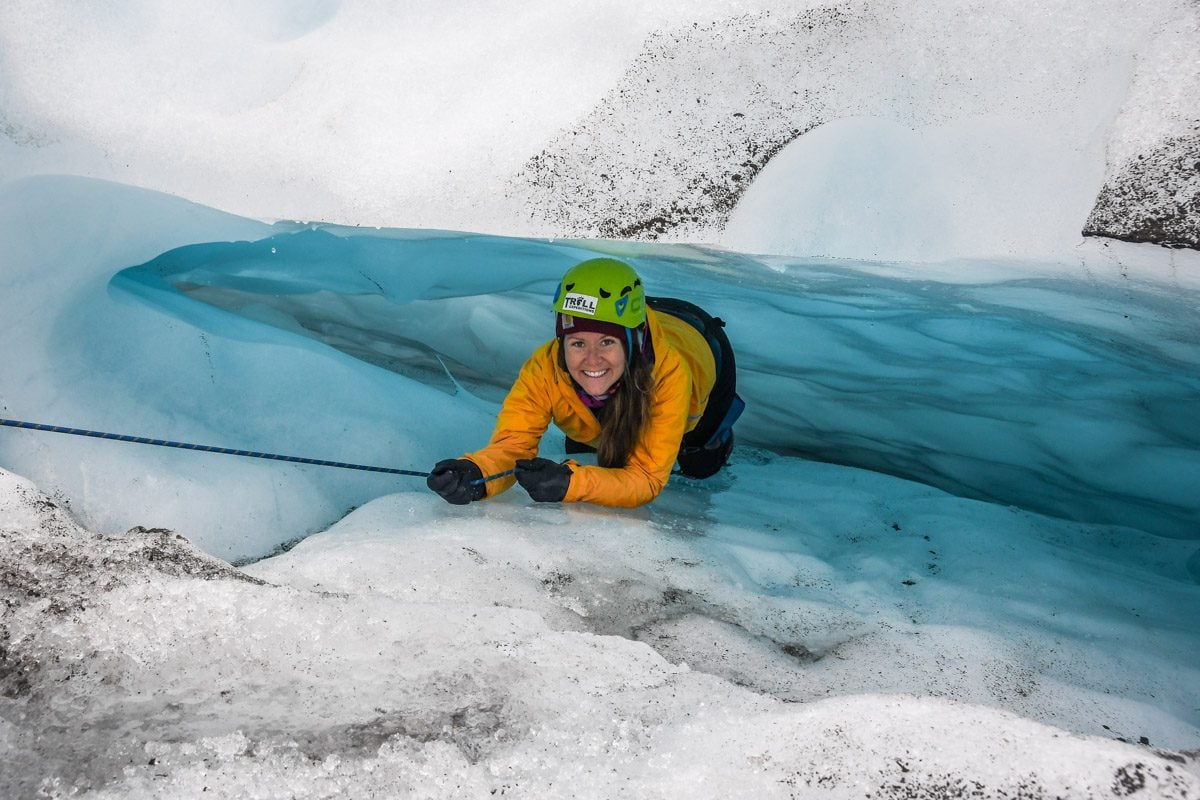 There are lots of incredible-sounding tours out there and it can be tempting to book 'em all. But you're reading this article because you're on a budget, and I'm going to be blunt: The tours in Iceland aren't made for thrifty travelers.
Some of these tours boast once-in-a-lifetime experiences, so if your budget allows, by all means splurge! But if your budget is restricted (hey, us too!) be mindful about which tours you choose, and treat yourself to something you can't do independently. Like a glacier hiking tour or a whale watching trip.
Our advice: Determine which things you can realistically do yourself. The Golden Circle tours, for instance, can easily be replicated in your own rental car for a fraction of the price. We even have you covered with the perfect Golden Circle itinerary so you can easily DIY it.
38. Seek out discount codes
A lot of tour companies in Iceland offer discount codes, so before booking, do a quick Google search for "[Tour Operator] discount code" and see if you find anything.
Typically they're 5-10% off, but hey, every little bit helps, right?
If you don't find any promo codes by searching, you can always email the tour operator and ask if they offer any type of discount. The worst they can say is no.
39. Grab a coupon book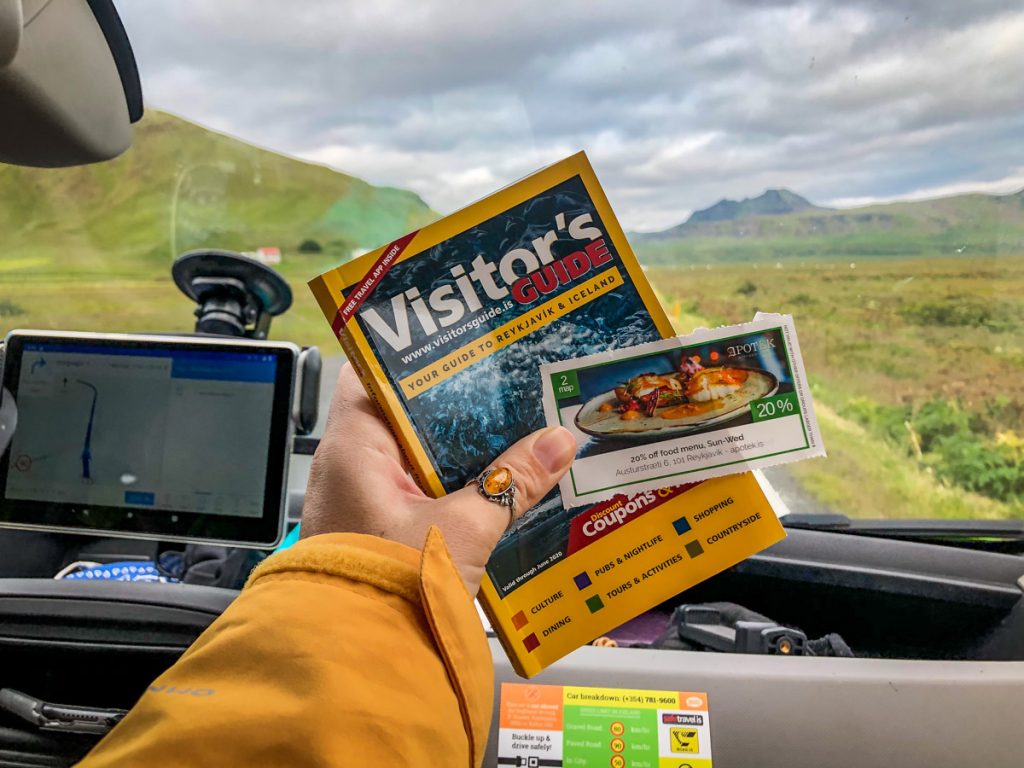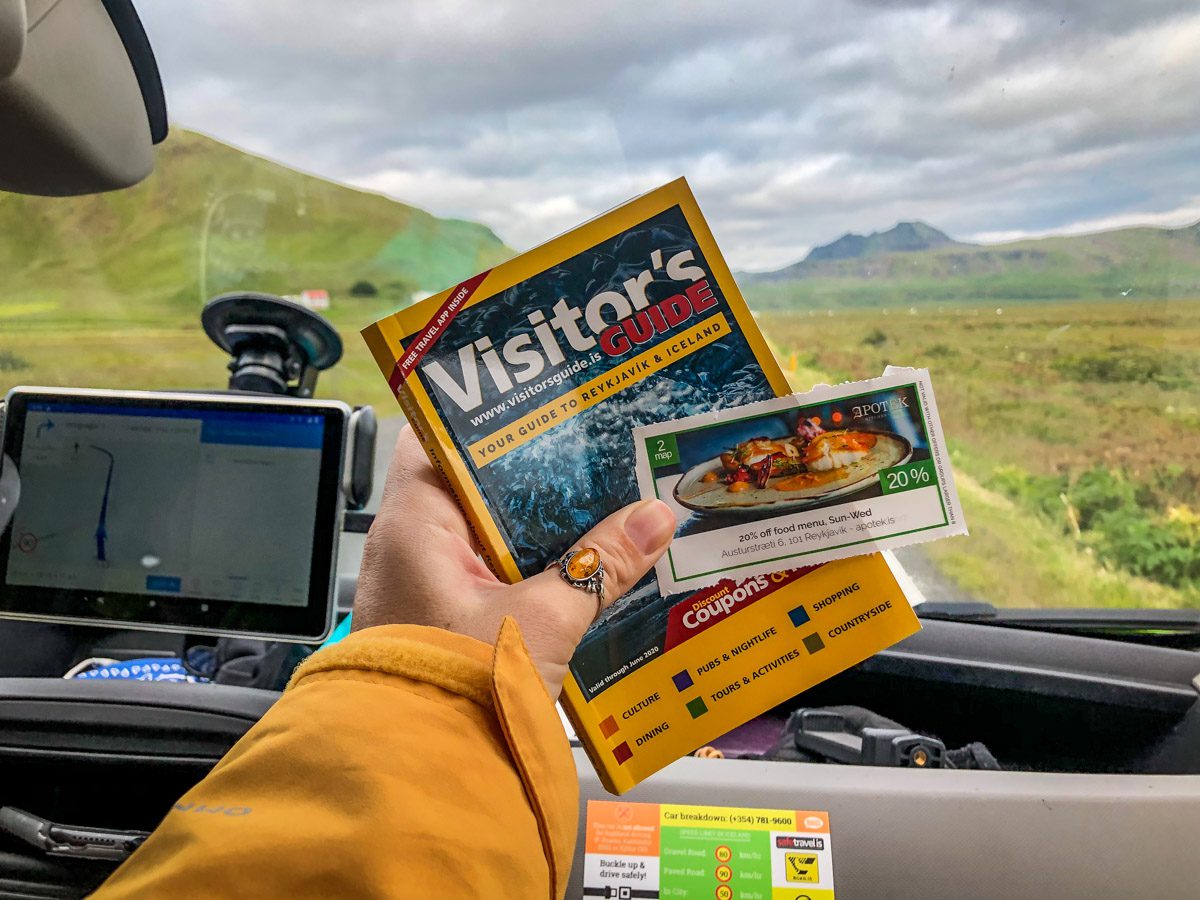 I'm not usually big on coupon books, but I picked this one up on a whim and found it to be pretty useful. We only used one offer inside, but there were several that were pretty good.
(You can find this book at hotels, rental car companies, tour agencies, etc.)
If you plan to have a fancy meal out in Reykjavík (we highly recommend you do if your budget allows!), this is a good place to find a discount on some bougie restaurants in the city.
We found a 20% off coupon for Apotek, a restaurant we were already planning on dining at, so we saved a cool $35 off our total bill. Score!
Are you planning a trip to Iceland?
We have TONS of resources on travel in Iceland and how to make the most out of your trip. Check out our Ultimate Iceland Travel Guide for all the answers to your most burning questions, or read some of our favorite articles below.
Save this article on Pinterest for later!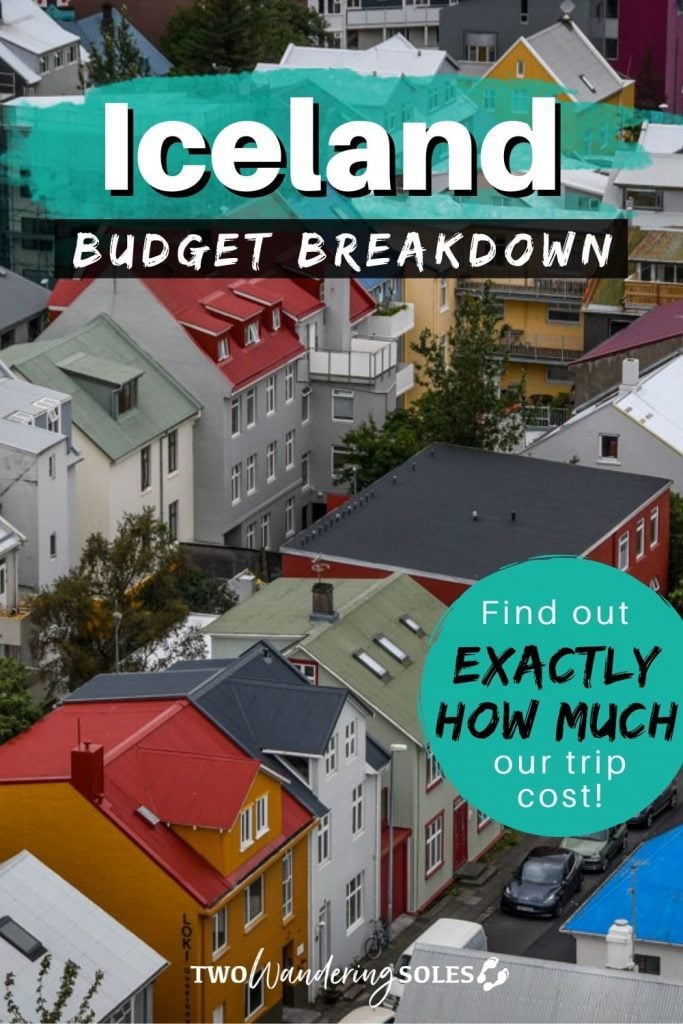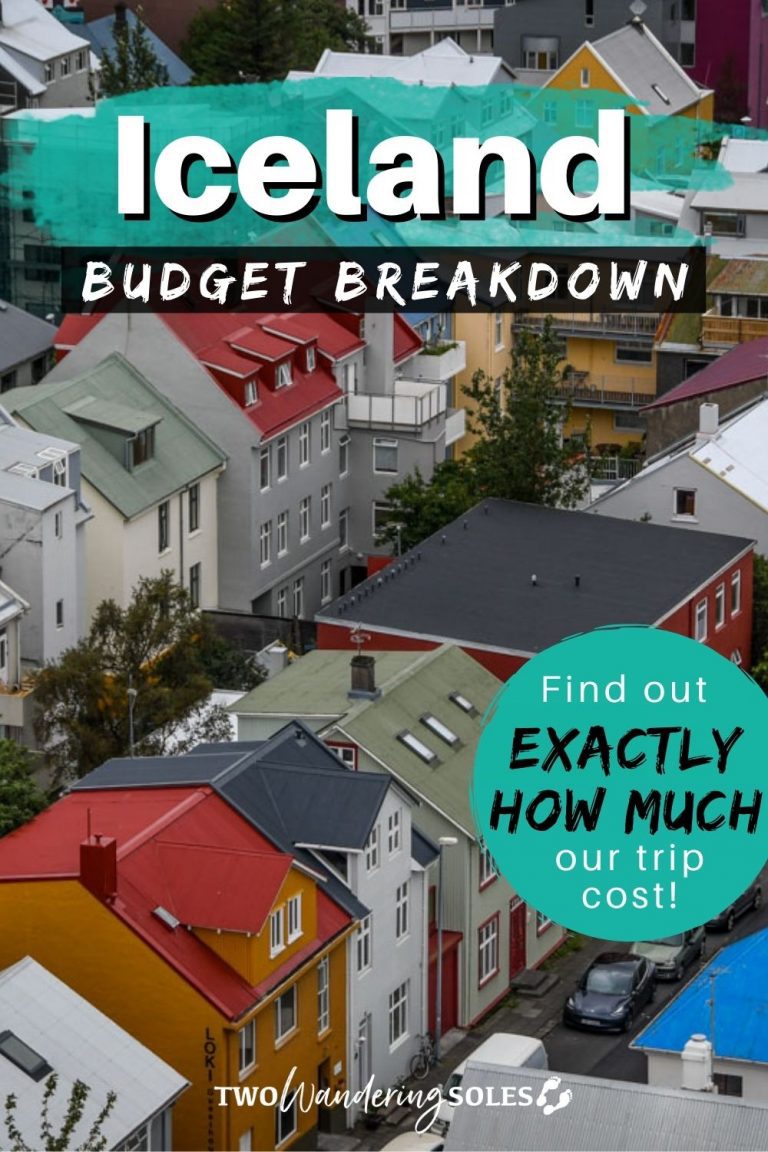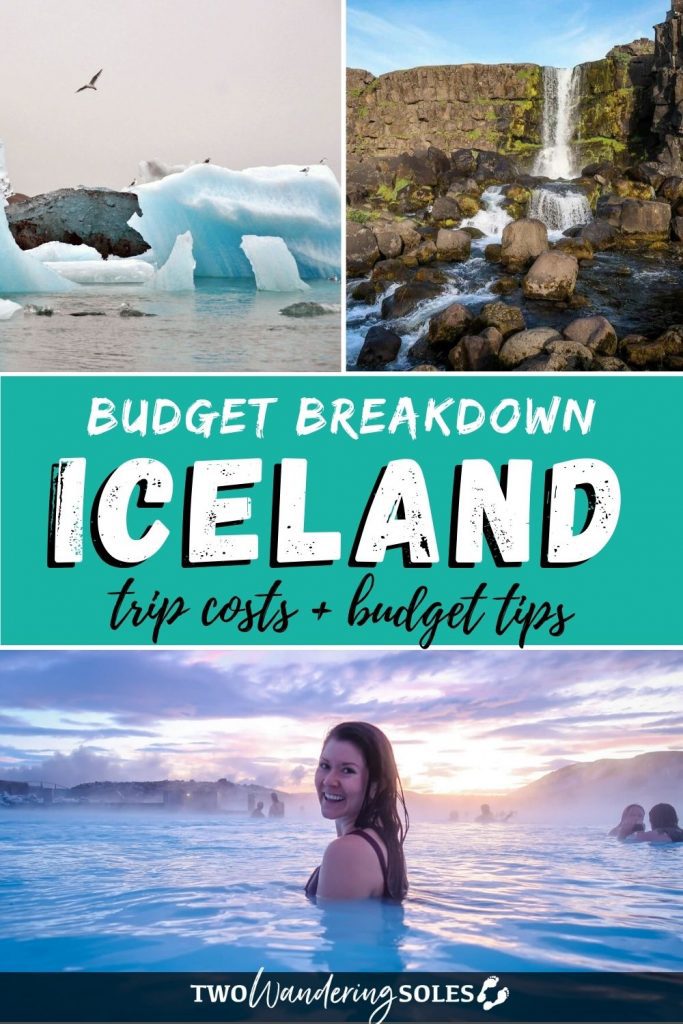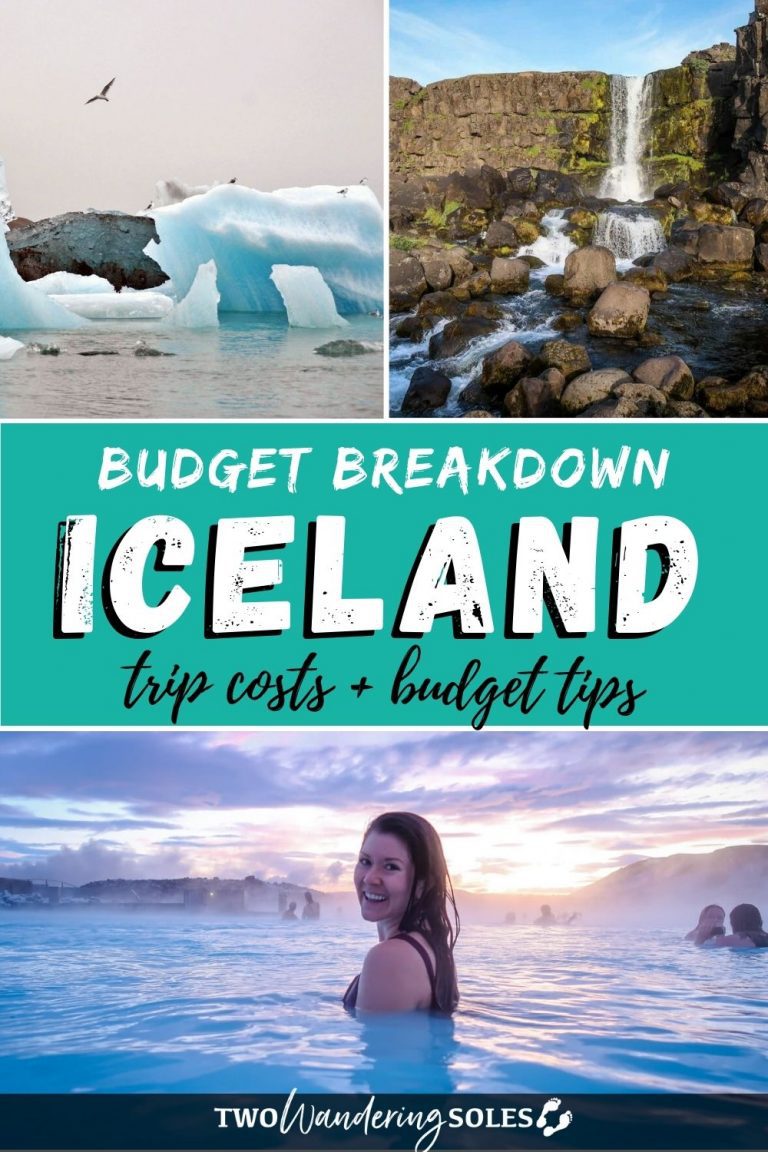 We want to hear from you!
Are you planning on traveling to Iceland on a budget? Do you have any more questions we didn't cover in this article? Please leave your comments and questions below and we'll do our best to find you the answers you're looking for.