Planning a visit to Iceland's most famous black sand beach? We're sharing everything you need to know before you go to Reynisfjara Beach, including how to get there, the best photo spots, and the very real dangers you need to be aware of.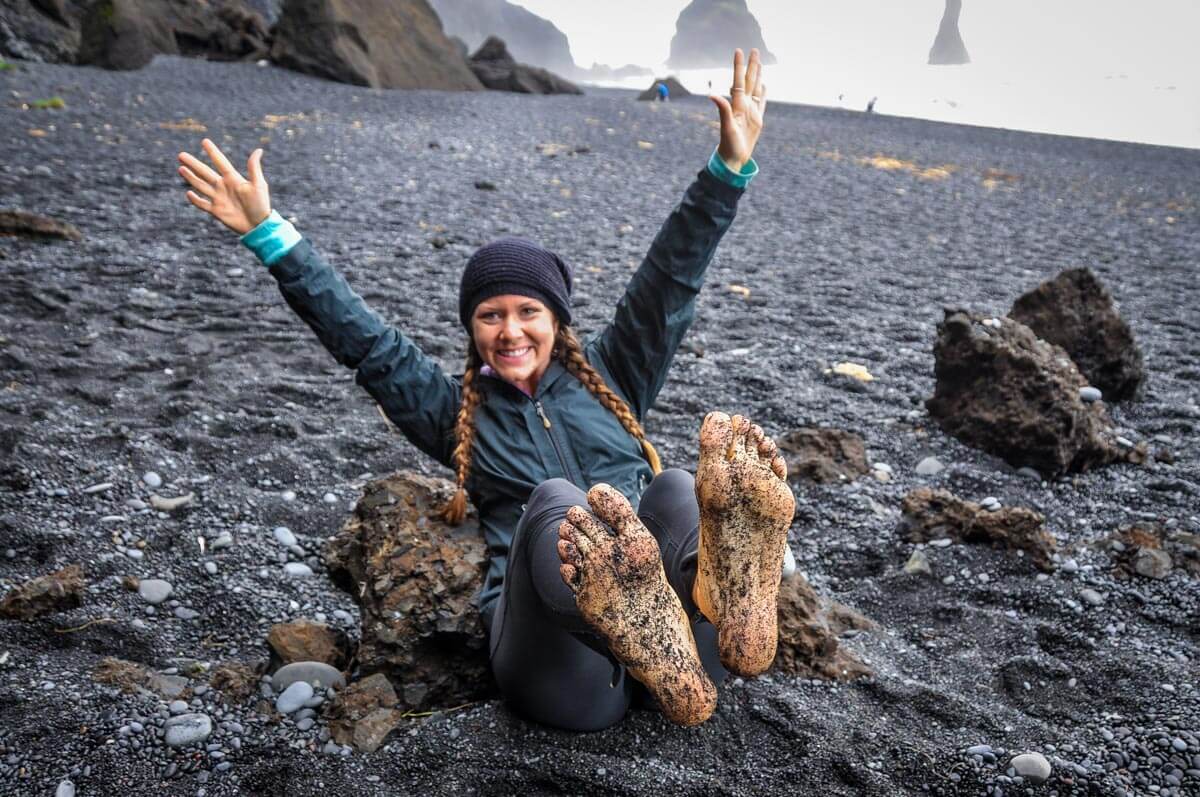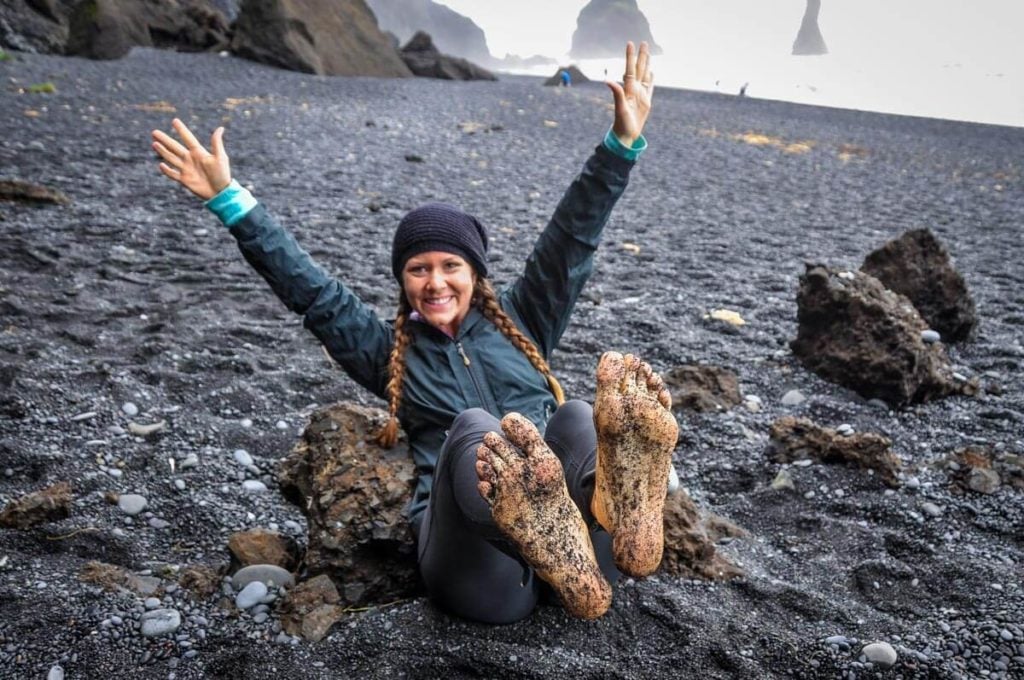 Reynisfjara is not only the most famous black sand beach in Iceland, but perhaps one of the most well-known black sand beaches in the world.
And for good reason… It's absolutely breathtaking and unlike anything you've ever seen.
Located on Iceland's South Coast, Reynisfjara's shore is lined with shockingly symmetrical hexagon columns. And in the sea lie uniquely-shaped sea stacks, that according to folklore, were trolls turned to stone.
This combination of otherworldly rock formations both onshore and in the water paired with the ink black sand make Reynisfjara black sand beach one of the most popular tourist attractions in Iceland.
While it's undoubtedly touristy, we've visited Reynisfjara twice and can say that it is truly one of the coolest things to do in Iceland and worth a spot on your itinerary.
In this article, we'll share everything you need to know about visiting Iceland's most famous black sand beach, from how to get there, to the best photo spots, and some insider tips you'll want to know before you get there.
Article Contents
Psst! If you only have a few days in Iceland, make sure to visit all the highlights, including Reynisfjara, with our perfect 7 day Iceland itinerary.
---
Interesting facts and FAQs about Reynisfjara black sand beach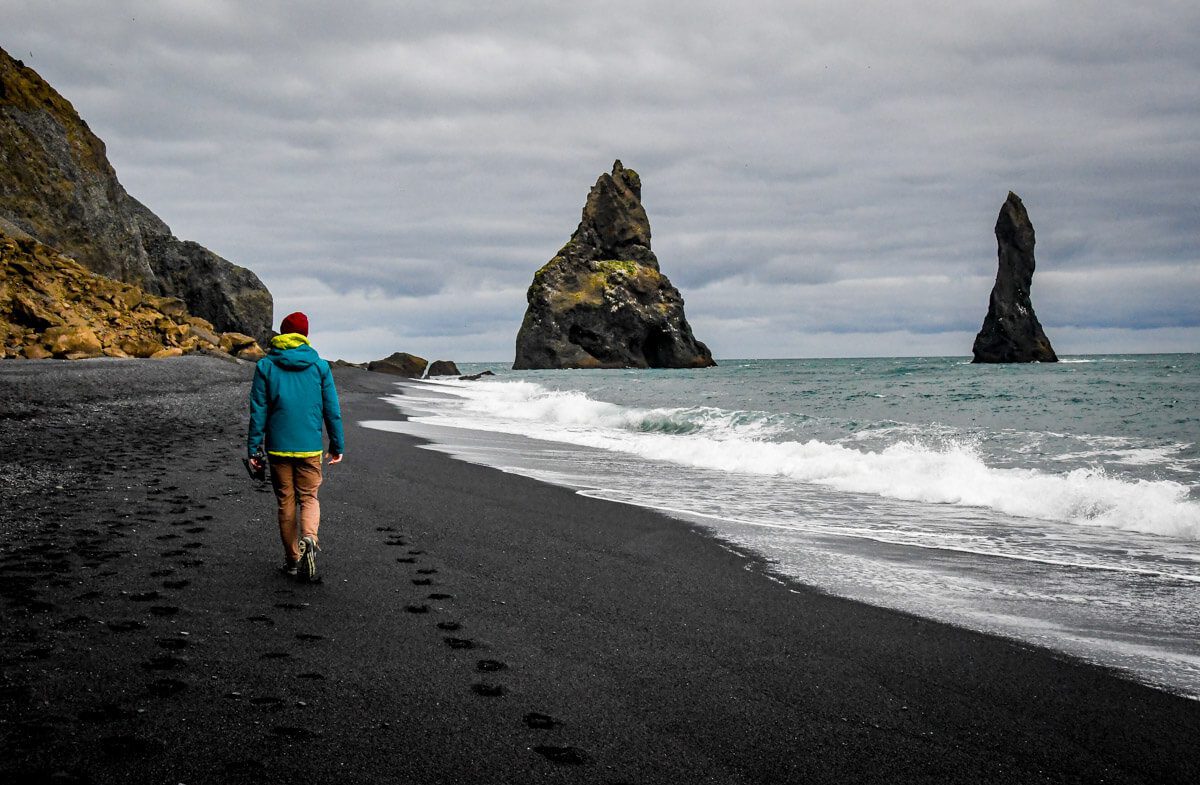 If you have questions about the most famous black sand beach in Iceland, we've got answers for you!
Is Reynisfjara Beach free?
Entrance to Reynisfjara Beach is free for the public.
You will not need to pay for parking there either, so feel free to take as long as you'd like to visit during your Ring Road road trip.
Why is Reynisfjara beach black?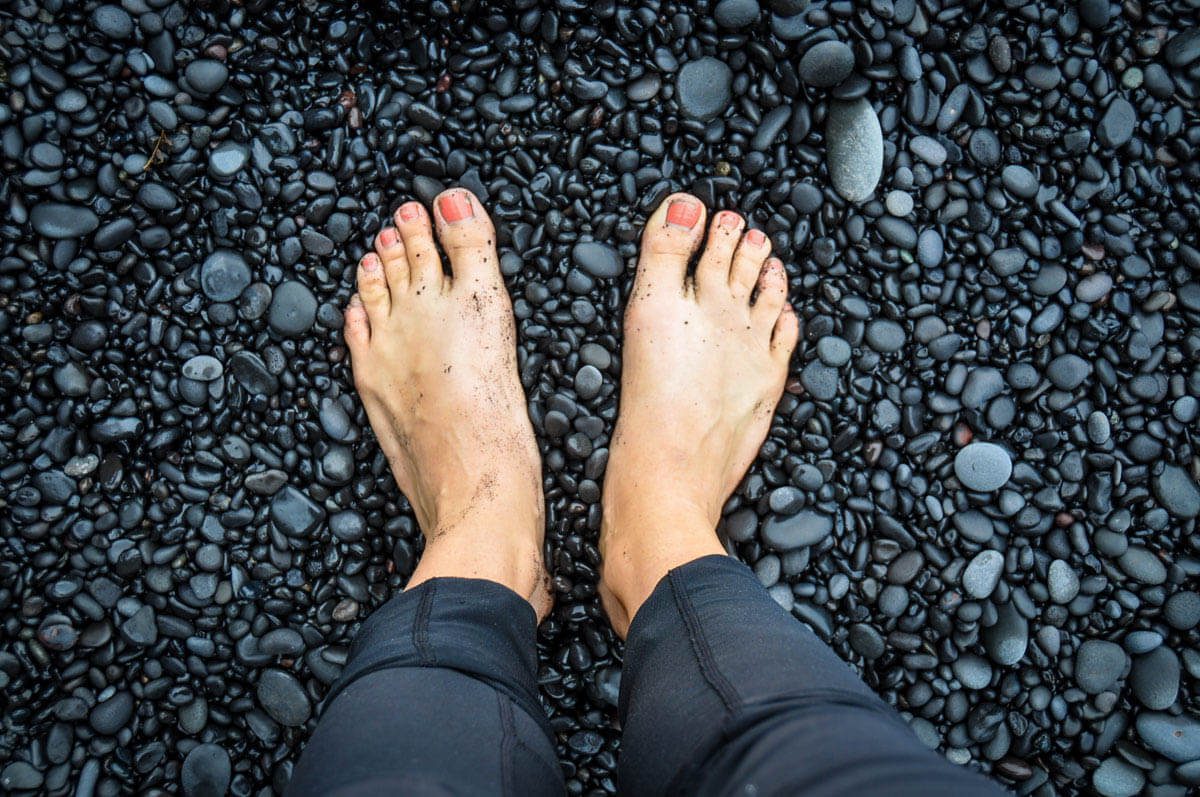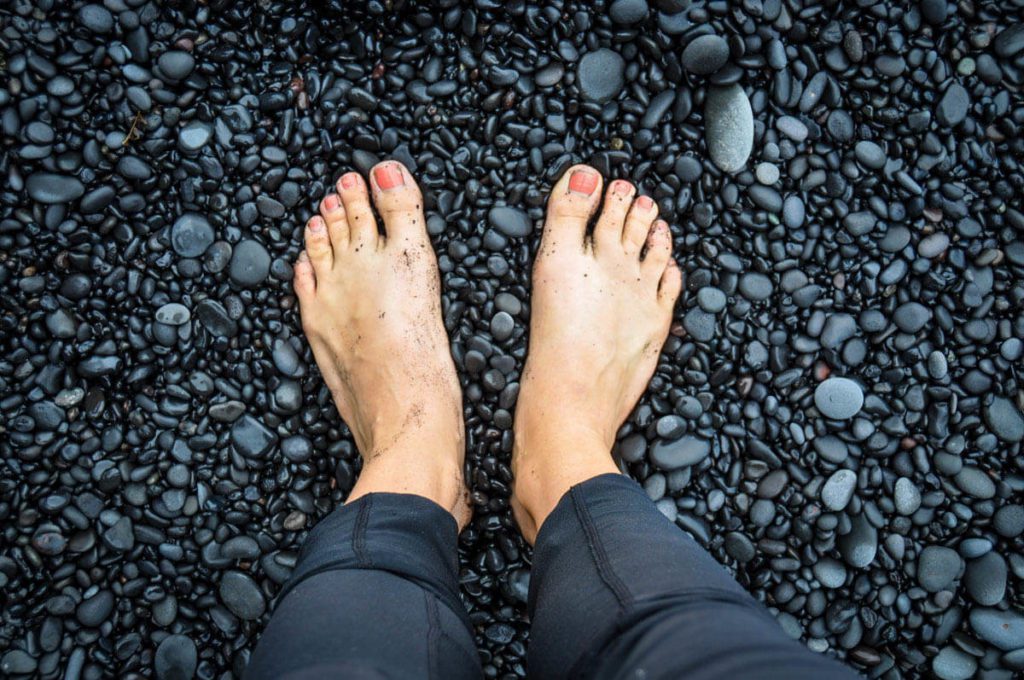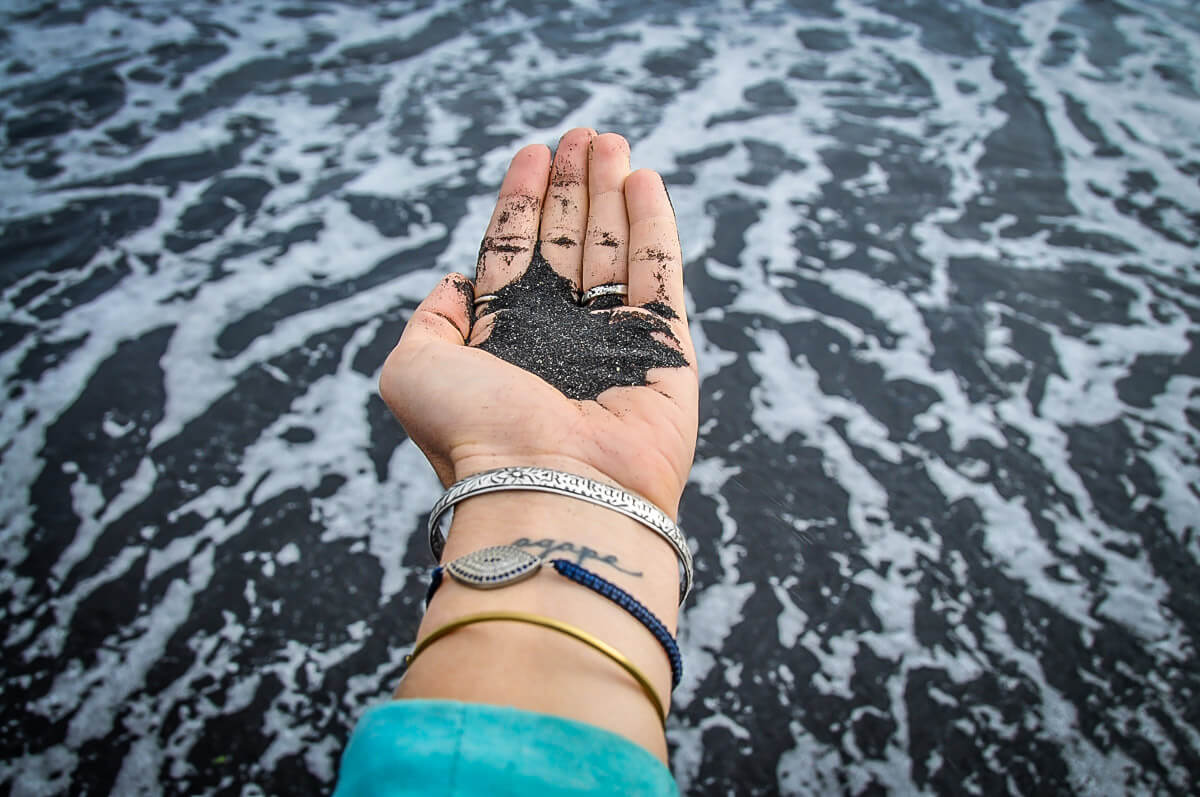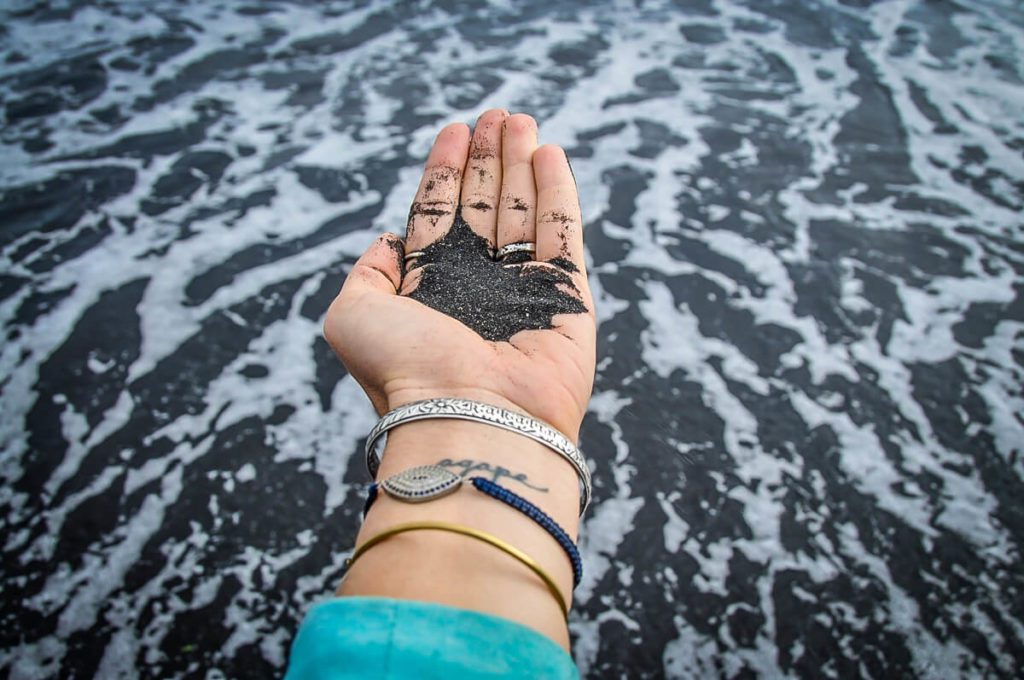 The reason for the black sand at Reynisfjara is that the sand is actually created from lava… or more specifically heavily eroded volcanic rocks.
Back when this island nation was still just a bunch of erupting volcanoes, lava flowed freely into the ocean and cooled as soon as it touched the water.
When it cools, lava turns to a solid and takes on a black color.
The rapid cooling of the lava caused by making contact with the ocean makes the volcanic rocks shatter into small pieces, creating the black "sand" we can see on the beach today. This almost instantaneous event means a black sand beach can appear overnight after an eruption.
Can you swim at Reynisfjara Beach?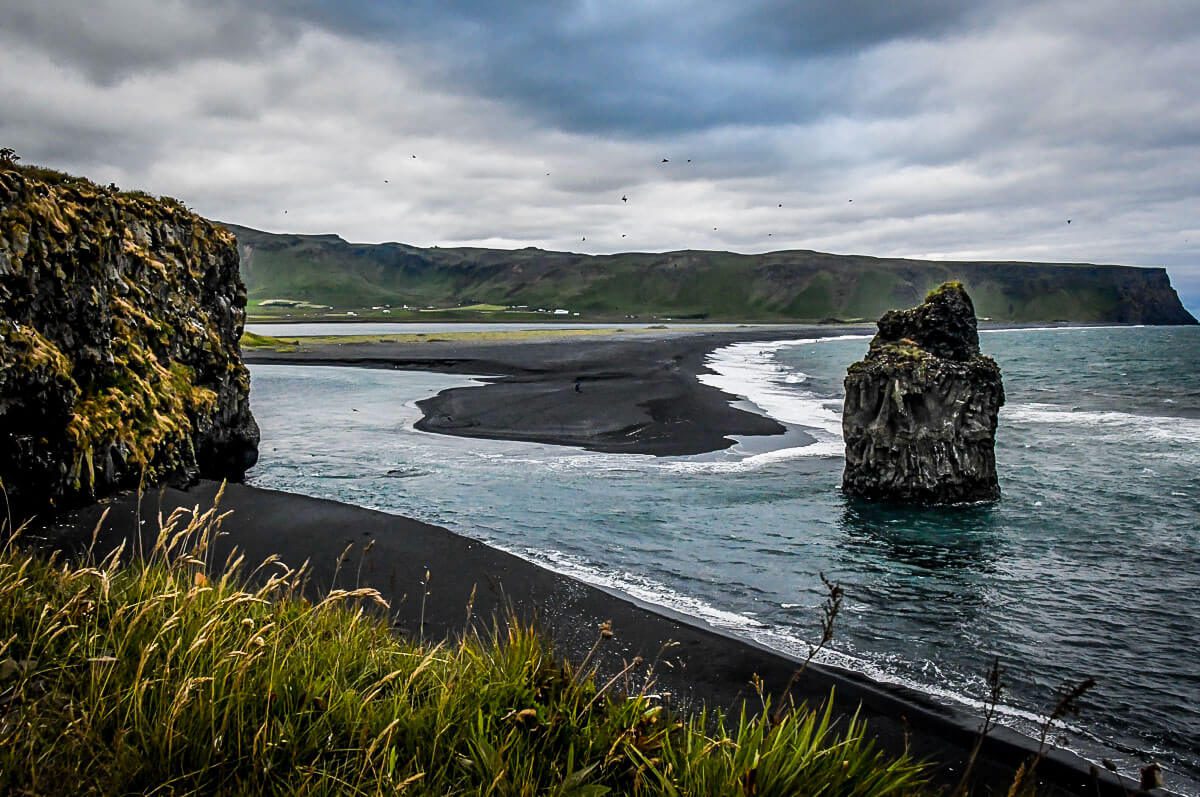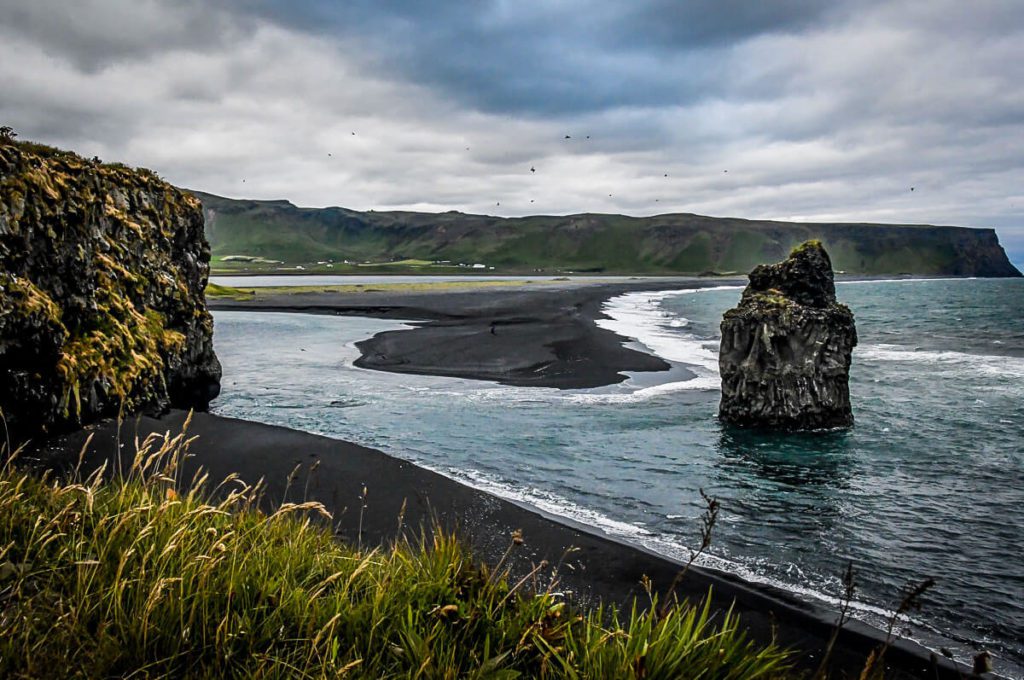 In short… NO.
You'll see signs all over the entrance to the beach banning swimming and advising tourists of the dangers of getting too close to the waves here.
Read more about the dangers and how to take precautions in the Things to Know section below.
What does Reynisfjara mean?
The word fjara in Icelandic means 'beach'. And according to the Internet (there aren't many reputable sources out there with this information), the name Reynisfjara comes from a wealthy Norwegian man called Reynira, who was the first settler of this area of Iceland. So Reynisfjara literally translates to 'Reynira's beach'.
As we mentioned, this man was the first to settle in the area and as such, many of the surrounding landscapes seem to be named after him. Here are a few examples:
Reynisfjara: The black sand beach, translating to 'Reynira's beach'
Reynisfjöru: The locals-only name for the beach
Reynishverfi: This is the name of the small town nearest Reynisfjara beach
Reynisdrangar: The name for the towering 66-meter basalt sea stacks just off shore
Reynisfjall: In Icelandic fjall means 'mountain', and there is a 340-meter mountain framing the beach with unique hexagonal basalt columns at its base, so you can guess what it's named…
Folklore about Reynisfjara Beach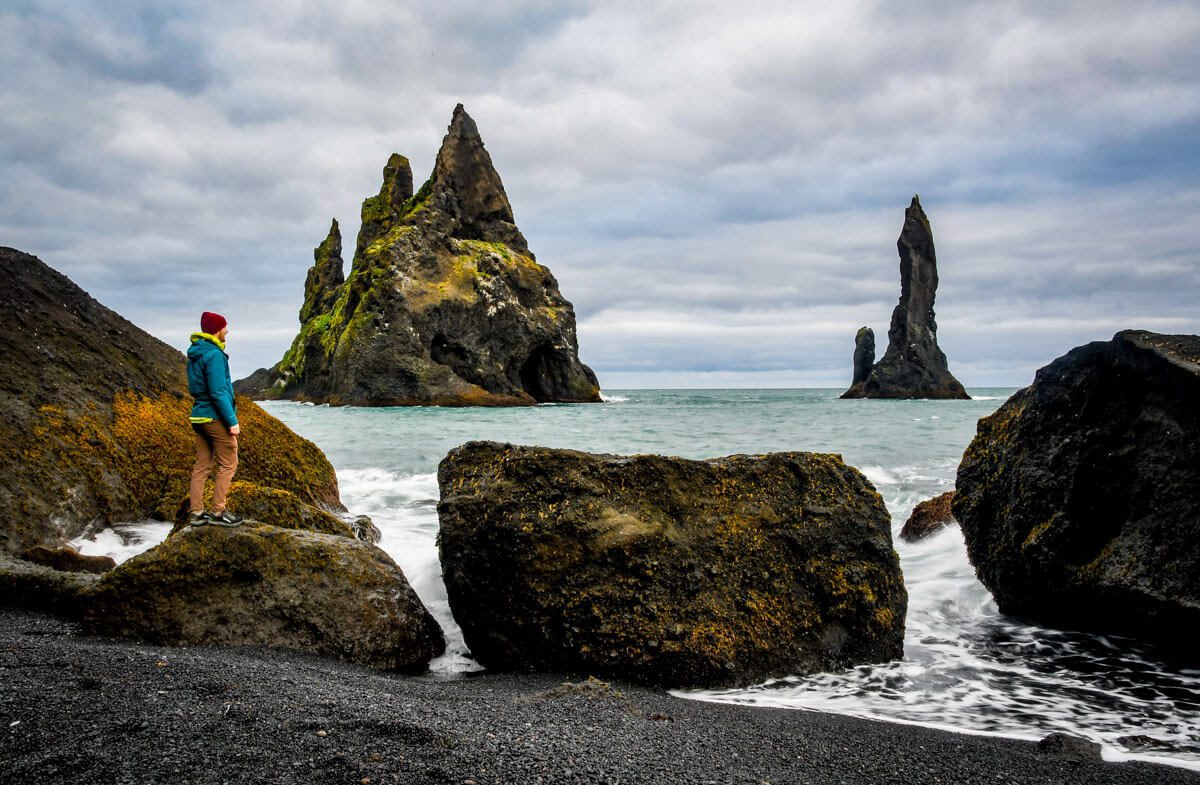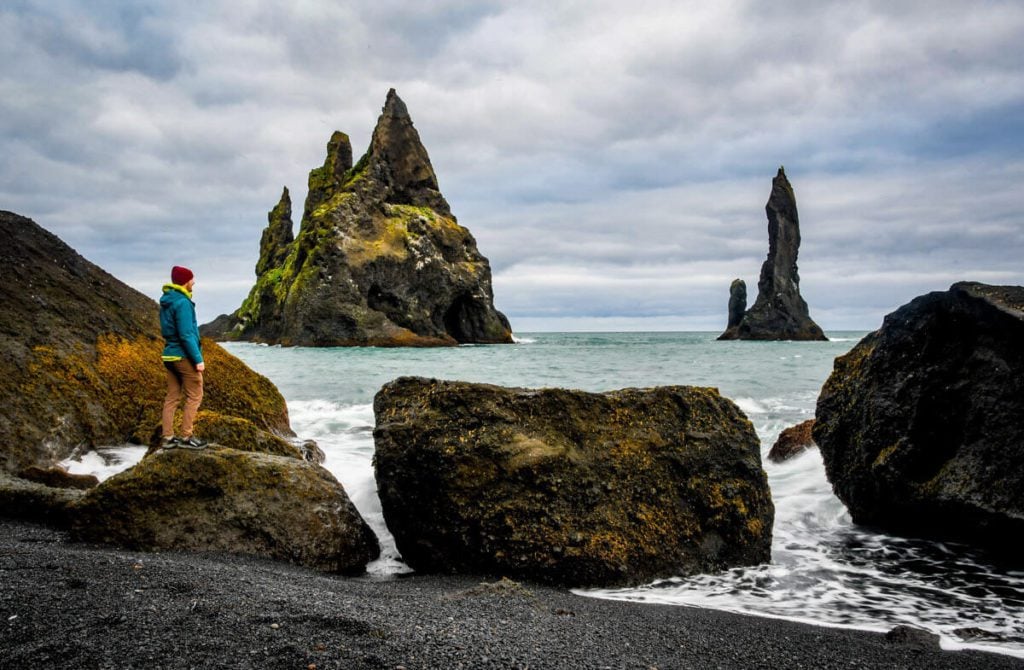 According to local Icelandic folklore, the sea stacks (called Reynisdrangar) are said to be trolls turned into stone. There are a few variations of the legend circling around out there.
One in which the trolls turned to stone after getting caught outside of their cave at sunrise. Another in which a heartbroken man turned the trolls to stone after they ate his beloved.
Wildlife at Reynisfjara Beach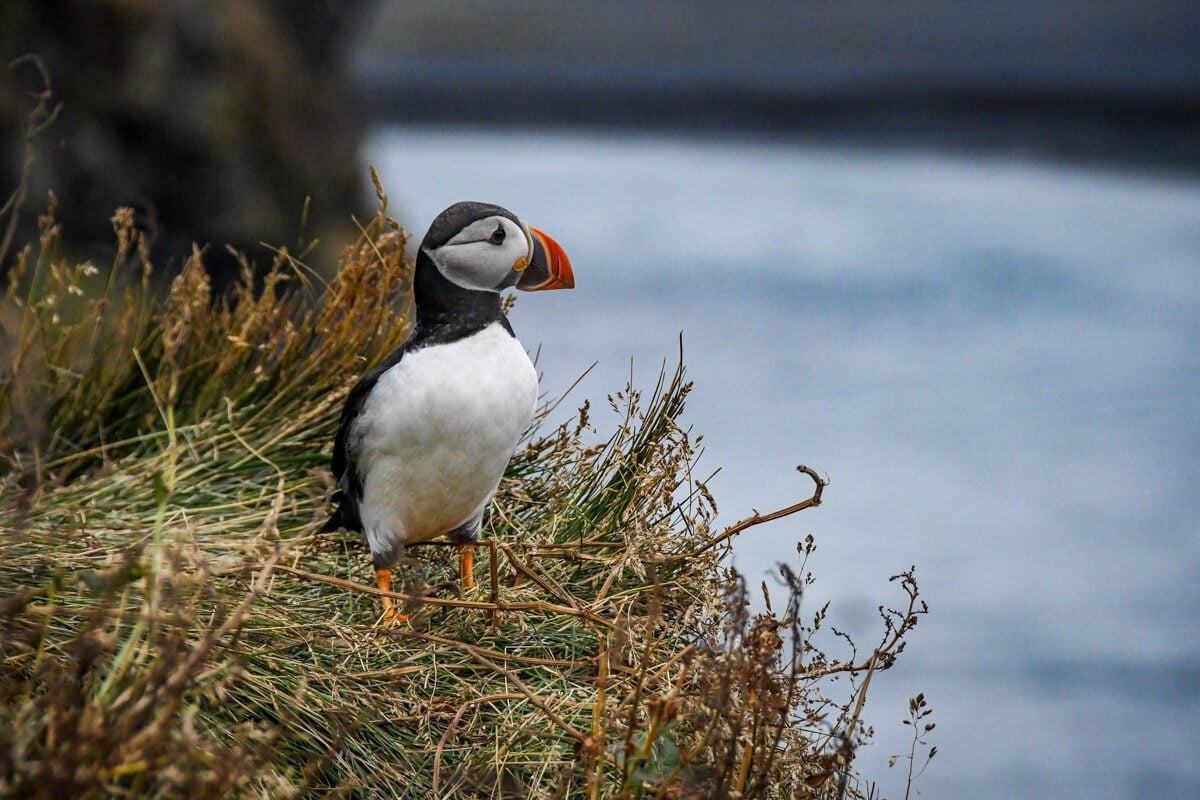 Reynisfjara is home to several species of seabird, most notably the Icelandic puffin. These black and white cuties can be found nesting in the cliffs above Reynisfjara in the thousands.
Summertime, between May and August, is prime puffin-spotting season in Iceland and if you arrive at the beach in the evening hours, you'll be more likely to see these miniature birds diving off the cliffs heading out to sea to catch their food.
Best time to visit Iceland's most famous black sand beach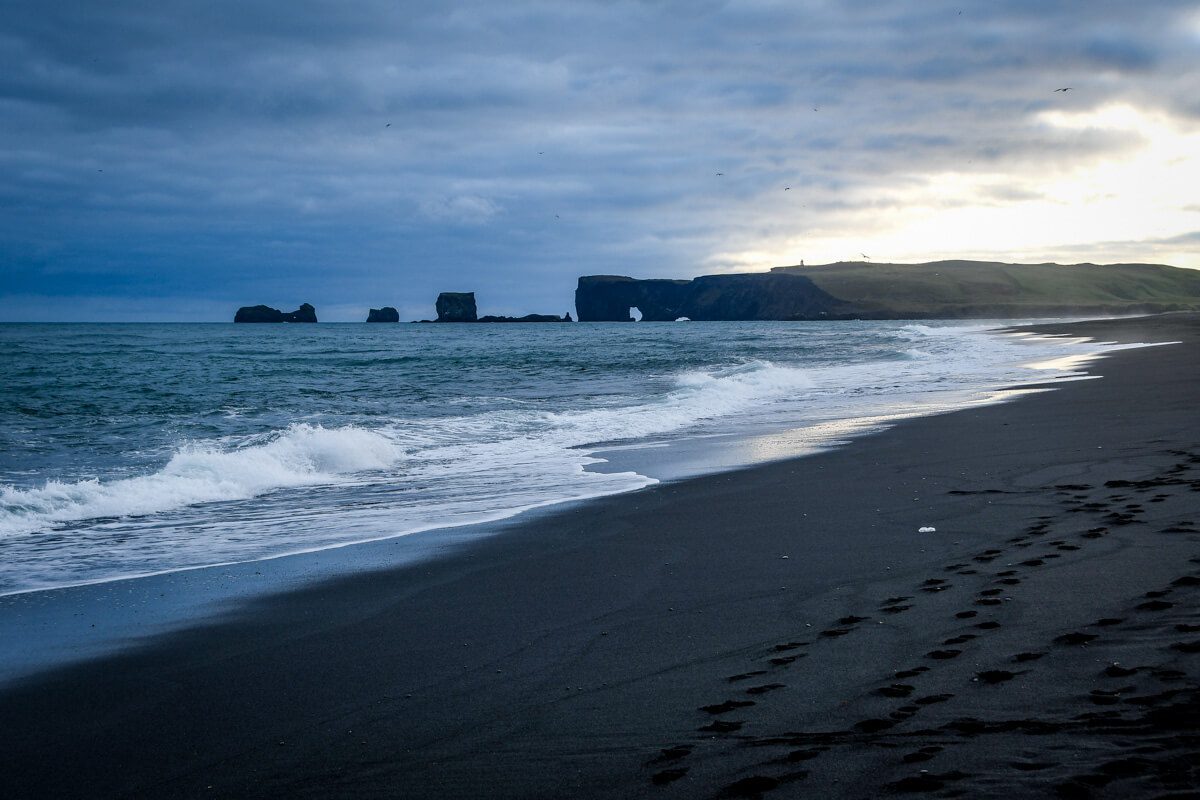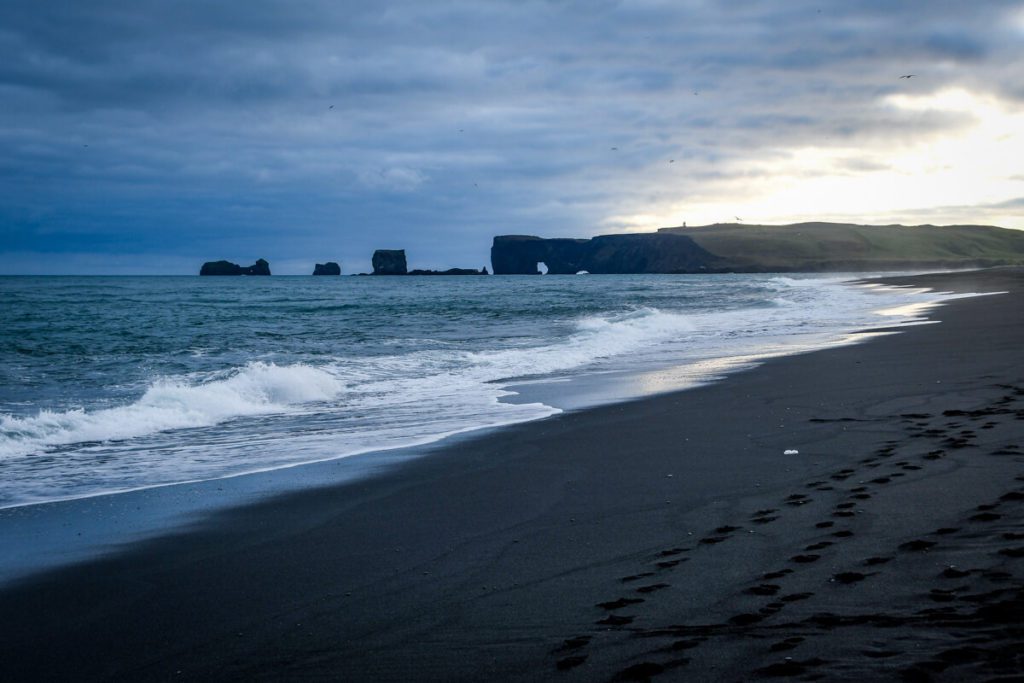 While the beach is open to the public all day long, it tends to get very crowded with tourists, especially during high season. Come early in the morning (before 10 a.m.) and later in the afternoon to avoid the crowds from tour buses.
Sunrise and sunset are particularly photogenic times at the black sand beach. In the morning you'll have fewer visitors, but at dusk the lighting is at it's best for photography.


Best photo spots at Reynisfjara Beach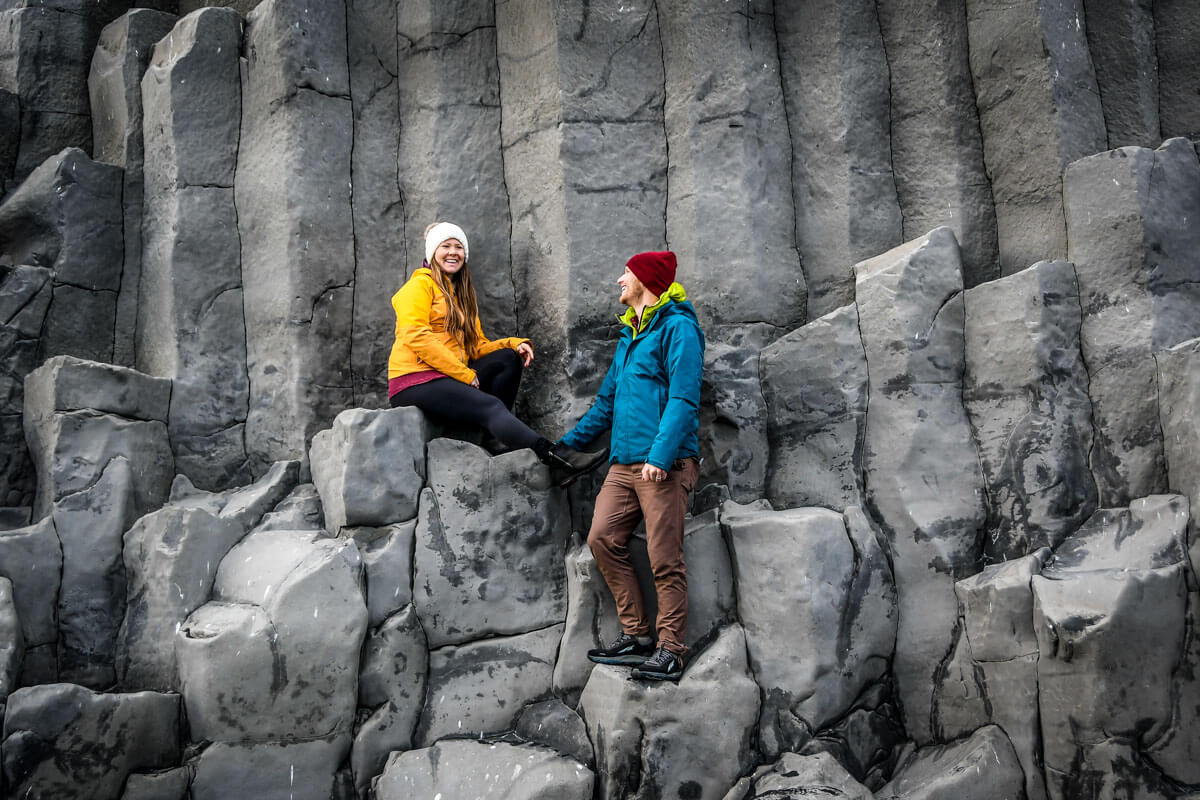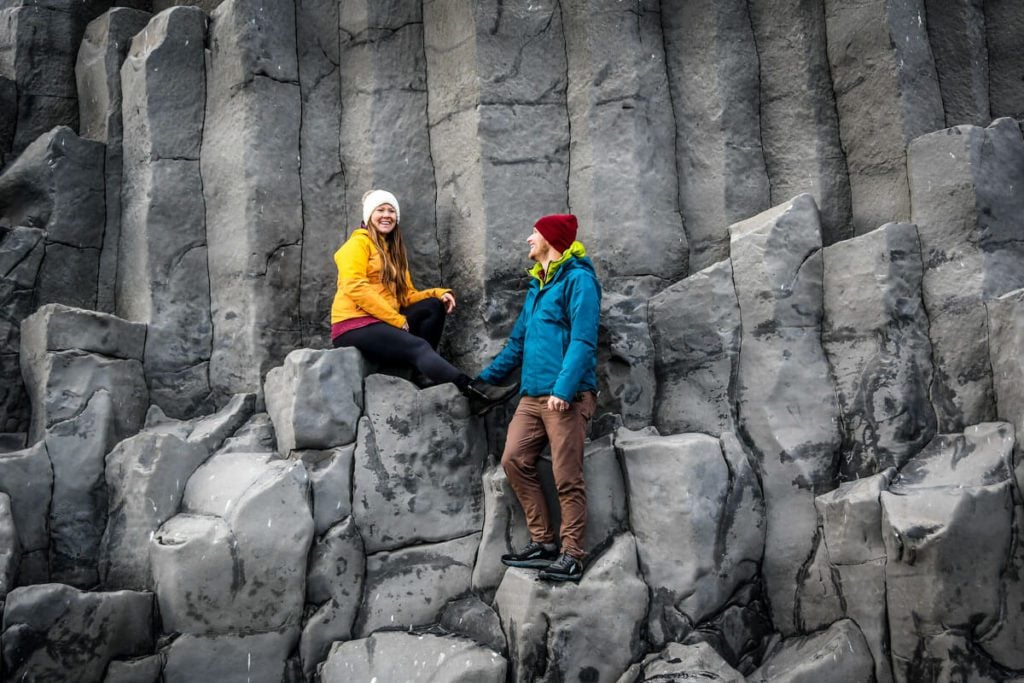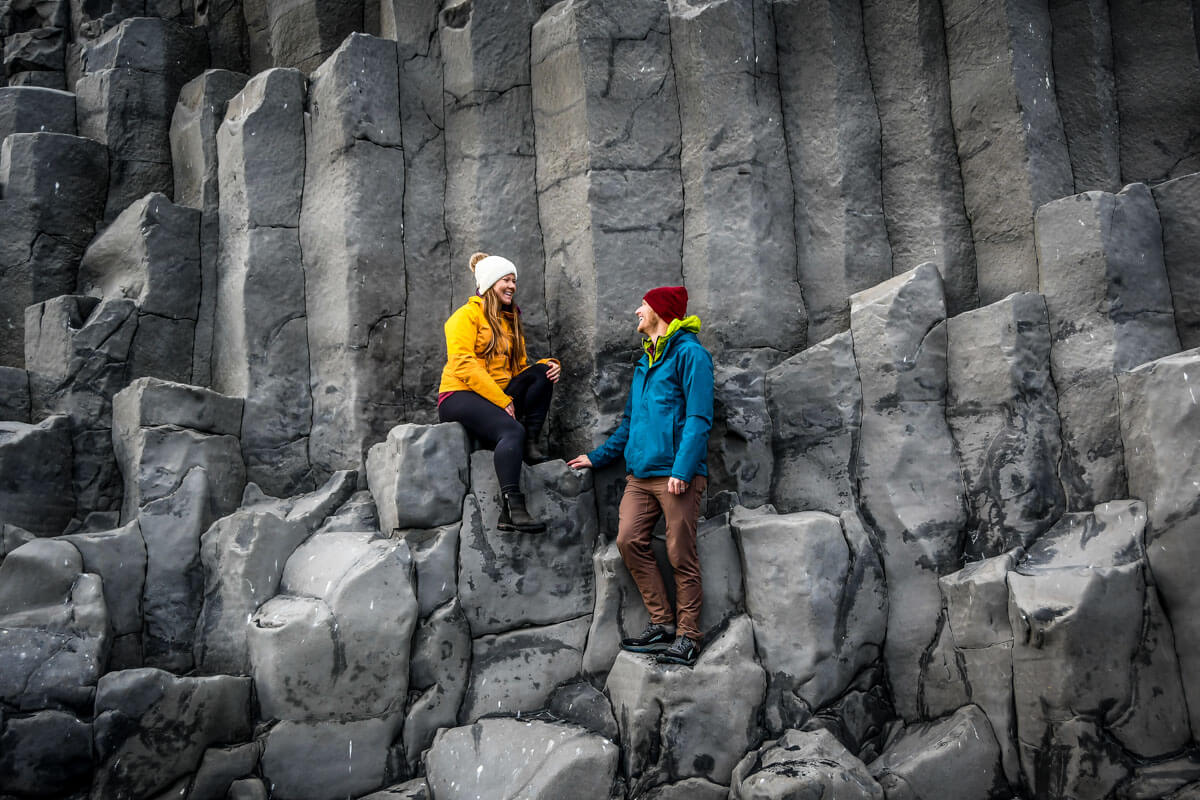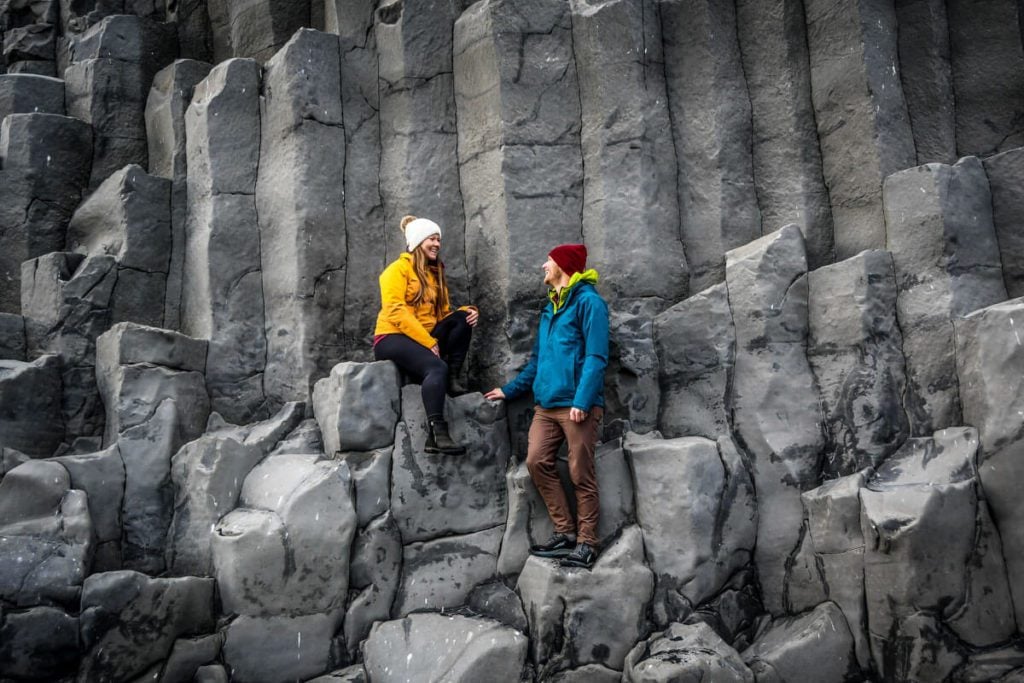 While the entire beach is quite photogenic, there are some particularly noteworthy spots you'll want to make sure you snap a photo at.
The basalt columns: these stunning and highly unusual rock formations at the foot of Reynisfjall mountain are probably some of the most photographed geological formations in the world.
Photo tip: crop in, especially if there are lots of people nearby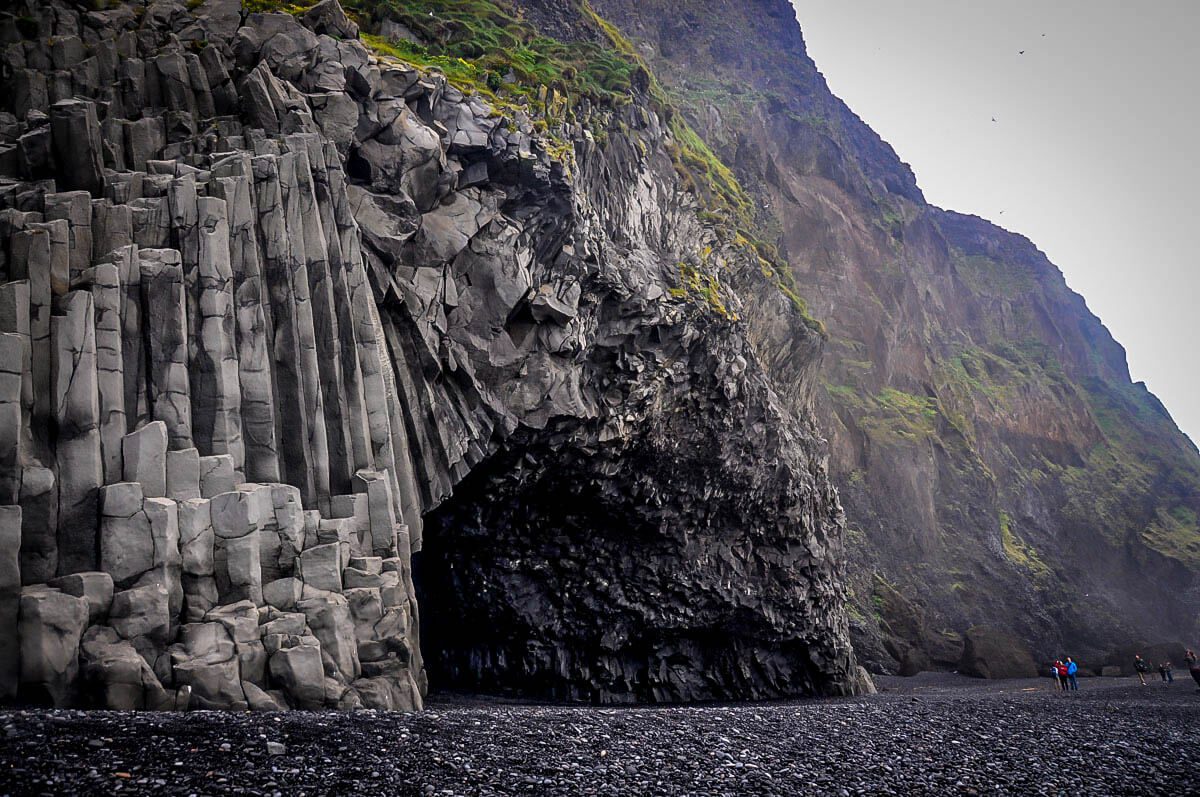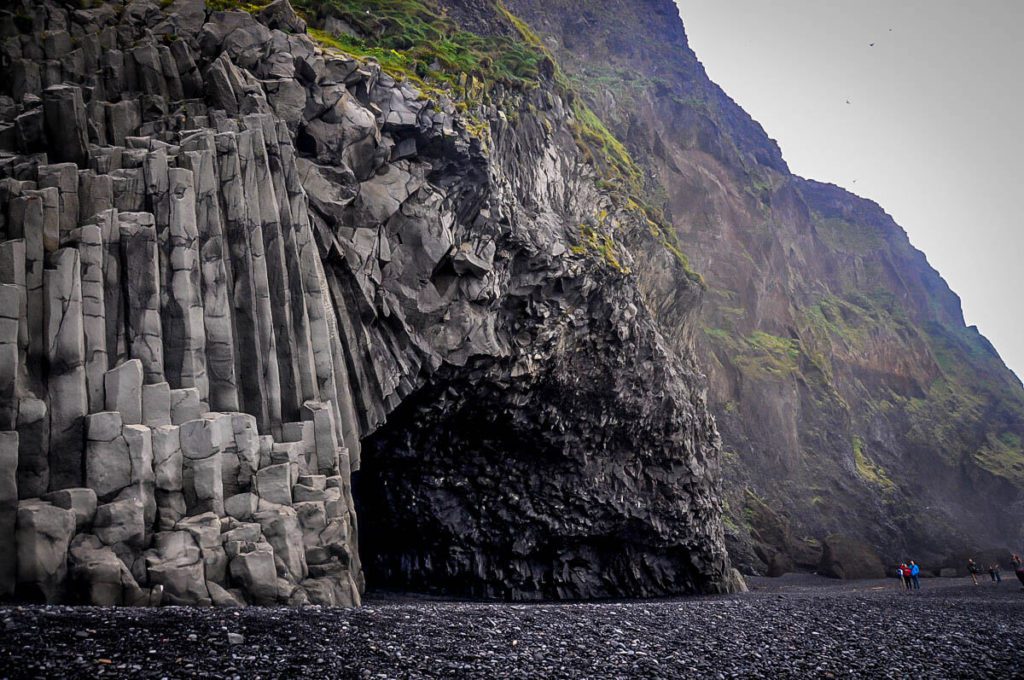 Hálsanefshellir Cave: the basalt columns open up into a dark and mysterious sea cave that can be entered directly from the beach during low tide.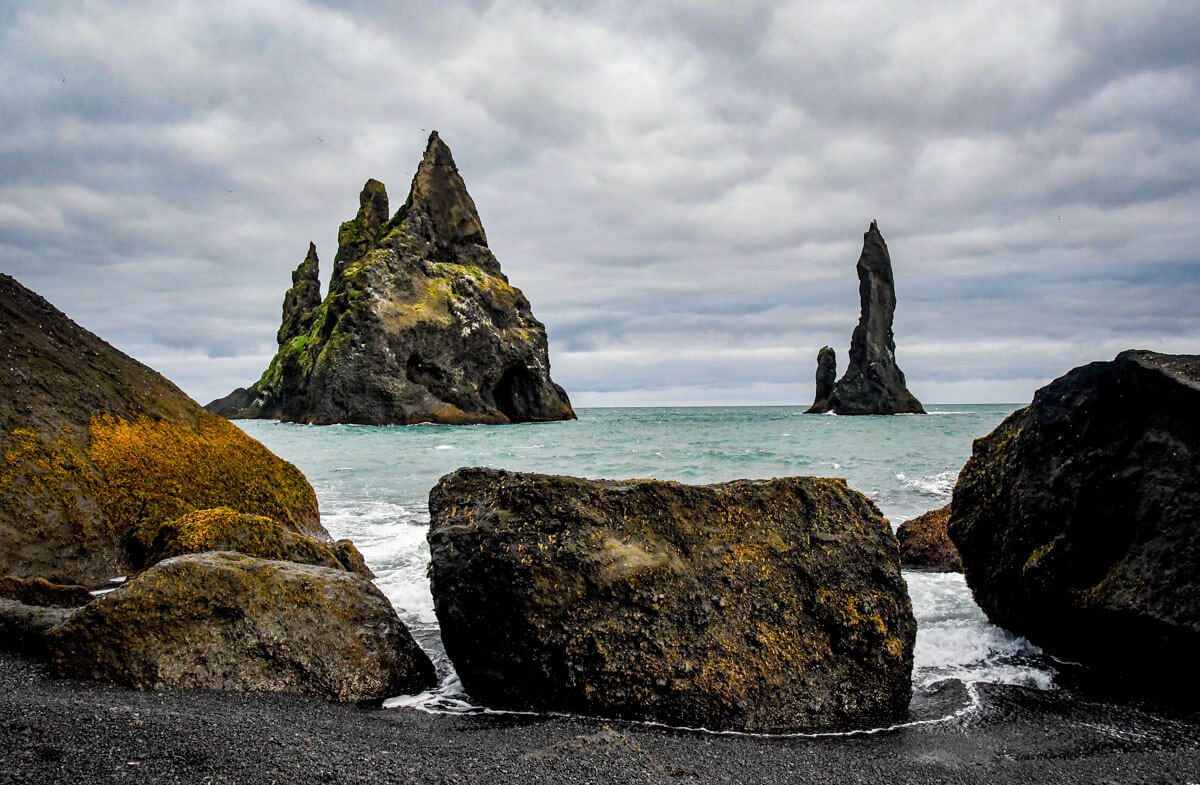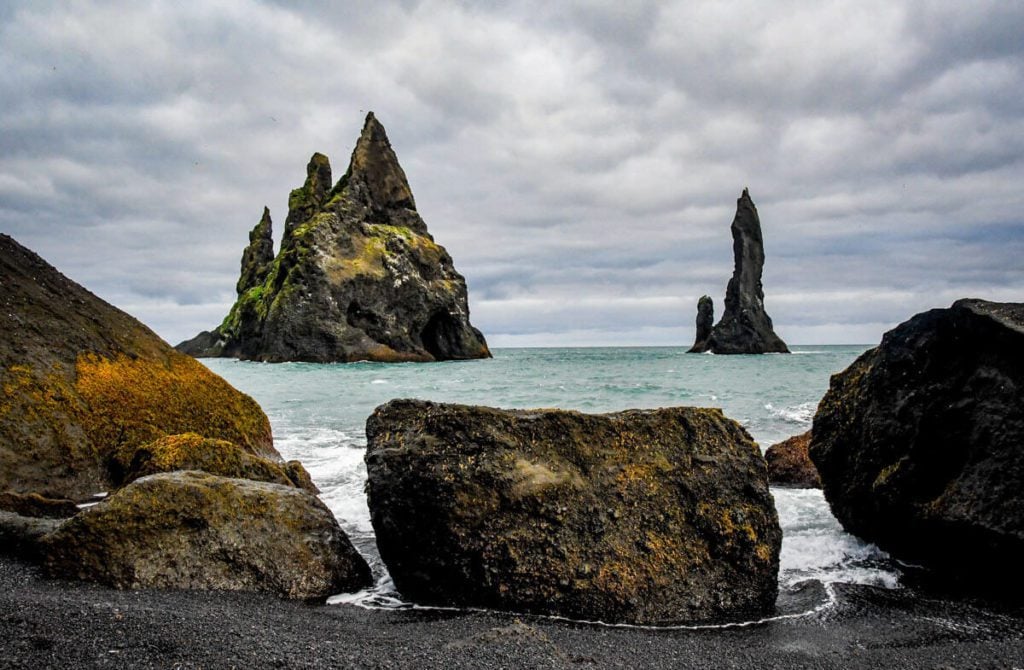 Reynisdrangar: as you face the ocean, walk to the left (east) as far as you can go for a pretty cool viewpoint looking out over the sea stacks.
Nearby Attractions to Reynisfjara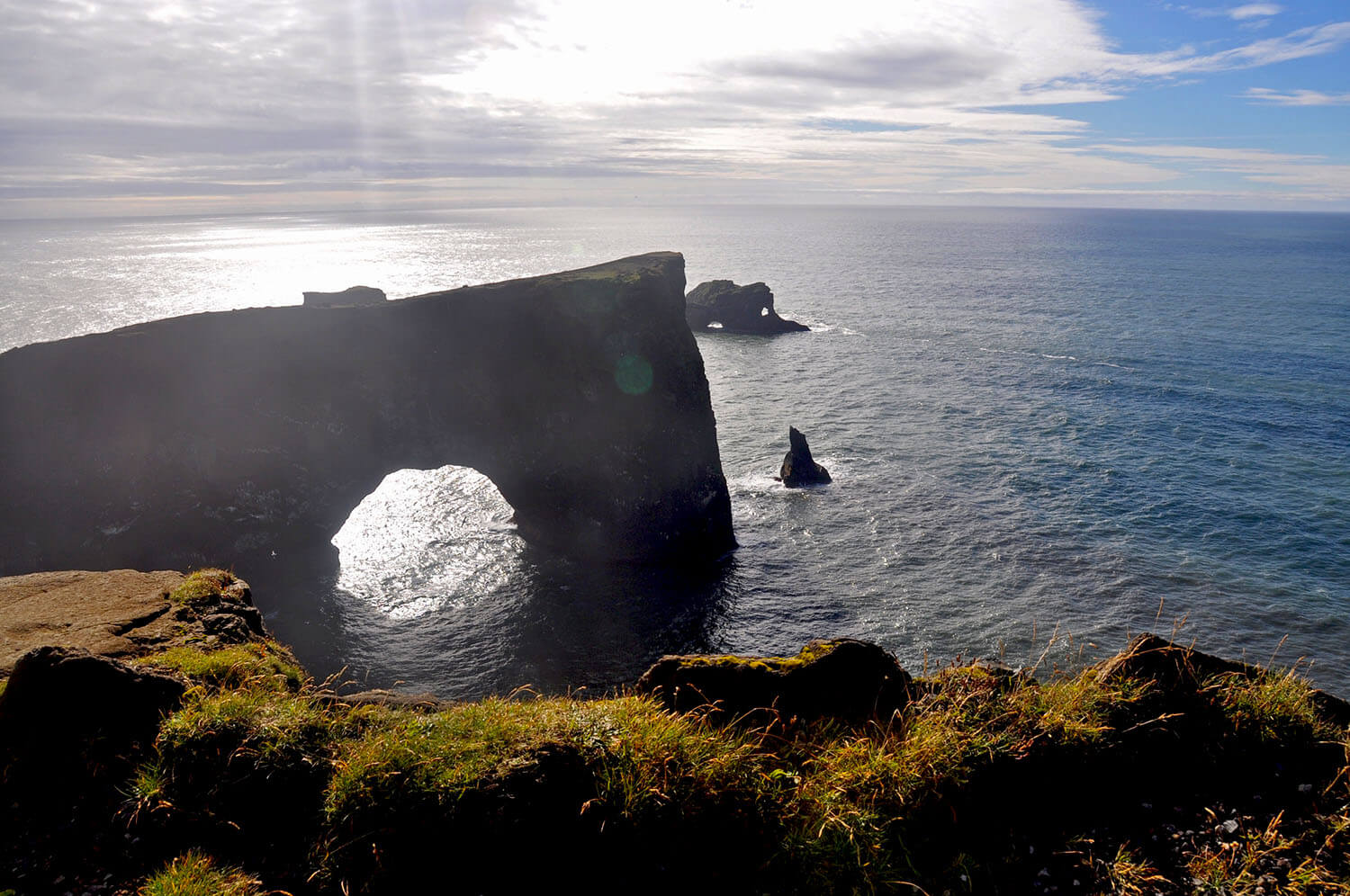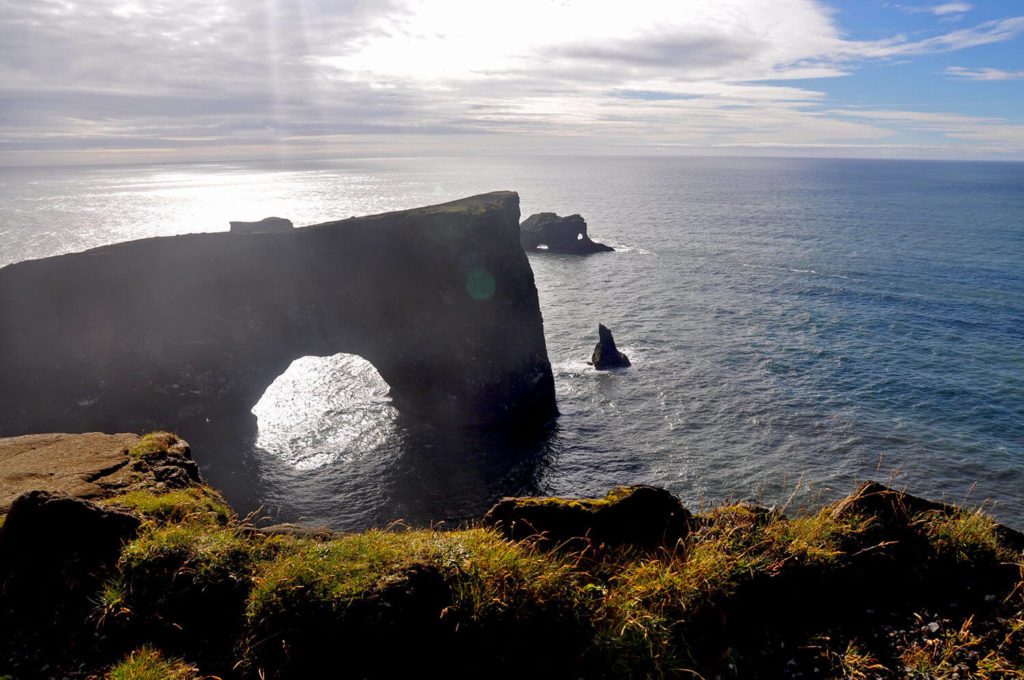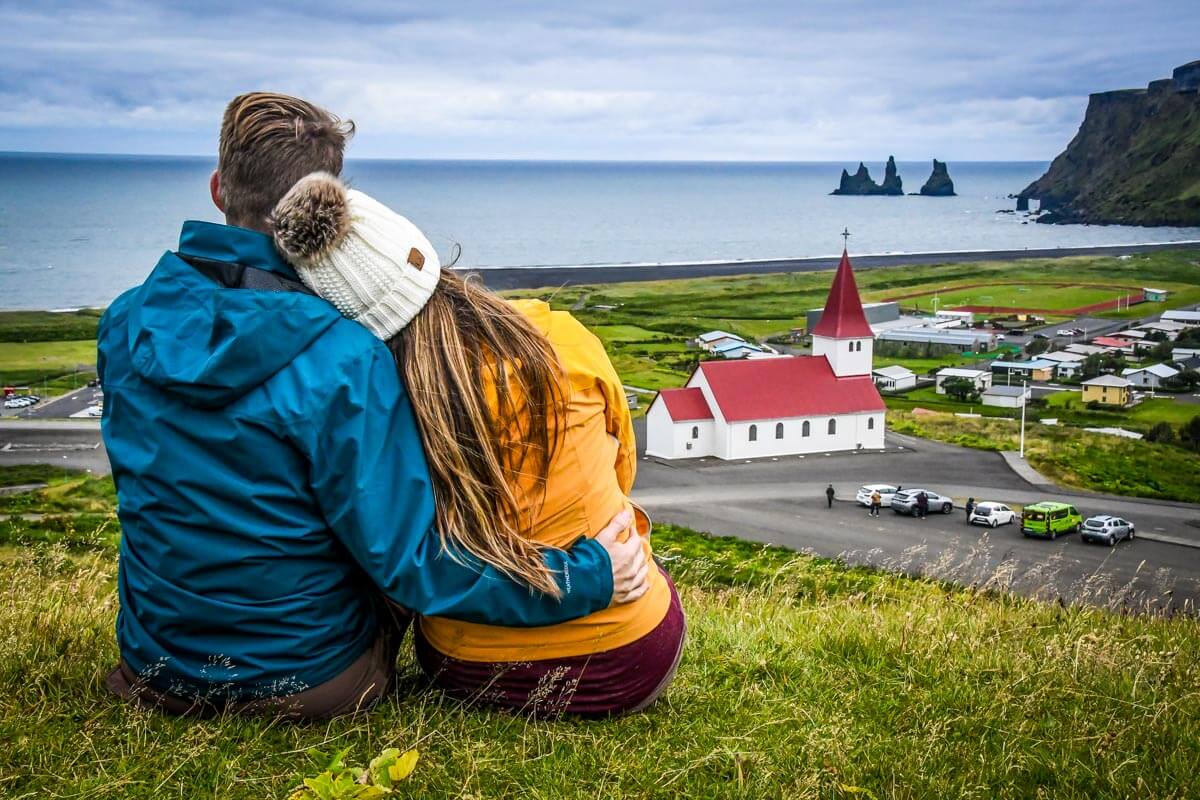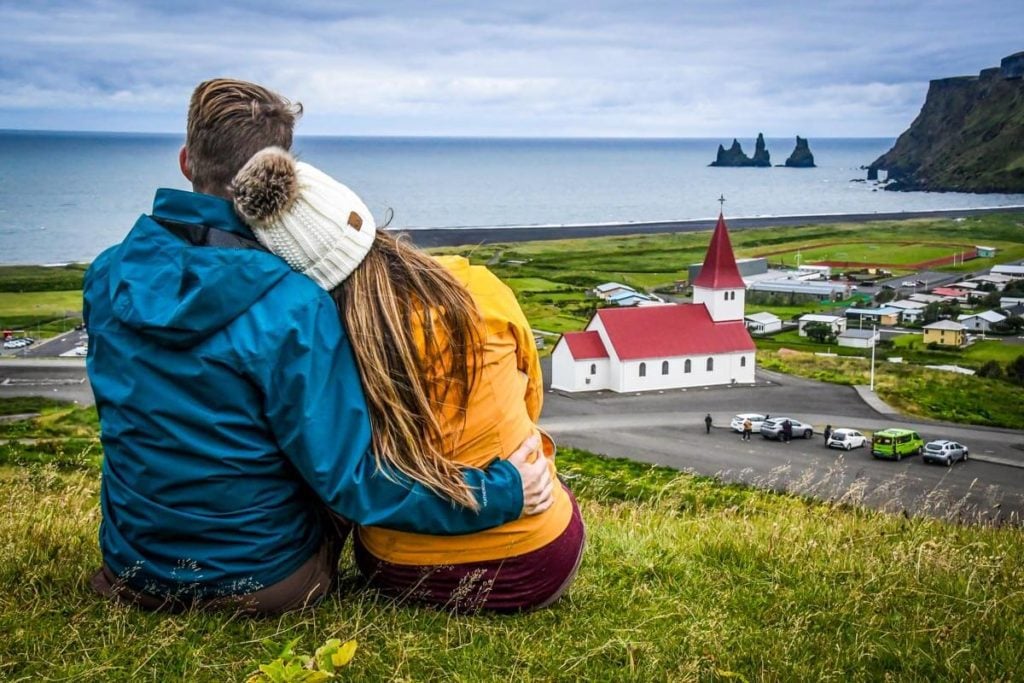 ​​Dyrhólaey: Just west of the black sand beach is Dyrhólaey peninsula and it's unique rock formation jutting out of the sea with a circular hole through the center. Another stop off Ring Road with two viewpoints, one overlooking the black sand beach, and one that's higher up and overlooks the Dyrhólaey rock formation next to the lighthouse.
Vík: Just east past Reynisfjara on Ring Road is the town of Vík, a remote seaside village in south Iceland. As one of the most picturesque towns in Iceland, there is plenty to explore and do here. Some of the most notable are photographing the Reyniskirkja church from the viewpoint, attending the Lava Show, and visiting Skool Beans cafe.
Read more about these two stops and other nearby attractions in our Ring Road itinerary article.
Places to eat nearby
There is a restaurant called the Black Beach Restaurant, right off the parking lot for Reynisfjara beach that you can stop and grab a bite to eat at. We haven't been there, so we cannot speak from personal experience, but the place is a bit pricey. The menu includes Icelandic and international cuisine.
We'd recommend The Soup Company in Vík, a place we've personally eaten at and loved. The Lava Soup in a bread bowl was amazing and big enough (with refill) to split between the two of us.
Things to know before you visit Iceland's black sand beach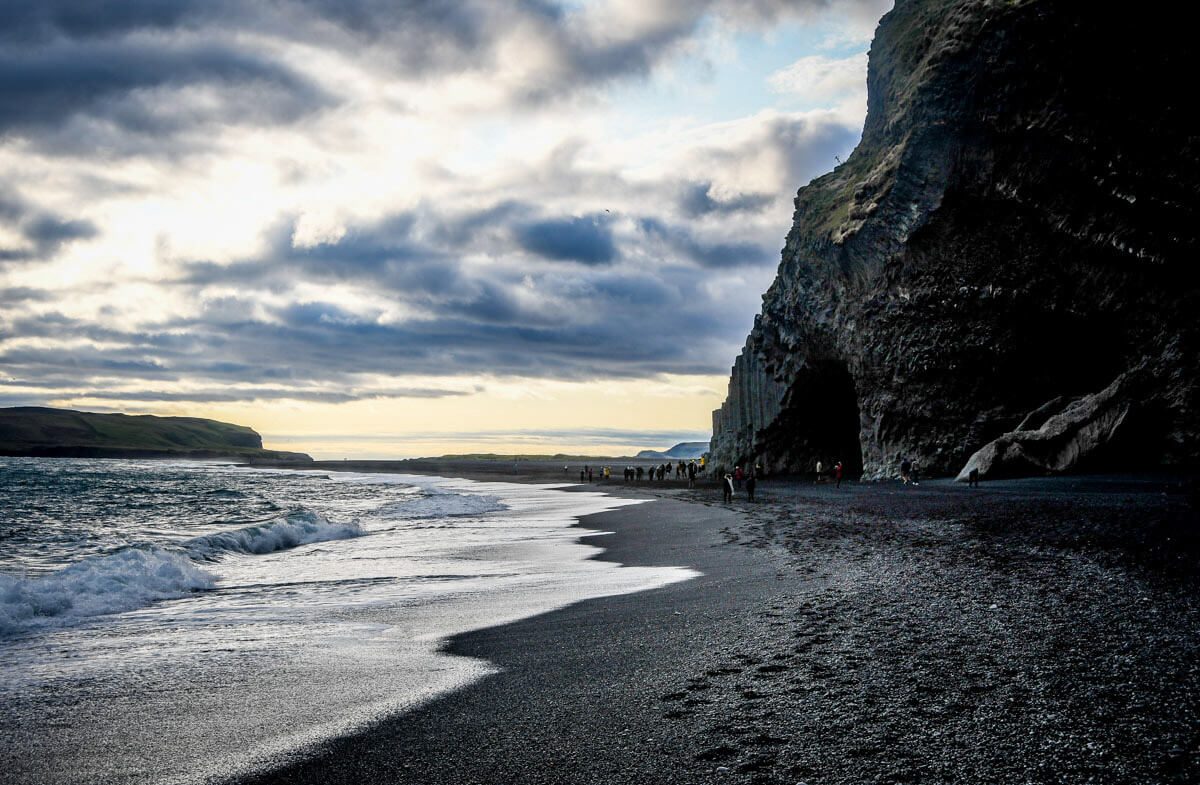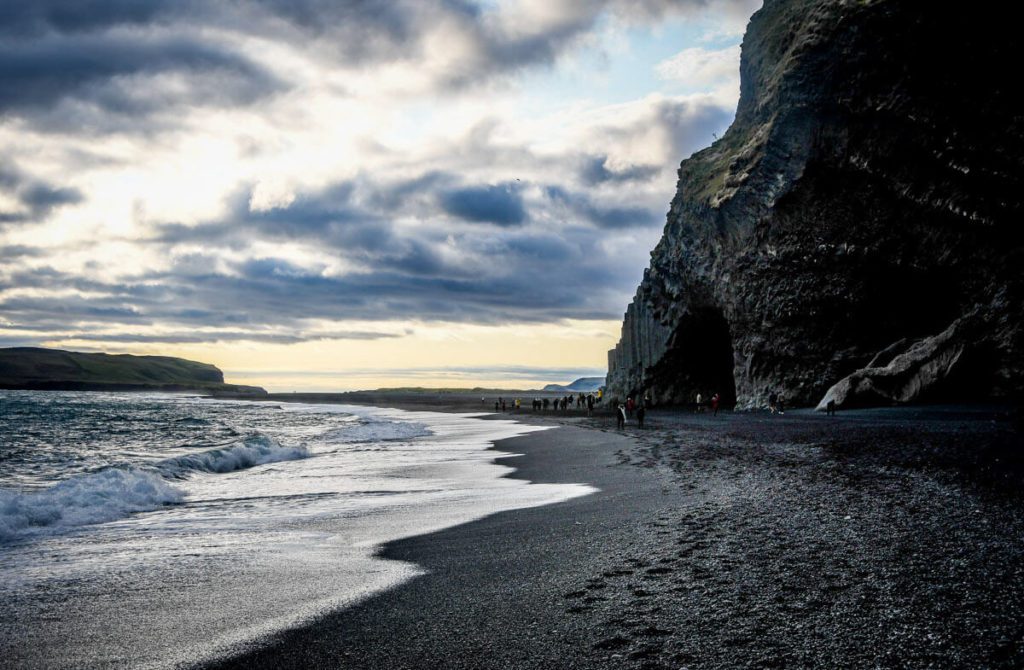 Bathrooms:
There are public restrooms at the parking lot for Reynisfjara, however, you must pay an entrance fee to use them. There are free public restrooms at the Kronan grocery store in Vík, if you can wait.
Dangers:
Aside from the icy cold ocean waters and the fact that there is no lifeguard on duty, there is one more important thing you should know about this unique beach: the current here is strong.
The waves there are particularly violent and can sneak up on you. Just Google "Reynisfjara sneaker waves," and you'll see what we mean. These waves are so powerful in fact, that 3 people have drowned in the past 10 years after a sneaker wave took them by surprise and washed them out to sea.
Take precaution by always keeping an eye on the sea and never getting too close.
Weather:
When the weather gets bad in Iceland, the weather at the beach gets worse. The weather at the beach can be very temperamental, especially when it comes to the wind. Be sure you dress in layers and have a decent windbreaker outer shell and a packable down jacket with you to stay warm.
Keep an eye on the weather and try not to visit the beach during particularly bad weather days.
How to get to Reynisfjara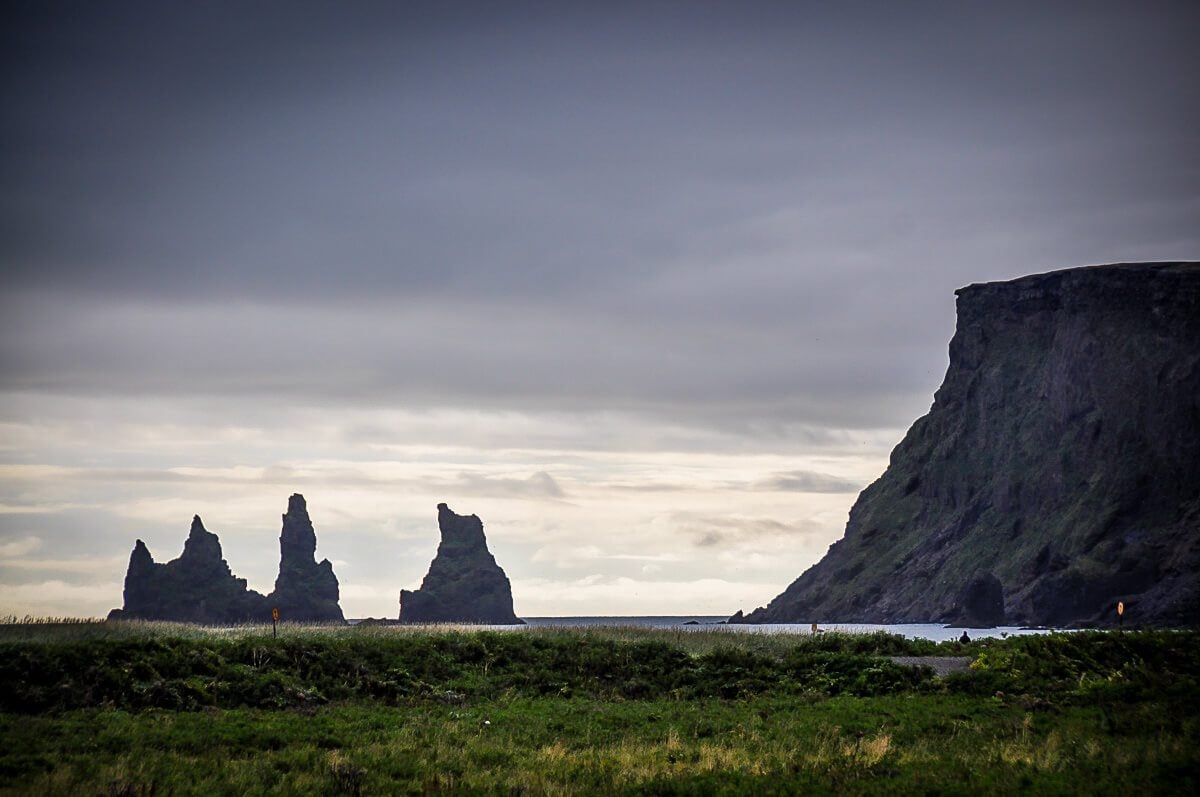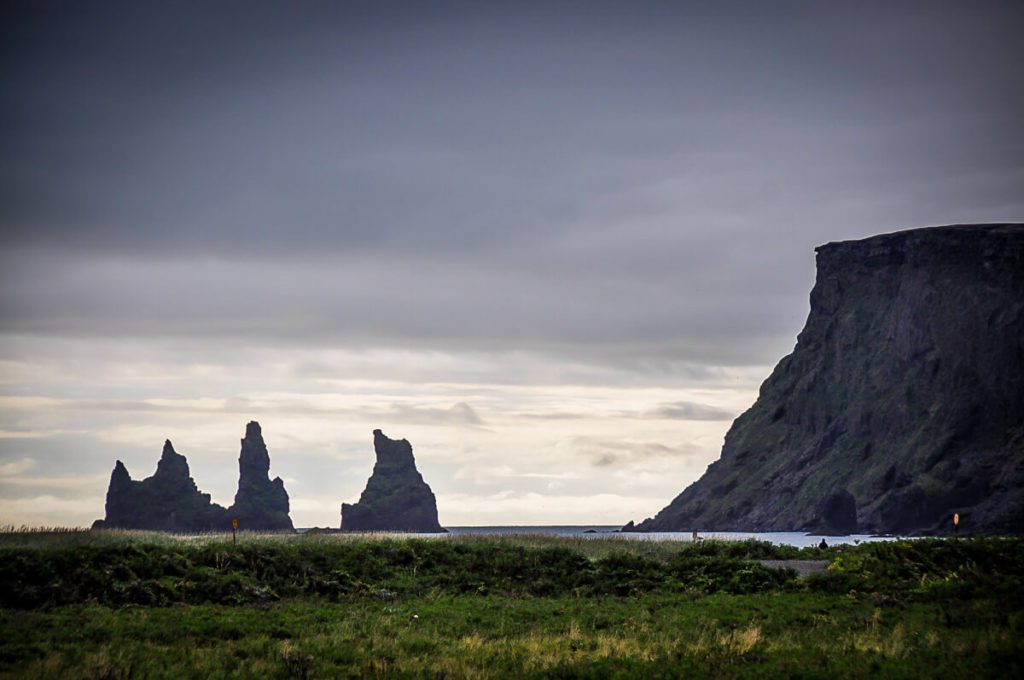 Reynisfjara is located about 187 km from Reykjavík, which translates to roughly 2 and a half hours of driving time. To get there, follow Highway 1, Ring Road, southeast from Reykjavík and watch for signs for the turnoff to Reynisfjara.
We'd suggest downloading the offline version of Google maps for this one and following your GPS to get there so you don't accidentally miss the turn.

You'll pass several interesting stops along the Ring Road from Reykjavík, including the Sólheimasandur plane wreck, and Seljalandsfoss and Skógafoss, two impressive Iceland waterfalls. We put together a list of all the best stops along the entire Ring Road where you can find more details.
Other black sand beaches around Iceland
While Reynisfjara may be the most famous black sand beach in Iceland, the country actually boasts quite a few of these natural wonders. Here are some other neat black sand beaches to visit:
Vík's Black Sand Beach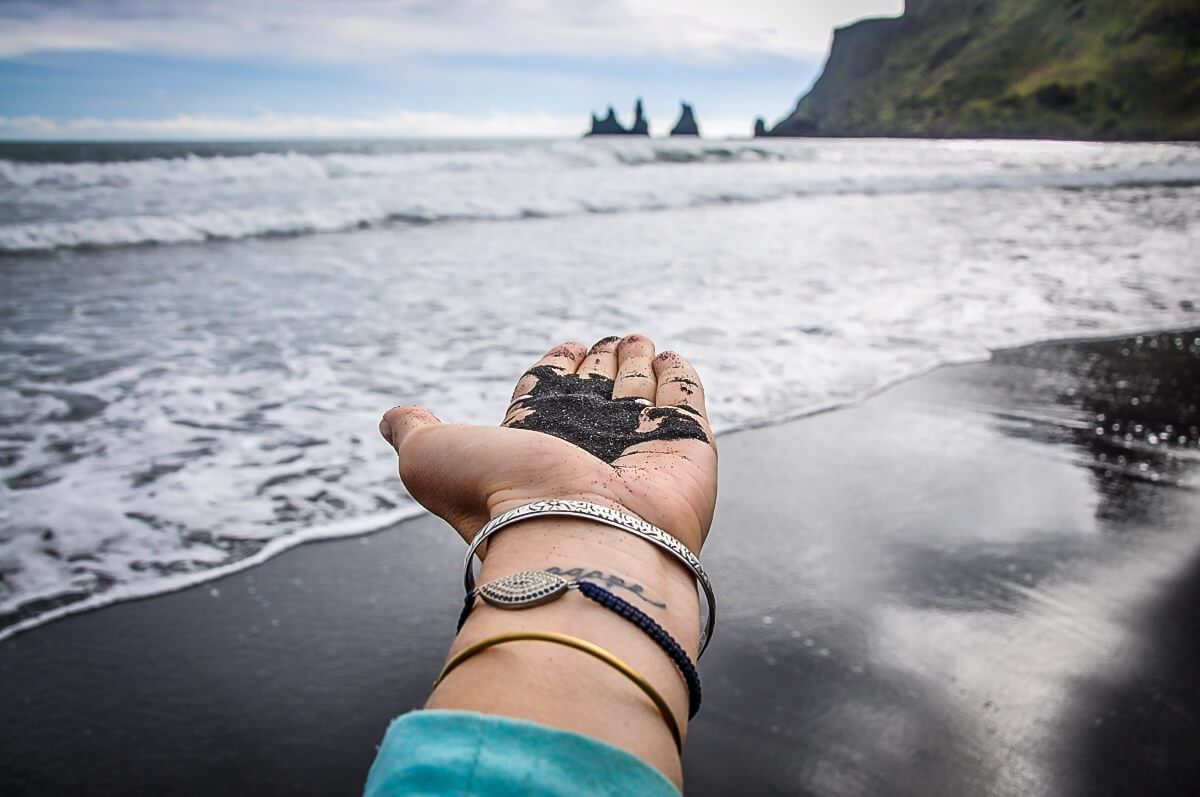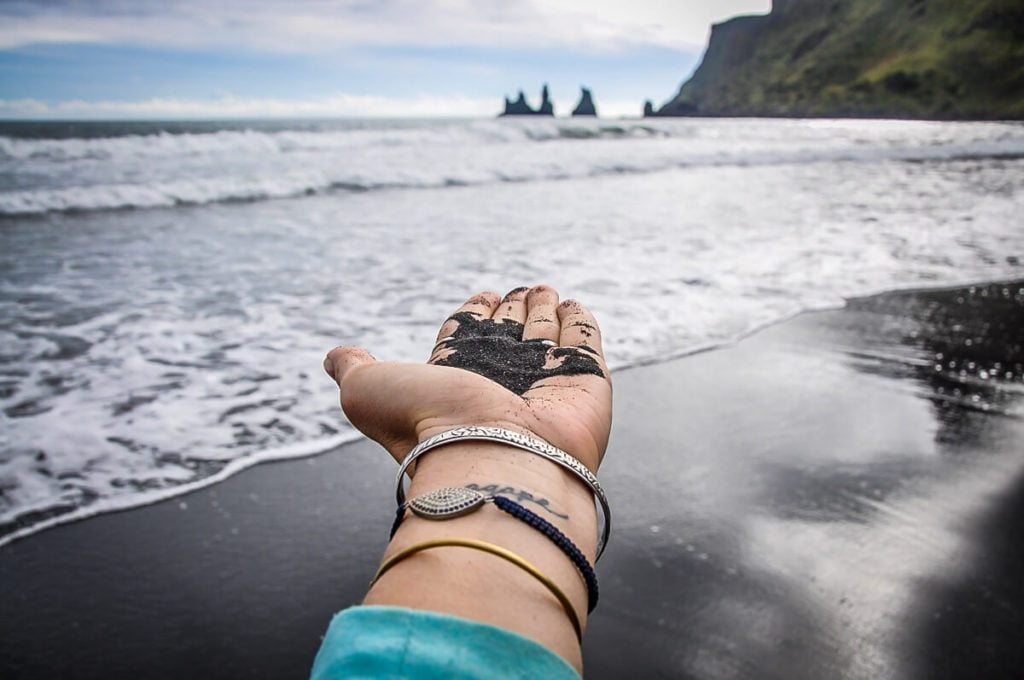 Just beyond the cliffs at Reynisfjara is another black sand beach located in the adorable seaside town of Vík. Known simply as the black sand beach in Vík, this much smaller beach will give you a different perspective with easy access right from the center of town. You can still see some of the Reynisdrangar sea stacks from this side and the town as a backdrop is quite cute.
Important note: At high tide, this small section of beach near Vík nearly disappears, so if you want to capture the black sand in your photos, be sure to check the tide times.
Diamond Beach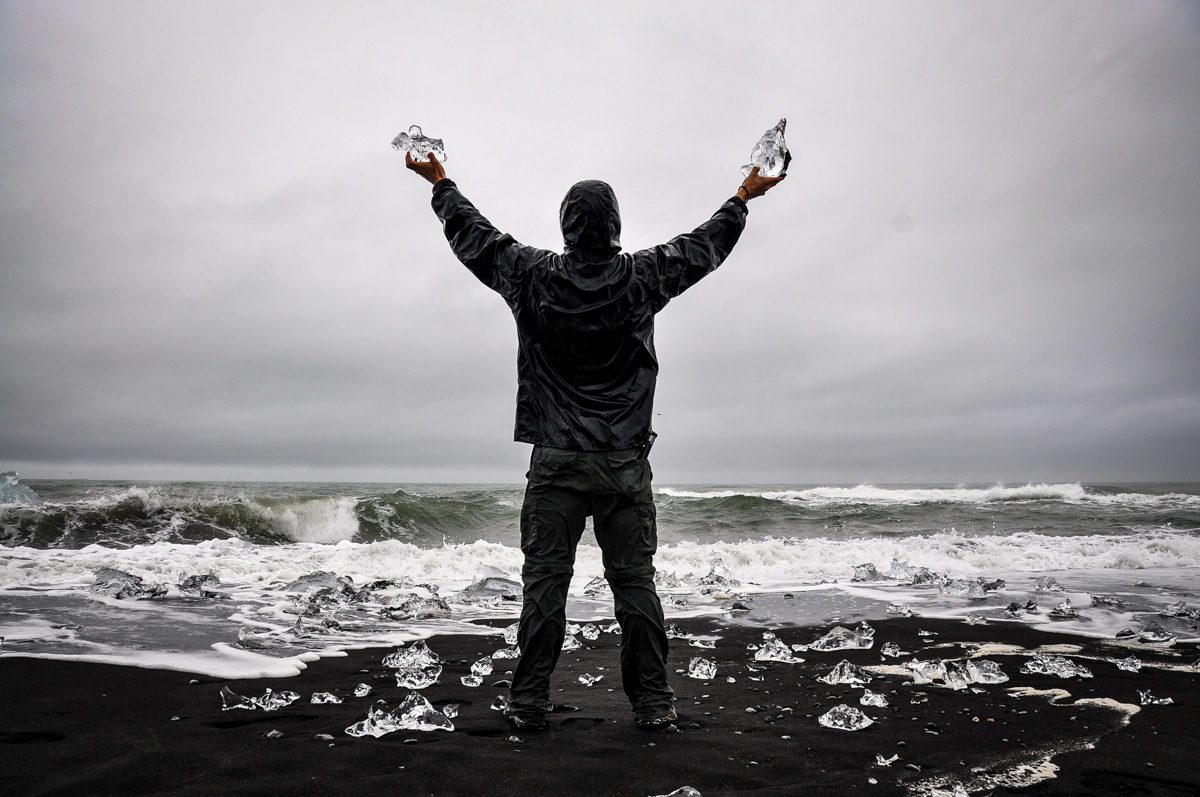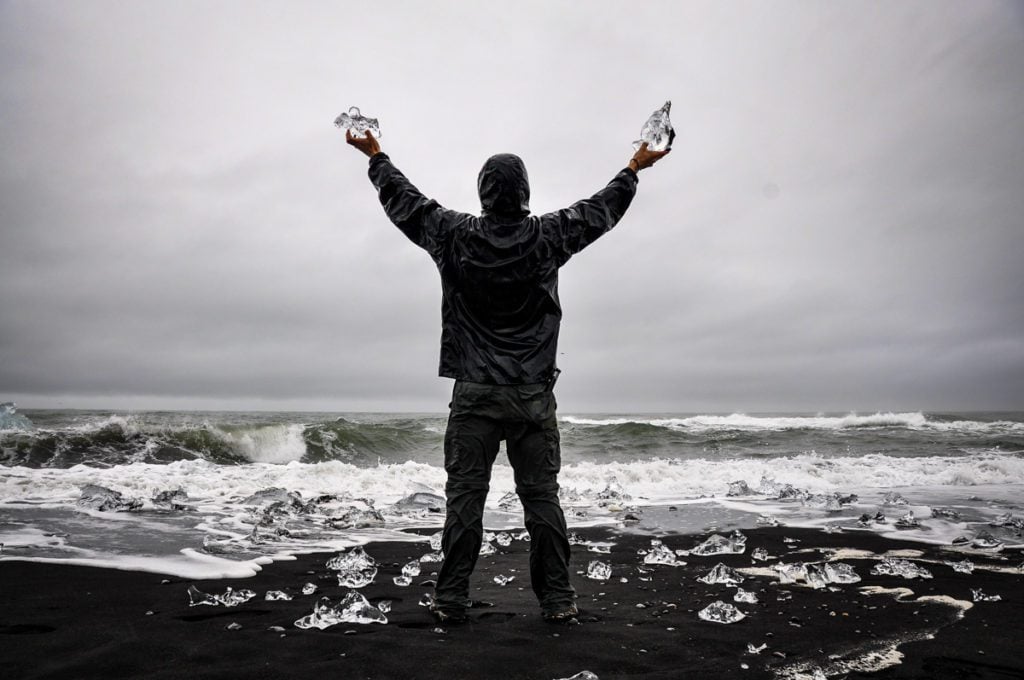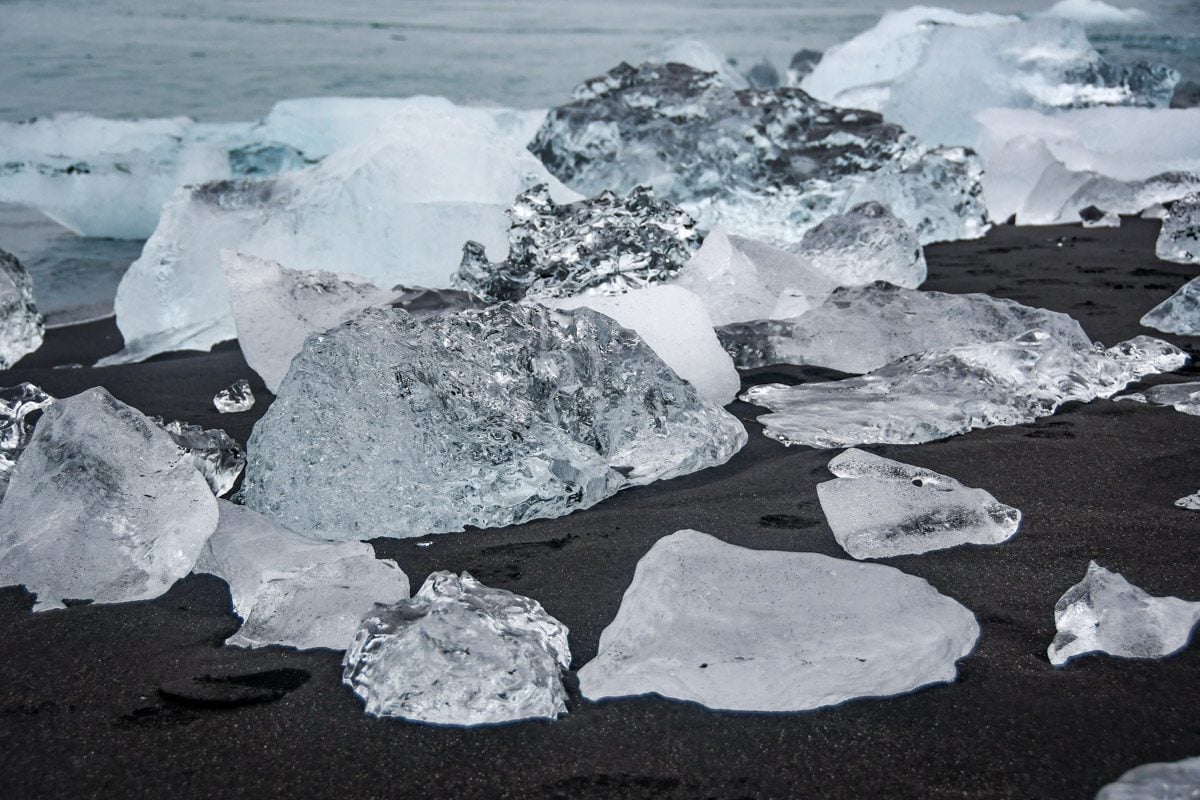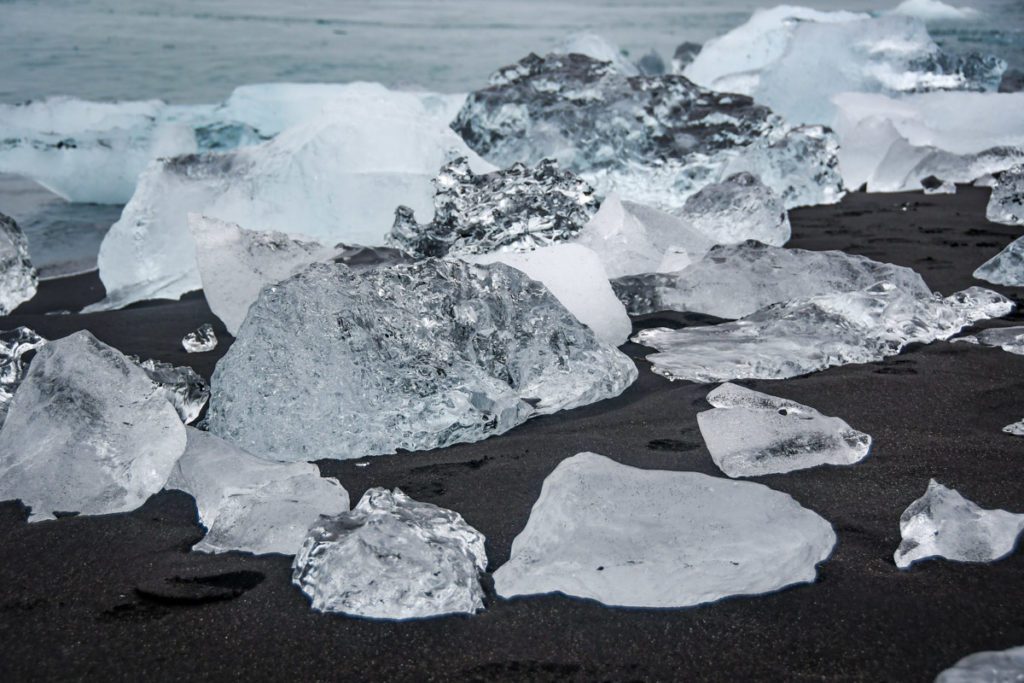 Jokulsarlon Glacier Lagoon is one of the best stops on Iceland's Ring Road and the black sand beach at it's edge is one of the most photogenic places. This beach is unique not so much for the views, but for the large chunks of glacial ice that wash up on shore and shine like diamonds against the black sand. This is where the nickname "diamond beach" came from.
Check out Day 6 of our 7-day Iceland Itinerary to see exactly how to get to Diamond Beach, and which three stops we think are worth the time.
Stokksnes Beach
Picture a vast beach covered in black sand with little tufts of green grass dotted throughout the small rolling dunes of black. Now imagine a majestic mountain towering in the backdrop. This is the landscape of the black sand beach on the Stokksness peninsula in southeastern Iceland.
Sadly, while we were there, the mountains were completely shrouded in clouds, making it impossible to see (or photograph) the beauty of this area. However, if you luck out and visit on a clear day, you're sure to get some incredible shots (just do a quick Google image search and you'll see what we mean).
Sólheimasandur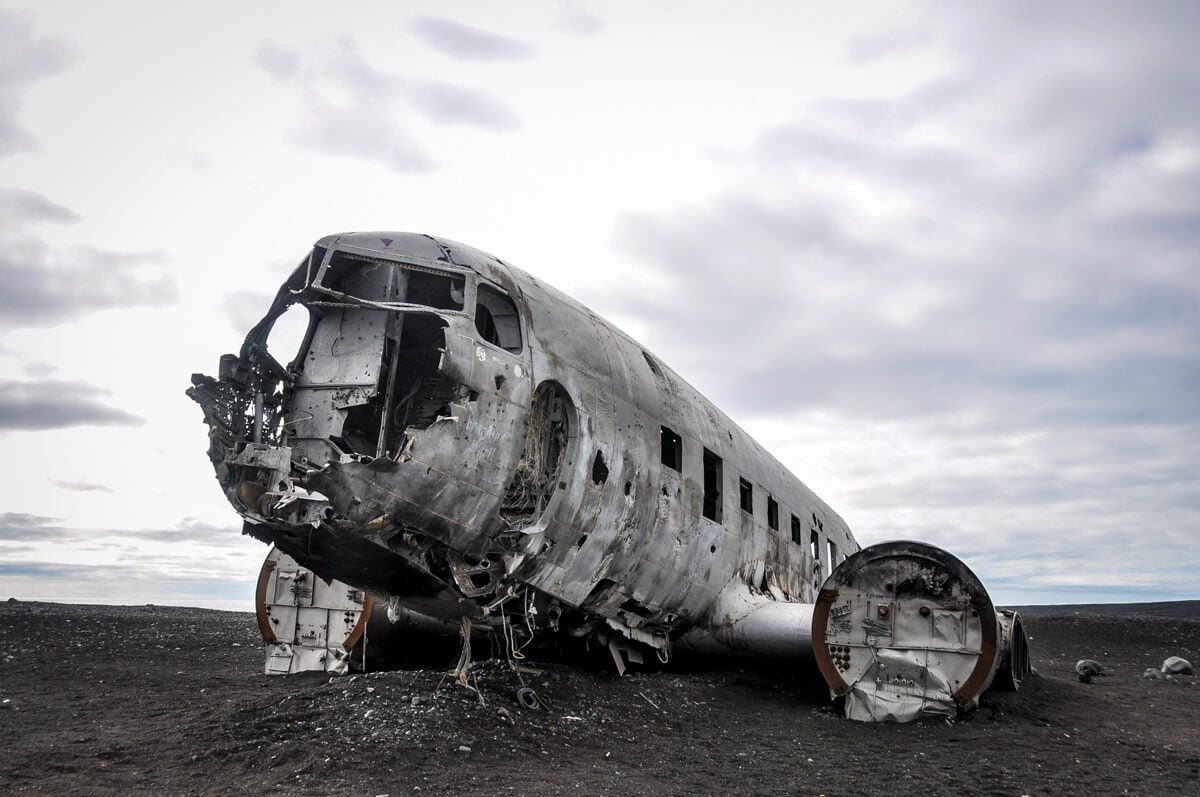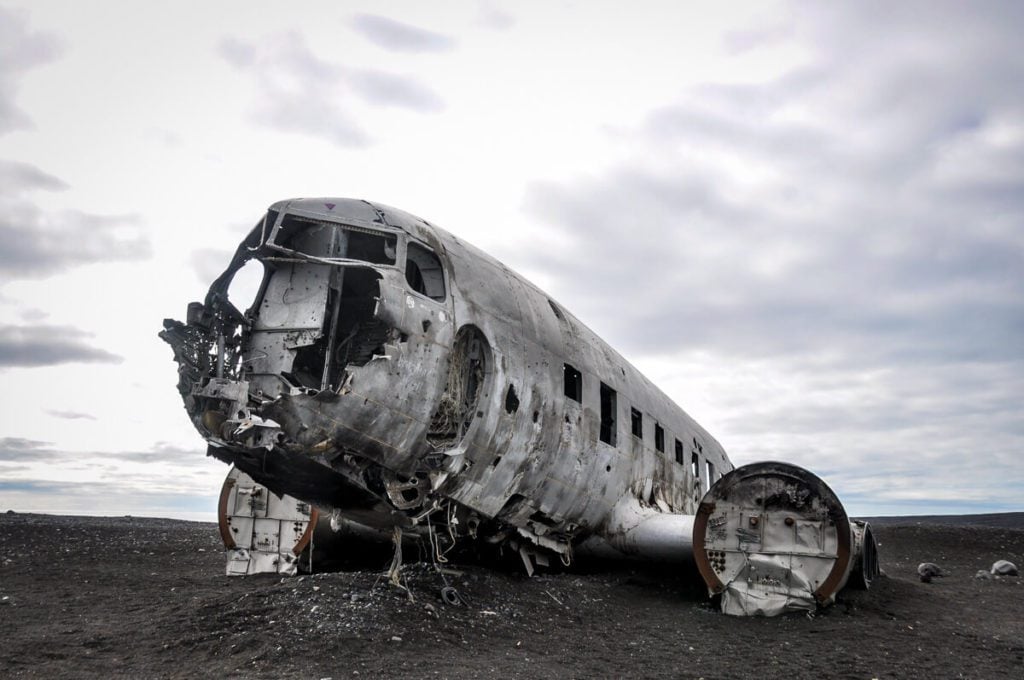 Most people who visit Sólheimasandur are not going to check out the beach, but it should be noted that you can follow the black sand all the way to the ocean here. The real reason to visit Sólheimasandur is to explore the abandoned plane wreck here.
The US Navy DC plane ran out of fuel and crashed on the beach at Sólheimasandur back in 1973 and the remains of the crash are still there. Stripped of its contents, the shell of the plane remains mostly intact on the beach as a ghostly omen and unique tourist attraction.
To visit Sólheimasandur, you can find the parking area right off Ring Road, but you'll need to walk for about 40 minutes to reach the wreck.
Seltjörn
If you are staying in Reykjavík and don't have the time to journey to one of these incredible black sand beaches of Iceland, there is a good alternative. Seltjörn is just a 10 minute drive from the Reykjavík city center. While it's not quite as impressive as the aforementioned beaches, and the sand has faded a bit to a dark grey hue, it's still a nice opportunity to experience this natural phenomenon.


Are you planning a trip to Iceland?
We have TONS of resources on travel in Iceland and how to make the most out of your trip. Check out our Ultimate Iceland Travel Guide for all the answers to your most burning questions, or read some of our favorite articles below.
Save this article on Pinterest for later!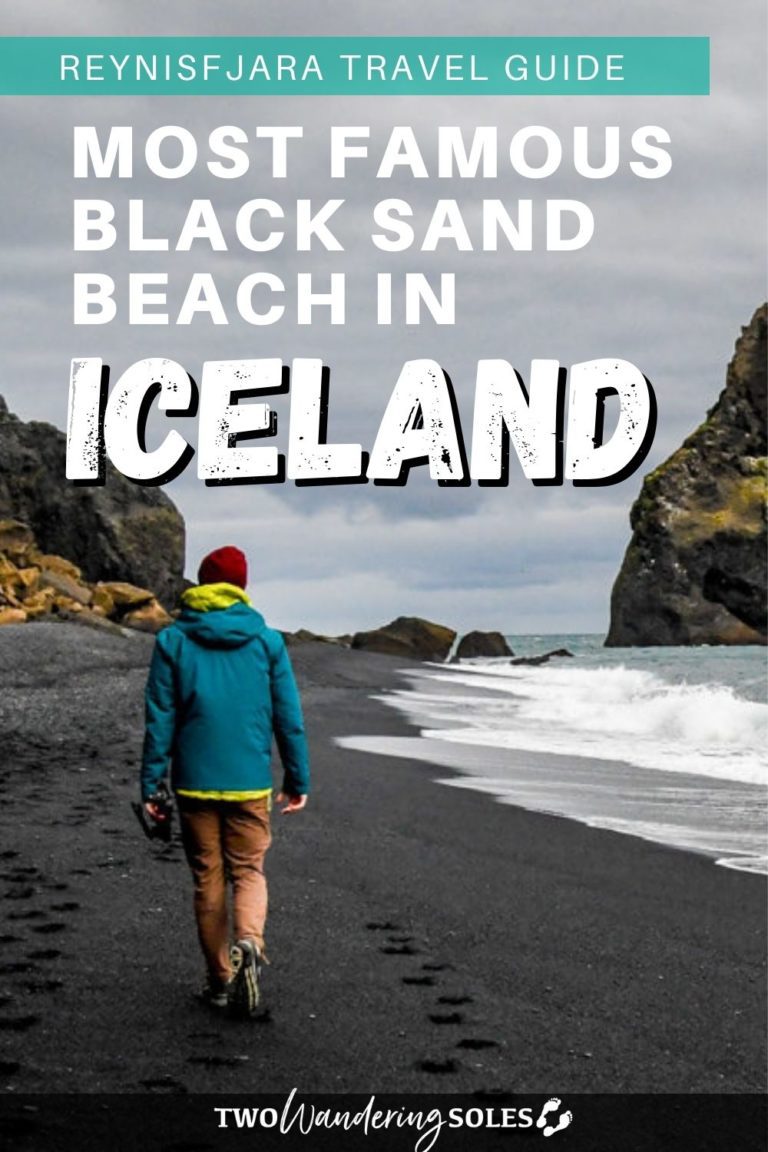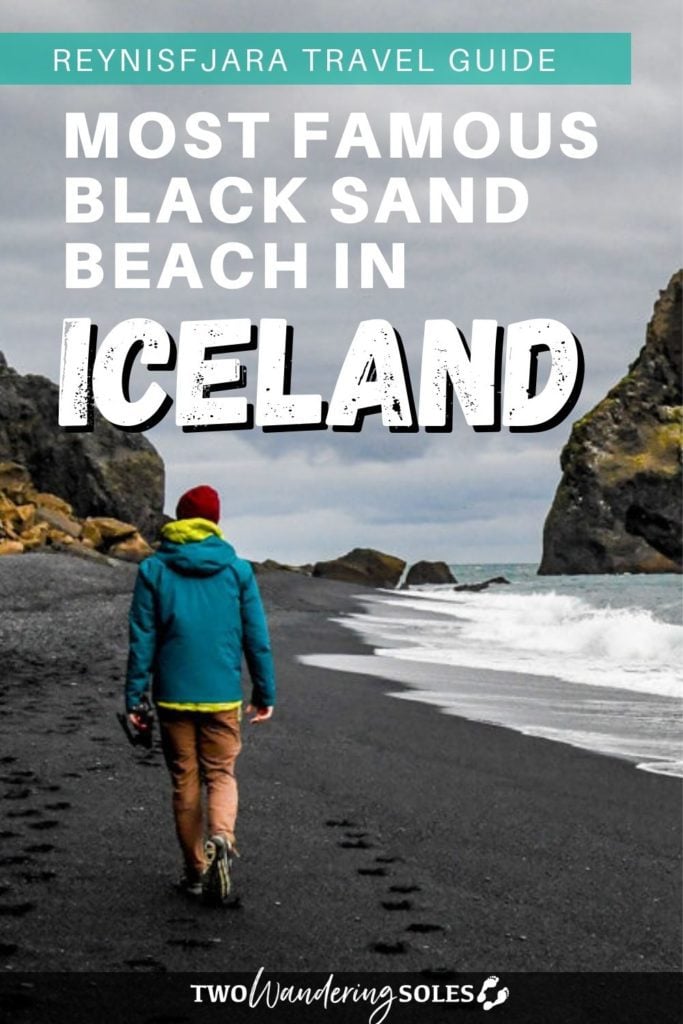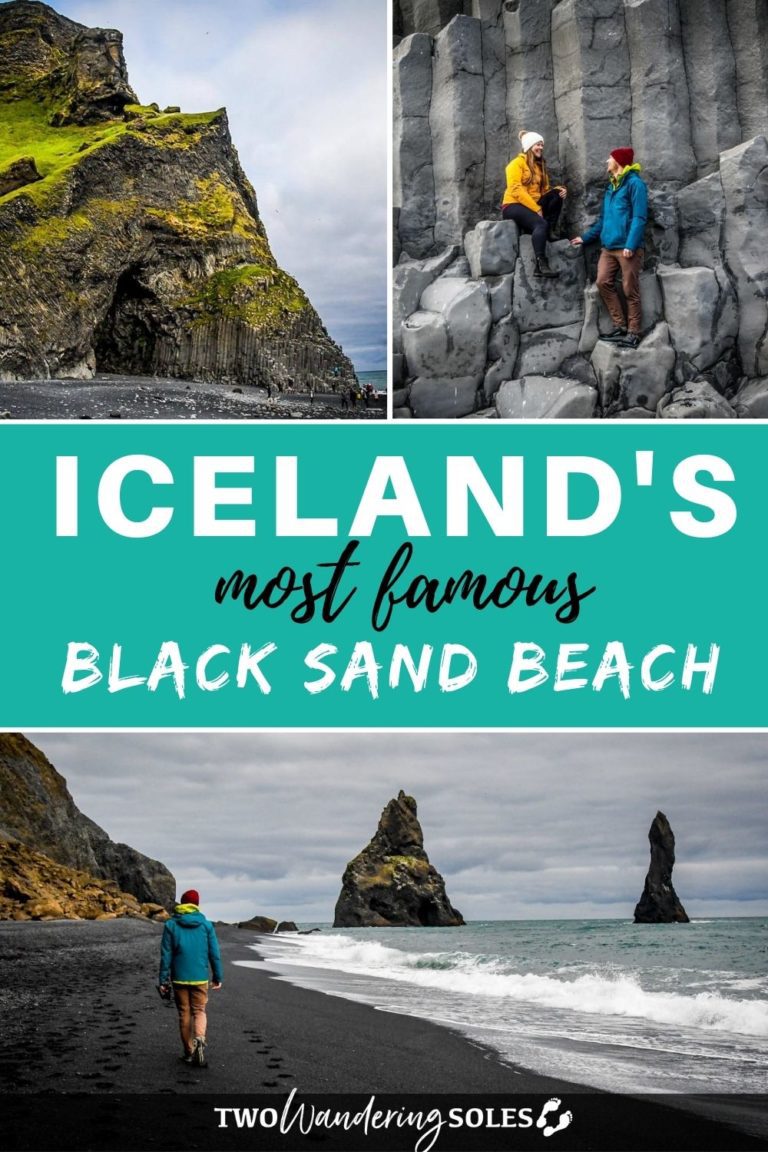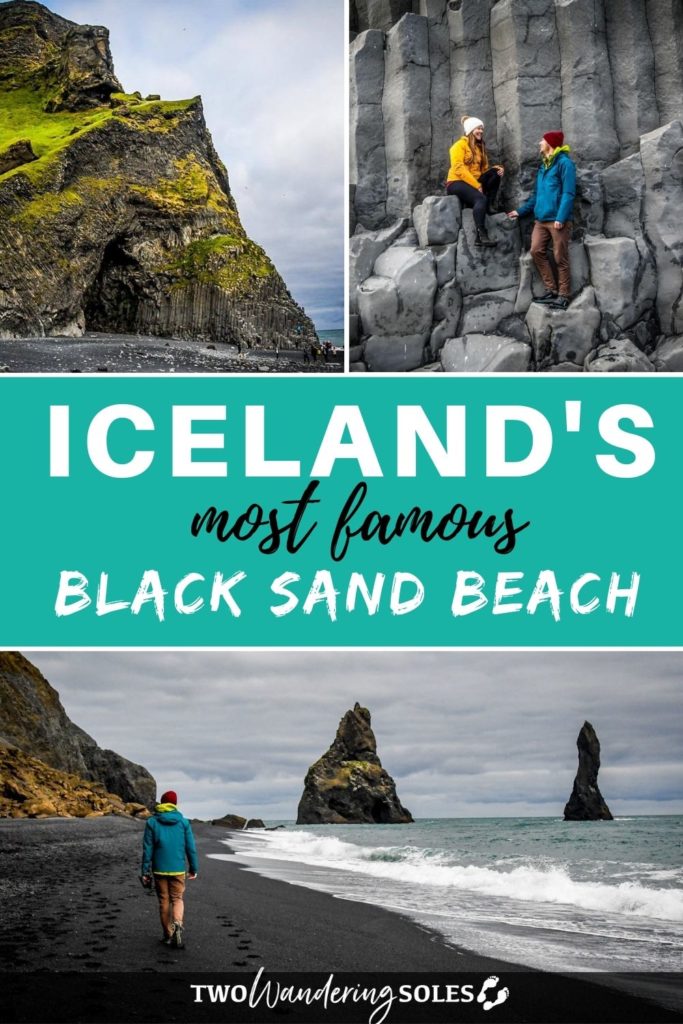 We want to hear from you!
Are you planning a trip to visit this famous black sand beach in Iceland and still have questions? Leave your comment below and we'll do our best to get back to you!