Our extensive guide to Seljavallalaug Swimming Pool will help answer your questions as you plan your trip to this truly unique and stunning open-air hot spring pool located in southern Iceland.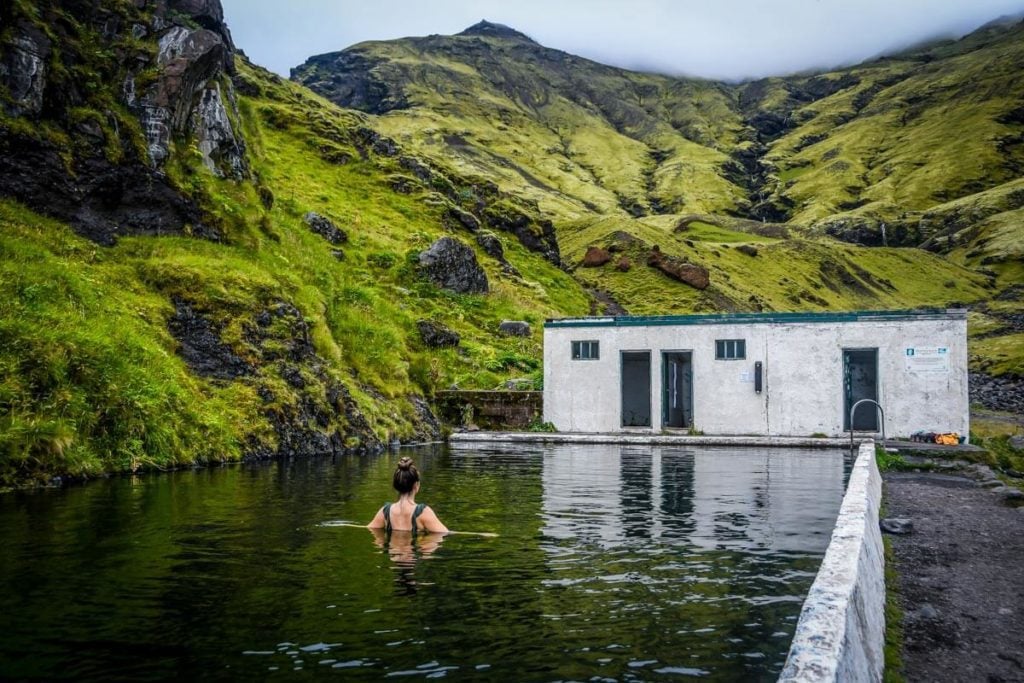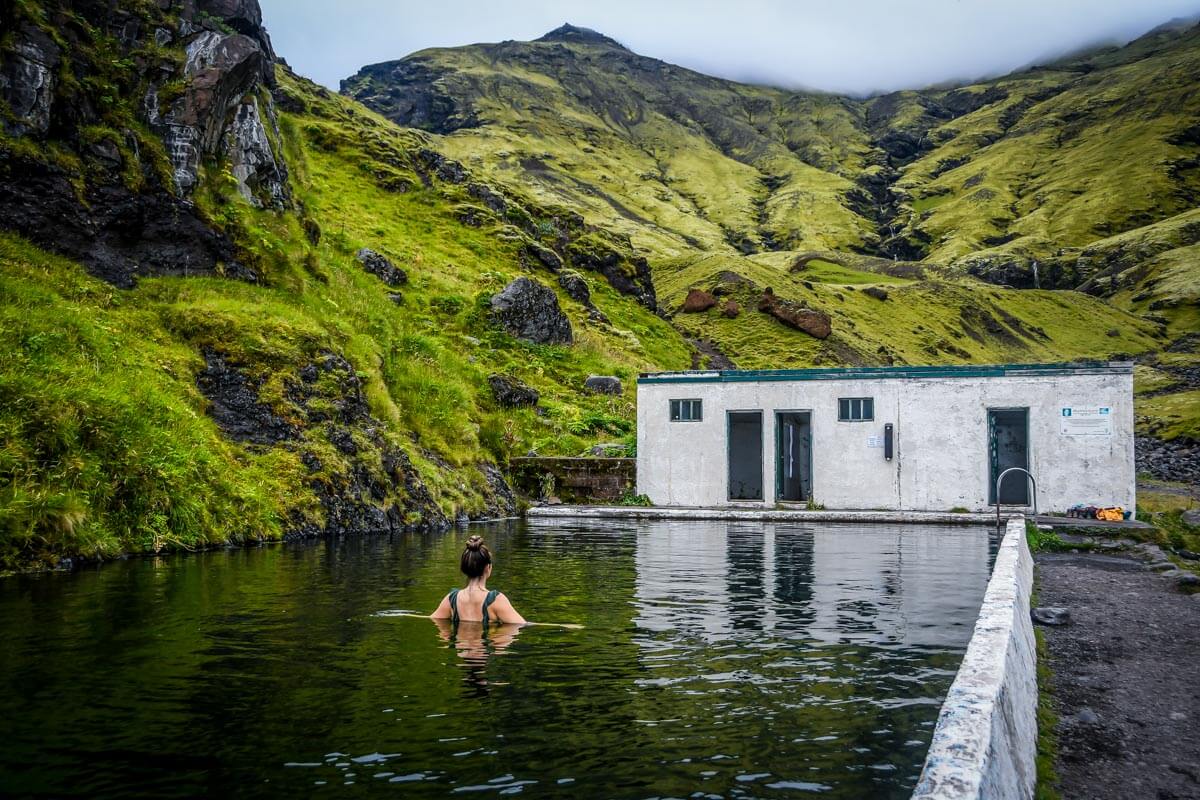 Southern Iceland is home to some of the most impressive waterfalls in the world, epic hiking, and one of the country's most unique hot springs.
Nestled in a lush, verdant valley, Seljavallalaug is a 25-meter outdoor public pool fed by a natural hot spring.
Iceland is known for its public swimming pools that are located in just about every town in the country. Built in 1923, Seljavallalaug is said to be one of the oldest (if not the oldest) public pools in all of Iceland.
Getting there requires an easy 20-minute walk along the riverbed to reach this pool, and it's completely free to visit.
Seljavallalaug is a really unique place to visit because it's quite different from most of the other hot springs in Iceland. It is not a polished hot spring resort, nor is it a rustic naturally formed hot spring. It is somewhere in between – man made, but definitely not refined.
We've visited Seljavallalaug twice – once in 2016 and again in 2021 – and we enjoyed our visit both times. That said, there are a few things we wish we would have known…
We put together this guide with tips and essential information so that you know exactly what to expect and have the best experience at Seljavallalaug swimming pool.
Article Contents
---
Want to save time and energy on planning?
We've traveled to Iceland 3 times now and spent weeks living in a campervan, traveling around the country. We've been able to explore a lot of what Iceland has to offer!
We've compiled our experience to create the perfect Iceland itinerary. Our itinerary is for 7-9 days and meant to be explored while traveling in a campervan. It includes the highlights of the southern coast of Iceland. 
We'll send you our complete 7-9 day customizable itinerary, filled with tips and advice. Just click below to get your perfect Iceland itinerary today!


---
Seljavallalaug swimming pool overview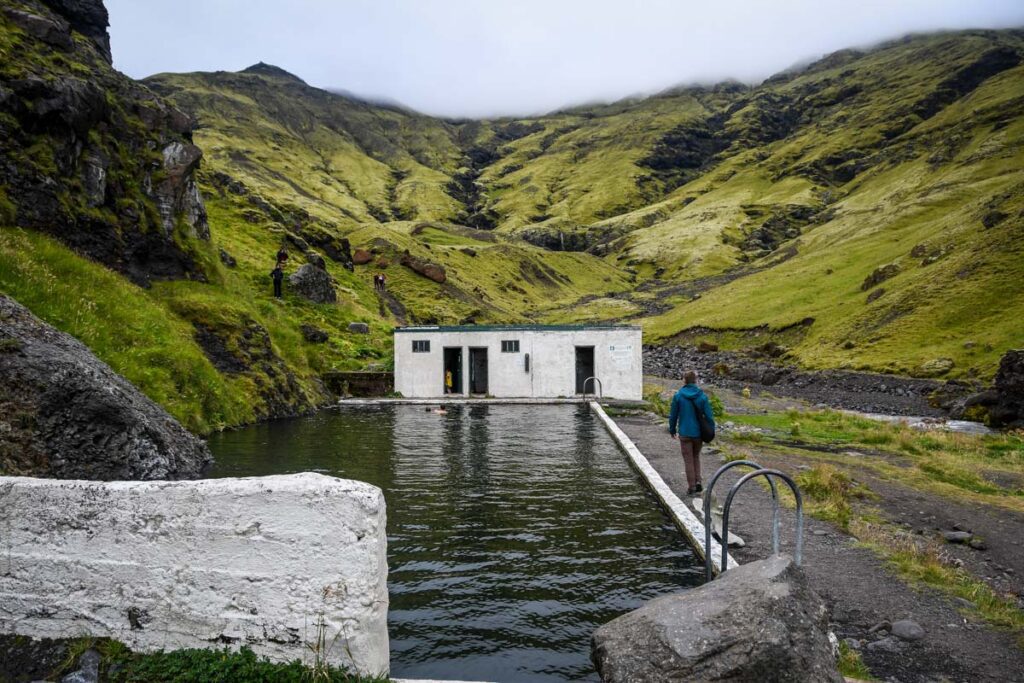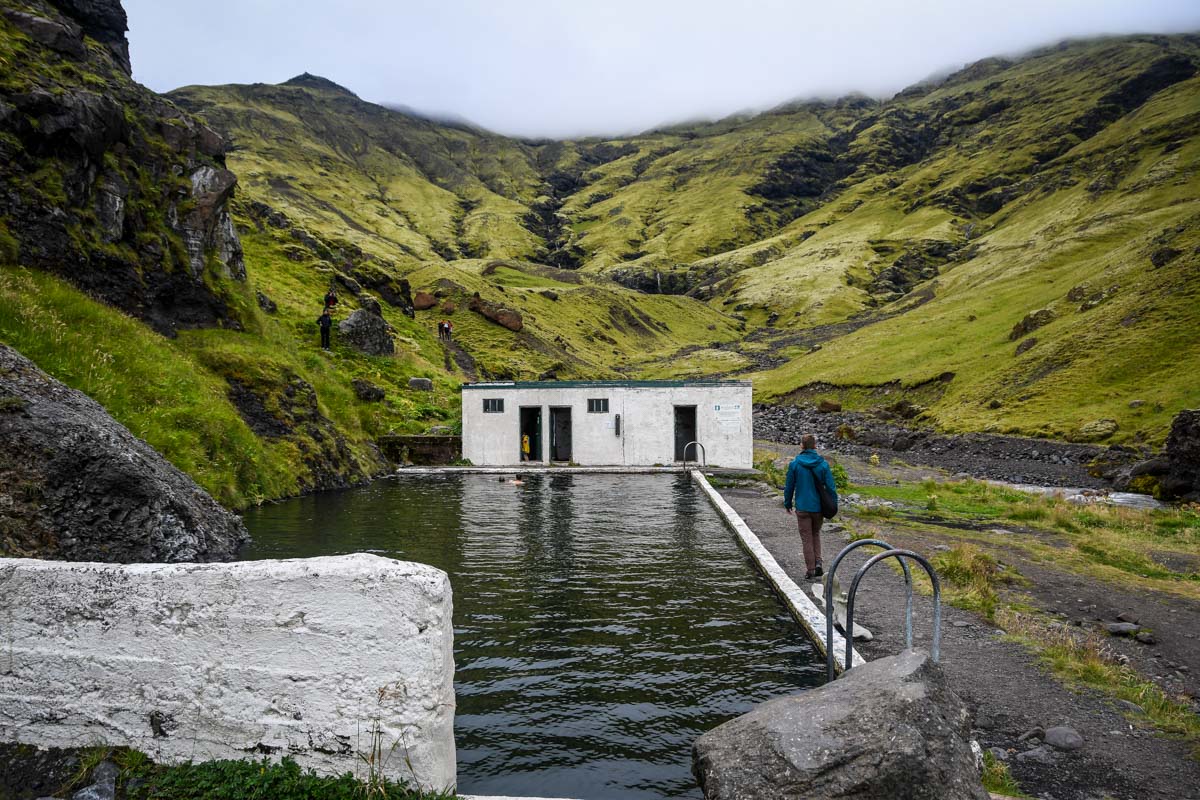 While there are many things to do in Iceland, a visit to the 25-meter Seljavallalaug swimming pool will give you the opportunity to observe the stunning Icelandic surroundings while enjoying a relaxing soak.

If you're traveling to Iceland on a budget and you like a bit of adventure, this is a great choice because it is completely FREE.

Although man-made, Seljavallalaug is still a very 'natural' looking open-air pool. You can expect some algae in the water and the facilities are not very developed.
Seljavallalaug history
The Seljavallalaug swimming pool is said to be one of the oldest public pools in Iceland and it has a very endearing history. In 1923, a local man by the name of Bjorn Andresson Berjaneskoti built the pool as a means to teach the town's children and fishermen how to swim.
And … It has been around ever since!
Although it no longer hosts swimming lessons as it did back in the 1920's, the adorable origin makes this swimming pool that much more unique.
How to get to the Seljavallalaug swimming pool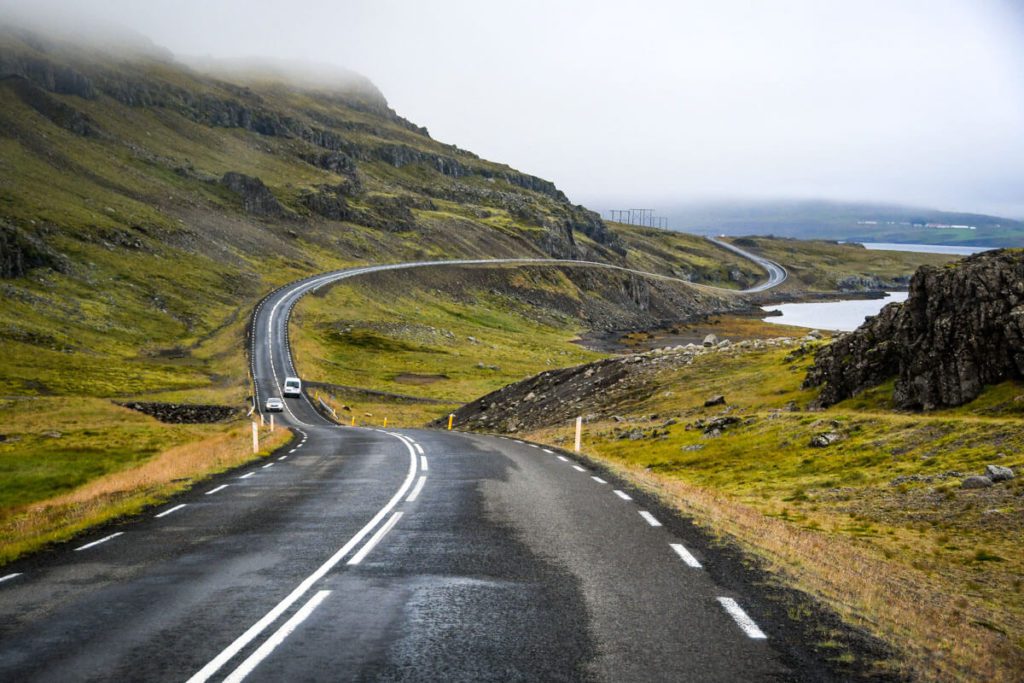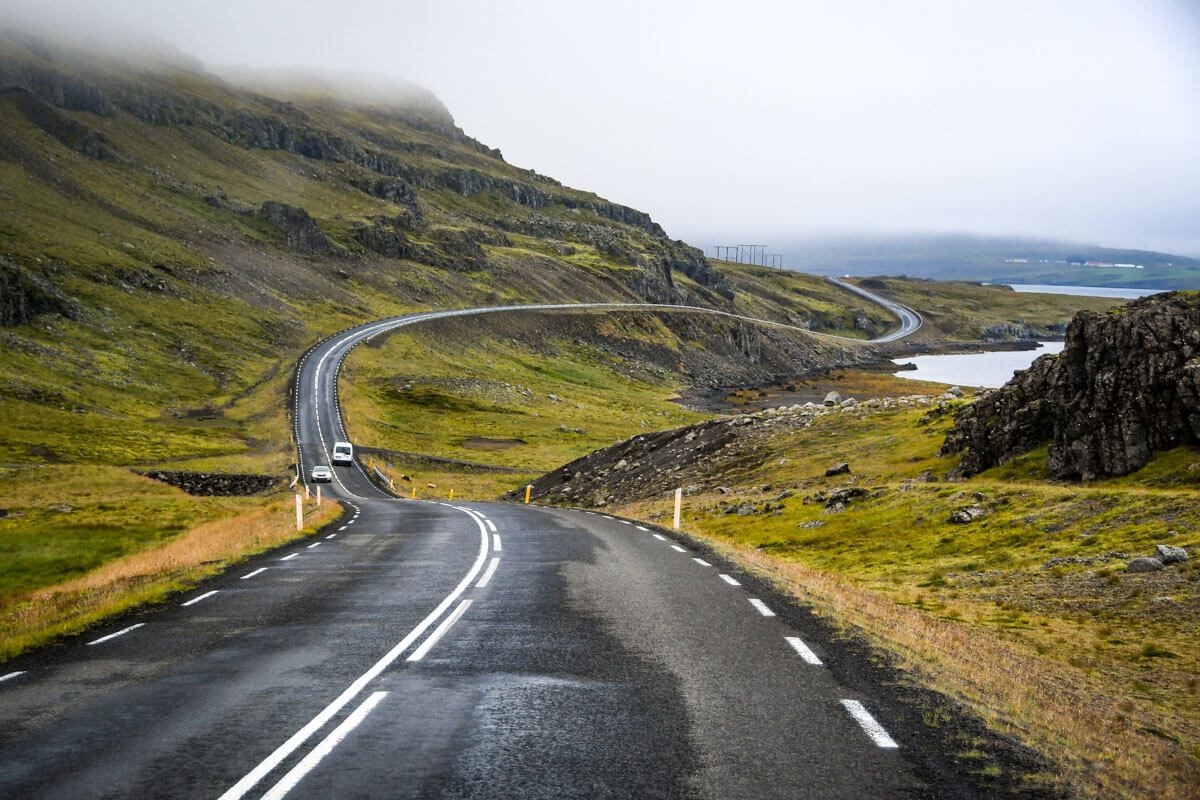 Just 2.5 km from Ring Road, it is very easy to reach the Seljavallalaug Swimming Pool Car Park. Drive east on Ring Road and turn left onto Highway 242. Continue straight and once you hit the dirt road (and quite a few pot holes), you're nearly there.

You can find the exact location on Google Maps.
Psst: As you'll be arriving from Ring Road, you can easily pair your trip to Seljavallalug with another adventure on this epic roadway. Read more about the stops you won't want to miss in our guide to Iceland's Ring Road.
Hike to Seljavallalaug swimming pool
Distance: 1.1 miles
Elevation gain: 170 feet
Type of hike: Out & back
Difficulty: Easy
The 'hike' to reach the pool is really a 20-minute walk along the riverbed. The path is flat, but quite rocky, so be prepared with proper footwear.
The pool is located at the very end of the path — you cannot miss it. And you'll definitely love the views along the way.
Best time of year to visit Seljavallalaug swimming pool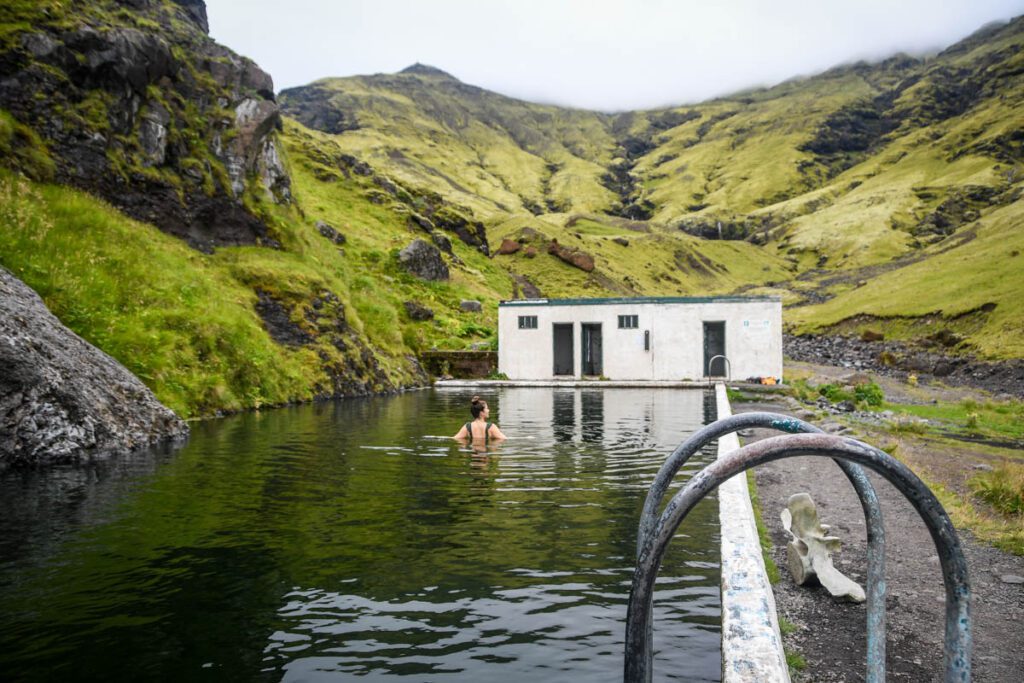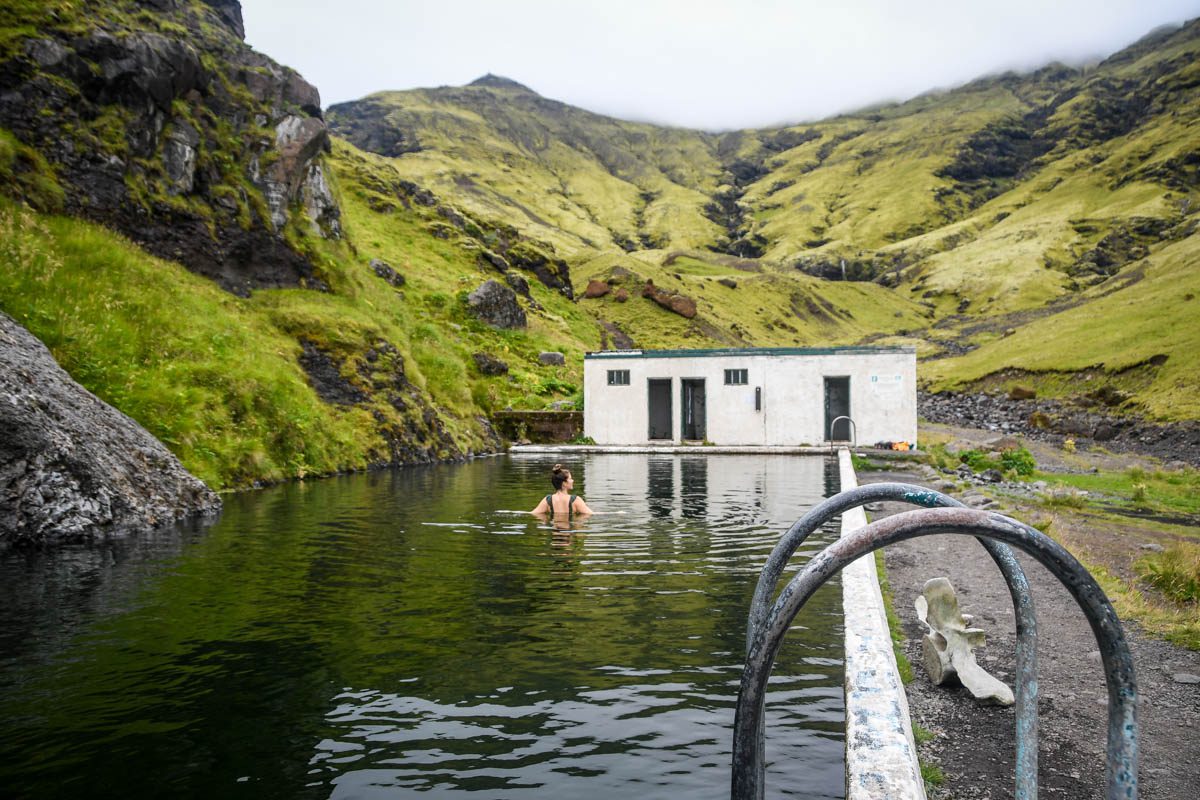 Fortunately, Seljavallalaug pool is open year-round so you can technically visit the pool no matter what time of year you're traveling in Iceland.

That being said, this particular pool isn't very hot — lukewarm at best — so the winter months might be too chilly for a comfortable soak.
Therefore, a visit during summer (June – August) would be the ideal time to visit Seljavallalaug as you'll have the warmest temperatures and the most sunlight.

Knowing when to plan your trip to Iceland can be tricky and there are lots of factors to consider. If you're having trouble deciding on when is the perfect time to visit, check out our guide to the best time to visit Iceland.
Things to know about visiting Seljavallalaug Swimming Pool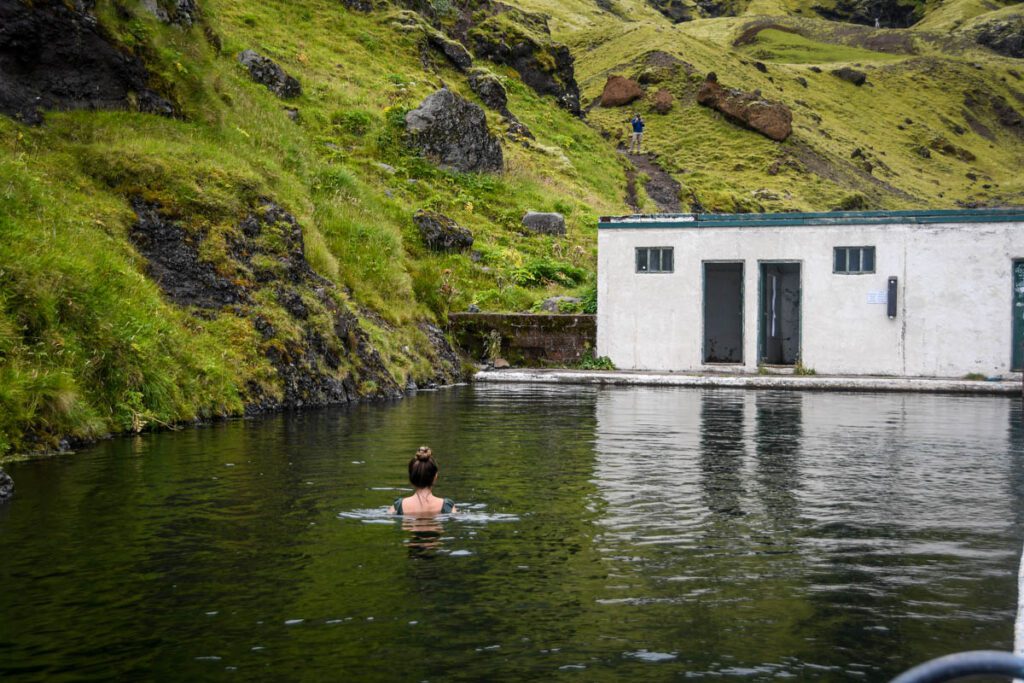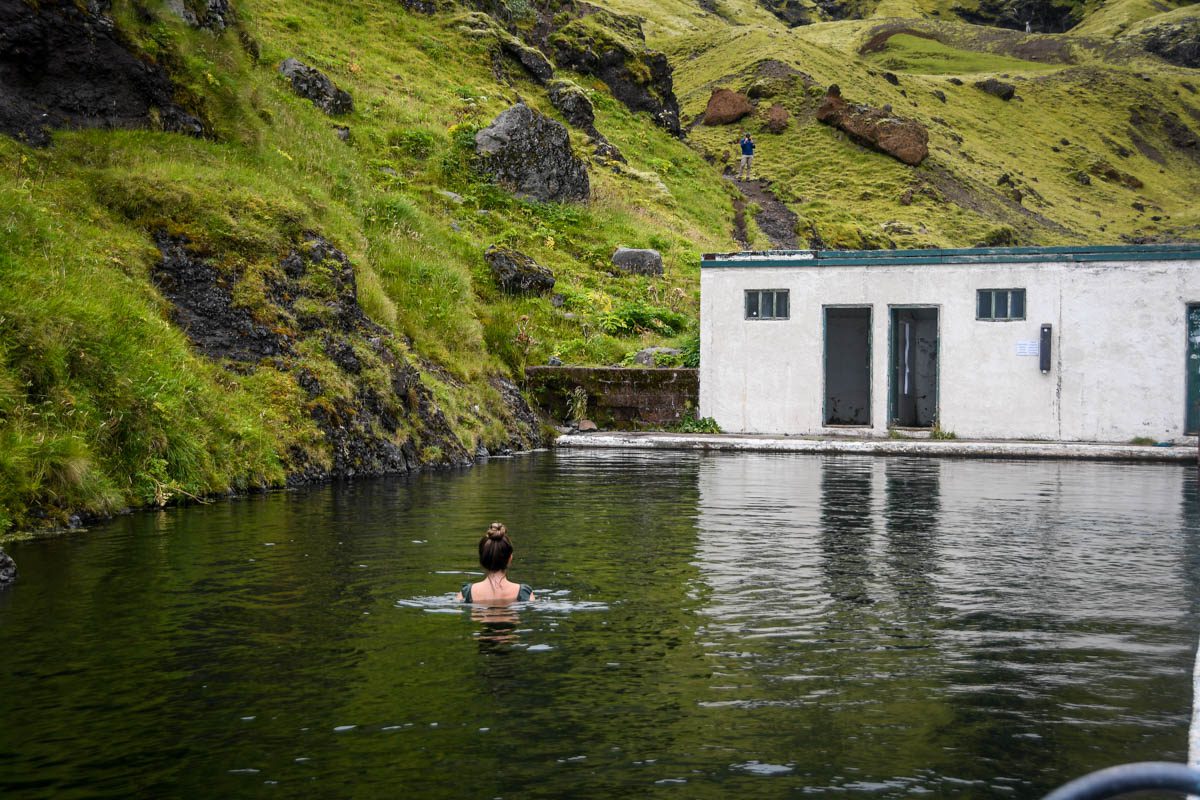 The water in the pool is lukewarm (not hot).
The bottom of the pool has algae so it's a little slippery in places. It didn't bother us, but don't expect clean, pristine water here.
There was also some trash around left from other visitors and graffiti in the changing rooms when we visited.
The facilities are minimal, changing rooms are separated by gender, but there are no doors, just stalls, so it's not that private. There are no toilets here either.
Psst! If you love soaking as much as we do, you'll want to check out our guide to the best hot springs in Iceland!
FAQs about Seljavallalaug swimming pool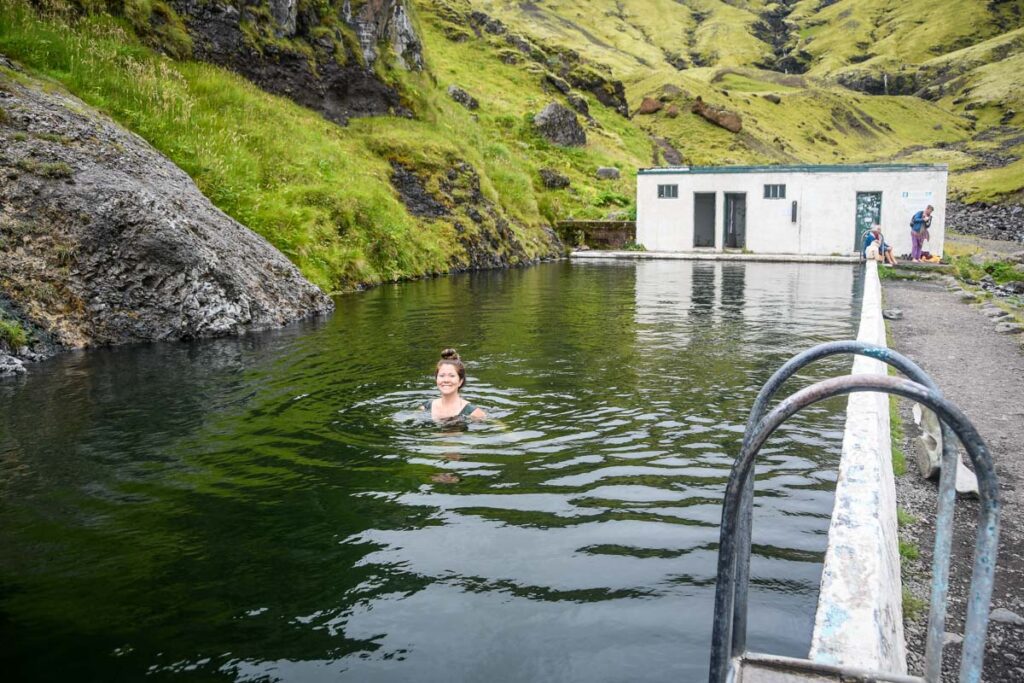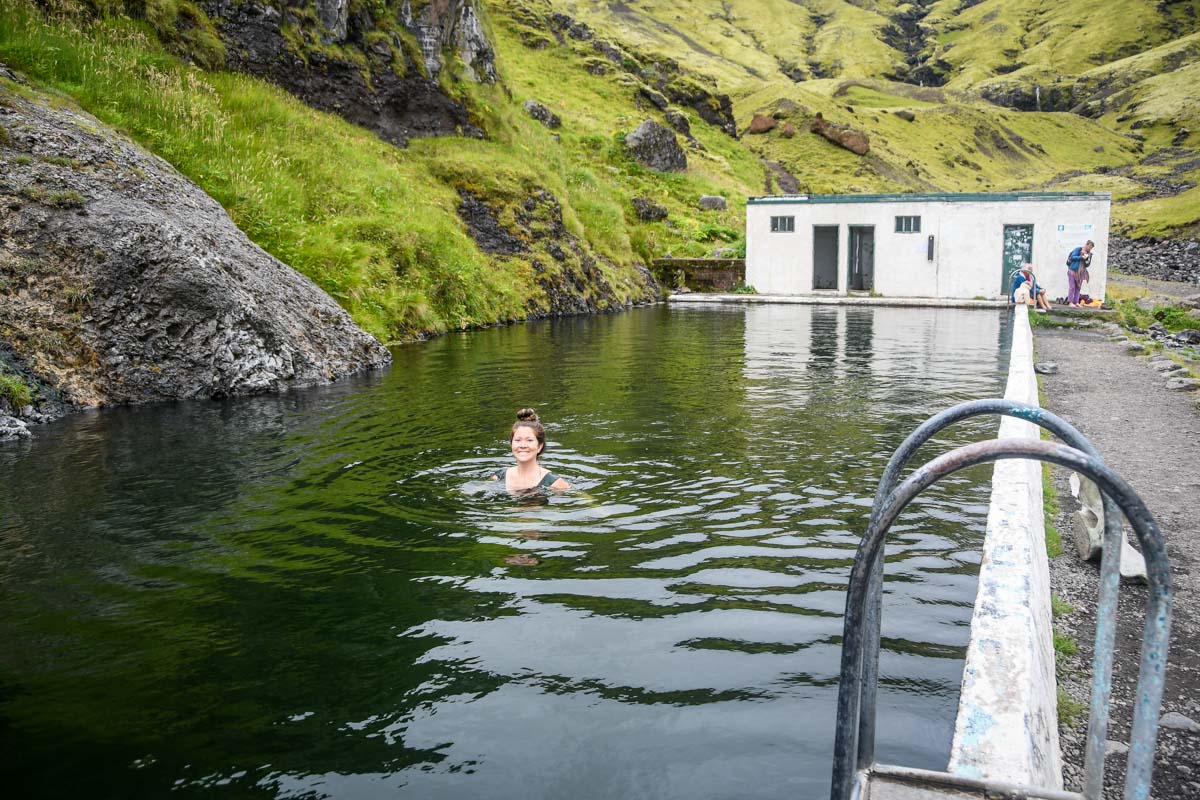 Are you thinking of visiting Seljavallalaug but still have a few questions? We got you covered!
Is Seljavallalaug swimming pool worth visiting?
If you have time, we say YES! We have been here twice (2016 & 2021) and really enjoyed both trips to Seljavallalaug.
While it can get crowded at times, it still remains a very peaceful place to wind-down and relax. The surrounding landscapes are stunning and as long as you don't mind a bit of algae and mediocre changing rooms, this open-air pool is well-worth the trip.
How long do you need at Seljavallalaug swimming pool?
From the car park, it takes about 20 minutes to walk to the swimming pool. Depending on how much time you have, you could spend anywhere from 30 minutes to all day there.

On average, we'd say about an hour or two is probably the perfect amount of time to spend at Seljavallalaug swimming pool.

Due to its somewhat remote location, it is quite laid back and might be the perfect place to bring some wine, beer and snacks to enjoy alongside your soak.
How much does it cost to visit Seljavallalaug?
That's the best part … Seljavallalaug swimming pool is completely FREE!
Does Seljavallalaug swimming pool get crowded?
The first time that we visited in 2016, this swimming pool was actually quite busy. It's certainly nowhere as popular as the Blue Lagoon, but we were surprised by how many people had made the walk to get here.
When we visited again in the summer of 2021, we had the entire pool for ourselves for about 30 minutes. On our walk back, we crossed paths with many people hiking to Seljavallalaug. So I think we just got lucky.
It's certainly not a secret, but hopefully won't feel too crowded, especially if you arrive early or late in the day.
Our experience at Seljavallalaug Swimming Pool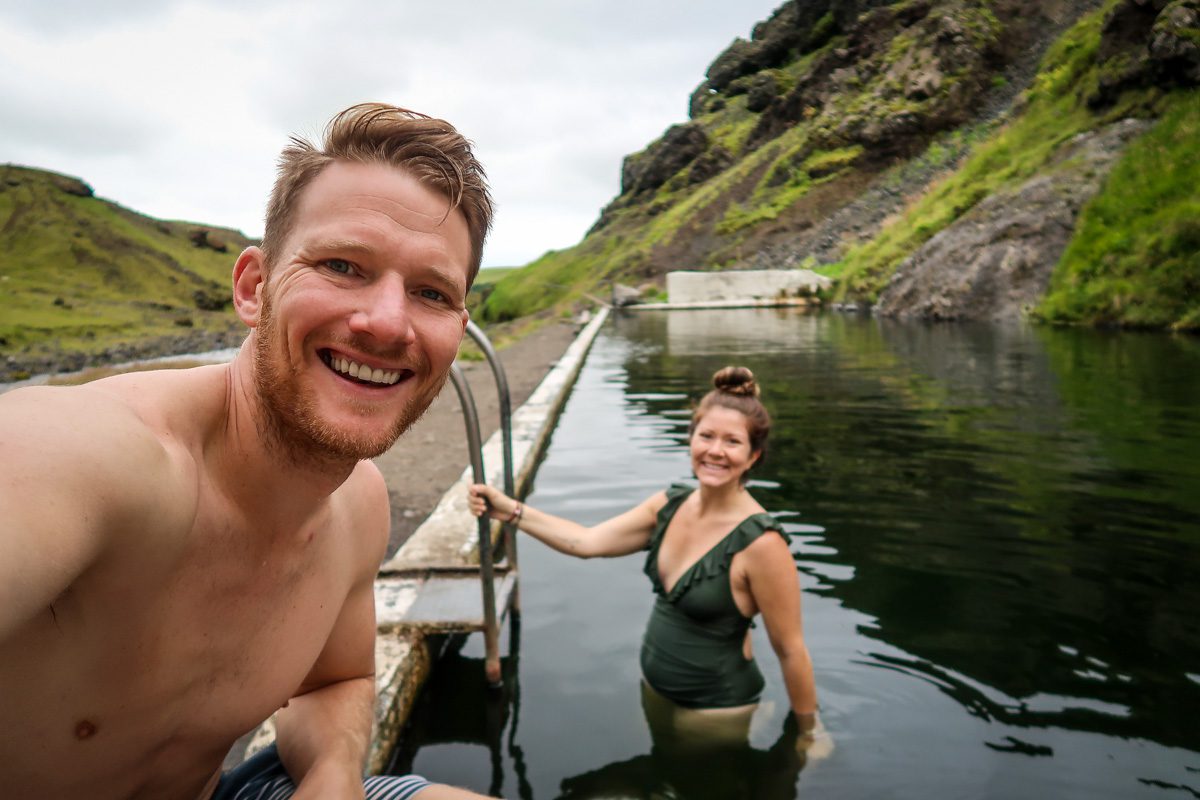 We've visited Seljavallalaug twice – once in 2016 and again in 2021 – and we enjoyed our visit both times.
That said, I don't think this is for everyone.
For starters, the water is pretty murky and the pool has lots of algae, so it is slippery in some places at the bottom.
We live in the Pacific Northwest and are obsessed with hot springs. We've been to a lot – with varying degrees of water cleanliness. So the water at Seljavallalaug wasn't anything too out of the ordinary for us. However, if you're more used to manicured resorts, you may not enjoy this experience.
Also, it's worth noting that the water is just lukewarm. On a cold day, it may be a pretty chilly experience.
Where to stay near Seljavallalaug swimming pool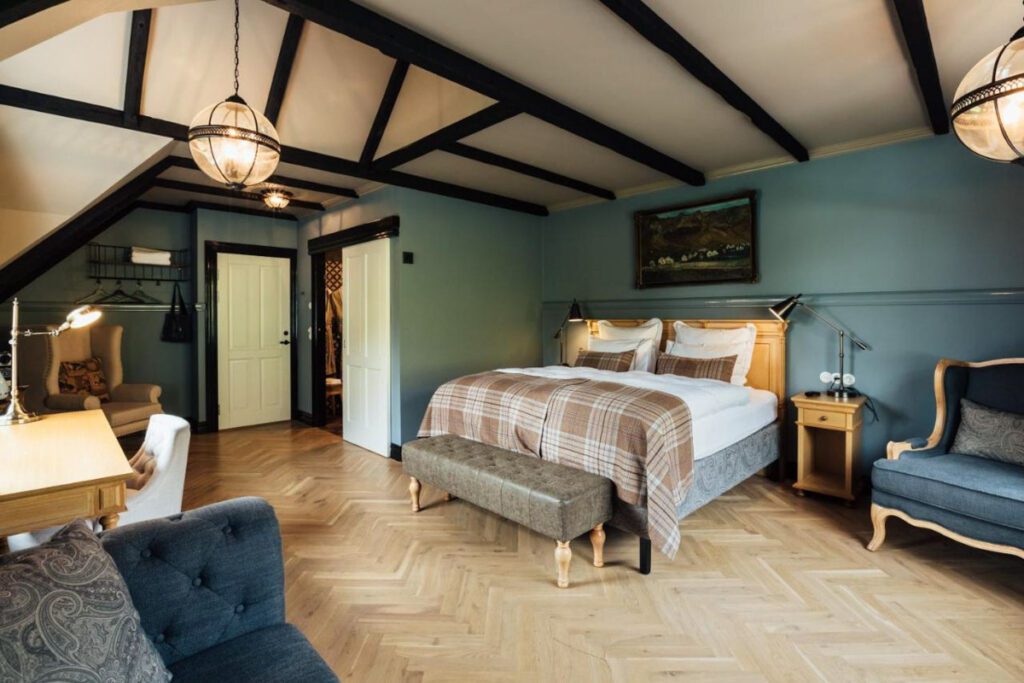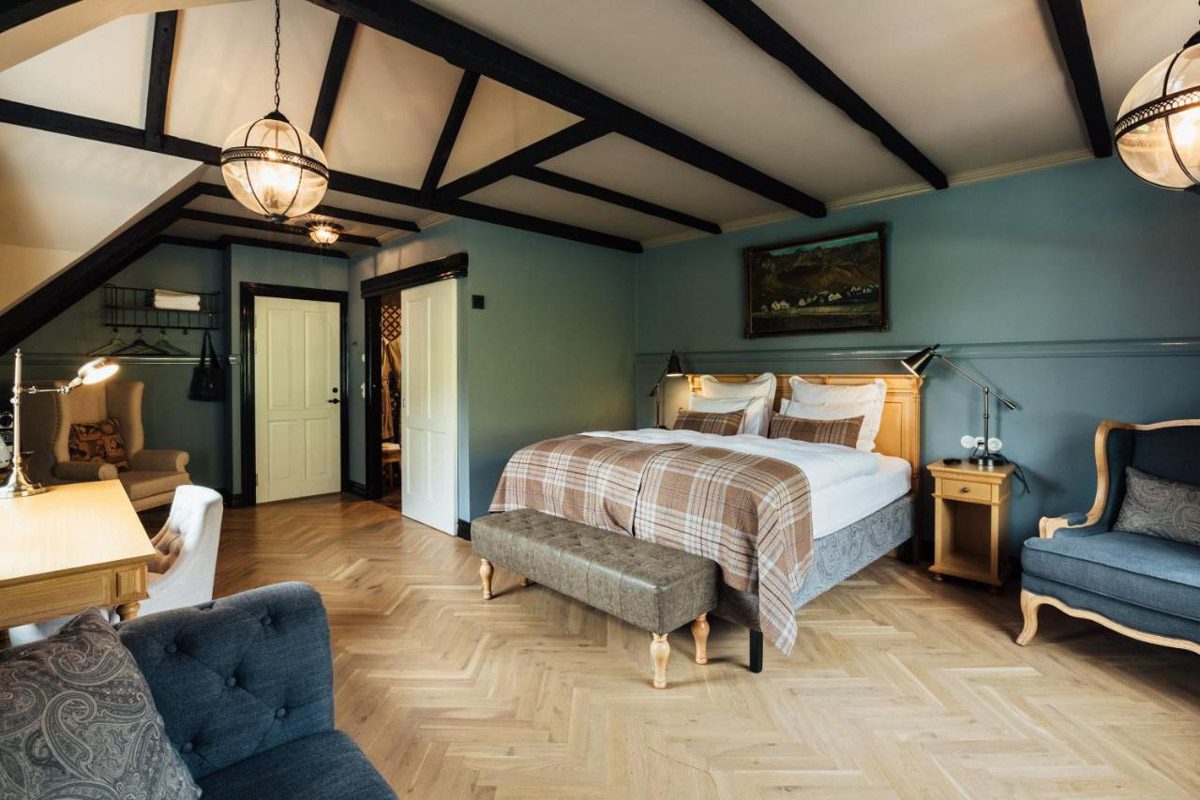 Skálakot Hotel: Less than 6 miles from Seljavallalaug swimming pool, this cozy hotel offers generous mountain views in every room, a hot tub and a locally-sourced restaurant. A bit on the pricey side, this is perfect for a couple desiring tranquility and seriously stunning landscapes.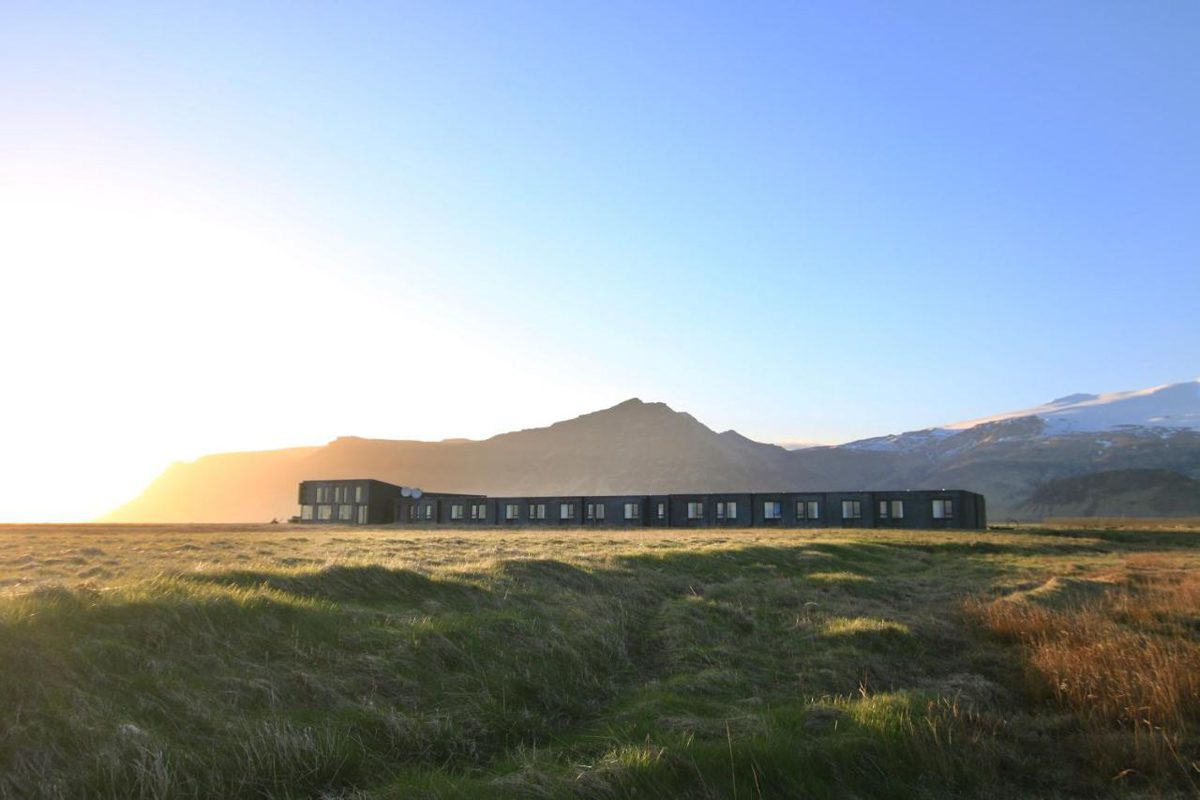 Umi Hotel: This trendy hotel is stylish with unbeatable views of the surrounding mountains and ocean. Visitors can take a short walk to the private black-sand beach. Perfect for couples or families, this hotel offers modern rooms, a hip restaurant/bar area and is only 3 miles from Seljavallalaug swimming pool.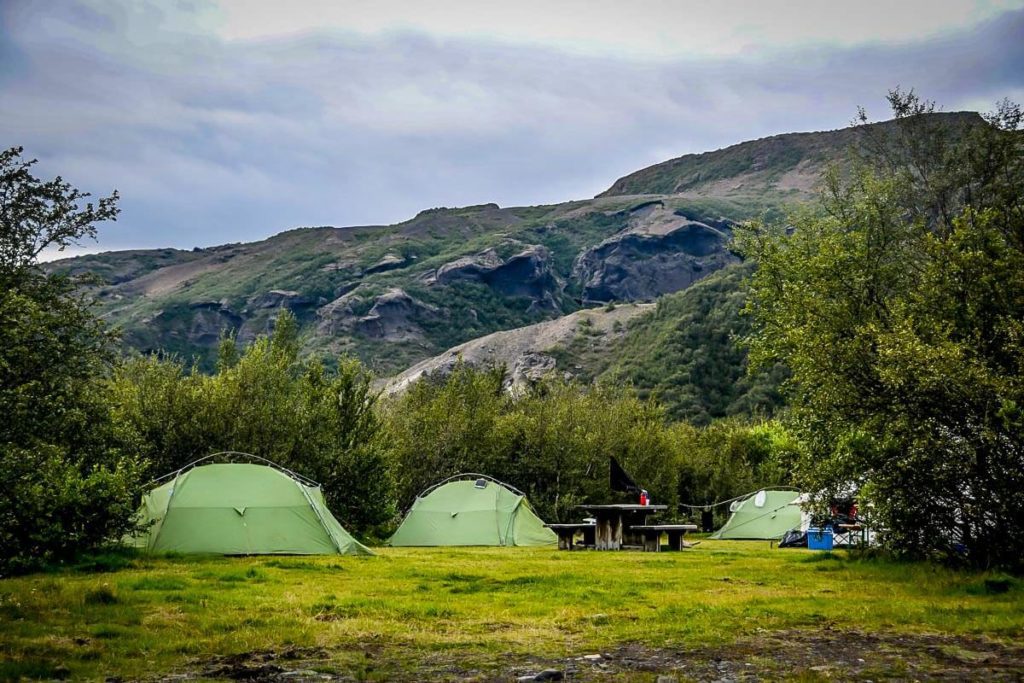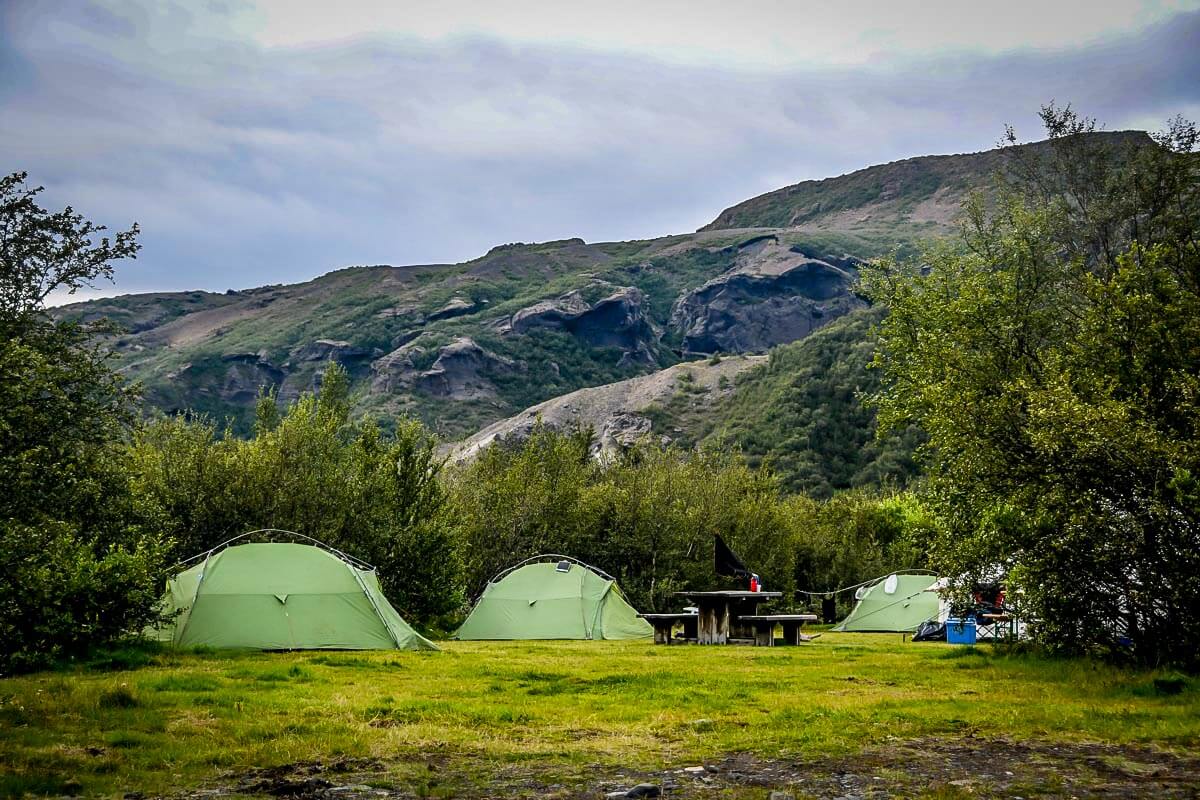 Básar Campsite: Open from May to September, this cozy campsite hosts those looking to rent either a site or cabin. It is surrounded by plenty of beautiful scenery and numerous hiking trails—perfect for those who enjoy being amongst nature. There is also an on-site restaurant and pub.
Psst: All of these accommodations are not only close to Seljavallalaug swimming pool, but just a hop from Skogafoss waterfall, nicknamed the 'rainbow waterfall' and one of the best waterfalls in Iceland.
What to pack for visiting Seljavallalaug swimming pool


Hydration pack and/or water bottles
Swimwear
Sun protection: sunscreen, sunglasses, hat
Comfortable walking shoes or sandals
Camera and tripod (this is our favorite for hiking)
Be sure to download our complete packing list for Iceland! It's packed with good suggestions and insider tips to help plan your Italy trip. And it's completely FREE, so why not!?
More things to see near Seljavallalaug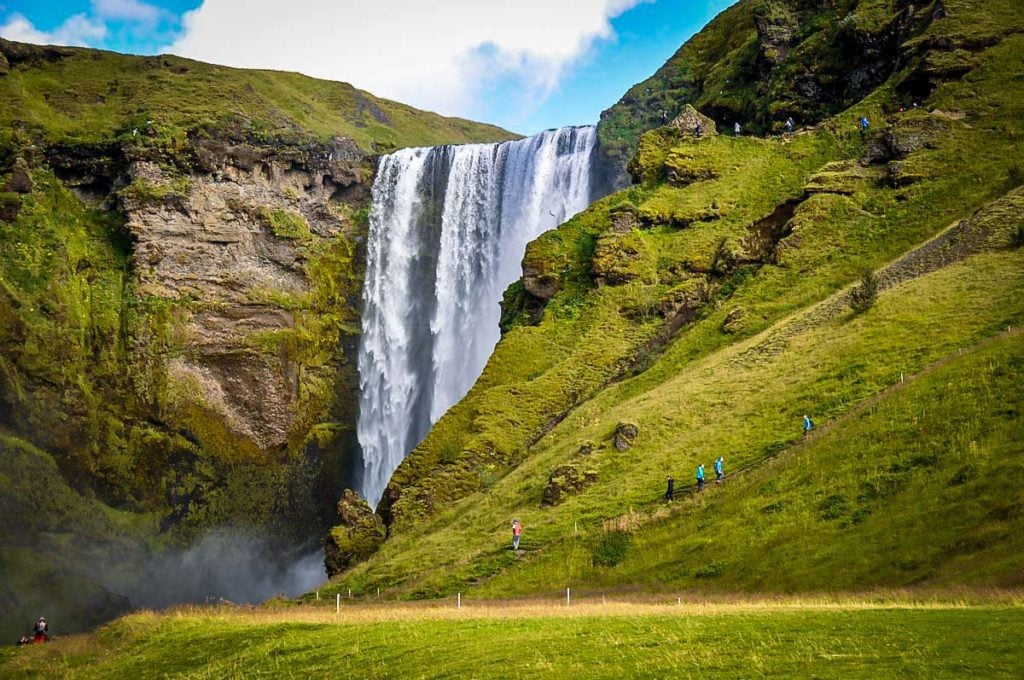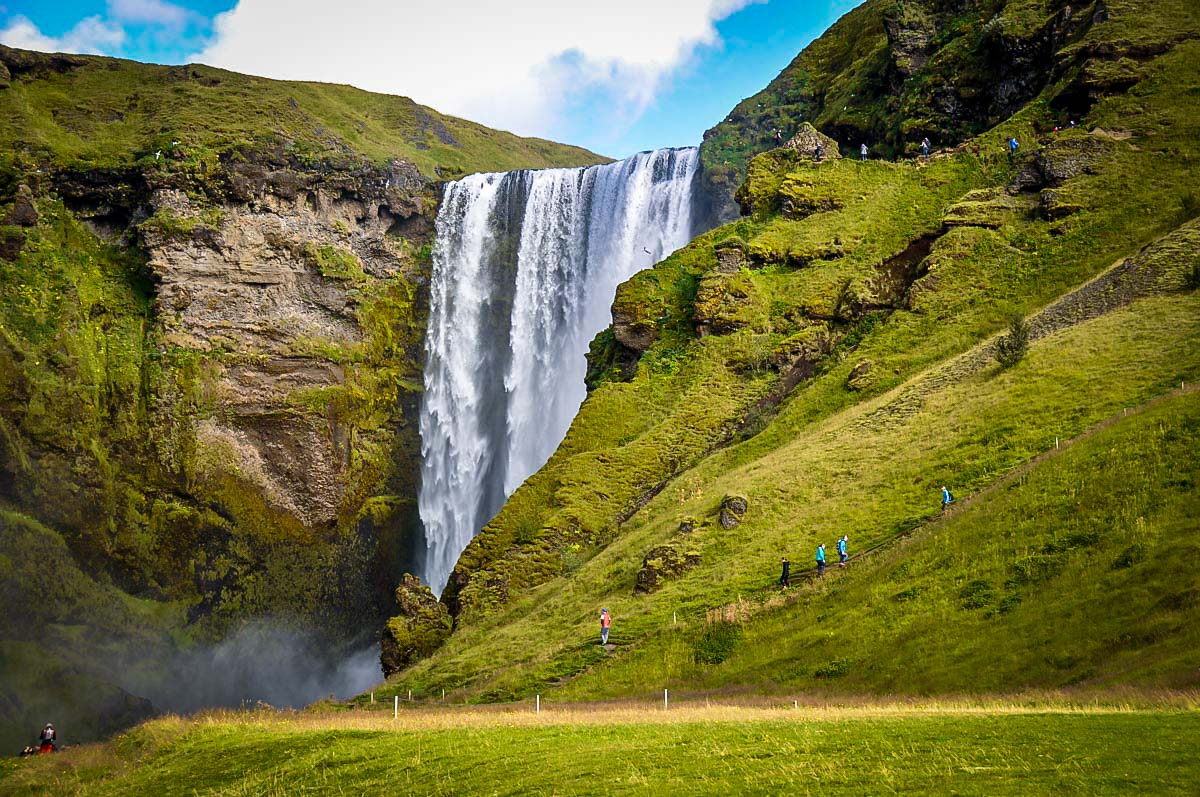 If you're visiting Seljavallalaug swimming pool, you'll definitely want to pair your trip with a few of these nearby attractions.
Skogafoss
There are a lot of waterfalls in Iceland, but if you want to feel really humbled by nature, you need to visit Skogafoss. Not only does it look like it was plucked out of a painting, it is also truly gigantic. At 200-feet, this powerful waterfall welcomes visitors to walk right up to it, making for a really unique experience.

We also recommend taking the "Waterfall Way" staircase to view this beauty from the top.
Kvernufoss
Tucked away safely in a small canyon, this hidden waterfall will have your jaw dropping to the floor. And because it isn't too well-known, you won't have to fight the crowds to see it.
Vik
This adorable seafront village will have you living and feeling like a true local. Despite its small size, there is a lot to do here from frolicking across the black-sand beaches, soaking in the hot springs or horseback riding through the picturesque Icelandic landscapes.
---
Are you planning a trip to Iceland?
We have TONS of resources on travel in Iceland and how to make the most out of your trip. Check out our Ultimate Iceland Travel Guide for all the answers to your most burning questions, or read some of our favorite articles below.
Save this article on Pinterest for later!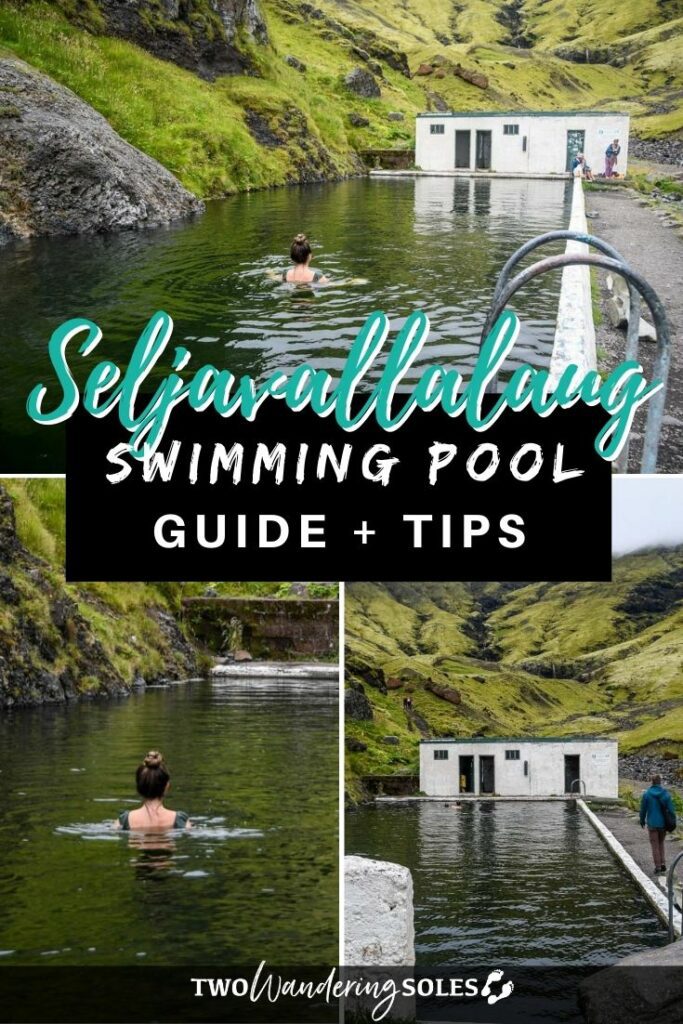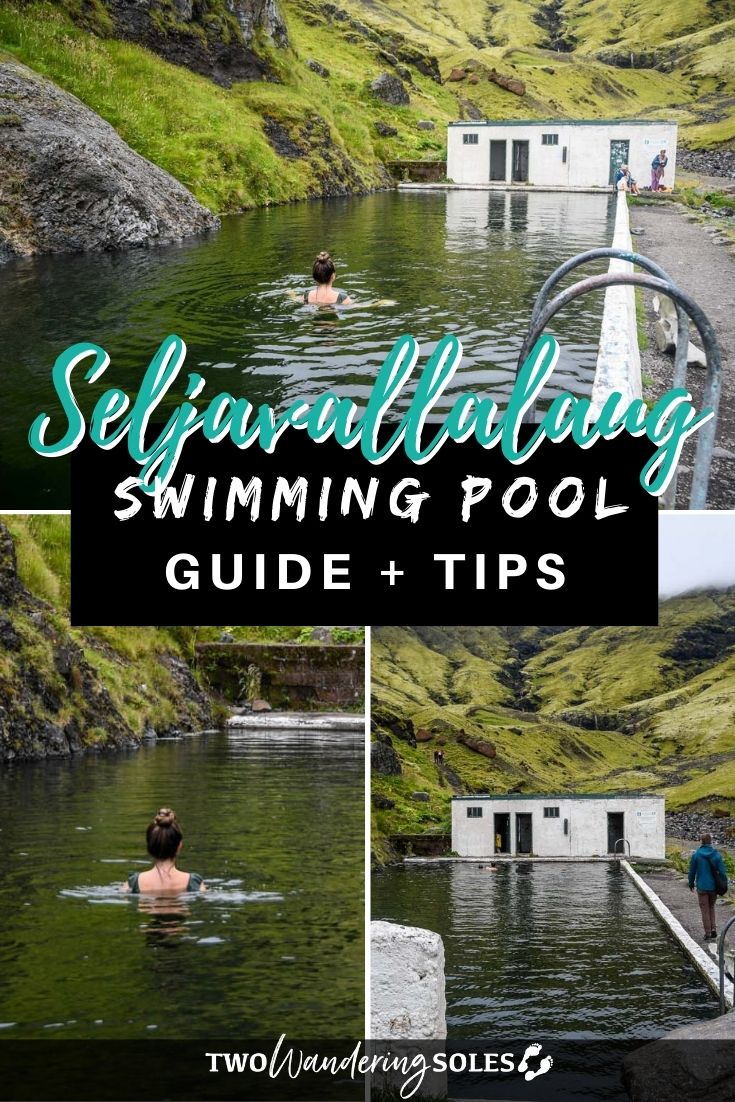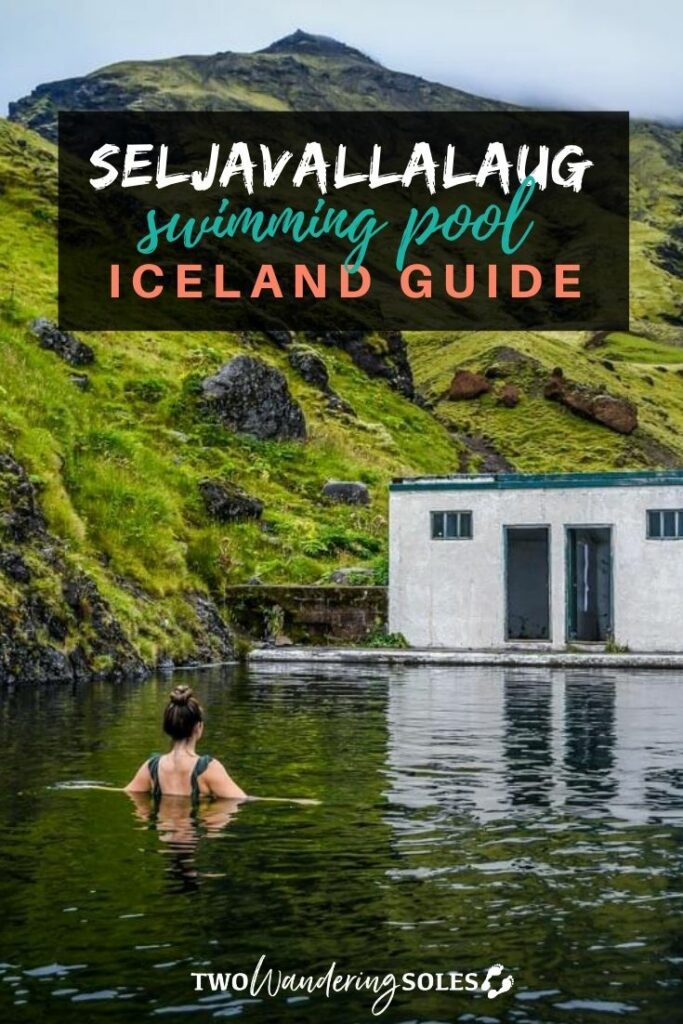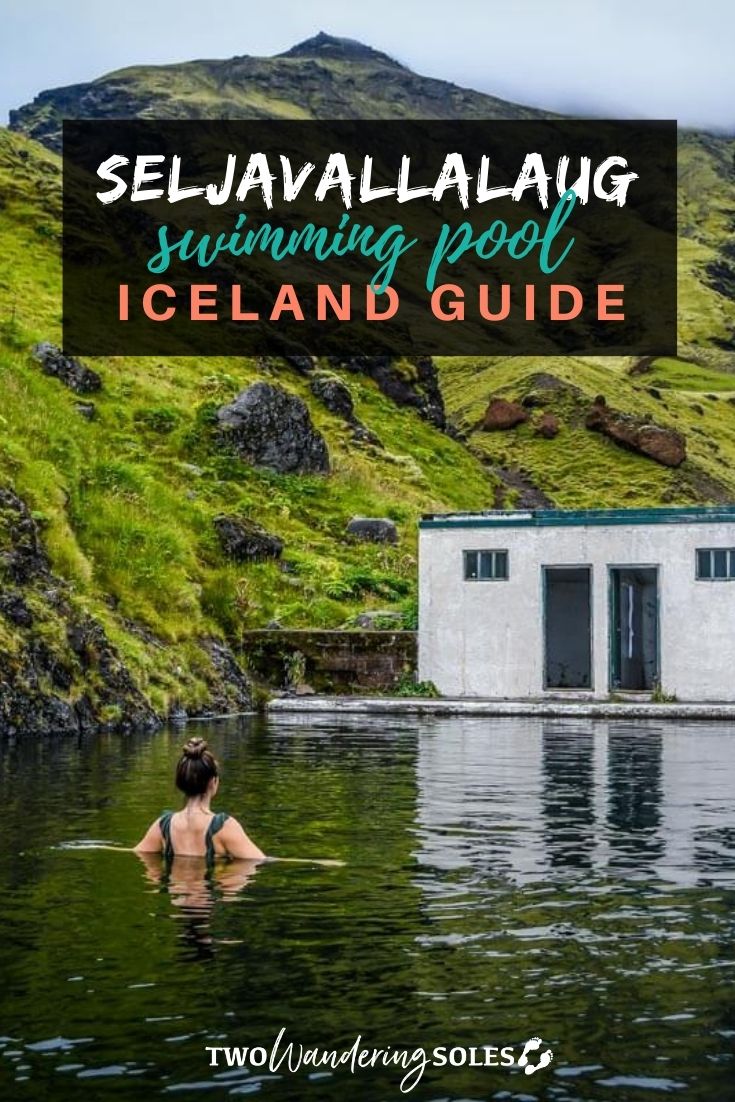 We want to hear from you!
Are you planning to visit Seljavallalaug swimming pool on your trip to Iceland and still have questions? Leave your comment below and we'll do our best to get back to you!