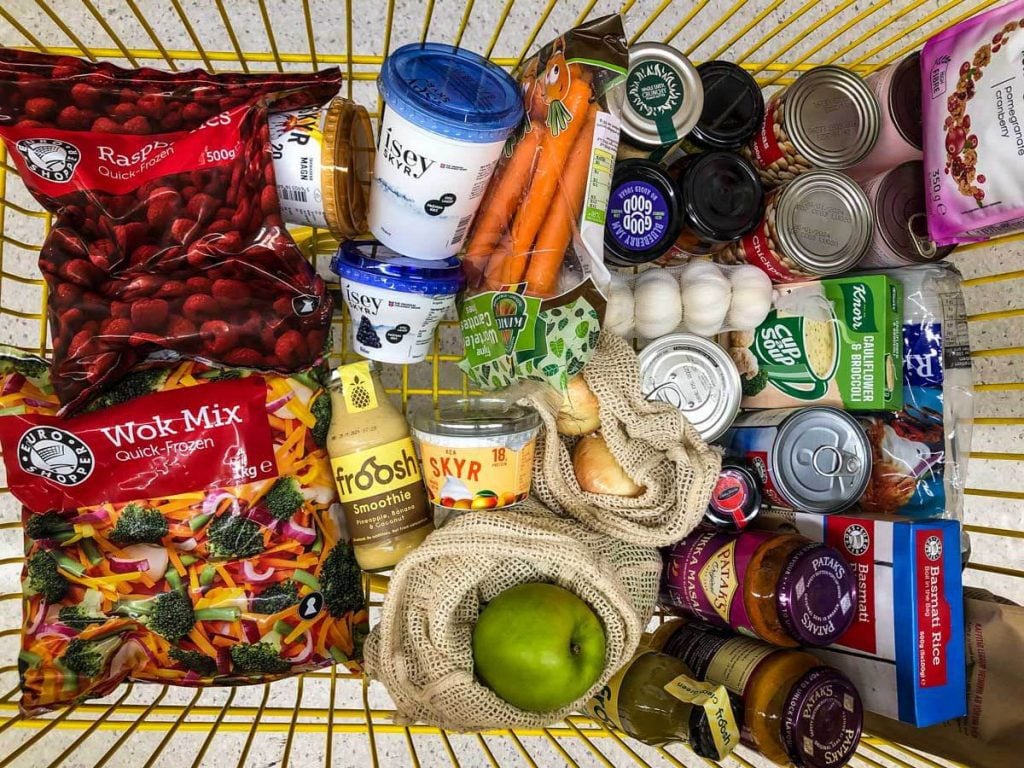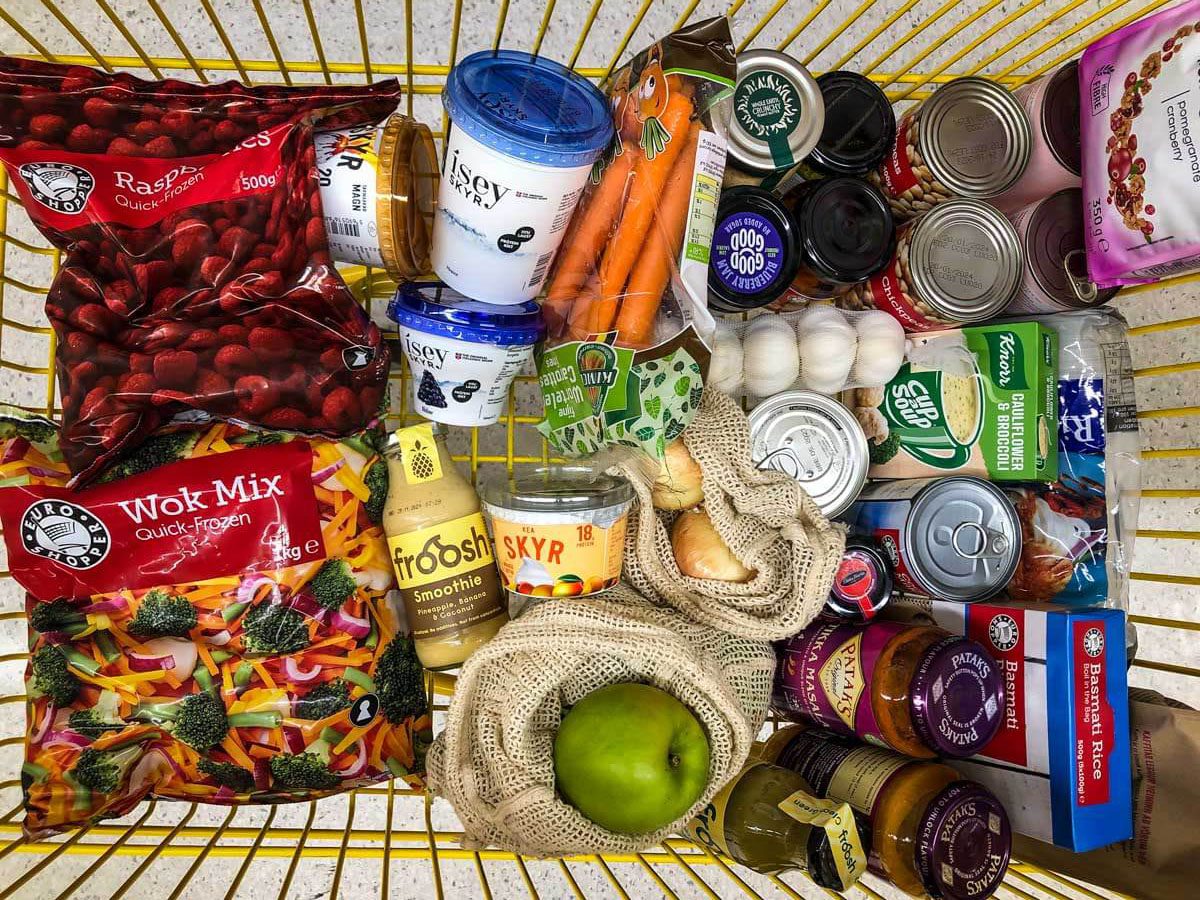 While grocery shopping isn't the sexiest of topics to discuss, most visitors to Iceland will step foot in an Icelandic supermarket at some point during their trip. And we can tell you from experience that it can be a little overwhelming if you're not equipped with some tips and knowhow.
Lucky for you, we've been to Iceland more than once and have loaded up on tips that'll help you navigate the supermarkets in Iceland and save money while you're there.
In this article we're going to go over pretty much everything you need to know about grocery stores in Iceland – from the average price of some staple items to supermarkets with the best prices, we've got you covered.
We're also going to throw in some insider tips as well as some of our favorite snacks we've found in Icelandic grocery stores that you might want to add to your shopping list.
Calling all foodies! We put together an article with everything we learned about Icelandic food and its history as well as our honest opinions on which foods to try and which to pass on.
Article Contents
---
Want to save time and energy on planning?
We've traveled to Iceland 3 times now and spent weeks living in a campervan, traveling around the country. We've been able to explore a lot of what Iceland has to offer!
We've compiled our experience to create the perfect Iceland itinerary. Our itinerary is for 7-9 days and meant to be explored while traveling in a campervan. It includes the highlights of the southern coast of Iceland. 
We'll send you our complete 7-9 day customizable itinerary, filled with tips and advice. Just click below to get your perfect Iceland itinerary today!


---
Why go grocery shopping in Iceland?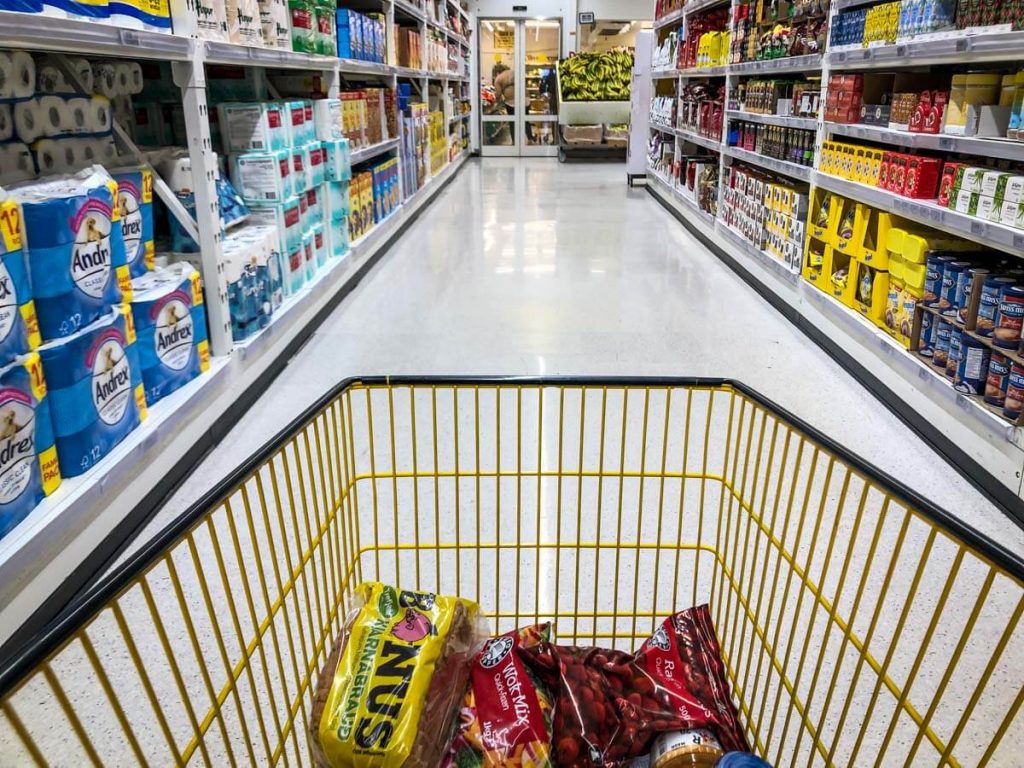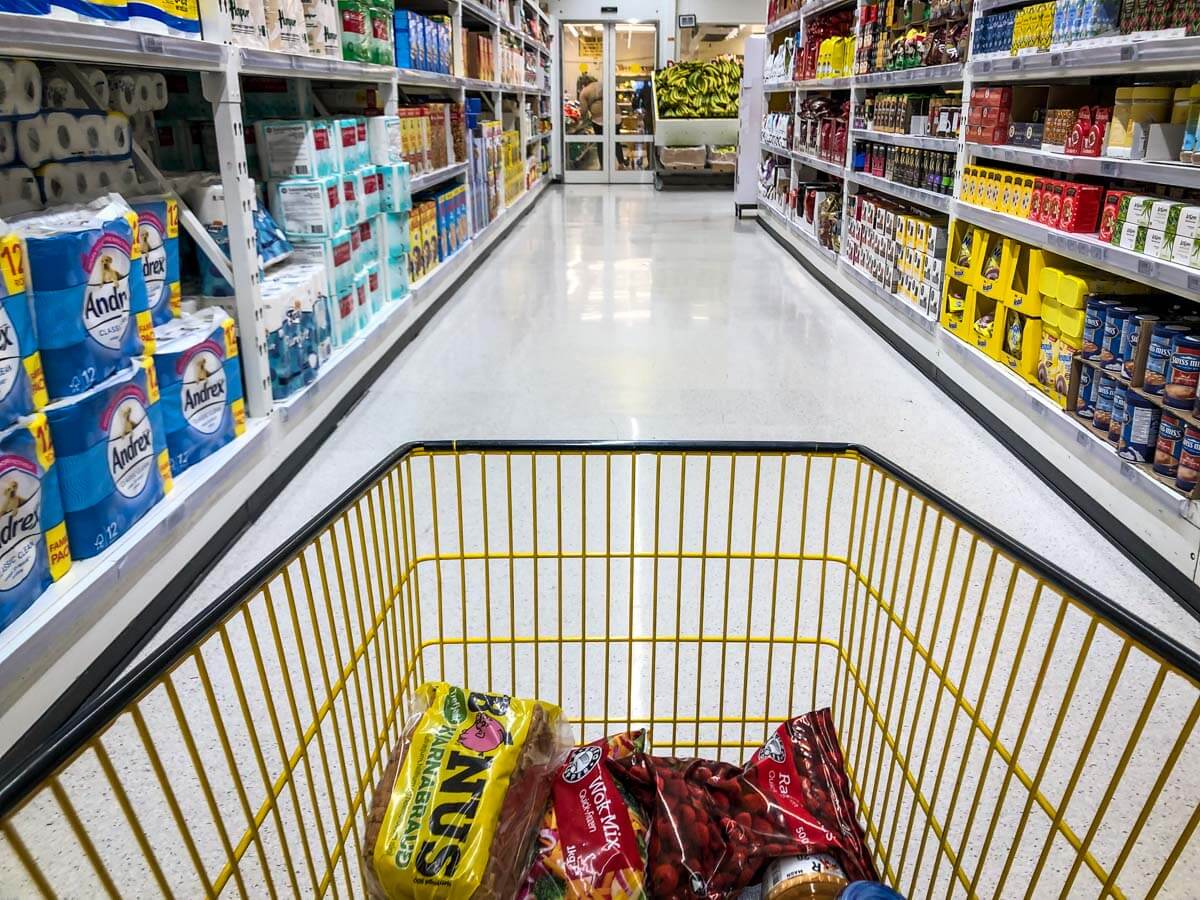 In short, there are three main reasons you will find yourself in an Icelandic supermarket:
Cook your own meals: If you're planning to camp around the country, you'll likely need to stock up on groceries in Iceland a few times as you'll have the opportunity to cook your own meals. But even if you're staying in guesthouses and hotels the entire time, you'll definitely want to pick up some snacks (what are road trips without munchies?!) and maybe even some breakfast or lunch items for eating on the go.
Save money: Stocking up on groceries in Iceland is going to save you money because eating at restaurants ain't cheap, folks. Plus, unless you're staying nearby Reykyavik for your entire trip, you'll have some long stretches along the road where there aren't any dining options.
Shop where the locals shop: We know it can be a little overwhelming stepping into a supermarket in a different country for the first time, but we've actually come to really love grocery shopping on our travels because it allows us to shop like locals and try items that we would otherwise miss.
Iceland Food Prices & Budgeting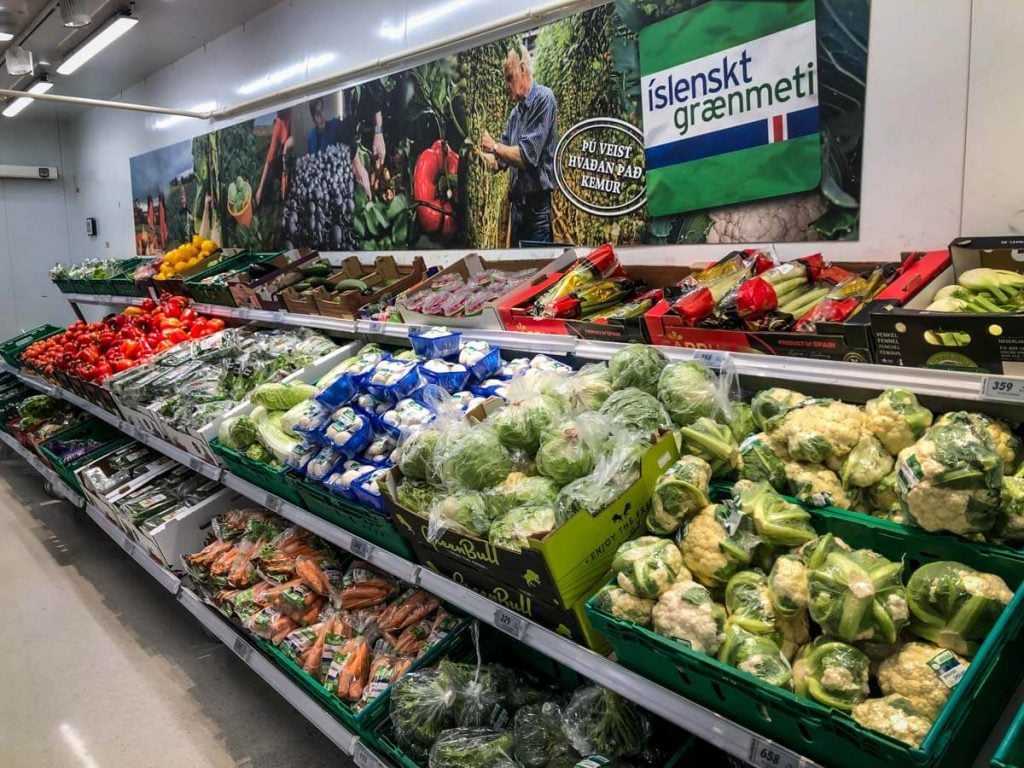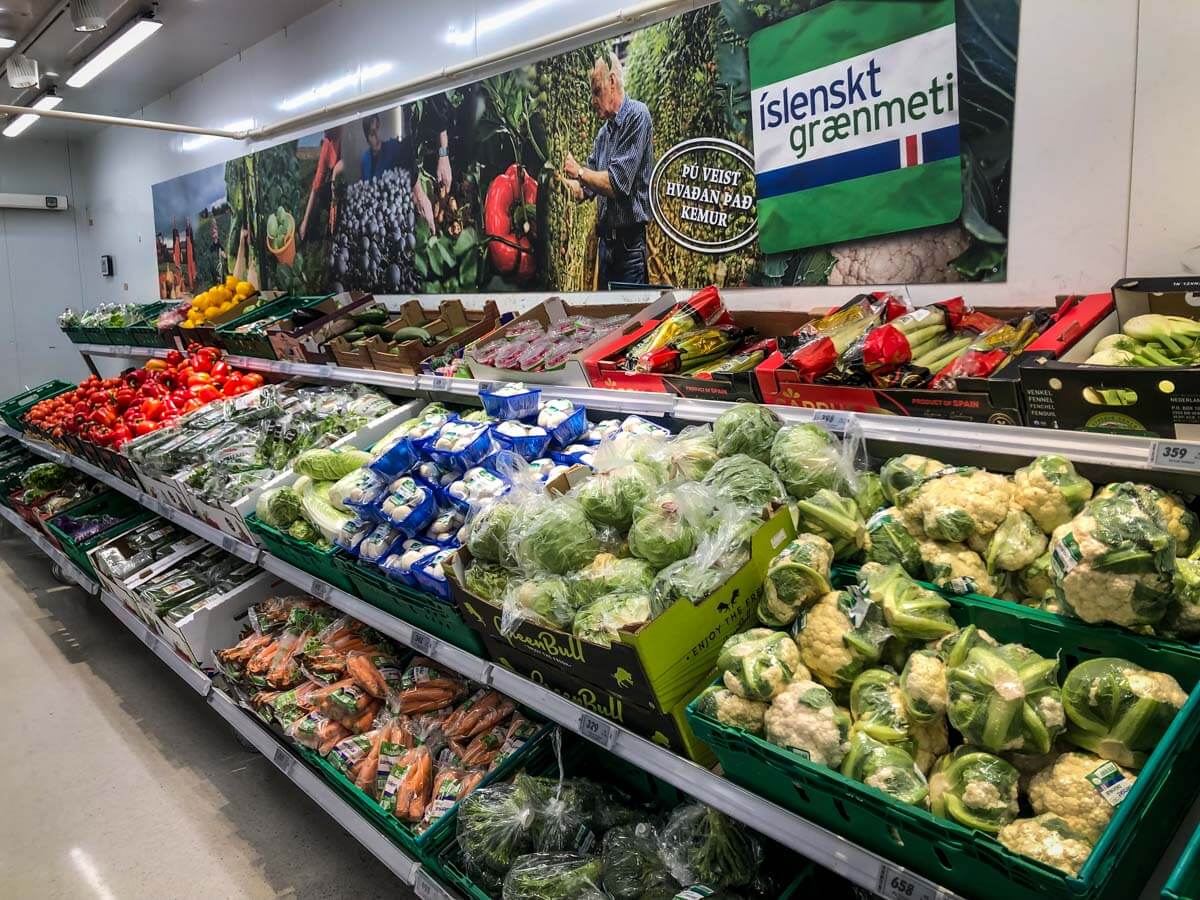 There's no sugarcoating it: food in Iceland is expensive. And when you think about it, it makes sense. This island nation imports a lot of goods and agricultural equipment, making it understandable that many items may be more expensive than you may be used to.
Eating at restaurants – even cheap ones – will make your wallet noticeably lighter. So grocery shopping in Iceland is definitely the way to go if you want to save money.
We're going to go over the average prices of staple ingredients in Iceland as well as how much we personally spent on groceries so you have an idea of how much money to budget.
How much to budget for groceries in Iceland
This is really going to vary from person to person and will depend on a handful of factors:
How many days will you be in Iceland?
How many people are in your travel group?
How many meals do you plan to cook vs. eat out?
Do you have your own cooking equipment (if you're renting a campervan you definitely will)?
How important is it to have fresh fruits and vegetables?
Alright, let's get nerdy and dive into the actual numbers…
During our most recent 2-week trip to Iceland (August 2021), we spent a total of $158 on groceries for two people.
That means we spent about $5.65 per person per day on groceries.
We made approximately 75% of our meals in Iceland ourselves, and ate at restaurants the other 25% of the time.
That means we spent roughly $2.50 per person for each meal we cooked.
In contrast, we spent a total of $520 at restaurants in Iceland, meaning that the average price per person per meal was $26 (aka more than 10 times the cost of cooking for ourselves).
Whew, I feel like I just solved a middle school math riddle!
For a pretty expensive country, I felt like we did a pretty decent job of keeping our food costs low. (We'll share some of our money-saving tips further down in this article!)
Our recommendation: For an average person, we'd recommend budgeting between $5-8 per day for groceries during your trip. (If you're traveling with a partner, be sure to double that number.)
You can certainly get by on less. For example, we spent a little less than $4 per day on our first trip to Iceland, but we were on an incredibly tight budget and watched our spending very closely. Alternatively, you can spend quite a bit more if you don't pay attention to prices.
Average Prices of food in Iceland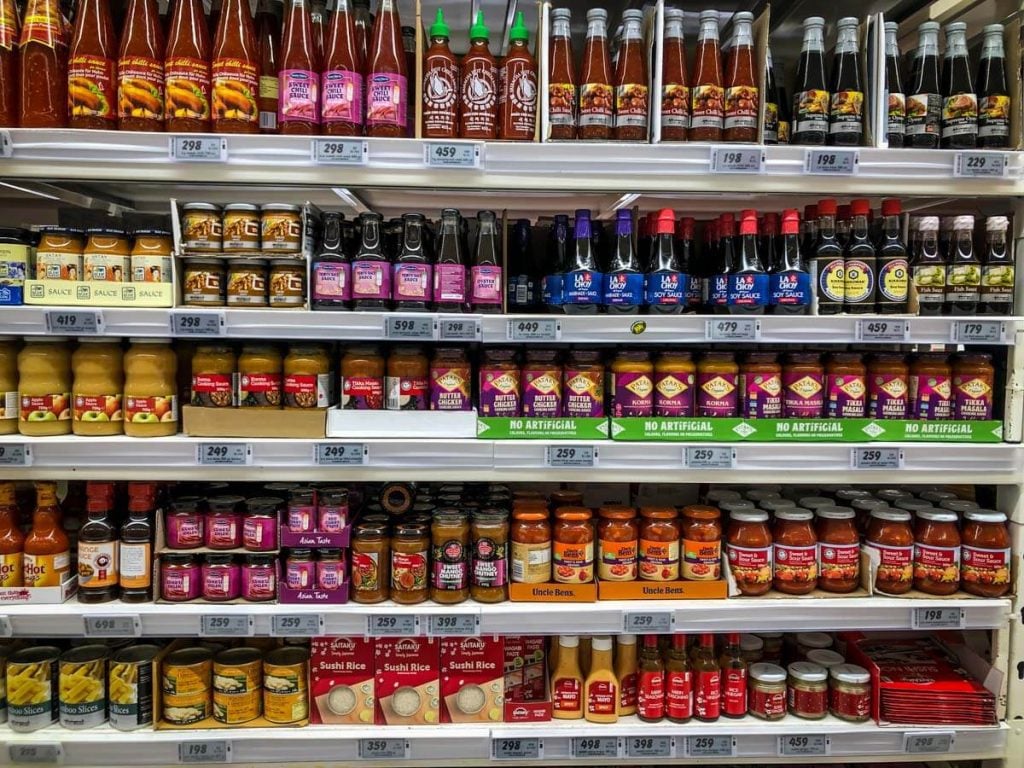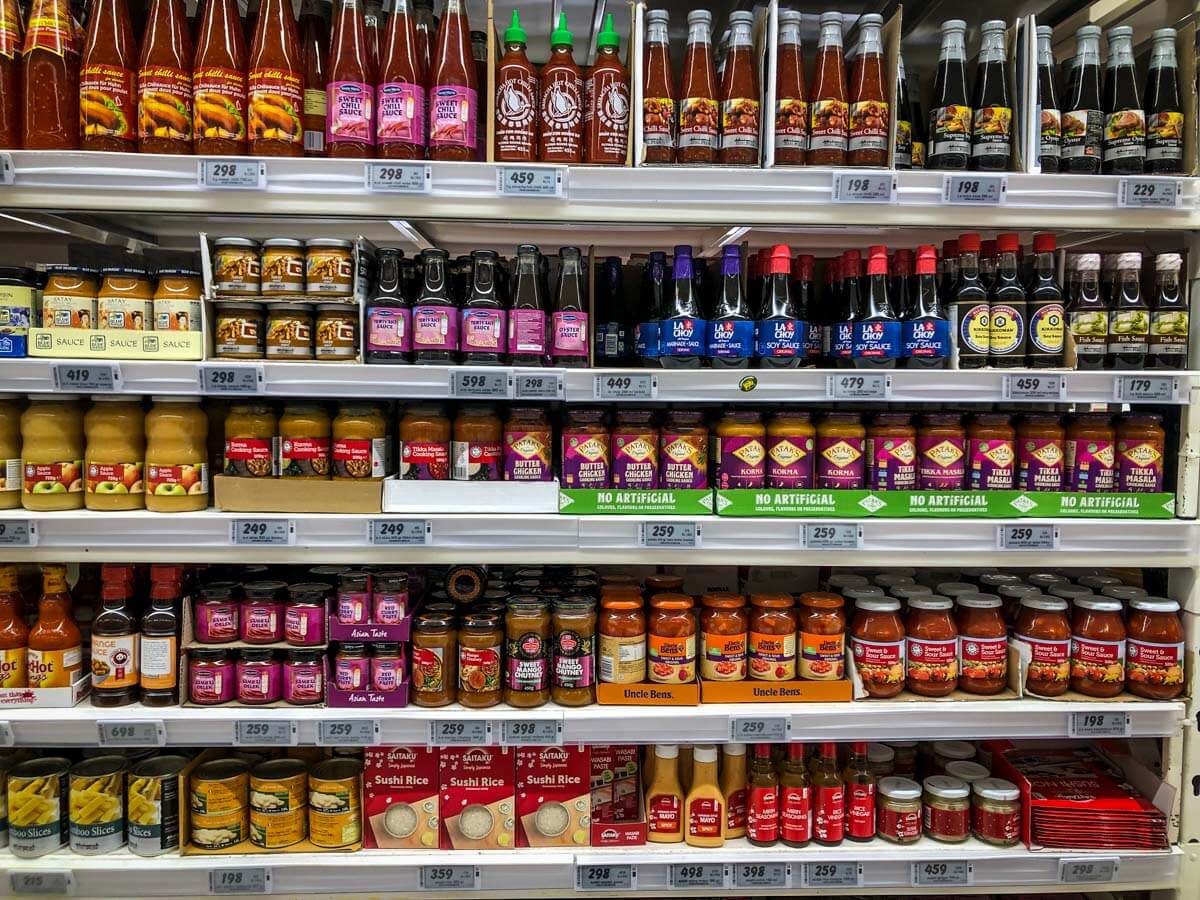 If you want to get real deep into the numbers, we recorded the prices of some common items so that you have an idea of how much they cost. You're welcome, fellow budgeting nerds!
Note: These prices were from some of the cheaper grocery stores (Bonus and Kronan) during August 2021. These prices are typically the store brand items (aka the least expensive option). This is intended to give you a general idea, but you may find prices vary by location, brand, and over time.
Pasta: 209 ISK ($1.65)
Rice: 229 ISK ($1.80)

similar price for either a large bag or a box of 5 quick-boil packets

Olive oil: 768 ISK ($6)
Salt and pepper grinders: 398 ISK each ($3.10)
Oats: 399 ISK ($3.10)
Coffee grounds (400 grams): 979 ISK ($7.70)
Peanut butter: 419 ISK ($3.30)
Jam: 279 ISK ($2.20)
Multigrain bread: 329 ISK ($2.60)
Eggs (10 pack): 568 ISK ($4.45)
Granny Smith Apples (4 pack): 439 ISK ($3.45)
Carrots (500 gram package): 295 ISK ($2.30)
Onions (109 ISK/kg): 38 ISK for 2 onions ($.30)
Garlic (3 pack): 198 ISK ($1.55)
Zucchini (299 ISK/kg): 84 ISK for 1 zucchini ($.65)
Frozen vegetables "Wok Mix": 298 ISK ($2.30)
Frozen raspberries: 498 ISK ($3.90)
Can of chickpeas: 98 ISK ($.75)
Can of diced tomatoes: 139 ISK ($1.10)
Can of tuna: 198 ISK ($1.55)
Can of curry paste: 259 ISK ($2)
Can of coconut milk: 129 ISK ($1)
Pesto: 198 ISK ($1.55)
Crackers (small package): 140 ISK ($1.10)
Cheese: 796 ISK ($6.25)
Granola: 298 ISK ($2.35)
Skyr (individual serving): 198 – 233 ISK ($1.55 – $1.80)
Skyr (larger 500 gram container): 333 ISK ($2.60)
Our opinion: In general, we found groceries to be pretty reasonable, though there are a few items (like eggs, cheese and fresh produce) that tended to be on the more expensive side.
Best supermarkets in Iceland
There are plenty of supermarket chains around Iceland, but the three listed below tend to have the best prices and are located around the country, making them convenient choices for when you need to stock up.
Bónus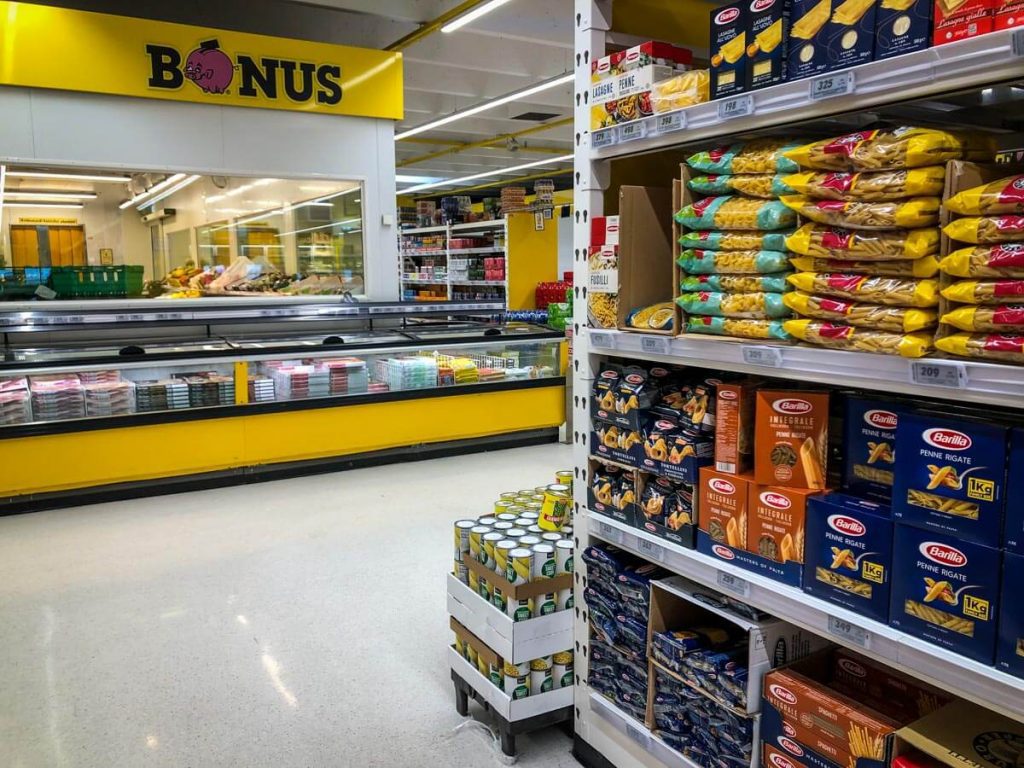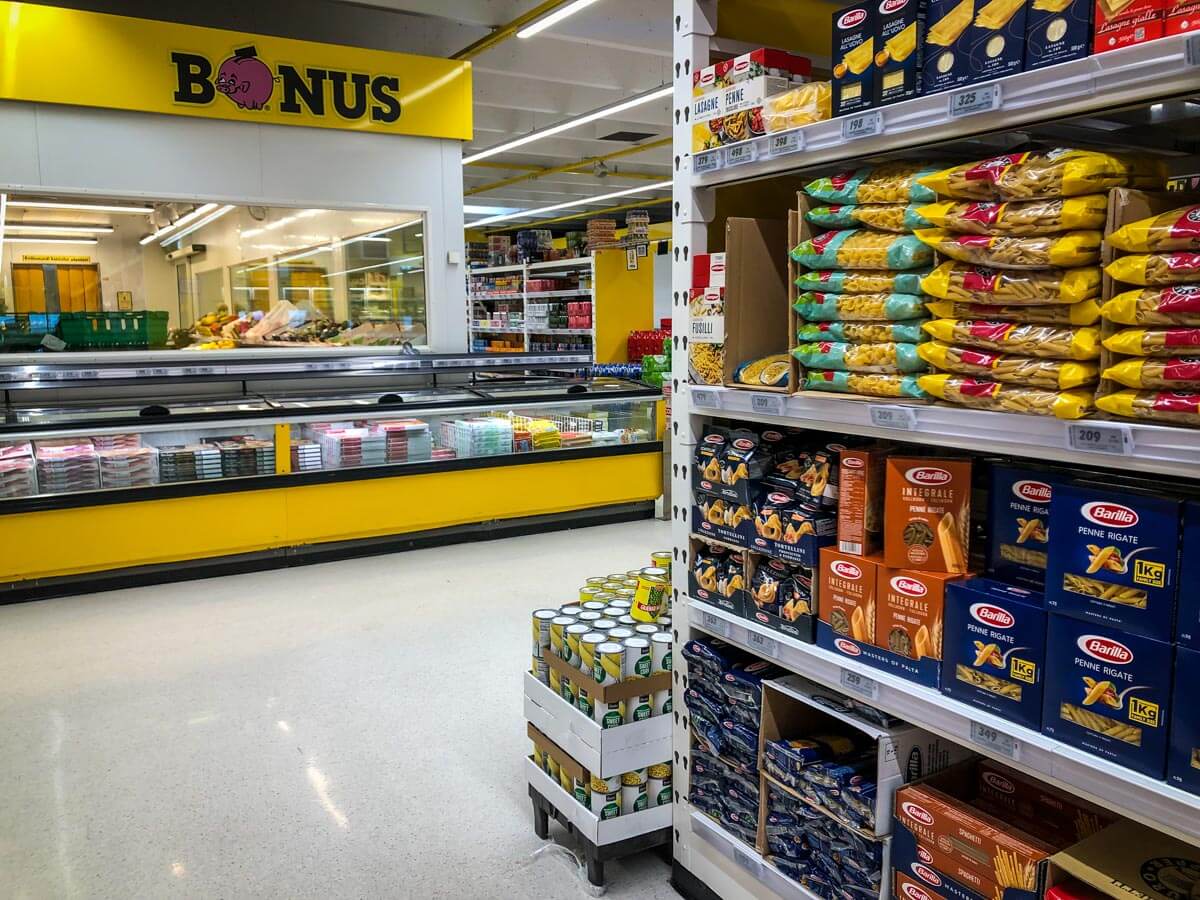 When we have a choice between grocery stores, this is our go-to. On our first trip to Iceland, a local told us that Bonus is known for having the best prices on groceries in Iceland. You'll find them located in Reykjavik and sporadically around the country. They have a pretty distinct piggy bank logo that you can't miss.
While selection of some items can be limited, Bonus does have a pretty decent variety, especially when it comes to staple ingredients. One downfall is that Bonus stores typically don't open until 11 a.m., which can be a bit inconvenient if you want to stock up in the morning.
Krónan
Kronan is another good choice when it comes to supermarkets in Iceland. It feels a little more upscale than Bonus, but the prices tend to be a little higher (though not a ton).
Sometimes we found that Kronan had things that Bonus did not, and vice versa. So popping into one of each during your trip can be a good way to compare the selection.
Nettó
If neither of the above options are available, Netto can be a good alternative. It is known as a "discount grocery store", and the prices are decent. However, in our experience, we found them to have a slimmer selection than Bonus and Kronan.
Supermarket to avoid (if possible): 10/11
You'll see a few of these convenience stores in downtown Reykjavik, but it's best to keep walking (unless you really need something). We were told by our free walking tour guide (definitely recommend doing this tour in Reykjavik) that this chain caters to tourists and therefore has very high prices.
Their one redeeming feature is that they are open 24 hours a day, making it a convenient choice if you need something late at night or early in the morning.
How to find grocery stores in Iceland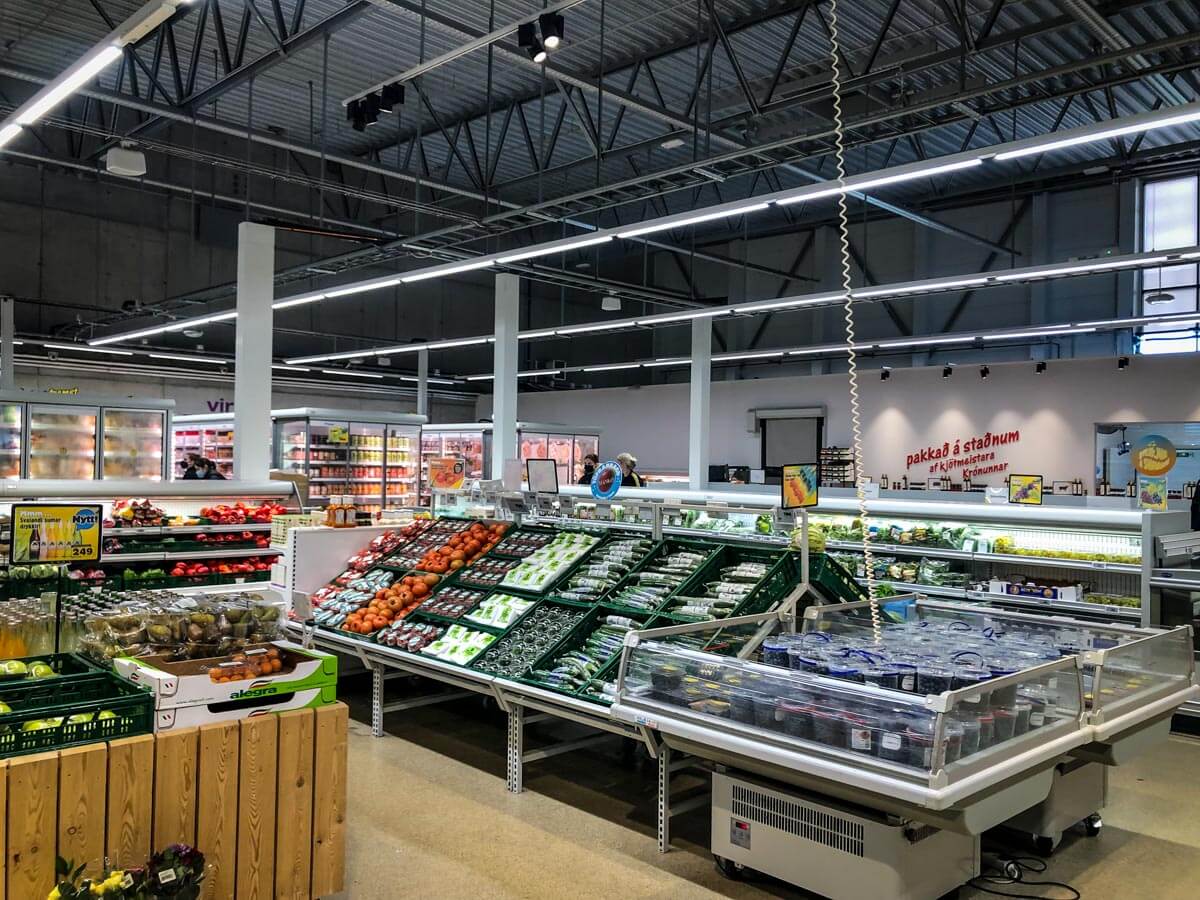 You can pretty much count on any established town to have a grocery store of some sort. That said, the selection might be very slim. So when you do see a supermarket, it's a good idea to stop and stock up.
Type "grocery store" or "supermarket" into Google Maps and you'll see the options near your current location.
Insider Tip: While planning our itinerary, we made notes of where on our route there are Bonus supermarkets. That way we had a reminder to stock up on anything we needed while we were in the area.
Psst! We've rounded up our top things to do in Reykjavík in case you're looking for more adventure in the capital city.
Tips for grocery shopping in Iceland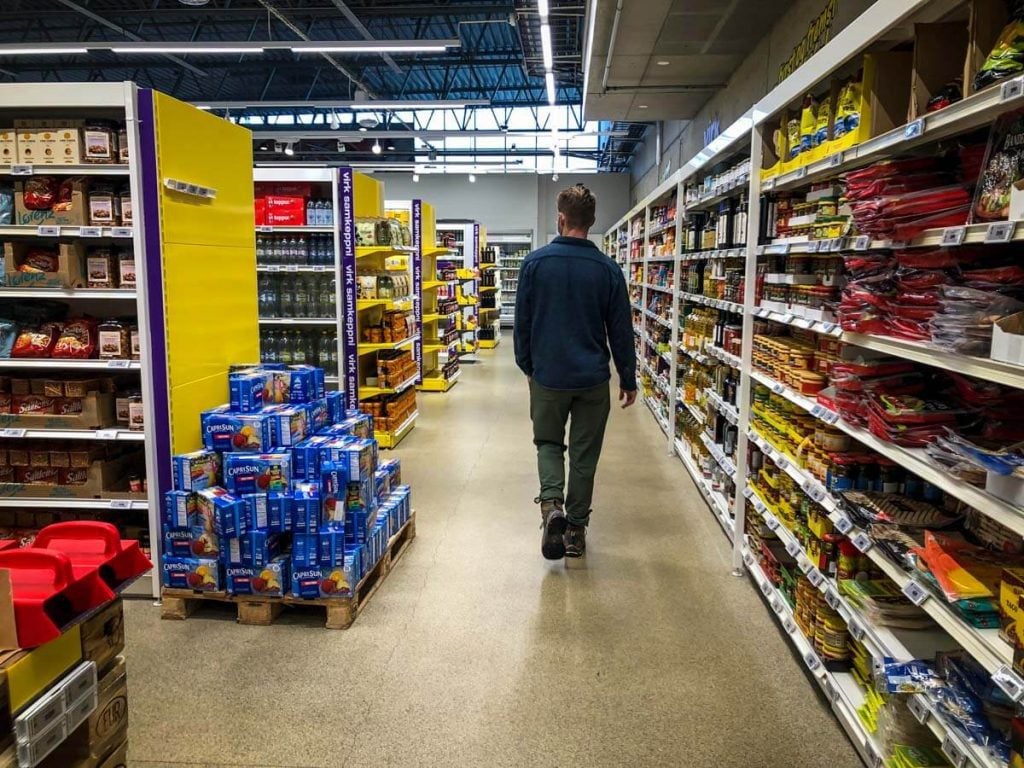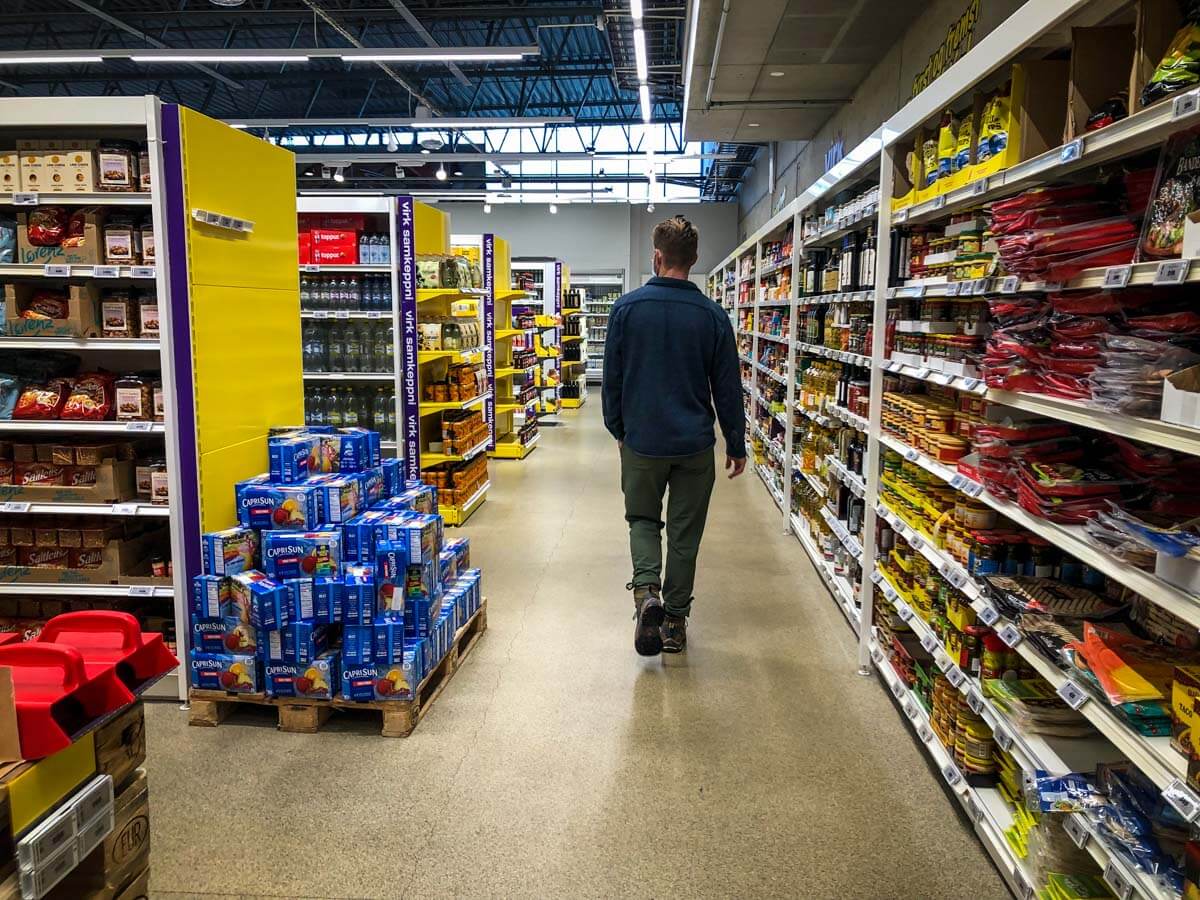 Get ready to take notes because these tips are going to save you money and time, and make your experience shopping for groceries in Iceland oh so much easier!
Stock up after you land
If you're heading out on a road trip around Iceland, our advice is to stock up on groceries pretty much first thing after you land (after you pick up your campervan rental or car, of course).
Not far from the airport and rental pickup locations is a small shopping center with a Bonus and a Kronan, as well as a store that sells general camping gear (like propane canisters).
If you wait to stock up until you're on the road, you might not see a supermarket for quite some time.
Know the hours
In the United States, we're used to grocery stores opening quite early in the morning. So it came as kind of a shock to us that some of the supermarkets in Iceland don't open until much later in the day.
In fact, Bonus (our favorite Icelandic grocery store), doesn't open until 11 a.m. at most locations.
Before just assuming the grocery store is open, look up the location on Google Maps and see what their hours are.
Make a meal plan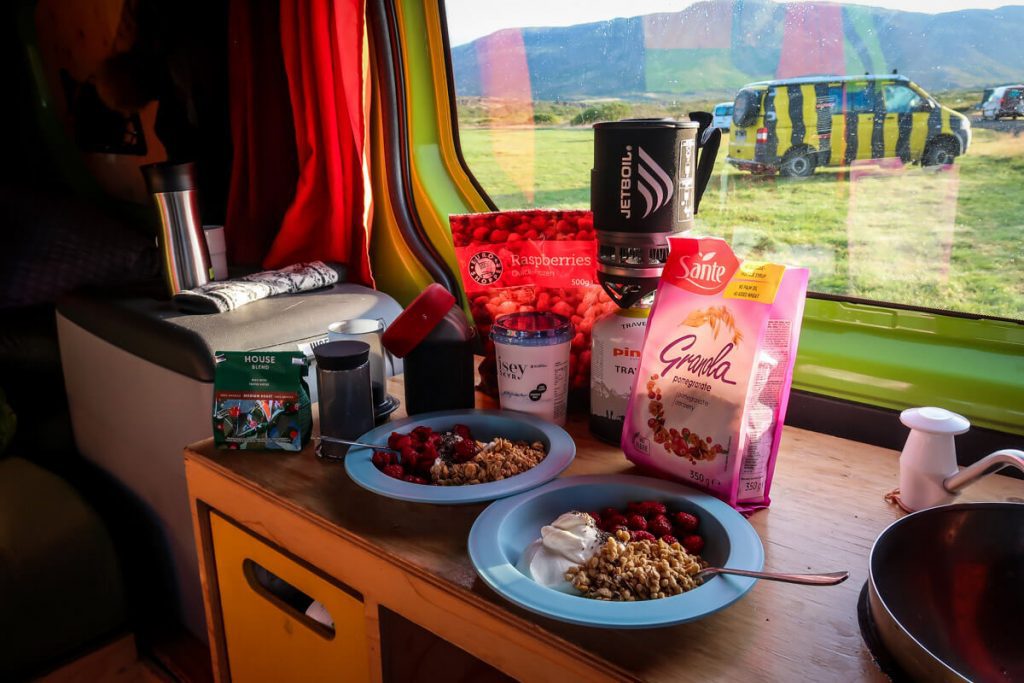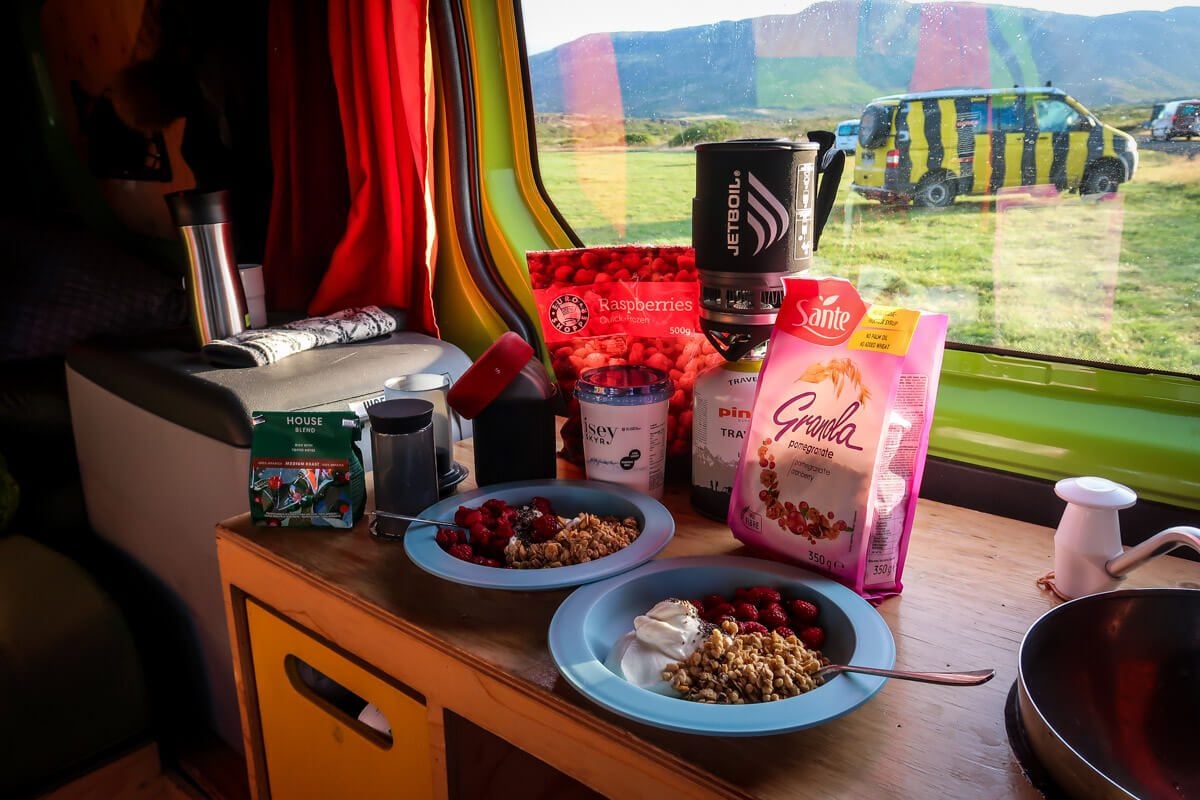 Just like you might at home, making a meal plan for your trip in Iceland is going to help you save money, time and food waste. It'll also help you enter the grocery store with a plan so you don't waste any time.
Click here if you want some easy and delicious campervan meal ideas to get your brainstorm process started!
Know which things to skip
A lot of people wonder why Iceland is so expensive. Well, one simple way to answer this question is that as an island nation, most things — from food to clothing — need to be imported.
When it comes specifically to food, remember that Iceland is located just south of the Arctic Circle, meaning that growing produce requires a lot more work and infrastructure (aka greenhouses) than in many other locations around the world.
When you think of it this way, it's easy to understand why some items that are cheap in your home country make your eyes water at the price tag in Iceland.
Here's our advice: If sticking to a budget is important to you, try to limit the amount of fresh produce you buy in Iceland. That tends to be disproportionately expensive compared to other food items. Additionally, look for store brands when it comes to things like bread and sauces so you avoid getting imported items (and therefore the extra cost).
Shop the frozen aisle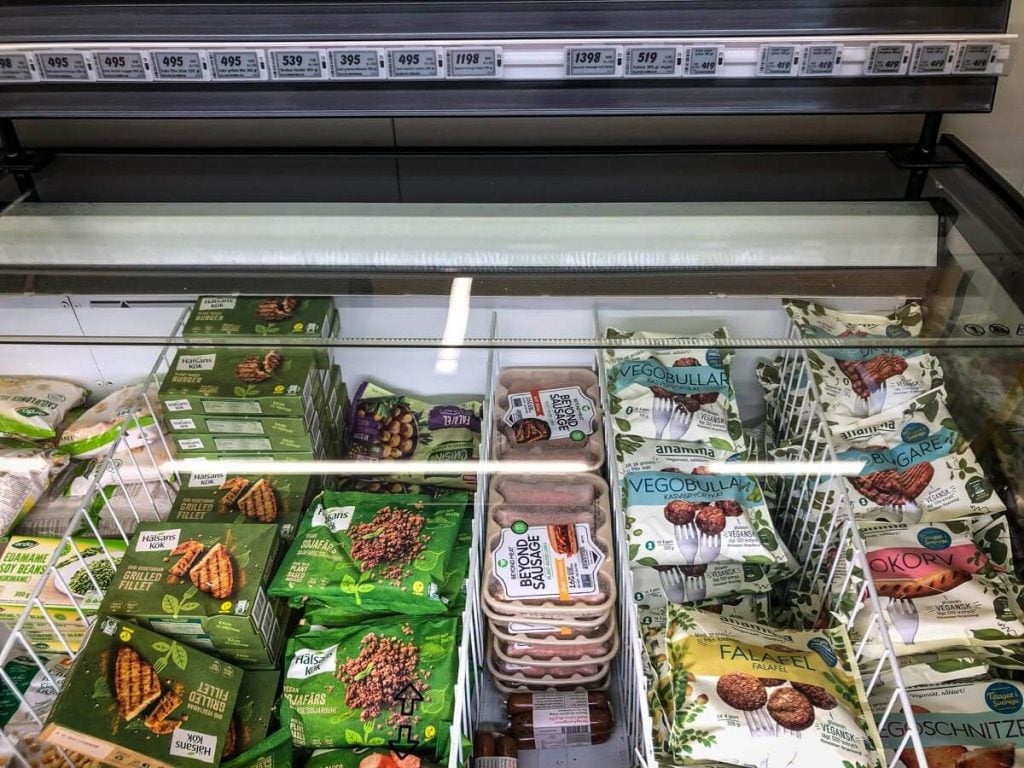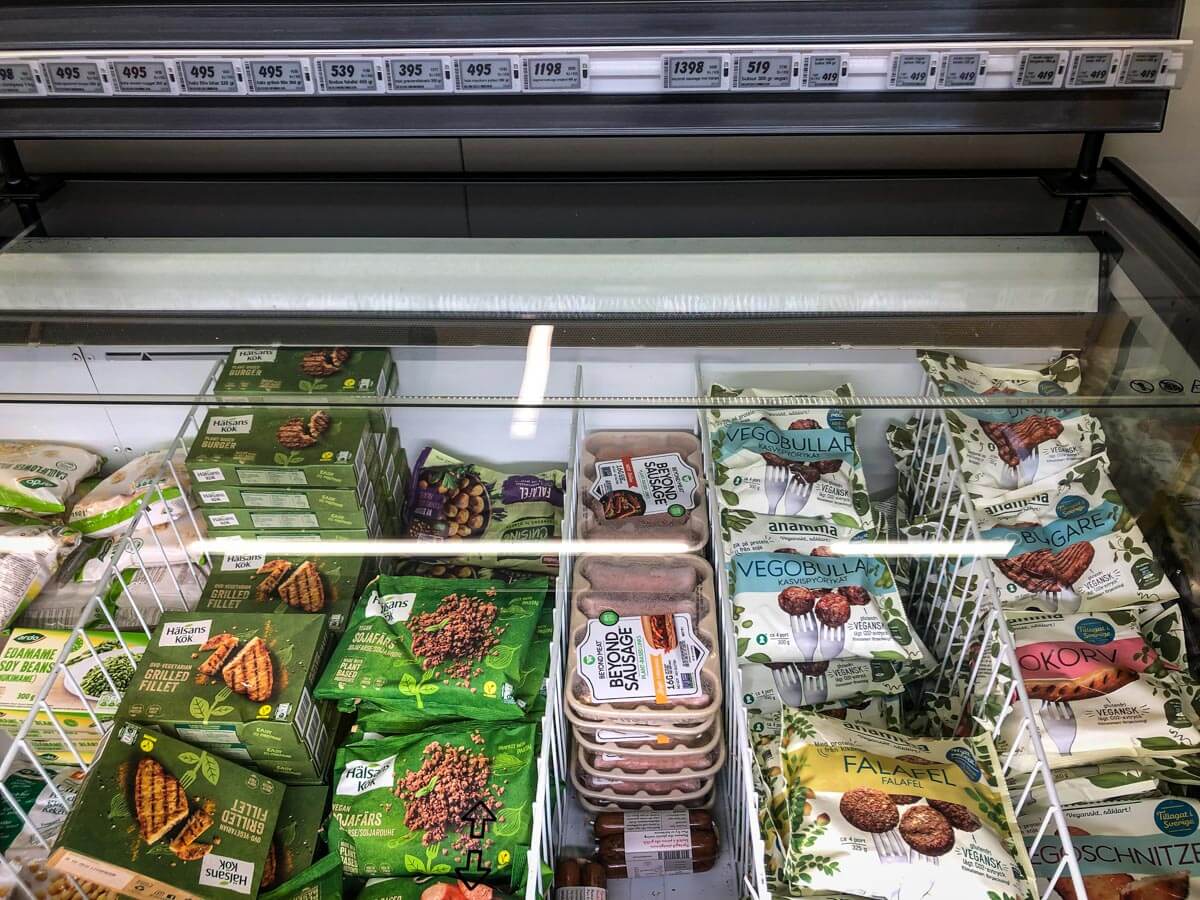 When it comes to fruits and veggies, sometimes it makes more sense to get them frozen. If you're on a tight budget, shopping in the frozen aisle is going to save you quite a bit of dough.
At Bonus, they have a "wok veggie" mix that's pretty nice for stir fries and curries. There are also more traditional mixes with broccoli, cauliflower and carrots. We also liked getting bags of frozen raspberries to have with Skyr and granola in the morning (way cheaper than getting the berries fresh!).
Go veggie
This is kind of a universal grocery shopping money-saving tip: If you eliminate meat from your cooking, you will save money.
Instead of meat, get your protein with beans, lentils, peanut butter, etc.
The other perk of cutting meat is that it's much simpler for campervan cooking. Trust us, you don't want to worry about cutting raw chicken in your campervan or splattering bacon grease all over.
Bring your own reusable bags
When we're grocery shopping at home, we always bring reusable bags, so why not on our travels?! Packing one or two of them in your luggage will hardly take up any space, but they'll come in super handy when it comes to grocery shopping. Plus, they can be helpful with just keeping your belongings organized in your campervan or hotel (been there!).
Additionally, we always carry reusable produce bags, which are really handy when getting a handful of apples or onions.
Buy your alcohol at duty free
If you plan to imbibe during your trip to Iceland, be sure to stock up at the duty free store at the airport. Almost all alcohol must be imported to Iceland, which makes it expensive to begin with. On top of that, it's heavily taxed, making it even more pricey. And if that weren't enough, buying alcohol can be tricky, as it is only sold in dedicated liquor stores (not in supermarkets). Oh, and the liquor stores are not open on Sundays.
Moral of the story: The cheapest and most convenient place to buy alcohol on your trip to Iceland is at the duty free shop at the airport. Don't forget!
Read this before buying beer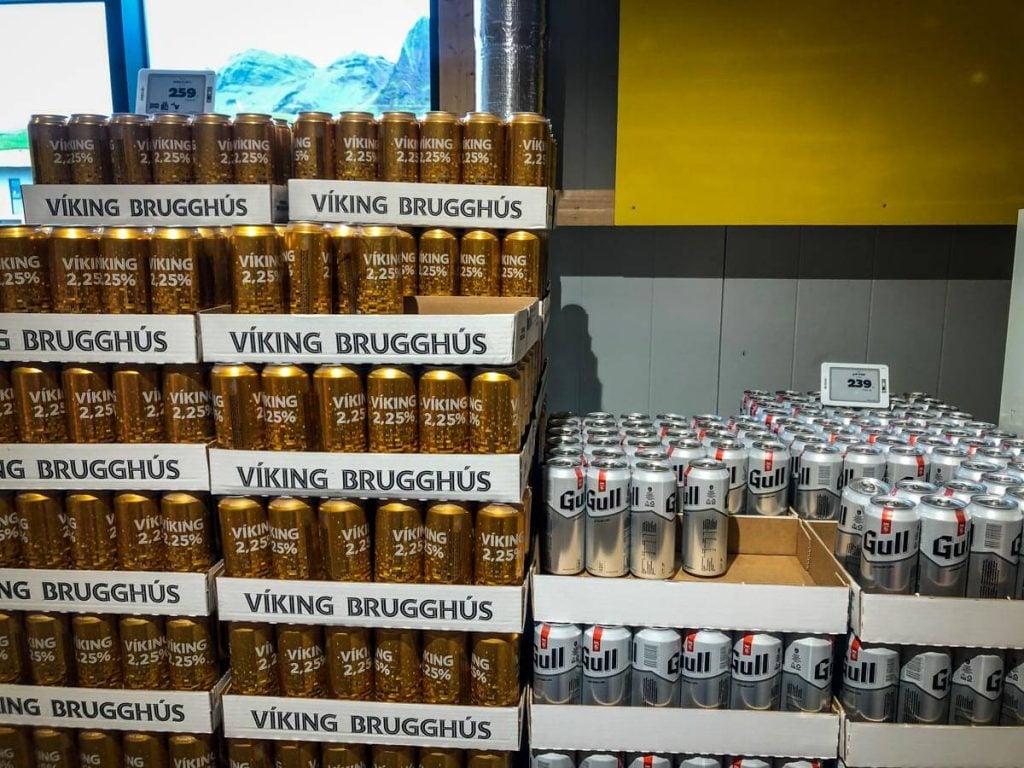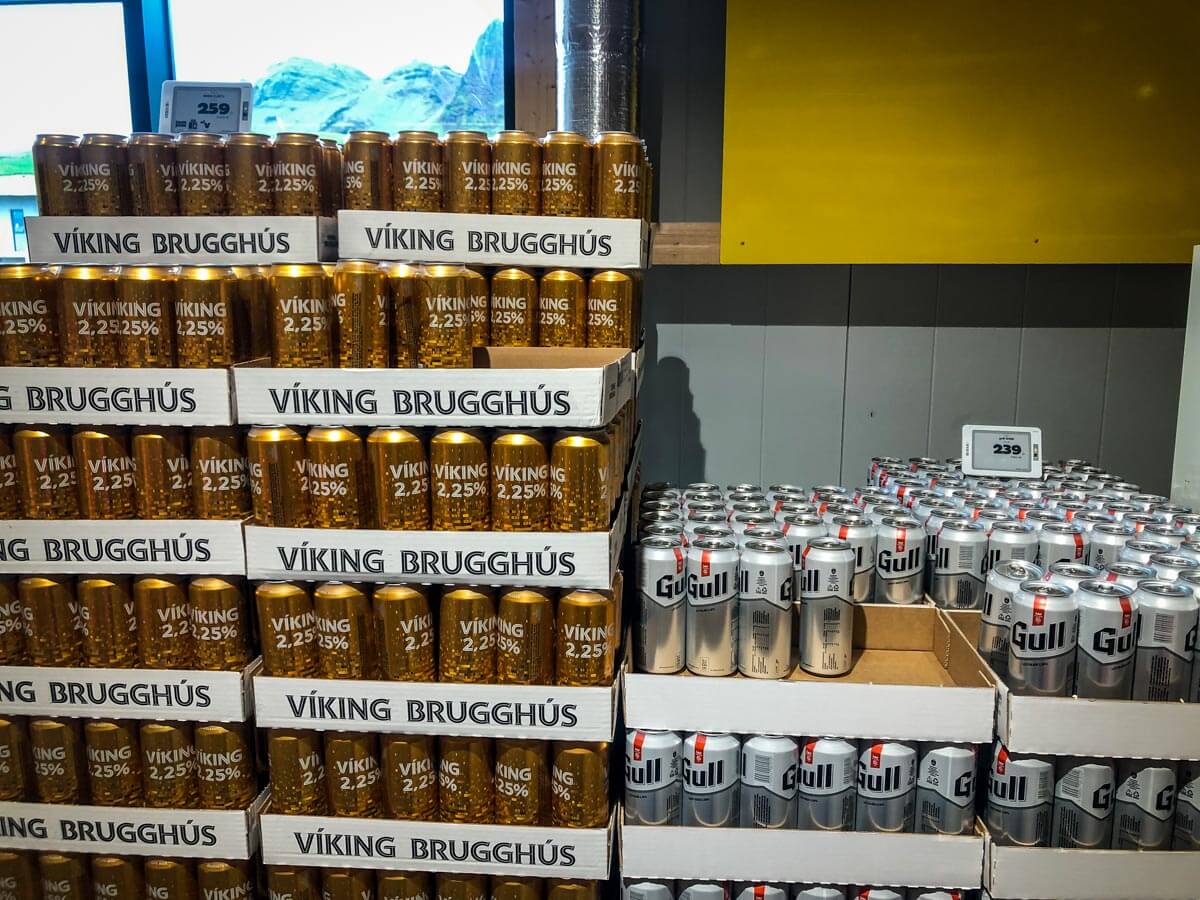 While browsing the supermarket aisles, you may see what looks like beer. And you'll be surprised that it's actually quite cheap!
Don't make the mistake that many tourists do… this is actually non-alcoholic beer (or beer with a very low percentage, like 2.25% ABV), which the locals call pilsner. It is often used in cooking (aka for boiling hot dogs), but it won't give you the buzz you're looking for.
If you're looking for real beer — with actual alcohol in it — you'll need to find a liquor store. But our recommendation would actually be to get your boozy shopping done in the airport's duty free shop, and then splurge on a few craft brews in Reykjavik.
Skip bottled water
Tap water in Iceland is delicious and perfectly healthy to drink. Not only will skipping bottled water be good on your wallet, but you'll be creating less plastic waste, which is always a win!
Every campsite has a water fill station where you can top off your bottles. You can find taps at other places like rest stops, gas stations, and attractions around the country. And if you're eating at a restaurant, don't hesitate to ask for water. They'll gladly fill you up!
Insider Tip: While we're on this topic, don't forget to pack a reusable bottle! We love our Hydroflasks because they keep our water cold all day and night.
Snag free food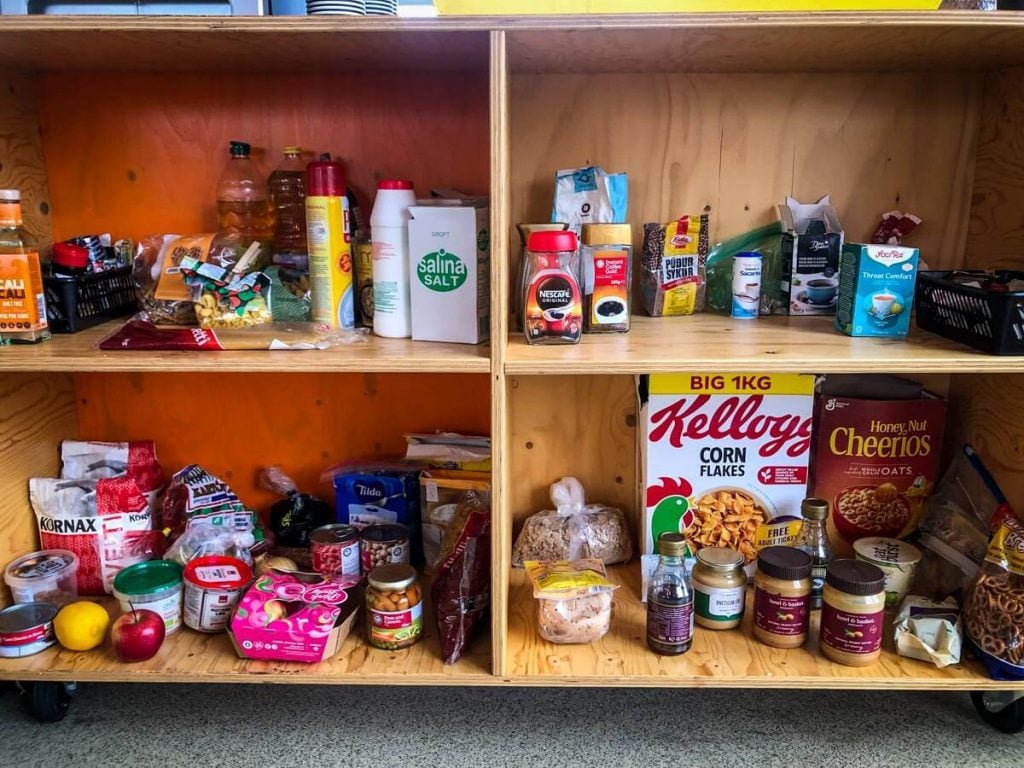 Before hitting up the grocery store, check to see if your campervan rental company has a "free food" section. Ours had a large area where people can drop off any items they didn't use after their trip. We found some gems, like an unopened bag of pasta, a can of chickpeas, coconut aminos, and olive oil.
Obviously the quality and quantity of what's available is going to differ drastically based on when you go, but it can be a really good way to get some staple items without paying a penny!
In addition to campervan rental companies, you can also find a free food section at many campsites (particularly ones not too far from Reykjavik, as this is where people will tend to unload any unused items before flying home).
Good to know: It's also worth keeping in mind that any food items you don't use during your trip can be donated instead of being tossed in the garbage. It's a win-win for everyone!
Pack some items from home
There are certain food items that we love having with us on our travels that are quite difficult to find in other countries. So we typically just pack 'em in our suitcase!
But before you start cramming your bags with all sorts of foods, let's go over the boring stuff — aka the rules and regulations.
You can bring in food (mostly dried and processed goods) up to 3 kg (6.6 pounds).
You cannot bring any meat products (no beef jerky or tuna packets).
Other than that, it's pretty easy to pack in some staple ingredients so you don't have to buy it all in Iceland.
What should you pack from home? It's up to you, but here are some of the things we brought (or wished we had brought):
Protein bars and/or granola bars: We found only a very limited selection of these in Iceland, and they tended to be pretty expensive. We were glad we brought a brand we really like from home so we could have a protein-packed snack on the go.
Nuts: We didn't see a huge selection of nuts in Iceland, and again, they were pretty expensive. We love stocking up on nuts at Trader Joes (or sometimes Costco), so we brought a large bag to snack on.

Psst! If you want a sweet treat, these chocolate coconut covered almonds are insanely amazing (and a little dangerous)! Stock up before your trip and thank us later. (The link is to Amazon, but we buy them at Costco for a better price.)

Dried fruit: We found the selection of dried fruit in Iceland to be somewhat limited, so we were happy we had brought our own. We love dried mangoes without sugar, which can be hard to find (Costco and Trader Joe's both carry them), as well as unsulfured dried apricots (again, TJ's and Costco!).
Grains: We packed a lot of grains, and in the end, it was a bit unnecessary as they aren't terribly expensive in Iceland. That said, if you have a certain brand at home you want to bring and just want to simplify your grocery shopping, it's not a bad idea to bring some from home:
DIY oatmeal: Instead of buying pre-packaged oatmeal, I like to control what goes into ours. On our month-long campervan trip in New Zealand (put it on your travel bucket list!), we made oatmeal packs for an easy and healthy morning meal. All we had to do was add hot water, and boom — it was ready to eat! Here's what we put in ours: quick-cooking oats + chia + craisins + coconut milk powder + coconut sugar + cinnamon. You can add other ingredients, like protein powder or collagen for an extra nutritional boost. After combining all the ingredients, we package it in these reusable baggies for added convenience.
Dehydrated meals: These are not necessary for everyone, but we brought a few dehydrated meals and are so happy we did. We went on some longer hikes, and it was so nice to pack our Jetboil and have a hot meal on the trail. We actually wished we had brought a few more since they are so simple to make and would have been a great solution for some of our more packed travel days.
Tea: If you're like us and you have a favorite tea brand from home, bring them with! They take up virtually no space, and you'll be so much happier with your tried and true favorite rather than the random brand you find in the Icelandic supermarket. (Again, not a huge selection, kind of expensive, and not the highest quality.)
Spices: No matter where we travel, we like bringing our own salt. It may sound weird, but if we're planning on cooking in an Airbnb or a hostel, we've found that they typically only have cheap table salt. I realize this may sound a little snobby, we really prefer higher quality sea salt or Himalayan salt, and traveling with a small container of it is so easy that it has become a habit. At the Icelandic grocery stores, we only saw large salt containers, so we were happy we had packed a small jar of our own salt. The same thing goes for other spices. Unless you want to spend $15 on spices that you'll end up tossing out at the end of your trip (can you say wasteful!?) it's a good idea to bring a few of your own seasonings to kick up your campervan cooking. Here's what we brought:

Himalayan salt
Cracked black pepper
Cinnamon (for oatmeal)
Cayenne (we love a little spice)
Everything but the Bagel seasoning (we're obsessed!)
Cumin (good for burrito bowls and curries)
Mini sriracha (we have this little bottle from REI, and we wished we would have packed it!)
Record your expenses if you're on a tight budget
If you'd really like to stick to a certain budget for food during your trip to Iceland, our biggest piece of advice is to record your expenses. There's no way you're going to be able to really watch your budget if you don't know how much you're spending.
Download a budget tracking app before your trip and set your spending goal so you always know where you are in relation to that number. We have used Trail Wallet for many years and love that it works seamlessly between currencies, but there are many similar apps out there.
Psst! Wondering what other apps to download? We've got you covered with our ultimate list of Iceland travel apps that are actually worth installing.
Things to try at supermarkets in Iceland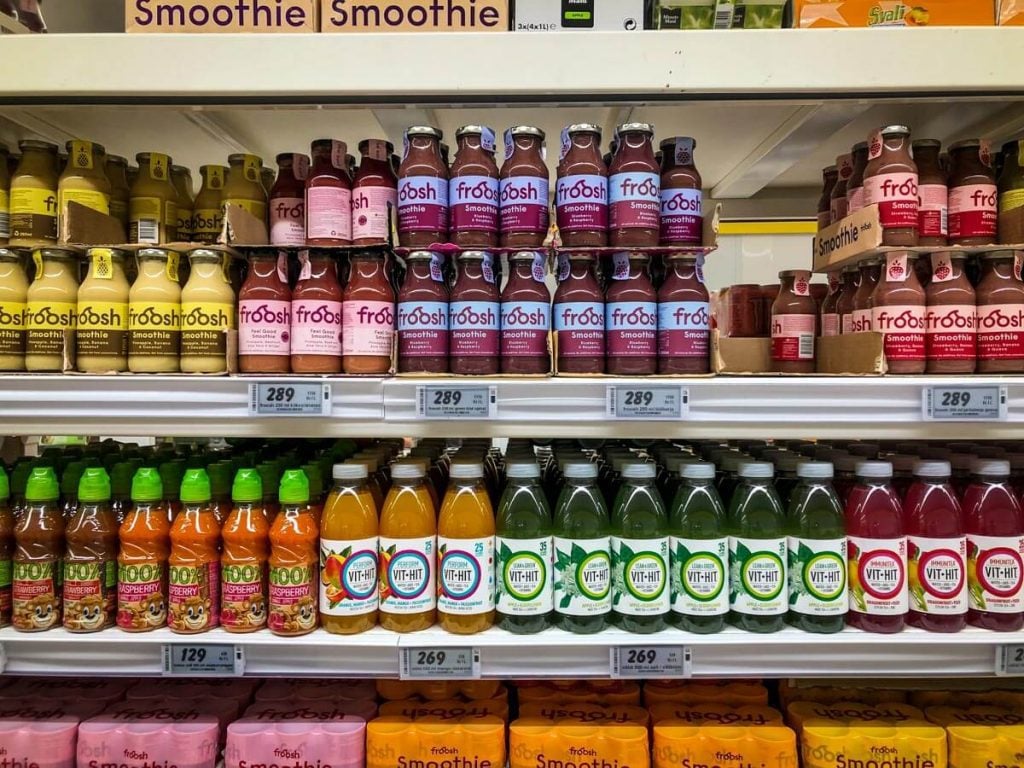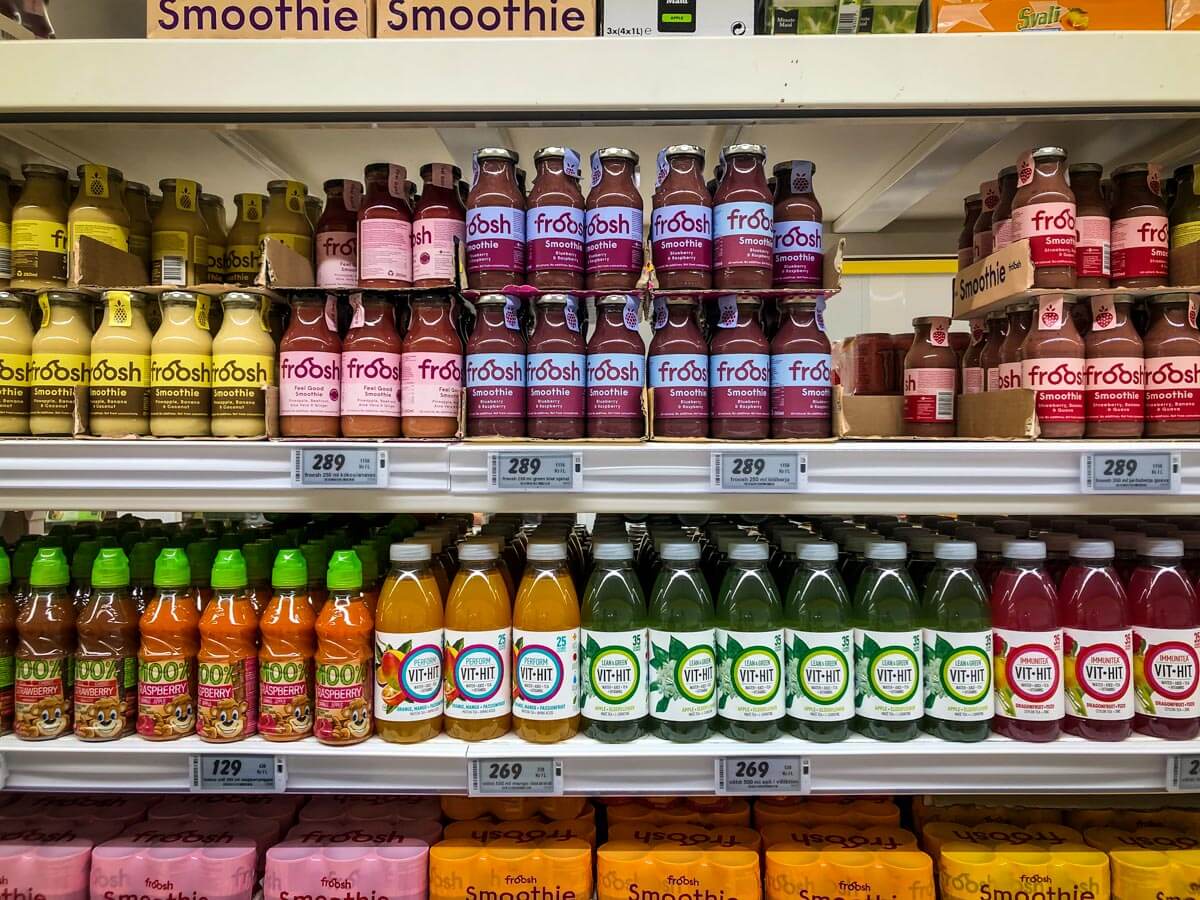 While grocery shopping in Iceland, try whatever strikes your fancy! Maybe you'll find some new foods you never would have discovered before.
Here are just a few of our favorite items we found in the Icelandic supermarkets:
Pylsusinnep: You'll find this sweet brown mustard on Icelandic hot dogs, but it's good on other dishes as well. Plus, you can pack it in your checked luggage (wrapped up and tightly sealed, of course) for a tasty Icelandic souvenir.
Skyr: It would be hard to travel through Iceland without trying skyr (unless you're vegan or dairy free, of course!). Icelanders are very proud of skyr, and you'll find a whole dedicated section to it at all supermarkets in Iceland. The way it is processed makes it technically fit into the category of cheese; however, we find it tastes almost identical to a traditional Greek yogurt. Thick and creamy, skyr makes an amazing breakfast (we prefer the plain skyr paired with berries and granola), or as a snack. There are tons of flavors and brands to sample, so make it a mission to find your favorite.
Flatbread: Icelandic flatbread is yummy and is a great base for all sorts of meals — peanut butter and jelly, soft boiled eggs and cheese, tuna and arugula with mustard. You can even toast it on a skillet with some olive oil and garlic for a naan alternative for dipping in a hearty curry. Find it in the bakery aisle of any Icelandic supermarket.
Pristur Lakkris: These chocolate-covered licorice candies are apparently Icelanders' favorite, so give them a try! They don't have a super strong black licorice flavor, so even if you're not a huge licorice fan (same!), we think you'll like them. They kind of reminded us of a cross between a 3 Musketeers and a Milky Way. You can buy a bag in the supermarket of individually-wrapped minis for under $3 USD.
Froosh smoothies: We tried a few ready-made smoothies from grocery stores around Iceland, but our favorite brand was Froosh (we found these at Bonus stores). We loved all the flavors we tried, and they made a good addition to breakfast that felt somewhat healthy.
McVitie's V.I.Bs Classic Caramel Bliss Cookies: Okay, these aren't Icelandic (they're imported from the UK), but we found them at the supermarkets in the cookie section and they taste exactly like a Twix candy bar (remember those?!). They make a pretty damn good treat (as well as dark chocolate Digestives).
Meal Ideas for Camping in Iceland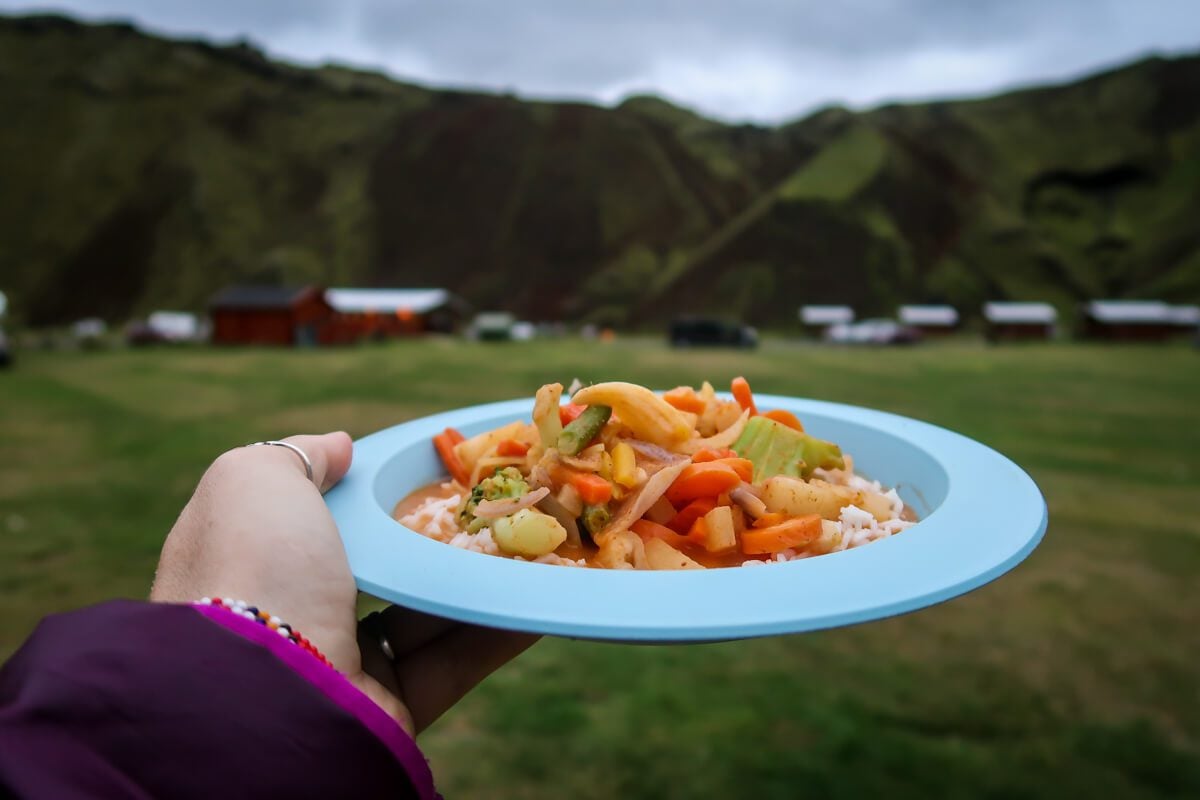 Are you scratching your head when it comes to cooking in a campervan or tent? Allow us to swoop in with our superhero capes and help!
We've spent countless months living in campervans, and we have come to LOVE camp cooking. We gathered some meal ideas for your trip to Iceland based on what we actually cooked. These meal ideas are all easy to make, have ingredients that are easy to find in Iceland, and are pretty cheap.
Pesto pasta and sundried tomatoes
Pasta
Pesto
Sundried tomatoes
Cronions (Iceland's version of French fried onions!)
Salt and pepper
Thai red curry with pineapple
Rice (we got a box with 5 packets that you boil individually)
Red curry paste
Can of coconut milk
Can of pineapple
Frozen "wok mix" vegetables
Camp "Pad Thai"
Rice noodles
Peanut butter
Soy sauce or coconut aminos
Onions and garlic
Frozen "wok mix" vegetables
peanuts
Shakshuka
Eggs
Can of diced tomatoes
Onions and garlic
Cayenne
Salt and pepper
Bread or flatbread for dipping
Tikka Masala with chickpeas
Rice
Tikka masala sauce
Can of chickpeas
Frozen vegetable mix
Flatbread/naan + olive oil + garlic for dipping
Cran Apple Oatmeal
Quick-cooking oats
Sweetener (sugar, maple syrup or honey)
Dried cranberries
Sliced apple
Hot water
Optional: chia seeds, cinnamon, coconut milk powder (pack from home)
Burrito bowl
Rice
Can of black beans
Tomato
Corn
Onion
Salsa and or sriracha
Cumin
Tortilla chips
Optional: a dollop of plain Skyr is a lot like sour cream
Skyr, berries and granola
Plain skyr

Tip: We bought a large container of plain skyr and usually spread it out between 3 breakfasts. We'd also buy the smaller flavored containers for snacks

Frozen raspberries

Again, we'd spread these out for 3 breakfasts

Granola
Optional: chia seeds (we packed some from home)
Soft boiled egg sandwich
Multigrain bread or flatbread
Soft boiled eggs
Salt and pepper (and Everything but the Bagel seasoning, which we brought from home)
Optional: butter or Pylsusinnep (Icelandic sweet brown mustard)
Tuna salad + flatbread
Tuna
Pylsusinnep (Icelandic sweet brown mustard)
Flatbread or multigrain brea
Optional: arugula, tomato, onion
Peanut butter and jelly sandwich
Multigrain bread
Peanut butter
Jelly
Cheese and crackers
Cheese
Crackers
Optional: deli meat, cucumbers, tomato
Want more camping meal ideas? We've got some simple camping recipes to help you start meal planning. We also rounded up some great one-pot meal ideas on our sister site, which can also be great options to add to your cooking repertoire.
Tips for cooking in a campervan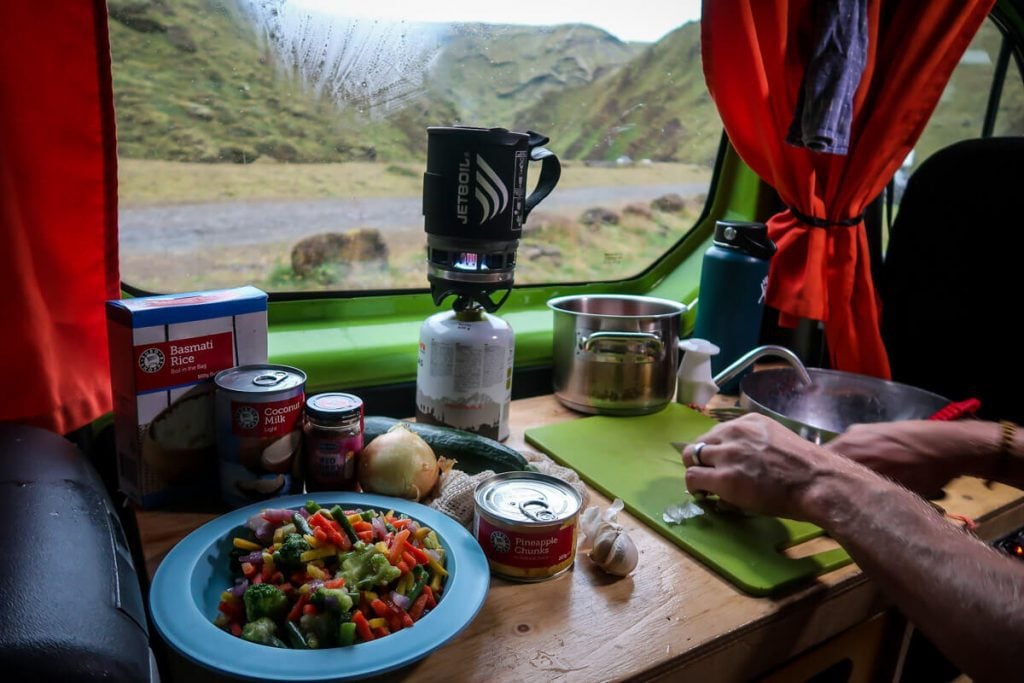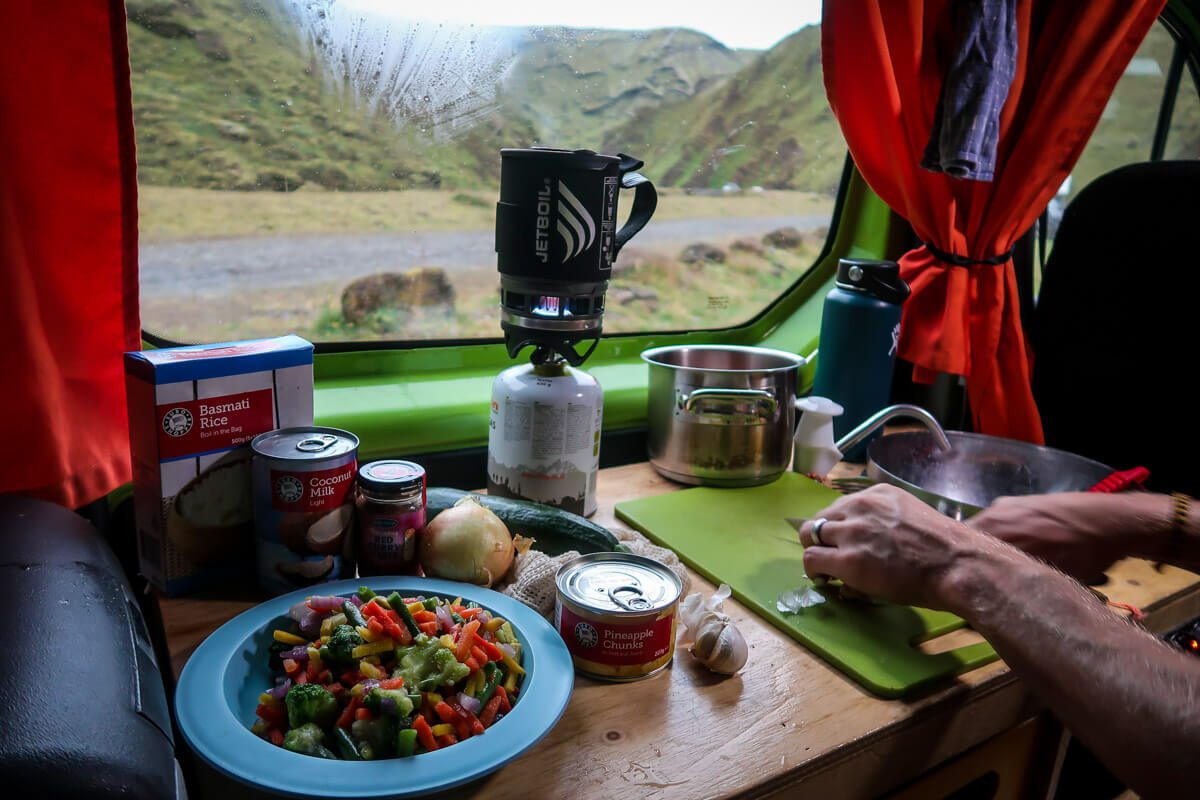 We've lived and traveled in campervans for many months at a time, and we've actually come to really love cooking on the road. Here are a few pieces of advice that should be helpful, especially if you're a camp cooking newbie!
Psst! Looking for a campervan rental? We put together a HUGE Iceland campervan rental guide with tons of insider tips plus an exclusive discount code for our readers.
Don't forget to pack these…
When you're packing for your trip to Iceland, there are a few items and gadgets that will sure come in handy when it comes to cooking.
rubberbands: so you can easily close up bags
chip clips: again, for sealing up bags so they don't spill
reusable baggies: for packing snacks like trail mix, etc. or storing leftovers
reusable produce bags: handy for keeping any kind of produce together and organized
reusable grocery bag(s): create less waste while grocery shopping and have a way to organize items in your vehicle
small garbage bags: it's nice to have garbage bags right away that you can use for food scraps and any waste. You can also buy these in Iceland, but we found it very handy to pack them from home.
Jetboil: this suggestion is not for everyone, but if you plan to do a lot of quick meals (like dehydrated meal packets) or long hikes, a Jetboil can come in super handy! Just know that you can't fly with propane, so you'll have to pick one up from a store or ask your campervan rental company if you can use one
Travel Aeropress: make excellent coffee with little hassle! Paired with a Jetboil, you can have your morning brew in no time!
BYO Spices
Bringing your own spices from home is a great way to kick up the flavor with your campervan meals. Sure, you can buy some spices in Iceland, but it'll cost quite a bit of money, and you likely won't use it all during your trip, so we think it's better to plan ahead and pack your favorites.
Here's what we brought:
Himalayan salt
Cracked black pepper
Cinnamon (for oatmeal)
Cayenne (we love a little spice)
Everything but the Bagel seasoning (we're obsessed!)
Cumin (good for burrito bowls and curries)
Mini sriracha (they sell this little bottle at REI, and we wished we would have packed one!)
Insider Tip: Personally, we stored our spices in smaller containers so they took up less space.
Stay organized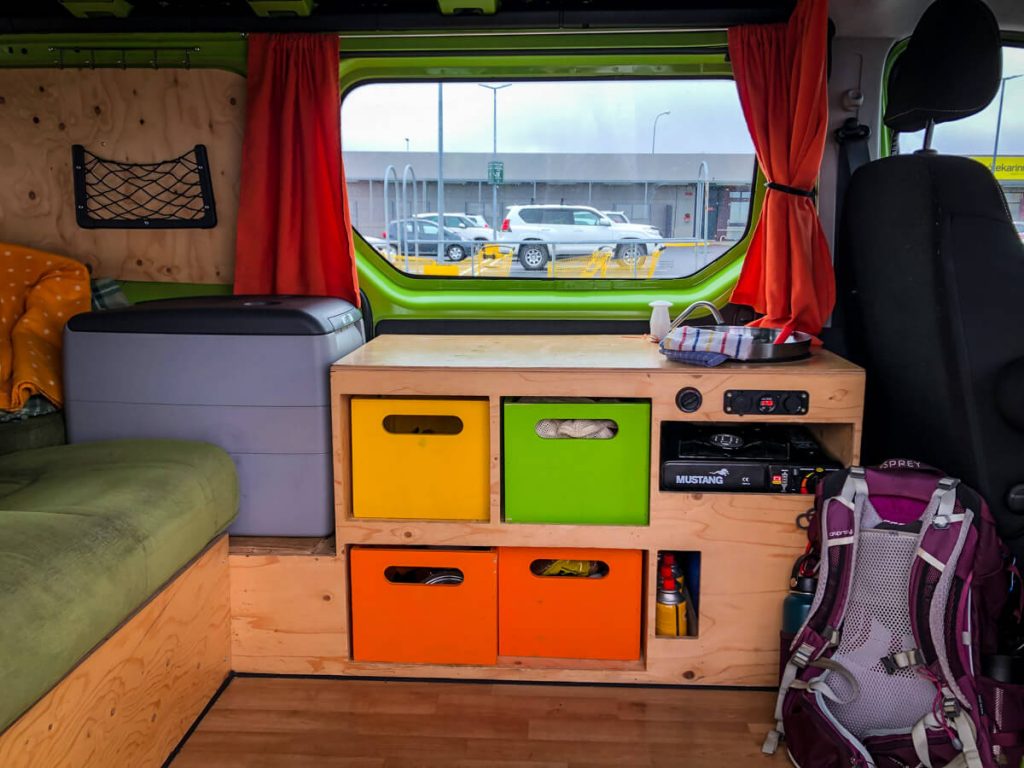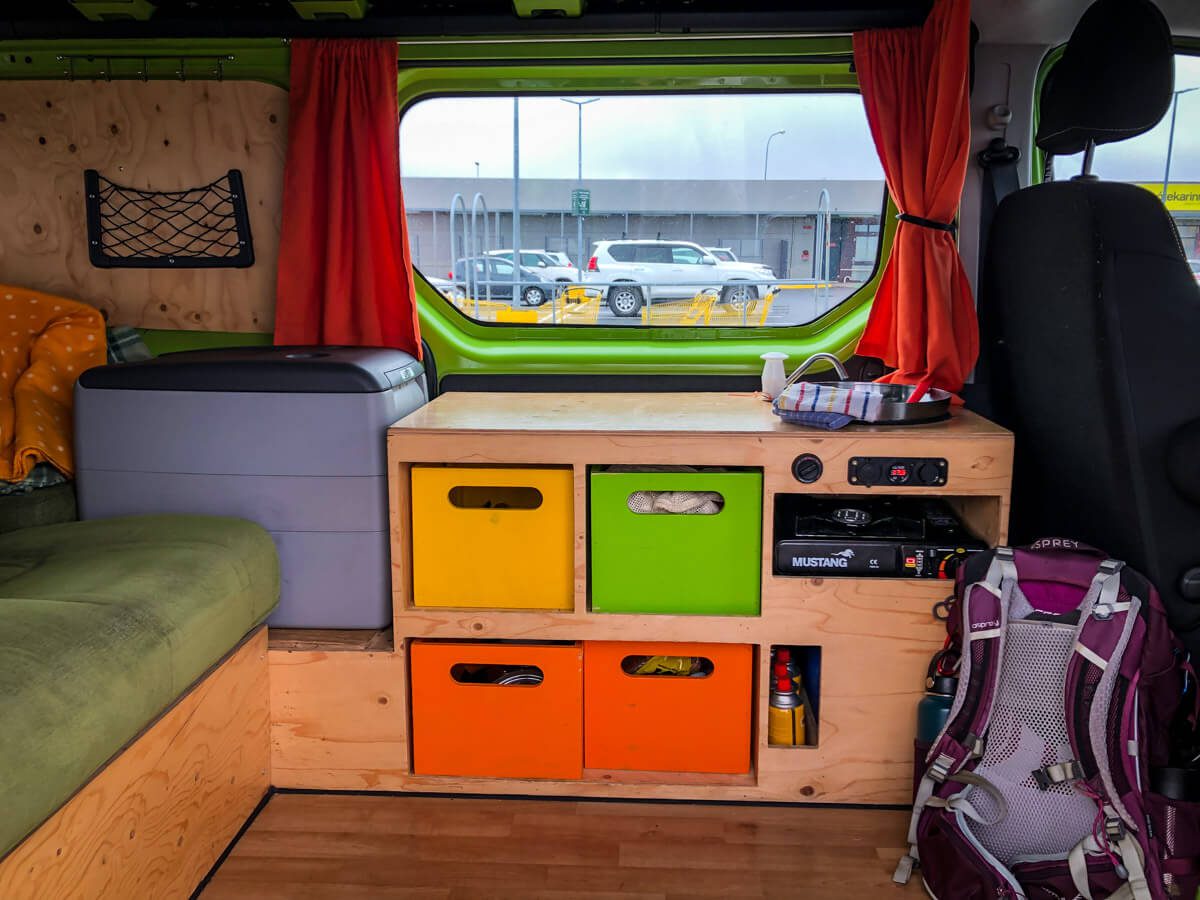 Keeping things organized in a small space is the key to staying sane. Seriously!
This applies to everything in your campervan, but when it comes to food it's especially important to make sure your stuff is in order. You don't want a rouge potato getting rotten in the back of a drawer, after all!
Here are some things to keep in mind:
Keep all your produce together in reusable produce bags (like these!).
Be sure all your bags are tightly sealed with rubber bands or chip clips.
Throw away any unnecessary packaging to save space.
Keep your snacks together and staple ingredients together so you know where everything is without having to search.
Plan out your meals in advance
Trust us when we say making a list of meals will help a ton. Not only will you know exactly what you're looking for when you step into the grocery store, but it can be really helpful in planning out your itinerary.
Our advice is to plan on having your quicker meals for days that are more packed with adventuring and save the meals that'll take a little longer for days where you have a bit of extra time in the evening.
Make meals with similar ingredients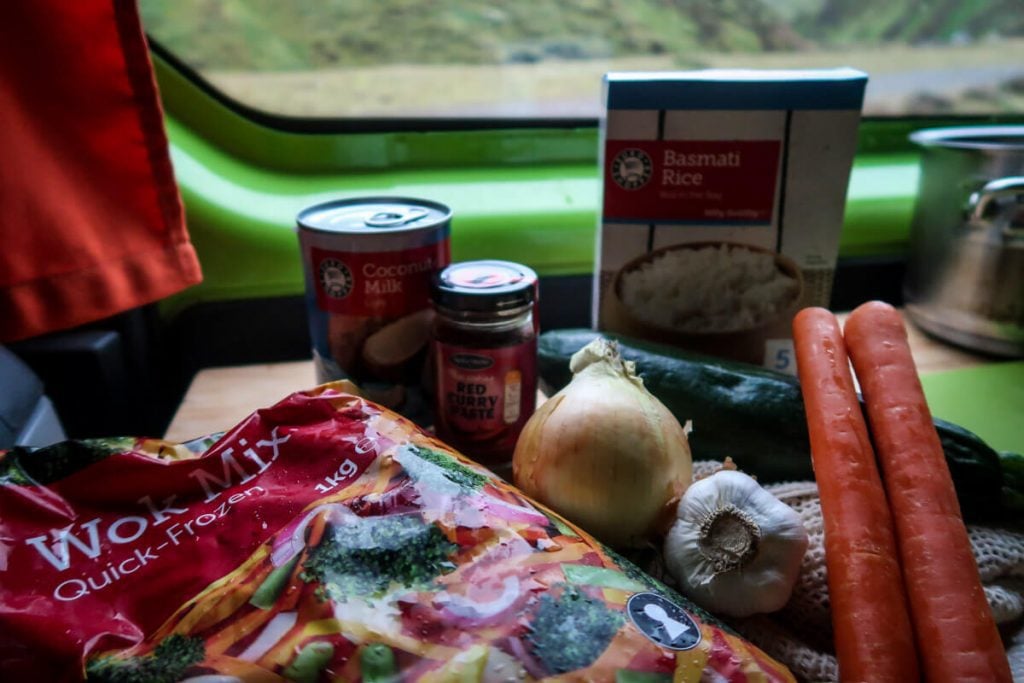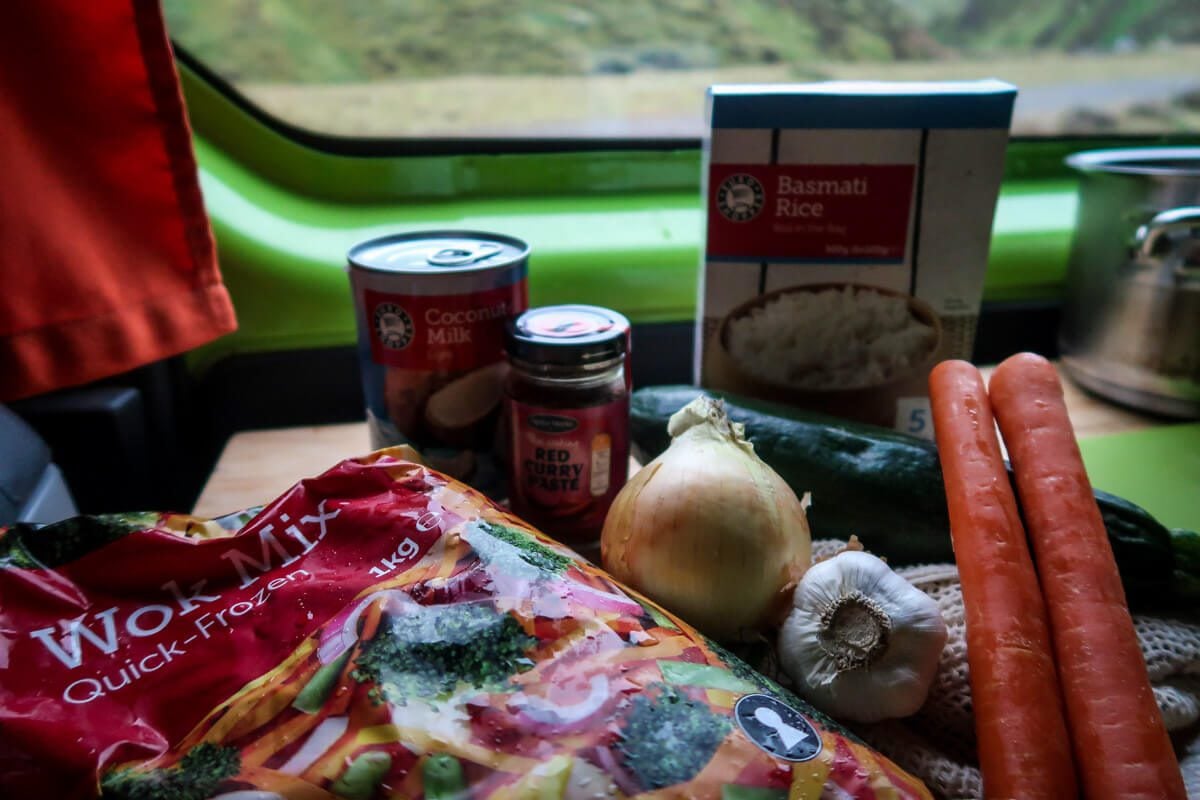 We love adding veggies to just about every meal, but oftentimes we won't use a whole onion or an entire zucchini. Instead of throwing the remainder in the trash, we make sure that we plan consecutive meals that use similar fresh ingredients.
And no, they don't have to be the exact same dish. For example, zucchini, onions, peppers, mushrooms and carrots make great additions to curries, stir fries, our favorite camping "pad Thai" recipe, and soups.
Switching up the flavors while utilizing similar ingredients is key to not getting bored with our meals but also not wasting food or money.
Utilize campground kitchens when possible
If you're in a campervan, you'll likely have a kitchen, which can be super convenient. However, depending on your exact setup, it may be a little cramped, especially if you plan on doing lots of chopping or using more than one pot.
Also, we've seen some camper vans where the cooking setup is located out the back of the van. This can save lots of space and will allow you to fully stand up while cooking. However, if it's windy outside (which happens a lot in Iceland!), it can be really difficult to cook over a flame. We speak from experience.
The good news is many campgrounds in Iceland have kitchen facilities that you can use. They vary in size, cleanliness and amenities, but it can be helpful, especially when cooking a more involved meal.
Start simple
If you're new to camp cooking, start simple. Choose meals that require few ingredients, only one pot, and a short cook time. Pasta, couscous, and rice dishes are particularly quick and easy.


Are you planning a trip to Iceland?
We have TONS of resources on travel in Iceland and how to make the most out of your trip. Check out our Ultimate Iceland Travel Guide for all the answers to your most burning questions, or read some of our favorite articles below.
Save this article on Pinterest for later!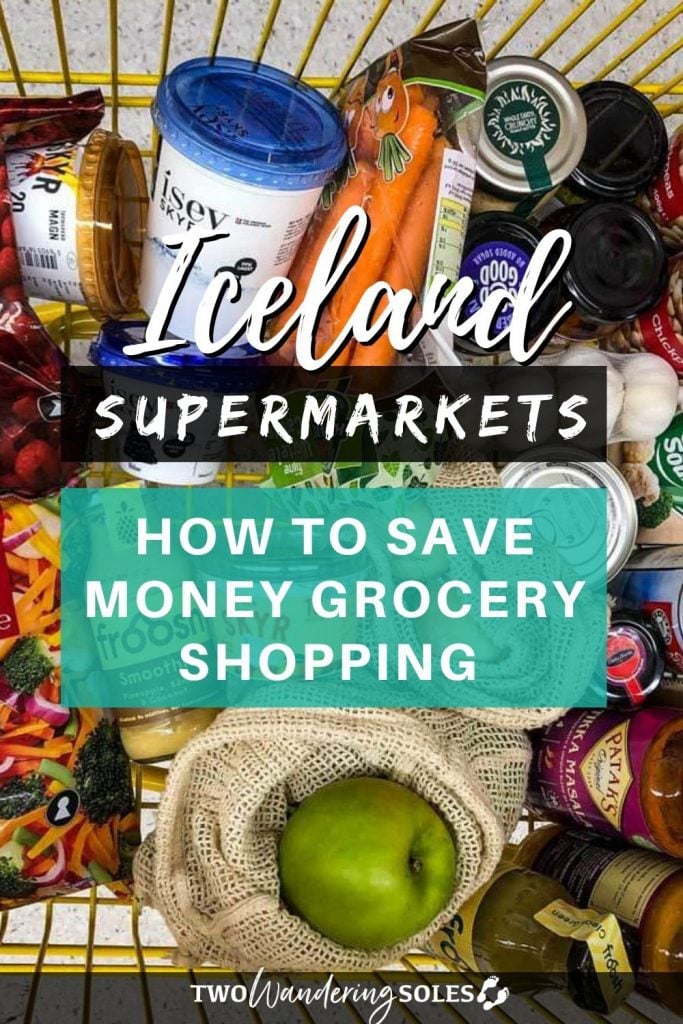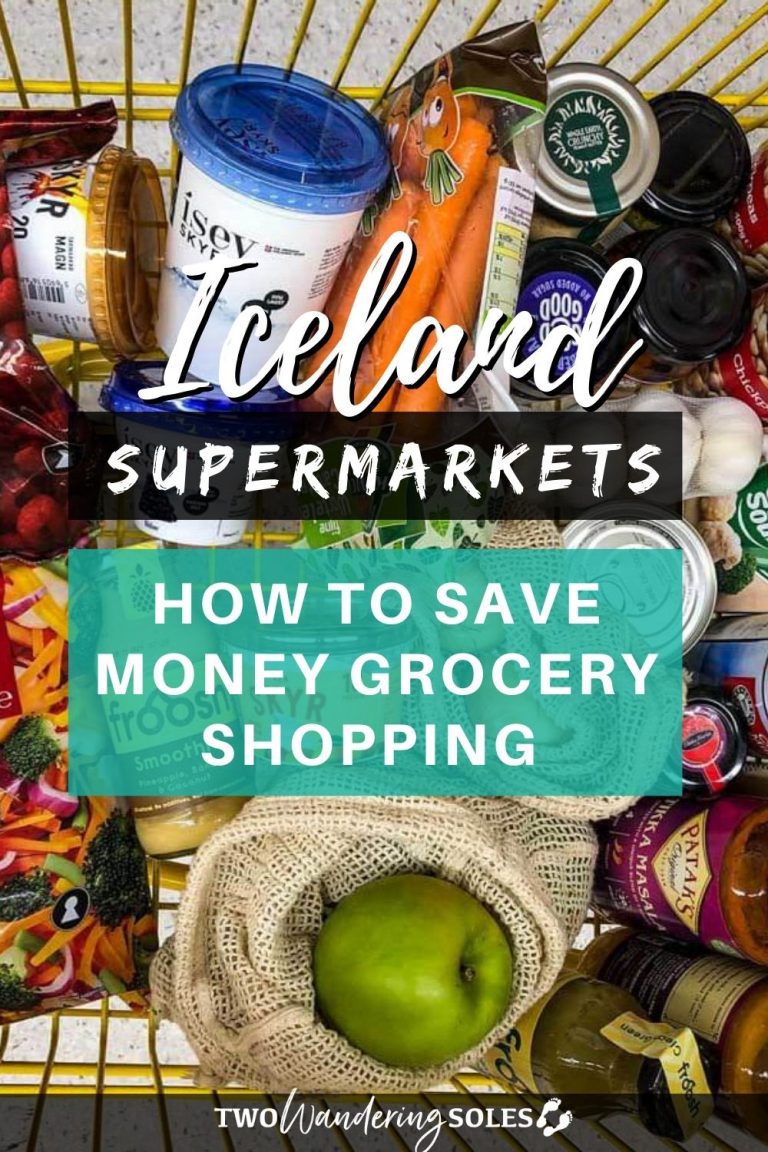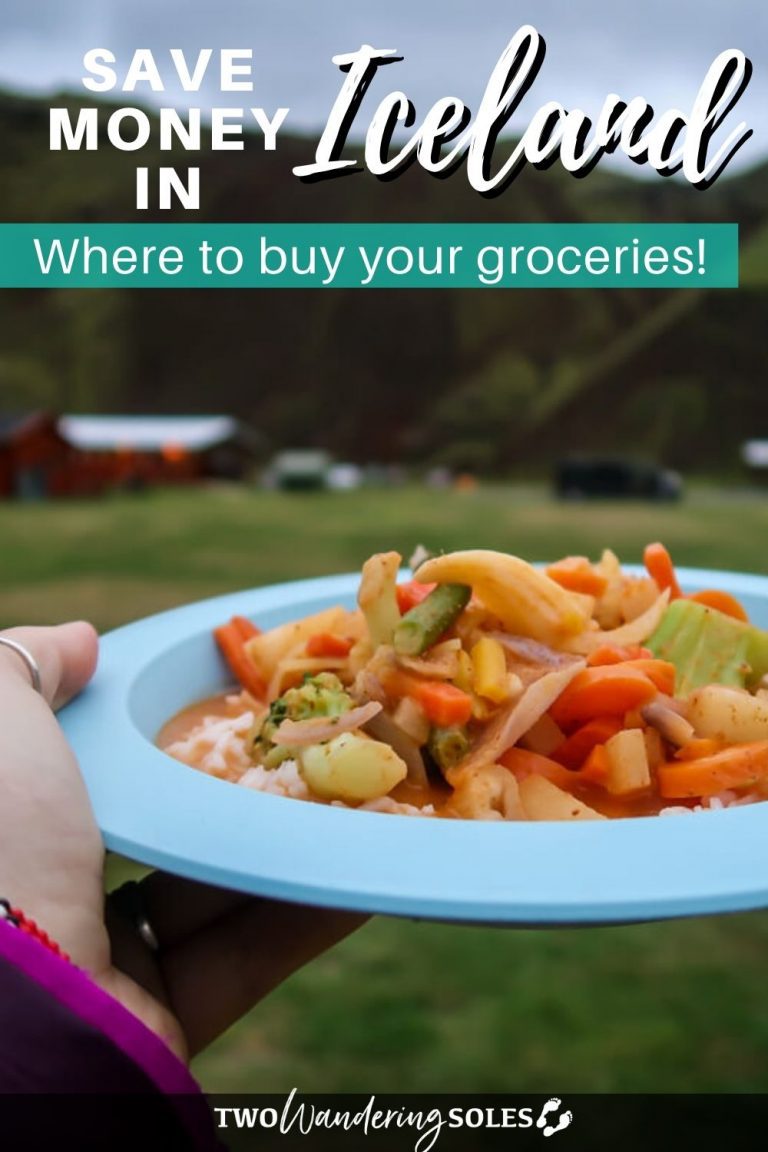 Still have questions?
What else are you wondering about grocery shopping in Iceland? Comment below and we'll do our best to help!