Wondering where to get the best pictures in Iceland? Scroll through our personal Iceland photography collection to see where got all the shots at some of the best photo spots in Iceland.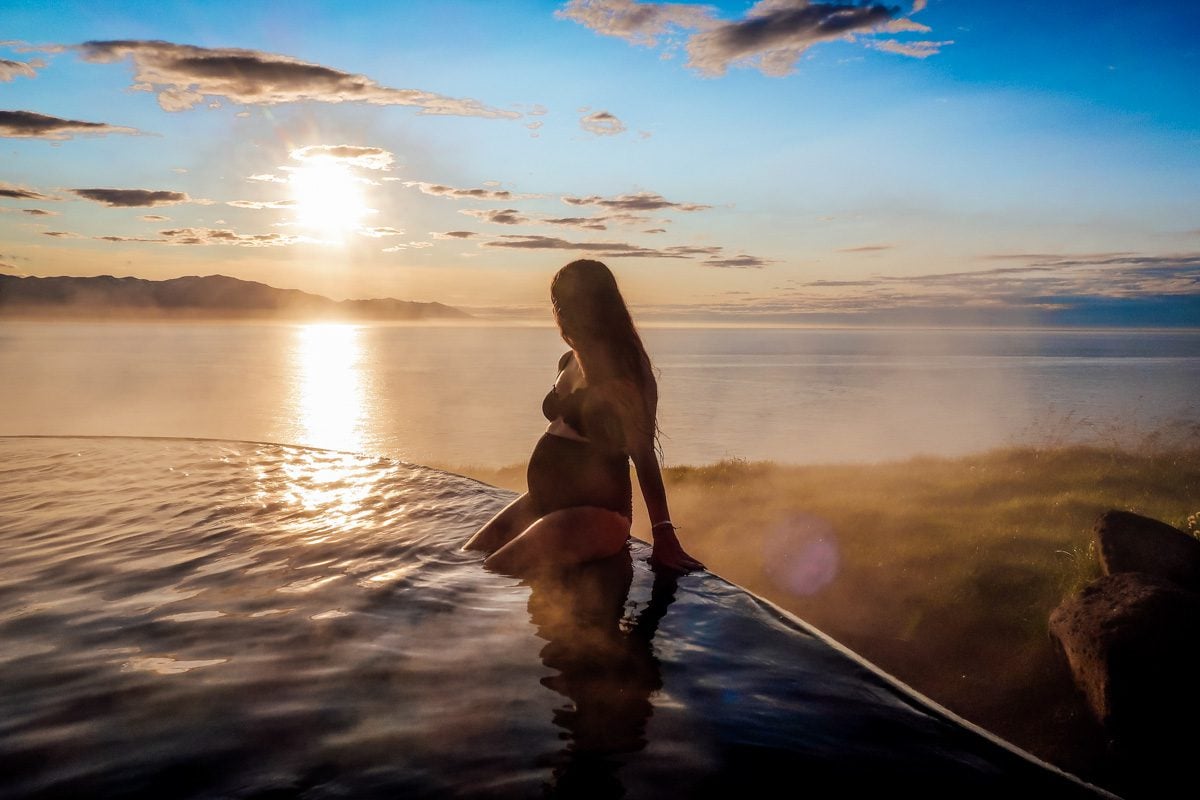 Over the past decade or so Iceland has gained popularity among travelers from all over the world. For a while there, it felt like everywhere we looked we were reminded of the beauty of this small island nation. Just take a scroll through Instagram and you're sure to see jaw-dropping pictures of Iceland that look like something out of a fairytale.
This pocket-sized country is every photographer's dream.
We've visited this European gem on three separate occasions and had three very different experiences there. In all of our time spent taking pictures in Iceland, we've found some of the best photography spots around.
One of the questions we get asked a lot is where to take the best pictures in Iceland. So to help you out, we gathered up some of our favorite Iceland photos and made a list of all the best photo spots in Iceland. Plus, we've included location-specific Iceland photography tips and recommended camera gear specific to this unique country.
So go ahead, take a look at these pictures of Iceland and decide for yourself if it's worth the hype!
WARNING: These photos may cause uncontrollable wanderlust, and may cause you to start searching for flights. Proceed with caution.
Article Contents
Tip: If you're curious how we got these photos, we used a lot (if not all!) of our 32 Easy & Creative Travel Photography Tips to make these shots happen. Whether you're a beginner or an expert, these tips will help you take incredible pictures!
---
Want to save time and energy on planning?
We've traveled to Iceland 3 times now and spent weeks living in a campervan, traveling around the country. We've been able to explore a lot of what Iceland has to offer!
We've compiled our experience to create the perfect Iceland itinerary. Our itinerary is for 7-9 days and meant to be explored while traveling in a campervan. It includes the highlights of the southern coast of Iceland. 
We'll send you our complete 7-9 day customizable itinerary, filled with tips and advice. Just click below to get your perfect Iceland itinerary today!


---
Postcard-worthy waterfalls
Iceland is a place where the water always seems to be flowing.
Just how many waterfalls are there in Iceland?
I tried to figure out the answer to this question, but after quite a bit of digging, I found that there just isn't a total count. That means there are SO MANY waterfalls that many of them haven't been counted or named.
Crazy, huh?!
Below are some of the most postcard-worthy waterfalls to photograph in Iceland. Check out our round up of all the best waterfalls in Iceland for more information and exact locations.
Seljalandsfoss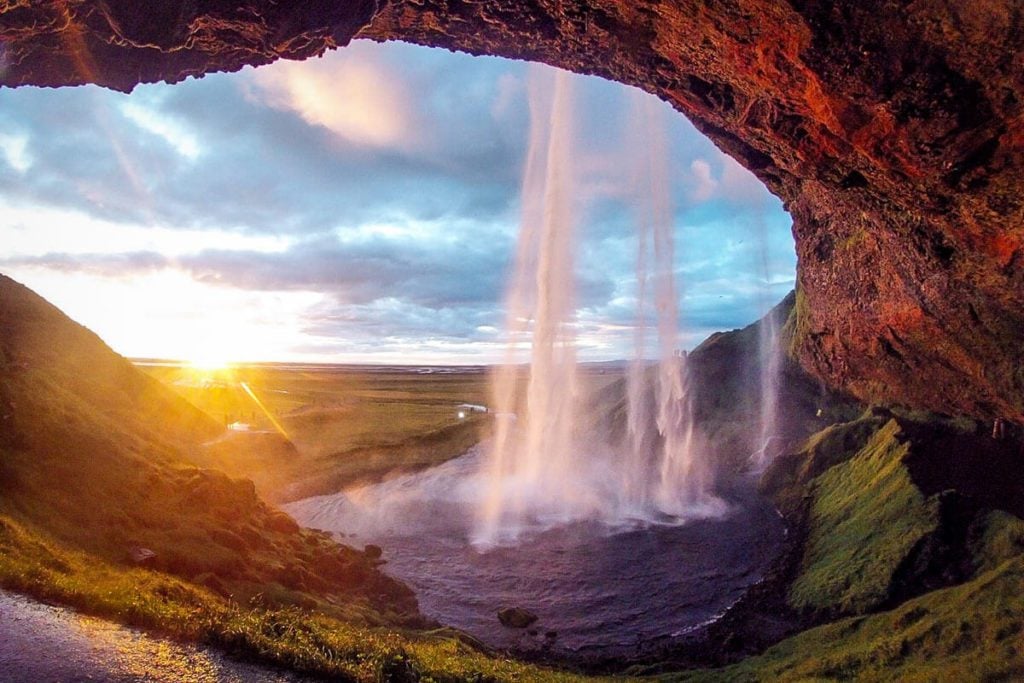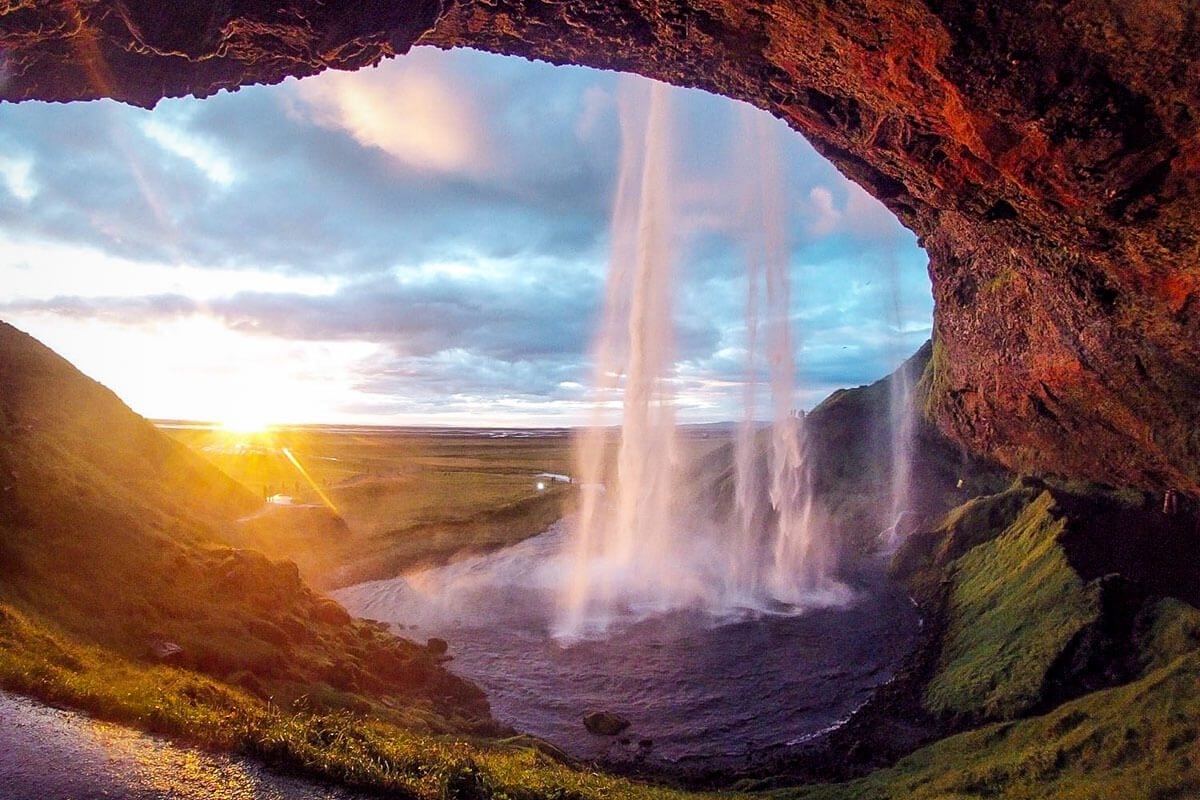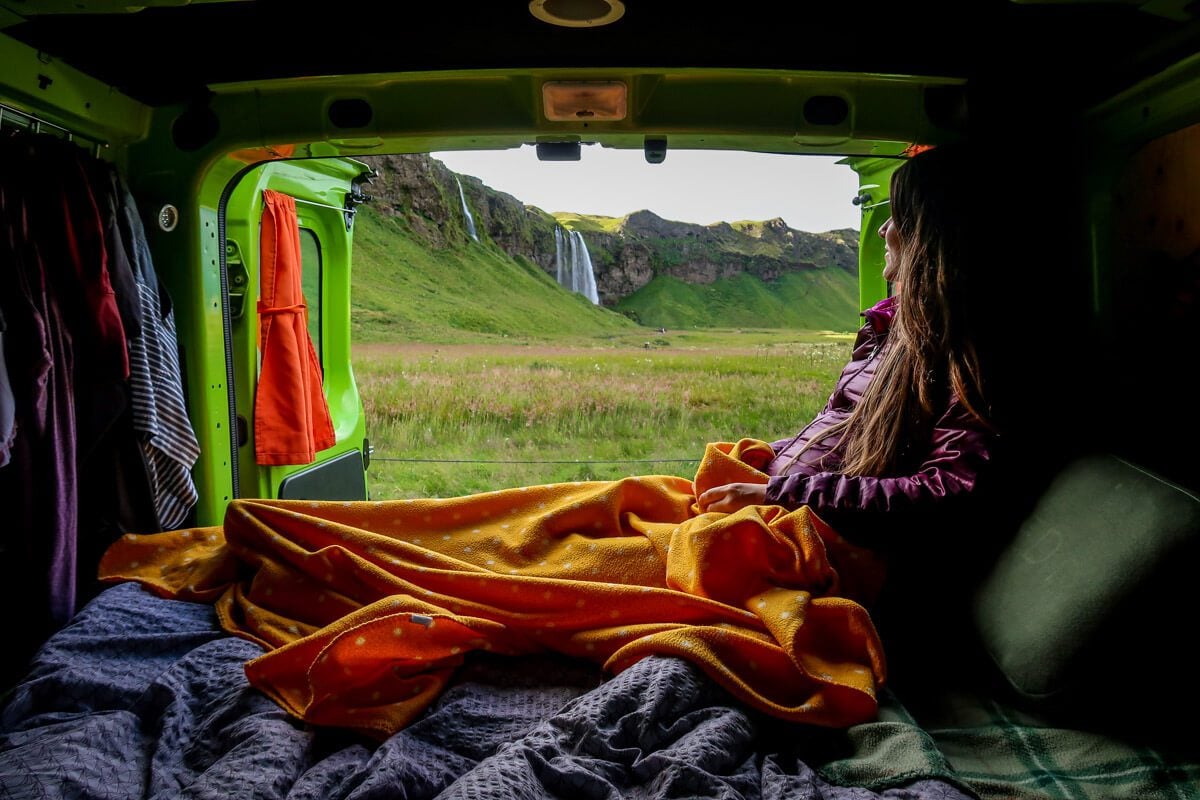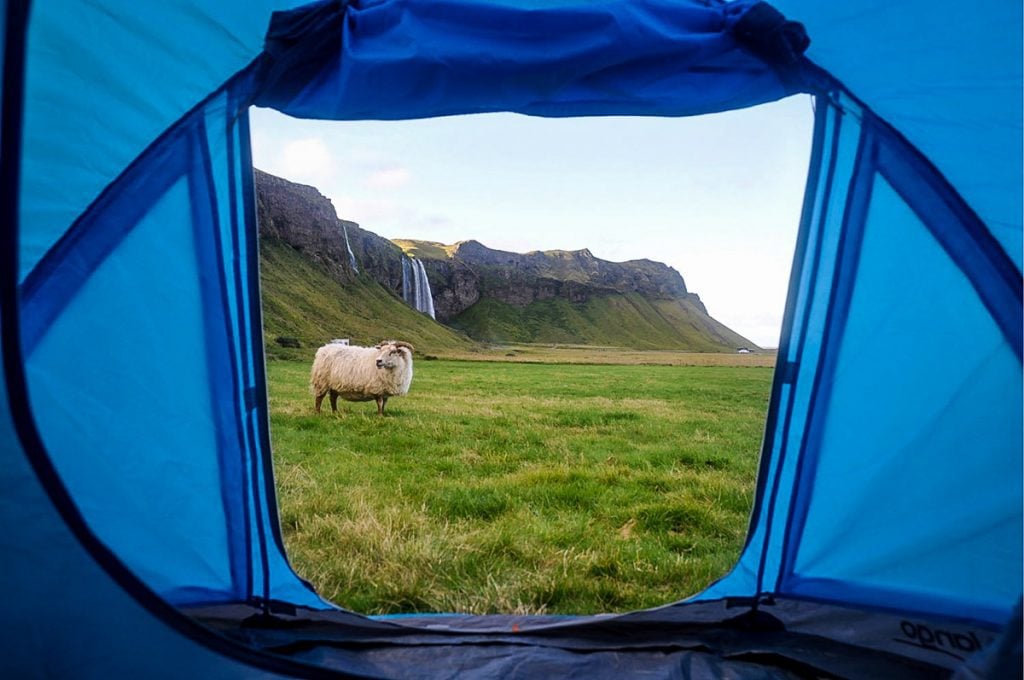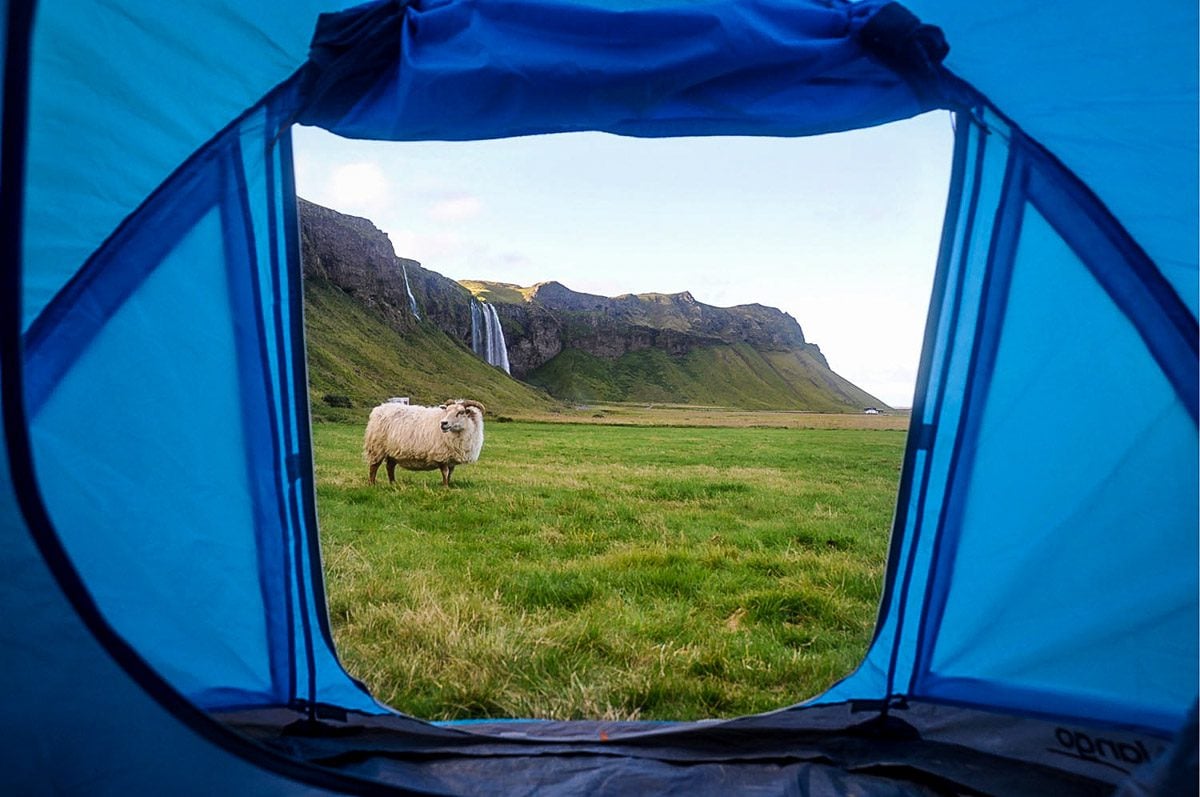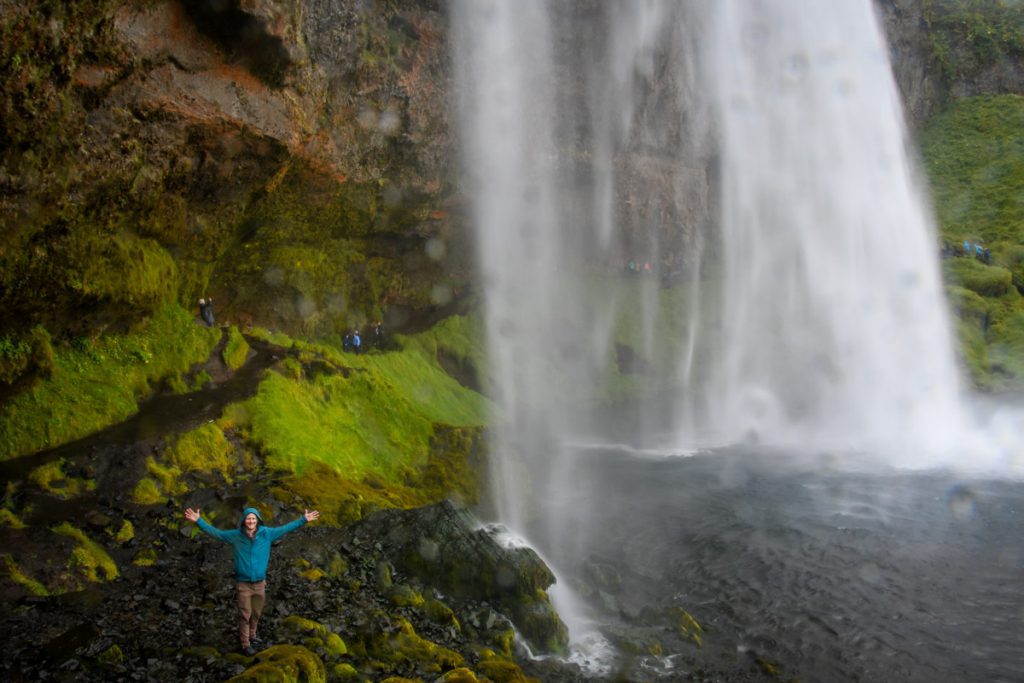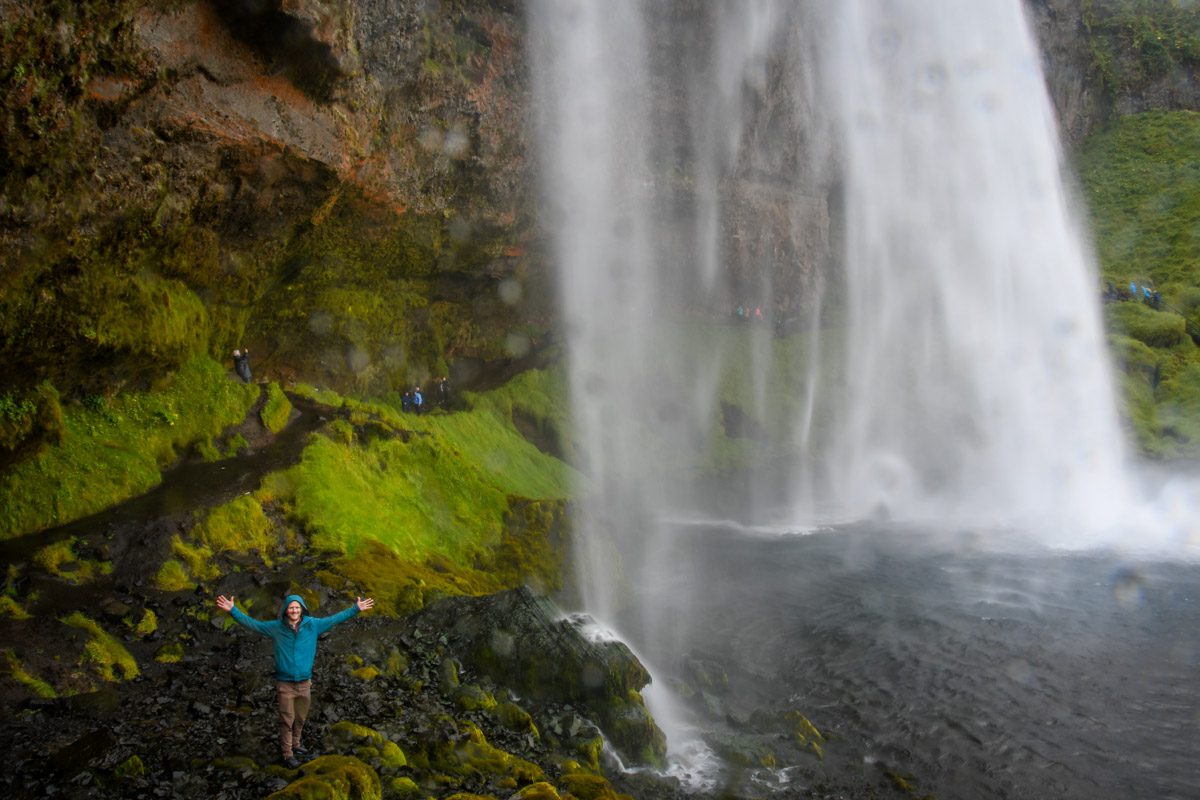 Nicknamed "the Beauty" this might be one of the most picturesque waterfalls in all of Iceland. What makes it so unique is that you can actually get up close and walk behind the falls. The lighting here is perfect during the golden hour at sunset, but this place is no secret, so get there early and be prepared for crowds.
Psst! Seljalandsfoss is one of our top recommended stops along the Ring Road and just under a 2 hour drive from Reykjavík.
Skógafoss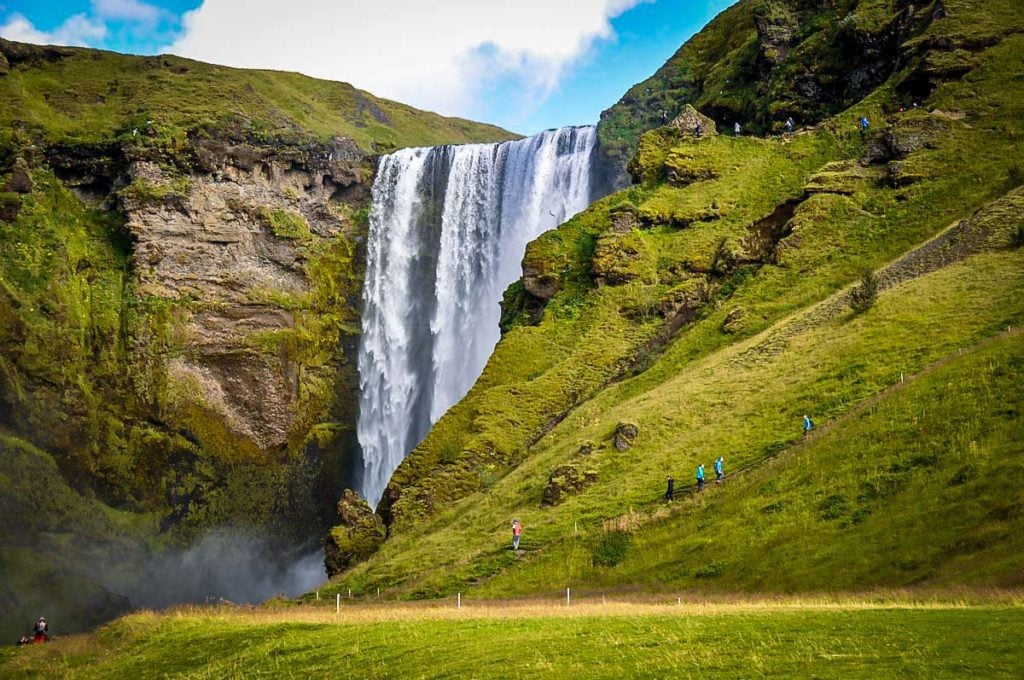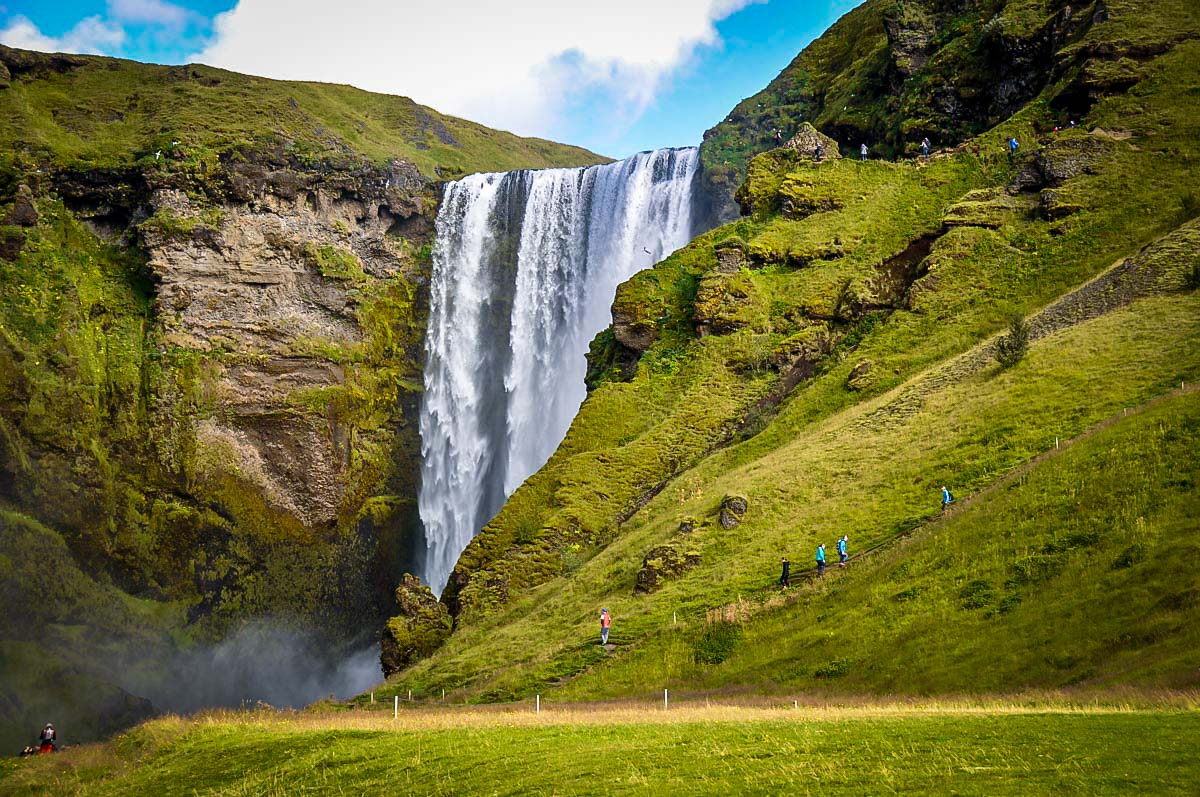 Nicknamed "Rainbow Falls", this astounding 200-foot waterfall is unique because you can walk right up to it to get some great shots. The nickname comes from the natural rainbows caused by the mist of the powerful falls. The closer you get, the more likely you are to see the rainbows.
For another perspective you can follow the staircase to the top and look down on the falls.
Brúarfoss Waterfall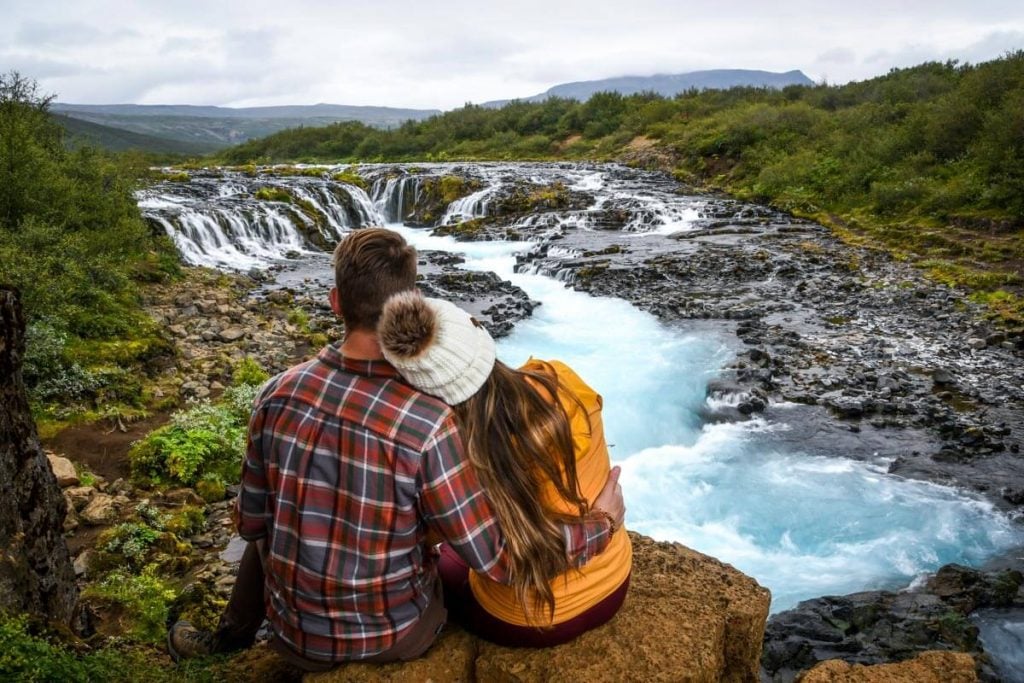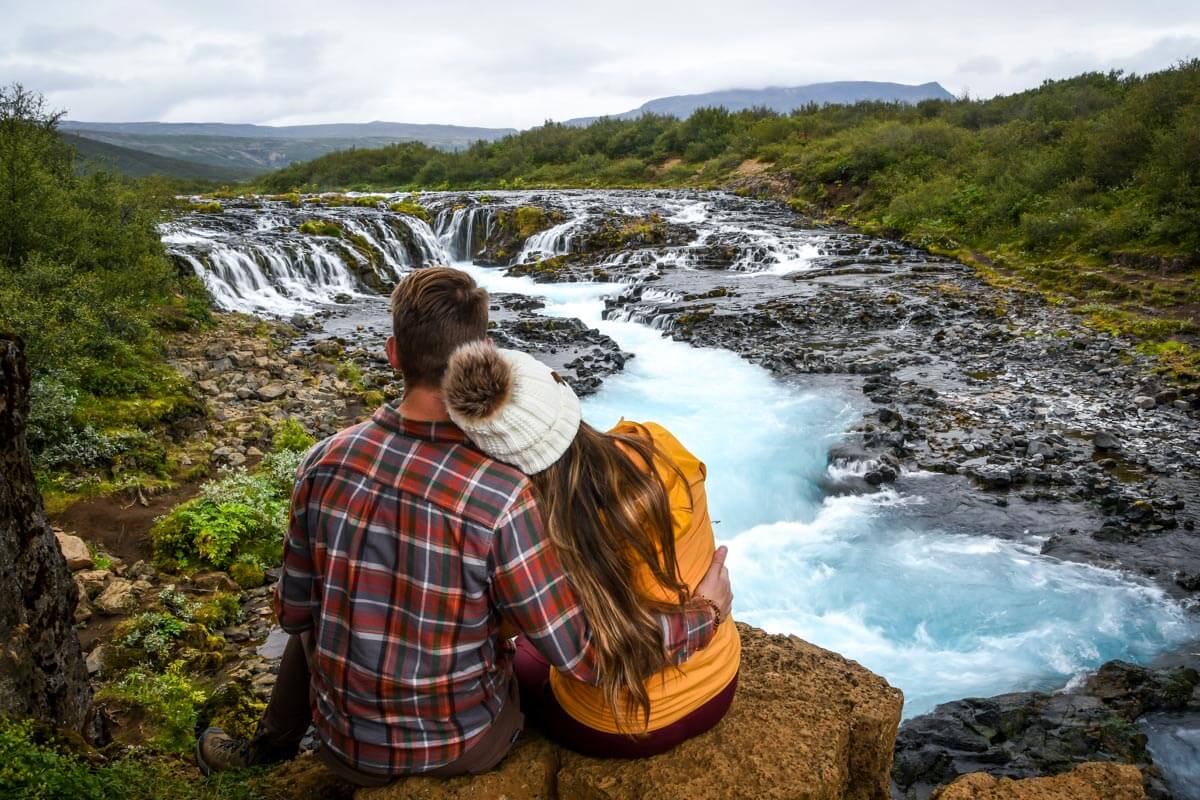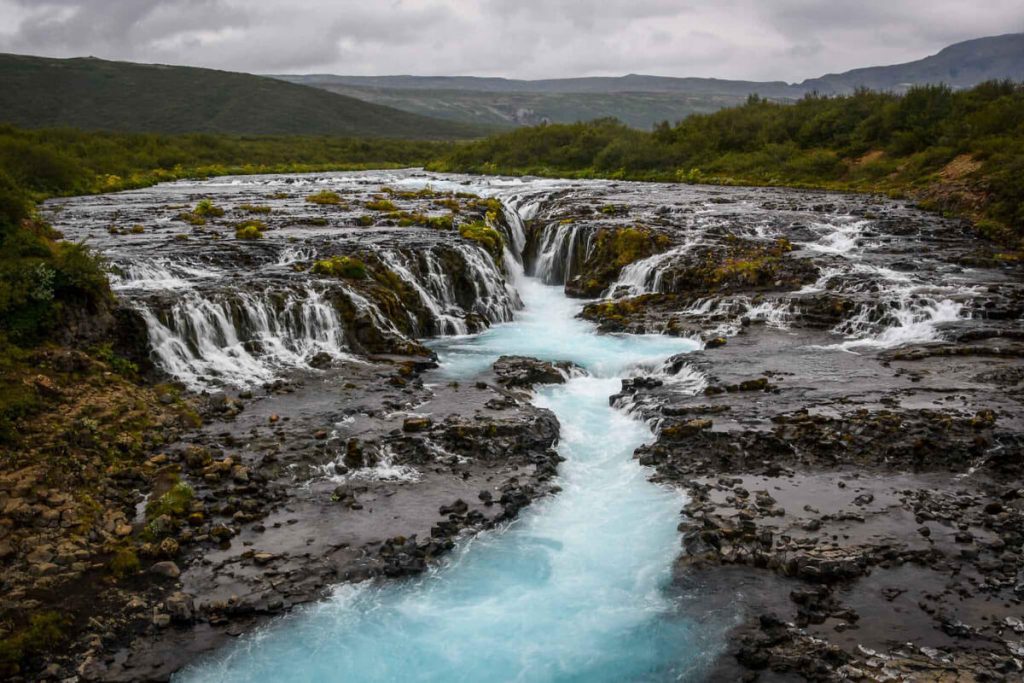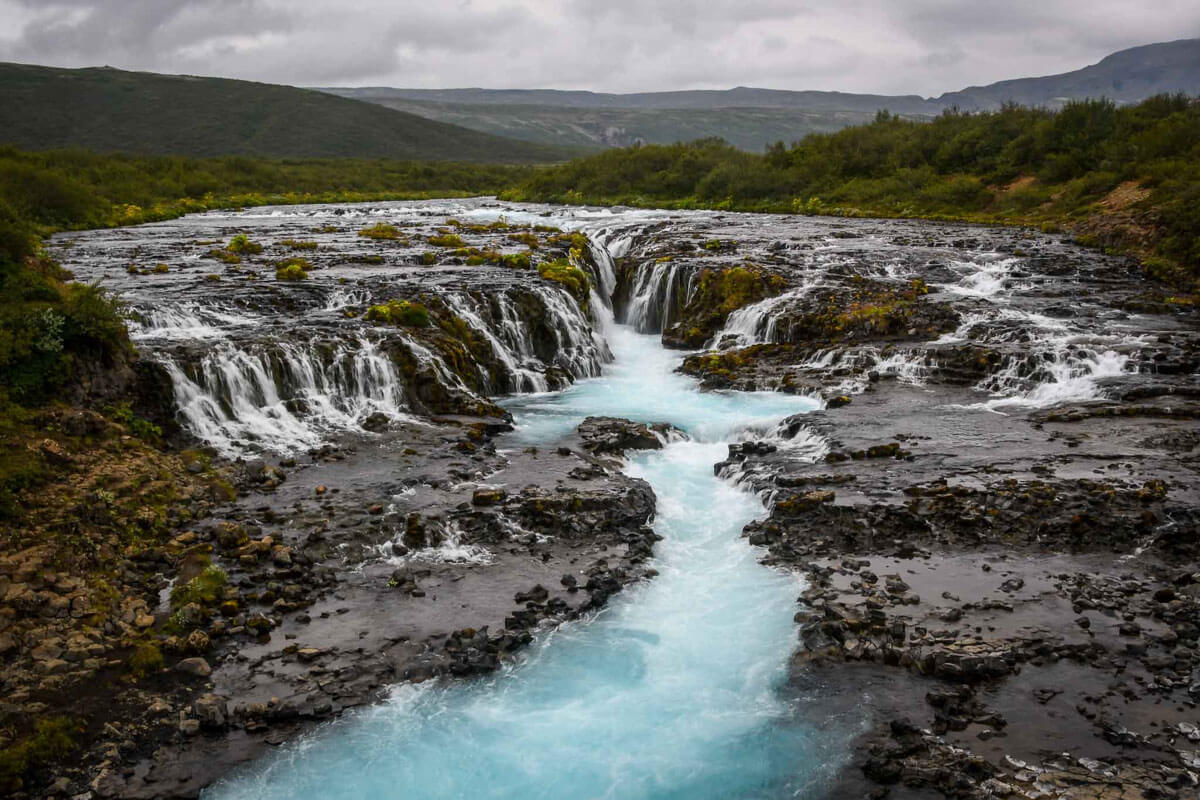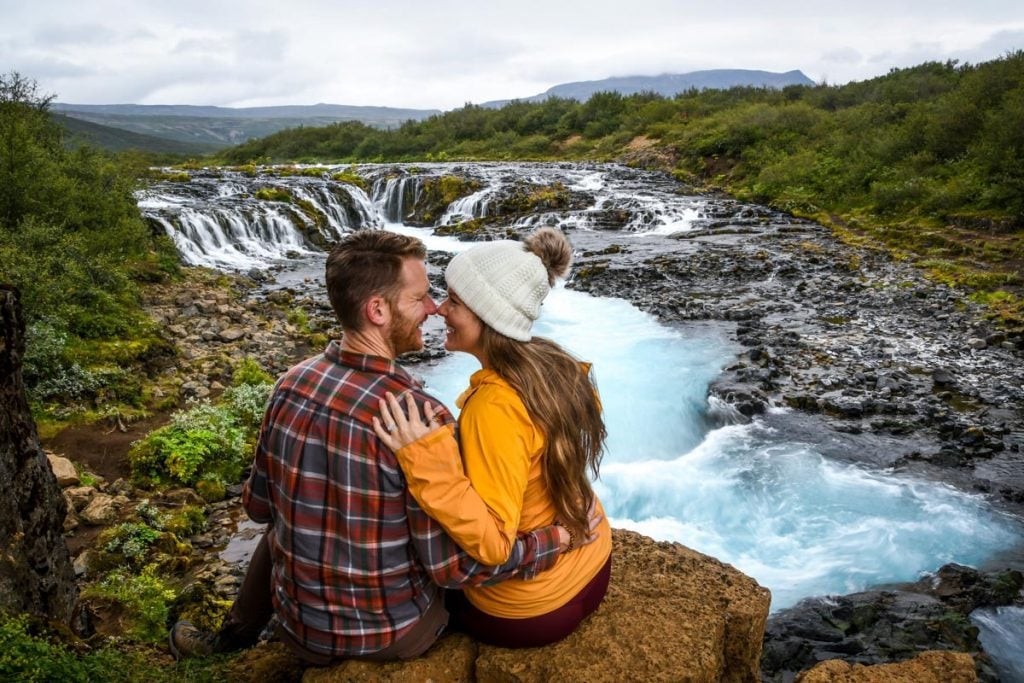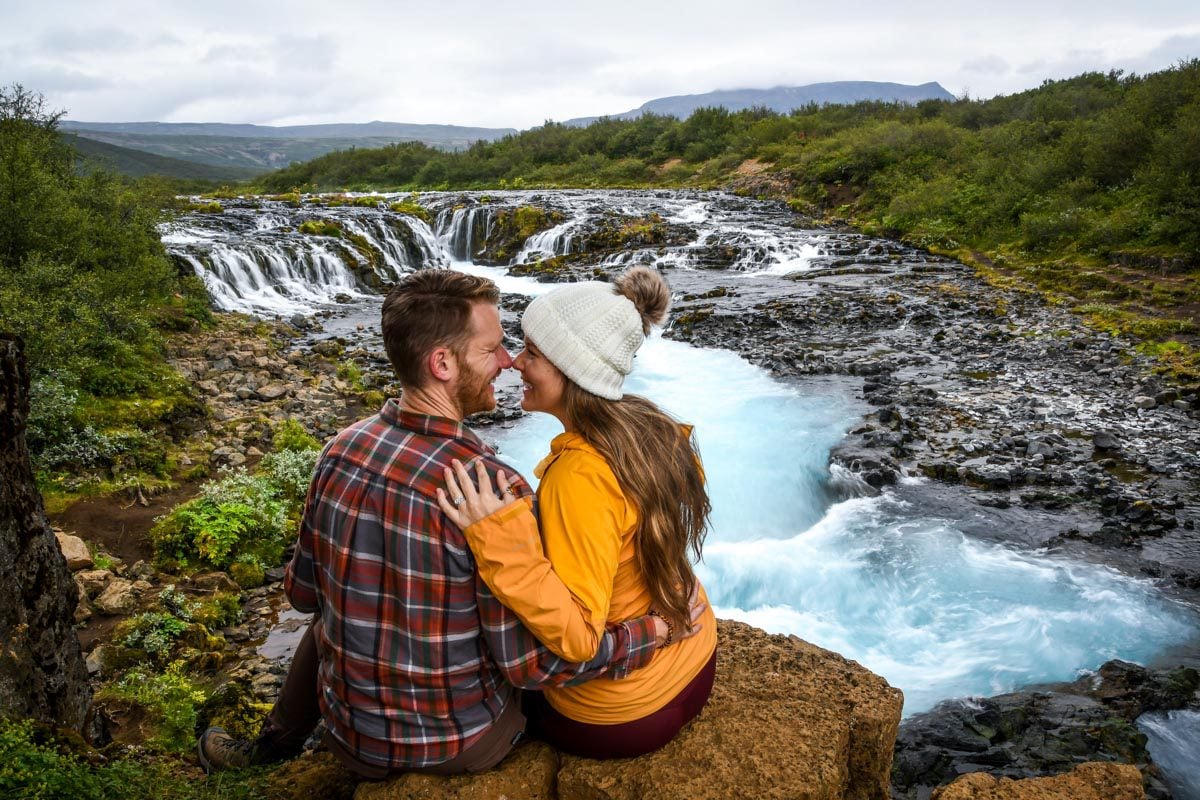 Known as Iceland's bluest waterfall, we really enjoyed this off-the-beaten-path stop on the Golden Circle and got some great photographs here. Reaching the falls requires a 2+ hour round trip hike adjacent to the Brúará River, but you'll be rewarded with unobstructed views of the striking electric blue waterfall. You may even have the place to yourself!
Gluggafoss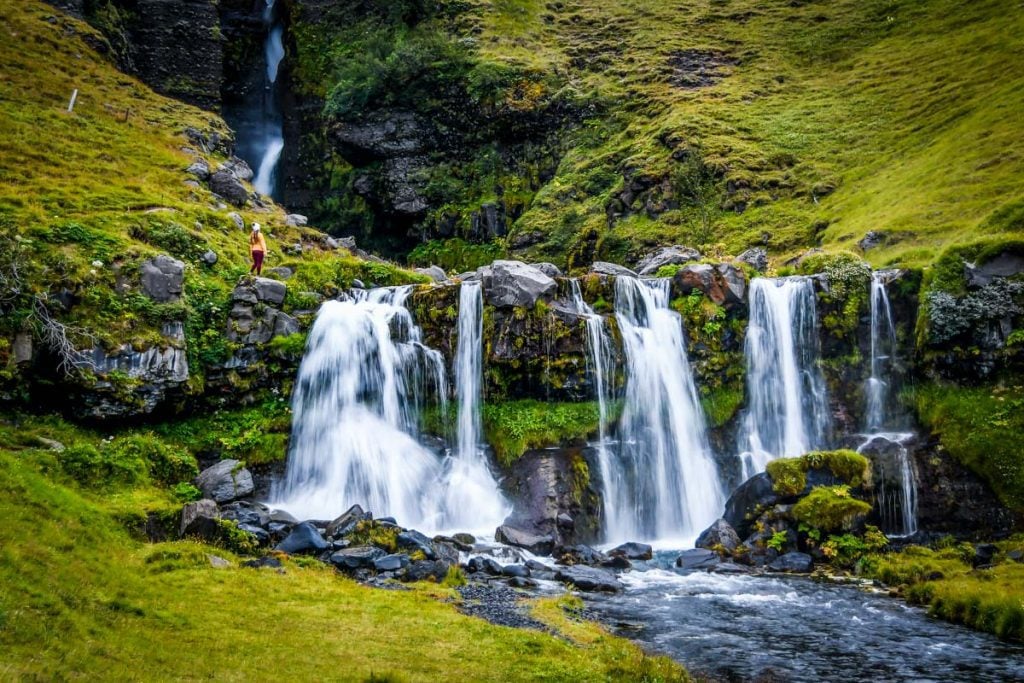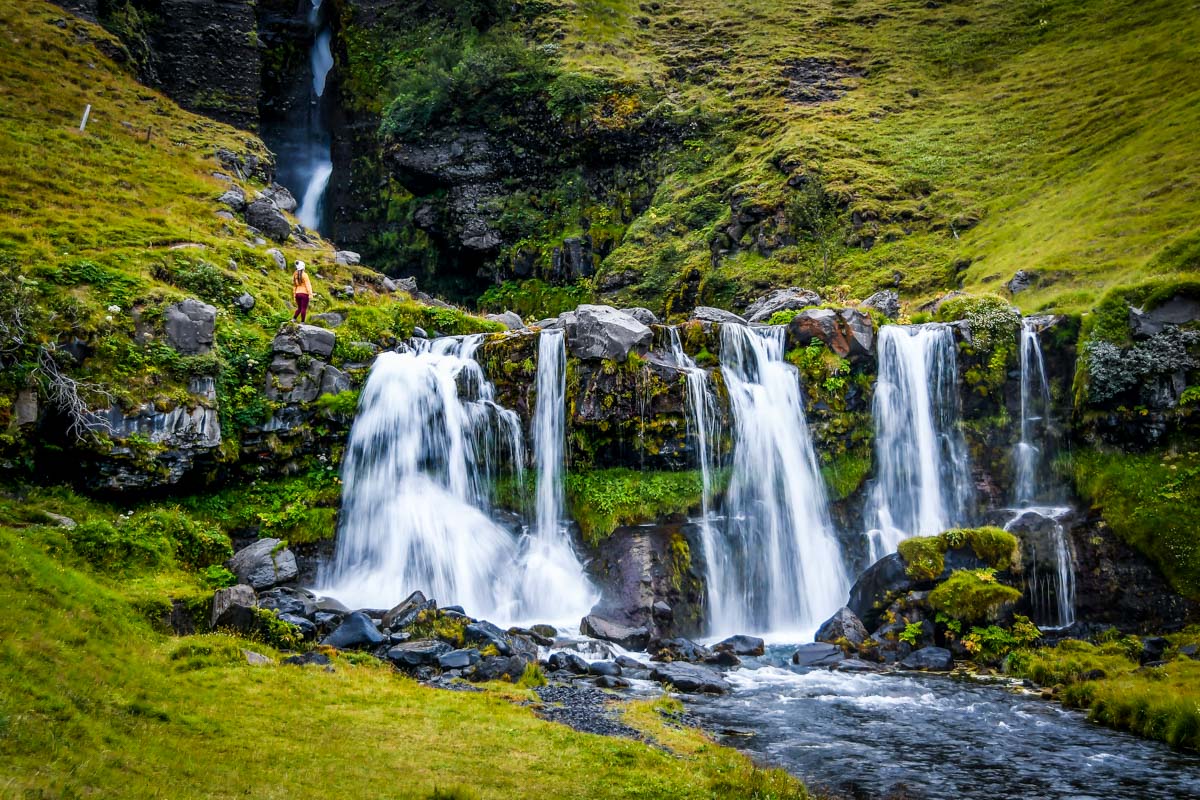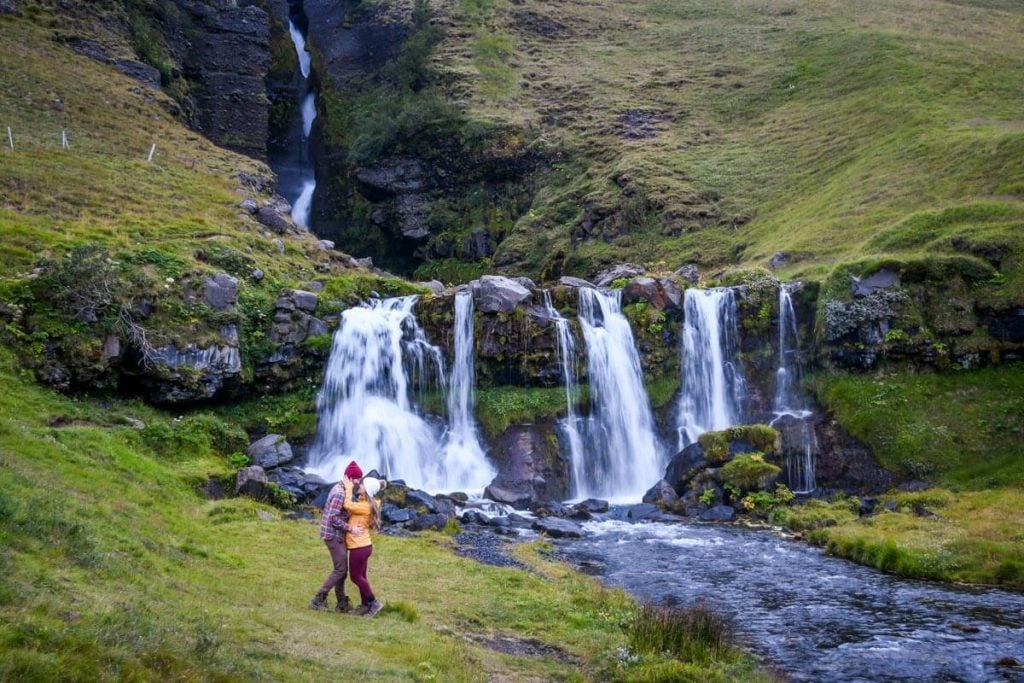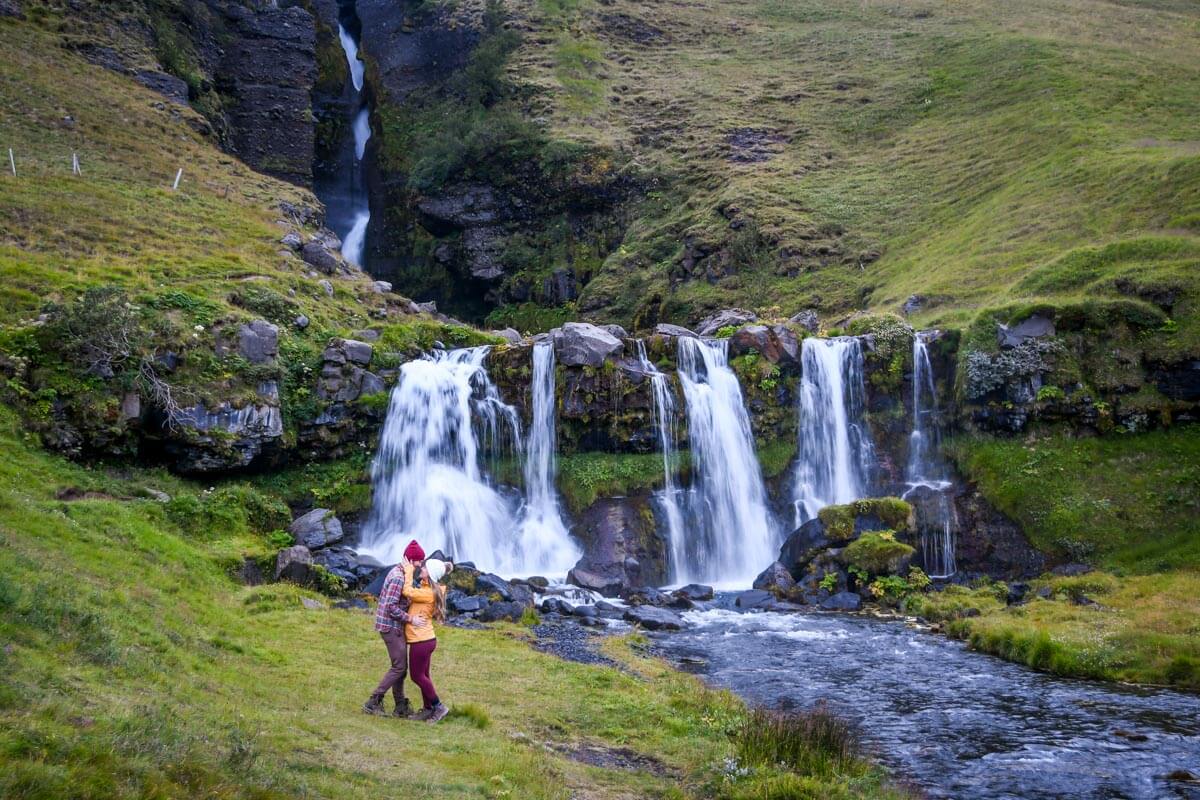 Part of a series of waterfalls running through the Merkjá River, known collectively as Merkjárfoss, Gluggafoss is just a quick detour from Ring Road. Surprisingly this area is still relatively untouched by tourism and therefore makes for excellent photos.
Tip: Bring your drone and get some great wide angle shots from above.
Öxarárfoss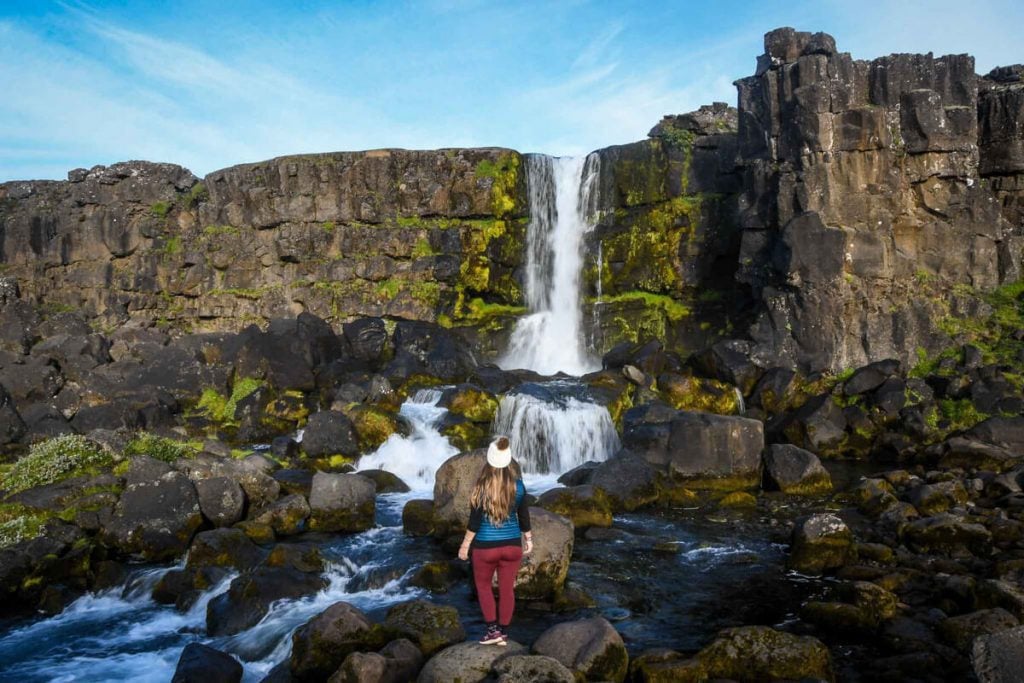 This easily accessible falls located in Thingvellir National Park displays an interesting backdrop of basalt columns which provide a nice contrast to the lime green moss. Scramble across the rocks and get up close for a better shot.
Tip: The best light for photography here will be in the morning when the sun is opposite the view of the falls.
Kvernufoss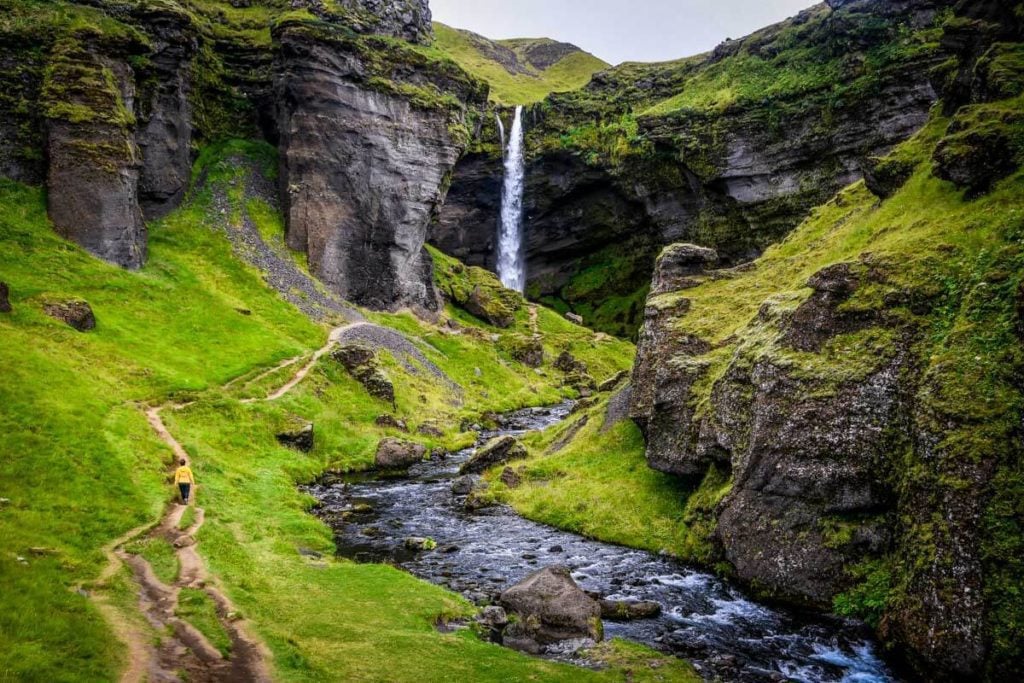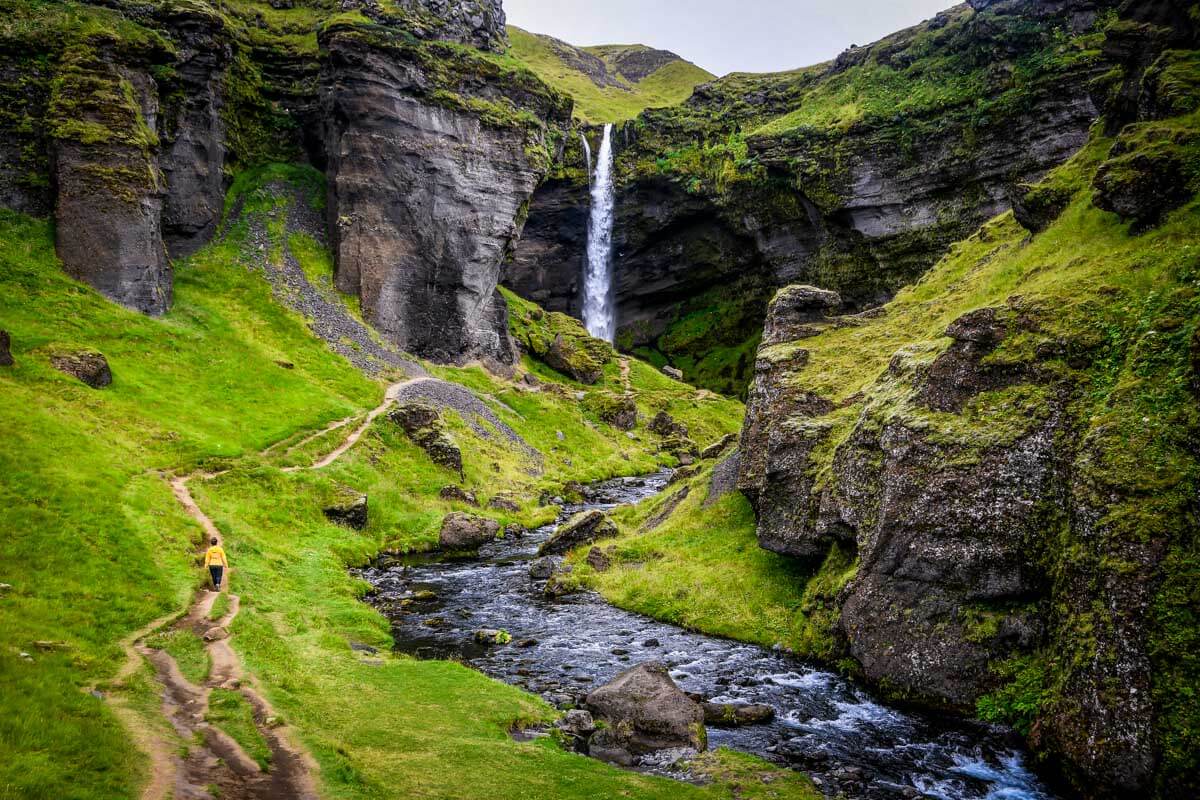 While nearby Skógafoss draws tour buses and huge crowds, many visitors miss this nearby hidden waterfall because they simply don't know of its existence. When we arrived, there were no other people here so we had plenty of space to set up our tripod and play with our drone shots.
Gljúfrabúi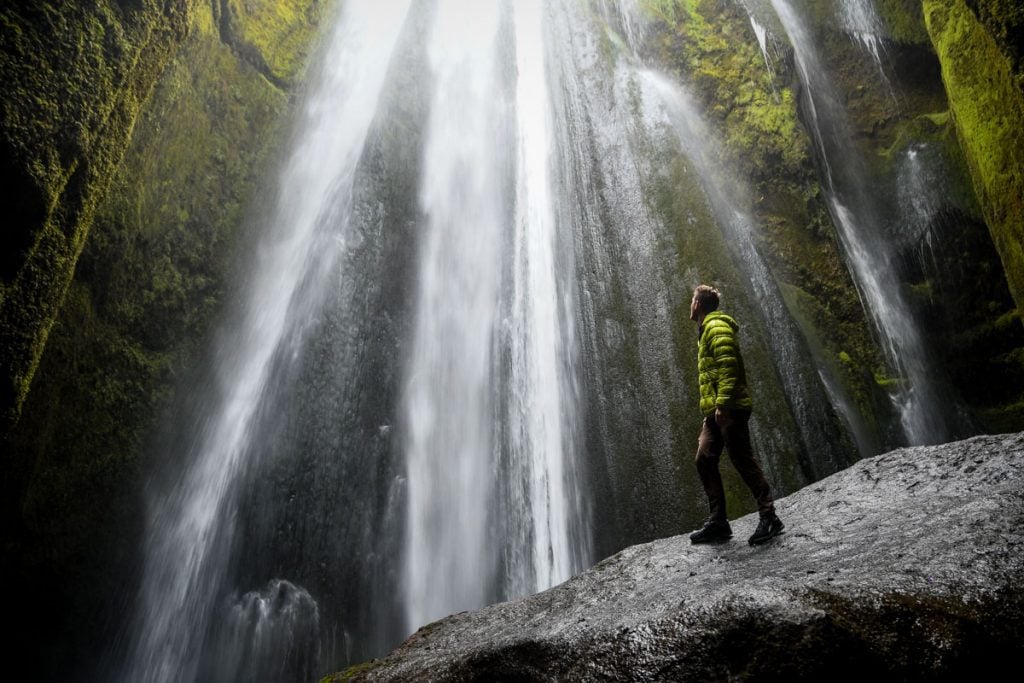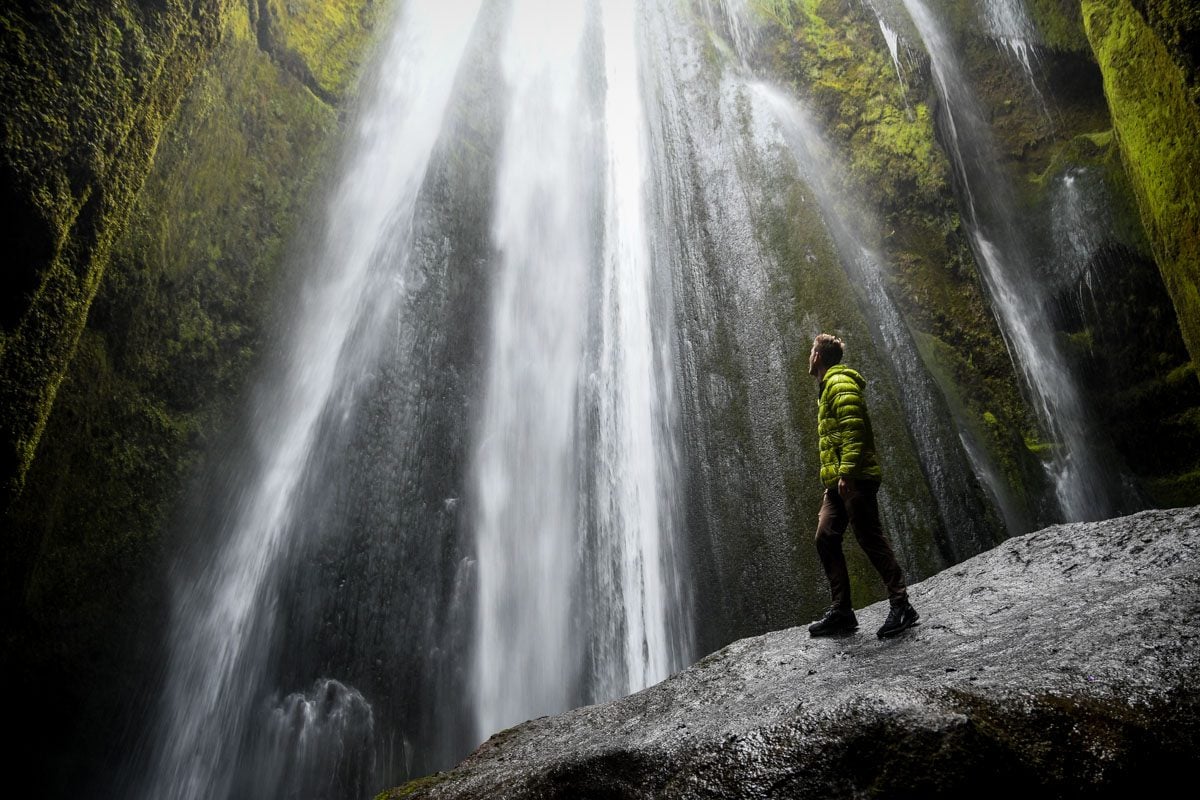 Nestled inside a slot canyon not far from the famed Seljalandsfoss, Gljúfrabúi provides a unique backdrop unlike any other waterfall in Iceland. Inside the canyon there's a rock you can climb on top of to get some cool shots of you in it (if you have a travel partner to snap a photo), but be respectful of others and take these photos quickly as everyone wants to get the same shot.
Gullfoss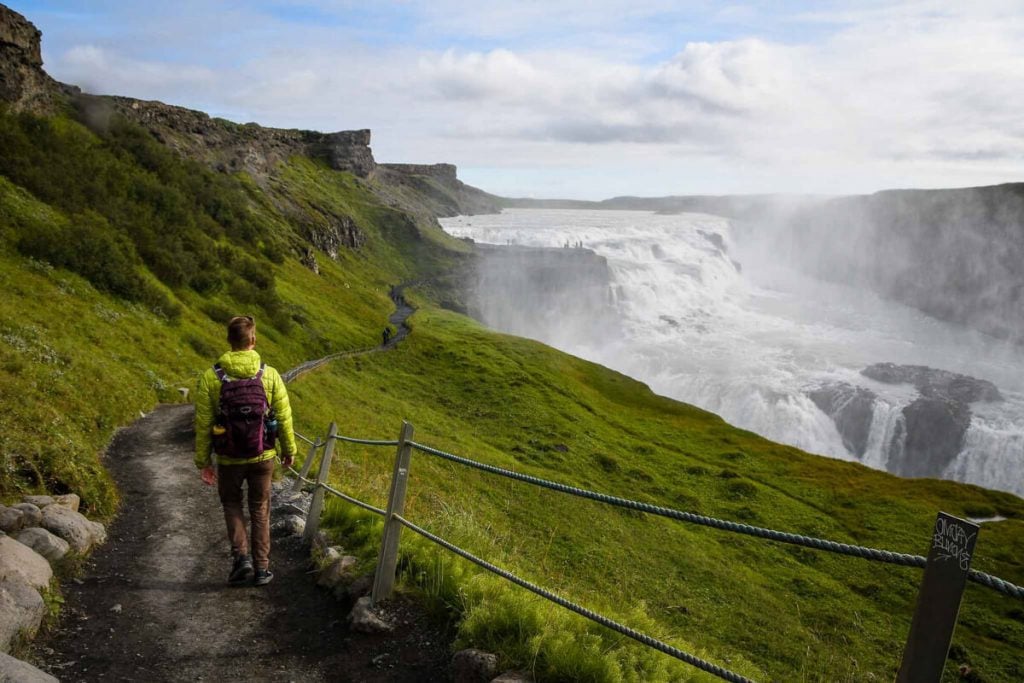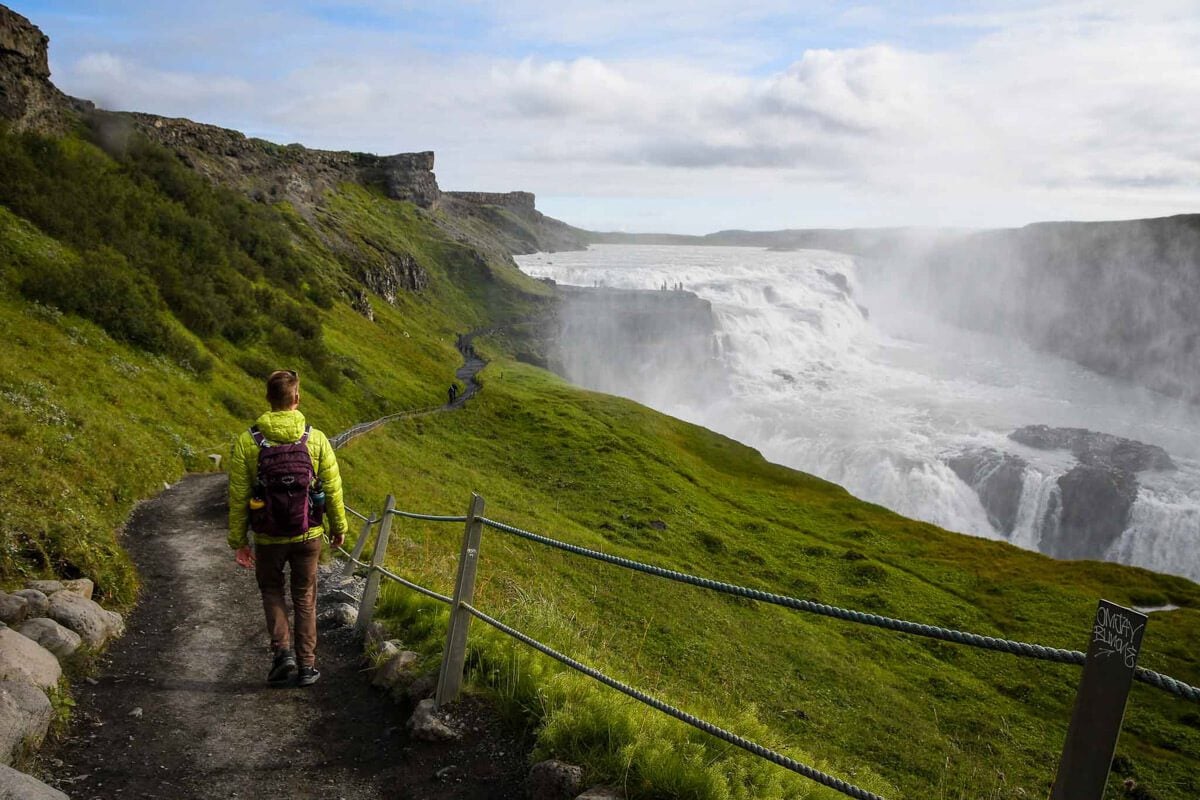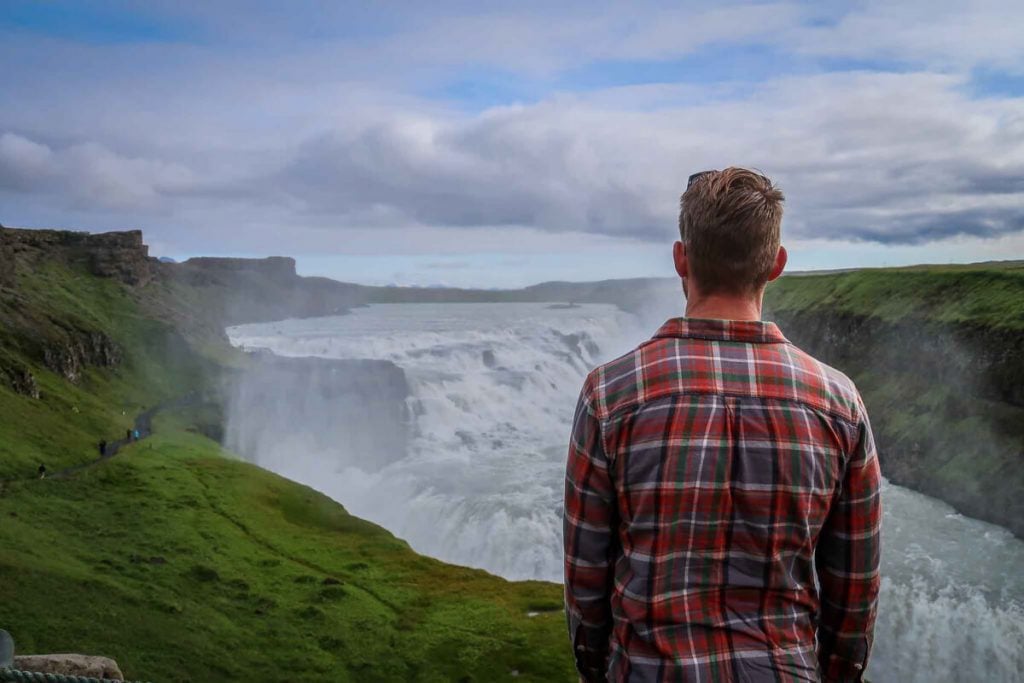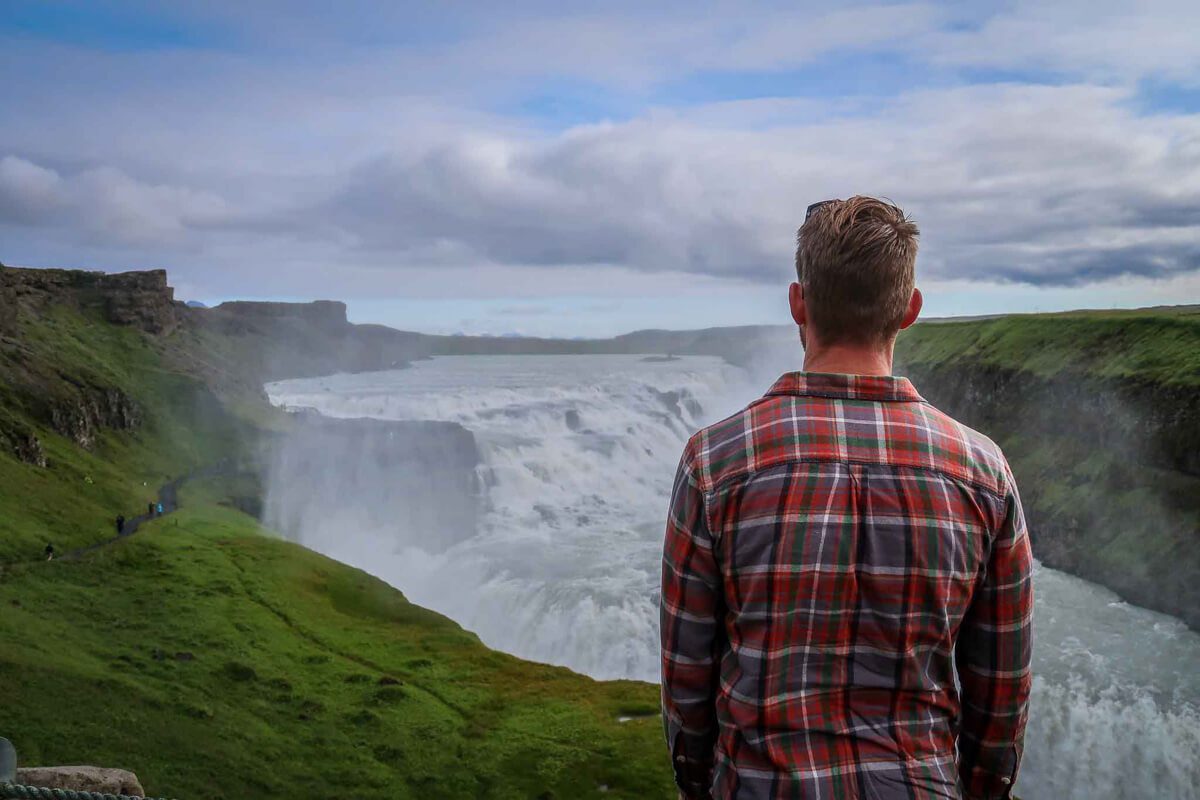 Often hailed at the most famous waterfall in Iceland, Gullfoss is easily accessible year-round as part of the famous Golden Circle, just 1.5 hours from Reykjavík. The massive two-tiered waterfall envelops visitors in mist, creating rainbows on sunny days. It can be observed from an upper and a lower viewpoint, which grants different perspectives.
---
Looking for a way to fit all of this in one trip?
If you want to save yourself the hours of research and planning, we've got you covered with our ultimate done-for-you Iceland South Coast Itinerary. This itinerary includes a lot of what you'll find in this article, plus so much more! It covers ALL the bases, from driving directions and timing of activities, to necessary reservations and recommended places to stay.
The itinerary is customizable for 7 days, with 8- or 9-day options, hitting all of the highlights of the Southern Coast of Iceland.


---
Lagoons, beaches & hot springs
In this volcanic nation, the beaches are black and the lagoons come in all different shades of milky blue. In fact, Iceland has some of the brightest blue glacial waters we've ever seen! And the solid stuff is pretty neat too (solid water that is… Ice!).
Here we've rounded up the most photogenic lagoons, beaches and hot springs to photograph in Iceland.
Jökulsárlón glacier lagoon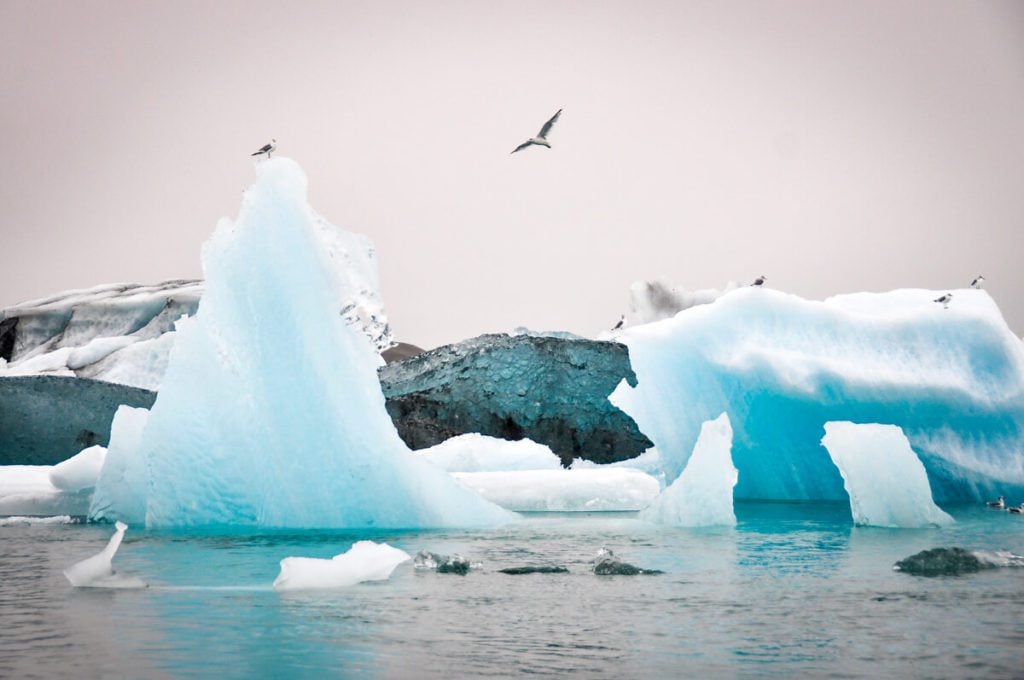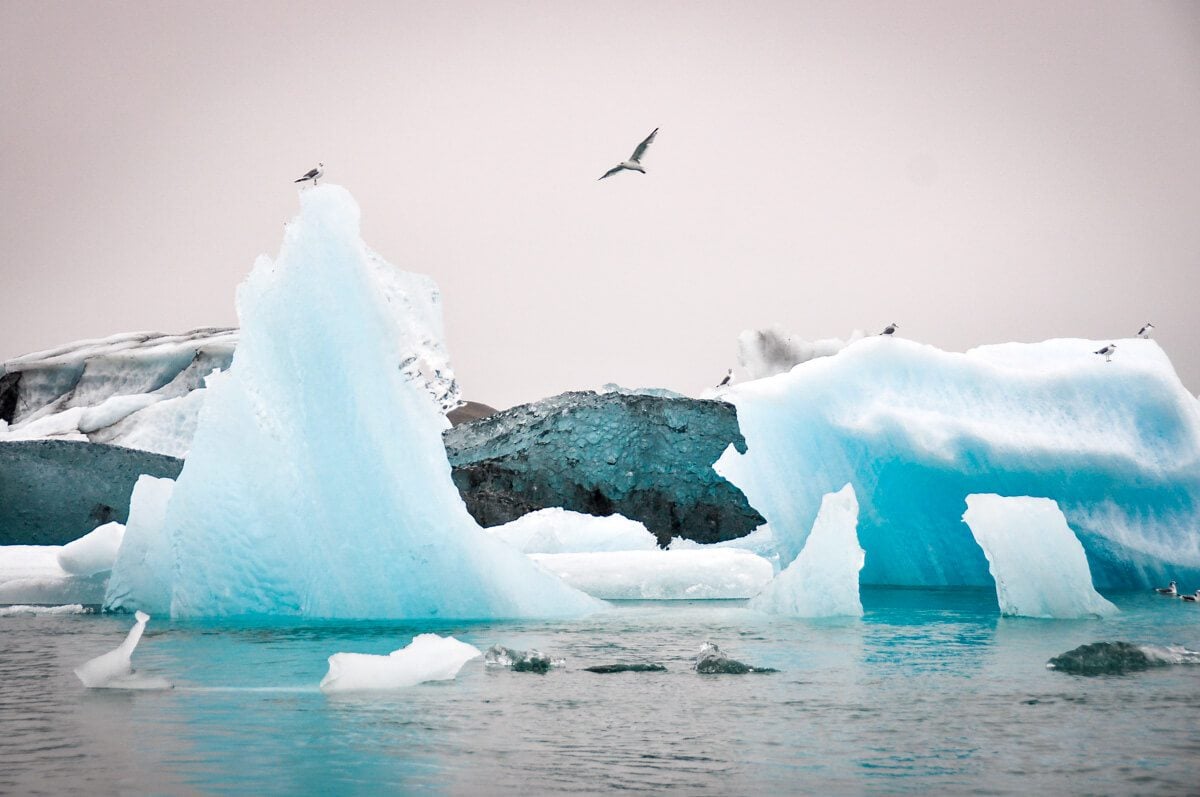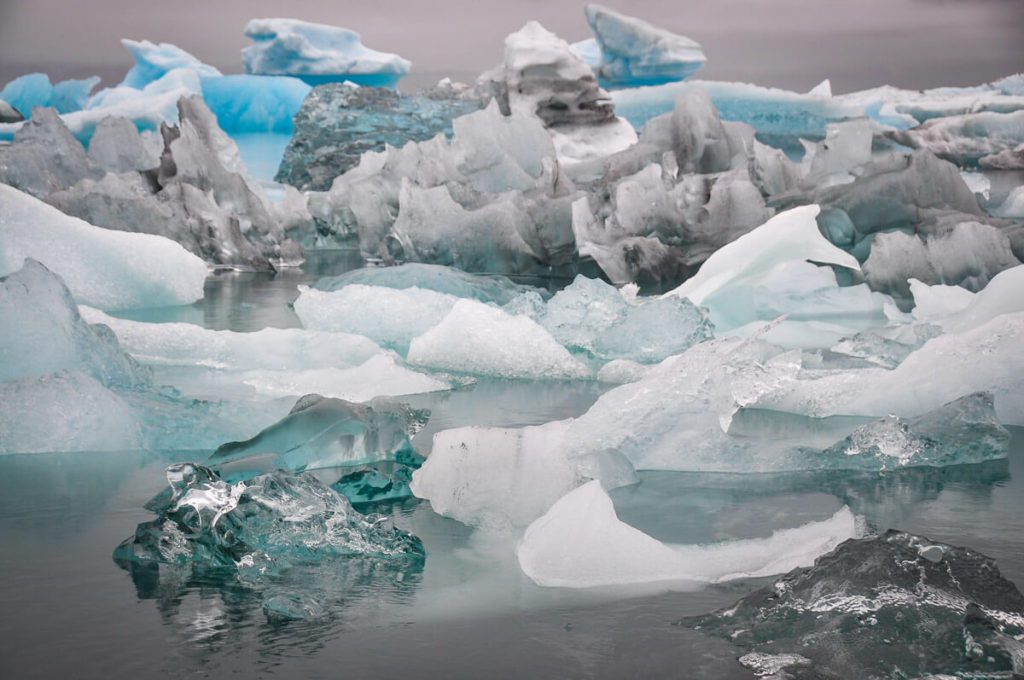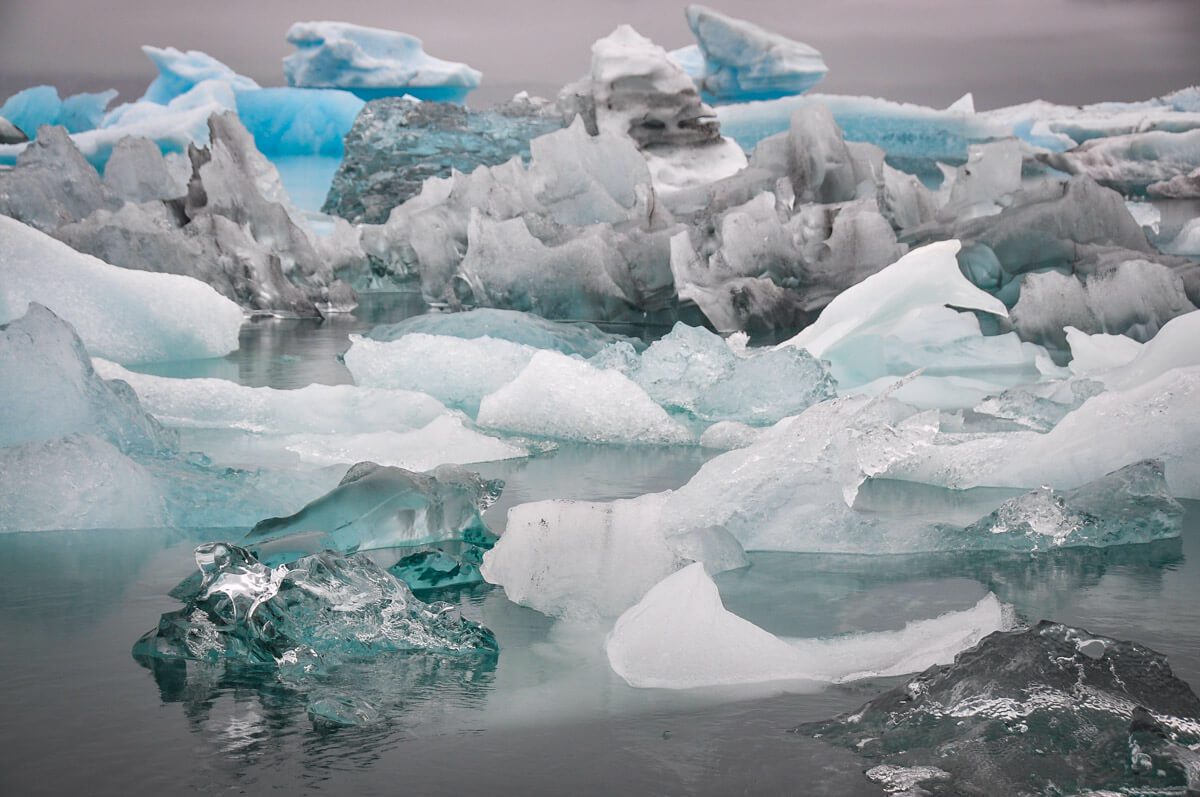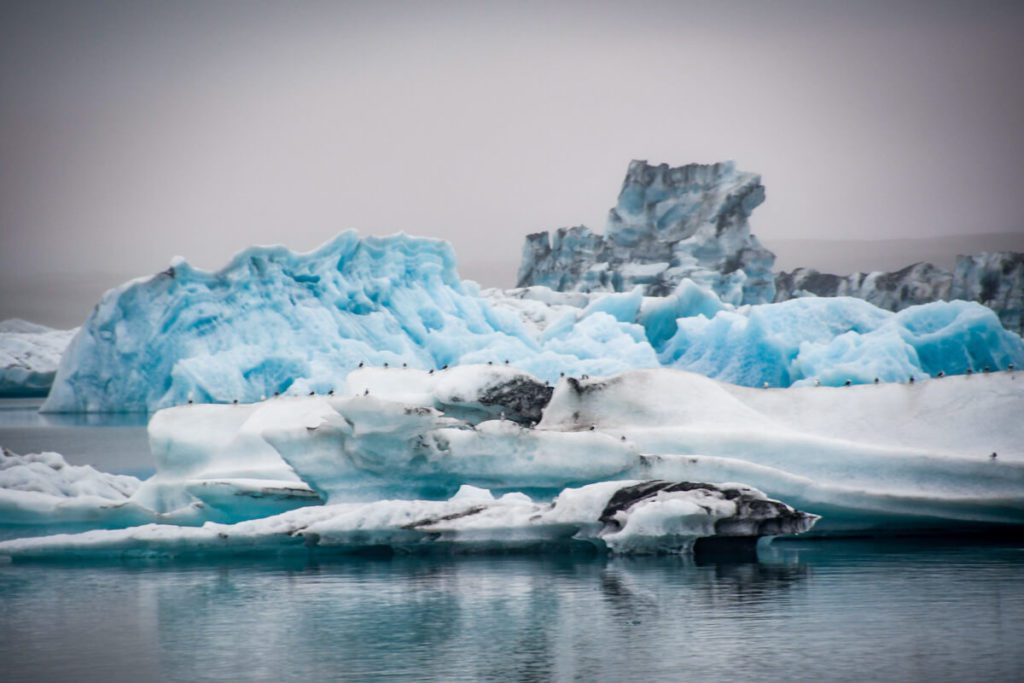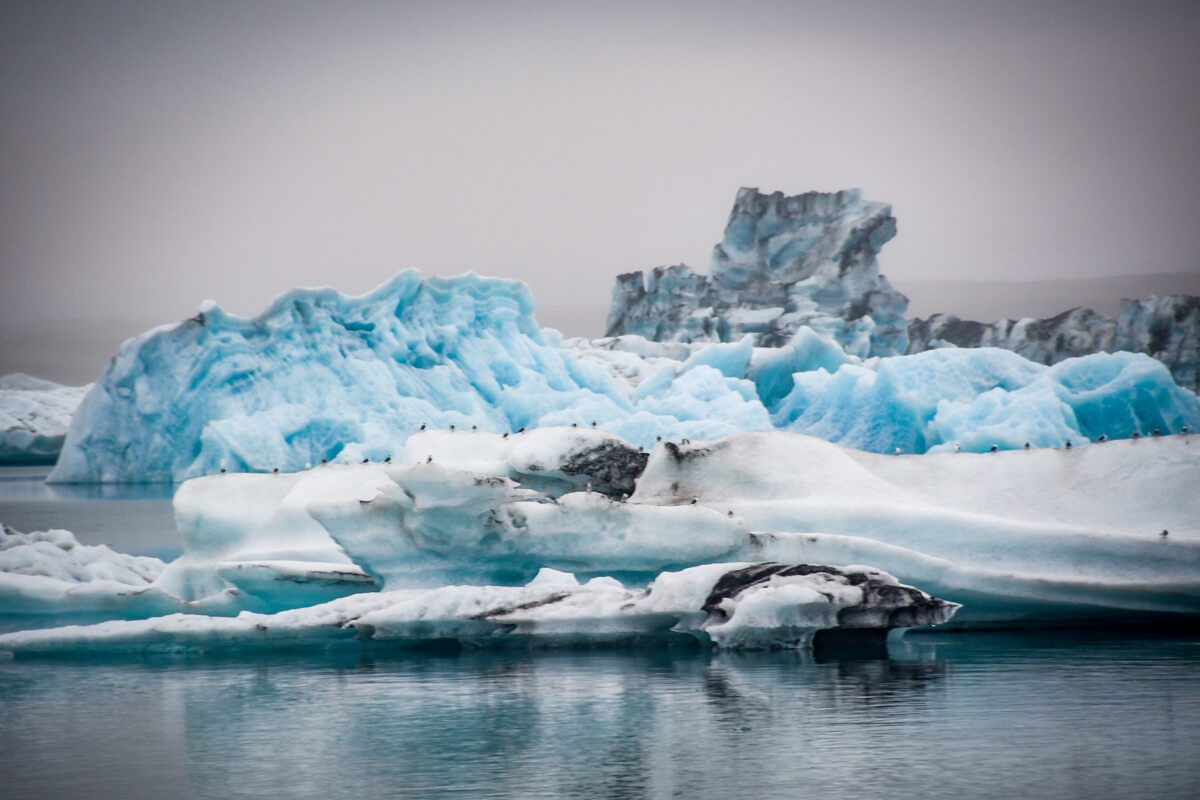 This glacier lagoon is a must-see for photography enthusiasts in Iceland. This small body of water is filled with icebergs that have broken off of the nearby glacier, creating a patchwork of icy blue that is constantly changing. We've visited this lagoon twice and it was different each time.
Tip: Make a timelapse video on your phone or GoPro so you can see the icebergs as they move.
Alternative: Fjallsárlón Lagoon is nearby and less-visited. A nice place to get photographs in Jökulsárlón is too crowded.
Diamond Ice Beach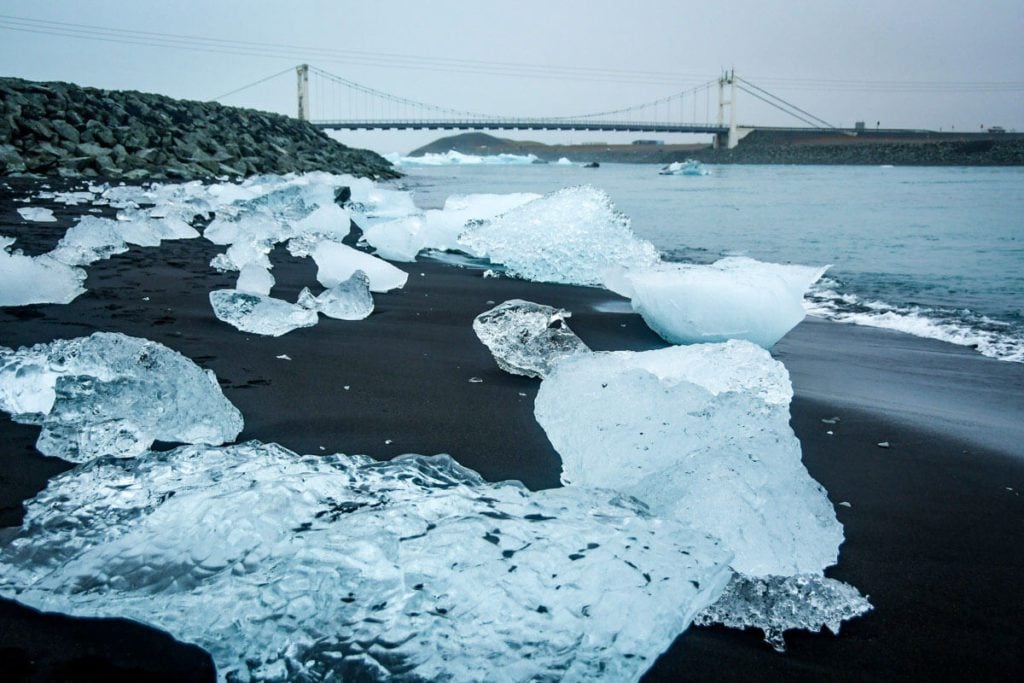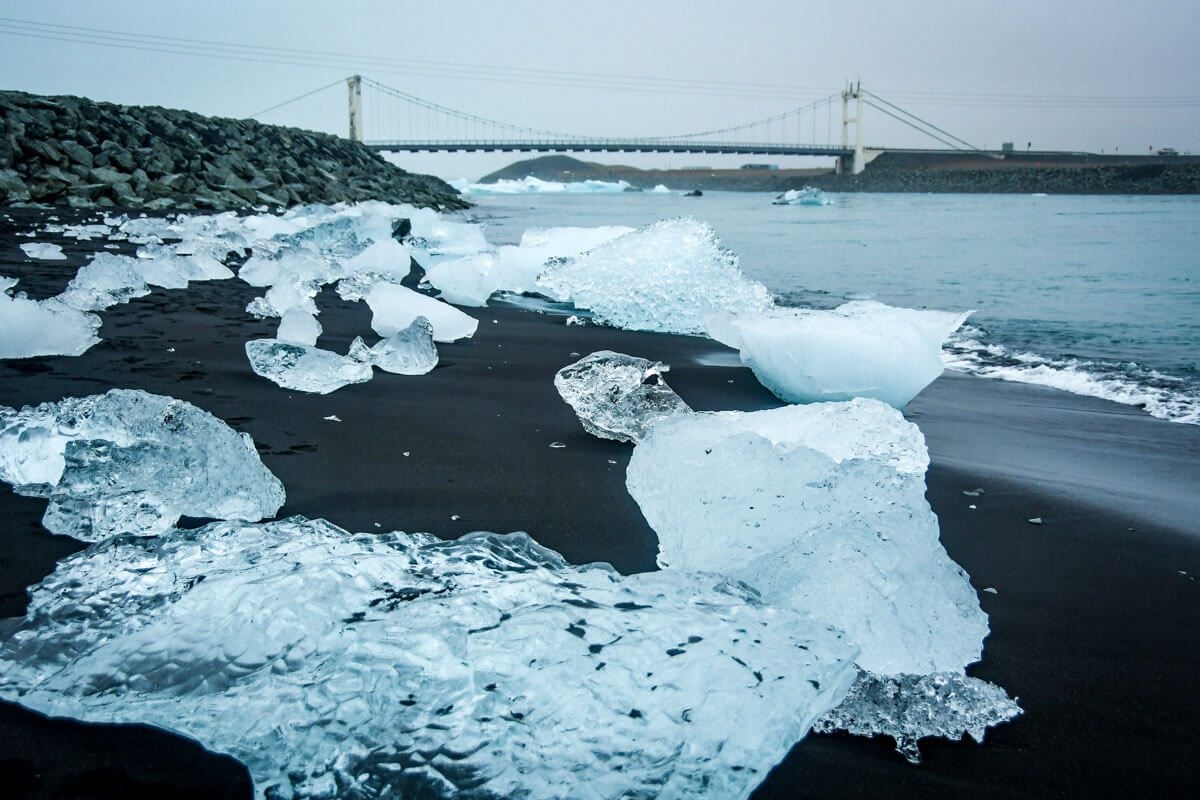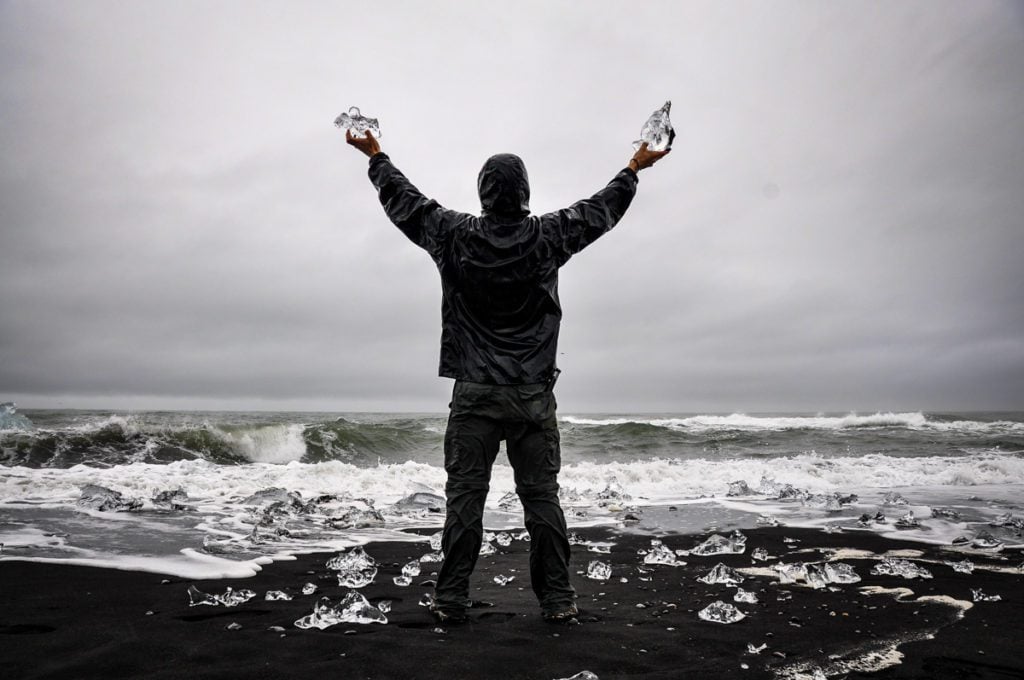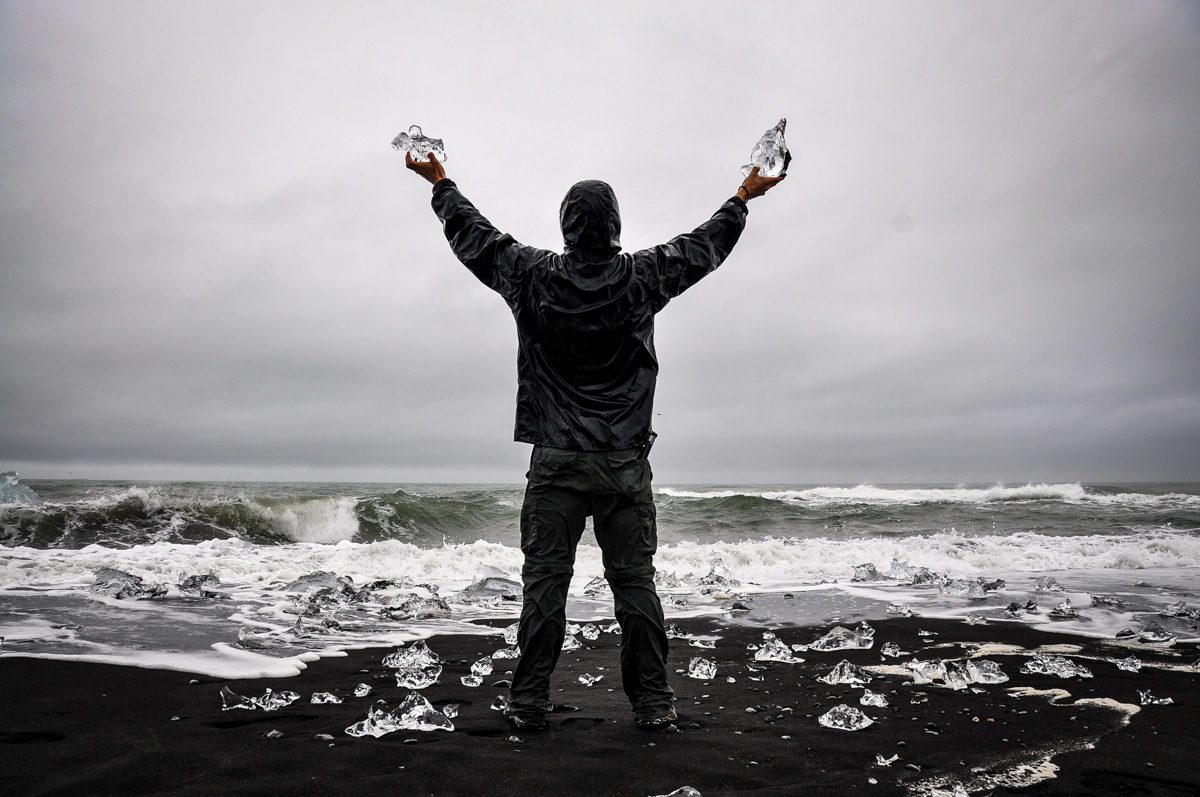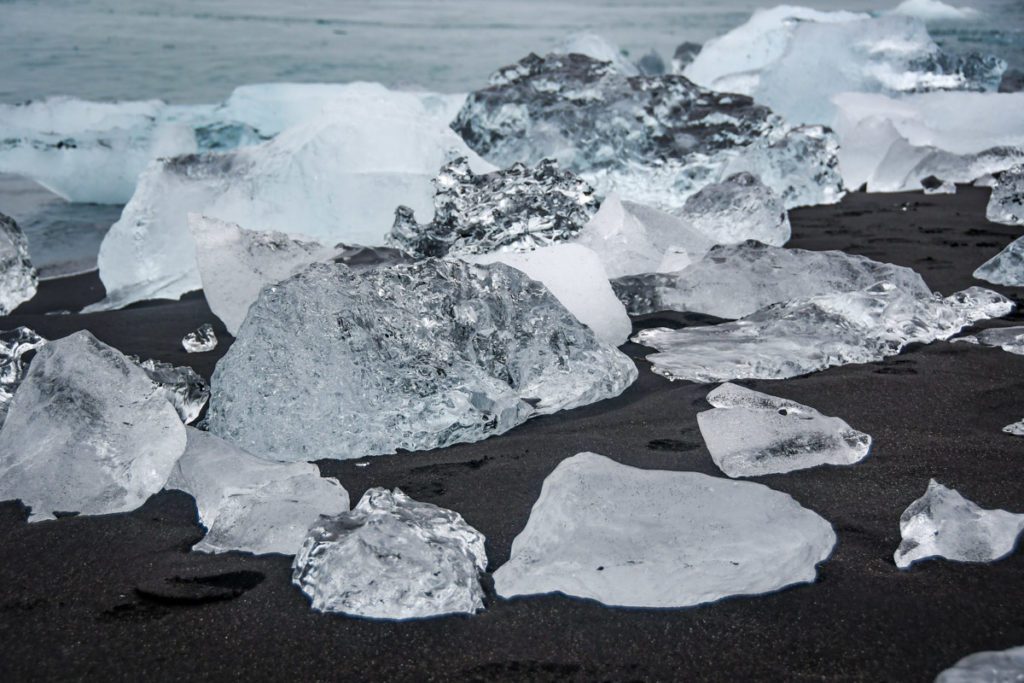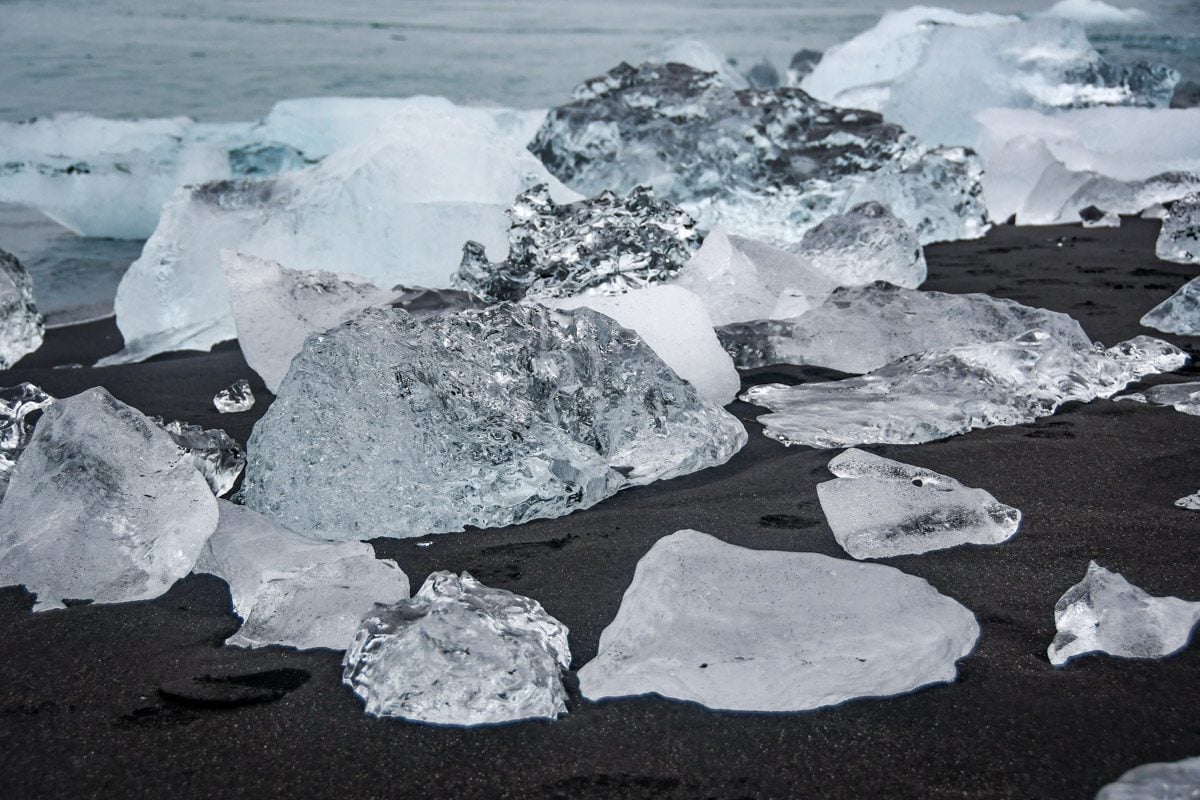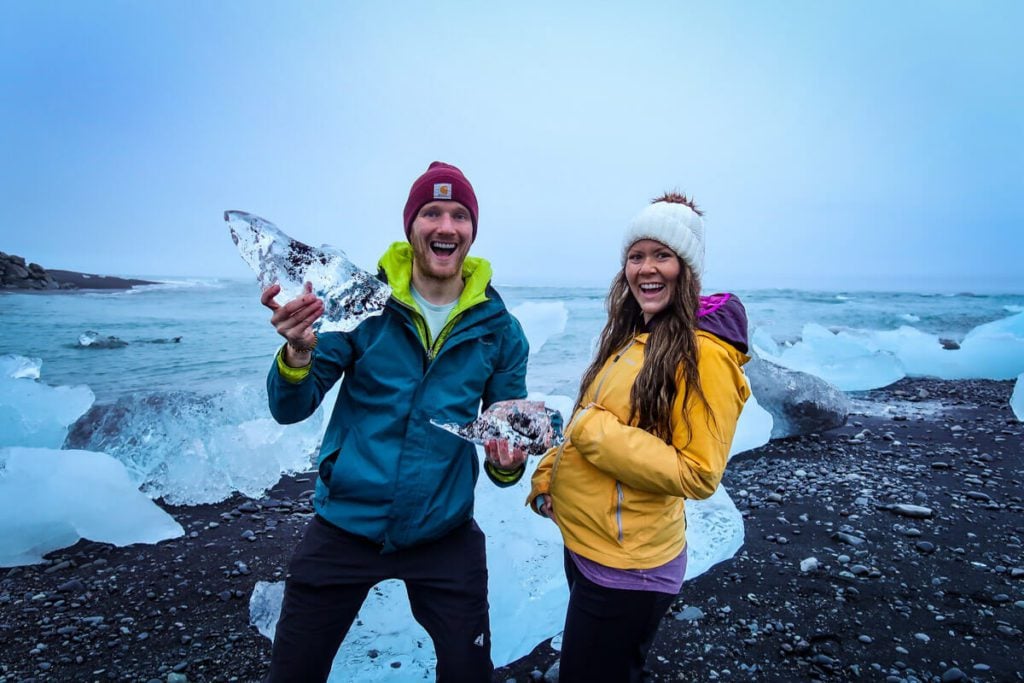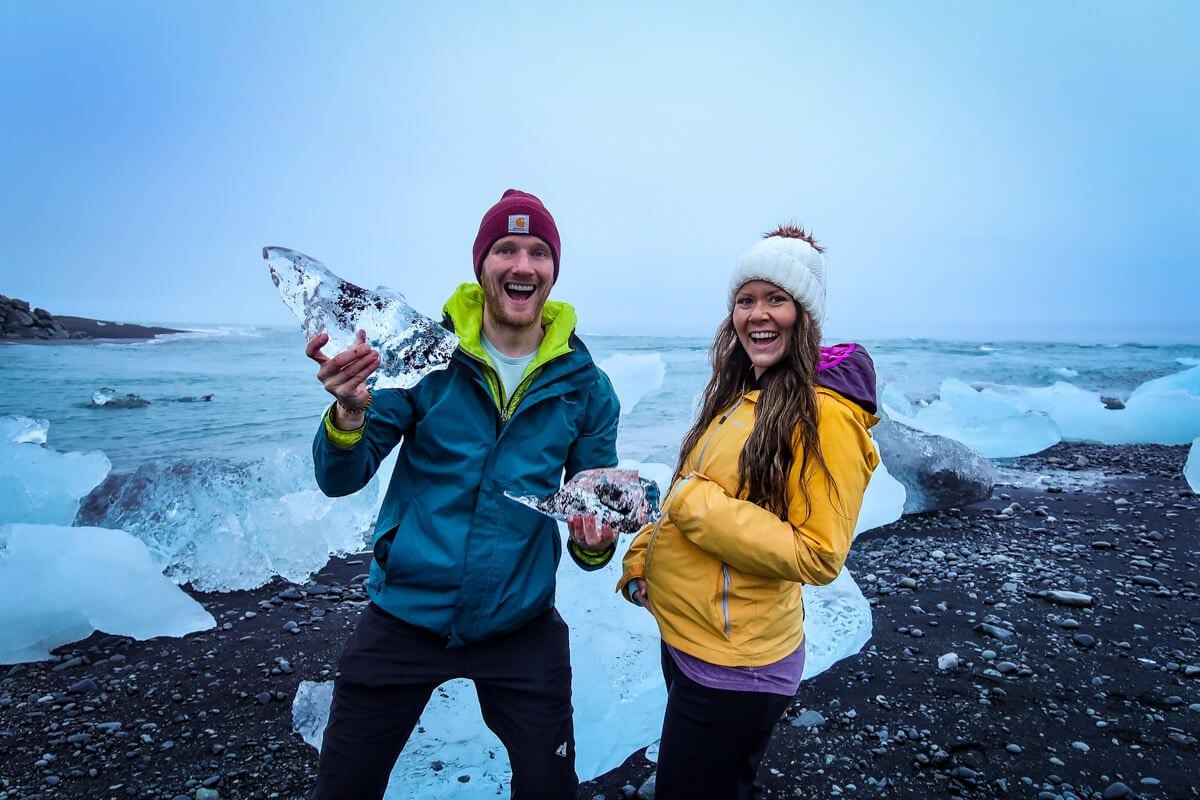 Unlike any beach you've ever seen before, Diamond Ice Beach is made of black sand and strewn with solid ice chunks as big as your head! While it's undoubtedly touristy, we've visited Diamond Beach twice and can say that it is truly one of the coolest things to do in Iceland, and worth it for the photo ops. Pick up the ice chunks and have yourself a little photoshoot, or play with different perspectives of the contrasting landscape.
Tip: This place is especially beautiful at "blue hour" just after sunset when the ice sparkles in the twilight hours like diamonds.
Sólheimasandur Plane Wreck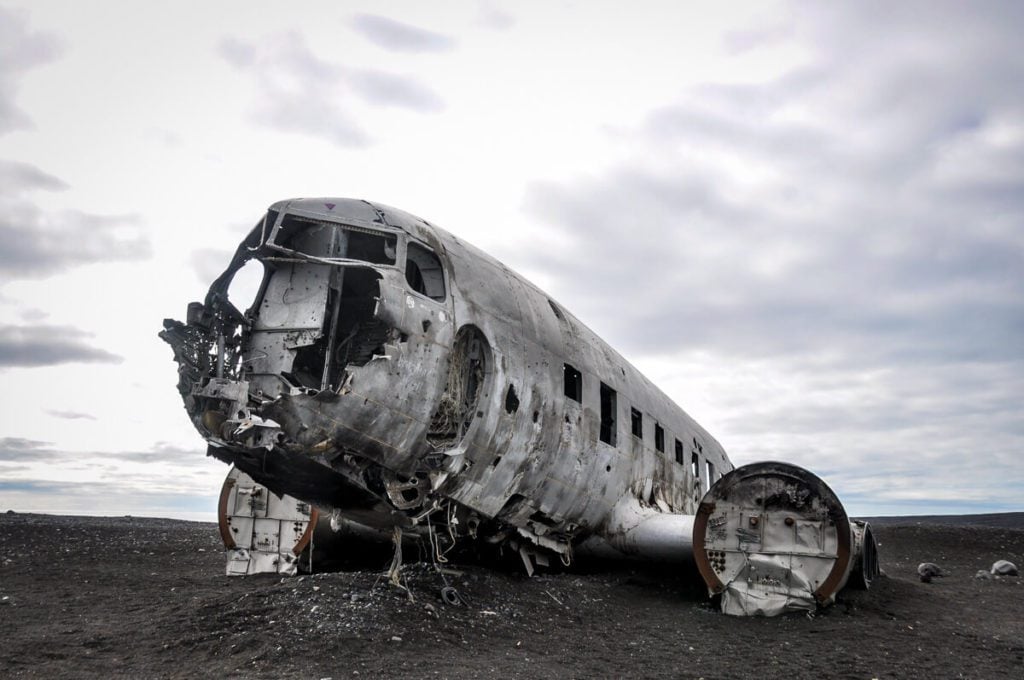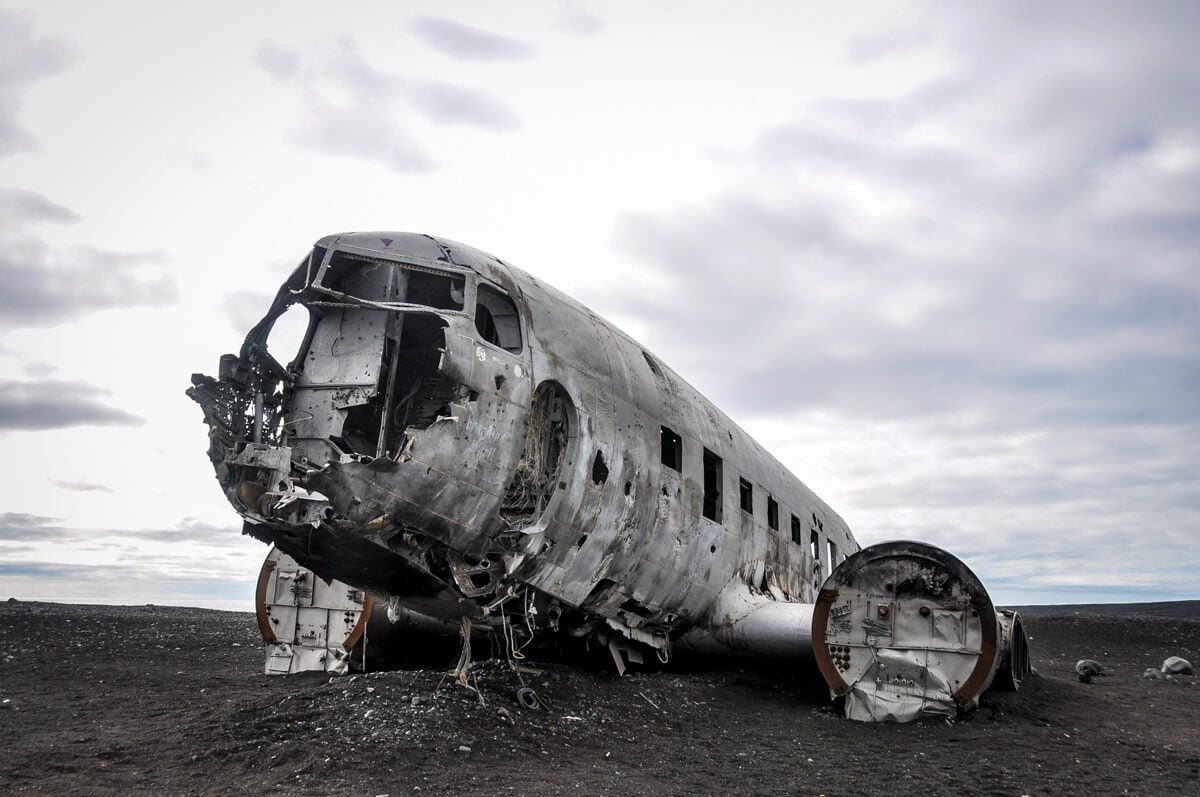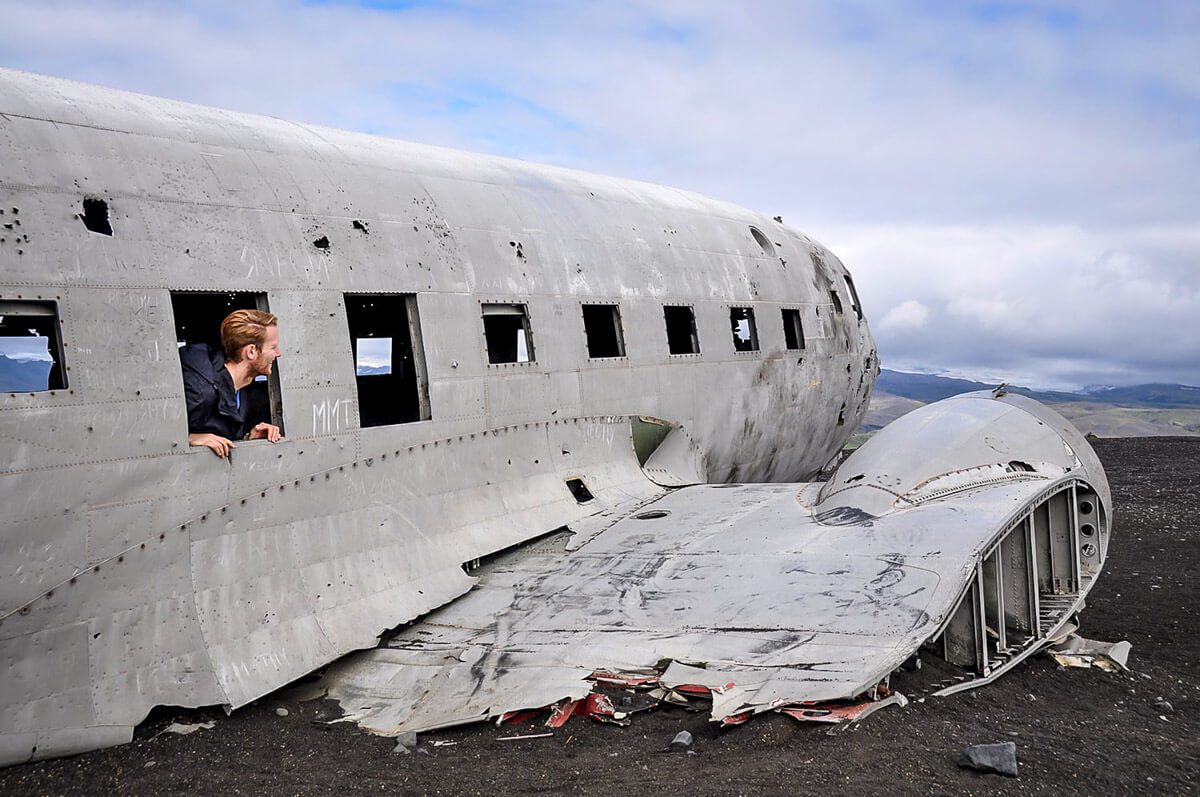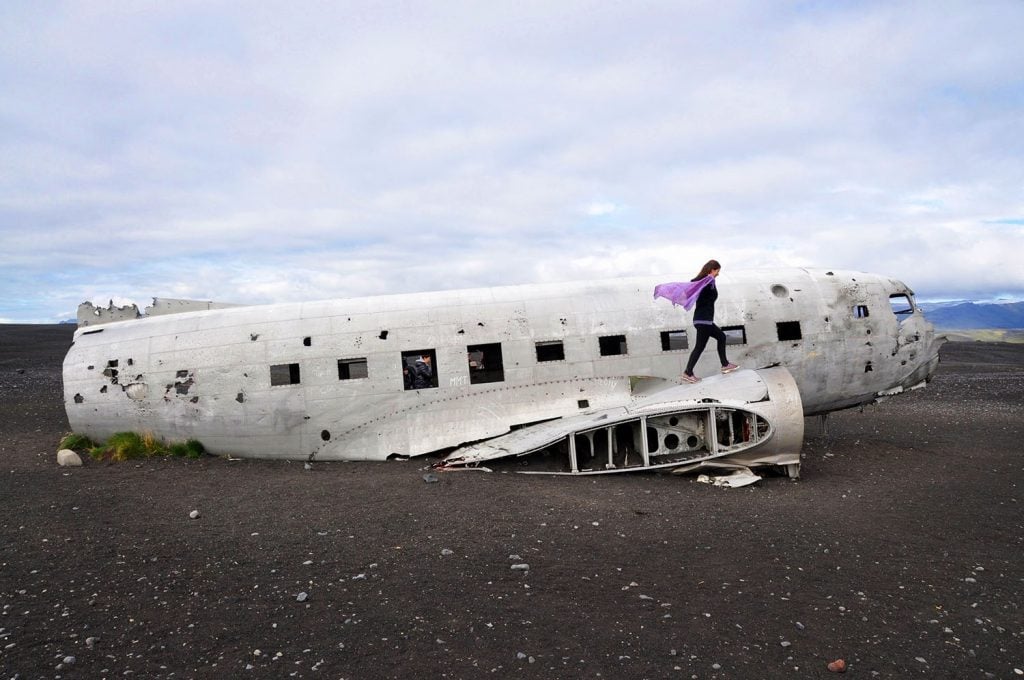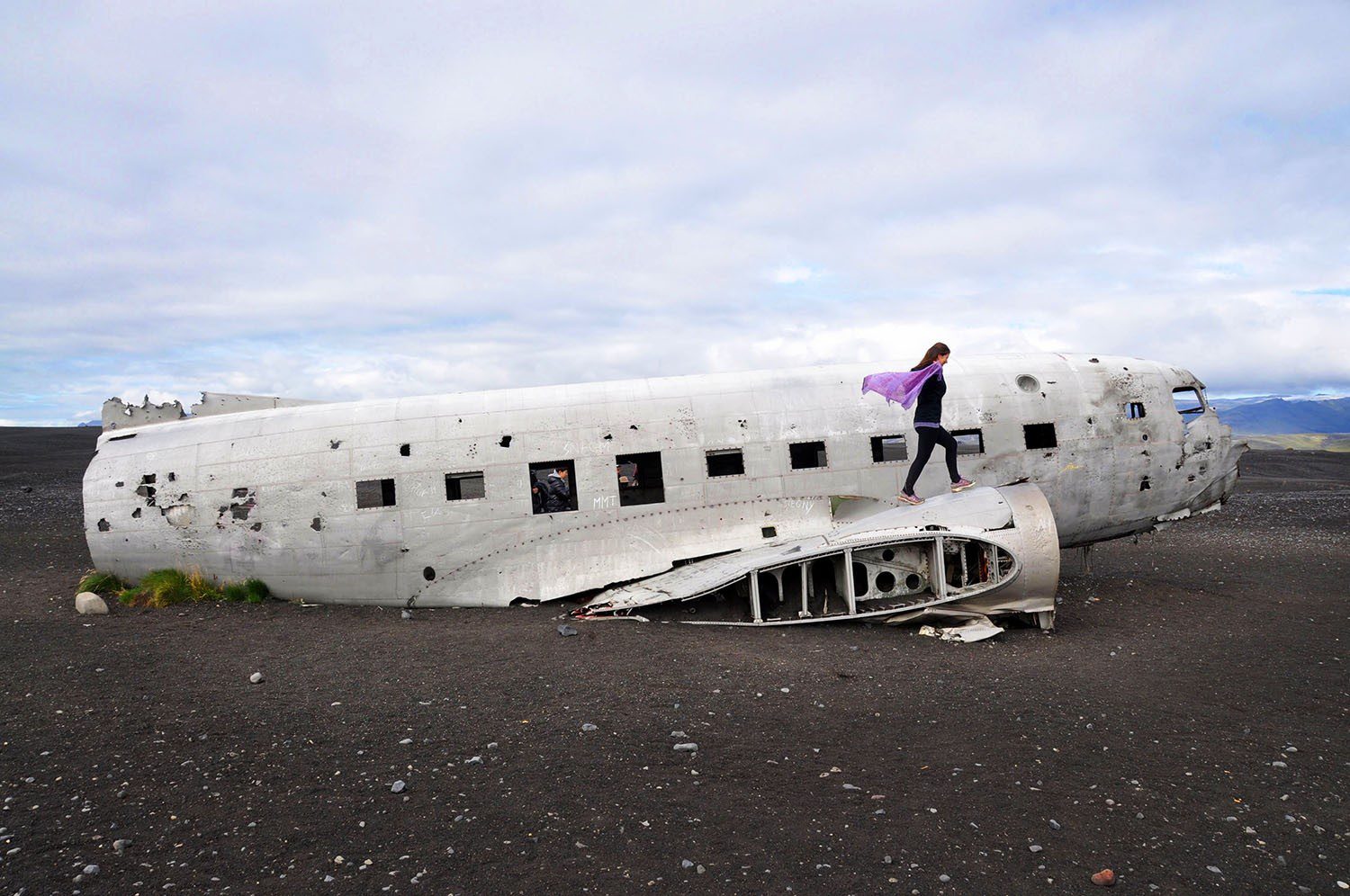 So far from the water, you may not even realize you're on a beach, but that's not why you trek across nearly 2.5 miles of black sand to get here… it's the eerily photogenic remains of a U.S. Navy plane that crashed on the beach back in 1973.
This Insta-famous sight sure is something to behold… and photograph. You can walk right up to the plane, walk on it, and even go in it! Test out all the angles and play with the lighting at different times of day.
Tip: If you're visiting during the summer months with long days and midnight sun, try to check out the plan "after hours" later in the evening or super early in the morning to avoid the crowds and still have plenty of "daylight" to photograph.
Blue Lagoon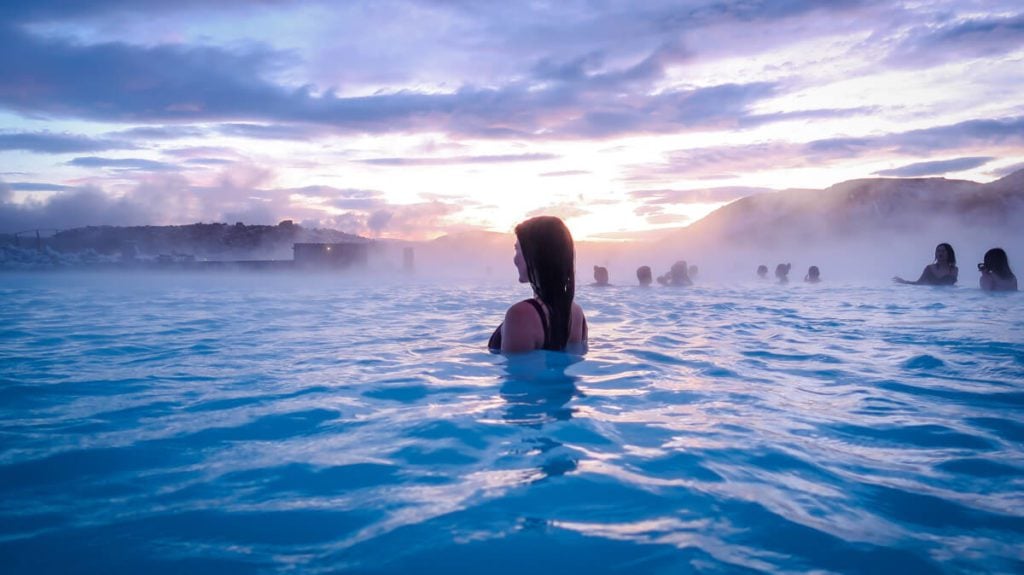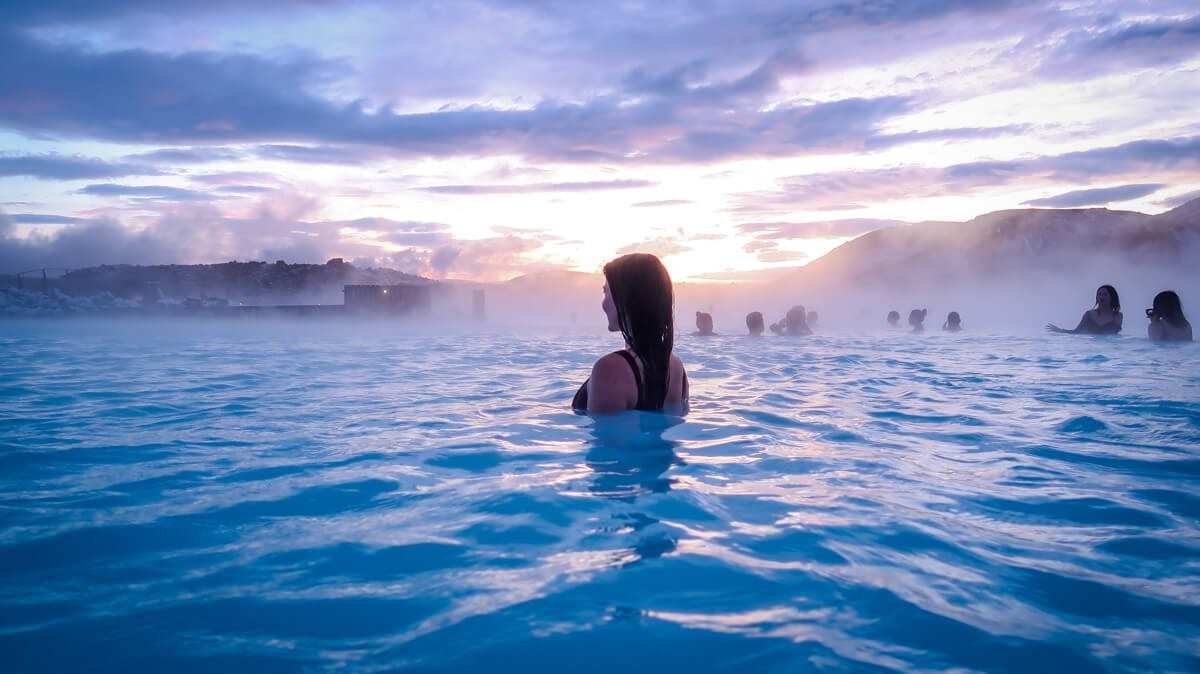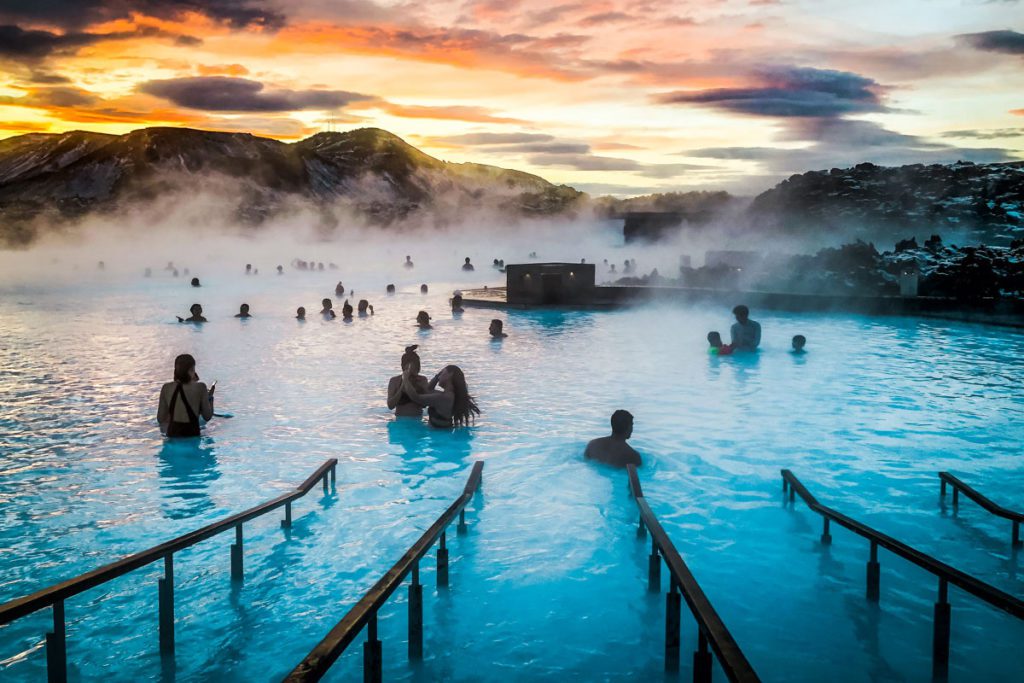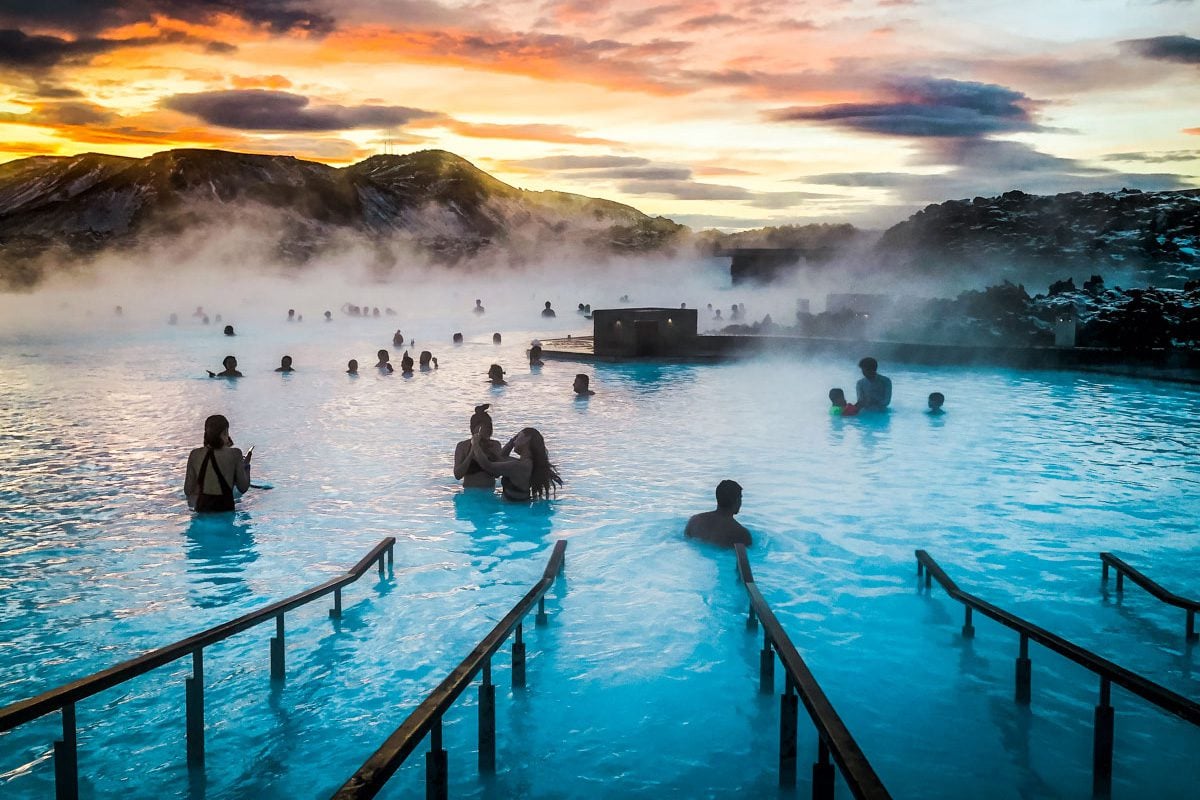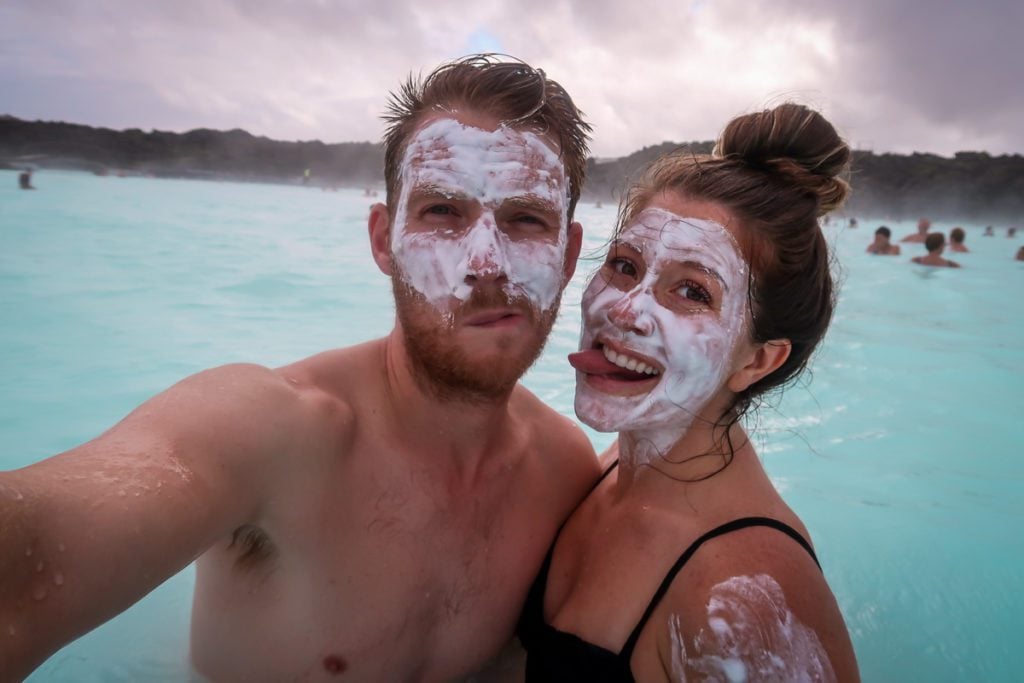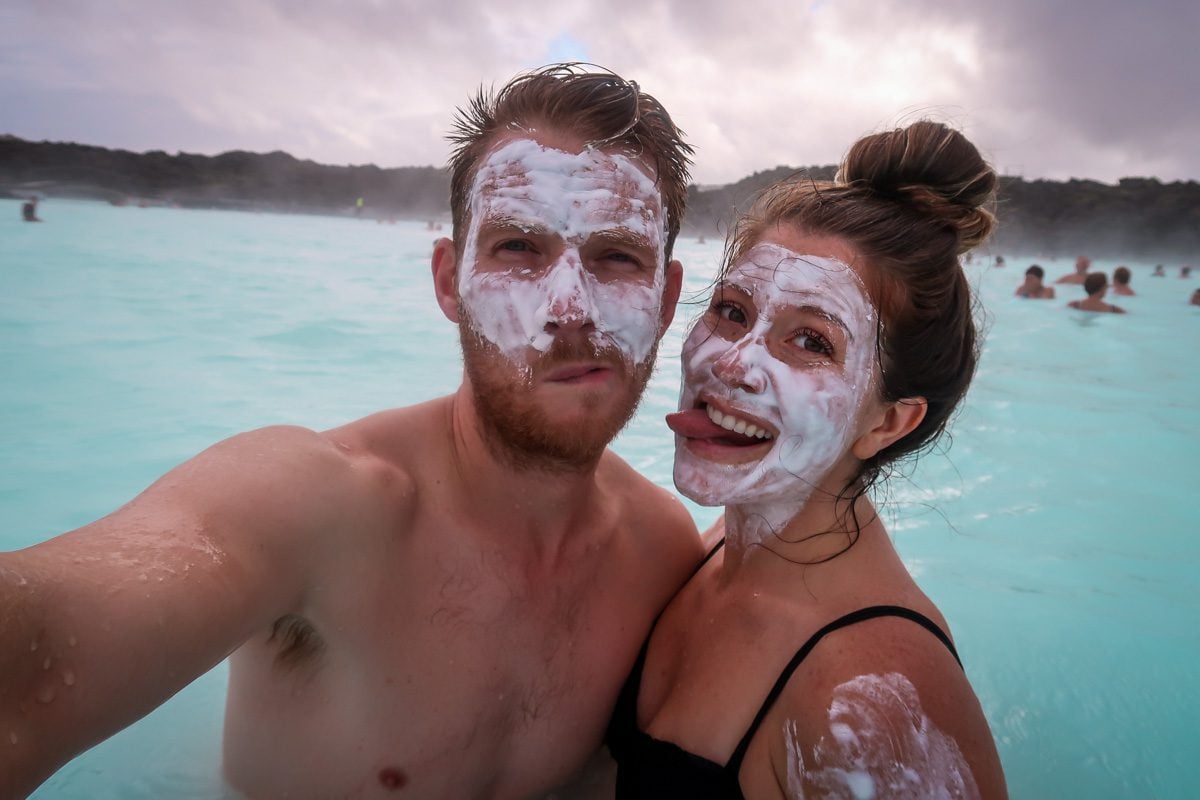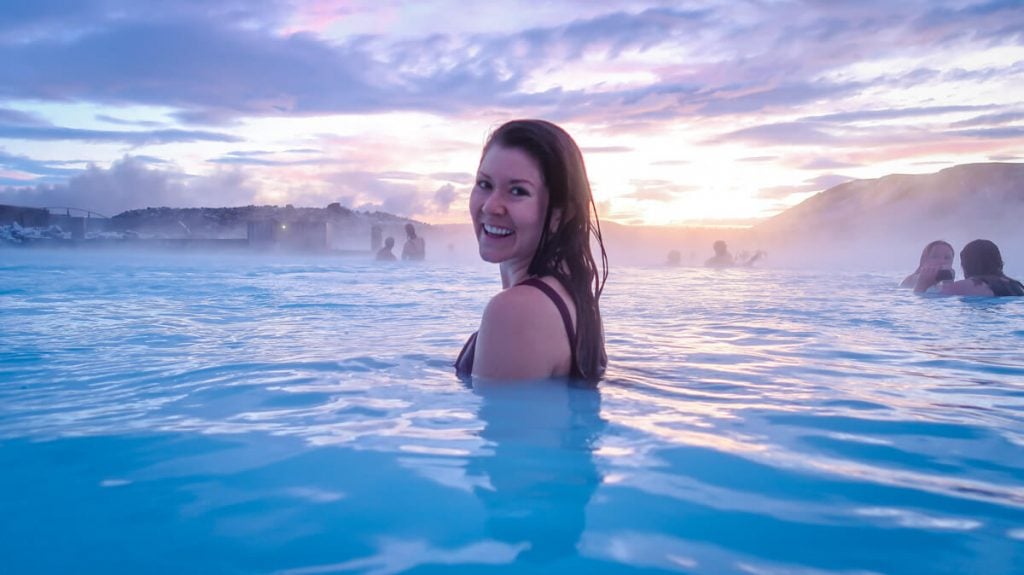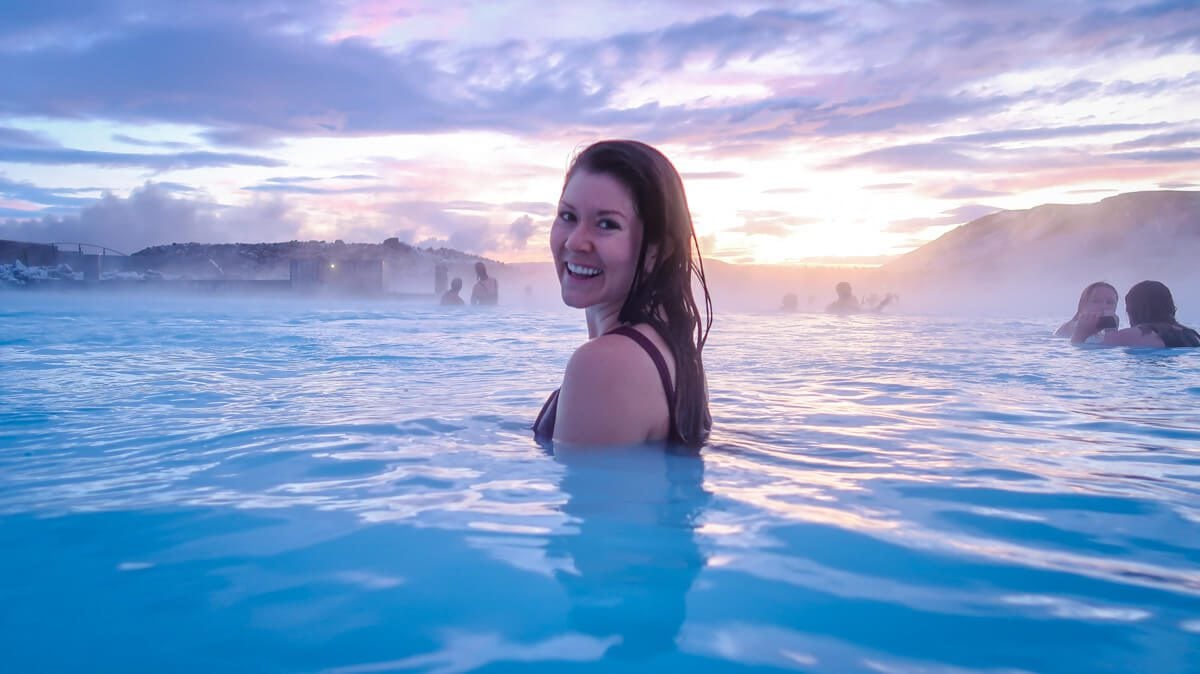 We couldn't mention Iceland's most photographed places without mentioning the famous and ultra-popular Blue Lagoon. Though it is expensive and undoubtedly touristy, the milky blue waters make for some pretty incredible photography. Go during sunrise to get shots with the cotton candy-colored skies.
Alternative: A cheaper and less crowded alternative to the Blue Lagoon is Myvatn Nature Baths in northern Iceland. With the same milky blue hue, but considerably fewer visitors, you're sure to get some great photographs there.
Psst! Looking for some more ideas of romantic things to do? We've got you covered with our Iceland Honeymoon guide!
Dyrhólaey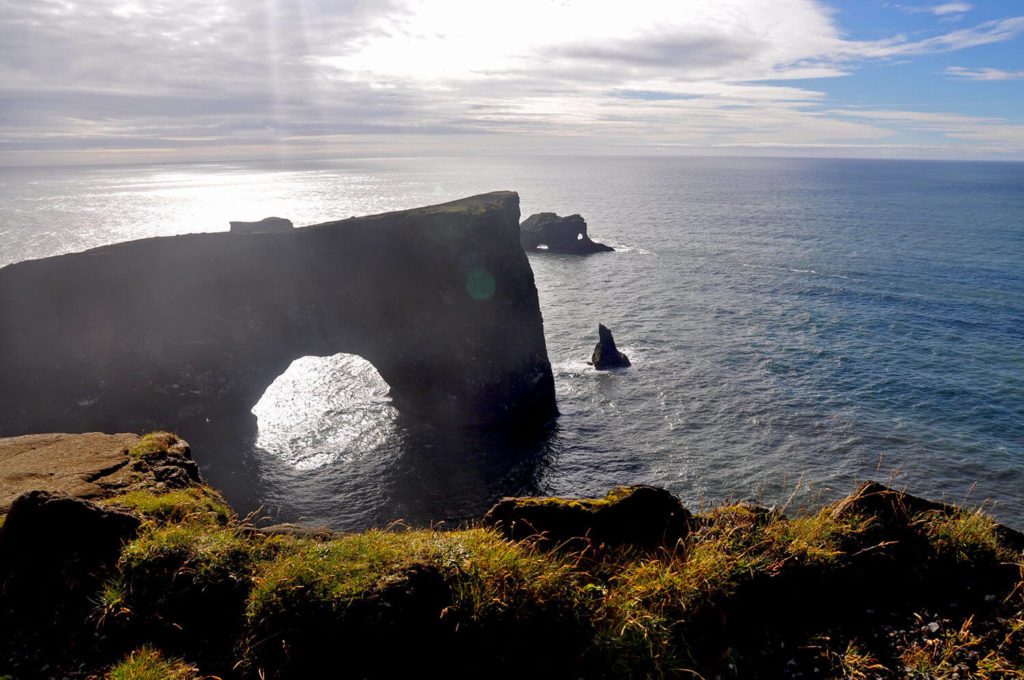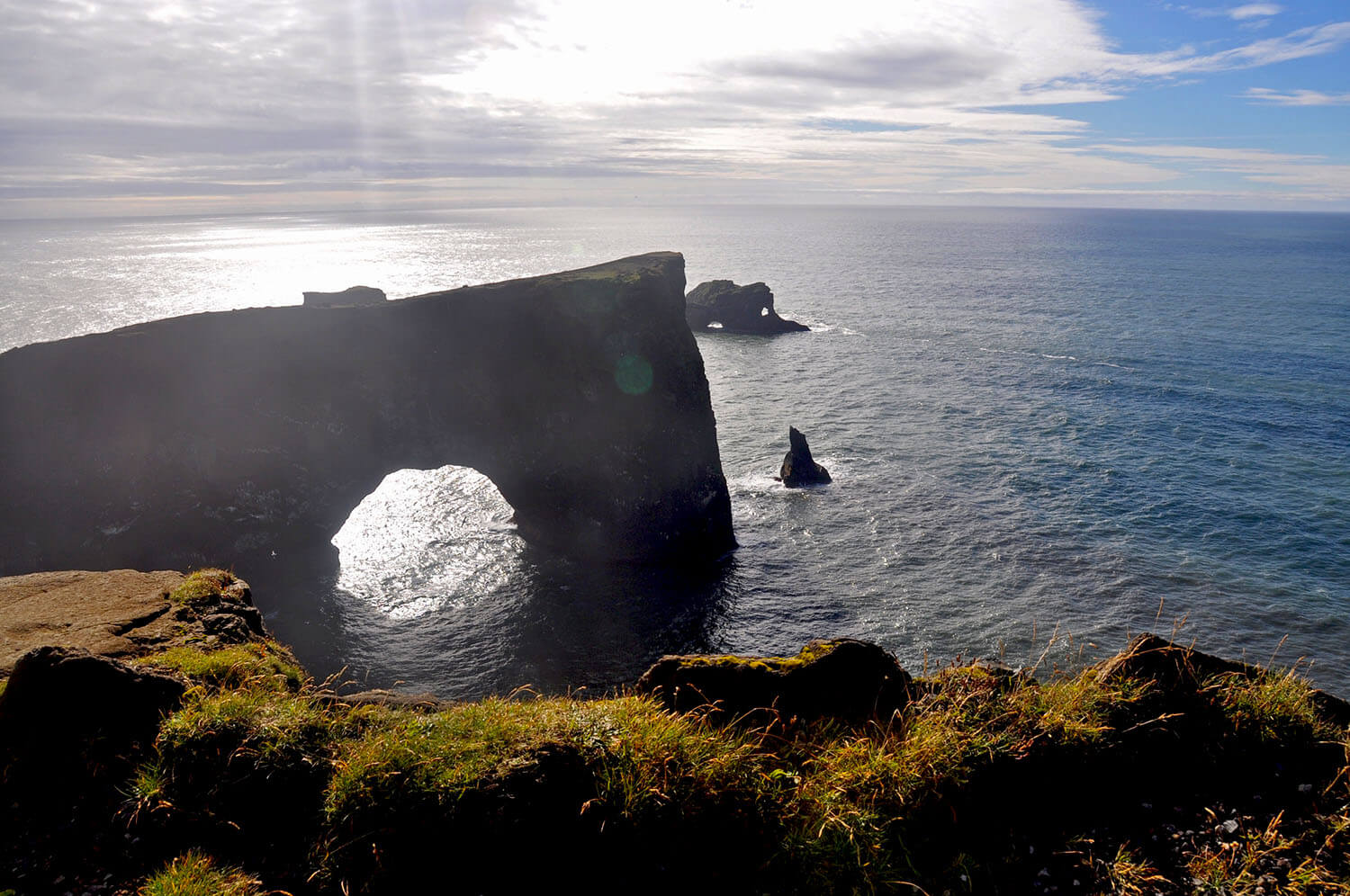 This cliffside viewpoint offers sweeping ocean views over black sand beaches below. You'll also see some pretty interesting rock formations like the Dyrhólaey rock formation with a giant hole in it, as well as a lighthouse.
May through August is puffin nesting season and Dyrhólaey is a good place for photographing these little guys in their natural habitat. The colonies are most active in the evenings, so plan your visit around the end of the day if you want to have the best chance for photographing puffins.
Reynisfjara Black Sand Beach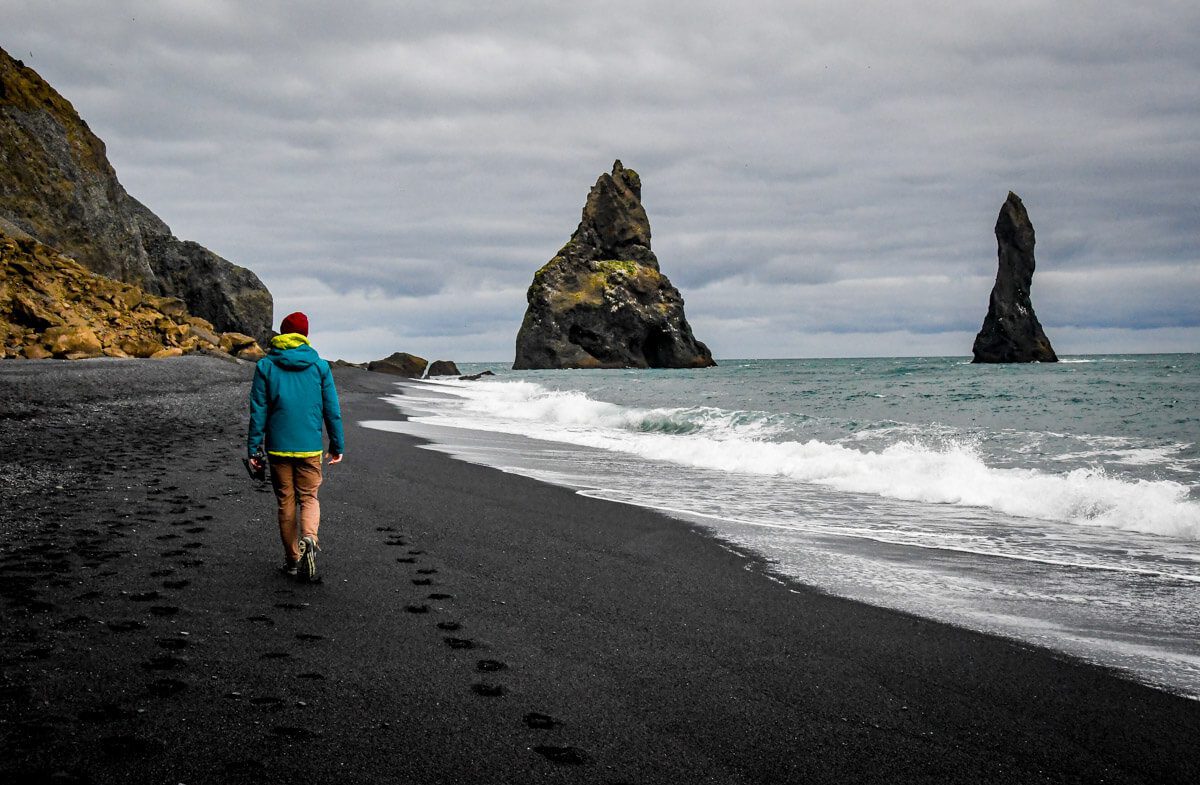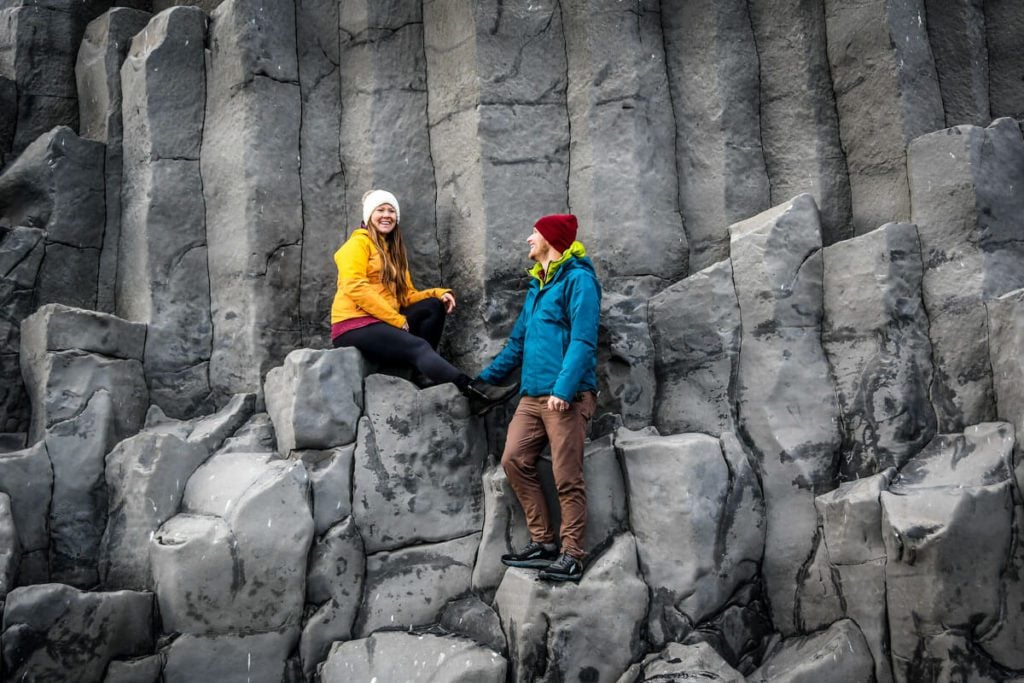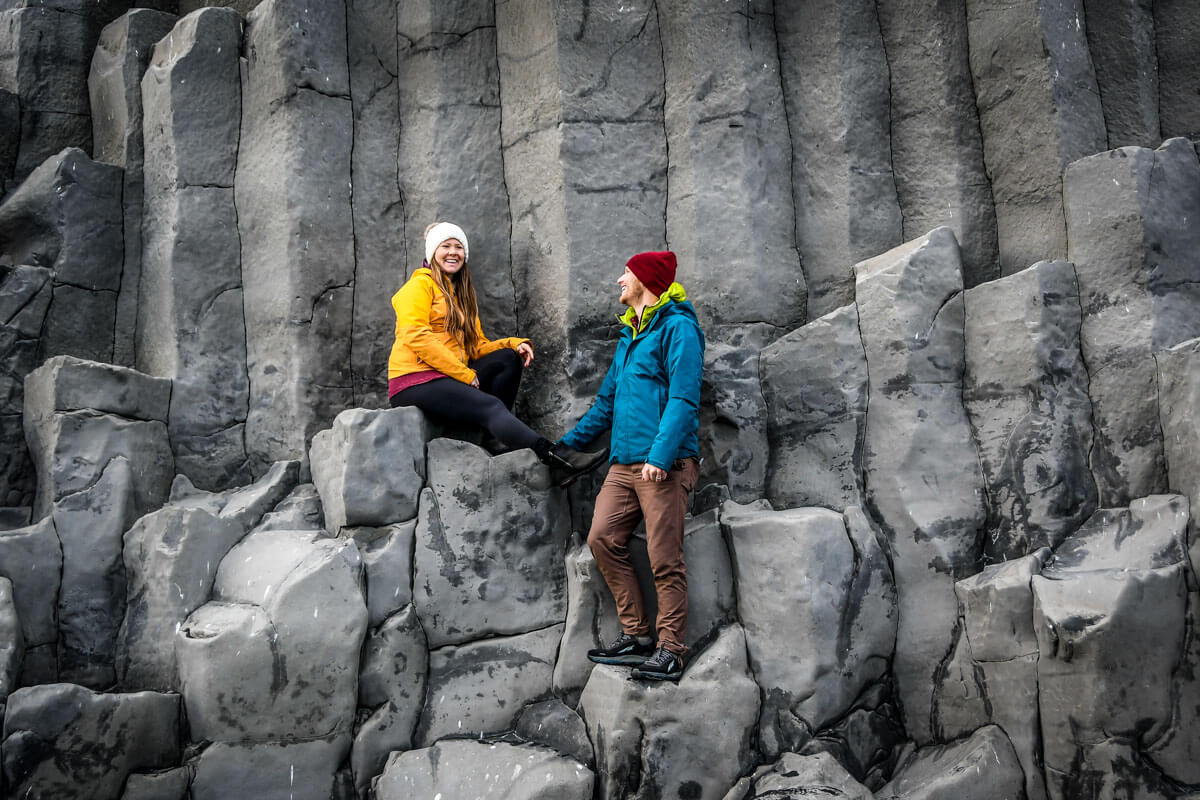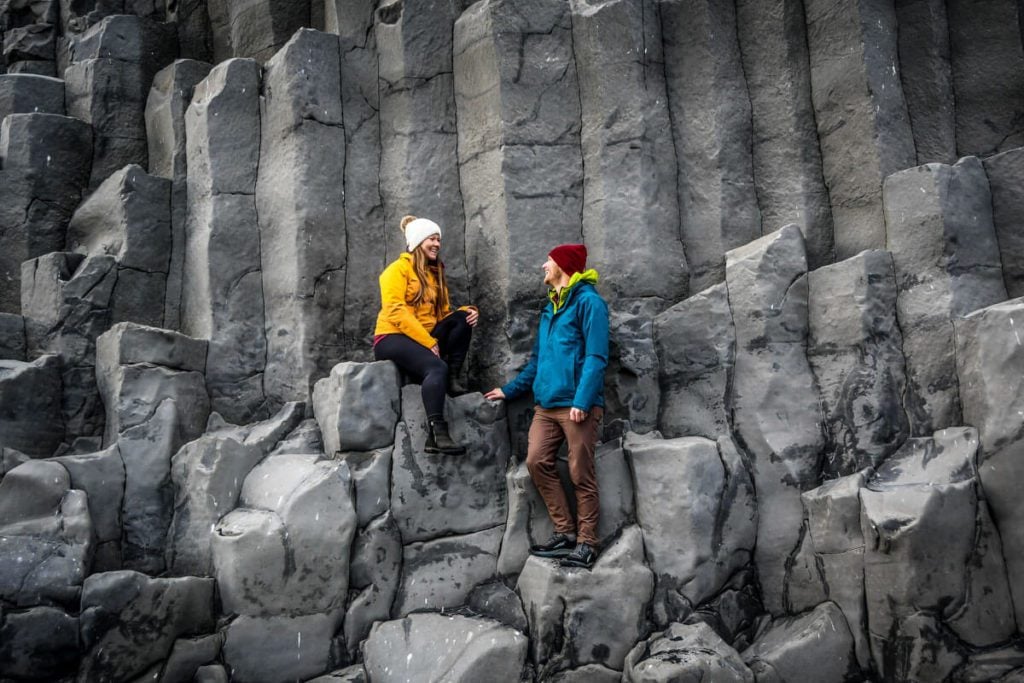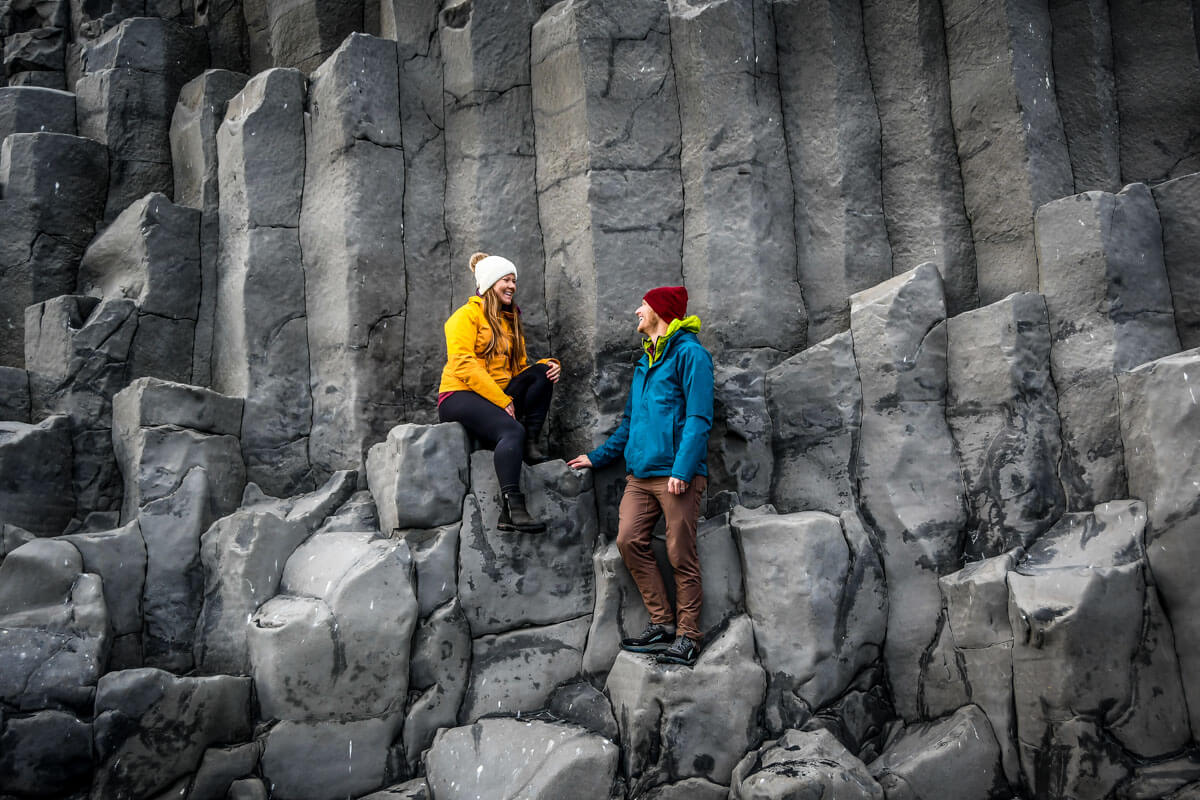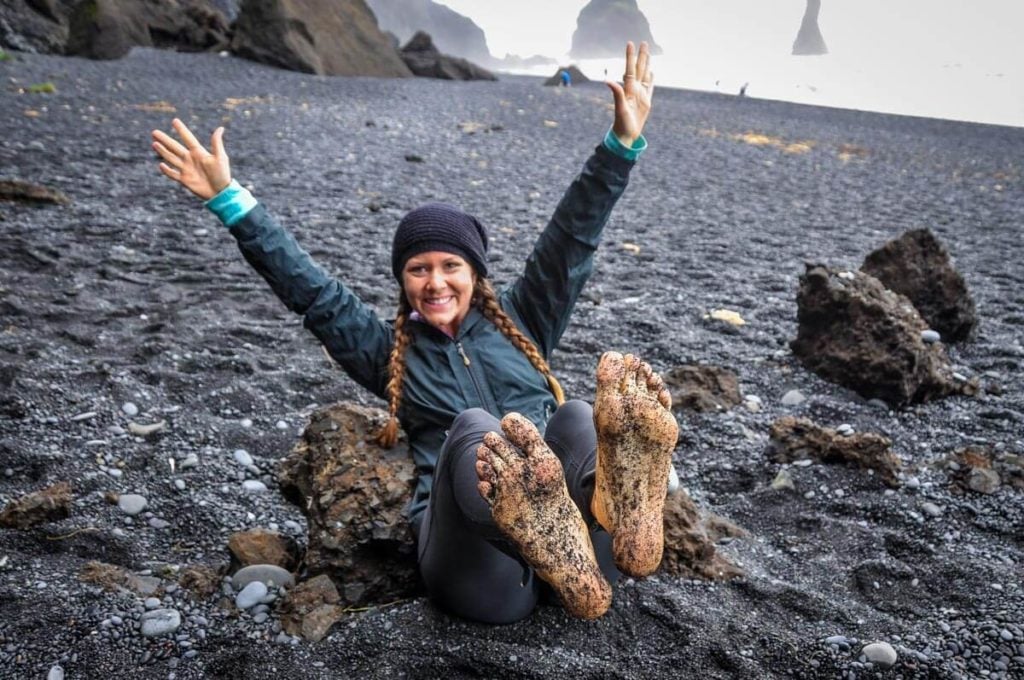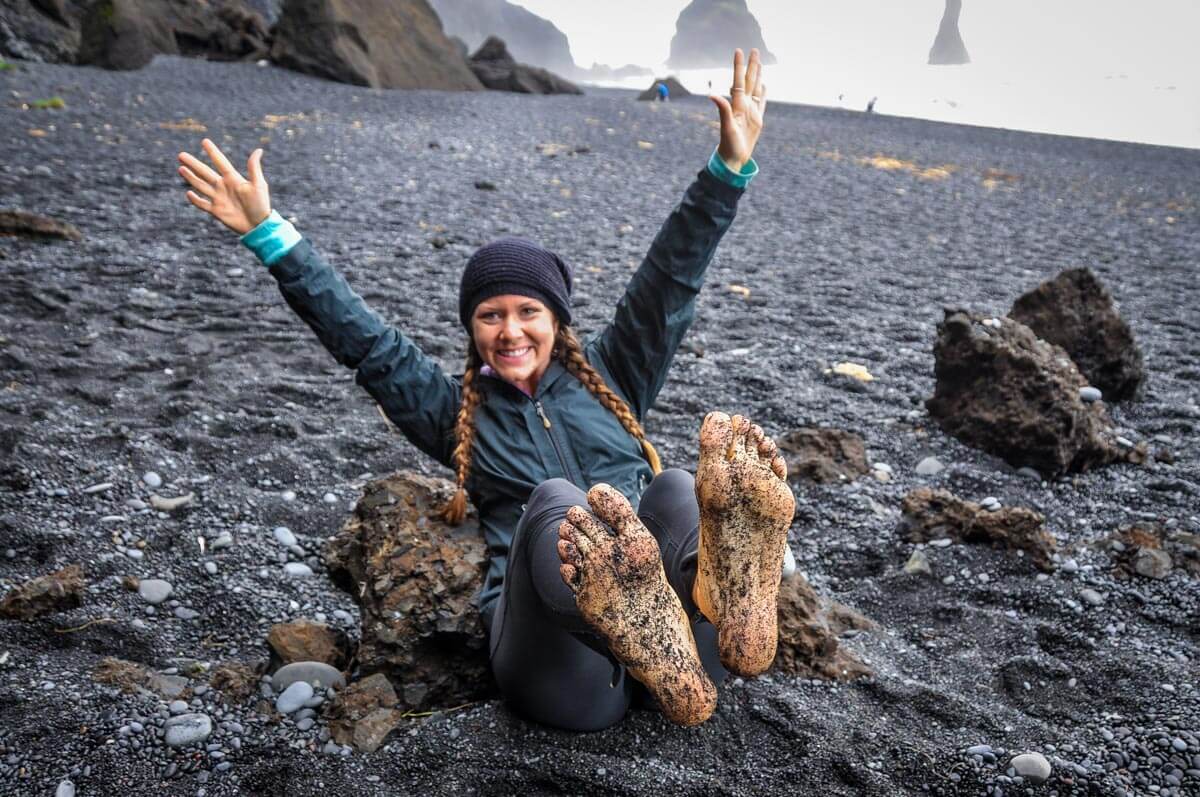 Reynisfjara is not only the most famous black sand beach in Iceland, but perhaps one of the most well-known black sand beaches in the world. The entire beach is quite photogenic, however there are some particularly noteworthy spots you'll want to make sure you snap a photo at.
We put together a guide to visiting Reynisfjara with everything you need to know before you go, including all the best photo spots on the beach.
Fosslaug Hot Spring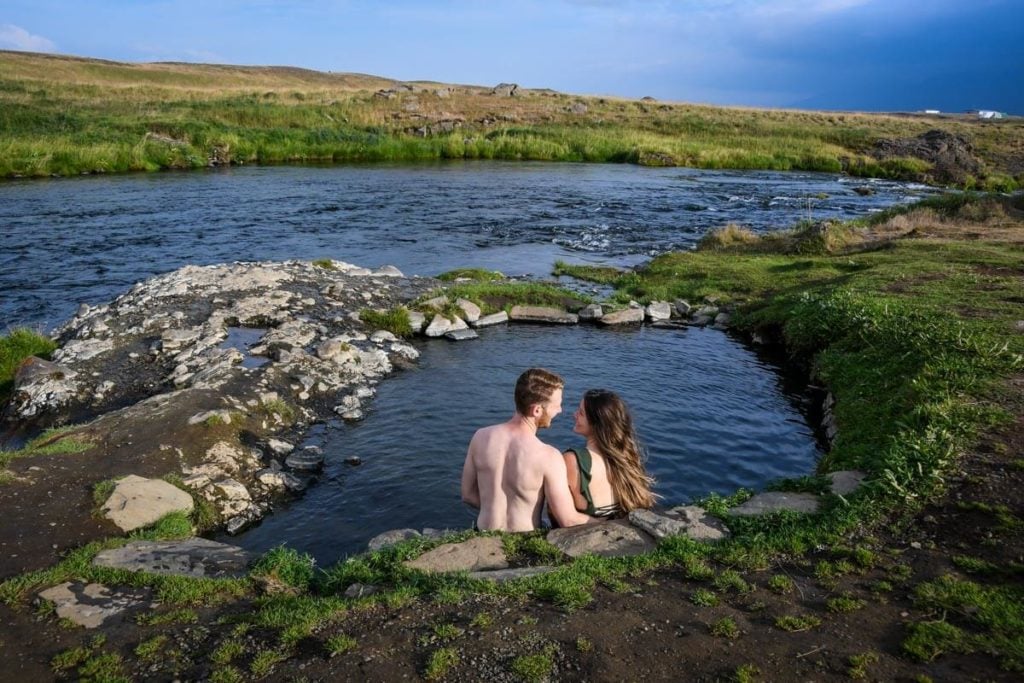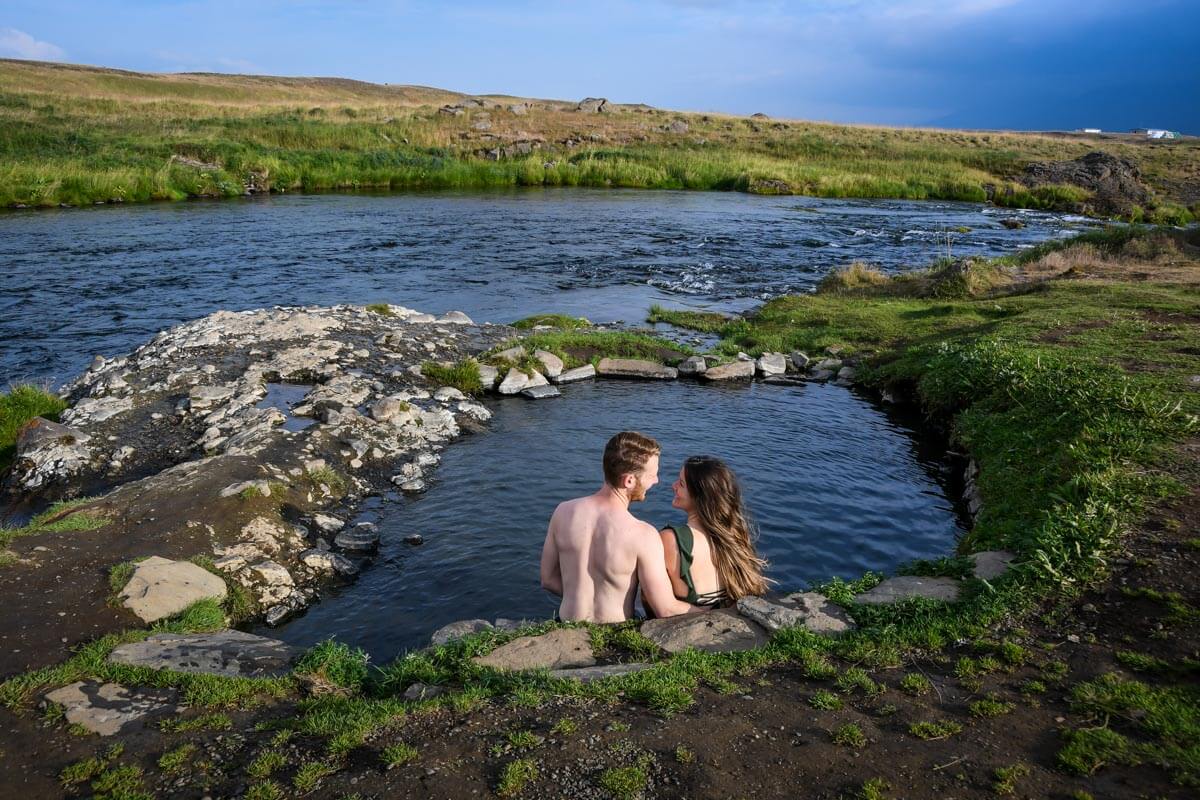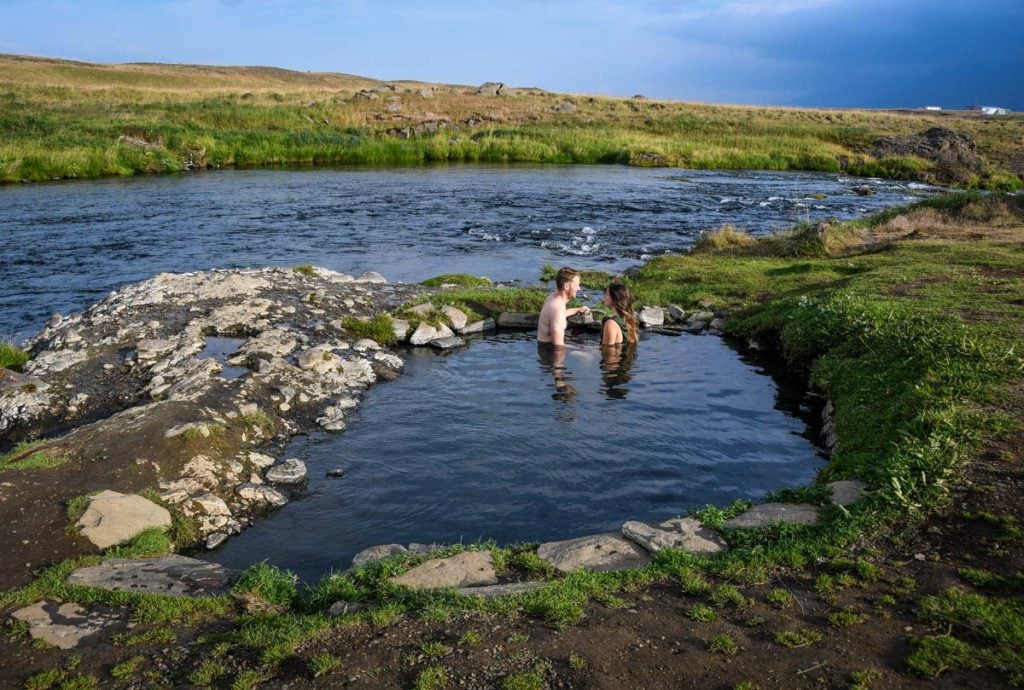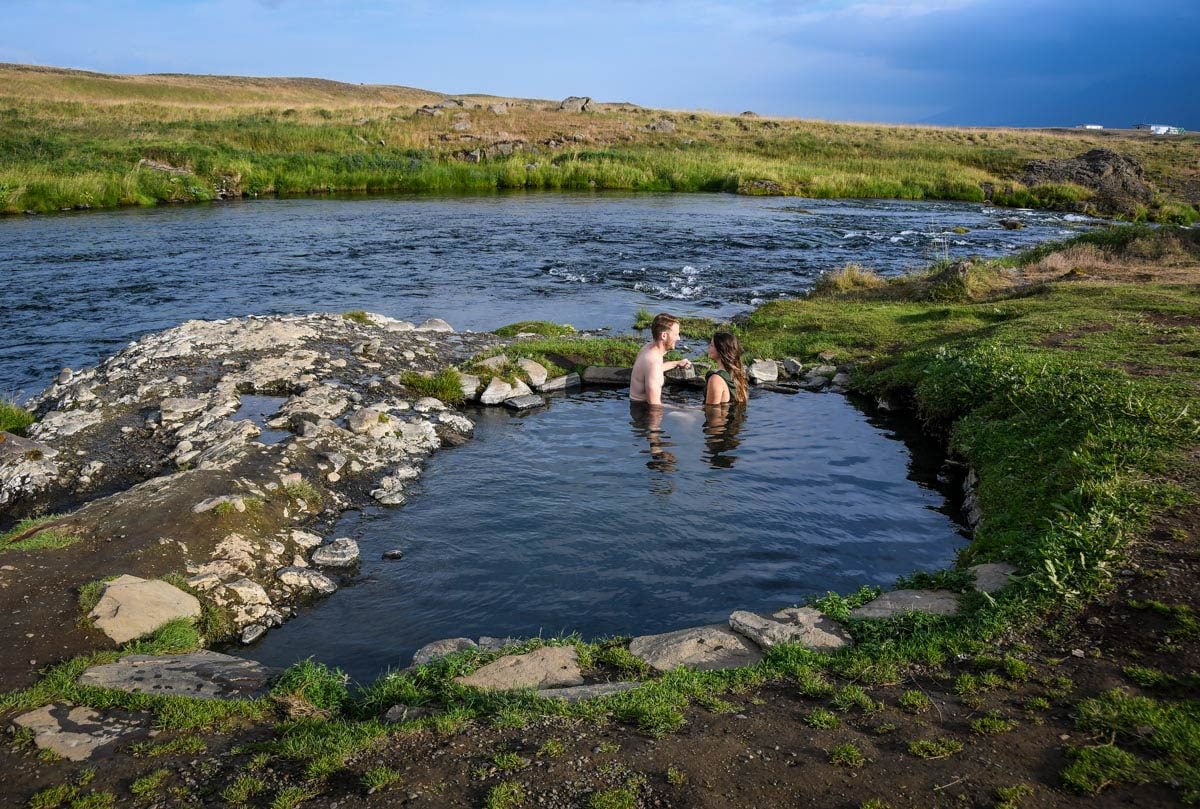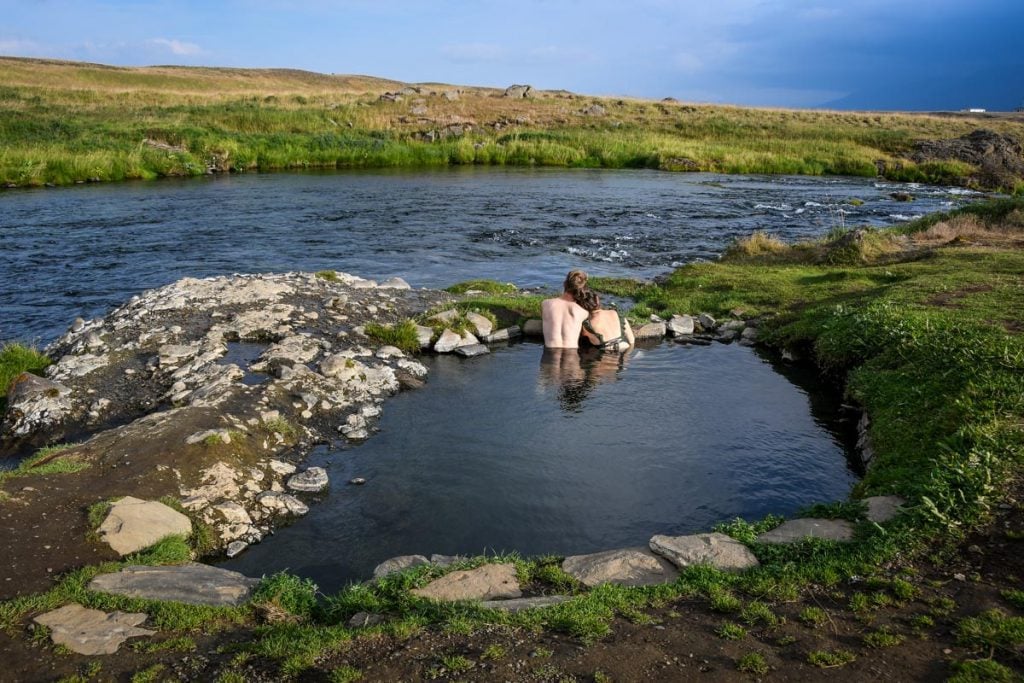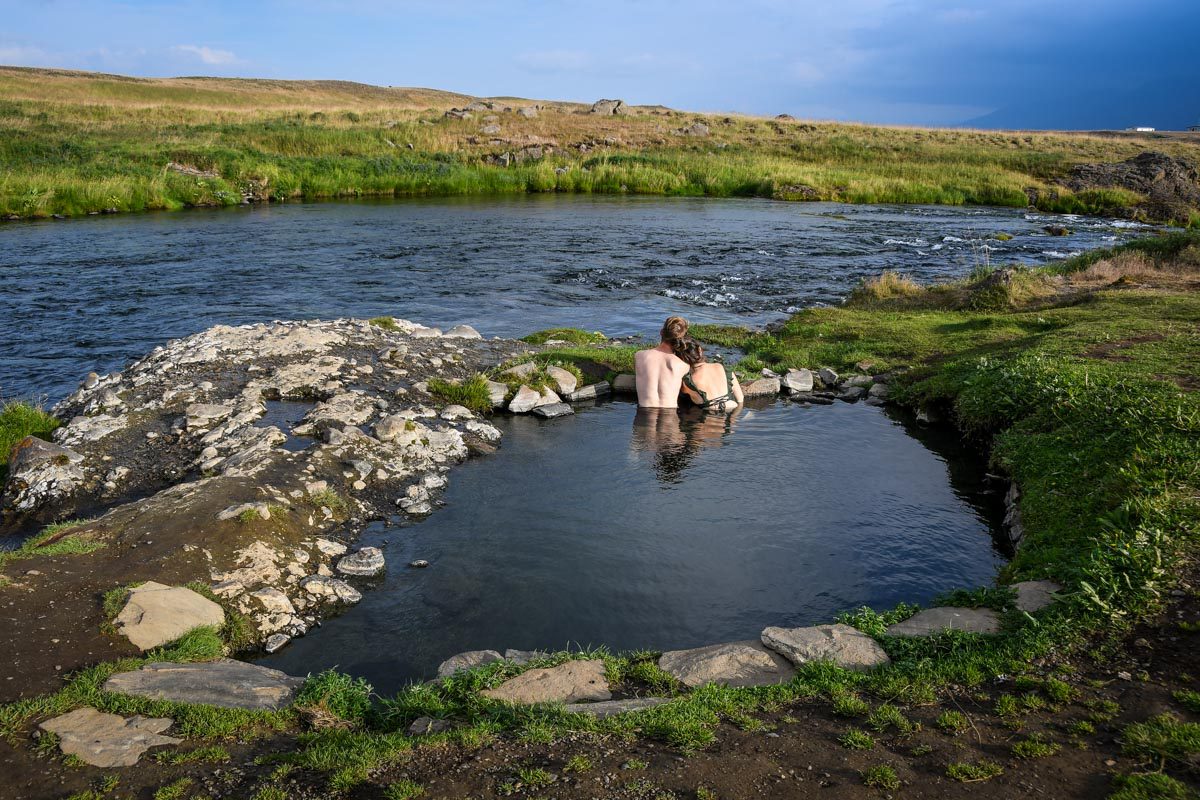 Nestled beside a small river with bucolic views and the sound of a babbling brook, Fosslaug hot spring is one of the most idyllic hot springs in Iceland. Coming early in the morning or just before sunset will give you the best lighting for photography. Plus the added bonus that you may just get the pool all to yourself.
Find out exactly how to get there in our guide to visiting Fosslaug Hot Spring & Reykjafoss Waterfall.
GeoSea Geothermal Sea Pools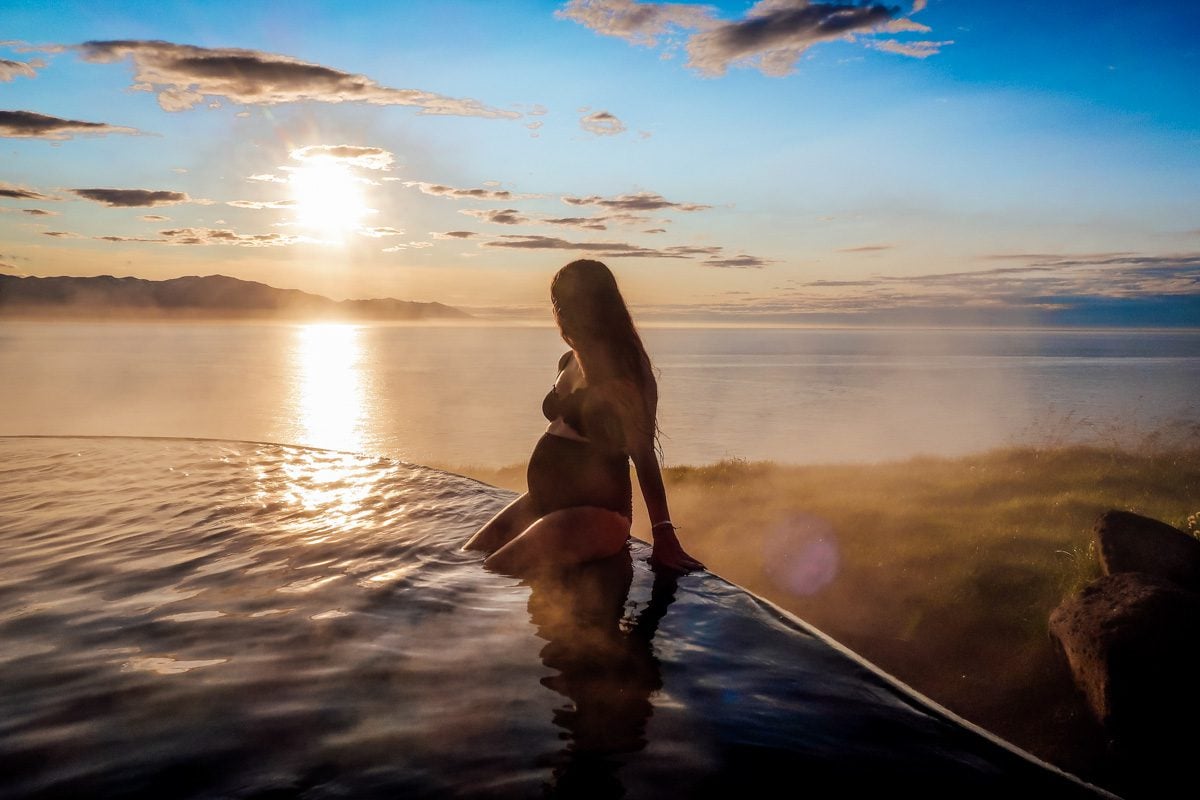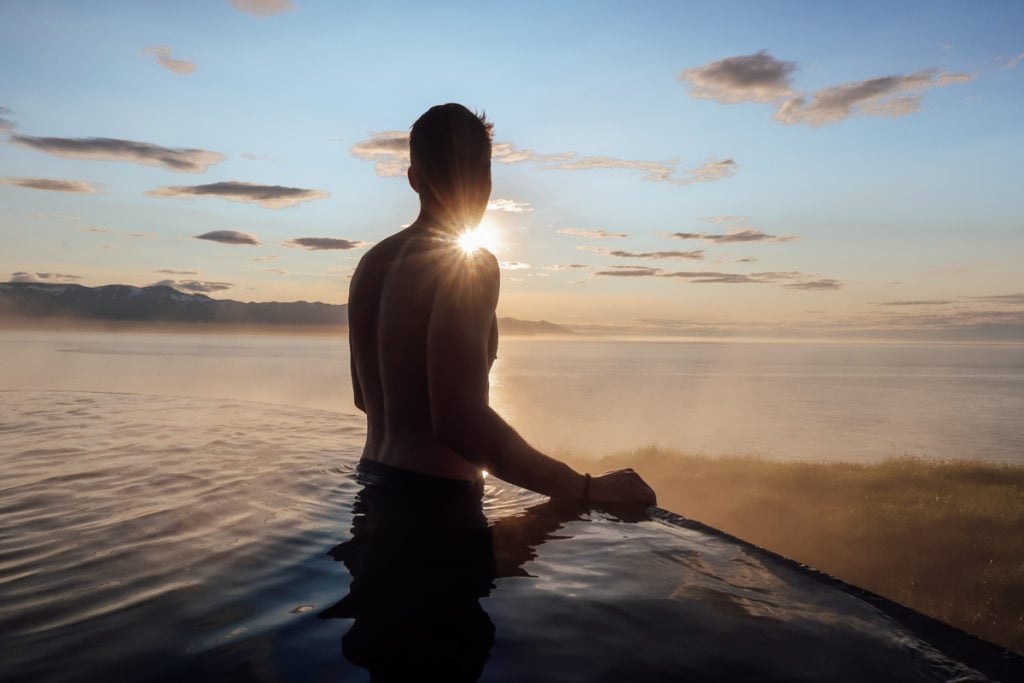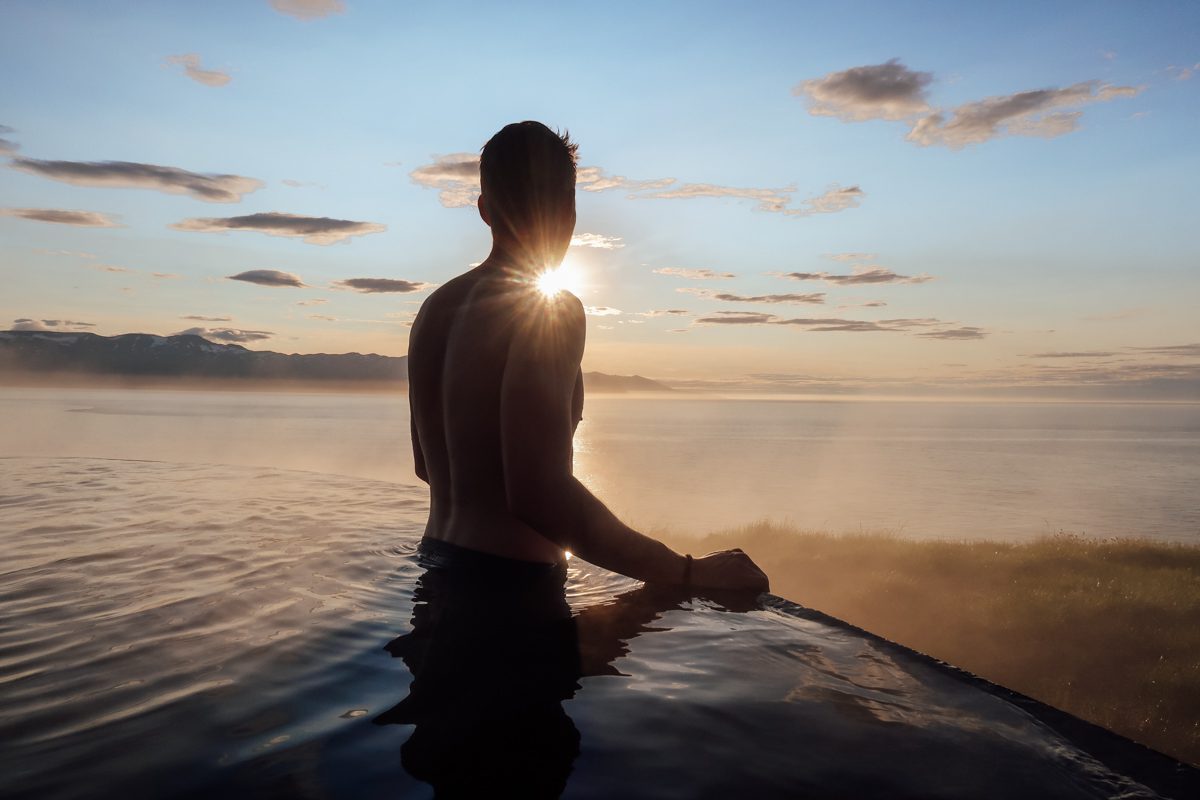 For those that make their way as far north as one can go in Iceland, a spot at the GeoSea hot spring pools is perfect for a luxurious soak and a pretty epic photo opportunity. The western-facing infinity-style pools are best photographed during sunset. However, they may become crowded so get there early and wait your turn.
---
Unique Icelandic landscapes
By now it should come as no surprise that the landscapes in Iceland are totally out of this world! With lime green moss covering much of the volcanic rock, deep canyons where the earth's surface has been carved apart over time, and towing black basalt columns, you'll feel like you've been transported to another planet (or maybe Jurassic Park).
Here are some of the most picturesque other-worldly landscapes you'll want to photograph in Iceland.
Kirkjufell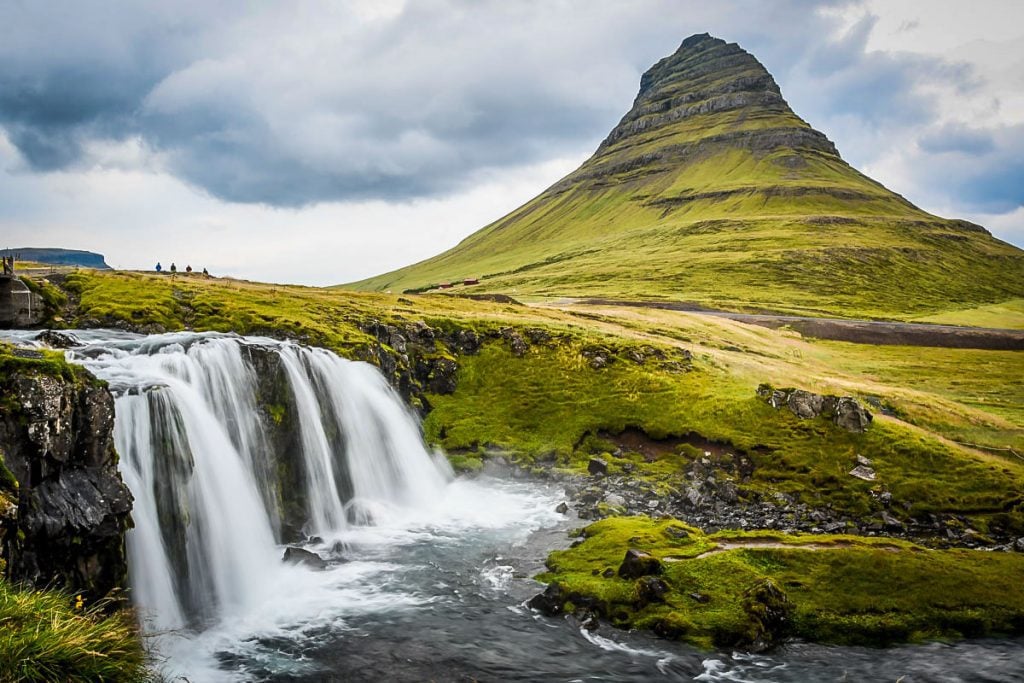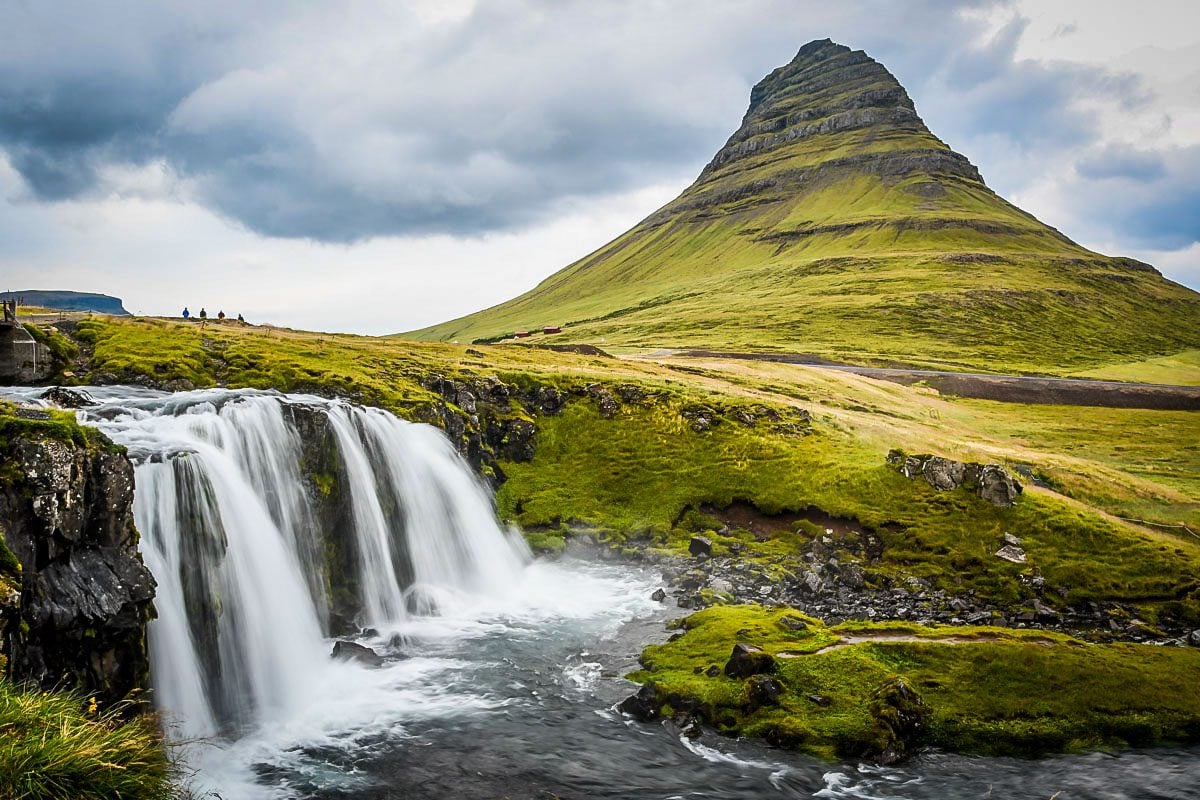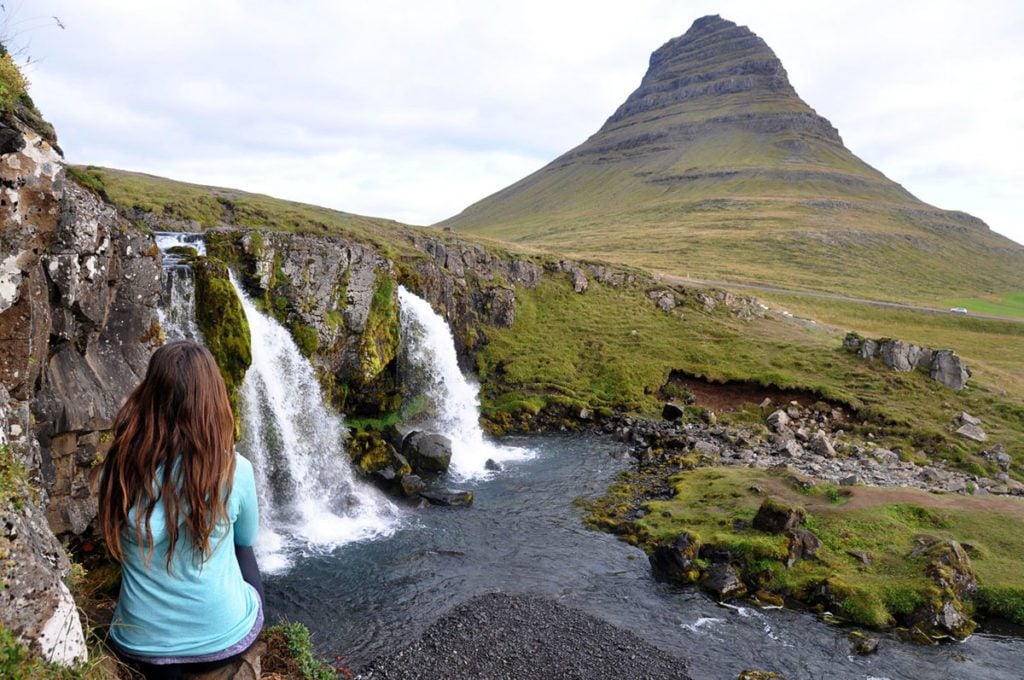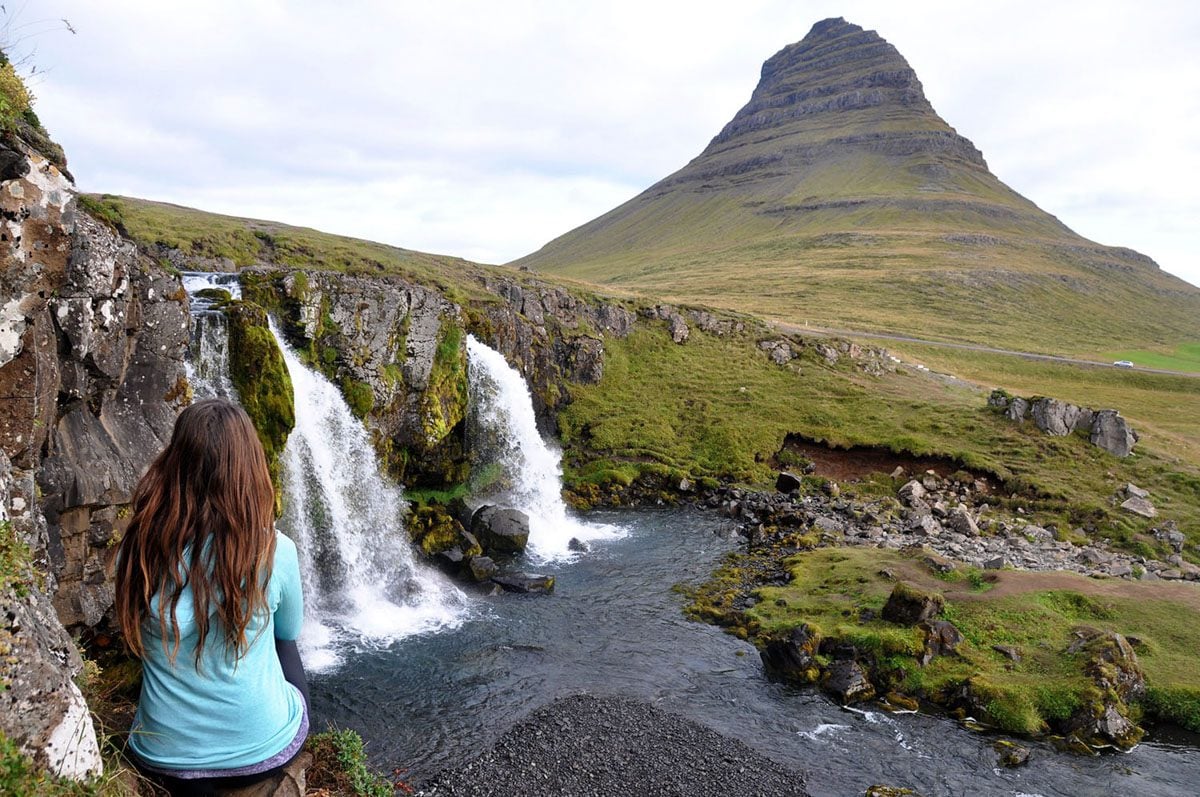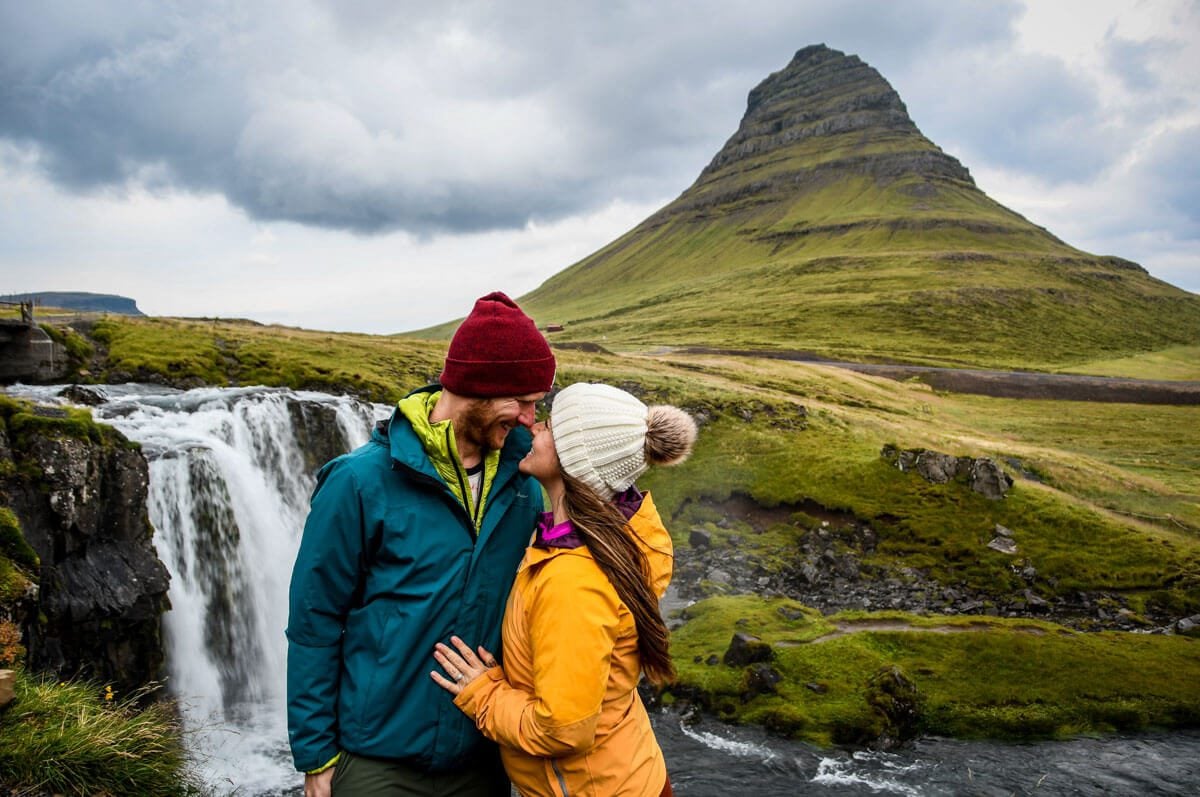 One of the most iconic and well-known pictures of Iceland, Kirkjufell is a photographer's dream. A uniquely shaped cylindrical mountain looms in the backdrop of a cascading waterfall creating a picture-perfect panoramic shot. Get there at sunset and you'll find photography enthusiasts lining up with their tripods.
For a different point of view, you can pull off the road into this small dirt parking lot on the north side and walk down to the small pond. On a calm day, you'll have an epic reflection shot of the mountain (not the waterfall). However, on windy days (like we had), this shot isn't nearly as spectacular.
Psst! Check out our perfect 7 day Iceland itinerary to fit this photo op into your schedule.
Þórsmörk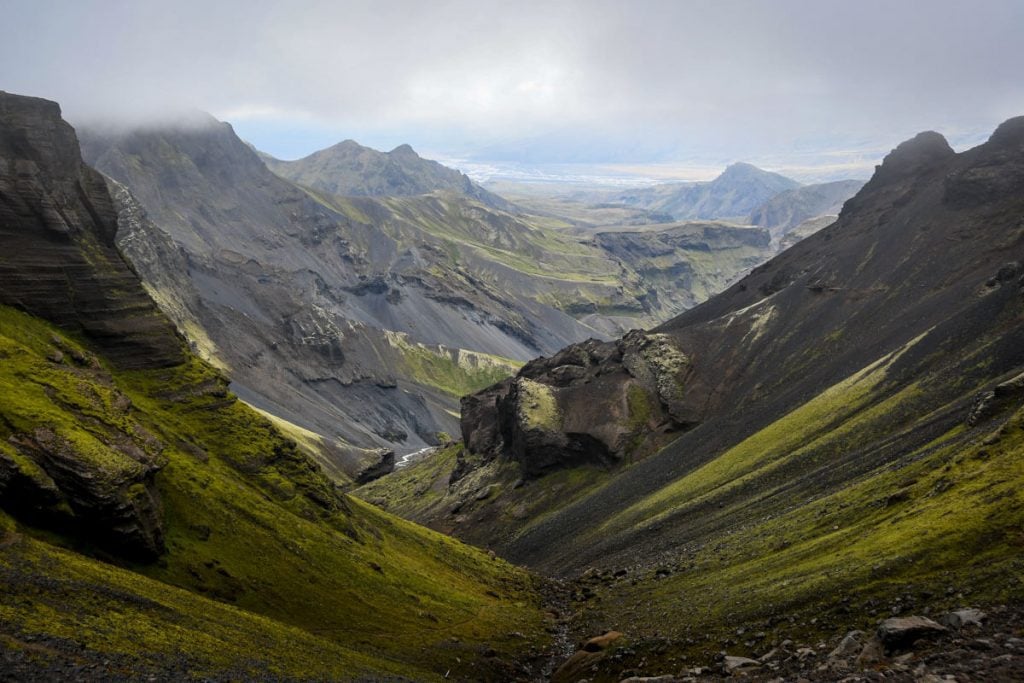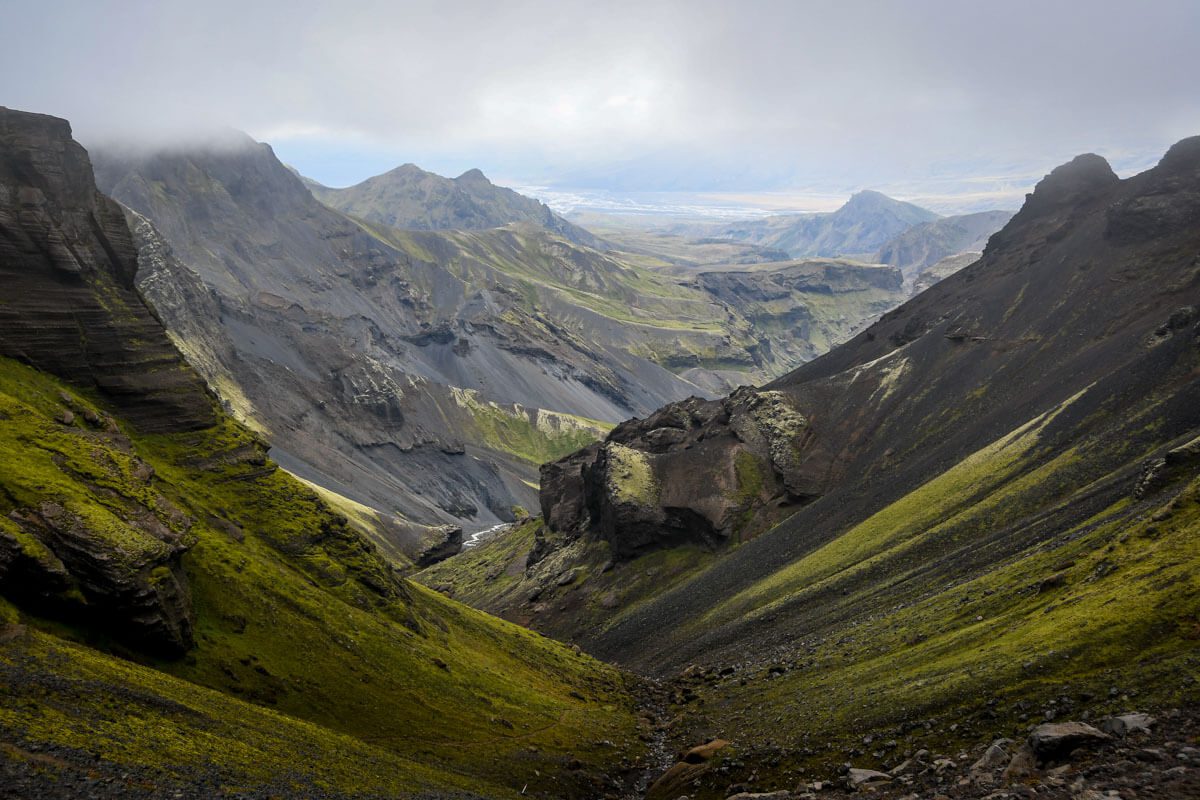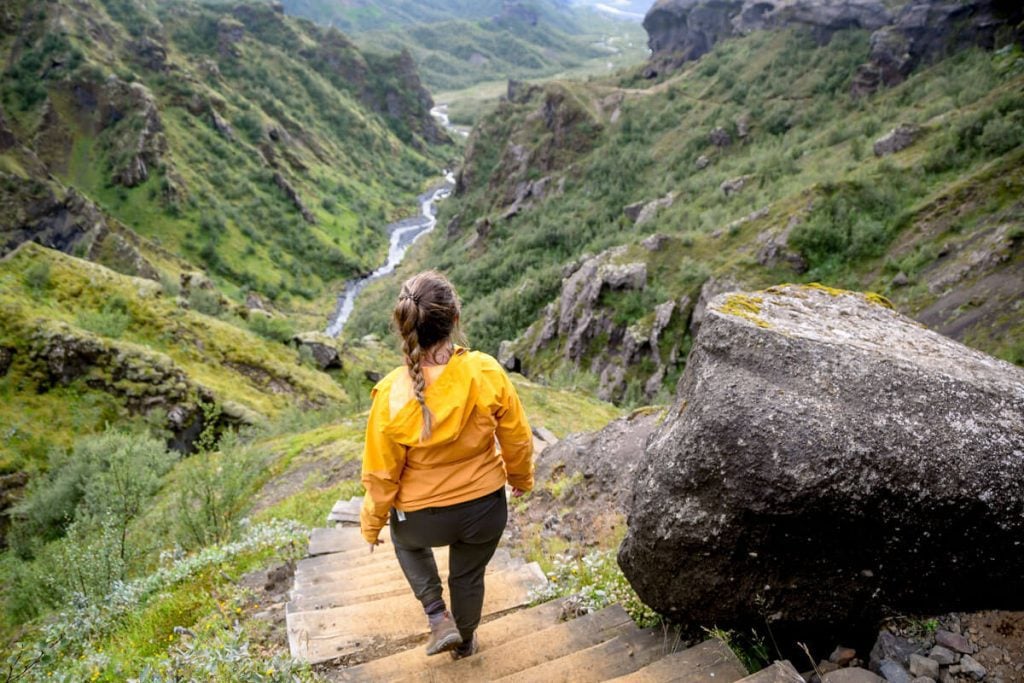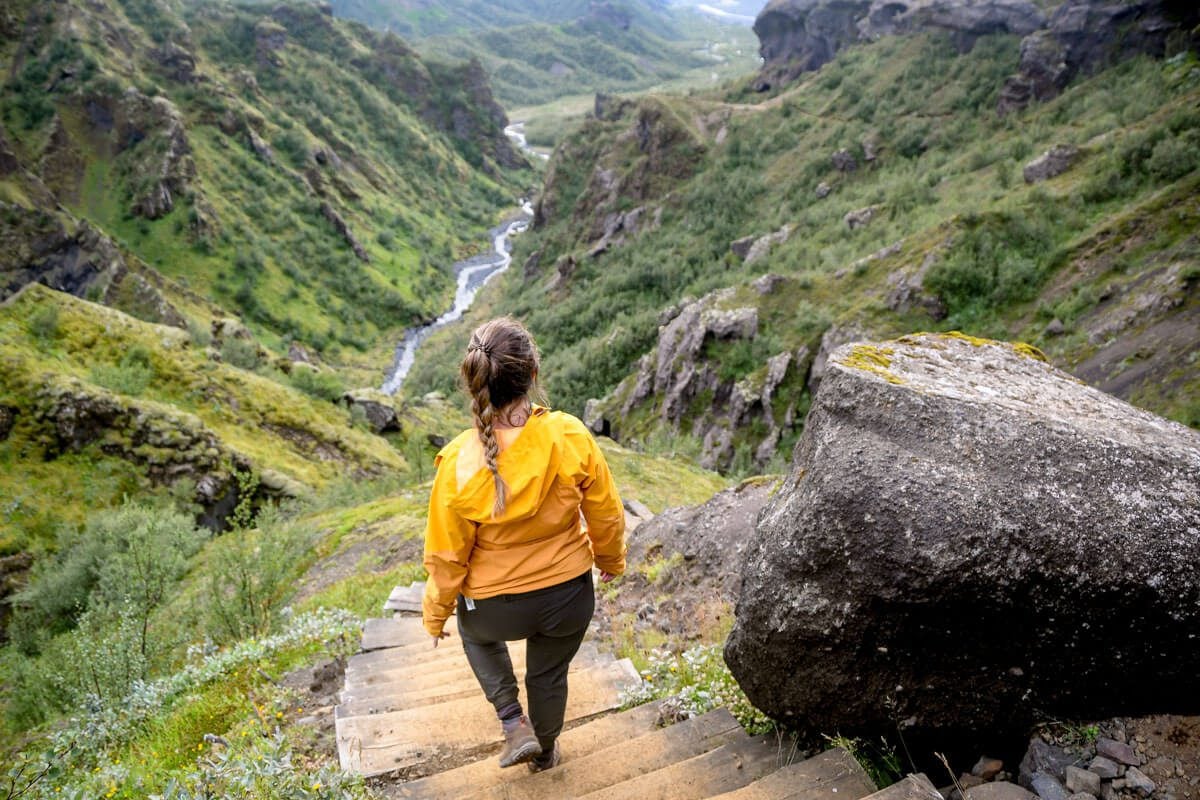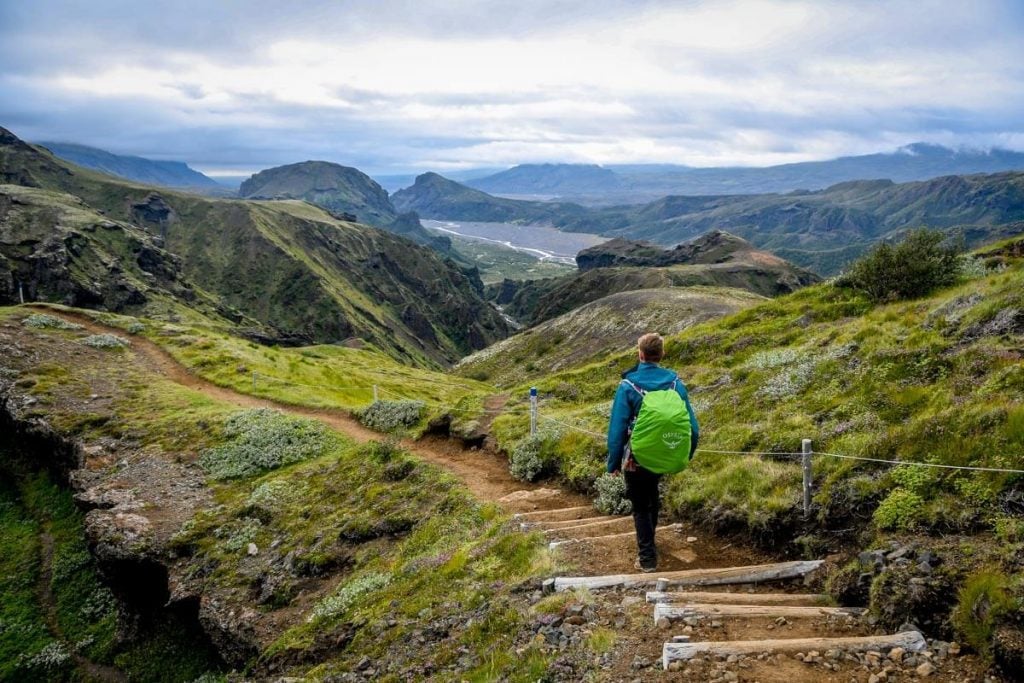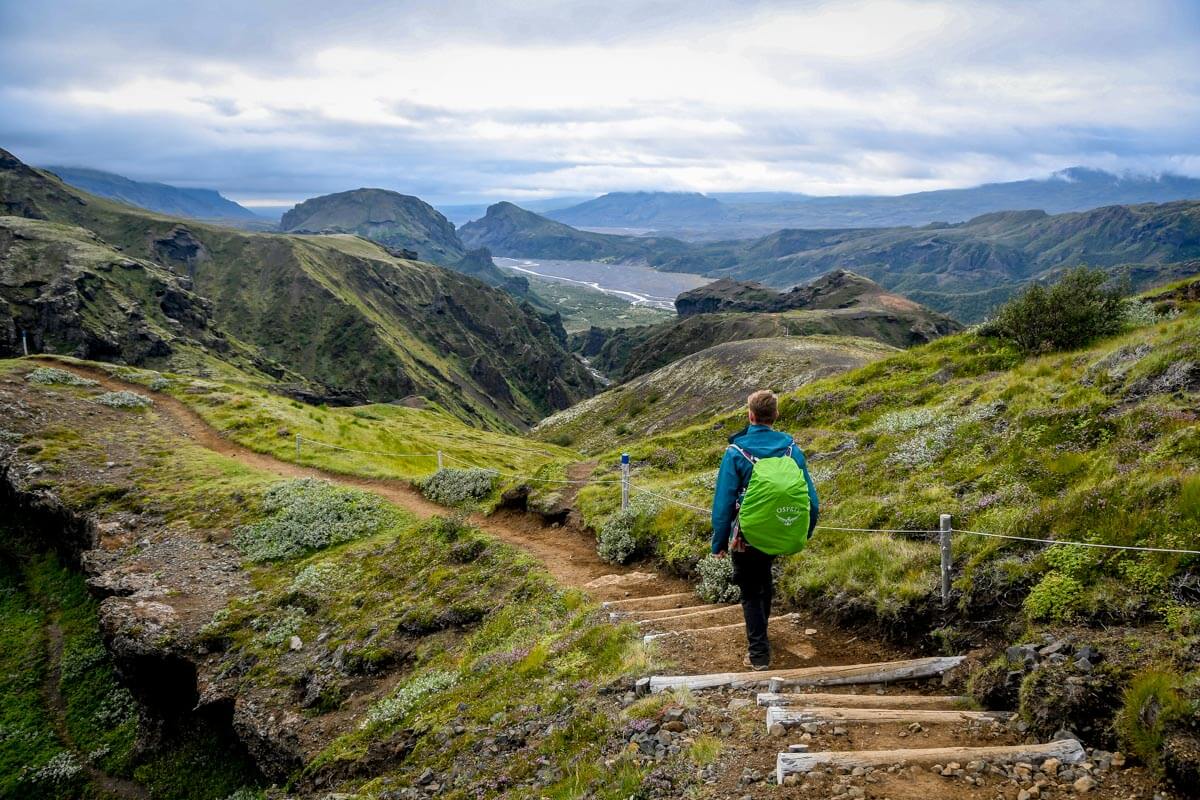 Note: In English, þórsmörk is often spelled Thórsmörk, so you will see both variations.
Thórsmörk Nature Reserve is truly magical and as the endpoint of the famous Fimmvörðuháls hike, you'll feel like you've truly earned the views as you make your descent down into the valley. You won't want to leave your camera behind on this epic day hike!
We put together all the information you need to plan your hike and get some epic shots in our Fimmvörðuháls guide.
Fjaðrárgljúfur Canyon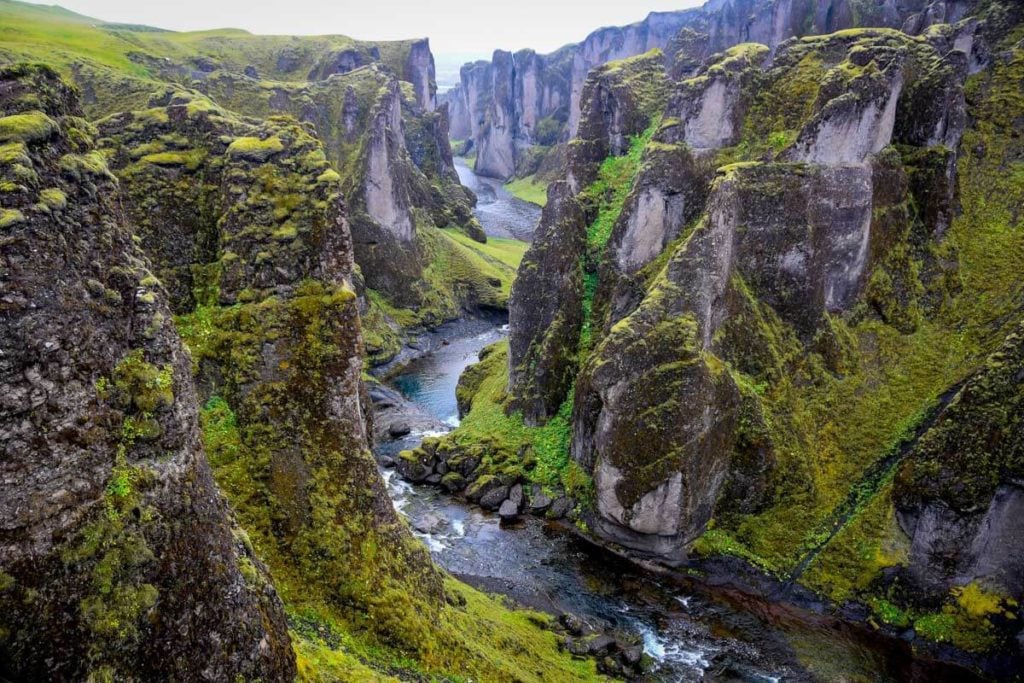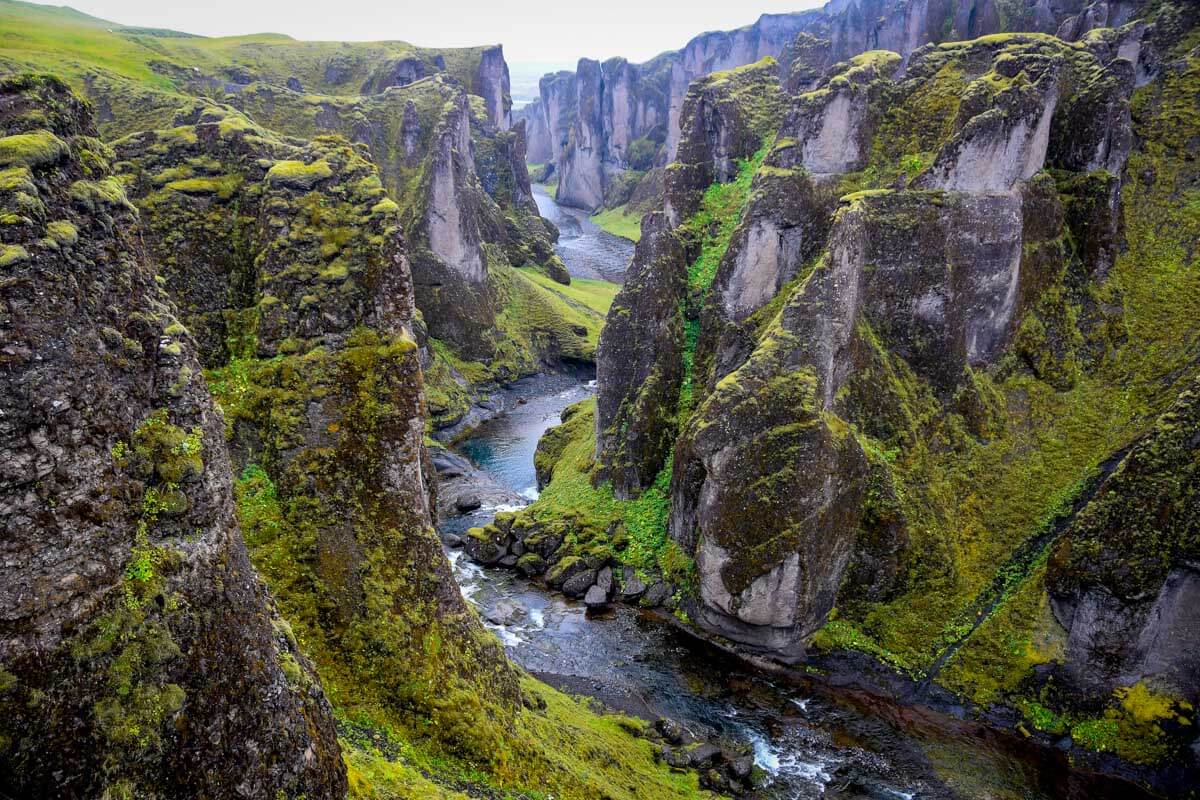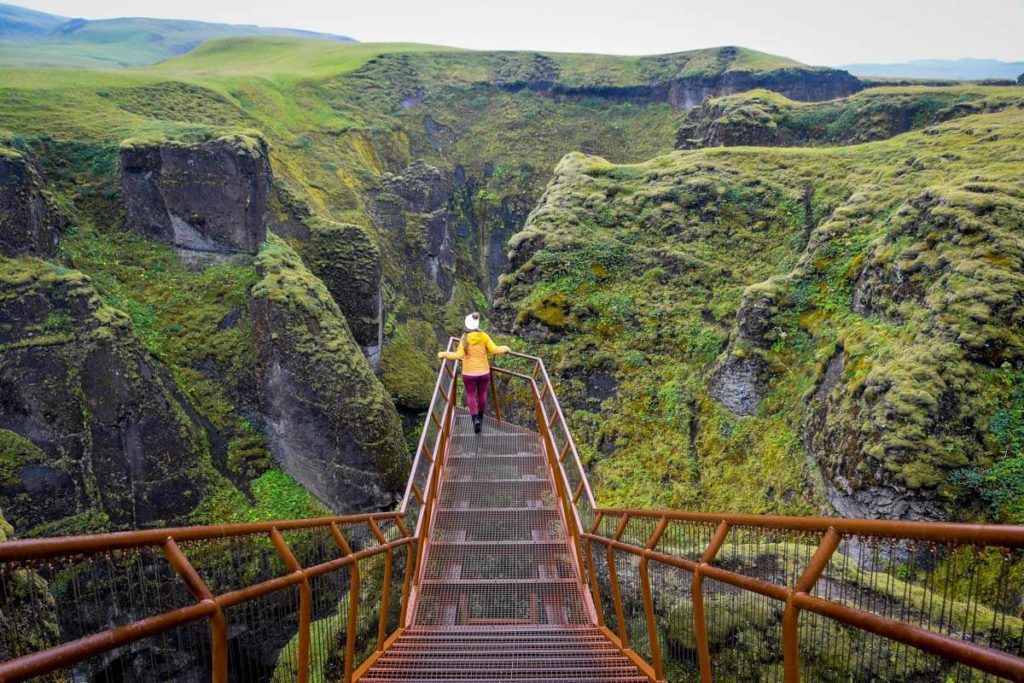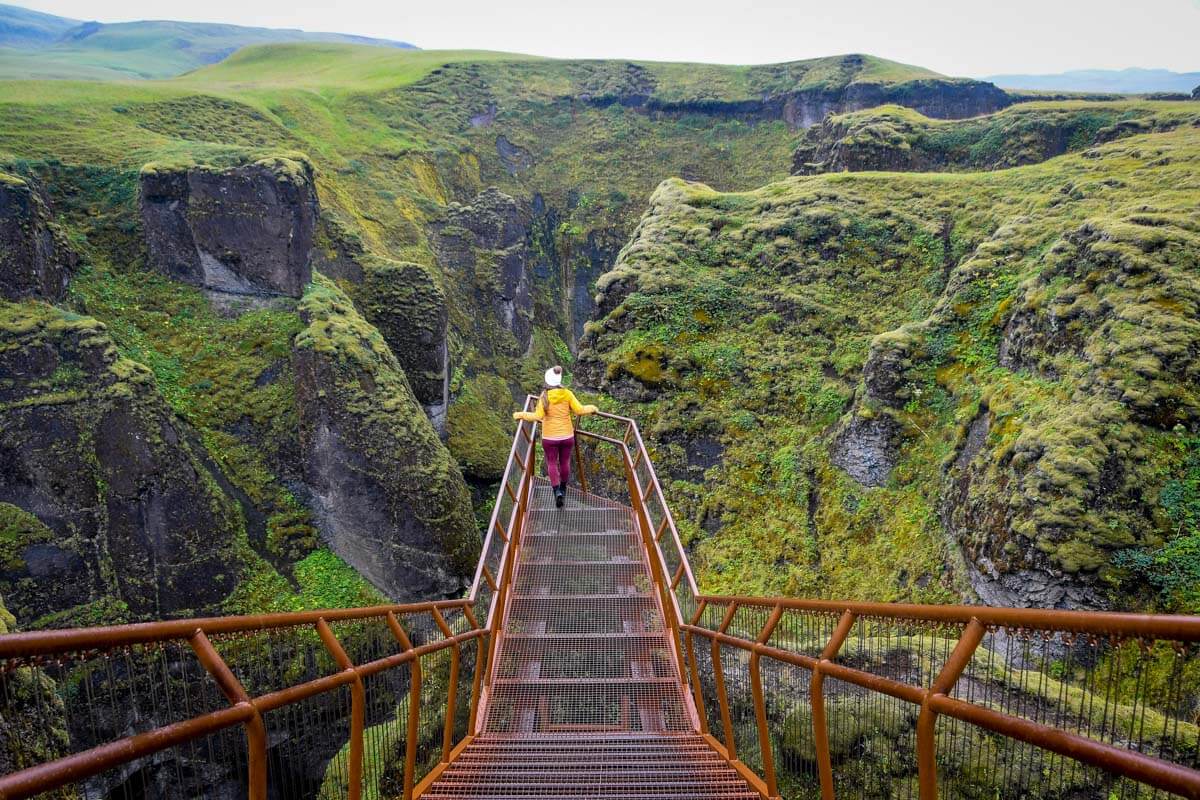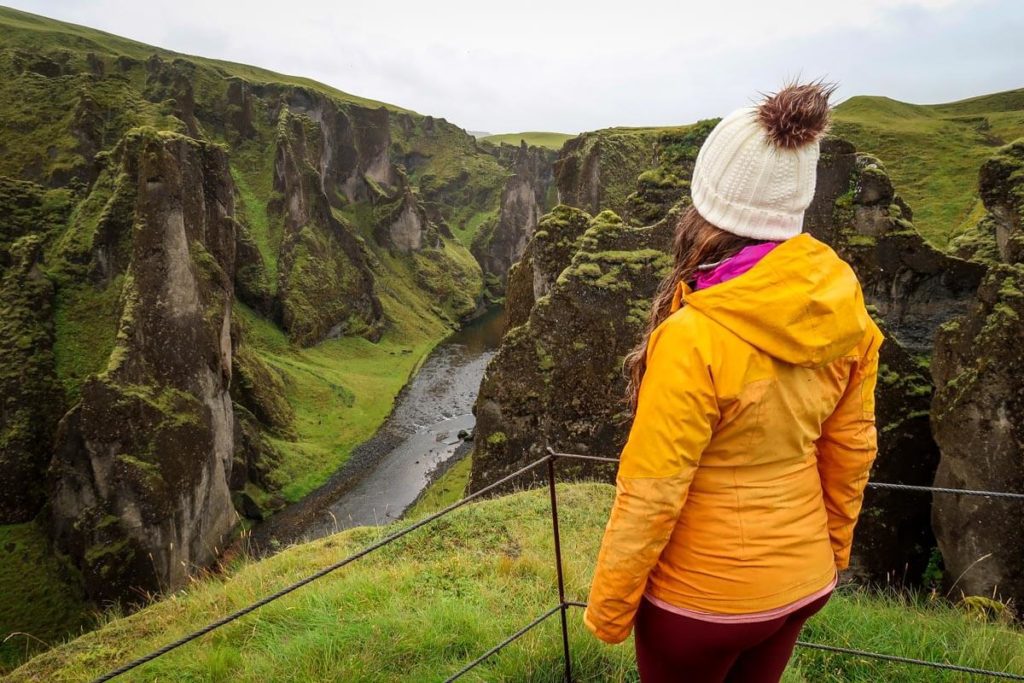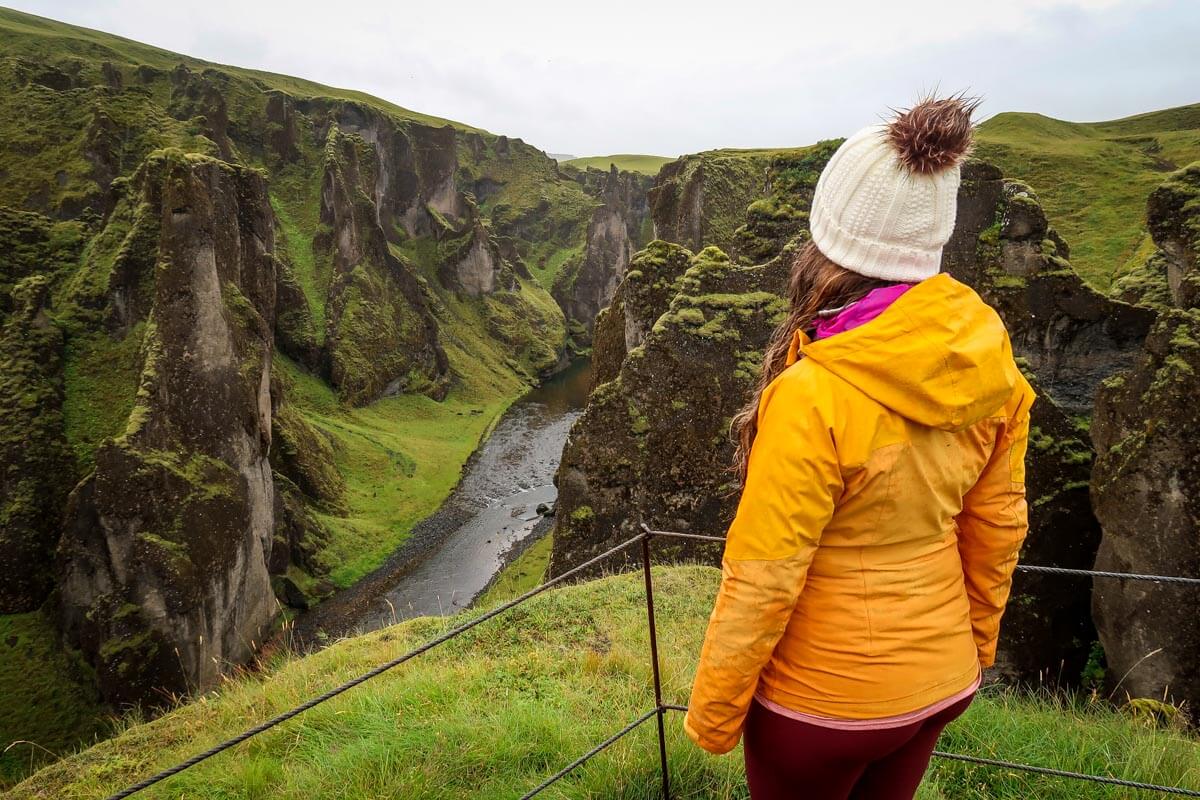 Despite its intimidating name, and it's fame in a certain pop star's music video (Justin Bieber anyone?), Fjaðrárgljúfur Canyon is definitely a must-see spot on your Iceland itinerary and one of our favorite spots to photograph.
This moss-covered canyon is absolutely dreamy!
With well-marked paths and viewpoints that overlook the winding river below, you'll have plenty of opportunities for photography. It's also one of the best Iceland hikes we did while we were there.
Studlagil Canyon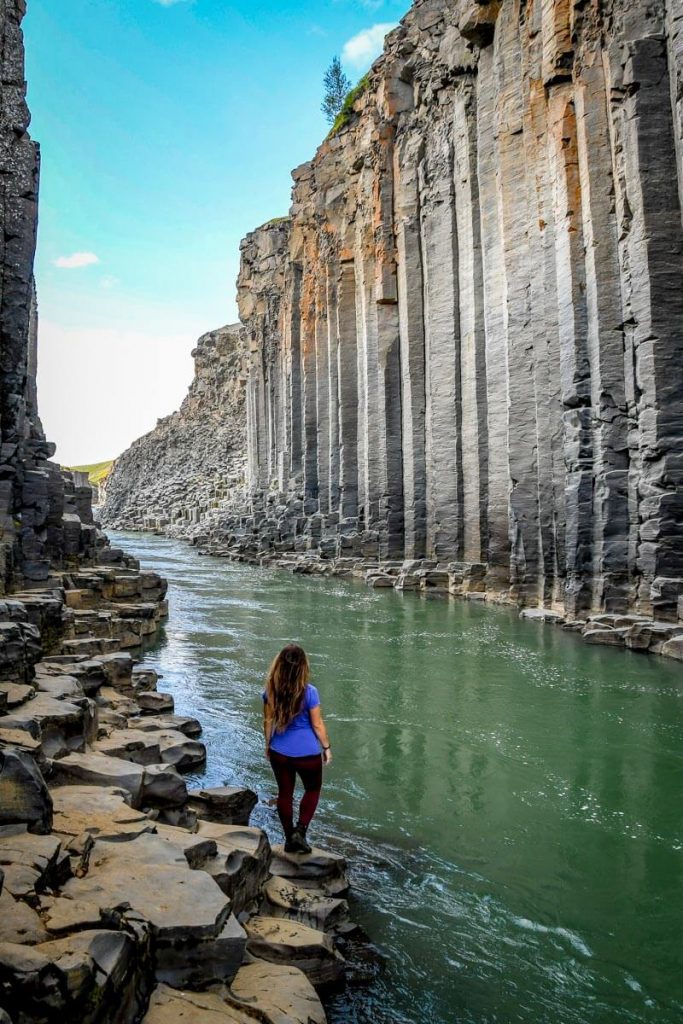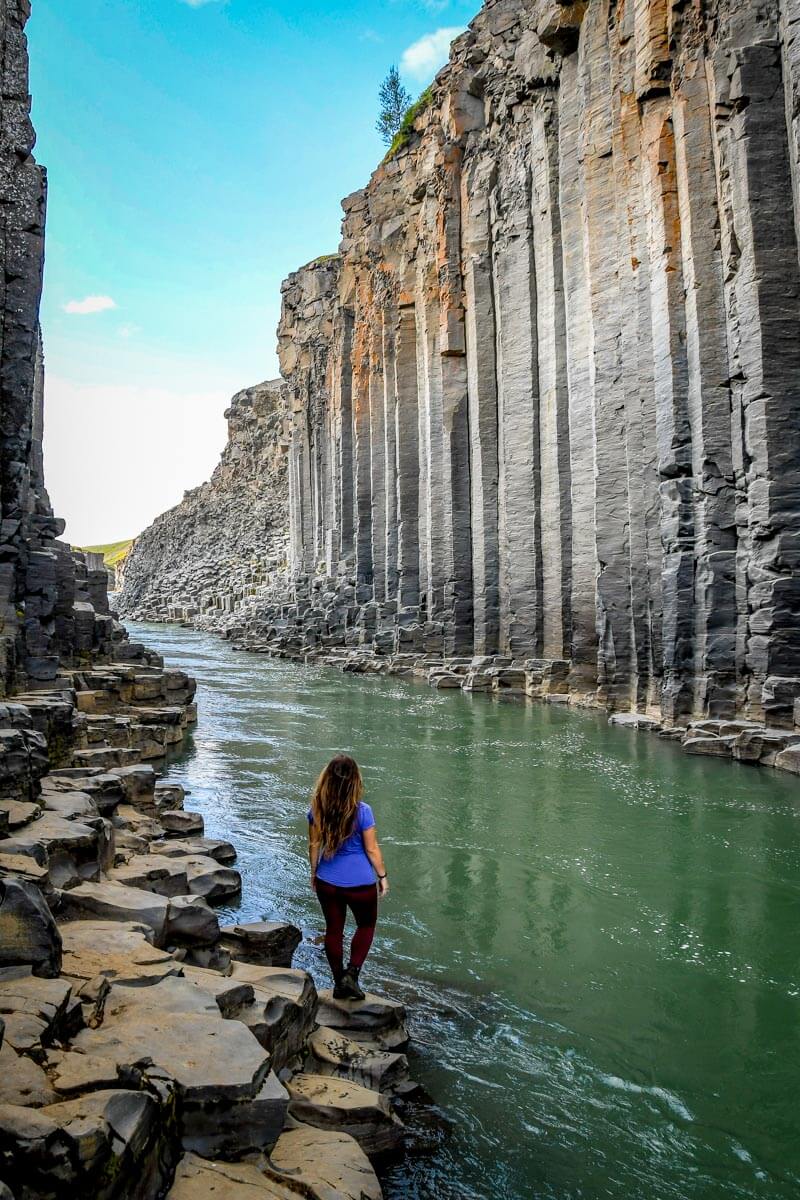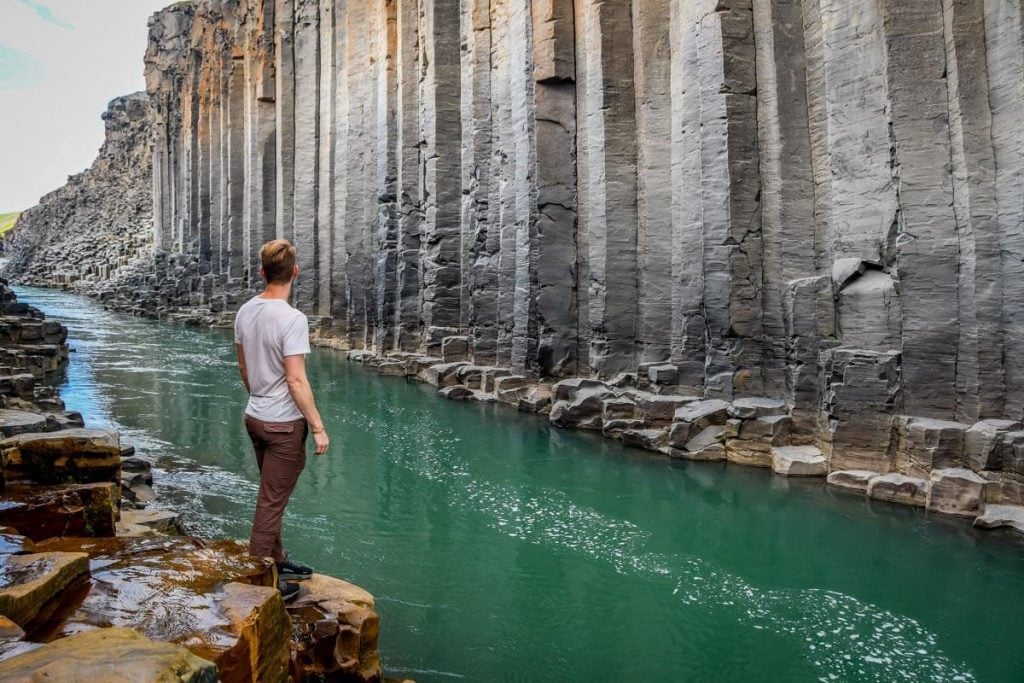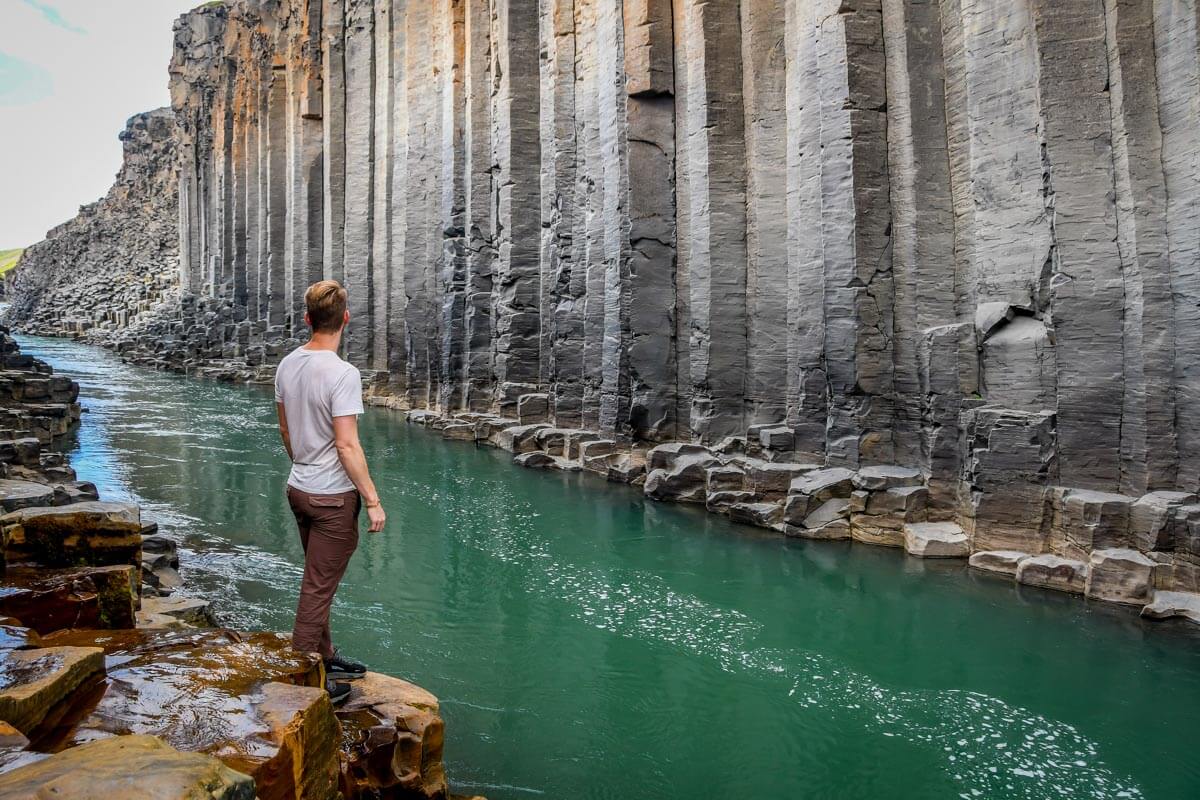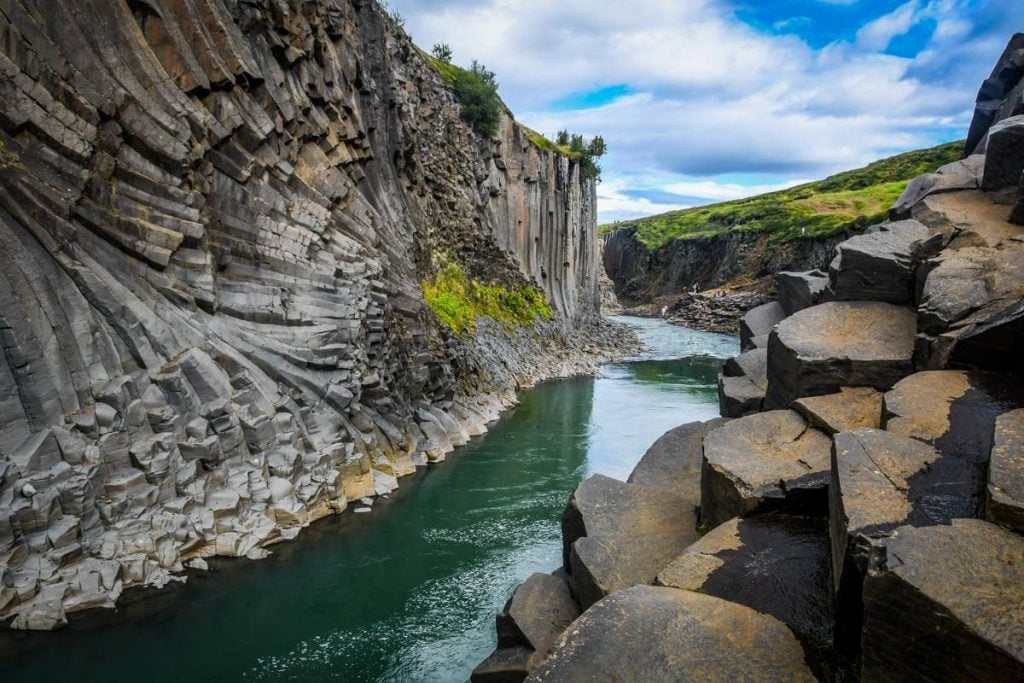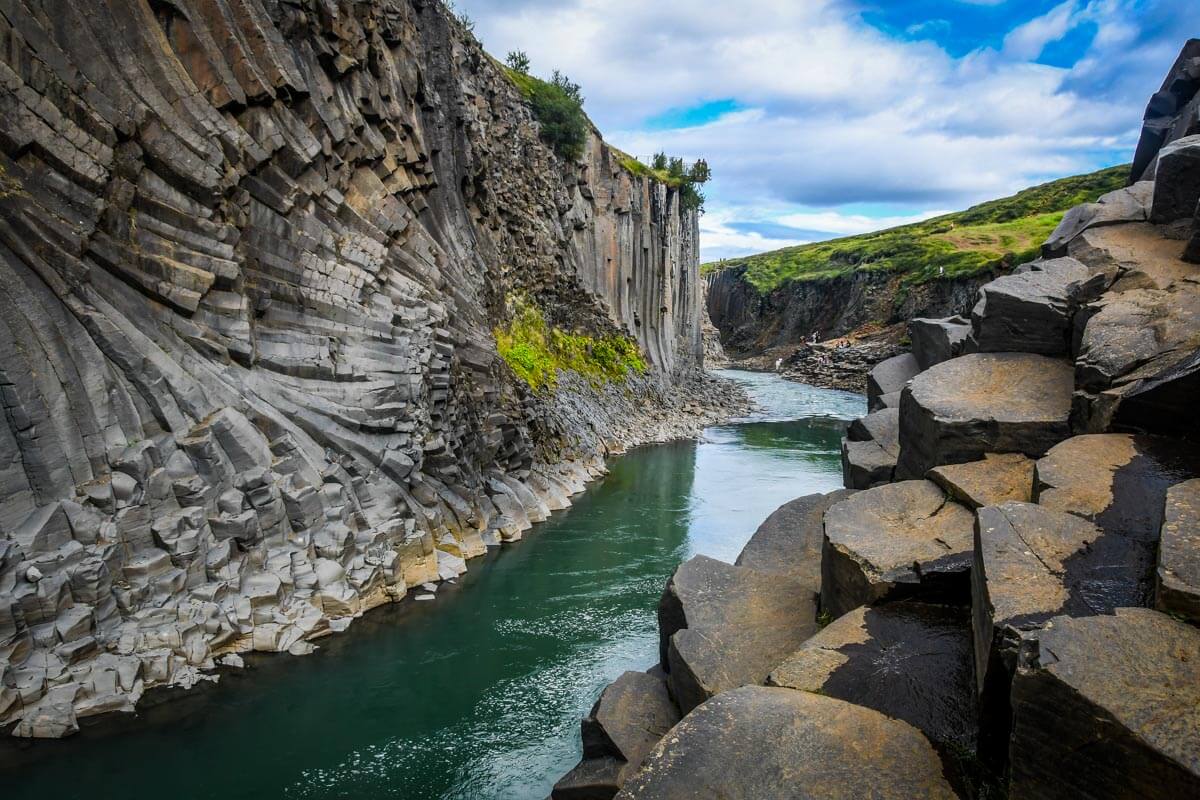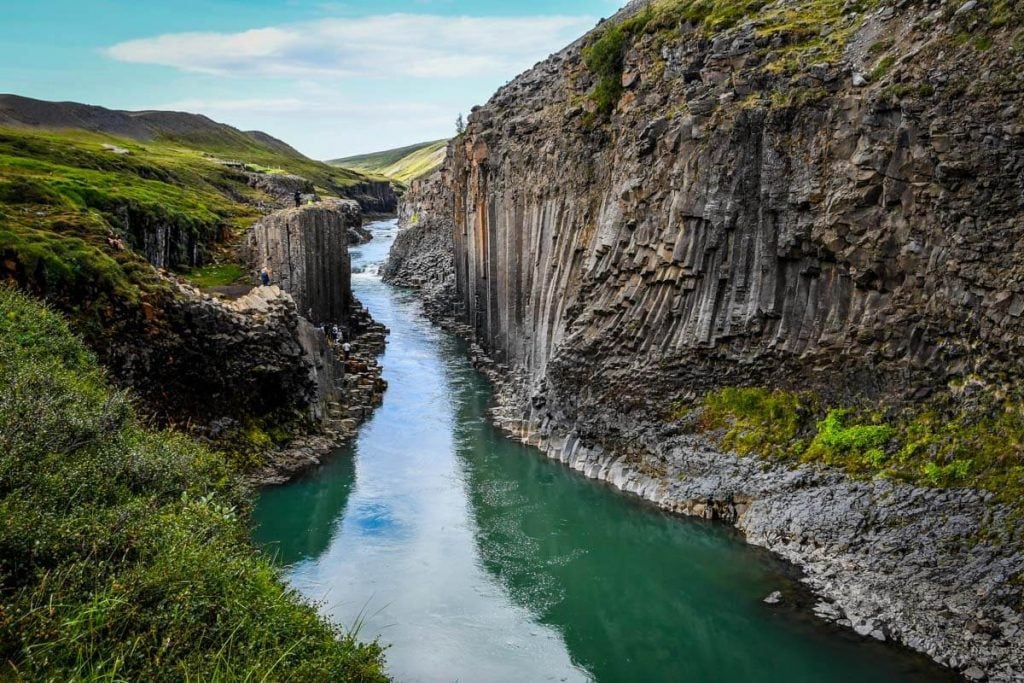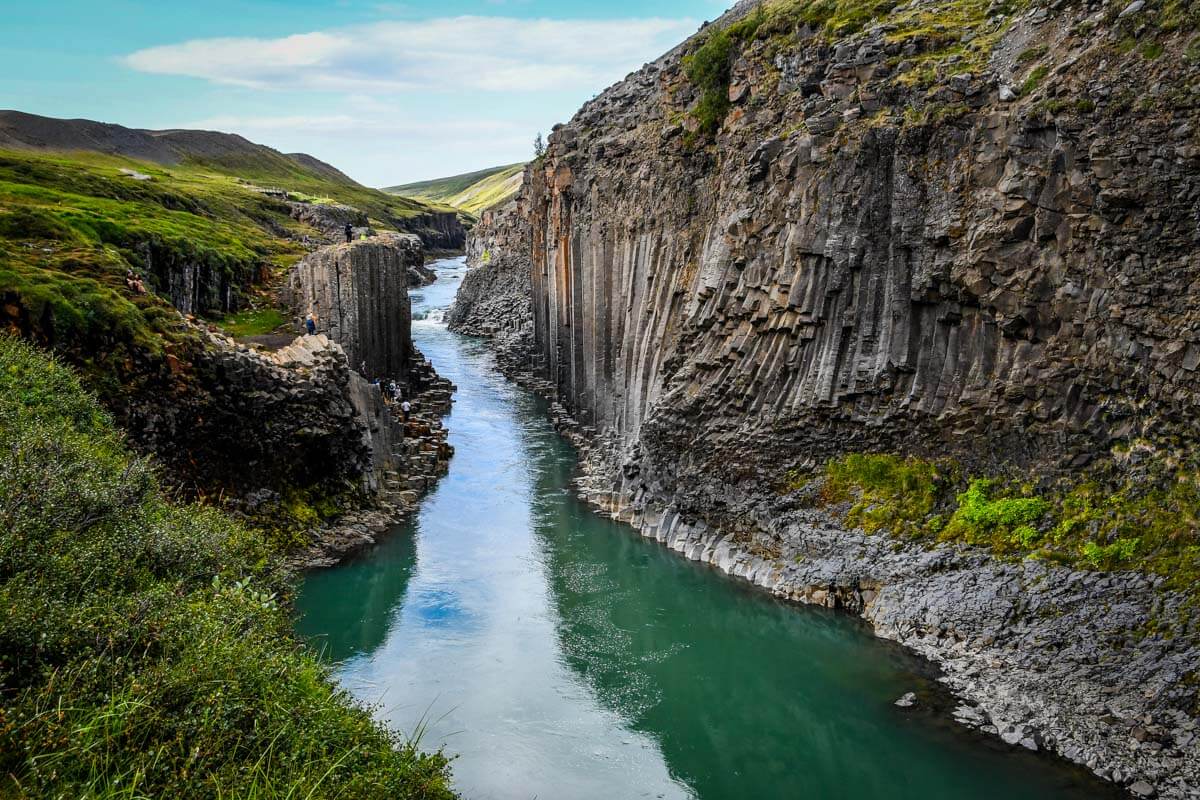 Boasting the country's largest collection of basalt columns, you can find the unique Stuðlagil Canyon nestled in a glacial valley in northeastern Iceland. The towering hexagonal rock formations almost look fake, but they are in fact very much a natural phenomenon and pretty dang cool to photograph up close and personal.
Until just over a decade ago, Stuðlagil Canyon remained mostly undiscovered but with the rise of Instagram, this spot has quickly blown up in popularity. In fact, you've likely seen it on your Instagram feed with someone striking the perfect pose in what looks like a completely empty canyon. (We're guilty of posting a photo like this!)
Note that the canyon itself can be kind of tricky to find (hint: Google maps isn't quite accurate on this one) and there are lots of logistics to plan for. We put together a guide to visiting Stuðlagil Canyon that has everything you need to know.
Múlagljúfur Canyon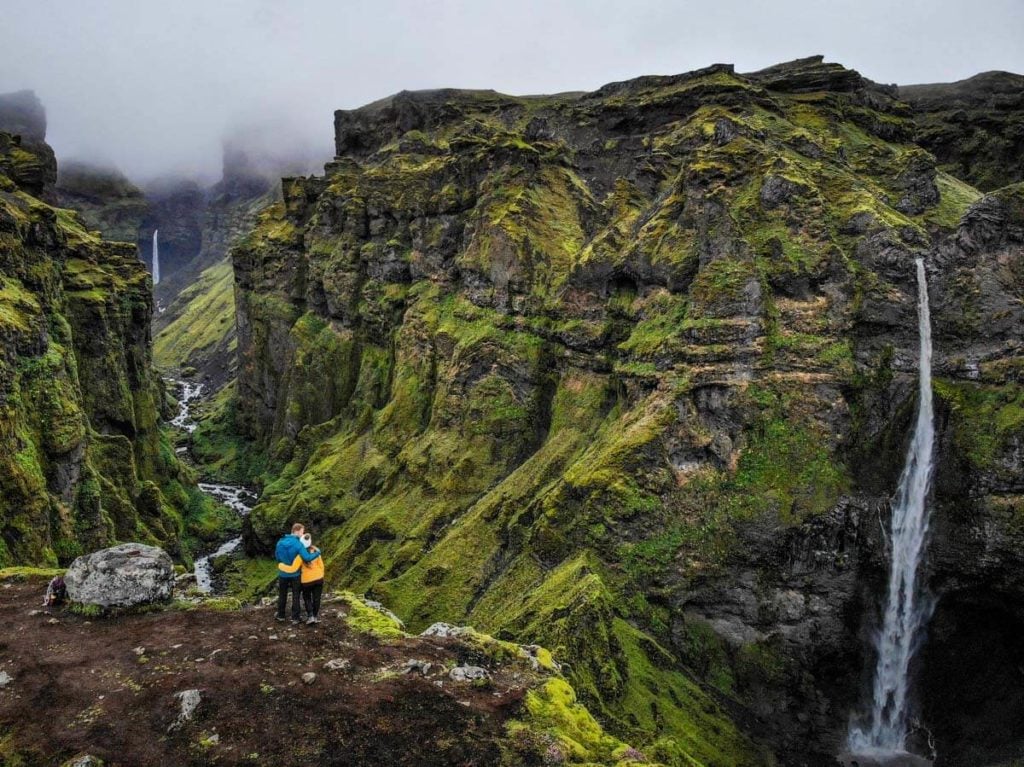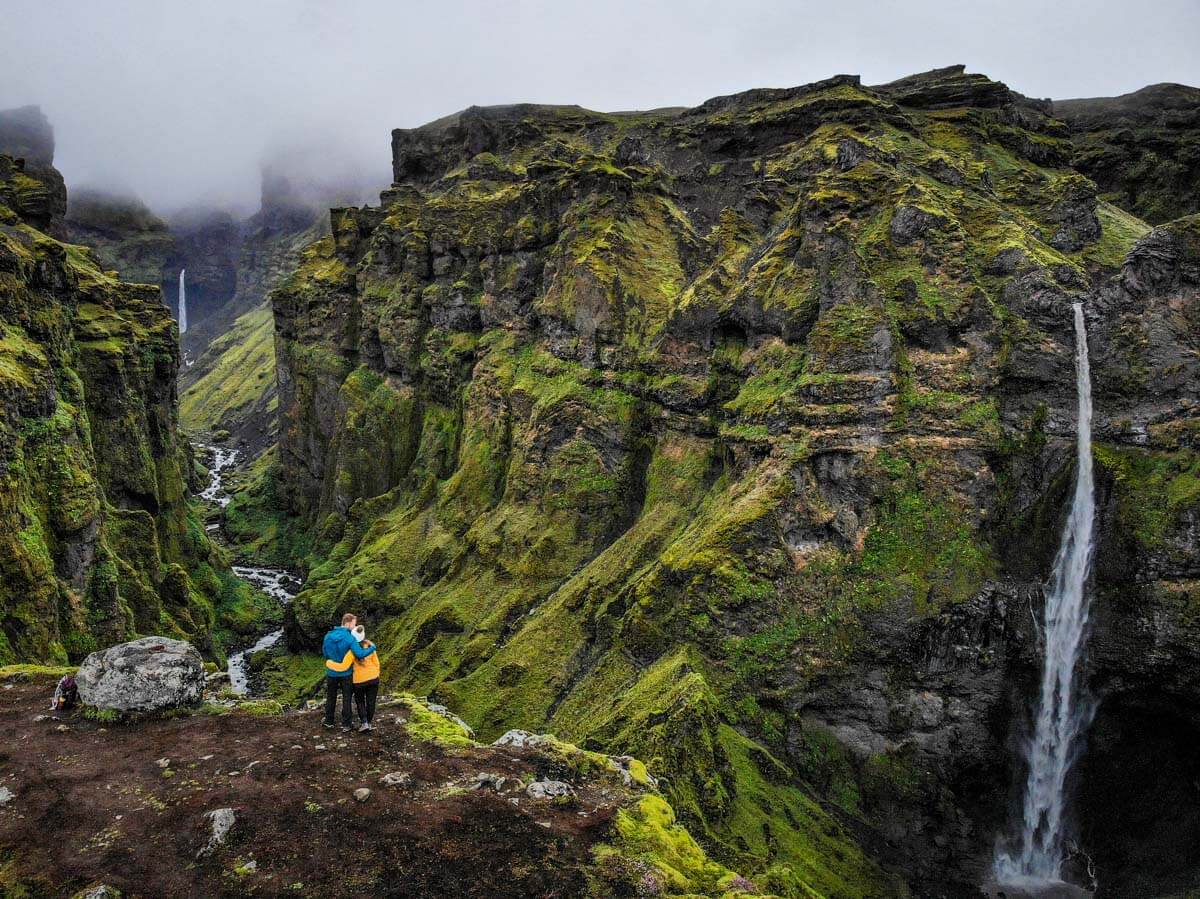 Not nearly as well-known or well-traversed as the famous Fjaðrárgljúfur Canyon, Múlagljúfur is still relatively a hidden gem in Iceland. That said, I don't think it'll remain secret for long, so we highly, highly recommend making time to spot and photograph this place.
The only word we can describe this place with is magic.
Check out our round-up of the best Iceland hikes to find out just how to get there and what to expect.
Eldhraun Lava Field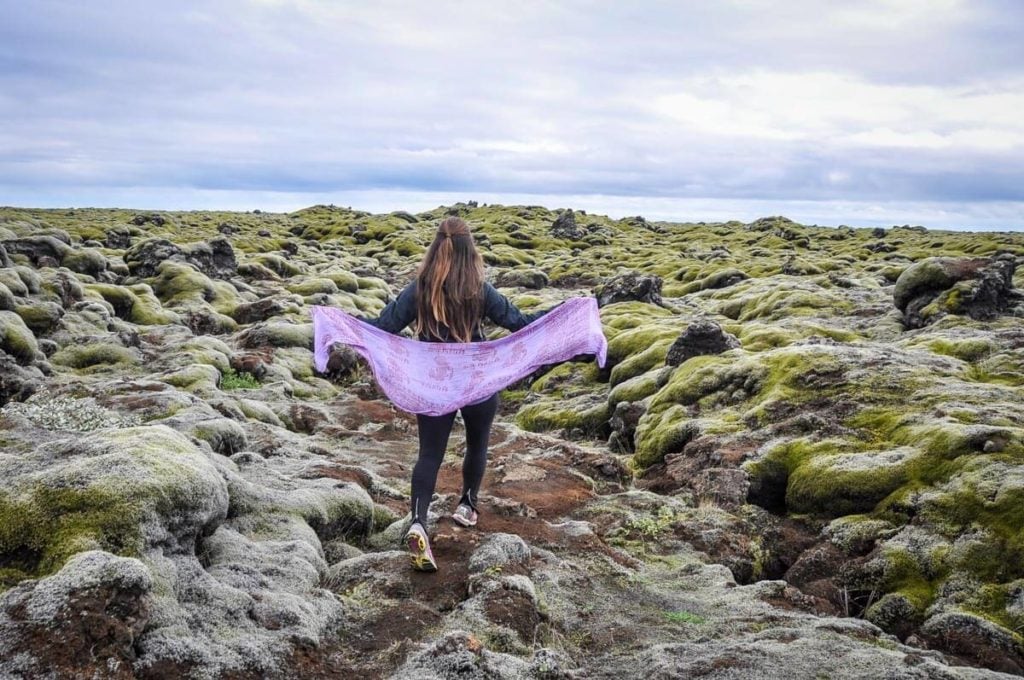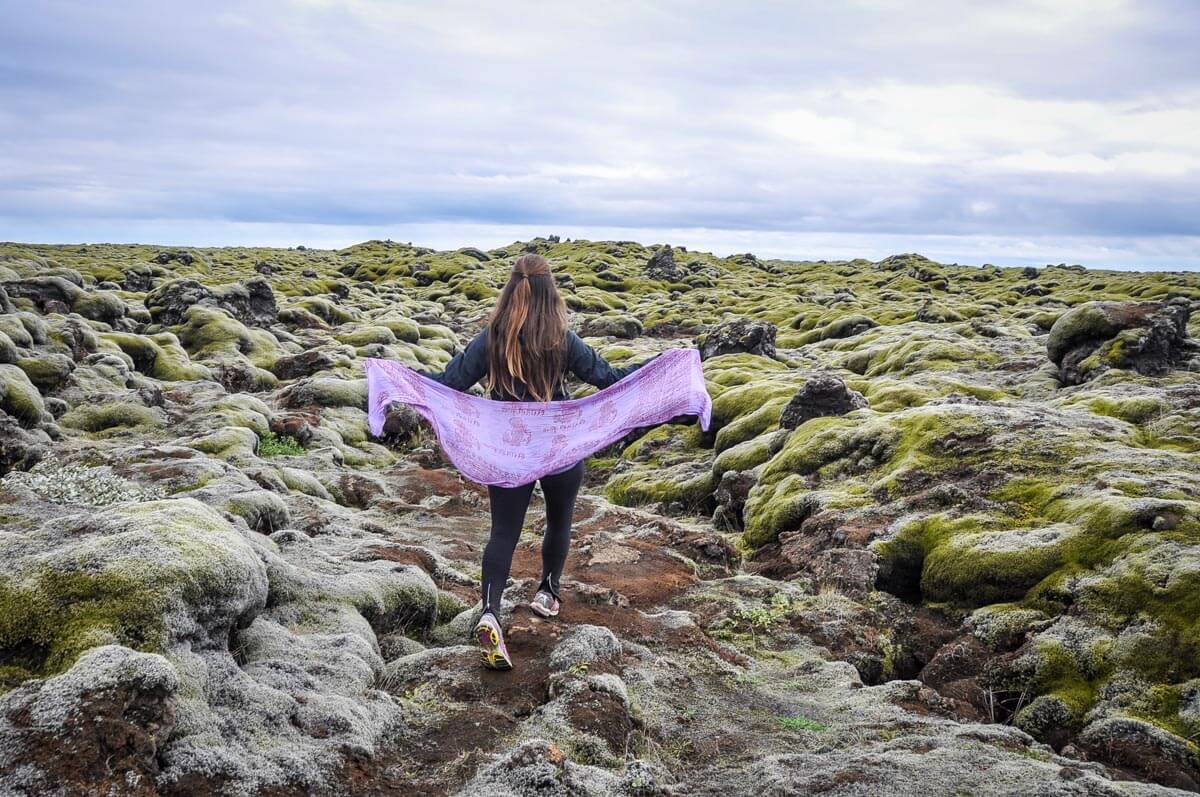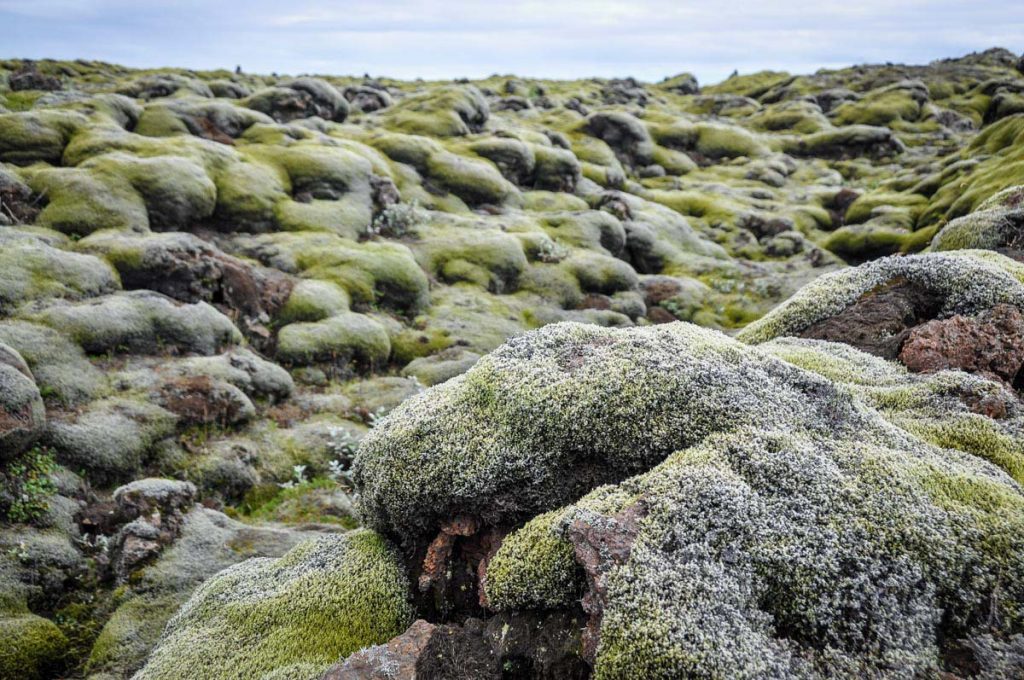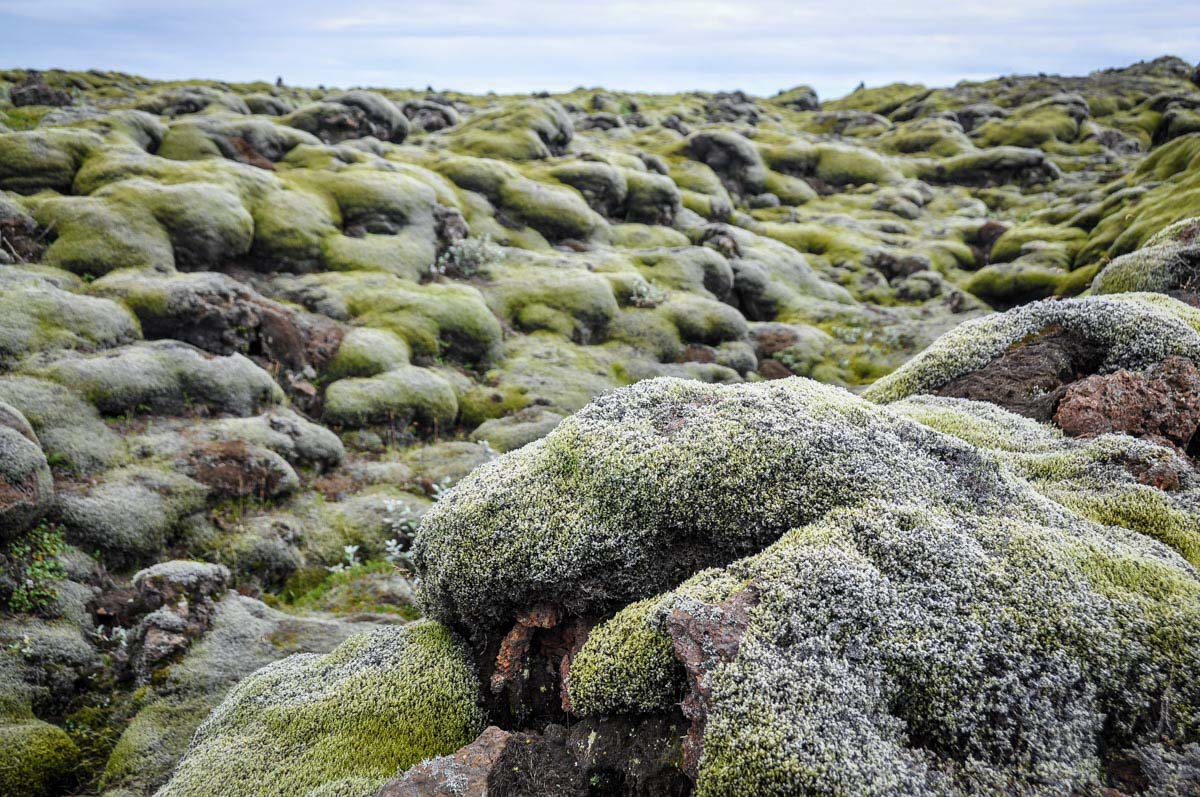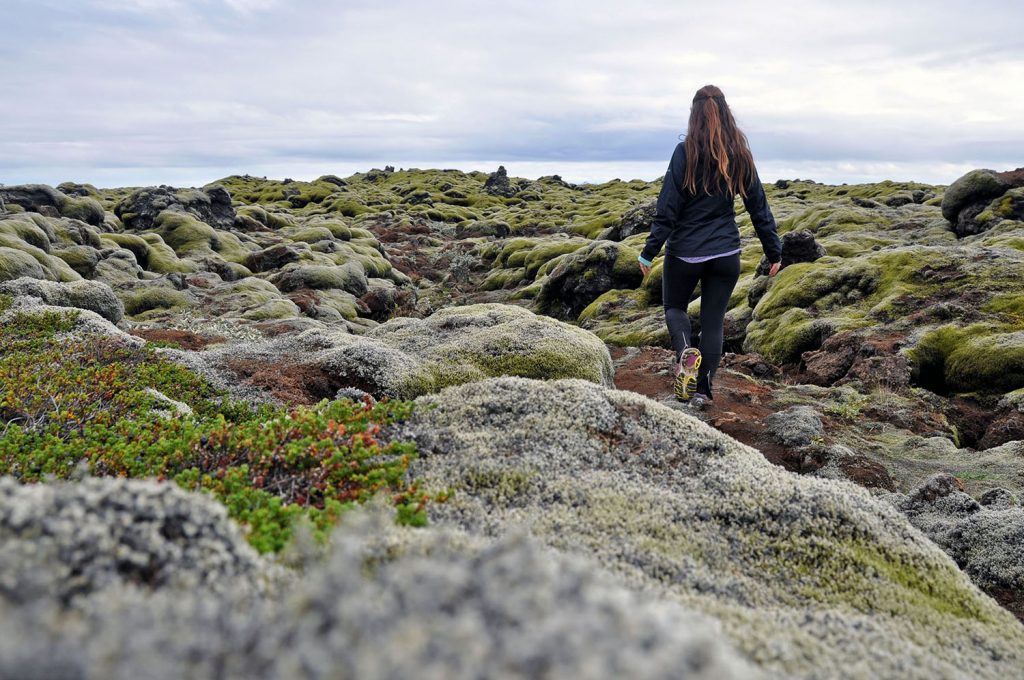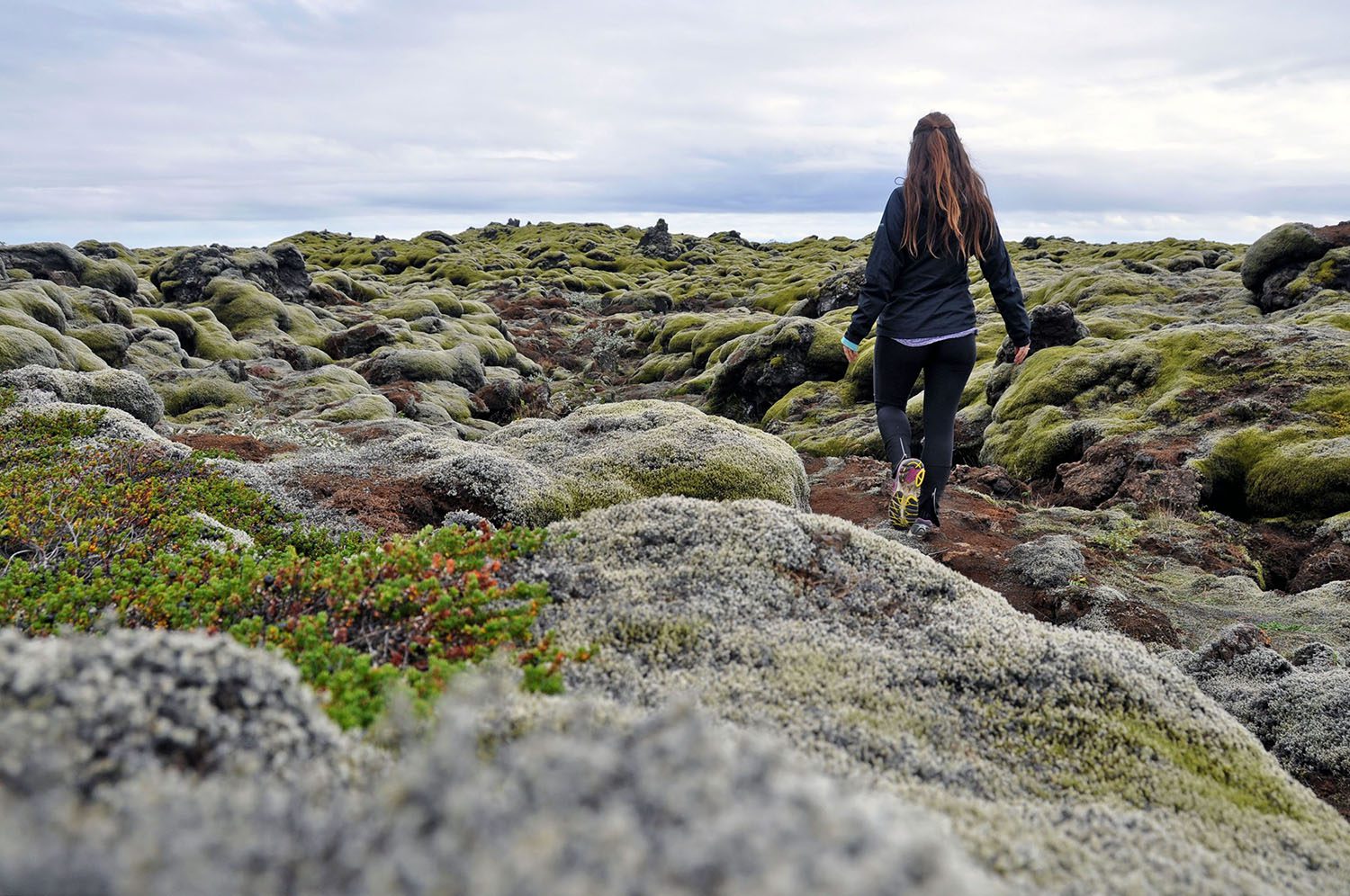 A volcanic eruption over 2 centuries ago caused lava to spill over and spread across the island in an area the size of Singapore. In areas thick enough to retain warmth moss grew and covered the bumpy surface, resulting in this vast area known as the Eldhraun Lava Field—a truly otherworldly landscape.
Not only is this lava field a great place to get out and stretch your legs while driving the Ring Road, it makes for some pretty cool photographs.
Tip: Move your camera around and play with different perspectives.
Gígjagjá (The Yoda Cave)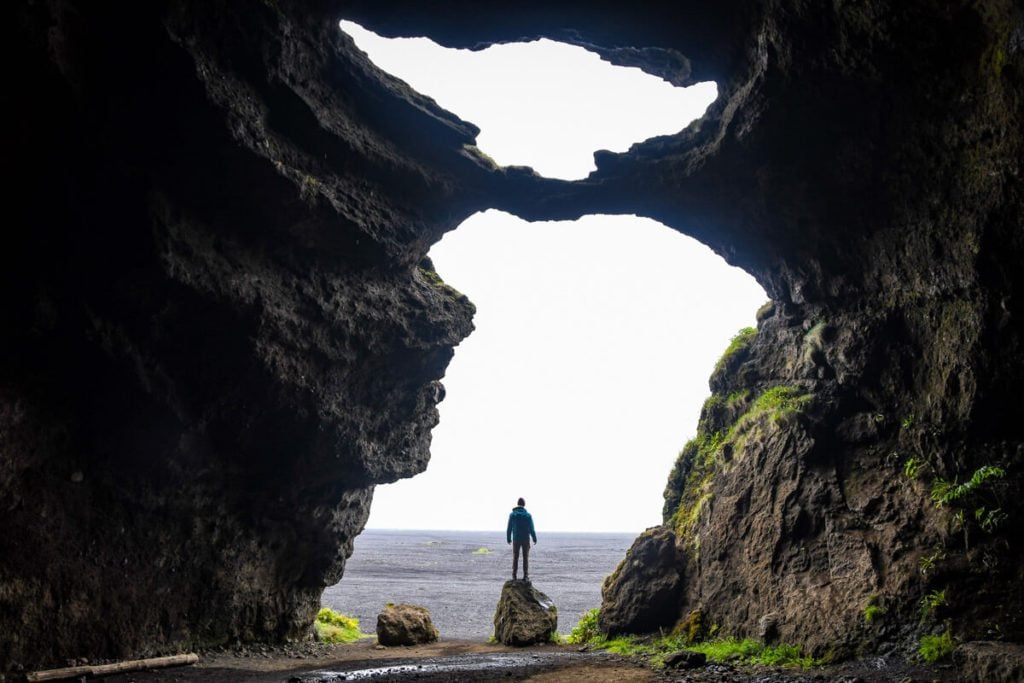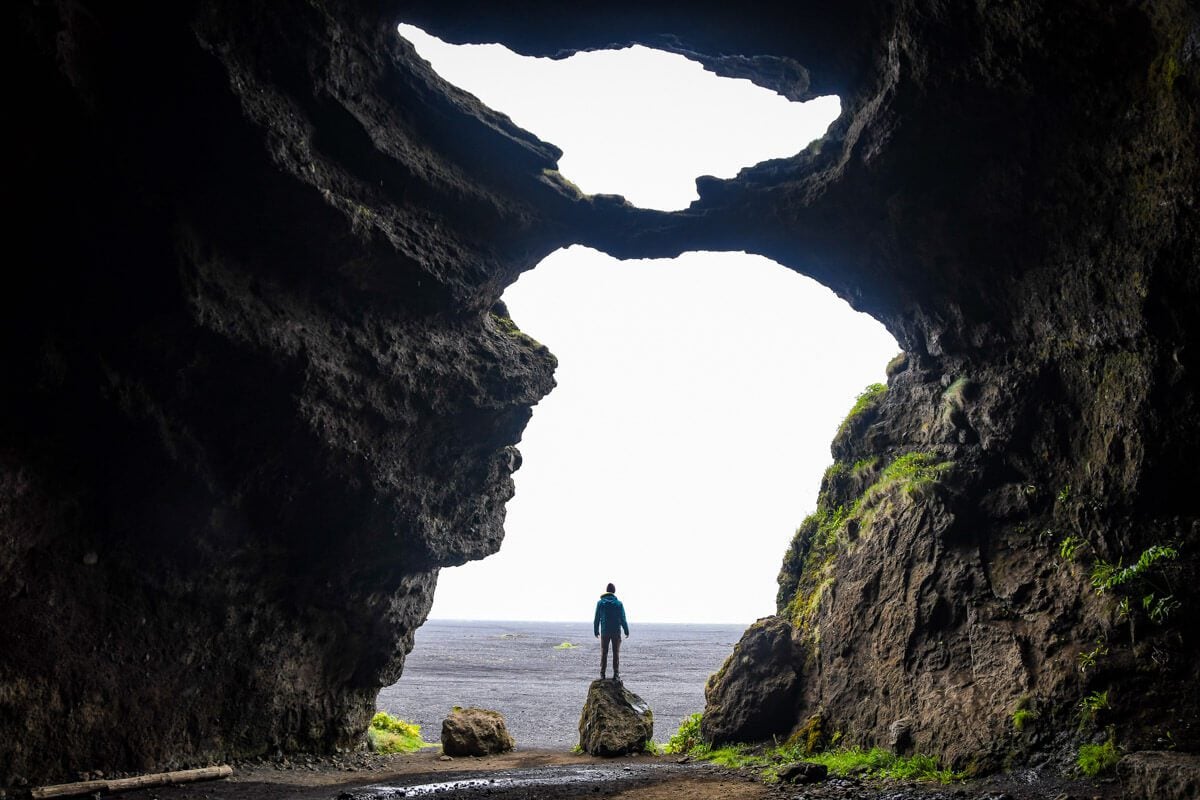 Calling all Star Wars fans!
If you are a fan of the franchise, you'll probably already have heard of the famous "Yoda Cave" in South Iceland. The cave, which is located near the town of Vík, doesn't require much effort to get to and is still surprisingly somewhat off the radar of most tourists.
Walk into the cave and as you look outward, you'll notice the opening bears a pretty strong resemblance to Yoda!
---
Picture perfect towns
In Iceland, there are countless charming harbor towns and even more stunning churches.
Rainbow Road in Seydisfjordur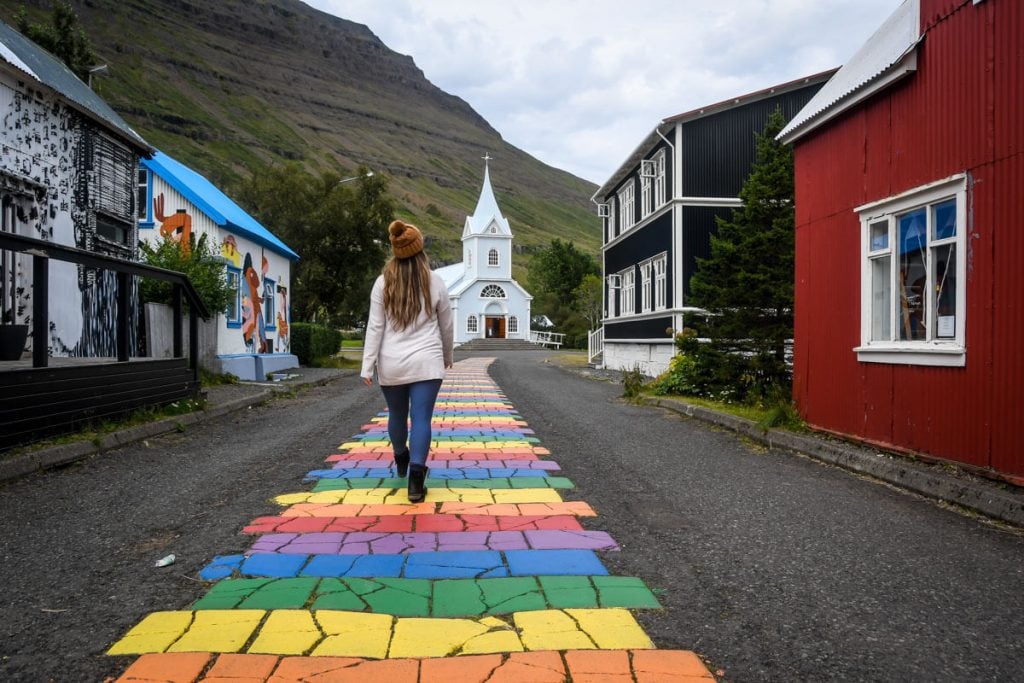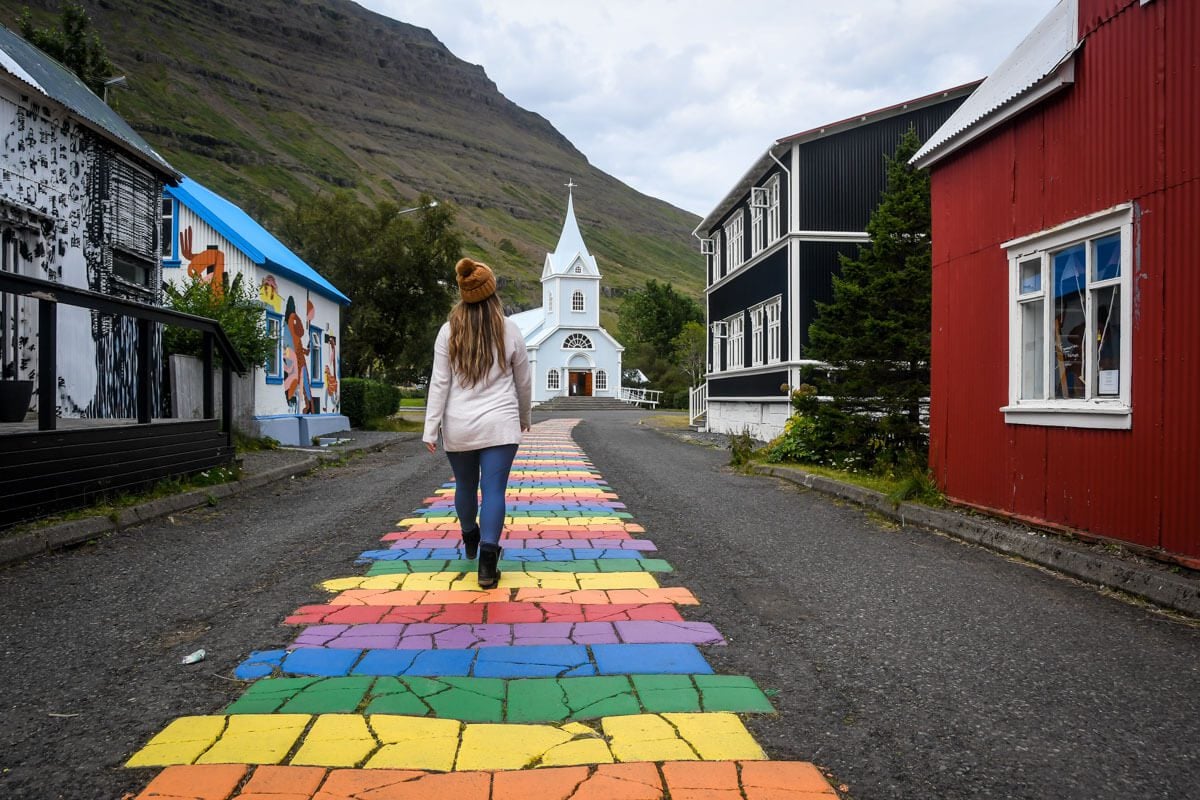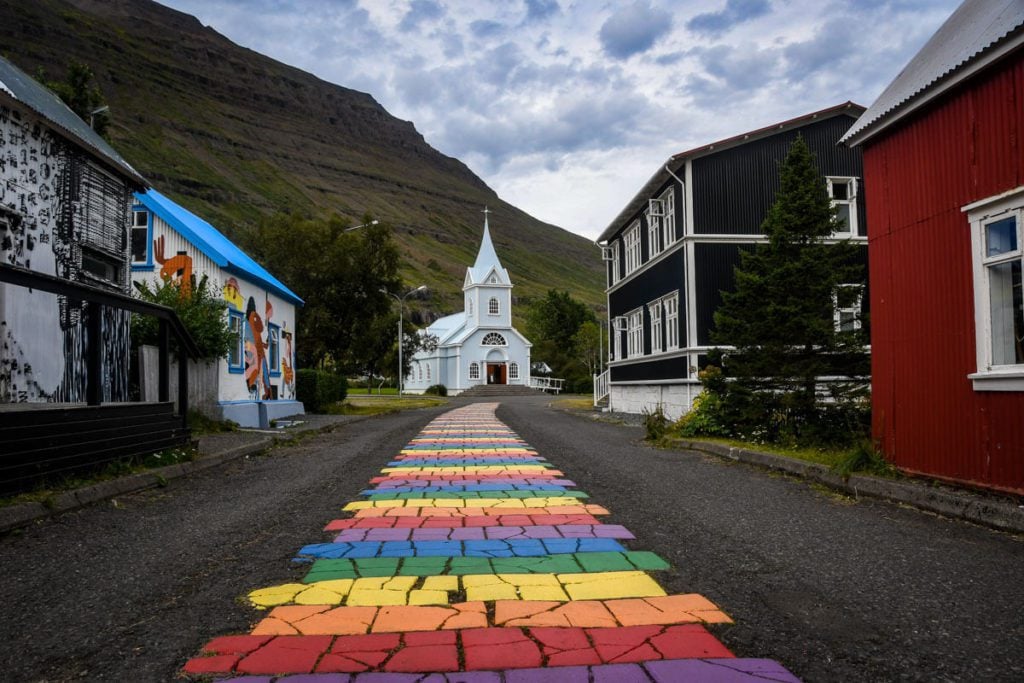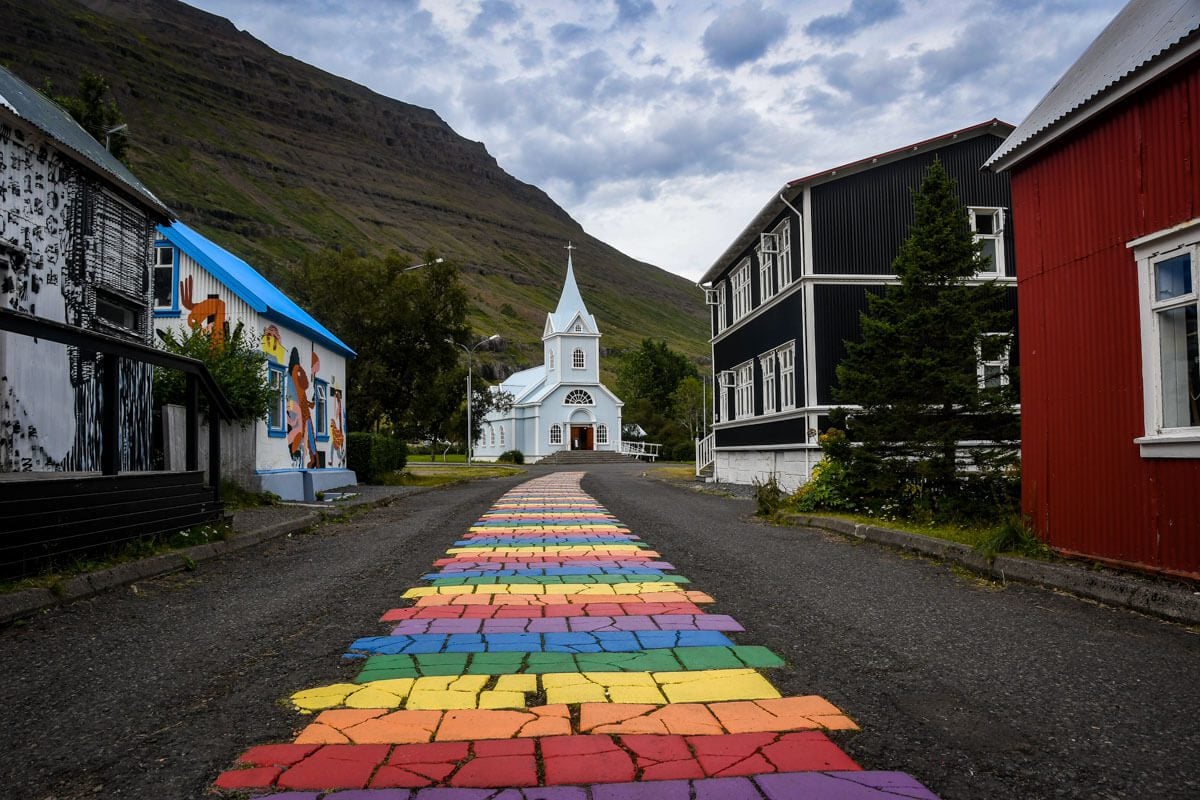 The charming town of Seydisfjordur is as picturesque as you'd expect of a waterside town nestled next to a fjord. The place boasts beautiful views, cute boutiques and plenty of restaurants.
The most iconic sight in town, however, is the "rainbow road" (or Regnboga Vegur as it's called in Icelandic), which leads to a small church, making a perfect photo opp. It is a smaller version of the famed "rainbow street" in Reykjavík.
Vík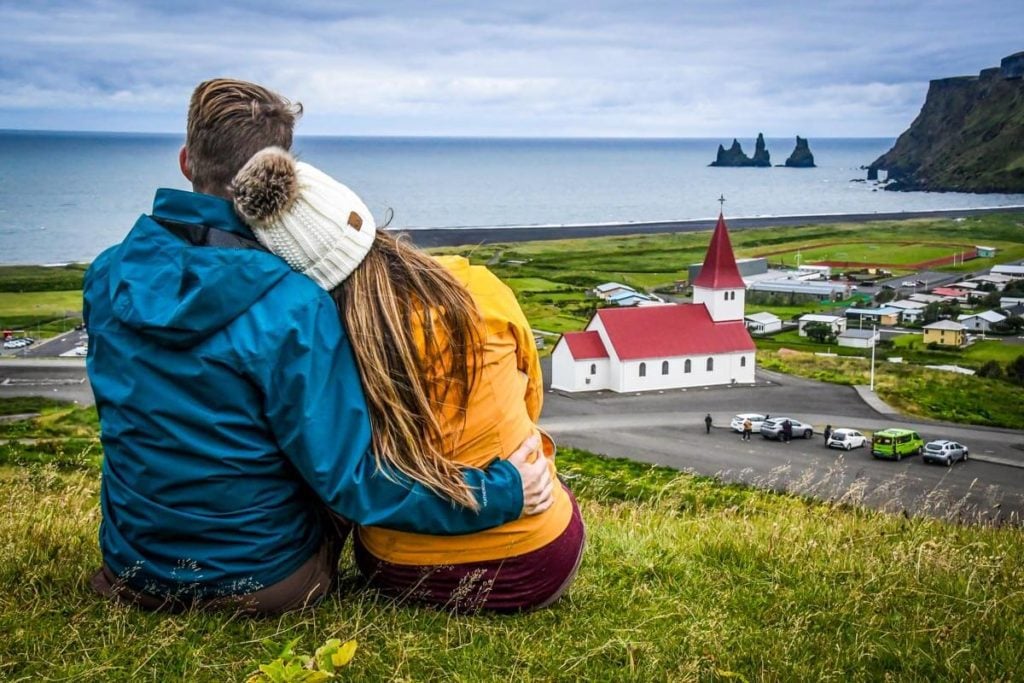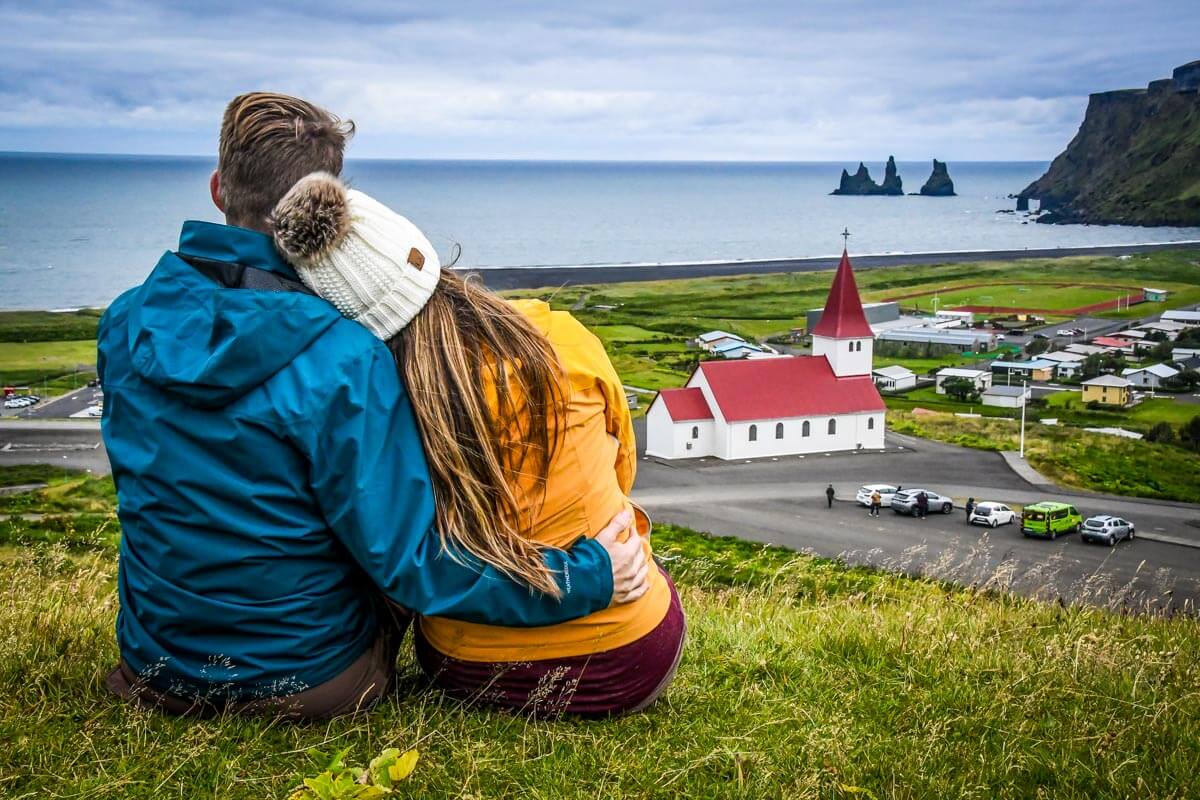 The Ring Road passes right through the town of Vík, making it a perfect place to get out and explore. Known as one of the most picturesque towns in Iceland, it's a great place to get some good shots.
Our favorite photo spot is on a hill overlooking the town and its iconic church. Just behind the church, you'll see a trail leading up the hill. Aim your camera in the direction of the church with the great sea stacks known as Reynisdrangar looming in the distance.
We've rounded up all the best things to do, plus where to eat and where to stay in our ultimate Vik, Iceland guide.
Búðakirkja (The Black Church of Búðir)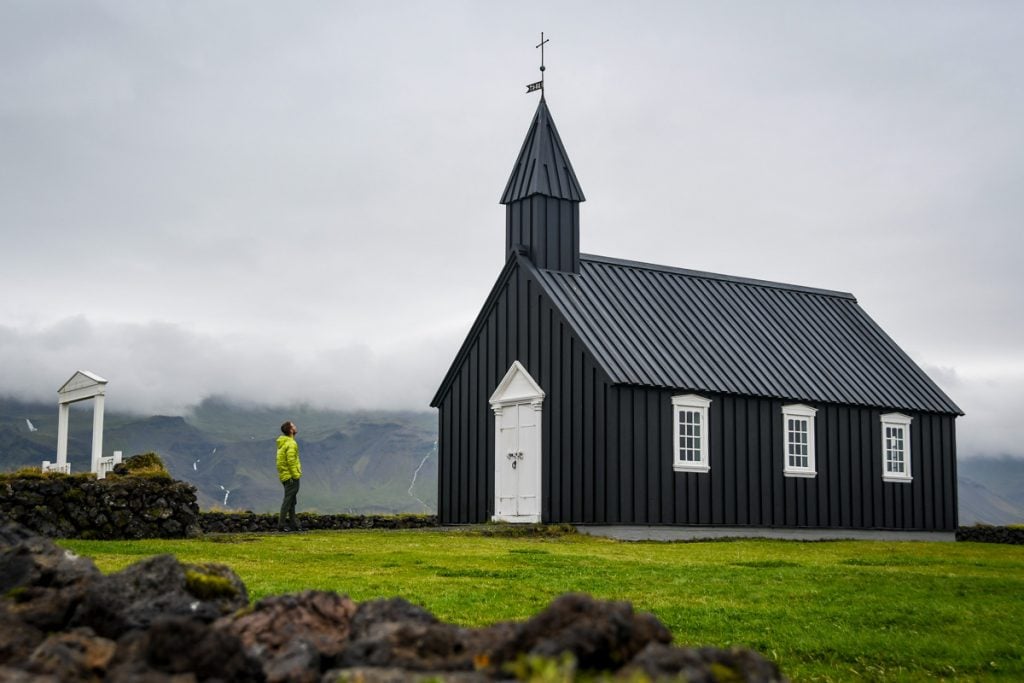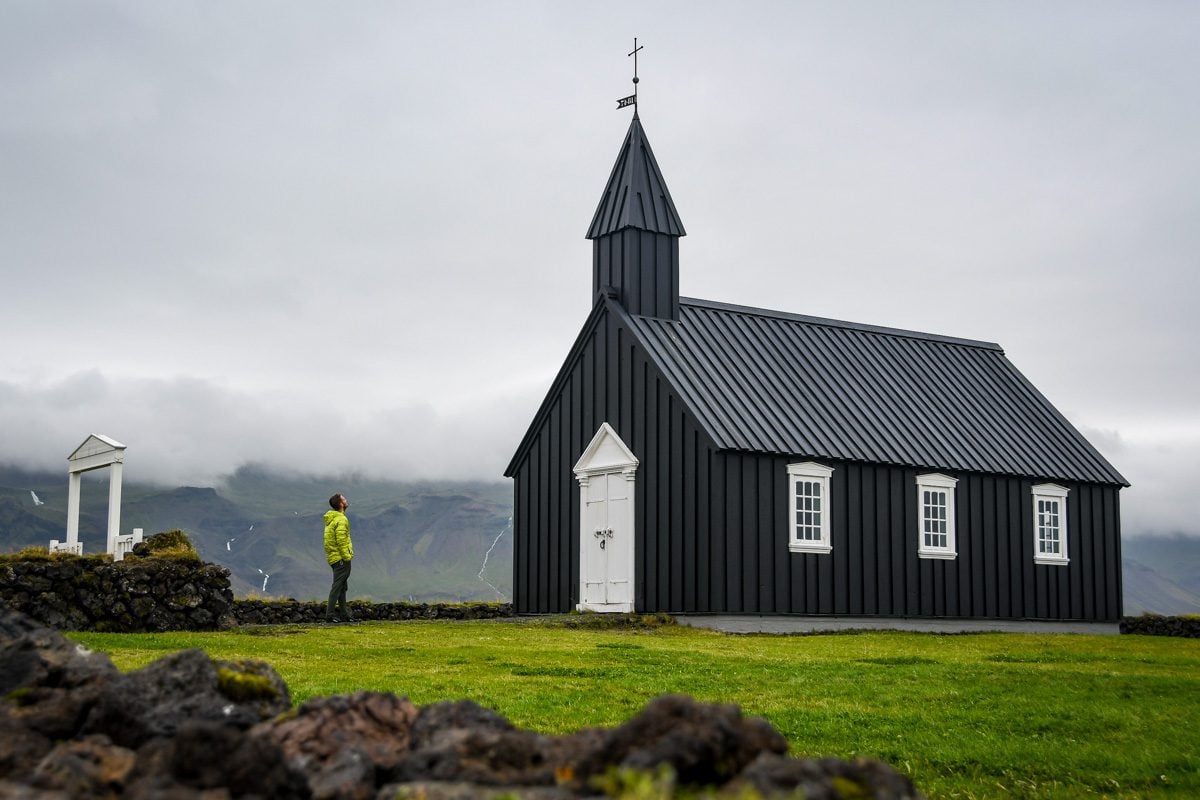 This tiny wooden church on the south coast of Iceland's Snæfellsnes peninsula has recently become popular amongst photographers for two reasons: 1) it stands alone as a minimalistic structure set in the rough Icelandic nature, and 2) its distinct black color stands out in contrast to its natural surroundings.
Located in a small village with only one other hotel, the church can be seen from pretty far away making it quite easy to find. Just follow your map's directions towards Búðir.
---
Best photo spots in Reykjavík
It may be your jumping-off point to explore the rest of Iceland, or you might just have a layover here, but there are actually lots of fun things to do in Reykjavík, including some cool photo opportunities.
View from the tower of Hallgrimskirkja Church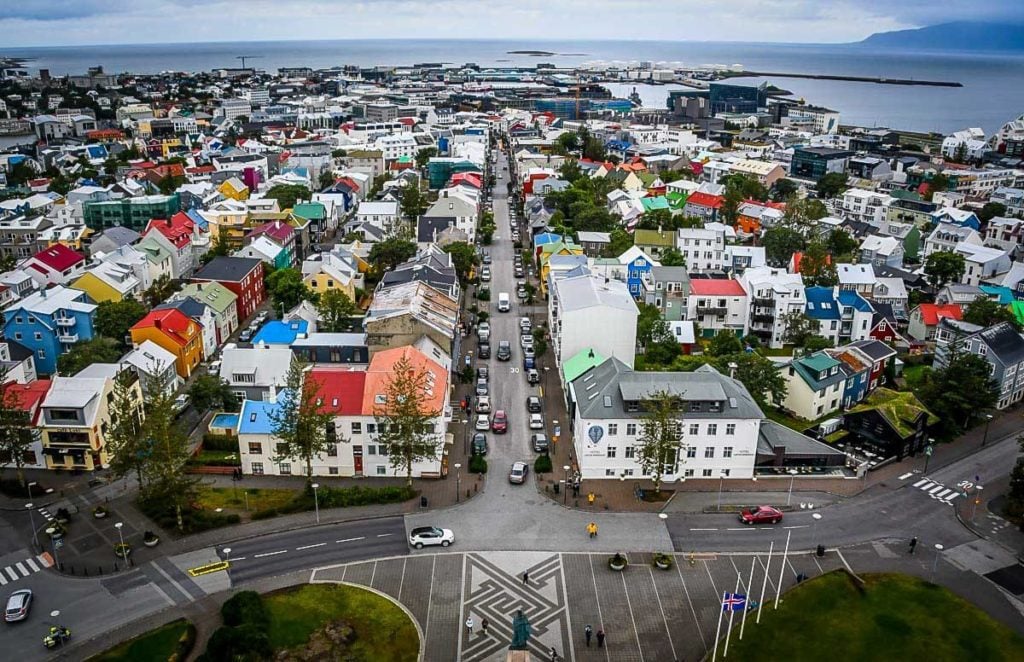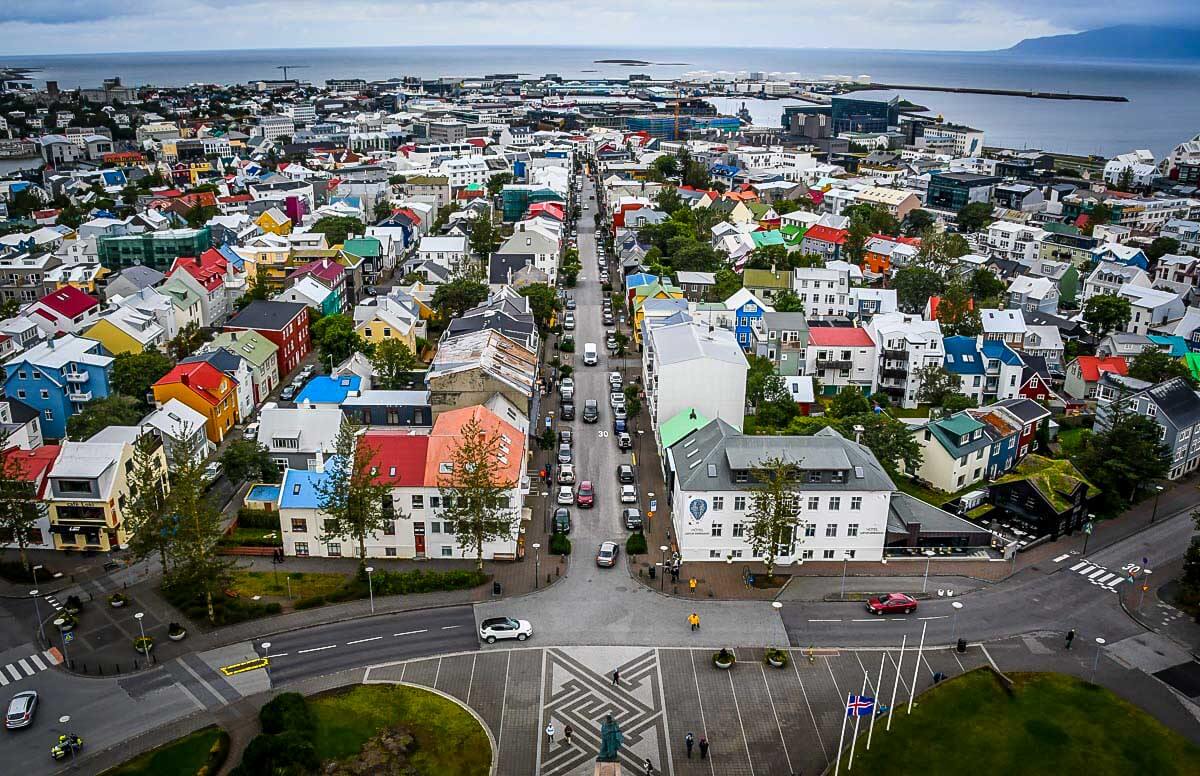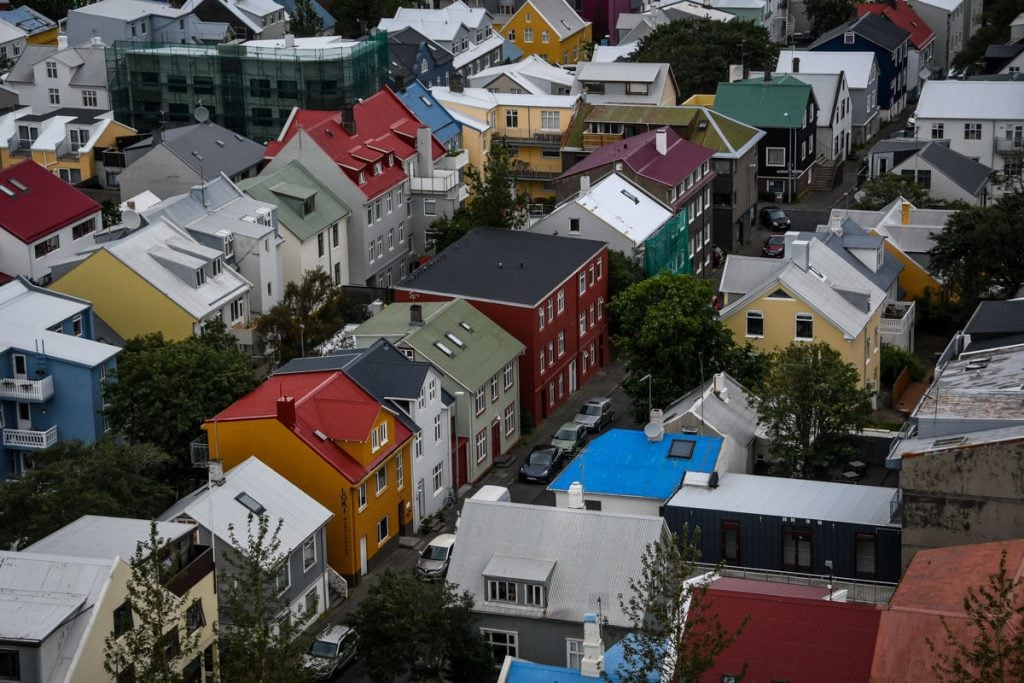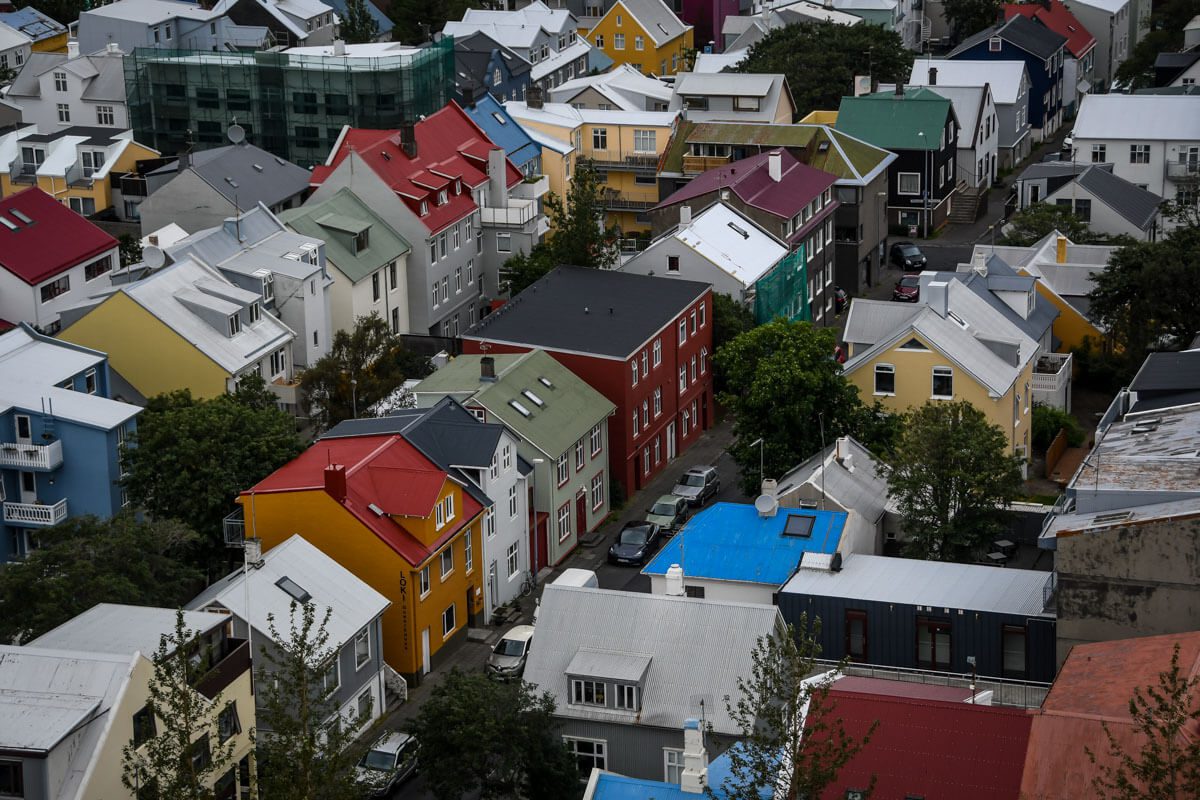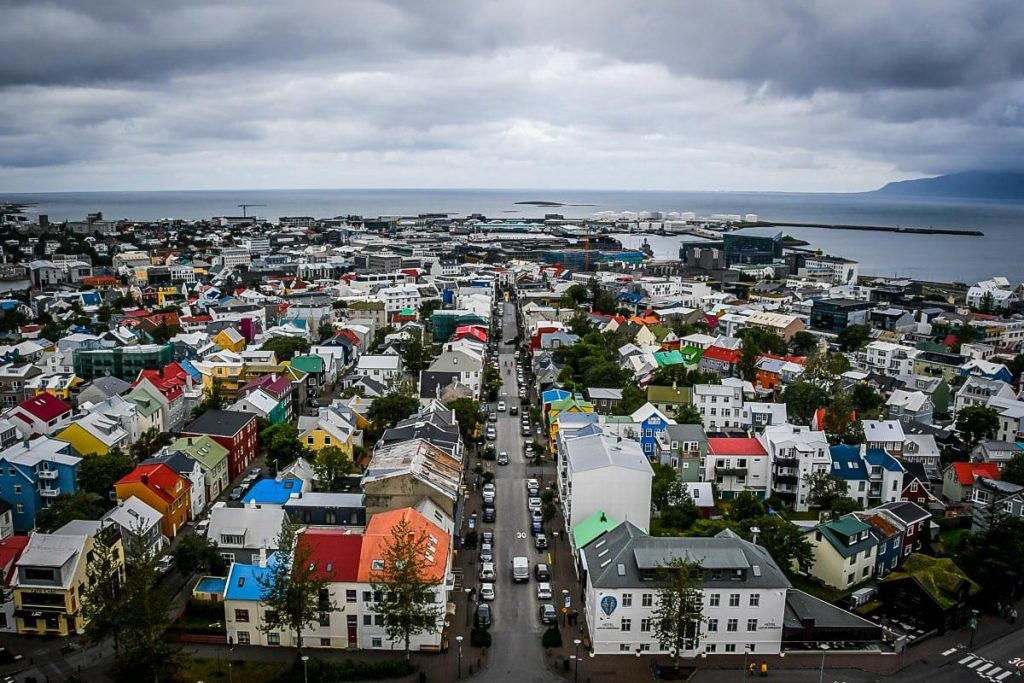 With its brightly-colored buildings and oceanside location, Reykjavík from above is a beautiful sight. Being so flat, it is hard to get a good view from the ground. That's why the ​​best viewpoint in town is from the viewing platform at the top of Hallgrimskirkja Church.
It'll cost you 1,000 ISK per person (about $8 USD) to reach the viewing platform, so make sure you check the weather ahead of time and go on a clear day.
Hallgrimskirkja Church in Reykjavík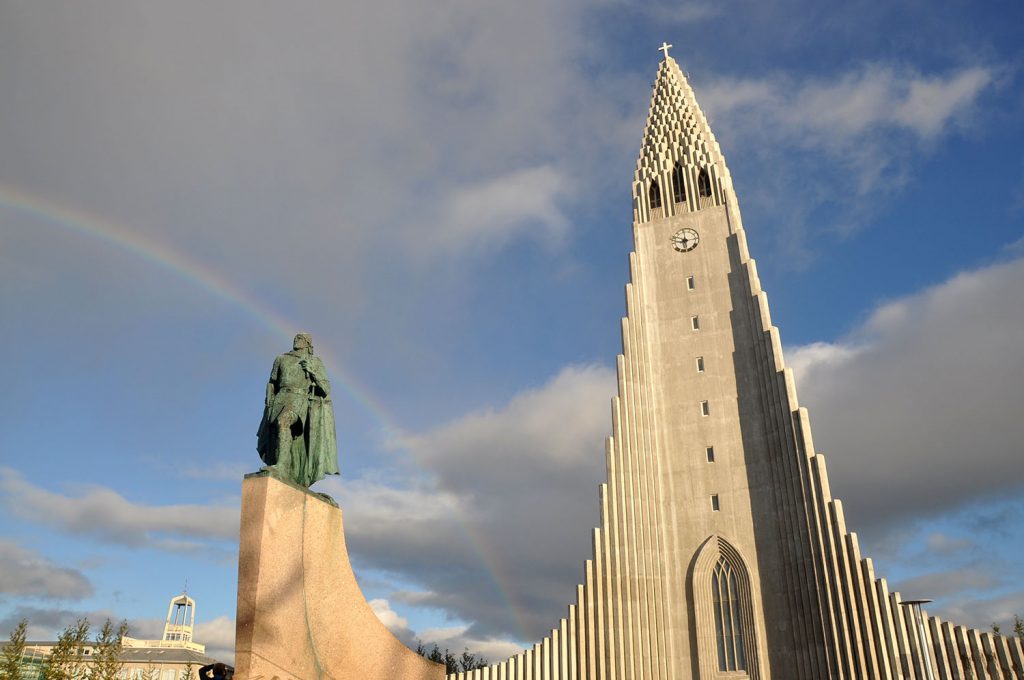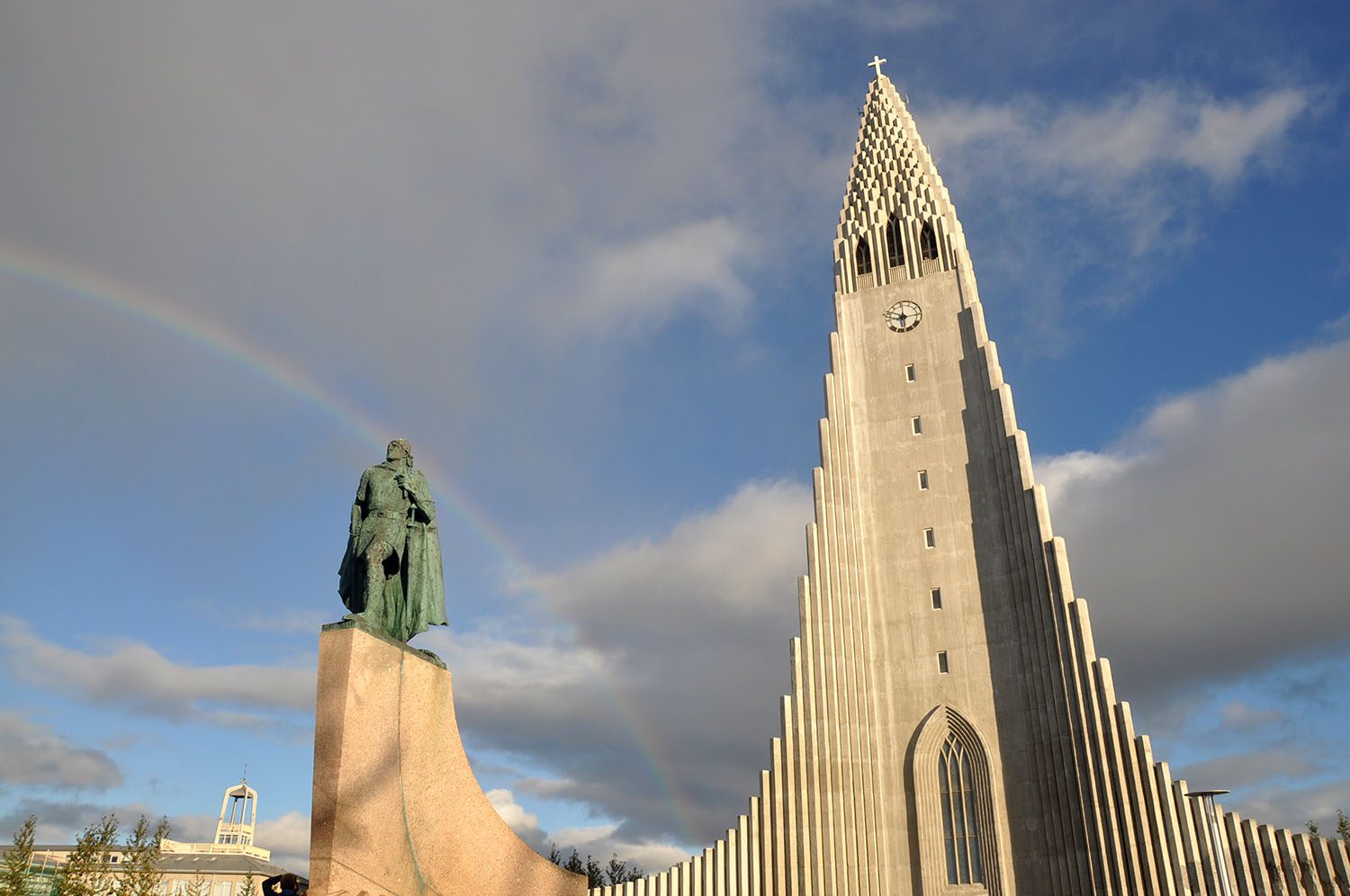 A beautiful rainbow-painted street lined with cute shops and cafes leads its way up to the famed Hallgrimskirkja Church creating a stunning juxtaposition. Both for a photo op and in the symbolic sense. Check out our guide to Reykjavík for more information on the history of this street and iconic church.
Sun Voyageur Sculpture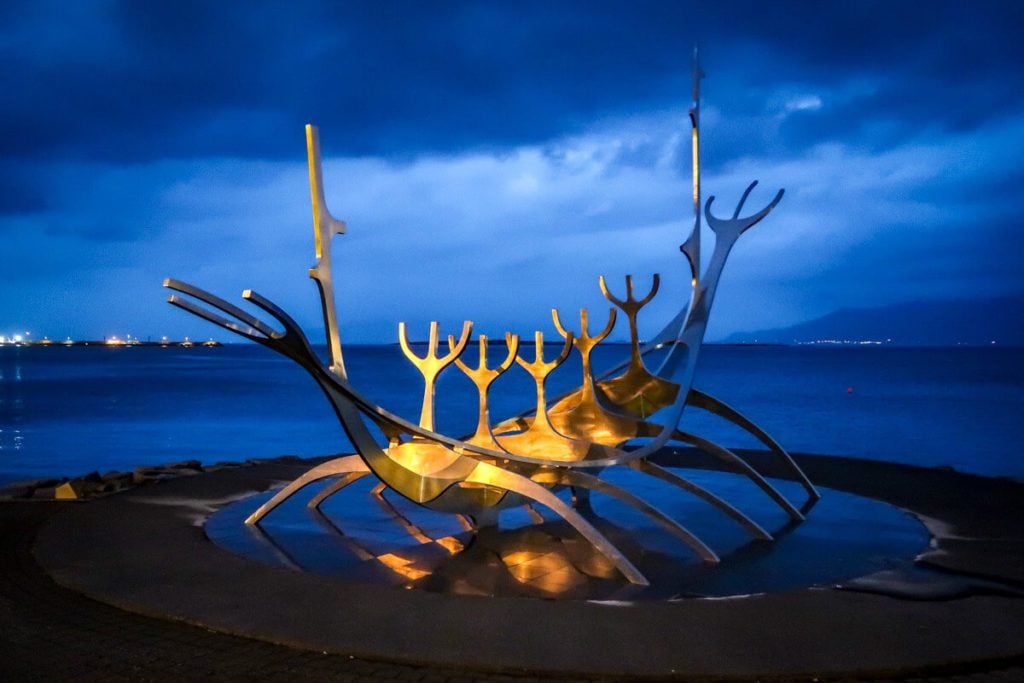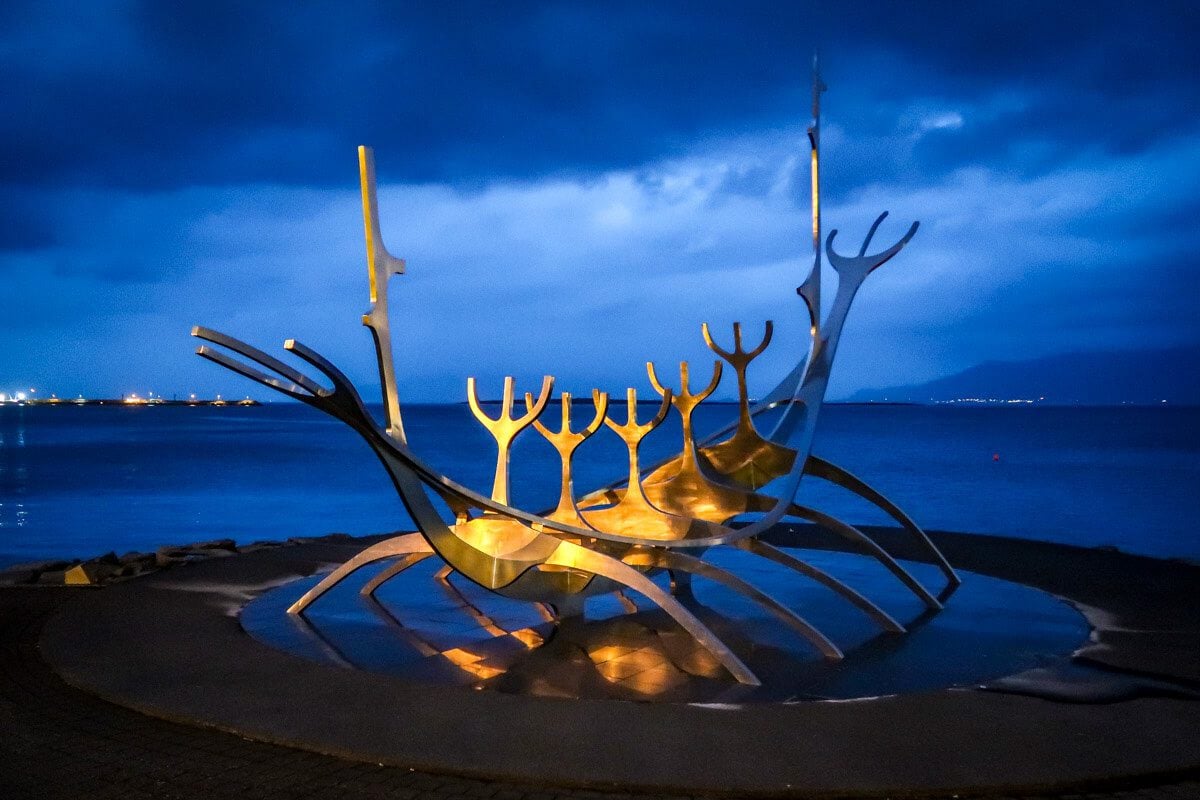 This statue is one of those things you "have to see" while in Reykjavík, and while it's not that large or intricate, it does make for some interesting photos. Go day or night to practice your photography skills and try to get different shots.
Harpa concert hall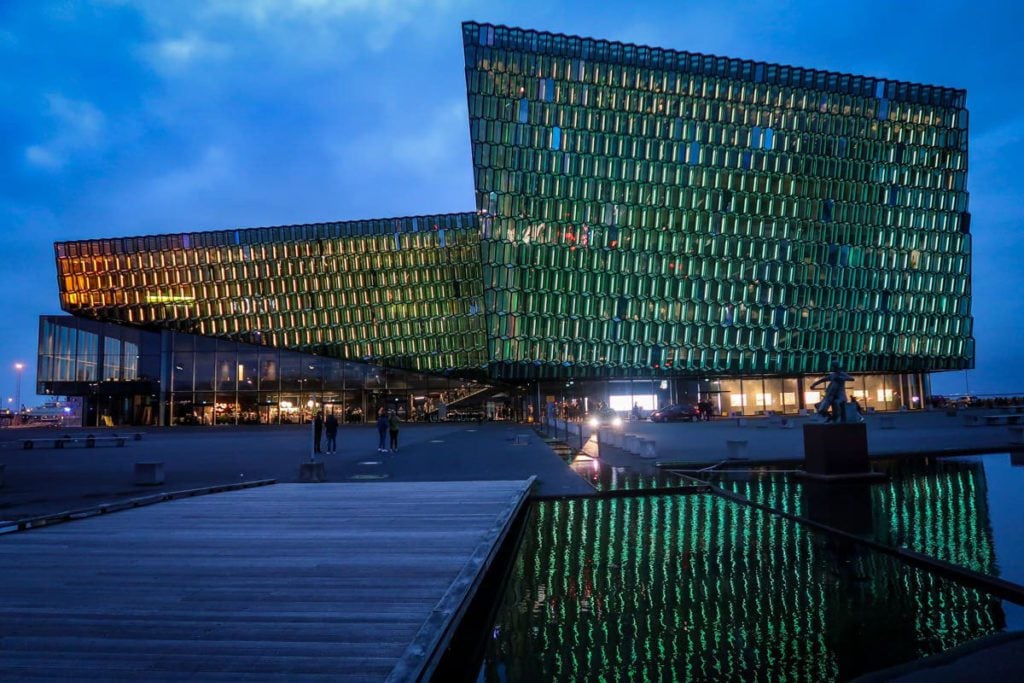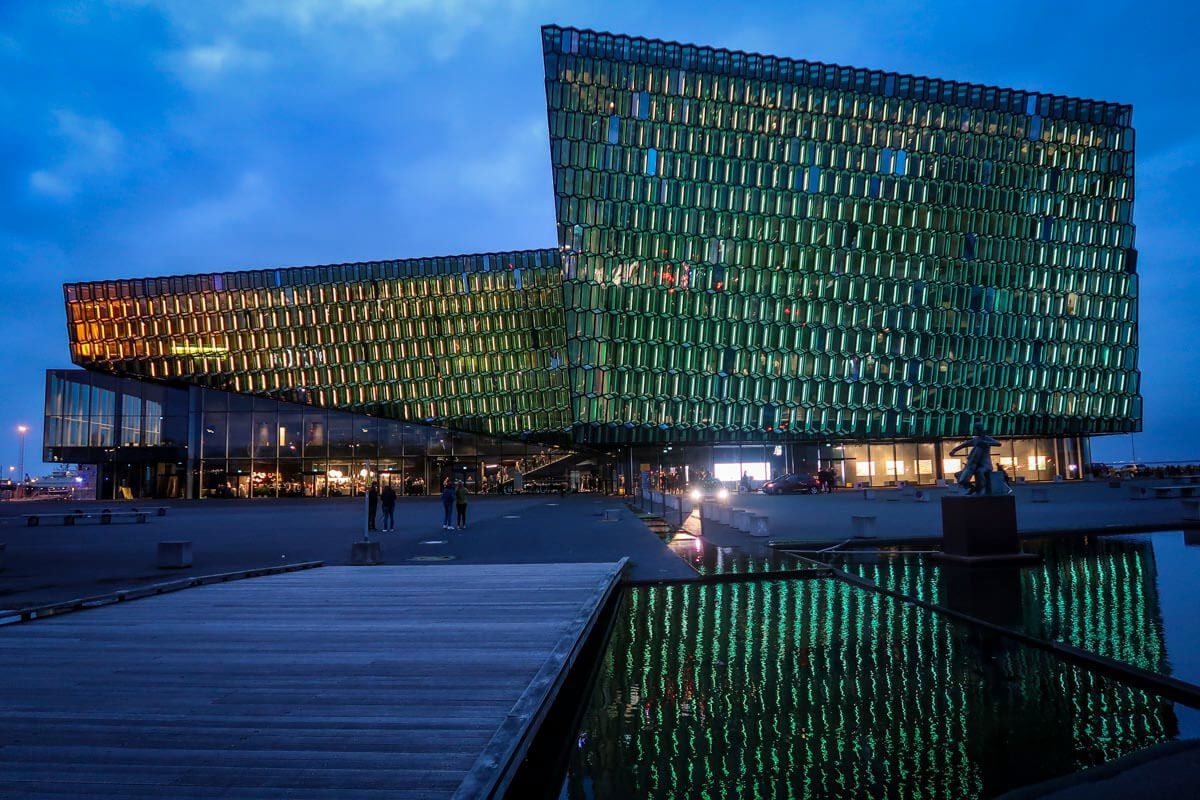 Situated at the edge of the Atlantic Ocean, this concert hall has won awards for the venue itself as well as for the architecture. Designed to represent the Northern Lights, the structure is beautiful when lit up at night.
---
Best Photo Opportunities in Iceland
There are plenty of iconic pictures of Iceland that don't come from a specific location. We're calling these "photo opportunities" and going over the things you may want to try and plan your visit around shooting if you are a photography enthusiast in Iceland.
Northern Lights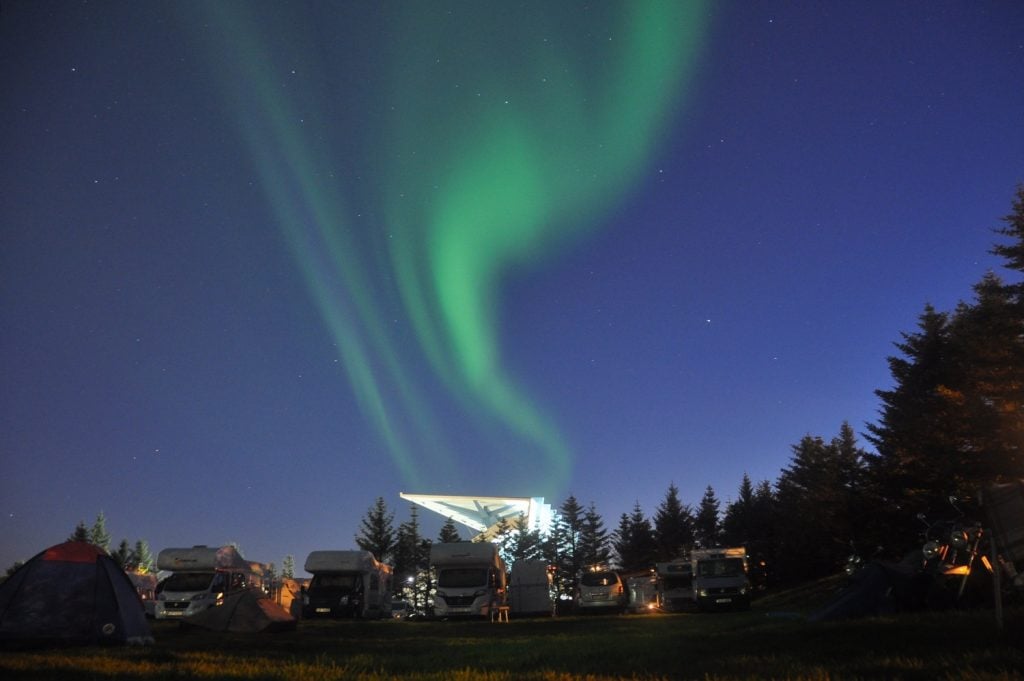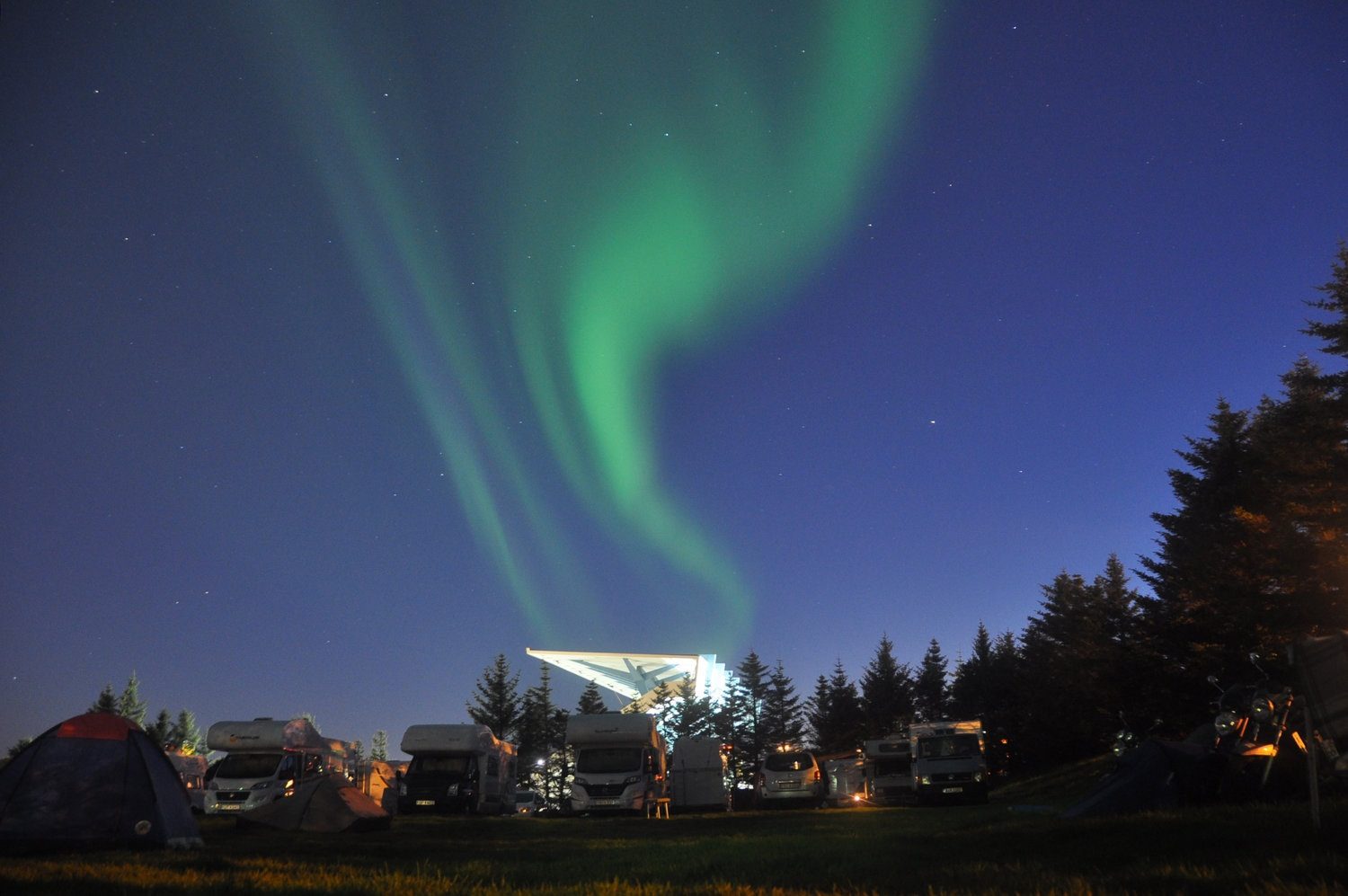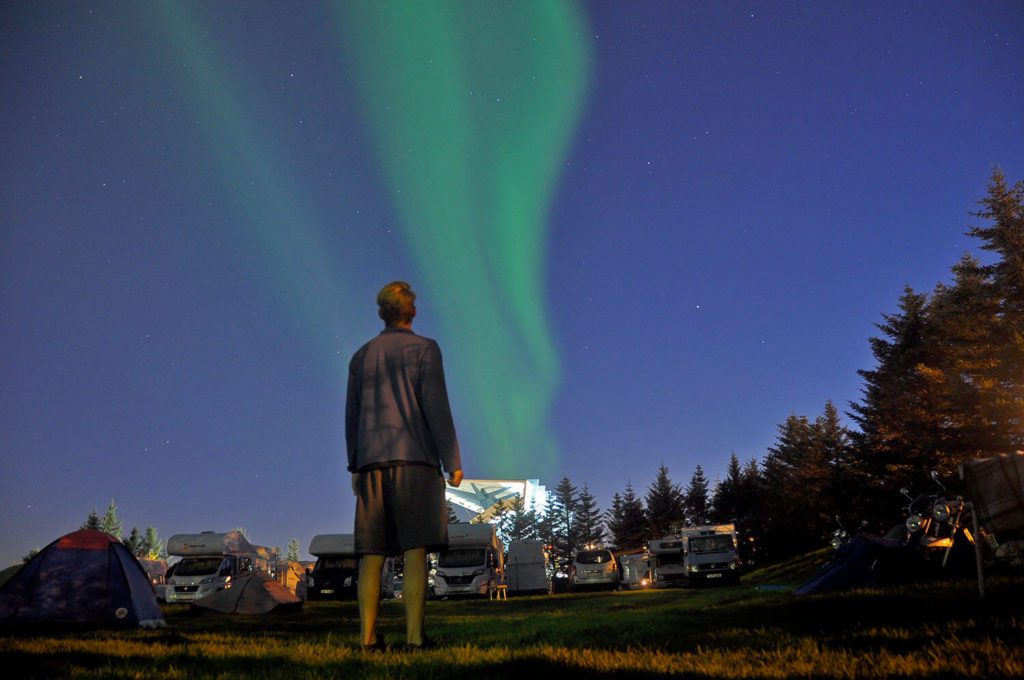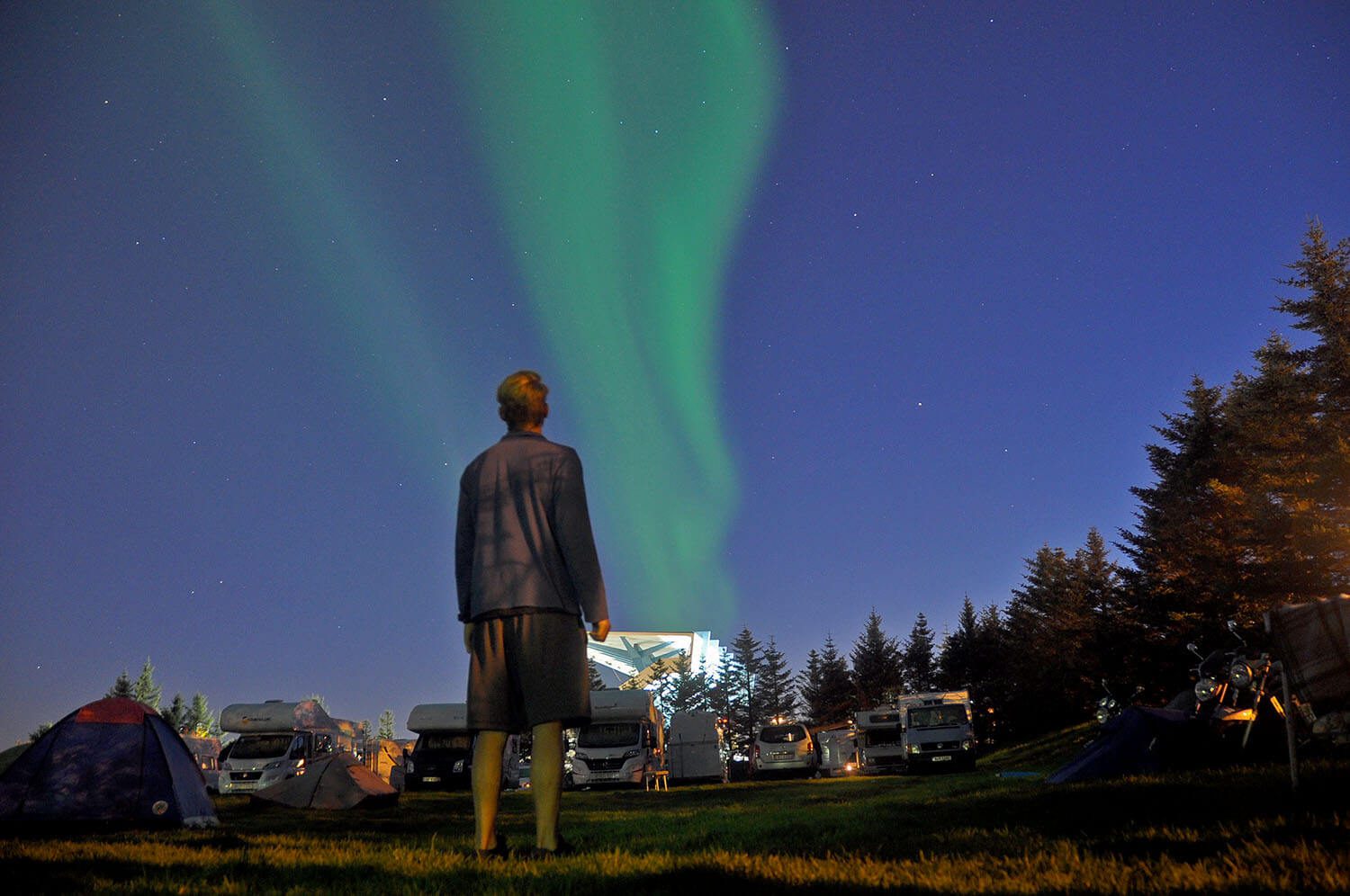 Surely if you are interested in traveling to Iceland you'd heard it's a good place for photographing the Northern Lights. This captivating display of colorful lights dancing across the night sky is something so many travelers come to Iceland in hopes of seeing.
It's important to keep in mind, however, that the Northern Lights are still quite elusive and even if you visit during peak viewing season (October through April), you're never guaranteed to spot them, and you'll be even luckier to catch them on camera.
​​Tip: If you want to learn how to photograph the Northern Lights, this article breaks it down really well and includes optimal camera settings as well as when and where you can see the Aurora Borealis in Iceland!
Puffins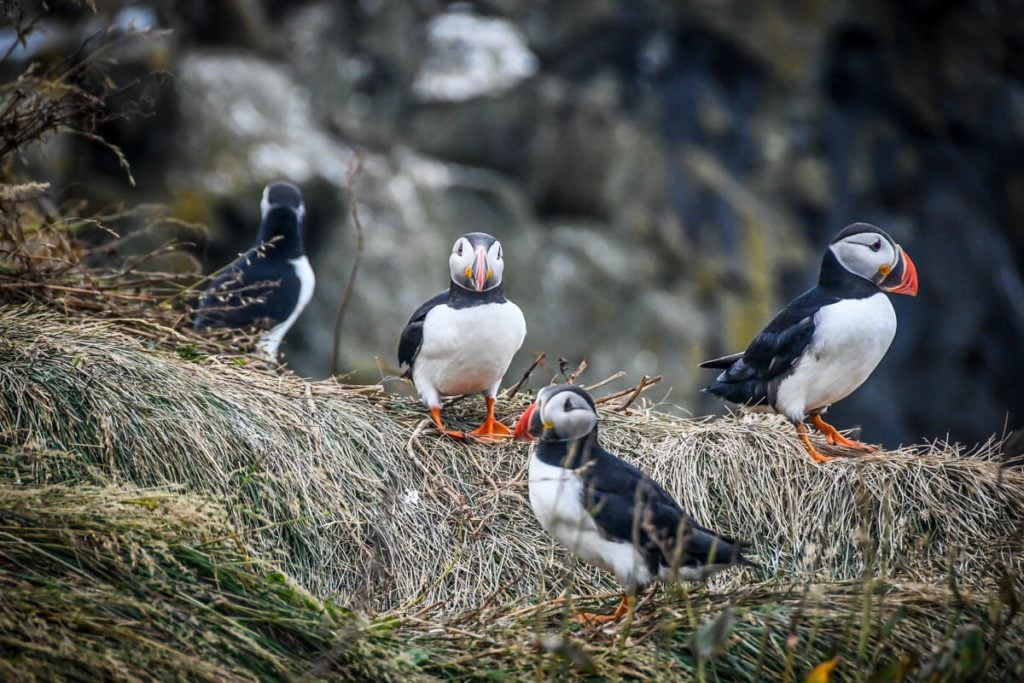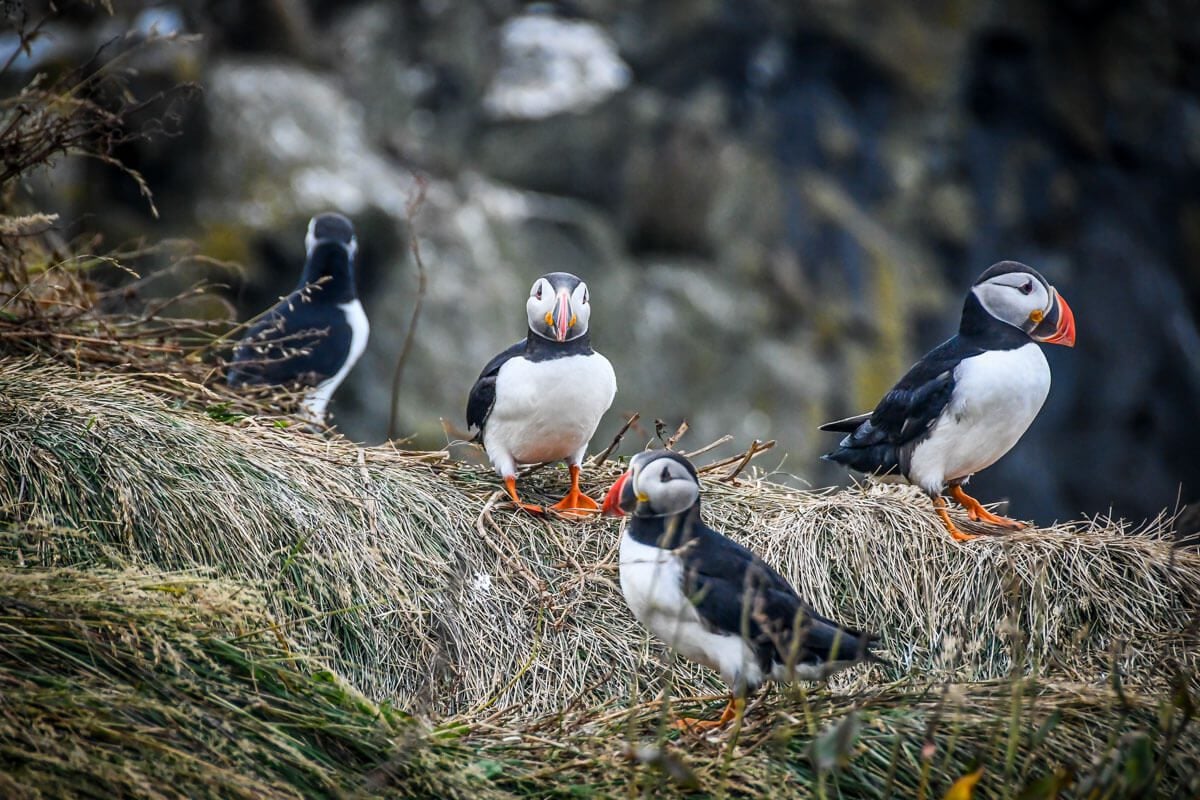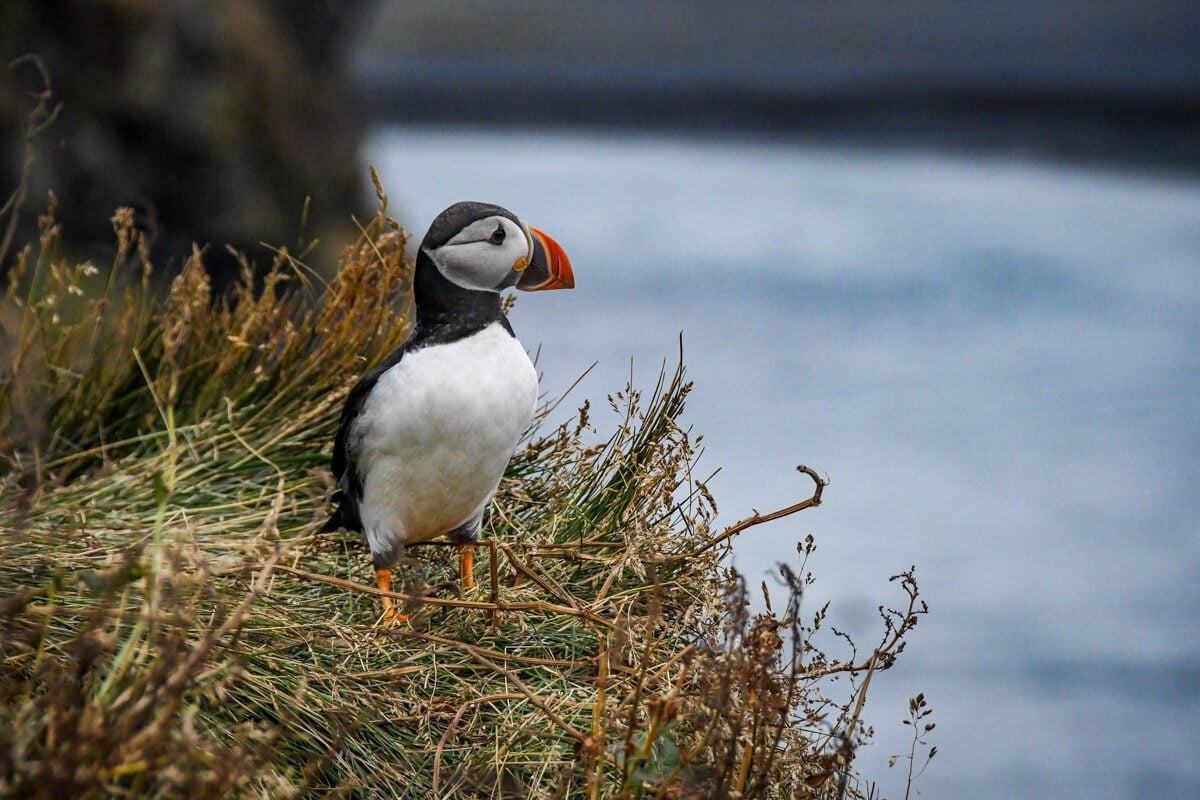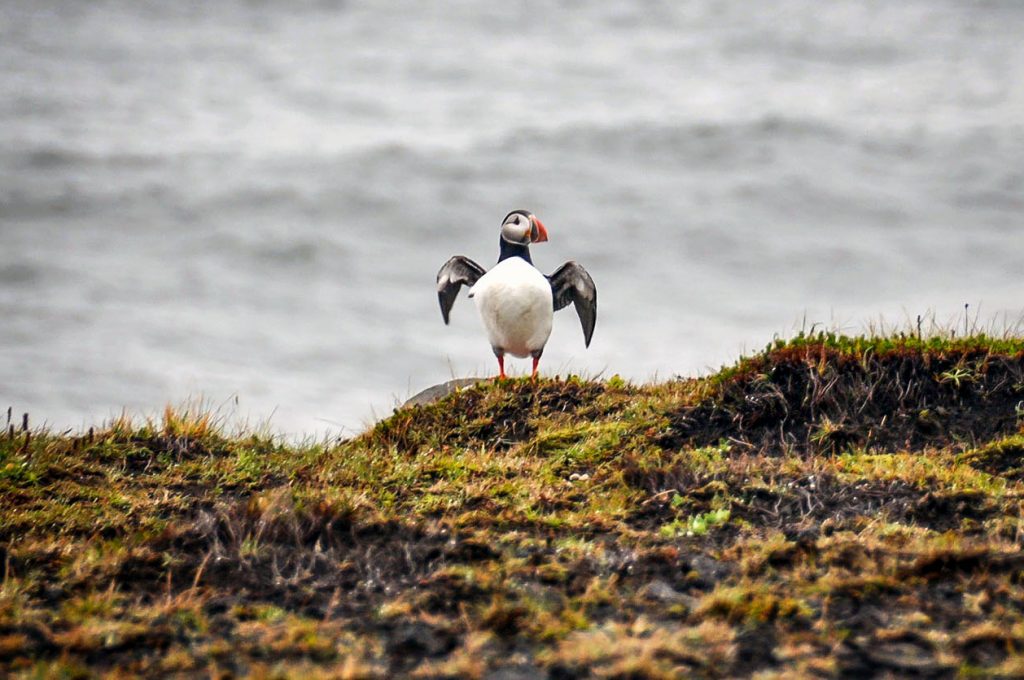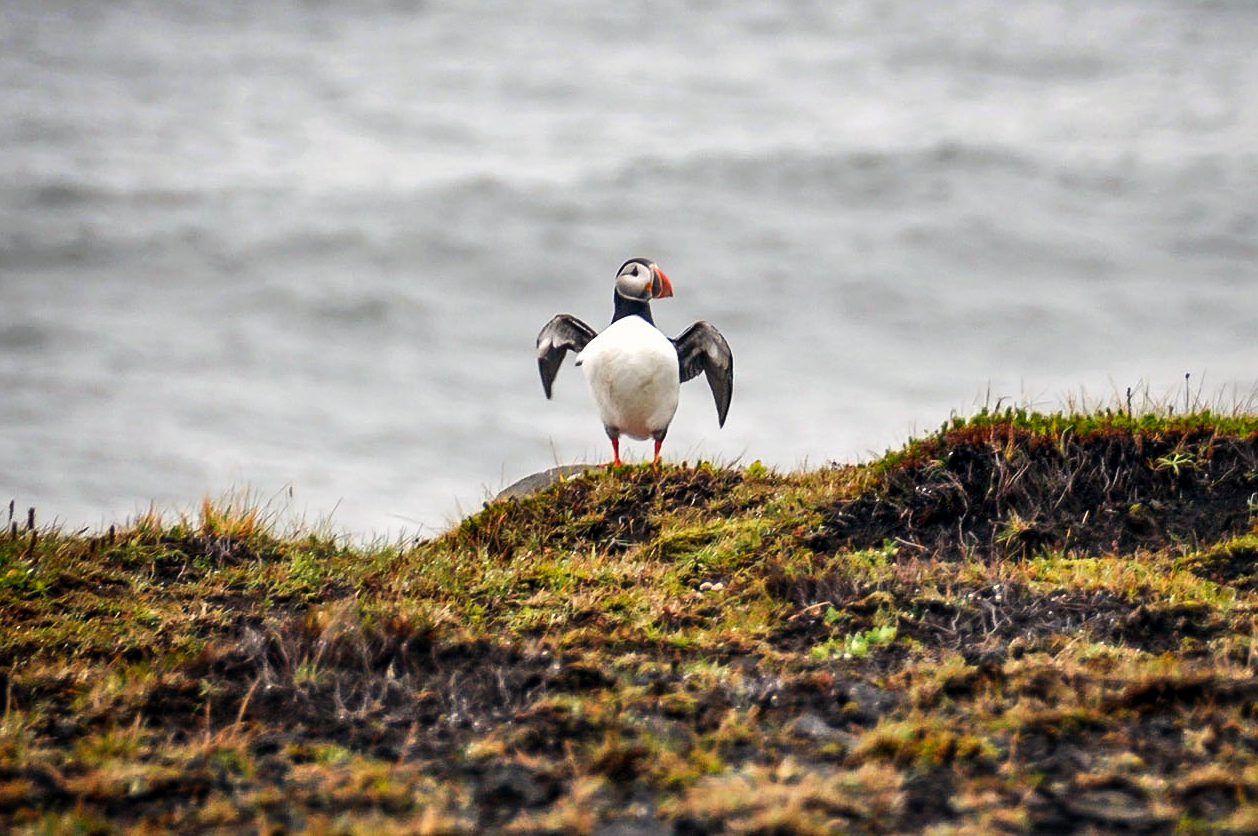 Another seasonal opportunity, these loveable little creatures return to Iceland each year during the summer months, typically arriving in late May and departing by the end of August.
Known to nest in cliffside locations such as Dyrholaey or the black sand beach, the colonies are most active during the evening time, so it's best to time your visit around then if you want to see these little guys in action.
Icelandic Horses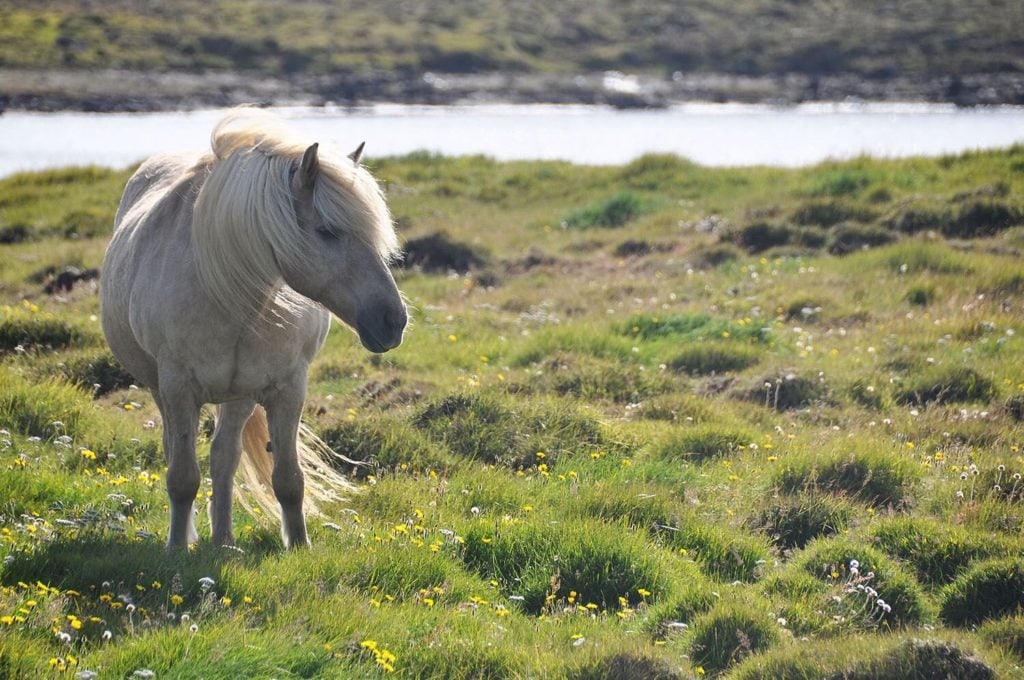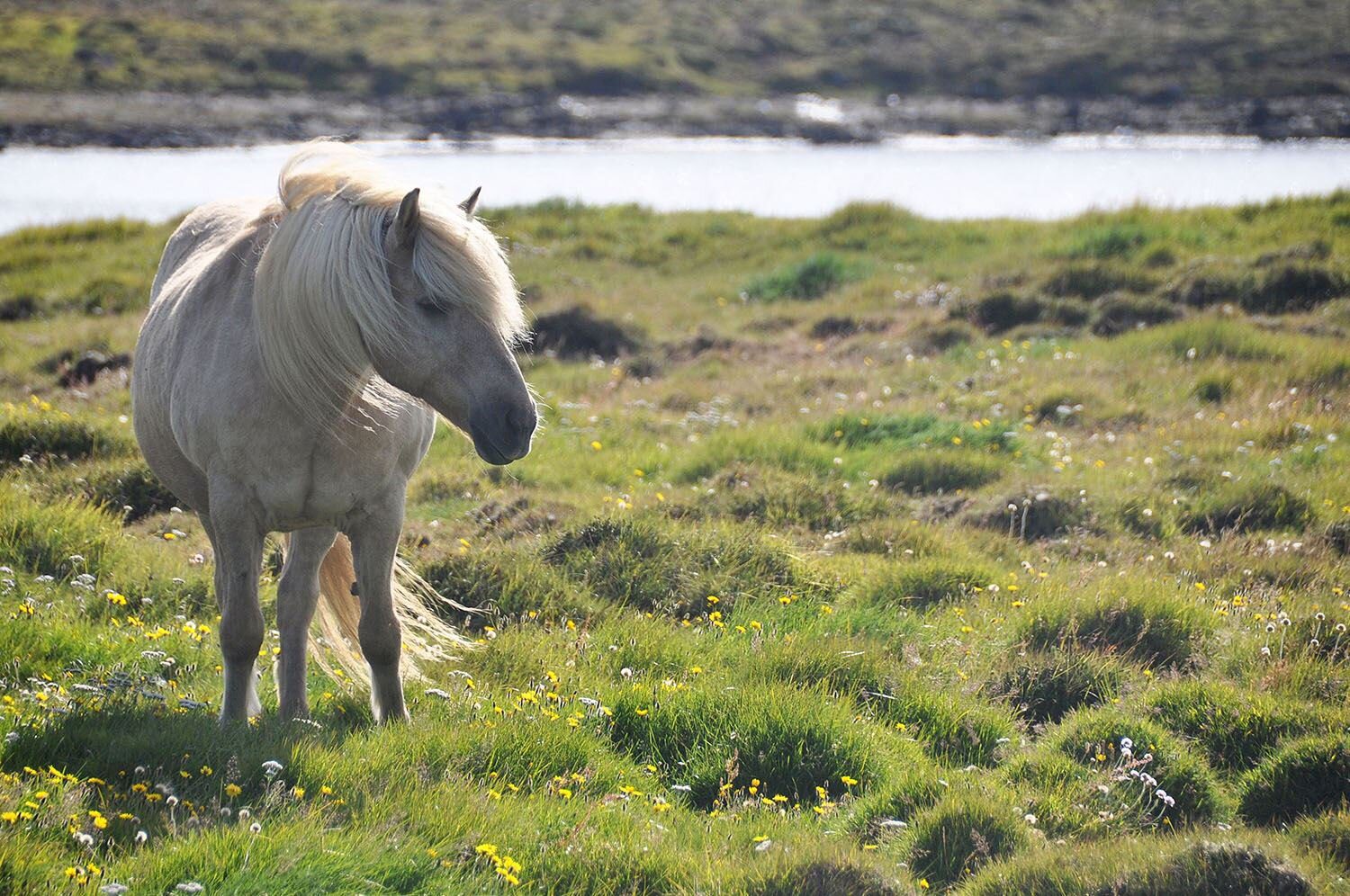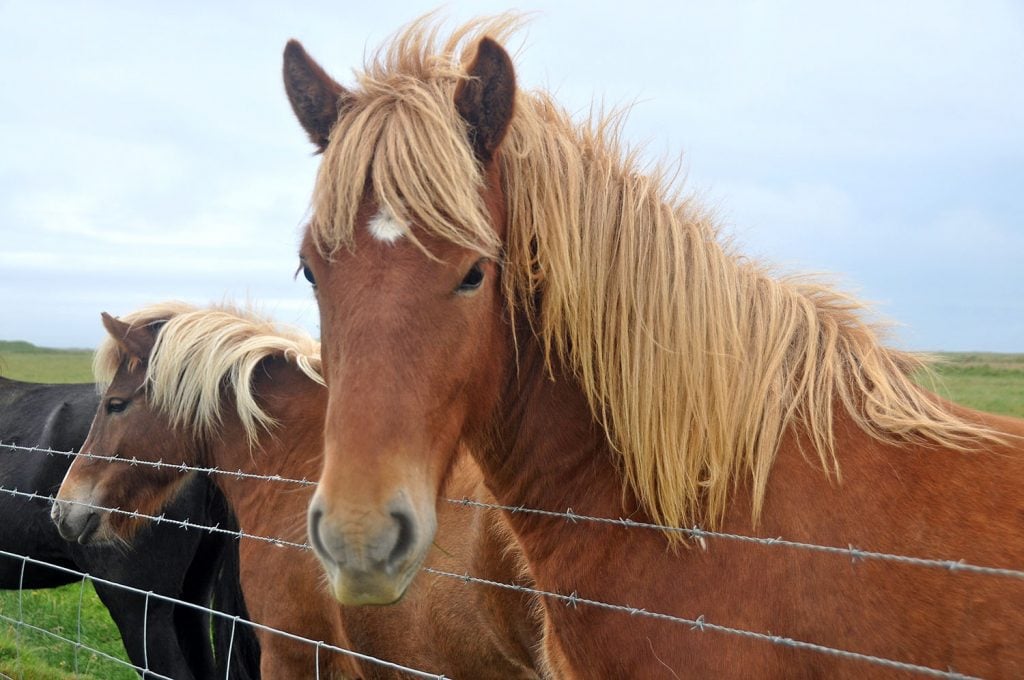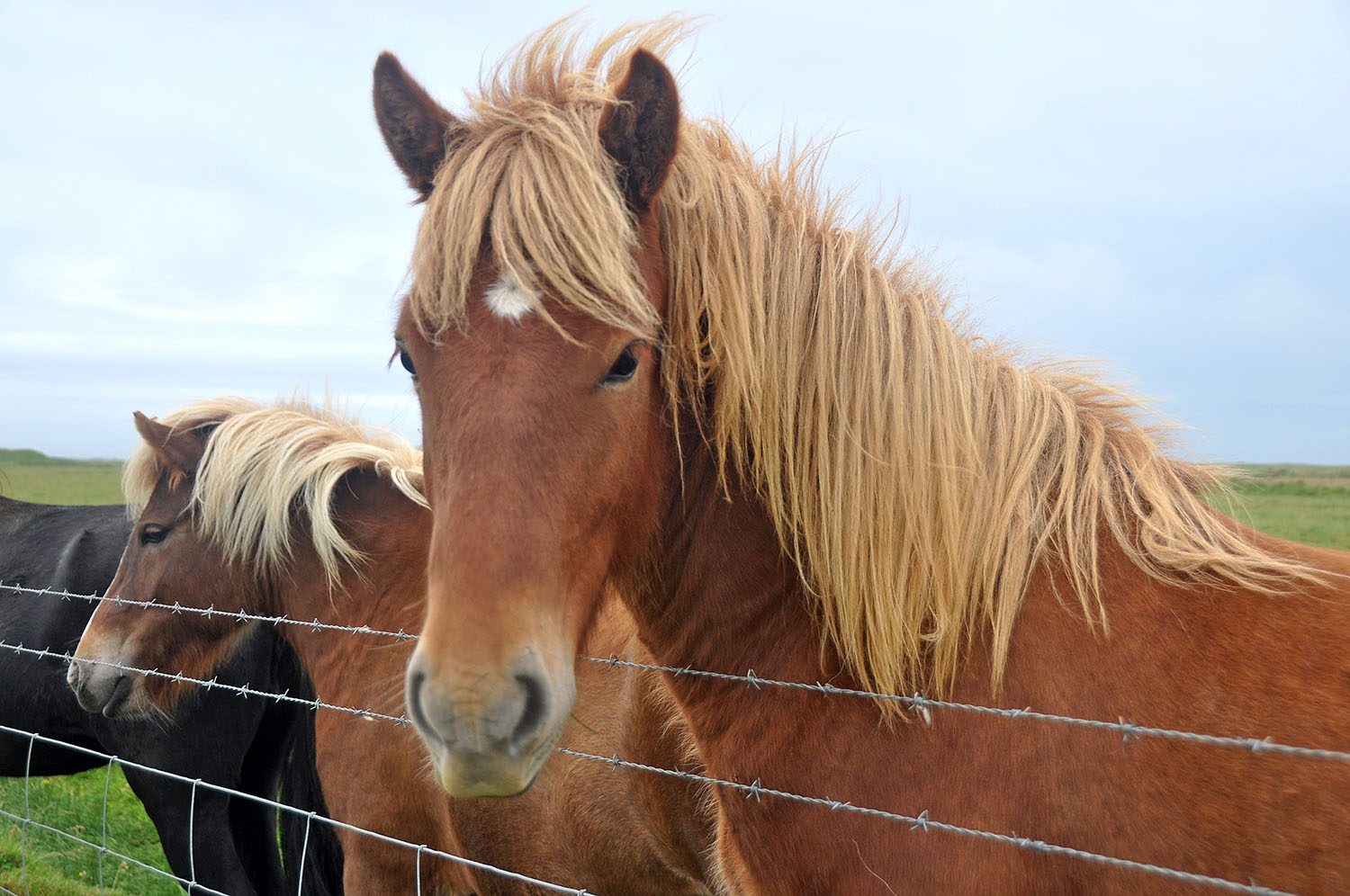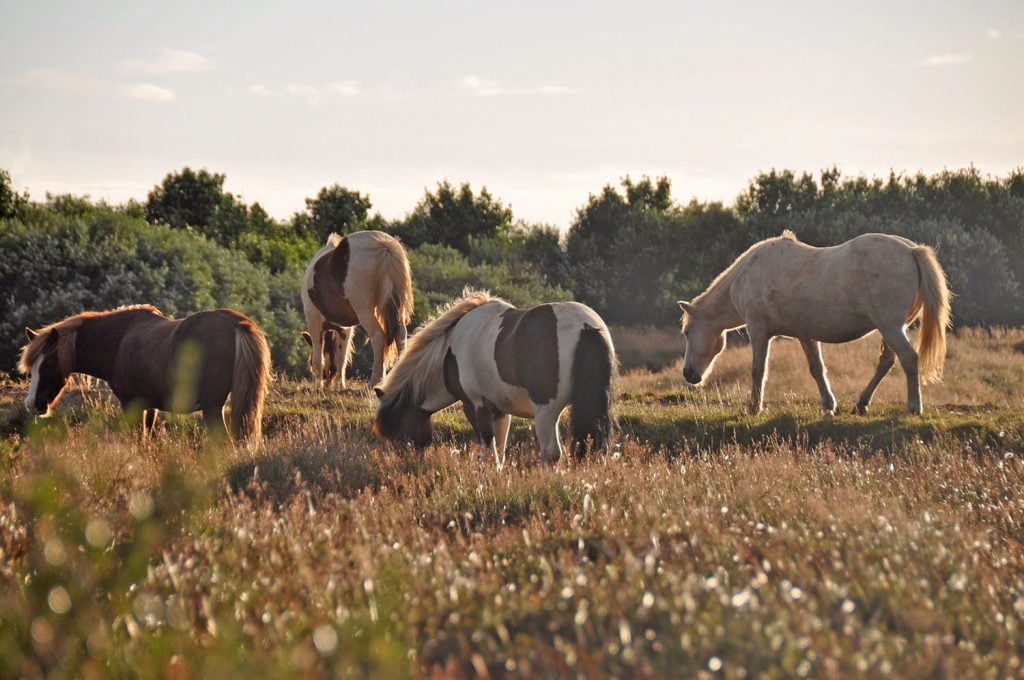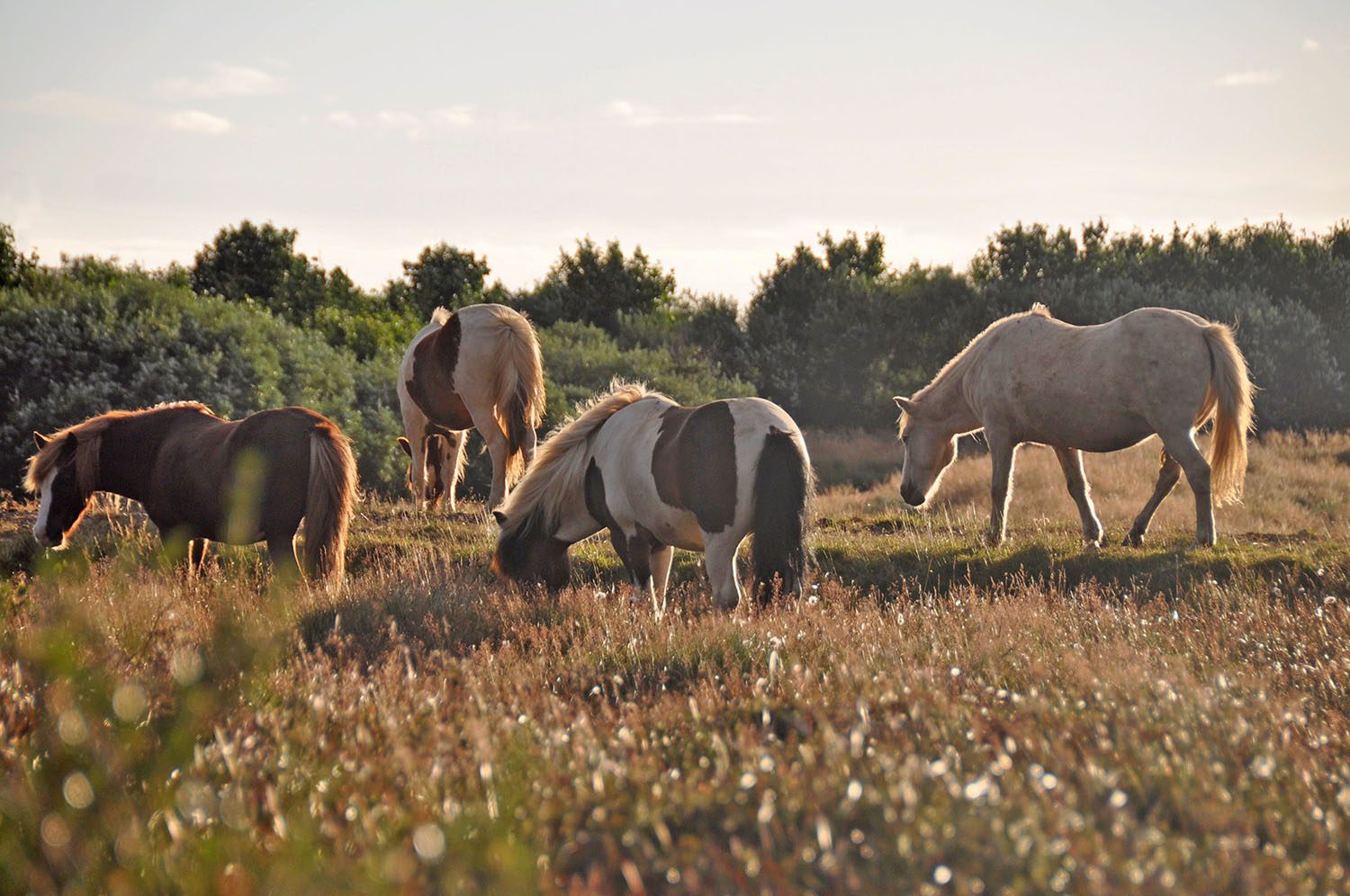 The Icelandic horse is a breed-specific to Iceland that are smaller (sometimes pony-sized), long-lived and hardy. These beautiful creatures are always posing for pictures if you're lucky enough to come across some grazing in a nearby pasture.
Icelandic Churches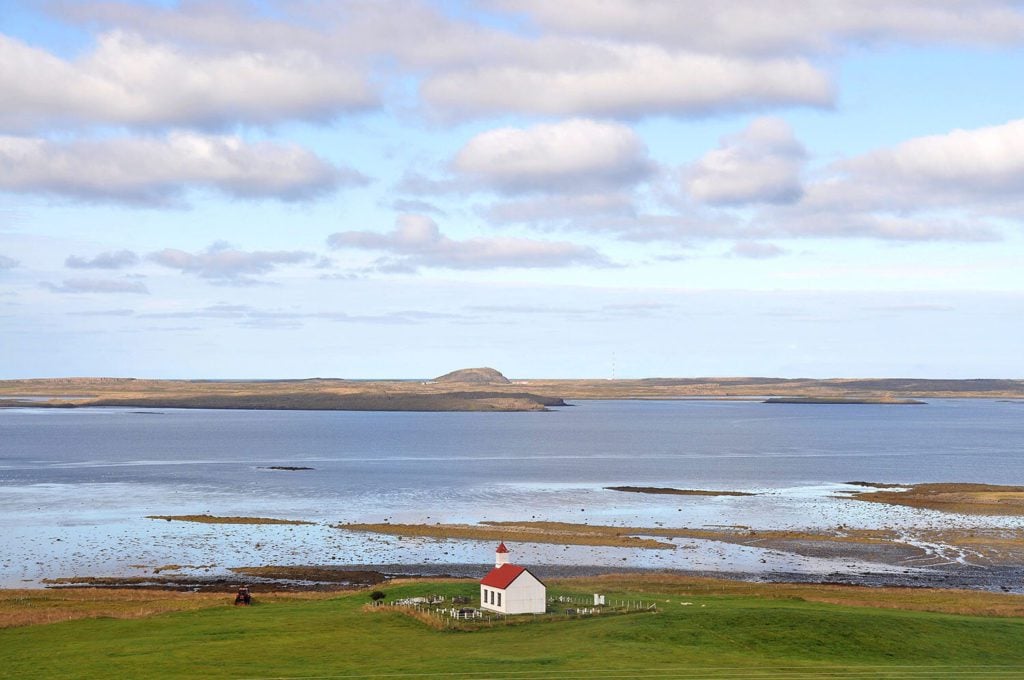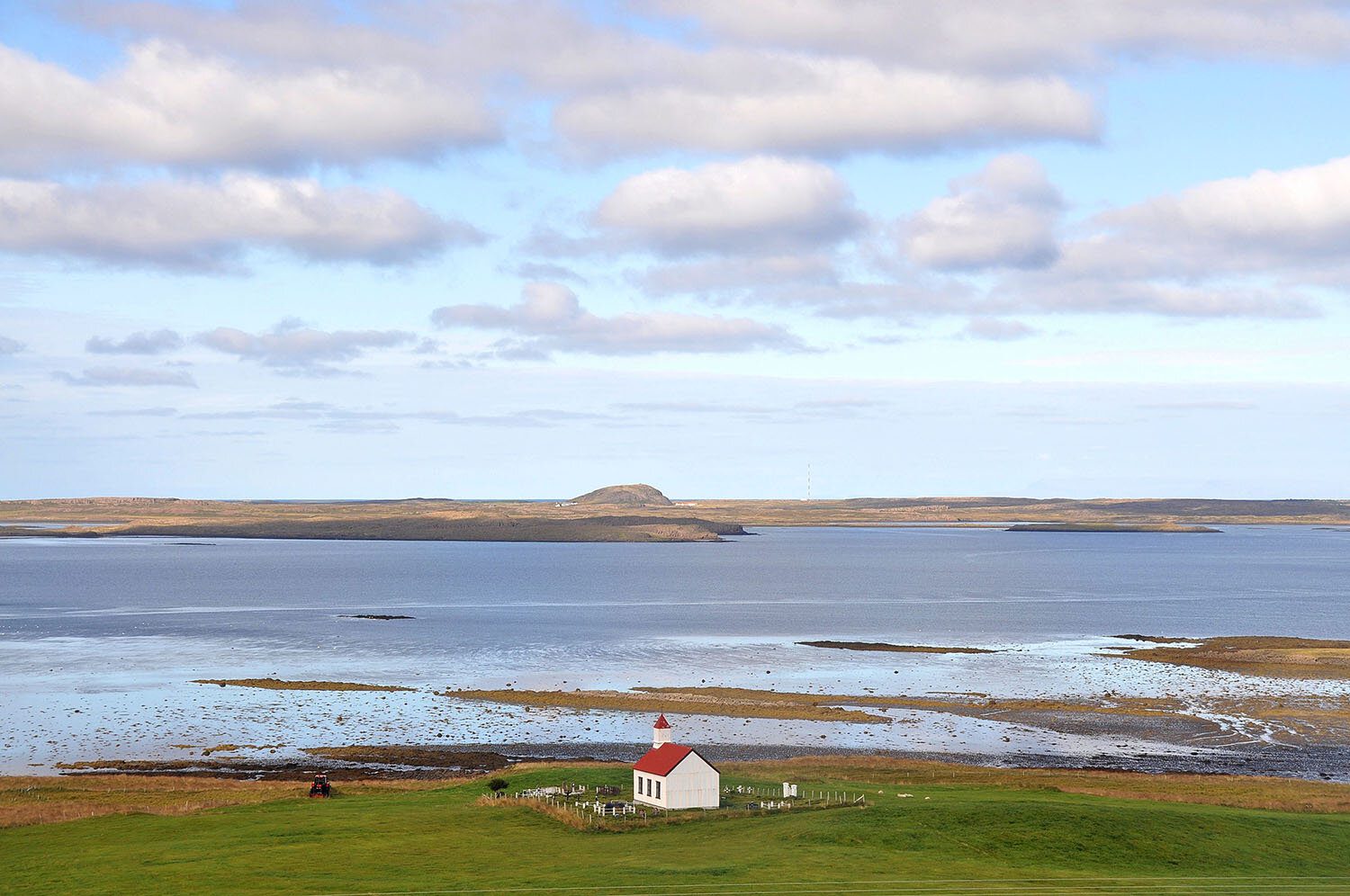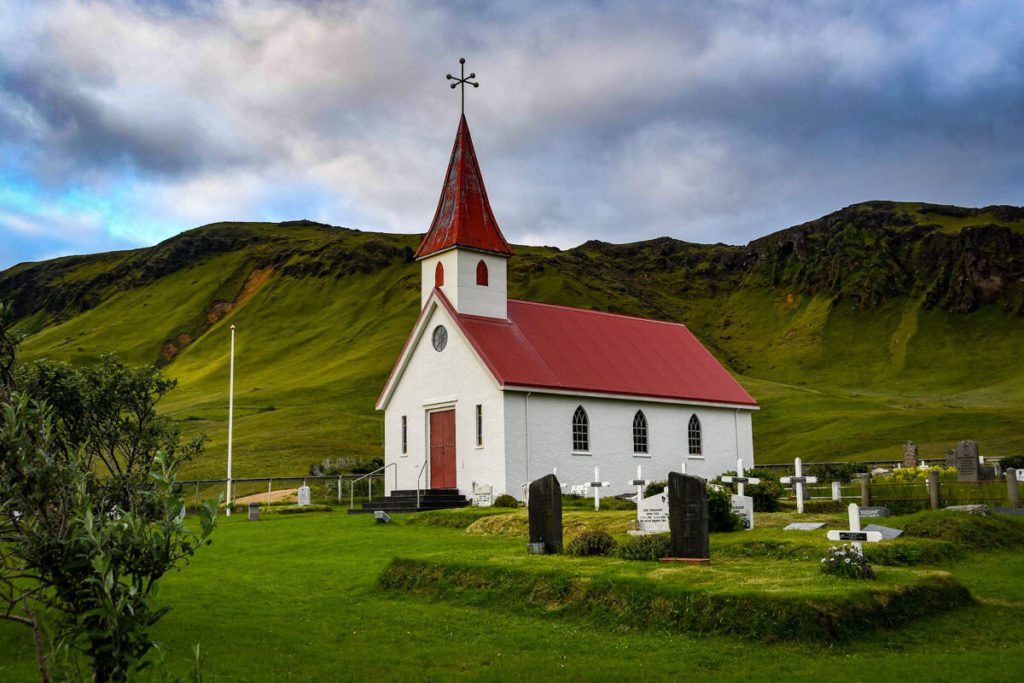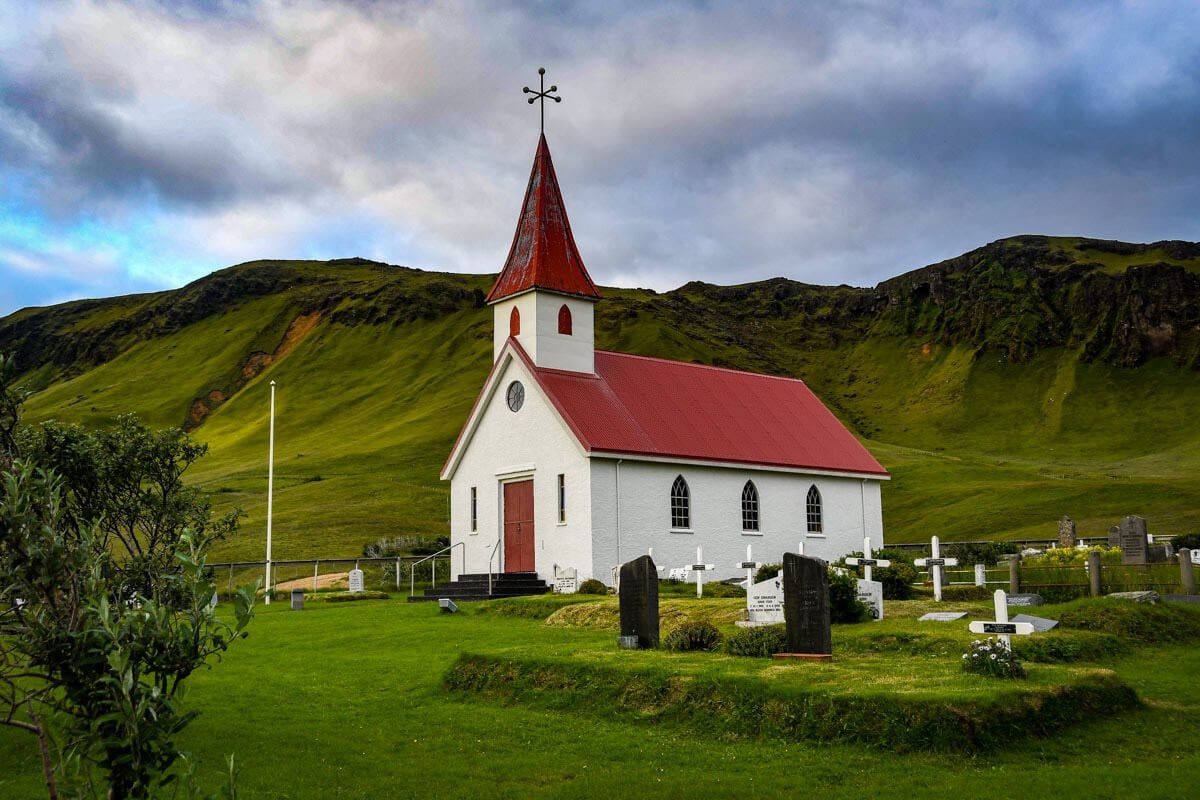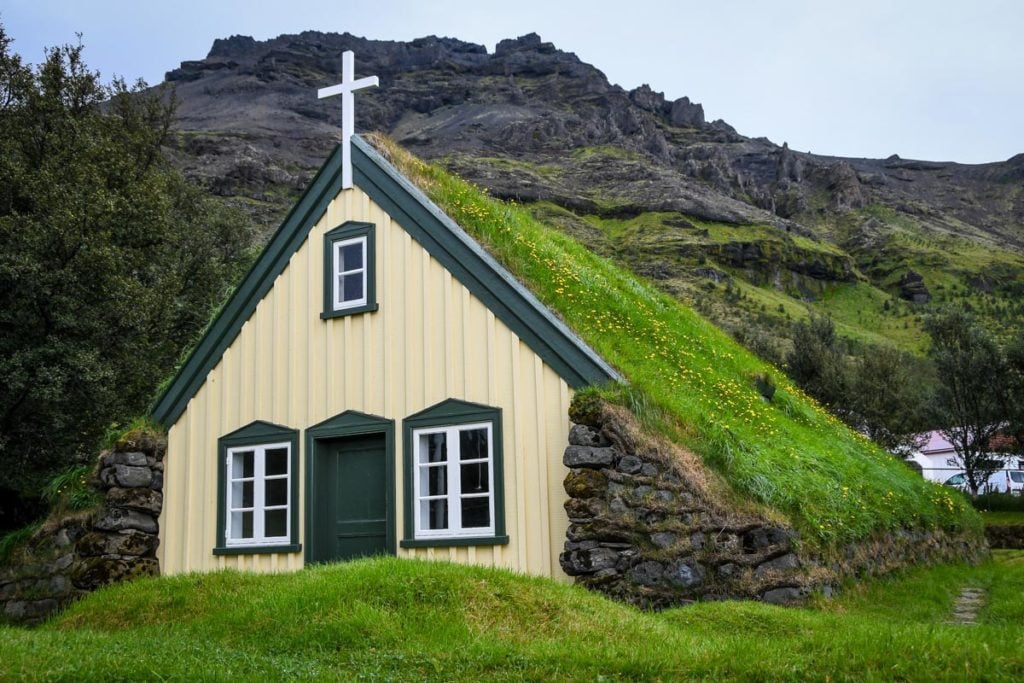 For a nation of only 330,000 people, Iceland has more than 350 churches spread throughout its settlements. Most of the churches are surprisingly minimalistic, but photographers love them for the stark contrast against the rough Icelandic landscape.
Just pulling off on the side of the road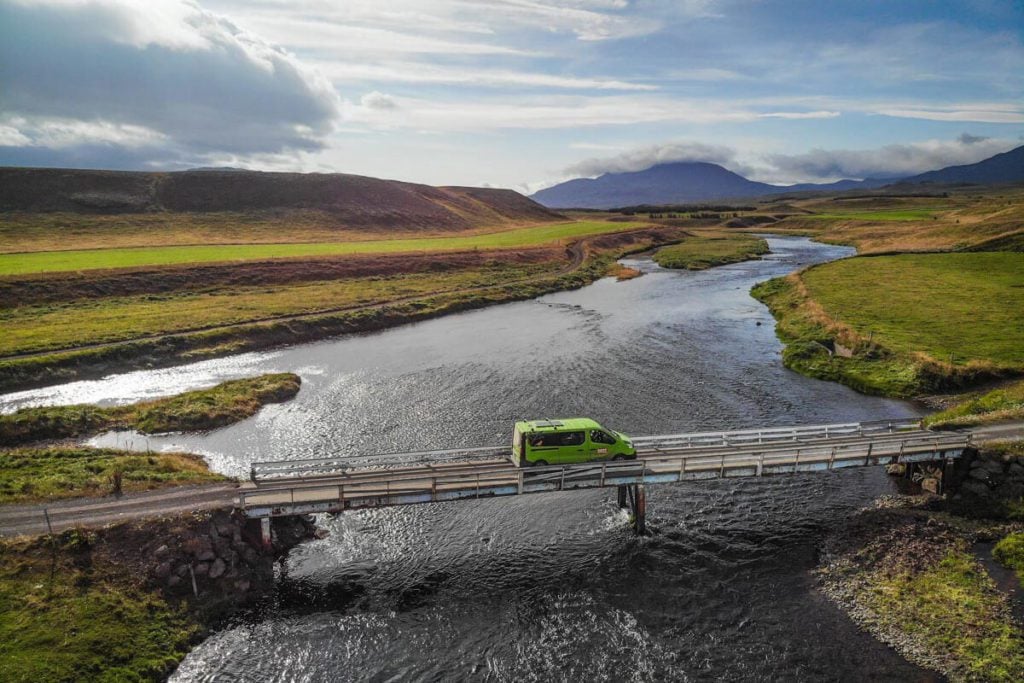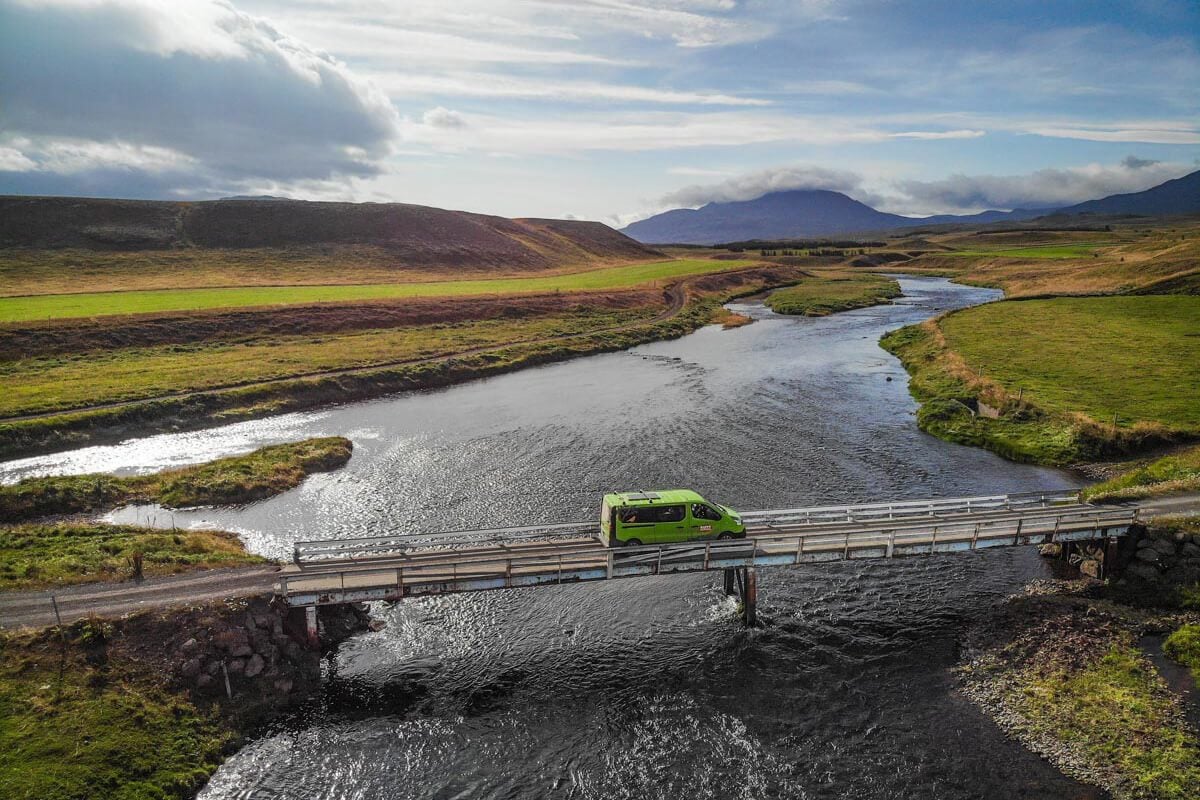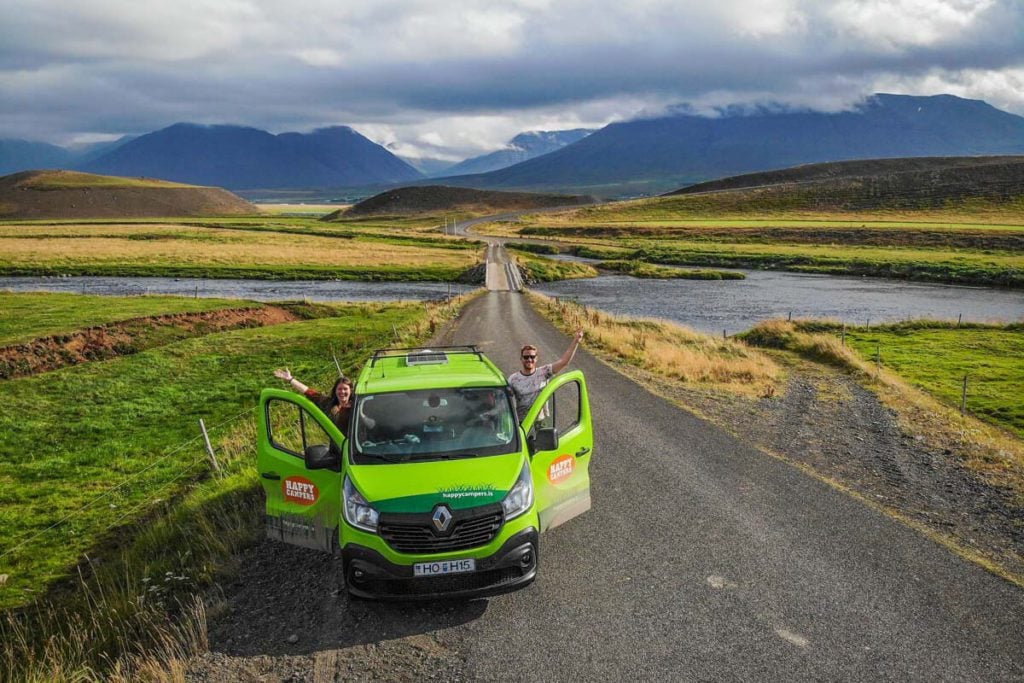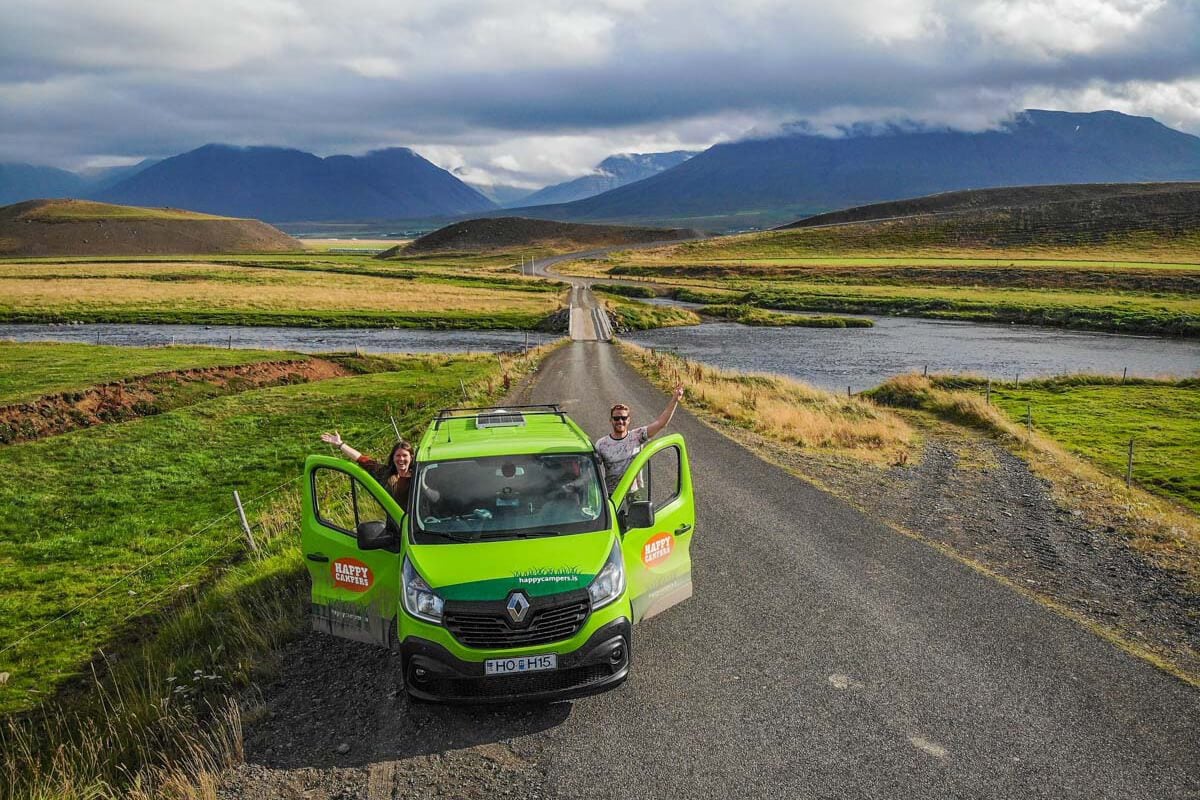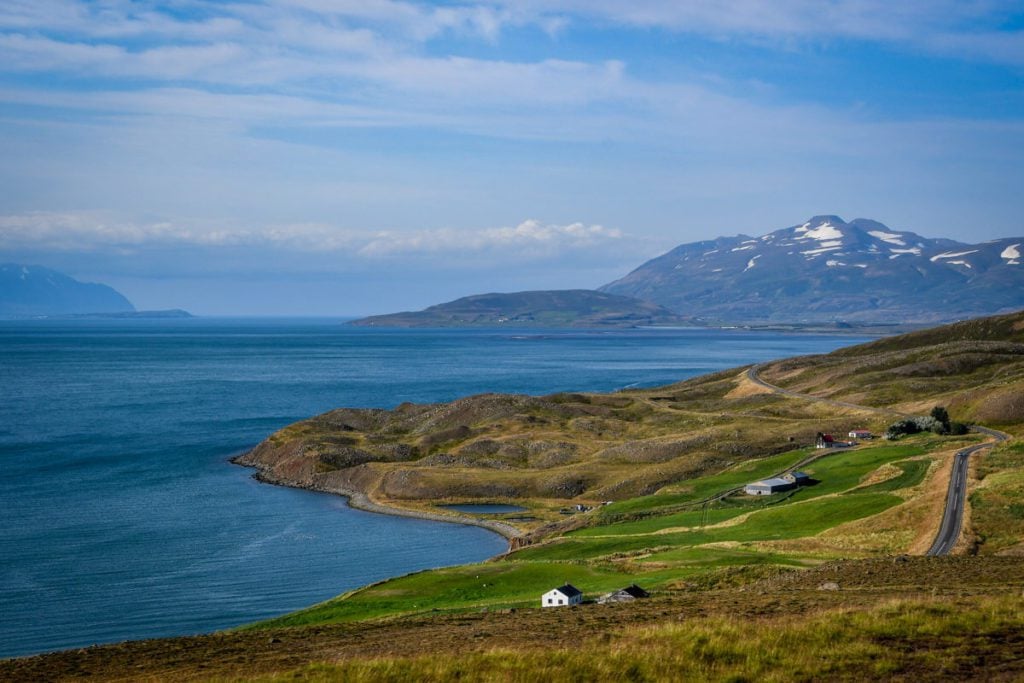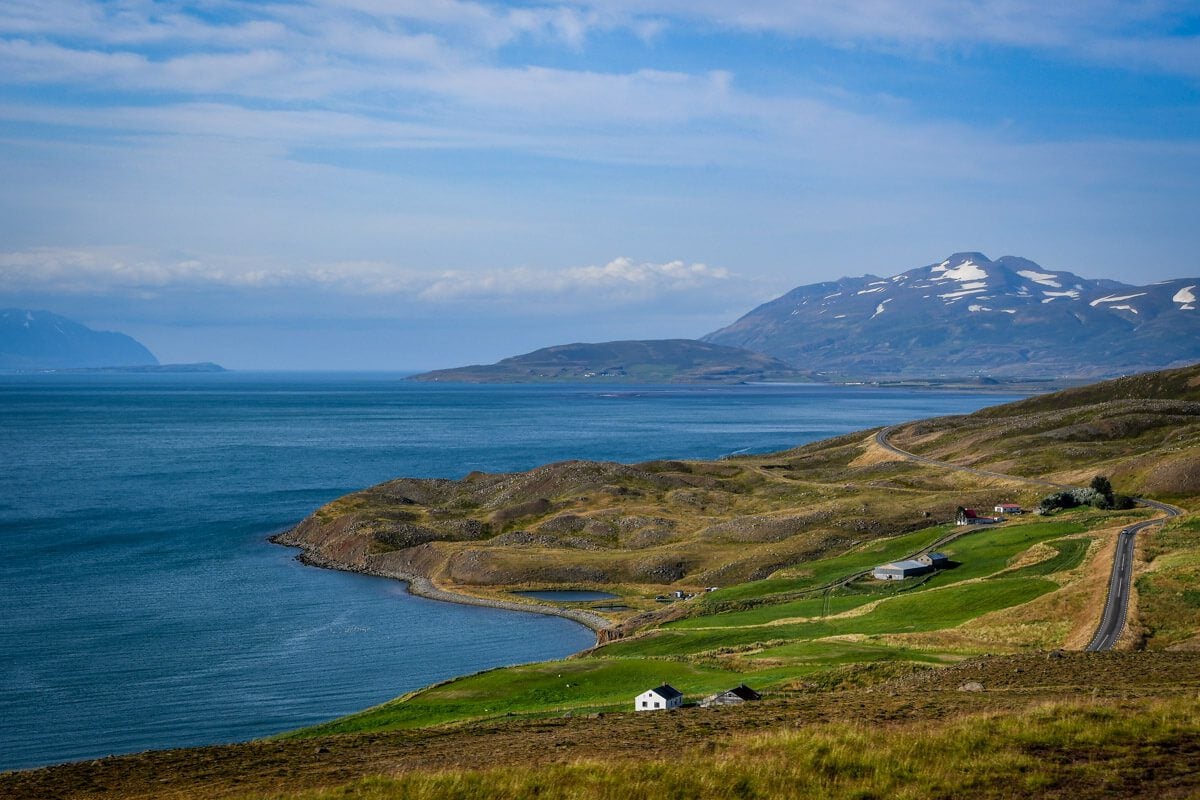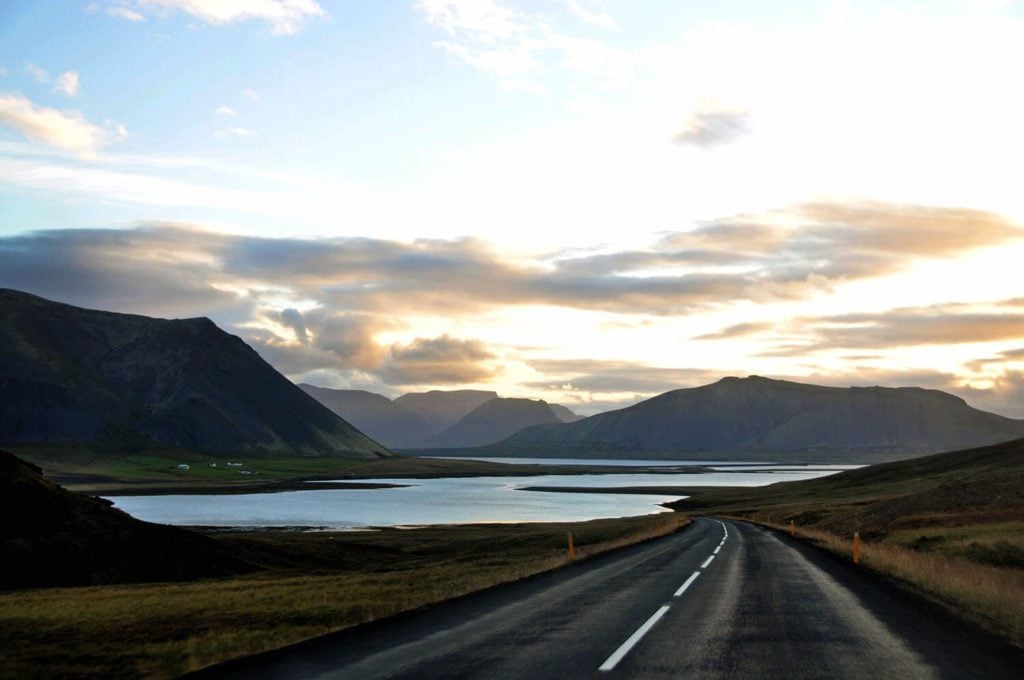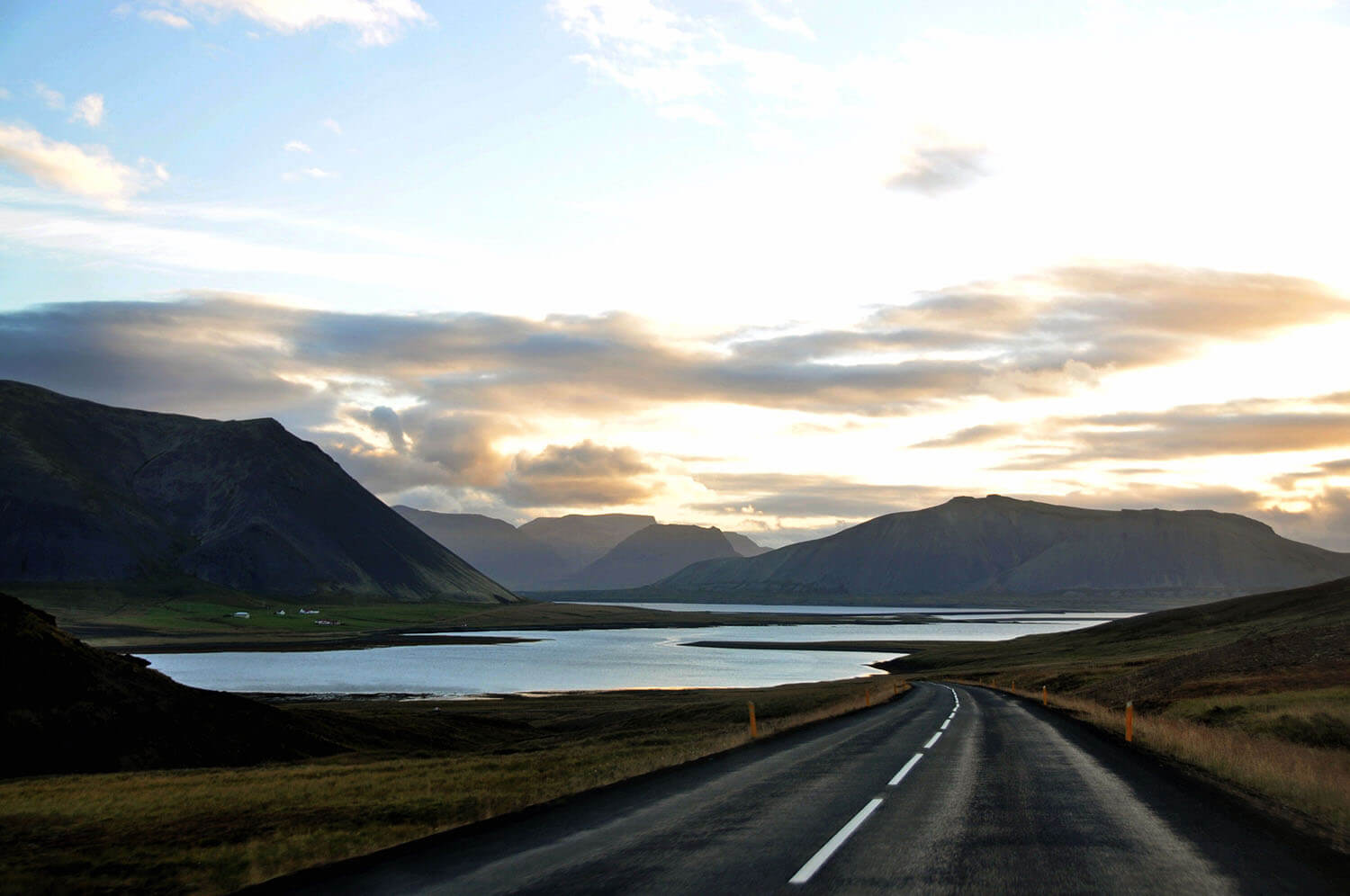 It may sound like a cop-out, but this country is so uniquely beautiful, simply pulling off on the side of the road is a great way to get some incredible Iceland photos. With so many opportunities for road trips, driving around Iceland is easily the best way to really see the country.
---
Iceland Photography Tips
In a place as photogenic as Iceland, you'll want to be sure you are doing everything you can to get the best photographs possible. Whether you're just a beginner or you already know your way around a camera, these Iceland photography tips will help you take your photos to the next level.
Have the right gear
You don't need to have a top-of-the-line professional camera to take great pictures in Iceland, however, there are some things you may want to consider investing in before you travel.
For example, do you want to invest in a DSLR camera, or are you comfortable with the photographs your cell phone camera takes?
Whichever kind of camera you bring, you'll want to make sure you bring a tripod to set up a good shot of you in it, or to stabilize your camera when you slow down the shutter speed.
Spray near the waterfalls and Iceland's notoriously rainy climate means your lens will likely be getting wet. A lens cleaning kit will come in super handy.
>>Skip down to see all of our recommended camera gear
Tips for photographing waterfalls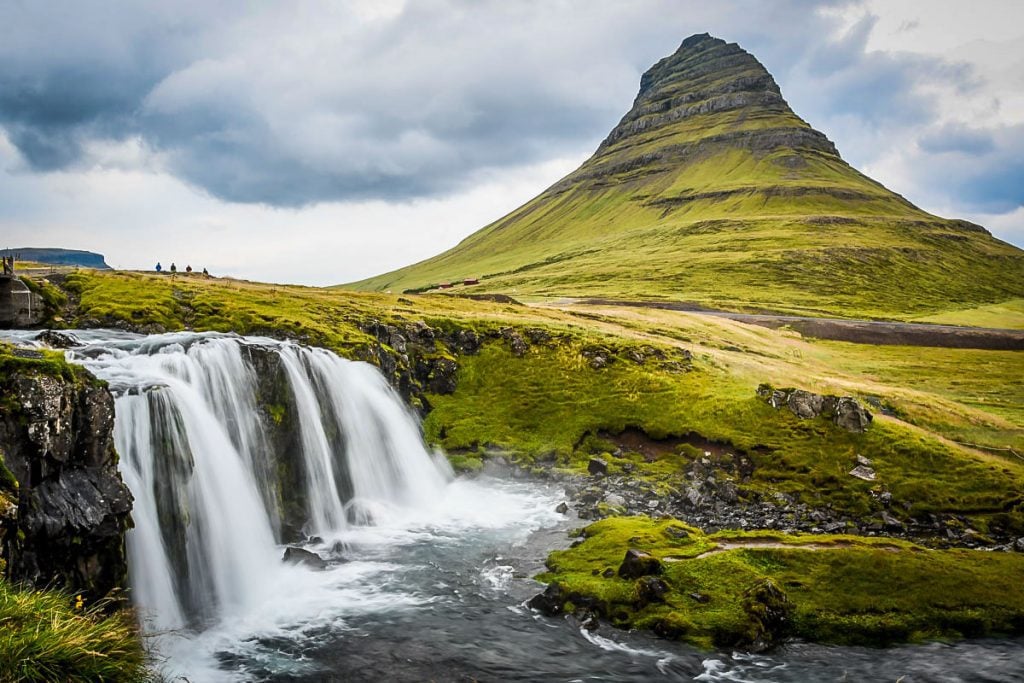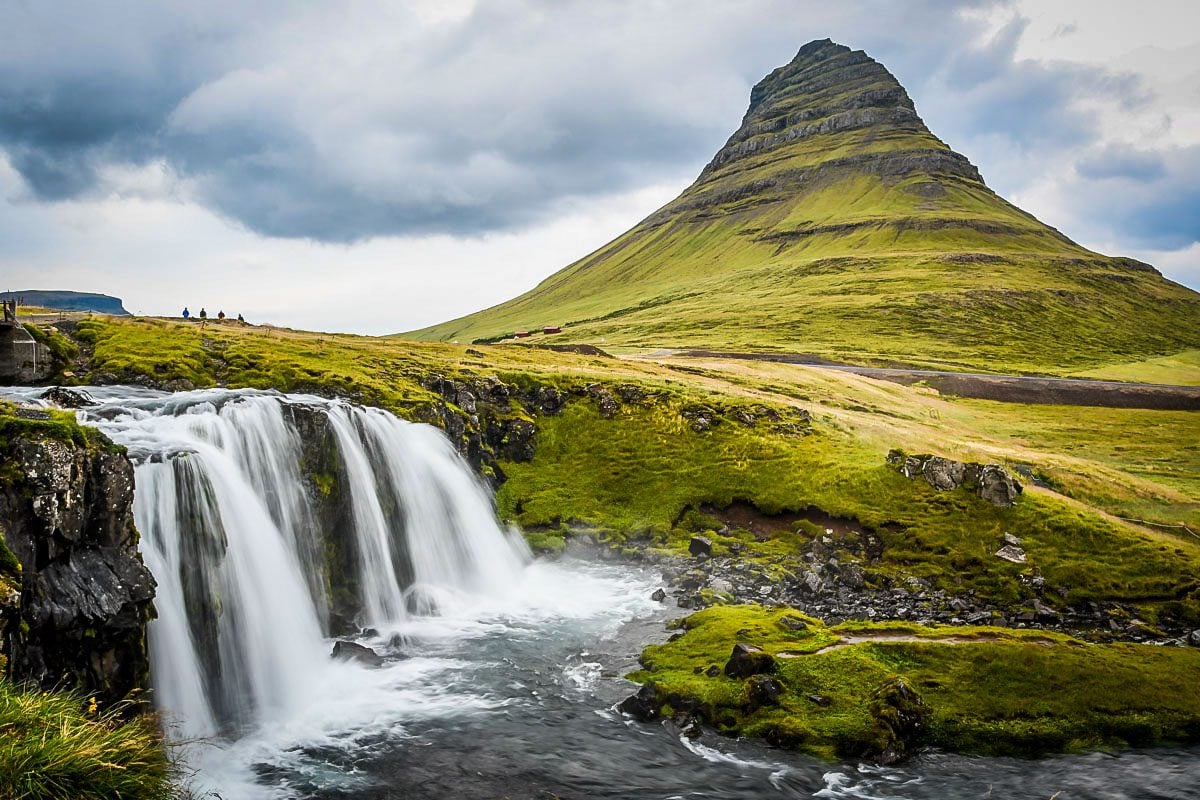 If you're planning to shoot lots of waterfalls while on your trip to Iceland (as you should) here are some of our top tips:
Open the shutter: The secret to getting that dreamy waterfall look is a slow shutter speed.
Start with these settings: low ISO, small aperture and slow shutter speed. Work your way up from there.
Pack a tripod: Yep, a tripod is your friend! Especially when shooting with slower shutter speeds.
Check out our guide to the best waterfalls in Iceland for more detailed tips on photographing waterfalls.
Know the timing of sunrise and sunset
Being so far north, the daylight hours in Iceland vary greatly throughout the year. During the summer months, average daylight time can last up to 21 hours a day. And in contrast, during the winter months, Icelanders may see as few as 4-5 hours of daylight per day.
Since shooting at sunrise and sunset or during the golden hour is such a great time for photography, you'll want to keep close track of the sunrise and sunset times during your visit to Iceland.
Pack a tripod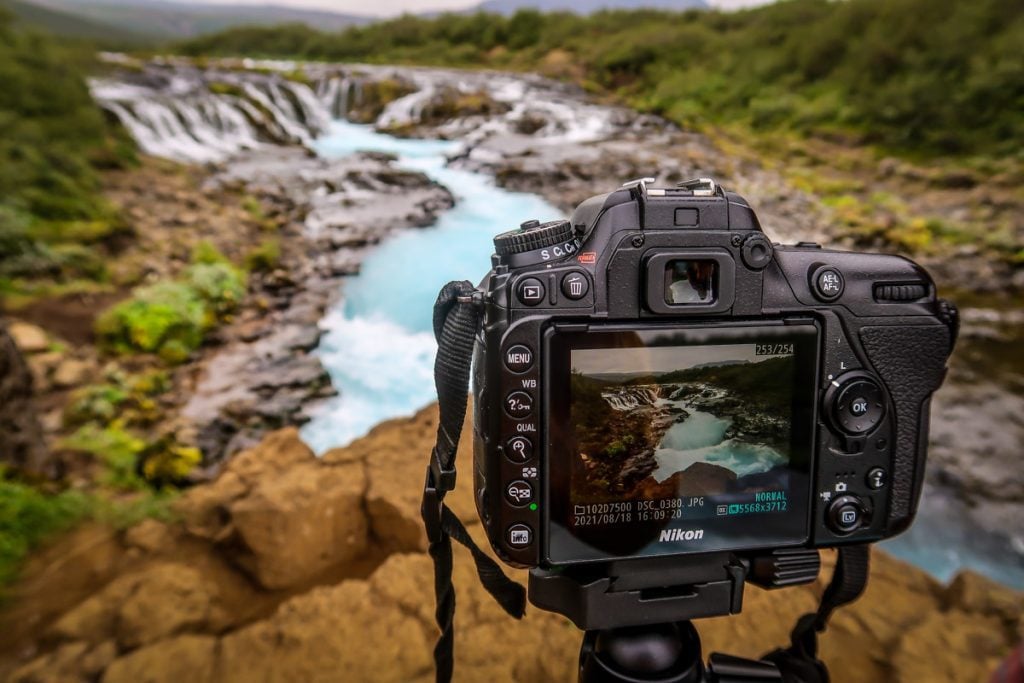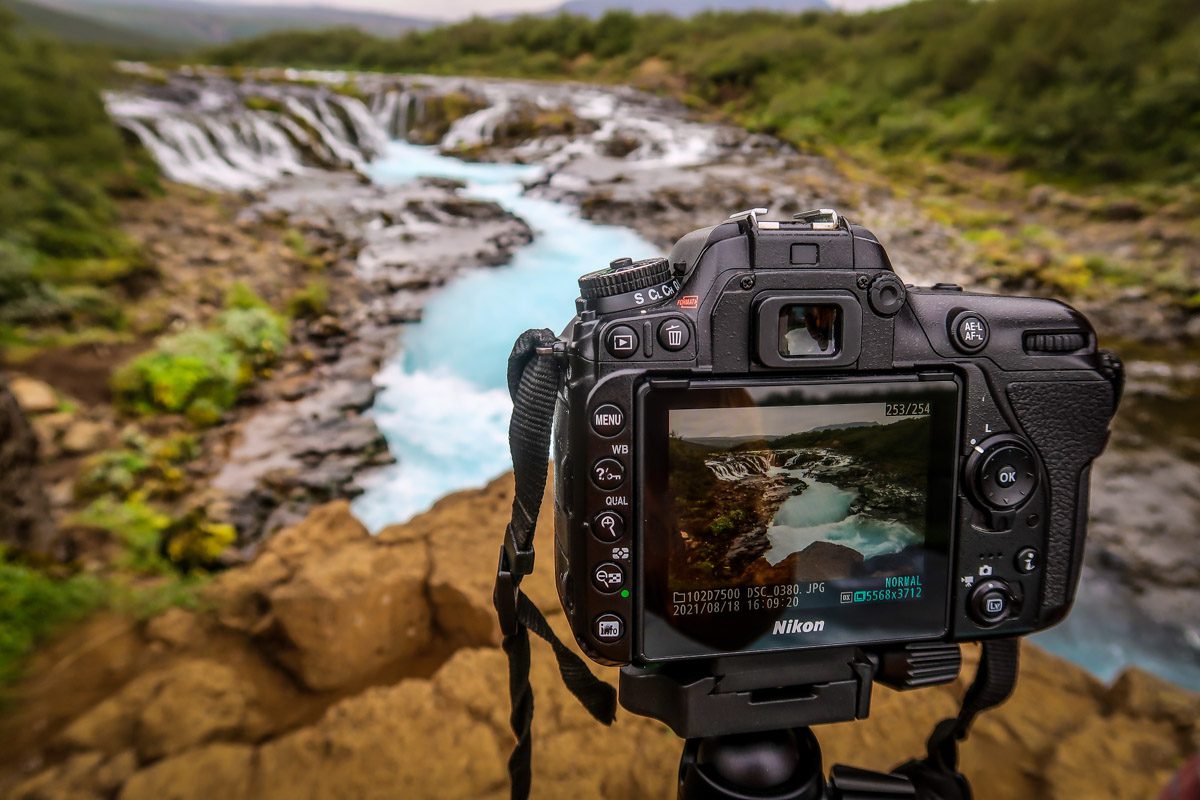 In case our first two mentions haven't sunk in… you'll definitely want to pack a tripod for photographing Iceland.
Our recommendation: We have two tripods for slightly different purposes.
We have a larger tripod that gets pretty tall and is great for almost all compositions. That said, it is a bit bulky. This is the tripod we have and we really like it. It's pretty lightweight and high quality. We ordered a different one first that was a bit cheaper and lighter weight, but it was really poor quality. We're much happier with this one.
We also have a compact Joby Gorilla Pod that works great for taking on longer hikes and for times when we don't want to carry our larger tripod. That said, we either have to attach it to something, like a tree branch or a fence, in order to get the camera into position, or we will set it on the ground for a low-angle composition.
Know which spots are high on your photo list
Figure out which spots on this list are on your wishlist and prioritize getting to them at the best time of day for lighting and/or minimal crowds.
Avoid tour buses
With tour buses come the crowds and you don't have to be a professional photographer to know how crowds can ruin a photograph. We found that places started to get busy around 10 a.m. when the first tour buses of the day arrived. If you have a specific spot you're trying to photograph, aim to get there before 10 a.m. or later in the evening.
Recommended camera gear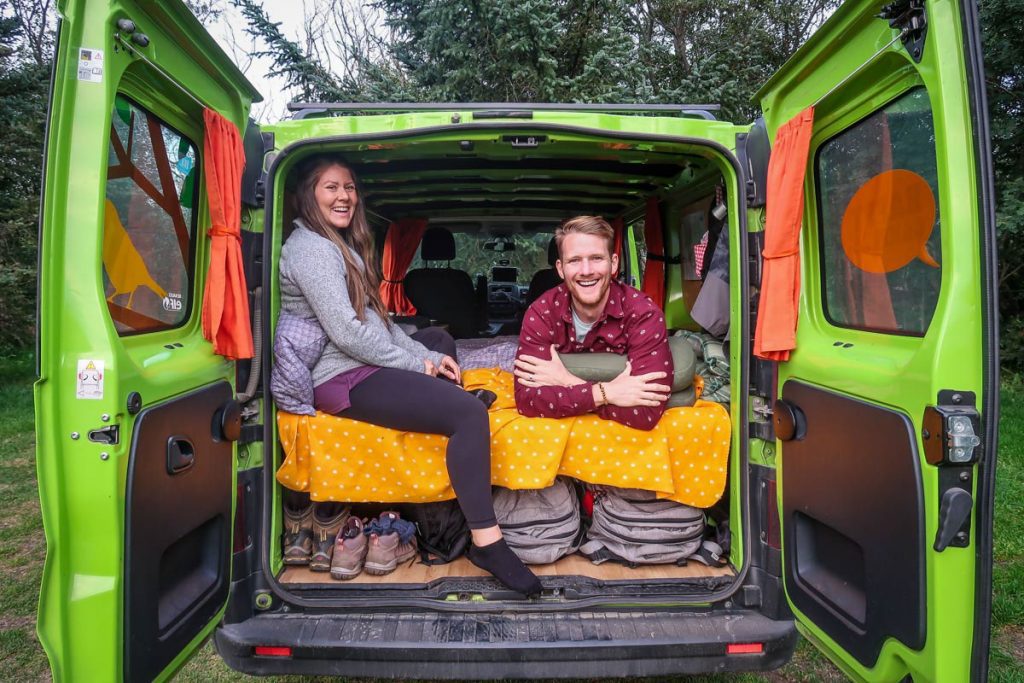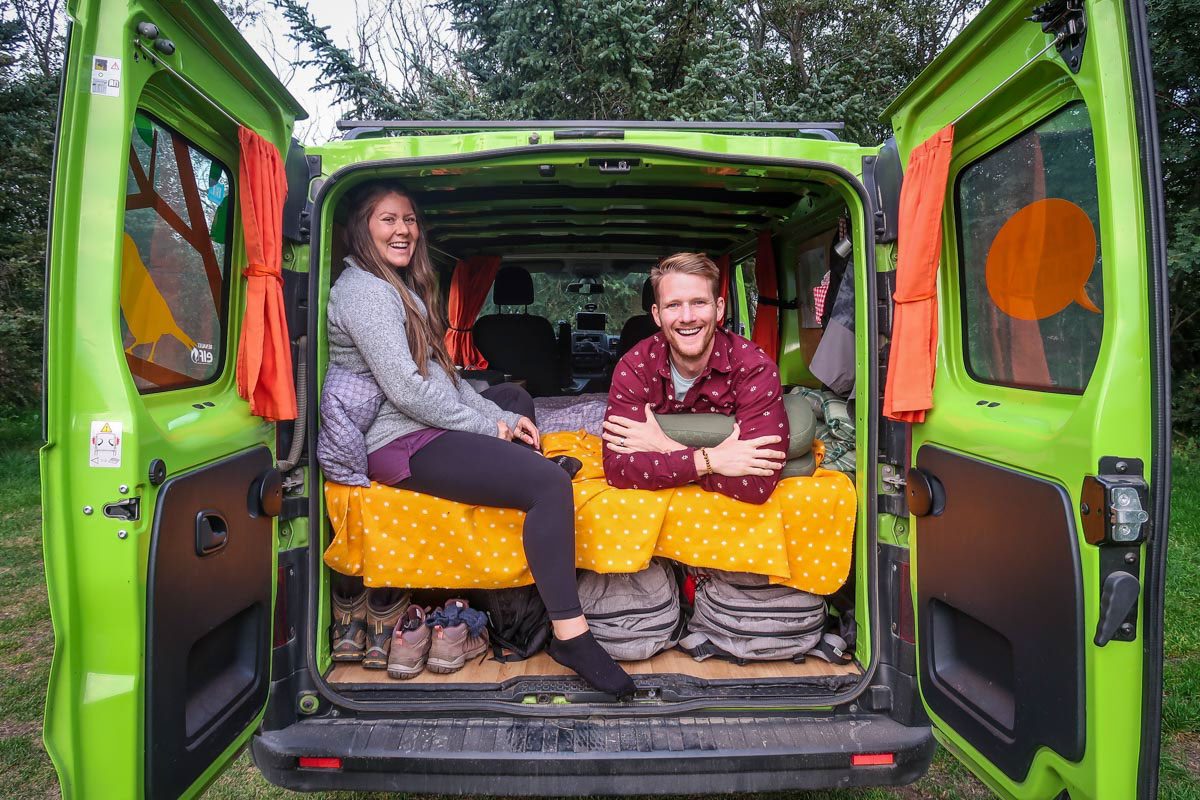 Camera: A DSLR camera, while not necessary, will give you more opportunity to play with settings and perspective when shooting in Iceland.
Tripod: You'll definitely want to bring along a tripod for photographing Iceland. In order to lengthen your shutter speed (thus getting a blurred, dreamy effect with waterfall shots), you'll need to keep your camera stable. We like this standing one, or this flexible one.
Lens Cleaning Kit: Spray near the waterfalls and Iceland's notoriously rainy climate means your lens will be getting wet. A lens cleaning kit will come in super handy.
Rain Protection: And on that note, you'll want to make sure you have some sort of rain protection for your camera gear. Whether it's a waterproof casing, or just a dry bag to carry your stuff around in.
Drone: Pay attention to where you are allowed to fly by checking the signs and always follow the local laws.
What to pack for your trip to Iceland
We know it can be overwhelming packing for a trip to a new destination. That's why we spent hours creating this super helpful PDF just for you.
In this free Iceland packing list PDF download, we've provided packing checklists for everything from clothing and toiletries (for both women and men!) to what shoes to pack and extra items you may want to have on-hand if you plan on traveling in a campervan.
Plus, we're sharing tons of packing hacks and tips for traveling in Iceland that you won't find anywhere else!


---
Are you planning a trip to Iceland?
We have TONS of resources on travel in Iceland and how to make the most out of your trip. Check out our Ultimate Iceland Travel Guide for all the answers to your most burning questions, or read some of our favorite articles below.
Save this article on Pinterest for later!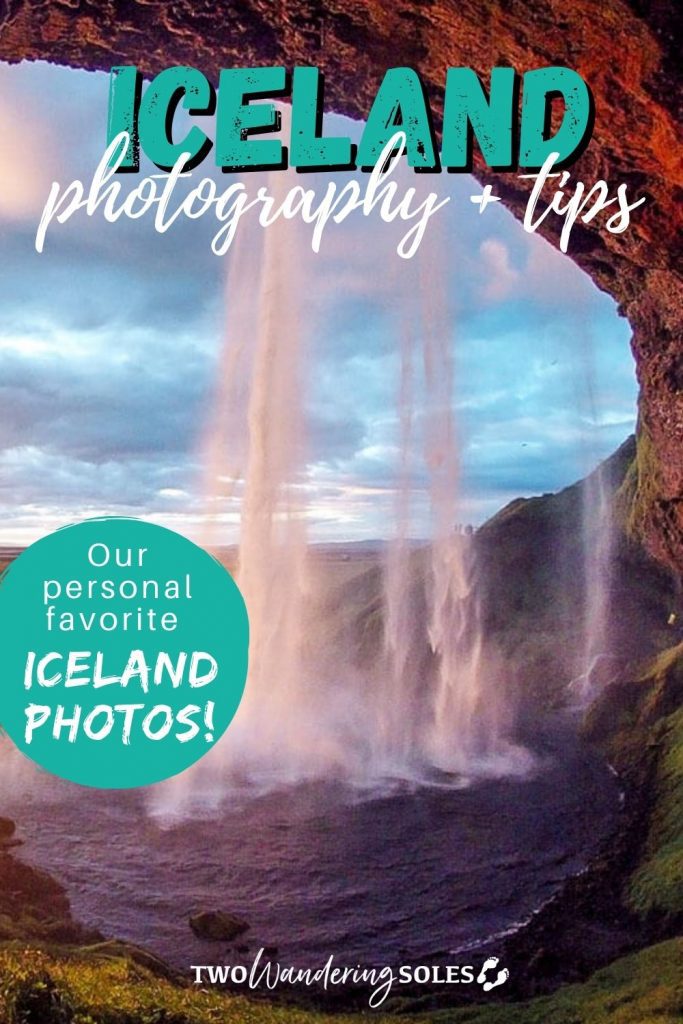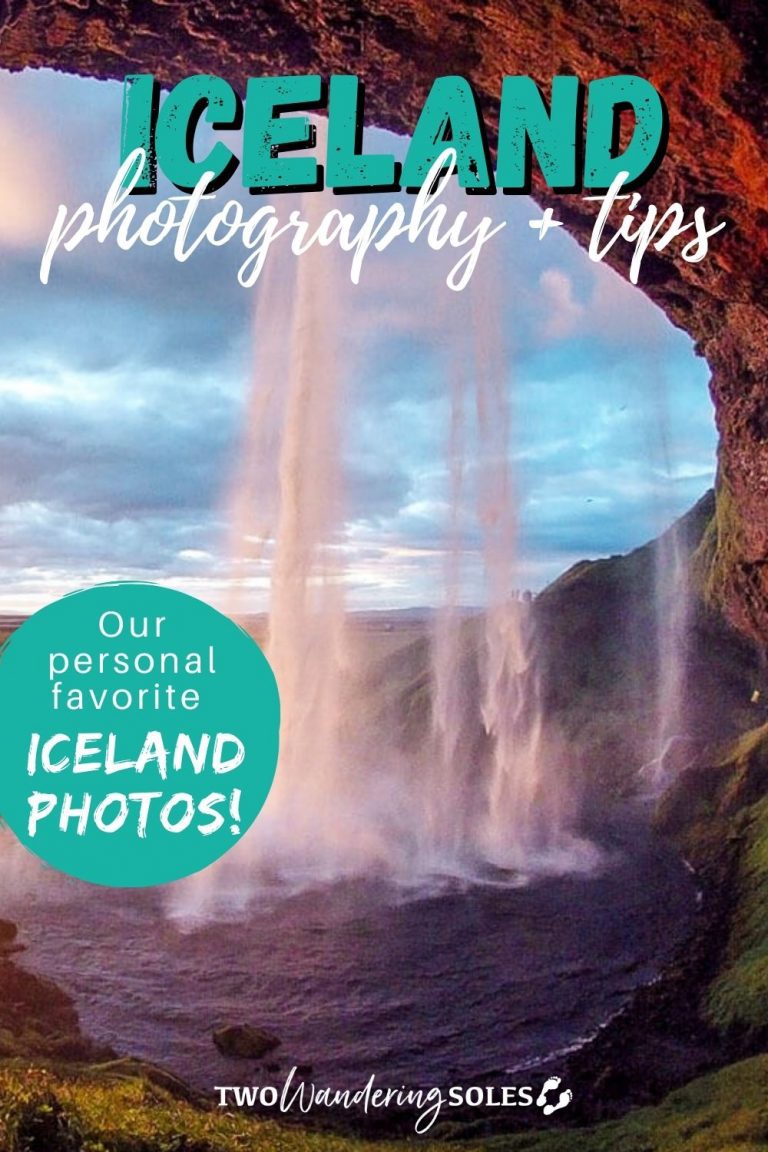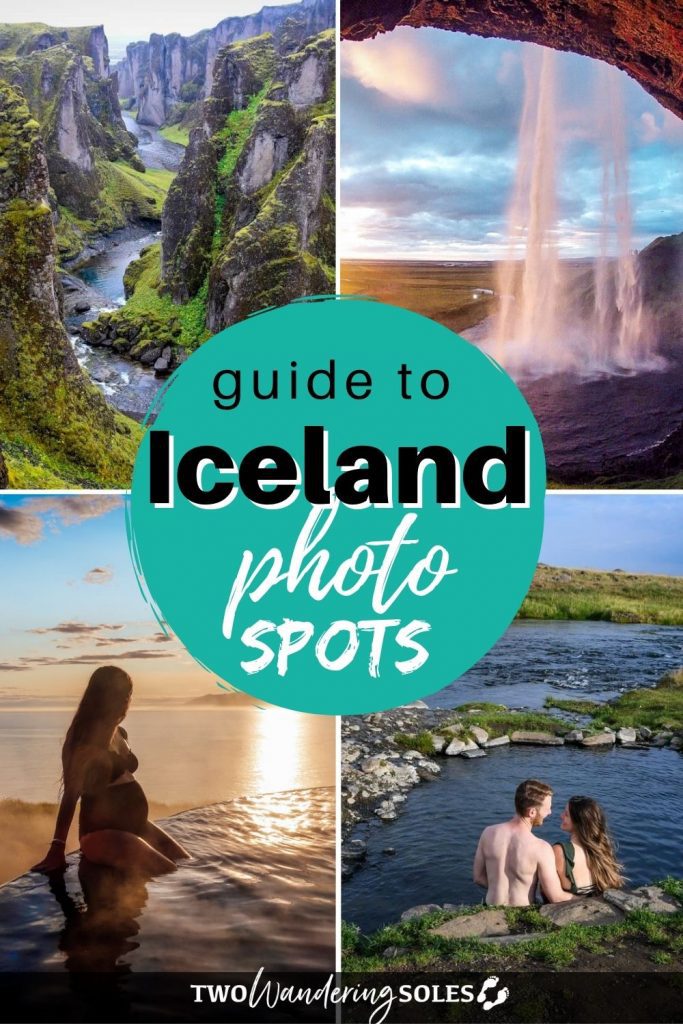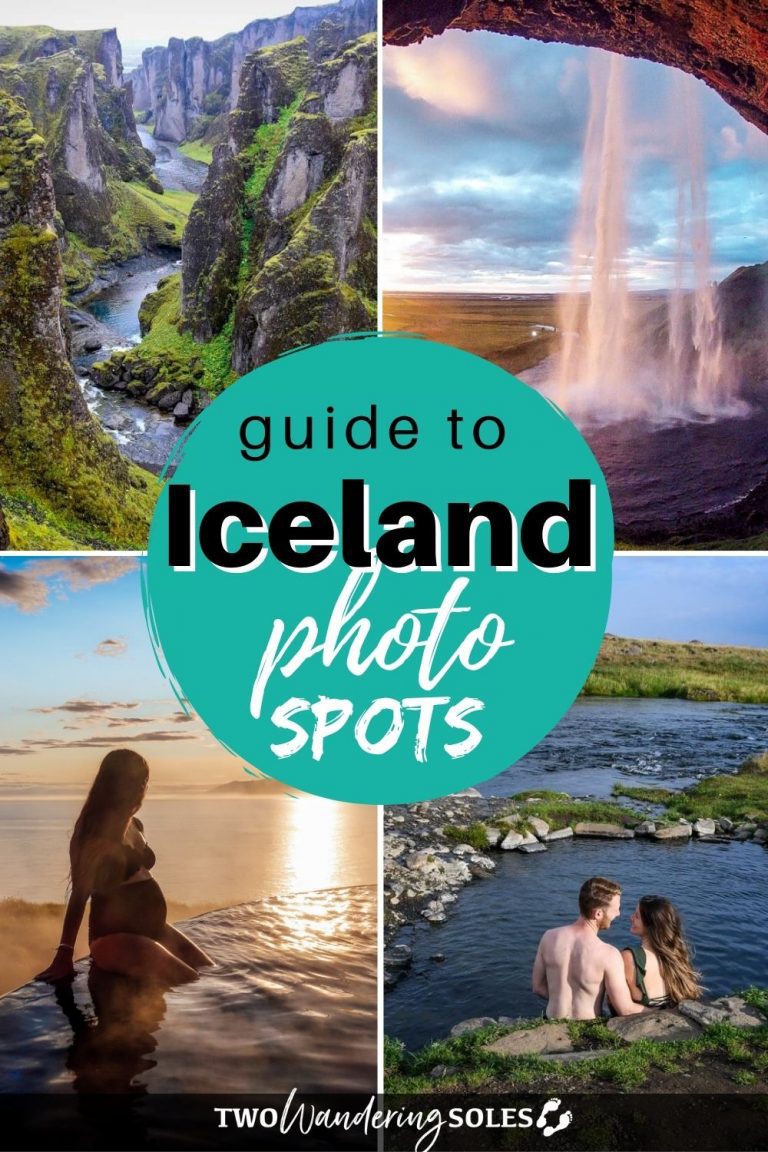 We want to hear from you!
Have you been to Iceland? What did you think? We'd love to hear from you in the comments below!