Whether you have a layover, or Iceland is your final destination, we've got the perfect trip planned for you! This detailed Iceland itinerary for 7 days is complete with day-by-day instructions, photos and tips that will bring you to the southern coast and through the iconic Golden Circle. Follow this one week itinerary for an epic Icelandic road trip you'll remember for a lifetime!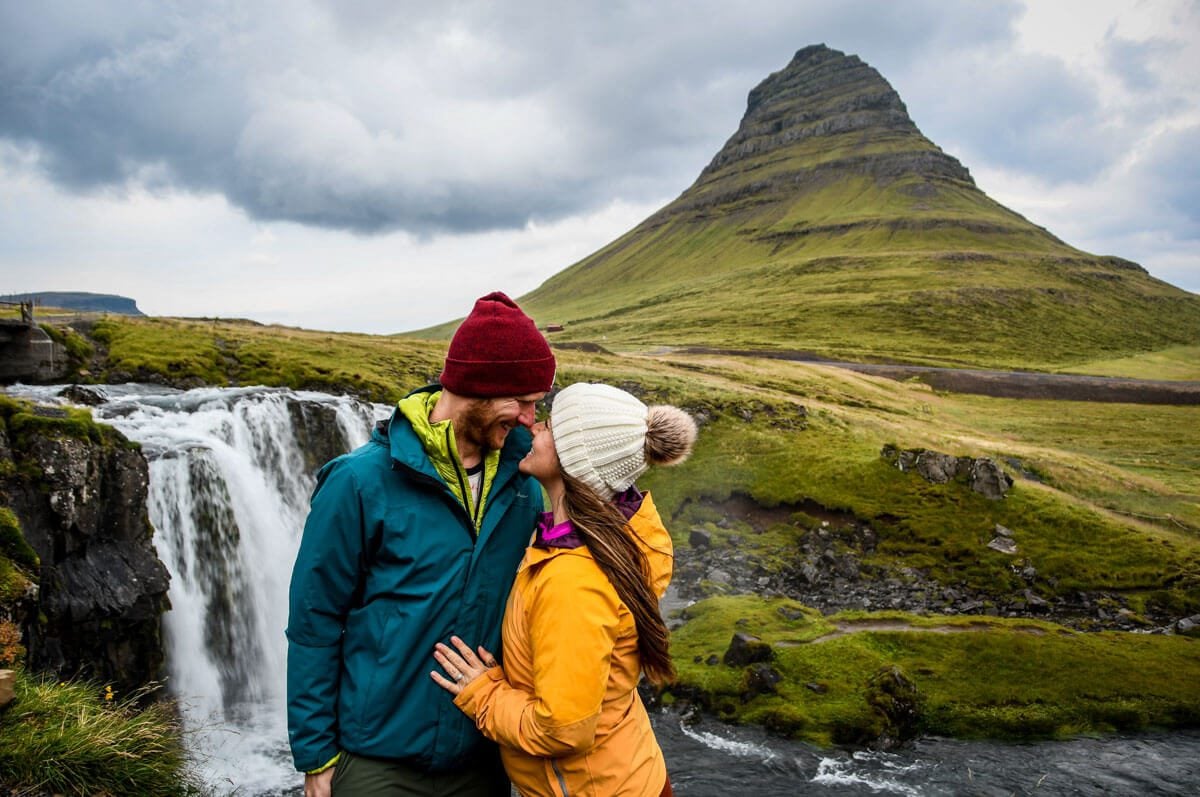 Before our first trip to Iceland, we began searching where to go and we were immediately overwhelmed by the sheer number of things to see and do in this country.
We realized that although this volcanic island is small, there is so much natural beauty packed in that you could spend a lifetime exploring its nooks and crevices without seeing it all.
All the waterfalls, hot springs, glaciers and beaches looked incredible and we wanted to see as much as possible in just one week. But we were having a hard time figuring out how to connect the dots on a map in one epic road trip.
Since that first trip, we've had the opportunity to return to Iceland and explore more of what this incredible country has to offer. In total we've spent a lot more than 7 days in Iceland, but we've put all that experience to good use just for YOU.
We spent hours compiling all the information from both our trips on which we experienced many different places and all the best things to do in Iceland. We finally came up with what we think is the very best Iceland itinerary for 7 days!
This article will help you plan your one-week road trip to this stunning country in the north Atlantic.
Article contents
---
Want to save time and energy on planning?
If you want to save yourself the hours of research and planning, we've got you covered with our ultimate done-for-you Iceland South Coast Itinerary. This itinerary includes a lot of what you'll find in this article, plus so much more!
It covers ALL the bases, from driving directions and timing of activities, to necessary reservations and recommended places to stay.
The itinerary is customizable for 7 days, with 8- or 9-day options, hitting all of the highlights of the Southern Coast of Iceland.


---
Best time to visit Iceland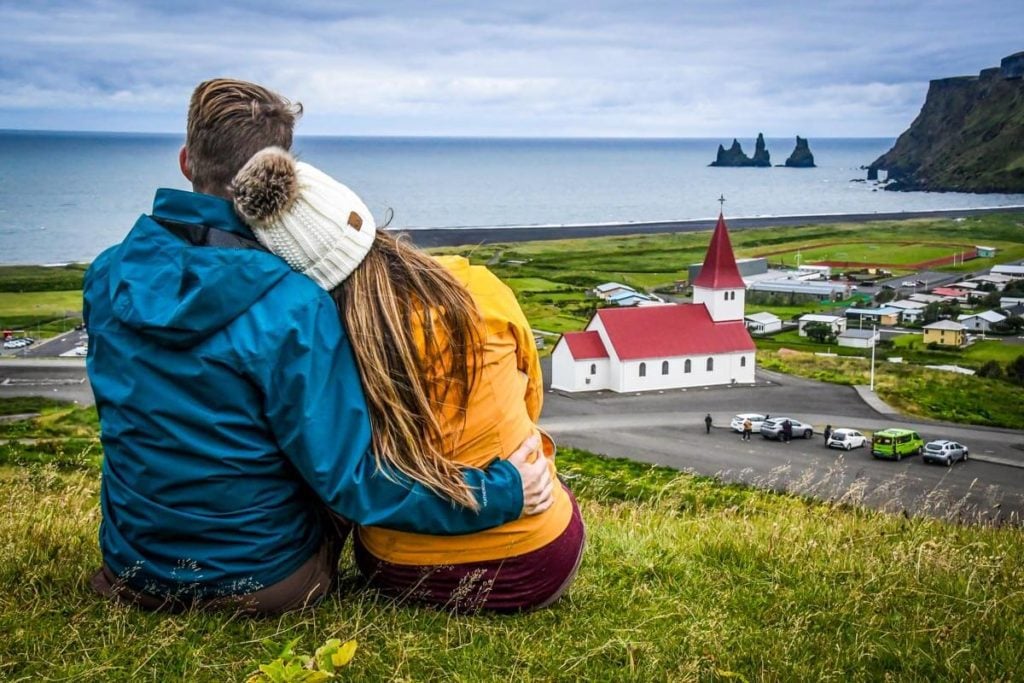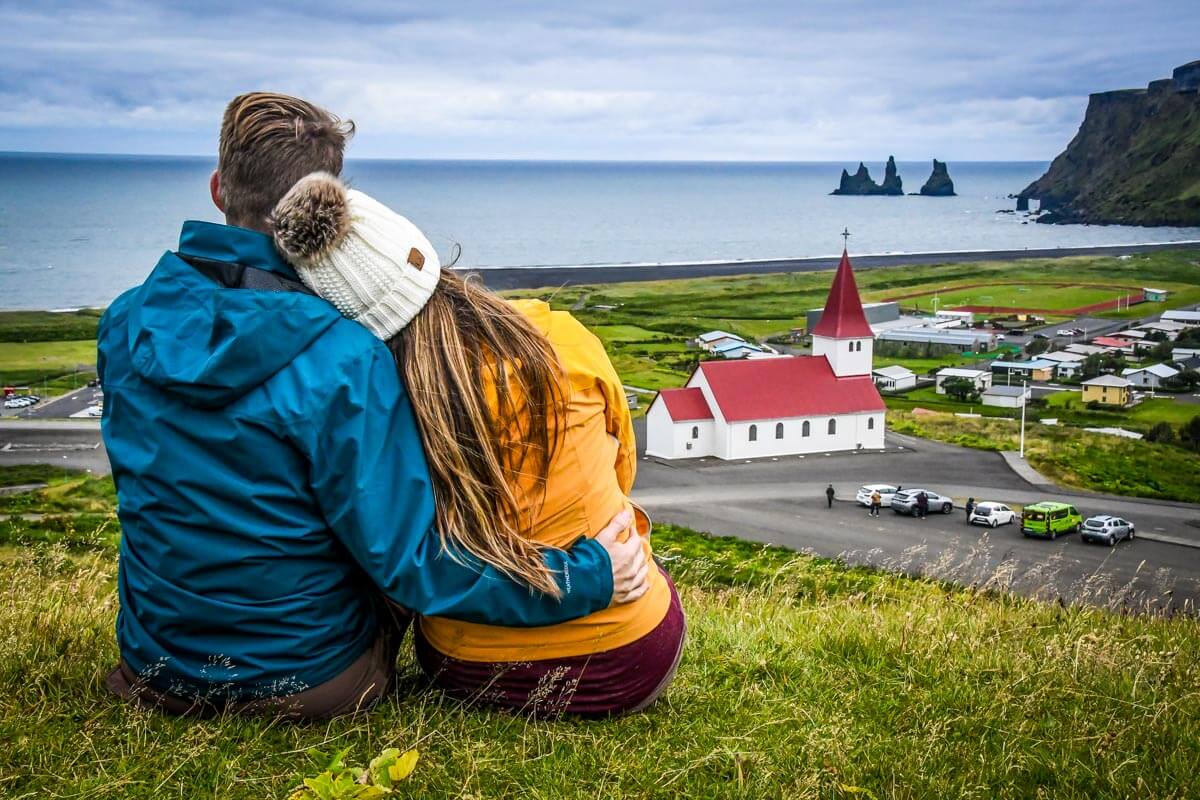 This is sort of a loaded question as the answer will depend entirely on your personal travel style and reasons for visiting Iceland.
If hiking, warmer temperatures, whale watching or birding are on your to-do list, you'll want to visit Iceland during the spring and summer months. If you are hoping to catch a glimpse of the Northern Lights, want to experience sunrise at a reasonable hour, or just want to avoid the crowds, you'll want to visit during the fall or winter months.
We put together an entire article that goes over what to expect in each season and how to decide which is best for you. Find out the best time to visit Iceland for your personal travel needs.
Iceland 7-Day Itinerary Map
Here is a map of the general route for 7 days in Iceland (starting and ending in Reykjavík):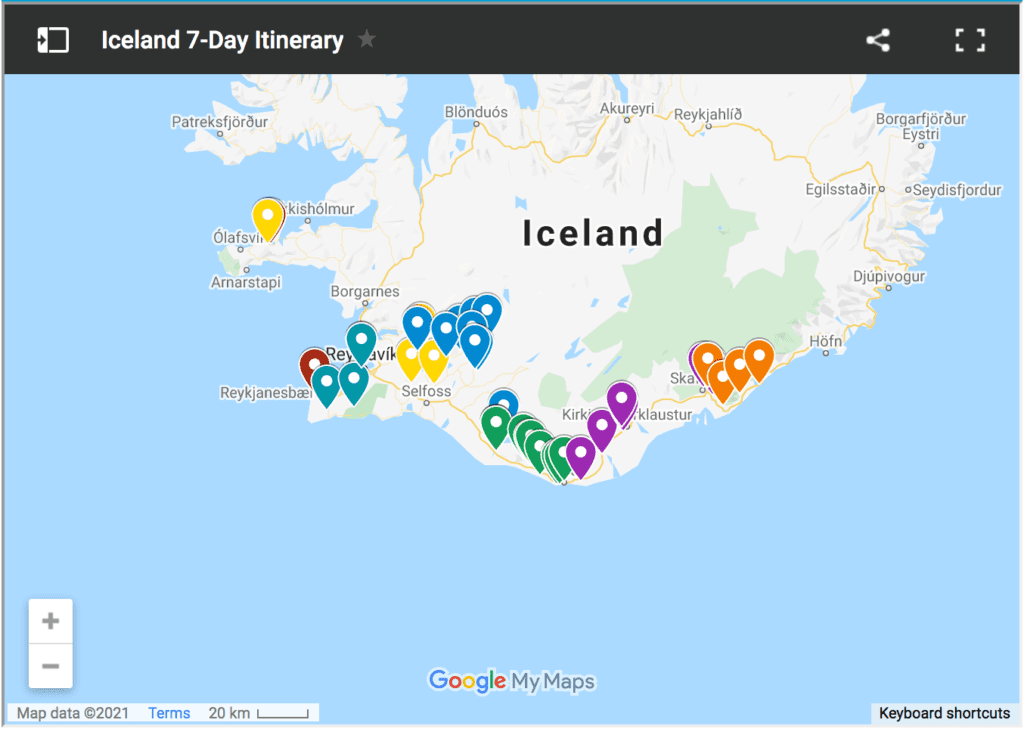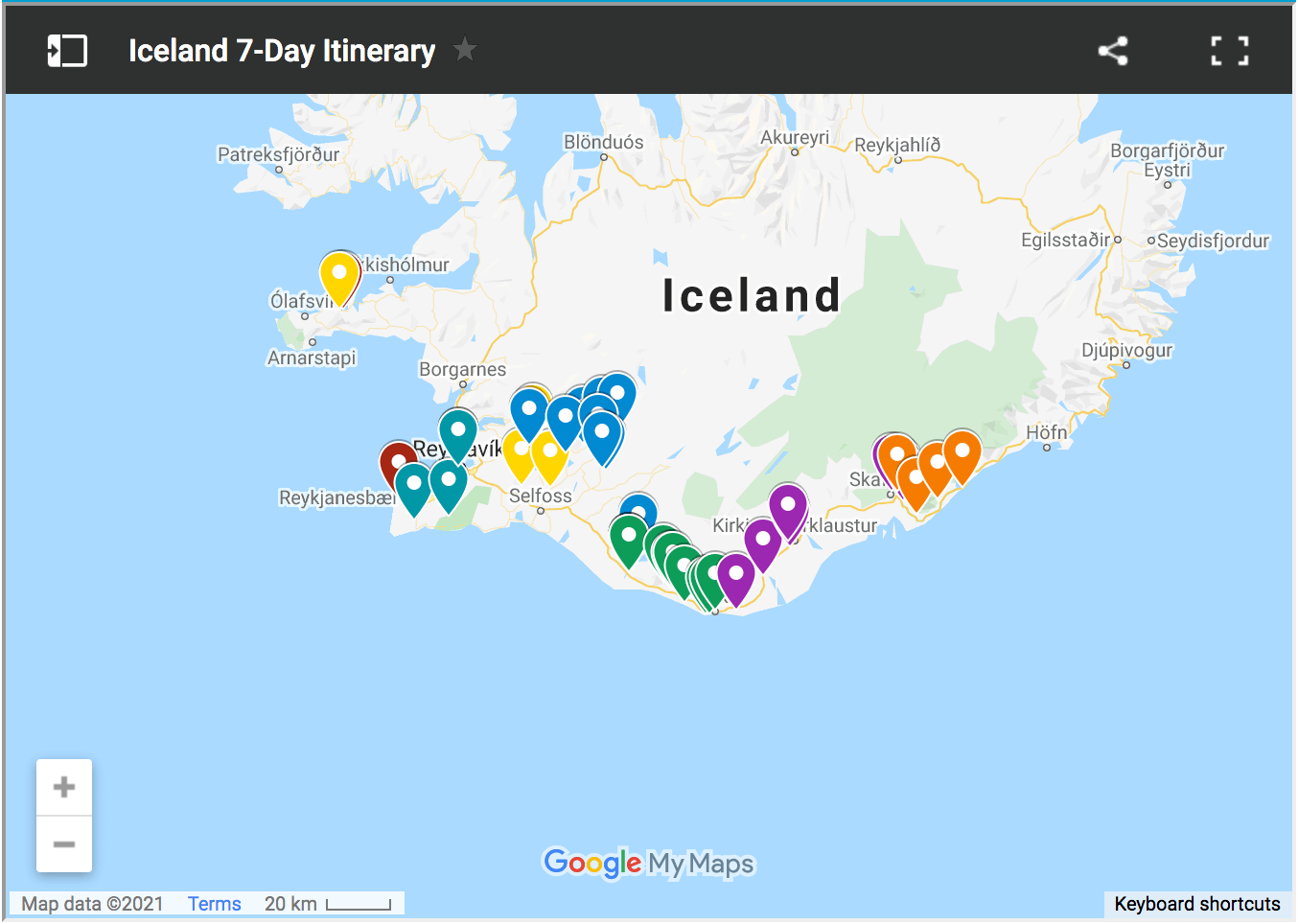 A note about this itinerary: This Iceland itinerary is based on a 7 day/6 night trip. The itinerary covers many highlights of the southern part of Iceland's Ring Road and is intended to be followed using a rental vehicle. We think the best (and cheapest!) way to follow this plan is to camp along the way, whether with a tent or a campervan.

Be sure to check out our guide to Ring Road for everything you need to know about this iconic route and how to drive the full circle around Iceland if you have more time.
Renting a vehicle in Iceland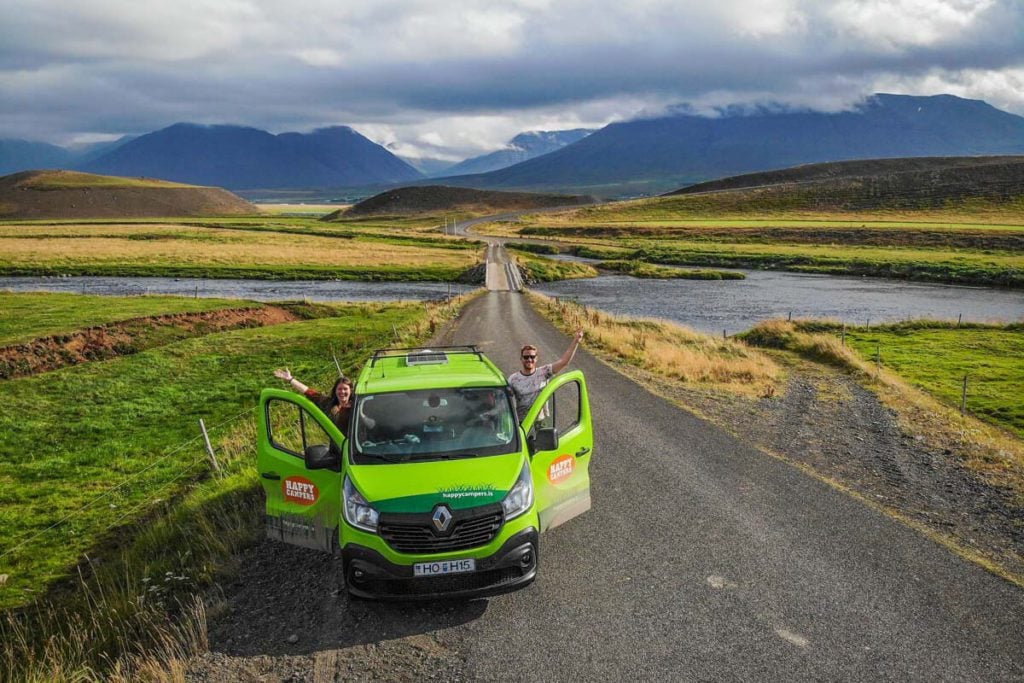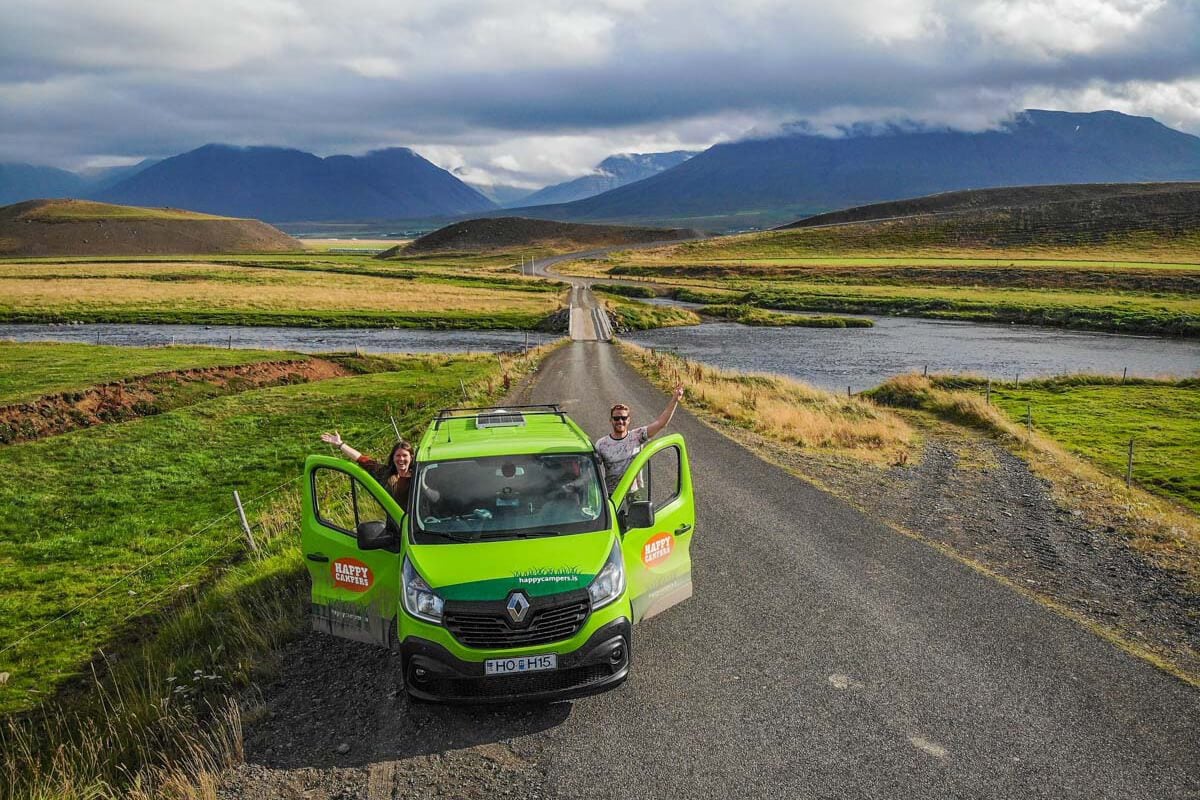 Renting a car in Iceland is different from many other countries, and even if you're a pro at car rentals you might be surprised by a few things. We put together a huge guide to Iceland car rentals to share all of our insider information with you.
Be sure to book your rental gear and a rental car before your trip begins. And don't forget travel insurance! Picking a policy that covers your rental car is often cheaper than buying a separate policy through the rental company.
Psst! We've got you covered with all the info you need to plan your Iceland road trip!
Also, one of the best ways to travel around Iceland is in a campervan. Out of all the camper van companies out there, we like Happy Campers the best. They are a family run company providing excellent vehicles with all the gear you need for an epic road trip in Iceland.
And the best news… We've partnered with them to give our readers a 5% off their campervan rental when you use our coupon code: TWS5. Just enter the coupon code TWS5 at checkout on Happy Campers website. 
We also put together a HUGE Iceland campervan rental guide with tons of insider tips and advice for choosing the best campervan rental for you. Make sure to give it a read before booking your trip!
---
Read Next
---
Iceland 7 Day Itinerary Overview
Day 1: Gear up and drive to Snaefellsnes Peninsula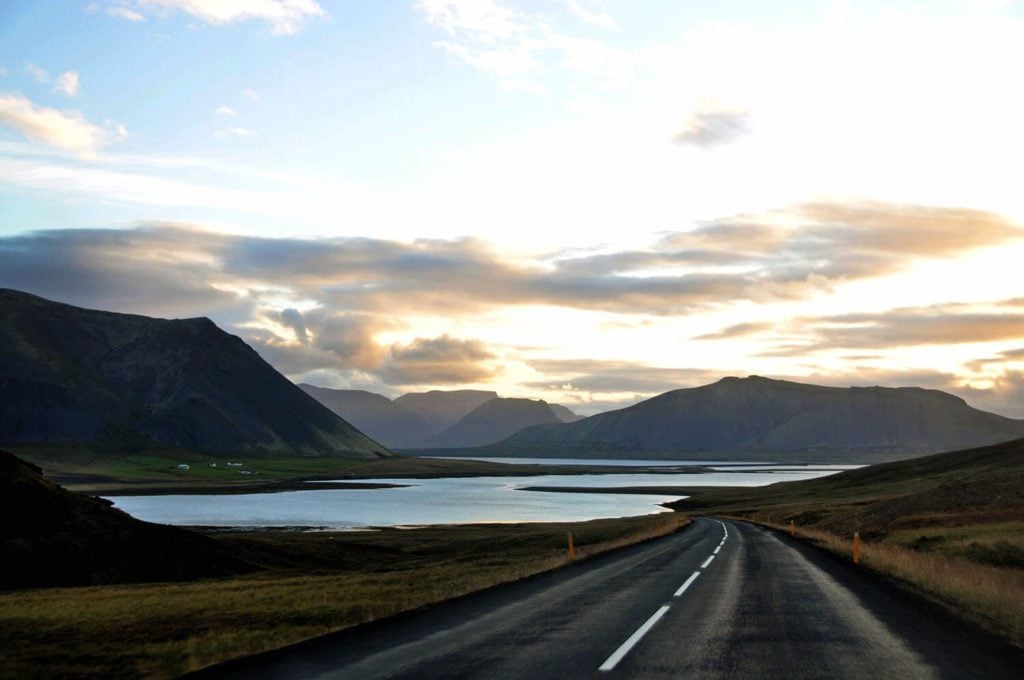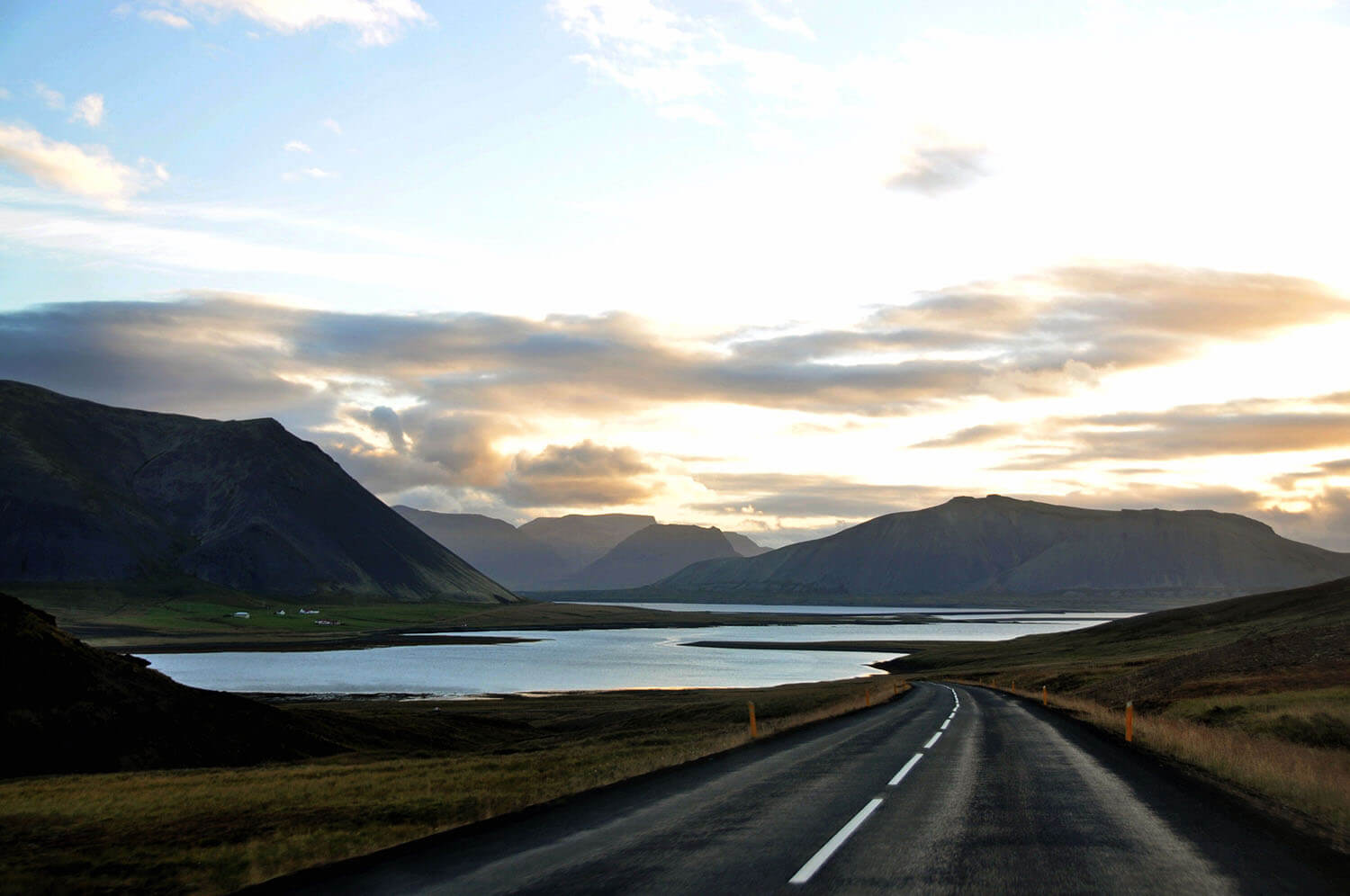 Day at a glance: Get your rental car (or campervan) and camping gear and head north of Reykjavík for some stunning views and set up camp on the Snaefellsnes Peninsula.
Approximate Driving Time: 2.5 – 3 hours
Approximate Distance Covered: 200 km
Everyone flies into Keflavik International Airport (REK) so this is where your journey will begin. You will have to pick up your rental vehicle from here because the bus to Reykjavík is just crazy expensive.
Note: If you only have a short layover, there are plenty of things to do near the Keflavik Airport.
If you're not renting a campervan, be sure to check RentalCars.com for the best deals on getting a car. They sometimes have special deals and show all the rental car company's prices at once. And be sure to read through our ultimate Iceland rental car guide that answers all your questions about driving around the country in a rental.
A 45-minute drive north on Highway 41 will take you to Reykjavík, where you can stock up on groceries and pick up your camping equipment.
You can do a little exploring of all the things to do in Reykjavík now if you arrive in the morning. Try taking a Reykjavík Food Walk (use code TWS10 for 10% off your tour when you book online). But remember you have almost a 3 hour drive ahead of you so you might want to get on the road. You'll have time to see Reykjavík on your last day.
Note: Iceland's natural landscape is beyond beautiful and you'll want to stop for pictures around every curve. Our rule of thumb was for every hour of driving (according to the time Google maps gives you), add at least 10 more minutes for photo ops. Check out our collection of Iceland photos here.
Snaefellsnes Peninsula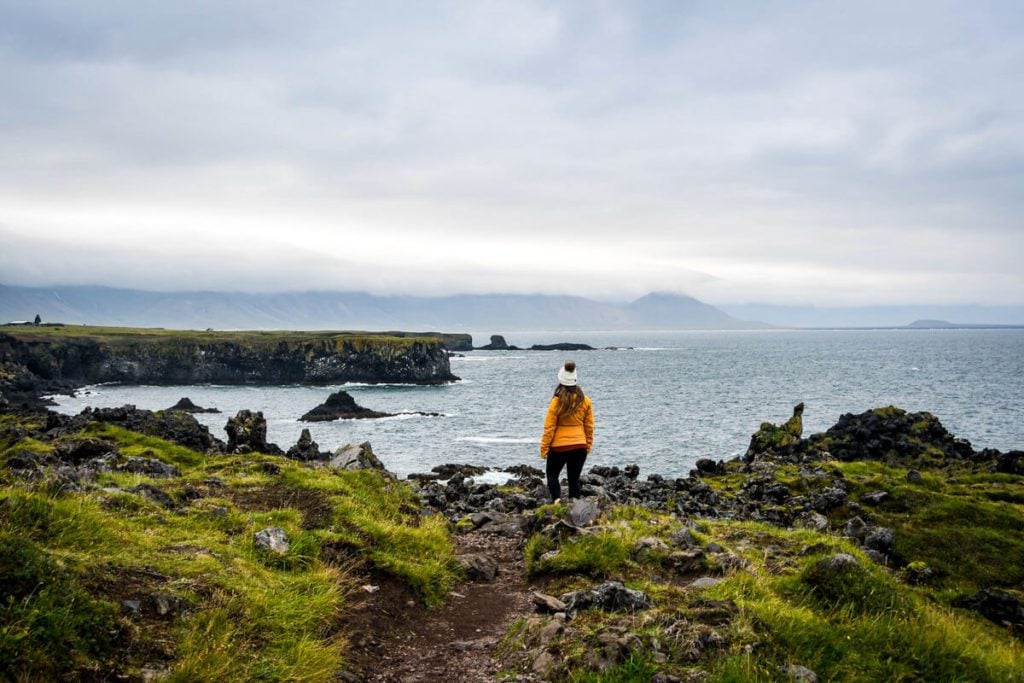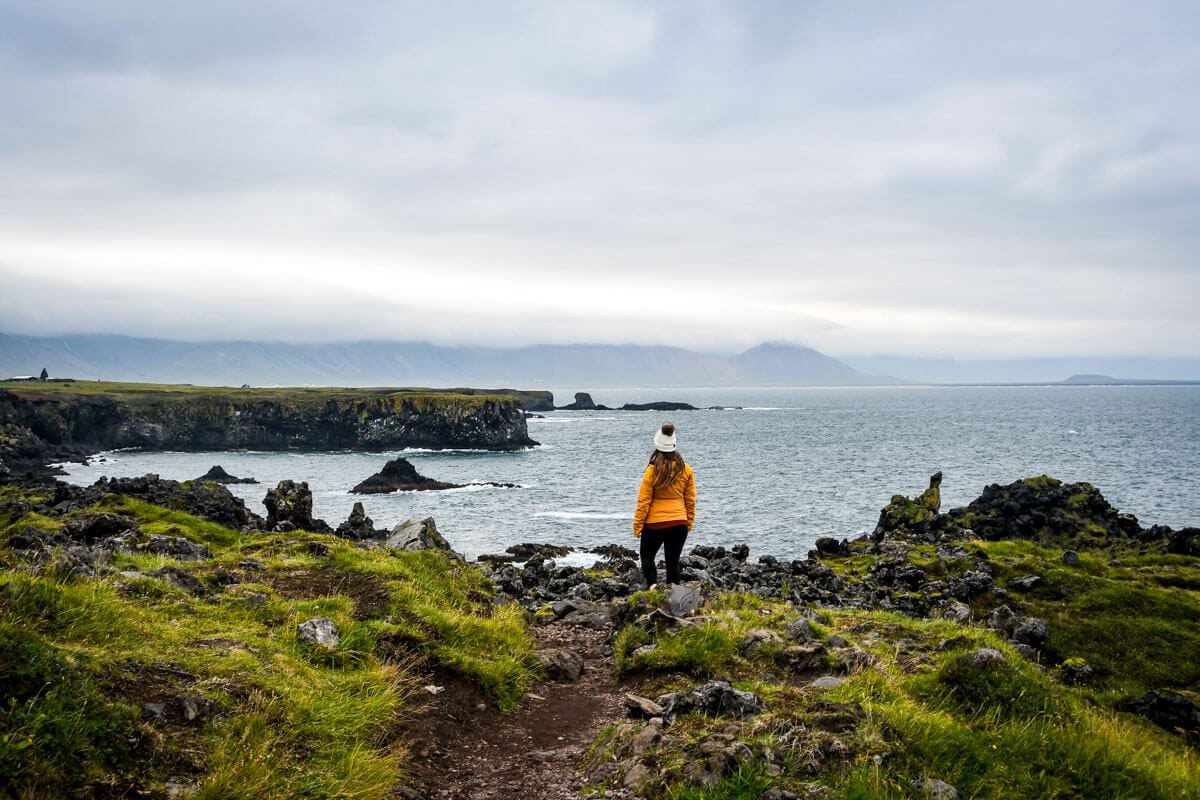 Make your way northwest of Reykjavík to Snaefellsnes Peninsula for some pretty incredible views of giant mountains and remote lakes. If you have time, you can drive Highway 54 around the whole peninsula. Get out at Hellnar and walk along the seaside cliff for some spectacular views (pictured above).
But if you're like us and you didn't get out of Reykjavík until 4:30 p.m. on our first try, you can cut through the peninsula on Highway 56 and still see some incredible views overlooking hilltop lakes.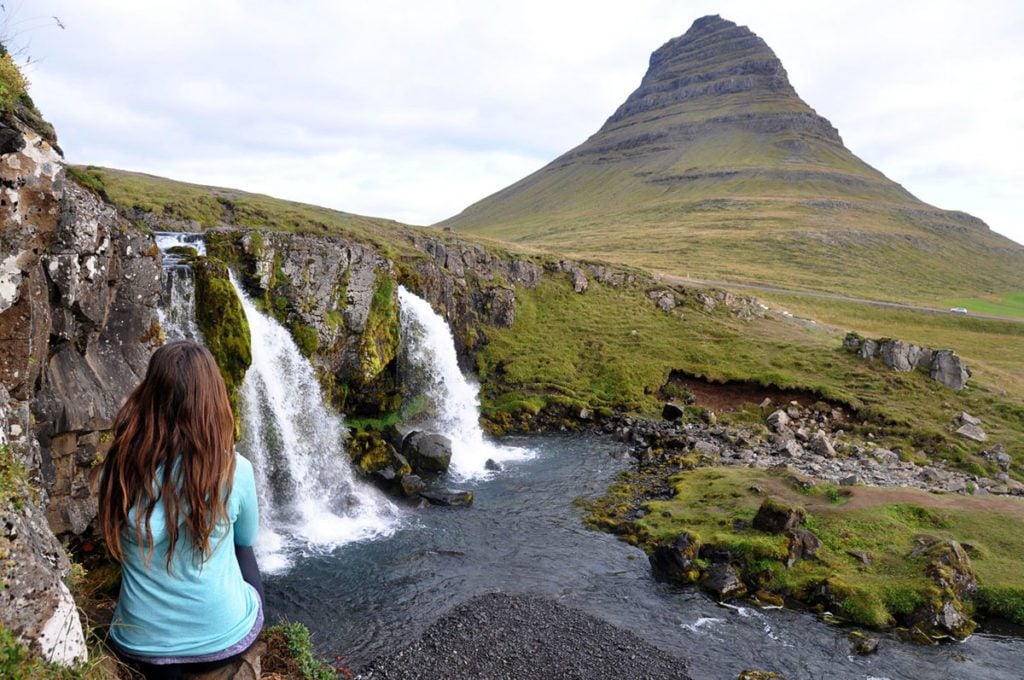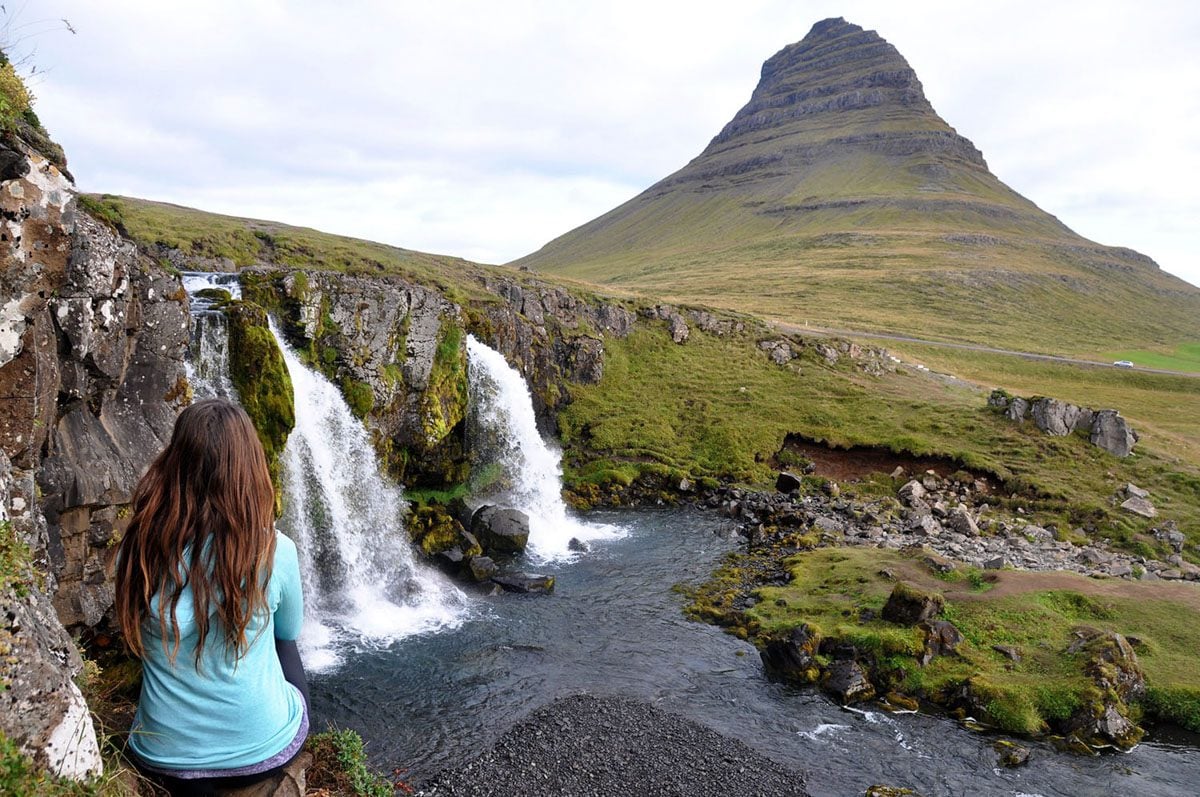 If there is still daylight, head to Kirkjufellsfoss waterfall for sunset, or just wait for the morning to visit. To find out how to get there, check out our round up of Iceland's best waterfalls.
Where to stay: We camped our first night in the town of Grundarfjörður at the local campground. It was nothing too fancy; just a flat grassy area with a toilet and sink for dishes.
Tip: There is a tunnel that cuts under Hvalfjörður and continues on Highway 1 (Ring Road), so be sure to take this short cut if you are short on time. Highway 47 loops around the fjord and is a much prettier drive than a dark tunnel if you have time. Also, if you have extra time, head for Glymur Waterfall at the far east side of the fjord. It's a challenging, but very rewarding hike!
Day 2: Waterfalls, hot springs and hiking (oh, my!)
This Day in a Glimpse: Kirkjufellsfoss Waterfall, Reykjadalur Hot Spring Thermal River hike and the colorful Kerið Crater at sunset
Approximate Driving Time: 4.5 hours
Day at a glance:Covered: 300 km
Kirkjufellsfoss Waterfall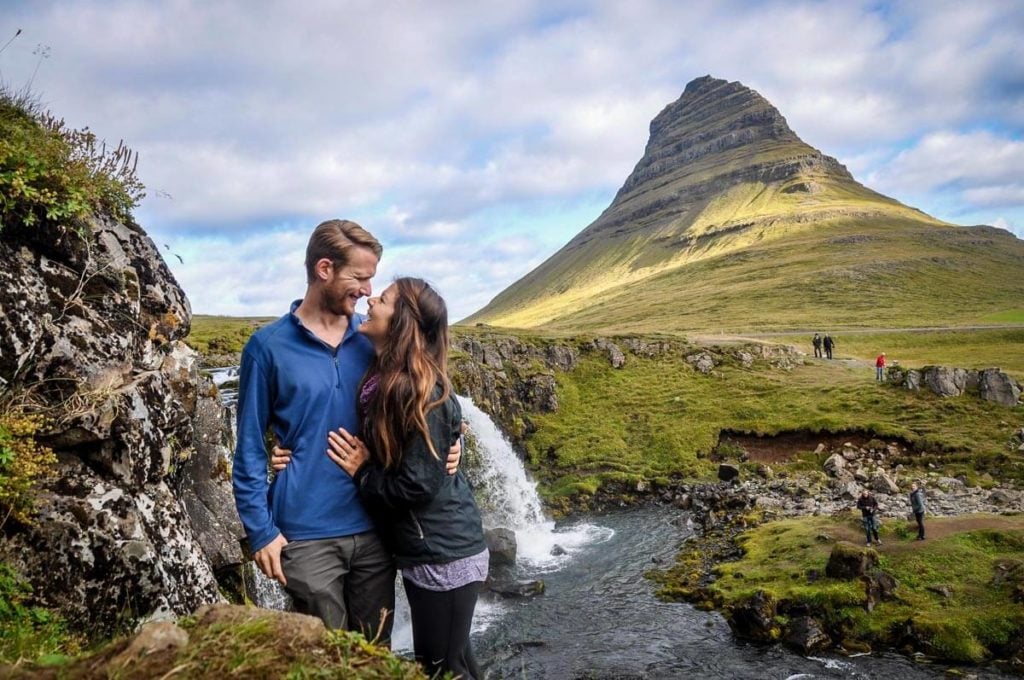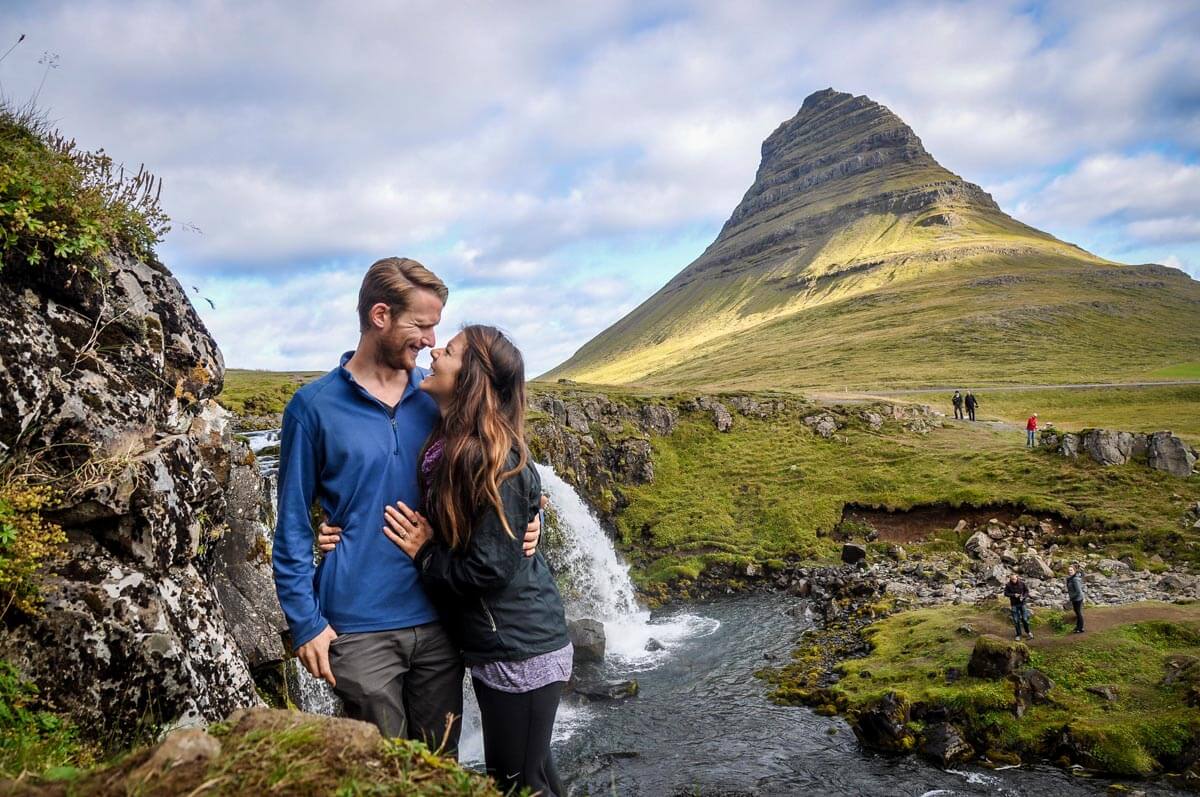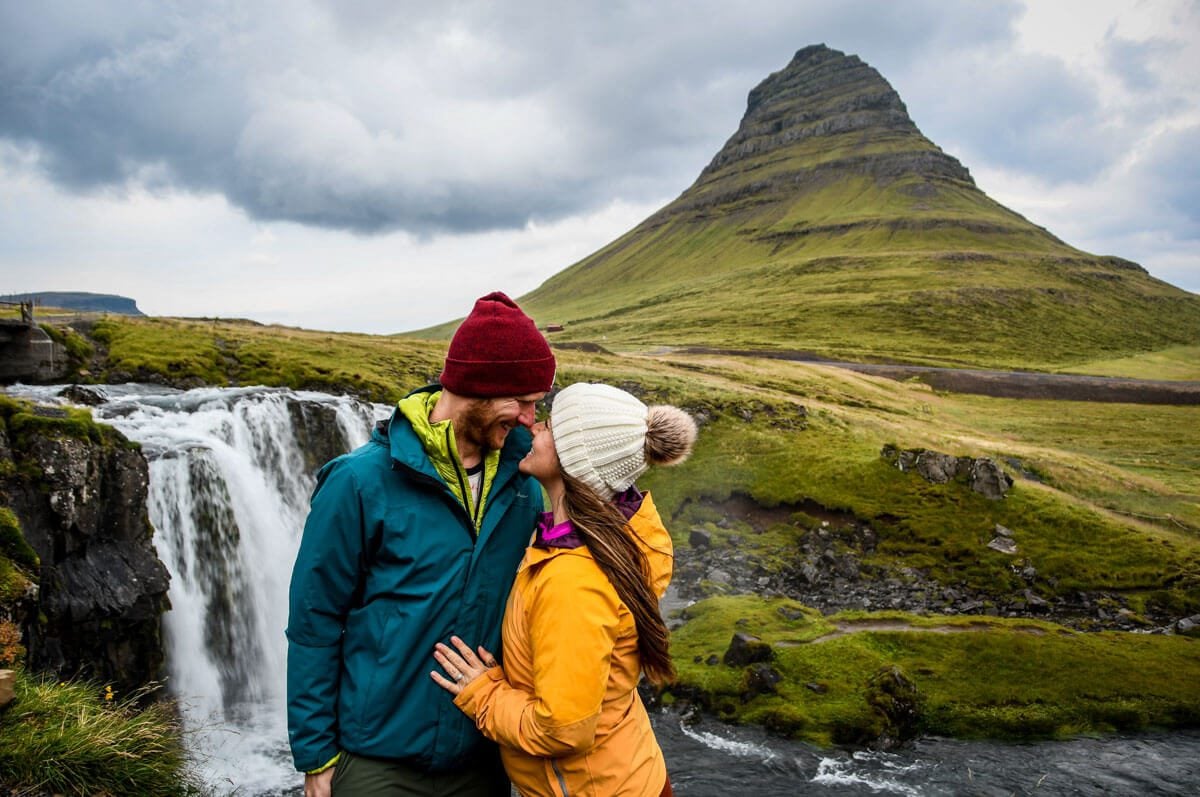 Situated very close to your campground on the Snaefellsnes Peninsula, is the famously beautiful Kirkjufellsfoss Waterfall. This series of waterfalls has a great view of the triangle-shaped peak, Kirkjufell, resting in the background.
It's an amazing sight, but can quickly be ruined by groups of people so get there early. To beat the crowds, you should wake up early (around 7 a.m.), leave your tent at the campground, and drive a few minutes to Kirkjufellsfoss.
Once you've had your fill of pictures, have breakfast back at the campground, pack up and drive off.
Today is a long day of driving with many incredible viewpoints along the way, so you'll have to manage your time at the stops wisely.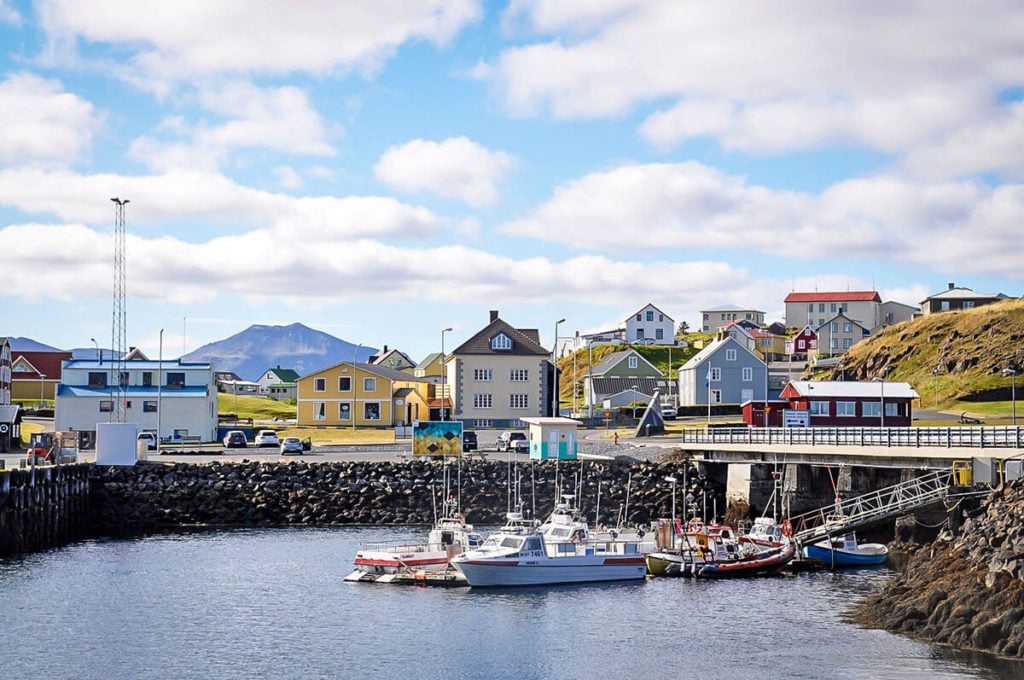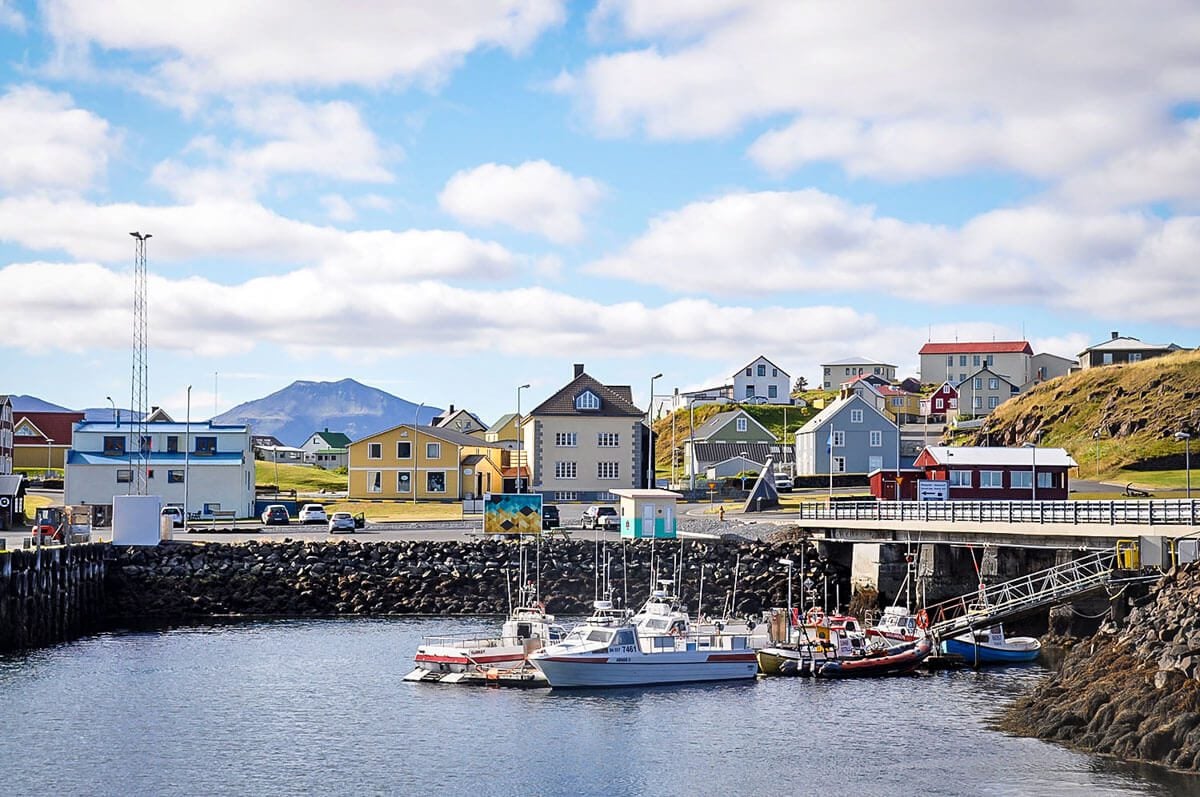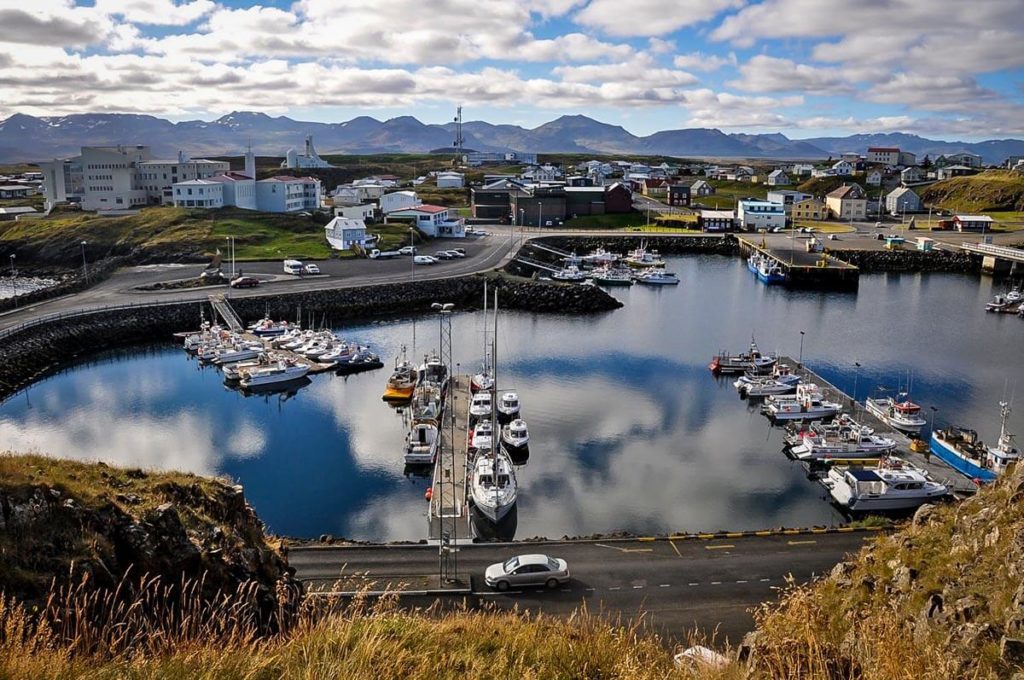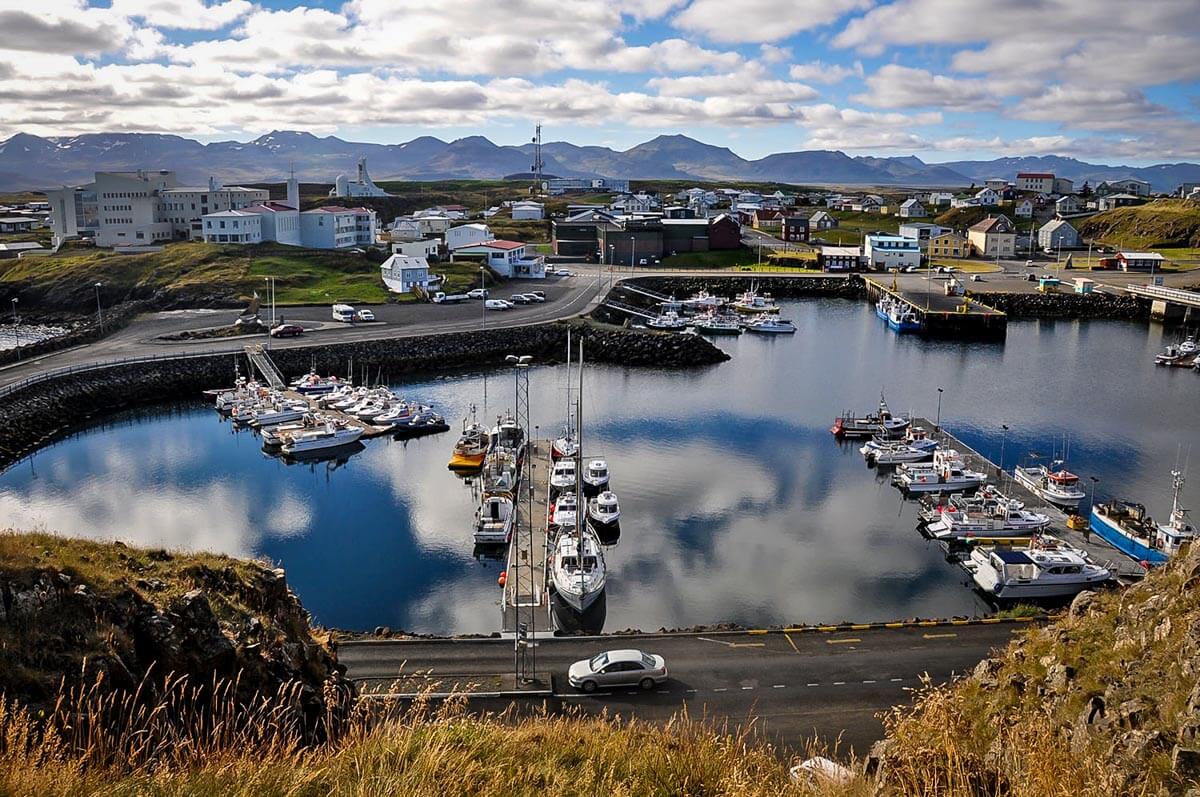 Optional detour: We drove east on Highway 54 on the north side of the Snaefellsnes Peninsula and accidentally missed a turn (we may have been a little too focused on jamming out to our music) and ended up in the harbor town of Stykkishólmur.

It's popular for people to take ferries from Stykkishólmur to the tiny island of Flatey and then continue on to the West Fjords, but only having 7 days in Iceland we didn't have time for that. Since it was a nice little surprise, we climbed to the overlook by the harbor, took a few photos and drove back south to find the right road.
Reykjadalur Hot Spring Thermal River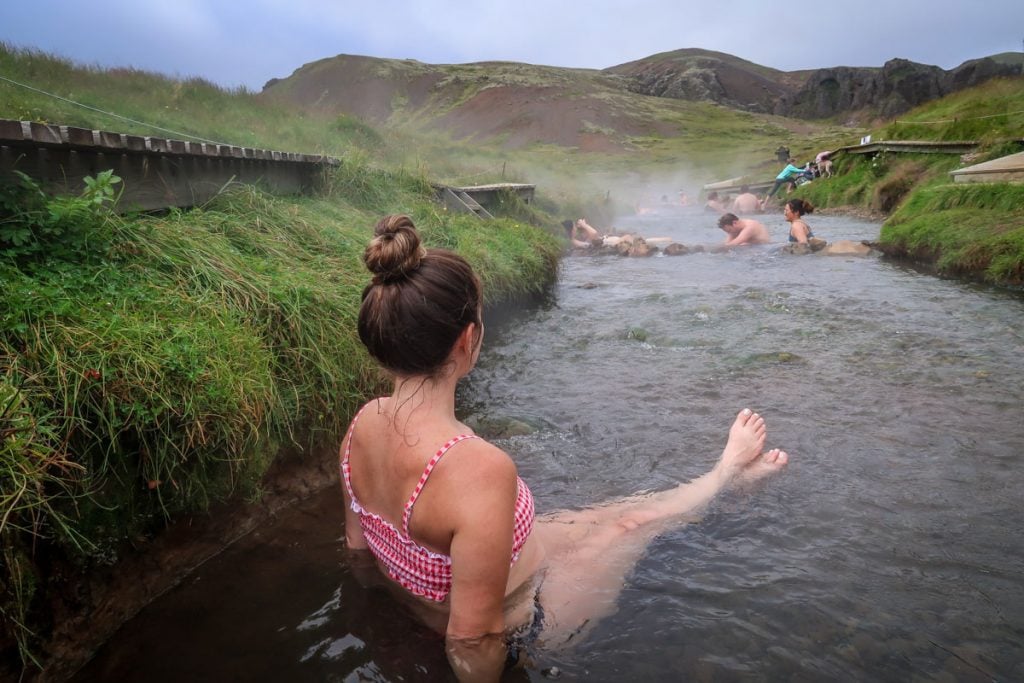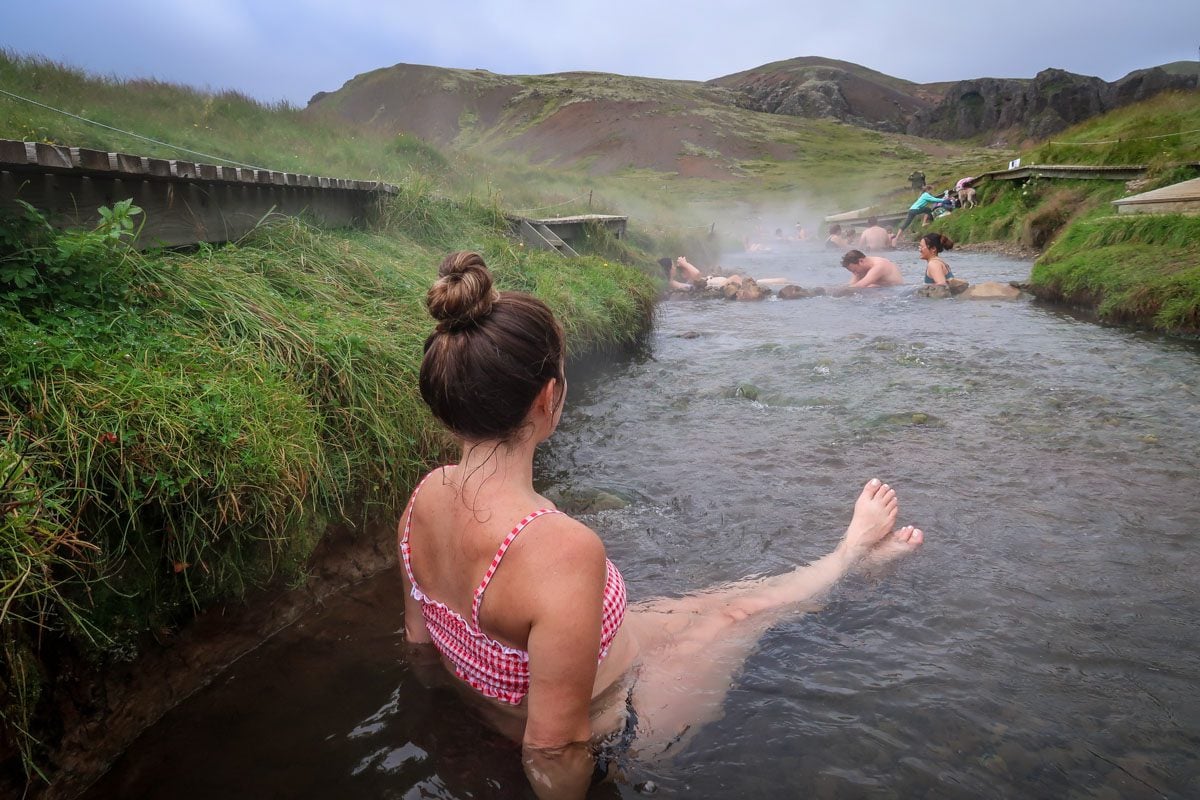 Head south towards Ring Road (Highway 1) and continue on towards Reykjavík for just under two hours.
Optional detour: If you didn't get a chance the previous day, instead of driving through the tunnel, take Highway 47 and drive around Hvalfjörður stopping to take photos along the way.
Once you're back on Highway 1, or if you've taken the tunnel to save time, continue on Ring Road for another hour or so until you reach the turn off for the tiny town of Hveragerði.
The hike to the Reykjadalur Hot Spring Thermal River is a 5-mile out and back hike with moderate elevation gain. It takes about 1 hour each way, so you'll want to plan about 3 hours for the entire experience.
This was one of our favorite hot spring experiences in Iceland and totally worth the trek in our opinion.
Read more about the hike and what to expect at Reykjadalur Hot Spring Thermal River in our round up of the best Iceland hot springs.
The hike begins at a paid parking lot in the town of Hveragerði. You can find it on Google maps just past this cafe which also makes a good bathroom stop before the journey.
Tip: After your hike, stop at Fjöruborðið for dinner. This seaside restaurant is known for langoustines, and it was one of our most memorable meals in Iceland! Definitely put this on your itinerary if you love seafood like we do!
Kerið Crater for Sunset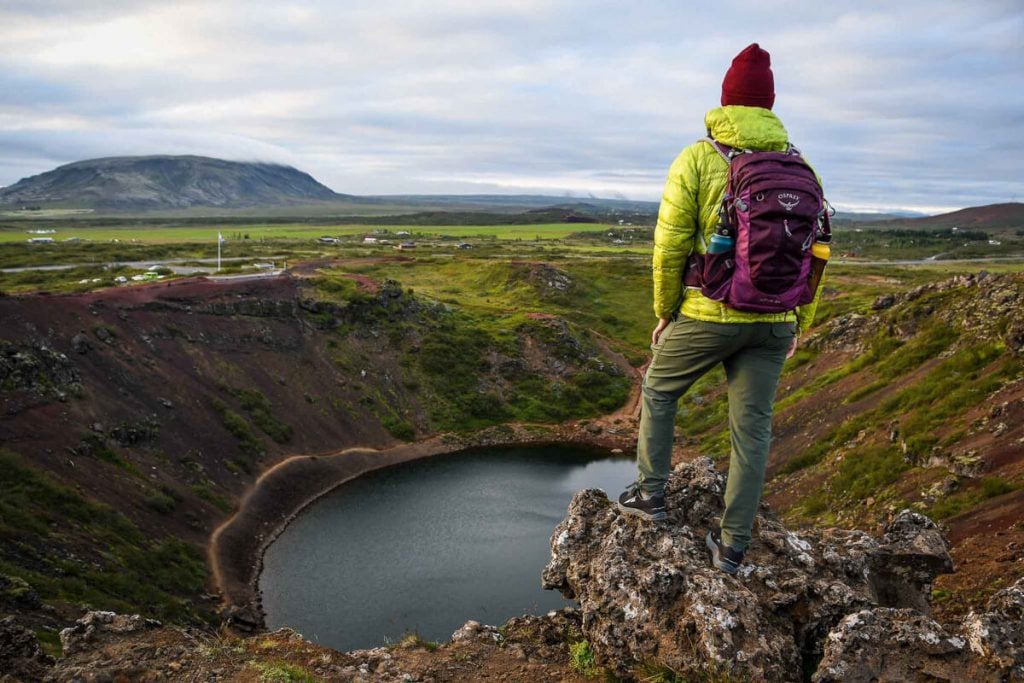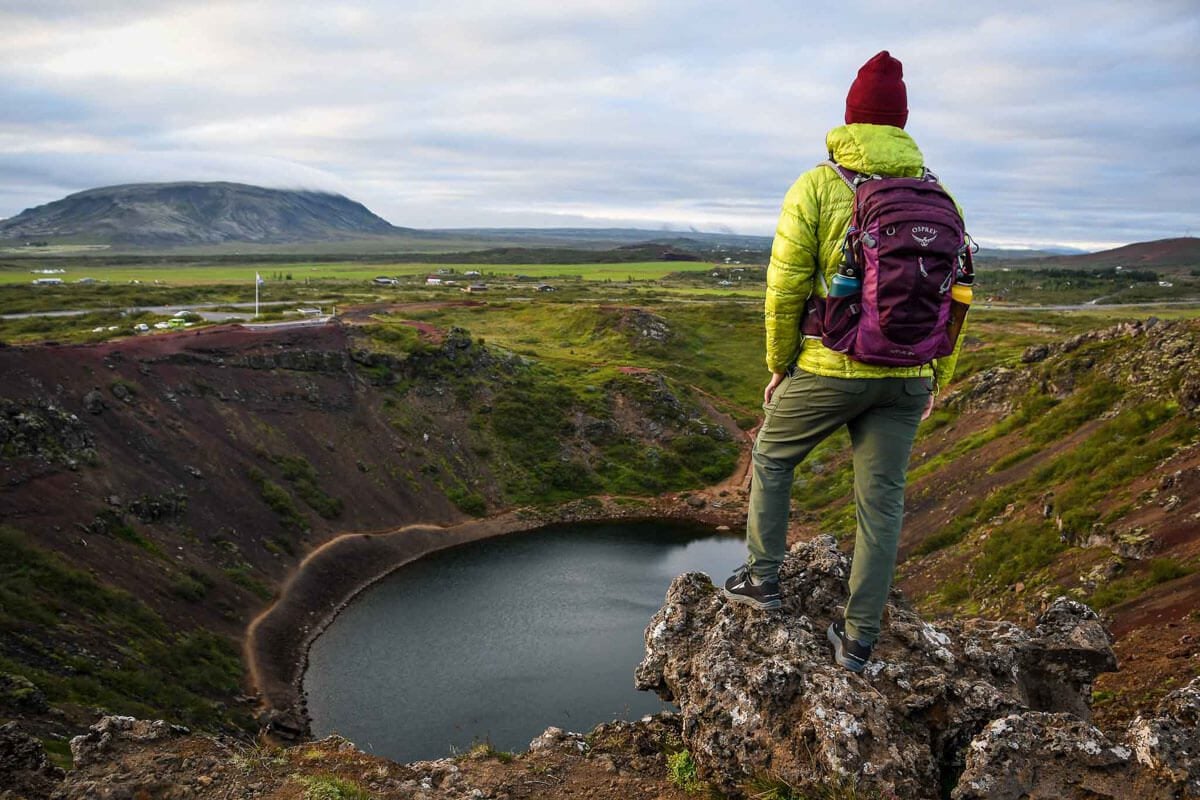 Depending on your timing and the time the sun is setting during your visit to Iceland, you'll want to plan this stop either before or after you stop for dinner (and remember to account for extra driving time if you decide to detour to Fjöruborðið).
Take Highway 35 north from Ring Road for about 13 km (or about 8 miles) to reach the parking lot for Kerið Crater. Note that while parking is free, there is a small entrance fee of 400 ISK (~$3 USD) per visitor that goes towards preserving and protecting the crater.
Picture an aquamarine lake sparkling inside a volcanic caldera flanked by red volcanic rock and bursts of lime green mossy accents. This shocking display of Mother Nature's artistry is one of the most colorful stops on our Iceland itinerary.
Take a very short hike up to the rim of the perfectly circular crater and walk the gravel trail that circles the rim. The walk is about 1 mile that shouldnt take you much more than half an hour in total, including stops for photos.
Where to stay: Thingvellir National Park campsites offer well-kept facilities with no reservations needed. Or you can book a nearby guesthouse such as the top-rated Héradsskólinn Historic Guesthouse.
Psst! Looking for some more ideas of romantic things to do? We've got you covered with our Iceland Honeymoon guide!
Day 3: The Golden Circle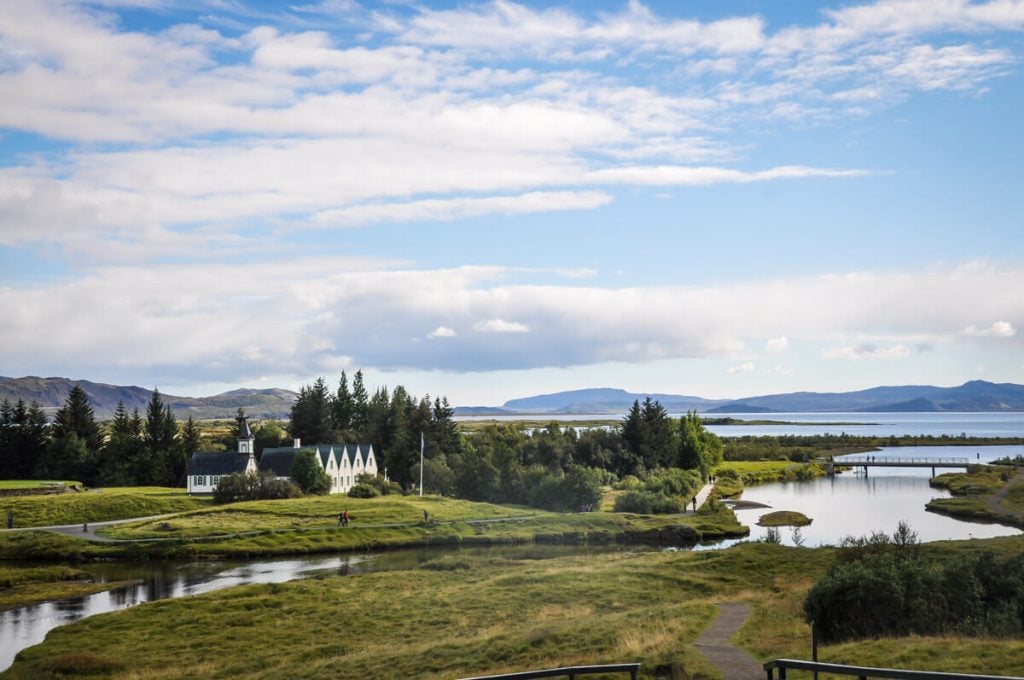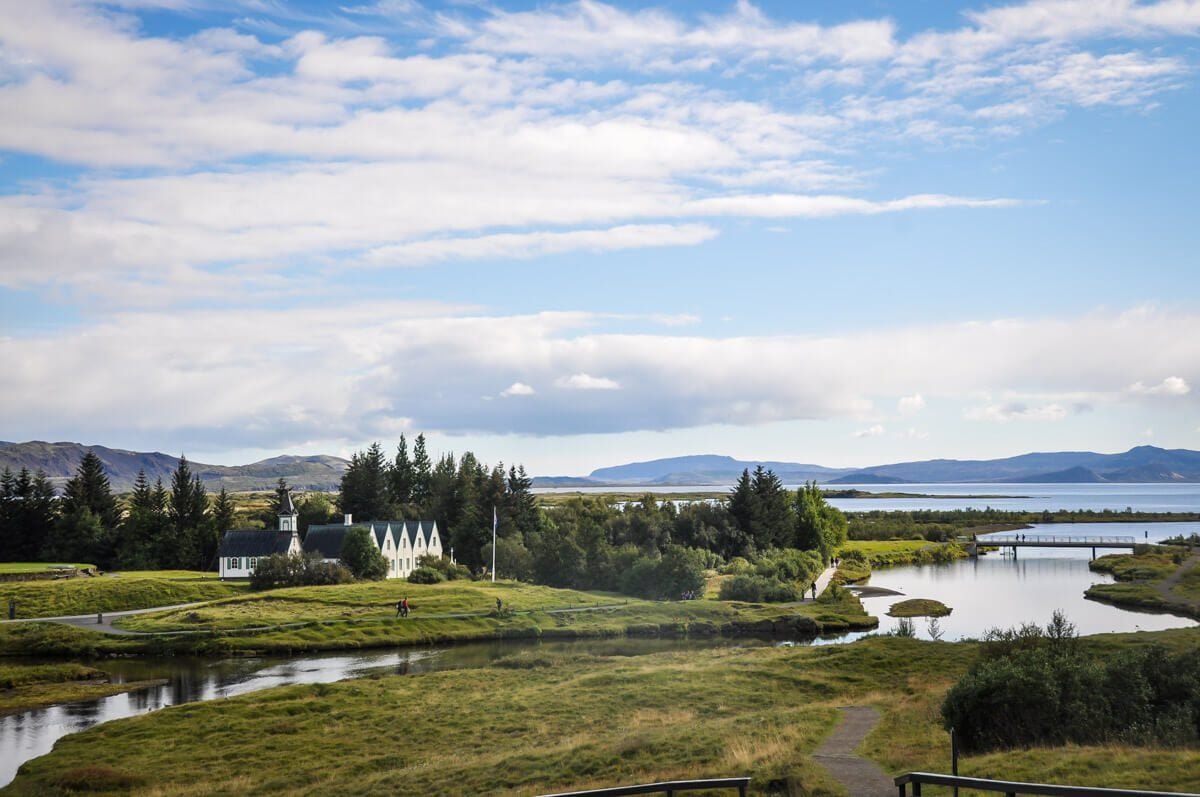 Day at a glance: Your choice of some combination of Thingvellir National Park, Brúarfoss falls, Lauvgarvatn Fontana Rye Bread Tasting, Geysir, Gullfoss waterfall, Faxi waterfall, Hrunalaug Hot Spring or Secret Lagoon, Gluggafoss Falls, and Seljalandsfoss waterfall at sunset
Approximate Driving Time: 4 hours
Approximate Distance Covered: 250 km
Almost everyone who has a few days in Iceland incorporates the Golden Circle in their itinerary, and for good reason. It's a condensed area that has many points of interest that attract thousands of people every year. You can get a more detailed look at all the things listed below in our Golden Circle Travel Guide.
You'll want to get an early start today because there are lots—and I mean lots—of activities to pack into your day. You may have to pick and choose a bit based on your timing and energy levels throughout the day.
Thingvellir National Park: The Continental Divide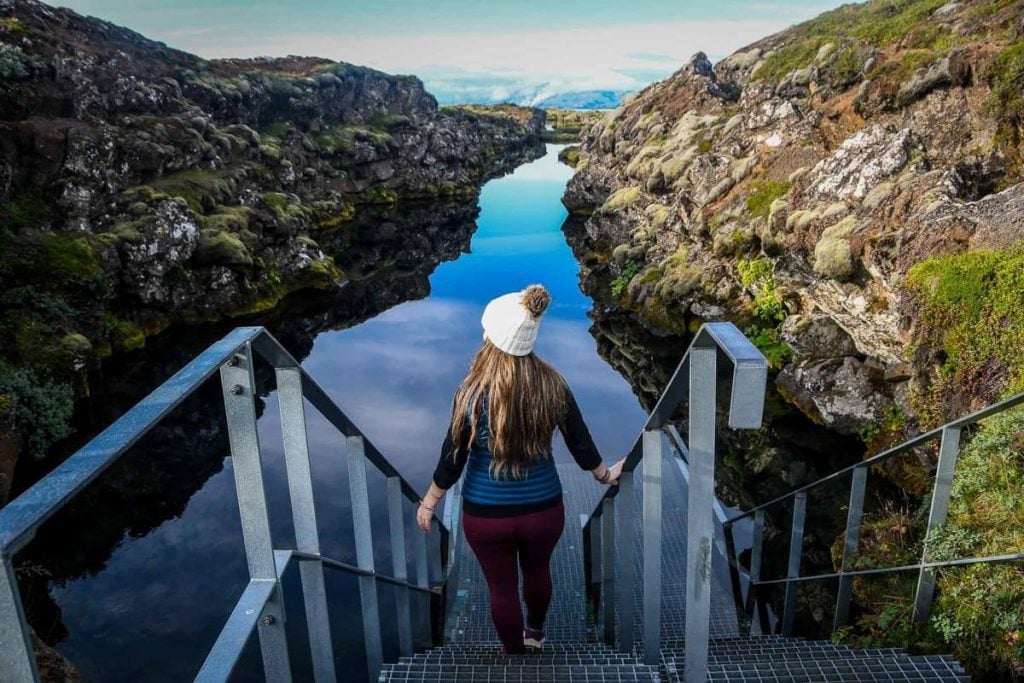 Thingvellir is Iceland's first National Park and the location where two continents meet. The park is full of easy walks, gorgeous waterfalls, unique geological formations, and rich Iceland history.
Your first stop of the day will be Þingvellir (Thingvellir) Visitor's Center. It's here that two tectonic plates, the North American and the Eurasian plates, are slowly drifting apart at a place known as the Silfra Fissure. Walk to the observation deck and look out over Þingvallavatn, the biggest lake in Iceland.
You might even get a glimpse at the people preparing to scuba dive between the two continental plates. Follow the path down the canyon that is formed due to the continental divide with North America on your left and Europe on your right. You can walk in the canyon for about 2 km and reach Öxarárfoss waterfall.
Brúarfoss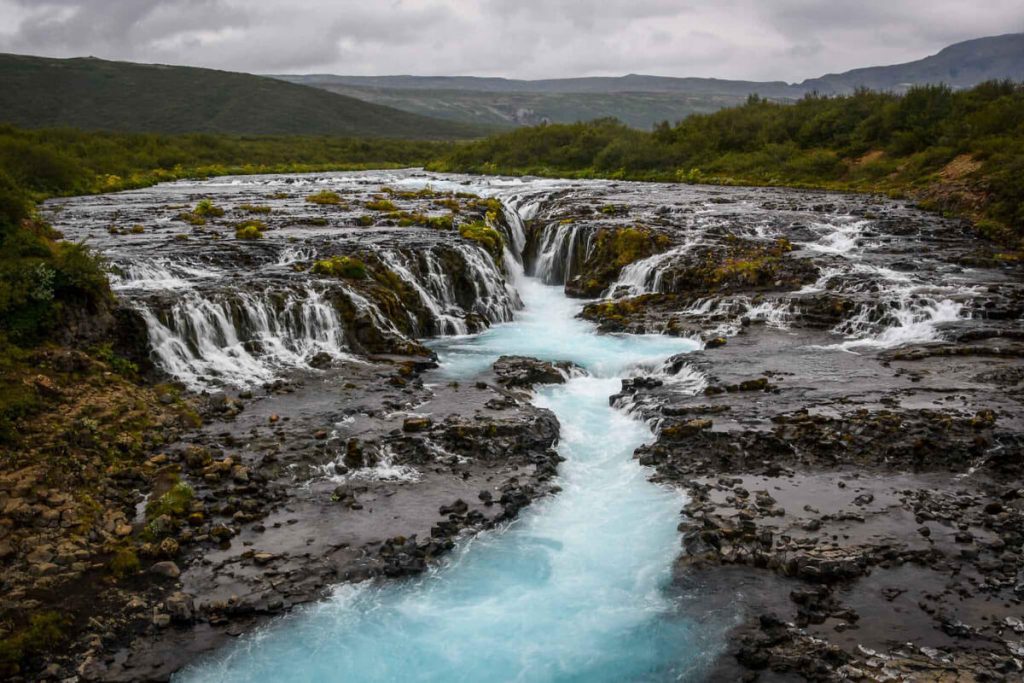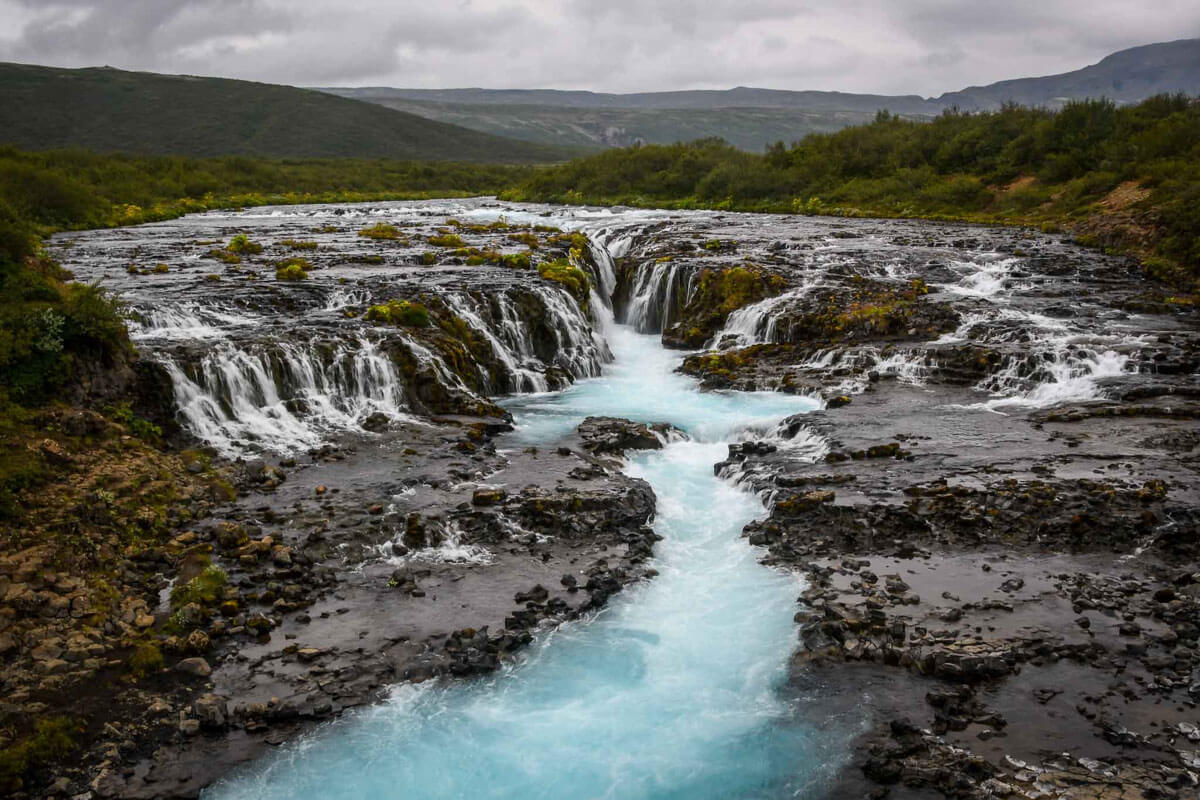 Known as the bluest waterfall in Iceland, this was an off-the-beaten-path spot on the Golden Circle we really enjoyed and highly recommend.
That being said, it's a 2+ hour round trip hike covering 7 km (but with relatively little elevation gain) to get to the falls. If you're pressed for time or just don't feel like walking too far from the comforts of your vehicle, you can go ahead and skip this stop.

Important note: There used to be a much shorter path to Brúarfoss, but it was on private property and has been closed due to tourists being disrespectful. Be sure to park in the proper lot (here's the location on Google Maps) and follow the path so you don't trespass.
You can read more about what to expect at Brúarfoss and all the falls listed in this itinerary in our guide to the best waterfalls in Iceland.
Laugarvatn Fontana Rye Bread Tasting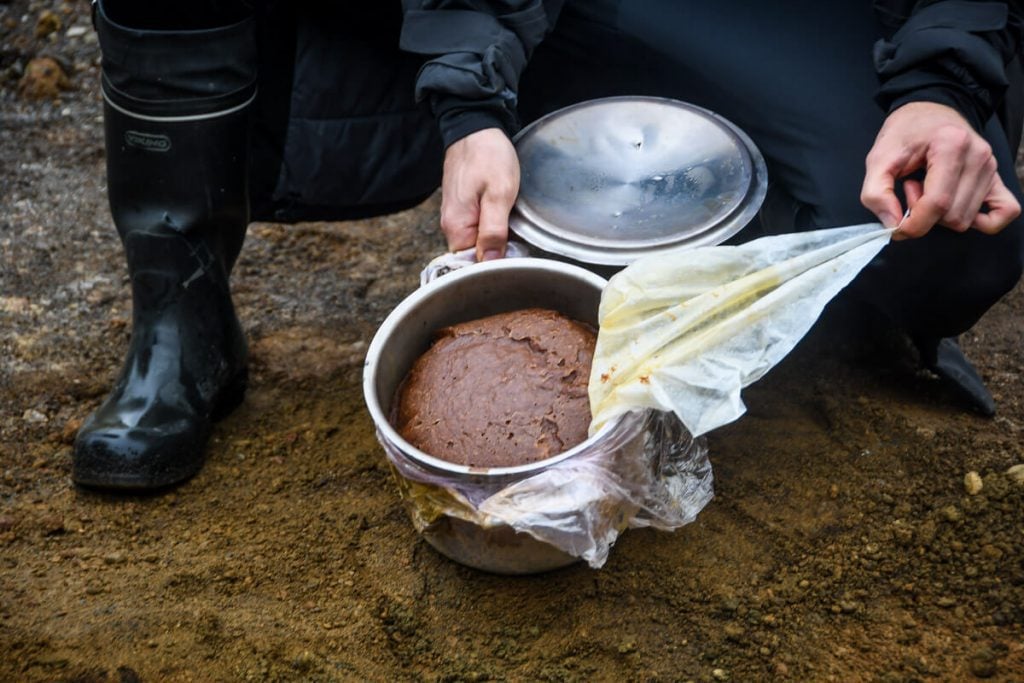 You may recognize this place from Zac Efron and Netflix's original series, Down to Earth. The Lauvgarvatn Fontana is best known for its lakefront thermal baths, but we opted to experience the geothermal energy in a different way on our trip: by tasting rye bread that has been baked underground with geothermal heat.
The Rye Bread Tour is just 30 minutes long and you'll learn about geothermal cooking while helping bury the bread that'll be tasted by visitors on the following day. During the tour you'll also unearth 2 large pots of rye that have been baking underground since the previous day.
The tour finishes up inside where you'll have ample opportunity to taste the Icelandic rye bread, which is one of our top foods you should try in Iceland.
Tip: Be sure to make a stop at nearby Efstidalur II Creamery for ice cream. Try the black licorice flavor ice cream, you'll thank us later!
Geysir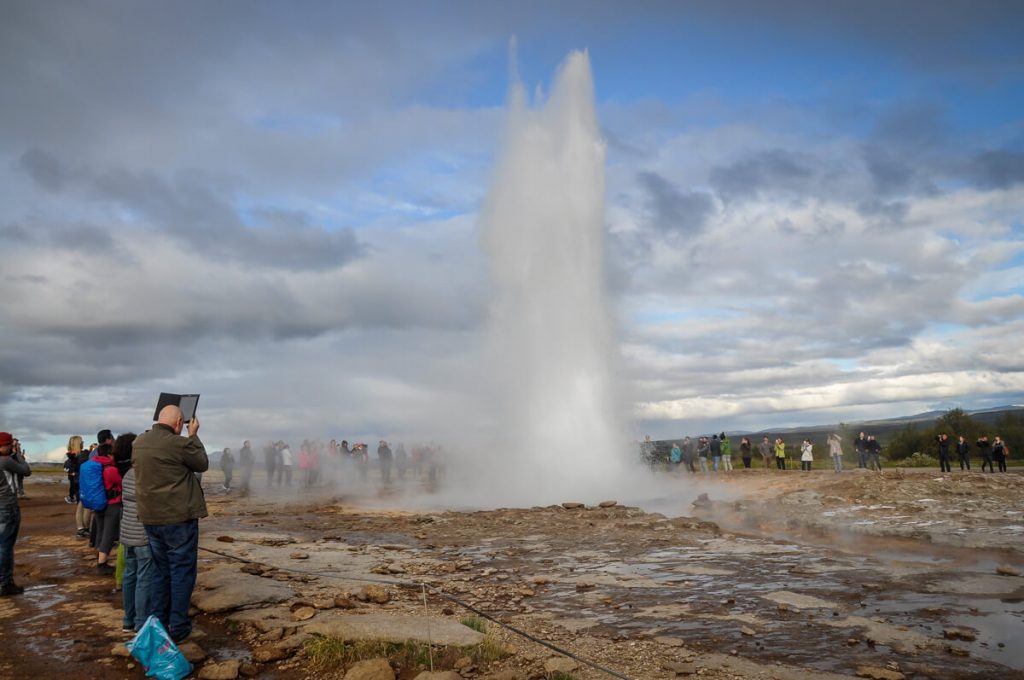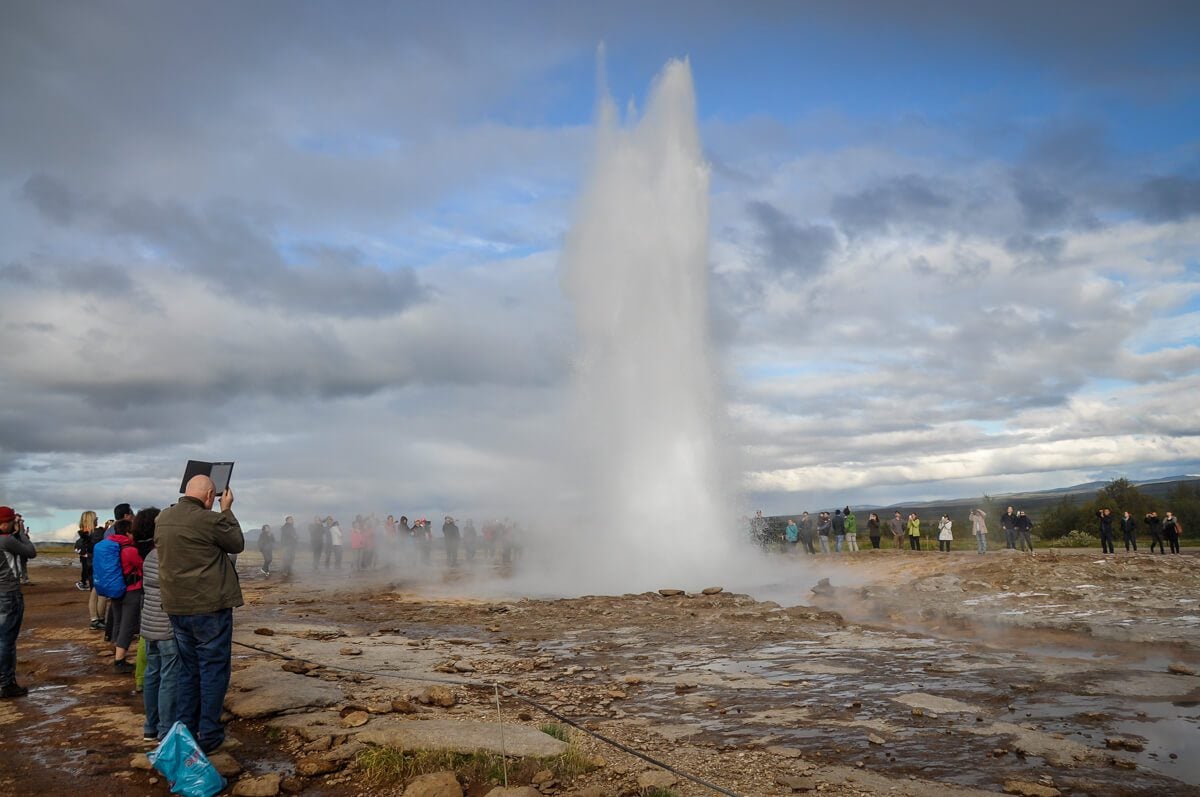 Another popular stop on the Golden Circle is Geysir, a natural geothermal area. While there were plenty of sulfur-scented steam clouds coming from boiling pools, the main attraction here is the Great Geysir.
People will wait around this giant hole in the ground guessing when the next explosion of water will occur shooting 50 meters in the air. (Hint: it happens about every 5-10 minutes.) The water is not too hot by the time it comes back down, just try not to get too soaked (Like we did! See picture above!).
Gullfoss Waterfall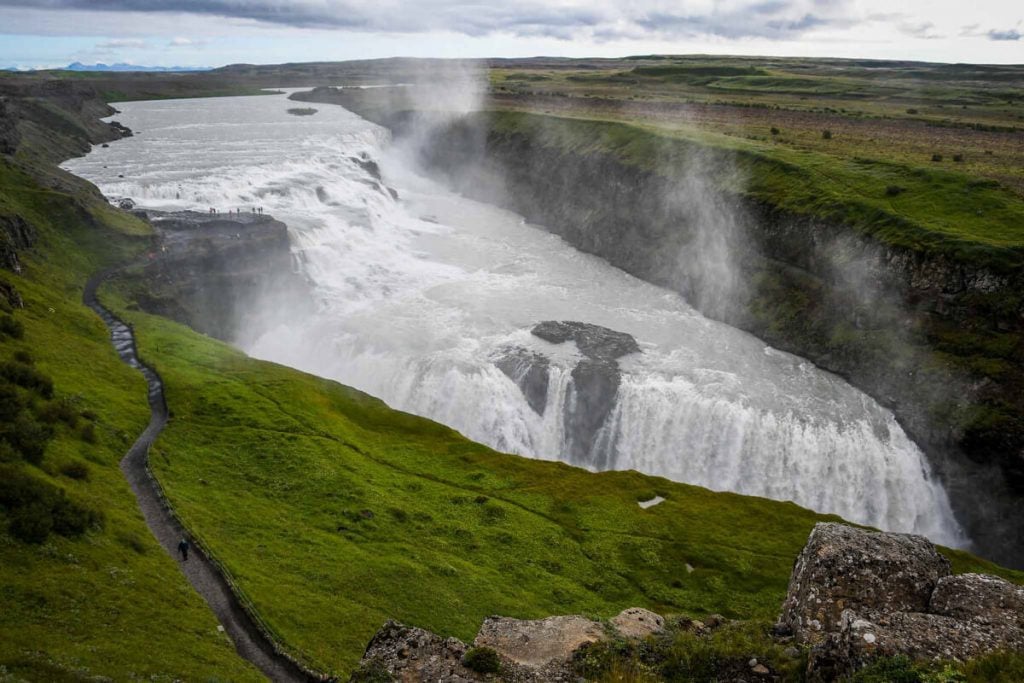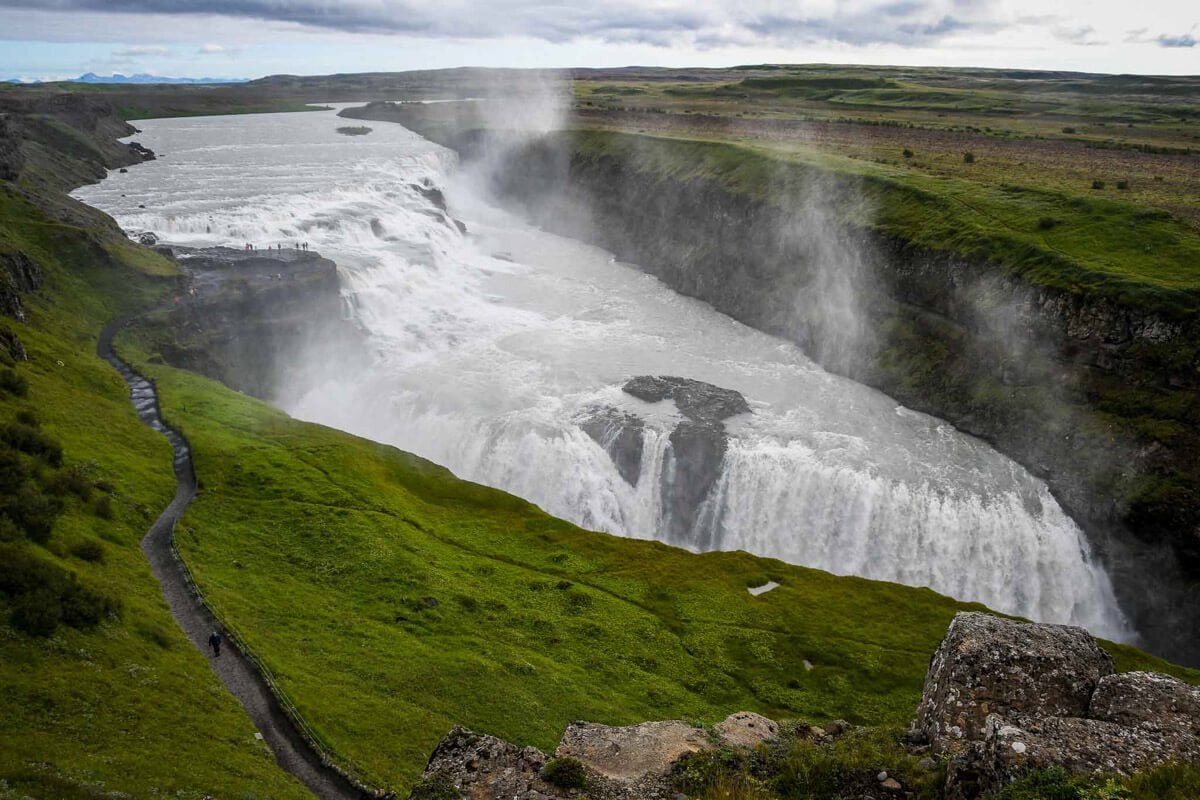 Continue driving up the road to the enormous Gullfoss Waterfall, Iceland's largest waterfall by volume. Walk to the top and middle sections of this two tiered waterfall with more water passing through it annually than Niagara Falls. You'll get wet because the mist over takes the paths so make sure to bring your rain jacket.
Don't hangout too long at Gullfoss, because you still have plenty more of the Golden Circle to see before your last stop. And trust me, you do not want to miss the sunset at Seljalandsfoss Waterfall.
Tip: Make a stop at Friðheimar Tomato Farm for a late lunch of bottomless tomato soup and gourmet bread served to you inside a greenhouse. This place is no secret so it's best you make a reservation ahead of time if you don't want to wait over an hour to get a table.
Faxi Waterfall
This lesser known waterfall on the Golden Circle may not be very tall, but it stretches all the way across the Tungufljót River in a powerful cascade. With far fewer visitors than it's more famous neighbor, Gullfoss, Faxi Falls makes a great quick stop for a peaceful moment and a photo opportunity without strangers getting in the way.
Hrunalaug Hot Spring or Secret Lagoon (choose one!)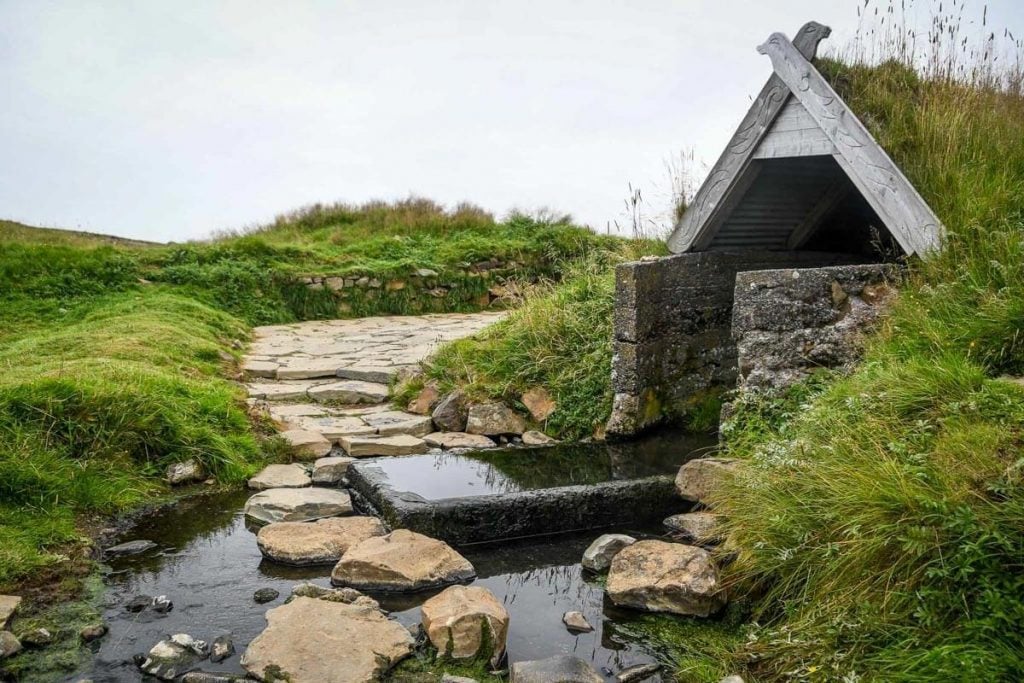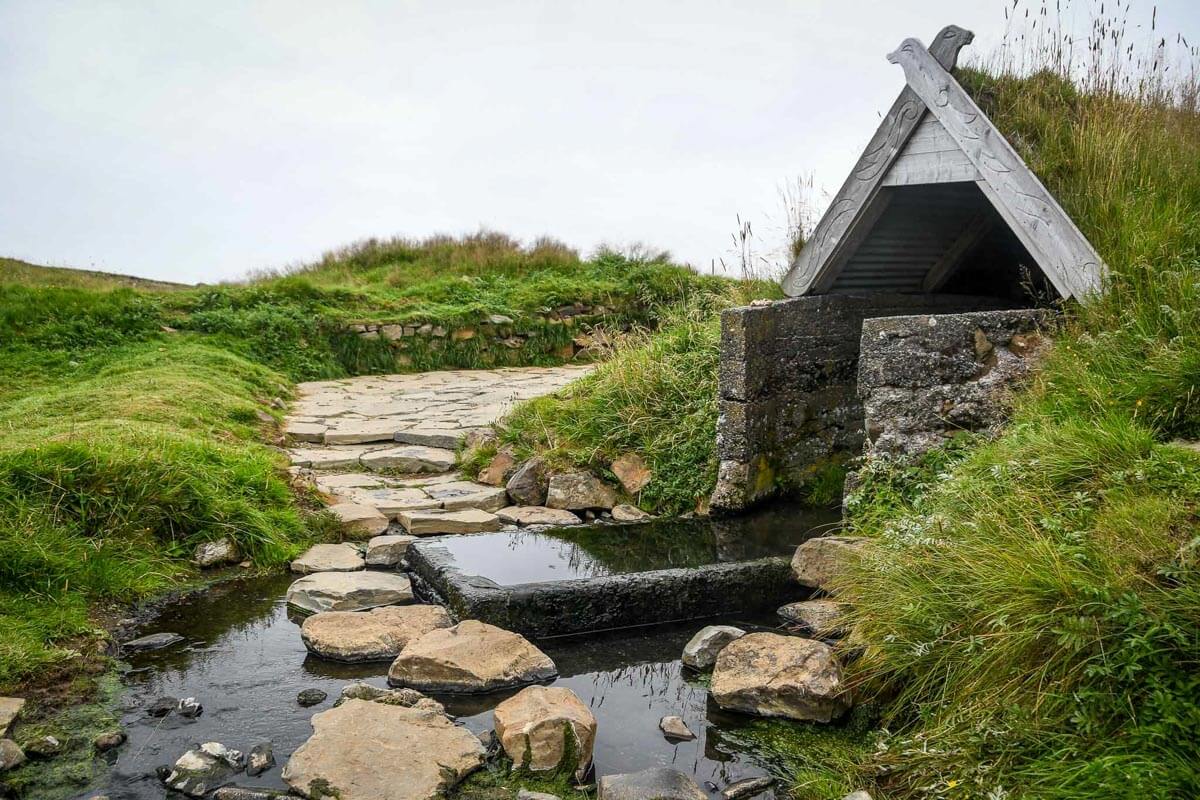 Hrunalaug Hot Spring looks like a scene straight out of the movie Lord of the Rings. With lush rolling hills and a quaint little changing room, you'll feel like you're actually in the Shire.
The hot spring is just a short walk from the parking lot and while it is open to the public, there is a small honesty box where the landowner requests 1,000 ISK ($8) per visitor to help maintain the area.
We stopped here after a long day of exploring the Golden Circle and really enjoyed a nice peaceful soak.
Contrary to the name, the Secret Lagoon is no secret. In fact, it's recommended that you make a reservation ahead of time to be sure you can get in. However, this natural pool will still be a lot less crowded than the more famous Blue Lagoon.
Said to be the oldest natural swimming pool in Iceland, entrance tickets cost 3,000 ISK ($23) per adult. Another good thing to note: While this place has no private shower stalls, it is expected that you shower naked (not in a swimsuit) prior to entering the pool and it is considered rude not to do this. Just wanted to warn ya!
Our recommendation: Though they are both very different experiences, unless you have lots of extra time (aka 2 full days for the Golden Circle), we'd recommend choosing either the Secret Lagoon or Hrunalaug Hot Spring.
Gluggafoss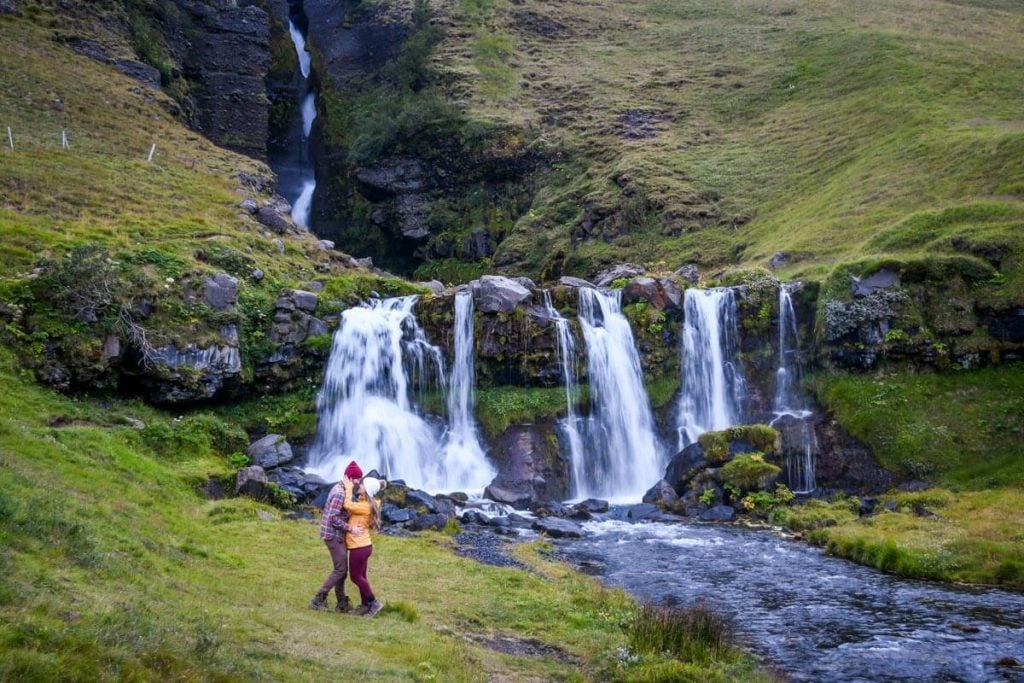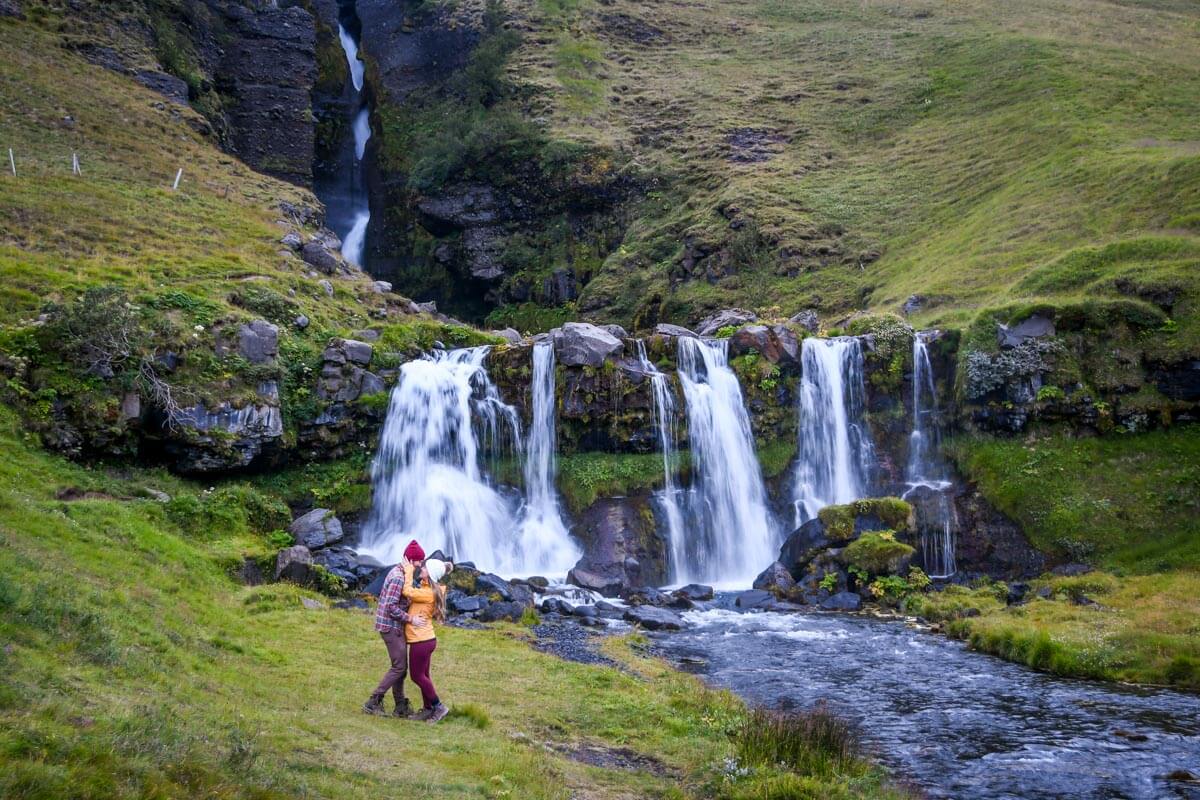 While this little-known waterfall is not on the Golden Circle, per se, it makes for a convenient stop on your way to the last waterfall of the day and your sunset destination.
Gluggafoss, which is sometimes called Merkjárfoss, is a very short walk from the small car park, and if you're lucky like we were, you may even have it completely to yourself.
There are two tiers at this waterfall. Walk up the short set of stairs to get a better view of the falls, or hike up to the top of the lower tier for a better view of the upper tier. And you can take pleasure in the fact that you're seeing a place that most tourists never see.
Seljalandsfoss Waterfall at Sunset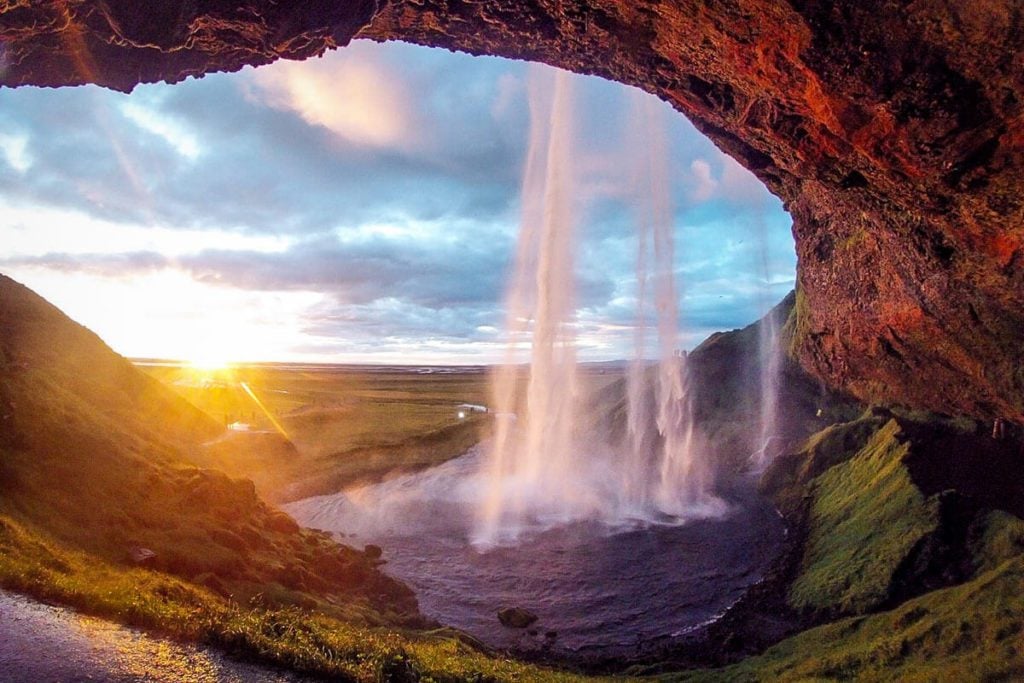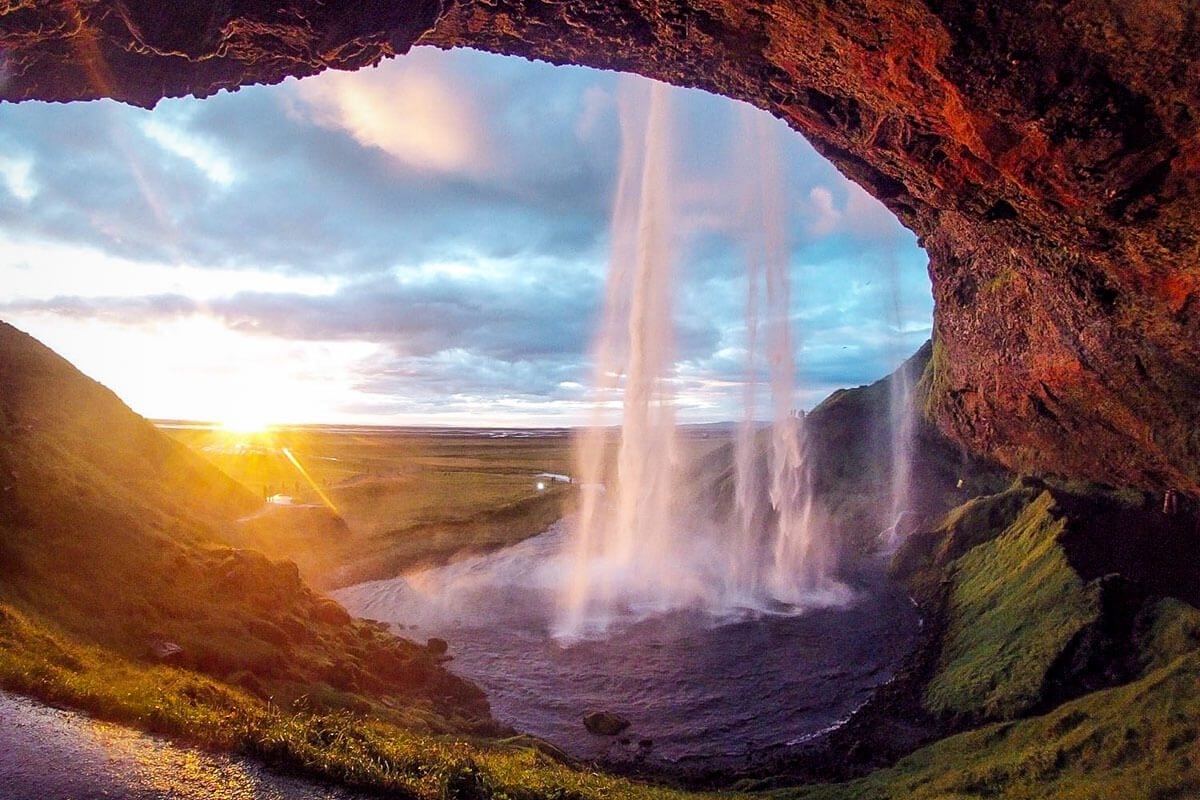 Head back to Highway 1 Ring Road and continue east toward Vík for about 55 km until you find an incredible waterfall tumbling over the huge rock wall. Sunset at Seljalandsfoss is the best time to be there because the water shines like liquid gold.
What makes it unique is you can walk all the way behind the falls, right up against the green moss and the tan rock face for some incredible pictures. Stay until the sun has fully disappeared behind the horizon and then the gold turns sadly back into clear water.
Note: Like we said, sunset (on a clear evening) is the absolute best time to be at this waterfall. We were there in the morning and again in the afternoon, and neither were nearly as impressive. Plan ahead and look up what time the sun sets on the day you plan to be there.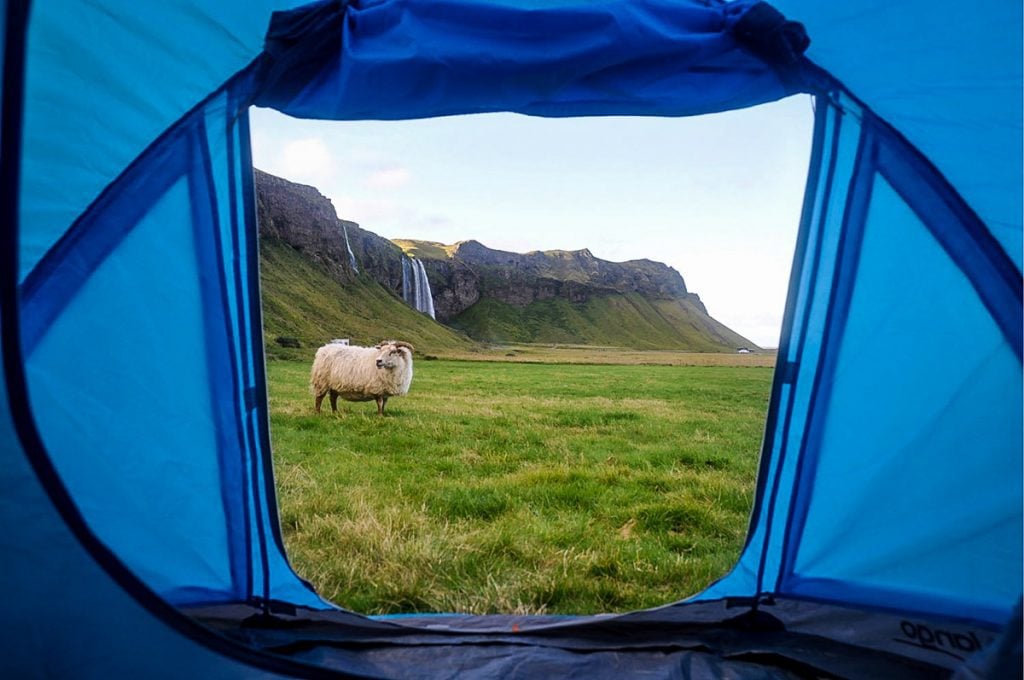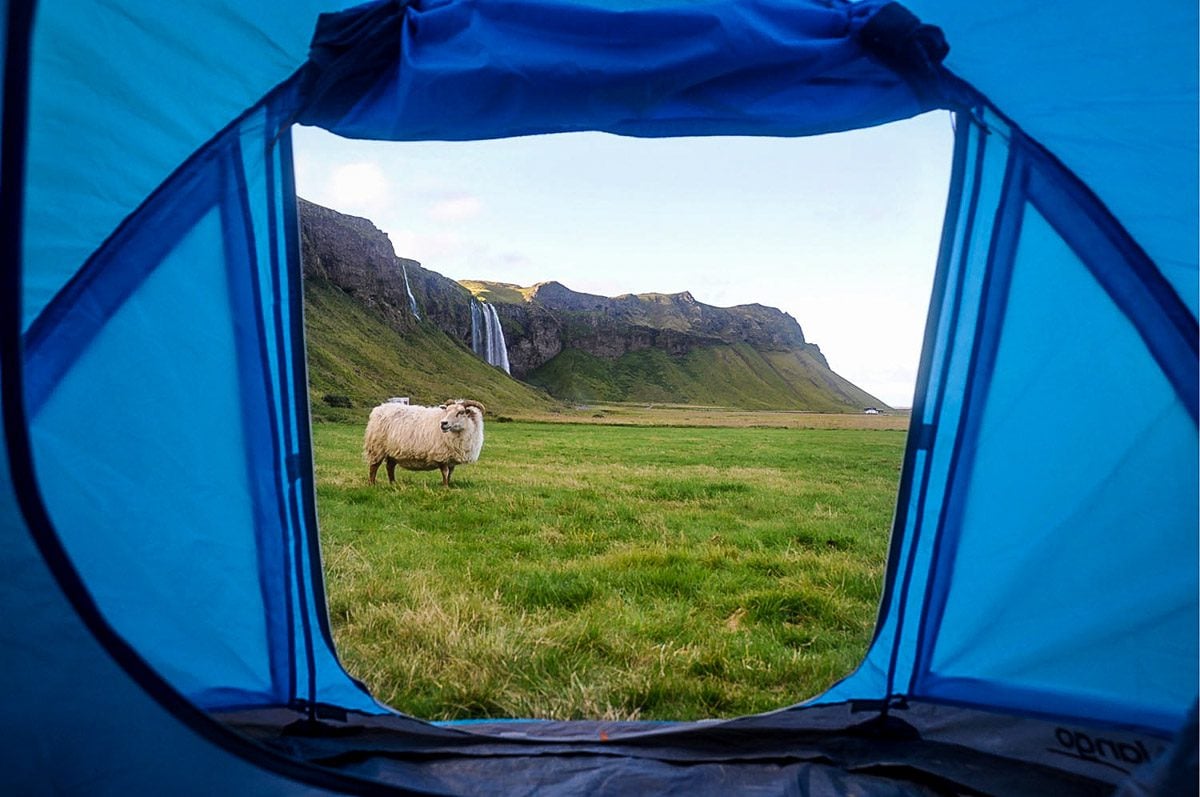 Where to stay: Hamragarðar Campsite is just 500 meters down from Seljalandsfoss waterfall and a convenient place to stay for the night. It's fully equipped with bathrooms, showers and even has a gift shop. There's plenty of space here so you don't have to worry about being close to your neighbors.
We pitched our tent so the opening faced the waterfall and fell asleep to the splashing water. It was pretty incredible to wake up to the sight of the waterfall and grazing sheep right outside our tent!
If you are not planning on camping during your Iceland trip, you can stay at a nearby guesthouse like Sólheimahjáleiga Guesthouse, or Hótel Skógafoss, both of which are within 30 minutes from Seljalandsfoss, further down Highway 1.
Day 4: More waterfalls, an abandoned plane, and spectacular views
Day at a glance: A local swimming pool, Skógafoss Waterfall, Sólheimasandur plane crash, a black sand beach with puffins and a lava show in Vík.
Approximate Driving Time: 1.5 hours
Approximate Distance Covered: 100 km
If you thought yesterday was packed full of sites, wait until you see what's in store for today. It may not seem like a lot of driving, but there are some pretty epic things packed into today and it will definitely take you all day. Plan to leave your campsite at the latest by 8:30 – 9 a.m.
Gljufrabui Waterfall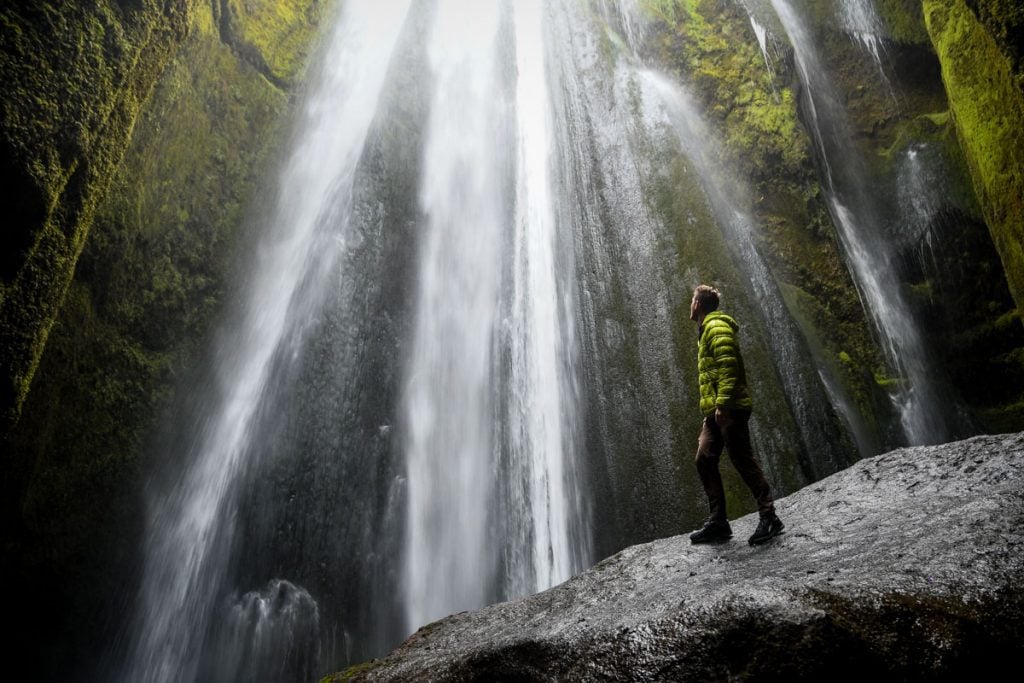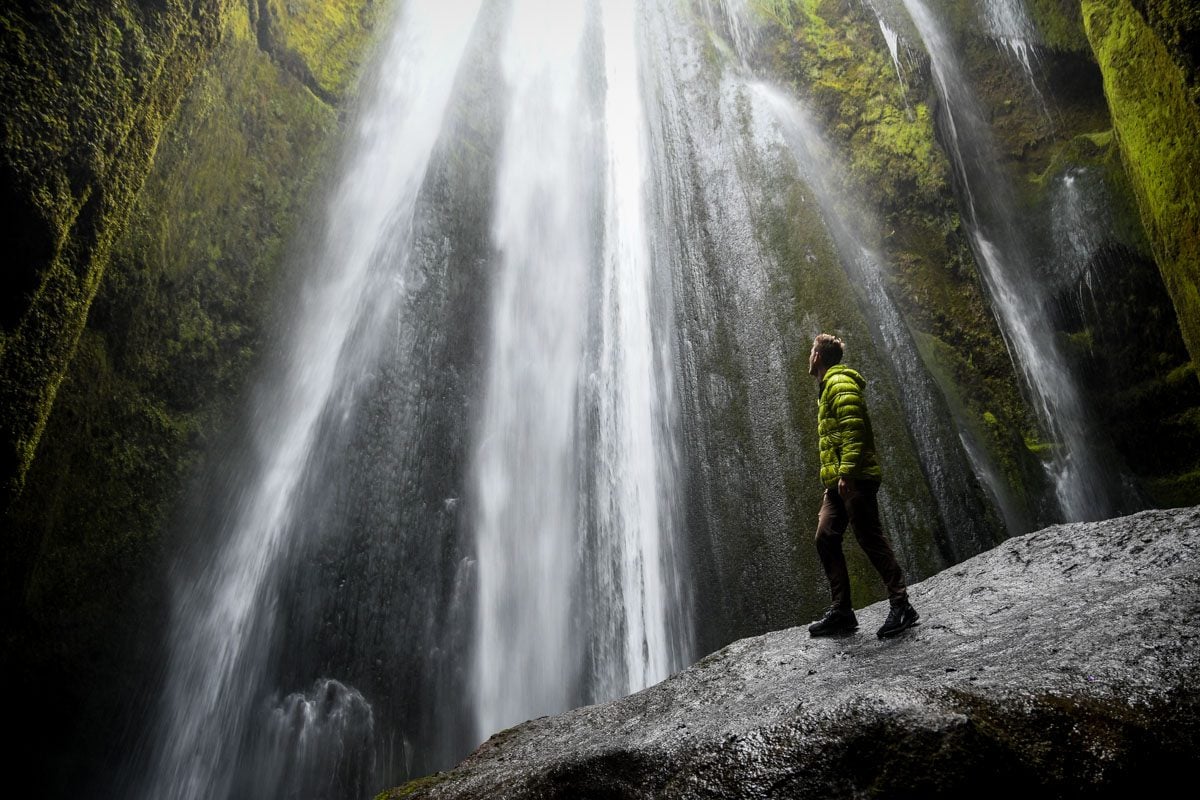 First things first, a visit to Gljufrabui Waterfall in the morning is a must if you've spent the night at Hamragarðar Campsite. Nestled inside a hidden canyon, steps from the campsite, this is another waterfall many visitors miss, even when they are right there visiting Seljalandsfoss next door.
You'll have to walk over some boulder and possibly through some water to get into the crowded canyon, so you'll want to be sure to wear sturdy hiking books. But the walk is short and the reward is a beautiful falls seemling coming out of nowhere which makes for a great photo op.
We recommend heading out first thing in the morning and leaving your tent or campervan at the campsite, then going back for breakfast before hitting the road before 9:00 a.m.
Seljavallalaug Swimming Pool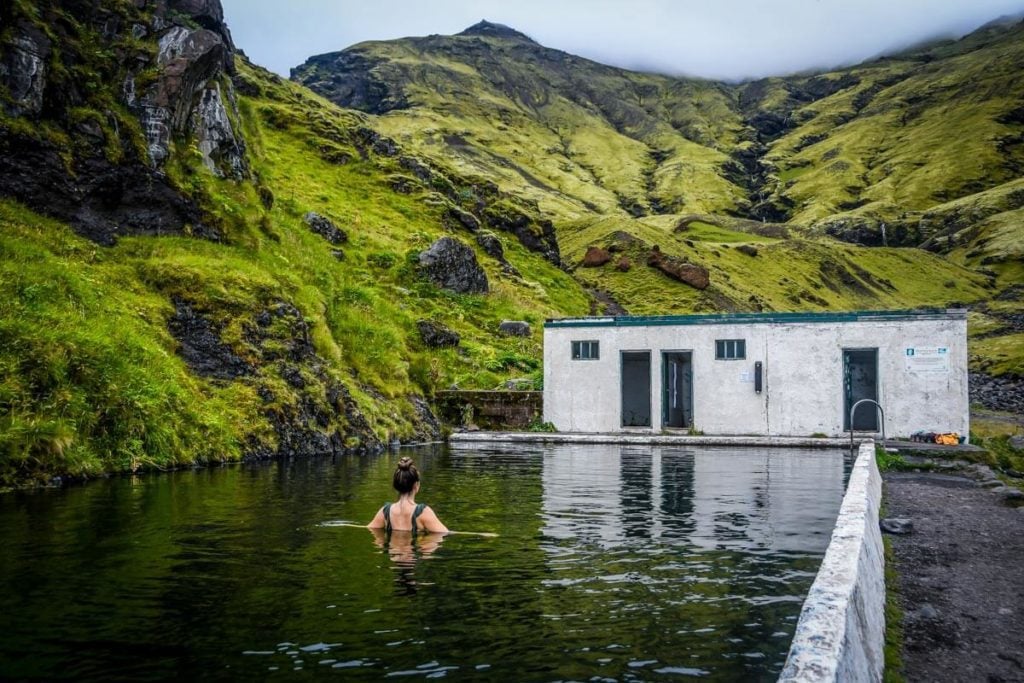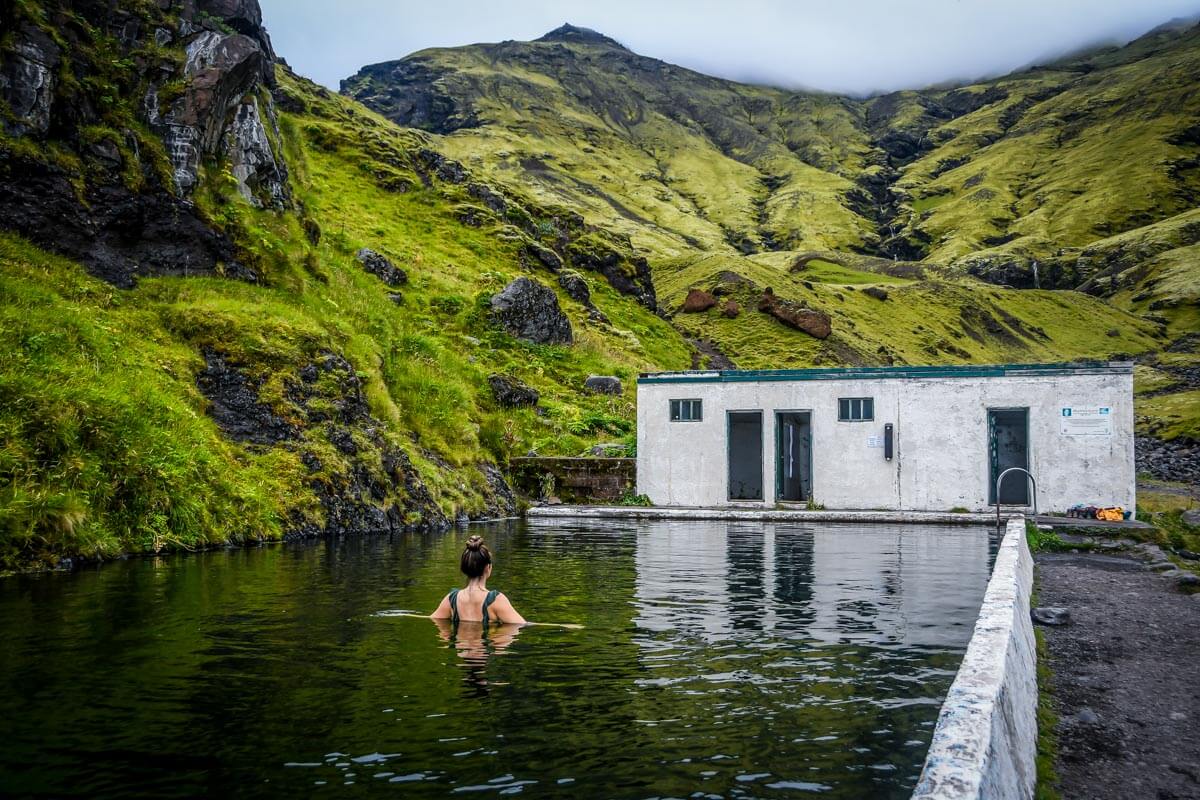 Only 2.5 km from Ring Road and a 20-minute walk from the parking lot, the Seljavallalaug swimming pool is a hidden local spot we'd recommend visiting if you're up for a bit of an adventure, or if you're looking for an alternative to visiting the more expensive Blue Lagoon.
This free open-air swimming pool was built in 1923 to teach local fishermen how to swim. A natural hot spring trickles off the hill straight into the 25-meter long pool.
Today it has a couple simple changing rooms and we read it's serviced once a summer to have the algae removed. The pool's temperature was warm with hotter water poured into the deep end.
I think the only downside is the water is not crystal clear. It's more like murky lake water and we joked it should be named the "Green Lagoon". I had some algae stuck to my suit when I got out, but I was able to scrub it off when my suit dried. However, you could not ask for a better atmosphere.
The pool is located in a beautiful green valley with numerous streams rolling down the surrounding hills. And with only 5 other couples in the pool, there's plenty of space for everyone to relax.
How to get there: From Hamragarðar Campsite to Seljavallalaug swimming pool, you'll drive 22 km east on Ring Road to Highway 242 and turn left (this highway is a semi-circle, so you have to take the first left turn for Highway 242, but if you miss it, you can double back at the second left turn).
Drive for about 1 km north on Highway 242 and when the road turns right, you should continue going straight following the dirt road. Be careful because there are many potholes on this gravel road, but continue for about 1.5 km until you can't go any farther.
There should be a parking lot here. There will be a flat path heading north into the valley which you will walk for about 20 minutes until you reach the swimming pool.
We have a complete guide to visiting Seljavallalaug swimming pool with all the other information you should know.
Skógafoss Waterfall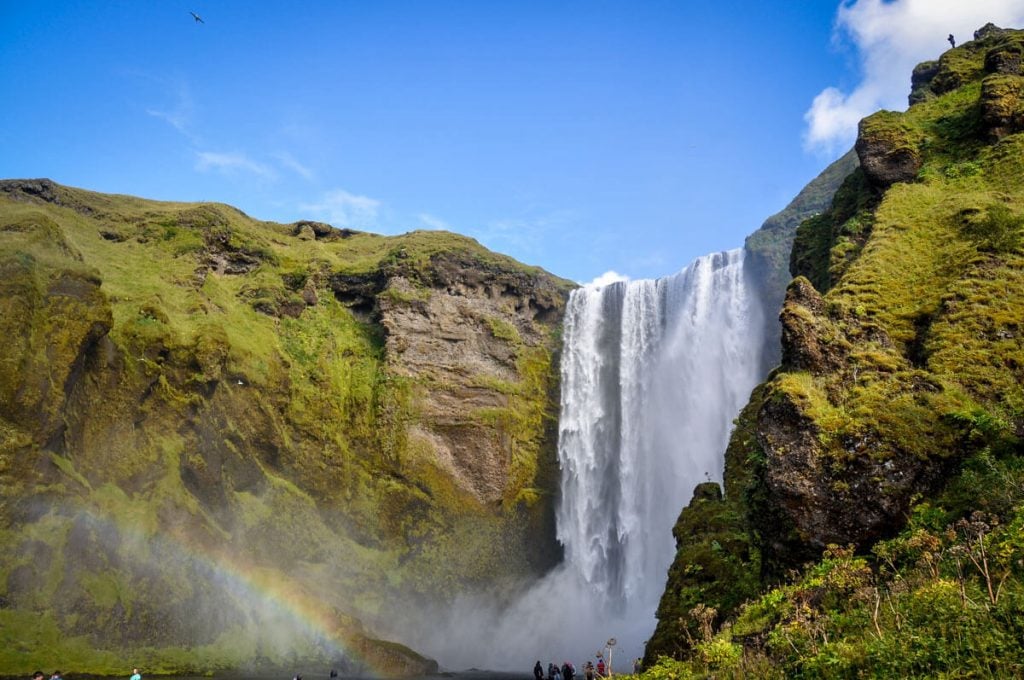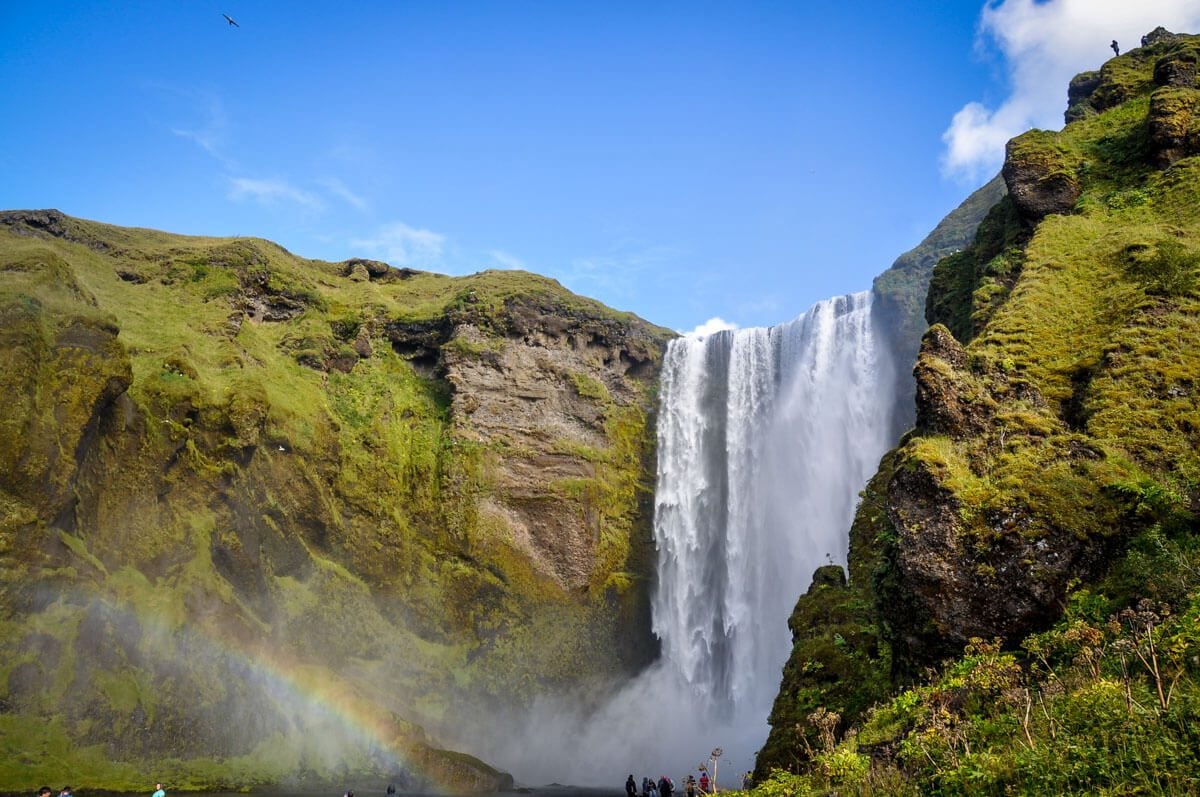 The second waterfall stop of the day is at Skógafoss Waterfall. Be sure to walk right up the bottom of this astounding 200-foot waterfall. There is a short staircase trek up to the top of the falls where you can typically see rainbows because of all the mist.
This is also the start of Iceland's famed Fimmvörðuháls hike. It's a single-day hike that takes you past 26 waterfalls, over snowfields, lava fields and glaciers and is quite possibly one of the best day hikes we've done in the world!
If you have an extra day, we'd highly recommend planning this hike into your itinerary. If you're pressed for time and want to stick to our 7 day Iceland itinerary, you can see tons of waterfalls at the very start of the hike. Just follow the trail along the Skoga River for as long as you'd like and then double back to the base of Skógafoss when you're ready to be on your way.
Kvernufoss Waterfall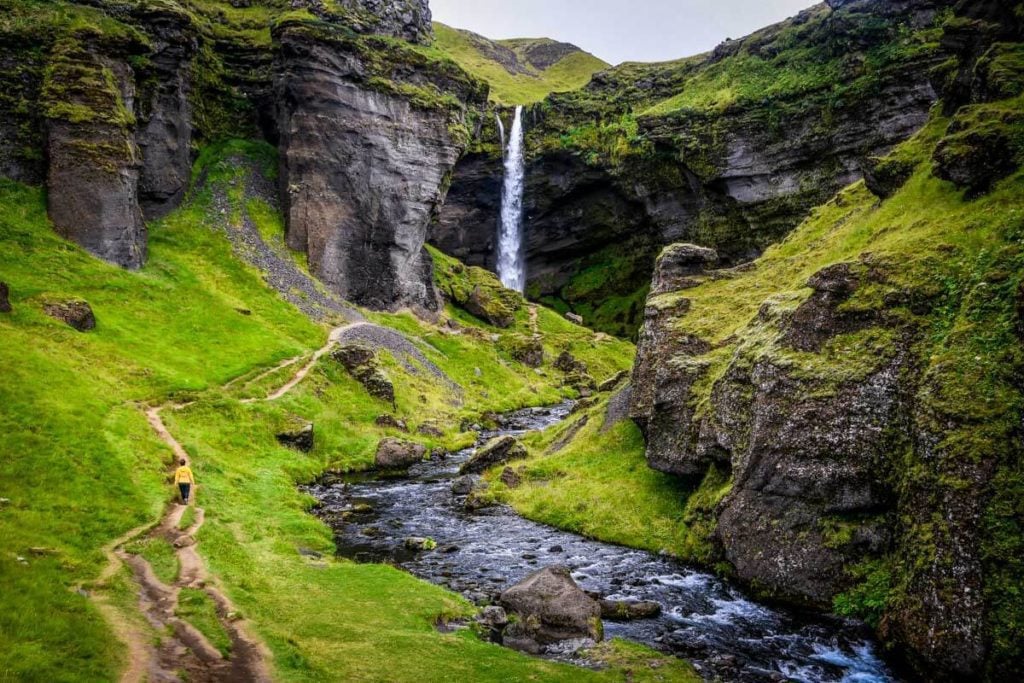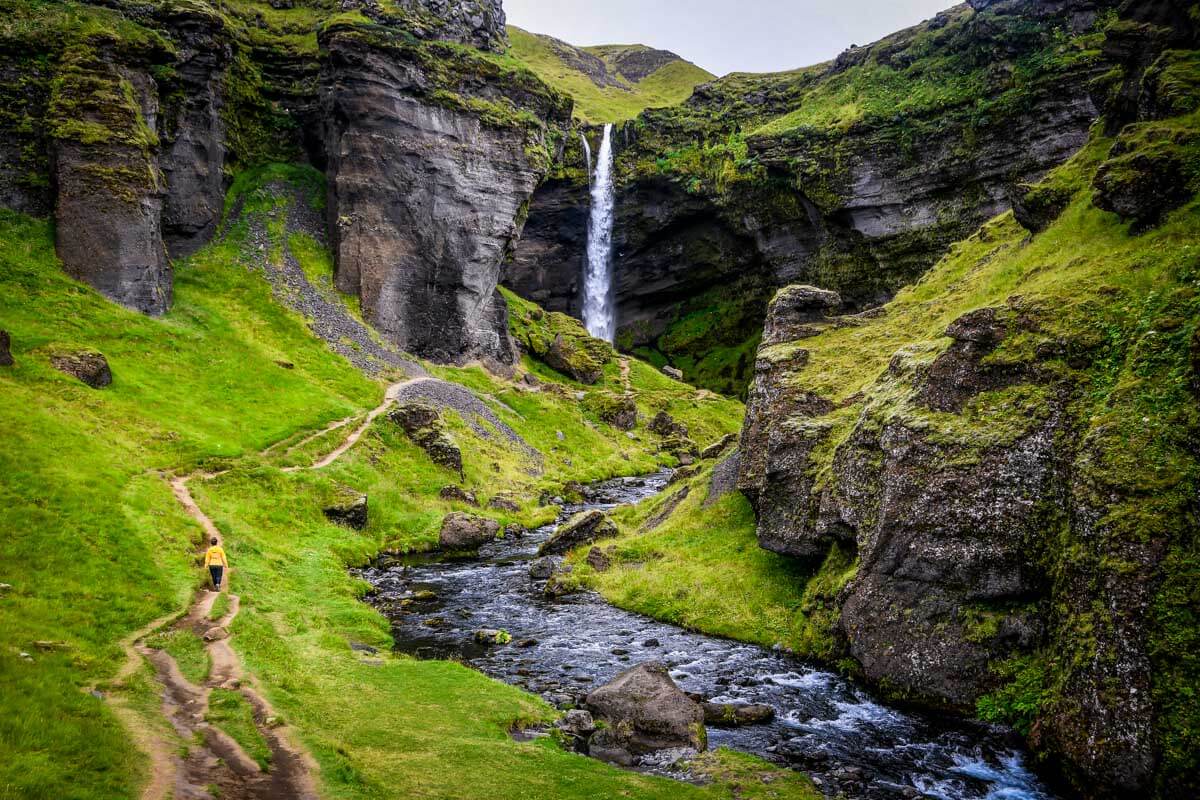 Not too far down the road from Skógafoss, many visitors miss this hidden waterfall because they simply don't know of its existence. This was what happened to us on our first trip to Iceland, but lucky for you, we found this gem the second time around.
To find the falls you can park in the lot at the Skogar Museum. There are signs toward the back of the parking lot for this trail, and a place to pay for parking. Stay on the trail for a quick 15-minute walk and you'll be rewarded with views of this stunning waterfall from a small canyon.
Sólheimasandur Plane Crash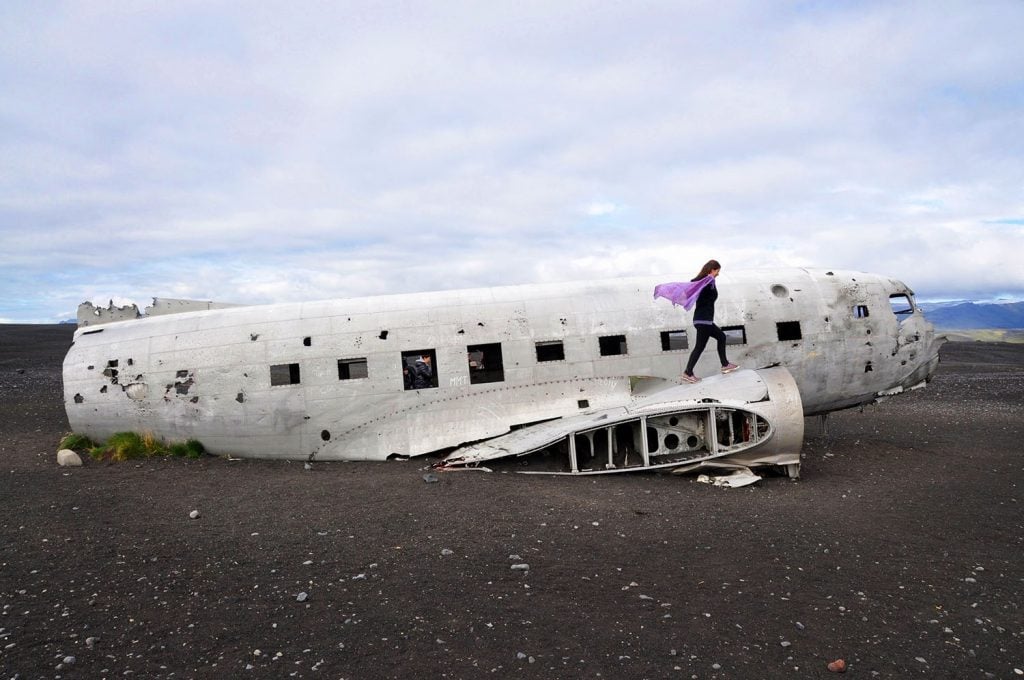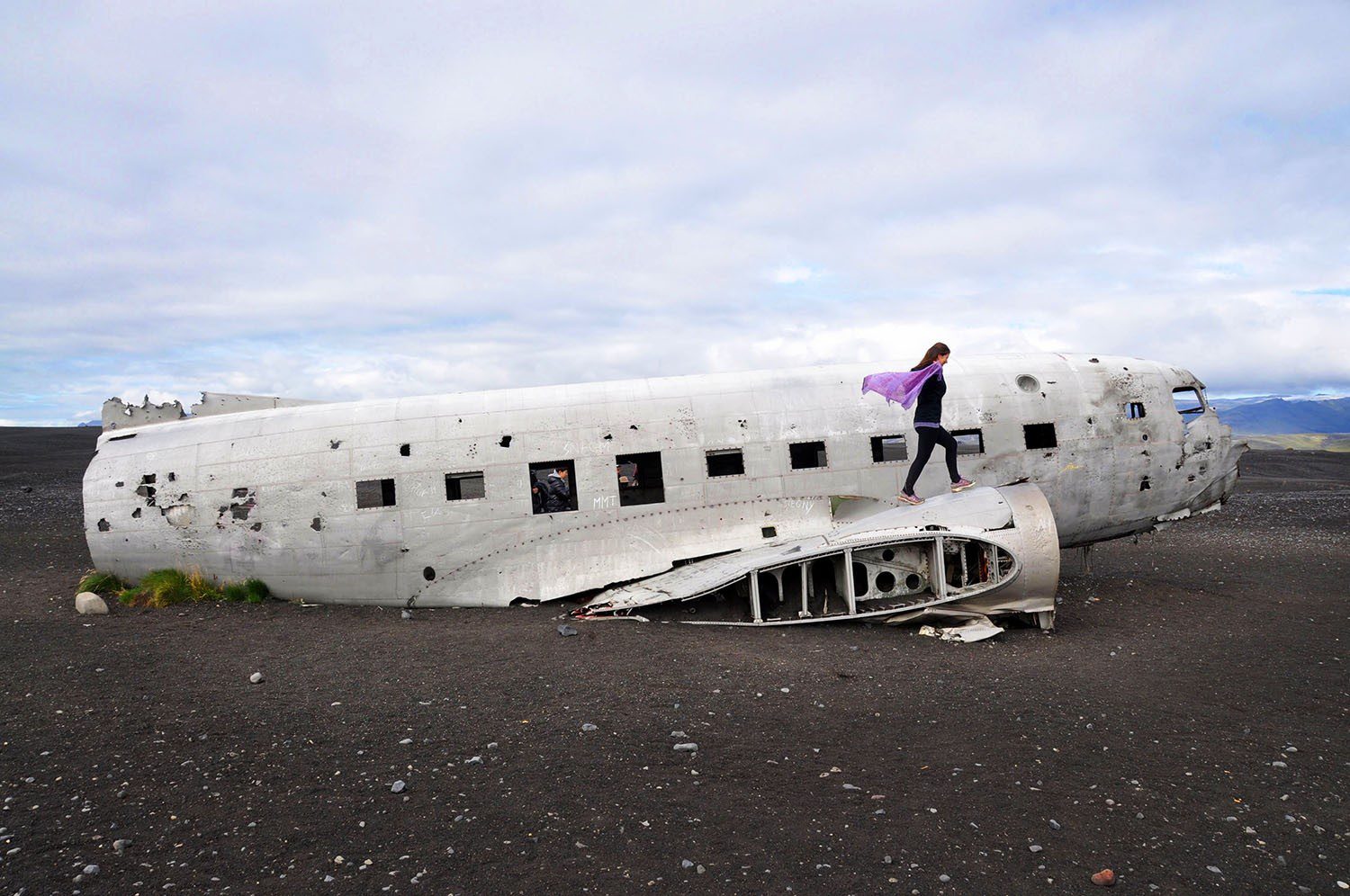 The next stop is quite unusual but surprisingly popular among tourists. In 1973 a U.S. Navy airplane crash landed on the beach of Iceland's southern coast. Instead of removing the plane's shell, it was just abandoned.
Today you can still visit it, but you'll have to be ready for a hike because there are no roads to the crash site. There is a parking area right off of Highway 1, and from there it's a deceivingly long 40-minute flat walk through the sand to the plane.
Once you're there, it's pretty cool and kind of eerie.
You should plan about 2.5 hours into your schedule to visit this plane crash.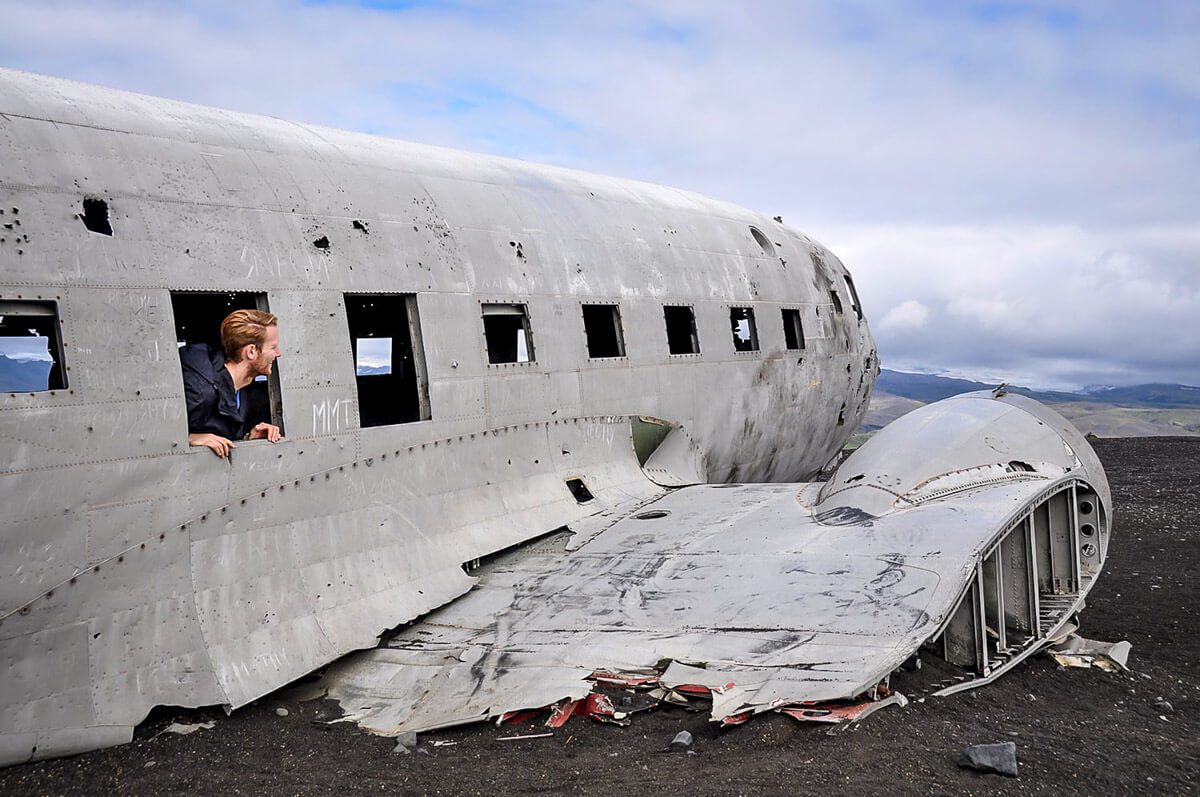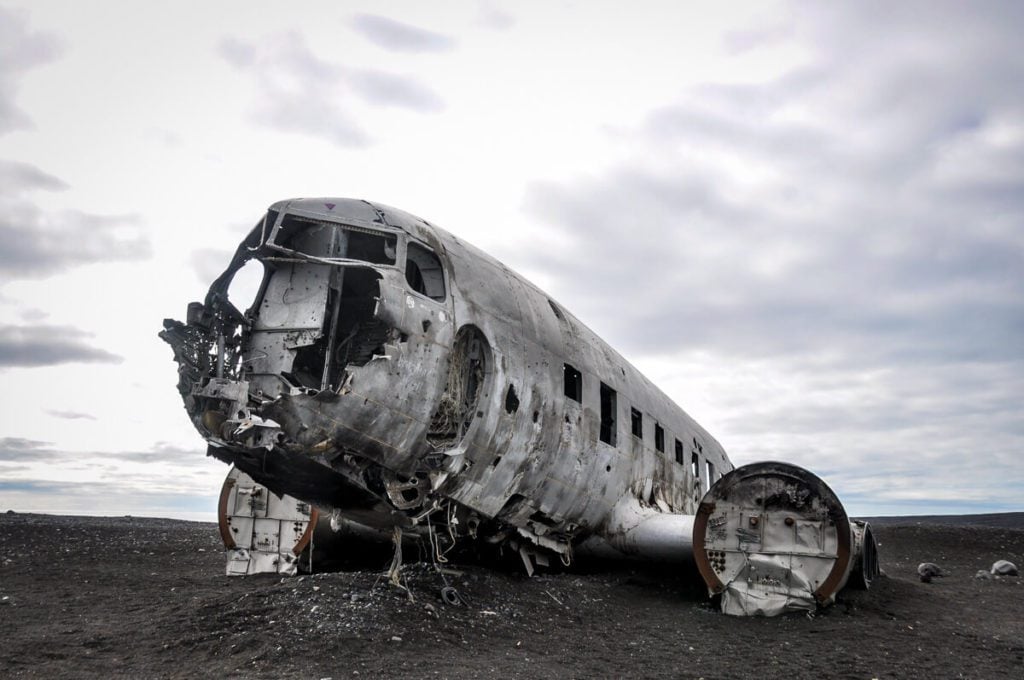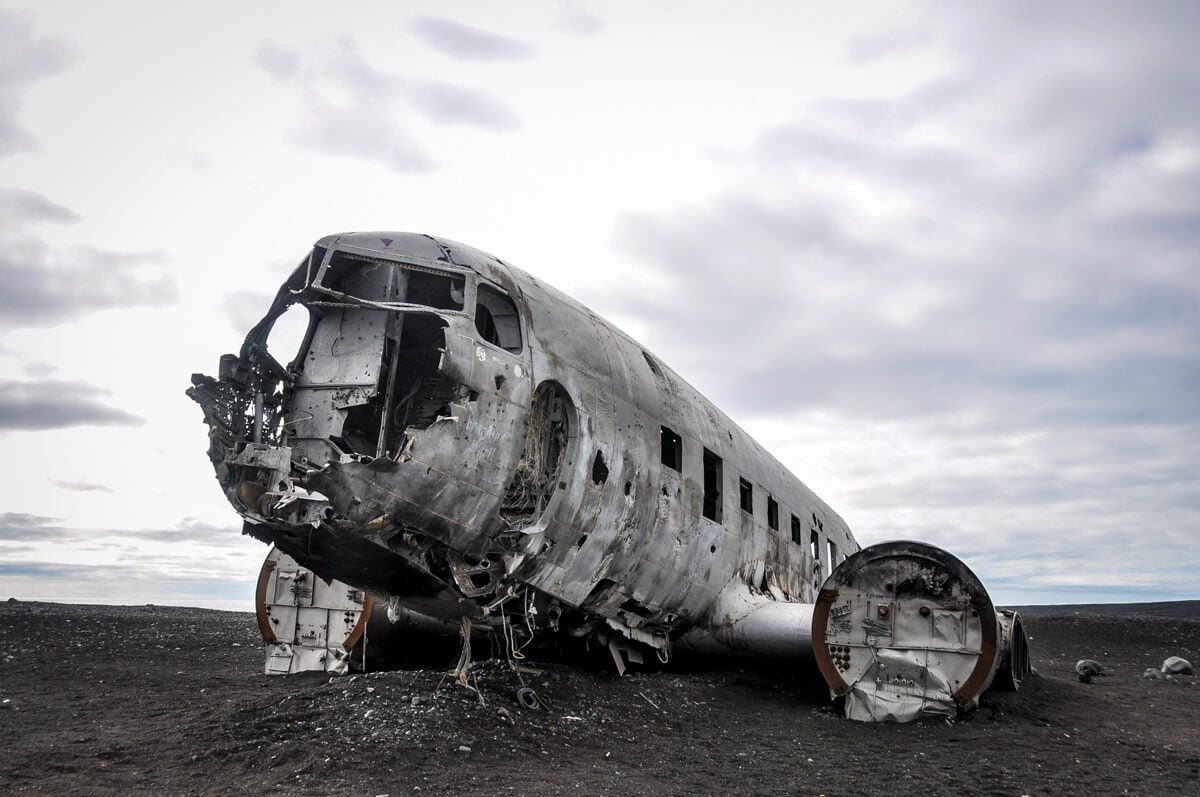 How to get there: Drive east on Ring Road from the Skogar Museum and keep an eye out for a bridge with yellow blinking lights that has a dirt road after it heading toward Sólheimajökull Glacier. Continue driving east on Ring Road for another 2 km after the bridge.
There will be a dirt road turn off to your right with a fence blocking the road. Park your car here and start the 40-minute walk toward the beach.
After about 35 minutes, the road will slightly turn left and you should follow it. The plane is hidden behind a sand dune so you won't be able to see it right away.
Dyrhólaey rock formation & puffin nesting ground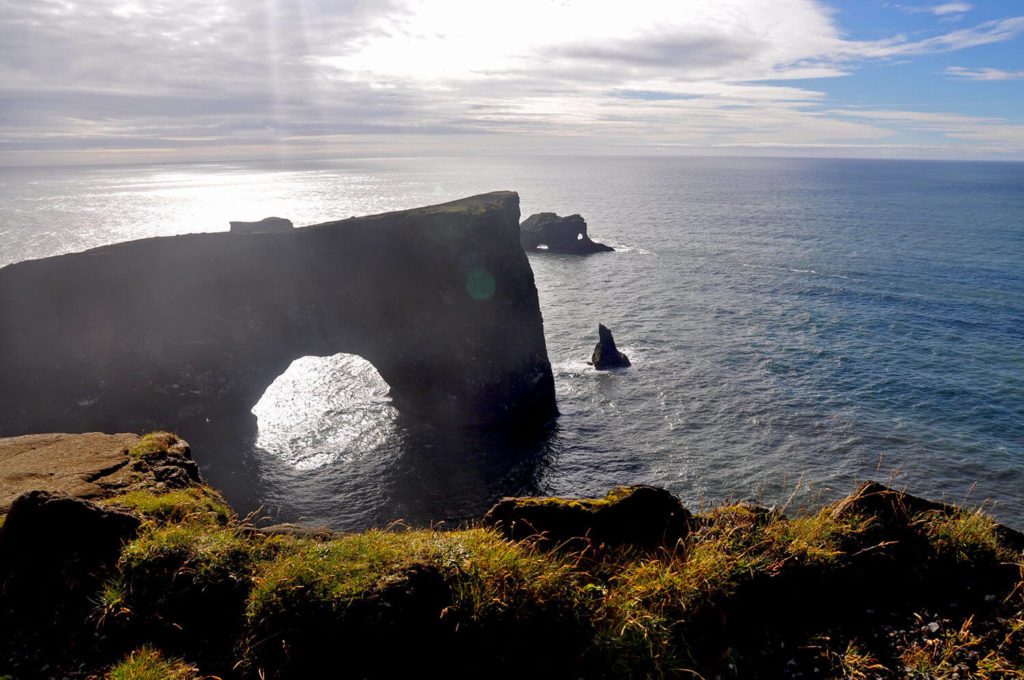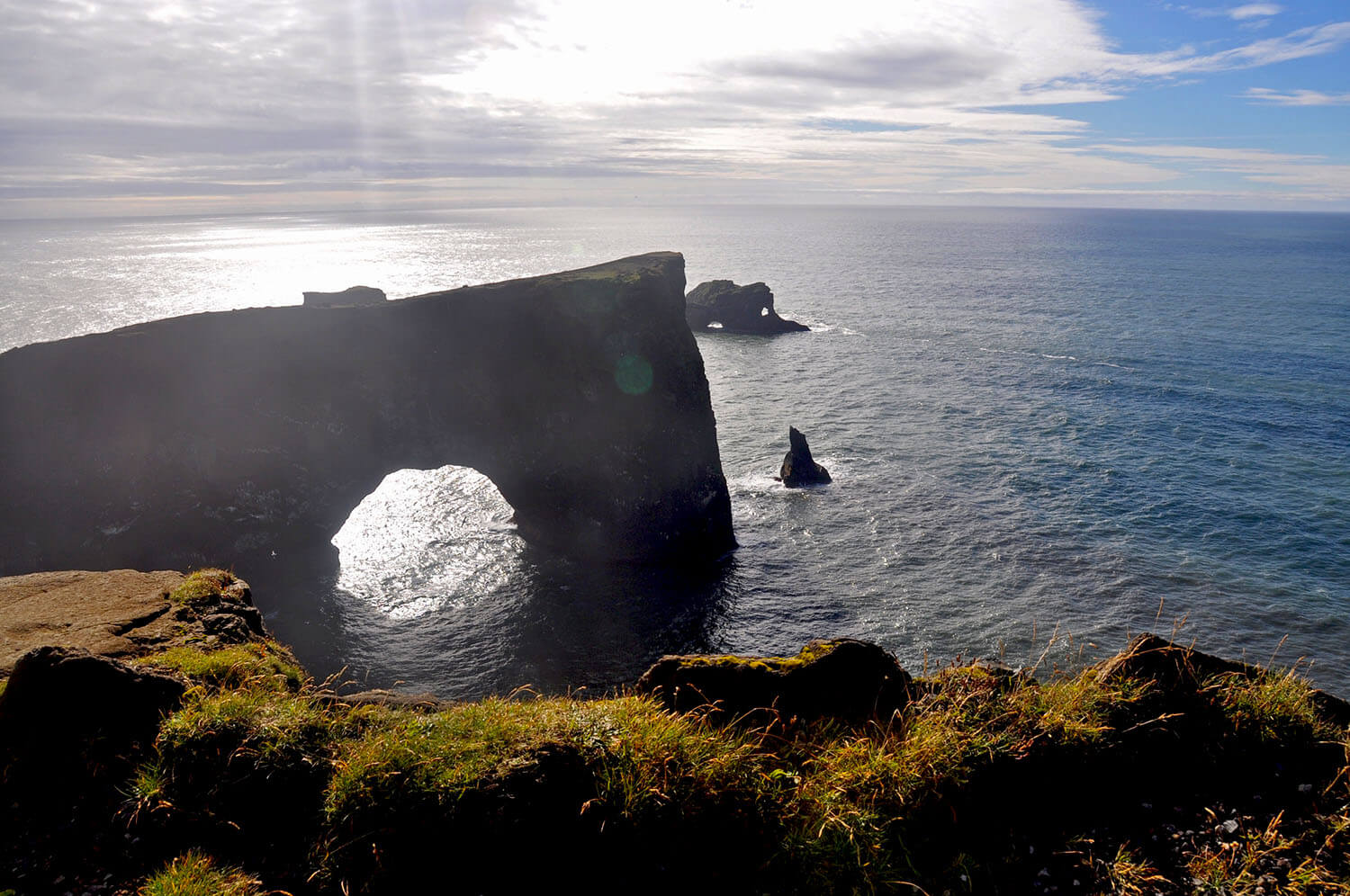 Continue on Highway 1 (Ring Road) heading east to Dyrhólaey. There are two different viewpoints for Dyrhólaey rock formation: one that overlooks the black sand beach, and one that's higher up which overlooks the iconic rock with the hole.
The second overlook was a little bit tricky to drive up, but we made it in our little Hyundai i10 so I think anyone can do it. The lighthouse on top of the overlook is stunning and the arched rock wall jutting out into the ocean makes the steep drive worth it.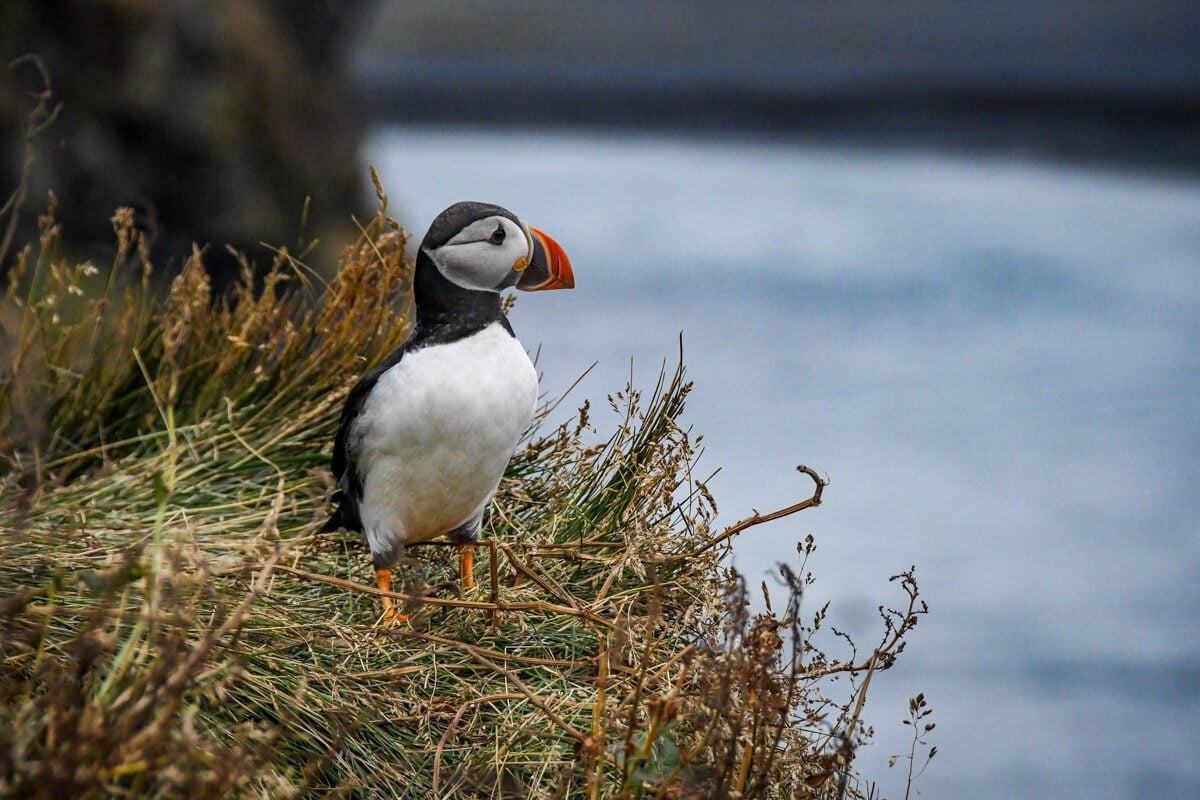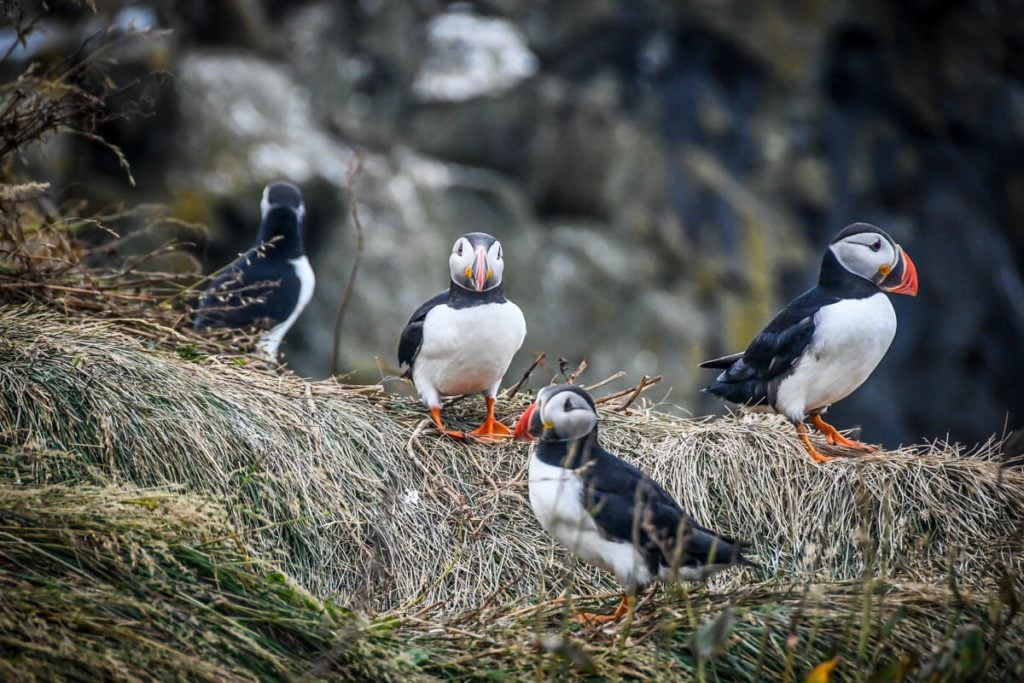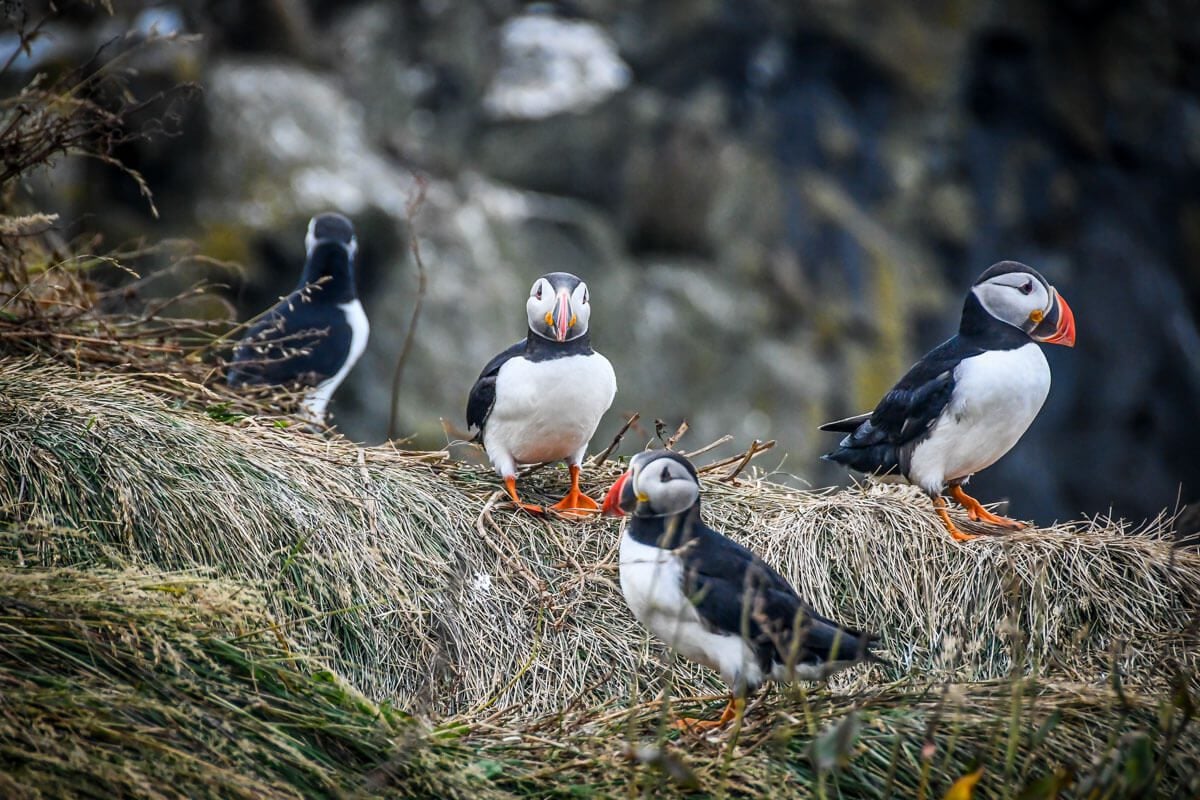 If you're visiting Iceland during the summertime, you will have the opportunity to see the puffin nesting area here. These cute little birds burrow into the grass near the cliff's edge. The nesting area is fenced off to keep visitors at a safe distance and allow the birds some peace, however, you can still observe them from a few meters away.
Reynisfjara Black Sand Beach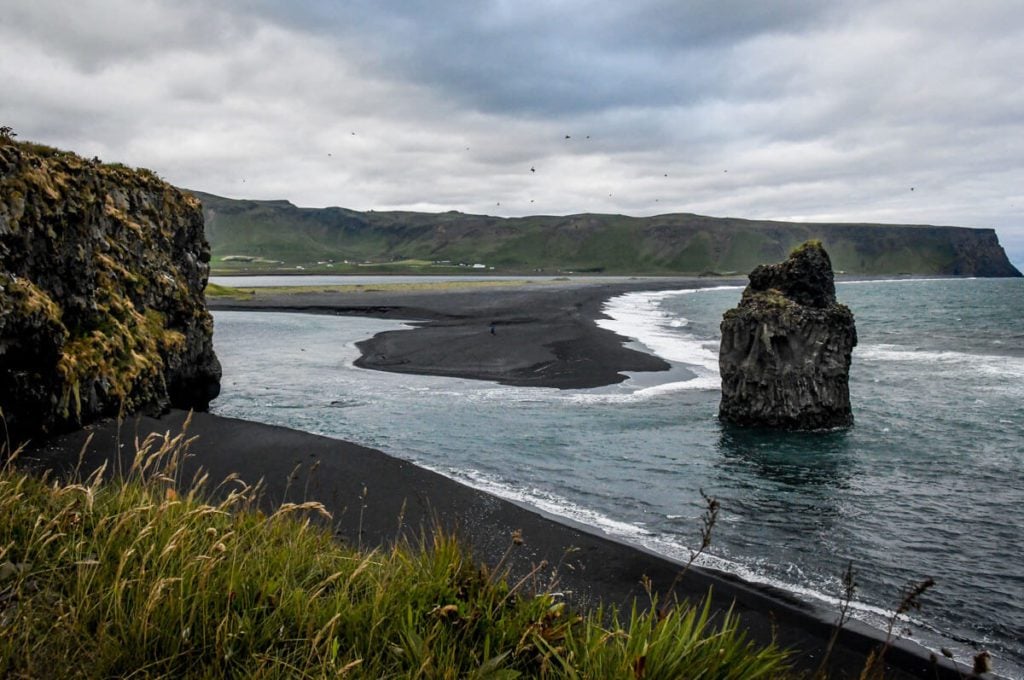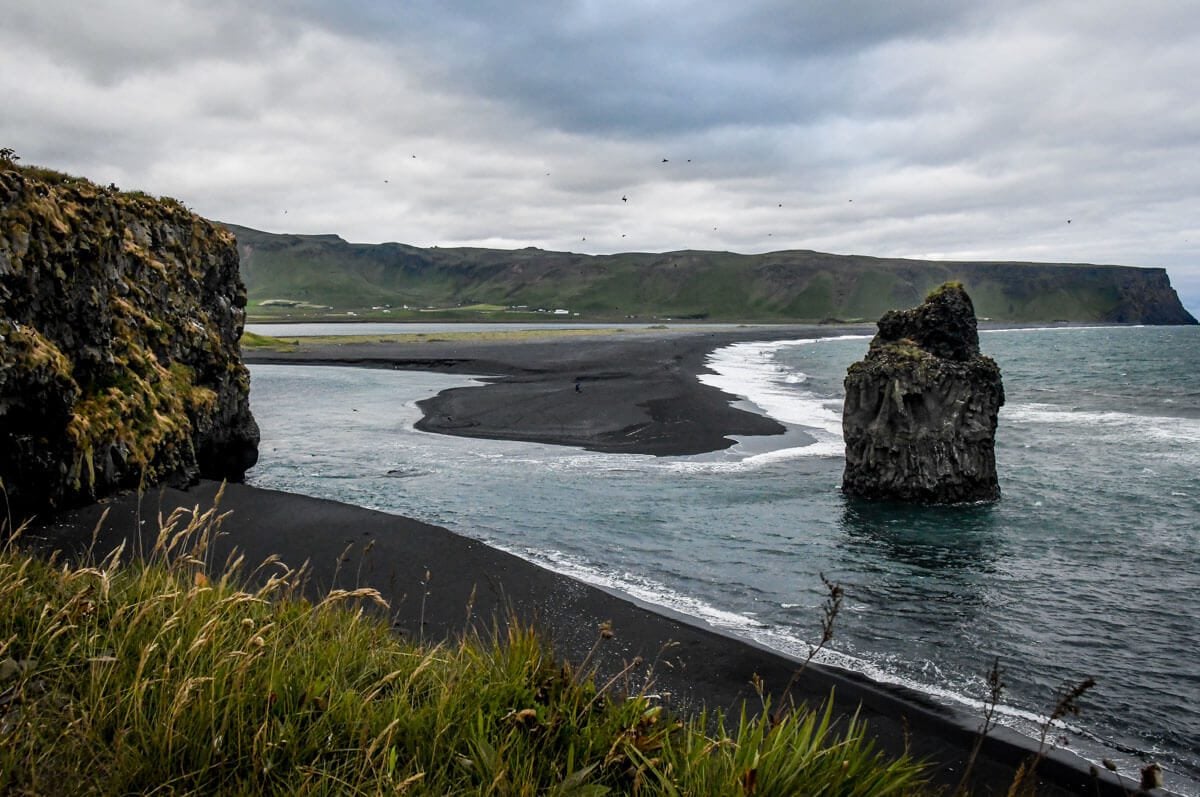 Known as one of the most famous black sand beaches in the world, Reynisfjara is absolutely stunning and unlike anything you've ever seen. With otherworldly rock formations both on shore and off, plus the unique volcanic black sand, this beach is well worth a visit on your Iceland itinerary.
Find out more about what to expect when visiting Reynisfjara Black Sand Beach, plus insider tips and the best photo spots.
The summer months in Iceland are prime puffin spotting season and Reynisfjara houses thousands of these little cuties. In the morning and evening are the peak times to see these miniature birds dive off the cliffs and flap their wings like drunken penguins out to sea to catch their food.
When we arrived it was a fury of puffins heading in and out of the ocean for their catch of the day. And plenty of seagulls trying to snatch what the puffins had worked so hard for.
Lava Show in Vík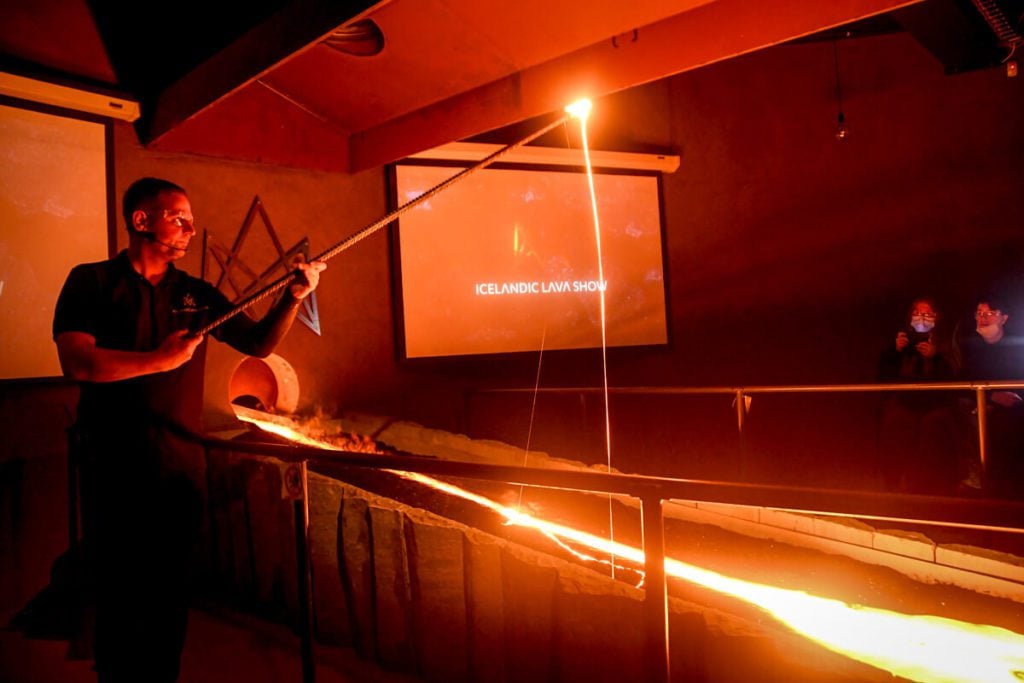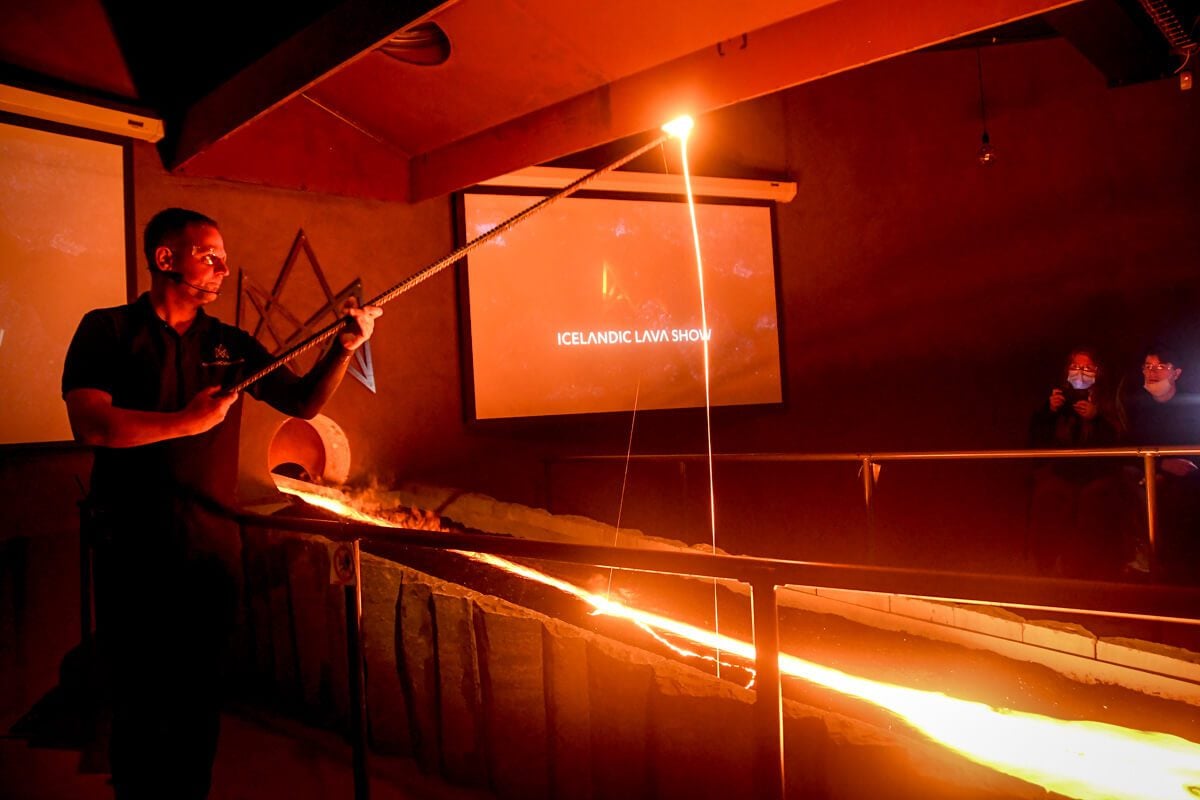 Your next stop of the day is the seafront village of Vík. It's the largest town in this part of south Iceland and a good place to "return to civilization" (so to speak) on your road trip. However, the real draw here is the Lava Show.
Known as "the only place in the world where you can safely experience hot molten lava in close proximity," the Lava Show is quite the unique experience.
Take a front row seat for the hour-long show where you'll get to watch molten lava (1,100°C / 2,000°F) flowing right in front of you.
Tip: Be sure to try the Lava soup during the show, it's super tasty!
The creator of this experience, Júlíus, is extremely passionate about all things volcanoes and lava, and makes it an entertaining and educational show for both adults and children.
Note: Show times are at 1:30 p.m and 5 p.m. daily and you'll want to book your tickets online ahead of time as they do sell out. Plan your day accordingly so you don't miss this unique experience.
Other things to do in Vík:
Skool Bean coffee (open until 5pm)
visit the beach in town
climb up to the church viewpoint
Note: If you didn't have time to fit in everything above before the lava show, you can skip Dyrhólaey (puffins) or Reynisfjara Black Sand Beach and go back after the show if there is still daylight. You can also visit them in the morning on Day 5 or on your last day as you drive past back to Reykjavík.
Where to stay: We stayed at Vík tjaldsvæði Campground while in town on night 4. This is one of the better campgrounds with plenty of tent space, indoor cooking area, bathrooms, showers and even a playground.

If you are not planning on camping, you can stay at a nearby guesthouse like Vík Cottages, or Guesthouse Carina, both of which are in the town of Vík.
Day 5: Fjaðrárgljúfur Canyon, "Black Waterfall" and sights along the southeastern Ring Road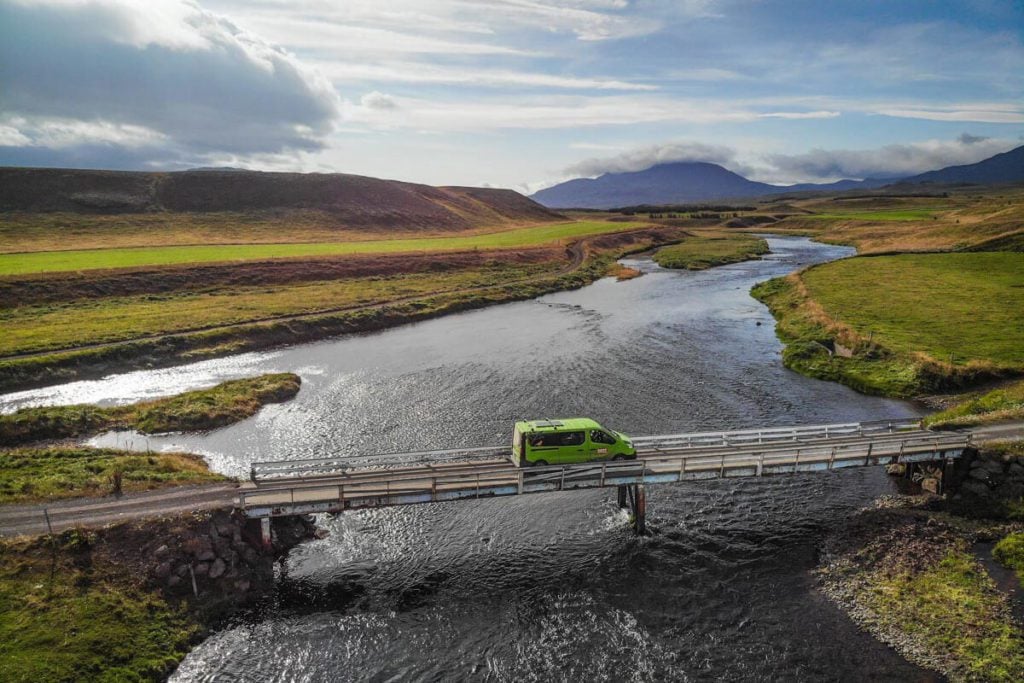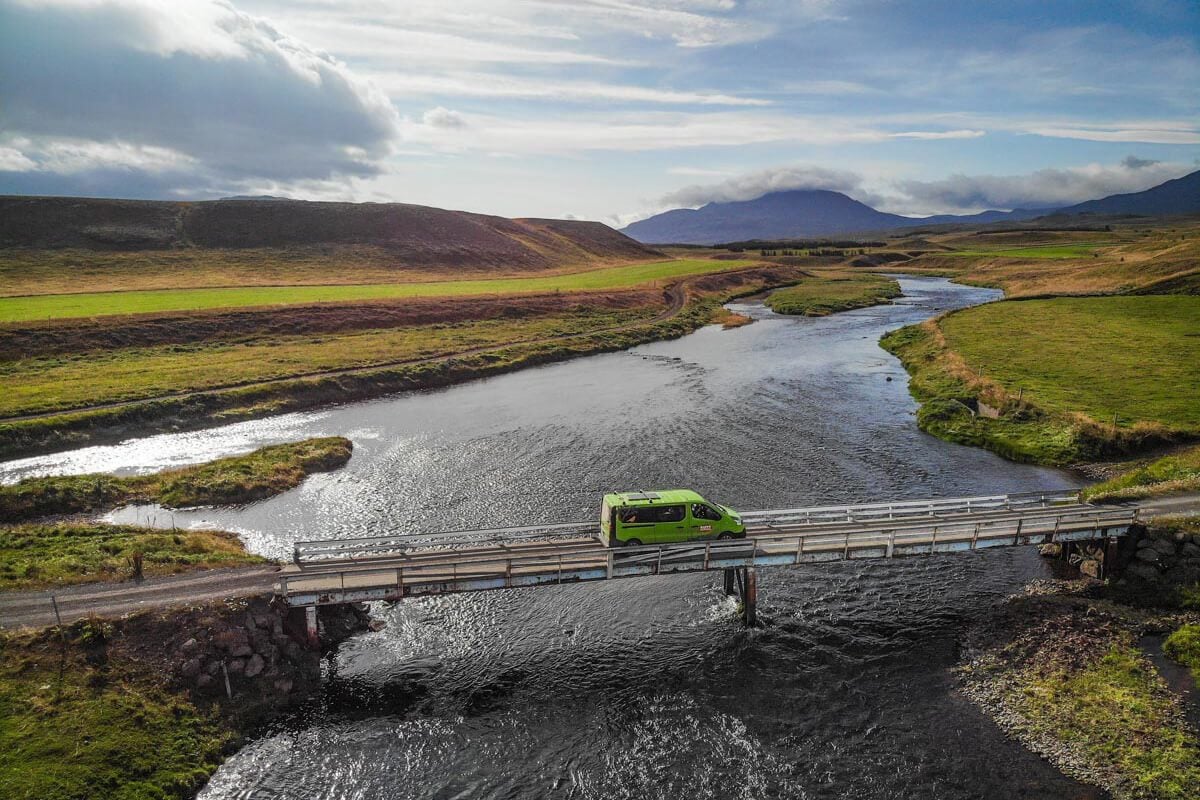 Day at a glance: Big driving day with a few hikes sprinkled in between; Gígjagjá Yoda Cave, moss-covered lava fields, Green Canyon Fjaðrárgljúfur hike, a couple of waterfalls and a glacier.
Approximate Driving Time: 3 hours
Approximate Distance Covered: 175 km
Grab a cup of coffee at Skool Bean (opens at 9 a.m.) in the town of Vík if you didn't visit there yesterday. You may also want to visit the black sand beach in town with cool rock stacks out in the water or climb to the church viewpoint if you didn't get to any of these activities the day before.
When you're ready, head East out of Vík.
Hjörleifshöfði Cape & Gígjagjá (aka Yoda Cave)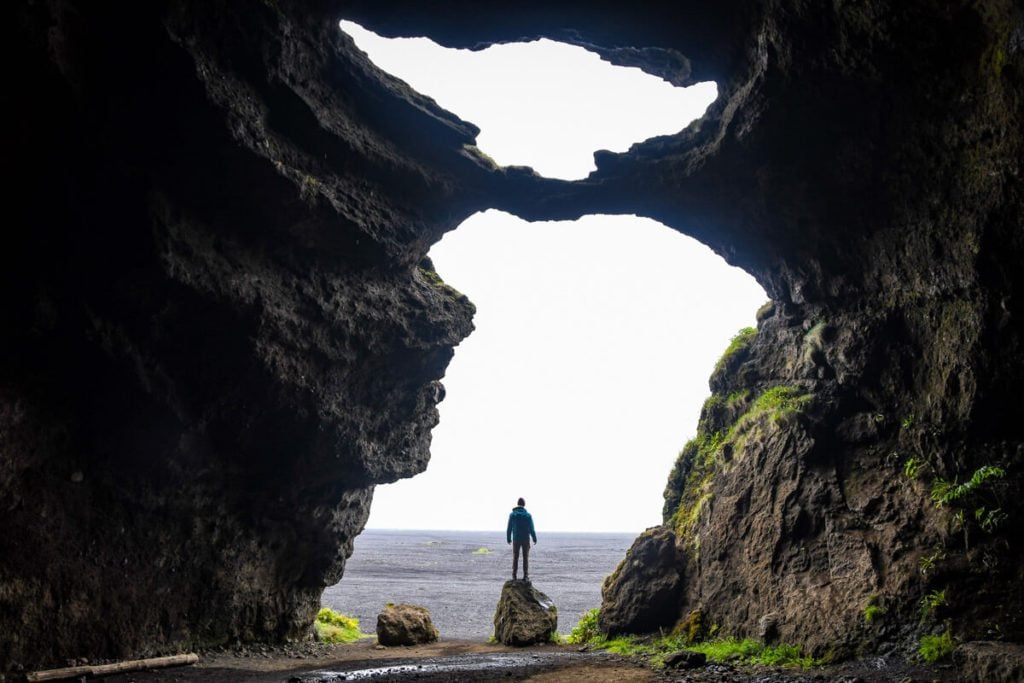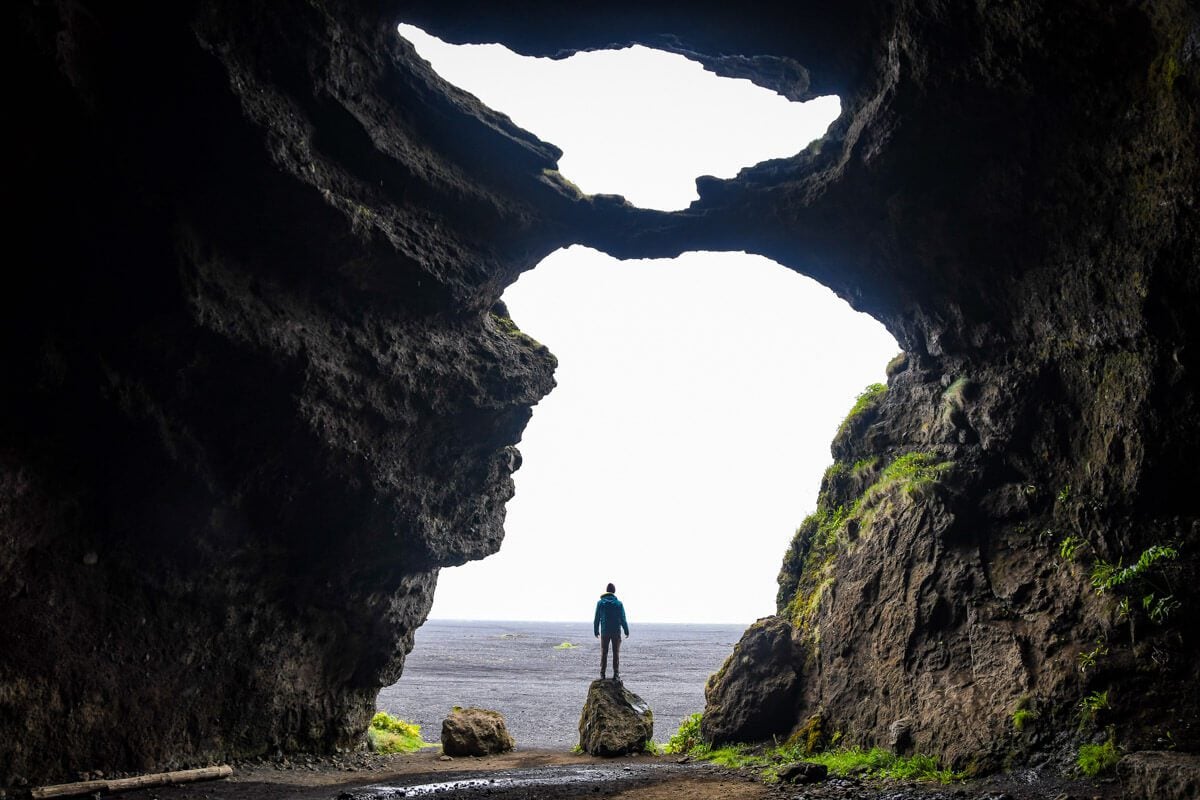 Whether you're a Star Wars fan or not, the Hjörleifshöfði Cape, where you'll find a cave dubbed "Yoda Cave" for it's uncanny resemblance to the fictional character, is worth a short visit.
From Ring Road take a right at Hjörleifshöfði Road. There are signs saying not to drive on the sand so you'll have to park at the end of the road and walk the 200 or so meters to the cave. May the force be with you.
Laufskálavarða
Laufskálavarða is a quick stop at a lava ridge, surrounded by stone carines (stacked stone towers). There is not much to do here except read a lovely tale about leaving cairns for future travelers. However, we'd recommend not setting up your own cairn because there are far too many there already!
You can walk to a viewing platform to see Mýrdalsjökull where the famous Kalata volcano is located.
Scenic Green Lava Walk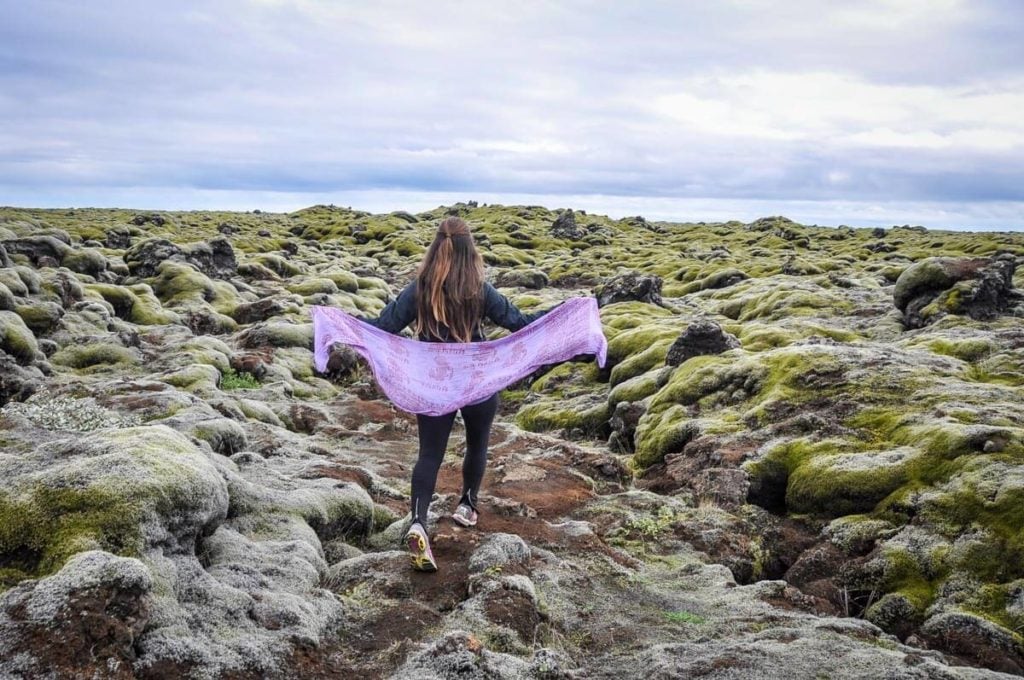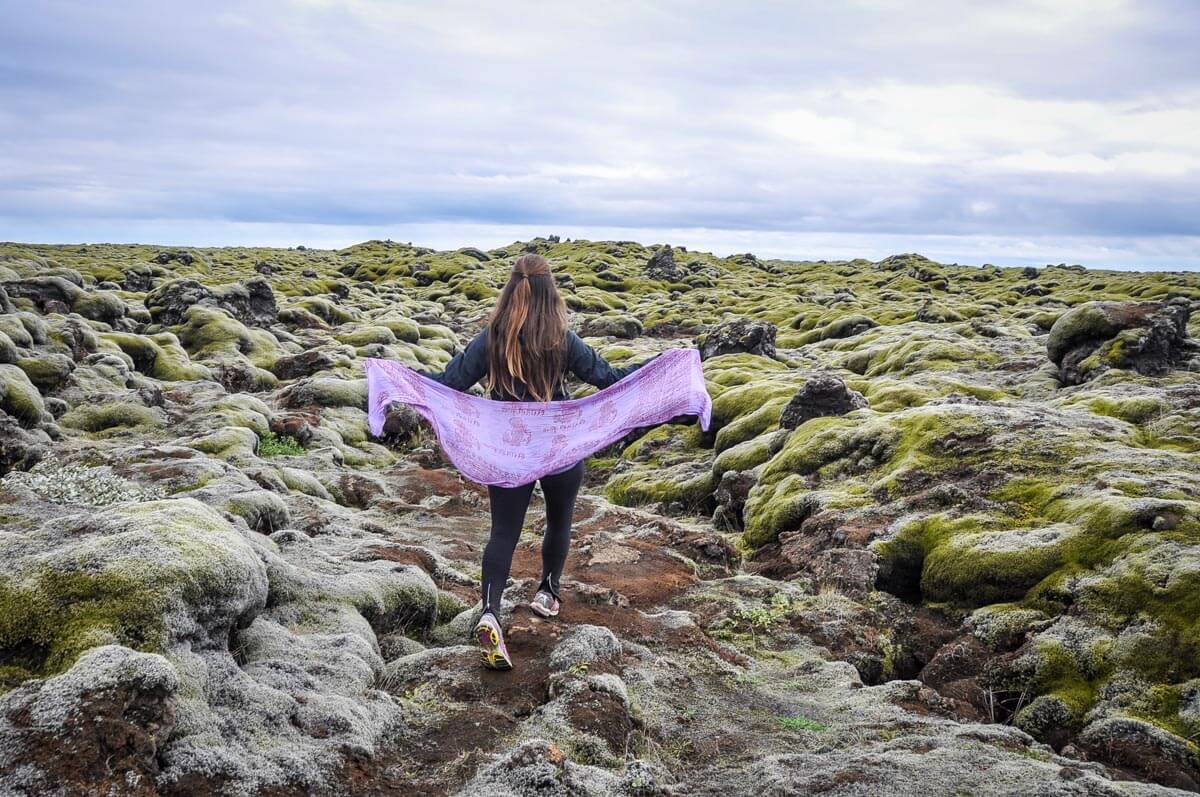 As you continue on Ring Road past Vík, you will soon become aware that the grassy fields on either side of the road have now turned into miles of moss covered rocks. These rocky fields were once lava and now the moss has taken over and makes a pretty cool photo op.
Make your way to the parking area for the Scenic Green Lava walk or the Mossy Lava Fields stop just off Ring Road. Get out and stretch your legs a bit as you meander through the other-worldly landscape. Just be mindful of where you walk because this ecosystem is pretty fragile.
Fjaðrárgljúfur Canyon Hike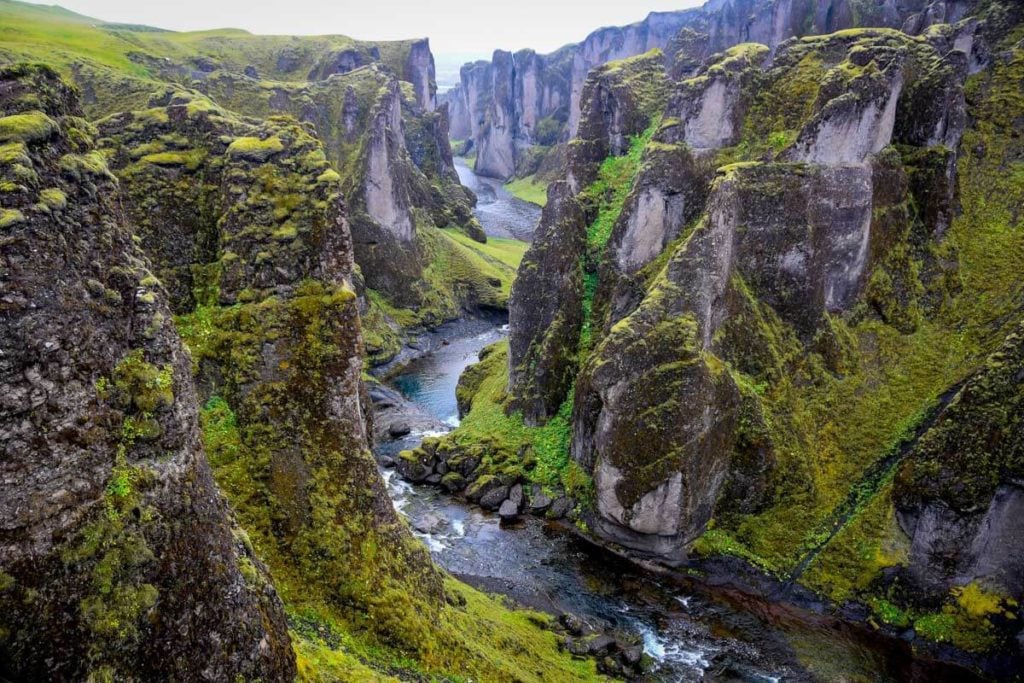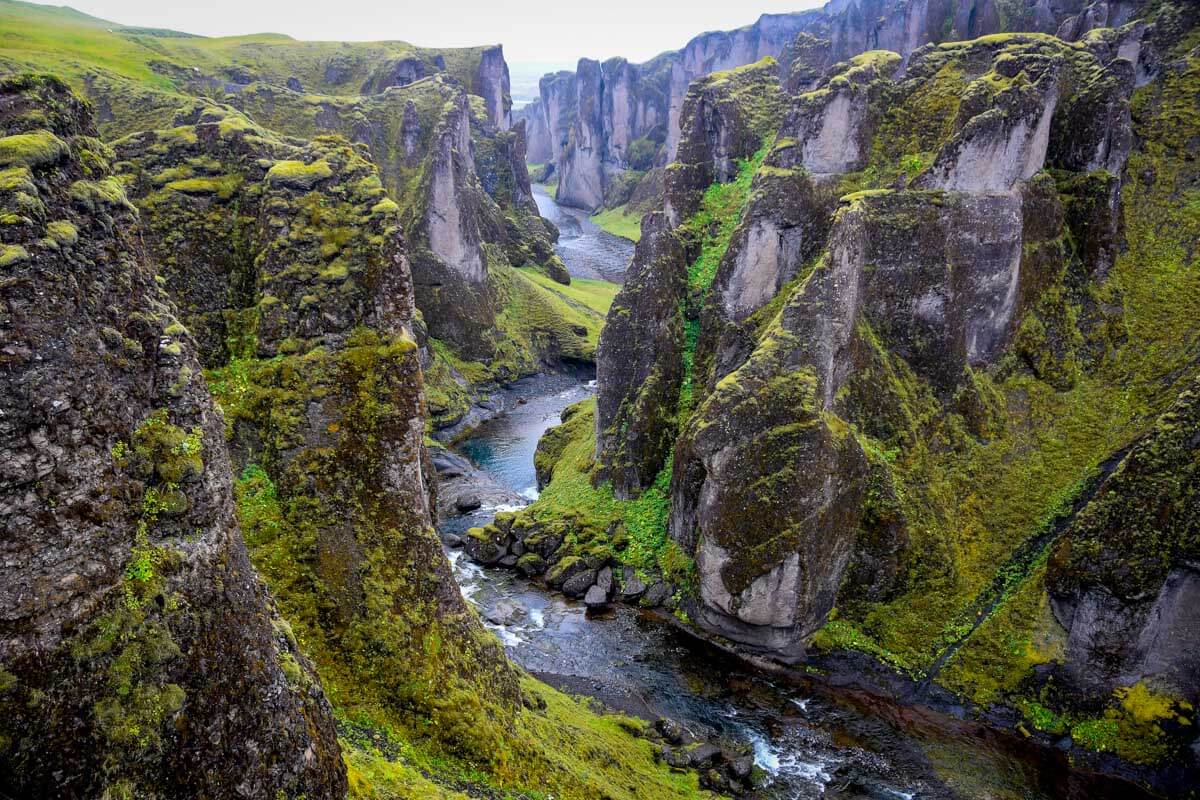 This is a little embarrassing to admit, but we watched Justin Bieber's music video for a song called "I'll Show You" where he gallivants around Iceland (only for the scenery, says Ben). But after we were done watching, we Googled "Iceland valley in Justin Bieber's video".
Watch the video and you'll know what we're talking about! The beautiful lush valley carved into the Icelandic countryside that Bieber hops, jumps and runs around is called Fjaðrárgljúfur, and you too can explore it even if you're not a pop singer.
Fjaðrárgljúfur is a luscious green serpentine canyon that continues on for 2 km with a picturesque waterfall at the end. You can hike up the side of the canyon and the views get better along the way. Just please don't hop around like Bieber, because it's a long way down.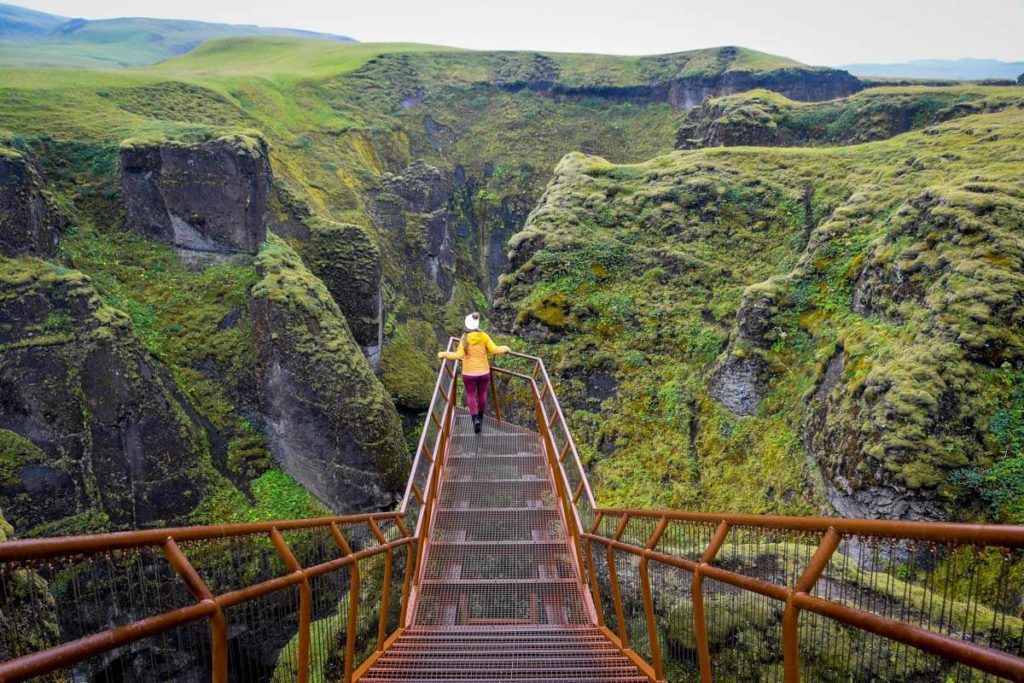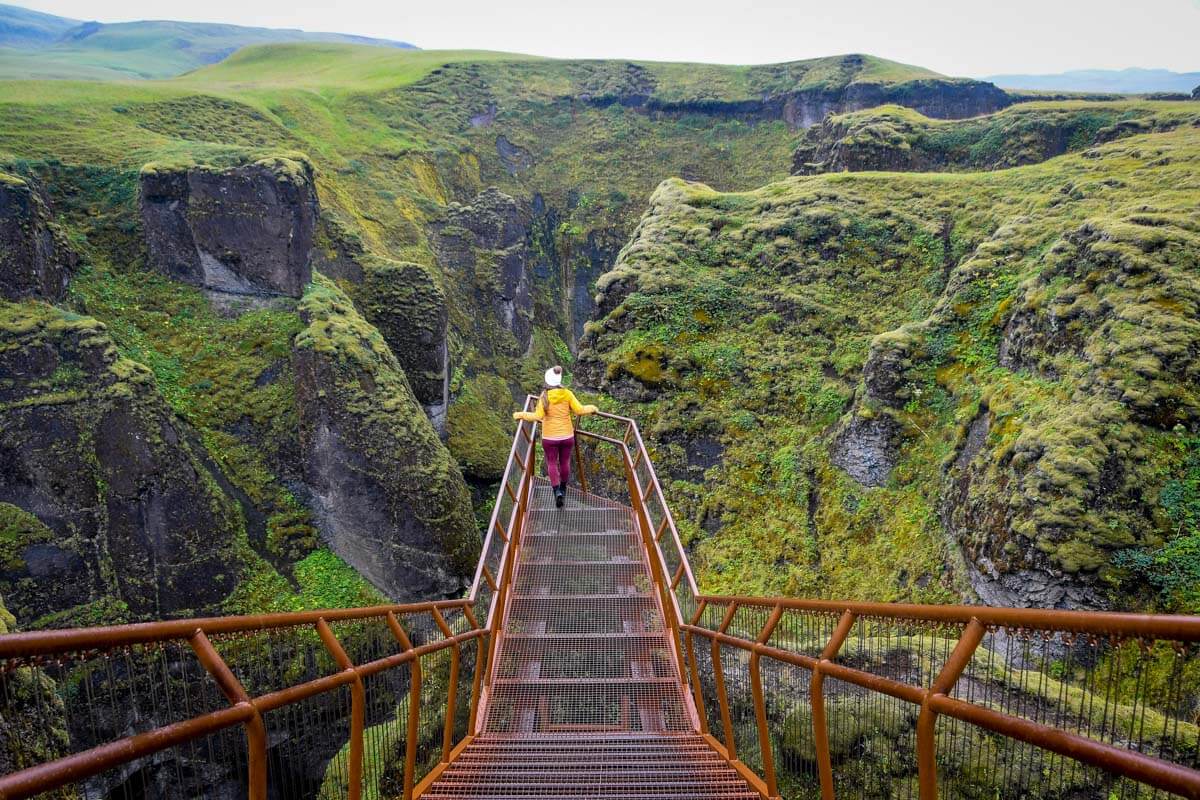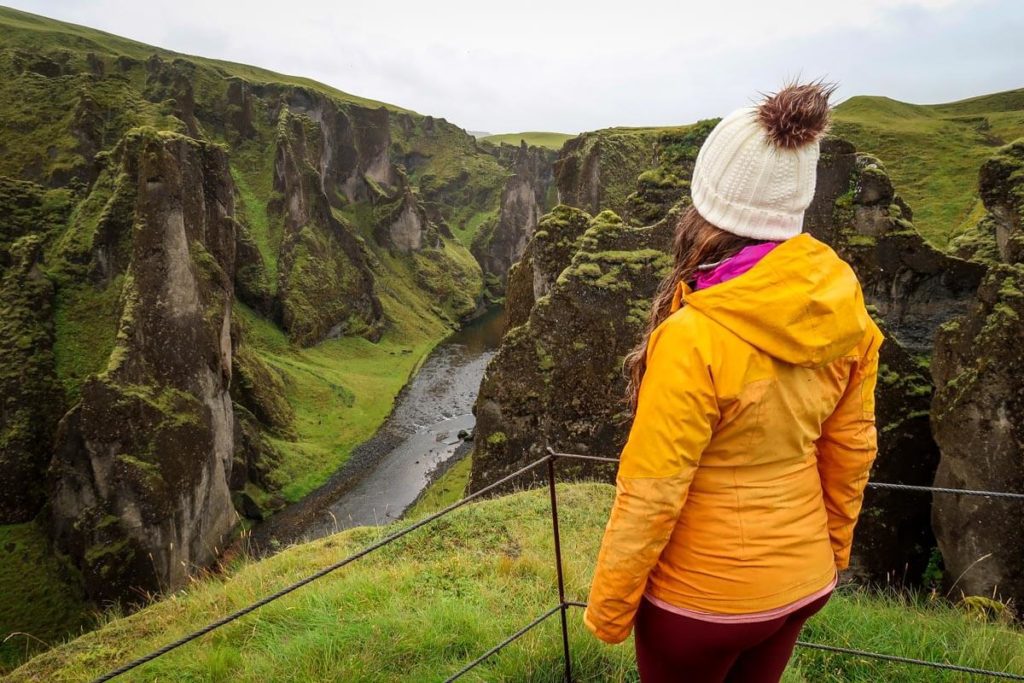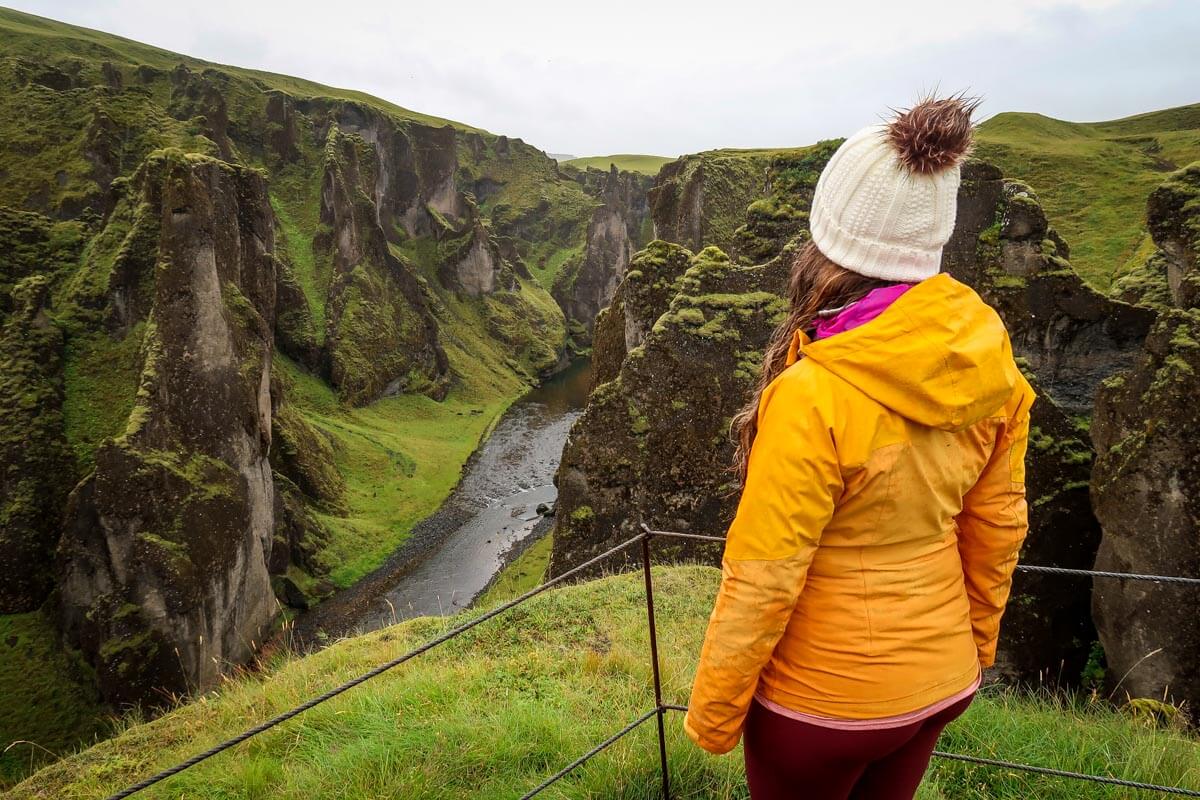 How to get there: Continuing east on Ring Road towards Skaftafell, take a left at Road No. 206, Holtsvegur. It is about 3 km on the gravel road to reach the parking lot. The unpaved road can be accessed by any type of car in the summer months, but it is recommended to have a 4×4 car if attempting this in wintertime.
There is a marked trail from the parking lot that continues along the rim of the canyon for about 2 miles, out and back. The hike is easy with little elevation gain and many different viewpoints along the way. Allow about 1.5 hours to do this hike and stop for plenty of photo ops!
Note: Due to the popularity of this canyon, there are now measures to restrict access to the trail during certain times of the year due to weather conditions. It is important you respect the occasional closures so as to protect the delicate vegetation. You can check the current trail conditions on the SafeTravel.is website.
Tip: If you have the time, make a quick stop at Foss á Síðu for a glimpse of yet another breathtakingly gorgeous Iceland waterfall! This location makes for a sweet drone shot of the falls if you have good weather.
Hike to Svartifoss the "Black Waterfall"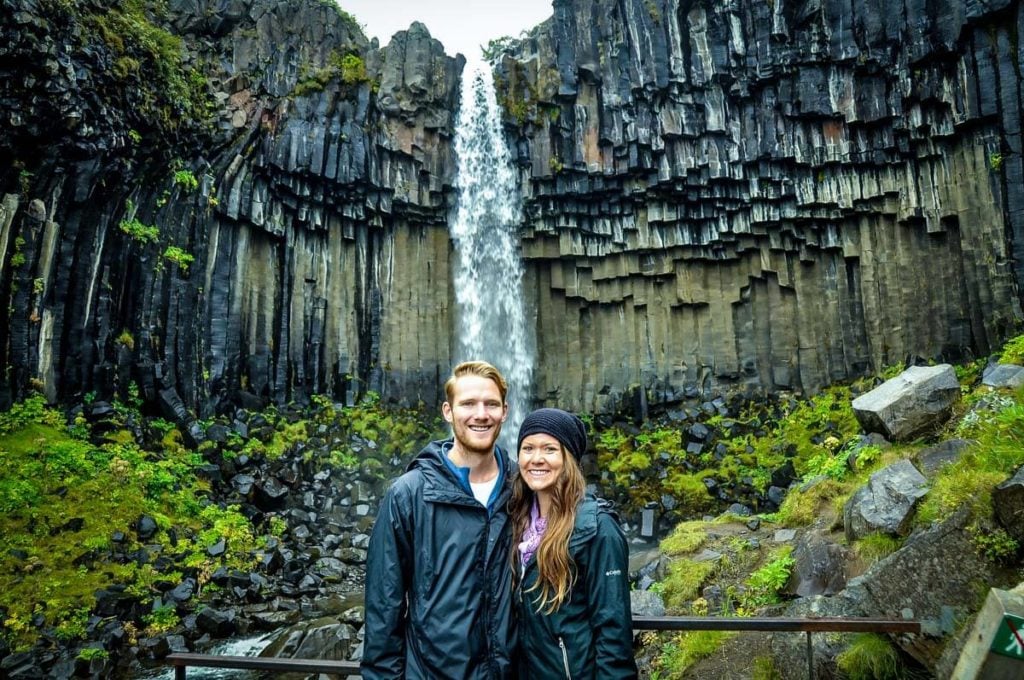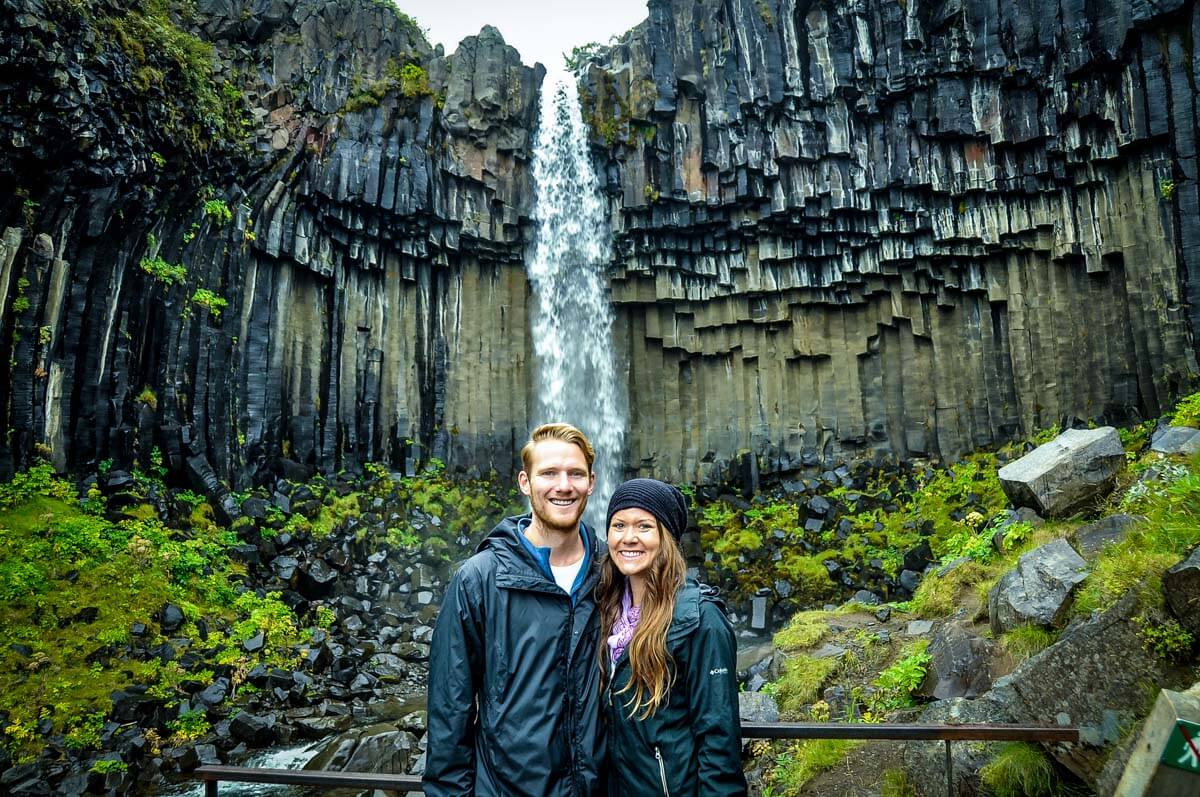 Continue driving east on Ring Road until you get to Svartifoss (a.k.a. Black Waterfall) – This hidden falls is one of the best waterfalls in Iceland. It's not just on the side of the road like so many others, and the short hike to get there makes you feel a bit more accomplished than simply stepping outside your car.
Another plus is you won't find the hordes of people from the tourist buses. Oh, and did we mention the waterfall itself is stunning?!
How to get there: When heading east, take a left toward Skaftafell (there is no sign for the waterfall). Take the road until you see a small parking lot on your right. If the road gets pretty rough, you've gone too far. From the parking lot, it is a 2.5 mile loop trail hike to get to the waterfall.
The hike is moderately easy – a bit uphill, but nothing too challenging. After about 10 minutes, you'll see a waterfall that could trick you into thinking it's the black waterfall, but keep going! You've still got about two-thirds of the way to go.
But it's worth it – the waterfall at the end of the trail is far more impressive than the first one you see. You should allow around 1-1.5 hours to hike these falls.
Svínafellsjökull view point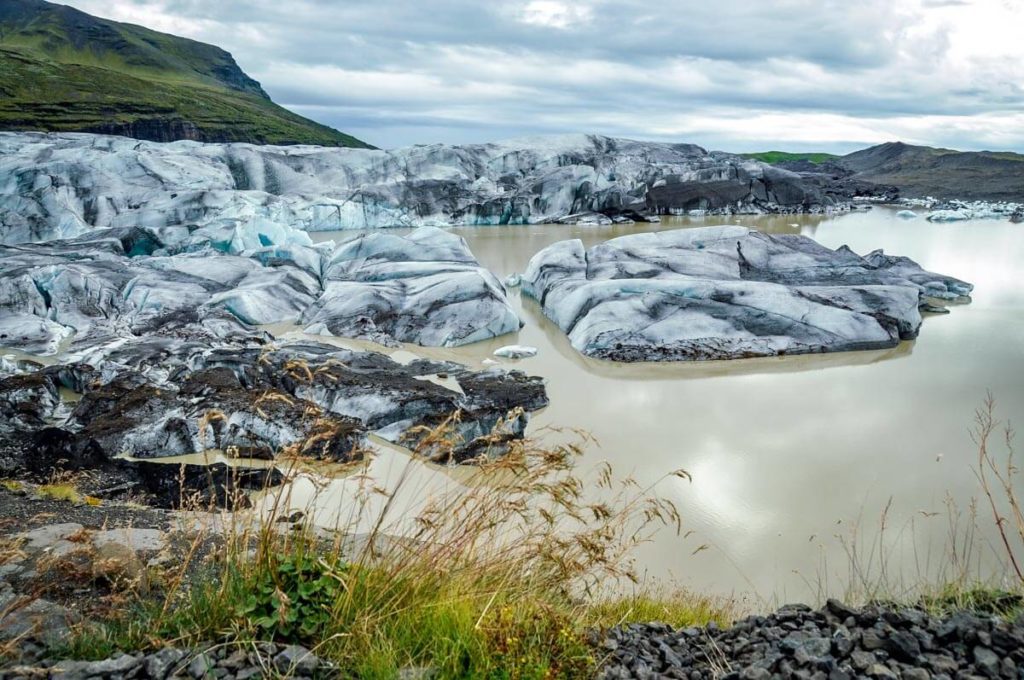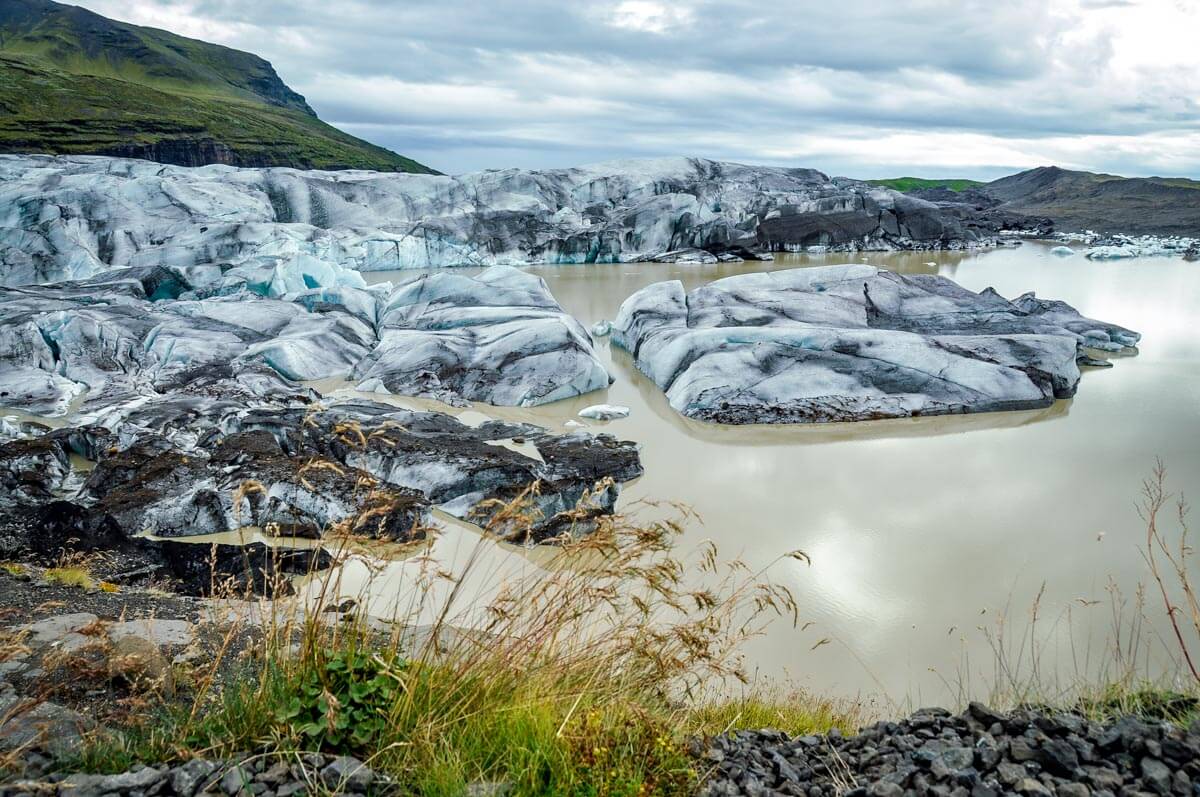 Just a few minutes drive east of Svartifoss is a sign that says Svinafellsjökull – yeah, that one's a mouthful! We almost passed it by (actually we did, but then we turned around, and we were glad we didn't miss it!). Take a left at this sign and in 2 km you'll be at the foot of a massive glacier.
Note: The 2 km road there is gravel and has many potholes, so drive slowly and with caution. This road may be closed depending on the conditions.
Hike up the rock on the side of the glacier for the best view.
Where to Stay: Spend the night at Svinafell Campground, a bare bones campground (no electricity hookups for RVs here) with a shared kitchen and bathroom/shower facilities. The campsite does offer indoor sleeping bag accommodations in dorm-style rooms. However, if you are looking for something a bit more luxurious, the Fosshotel Glacier Lagoon is a 4 star hotel in the area.
Wherever you choose to make your accommodation for the night, you can leave your things here, or be sure to book 2 nights because you'll be returning on the following evening.
Day 6: Hiking Glaciers, Canyons and Ice Beach
Day at a glance: Guided glacier hike tour, Múlagljúfur Canyon, Glacier Lagoon and Ice Beach
Approximate Driving Time: 1.5 hours
Approximate Distance Covered: 100 km
Glacier Hike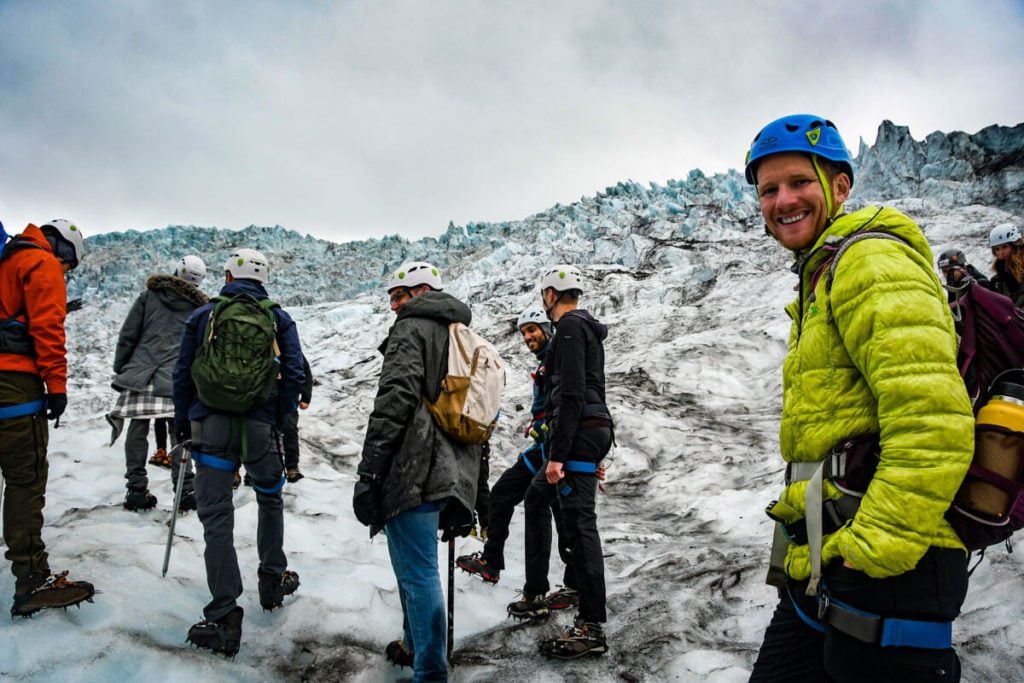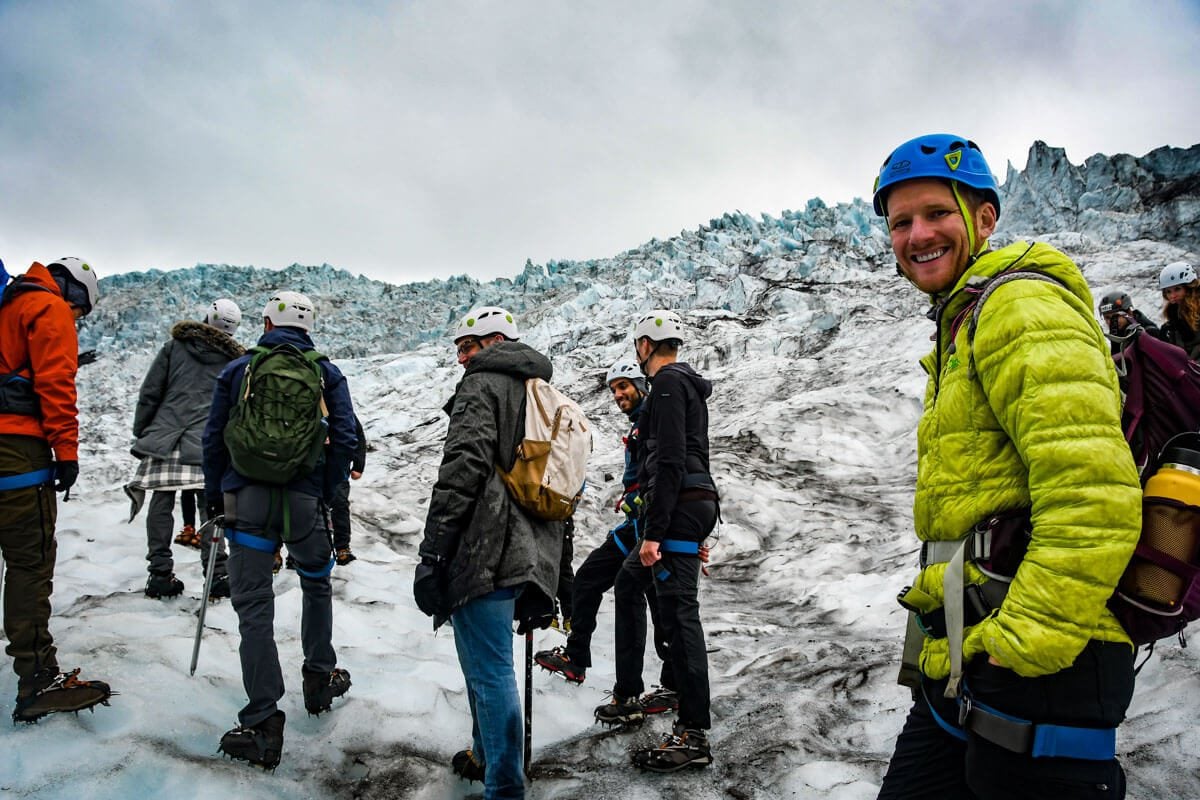 Being that the glaciers in Iceland are melting at unprecedented rates, taking the opportunity to do a glacier hike was one of the top things we were looking forward to on our second trip.
Hiking on a glacier in Iceland is an activity you must do with a guide, and there are quite a few tour companies to choose from. A guided tour includes all the equipment you'll need, like a harness, an ice axe, crampons and a helmet, as well as a guide who is experienced with the area and glacier safety.
After doing a bit of research, we decided to go for the 5 hour glacier hike instead of the 3 hour tour because there is so much we'd miss with the shorter option. We went with the Skaftafell 5-Hour Adventure Glacier Hike by Troll Expeditions.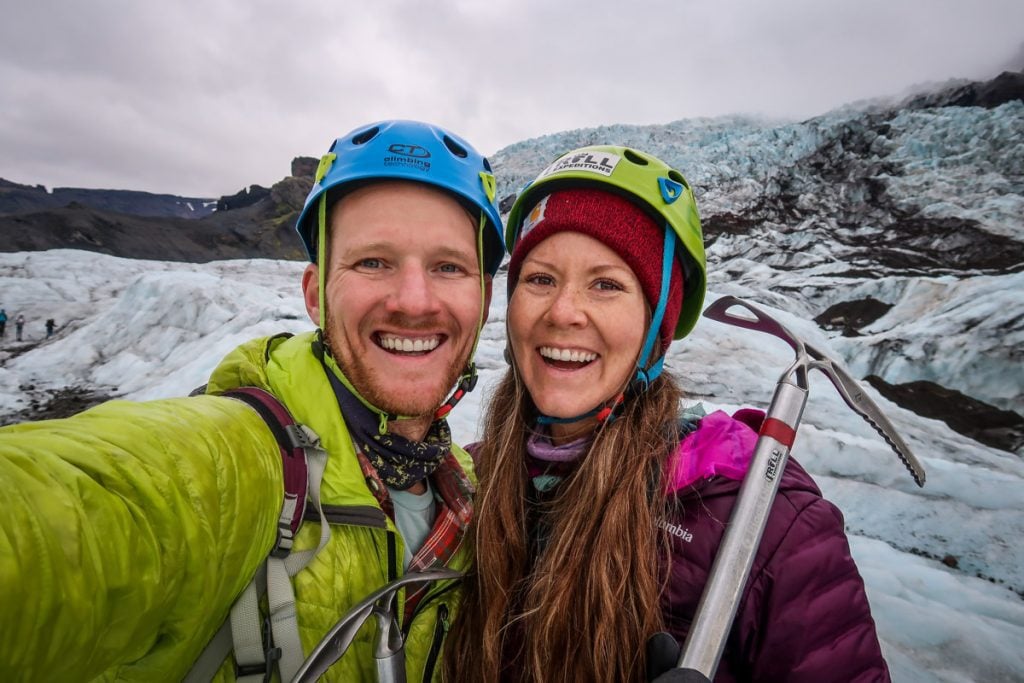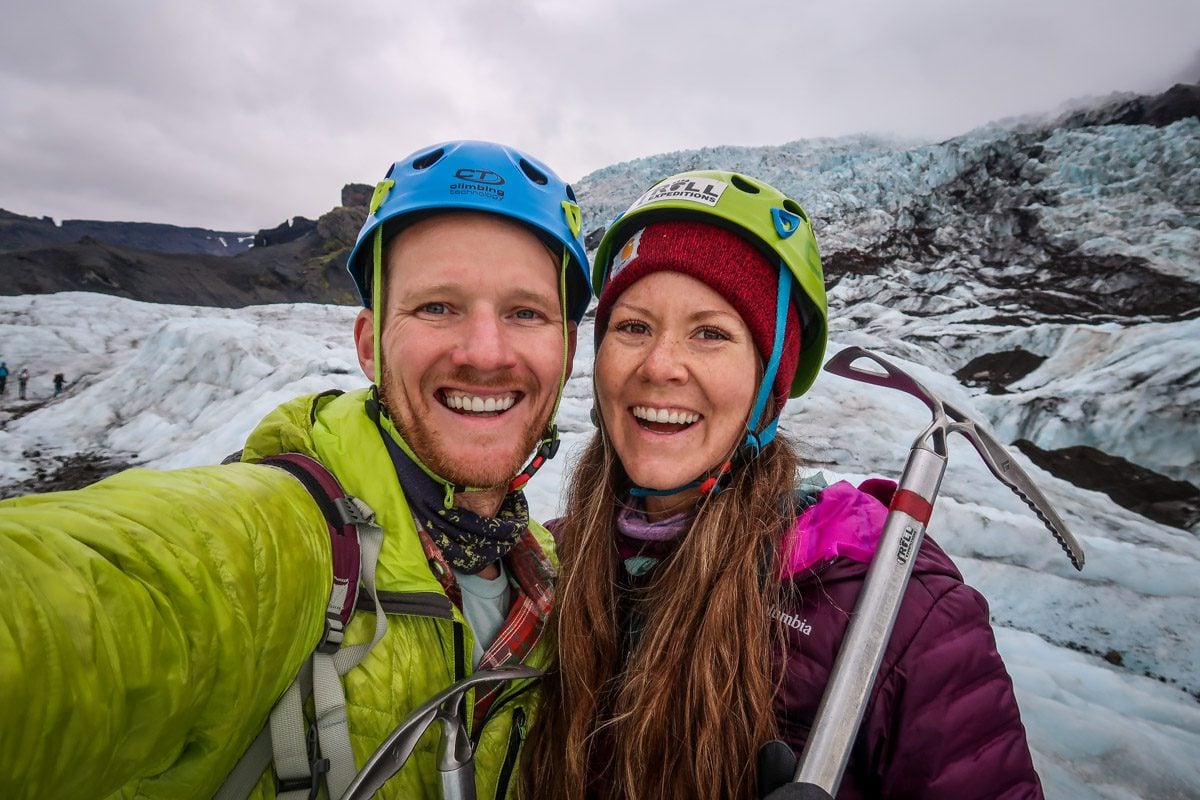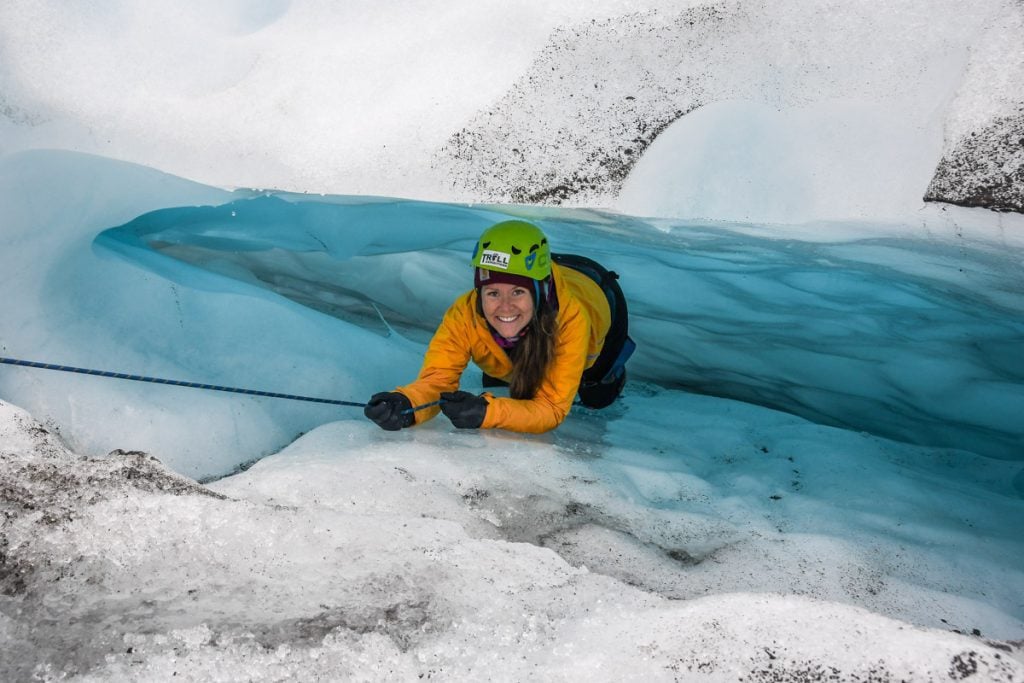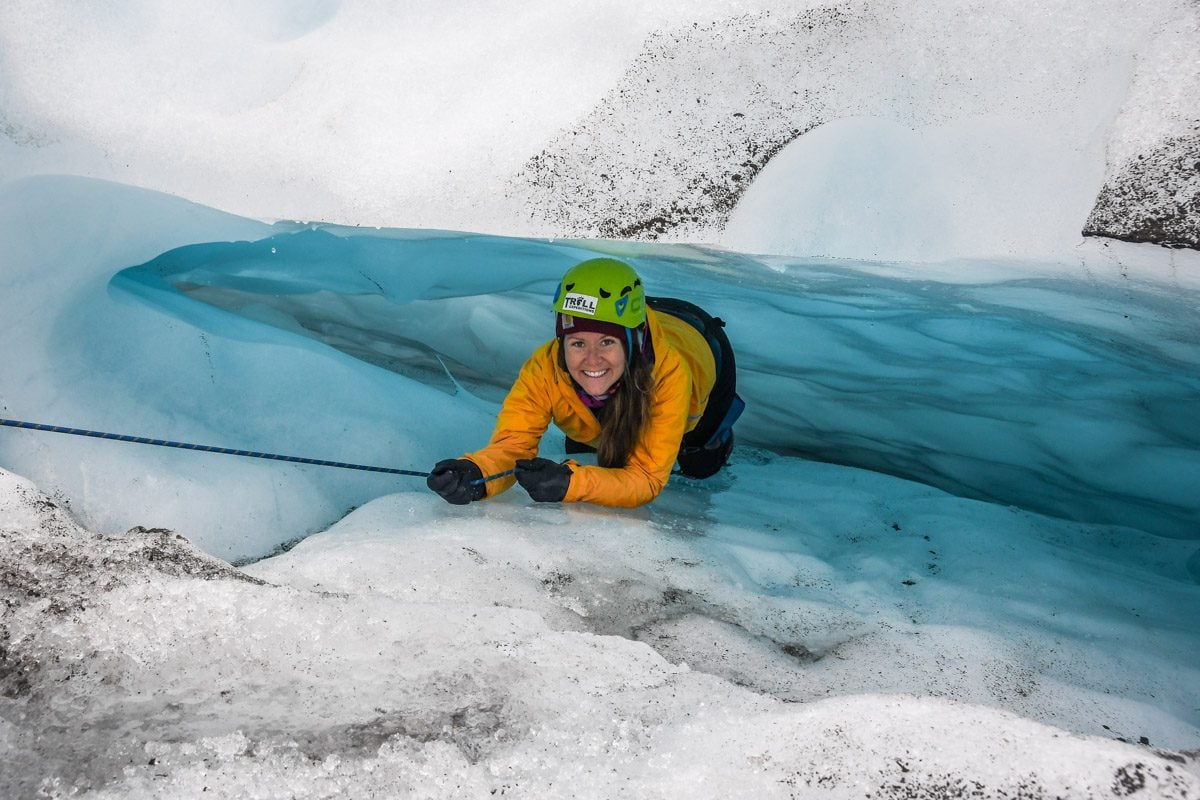 The experience was a bit of a splurge at 15,500 ISK (~$120 USD) per person, but totally worth it in our opinions. We traversed a pretty large section of the glacier and saw some pretty incredible things. We even got (safely) lowered into a small ice cave, which feels like an entirely different world.
Are you visiting Iceland in the winter? You may want to also look into visiting an ice cave with a tour guide. This looks like a pretty incredible experience, but with the exception of a couple, most ice caves can only be visited during the late fall and winter months.
To save yourself time, consider doing the Skaftafell Blue Ice Cave Tour & Glacier Hike combination tour in lieu of the glacier hike we mentioned above.
Hofskirkja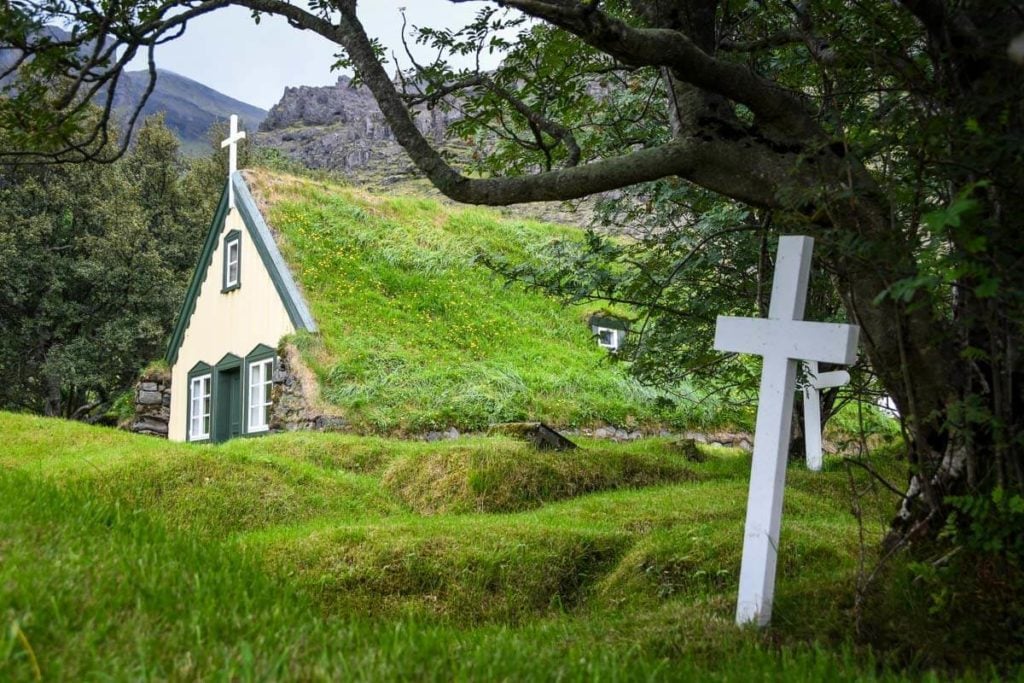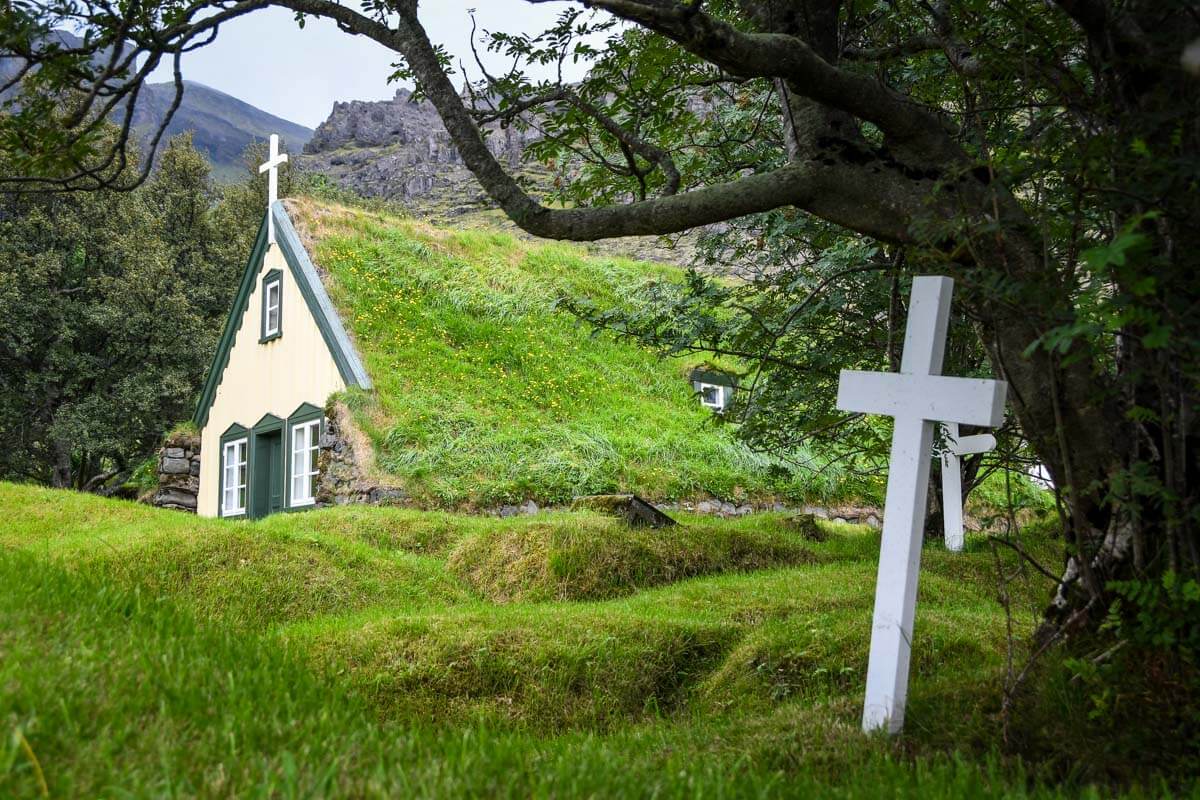 After your morning glacier hike, you'll get back on Ring Road heading east towards Hof. Your first stop is Hofskirkja, an old grass-covered church.
What's so exciting about a grass-covered church you ask?
Well Hofskirkja just so happens to be the last turf church ever built in Iceland. The construction of turf buildings is a trend from Scandinavia that took hold in Iceland in the 1800s. With the scarcity of lumber to be used as a building material, Icelanders resorted to the creative use of sod.
Make a quick pit-stop on your road trip to visit this historic property and snap a few photos while you're there.
Múlagljúfur Canyon Hike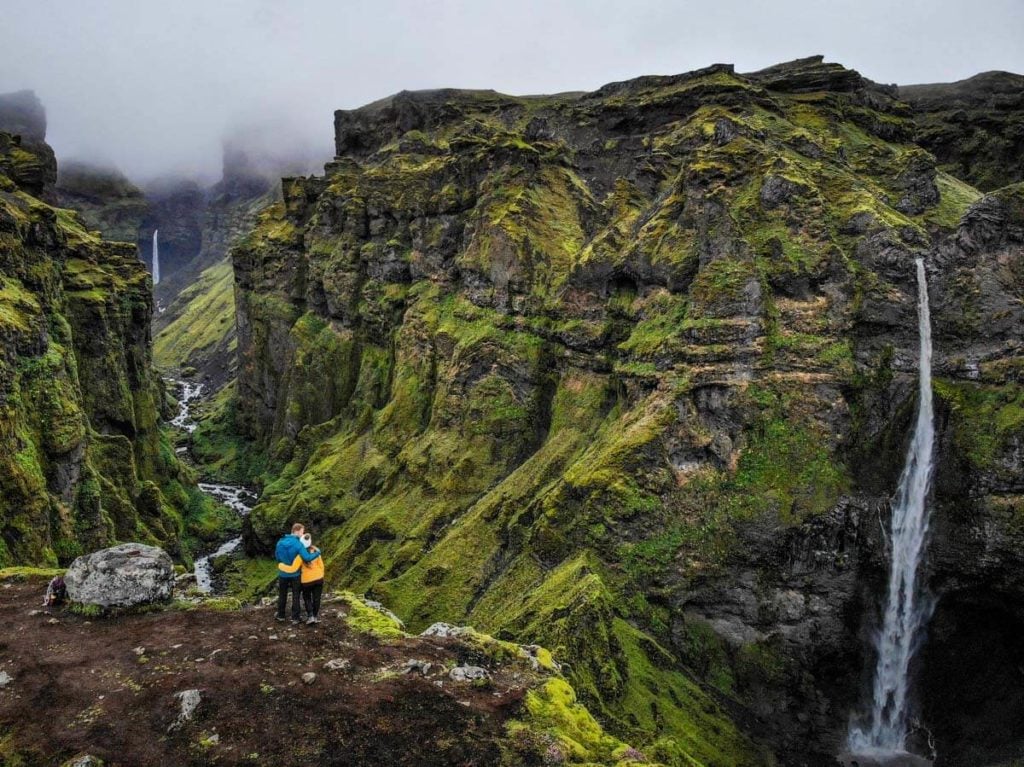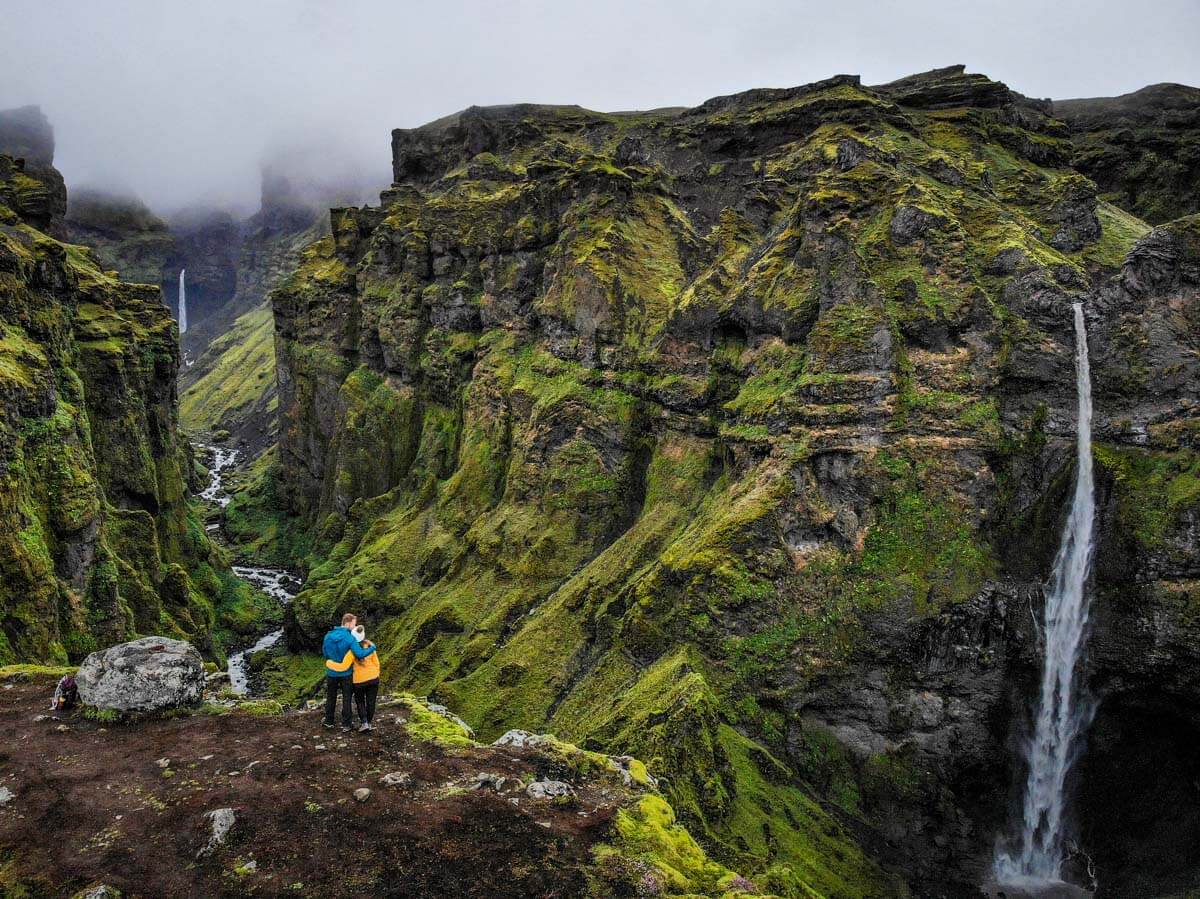 Sometimes compared to the better-known Fjaðrárgljúfur Canyon that you hiked yesterday, Múlagljúfur is equally as stunning and lush, but with less visitors. As a relatively hidden gem in southern Iceland, this 3.6 mile round trip trek is one of Iceland's best day hikes.
How to get there: Follow Ring Road east and take the turn off just 5 minutes before you reach Fjallsarlon Glacier Lagoon. Turn off onto the gravel road that'll lead you to this parking area. There is not a lot of signage here, so it's best to mark the location on Google Maps before you go.
Park here and climb the small hill to your right to find the start of the trail. The hike includes about 1,200 ft of elevation gain and takes about 2 hours to complete. During your hike you'll see trail markers in different colors, all leading to Hangandifoss waterfall at the end of Múlagljúfur Canyon.
Tip: Bring a drone if you have one. This place looks even better from the sky!
Glacier Lagoon & Diamond Beach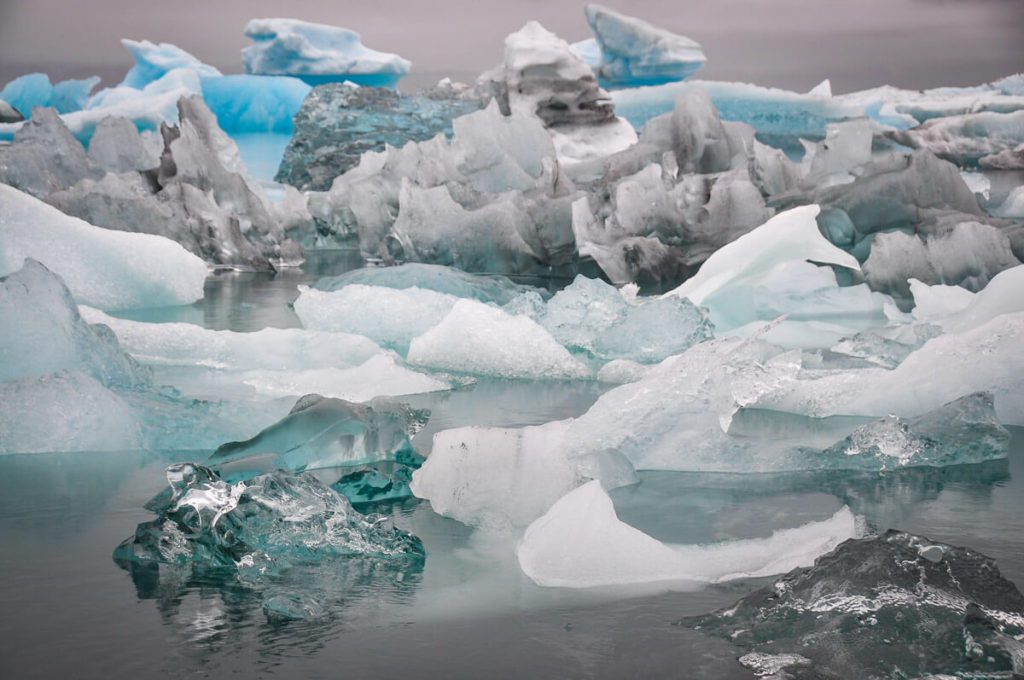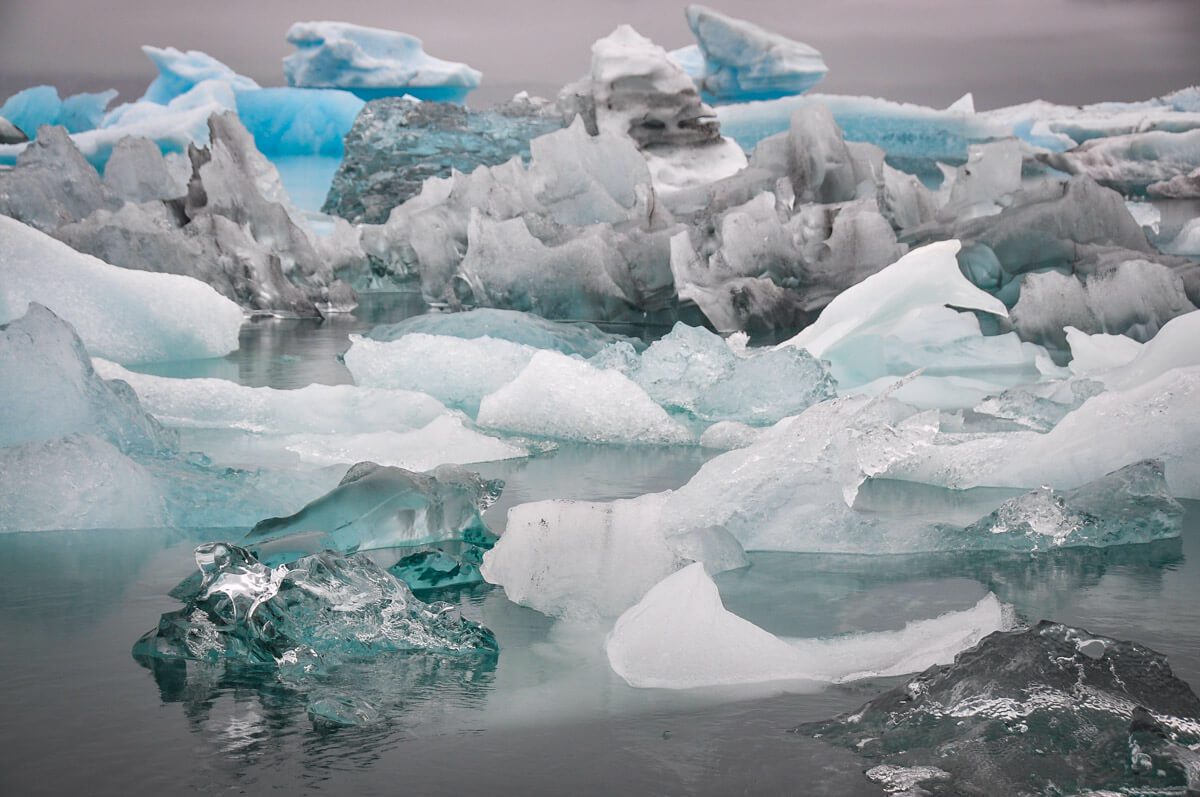 After your hike, make your way just 5 more minutes down Ring Road to the famous Jökulsárlón Glacier Lagoon and Diamond Beach. This ice beach and lagoon is one of the most unique places we've ever been. There are three stops here, and we recommend doing all three to get different views.
The first stop is right before the bridge on the left, and is less crowded. Be sure to walk down next to the lagoon to get up close to the ice chunks as they float by.
Across the street is a stop for the beach where the ice chunks wash up. It's pretty fun watching the waves have their way with the ice. Walk down the beach to the right to find the bigger pieces of ice.
And the final stop, across the bridge at the lagoon, is the busiest and is where the tour buses park. From here, you can walk up a little hill for a nice view overlooking the lagoon. If you're lucky, you can see families of seals swimming around the drifting ice.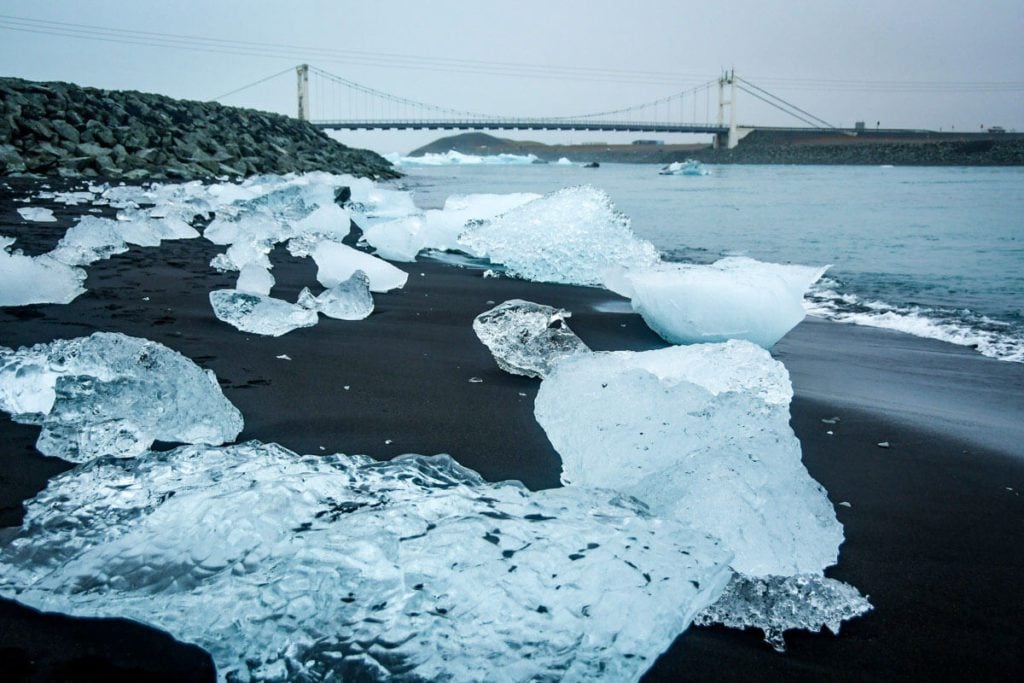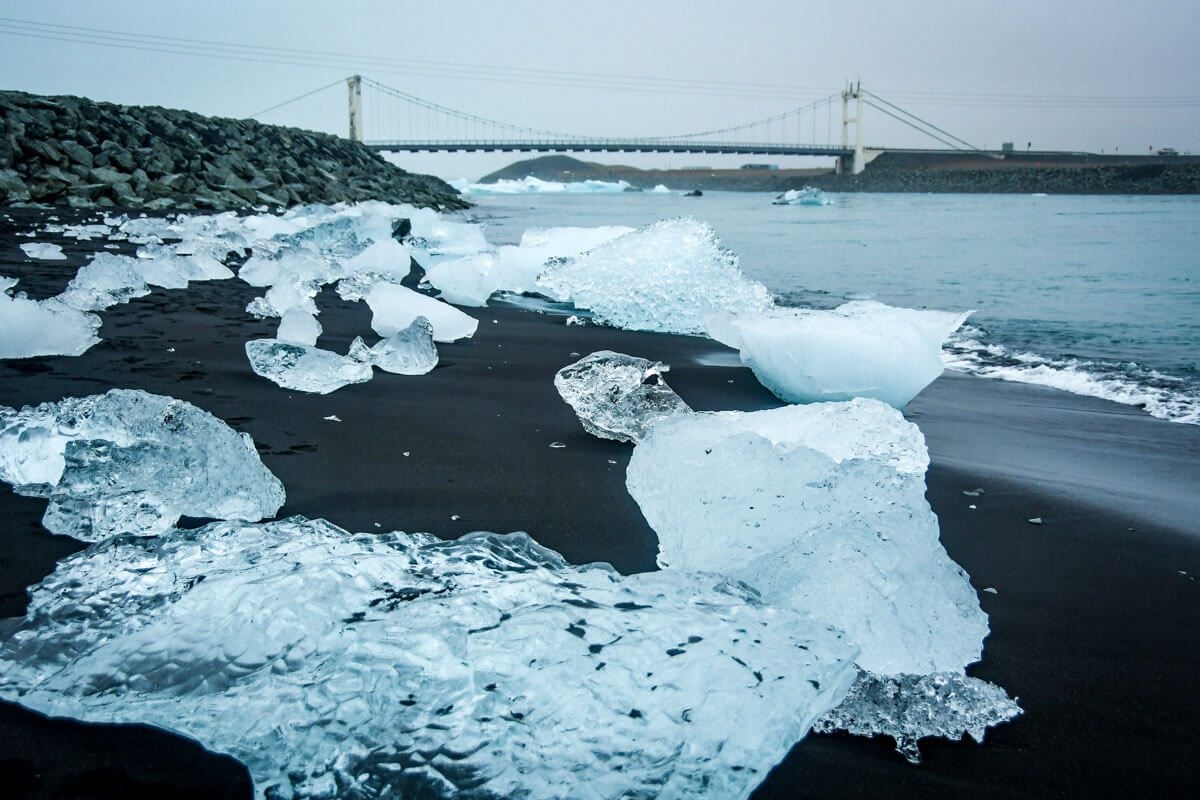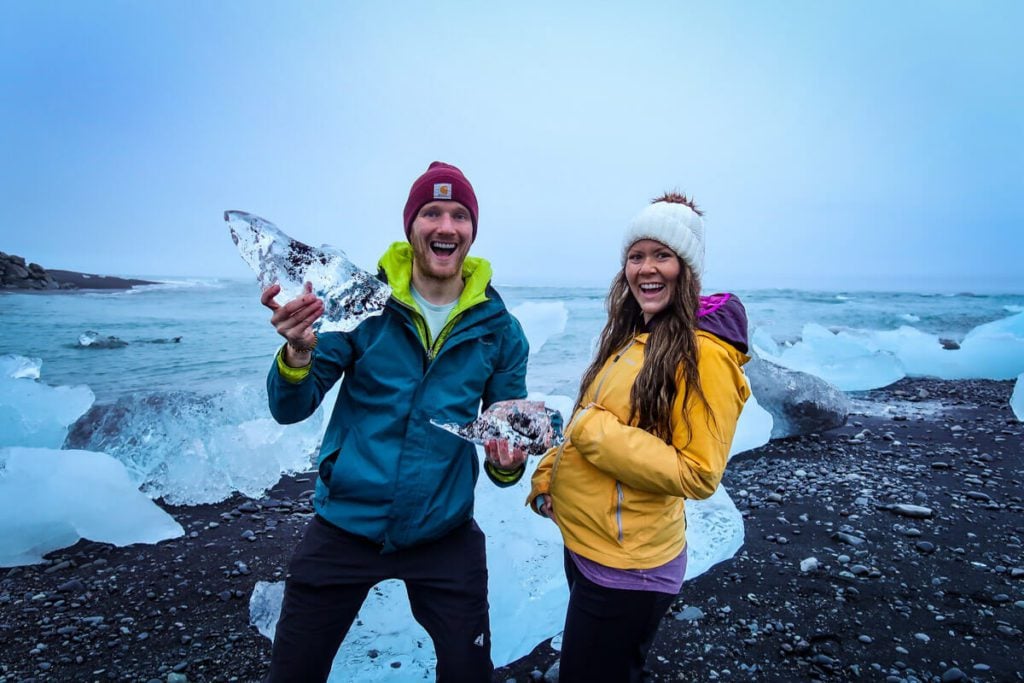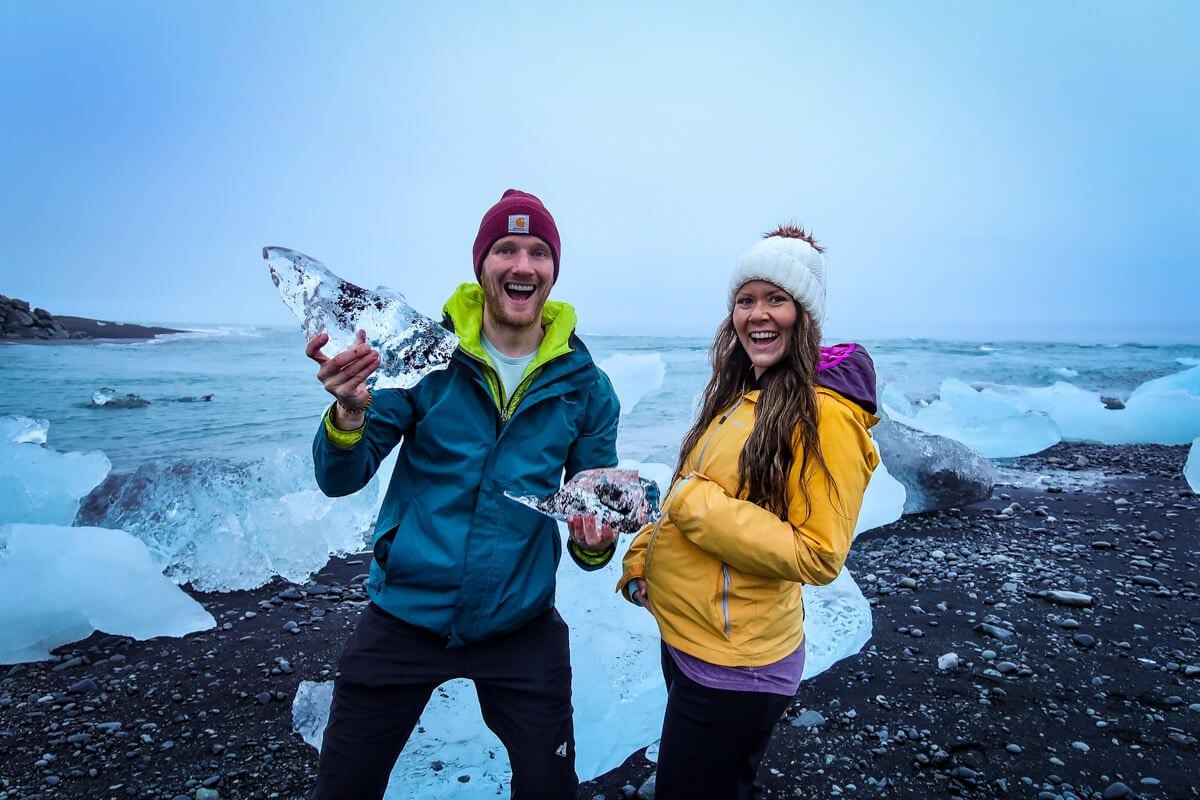 If you have more time in Iceland, be sure to check out Fjallsarlon, Iceland's other glacier lagoon.
Unfortunately, with only 7 days in Iceland, this is as far on Ring Road as you'll have the time to venture (without being rushed).
Tip: Park before the bridge on the southwest side. If you have clear weather and you have the time, try to also make a stop at the second glacier lagoon, Fjallsárlón. But skip this one if you don't have time.
Where to stay: After this you're going to make your way back towards where you came from on Ring Road and stay at the same accommodation as the night before.
Day 7: Drive back to Reykjavík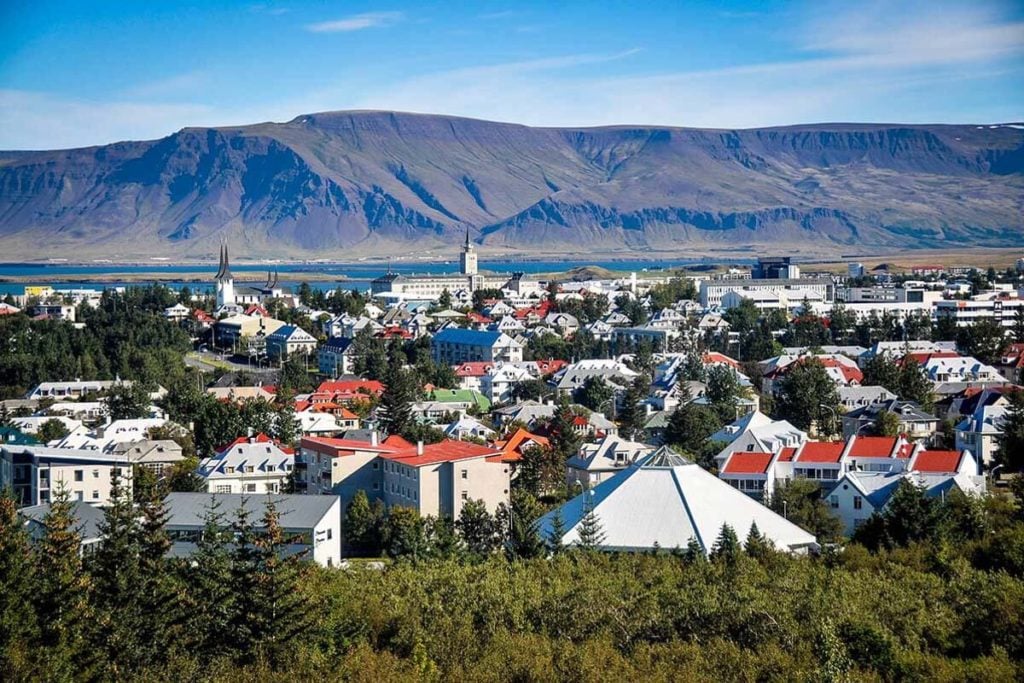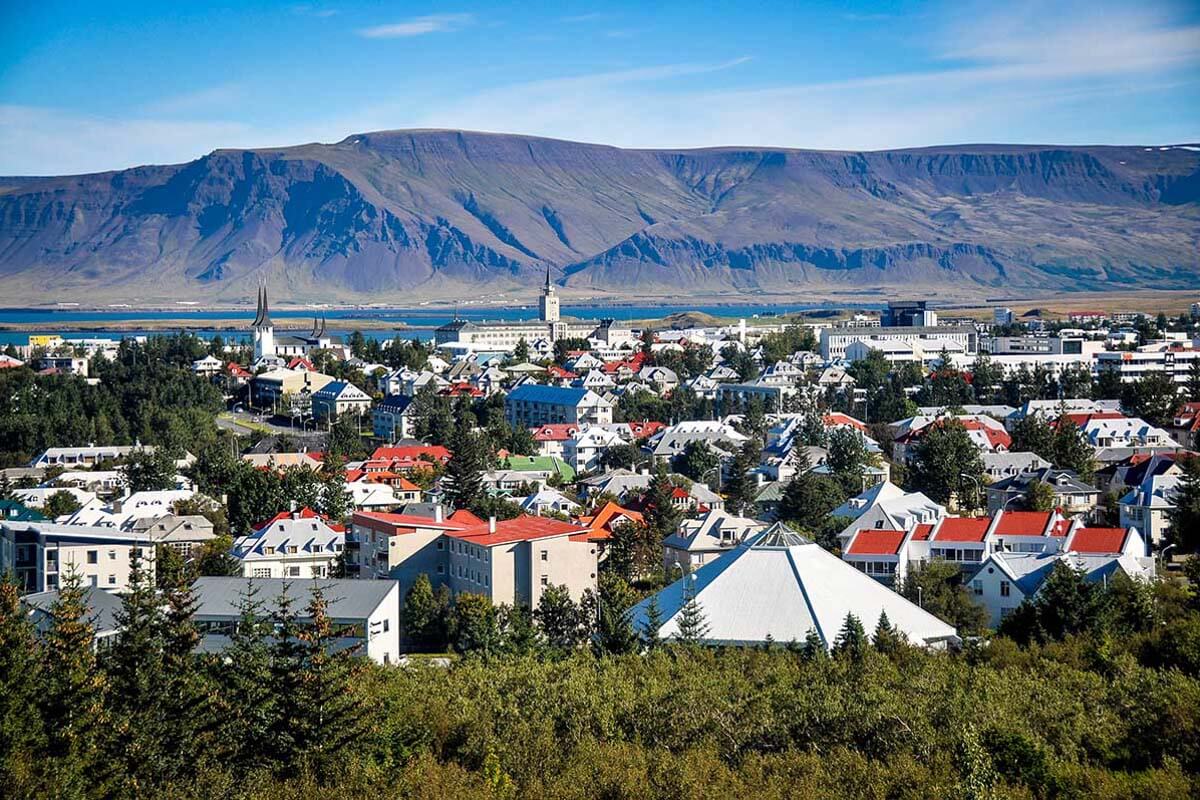 Day at a glance: Make your way back to Reykjavík, choose between the Blue Lagoon or exploring more of Reykjavík
Approximate Driving Time: 4.5 hours
Approximate Distance Covered: 325 km
Today is the day you'll be heading back to Reykjavík to catch your flight out. The drive will take about 4.5 hours without traffic or stopping so you should plan for about a 5 hour travel day.
Take this opportunity to make any stops along the way that you may have missed before because of the weather or timing. This could be another change to see the puffins if you didn't get lucky the first go around.
If you head out early enough and have the time before an evening or late-night flight, you'll have two options to spend your afternoon: exploring the city or relaxing in the Blue Lagoon
Option 1: Blue Lagoon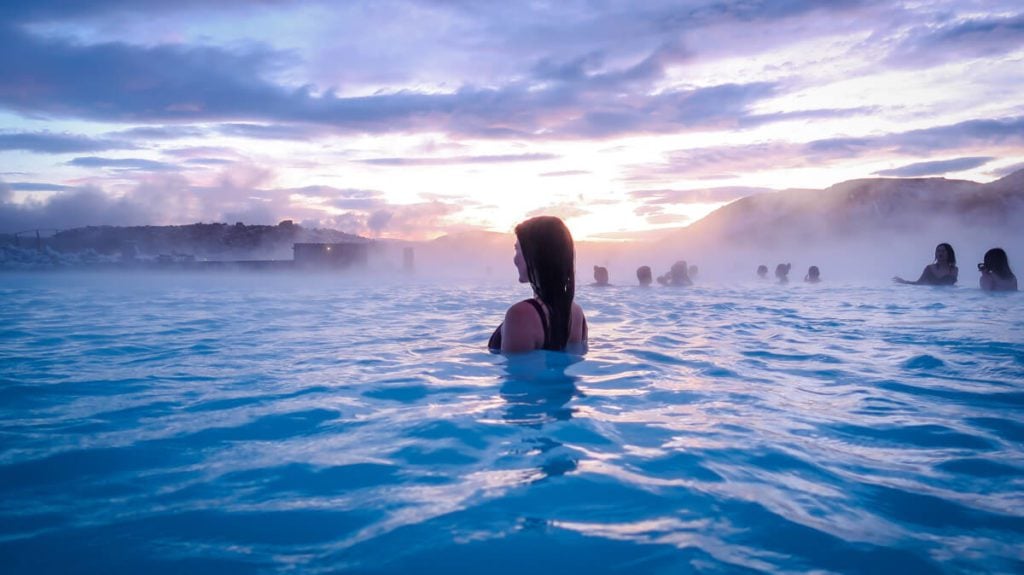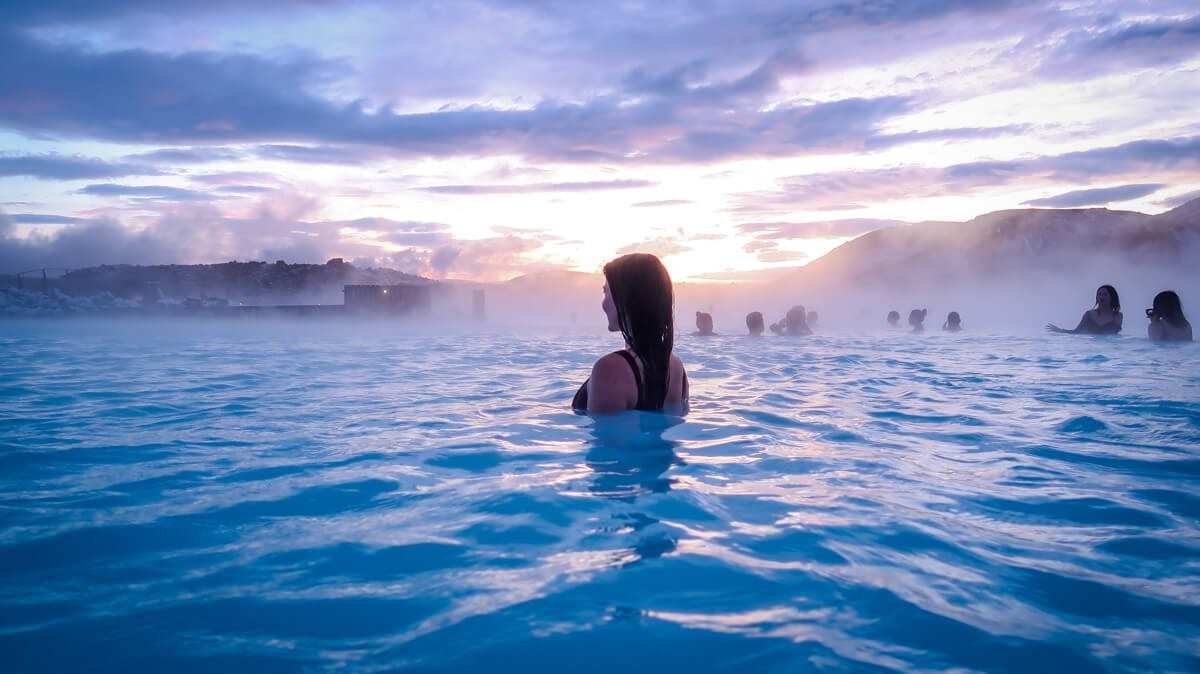 If you want to chill after a long week of travel, head straight to the Blue Lagoon (it's pretty close to the airport anyway if you want to squeeze in a dip before your flight out).
Undoubtedly the most famous hot spring in the entire country, the Blue Lagoon is best known for its milky blue waters. Surrounded by lava stones, this popular hot spring makes an excellent last stop before getting on a long flight. Plus, with a complimentary beverage (prosecco, please!) and silica face mask, you'll feel totally pampered soaking here.
Reykjanes Peninsula: Seltún Geothermal Area and Kleifarvatn Lake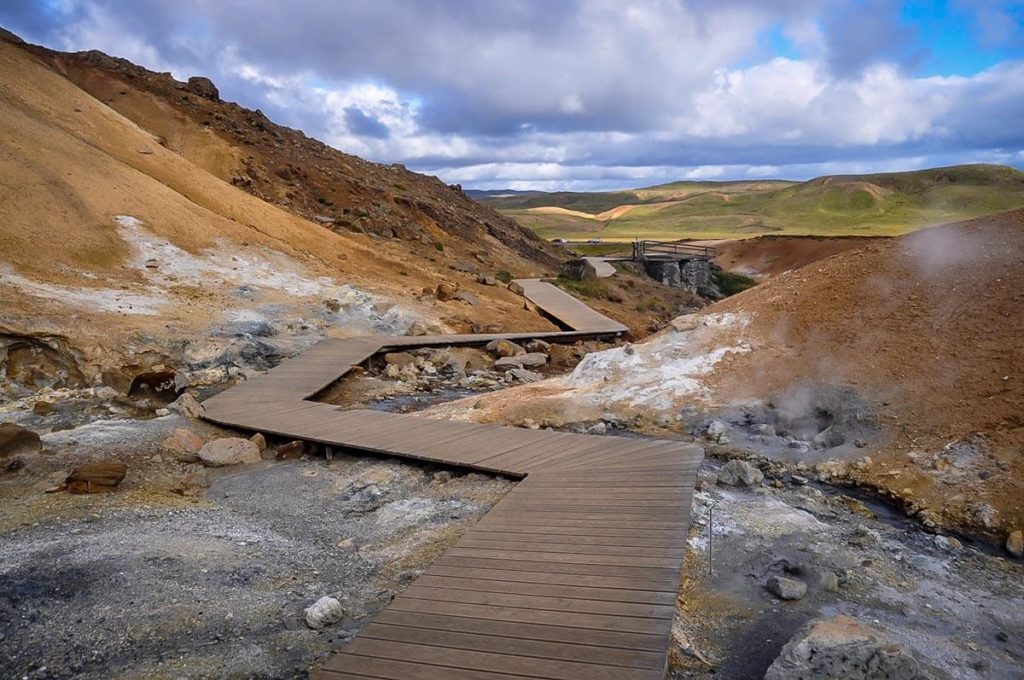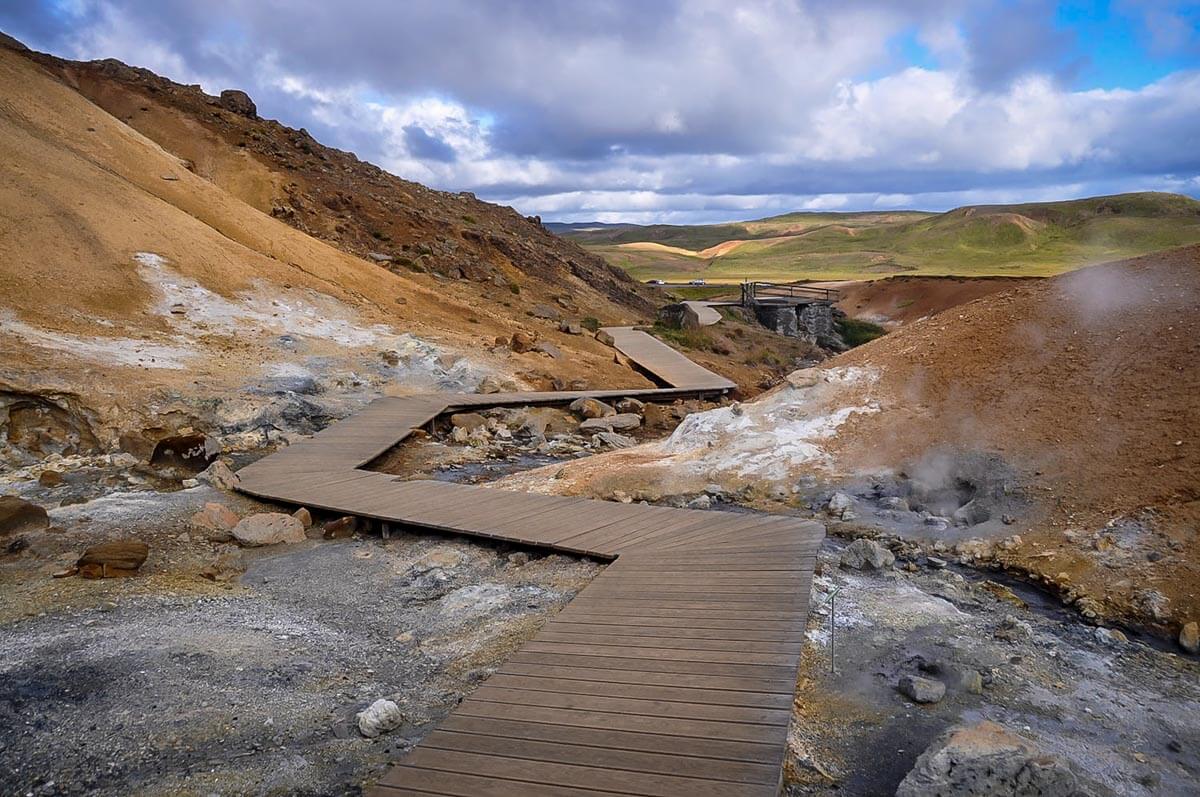 If you have more time, we highly recommend checking out the Seltún Geothermal Area and Kleifarvatn Lake.
Right off Highway 42 on Reykjanes Peninsula in southwest Iceland, Seltún Geothermal Area. It's another place that's similar to Geysir, but with a much stronger smell of sulfur. There are many hot pools of bubbling water and mud on either side of a wooden walkway.
It's a small area but worth a stop for 10 minutes. As you drive north on Highway 42, you'll pass by the stunning Kleifarvatn Lake with its multicolored rocky banks. Then head straight to the airport or back to Reykjavík if you have one more night in town.
Option 2: Explore more of Reykjavík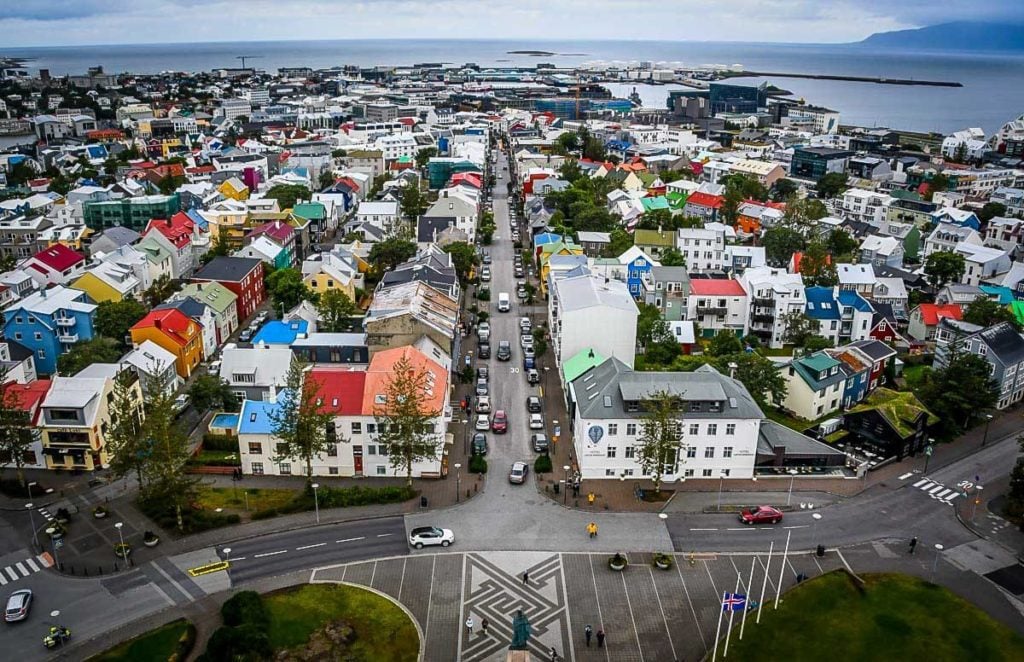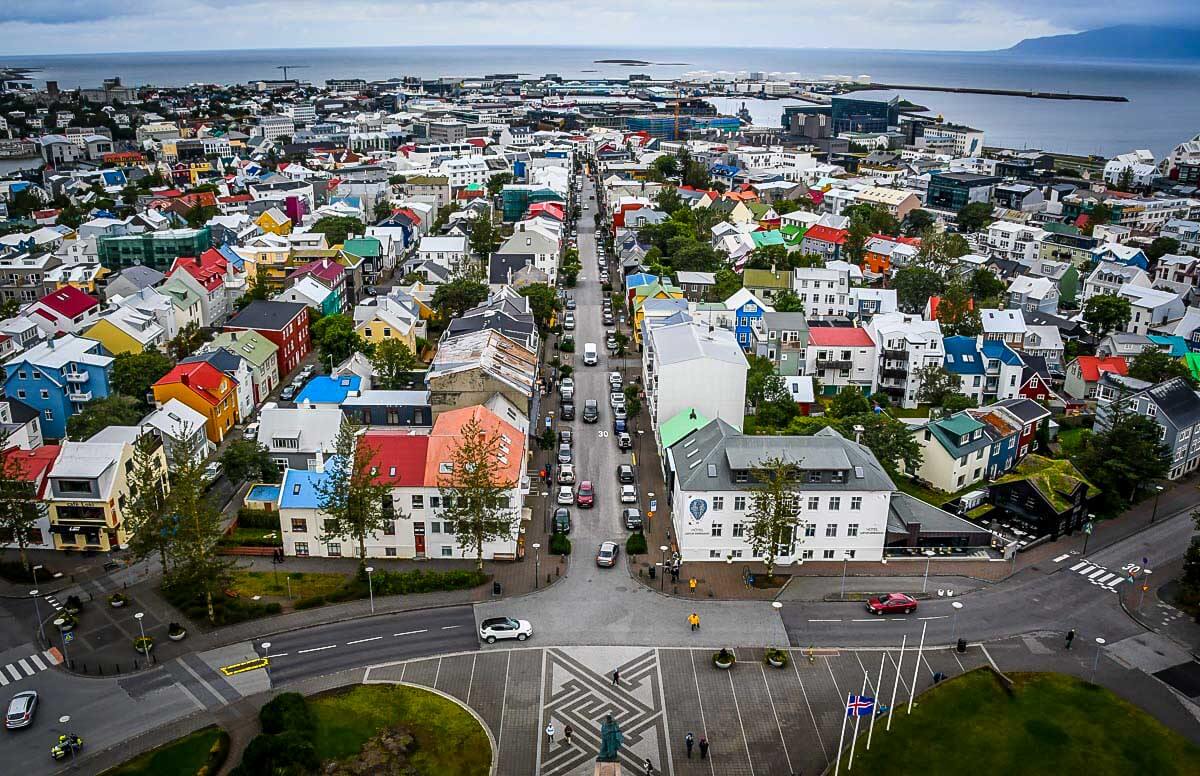 If you're not done exploring, or want to extend your trip by a few days, there are plenty of things to do in the capital city of Reykjavík. Here are just a few ideas:
Have dinner in the new harbor
Take in the view at the top of the bell tower of the church
Join a free walking tour
Go to a public hot pool and mingle with locals
Indulge on a food tour
Where to stay: In the northeastern part of the city is Reykjavík Campsite located on the street called Sundlaugavegur. This is the best campsite we stayed at in all of Iceland, but it's also the most expensive.
It was 2100 Icelandic Krona ($18.20 USD) per person per night. But it did include free WiFi, bathrooms, hot showers, dishwashing stations, an indoor kitchen, a game room, grills and laundry machines (for an extra charge).

If you're looking for more options, check out the "Where to Stay" section of our Reykjavík guide for hotels, Airbnbs and hostel recommendations.
---
More or less time? What to add or cut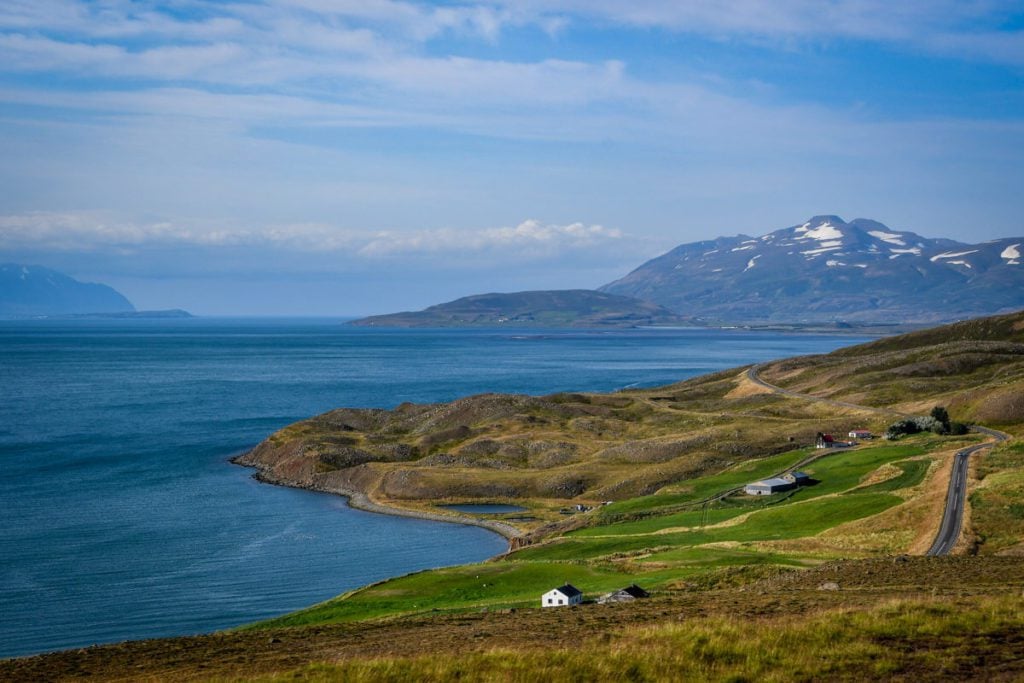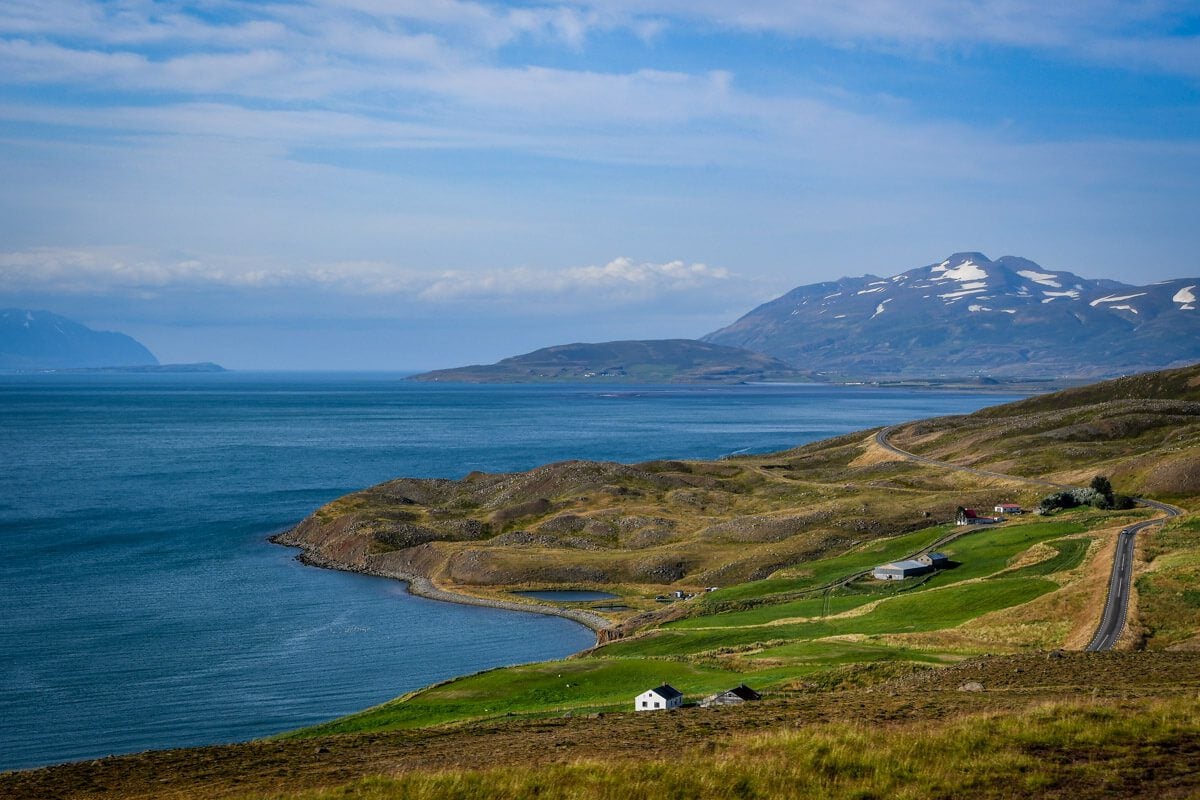 Truthfully, we think this is the perfect 7-day Iceland itinerary for your first trip and we wouldn't change a thing! You'll see so much in less than a week, but also have time to relax and soak up the beauty without being rushed.
If you are lucky and have some extra time, or if your trip is shorter, we have some suggestions for things you could add or cut from your Iceland itinerary:
If you have more than 7 days:
You may have time to do the entire Ring Road circuit. There are lots of places in the north of the country that we are excited to show you!
We've also heard great things about the Highlands (though you'll need a 4X4 to get there) as well as the Western Fjords.
If you have less than 7 days:
We would suggest cutting Day 1 from this Iceland itinerary and start your trip heading south from Reykjavík (Day #2 on this itinerary).
You can also cut out whatever sights don't appeal to you as much on this itinerary to fit your time restraints!
Road trip tips for Iceland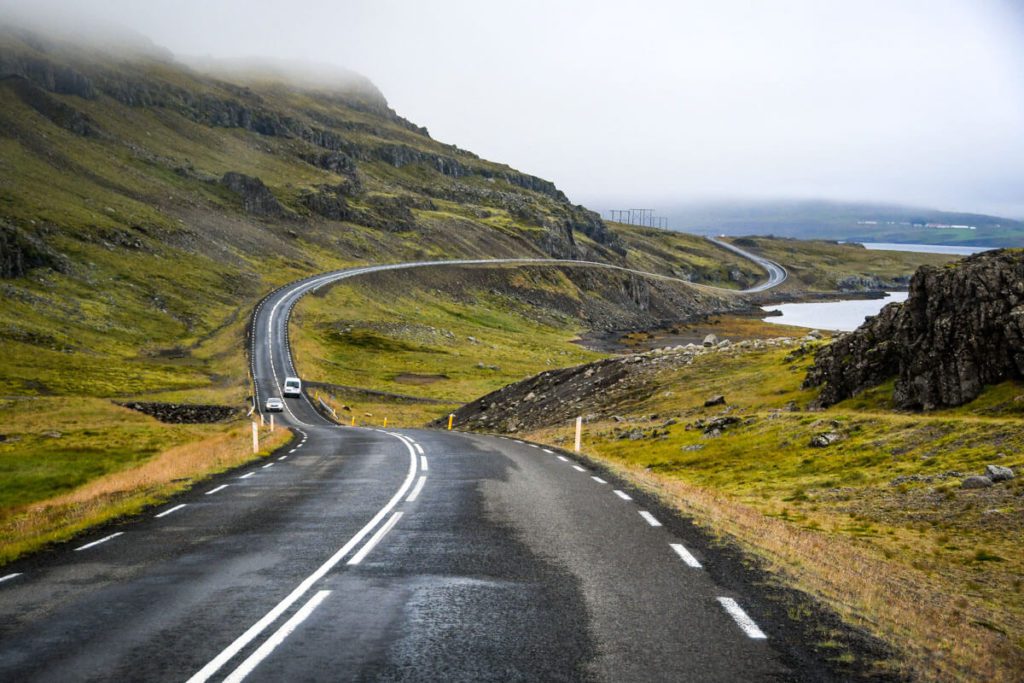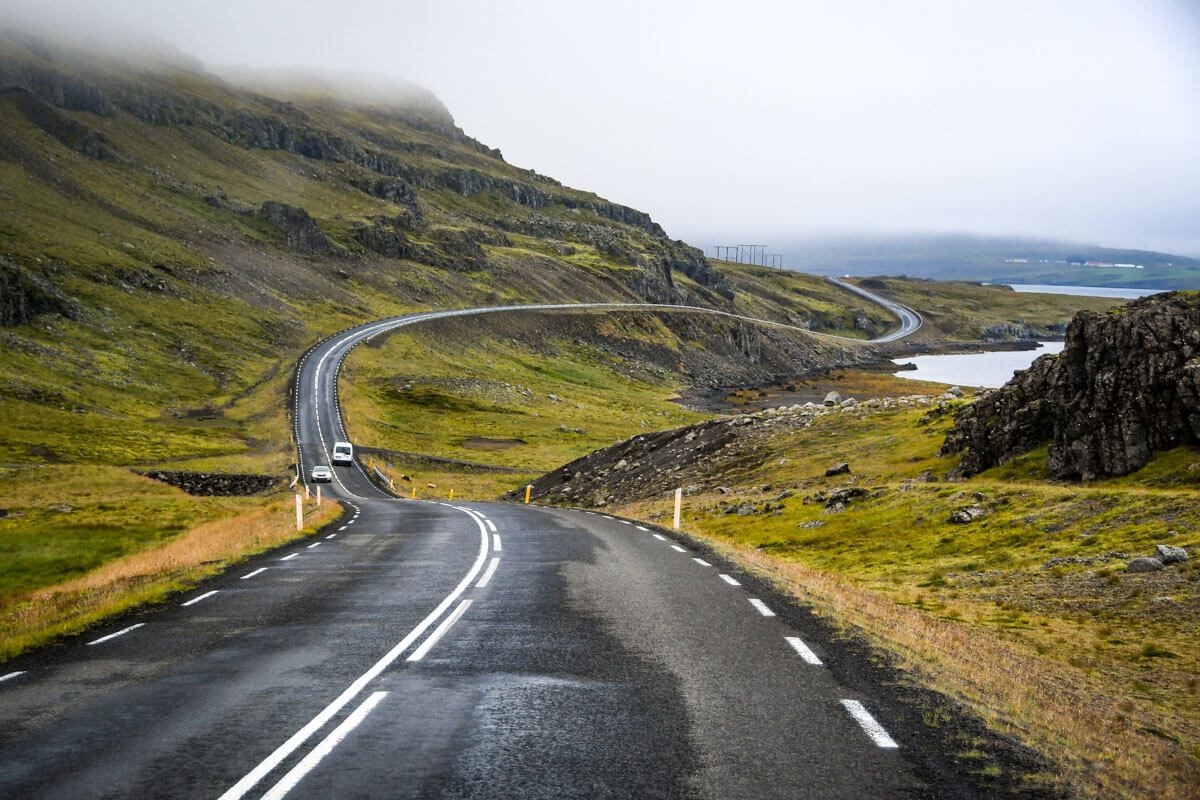 Driving in Iceland may be a bit different than what you're used to so we're going over our top tips for making your Iceland road trip as smooth and care-free as possible.
Gas in Iceland is expensive. Use an app like Bensin to locate nearby gas stations and compare current gas prices. Check if your car or campervan rental company offers special discounts at specific gas stations.
Don't let your tank get emptied. This should go without saying, but the last thing you want to do on your Iceland road trip is run out of gas in the middle of nowhere. There are long stretches of road in Iceland without anything around, so be sure you're keeping an eye on your gas gauge and filling up often.
Watch your speed. Of course this is for your personal safety and the safety of other drivers on the road. But there are also speed traps set up around the country (mostly around Reykjavík) to catch drivers over the speed limit and slap them with a hefty fine.
Be prepared for sudden changes in the weather. The weather in Iceland is notoriously fickle and can turn on a dime from sunshine and blue skies to wind, rain or even snow. Be prepared for strong winds on the open roads and exercise caution particularly when opening your car doors in the wind.
Know what to do at a single-lane bridge crossing. Ring Road has quite a few single-lane bridges, and there's a good chance you might wind up at one at the same time as another car. The rule of thumb is the car that's closest to the bridge will have the right of way while the other waits for them to cross.
Watch out for sheep! Self-explanatory…
Know the limits of your vehicle. If you're renting a regular 2-wheel-drive vehicle, there are some roads you cannot drive on. And I'm not just saying you shouldn't drive on them. You literally CAN'T because a) it's illegal, and b) your car will not make it. This rule applies to all "F-roads" – similar to fire roads in the US.
Don't ever drive off the road. It is illegal to go "off roading" in Iceland. Be a responsible traveler, and stick to the roads!
Understand roundabouts in Iceland. There are tons of roundabouts in Iceland, especially around Reykjavík, and they can be confusing to navigate. Just remember, when you're driving a 2-lane roundabout, the inner lane has the right of way.
Drive with your headlights on at all times. This is the law in Iceland and it's meant to keep you safe in the occurrence of heavy fog.
For more tips and plenty of insider information, check out our guide to renting a car in Iceland.
What to pack for your 7-day Iceland itinerary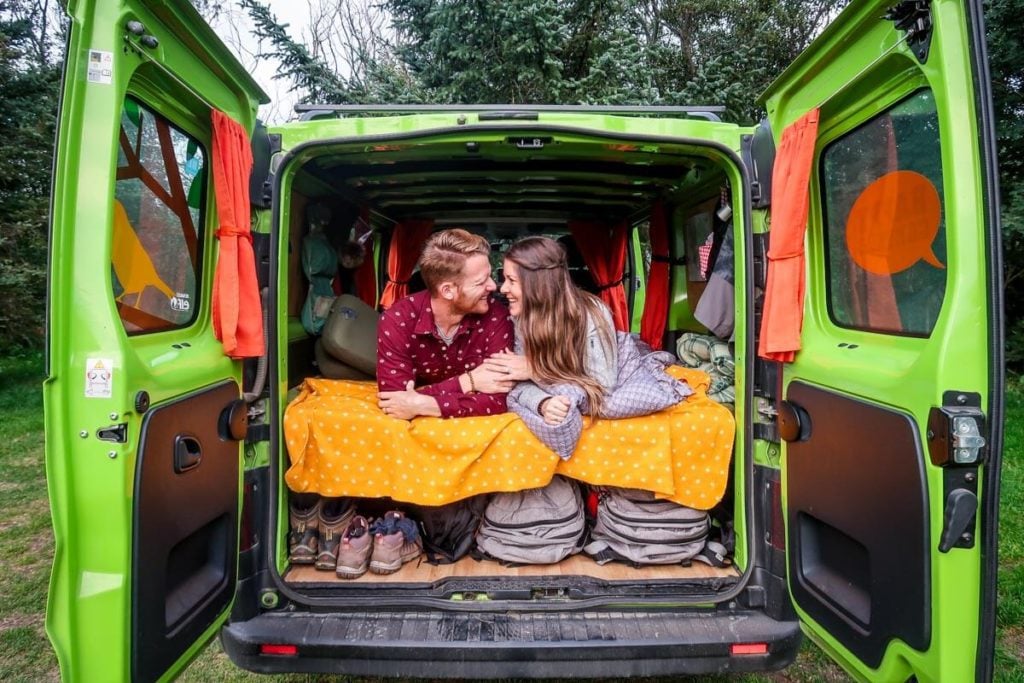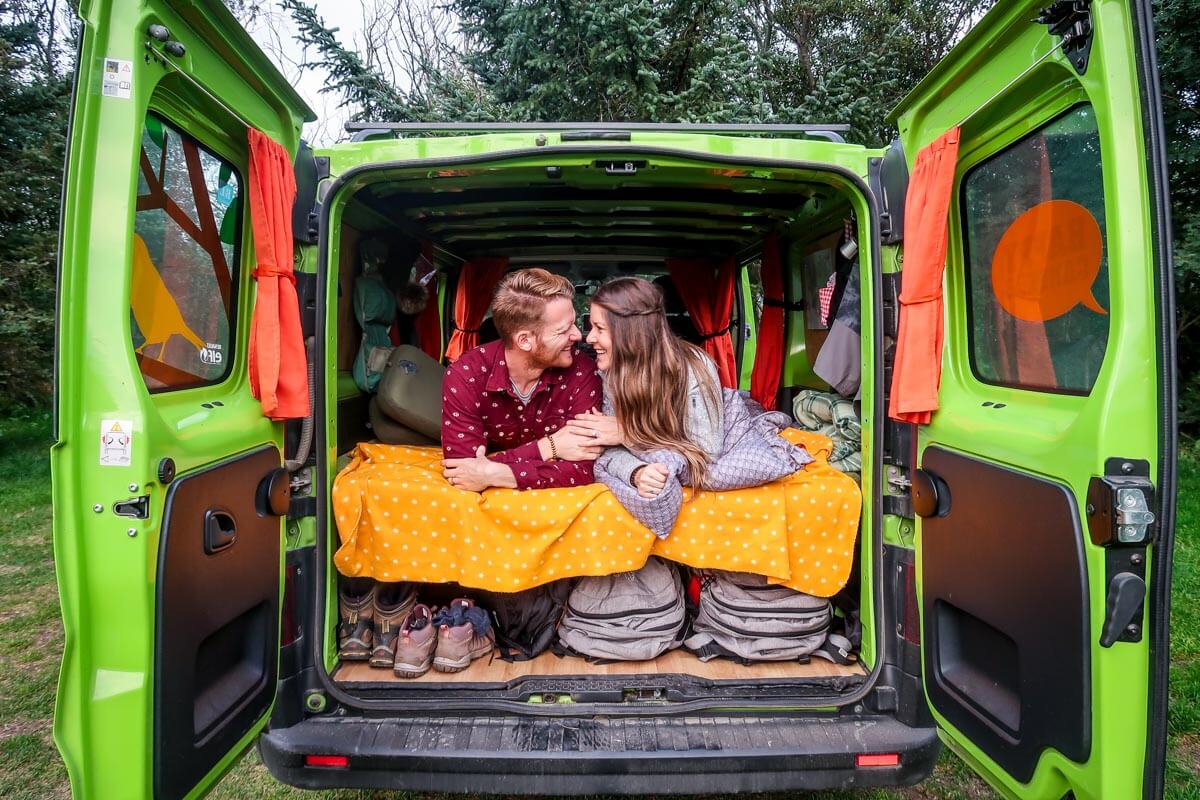 Here are some items we'd recommend packing specifically for traveling in Iceland.
Clothing:
Lots of layers
Quick-dry sports clothing
Rain gear such as waterproof hiking pants and a heavy-duty rain jacket
Wool socks
Decent hiking boots
Swimsuit (for hot springs!)
Packable down jacket
Winter hat and gloves (even if you are visiting in the summer months!)
Organization:
Packing cubes: an essential for keeping your stuff organized
Hanging toiletry organizer: makes it easy to hang in public restrooms at campgrounds and keeps your toiletries organized
Dry bag: essential for keeping valuables dry in Iceland's wet climate
Reusable grocery bag: for grocery shopping and organization
Reusable baggies: come in super handy for snacks and storing small items
Other:
Hand sanitizer (this one is our favorite!)
Snacks: dried fruit, nuts, protein bars (it's hard to find these kinds of things in Iceland grocery stores)
Eye mask: especially helpful during the summer months where the sun sets very late
Travel pillow: good to have just in case you don't love the ones provided (or so you can have more pillows for sitting up in the bed)
Headlamp: nice for midnight runs to the toilet if you're camping
Portable charger: good for charging your devices on the road
Car Inverter: Your campervan will likely have USB outlets for charging devices like your phone. But if you need to charge larger devices like a laptop or drone, this car inverter will come in clutch. And yes, you can fly with it!
Portable jumper cables (optional): This tiny little device has a power pack that effectively jumps your vehicle (without another car). Our campervan battery died in the middle of nowhere during a torrential rainstorm, and it took us hitchhiking to a nearby farm to find jumper cables. We wished we would have had one of these (in fact, we bought one as soon as we got home!).
Be sure to download our complete packing list for Iceland! It's packed with good suggestions and insider tips to help plan your Italy trip. And it's completely FREE, so why not!?


---
Are you planning a trip to Iceland?
We have TONS of resources on travel in Iceland and how to make the most out of your trip. Check out our Ultimate Iceland Travel Guide for all the answers to your most burning questions, or read some of our favorite articles below.
Save this article on Pinterest for later!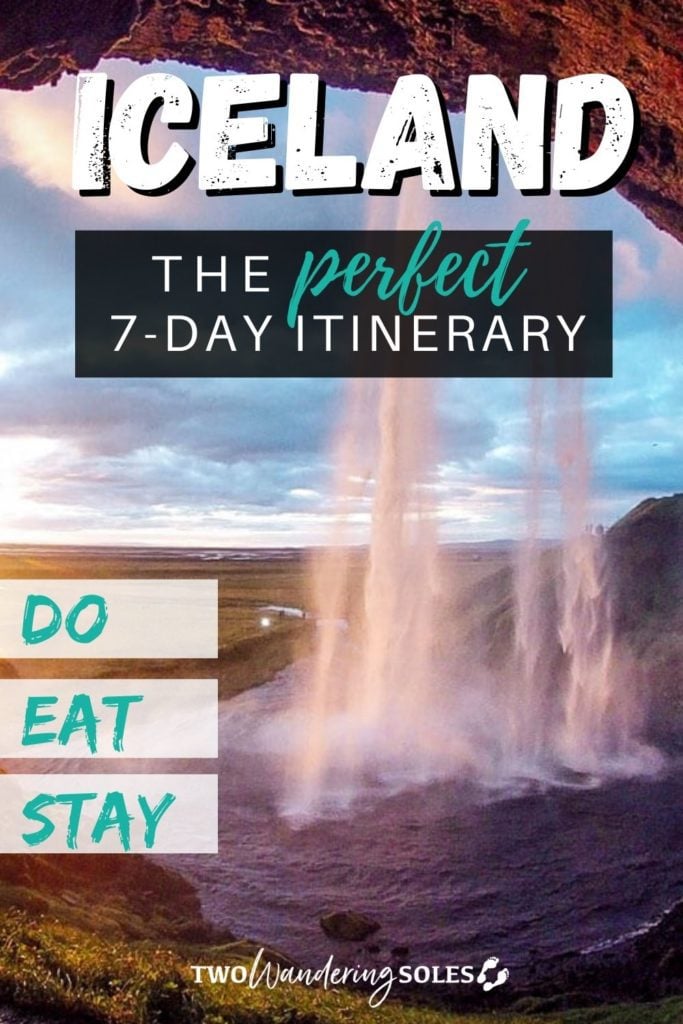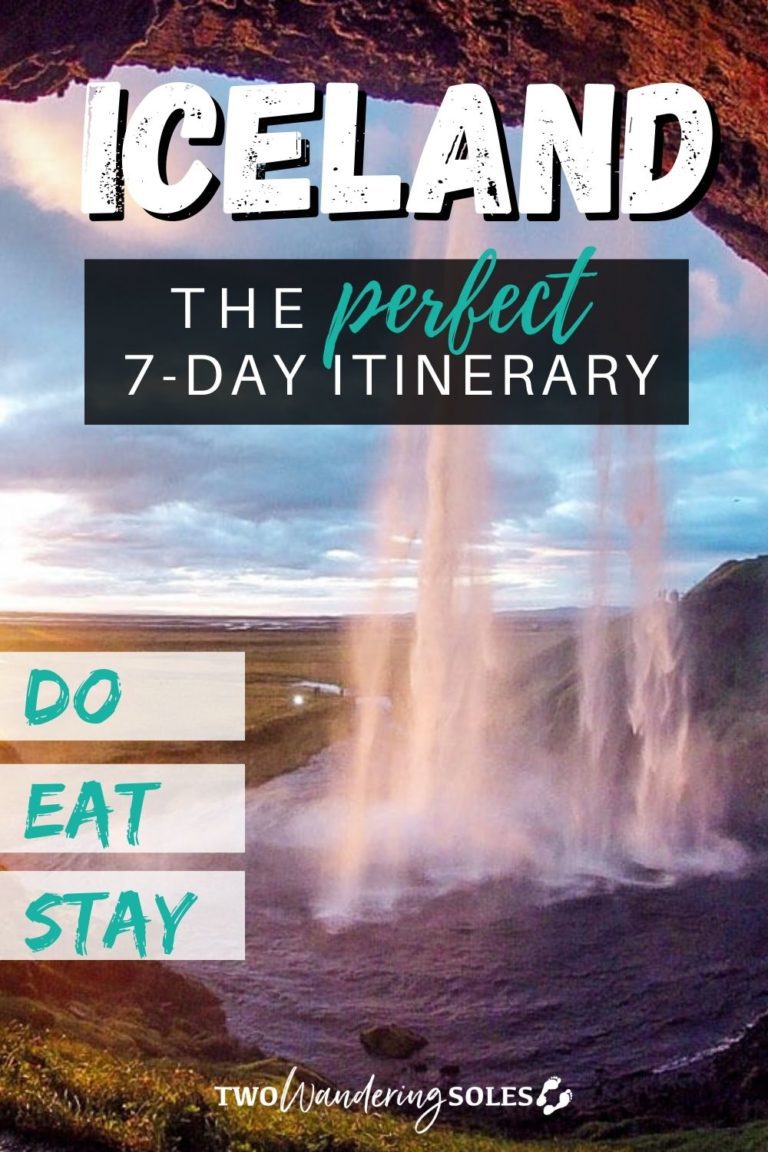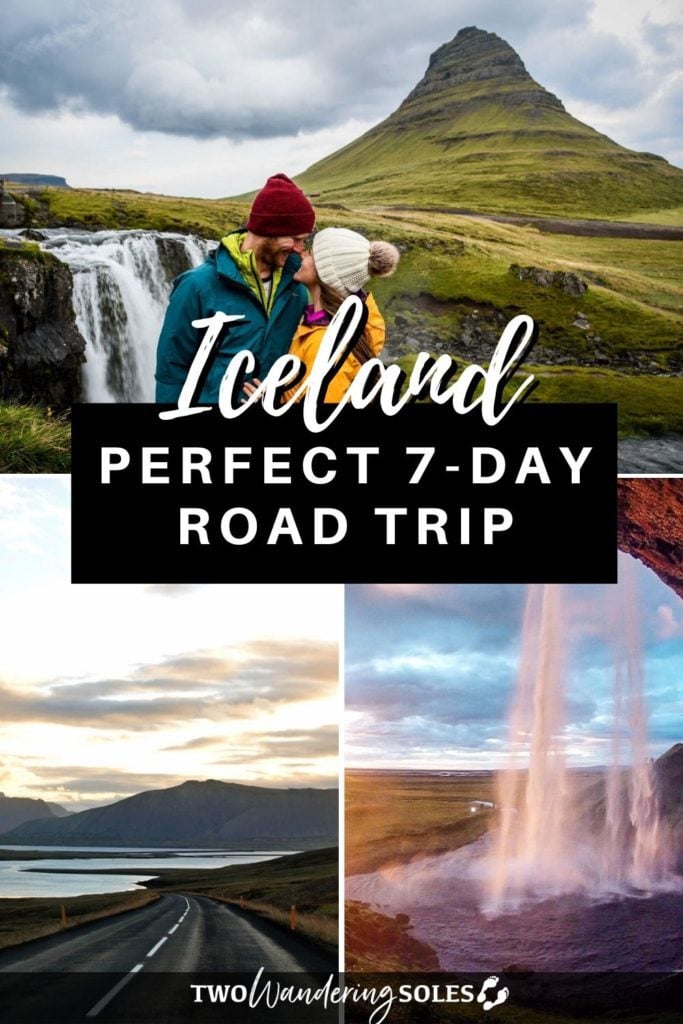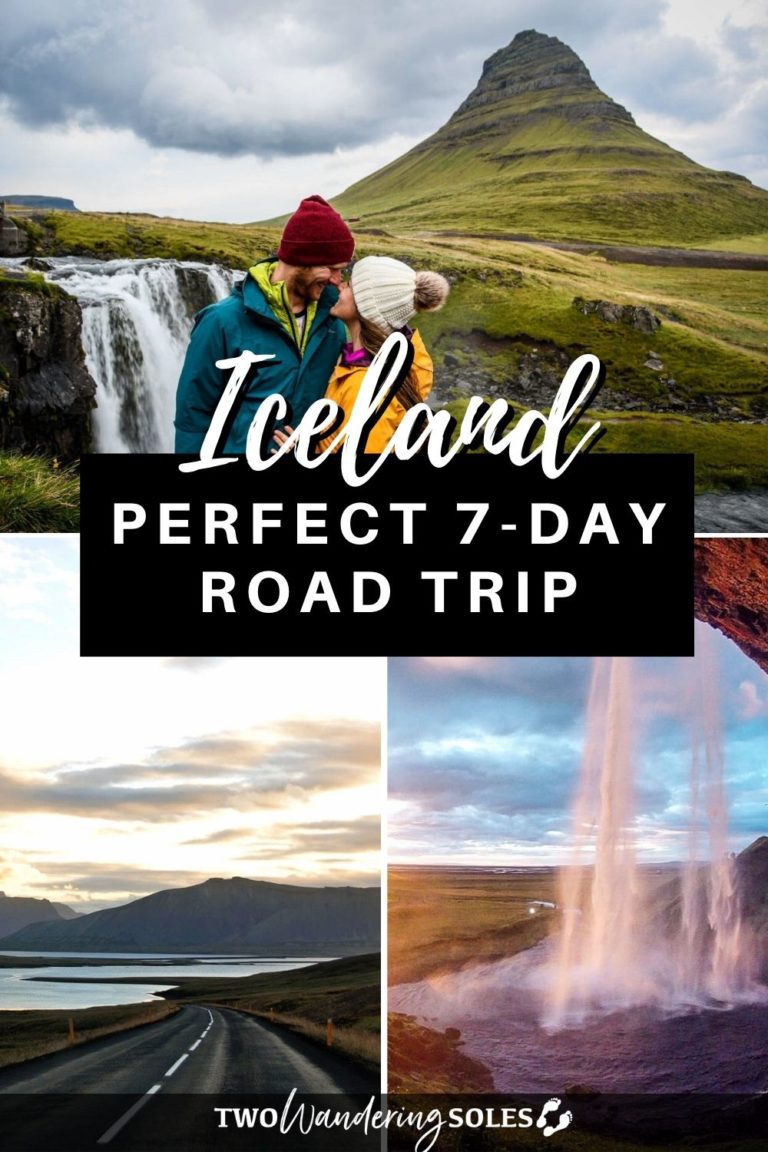 We want to hear from you!
What do you think of this 7 day Iceland itinerary? What would you add or skip? We'd love to hear your feedback in the comments below!