Soaking up the steamy waters of the Reykjadalur Hot Spring Thermal River is one of the coolest ways to begin or conclude your trip to Iceland. In this guide, we cover exactly how to get to this magical location, what you can expect while visiting, and essential tips.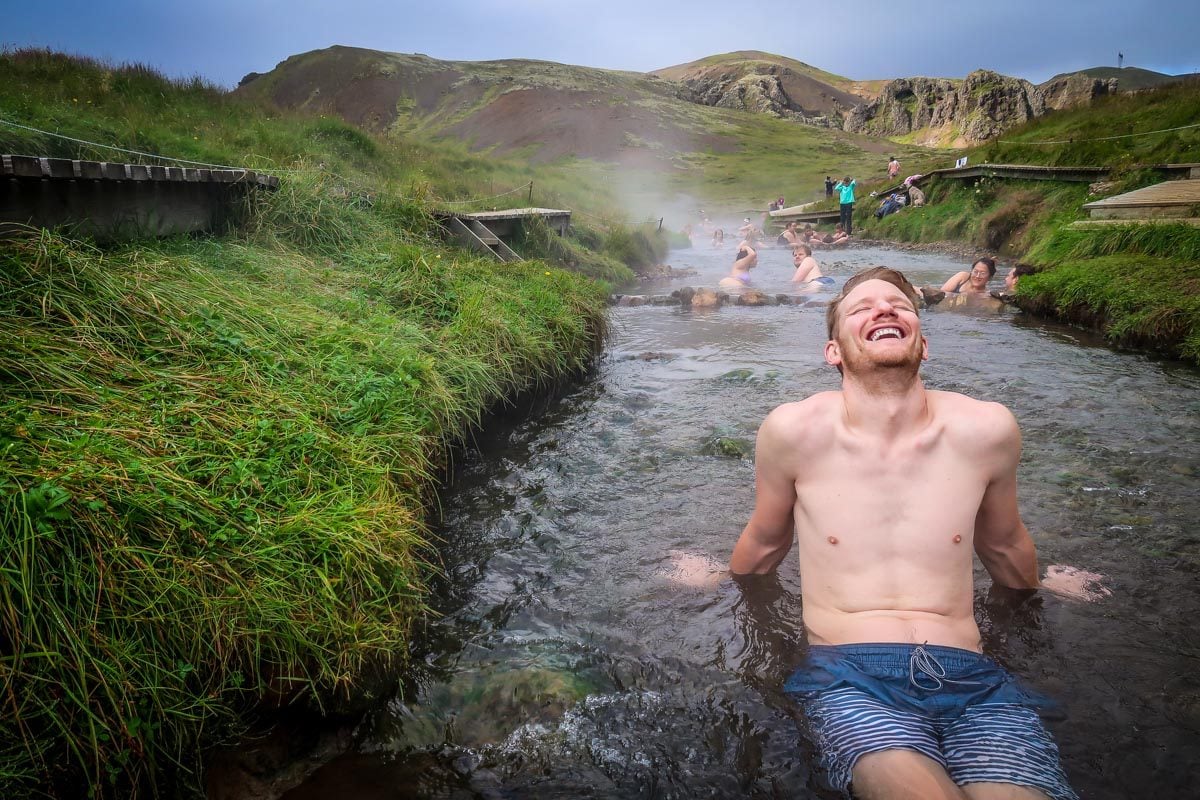 Reykjadalur Thermal River snakes through a lush green valley with grassy hills where sheep graze, making it one of the most unique hot springs in Iceland.
Located just a 50-minute drive from Reykjavik, a visit to this special hot spring can easily be done as a day trip.
But your journey doesn't end at the parking lot… Getting to the Reykjadalur Hot Spring Thermal River requires a moderate 1 hour 15-minute hike each way, making visitors earn their soak.
But those who lace up their hiking boots and make the trek will be rewarded with epic views and steamy river water that makes the perfect soak after an uphill jaunt.
We think soaking in the geothermal waters at Reykjadalur River is one of the best things to do in Iceland, and we have a feeling you'll agree.
In this guide to Reykjadalur Hot Spring Thermal River, we're sharing exactly how to get there as well as some insider tips that'll help you have the best soaking experience!
Reykjadalur Hot Spring Thermal River Guide
---
Want to save time and energy on planning?
We've traveled to Iceland 3 times now and spent weeks living in a campervan, traveling around the country. We've been able to explore a lot of what Iceland has to offer!
We've complied our experience to create the perfect Iceland itinerary. Our itinerary is for 7-9 days and meant to be explored while traveling in a campervan. It includes the highlights of the southern coast of Iceland.
We'll send you our complete 7-9 day customizable itinerary, filled with tips and advice. Just click below to get your perfect Iceland itinerary today!


---
Reykjadalur Hot Springs Overview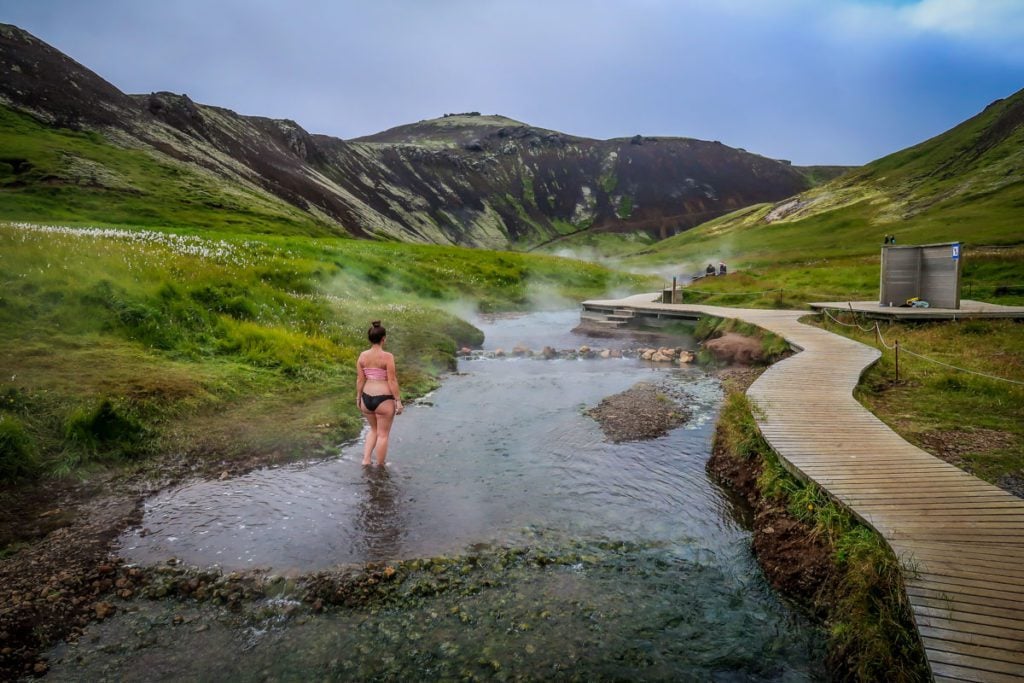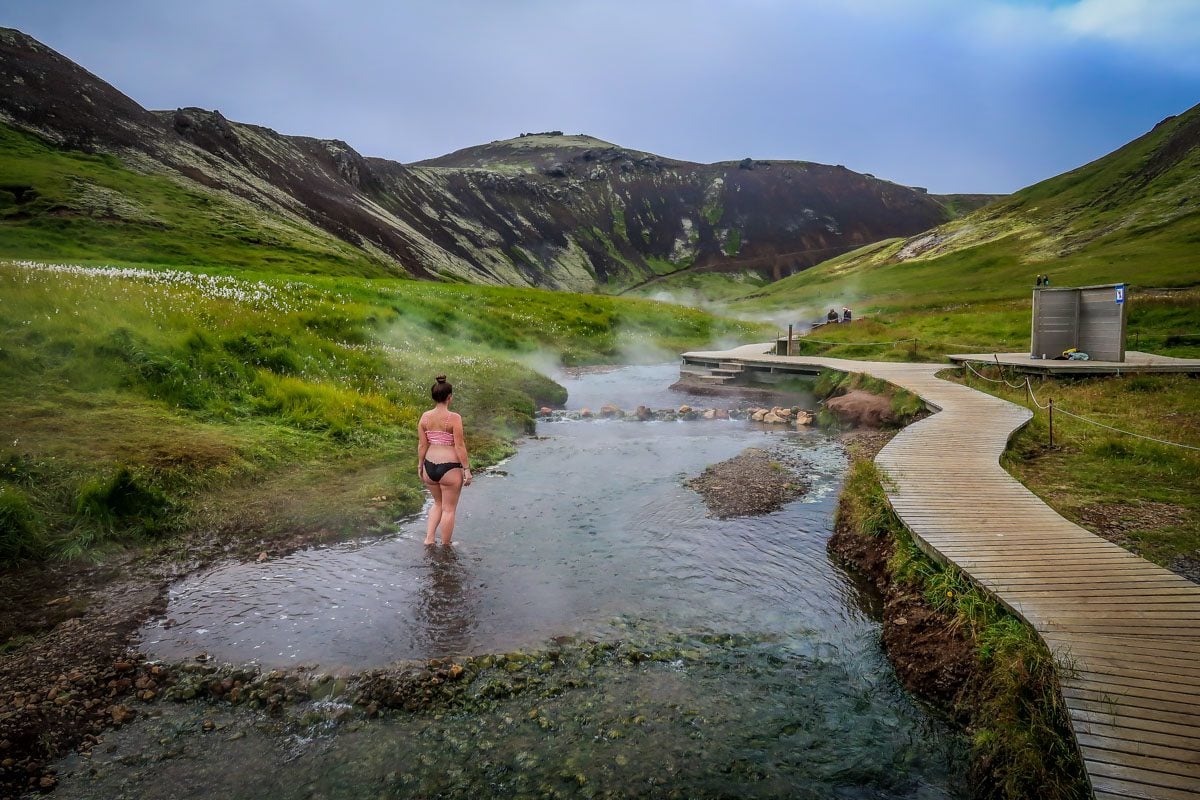 As a beloved soak among both locals and tourists, this magical thermal river weaves through stunning countryside at the base of the Icelandic Highlands.
Pulled right from the pages of a fairytale, Reykjadalur Hot Springs weaves through a valley full of eye candy: bubbling mud pots, rainbow colored springs (some that rival the colors of the Blue Lagoon!) and furry Icelandic locals that you'll spot on the way to the river.
Once the rolling hills open up to this colorful valley billowing with pockets of steam, you'll understand why locals named this area "Reykjadalur", originally meaning steamy/smokey valley.
Dip your toe along the river to find the perfect soaking temperature, then spend as long as you'd like in its relaxing waters.
How to get to Reykjadalur Hot Springs Thermal River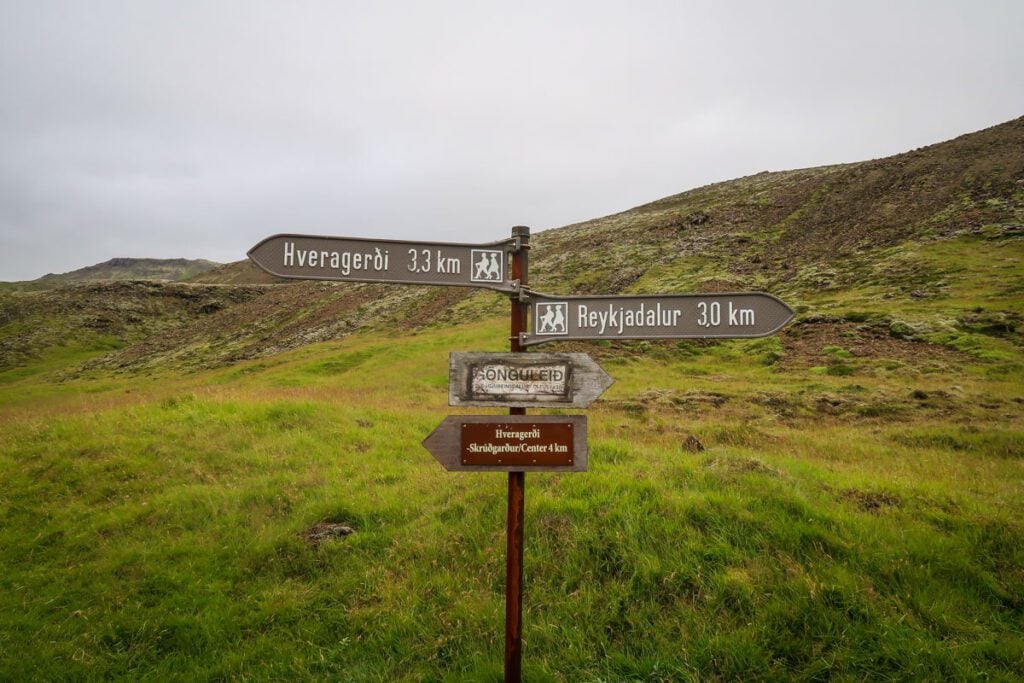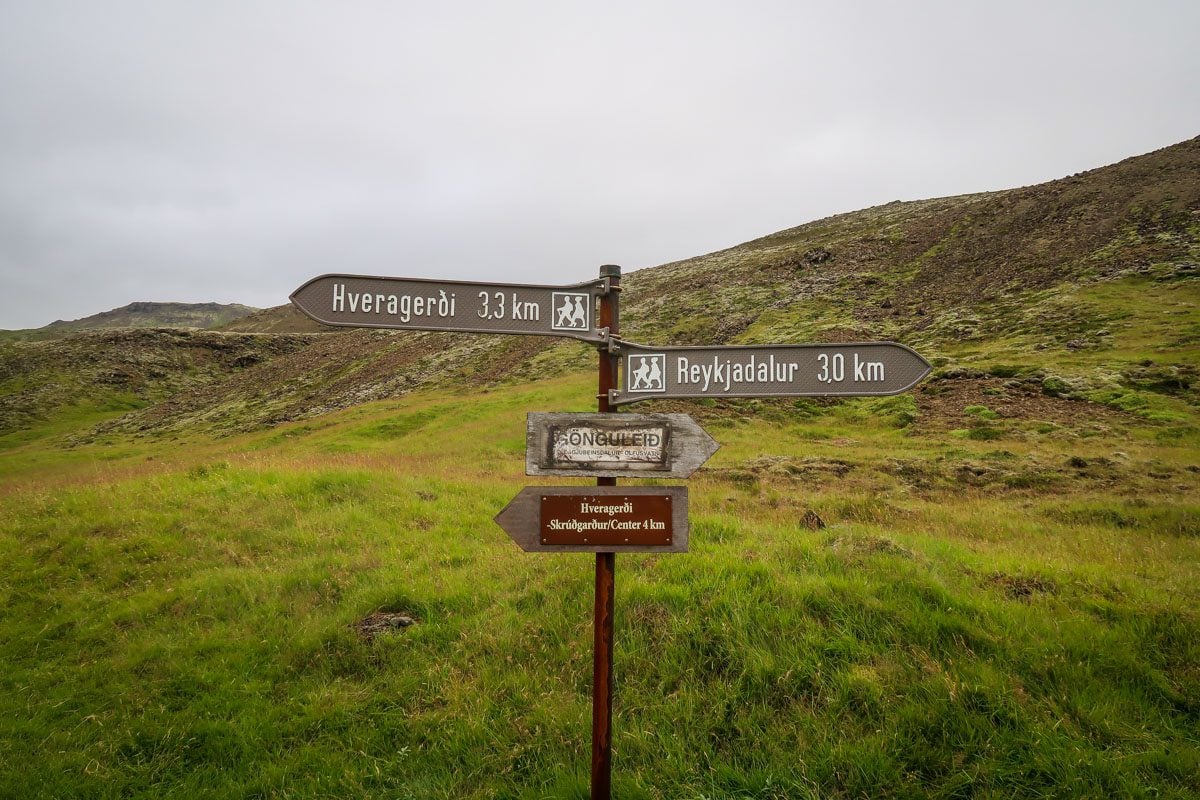 Getting to Reykjadular is pretty straightforward since it's so close to Reykjavik and the route is easy to follow, even without GPS.
Self drive
The easiest and most popular way to get to Reykjadular is with your own rental car.
We've outlined the exact driving directions below so you can get to the parking area with ease. Once you've parked, you'll follow a hiking trail to get to the river.
Directions to the Reykjadalur parking lot:
From Reykjavik, get on Route 49 and head east towards the Highway 1 (Ring Road)
Follow Highway 1 east for 45 km (28 miles)
Once you arrive in Hveragerði, look for signs for the Reykjadalur Geothermal Park
Pay and park, then begin the hike to the hot spring
Good to know: If you search "Reykjadalur Hot Spring" in Google it's going to direct you to the exact hot spring location, not the trailhead (even though it's labeled as 'Reykjadalur Hot Spring Thermal River trailhead').
Location of the parking area: Reykjadalur Gjaldskylda Parking
Bus
Straeto buses leave every 3 hours from Reykjavik to Hveragerði. From there, you'll need to take a taxi to the Reykjadalur Hot Springs trailhead.
You can technically walk from Hveragerði, but it will increase your hiking time/distance significantly. Expect an additional 3.2 km (2 miles) one way, starting from the center of town.
Hike to Reykjadalur Hot Springs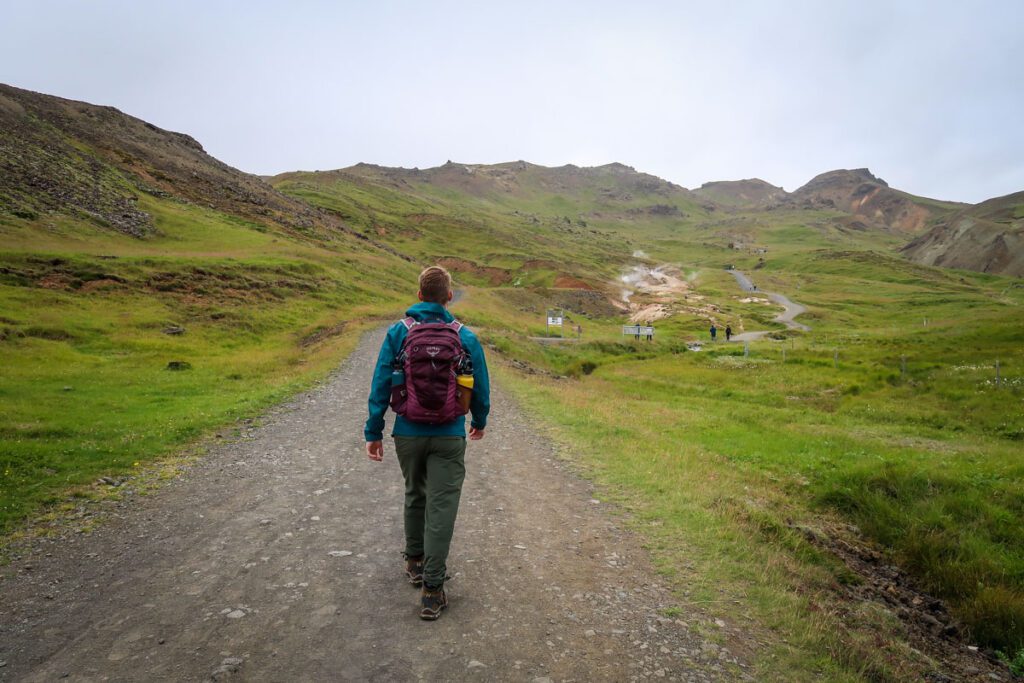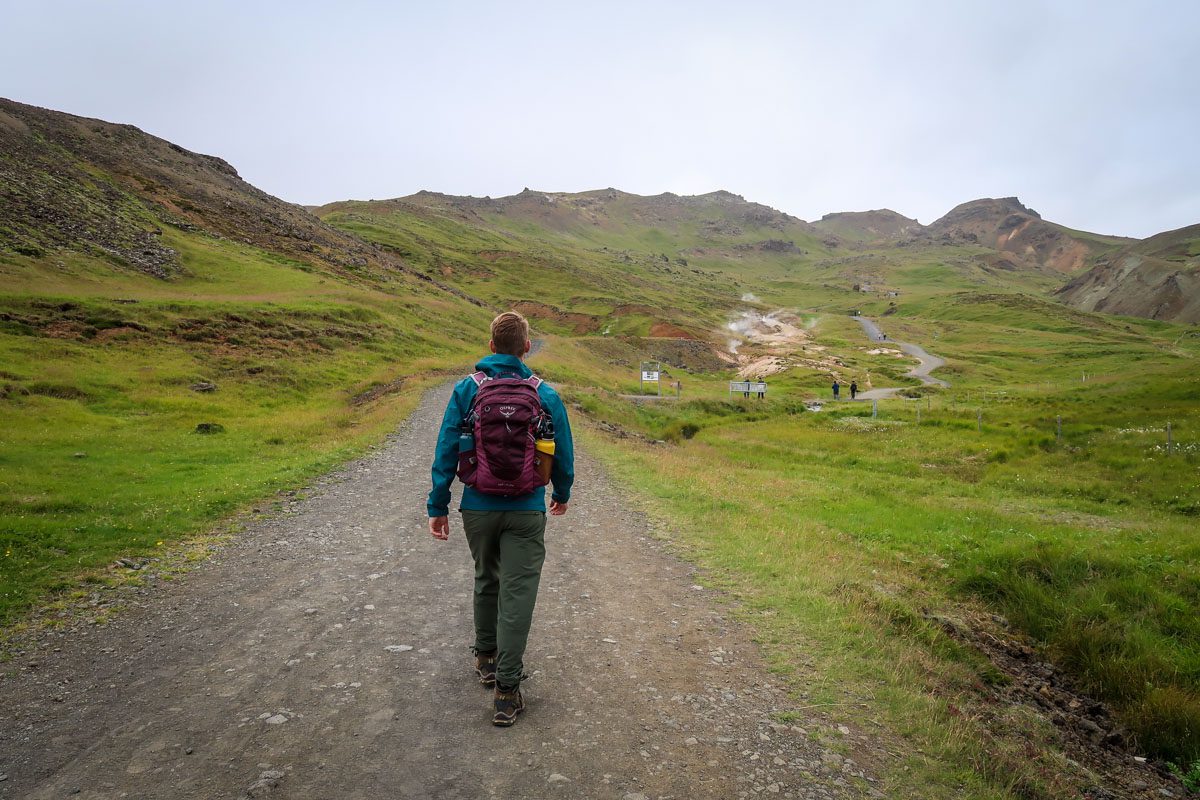 Distance: 5 miles (8 km)
Elevation gain: 1,138 feet (347 meters)
Type: Out and back
Difficulty: Moderate
On average, the hike to Reykjadalur Hot Spring Thermal River takes about 1 hour 15 minutes to complete and is very straightforward. It could take up to 2 hours one way if you're visiting in the winter or taking your time hiking the trail, stopping to enjoy the scenery.
In the parking area, there is a sign marking the beginning of the Reykjadalur hiking trail. It has some good information about the hot spring as well as an overview of the entire trail.
Once you start on the trail, it will be flat for the first minute or so, then begin the steady uphill all the way to the river. The whole way, you'll weave through Iceland's stunning bucolic countryside and may see local sheep, lamb, and horses grazing around.
Along the way, you can stop and view Djupagil Waterfall that runs down the valley. As beautiful as it is, stay on the trail since you're walking through a geothermal area, which can be dangerous.
You'll know you've arrived in the safe area of the river when you spot the boardwalk and the criss-crossed wooden boards that serve as changing areas.
Good to know: The entire trail is an unmarked, old sheeps path, but it's well-worn and maintained so you won't get lost.
Best time of year to visit Reykjadalur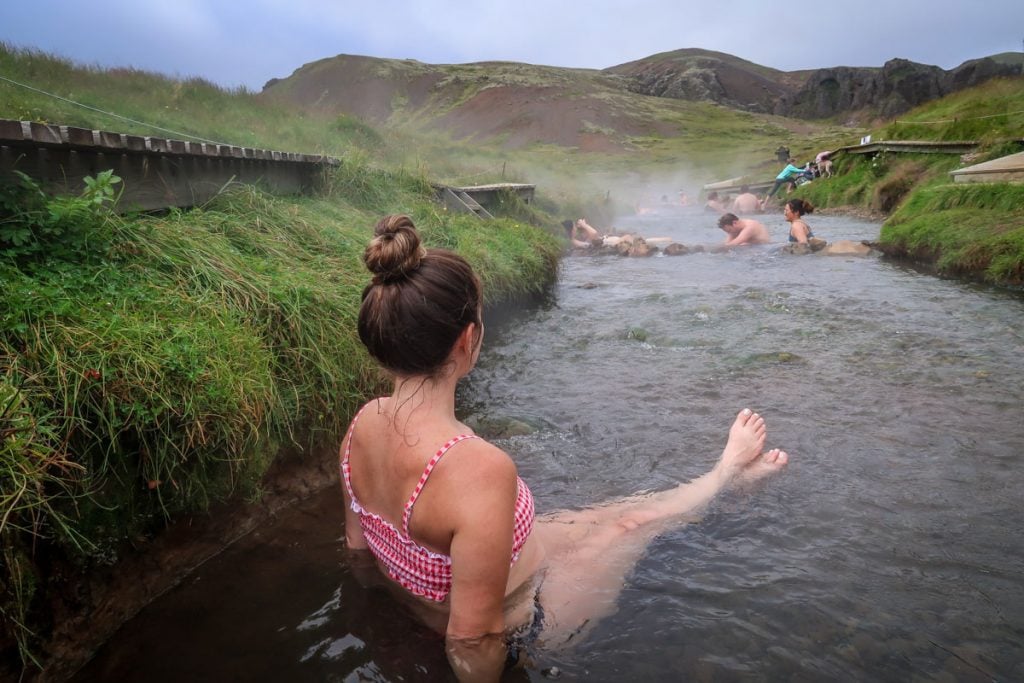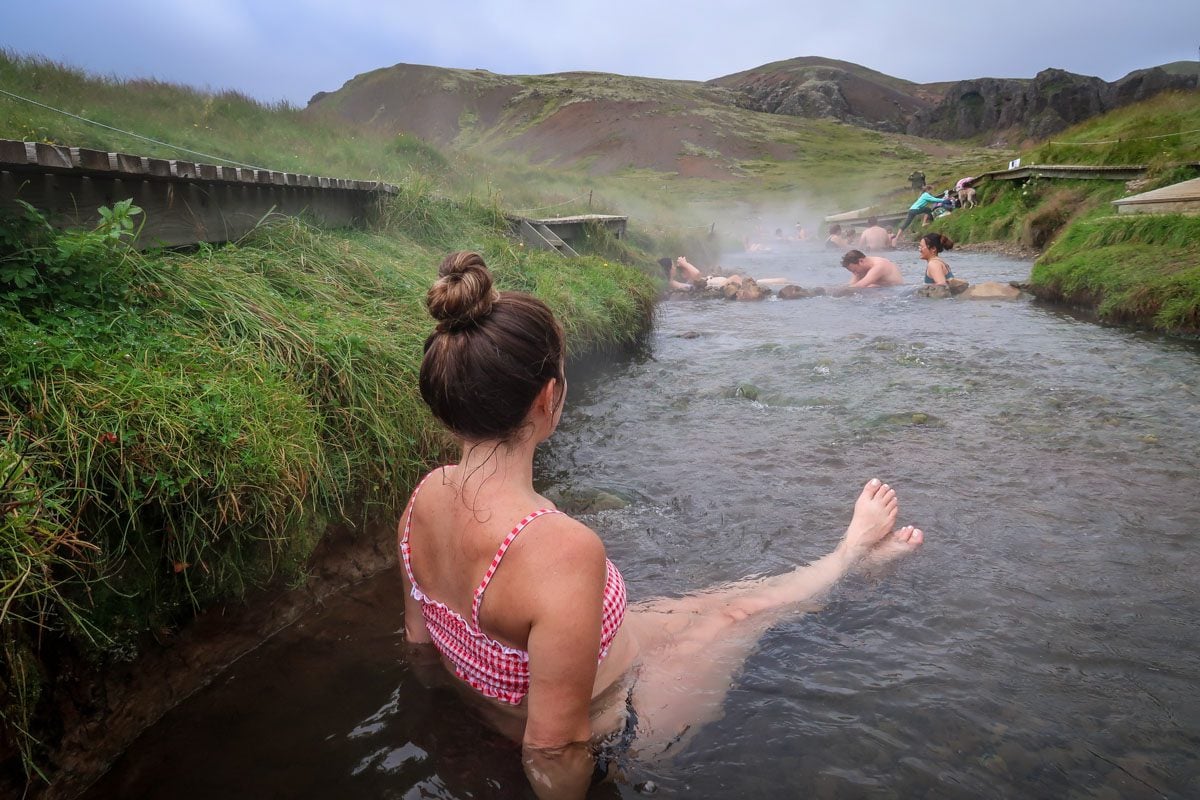 You can visit this thermal river year-round, but it's best visited in good weather, which is typically from June to October.
Summer is the most popular time to visit since you have the midnight sun and warmer daytime temperatures, but it will likely be very crowded.
In the winter, the trail can get quite icy, muddy, and dangerous. You'll want to pack the proper gear (headlamp and microspikes) and be mindful of the shorter days.
Good to know: The water temperature is consistently warm throughout the year, so you don't have to worry about it fluctuating much with the seasons, even in winter.
Psst! There are upsides and downsides to visiting Iceland in all seasons. Read our guide to the best time to visit Iceland to get a good grasp of what to expect in each season.
Our personal experience at Reykjadalur Thermal River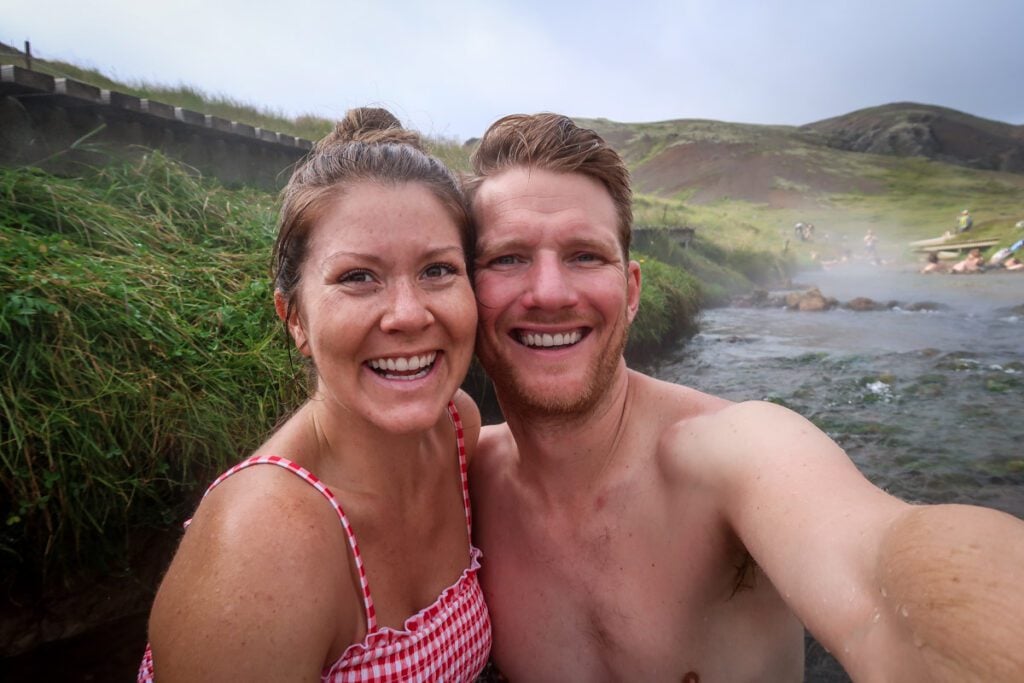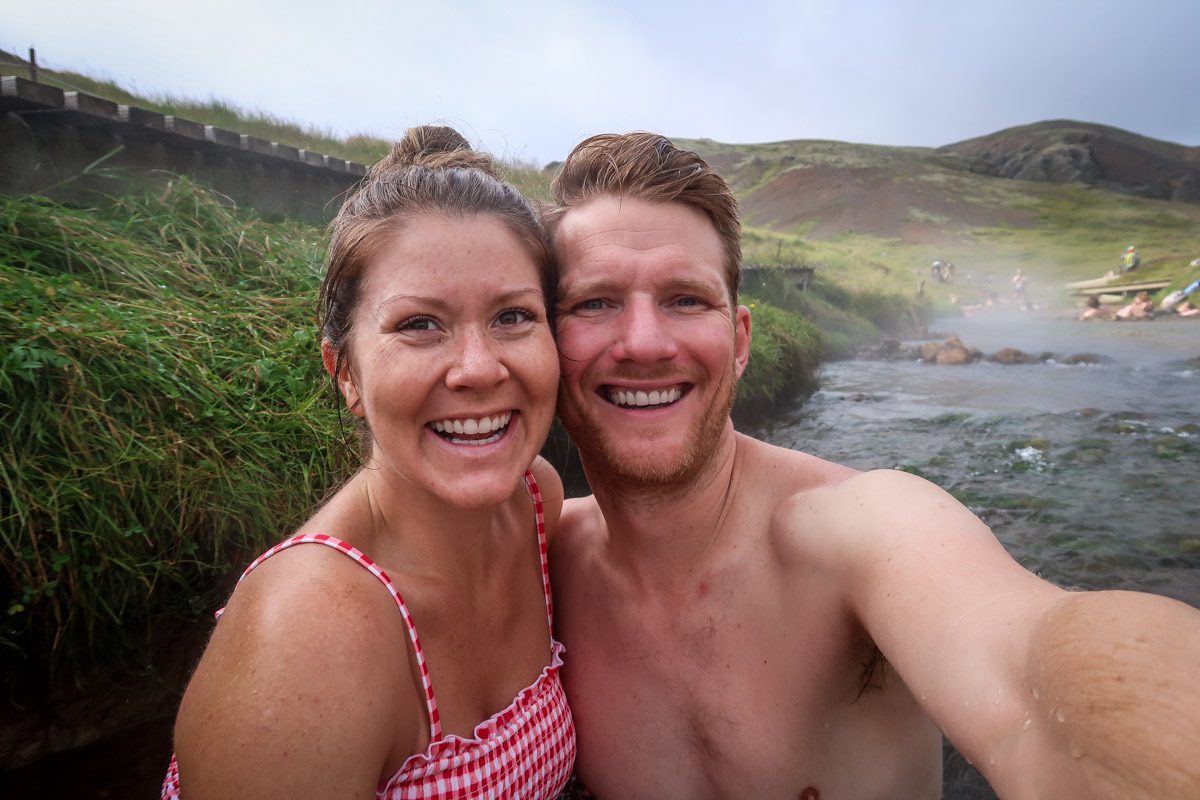 We made the hike to Reykjadalur Thermal River shortly after arriving in Iceland.
We landed in Iceland really early in the morning, so first, we picked up our campervan rental and stocked up on groceries at an Icelandic supermarket, but our next stop was this hot spring. And what a welcome it was!
The hike was enough uphill to keep us awake after our overnight flight, but not too challenging that we didn't have the energy. And when we arrived at this thermal river valley, it was everything we had imagined and more.
We didn't have it to ourselves, like we did at Fosslaug Hot Spring (another one we highly recommend visiting!), but it wasn't overrun with crowds either. And there was something about being in this lush valley with others who were at the beginning of their Iceland trip or nearing their final days.
We chose a section of the river that had cooler temperatures, as I was pregnant at the time (Iceland makes a great honeymoon or babymoon by the way!).
This was our first true Icelandic adventure of the trip, and it remains one of our favorite memories from our babymoon. We'd highly recommend making room for the Reykjadalur Hot Spring River on your Iceland itinerary!
Tips for visiting Reykjadalur Hot Spring
These tips will help make your visit to Reykjadalur Hot Spring truly memorable!
1. The changing area is not private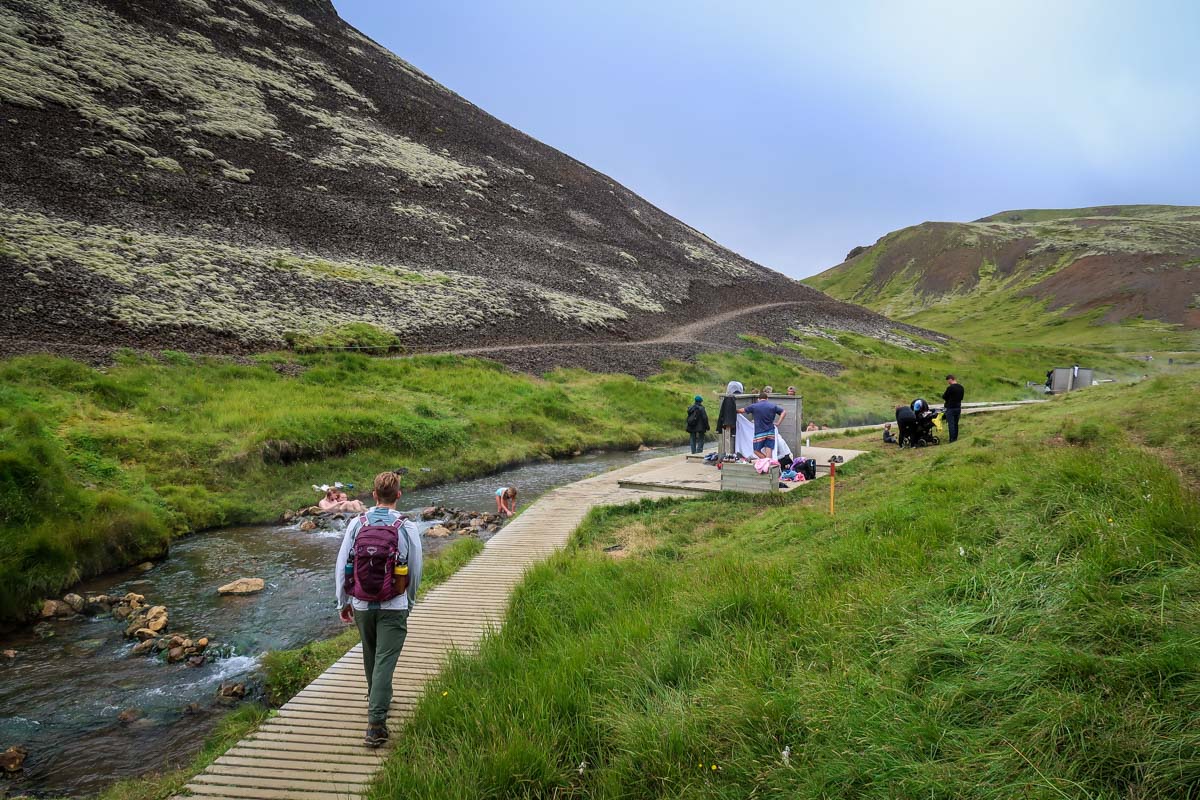 There is no changing room at the thermal river. Instead, you will find structures that can block views from some directions.
But if you truly want privacy when changing into your bathing suit, do so at your car or the bathroom near the trailhead.
2. The river has varying temperatures (some too hot for soaking!)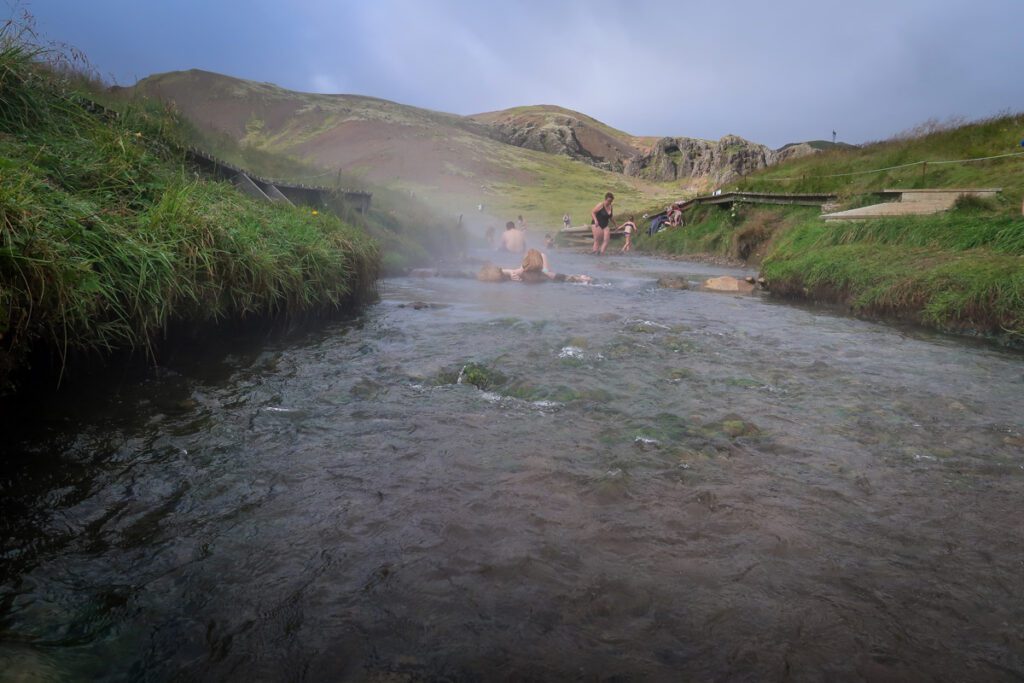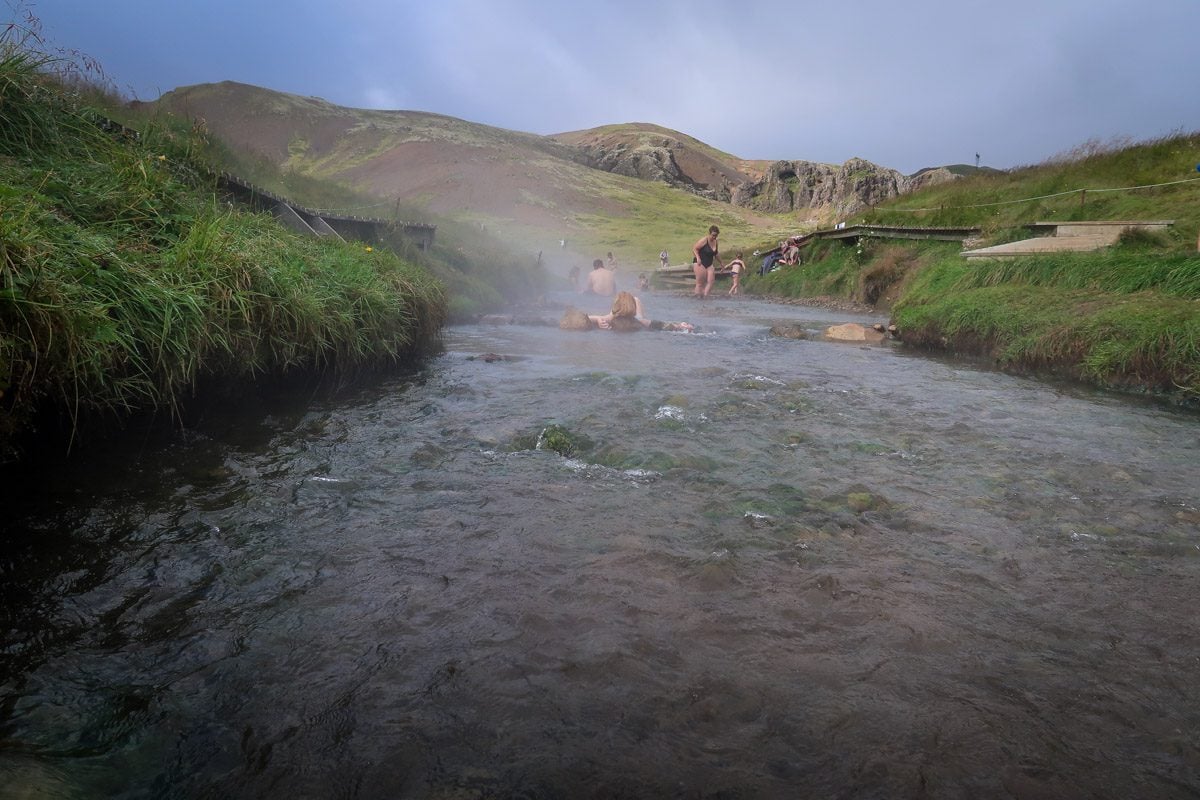 As you walk up the river, the temperature will get hotter. You'll see there aren't any people soaking here – that's for a reason! It is much too hot to get in.
For this reason, most people tend to congregate in the areas with the most comfortable water temps.
3. Plan to stay awhile!
The valley itself is gorgeous, and soaking in the river is truly a magical experience. Plan extra time for taking photos and hanging out. This isn't an area you want to rush!
4. Pack snacks and water
Bring some snacks along on the trail so you don't get hangry!
Alternatively, you can stop at Reykjadalur Cafe for cake and coffee, which is located at the parking lot.
There is a water station at the trailhead, so be sure to fill up your bottles before you begin your hike. Soaking in the thermal river will make you thirsty!
5. There are no toilets on the trail
There is a clean bathroom at the trailhead. Be sure to do your business before you set off.
6. Don't step off the trail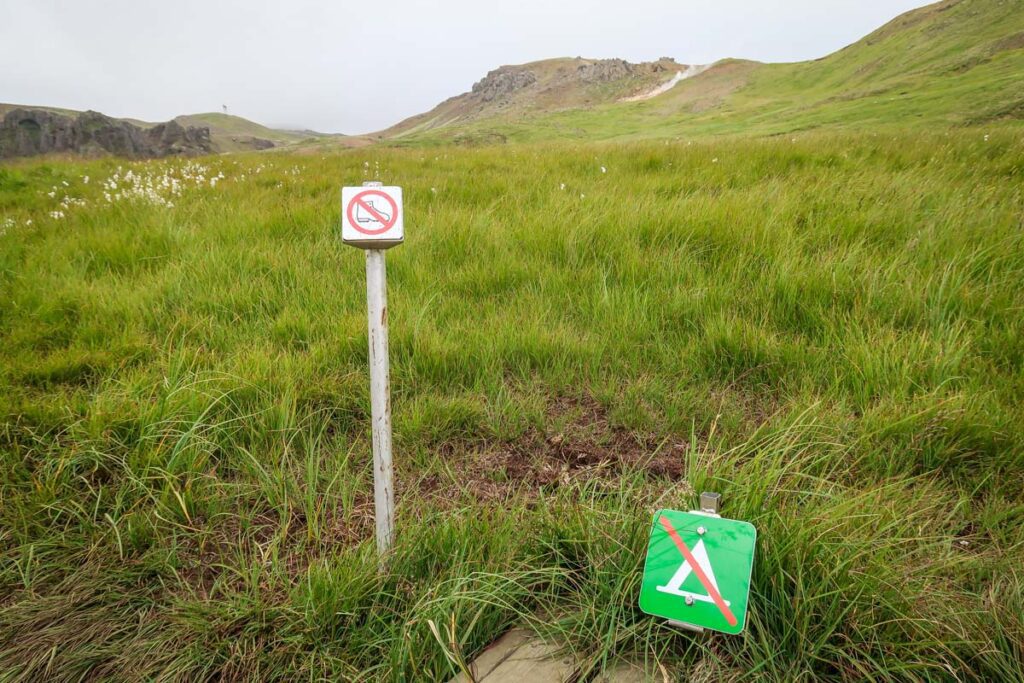 The environment in Iceland is very fragile, and there are signs around this valley that instruct hikers to stick to the path. Please respect them (even if you see others disobeying).
7. Be sure to pack out anything you bring in
There are no trash bins on the trail, so carry a bag for any wrappers or leftover food with you. Don't be that person who leaves things behind (yes, even fruit peels!). 'Nuff said!
FAQs about Reykjadalur Hot Spring Thermal River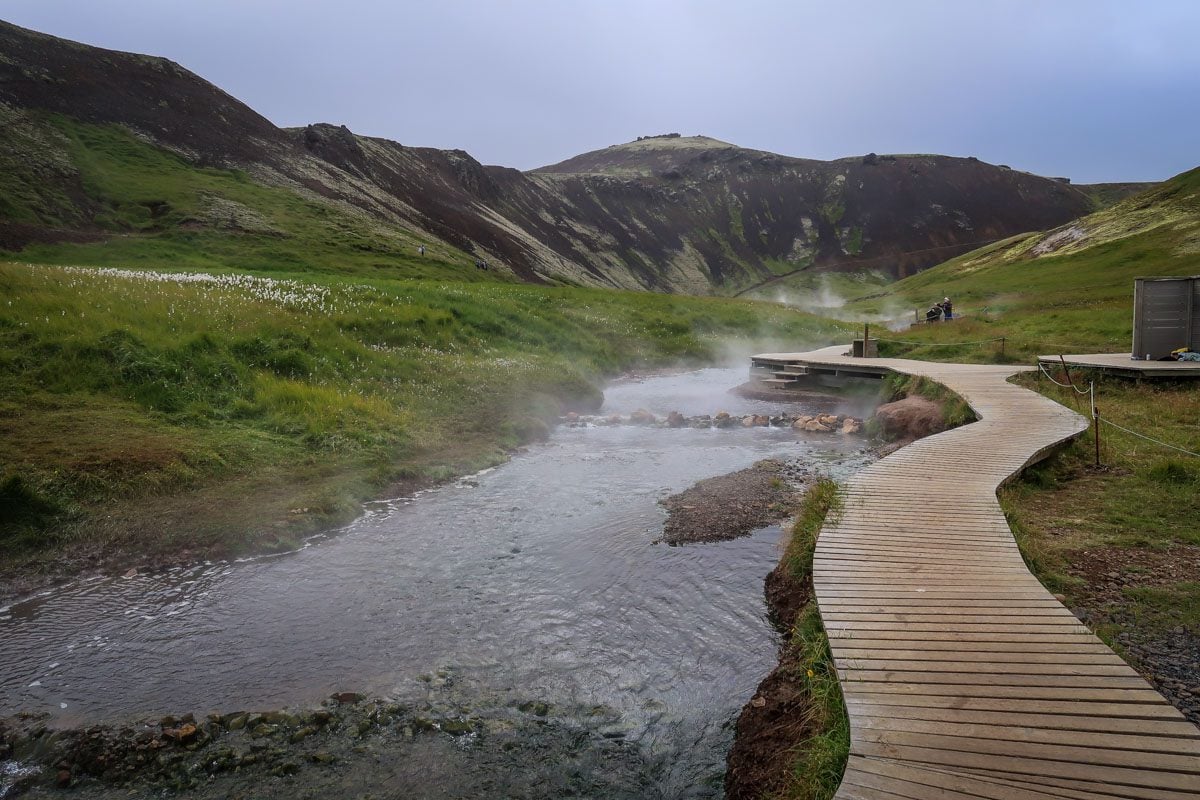 Still having burning questions about visiting this hot spring?
We have you covered! Here are some of the most commonly asked questions about visiting Reykjadalur Thermal River.
Is Reykjadalur worth visiting?
Yes! This hot spring is one of the most famous places in Iceland and one of the best stops along the Golden Circle.
Not to mention hot springs are the bread and butter of an Iceland trip, so it only makes sense to visit one of the best ones!
How long does it take to hike to Reykjadalur?
Expect it to take 2 – 3 hours total hiking out and back to the thermal river.
This doesn't include the time you actually spend soaking in the Reykjadalur hot spring.
How much does it cost to visit Reykjadalur Hot Spring Thermal River?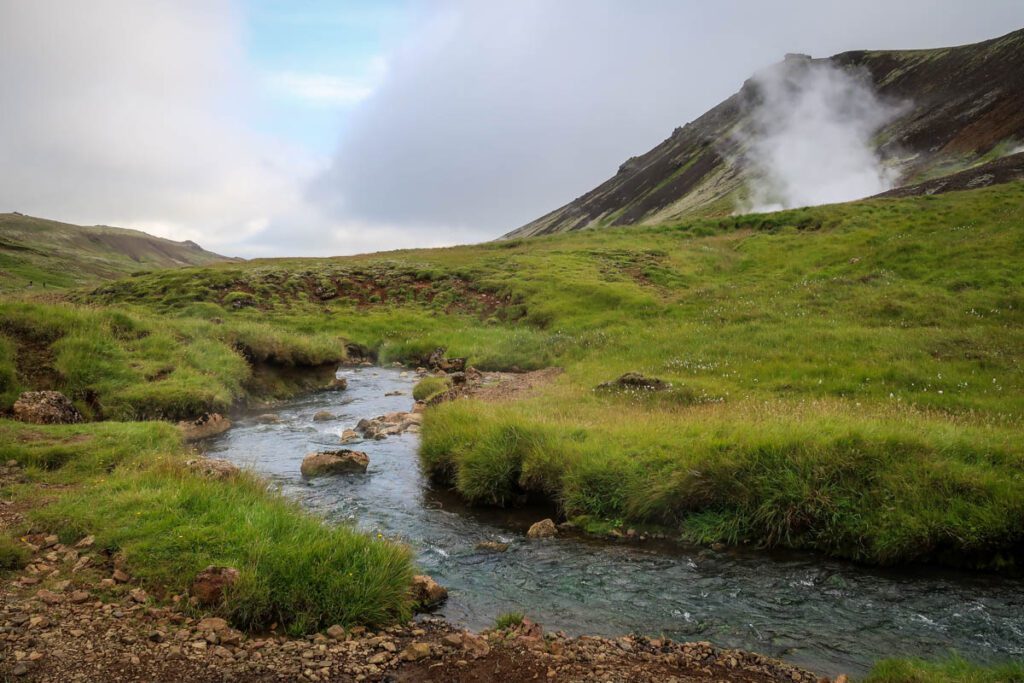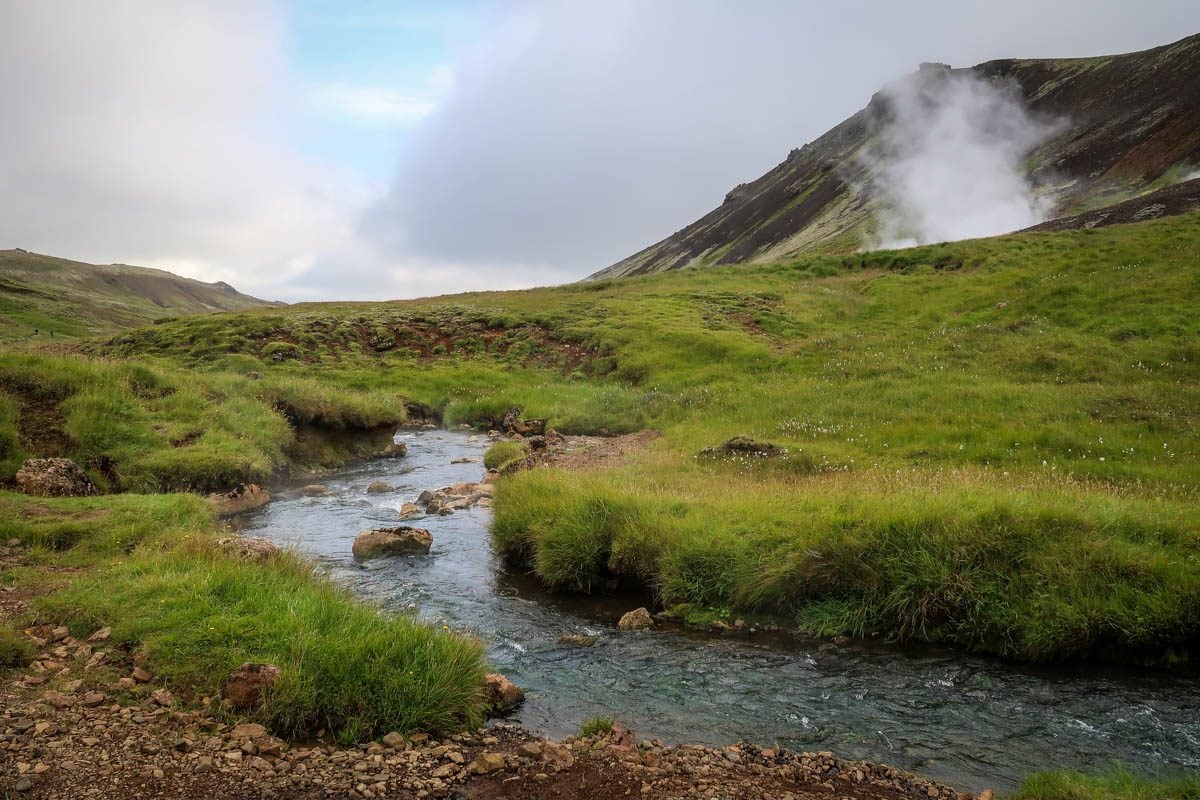 The thermal river is free to visit.
However, you will need to pay for parking. You can do so on your phone using the EasyPark app (one of our most recommended Iceland travel apps).
Where to stay near Reykjadalur Thermal River
You can certainly stay in Reykjavik or somewhere else along the Ring Road and do the hike to Reykjadalur as a day trip.
But if you want to stay closer so you can slow down and really explore the area, here are some suggestions for places to spend the night nearby.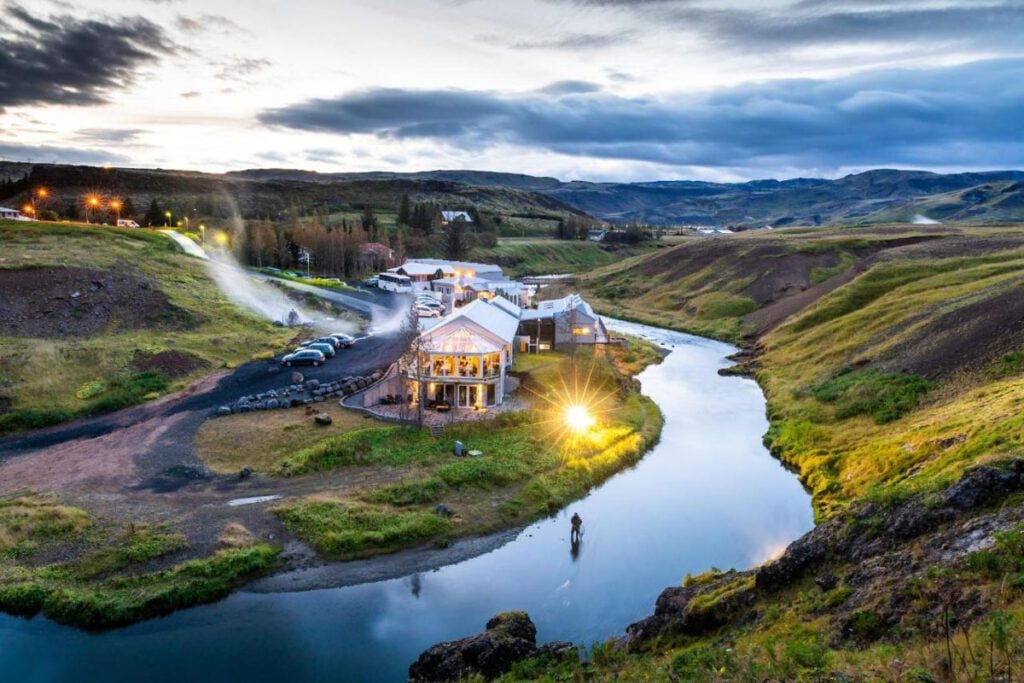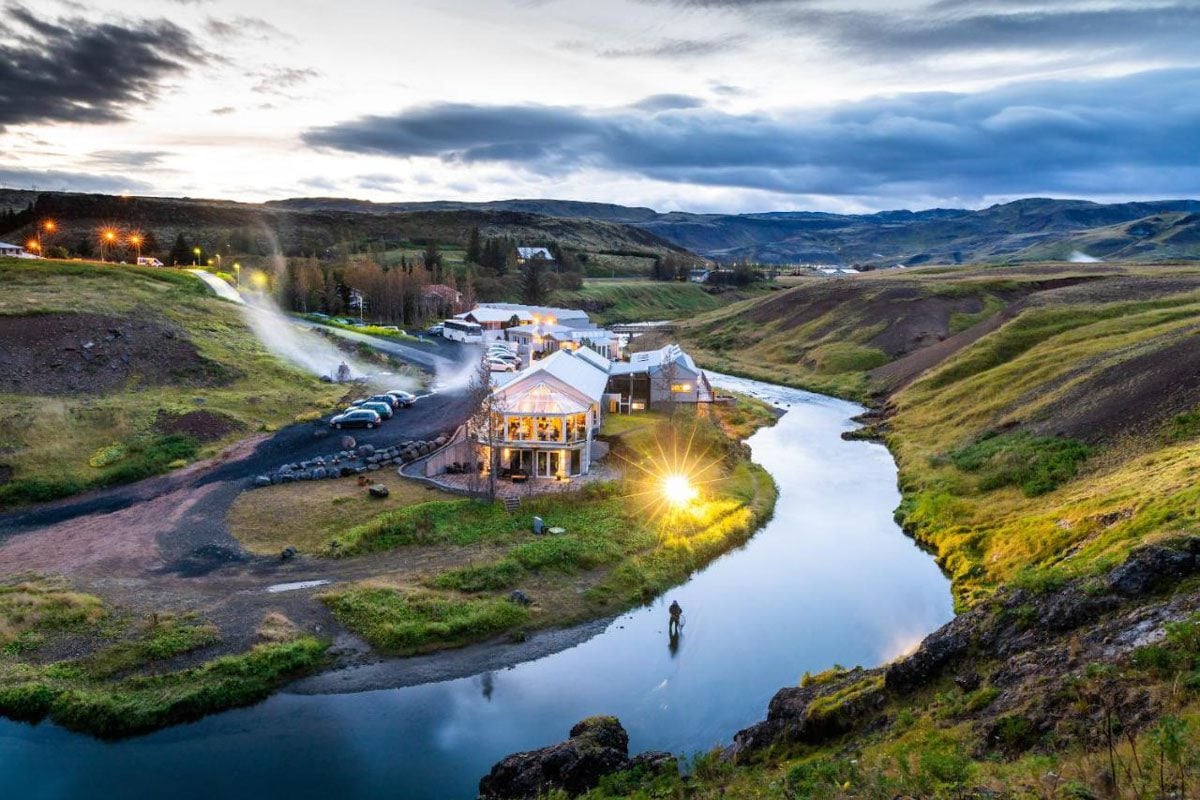 Frost & Fire Boutique Hotel: Just a short drive away from the trailhead, stay at a modern and picturesque hotel situated along a scenic river with hot pools, a sauna, and beautiful views.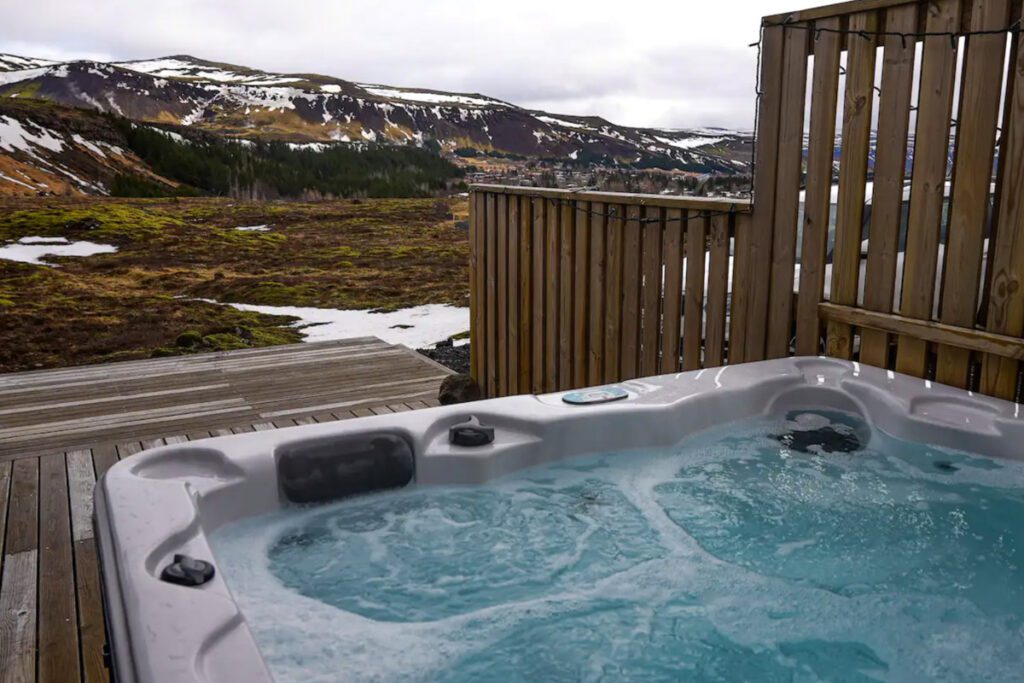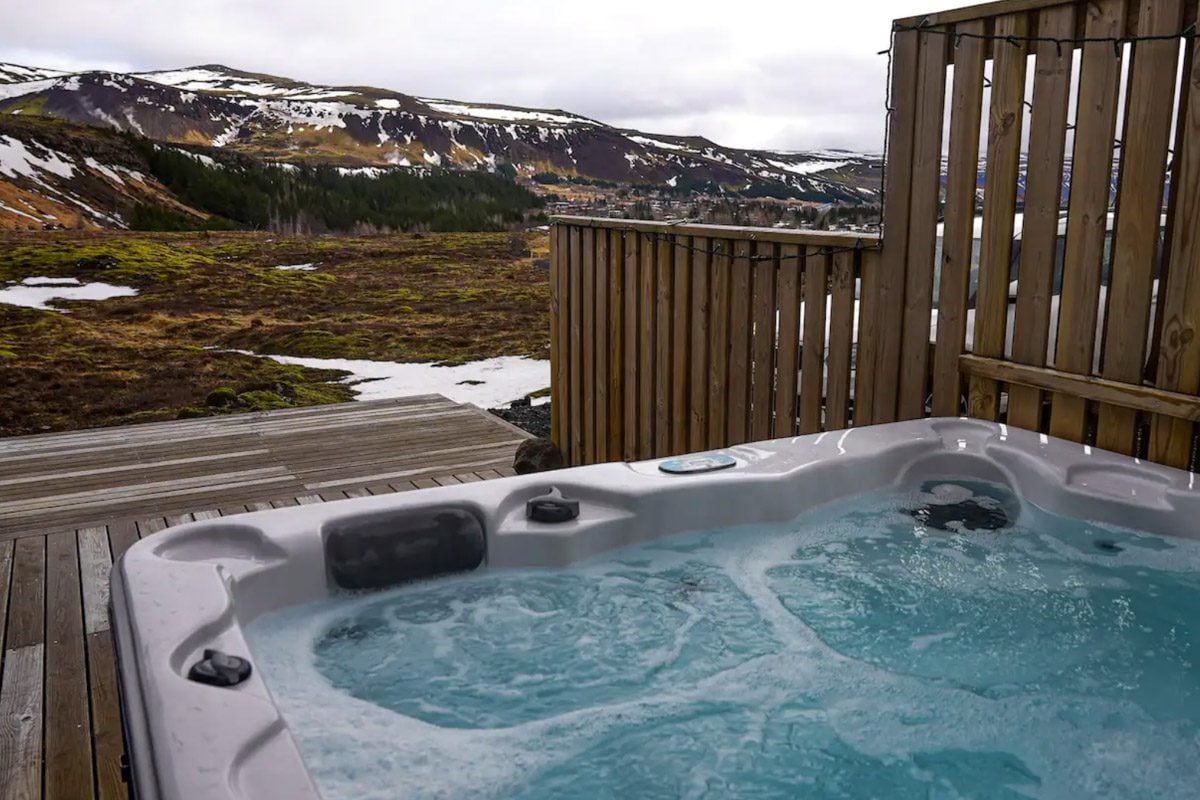 Airbnb Cabin with hot tub: This tranquil, mountainside cottage is perfect for couples as it has a full kitchen, work space, private hot tub, and easy access to sights along the Golden Circle.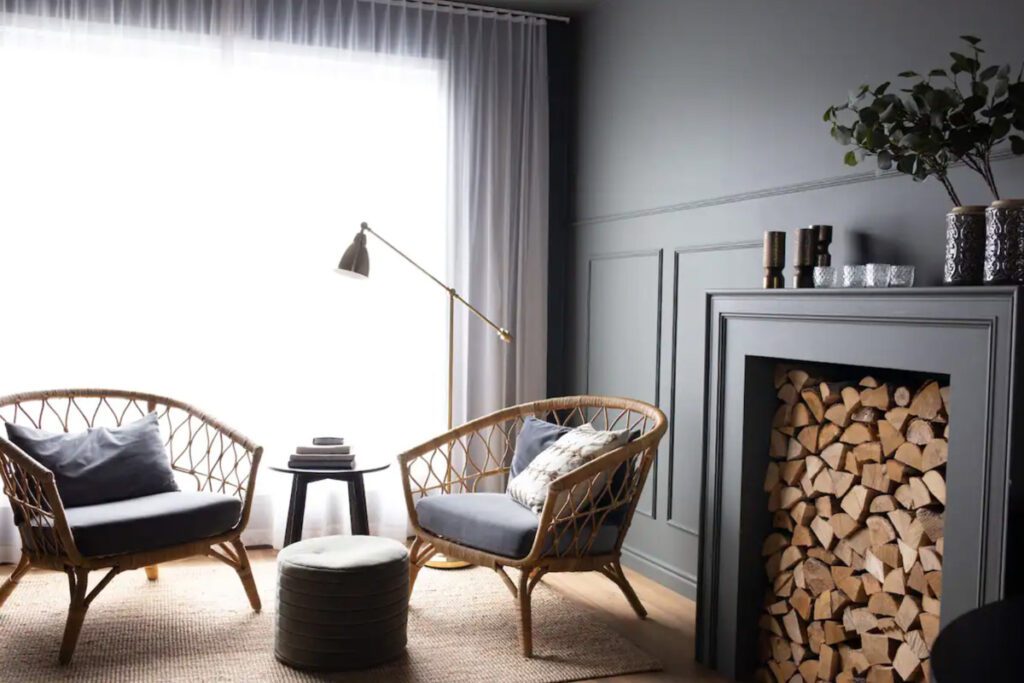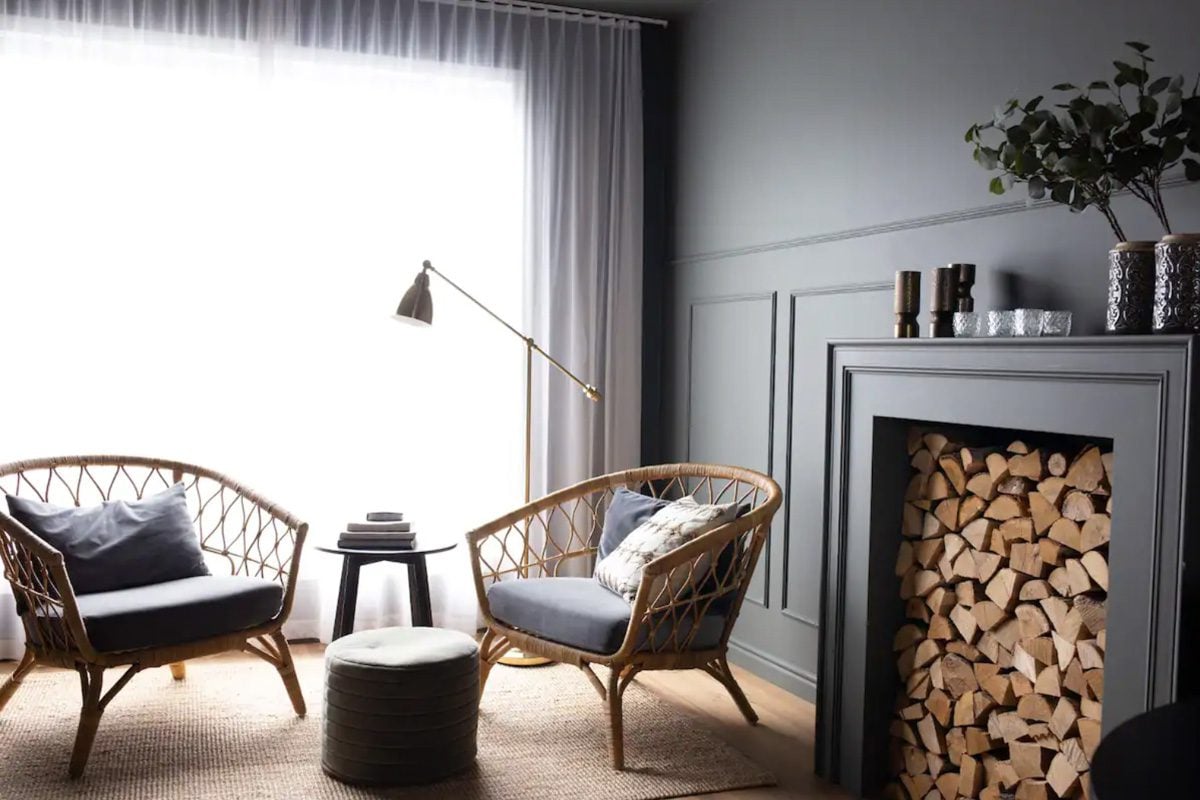 INNI 8 Boutique Apartment: These sleek apartments are studio style with a full-service kitchen, open living room, and access to an outdoor spa area with a hot tub, steam bath, and showers.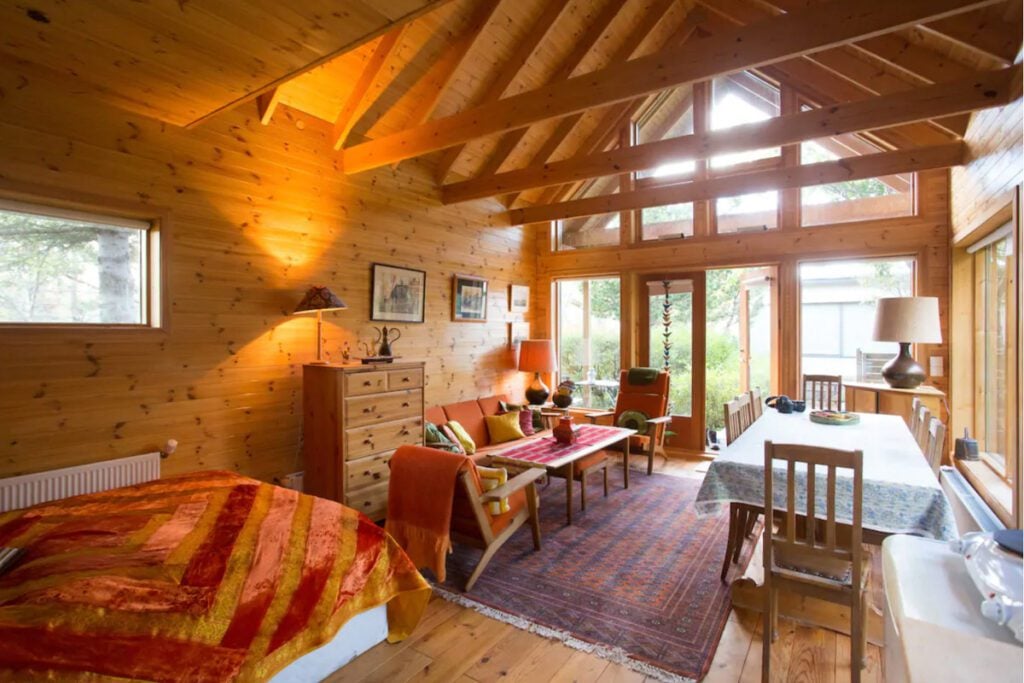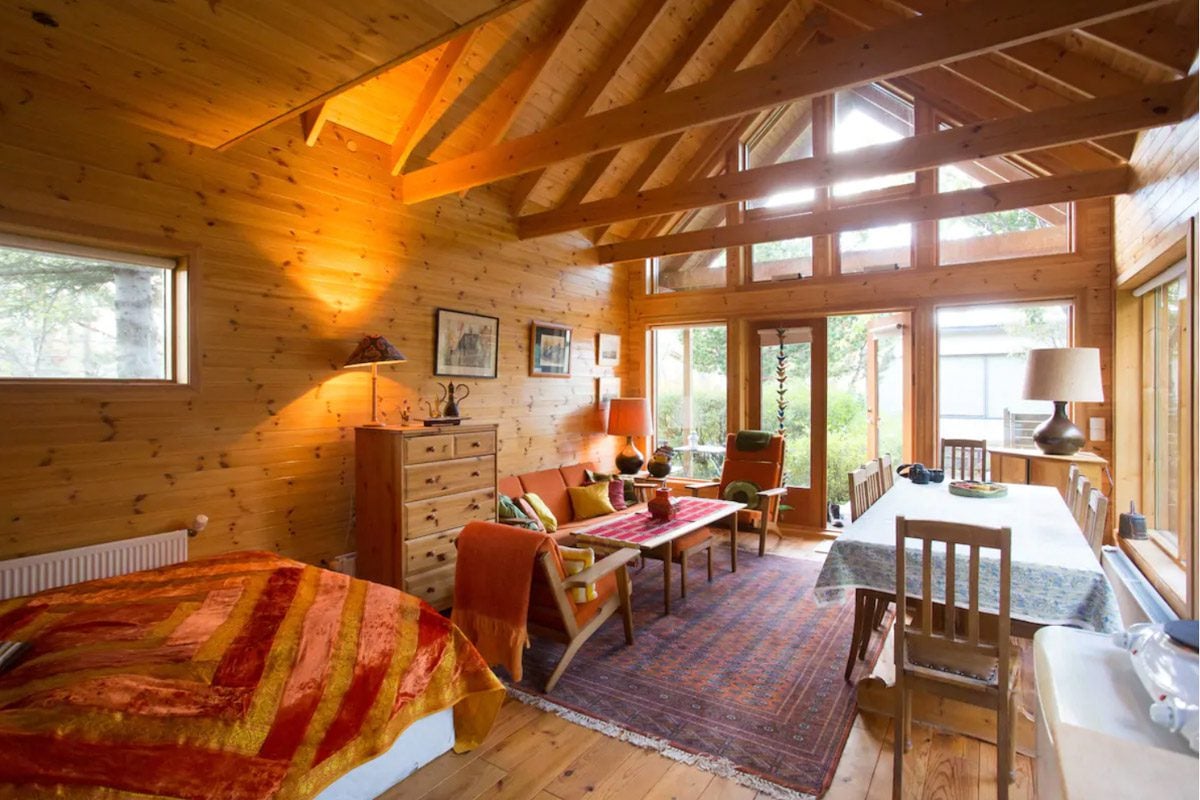 Cozy Cabin in the Woods: This cozy wood cabin is set in serene gardens with multiple bedrooms and a full kitchen, and within walking distance to the supermarket, bakery, bank, and tourism info center in town.
What to pack for visiting Reykjadalur Hot Spring
Hydration pack and/or water bottles
Snacks
Swimwear
Sun protection: sunglasses, hat
Comfortable walking shoes or hiking sandals (like Chacos)
Camera and tripod (this is our favorite for hiking)
Be sure to download our complete packing list for Iceland! It's packed with good suggestions and insider tips to help plan your Italy trip. And it's completely FREE, so why not!?


---
Are you planning a trip to Iceland?
We have TONS of resources on travel in Iceland and how to make the most out of your trip. Check out our Ultimate Iceland Travel Guide for all the answers to your most burning questions, or read some of our favorite articles below.
Save this article on Pinterest for later!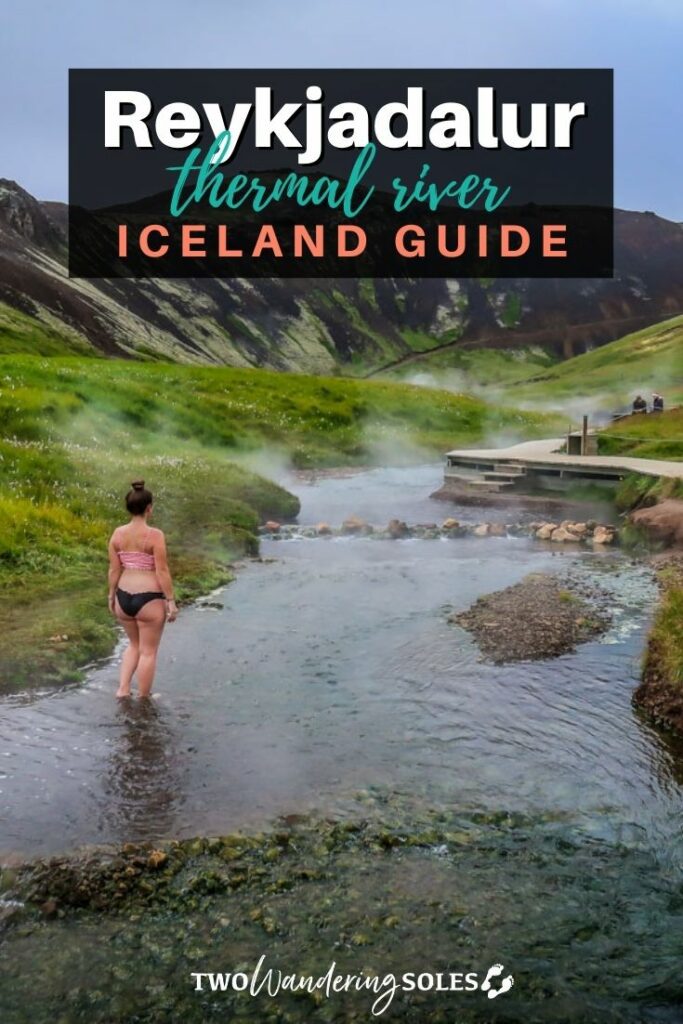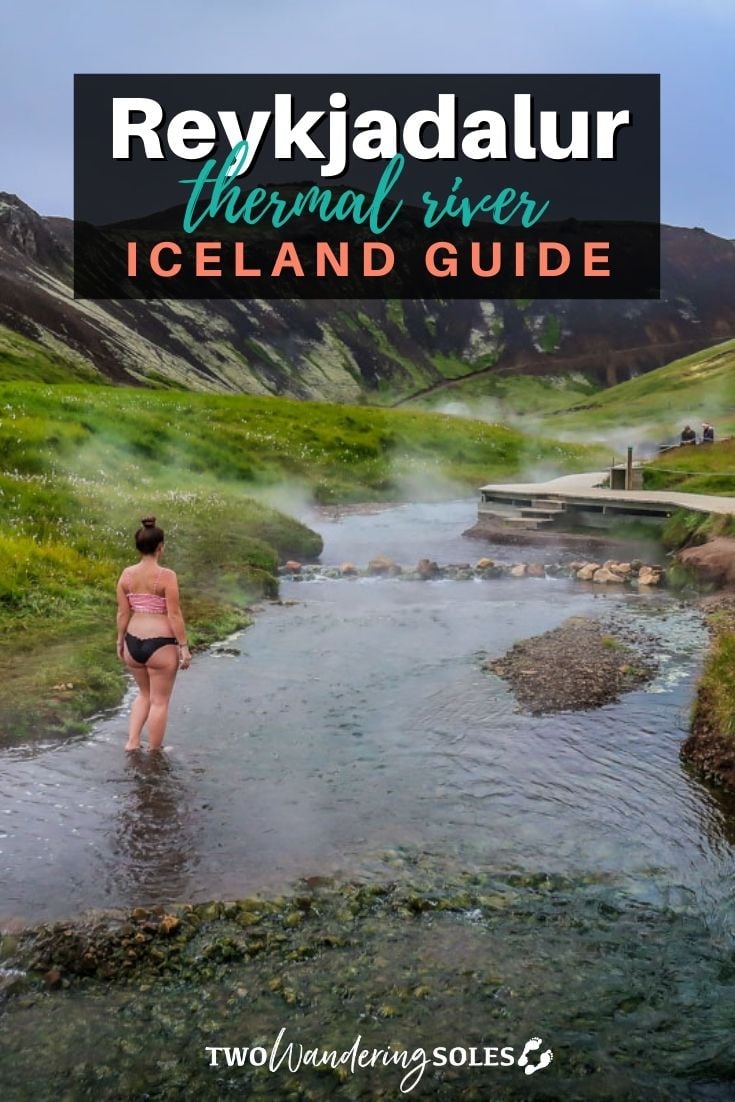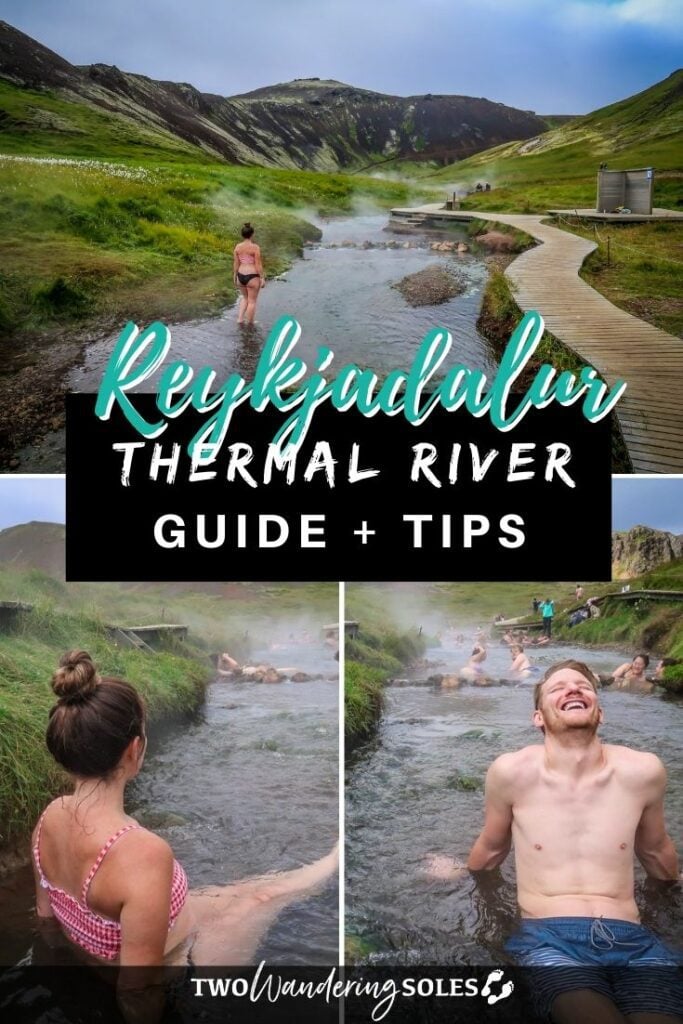 We want to hear from you!
Have ever been to Reykjadalur Hot Spring Thermal River? What was your experience like? Are you planning to visit Reykjadalur Hot Spring Thermal River on your trip to Iceland and have more questions? Leave your comments below and we'll do our best to get back to you!