Iceland has thousands of waterfalls, yet few pack the punch of Glymur Waterfall, the country's second-tallest. It's not quite as accessible as others, but well worth the effort. This guide details everything you need to know to reach one of Iceland's most stunning cascades!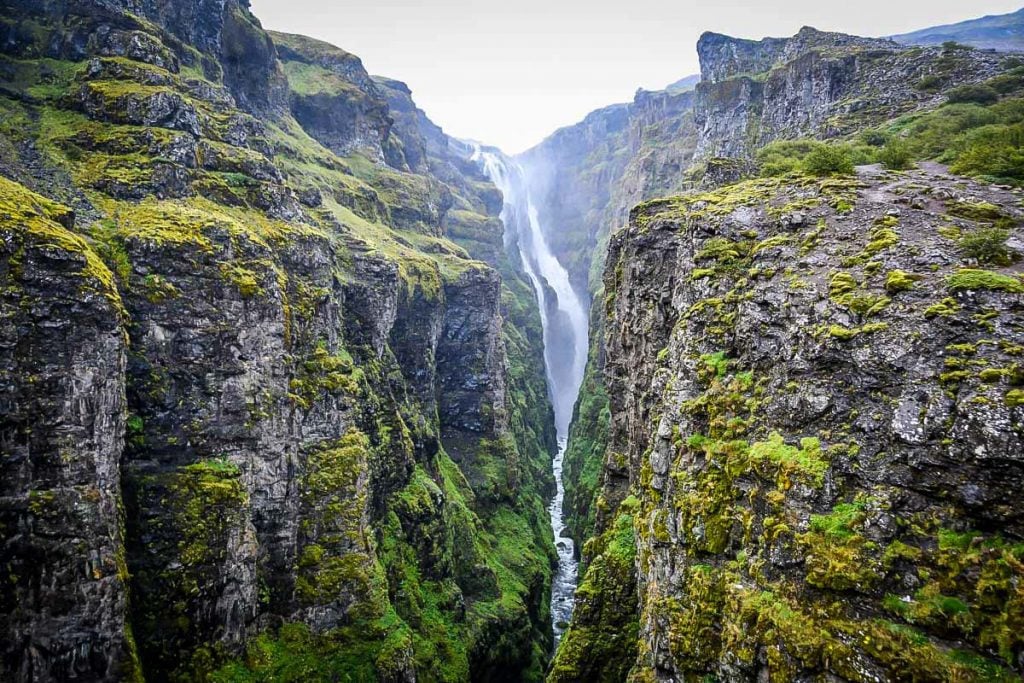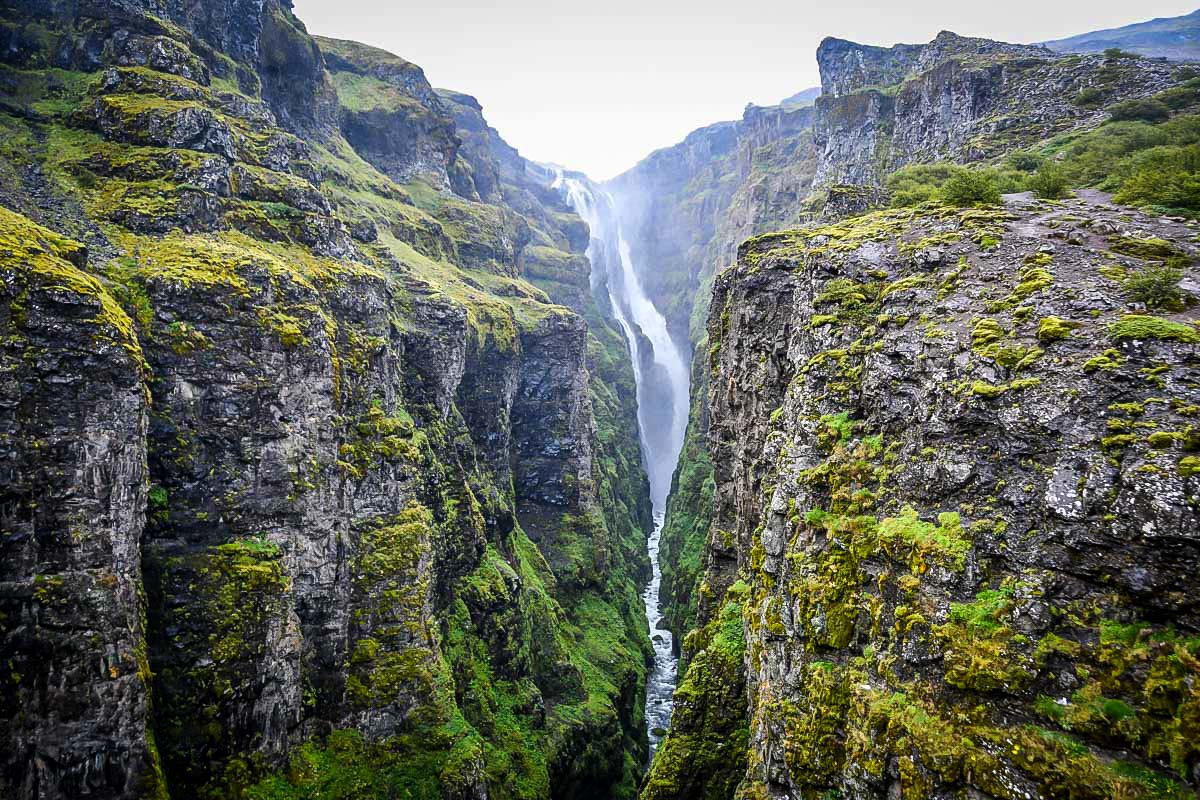 Towering at just under 200 meters (650 feet), Glymur is the second tallest waterfall in Iceland, and it is truly a sight to behold.
Nestled in a lush canyon that can only be reached by a heart-thumping hike that crosses two rivers, Glymur waterfall is simply breathtaking.
If you're an avid hiker and looking for some adventure on your trip to Iceland, the trek to Glymur should definitely be on your Iceland itinerary.
Being that the trailhead is just over an hour's drive from Reykjavik, this hike can be done as part of a day trip from the capital city. It also makes an excellent stop on your Ring Road drive.
Unlike many of the other waterfalls in Iceland that are located just a short journey from a parking lot, Glymur requires quite a bit of effort to reach. This means that there aren't nearly the amount of crowds you'll see at Gullfoss and Skogafoss.
Getting to Glymur does require a good chunk of a day and some preparation, and we're going to go over everything to expect along this hike, plus, what to pack, and some insider tips you won't want to miss.
Glymur Waterfall Hiking Guide
---
Want to save time and energy on planning?
We've traveled to Iceland 3 times now and spent weeks living in a campervan, traveling around the country. We've been able to explore a lot of what Iceland has to offer!
We've compiled our experience to create the perfect Iceland itinerary. Our itinerary is for 7-9 days and meant to be explored while traveling in a campervan. It includes the highlights of the southern coast of Iceland. 
We'll send you our complete 7-9 day customizable itinerary, filled with tips and advice. Just click below to get your perfect Iceland itinerary today!


---
Glymur Waterfall hike at a glance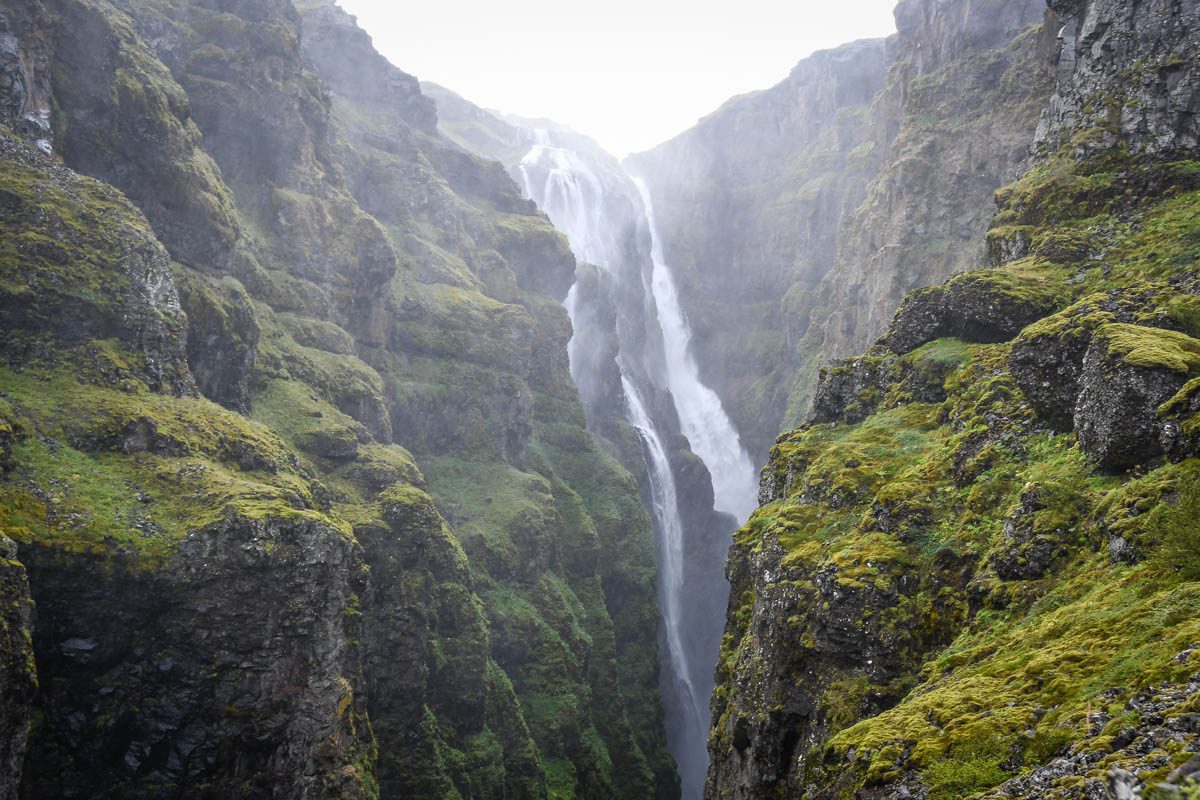 Location: Pyrill, Western Iceland
Distance: 6.9 km / 4.3 mile loop
Elevation gain: 397 meters / 1,300 feet
Difficulty rating: Moderate
Timing: 3 hours
Comprising a deep river gorge, water crossings, a small cave, spectacular views, and, of course, Glymur Waterfall itself, this trail is an unforgettable one (which is saying a LOT when it comes to Iceland hikes!).
While many waterfall hikes are all about getting to the final destination, on this one, the journey is memorable too. You'll hike along the Botnsá River and climb steep cliffs, getting panoramic valley views and glimpses of the waterfall along the way.
At its highest point, 200-meter-tall (650 feet) Glymur Waterfall thunders down into the gorge below. Making the sight even more mesmerizing, there are several other small waterfalls nearby.
Another thing that sets this trail apart is it involves getting your feet wet with at least a few river crossings. An Iceland adventure at its best!
Allot several hours for the Glymur Waterfall hike and before heading out, double-check weather conditions and download an offline map.
How tall is Glymur Waterfall?
Glymur Waterfall is 198 meters (650 feet) tall. It is the second tallest waterfall in Iceland.
Fun Fact: Until 2011, Glymur was thought to be the highest waterfall in Iceland. Researchers were finally able to measure a waterfall located near a glacier in the Highlands, which surpassed Glymur. This waterfall is known as Morsárfoss, and is very difficult to access. So chances are Glymur will be the tallest Icelandic waterfall you'll see!
Our personal experience hiking to Glymur Waterfall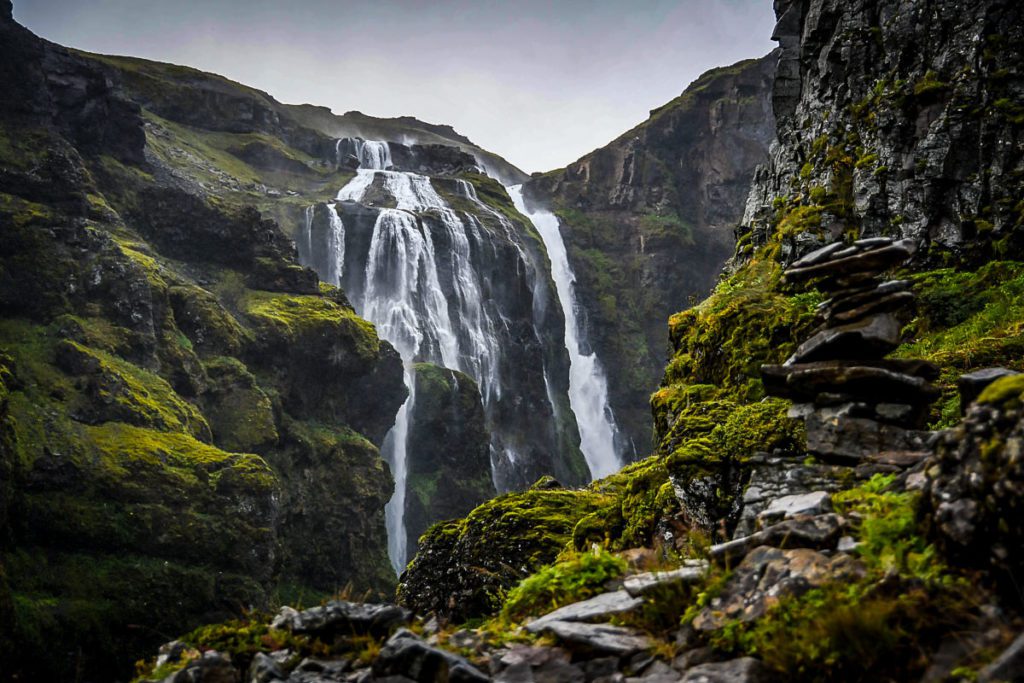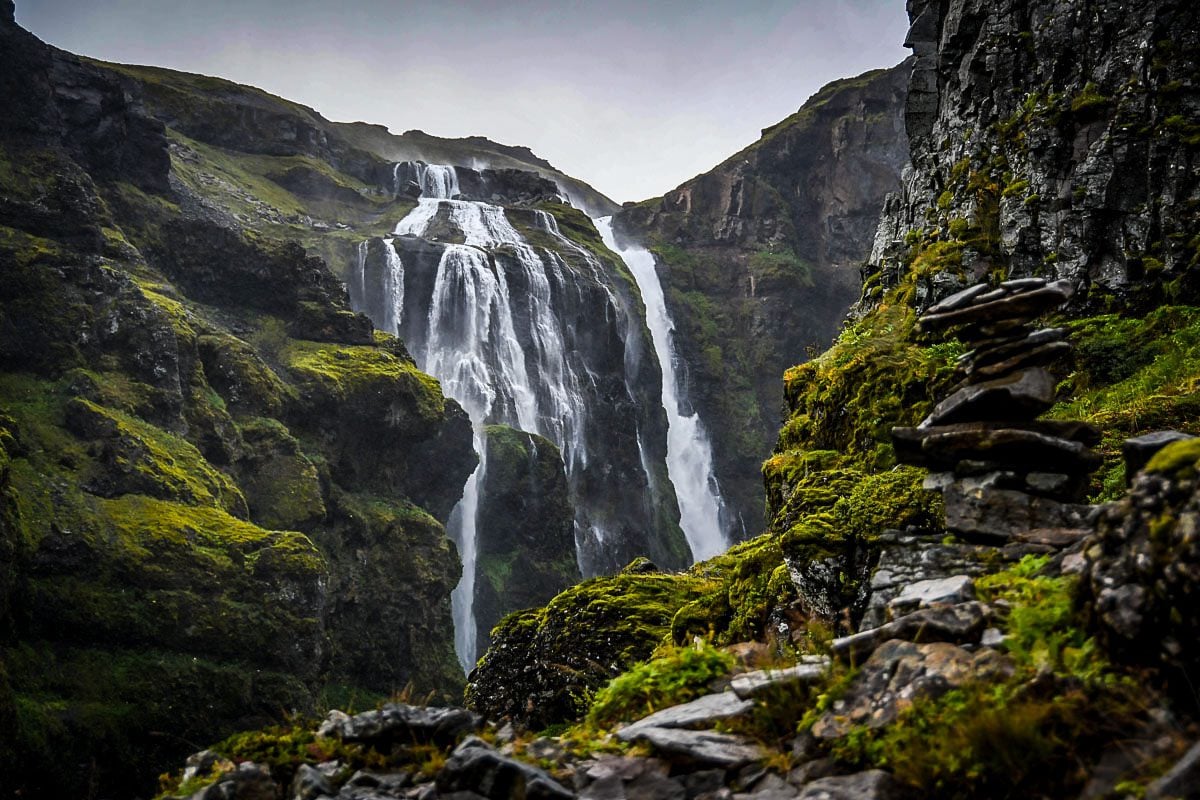 By the time we had gotten to Reykjavik at the end of our 2-week Ring Road road trip, we had seen a lot of waterfalls. Like, a lot, a lot.
But after overhearing another traveler say this hike was her very favorite experience in all of Iceland, the FOMO kicked in and I decided we just had to do it.
And I am so happy we did. It was one of my favorite hikes in Iceland.
The hike itself is pretty exciting, and requires river crossings and some gnarly elevation gain. But your efforts are greatly rewarded because Glymur Waterfall is a sight to behold.
The day we did this trek was raining pretty much the entire time. We made the most of it and put on all our waterproof layers and carried our camera in a dry bag (a must-pack item for Iceland, in our opinion!).
I will be honest and say that all the rain made the second river crossing a bit treacherous, and the path following it was becoming dangerous in some sections. We ended up turning around just shy of the end of the trial because it was too sketchy to continue.
If it is raining when you visit, use caution and only go as far as you see fit.
Funny story: After returning from the hike, our campervan battery wouldn't start, so we had to hitchhike to a nearby farm where we borrowed jumper cables. It was quite the day!
Things to know before you go
Although it's a relatively short hike, reaching Glymur Waterfall involves river crossings and exposure to the elements. Make sure you know exactly what you're getting into before setting out!
Best time of year for the Glymur Waterfall hike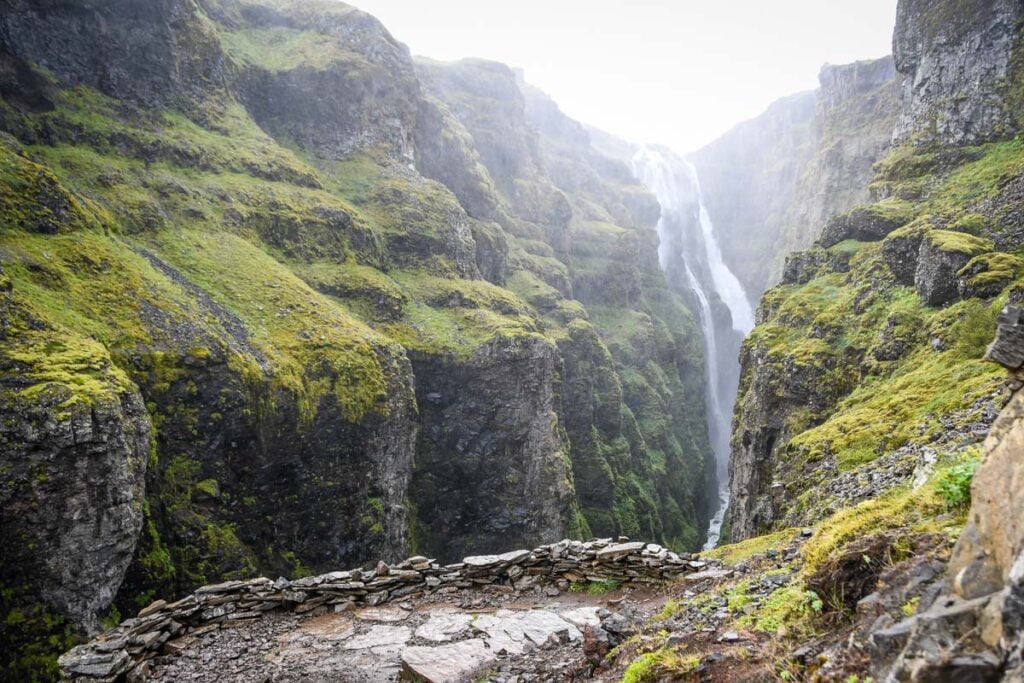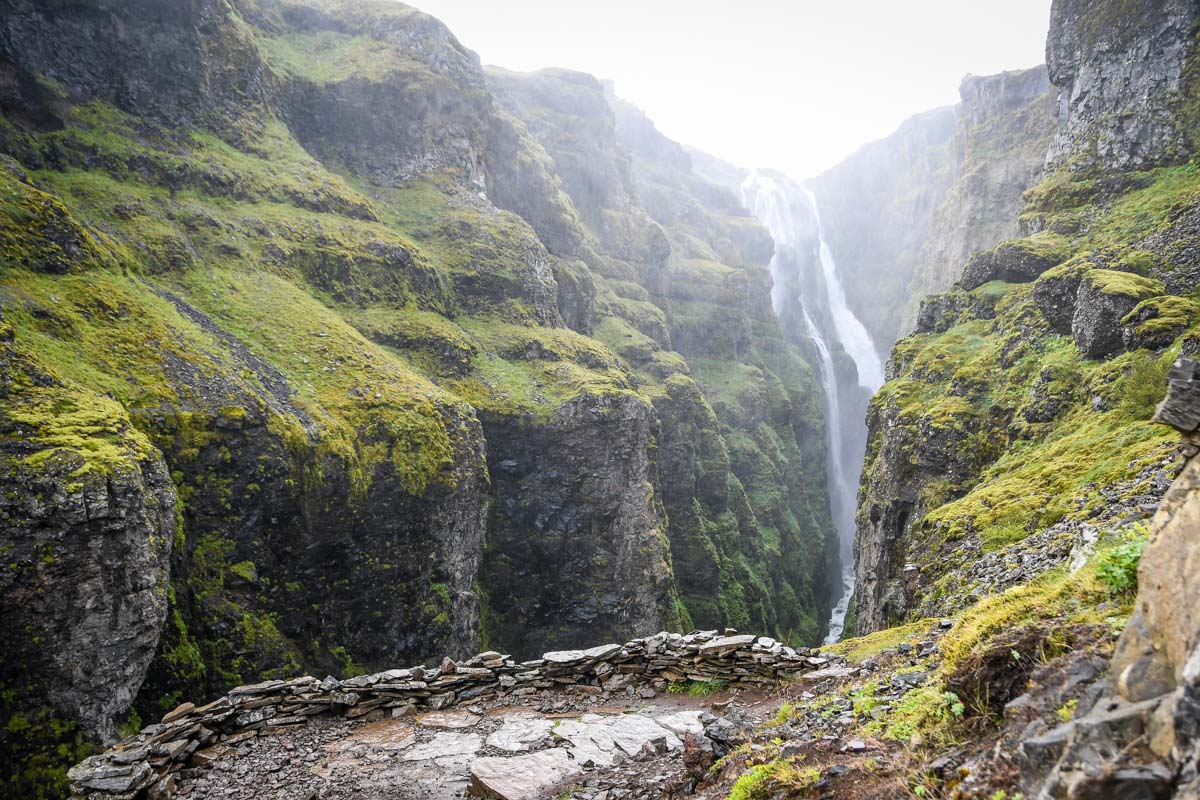 With notoriously volatile weather in all four seasons, choosing the best time to visit Iceland can be tricky.
Your best bet is to hike to Glymur Waterfall in the summer, but avoid heavy rain and times immediately after it. The river can rise to dangerous levels, making a crossing treacherous even with the log in place.
While the Glymur Waterfall hike doesn't ascend into particularly high elevation in the mountains, the log over the first river crossing is only up for a few months, usually from June-September. This means reaching the falls in the off-season is not only difficult, but dangerous.
Stretches of the trail also cross slick rock with steep drop-offs on the very edges of cliffs. If there's any snow or ice on the ground, this hike is not recommended!
How long does it take to hike to Glymur Waterfall?
Allow yourself between 3-4 hours for this trek, which factors in some time for photos and a snack at the waterfall.
If you hike the trail as a loop with only short intermittent breaks, it should take about 1.5 hours to reach the falls and another hour to hike back to your starting point.
Doing the trail as an out-and-back hike may shave off a few minutes, but overall, the two routes are very similar. The biggest difference is that the loop includes two river crossings, whereas the out-and-back requires just one.
How difficult is the Glymur Waterfall hike?
For anyone with previous hiking experience, this trail will provide some exciting, memorable adventure. It can be a little intimidating for first-timers, but still completely doable.
While not particularly long, the trail to Glymur Waterfall involves steep, tricky footing with some aggressive elevation gain, multiple river crossings, and sheer drop-offs.
All things considered, we rate this trail as moderate and can confidently say most hikers will agree. It's not a long or very technical trek, but certainly presents a challenge in some sections.
The route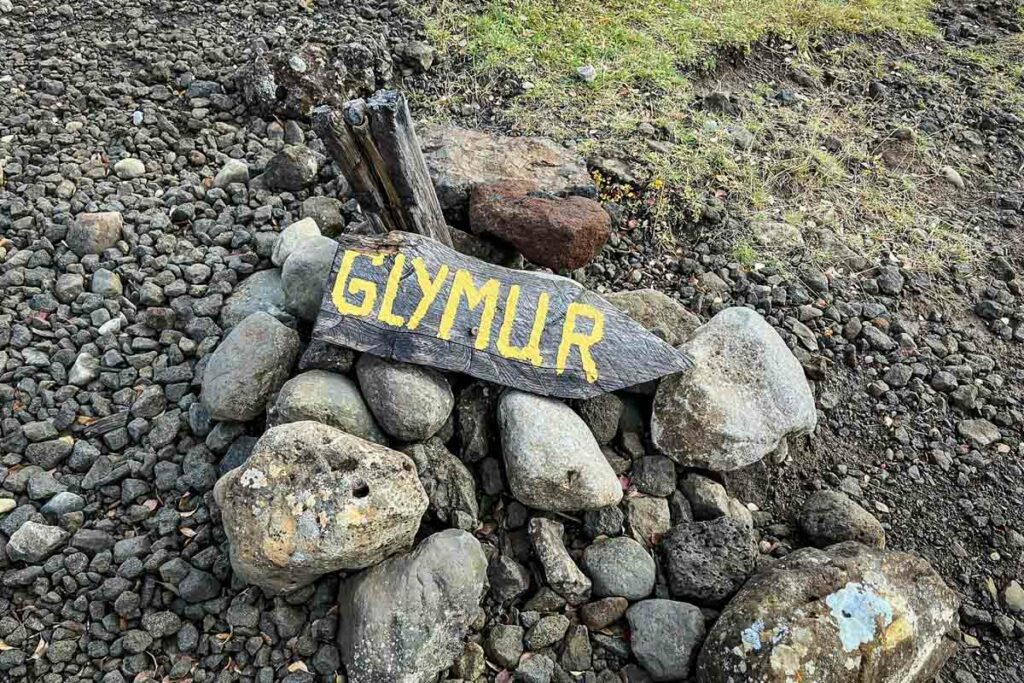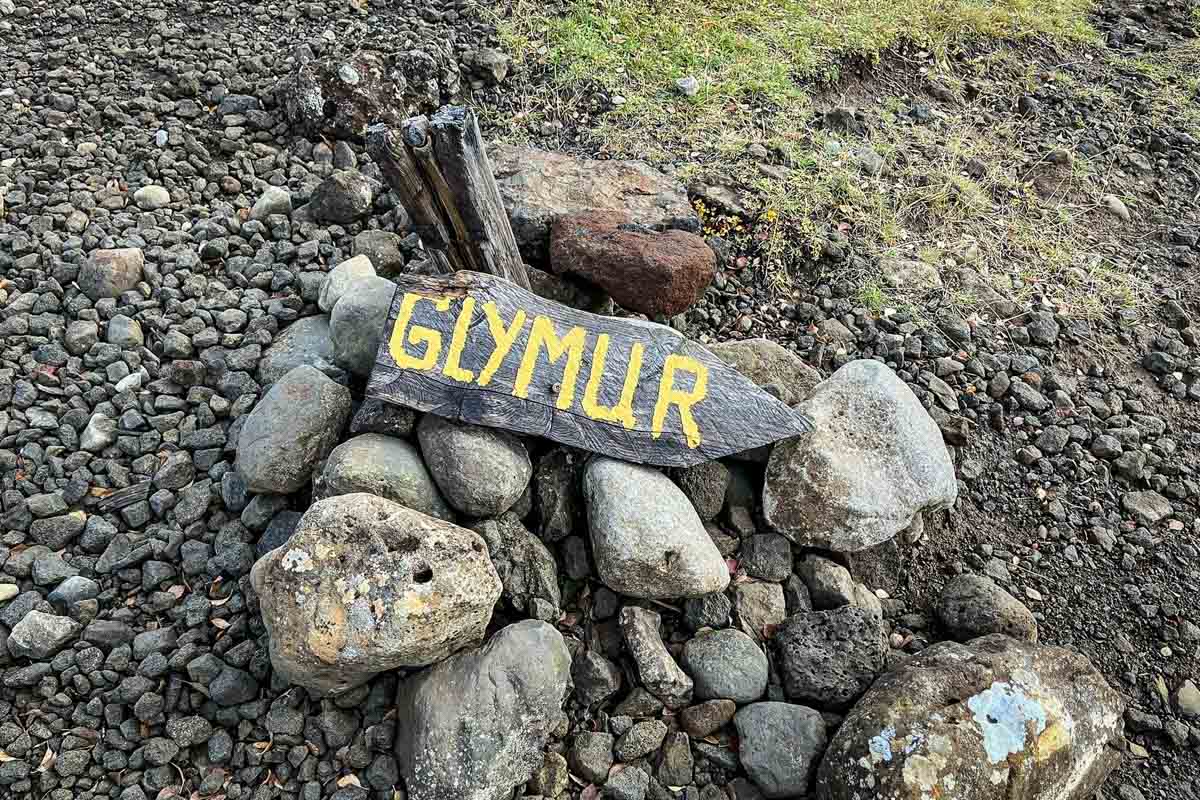 Two main trails weave from the parking lot to Glymur Waterfall. They're very similar in both distance and elevation gain, so it's entirely up to you whether you do the out-and-back hike or the slightly more rugged loop.
Either way, be sure to download a GPS map before setting out or, at the very least, carry a map. There are a lot of criss-crossing paths, and the trail can be hard to follow in places, especially if it's muddy.
For both options, head east from the car park towards the Botnsá River. Note that there's actually another, easier trail to Glymur Falls heading north from the lot, but it skips over the gorge's beautiful scenery.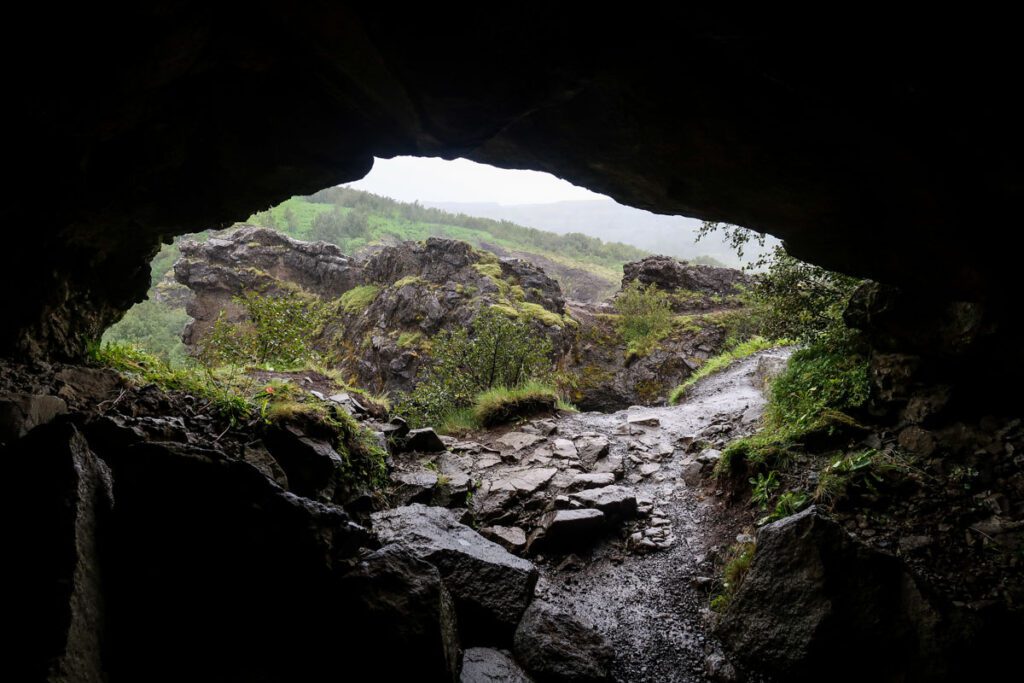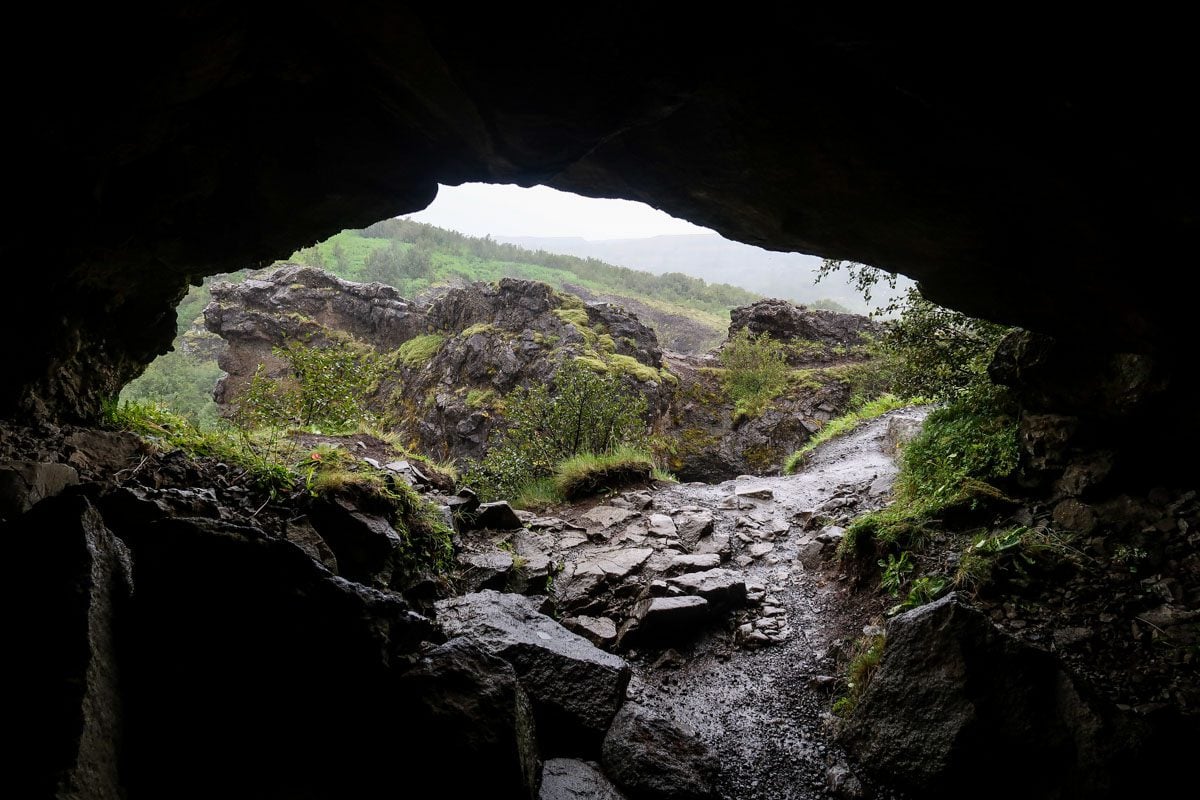 After 30 minutes of hiking on a nearly flat trail, you'll reach a small cave. Veer left towards the riverbank and from here, you'll continue upstream to the waterfall.
Soon, you'll come across a large log with a wire handrail stretching across the river. Important note: the log is taken down in winter months! While it's difficult to find exact dates because it's weather-dependent, historically, the log is up by early June and removed by early October.
You can technically cross the river without the log, but it's not recommended. During the months when the log isn't in place, which happen to be the cold-weather months, the river moves incredibly fast. Do this at your own risk and exercise extreme caution.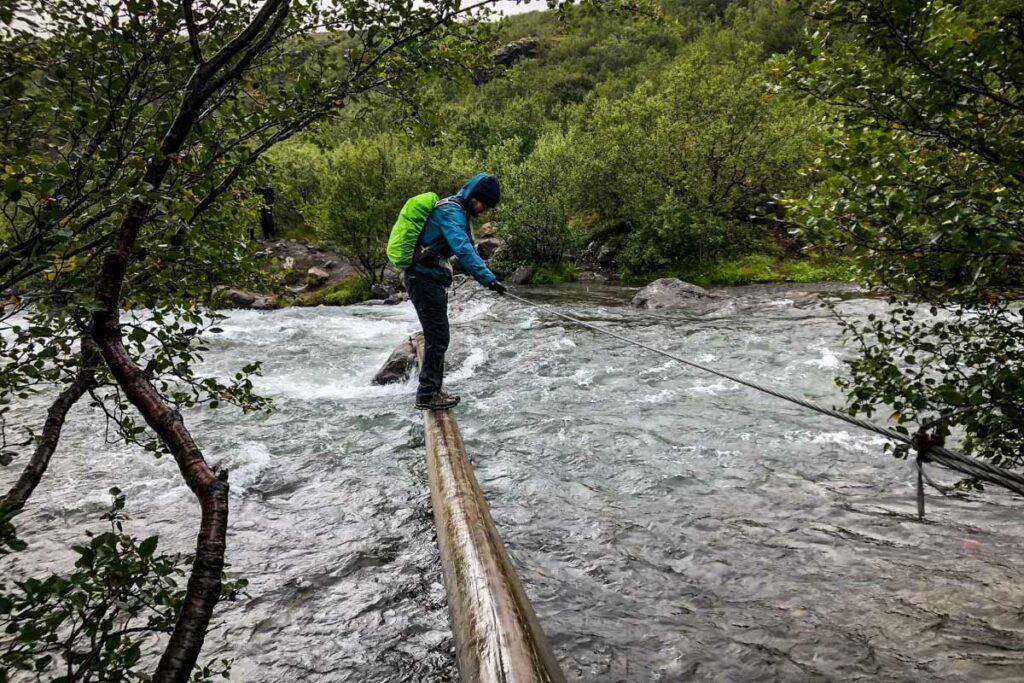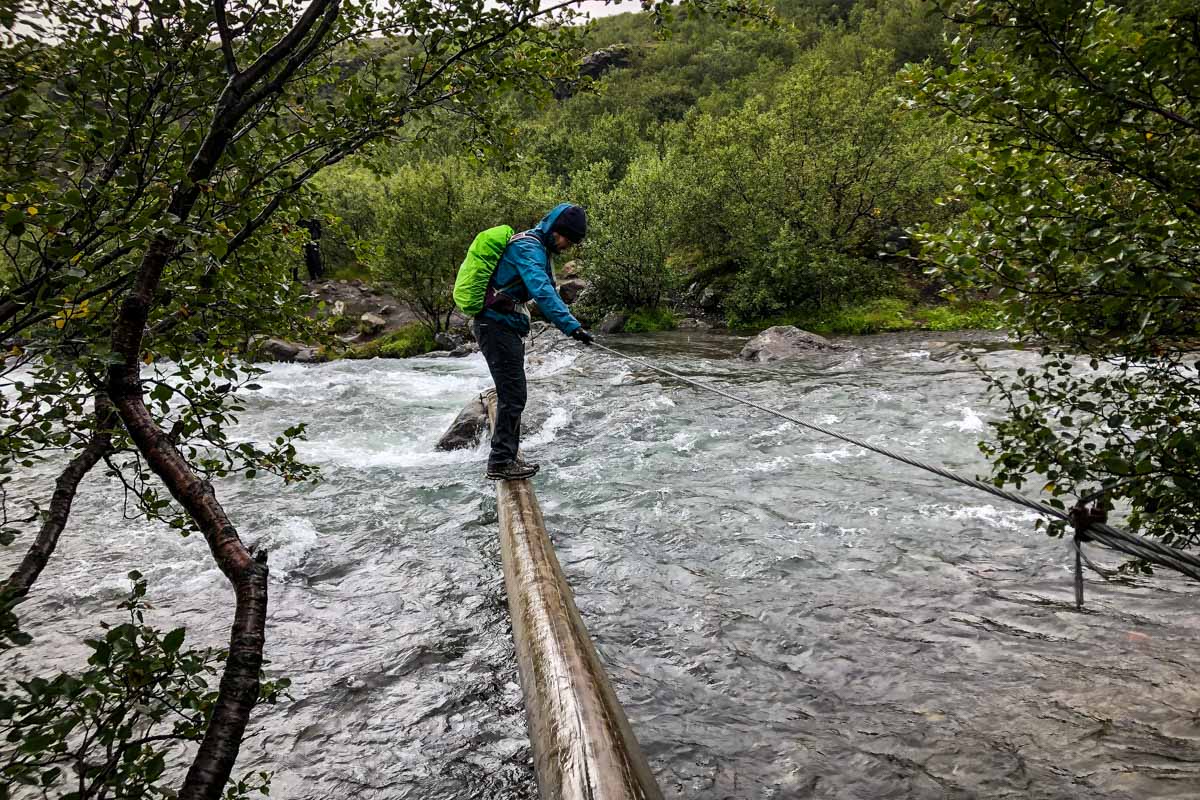 After gingerly crossing the log, continue heading upriver. Here, the trail gets noticeably more difficult, with steep ascents, uneven, rocky footing, and sheer drop-offs. This also means better views, however — the gorge opens to breathtaking vistas as you climb!
An hour and a half of hiking leads to the highest point on the trail, with stunning views of Glymur Waterfall, the river, and further out toward the sea.
At this point, you get to decide how you'll get back to your vehicle. If you're satisfied with the adventure or running low on time, or the weather is bad, the waterfall is a good place to turn around and head back the way you came.
If you're up for more adventure and the weather is favorable, keep going past the waterfall to complete the hike as a loop. This involves a second, potentially more treacherous river crossing above the falls, so it's not worth the risk in poor conditions!
Just above Glymur Waterfall, the river opens up and becomes wider and shallower, providing an area safe for crossing — in the right conditions. There's no log or anything else to assist you, so the only way across is in.
Most people cross barefoot to avoid hiking the rest of the way with wet feet, but you can also bring a pair of water shoes.
Insider tip: tuck a dry bag into your hiking pack to easily carry your wet shoes out.
Note that the water is freezing cold in any season!
To complete the loop back to your starting point, continue along the river. After a short distance, the trail splits slightly and, while it's marked by rock cairns, it's difficult to follow.
The trail that veers away from the riverbank is much more difficult, and the trail following it is easier. Specifically, the "other" trail involves a very steep descent and isn't well-marked.
Whichever route you take, watch your footing, as the second half of the loop leaving Glymur Waterfall is similar to the ascent toward it, but even more rugged.
After about an hour, you'll reach the cave you passed through at the beginning of the hike. Retrace your steps back to the car park along the same flat trail.
Tips for hiking to Glymur Waterfall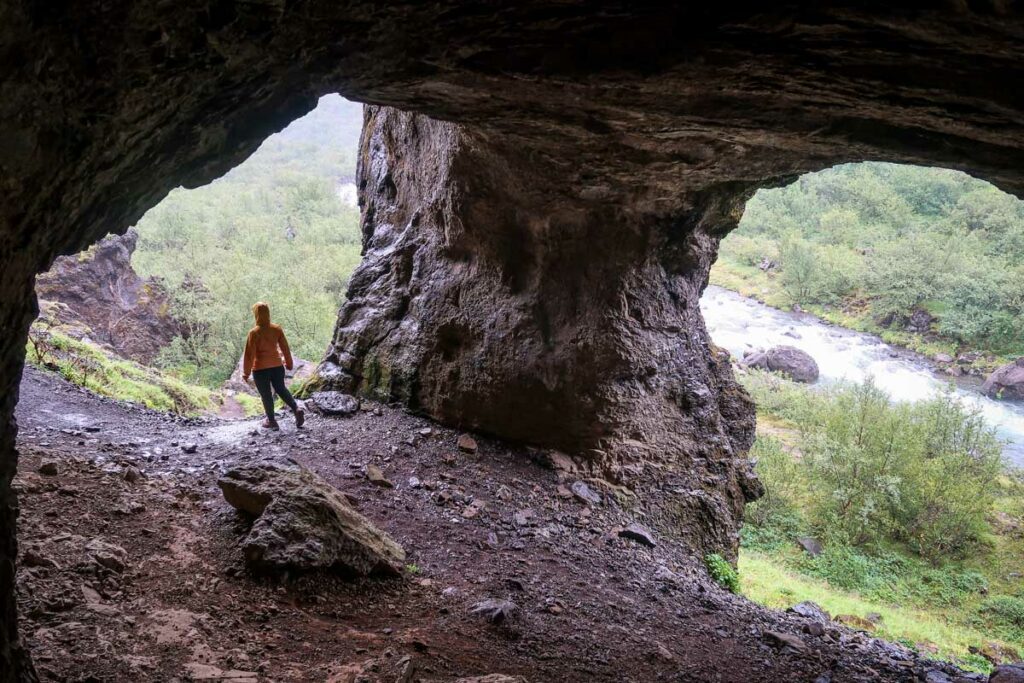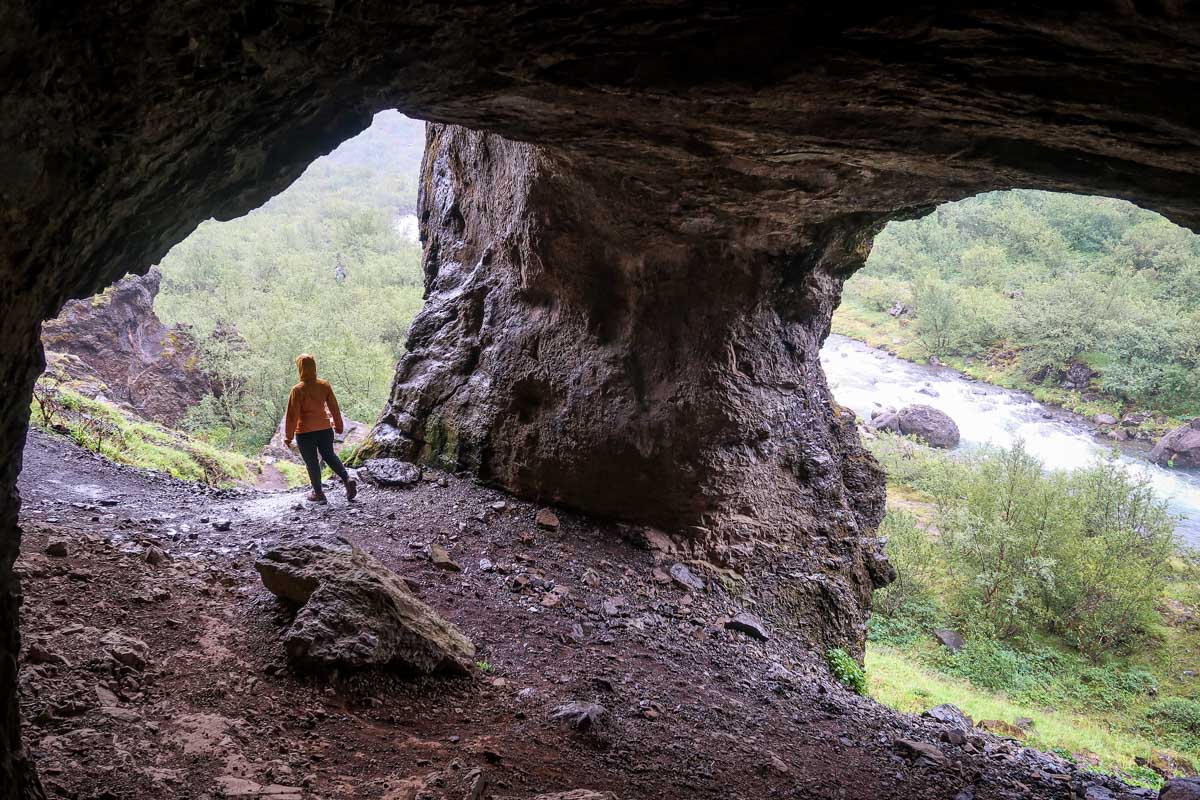 Pack water shoes or hiking sandals for the second river crossing, as the smooth stones make it easy to slip
Bring a rain jacket (a general tip for hiking in Iceland any time!) for the frequent sudden weather changes
Download an offline trail map before setting out. We highly recommend Alltrails Pro!
If it's icy or weather conditions worsen, turn around
This is an extremely popular hike, so start as early as possible to avoid crowds
Stick to the river. The side trails leading away from it are where hikers get lost!
Although Glymur Waterfall is close to Reyjavik, allot most of a full day
Where to stay near Glymur Waterfall
With the trailhead just over an hour from Reykjavik, Iceland's capital is a convenient place to stay for visiting Glymur Waterfall. However, if you'd like to get out of the city, there are some closer accommodation options.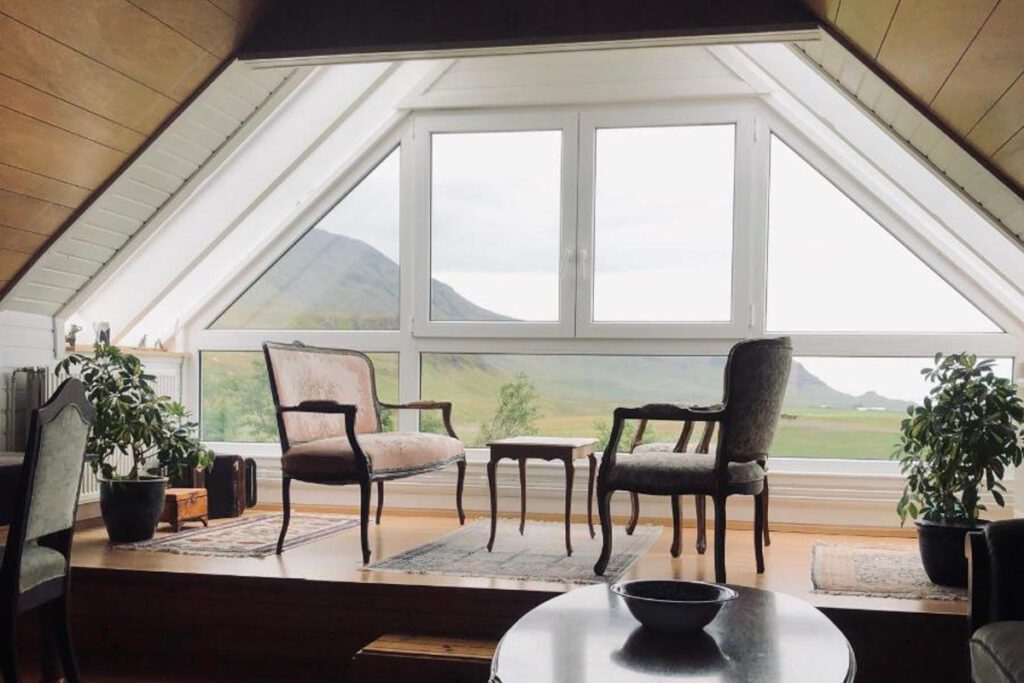 Kidafell: This charming Icelandic cottage with beautiful fjord views rents single rooms or the entire house (up to 13 people). There's wi-fi, a fireplace, library, and tire swing for a dose of childhood nostalgia, and in the summer, breakfast is included with stays.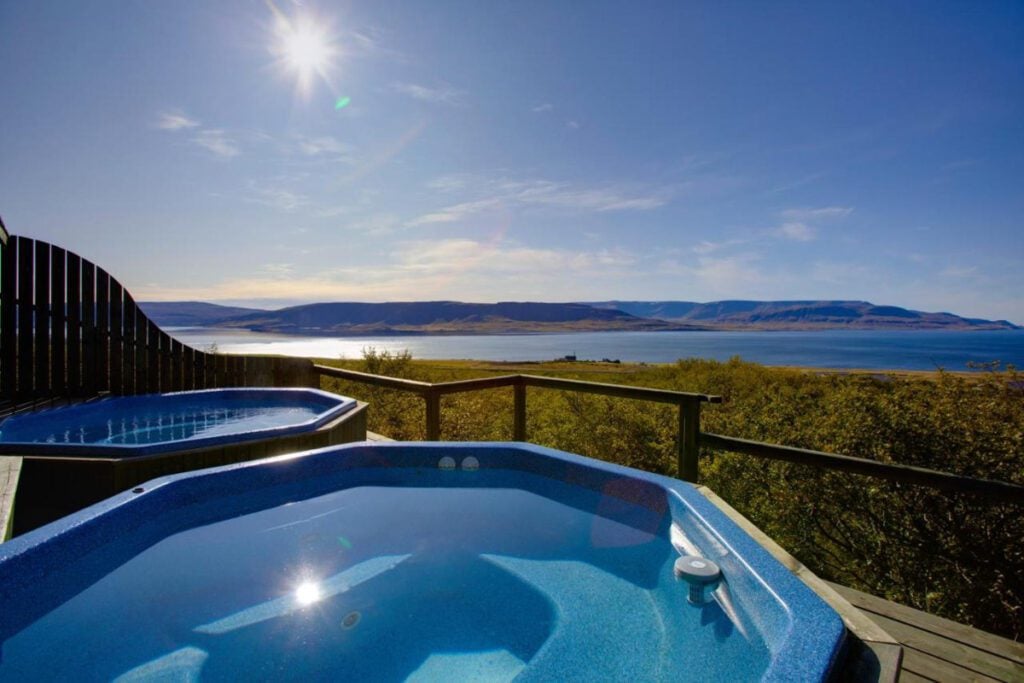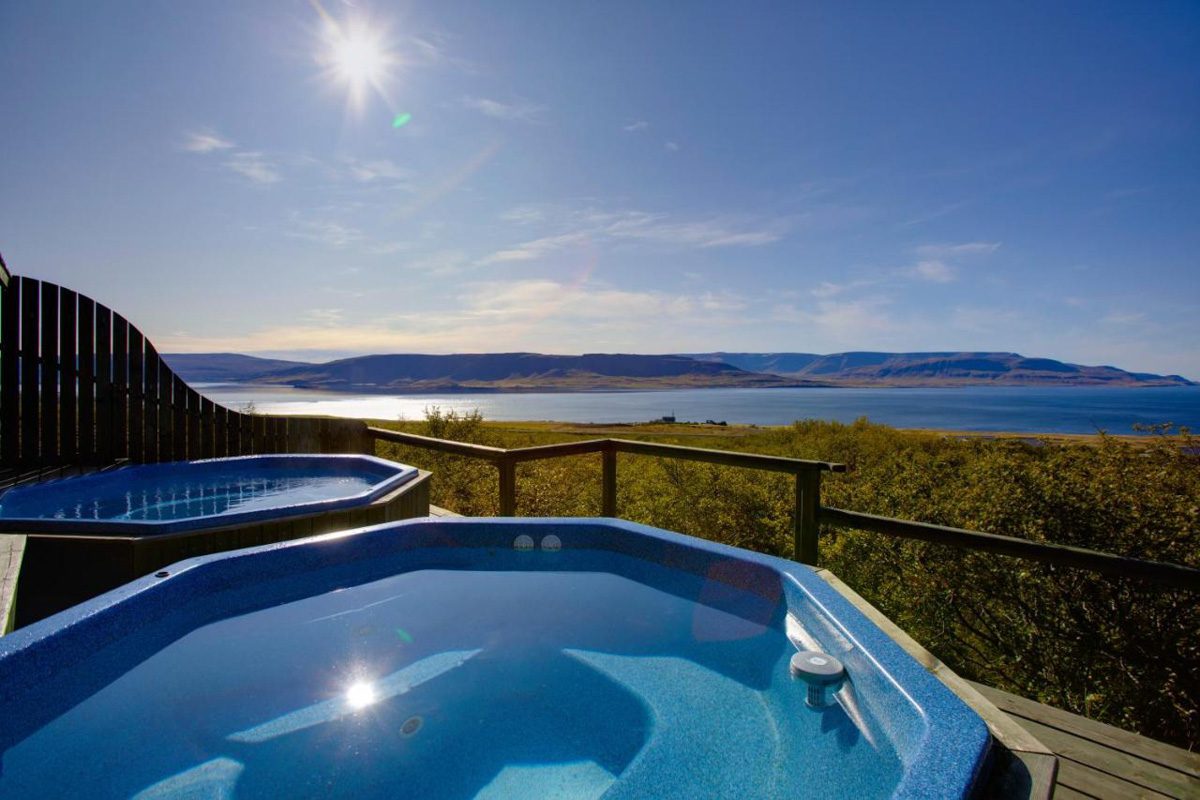 Hotel Glymur: Few things compare to the feeling of easing into a hot tub post-hike. At this hotel just 20 minutes from the trailhead, you'll experience that, as well as an outrageously comfy bed, water or mountain views, and an onsite restaurant.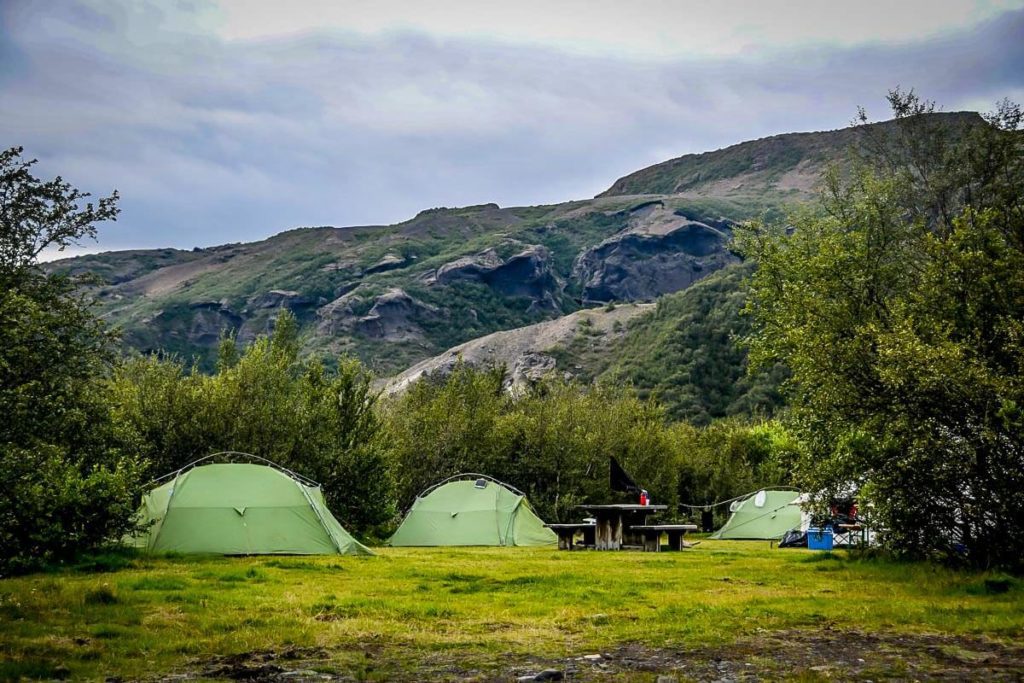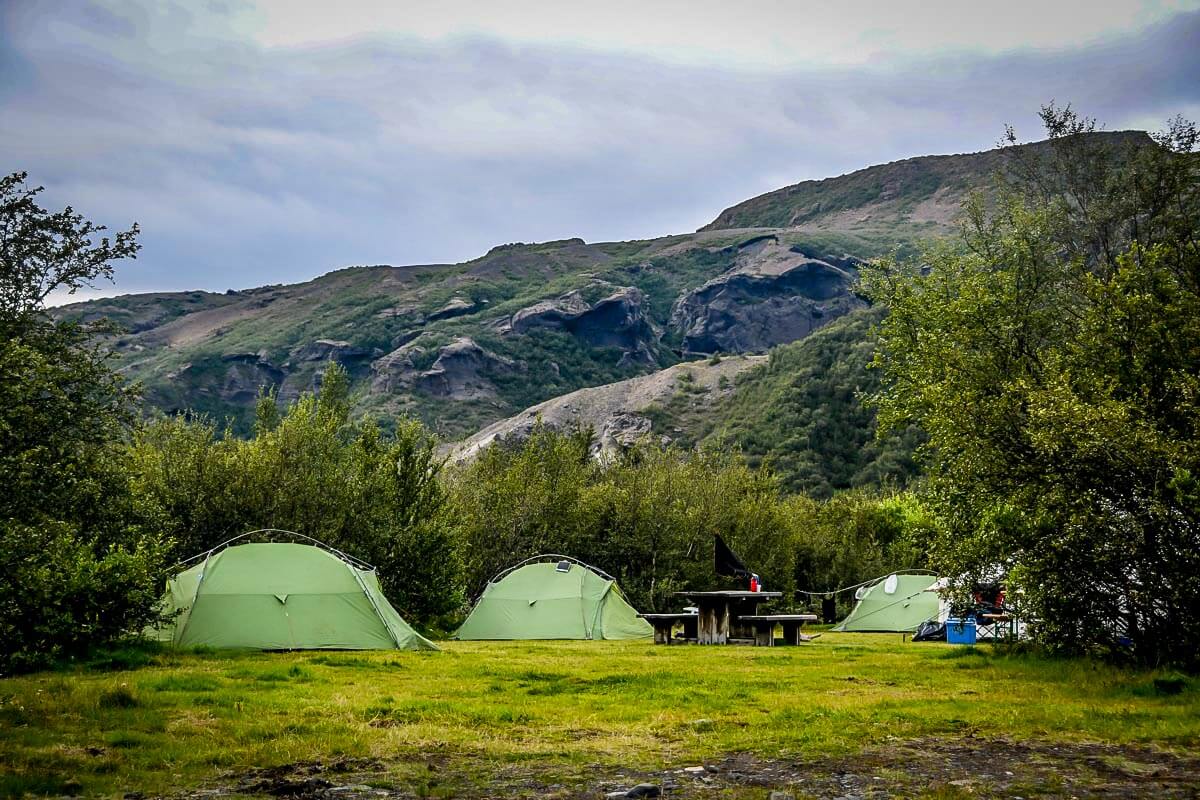 Bjarteyjarsandur: This small campsite is only a 15-minute drive from the trailhead! Set on a family-run farm, you'll enjoy panoramic bay views and be lulled to sleep by the gentle baas of sheep. There's electricity, bathrooms with showers, and a restaurant serving home-cooked breakfast.
What to pack for hiking to Glymur Waterfall
Hydration pack and/or water bottles
Sun protection: sunscreen, sunglasses, hat
Warm layers (here is a great resource if you're wondering what to wear hiking)
Rain jacket
Hiking boots
Microspikes (if there is any chance of snow and ice)
Hiking poles (optional)
Camera and tripod (this is our favorite for hiking)
Plenty of snacks: check out our favorite hiking snacks here!
AllTrails Pro (or download Google Maps offline for the area in case you lose service)
Battery pack (if you are relying on your phone)
Be sure to download our complete packing list for Iceland! It's packed with good suggestions and insider tips to help plan your Italy trip. And it's completely FREE, so why not!?


---
Are you planning a trip to Iceland?
We have TONS of resources on travel in Iceland and how to make the most out of your trip. Check out our Ultimate Iceland Travel Guide for all the answers to your most burning questions, or read some of our favorite articles below.
Save this article on Pinterest for later!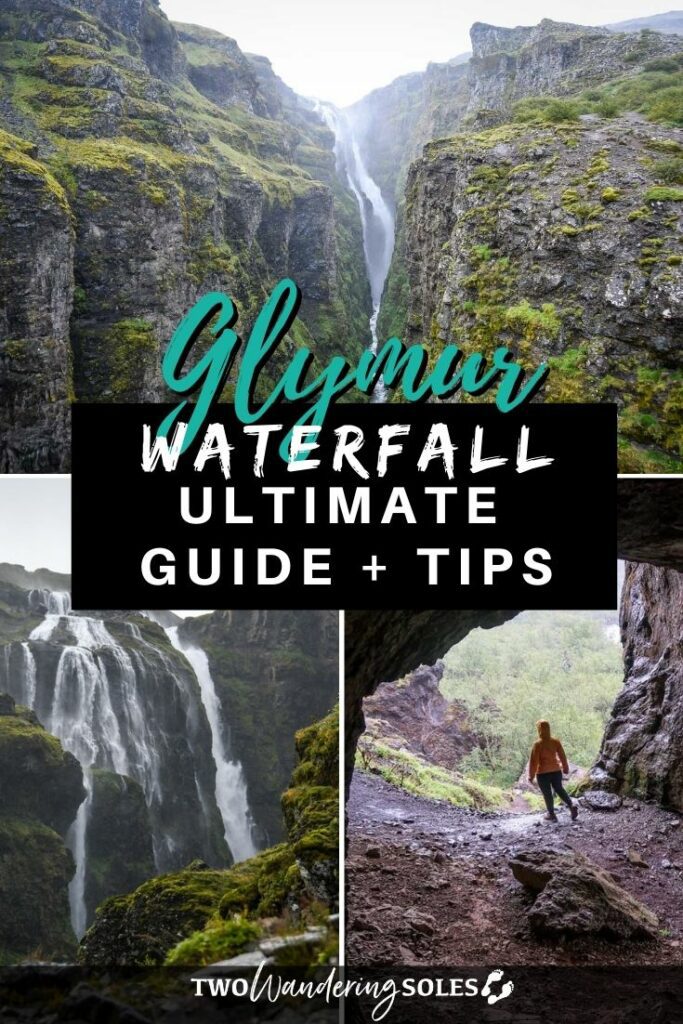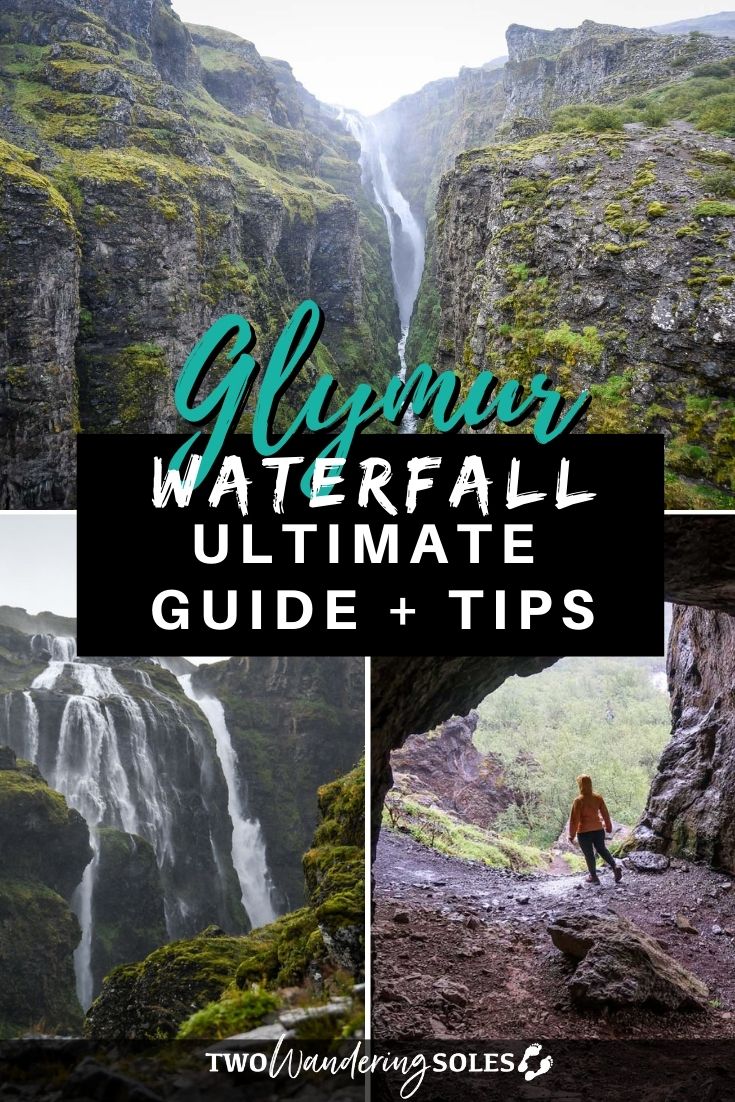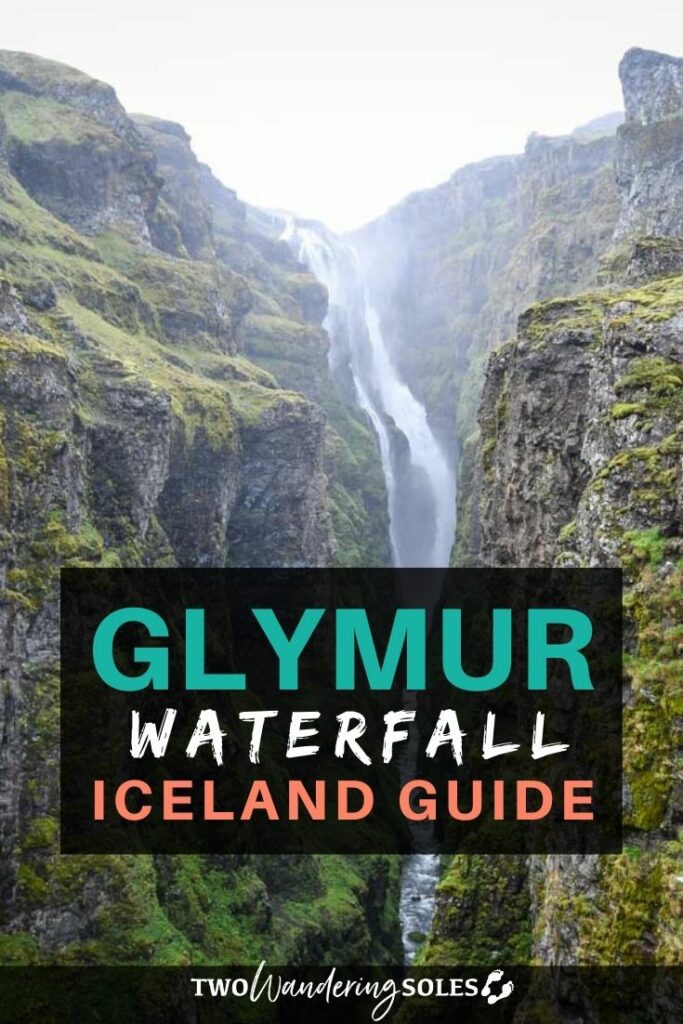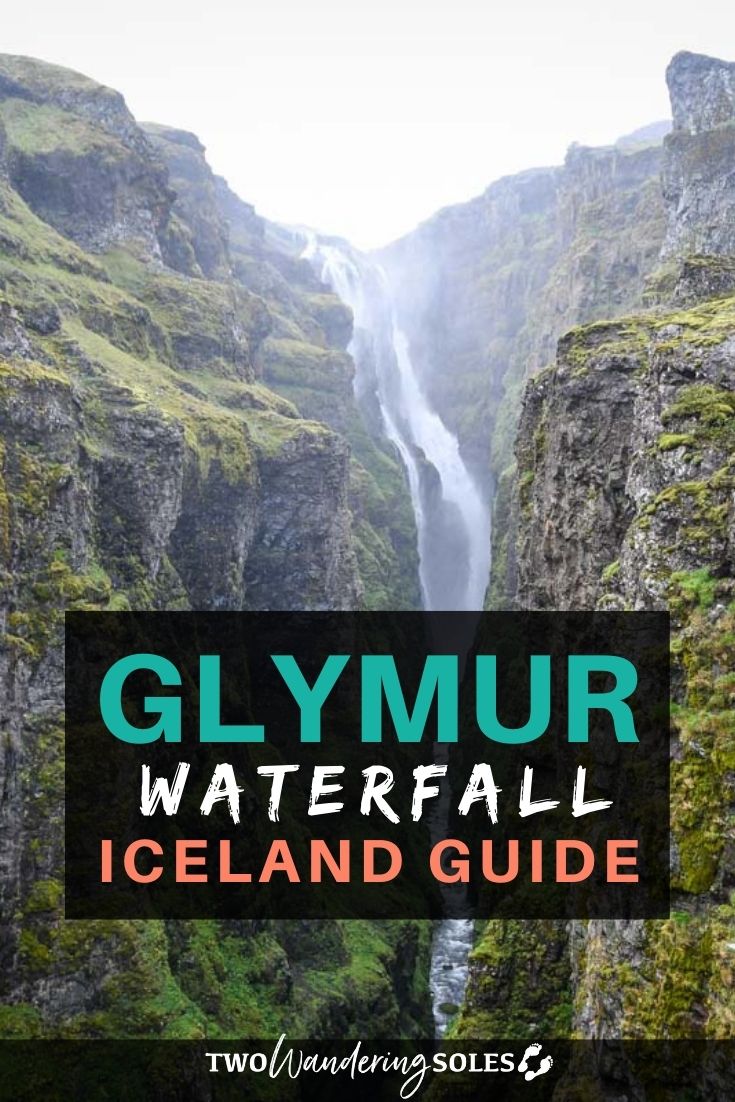 We want to hear from you!
Are you planning to visit Glymur waterfall on your trip to Iceland and still have questions? Leave your comment below and we'll do our best to get back to you!