Traveling in Iceland an adventure in itself, but camping is an experience you'll never forget. We've got your go-to place for all the Iceland camping rental gear you could want! Come with us as we help you start planning your very own Iceland camping adventure!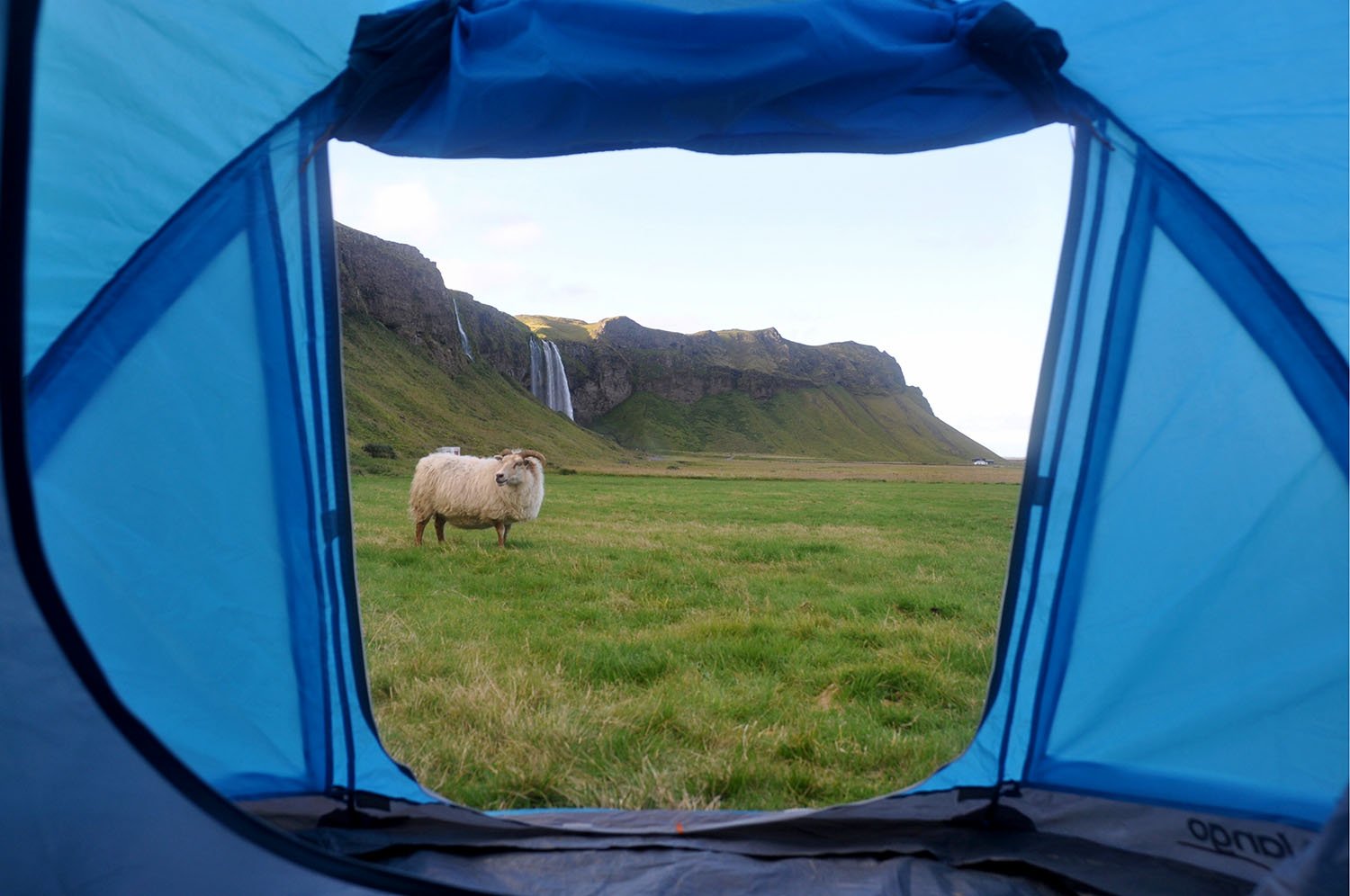 I'm going to paint you a picture that happened to us traveling in Iceland, and I want you to really try to imagine yourself in the scene I describe.
The sound of a waterfall in the not-so-far distance stirs you from a deep sleep and you slowly unzip the door of your tent to get a glimpse. Sunshine streams in, bathing you in light and the crisp morning air makes you realize how cozy your tent is.
You begin boiling water as you take in the views – the sun rising over lush hills that are punctuated by a towering waterfall. You pour the boiling water over fresh coffee grounds in your French press and close your eyes, inhaling deeply as one of your favorite scents fills the air.
When you open your eyes you see a handful of sheep wandering right past the tent, grazing on grass.
Can you imagine any better way to wake up? Me either.
I know this sounds like a dream, but actually this was exactly what happened our second morning in Iceland. No joke.
Visiting Iceland is by any definition, an adventure. With long stretches of road where you're the only car or campervan in sight, waterfalls to be chased and black sand to sift through your fingers, you're in for a trip that'll have your heart racing and your camera lens snapping.
We've already showed you that Iceland can be affordable (if you follow some of these tips!), and how to find a cheap rental car, and now we're going to explain how you can start planning your very own journey to this wildly beautiful island in the north Atlantic.
And we're pretty sure you will LOVE it. Guaranteed. (Well, not really, because we're not going to refund your airfare or anything… but we haven't met anyone who didn't absolutely love Iceland. And I don't think you'll be the first.)
Iceland camping rental guide
Before you Go: Decide when to plan your visit with our complete guide to the best time to visit Iceland, including when we recommend going and when to avoid!
---
Want to save time and energy on planning?
We've traveled to Iceland 3 times now and spent weeks living in a campervan, traveling around the country. We've been able to explore a lot of what Iceland has to offer!
We've complied our experience to create the perfect Iceland itinerary. Our itinerary is for 7-9 days and meant to be explored while traveling in a campervan. It includes the highlights of the southern coast of Iceland.
We'll send you our complete 7-9 day customizable itinerary, filled with tips and advice. Just click below to get your perfect Iceland itinerary today!


---
Should I camp or stay in hotels in Iceland?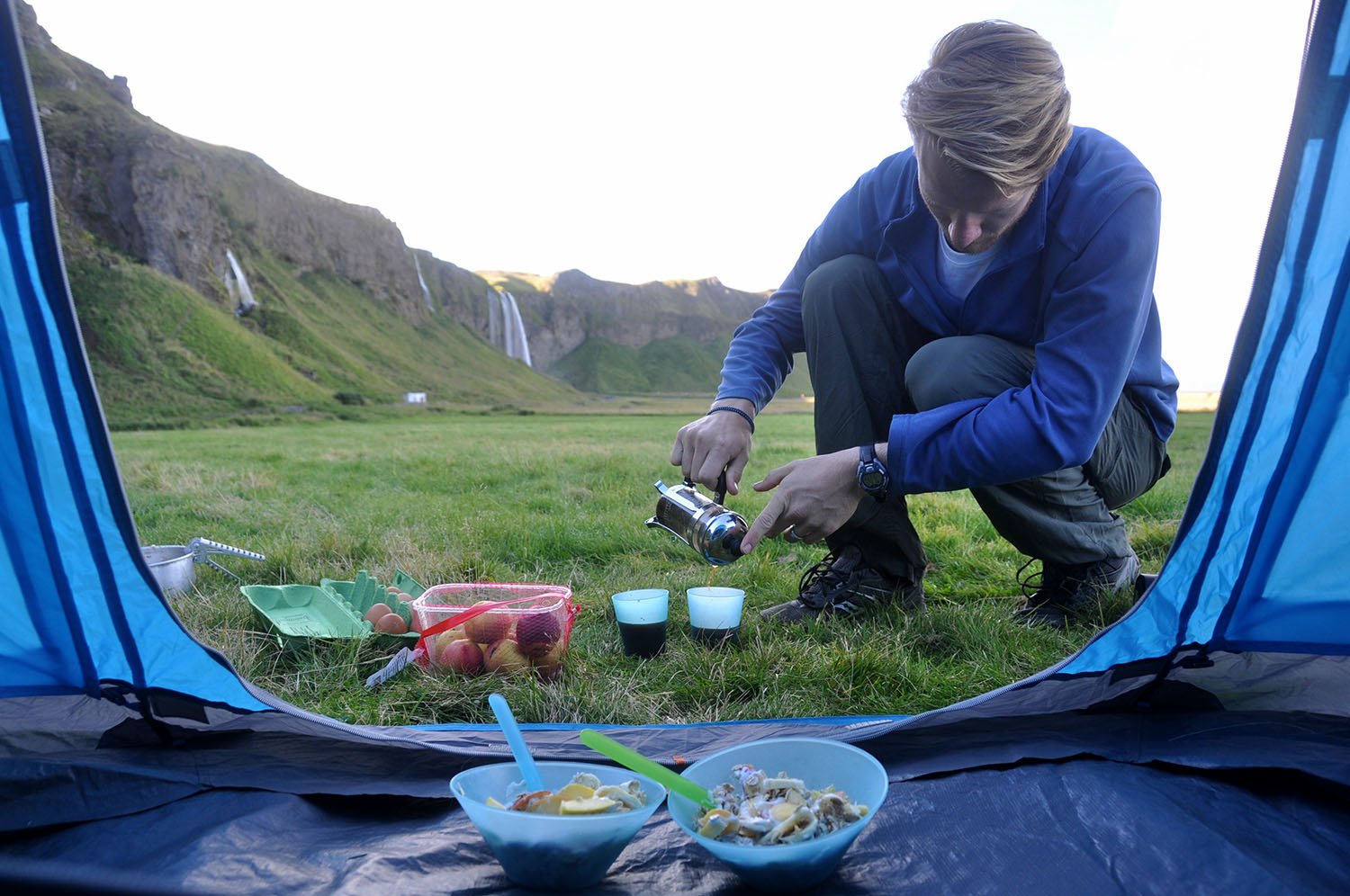 CAMP! CAMP! CAMP! You can probably tell we're pretty enthusiastic about camping, but we really think it is the absolute best (and cheapest!) way to explore Iceland. You'll see so much more than you would by staying in hotels, and we've already talked about the scenery you'll wake up next to and it makes it easy when you stay in a tent or a campervan.
The best part is that you don't even have to do any planning of your own! We've put together a comprehensive 7-day Iceland itinerary that'll bring you to some of the most scenic parts of this country in less than one week.
Looking for a campervan rental in Iceland?
We've partnered with Happy Campers to give our readers a 5% off their campervan rental when you use our coupon code: TWS5
Just enter the coupon code TWS5 at checkout on Happy Campers website.
Plus we put together a HUGE Iceland campervan rental guide with everything you need to know including insider tips and advice.
Where can I get camping rental gear in Iceland?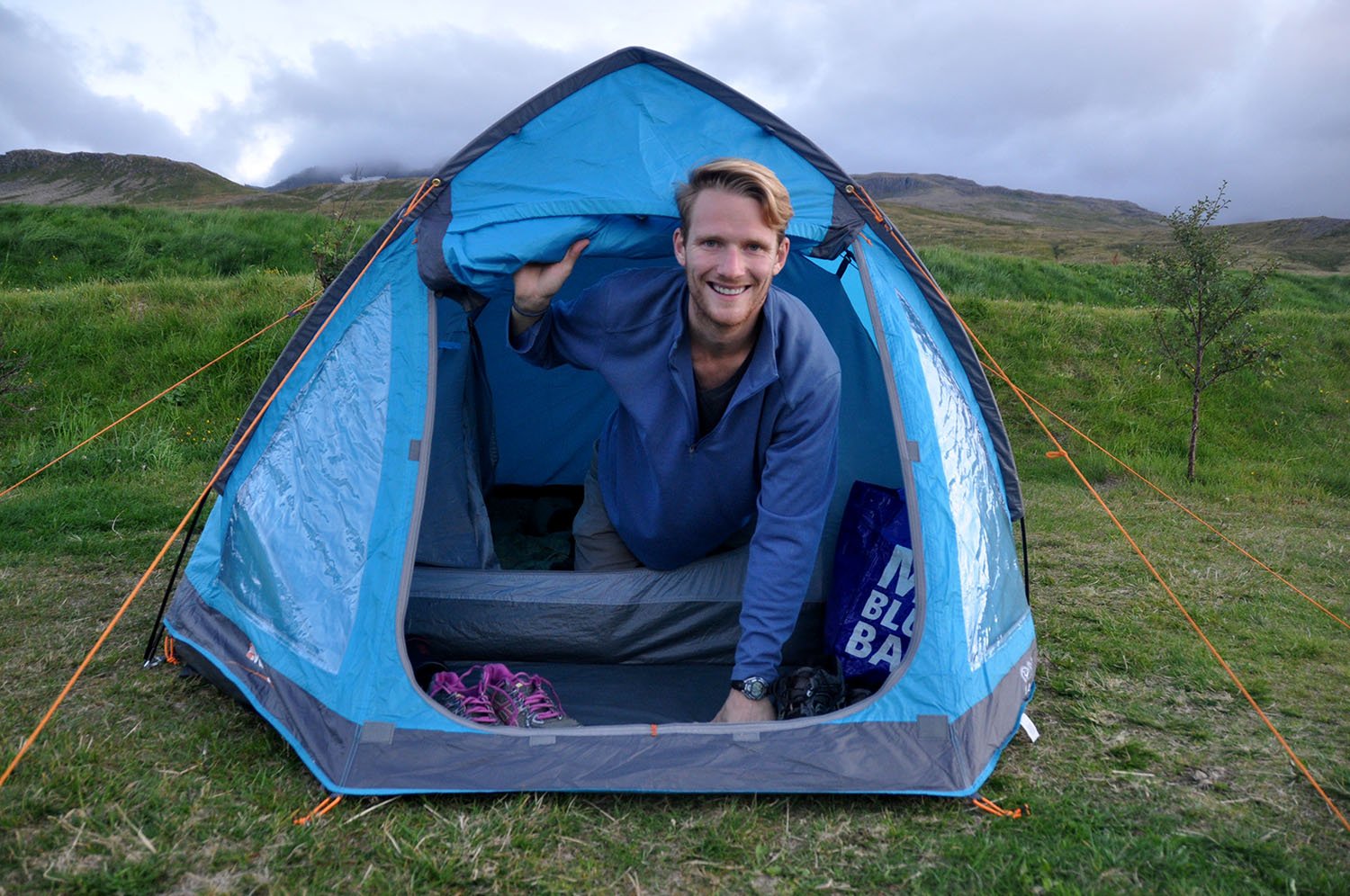 Now that we've done the entire itinerary planning for you, the next step is to talk about gear.
It can feel a little overwhelming to plan a camping trip in a foreign country because you can't just throw all your gear into your car and go. Don't be intimidated! Lucky for you (and us!), Iceland Camping Equipment Rental has made it super easy to rent high quality gear at affordable prices. This means that you don't need to buy expensive new items or lug them all the way across the Atlantic.
Tell me more about Iceland Camping Equipment…
Iceland Camping Equipment was created by Delphine and Cedric, a French couple who fell in love with Iceland and decided to make their favorite vacation spot their home. Their intention is to supply travelers with the things that they used on their many trips to Iceland.
The customer service at Iceland Camping Equipment is impeccable, and their passion for camping and exploring this country shines through. They're full of tips and advice because they've been there. And let me tell you, they know what they're talking about.
Are they sustainability focused?
If you've followed our blog at all, you know that we are passionate about traveling in a way that impacts the environment as little as possible. We are constantly learning ways to minimize our footprint and try to support ethical companies as often as possible. Which brings me to my next point.
When it comes to camping gear, we typically try to buy items that we will be able to reuse time and time again. But for those things we would only use for a short amount of time, it makes more sense to rent them.
At Iceland Camping Equipment they have a bin where you can drop off food or supplies you didn't use and no longer need, and people just setting off on their trip can at it to their gear or food and not let it go to waste.
Related: Eco-friendly travel gear you can take anywhere
What camping gear did you rent in Iceland?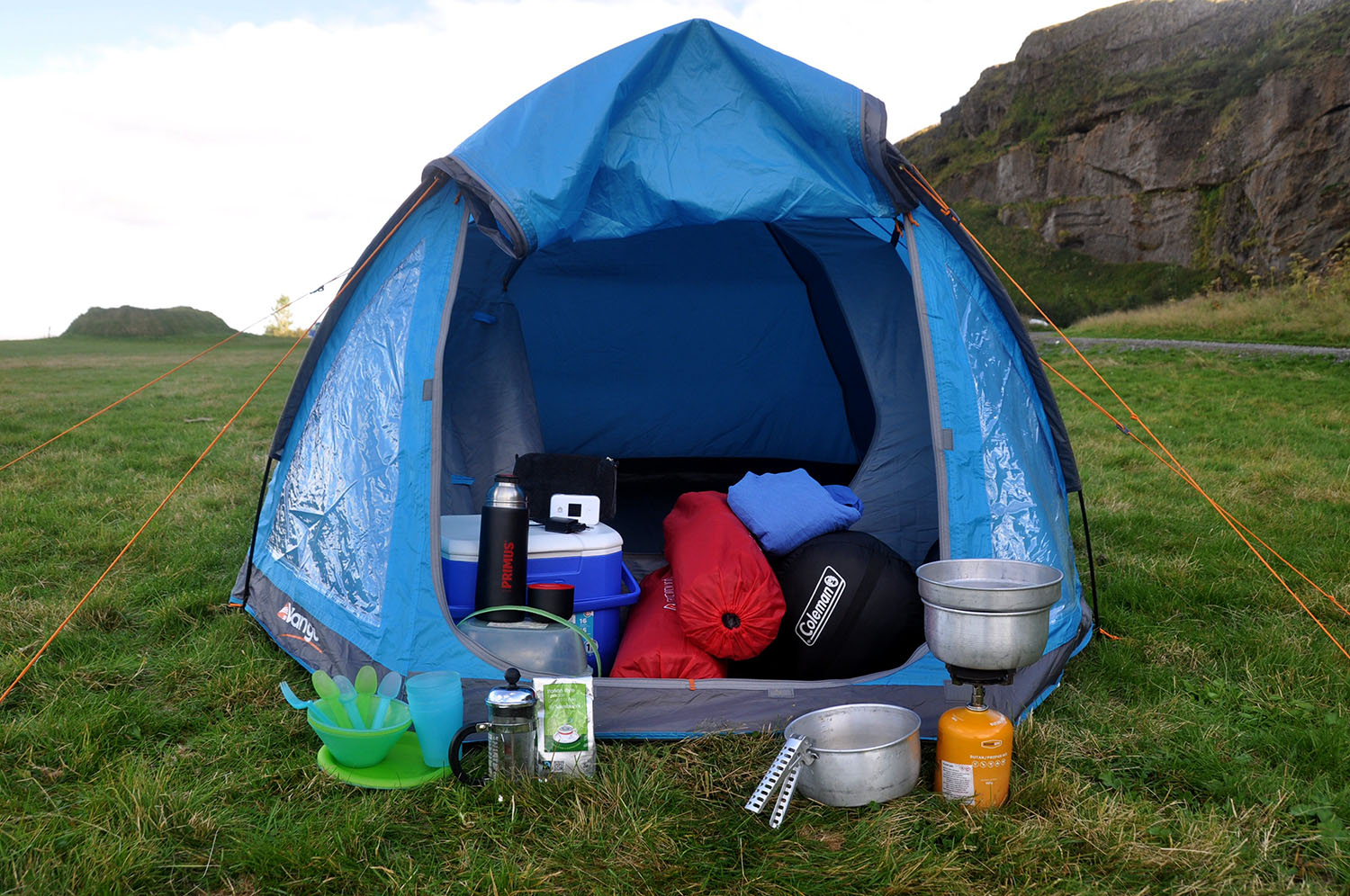 We were actually pretty spoiled on this camping trip. Not only does Iceland Camping Equipment offer all the essentials – like tents, sleeping bags, mattress pads and camping stoves – but they have tons of fun luxuries too!
We loved waking up with a hot cup of coffee made with our French press, and don't know how we would have survived without the pocket WiFi we rented.
How much does it cost to rent camping equipment in Iceland?
Good question! We've broken it all down for you by individual items and their price per day (as well as the grand total!). For a detailed budget for everything we spent in Iceland, including transportation and food, click here!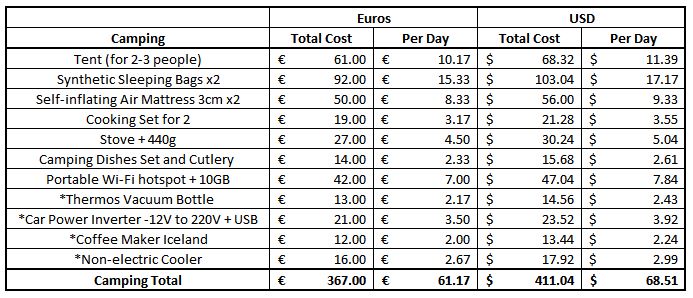 Will camping in Iceland save money?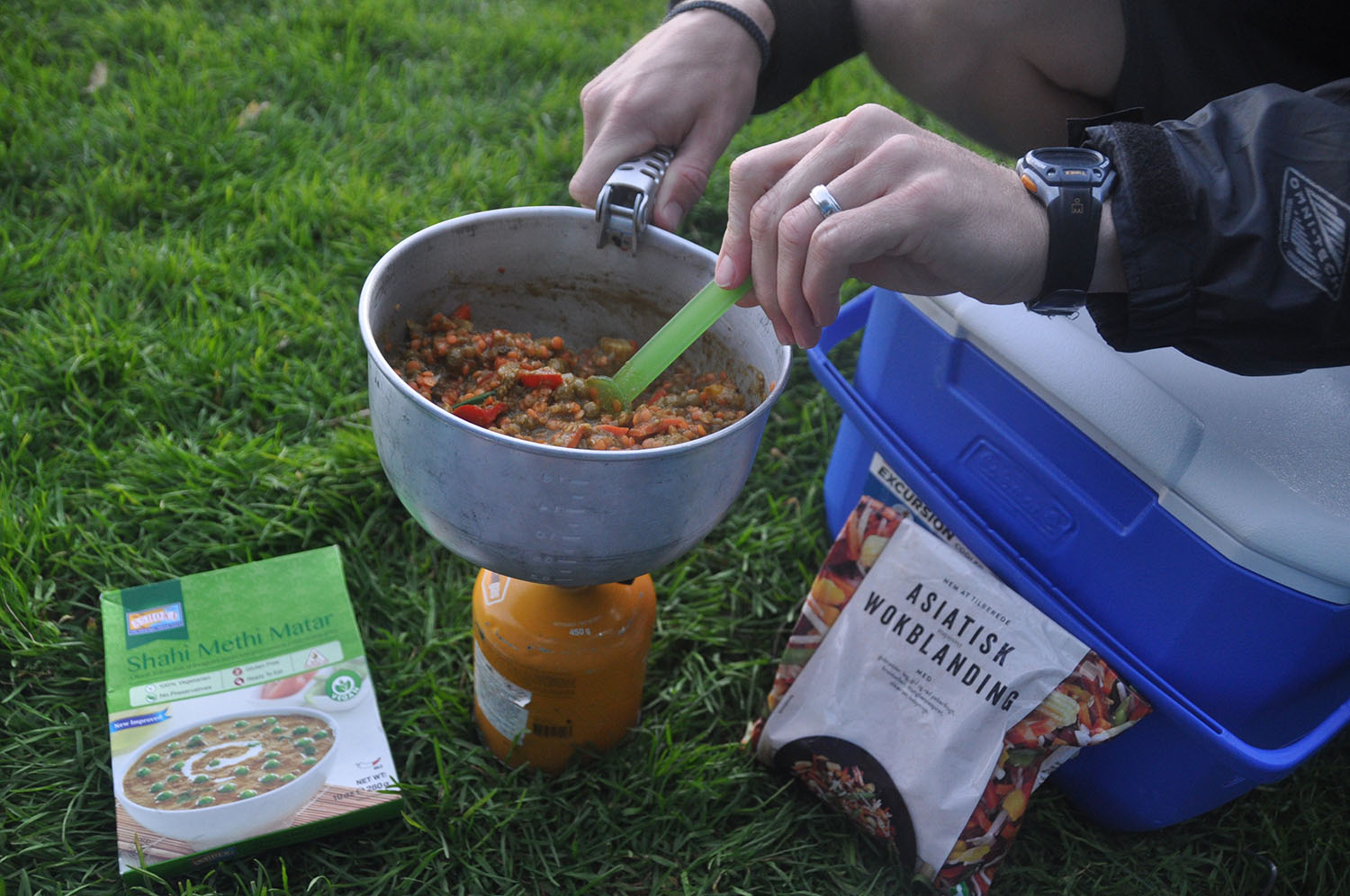 We saved a TON of money by renting our camping equipment. But you want the actual numbers, don't you? Renting gear meant that we didn't have to pay for hotels, and we were able to cook all of our meals and make as much coffee as our caffeine-loving-hearts desired.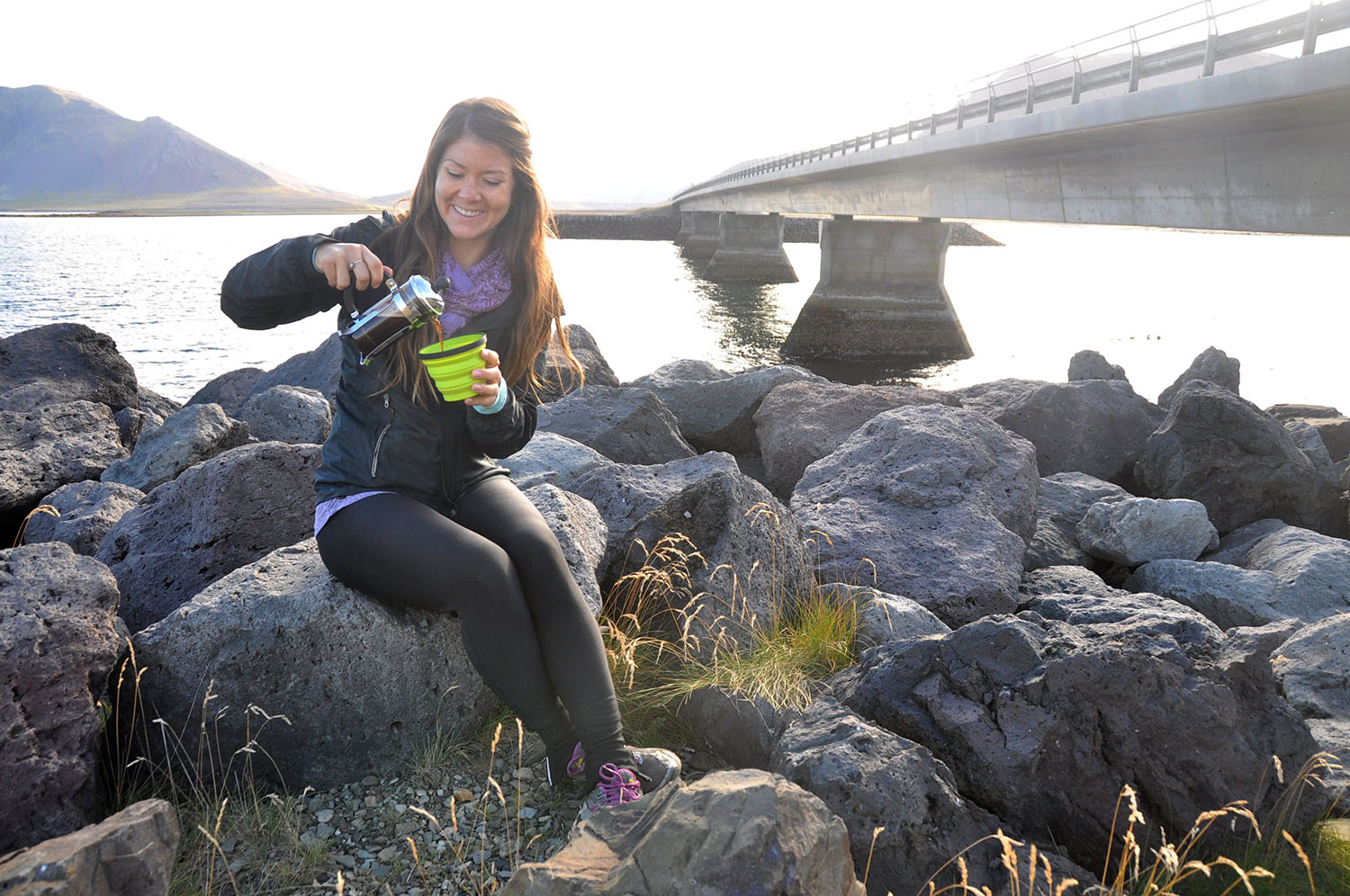 Here's an estimate of what we would have spent per day on food and lodging if we had NOT camped:
$70 USD: 2 dorm beds (Based off a low/average price of $35 USD per person we found during the month of August)
$72 USD: 3 meals for 2 people (Based off an average of $12 per meal. These are the types of meals you'd find in gas stations. If you ate out at nicer restaurants, it would be more expensive.)
$9 USD: 2 Coffees (At one coffee shop in Reykjavik, normal drip coffee was about $4.50 USD.)
$5 USD: WiFi (Many budget hotels will charge an additional fee to use the WiFi.
Total: $156 per day if we didn't camp
What we actually paid per day for camping equipment, fees and groceries:
$68.51 USD: Gear rental cost per day (for 2 people)
$5.79 USD: Campground fees per day (for 2 people)
$4.42 USD: Grocery cost per day (for 2 people)
Total: $78.72 per day camping
So this means that we saved roughly $77.28 per day (or $463.68 in total during our 6-day trip). Good deal, huh?!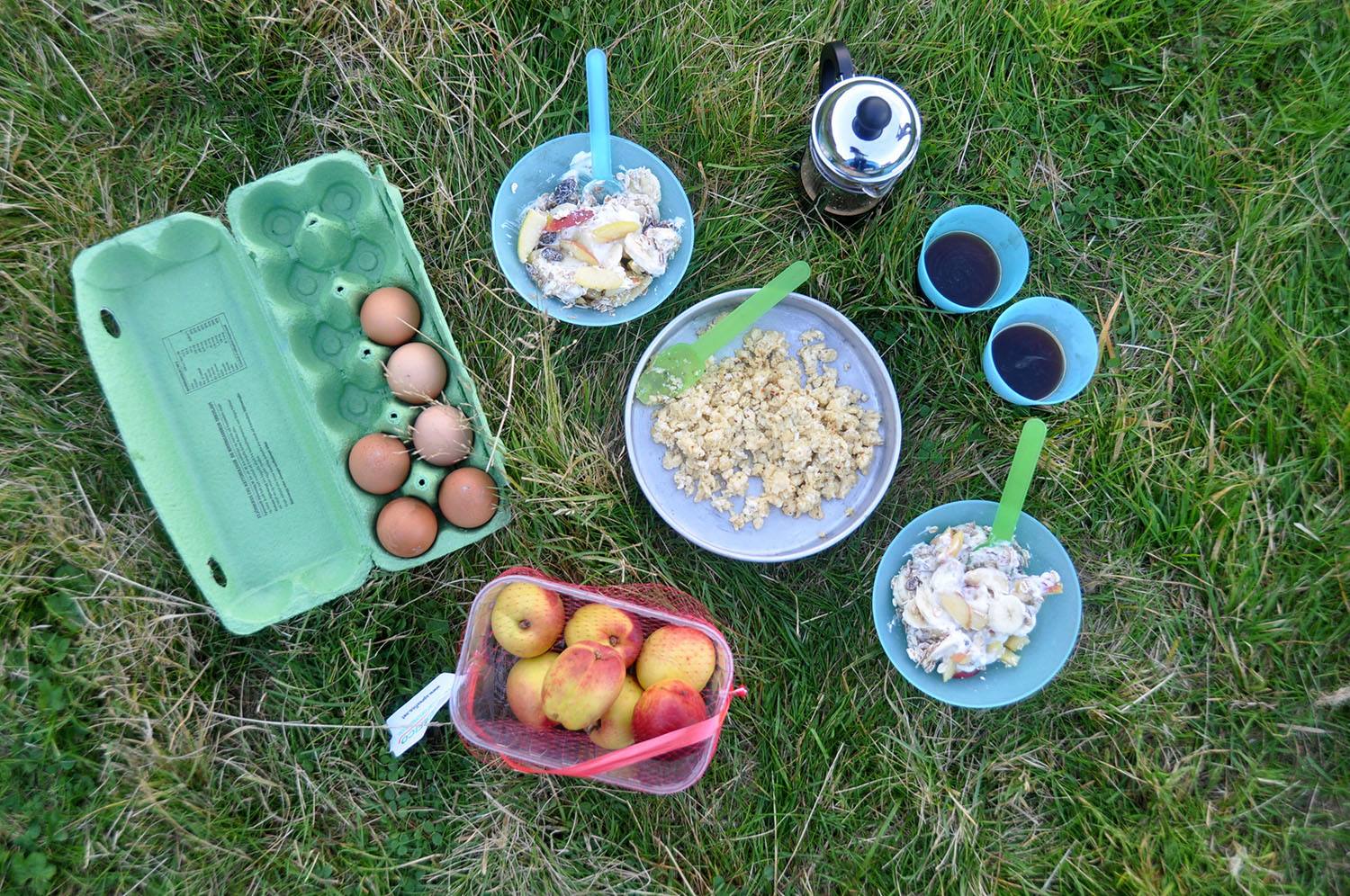 Was the camping gear good quality?
Sometimes renting equipment gets a bad reputation. Nobody wants to borrow a sleeping bag that feels like you are the hundredth person to call it their bed. But we can assure you that the equipment at Iceland Camping Equipment is absolutely top notch. Our sleeping bags were clean and felt brand new.
They even provided us with free cotton liners that kept us extra warm and comfortable. The tent, the mattress pads, the cooler… everything was is seriously good condition. They have top brands like Vango, The North Face, and Coleman and everything is clean and well-maintained.
We truly have never had a better rental experience. No exaggeration here.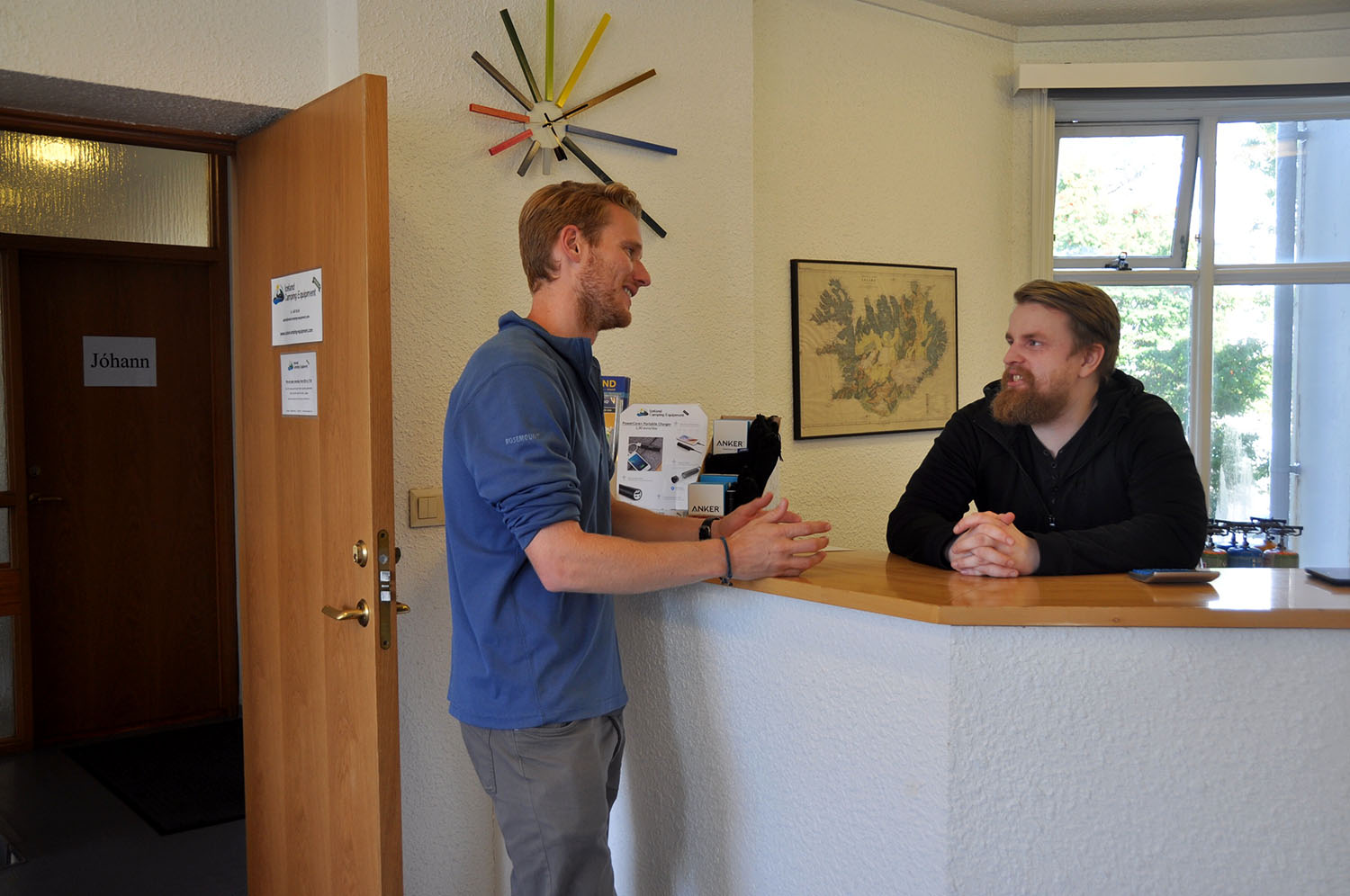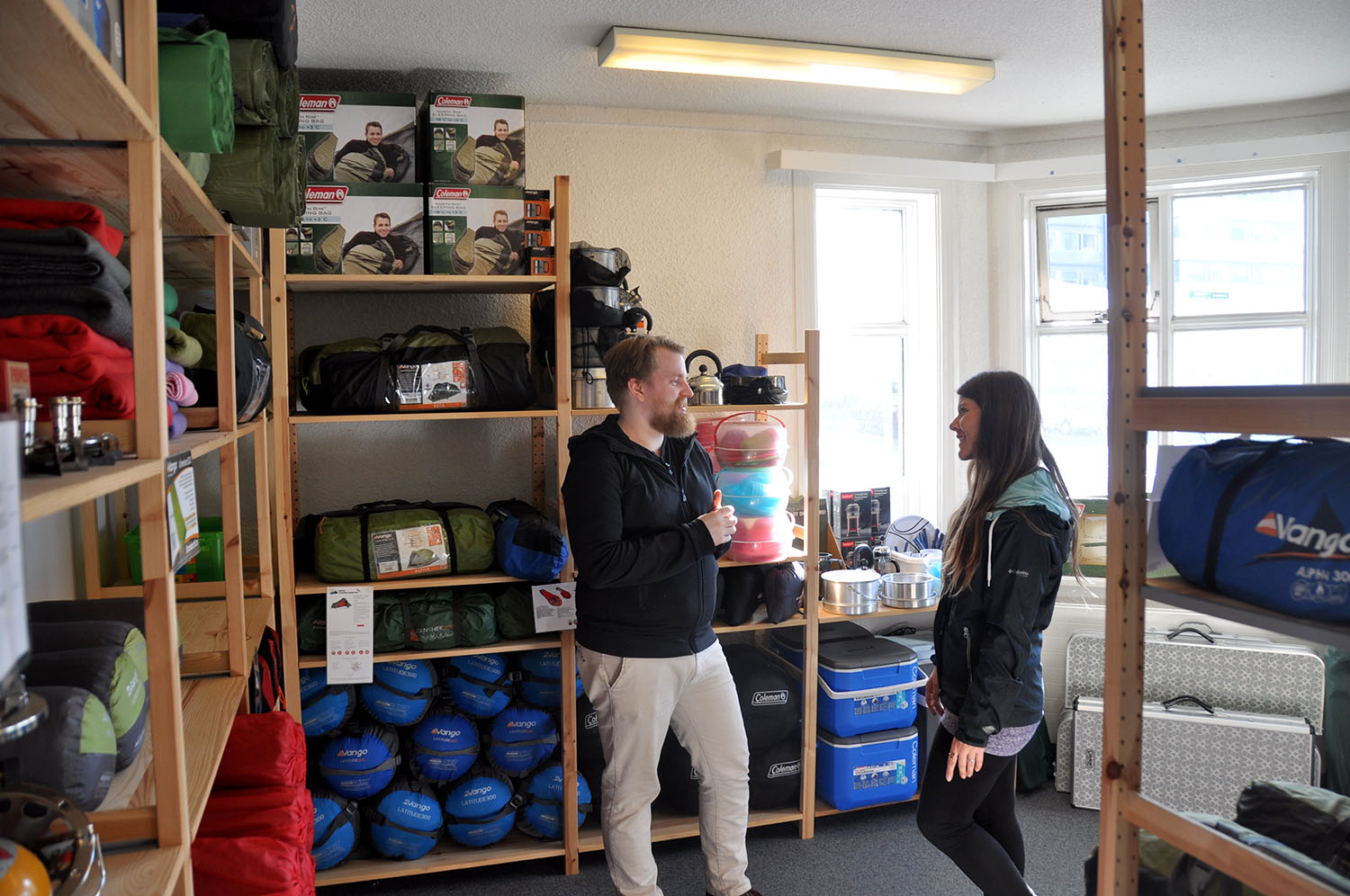 How do I rent gear with Iceland Camping Equipment?
I'm glad you asked. It is SO easy! All you need to do is go to the Iceland Camping Equipment website and look through the products they offer.
If you have any questions or are interested in an item that you don't see on the list, simply shoot them an email at contact (at) iceland-camping-equipment.com. They are incredibly responsive and helpful.
Once you pick out the equipment, select how many days you will need it for and you'll see the total cost. (Note that the longer you rent an item for, the less it will cost per day.)
Now confirm the items and dates you'll need them, and you're all set. It's as simple as that!
Where do I pick up my camping gear in Iceland?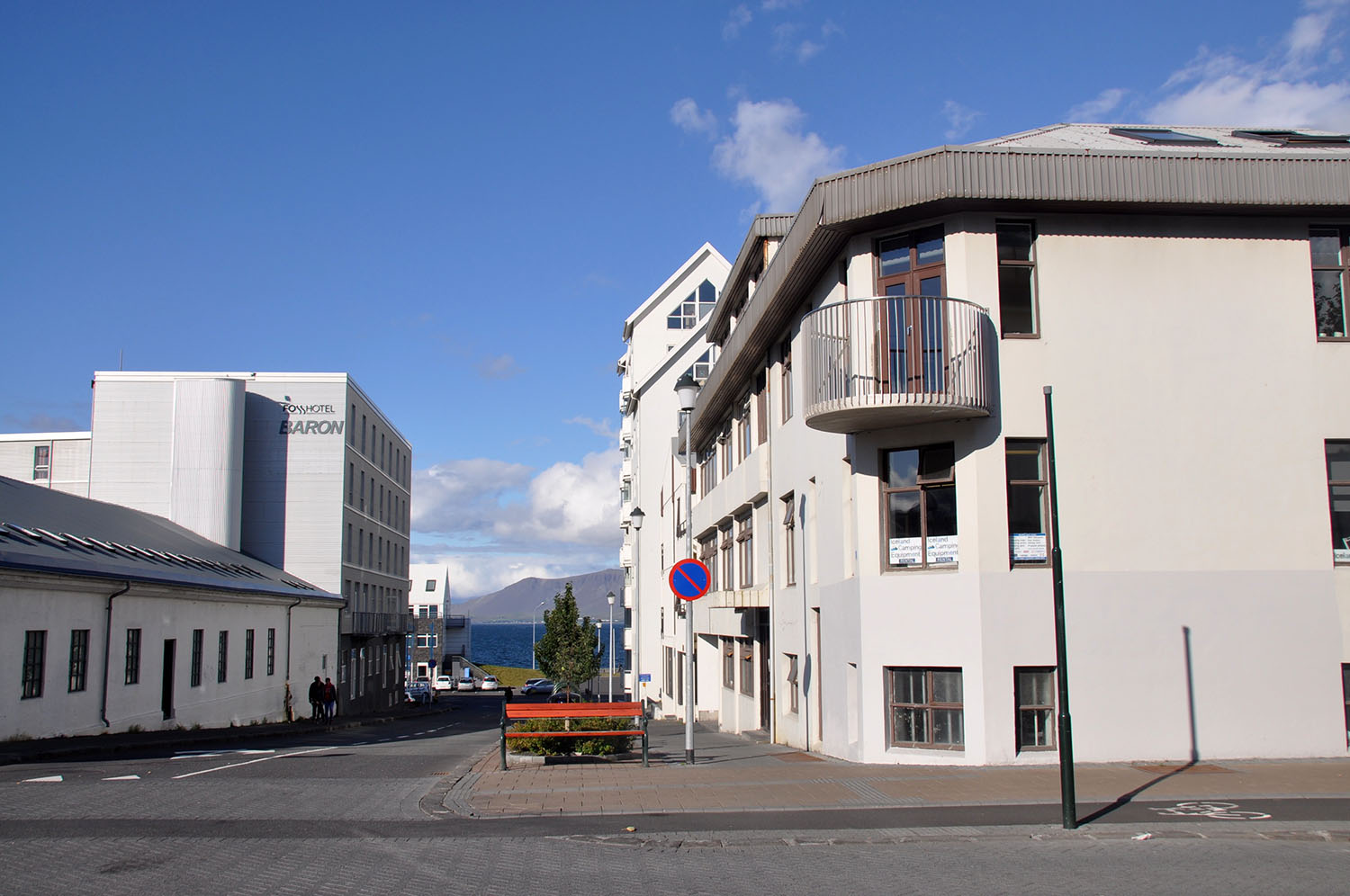 Iceland Camping Equipment is conveniently located on the main drag in Reykjavik. There's a parking lot across the street, and they're open from 9 a.m. to 5 p.m. from May 1st – October 1st, and by appointment during the rest of the year. Stop in and they will have all your gear ready for you to go.
And the convenience doesn't end there. If your flight arrives late at night after they close or early in the morning, and you'd like to pick up your gear, that's totally possible. They have a storage room set up specifically for customers to get their rental equipment outside their regular hours.
Just let them know when you plan to pick it up and they'll set aside your equipment and give you a code to unlock the unit.
They've put a lot of thought and effort into making camping rental as convenient as possible.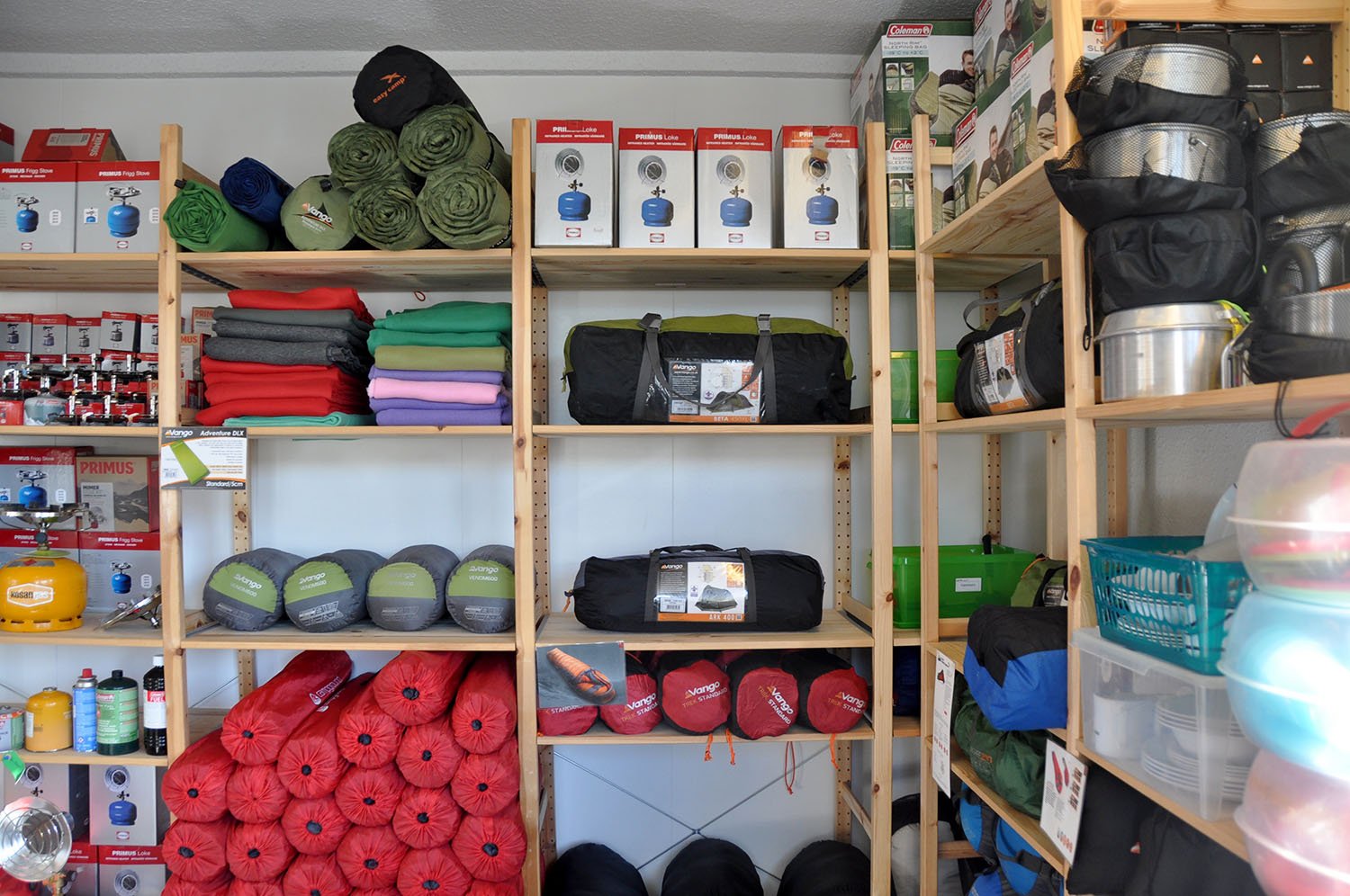 What if I have my own camping gear?
That's great! If Iceland is your only destination, you can certainly pack a checked bag with your own gear for your Iceland camping adventure. But there are certain essential things you cannot fly with (aka full camping stoves), and others that just may get too bulky – warm sleeping bags, mattress pads and cooking sets.
Plus, some airlines charge additional fees for luggage that doesn't fit their specific regulations or dimensions, so be sure to do a little research.
Iceland Camping Equipment has it all – so whether there's an item you don't own, something you forgot, or something that you are just too lazy to pack – they've got you covered!
Another thing to consider is whether or not your gear is suited for Iceland's unique weather and climate. Iceland Camping Equipment specializes only in gear meant for – you guessed it – Iceland! So when you rent with them, you'll know it'll be just what you're looking for.
What if I plan to visit Iceland in the winter?
Well, first of all, we're jealous! Iceland is a country that has special draws during each season of the year. We loved being there at the end of summer because we were able to get around in just a rental car, but we really want to get back to Iceland someday to experience it the fall, winter and spring too!
Iceland in the winter can get pretty darn cold (and coming from two Minnesotans, that is saying something!). Tent camping may not be as comfortable as other times of the year, but there are plenty of companies that rent campervans at reasonable prices.
The thing is not all campervan companies are created equal and some aren't equipped with much (but this is the best campervan company in Iceland and we love them). You'll have quite a few things to rent, and Iceland Camping Equipment will have you covered!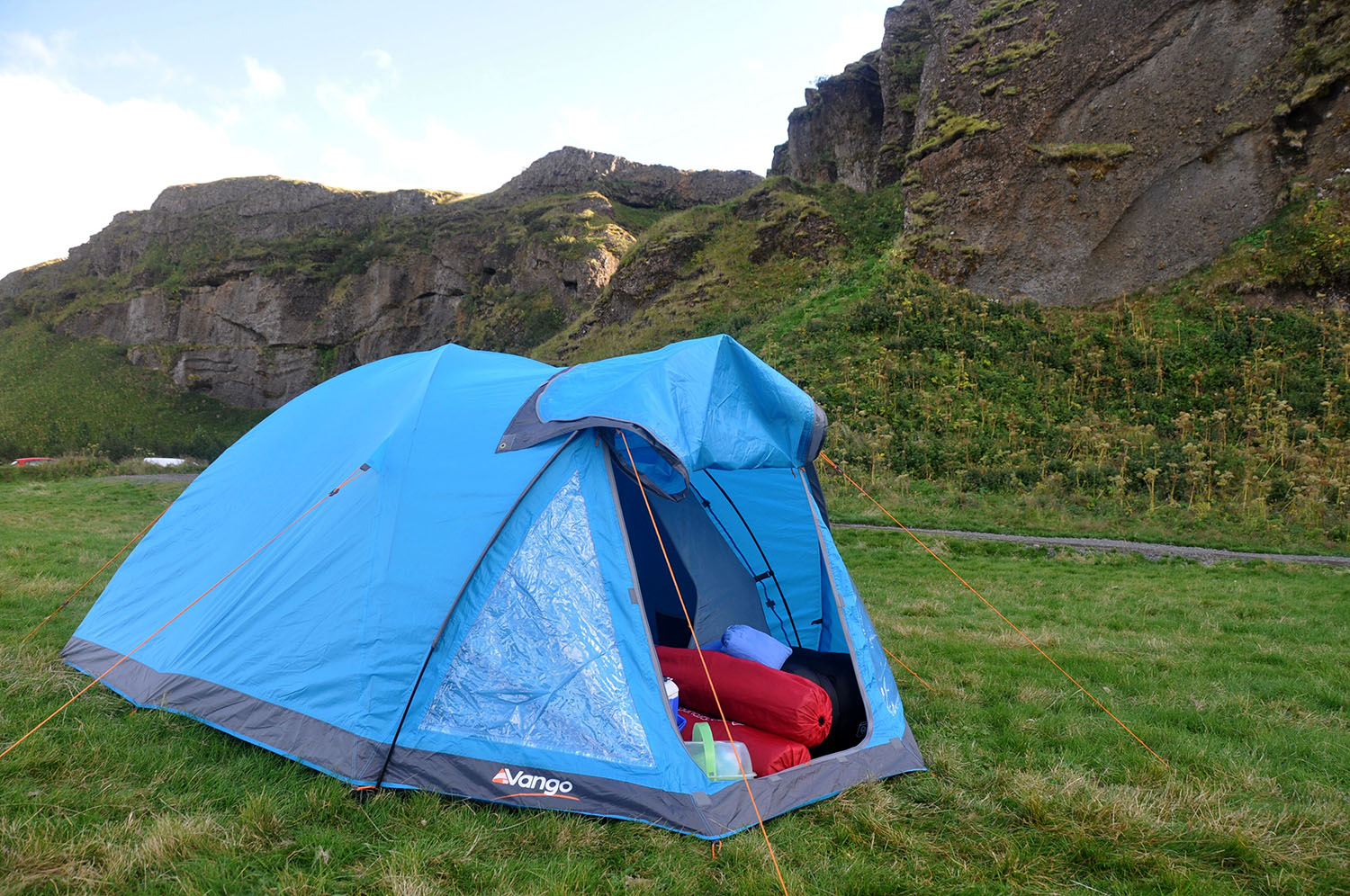 Is there any equipment I would find helpful to rent, even if I'm staying in hotels?
Absolutely. Iceland Camping Equipment has so much more than tents. We think everyone visiting Iceland should rent pocket WiFi so you have access to maps and Internet on the road.
A French press and thermos kept us happy and caffeinated throughout the day, and our car charger came in very handy.
Check out all the gear listed on Iceland Camping Equipment's website to see an idea of what else they offer.
If you rent gear with Iceland Camping Equipment, give them a big hello from Katie and Ben and Two Wandering Soles. And be sure to let us know how your adventure goes!
And be sure to download our complete packing list for Iceland! It's packed with good suggestions and insider tips to help plan your Italy trip. And it's completely FREE, so why not!?


We'd like to send a big thank you to Iceland Camping Equipment for providing our amazing rental equipment and making our trip to Iceland extra special. As always, our opinions are our own.
---
Are you planning a trip to Iceland?
We have TONS of resources on travel in Iceland and how to make the most out of your trip. Check out our Ultimate Iceland Travel Guide for all the answers to your most burning questions, or read some of our favorite articles below.
Save this article on Pinterest for later!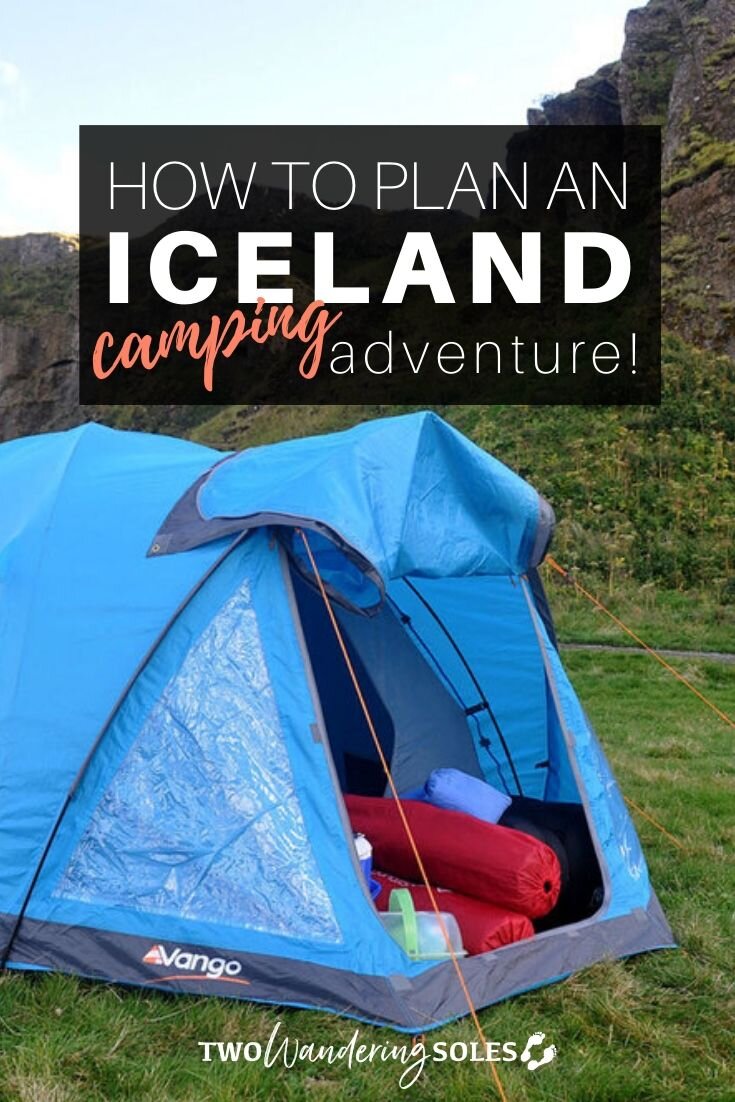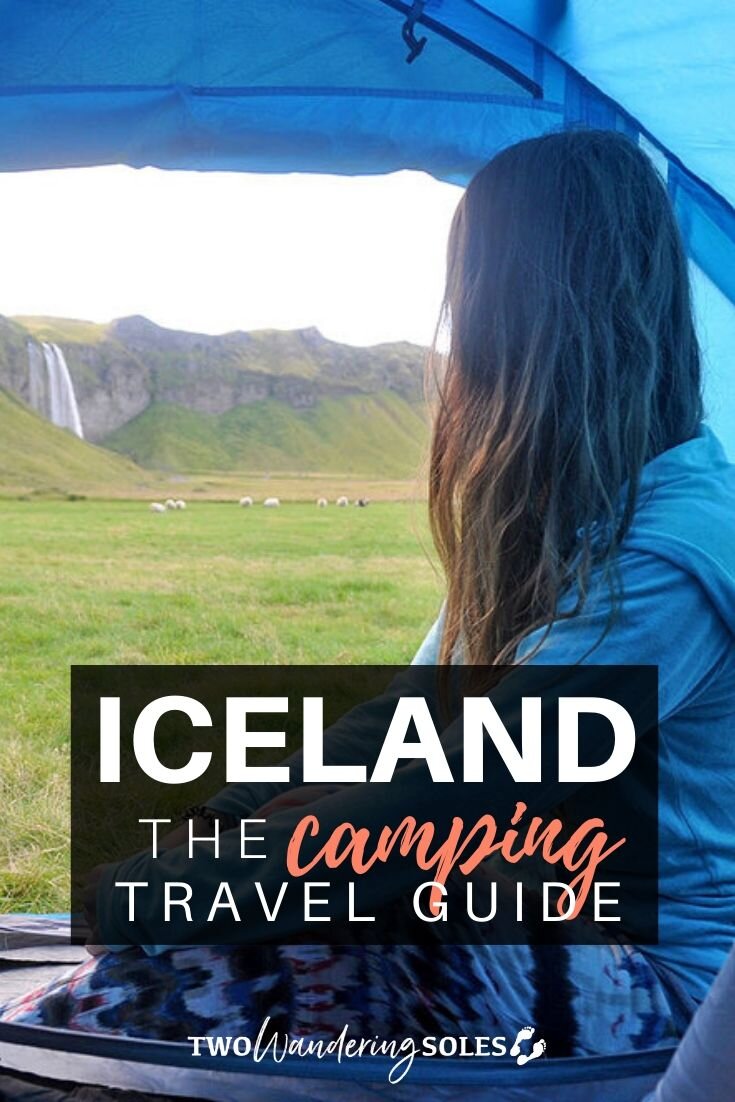 We want to hear from you!
Do you have any more questions about Iceland camping rental gear? Leave your comment below and we'll do out best to find you the answers you're looking for!