This guide has everything you need to know about camping in Ireland, from what to expect to packing lists. We're also sharing the best campsites in Ireland so you can plan the perfect adventure.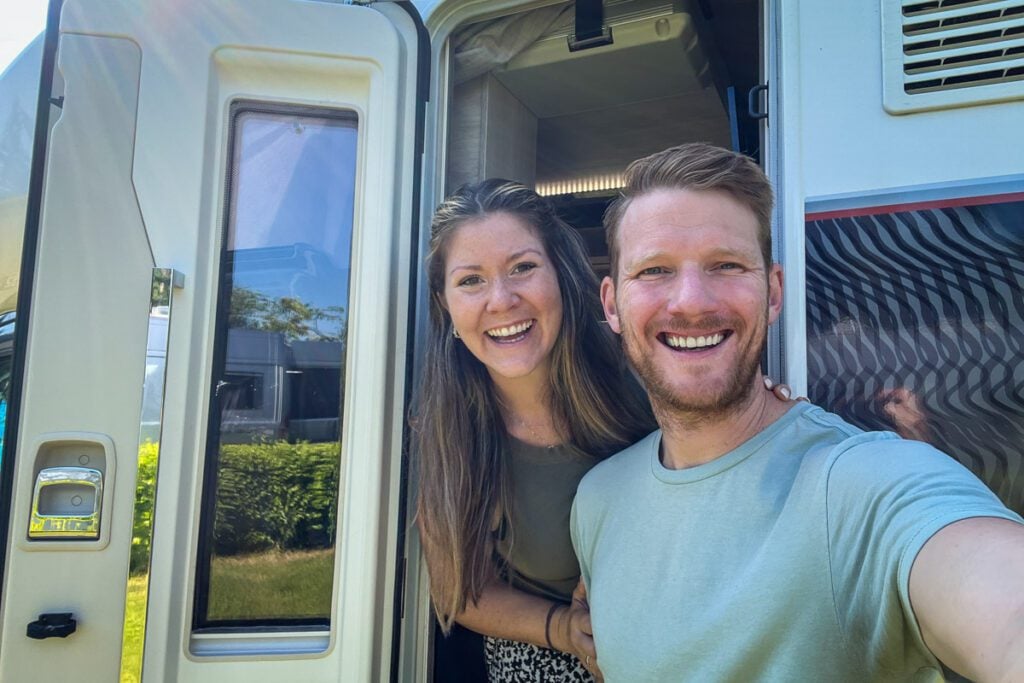 From craggy seaside cliffs to charming villages to thick forests, there's a whole lot of beautiful places to explore in Ireland, making for an incredible camping adventure.
We personally spent 2 weeks on an epic Ireland camping trip. We gathered all sorts of tips to share with you (and had an incredible time!). We're sharing everything we learned and all the tips we picked up along the way with you in this ultimate guide to camping in Ireland.
In this article, we're covering everything from what to expect at Ireland campsites (hint: it might be different from what you're used to!), to essential items to pack, to whether to make reservations or just wing it. We're also letting you in on our list of the best campsites in Ireland!
Whether you're embarking on a bucket list Ireland road trip or you're a local planning a weekend camping excursion, this guide will equip you with helpful tips and things you should know about camping in Ireland.
Camping in Ireland guide
---
More resources for planning your Ireland camping trip
Before we dive right in, be sure to bookmark these additional articles. They'll be a huge help as you plan your trip.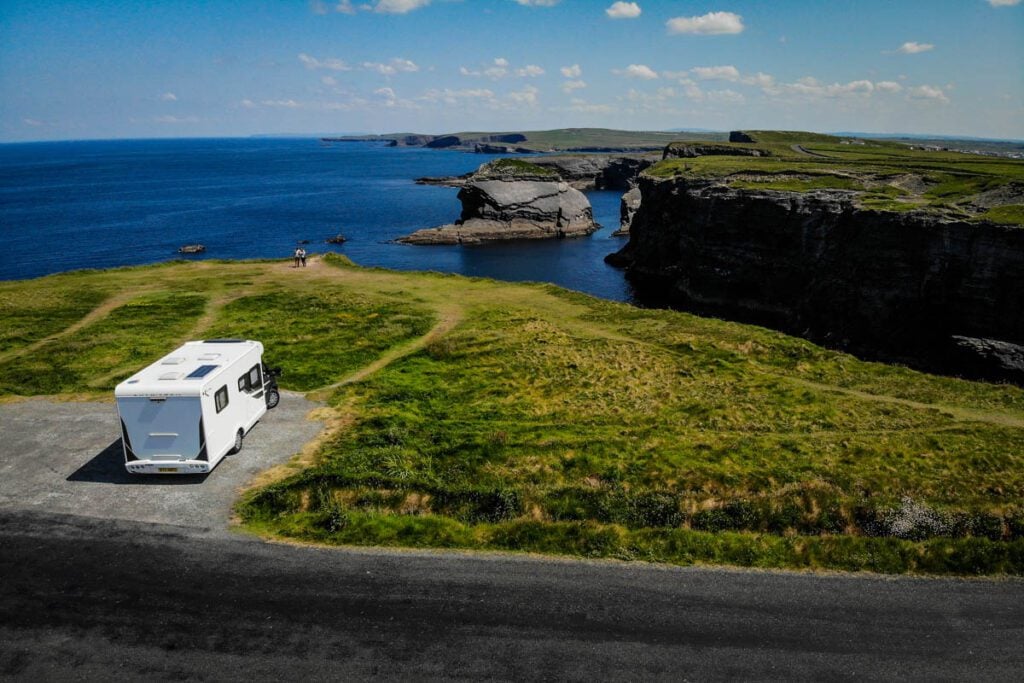 If you're planning on traveling around Ireland in a campervan or motorhome (yay!), you don't want to miss this article. We walk you through all the things to consider when choosing a rental vehicle so you don't make some of the mistakes we have in the past.
(We've rented campervans/motorhomes in 4 countries around the world and have owned 3 campervans ourselves. We really do know what we're talking about!)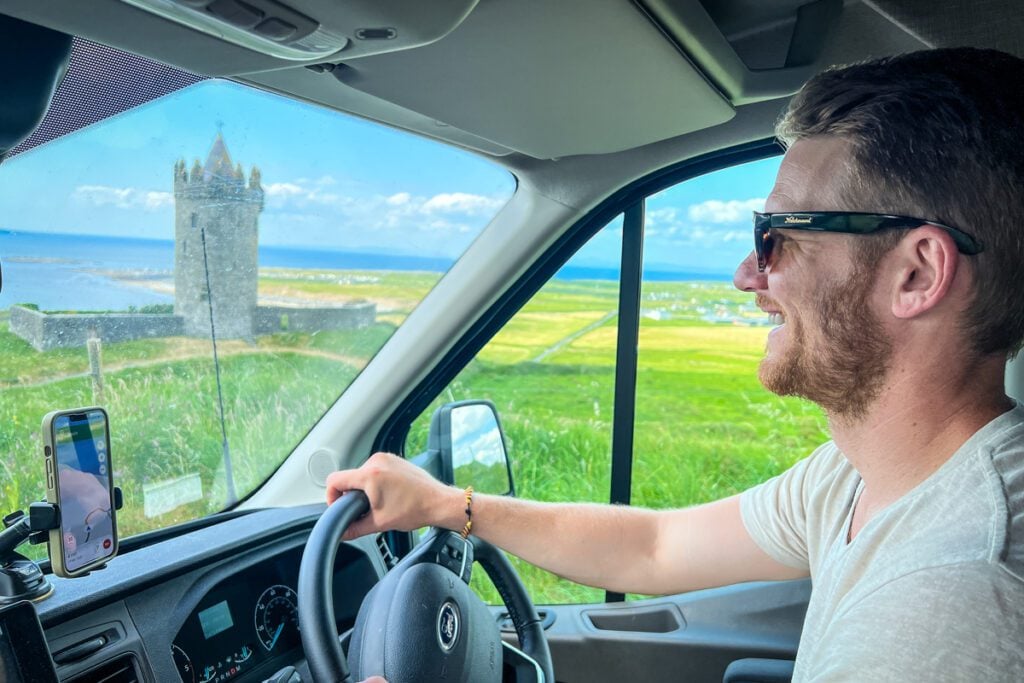 Renting a car in Ireland is one of the best ways to explore the Emerald Isle. Explore at your own speed and cruise the Irish countryside.
There are a handful of things we wish we would have known before getting a rental car in Ireland, so we've put together a complete guide with everything you need to know. This way you'll be much more prepared than we were!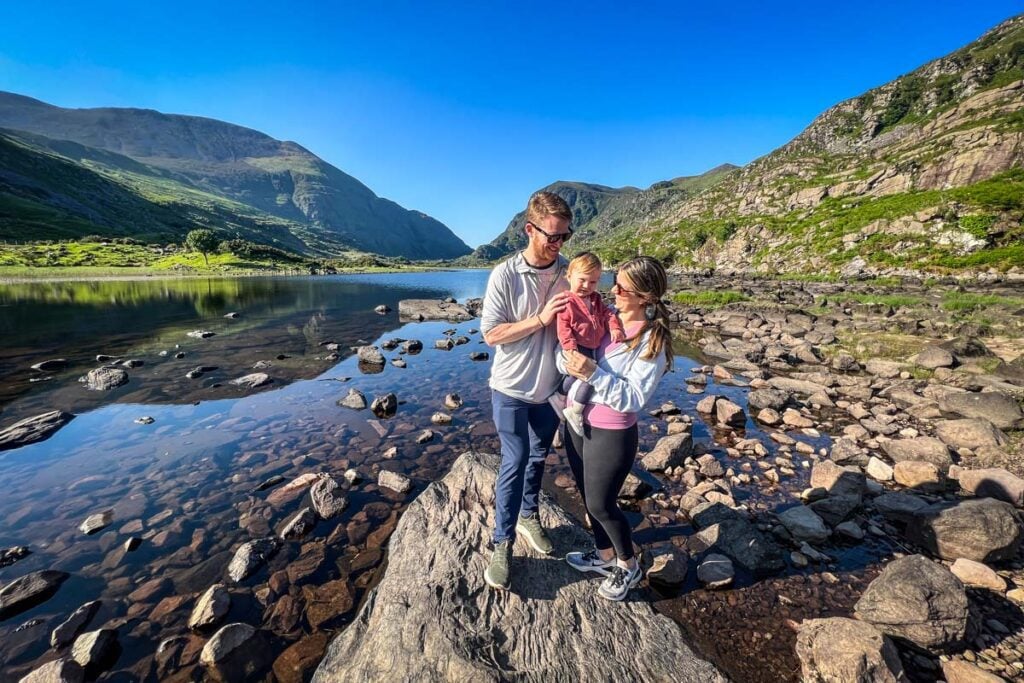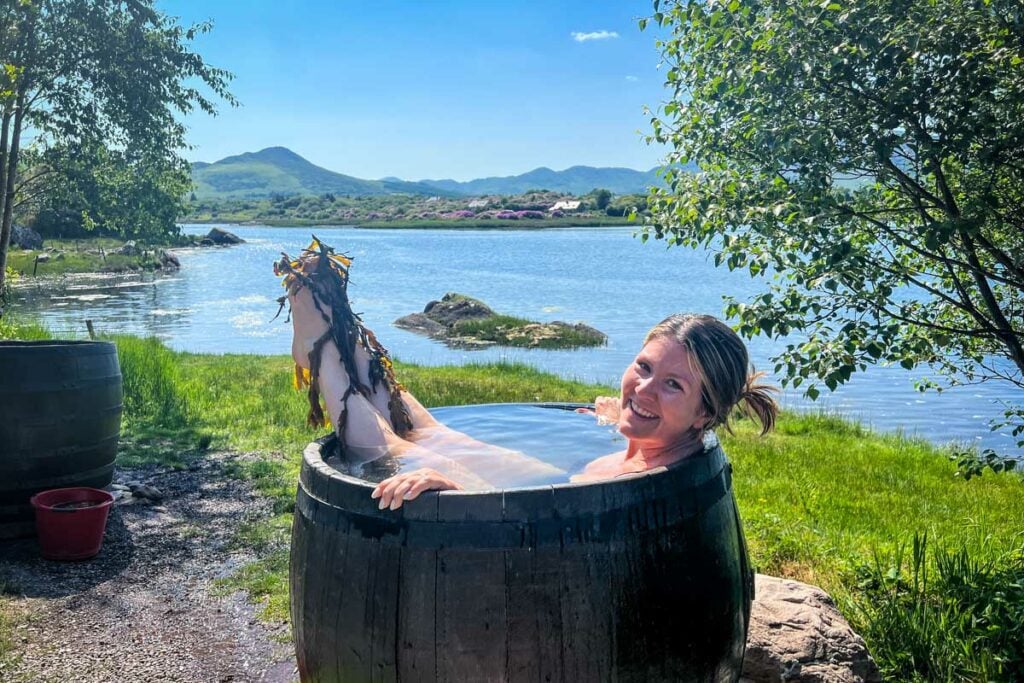 If you're planning a road trip, you don't want to miss this list of unique things to do in Ireland! This includes the must-sees (like the Cliffs of Moher), but also has tons of gems you won't find on other Ireland bucket lists. Trust us, we spent lots of time researching and on the ground to create this roundup for you!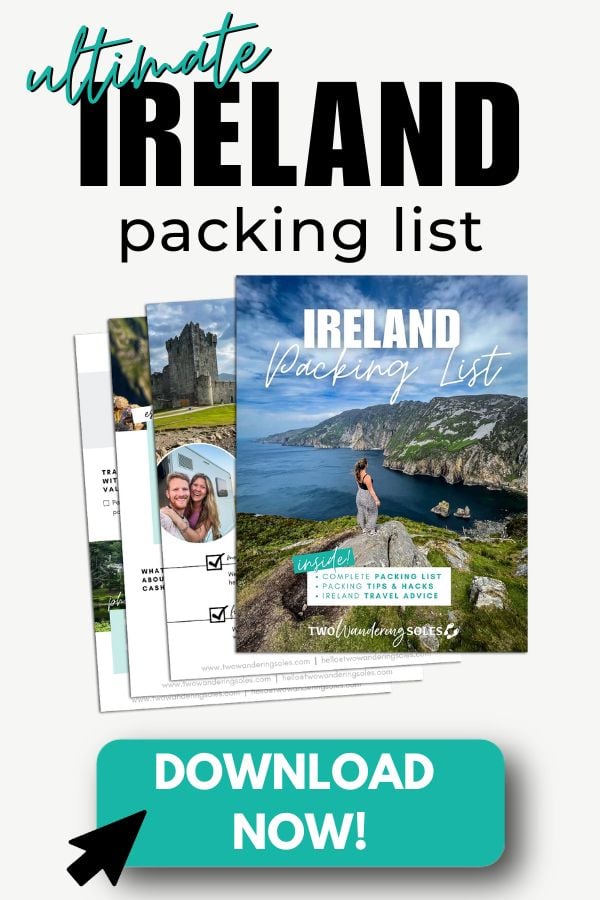 We know it can be overwhelming packing for a trip to a new destination. That's why we spent hours creating this super helpful PDF just for you.
In this free Ireland packing list PDF download, we've provided packing checklists for everything from clothing and toiletries (for both women and men!) to electronics and extra gear you may consider packing if you plan to do some campervan travels.
Plus, we're sharing tons of packing hacks and tips for traveling in Ireland that you won't find anywhere else!
---
What to expect at campgrounds in Ireland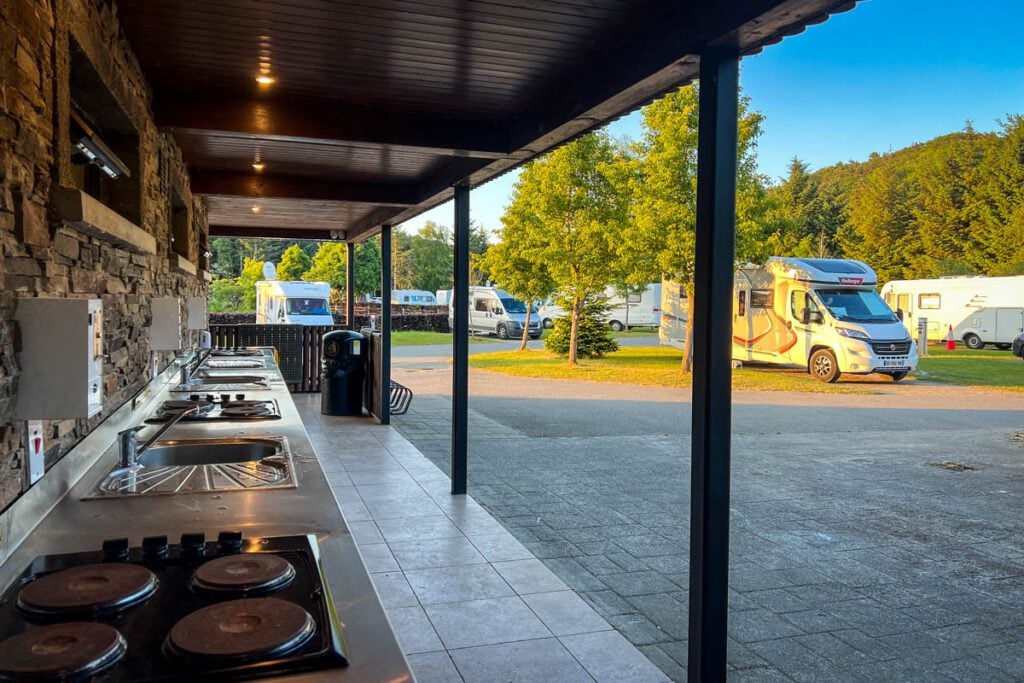 While each campground is a bit different, here are some general things you can expect:
Parking spot
We found most campgrounds in Ireland don't have private, wooded spaces like you might be used to if you do a lot of camping in the USA or Canada.
Instead, the caravan parks are more open with designated spaces for you to park a rig or pitch a tent.
The types of parking spaces vary. Some caravan parks have gravel spots where you're allowed to park a van or RV. Other campgrounds are more or less big open fields where you can find a vacant space to park.
Some campgrounds have great views, while others are, well, just a spot to park for the night.
Insider Tip: If great views are important to you, we'd encourage you to do a little extra advanced planning, read reviews, scroll through photos, and make reservations.
Electric hookups
Most campgrounds in Ireland also have the option to choose an electric or non-electric site.
Some caravan parks require RVs to park in the spots where there are electric hookups (because those are the parking spots that can accommodate larger vehicles). So regardless of whether you need electricity or not, you may still need to pay for it.
Toilets
All established campgrounds in Ireland will have toilets. The quality of the bathrooms varies a bit — from modern and clean to a truly rustic camping experience.
All toilets we encountered at campgrounds were flush operated, a.k.a. not porta-potties or outhouses. That doesn't mean they don't exist, but flush toilets seem to be the norm.
Showers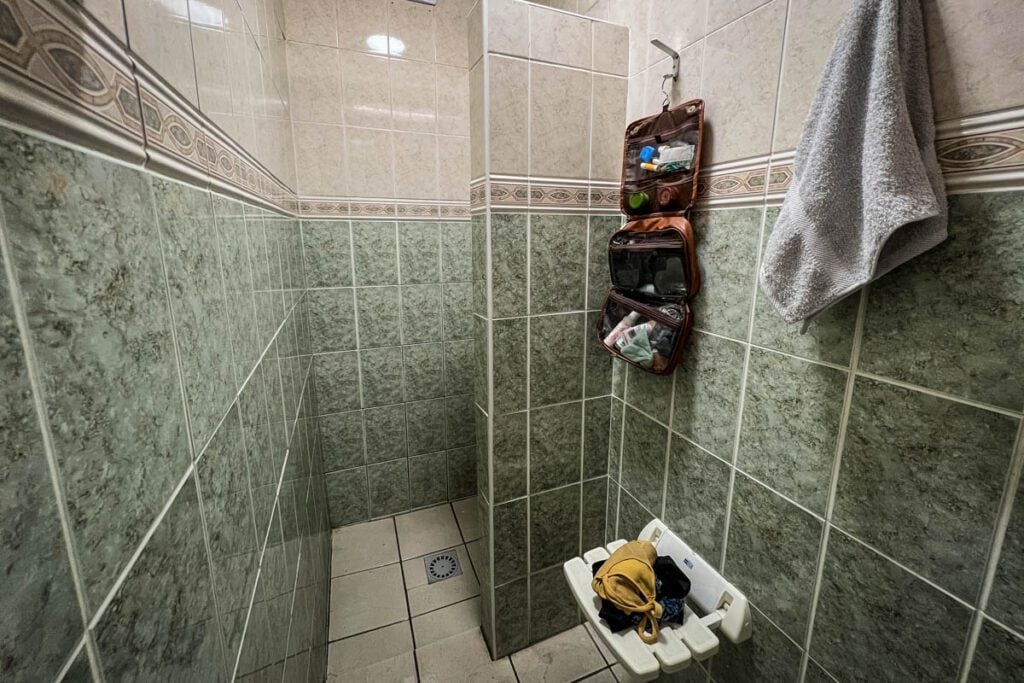 Most campgrounds will have showers, and for the most part, hot water seems to be standard.
On our trip, we only encountered one shower that had a time limit and required payment (by coins). All other showers were free to use. That said, the quality of the showers can vary quite a lot.
Insider Tip: Be sure to pack shower shoes (like flip flops) so you don't have to go barefoot!
Dish cleaning area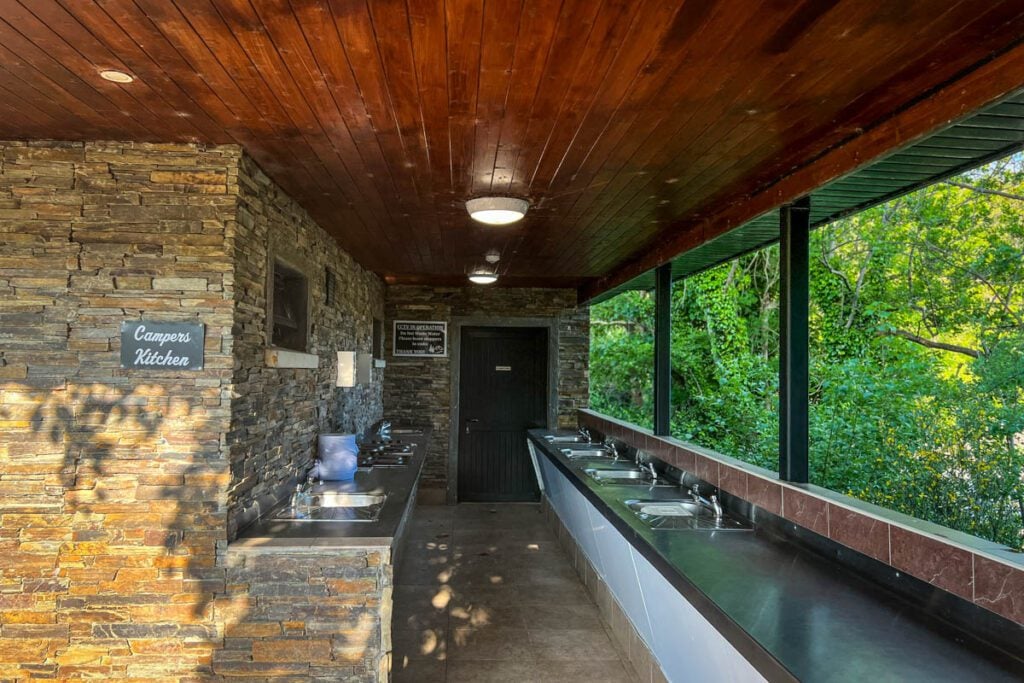 Most campgrounds will have dish cleaning areas. This is nice because you don't have to do dishes in your campervan or RV if you don't want to. It's particularly helpful if you're trying to conserve water or not make a mess.
Personal experience: We found it to be less work to just do them in our motorhome instead of walking over to the cleaning area with our dirty dishes. However, if you are tent camping or have a campervan in which you cannot stand up, this could be very helpful.
Laundry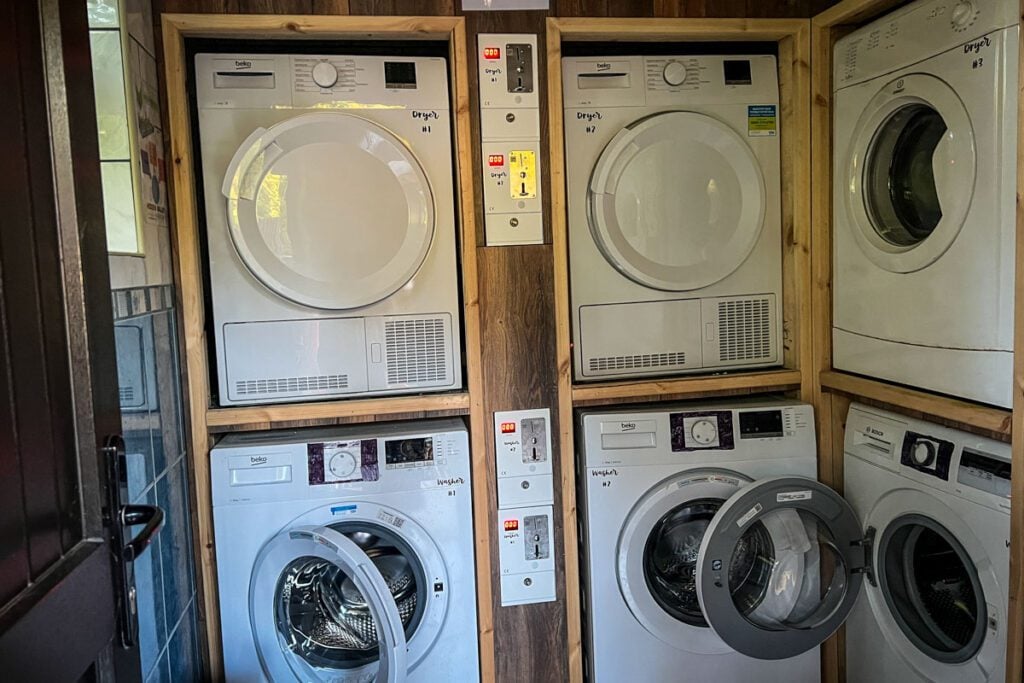 Many campgrounds have washers and dryers, which are typically coin-operated. If you're on a long road trip and want to freshen up your wardrobe, this can be very convenient.
Insider Tip: Pack laundry detergent sheets (like these) so you don't have to worry about finding it on the road. They are super lightweight and will take up no room in your luggage. We use these as our normal detergent at home and really like them (as well as being able to reduce single-use plastic).
Water fill-up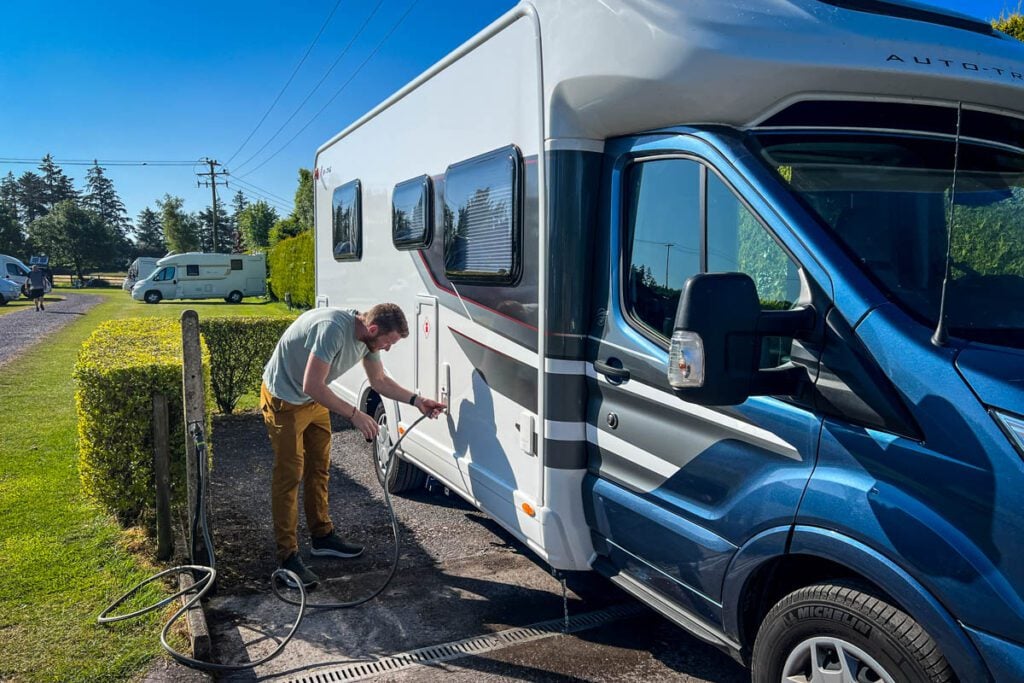 Campgrounds should have a place to fill up your tank with fresh, potable water. This should be free of charge if you have paid to stay in the campsite.
Note: Some very basic campgrounds may not have fill or dump stations. Be sure you plan accordingly if you know you're staying somewhere without this service.
Dump stations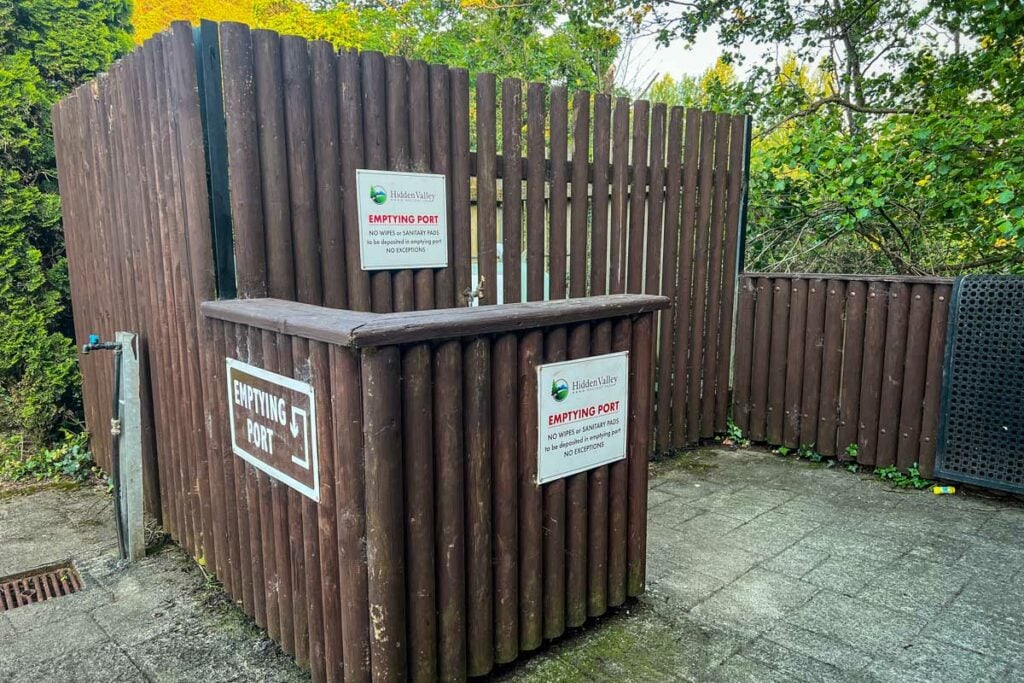 There should be a gray water dump station as well as a place to dump your chemical waste (a.k.a. your toilet).
Glamping
In addition to places to pitch a tent or park an RV, some campgrounds have glamping facilities, like pods or safari-style tents.
If you're looking to switch it up for a night along your road trip, you could opt to stay in a pod or a little cabin.
Internet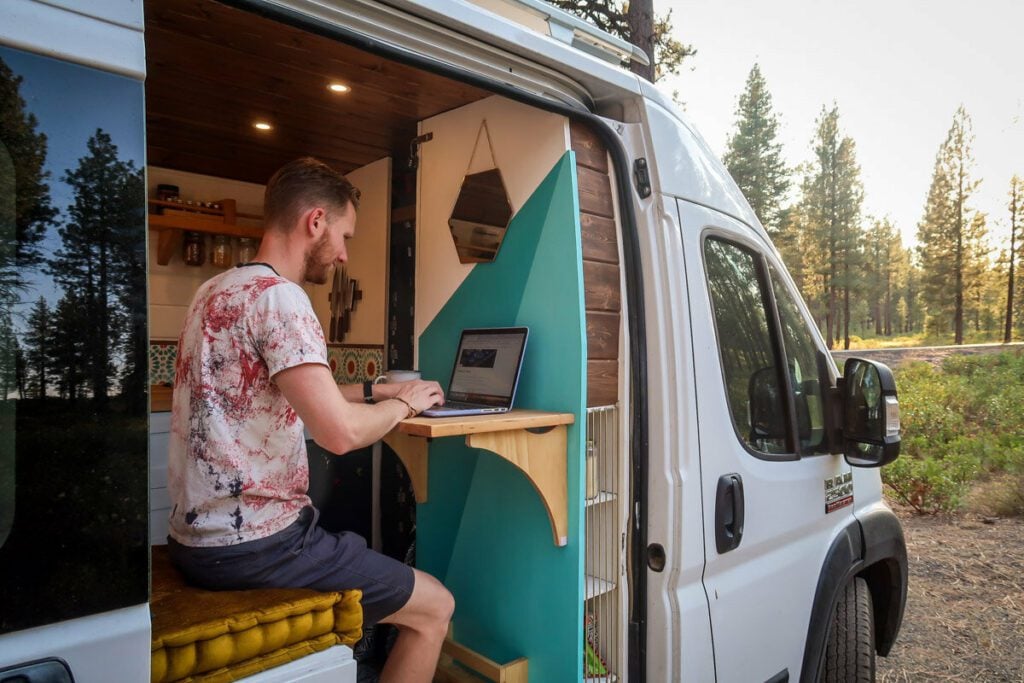 There were a few campgrounds that advertised wifi, but it was very mediocre. We wouldn't recommend relying on campgrounds for your internet needs.
So how can you get cell service or internet on an Ireland road trip? Good question!
We recommend getting an eSIM. We got ours by using the Airalo app and were really happy with the service we had on our entire trip. Plus, it's super easy and relatively cheap — you basically download the app and pay for the data you need.
Other amenities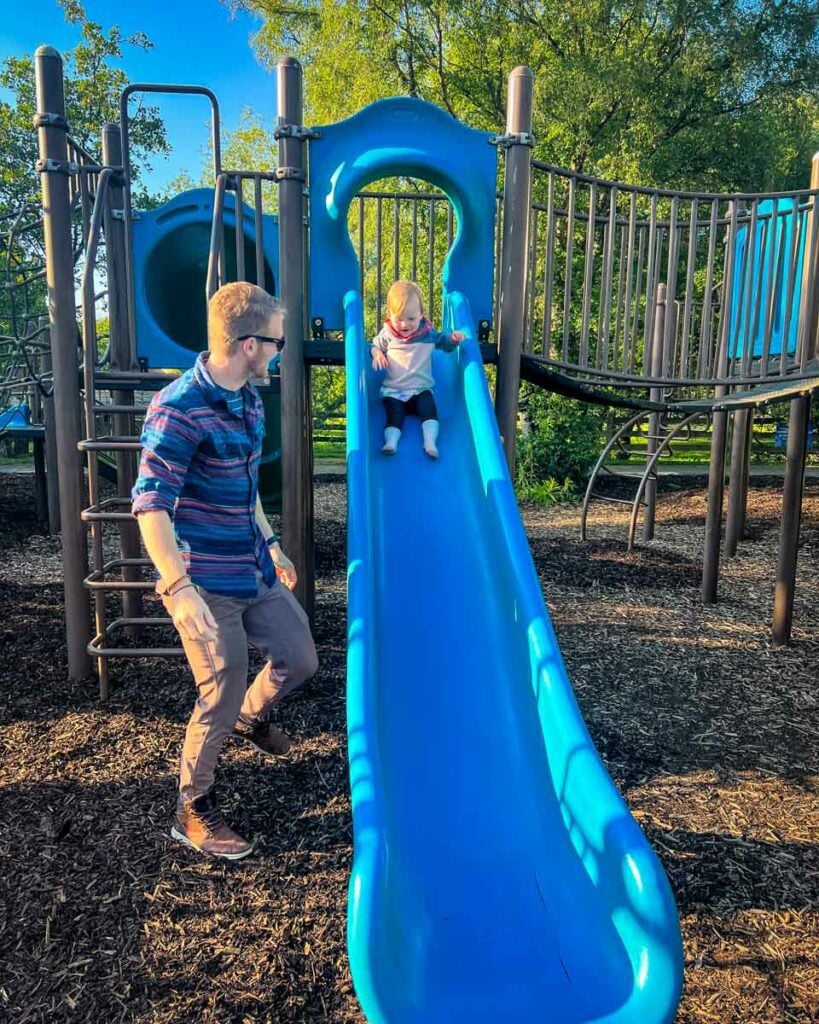 Some campgrounds go above and beyond just the basic facilities. You might see things like a common seating area, a cooking/kitchen space, playground facilities, or even onsite cafes.
One campground we stayed at had an amazing playground with a gigantic slide and a video game arcade! But these are above and beyond what you should expect.
---
Want to save time and energy on planning?
In June 2023, we spent 2 weeks traveling around Ireland and living in a campervan. We were lucky enough to explore a lot of what this country has to offer!
We took our 2-week travels and are in the process of creating the perfect Ireland road trip itinerary. We'll send you our complete 2-week itinerary, filled with tips and advice, once it's finalized! Just click below to get on the waitlist for our 2-week Ireland road trip itinerary!

---
Wild camping in Ireland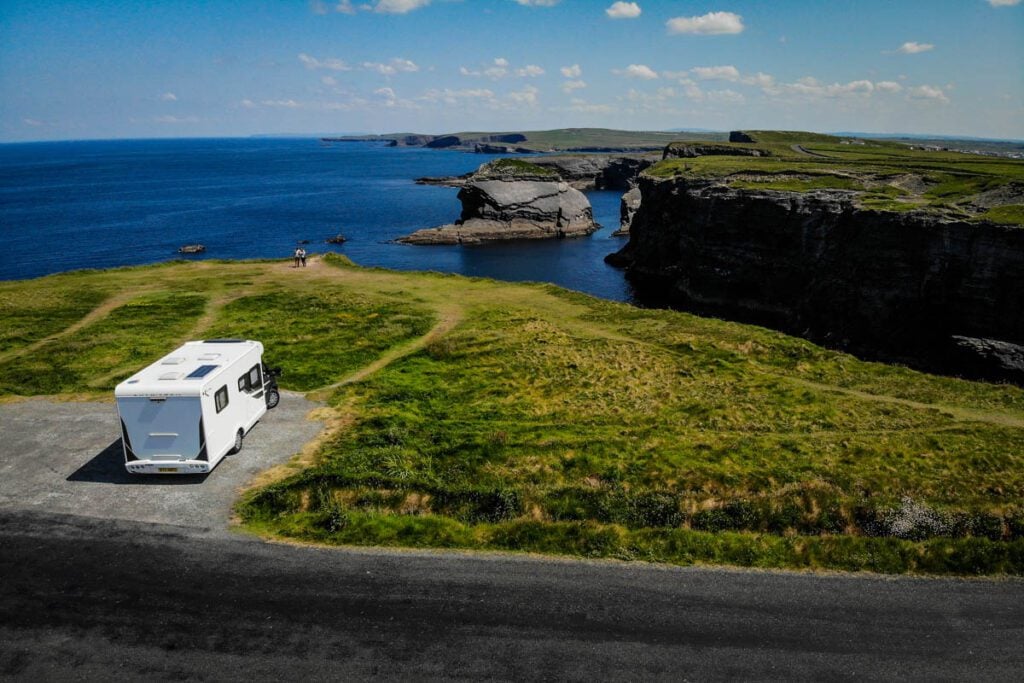 Wild camping refers to staying overnight in a place that is not a designated campsite (this is also sometimes called dispersed camping).
While wild camping is legal and very popular in Ireland, there are some important things you need to know before parking or pitching a tent for the night.
Wild camping is a bit of a complex subject. We're gonna break it down so you have everything you need to know about wild camping in Ireland (legally!).
It is possible to park overnight in places that aren't designated campgrounds, but — and this is a big but! — you can't just camp anywhere.
Many parking lots have signs that say "no overnight parking" or "no camping", and it is important that you obey these.
Also, there are pull-outs that are just not safe for parking overnight as they are too close to the road and difficult for oncoming traffic to see a vehicle at night.
So how do you know where you can legally and safely park overnight?
Using an app like Park4Night, you can read descriptions and reviews of wild camping areas to find ones that will work for you. Pay extra attention to the comments, as people typically will indicate when a spot is not legal for overnight camping.
What can you expect when wild camping?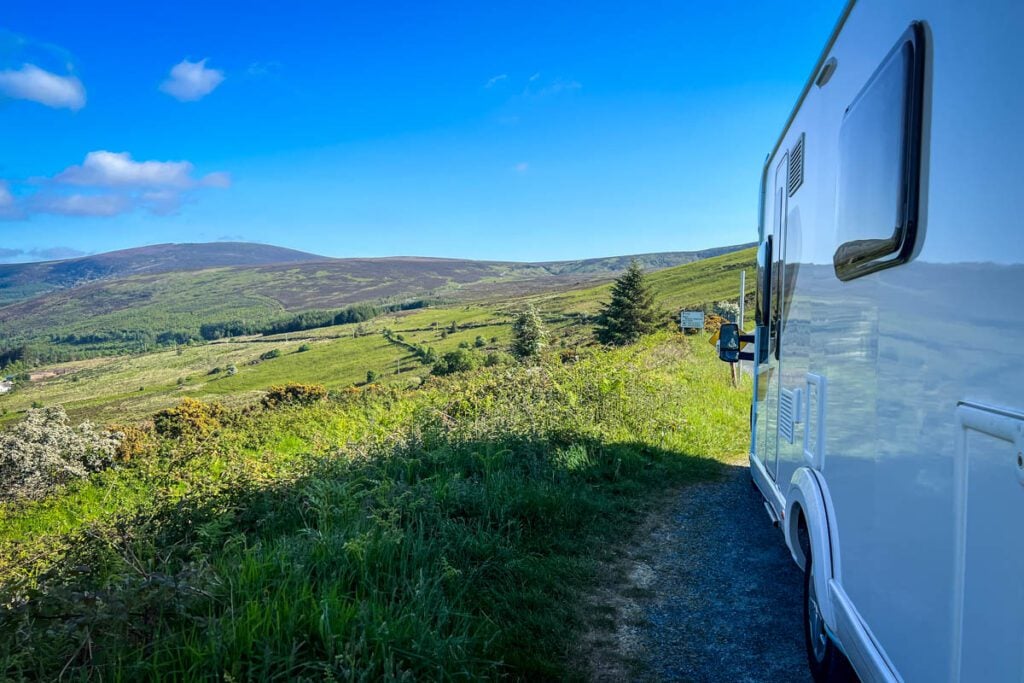 Expect that there will be zero facilities. You will likely just have a place to park for the night.
Important: There will not be a toilet, a garbage, or any place to fill or dump your water. This means you must prepare accordingly. Don't plan on wild camping if you don't have enough water in your tanks or if you desperately need to dump.
Things to look for when wild camping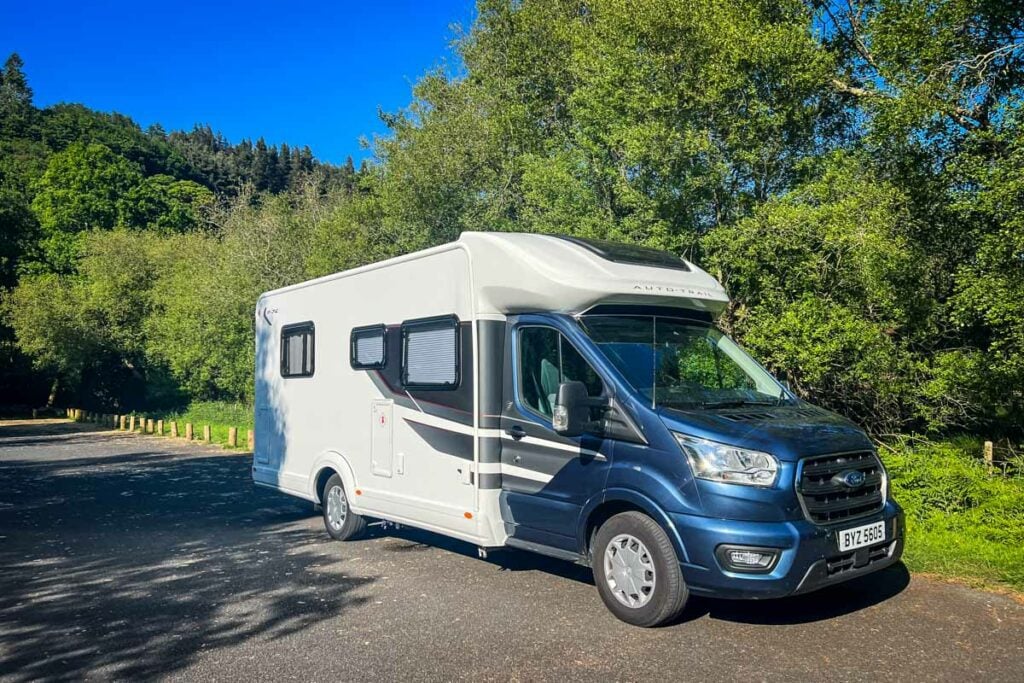 Not all wild camping is equal, so we always pay careful attention to reviews so we know what we're getting into. Before simply rolling up to a spot, we scour apps, like Park4Night, to read reviews from people who've stayed recently.
Here are the things we look for:
Recent reviews: If the reviews are years old, it may indicate that this is no longer a legal place to camp.
Legal: Often in reviews, people will point out when a site listed is not in fact legal. In Park4Night, you'll also notice the "P" icon is yellow to indicate places that are day use only.
Height barrier: One thing we noticed in some parking lots in Ireland is height barriers at night. This prevents larger campervans and motorhomes from getting in. You should be able to find out if this is the case on Park4Night.
Flat: We pay attention to whether reviews mention anything about the parking spot being level or slanted. If you have a longer vehicle, this is especially important to look out for, as sleeping on a slope can be really uncomfortable.
Noise: Some wild camping spots are next to busy roads or popular pubs. This might not be a deal breaker for everyone, but since we travel with our child, we want to be sure we're choosing spots that are as quiet as possible.
Safe: A lot of wild camping spots are simply pull outs on a main road. We personally don't love this type of spot, as people driving at night might have a difficult time seeing our vehicle.
Number of spaces: If you're searching for a place to park for the night, try to choose ones that have multiple spots available, or at least have a backup plan in mind. Too many times, we've headed to a place that only has one parking spot to find it already occupied. In Park4Night, there is a place that lists the estimated number of available parking spots.
Good reviews: If all the other boxes are ticked, it is nice finding places that have great reviews or even those that are beautiful locations. Obviously, this will make the wild camping experience much better than simply rolling up to a parking lot.
Leave No Trace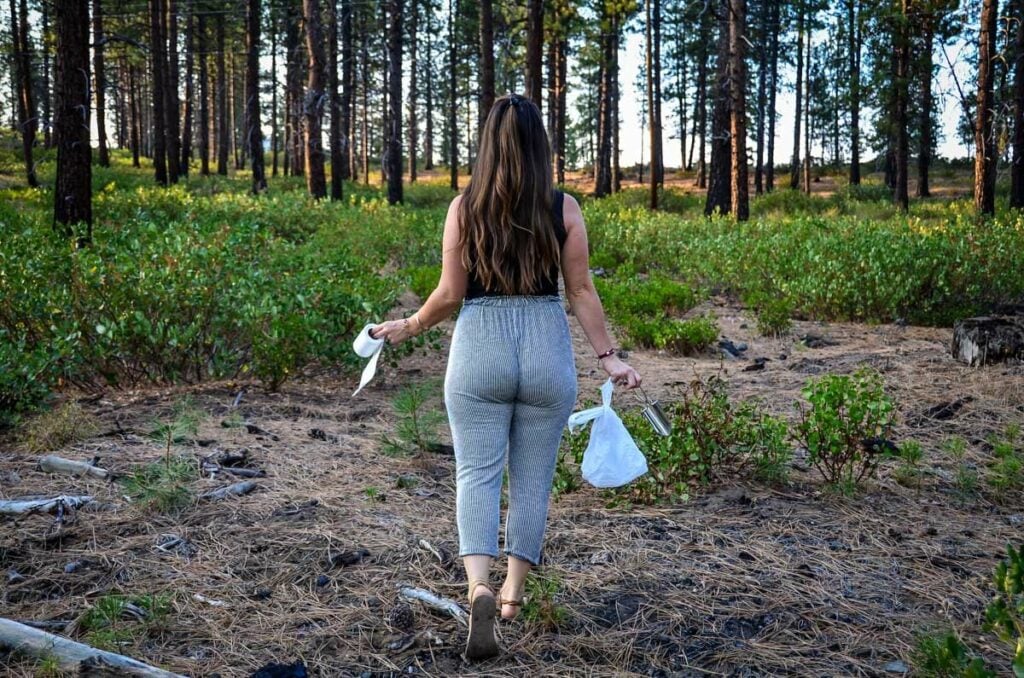 This should be common sense, but it is very important that you do not leave any waste behind when you are wild camping.
When you leave, there should be zero trace that you were ever there:
No toilet paper or human waste
No trash
No gray water dumped
Psst! Read up on the 7 principles of Leave No Trace before your trip!
Our advice: Don't plan on wild camping every night. Plan on staying in established campgrounds at least every few nights so you have the facilities to dump and fill your water tanks and dispose of your garbage properly.
Ireland camping apps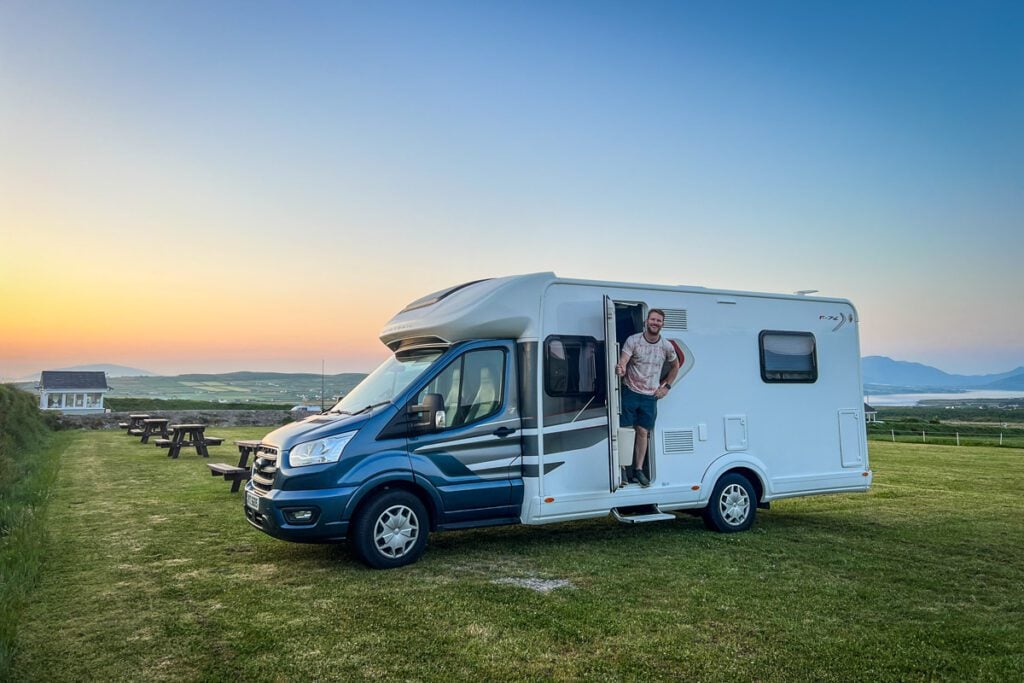 Okay, so how does one find campsites in Ireland?
We're going over each of these below with our favorite tips.
Google Maps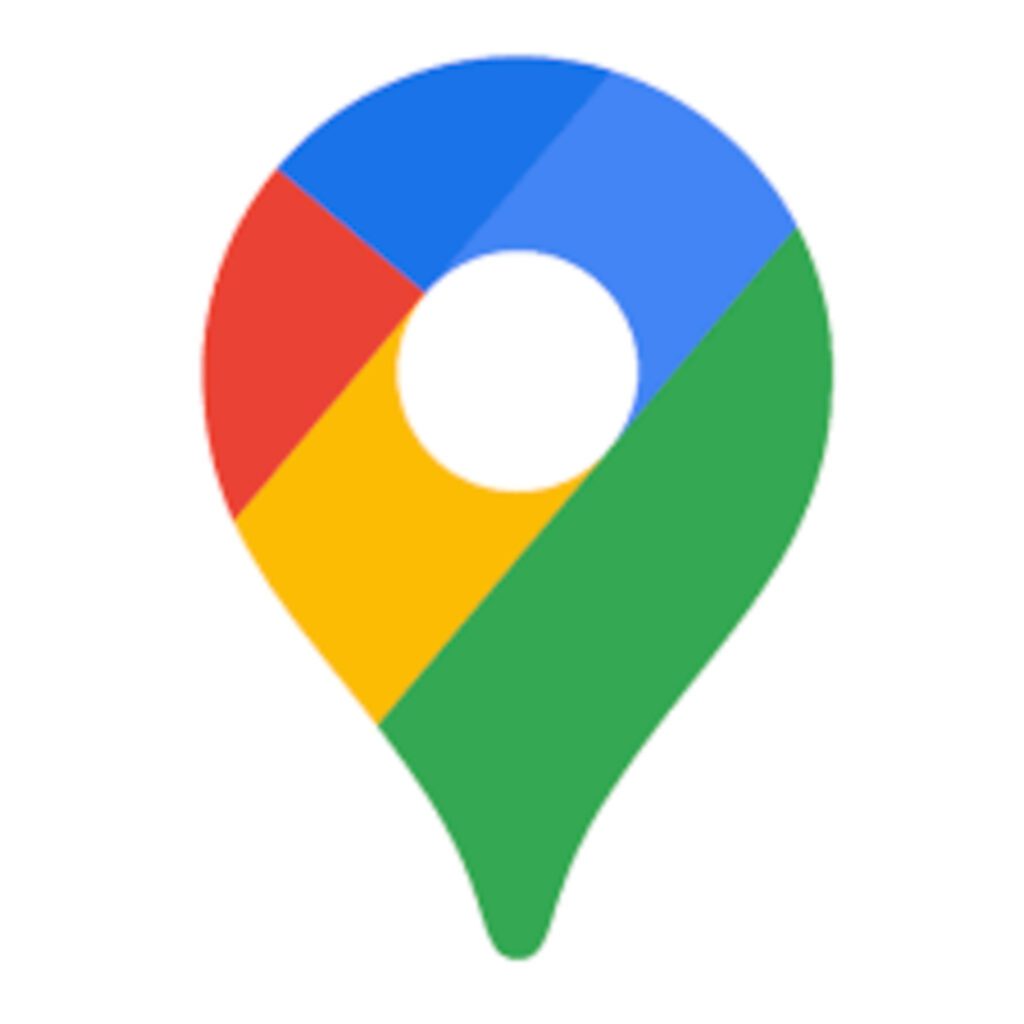 We love using Google Maps to plan out our road trips. We typically pin all the places we want to stop along the way, including campground options.
To find campgrounds in Google Maps, simply zoom into the area of the map where you're searching and type "campground" into the search bar. All the nearby campground options will pop up, along with reviews, photos, and a website (if available).
Be sure to save each campground you are interested in by marking it with a flag so you can find it later.
Park4Night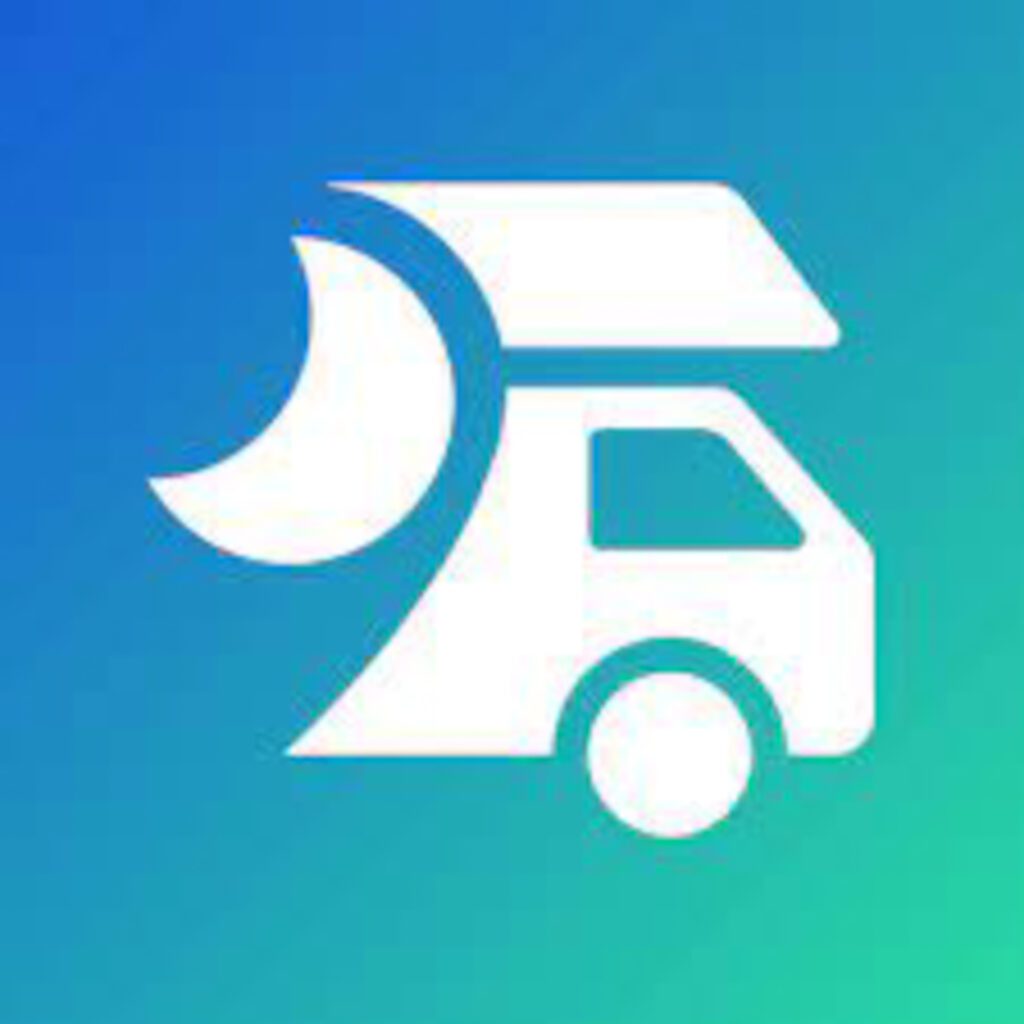 This is a European camping app that we have used in both Scotland and Ireland. It has established campgrounds listed, but we've found it most helpful for finding wild camping spots.
You can easily look at a specific location on the map and see all types of campsites nearby. Once you click on them, you can find reviews and information about what type of campsite it is (established campground vs. wild camping). You can also see the amenities and price.
It is free to download and is pretty user-friendly.
iOverlander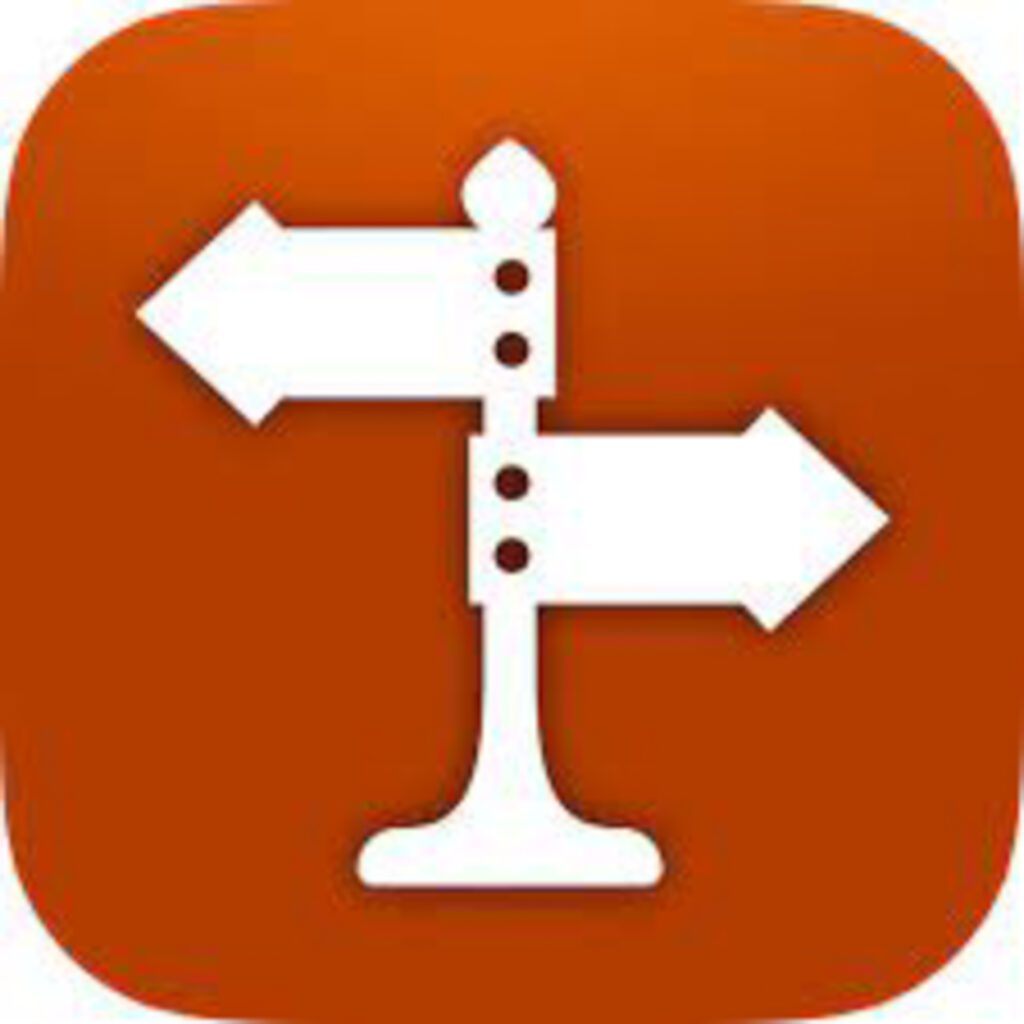 This is one of our favorite camping apps in the USA and we were happy to find it also works in Ireland! That said, there are fewer spots listed than on Park4Night, so I'd recommend starting there.
In addition to campgrounds, iOverlander shows other facilities you may need on your campervan trip, like where you can fill water and dump your tanks.
Our advice: Familiarize yourself with the apps above prior to your trip and figure out which you prefer using. Flag the campsites you're interested in so you can find them easily.
Camping in Ireland FAQs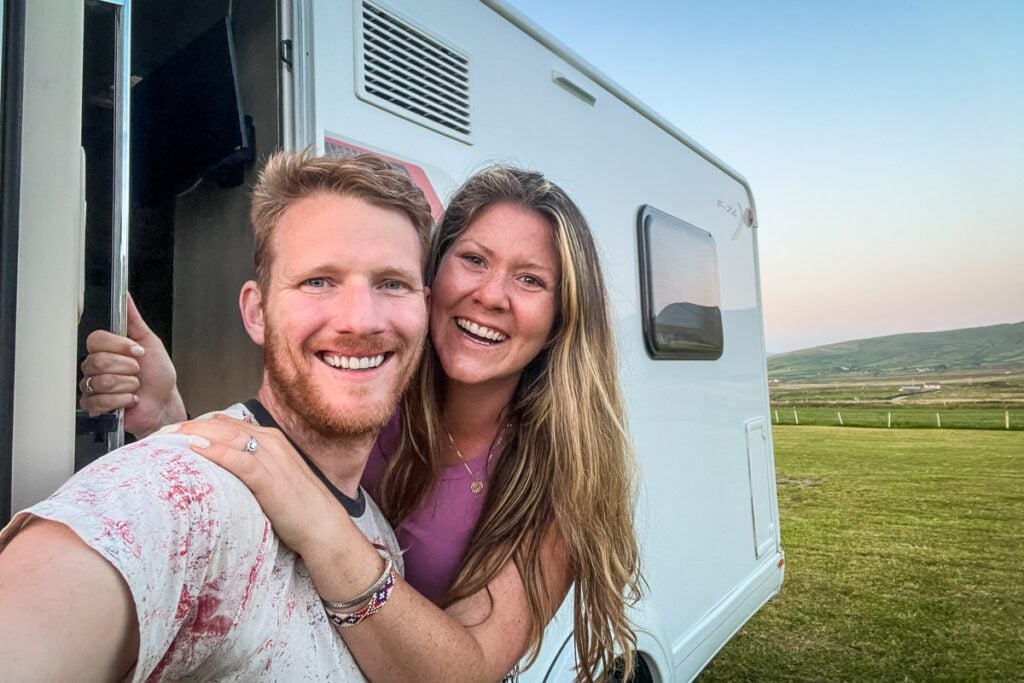 If you're planning a camping trip in Ireland and still have questions, we've got answers for you…
How much do campgrounds cost?
Each campground is slightly different, but in our experience, campsites in Ireland averaged between €30 – €35 euros per night (about $33 – $38).
The cheapest campground we stayed at cost €20 per night, but it did not have any facilities other than toilets. If you plan to stay at caravan parks with electricity, showers, and a water fill-up, expect to pay somewhere closer to the €30-35 range per night range.
Do I need reservations at campgrounds in Ireland?
To be safe, yes. And when traveling over holiday weekends, definitely.
The good news is that you can often reserve just a day or two in advance, either by calling or booking online.
If there is a specific site where you really want to stay, we'd recommend booking those further ahead of time as they do actually fill up a while out. Especially in popular areas, like Killarney National Park or the Ring of Kerry.
How do you find campgrounds in Ireland?
We have everything you need to find campgrounds in Ireland…
We've got a list of handy apps as well as a map of some of the best campsites in Ireland.
Campervan vs. tent: Which is better?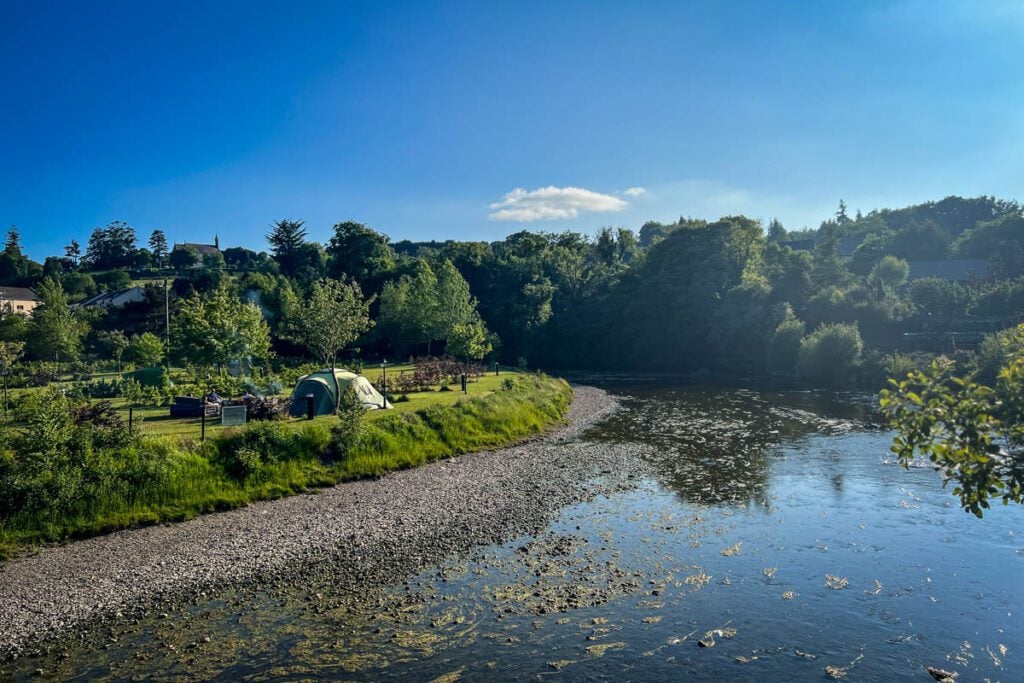 This is very subjective, and each will be better for a different type of traveler.
While we love tent camping, we'd personally much prefer staying in a campervan or motorhome in Ireland for a few reasons.
a) As we've already explained, most campgrounds in Ireland don't have private, wooded sites with picnic tables and fire rings, like many North Americans are used to when tent camping. Essentially, you'll be pitching a tent in a field within sight of many other vehicles, which isn't quite as idyllic.
b) Depending on what time of year you're visiting Ireland, you may encounter a lot of rain and wind. Personally, I don't love setting up or tearing down a tent in the rain.
c) Think about the set-up and tear-down time. If you're on an extended road trip, you will have to do this each day. A campervan, on the other hand, is all ready to go once you park for the night.
All those points considered, if you're on a super tight budget or are a local looking for a quick and cheap getaway, tent camping might be a better choice for you.
Personal story: We did a tent camping trip in Iceland (which is colder than Ireland most of the time) because we were on a very tight budget. It wasn't nearly as comfortable as a campervan would have been (we rented a campervan in Iceland a few years later!), but it was one heck of an adventure and, at that point of our lives, we were happy to trade comfort for savings.
I'm still unsure if I want to camp or stay in hotels… help?!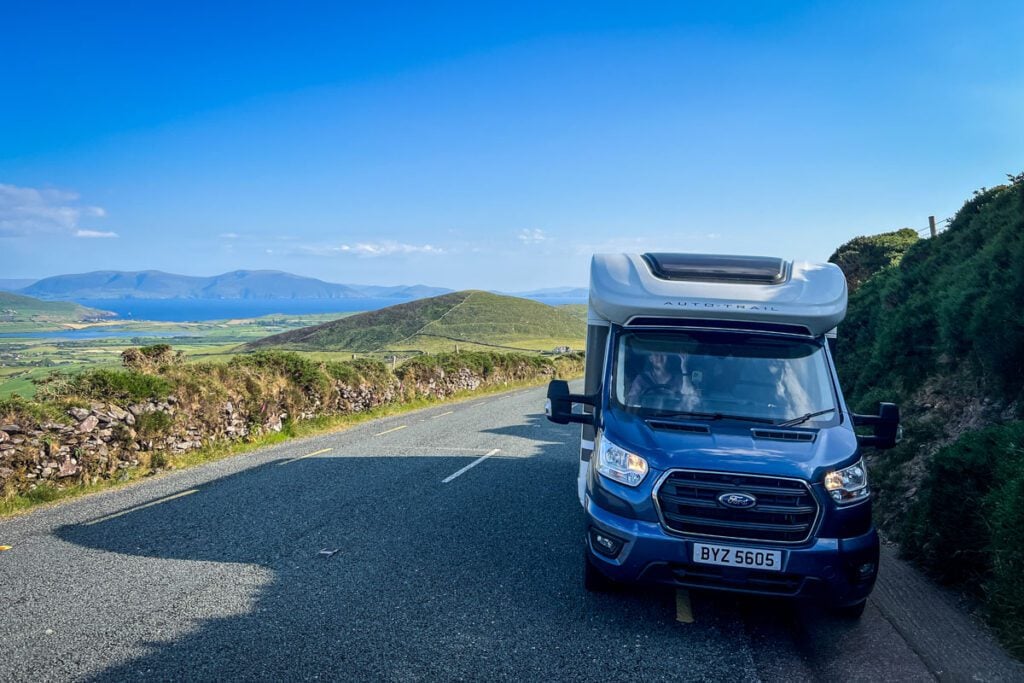 If you're still unsure about camping, why not split your trip and do half camping and half in hotels? (This is what we did!) That way, you get the best of both worlds!
Logistical tips:
Look for a campervan rental company that allows you to choose different pick-up and drop-off locations. This is ideal as it'll save you driving time and gas, however, there are very limited numbers of companies that do this, so you'll need to reserve your vehicle early. We missed out on this opportunity because we booked too late.
Plan your route like a figure 8. Pick up your vehicle after spending a couple of days in Dublin, then drive along the southern coast. When you make it to the Galway area, head back across the country to drop off your vehicle and change it for a rental car. Now drive north to Belfast and circle back down toward Galway along the section of coast you skipped. (This is what we personally did!)
What to pack for camping in Ireland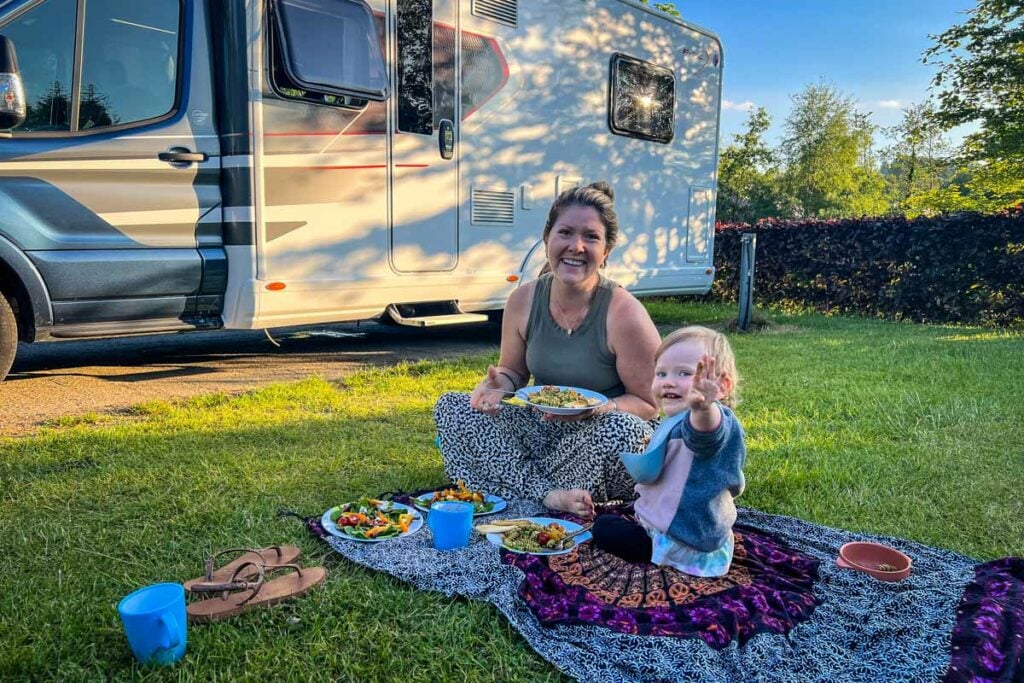 What you pack will vary a bit depending on whether you're camping in a tent or an RV, but here are a handful of items we were very happy we packed:
Psst! If you're planning on renting a van, we've got a list of campervan essentials just for you!
Random items
Kitchen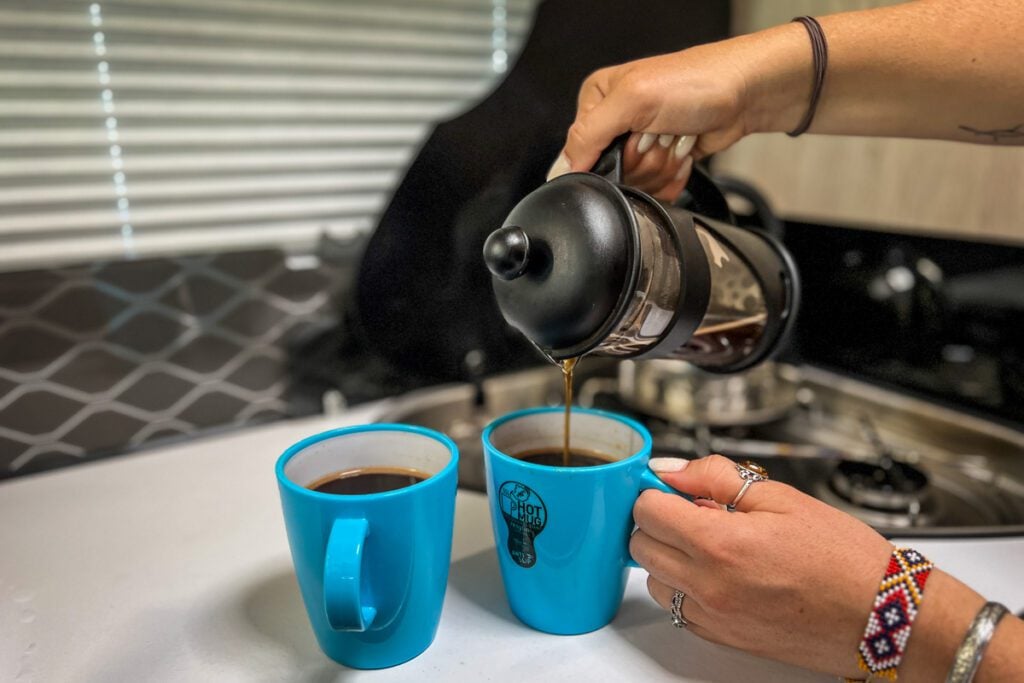 Rubber bands & chip clips: Trust us, you'll need a way to keep those food bags closed so they don't spill all over your car/campervan.
Garbage bags: Pack a couple of small garbage bags from home to keep your trash in one place.
Spices: We like bringing our own salt (sea salt or Himalayan), pepper grinder & cayenne, plus any others we feel like packing.
Snacks: Dried fruit, nuts, protein bars
AeroPress Go: If you're a coffee drinker, this very portable coffee maker is clutch when camping! It makes an excellent brew and we're sure you'll get lots of use out of it long after this trip.

Note: Our particular rental came with a French press, but most of our campervan rentals in the past have not had this, so look into what's included with your rental.

Dehydrated meals (optional): These are a super quick meal idea and work great for a quick hot lunch or dinner.
Dr. Bronner's biodegradable soap: To wash dishes.
Toiletries
Body wipes: For a way to freshen up on days you don't feel like showering
Dry shampoo
Hand sanitizer (this one is our favorite!)
Mini First Aid Kit
Shower shoes (your normal flip flops will work fine): Trust us, you'll need these for showering in campgrounds. You'll thank us later!
Electronics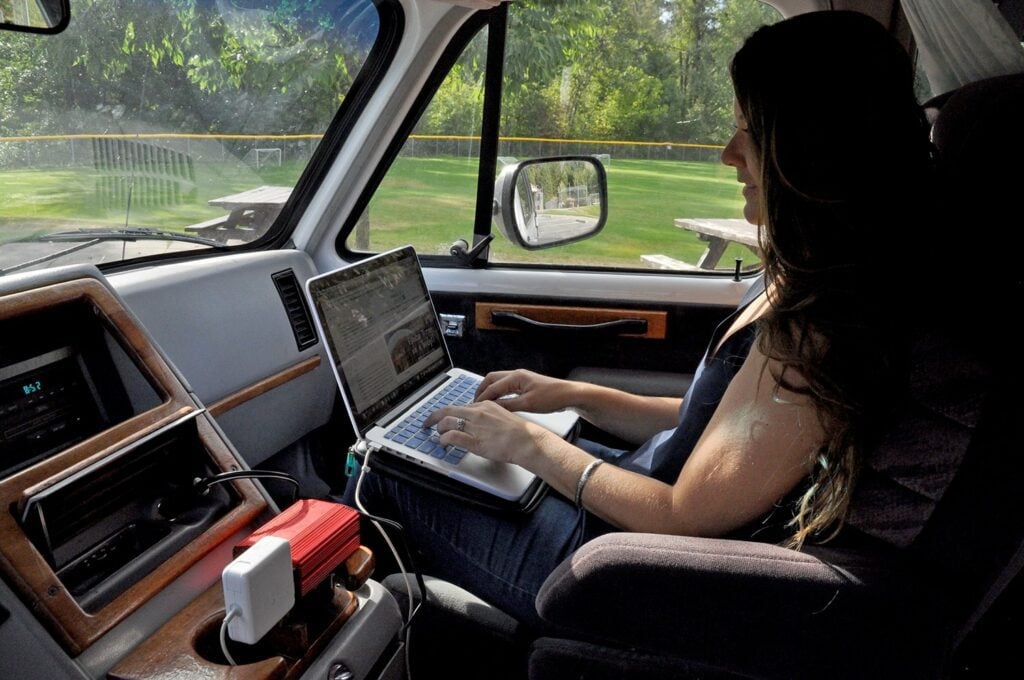 Universal travel adapter: we have this one and it worked great for our trip to Ireland.

FYI, Ireland uses Type G plugs, the standard voltage is 230 V, and the standard frequency is 50 Hz.

Portable battery pack: Keep your phone and other devices charged.
Headlamps
Portable jumper cables (optional): This tiny little device has a power pack that effectively jumps your vehicle (without another car).

During a camping trip in Iceland, our campervan battery died in the middle of nowhere during a torrential rainstorm. It took us hitchhiking to a nearby farm to find jumper cables. As soon as we got home, we bought this device and now we will always travel with it when we're renting a car or campervan. We brought it to Ireland but thankfully didn't need to use it!
Be sure to download our complete packing list for Ireland! It's packed with good suggestions and insider tips to help plan your Ireland trip. And it's completely FREE, so why not!?
Ireland Campsite Map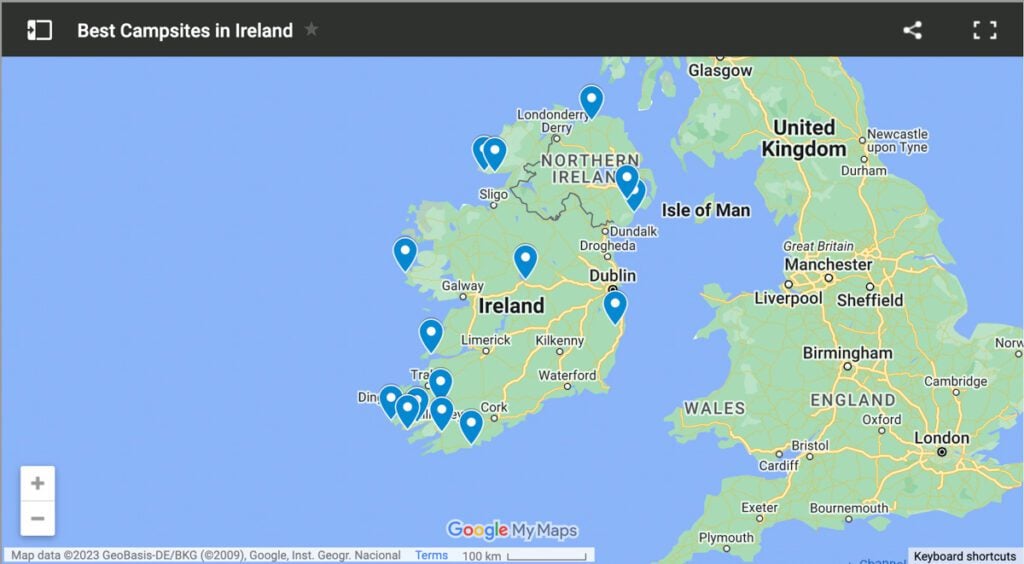 The map above shows all of the best campsites in Ireland so you can easily figure out where each is located and map the distance to major attractions.
Best campsites in Ireland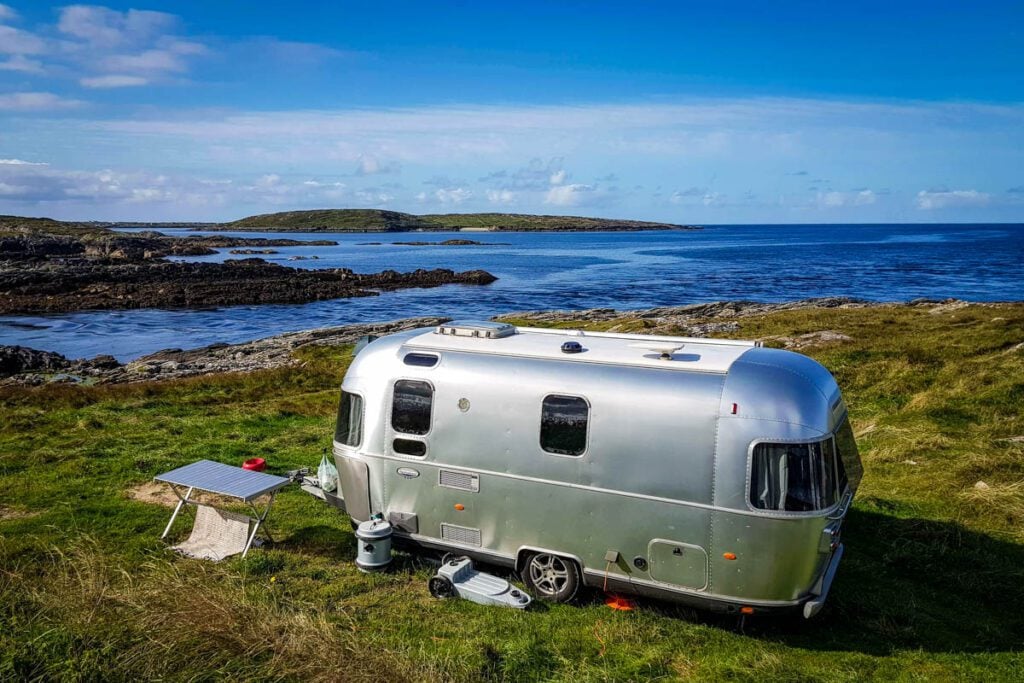 We've compiled a list of some of the most highly-rated Ireland campsites broken down by region so you can flag the ones that would work best for your Ireland camping trip.
County Kerry
County Donegal
Sliabh Liag Camping: Right next to the Slieve League Visitor Centre and just a short hike from the lookoff, this campground offers spectacular views, hot showers, and an attentive host.
Killybegs Holiday Park: The tiered layout of this campground built in an old quarry is like stadium seating for RVs, so everyone gets a view and there are grassy oceanfront spots for tents.
County Cork
Eagle Point Camping: A large, well-maintained campground in a beautiful waterfront setting with generous, well-spaced pitches and a small playground.
Mountain Forge Escape: Caravan, tenting, and glamping options by the sea. Clean showers (with no timer!), a fully-equipped kitchen area, and a nearby playground make this a perfect campground for families.
County Clare
Green Acres Camping Park: Peaceful seaside campground with grassy tent pitches, hardstanding RV sites, and all-season mobile homes, where you can fall asleep to the sound of the waves and passing boats.
County Mayo
Clifden Eco Beach Camping: This site was recommended to us by our Irish friends, and wow – it looks stunning! With ocean views, beach access, glamping options, rave reviews, and some great restaurants nearby (check out Dooncastle Oyster Trailer), this is one of the very best campgrounds in all of Ireland!
County Westmeath
Lough Ree East Caravan And Camping: If you need a place to camp in the center of the country, this lakeside campground is a great choice. We spent the night here when making our way back from Galway to Dublin, and it was great. The sunset over the water was wonderful, and if you get there early, there are some pretty sweet spots to choose from.
County Wicklow
Hidden Valley Holiday Park: Located on the outskirts of the Wicklow Mountains, this holiday park has the best facilities we found on our Ireland camping trip. Plus, there's an amazing playground and arcade room which is a bonus if you're traveling with kids!
Campsites in Northern Ireland
Maddybenny Campsite: A unique tent & caravan park on a farm, so you can hang out with the horses and the… peacock?! Conveniently located close to the Giant's Causeway, beaches, and coastal walks.
Millstone Caravan Park: Despite being less than an hour from Belfast, this seaside campground has a private, peaceful vibe. Though it's close to the main road, the trees help muffle any traffic sounds.
Slieve Croob Camping: Located in the heart of the rolling green Dromara Hills, this campground looks like a postcard. The large field lets you spread out and have your own space and there are showers, toilets, and dishwashing facilities onsite.
Best glamping in Ireland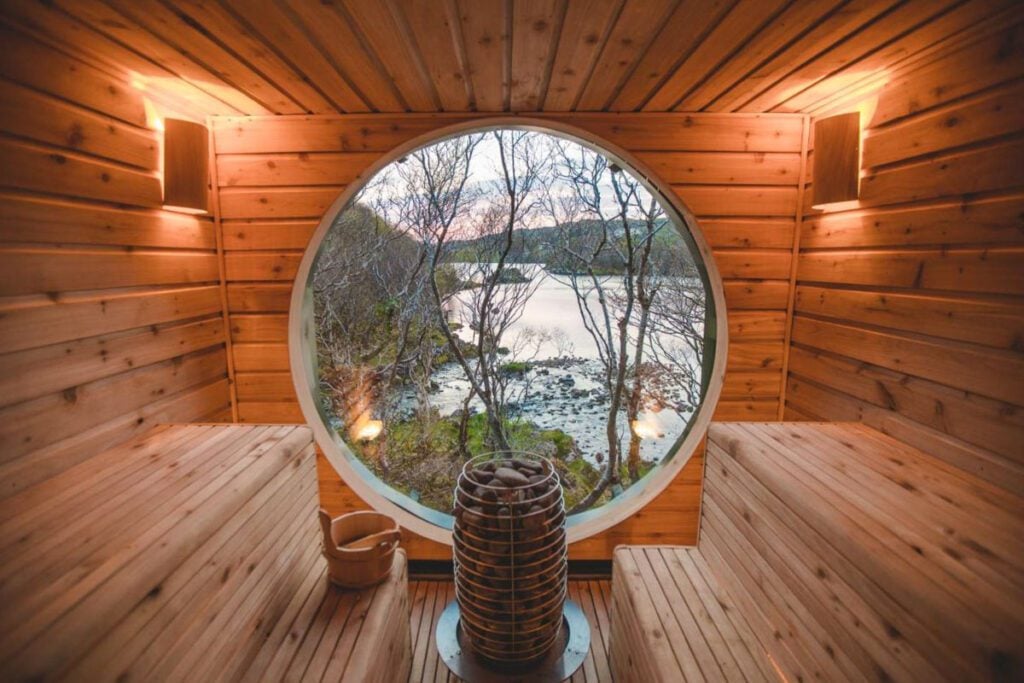 If you like the idea of camping, but like a little added comfort (or you aren't planning to rent a motorhome), glamping can be a great option.
It really is the best of both worlds and combines nature with a little dash of luxury, and there are all sorts of glamping opportunities across Ireland.
The most common glamping accommodations you'll find in Ireland are pods, but you'll also see some yurts, teepees, and treehouses.
Psst! If you're interested, we put together an ultimate guide to glamping in Ireland with all of the best stays and everything you need to know before you book.
Ireland's glamping amenities vary drastically. Some accommodations may include electricity, heat, proper bathrooms, and even a hot tub, while others provide nothing more than a physical structure to sleep in.
Good to know: Sometimes glampers need to bring their own bed linens and cooking supplies, much like a traditional camping trip, so be sure to read the fine print before booking!
---
Are you planning a trip to Ireland?
We're creating lots of resources for travel in Ireland and destinations throughout the country. Check out our Ireland Travel Homepage for everything you need to know, or read some of our favorite articles below.
Save this article on Pinterest for later!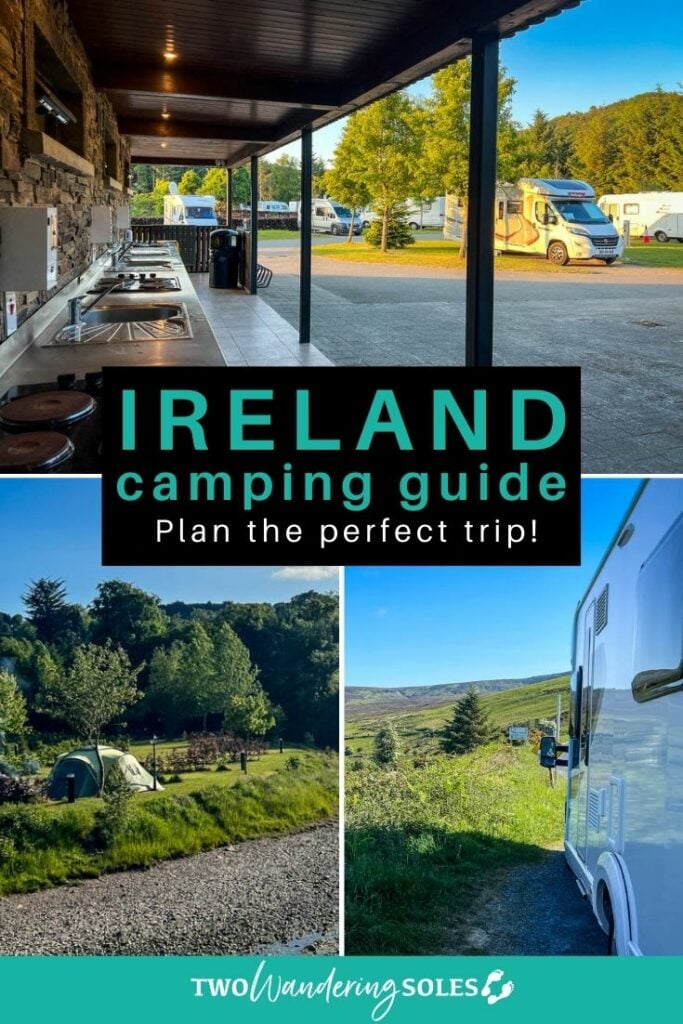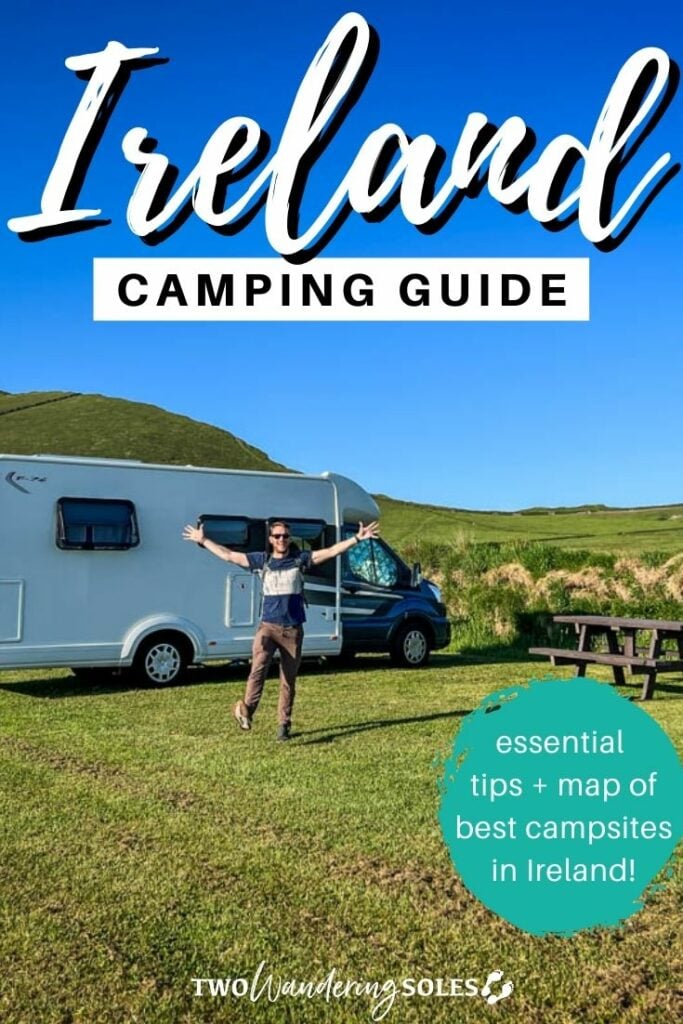 We want to hear from you!
Are you planning a camping trip in Ireland and still have questions? Any tips or amazing campsites that we missed? Leave your comment below and we'll do our best to get back to you!