We've put together this guide of the best places to visit in Scotland so you can plan the perfect itinerary. From the medieval castles to cosmopolitan cities, this list covers all interests to make your Scottish holiday a trip to remember.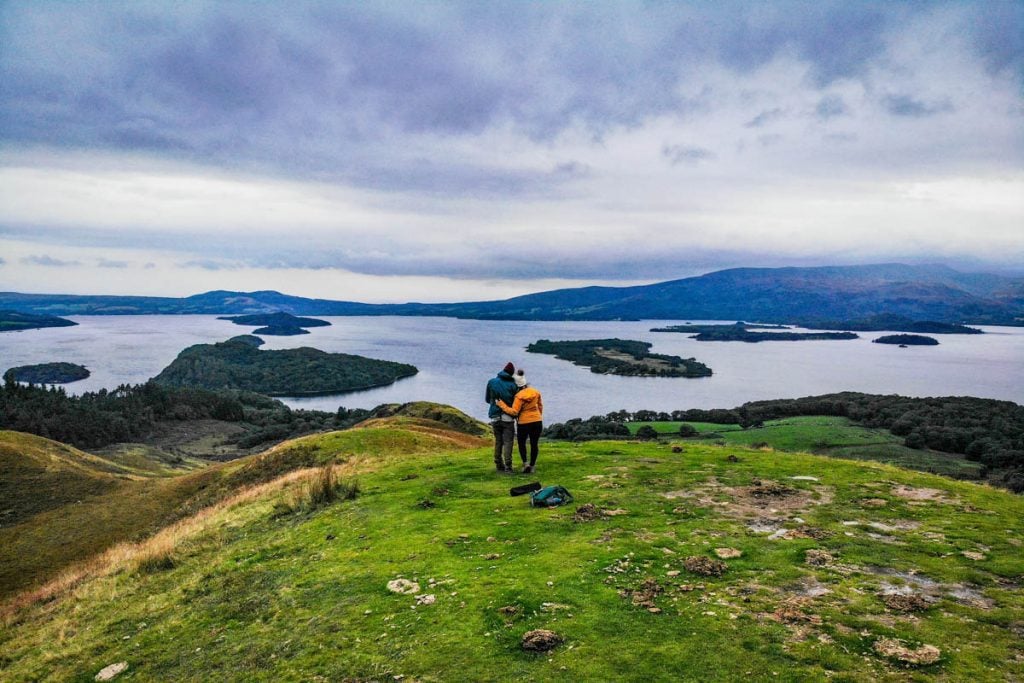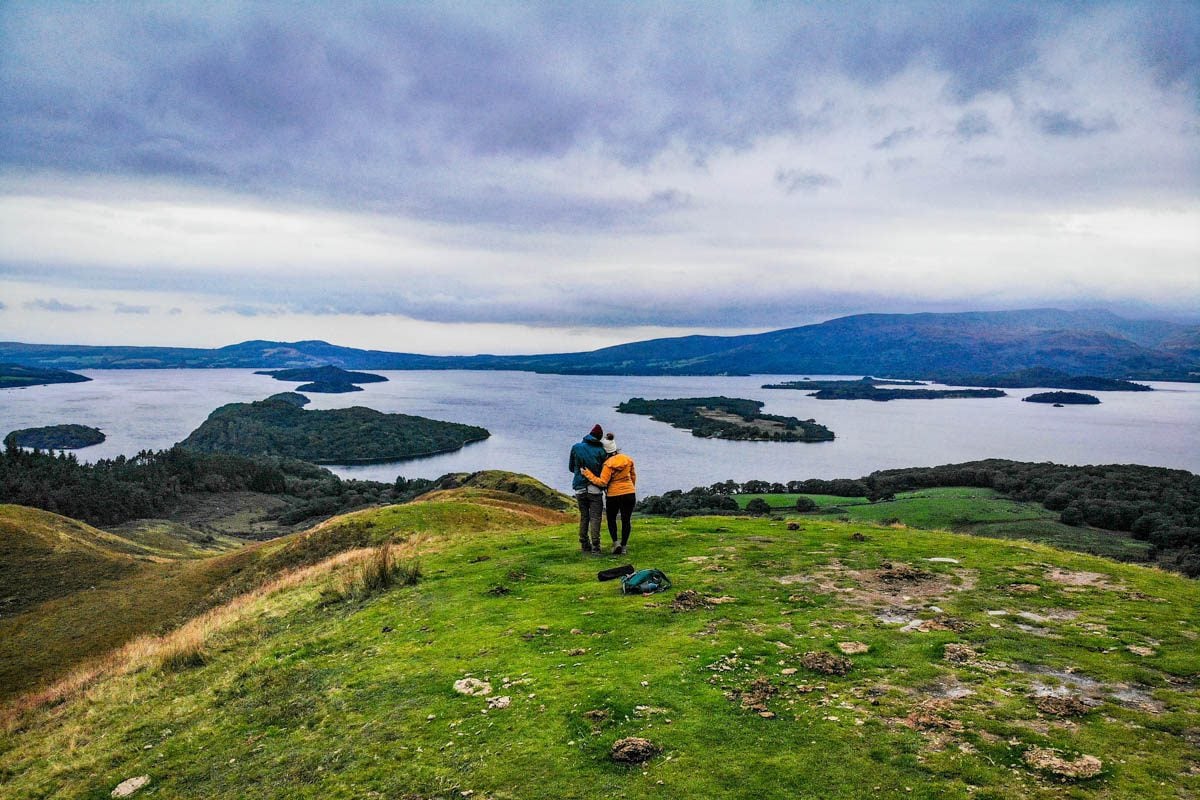 With rolling hills, quaint villages, hidden waterfalls, and rugged coastline, there are so many incredible places to visit in Scotland that will make you fall in love.
And the really wonderful thing about Scotland is that most places are very close together, meaning you can see a lot of the country in one visit and you won't have to drive very far.
We've rounded up some of the very best places in Scotland to put on your itinerary and bring you one step closer to planning the perfect trip.
For each place, we're going to share the best things to do and where to stay, so grab a mug of coffee (or a glass of Scotch) and get your pen and paper ready to create a plan!
Scotland Travel Guide
We've also included some helpful resources for planning your trip to Scotland…
---
Top places to visit in Scotland
If you're looking for the very best places to visit in Scotland, here are our top recommendations.
Edinburgh
Glasgow
Isle of Skye
Inverness
Loch Ness
Keep reading for more detailed information on each of these cities and more ideas for cool places to visit in Scotland. 
Trying to decide whether to visit Ireland or Scotland? You're not alone! We've done both, and we have a whole guide where we compare the two and give our personal recommendation on the Scotland vs. Ireland debate.
1. Edinburgh
History, iconic sights and stunning architecture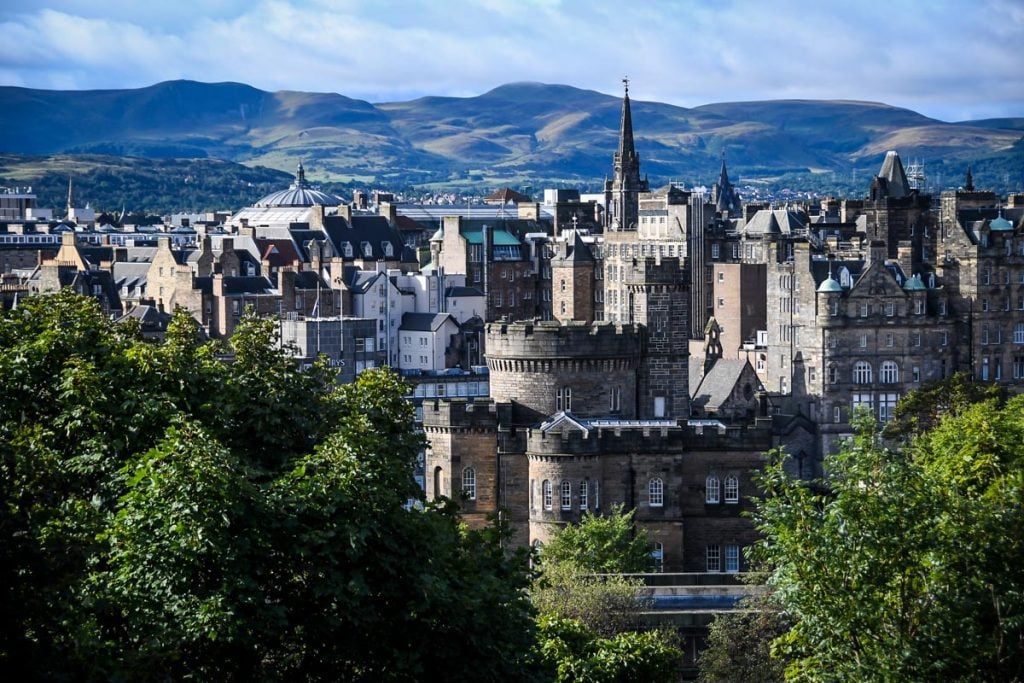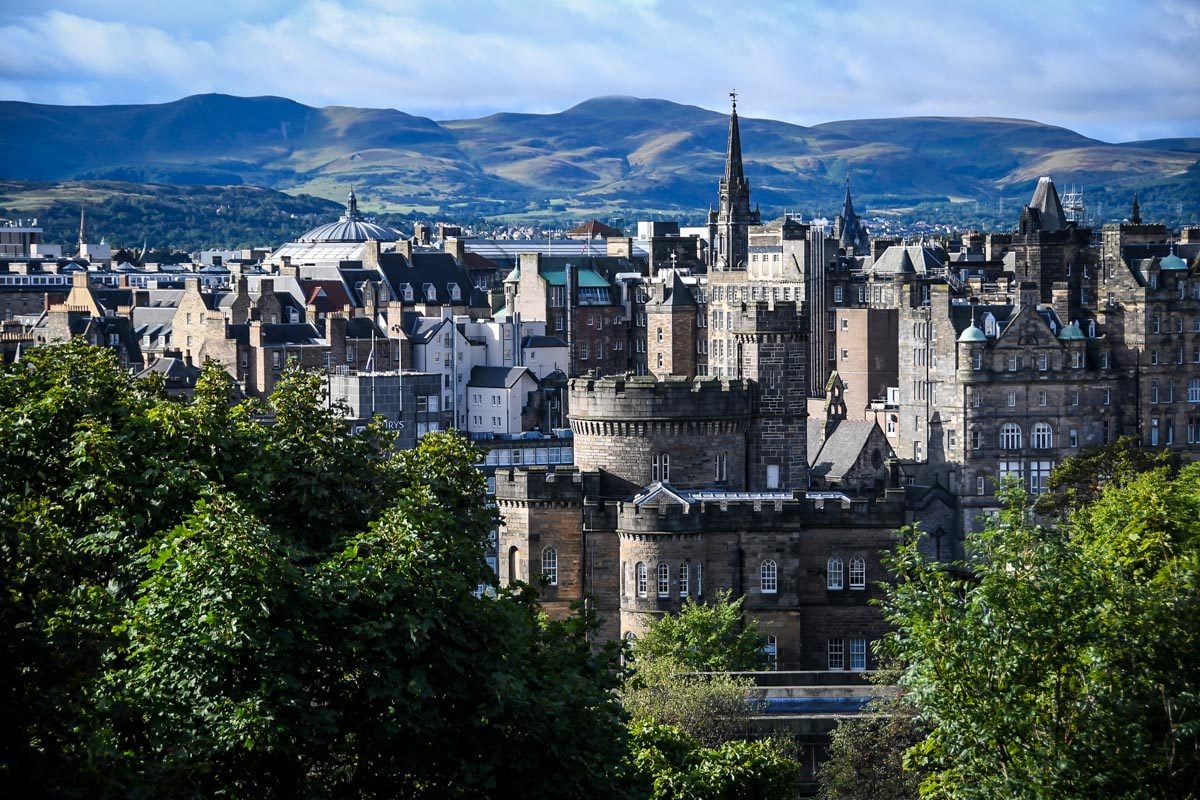 Scotland's capital city may be the second largest by population, but there's no denying that the cultural experience in Edinburgh is second to none. Hundreds of thousands of people flock from all over the world to visit this city for plenty of reasons.
After all, this city inspired J.K. Rowling's enchanting world in the Harry Potter books! Which isn't at all surprising when you take in the cobblestone streets, charming small town feel and Gothic and Medieval architecture abound.
Head into the medieval old town to learn about the interesting history and see some of the top tourist attractions in Edinburgh.
The new town is filled with more modern Georgian architecture, tons of restaurants and Princes Street, the main shopping street that is overlooked by the castle.
Fun fact: The city even boasts the highest number of restaurants per capita in the UK!
The best part about Edinburgh is that most of the historical tourist attractions are within easy walking distance of each other. You could spend days here and still not run out of things to do. It's easy to see why Edinburgh is one of the top places to visit in Scotland.
Things to do in Edinburgh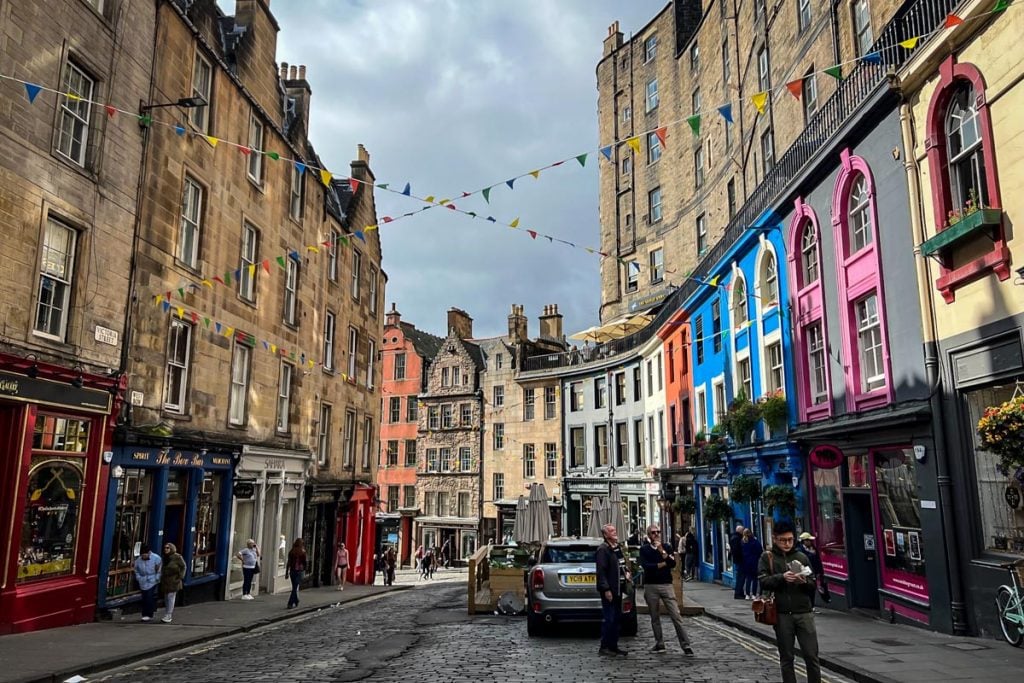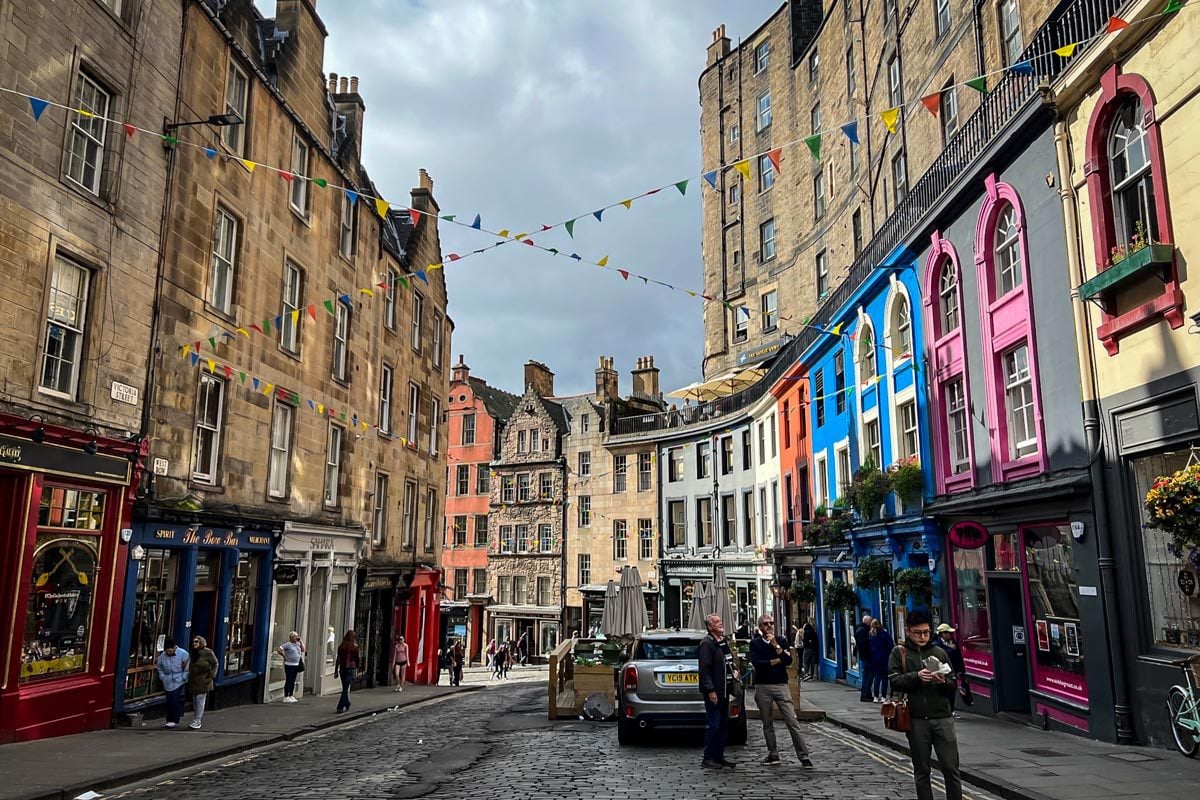 We've got a huge list of all the best things to do in Edinburgh, but here are some highlights:
You can't visit Edinburgh and not take a wander around Edinburgh Castle.
Wander up Calton Hill just at the top of Princes Street and take in beautiful views over the city and beyond.
Visit Mary Kings Close, a hidden street underneath the city that allows you to experience what life was like back in the 16th and 17th century in Edinburgh.
Hike to Arthur's Seat atop an extinct volcano.
Visit the Elephant House and see where J.K. Rowling penned the Harry Potter books. (Oh and visit the nearby Greyfriars Kirkyard and see how many character names you can find amongst the headstones.)
Pop around to local pubs and try some typical Scottish foods like haggis, black pudding, and sticky toffee pudding!
Indulge in afternoon tea, a time honored tradition in the UK.
Explore Dean Village, Edinburgh's cutest neighborhood.
Where to stay in Edinburgh
Psst! If hotel stays aren't your thing, we have a curated list of the best Edinburgh Airbnbs for you to browse!
2. Glasgow
Music, culture, shopping and university vibes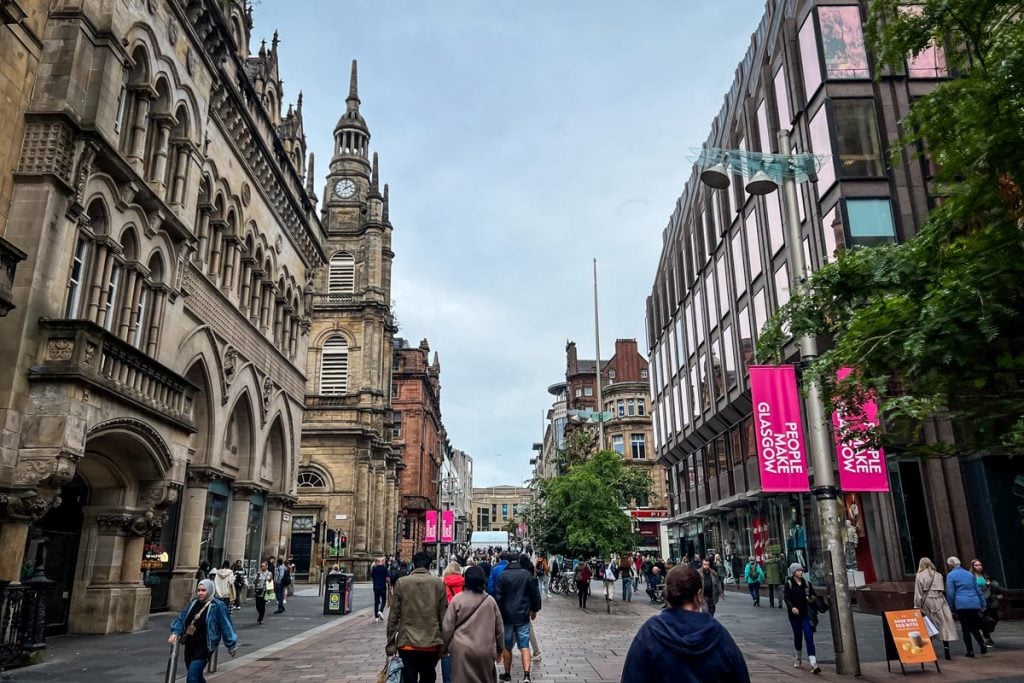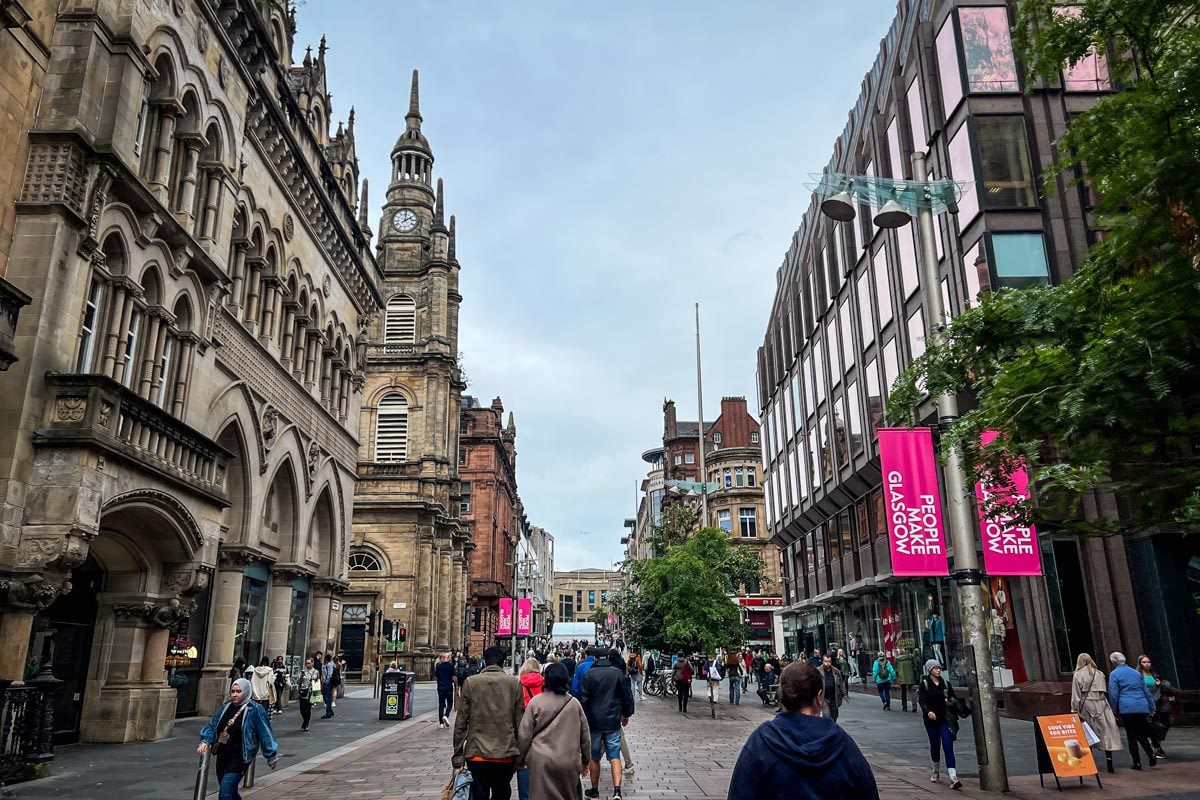 Just 50 miles west of Edinburgh, Glasgow feels a world different.
A little grittier than Edinburgh at first glance, Glasgow isn't as storybook-pretty as its neighbor to the east; but it makes up for it in other ways.
Glasgow has the largest population of any city in Scotland, and most Scottish people we've spoken to claim it's their favorite.
Perhaps it's the fact that it doesn't feel as saturated with tourists as Edinburgh. Or maybe it's the enchanting combination of art, music and food. Perhaps it's the vibe of a cool university city that's hard to put into words…
Whatever the allure for you, we think Glasgow is definitely worth a gander. For us, it took a bit longer to really get it (whereas with Edinburgh, we fell in love immediately). But now we're already itching to get back and explore more.
Things to do in Glasgow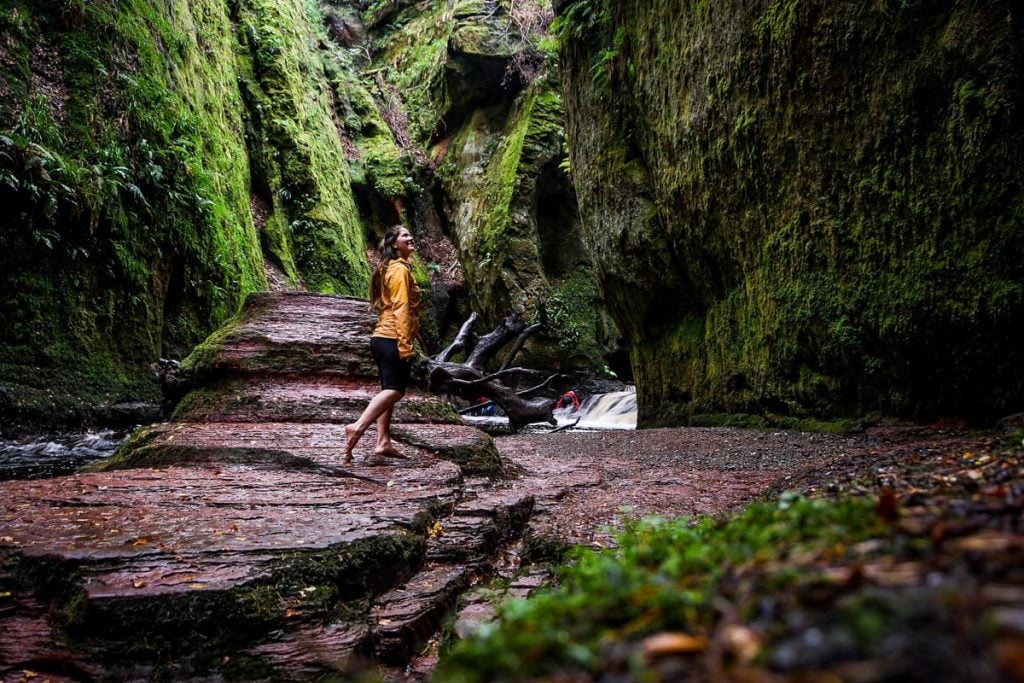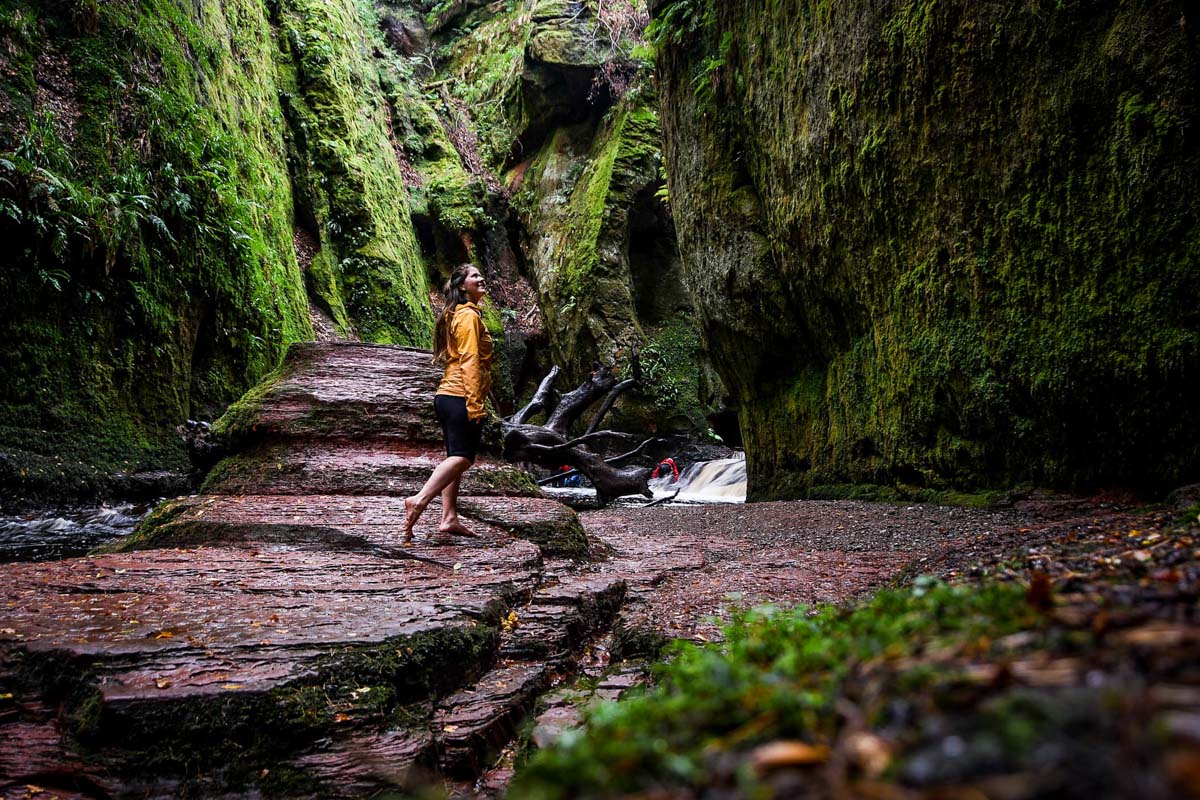 We've got a huge list of all the best things to do in Glasgow, but here are some highlights:
Take a Scottish food tour – we loved ours!
Walk through the cloisters on the University of Glasgow campus.
Indulge in a doughnut (or three!) at Tantrum Doughnuts.
Walk through Kelvingrove Park.
Check out a couple of the 22 galleries in Kelvingrove Museum.

Bonus: it's free to explore!

Share several dishes in a family-style meal at Ubiquitous Chip, located on the charming Ashton Lane in the trendy West End neighborhood.
If you're visiting on a weekend, head to The Barras and browse the hundreds of stalls where merchants and artisans sell their wares.
If you're looking to escape the city and get outdoors, Milngavie is a small village on the outskirts of Glasgow. It is home to the beginning of West Highland Way—Scotland's first and most famous long-distance hiking route.

FYI: The trail is 96 miles and takes roughly 7 days, but if you don't have the time (or stamina!), just hike as long as you'd like before turning around.

Hike Finnich Glen to the Devil's Pulpit rock, through a lush green gorge with otherworldly crimson red, swift-moving water, just north of Glasgow.
Where to stay in Glasgow
3. Isle of Skye
Rugged natural landscapes, picturesque hikes, and medieval castles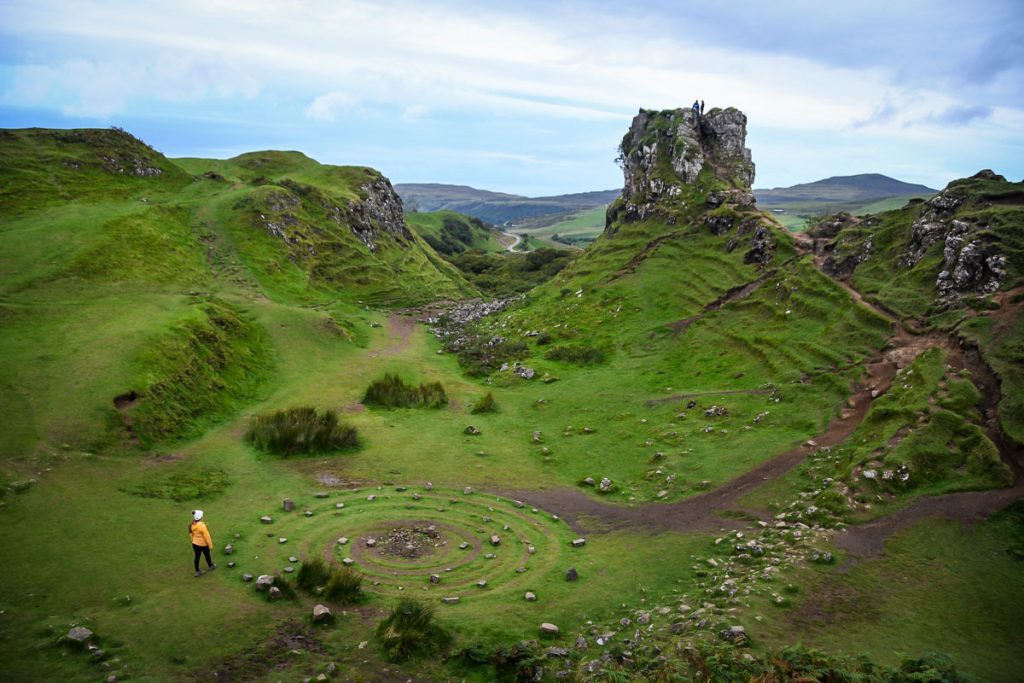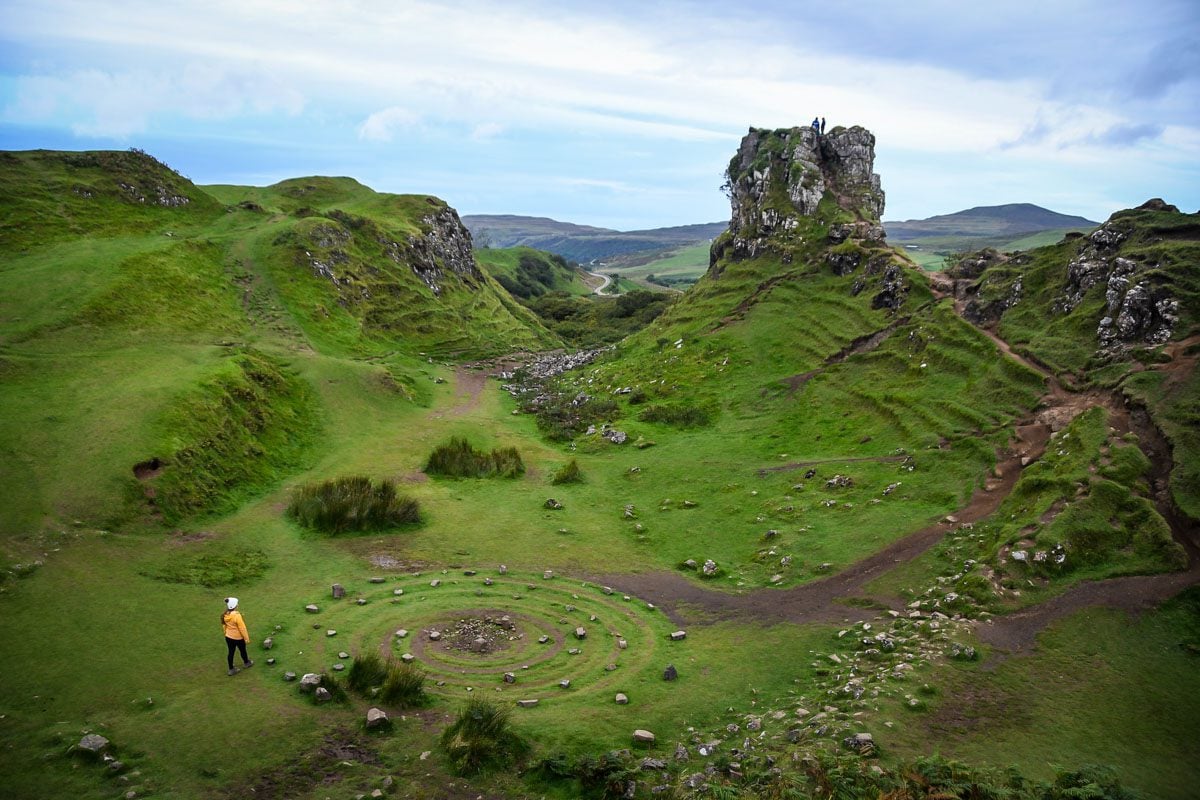 Renowned for its breathtaking and dramatic scenery, Isle of Skye is easily one of the best places to visit in Scotland.
As the northernmost major island in the Inner Hebrides archipelago, Skye embodies everything Scotland is so famous for. You'll encounter rugged coastline dotted with quaint fishing villages, sprawling medieval castles, and lush green hills and cliffs in every direction.
Needless to say, Isle of Skye is a bucket list-worthy destination, especially for nature lovers. The hiking here is straight out of a fairytale. You'll find endless places to explore and there are also plenty of unique places to eat and stay.
We put together the ultimate guide to the Isle of Skye, which includes everything you need to know about planning your visit from essential tips to all the top attractions and fun things to do. Be sure to check out our guide and bookmark it to save for your travel planning!
To give you a little taste, here are some of the highlights…
Things to do in the Isle of Skye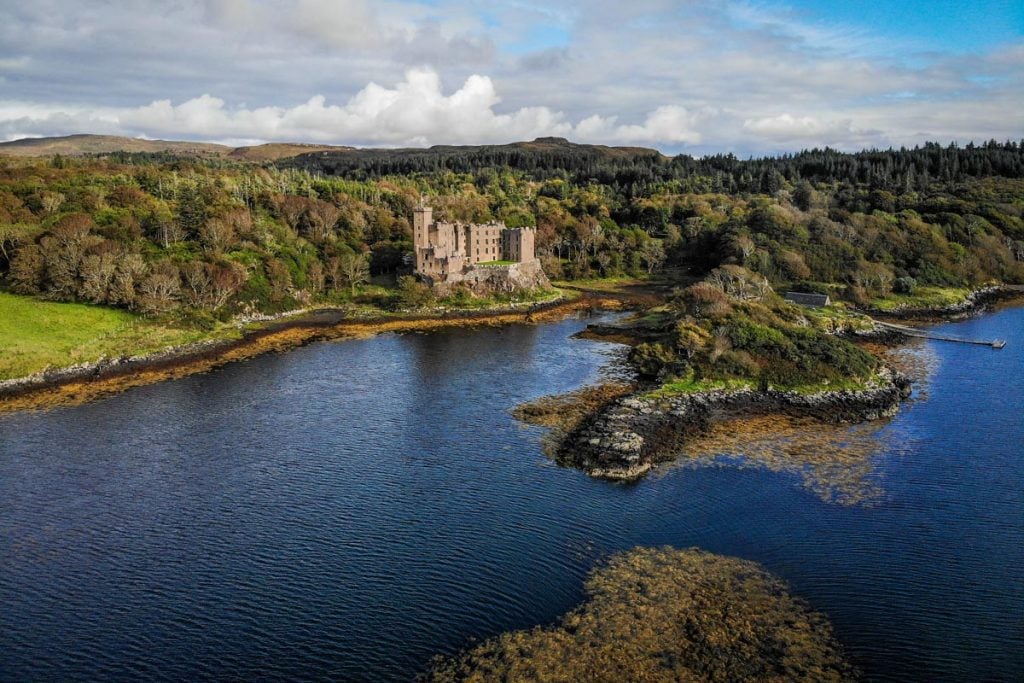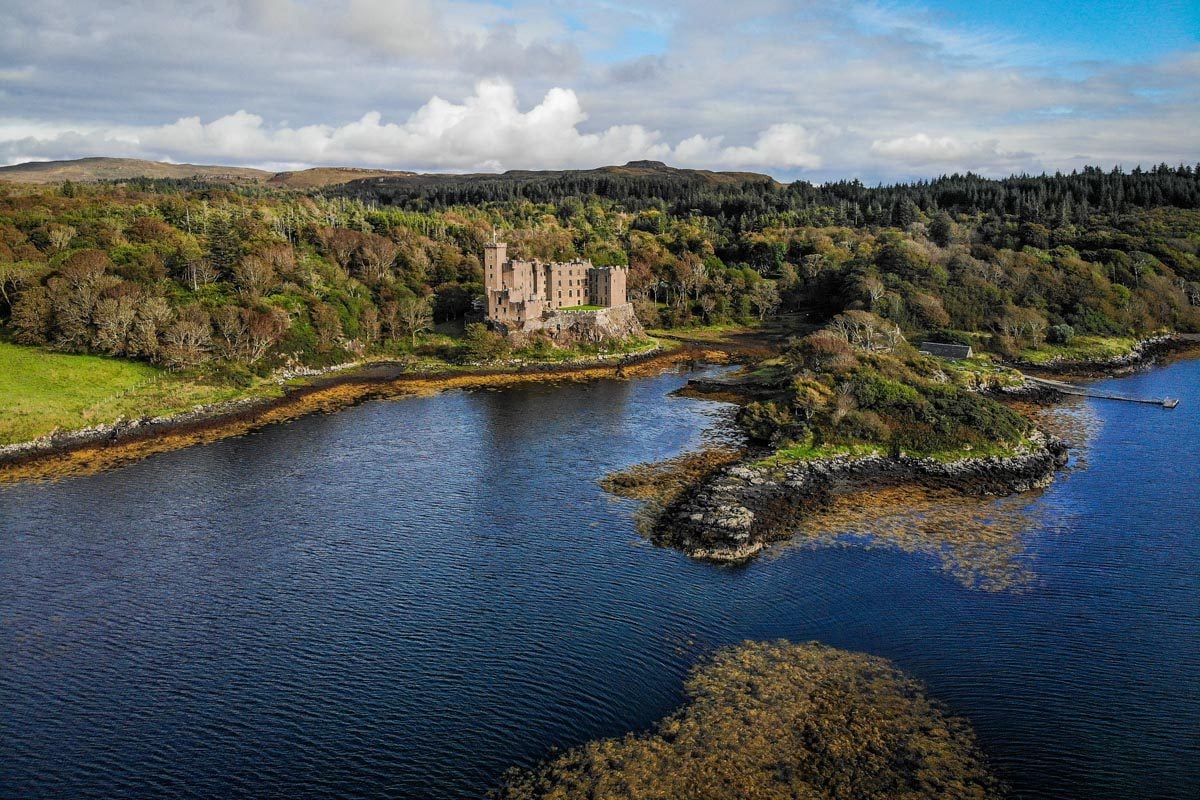 Start your day with a caffeine kick at Lean To Coffee.
Hike the Old Man of Storr trail.
Make the walk to the iconic Skye Fairy Pools.
Wander Fairy Glen at sunset.
See the Quiraing viewpoint and take the hike, if your heart desires.
Peep Dunvegan Castle from afar, or take a tour inside.
Walk up to the Duirinish Stone and pretend you're in Outlander.
See Scottish Highland cows at this viewpoint.
Where to stay in Isle of Skye
---
Looking for a way to fit all of this in one trip?
We traveled in Scotland for about 2 weeks and were able to visit most of the highlights of the country, including most of the top places to visit.
We took our 2-week travels and created the perfect Scotland road trip itinerary. We'll send you our complete 2-week itinerary, filled with tips and advice. Just click below to get your 2-week Scotland road trip itinerary today!


---
4. Inverness
Cultural capital of the Scottish Highlands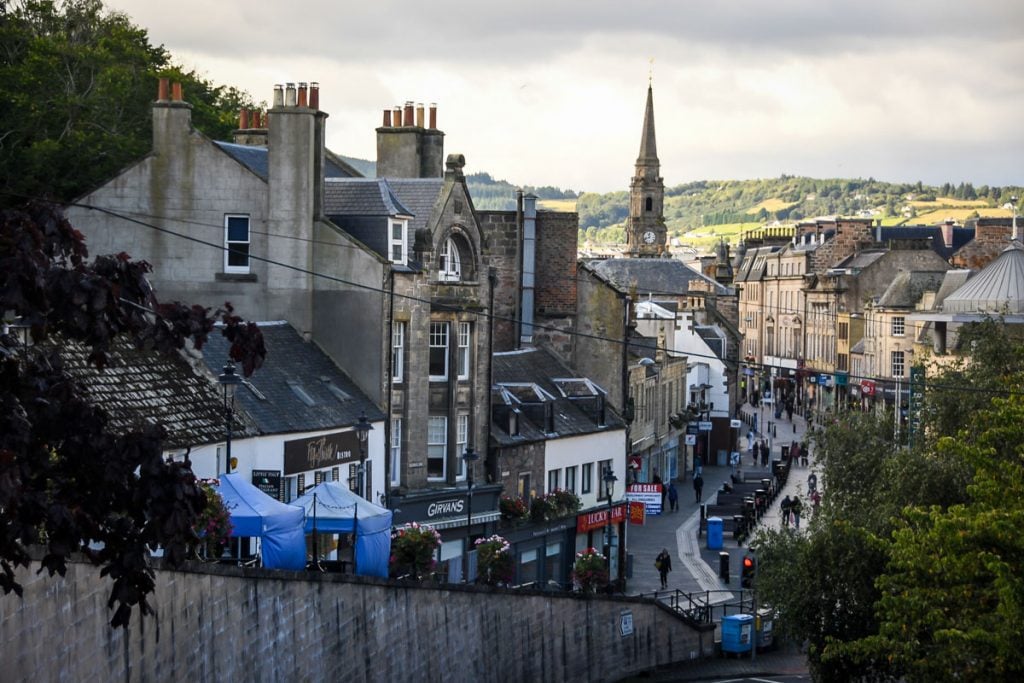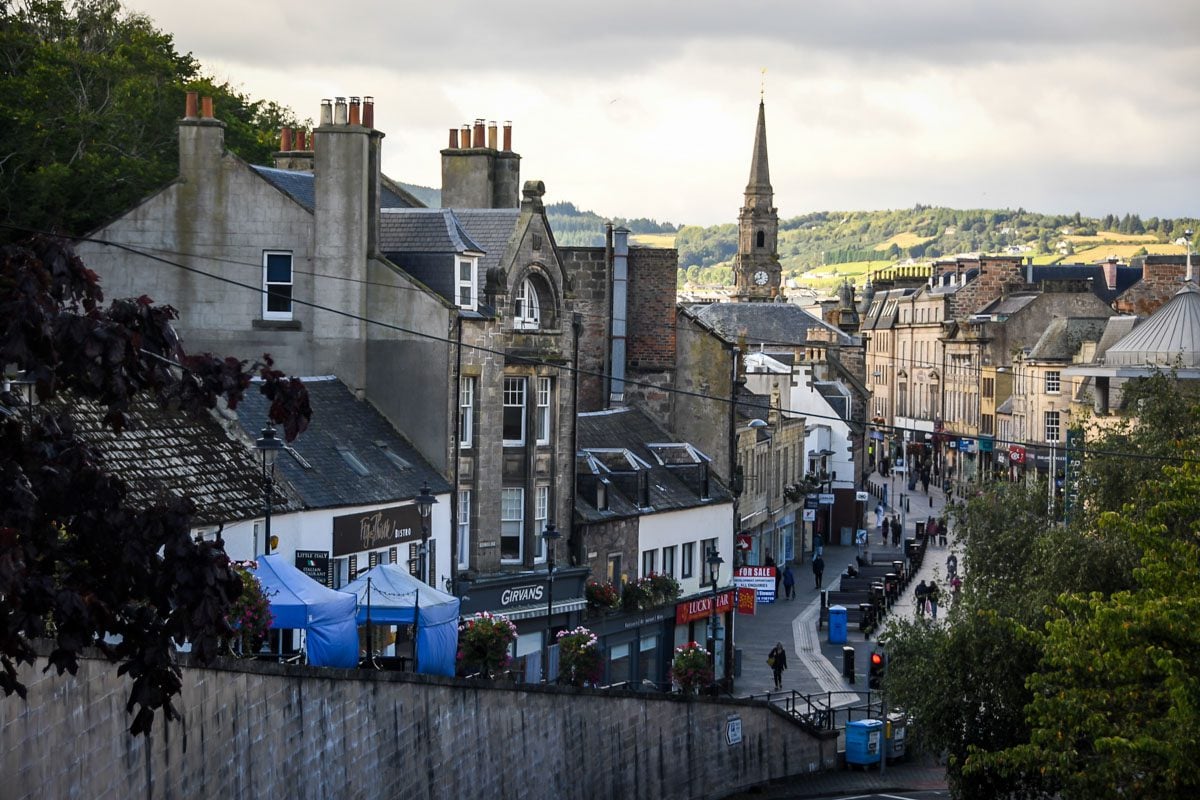 As the northernmost city in Scotland, Inverness offers a unique experience that combines the natural beauty of The Highlands with a modern city. In fact, more than one-third of The Highlands' entire population lives in the Inverness metro area. The city is small, but rapidly changing as it's one of the fastest growing cities in Europe.
Inverness has all the modern amenities one could possibly need, while still providing easy access to Scotland's beautiful mountains, lochs, and scenery of The Highlands. There is no shortage of castles, churches and cathedrals, distilleries, and historical sites to explore.
This beautiful city is also one of the best places to visit in Scotland because it's the place where the North Coast 500 begins. (More on that in #12!)
Things to do in Inverness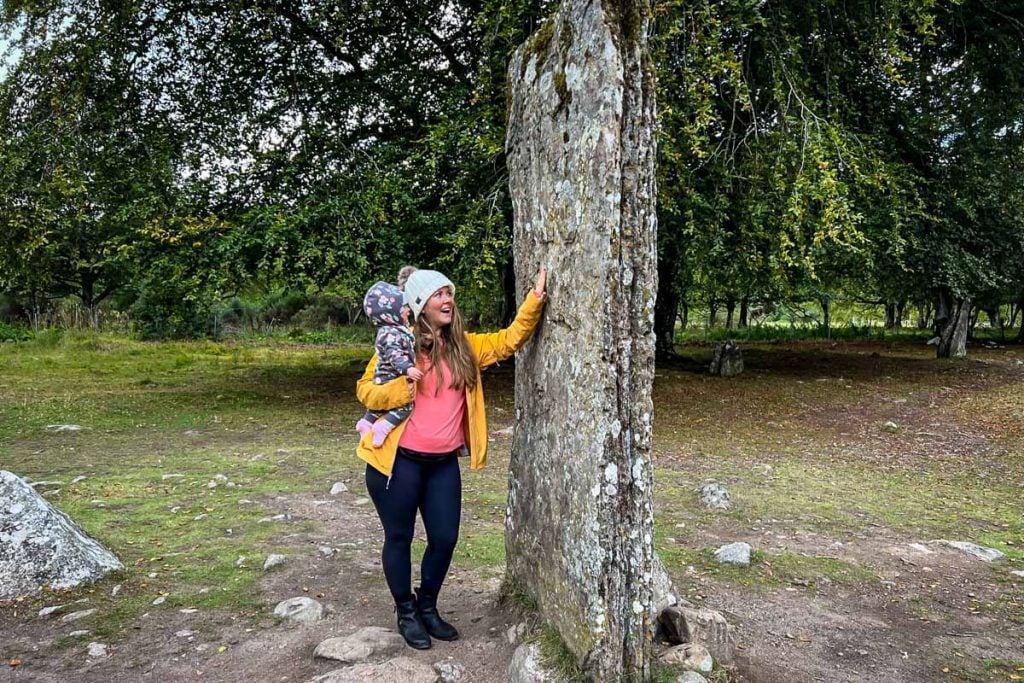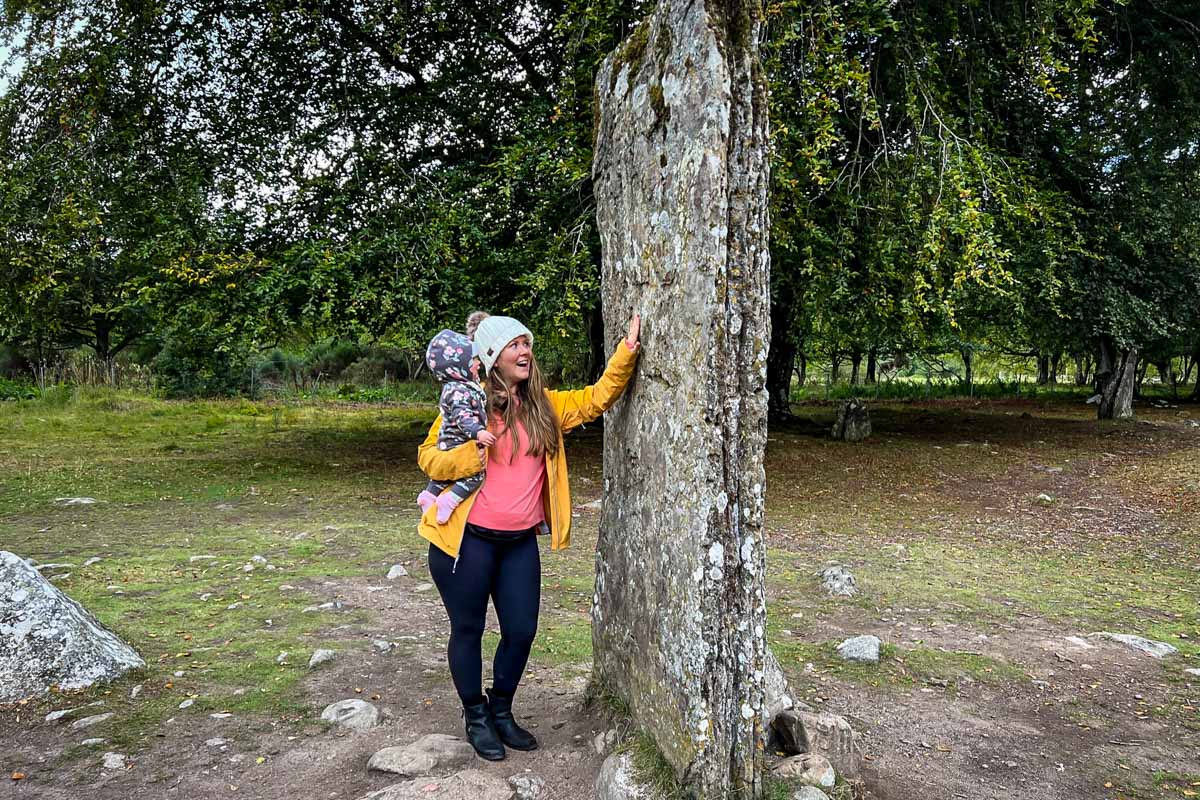 We've got a huge list of all the best things to do in Inverness, but here are some highlights:
Enjoy a 3-course lunch at The Mustard Seed.
Get lost in Leakey's Bookshop.
Walk the path around Ness Islands.
Grab a coffee and breakfast at Velocity Cafe & Bicycle Workshop.
See live music at Hootenanny.
Indulge in a doughnut and cappuccino by day or an espresso martini by night at Perk Cafe.
Glimpse Inverness Castle from the outside (it's currently undergoing renovations, and closed to the public).
If you're a history buff, a visit to the Culloden Battlefield will likely be something you won't want to miss.
Outlander fans will recognize the stones at Clara Cairns
Where to stay in Inverness
Psst! Read up on our guide to glamping in Scotland if you want more information on this unique style accommodation that's become super popular.
5. Loch Ness
Home of the folklore, the Loch Ness Monster (or "Nessie" for short)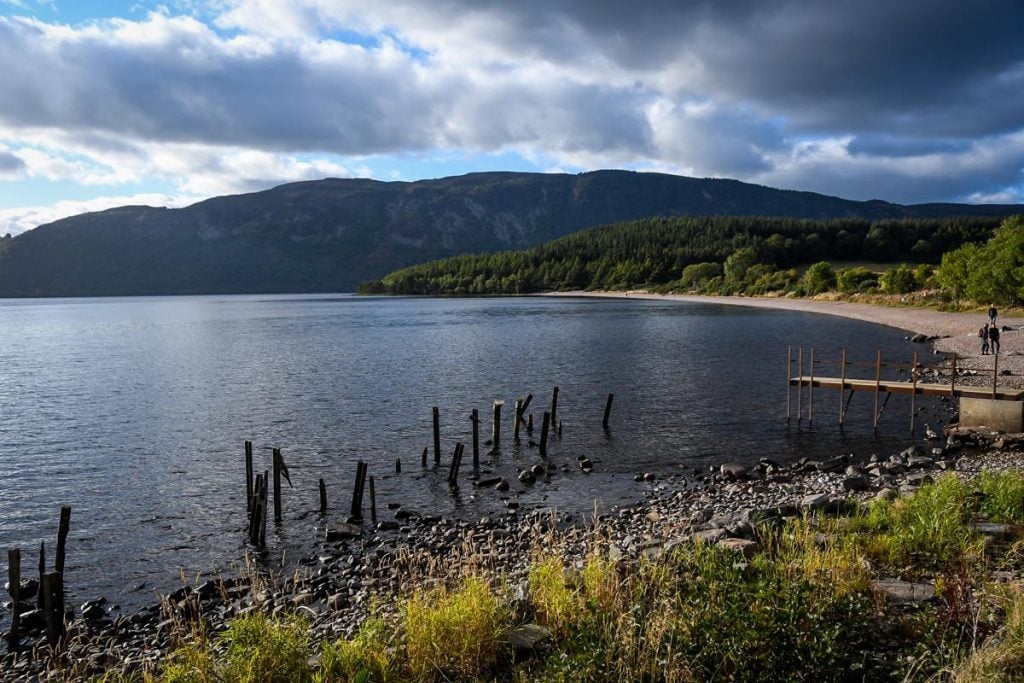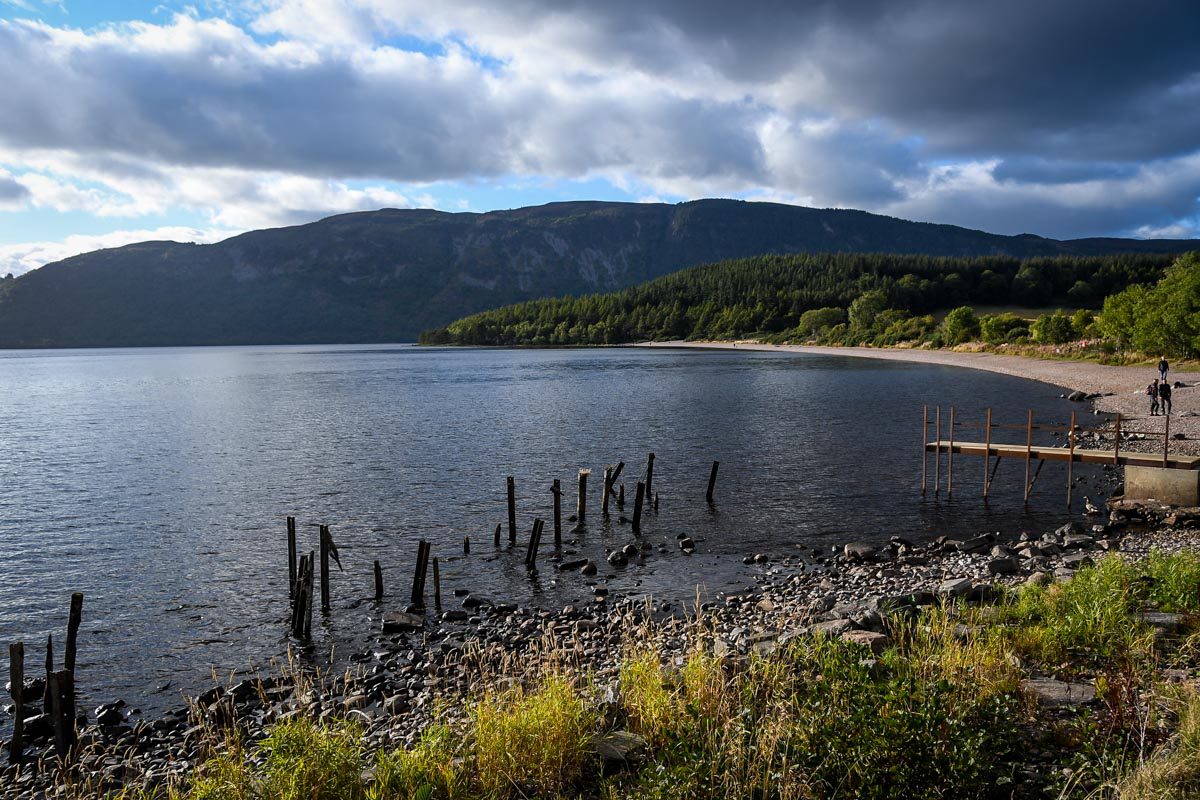 It's impossible to list the best places to visit in Scotland without mentioning Loch Ness. The storied home of the Loch Ness Monster, the world's most famous mythical creature, this gorgeous loch near Inverness is full of intrigue.
Although local folklore about Nessie dates back to the year 565 AD, it's so elusive that the first real sighting (and photograph) wasn't until 1933. Since then, there have been countless reports of something lurking in the water, but only a handful accompanied by photo or video proof.
Needless to say, the "monster" is a theme woven into many attractions and even aspects of day-to-day life in Loch Ness, but even if you're not necessarily a believer, there are plenty of other reasons to visit.
The town is home to spectacular Urquhart Castle and several other historical sites, Loch Ness itself is jaw-dropping (it's enormous — the deepest in Scotland and larger than all the lakes in England and Wales combined!), and it's an easy side trip if you're visiting Inverness.
Things to do at Loch Ness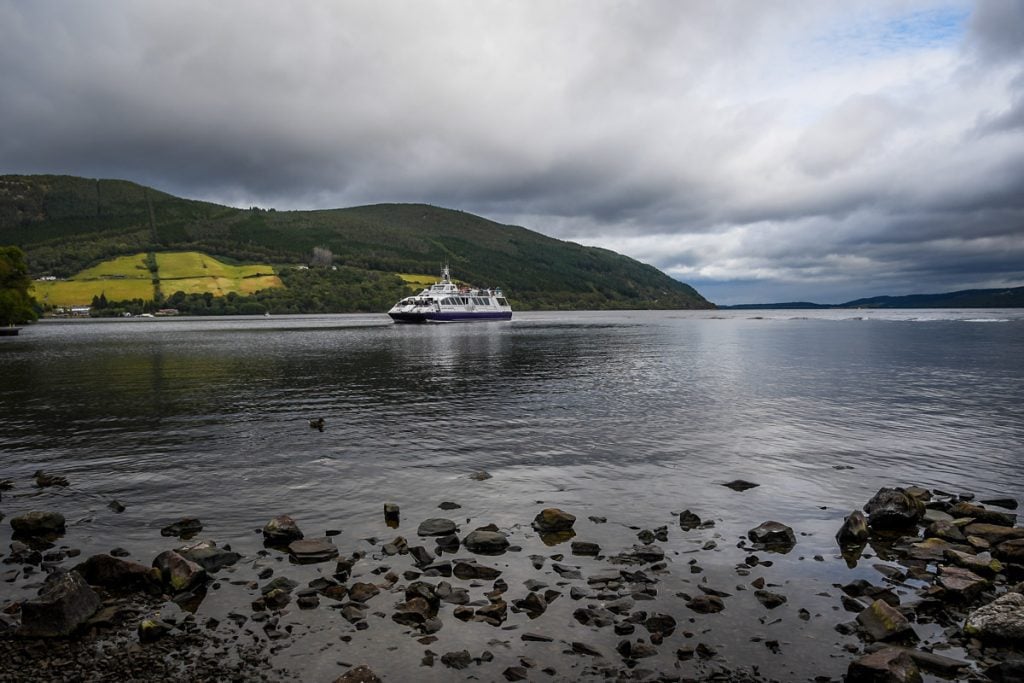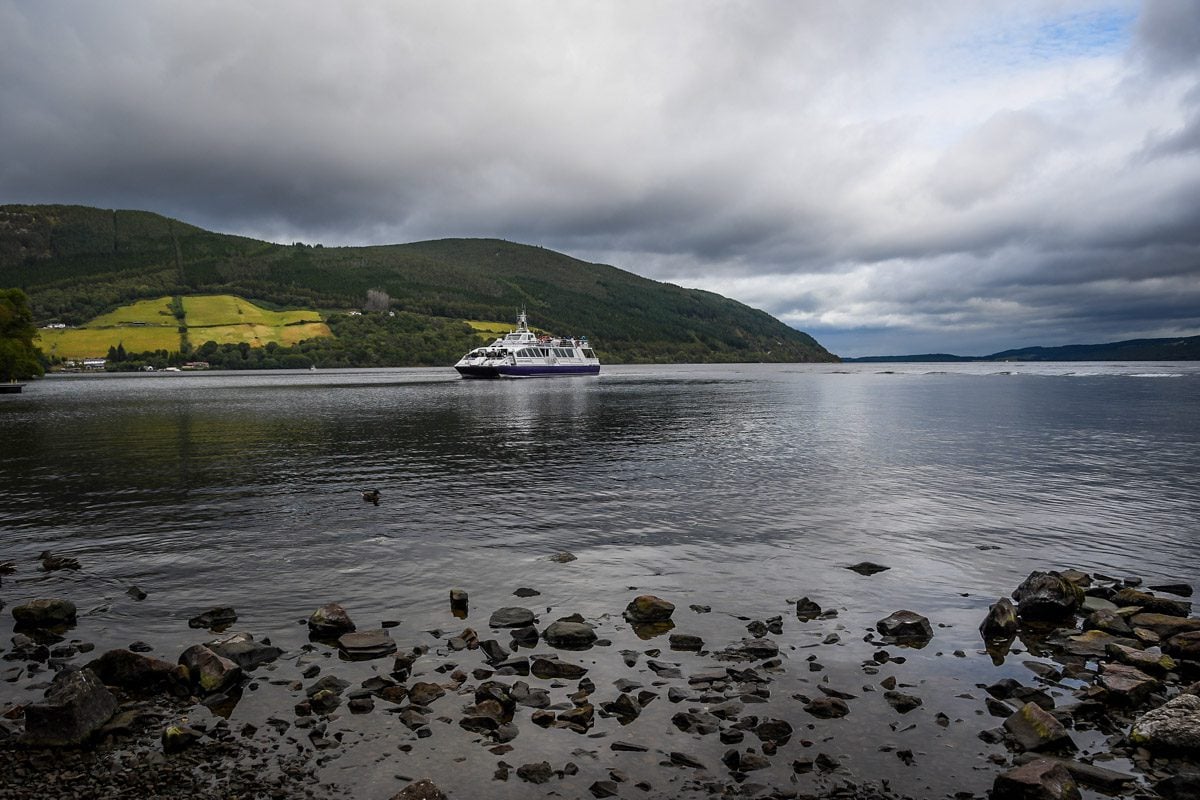 Enjoy the sunset on Dores Beach.
Grab a pint and pub food at The Dores Inn.
Take a boat cruise on Loch Ness and stop to explore Urquhart Castle.
Rent a bicycle to explore the Loch Ness 360 bike path.
Take a chilly dip in Loch Ness itself, entering from Loch Ness Beach or Lochend Beach.

The water averages just 41℉ year-round, but "wild swimming" is incredibly popular here!
6. Glencoe
Epic hiking and adventures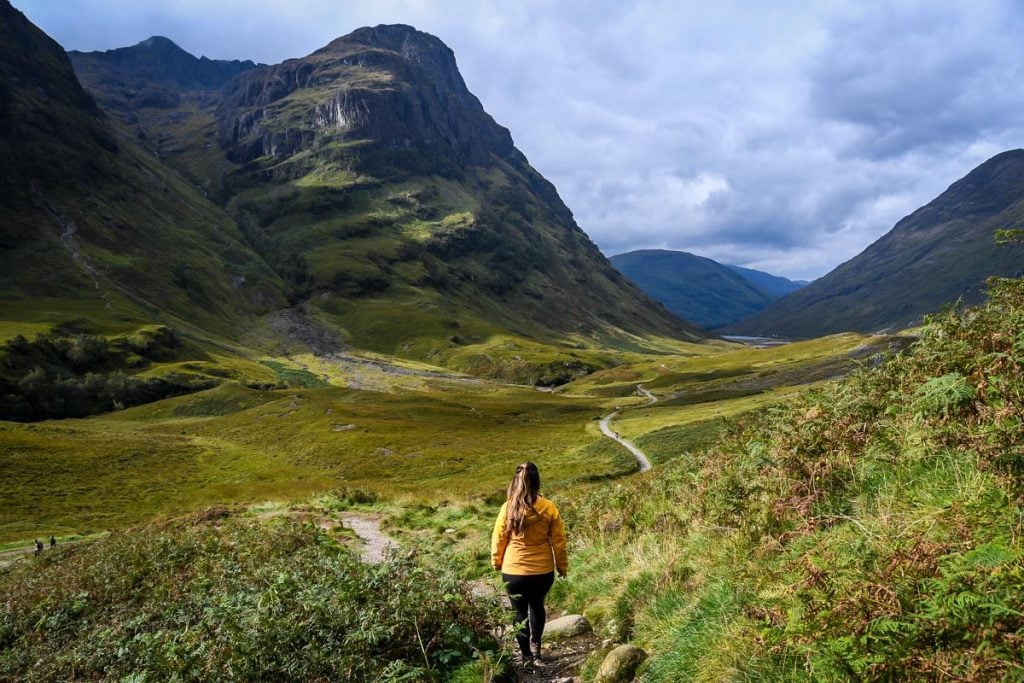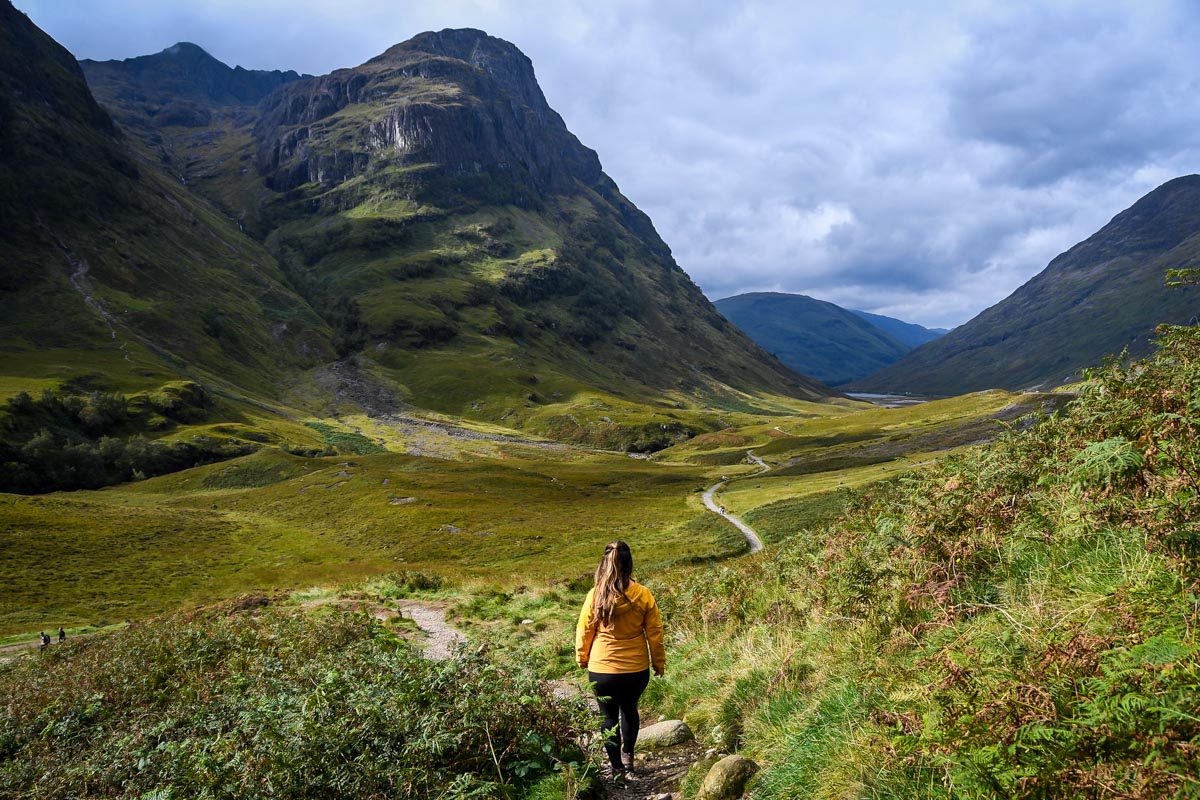 Nestled in Scotland's Western Highlands, Glencoe sits in a valley formed by glaciers and volcanoes. Today, the dramatic, rugged landscape dotted with lochs and mountains provides a breathtaking backdrop for outdoor adventures, including some of the best hikes in Scotland.
It's no wonder that Glencoe has served as the filming location for several iconic movies, including Braveheart, James Bond, and Harry Potter.
Glencoe itself is actually an officially-designated National Nature Reserve, but it's also a quaint historic village with quick access to scenic drives, epic hiking trails, and one of only five ski resorts in all of Scotland. It also plays host to some serious gems in the form of traditional Scottish pubs.
Things to do in Glencoe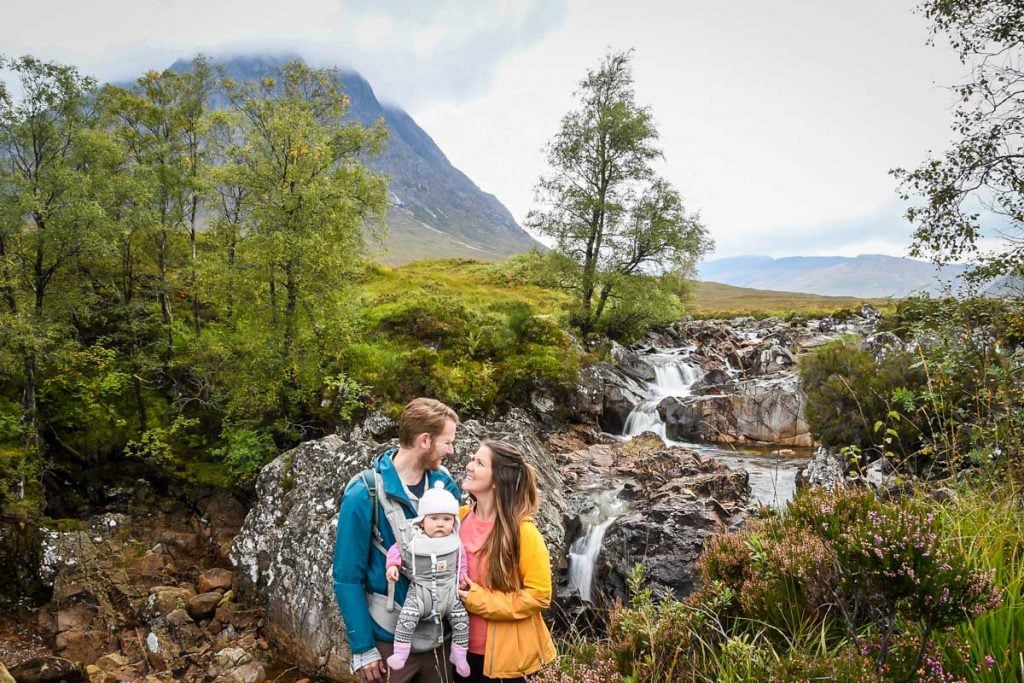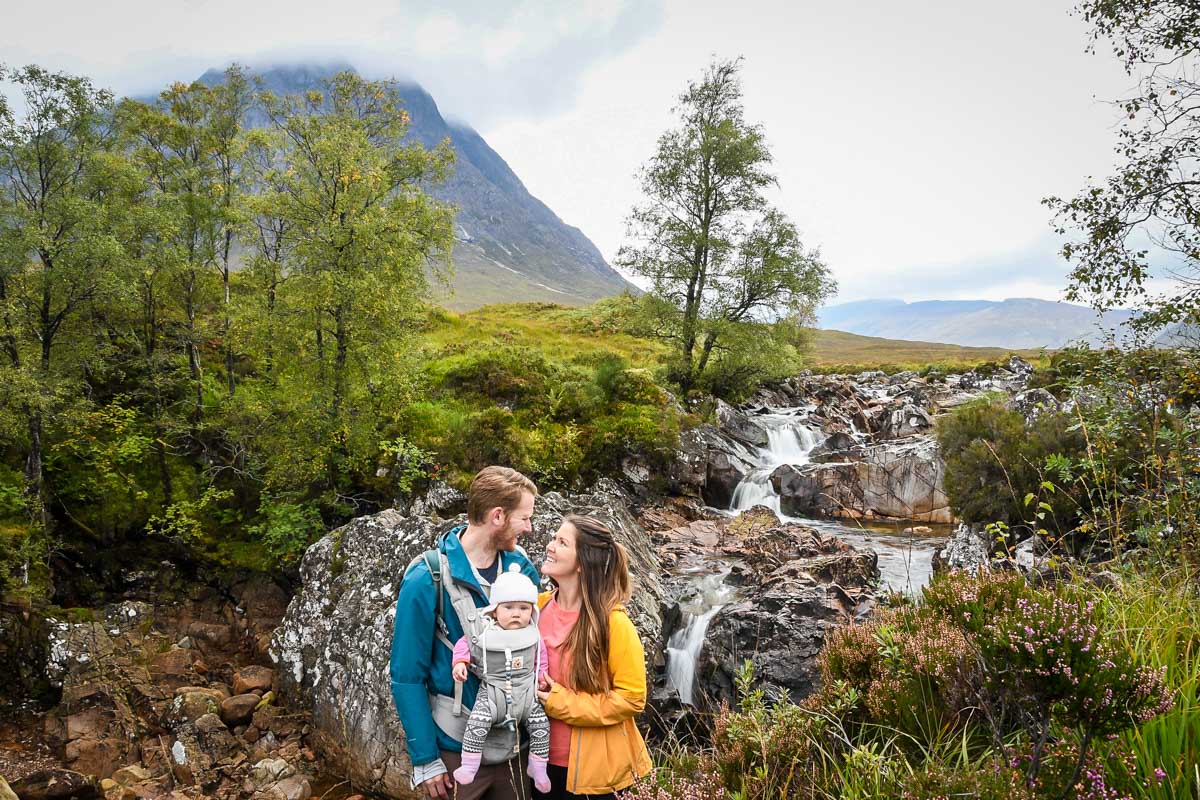 Where to stay in Glencoe
Wondering how to fit this all in one trip? Use our guide to planning the ultimate Scotland road trip, which covers everything from vehicle rentals to budget tips and itineraries.
7. Portree
The bustling hub of the Isle of Skye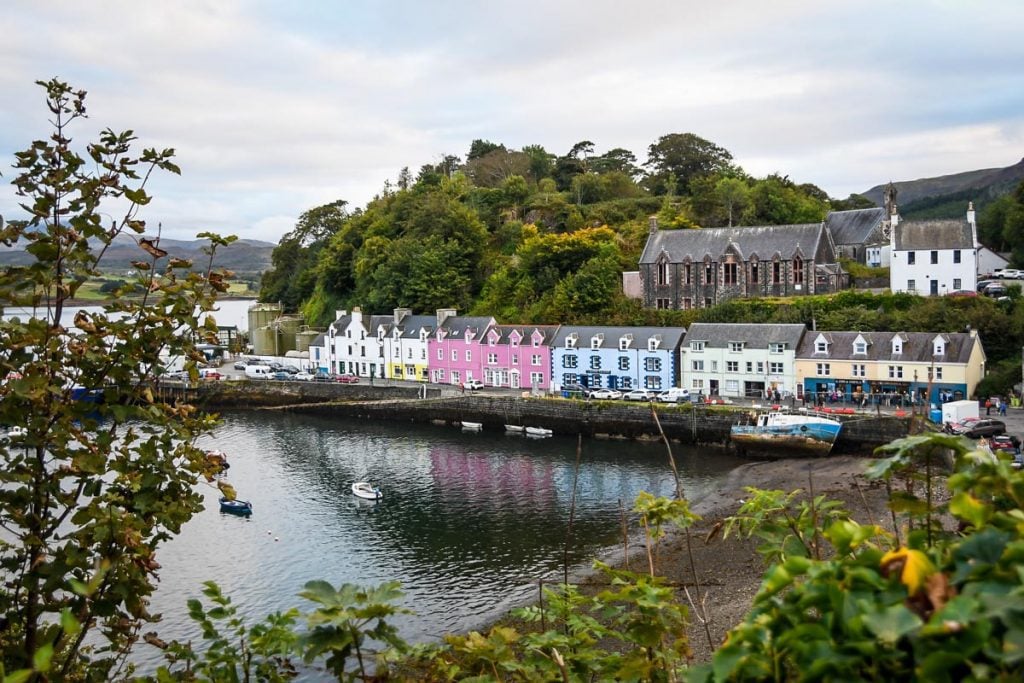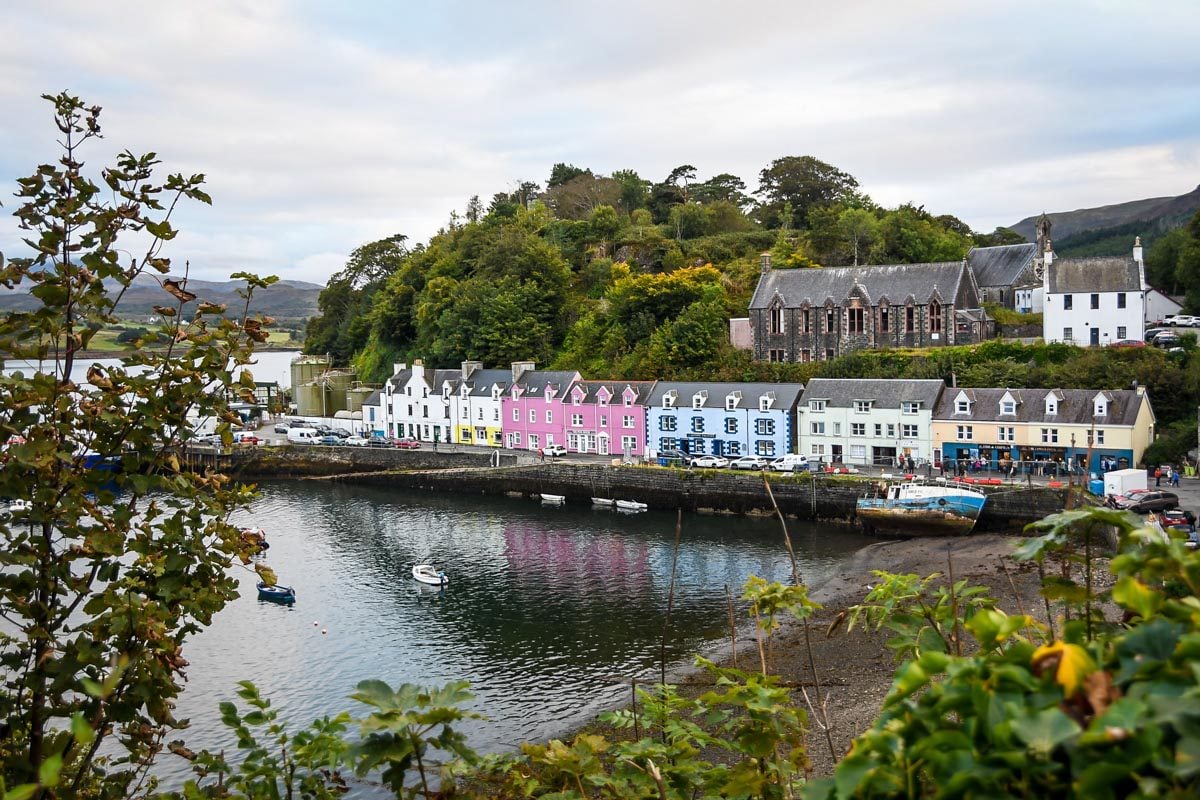 The colorful and lively hub of activity on Skye, Portee offers an abundance of services and amenities for travelers. It serves as an excellent homebase for exploring the Isle of Skye, with quick access to boat tours and countless day trips. With plenty of charm, it's also well worth a visit in its own right.
You could easily spend several days just strolling around Portree, chasing waterfalls and snapping photos from different viewpoints. The town has several world-class dining options as well.
One thing to keep in mind is that because Portree is Skye's main hub, everything books up well in advance for peak season (summer). You'll want to book your accommodation, tours, and even restaurant reservations as far in advance as possible.
Things to do in Portree
Get a view above the colorful town at this viewpoint.
Enjoy a seafood dinner at Sea Breezes. We recommend ordering the hand-dived scallops!
Make a dinner reservation (at least a week early!) at The View, in the Cuillin Hills Hotel.
Take a pony ride with Isle of Skye Trekking & Therapy Centre for some of the best views on the island.
Take a whale- or dolphin-watching boat tour (the best time is between May and October).
Where to stay in Portree
8. Applecross
Remote peninsula in the Western Highlands known for its seafood and rugged scenery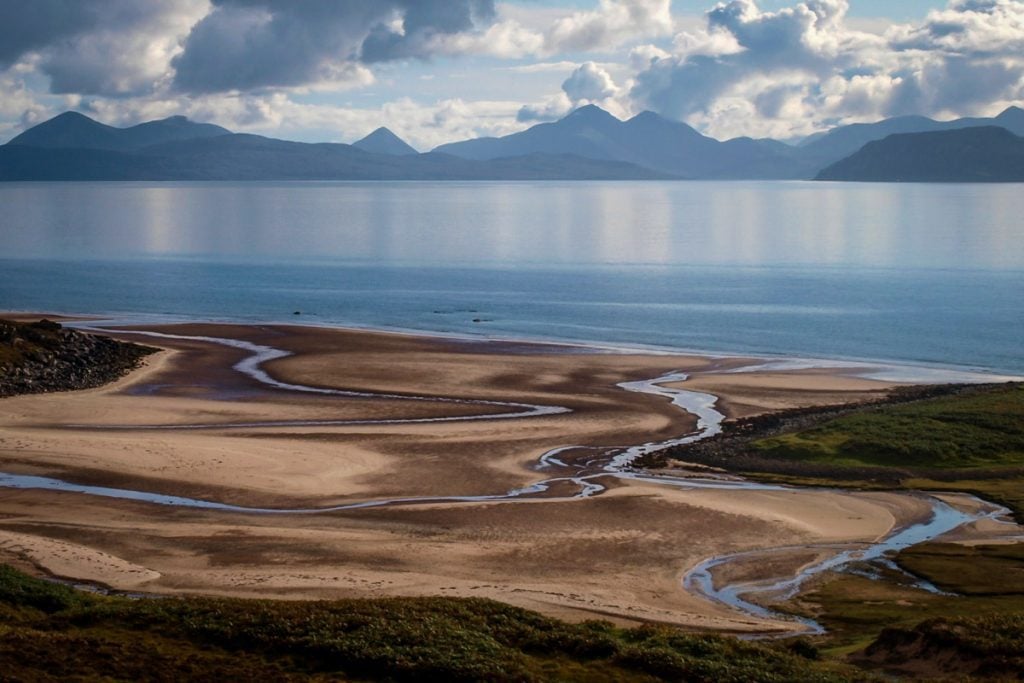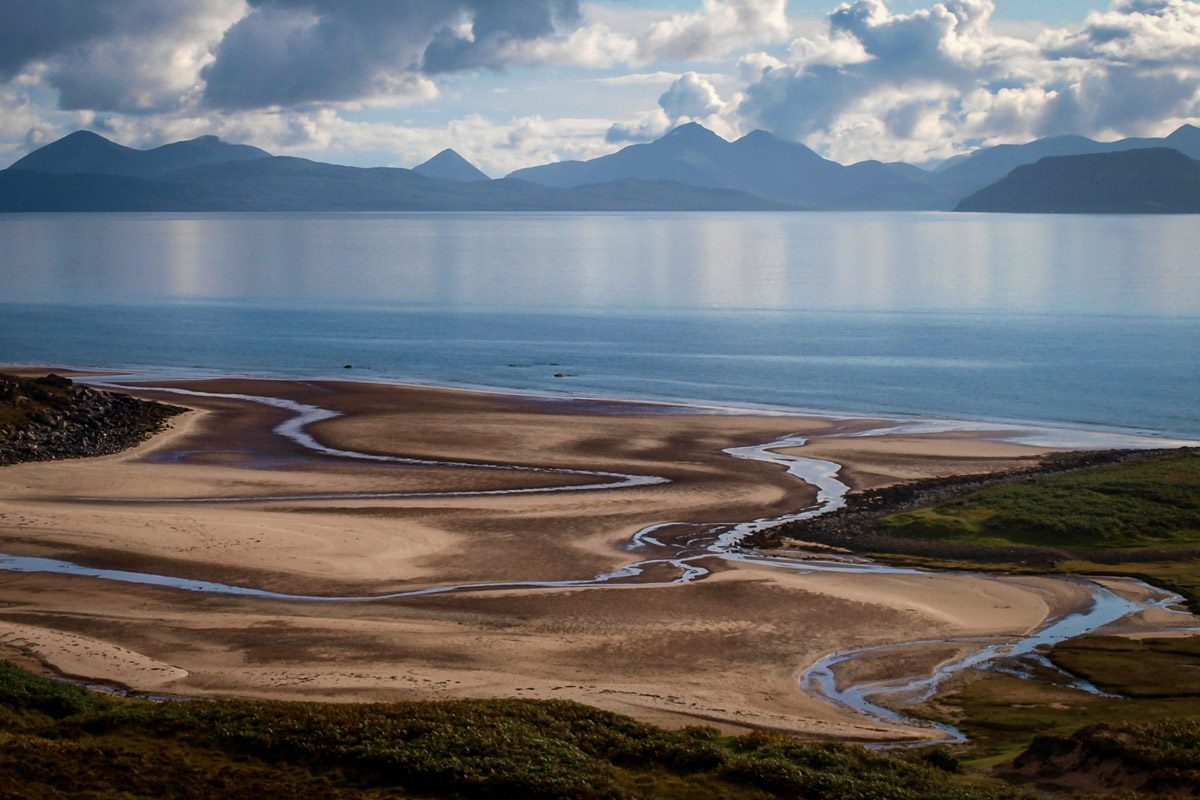 Known by locals as "The Street," tiny, remote Applecross is where you go to have an authentic Scottish experience.
There's little, if any, nightlife, and few restaurants and accommodations to choose from, but the outdoor adventure and scenery more than makes up for it. Plus, the village's restaurants and pubs are shockingly good (like, Michelin-star good!).
The small fishing village overlooks the Sound of Raasay and offers views of several nearby islands. There are also small beaches and proper sand dunes in Applecross. It goes without saying that hiking, driving, and even just strolling through town are all accompanied by incredible views!
This is one of the best places to visit in Scotland for slowing down and truly taking in your surroundings.
Things to do in Applecross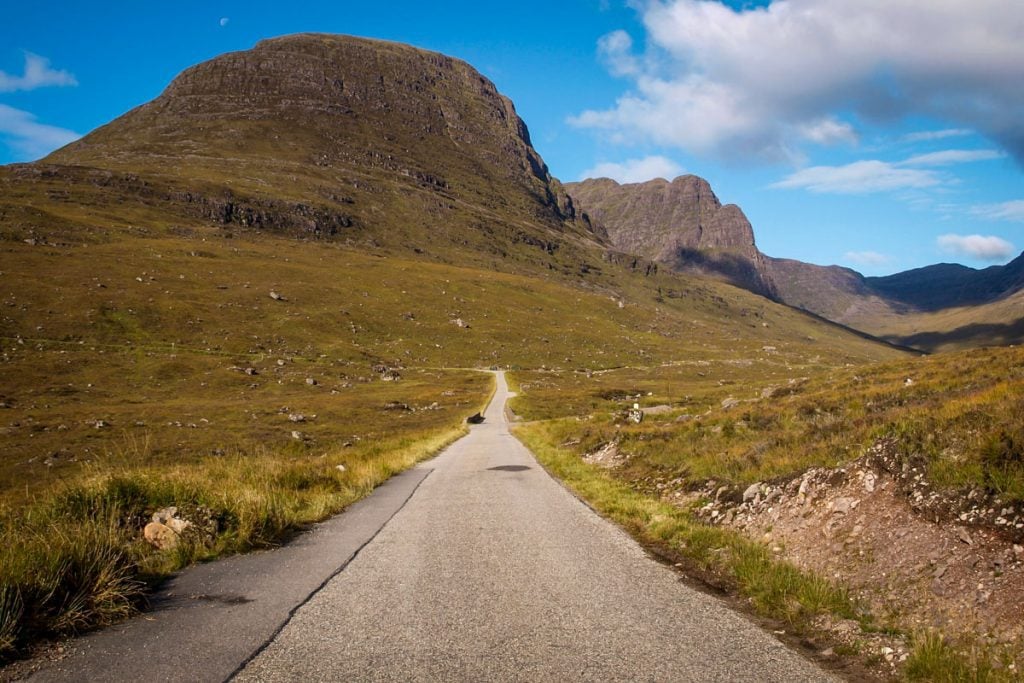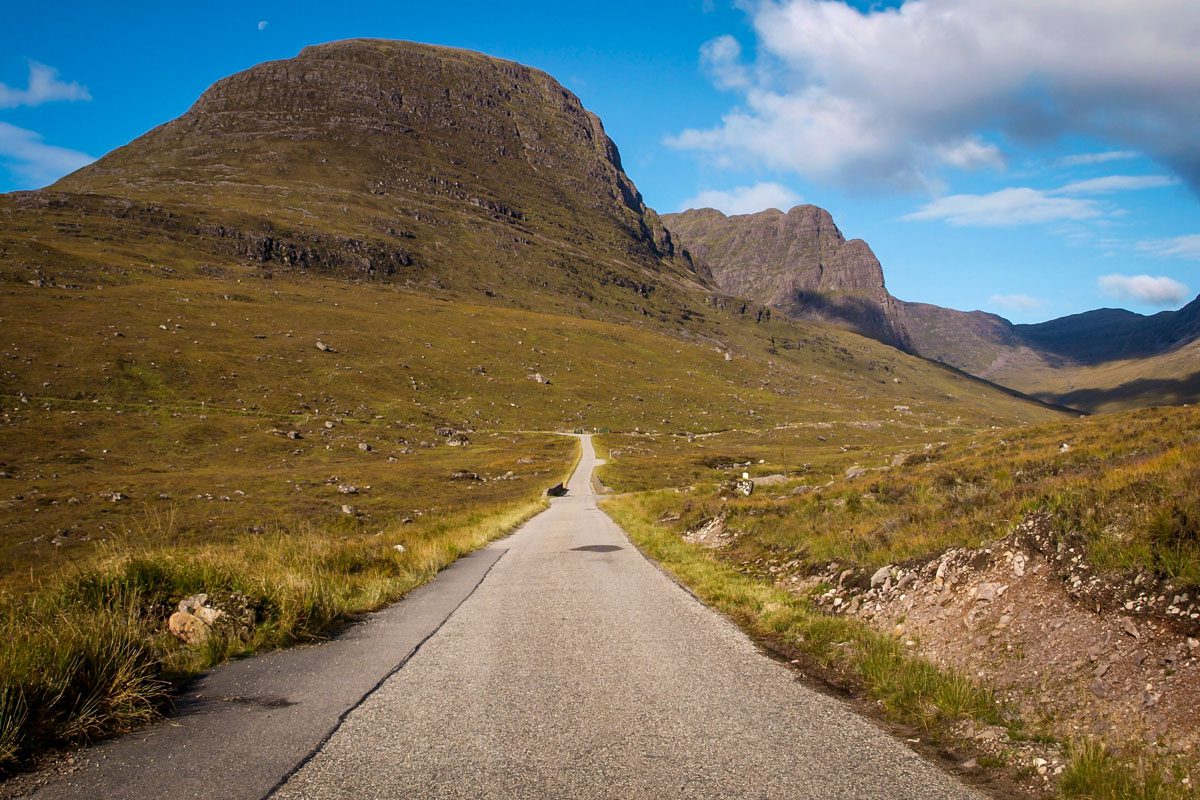 Try local fish n' chips and freshly-ground coffee from Applecross Inn-Side Out, a converted 1950s Airstream trailer.
Stroll from Sand Bay to Applecross Bay, taking in coastal views of the isles of Skye and Raasay.
Go sea kayaking with Mountain and Sea Guides.
Drive the winding Bealach na Ba (the Pass of the Cattle), the highest road in all of Great Britain at 2,053 feet above sea level.
Treat yourself to dinner at Michelin-starred Applecross Inn.
9. Cairngorms National Park
Largest national park in the UK, nestled in the Highlands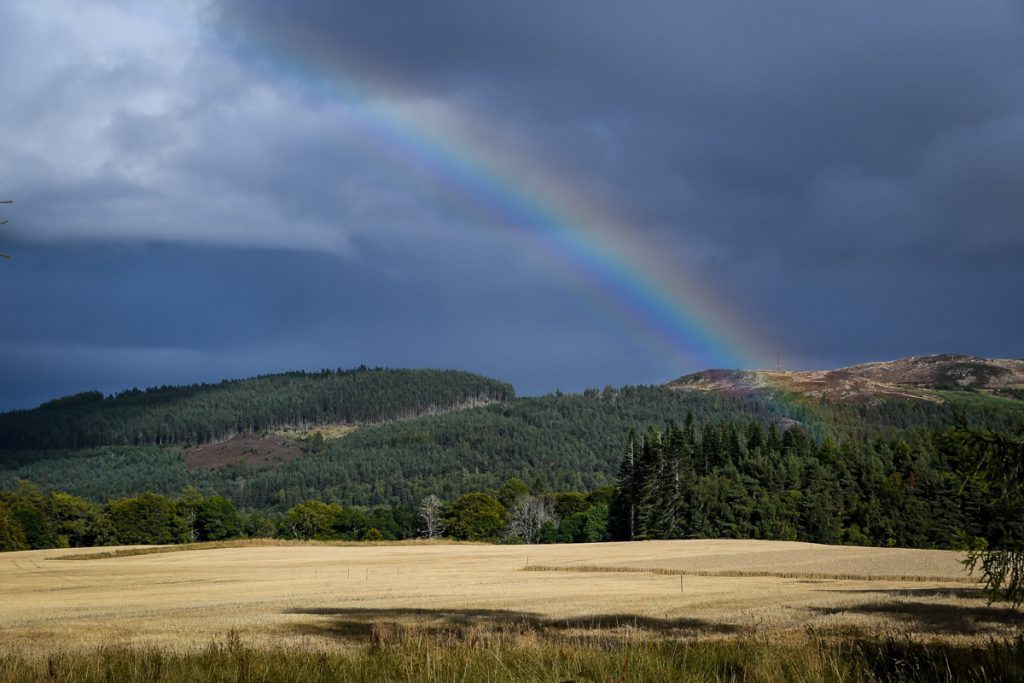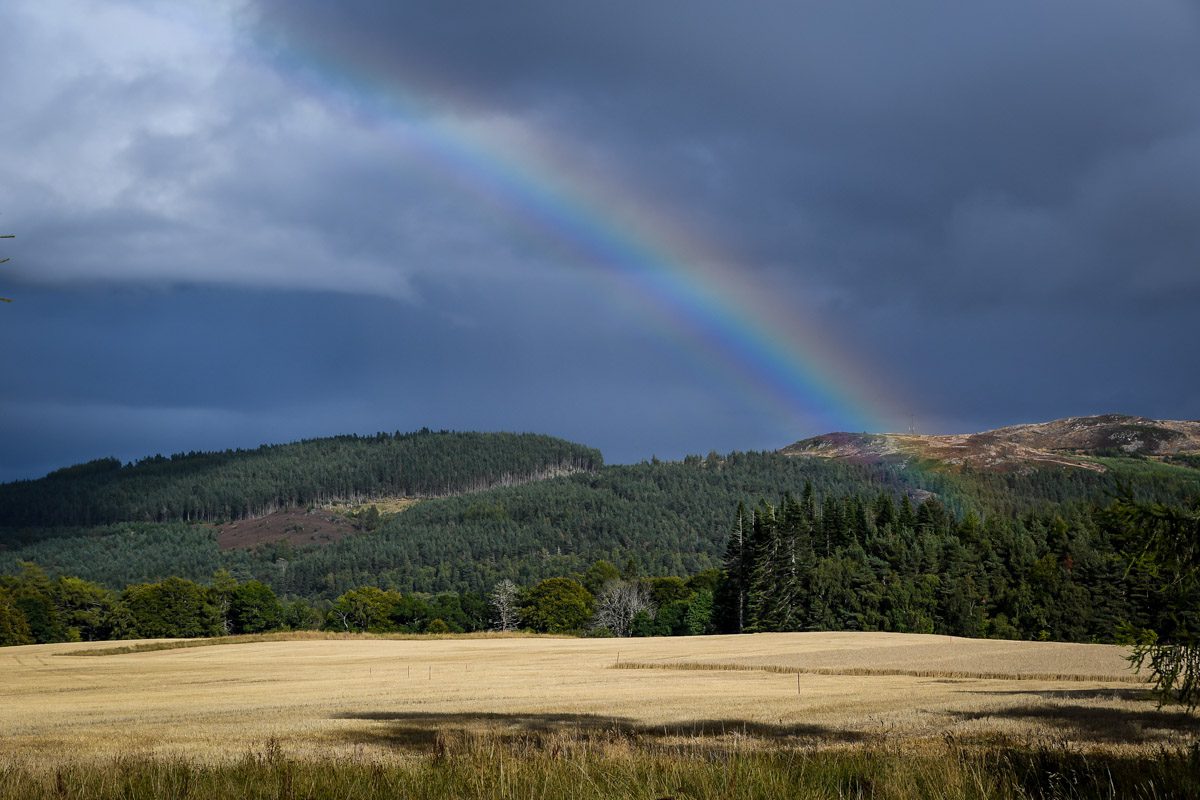 If you have limited time and have to decide on just one or two places to visit in Scotland, Cairngorms National Park should absolutely be one of them. National Geographic Traveller Magazine even named it one of the top 20 places to visit in the entire world!
Situated in the famed Scottish Highlands, Cairngorms has epic hiking and bicycling routes, castles, amazing wildlife, family-friendly attractions, museums, and even distilleries.
The national park is also home to five of the six tallest mountains in the UK, plus a whopping 55 "Munros," mountains taller than 3,000 feet (914.4m). And at 4,528 square kilometers (1,748 square miles), it's the largest national park in the UK.
You could easily spend your entire visit here and still have a great time!
Things to do in Cairngorms National Park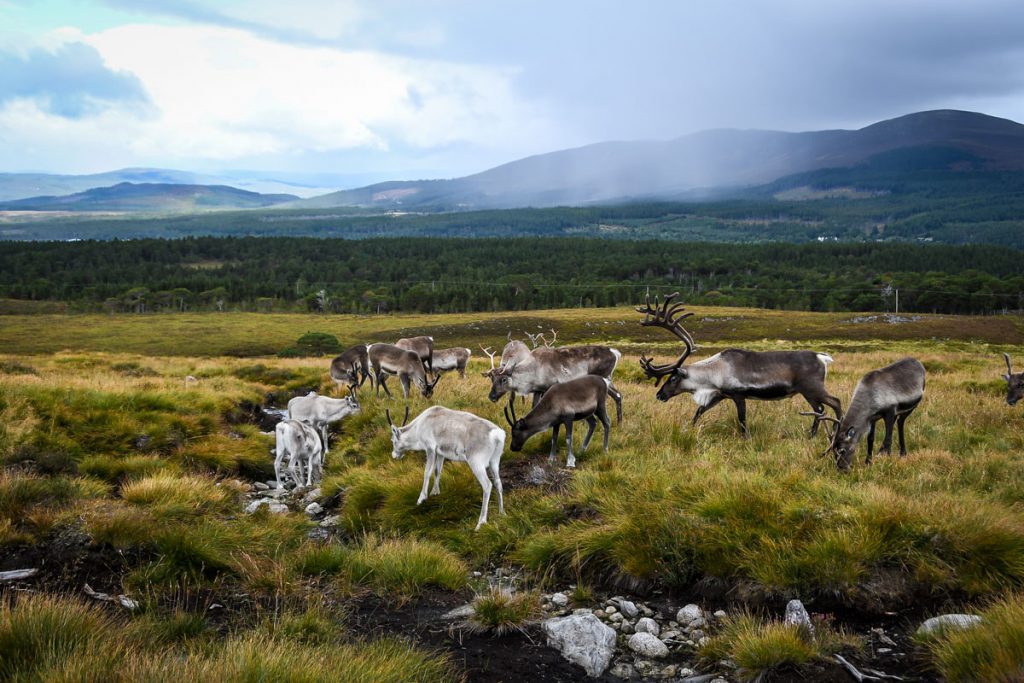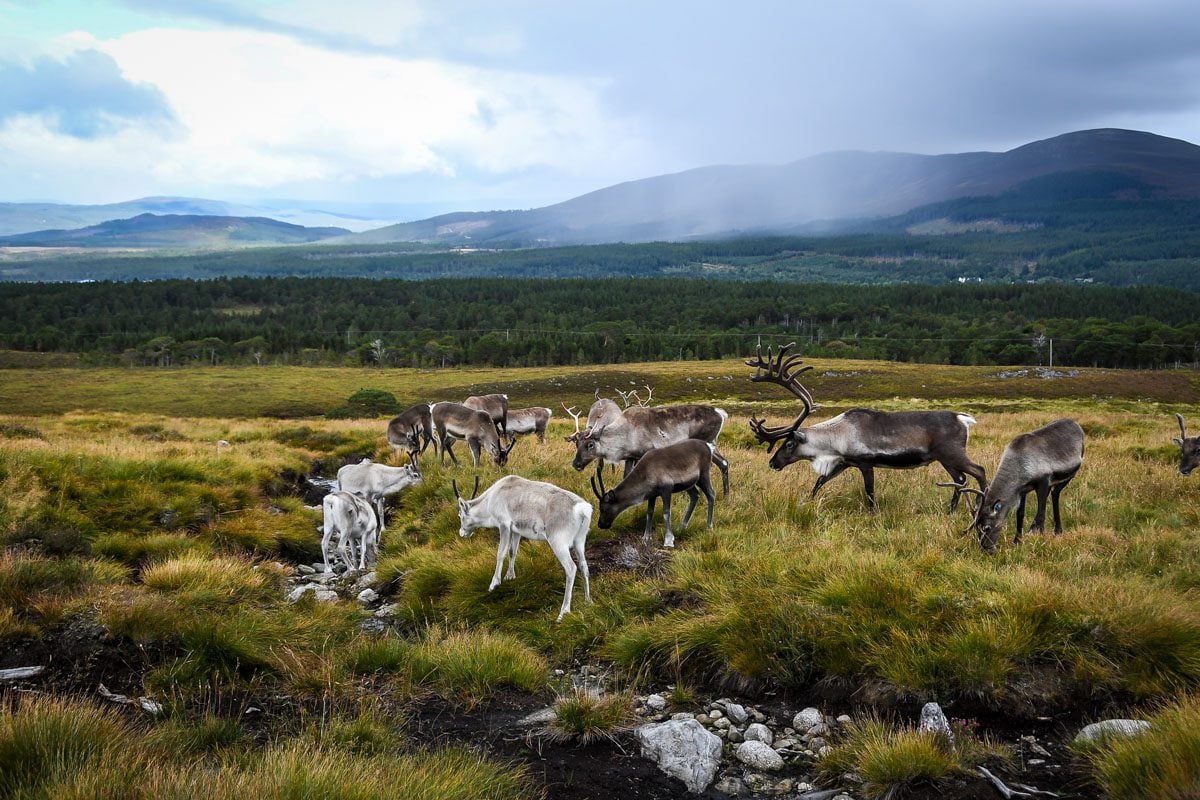 Where to stay in Cairngorms National Park
10. Outer Hebrides
Unique culture and remote, pristine beaches that rival those of the Caribbean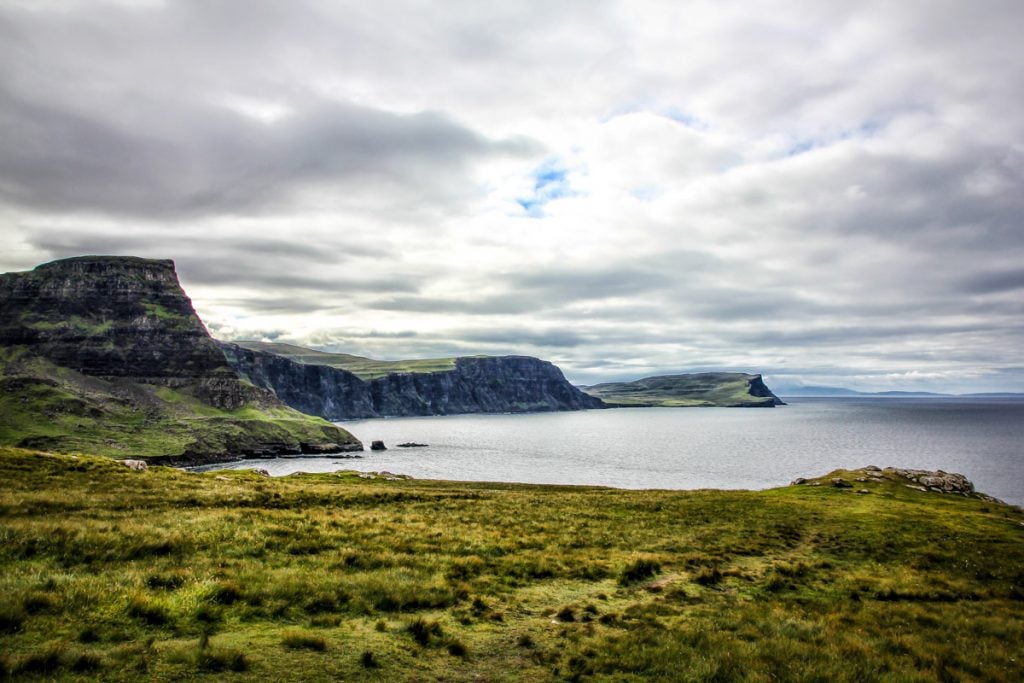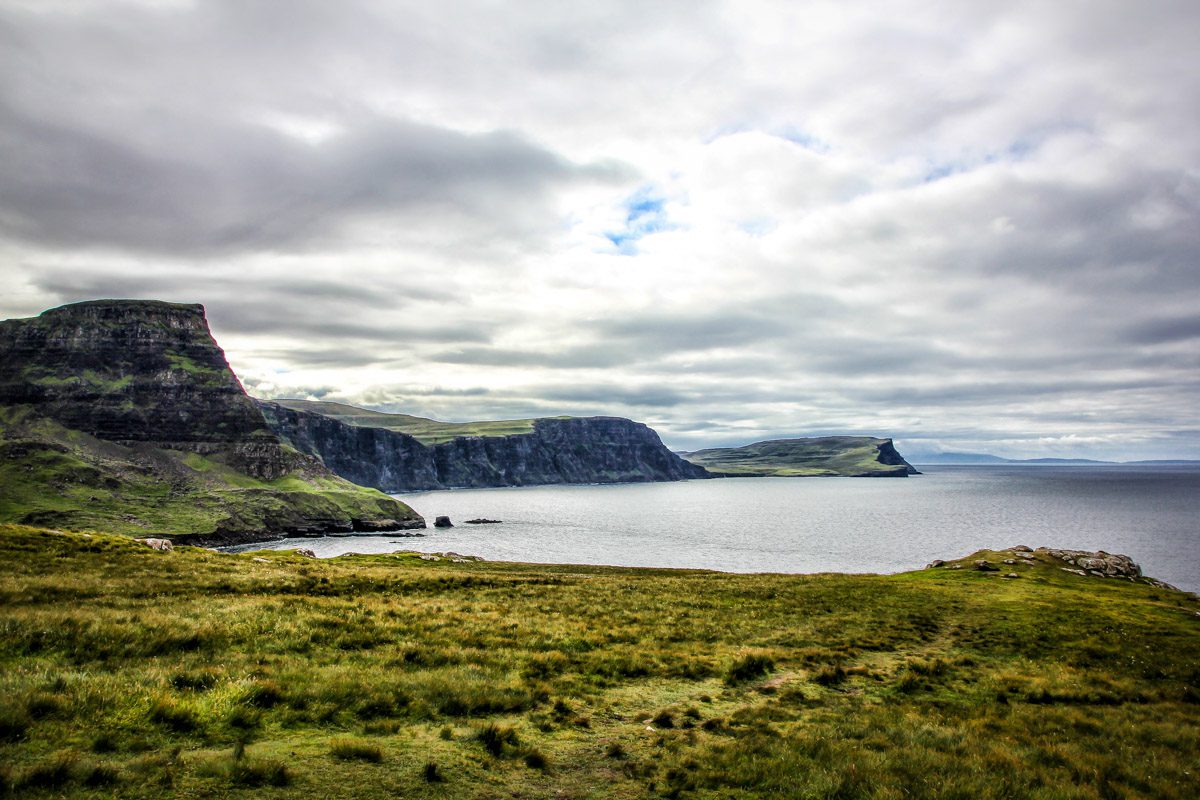 Off Scotland's rugged northwest coast, the Outer Hebrides is an archipelago comprised of 70 islands, only 15 of which are inhabited.
Each is a fascinating combination of quaint fishing villages, mountains, sand dunes, proper beaches, epic scenery, and diverse food scenes.
There are many hidden gems in the Outer Hebrides, meaning you'll get off the typical tourist path and have a very special experience.
Good to know: Scotland has both the Inner Hebrides and Outer Hebrides archipelagos. The Inner Hebrides are located closer to mainland Scotland and are comprised of 79 islands, including the Isle of Skye, the Isle of Mull, Jura and Islay, to name just a few of the more well-known isles.
The Outer Hebrides have been consistently occupied by various cultures since the Mesolithic period, so it comes as no surprise that the islands have a distinct culture all their own. Thanks to the different influences, you'll experience bits of Gaelic, Norse, and Celtic culture, as well as warm, welcoming hospitality.
Getting to the Outer Hebrides
If you have a bit more time in Scotland (or this is not your first trip to the country), we'd recommend adding this unique region to your list of places to visit in Scotland.
The reason we don't necessarily recommend the Outer Hebrides as part of a shorter Scotland trip is that getting there does require a bit of time, making it difficult to squeeze into a limited itinerary (especially when you want to see many other places).
That said, there are multiple flights and ferries to the Outer Hebrides every day from mainland Scotland. In most cases, you can be in the isles in under two hours.
Things to do in the Outer Hebrides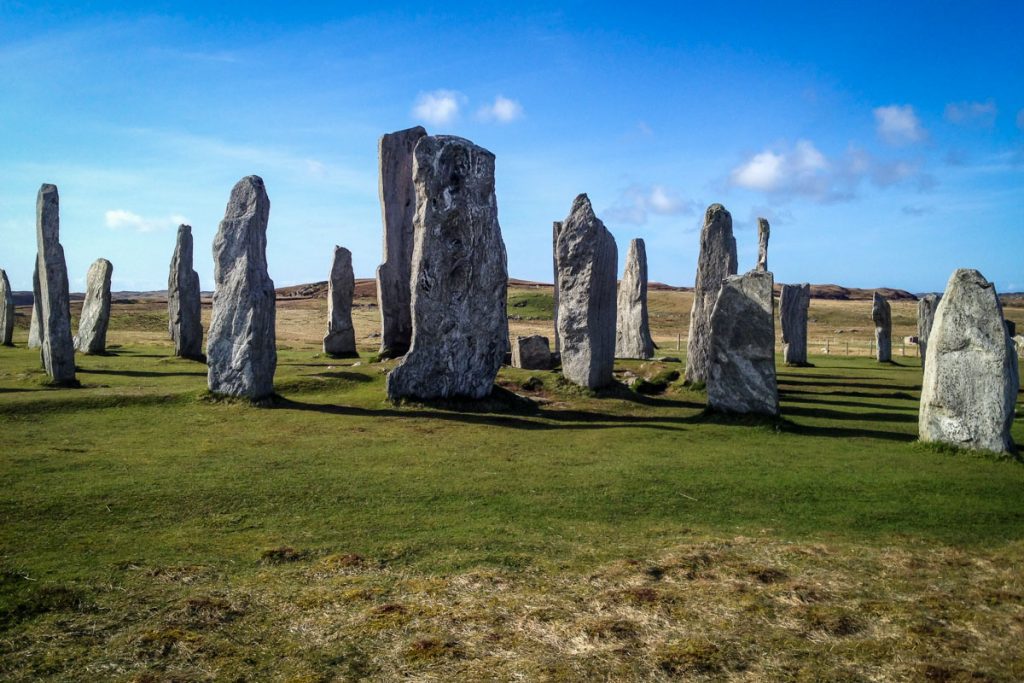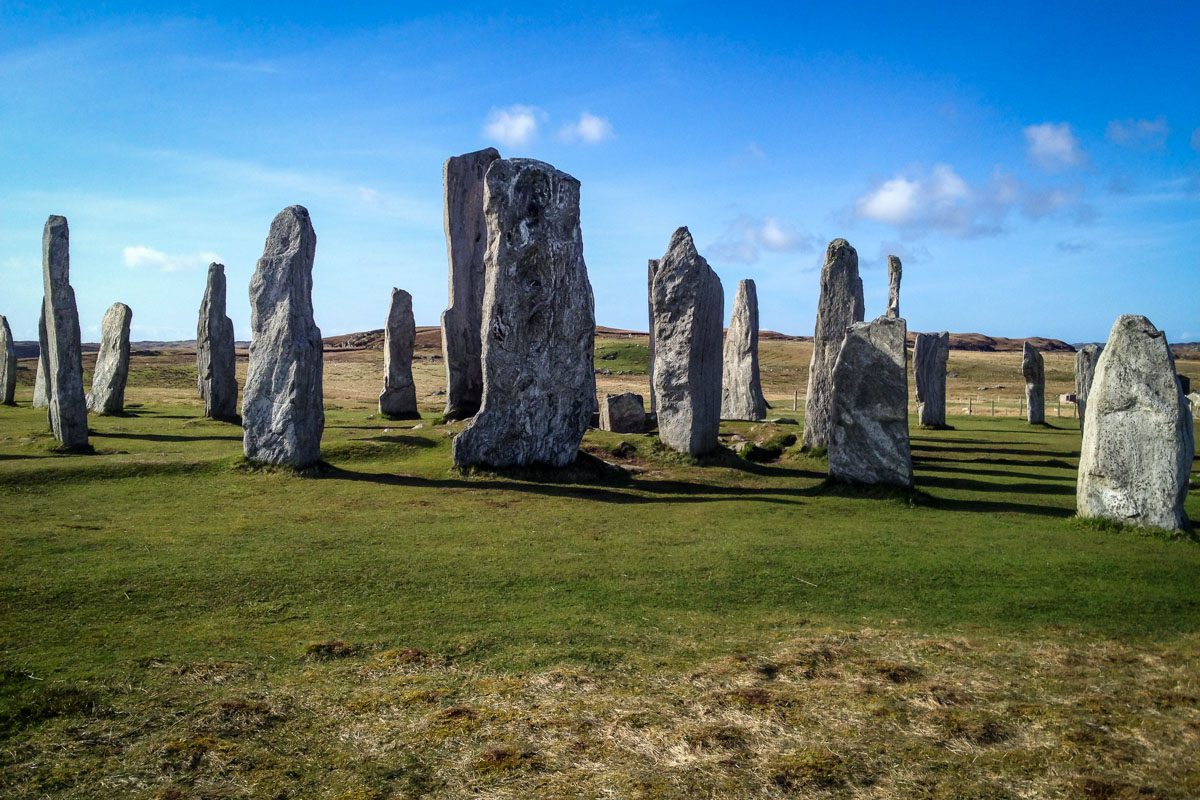 See the Black Houses in Gearrannan Blackhouse Village
Visit the Standing Stones from 2,000 years ago
Rent a bike and cycle from Lewis to Harris on the Hebridean Way
Pack a picnic and enjoy it on one of the beaches
Be sure to try the local delicacy: Charles MacLeod Black Pudding
Book an overnight stay at Amhuinnsuidhe Castle (which includes meals)
Where to stay in the Outer Hebrides
11. Loch Lomond & The Trossachs
Scotland's first national park and one of the country's most popular destinations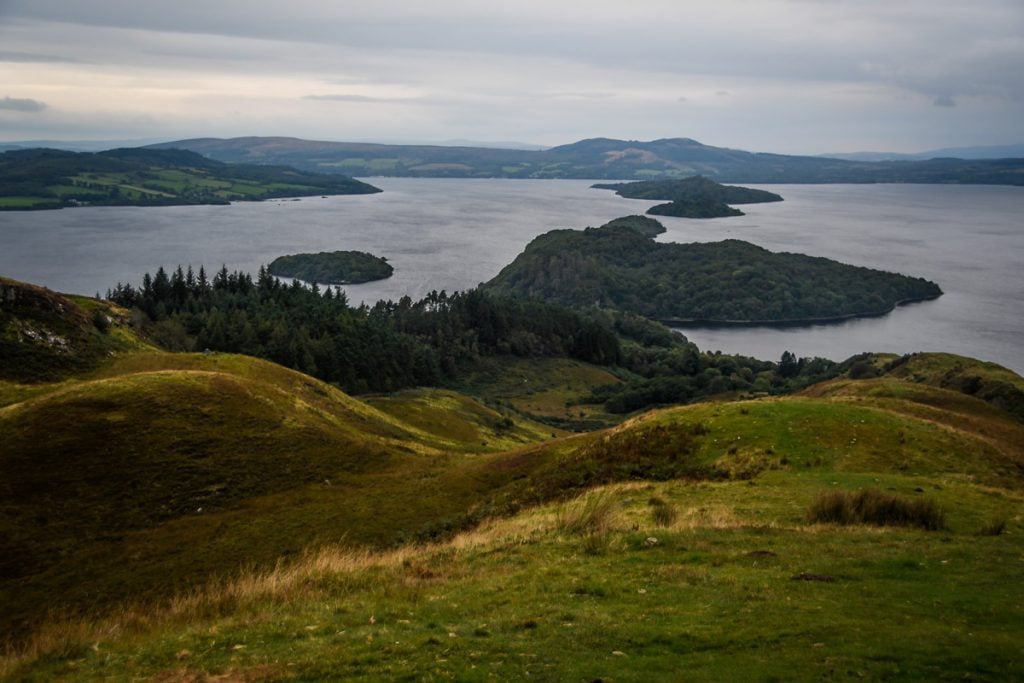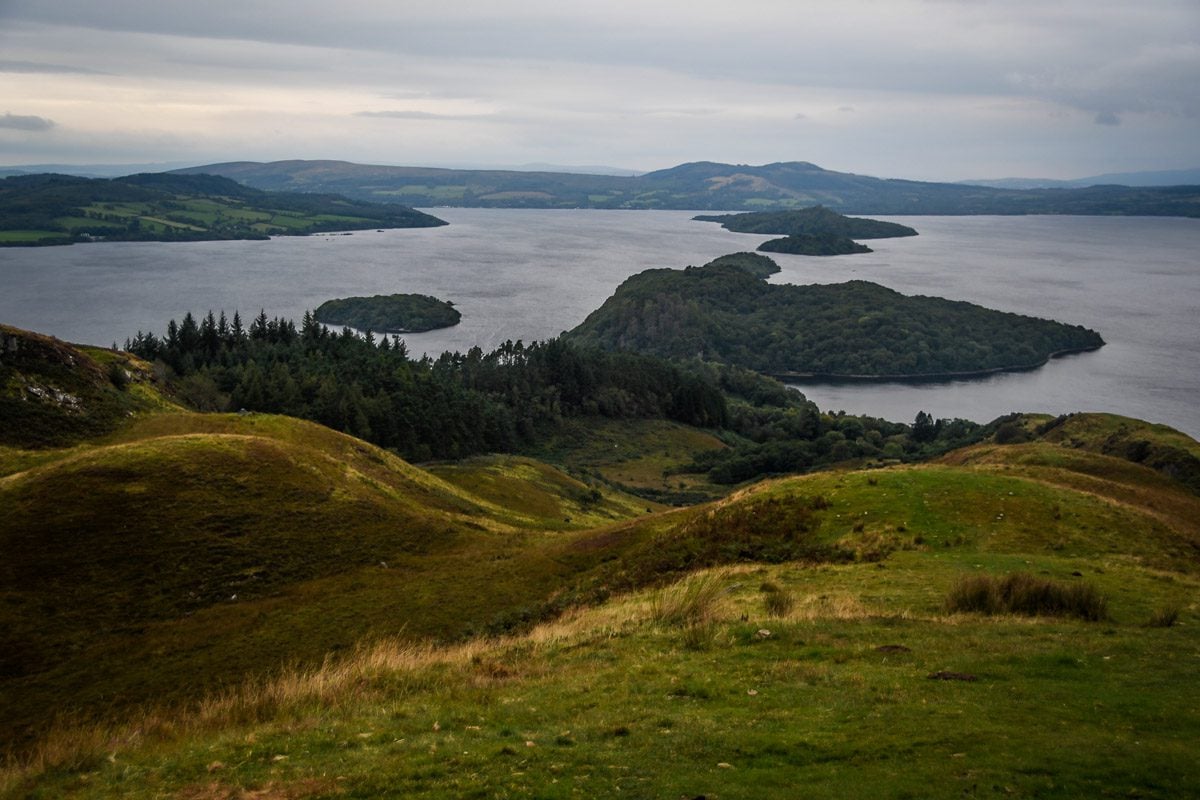 Considered one of the most scenic parts of the country, The Trossachs National Park and Loch Lomond are some of the most popular places to visit in Scotland. (Many Scots take "staycations" here, which is really saying something!)
Loch Lomond is the park's crown jewel, sitting right on a fault line that serves as the natural boundary between the Highlands and the lowlands. Its geographical diversity is truly a sight to behold, with different formations and terrain even from one end to the other.
Best of all, The Trossachs is just 30 miles from Glasgow, making it easily accessible even if you only have time for a quick day trip.
Things to do near Loch Lomond & The Trossachs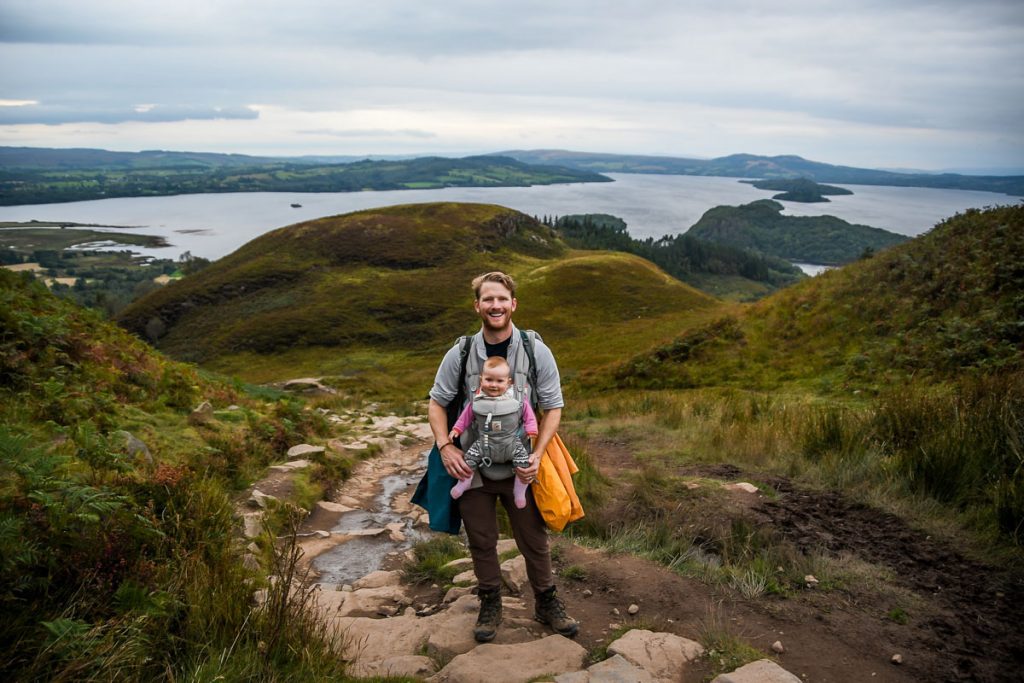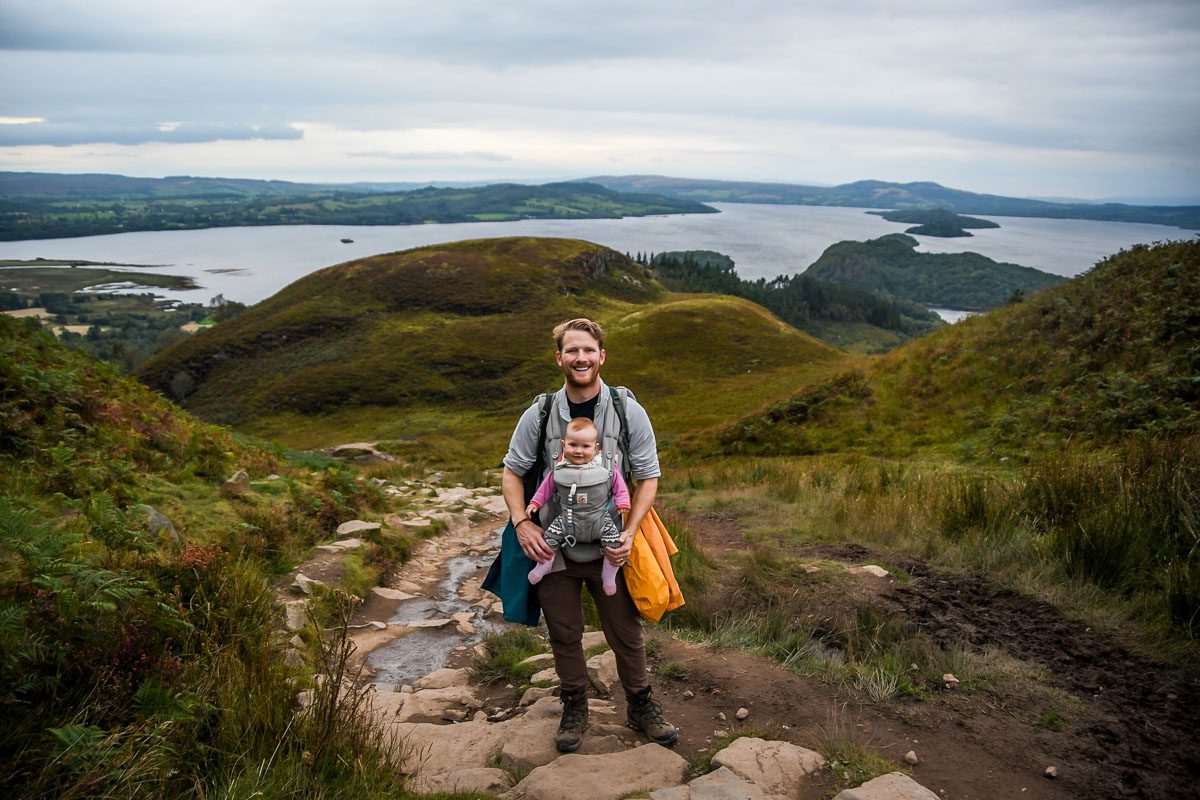 Hike to Conic Hill at sunset.
Get a taste of Scottish folklore by exploring the mysteries of Rob Roy's Cave.
Rent a kayak or paddleboard and explore the 22+ islands of Loch Lomond (look out for wild wallabies!)
Tour the Glengoyne or Loch Lomond distilleries.
Explore the cozy pubs and funky boutiques in the quaint village of Luss.
12. North Coast 500 Highway
One of the most iconic and scenic driving routes in Europe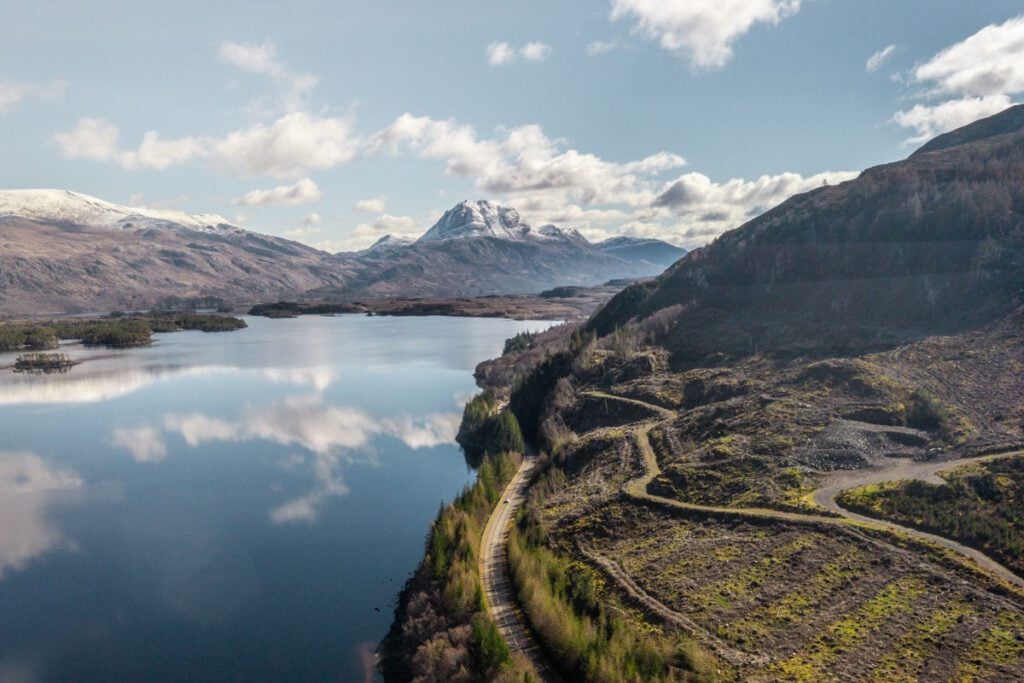 The North Coast 500 or NC500 as it's often called, is Scotland's version of the iconic American Route 66. Driving this road takes you through 516 miles of the most incredible Scottish landscapes with stops along the way in many little villages and sights with plenty of things to see and do.
The NC500 loop starts and ends at Inverness Castle, although many people choose to drive shorter sections of it, mostly for the sake of time. Whether you have a day or two weeks, you'll be wowed by the scenery, impressive castles, hikes, Highland cow sightings, national parks, and random roadside pubs.
No matter how much time you have and whether you're driving the entire loop or just a section, here's one important piece of advice: don't over schedule yourself and build in (lots of!) time for detours.
Things to do along the North Coast 500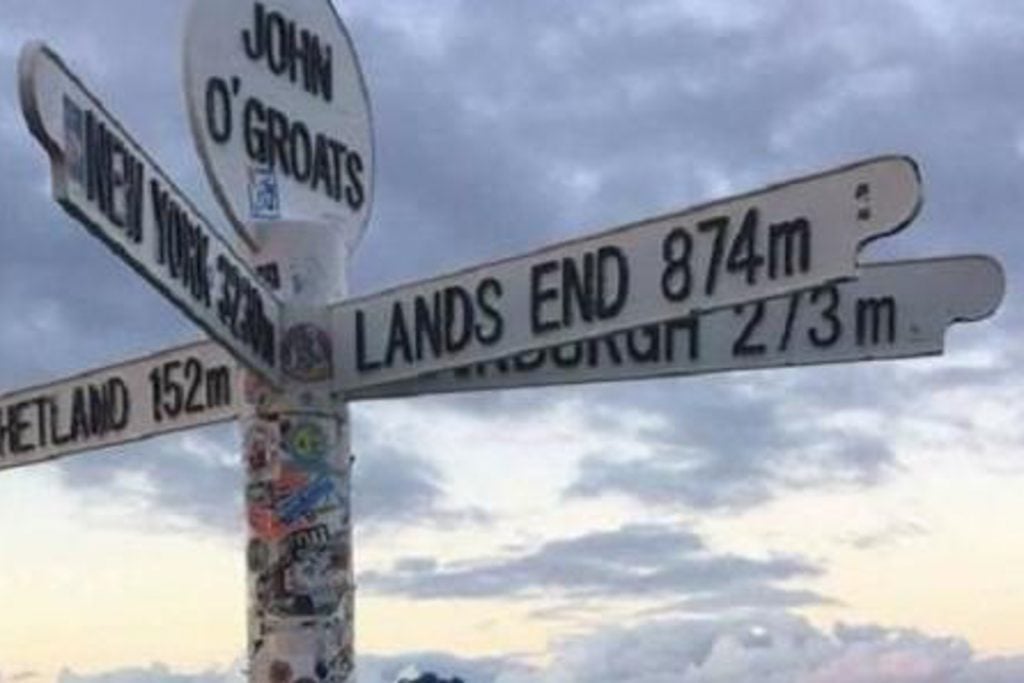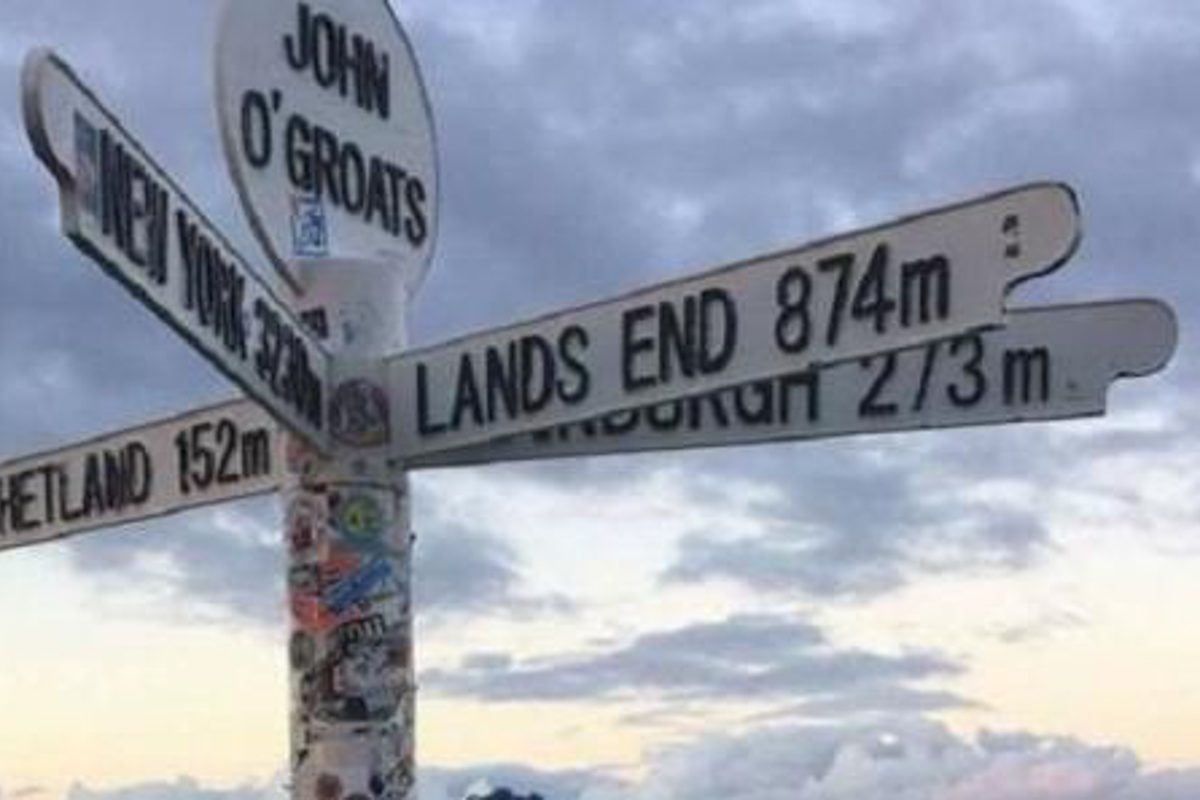 This is by no means a complete list. We have an entire guide to driving the North Coast 500 with much more detailed information if you're interested in planning a road trip.
Stroll the beaches of Black Isle.
Tour the Glenmorangie Distillery (feel free to request your "wee dram" tasting to go if you're hopping right back in the car!).
Stop at Falls of Shin, where you can watch salmon leaping out of the water. Grab some locally-made souvenirs and a slice of cake from the cafe before leaving.
Take a picture with the iconic sign in John O'Groats, considered the northernmost point on mainland Scotland.
Explore Ugly Hollow, an impressive box canyon, on a kayaking or canyoneering tour.
Where to stay along the North Coast 500
13. Oban
The "Gateway to the Isles" and the seafood capital of Scotland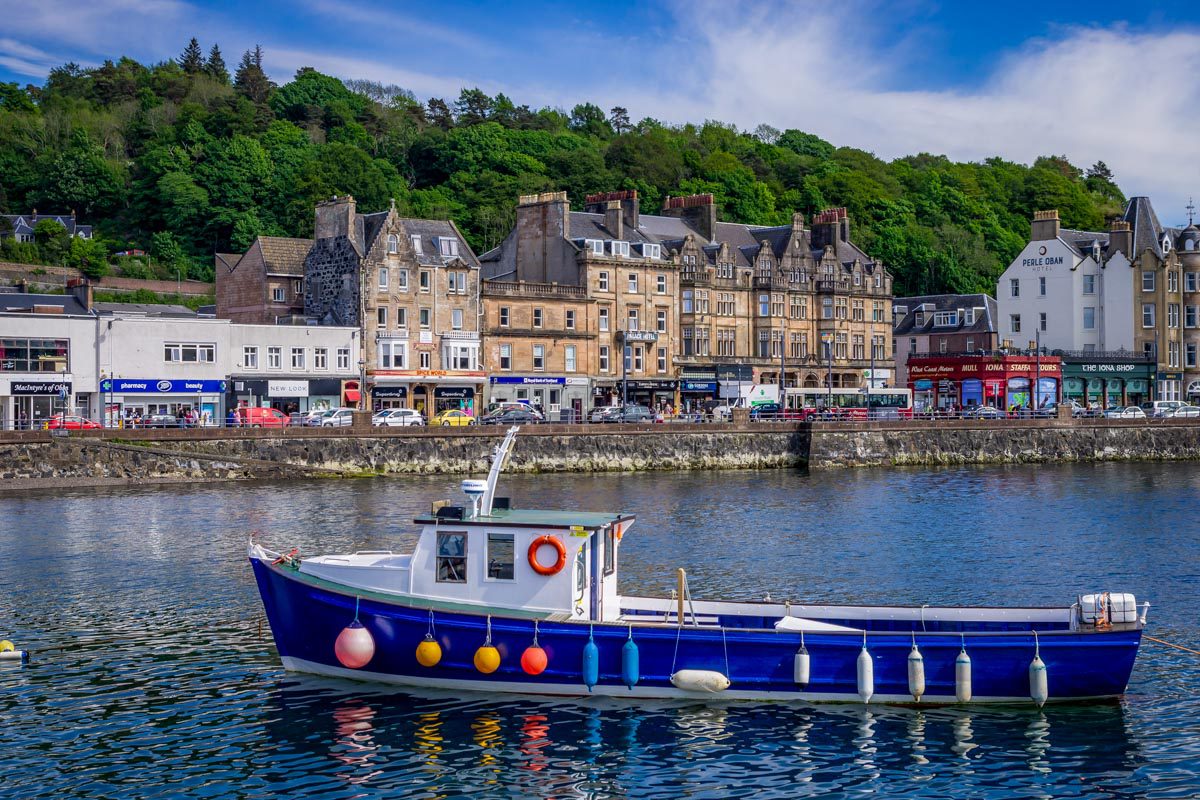 A quaint seaside town on Scotland's west coast, Oban is considered the "Gateway to the Isles" but well worth a visit in its own right. It's a quick (and very scenic!) detour if you're traveling from Glasgow to the central Highlands, and serves as an excellent jumping-off point for island-hopping.
Offering a little something for everyone, Oban is renowned for its fresh-from-the-source seafood, variety of outdoor adventures, and unique cultural attractions. The fishing community is also home to one of the country's oldest (and smallest!) distilleries — that in itself makes Oban one of the best places to visit in Scotland!
Things to do in Oban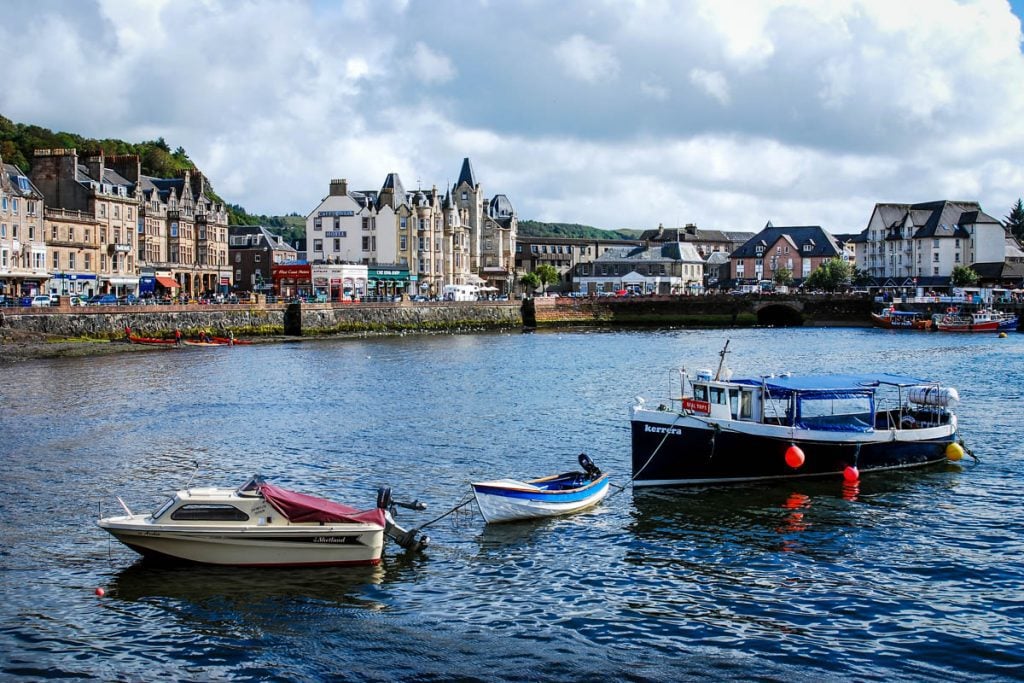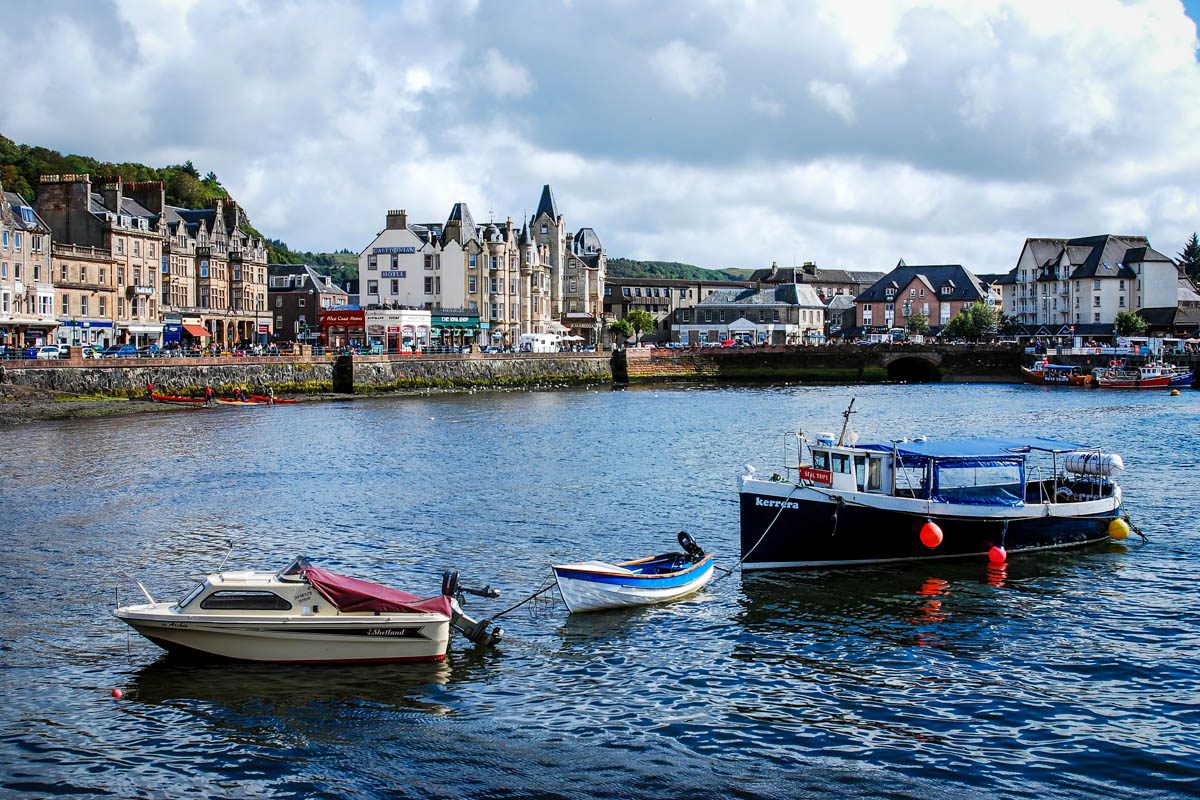 Pick up fresh seafood from the famous Green Shack, aka the Oban Seafood Hut. Bring it back to your vacation rental or request the local fishermen prepare it fresh onsite.
Climb up to McCaig's Tower, also known as McCaig's Folly, a huge unfinished replica of the Colosseum perched on a hill overlooking the town and Oban Bay.
Tour the Oban Distillery, where you'll get two tastings.
Go island-hopping through the Inner Hebrides — the isles of Barra, Coll, Iona, Kerrera, Lismore, and Mull are all easily accessible with a short ferry ride from Oban's ferry port (and you can visit multiple islands in one day!).
Book a puffin or other wildlife-watching tour with Basking Shark Scotland.
Where to stay in Oban
14. Isle of Mull
The Inner Hebrides' second-largest island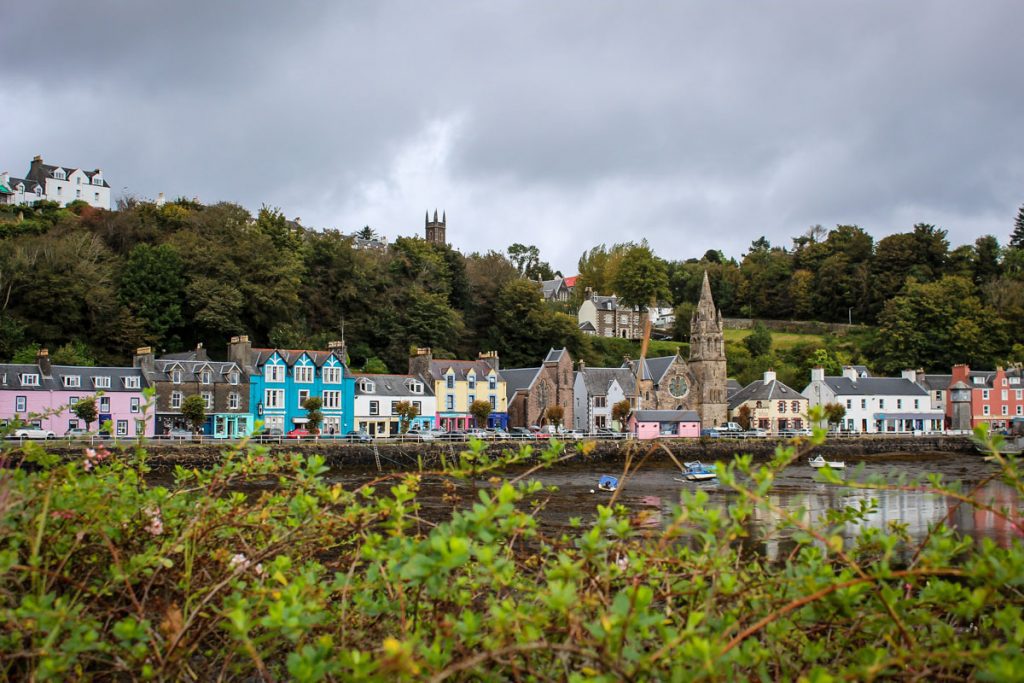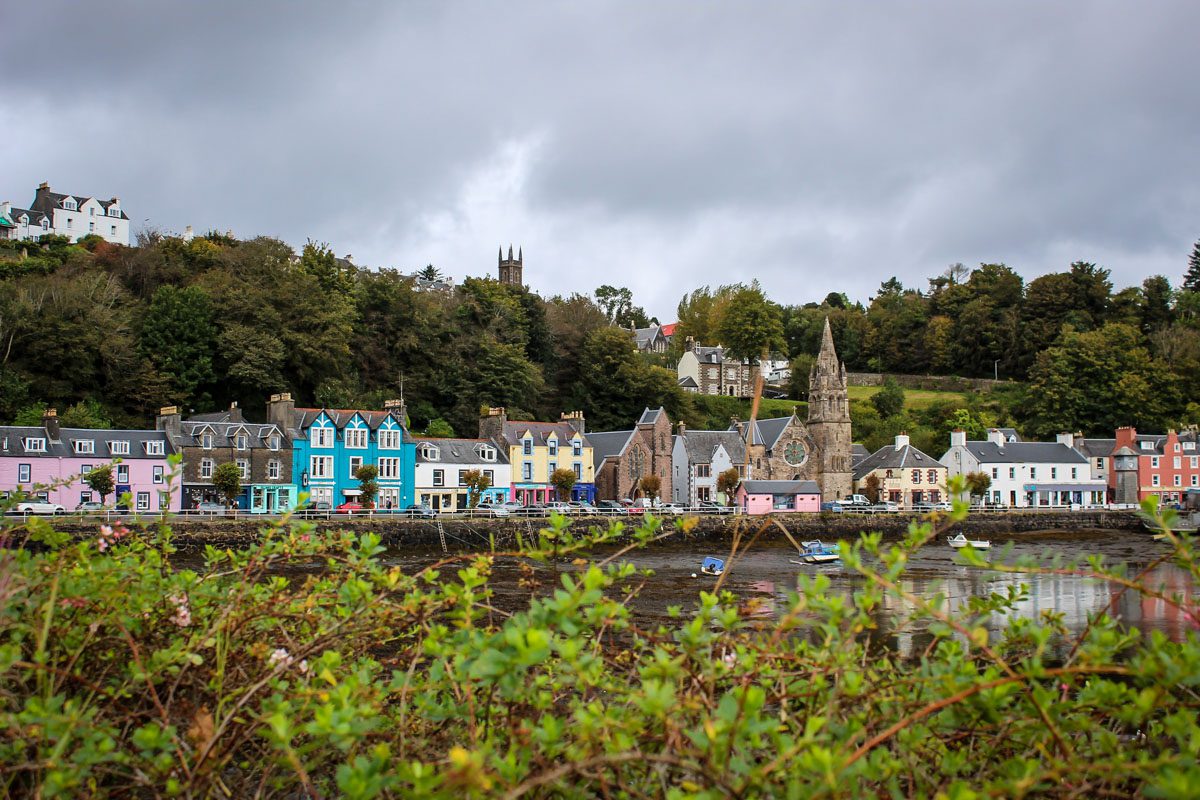 Largely considered something of a hidden gem because of the wild popularity of the slightly larger Isle of Skye, Mull definitely deserves a spot on your Scotland itinerary. Skye is the only isle larger than Mull in the Inner Hebrides, and it's the fourth-largest Scottish island overall.
You'll find a great variety of shops and services in Tobermory, the capital town, but people primarily visit the Isle of Mull to enjoy slow living and take in the unique scenery, culture, and wildlife of the Inner Hebrides.
Best of all, visiting Mull is as easy as taking a ferry ride from the mainland. Multiple daily trips are offered from Oban, Kilchoan, and Lochaline, and all three trips are under one hour.
Insider tip: You can bring a vehicle over to the island on the ferry, but if you're driving a rental car, be sure to check company policy to ensure doing that is permitted.
Things to do in Isle of Mull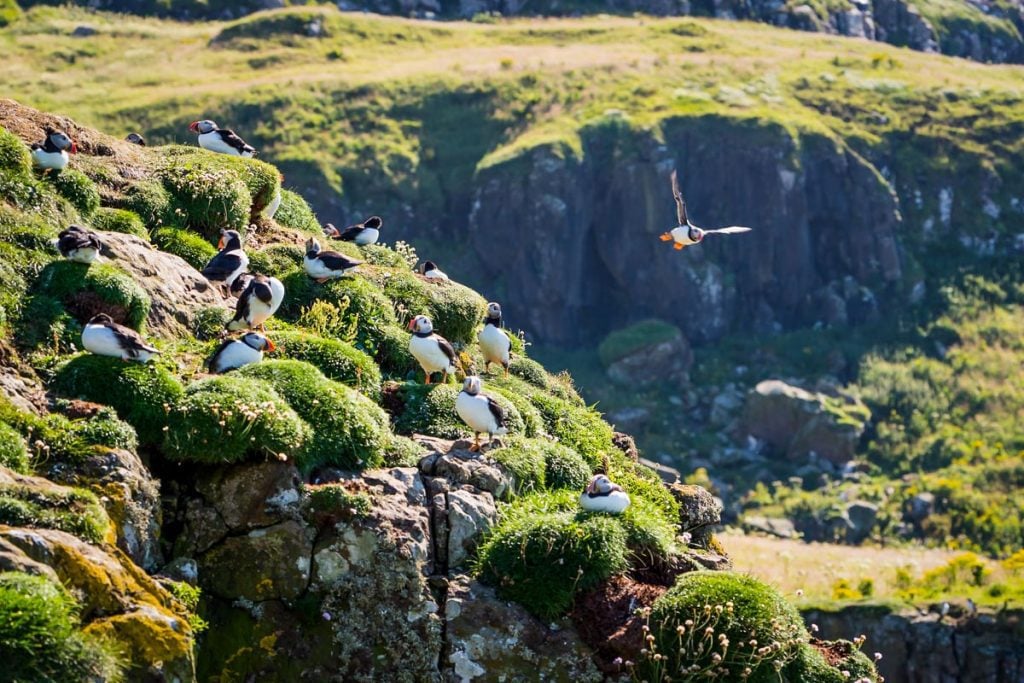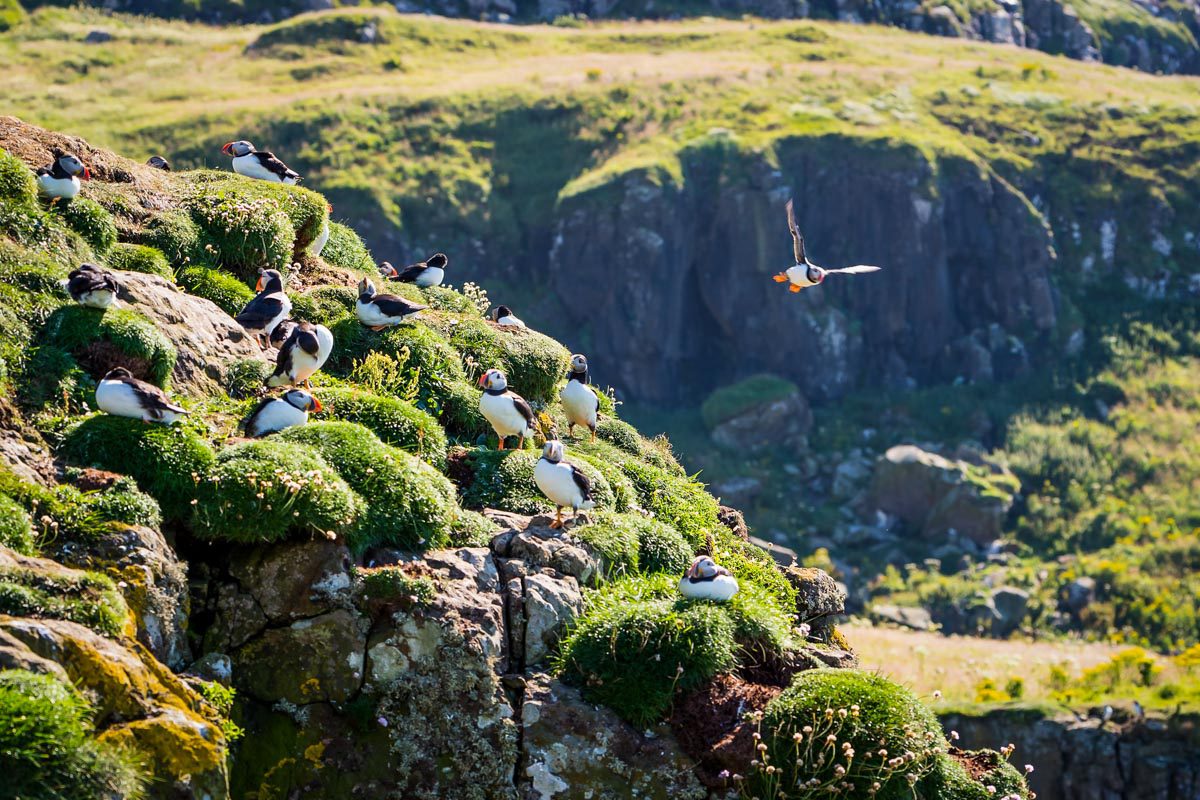 Rent an e-bike from one of the local shops to explore the island on two wheels.
Tour and enjoy samples of Scotch at Tobermory Distillery, the only one on the island.
Take the ferry to the nearby Isle of Lunga, where puffins reside from April through August.
Visit the Duart Castle, which has been continuously occupied by the prominent Clan MacLean for over 700 years.
Make the short hike to Aros Waterfall, starting from Tobermory.
Where to stay in Isle of Mull
15. Fort William
Known as the Outdoor Capital of the UK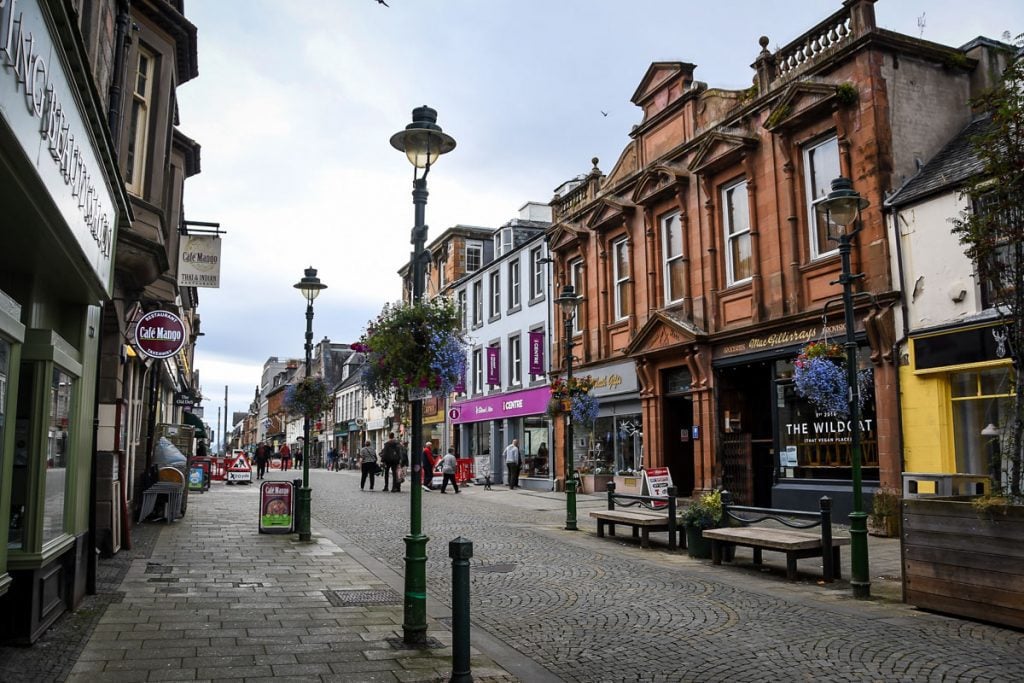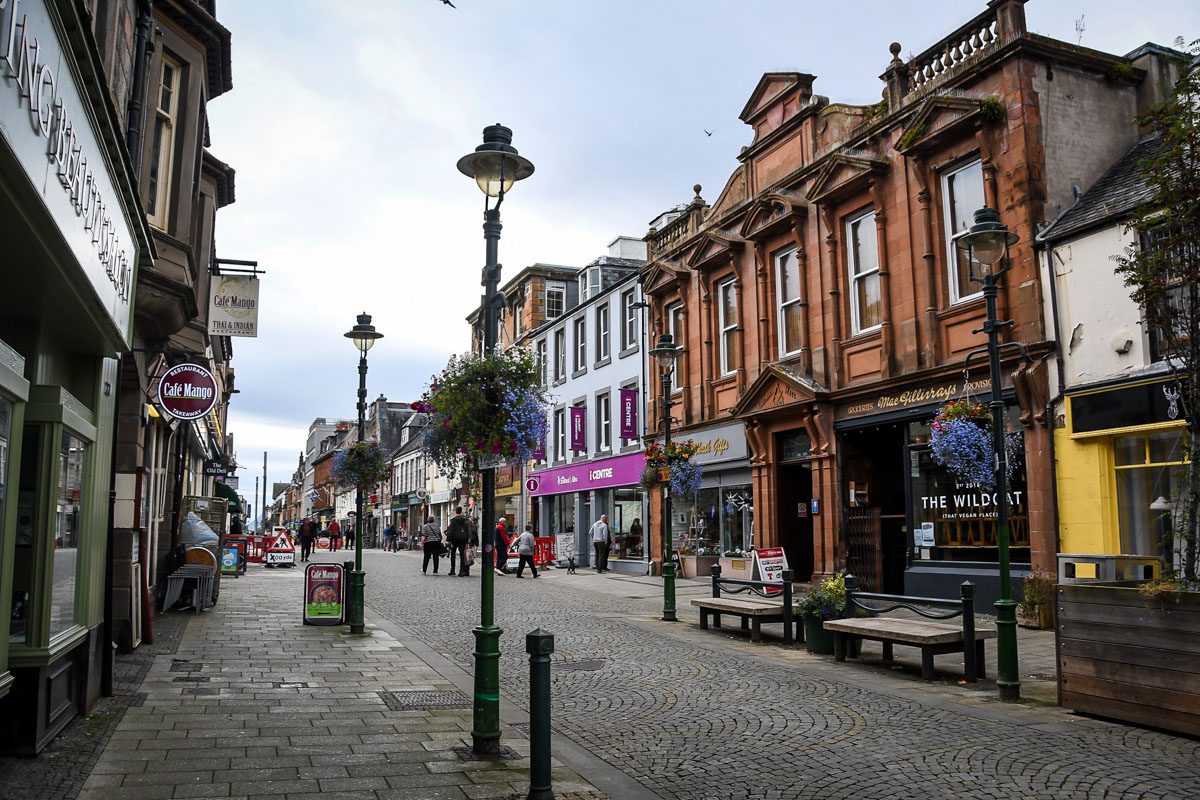 With a nickname like the "Outdoor Capital of the UK," it goes without saying that there's no shortage of epic adventure in Fort William. The area's abundance of rivers and lochs position the town as a fantastic spot for water sports, and the surrounding mountains lend themselves to plenty of other outdoor recreation.
That's only the tip of the iceberg, though. Fort William has all the quintessentially Scottish elements as well, including historic castles, distilleries, and dramatic scenery. In fact, many scenes from Braveheart were filmed here!
Fort William is right next to the smaller village of Glencoe and both towns are easily accessible via train or car from Glasgow — just one more thing making it one of the best places to visit in Scotland.
Things to do in Fort William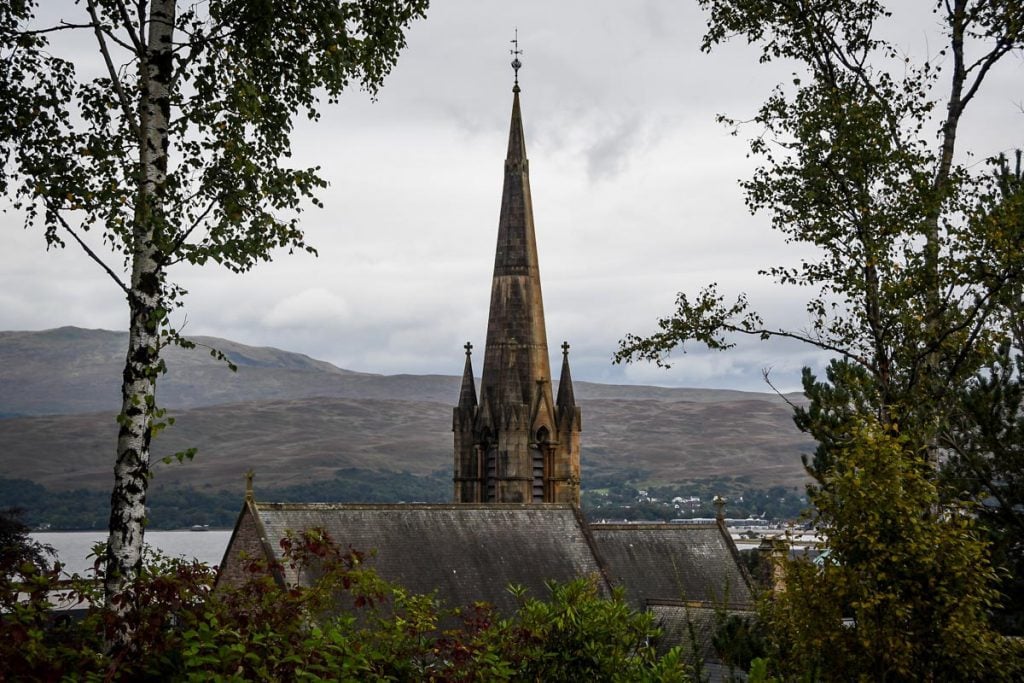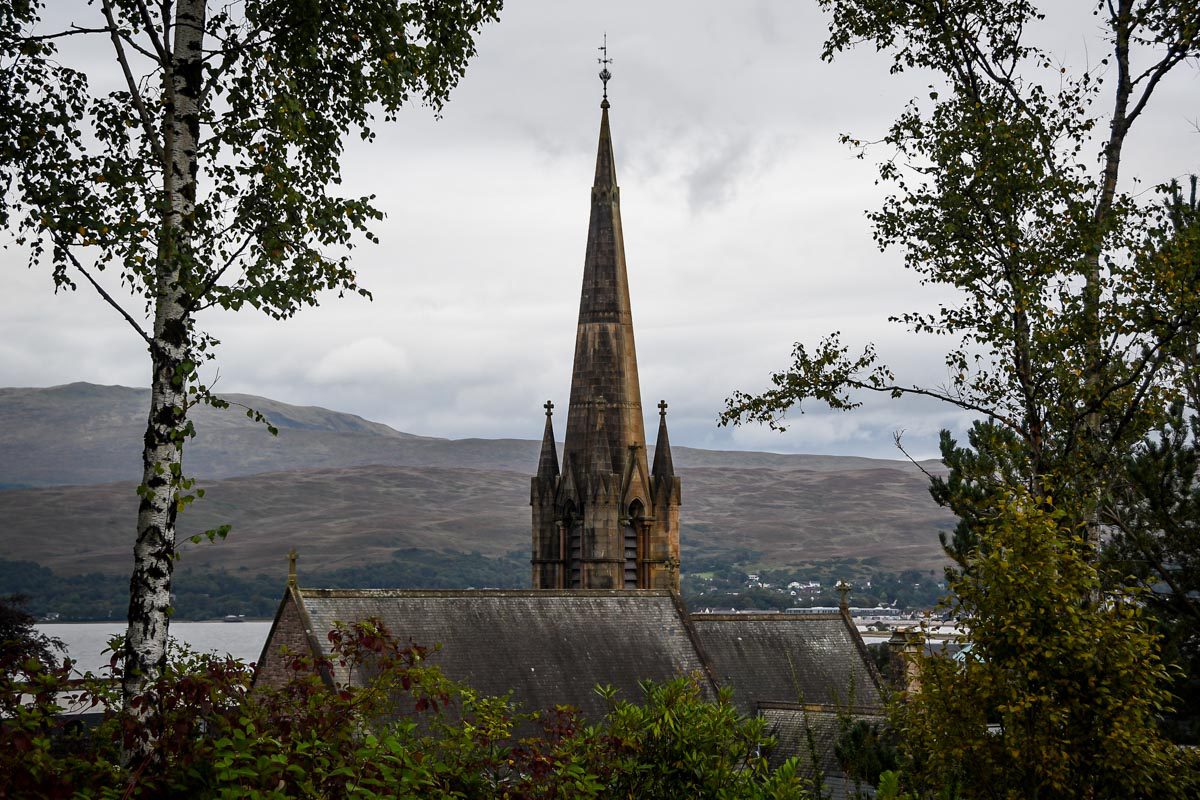 Climb Ben Nevis, the tallest mountain in the UK (pack layers — there's typically snow at the summit all year!).
Visit the West Highland Museum, with elements of quintessential Highlands culture on display, including weapons and bagpipes.
Check out the impressive architecture of St. Andrews church
Watch boats navigate Neptune's Staircase, a series of unique staircase locks.
Order a pint and pizza at Black Isle Bar.
See the statue that marks the official end to the West Highland Way.
Take a day trip from Fort William to the near by Glenfinnan Viaduct (see #16 on this list for more info!).
Where to stay in Fort William
16. Glenfinnan
A popular stop on the Road to the Isles and the home of the famous "Harry Potter bridge"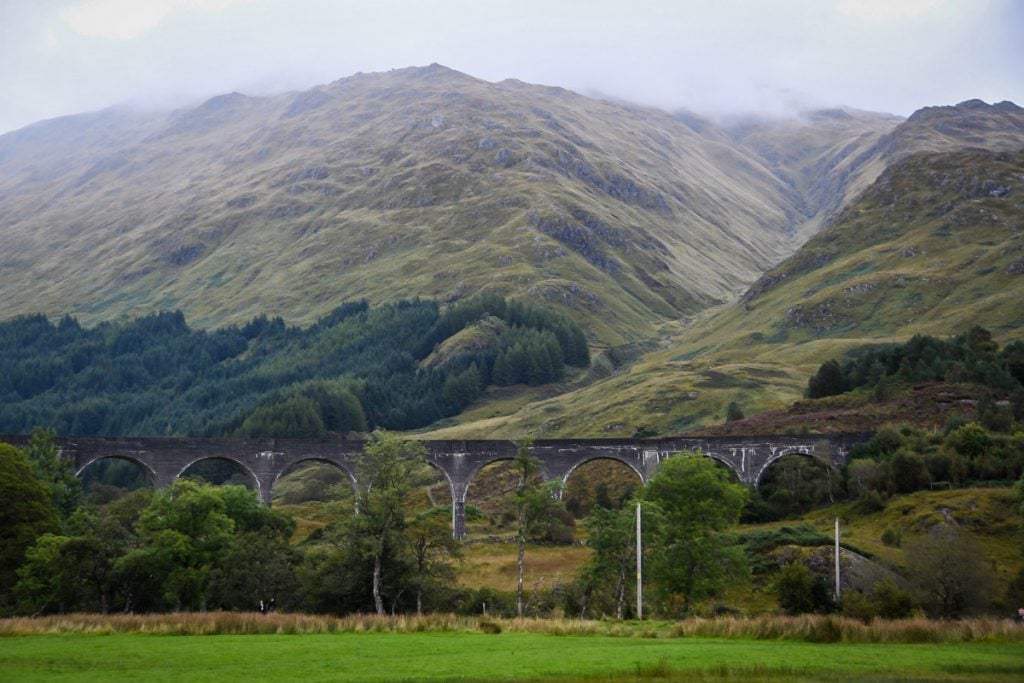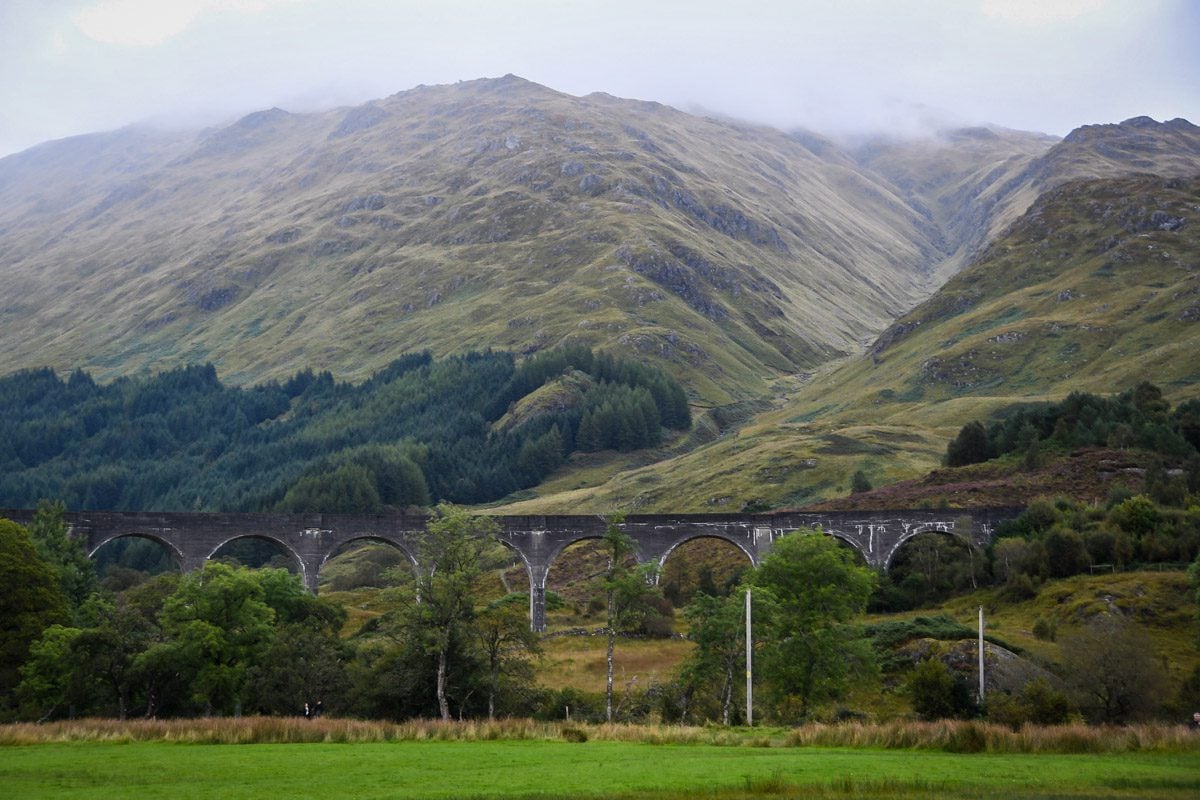 Glenfinnan is an easy stop along the picturesque Road to the Isles, A830, which connects Fort William to the port of Mallaig. The town itself is small but mighty, offering an impressive punch combining history and scenery, but the 43-mile scenic drive is worth the trip in itself.
Of course, there's another major reason people make the trip to Glenfinnan, Potterheads will recognize this one! The Glenfinnan Viaduct, a raised railway 100 feet off the ground, served as the Hogwarts Express train in the second and third movies.
Unsurprisingly, today the viaduct is widely known as the "Harry Potter bridge."
Things to do in Glenfinnan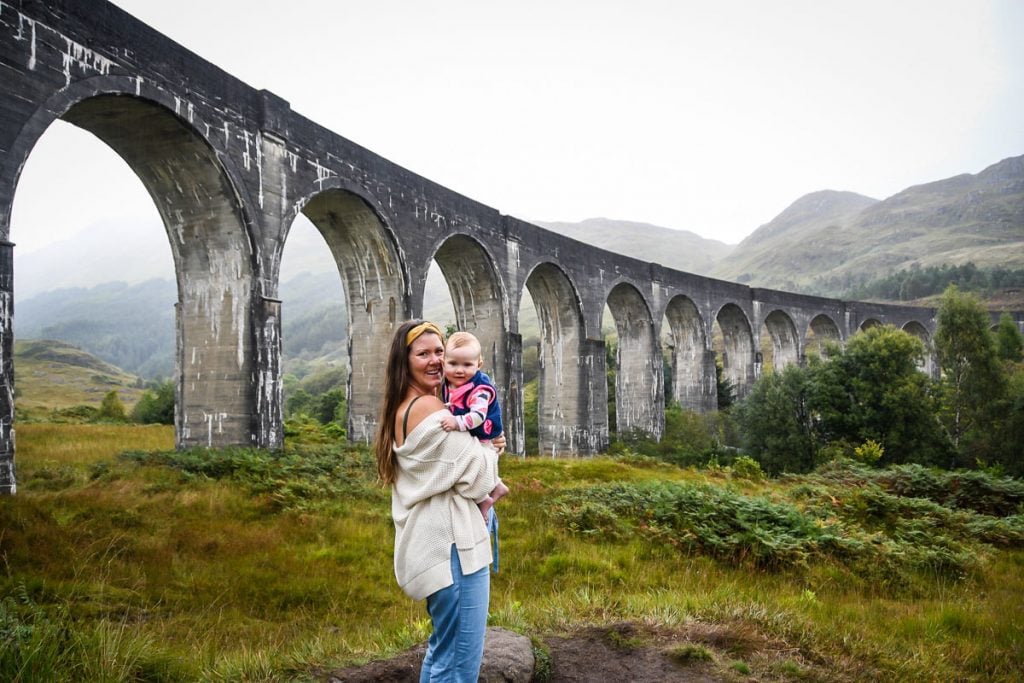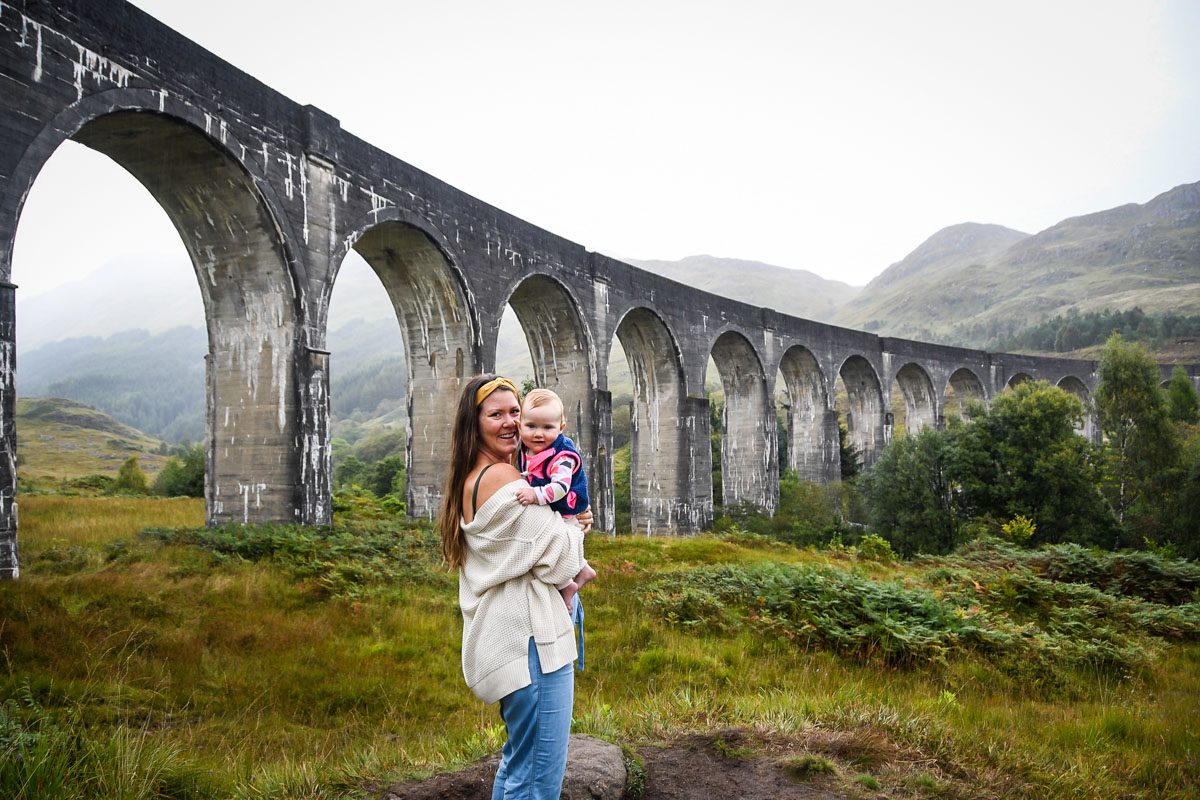 Photograph the iconic Glenfinnan Viaduct train bridge (aka the "Harry Potter bridge").
Grab a sandwich and soup inside an old railroad car.
Visit the 60-foot Glenfinnan Monument, or the "Leaning Tower of Glenfinnan," as the locals know it.
Take a day trip to Old Forge Pub, named the world's most remote bar by the Guinness Book of World Records (fair warning: there's literally no actual road to the pub, so this is more of an adventure than it initially seems!).
17. Stirling
Gateway to the Highlands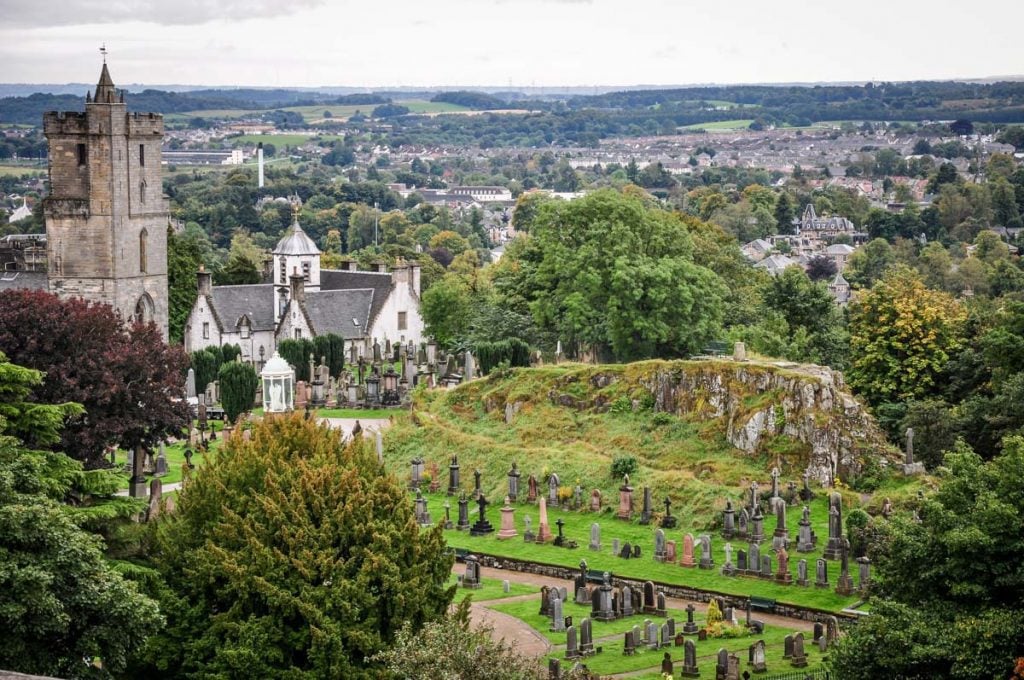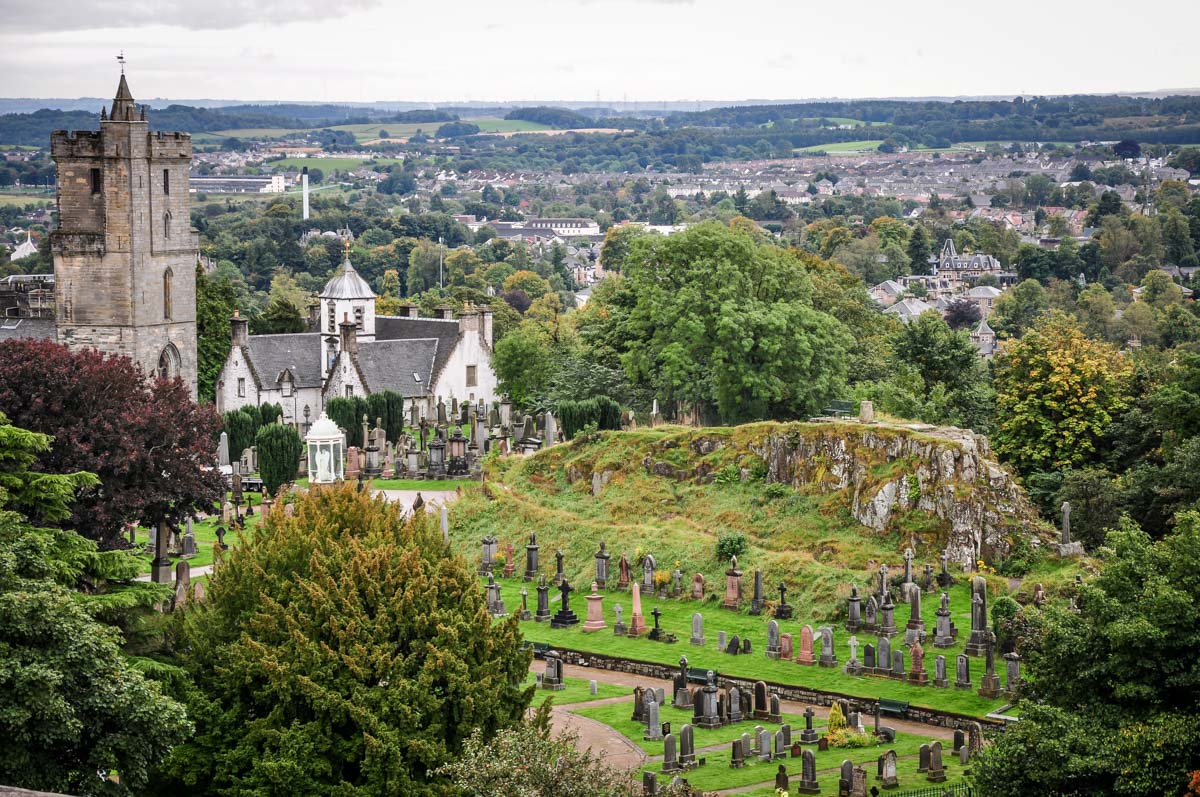 It may be a rather small city, but Stirling packs a serious punch. The city is located about one hour from Edinburgh and 30 minutes from Glasgow, situated right where the Scottish Lowlands meet the Highlands.
Without a doubt, the main reason to visit Stirling is that it's a passage on the journey to The Highlands.
Outside of being a major thoroughfare for the Highlands, Stirling itself is actually a college town—and the entertainment and restaurant scenes reflect that. The younger, livelier population lends itself to buzzy bars and great nightlife, lots of great shopping, and events happening seemingly non-stop, year-round.
Of course, if you're looking for a quieter respite away from the rowdy party scene, there are also plenty of traditional Scottish pubs and restaurants.
Things to do in Stirling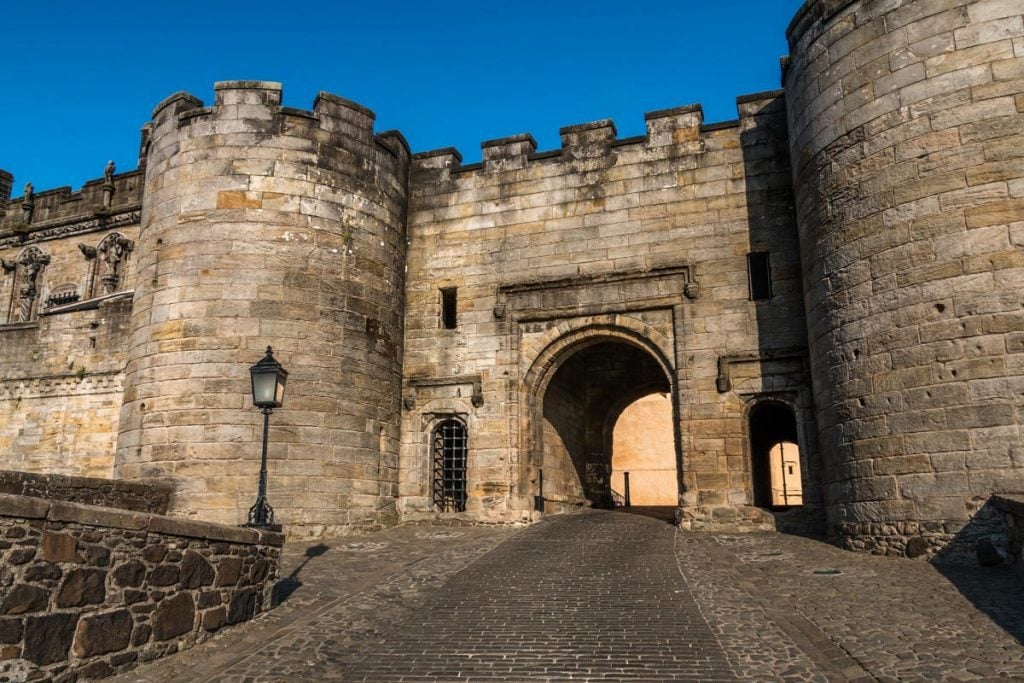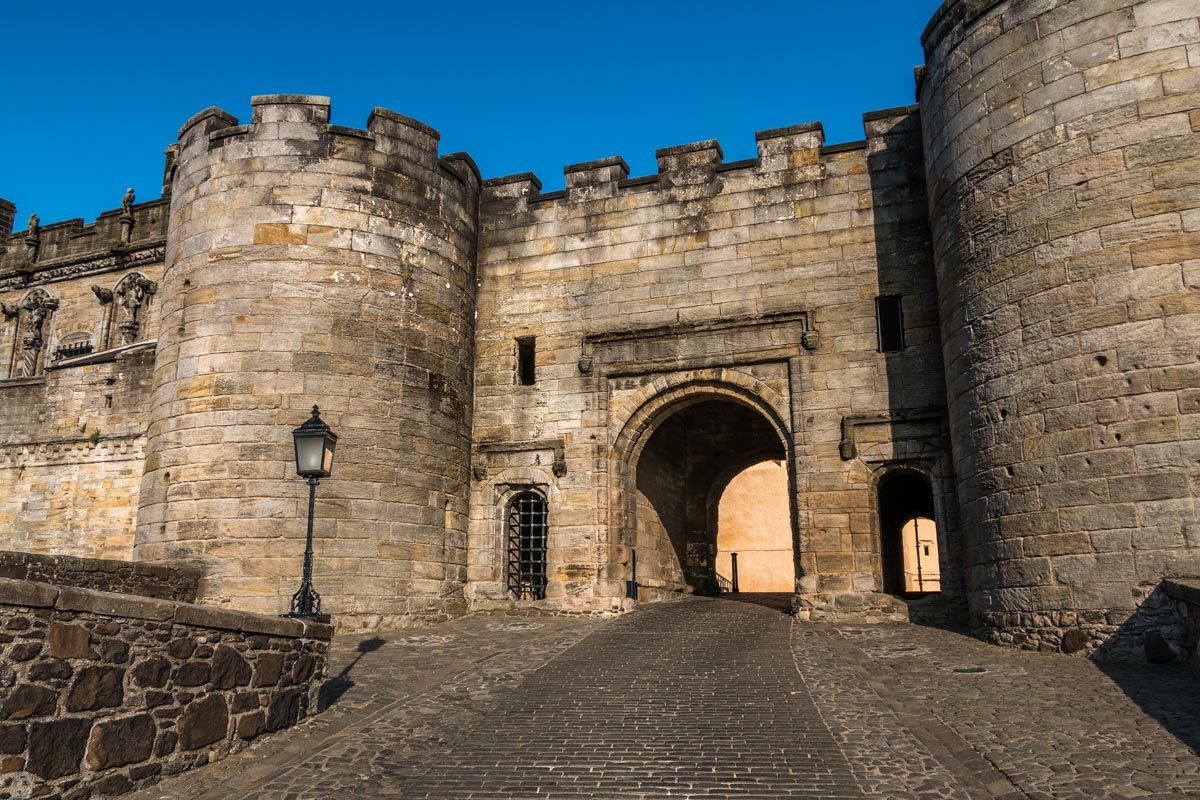 Explore the cobblestone streets of Stirling's Old Town
Head up to Stirling Castle for some panoramic views of the surrounding Highlands
Visit the National Wallace Monument in honor of Scottish warrior William Wallace, i.e.; Braveheart.
Have a hands-on experience at one of the farms in the surrounding Highlands.

Briarlands Farm is especially family-friendly, offering a petting zoo, seasonal berry picking, go-karting and other activities.
Where to stay in Stirling
18. Ullapool
Gateway to the Northern Highlands and a popular stop on the North Coast 500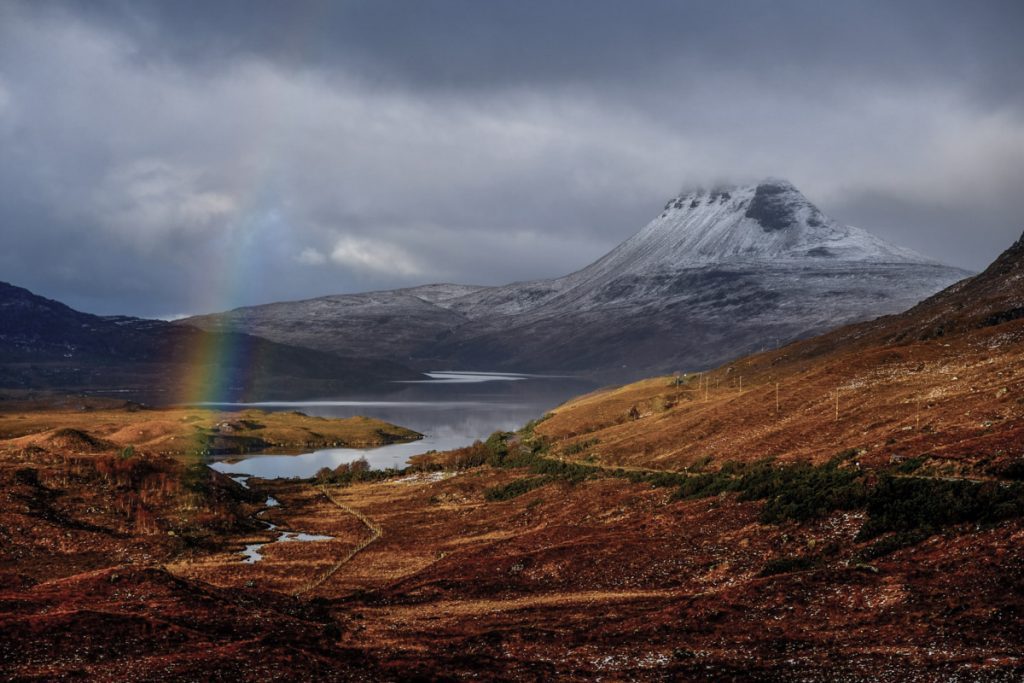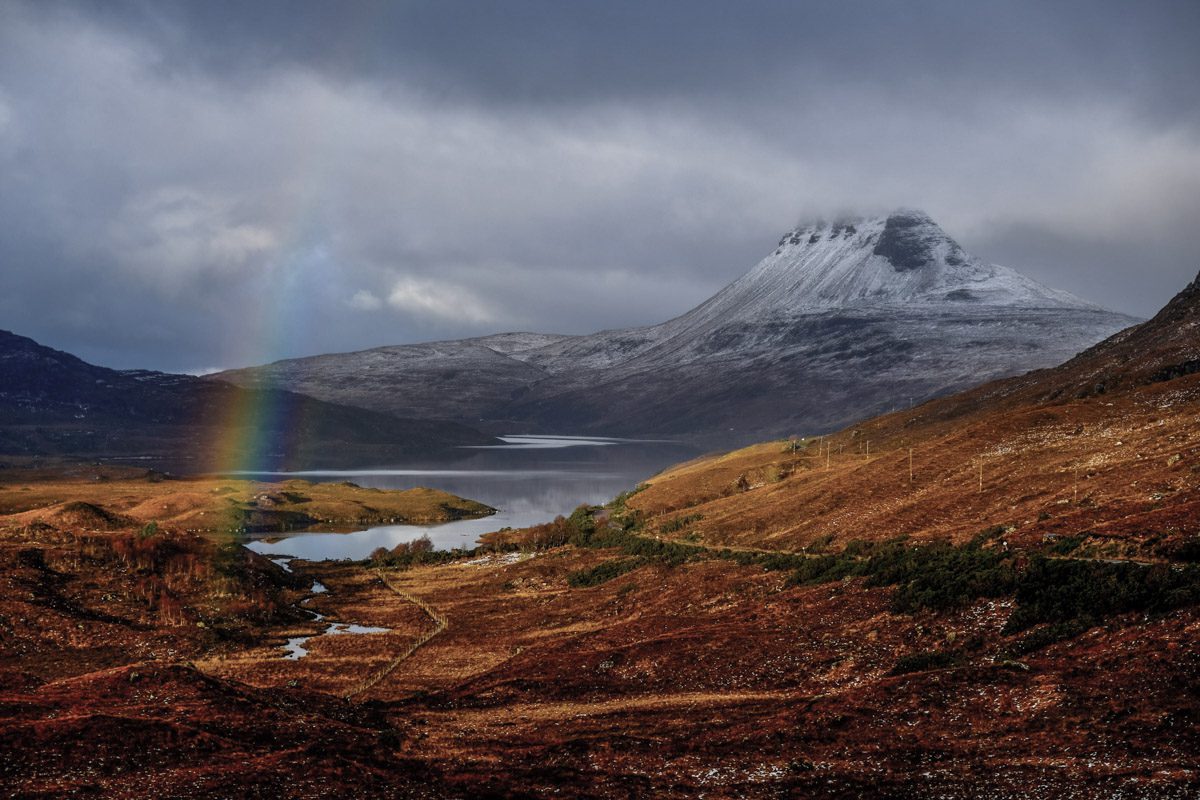 A sleepy fishing village in far northern Scotland on the shores of Loch Broom, Ullapool is widely considered one of the most unspoiled places in the UK. If you're looking to enjoy the country's iconic rolling green landscape dotted with bodies of water at a slow pace, Ullapool belongs near the top of your list of places to visit in Scotland.
Don't let the quiet pace fool you, though — Ullapool is frequently named to lists of the best outdoor destinations in the UK and has a strong sense of adventure. The small town boasts a combination of rocky coastline, mountains, excellent hiking, and unique wildlife and photography opportunities.
Inverness is just an hour away by car and there are ferries to the Outer Hebrides close by, plus, of course, it's right along the North Coast 500, making Ullapool the perfect basecamp for exploring northern Scotland.
Things to do in Ullapool
Rent a kayak or canoe from the Ullapool Pier and paddle Loch Broom.
Catch sunset over the loch from Rhue Lighthouse.
Go tidepooling, crabbing, or skip rocks at Ardmair Beach.
Enjoy langoustines and other seafood fare at the iconic Seafood Shack.
Grab a strong coffee and pastry at Cult Cafe.
Where to stay in Ullapool
19. St. Andrews
An ancient seaside community known as the birthplace of golf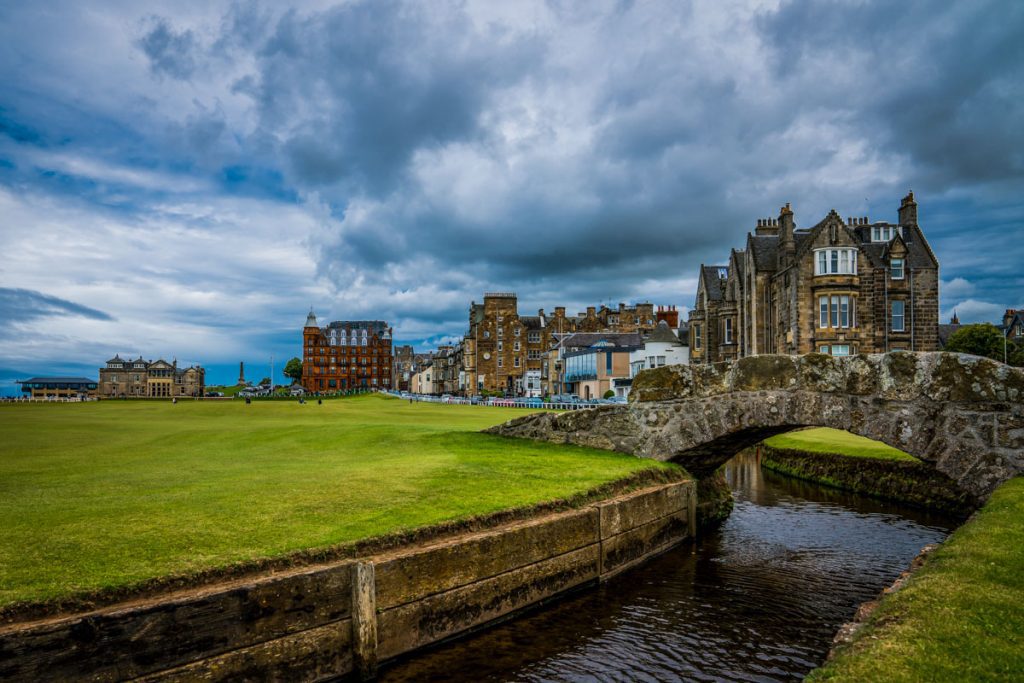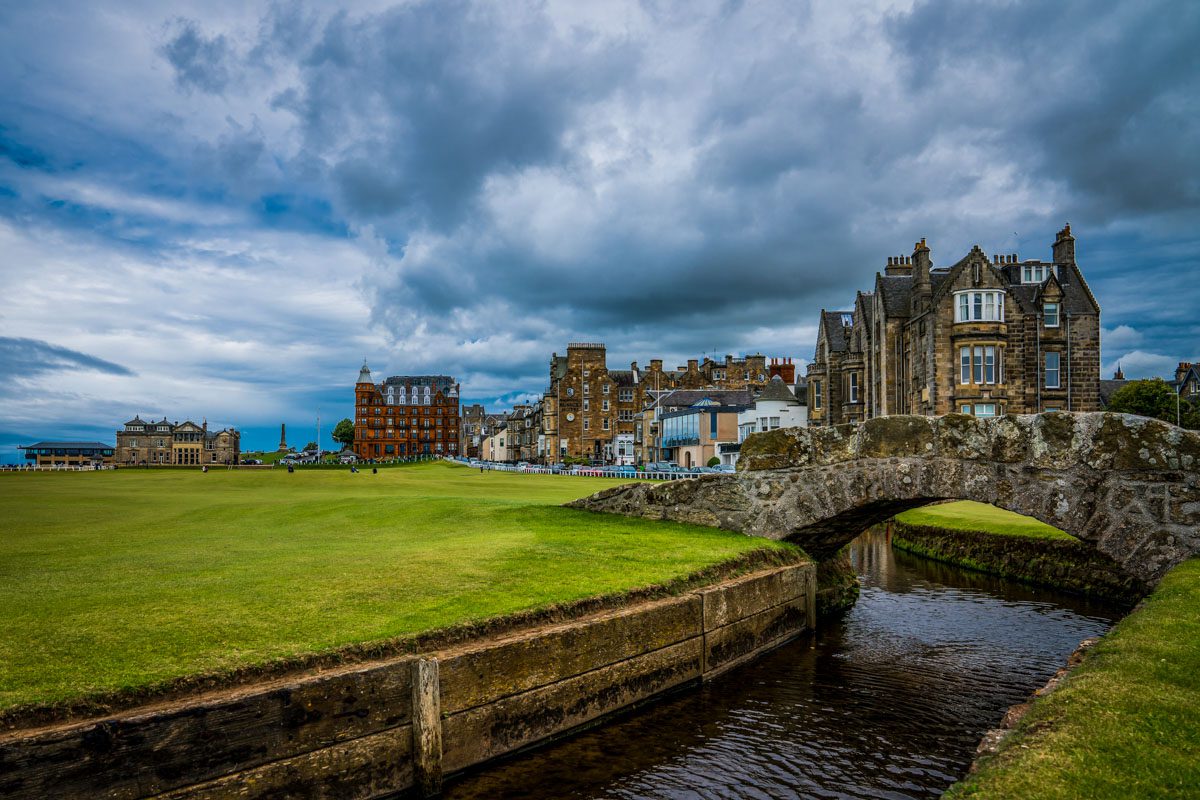 History buffs, architecture lovers, and fans of golf will all eagerly shout from the rooftops that St. Andrews is one of the best places to visit in Scotland. It was here that the game of golf was invented, way back in the 15th century.
St. Andrews is also home to Scotland's oldest and most prominent university — and the third-oldest in the modern world! The University of St. Andrews was established in the early 1400s, and many visitors call it a real-life Hogwarts.
It should come as no surprise that there are a number of well-preserved medieval ruins in St. Andrews. What is a bit surprising, however, are the buzzy restaurants, pubs, and independent shopping boutiques in a town this tiny.
Things to do in St. Andrews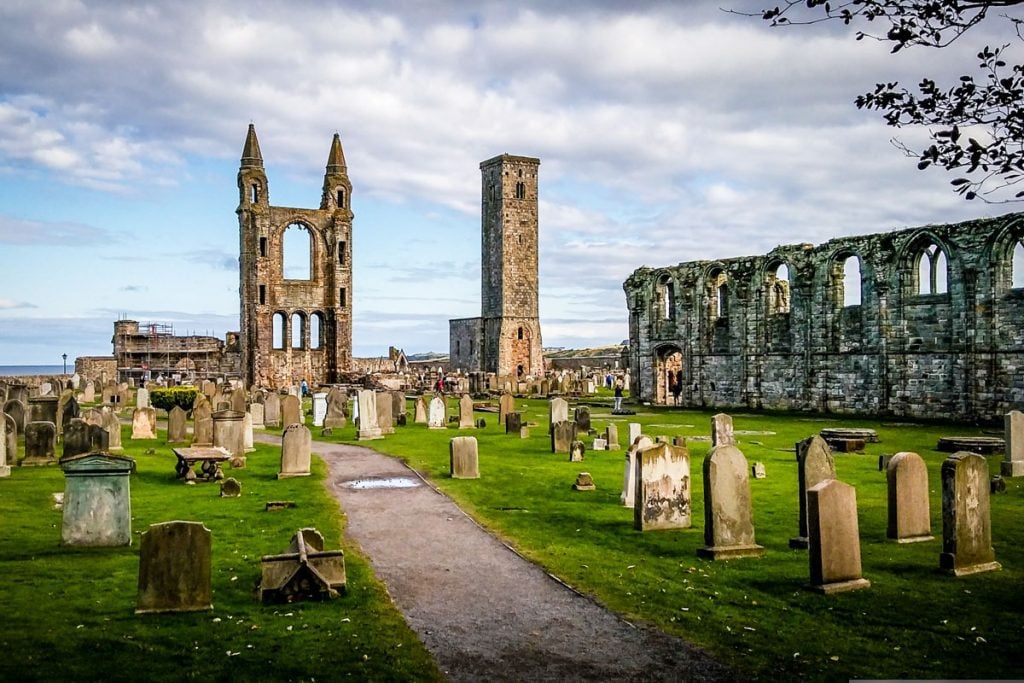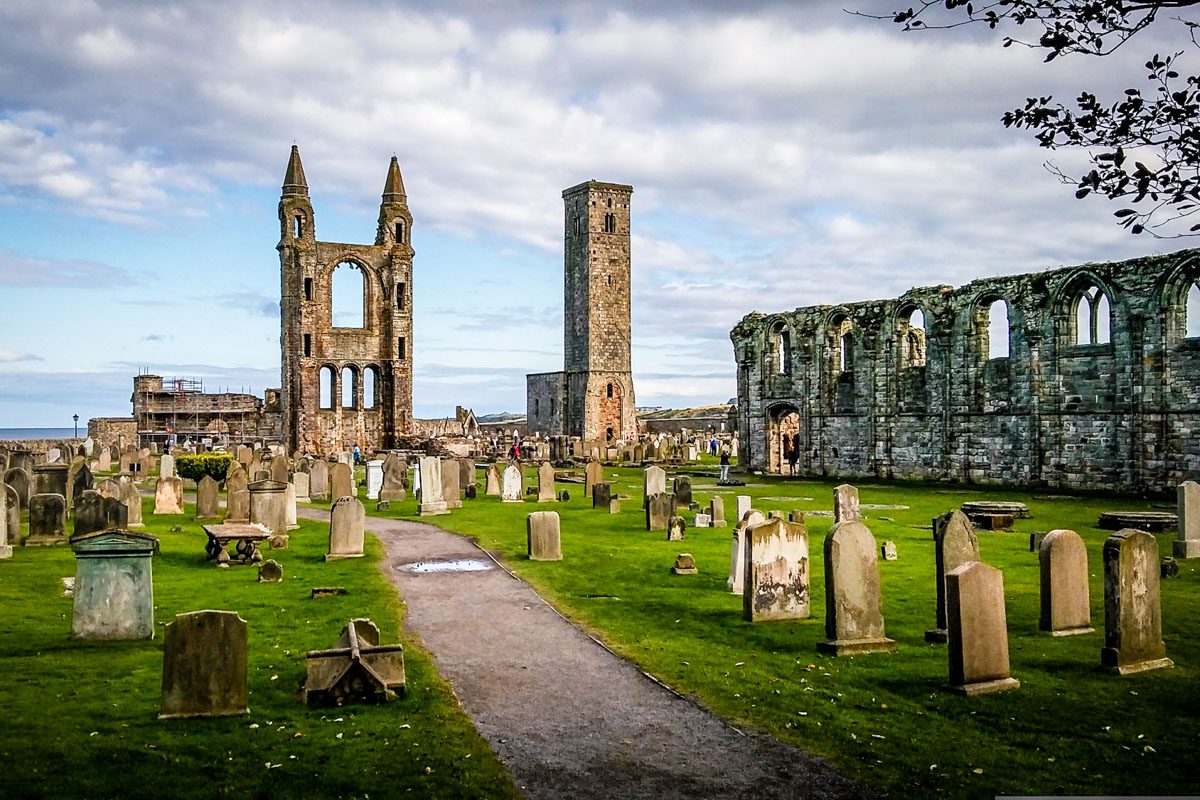 Play a round of golf at the Old Course, the oldest golf course in the entire world (you must enter a ballot-style lottery to try and get a tee time). Guided walks are also available April through October.
If you can't get a tee time at the Old Course, play at one of the city's 10 other courses.
Visit the ruins of St. Andrews Cathedral, built in 1158 and at one time the country's largest cathedral.
Indulge in a scoop at Jannetta's Gelateria, a fourth-generation shop dishing out over 100 flavors.
Take a self-guided walking tour of the University of St. Andrews.
Tip a few back at Eden Mill, part gin distillery, part brewery, entirely unique.
Where to stay in St. Andrews
20. Dundee
A major hub of architecture and visual arts
Dundee is a perfect example of history seamlessly combined with contemporary living. Situated on Scotland's east coast, the city itself is pretty compact and very walkable. Plus, it's an absolute dream for lovers of architecture.
The city boasts tons of architectural landmarks, museums, and galleries. And in 2015, Dundee was named a UNESCO City of Design, the very first in the UK. Another fun tidbit: Grand Theft Auto, the video game with a longtime, cult-like following, was created here in Dundee.
Like Edinburgh, Dundee also hosts numerous festivals every year. They play host to a fantastic Jazz festival each November, as well as one of the biggest food festivals in Scotland. Speaking of which—Dundee's food and bar scenes are also quite trendy with plenty of options to keep you satisfied.
Things to do in Dundee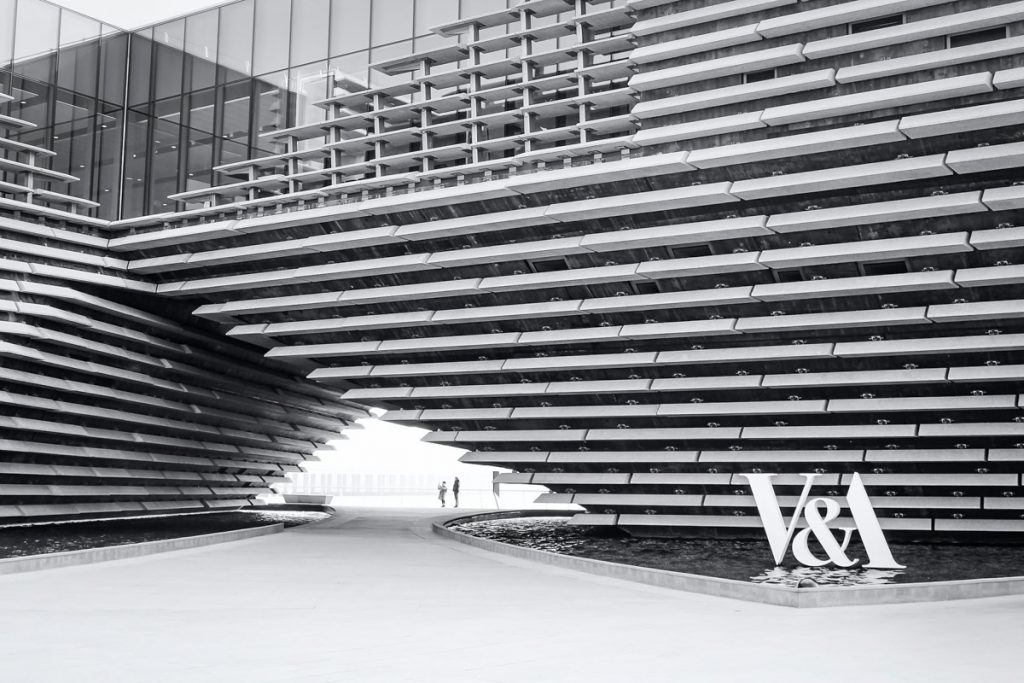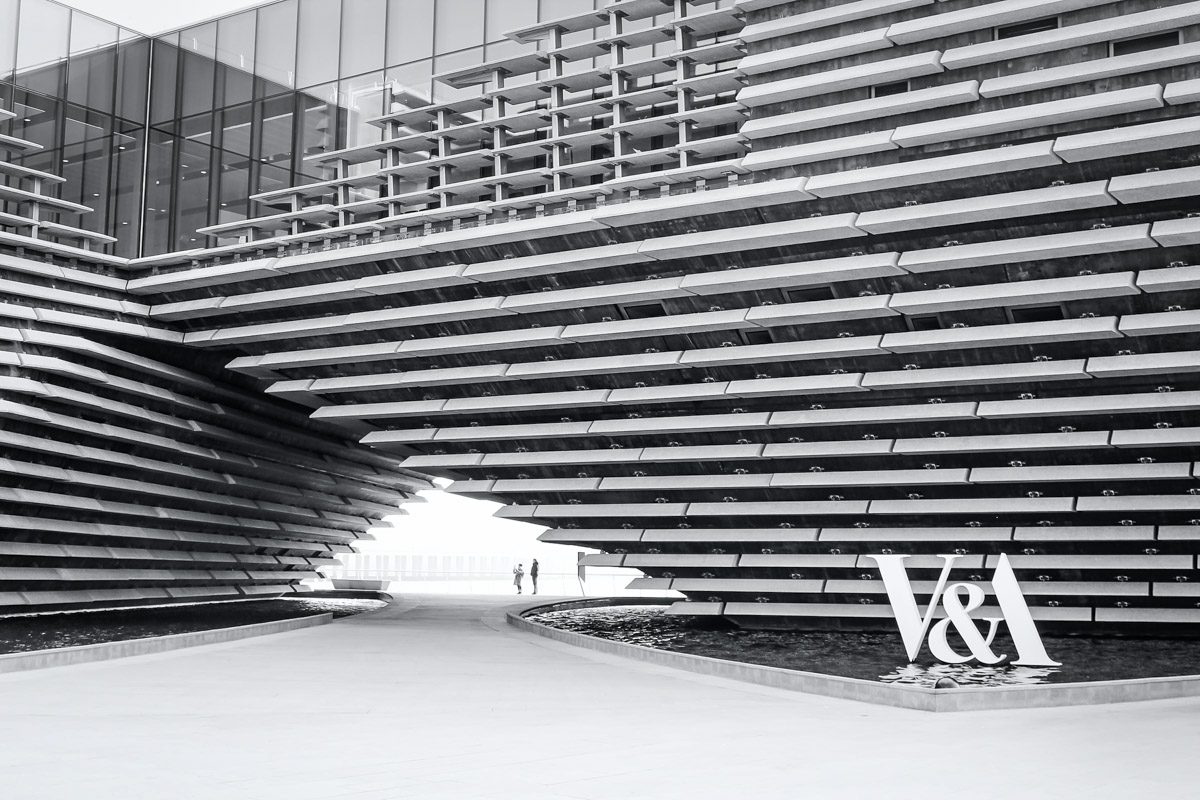 Visit the Dundee V&A Museum, dedicated entirely to design, also the first of its kind in Scotland.
Peruse the McManus Galleries.
Check out the architecture at St. Paul's Cathedral.
Hike or drive to the top of Dundee Law, a long-dormant volcano, for an elevated 360-degree view of the city and river.
Go whitewater rafting in nearby Angus
Where to stay in Dundee
21. Aberdeen
One of the sunniest places in the UK and considered Scotland's "castle capital"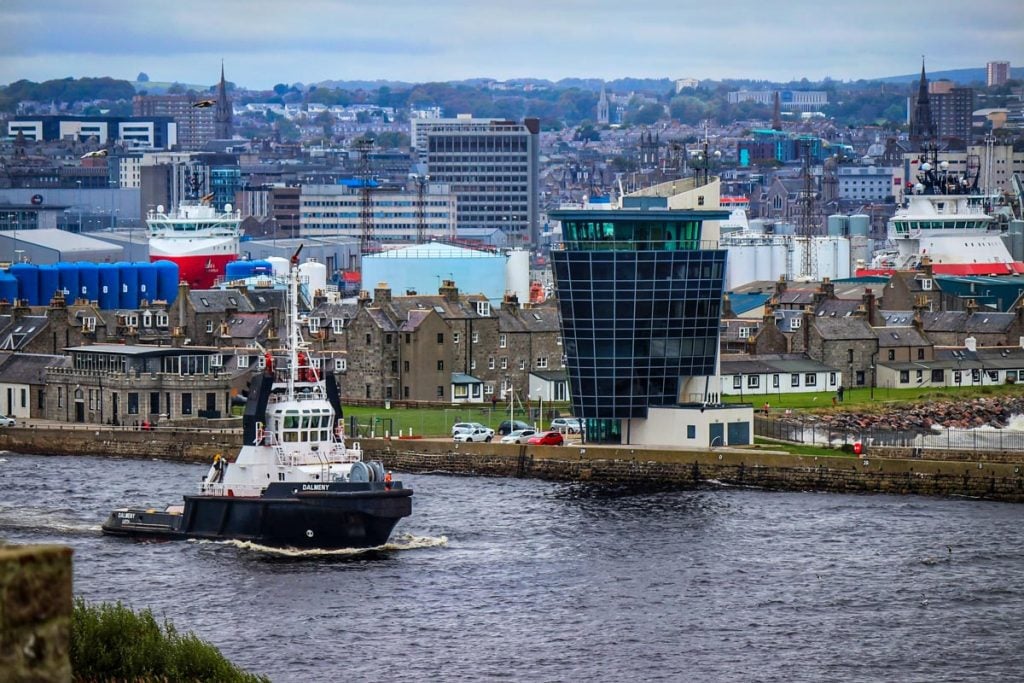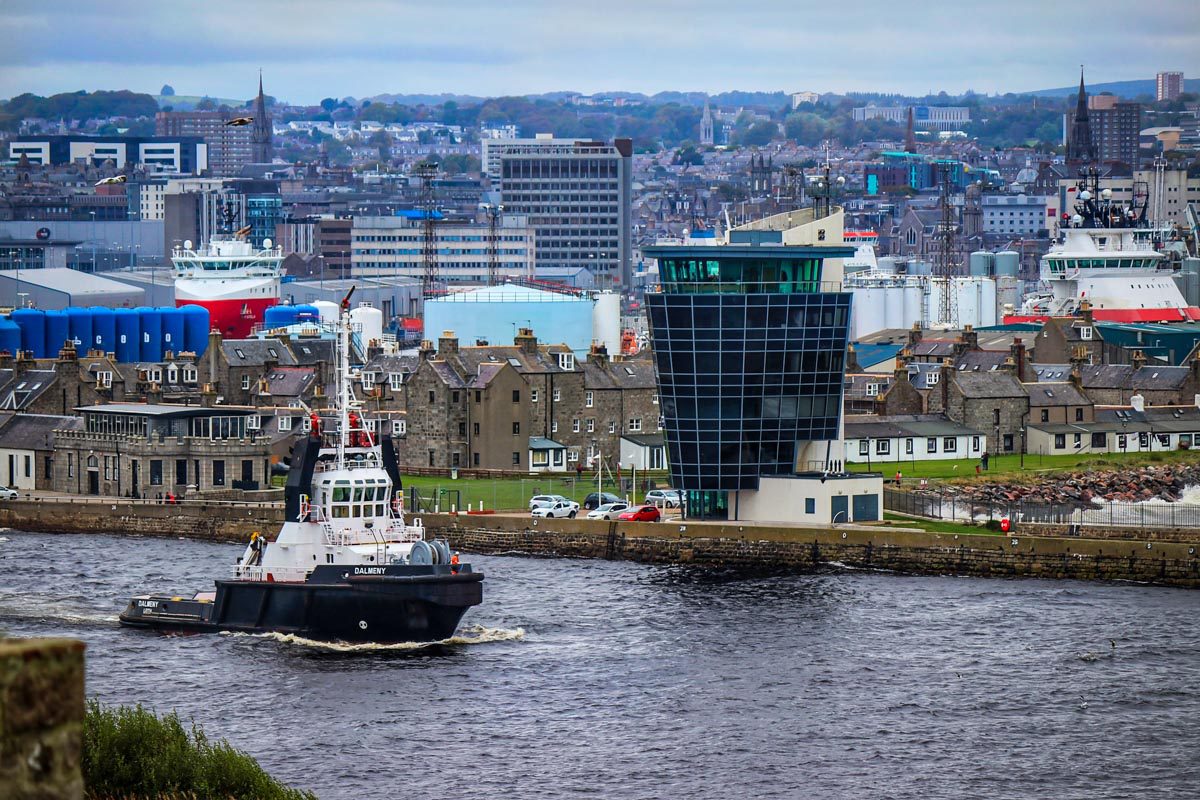 Located near the coast in the northeastern part of the country, Aberdeen is the third largest city in Scotland. Fun fact: It's considered the sunniest city in all of the UK, getting up to 195 hours of sunshine in May alone!
The city's favorable weather is the cherry on top as Aberdeen is one of the only places in the UK that has a proper sandy beach. Steady winds make Aberdeen a great spot for surfing, kitesurfing, or sailing.
There's also an amusement park at the beach and, in true Scottish fashion, an ice skating rink.
Nightlife is surprisingly lively for a laid-back beach town, and the restaurant scene is robust as well. There are golf courses everywhere you look (did you know golf was invented in Scotland?!), cool museums (many of which are totally free!), nice public parks, and lots of history to enjoy in Aberdeen.
Things to do in Aberdeen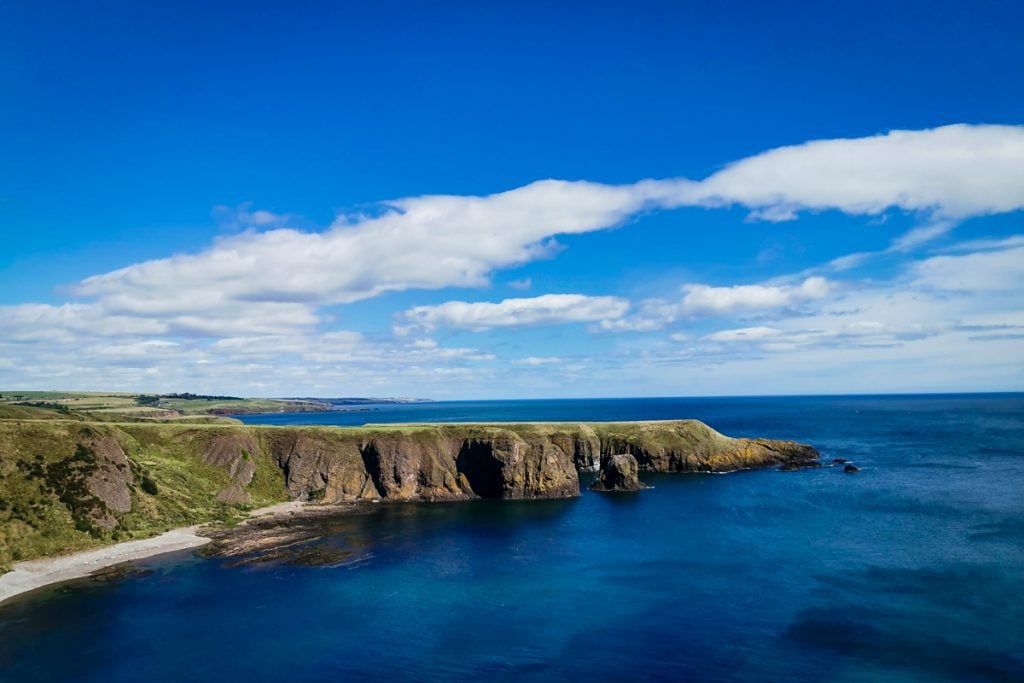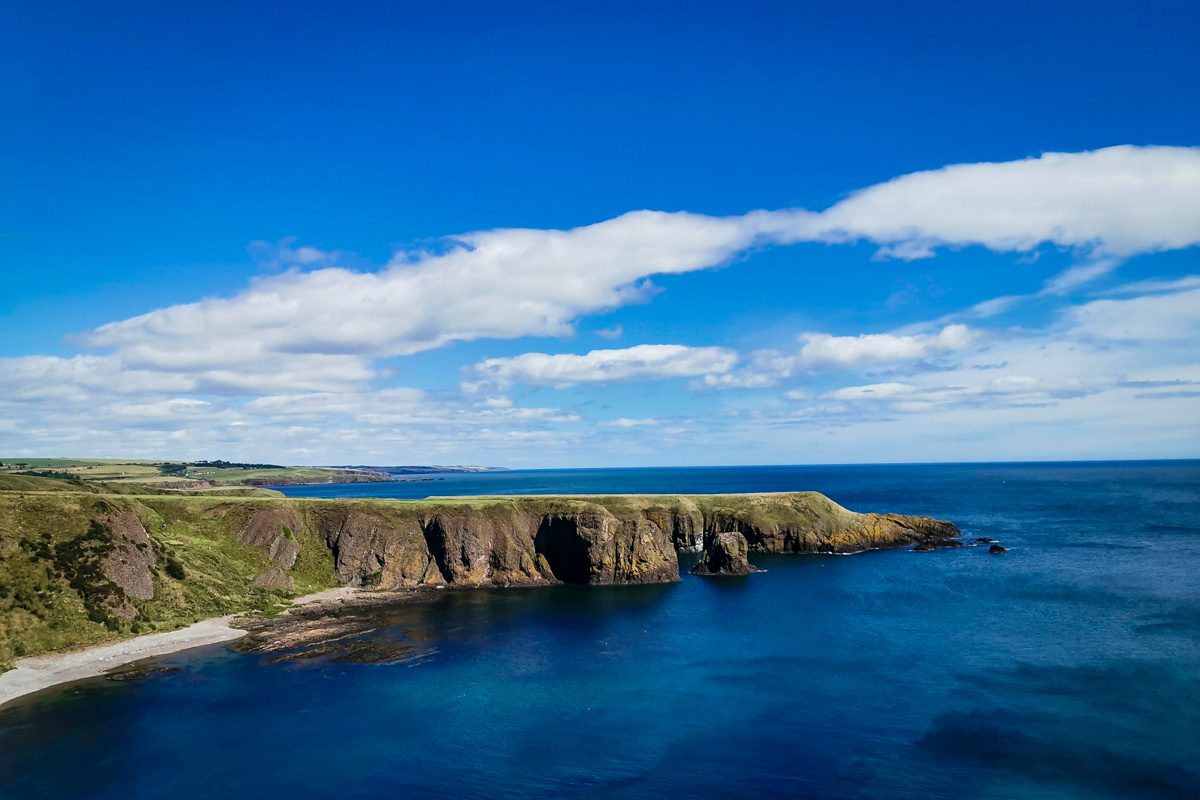 Visit at least a couple of Scotland's castles! Start with Dunnottar Castle, one of the oldest and most formidable in the country, and the distinct pink Craigievar Castle.
Grab a beer from the wildly popular BrewDog's main brewery DogTap in Ellon.
Visit Newburgh Beach to run up and down the sand dunes and check out the colony of hundreds of seals.
Stroll through Old Aberdeen for eye-popping old architecture (it was founded in the 1400s!).
Make a day trip to Cairngorms National Park (#9 on this list!).
Where to stay in Aberdeen
---
Scotland itinerary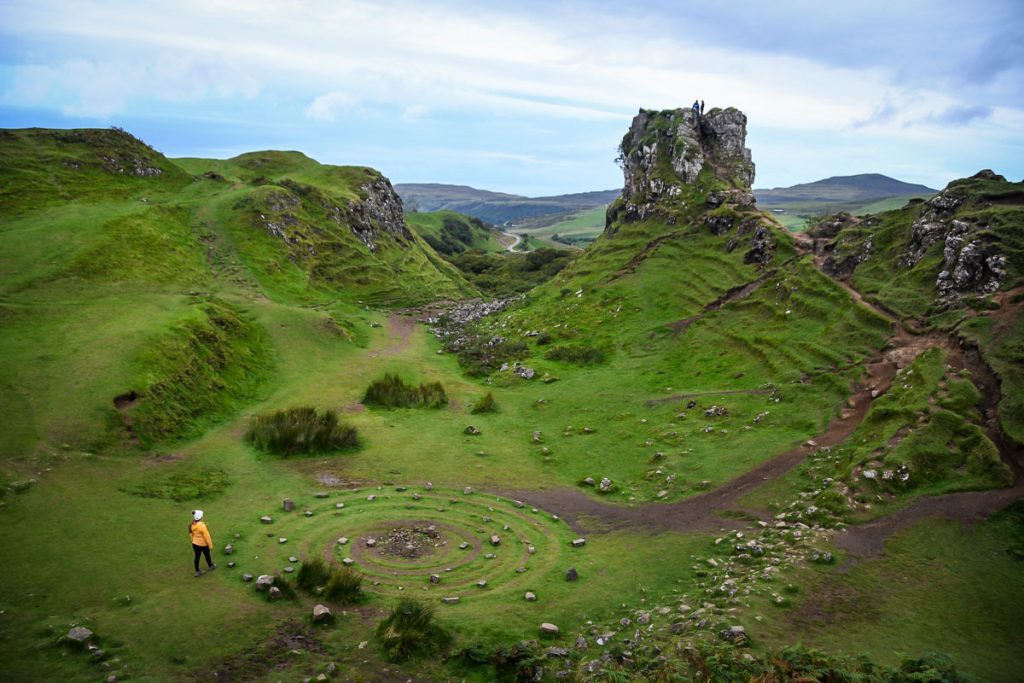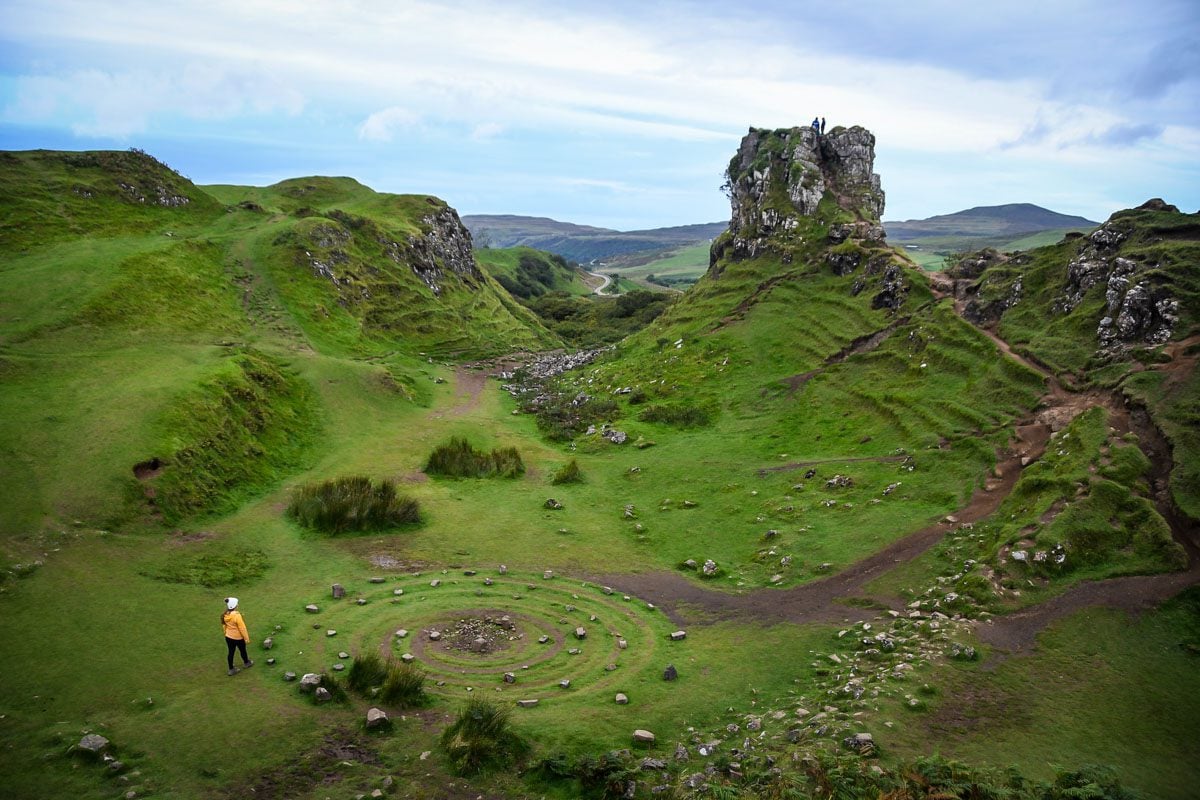 Raise your hand if you don't want to spend hours of time researching and you just want all the info right at your fingertips!
If your hand is up, keep reading…
If you like the research, all the power to you! Feel free to use our itinerary outlines as a starting point as well as our city guides for ideas of things to do (we've got a bunch of them!):
But if you want to save some hours of your life, we've already put in more than enough for you and us combined. Trust us.
And we're happy to share everything we learned — from digging through reviews, Youtube and all sorts of Internet rabbit holes, as well as actually being in Scotland and taking our very own dream road trip!
We've curated what we think is the perfect Scotland road trip, and we want you to be able to copy our route!


In this 2-week itinerary, you'll find:
Can't miss sights and experiences
Where to eat

suggestions for what to order

Where to stay (whether you're camping or doing hotels)

the best campsites to stay on the route
unique guesthouses along the way

Insider Tips
Suggestions for extending this trip
We've spent hours of research putting this all together, just for you!
In full transparency, this is a paid itinerary since it has taken an incredible amount of time for us to create.
However, we keep all of our paid itineraries affordable – just $17 for an entire 2-week itinerary. We think this is an incredible value considering almost all your planning will be done for you!
What to pack for your trip to Scotland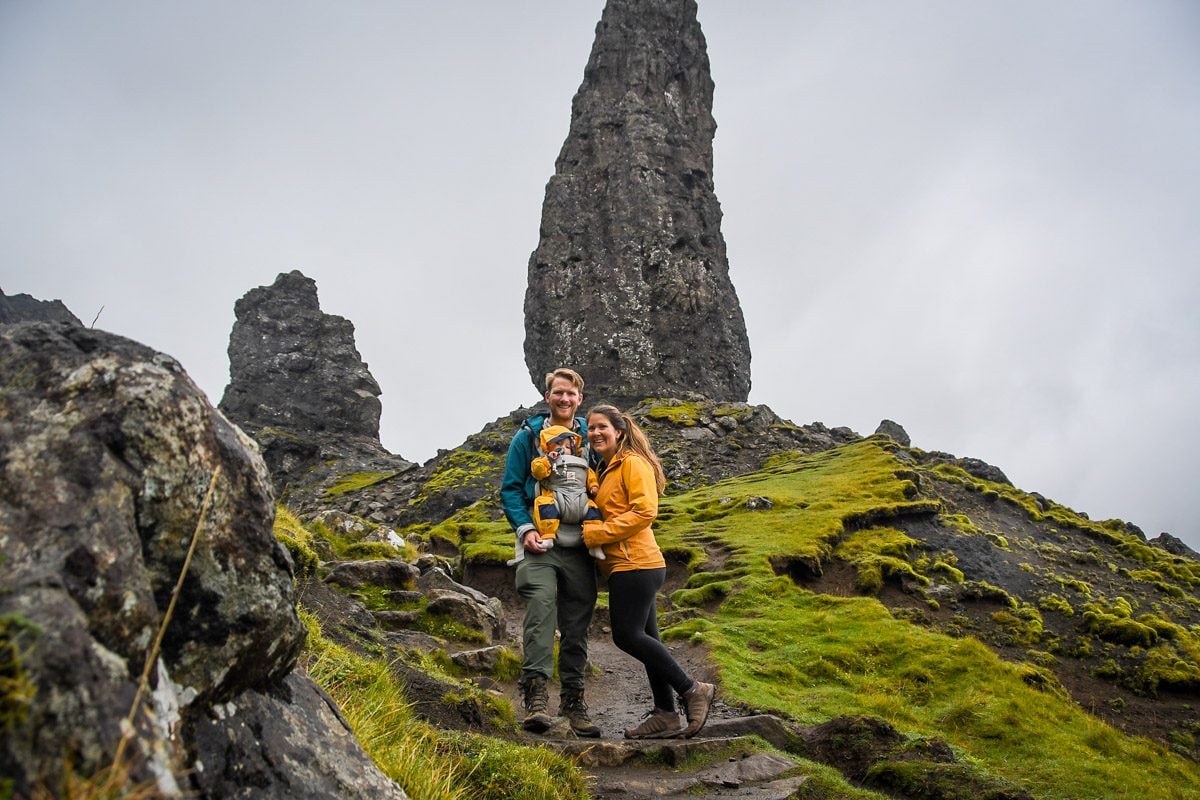 With variable weather conditions, excellent hiking opportunities, and plenty of city life, there are a few things you definitely don't want to forget when you're packing for a trip to Scotland.
Check out the exact items we recommend for traveling in Scotland.
Rain gear

rain jacket (make sure it's waterproof, not just water resistant)
dry bag: to keep your valuables from getting wet on a hike

Hiking boots
Wool socks
Lots of layers
A couple nicer outfits for eating out
Bug repellent: midges are common in Scotland, especially during the summer months
Camera and lightweight tripod (optional)
Be sure to download our complete packing list for Scotland! It's packed with good suggestions and insider tips to help plan your Scotland trip. And it's completely FREE, so why not!?
Round up of the top places to visit in Scotland
Here's a roundup of all the best places to visit in Scotland so you can see everything in one place.
Loch Ness
Glencoe
Portree
Applecross
Cairngorms National Park
Outer Hebrides
Loch Lomond & The Trossachs
Oban
Isle of Mull
Fort William
Glenfinnan
Stirling
Ullapool
St. Andrews
Dundee
Aberdeen
---
Are you planning a trip to Scotland?
We have lots of resources on travel in Scotland and destinations throughout the country. Check out our Scotland Travel Homepage for everything you need to know, or read some of our favorite articles below.
Save this article on Pinterest for later!
We want to hear from you!
Which of these places to visit in Scotland are going straight to the top of your list? Are you planning a trip to Scotland and have more questions? Comment below and let us know!