Home to the famed Devil's Pulpit rock formation, this unique and mysterious hike known as Finnich Glen is something you have to see to believe. We'll show you exactly how to get to the hidden footpath leading down into the canyon, plus what to expect.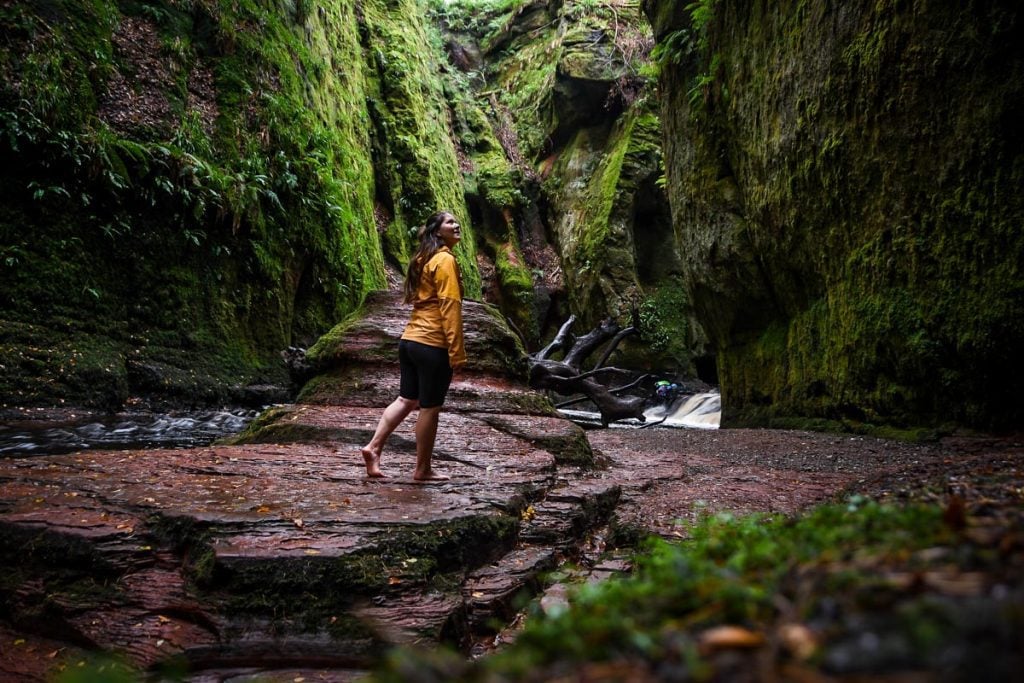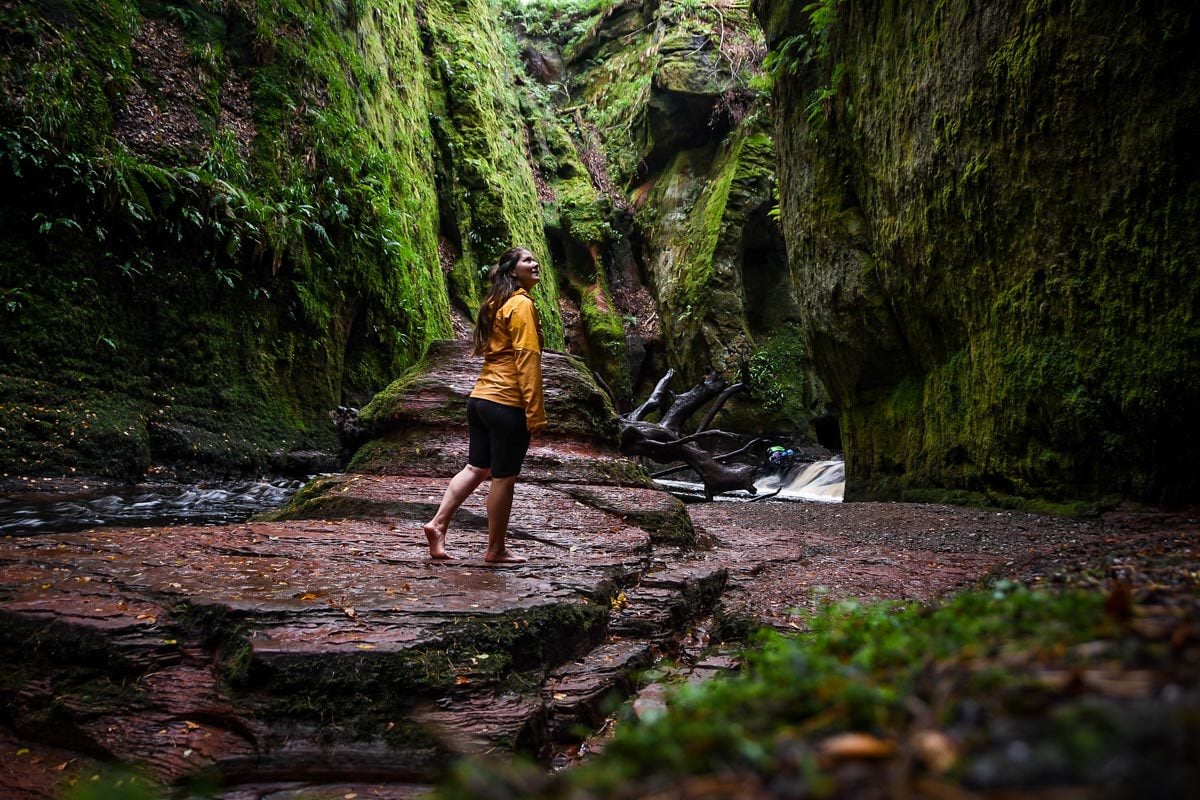 With a name like Devil's Pulpit, it's hard to know exactly what to expect. Also called Finnich Glen, this lush and narrow canyon is straight out of a fairytale. Or nightmare, I suppose…
Legend has it that the mushroom-shaped rock in the center of the narrow canyon is where the devil stood as he addressed his followers, blood-red water swirling at his feet. Others say the rock was a site for practicing witchcraft and carrying out executions, or perhaps a meeting place for druids, hidden amongst the perpetual shadows of the steep walls.
Add in a steep descent down slippery stairs (we're using the term "stairs" very loosely here; they're really just big stepped rocks), and the eerie atmosphere is almost palpable. Devil's Pulpit definitely lives up to its name!
The unique atmosphere—spooky but spectacularly beautiful, nonetheless—has unsurprisingly positioned Finnich Glen as a sought-after location for filming TV shows and movies. Most famously, Devil's Pulpit served as Liar's Spring in Outlander and was also featured in Outlaw King and the 2019 Pokemon movie.
Devil's Pulpit is just north of Glasgow and reachable via public transportation, so it's understandably a popular natural attraction and day trip from the city. If you're intrigued, read on to learn about how to do the hike and exactly what to expect.
Article Contents
Planning a trip to Scotland? Find out the best time to visit Scotland based on seasonal weather patterns and your personal travel style.
---
Be sure to download our complete packing list for Scotland! It's packed with good suggestions and insider tips to help plan your Scotland trip. And it's completely FREE, so why not!?
---
Devil's Pulpit hike at a glance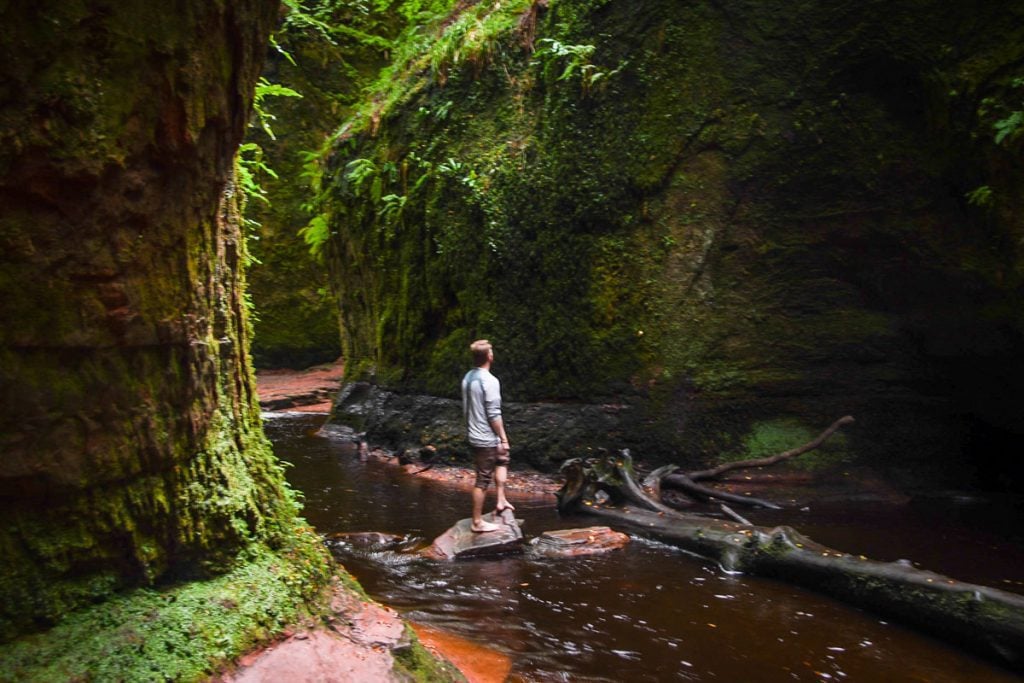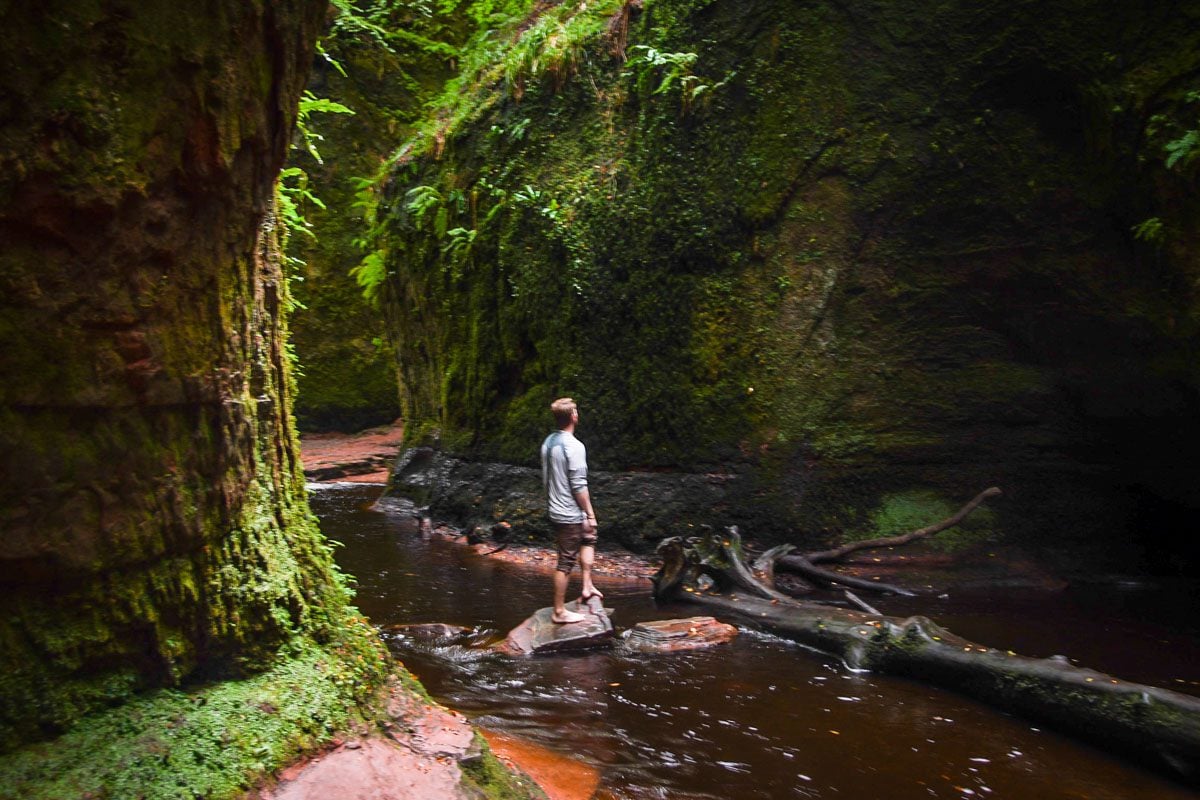 Location: Alexandria, West Dunbartonshire, Scotland
Distance: 0.6 km / 0.37 miles, out-and-back
Elevation: 15 meters / 50 feet
Difficulty Rating: Moderate (short, but steep and slippery)
Timing: 30 minutes round-trip
Pets: Permitted if leashed, but know that it's extremely steep, narrow, and muddy
Devil's Pulpit isn't much of a true hike, but rather more of a scramble down into the gorge. The total distance is just .2 miles each way, but that involves "stairs" that are really just slippery, rough stones in a very narrow, perpetually muddy canyon.
When you get your first glimpse of the unusually colored canyon, the treacherous hike down is (almost) forgotten. The photogenic gorge is blanketed in colorful vegetation, the walls coated in verdant green moss and a canopy of trees blocking most of the light overhead.
Combined with the soil's orange sediment and the water's reddish hues (created by the sandstone riverbed, almost disappointingly not by anything sinister!), the color palette and atmosphere of Devil's Pulpit make for an unforgettable sight.
One thing to note, which isn't exactly obvious as you're researching this hike, is that you'll have to wade through a bit of water to reach Devil's Pulpit itself. It's a section of just a few minutes and was about knee-deep when we went. It's actually one of the highlights, so embrace getting wet and have fun with it! Just be sure to wear sturdy shoes.
Don't expect to have Devil's Pulpit to yourself, because the word is definitely out. Especially on weekends and particularly nice days, the spot hosts many people and groups enjoying the canyon and having barbecues.
Parking has also unfortunately become an issue, with only three spots available right next to the path. However, there are some additional spaces at the intersection of A809 and B834, just up the road.
The great news is that even crowds can't spoil this experience. With strategic planning, like visiting on a weekday morning, you may get lucky and have the place to yourself.
Psst! If you have time to discover more of the country, don't miss these epic places to visit in Scotland.
Things to know before you go
Although it's a very short trail, Devil's Pulpit is slippery and steep, and can be tricky to navigate. There are a few details to consider in order to have the best experience at this beautiful, unusual gorge.
Best time of year for the Devil's Pulpit Hike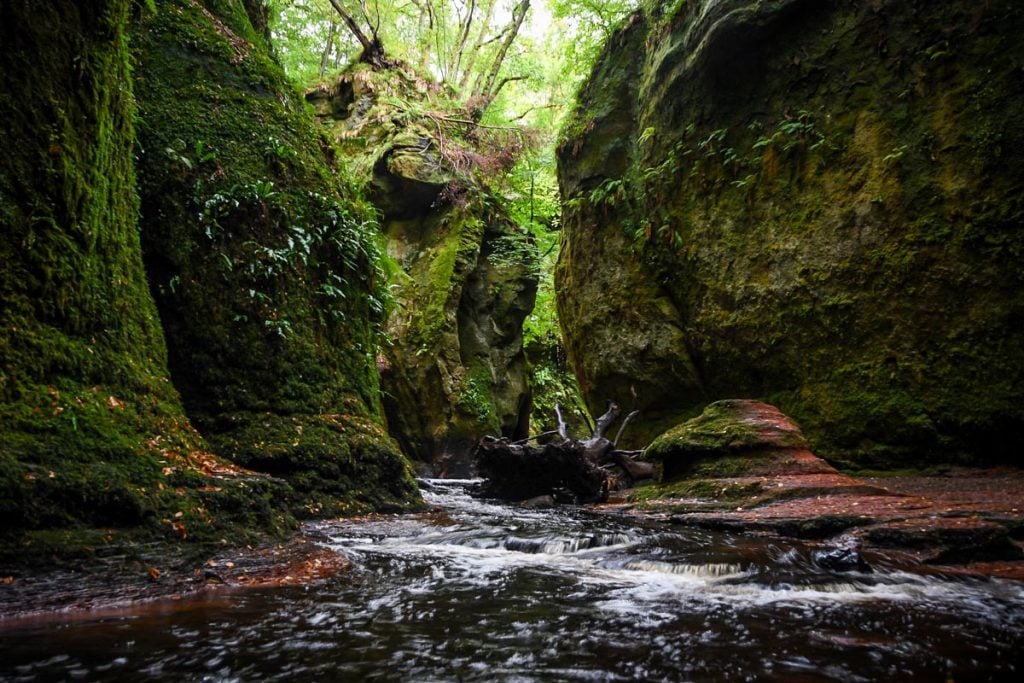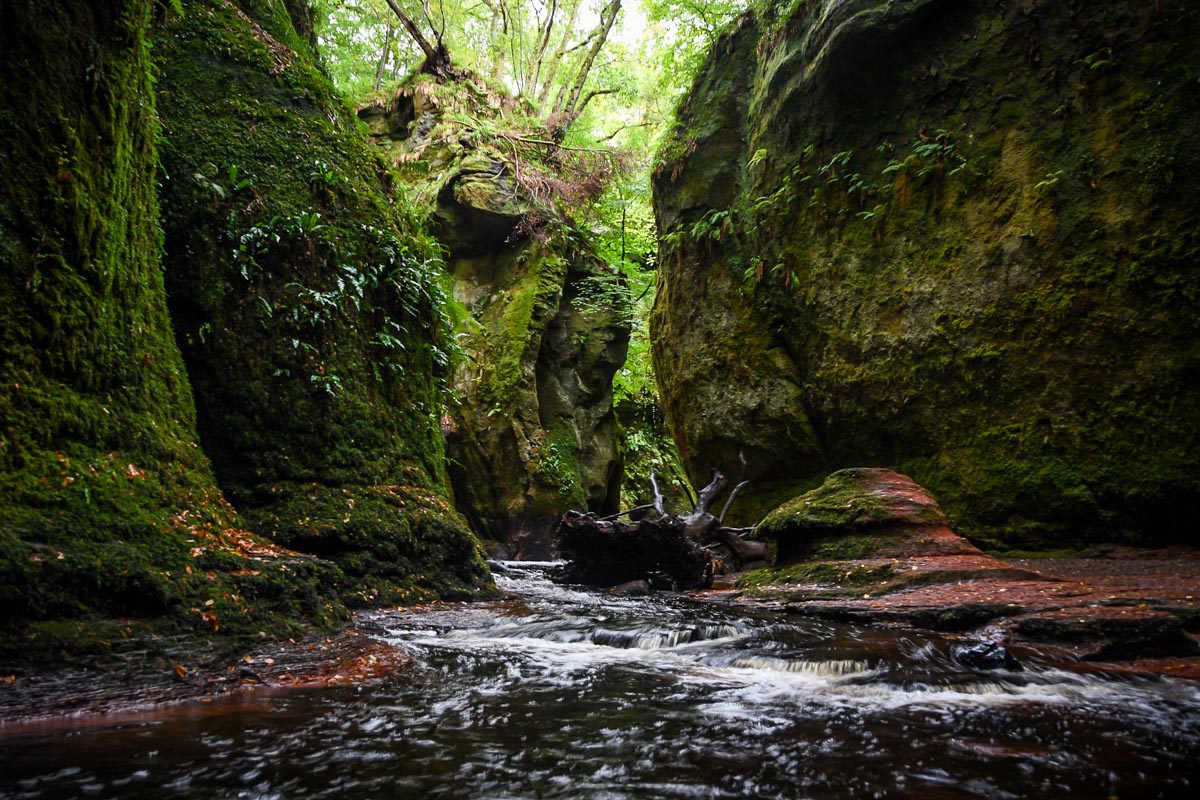 Finnich Glen can be muddy and slippery even when it's sunny and hasn't rained for several days. Add inclement conditions into the mix, like heavy rain, ice, or wind, and the hike can become downright dangerous.
For this reason, no matter the season, try to hike Devil's Pulpit when the weather is pleasant — or at the very least, when it's not raining.
Also, as with most canyons, there is a risk of flash flooding. Keep an eye on changing weather conditions and head out immediately if water starts to accumulate or the creek level visibly rises.
Summer brings the most ideal conditions for hiking Devil's Pulpit, with frequent sun, a little less mud, and warmer temperatures that make swimming and wading more pleasant.
We recommend visiting between June and September, with the shoulder months being the best time for avoiding crowds. On sunny days in July and August, expect a ton of traffic. Especially if you're visiting during these months, try to go on weekdays if possible.
Autumn in the gorge is particularly gorgeous, setting the scene for amazing photos. The banks become covered in fallen orange and gold leaves, complementing the creek's crimson color. A good weather day in late September or October is a beautiful time to visit, although keep in mind that rain starts to pick up toward the end of the month.
The Devils Pulpit hike is open all year and while it's doable in any month, it will likely be pretty chilly and overcast in winter. Remember to check weather conditions before leaving, regardless of the time of year.
How long does it take to hike to Devil's Pulpit?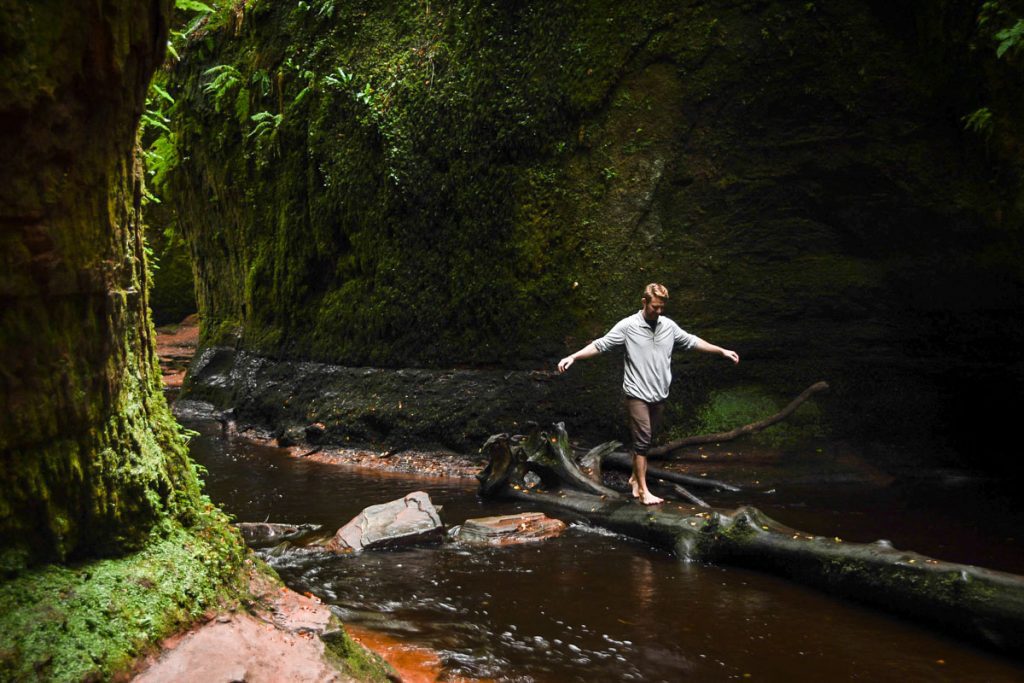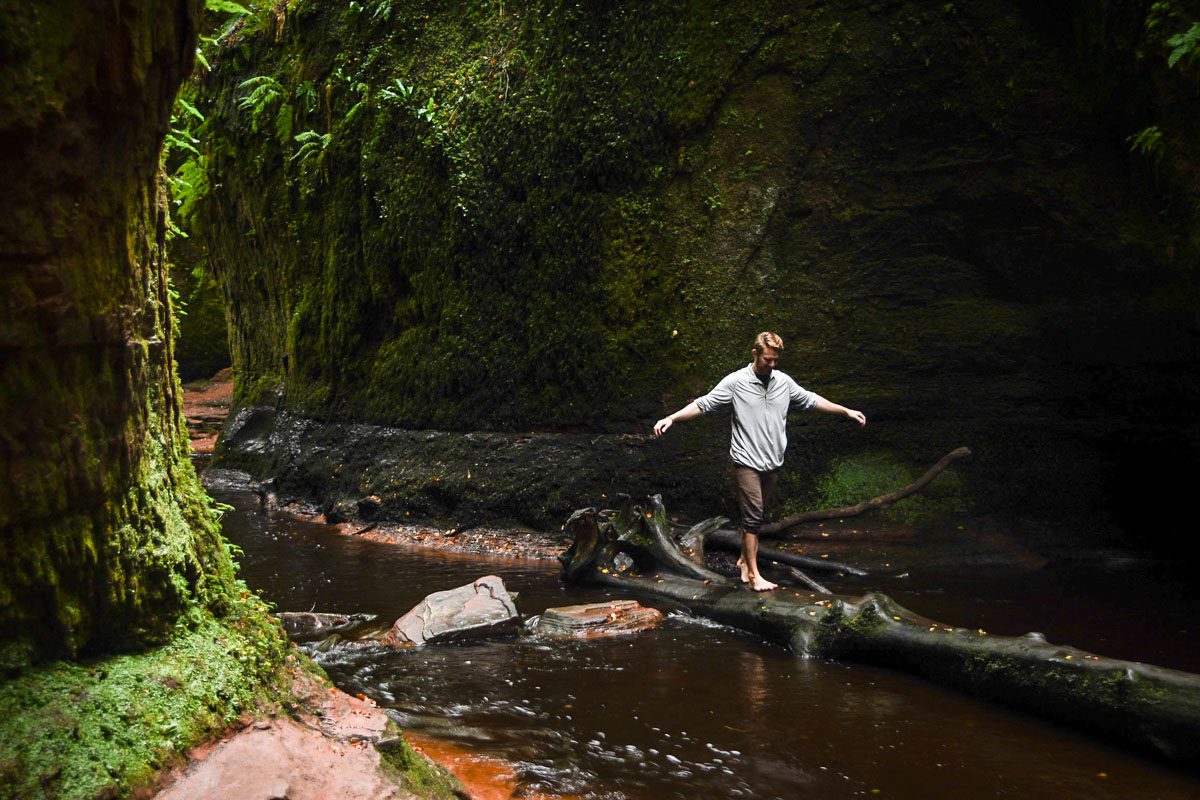 The hike itself is very short, with a distance of only about .2 miles from the parking lot down into the gorge. However, be sure to take it slow; there's the very slippery rock "staircase" and ropes to hold onto in a few places.
Even taking your time, the descent to Devil's Pulpit is quick — it only takes about 10 minutes to reach the water.
Once there, take a few minutes to take off your shoes and wade to Devil's Pulpit, just around a bend in the creek. Many people go swimming here and either way, it's worthwhile to sit and enjoy the view.
A visit to Finnich Glen can range from 40 minutes to a few hours, depending on how long you want to stay.
How difficult is the Devil's Pulpit hike?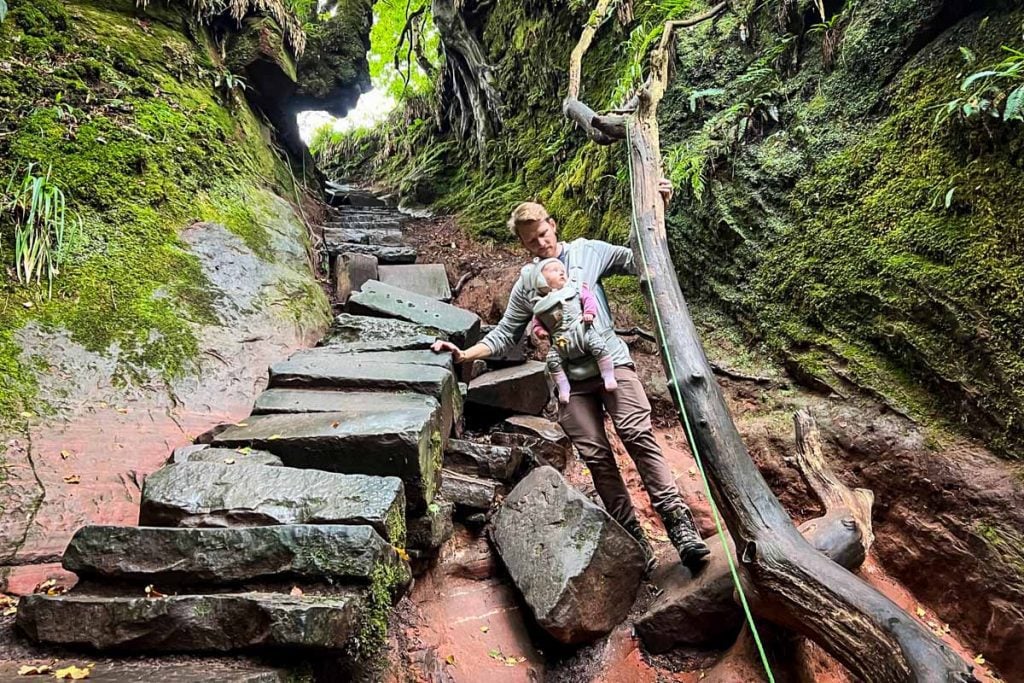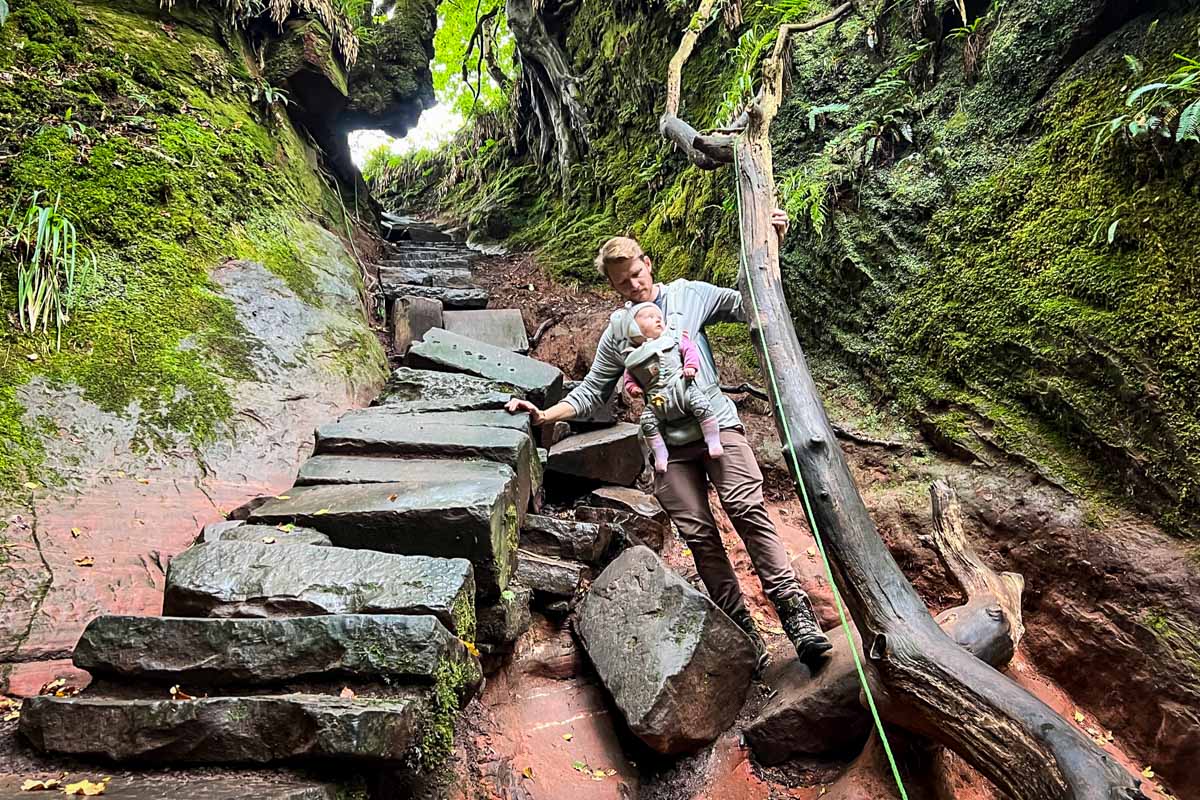 With its short distance, reaching Devil's Pulpit doesn't require intense cardio or a prolonged thigh-burning climb. Instead, its difficulty comes from the muddy conditions and steep descent.
What starts as a stone staircase turns into a slippery slide, with uncarved rocks and ropes for added grip in a few places. (Please, use them! Taking a fall here could have serious consequences).
While your heart may race a bit coming down and you definitely need to keep your eyes on the trail, Devil's Pulpit is nothing too tricky, especially for those with prior outdoor experience.
We even brought our 9-month-old daughter in her Ergo 360 baby carrier with us. (Note: We hike with her quite a bit and are extremely comfortable doing so, so don't take any unnecessary risks if you are also traveling with a baby.)
The route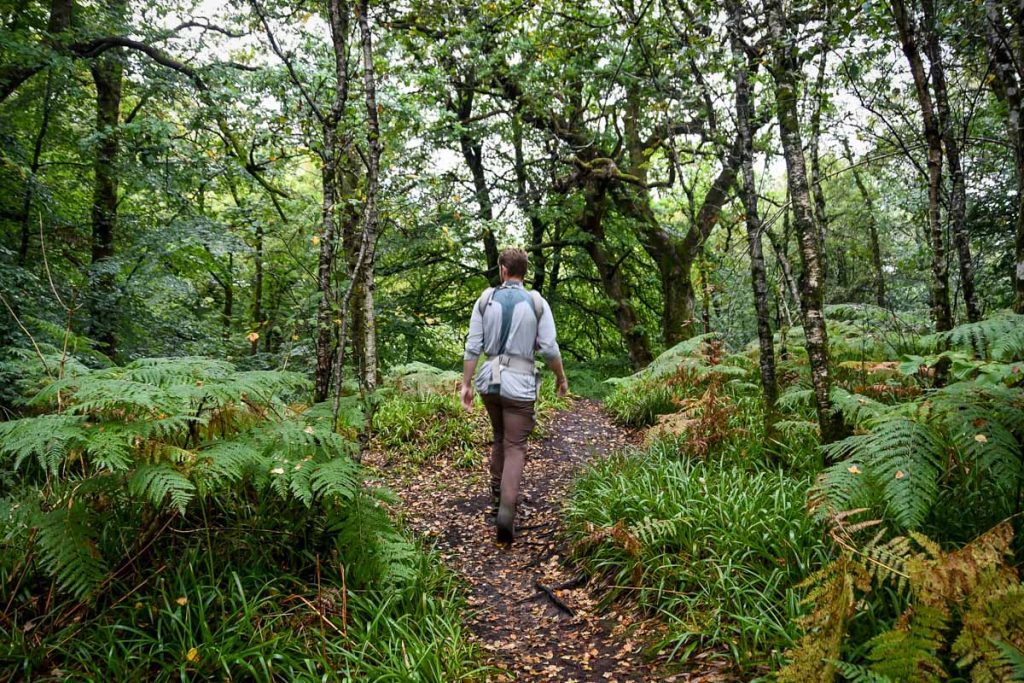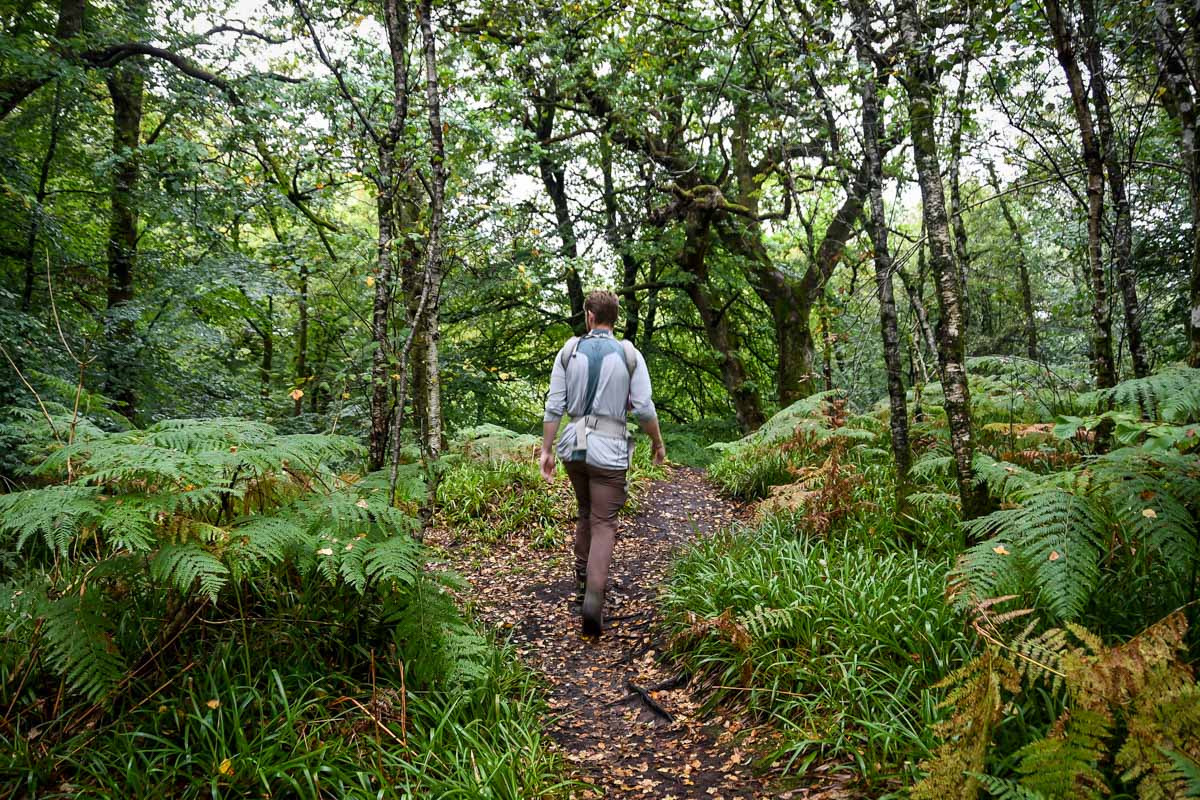 Access to Finnich Glen starts from an easy-to-miss path, just past a bridge next to a few parking spaces. Although there's a gate on the same side of the road as the parking spots, the trail actually starts across the road.
Proceed through the door in the stone wall and keep going into the woods. From here, you should start to hear faint voices and echoes of other visitors in the gorge. This means you're on the right path!
Keep going through the woods, avoiding the steep drop offs. Edges, divots, and other hazards can be especially hard to see in the spring and fall, with new growth or fallen leaves obstructing the view.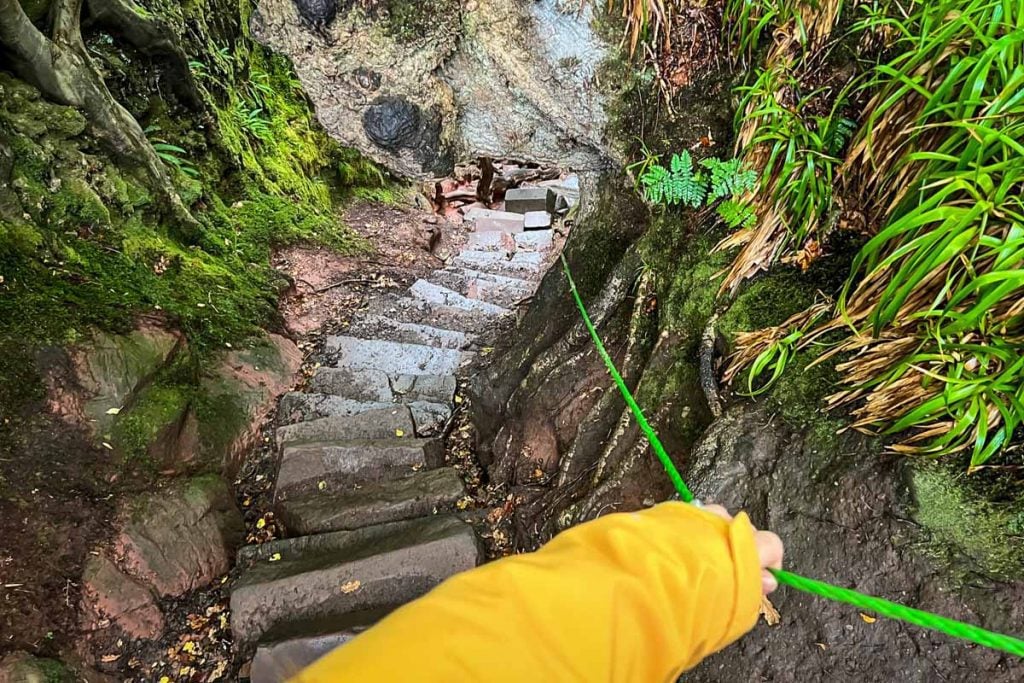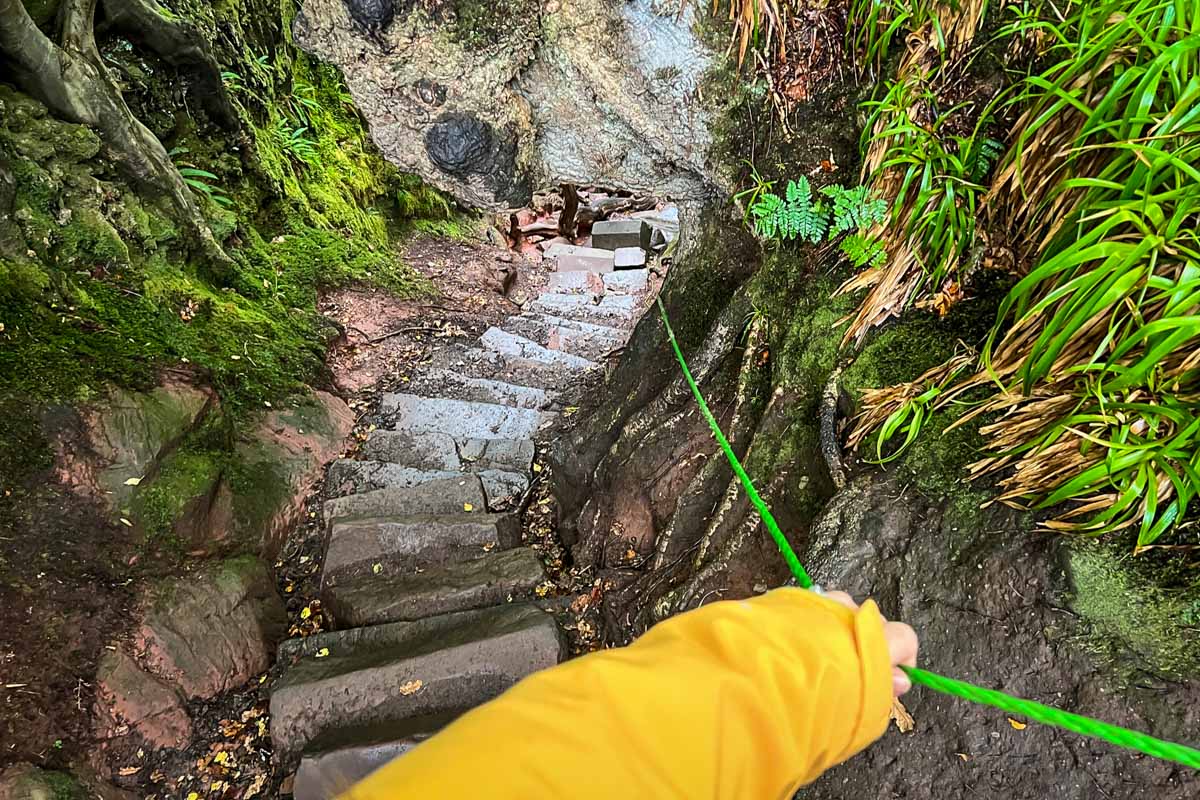 Soon, you'll come across Jacob's Ladder, an old, ill-maintained staircase. Take it slow — the lower into the gorge you descend, the worse the stairs' condition.
Caked with thick mud and slippery even in dry conditions, at one point it becomes basically a rock slide. There's a rope to aid hikers on the most treacherous parts of the descent, but it can still be a little sketchy. If you don't feel totally comfortable, there's no shame in turning around!
Once you're at the water at the bottom of the canyon, enjoy the views! Wading and swimming are popular here, especially on warm days, and you'll need to get your feet wet to see the Devil's Pulpit anyway.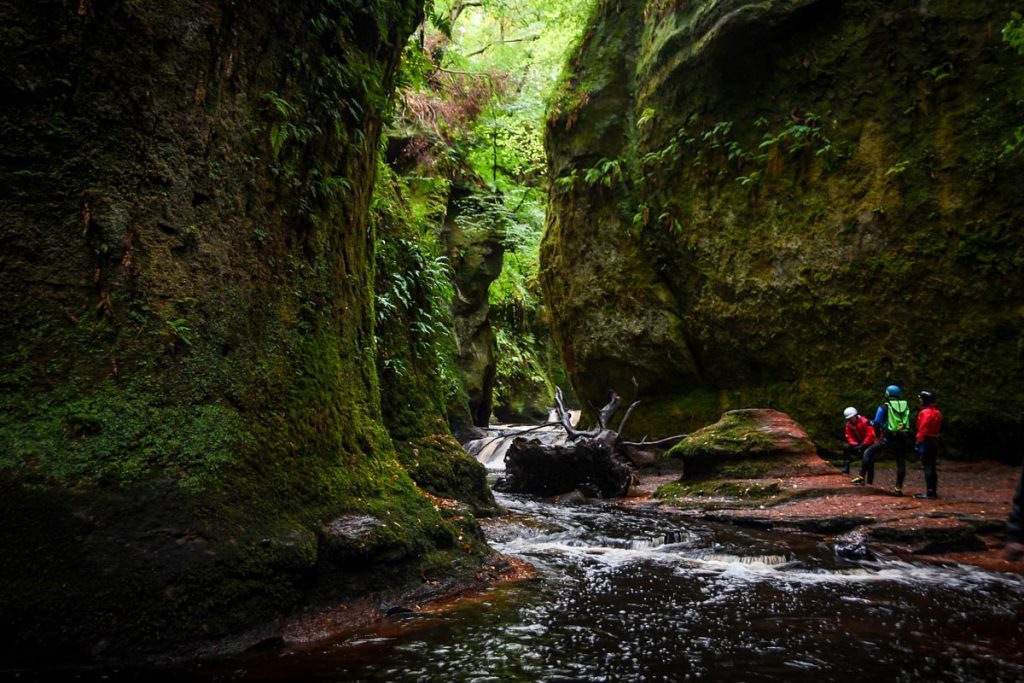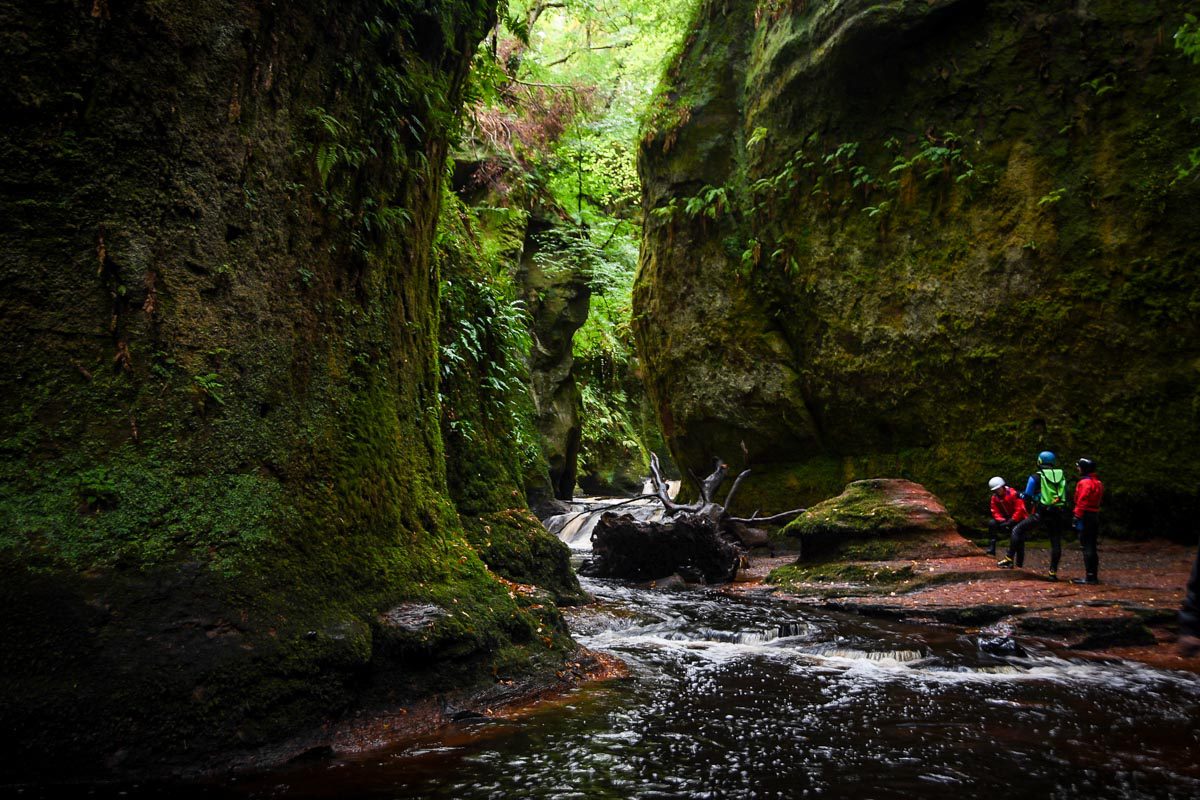 Once you arrive at the water, take a left (head westward) to see the unique rock formation and waterfalls.
Insider Tip: Bring a towel to dry off your feet after wading through the water. We saw someone doing this, and we wished we had thought to bring a small towel.
There are plenty of relaxing spots in Finnich Glen, and some locals even bring barbeques for picnics. Keep in mind the gorge is especially deep and narrow in parts, so mind your footing when exploring, especially if you're hauling in extra items.
Once you've soaked up the unusual colors, head back up via the staircase and make your way to the parking lot.
Tips for hiking to Devil's Pulpit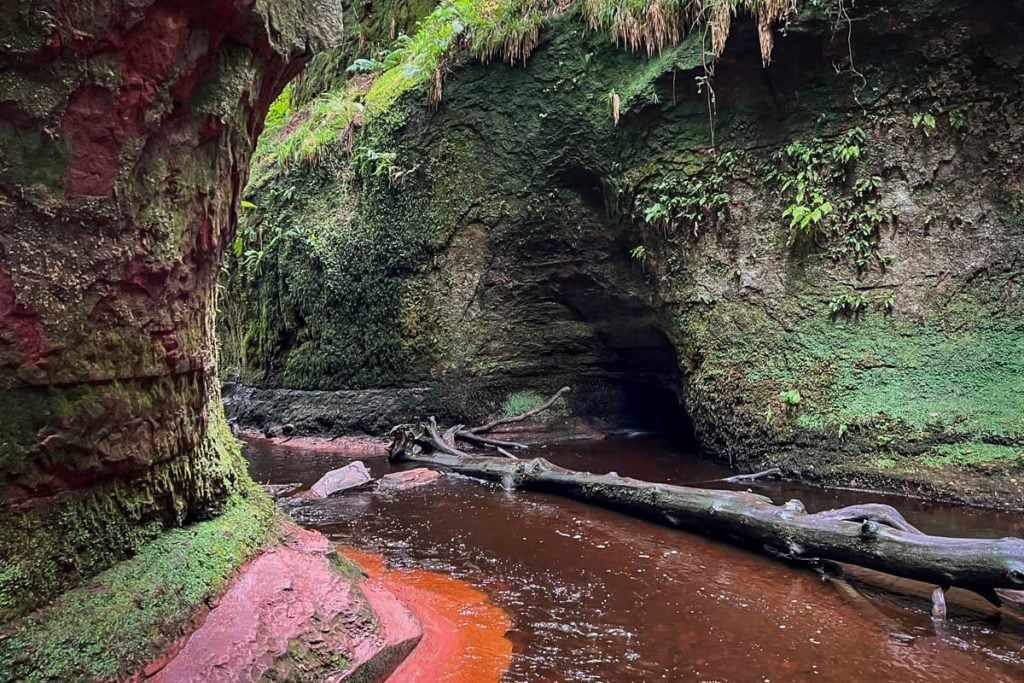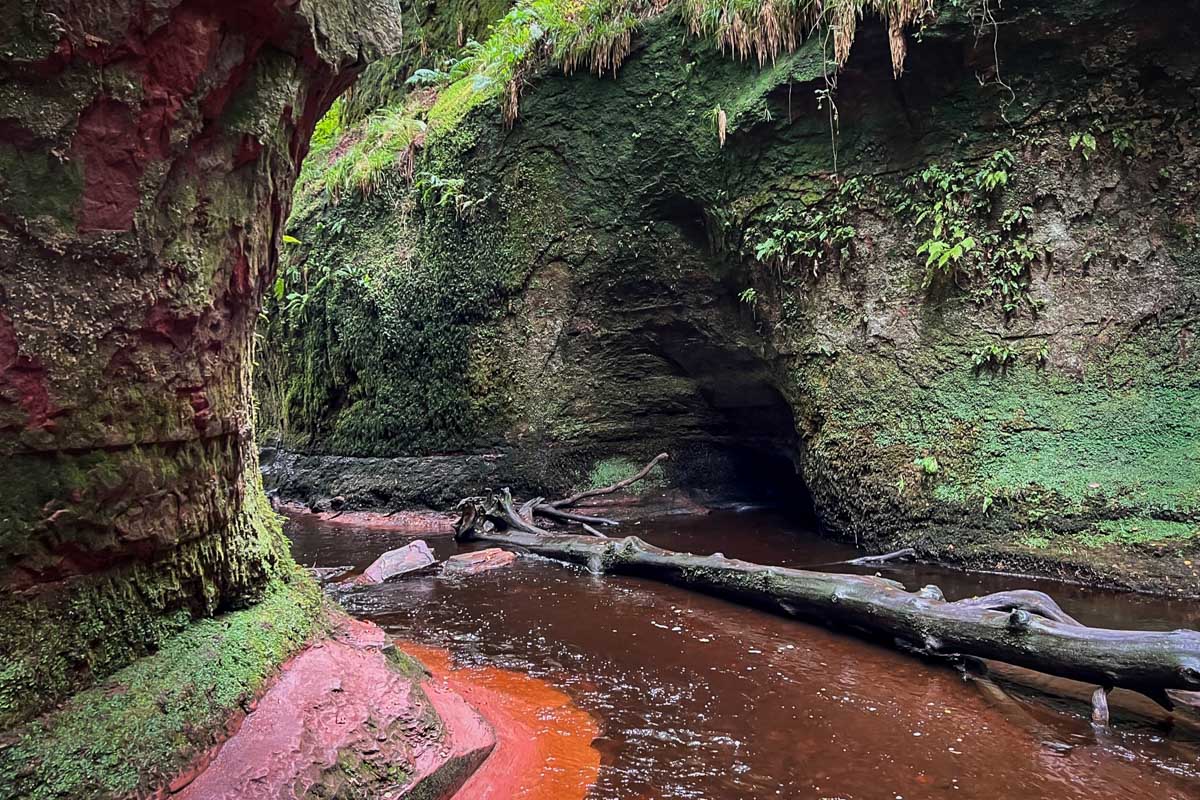 Wear hiking shoes with excellent grip. This hike is very, very muddy and slippery!
Don't forget a towel, whether it's for drying your feet after wading or full-blown swimming.
Go early or later in the day. There's limited parking and it gets very crowded by midday.
Check weather conditions and avoid Devil's Pulpit if the forecast calls for rain.
Always pack out your trash and if you're open to it, pick up a few other pieces as well. Disappointingly, others do not practice the same respect on this hike.
If you're feeling uneasy during the descent, it's okay to turn around! The gorge is spectacular, but it's not worth an injury.
If you're bringing a camera, pack a tripod (it's necessary for the low light!).
Where to stay nearby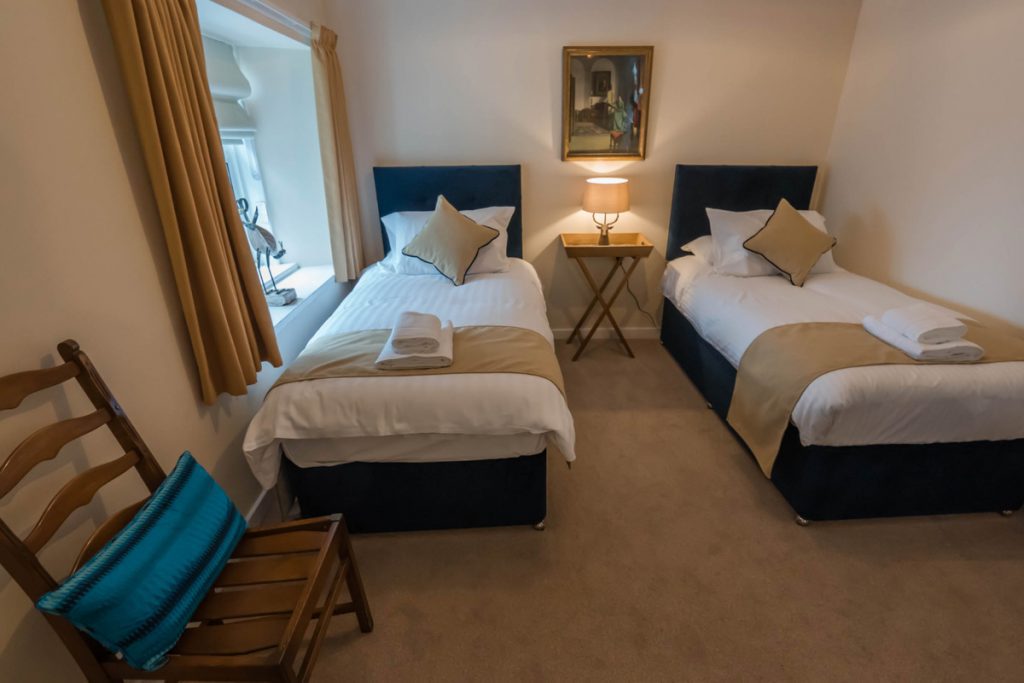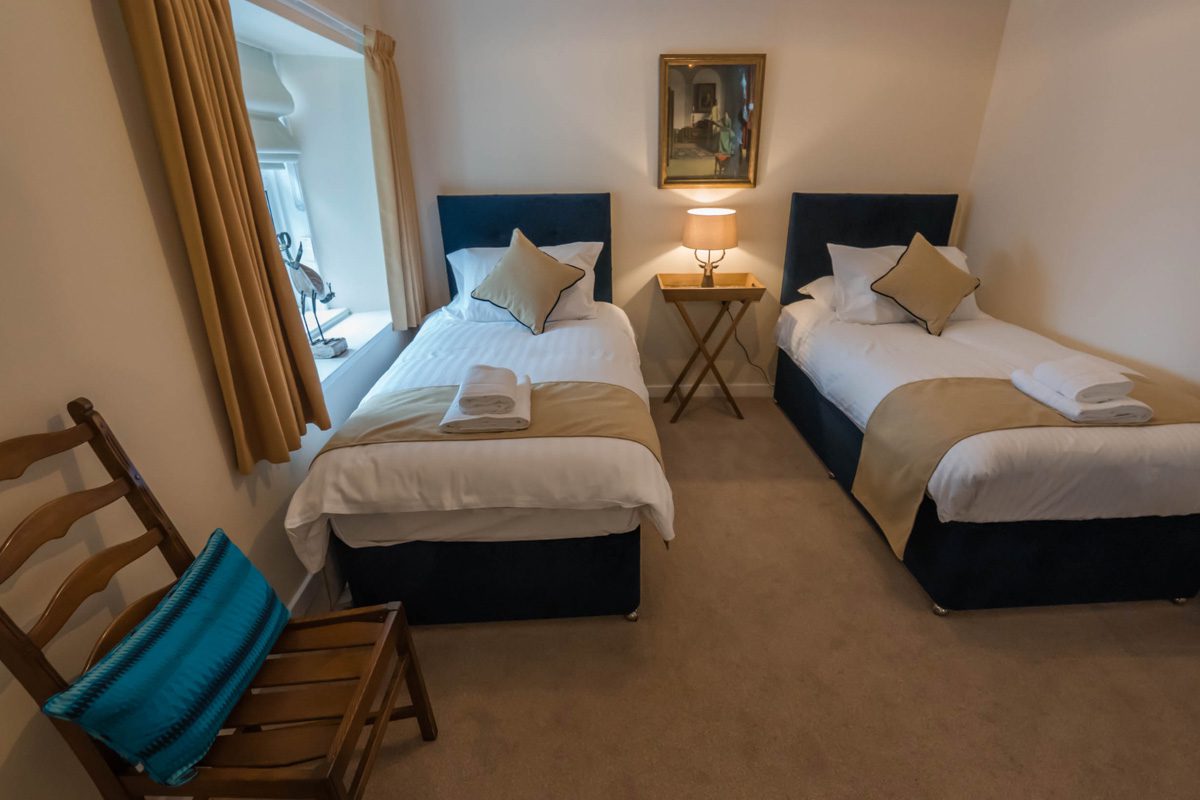 Clachan Inn: Cozy, old-school atmosphere with clean, modern rooms and an authentic Scottish pub and restaurant downstairs, only a 15-minute drive from Finnich Glen.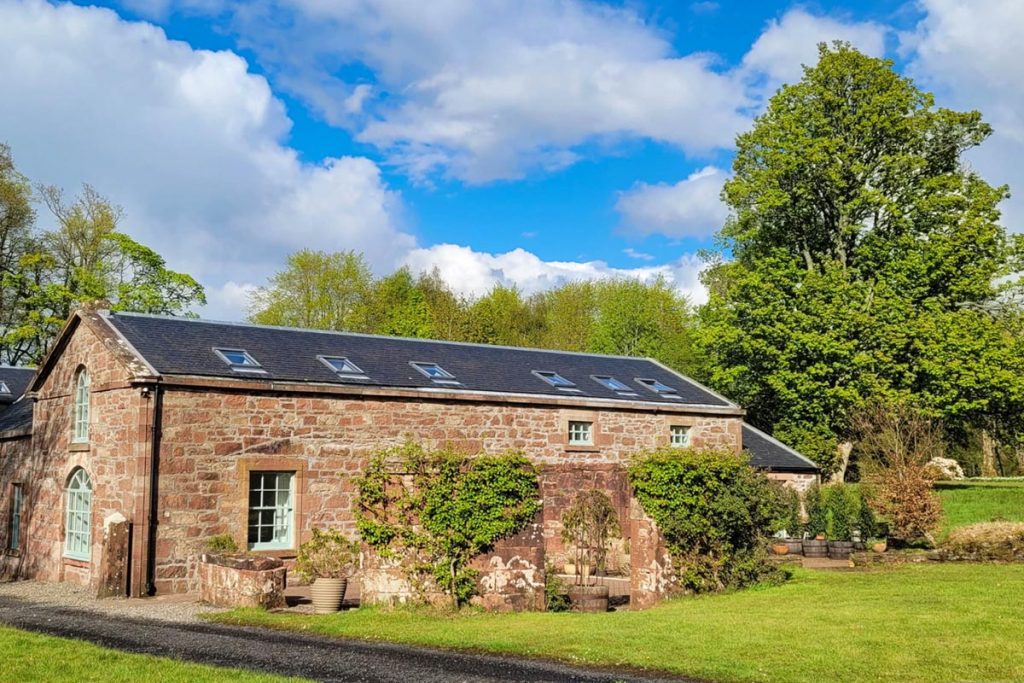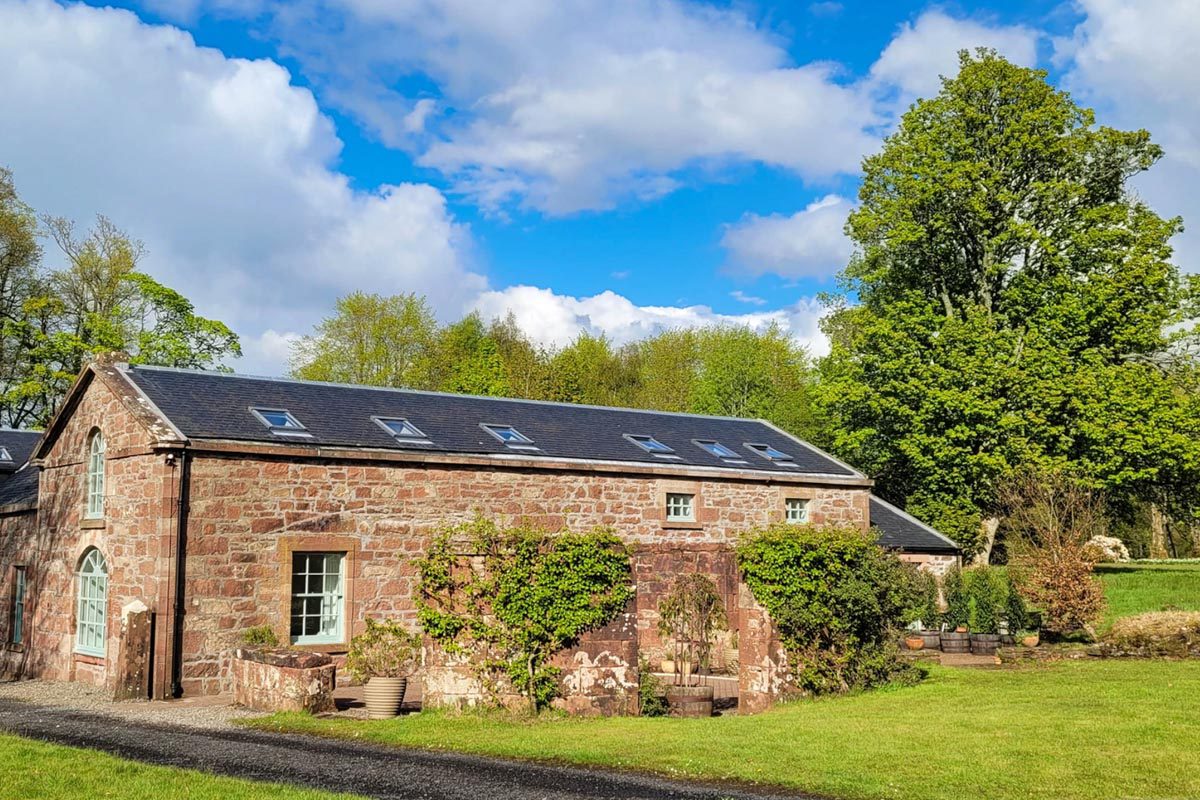 Finnich Cottages: An upscale accommodation close to Devil's Pulpit in a rural location. The property has sweeping mountain views, plus a hot tub for soaking under the stars!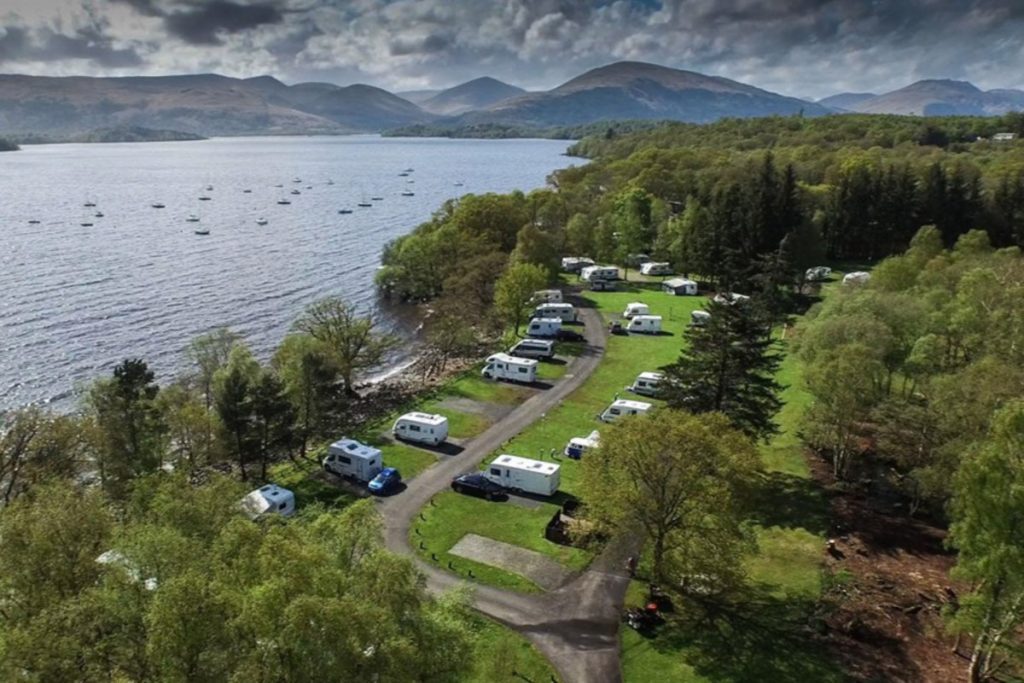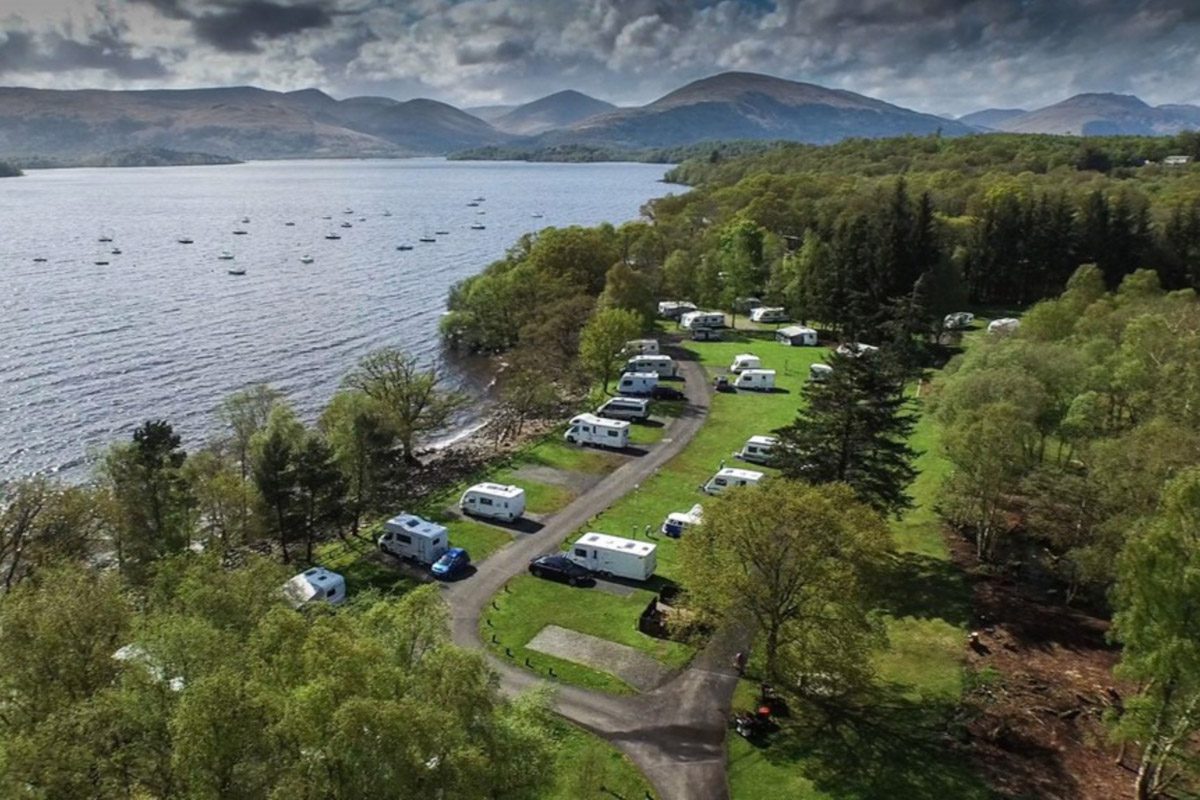 Milarrocky Bay: With friendly staff, nice facilities, and unbeatable views across a loch, this picturesque campsite is the perfect place to pitch a tent.
What to pack for hiking to Devil's Pulpit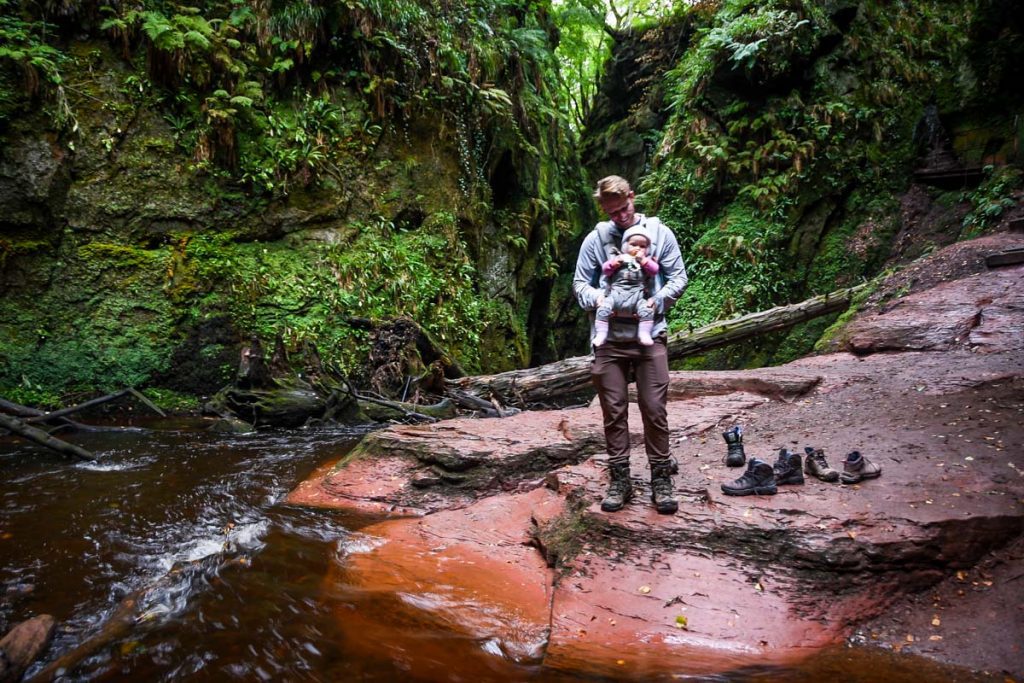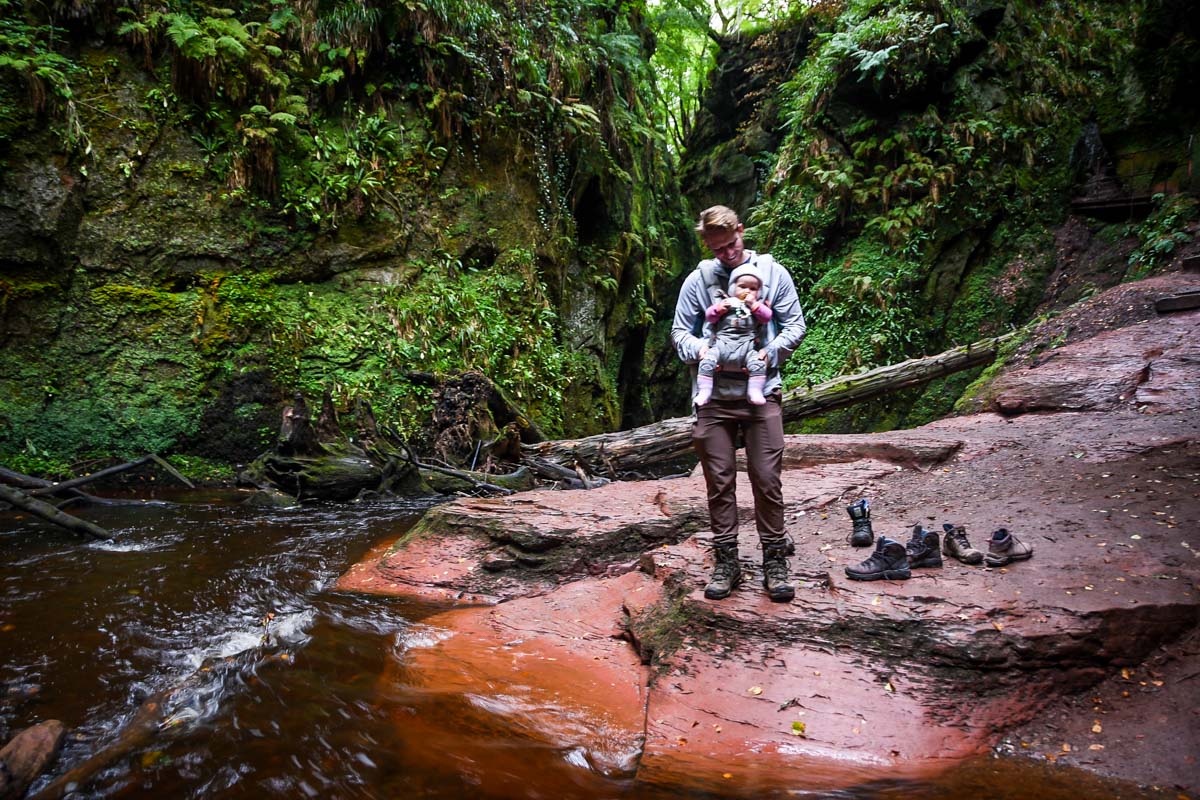 ---
Are you planning a trip to Scotland?
We have lots of resources on travel in Scotland and destinations throughout the country. Check out our Scotland Travel Homepage for everything you need to know, or read some of our favorite articles below.
Save this article on Pinterest for later!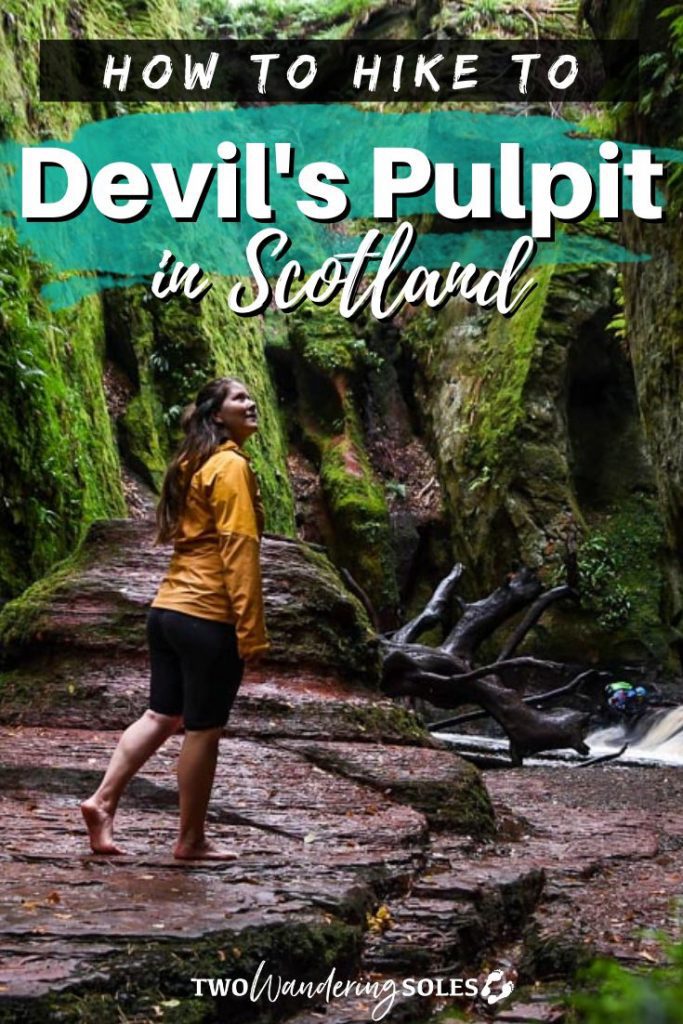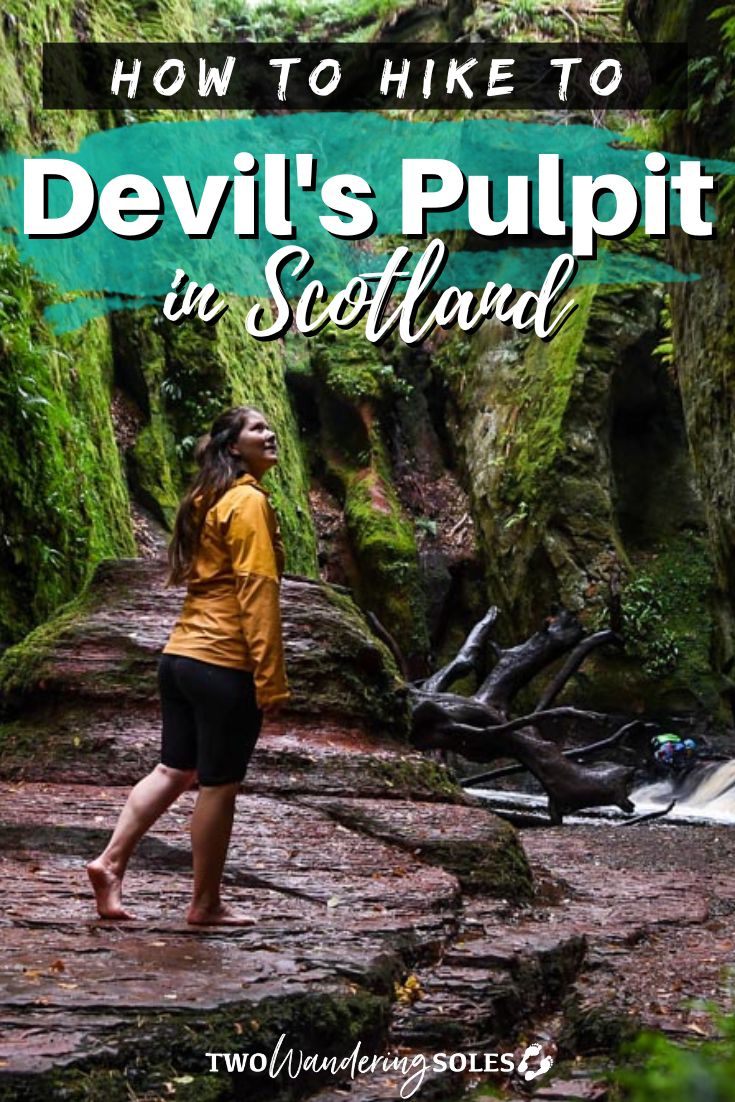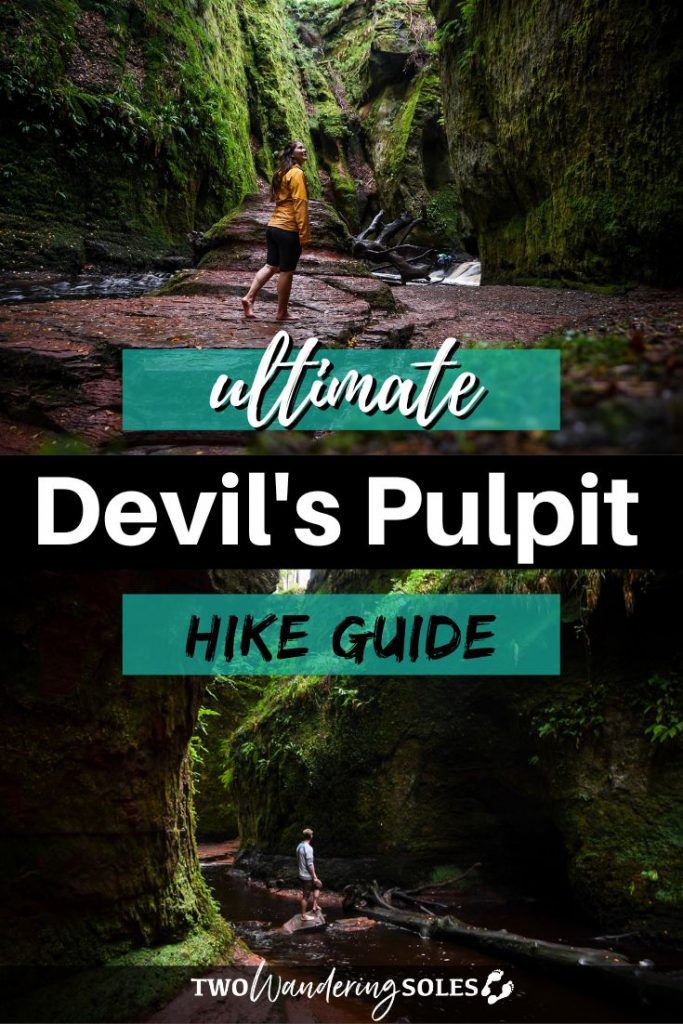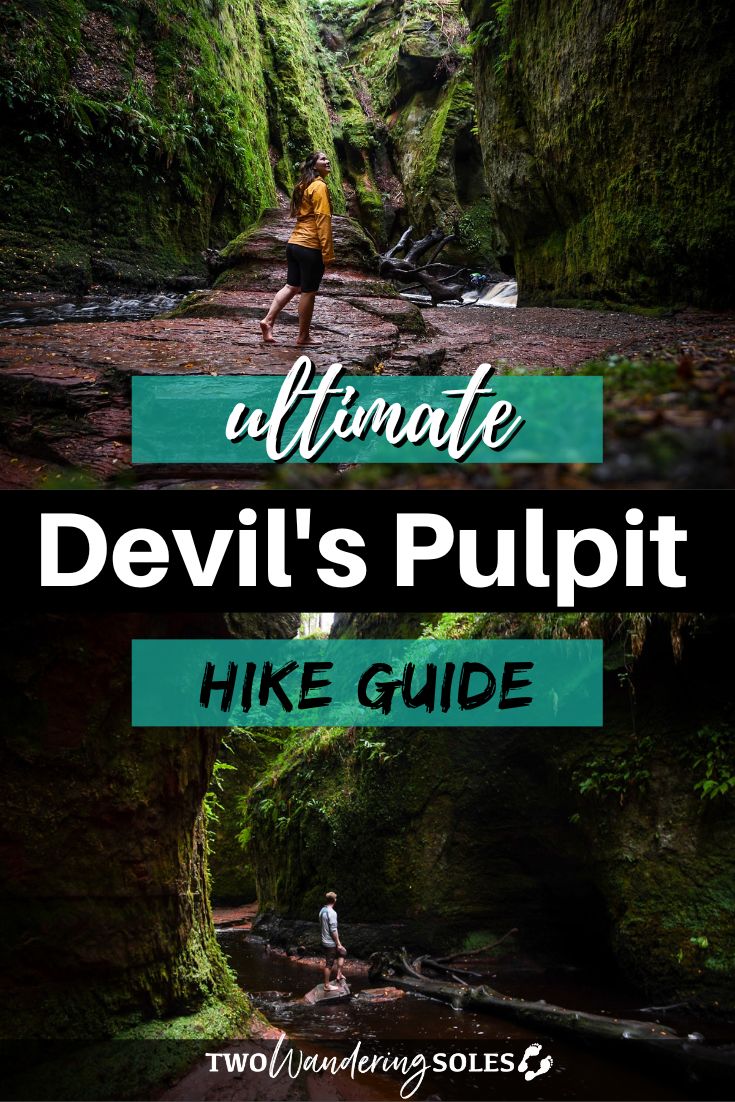 We want to hear from you!
Are you ready to attempt the Finnich Glen hike to Devil's Pulpit? Comment below and let us know if you have any more questions about the experience!