There's no getting around it, Hawaii is an expensive destination. In this article, we share the exact breakdown of a Hawaii trip cost — from food and hotels to transportation and entertainment. Plus, we're sharing some of our best money-saving tips so you can travel to Hawaii on a budget!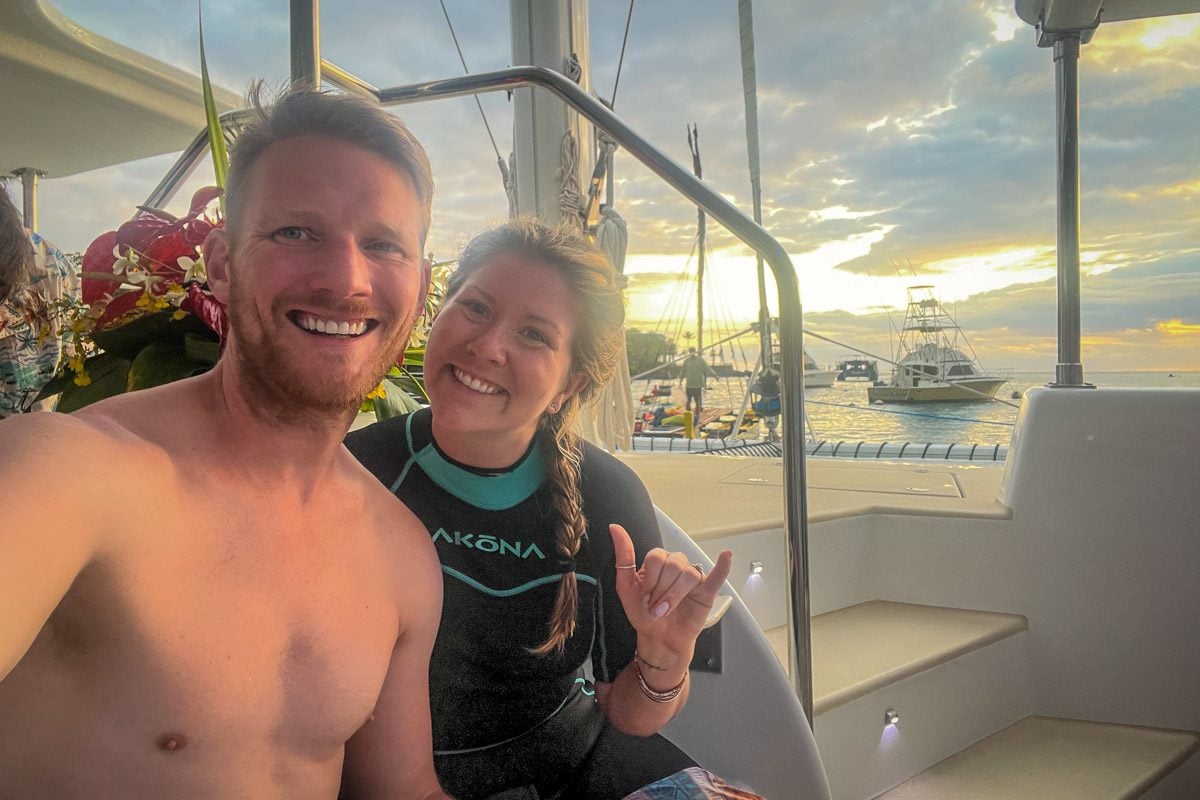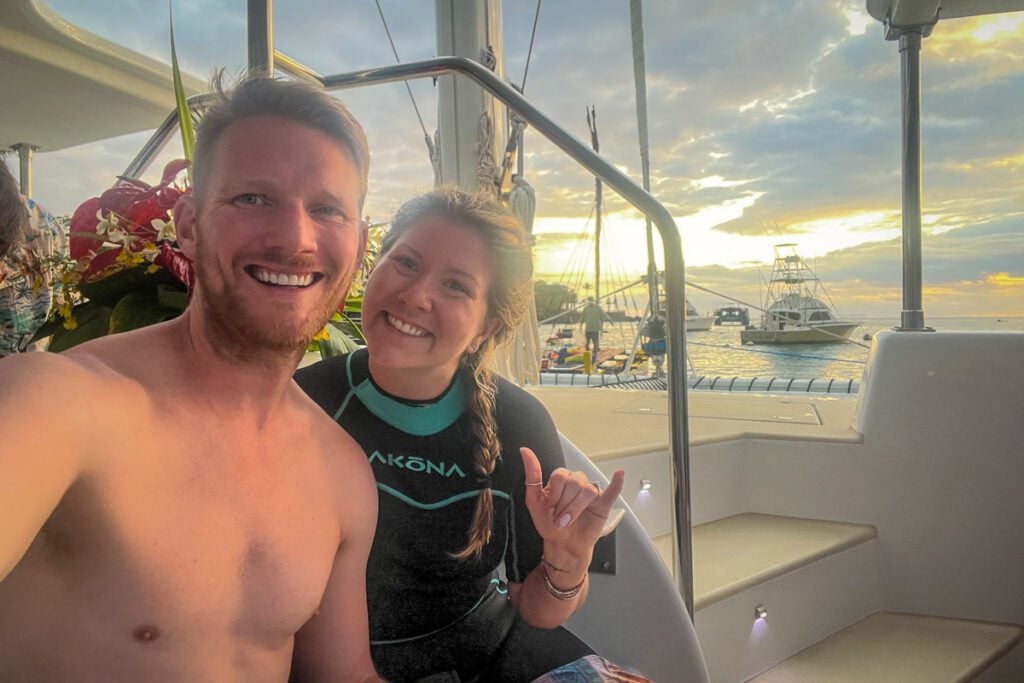 If you're planning a trip to Hawaii and find yourself wondering just how much to expect everything to cost, you're not alone.
When you start looking at price tags, it's enough to make your eyes water.
So how much should you expect to budget? And are there any ways to cut costs?
We'll go over average costs in Hawaii for things like accommodation, food, transportation and activities. We're also sharing some money-saving tips to help you keep expenses as low as possible.
Hawaii trip costs
---
Is Hawaii expensive?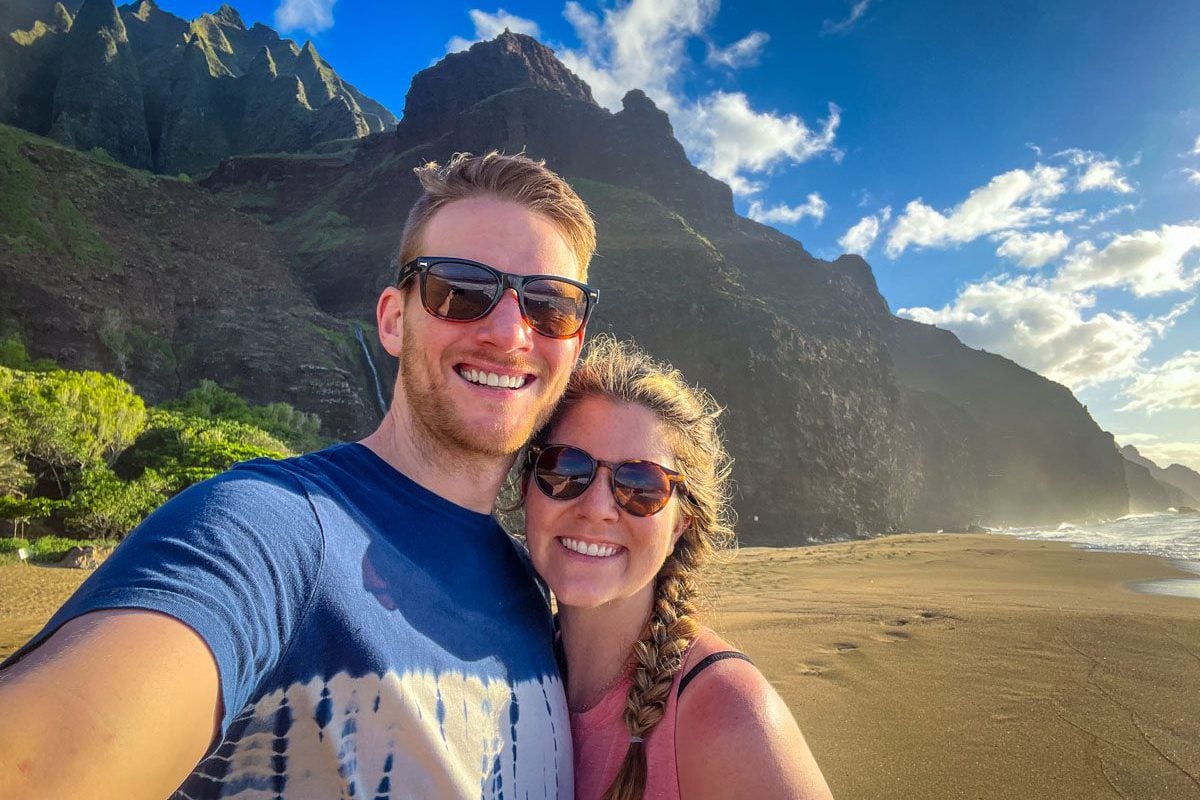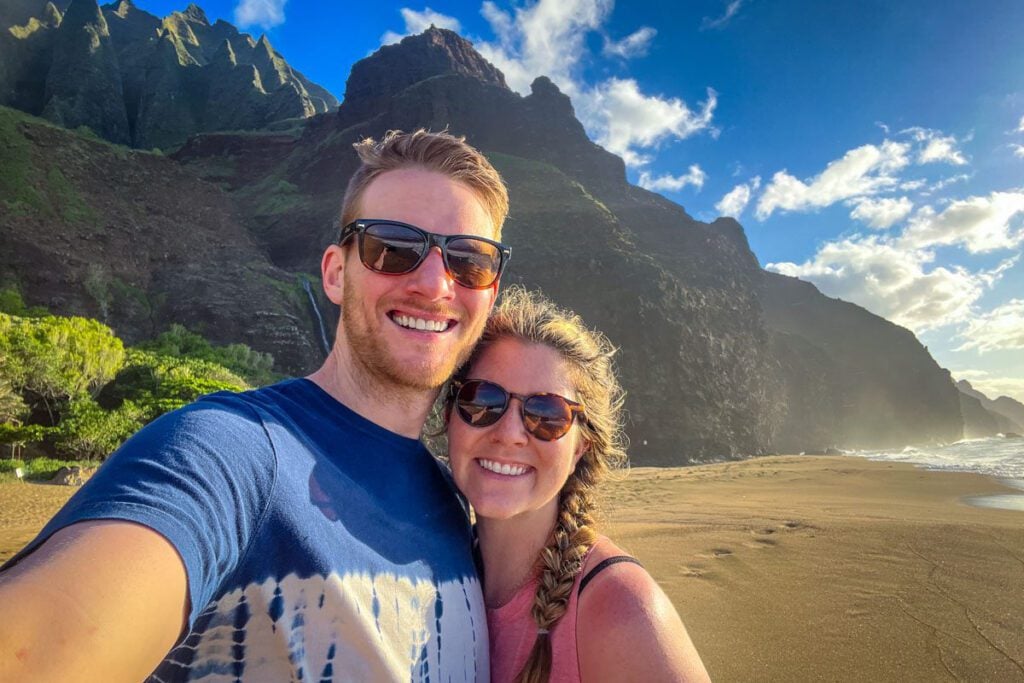 I'm gonna give it to you straight… Yes, Hawaii is expensive.
Accommodation is expensive.
Gas is expensive.
Rental cars are expensive.
Food is expensive.
These aren't just tourist prices – the cost of living in general is very expensive. With sky high electric bills, rent costs, and groceries, it's no wonder that Hawaii is one of the most expensive US states to live in. And most of the prices make sense when you consider how isolated Hawaii is.
Still not swayed away? Good, because despite the high prices, Hawaii is still very much worth visiting. Plus there are some sneaky ways to save money.
If you're curious about the cost of a trip to Hawaii, or are looking for some money-saving tips to help you stay under budget for your dream Hawaii vacation, we've got you covered!
How much does a Hawaii trip cost?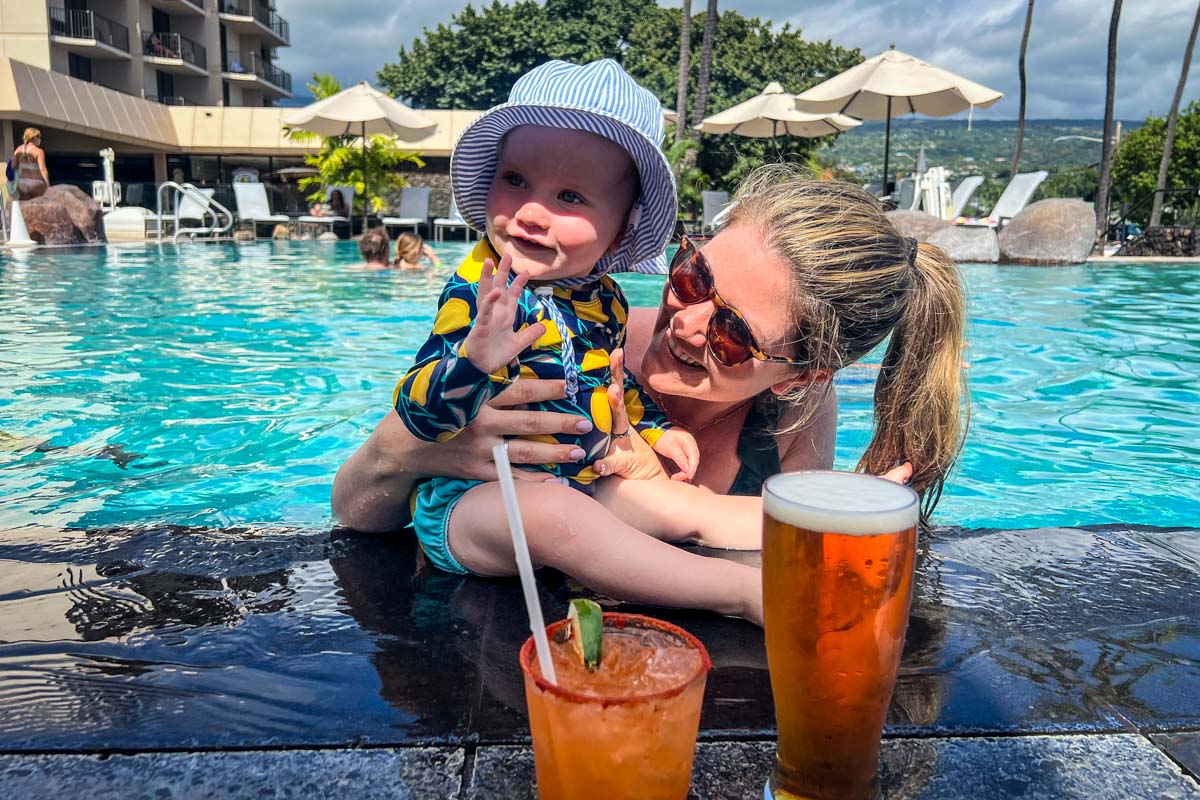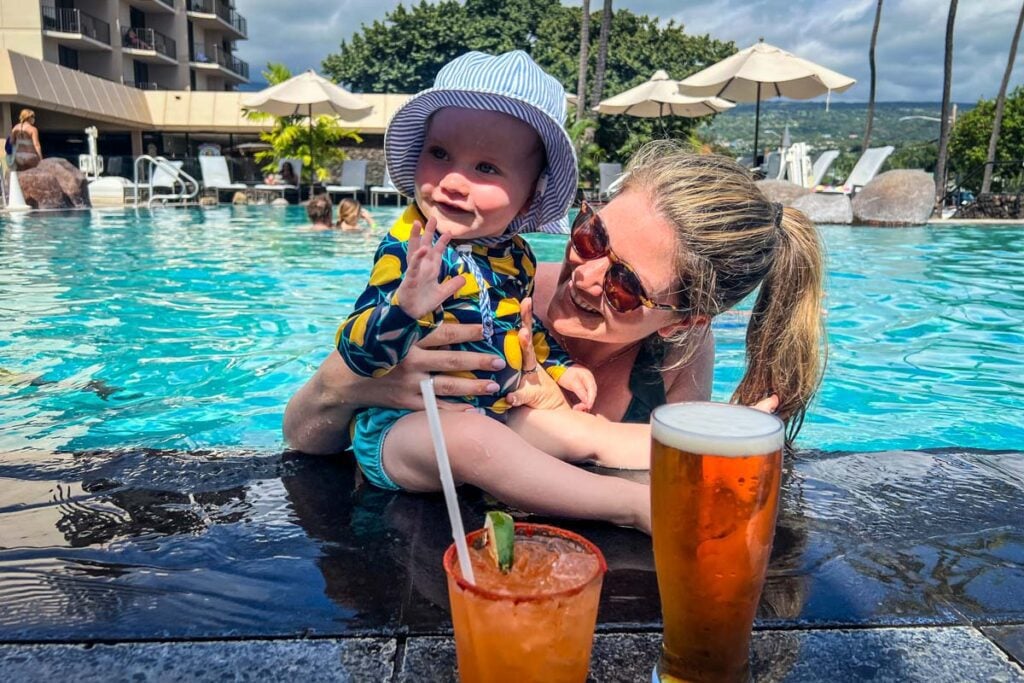 Your budget will vary based on your travel style and the time of year you visit Hawaii. Prices really fluctuate throughout the seasons reflecting peak and low tourist seasons. Plus, your total costs will also vary based on which island(s) you visit.
So which is the most expensive island?
According to the Hawaii Tourism Authority, the most expensive island to visit is Maui.
Alternatively, Oahu can be the most affordable due to the amount of hotels and tour operators. (That said, a night in Waikiki Beach can cost a pretty penny!)
---
Average costs in Hawaii
Below are some average prices for a Hawaii trip on a midrange travel budget so you have an idea of what to expect. You could spend less than these averages, but it wouldn't be difficult to spend much more as well.
Good to know: Each Hawaiian island varies a bit in pricing. We found the Big Island to be slightly less expensive than Kauai, and we've heard that Maui tends to be the most expensive. Oahu can be a bit of a mix, as there's more competition than the other islands so you can find good deals. However, Waikiki and other parts of Honolulu can be very pricey.
Accommodation costs in Hawaii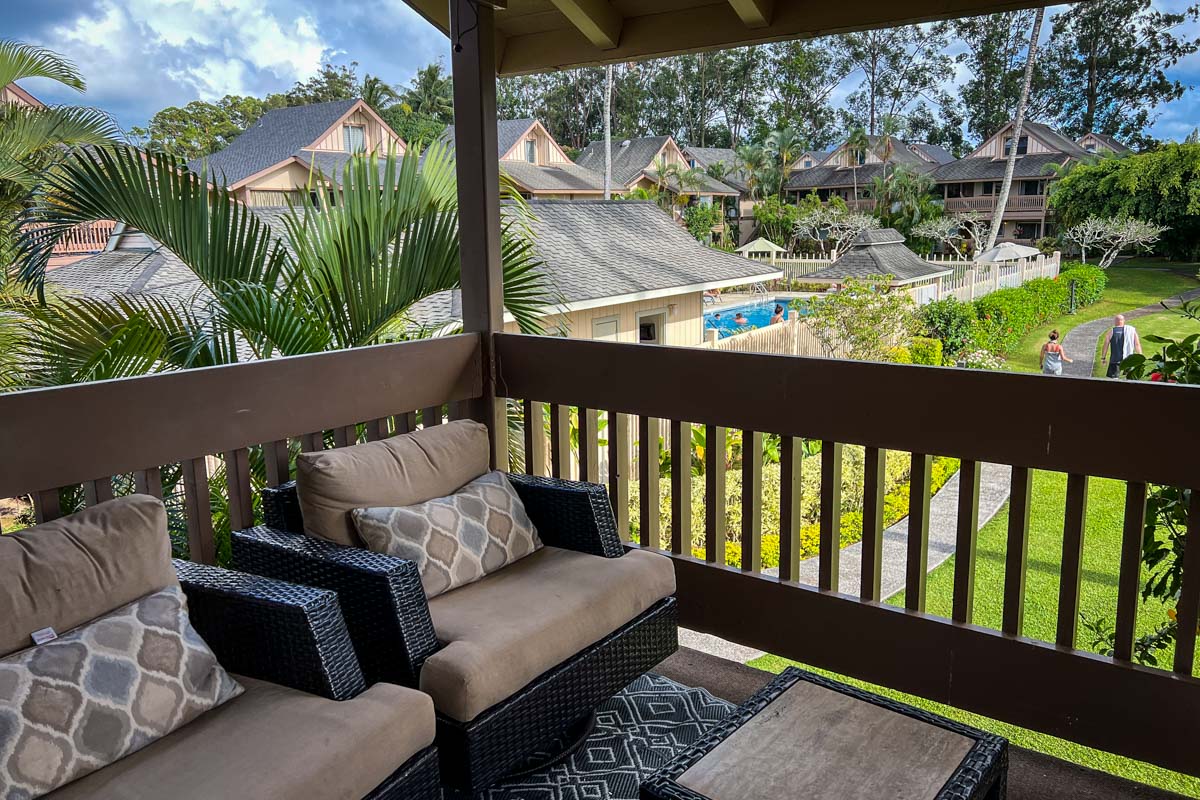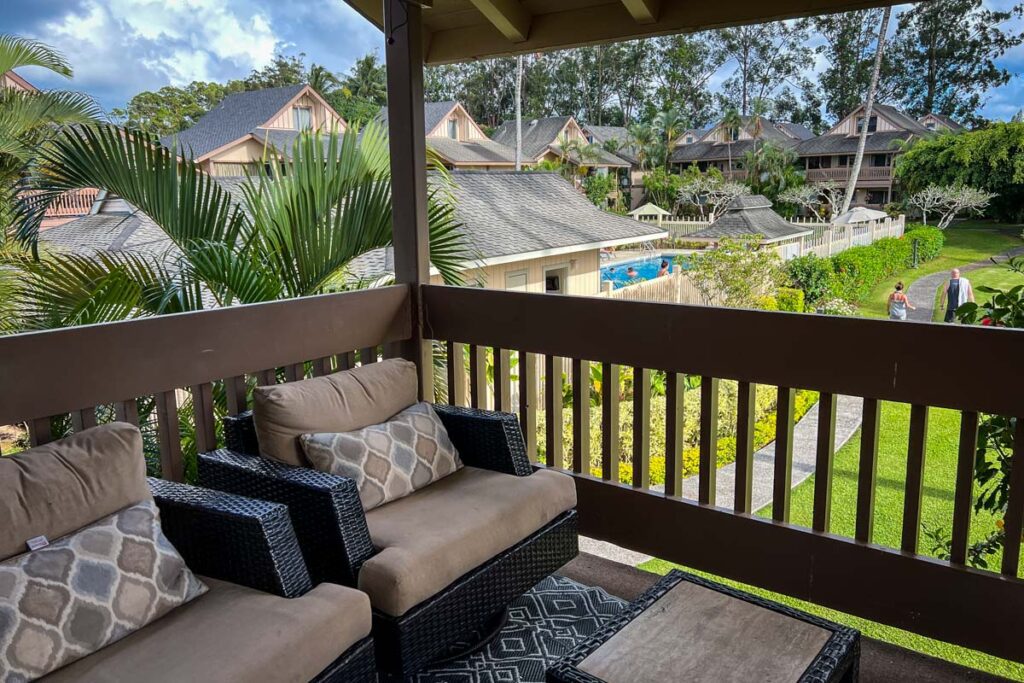 In general on our travels, we try to spend less than $200 per night on accommodations. But this seemed very difficult in Hawaii, especially since we would be staying in these hotels with a baby (which means we have more specific things we look for than when it's just the two of us).
For places that were clean, well-located, had great reviews, would accommodate a baby, and were cute (hey, that's important sometimes too!), we found that the most budget-friendly options were closer to the $250-$300 per night price range, if not higher.
Note: We were traveling during a higher tourist season. Prices may be lower later in the year.
$250-$400 per night average (for a family)
$175-325 per night average (for a couple)
Good to know: Each city and region is slightly different, and the cheapest place we stayed on the Big Island was Volcano, where we paid $180 per night. The most expensive place on the Big Island was in Kona, where we paid around $450 per night.
If you aren't very concerned with location or how nice your accommodation is, you can certainly lower these averages a bit. But I will also say that it wouldn't be hard to spend hundreds more per night as well.
For the best chances of a good deal on a decent accommodation, book early.
*It seems that the cost of accommodation has increased in the last couple of years.
Food costs in Hawaii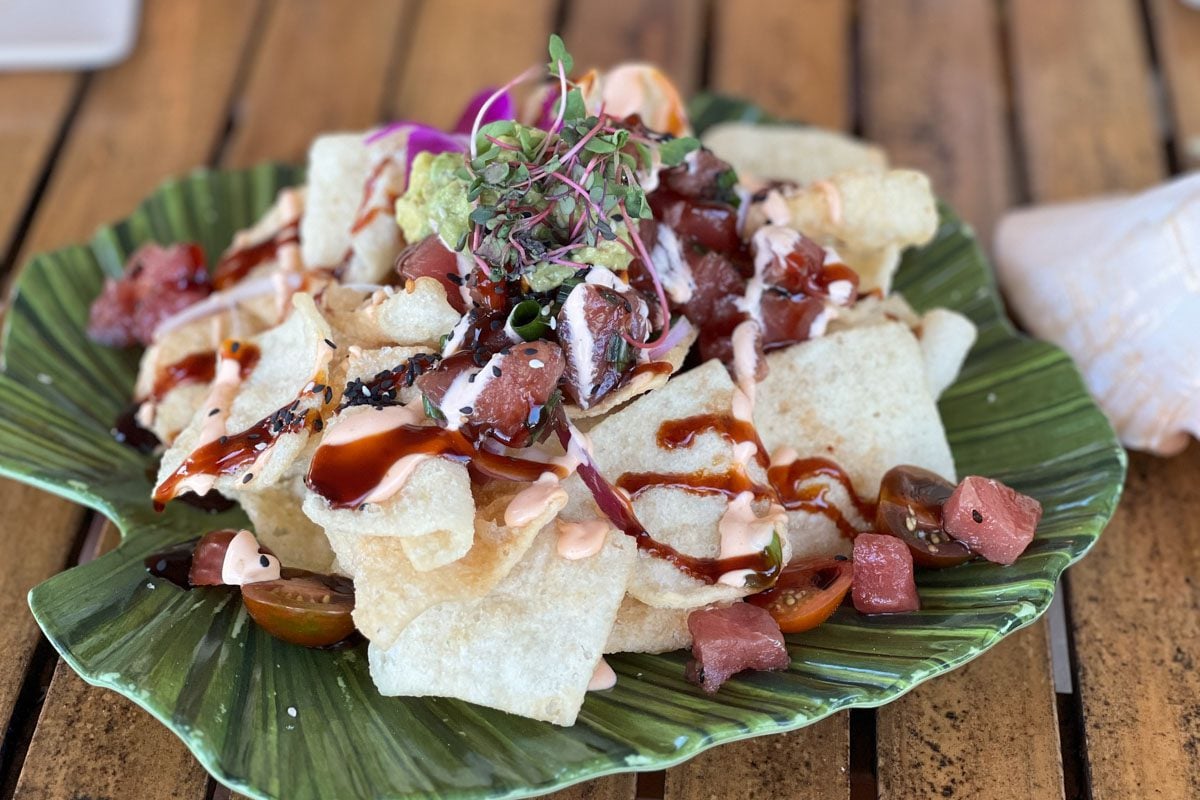 Food is expensive! I expected it to be more costly than on the mainland (things have to be shipped over the Pacific, after all!).
However, even things that are grown on the island, like Hawaiian fruit, were way more expensive than I would have expected. For example, at just about every roadside fruit stand, $10 seemed to be the going rate of a cold coconut. Yikes!
While the prices can make your eyes water, it's important to remember that the high cost of living for Hawaiian residents is the driving force here. As a visitor to the islands, expect to pay (much) more for food than you're used to at home.
Here are some examples of what to expect (based off our personal experience in April 2023):
$3-5 black coffee
$10 smoothie
$15 – $25 per person for a casual meal
$30 – $50 per person for a dinner with a drink
Personal experience: We spent an average of $175 – $225 per day for the two of us (and our 16-month-old daughter). We didn't watch our budget much and ate out for most meals. We got coffee with breakfast, drinks at dinner, snacks along the way, and chose restaurants that had been highly-recommended. You could easily spend less than this, but it wouldn't be hard to spend much more as well.
The good news is there are so many ways to save money on food in Hawaii. Jump down here for some money-saving tips!
Rental car costs in Hawaii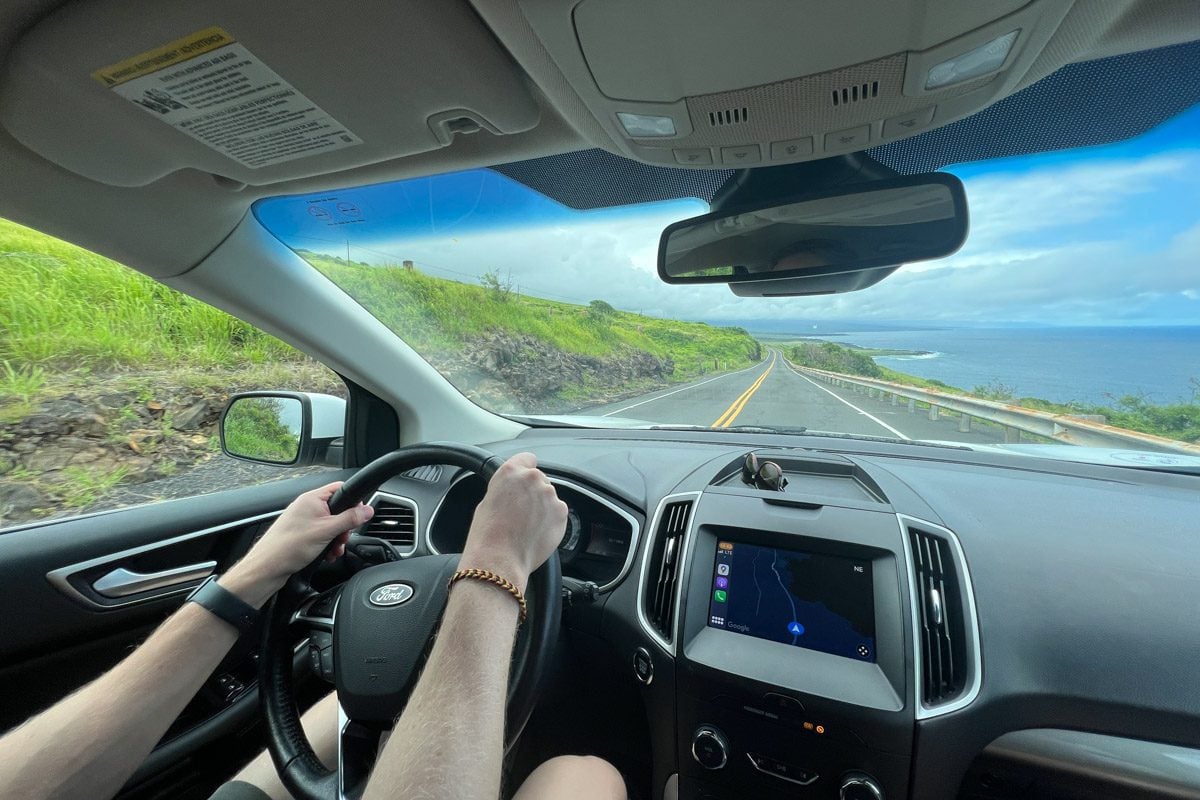 You can splurge in this category by renting a Jeep (super popular on the islands) or a fun sports car, but this is one area you won't be able to hack your savings all that much.
Prices are pretty standard on the islands throughout the year, and even the most budget-friendly rental cars are not exactly cheap (especially compared to other parts of the USA).
Sedan: $45-60 per day
SUV: $70-90 per day
Jeep: $100-120 per day
Note: Prices may vary depending on the time of year and how many days you need.
Cost of gas
In addition to the vehicle itself, you'll also need to factor in the price of gas, which tends to be some of the most expensive in the United States.
During our trip to Hawaii (April 2023), the price of gas was roughly $5 in Big Island and $5.25 in Kauai.
Money-saving tips for rental cars in Hawaii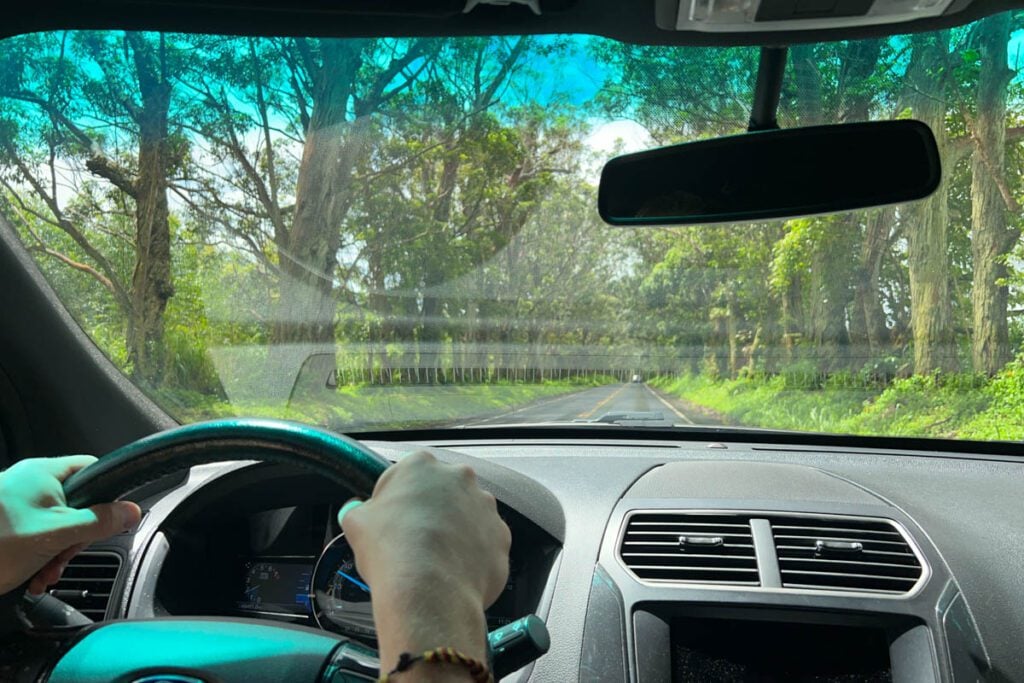 All that said, there are two rental platforms we'd recommend if you're looking to save as much money as possible.
a) Discount Hawaii Car Rental is an aggregate site that rounds up all the options from the major rental companies on the islands, however, their prices are consistently better than the other aggregates. We saved a grand total of $135.65 compared to RentalCars.com for the same exact car! Definitely do some comparing of your own to find the best price:
Discount Hawaii Car Rental (this is where we consistently found the best deals for the same exact vehicles)
Important Note: Be sure to read this advice before choosing your rental car company.
b) Turo can be another good option for renting a vehicle in Hawaii. This is a platform where individuals rent out their personal vehicles. Think of it like the "Airbnb of rental cars".
Personally, we found there weren't a ton of vehicles available for our dates, and the pricing was actually quite a bit more expensive than what we found on Discount Hawaii Car Rental. That said, we certainly wouldn't have had to deal with the lines we did at the car rental company!
We recommend comparing options and pricing for your dates to the rental car companies to help you make a decision.
Activity costs in Hawaii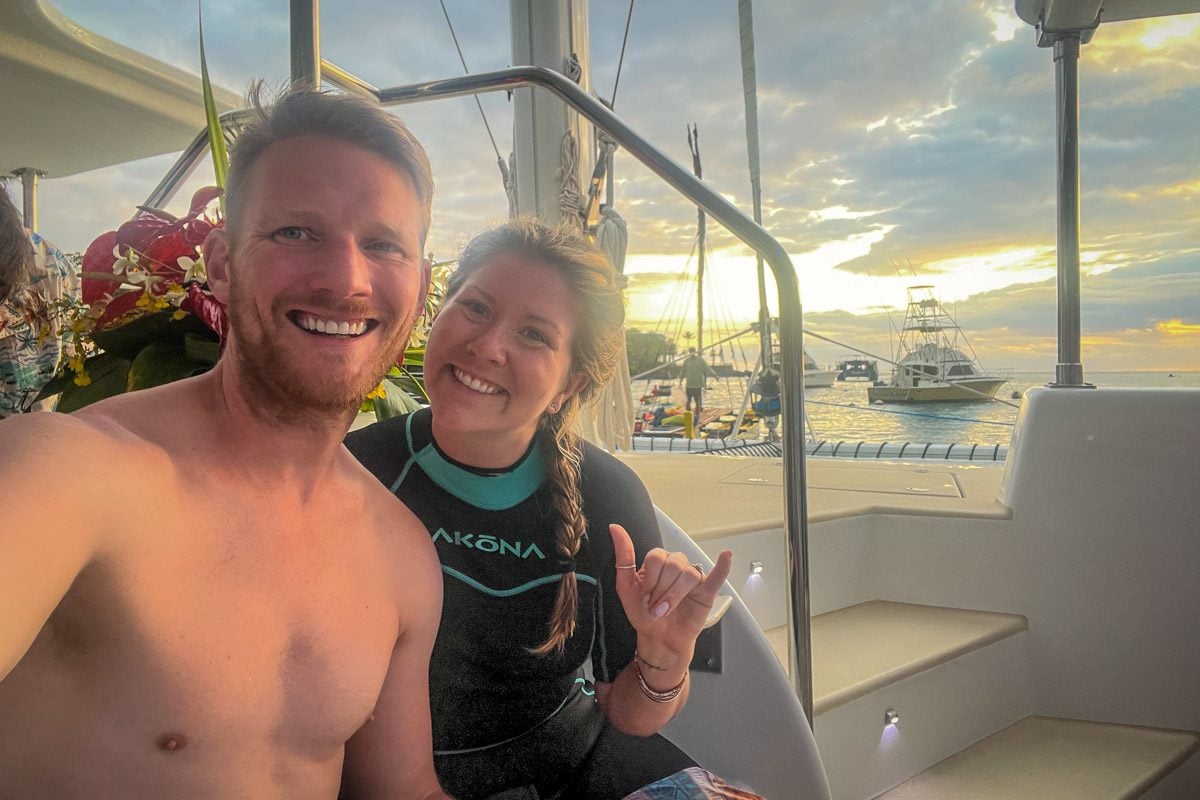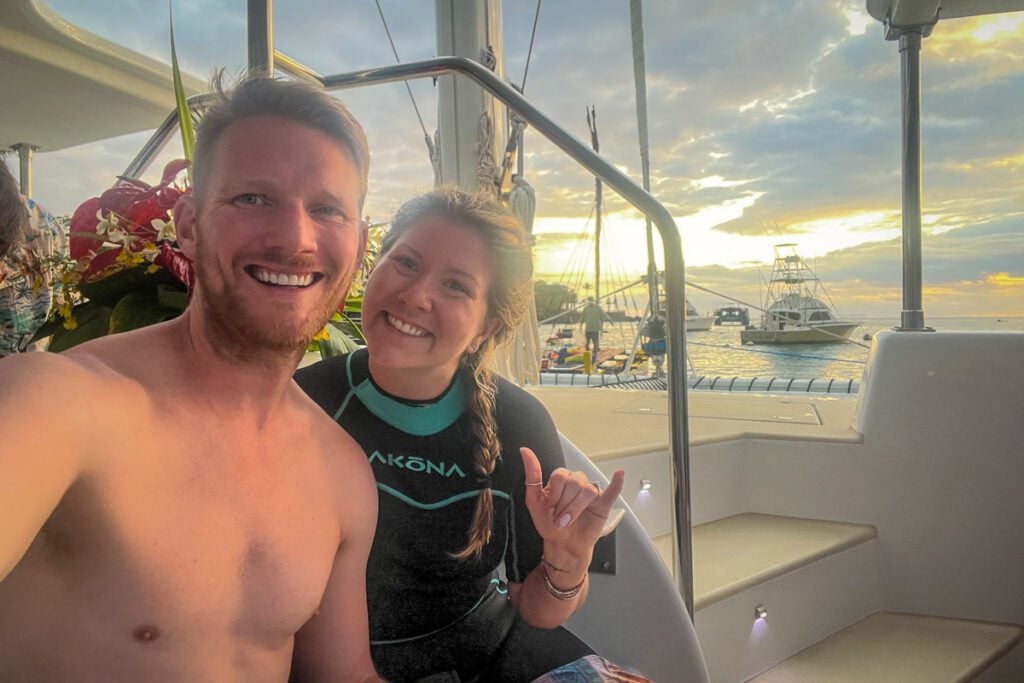 There are so many splurge-worthy activities in Hawaii, but the good news is there are also lots of free things to do.
Our advice is to come up with your budget first and choose a few splurges. Then, balance it out with lots of free activities.
Splurge-worthy experiences
Travel Tip: Prices above are averages. We'd encourage you to look into each company before choosing. Sometimes the cheapest one isn't the best experience or isn't the best choice for the environment.
Free or cheap activities:
Beach day
Snorkeling (if you bring your own gear it is free, but you can also rent gear)
Farmers markets
Hiking
Picnic
Flights to Hawaii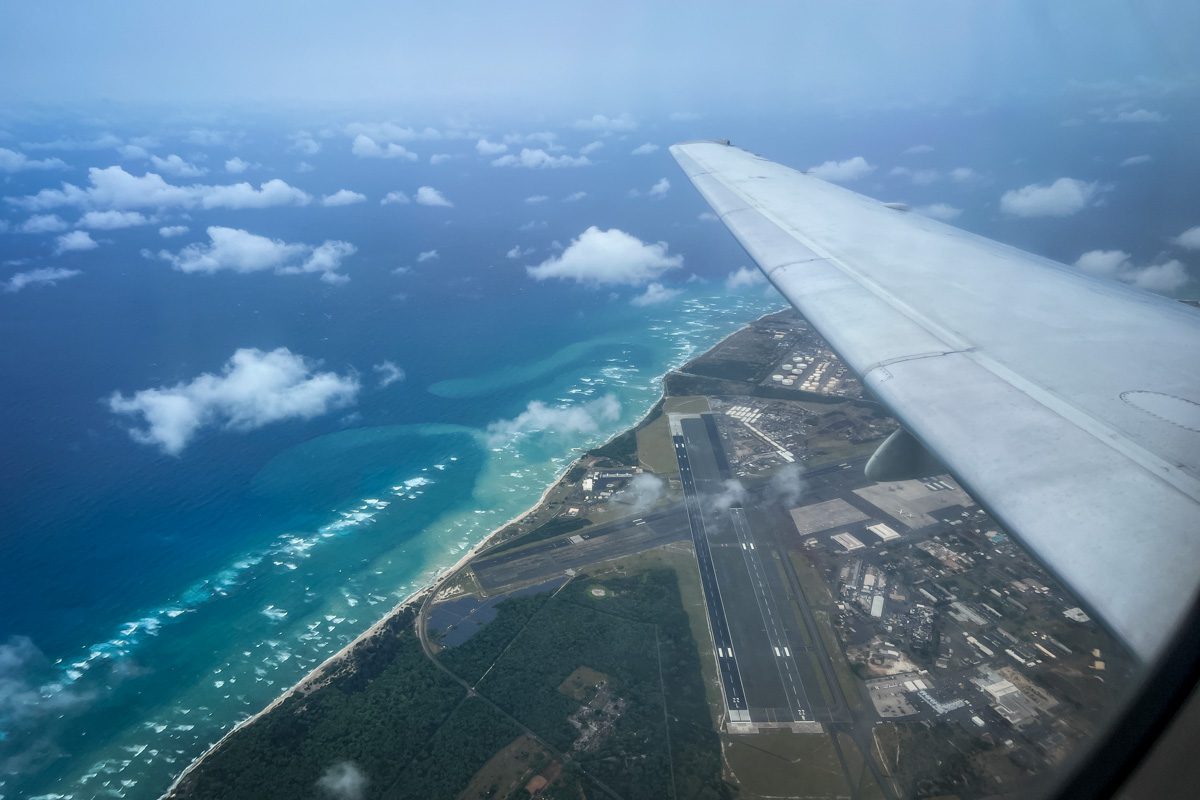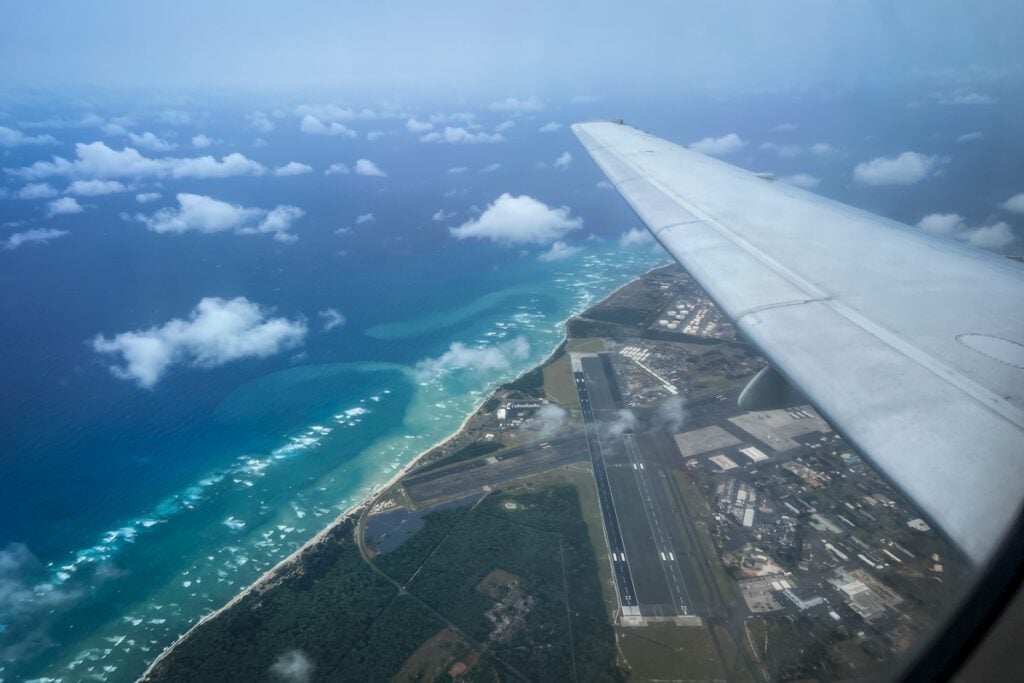 This can vary quite a bit based on where in the world you're flying from, so it's hard to include an average cost here since someone flying from Los Angeles will surely pass less than someone flying from London.
Money-saving tips for flights to Hawaii:
Use Google Flights to compare prices of each day on a calendar.
Search using a VPN and an incognito window.
Set price alerts so that we know when the price drops.
Sign up for a newsletter like Thrifty Traveler to get the best deals on airfare.
When is the cheapest time to fly to Hawaii?
According to Hawaiian Airlines, the cheapest time to fly to Hawaii is in the late spring (April & May) and early fall (September & October). Alternatively, the most expensive time to fly to Hawaii is from December – February.
They also suggest flying in and out on weekdays to lower the cost.
Flights between the Hawaiian islands
Getting from one island to another is actually quite affordable. Hawaiian Airlines has the most inter-island flights, and prices tend to be relatively reasonable.
For example, we paid $68 per person for a flight from Kauai to the Big Island.
Good to know: Many inter-island flights have a connection in Honolulu.
Miscellaneous costs in Hawaii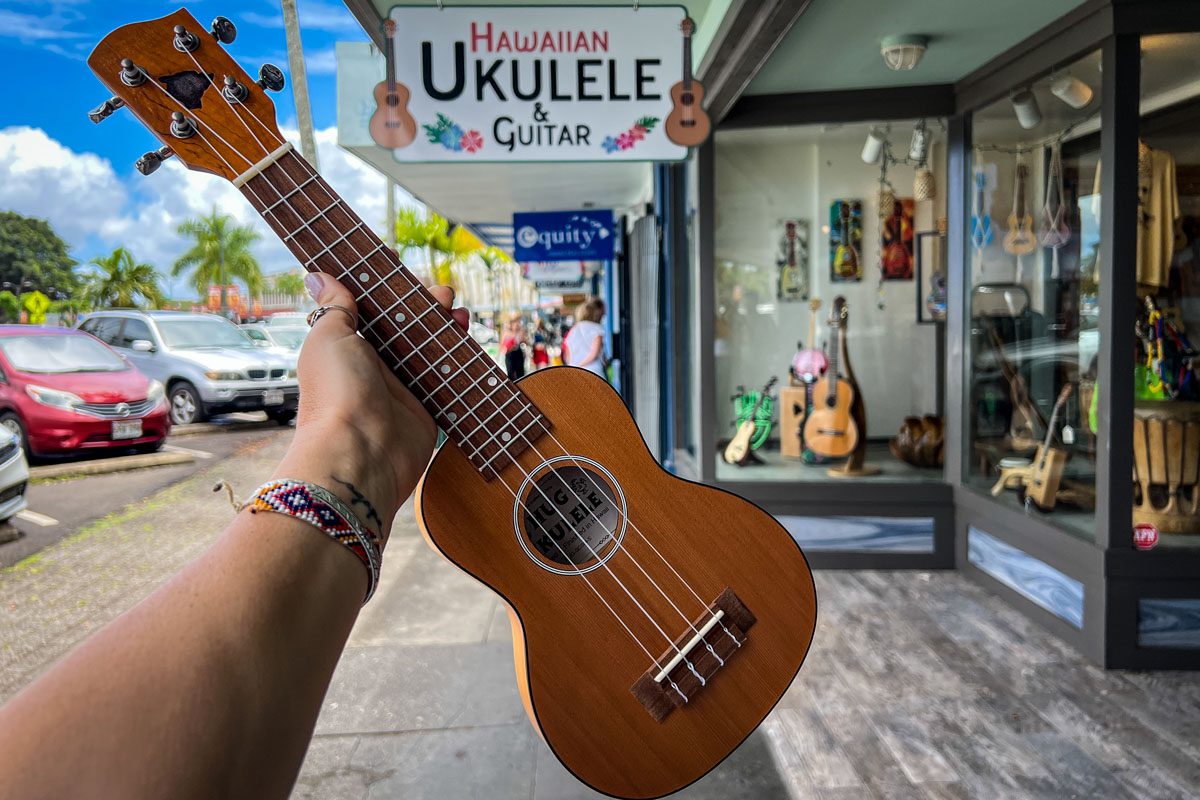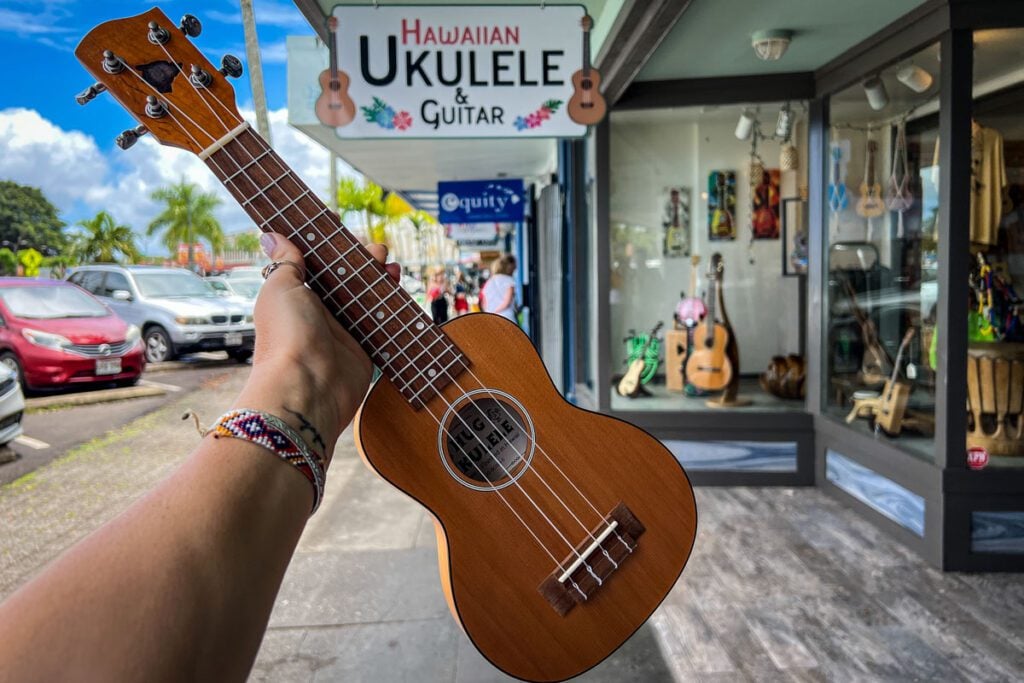 Plan on buying souvenirs?
Want to have a night out on the town with as many Mai Tais as you can handle?
You'll want to have some wiggle room in your budget for those things that don't quite fit into the other categories.
You'll also want to factor in the cost of travel insurance and any other things you need to purchase for your trip.
Money-saving tips for Hawaii
Hoping to travel Hawaii on a budget? I will tell you that budget travel in Hawaii looks different from budget travel in Thailand, but there are certainly ways to save money!
1. Compare hotels and Airbnbs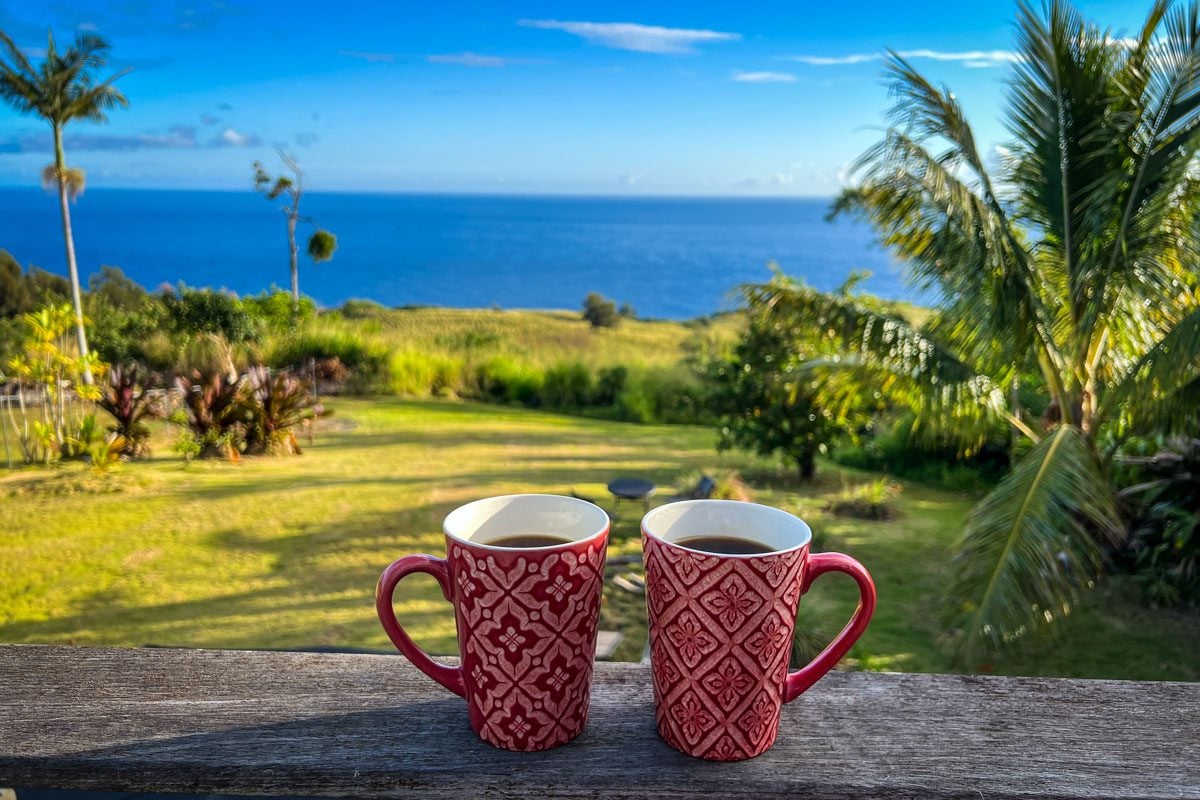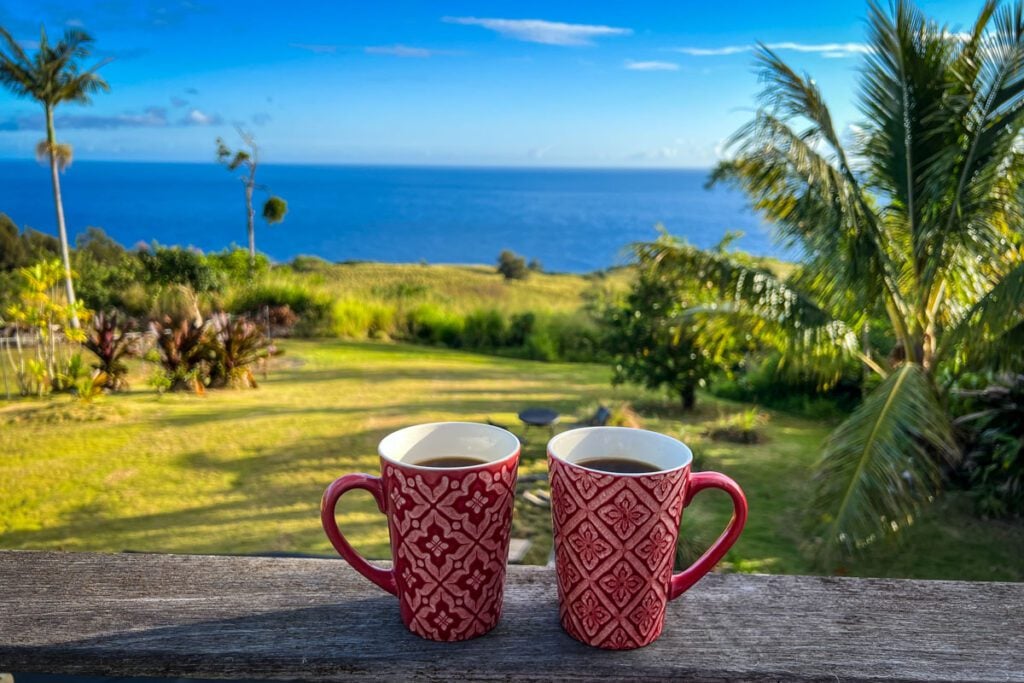 Even if you're typically someone who only books hotels, we'd recommend comparing your options to Airbnbs in Hawaii.
We personally found Airbnbs to be more affordable than hotels of the same quality standards for our trip.
While there are some excellent hotel options in Hawaii, many of the good ones will cost an arm and a leg. For anyone looking to save some money, this can be a great way to do so.
Also, there are just some incredibly cool and unique properties in Hawaii.
From treehouses, to tiny homes (we personally stayed here!) to glamping domes to cozy farm stays (with a private waterfall!) to jungle cottages with dreamy outdoor bath tubs, you'll find it all! Plus, these are arguably more memorable than a regular hotel room, am I right?!
Psst! Most of those properties we linked above are actually quite affordable!
Budget tips when choosing accommodation in Hawaii:
Don't forget to factor in all the costs. For Airbnbs, this means the tax and cleaning fees. For hotels this is the tax and resort fees. All these extra costs can be hidden from the price that is initially displayed, and they can really add up.
See what's included. Some Airbnbs we stayed at offered all the beach gear we needed (cooler, beach umbrella, boogie boards, snorkeling gear, folding chairs, etc.). This was a huge perk, as renting or buying these items can really add up. Some hotels may offer these as well.
2. Save money on food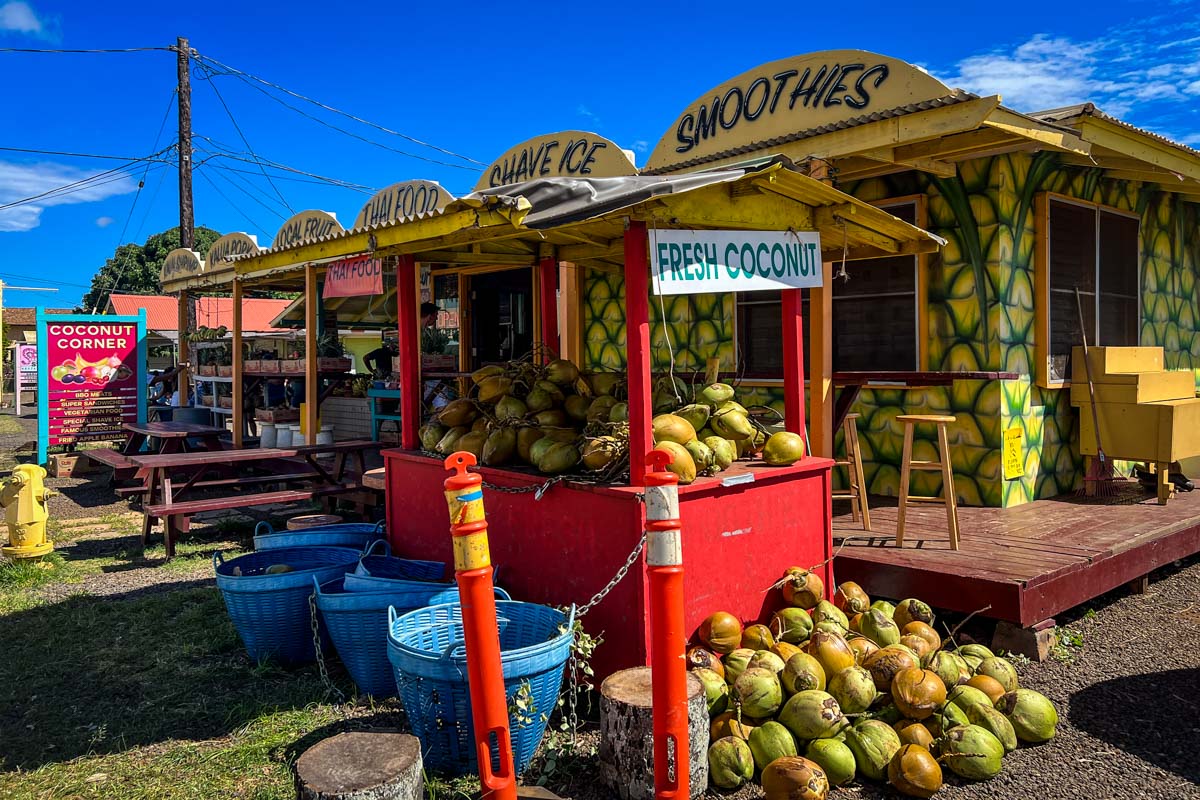 Food on the islands ain't cheap! If you're looking to cut costs, here are some ways to save on food in Hawaii.
Have lots of picnics: Grab groceries from a supermarket or farmers market and enjoy your meal with a view! Simply pull over wherever you find a good spot and sit on folding chairs or a beach blanket. If you plan to do lots of picnics, you may want to bring a collapsible cooler.
Get a grocery membership: Join Foodland's Maika'i membership program (it's free) and get instant savings on your grocery runs. You'll even get $25 off your first purchase if it hits a certain threshold (which would be a great deal when you do your first grocery run!).
Stock up in bigger cities: We learned the hard way that some of the smaller towns don't have grocery stores as much as they have general stores. We were staying in one such tiny town and had very little choice in groceries and had to pay at least double what we would have in the larger towns. Lesson learned!
Try grocery store poke: Sounds sketchy, but I promise it's not! We were told by one person that Foodland (a Hawaiian grocery store chain) has the best poke on the islands. And while we don't think it was the best we had, it was pretty damn good. Plus, there are so many varieties to choose from.
Insider tip: We asked if we could get one portion of poke but try two different types. The staff member said, "absolutely". At $7.99 it was a great deal and even though we split the single portion, it was very filling.
Book accommodation with kitchens: If you really want to save, cook some meals for yourself. We find this easiest when we book Airbnbs with kitchens. This makes it easy to have something simple for breakfast, like yogurt and fruit, oatmeal, or eggs. If you make your own breakfasts, have picnic lunches and only eat out for dinner, you'll save tons!
Make your own coffee: We're big coffee drinkers, and we always started our day with coffee at our Airbnb. The issue for me was that I was always tempted by cute coffee shops and the famous Kona coffee, so we usually ended up buying one each day as well. But if you're really serious about saving money, the answer is simple – have more willpower than I did and skip the coffee shops. They do add up.
Pack some snacks from home: Since groceries are so expensive on the islands, we're glad we brought some of our favorite snacks from home, like Chomps beef jerky, dried mangoes, and protein bars. These all saved us from more than one hangry moment! Additionally, we brought some food for our daughter so we didn't have to go grocery shopping on day one.
3. Shop around for a rental car deal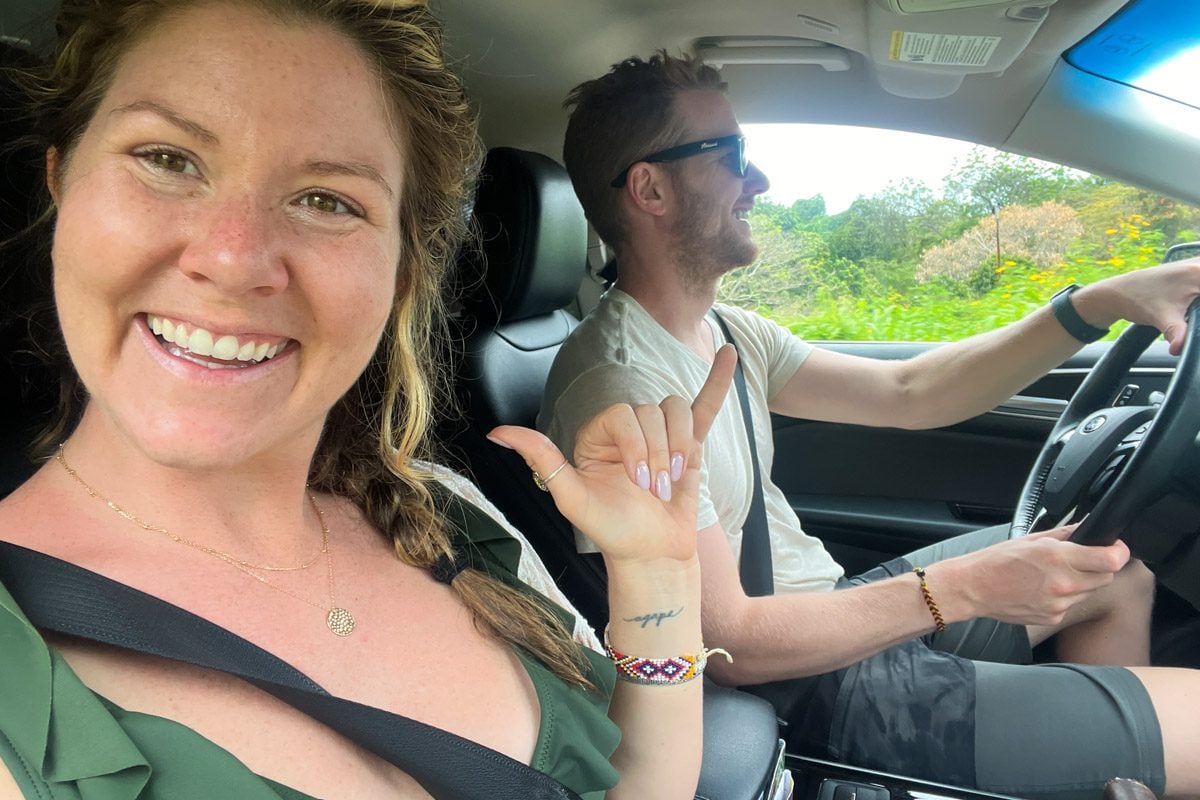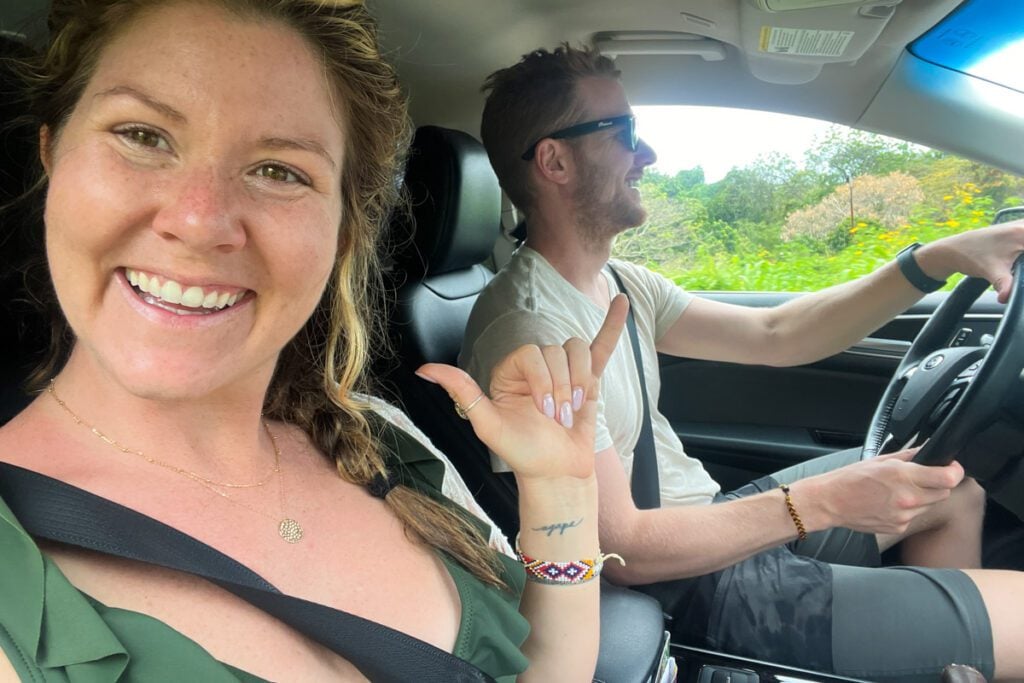 We found Discount Hawaii Car Rental to have the best deals on rental vehicles on the islands. The same exact vehicles were cheaper on this platform than the other aggregates we normally use.
Compare sites for yourself to see where you find the best deal. But also read our cautionary tale before selecting the specific rental company.
Compare prices:
4. Enjoy lots of free activities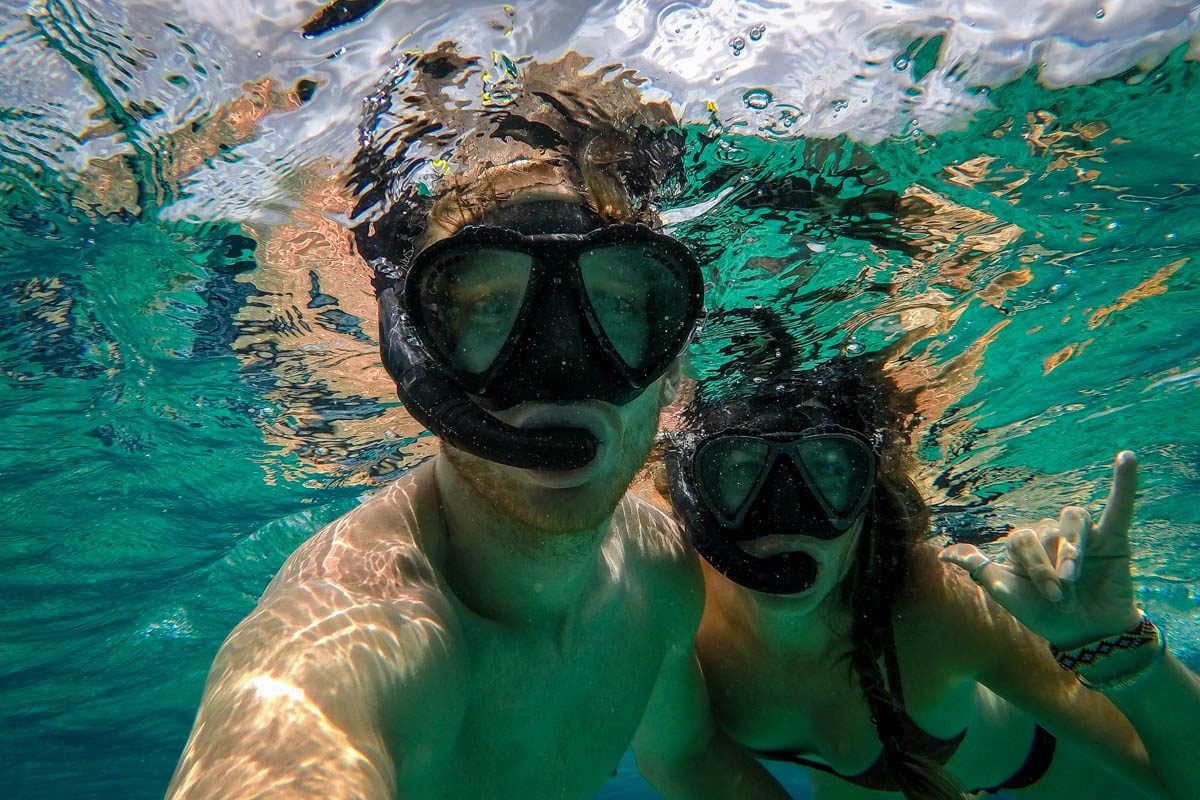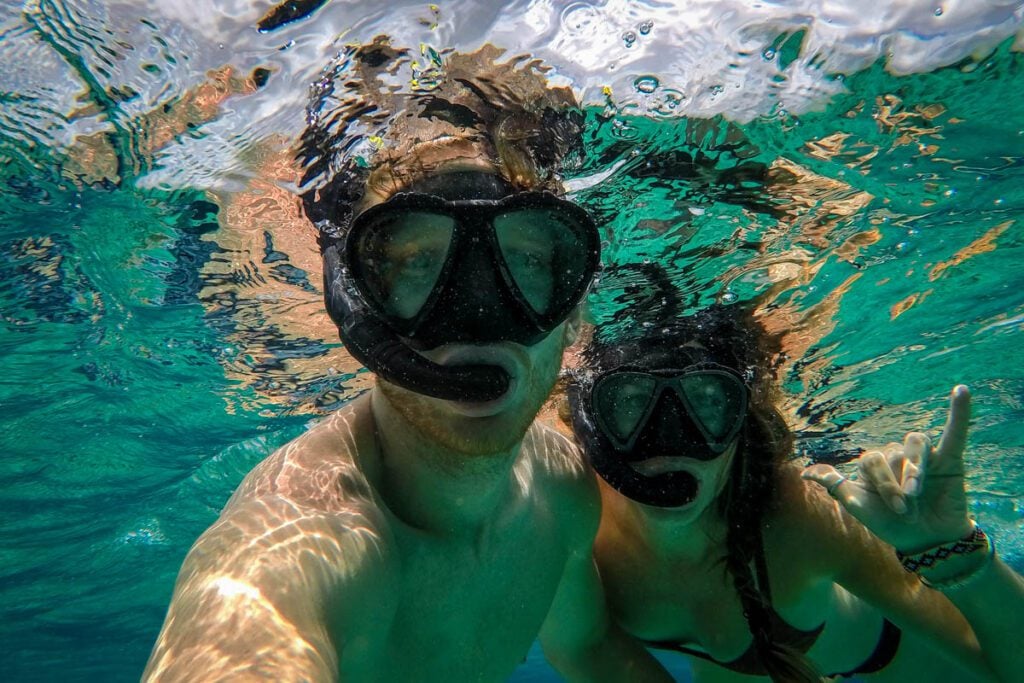 While accommodation, transportation and food are all quite expensive in Hawaii, the good news is there are plenty of free things to do!
Free or cheap activities:
Spend a day (or many!) relaxing on one of Hawaii's many beaches
Go snorkeling: this can be free if you have your own gear
Stroll through a farmers market (there are many all around the islands)
Go hiking! Hawaii has so many incredible hikes.
5. Set a budget & track your expenses
If you're serious about sticking to a budget, you'll want to listen up…
Setting boundaries for yourself (that are reasonable) and keeping track of how much you are spending are essential.
There are plenty of apps out there for budget tracking so you won't come home with a nasty surprise in your bank account!
---
Are you planning a trip to Hawaii?
We have lots of resources on travel in Hawaii and destinations around the islands. Check out our Hawaii Homepage for everything you need to know, or start by reading some of our favorite Hawaii travel articles here:
Save this article on Pinterest for later!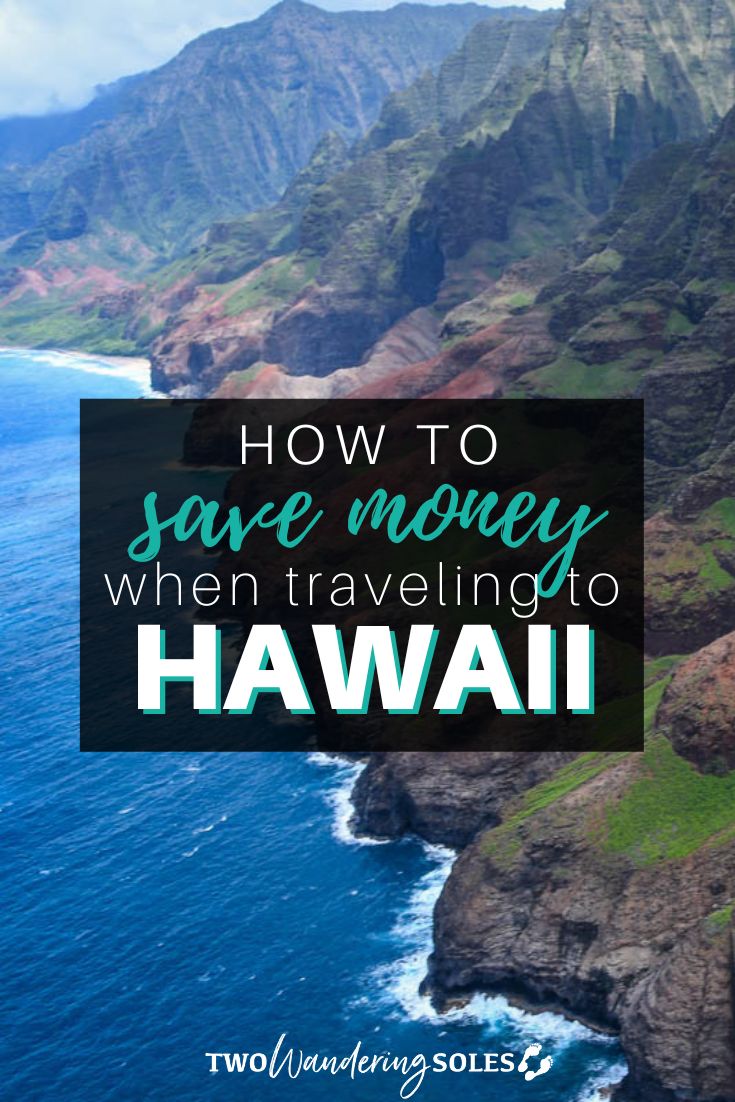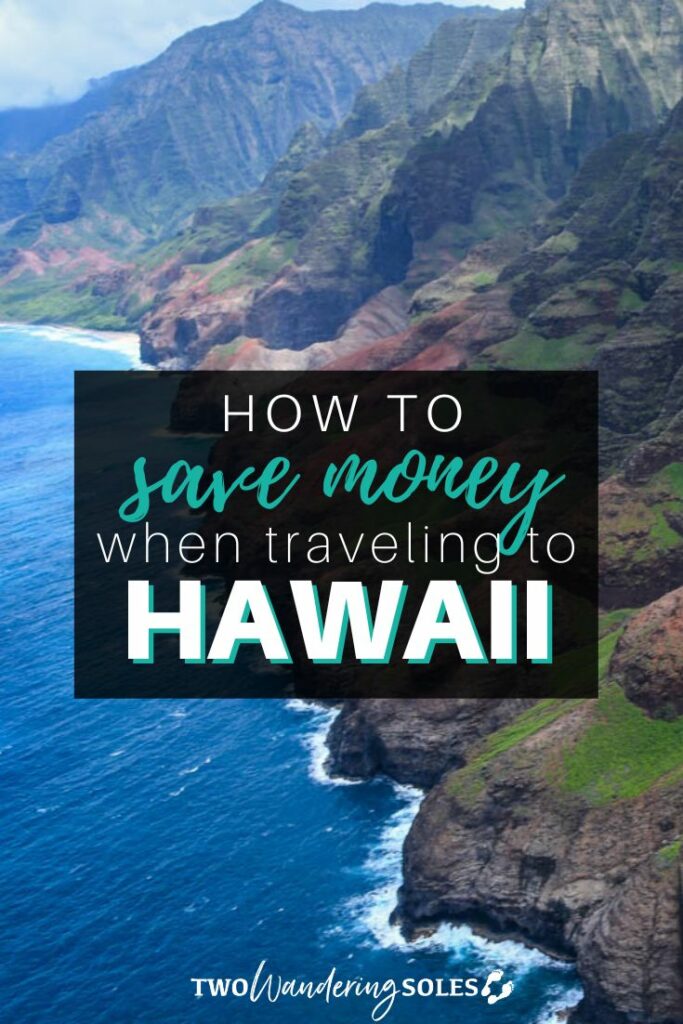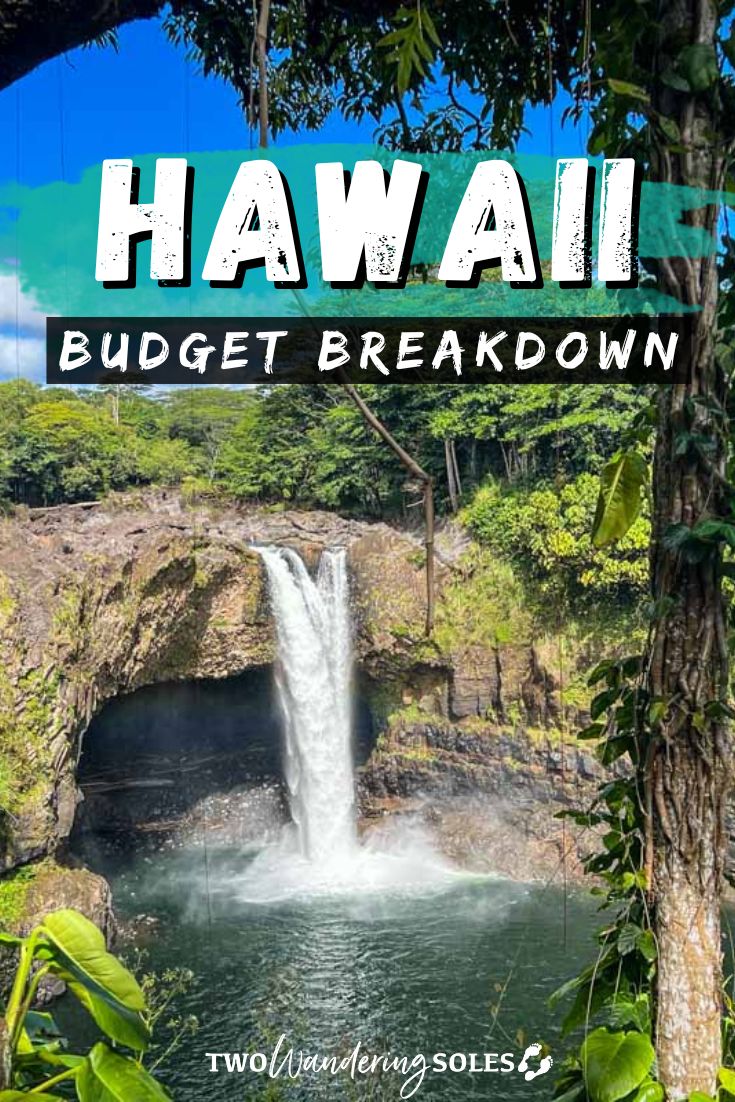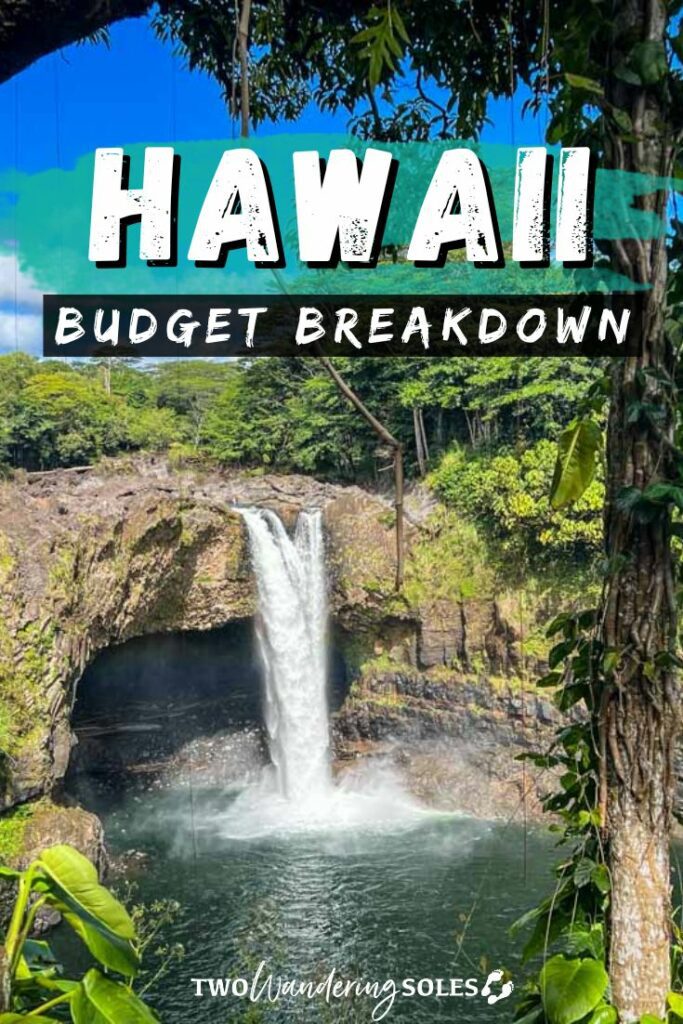 We want to hear from you!
Do you have more questions about a Hawaii trip cost and how to save money while traveling? Leave your comment below and we'll do our best to get back to you!