When traveling to Japan, you'll have no shortage of shopping opportunities. We are going over the best Japanese Souvenirs to buy so you don't end up filling your suitcase with unnecessary purchases.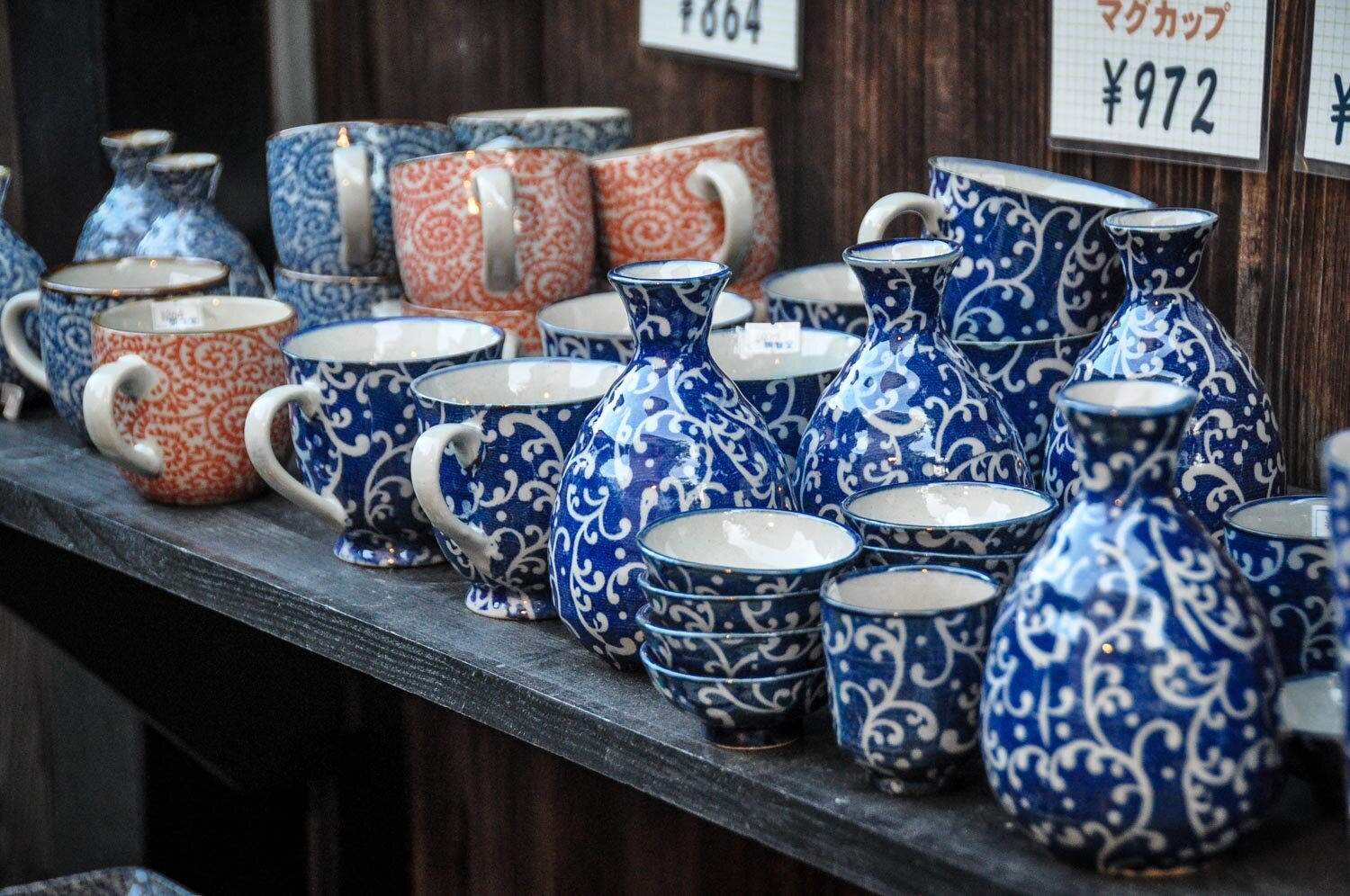 If you're anything like us, you enjoy bringing back mementos from your travels to remind you of the places you've been. If you're planning a trip to the "Land of the Rising Sun", we've got good news: there is no shortage of thing to buy in Japan. The only problem is trying to figure out how you'll fit it all into your suitcase!
If you're traveling to Japan on a budget, one of our best tips is to plan out your souvenir purchases ahead of time so you don't make impulsive buys on things that don't really matter.
Over the years, we've gotten more and more picky about the souvenirs we bring back. We want to fill our home with beautiful pieces of art, souvenirs that serve a purpose, and mementos that have a special meaning instead of just adding unnecessary clutter to our house.
Japan has a ton of dollar store type establishments – Don Quiote and Daiso are just two examples – and you can pretty much find anything you'd want in them. But for the purpose of this article, we are going to focus (mostly) on Japanese souvenirs that aren't the dollar store variety. (There are a few exceptions!)
That doesn't mean they are necessarily expensive – some of the things on this list are totally free! But they aren't just plastic junk that you'll look at in a year and wonder why you paid money for.
Planning a trip to Japan? Find out the best time to visit Japan based on regional weather patterns and your personal travel style.
1. Ceramic bowls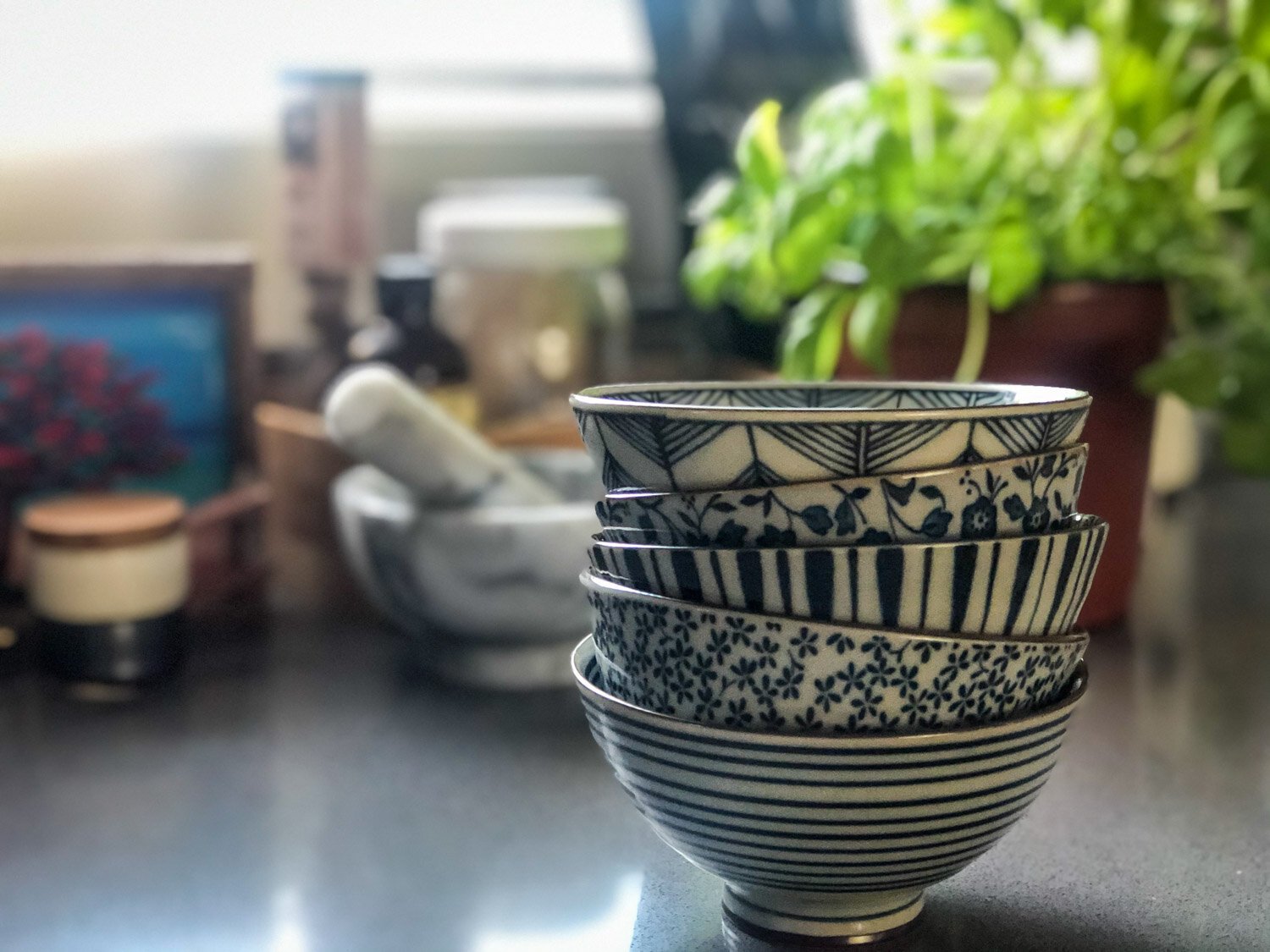 Ceramics are the perfect souvenir from Japan because not only are they beautiful works of art, but very practical for everyday use. We bought a set of small ceramic bowls from a tiny boutique in Tokyo. Choose from all shapes, sizes and styles to fit your taste.
Now every time I eat ice cream out of our bowls (which is more often than I would like to admit), I'm transported to that tiny shop and begin to reminisce about our time in Japan.
2. Chopsticks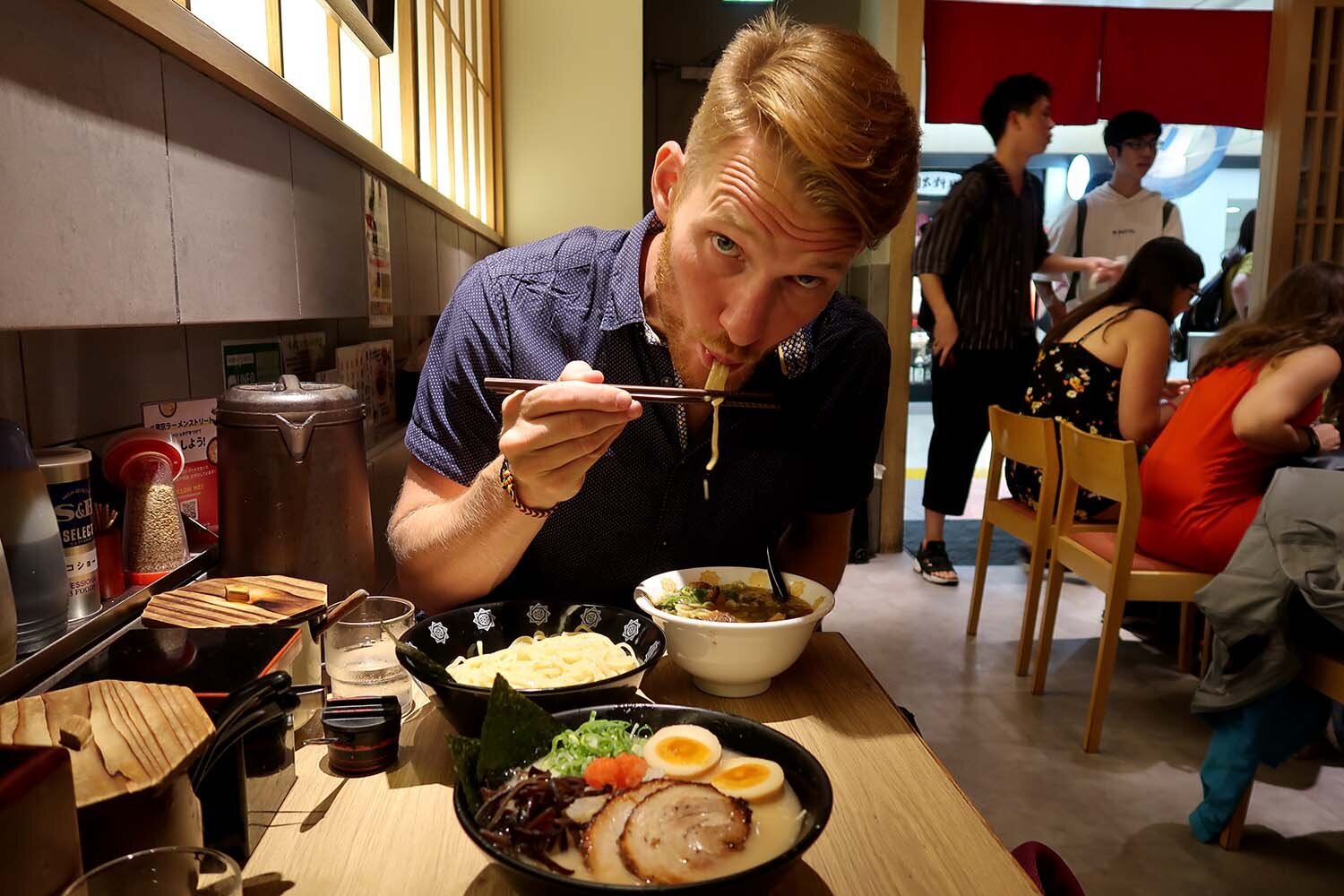 If you like to cook Asian cuisine at home, picking up some chopsticks in Japan is a great idea!
You'll have lots of different options and designs to choose from. Also, think about how many sets you'd like to get. Do you often host dinner parties or do you have a big family? Maybe getting a 6-pack or an 8-pack of chopsticks is a good idea. Or perhaps you just want a set for yourself. You can select your favorite colors or patterns and even have it engraved with your name.
We have whole article on foods to try in Japan, and let me tell you, there is so much more than ramen and sushi. Speaking of sushi…
3. Sushi magnet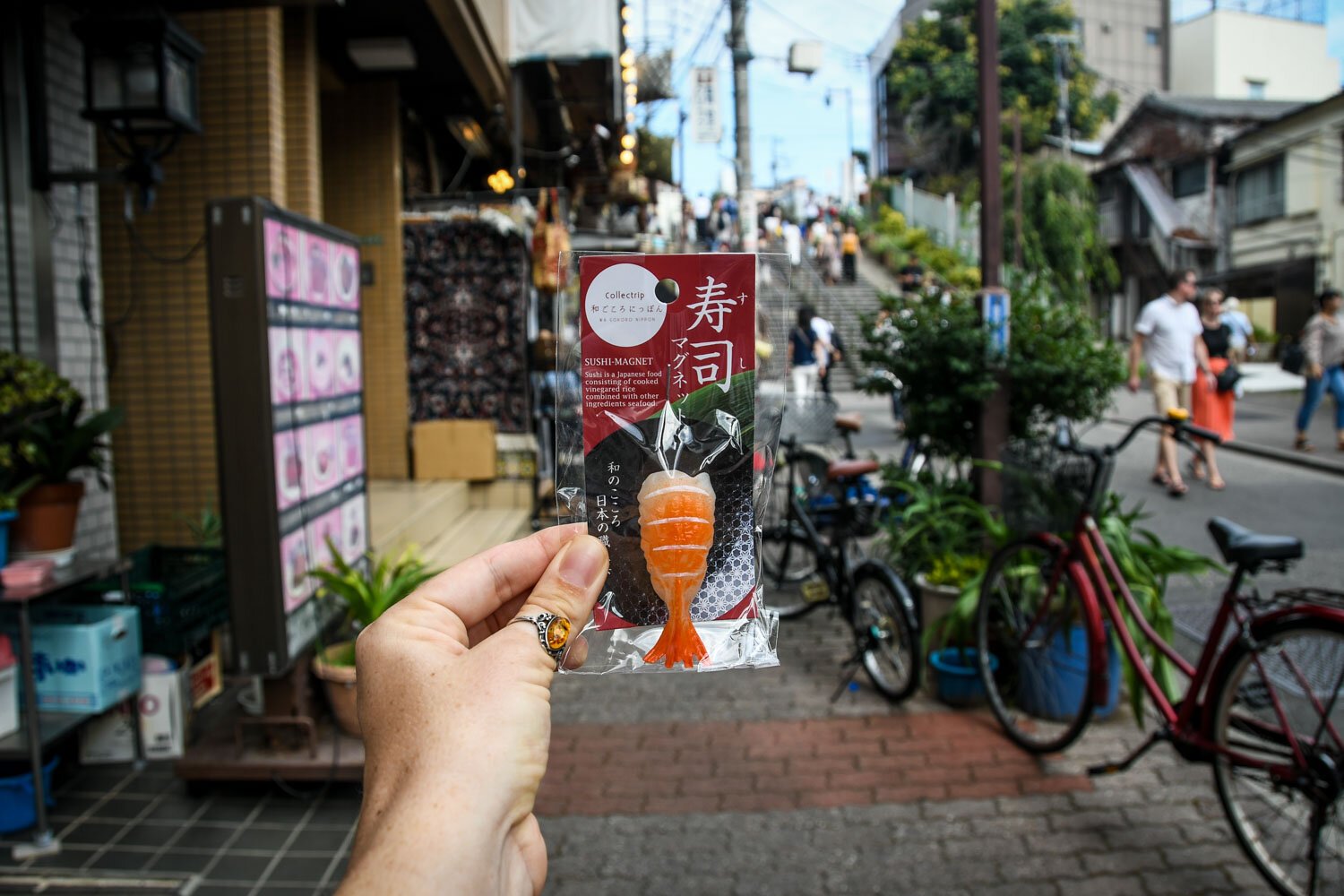 Ahh, the classic sushi magnet. This is a cheap and somewhat useful Japan souvenir you can pick up at just about any discount store, like Daiso or Don Quiote. I told you there's be exceptions to our no dollar store rule!
We bought one of these as a gift for my brother who has an affinity for all things weird, and also for shrimp. Spoiler alert: He loved it.
4. Pens and stationary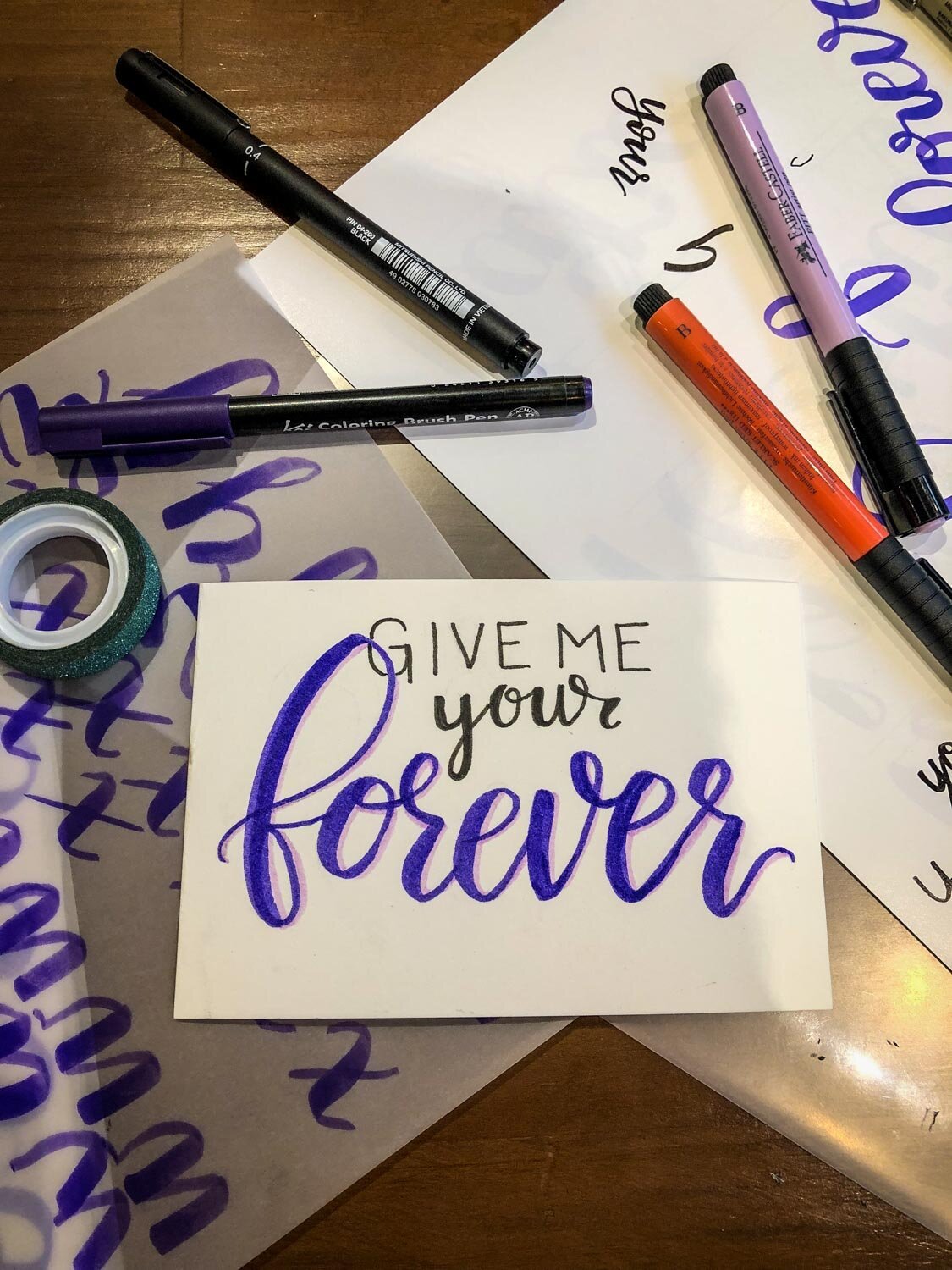 If you're into brush lettering, or heck just want some fancy pens, this is a fun and useful thing to bring home.
Japan is known for very high quality brands of pens and paper. Some of the best being:
Koi Brush Pens

Tombow Brush Pens
5. Calligraphy set
If you want to take your lettering a step further, you can pick up a traditional calligraphy set while in Japan.
Don't know how to use them? Why not book an Airbnb Experience where a local can teach you the art of calligraphy! Or if you don't have time on your trip, sign up for a class on Skill Share (get 2 months free!), or teach yourself through YouTube videos.
6. Japanese Fan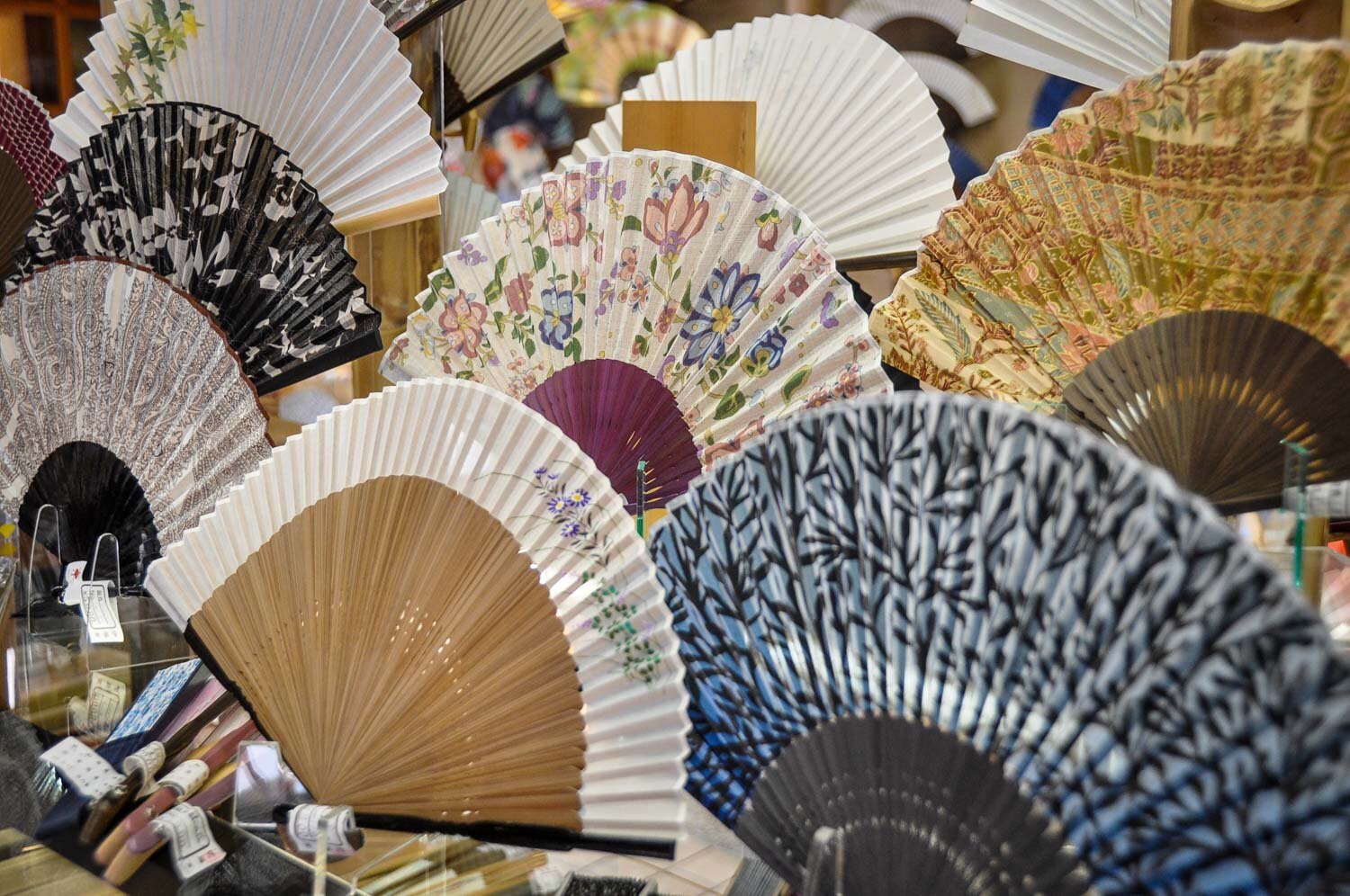 Getting a beautiful hand-painted fan was on my must-buy list during our first trip to Japan. And I was spoiled for choice!
In fact, I wouldn't have even needed to buy one because our Airbnb host left a small package for us, inside of which was a fan. How sweet! And if you're traveling to Japan during the summertime, you'll likely be handed some sort of cheap variety of fan on the street (perhaps with an advertisement or logo on it).
However, it's good to know that the quality of fans varies quite a bit. If you go to a super touristy street you'll see fans for sale by the basket. And they're quite cheap! However, it's good to know that these are often mass-produced in China, and aren't true Japanese fans.
If you're looking for the real deal, there are many shops dedicated solely to fans, and the store owners can tell you more about each one. They often have many different price points so you can find one to suit your taste and budget.
I believe we paid around $25 USD for our fan, so it was certainly not the highest quality, but it was just what we were looking for and how much we were willing to spend.
7. Artwork
When in doubt, you can't go wrong with buying a piece of artwork as a souvenir.
Perhaps one of the most iconic Japanese pieces of art is "The Great Wave Off Kanagawa". It is beautiful and different versions of this are sold all around the country. And if that design just isn't you, don't worry — there are plenty of other gorgeous Japanese works of art to choose from.
8. Fabric
I have a thing to collecting fabric from around the world. I'm not sure quite what I'll do with it all, but I'm plotting some ideas…
Japan has a variety of beautiful textiles, and we bought a yard of a pattern that caught my eye. Now the question is what should I do with it? Make a pillow, a quilt, coasters, a wall hanging…
9. Charm (Omamori)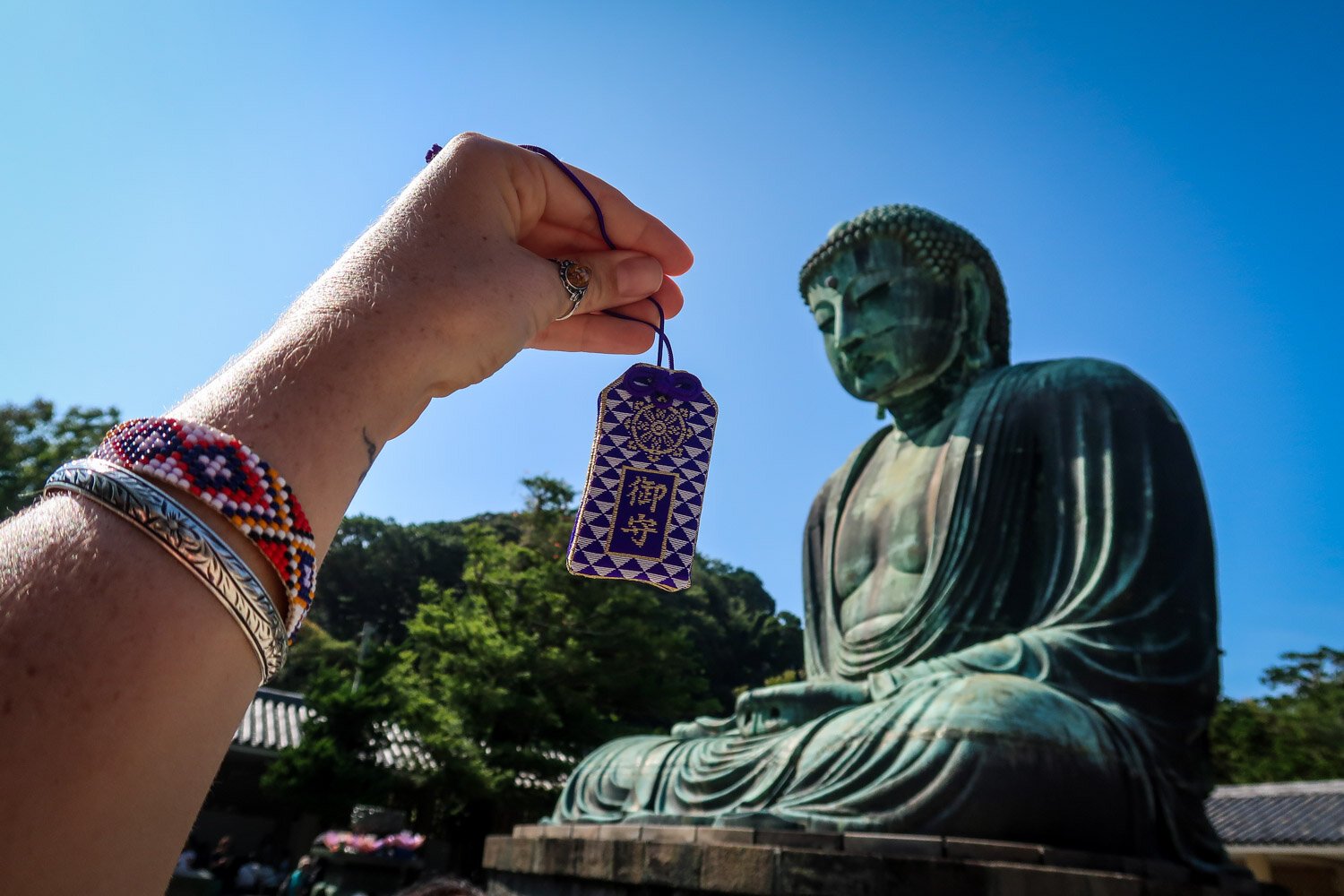 You can find these charms at just about every large shrine or temple, and they make a meaningful and inexpensive memento.
We chose one that means "protection against calamities" and hung it on the review mirror of our car. Hopefully it does what it says!
10. Daruma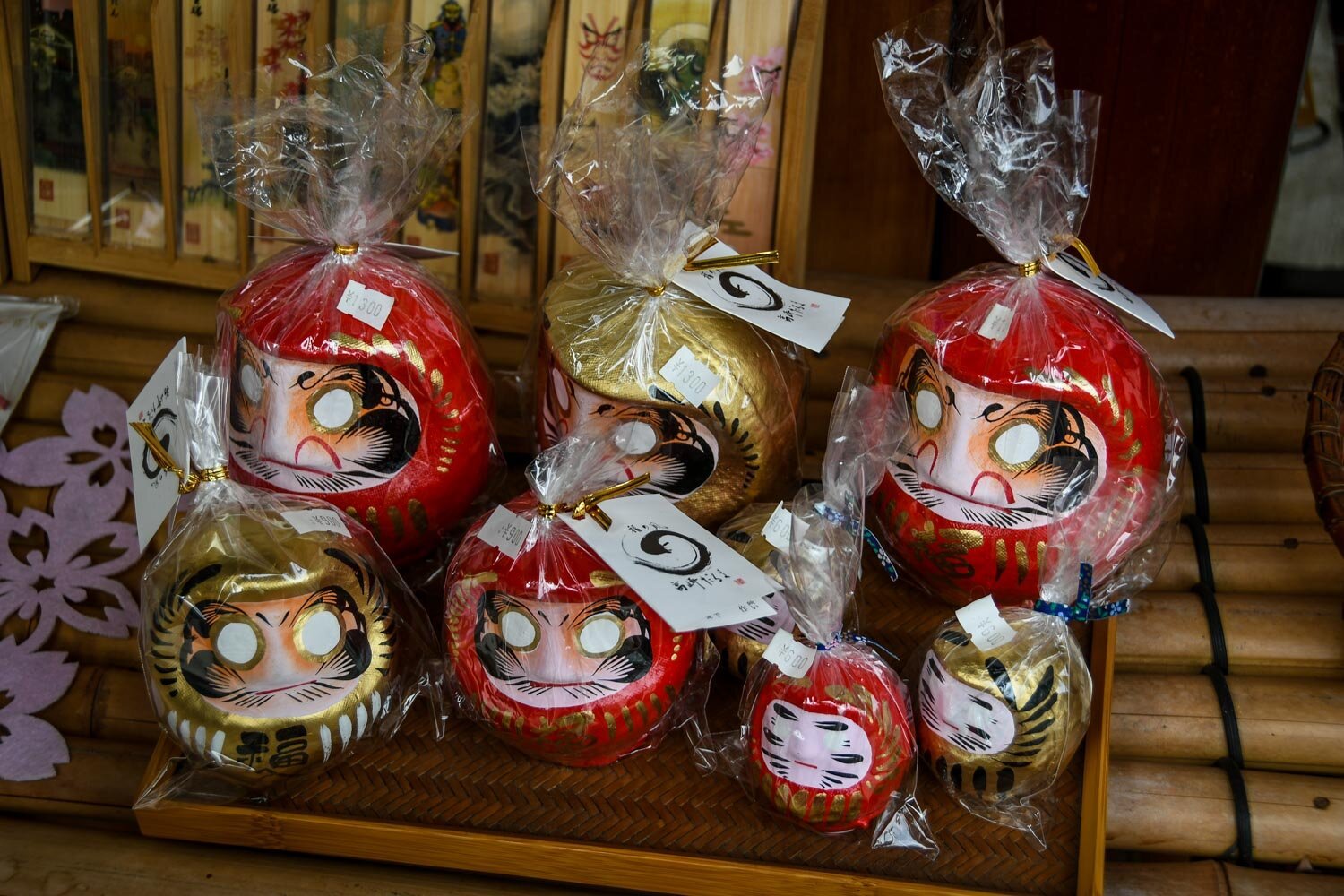 This is one of our favorites, and we actually bought one of these guys on our most recent trip to Japan.
These figurines come in all different sizes, so you can choose one based on how much space is left in your suitcase!
The Daruma Doll has blank eyes. When you bring him home, you are supposed to set an intention or goal and color in one of the eyes. The other eye should be left blank until you complete this goal. That blank eye is a constant reminder of your intention, and trust me when I say it really motivates you to make those dreams happen!
11. Waving kitty (Maneki Neko)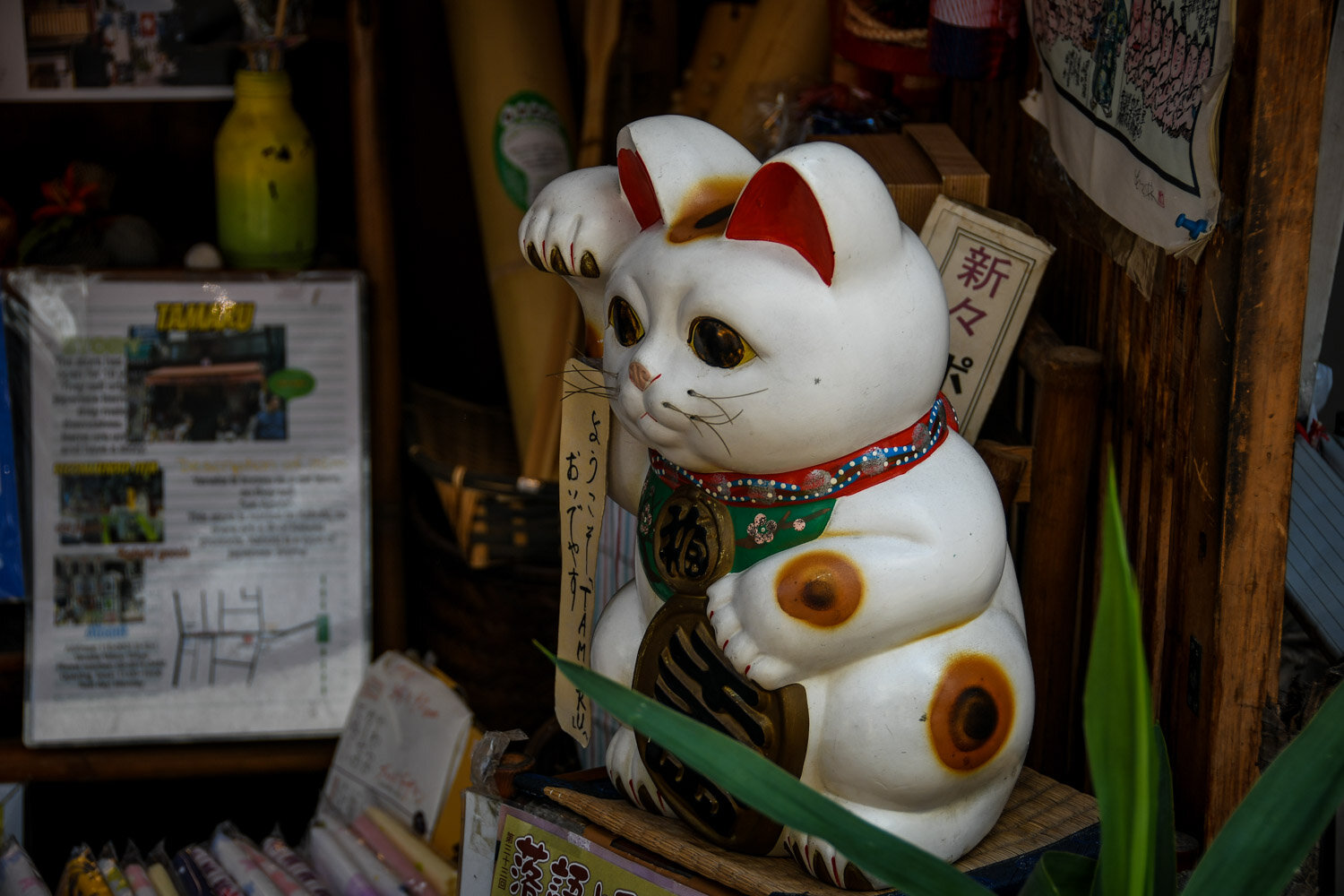 You know those cats with the waving arms that are ubiquitous to Asian restaurants? Well, you can find them everywhere in Japan and they have a pretty cool meaning, making them a great souvenir option.
Those kitties have a name: Maneki-neko, or "beckoning cat"
And they are said to bring good fortune to their owner. I think we all could use some good fortune, so go ahead and buy a few maneki-neko on your travels to give as gifts when you return home. And no, buying more than one does NOT make you a crazy cat lady (or man).
12. Origami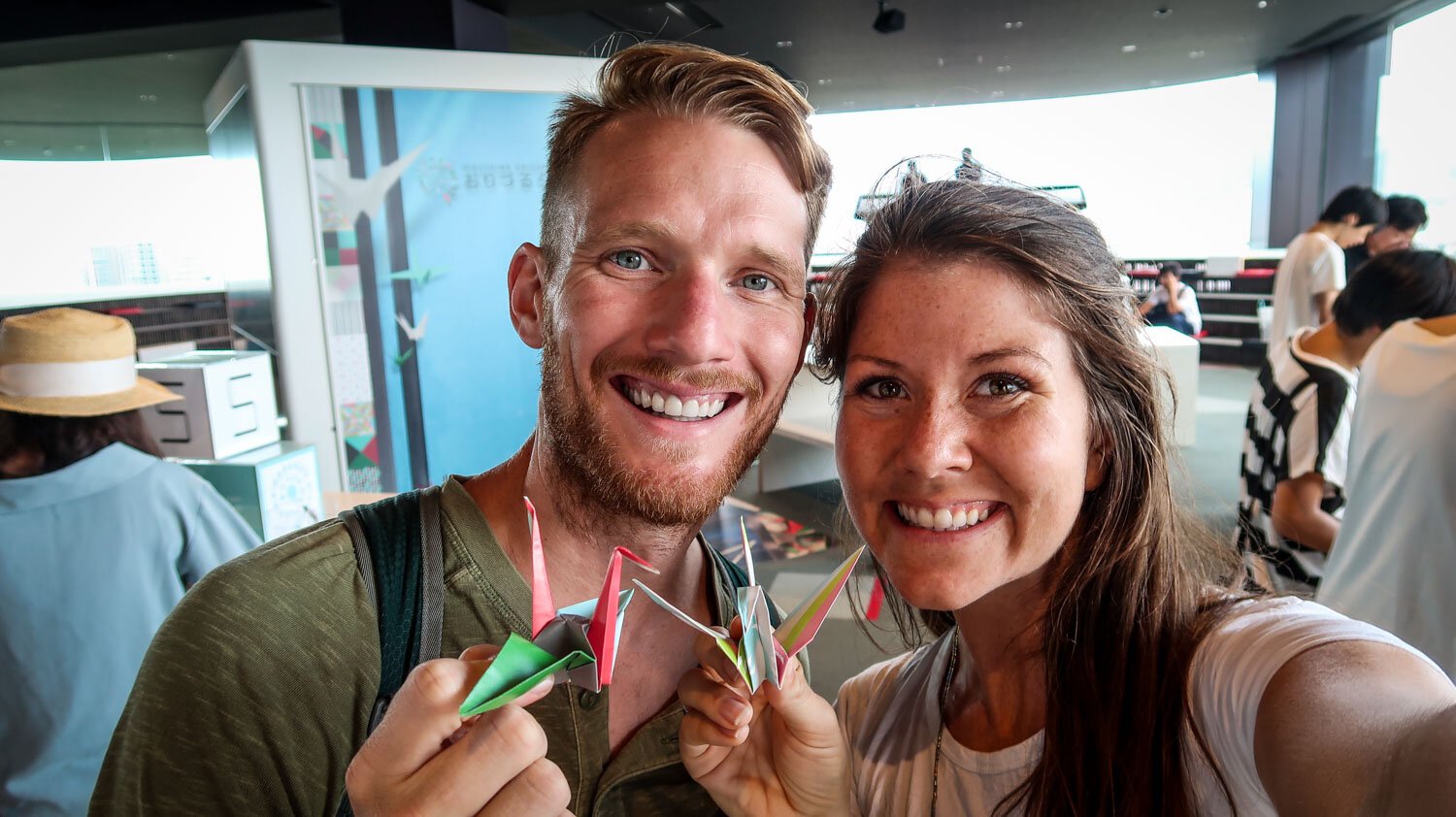 The paper folding art dates back to the Edo Period in Japan. From paper cranes to boxes to tigers, there is really no limit to what you can make out of origami.
If you are traveling to Hiroshima, it's worth a visit to the Orizuru Tower. The word orizuru means "paper crane" and on the 12th floor of this tower, there is an interactive exhibit where you can make your own origami crane.
Once you purchase the paper, the staff helps you make the paper crane which you can take home as a souvenir from Japan. Or you can make a wish and let your paper crane fly down the 12-story Orizuru Wall. This massive display contains thousands of paper cranes and can be seen from the street outside the tower.
Orizuru Tower also has a viewing platform on its top floor where you can see all of Hiroshima from up above.
Adult entrance: 1,700 Yen ($15.50 USD)
13. Yen coins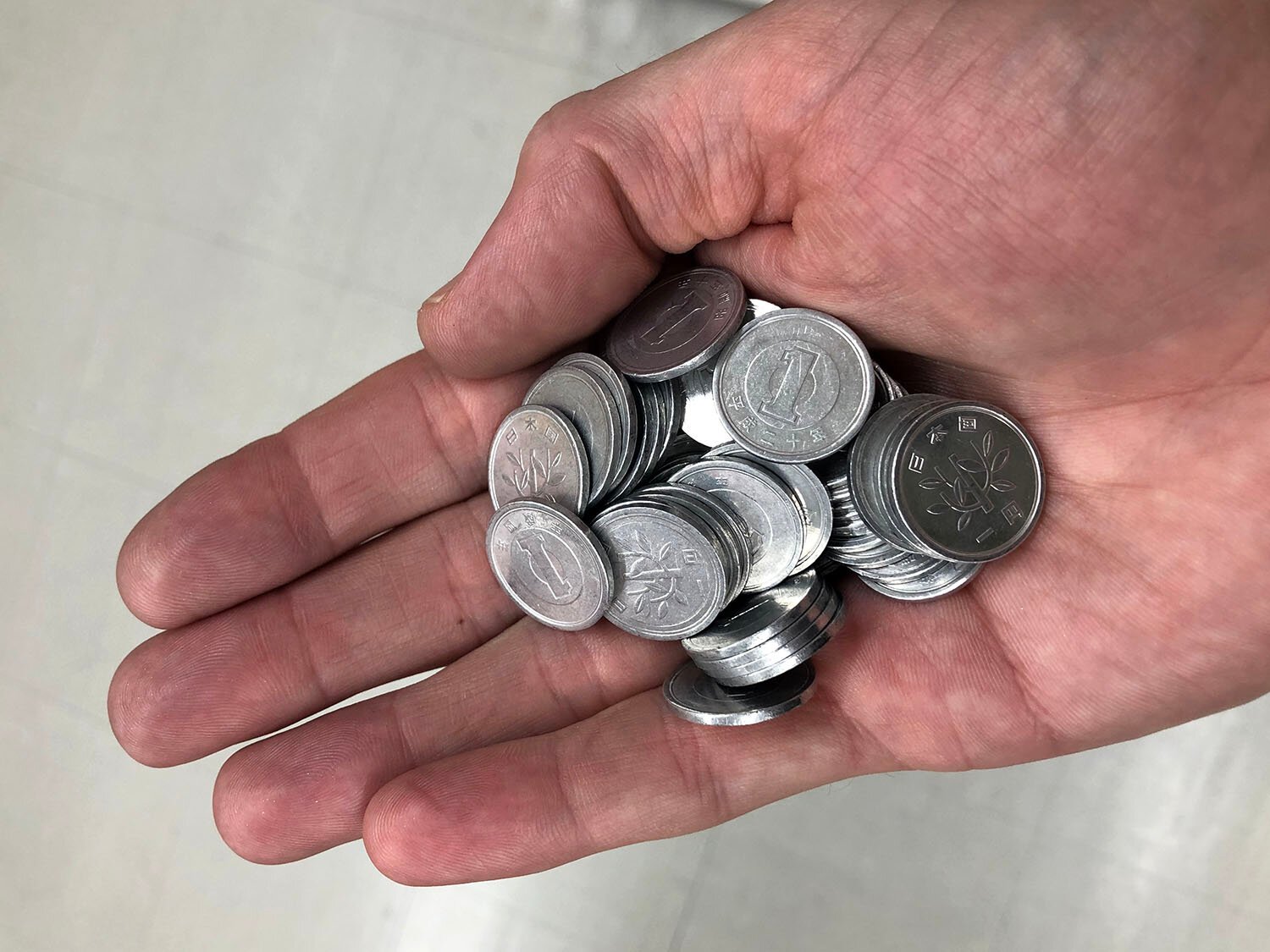 We like collecting a few coins from each country we visit. It's a simple and cheap Japanese souvenir that we don't need to make an effort to seek out. Yen coins are pretty cool looking too, especially the ¥5 and ¥50 yen coins, which have a hole through the middle.
14. Maps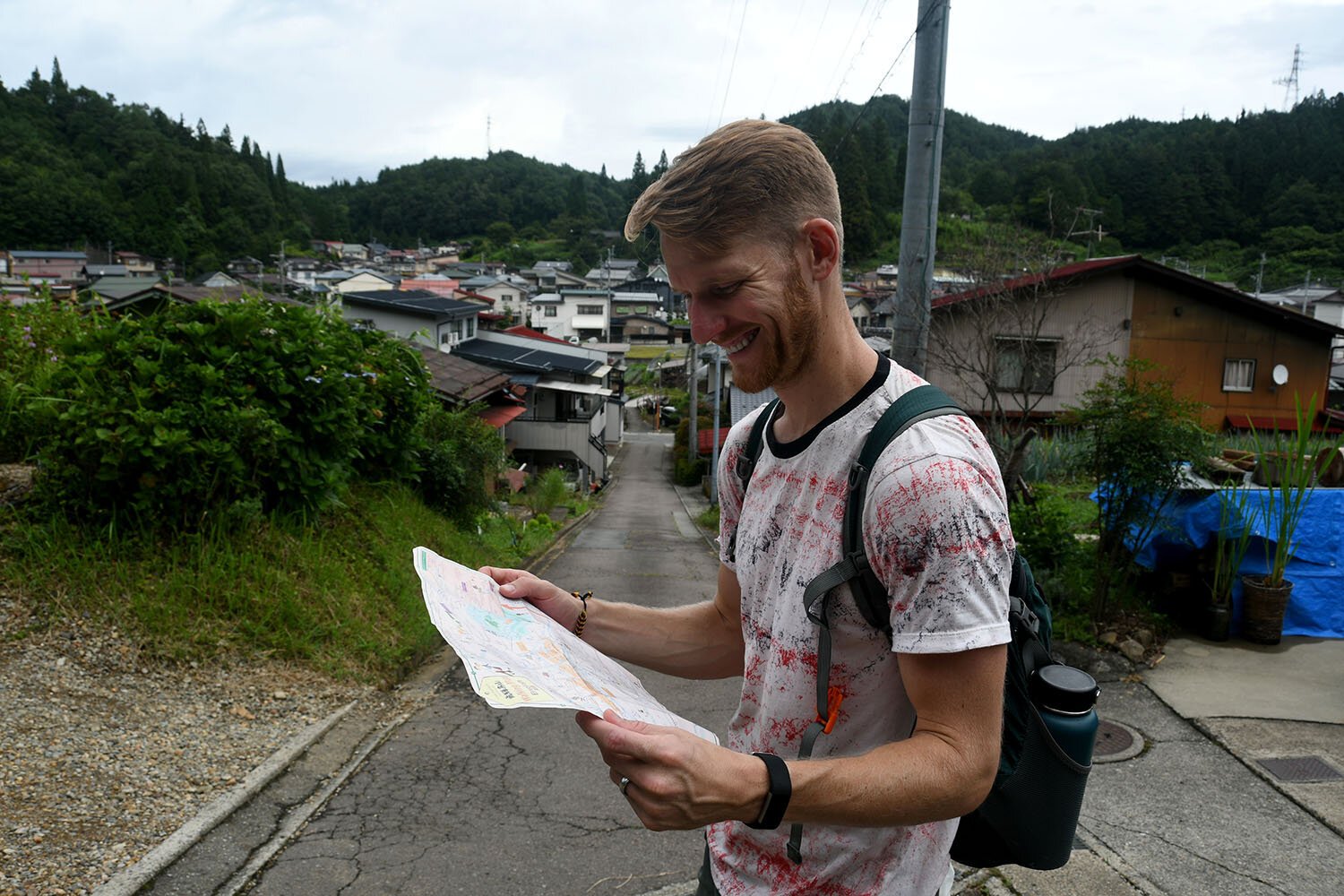 We both have a map fetish, so it comes as no surprise that this is another souvenir we like to collect on our travels around the world. Sometimes the free city maps are pretty cool, and we stash them in our luggage instead of tossing them in the trash. Other times, we purchase larger maps of the area.
Tip: There are tons of crafts you can do with maps you collect, like this DIY map coaster project that we've been wanting to do for years!
15. Purikura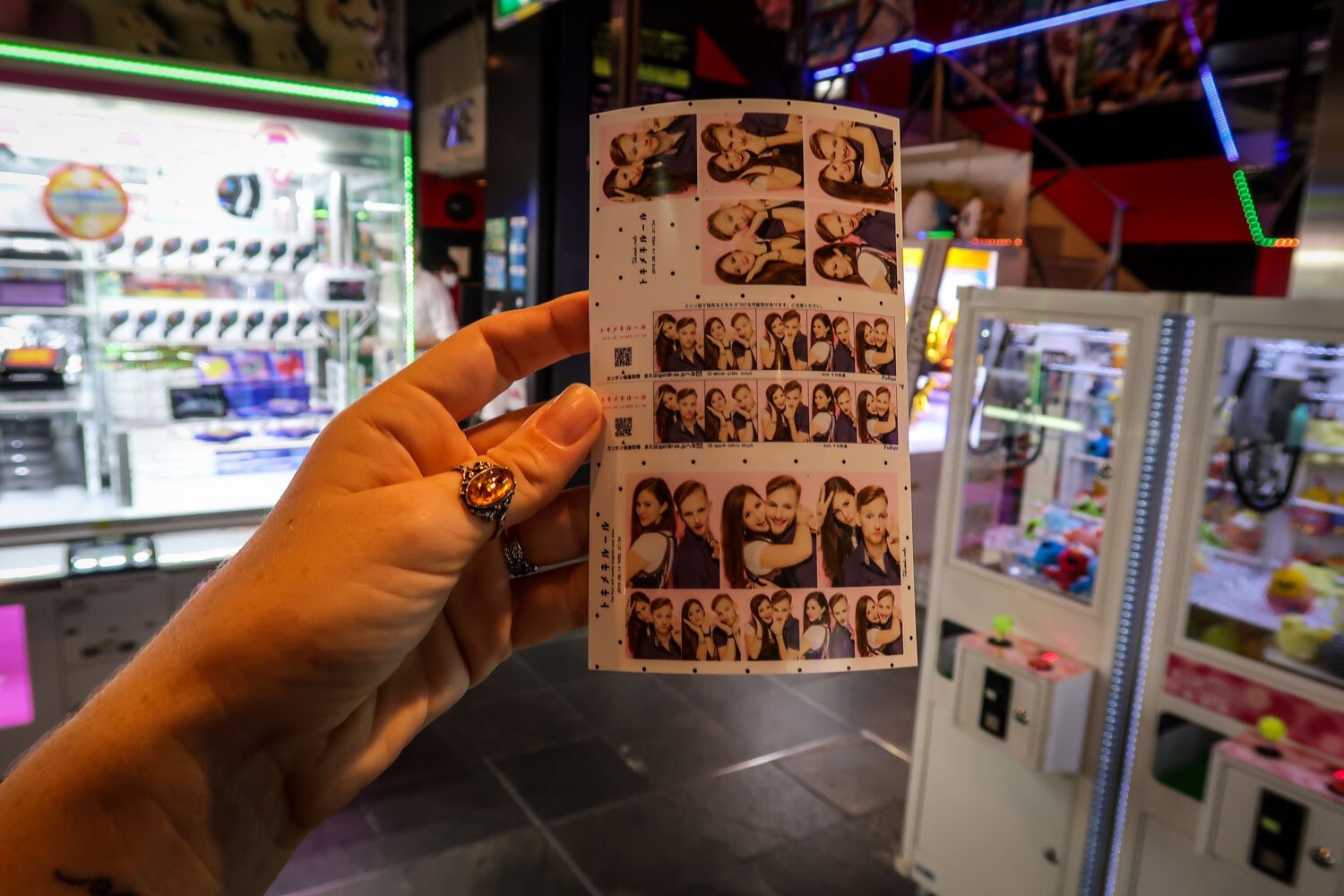 This cheap Japanese souvenir doubles as a fun experience you can only have in Japan!
Purikura are unlike any photobooth you've ever tried. You won't simply snap a few poses and have your pictures printed out… Instead, you'll get to alter the images by adding virtual stickers, makeup, and backgrounds, leaving you with one hell of a souvenir from your trip to Japan!
The one we visited in Osaka was 400 yen.
16. Japanese Sweets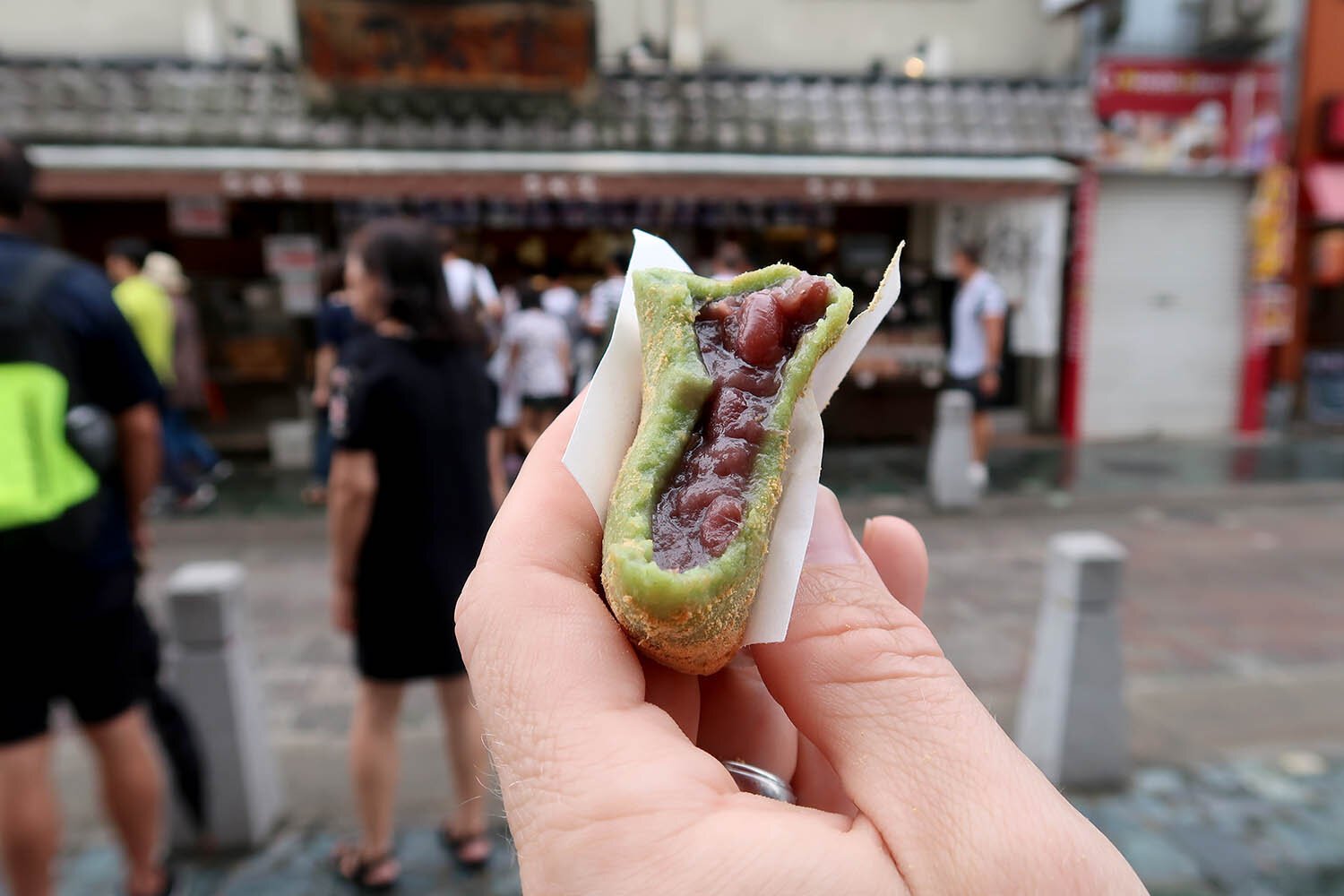 Choose from traditional Japanese sweets like manju or daifuku that are sold insouvenir shops in malls or train stations. Manju is a Japanese rice cake that is filled with many different flavors but the most common is red bean. These are typically prepackaged and convenient for bringing home.
Another big thing to take home is (surprisingly) Kit Kats. The word Kit Kat is similar to the Japanese word for "good luck" so a few years ago the candy bar was a viral sensation and created loads of new flavors. In fact, since 2000, over 200 flavors have been released.
There are some flavors you would expect like matcha (green tea), salt and caramel, and cinnamon. But some that are quite unique like edamame, fruit parfait, and soy sauce (the most popular flavor in 2010).
We didn't really hop on the Kit Kat train, but we definitely indulged in the sweet aisle while browsing convenient stores. We had a short-term love affair the Sugar Butter Sand Tree crispy cookies. I dare you to just eat one…
17. Sake or Whiskey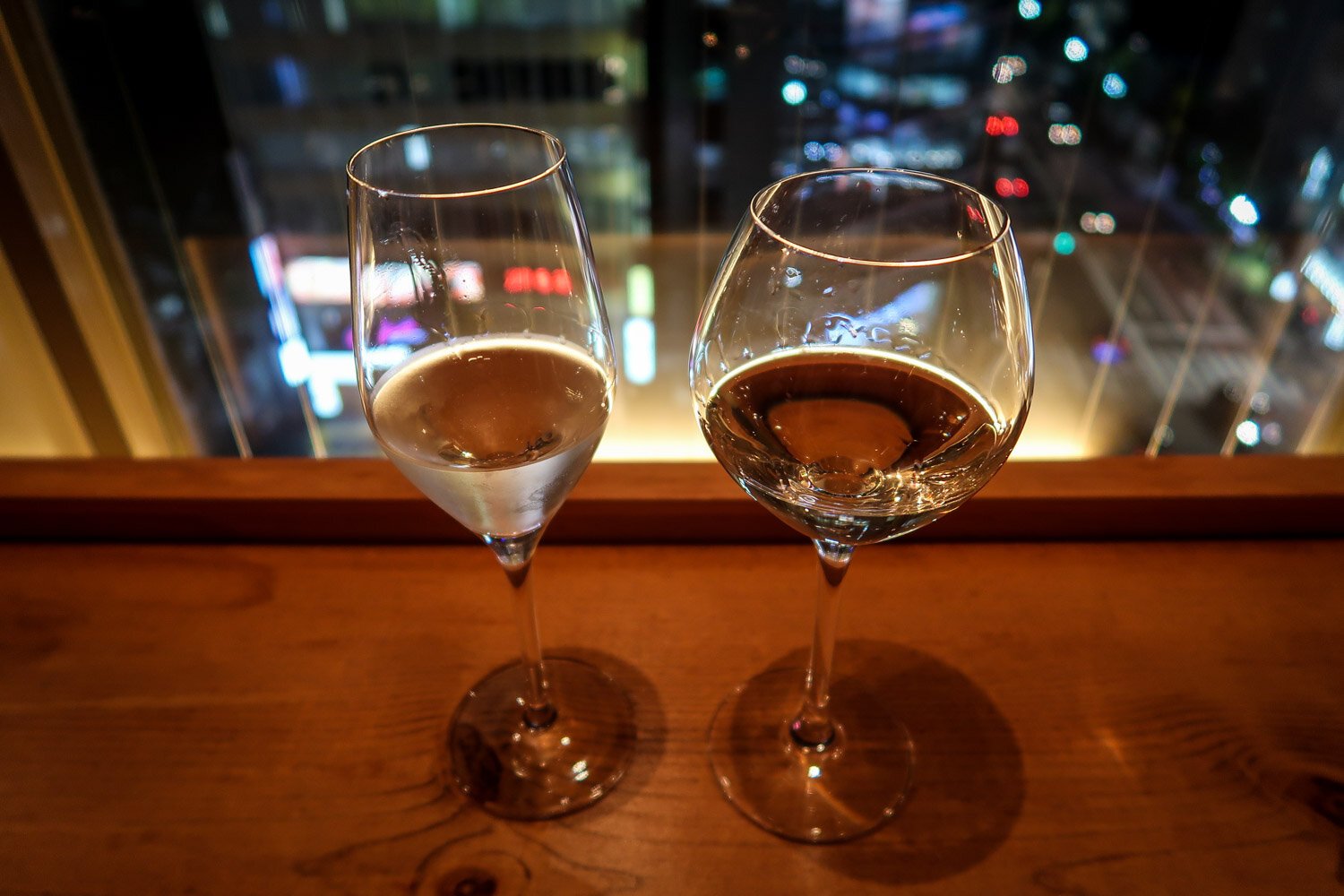 If you're a fan of sake or Japanese whiskey, why not bring some of the good stuff home with you?! This would be a fun way to share a taste of Japan with family and friends back home (or just stash it all for yourself, no shame in that!)
Before you pack your checked bags with bottles, make sure you know the customs laws of your home country.
18. Japanese Recipes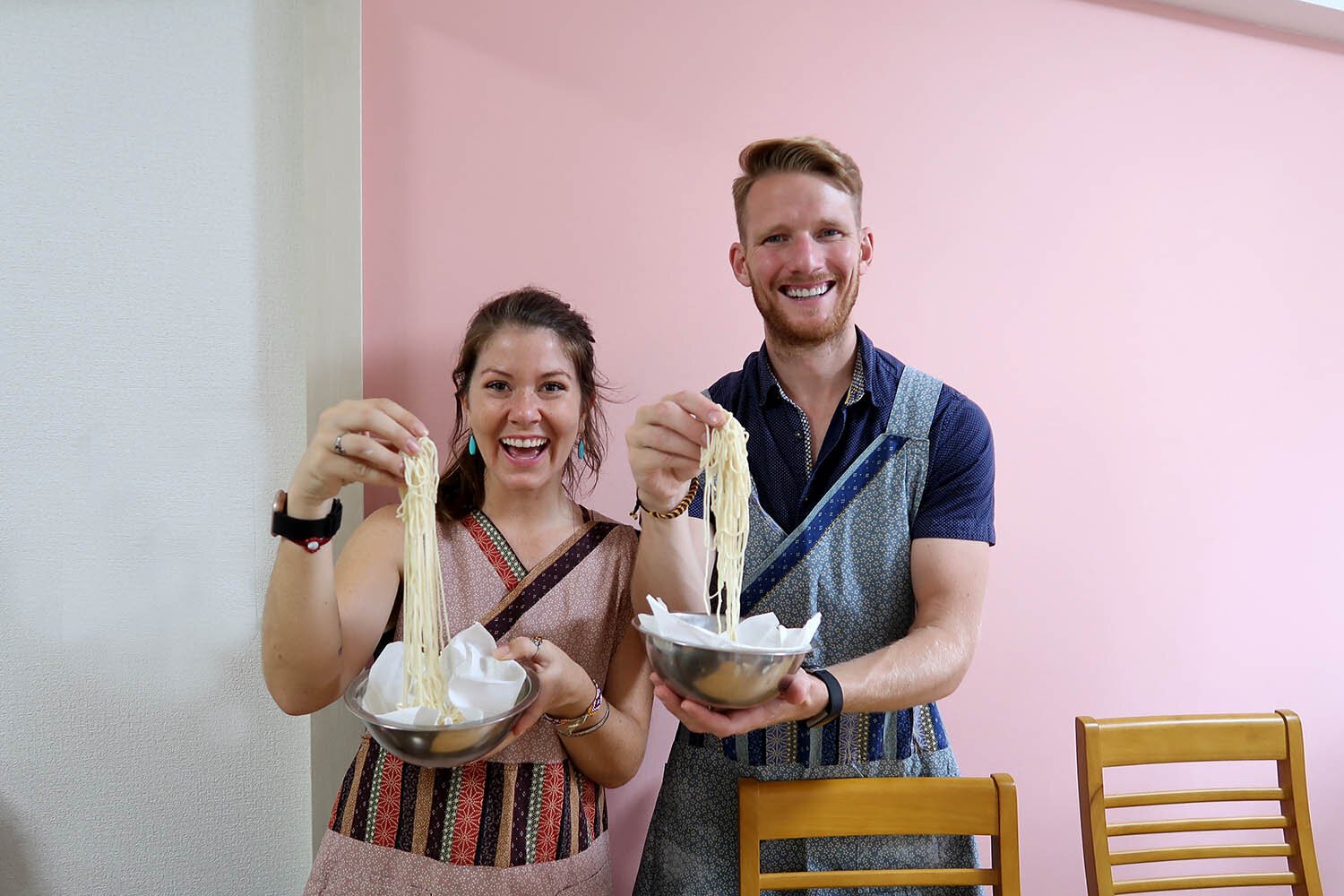 This souvenir is a bit more abstract, but bear with me…
We are obsessed with taking cooking classes on our travels around the world. Not only do we get to have an incredible meal, but we get to spend time with a local and get a deeper glimpse into the culture. After every cooking class we've taken (and we've taken lots!) we have been gifted with a recipe card or book to bring home with us. This is truly the souvenir that keeps on giving because we can now recreate this meal at home.
While traveling in Japan, we took a sushi-making class and a ramen-making class, both of which were fun!
19. Matcha Tea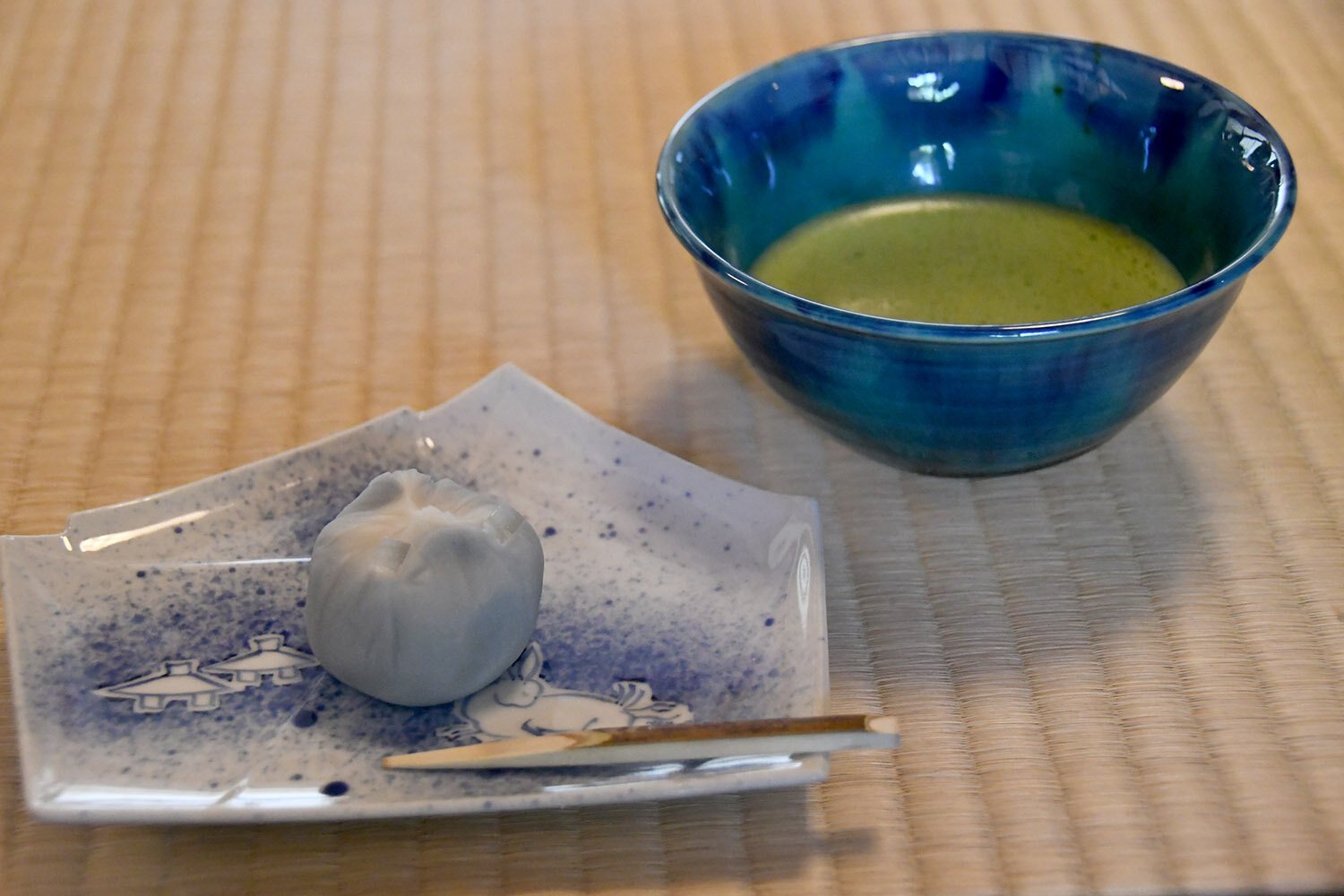 If you're one for edible souvenirs, bringing home some matcha is about as "Japanese" as you can get. This powdered green tea contains many antioxidants and claims to have many health benefits.
Plus, it packs up well and makes great gifts for friends and family back home.
To learn about the history of matcha tea and how to properly brew it, there are many tea ceremony tours you can take throughout Japan.
20. Knives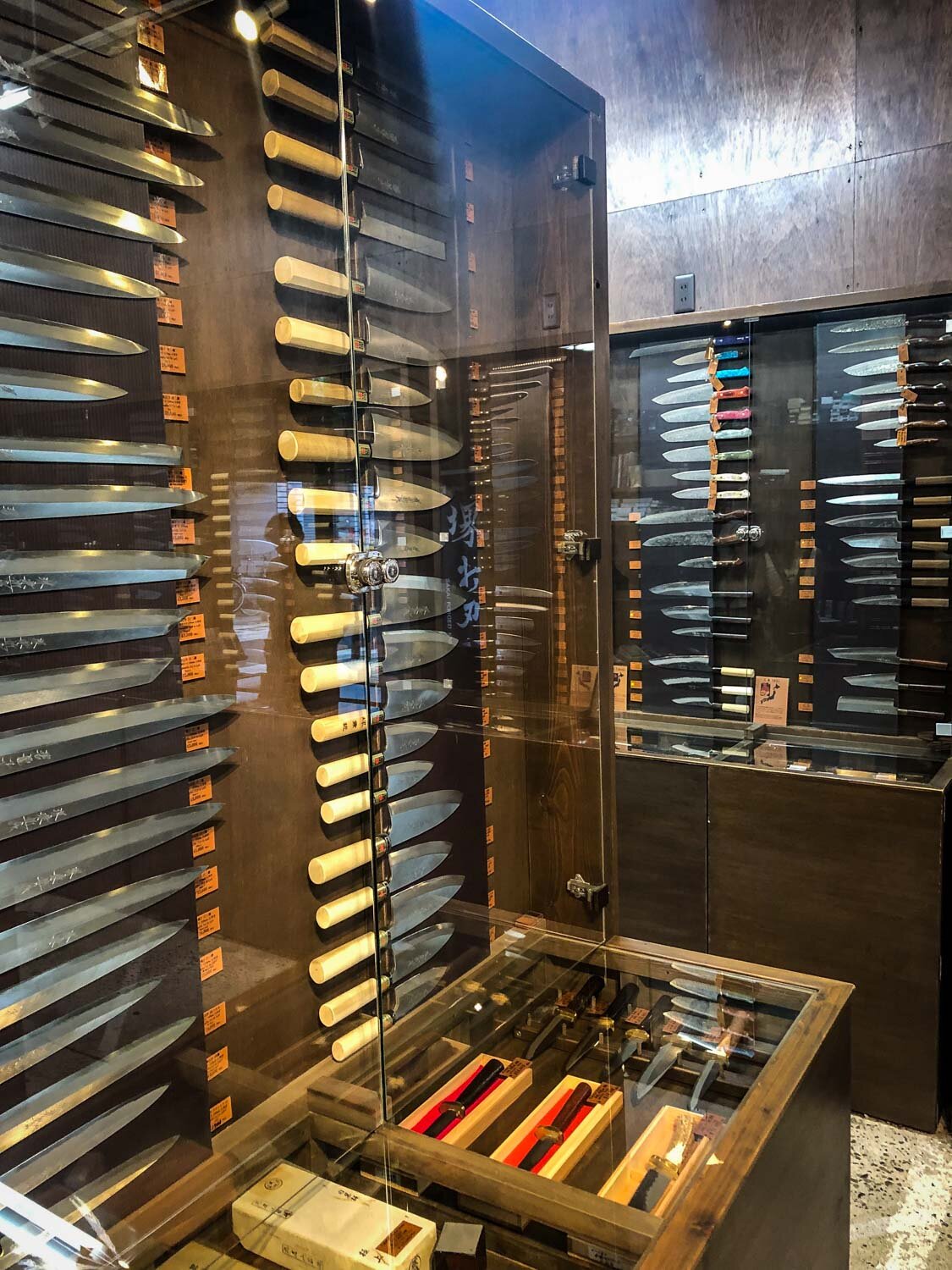 Japan is known for super high quality knives. I mean, those sushi chefs need to have the top-of-the-line knives, so you know you'll find some Japanese brands. But for the really good knives, expect to pay handsomely.
There are knife shops where everything is made in house, as well as entire streets where you'll find variety to choose from.
21. Yukata or Kimono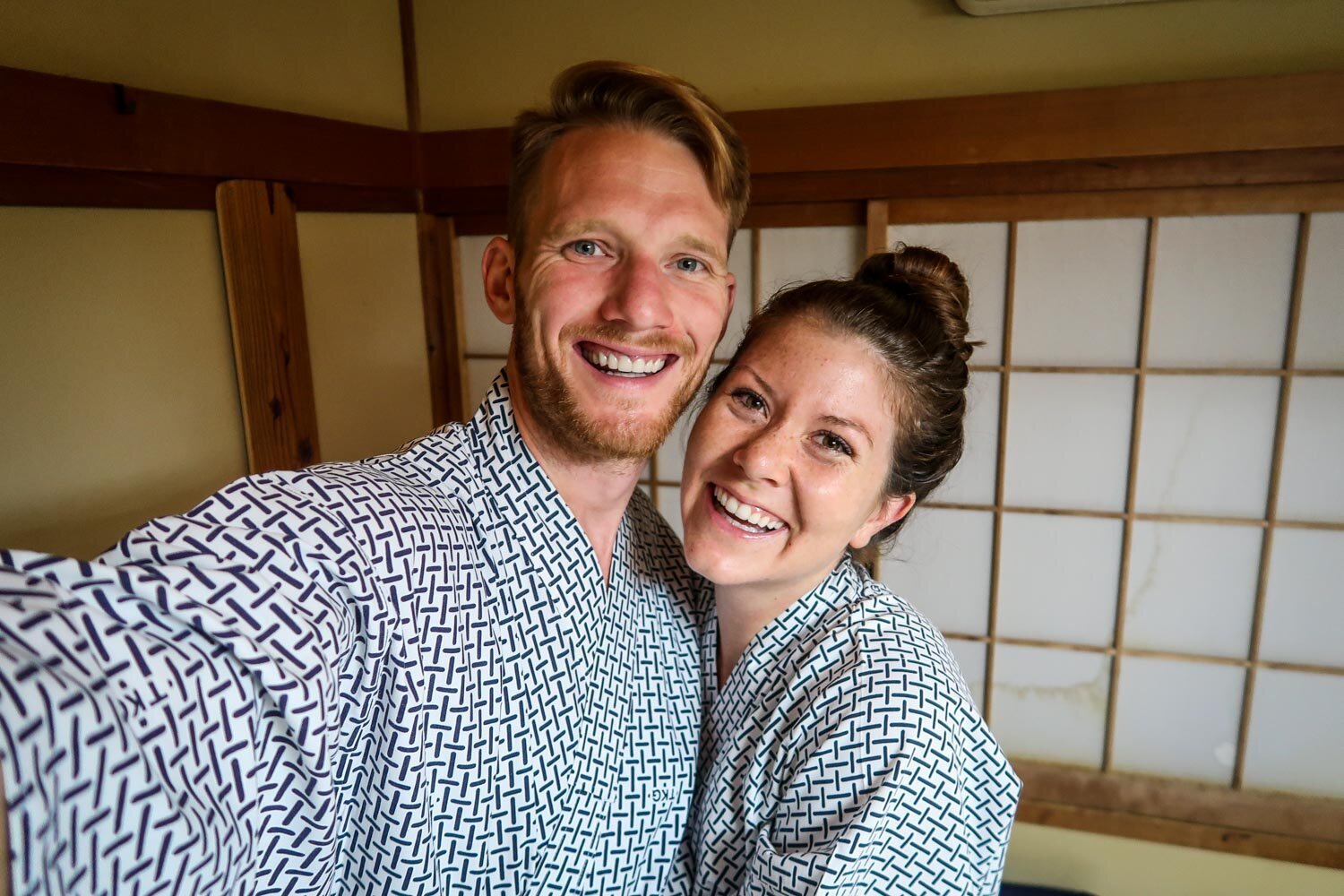 If you have an affinity for Japanese culture, a kimono or yukata might make a great souvenir.
What's the difference between a yukata and a kimono? Quite a lot actually.
Yukata are typically make out of lighter material such as cotton. They are worn around the home or out during summer months.
Kimono are usually a nice fabric like silk and are traditionally worn as a two collar piece. Kimono is reserved for more formal events like graduations or weddings, however it is common to see Japanese people wearing this traditional attire for work functions too.
A Kimono is more expensive than a yukata because of the quality of material, but you can try one on in most cities if you find a fitter.
22. Socks
Fun, quirky socks make a cheap (and practical) item to bring home from your trip to Japan. You'll find all sorts of options to choose from.
23. Face masks
Japanese beauty products are gaining more and more popularity these days. One small item you can fit into your carry on is a Japanese face mask.
These hydrating masks target a variety of skin types and come in all sorts of "flavors" like honey, avocado, collagen, or rice face masks. Perfect for a spa day back home or whenever you want to look like a ghost!
If you forget to grab one of these before you head on your plane, you can always order face masks on Amazon.
24. Japanese Cosmetics
Similar to South Korea, Japan is known around the world for it's cosmetics. From serums to facemasks to makeup, in recent years Japanese cosmetics have used technology to make innovations in the industry.
There are drug stores and cosmetic boutiques sprinkled in every major city, but the one that stands out to me us is Etude House, which is actually Korean brand. You can find high quality products for a faction of the price back home.
25. Name stamps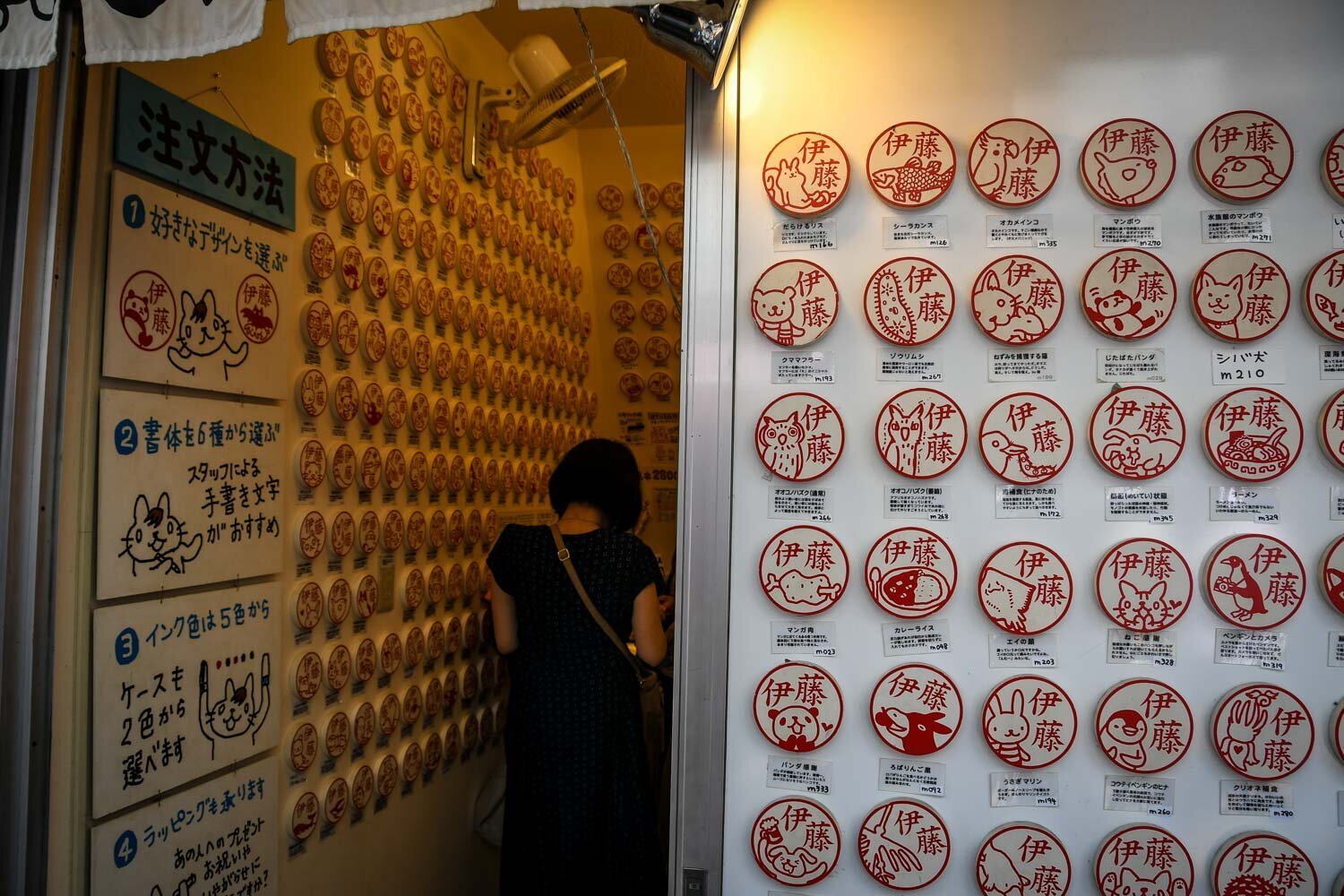 Traditionally used to sign your name on official documents, these name stamps, called Hanko, are quite popular gifts in Japan. In fact, almost every adult in the country has one.
You can go to a shop like the one pictured above and get your name translated into Kanji, the Japanese language. Or you can your favorite cartoon or emoji etched on a stamp for fun. You can find a hankoya (hanko shop) in most neighborhoods.
26. Umbrella or Parasol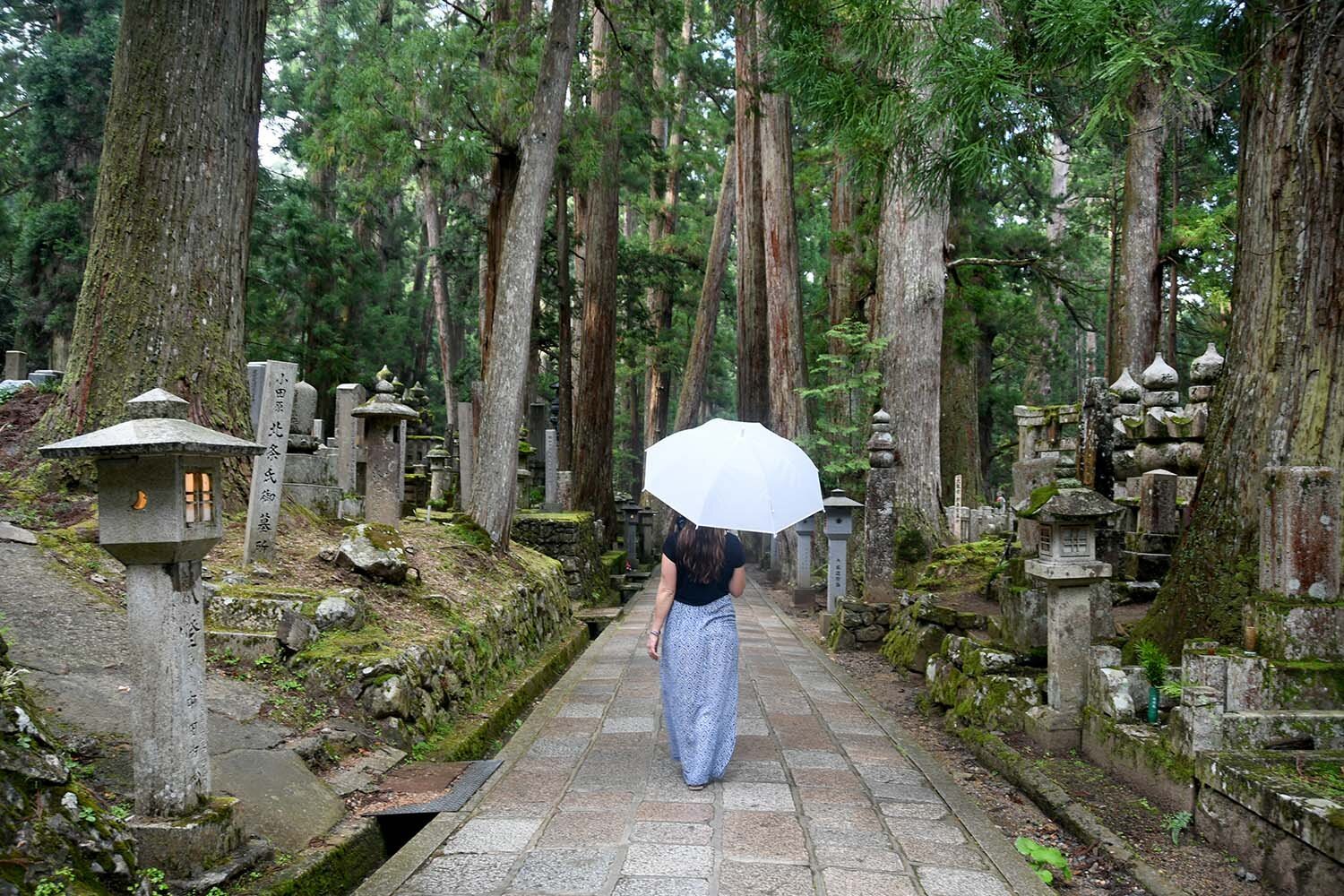 There are few things more iconically Japanese than the parasol, a thin umbrella to provide shade from the sun. They come in all shapes, sizes and colors with countless designs. Most souvenir shops in Japan will have parasols on sale.
While in Japan we purchased an umbrella because it was typhoon season, which came in handy.
Parasols can pack up pretty small and can easily fit in checked luggage for the flight home.
27. Hair Pin (Kanzashi)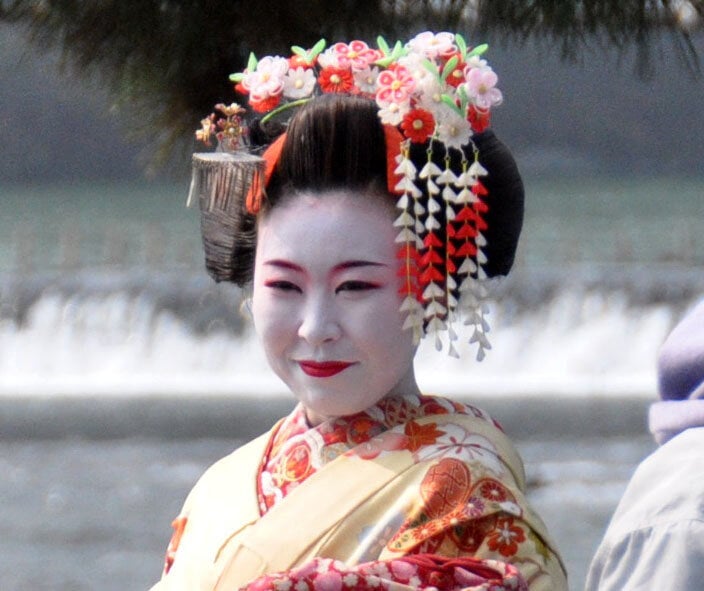 Historically, a kanzashi is traditionally worn in the hair of women during festivals or rituals along with a kimono. These hair pins can be hand-crafted works of art with many designs on the pin as well as the flower ornaments attached to them which can change seasonally.
28. Bento Box
Perhaps the most practical Japanese souvenir you could buy, this is essentially a food container that has separate compartments for small dishes. If you have a kid who brings lunch to school (or you just really like to picnic!), this might make a fun memento.
29. Clothes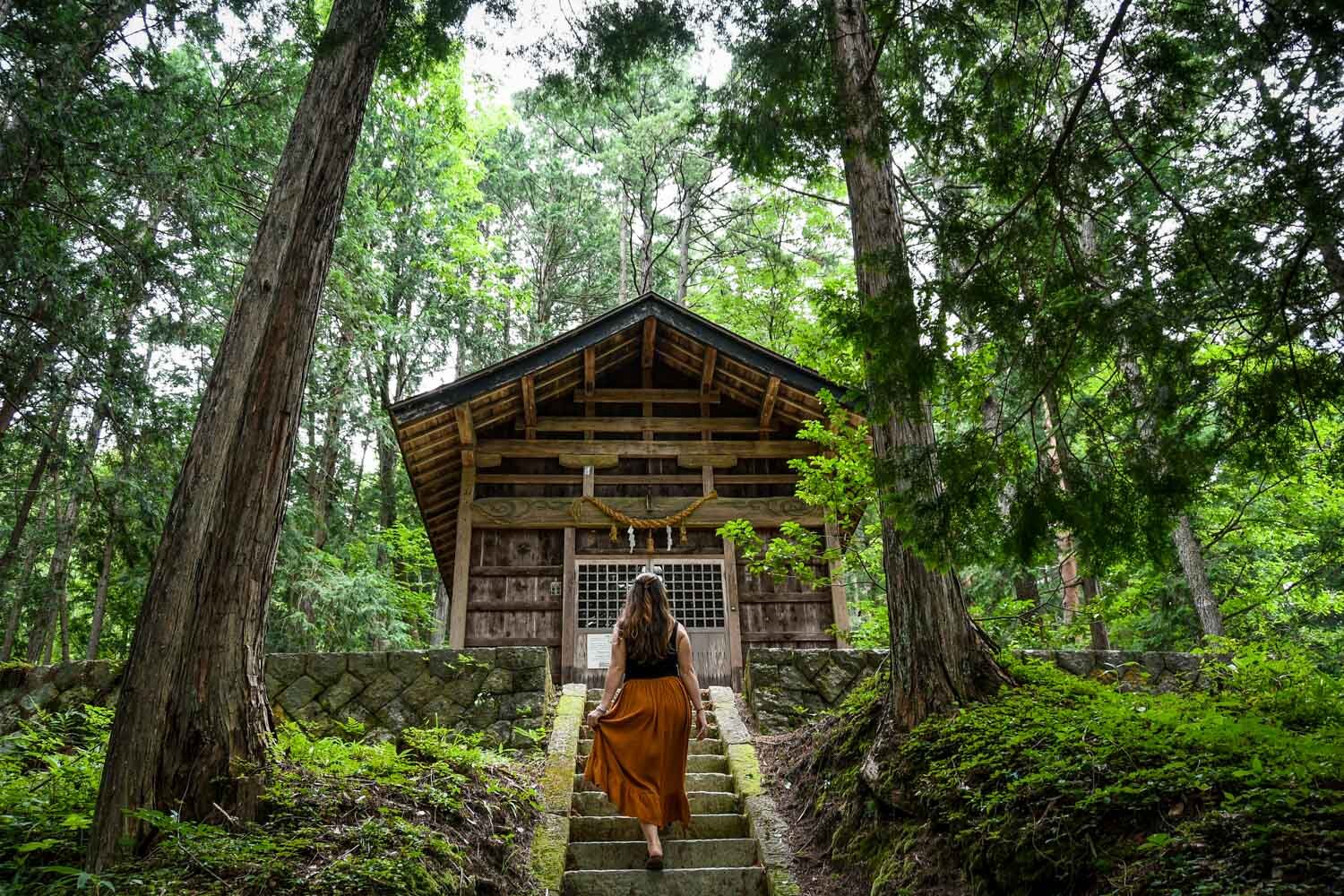 If you're into fashion and you want to bring something home that you'll actually use on a daily basis, you might consider getting clothing.
Surprisingly, clothes in Japan are relatively inexpensive and shops are everywhere, including train stations.
30. Kendama
This wooden game had short-lived popularity in the US back in the early 2000's, but it's still pretty easy to find in Japan. The point of the game is to swing the ball on a rope into the air and have it land in its correct place.
This could make a fun gift for any special kiddos back at home (or even for the kid at heart who needs a way to destress!).
31. Photos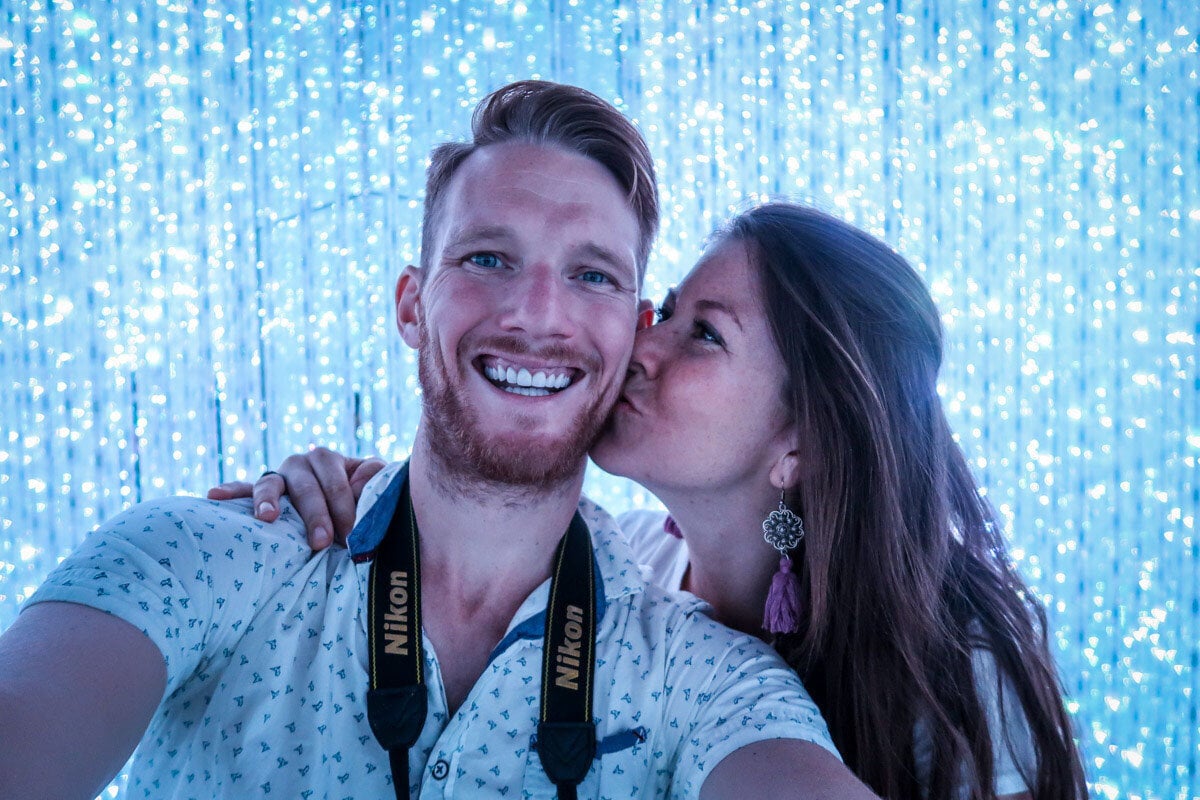 Okay, this might sound like a cop-out, but honestly, our favorite souvenirs no matter where we are in the world are the photos we take. They remind us of special moments on our trip and they are uniquely ours. Plus, they don't cost any money (other than the purchase of our phone/camera).
One fun thing you can do is to create a memory book from your trip to Japan. We think Chatbooks looks like a cool way to do it, but there are lots of companies out there!
---
Are you planning a trip to Japan?
We have TONS of resources on travel in Japan and destinations throughout the country. Check out our Ultimate Japan Travel Guide for all the answers to your most burning questions, or read some of our favorite articles below.
Save this article to Pinterest!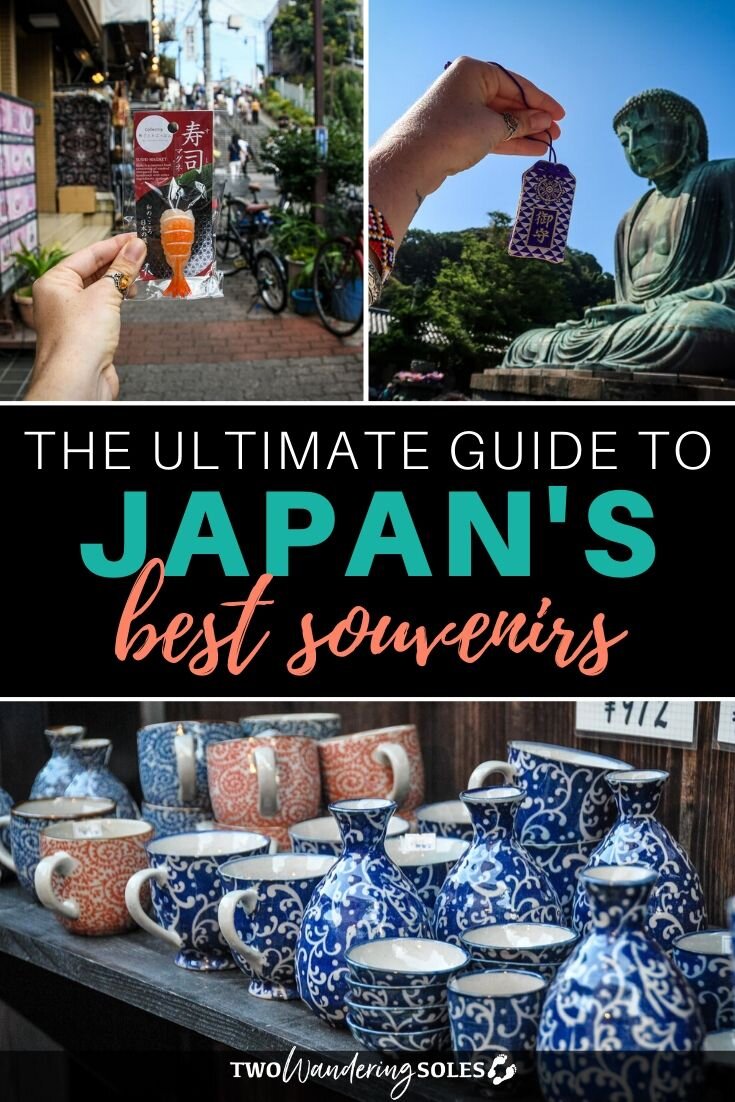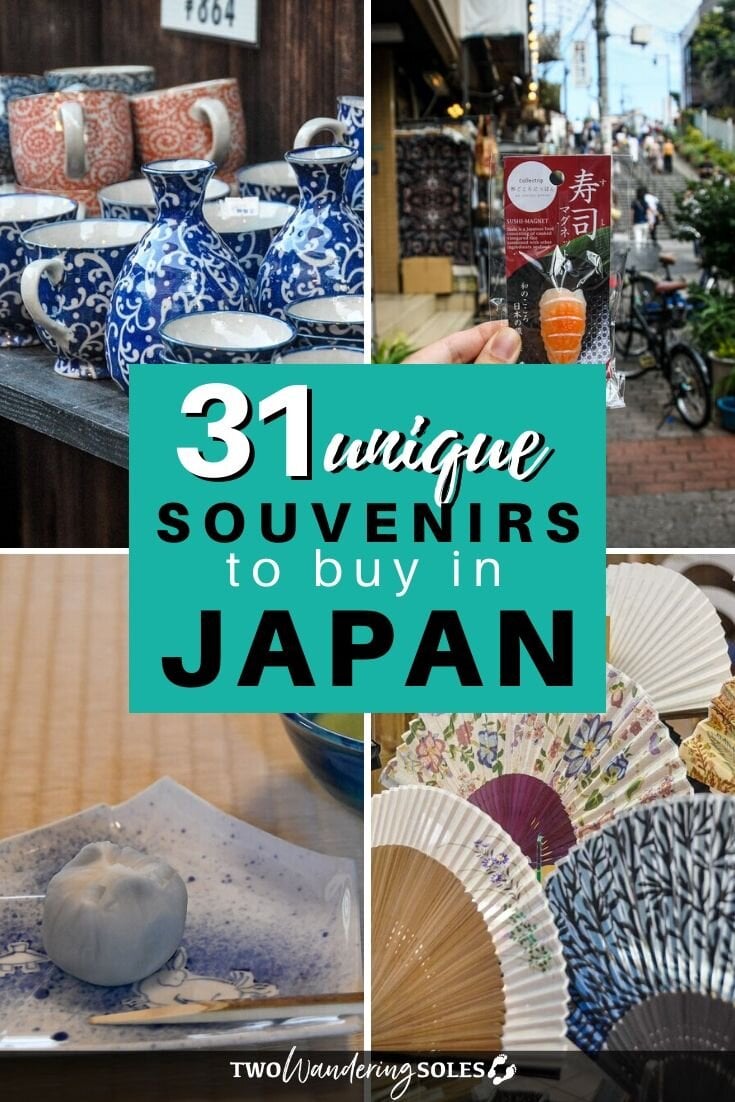 We want to hear from you!
Which souvenir is your favorite? Did you traveled to Japan and brought back something special? We'd love to hear about it in the comments below!