Getting from Edinburgh to Glasgow in Scotland involves a short trip, making it a breeze to explore both unique cities in one visit. This guide breaks down all your options for transportation between the two destinations.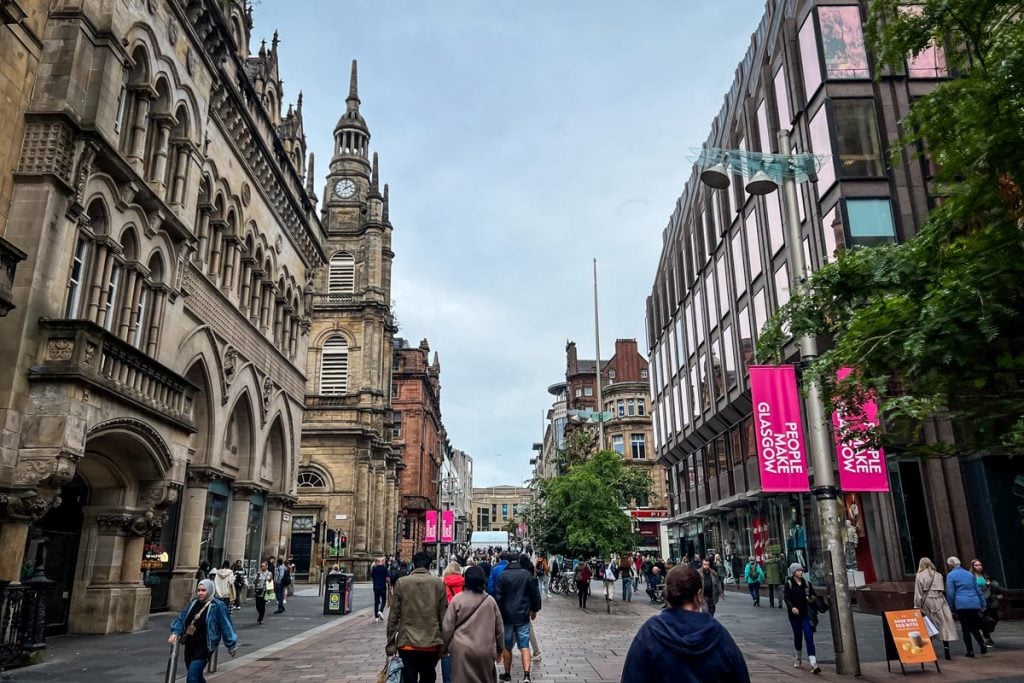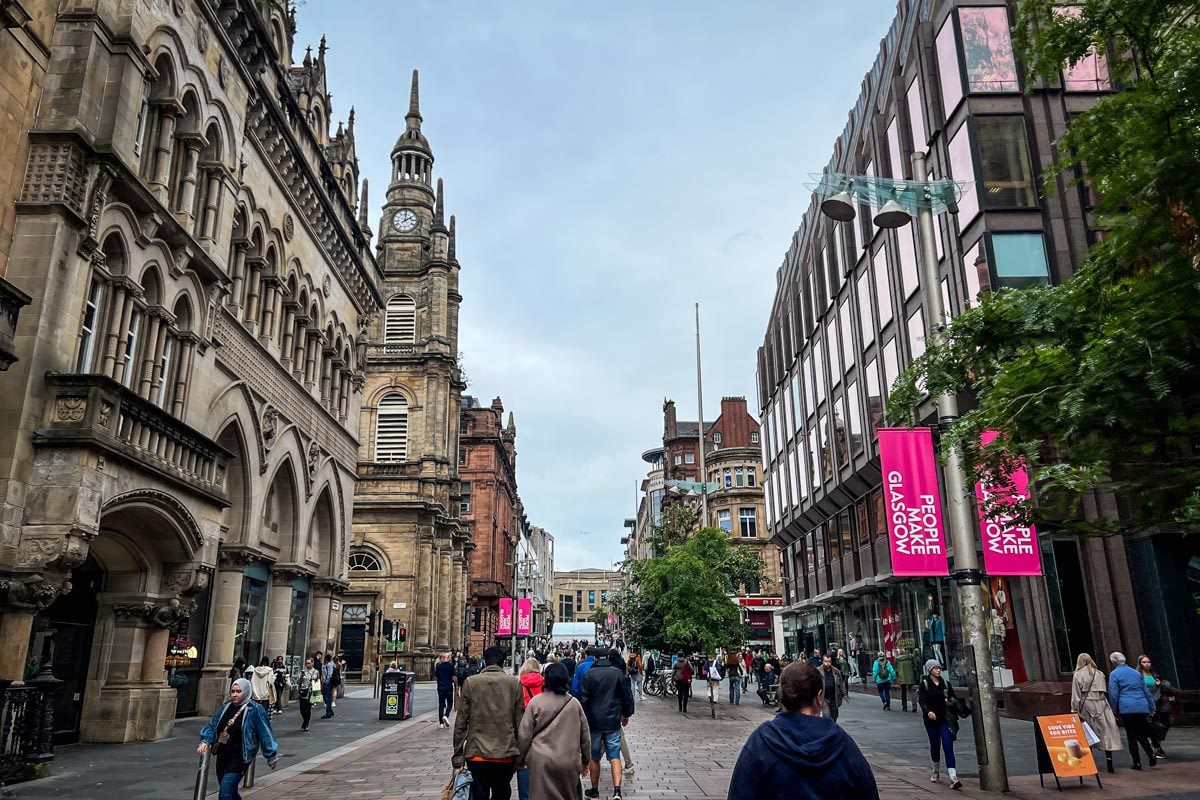 Edinburgh and Glasgow are not only the two largest cities in Scotland, but also the two most visited. Despite being less than 50 miles (80km) apart, they're incredibly different — and both well worth seeing.
The historic capital city of Edinburgh is home to castles, cobblestone streets, rolling hills, and even two UNESCO World Heritage Sites. Glasgow, the country's largest city, is a bustling metropolis known for its vibrant music and arts culture.
Unsurprisingly, visitors to Scotland often want to experience both cities and plan to make at least a day trip from Edinburgh to Glasgow. This short trip is affordable, and with several transportation options it's also very convenient.
We've broken down each of the methods for traveling from Edinburgh to Glasgow in this helpful guide. With options for every type of traveler, you can easily check out Edinburgh and Glasgow on your trip to Scotland!
Edinburgh to Glasgow
---
Other resources for planning your trip
Be sure to download our complete packing list for Scotland! It's packed with good suggestions and insider tips to help plan your Scotland trip. And it's completely FREE, so why not!?
---
Edinburgh to Glasgow by train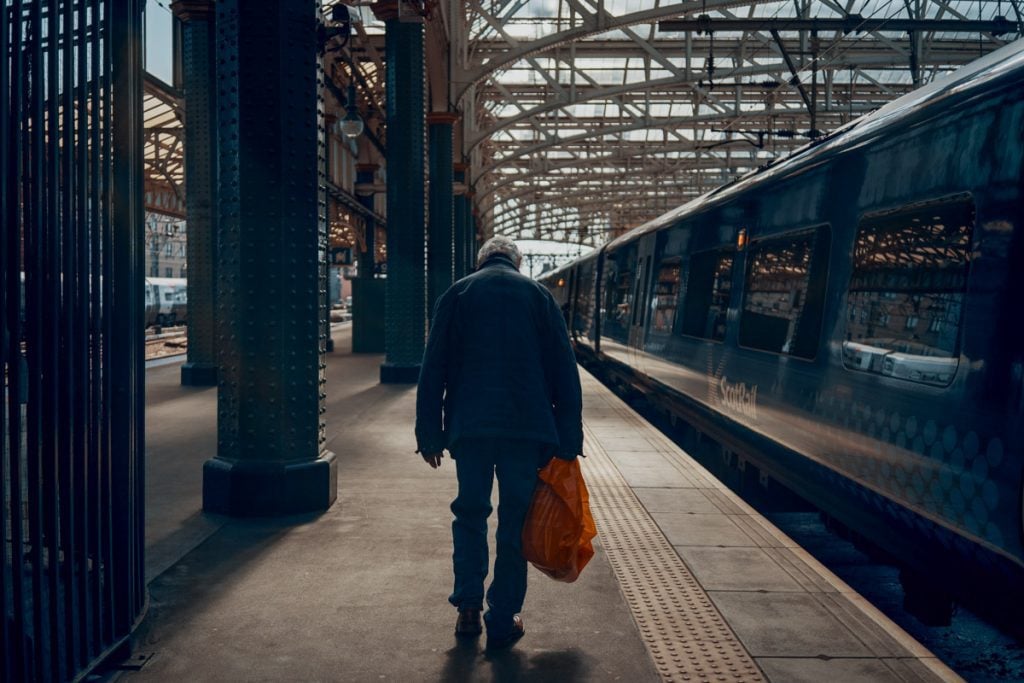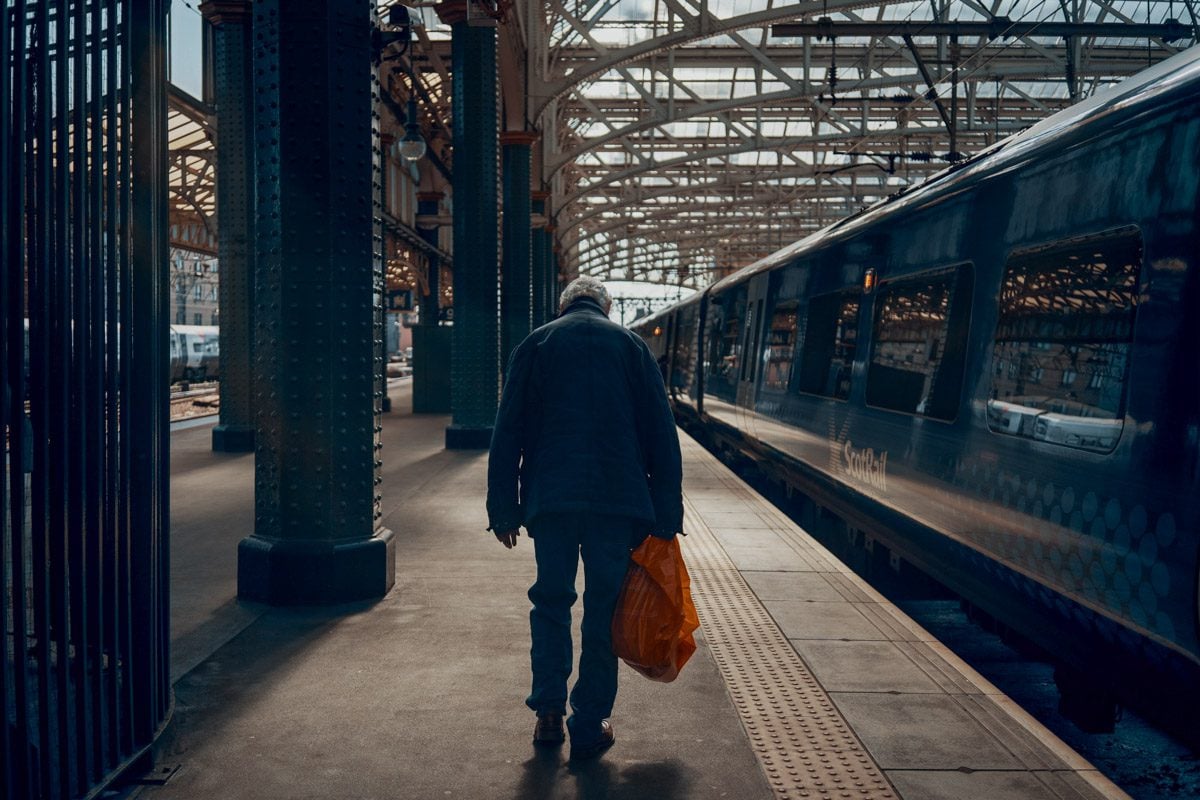 Taking a train from Edinburgh to Glasgow is a breeze. It's fast (about one hour), affordable, and incredibly convenient.
Scotland's trains, like most throughout Europe, are modern and comfortable. It's no wonder this is one of the most common choices for travelers going between the two cities!
Railway options
ScotRail is the most popular option, as it connects Waverley Station in Edinburgh with either Glasgow's Queen Street Station or Glasgow Central. All of which are centrally located in the heart of their respective cities.
While there are some exceptions, Queen Street Station trains tend to be direct (i.e.; a bit faster) and Glasgow Central trains are often long-haul, as opposed to commuter, so they may make a few short stops.
Timing & ticket costs
Trains run about every 15 minutes from 5:00 a.m. to midnight every day, and one-way fares average about £14.50 ($17 USD). You can often find fares as low as £6 ($5.20 USD), particularly if you book well in advance or at the last minute.
Having said that, trains from Edinburgh to Glasgow run so frequently that advanced reservations really aren't necessary unless you have a very strict timeline. Generally, you can simply show up and book a ticket for the next train at the station.
Psst! Don't leave without discovering all the best things to do in Edinburgh, including the quintessential activities and some off the beaten path experiences you won't want to miss!
Edinburgh to Glasgow by bus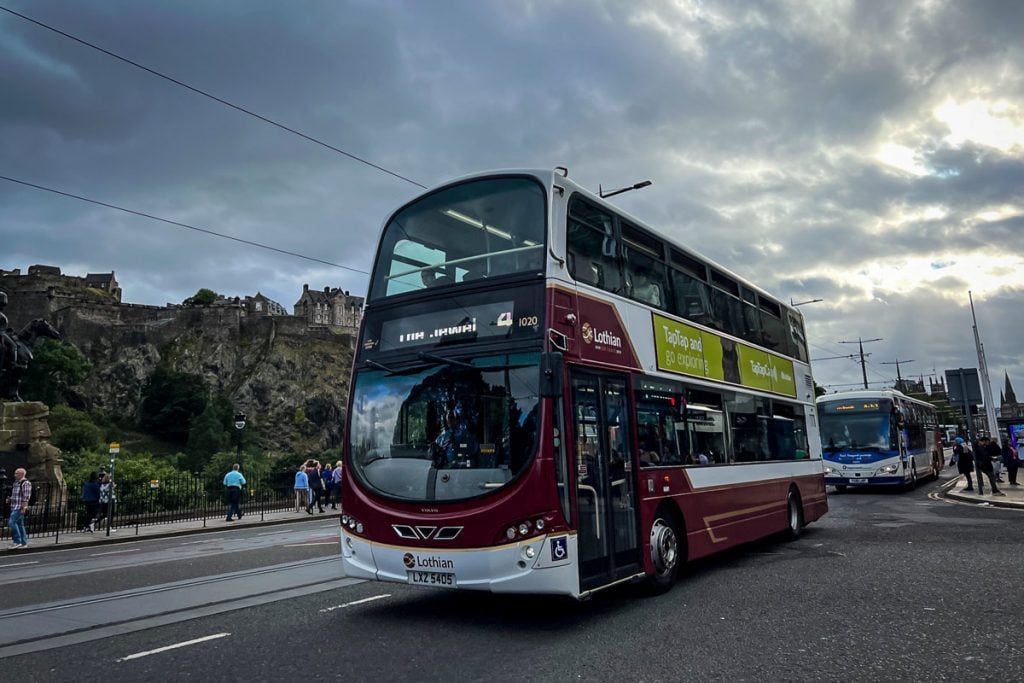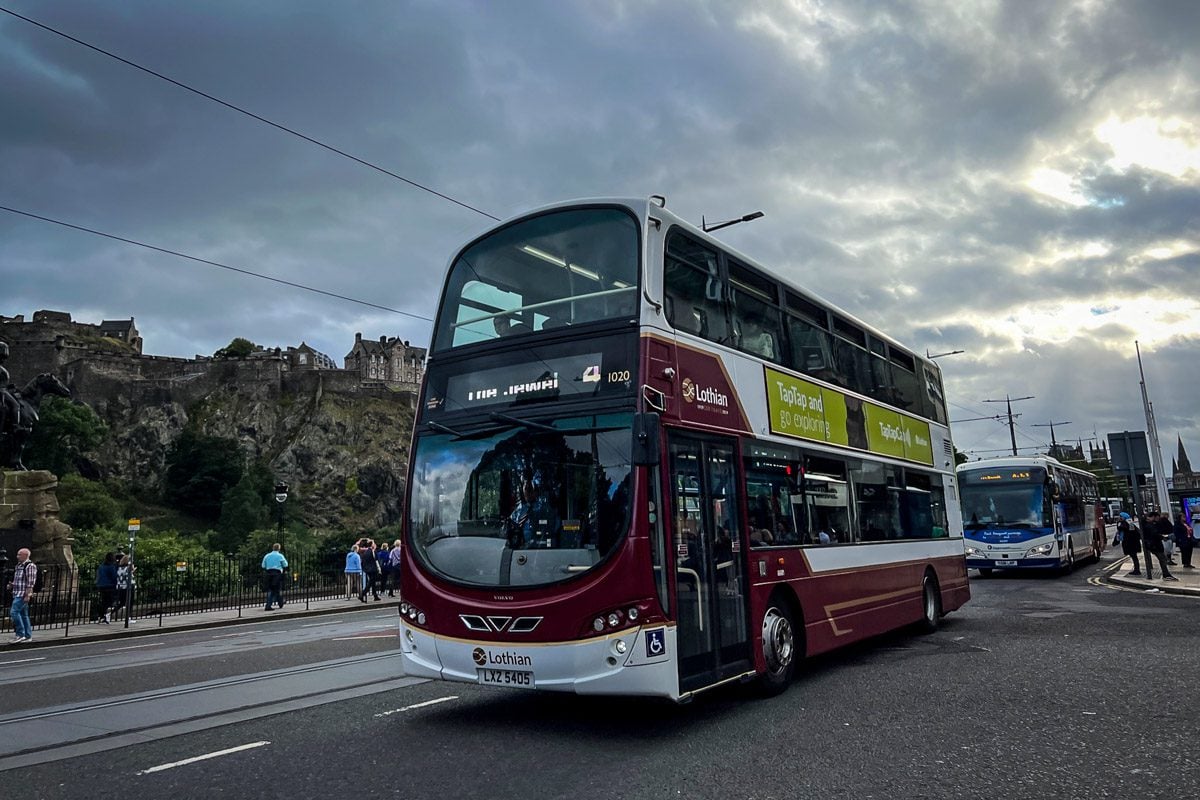 Bus transportation from Edinburgh to Glasgow is similar to riding the train — quick, convenient, and affordable. Fares start around £4 ($4.50 USD) and the trip takes 1-1.5 hours, depending on traffic in both cities.
Buses depart frequently all day and night (even in the wee hours of the morning!), so getting a seat is never an issue and wait times are usually no more than 30 minutes.
Most of the buses that run from Edinburgh to Glasgow are modern, comfortable coaches operated by Citylink, National Express, or Megabus. These buses typically have wi-fi, restrooms, air-conditioning and heat, and luggage storage on board.
Bus routes
Central Bus Station in Edinburgh and Buchanan Bus Station in Glasgow, are the most common departure and arrival points. Both are conveniently located in the city centers on either end.
Citylink operates a bus line from the Edinburgh airport to Glasgow's Buchanan Station, and you may also find less-common routes to and from other destinations such as N St. David Street in Edinburgh or Queen Street Station in Glasgow.
Psst! If you have time to discover more of the country, don't miss these epic places to visit in Scotland.
Edinburgh to Glasgow by car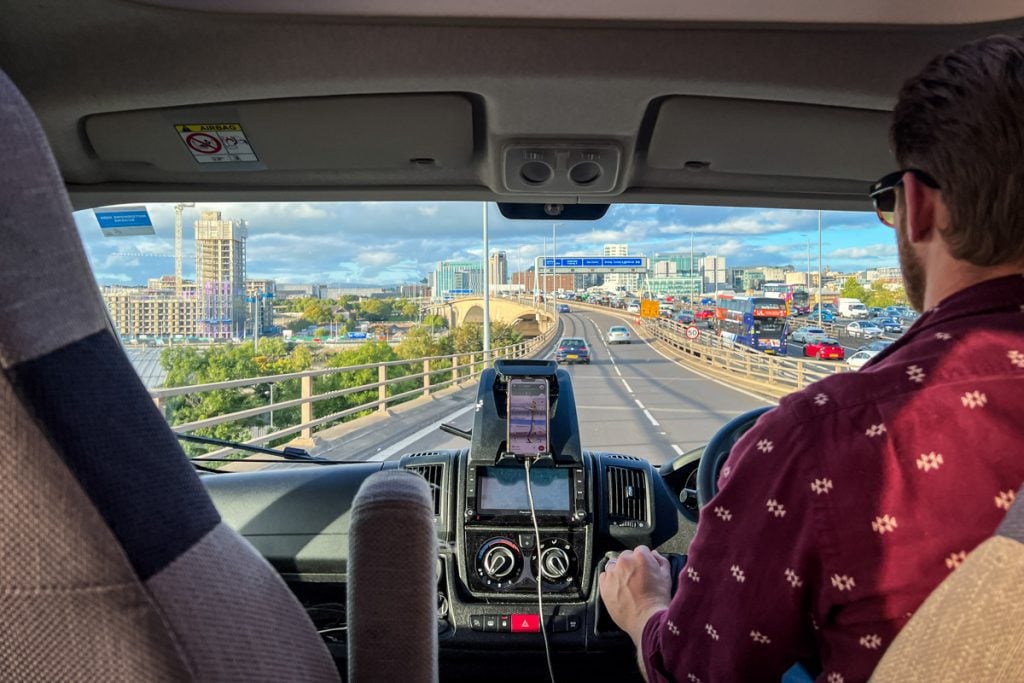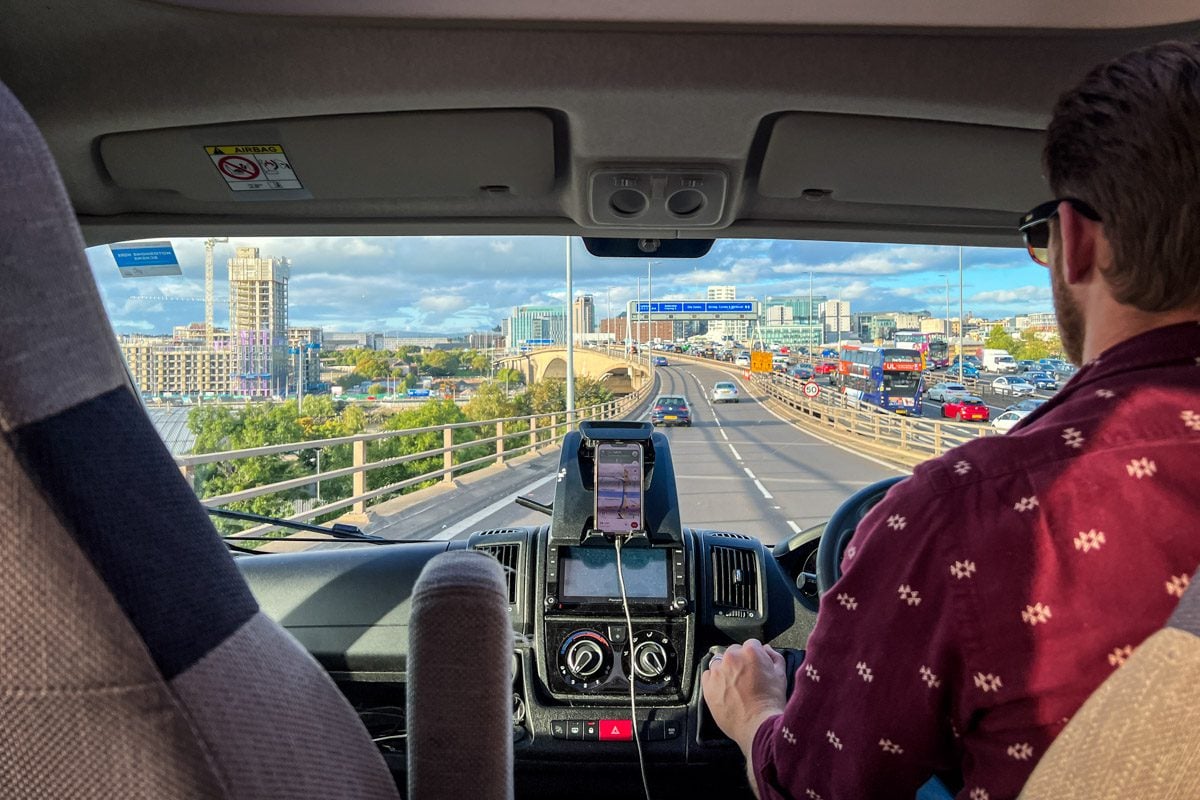 While public transportation is efficient and affordable for traveling from Edinburgh to Glasgow, there may be situations when you'd prefer to go by car.
Renting a car and making the one to 1.5-hour drive yourself is one option. This is a particularly good idea for those who would like to see some of the sights between the two cities, such as the Falkirk Wheel, a unique rotating boat lift.
Although this is, of course, a slightly more expensive option, you do get the convenience of your own vehicle and the freedom of being able to travel on your own timeline. You can stop to explore as much as you'd like along the way. Plus, Scotland is a very drivable country!
If you're interested in the rental car option, start by checking rates at Discover Cars. You'll find all the big rental companies in Edinburgh including Budget and Avis, and there are several pickup locations to choose from.
The only tricky thing will be deciding whether to take a round-trip, picking up and returning the car at the same location, or doing a one-way rental from Edinburgh to Glasgow. Not all companies allow one-ways, and the ones that do will likely have slightly higher rates, so be sure to research all your options before making a decision.
Search & Compare Rental Car Prices
Discover Cars: We personally use this aggregate site to compare rental car prices from all the big name companies and get the best price possible.
RentalCars.com: We've had good experiences finding rental cars with this site in the past.
We put together a complete guide to renting a car in Scotland with all the information you need to find the best price, including tips for driving in the country.
Driving routes from Edinburgh to Glasgow
There are two main routes you can drive from Edinburgh to Glasgow, and both travel on major highways and pass several small towns for sightseeing.
The shortest route is via M8, a 53-mile journey that passes through Bathgate and Whitburn. The second, slightly longer route is about 61 miles and goes through Falkirk and Cumbernauld.
Taking a taxi from Edinburgh to Glasgow
While it certainly isn't the most wallet-friendly option, you can take a taxi from Edinburgh to Glasgow.
Taxis are easily found throughout the city, particularly in tourist hot spots like the Royal Mile and outside many hotels, making them especially convenient. Expect to pay around £100 ($115 USD) for a one-way trip, and similar pricing in a private Uber or Lyft.
Rideshare from Edinburgh to Glasgow
Uber and Lyft are both readily available in Edinburgh, but you'll find a mix of private rides and true rideshares—shared rides with other people (i.e. a carpool). Taking a rideshare from Edinburgh to Glasgow is far more affordable than a taxi or private ride, averaging around £10 ($11.50 USD) one-way per person.
However, it's not quite as convenient or fast, since you may pick up and drop off other passengers en route. Having said that, you could luck out and share the entire ride from Edinburgh to Glasgow with others.
It's also tricky to predict your exact cost, since this is largely dependent on the number of other riders.
Popular platforms for ride shares in the UK include BlaBlaCar and LiftShare.
---
Want to save time and energy on planning?
We traveled in Scotland for about 2 weeks and were able to visit most of the highlights of the country, including most of the top places to visit.
We took our 2-week travels and created the perfect Scotland road trip itinerary. We'll send you our complete 2-week itinerary, filled with tips and advice. Just click below to get your 2-week Scotland road trip itinerary today!


---
Edinburgh to Glasgow by bicycle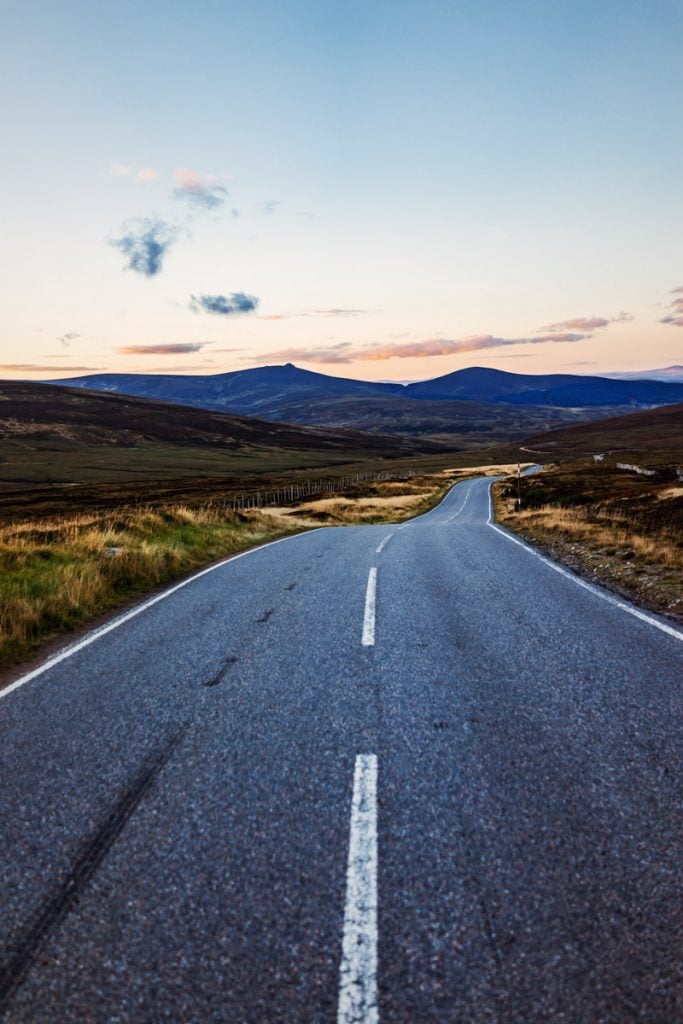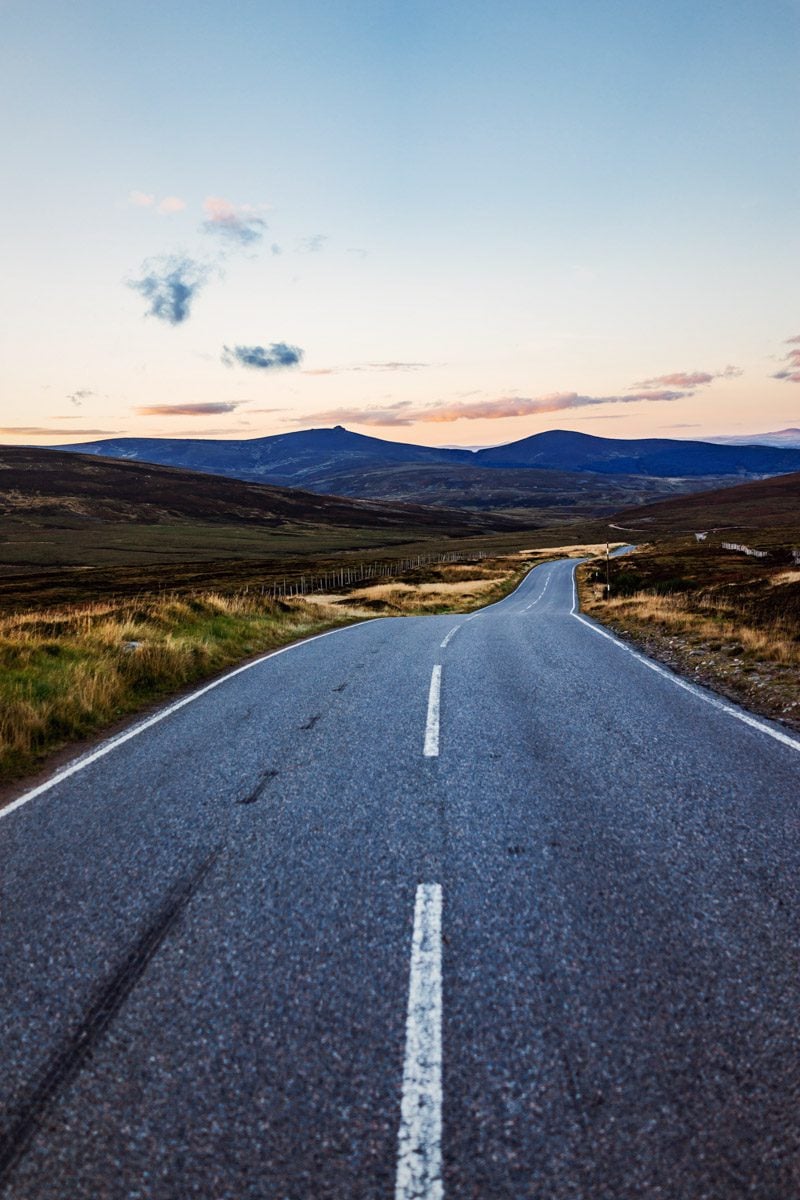 Scotland is one of the most cycling-friendly countries in the world. As part of its National Cycle Network, there's a whopping 1,643 miles (2,644 km) of dedicated cycling paths, including 702 miles that are traffic-free, intended for bicycles only. Most of the paths have a smooth tarmac surface ideal for bicycle tires, although there are some sections of gravel and stone.
The route
Traveling from Edinburgh to Glasgow on a bike is actually simpler than it may seem. National Route 75 is the most direct cycling route connecting the two cities, via a series of paths that run alongside rivers and railroad tracks, as well as tunnels.
An alternative route, only slightly longer but with more to see and do along the way, involves taking a combination of National Routes 754 and 7 or 75. This option traverses the Union Canal and Forth & Clyde towpath and takes you through Falkirk.
Many experienced cyclists make the trip from Edinburgh to Glasgow and back in a single day, but there are several quaint historic towns and interesting sights along the way if you prefer to stretch your journey into a multi-day ride.
You could also make the trip one-way on a bicycle and then return by train or bus. Most have bike racks, as cycling is so common throughout the country.
Bicycle rentals in Edinburgh
There are dozens of bicycle shops where you can rent a bike, as well as rental companies, in both cities. Be sure to rent a road bike as opposed to a cruiser-style bicycle, and inquire specifically about the company's policies on time and distance, as they may have specific bikes they rent out for longer distances.
Don't leave the shop without a repair kit and spend a few minutes going through it so you understand what items are included and how to use them. It's important that you be able to change a tire tube or fix a small puncture if necessary!
If you're planning to travel to Scotland with your own bicycle and you're flying or taking public transportation, you'll want to invest in a bike transport bag.
You should also have the necessary tools to take the bike apart to fit it into the bag and reassemble it. It is absolutely crucial to assemble your bike correctly, so if this is new to you, pop into a bike shop and ask for some help before heading out.
Guided tours from Edinburgh to Glasgow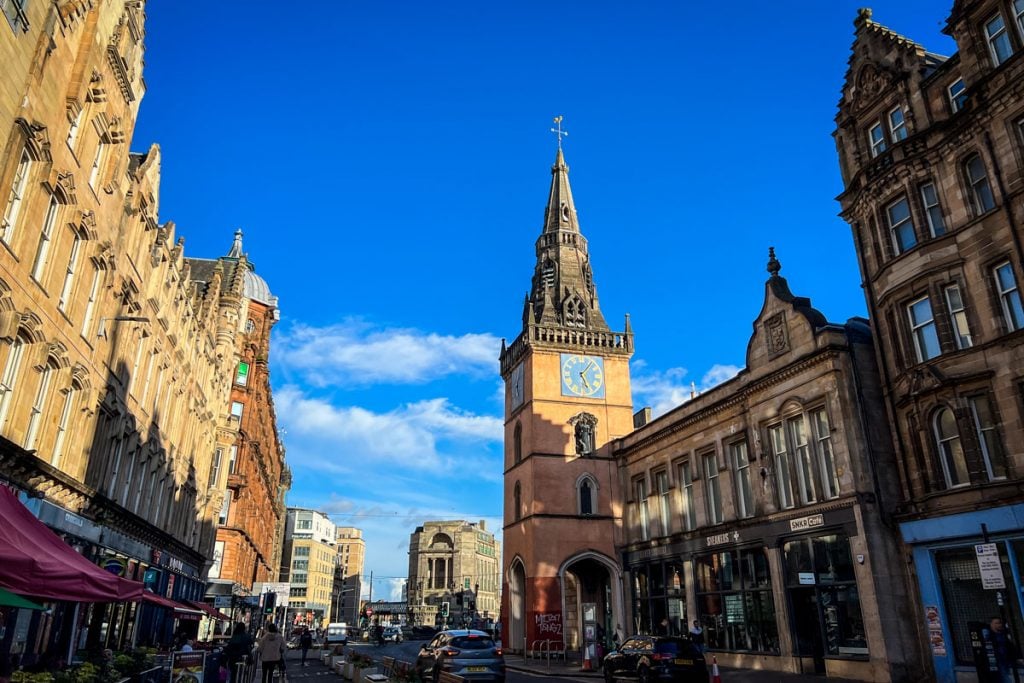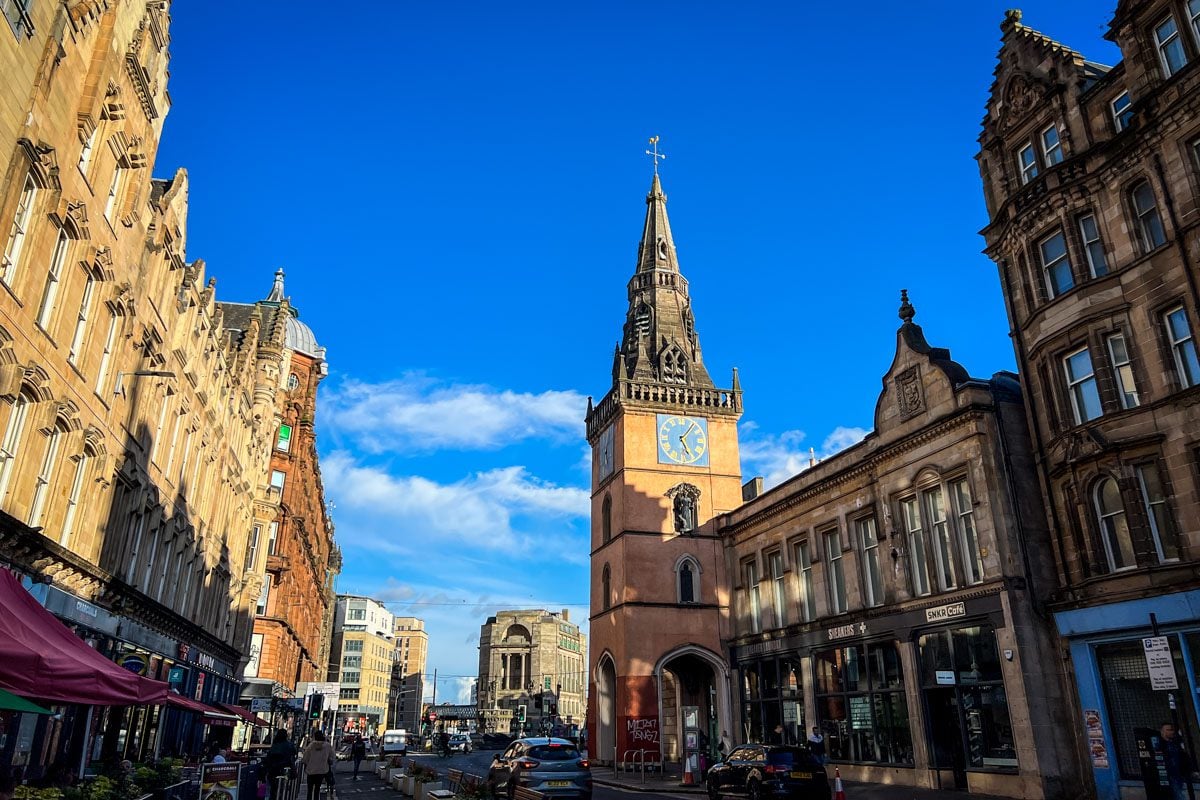 Interested in traveling from Edinburgh to Glasgow in a completely unique way? Consider booking a guided tour that will allow you to see both cities, plus several interesting sights along the way.
---
Are you planning a trip to Scotland?
We have lots of resources on travel in Scotland and destinations throughout the country. Check out our Scotland Travel Homepage for everything you need to know, or read some of our favorite articles below.
Save this article on Pinterest for later!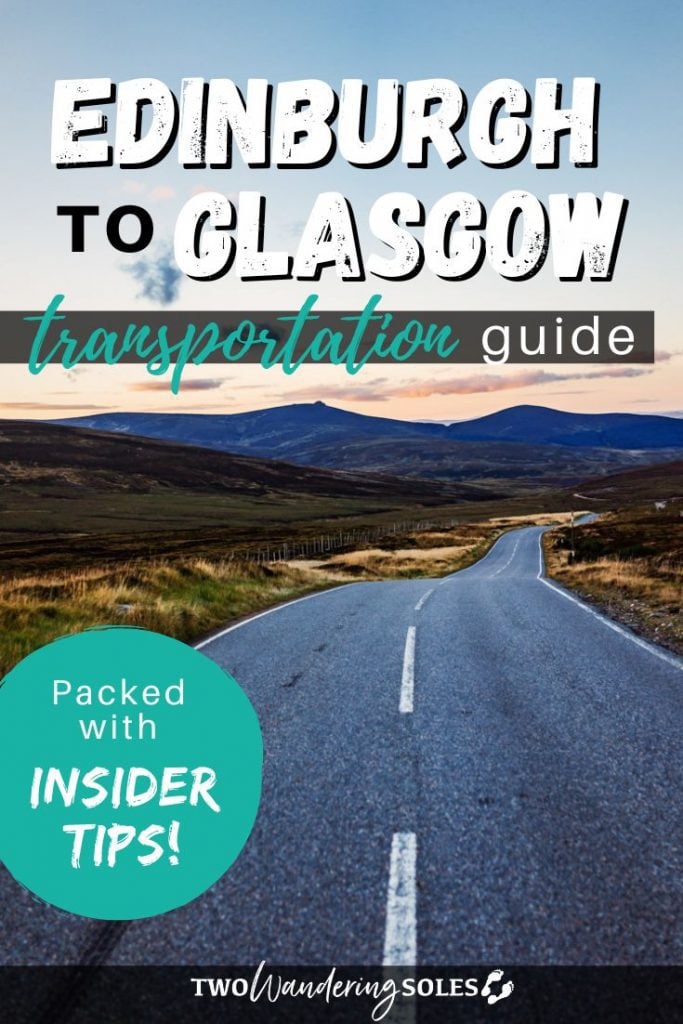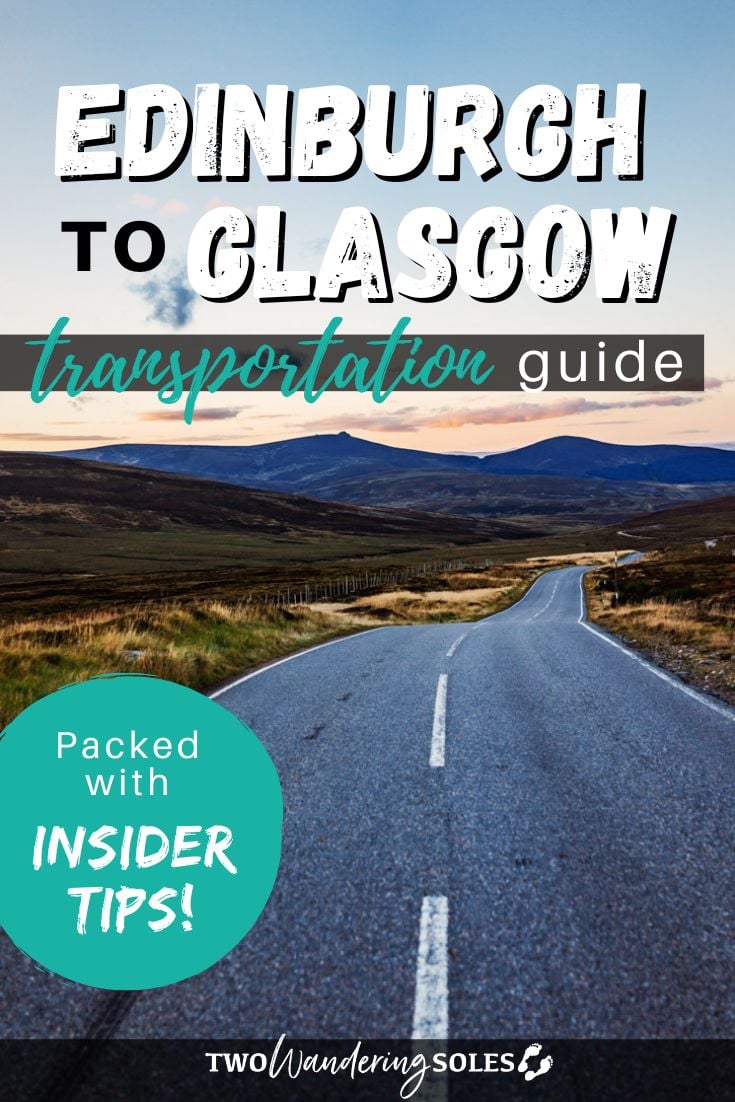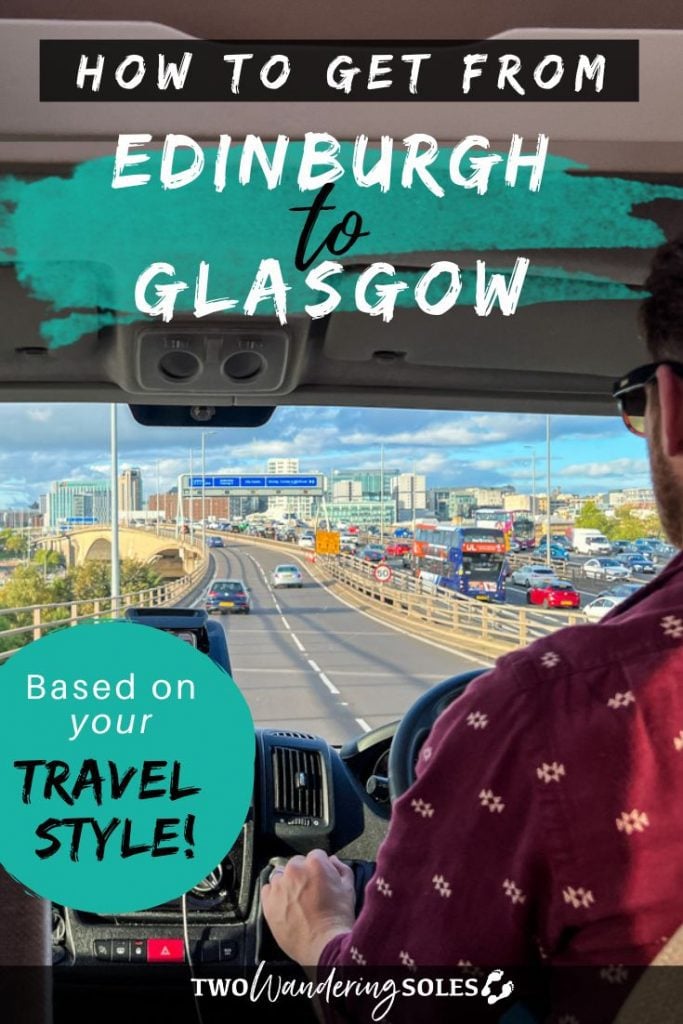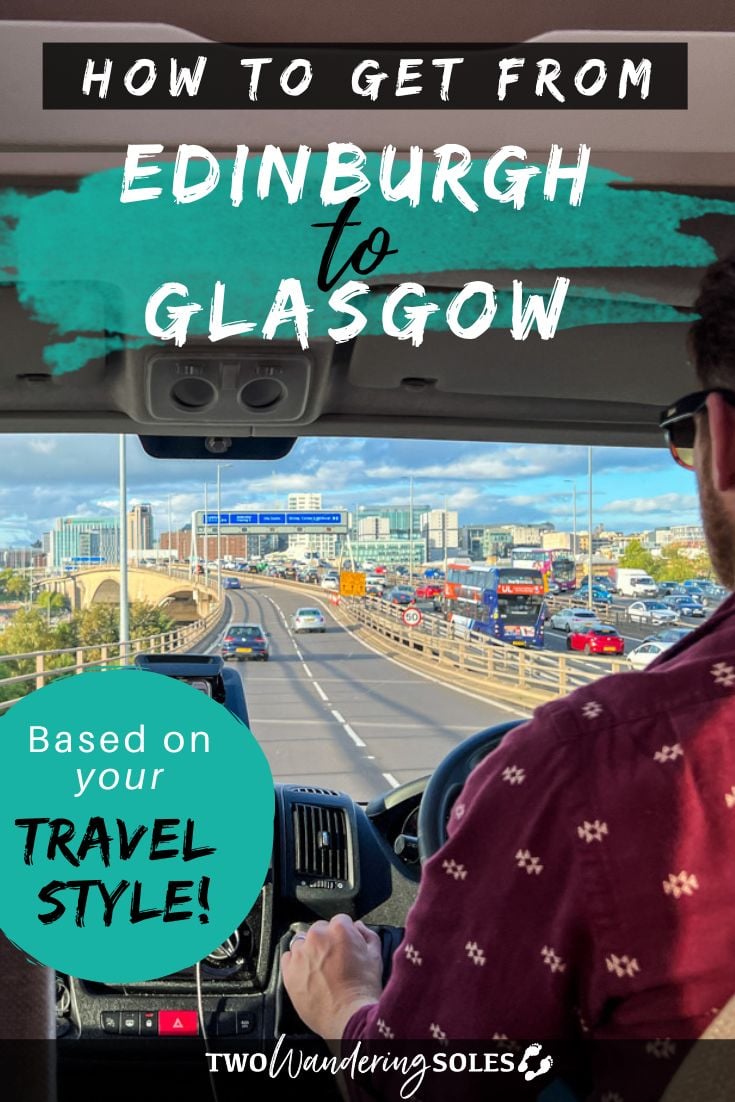 We want to hear from you!
Are you planning a trip from Edinburgh to Glasgow and still have questions? Comment below and we'll do our best to find you the answers you're looking for!