Looking out over Edinburgh from the summit of Arthur's Seat, it's hard to believe you're just a stones throw from the city center. Find out exactly how to do this popular hike, what you should know before you go and tips for the trail in this super detailed guide to Arthur's Seat.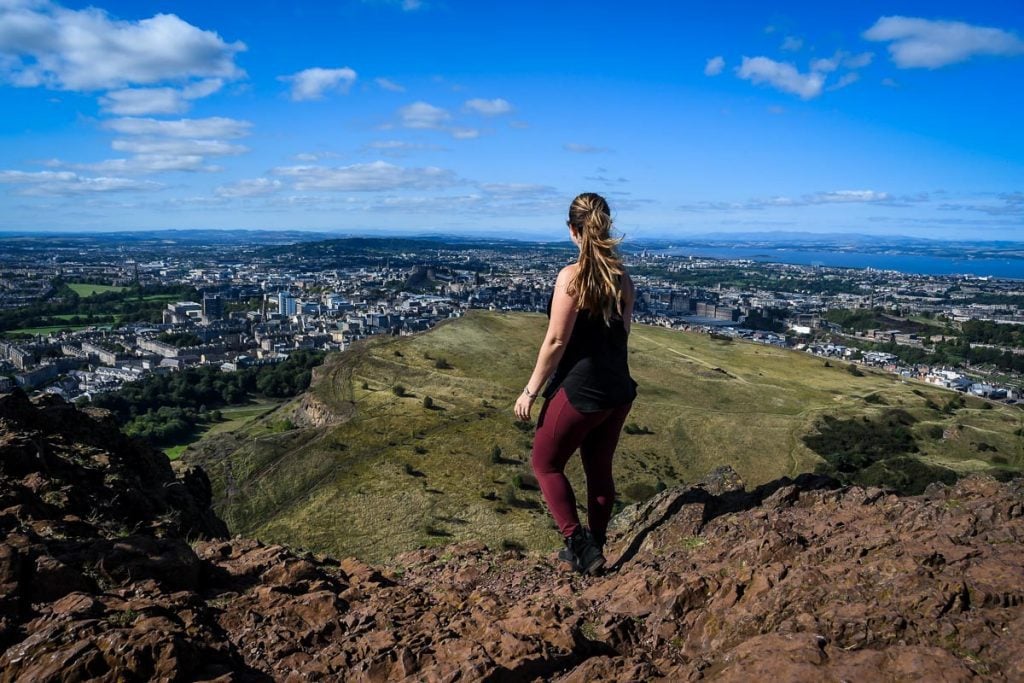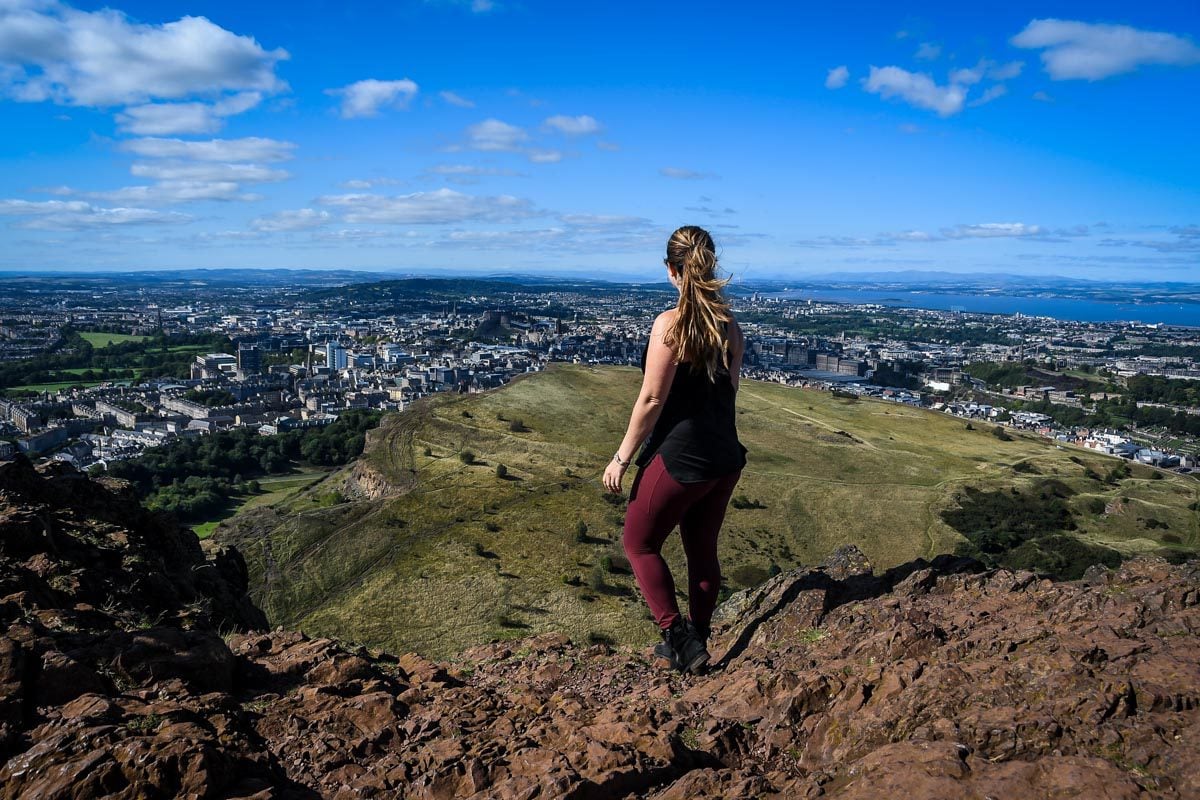 It's easy to see why Arthur's Seat conjures up so many folktales and lore. The dramatic, craggy cliffs of a now-extinct volcano tower over Edinburgh just a couple of miles from the city center, an iconic part of its skyline.
Hiking up Arthur's Seat is definitely worthwhile, offering not only stunning views but also an urban oasis that feels akin to the Scottish Highlands. Although it's located right in the city, the walk is much more like a hike, with a fair amount of elevation gain, plus wind and mud to contend with.
There are several ways to reach the summit of Arthur's Seat, each route winding through the park's lush green hills and countless small lochs and glens. Even if you don't go all the way to the top, there are plenty of scenic viewpoints and pleasant walks well worth a couple of hours.
Ready to learn all about why Arthur's Seat in Edinburgh is so popular and why it deserves a spot on your Scotland itinerary… Let's get right into it!
Article Contents
Psst! Don't leave without discovering all the best things to do in Edinburgh, including the quintessential activities and some off the beaten path experiences you won't want to miss!
---
Be sure to download our complete packing list for Scotland! It's packed with good suggestions and insider tips to help plan your Scotland trip. And it's completely FREE, so why not!?
---
First things first, you're probably wondering…
What is Arthur's Seat?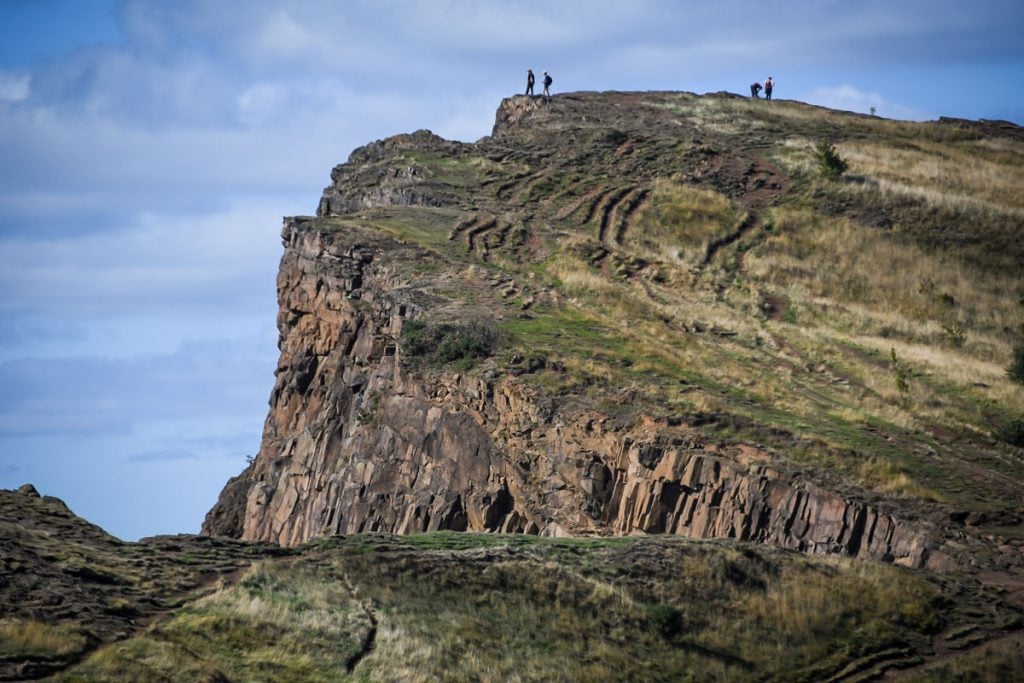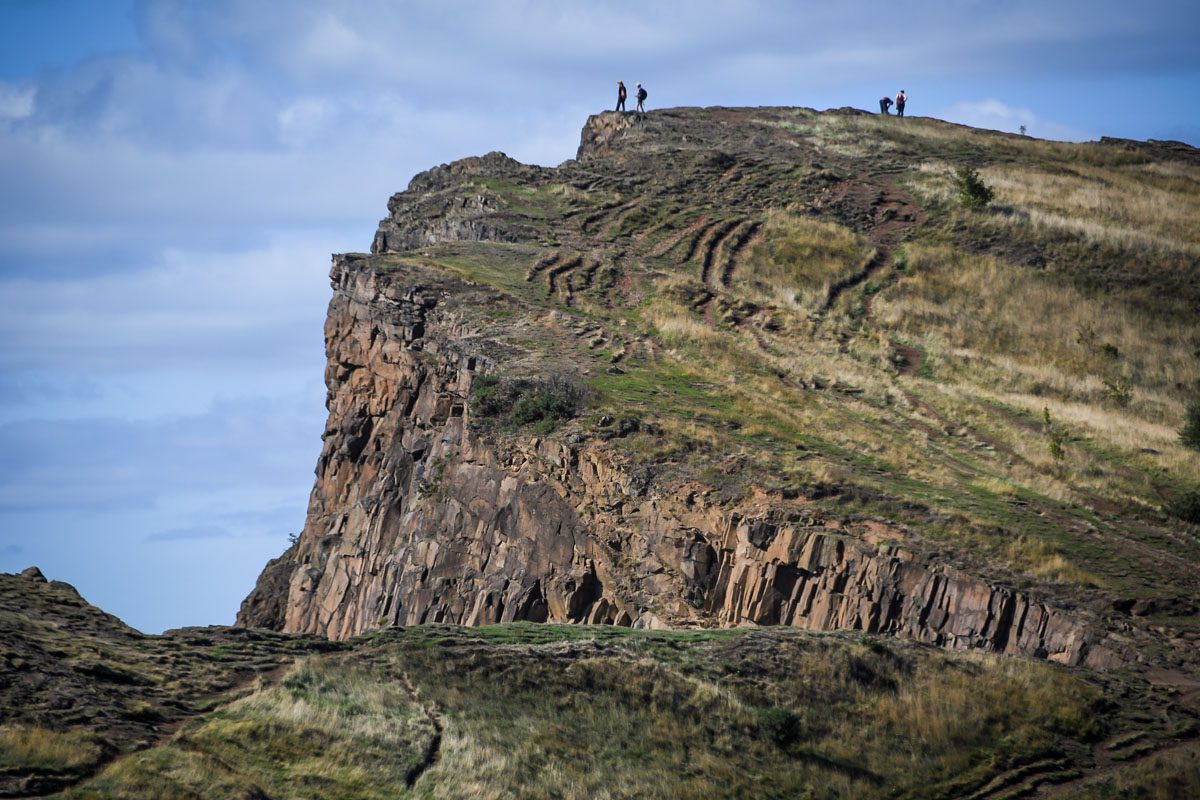 Arthur's Seat itself is an 800-foot-tall extinct volcano that towers over Edinburgh at one end of the Royal Mile, offering spectacular views over the city. It's the most prominent point in Holyrood Park, a rugged, craggy hill covered in vegetation.
With such a distinct formation looming over Edinburgh, it's a wonder how the summit got such an unusual name.
Some trace the name back to King Arthur, even suggesting that the hill may have been the site of Camelot—although no hard evidence exists. Regardless, Arthur's Seat does undeniably have a bit of peculiar mysticism, begging to be explored.
Arthur's Seat hike at a glance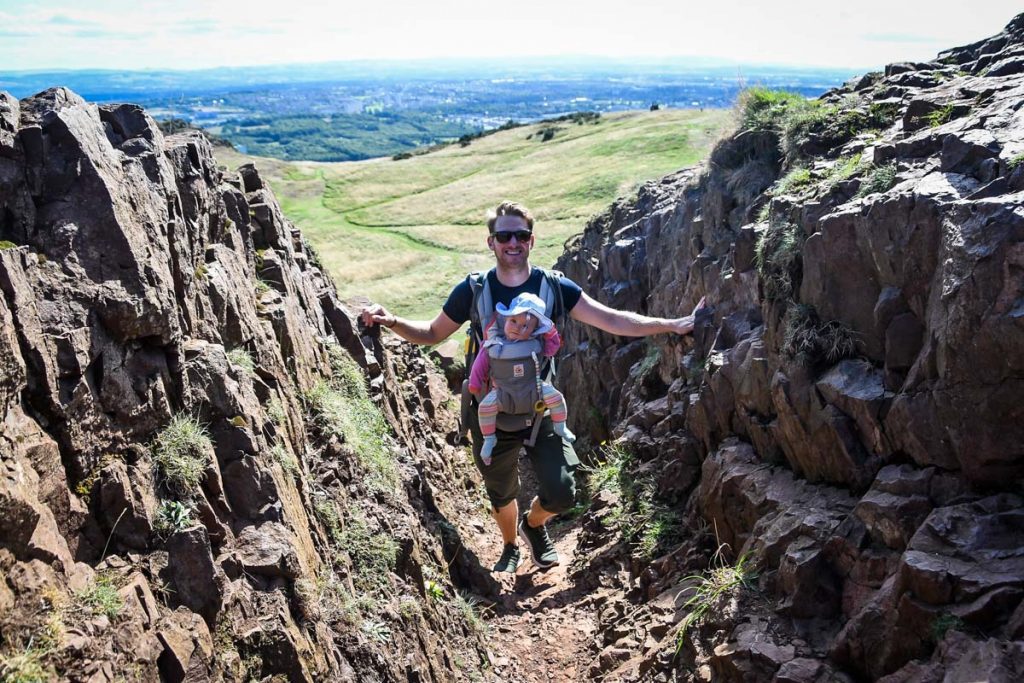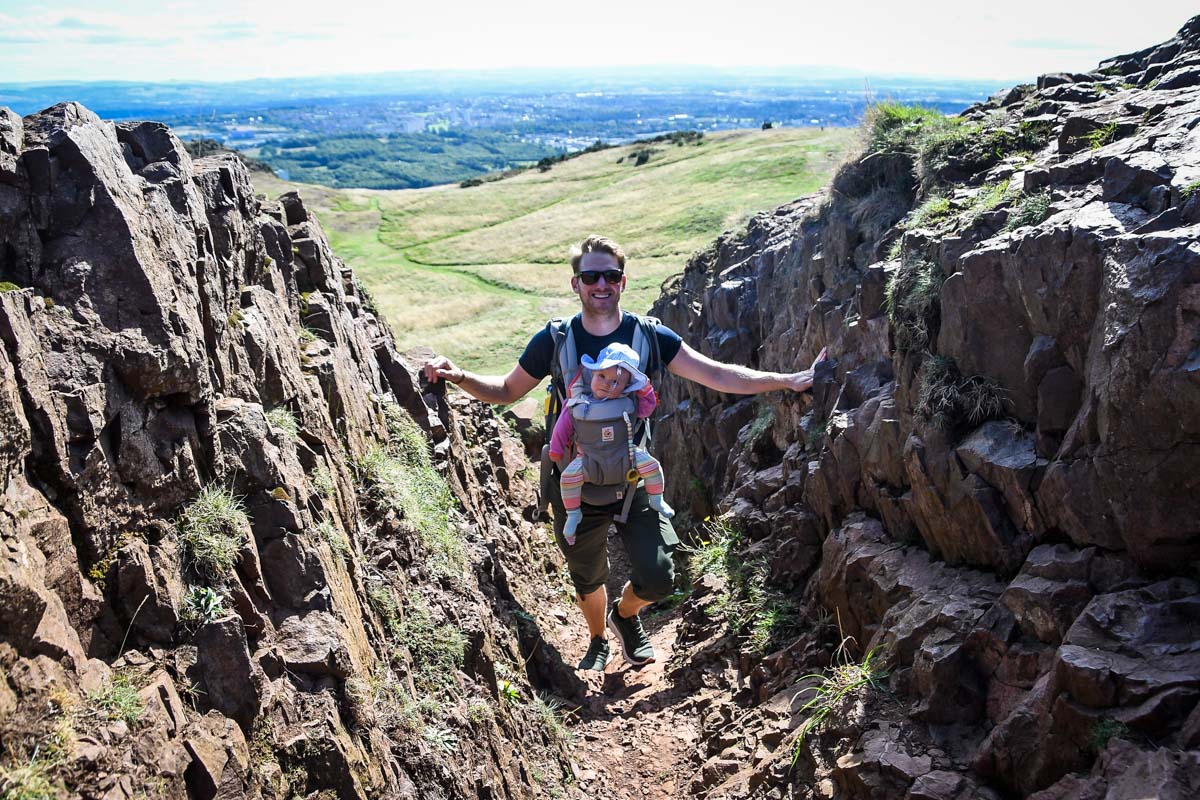 Things to know before you go
With more than one route to the summit and several other interesting sites nearby, here's everything you should know about hiking Arthur's Seat in Edinburgh.
Best time of year for hiking Arthur's Seat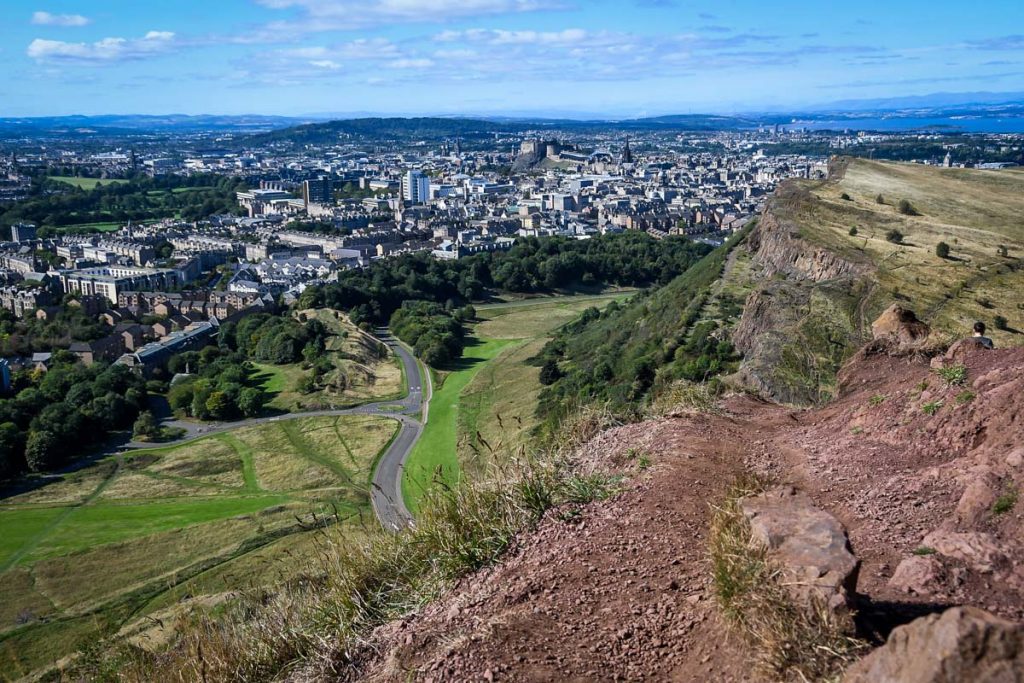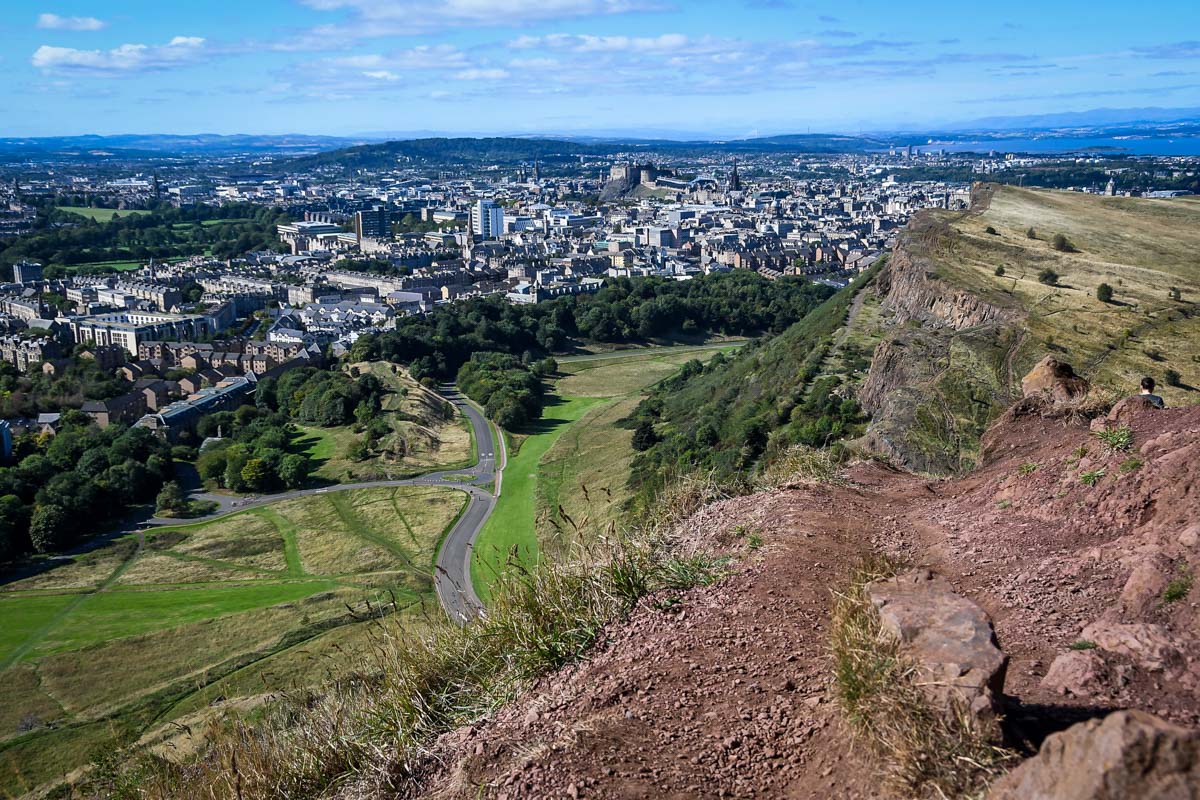 Arthur's Seat is accessible in all seasons and doable any time of year, with one notable exception — you'll want to avoid this hike if it's rainy.
The whole point of hiking Arthur's Seat is for the views, and rain will likely obscure them. You may also want to reconsider if it's excessively windy in the city, because the summit is extremely windy even on calm, clear days.
Summer in Edinburgh brings the warmest and driest temperatures, however you'll have to battle the crowds at the summit of Arthur's Seat. And although summer isn't the rainy season, rain is not at all uncommon. This is Scotland, after all!
For the fewest crowds and the best weather, consider hiking Arthur's Seat in the springtime. It's the driest time in Edinburgh with pleasantly cool temperatures. Perfect hiking weather!
Planning a trip to Scotland? Find out the best time to visit Scotland based on seasonal weather patterns and your personal travel style.
How long does it take to hike Arthur's Seat?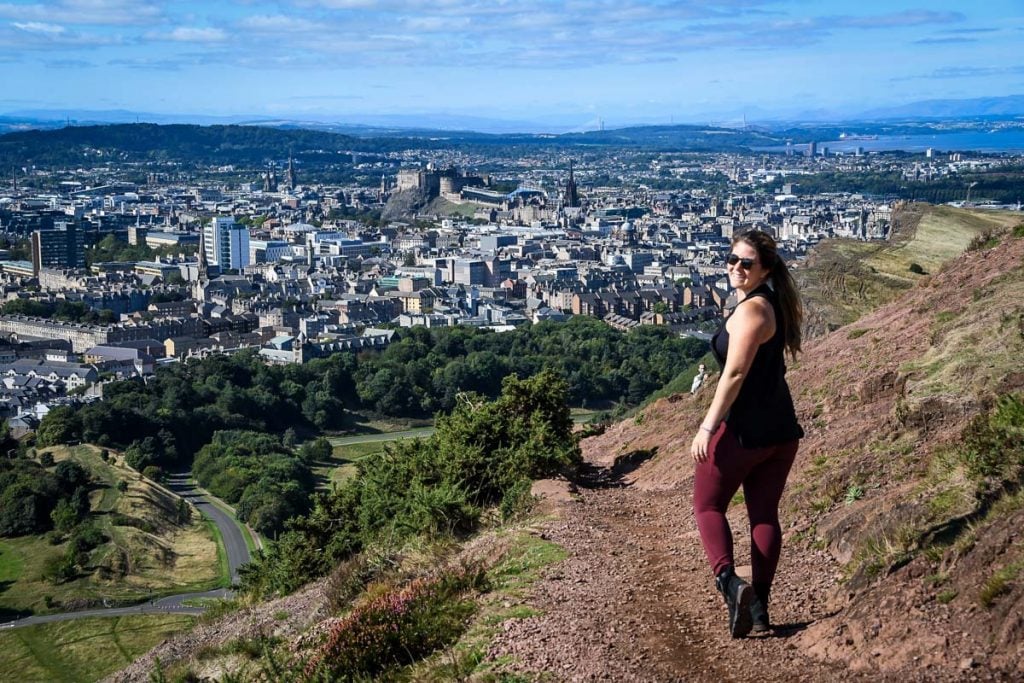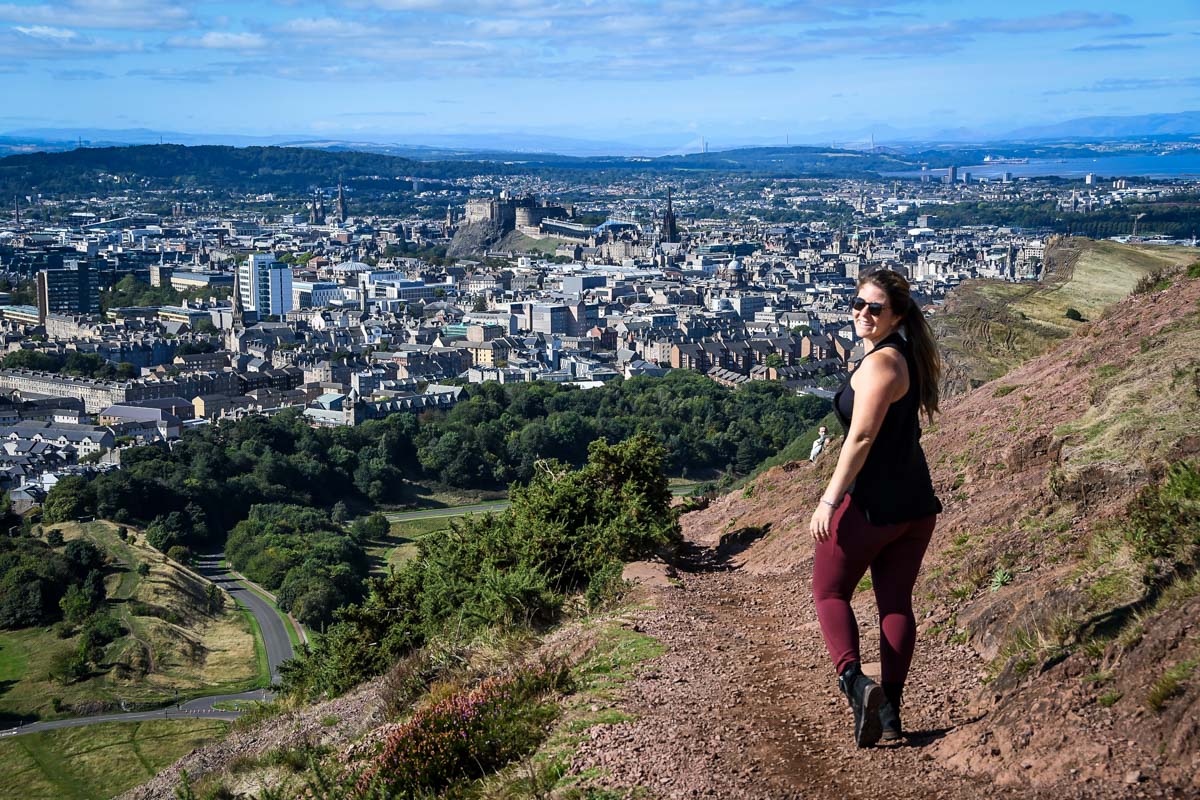 Depending on which route you take, allow 1-3 hours for completing the Arthur's Seat hike itself.
Holyrood park is a lovely area and your visit can easily be combined with a stroll down the Royal Mile, take your time and make a whole morning or afternoon of it!
Insider tip: You can take more than one route, creating your own loop (more on that below!).
How difficult is the hike to Arthur's Seat?
The difficulty of the climb depends entirely on which route you take to the summit. A short, very steep trail gets the calves burning and includes a sheer drop-off on one side, while there are alternate, slightly easier paths to the top that have a more leisurely pace and a longer distance.
Regardless of which route you take, anyone who has some hiking experience and is reasonably fit (including children) should be able to hike Arthur's Seat without much difficulty. We did this hike with our 9-month-old baby in an Ergo 360 carrier and felt comfortable even on the steepest parts of the trail.
One thing to keep in mind is that the summit is rocky and can be slippery, especially after recent rain. Again, we made it to the summit with our baby and felt very safe, but everyone has different comfort levels.
Psst! If you have time to discover more of the country, don't miss these epic places to visit in Scotland.
Route options for hiking Arthur's Seat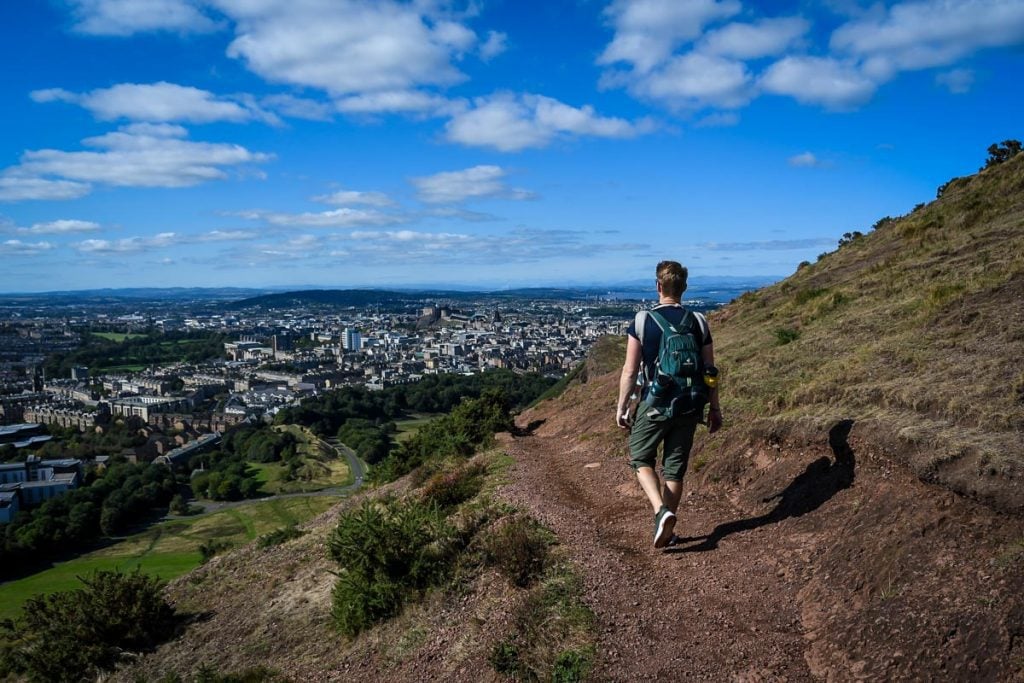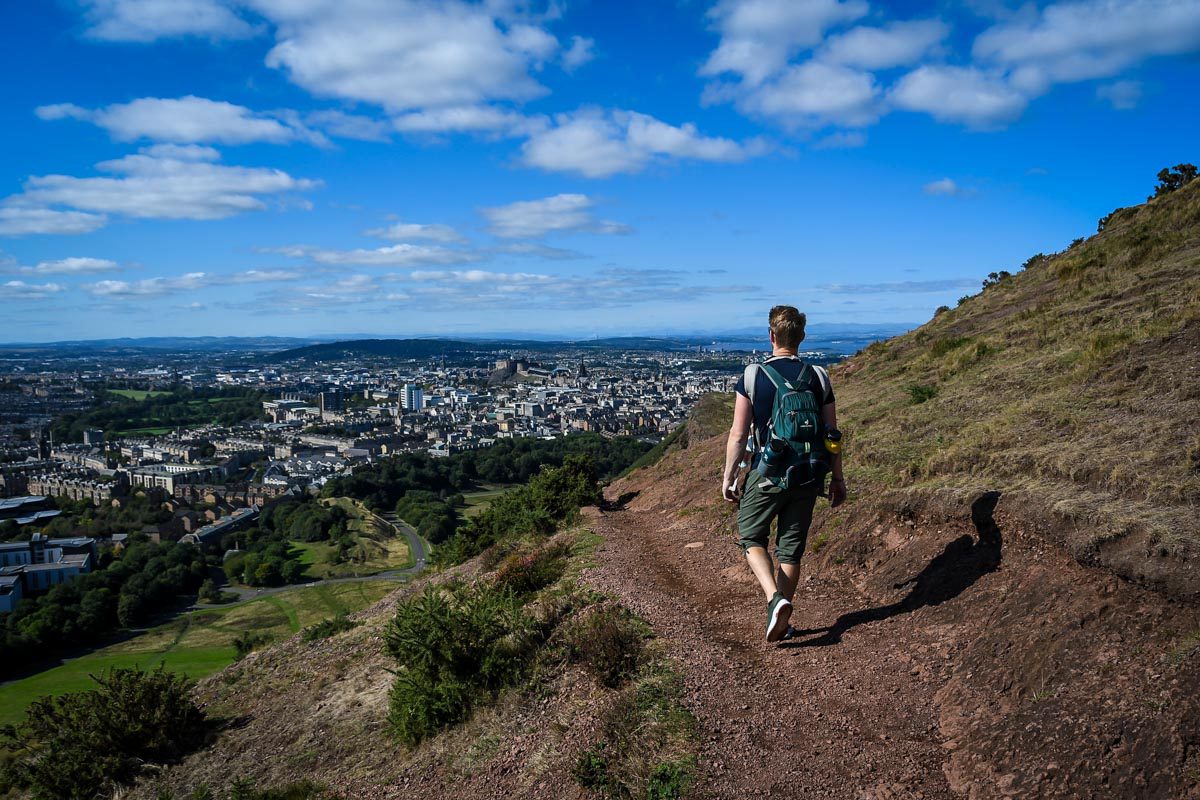 There are several routes up to the top of Arthur's Seat in Edinburgh. Deciding which to take largely depends on your level of fitness and what kind of experience you're hoping for.
The most common starting point is just outside the Palace of Holyroodhouse, a 16th-century royal building (worthy of a stop in its own right!) at one end of the Royal Mile.
Insider tip: On your way over, grab a coffee and pastry at The Larder or Rocksalt Cafe and take your time walking.
From here, you can take one of three paths. Two involve a strenuous, extremely steep climb to Arthur's Seat itself at the end, while the third route is a bit longer but fairly straightforward and not nearly as steep.
We recommend taking the longer, less steep path to the top, and one of the others on your descent.
To follow the recommended route, continuously bear left from the palace. The trail dips down just a bit before beginning its continual incline and while the climb is steady all the way to the summit. It isn't overly difficult or by any means technical.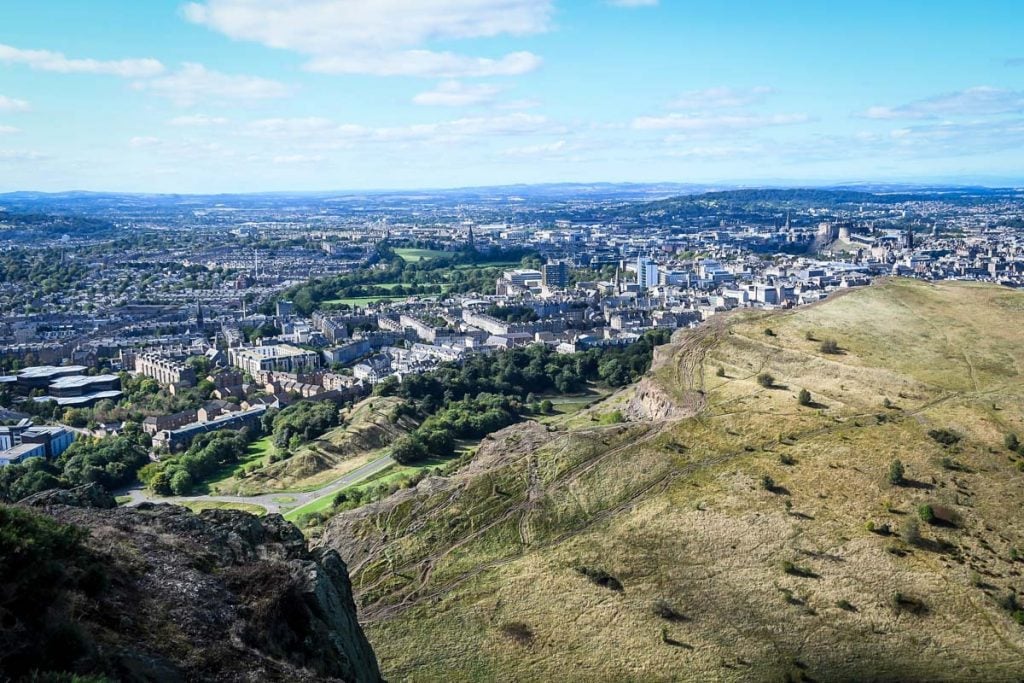 Once you've taken in the 360-degree views, you have yet more options for getting down from Arthur's Seat.
You can, of course, go back the same way you came, but another path offers spectacular views of the Salisbury Crags. To take this route, start down the hillside opposite of the direction you came up.
The first section involves a very steep but short descent with some stone steps and switchbacks, by far the most difficult stretch of the entire hike. The steepness and potential slipperiness are the main challenges, so take your time and you'll be fine.
Once you come down that initial steep section, you'll be at the base of the Salisbury Crags on a wide, easygoing path. Follow this back to your starting point.
Note: You can do these two routes in reverse, but keep in mind then you'll be climbing up the extremely steep part.
The final route option is much easier but also far less interesting and scenic. To take this route, start from Dunsapie Loch, on the other side of the hill from Holyrood Palace. Taxis can drop you off here or if you have a vehicle, you can drive yourself and park in the lot. From there, there's a short, easy route to Arthur's Seat.
Bonus stop: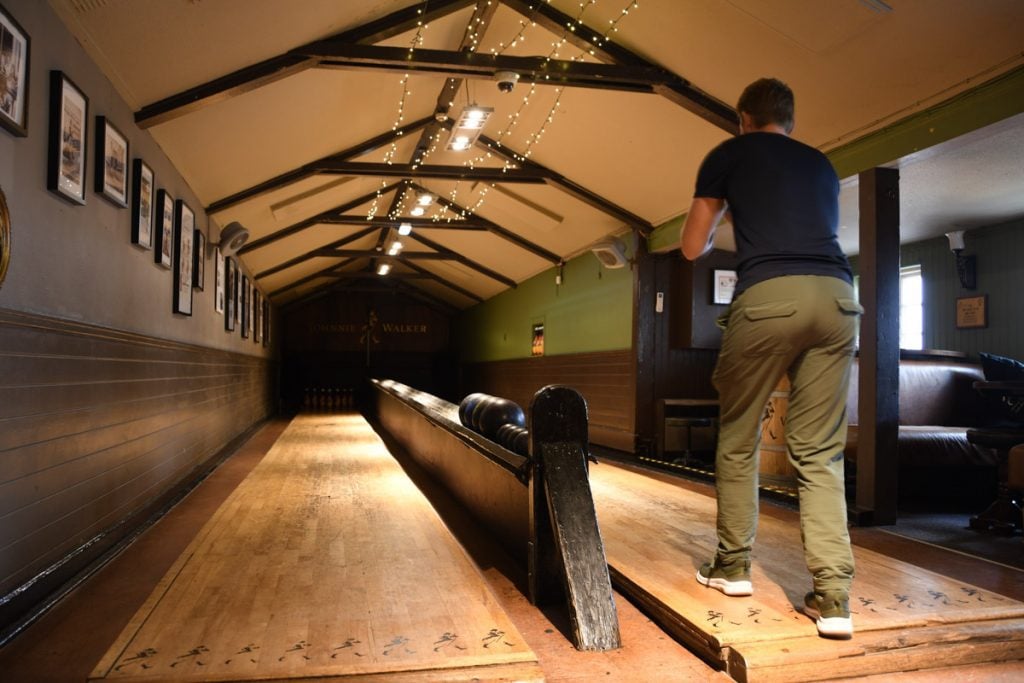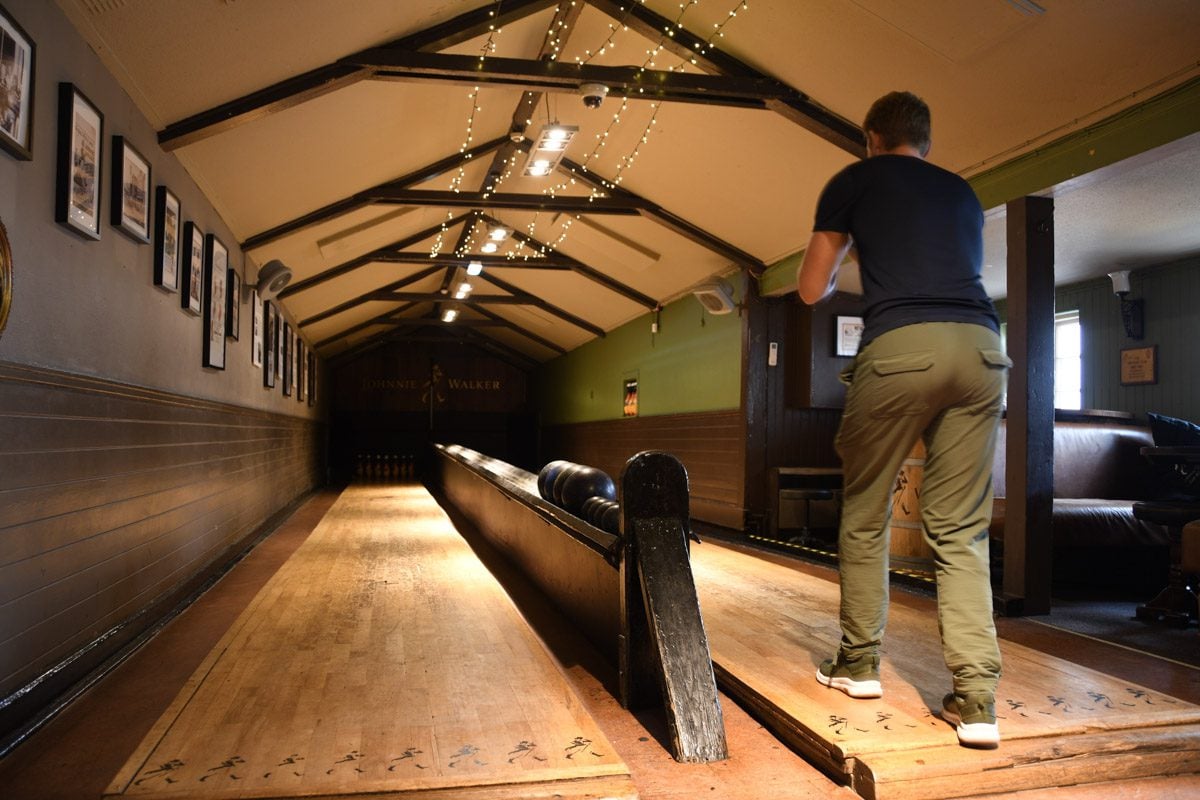 While not part of the route, a great addition to hiking Arthur's Seat is visiting the Sheep Heid Inn. Not only is this the oldest pub in Scotland (circa the 14th century!), it's just a 22-minute walk from the bottom.
Order a drink and a small plate if you're hungry (it's worth mentioning, though, that our free walking tour guide told us he doesn't care for the food), and ask if you can use the pub's skittles' alley—these are historic lanes similar to bowling, but with a smaller ball.
How to get there: To get to Sheep Heid Inn, take the trail toward the western part of the hill down from Arthur's Seat. You may also want to pass through the Innocent Railway Tunnel, an interesting historic tunnel covered in graffiti and street art.
One important thing to note is that we found it impossible to get an Uber back to the city from the inn. You can ask the pub to order you a taxi, but that can be hit or miss with wait times, or you can catch a bus or walk back (about an hour).
Arthur's Seat Edinburgh photos
There is no bad angle at Arthur's Seat Edinburgh. Look at these views!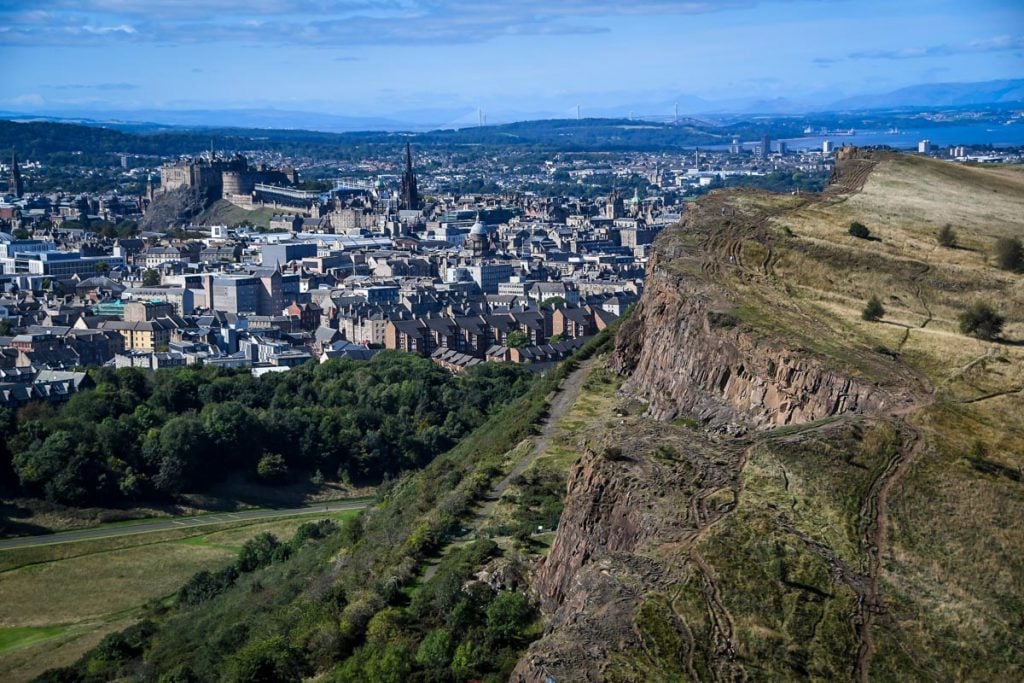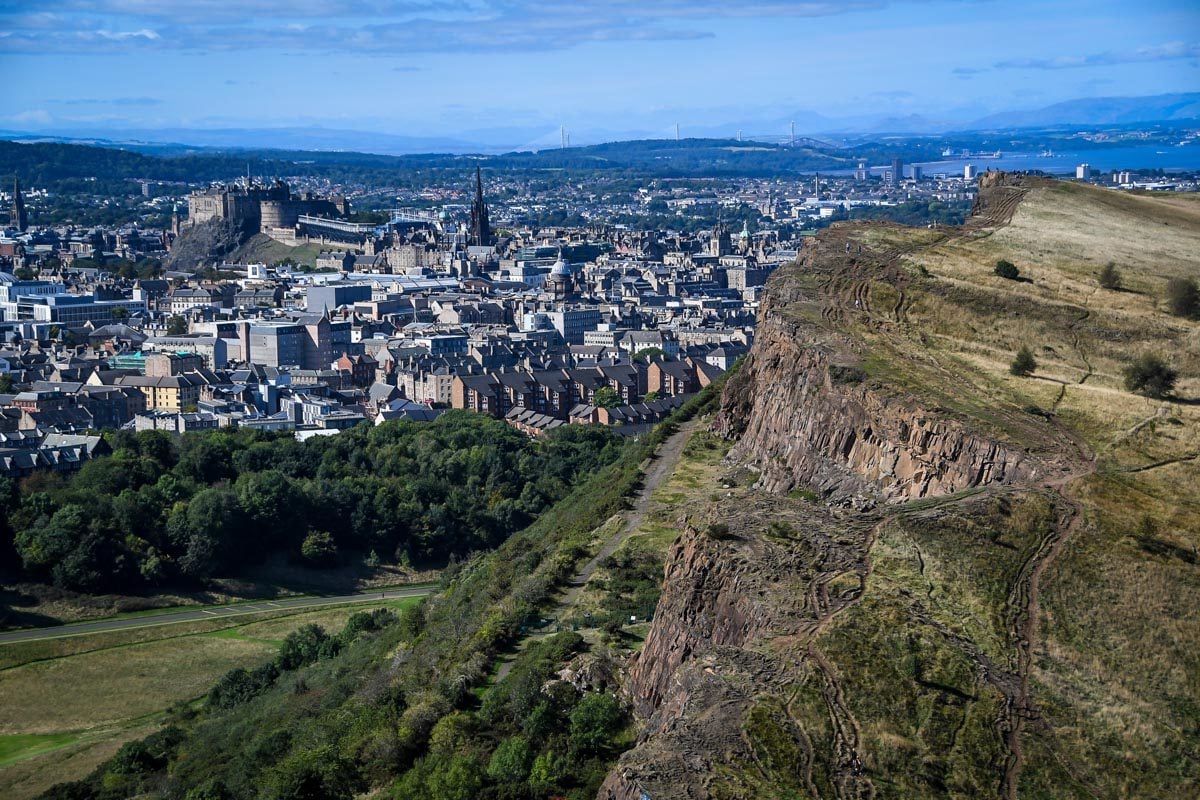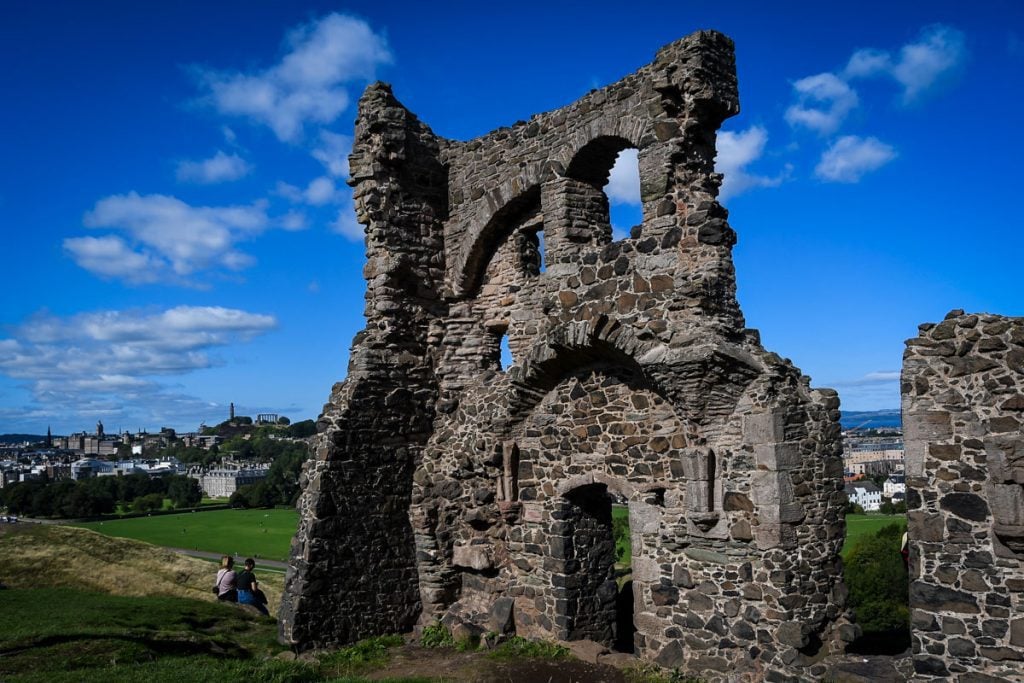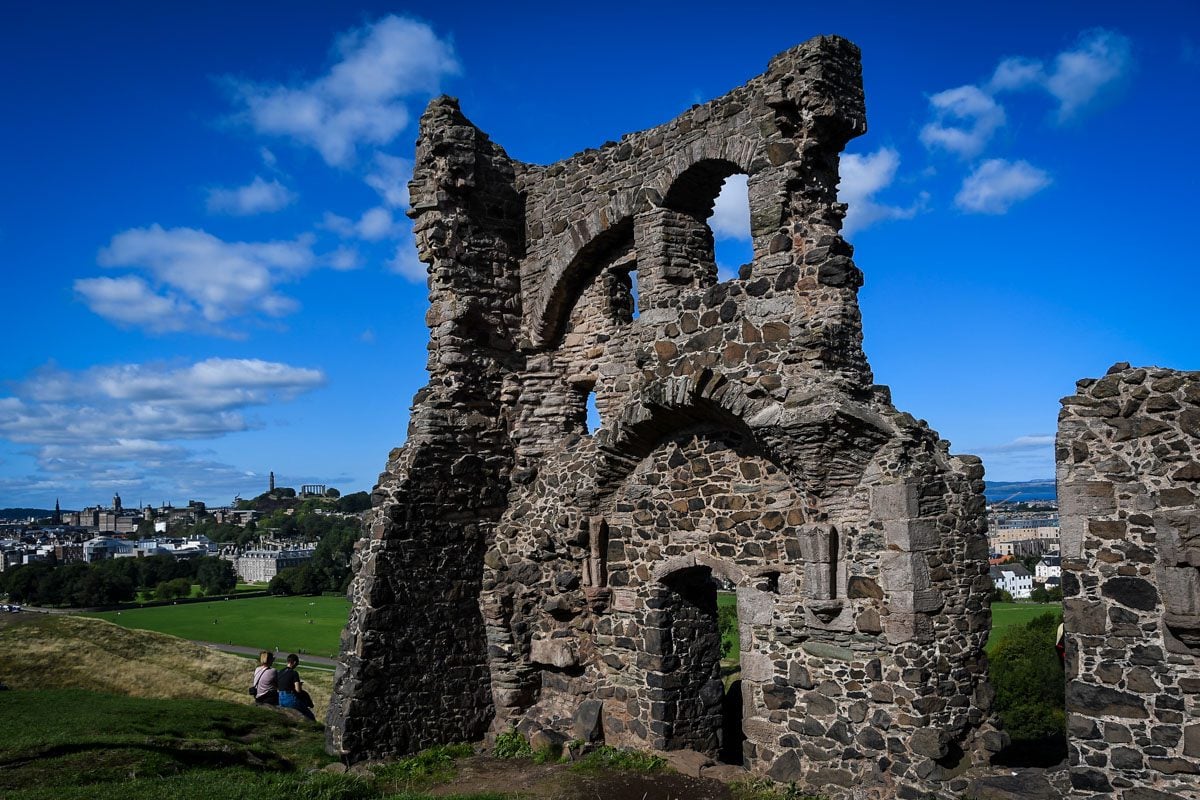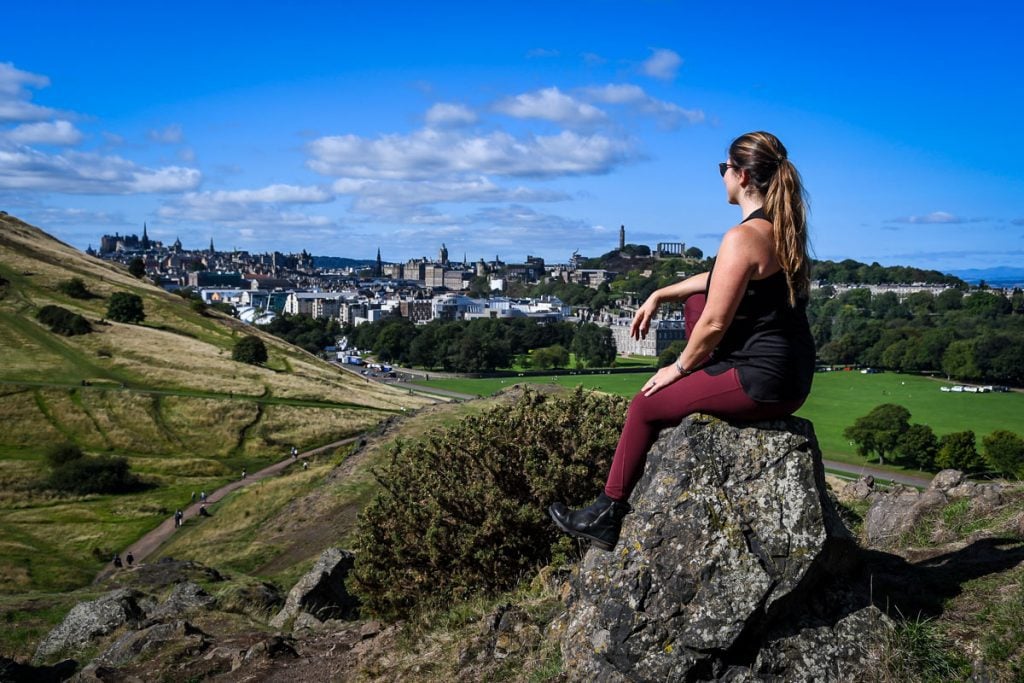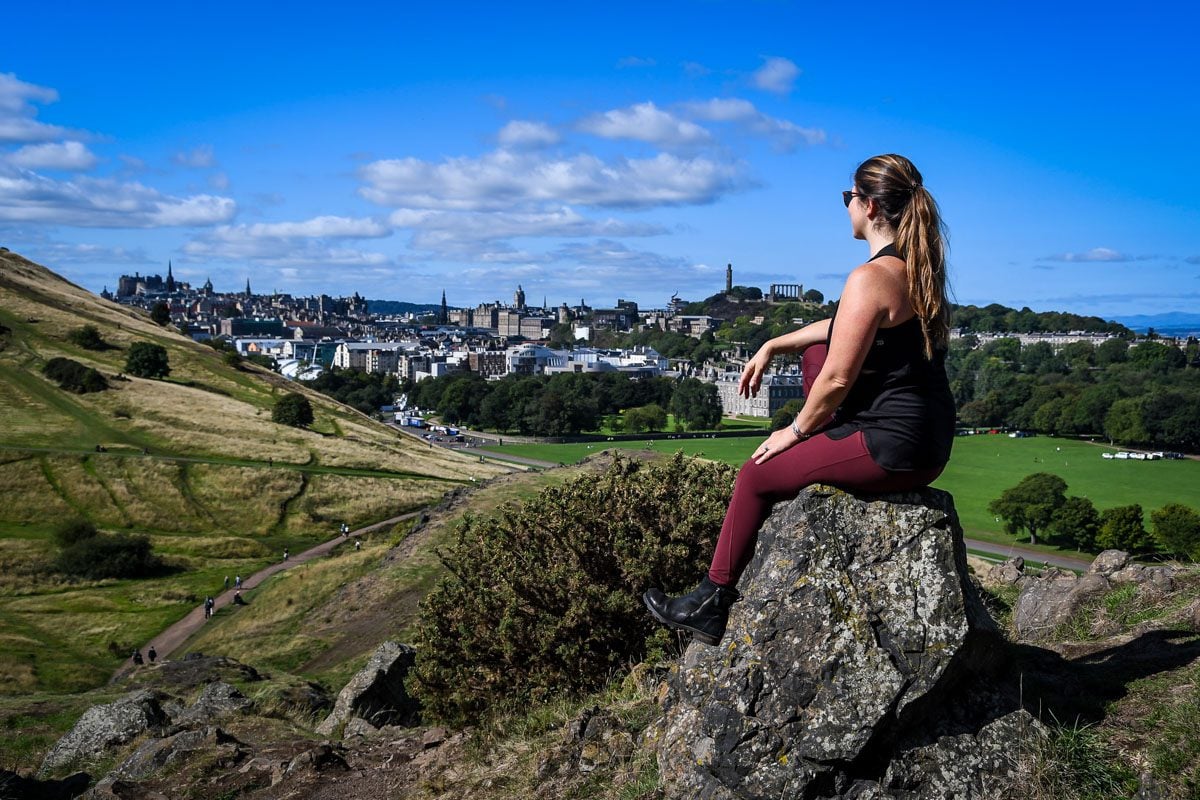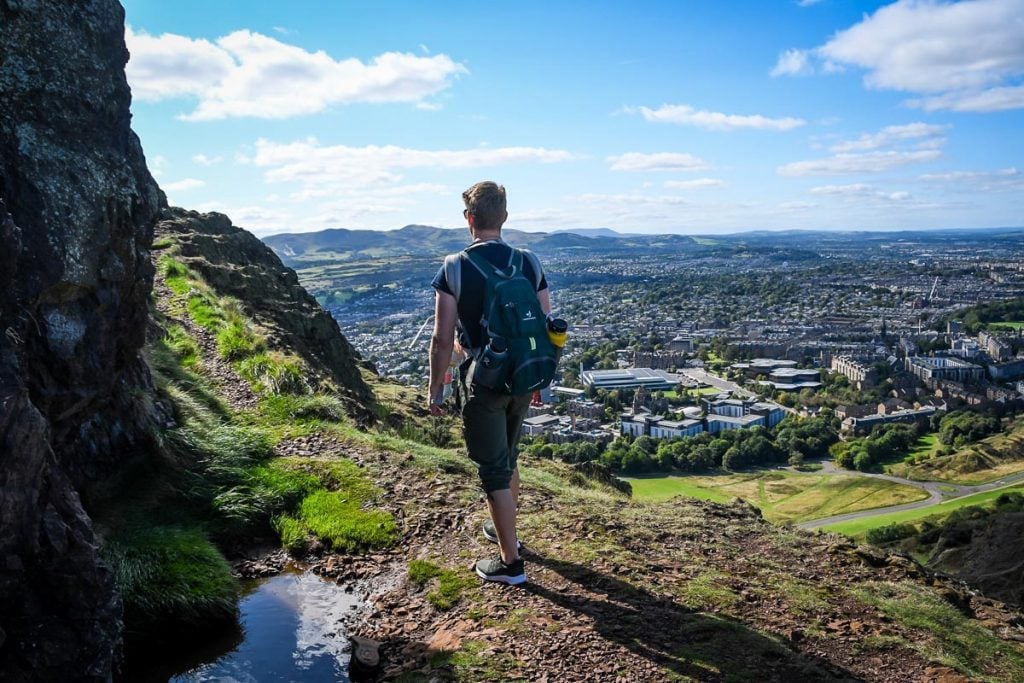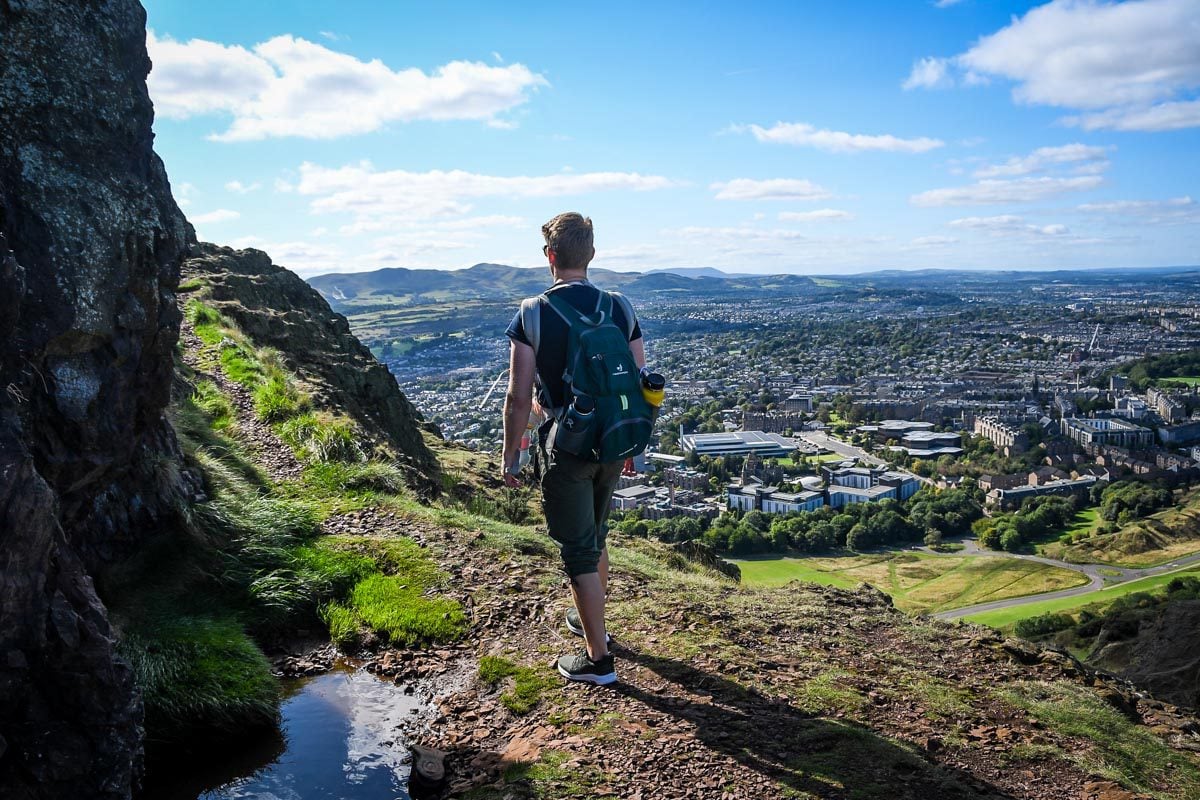 Are you heading to Glasgow next? There are several options for transportation between the two cities, and we have a detailed guide on how to travel from Edinburgh to Glasgow which outlines all of your options.
Tips for hiking Arthur's Seat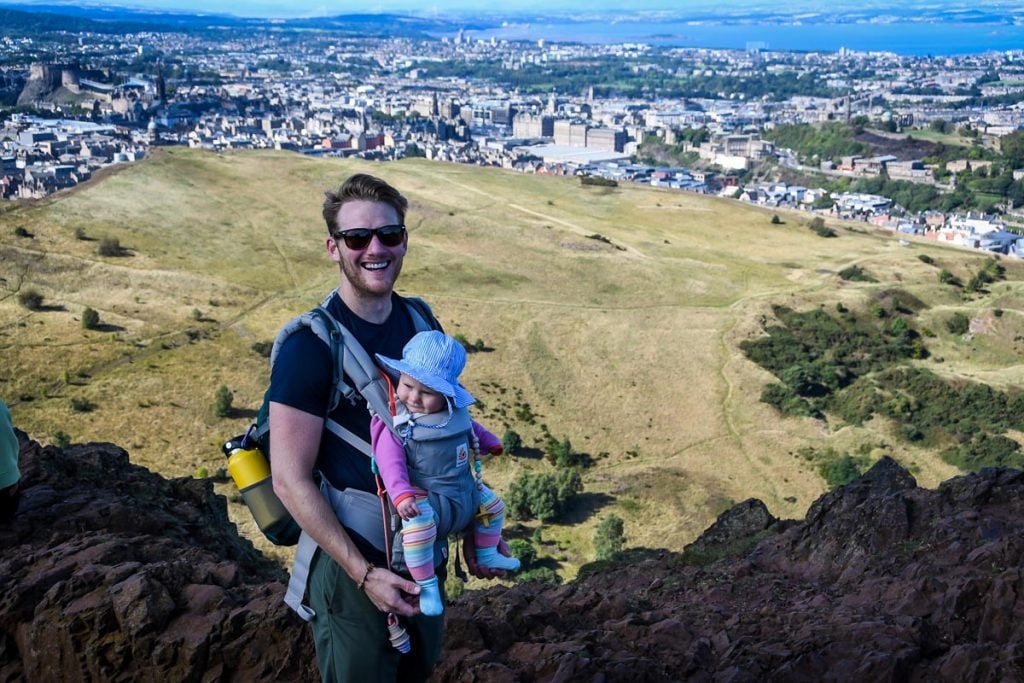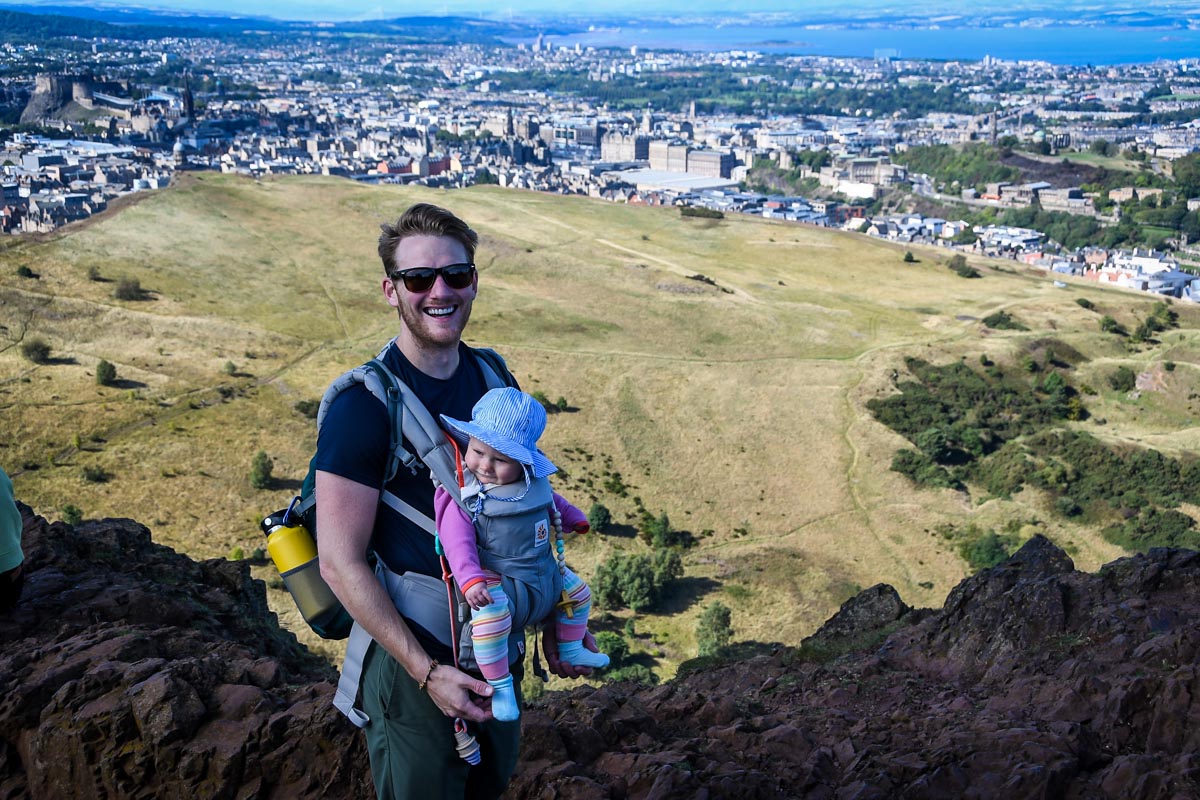 ---
Are you planning a trip to Scotland?
We have lots of resources on travel in Scotland and destinations throughout the country. Check out our Scotland Travel Homepage for everything you need to know, or read some of our favorite articles below.
Save this article on Pinterest for later!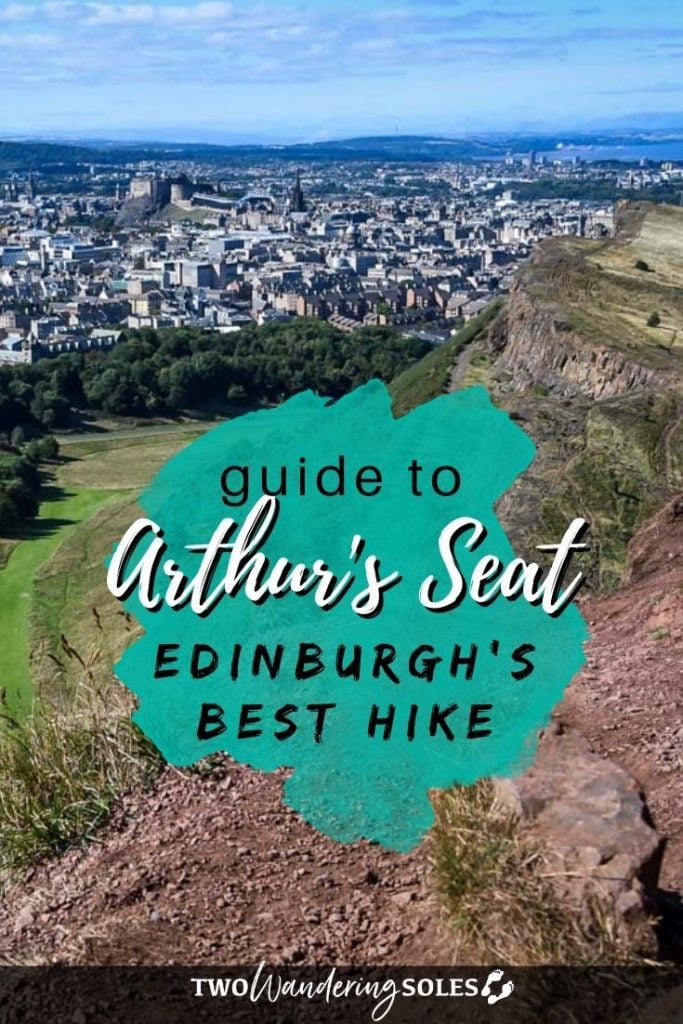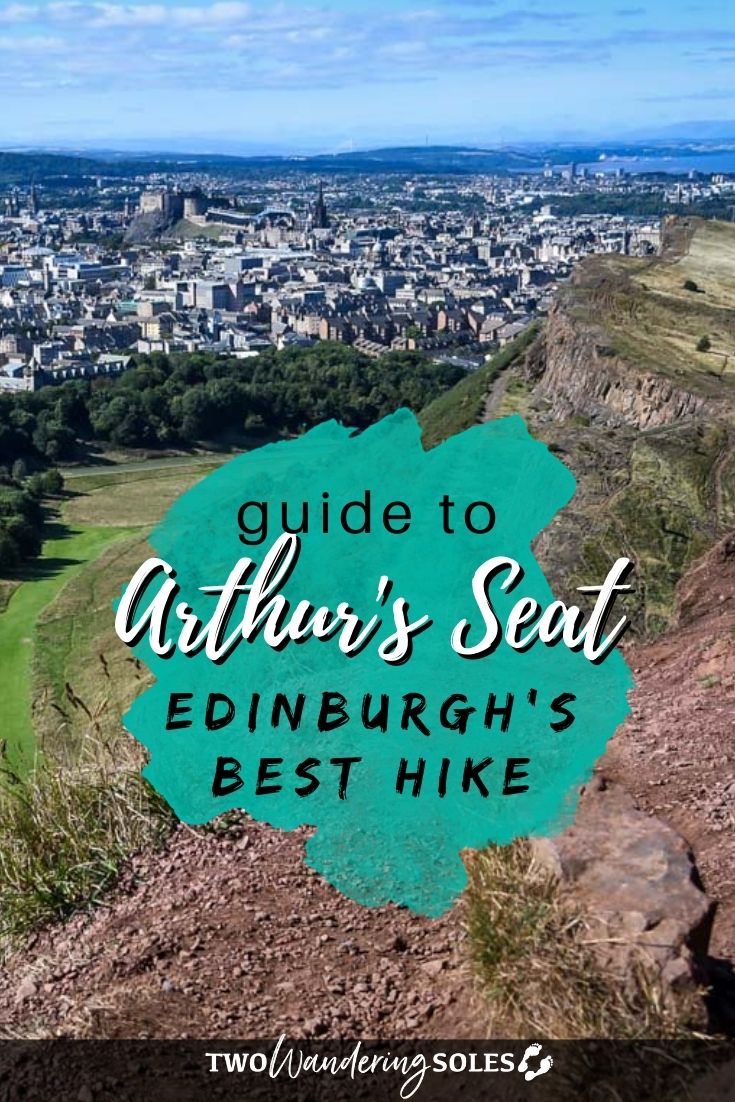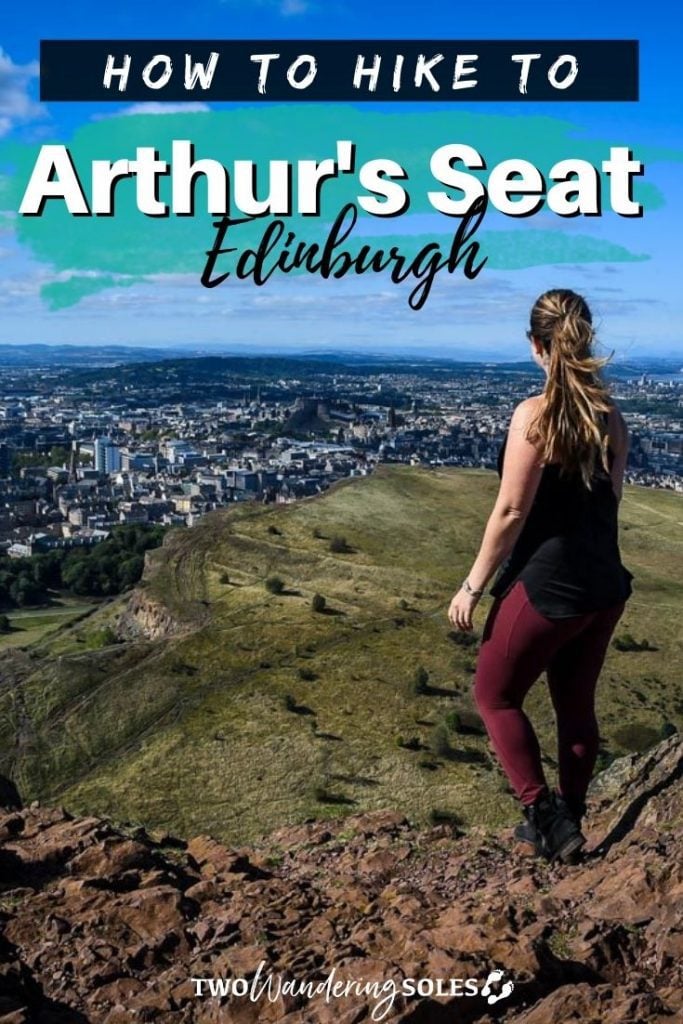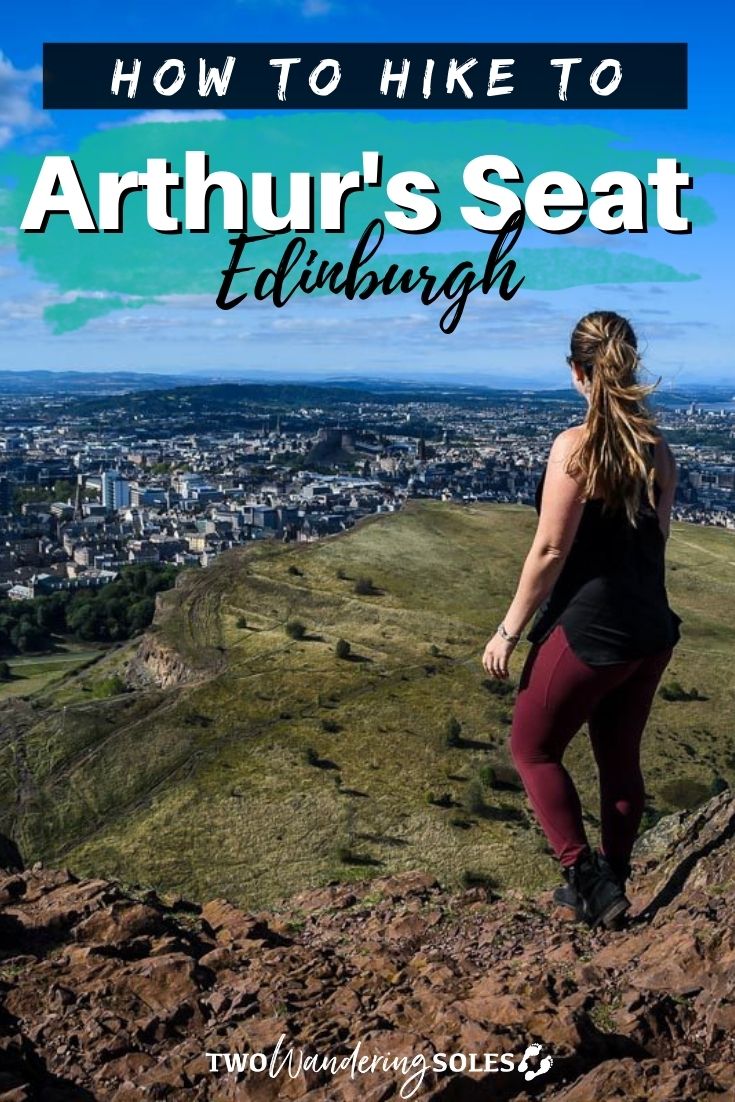 We want to hear from you!
Do you have any more questions about hiking to the top of Arthur's Seat in Edinburgh? Leave your comment below and we'll do our best to get back to you!