Let's be real: traveling in New Zealand is not cheap. But even though it's notorious expensive, you can still travel to NZ on a budget. We're breaking down common expenses like food, transportation, and accommodation, so you know exactly how much it costs to go to New Zealand. Plus we're letting you in on our top money-saving New Zealand travel tips.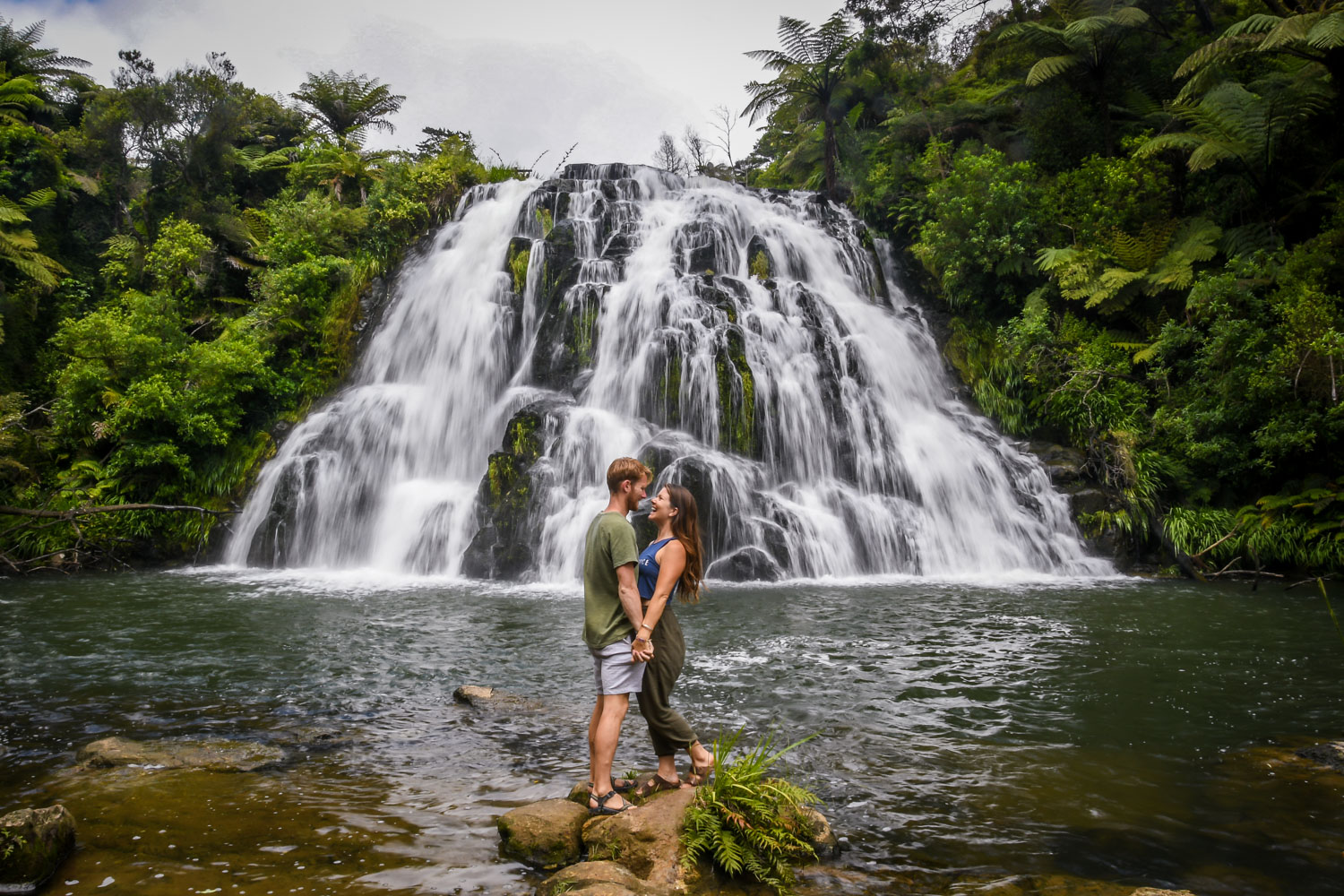 Listen up, because I'm going to be totally, 100% honest with you: Traveling in New Zealand is not cheap. Some may even say it's expensive.
But don't let that ruin your dreams of visiting this absolutely epic country. Just because it's not as cheap as backpacking through Southeast Asia doesn't mean you can't travel to New Zealand on a budget. You'll just need a bigger budget than, say, you'd need for a trip to Thailand.
We're going share some of our top money-saving tips that will help you travel on a budget in this notoriously expensive country.
Then we'll break down the average costs of things like accommodation, food and transport so you have an idea of how much you should expect to spend while traveling in New Zealand.
So what are you waiting for? Let's talk money, honey!
New Zealand Budget Travel Guide
---
Want to save time and energy on planning?
We spent 5 weeks traveling around New Zealand in a campervan, and we've been lucky enough to explore a lot of what this country has to offer!
We took our 5-week travels and condensed it down to 30 days (because so many people wanted a 1-month route) that hits the top destinations on both the North and South Islands. 
We'll send you our complete 1 month itinerary, filled with tips and advice. Just click below to get your 30-day New Zealand road trip itinerary today!


---
Money-Saving Tips for Traveling in New Zealand
Now that you have an idea of how much things cost in New Zealand, let's talk about all the ways you can save money and stay on top of your budget.
1. Hitchhike and Couchsurf
This one is kind of a joke. But also serious.
If you're really strapped for cash, the absolute cheapest way to travel around New Zealand is by hitchhiking, which is quite common and relatively easy in this country. (Yes, it's legal, as long as you're not on the motorway.)
And how can you beat free accommodation when you're on a tight budget? If that's what you're after, Couchsurfing is the way to go.
You could also try WorkAway or WWOOFing if you're interested in room and board in exchange for a bit of work. Just be aware that if a work-exchange interests you, you must obtain a working holiday visa.
But for all the rest of you who aren't keen on relying on strangers for transport and housing, keep reading, because we're getting to the good stuff… All those practical tips that will help you save cash.
2. Avoid peak season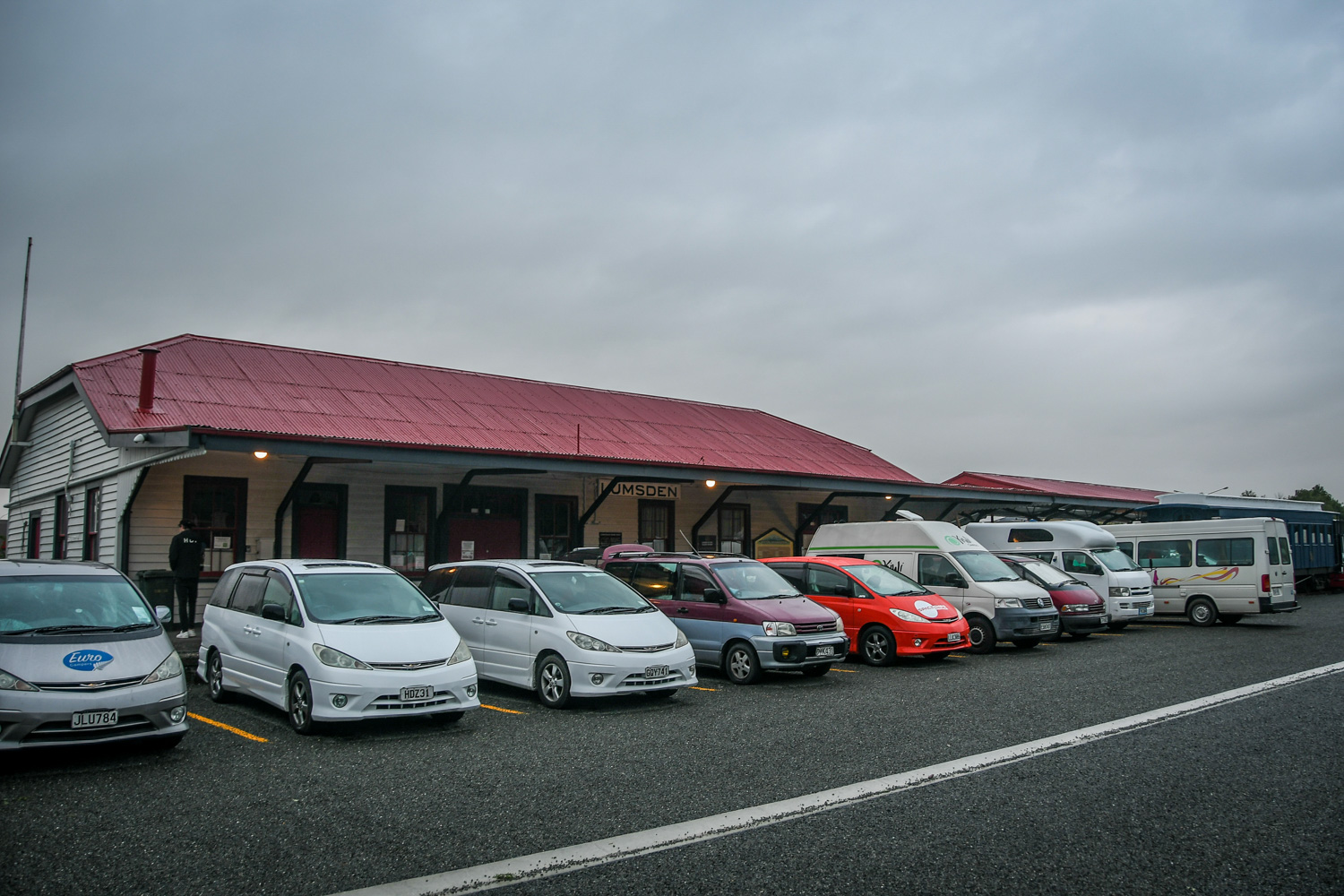 Already high prices skyrocket during New Zealand's peak tourist season, which runs from December – February. If you know your budget is tight, avoid this time frame, when crowds are thick and prices for hotels and tours reach their peaks.
However, if your schedule is not flexible and peak season is the only time you can travel, know that the extra expense means you will likely have better weather during New Zealand's summer months.
3. Travel in a Campervan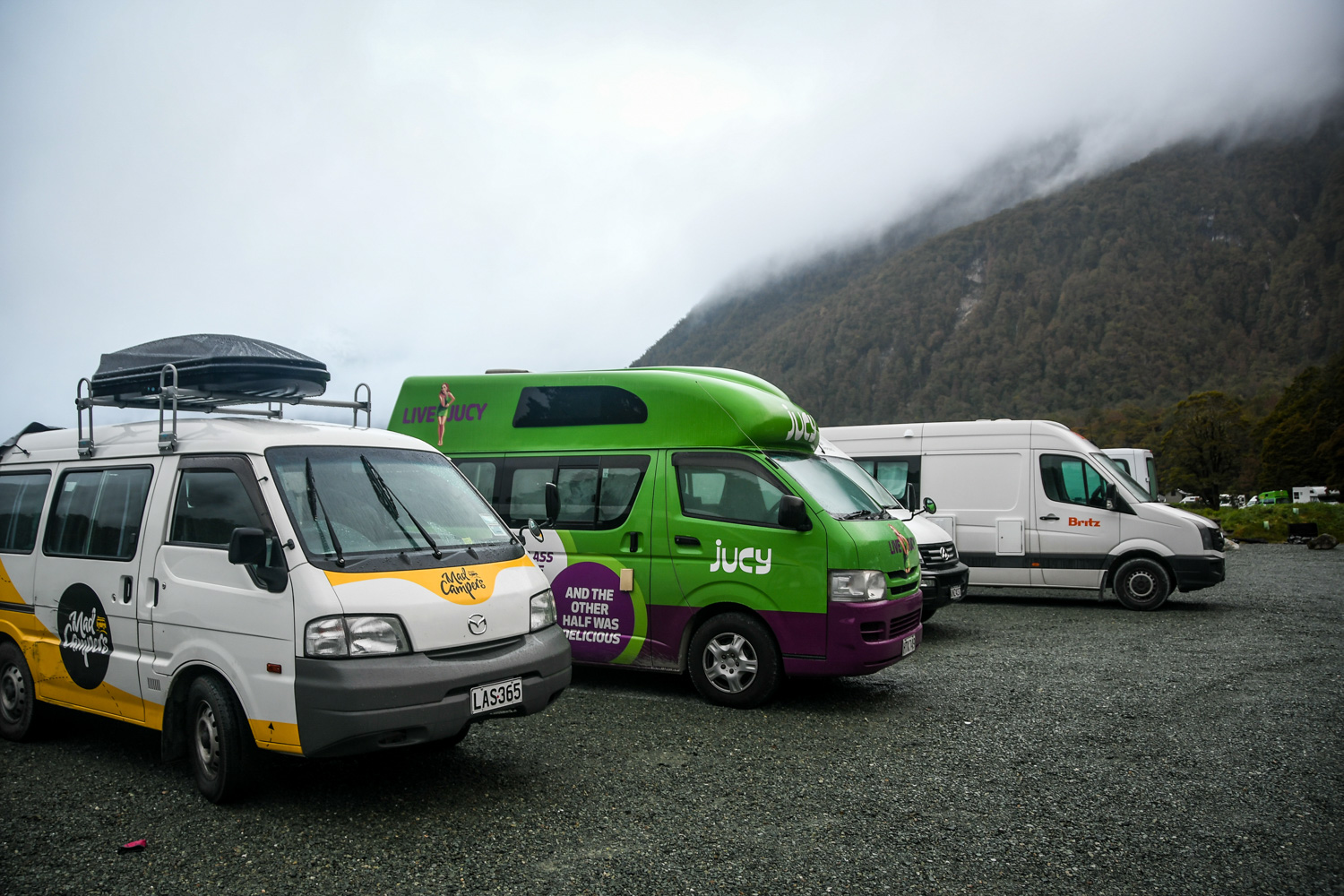 Traveling New Zealand in a campervan isn't necessarily cheap, but it gives you the opportunity to save more money than you'd be able to if you're staying in hotels.
For instance, you can cook your meals and take advantage of free campsites along the way. (We'll talk more about those later!)
If you're on a tight budget, there are several budget-friendly campervan companies (we have a whole article with our top recommendations), and to compare prices we like Motorhome Republic. It does essentially what Skyscanner does for flights, and you can filter and sort your results by price as well as other factors.
4. Relocation rental
If your budget is looking tight, consider applying for a relocation rental. Many campervan companies need their vehicles shuttled between the North and South Islands, and YOU can be the person for the job!
How it works: After being approved for a relocation rental, you will be assigned a timeline. Typically, you will have a certain amount of days to get from Christchurch to Auckland (or vice versa) set by the rental company.
During these days, you will not have to pay the campervan rental fee, but you'll have to pay for a daily insurance which is about $25-45 NZD per day. The company typically pays for your ferry ticket as well, saving you $174-$220 NZD depending on season and number of people. Make sure to double check and see if the relocation company pays for your fuel, because some do and some don't
If you are traveling during peak season, your dates will likely not be flexible, but in other seasons, you might be able to extend a day or two (which you will need to pay for).
Personal Note: You will be on a tight schedule and won't have much downtime. One of the best things about campervaning is being able to chill in a random place for awhile. You'll have to be okay with having a go-go-go mindset.
5. Think about gas mileage
Gas is incredibly expensive in New Zealand (our campervan averaged 21 miles per gallon during our trip in 2018), so choosing a vehicle with good gas mileage will seriously help your budget.
Spacious campervans might be intriguing, but the larger the vehicle, the more likely it is to guzzle gas. Instead, choose a smaller campervan with a better MPG.
Or if you're on a super tight budget, you could rent a small car and do a mixture of tent camping and staying in hostels.
6. Learn to cook cheap meals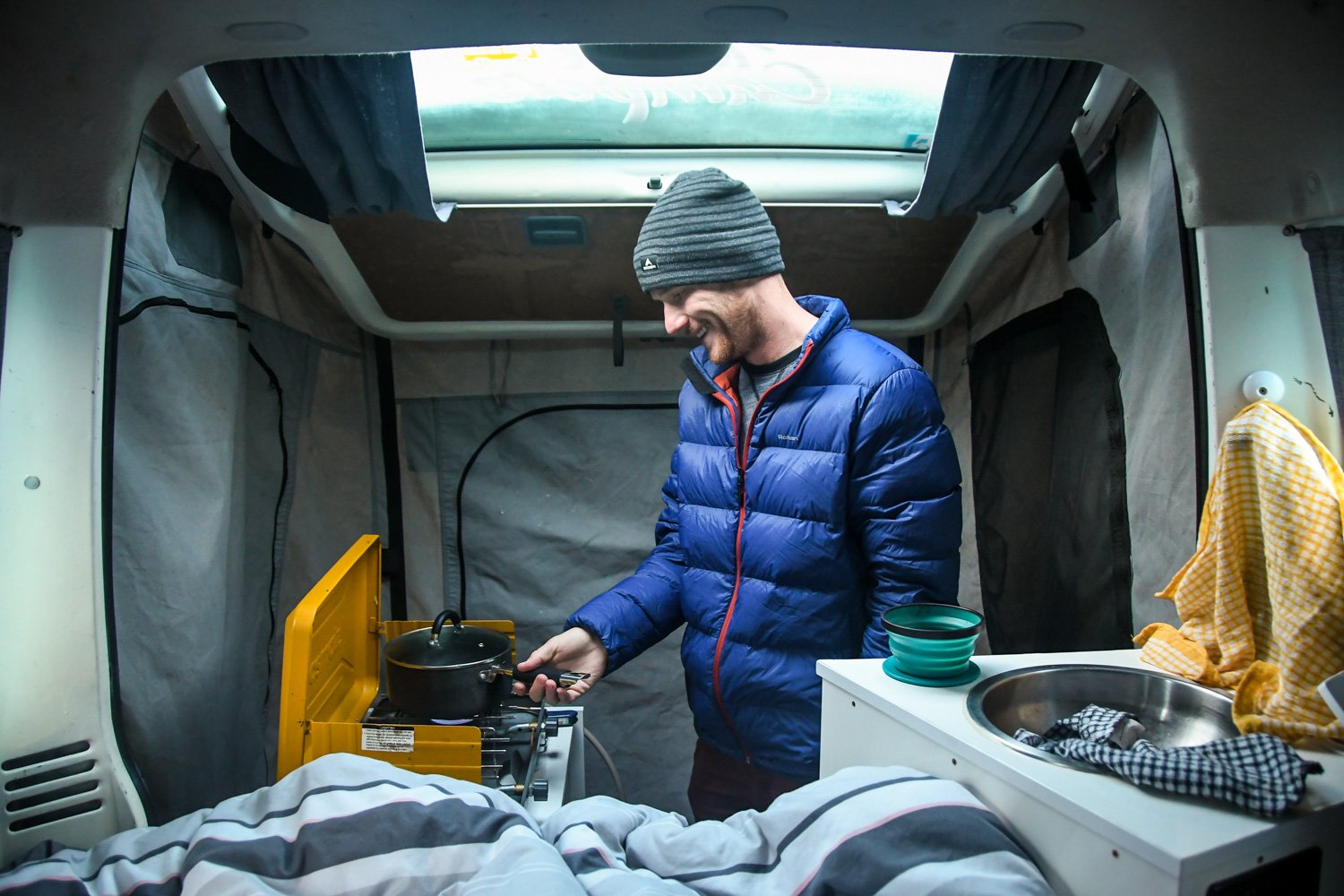 Unless you stick exclusively to cheap fast food joints, eating out will no doubt make your budget skyrocket. To save money, cook the majority of your meals. Plus, this will help you eat healthier.
Don't know where to start with campervan cooking? Fear not, it's easier (and more fun!) than it sounds. And to help you get started, we're sharing our favorite campervan recipes that are healthy, easy, delicious and cheap!
And if you're not one for cooking and your budget is absolutely tiny, you can always opt for ramen noodle packs and peanut butter sandwiches.
7. Go veggie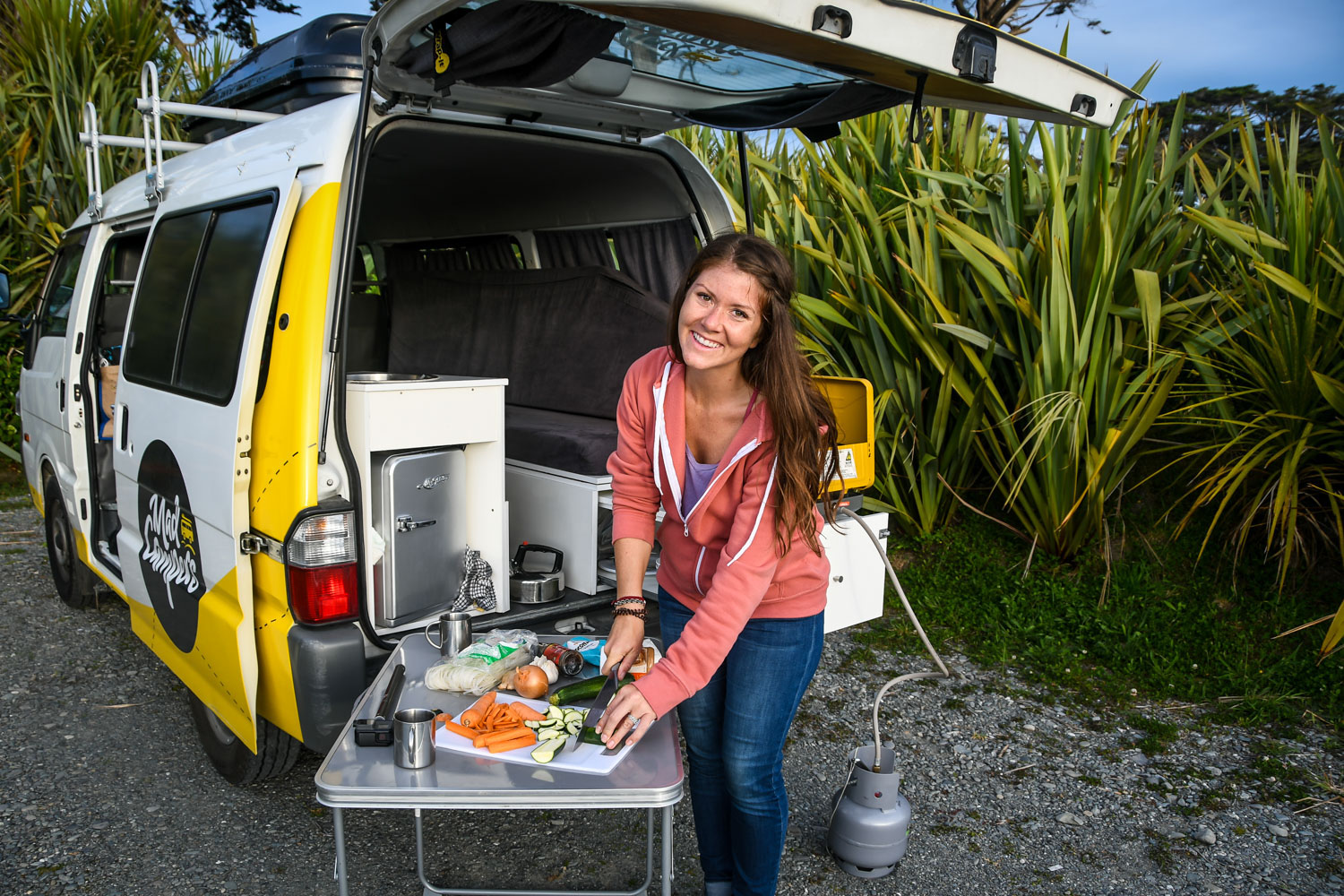 Groceries in New Zealand weren't as expensive as we were expecting. For the most part, produce and other items seemed to be on par with the US (and sometimes cheaper). In most cases though, meat tended to be on the more expensive side. So when buying groceries, we went almost completely vegetarian (a few exceptions here and there).
When we're cooking in a campervan, we try to avoid meat as much as possible because it can be difficult keeping it the right temperature and cleaning up properly after handling it.
Plus, you really just don't need meat. Lucky for you, we put together our 5 go-to campervan recipes that are easy, delicious and cheap. Oh, and they are all meat-free!
8. Know where to shop
Here are 2 stores that are good to know if you're traveling in New Zealand on a budget:
The Warehouse: This big box store is basically New Zealand's version of Walmart. If you need any clothes (think extra layers!), toiletries, linens, camping gear, or really anything else, The Warehouse is where you'll find it for cheap.
Pak'n Save: There are plenty of grocery stores around the country, but if you're looking for the best prices, Pak'n Save is where you'll find them. They have some of the same brands as the other stores, but sell the goods at a discounted price.
9. Drink wine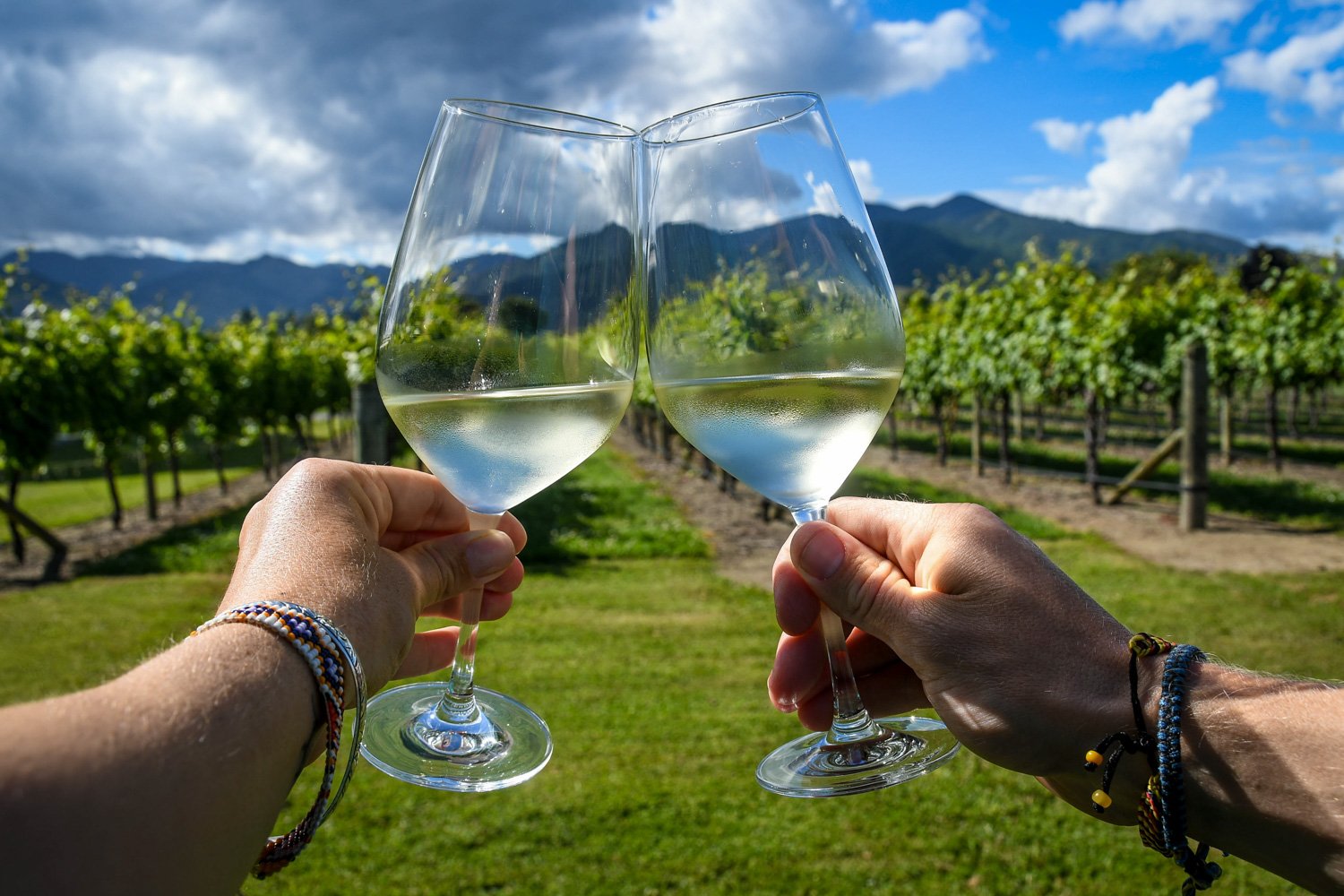 If you like to enjoy adult beverages, you'll either love or hate New Zealand.
If you're a beer-drinker, be prepared for a higher price tag (especially if it's craft beer you're after). Liquor is on the steeper end, too.
But wine-lovers rejoice! Your beverage of choice can be found quite cheap in this country. And just because it's cheap doesn't mean it's low quality wine. With an abundance of vineyards in New Zealand and Australia, you'll have many options when it comes to vino.
10. Take advantage of free campsites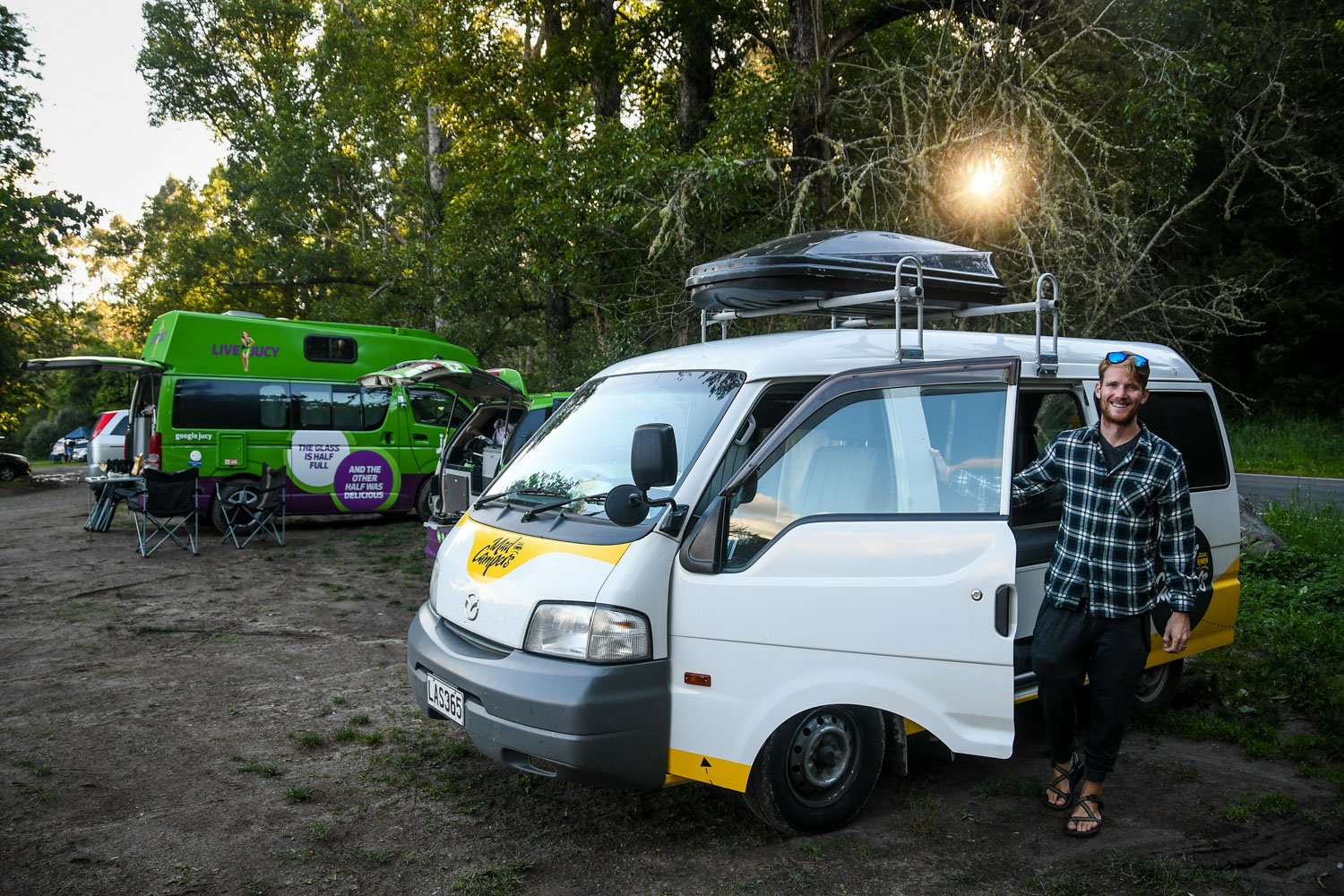 Free campsites are plentiful around New Zealand, and it's in your wallet's best interest to take advantage of them. You likely won't stay at free sites every night unless you don't ever want to shower (in which case, more power to you!). We tried to camp at Holiday Parks (or sites with showers) every 3-4 days, and free sites or DOC sites in between. We put together a list of our favorite campsites in New Zealand, along with the help of some fellow travel bloggers to make choosing a campsite easy for you.
Tip: Be sure to read up on the difference between free campsites and freedom camping.
11. Make sure the DOC pass is really worth it before buying
DOC campsites are a great choice because they are more affordable than Holiday Parks, and they are generally pretty nice. If you plan to stay at a lot of DOC sites, it might be a good idea to get a DOC pass.
However, before you click the purchase button, make sure there are enough DOC sites on your route to make it worthwhile. And ensure they are part of the pass network. We learned the hard way when we spent the night at a DOC site and assumed the pass covered it. A ranger approached us the next morning and told us that not all DOC sites are included.
12. Save money on coffee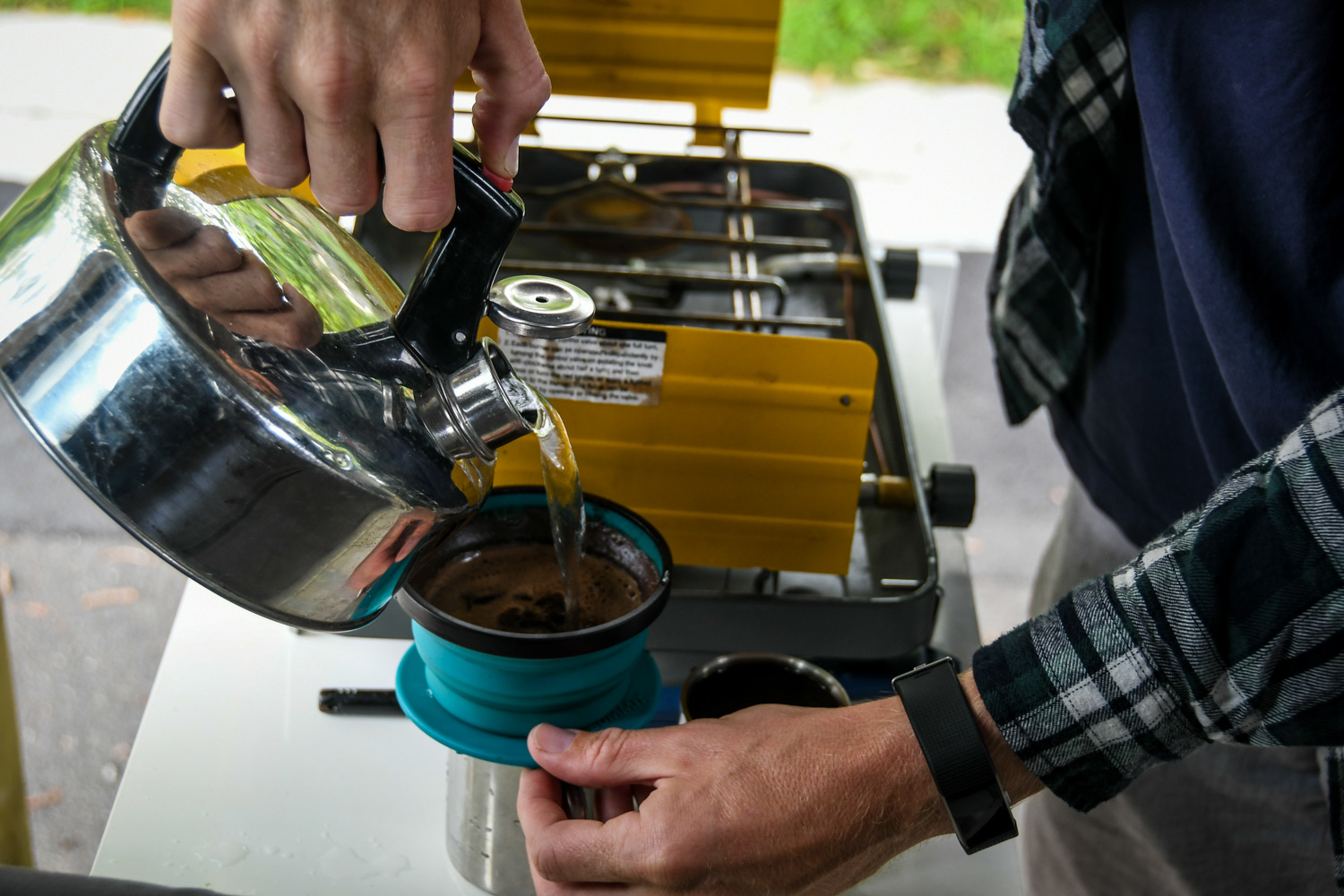 It is fun to go to coffee shops every once in a while, but when it's an everyday thing, it adds up quickly. (Americanos are usually between $3-4 NZD.)
So if you can't get through your day without a cup of Joe each morning (like us!), we would strongly suggest brewing your own. We packed a collapsible coffee filter that we use for camping, and it worked wonderfully. We also saw single serving French presses at The Warehouse for around $10 NZD.
13. Pack your reusables
On that note, bring a reusable coffee mug into a cafe and you'll usually get a small discount (10 to 50 cents per cup).
Similarly, plastic bags incur a fee at many New Zealand supermarkets. So bringing your own reusable bag helps avoid this. The bigger reason to pack your reusables though, is to create less waste. We also travel with these eco-friendly travel items to help reduce our carbon footprint.
Read more of our road trip budget tips we have complied over the years.
And if you want a NZ specific packing list, you can download this 7-page PDF totally free. No catch. Just enter the best email to send it to.
14.Drink from the tap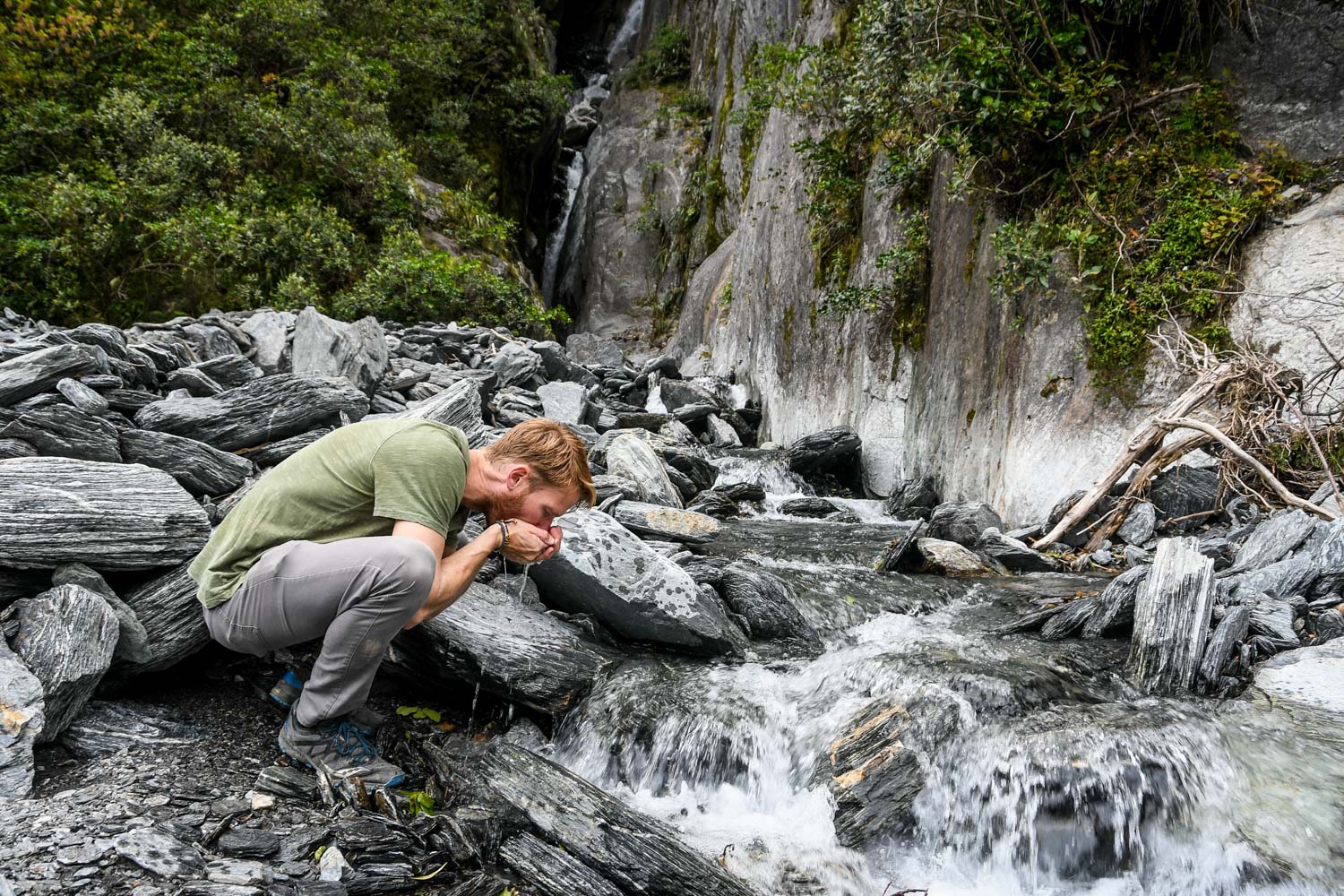 Okay, so you can't drink water from every river in New Zealand. This one was just coming from a glacier so it was pretty fresh.
Tap water in New Zealand is amazing and safe to drink! (The South Island has some of the best water in the world.) So please, oh pretty please, don't buy plastic water bottles. BYOB (bring your own bottle!) and save not only money, but plastic waste.
15. Spend time in nature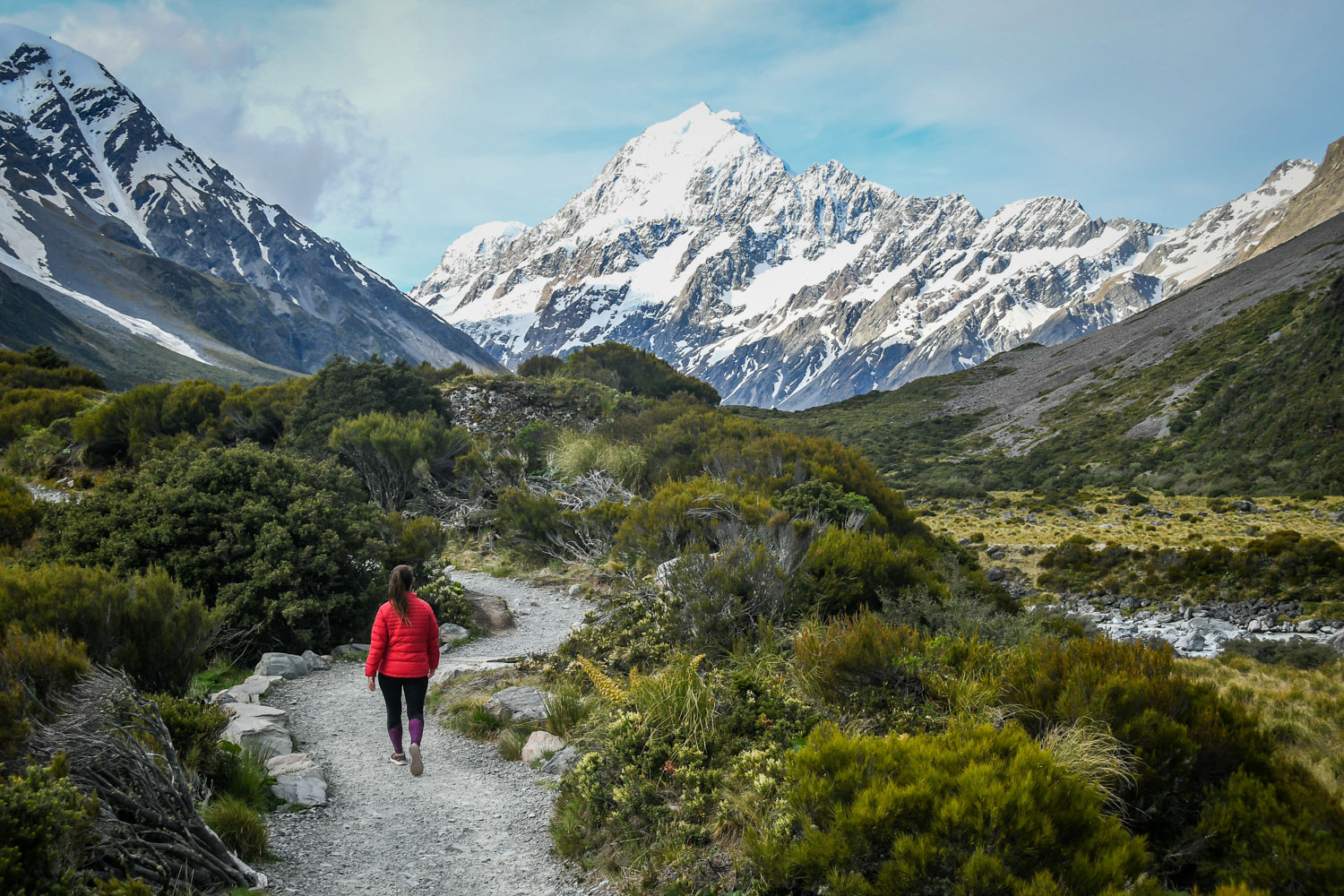 One of the greatest things about New Zealand is that all National Parks are free to enter. If you like hiking, you'll be in heaven. And this activity is easy on your wallet! Just pack a picnic lunch and you've got an entire day of fun for basically nothing.
16. Free activities
Hiking is not the only free activity in New Zealand. Here are some more ideas with ways to fill your time:
beach day
free walking tour
farmers markets
hot springs
picnic with a view
Insider Tip: Check out the Breadcrumbs app for some "hidden gems" around the country. Many of these sites are free!
17. Plan out your splurges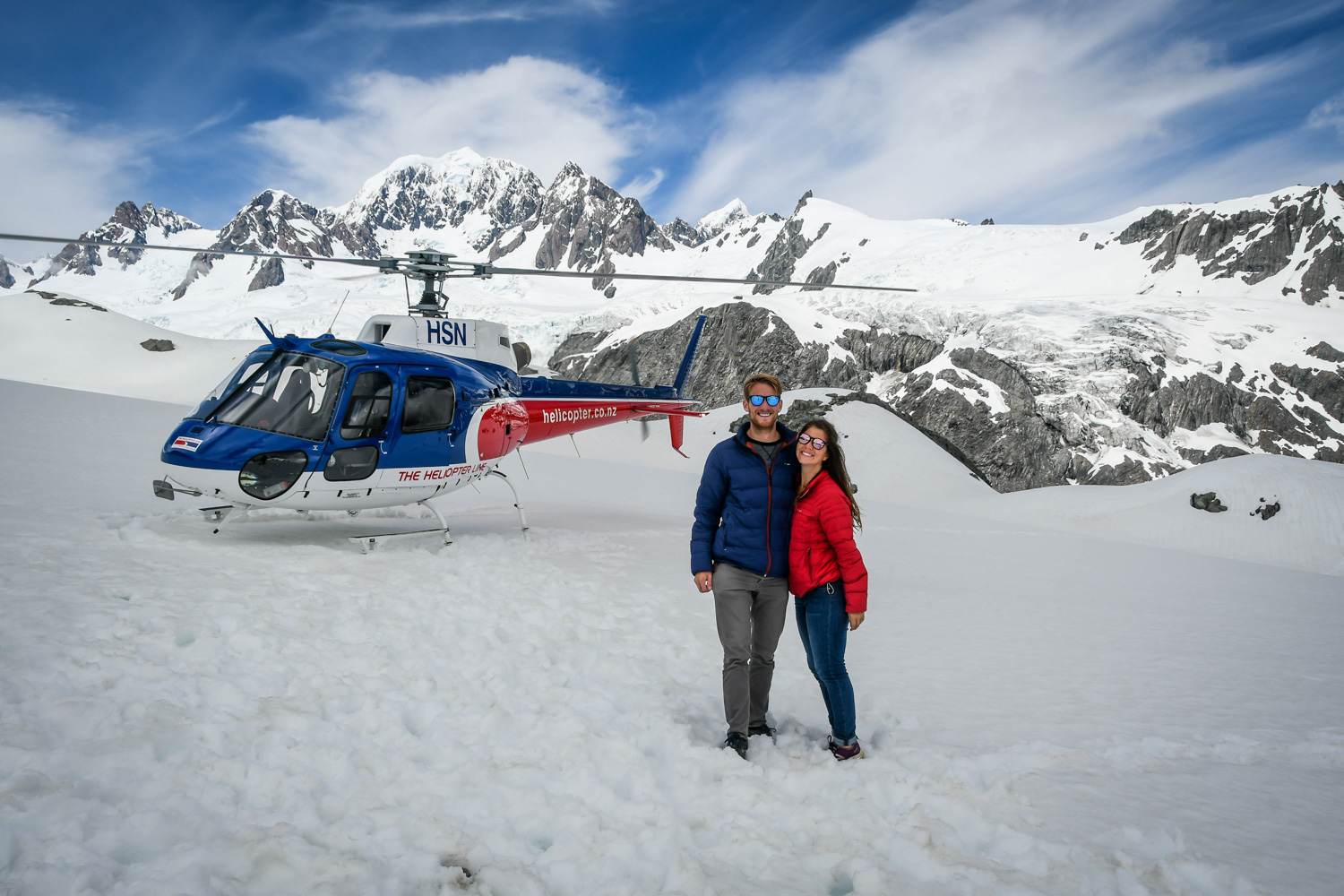 Trust us when we say there are hundreds of fun (and fast!) ways to blow your money in New Zealand. You'll see advertisements all around the country for bungee jumping, jet boating, skydiving, helicopter rides, whitewater rafting, and just about every other tour you can think of.
New Zealand is called the "adventure capital of the world" for good reason, and if you're into that stuff you should absolutely jump off some stuff (or something like that!) while you're there.
But plan out which activities you definitely want to do, and WHERE you want to do them. If you do this ahead of time, you won't wind up broke when you return home.
18. Get discount cards
There are a few discount cards that can actually save you quite a bit of money throughout the course of your trip.
SmartFuel Card: You can pick this card up for free at BP, Caltex or Countdown, and you can save up to 6 cents per gallon of gas.
New World: You'll find this grocery store chain around the country, and they have some good deals — but only if you have the card. Unknowingly, I bought a few things that I thought were on sale, but found out too late that you need the club card in order to take advantage of the sales. Most grocery stores have some sort of free discount card, just as at the counter
Top 10 Holiday Park Pass: If you plan to stay at lots of Holiday Parks along your New Zealand road trip, this pass might be worth it for you. It costs $49, but you will save 10% on each stay. Plus, there are some discounts on big activities around the country. For instance, you'll get a 15% discount on ferry tickets between the North and South Island, which can be quite a big chunk of change. Read up on the membership benefits and discounts to see if it makes sense for you.
19. Make a budget and stick to it
Before any trip, we sit down and come up with a realistic budget based on the type of activities and traveling we want to do.
We've divulged exactly how we make travel budgets, so you can create your own too!
While we're traveling, we use a budgeting app to input all our expenses. (We like Trail Wallet, but there are lots out there to choose from.)
You should be able to see if you're on track with your budget, and which categories you are overspending on so you can adjust your habits. Perhaps your "Food" category is surprisingly high after a few meals at nice restaurants. In order to even it out, you can cook all your meals for the next few days.
The great thing about most budgeting apps is they work seamlessly between currencies, so you can input your expenses in New Zealand dollars but see your budget in your home currency.
---
How much does traveling in New Zealand cost?
We're going to walk you through a few of the common expenses so you have an idea of how much to budget for your trip to New Zealand.
Note: All of these prices are averages based on our experience traveling in New Zealand in November/December 2018 (just before peak tourist season). Some of these costs — like accommodation and tours — can vary depending on the season.
Accommodation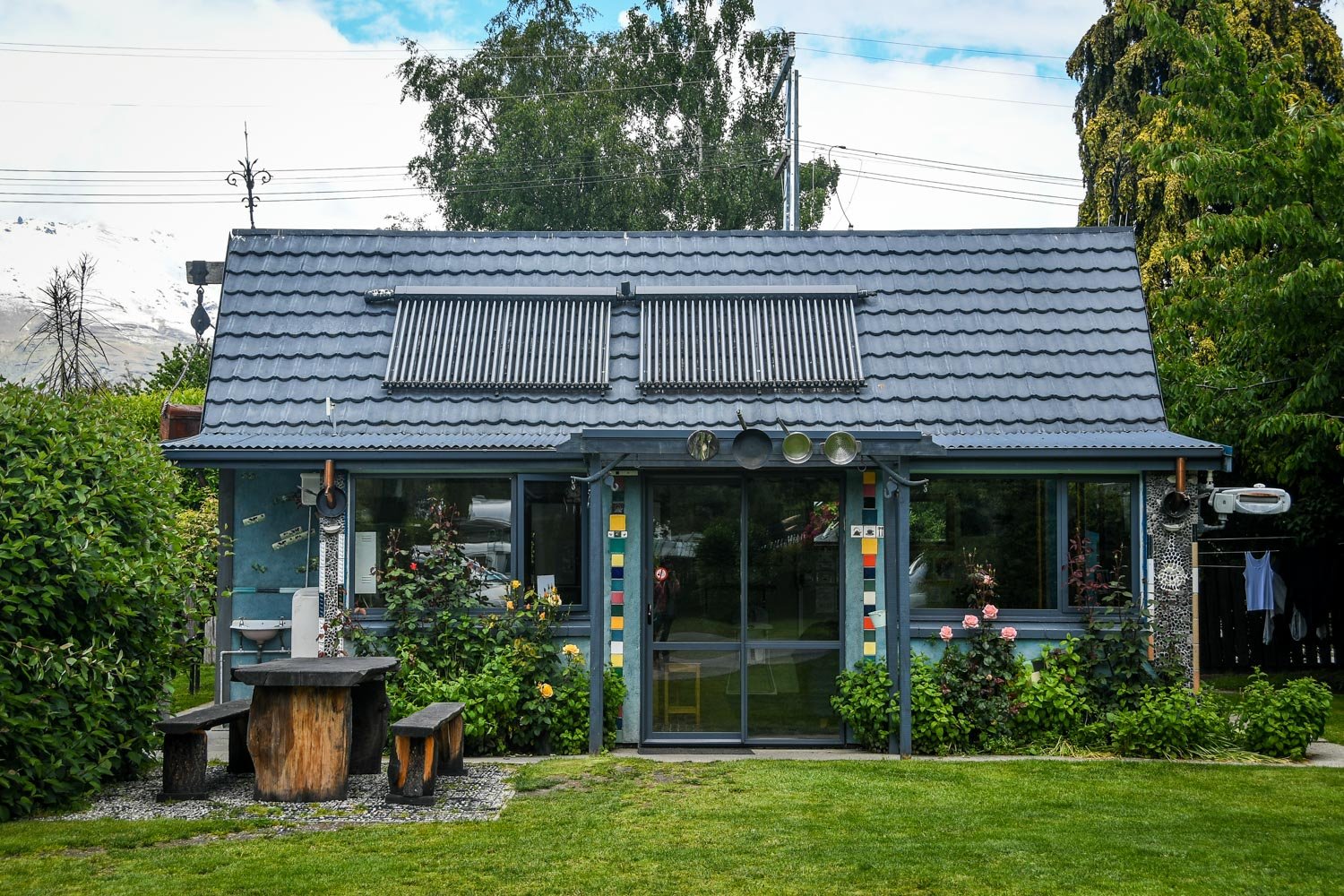 Like most other places in the world, dorm beds are the cheapest type of accommodation. However, campervans can be a good option too. Just remember, you'll have to pay for the campervan rental, gas and campgrounds.
Hostel: $28 – $40 NZD for a dorm bed in Auckland ($19 – $27 USD)
Airbnb: $85 – 145 NZD for an entire apartment in Auckland ($60 – $100 USD) (Click here for $55 off your first stay on Airbnb)
Hotel: $116 – $175 NZD for a standard room in Auckland ($80 – $120 USD)
Campervan: Depends on season and size of campervan (Compare here):
Peak Season (Dec to Feb): $120 – $420 NZD per day ($82 – $288 USD)
Low Season (June to Aug): $30 – $120 NZD per day ($20 – $82 USD)
Shoulder Seasons (any other time of year): Expect to pay somewhere in the middle
Read up on how to choose the best campervan for your budget.
Campsites: $0 – $26 NZD per person ($0 – $17 USD)
Read up on the different types of campsites and where to find them.
Bonus! Booking on Airbnb? We have loads of info on how to book Airbnbs, red flags to watch out for when booking, and our favorite Airbnbs in our Airbnb article. Plus, we'll give you our Airbnb coupon code for up to $55 off Airbnb.
Transportation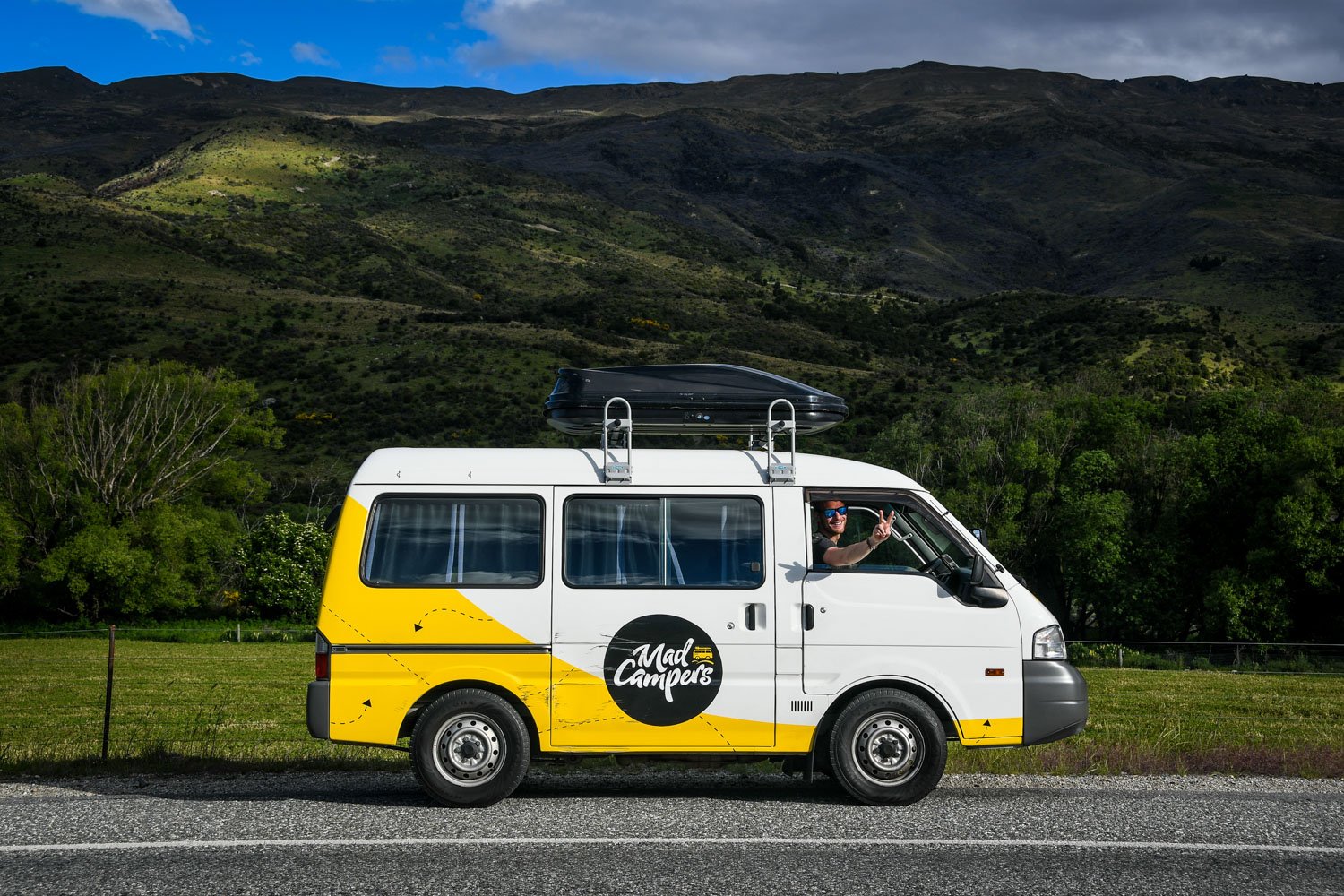 Gas is surprisingly expensive in New Zealand.
Rental Car: depending on the type of car $100 – $150 NZD per day ($68 – $102 USD)
Gas/Petrol: $2.20 NZD per liter = $5.70 USD per gallon (around $71.82 USD to fill up our campervan's 12.6-gallon (48-liter) tank)
Diesel: $1.50 NZD per liter = $3.88 USD per gallon
Buses: Depends on the distance and company (InterCity is popular):

Auckland to Rotorua (4 hr) = $48 NZD ($33 USD)
Queenstown to Wanaka (1 hr 45 minutes) = $24 NZD ($16.50 USD)
Food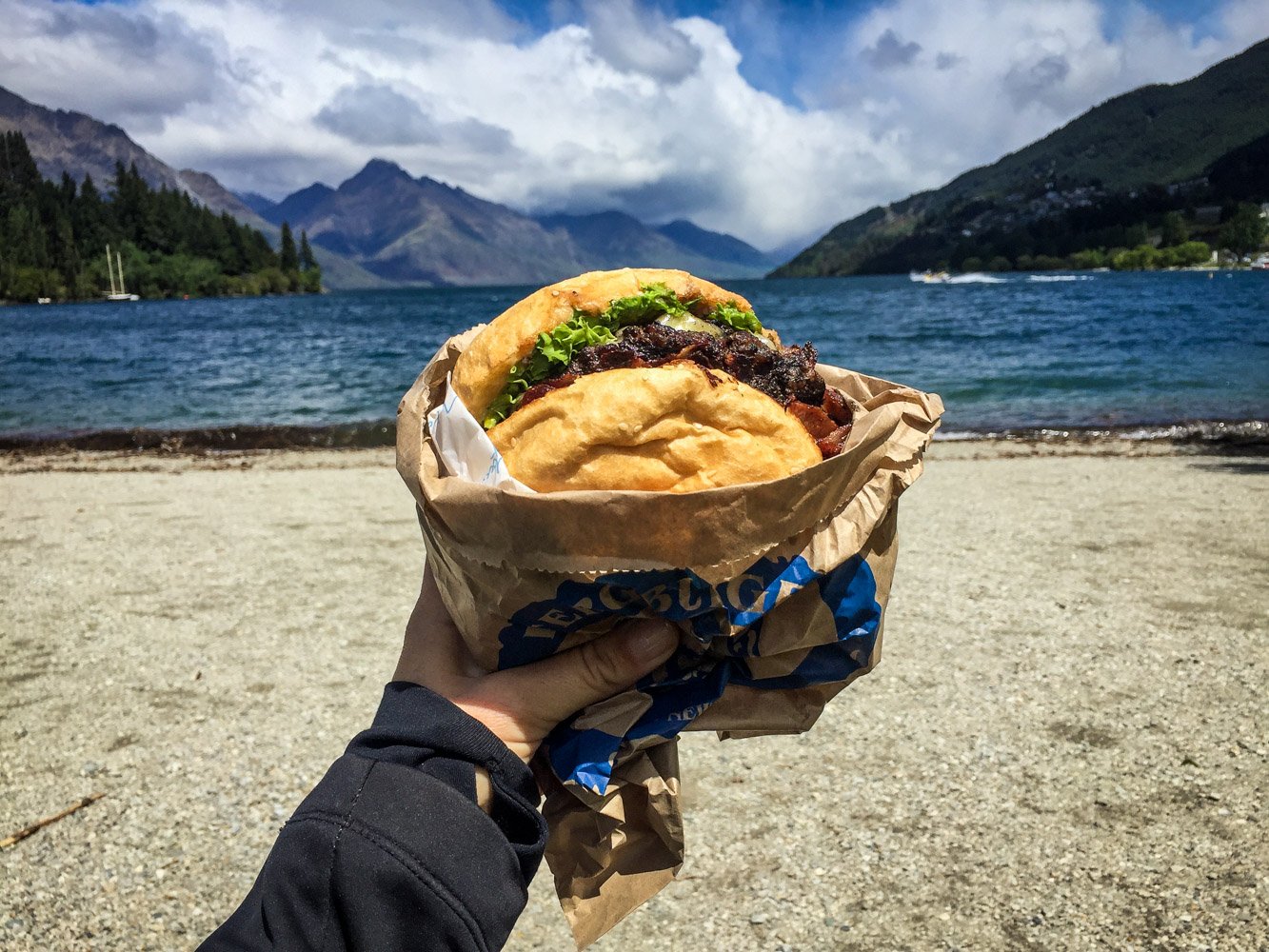 Eating out can be quite expensive, however, cooking your own meals is very affordable (and healthier!).
Meat Pie: $5 NZD ($3.40 USD)
Fast food meal: $10 NZD ($6.80 USD)
Meal at a budget friendly cafe: $15 NZD ($10.30 USD)
Meal at a nicer restaurant: $24 NZD ($16.5 USD)
Groceries to cook a healthy meal for 2 people: $10 NZD ($6.80 USD)
Alcohol
Beer and alcohol tend to be more expensive, while wine from New Zealand and Australia can be quite cheap!
Restaurant (beer, wine, mixed drink) $10 – $15 NZD ($6.80 – $10.20 USD)
12-pack of beer (light vs. craft): $21 – $27 NZD ($14 – $18 USD)
Bottle of Captain Morgan: $42 NZD ($32.20 USD)
Bottle of wine: $7 – $20 NZD and up ($4.80 – $13.7 USD and up)
Coffee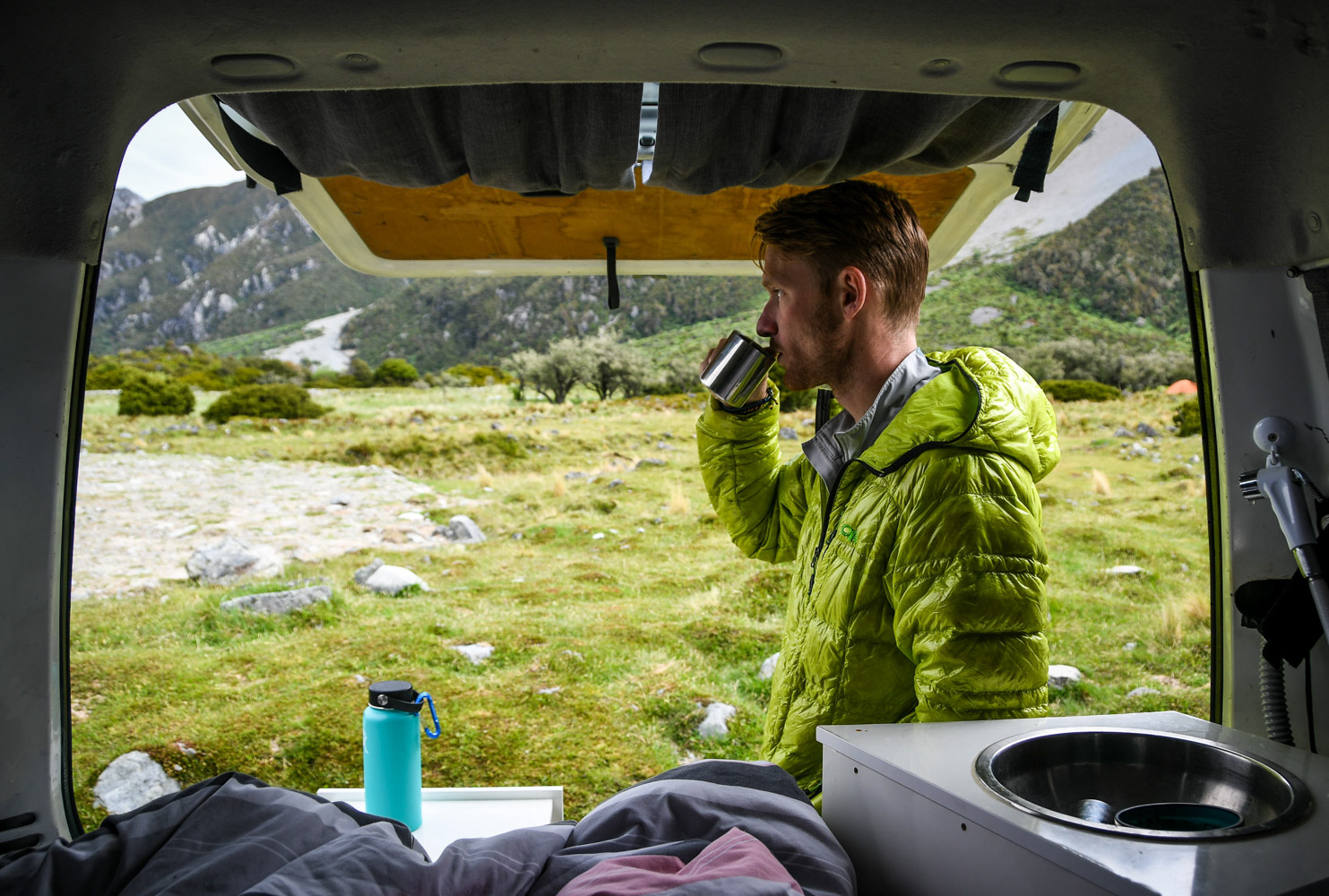 Going to coffee shops every day is tempting, but it won't break the bank if you do it every once in a while. Buying a bag of beans at the grocery store and brewing your own is a good way to save money. We love traveling with our collapsible coffee filter.
Americano/long black = $4 NZD ($2.75 USD)
Bag of ground coffee beans = $5 NZD ($3.40 USD)
Entertainment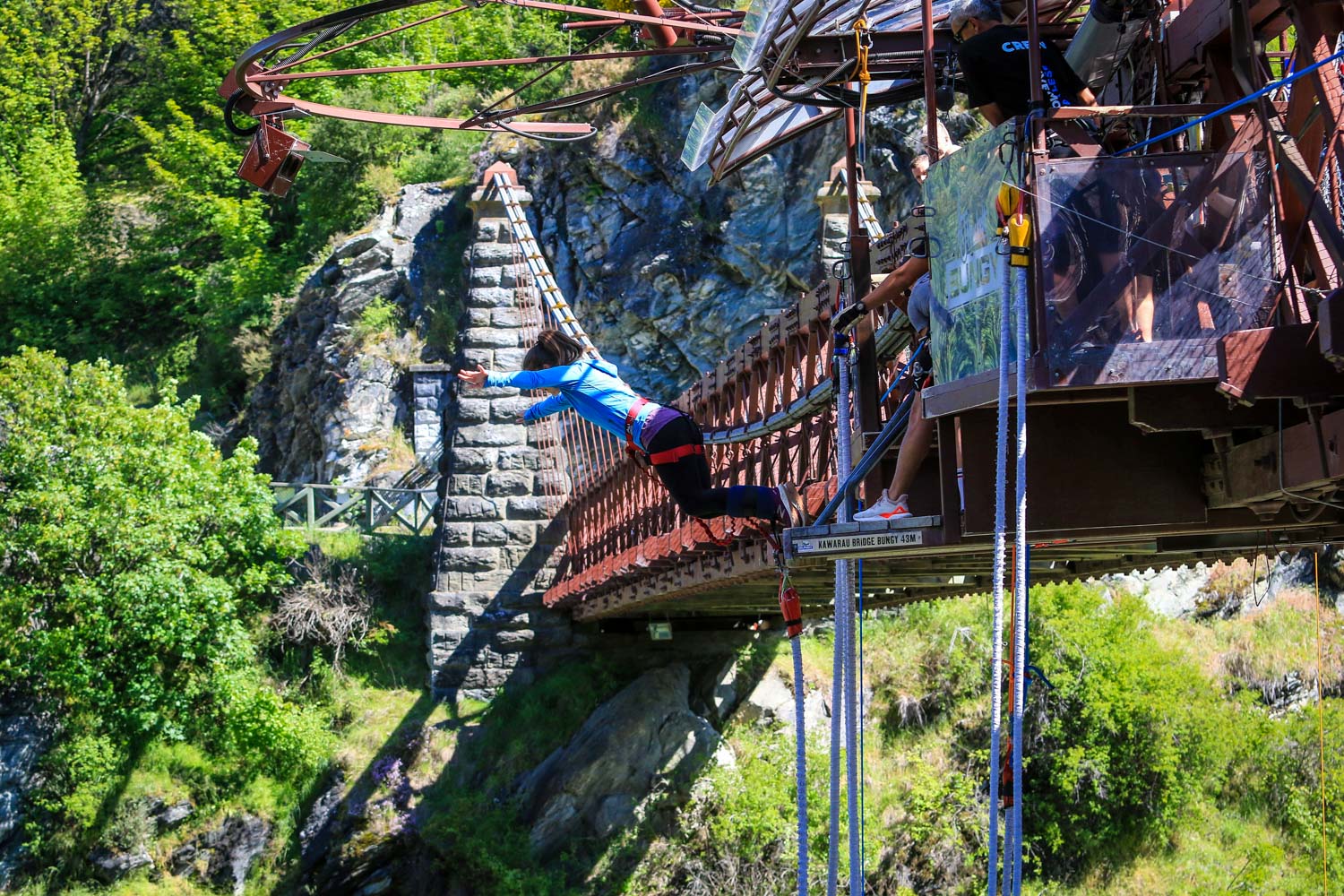 There are plenty of opportunities to go on tours or adventure activities. However, they tend to be quite expensive, so think about which splurges are at the top of your New Zealand Bucket List.
Perfect New Zealand road trip itinerary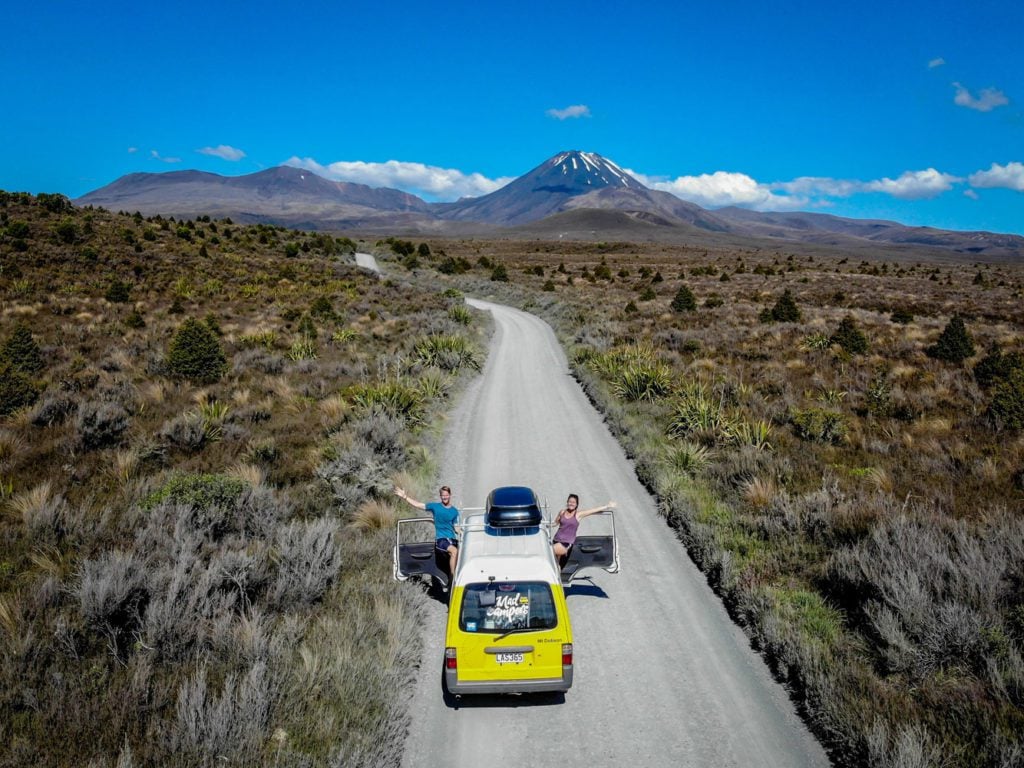 Raise your hand if you don't want to spend hours of time researching and you just want all the info right at your fingertips!
If your hand is up, keep reading…
If you like the research, all the power to you! Feel free to use our itinerary outlines as a starting point as well as our destination guides for ideas of things to do (we've got a bunch of them!):
But if you want to save some hours of your life, we've already put in more than enough for you and us combined. Trust us.
And we're happy to share everything we learned — from digging through reviews, Youtube and all sorts of Internet rabbit holes, as well as actually traveling in New Zealand by campervan for 5 weeks!
We've curated what we think is the perfect New Zealand road trip, and we want you to be able to copy our route!


In this 1-month itinerary, you'll find:
Can't miss sights and experiences
Where to eat
Where to stay (whether you're camping or doing hotels)
Insider Tips
Suggestions for extending this trip
We've spent hours of research putting this all together, just for you!
In full transparency, this is a paid itinerary since it has taken an incredible amount of time for us to create.
However, we keep all of our paid itineraries affordable – just $15 for an entire 1-month itinerary. We think this is an incredible value considering almost all your planning will be done for you!
What to pack for a trip to New Zealand
We know it can be overwhelming packing for a trip to a new destination. That's why we spent hours creating this super helpful PDF just for you.
In this FREE New Zealand packing list PDF download, we've provided packing checklists for everything from clothing and toiletries (for both women and men!) to what shoes to pack and extra medicines you may want to have on-hand just in case.
Plus, we're sharing tons of packing hacks and tips for traveling in New Zealand that you won't find anywhere else!

---
Are you planning a trip to New Zealand?
We have TONS of resources on travel in New Zealand and destinations throughout the country. Check out our Ultimate New Zealand Travel Guide for all the answers to your most burning questions, or read some of our favorite articles below.
Save this article on Pinterest for later!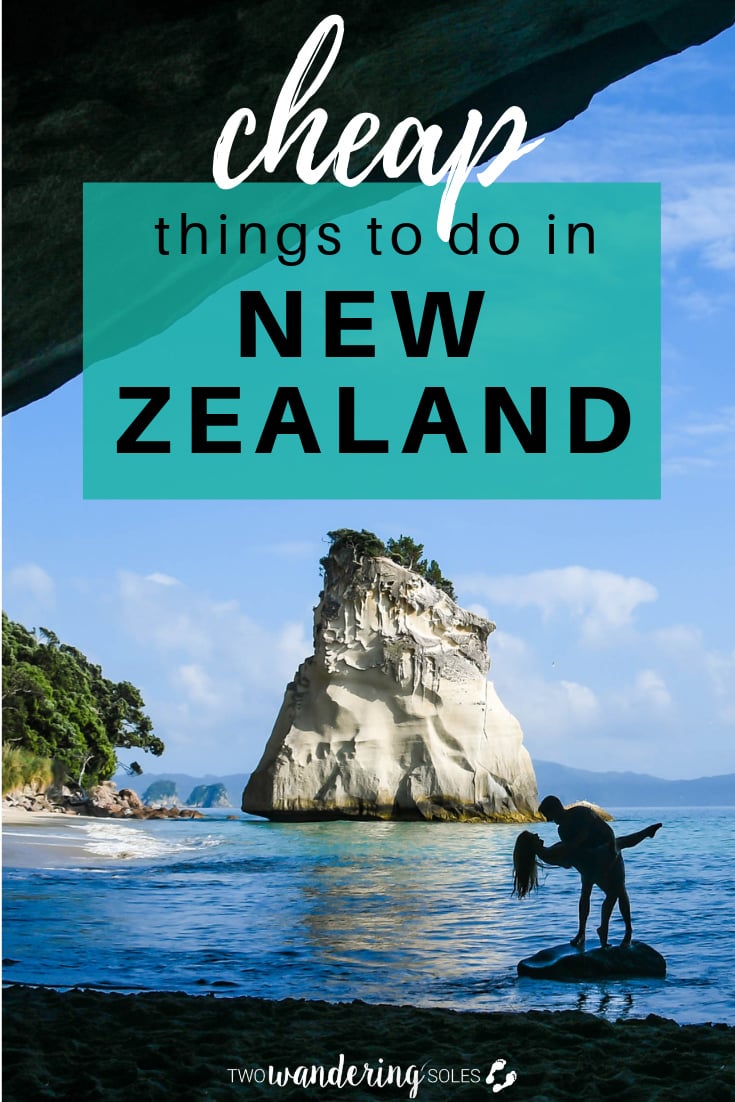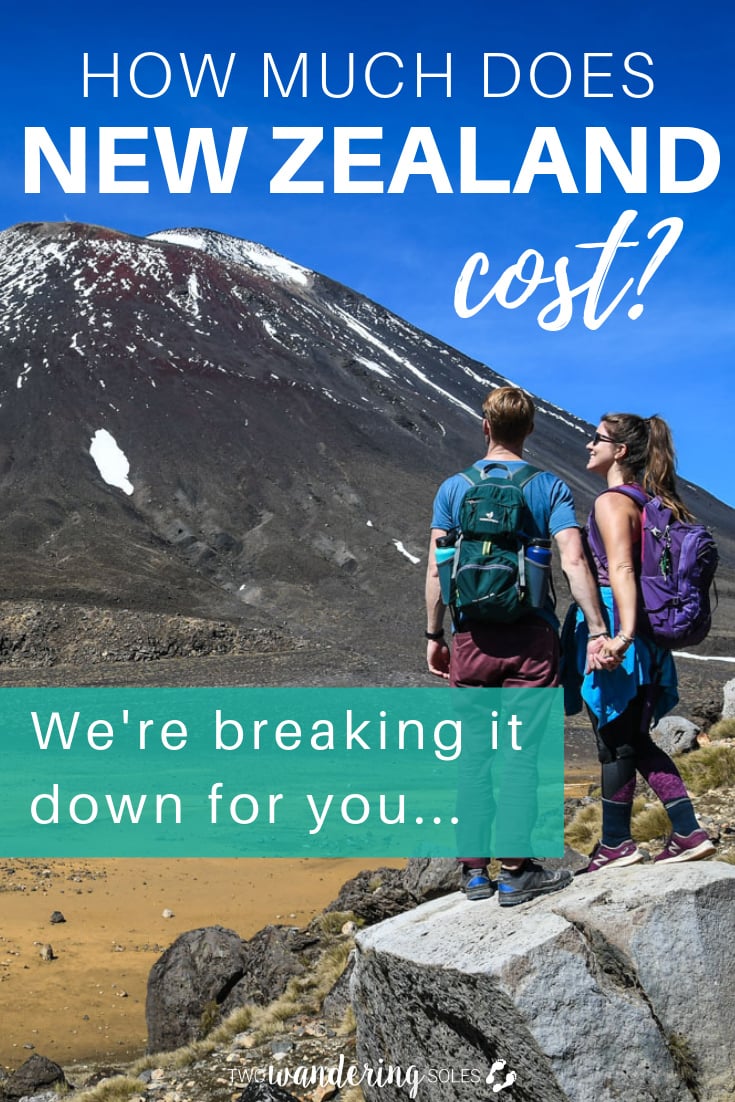 We want to hear from you!
Do you have any budget tips for New Zealand? How do you plan to travel New Zealand cheaply? Which tip was best for your travel plans? We want to hear it all in the comments below.