With the river flowing through its center, cobblestone streets, and a distinct lack of crowds or traffic, it's easy to see why locals and visitors alike love Dean Village. In this guide we'll cover everything you need to know about visiting Edinburgh's cutest neighborhood.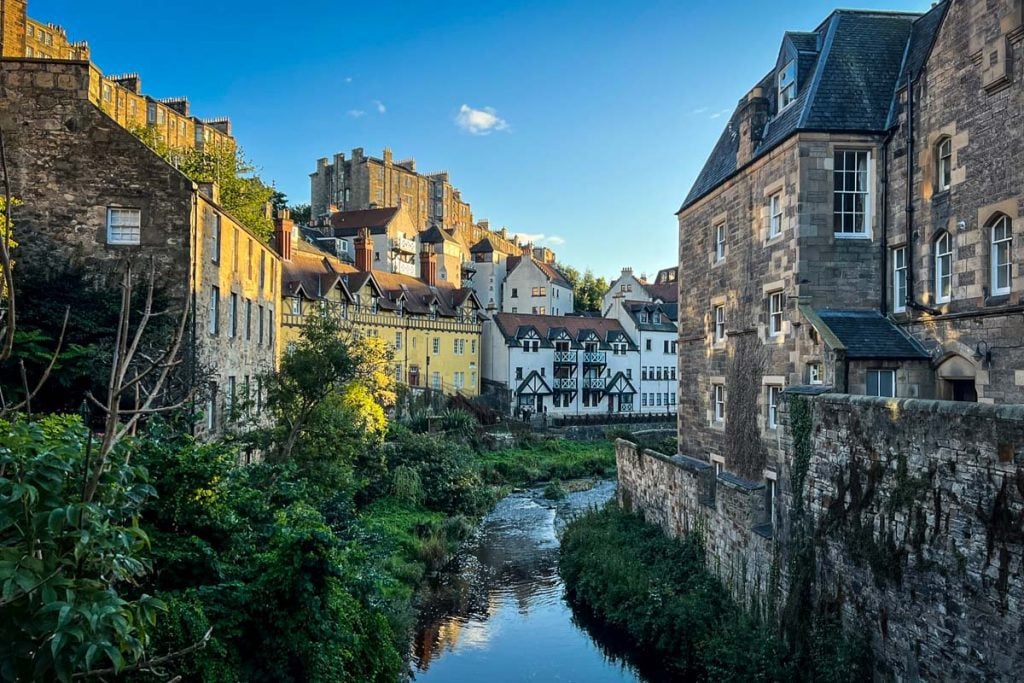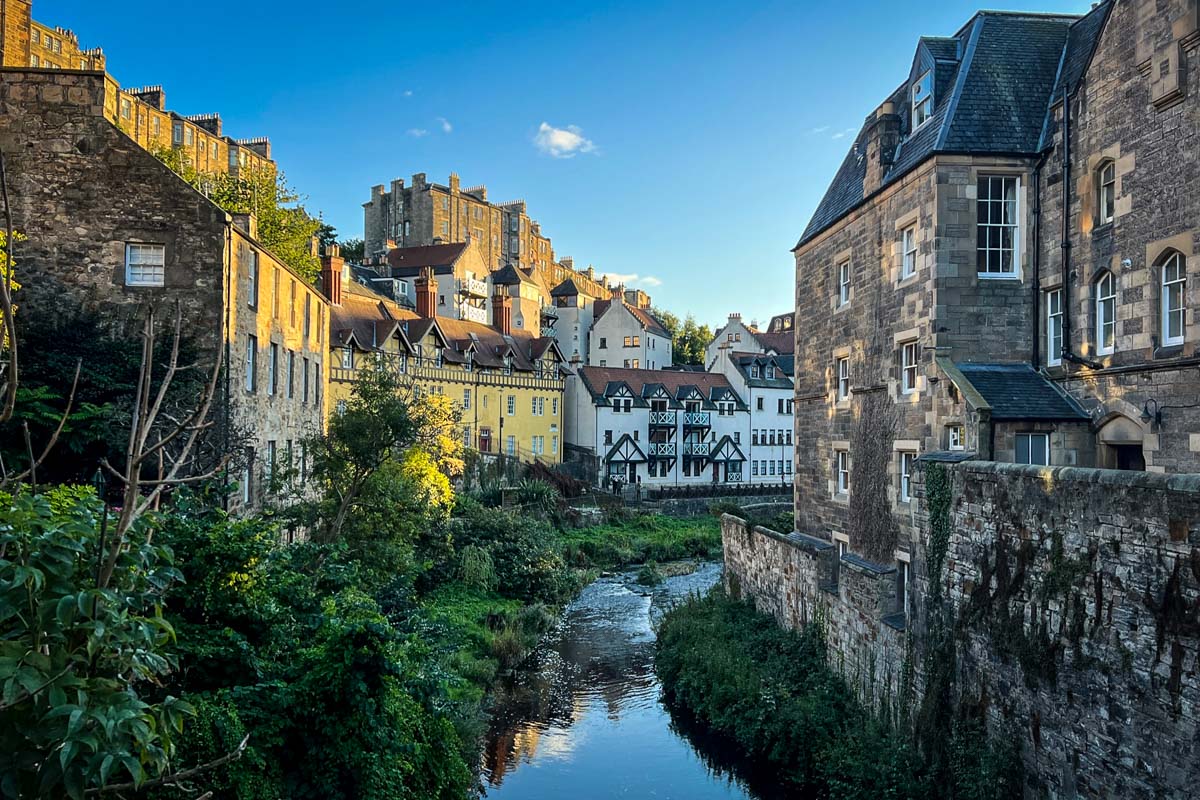 While the quaint neighborhood of Dean Village is located within bustling Edinburgh, it feels a world away from the tourist shops of the Royal Mile. Oozing with bucolic charm, the quiet cobblestone streets and historic buildings make Dean Village a must on your Edinburgh itinerary.
Located just northwest of the city center, and a short walk from Princes Street Gardens, wandering the beautiful streets of Dean Village is one of the best free things to do in Edinburgh.
Situated on the banks of the Water of Leith (Edinburgh's nearest river), Dean Village is now a tranquil oasis, but throughout history it was a successful milling town. While the river itself is quite small, its power was harnessed to drive grain mills for more than 800 years.
Walking through this tranquil neighborhood will transport you back in time, and still feels kind of like a hidden gem, as it's not nearly as crowded or touristy as many other places in Edinburgh.
The best part is Dean Village is easy to get to, and there are several cool places to stop along the way.
We've created a perfect route for a scenic walk through some of Edinburgh's hidden gems. Follow this itinerary for a lovely morning or afternoon stroll through some of the city's most beautiful streets.
Article Contents
Psst! Don't leave without discovering all the best things to do in Edinburgh, including the quintessential activities and some off the beaten path experiences you won't want to miss!
---
Be sure to download our complete packing list for Scotland! It's packed with good suggestions and insider tips to help plan your Scotland trip. And it's completely FREE, so why not!?
---
Fun facts about Dean Village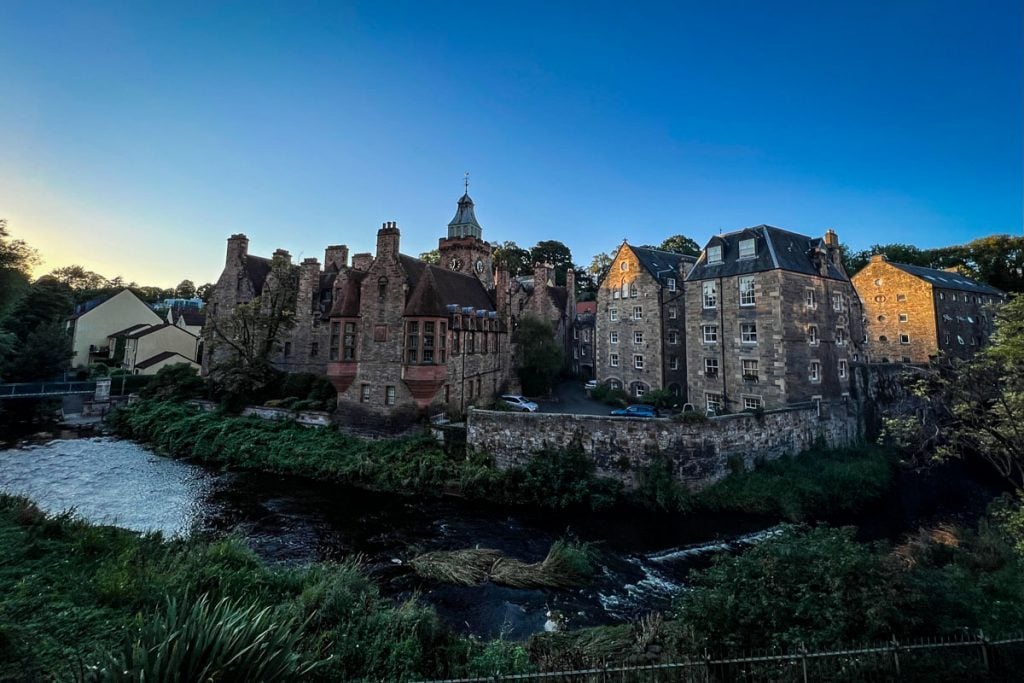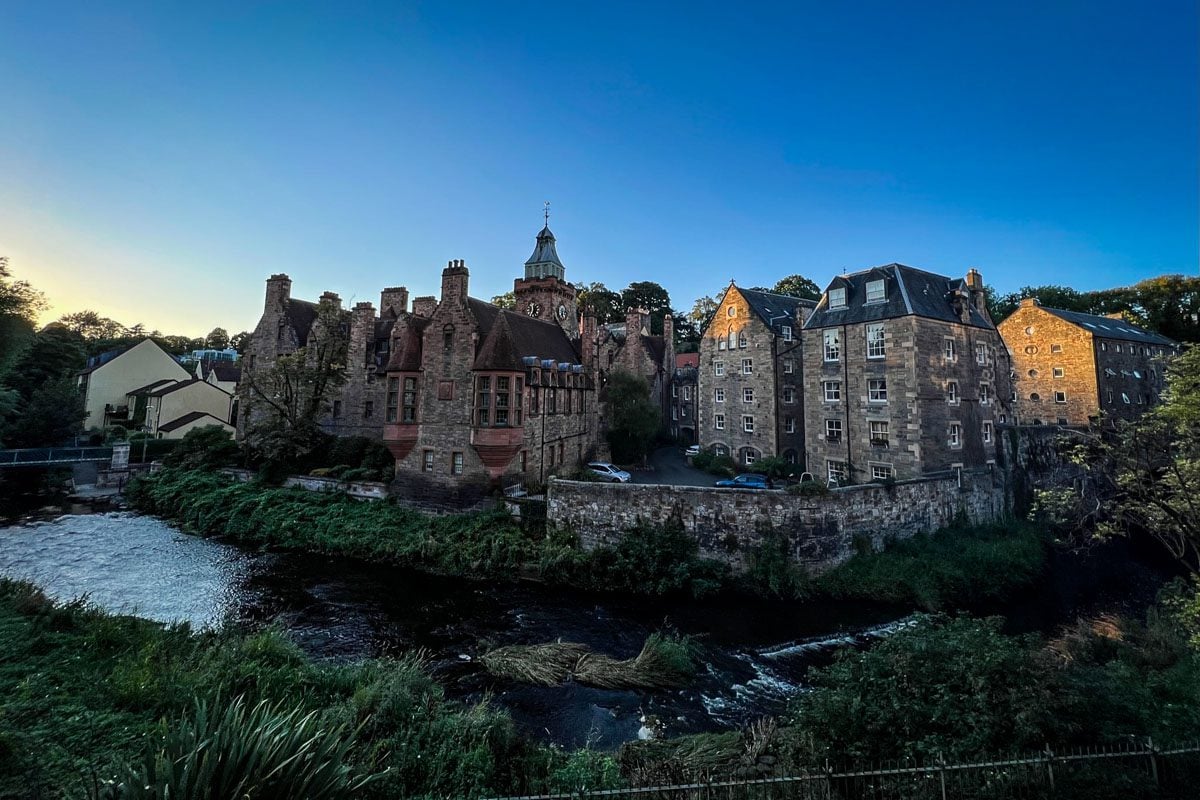 Dean Village is one of the oldest villages in Edinburgh.
At its peak, Dean Village was home to at least 11 grain mills.
Today, this is a highly-sought-after residential area. Once you walk the streets, you'll understand why!
Things to know before visiting Dean Village
Food in Dean Village: Since this is a neighborhood, don't expect too many shops or cafes along the way. But don't worry, we've included a couple of stops for light bites and drinks along our route so you can break up the walk if you'd like.
Toilets: There are no public restrooms in Dean Village, so be sure you go before your walk!
Parking: It may be difficult to find parking in Dean Village. For this reason, we'd recommend walking here (follow our recommended route for a lovely stroll!), or take a bus.
Planning a trip to Scotland? Find out the best time to visit Scotland based on seasonal weather patterns and your personal travel style.
Perfect Dean Village walking route
This walking route will show you the very best of Dean Village and some surrounding gems. This DIY walking tour makes a perfect way to spend a morning or afternoon while in Edinburgh.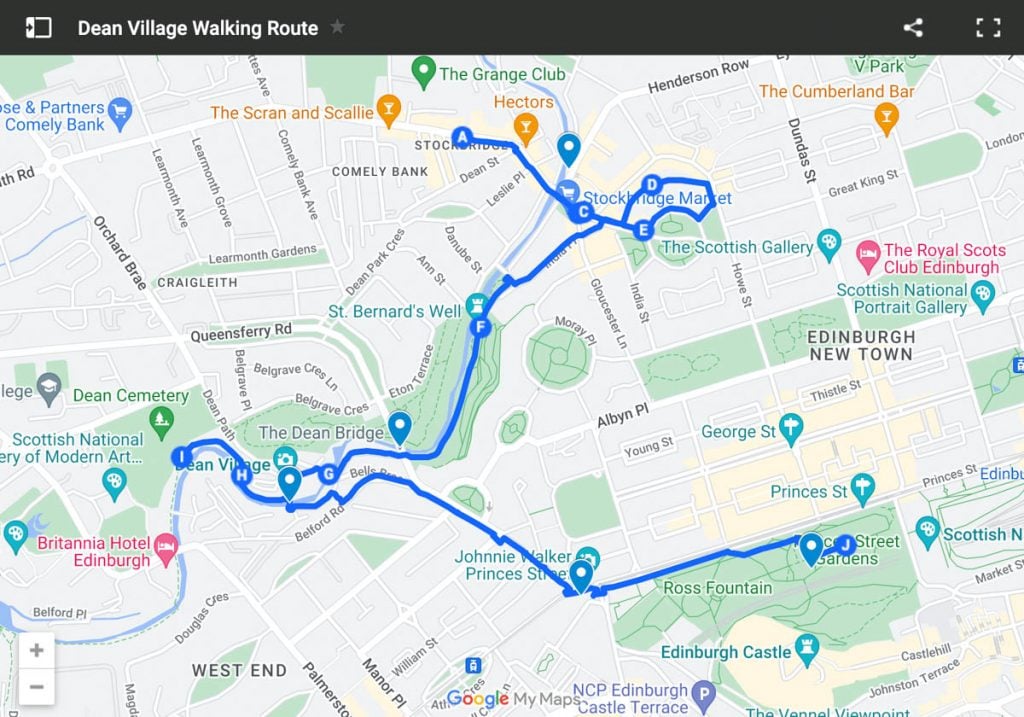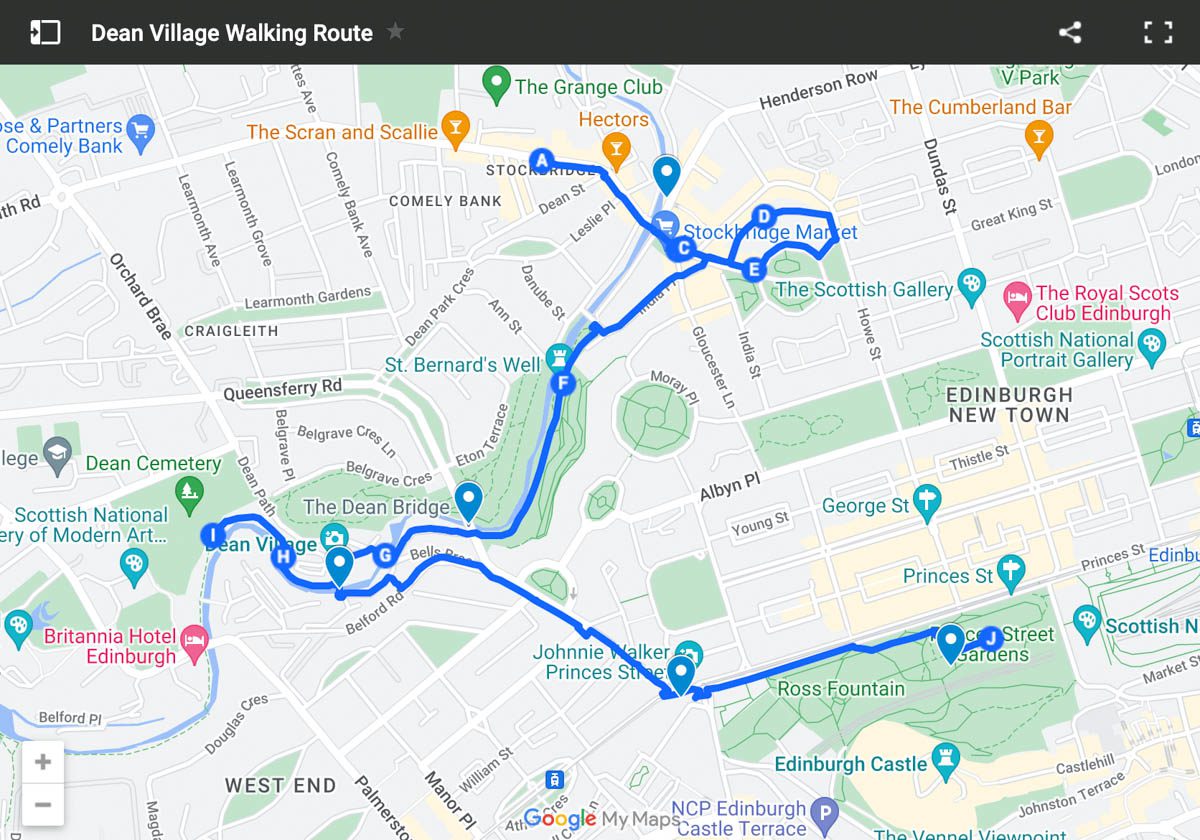 Total Walking Time: 1 hour
Note: We'd recommend allotting yourself an additional 45 minutes to 1 hour for photo ops and taking a break with snacks.
1. Begin in the Stockbridge Neighborhood
Begin your walk by making your way from your hotel to the Stockbridge neighborhood, which is situated just northwest of the city center.
This is your jumping off point, but if you need a coffee, a quick bite or a toilet, this is your chance:
Hungry? Need a caffeine fix? Head to The Pantry for all-day breakfast served up in a bright and cozy atmosphere.
Need a public toilet? According to reviews, this one isn't great, but if you're in dire need it might have to do!
Visiting on a Sunday? Stop by the Stockbridge Market! This once weekly farmers market is worth a visit if you happen to be there when it's open.
Open Sundays 10 a.m. to 4 p.m.
2. Stroll Circus Lane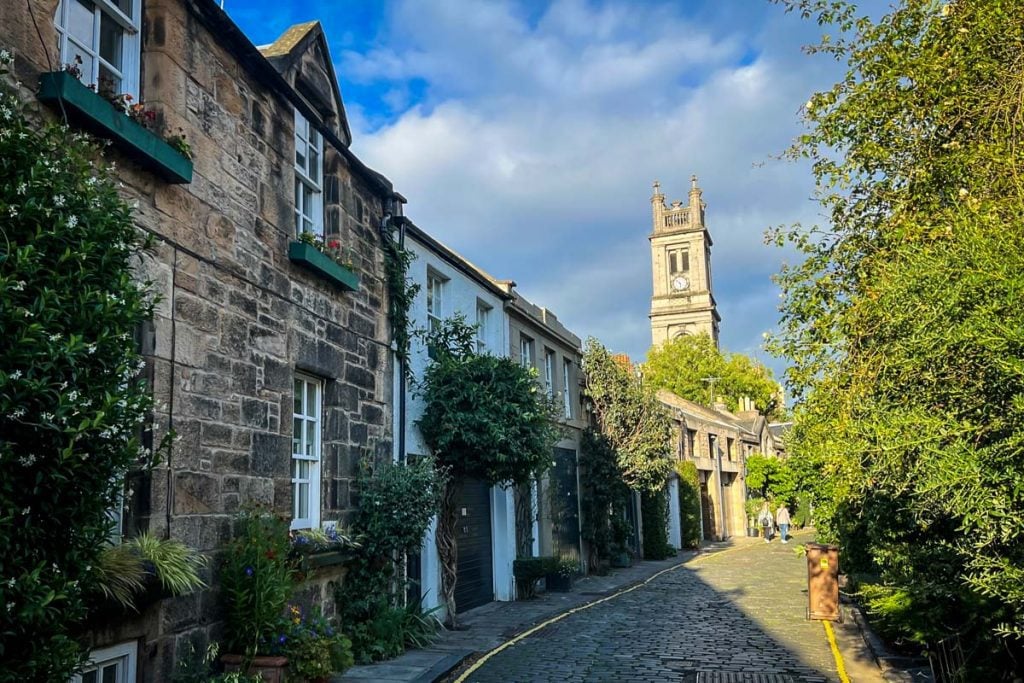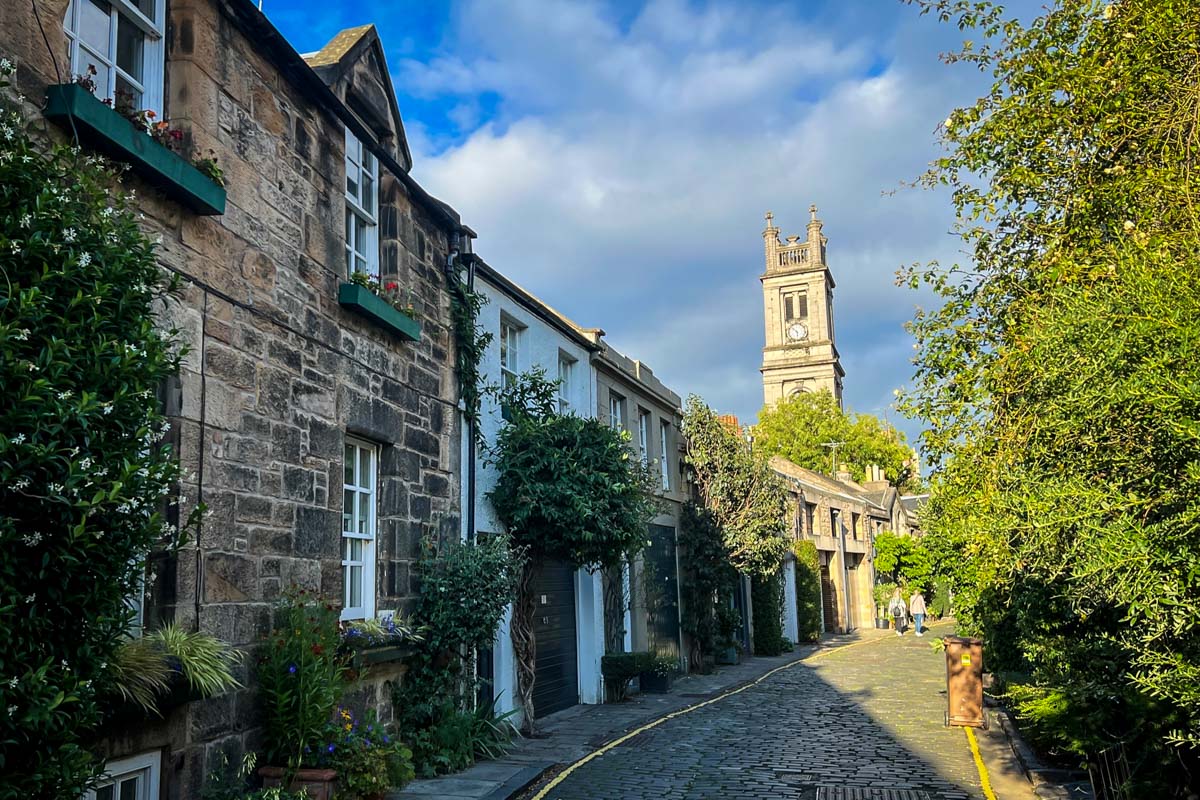 Next up on your walking tour is a gander down Circus Lane. Arguably one of the prettiest streets in Edinburgh, this is a perfect spot to snap an Instagram-worthy picture, or to simply take in the peaceful beauty of this hidden street.
Note: This is a residential street, so if you are taking photos, please be respectful of those who live here.
3. Pop into a Cheesemonger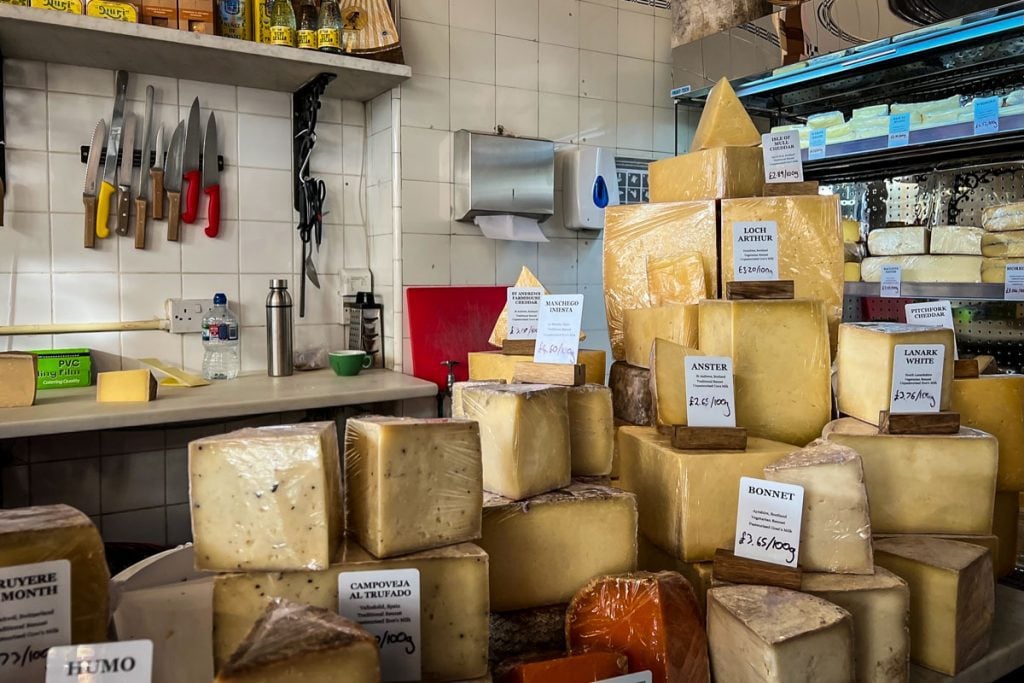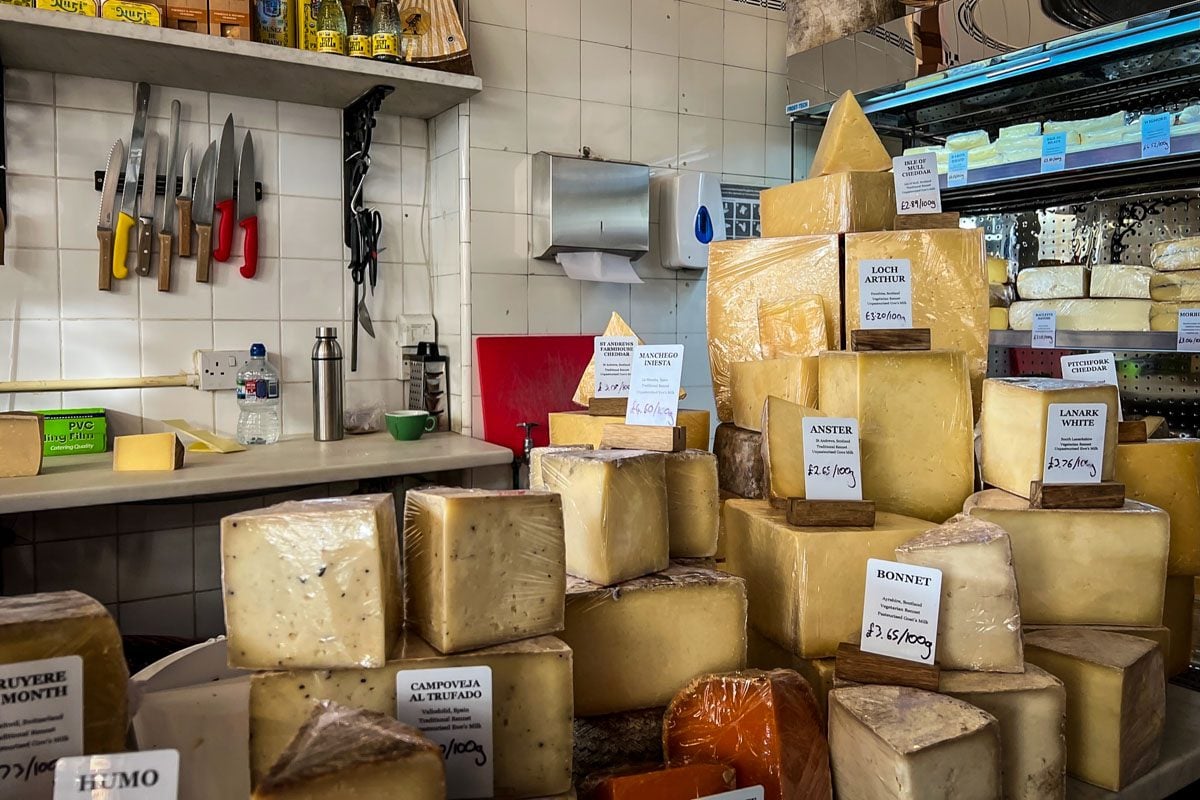 Stop into this cute pocket-sized cheesemonger in the Stockbridge neighborhood to get some snacks that you can enjoy a little later on this walk.
Get a small chunk (or two!) of local cheese. Scottish white cheddar is particularly good! Get a package of locally-made oat cakes to pair with your cheese for a perfect little picnic!
And if you're looking for something a little more substantial, they have hand pies that are absolutely fantastic. We got the turmeric cauliflower pie and it was to die for. The carmelized onion and cheddar also looked amazing, and our only regret was not getting another!
Don't eat your snacks just yet! We have the perfect little spot for you to sit and enjoy them with a nice view. (Don't worry – you don't have to wait too long to dig in!
4. Picnic at St. Bernard's Well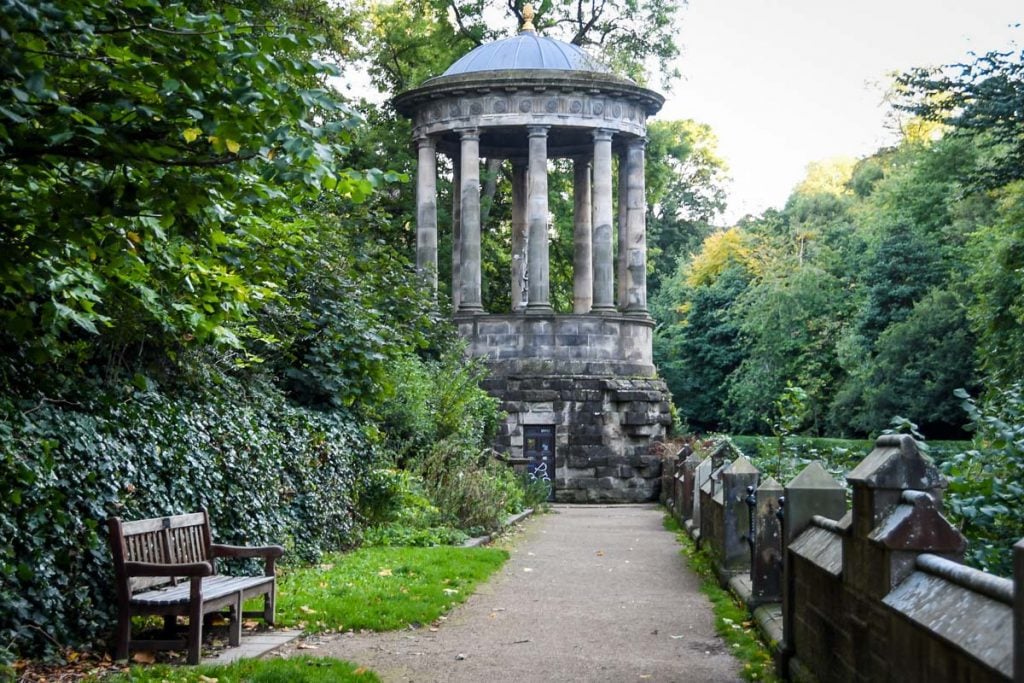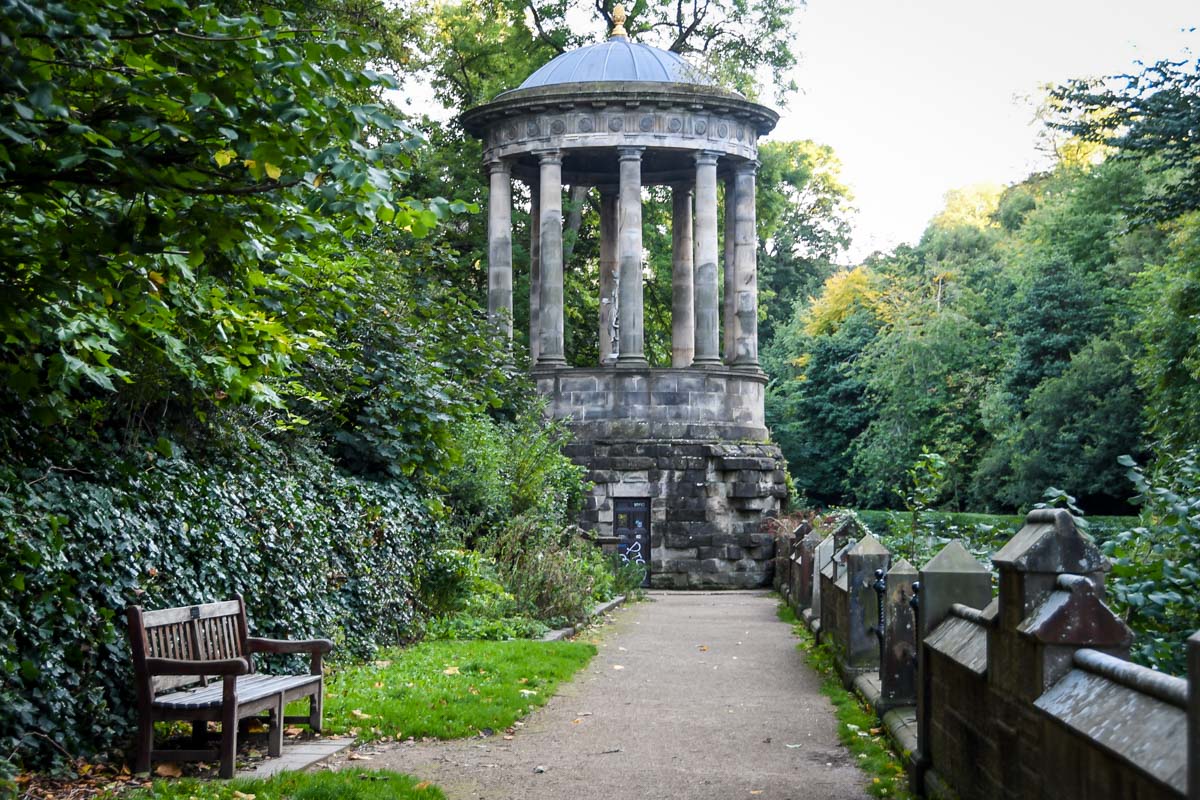 Nestled in a lush green forest on the edge of Water of Leith, this Greco-Roman structure was built to house a well that was once thought to have healing powers, and it is well worth a visit.
Get it?! Well worth a visit?!
Even if you don't appreciate our love of puns, you will appreciate the tranquility of this section of the river. Sit in one of the handful of benches that lead up to the well (or you'll find a couple more seating areas just beyond the well).
This is where you can break out the cheese and pies you picked up at the cheesemonger shop to enjoy as you listen to the babbling of the river below.
5. Walk the Water of Leith walkway
Follow the path that leads past St. Bernard's Well, known as Water of Leith Walkway, and continue walking to the south. You'll notice that this walkway is a popular running path or place to walk dogs for locals.
Psst! If you have time to discover more of the country, don't miss these epic places to visit in Scotland.
6. Pass beneath the Dean Bridge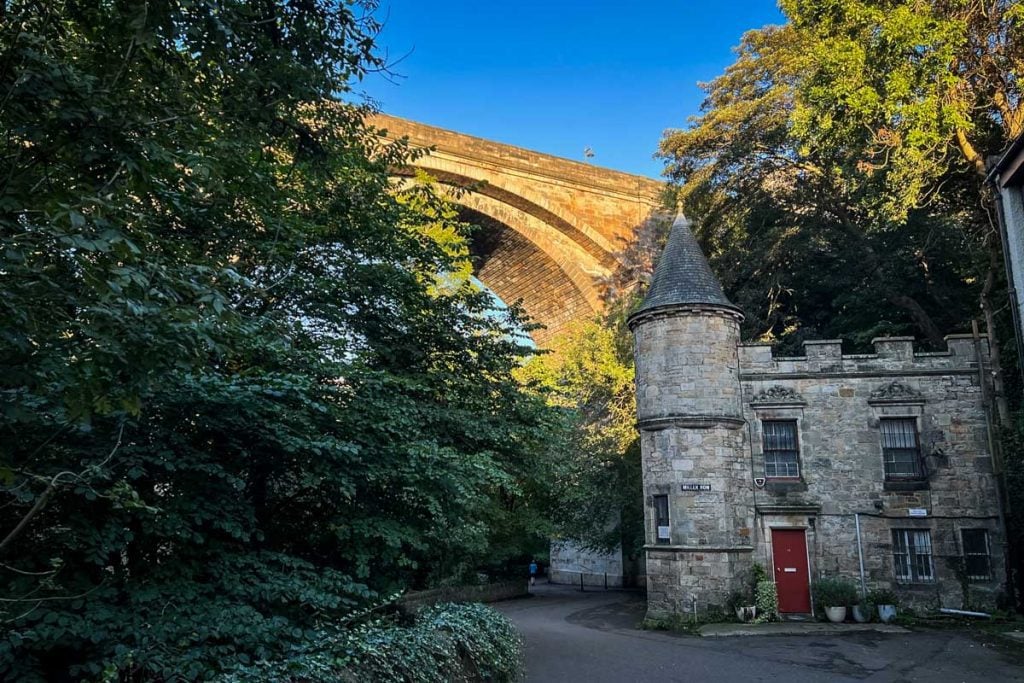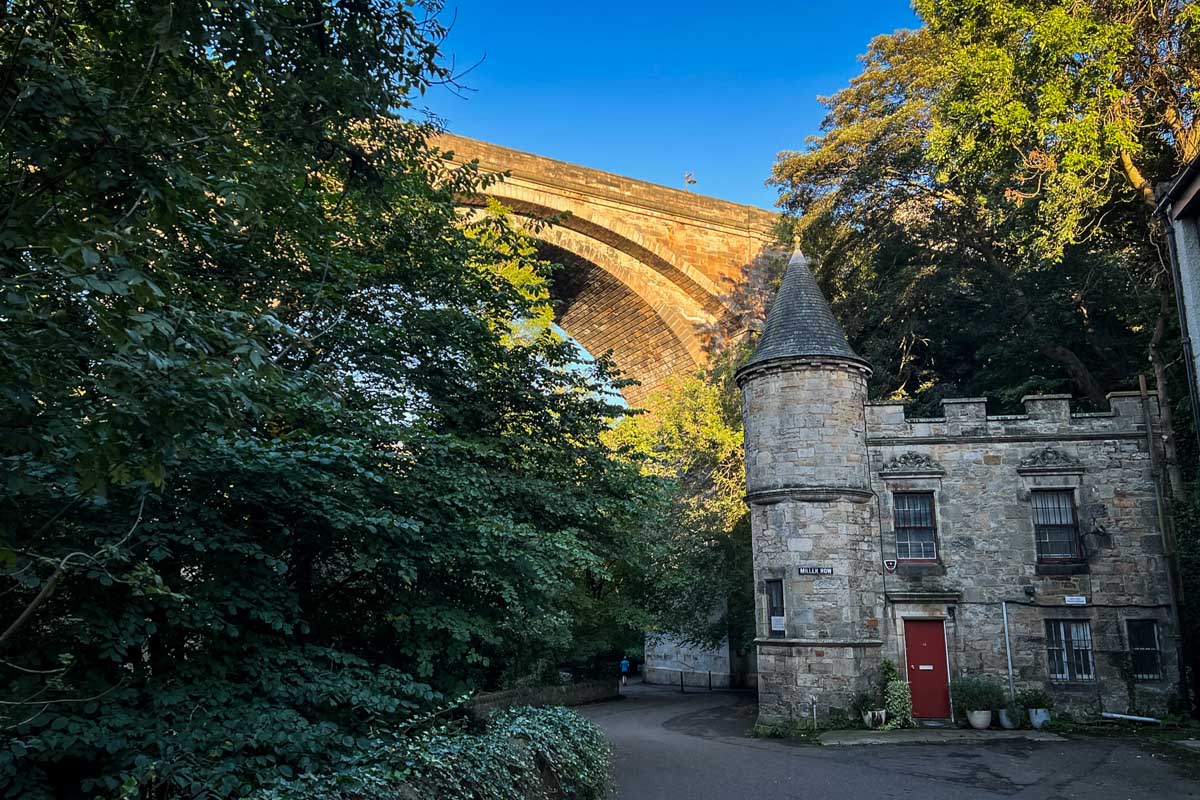 The walkway will eventually pass beneath the Dean Bridge, which is a pretty massive arched structure.
7. Take a photo from Bell's Brae Bridge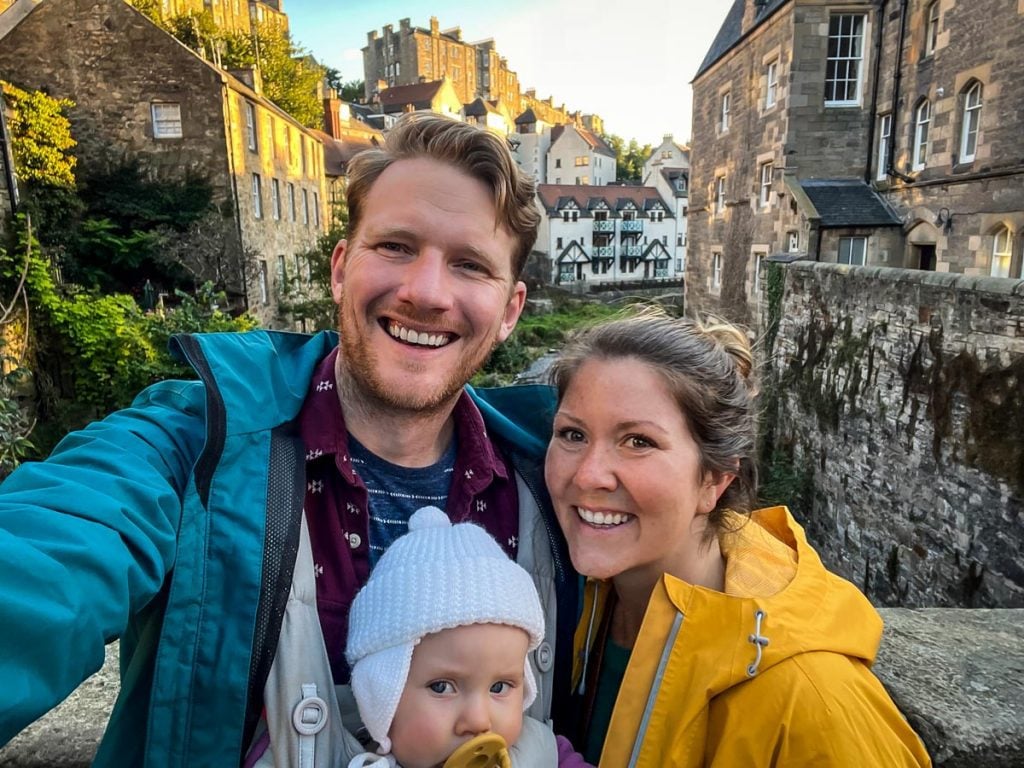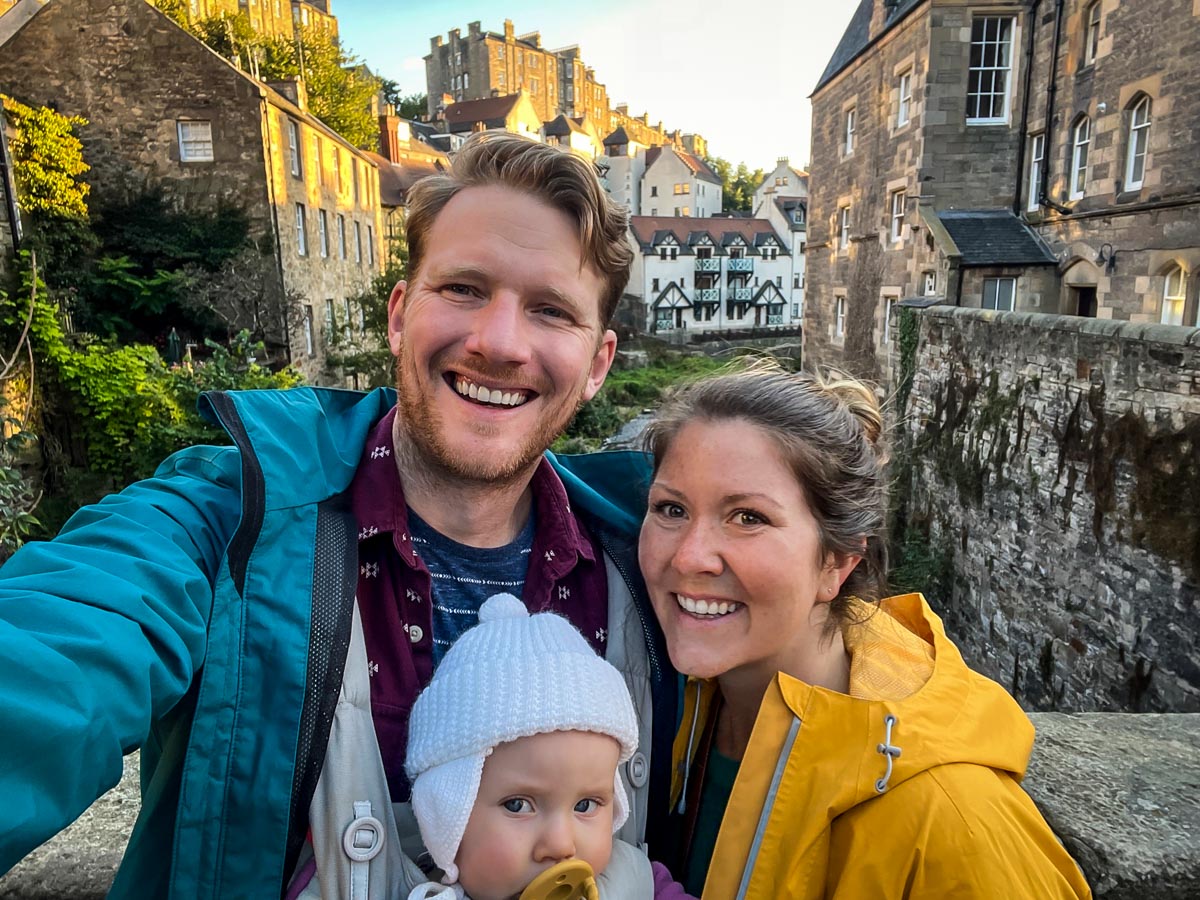 Now you've officially made it to Dean Village and you'll know as soon as you get to this spot! The view from this small bridge is awe-inspiring. After you pick your jaw up from the sidewalk, snap some photos here before crossing to the other side where you can wander the streets.
8. Dean Village Streets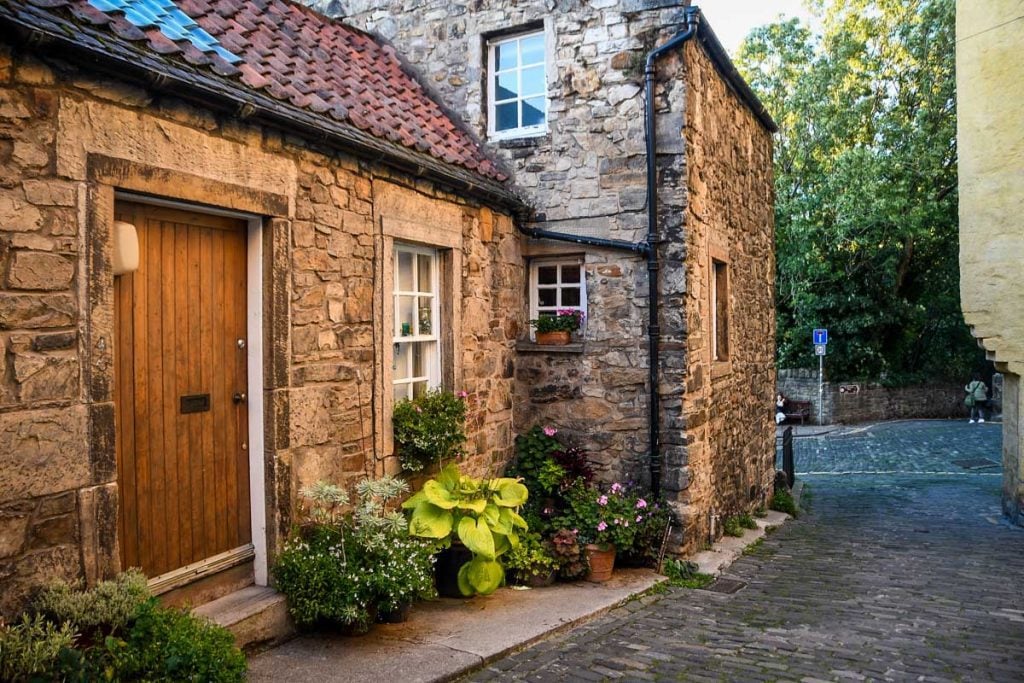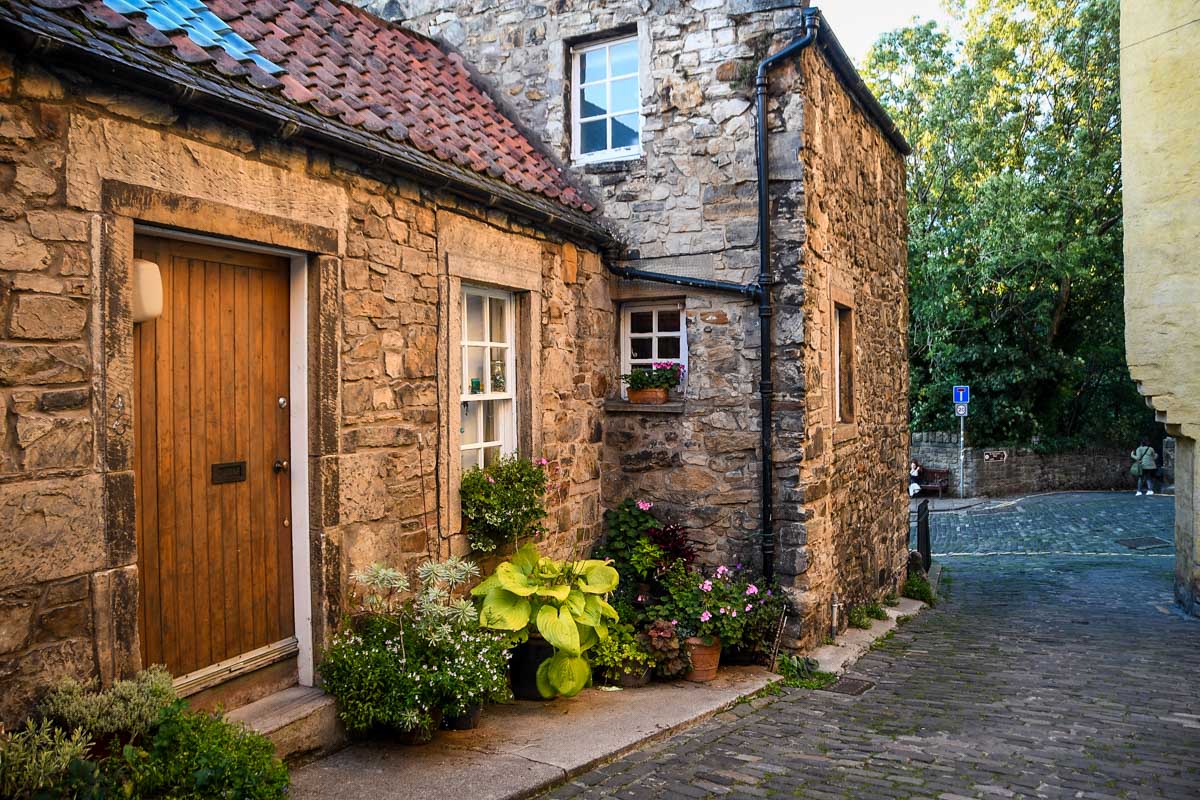 After crossing Bell's Brae Bridge, wander the village itself. Be respectful, as this is a residential area.
9. Dean Cemetery (optional)
If you have the time and would like to wander up to the well-kept Dean Cemetery, you'll find some historic grave markers including some notable families from Edinburgh's past.
10. Water of Leith Weir
This weir, or low dam (confession: I had to look up the word's meaning!), creates a small almost-waterfall that is worth a gander.
Photo Tip: If you want the blurred waterfall effect, use a tripod and a slow shutter speed on a DSLR; or on an iPhone, snap the shot and go select the "long exposure" setting.
11. Water of Leith Bridge Walkway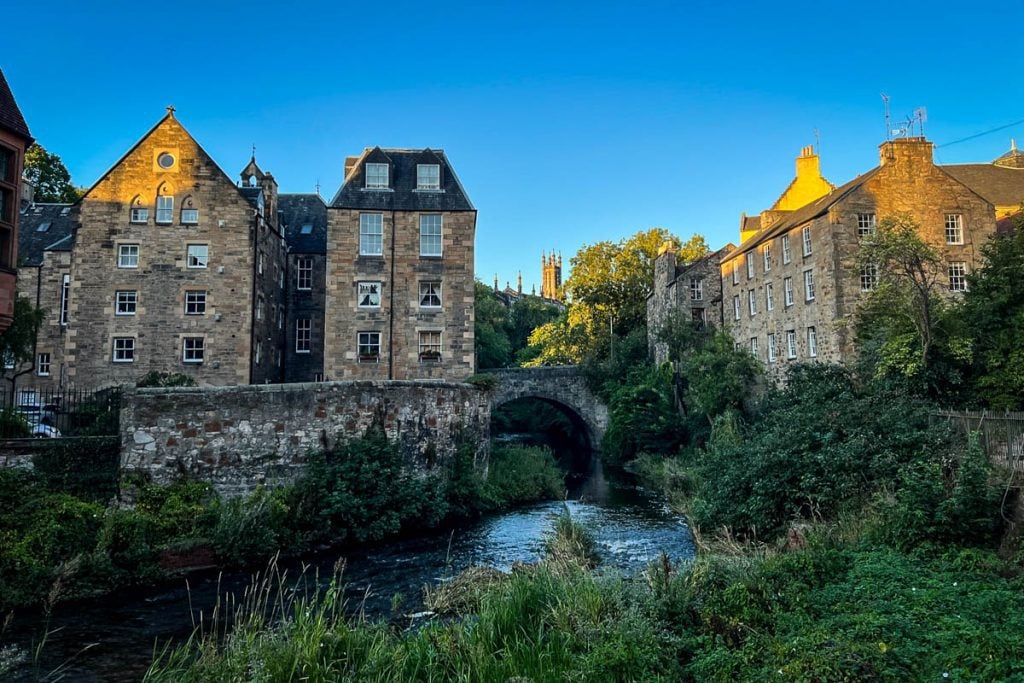 Once you're done exploring Dean Village, make your way across the small pedestrian bridge that leads back to the south side of the river so you can start heading back to the city center.
12. Head & Tales Gin Bar (optional)
If you're visiting Dean Village in the afternoon or early evening, you may want to end with a gin cocktail in the fabulous Head & Tales Gin Bar.
Connected to the Edinburgh Gin Distillery, this is a great spot to sample some of the best locally-made gin in the city.
Soak in the speakeasy vibes and rest those feet!
13. Princes Street Gardens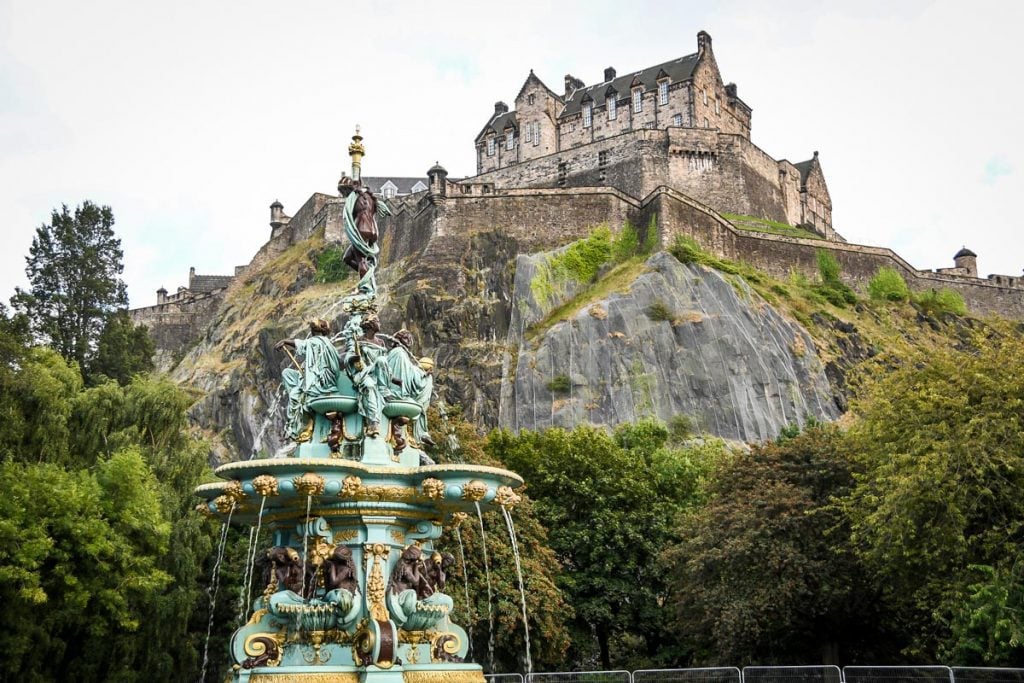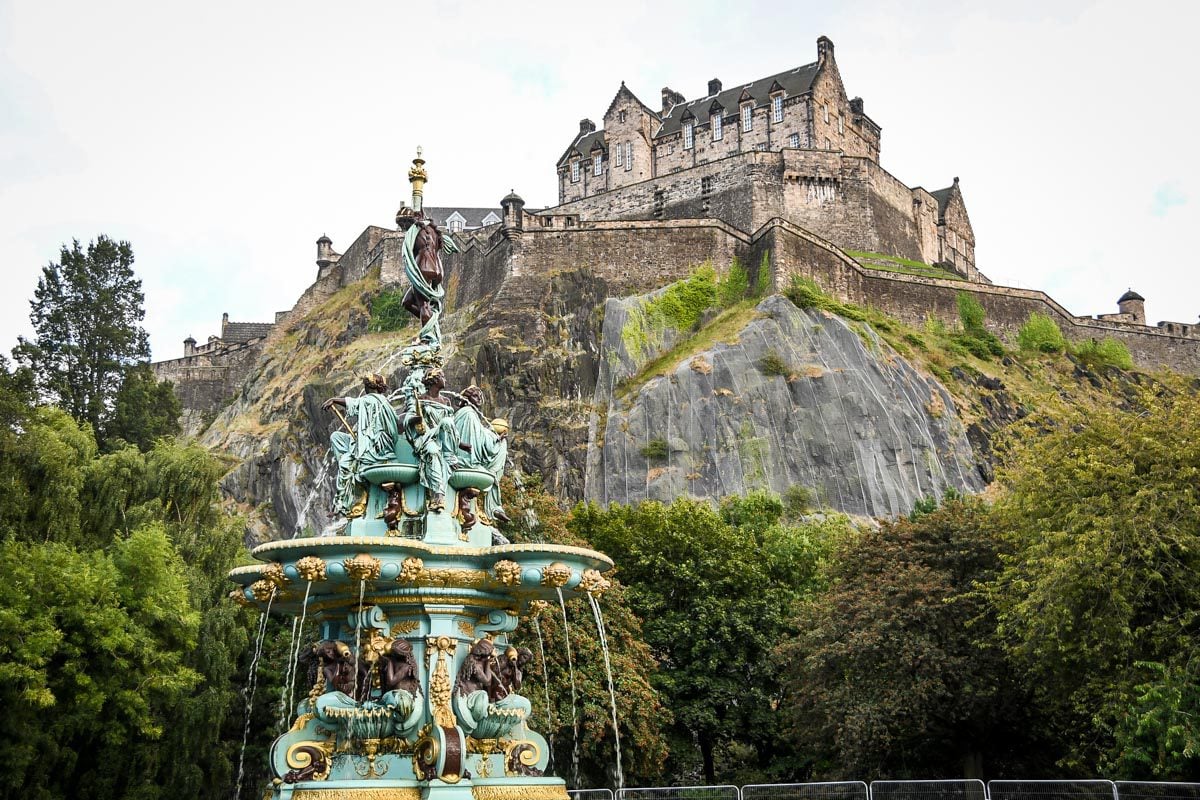 End your DIY walking tour by strolling through this iconic park. From here, you can get some great views of the Edinburgh Castle towering above the city.
Looking for a toilet? If after all that walking, you've gotta go, you're in luck because there are public toilets in the Princes Street Gardens.
How to get to Dean Village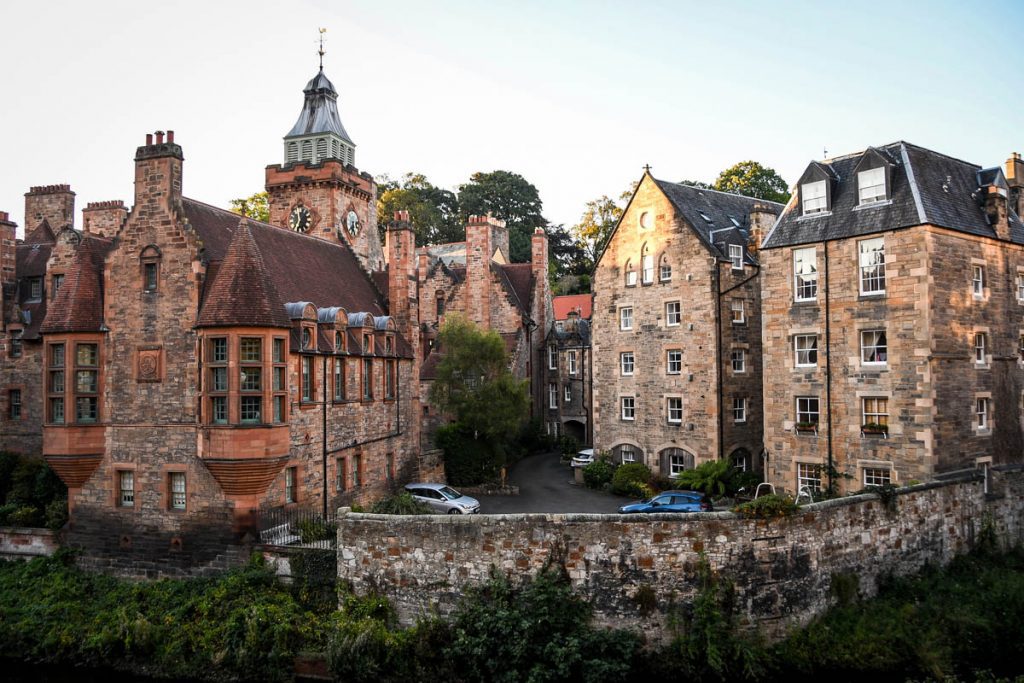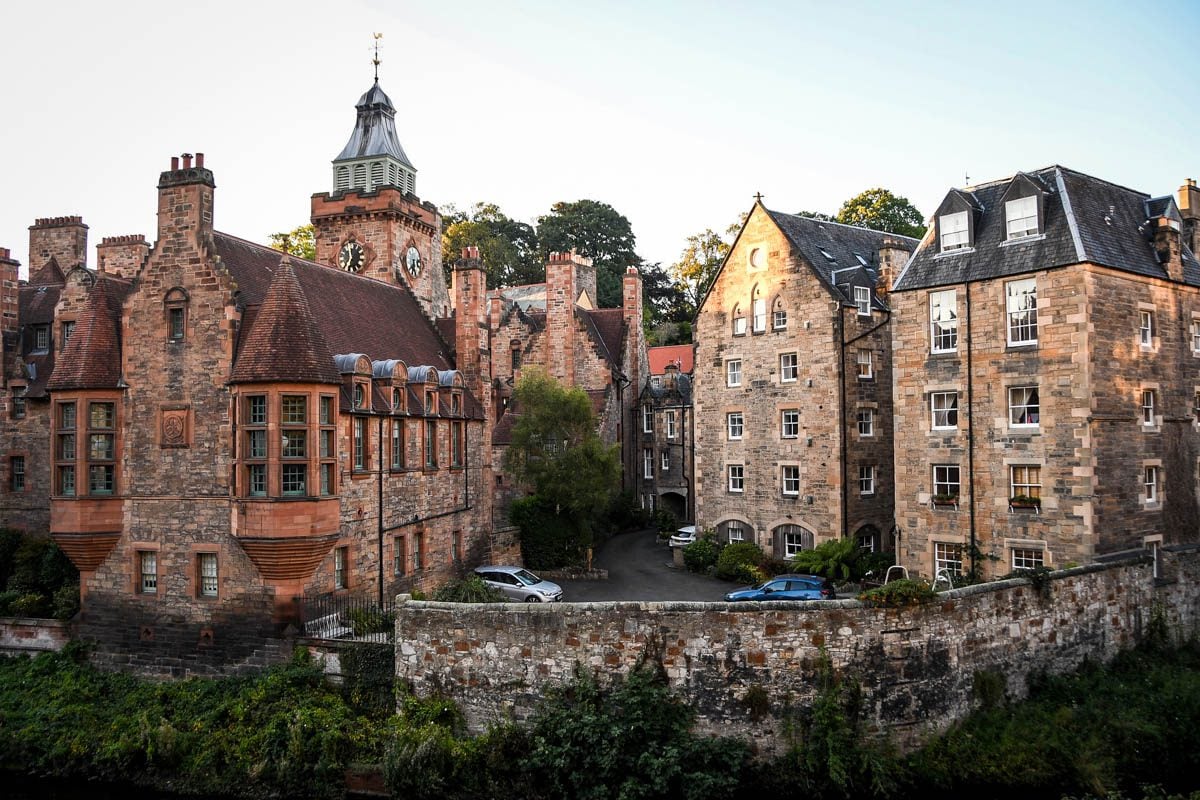 Our personal recommendation is to follow the walking route we've suggested above. However, if you're short on time or don't want to walk a long distance, there are a few other options:
By Bus
There are no bus routes that go directly to Dean Village, but you can get within a 5-8 minute walk.
Taking Lothian Buses is your best option, as it has the closest stops to Dean Village. Dean Bridge and Drumsheugh Place are both about 5-minute walks, while Shandwick Place is a 7-8 minute walk.
Bus routes 19, 36, 37, 41, and 47 stop at Dean Bridge and Drumsheugh Place, while 3, 4, 25, and 26 stop at Shandwick Place.
Riding Lothian Buses is very easy, even for people who aren't familiar with public transportation. You pay when you board the bus and have the option of paying with cash or card, although be aware that if you pay cash, you must have exact change. Single rides are £1.80 and day passes are £4.50.
You can also download the app to pay for fares ahead of time.
Edinburgh Bus Tours: An alternative to a traditional city bus, this hop-on, hop-off bus tour allows you to explore three different sections of the city. Book the classic Edinburgh tour and hop off at Charlotte Square, the closest stop to Dean Village. From there, it's a 10-minute walk.
By Taxi or Uber
You will be able to get a taxi or Uber pretty easily from your hotel or Airbnb in Edinburgh to Dean Village. But from there, it may be difficult to find a return ride. This could be a good option if you just want one-way transportation so you have to walk half the distance.
Personal Note: We found Uber to be a bit hit-or-miss in Edinburgh.
Self-driving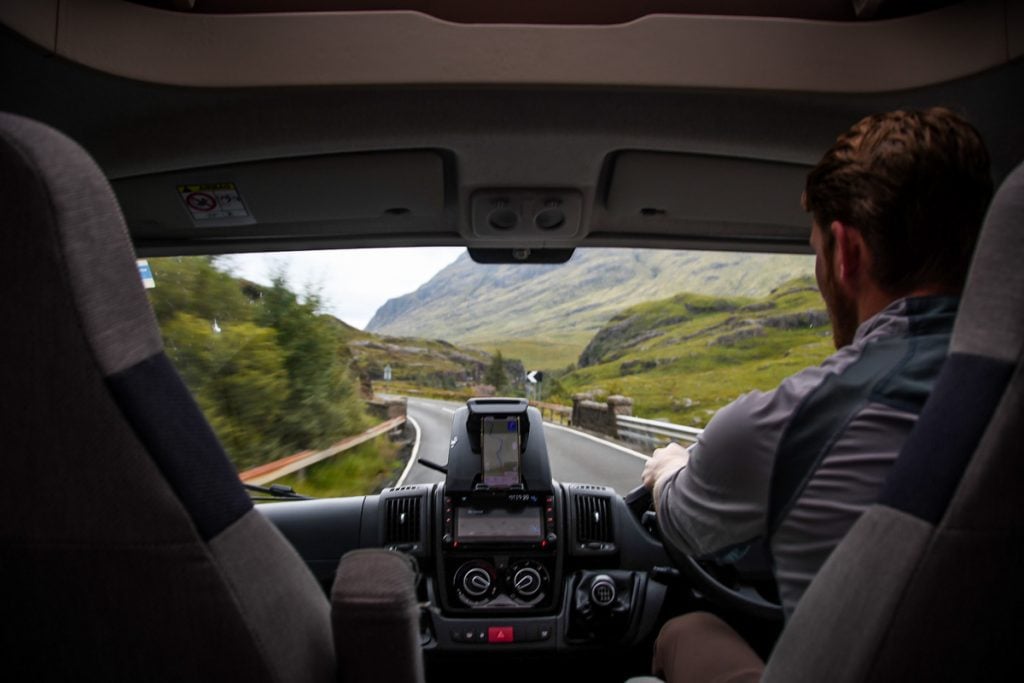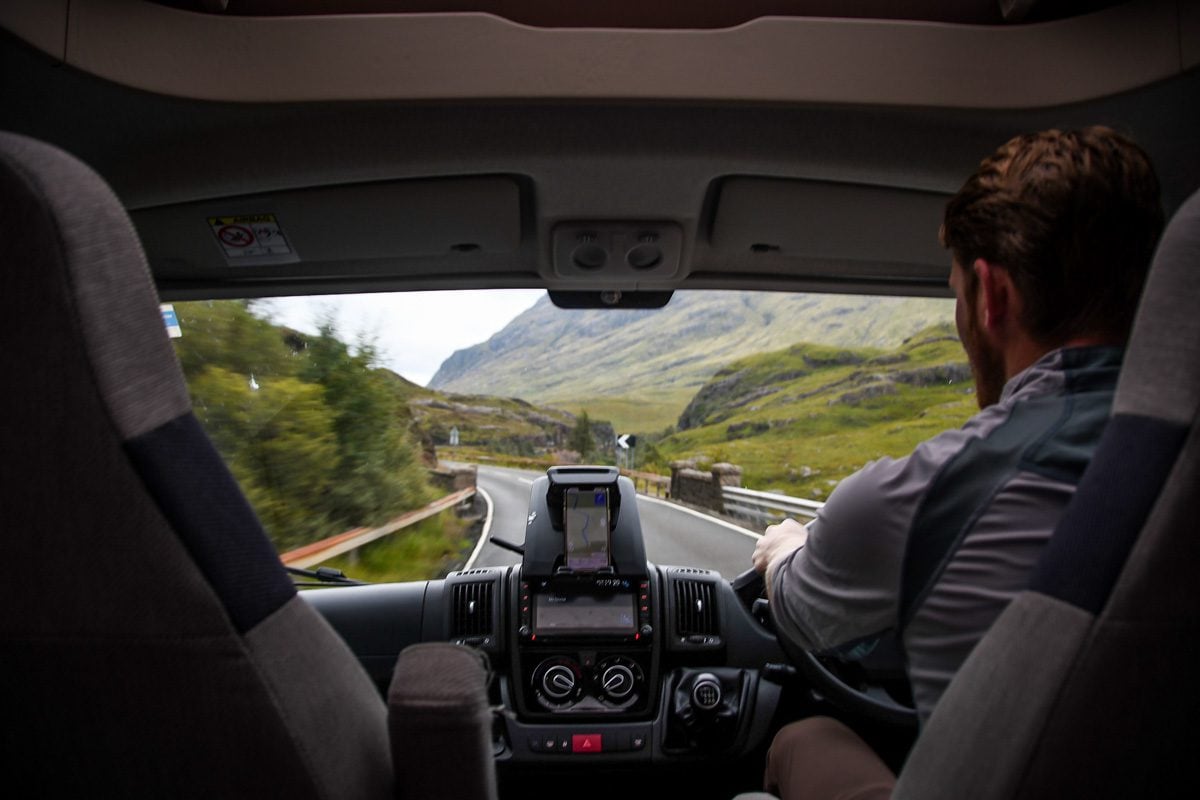 If you are renting a car in Edinburgh, you could drive to Dean Village. However, the parking in the actual neighborhood is for residents only, so it will likely be stressful to find a spot. For this reason, we would not recommend driving yourself, especially since there are other (easier!) ways to get there.
Psst! We have an entire guide to driving in Scotland including where to find the best deals on rental cars and tips for safety.
By bicycle
If you want to be super efficient with your time in Edinburgh and pack in as much as possible, you could rent a bike to get around.
Our Recommendation: If you want a local guide who can show you the best spots and give you some insider tips, check out this bike tour of Edinburgh that includes a visit to Dean Village.
Places to Stay in Dean Village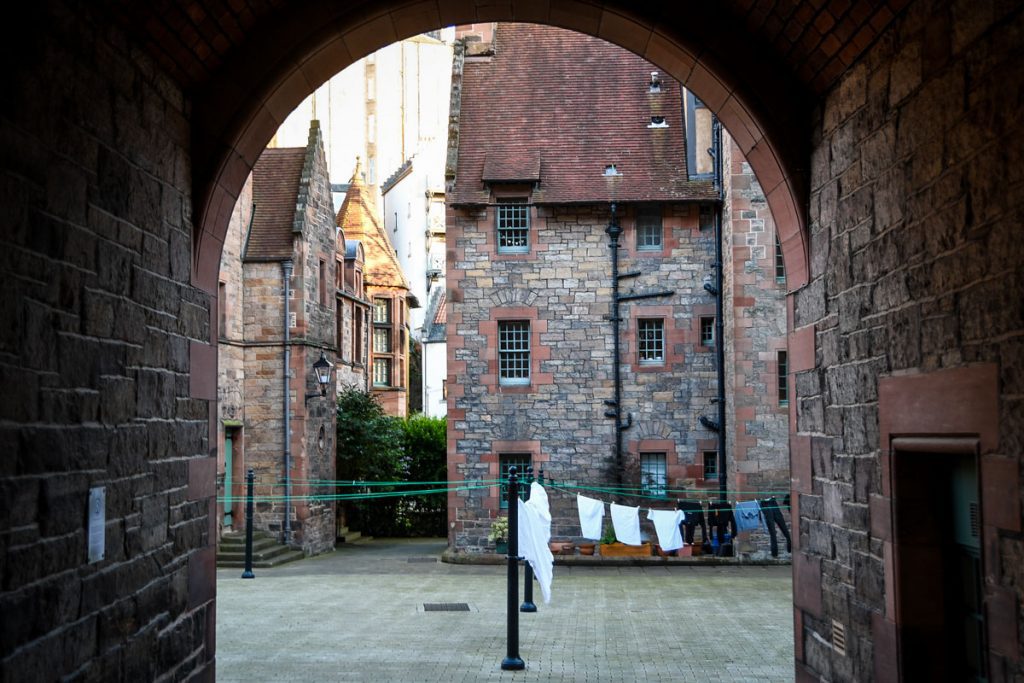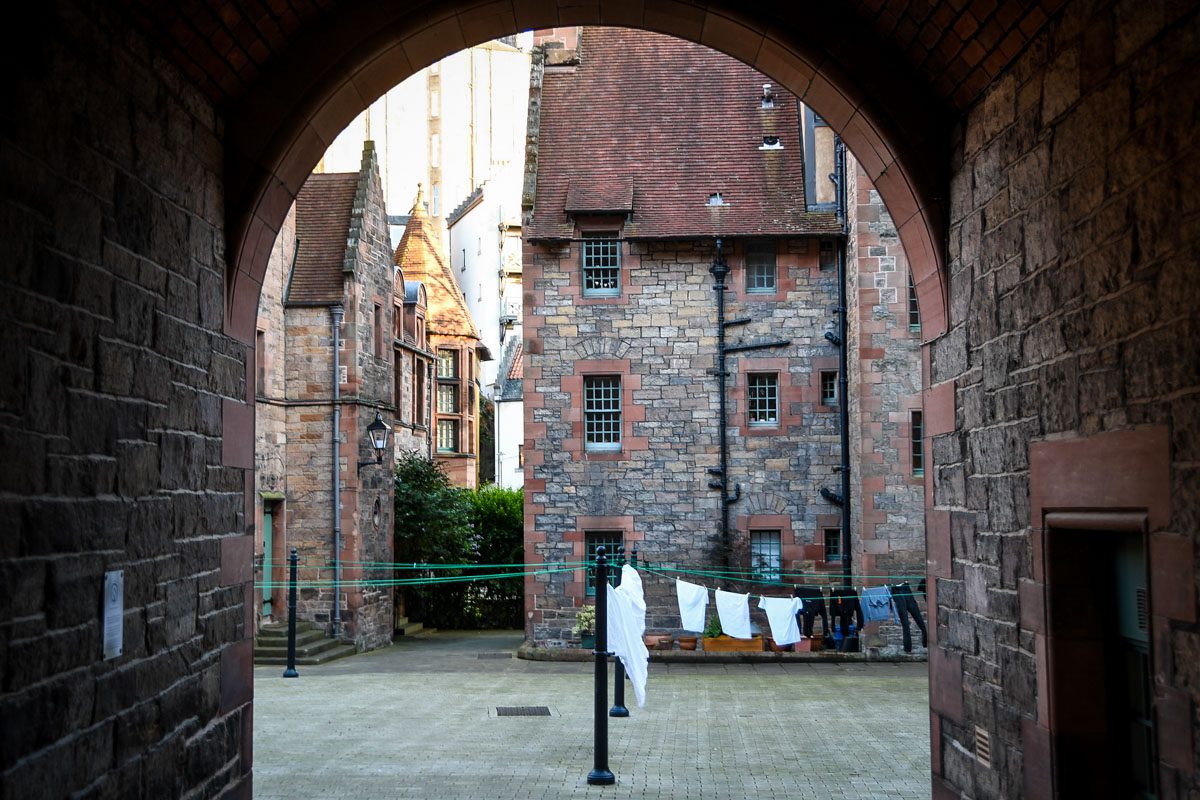 If you fancy an alternative place to stay in Edinburgh that's far from the touristy spots, it's possible to spend the night (or two!) in Dean Village. Just remember that you'll have to walk a bit to find restaurants, as this area is very much residential.
Dean Village won't be the best place to base yourself if you're looking to see the iconic Edinburgh sights; however, it would make a very relaxing and unique place to spend a peaceful night during your time in the city where you won't feel like a typical tourist.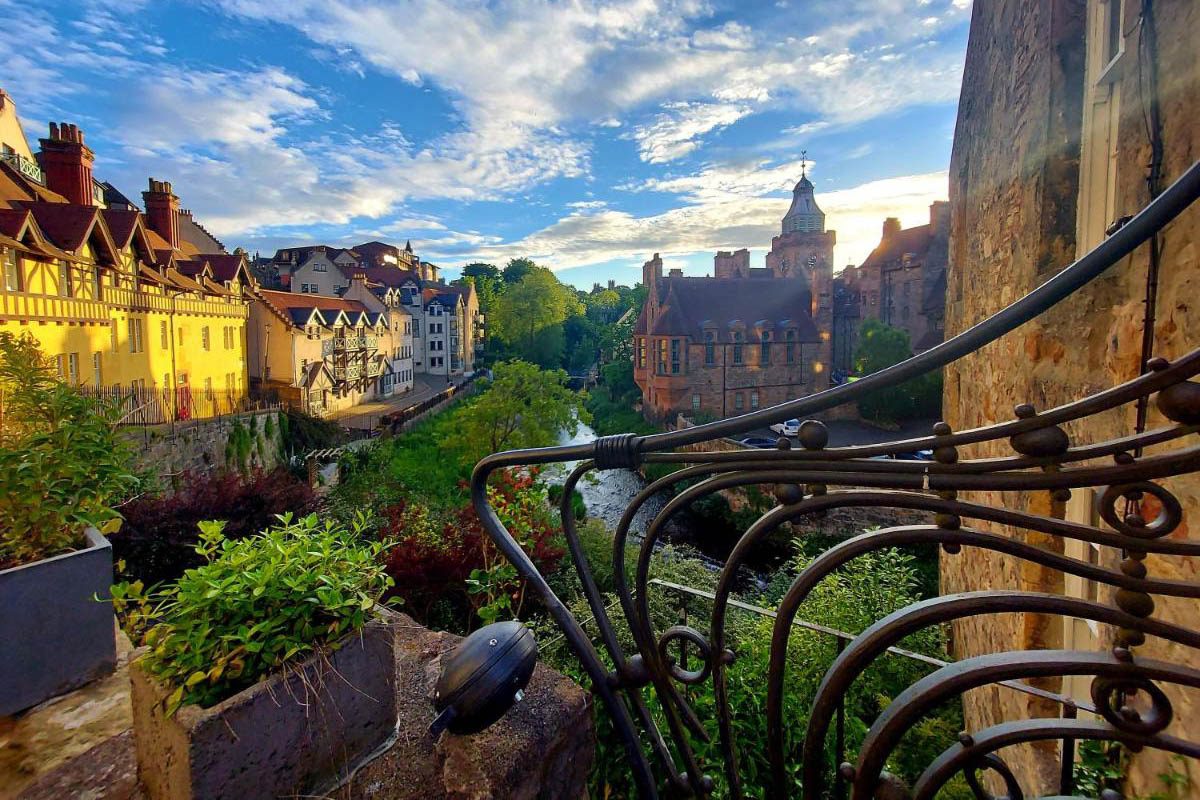 Dean Village River View Retreat: At the end of sightseeing-packed days, cozy up in this Dean Village Edinburgh guest room with picture-perfect views right over the river. Ideal for solo travelers and couples, there's a smart TV, strong wi-fi, and a small work station. Guests share a communal bathroom and kitchen with one other guest.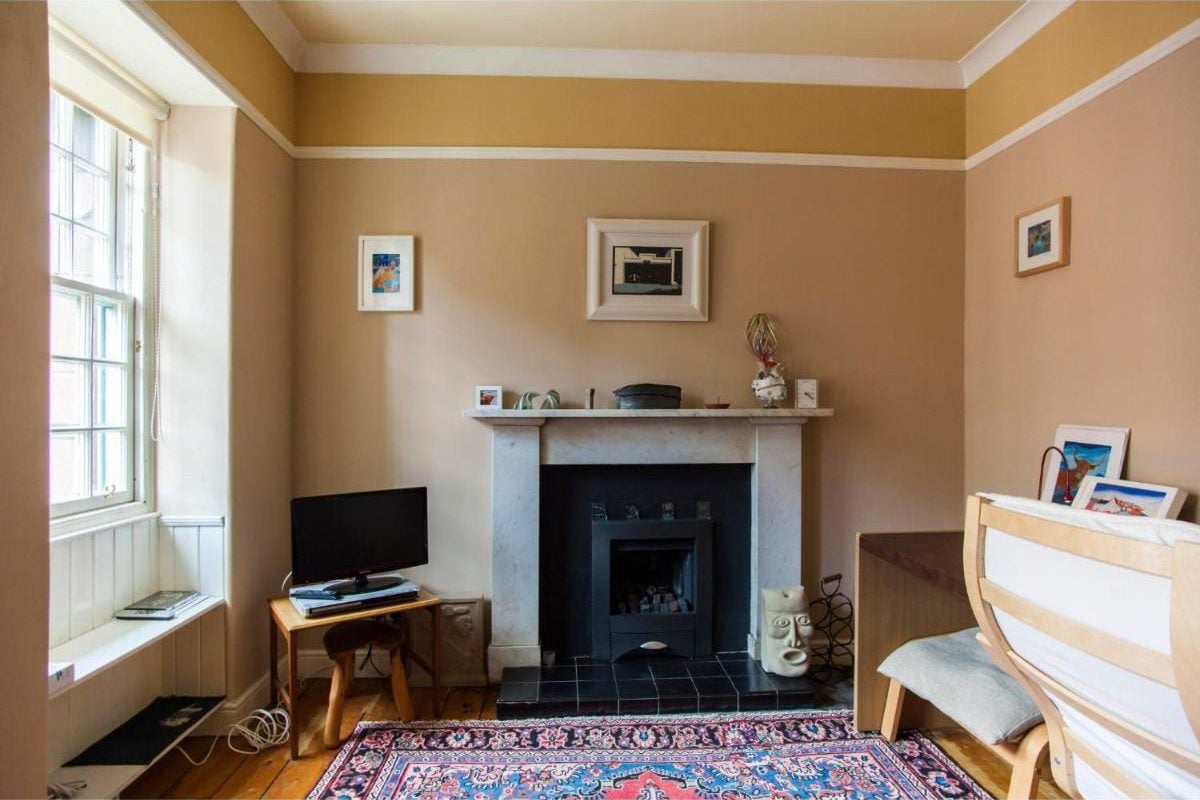 Historic Dean Village Treasure: This well-equipped one-bedroom apartment embodies everything Dean Village is renowned for. Original wood floors, a fireplace, and paned windows add character, but guests also enjoy modern amenities including wi-fi and having a washing machine.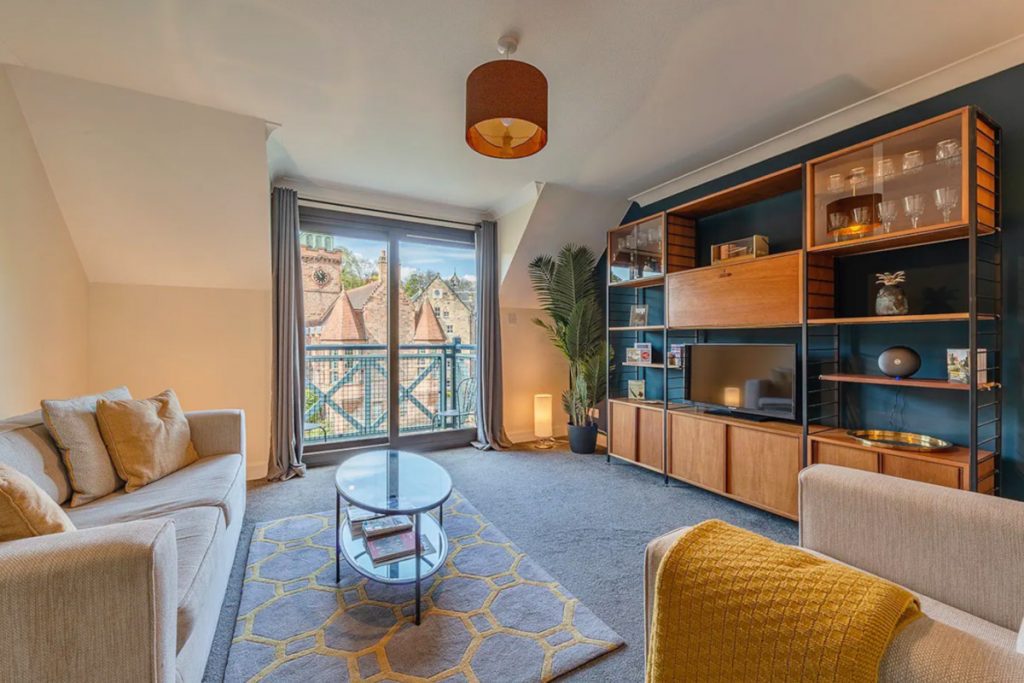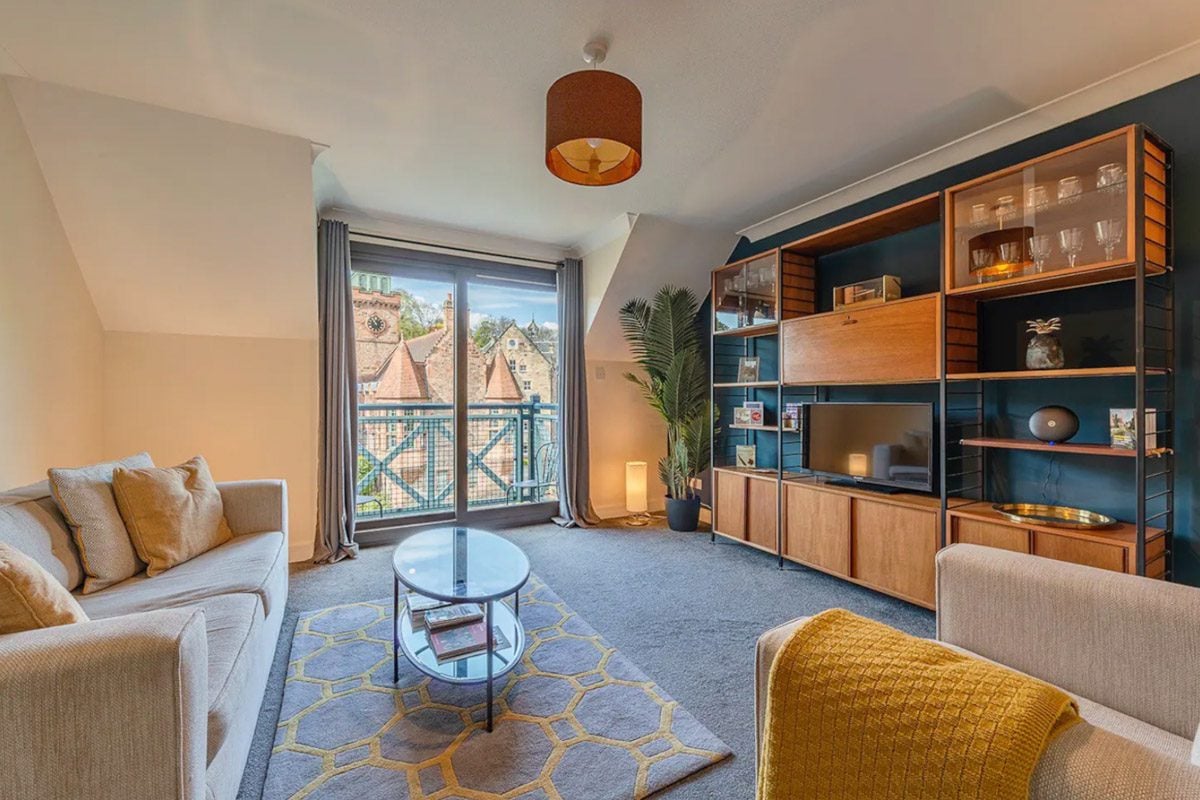 Riverside Dean Village Apartment With Balcony: In the most picturesque stretch of Dean Village (if you've seen photos of the neighborhood, you've seen this building!), this apartment is one of the best in the area. It's on the top floor and has a balcony perched over the river, but the views are spectacular inside as well. The owner clearly put thought into where to place furniture, so that every seat has a view!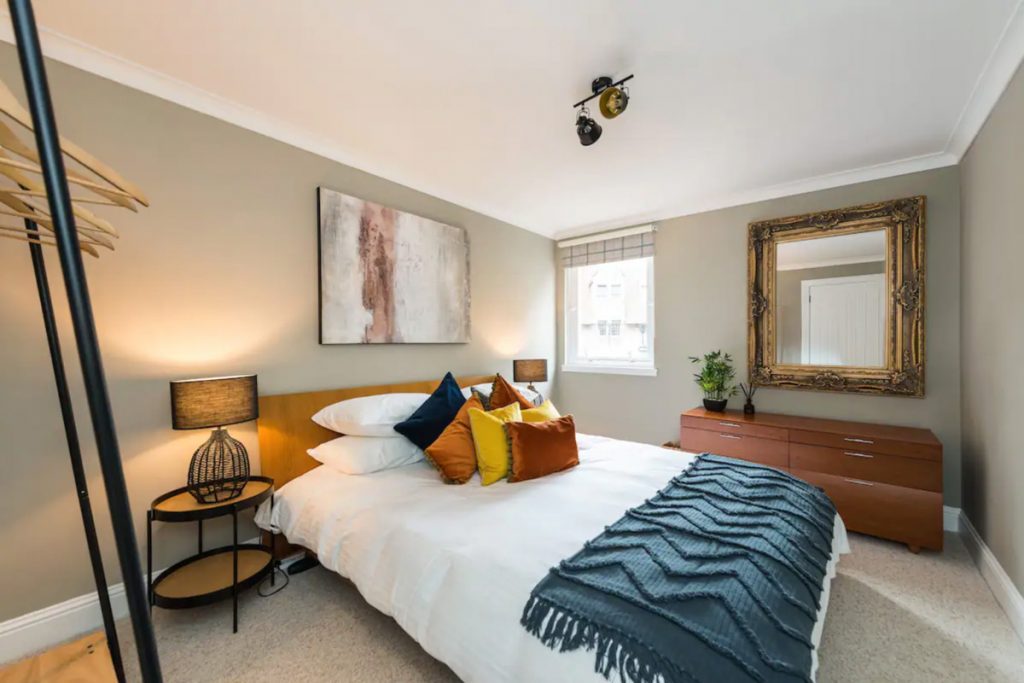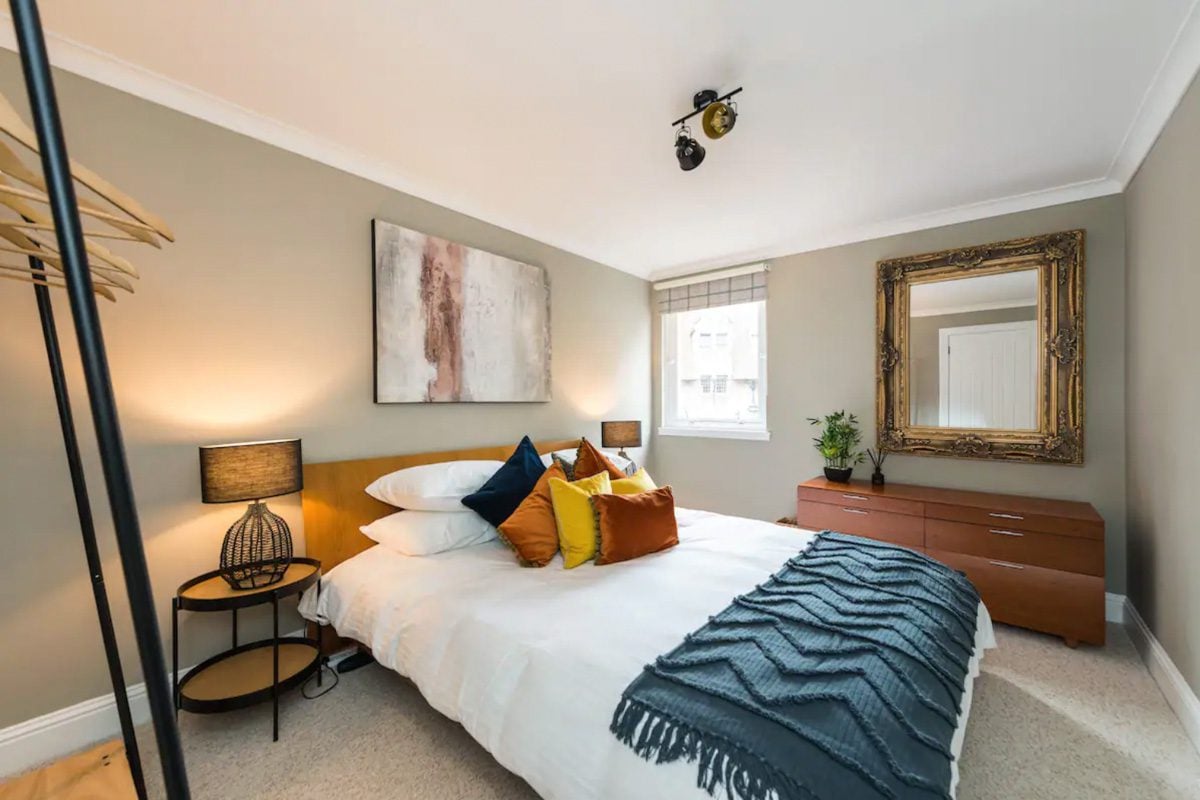 The Dene: A light, airy, and colorful Dean Village apartment that simultaneously manages to be contemporary and yet embrace its historic surroundings. Enjoy views of the river throughout, a posh bathroom, full kitchen, and even parking directly outside (a rarity!). Families traveling with little ones, the owners can also provide a travel crib and highchair.
---
Are you planning a trip to Scotland?
We have lots of resources on travel in Scotland and destinations throughout the country. Check out our Scotland Travel Homepage for everything you need to know, or read some of our favorite articles below.
Save this article on Pinterest for later!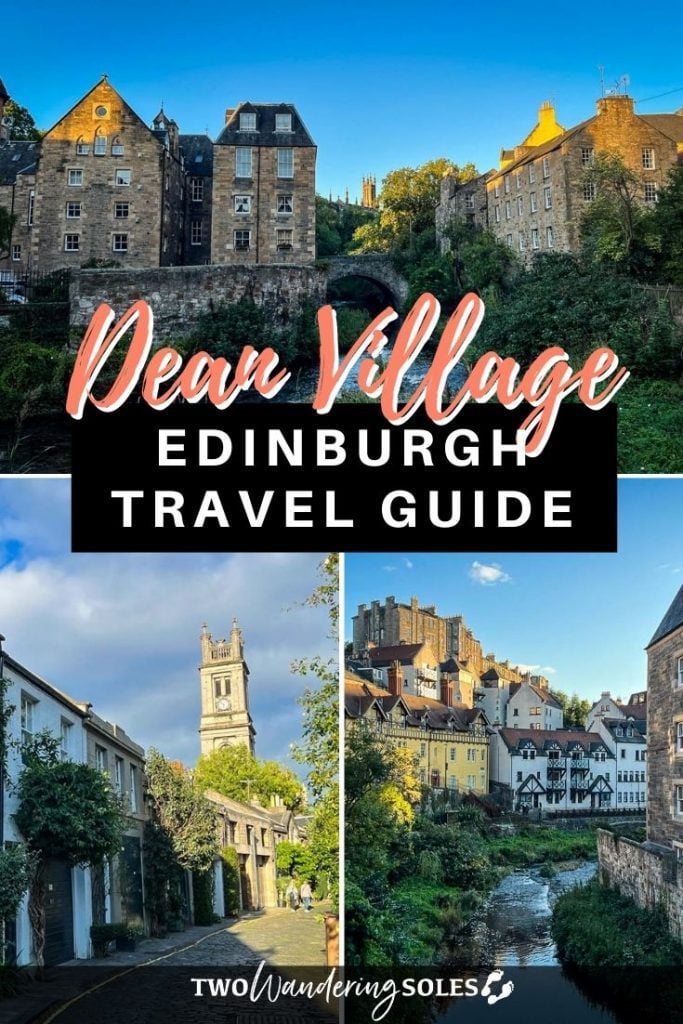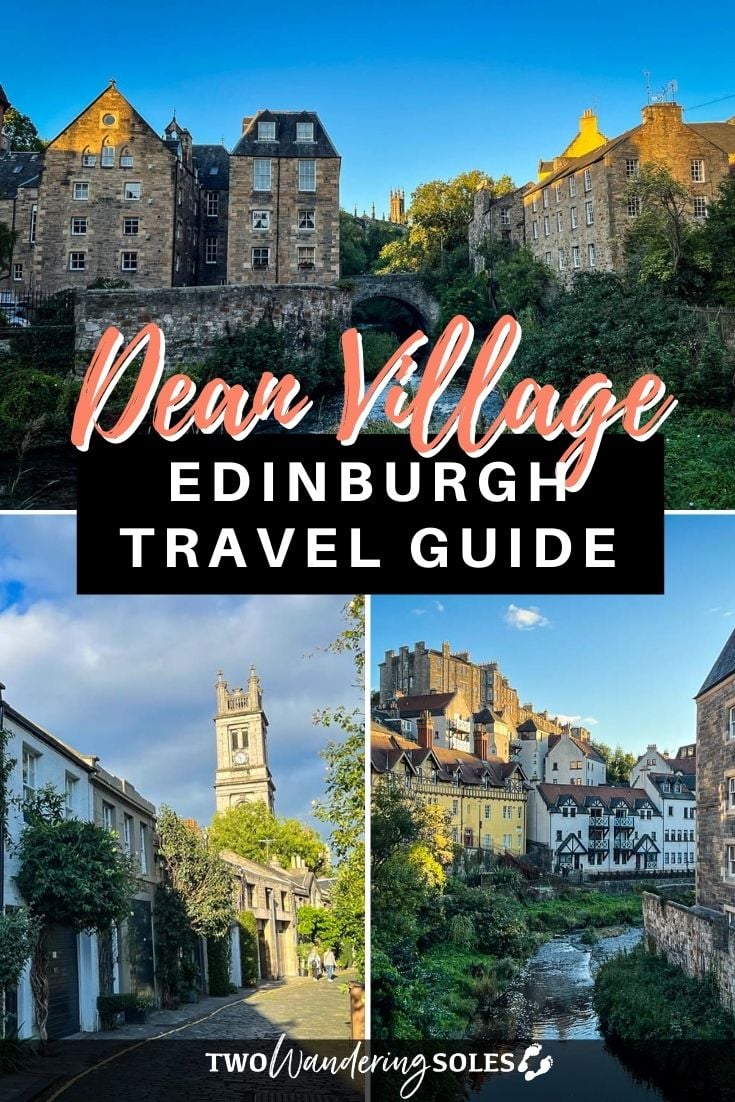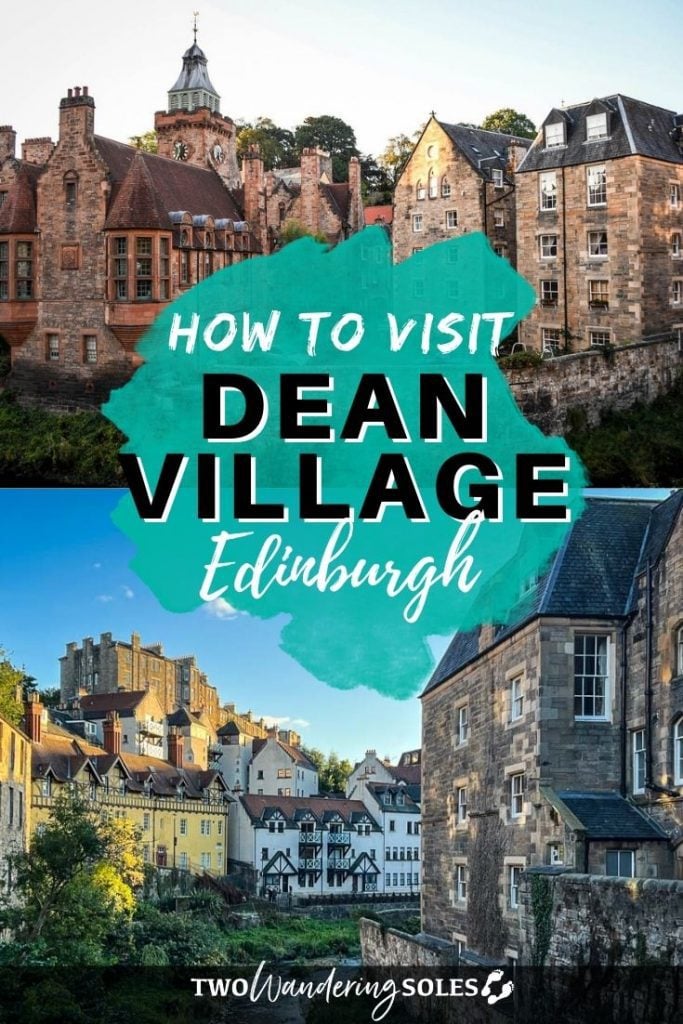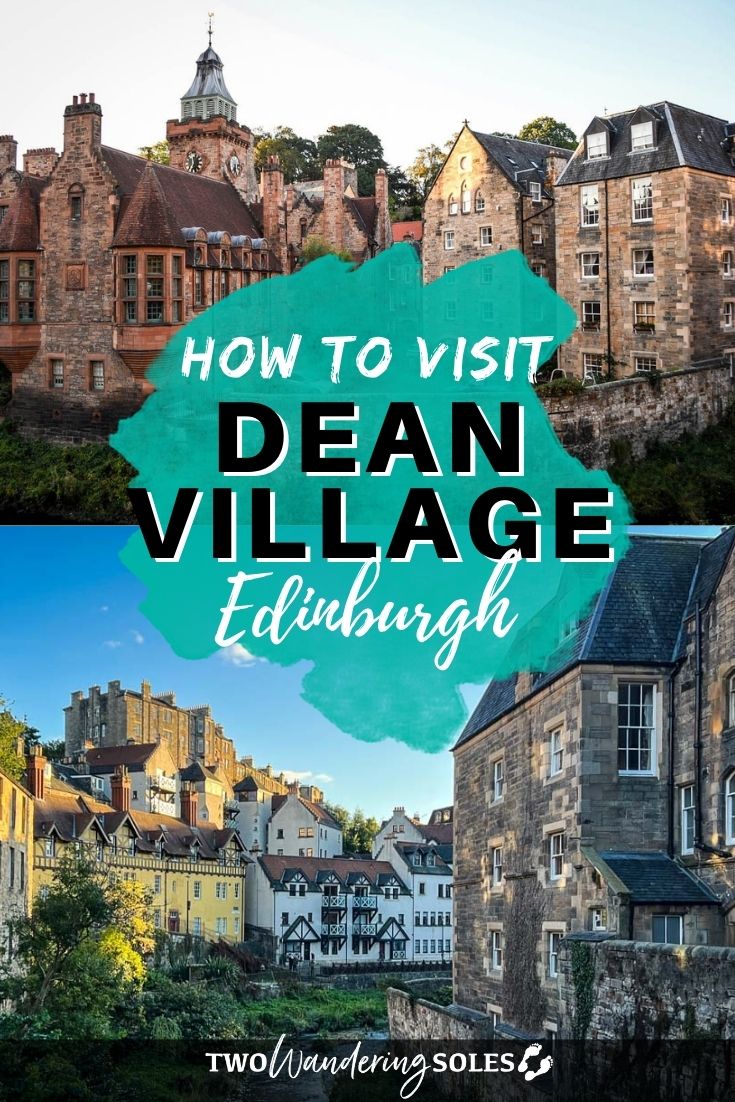 We want to hear from you!
Which of these things to do in Dean Village Edinburgh are you most excited about? Are you planning a trip to Edinburgh and have more questions? Leave your comment below and we'll do our best to get back to you!