With so much pristine country to explore, a lot goes into planning an epic Scotland camping trip. We put together this guide covering things like how to pack, when to go, and what to expect at Scotland campsites and caravan parks.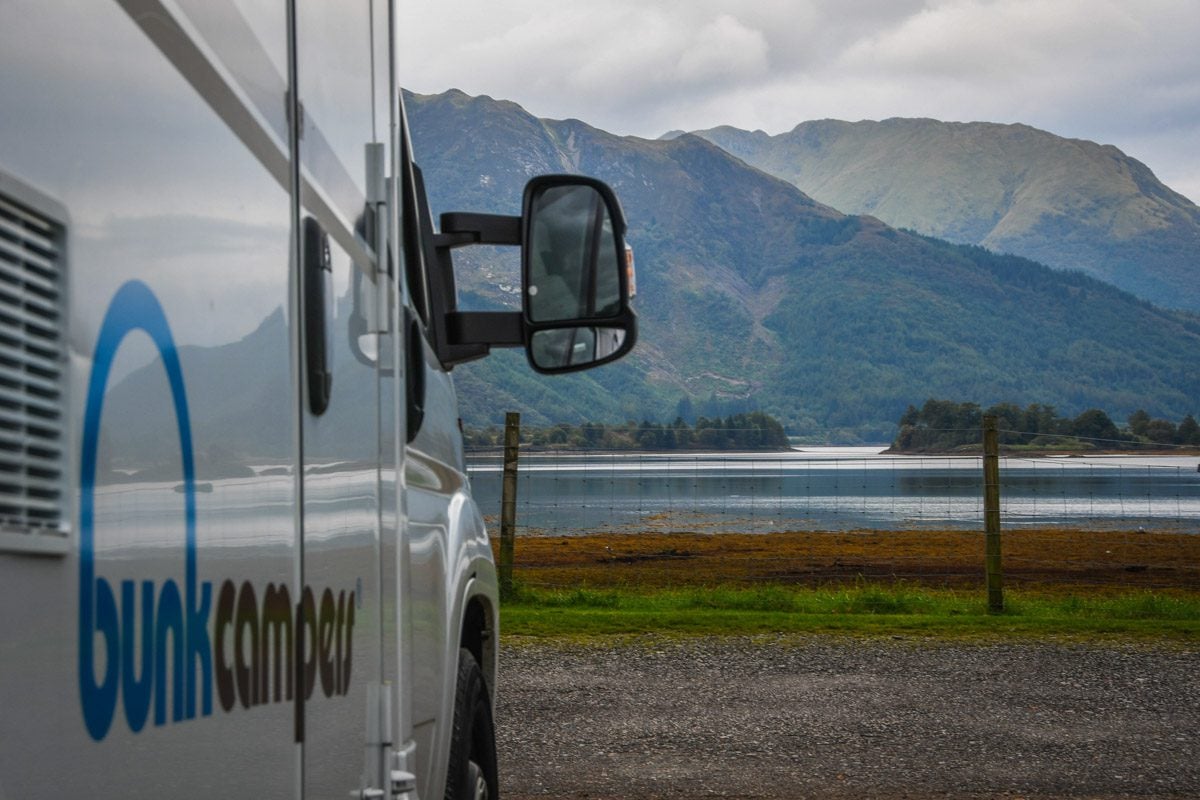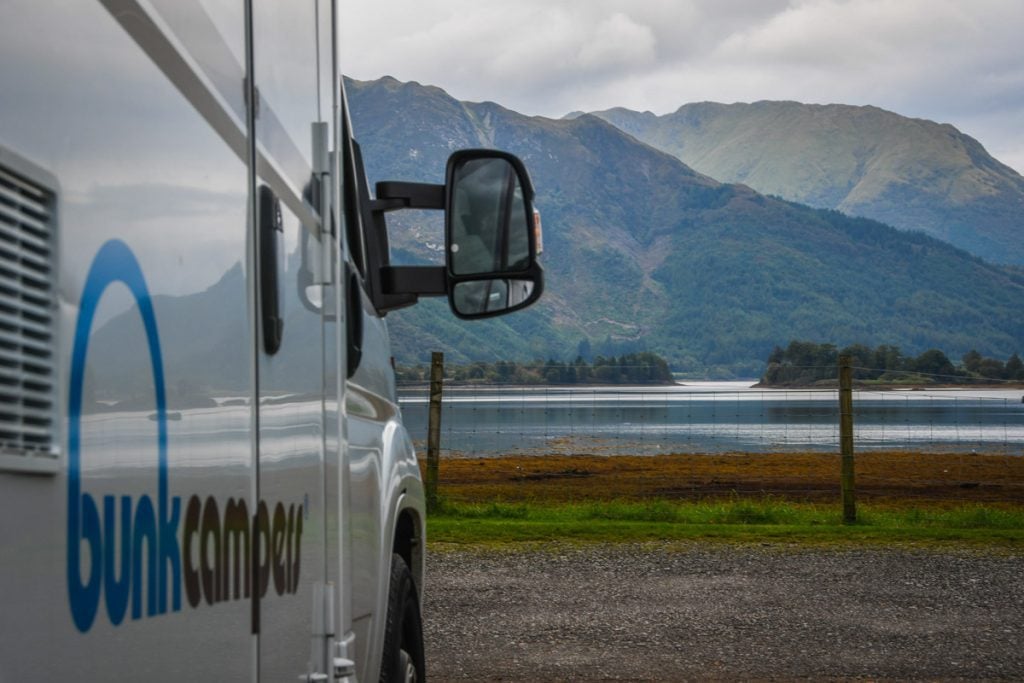 From the picturesque highlands to remote wild beaches, Scotland is the perfect place to plan the perfect camping adventure.
Whether you're embarking on a bucket list Scotland road trip or you're a local planning a weekend camping excursion, this guide will help equip you with helpful tips and things you should know about camping in Scotland.
Article contents
---
Other resources for planning your trip
---
What to expect at caravan parks in Scotland
While each campground is a bit different, here are some general things you can expect:
Parking spot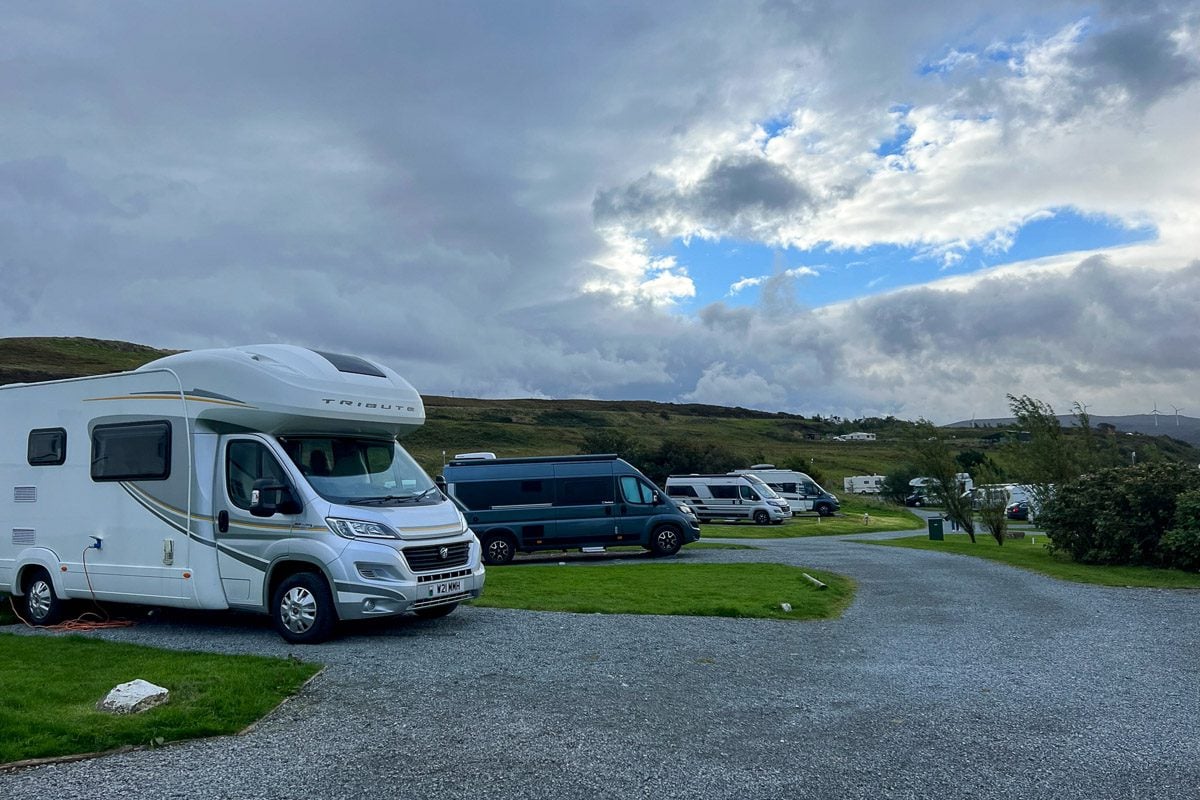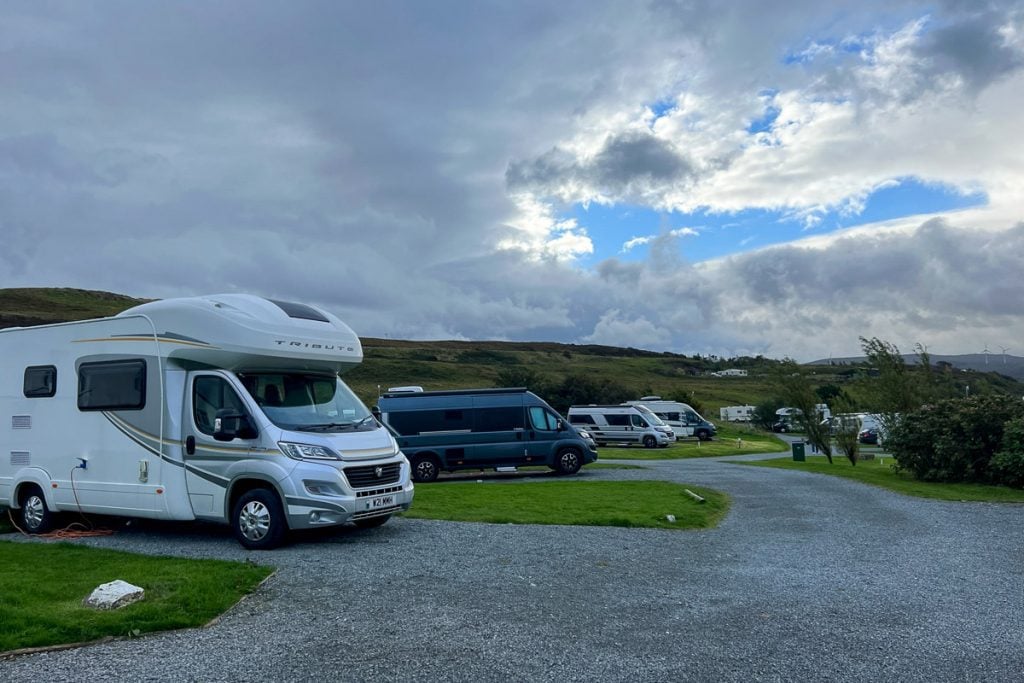 We found campgrounds in Scotland didn't have private spaces like you might be used to if you're from the USA or Canada.
Instead, the caravan parks are more open with designated spaces for you to park a rig or pitch a tent.
The type of parking spaces varies — some caravan parks had gravel spots where you were allowed to park a van or RV while other campgrounds were more or less big open fields where you could find an open space to park.
Many of the campgrounds we stayed at were in places with a view, which is an added bonus!
Electric hookups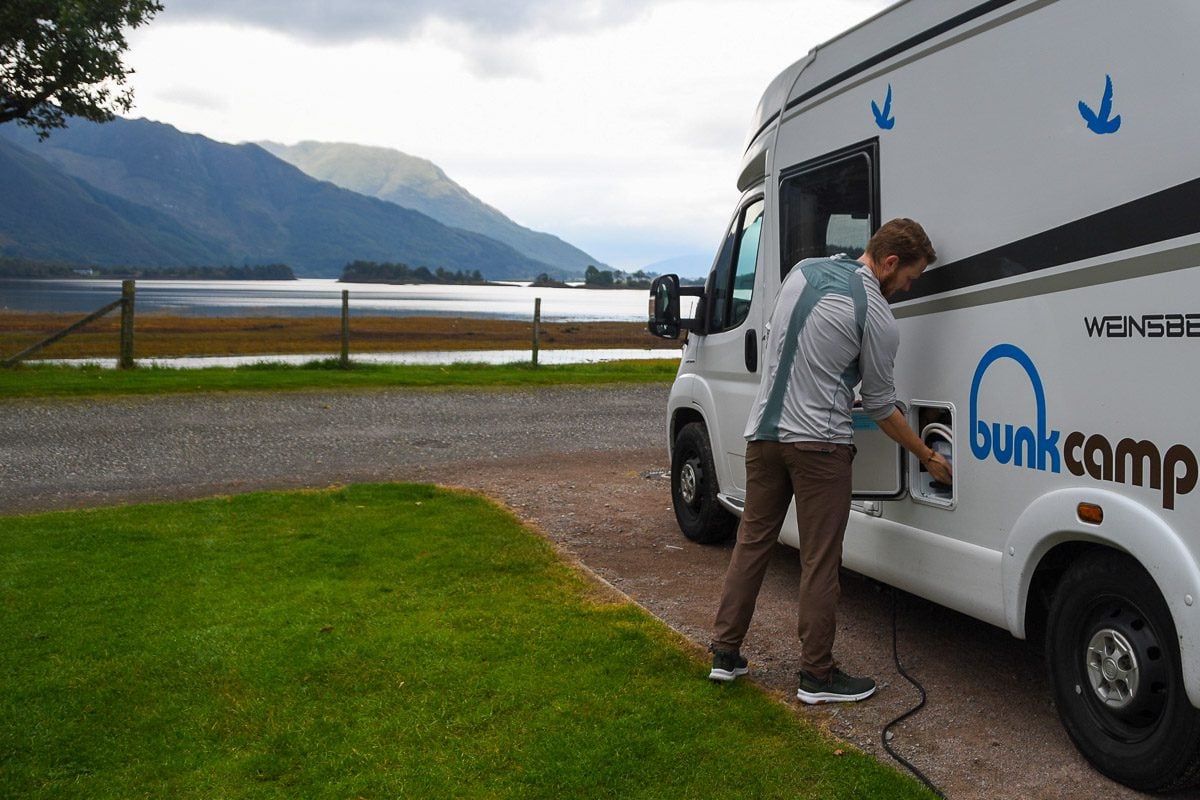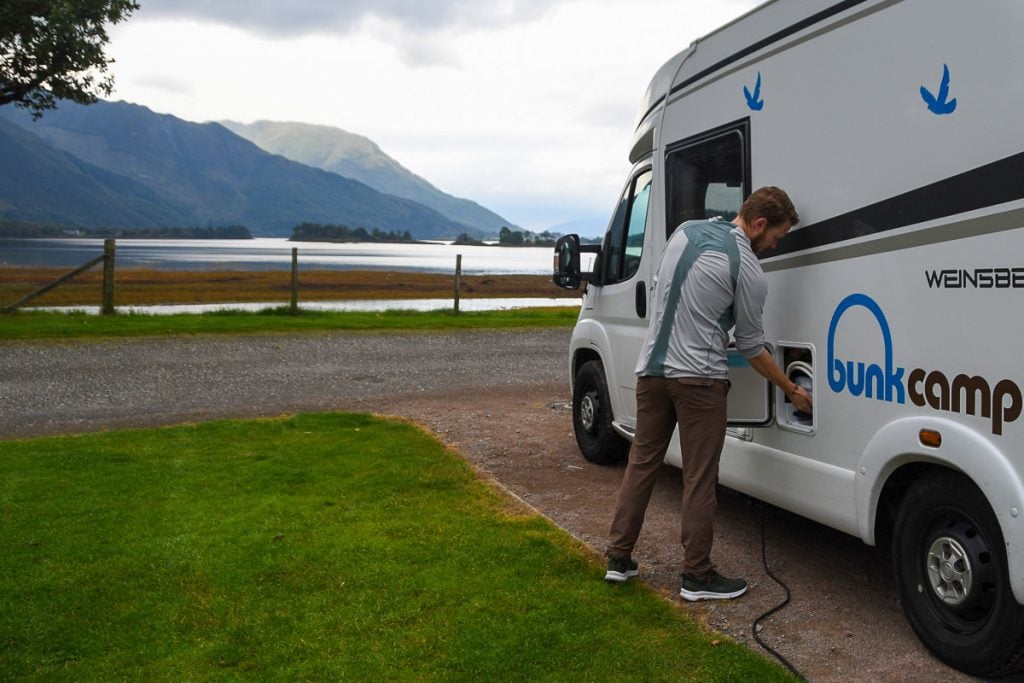 Most campgrounds in Scotland also have the option to choose an electric or non-electric site.
Some caravan parks required RVs to park in the spots where there were electric hookups, so regardless of if you really needed to hook up to electric or not, you were still paying for it.
Toilets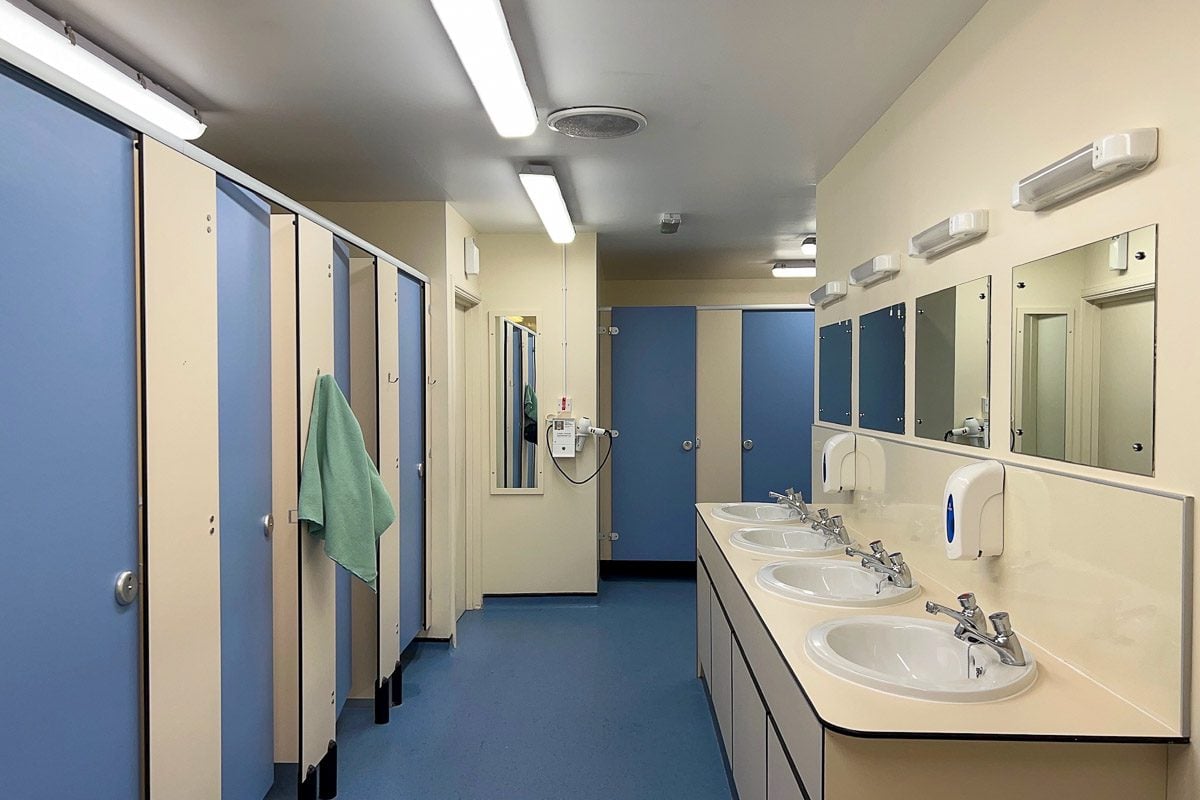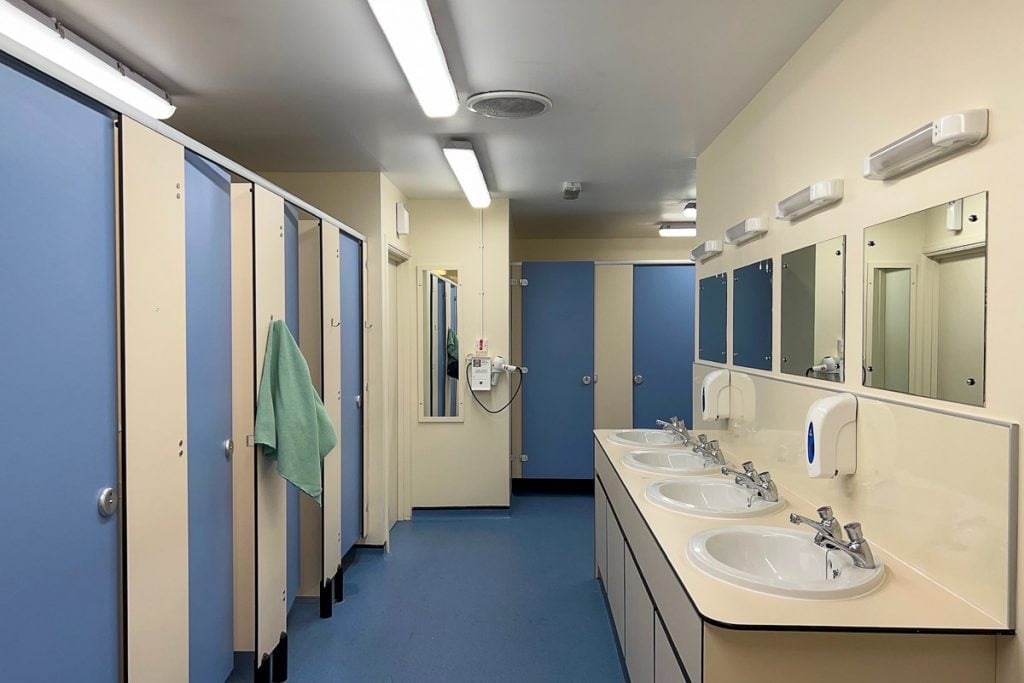 All campgrounds in Scotland will have toilets, but the quality of the bathrooms varied a bit. All of the campgrounds we stayed at had flush toilets — some were very modern and clean, while others felt like a true rustic camping experience.
Showers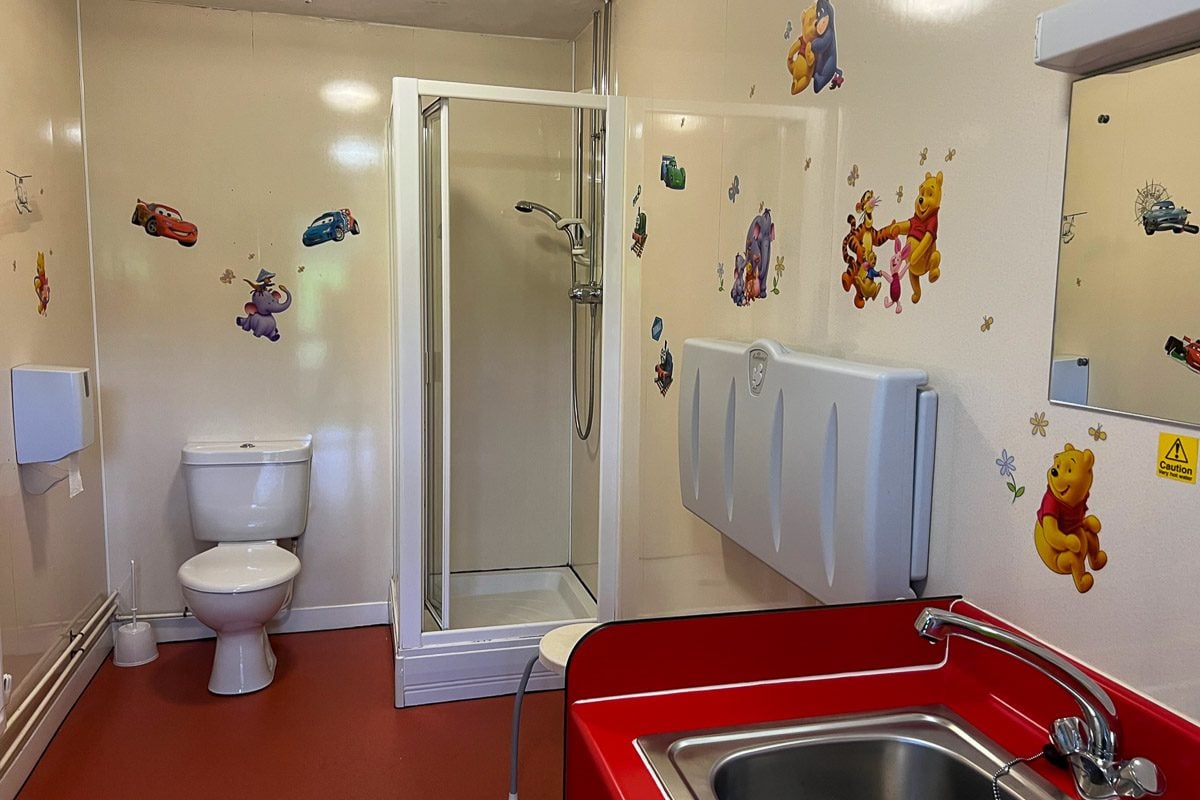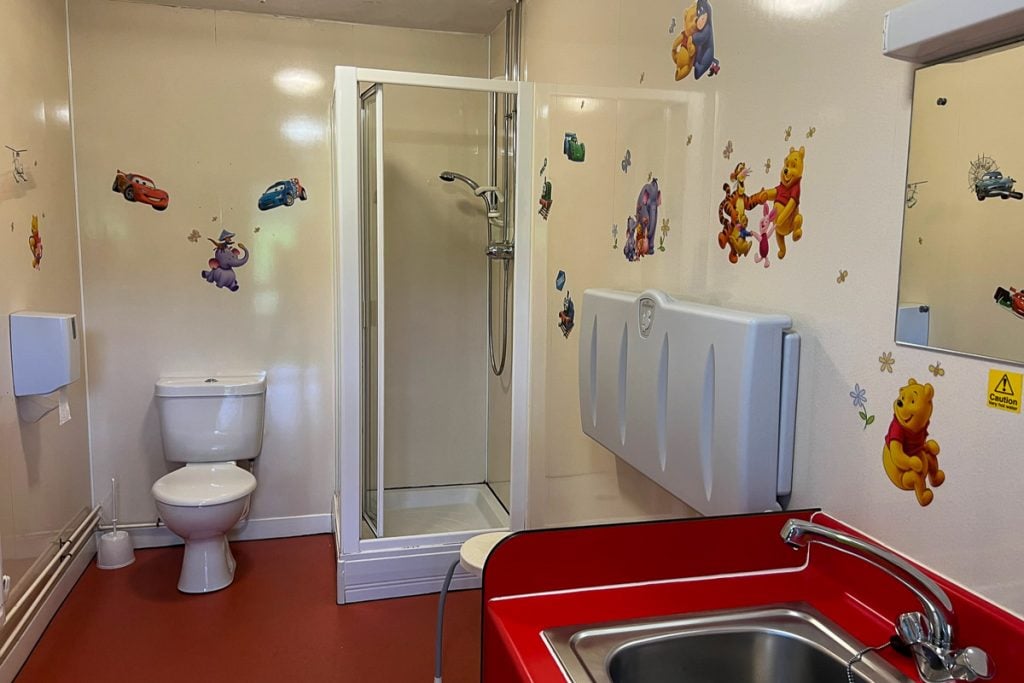 Every campground we stayed at had showers. And yes, hot water seemed to be standard. There were no limits on shower times or pay showers (like we encountered while camping in Iceland), but like the toilets, the quality of the showers varied a bit.
We had amazingly clean and new shower facilities at the first campground we stayed at in Inverness (Ardtower Caravan Park). We got a bit spoiled, because they were by far the best showers of our entire trip!
Insider Tip: You'll definitely want to pack shower shoes so you don't have to go barefoot!
Dish cleaning area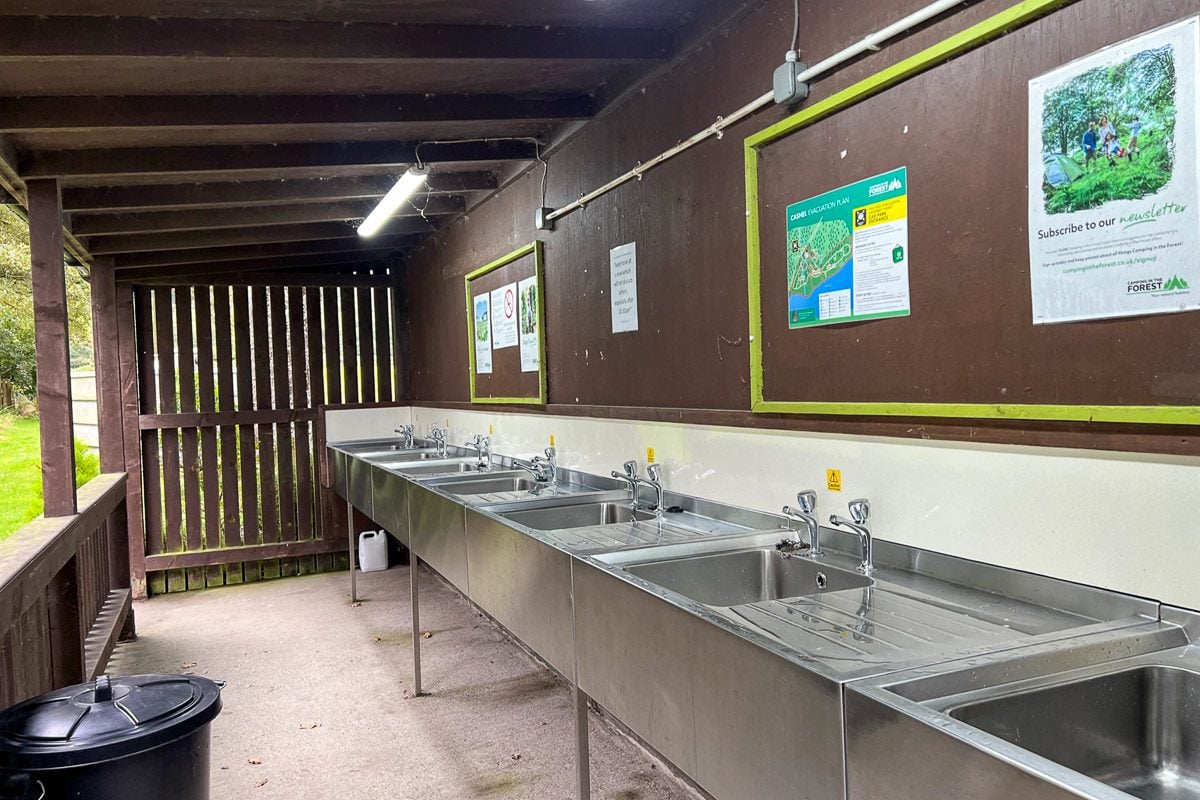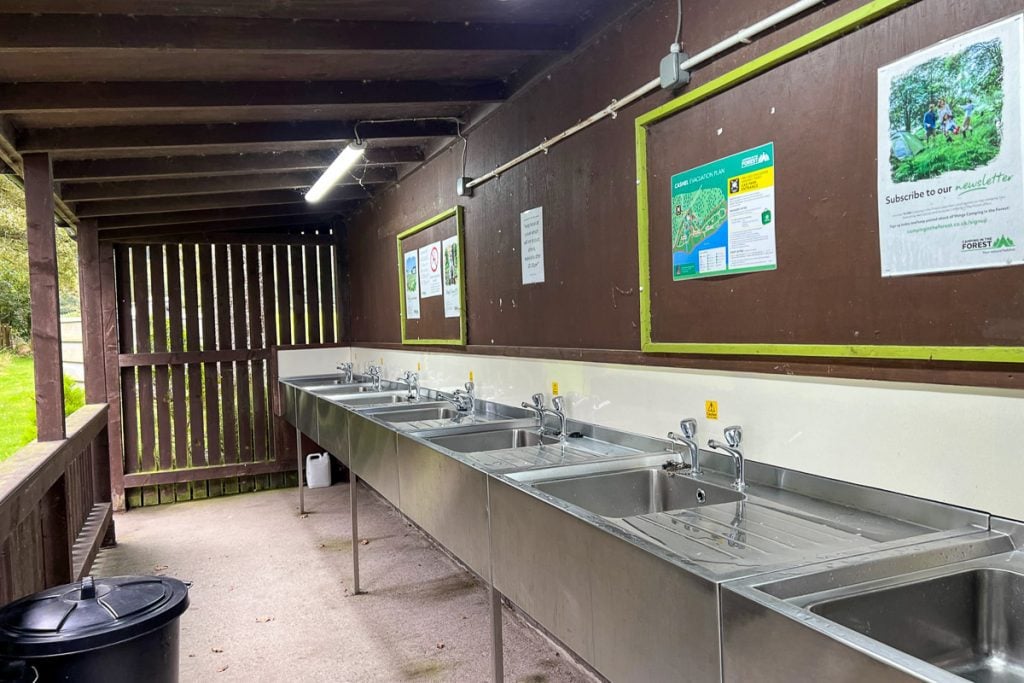 Most campgrounds will have dish cleaning areas, which is nice because it means you don't have to do dishes in your campervan or RV if you don't want to. This is particularly helpful if you're trying to conserve water or not make a mess.
In our experience though, it was less work to just do them right away in our motorhome so we didn't have to walk over to the cleaning area with our dirty dishes.
Laundry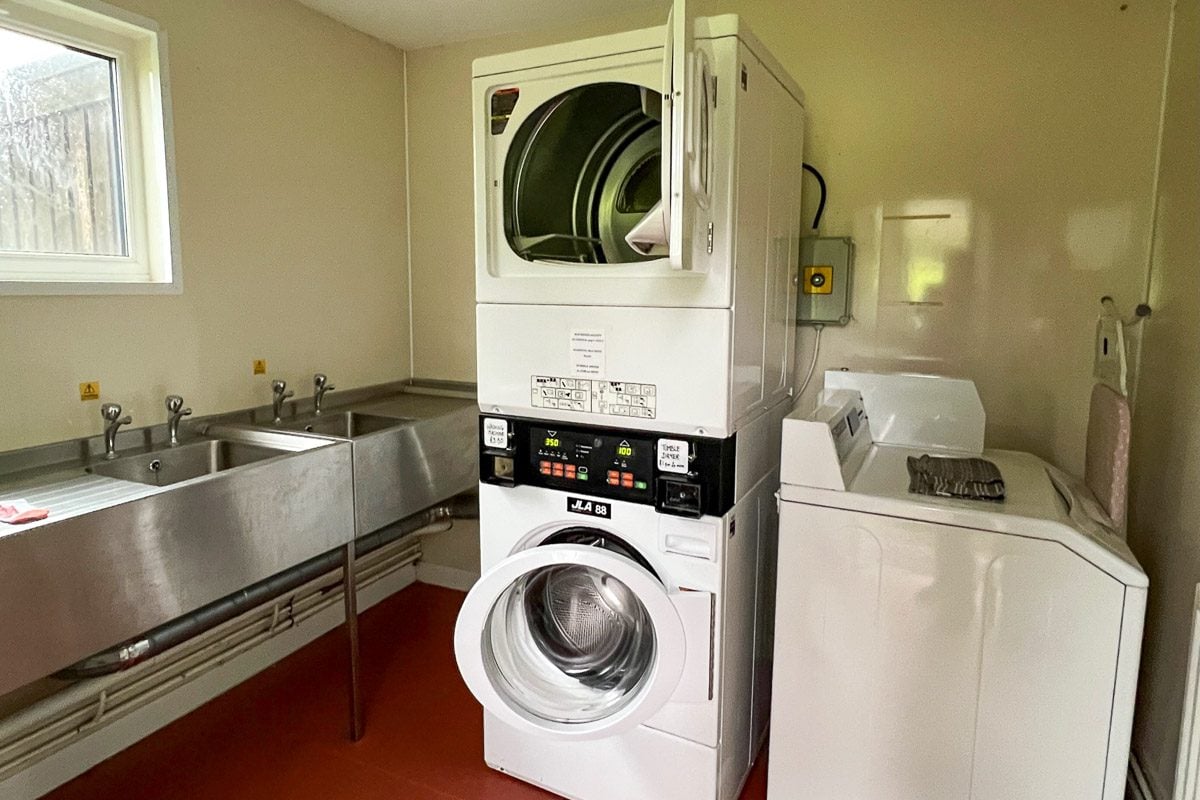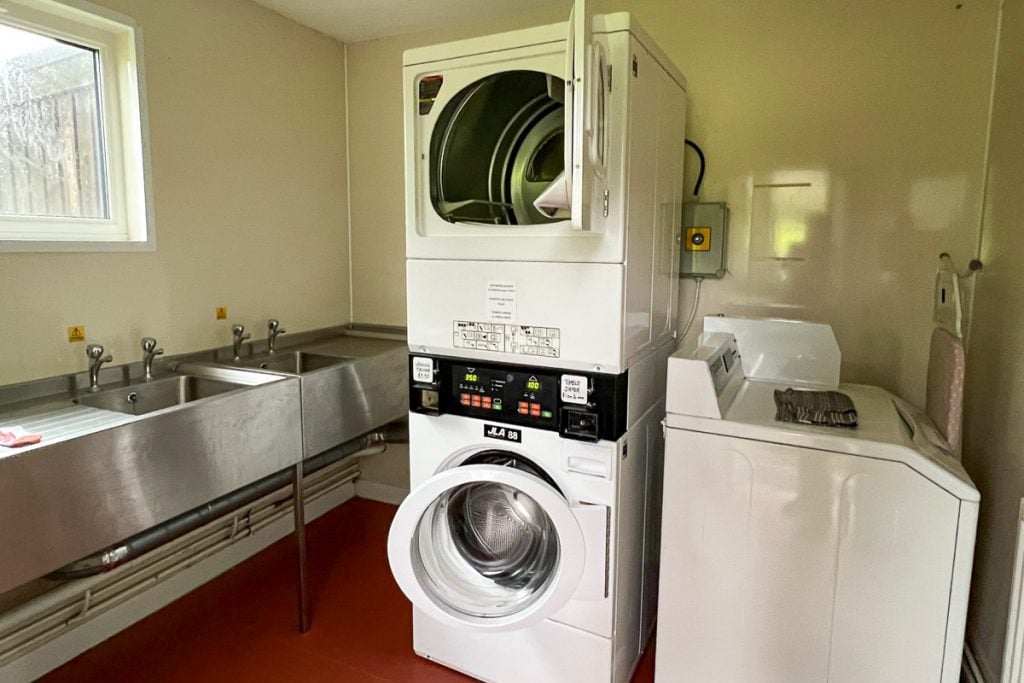 Some campgrounds have washers and dryers, which are typically coin-operated. If you're on a long road trip and want to freshen up your wardrobe, this can be very convenient.
Water fill-up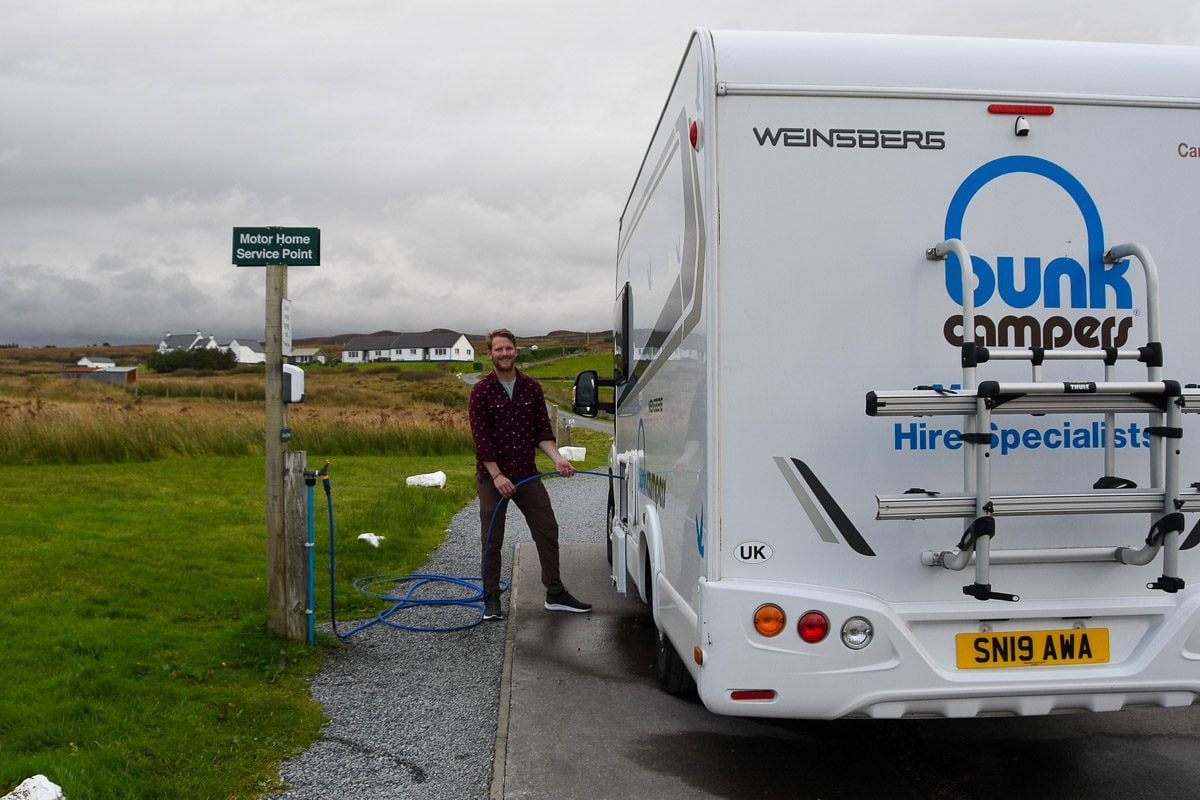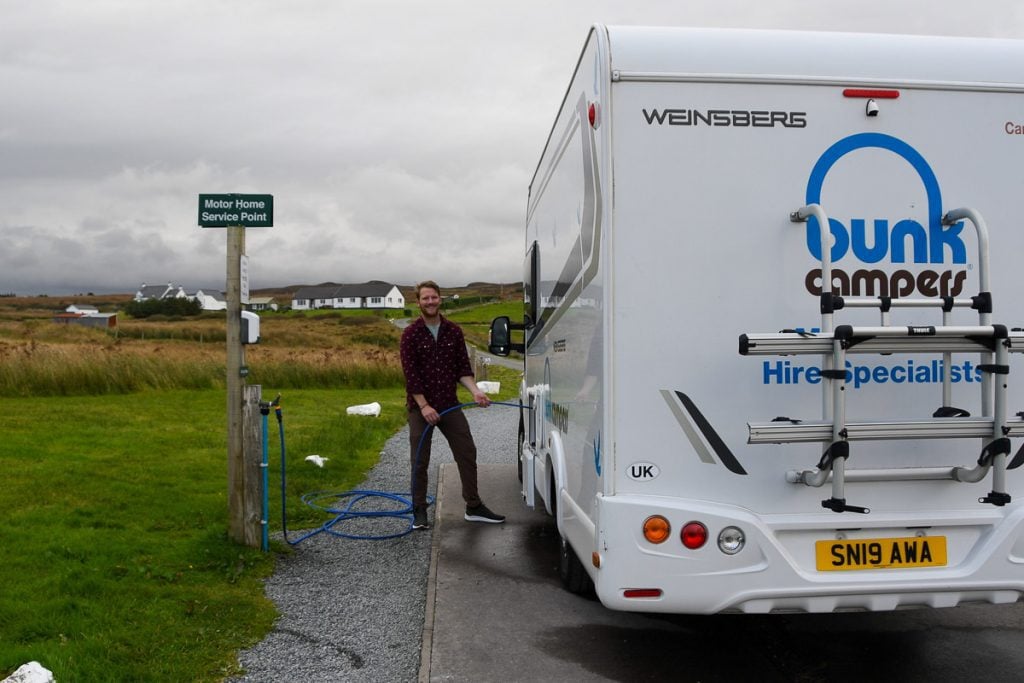 Campgrounds should have a place to fill up your tank with fresh, potable water. This should be free of charge if you have paid to stay in the campsite.
Dump stations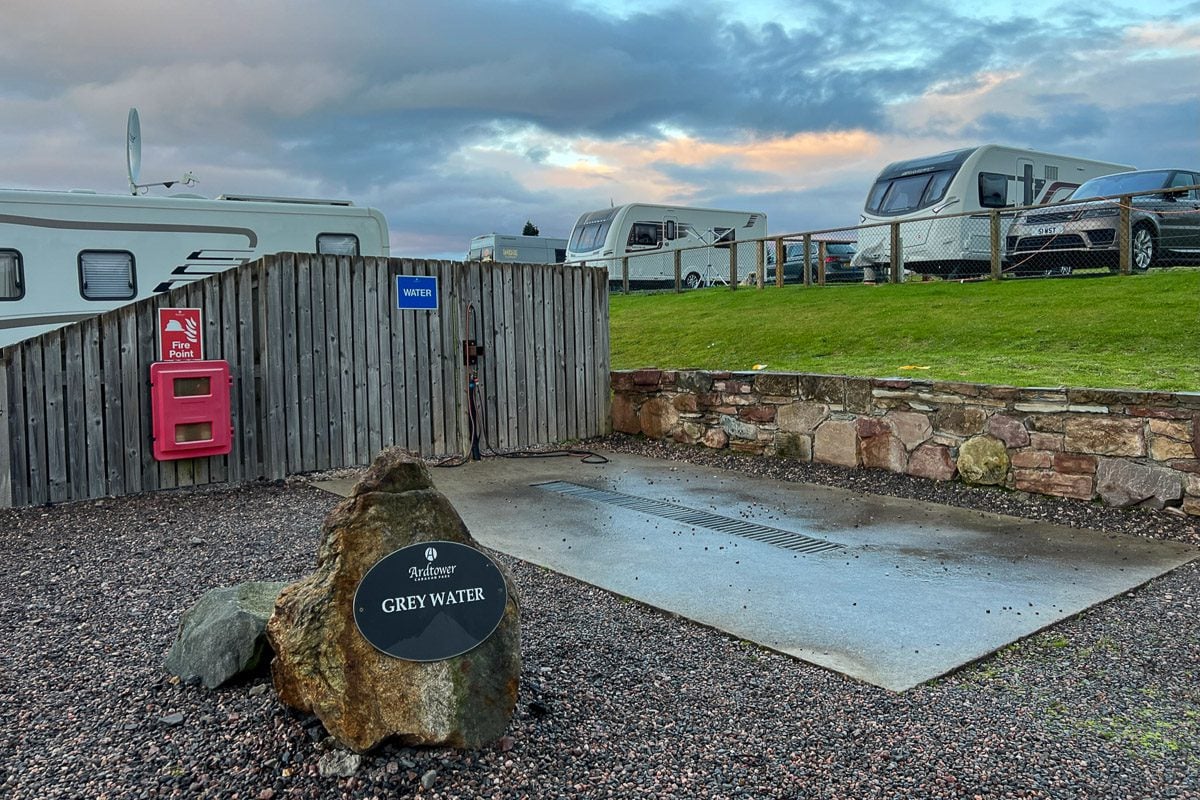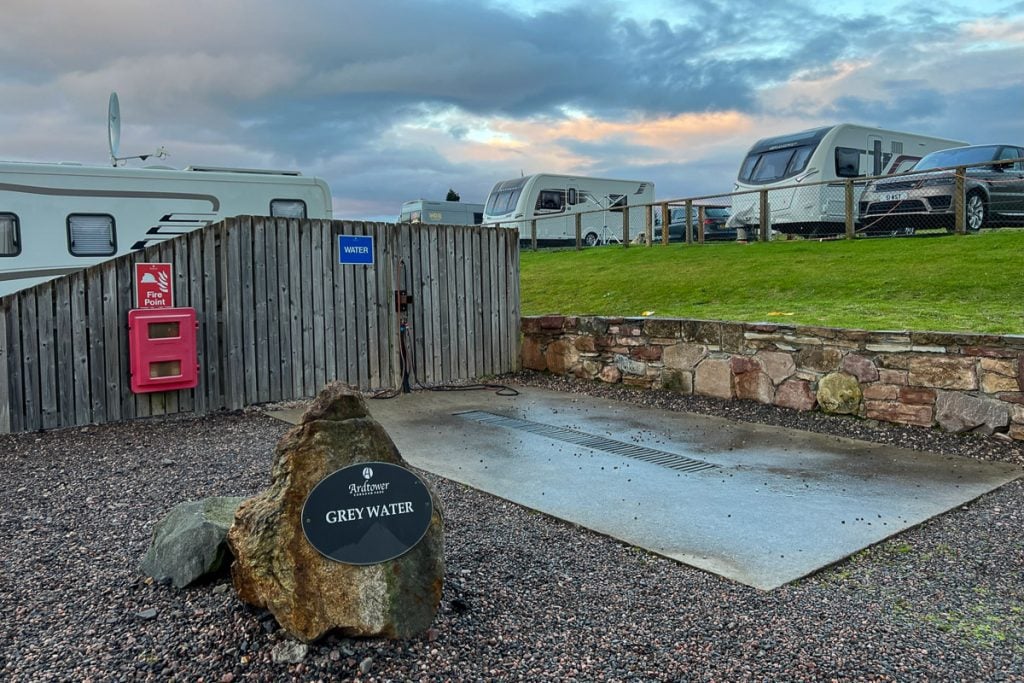 There should be a gray water dump station as well as a place to dump your chemical waste (aka your toilet).
Glamping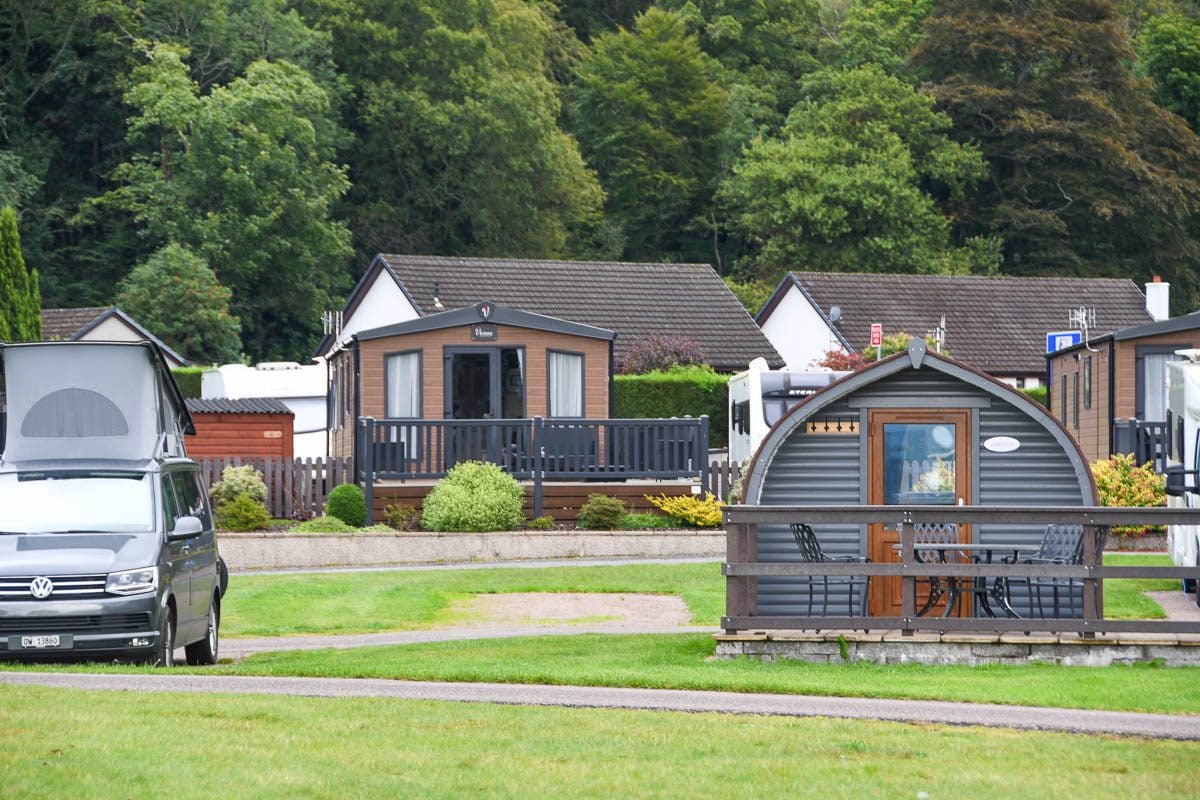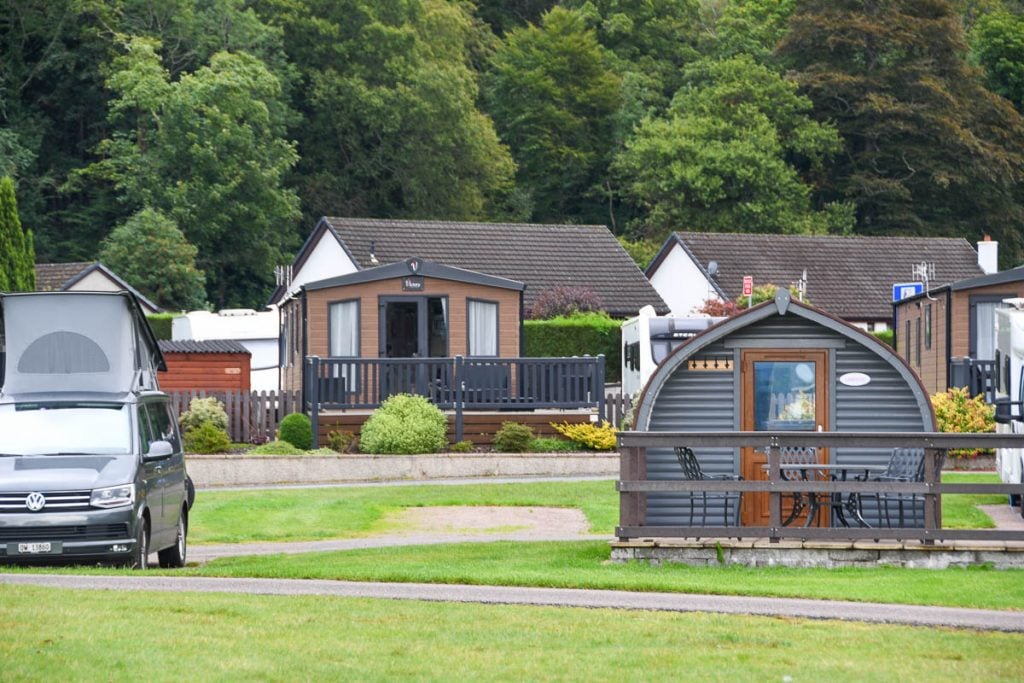 In addition to places to pitch a tent or park an RV, some campgrounds have glamping facilities. So if you're looking to switch it up for a night along your road trip, you could opt to stay in a pod or little cabin.
Internet
There were a few campgrounds that advertised having WiFi, but it was very mediocre and we wouldn't recommend relying on campgrounds for your Internet needs.
So how does one get cell service or Internet on a Scotland road trip? Good question! We recommend getting an eSIM. We got ours by using the Airalo app and were really happy with the service we had on our entire trip. Plus, it's super easy and cheap — you basically download the app and pay for the data you need.
More amenities
Some campgrounds go above and beyond just the basic facilities. You might see things like a common seating area, a cooking/kitchen space, playground facilities or even onsite cafes. One campground we stayed at even had a little herb garden you could pick from when cooking! But these are above and beyond what you should expect.
Wild camping in Scotland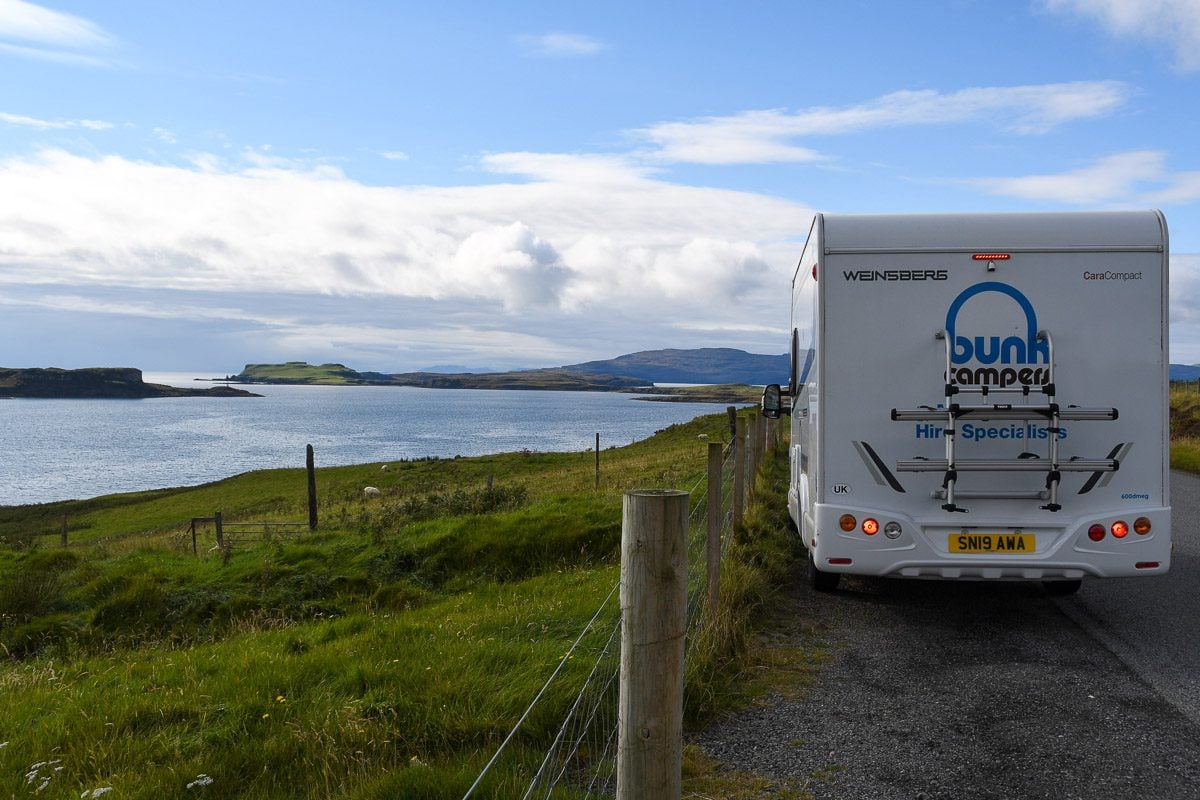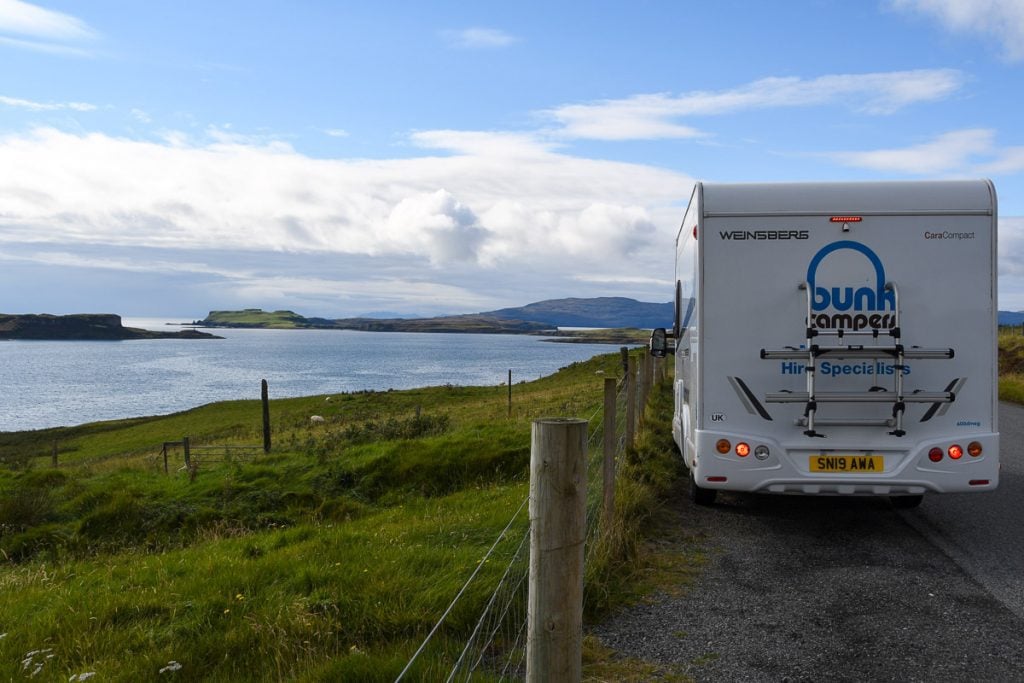 Wild camping refers to staying overnight in a place that is not a designated campsite.
While wild camping is legal and widely popular, there are some important things you need to know before parking or pitching a tent for the night.
Wild camping is a bit of a complex subject, so we're going to break it down so you have everything you need to know about wild camping in Scotland (legally!).
It is possible to park overnight in places that aren't designated campgrounds, but — and this is a big but! — you can't just camp anywhere.
You can't just camp anywhere! Many parking lots have signs that say "no overnight parking" or "no camping", and it is important that you obey these.
Also, there are pull-outs that are just not safe for parking overnight as they are too close to the road and difficult for oncoming traffic to see a vehicle at night.
So how do you know where you can legally and safely park overnight?
Using apps like Park4Night and iOverlander, you can read descriptions and reviews of wild camping areas to find ones that will work for you.
What can you expect when wild camping?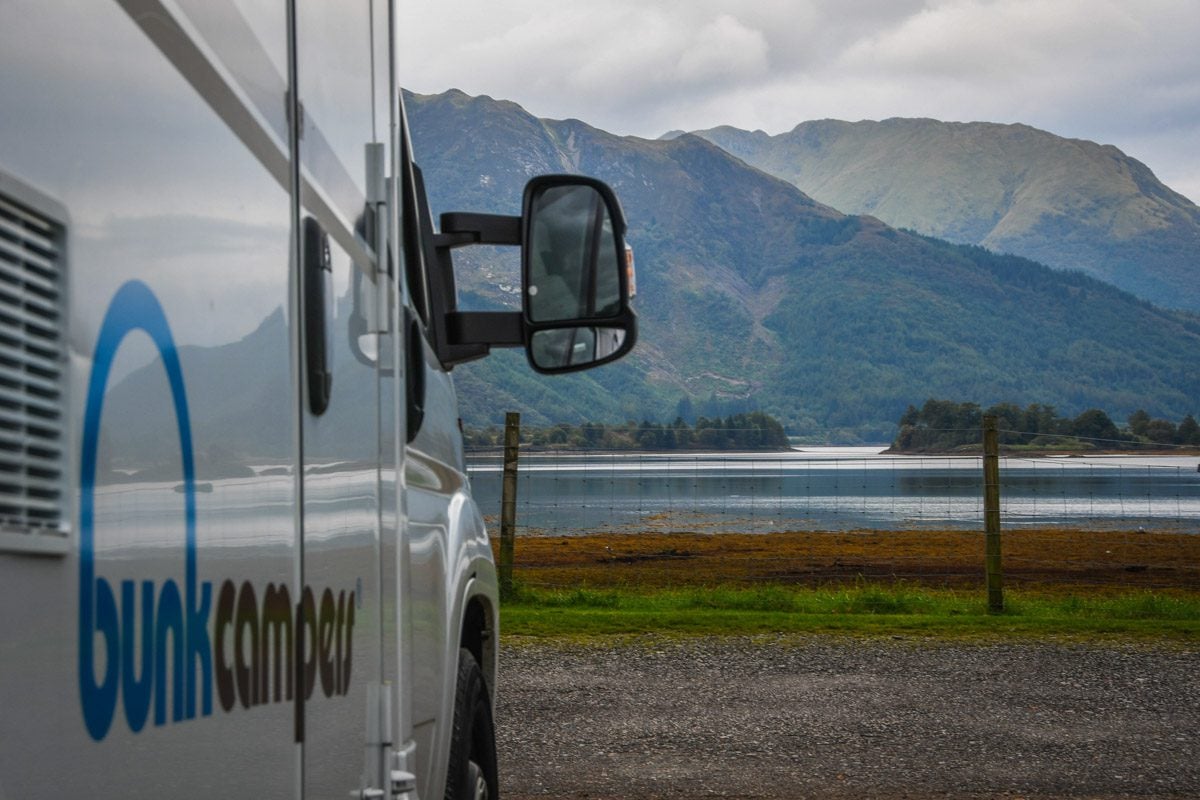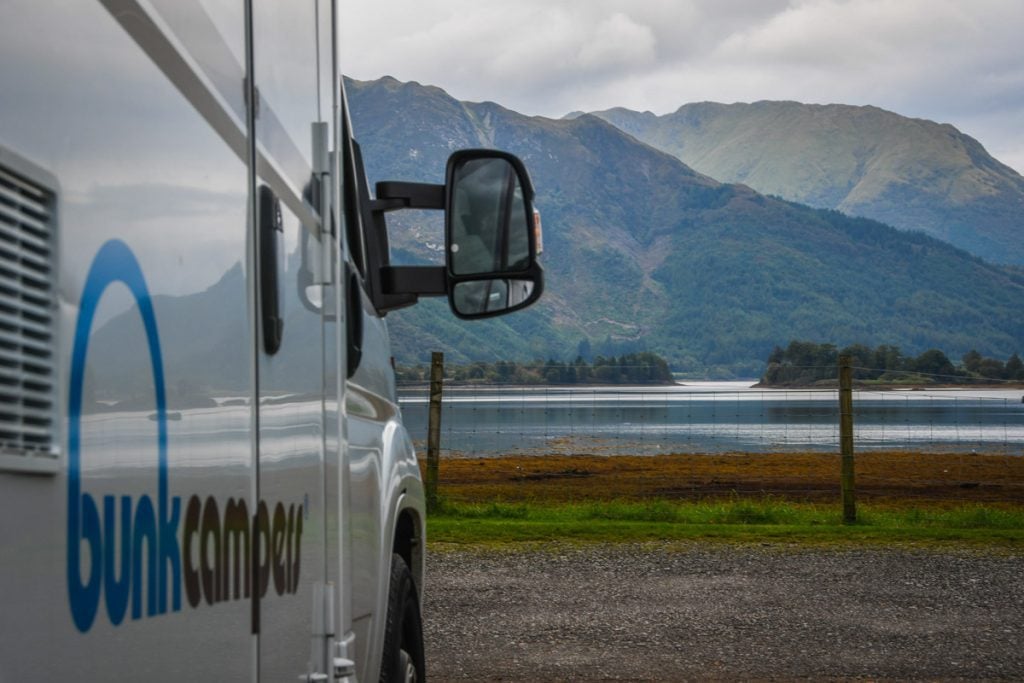 Expect that there will be zero facilities. You will likely just have a place to park for the night. Hopefully it will be level, as it's no fun sleeping on a slant!
Important: There will not be a toilet, a garbage or any place to fill or dump your water. This means you must prepare accordingly. Don't plan on wild camping if you don't have enough water in your tanks or if you desperately need to dump.
Leave No Trace
This should be common sense, but it is very important that you do not leave any waste behind when you are wild camping. When you leave, there should be zero trace that you were ever there.
No toilet paper or human waste
No rubbish
No gray water dumped
Psst! Read up on the 7 principles of Leave No Trace before your trip!
Our recommendation: Don't plan on wild camping every night. Plan on staying in established campgrounds at least every few nights so you have the facilities to dump and fill your water tanks and dispose of your garbage properly.
Camping in Scotland FAQs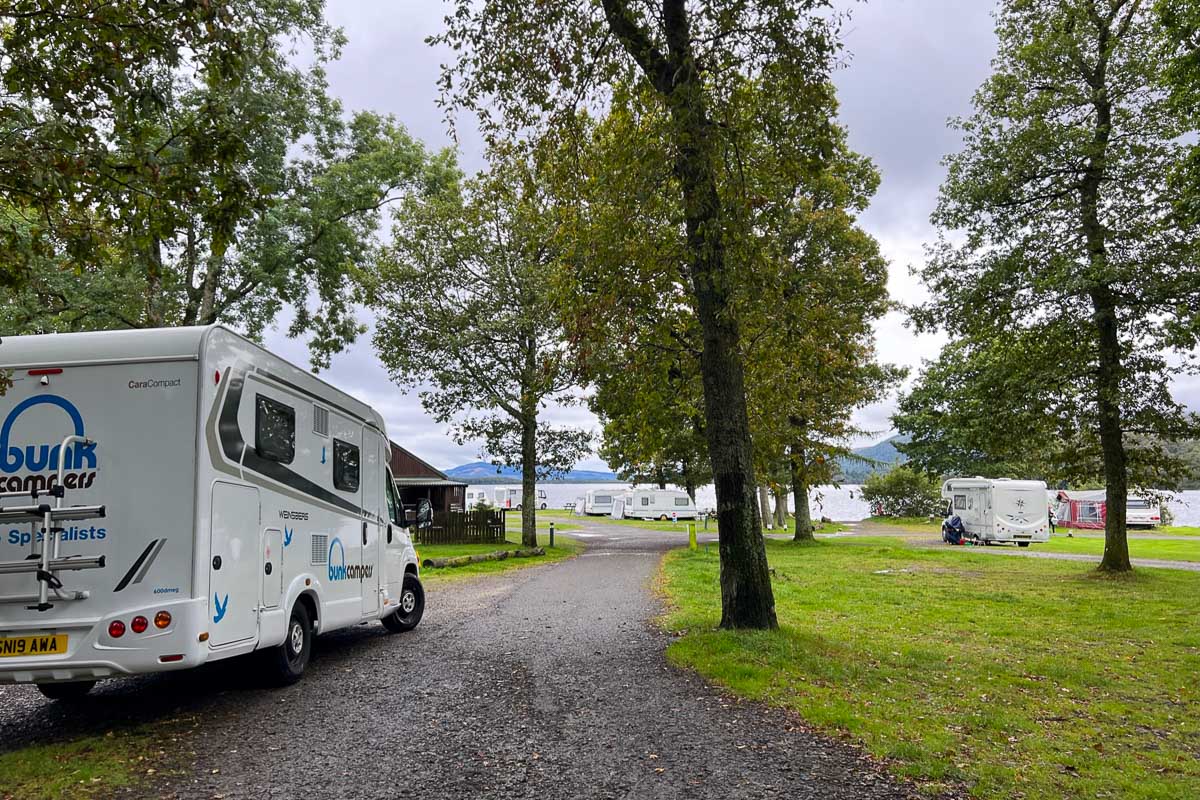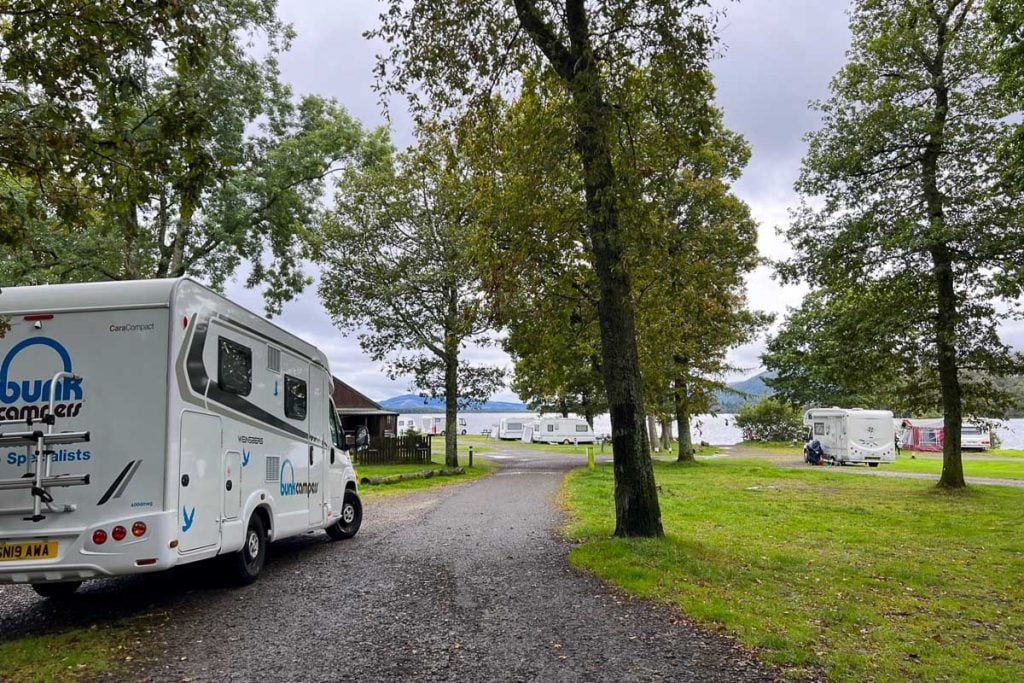 If you're planning a camping trip in Scotland and still have questions, we've got answers for you…
How much do campgrounds cost?
Each campground is slightly different, but in our experience, they were between 23 – 34 pounds per night (about $25-$40).
Average: It seemed like 28 pounds ($33) was a common price for campsites, so that would be a good average cost to help you estimate.
Do I need reservations at campgrounds in Scotland?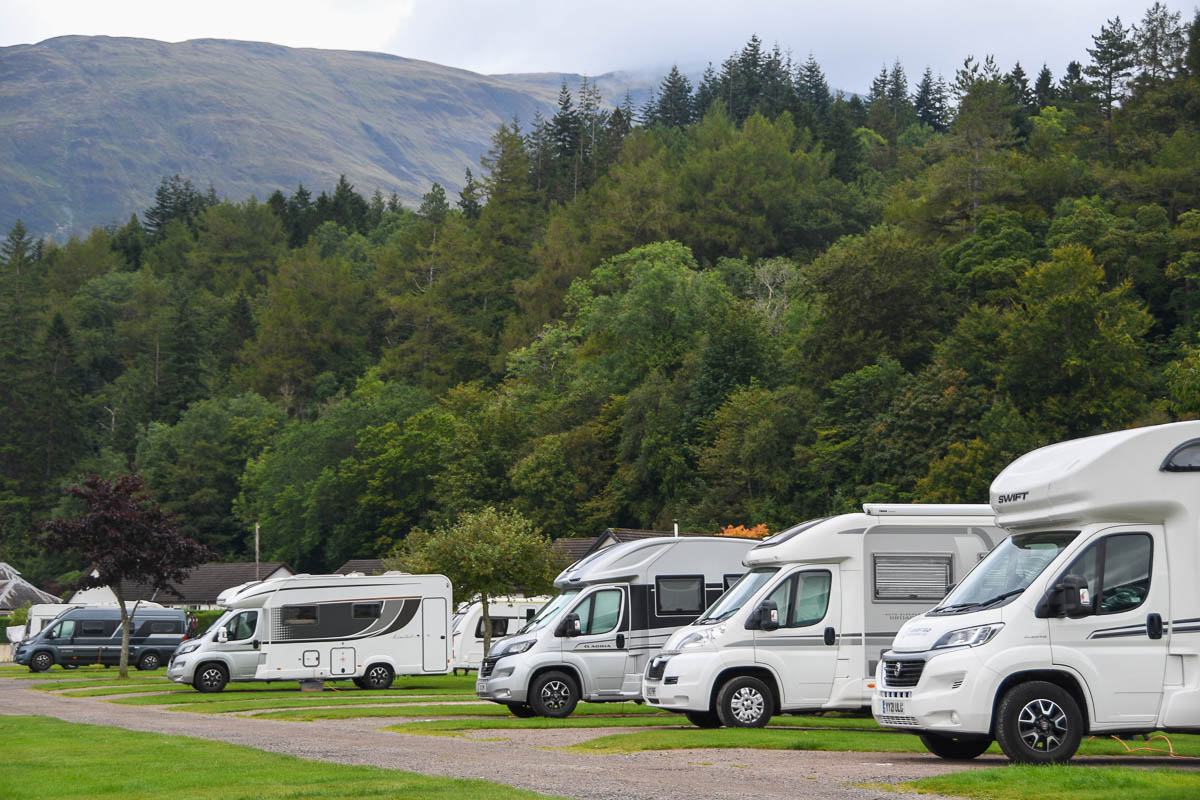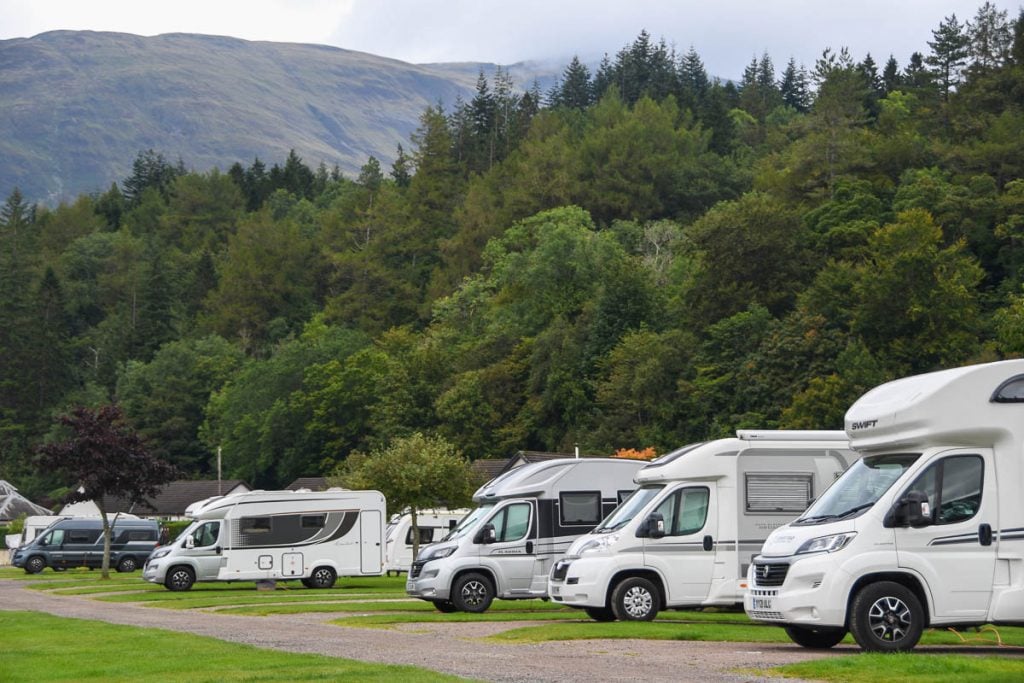 Most of the time, yes.
We didn't exactly realize this before our trip, and it was kind of an issue at first. In fact, we were turned down 3 times because campgrounds were full.
There is good news though…
You can often reserve just a day or two in advance (either by calling or booking online).
Once we realized reservations were more necessary than we originally thought, we called a day or two ahead of time for the remainder of our trip we were okay.
If there is a specific site you really want to stay at, especially in popular areas, like the Isle of Skye, we'd recommend booking those further ahead of time as they do actually fill up a ways out.
How do you find campgrounds in Scotland?
We have just what you need to find campgrounds in Scotland! We've got a list of handy apps as well as a map of some of the best campsites in Scotland.
Campervan vs. Tent: Which is better?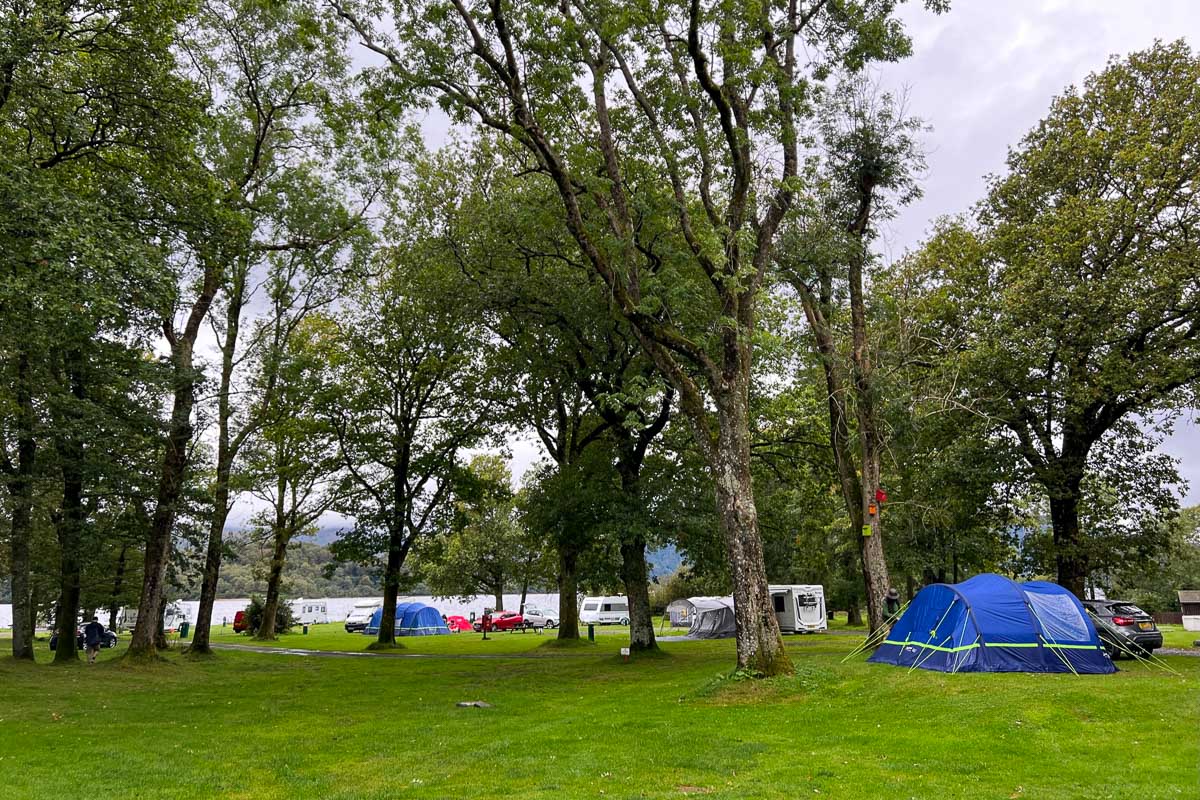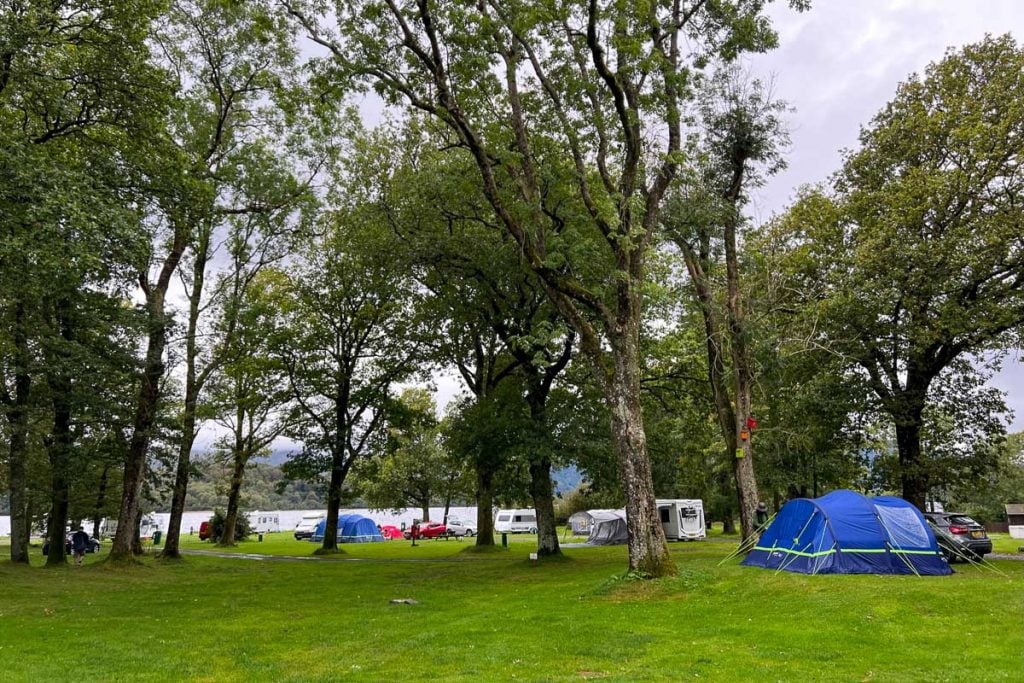 This is very subjective, and each will be better for a different type of traveler.
While we love tent camping, we'd personally much prefer staying in a campervan in Scotland.
Depending on what time of year you're visiting Scotland, you may encounter a lot of rain. Personally, I don't love setting up or tearing down a tent in the rain.
Also, think about the set-up and tear-down time. If you're on an extended road trip, you will have to do this each day. A campervan, on the other hand, is all ready to go once you park for the night.
That said, if you're on a super tight budget or are a local looking for a quick and cheap getaway, tent camping might be a much better choice for you.
What to pack for camping in Scotland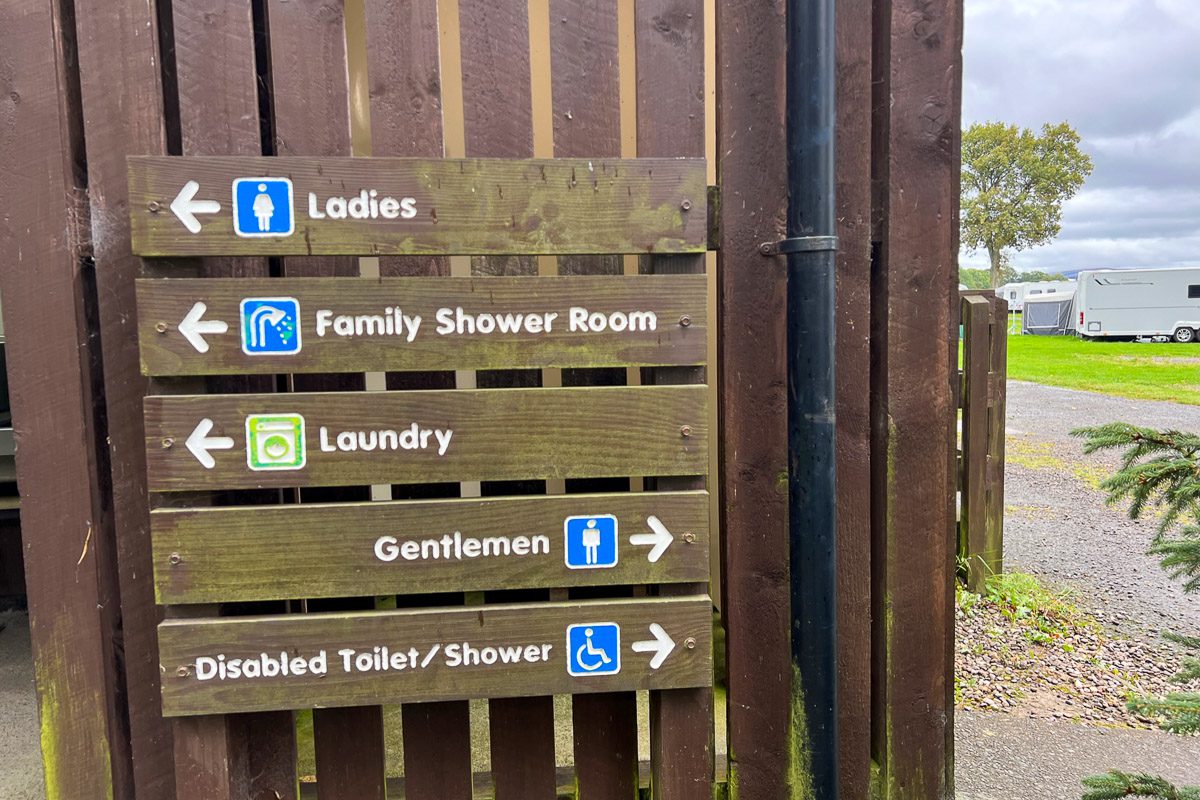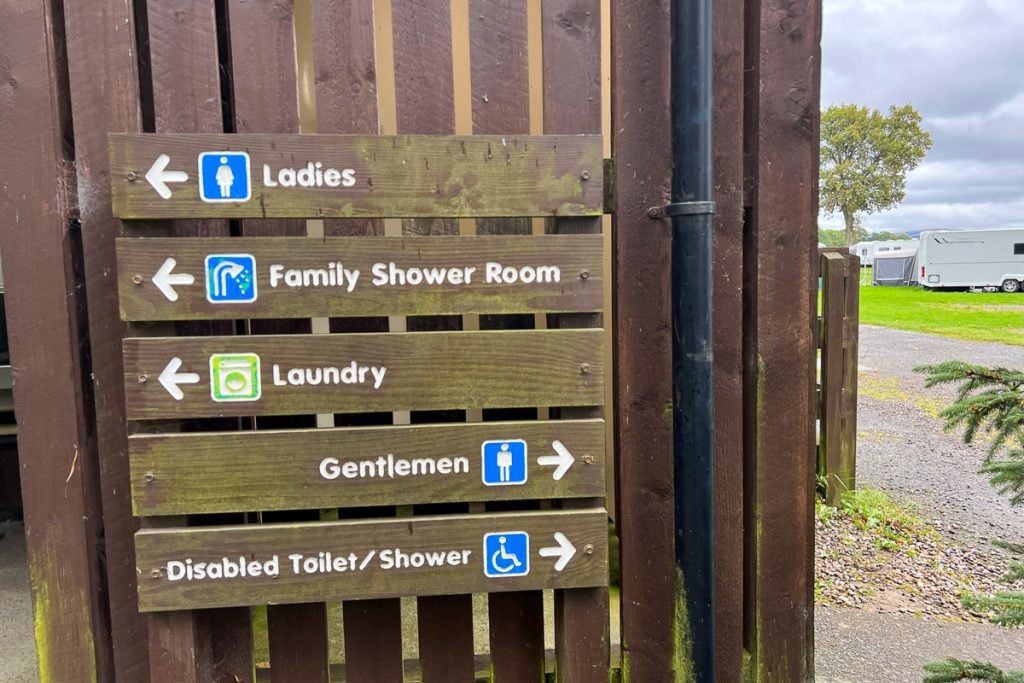 What you pack will vary a bit depending on whether you're camping in a tent or an RV, but here are a few items we were very happy we packed:
Psst! If you're planning on renting a van, we've got a list of campervan essentials just for you!
Random items
Kitchen
Rubber bands & chip clips: Trust us, you'll need a way to keep those food bags closed so they don't spill all over your car/campervan.
Garbage bags: Pack a couple of small garbage bags from home to keep your trash in one place.
Spices: we like bringing our own salt (sea salt or Himalayan), pepper grinder & cayenne, plus, any others we feel like packing
Snacks: dried fruit, nuts, protein bars
AeroPress Go: If you're a coffee drinker, this very portable coffee maker is clutch when camping! It makes an excellent brew and we're sure you'll get lots of use out of it long after this trip.
Dehydrated meals (optional): These are a super quick meal idea and work great for a quick hot lunch or dinner.
Dr. Bronner's biodegradable soap: to wash dishes
Toiletries
Body wipes: For a way to freshen up on days you don't feel like showering
Dry shampoo
Hand sanitizer (this one is our favorite!)
Mini First Aid Kit
Shower shoes: Trust us, you'll need these for showering in campgrounds. You'll thank us later!
Electronics
Universal travel adapter: we have this one and it worked great for our trip to Scotland

FYI Scotland uses Type G plugs, the standard voltage is 230 V and the standard frequency is 50 Hz.
Portable battery pack: keep your phone and other devices charged
Headlamps
Portable jumper cables (optional): This tiny little device has a power pack that effectively jumps your vehicle (without another car).

During a trip in Iceland, our campervan battery died in the middle of nowhere during a torrential rainstorm. It took us hitchhiking to a nearby farm to find jumper cables. As soon as we got home, we bought this device and now we will always travel with it when we're renting a car or campervan. We brought it to Scotland but thankfully didn't need to use it!
Scotland Camping Apps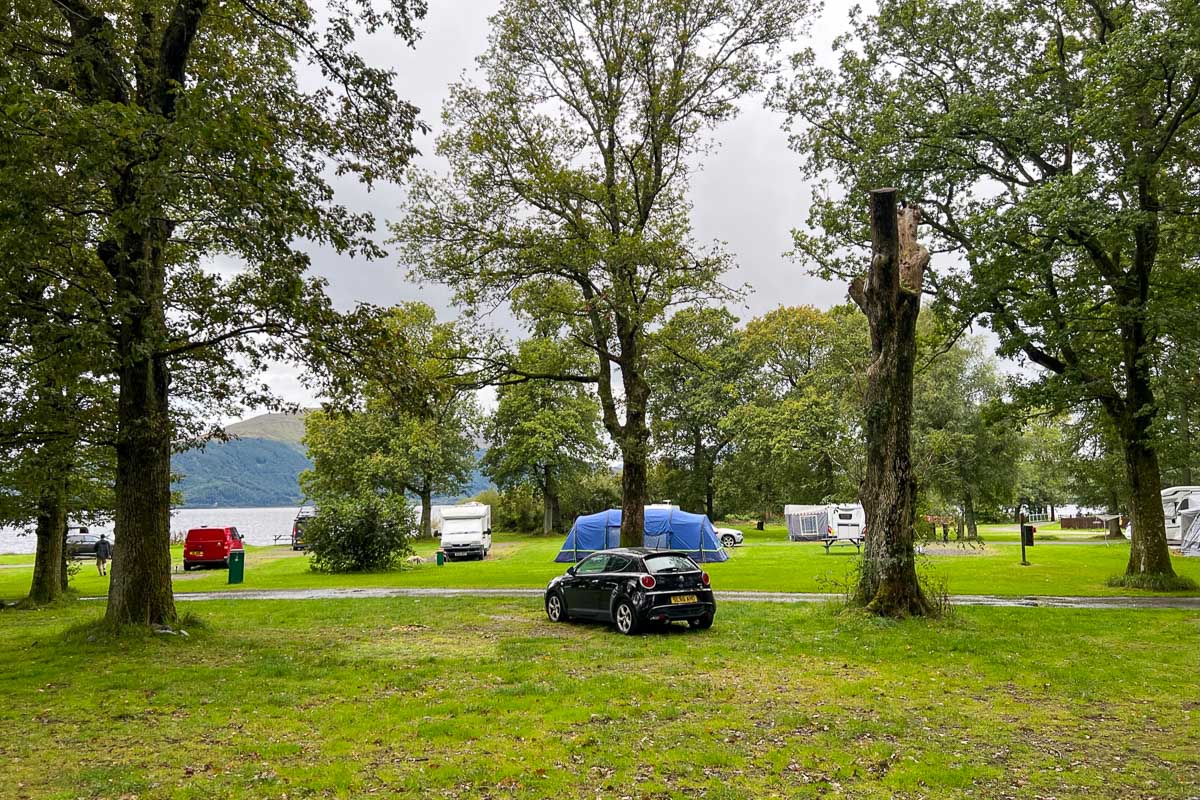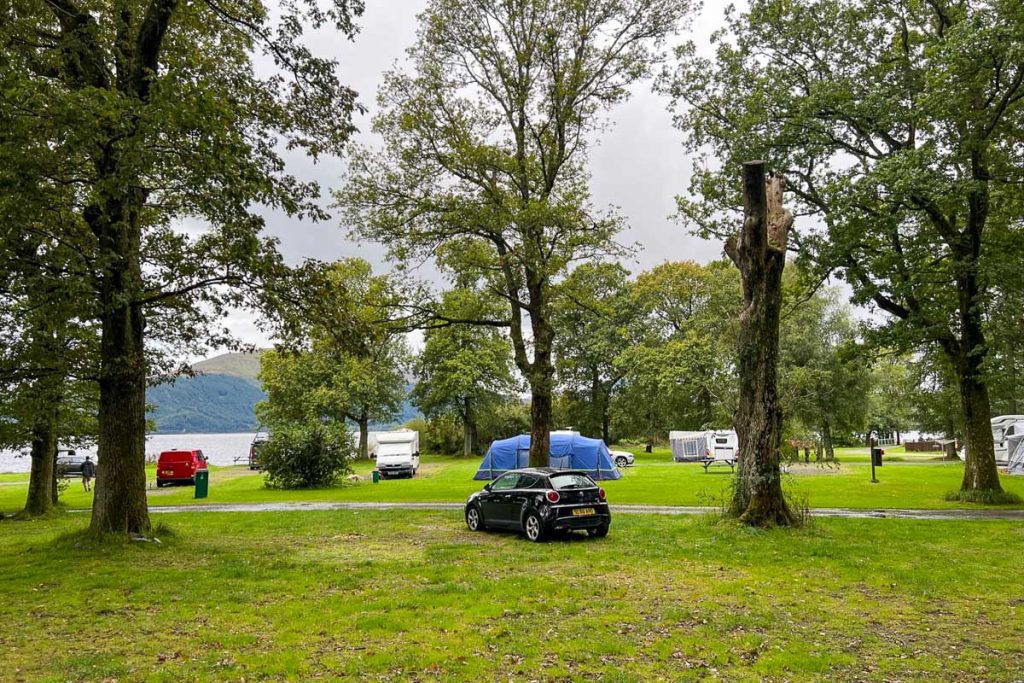 Okay, so how does one find campsites in Scotland?
There are a few ways and we're going to go over them and share our favorite tips.
Google Maps
We love using Google Maps to plan out our road trips. We typically pin all the places we want to stop along the way, including campground options.
To find campgrounds in Google Maps, simply zoom into the map location you're searching in, and type "campground" into the search bar. All the nearby campground options will pop up along with reviews, photos and a website.
Park4Night
This is a European camping app that was recommended to us by the staff at Bunk Campers. It is really helpful for finding wild camping spots in addition to established campgrounds.
It is free to download and is pretty user-friendly.
iOverlander
This is one of our favorite camping apps in the USA and we were happy to find it also works in Scotland!
You can easily look at a specific location on the map and see all types of campsites nearby. Once you click on them, you can find reviews and information about what type of campsite it is (established campground vs. wild camping). You can also see the amenities and price.
In addition to campgrounds, iOverlander shows other facilities you may need on your campervan trip, like where you can fill water and dump your tanks.
Our advice: Familiarize yourself with the apps above prior to your trip and figure out which you prefer using. Flag the campsites you're interested in so you can find them easily.
Scotland Campsite Map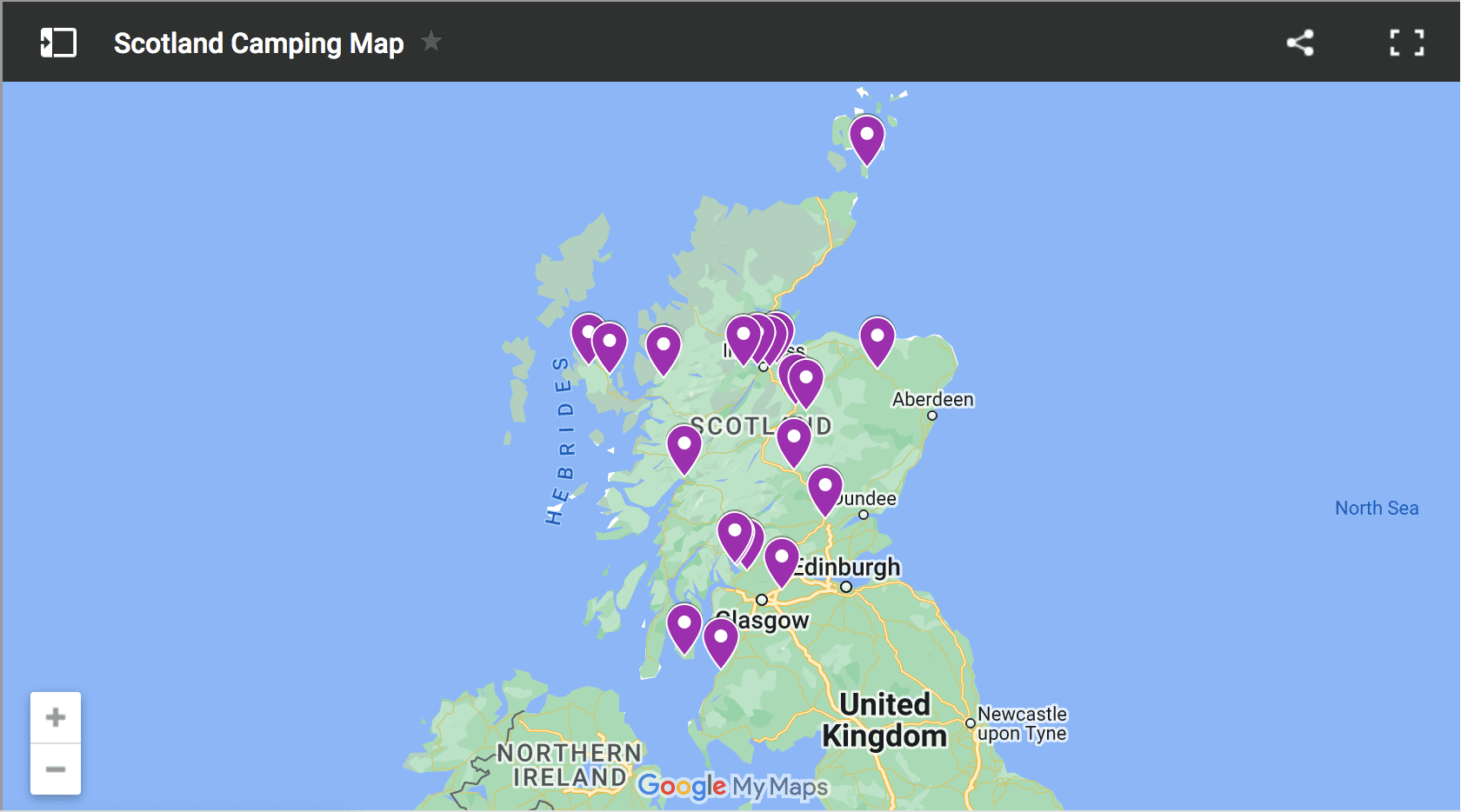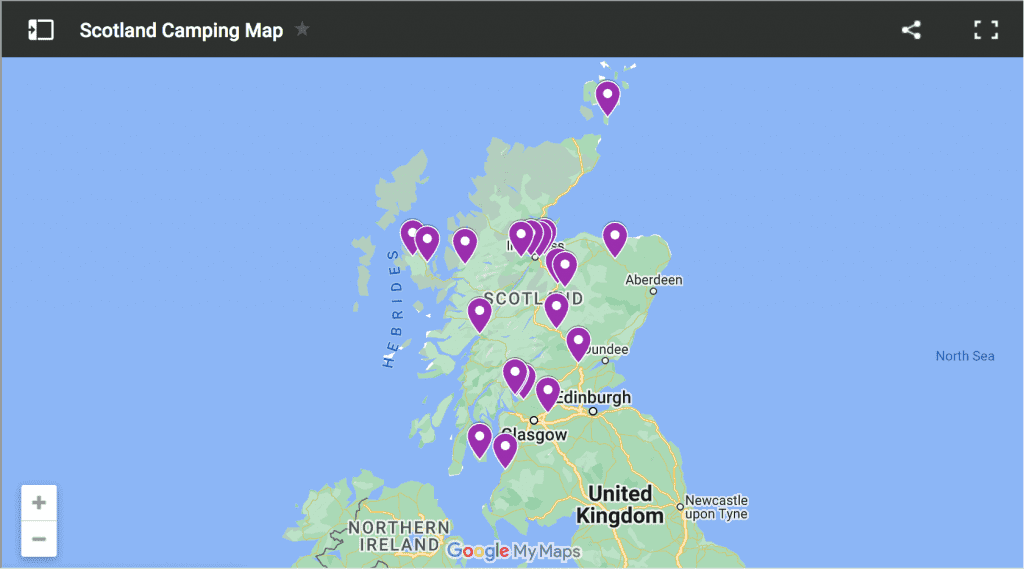 The map above shows all of the best campsites in Scotland so you can easily figure out where each is located and map the distance to major attractions.
Best campsites in Scotland
We've compiled a list of some of the most highly-rated Scotland campsites broken down by region so you can flag the ones you'd like to spend the night at during your Scotland camping trip.
Best glamping in Scotland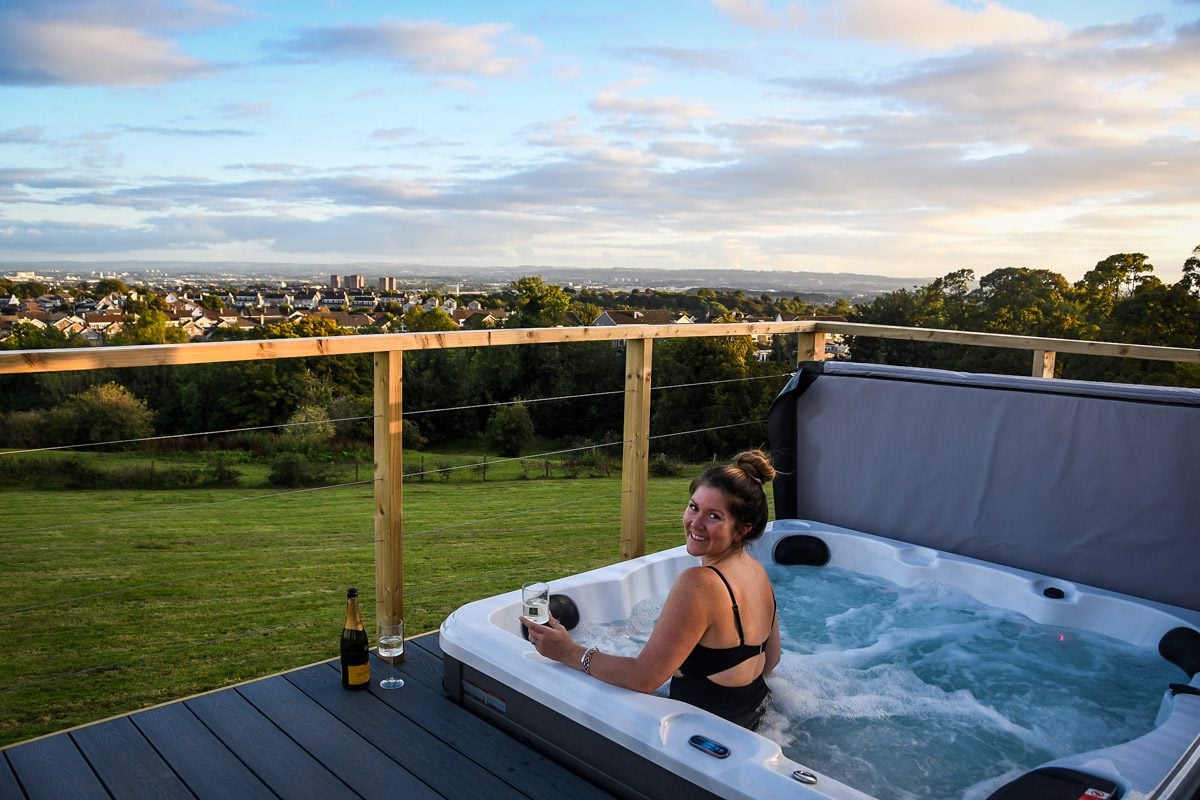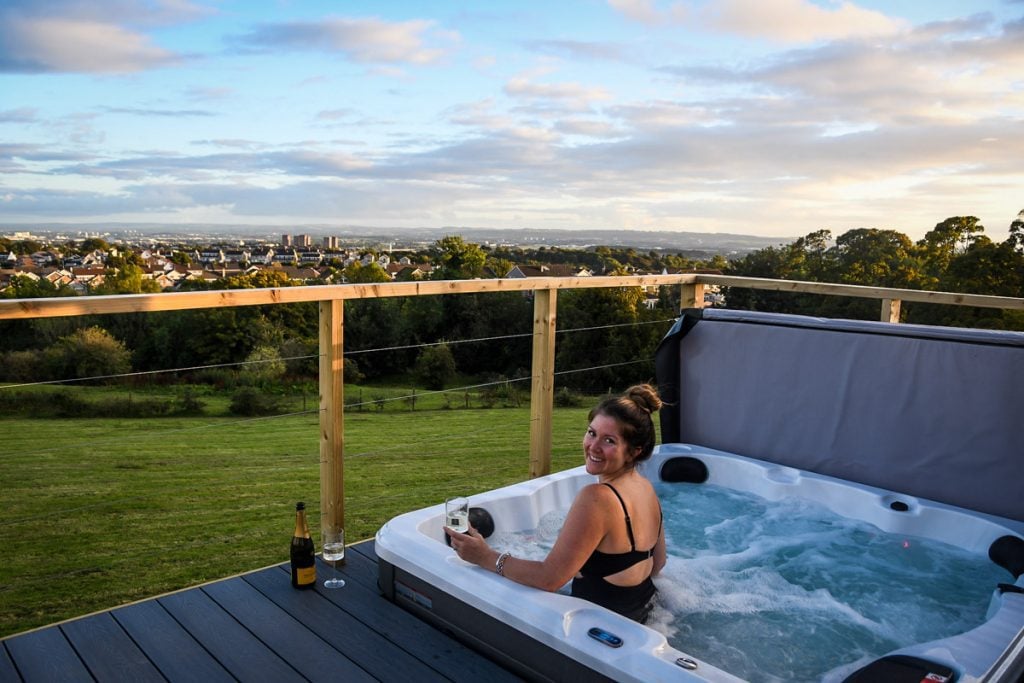 As you dive into planning your Scotland camping trip, you'll likely notice that many campgrounds offer "glamping" accommodations in addition to tent and RV sites. Considered "glamorous camping," having some luxuries and sleeping in a more substantial shelter while also enjoying the outdoors, glamping is extremely popular throughout the country.
The most common glamping accommodations you'll find in Scotland are pods and yurts, but you'll also see some safari tents, teepees, and bothies, which are small, basic homes typically offering shelter but little in the way of amenities.
If you're interested, we put together an ultimate guide to glamping with all of the best Scotland glamping stays and everything you need to know before you book.
Quick note about bothies: while you'll find these available for rent at some Scotland campsites, the term also refers to remote shelters on both private and public land that are left open for anyone to use (such as backpackers). Bothies are unique to this part of the UK and historically, caretakers and groundskeepers lived in them. Many have been preserved in keeping with Scotland's outdoor culture and they're most common in the Highlands and Outer Hebrides — though you'll find a few odd ones scattered everywhere.
Scotland's glamping amenities vary drastically. Some accommodations may include electricity, heat, proper bathrooms, and even a hot tub, while others provide nothing more than a physical structure to sleep in.
Sometimes glampers need to bring their own bed linens and cooking supplies, much like a traditional camping trip, so be sure to read the fine print before booking!
UK Camping & Caravanning Club
When researching Scotland camping options, you'll likely come across this name.
The UK Camping & Caravanning Club is actually the biggest and oldest camping club in the entire world, and it has a stellar reputation for having some of the nicest campsites and caravan parks in Scotland.
To put it simply, caravan clubs are identical to RV memberships in North America (like Good Sam or Passport America).
Members pay annual dues in order to have exclusive access and get deeply-discounted rates at the club's network of campgrounds, as well as top-notch amenities and facilities. Other caravan club perks include exclusive, members-only sites, discounts on camping and outdoor gear, special insurance rates for RVers, and more.
In most cases, non-members are welcome at caravan club campsites. However, expect to pay an additional non-member fee.
Note that if you rent a campervan in Scotland, there's a chance that your rental will include a club membership for free. This was exactly our experience when we rented from Bunk Campers!
---
Are you planning a trip to Scotland?
We have lots of resources on travel in Scotland and destinations throughout the country. Check out our Scotland Travel Homepage for everything you need to know, or read some of our favorite articles below.
Save this article on Pinterest for later!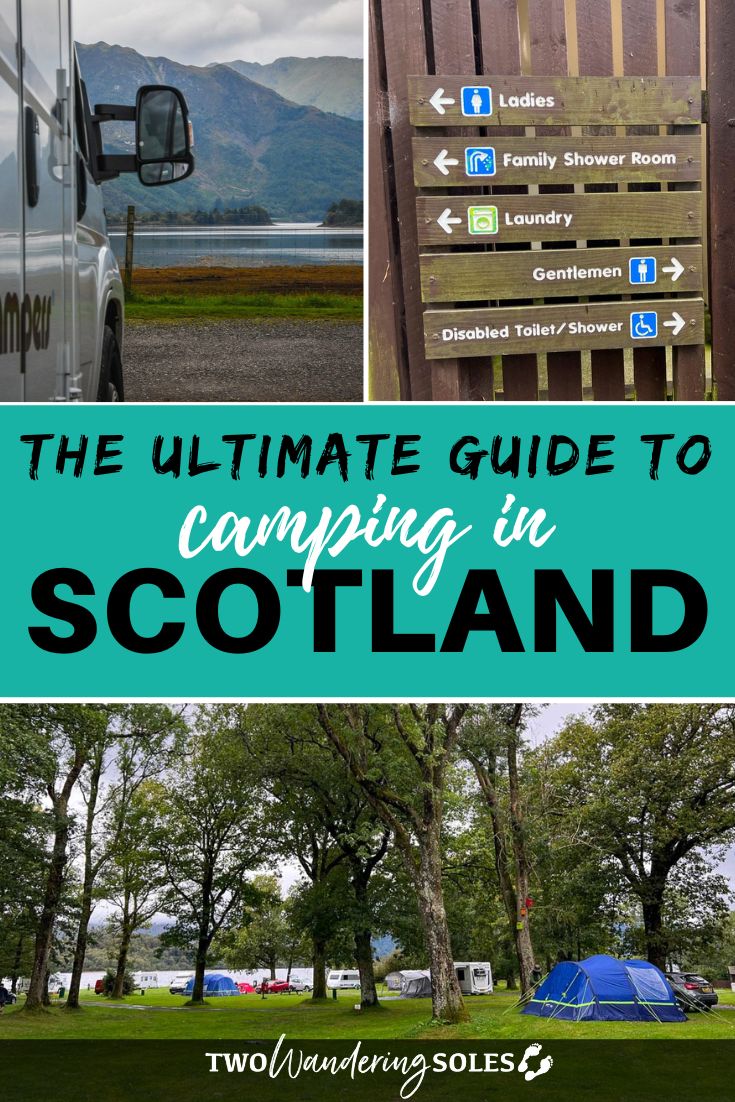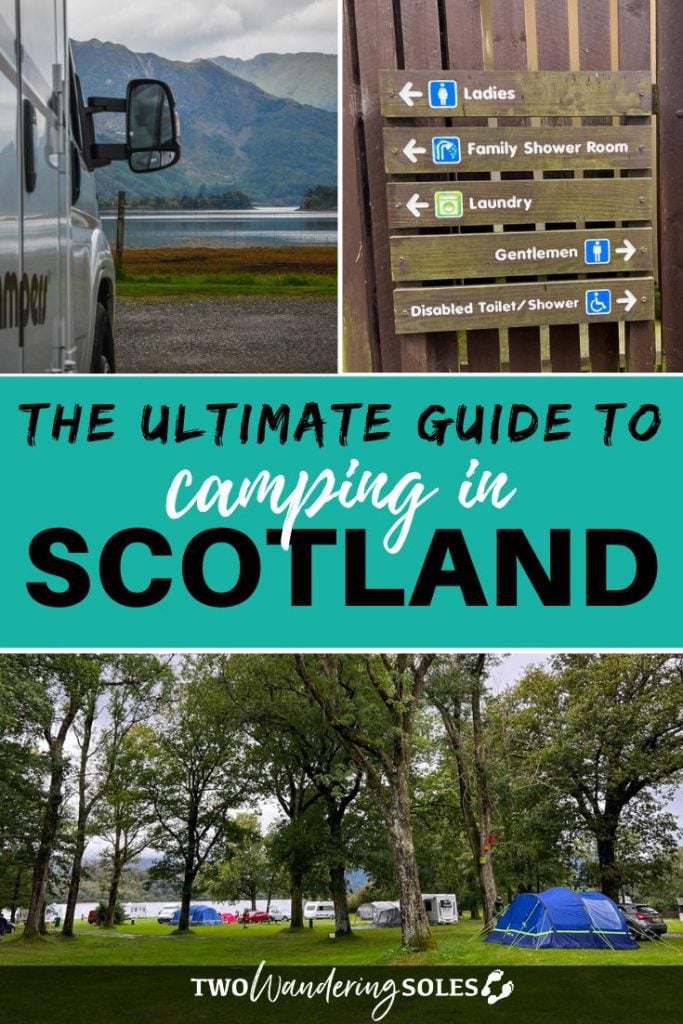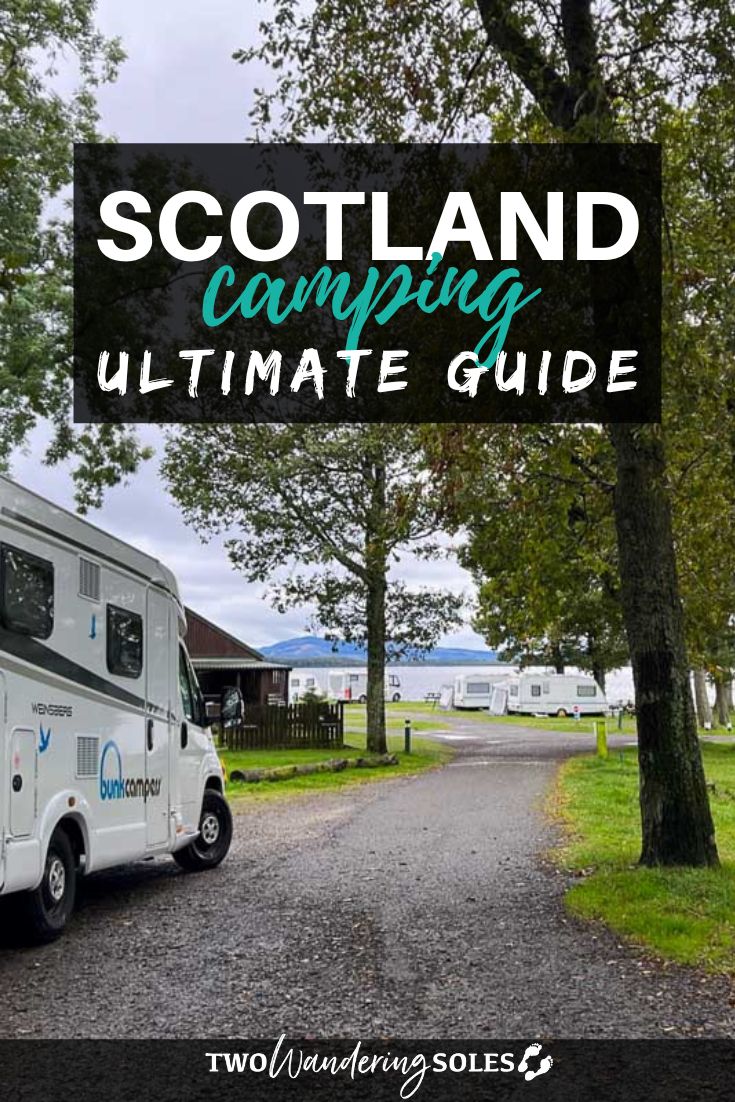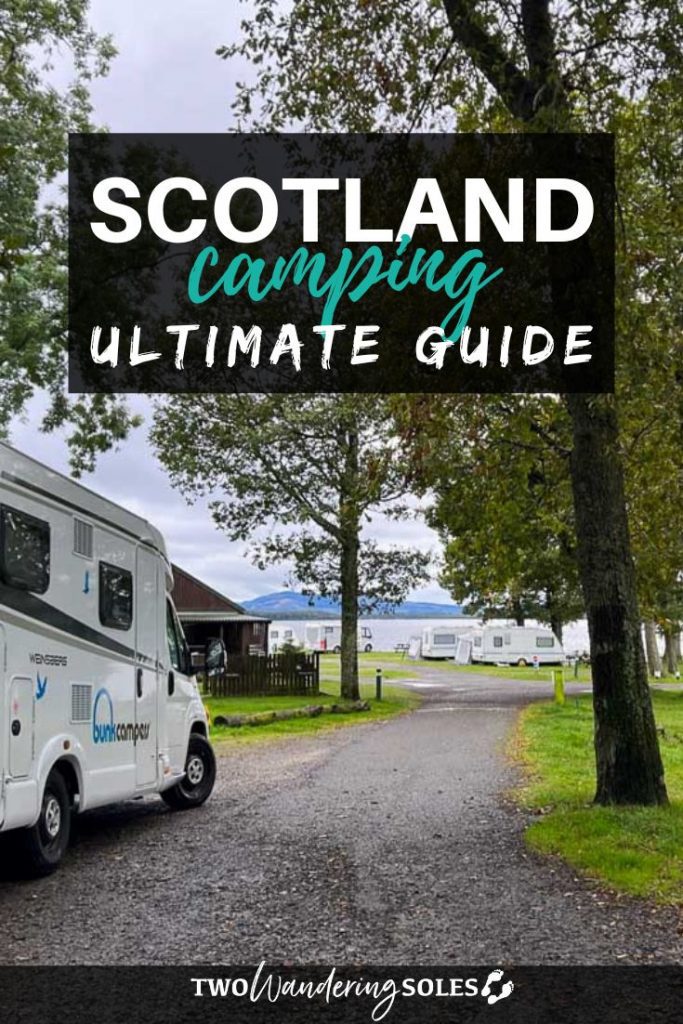 We want to hear from you!
Are you planning a Scotland camping trip and still have questions? Leave us a comment below and we'll do our best to find you the answers you're looking for!