Scottish food is the epitome of comfort cuisine. From the infamous haggis to lesser-known dishes, like cullen skink, we've rounded up the best Scottish foods to try (plus, a couple to skip!).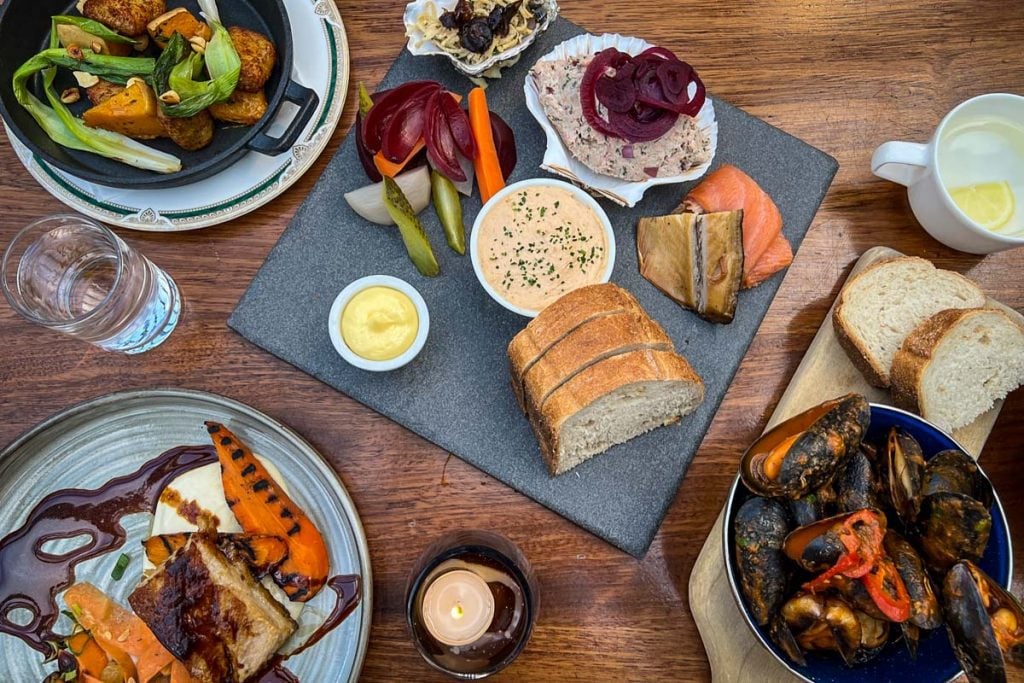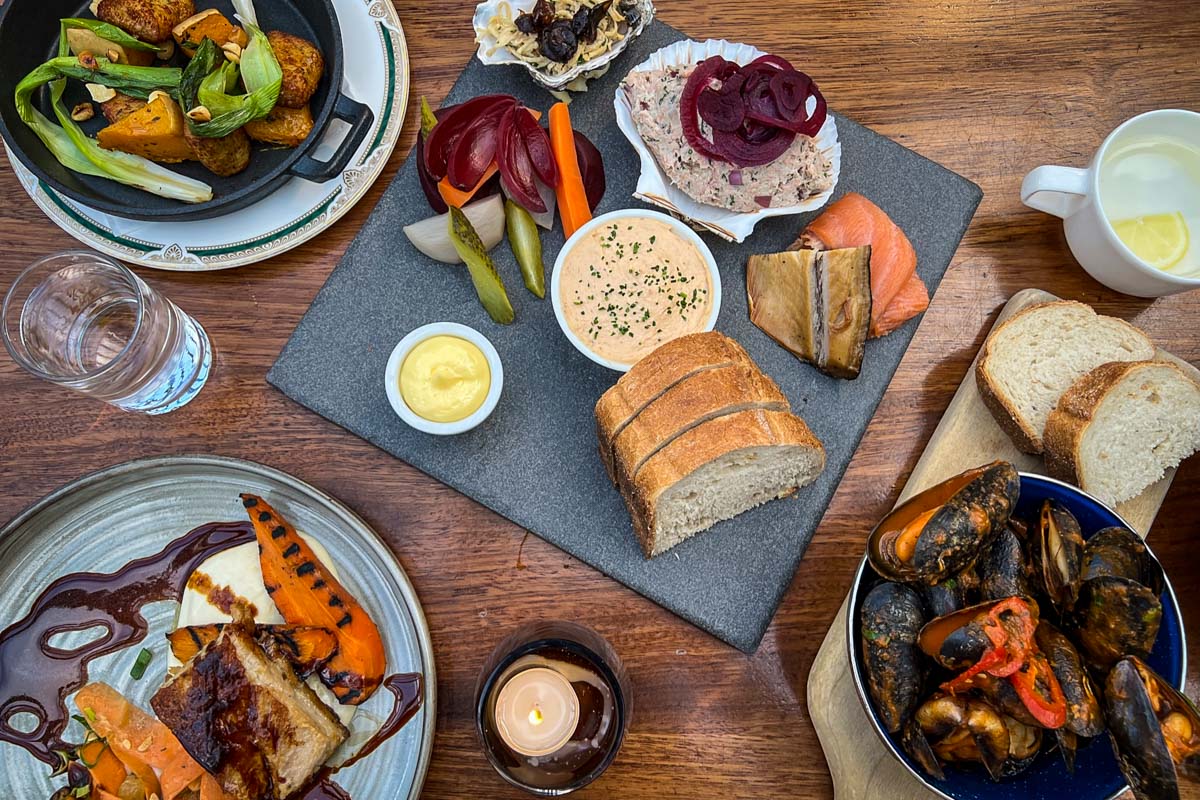 When it comes to Scottish cuisine, get ready to indulge in hearty comfort foods that should be enjoyed in a pub by a fireplace, fresh seafood from the coastal fishing villages, and sweets that are meant to be paired with tea.
And we haven't even touched on drinks in Scotland:
Whiskey. Gin. Irn Bru. The whole lot.
I'll come right out with it: We LOVE food. A lot.
Eating local dishes is one of our very favorite things to do in a new city or country.
So you'd better believe that while I was planning our Scotland road trip, I dug deep into all things related to Scottish foods.
I made myself a Scottish foods checklist. (Yes, seriously. I didn't want to miss anything!)
I read restaurant reviews.
I watched videos.
I asked friends who had spent time living in Scotland for their top food recommendations.
From the minute we landed in Scotland until we boarded our flight home, we ATE.
If you like food as much as we do, you're in luck because I'm about to share all of my findings with you!
We'll go over the best Scottish foods to try (& one food to skip!), our favorite restaurants in Scotland, and a couple of foodie experiences you should definitely put on your Scotland itinerary.
Oh, and I'll also share my obsession with a certain Scottish dessert… (you won't want to miss this one!).
Article contents
---
Be sure to download our complete packing list for Scotland! It's packed with good suggestions and insider tips to help plan your Scotland trip. And it's completely FREE, so why not!?
---
Okay, let's dive in because my mouth is starting to water.
(I will warn you that you won't want to read this article on an empty stomach!)
1. Haggis with neeps & tatties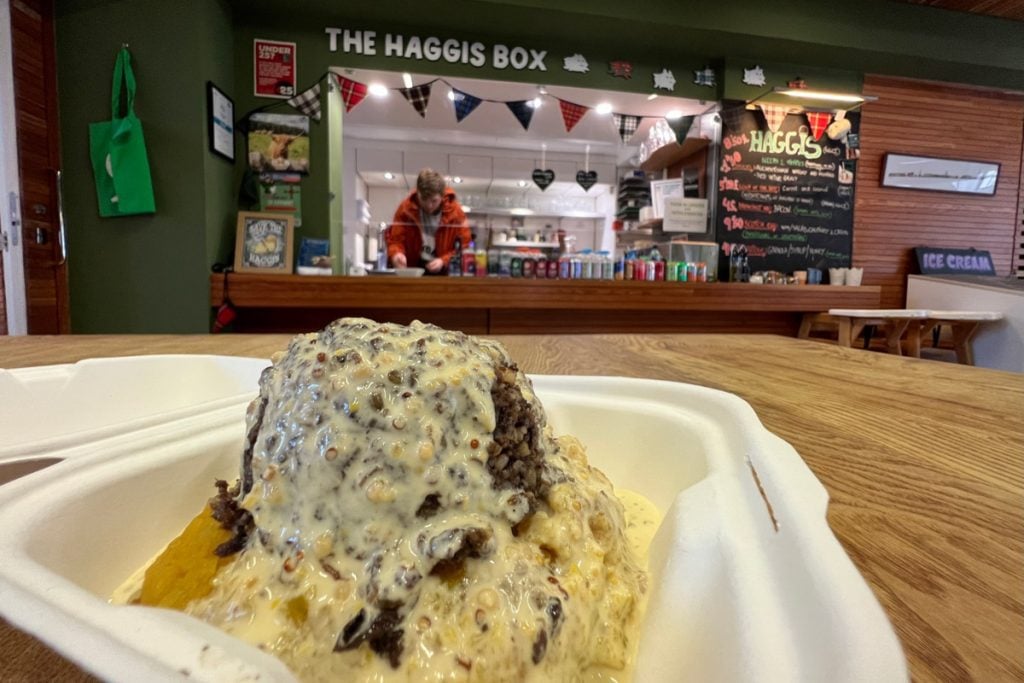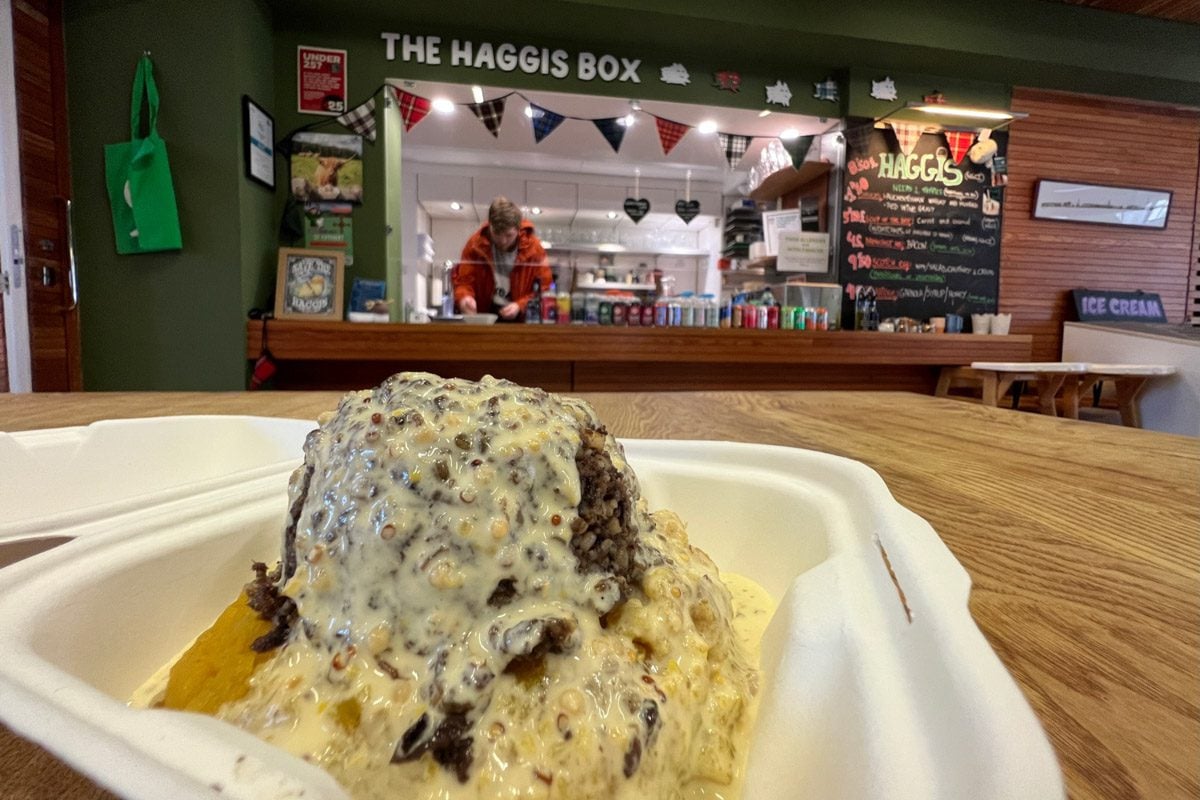 When you think of Scottish cuisine, haggis is likely the first thing that comes to mind. It is Scotland's national dish, after all.
I'll be the first to tell you that haggis sounds scary.
So what is haggis?
It's a sausage of sorts made from what's known as sheep's pluck (heart, liver and lungs), and is mixed with oats and warming spices like nutmeg, cinnamon and coriander.
Traditionally, haggis is served atop neeps (turnips) and tatties (mashed potatoes) and usually with a creamy whisky sauce.
I'm not one who is into organ meat, so honestly, I wasn't sure I'd like haggis. However, I actually did really enjoy this Scottish staple.
If you want to try the most famous Scottish food, I'd recommend going to a place that is known for having particularly good haggis, like Arcade Haggis & Whisky House in Edinburgh or the Scotch Malt Whisky Society in Glasgow (where we personally tried it and loved it!).
Scottish Lasagna: If you see this on a menu and are wondering what it is, this dish is basically regular lasagna but made with haggis instead of ground beef.
2. Vegan Haggis
Non meat-eaters (or those who are just too put off by the real deal!), will be pleased to know that a vegan version of Scotland's national dish is widely available.
While you can find plant-based haggis around the country, your best bet will be in Edinburgh or Glasgow where vegan restaurants are a-plenty! Regular (aka non veggie) restaurants also often have vegan versions, so you truly won't have to look very far.
Vegan haggis is often made with mushrooms, nuts, oats and barley to replicate the minced-meat texture, and the same spices and seasonings to mimic the rich and hearty flavor without the meat.
3. Hand-dived Scallops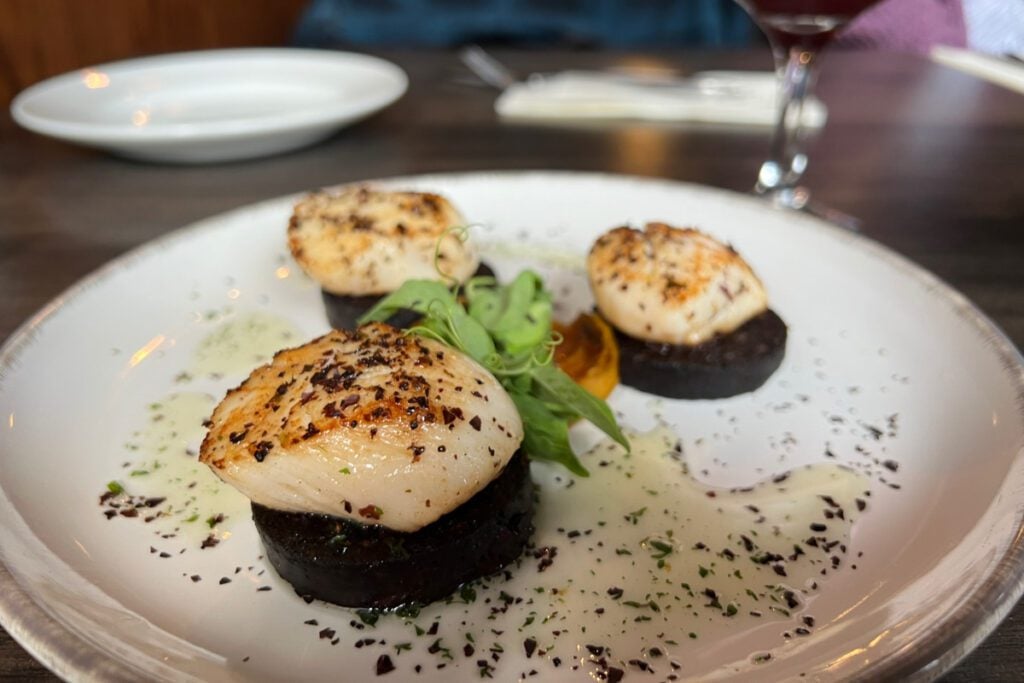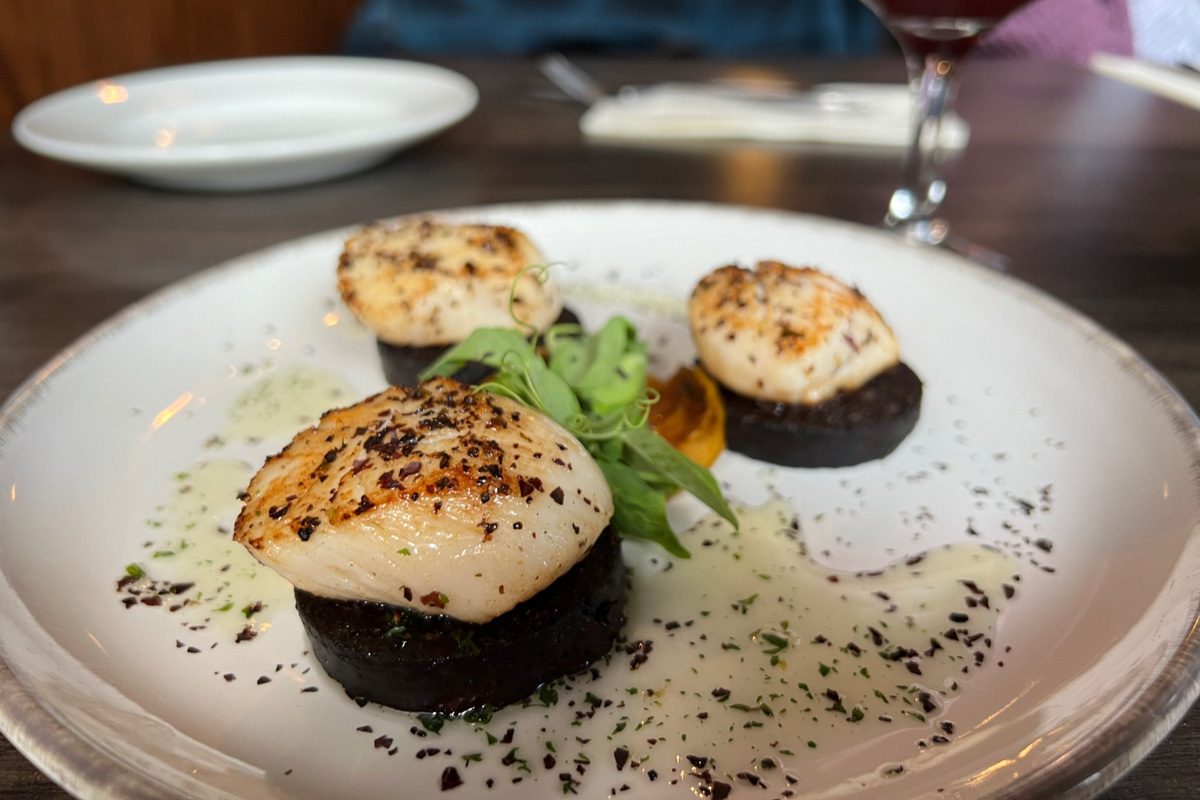 I am a huge fan of seafood, and if I had to choose my very favorite type, I think it may just be scallops!
Harvesting scallops by hand is a sustainable method, as the diver can leave the younger ones and only collect those that are mature and ready for eating.
Scallops are plentiful on Scotland's west coast, making them a staple on many menus, especially in coastal towns, like Portree and lots of other villages around the Isle of Skye.
If you're a fellow seafood lover, you'll definitely want to order scallops (at least once!) during your trip to Scotland.
4. Fish & Chips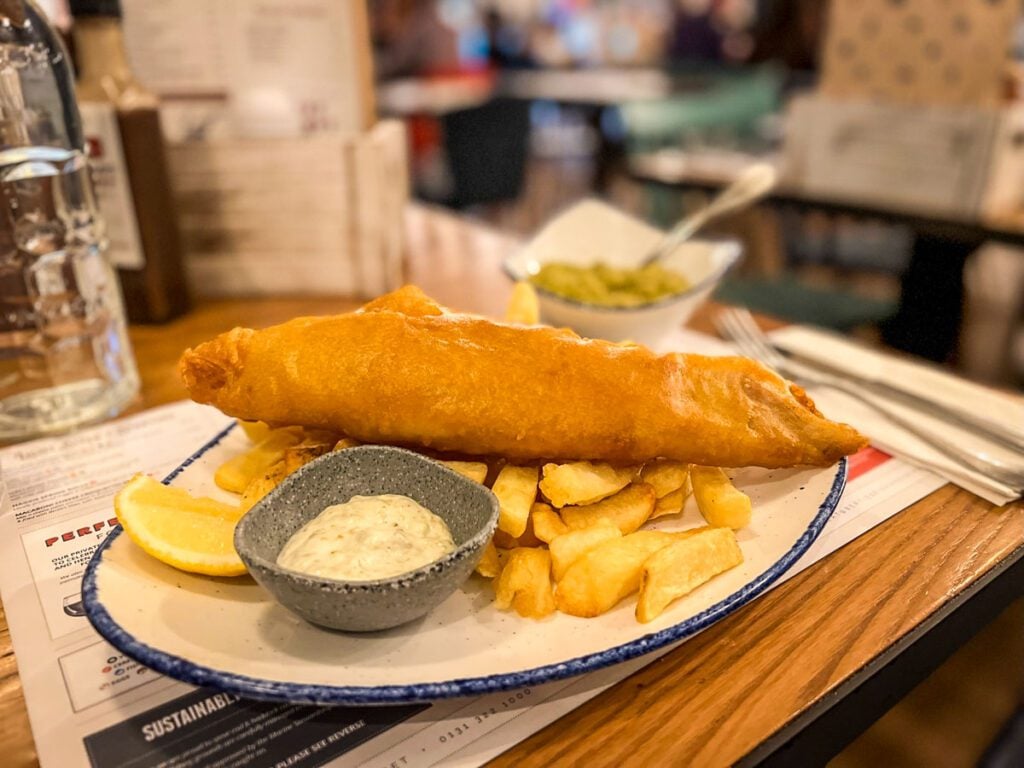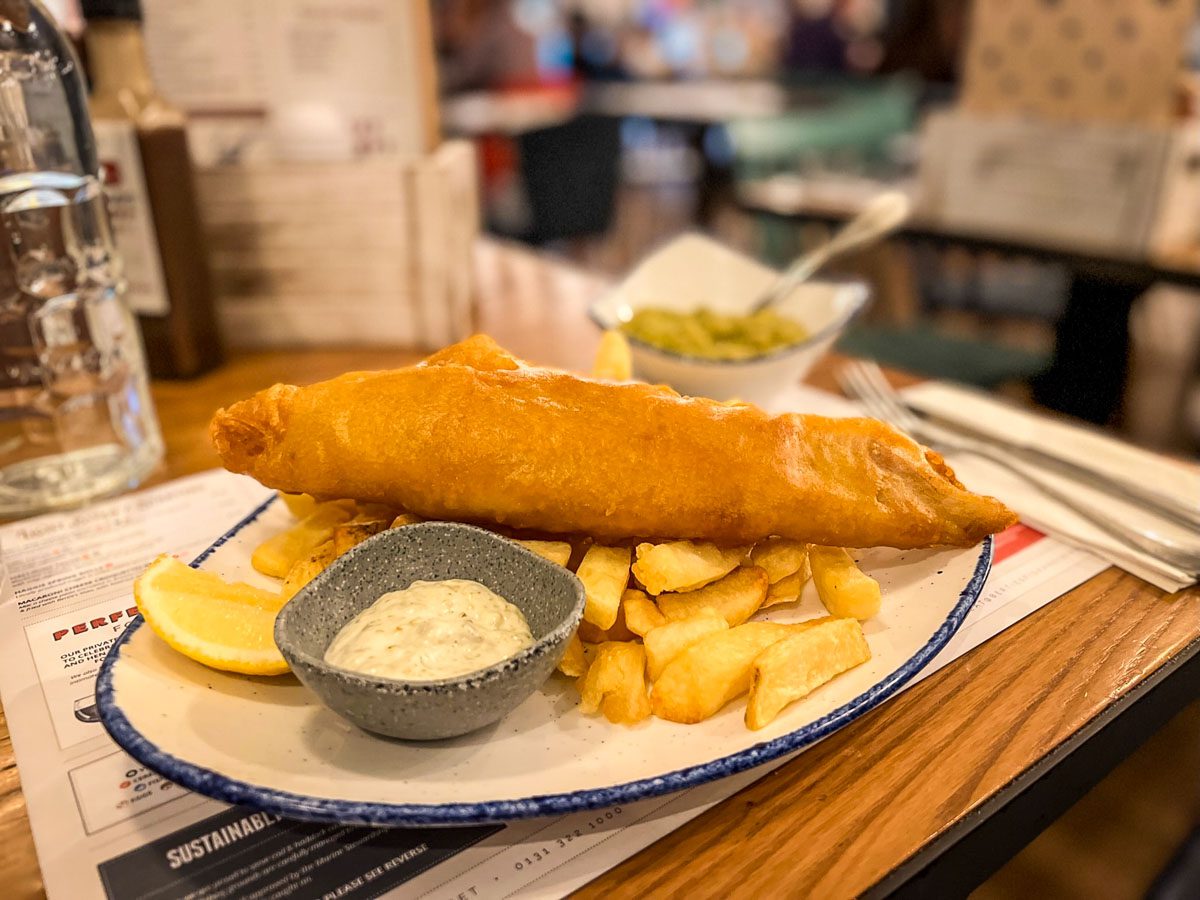 This British classic is popular throughout Scotland and can be found on many 'a menu.
And the best place to get fish 'n chips in Scotland is, well, anywhere near the ocean.
Even Edinburgh and Glasgow aren't all that far from the sea and many restaurants get daily seafood shipments, so wherever you get the hankering for a crispy battered fish, you should be able to find a fix.
5. Black Pudding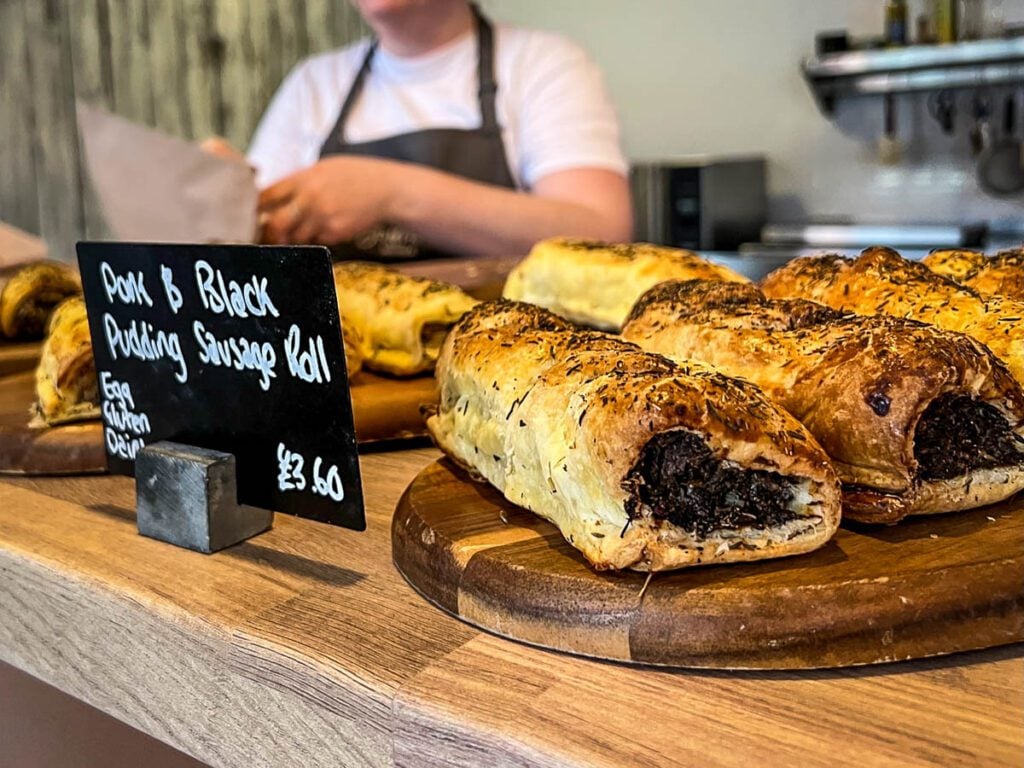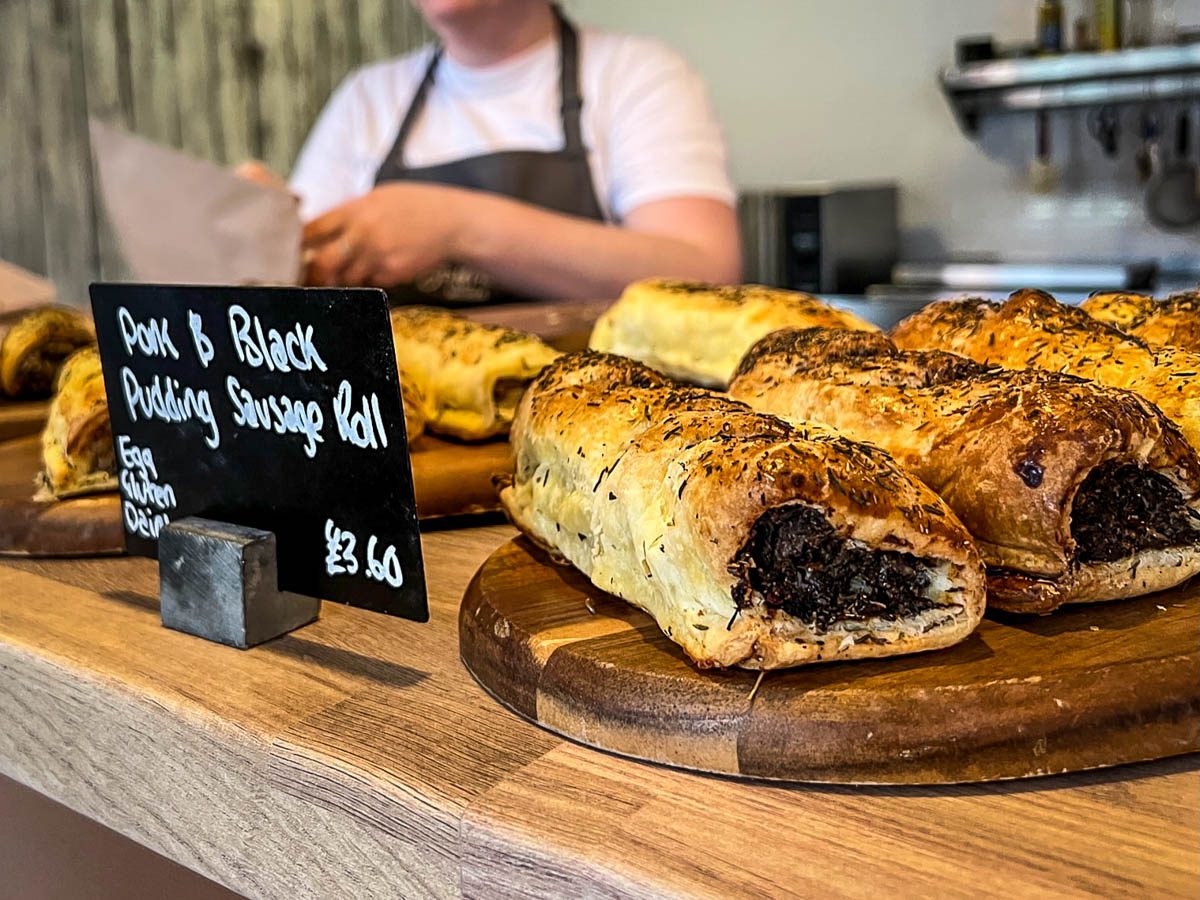 Another popular, yet kind of scary sounding food in Scotland is black pudding.
This British blood sausage is made with pork fat, oatmeal, spices, and — you guessed it — pork blood.
Like haggis, it sounds completely off-putting. And I've heard if you get not-so-great versions, it's not the best.
That said, we tried black pudding and scallops at a nicer restaurant and I (surprisingly) really liked it.
It's most often served sliced into "discs" and fried. I found it to have a nice, subtly nutty flavor. It didn't taste as "meaty" as I was expecting.
Black pudding is usually served as part of a larger meal, so even if you're not a huge fan, it's not that big of a commitment since it's just part of a meal.
How to try black pudding: Black pudding is served with Traditional Scottish breakfast, but our personal favorite is the popular combination of scallops and black pudding.
6. Full Scottish Breakfast
If you're going to order a full Scottish breakfast, make sure you're hungry.
While the exact items may vary, your plate will be filled with some (if not all!) of the following: fried eggs, sausage, bacon, tattie scones (similar to potato pancakes), fried tomatoes, baked beans and black pudding.
This sounds very similar to what you'd get in a full English breakfast, but the thing that makes it uniquely Scottish is the black pudding.
Like I said, come hungry!
7. Cullen Skink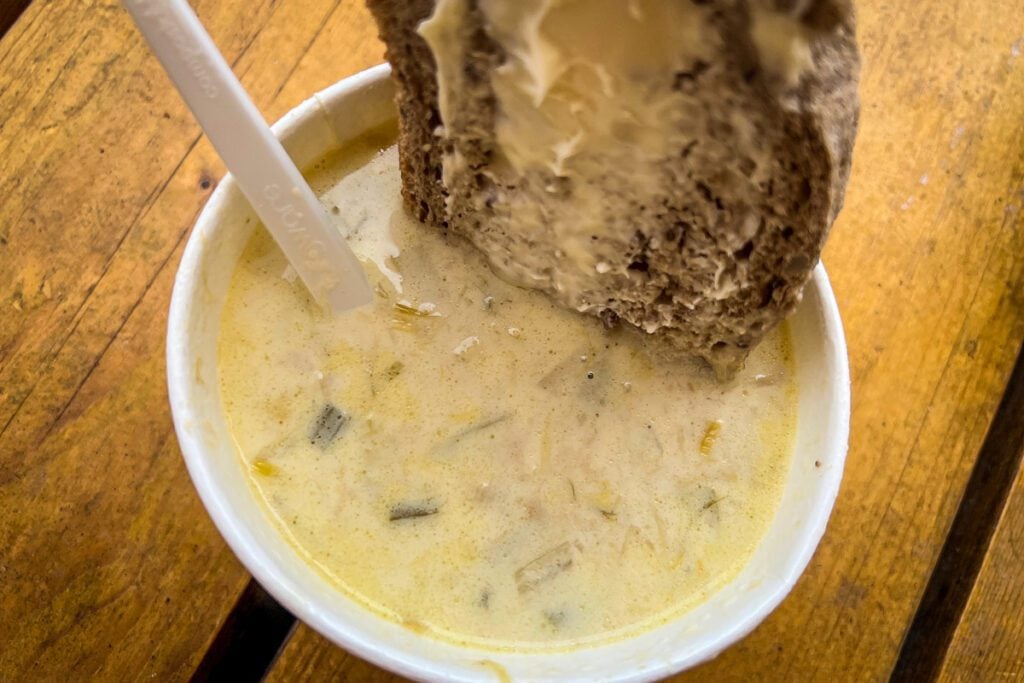 Another truly Scottish food to try is Cullen skink.
If you've had clam chowder, the flavor is very similar, but instead of clams, this soup has fish.
This dish gets its name because it originated in the small seaside village of Cullen, located on Scotland's northeast coast. And Skink was a catchall term for soups and stews.
This hearty chowder starts with a creamy base, then is packed with potatoes, smoked haddock, onion and parsley, and served with crusty bread.
Creamy, comforting goodness.
Where to get it: You'll most commonly find Cullen Skink in coastal towns or on the menu of seafood eateries. We got a really nice version at the famed Seafood Shack in Ullapool.
8. Locally made cheddar cheese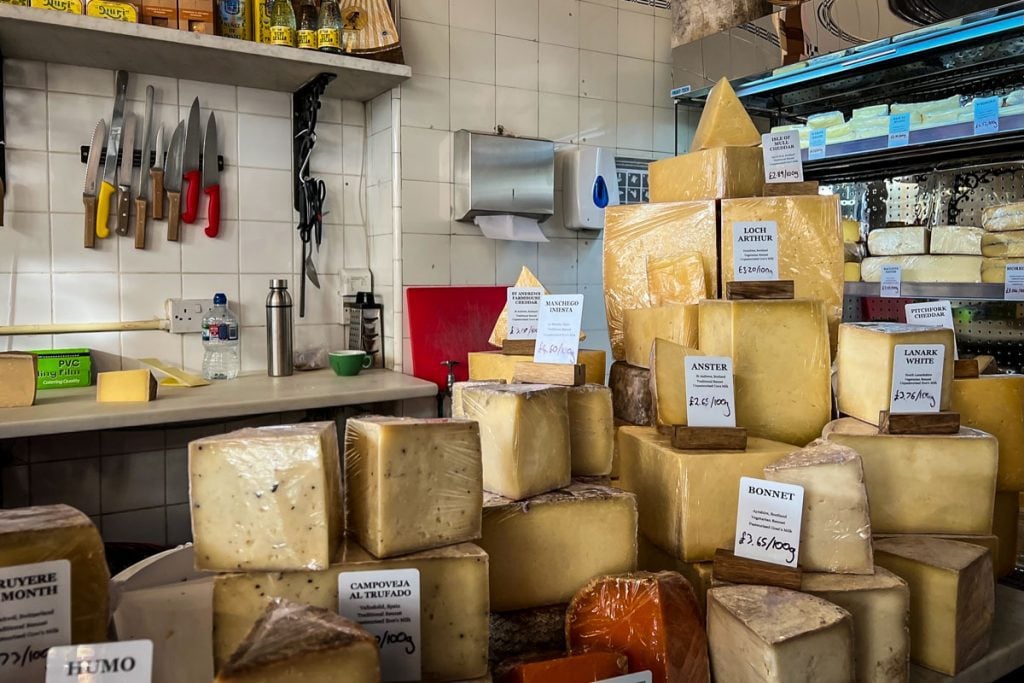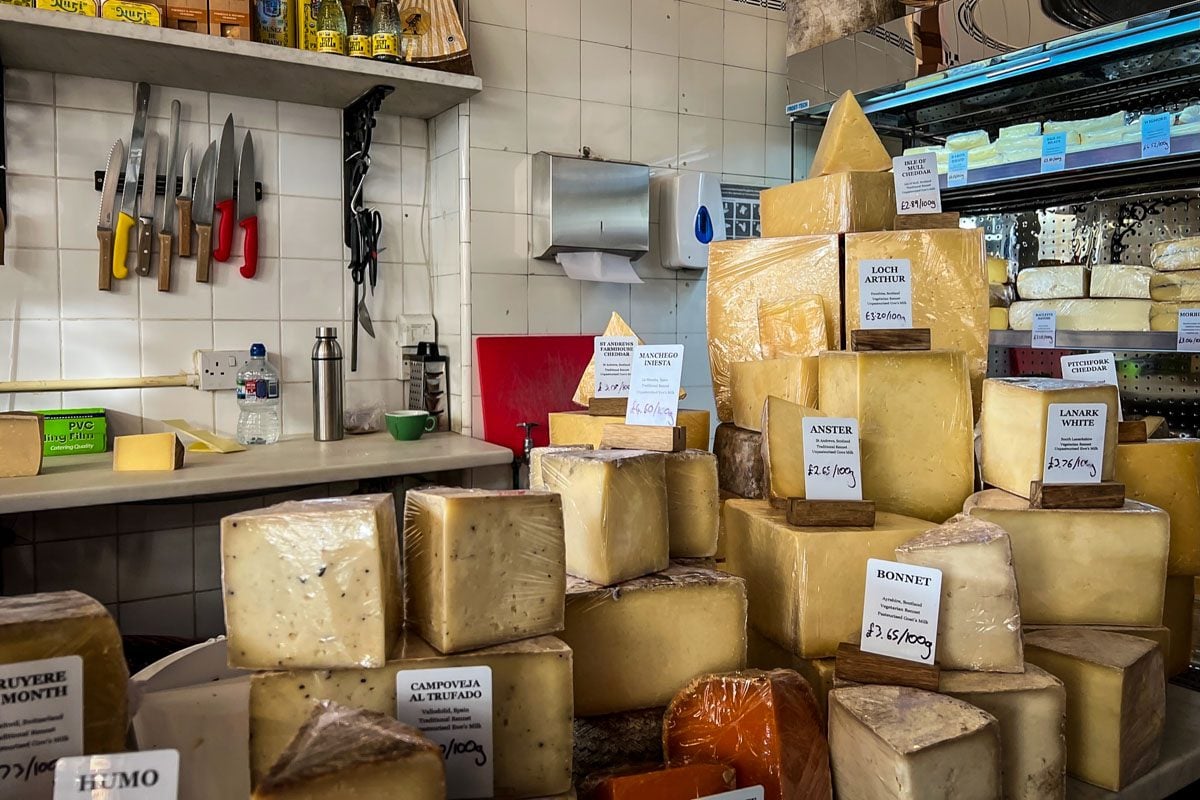 Calling all fellow cheese addicts!
Scotland has some killer (white) cheddar cheese that you should absolutely try.
Pop into a cheesemonger where you can sample several types and choose your favorite. Or favorites. We found the Isle of Mull cheddar to be quite tasty!
It is a key ingredient for a picnic in the countryside (with a view!).
9. Oatcakes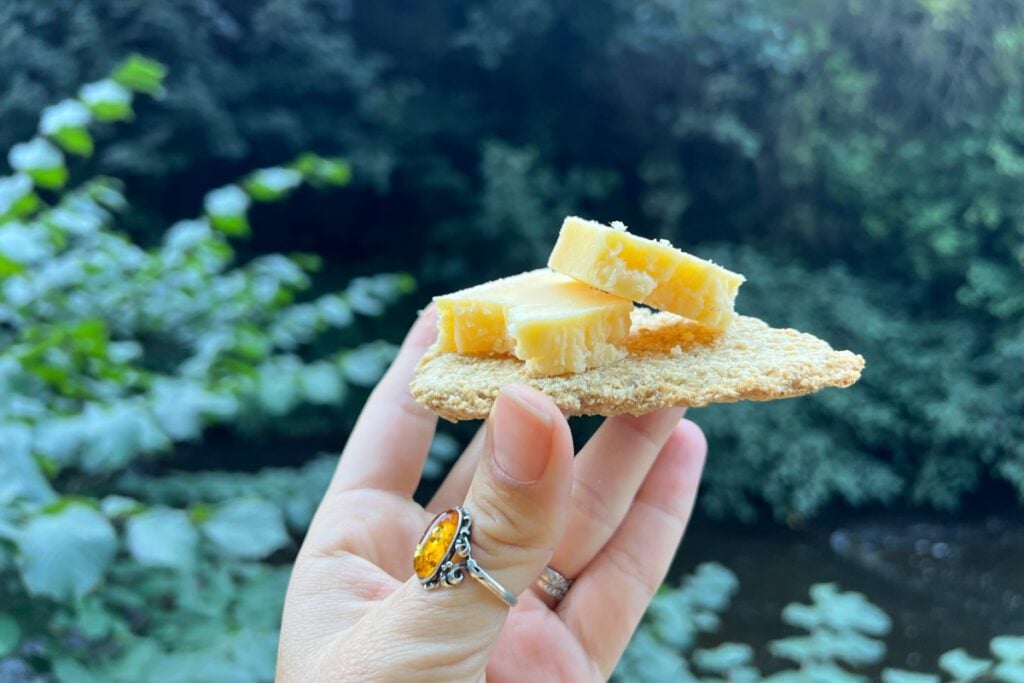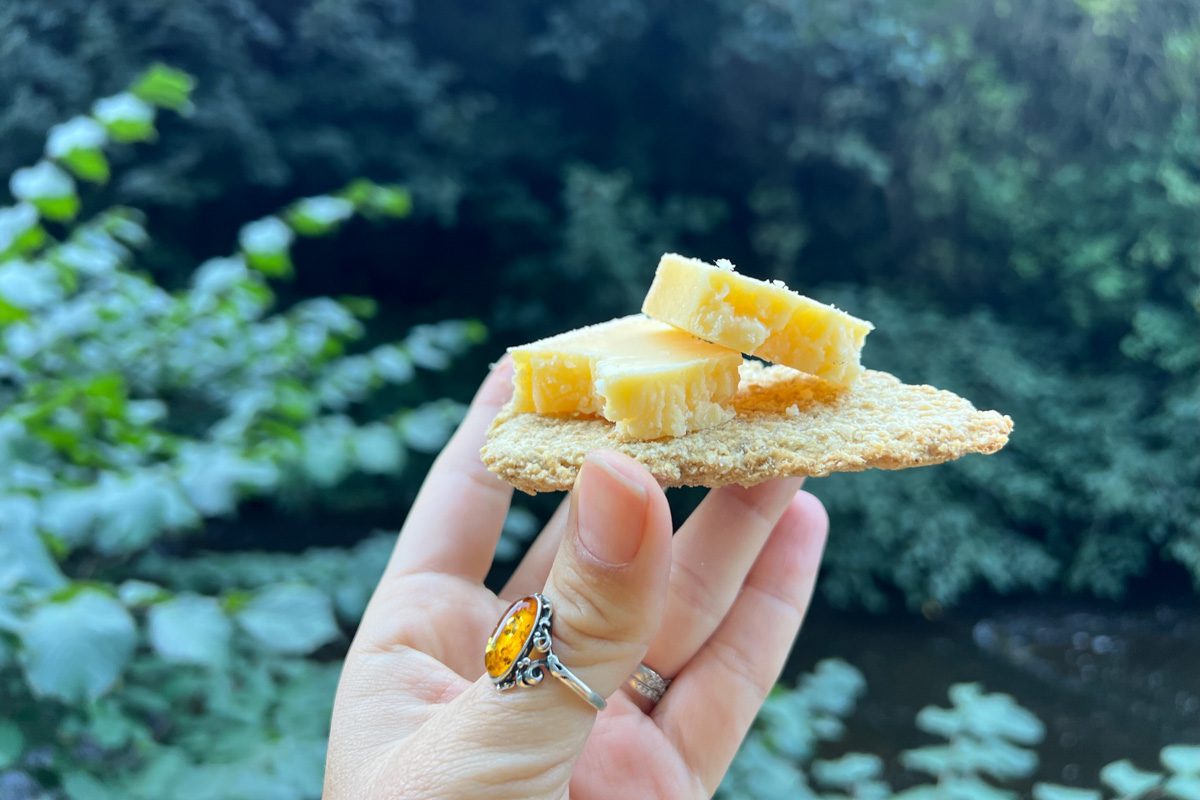 Speaking of Scottish cheeses, you've got to pick up a package of oatcakes to pair!
I prefer the type that are just slightly sweet, and since some oatcakes can get a bit dry, I like to grab a savory marmalade (like onion jam) to layer between the cracker and the cheese.
Now you've really got the perfect picnic!
10. Sausage roll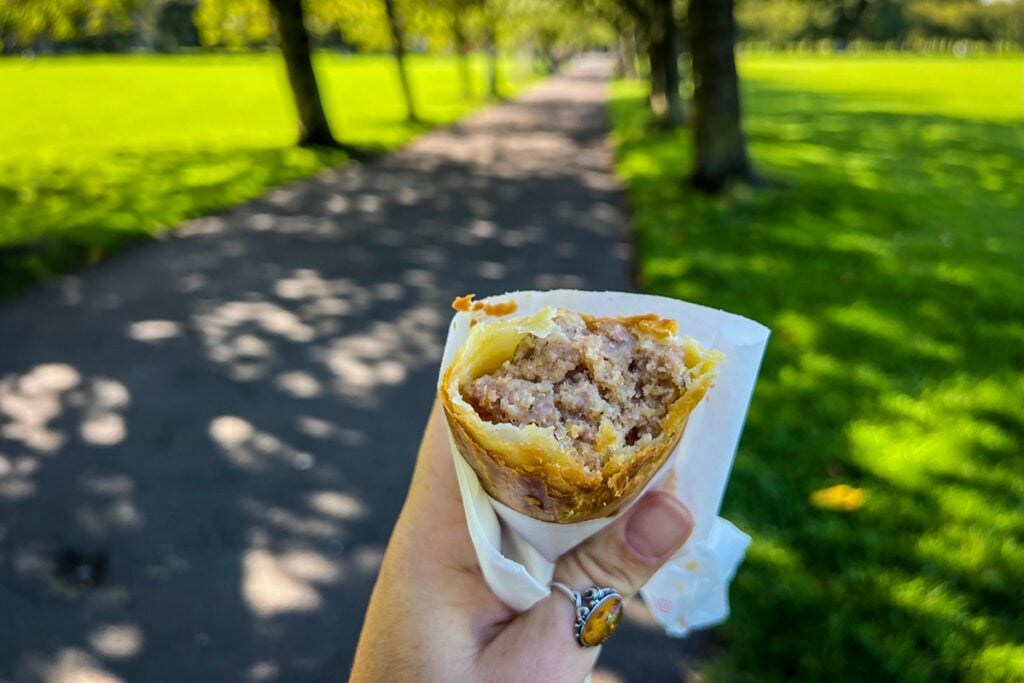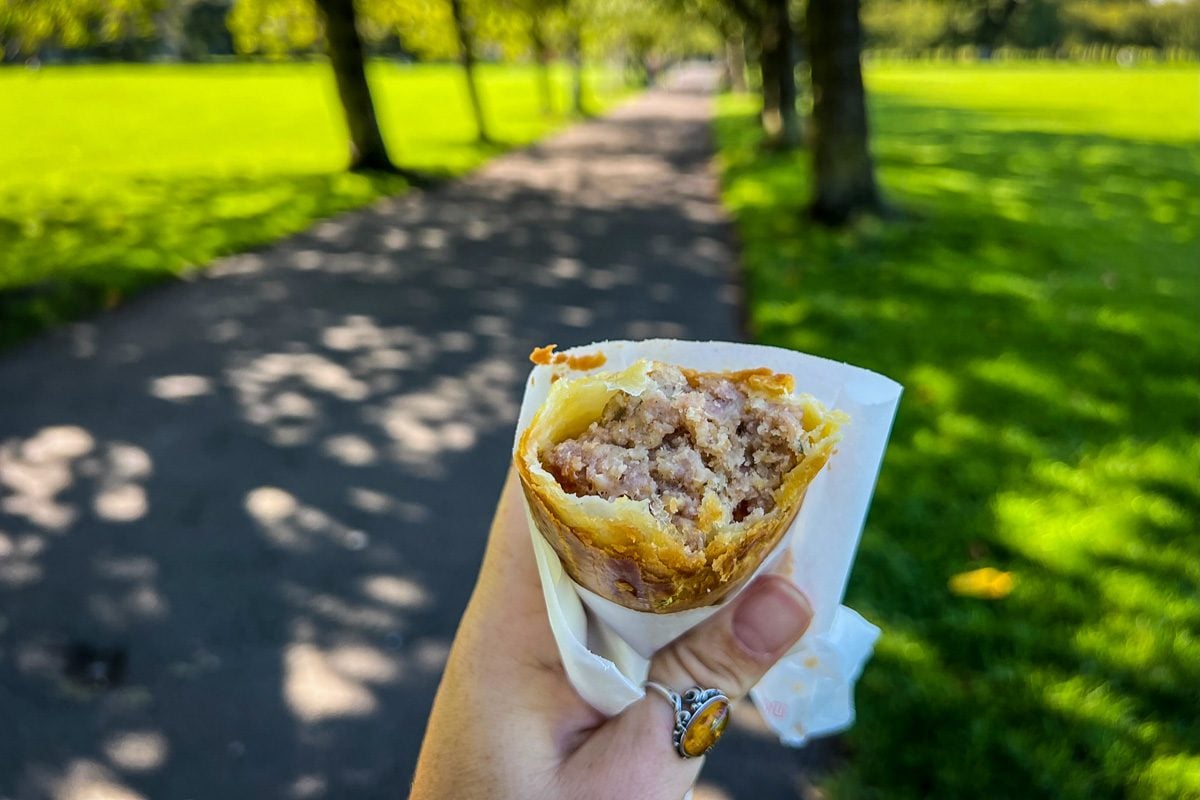 If you're looking for a savory breakfast on the go, a sausage roll will satisfy your craving. While this handheld morning treat is British, you'll find them all over Scotland.
Where to get a sausage roll: You'll have no trouble finding them at bakeries around Scotland. However, here are a couple of our favorites:
11. Chicken Tikka Masala (or any Indian food, really!)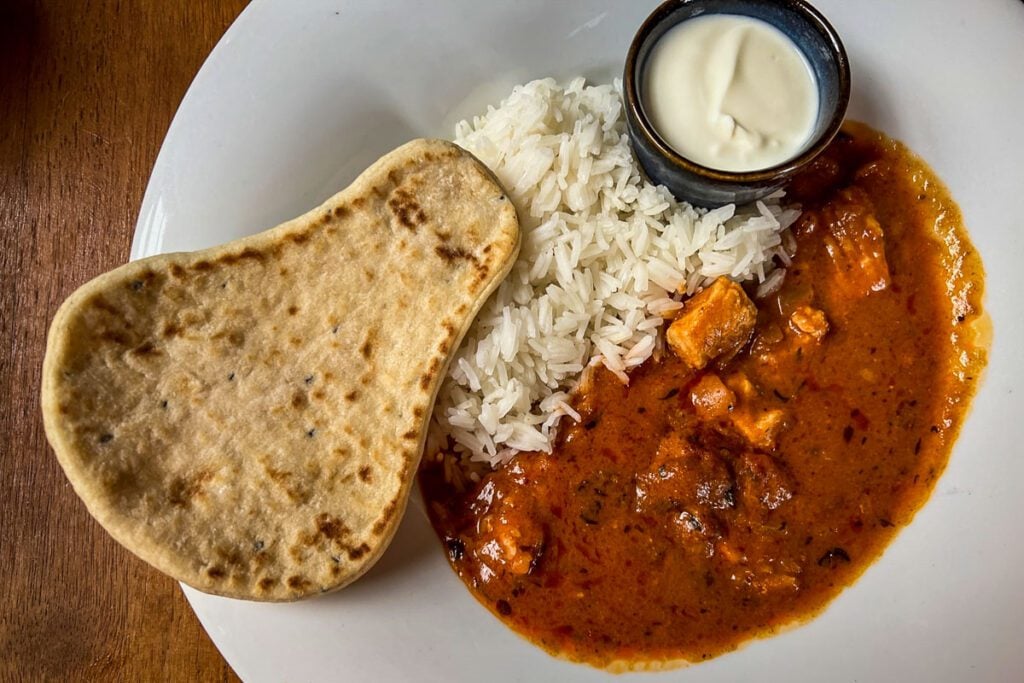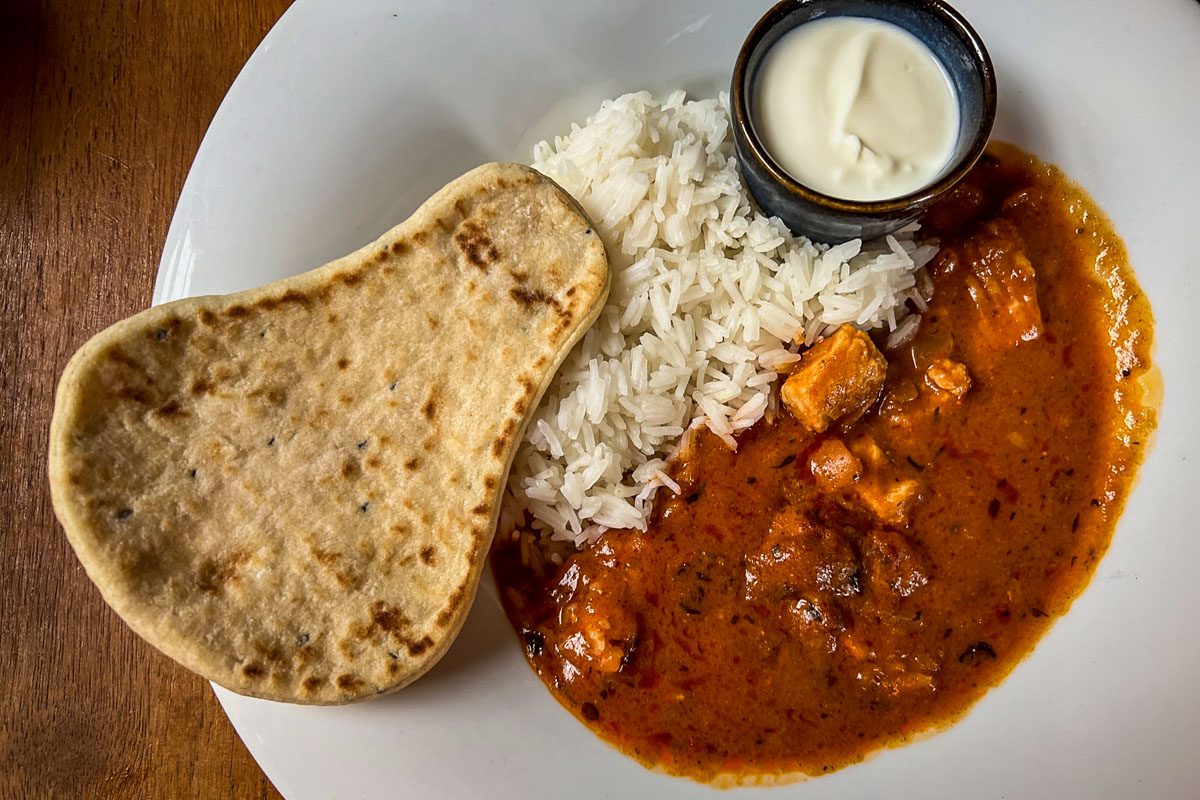 At first glance, this may sound strange to find on a list of Scottish foods, but hear me out…
While Scotland is nearly 5,000 miles from India, the cuisine is very popular amongst Scots. You'll find excellent Indian restaurants all throughout Scotland that serve truly authentic cuisine.
Order your favorite dish, or get Chicken Tikka Masala, which was allegedly invented in Glasgow.
Since Indian cuisine is so popular throughout Scotland, you can even find some Scottish-Indian fusion. For example, The Pakora Bar in Edinburgh famously serves haggis pakoras!
12. Local Oysters & Mussels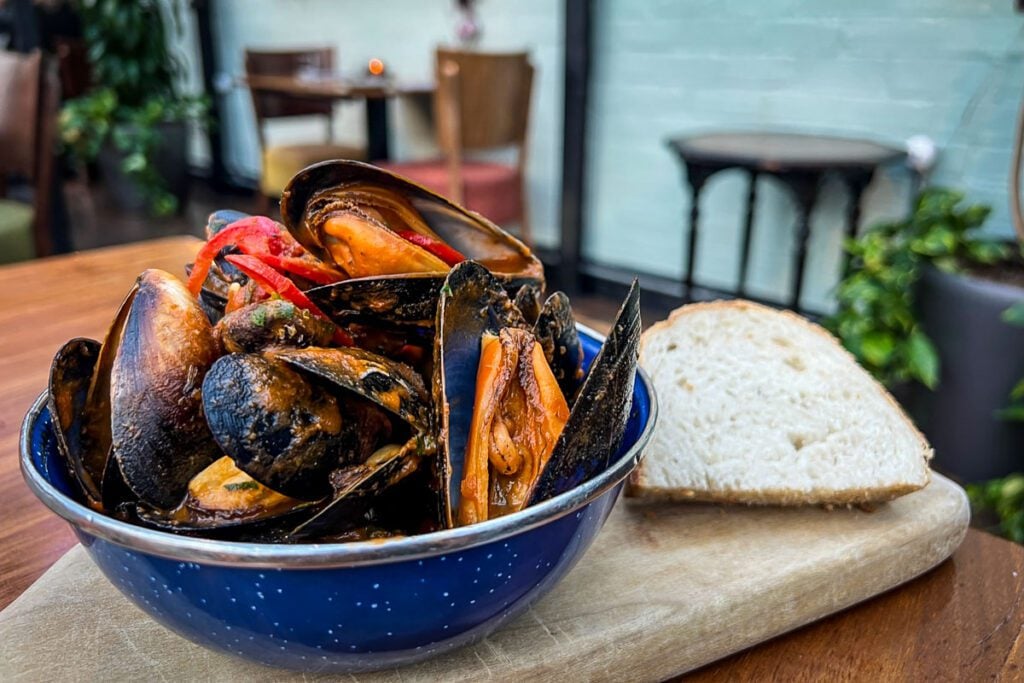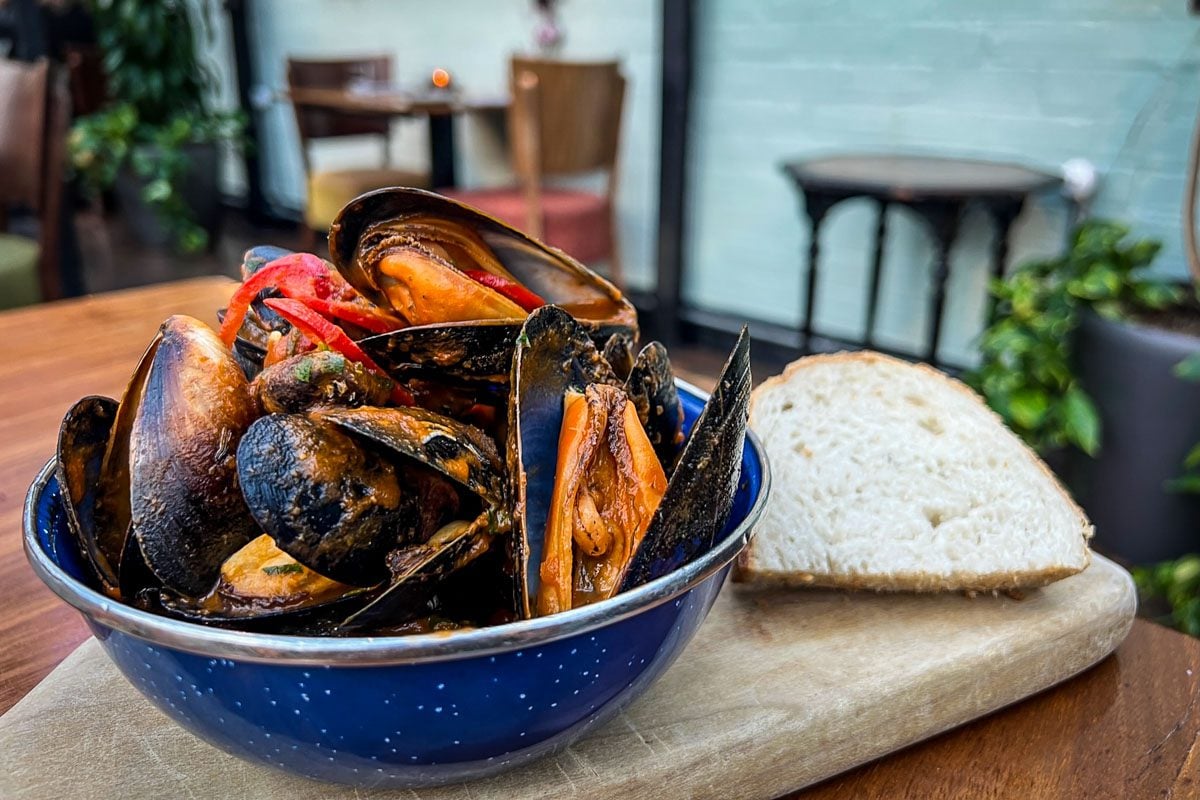 Scotland is known for farming both excellent oysters and mussels, and both make a great choice if you're craving shellfish.
13. Scotch Pies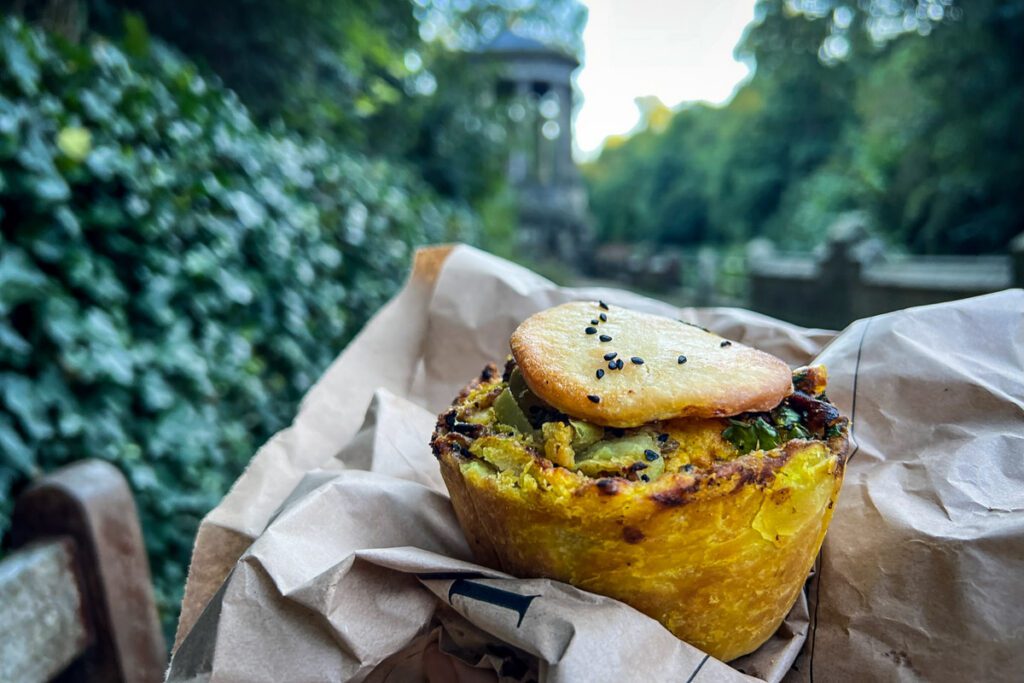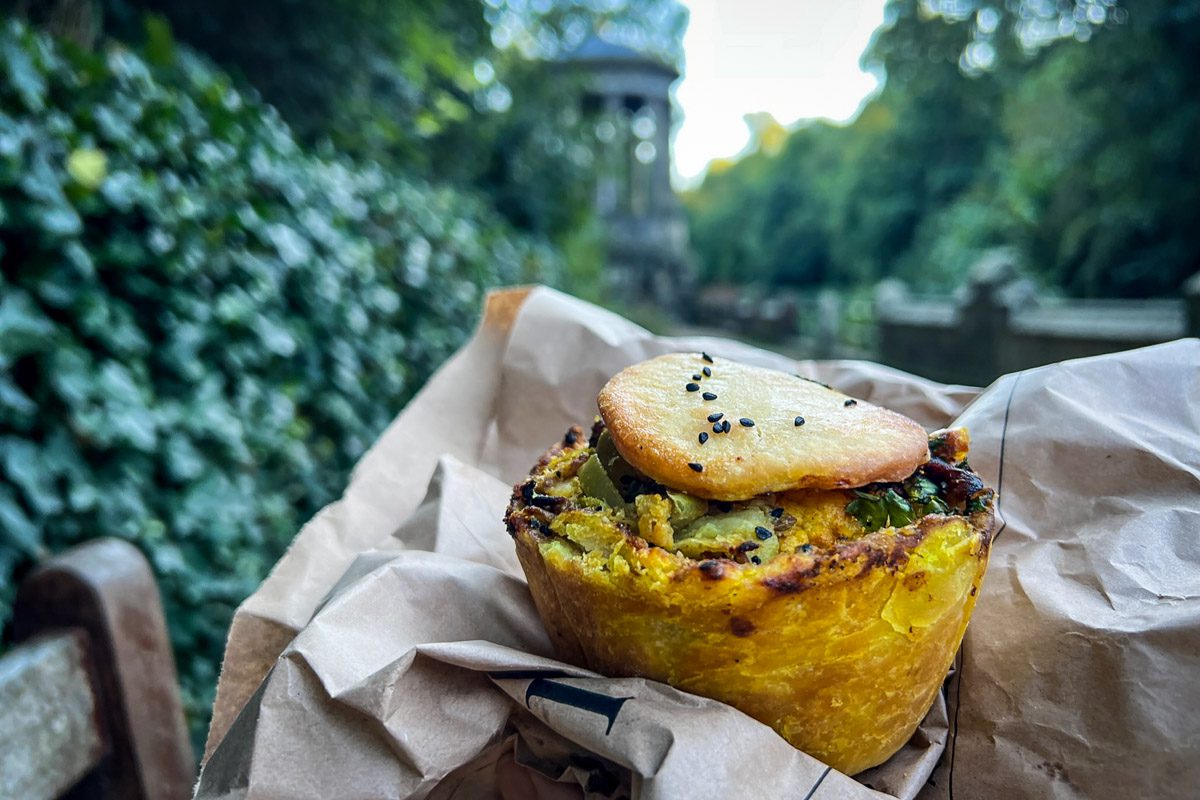 These small meat pies are a good option for a savory bite on the go.
With a crust on both the bottom and top, this pie is traditionally filled with minced meat and spices.
You can find spins on the classic that feature different types of fillings other than meat, like vegetables and cheeses.
Scottish Sweets & Desserts
If you've got a sweet tooth, you'll be pleased to know that there are lots of desserts and treats to try in Scotland!
14. Cranachan
This quintessential Scottish dessert combines many ingredients the country is known for: whisky, oats, honey and raspberries.
Layered together with homemade whipped cream, it is downright delightful. Reminiscent of a trifle, it's equal parts creamy, sweet and tart.
For being known as one of the most popular Scottish desserts, we honestly found Cranachan difficult to find. (Thankfully, we got it on our food tour, otherwise we would have missed it!)
So if you see Cranachan on a menu, order it!
15. Tunnocks Tea Cakes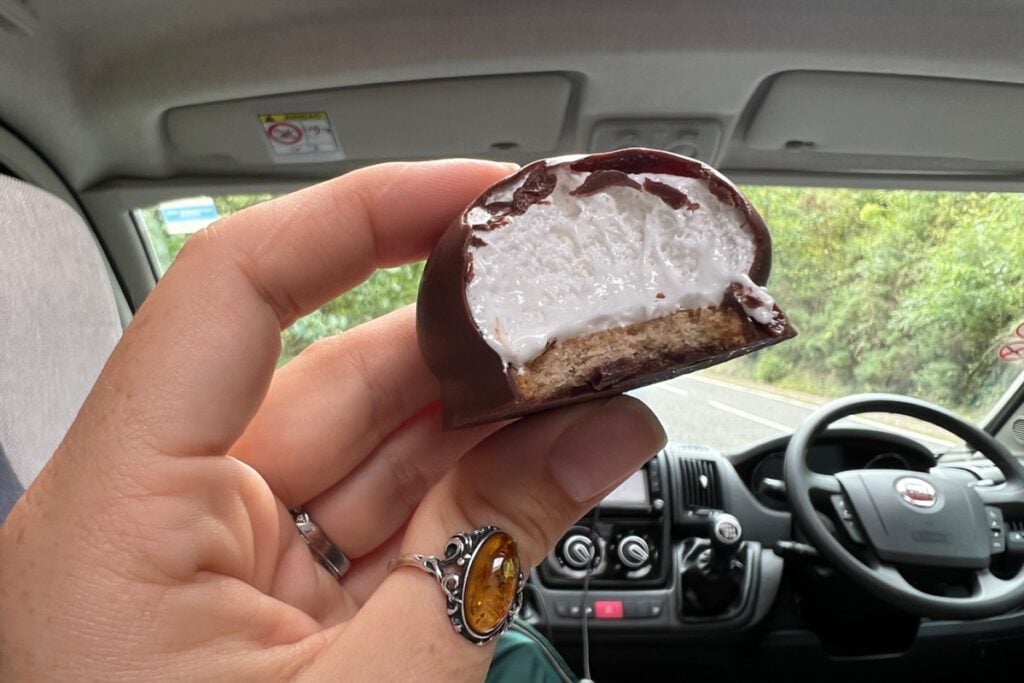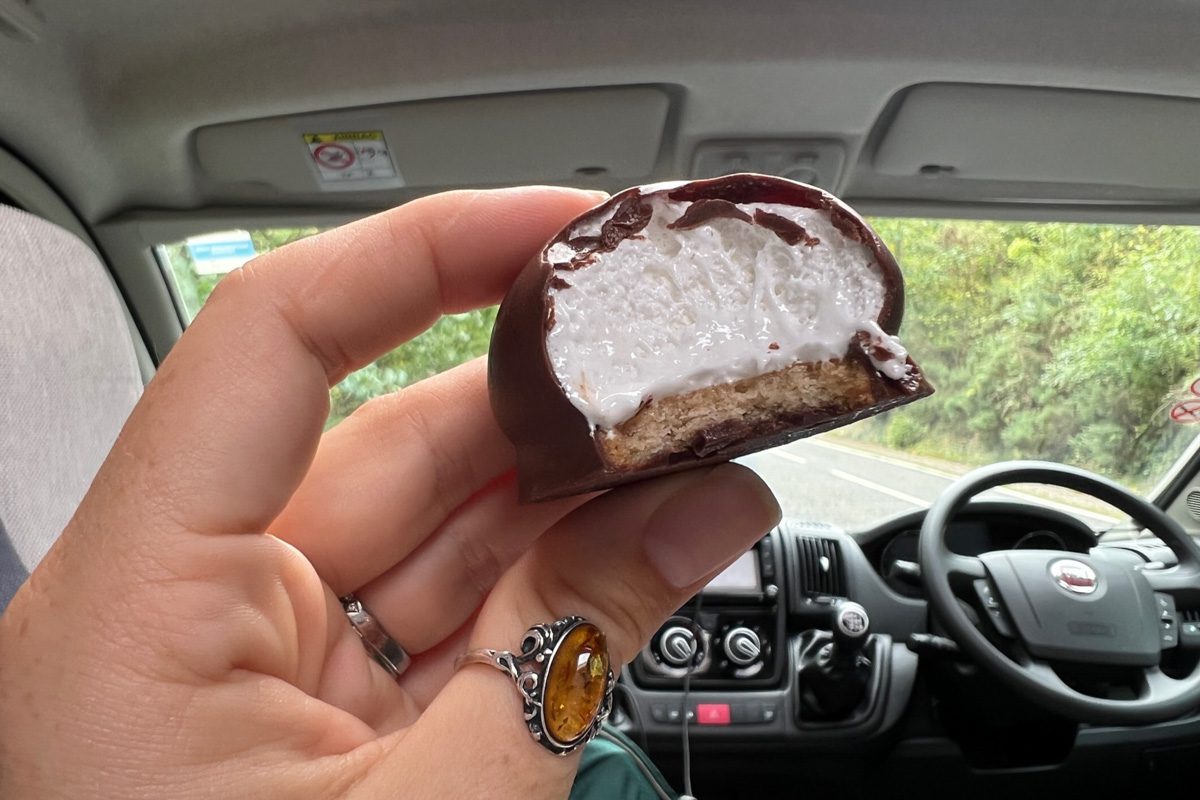 I had a mini love affair with these babies during our trip in Scotland. Sold in just about any supermarket, Tunnocks Tea Cakes are a Scottish classic, and we were told by multiple people that we just had to try them.
So what are they exactly?
A slightly chewy cookie is topped with a light marshmallow cream and then enrobed (that sounds fancy, right?!) in a chocolate shell.
Now, I'm not exactly a huge marshmallow person, except on s'mores. And apparently these.
I don't care much for milk chocolate, so when I saw there was a dark chocolate version of this Scottish favorite, I knew I had to get it.
My only regret is that I didn't get more of the dark chocolate ones (blue wrapper!) when I found them, because as I discovered, they are very hard to find. After the first grocery store, I never found them again. And I will say, the dark chocolate ones are better than the milk chocolate (in my humble, but correct, opinion!).
16. Shortbread
These buttery and not overly sweet biscuits are one of my all time favorite cookies!
They are melt-in-your-mouth-good. And pair perfectly with coffee. Or tea. Or whisky? Hmmm…
Well regardless of all the things you can eat it with, shortbread is damn good and may just be one of my favorite Scottish foods.
Shortbread makes a great souvenir to bring home to share with family and friends. (That said, popular brands like Walkers are pretty easy to find in many other countries, you may be able to get it at home without having to worry about them breaking on the journey.)
17. Scottish Tablet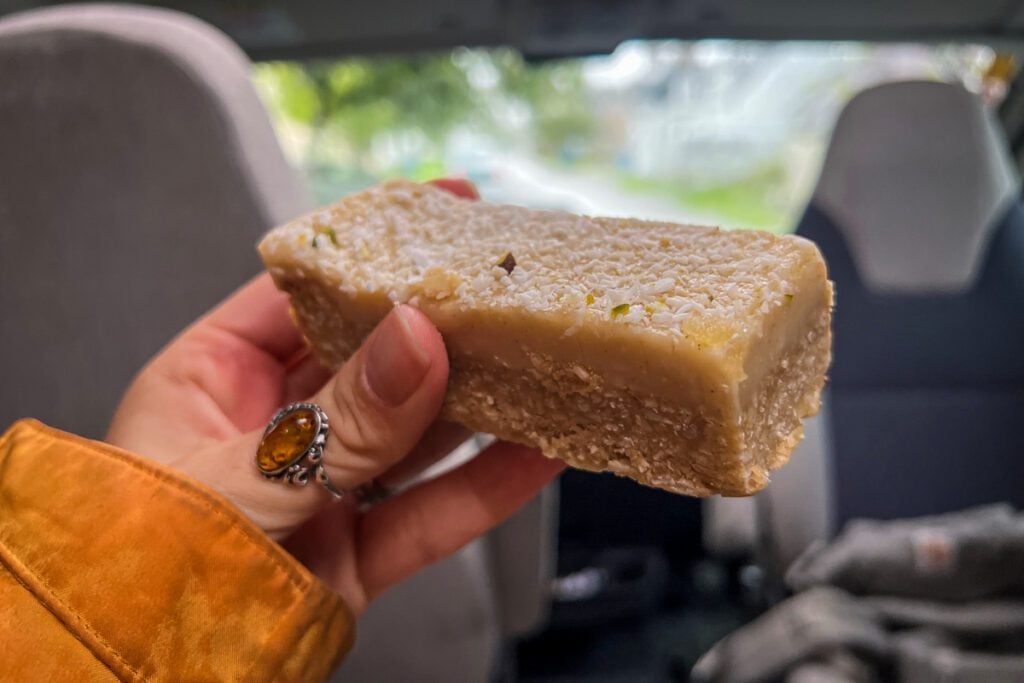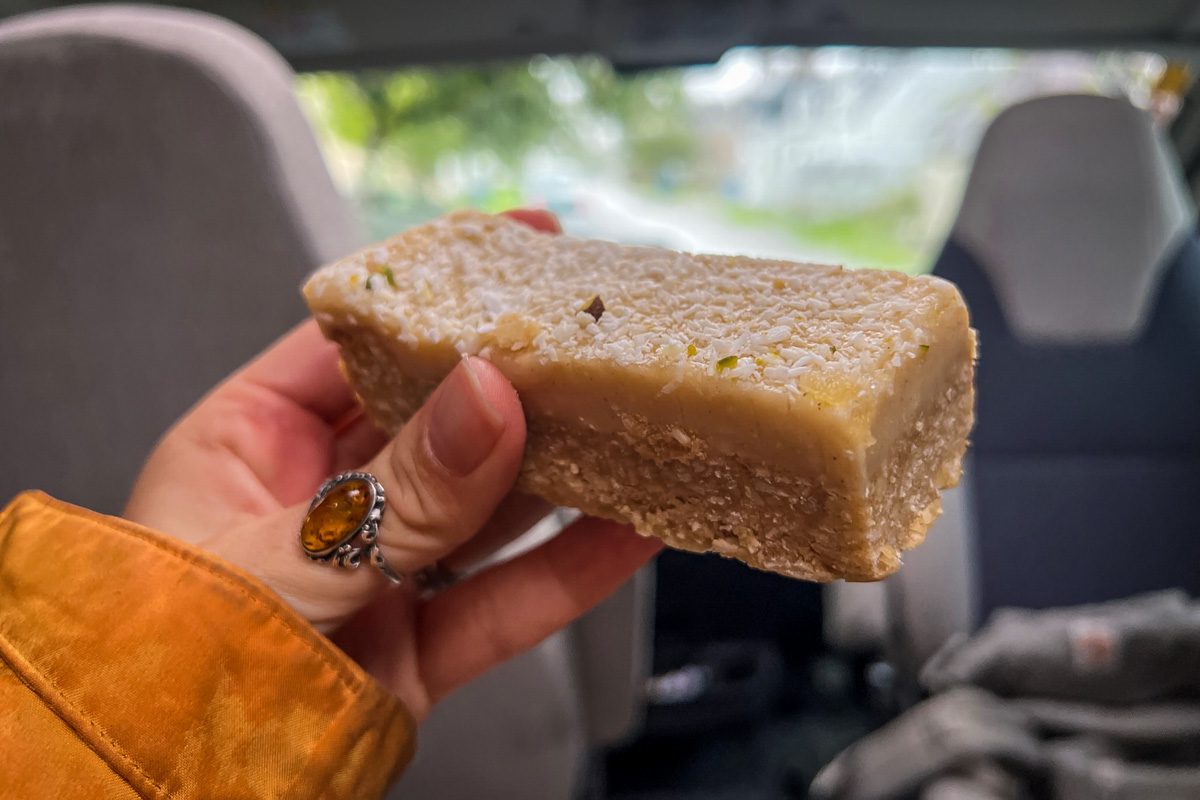 If fudge met dulce de leche and had a love child, this would be it. Made with butter, sugar and milk, this sweet, caramel-y treat melts in your mouth.
---
Scottish foods to skip
While we're all about trying as many foods as possible, there are a couple Scottish dishes we'd give a miss.
Do what you will with this advice, but here are the two foods in Scotland we wouldn't go out of your way to try…
18. Deep fried Mars Bar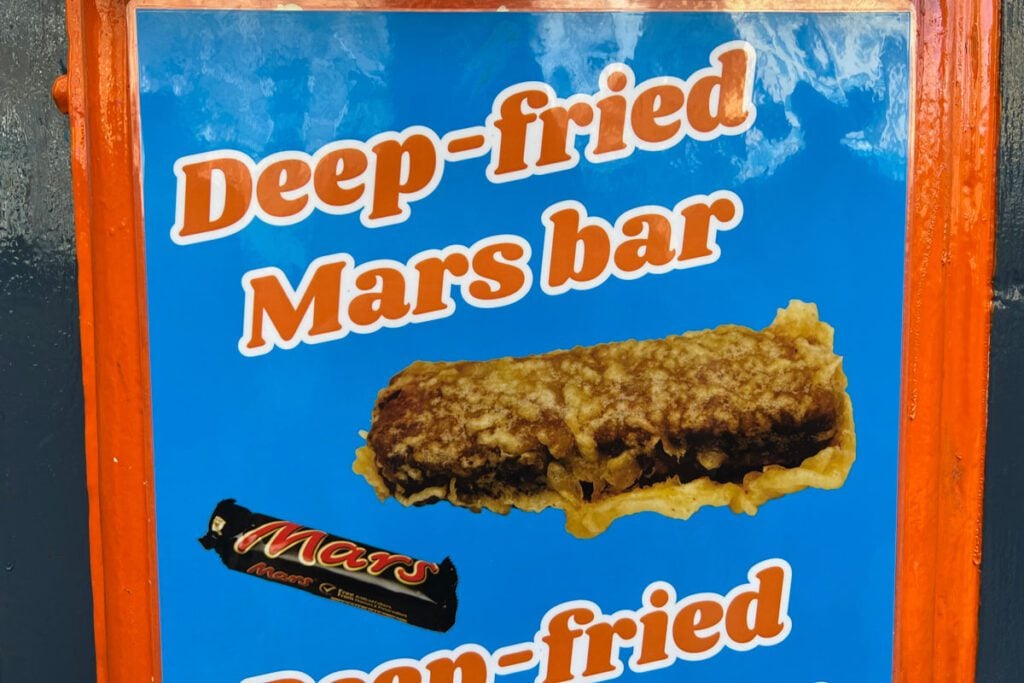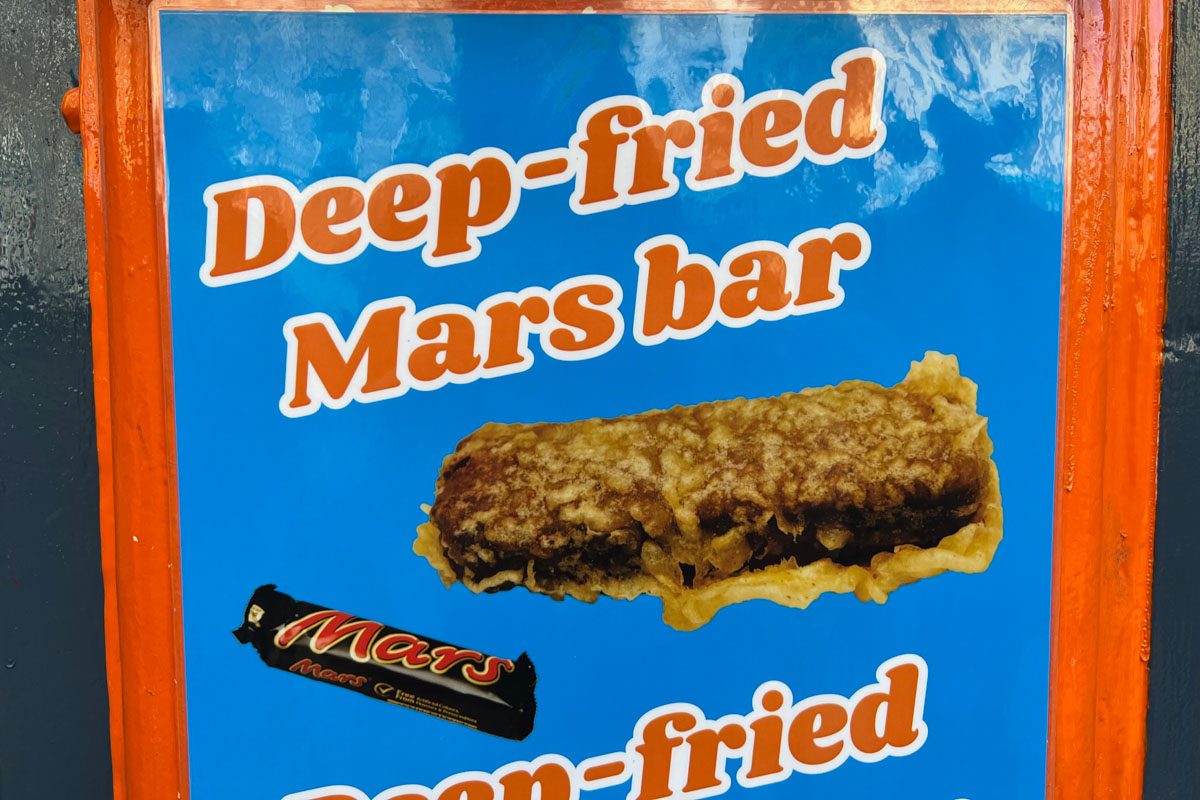 This is just what it sounds like — a Mars Bar (chocolate bar with nougat and caramel), battered and deep fried.
If that description alone doesn't make your arteries feel clogged, I'll give you another reason: It's not really a true Scottish food.
Our food tour guide said that Scots don't really eat fried Mars bars, yet it's marketed as a "Scottish food" at fish 'n chips shops mostly for tourists.
19. Pizza crunch
This is a pizza that has been battered and deep-fried instead of baked. And unlike the deep fried Mars bars, this supposedly is a dish Scots actually order.
And some people supposedly even order it with a side of chips. Yikes!
Honestly, do you really need a deep-fried pizza? My arteries, for one, are shrieking, "stay away!".
With so many other Scottish foods to try, we'd give this one a hard pass.
---
Drinks to try in Scotland
Scotland is known for 3 main beverages. Which suits your fancy?
20. Whisky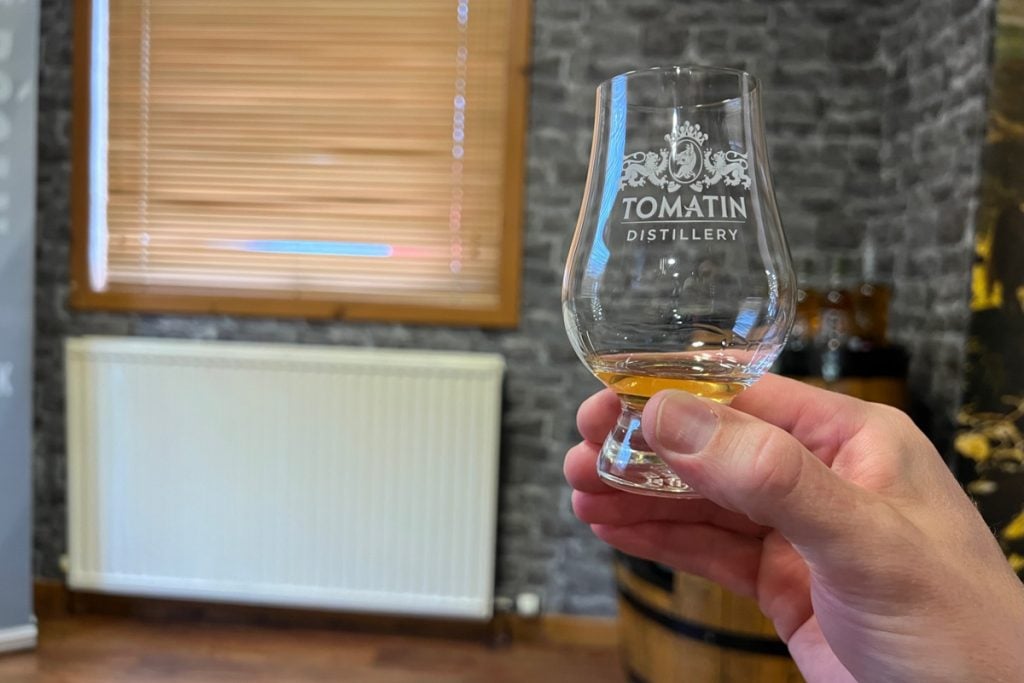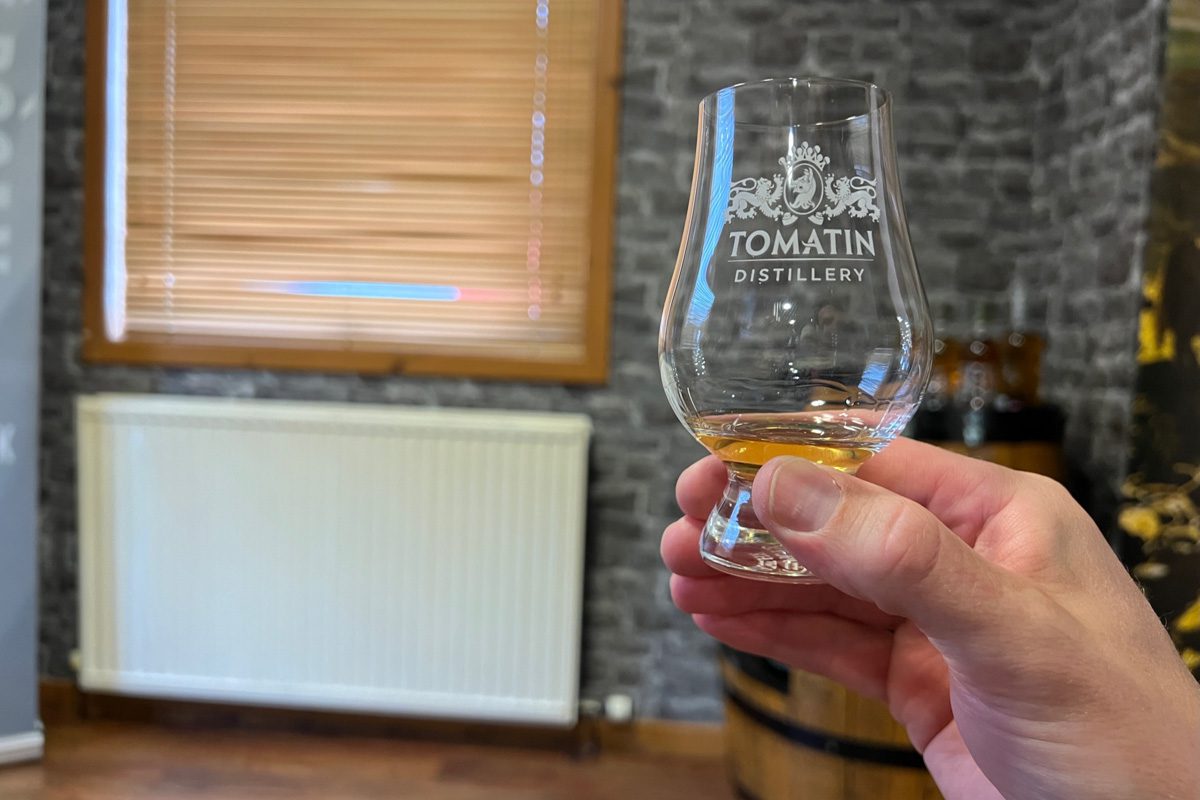 There is no drink more quintessentially Scottish than, well, Scotch.
FYI Scotch is the term for whisky made in Scotland. So Scotch is whisky, but not all whisky is Scotch. Make sense?
If you're a fan of whisky — or even if you aren't sure if you are — there are plenty of opportunities to sample it around Scotland.
Touring a distillery is one of the best things to do in Scotland, and will give you a much deeper appreciation and understanding of how it's made.
Another way to hone in your whisky palate is to belly up to a bar and as the bartender for a whisky tasting. If you tell them your preferences, they can often curate a tasting of Scotch just for you.
Nerdy Fact: In Scotland (and the rest of the UK), whisky is spelled without an "e". In the USA, it is spelled whiskey.
21. Gin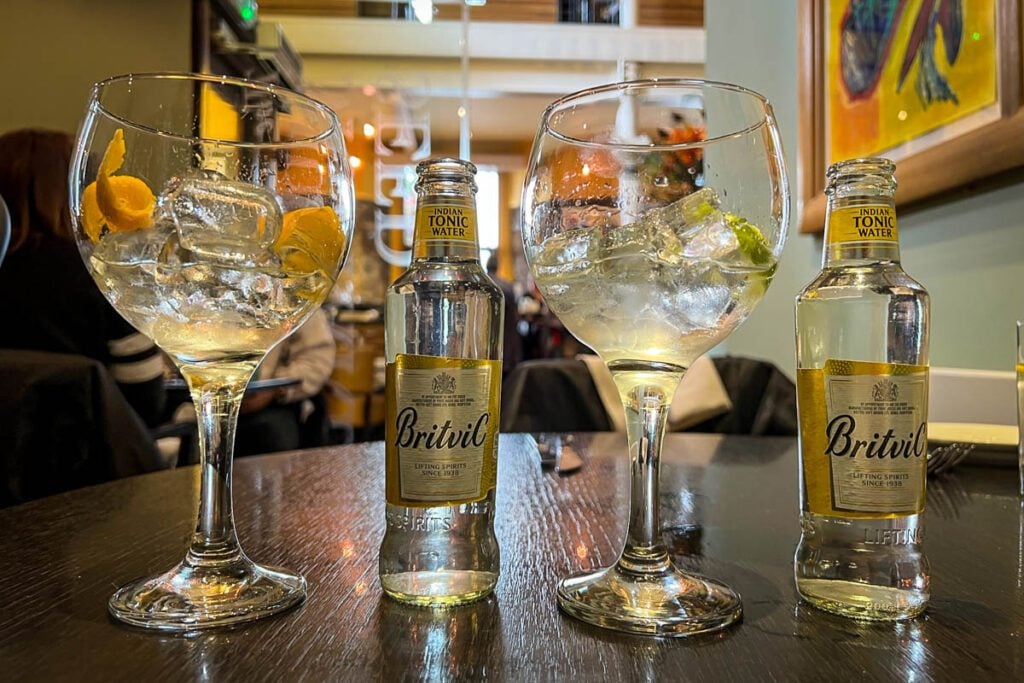 If I could only order one cocktail for the rest of my life, a gin and tonic it would be.
The UK is the OG of gin; and Scotland, in particular, has some excellent versions of my favorite spirit.
Fun Fact: While the UK produces the most gin in the world, its birthplace is actually the Netherlands. Is anyone else surprised by this?
My fellow G&T baddies will be happy to know that many restaurants and bars around the country have extensive gin menus, with descriptions of each flavor profile and tonic pairing suggestion. Flavored gins, like rhubarb and ginger, are also popular and worth a try.
22. Irn-Bru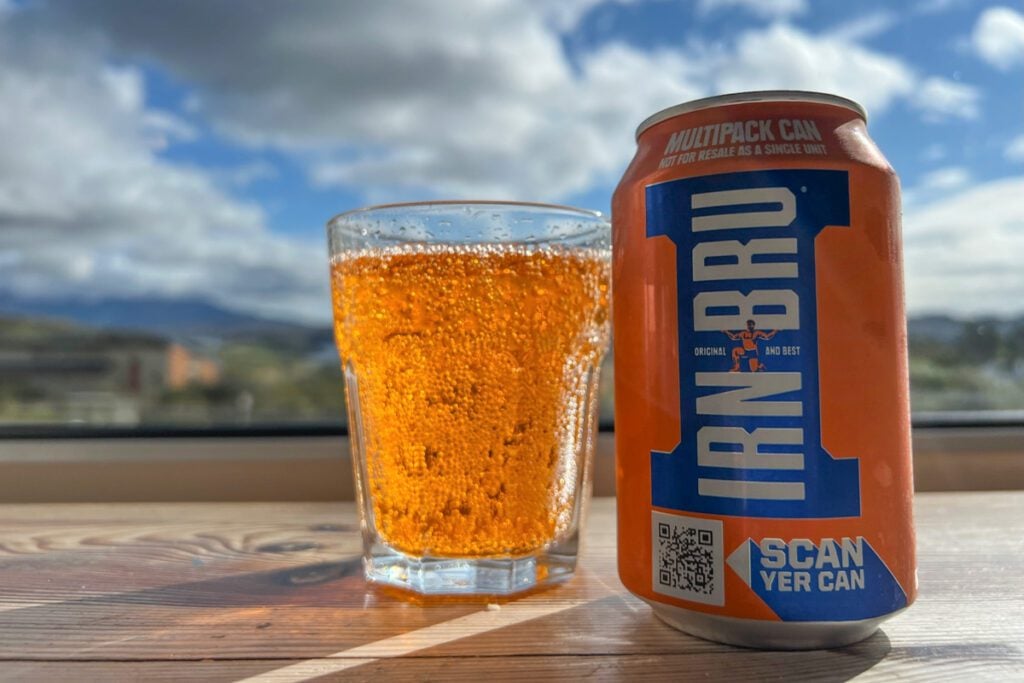 This neon orange drink is often referred to as "Scotland's other national drink" (second to whisky, of course!), and it's the country's most popular non-cola soda.
When I took my first sip of Irn-Bru, I was expecting an orange Fanta-type soda, but what met my lips was entirely different.
The flavor, in my opinion, is reminiscent of… bubble gum.
Bubble gum is not exactly my favorite flavor. And I likely wouldn't order an Irn-Bru again, but it was interesting to try.
FYI I don't drink soda (other than for "research", like this article), so if you're a fan, you might enjoy this one more than we did.
---
Foodie experiences in Scotland
If you have two food-related experiences in Scotland, let them be these…
Scottish Food Tour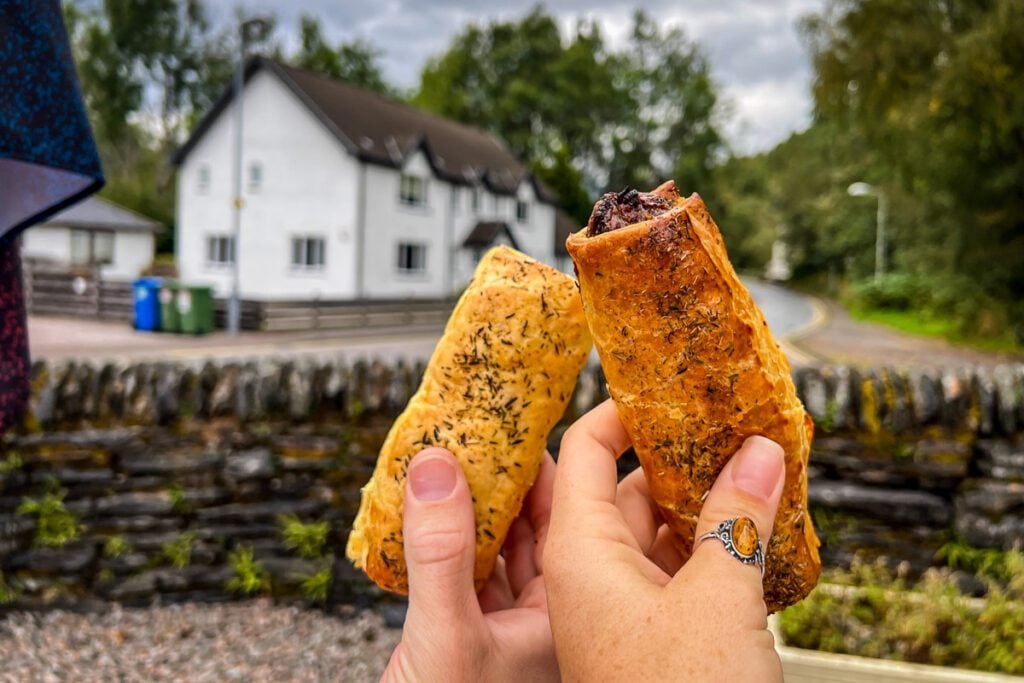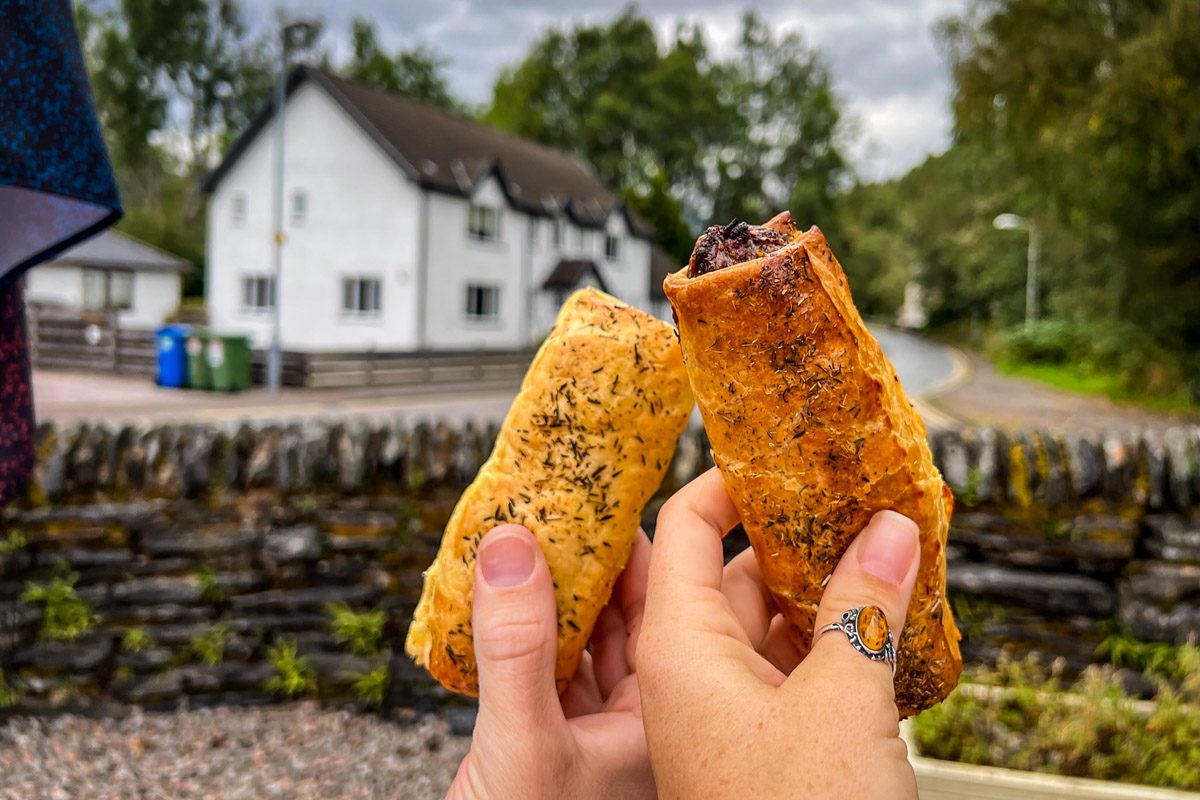 If you fancy yourself a foodie, we would highly recommend booking a Scottish food tour during your trip.
We are huge fans of food tours as it's the best way to sample lots of different dishes and learn all about a cuisine.
If possible, we'd recommend booking your food tour at the beginning of your trip so you know which foods you'd like to get more of during your travels.
Be sure to make reservations well in advance, as food tours are popular in Scotland and often book up completely.
Afternoon Tea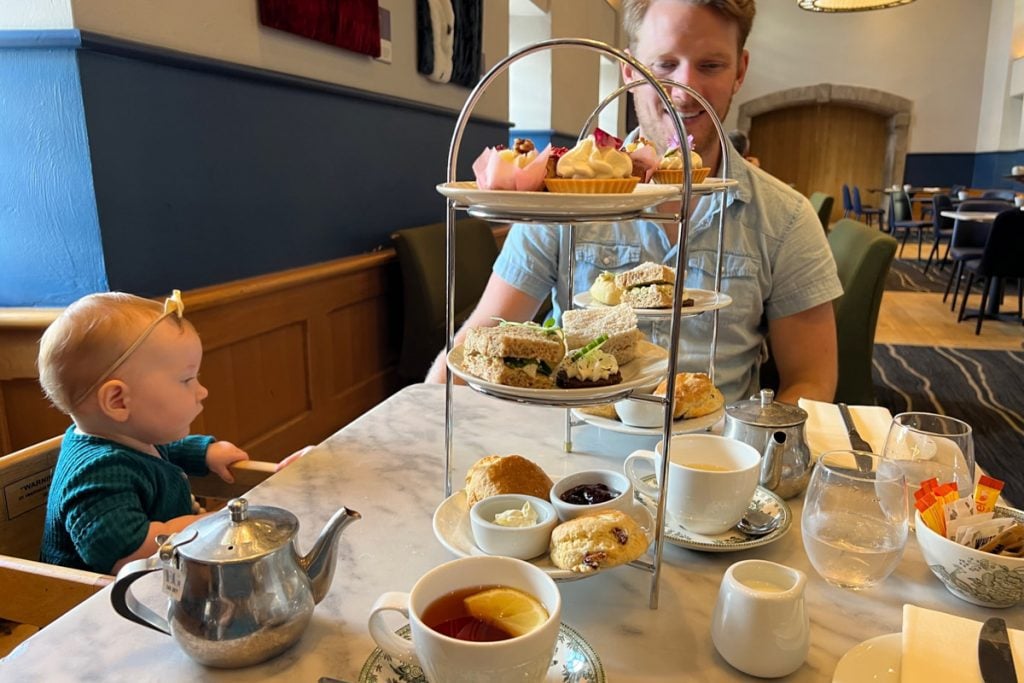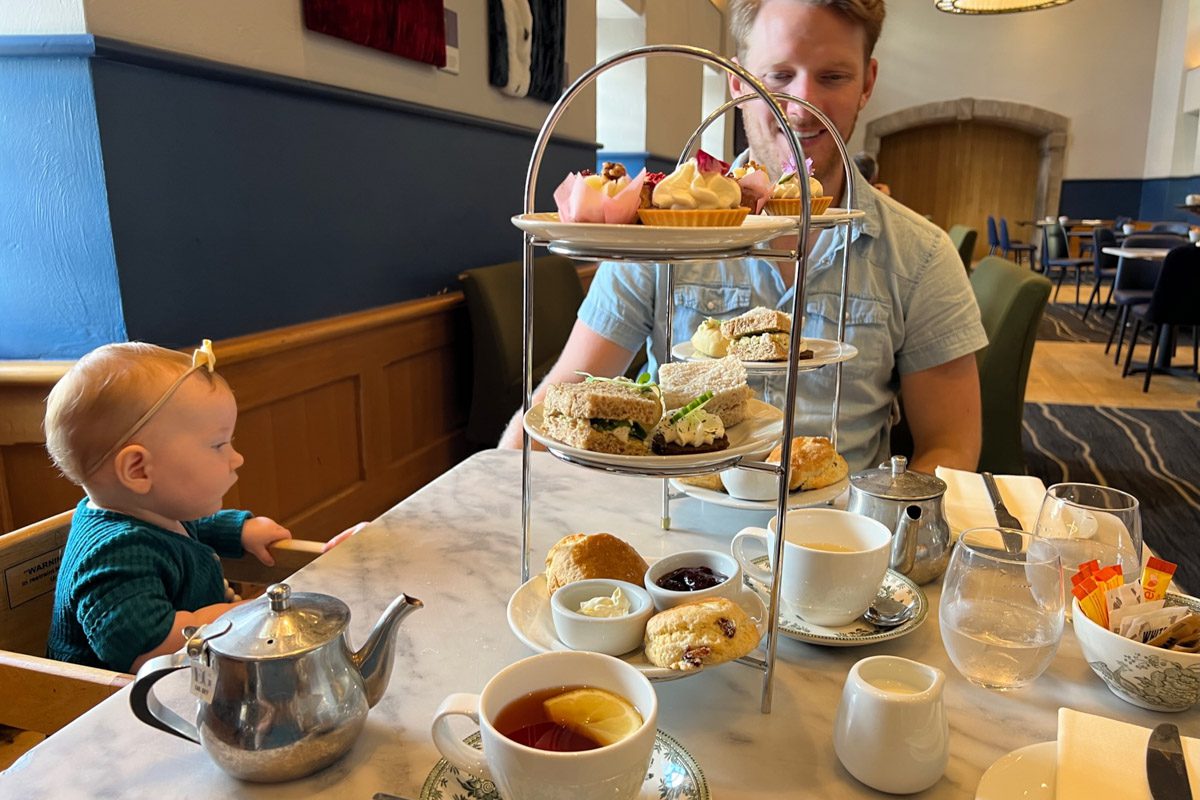 Afternoon tea is an experience you just have to try while in Scotland.
While technically a British tradition, it is also much beloved by Scots and there are plenty of places around the country where you can partake.
Along with a steaming pot of your favorite tea, you'll be brought a 3-tiered platter that boasts a variety of savory bites, sweet treats, and of course, the ubiquitous scone and clotted cream.
Lucky for you, we've got a list of the best afternoon teas in Edinburgh to help you choose! Just be sure to make reservations well in advance, as many places do book out.
---
Vegetarian foods in Scotland
While traditional Scottish foods are heavy on the meat, you'll have no problem finding veg or vegan options.
In fact, we were surprised to find that most of the big cities in Scotland had a ton of vegan restaurant options.
Vegetarian Restaurants in Edinburgh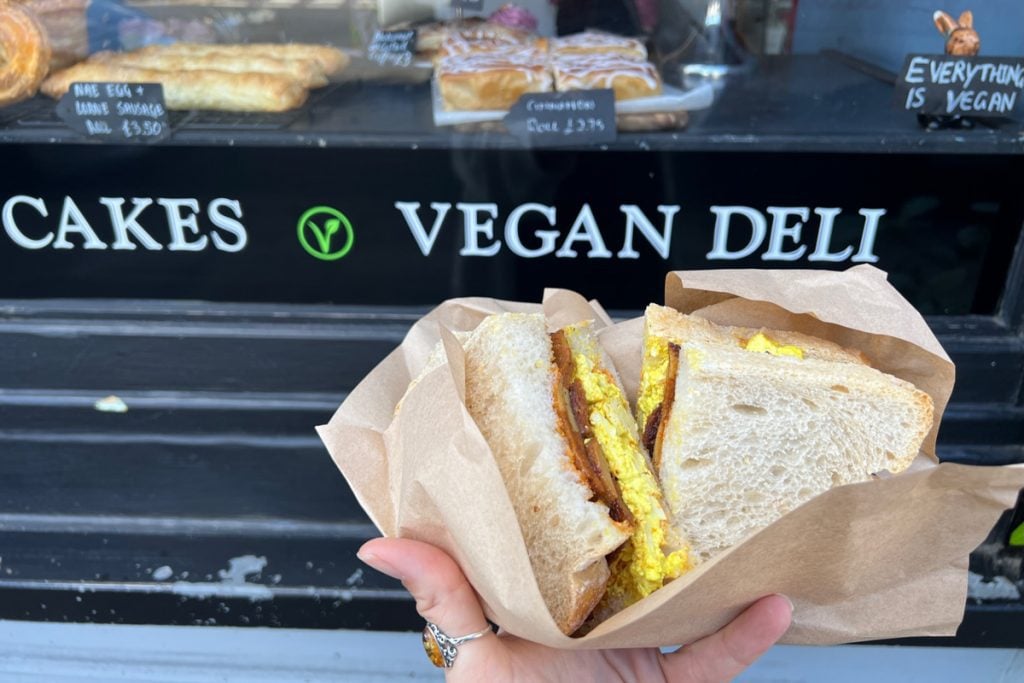 Here are some of our suggestions if you're looking for plant-based meals in Edinburgh.
---
Are you planning a trip to Scotland?
We have lots of resources on travel in Scotland and destinations throughout the country. Check out our Scotland Travel Homepage for everything you need to know, or read some of our favorite articles below.
Save this article on Pinterest for later!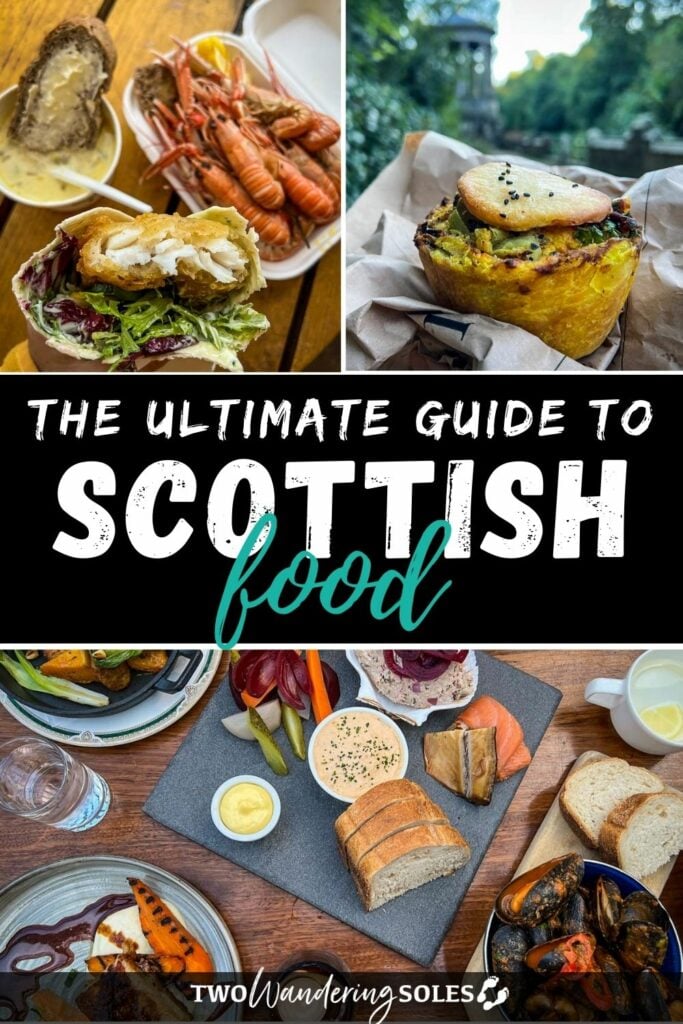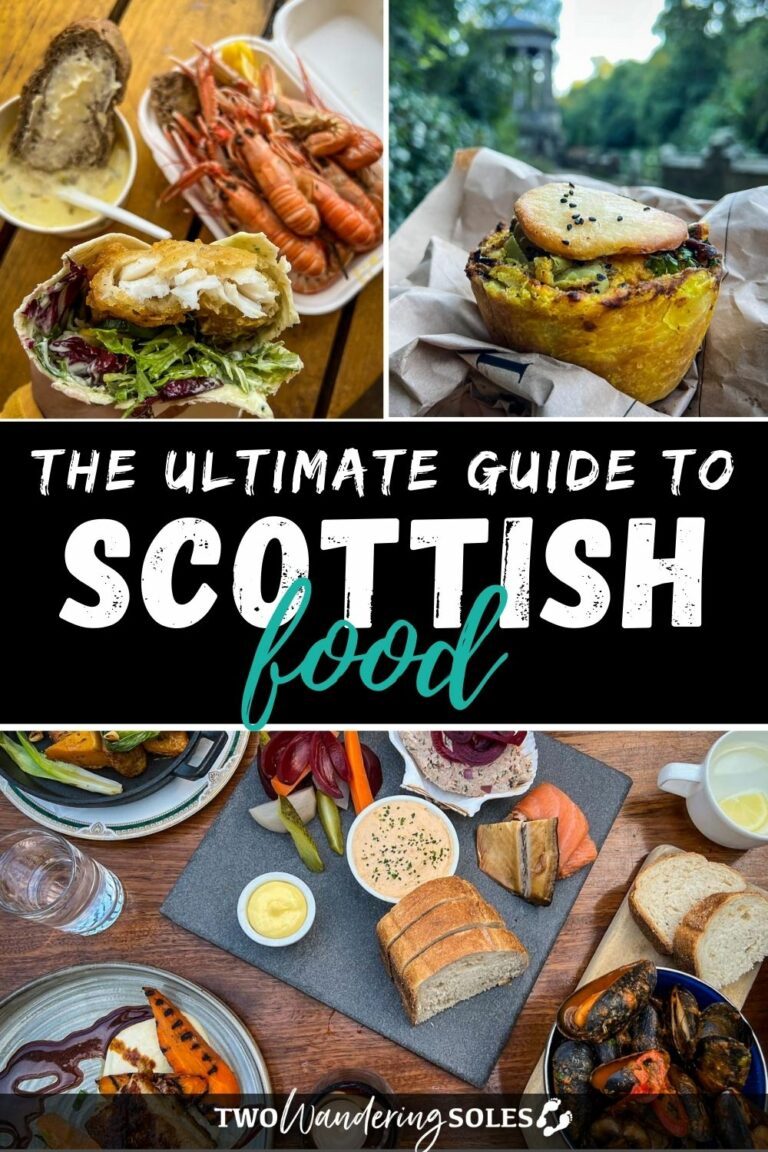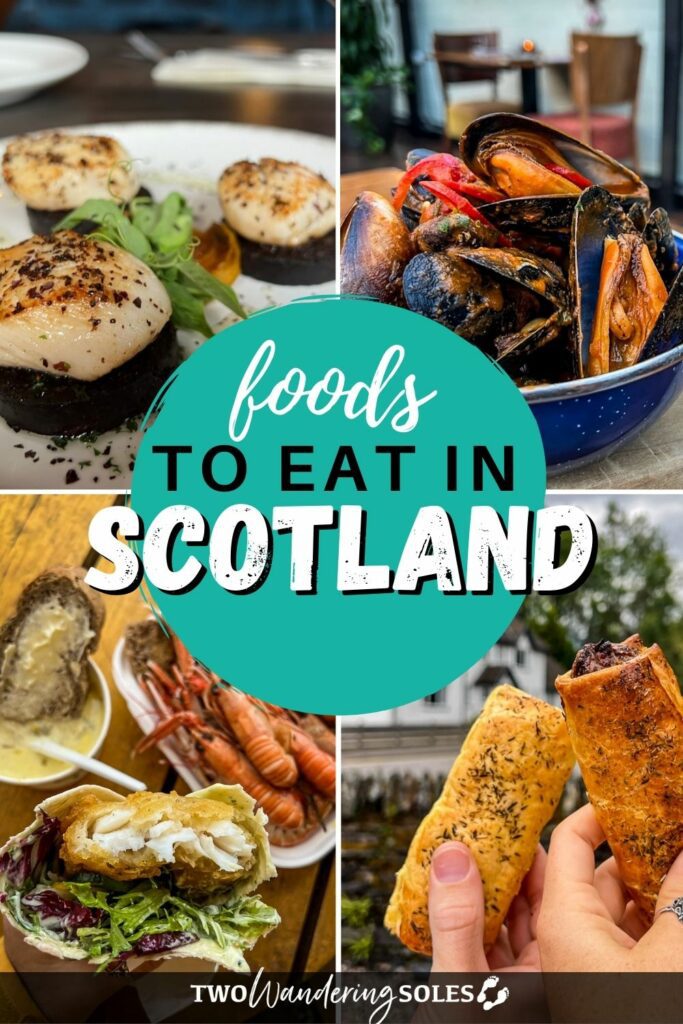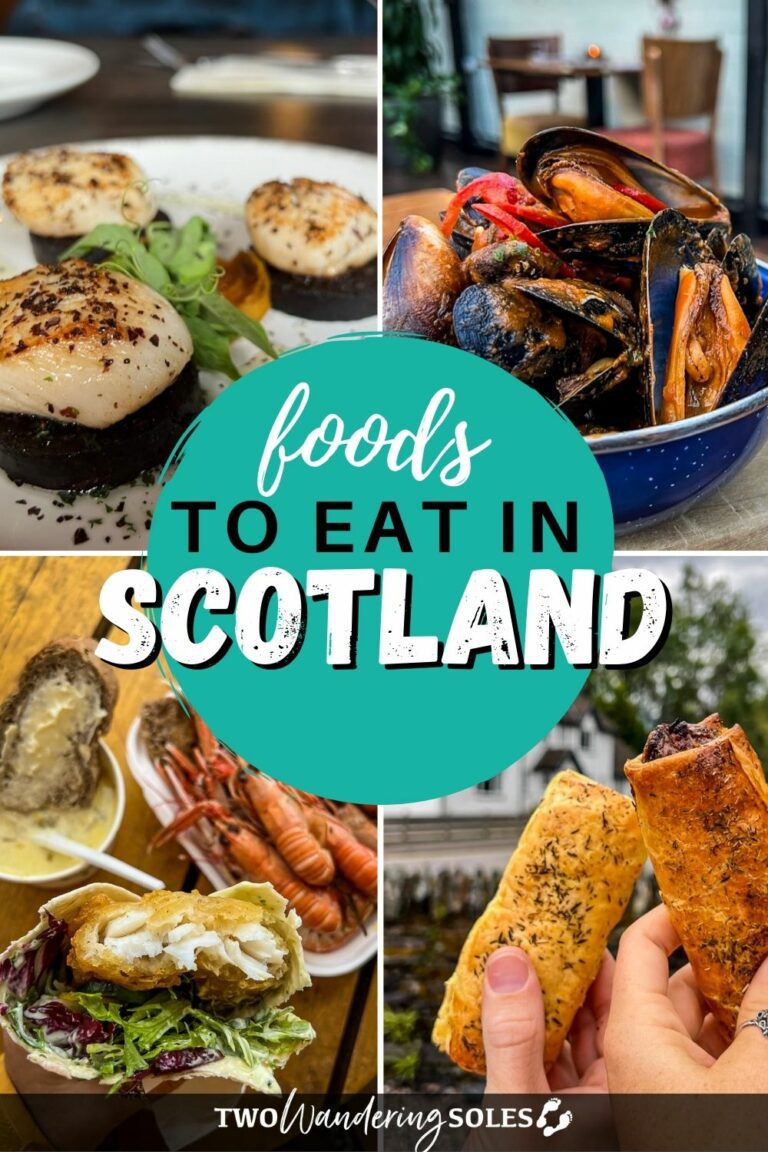 We want to hear from you!
Which of the Scottish foods on this list are you most excited to try? Did any of these foods surprise you? Leave your comment below and we'll do our best to get back to you!