Exploring Scotland's Isle of Skye Fairy Pools is an unforgettable, almost magical experience. We put together this guide with all you need to know about visiting the stunning natural wonder in Skye.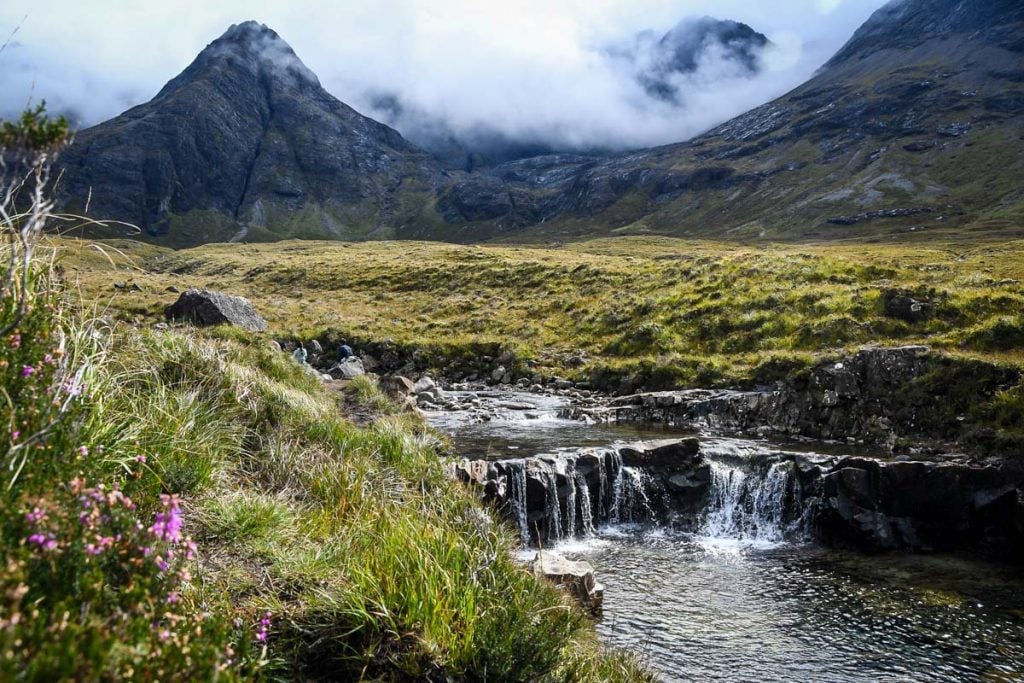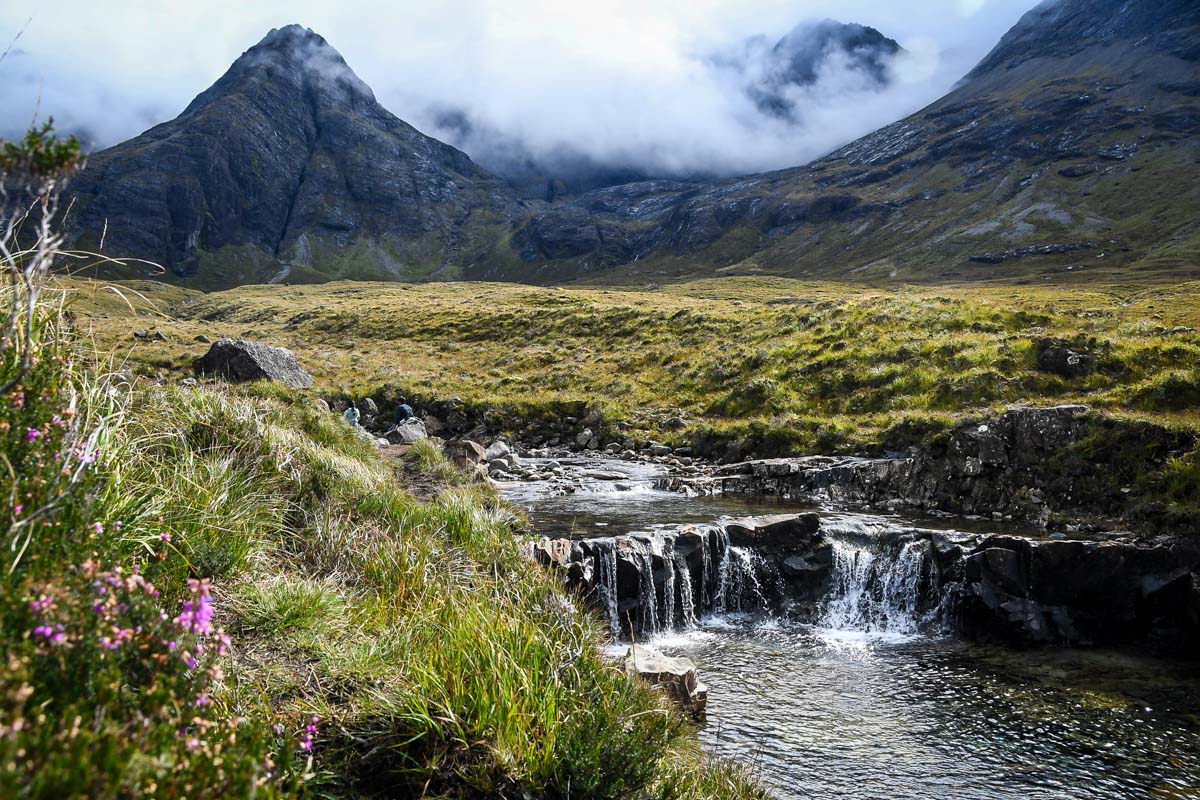 The Isle of Skye in Scotland is home to endless rolling green hills, sparkling lochs, winding rivers, rugged mountain peaks, and unique wildlife. It also has what many consider some of the best hiking in all of the UK, which includes the Skye Fairy Pools.
While the Fairy Pools seem almost too easy to reach and don't involve any sort of difficult hike, they should absolutely be near the top of your Scotland bucket list. The crystal-clear water cascading into natural aquamarine colored pools, surrounded by the dramatic black peaks of the Cuillin Hills, evoke a feeling of awe and maybe even a bit of magic.
The hike is easy, the views are incredible, and the experience is one for the books! Come along as we explain everything you need to know about visiting these stunning pools, including some insider tips.
Article Contents
Planning a trip to Scotland? Find out the best time to visit Scotland based on seasonal weather patterns and your personal travel style.
---
Be sure to download our complete packing list for Scotland! It's packed with good suggestions and insider tips to help plan your Scotland trip. And it's completely FREE, so why not!?
---
Skye Fairy Pools history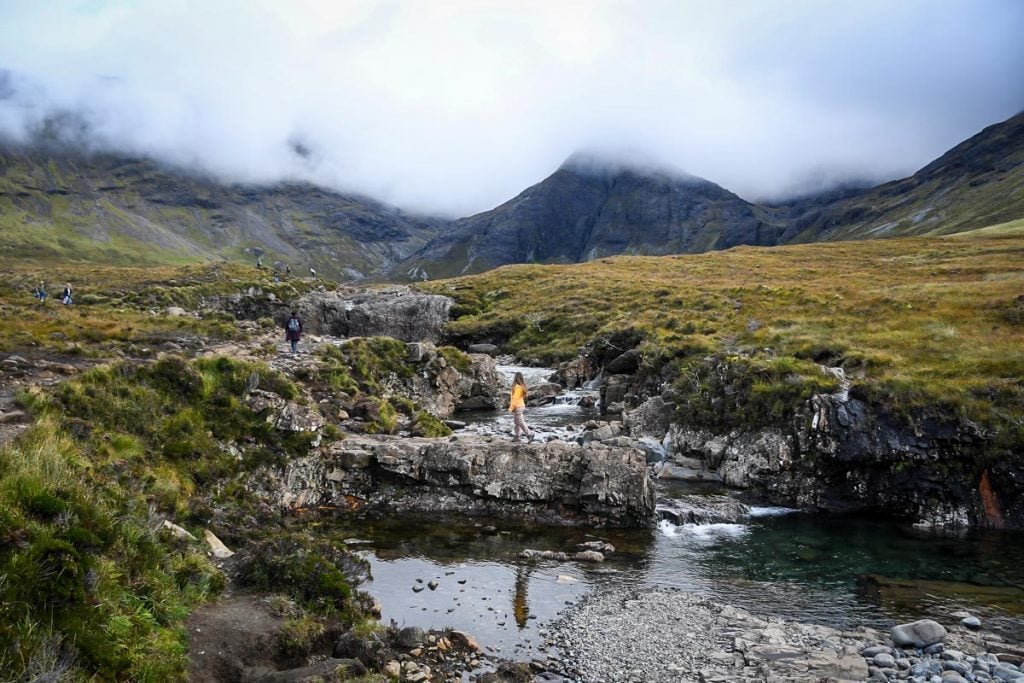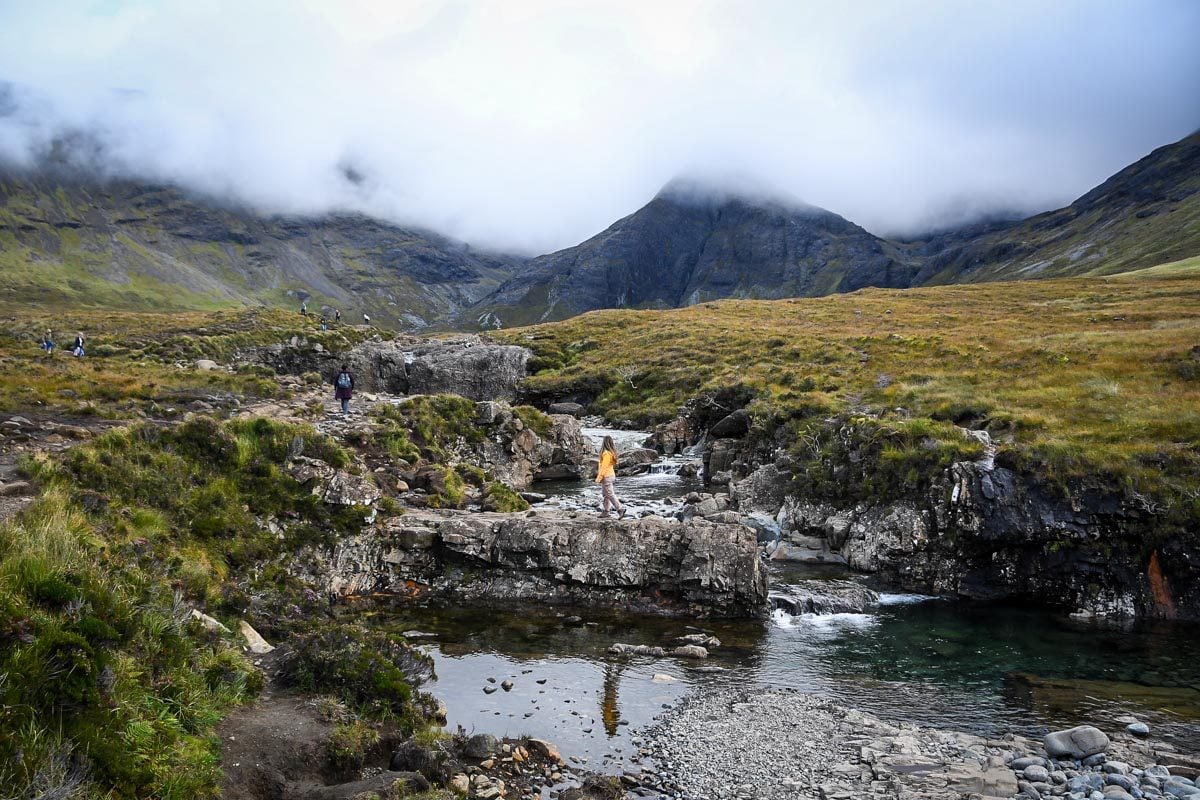 While the Fairy Pools of Skye and the surrounding area are incredibly tranquil today, that wasn't always the case. This exact region hosted the deadly Battle of Coire na Creiche in 1601, which was the final showdown between fierce rivals Clan MacLeod of Dunvegan and Clan MacDonald of Sleat.
The battle was so brutal that local legend says what we now know as the Skye Fairy Pools ran crimson red with blood on that day.
Of course, today the beautiful Skye Fairy Pools don't give any indication of their violent past. After millions of years of waterfalls and streams carving the earth, countless turf wars between clans, and tall tales of fairies and magic, what's left are these truly stunning natural pools of crystal-clear mountain water and fed by waterfalls flowing gracefully downstream.
Psst! Don't leave without discovering all the best things to do in Isle of Skye, including the quintessential activities and some off the beaten path experiences you won't want to miss!
How did the Skye Fairy Pools get their name?
The Isle of Skye has many different legends and stories relating to fairies. One of the more popular tales is about a local clan chief who married a fairy princess, which also explains why many places in this part of Scotland have "fairy" in their name.
The fairy king didn't approve of the marriage and eventually ordered his daughter back to their realm, but the princess had a son in the mortal world. She had to leave the boy behind, and her tears of grief filled many streams throughout Skye.
Another story is that the natural pools attract "selkies," mythical beings from Celtic and Norse mythology who disguise themselves as seals during the day and can turn into humans who bathe in the moonlight at night.
Regardless of the stories or where they got their name, the Fairy Pools of Skye are so crystal-clear and pristine that it seems like something only magic could possibly create. The only question is if you will be brave enough to take a wild swim in the icy water and feel the magic for yourself…
Skye Fairy Pools hike at a glance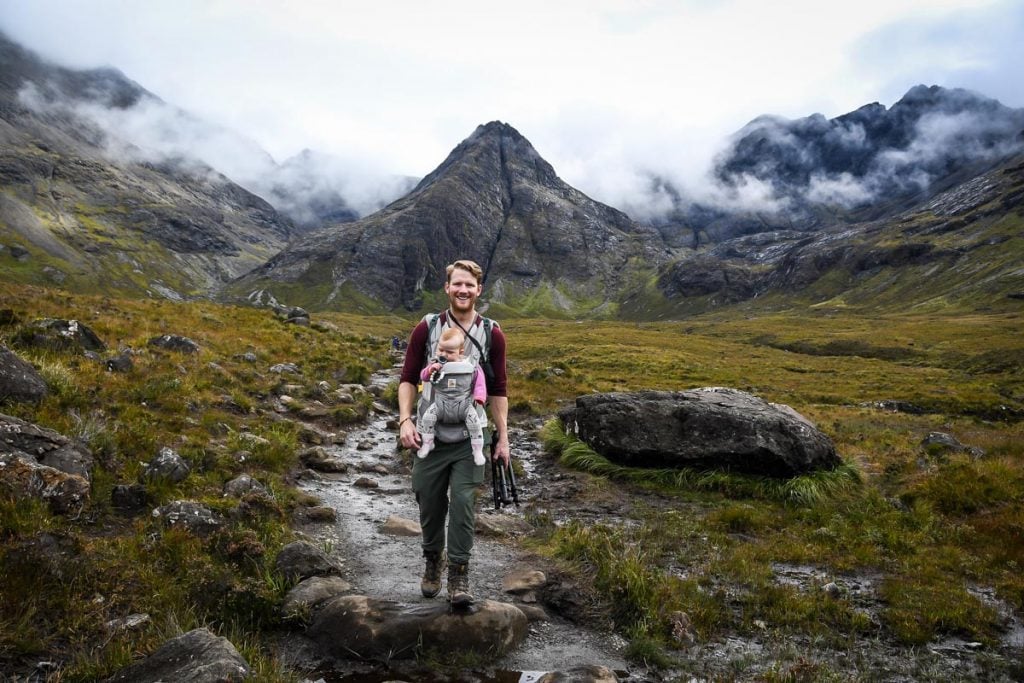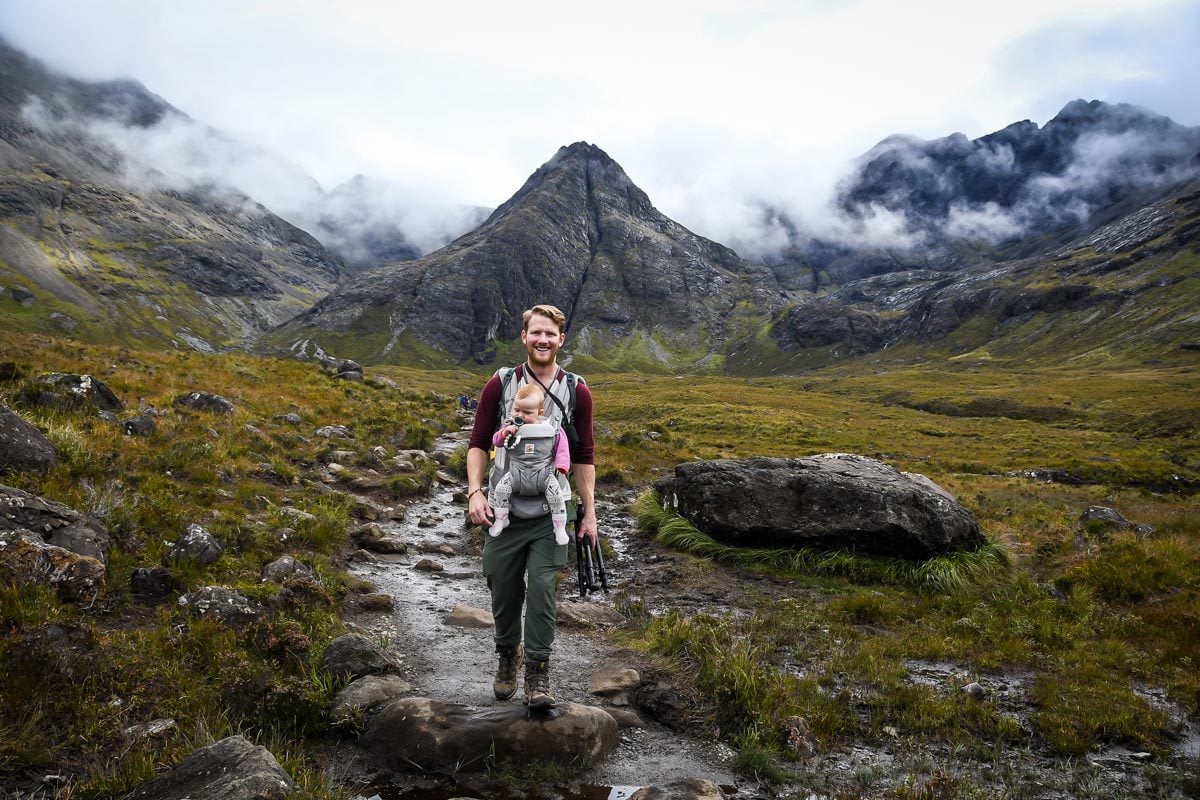 As their name suggests, the Skye Fairy Pools are stunning, almost magical natural pools and waterfalls surrounded by rugged mountain peaks on Scotland's Isle of Skye. They're surprisingly easy to reach, requiring a short, scenic drive from Portree and a quick hike.
It's no wonder at all that this is one of the most popular places to visit in Scotland!
The trail isn't very well marked, but it's pretty easy and an incredibly popular hike, so you should have no problems staying on the path.
Mud and uneven rocks, which can get quite slippery with rain, are the biggest obstacles en route to the pools. There are also a few hills to both ascend and descend, but nothing even remotely challenging or technical.
About 20 minutes from the parking lot, you'll reach the first (and largest) of the Skye Fairy Pools. This is technically the end of the trail, but you can continue upriver, exploring as many of the pools and falls as you like!
Insider tip: the further up you go, the less busy individual pools will be.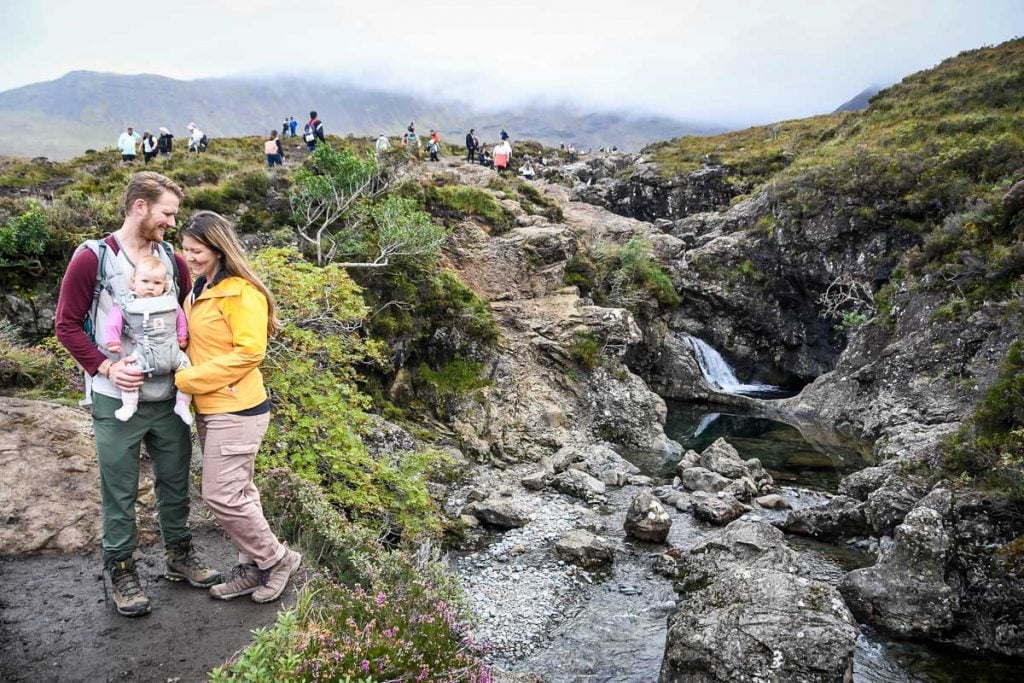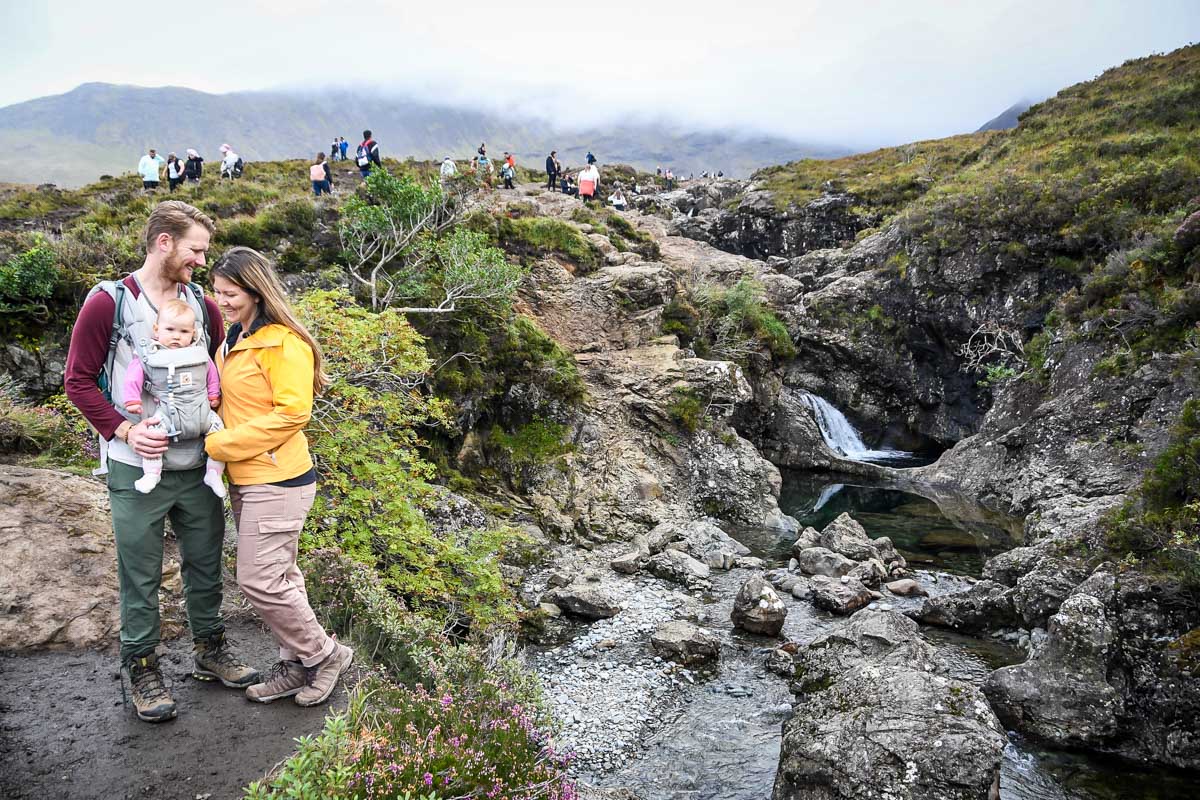 The Fairy Pools are one of the best places on the Isle of Skye for wild swimming, so jumping in the (chilly!) water is allowed and even encouraged. You'll see that some pools are more suited for taking a dip than others.
Beware that the water is always cold, so this is advised only for experienced (and brave!) swimmers. A wetsuit would definitely come in handy, and either way, be sure that you have a towel and warm clothes to throw on immediately.
Note that there are no places to change, so having a swimsuit already on would be helpful.
Being in Scotland, you should also come prepared with rain gear and don't be surprised to encounter some mud along the way — even on warm, sunny days. The weather is known to change at any moment!
Another thing to keep in mind is that the route to the Skye Fairy Pools is an extremely popular hike. It's always busy, year-round, so finding solitude can be difficult. However, your best bet to avoid crowds is to hike early in the morning (before 10:00 a.m.) or stay for sunset and enjoy the orange alpenglow on the mountains after most people have left.
Photographers listen up—you'll definitely want to bring a tripod to capture photos of the stunning landscape.
Psst! If you have time to discover more of the country, don't miss these epic places to visit in Scotland.
Things to know before you go
Before exploring the Skye Fairy Pools, there are a few things you should know about getting there, when to go, and what to expect.
Where are the Skye Fairy Pools located?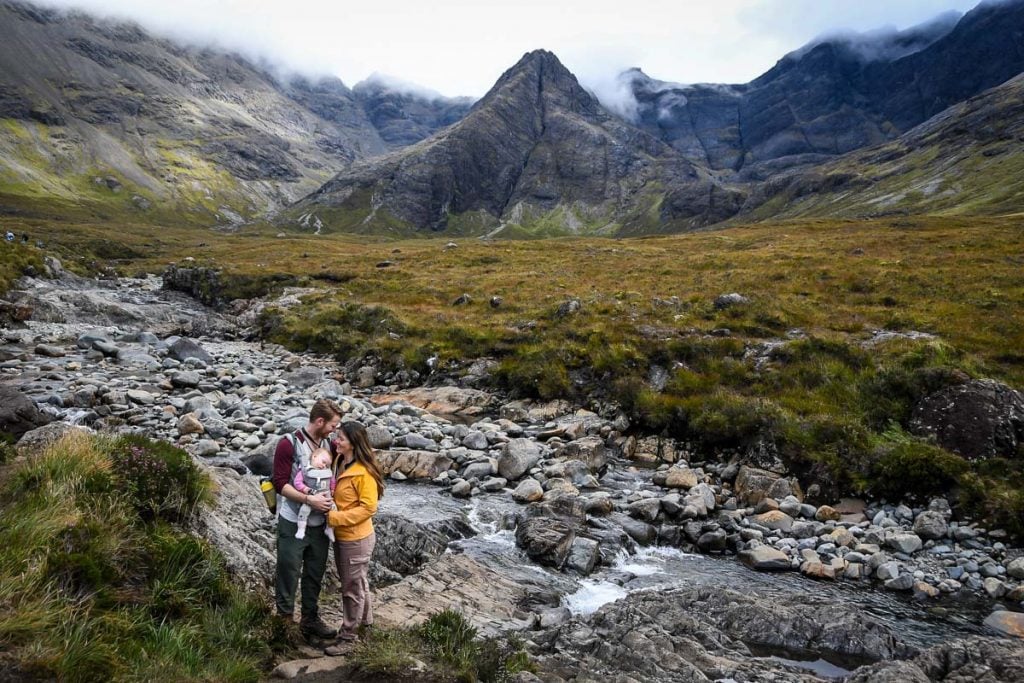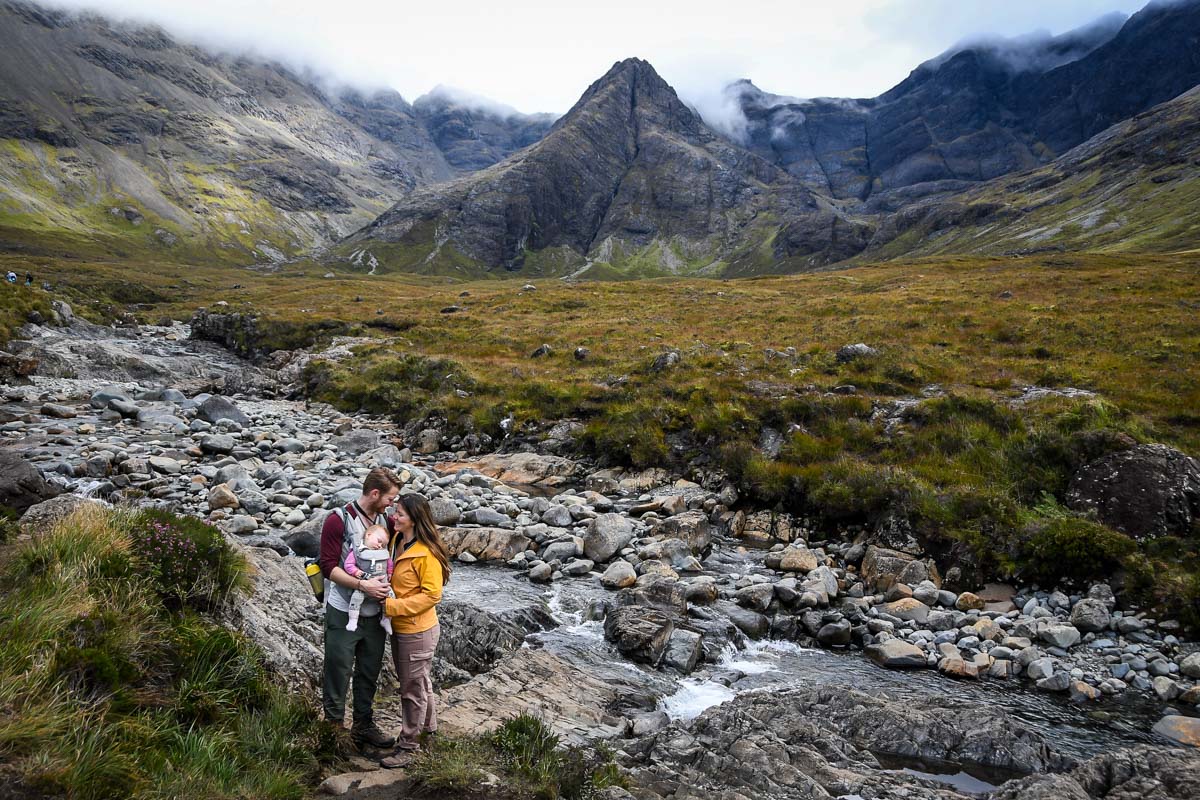 The Skye Fairy Pools are in Glen Brittle, a 30-minute drive from Portree on the Isle of Skye. The isle is the largest and northernmost of the Inner Hebrides, though it's still pretty sparsely populated. Most of the towns and villages are very small and spread out across the island.
Glen Brittle is no different and is actually a scenic valley more so than a town, with the rugged Cuillin Hills as the main attraction.
Carbost is the nearest sizable town, though it is also small with limited amenities. Its main attraction is the Talisker Distillery, the only one on Skye. Sligachan, also near the Fairy Pools, is even smaller but does have a bar, a brewery, and a small hotel.
How to get to the Skye Fairy Pools?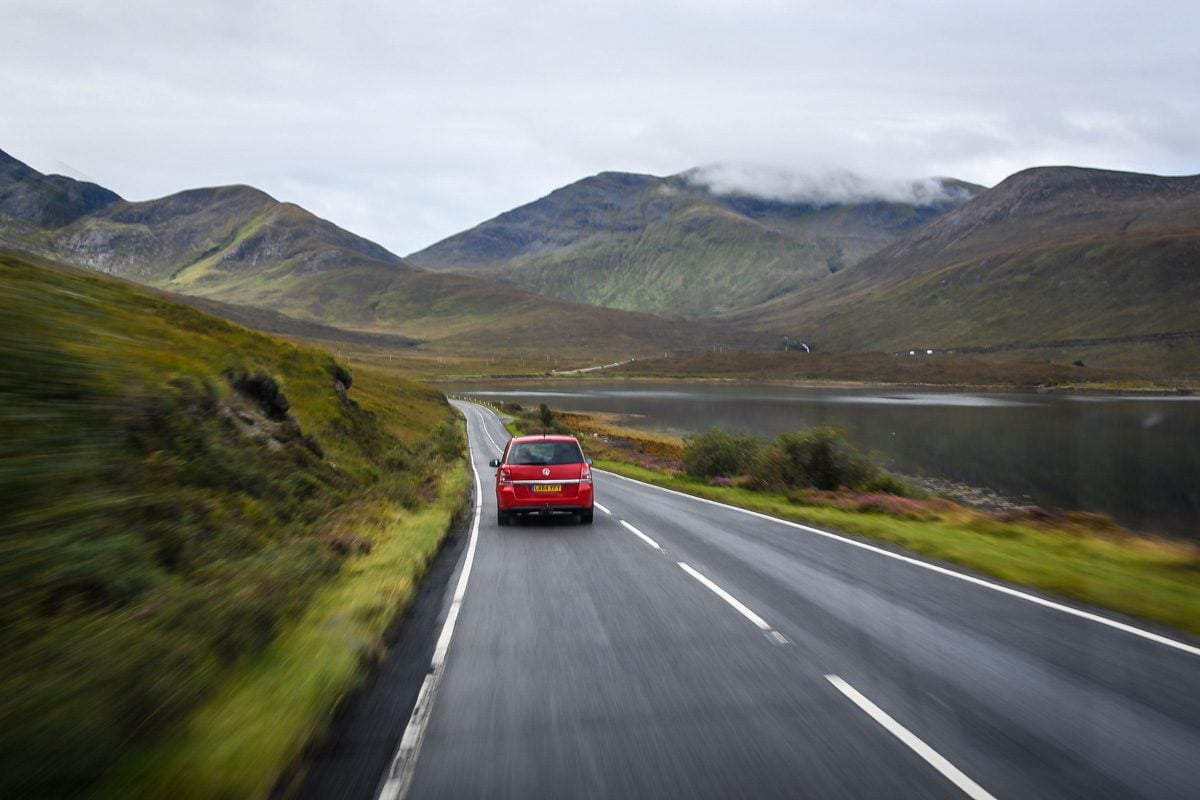 The easiest way to get to Glen Brittle for most people is with a rental car.
Many visitors choose to stay in Portree or Sligachan on the Isle of Skye (30 minutes and 20 minutes away, respectively), but if you're traveling from elsewhere, Glen Brittle is about 2.5 hours from Inverness and a little more than five hours from both Glasgow and Edinburgh.
Psst! If you're interested in traveling throughout Scotland in a campervan, we just the thing for you! We put together a mega guide with all the info you need on getting a campervan hire in Scotland.
Just before reaching Carbost, you'll see signs for the Skye Fairy Pools. Follow them, taking a left onto a narrow road and continuing for 5.5 miles, or about 10 minutes. You'll come to a large parking lot at the trailhead and once here, the fairy pools themselves are reached via a short hike through the forest.
Parking costs £6 for cars or £8 for RVs, which will be directed to park in the smaller lower lot. There are clean restrooms in the lot you can use before starting your hike.
Even when the Skye Fairy Pools are extremely busy, there always seems to be enough parking, but if for some reason it's totally full, there's another (free!) car park just up the hill, about a 10-minute walk.
Another option is to book a guided day tour from Inverness or Portree so that you won't have to worry about travel or parking logistics. This can be a great option, especially in the busy summer months, but keep in mind the trade-off is that you'll have less freedom to explore the area.
Best time of year for the Fairy Pools hike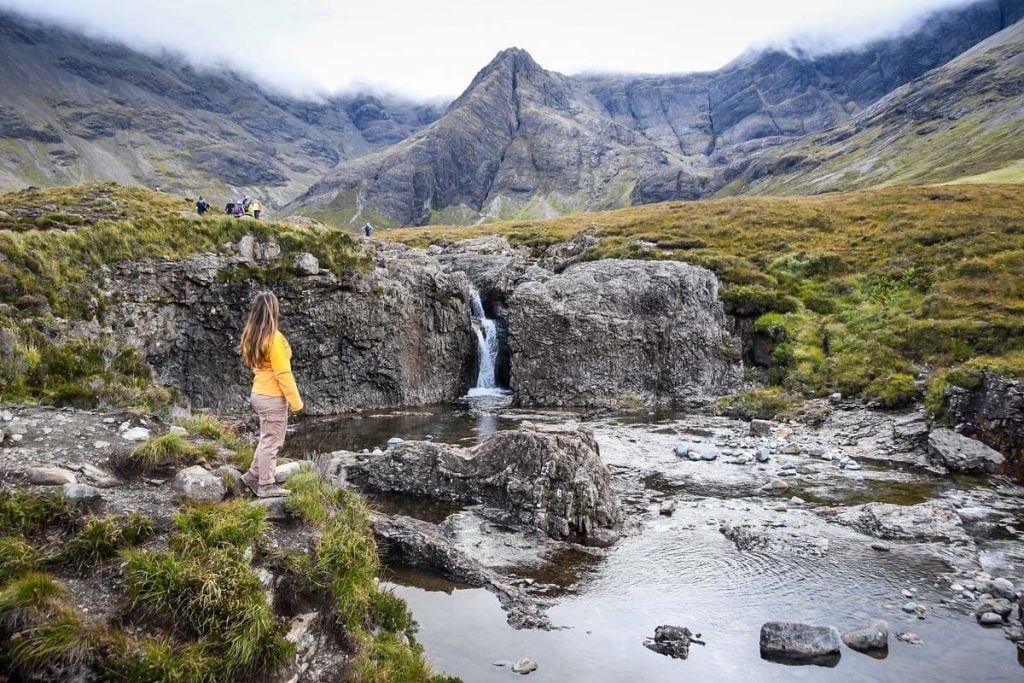 Scotland actually has fairly mild winters (really!), so you can hike the Skye Fairy Pools any time of year. That being said, the summer months typically offer the best weather overall and are definitely the warmest, making it the best time to swim in the Fairy Pools.
Winter is, of course, the coldest and rainiest season (though to be honest, there's a solid chance you'll encounter rain during any time of the year!). Make sure to dress warmly and in layers for the hike, and don't plan to get in the water. Even though temperatures rarely drop to freezing, it will be too cold to safely swim in the winter.
Spring and fall bring slightly warmer temperatures than winter, so the Fairy Pools hike is generally a bit more comfortable. However, the pools will still be pretty cold during those seasons and it typically isn't recommended to jump in.
The pools are fed by mountain streams (i.e.; they're always cold!), so if you do decide to swim, it's extremely important that it's warm enough outside to bring your body back up to a safe temperature. Going from cold water to cold air can be dangerous!
How long does it take to hike to the Fairy Pools?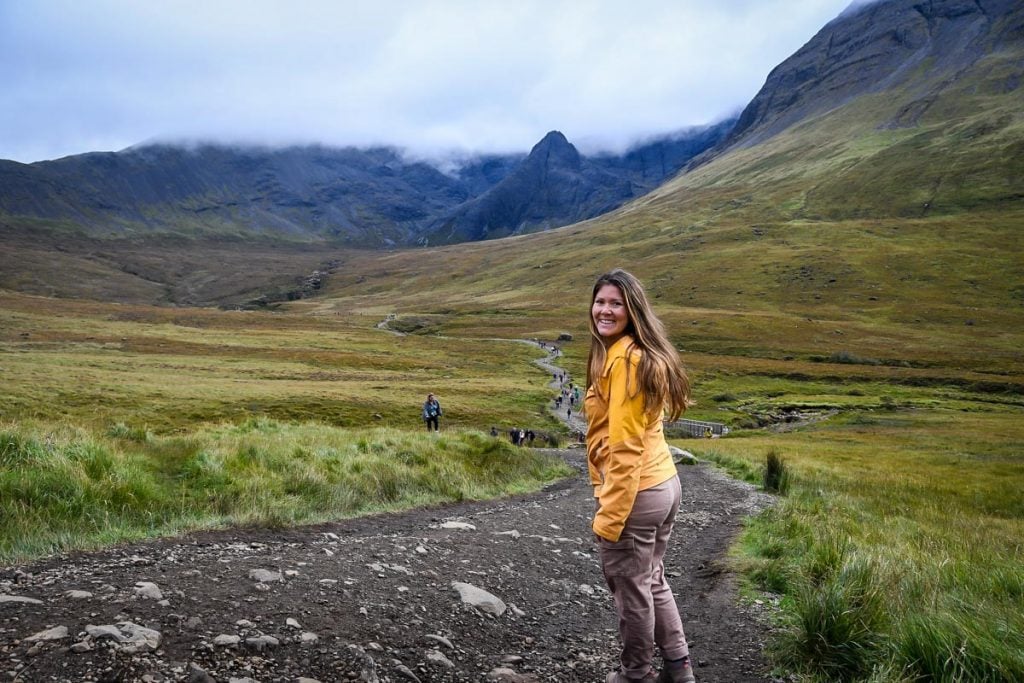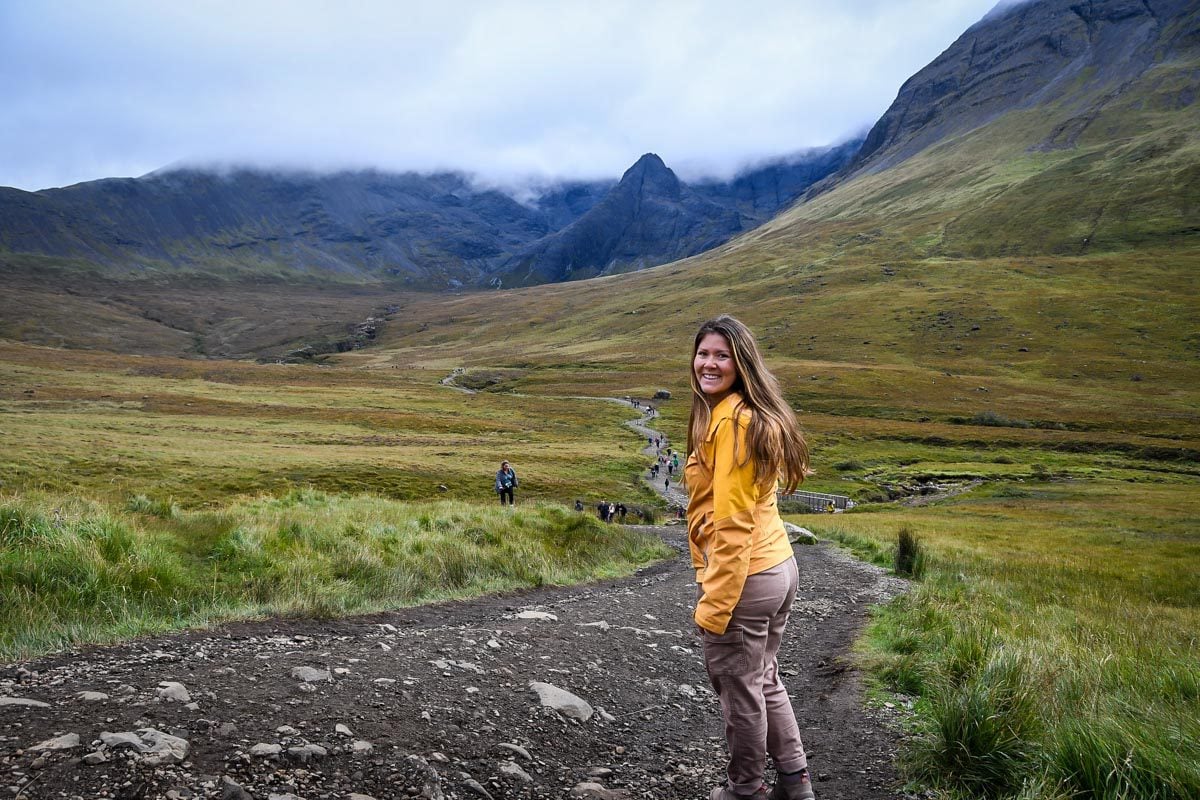 The Skye Fairy Pools hike can be done in as little as 1.5 hours, but most people add a little bit of extra time to relax, take photos, swim, and enjoy the scenery at the pools themselves. We spent about two hours total on the trail including the walk to and from the car park, the out-and-back hike, and taking lots and lots of photos.
This is a quick and easy hike, so plan for a couple of hours and factor in any extra time you think you may want for photos, swimming, or perhaps a picnic lunch.
How difficult is the Fairy Pools hike?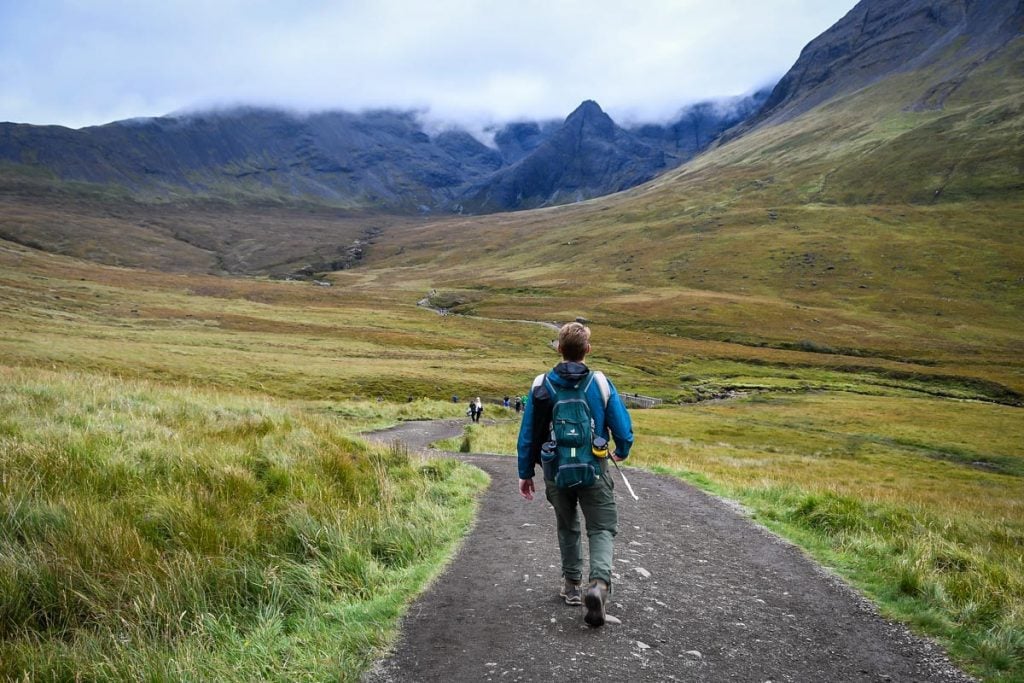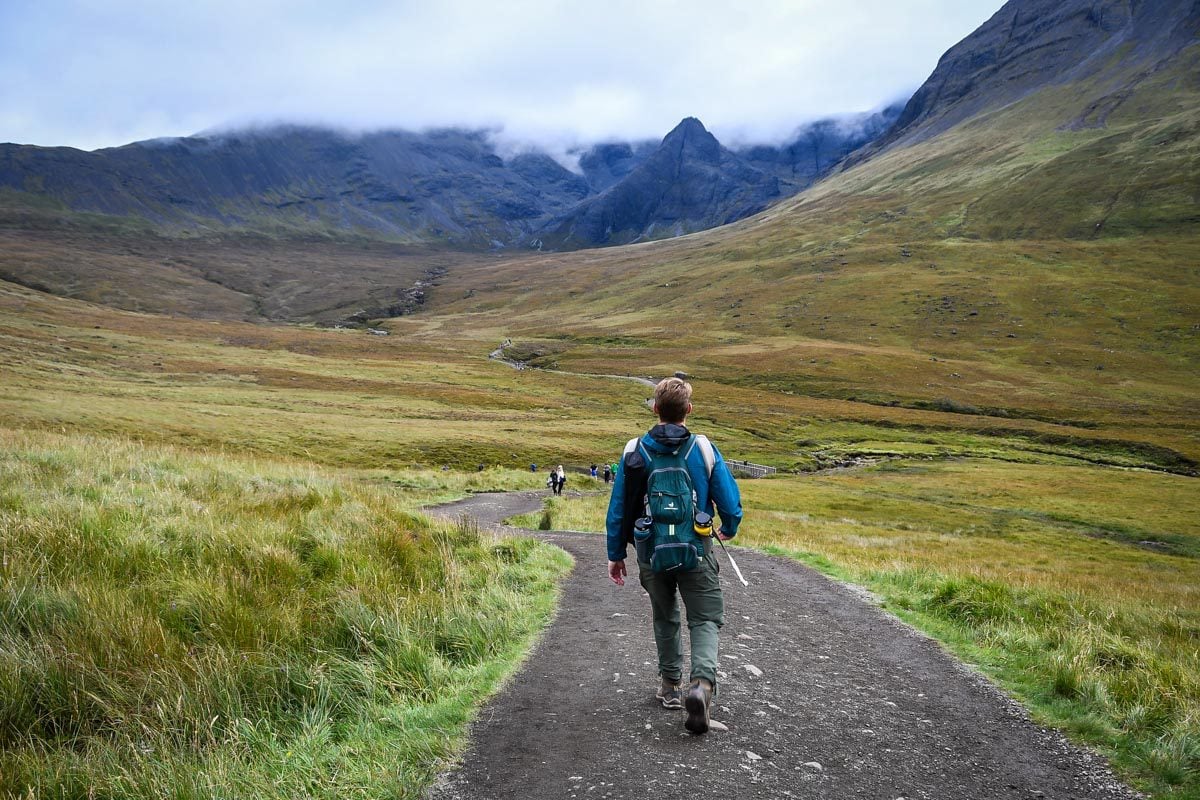 The hike is very easy, short in distance and with minimal elevation gain. Kids and pets alike should have no problem making the trek, and endurance certainly isn't a concern.
The trail can be rocky and muddy in some places, so sturdy shoes are definitely recommended for more grip on the slippery rocks, but there are no technical elements to worry about.
Skye Fairy Pools photos
Although pictures don't do the stunning Fairy Pools justice, here are several favorites to give you an idea of what to expect.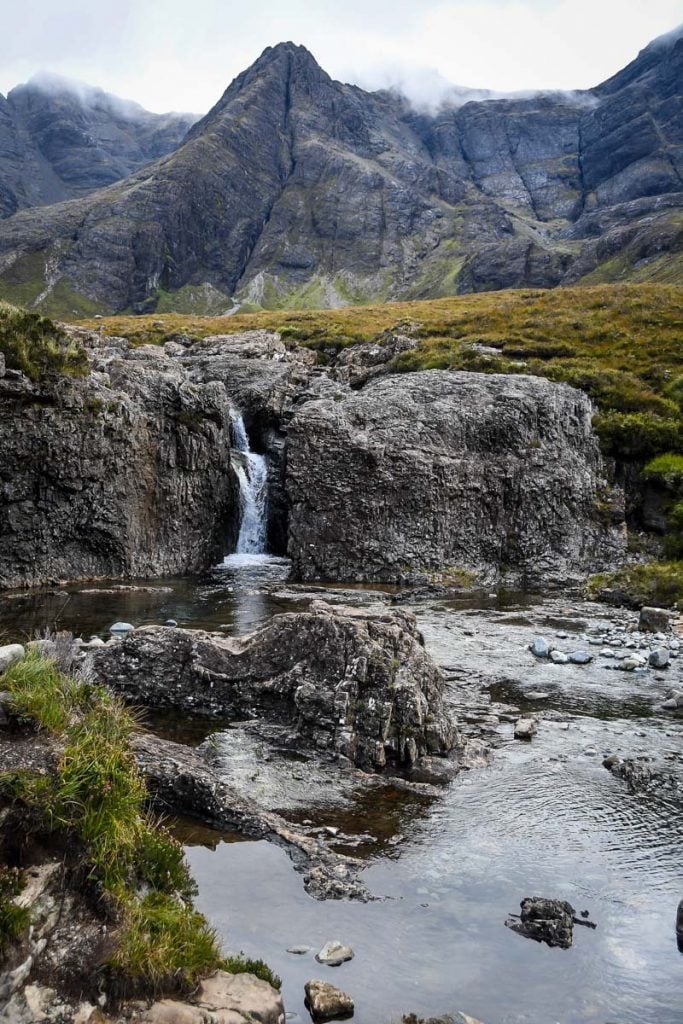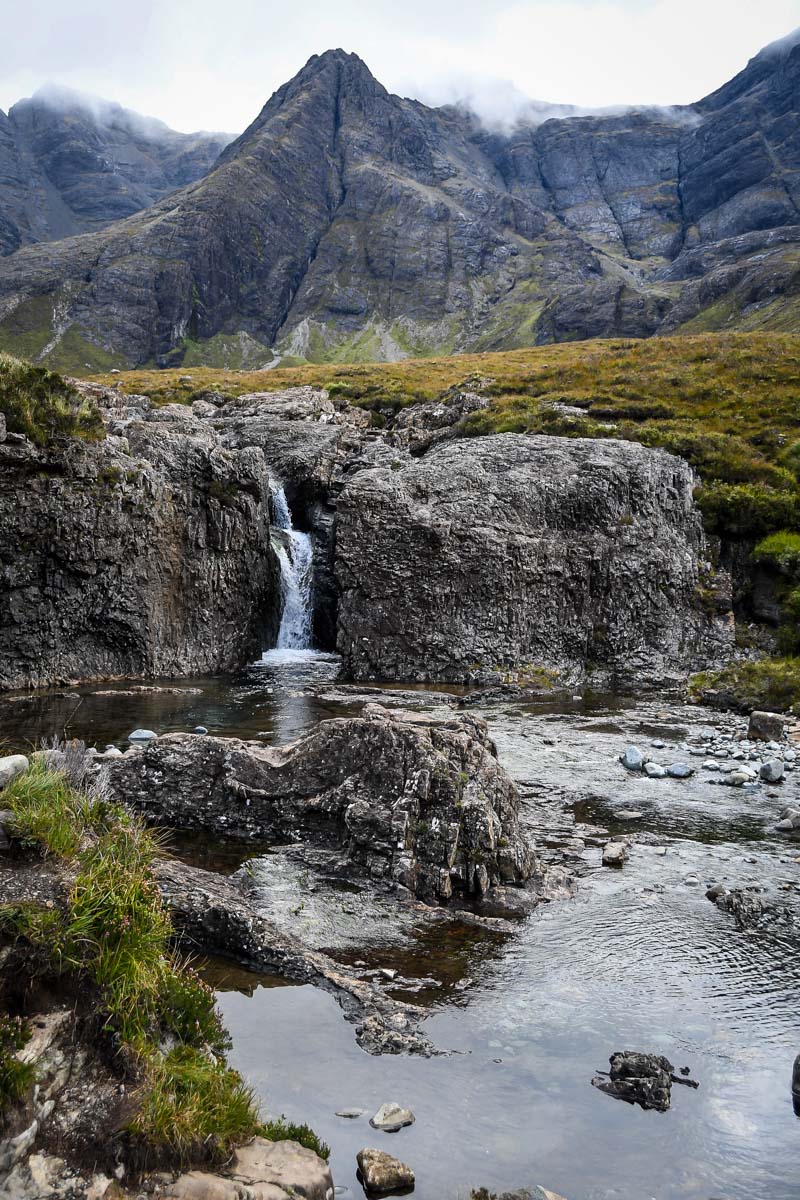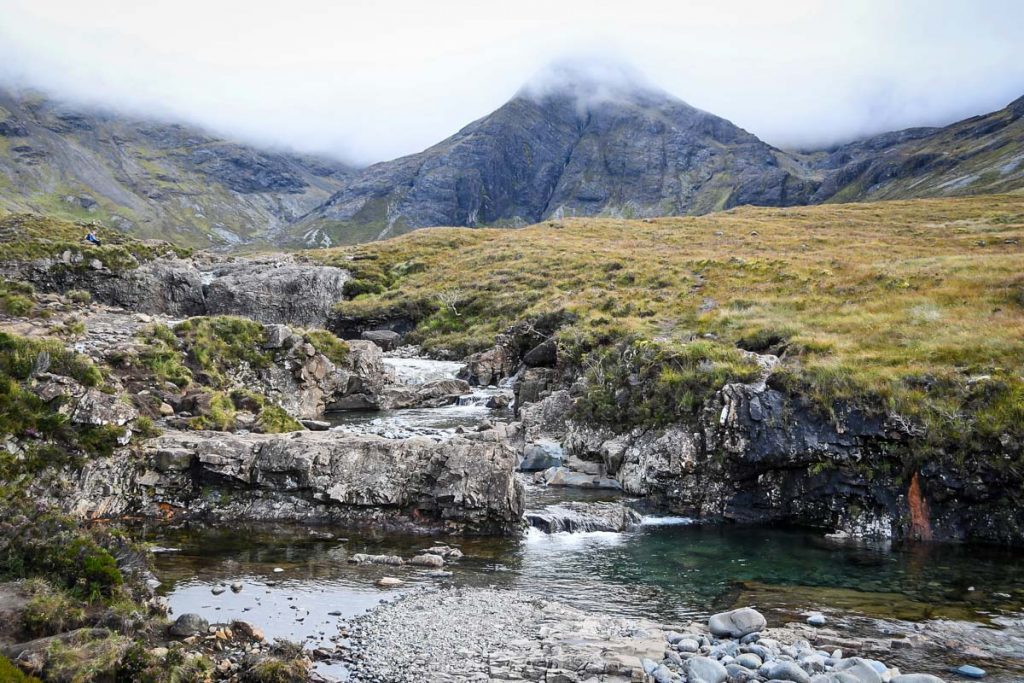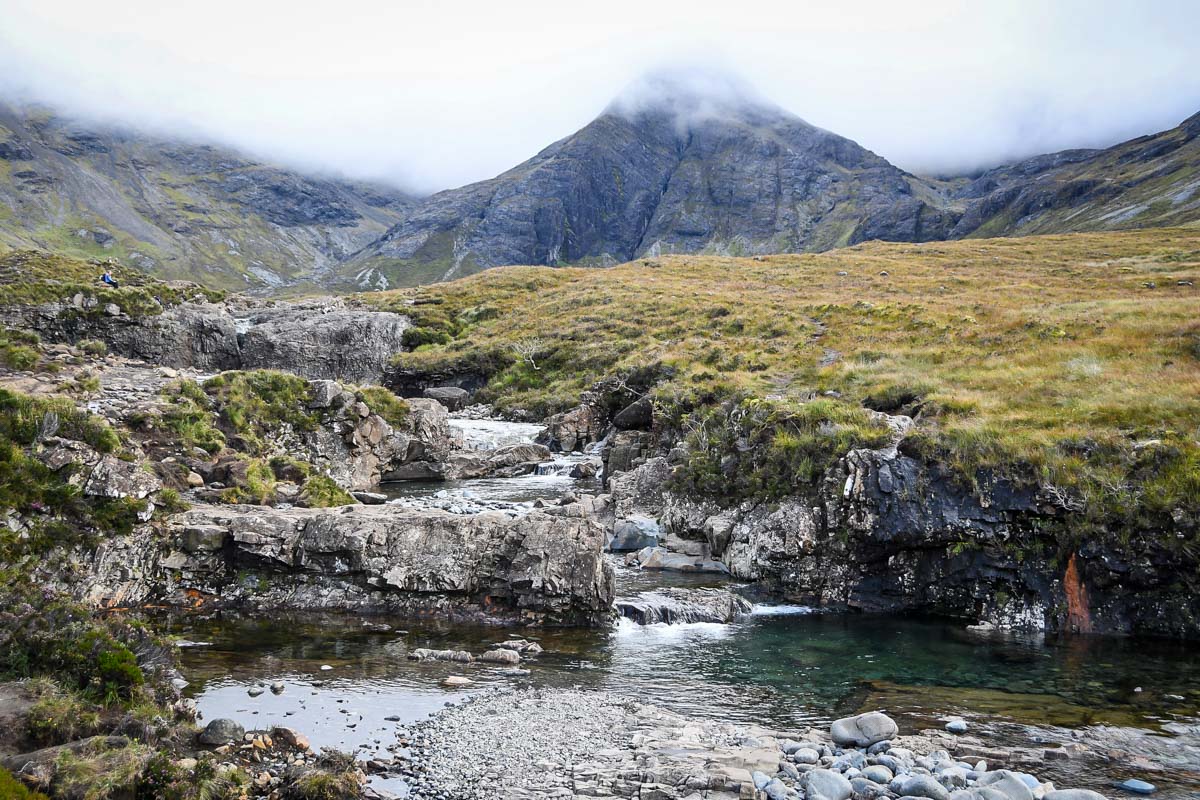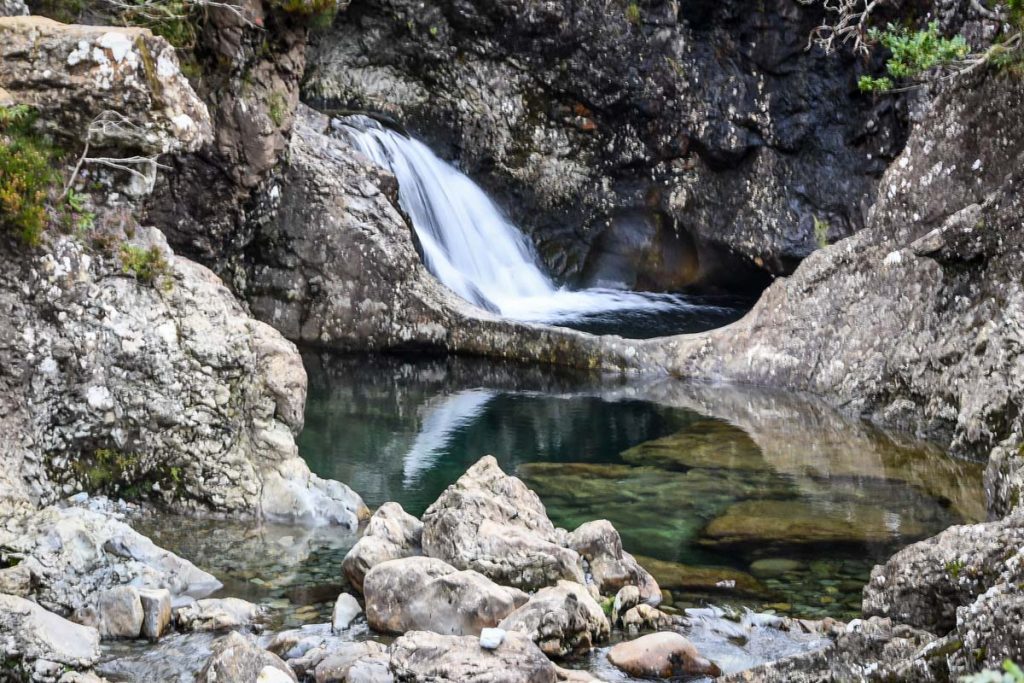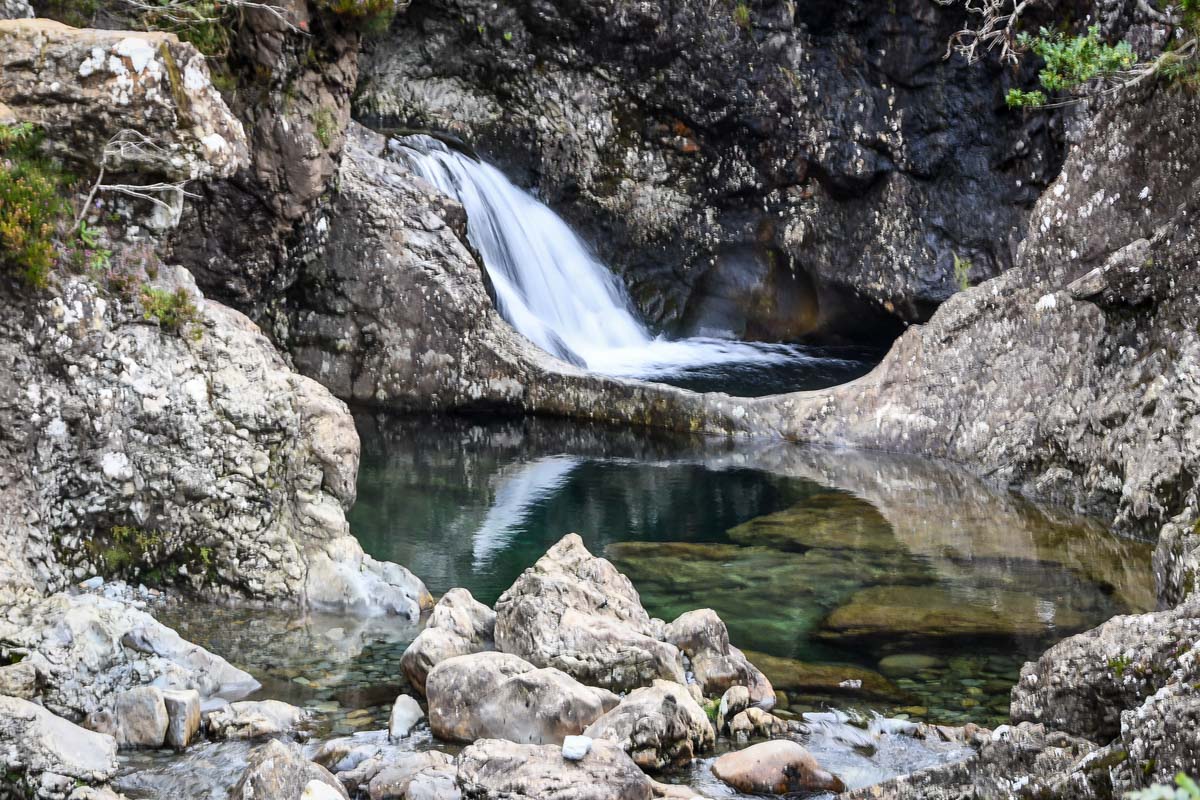 Things to do nearby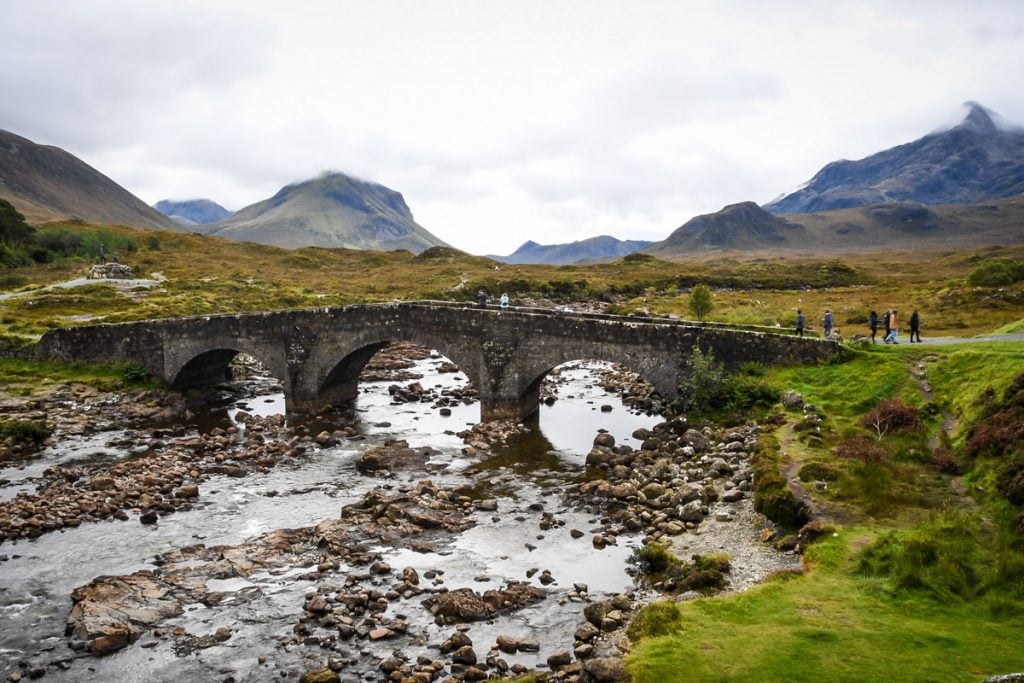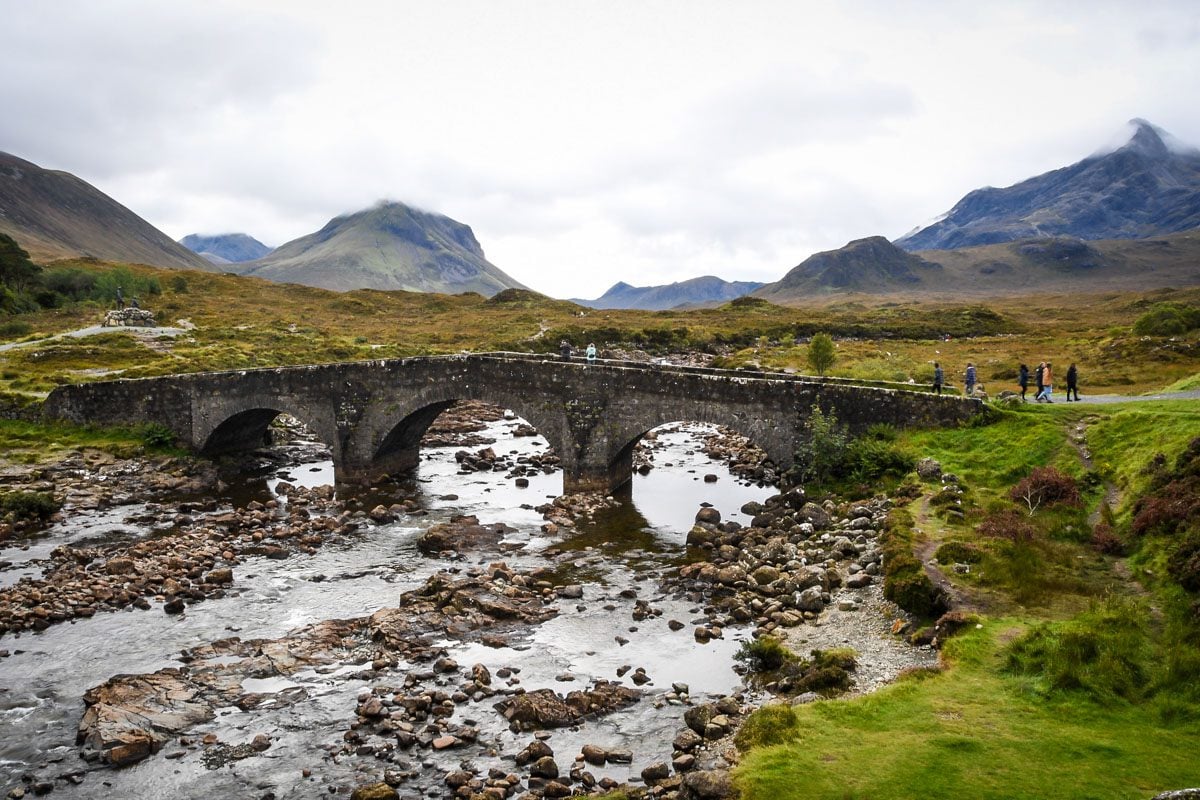 The Fairy Pools hike isn't the only thing to do in this area. Though there aren't many towns nearby, there are still plenty of other things to explore and experience, including several other hikes.
The area surrounding the Skye Fairy Pools is scattered with countless waterfalls, lochs, mountains, scenic roads, and beaches to explore. Even without a firm plan, you'll easily find something to enjoy before or after your hike!
Places to eat nearby
The only thing that could make the Skye Fairy Pools hike better is indulging in a great meal afterward! Here are a few excellent spots nearby.
Where to stay nearby
If you want to make your Fairy Pools Skye adventure into an overnight or even a weekend, there are several smaller awesome places to stay.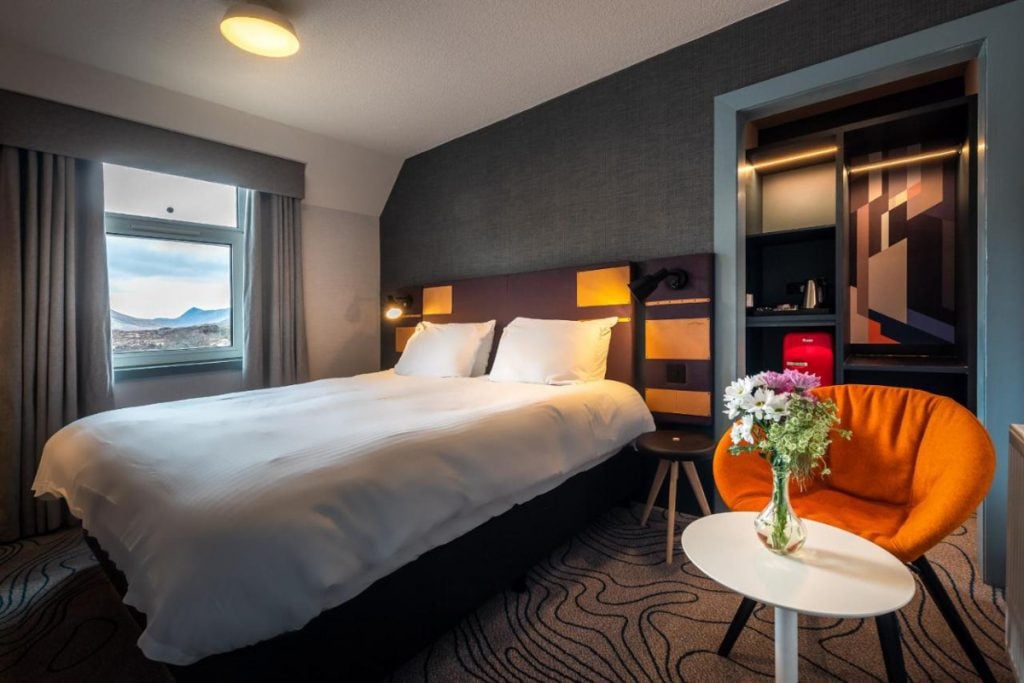 Sligachan Hotel: A boutique hotel with modern rooms, fantastic views, an onsite bar and restaurant, and even a small climbing museum in the heart of the Cuillins situated along a loch.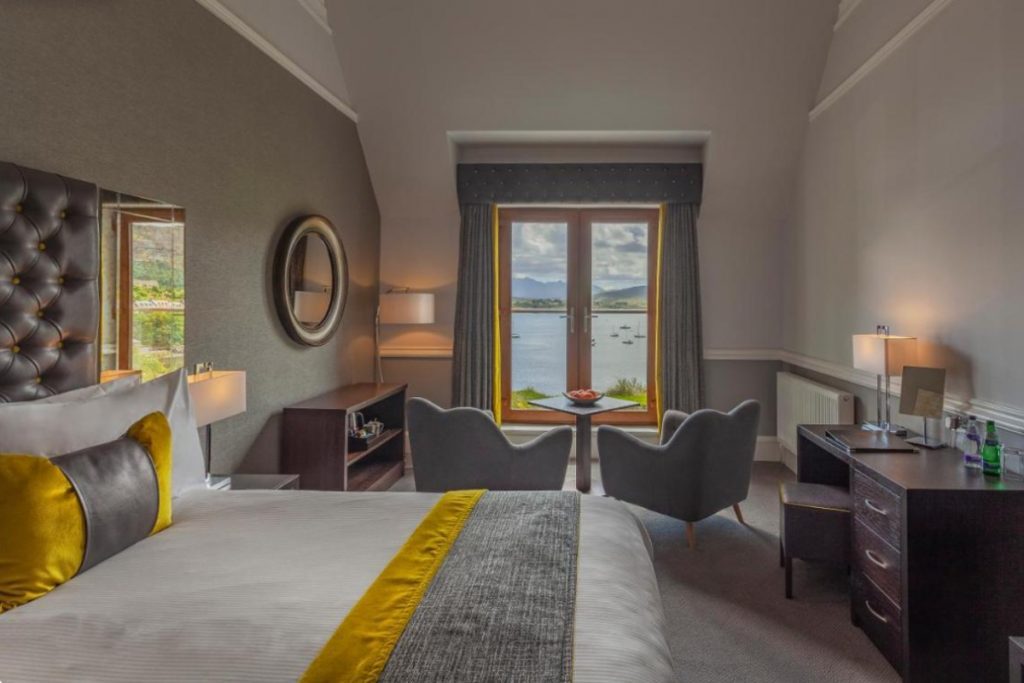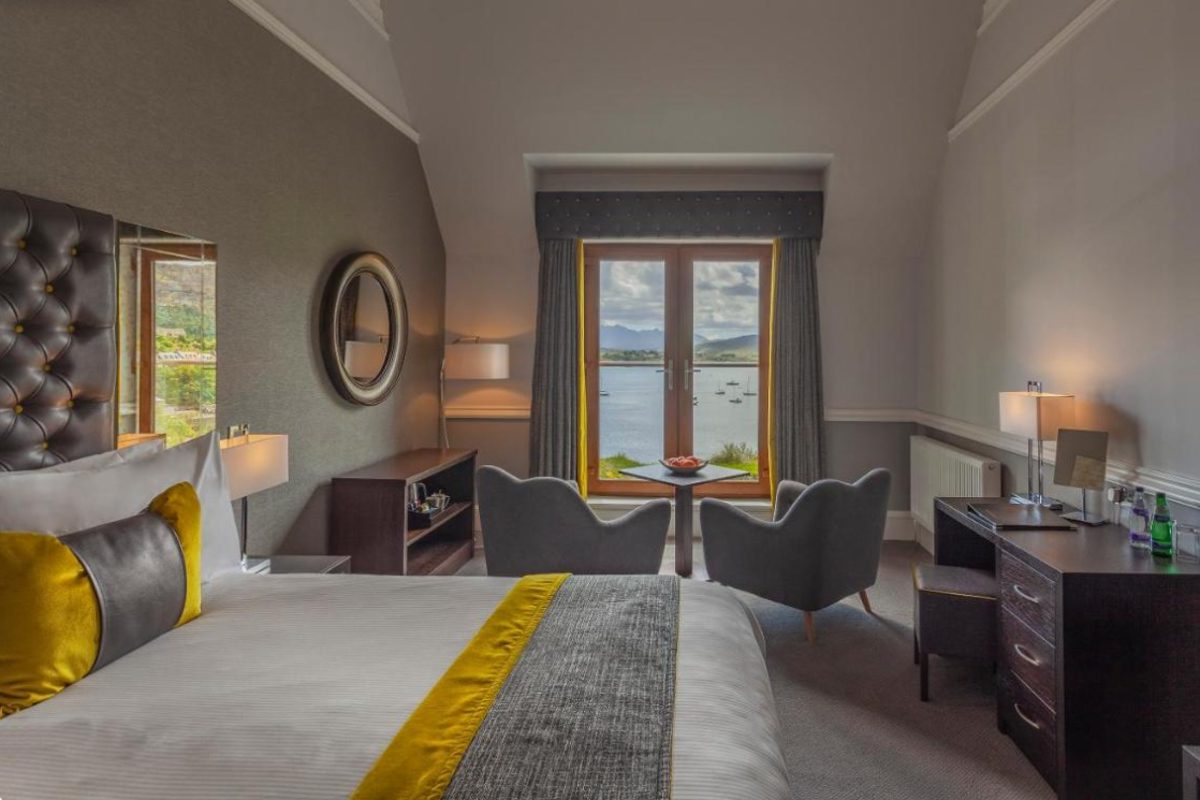 Cuillin Hills Hotel: This 1880s hotel manages to be modern and also retain a traditional feel, offers fantastic views across Portree Bay, and has an onsite restaurant and pub with an extensive whiskey selection.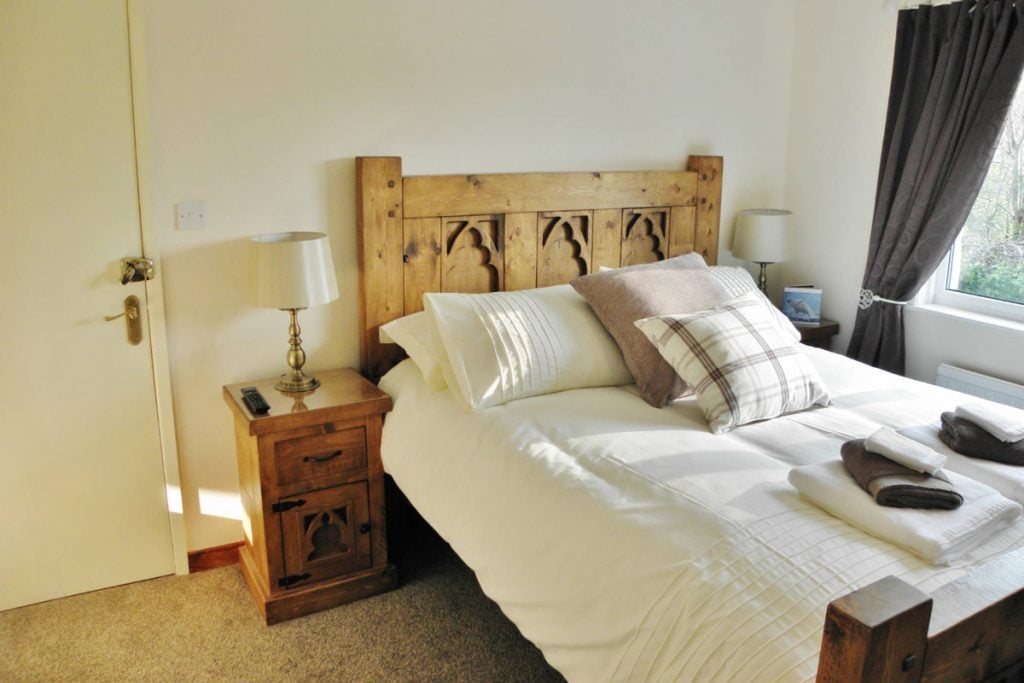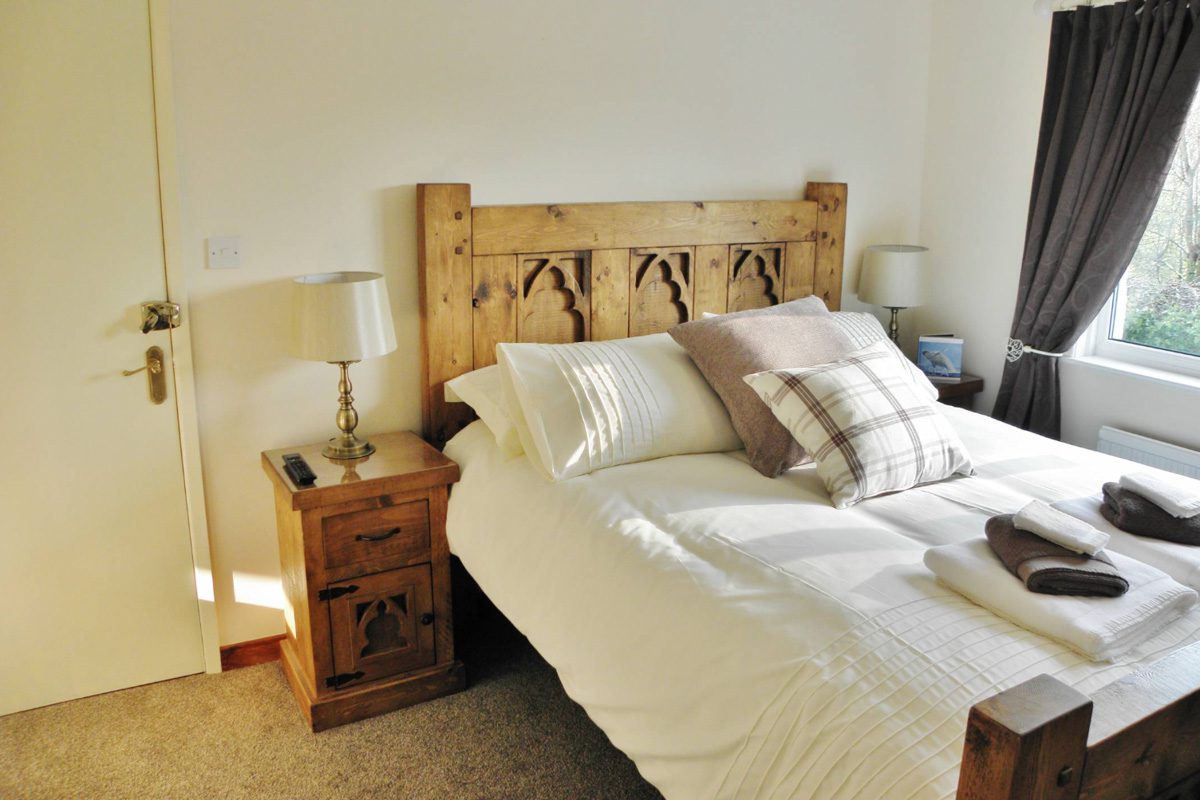 High Beech House: Perched high above Portree Harbour, this self-catering holiday home with included Scottish breakfast is perfect for exploring the Fairy Pools Skye.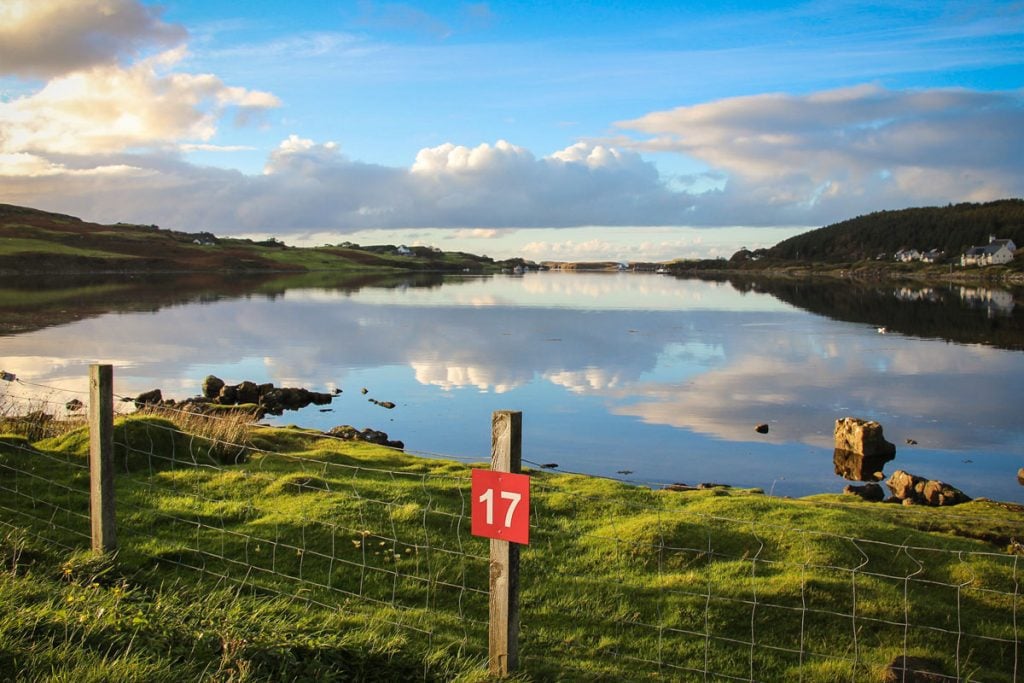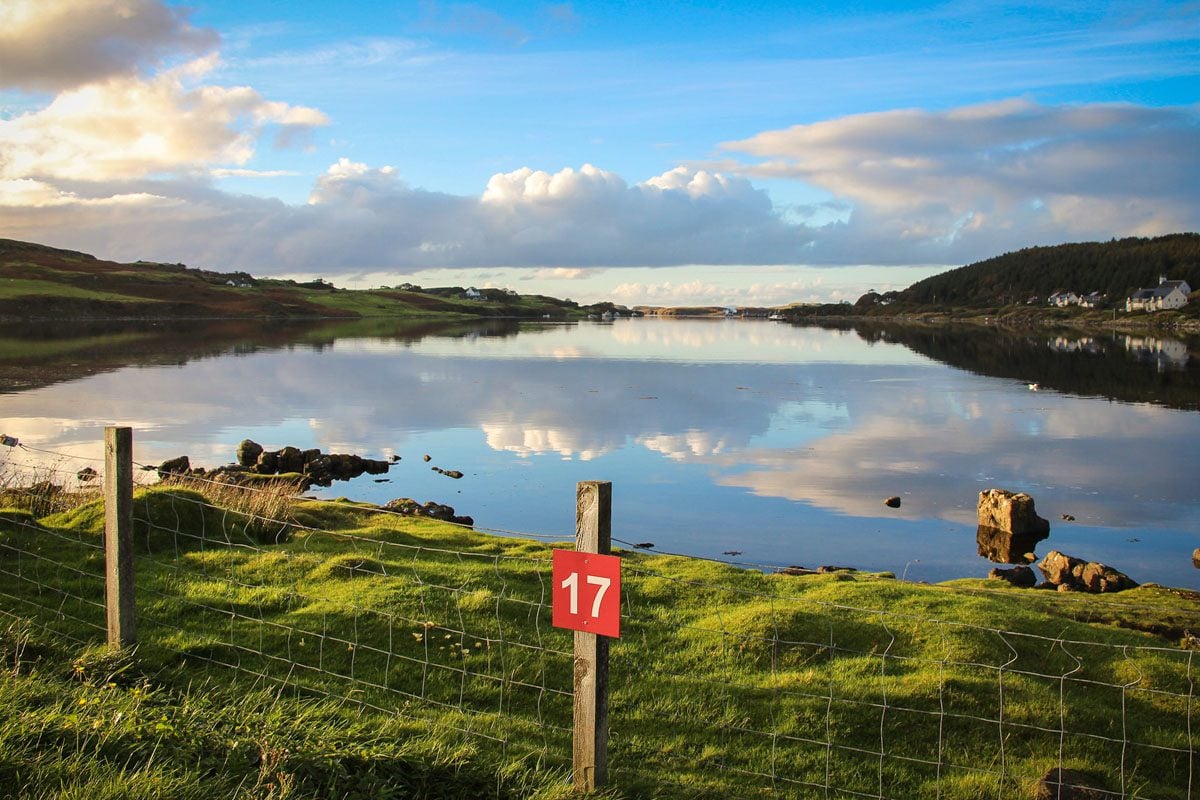 Kinloch Campsite: Stunningly beautiful campground right on Loch Dunvegan that accommodates tents, vans, and motorhomes and has lots of wildlife, forests, and beaches.
---
Are you planning a trip to Scotland?
We have lots of resources on travel in Scotland and destinations throughout the country. Check out our Scotland Travel Homepage for everything you need to know, or read some of our favorite articles below.
Save this article on Pinterest for later!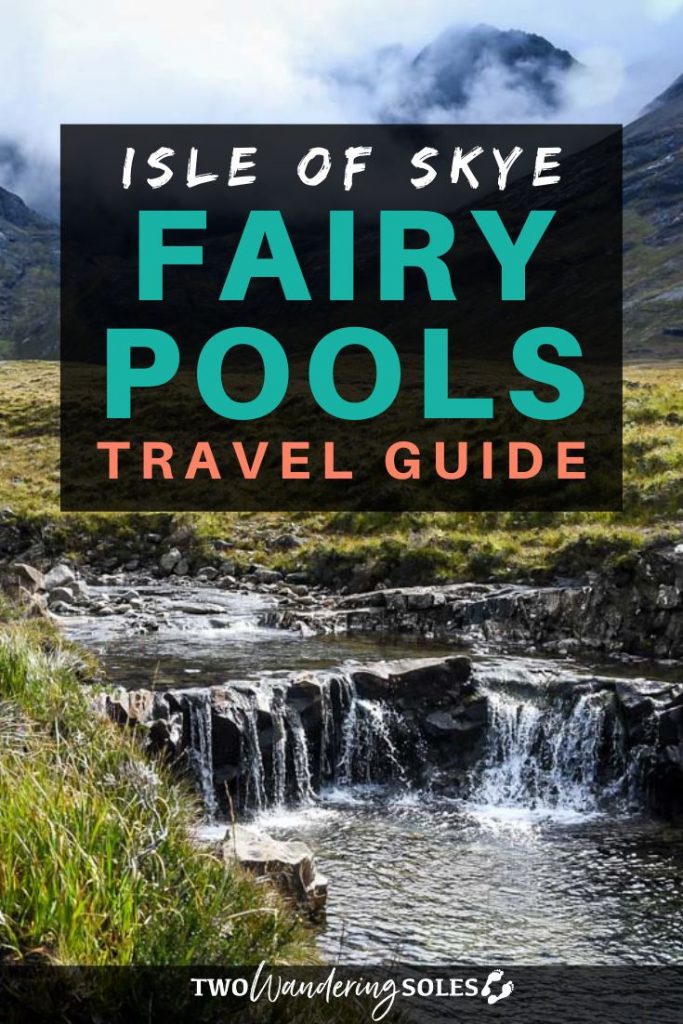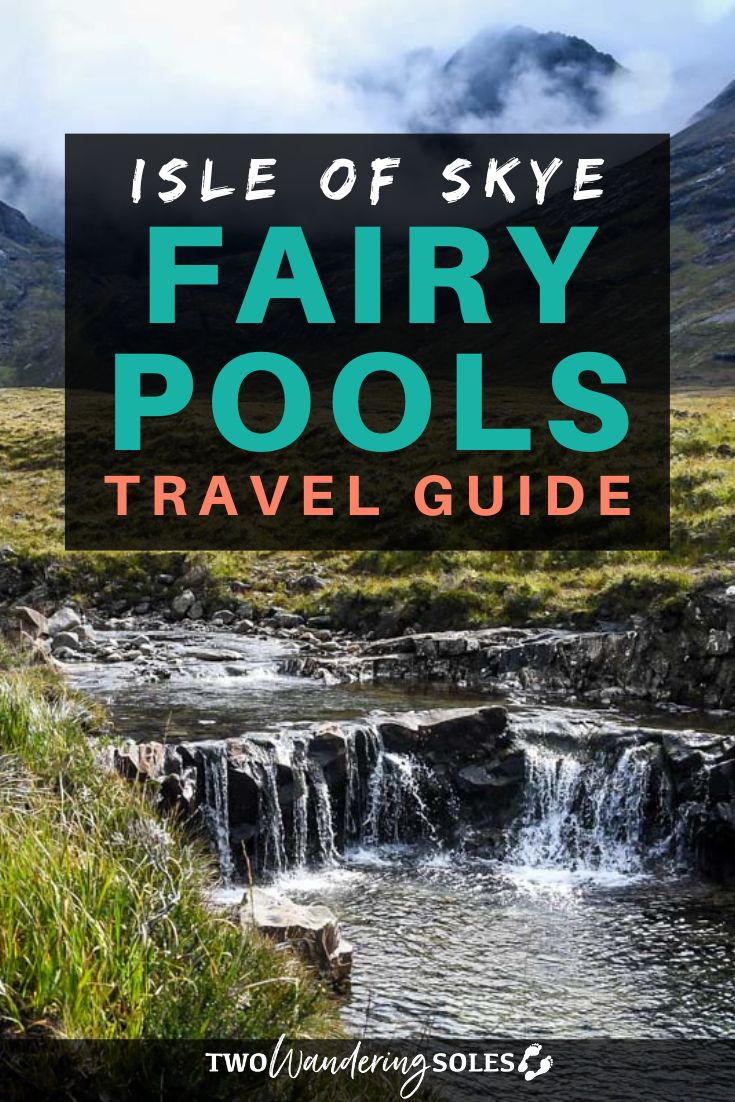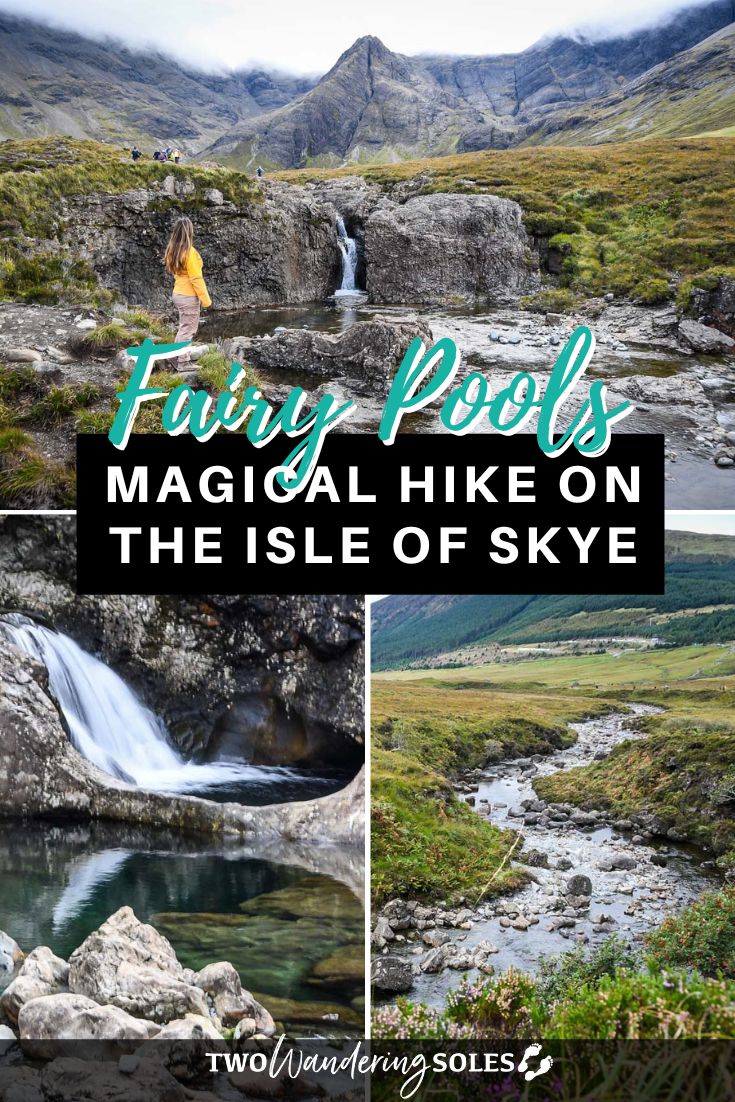 We want to hear from you!
Have you ever heard of these enchanting Fairy Pools in Skye? Do you have any more questions about visiting? Comment below and we'll do our best to get back to you!