With its incredible landscapes, towering mountains, white sand beaches and tremendous history, Scotland should definitely be on your travel radar. In this guide, we've outlined some of our favorite things to do in Scotland to help you plan your visit.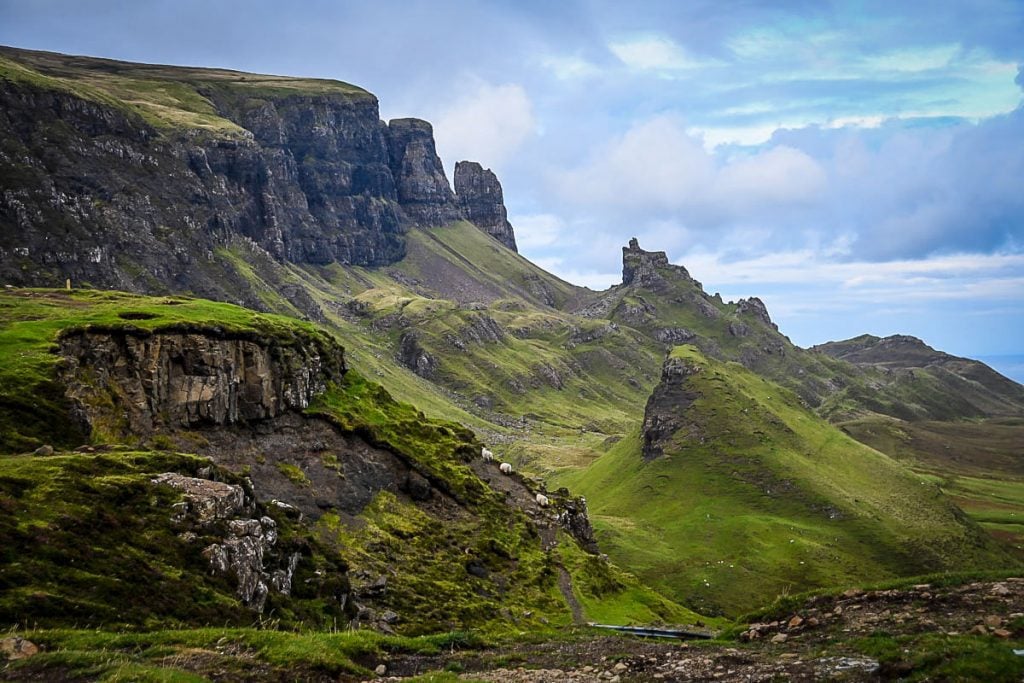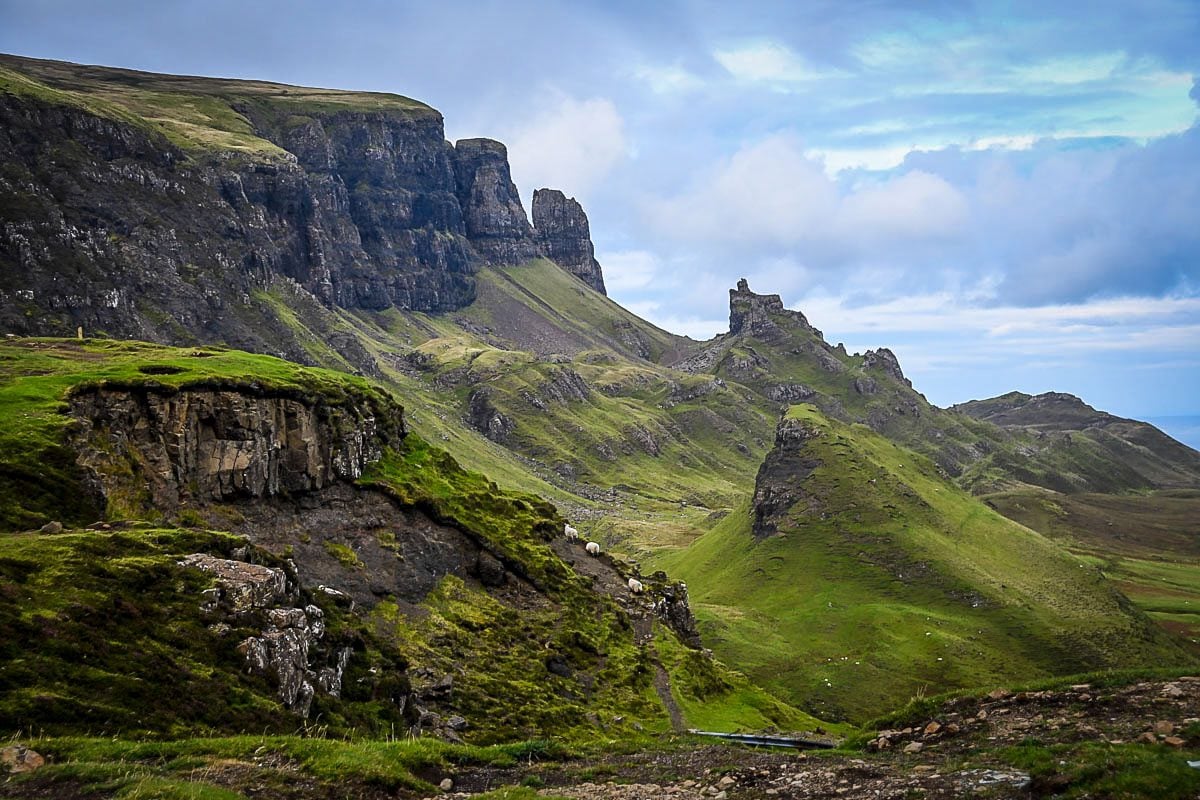 Visiting Scotland has long been on our bucket list.
And after weeks of drooling over the lush green scenery as we binge-watched Outlander, we booked a flight. (It doesn't take too much convincing for us to plan a trip!)
After taking our first trip, we are absolutely obsessed with Scotland and learned 2 lessons:
a) Outlander is full of so much dreamy Scottish scenery that we think just about anyone will be convinced to book a flight. Just try to watch it and not drool. (Over the scenery and the men in kilts!)
b) There are so many things to do in Scotland that we are already dreaming about our next visit.
Whether you're in the dreaming phase and simply wondering what there is to do in Scotland, or you're knee-deep in the planning process, we've got you covered.
We'll share the very best things to do in Scotland for all types of travelers. We're including quintessential Scottish experiences, hidden gems, hikes, free things to do, and must-try foods.
Scotland Travel Guide
We've also included some helpful resources for planning your trip to Scotland…
---
Top things to do in Scotland
If you're looking for the very best things to do in Scotland, here are our top recommendations:
Take an epic road trip
Meet reindeer in the Cairngorms
Go on a Scottish food tour
Explore the Isle of Skye
Be enchanted by Edinburgh
Spend the night in a glamping pod
Keep reading for more detailed information on each of these things and more ideas of fun things to do in Scotland.
1. Take an epic road trip through Scotland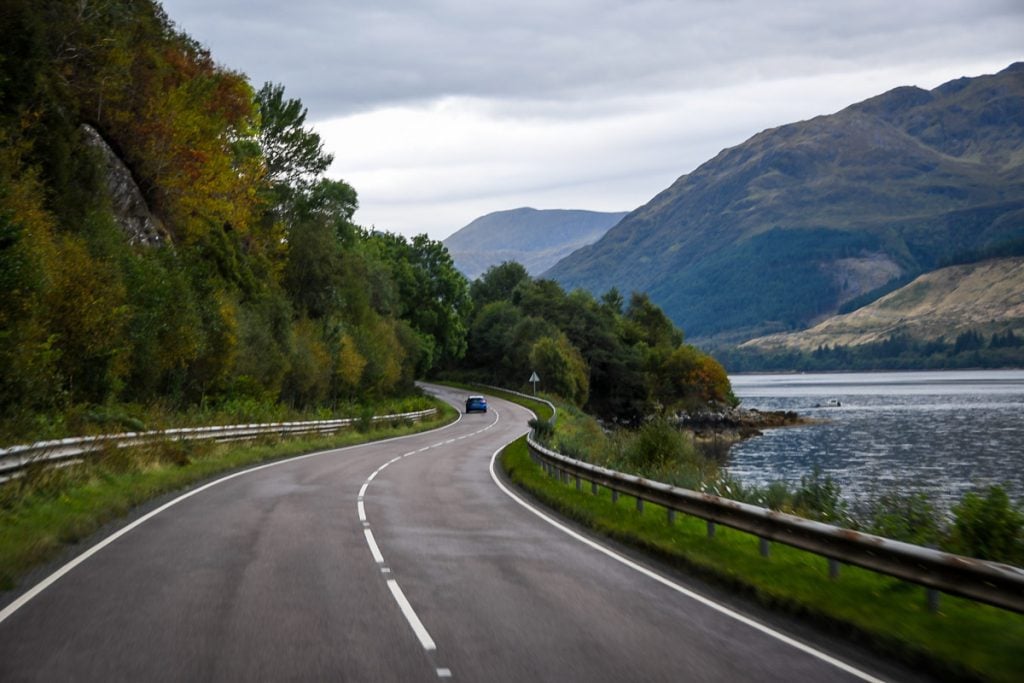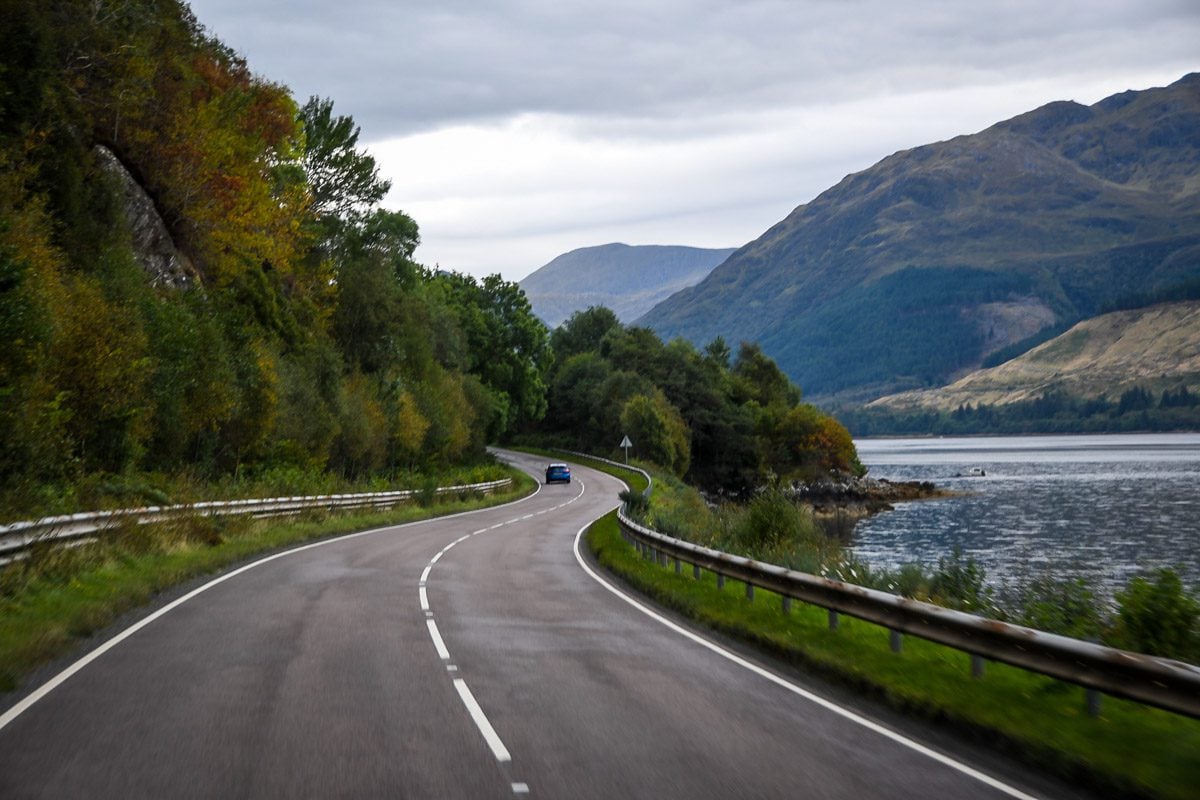 There's no disputing it — exploring Scotland on a road trip is the absolute best way to really see this country.
Having your own vehicle will allow you to get out and explore quaint villages, stop off at scenic viewpoints on a whim, and venture to remote hikes and beaches.
Before you pack your favorite snacks and queue up a road trip playlist, you'll want to decide if you'll be exploring Scotland in a campervan or in a rental car.
Each has pros and cons, and only you will be able to determine which will be best for your travel style. Psst! We're partial to campervans. See why here!
Want to save time and energy on planning?
We traveled in Scotland for about 2 weeks and were able to visit most of the highlights of the country, including most of the top places to visit.
We took our 2-week travels and created the perfect Scotland road trip itinerary. We'll send you our complete 2-week itinerary, filled with tips and advice. Just click below to get your 2-week Scotland road trip itinerary today!


2. Meet reindeer in the Cairngorms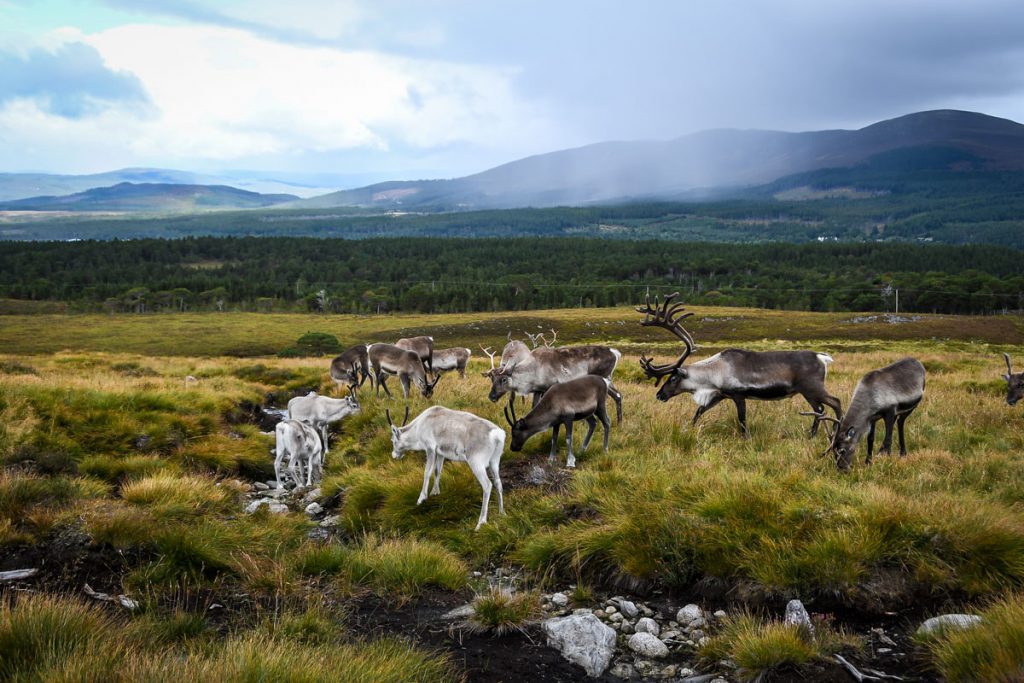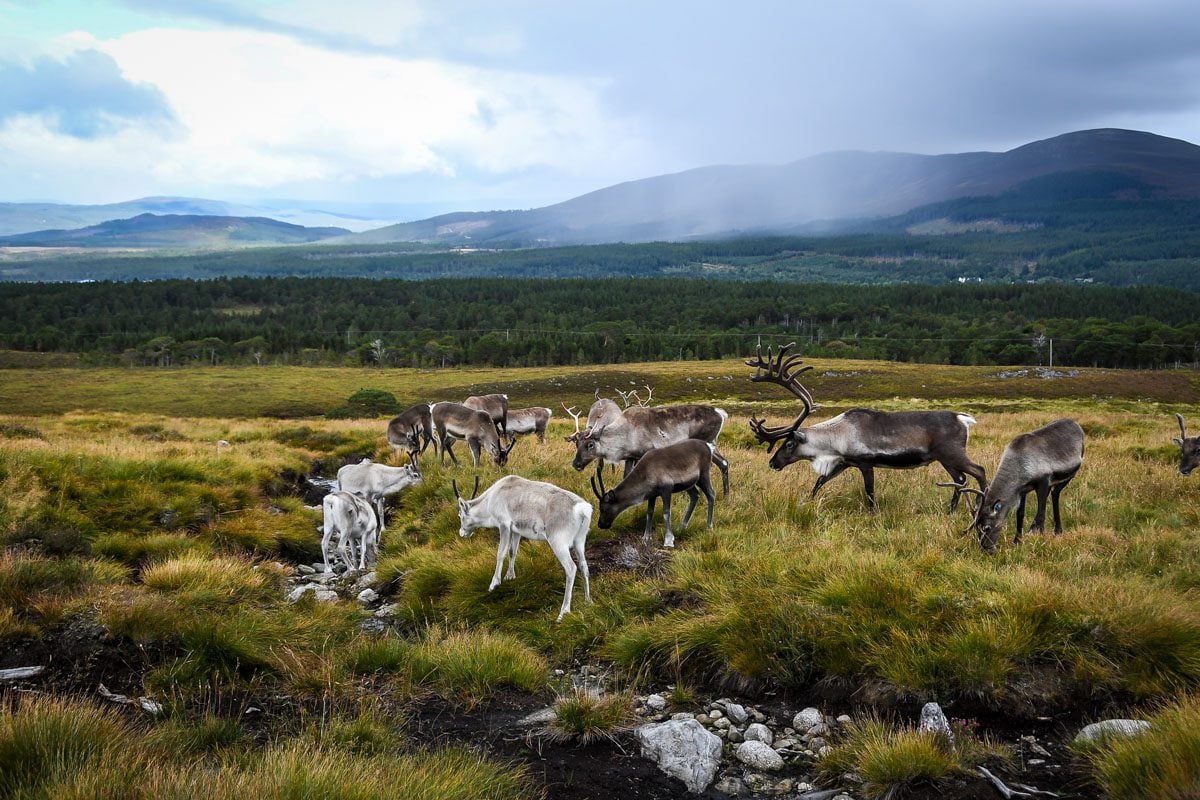 Whether you're an animal lover or you seek out unique experiences on your travels (or maybe you're both!), this activity should be on your Scotland bucket list.
Make the 15-minute (easy) trek into Cairngorms National Park where you'll meet a herd of reindeer. You will get to learn about them and also have the chance to feed them as well as many memorable photo ops along the way.
In fact, as soon as our group started walking on the boardwalk inside the enclosure, one by one the reindeer started scooching in between people nonchalantly, as if they do this every day, like merging into traffic on the way to work.
Getting up close with them is certainly one of the more unique things to do in Scotland!
Fun facts about the Cairngorms Reindeer: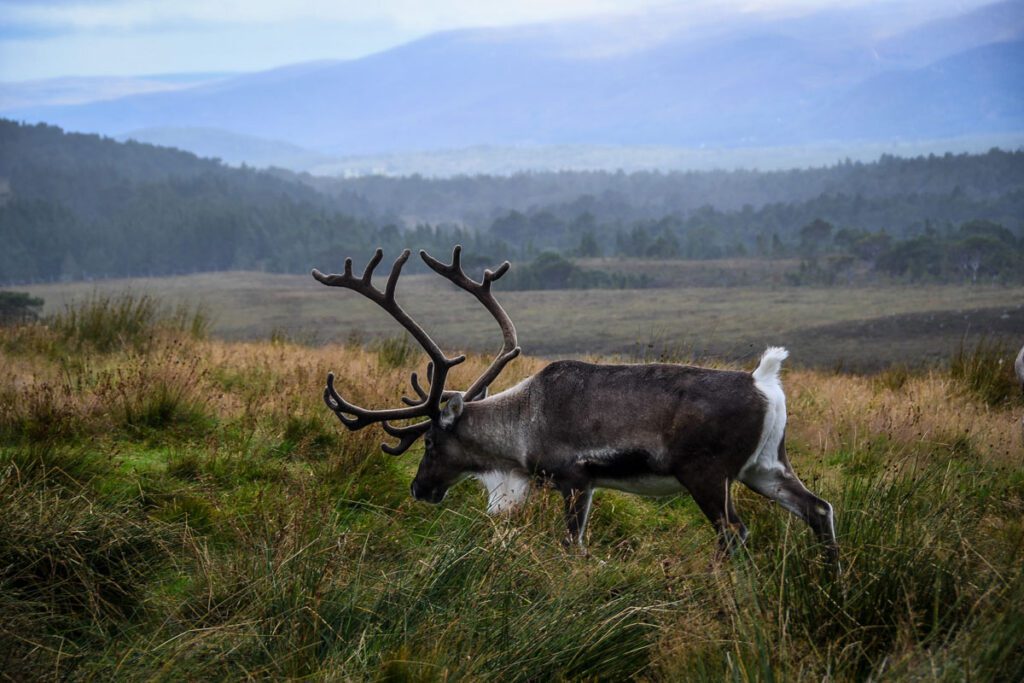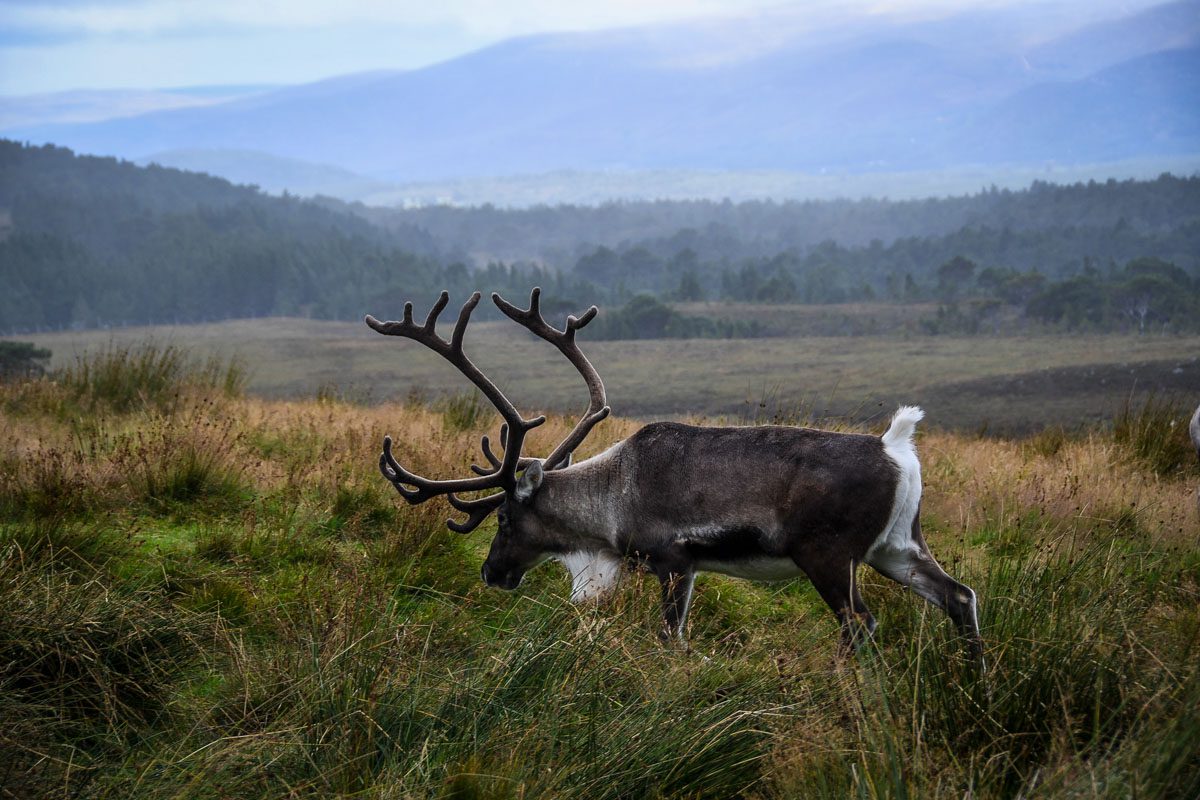 Reindeer were native to this region, but were hunted out completely around 1,000 years ago.
In 1952, a Sami reindeer herder (indigenous group from Sweden and Norway) started the reintroduction process by bringing some of his reindeer from Sweden over to Scotland.
Today, there are around 150 reindeer in the herd in the Cairngorms. Part of the conservation effort is to breed the reindeer, so this number is growing.
The reindeer live in a 1,200 acre enclosure, but it opens up so they have the option to free range.
FYI: You can't do this activity without a tour. So if you definitely want to do this activity, we'd recommend booking your tour in advance so you know you have a spot at the time that works for you.
3. Go on a Scottish food tour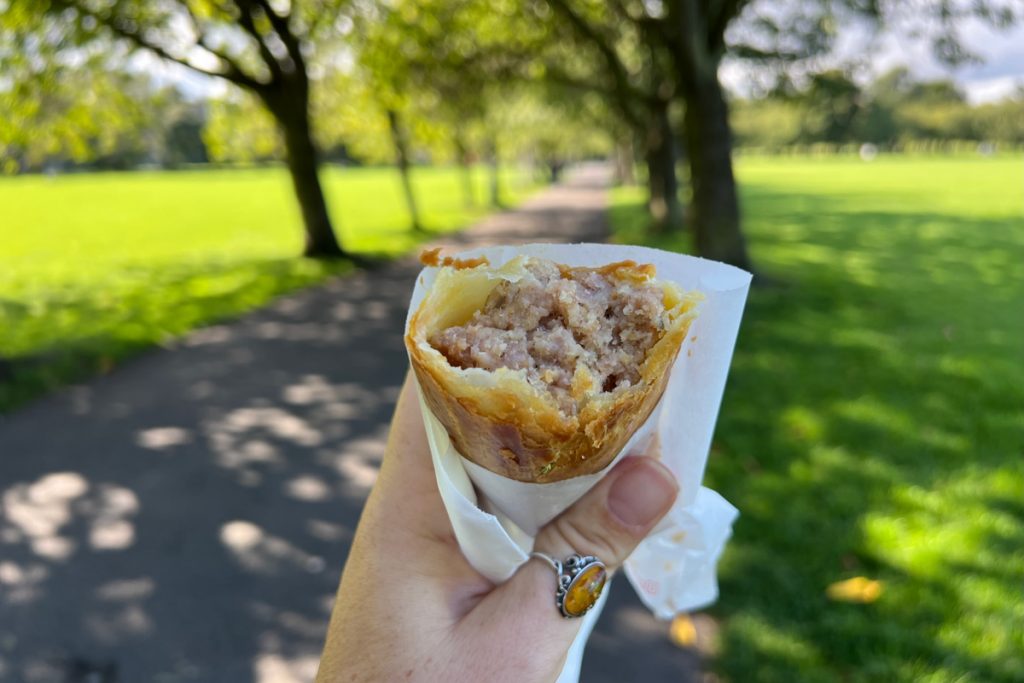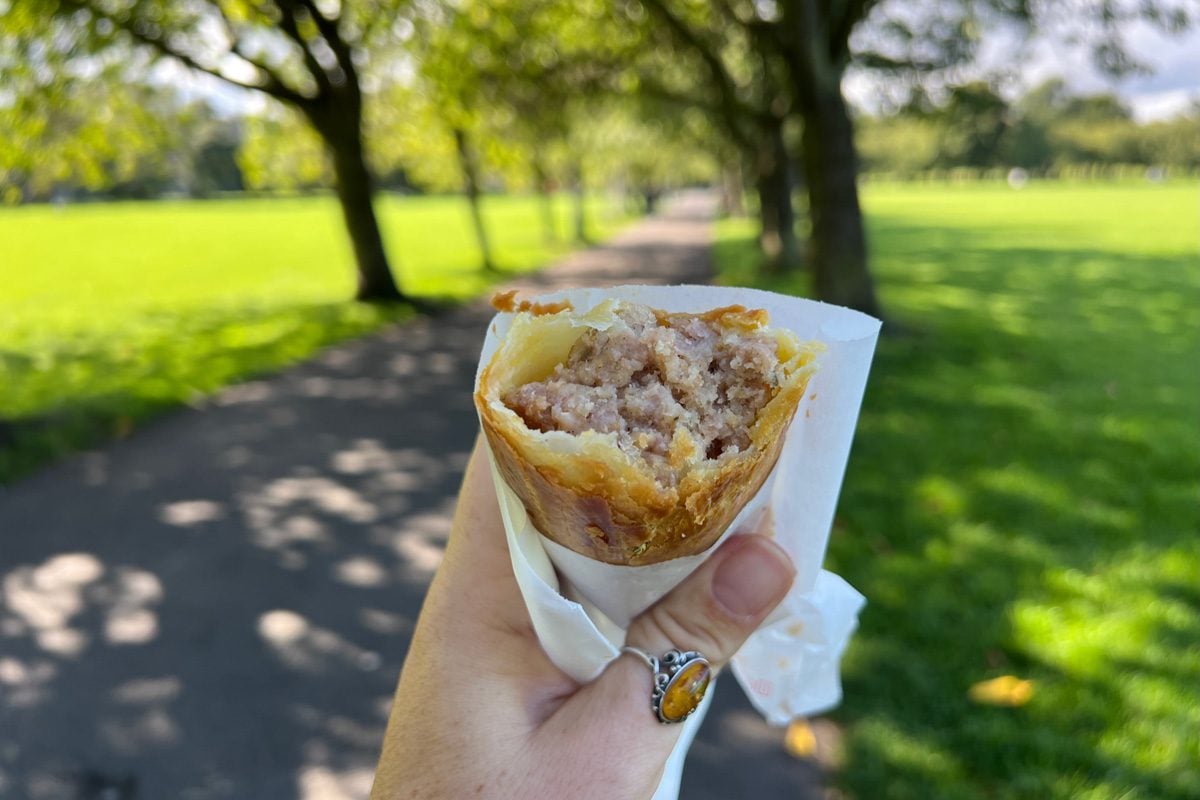 One activity we try to book on every trip we take is a food tour. We're obsessed for a variety of reasons:
a) You get to hang out with a local and pick their brain about their home. Best restaurants? Spots only the locals know? Ask away!
b) You can learn a ton about a region based on the local cuisine.
c) On food tours, you get to go beyond the tourist trap restaurants and dine in places where locals actually eat.
d) You'll get to try dishes without ordering an entire portion. Are you a little wary of trying haggis? The good thing about taking a food tour is you can try just a little bit and see if it's for you. And, you'll be trying it at a place that is known for excellent haggis, so it will (hopefully!) be a good experience.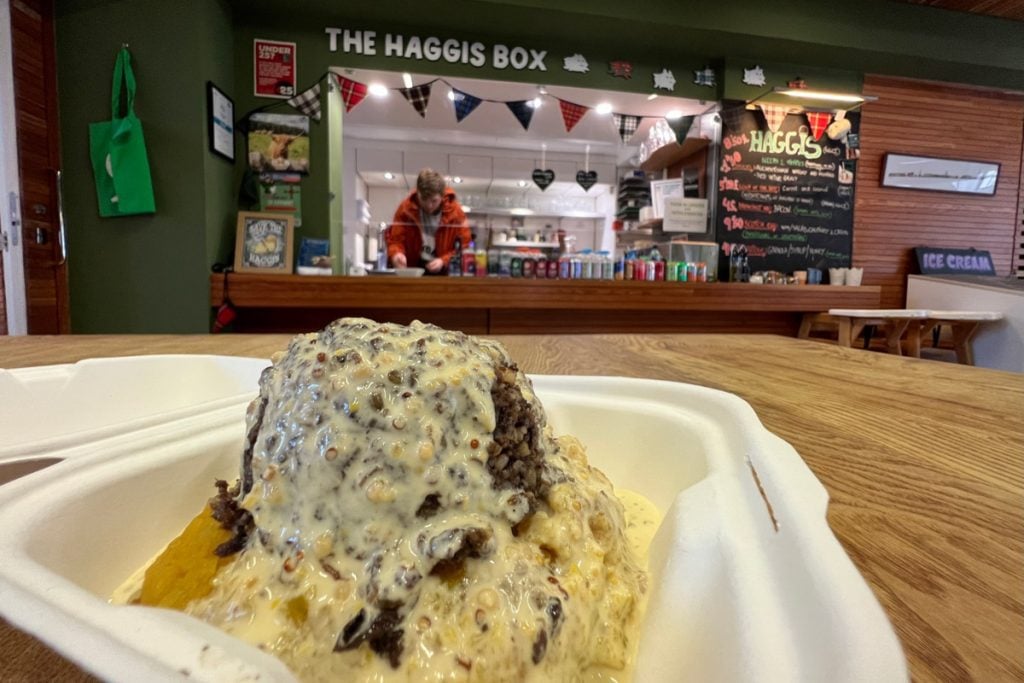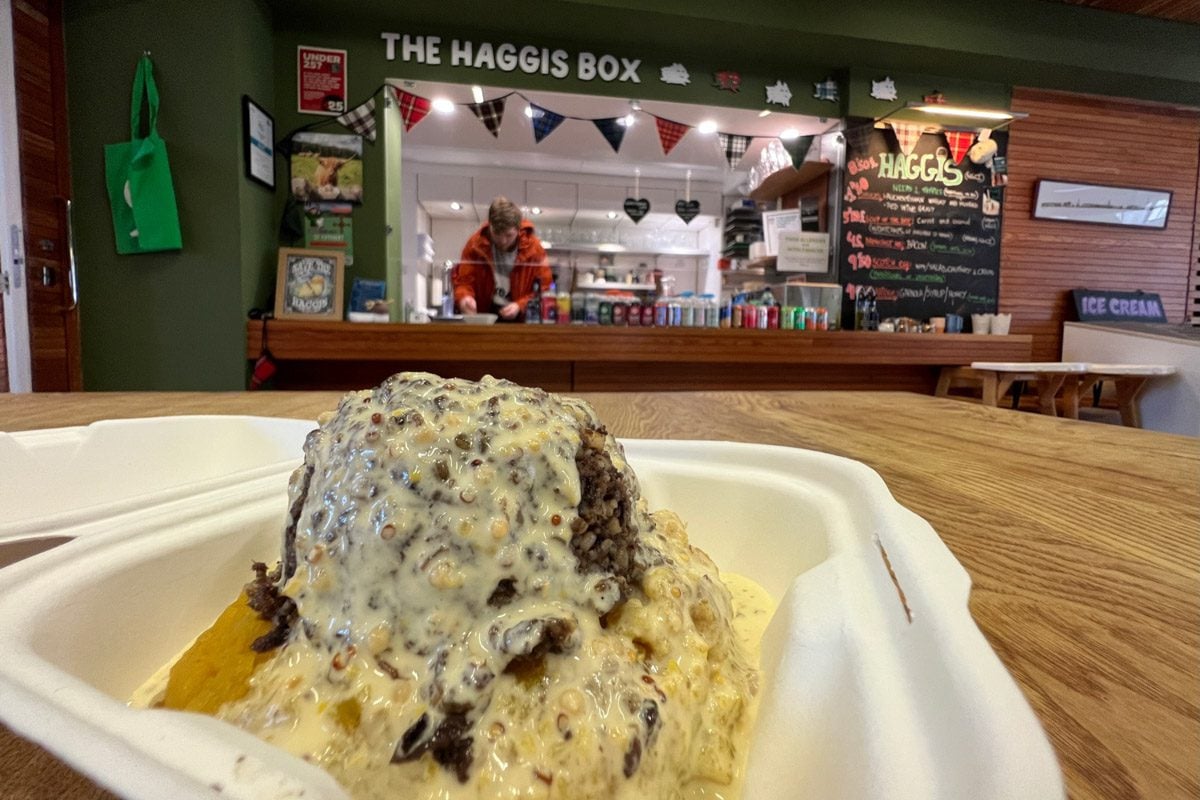 Spoiler alert: We really enjoyed it!
e) It'll likely be the best meal (if you can call it that!) of your trip! You'll get to sample traditional Scottish foods at some of the best places around. We've found that food tours are the most efficient way to eat our way around a country because in one afternoon, you'll get to try a bunch of dishes without filling up on just one.
Insider Tip: If possible, we like to do food tours at the start of a trip so we can figure out which dishes we want more of and which we're okay with just tasting once.
The two best places to take a food tour in Scotland are in Edinburgh and in Glasgow, as there are a variety to choose from.
Our experience: We did a food tour in Glasgow through Eat Walk Glasgow and we really enjoyed it. Our guide was really wonderful to spend the afternoon with, and because we were the only ones who had booked that day, it was a private tour.
4. Explore the Isle of Sky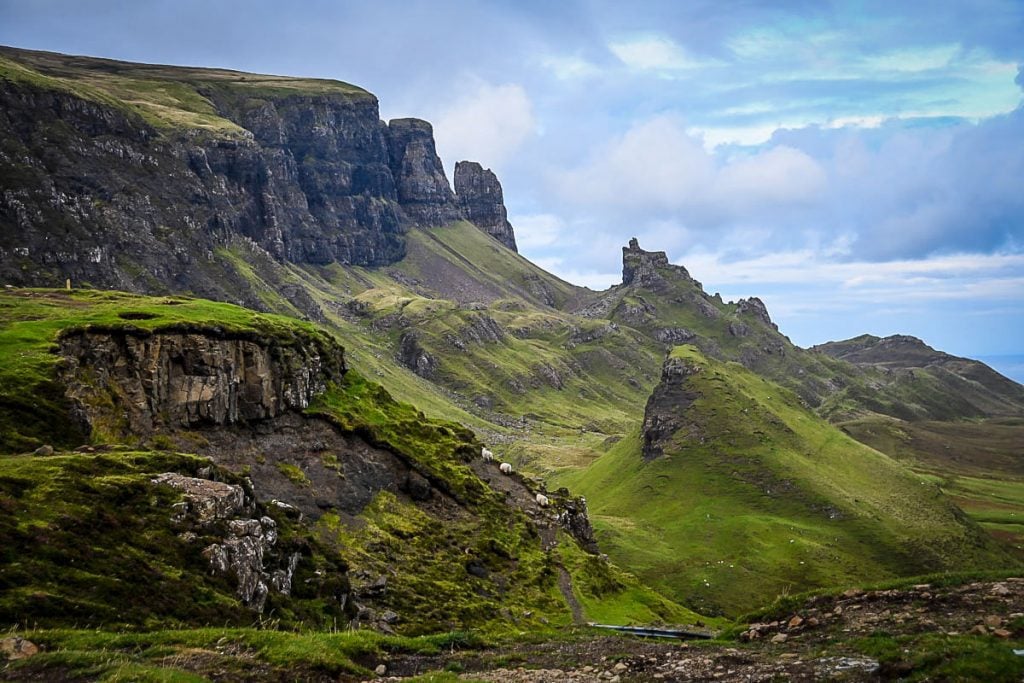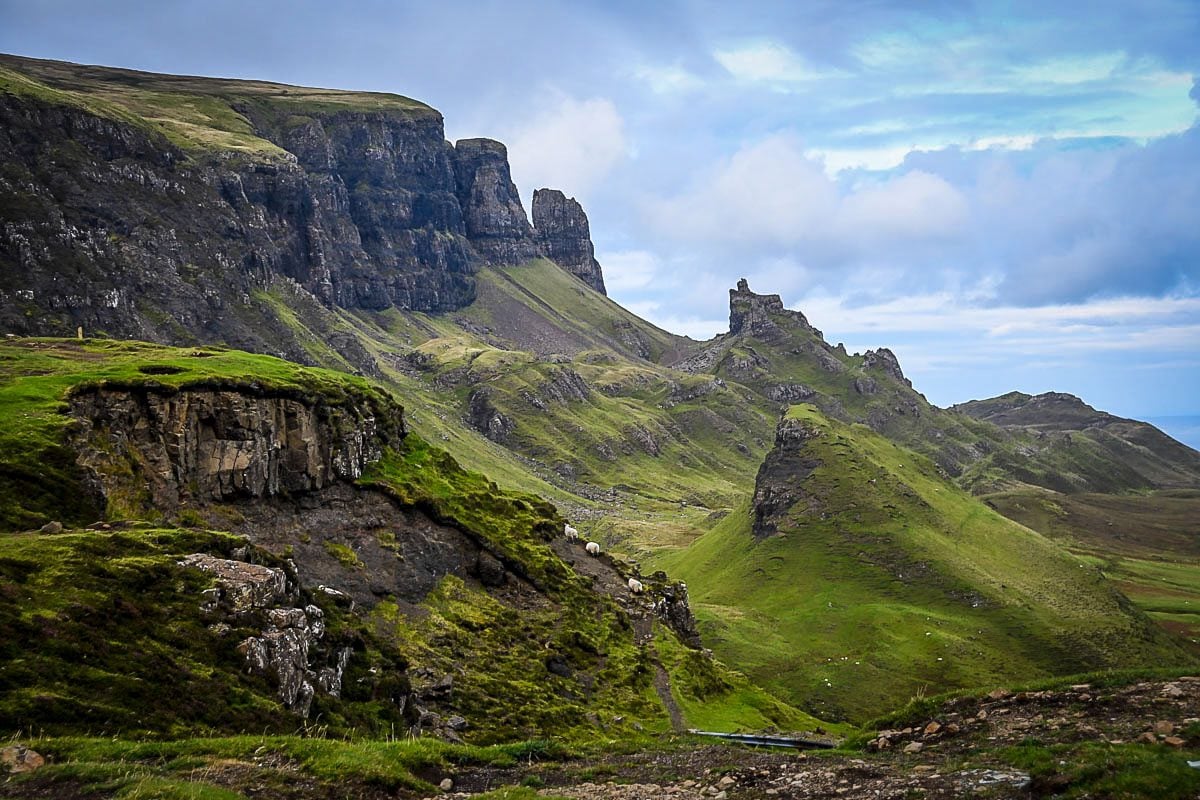 When we shared that we were traveling to Scotland, the most popular question we got was, "You're visiting the Isle of Skye, right?!"
Duh.
This place is pure magic and should definitely be on your Scotland itinerary if you have more than 1 week.
If you've ever taken an Iceland road trip, the Isle of Skye will likely remind you a great deal of the Snaefellness Peninsula in Iceland.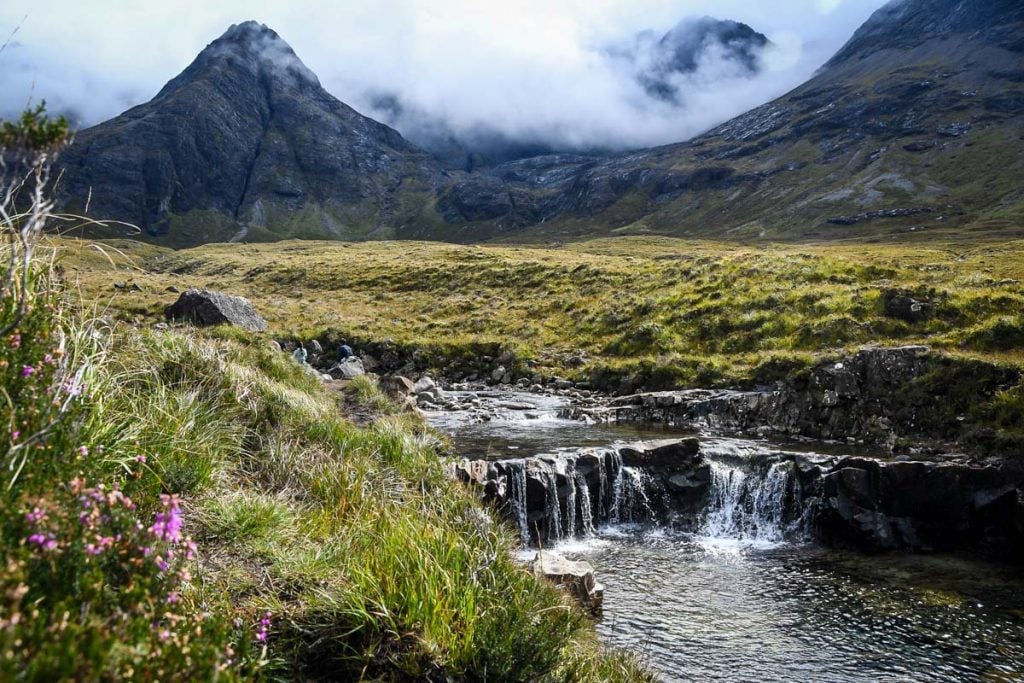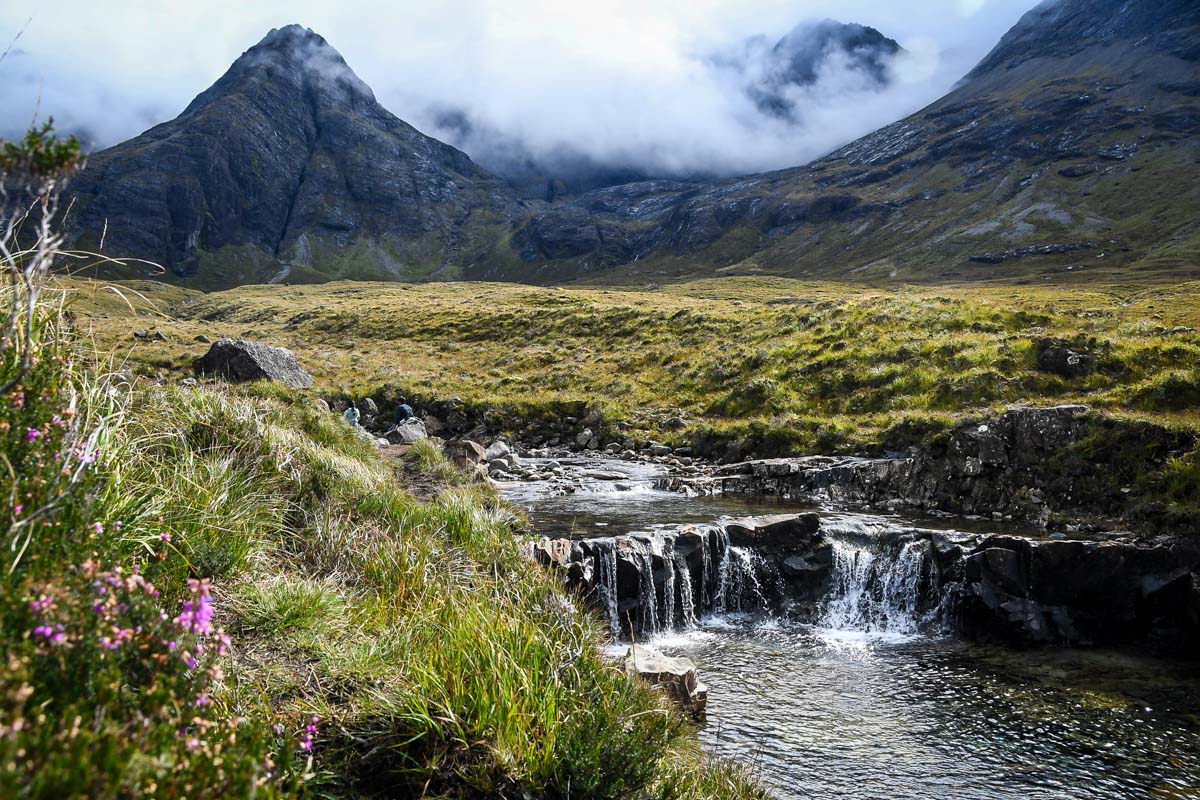 There are so many gems in Skye…
Hiking to the iconic Fairy Pools.
Eating seafood in the colorful fishing village of Portree.
Wandering Fairy Glenn at sunset.
Stopping into cute coffeeshops along the way.
If you are planning to include Skye on your Scotland trip (do it!!!), check out our guide of things to do on the Isle of Skye to help you plan your time there.
5. Be enchanted by Edinburgh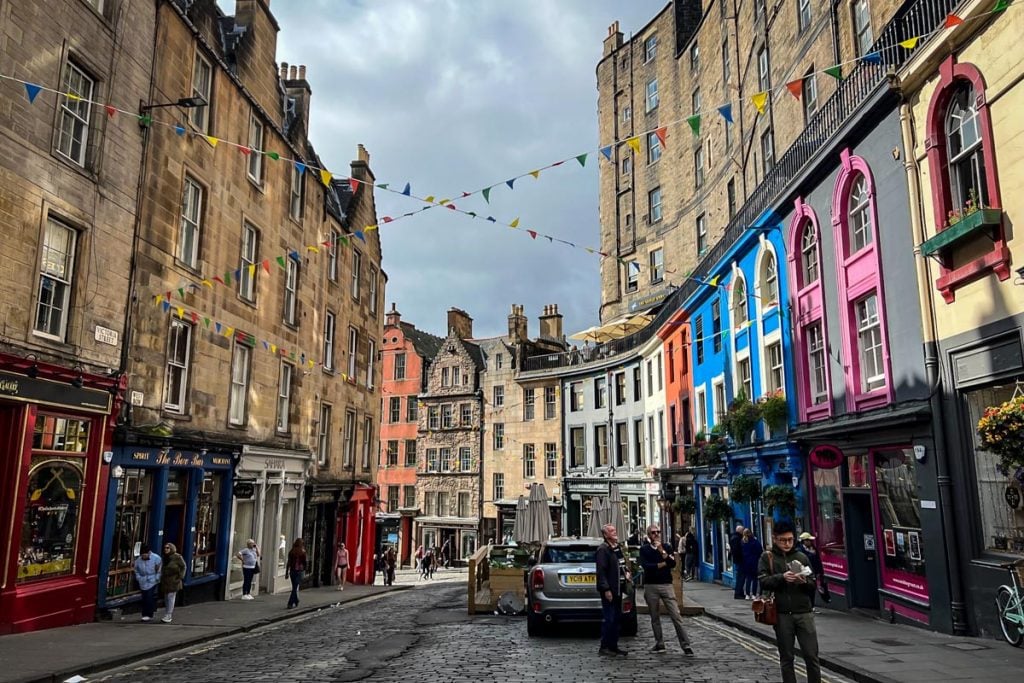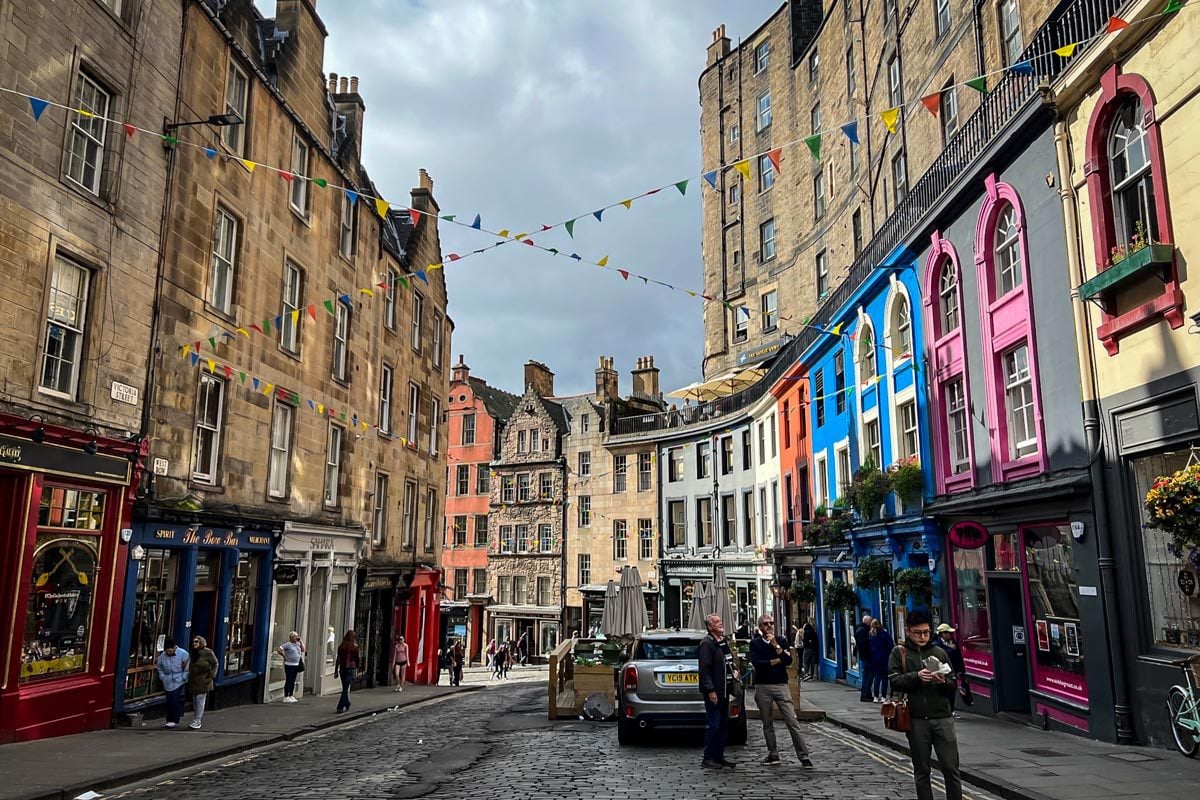 If you visit one big city while in Scotland, let it be Edinburgh!
Yes, this city is touristy, but for good reason. It is so incredibly beautiful, packed with history, things to do, and world-class dining.
We've got a big guide of all the best things to do in Edinburgh so you can plan the perfect stay.
Psst! Wondering where to stay in the city? Check out this guide to the dreamiest Airbnbs in Edinburgh.
6. Spend the night in a glamping pod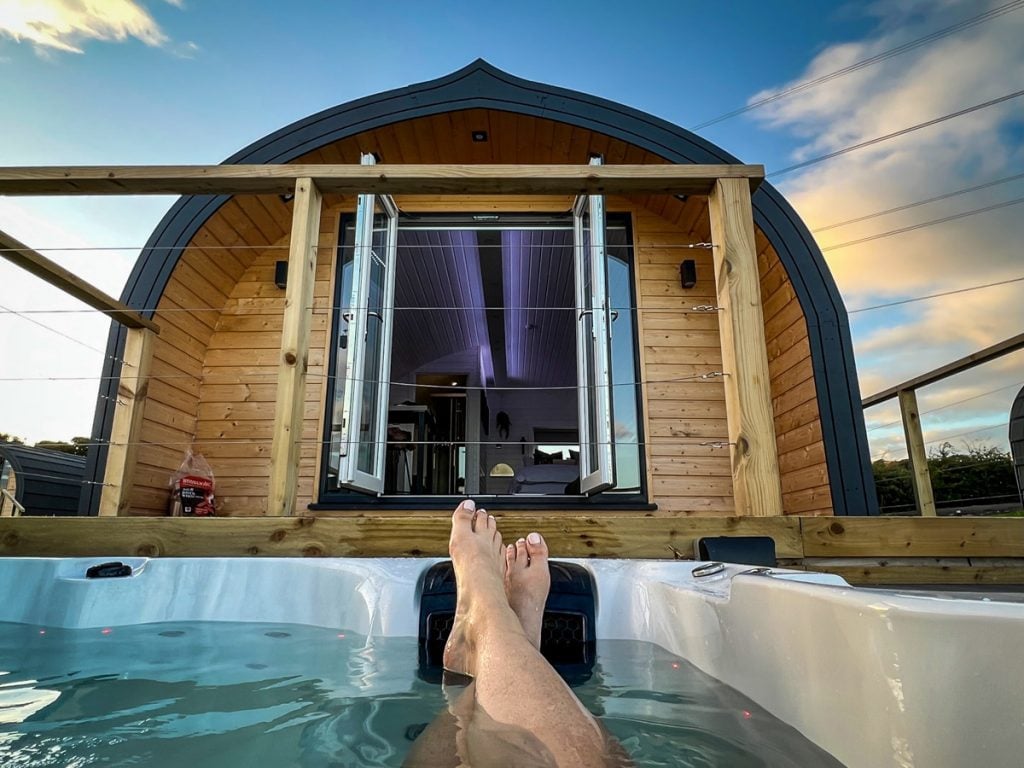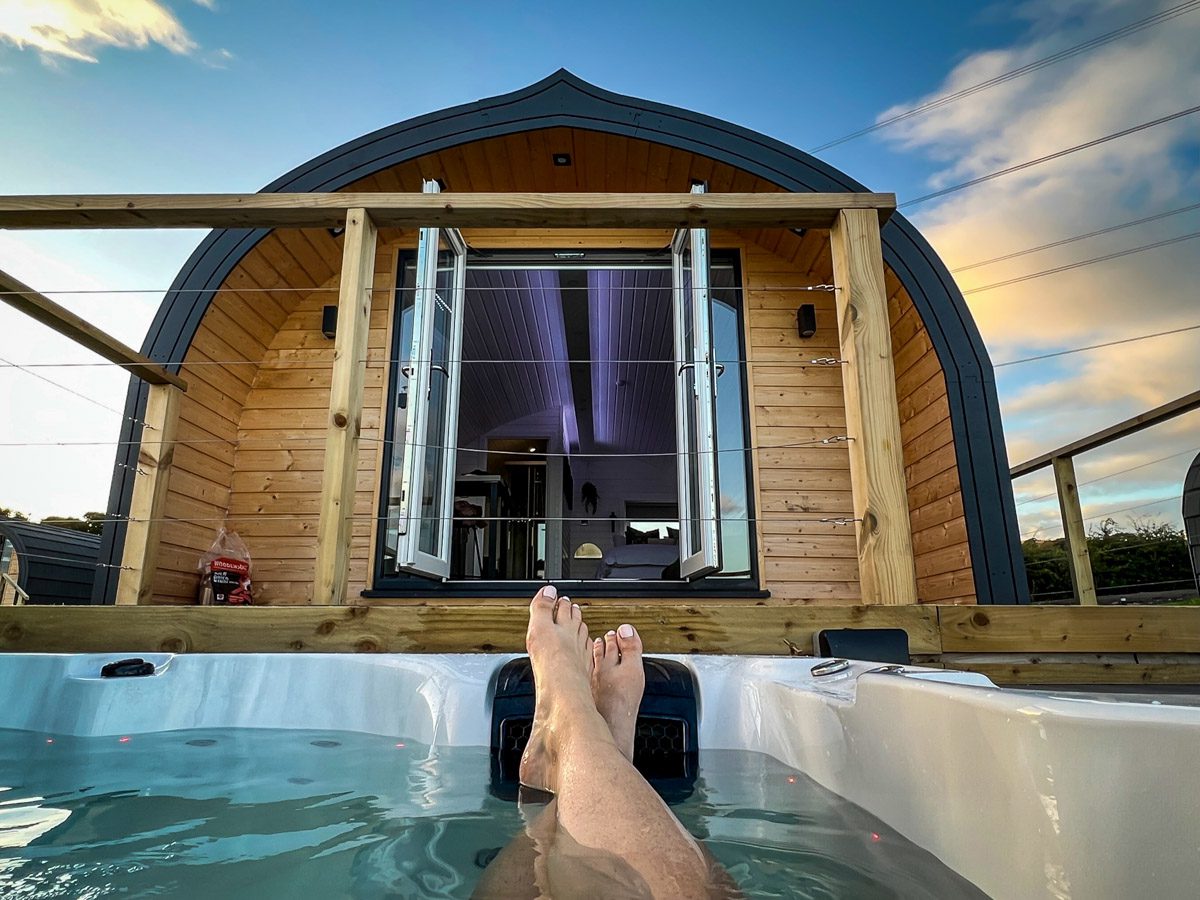 Imagine waking up in a cozy little pod with sprawling views of nature surrounding you, but with none of the inconveniences that come with camping.
Scotland has an obsession with glamping pods. From basic to bougie, you'll find a pod or wigwam for all budgets.
Even though we were traveling Scotland in a campervan, we decided to splurge and spend one night in a glamping pod with a hot tub and an epic view over Glasgow.
It was one of the best decisions.
Since there are so many incredible glamping pods in Scotland, we'd highly recommend booking at least one night of your trip in one for a unique (and luxurious!) stay.
Bonus points if the pod you book has a hot tub (like ours did!).
7. Catch a sunset on Loch Ness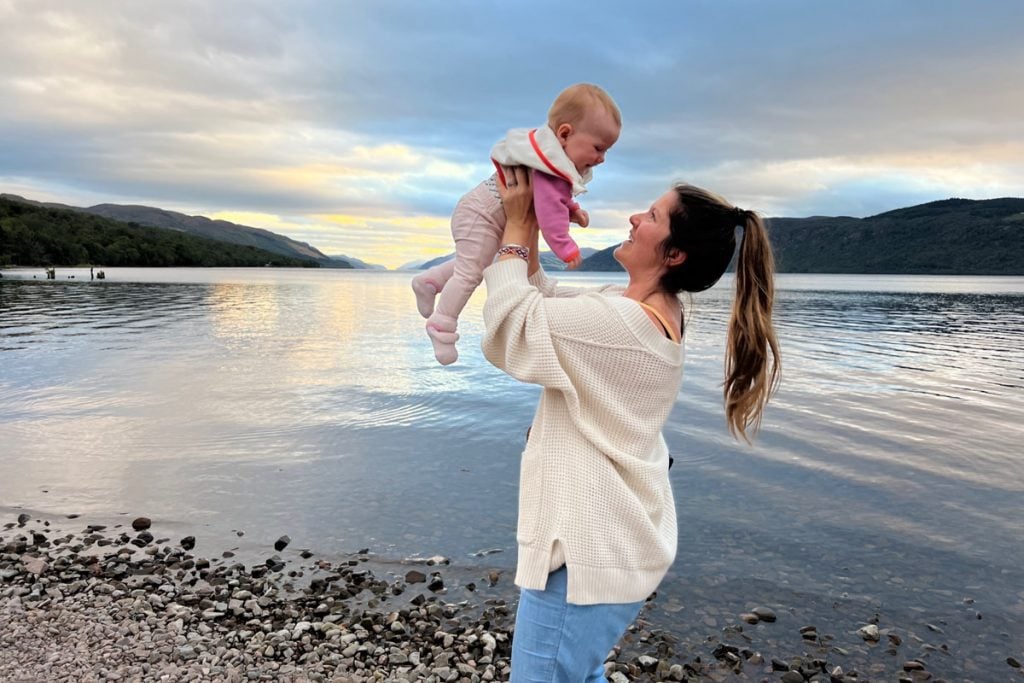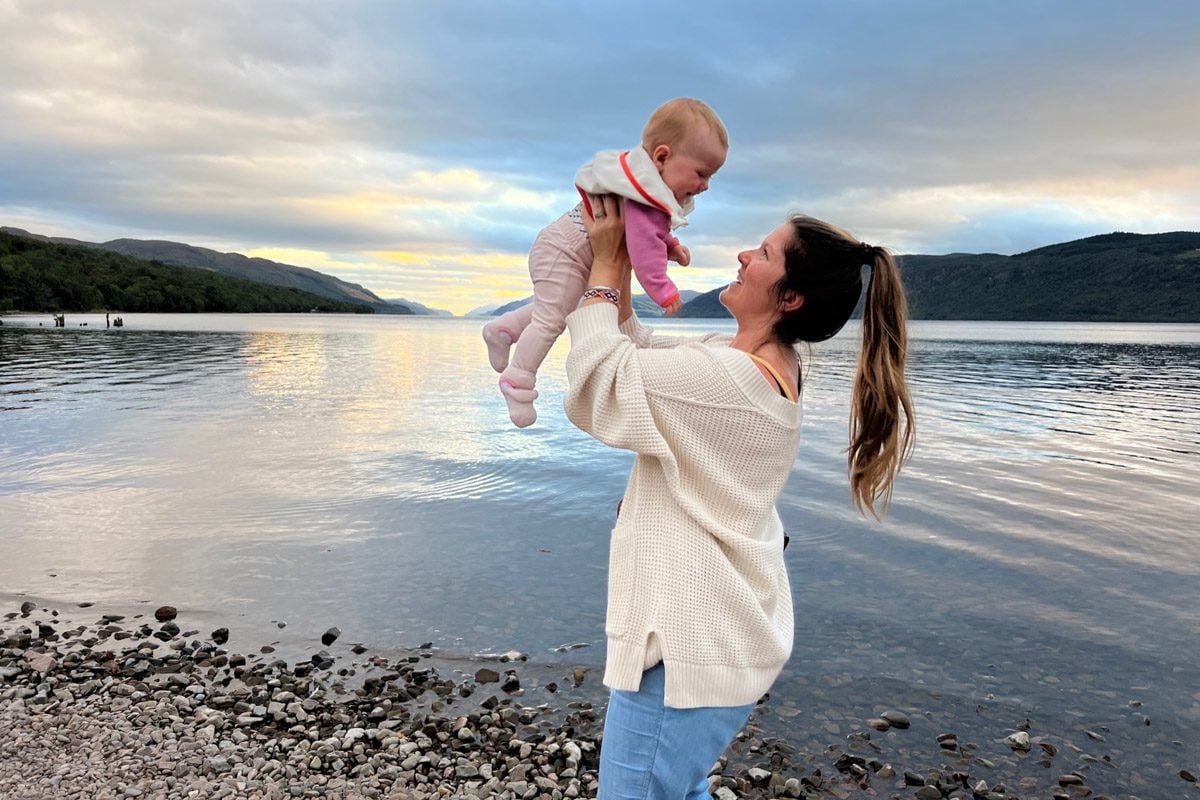 Everyone talks about taking a boat tour of Loch Ness to spot the illusive Nessie. I'm going to come out with an unpopular opinion here, but I think the boat tour is not the best thing to do on the lake.
Seeing sunset on Dores Beach is.
A local actually recommended we do this, and we're so happy we took their advice.
The view from this point is a much cooler perspective than you'll get on the boat tour. Trust us, we did both. From the beach, you can see down the length of the loch, layers of mountains looming in the distance as friendly ducks swim up to the rocky shore.
Once you've had your fill of beautiful views, pop inside the neighboring Dores Inn for some classic pub food and a pint (or a boozy coffee!) in a super cozy atmosphere.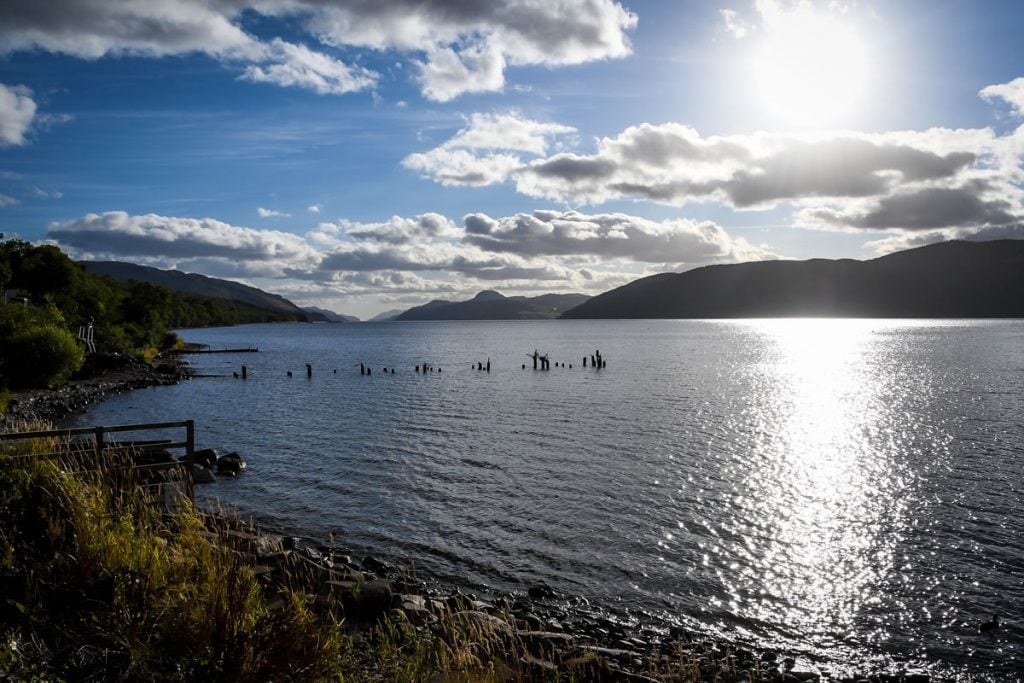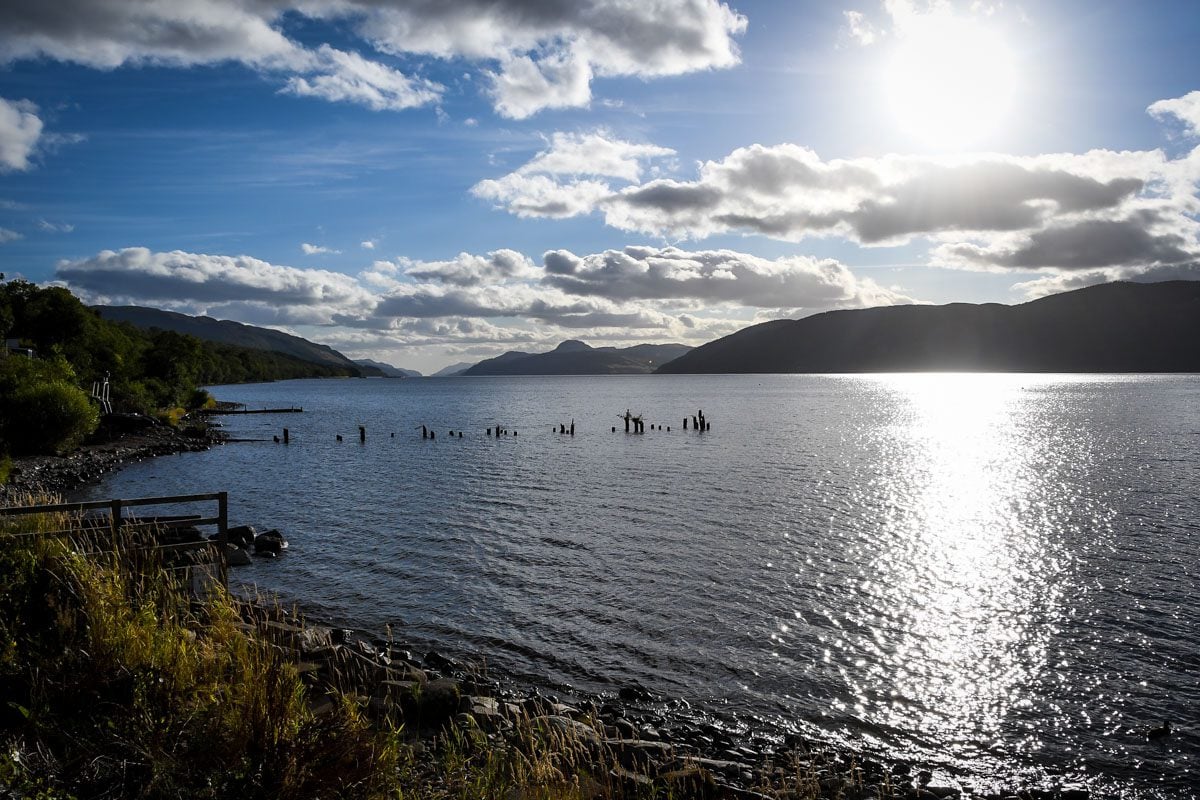 Is the Loch Ness boat cruise worth it? In our opinion, it's one of those things to do because "it's the thing in the place". But was it anything super special? Nah. Would it be a huge bummer to miss it? In our opinion, no.
Our advice: If you do the boat cruise, we'd recommend combining it with a visit to XXX Castle so you can experience a bit more than just seeing the lake from on the boat.
Inverness is the jumping off point for visiting Loch Ness and it's worth spending at least part of a day. This guide has a list of fun things to do in Inverness so you know how to plan your day.
8. Visit Scottish castles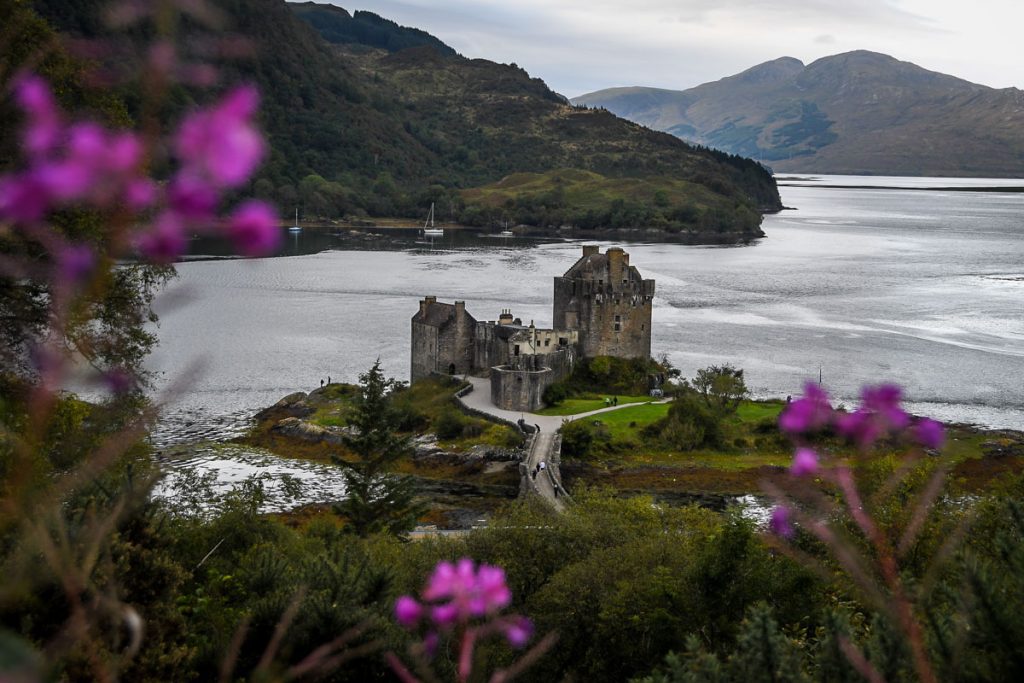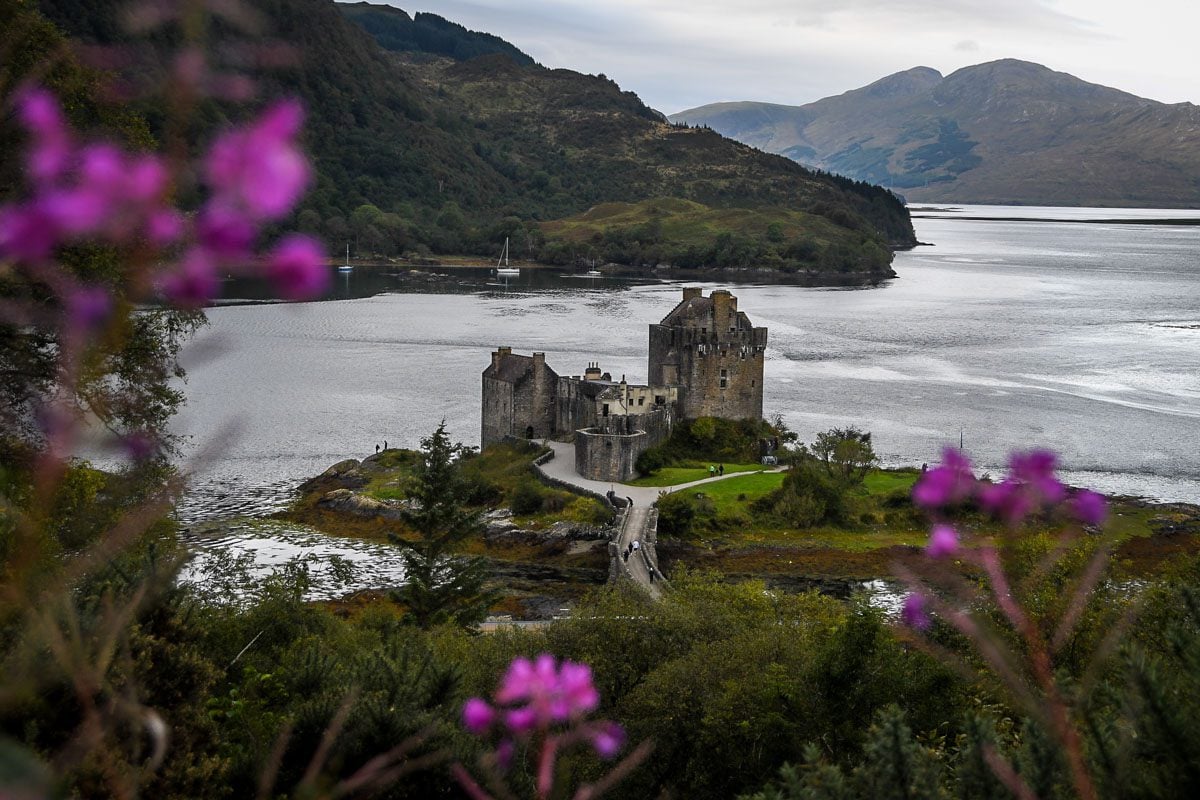 Scotland has roughly 1,800 castles still standing. So during your trip, there's a good chance you'll come across at least a few of them.
Our advice: Don't overload your itinerary with all the castles. (Unless you're a major history buff or photographer.) Choose a few that you really want to see.
We always joke that after a couple of weeks of travel in Asia, we get "temple-d out" or a week in Europe has us "church-ed out". In Iceland, we got a little "waterfall-ed out" and after a handful of castles in Scotland, I guess you could say we got a bit "castle-d out".
Here are a few of the coolest castles in Scotland:
Stirling Castle
Edinburgh Castle
Eilean Donan Castle
Dunvegan
Urquhart Castle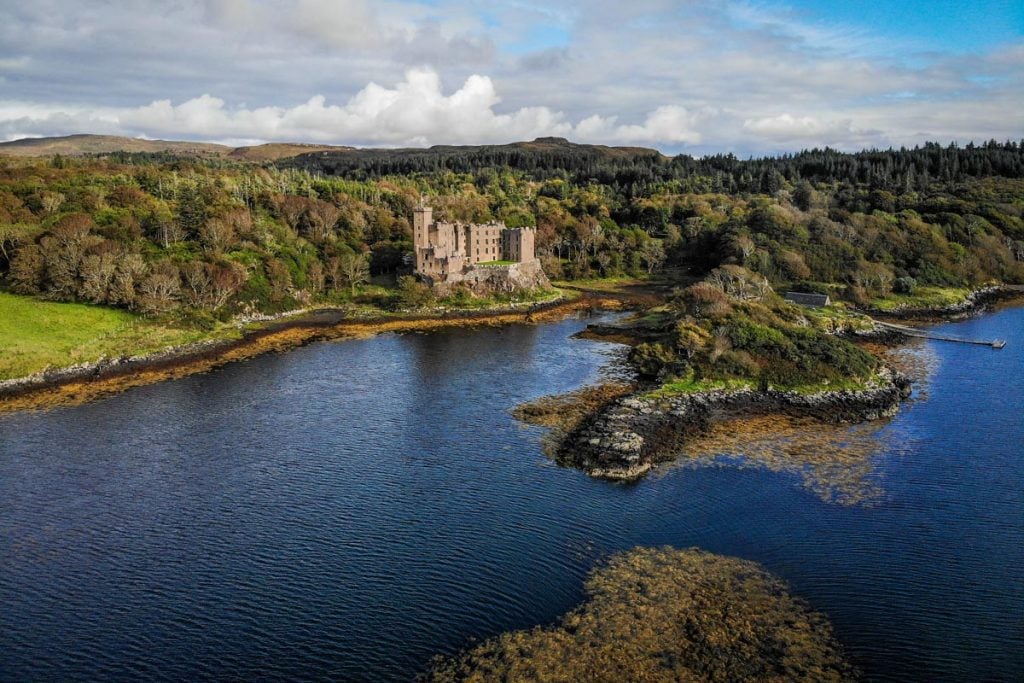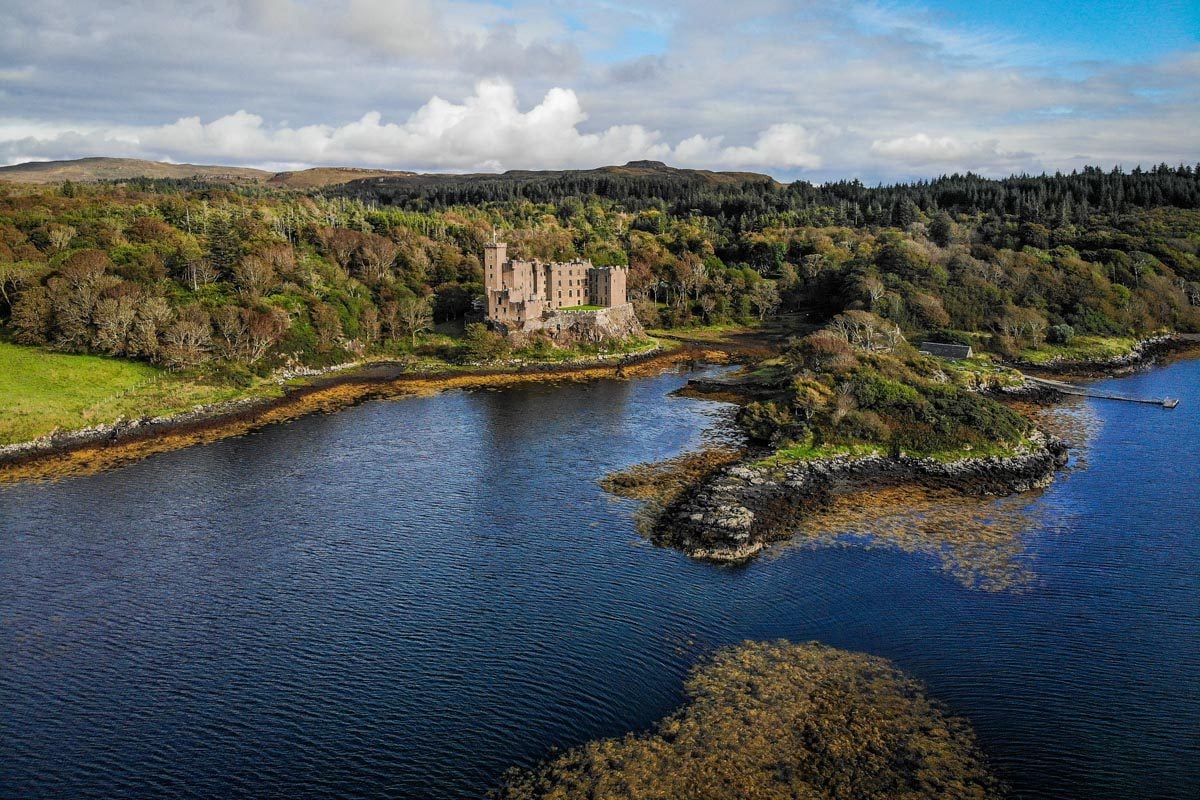 Check out our guide to castles in Scotland to find our more about our top picks, where they are located and how to see them up close!
Did you know that you can spend the night in a castle?
Ever dreamed of waking up in an actual castle? Want to live out all your fairytale dreams? Well, it's totally do-able on your trip to Scotland.

Since there are castles literally everywhere, you can easily find one that fits your budget whether it's a Bed and Breakfast or an ancient castle converted into a luxury hotel.
Explore the vast landscapes and gardens, sip on some whiskey surrounded by knight's armor, or spend some time debunking the mysterious tales that linger within the castle walls (okay, maybe not, but we love a good ghost story)!
Find out more about sleeping in a castle here.
9. Tour a distillery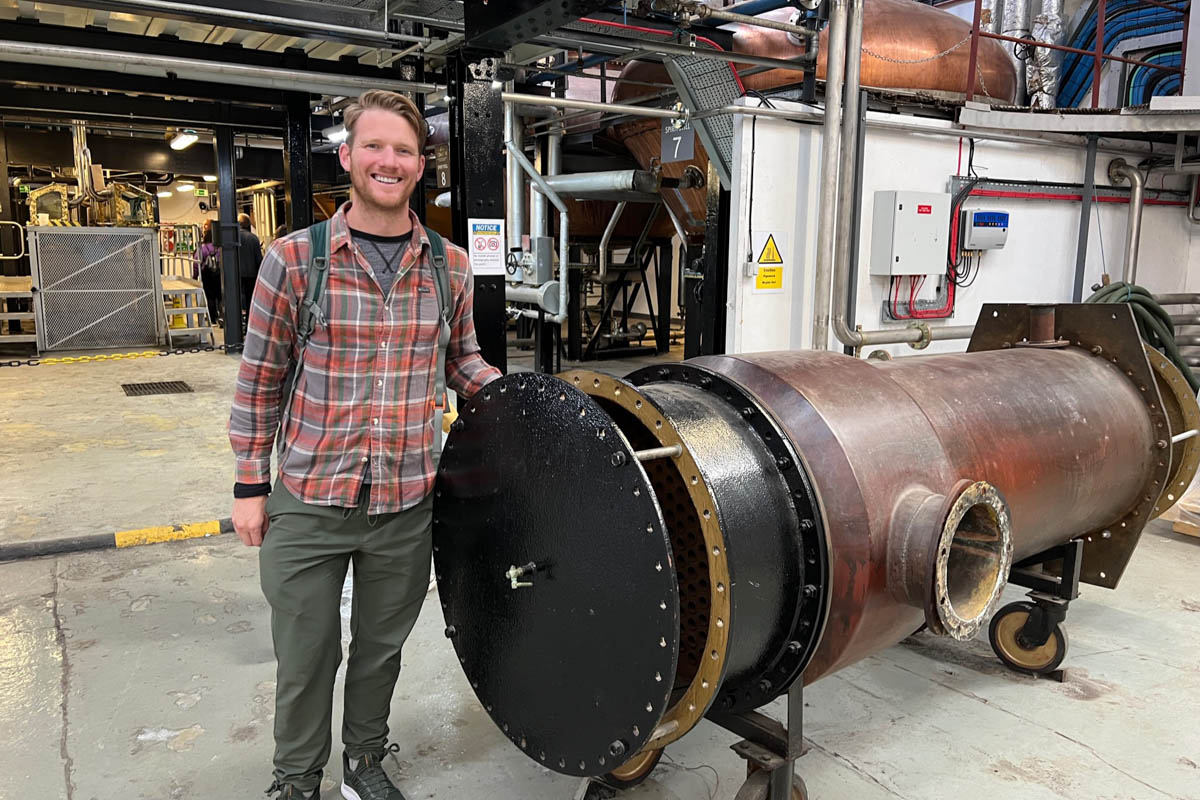 Whiskey is to Scotland like wine is to Italy. Or California. Or France.
And as they say, "When in Rome… drink the wine" (or something like that!).
Even if you're not a whiskey fan, it can still be pretty interesting to tour a distillery. I don't know about you, but seeing the process of how something is made always gives me a deeper appreciation for it.
I'm what you might call a beginner when it comes to drinking whiskey. I'm someone who likes whiskey cocktails, but when it comes to the whole peat-smoked Scotch neat, thang, I'm a newbie. Ben is slightly more advanced, but not by much (don't tell him I told you).
Despite us not being full-on whiskey snobs, we still had a wonderful time touring a distillery and seeing the process.
Included in any distillery tour should also be a tasting, which helped us understand what types of whiskeys we personally like (smoother, non-peated). And I'm not gonna lie, since the tour, we've felt more inclined to order Scotch. (And more confident that we know what we're getting!)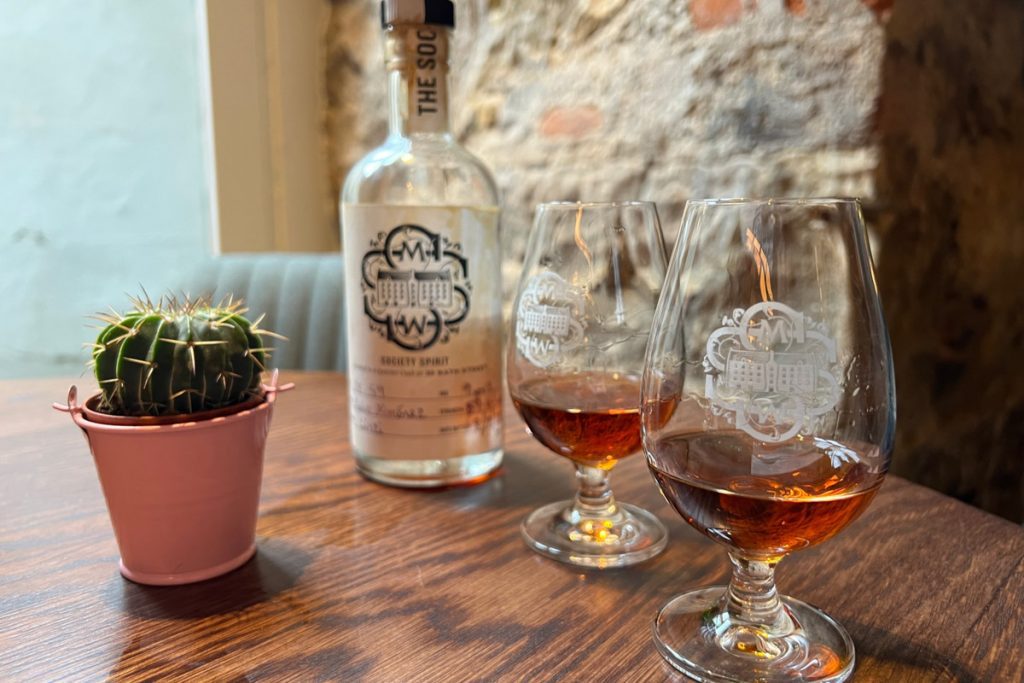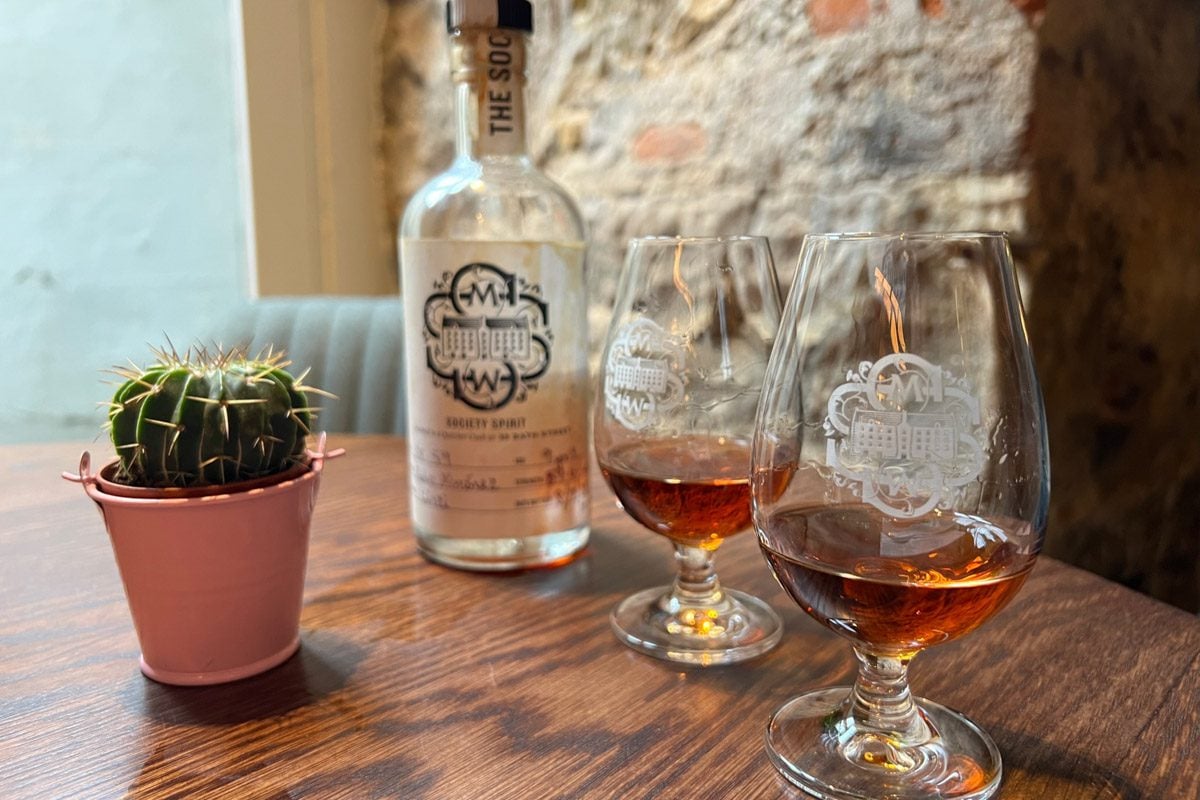 Not sure if you like whiskey?
Our distillery tour guide said this:
"If you don't like whiskey you haven't tried enough yet. There's a whiskey for whatever tickles your palate."
Do it yourself: If you definitely want to tour a distillery while in Scotland, be sure to make reservations in advance. Most distilleries book up fully in advance and walk-ins will most likely be turned away.
Looking for a distillery tour that is family-friendly? If you're traveling with little ones, it's worth noting that not all distilleries allow children. Below are some that we found allow kids on tours.
Tomatin: This is the tour we personally took. We liked that it was a smaller, more boutique-style distillery rather than a giant.
Glenfiddich: Arguably the biggest name in Scotch, this distillery is family-friendly.
Be sure to look at each distillery's website because some only allow children on specific tours.
Fun Fact: In American English, it is spelled whiskey (with an "e"), whereas it is spelled "whisky" in the UK and Scotland. You'll see both versions in this article.
10. Sample Scottish gin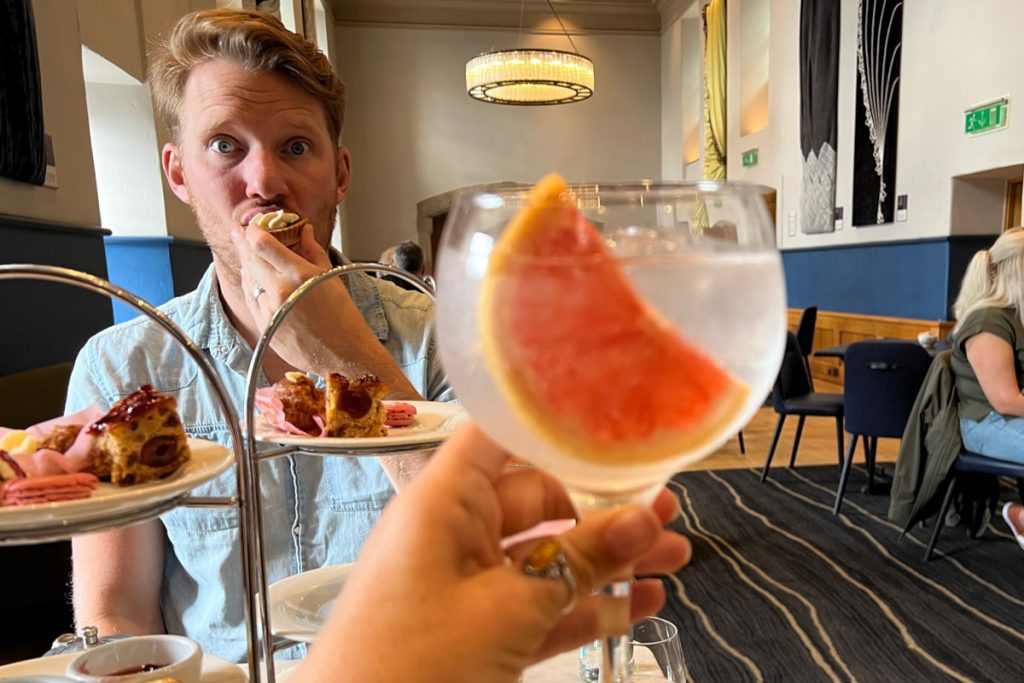 If you're a fan of gin (we are, big time!), you'll want to be sure to sample the spirit across the country, as there are many varieties — from those that are on the sweeter side and infused with fruits, like rhubarb and ginger, to those that are heavier on the pine and juniper flavors — there are many to choose from.
If you order a gin and tonic, most places will serve the gin over ice and hand you a bottle of tonic separately. We'd recommend sipping the gin first to see if you can pick up any unique notes.
If you're a real serious gin-drinker, you can visit a gin distillery and see the process.
11. Eat at a proper pub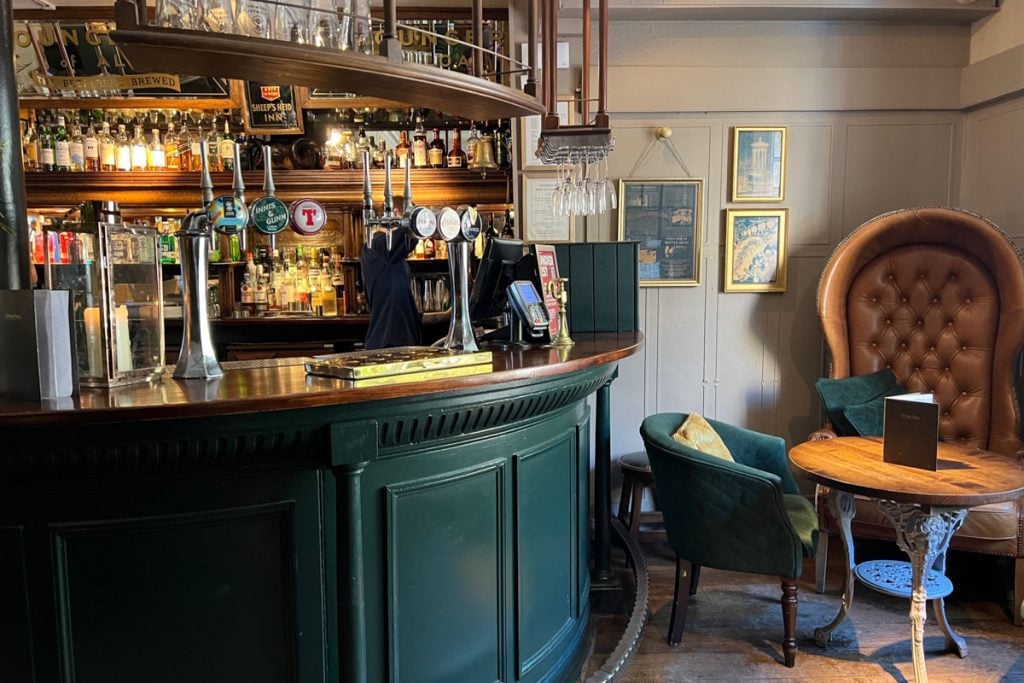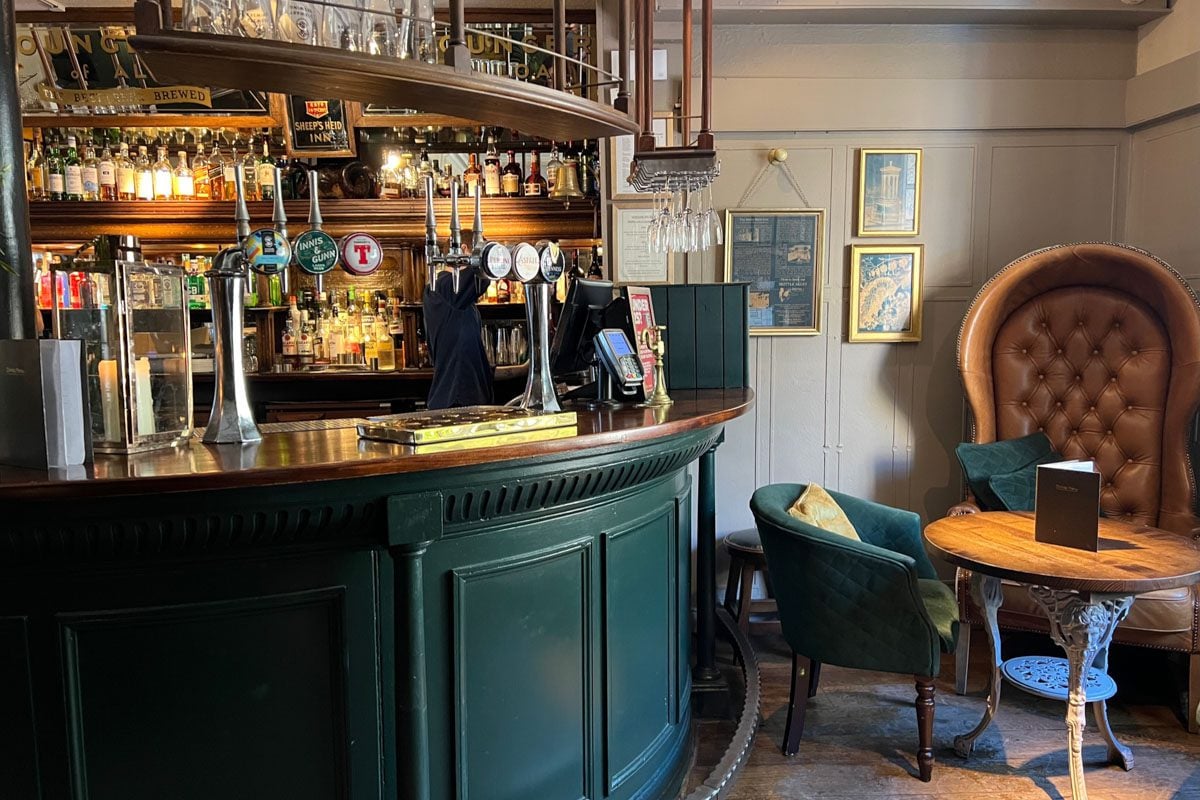 You can't go to Scotland, or the UK in general, without having a pint (and some food!) in a proper pub.
You won't have to search high and low, as there are pubs literally everywhere. Pop into one and warm up (or dry off from the rain).
But here were a few of our favorites:
12. Get fancy at afternoon tea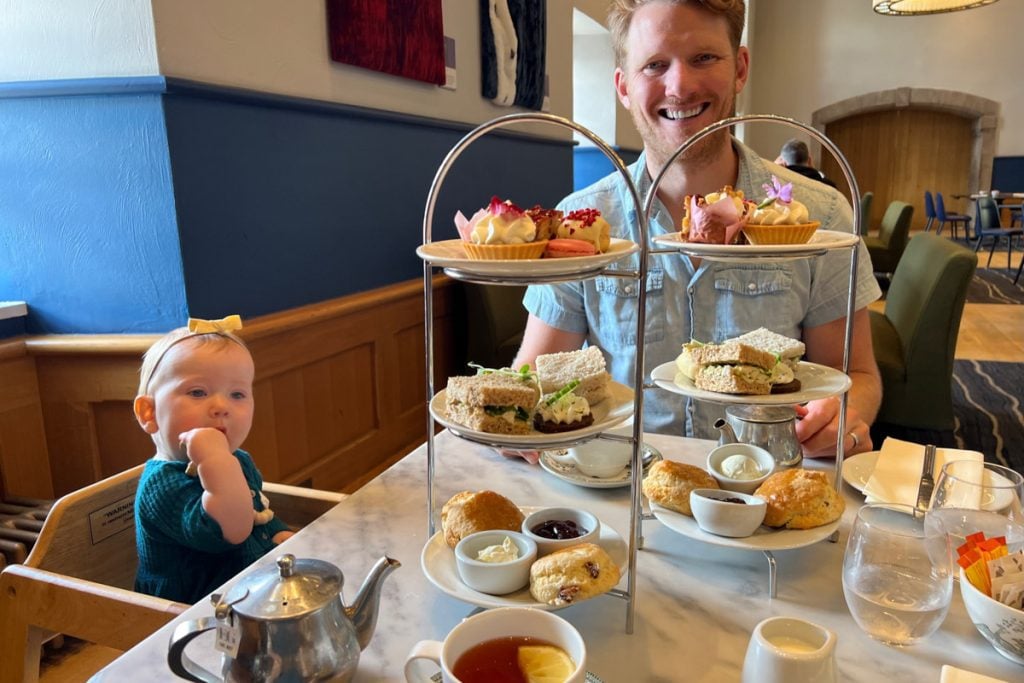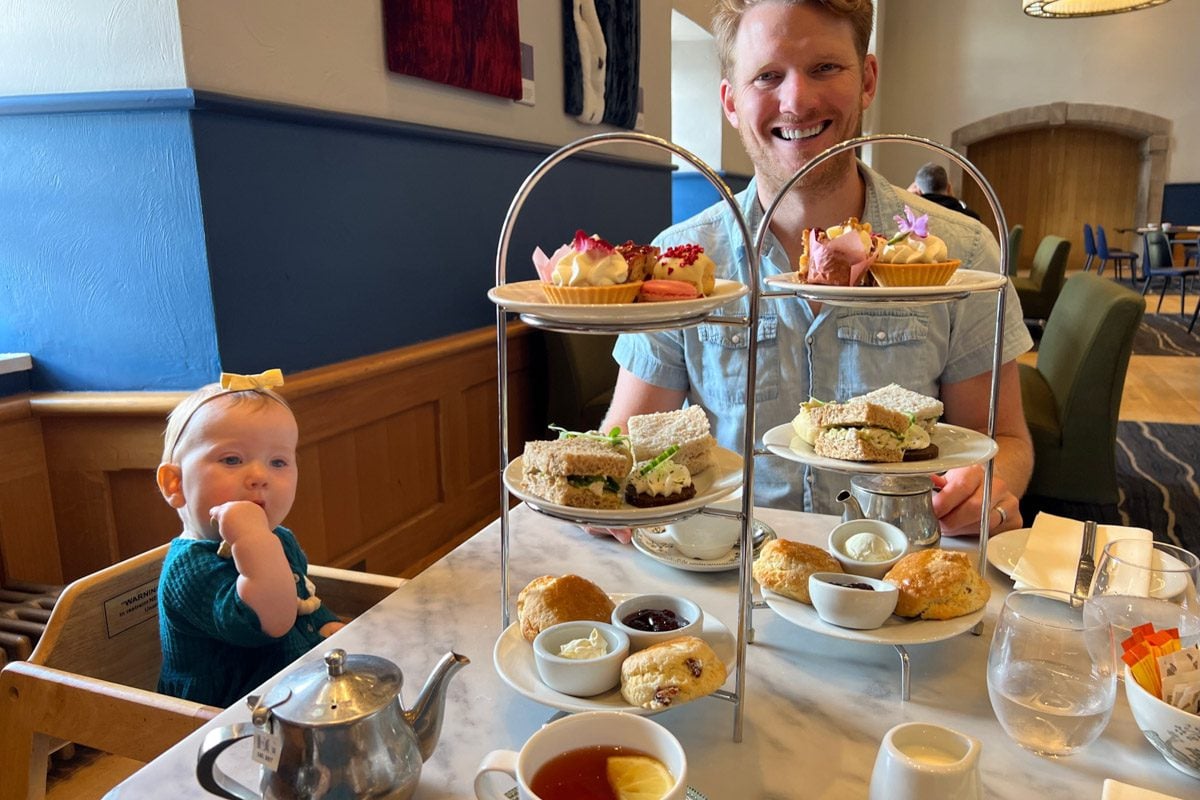 Scones, mini sandwiches and cakes, oh my!
(And you can't forget the tea!)
Afternoon tea is a whole thing in the UK, Scotland included.
Make a reservation and splurge on a posh afternoon nosh.
You'll find afternoon teas all around the country, but some of the best options are in Edinburgh. I will say, they do book up, so I'd recommend making reservations well before your trip dates so you can ensure you get into the place you want.
13. See highland cows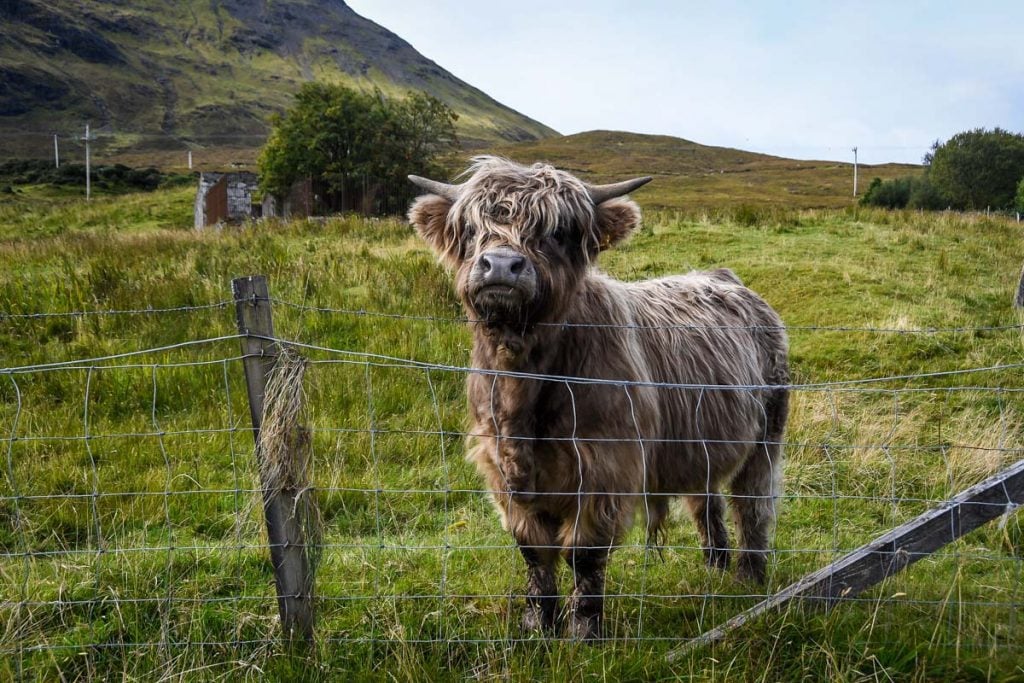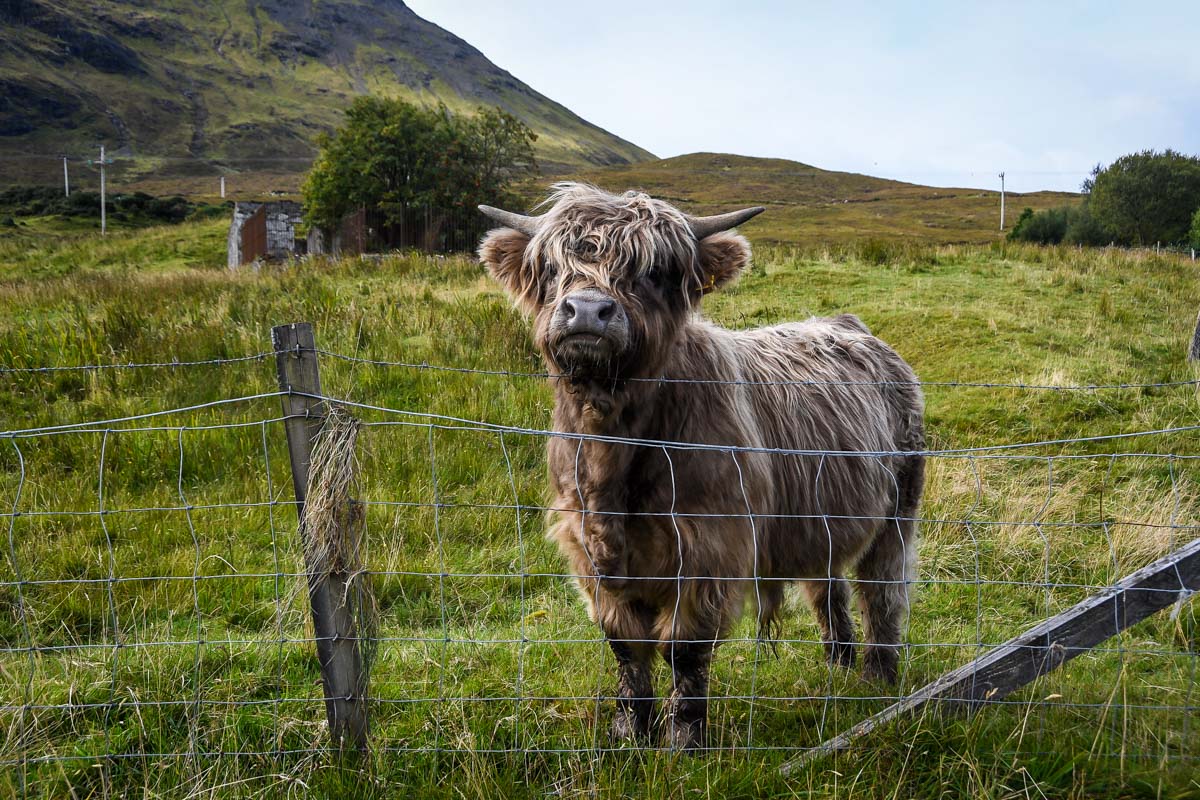 With fur that hangs over their eyes, the iconic highland cows – or coos – are a sight to behold.
Honestly, I thought they'd be everywhere around the country and we'd be constantly stopping to say hello. But we only saw them (the males, at least) in one place along our entire 1,000-mile road trip.
Where can you see highland cows?
Just after you enter the Isle of Skye, this is the spot where we pulled over and saw highland cows. We passed by this spot twice (on our way to and from Skye), and the first time, there was only one cow by the fence (and we were the only car stopped). Three days later when we passed by again, there were a handful of cars and all sorts of cows.
If you're headed north, they are said to be plentiful along the North Coast 500. They are also said to graze near Stirling Castle.
14. Hike to the Devils Pulpit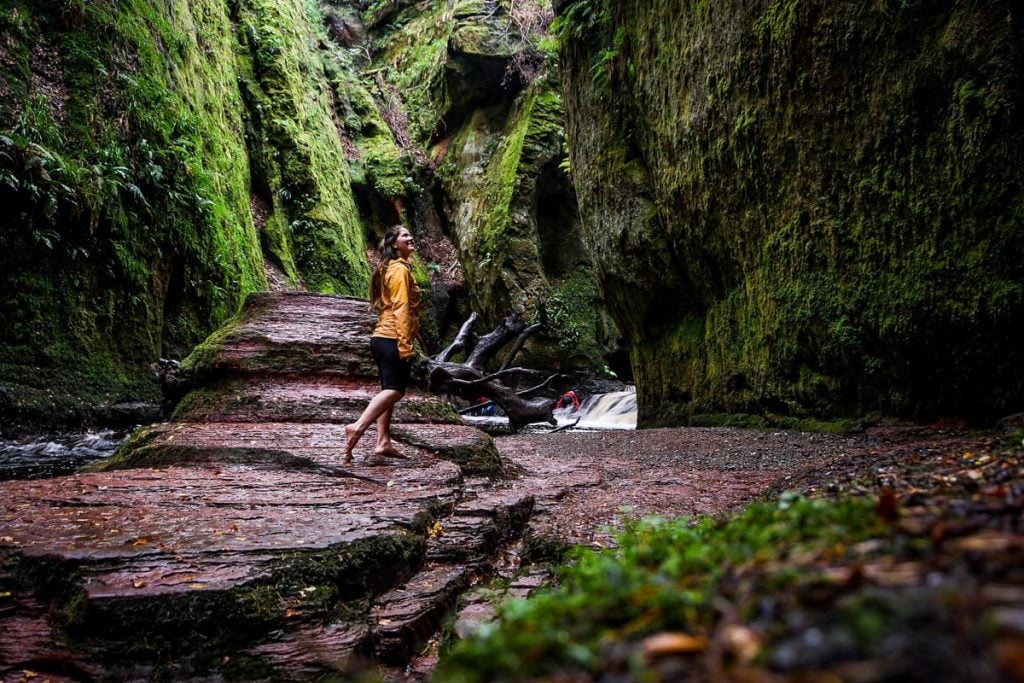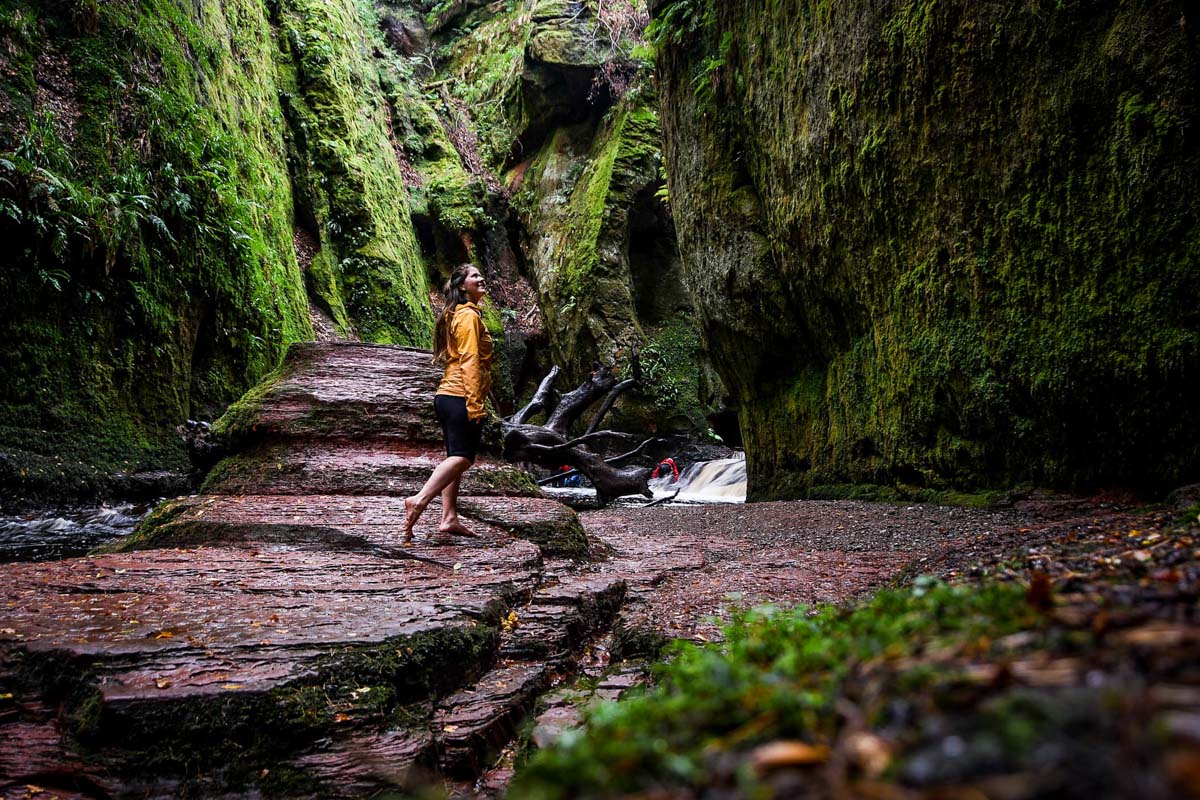 Hiking down into the Devil's Pulpit is one of the best things to do in Glasgow.
This narrow canyon is one of the coolest landscapes you'll find in all of Scotland, and is well worth the short (but treacherous!) hike.
We have a guide to hiking Finnich Glen to Devil's Pulpit that'll have all the info you need (including the creepy legend behind its name) before you go!
15. See the real life "Hogwarts Express"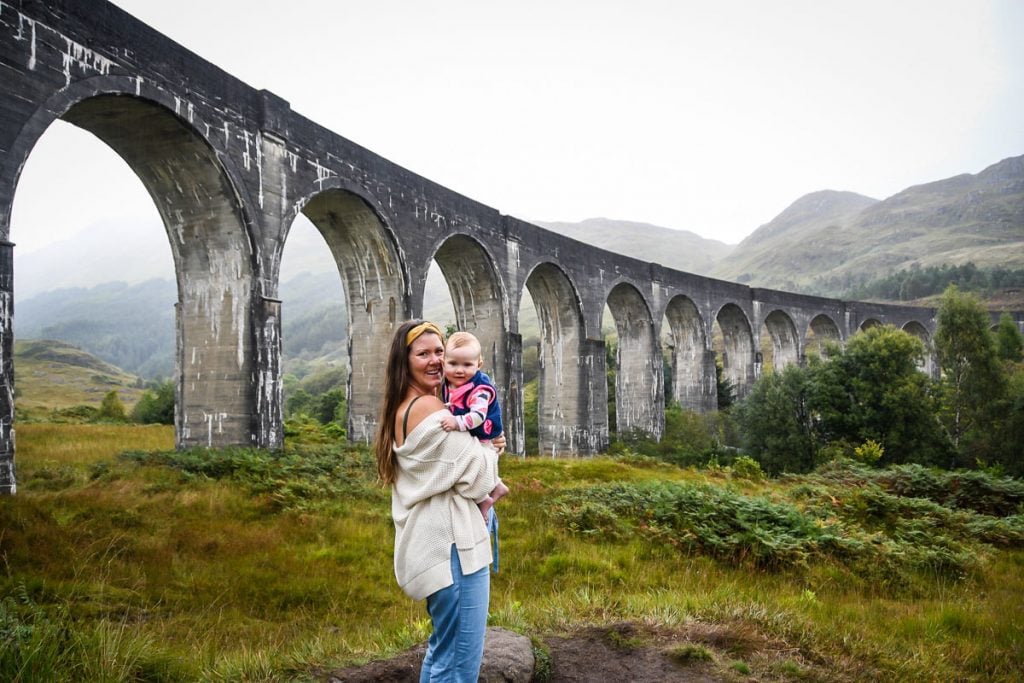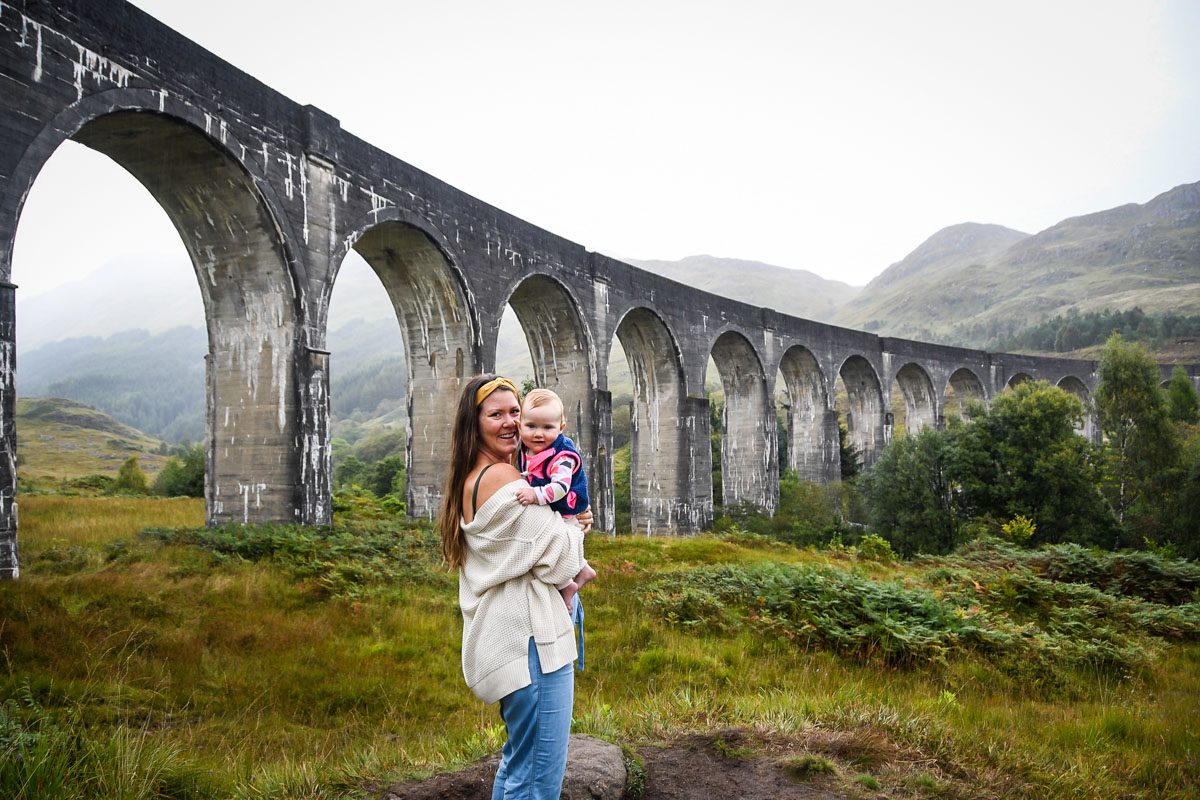 If you're still waiting for your Hogwarts letter (weird, we are too…), and you want to imagine just for a day that you are on your way to start your wizarding education, put a visit to the Glenfinnan Viaduct on your Scotland itinerary.
Before you go, one thing worth pointing out is that the big steam engine, known as the Jacobite Express, only runs twice per day. If seeing the train is really important to you, be sure you check the timetables and plan accordingly and arrive early, as the train will pass by quickly and you don't want to just miss it.
If you — like us — would love to see the steam engine, but you also don't want to plan your entire day around it, get here when you can. There are smaller (less pretty) trains that run more frequently, so there's a chance you might see one of those.
Insider Tip: Just a few minutes drive from the parking lot is a seasonally-open restaurant inside a train car that serves coffee and cakes as well as some heartier fare in a unique setting.
Book a ride on the Jacobite Express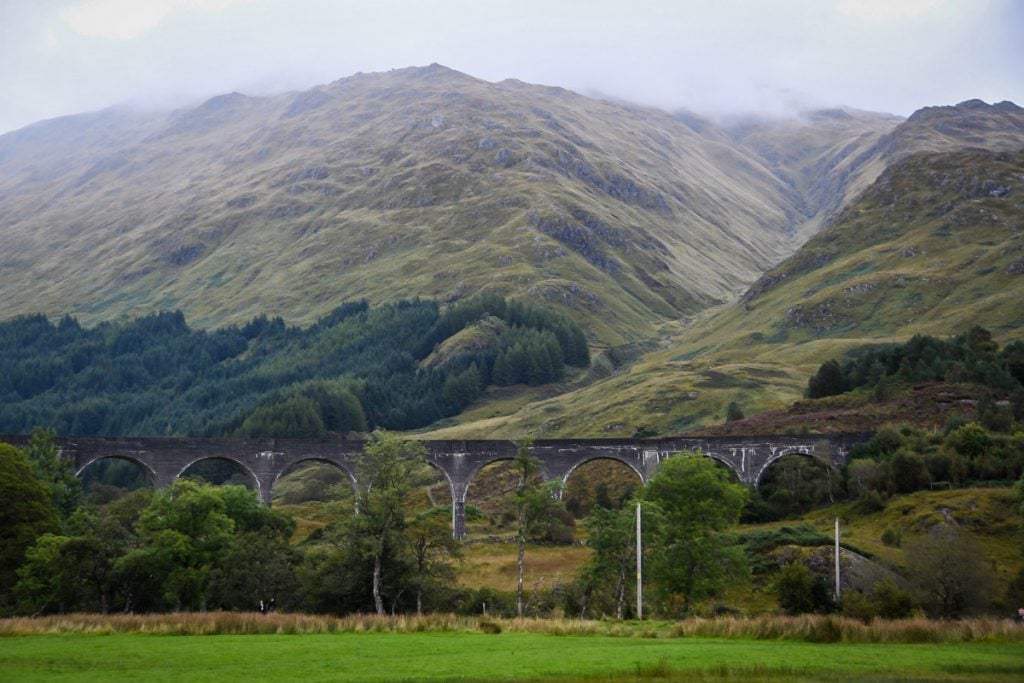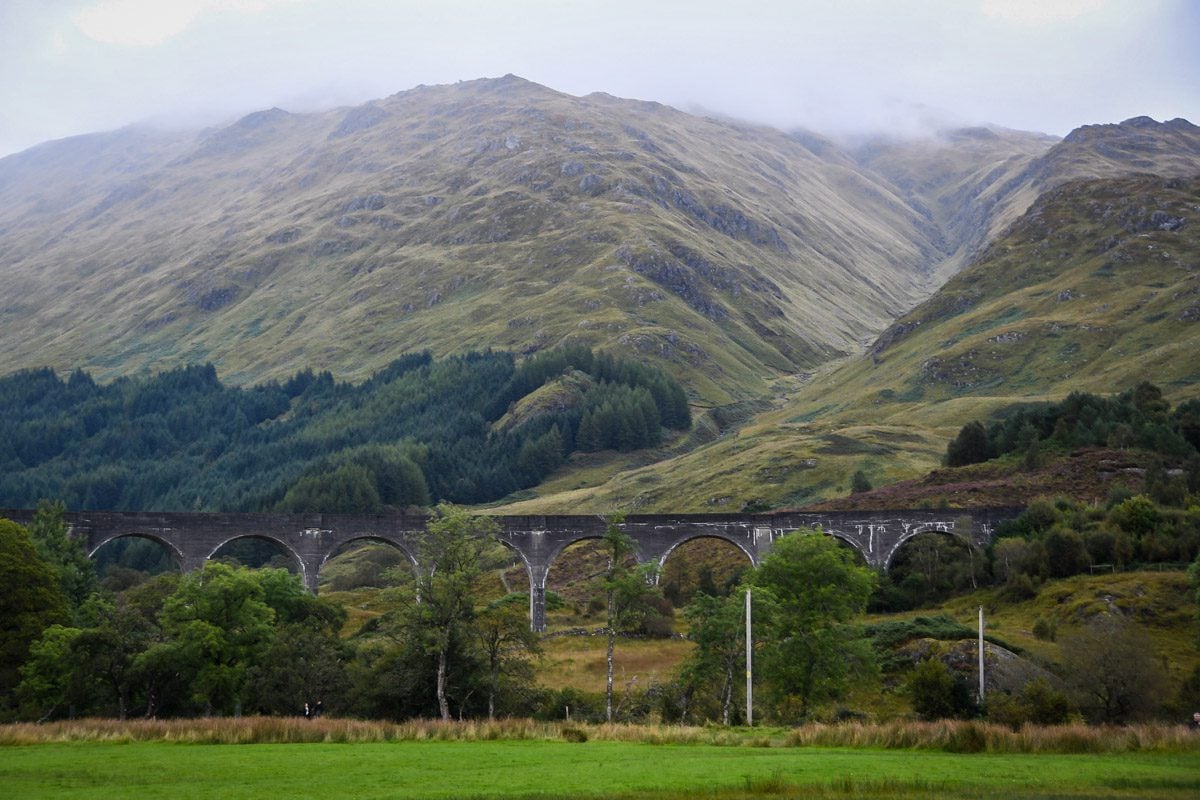 Instead of seeing the train from the ground, book a ticket on the Jacobite Express to experience it from a different perspective: actually ride it!

Riding the Jacobite Express is one of the best things to do in Scotland—and for good reason—the sights are spectacular.
Since this is the real train they used in the Harry Potter films, you can enjoy the hour and a half journey (one-way) through some filming locations, gain some history, cross the infamous Glenfinnan Viaduct and, well, simply soak in all that Scotland beauty.
One guest said it was 'magical' and another raved about the tour saying the guide, 'shared immense history of Scotland' and that the Jacobite Express was the 'highlight of the day.'
Sounds great, but we're still wondering why they don't serve Chocolate Rats or Licorice Wands while on board…
16. Explore the charming city of Inverness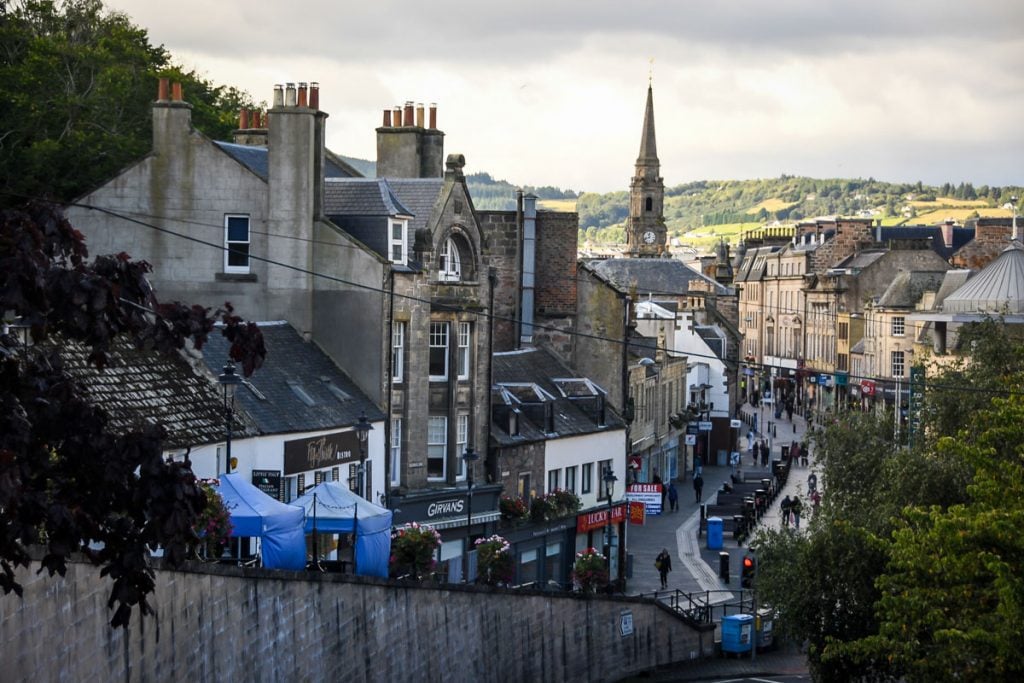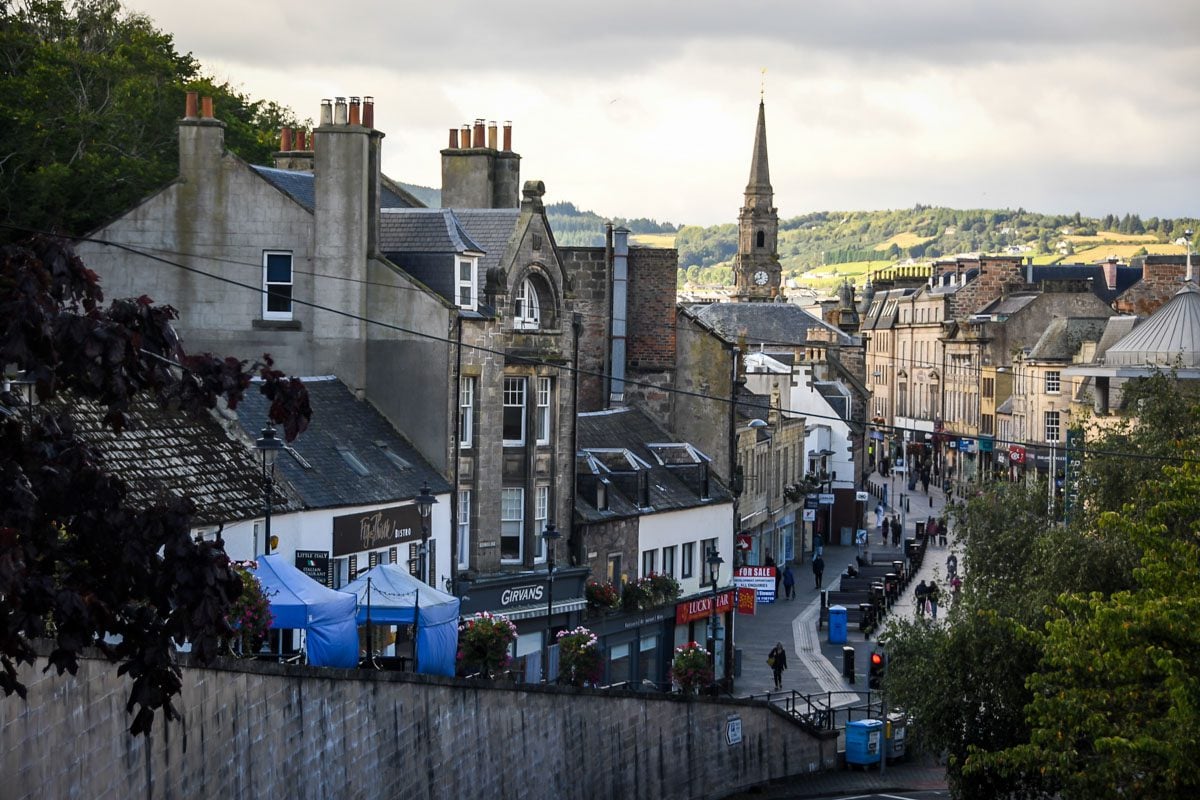 Nature lovers will flock to the city of Inverness which is known for sweeping landscapes and an abundance of ancient history.
Inverness is kinda the 'hub' of the Scotland Highlands — it's the starting point of the North Coast 500 (#21 on this list) and is also in close proximity to the famous Lake Noss.
You won't run out of things to do here from visiting museums, indulging in local eats and spending time simultaneously soaking in the majestic mountain and lake views…
Not only is this a great place to visit in terms of things to do and location, but it was voted one of the happiest places to live in Scotland. How cute is that? Visiting a new place with friendly and welcoming locals can really make a trip that much better. And, honestly, what's not to love about a city full of happy and nice people!?
Check out our complete guide to the best things to do in Inverness to help you plan your trip.
17. Pretend you're in Outlander at an ancient standing stone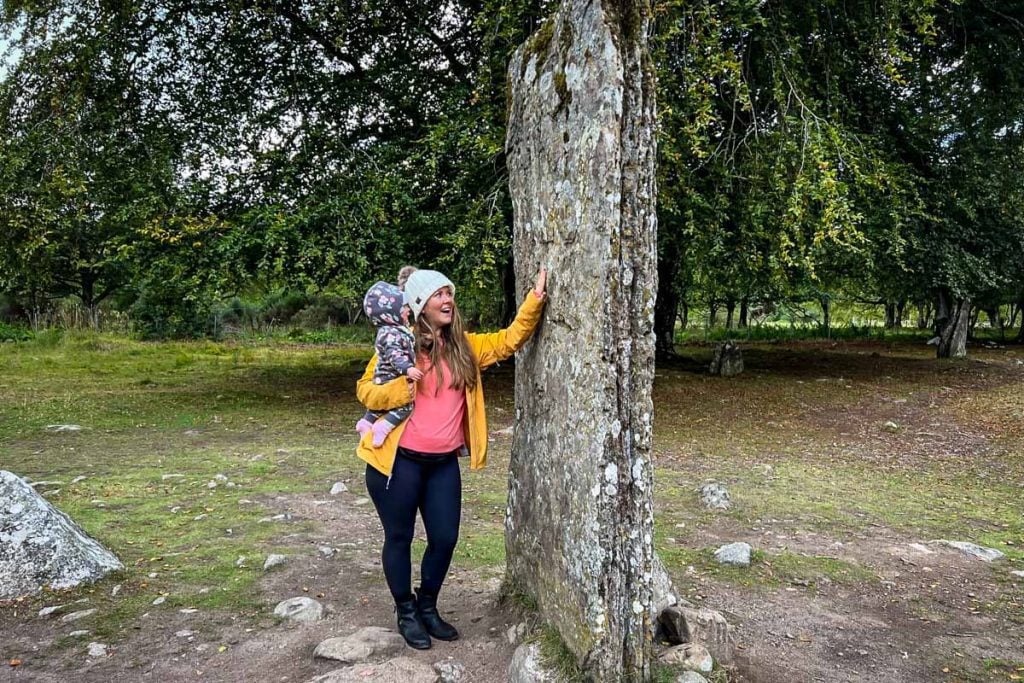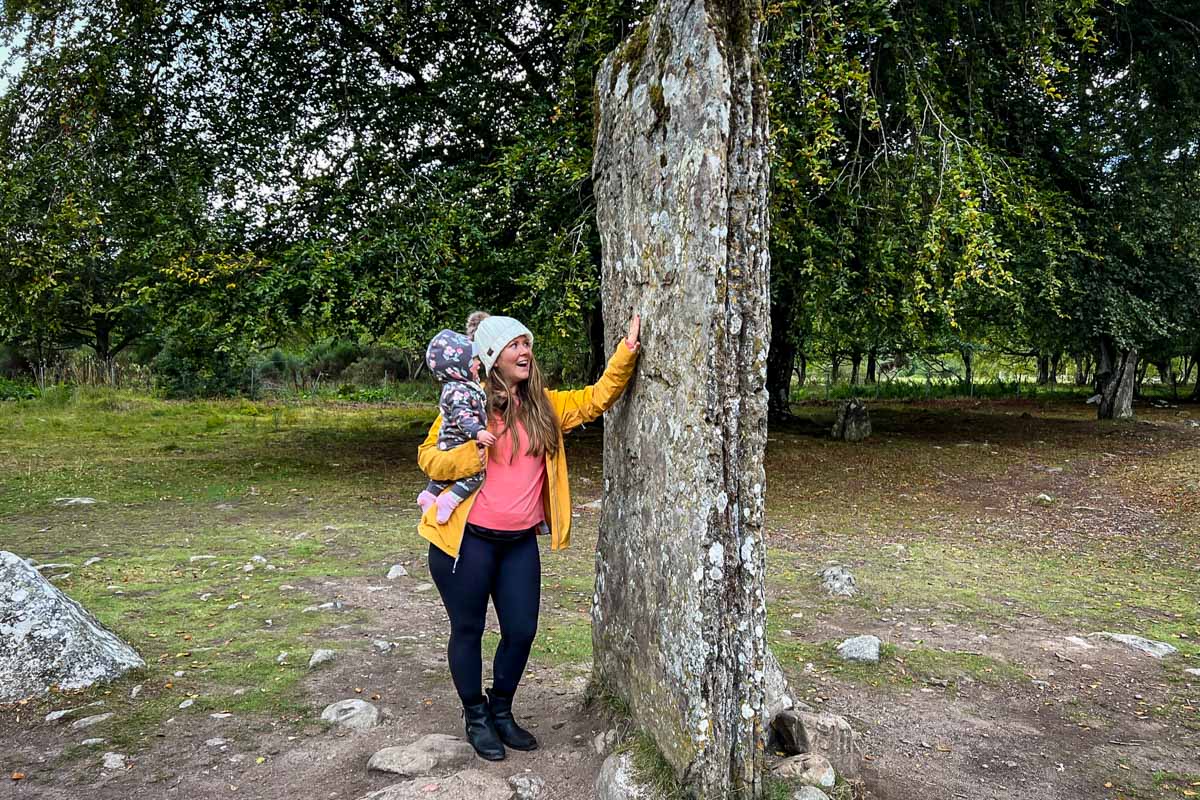 Exploring the standing stones in Scotland is a really extraordinary thing to do on your trip to Scotland and we don't recommend skipping this.
There is just something eerie and beautiful about the whole standing rock thing and we cannot stop asking ourselves: where did these come from!?
The fact that some of these rocks date back 5,000 years and have extra-terrestrial 'tales' make them that much more appealing and mysterious to visit. Well, for us anyway!
If you're a fan of the TV series Outlander, you'll definitely love seeing Calanais Standing Stones — the very circle that the series was based on.

Scotland has its own variety of stonehenge(s) scattered around and they are all equally remarkable:
18. Drive the North Coast 500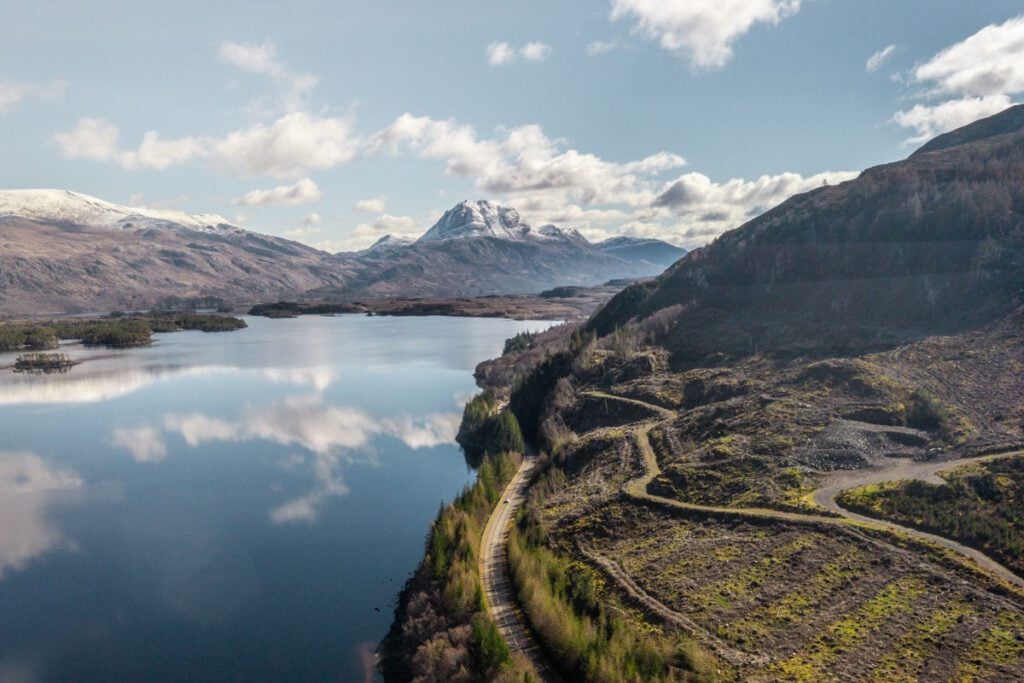 The North Coast 500 is a spectacular way to see some of the stunning sites in northern Scotland.
This famous roadway not only offers miles upon miles (516 to be exact) of scenic views and pristine coastlines, but it's also packed with loads of things to do in Scotland: historic landmarks, adorable fishing villages, endless hiking and — WHISKEY!
The roadway runs in a massive loop—beginning and ending in the city of Inverness. Depending on how much time you have in Scotland, you could spend days (or weeks) exploring everything this route has to offer. That is exciting, but also makes it a little intimidating.
Highlights of the North Coast 500 route
While this is in no way a complete list, we're compiled just a few noteworthy stops. We also have a complete guide to driving the North Coast 500 with much more detail!
Stop for a drink at a whiskey distillery. They are sprinkled all across this route; you'll have plenty to choose from—don't worry.
Explore the twisty innards of Smoo Cave complete with caverns and waterfalls. While you can easily access this yourself, you can also book a guided boat tour to extend your visit.
Visit a castle (or 12). Because there are literally castles everywhere in Scotland, you can pretty much take your pick. Check out #9 on this list for more castle tips.
Stretch your legs and go for a hike. Rogie Falls is a short half-hour hike where you could get lucky and spot a salmon run. For something a bit more adventurous, try Loch na Gainmhich. There are, of course, loads of hikes to choose from so have a look at AllTrails while planning your road trip.
19. Hike all (or part of!) the West Highland Way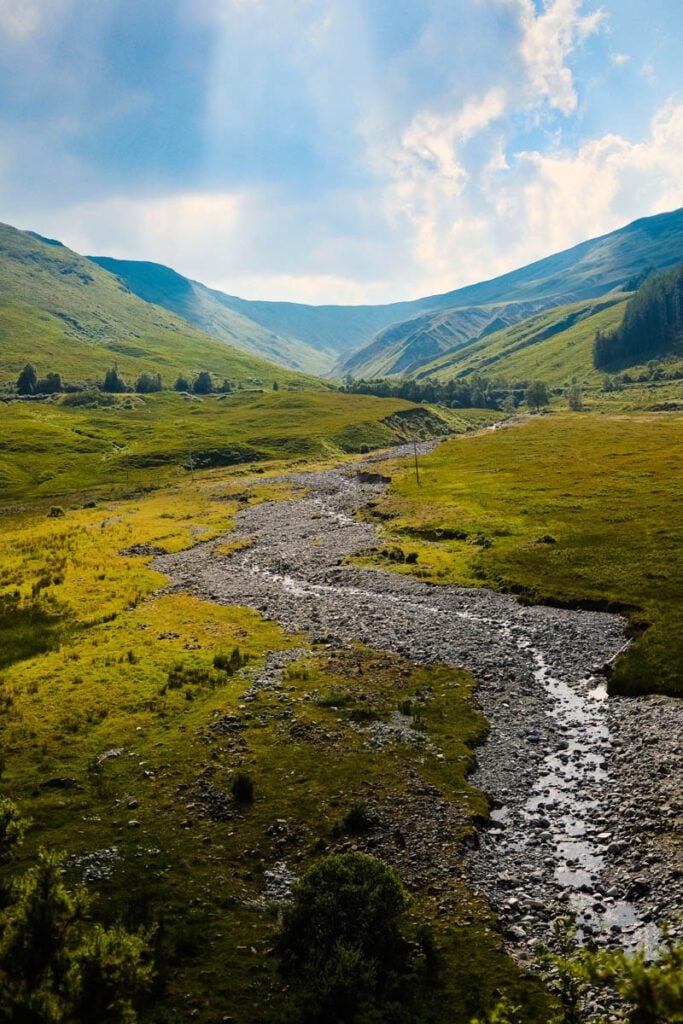 If you're a hiking fiend, the West Highland Way should be on your radar.
It's a challenging and lengthy hike (like a week's worth of walking), but definitely worth it if you have the time in Scotland. On this trek, you'll stumble across some of the most gorgeous and remote parts of Scotland.
Along the route you'll have the opportunity to stop at epic eateries, scenic viewpoints and chat with some friendly locals.
If you're in it for the long haul, you can easily camp along the trail, but there are also plenty of accommodations along the way if you don't love the idea of carrying everything with you. There are also tour companies that you can book that take care of all the planning.

If you're on a tight schedule, you can opt for a shorter hike from Inveroran to Kinghouse. This route will take about two days and you'll hit some of the very best parts of the trail.
The trail is accessible all year long with May being the ideal month to visit. With that, of course, comes the crowds so plan to make reservations for any accommodations you might need ahead of time. Winter will offer the least amount of crowds, but be prepared for snowy and icy conditions (obvs).
20. Explore Trossachs National Park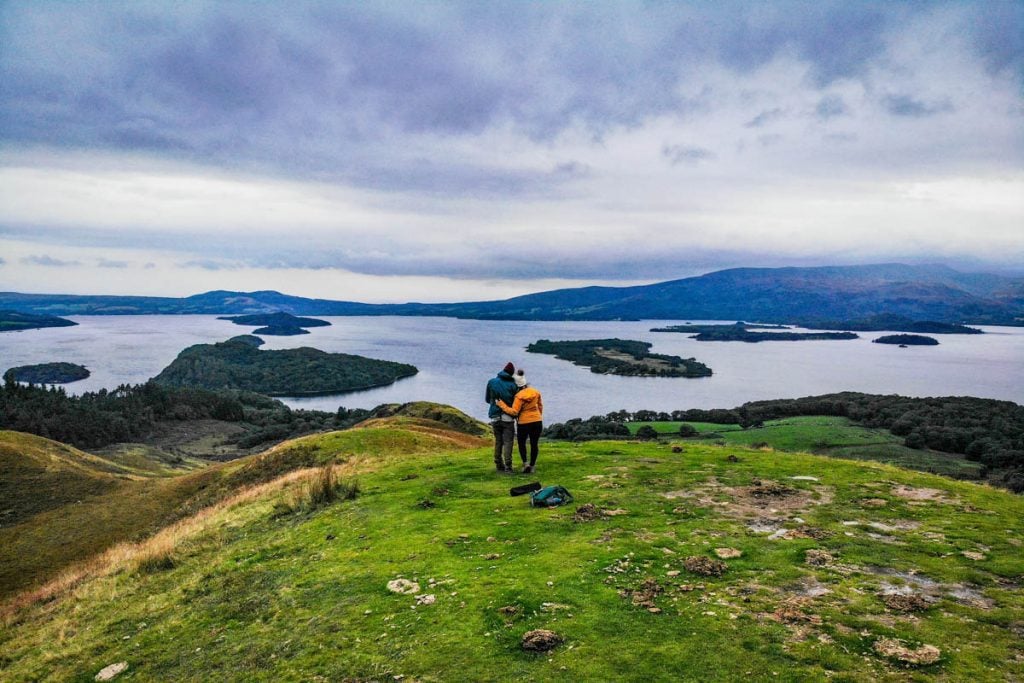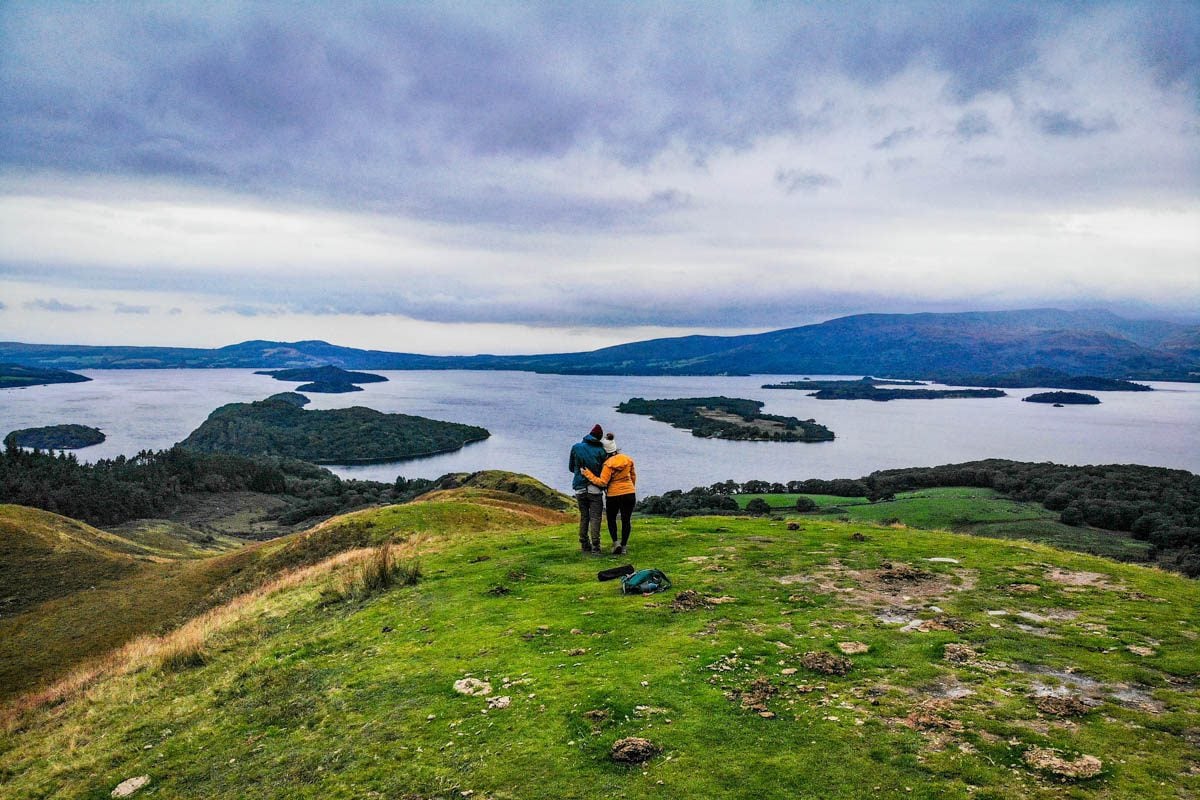 Like most nature-lovers, we're huge fans of national parks and Trossachs National Park is especially unique because it is Scotland's first ever national park.

With its striking landscapes, lakes and wildlife, this is definitely a worthwhile stop on your trip to Scotland. It isn't too far from the city, either, and many of Scotland's famous trails run throughout the park making it easily accessible and quite popular.
We recommend downloading the National Park Journey Planner App as it'll help you navigate the different ways to access the park whether it's via train, bus, boat, car or, well, using your own two wandering soles (sorry, we had to).
Unlike many parks in the USA, Trossachs National Park is completely free and you don't need a permit or reservation ahead of time. Simply arrive and get to exploring and enjoying.
The Conic Hill Hike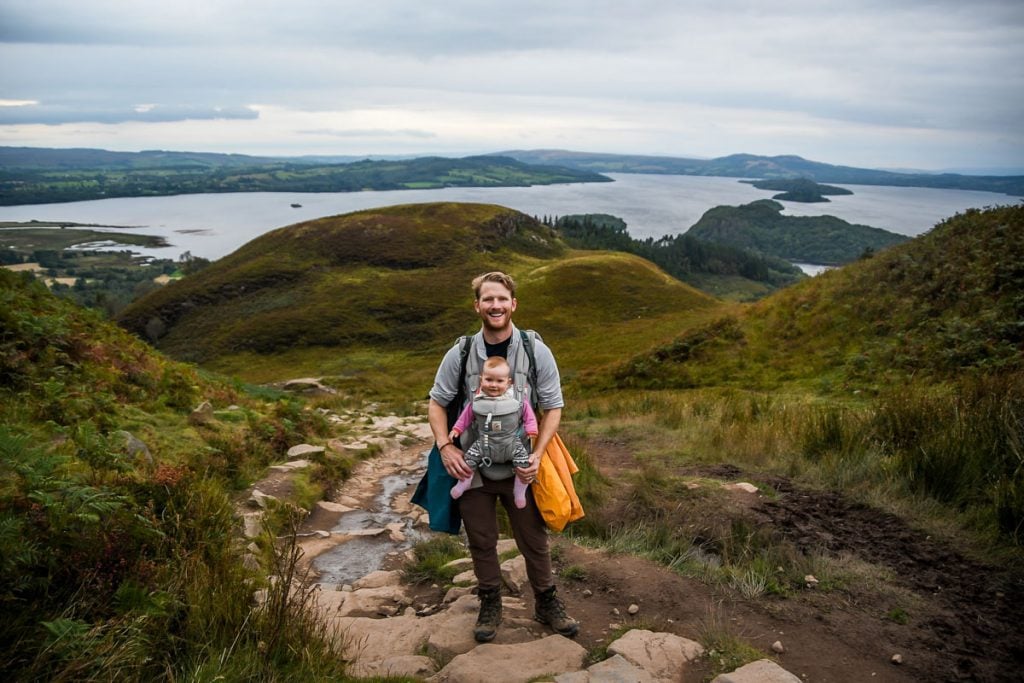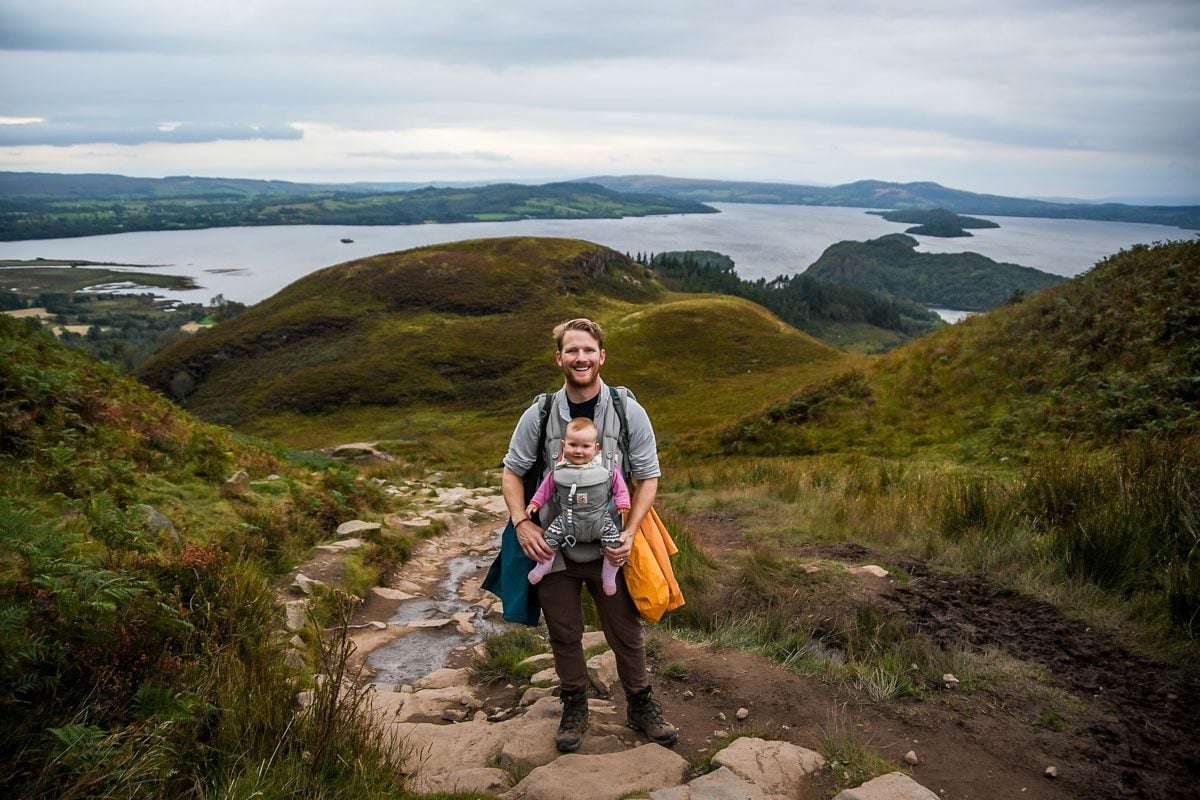 Distance: 2.4 miles/3.8 km, out and back
Elevation Gain: 1,036 ft / 316m
Difficulty Rating: Moderate
We couldn't leave this section without recommending a hike now could we!? A trek up Conic Hill will offer you outstanding and worthwhile views, but because it can get rainy, be sure to pack some waterproof gear. The best part? You can easily grab a celebratory drink from a pub on the trek down.
21. Canoe and forage for food on this unique tour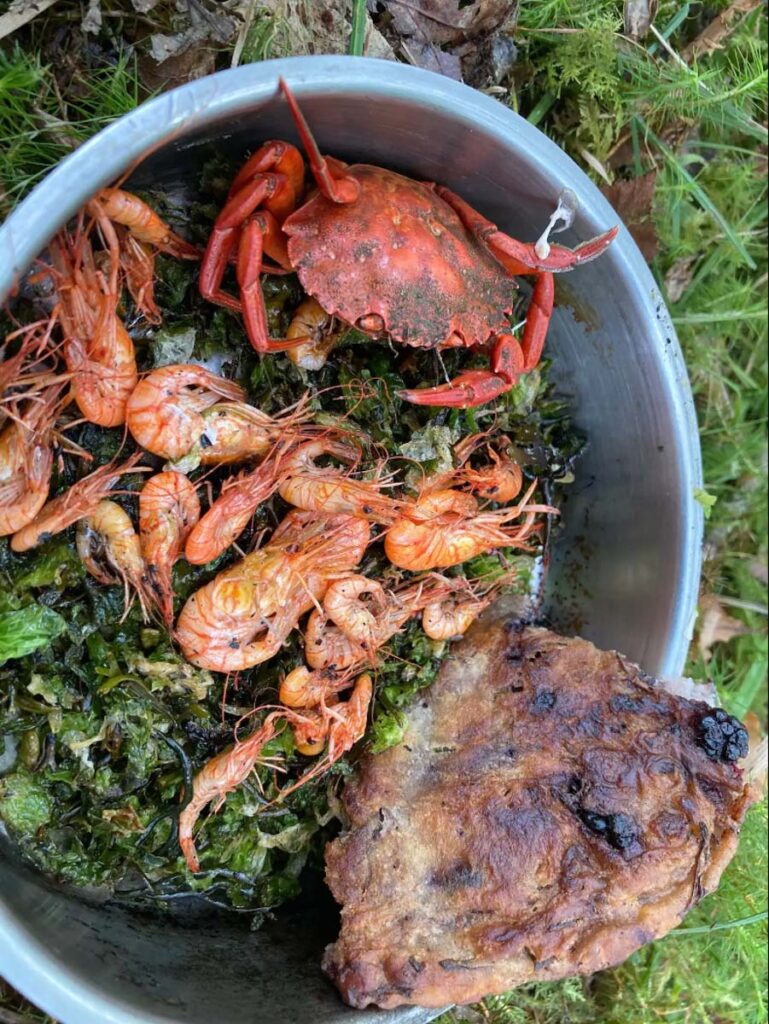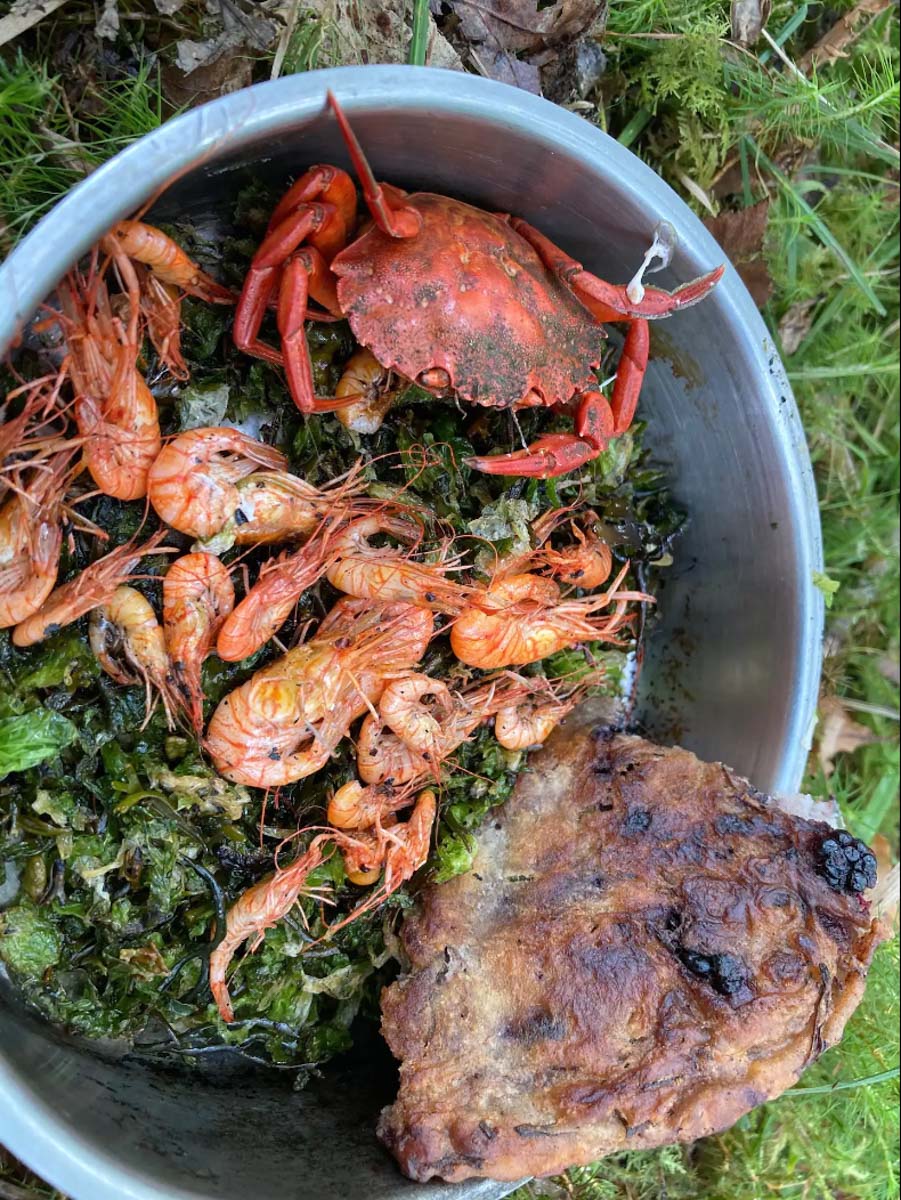 We've found that Airbnb experiences tend to offer some of the coolest adventures and, because they are often led by locals, it really beats your average over-saturated tour.

Run by a trained ecologist, this experience allows guests to spend the day exploring the stunning Loch Ailor via canoe. Not only will you have access to less-traveled areas of the remarkable loch, but you'll forage for your own lunch (shellfish, edible plants, seaweed, etc.) and cook it over a fire that you'll help to build … and we're not talking about with a can of lighter fluid!
From your cozy canoe you'll learn about the history of the area, gaze at the Hebridean Islands and take in the magical sights. The area is flourishing with wildlife so you might even spot some eagles soaring overhead or otters splashing alongside your boat.

This area of western Scotland is truly pristine and thankfully mostly undisturbed by human influence. The host is a Leave No Trace trainer so you can be sure that this is a sustainable and forward-thinking adventure that allows you to sit closely within nature without disturbing it—always a win in our book.
What you need to know:
Location: Loch Ailort
Duration: 3.5 hours
Cost: $80 USD per person
What guests are staying:
"An amazing experience, really fun and educational. The coastal foraging was great with a stunning backdrop and a very knowledgeable guide. Would recommend to anyone interested in the outdoors." – Lucy, September 2022
22. Explore Scotland's largest city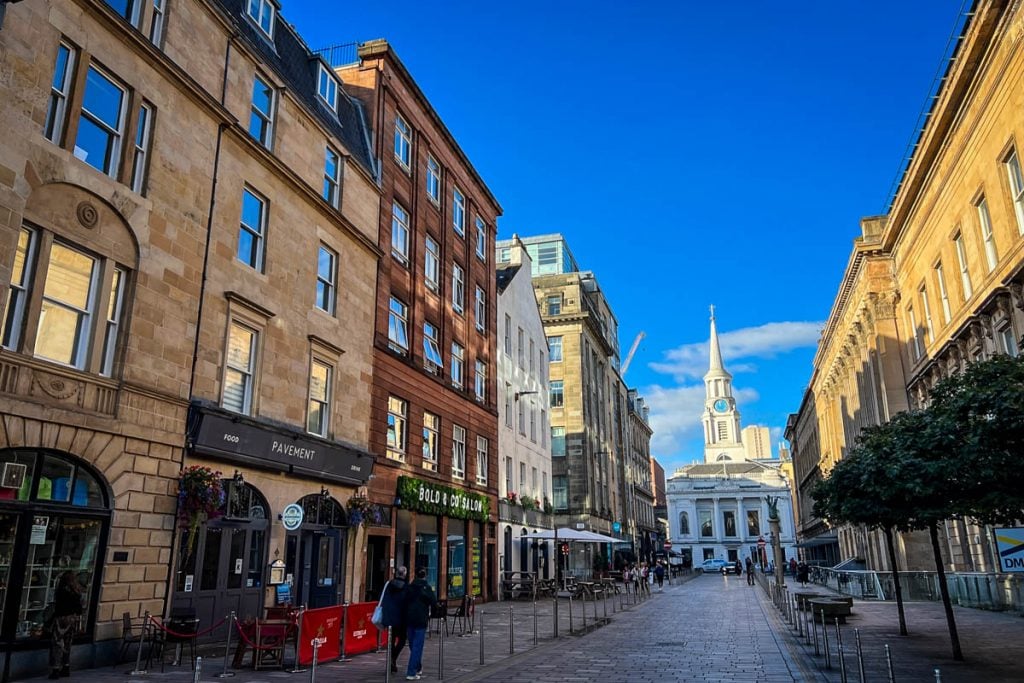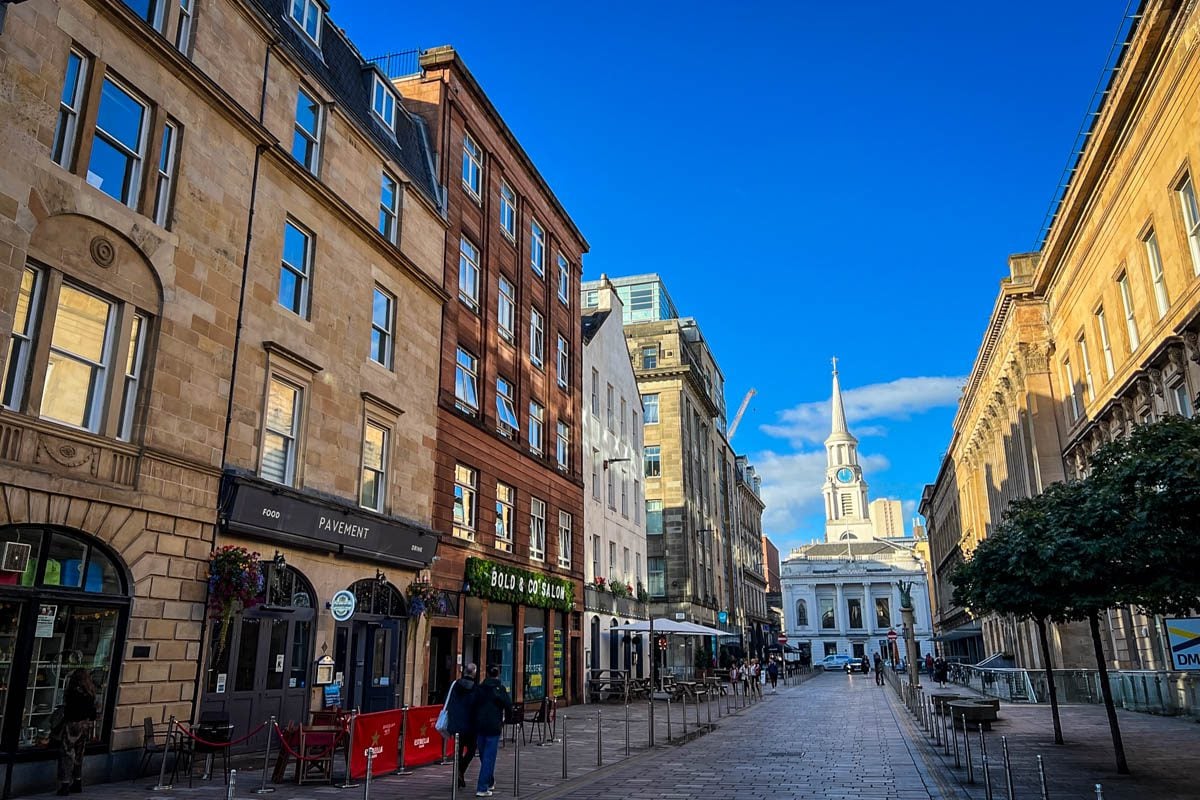 There are so many unique things to do in Scotland and many of them can be found in the charming city of Glasgow.
With its rich history, epic foodie scene and lush greenery, Glasgow has something for every type of traveler; we absolutely recommend spending a few days here.

This city is known for its architecture showcasing styles that date all the way back to the 19th and 20th century Victorian era. If you're at all into art, culture or history you'll love simply walking the streets of Glasgow.

Public transportation in Glasgow is a dream. As a massive travel hub, they have an affordable (and safe) subway system and public bus network.
Fun fact: Glasgow was voted the world's friendliest cities in 2021 which is all the more reason to visit. Who doesn't love a whole city full of kind-hearted people?!
We've got a complete guide to all the best things to do in Glasgow so you can plan the perfect stay.
23. Go hiking in Glencoe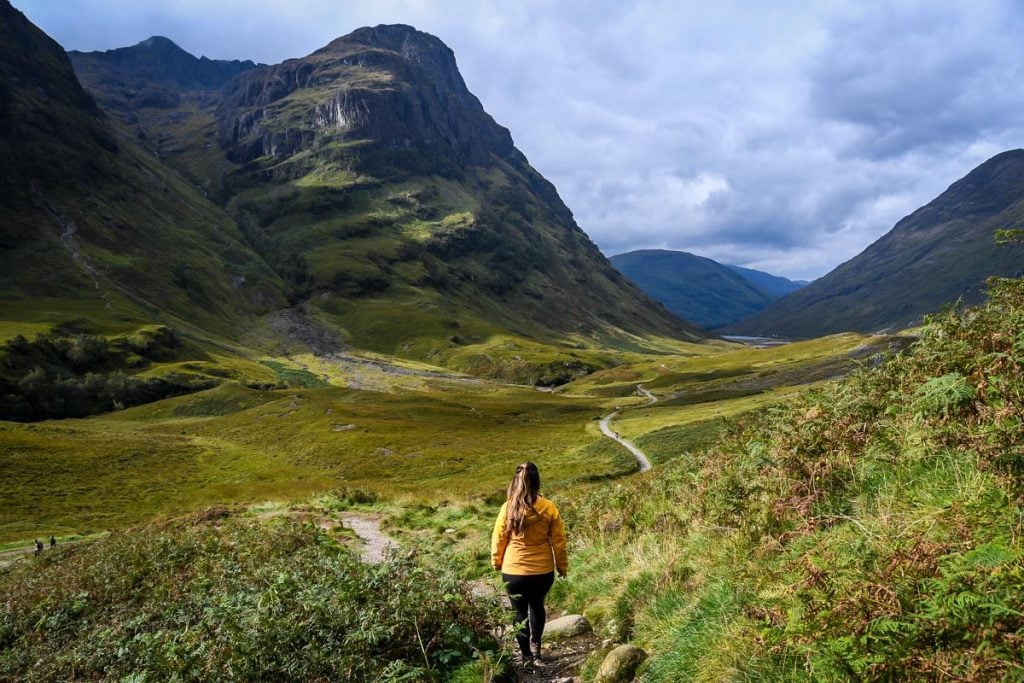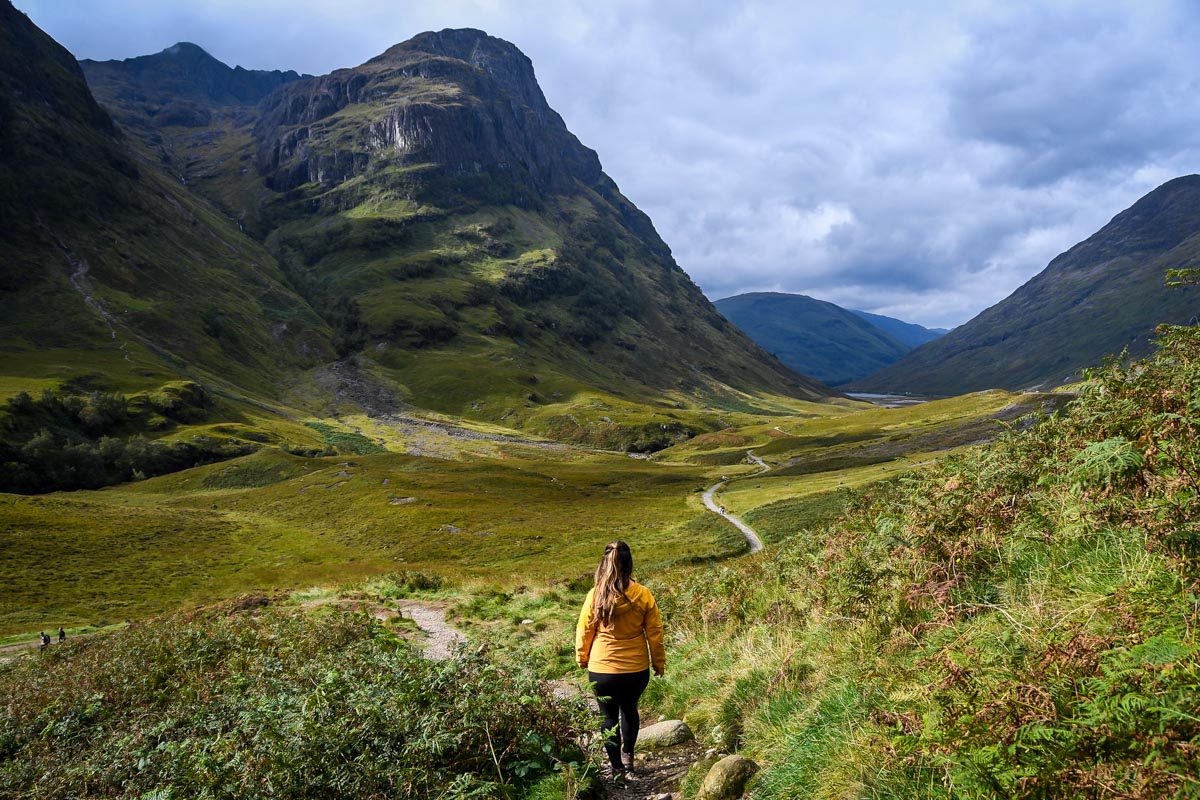 Okay, Glencoe is literally our favorite part of Scotland so needless to say, we consider it a must for your Scotland itinerary.
The scenery here is almost unreal which makes the hiking, well, heavenly. Plan for lots of photo ops and constant jaw-dropping.
There are loads of hikes in Glencoe to suit your timeframe and skill level, but here are a few:
If hiking is one of the things you plan to do in Scotland, be aware of the ever-changing weather. Dress in layers and pack extra clothes to prepare for — um — all the elements!
24. See the birthplace of golf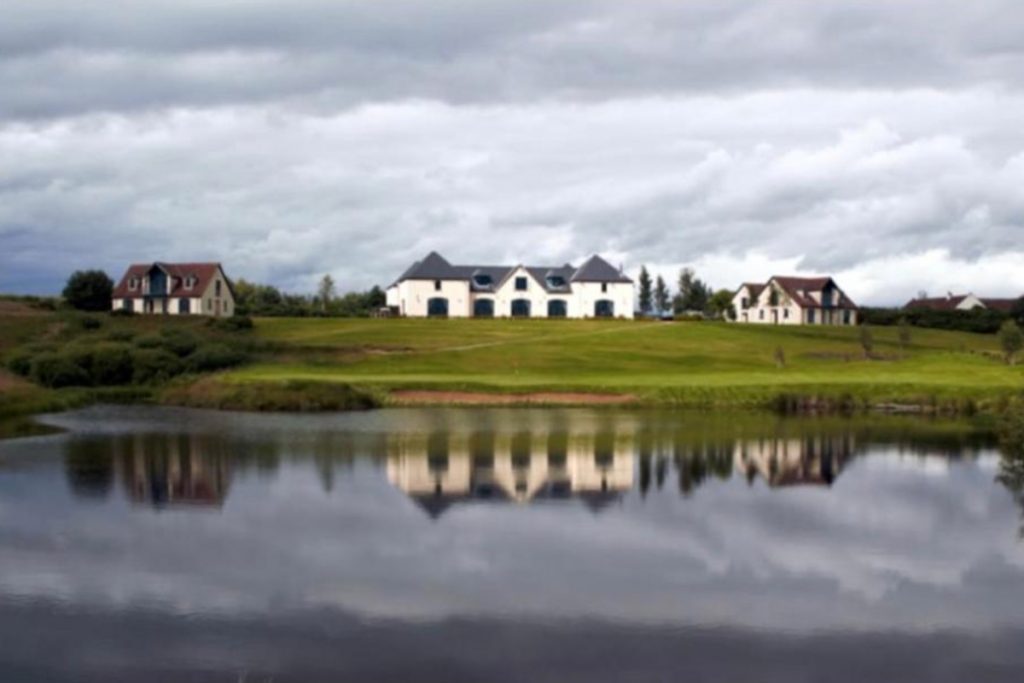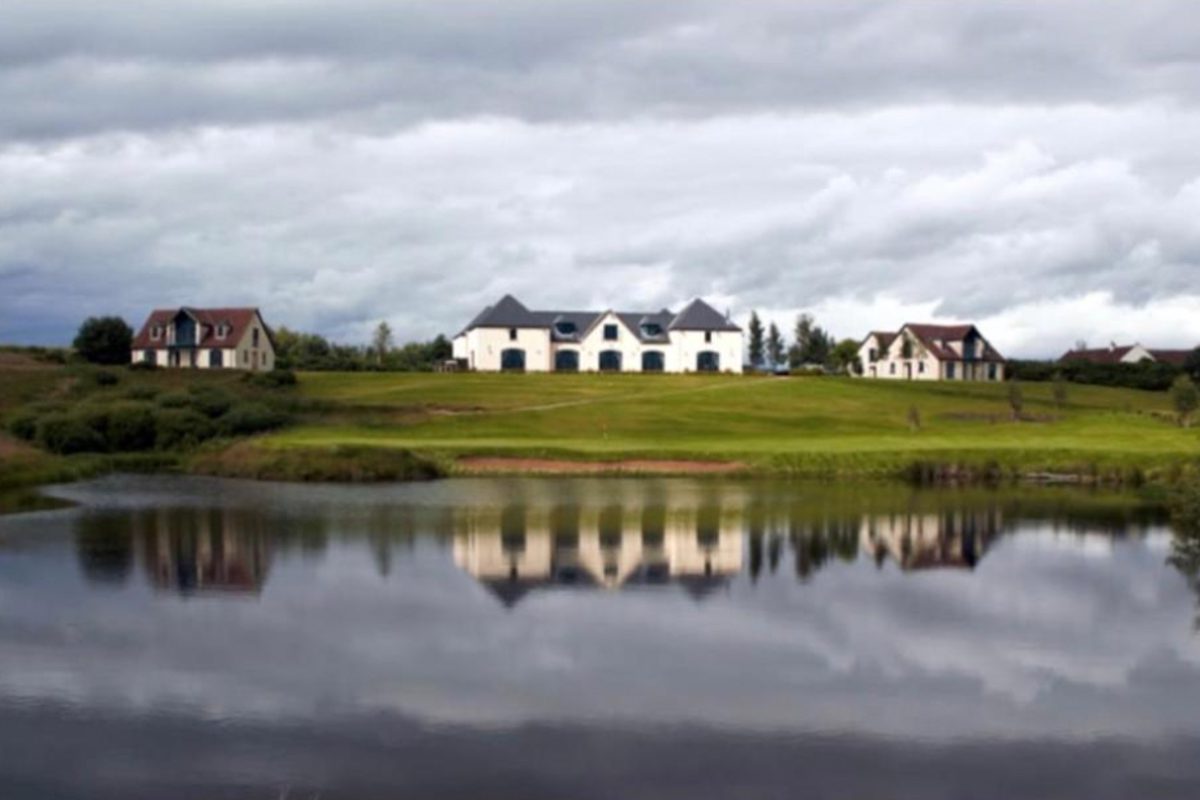 We love traveling for so many reasons, but one of them is the amount of random facts we learn along the way. You can imagine how good we are at bar trivia nights…

I mean, did you know golf was literally invented in Scotland? And that, for a time, it was banned because people were focusing too much on golf and not enough on archery!? Yeah, us either.

If you love golf and you're looking for things to do in Scotland, a visit to St Andrews is an absolute must. If you're traveling during summer (and plan to hit the greens) definitely check out the prices and reservations ahead of time as some of these locations book out crazy early.
Five notable golf courses in or near St Andrews:
The Old Course
The King's Course
Championship Course
Kingsbarns Golf Links
Panmure Golf Course
Aside from golfing, St Andrews is a great little coastal town to explore with a lot to do from checking out ghost tours (seems like a theme in Scotland, but we're here for it), take a food tour or travel along the Fife Pilgrim Way. Whatever you decide to do, you'll relish in all St Andrews has to offer.
25. Swim with Basking Sharks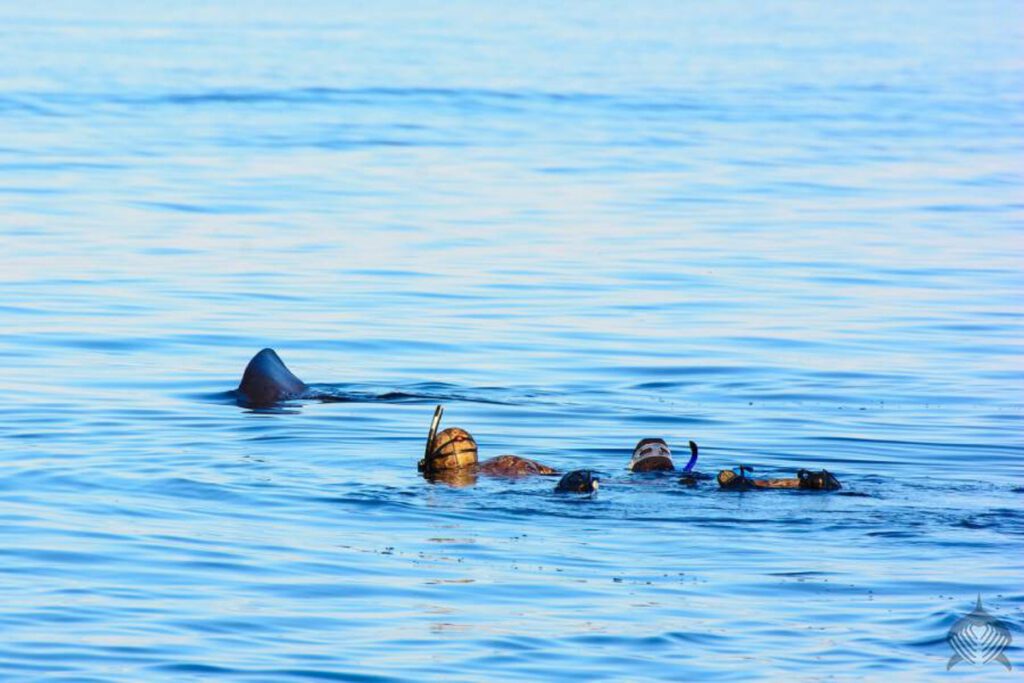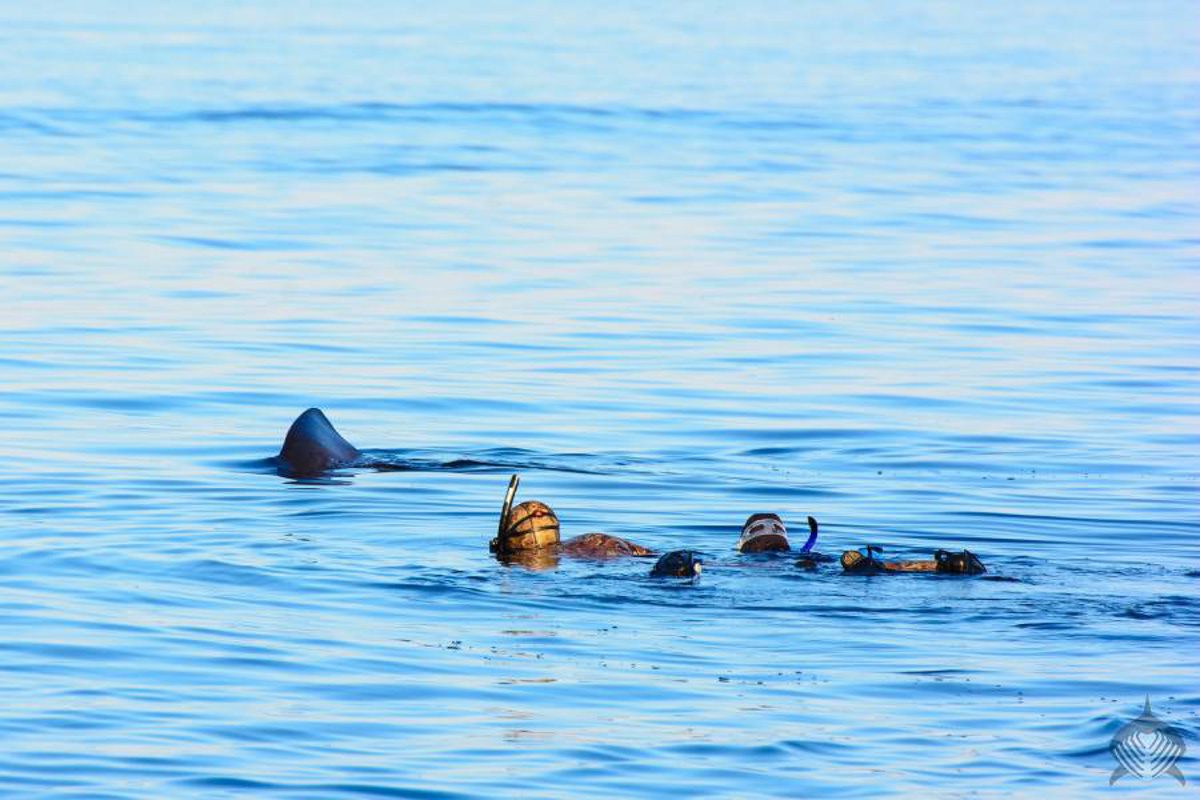 Basking Sharks sounds like a bit of an oxymoron, but this breed of shark truly does 'bask' in the sea. And as their name implies, they are quite passive, making swimming with them a memorable and peaceful experience.
If you're visiting Scotland in April – October, getting up close and personal with these sharks is definitely an extraordinarily unique thing to do in Scotland!
Basking Shark Scotland offers a surplus of tours to suit your needs, skill level and schedule. Aside from the Basking Sharks, you'll have the opportunity to spot other exciting wildlife as well such as seals, dolphins or puffins (amongst many others).

If getting into the water isn't your thing, you can also opt to kayak or paddle board alongside the sharks and lagoons which sounds equally as dreamy.
26. Try Haggis with Neeps 'n Tatties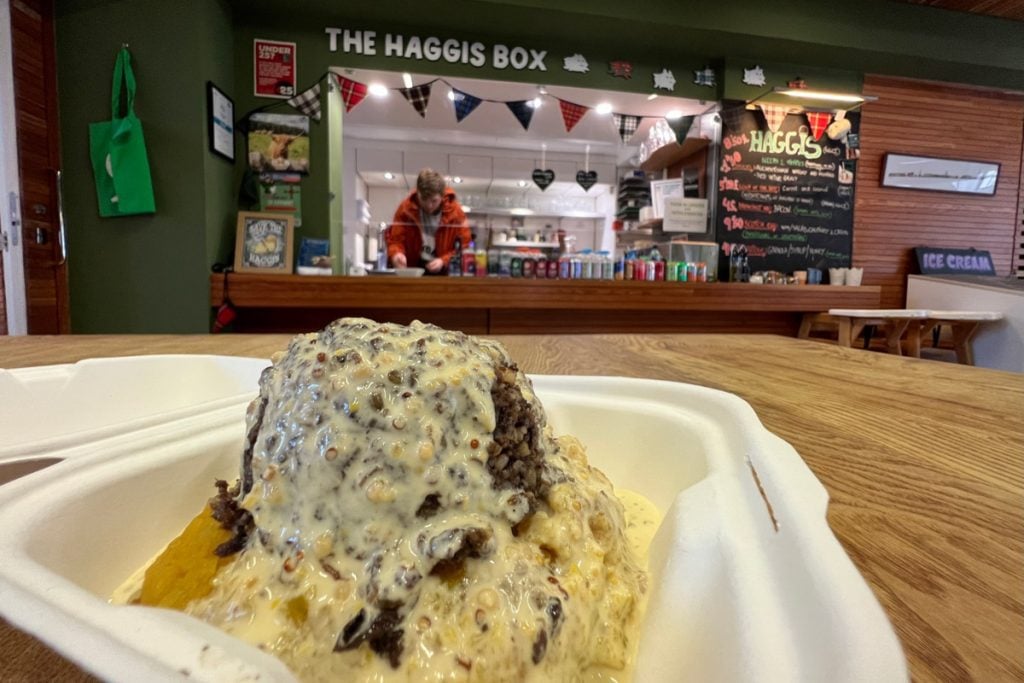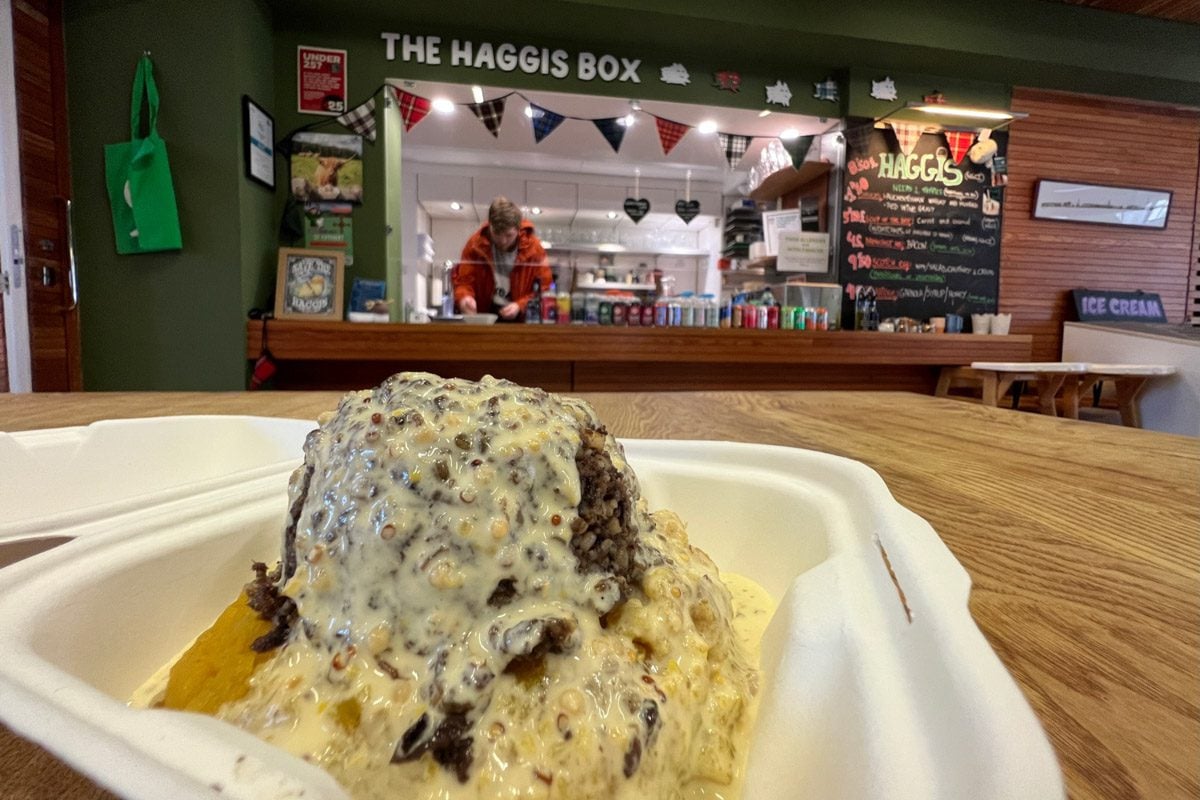 There's no Scottish food more famous than haggis.
But I'll be the first to say that haggis doesn't sound very appetizing.
If you type the phrase "what is haggis?" into Google, you'll get the following description from Wikipedia:
"…savory pudding containing sheep's pluck (heart, liver, and lungs), minced with onion, oatmeal, suet, spices, and salt […] and cooked while traditionally encased in the animal's stomach…"
Yep. It's enough to make one gag and vow to never, ever try haggis.
But that would be a mistake, because it truly is delicious.
First off, today haggis is not usually encased in the stomach. So don't worry about that part. In fact, if you order haggis at a restaurant, it won't come in any type of casing. Instead, it will appear similar to a ground and crumbly sausage, like chorizo.
So what does haggis taste like?
I'll start by putting your fears to rest.
Personally, I don't care for organ meat, gamey flavors or chewy texture, and I actually really enjoyed haggis.
It tastes similar to regular ground sausage, with a rich, peppery flavor. The oats give it a thicker consistency and an almost nutty taste. And you might detect the same underlying flavors as liver paté.
It'll typically be served atop "neeps and tatties", which is Scottish lingo for mashed turnips and potatoes. And you may have the option to add a whiskey gravy or mustard sauce.
Truly, it is pretty delicious, and if you can get past the ingredients, we'd highly encourage you to give it a taste while traveling in Scotland!
Good to know: Many places around the country (particularly in Edinburgh and Glasgow) have vegetarian versions of this dish, so all travelers can give it a go!
27. Climb Ben Nevis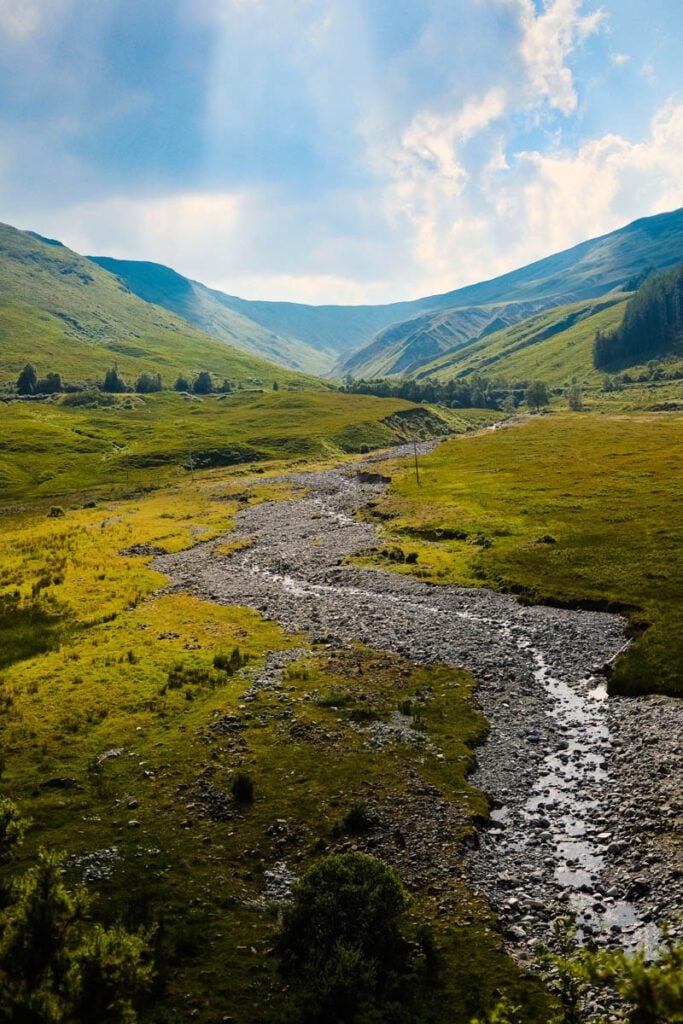 Distance: 9.8 miles/15.8 km, out and back
Elevation Gain: 4,399 ft / 1,341m
Difficulty Rating: Challenging
No this isn't some strange reference to Ben… Ben Nevis is actually the name of Scotland's tallest mountain.
Located in the Scottish Highlands, this is a pretty challenging 7 hour(ish) trek. If you're planning to hike Ben Nevis on your trip to Scotland, we recommend doing so during the summer when the path is clear and easy to follow.
Overall, the hike is strenuous and rocky nearly the entire way so be prepared for some sore calves afterward. But, hey, nothing a nice glass of whiskey can't fix…
The weather can be quite moody, so definitely pack some layers and be prepared for strong winds and rain (even in the summer months).
Due to the unpredictable nature of the weather here, you may or may not have a clear view at the summit. The landscapes along the way, however, are stunning and flourishing with wildlife so you'll have plenty to gawk at.
So, is it worth it? I mean, if you have the time and energy, why not? Personally, we've never regretted spending time in nature. On the other hand, it is quite a time commitment and there are a variety of other breathtaking hikes you could choose from in Scotland. So, at the end of the day, it's really up to you!
28. Ruins of Orkney Islands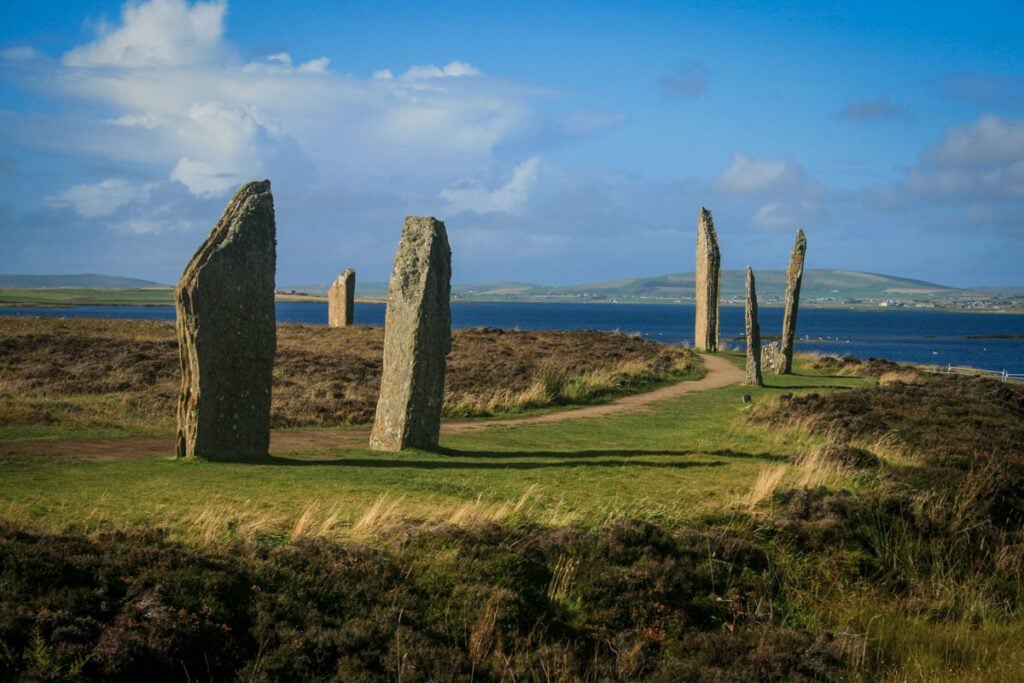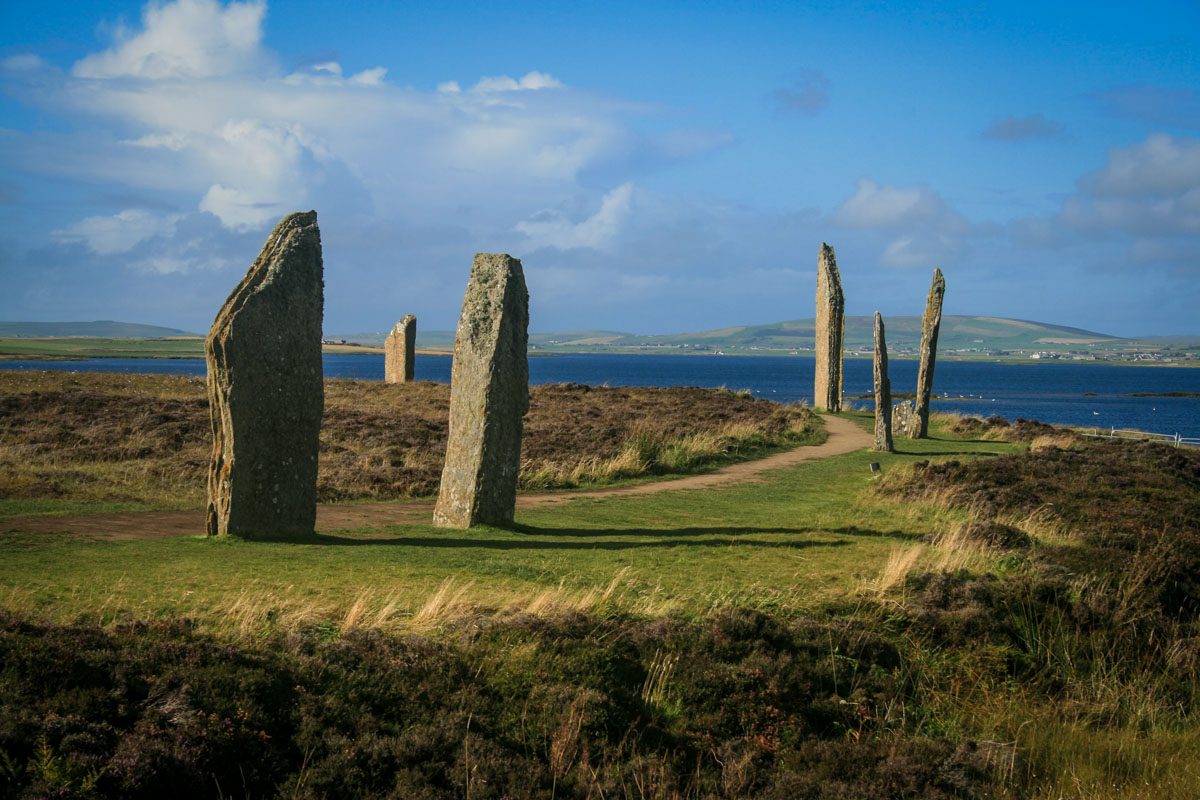 One truly magical thing to do in Scotland is take a visit to the Orkney Islands.
This collection of islands (over 70!) lies just off the coast of mainland Scotland and has a seriously ancient history … and we mean ancient! There is evidence that the Orkney islands were inhabited by various groups of people over 10,000 years ago.
While the islands are still actively explored by archaeologists, much has already been unearthed: a 5,000 year old tomb, graffiti scribbled by actual Vikings, stone circles, mysteriously standing stones, ancient graves and Neolithic shrines.

Aside from the ancient world, the islands were also quite popular during the world wars. In the area there are sunken WWI ships (great for divers!) and the gorgeous Italian Chapel built by prisoners of war during WWII.

The easiest and most convenient way to explore these stunning islands is by using the ferry system which moves seamlessly throughout the islands.
Top things to do in the Orkney Islands
Starting on the Mainland of Orkney, go island hopping using the ferry system
Visit the Italian Chapel built by WWII prisoners of war
Book a tour to see some of the wildlife in the area like whales, seals and puffins
Try some local beers. Orkney Brewery is housed in a charming little schoolhouse; if you don't love beer, there are also two whiskey distilleries on the Mainland.
29. Discover Scotland's white sand beaches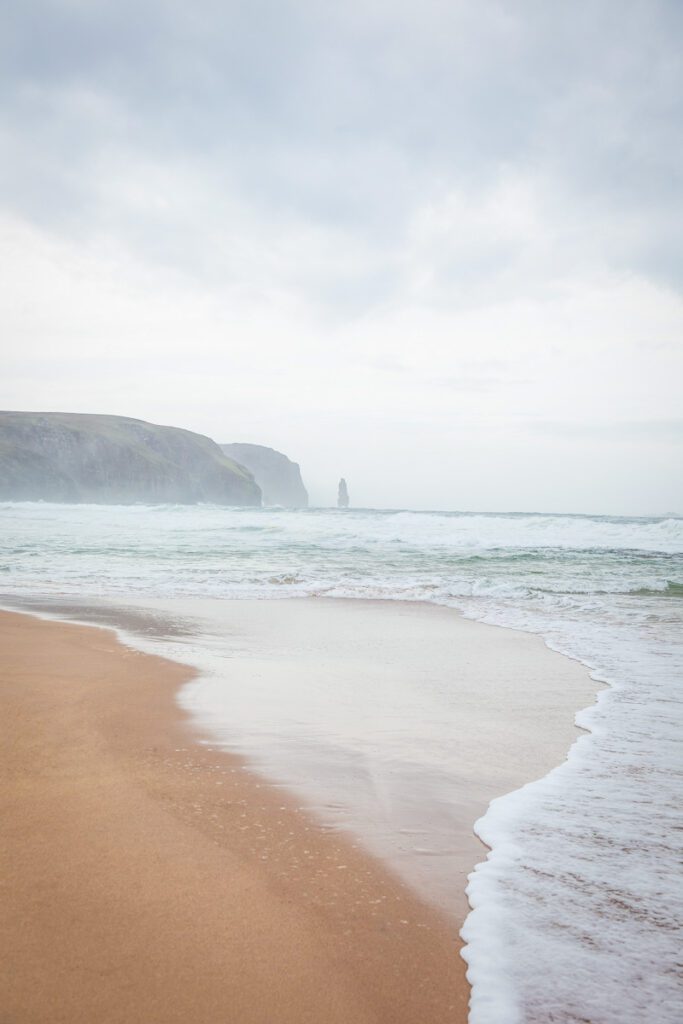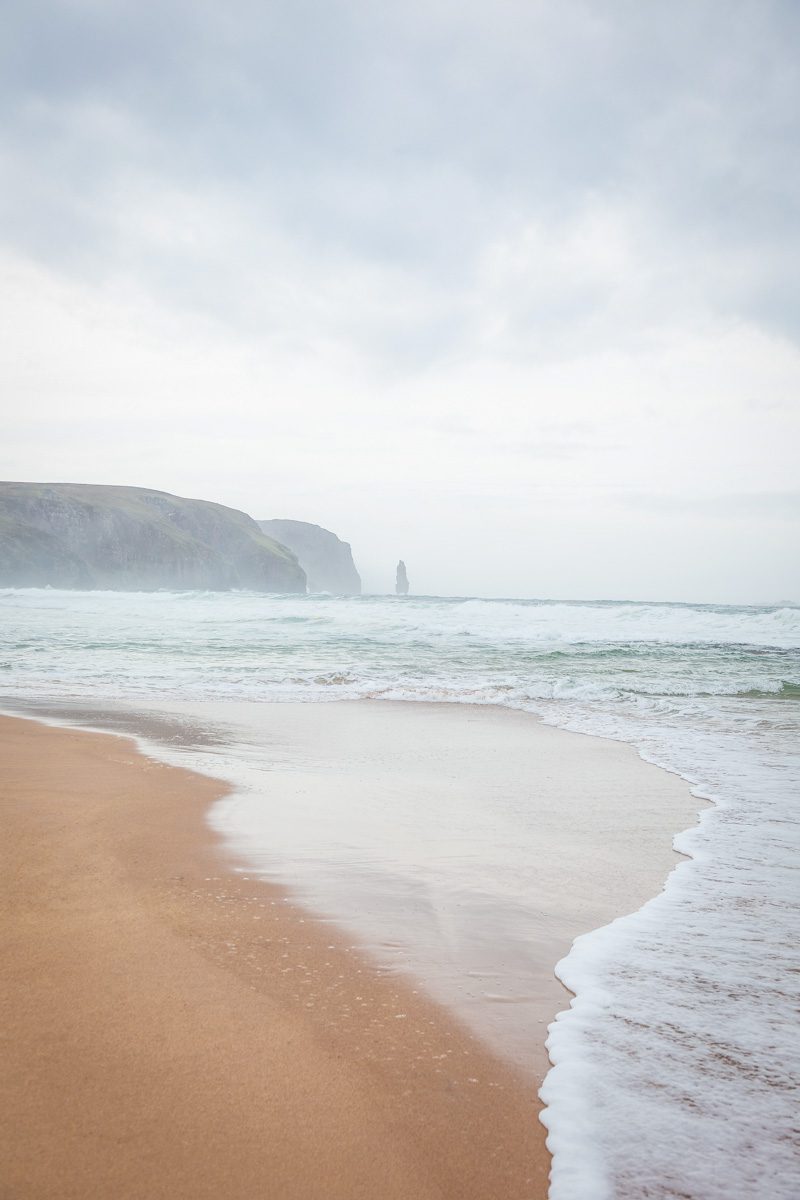 White sand beaches and Scotland just don't seem to go together, right? Shockingly, there are pristine and vast beaches scattered all around Scotland. And they are stunning!

Aside from their beauty, these beaches are flourishing with wildlife so you're likely to spot whales, seals, puffins, sharks and various seabirds on your visit.
Sounds dreamy, right?
If you're traveling in summer, beaches on the west coast are totally swim-able due to the gulf stream which warms them up. If you're on the east coast you can still swim, but you might be a tad chilly.

Top white sand beaches in Scotland:
Sandwood Bay
Saddell Bay
Calgary Bay
Sango Bay
Seacliff Beach (note: there is a fee to access this beach)
30. Hike through the forest to find this secret pyramid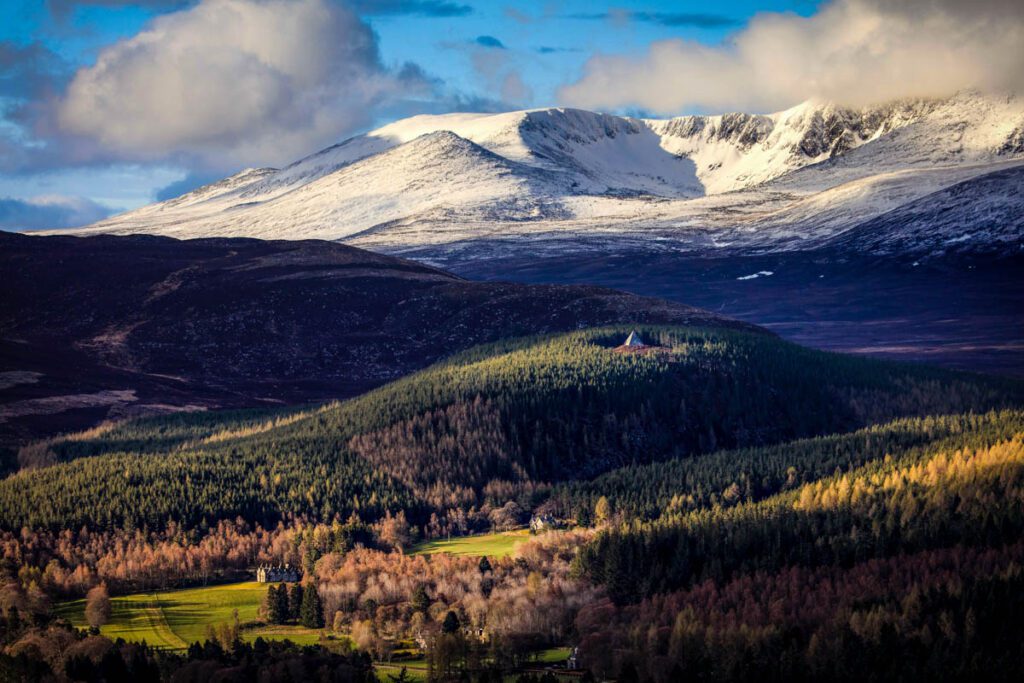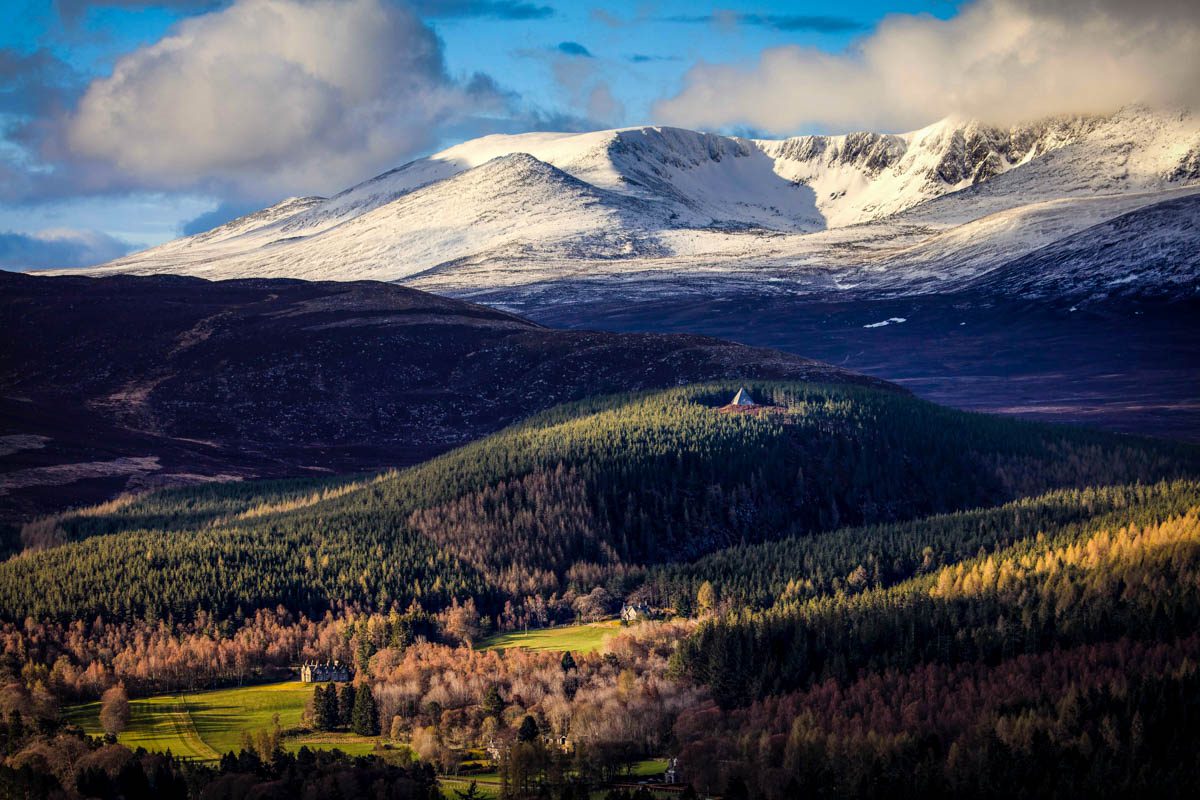 Distance: 6.4 miles / 10.3 km, loop
Elevation Gain: 1,187 ft / 362m
Difficulty Rating: Moderate
Guess what? You don't have to go all the way to Egypt to see pyramids.

Within the Cairngorms National Park, you can take a stroll through a mystical pine forest to reach an array of pyramids, the most notable being Prince Albert's Pyramid.

As with many things in Scotland, there is loads of rich history surrounding these remarkable landmarks. The Prince Albert Pyramid was built by Queen Victoria (er — well — ordered by her) in memory of her husband. Some of the others are built to honor their children. 
The hike to the pyramids is quite steep, rocky and often muddy, but not too difficult. And definitely worth it. Once you're there, you'll be rewarded with panoramic views of the whole National Park. The full Balmoral Pyramid walk is about 6 miles.
Visiting this area is completely free, but if you're driving there, you do need to pay for parking at Balmoral Castle.
Psst! This is the location of the Prince Albert Pyramid.
31. Have tea with "naughty" sheep
Spending your day cuddling, feeding and hanging out with some 'naughty' sheep is an absolute must if you love being around animals and love a little quirky adventure.

If you're looking to stray away from the mainstream touristy type of stuff, this is a really unique thing to do on your trip to Scotland.

On this adorable Airbnb experience, you'll enjoy tea and snacks in the host's gorgeous meadow surrounded by a clan of rescue sheep who have really silly personalities. If you're lucky, you'll arrive when there are lambs to cuddle!

All the snacks and drinks provided are home-grown and you'll learn loads of fun information from the host about her space, family of sheep, bees and hens.
What you need to know:
Location: Loch Lomond and Trossachs National Park
Duration: 1.5 hours
Cost: $80 USD per person
What guests are saying:
This experience has absolute rave reviews (4.99 stars). Here's what one guest had to say:
"What a wonderful experience of tea with naughty sheep! They were certainly a bit naughty, but also very sweet. We cherished the time spent with them. Of our ten days in Scotland, it was the best thing we did…" – Lorna, November 2022
32. Go dolphin spotting on the Banffshire Coast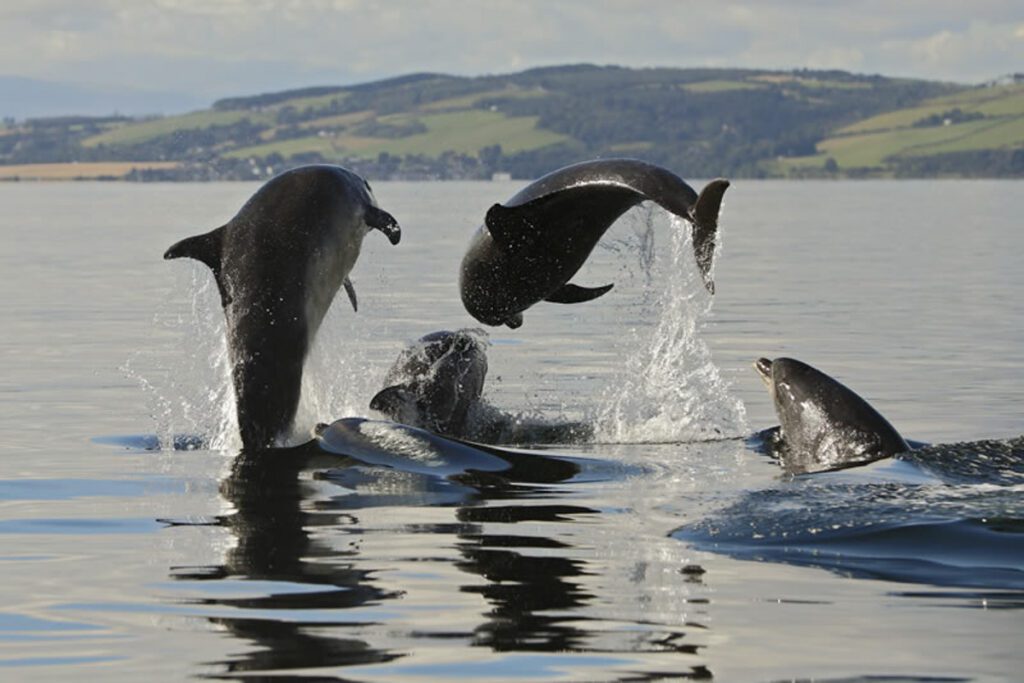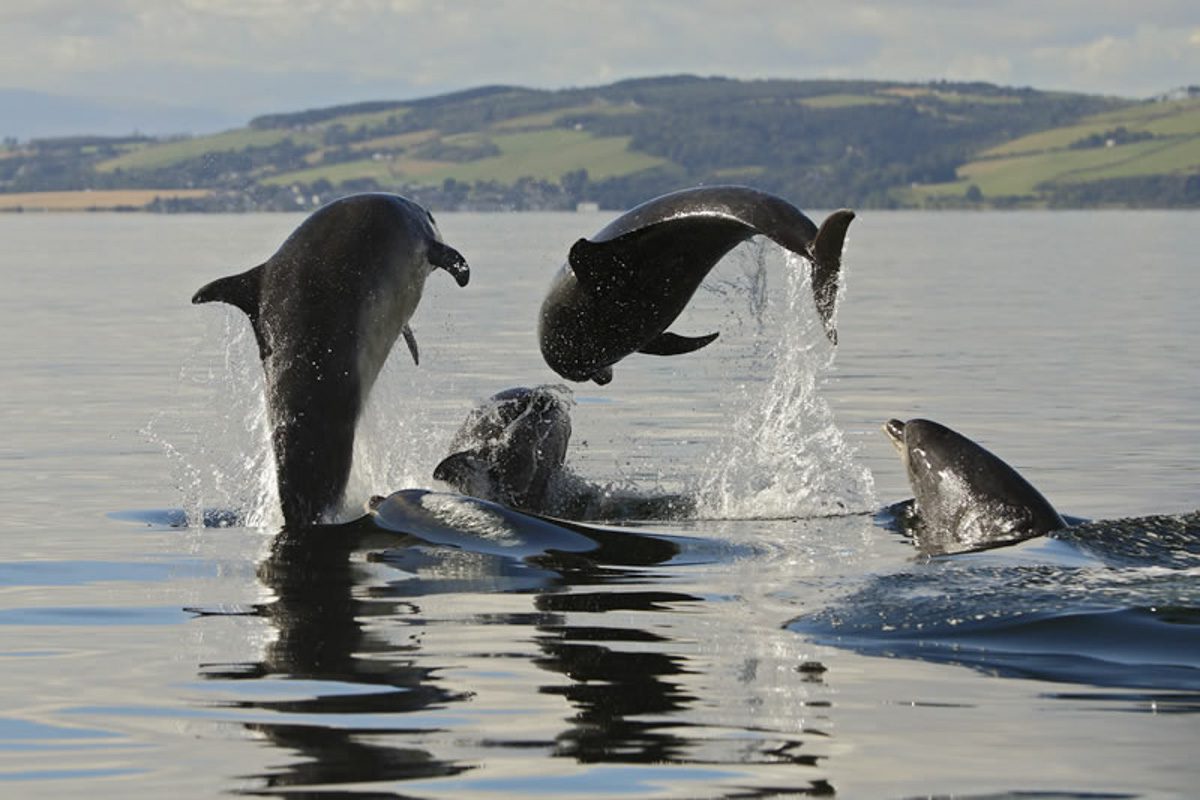 Out of all the things to do in Scotland, discovering wildlife is one of the best ways to spend your time. It is always remarkable seeing animals interact in their natural habitat.
Off the coast of Moray, you'll have the opportunity to see loads of bottlenose dolphins playing in the waves. The best time to spot them is when the tide starts to come in as this is prime dolphin feeding time.

If you really want to get up close and personal with these playful creatures, we recommend booking a boat tour. There are many companies in the area, but Ecoventures has great reviews and because they use a small zodiac (12 people) you'll have a more intimate experience with the dolphins.
There is a chance, too, that you'll see more than just dolphins since Scotland is home to an array of thriving wildlife.
33. Explore the basalt columns of Fingal's Cave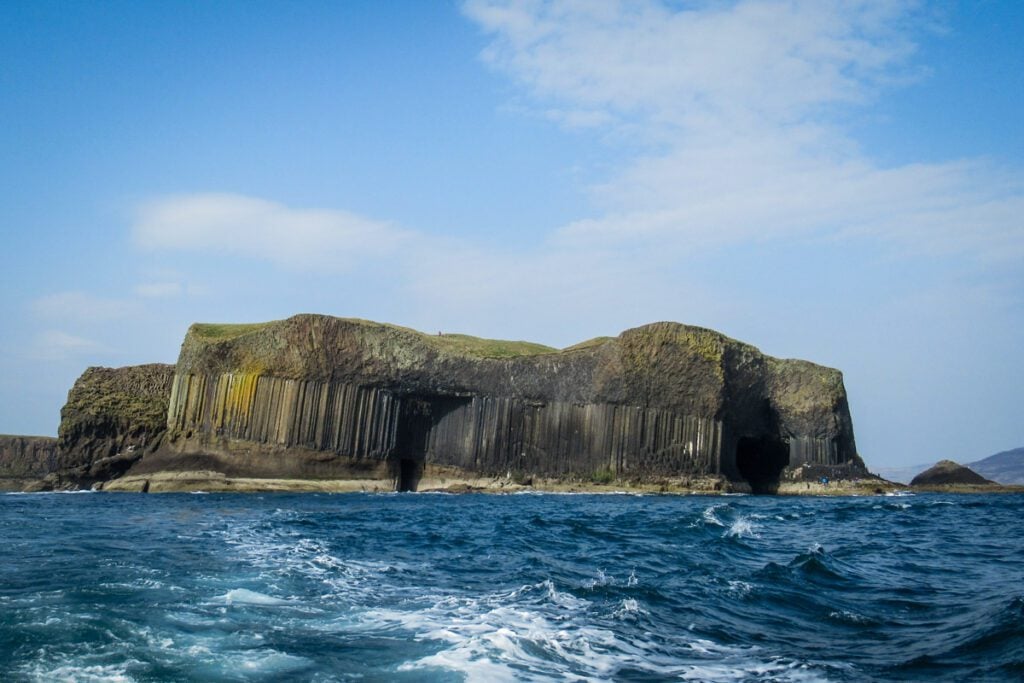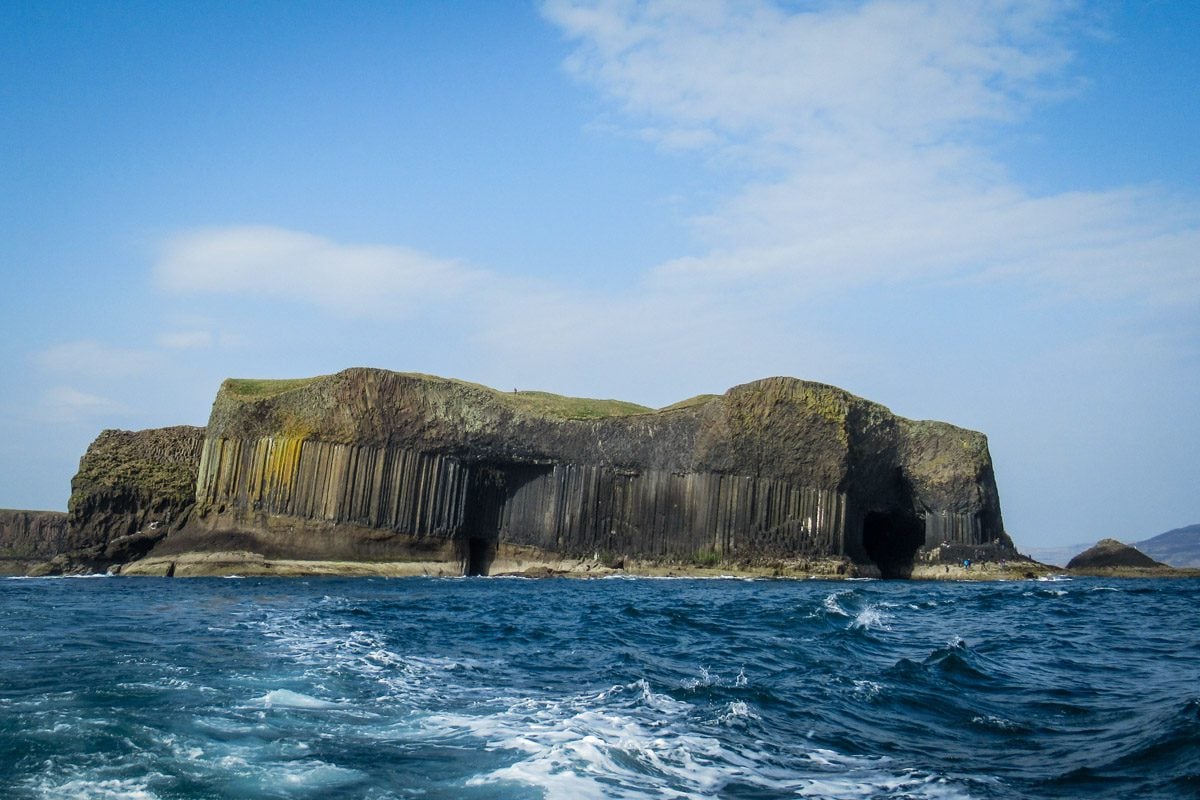 While traveling in Scotland, I couldn't tell you the amount of times my jaw literally dropped to the ground. It is that gorgeous of a place … seriously. And the Fingal's Cave is no exception.
I'll be the first to admit we can get tired of caves sometimes, but this is unlike anything we've ever seen before.
Carved over 60 million years ago from an ancient lava flow, the Fingal's Cave looks like it was carved straight out of a fairy tale.
Due to its age, it has a vivid history, too, with visits from Queen Victoria and Mendelssohn.
You can book a boat tour that will take you into the cave where you'll be fully engulfed in the beauty. Take a moment to close your eyes and listen to the smashing ocean waves along the walls. It's truly breathtaking.
---
Scotland itinerary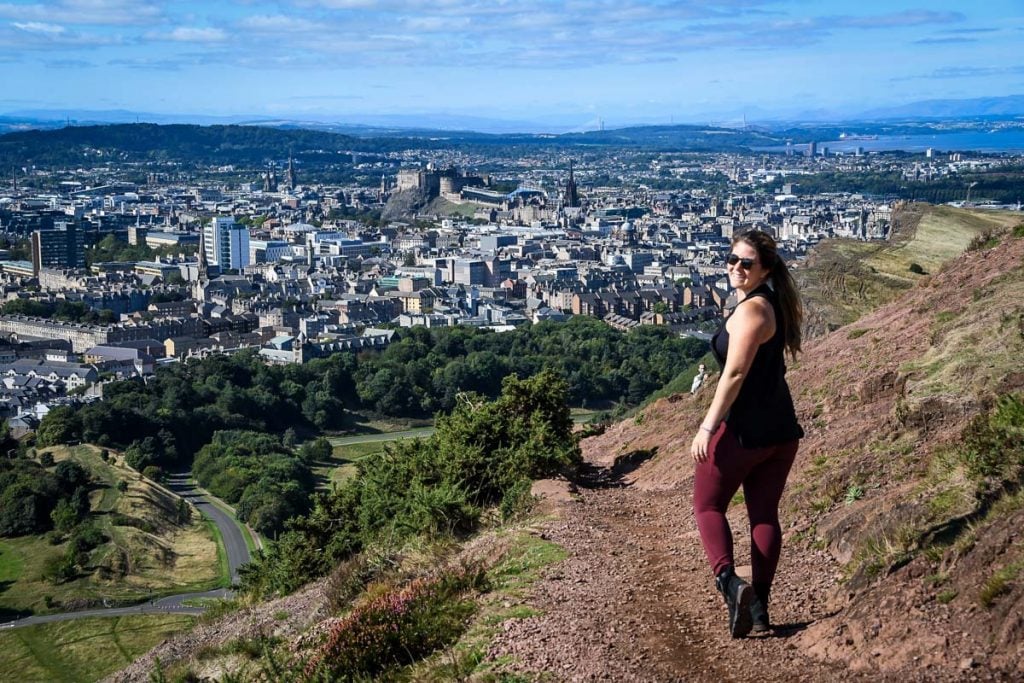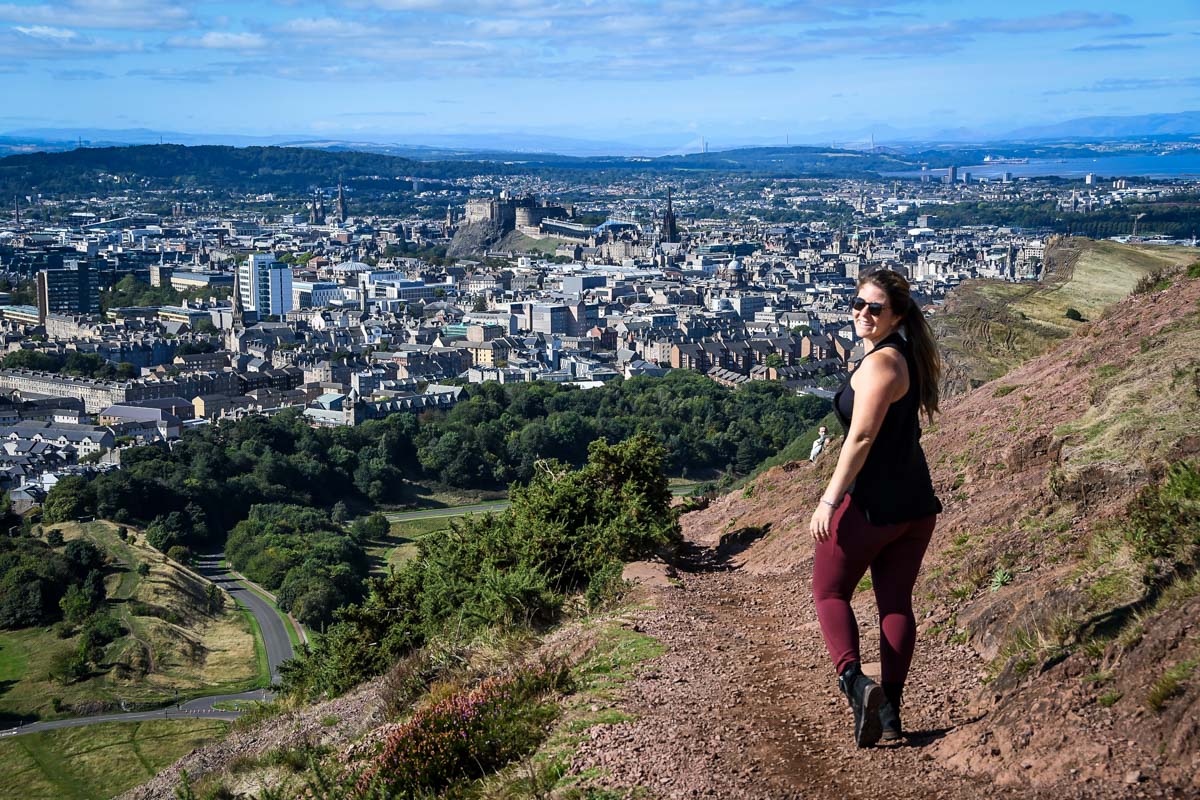 Raise your hand if you don't want to spend hours of time researching and you just want all the info right at your fingertips!
If your hand is up, keep reading…
If you like the research, all the power to you! Feel free to use our itinerary outlines as a starting point as well as our city guides for ideas of things to do (we've got a bunch of them!):
But if you want to save some hours of your life, we've already put in more than enough for you and us combined. Trust us.
And we're happy to share everything we learned — from digging through reviews, Youtube and all sorts of Internet rabbit holes, as well as actually being in Scotland and taking our very own dream road trip!
We've curated what we think is the perfect Scotland road trip, and we want you to be able to copy our route!


In this 2-week itinerary, you'll find:
Can't miss sights and experiences
Where to eat

suggestions for what to order

Where to stay (whether you're camping or doing hotels)

the best campsites to stay on the route
unique guesthouses along the way

Insider Tips
Suggestions for extending this trip
We've spent hours of research putting this all together, just for you!
In full transparency, this is a paid itinerary since it has taken an incredible amount of time for us to create.
However, we keep all of our paid itineraries affordable – just $17 for an entire 2-week itinerary. We think this is an incredible value considering almost all your planning will be done for you!
What to pack for your trip to Scotland
With variable weather conditions, excellent hiking opportunities, and plenty of city life, there are a few things you definitely don't want to forget when you're packing for a trip to Scotland.
Check out the exact items we recommend for traveling in Scotland.
Rain gear

rain jacket (make sure it's waterproof, not just water resistant)
dry bag: to keep your valuables from getting wet on a hike

Hiking boots
Wool socks
Lots of layers
A couple nicer outfits for eating out
Bug repellent: midges are common in Scotland, especially during the summer months
Camera and lightweight tripod (optional)
Be sure to download our complete packing list for Scotland! It's packed with good suggestions and insider tips to help plan your Scotland trip. And it's completely FREE, so why not!?
Round up of the best things to do in Scotland
Here's a recap of all the best things to do in Scotland so you can see everything in one place.
Take an epic road trip
Reindeer in the Cairngorms
Scottish food tour
Loch Ness
Distillery tour
Scottish gin
Pub culture
Highland cows
Glenfinnan Viaduct
Standing stones
West Highland Way
Trossachs National Park
Glencoe
St. Andrews
Swim with Basking Sharks
Haggis with Neeps 'n Tatties
Ben Nevis
Orkney Islands
Scotland's white sand beaches
Prince Albert's Pyramid
Banffshire Coast
Fingal's Cave
---
Are you planning a trip to Scotland?
We have lots of resources on travel in Scotland and destinations throughout the country. Check out our Scotland Travel Homepage for everything you need to know, or read some of our favorite articles below.
Save this article on Pinterest for later!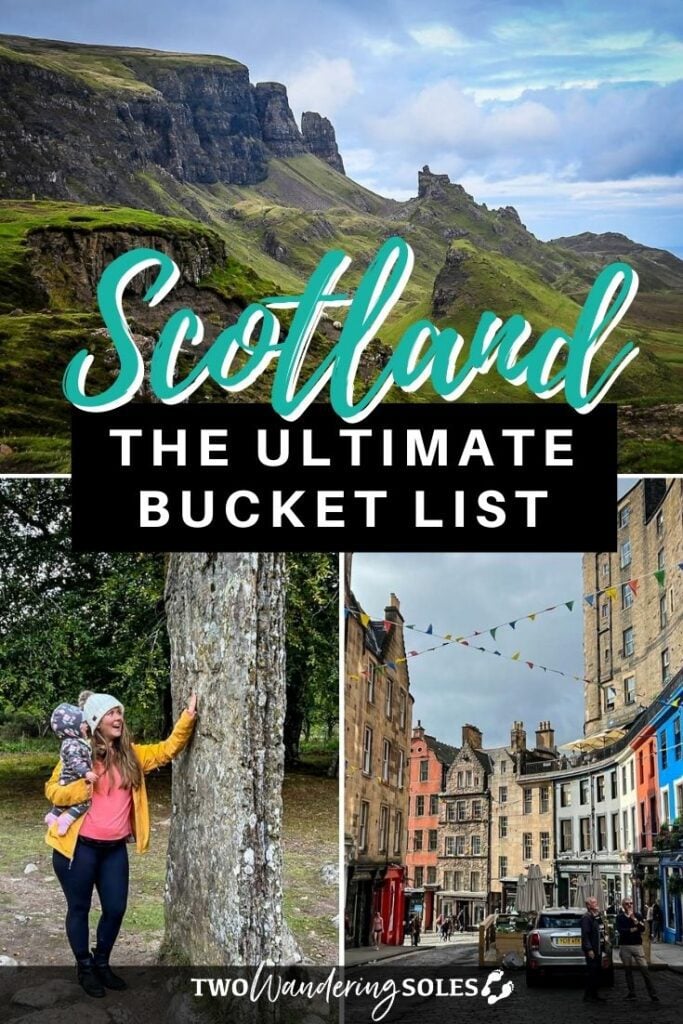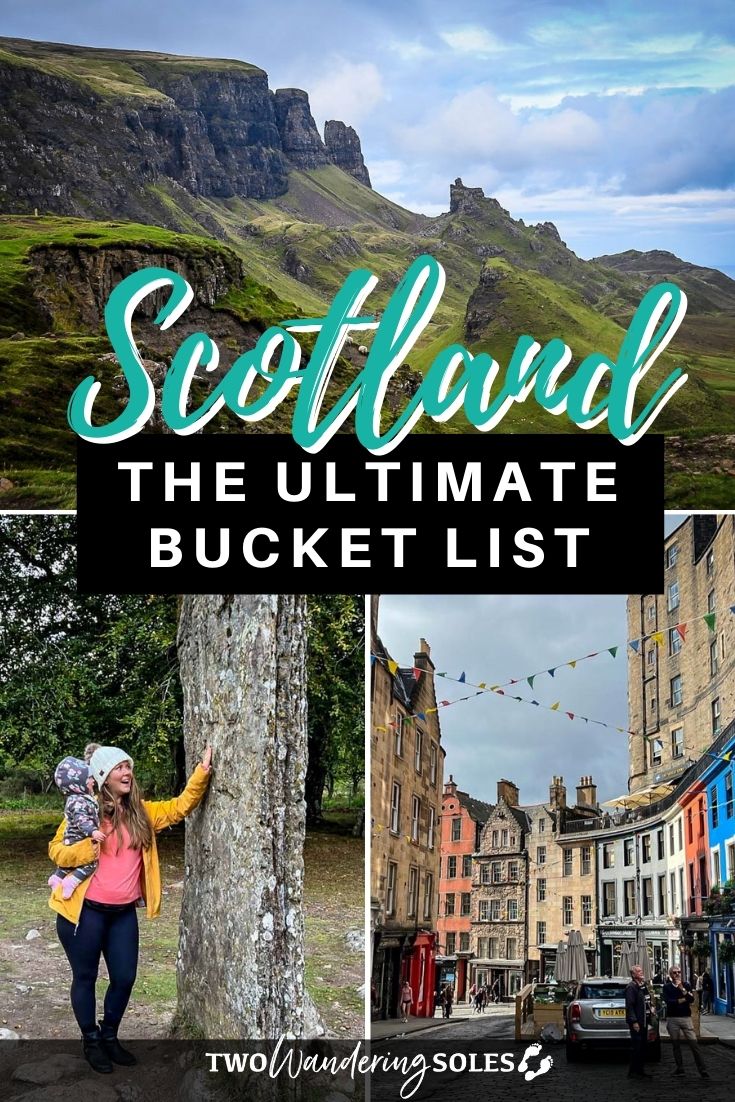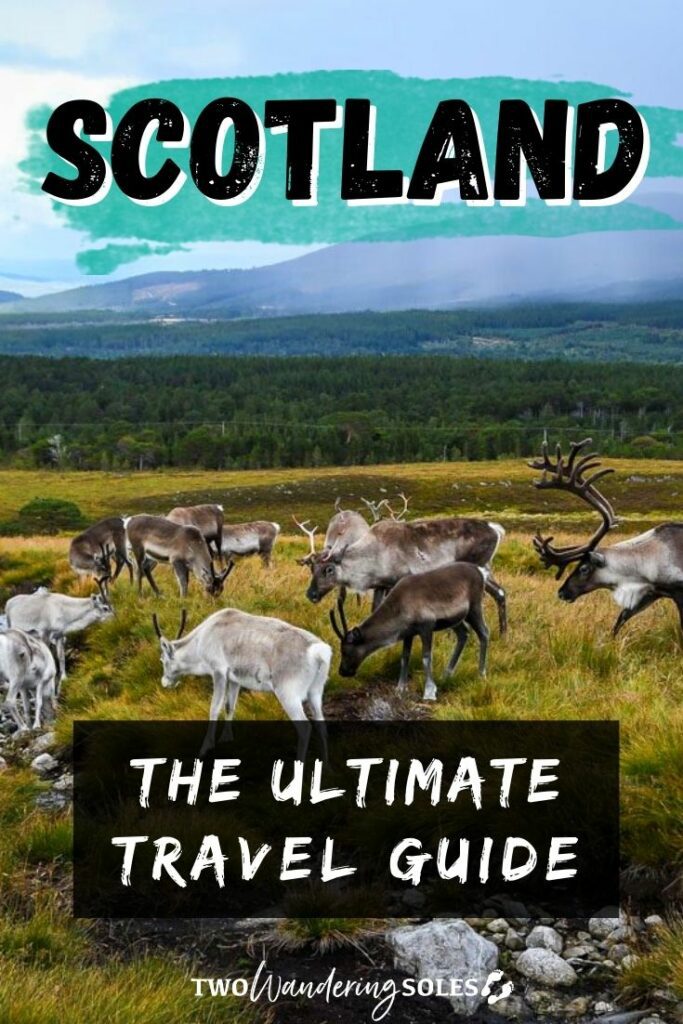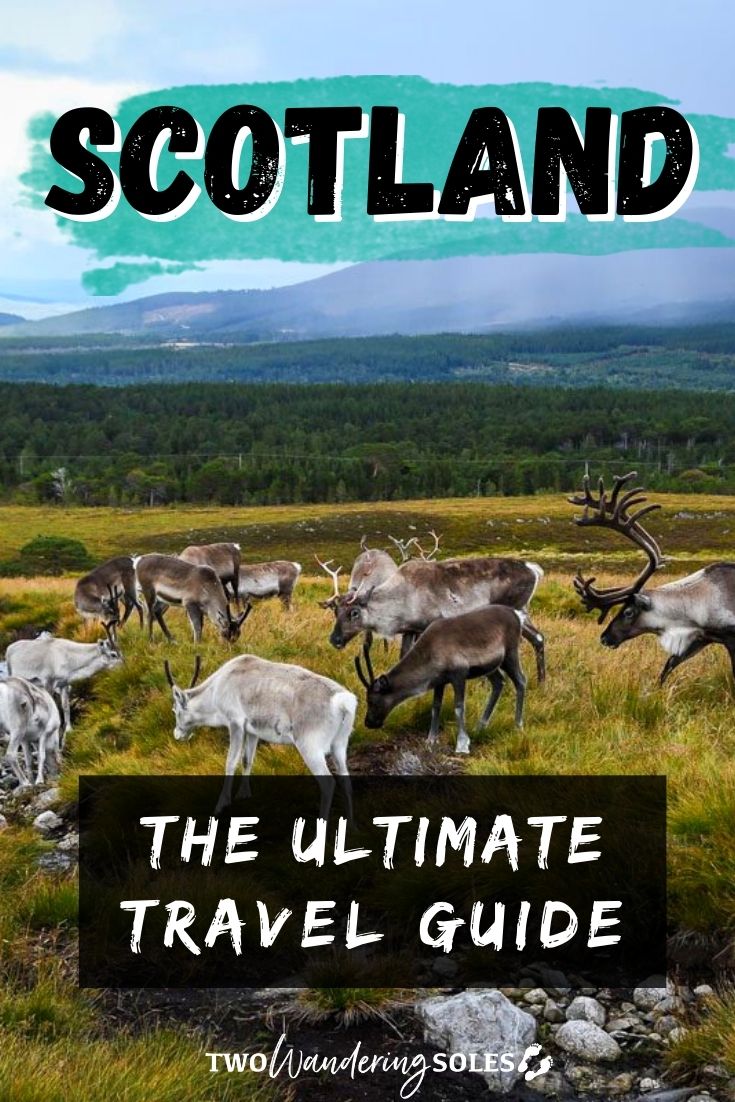 We want to hear from you!
Which of these fun things to do in Scotland is going straight to the top of your bucket list? Are there any experiences you think we are missing? Leave your comment below and let us know!