A lovely blend of old and new, renowned for its gastronomic scene, historical sights and high culture, Edinburgh truly has something for everyone. We've curated this list of the best things to do in Edinburgh to help you plan your trip.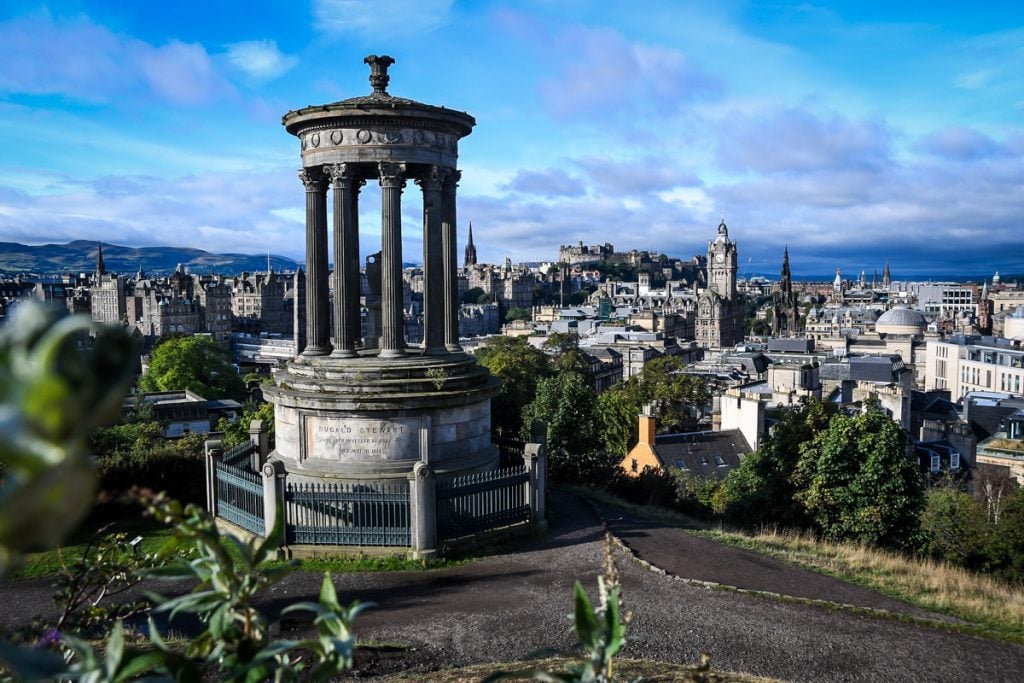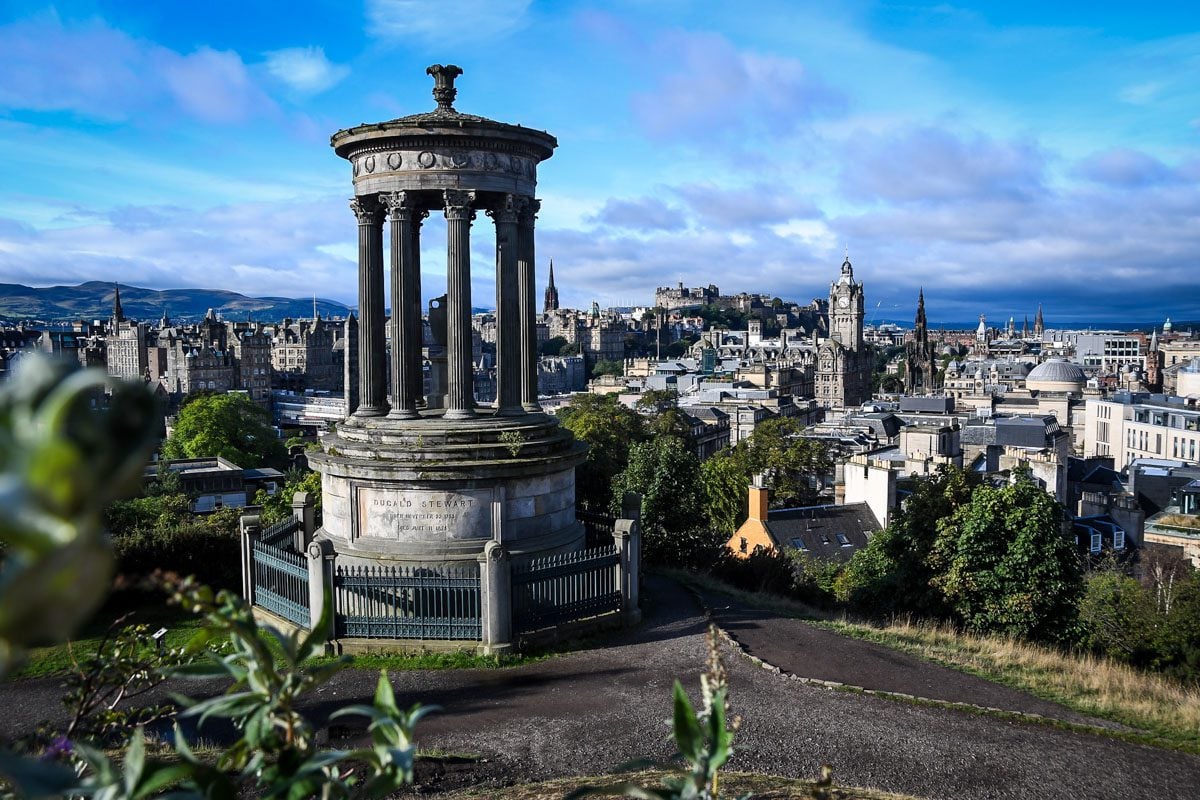 Edinburgh is one of those cities that is just easy to fall in love with.
Steeped with history and oozing with charm, Edinburgh has a lovely blend of old and new. Medieval architecture plays host to world class restaurants, and cozy shops are nestled in centuries-old alleyways. And perched above it all, Edinburgh's majestic castle overlooks the entire city.
As the kids say these days, this place is a vibe.
Edinburgh is touristy, yes, but for good reason. It is utterly magical; and we'd be surprised if you didn't fall in love, too.
There are so many things to do in Edinburgh that you could easily spend a week in this historic city and still not get around to everything. From off-the-beaten-path gems, to the top views in town, to memorable foodie experiences, Edinburgh truly has something for every type of traveler.
We've curated a list of the very best things to do in Edinburgh, including free and cheap activities for travelers on a budget, kid-friendly experiences, and unique things to do that'll make you feel more like a local than a tourist.
This guide is not only packed with the best things to do, but we're also sharing top places to eat in Edinburgh as well as where to stay to ensure you have the best possible stay.
If you're planning a trip to Edinburgh, this article has everything you need to have an unforgettable visit.
Good to know: We visited Scotland with a baby (9 months old at the time) and in our opinion, Edinburgh is the best city to visit in Europe for families. So throughout this article, you'll also find tips for traveling in Edinburgh with kids. That said, this guide will have tons of information even if you aren't traveling as a family.
Edinburgh Travel Guide
For more tips and advice for planning your trip to Edinburgh, jump to the following sections (or just keep scrolling to see it all!).
Psst! If you have time to discover more of the country, don't miss these epic places to visit in Scotland.
---
Top things to do in Edinburgh
Scotland's capital city is packed full of culture, history and adventure. There are so many things to do in Edinburgh, you could easily spend a month exploring the city's nooks and crannies.
If you're looking for the very best things to do in Edinburgh, here are our top  recommendations. 
Experience Scottish cuisine on a food tour
Hike to Arthur's Seat
Cheers at Scotland's oldest pub (& play a historic game!)
Check out Victoria Street
Wander the streets of Dean Village
Get fancy at afternoon tea
See sunset at Calton Hill
Go on a free walking tour
Keep reading for more detailed information on each of these things and more ideas of fun things to do in Edinburgh. 
1. Experience Scottish cuisine on a Food Tour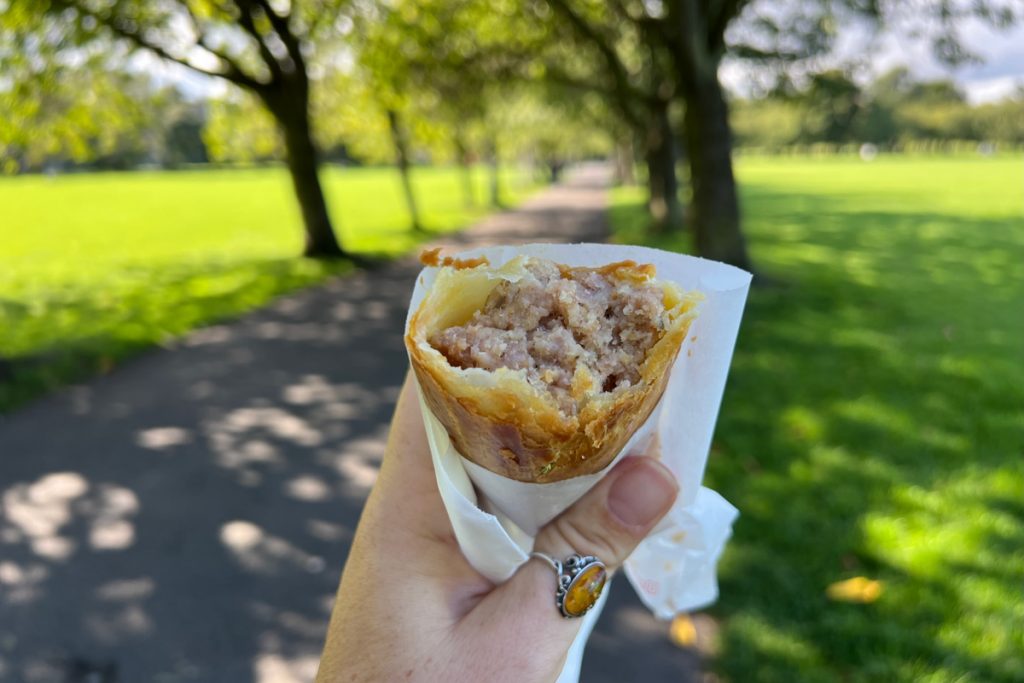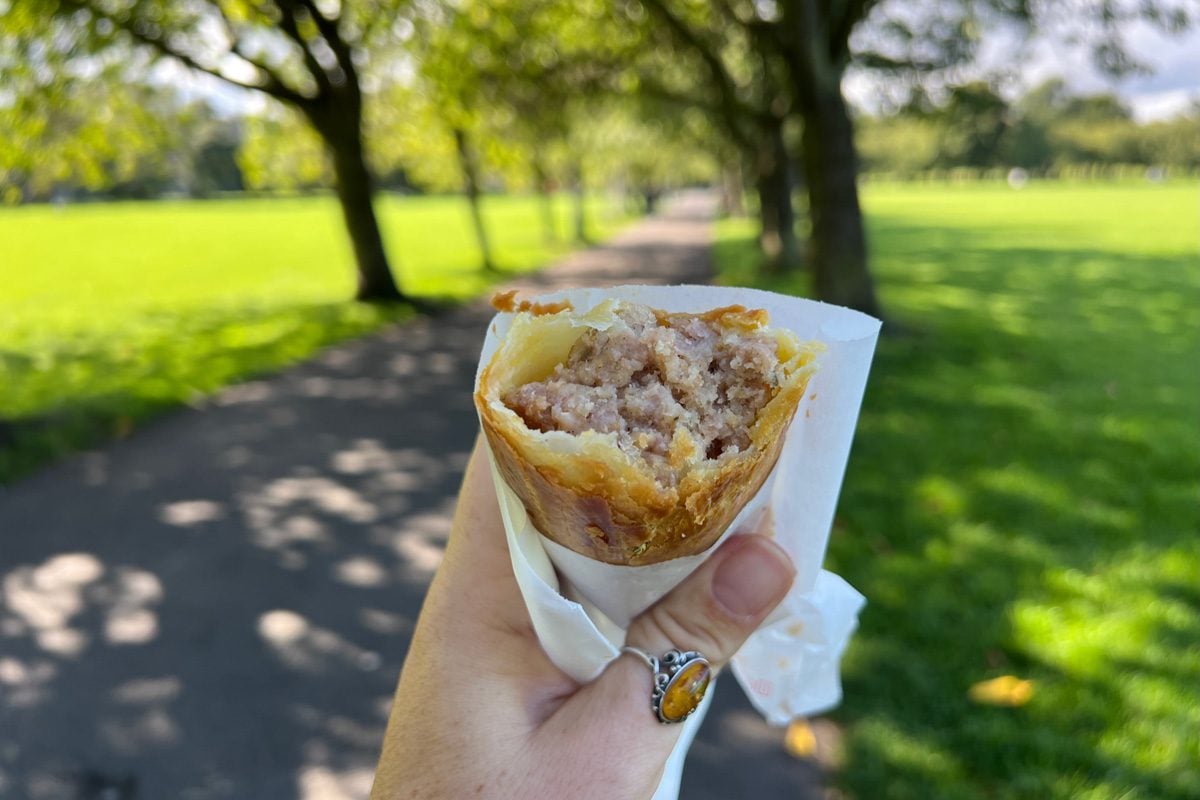 If you've been following this blog for any amount of time (we see you!), you probably know we LOVE food.
Yes, that is all caps for a reason.
One of our very favorite parts about traveling is being able to experience the cuisine in the places we visit because you can truly learn so much about the people, culture and history through the food.
And there's no better way to do that than by taking a food tour.
We took a food tour in Glasgow (which was our 11th around the world!), and it was truly wonderful.
On our food tour, we had five food stops and drinks paired with most of them. We got to try traditional Scottish dishes in some really cool spots.
Plus, we spent the afternoon with a local, so we could pick her brain with questions we had as well as local recommendations.
Insider Tip: Book your tickets early! Originally, we wanted to take a food tour in Edinburgh, but all tour companies were completely booked up during our travel dates, so be sure to reserve your spots well in advance.
Best food tours in Edinburgh:
3-Hour Guided Secret Food Tour: This guided tour through Edinburgh's Old Town will take you to 6 different places to sample traditional Scottish fare and learn the culinary history and culture of the city.
A Wee Taste unique Scottish food experience: This Scottish food journey, led by a qualified history teacher, is an opportunity to taste all kinds of Scottish bites and drinks while learning about the history. (Find out more about the venue in #29 on this list!)
Chocolatarium Tour, Tasting & Chocolate Making: Calling all chocoholics! This hands-on tasting tour of Edinburgh's Chocolatarium lets you follow the journey of chocolate from the jungles of South America to Scottish chocolate makers and the finished chocolate bar.
Good to know: Most food tours in Edinburgh will accommodate dietary restrictions, so be sure to contact them.
---
Want to save time and energy on planning?
We traveled in Scotland for about 2 weeks and were able to visit most of the highlights of the country, including most of the top places to visit.
We took our 2-week travels and created the perfect Scotland road trip itinerary. We'll send you our complete 2-week itinerary, filled with tips and advice. Just click below to get your 2-week Scotland road trip itinerary today!


---
2. Hike to Arthur's Seat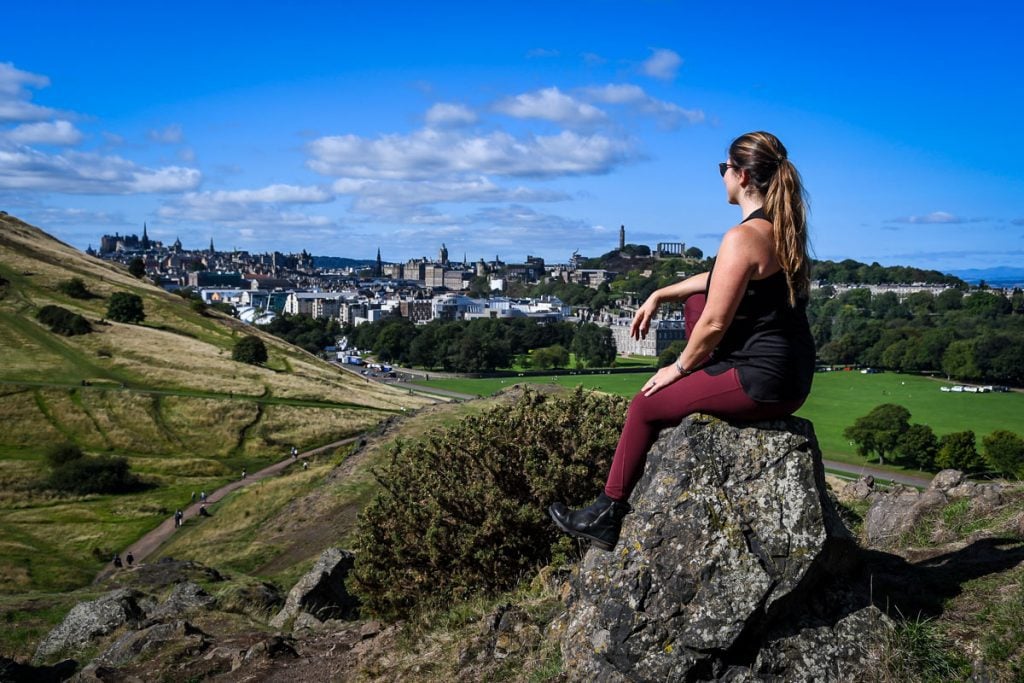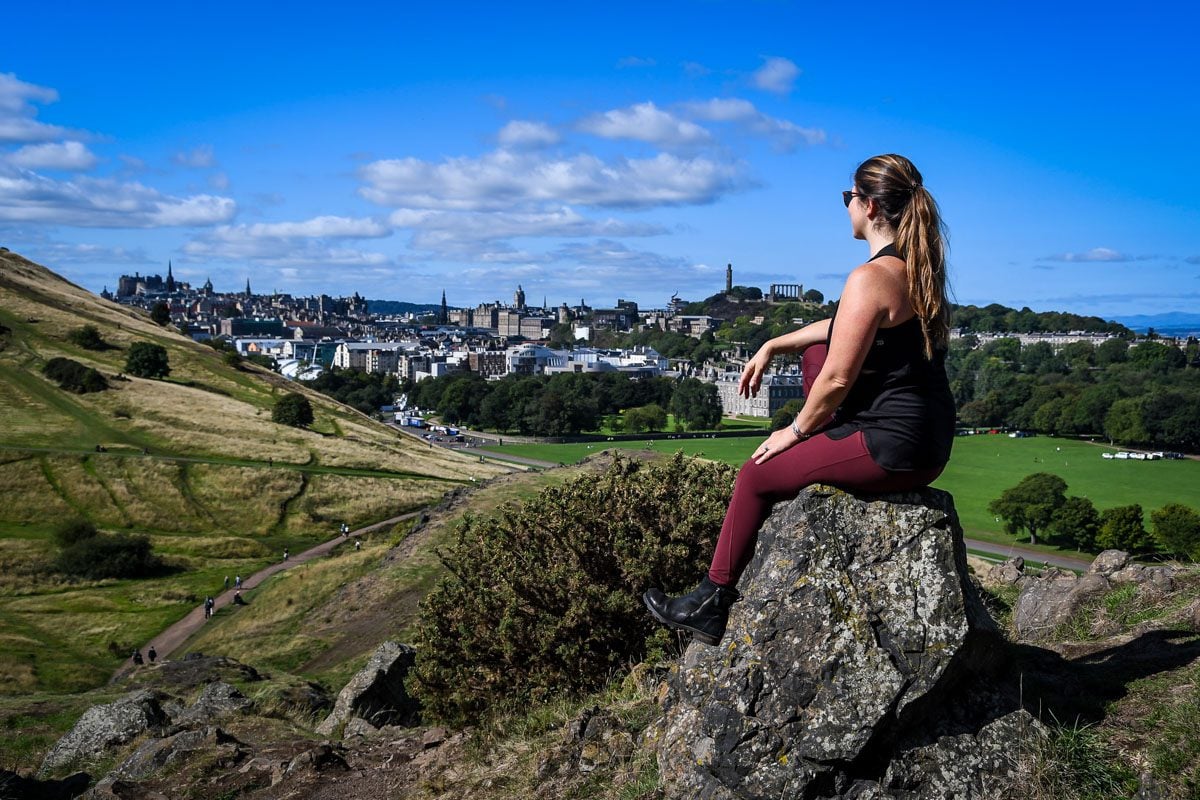 Looming on the horizon just beyond the city center, is an extinct volcano known as Arthur's Seat.
Hiking to the top is one of the most popular things to do in Edinburgh, as you will be rewarded with some of the most spectacular views over the city!
If you have good weather while in Edinburgh and are up for a bit of a hike, definitely add this to your itinerary.
Be prepared! Wear sturdy shoes (some of the rocky parts near the top can get slippery, especially if it has rained recently). I can get quite windy at the top, so bring layers and rain gear. And if you're anything like me, you'll definitely want to pack a snack to enjoy at the top!
Fun Fact: Like Rome, Edinburgh was built on 7 hills. And Arthur's Seat is one of them!
Arthur's Seat Hike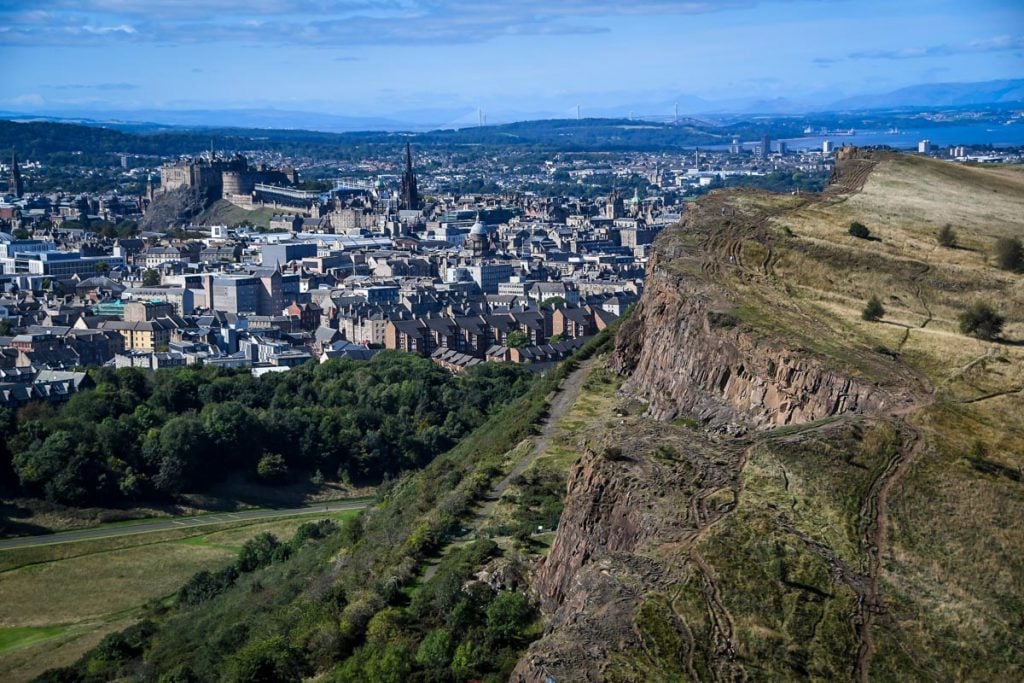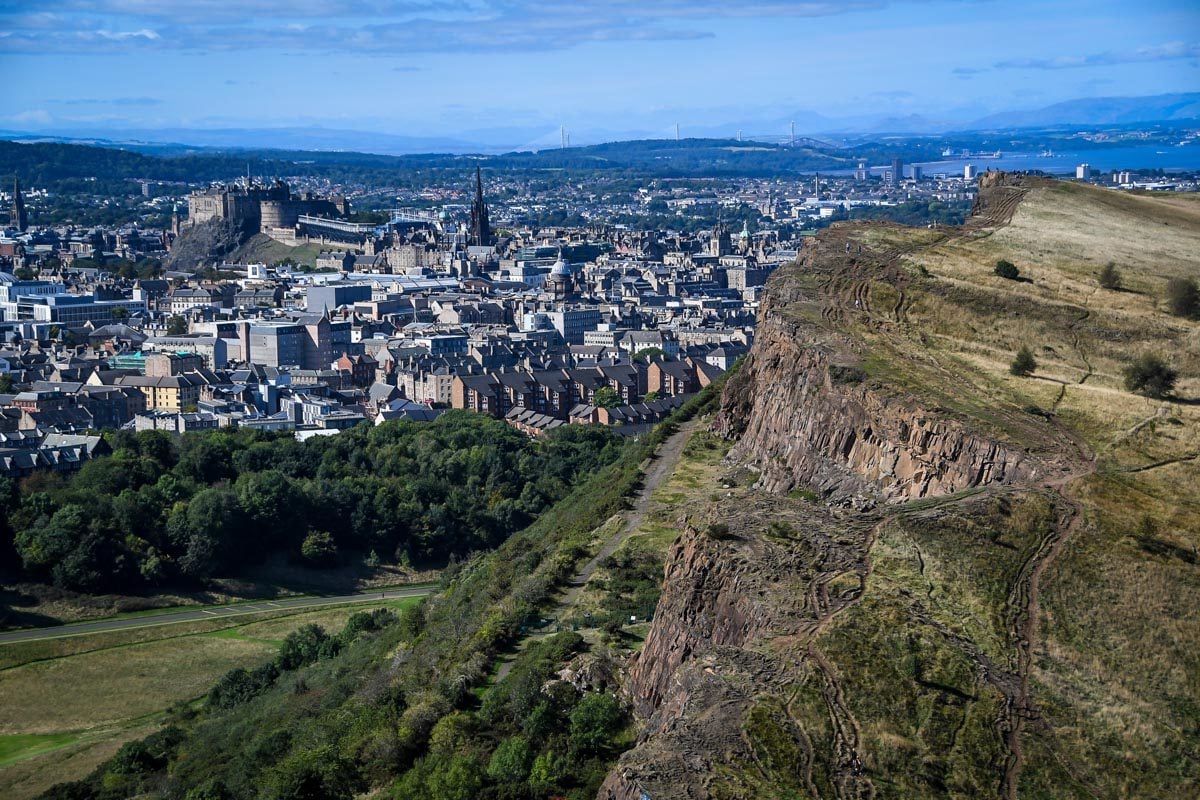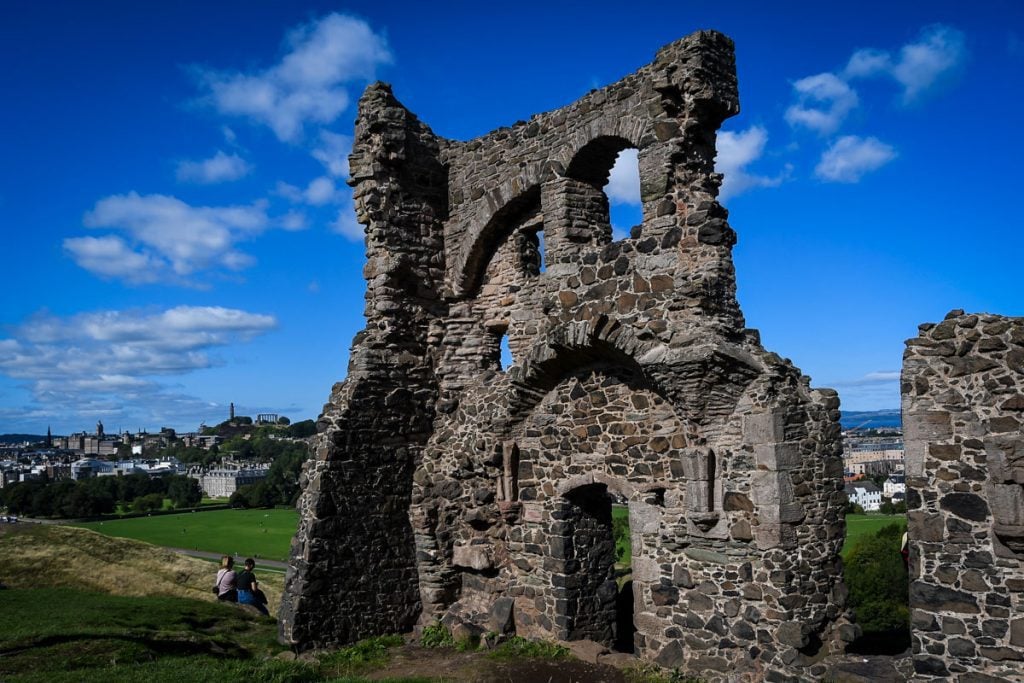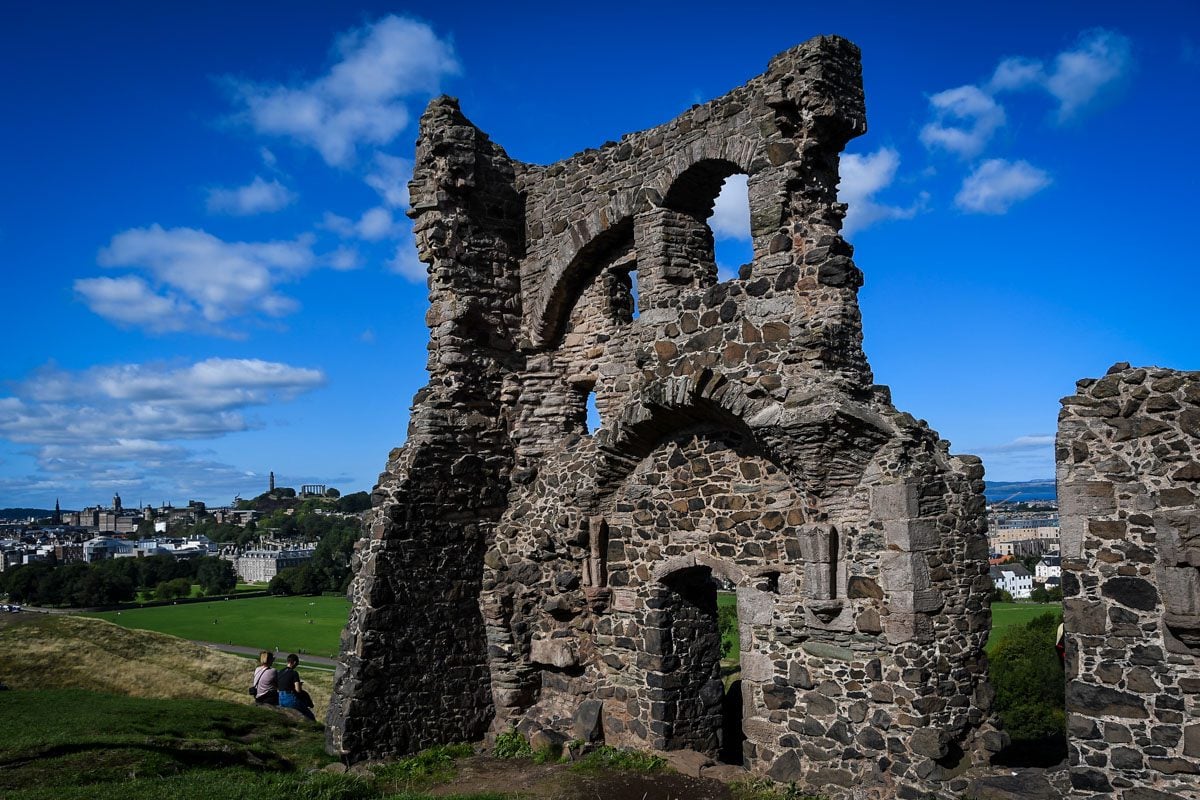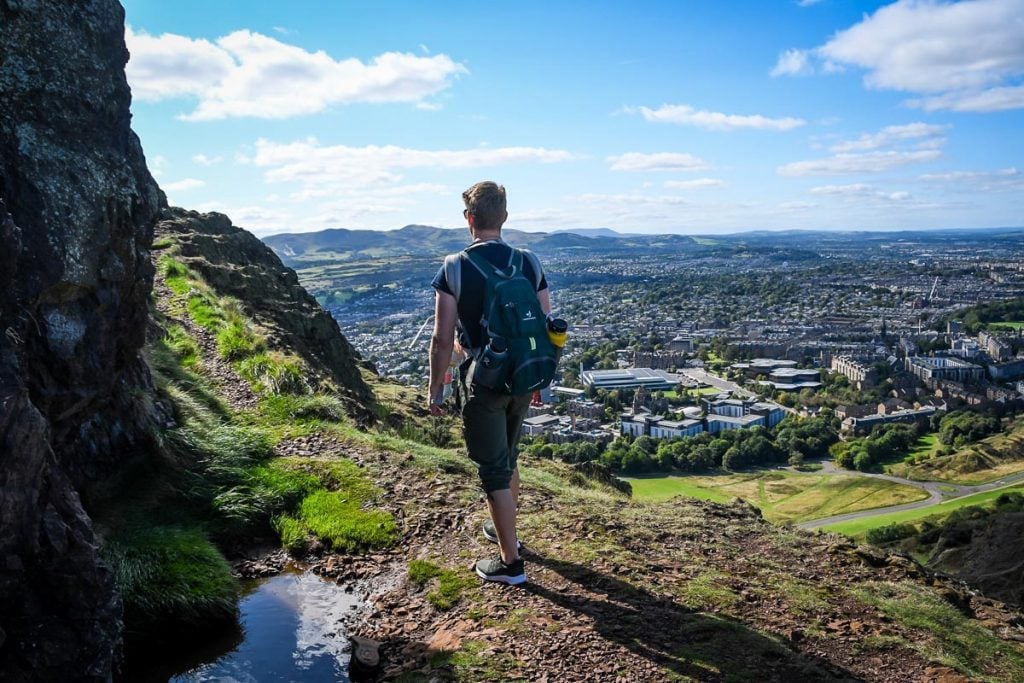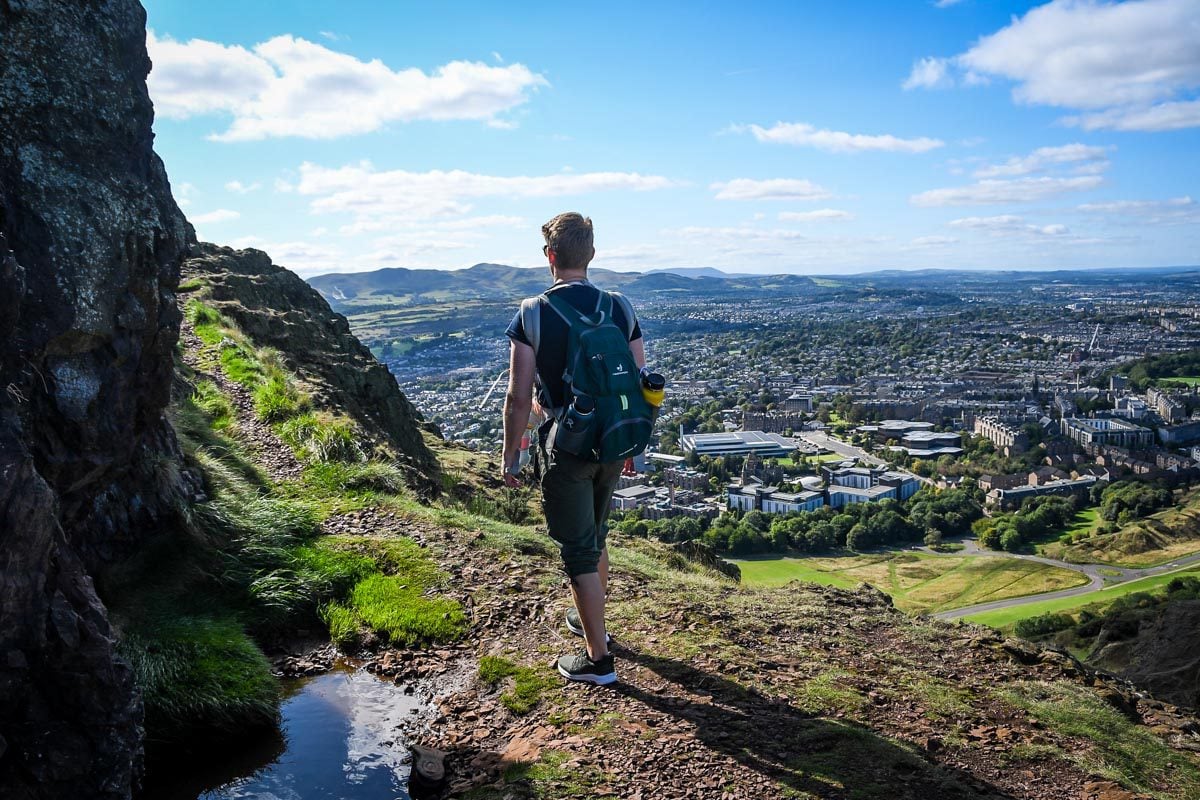 Distance: 2.4 miles (3.8 km)
Elevation gain: 853 feet (260m)
Difficulty: Moderate
Type: There are different loops you can take, as well as doing an out and back path
We have a complete guide to hiking Arthur's Seat in Edinburgh, including all the information you need to plan your hike.
What time of day is best to hike to Arthur's Seat?
Any time is good! Some people love coming up here at sunset to witness the sky change colors over the city. Personally, we'd recommend hiking Calton Hill for sunset (#20 on this list), as it's a much shorter walk and won't require you to bring a headlamp for the return hike.
3. Cheers at Scotland's oldest pub (& play a historic game)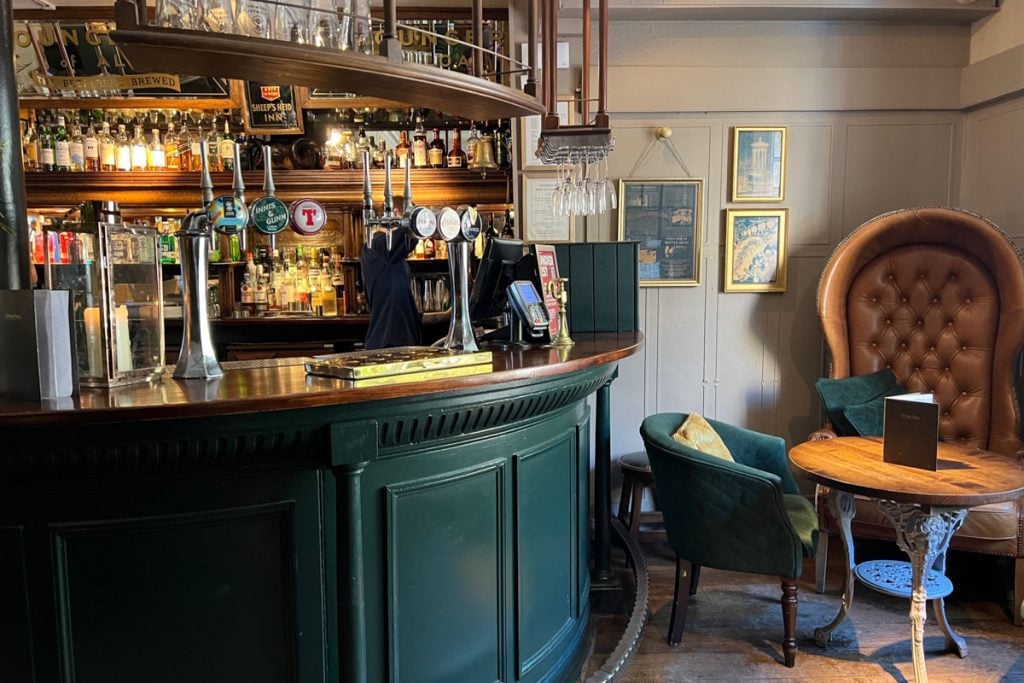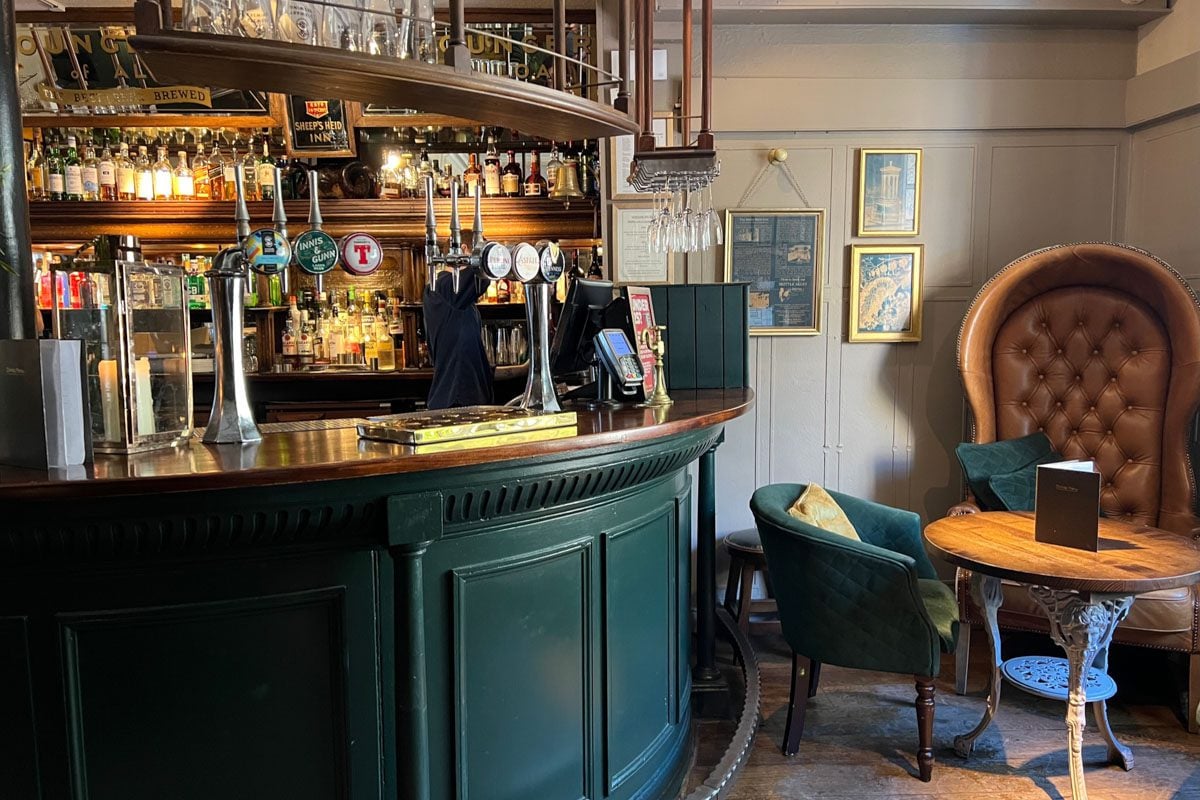 Nestled in a quaint village at the south end of Holyrood Park, the Sheep Heid Inn is said to be the oldest surviving pub in Scotland.
While in Edinburgh, make the trek to this pub for a pint and a glimpse into history!
Grab a pint or cocktail (I had two really great cocktails with gin), and make a toast to making it to Edinburgh's oldest pub.
Well, we think…
Sheep Heid Inn History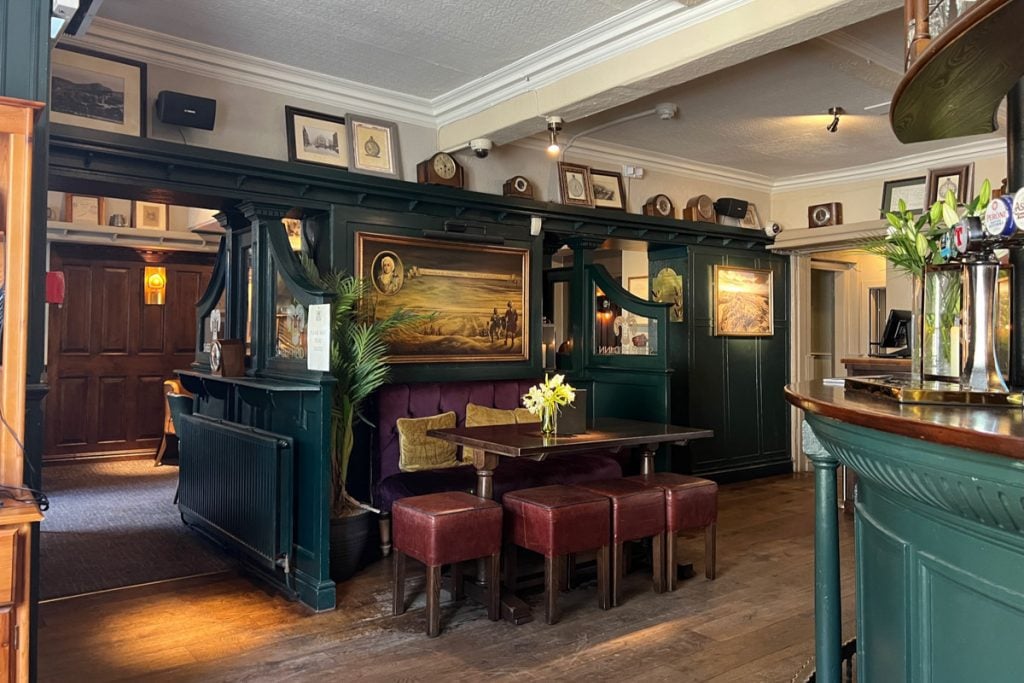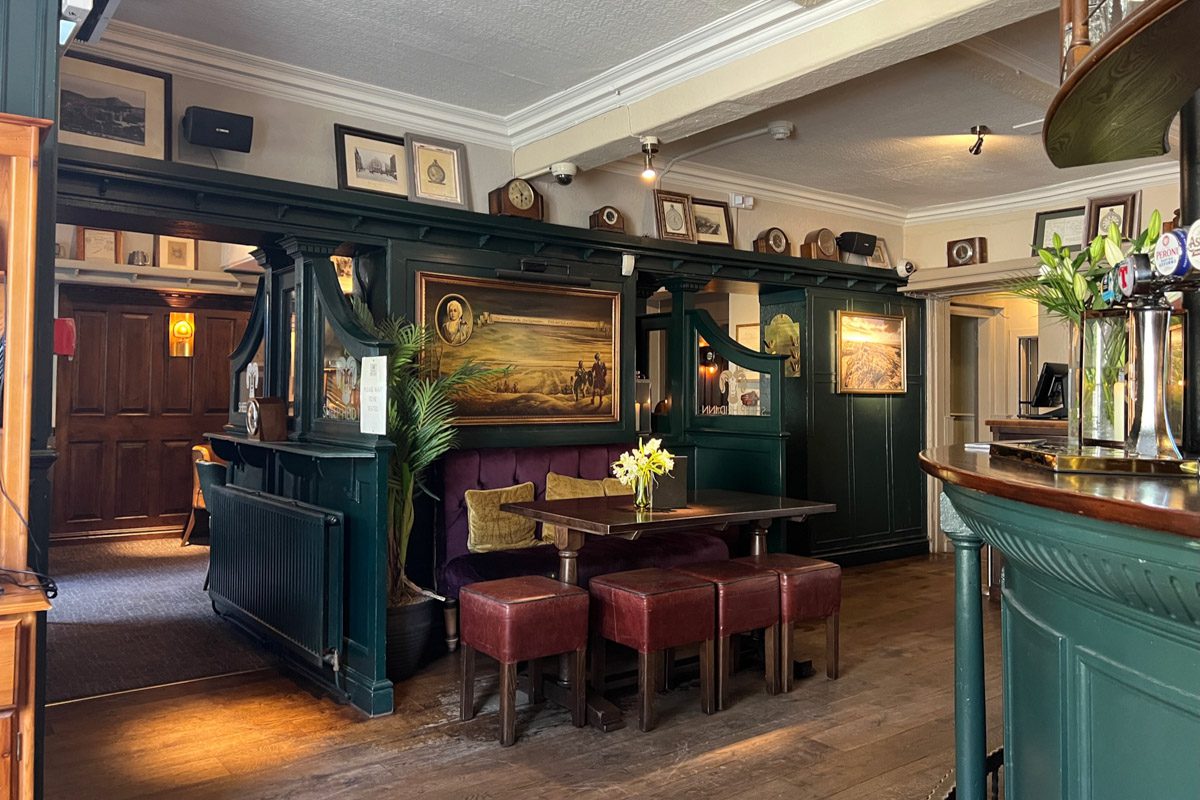 While there is some debate on this, it is said that there has been an inn on this site since 1360. If this is in fact correct, this would make it the oldest pub not only in Edinburgh, but in the whole of Scotland.
In addition to its longstanding history, it has drawn famous patrons over the years, including Mary, Queen of Scots and Queen Elizabeth II.
Now I'm about to burst your bubble… the core of the structure that you will actually visit has only been around since the 18th century, with even more recent additions and restorations.
Today, the Sheep Heid Inn has a thoughtfully curated blend of old and new. Historic relics and woodwork work alongside plush seating and stylish modern touches, giving the whole place an undeniable charm.
Play the historic game of Skittles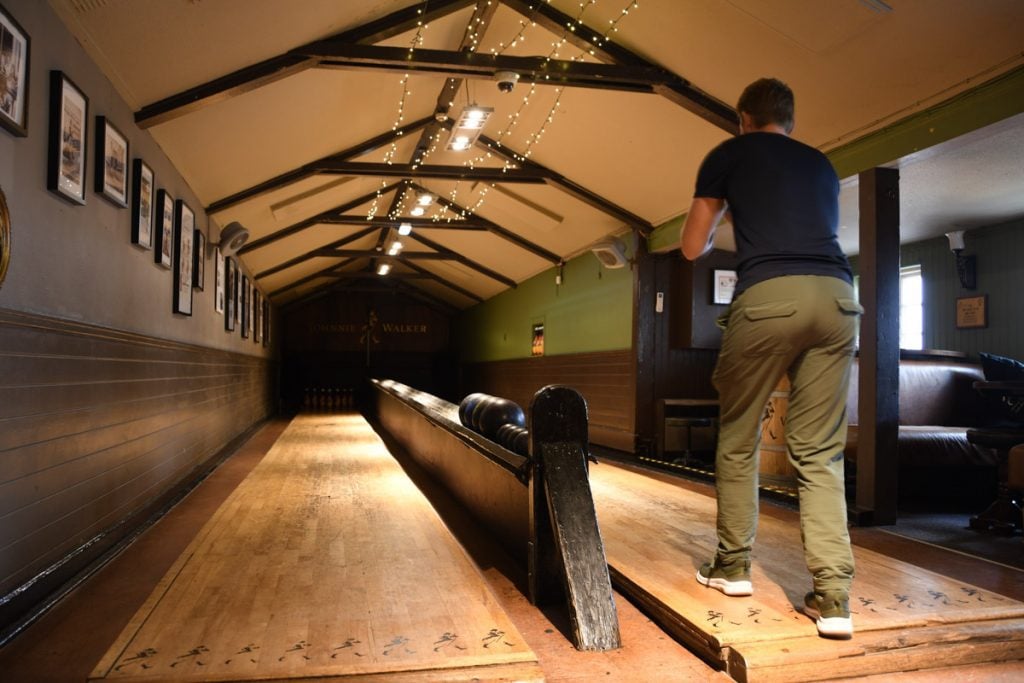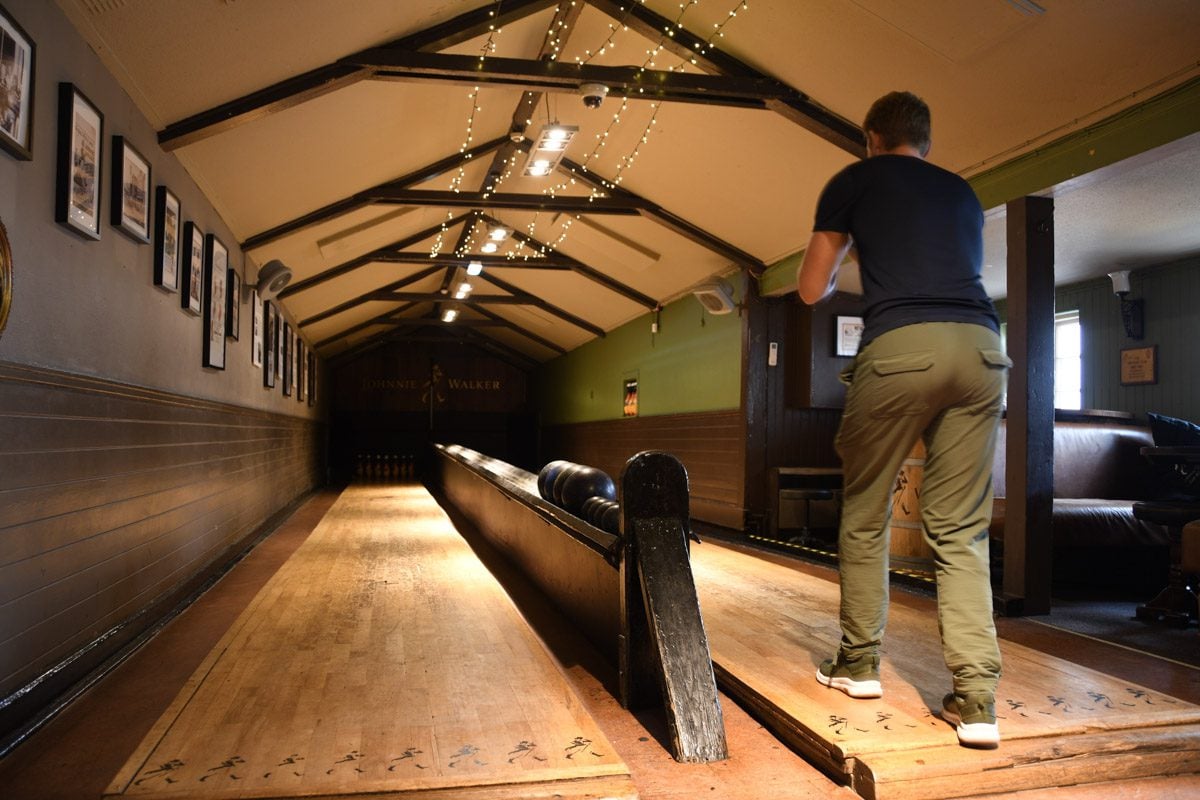 While at the Sheep Heid Inn, be sure to check out the skittles alley, which is located in the back of the restaurant and is arguably the most unique feature of this establishment.
Similar to bowling, this alley has two lanes where players roll a ball (much smaller than a bowling ball) to knock down a set of pins. There's even a set of rules on the wall, so you can play the game as it was intended.
Make a bet with your travel companion, and the loser can buy the next round of drinks!
While you're in the skittles alley, be sure to check out the old photographs on the wall of people playing this game in centuries past. It's pretty cool knowing you're standing where they stood all those years ago.
Do it yourself: You can make reservations for the skittles alley here, which costs £20 per hour for up to 6 guests. Alternatively, you can show up and see if it's available. We asked the bartender, and there was nobody using it so he told us to head back there and play. He didn't charge us to play since it was empty.
Transportation to and from the Sheep Heid Inn
This historic inn is quite a trek from the city center (about a 50-minute walk each way!), but in our opinion is worth the effort getting there.
If you're not in the mood to walk, there are other options:
Uber: From the city center, you should be able to get an Uber to the Sheep Heid Inn. However, the return trip is a different story. Since it is located in a very small village outside of town, Ubers can be very hard to find. We learned this the hard way!
Bus: Taking a bus will be the cheapest option (other than walking).
Taxi: You can have the host at the Sheep Heid Inn call you a taxi to get you to your next destination.
Our advice: Visit the Sheep Heid Inn after hiking Arthur's Seat
If you don't mind a nice walk, we'd recommend visiting this pub after completing the hike to Arthur's Seat (#3 on this list), as they are in the same general(ish) area of the city. Plus, grabbing a pint makes a great reward after completing your hike!
Good to know: It is a 25-minute walk from the bottom of Arthur's Seat to the Sheep's Heid Inn. You will not want to return down the mountain the same way you climbed up. Instead, you'll want to take the trail to the southwest and end near the Innocent Railway Tunnel, as this will be the quickest way to get to the pub.
4. Check out stunning Victoria Street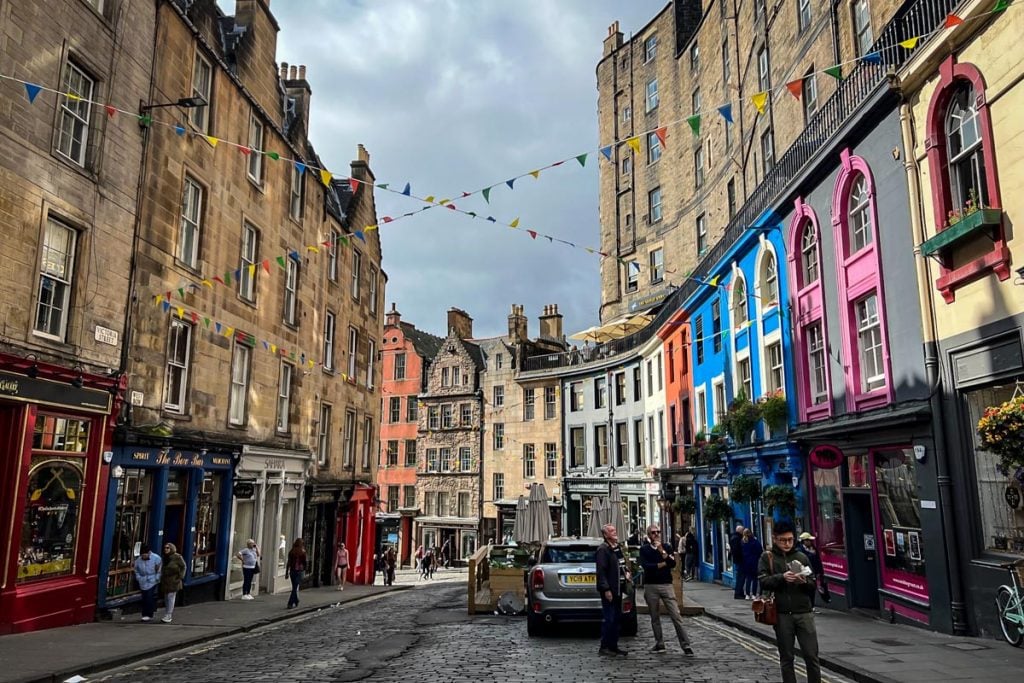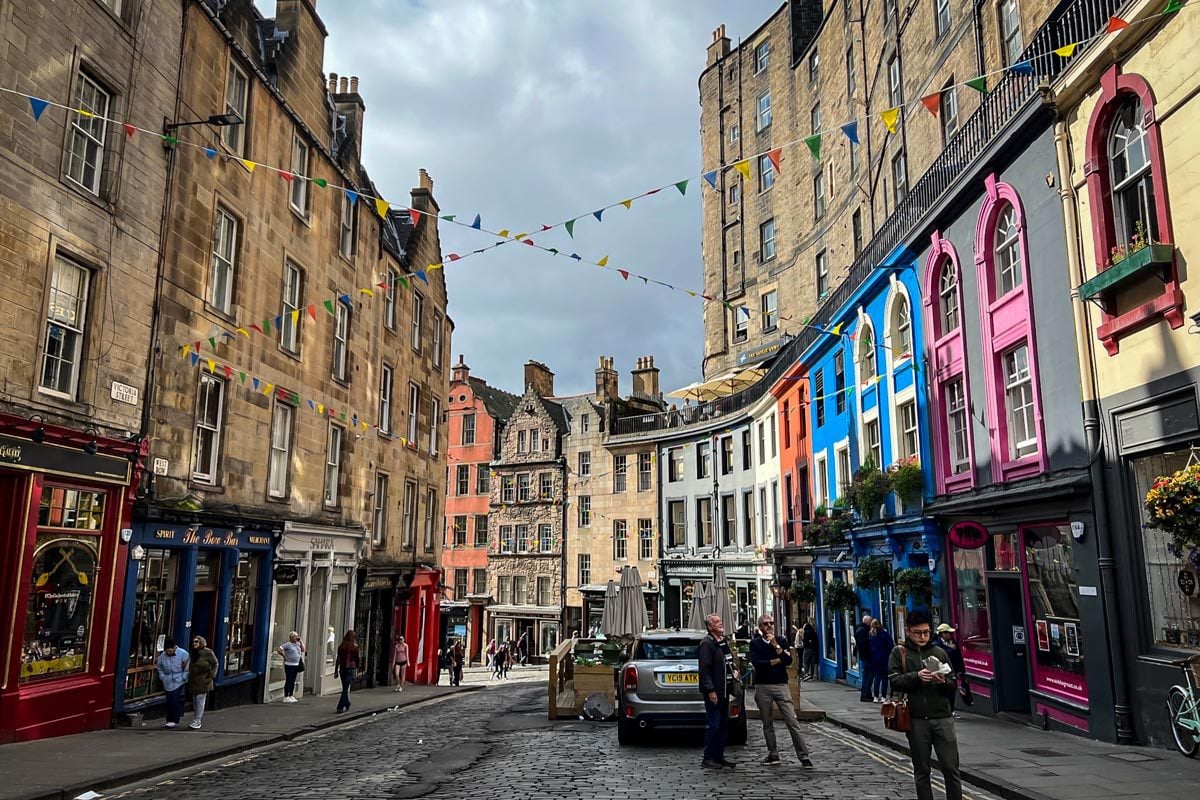 There are few places in Edinburgh more iconic and picturesque than Victoria Street.
With a gentle slope and curve, photographers love this little corner of the city, and it's easy to see why.
Colorful shop fronts represent all colors of the rainbow, from cheery orange to pastel pink to eye-popping blue. Overhead, brightly colored flags sometimes hang, billowing in the breeze.
Postcard perfection.
And as diverse as the color of their facades, a variety of businesses occupy these spaces. Pop into a cheesemonger selling artisan goods, browse an independent bookstore, grab a pint in a cozy pub, and shop for souvenirs in a wizard-themed gift store.
Speaking of wizards, it is rumored that J.K. Rowling gleaned inspiration from Harry Potter's magical Diagon Alley from this very street. Even though Rowling denies the connection, Potterheads will still want to wander this street and imagine they're collecting supplies for an upcoming year at Hogwarts.
Oh, and don't think you need to be a Harry Potter fan to appreciate Victoria Street. It is truly one of the most beautiful (and most photographed) places in Edinburgh.
Feeling hungry?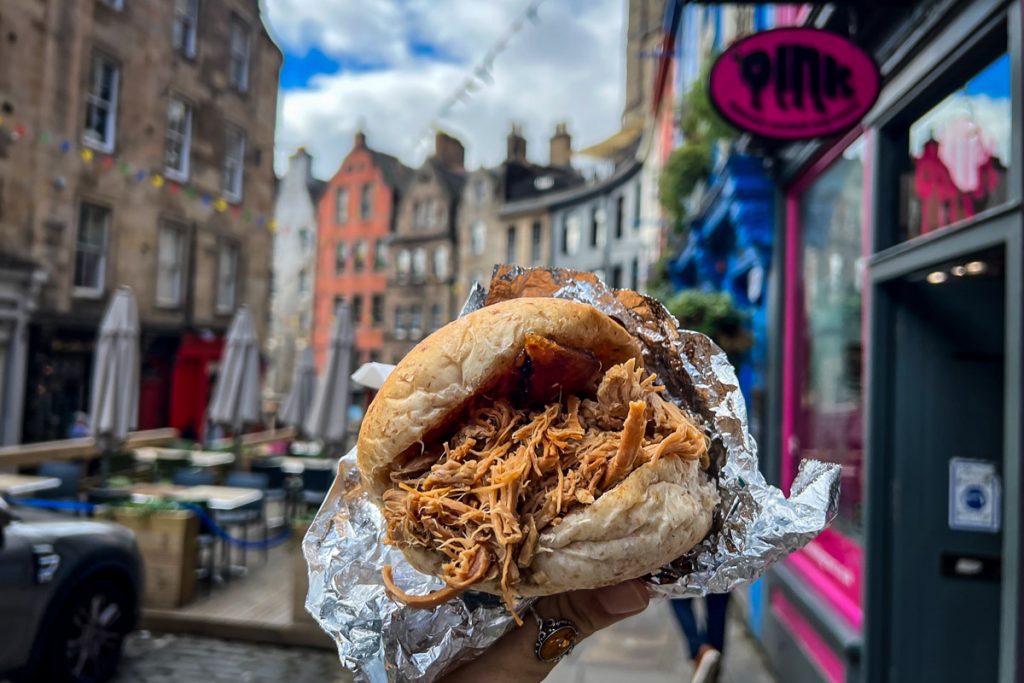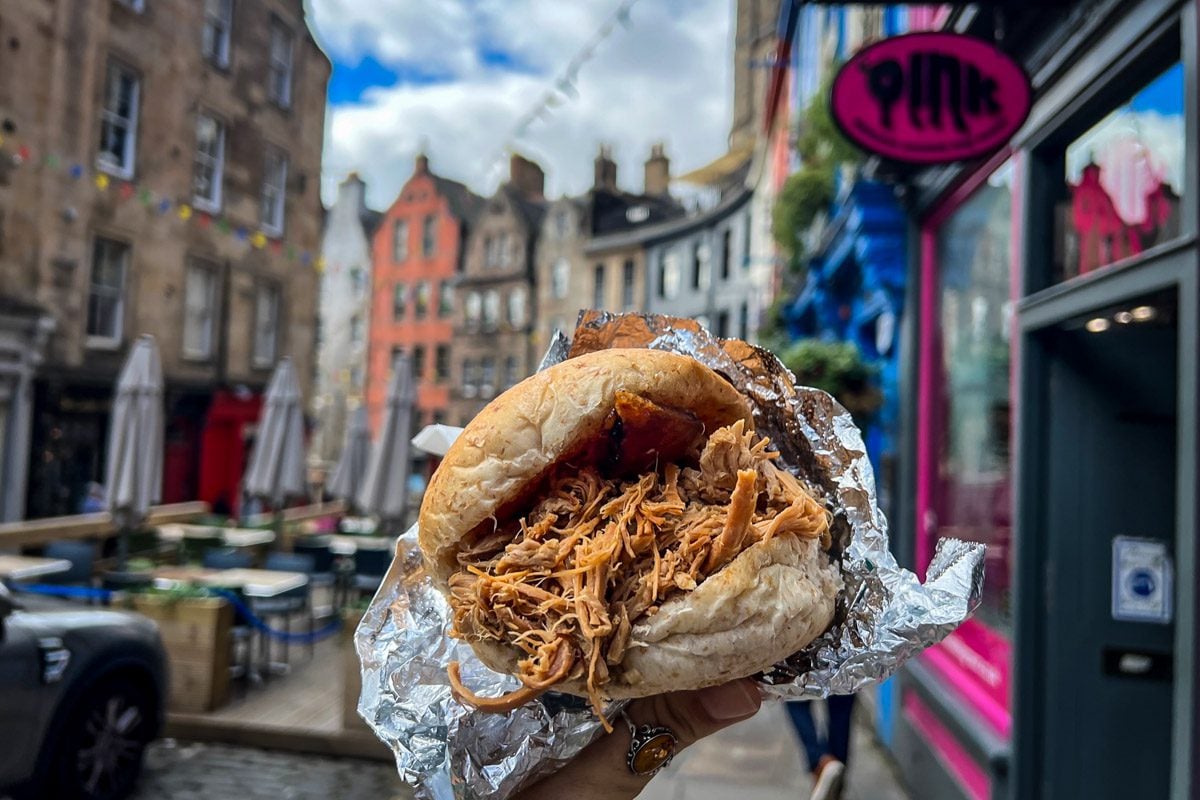 Quick bite
While you're on Victoria Street, grab a famous hog roast sandwich at Oink. It is quick, cheap and sure to satisfy the appetite you've worked up while wandering the city. Their menu is pretty simple: Choose the size, the bread, one topping and one sauce.
Our recommendations: pulled pork + haggis + homemade chili jam or pulled pork + sage & onion stuffing + apple. We split one of each, and they were both great.
Sit-down meals
If you're looking for more of a sit-down meal, there are plenty more great options on Victoria Street:
Located on the west end of the sprawling grassy park known as The Meadows, A Wee Taste makes a perfect place to stop for an afternoon nosh.
Self-described as a "wine and grazing board bar", you can count me in!
Choose from shareable cheese, meat, and dessert platters… or maybe a combination of all of the above! They also offer small bites, like olives, Scotch eggs, and baked camembert.
And you can't forget a glass of vino! With a selection of wines from around the world, as well as gin and whiskey, you'll have no problem finding the perfect pairing for your "grazing board".
5. Wander the streets of Dean Village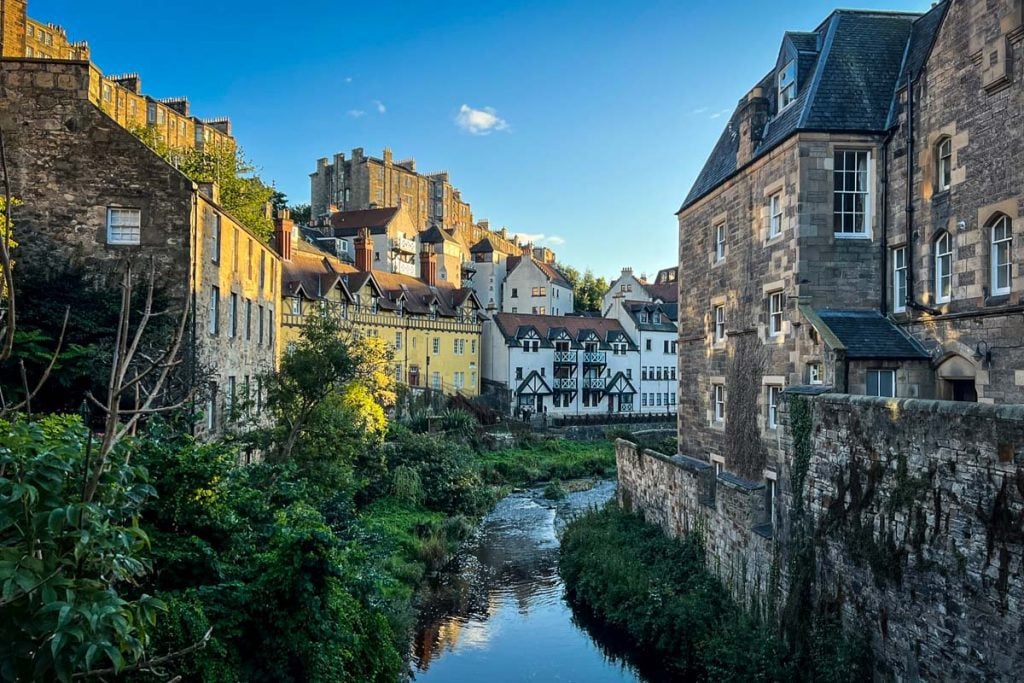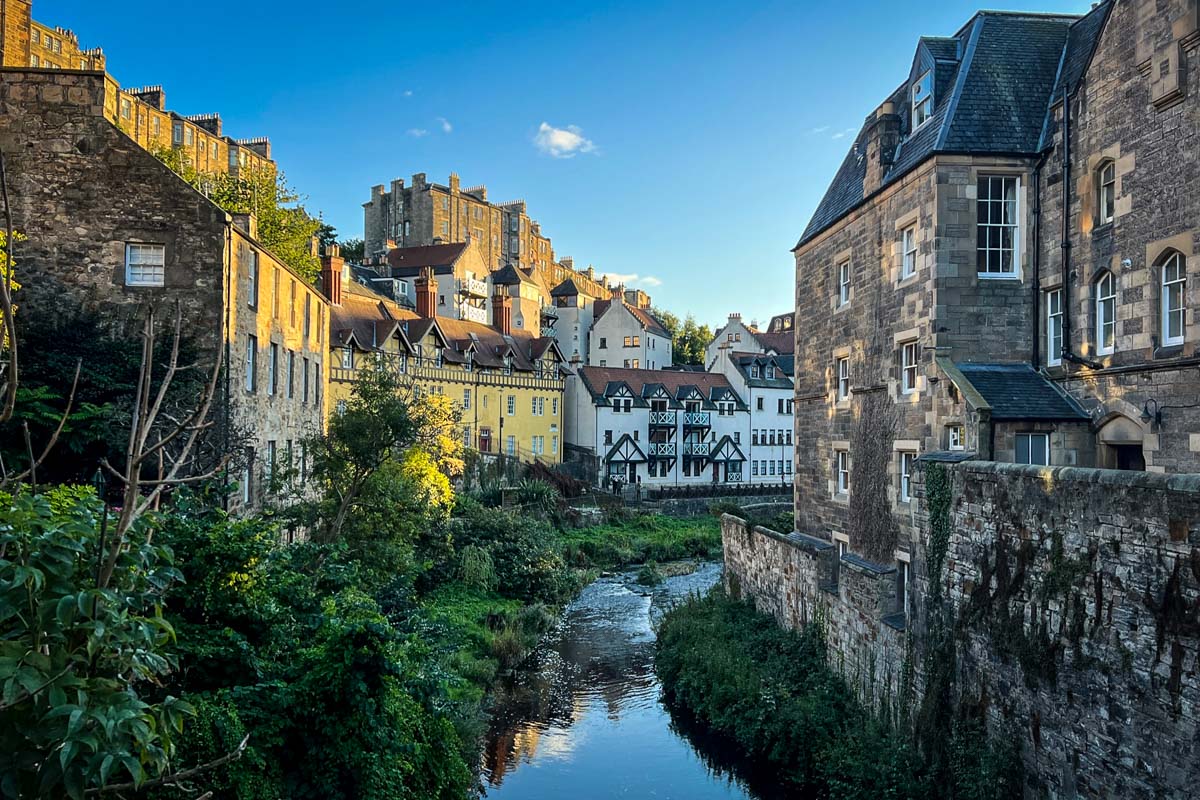 Nestled along the banks of the River Leith just northwest of the city center, Dean Village is a quaint neighborhood that feels a world away from the bustling Royal Mile.
Exploring the cobblestone streets of this bucolic village will make you feel as if you've been transported into centuries past.
Do it yourself
We created a guide to visiting Dean Village so you know exactly how to get there and what to expect.
6. Get fancy at afternoon tea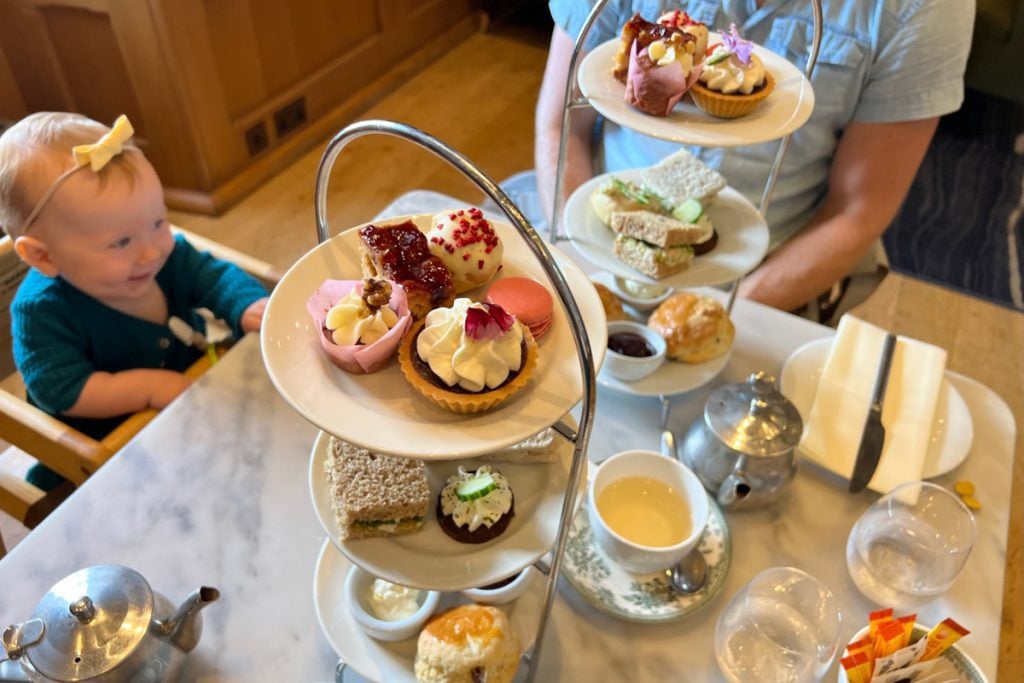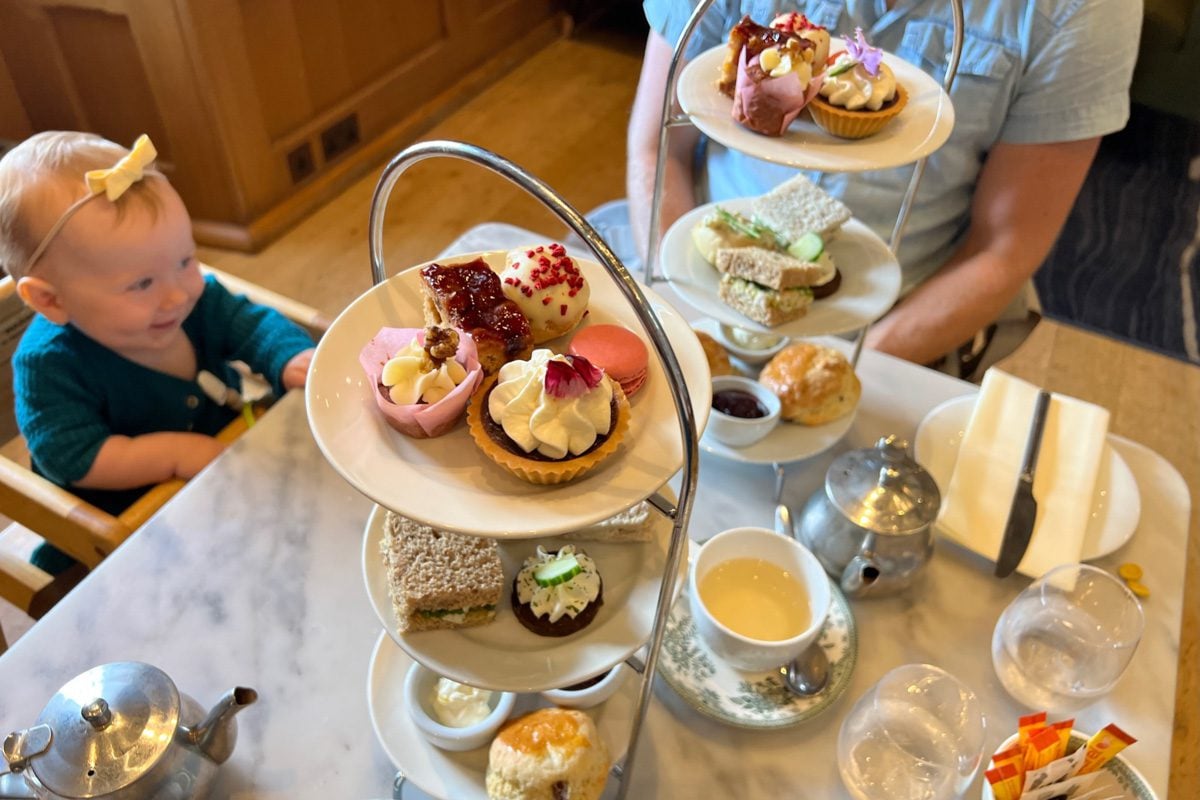 Afternoon tea is so much more than just a pot of steaming British Breakfast.
Enjoy your own 3-tiered feast of tiny delights:
Scones with clotted cream and jam. Of course.
Savory finger sandwiches of all varieties.
Decadent desserts that look too pretty to eat. Almost.
Around the UK, afternoon tea is a thing; and like I said, it's much more than just tea.
Do yourself a favor and make a reservation during your time in Edinburgh.
Our recommendation
Boasting the self-proclaimed "best afternoon tea in Edinburgh", our top pick for afternoon tea would be at The Colonnades in the Signet Library. It's a sophisticated venue offering unique and elevated flavors. It's also widely popular, and for good reason, so you'll have to make your reservation well in advance.
There are many places around the city for afternoon tea, so we created a guide to help you choose the best place to book your afternoon tea in Edinburgh.
Read the descriptions, compare prices and availability (many of these places book out in advance) before choosing.
7. See sunset at Calton Hill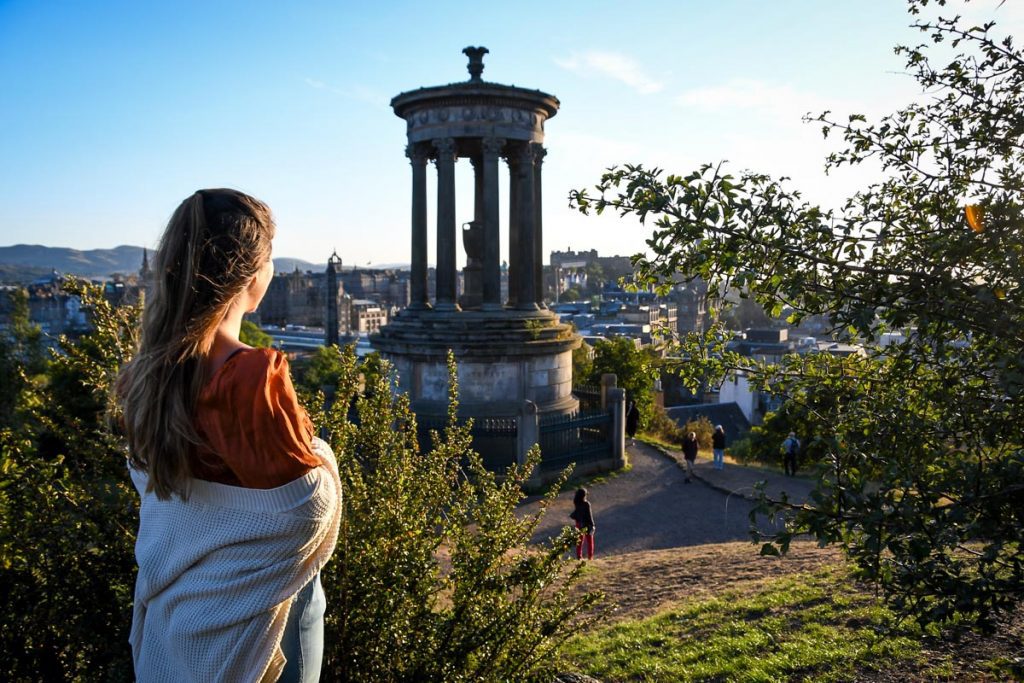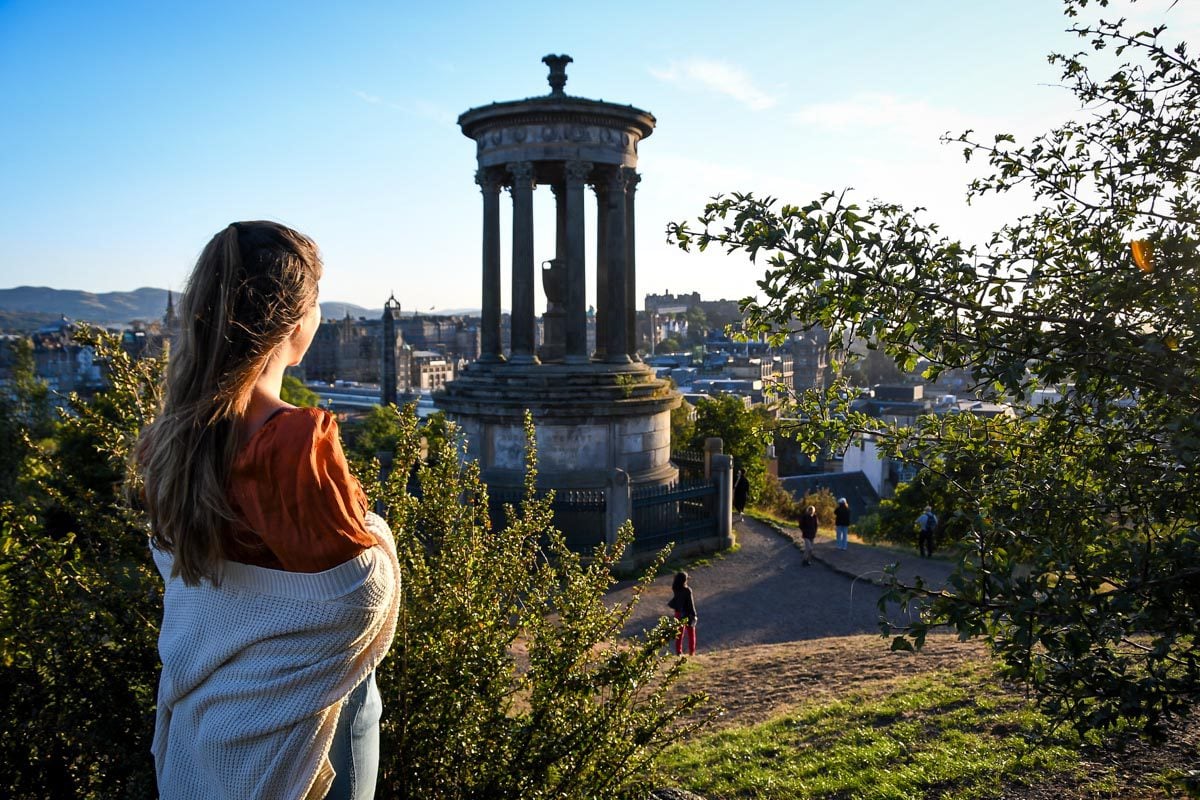 If you get one view of Edinburgh, let it be this one. Calton Hill is the spot to see the city from.
Calton Hill is an extinct volcano that straddles Old Town and New Town, and it offers unrivaled panoramic views of Edinburgh. Getting there requires just a quick and easy 5-minute walk up a short staircase.
We walked up here on our first morning in Edinburgh, and I got goosebumps at the view. From this vantage point, you can see the city, but you still feel like you're in it, if that makes sense.
I loved the view so much that we came back for a second time because I just had to see what it looked like at sunset. Admittedly, we came just a bit too late for the best lighting, but if you get up to this viewpoint for "golden hour", you'll have prime conditions.
By the way: The acropolis structure that sits on the top of the hill and looks as if it belongs in Greece instead of Edinburgh is the unfinished National Monument of Scotland.
8. Go on a free walking tour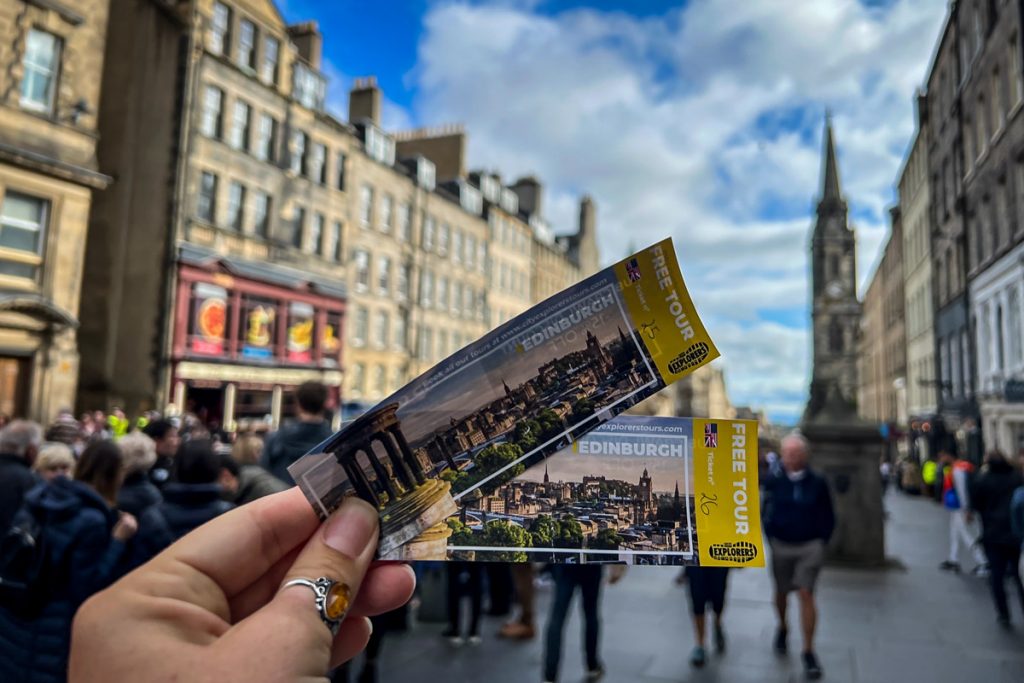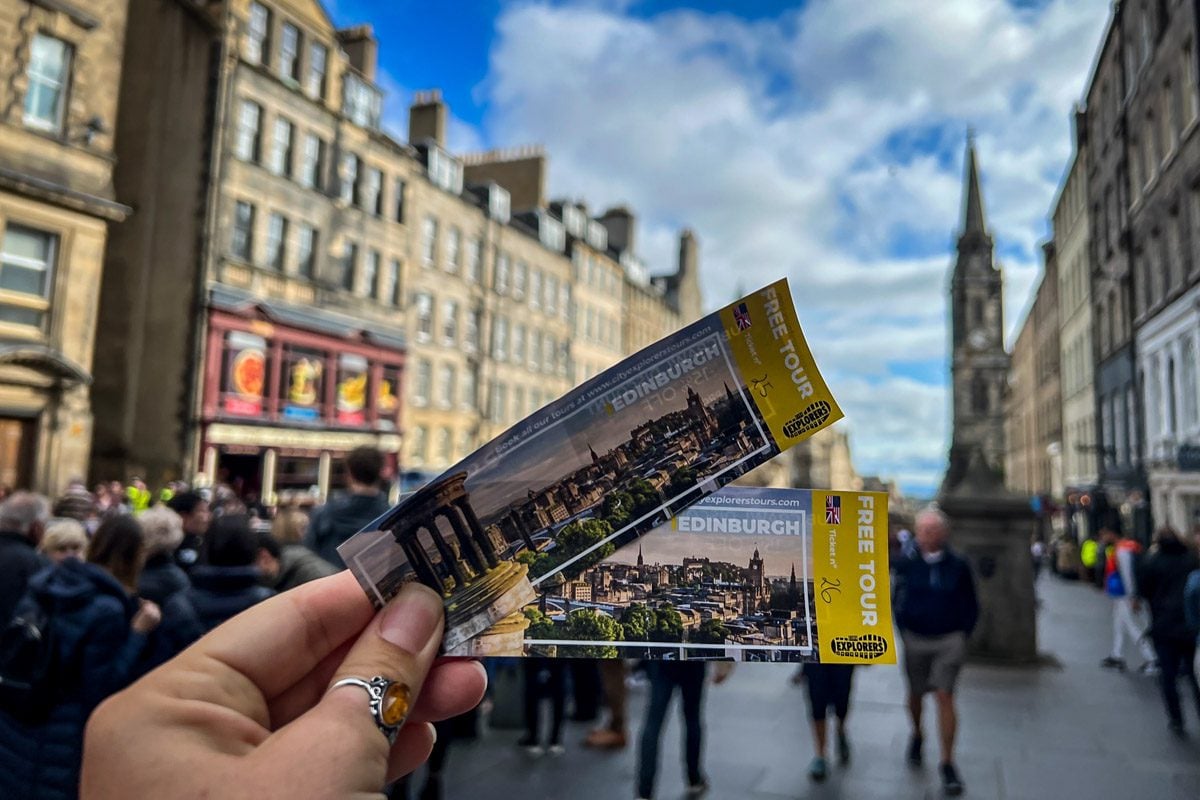 We usually plan on taking a free walking tour on our first day in a new city. It is the best way to orient yourself and learn insider tips, all on a budget.
We've taken dozens of free walking tours all around the world (too many to count at this point!), and the tour in Edinburgh stands out as one of the best. Our guide, Groeme, is an Edinburgh native and did a fabulous job of introducing our large group to his hometown.
By the end of this tour, we had seen many of the major Old Town Edinburgh attractions, learned a bit about the history and gleaned some local advice for how to spend the rest of our time in Edinburgh.
The tour is free to book, but you must make a reservation in advance.
Important note on Free Walking Tours: This is a popular model for walking tours all around the world, and they all operate in the same way: While you don't pay anything to book your spot on a tour, the guides work for tips. It is expected that you pay what you think the tour is worth. Keep this in mind as you're planning.
9. Explore Edinburgh Castle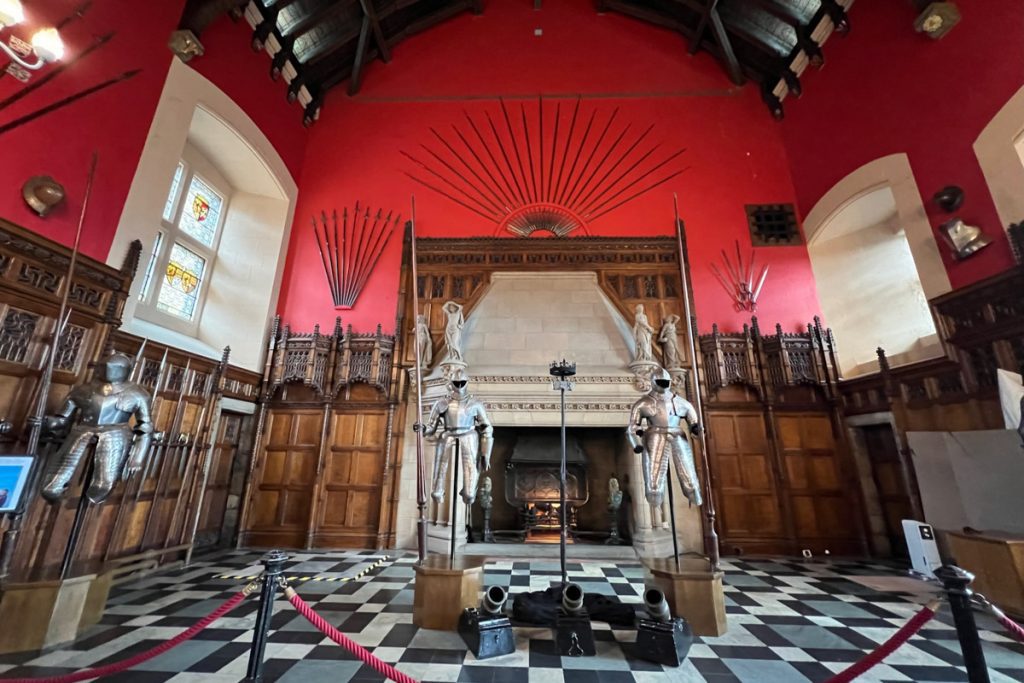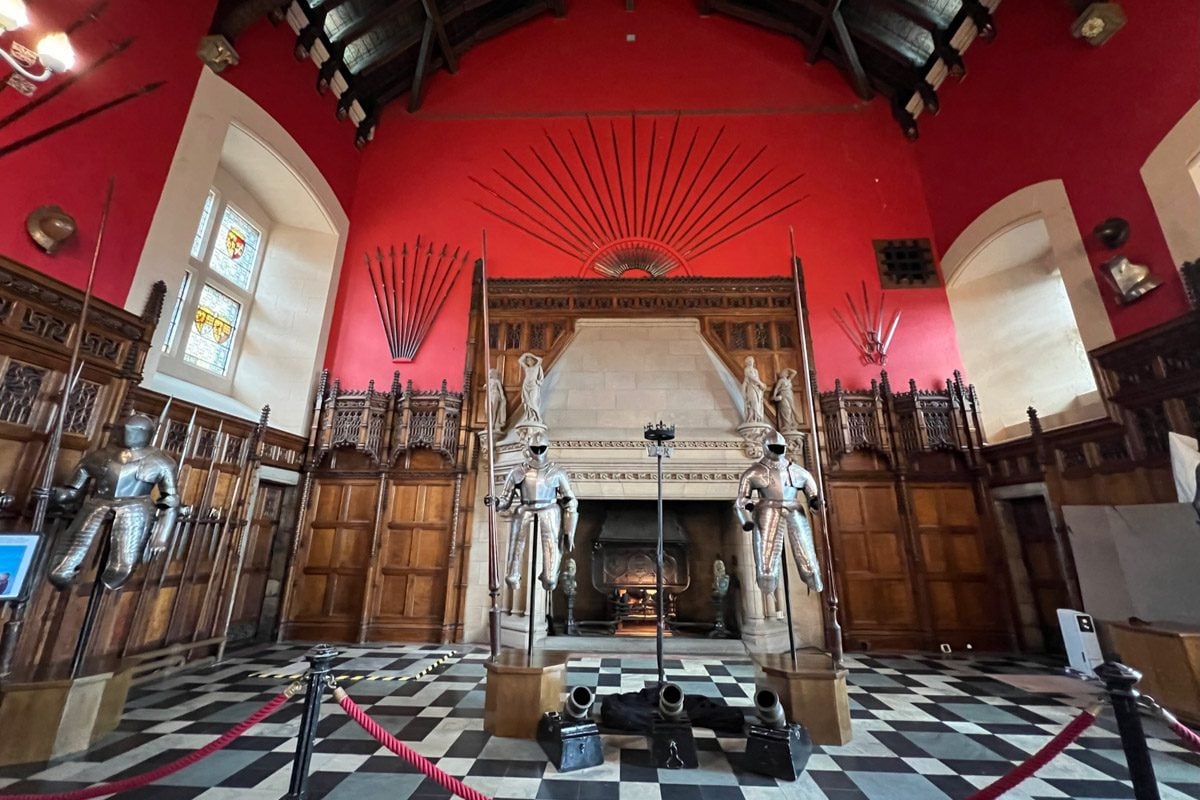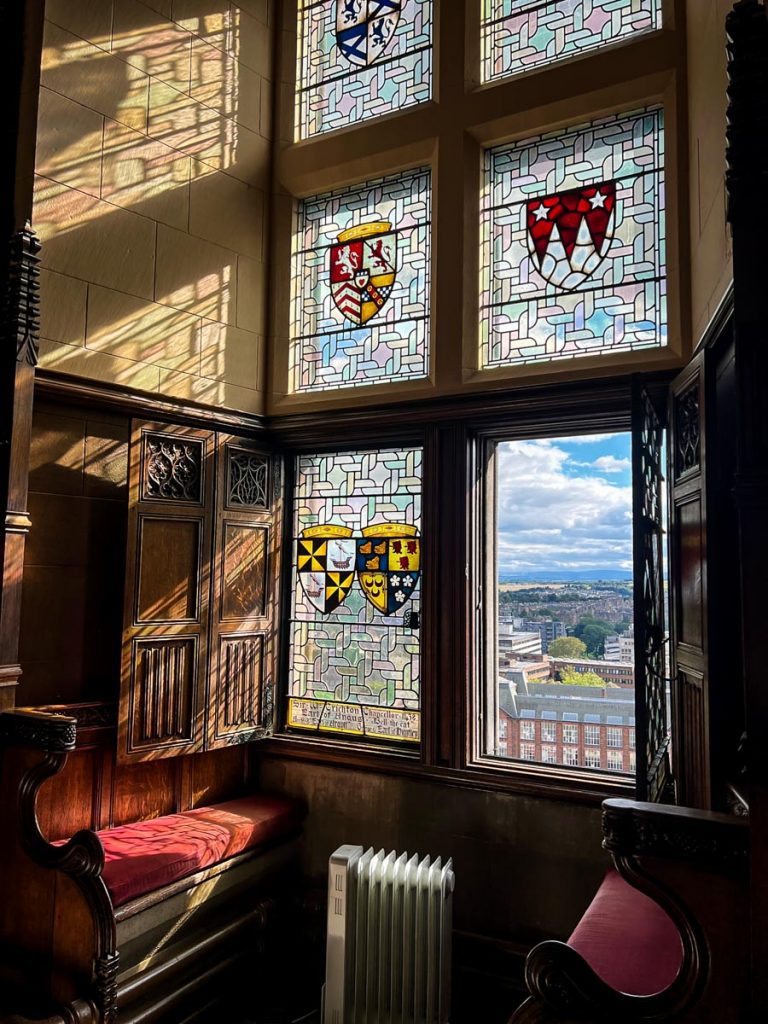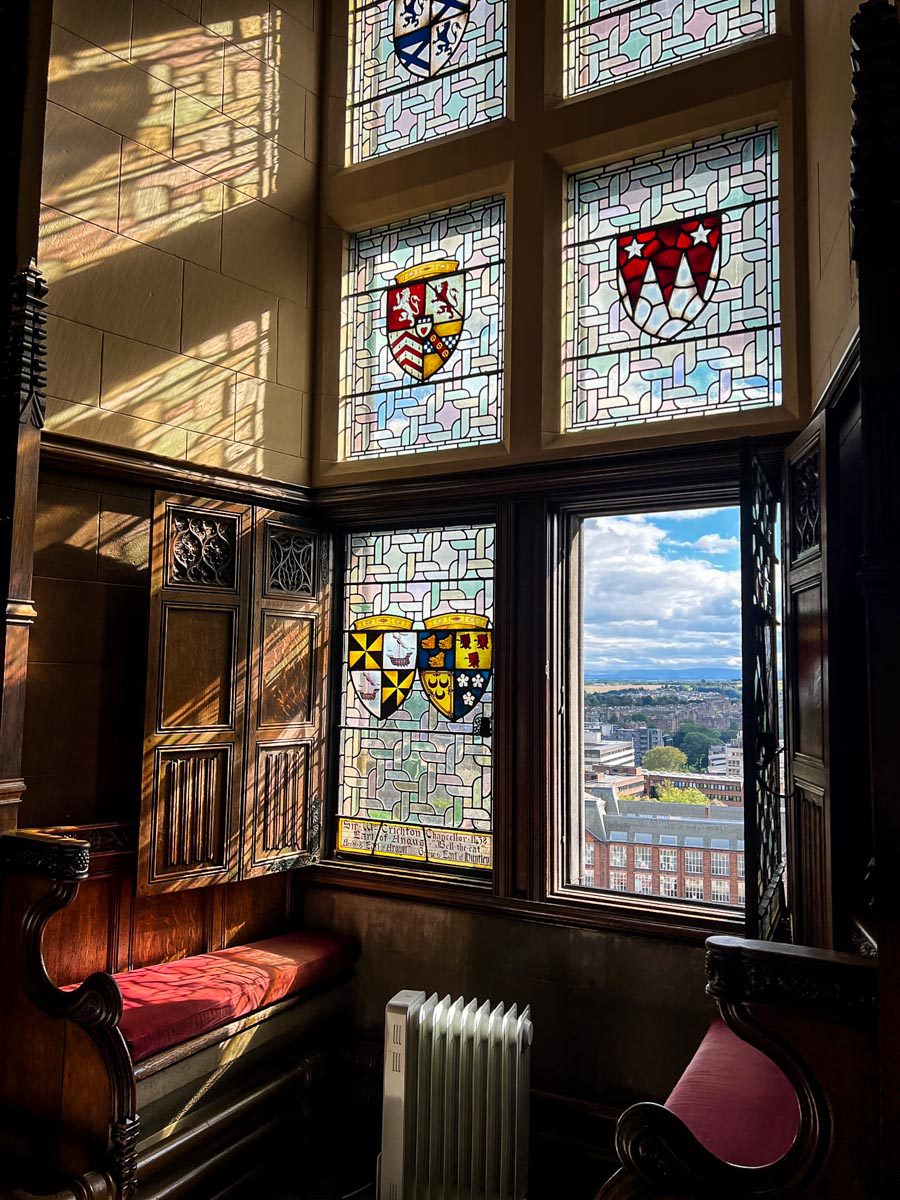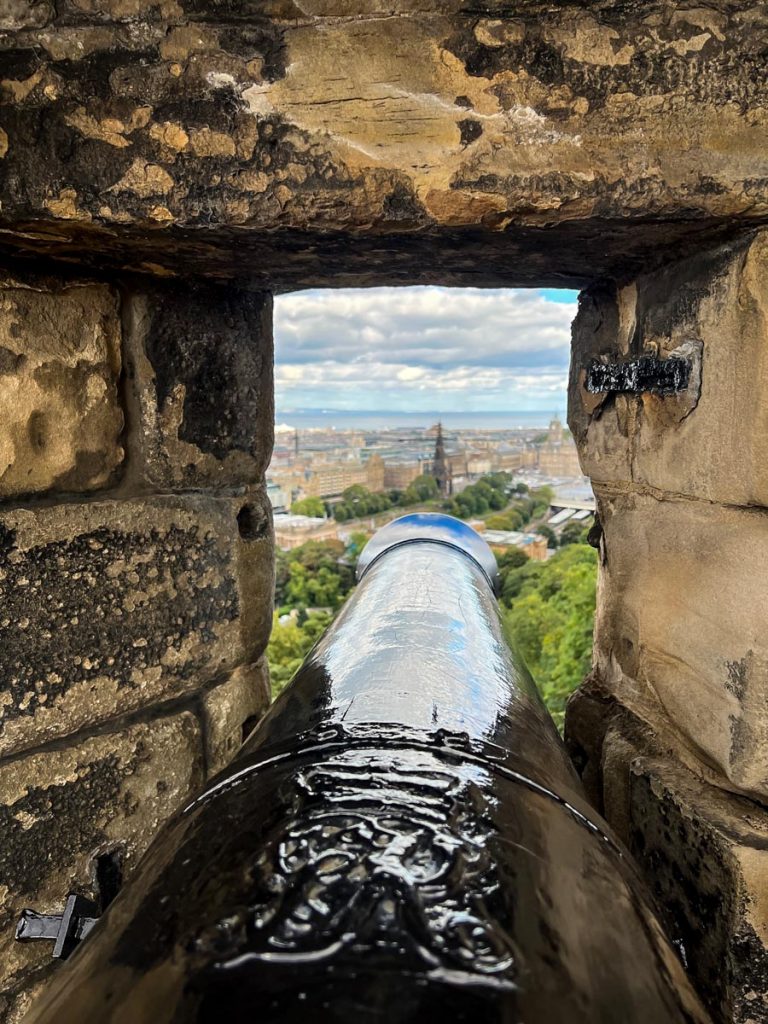 Touring Edinburgh Castle is one of the top attractions in the city and it is likely the most famous castle in Scotland.
On the grounds, be sure to stop inside St. Margaret's Chapel. While it's very small and not necessarily the most impressive building, at 900 years old, it is the oldest structure in Edinburgh.
You can also tour the exhibits of Prisoners of War and the Great Hall, as well as many others.
Insider Tip: We'd recommend getting an audio guide (£3.50) so you can explore the castle at your own pace but still soak in the information.
10. Get the best view of the Edinburgh Castle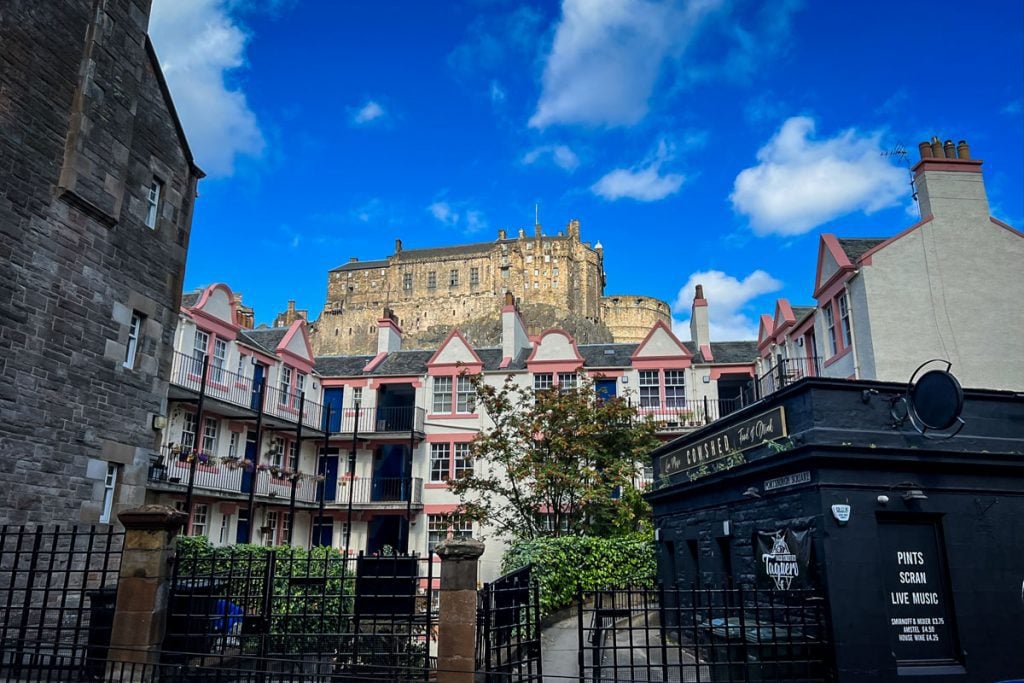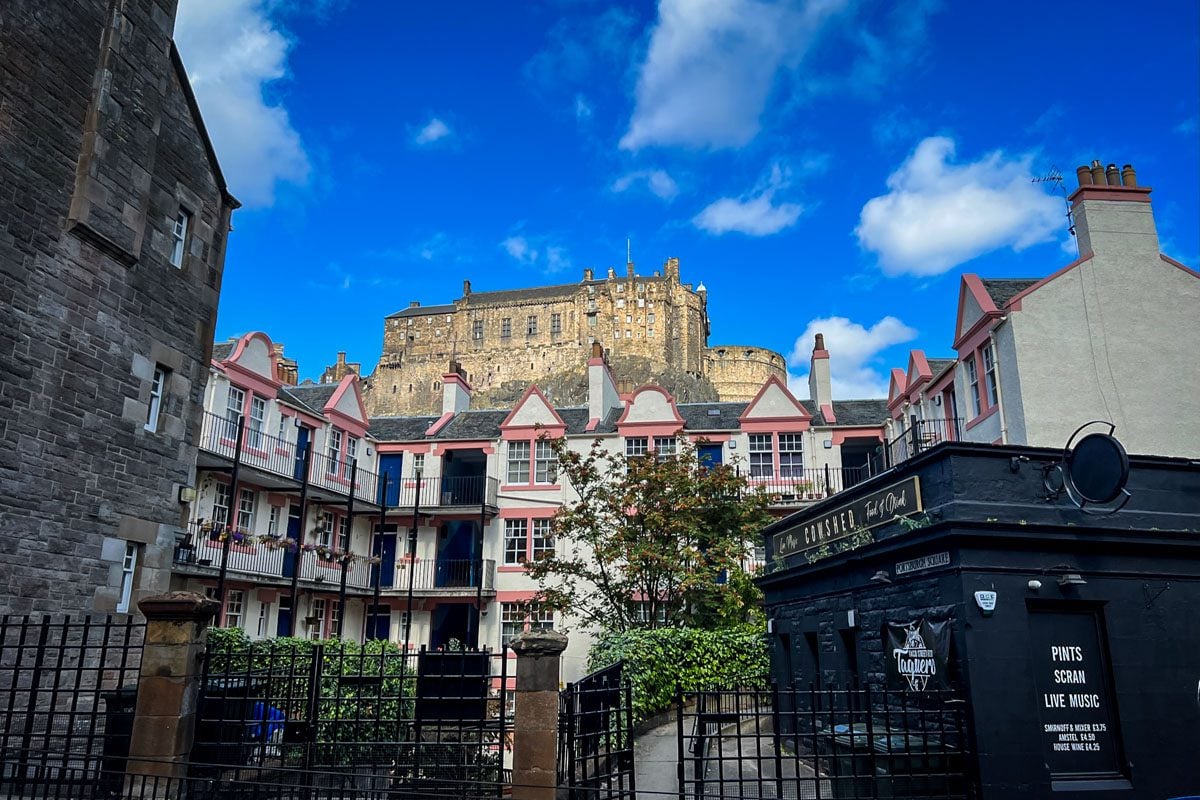 Visiting the castle is cool indeed, but the best views of the iconic Edinburgh Castle are from outside the castle grounds.
Whether you're a budding photographer or just like a pretty viewpoint, the three stops below should be on your list of must-visit places in Edinburgh.
Princes Street Gardens (Ross Fountain)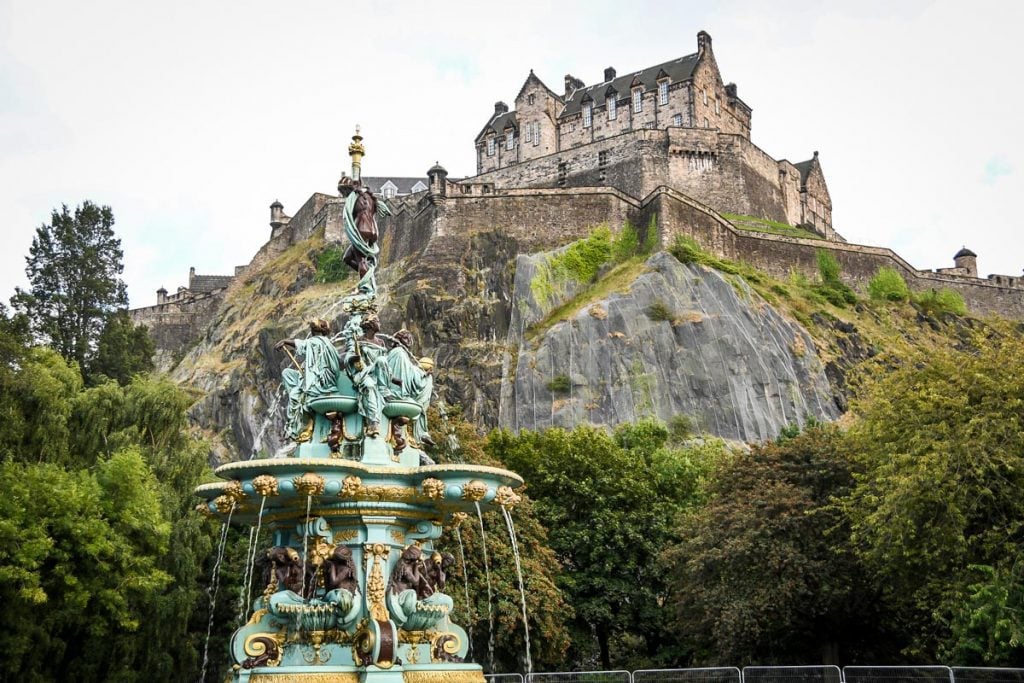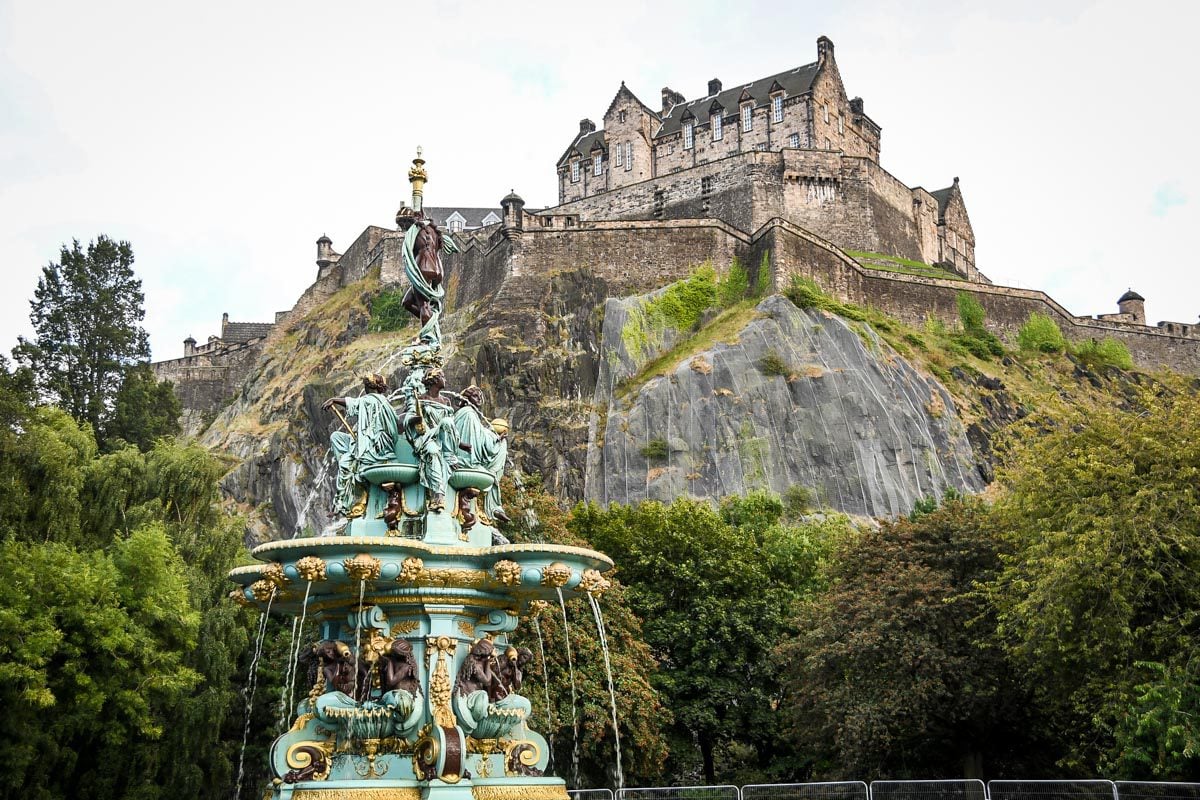 For a real glimpse of how the castle towers over everything else in town, head to Princes Street Gardens where you'll get a cool perspective looking up at the castle from down below.
Photo tip: You can play around with different compositions, as there are trees and fountains that you can photograph with the castle looming behind. My personal favorite view of the castle from Princes Street Gardens is from Ross Fountain.
Vennel
Perhaps the most iconic yet hidden vista, the Vennel viewpoint offers a unique view, with a narrow staircase in the foreground and the castle towering in the back. This spot is stunning rain or shine!
Grassmarket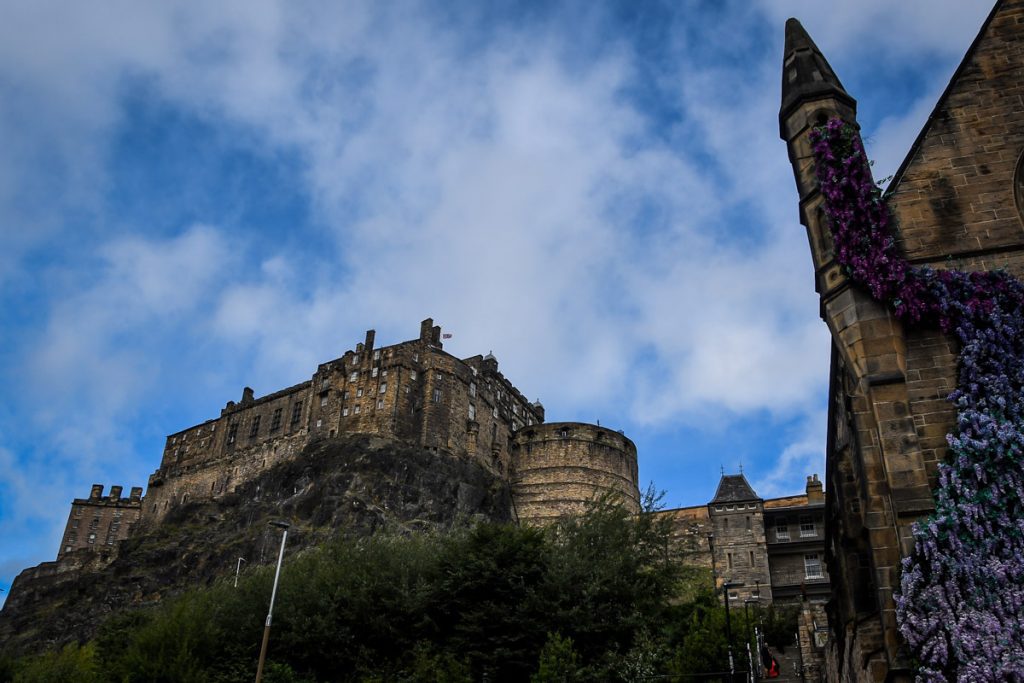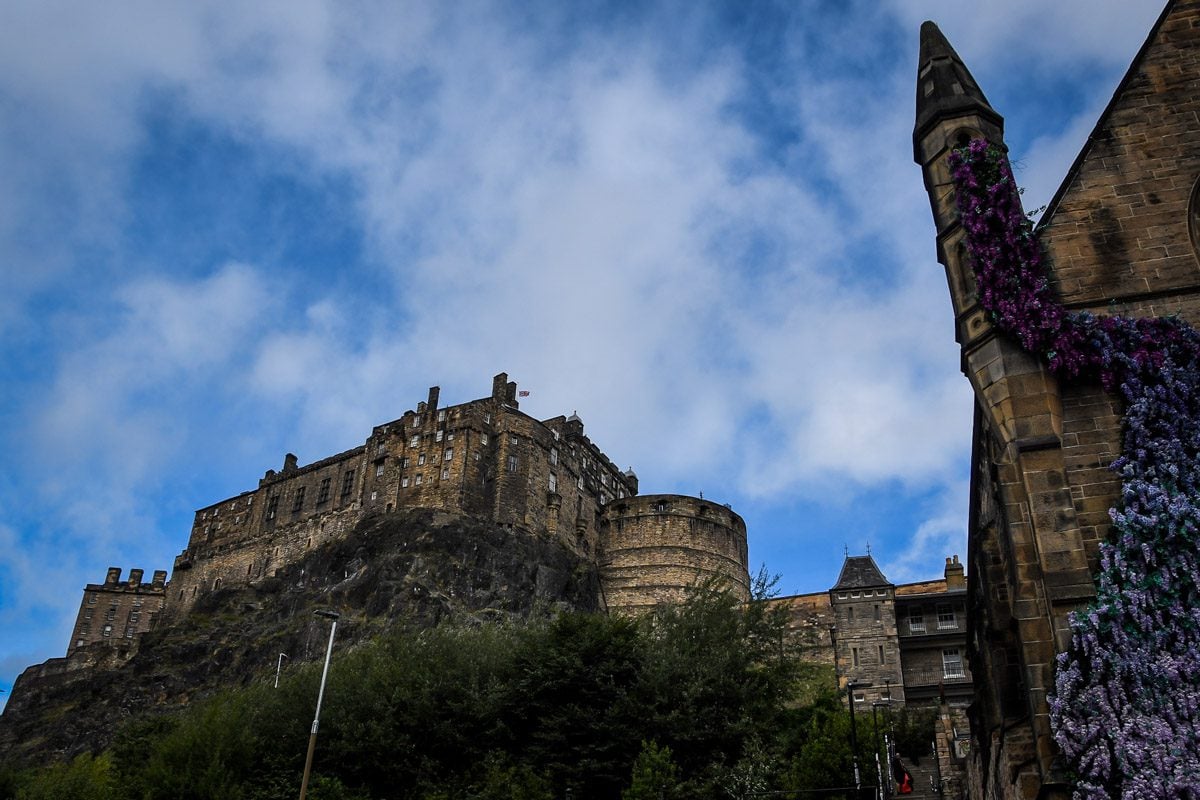 In the Grassmarket area, just in front of Cold Town House, look up and you'll see a lovely view of the castle.
11. Visit the Palace of Holyroodhouse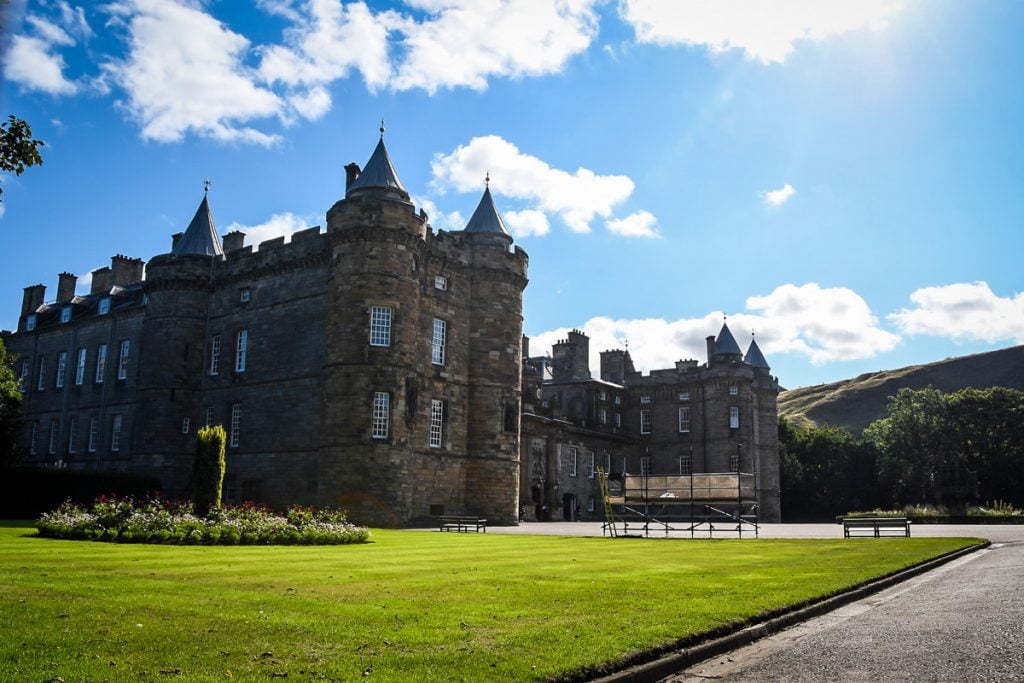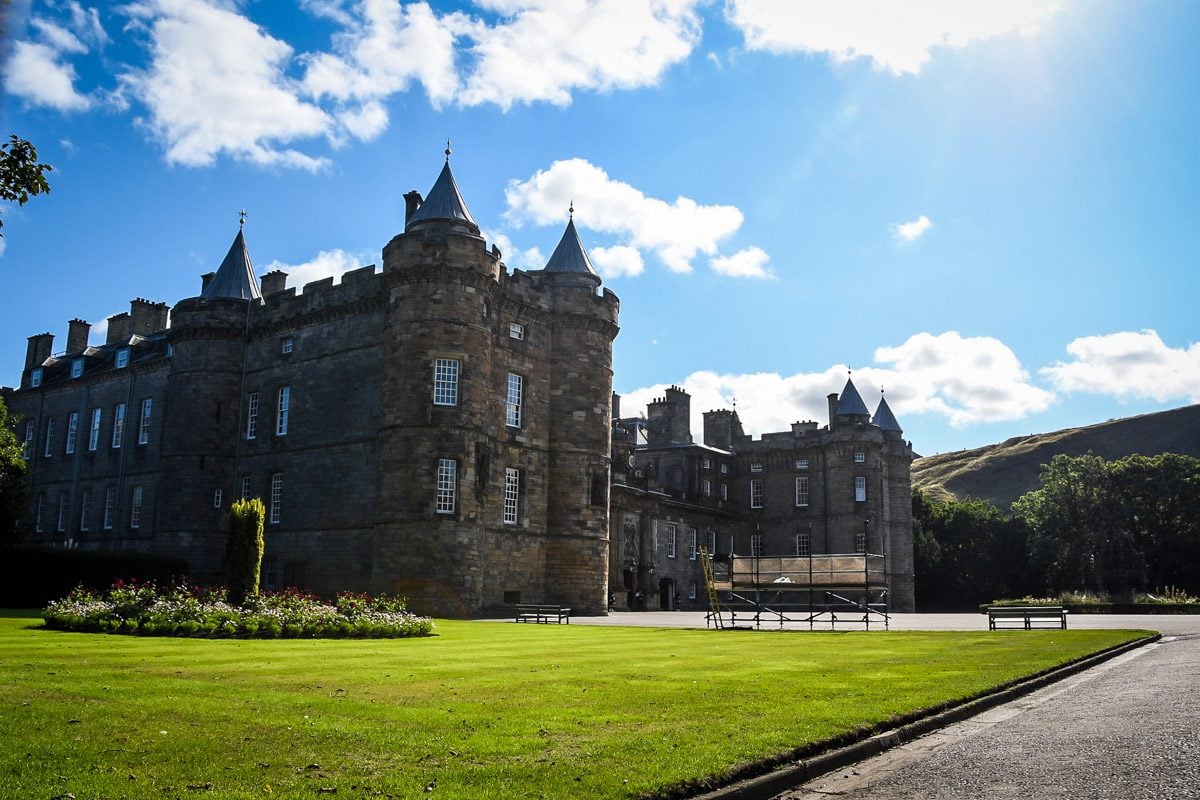 Located on the east end of the Royal Mile, Holyroodhouse is the King's official residence in Edinburgh. Visitors can explore inside the Royal family's Scottish residence, and see both history and modern Royal life at the same time.
Check ticket prices and make reservations here.
Holyrood or Edinburgh Castle?
If you only have time to see one, which should you choose? Well, it is entirely subjective, as they are quite different.
We were in Scotland during the Queen's funeral, and Holyrood Palace was closed indefinitely at the time. Since we were only able to visit Edinburgh Castle so we can't personally speak to both.
However, a friend of mine who studied abroad in Scotland put it this way:
Edinburgh Castle is best for history buffs, as it is mostly ruins and wartime exhibits.
Holyrood, on the other hand, is best for people who are interested in the Royal family and current goings-on, as it is a working palace where the Royals still spend time.
12. Wander the Royal Mile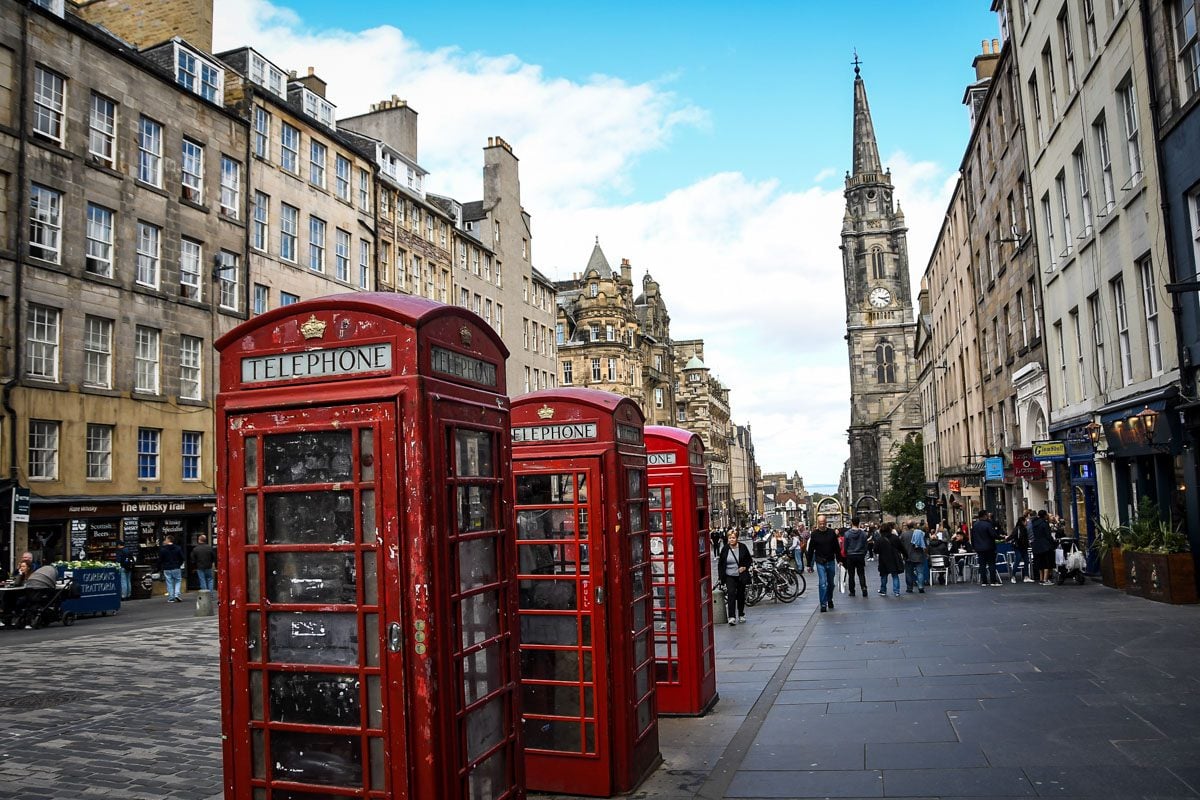 The Royal Mile refers to streets that lead from the Edinburgh Castle in the west of town to Holyrood Palace in the east.
The distance between the two landmarks is roughly 1.81km, a measurement that was once known as a "Scots mile". While it's a bit longer than what we know as a mile today, the name still sticks.
The Royal Mile is the most crowded part of Edinburgh, but for good reason.
Many of the city's most famous landmarks can be found along this stretch of road:
Edinburgh Castle
St. Giles Cathedral
Mary King's Close
Canongate
Museum of Edinburgh
Holyrood Palace
In addition to the iconic sights listed above, you'll find all sorts of other places to check out. Excellent restaurants as well as overly touristy eateries; and cute boutiques as well as cheap souvenir shops.
Even though it would take just 20 minutes to walk from one end to the other, you'll definitely want to spend a fair amount of time wandering the Royal Mile.
If it is your first time in Edinburgh, we'd recommend staying near this area, as it will put you in close proximity to many of the top things to see and do.
Our top hotel pick: This is the hotel we stayed at just off the Royal Mile and we couldn't recommend it more!
Fun Story: Our time in Edinburgh just happened to align with the Queen's funeral (total coincidence!). Our hotel was just a half a block from the Royal Mile, which was closed to cars during this time. It turned out to be a once-in-a-lifetime experience, seeing the procession of the Queen's coffin from Holyrood Palace to St. Giles Cathedral.
13. Explore the Closes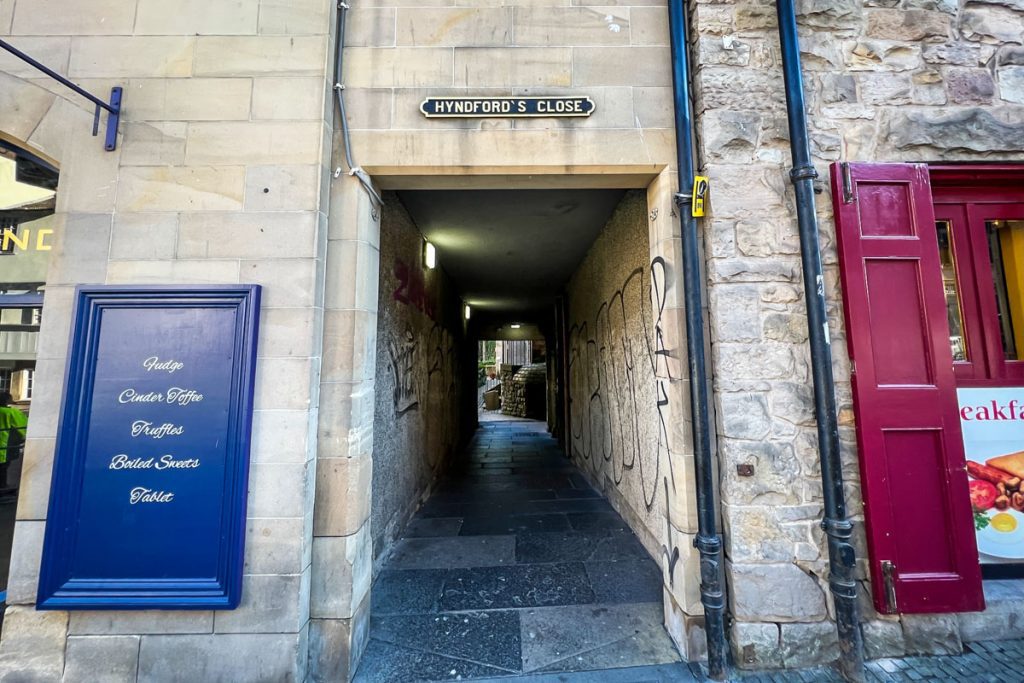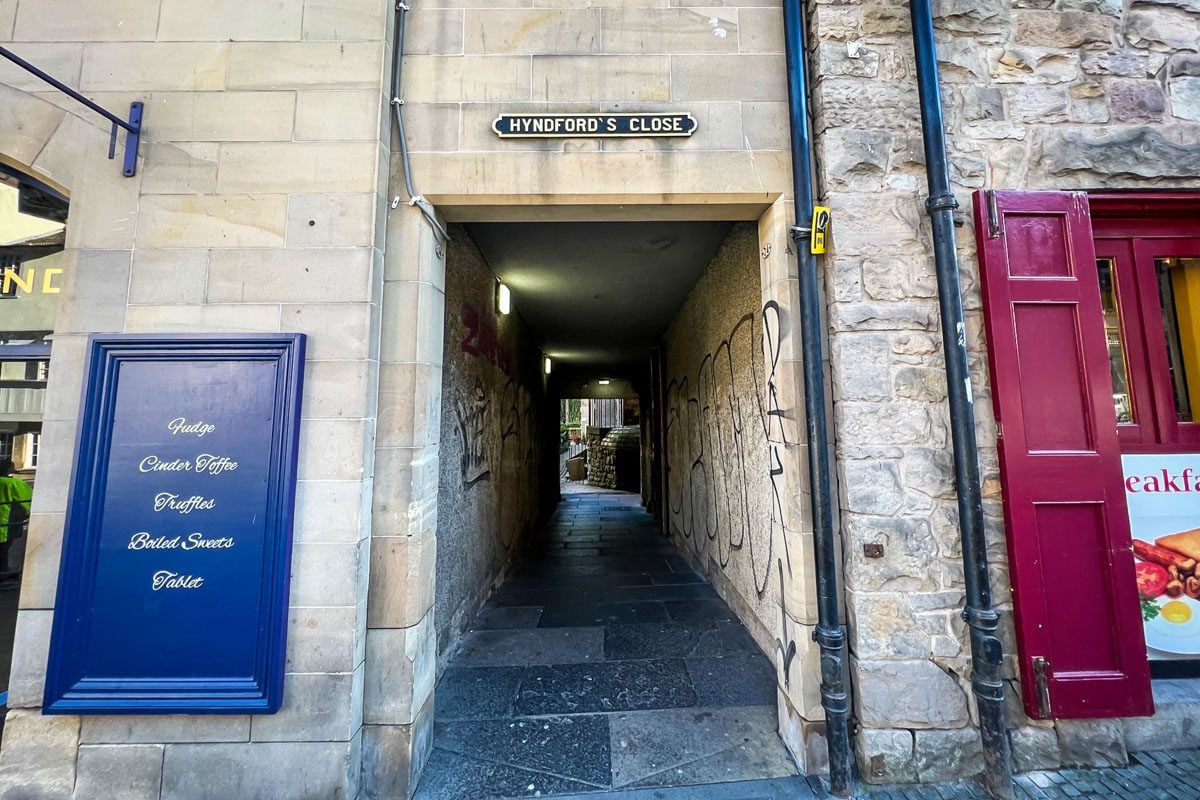 Wandering around the streets of Edinburgh, you'll see all sorts of signs that have "close" in the name…
So what is a close?
That's a great question (one we had too).
At first glance, they appear to be alleyways, but they are actually more than that.
On our Free Walking Tour of Edinburgh, our guide gave us the following analogy and we thought it was pretty spot on:
The Royal Mile is like the spine of Edinburgh, and the closes are like the arteries.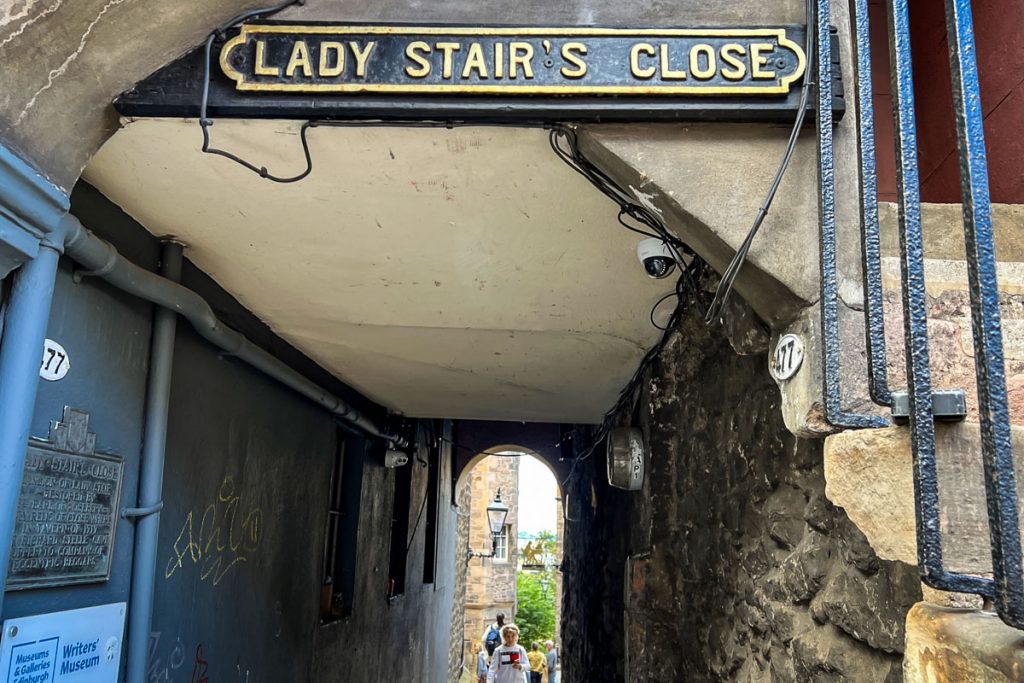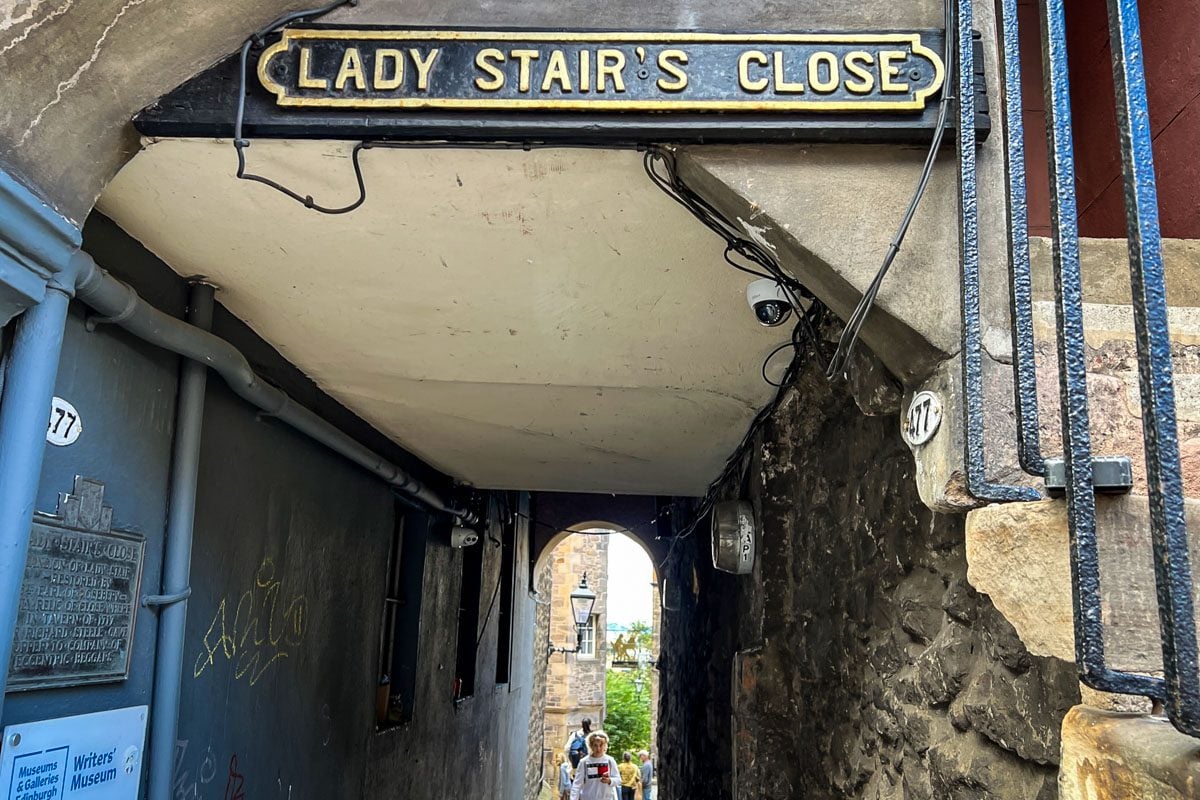 The closes are narrow pathways that lead off the main streets, and they often open up into small courtyards. The Royal Mile is crowded at all times, but if you walk into a close, you'll escape all the people and feel a world away.
You won't have to look far to see a close. Royal Mile itself has about 80 of them.
Some of them have hidden cafes and others have small community gardens. You never know what you might find!
So go ahead and wander!
14. Walk through Greyfriars Kirkyard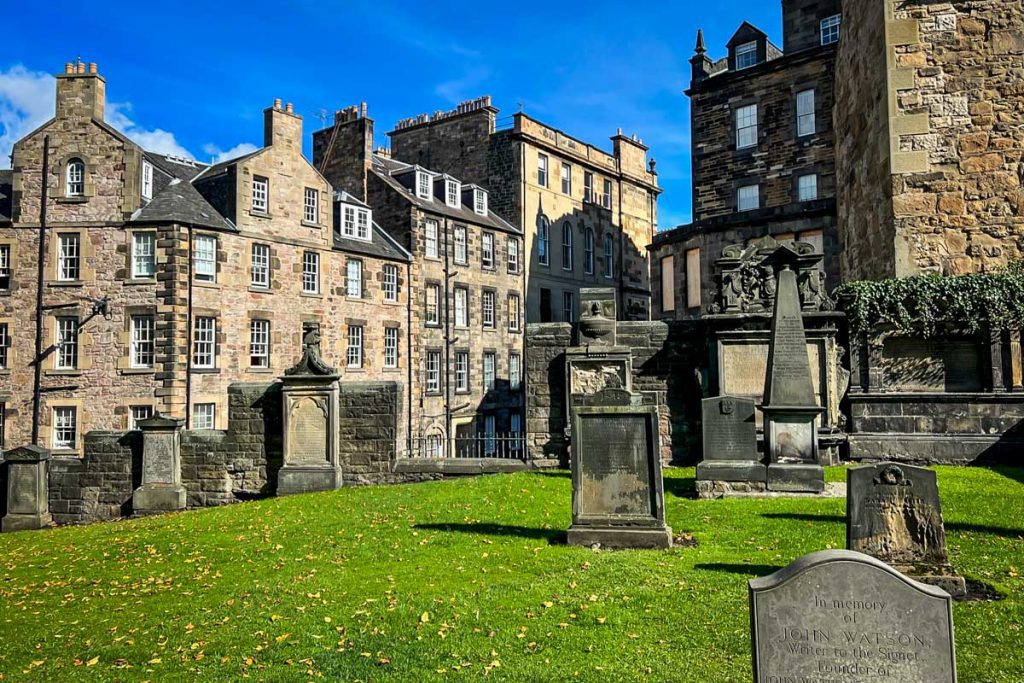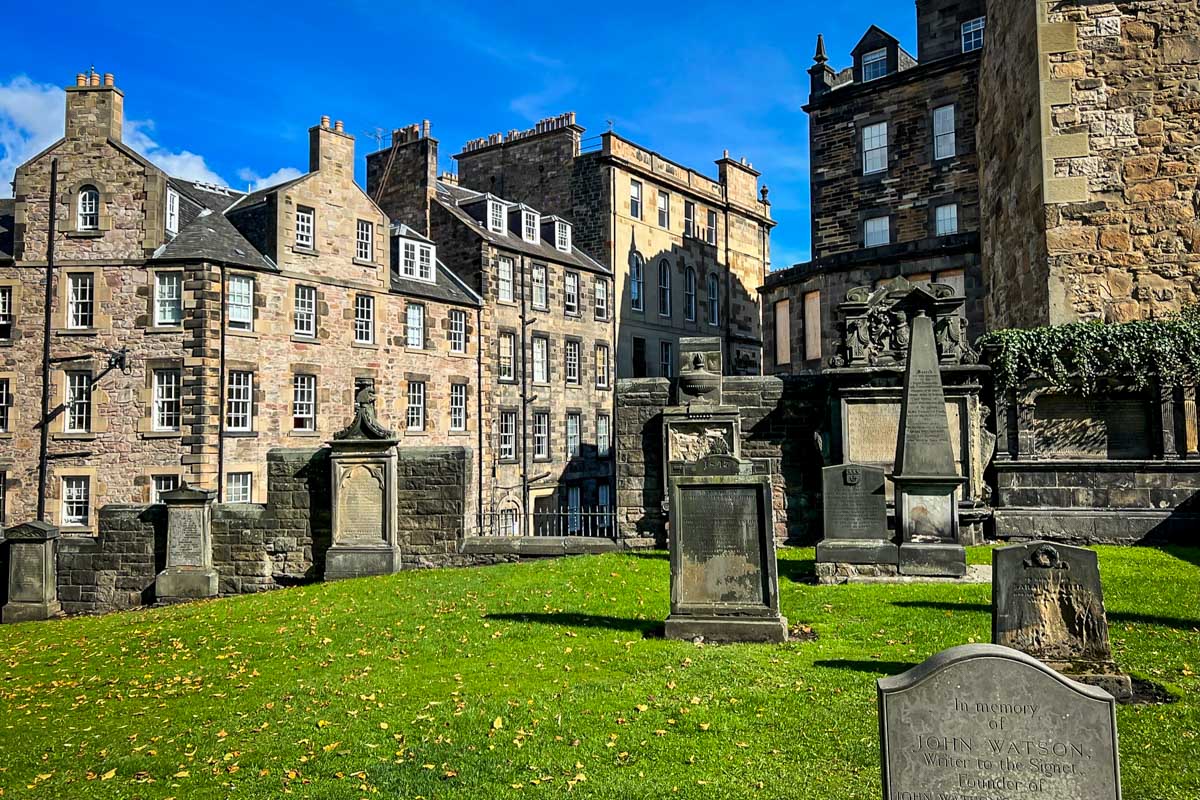 Wandering through this graveyard is one of the top things to do in Edinburgh, as it holds some interesting pieces of history.
Just so you know: Kirk is the Scottish word for church. It's helpful to know this, as you'll see the word everywhere in Scotland.
The first burial in the cemetery took place in 1562, and today there are between 500,000 and 1 million bodies buried here.
How is there such a large range? Well, during the Plague, people were dying so quickly that they were often buried together, without tombstones. So there is no way of knowing an exact count today.
Regardless of the exact count, it is one of the largest burial mounds on the planet.
Our recommendation is to go on a Free Walking Tour of Edinburgh (#7 on this list) so you can get all the interesting details, but here are a few notable sights:
Pay homage to the statue of Bobby the dog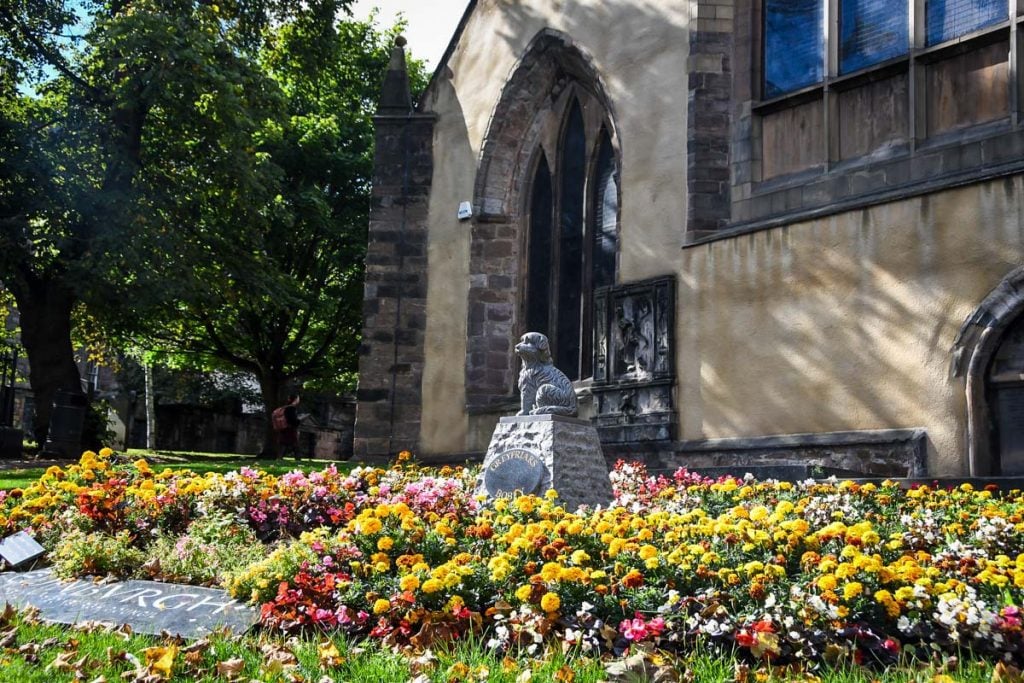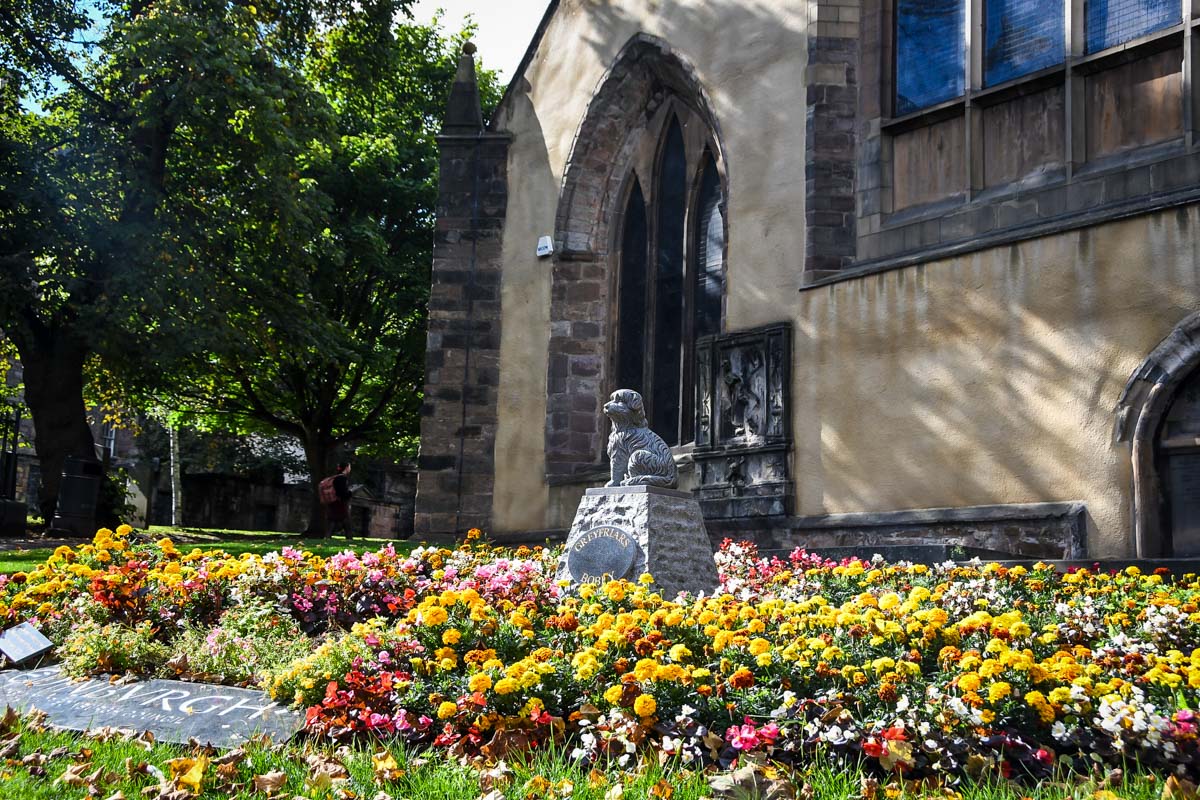 Near Greyfriars Church stands a small statue of a dog and it is surrounded by flowers. It is one of the top sights in Greyfriars Kirkyard and often has a small crowd gathered nearby.
If you plan on taking a free walking tour, I'll leave it up to your guide to share the beautiful story with you. However, if you'd rather explore on your own, be sure to read up on the story behind this statue.
Find the "Harry Potter graves"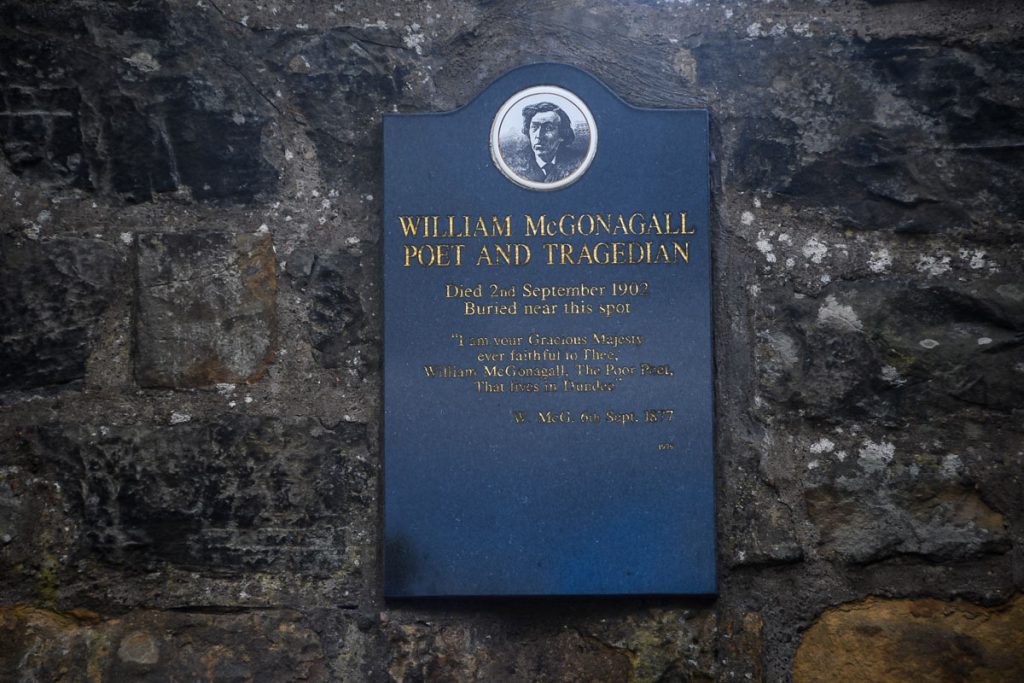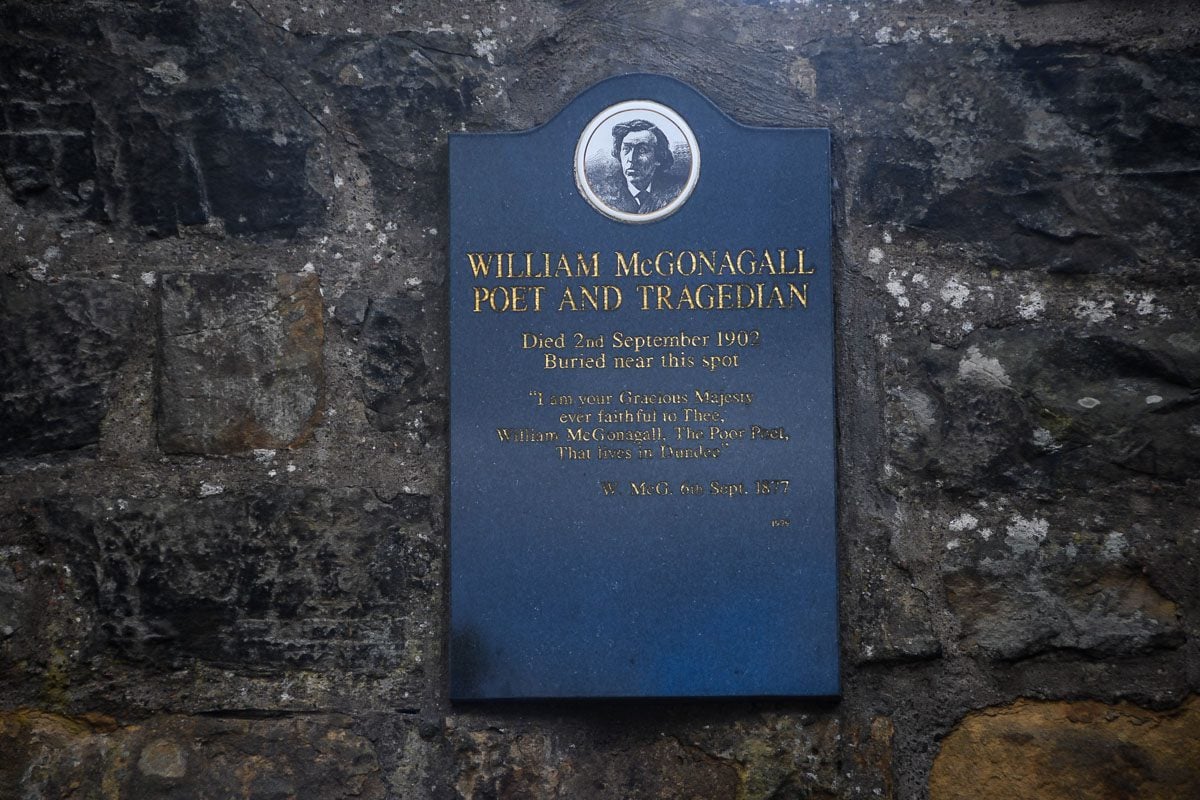 In this graveyard, fans of the series will recognize names on some of the tombstones, like Moodie, McGonagall and Tom Riddle.
It can be a fun scavenger hunt to try to spot them. Or you can jump to #23 on this list to get the exact locations of each.
Fun Fact: Our tour guide told us that it is tradition amongst authors in Edinburgh to take names from gravestones to inspire characters in their novels. In a way, this sort of allows the people to live on. You'll find a John Watson in this graveyard. And there was once a headstone for a man named Ebenezer Scroggie in Canongate Kirkyard (the headstone was removed during development, but it is said this is where Charles Dickens got the name.)
15. Experience the haunted side of Edinburgh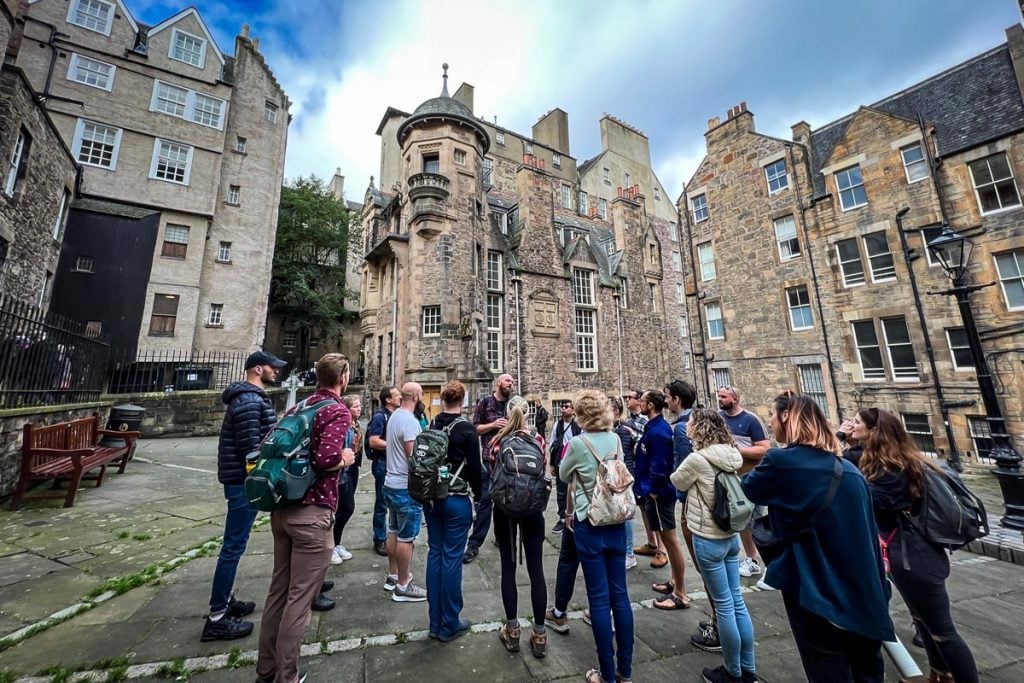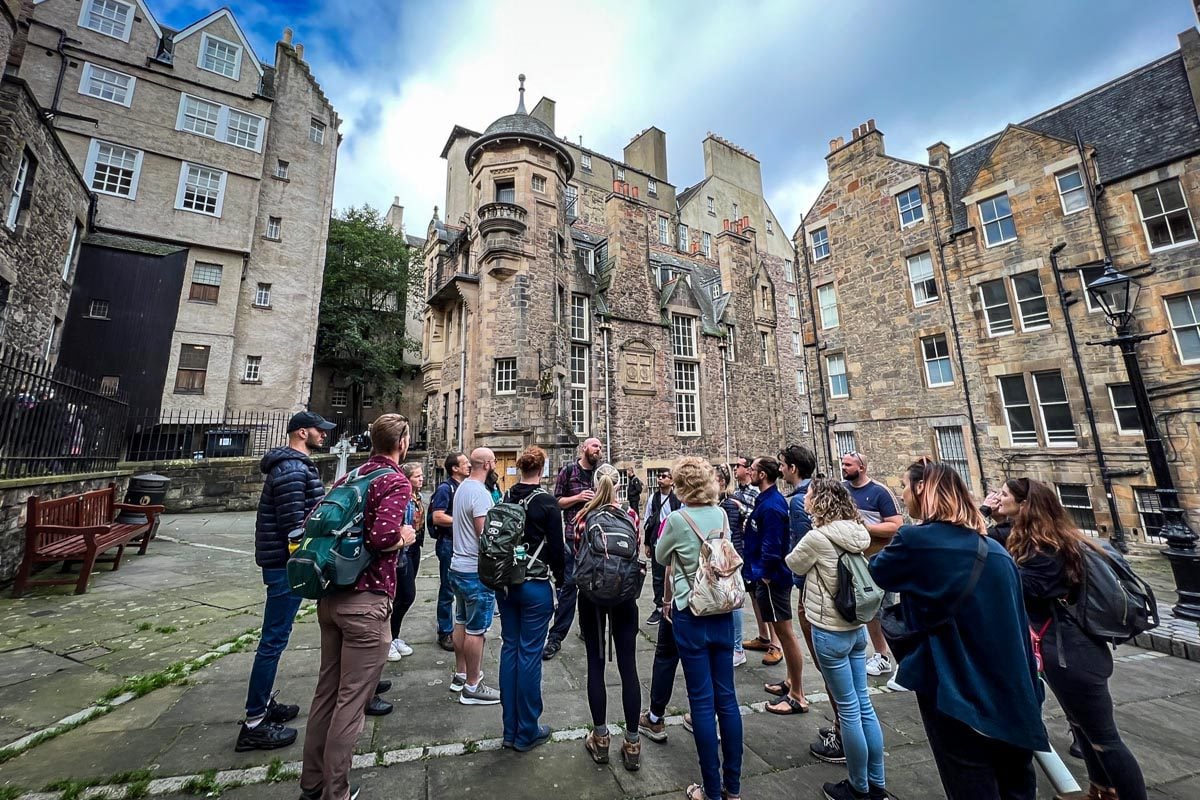 Being that it is such an old city with a storied past (oh, and there was that Bubonic Plague thing that came through), it should come as no surprise that Edinburgh has its fair share of ghost stories.
From the real life Jekyll and Hyde to public hangings to a body snatching epidemic, there are a lot of tales to be told.
Taking a ghost tour is undoubtedly one of the best things to do in Edinburgh at night.
If you're into spooky things, there are a few interesting tours that will give you a peek into Edinburgh's dark side…
Free Ghost Tour
Budget travelers will be happy to hear that there is a Free Ghost Tour. This is the one we personally did. It was through City Explorers, which is the same company we booked our general walking tour through (which was fantastic).
In truth, the ghost tour was just alright. It was mostly because we didn't love the guide. The stories were quite interesting and it was fun wandering around the city with a local (and other travelers) at night, hearing spooky tales along the way. And oh man does Edinburgh have a lot of them!
Invisible Cities Crime & Punishment Tour
Not only will you learn about crime, hangings and jail, but by taking a tour with Invisible Cities, you will be supporting a very cool social enterprise.
The tour guides of these walking tours are people who have experienced homelessness. Showing you around their city not only empowers them to build a new future for themselves, but it shows you a different perspective of the city as well.
Explore Edinburgh's Underground Vaults
This popular tour brings guests into the mysterious Blair Street underground vaults where they will hear tales of torture and infamous murderers.
Take the infamous Mary King's Close tour
​​Go beneath the Royal Mile to the city's only street preserved just as it looked in the 17th century. On this infamous tour, Edinburgh's darkest secrets will be revealed to you.
16. DIY Harry Potter tour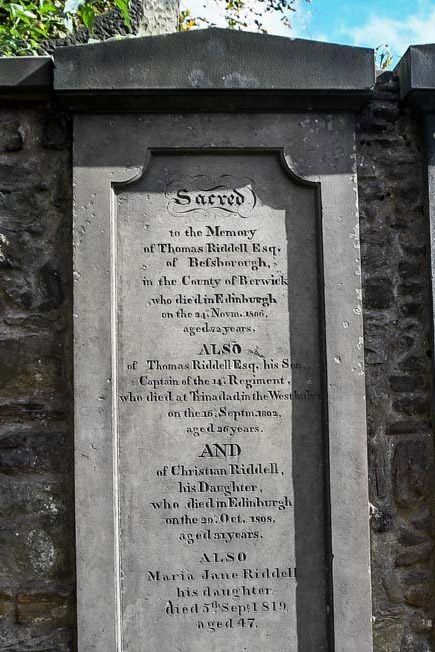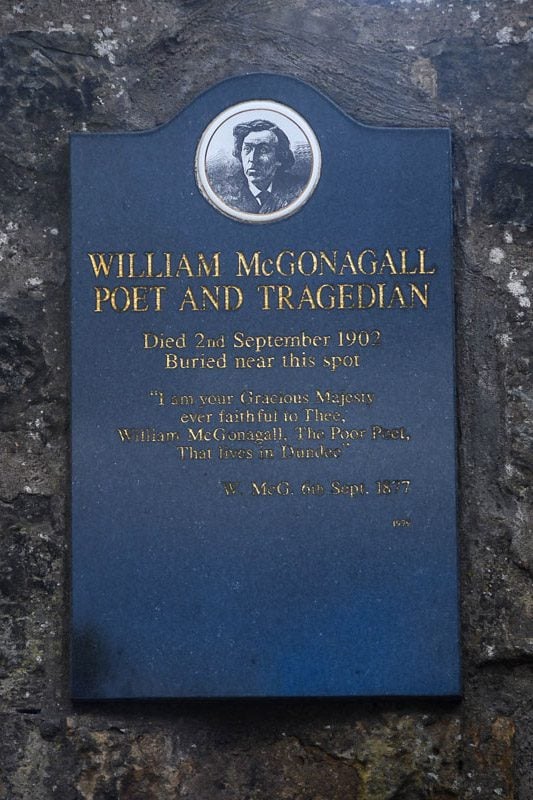 Calling all Potterheads!
While in Edinburgh, there are quite a few sights you'll want to see. Call it an HP Pilgrimage, if you will.
But one thing I should mention first is that the Harry Potter movies were not filmed in Edinburgh, so there are no filming locations in the city. That said, there are still some very interesting things to see…
Guided Harry Potter Tour
Option #1: This guided Harry Potter tour earns consistent rave reviews and is led by an animated guide who will bring the magic of Edinburgh alive.
Option #2: If you're traveling to Edinburgh on a budget, you'll be happy to know that "The Potter Trail" tour is totally free! Reserve your spot here. Remember, that while the tour is free, it is expected you tip your guide if you enjoy the tour.
DIY Harry Potter Tour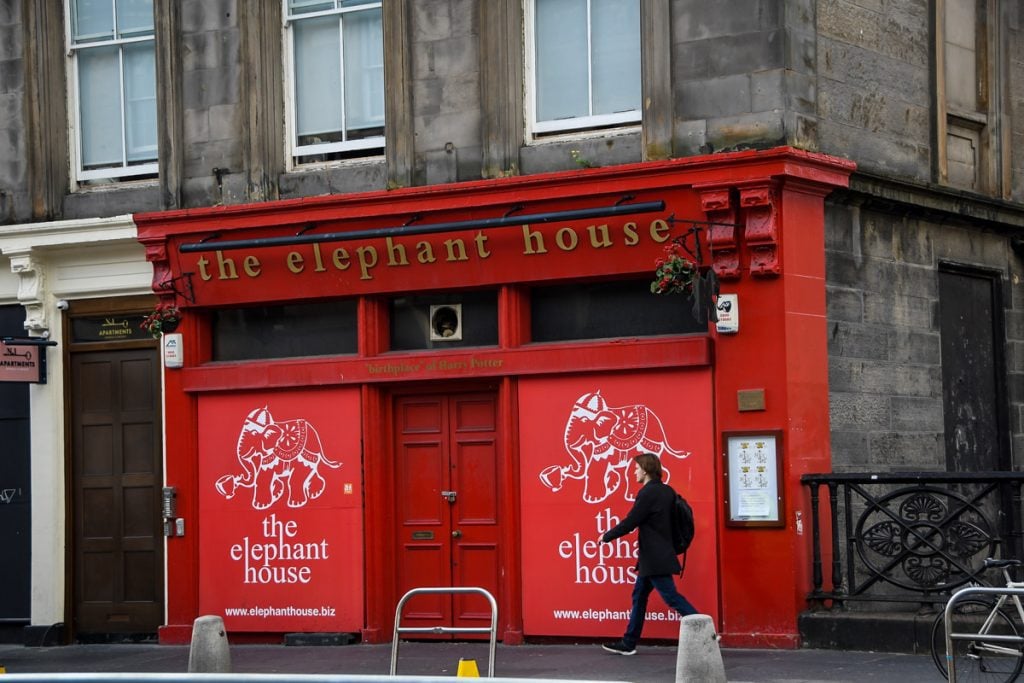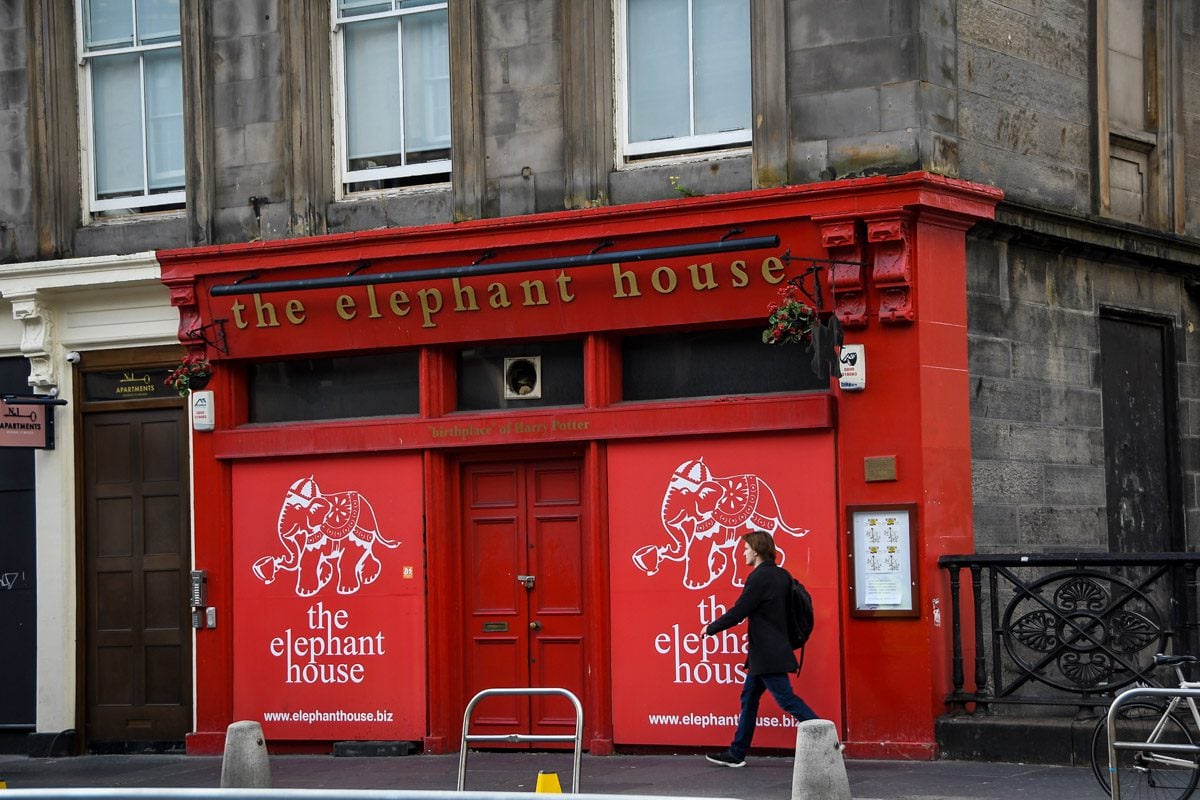 However, if you want to see the sights on your own time, we've put together a DIY Harry Potter tour just for you!
Victoria Street: Often referred to as the "real life Diagon Alley", this street is downright beautiful. Take a stroll and pretend you're shopping for a new wand!
Greyfriars Kirkyard: This cemetery has a storied history, but HP fans will want to check out the gravestones that have familiar sounding names. Below are the locations of each.
Elephant House: Wander past (or pop into) the cafe where J.K. Rowling famously spent time working on her novels. There are other cafes in town where she also sat and wrote (Spoon Cafe, for one, which is now closed), but this one is the most well-known. The food and service aren't said to be all that wonderful, but wandering past and knowing that this was the birthplace of a magical world is kind of cool.

FYI there was a fire here in the summer of 2022, so it has been boarded up during renovations. Be sure to check and see if it is open if you do in fact want to dine inside.
Ready to have more magical fun?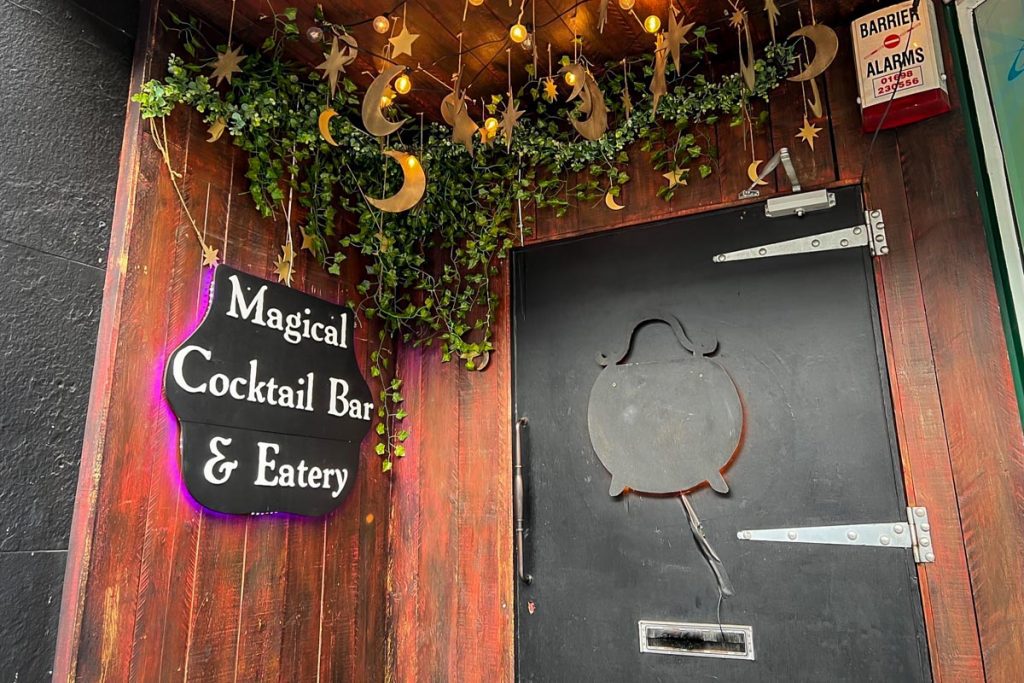 While not exactly related to Harry Potter per se, these magical activities are perfect to carry on your wizarding fun throughout the evening!
Make your own (drinkable!) potions at The Cauldron. After brewing up the perfect molecular cocktail using fire, smoke and dry ice, toast with your fellow witches and wizards to the perfect night in Edinburgh!
Challenge yourself at a magic-themed escape room. The Department of Magic is located in the heart of Old Town and has different puzzles you can solve in groups with as few as two people. They also have an attached magical cocktail bar. We're huge escape room fans and think this would be a super fun way to spend part of an evening in Edinburgh!
17. Try Haggis with Neeps 'n Tatties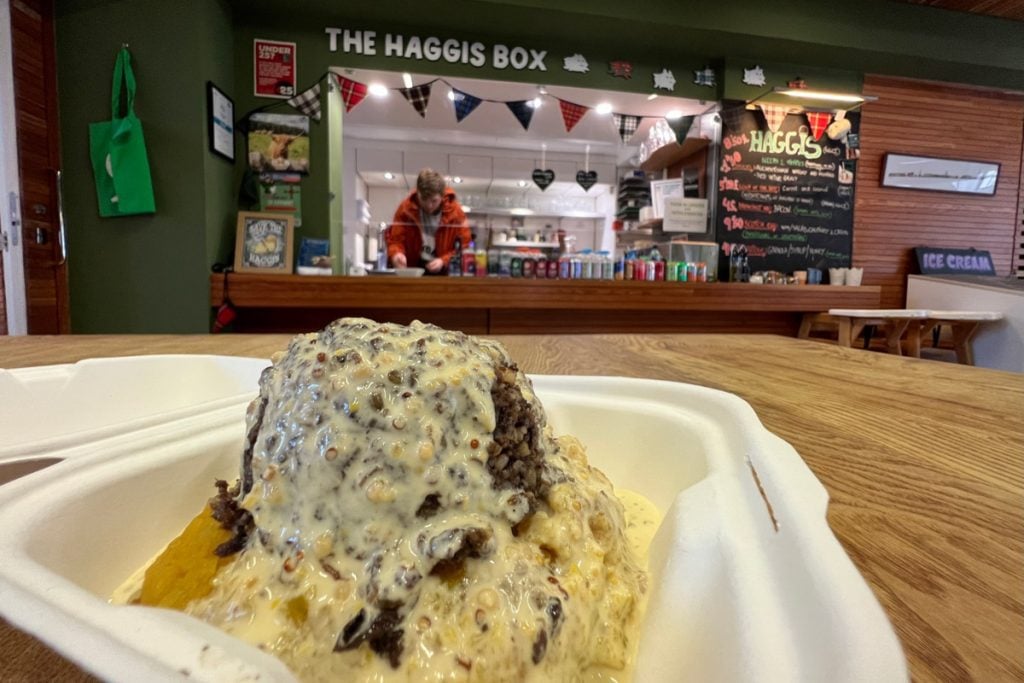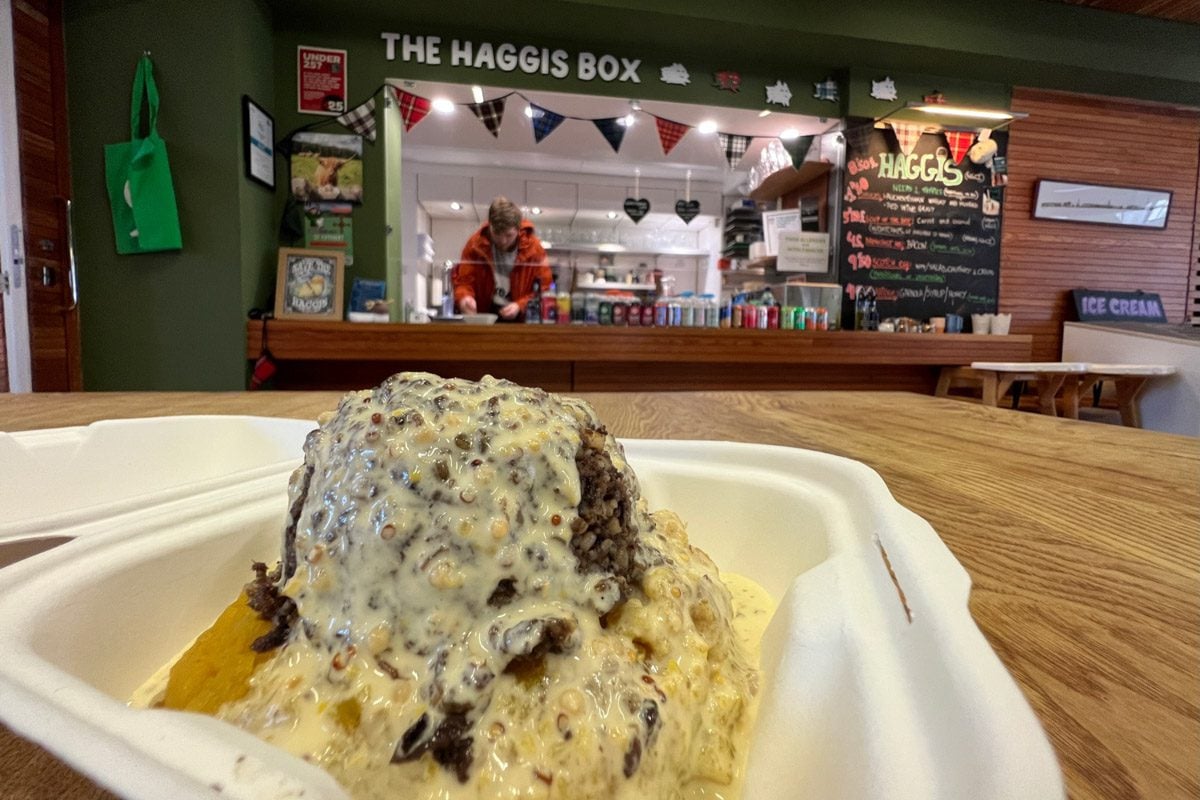 There's no Scottish food more famous than haggis.
But I'll be the first to say that haggis doesn't sound very appetizing.
If you type the phrase "what is haggis?" into Google, you'll get the following description from Wikipedia:
"…savory pudding containing sheep's pluck (heart, liver, and lungs), minced with onion, oatmeal, suet, spices, and salt […] and cooked while traditionally encased in the animal's stomach…"
Yep. It's enough to make one gag and vow to never, ever try haggis.
But that would be a mistake, because it truly is delicious.
First off, today haggis is not usually encased in the stomach. So don't worry about that part. In fact, if you order haggis at a restaurant, it won't come in any type of casing. Instead, it will appear similar to a ground and crumbly sausage, like chorizo.
So what does haggis taste like?
I'll start by putting your fears to rest.
Personally, I don't care for organ meat, gamey flavors or chewy texture, and I actually really enjoyed haggis.
It tastes similar to regular ground sausage, with a rich, peppery flavor. The oats give it a thicker consistency and an almost nutty taste. And you might detect the same underlying flavors as liver paté.
It'll typically be served atop "neeps and tatties", which is Scottish lingo for mashed turnips and potatoes. And you may have the option to add a whiskey gravy or mustard sauce.
Truly, it is pretty delicious, and if you can get past the ingredients, we'd highly encourage you to give it a taste!
Best haggis in Edinburgh
Arcade Bar Haggis & Whisky House: We were told by a local that this is his favorite haggis in all of Edinburgh. (FYI Kids are not allowed so we were turned away.)
The Haggis Box: Touristy? Yes. Convenient and quick way to try haggis? Also, yes. Allows children? Yup.
Best vegan haggis in Edinburgh
That's right, vegetarians and vegans can try haggis too! Well, sort of…
It's not haggis in the traditional sense, but there are vegetarian versions at restaurants all around the city.
18. Try a super unique ice cream flavor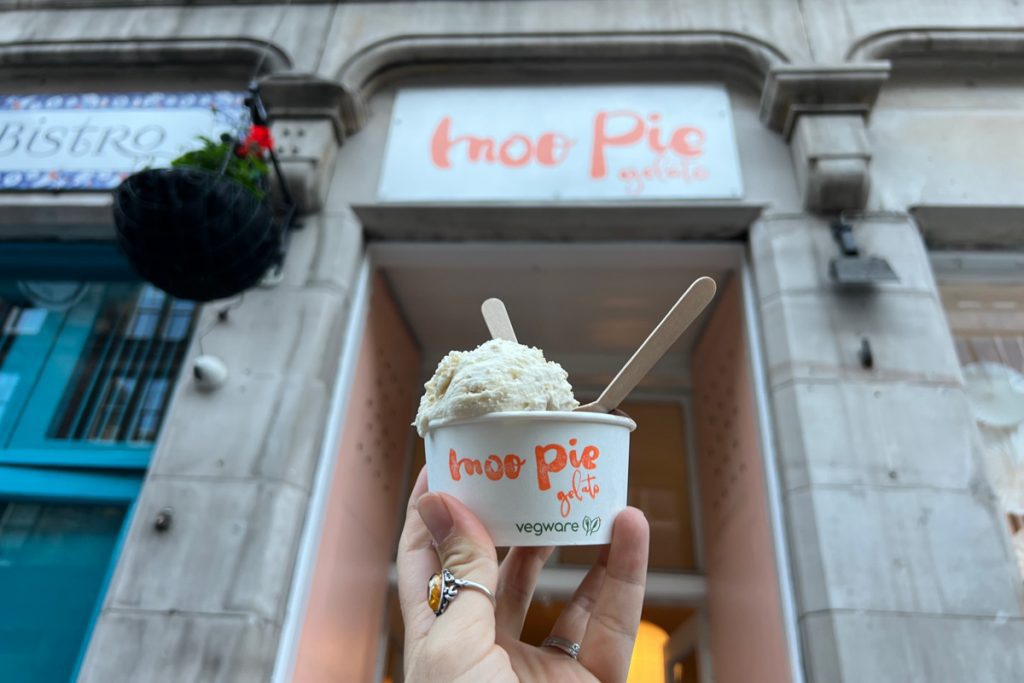 My life motto is, "There's always room for ice cream. Even if you're full, it fills in all the cracks!". So you better believe we got a scoop while in Edinburgh!
If you've got a craving only ice cream can satisfy, there are a couple of places in the city you'll want to keep in mind.
Both of these shops specialize in super high quality gelato, featuring inventive flavors you've probably never tried anywhere else.
Moo Pie Gelato
This teensy hole in the wall shop has just a few inventive flavors at a time – think Earl Grey shortbread, carrot cake and roasted banana.
While it's a small menu, what they make, they do well. They had a sesame cookie flavor while we were visiting and it was fantastic.
They weren't serving ice cream sandwiches on the day we visited, but we've heard they're fab, as well as their hot chocolate with toasted marshmallow fluff.
Mary's Milk Bar
This popular spot in Grassmarket often has a line and serves up top notch gelato, made fresh daily as well as hot chocolate.
They have a variety of ever-changing flavors, highlighting unique combos, like pear & gorgonzola and rose & rhubarb sorbet.
19. Do a Scotch whisky tasting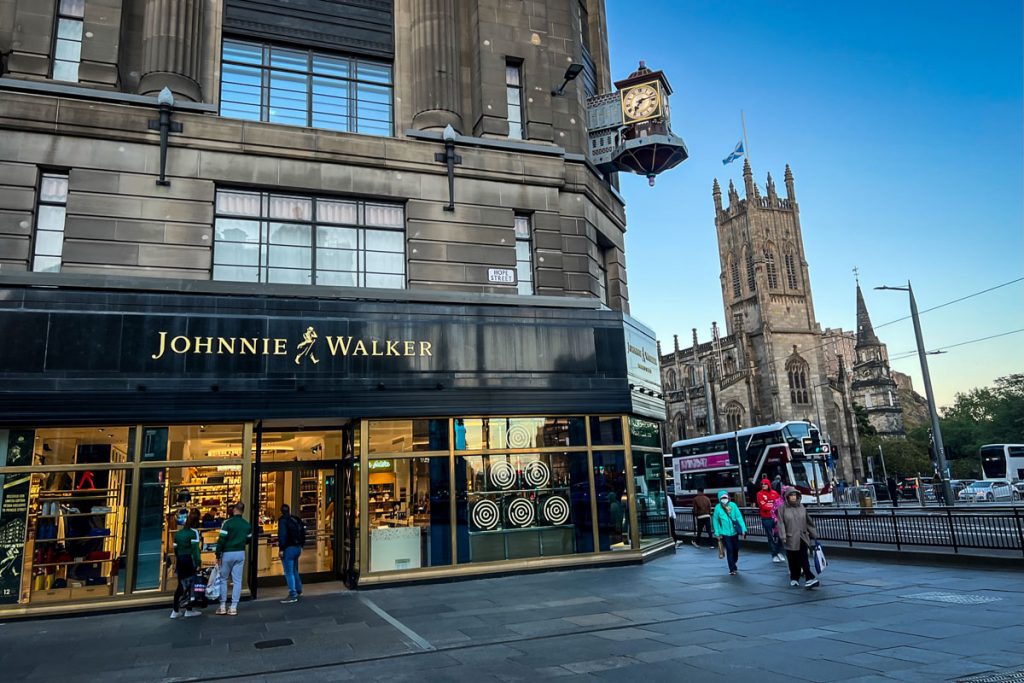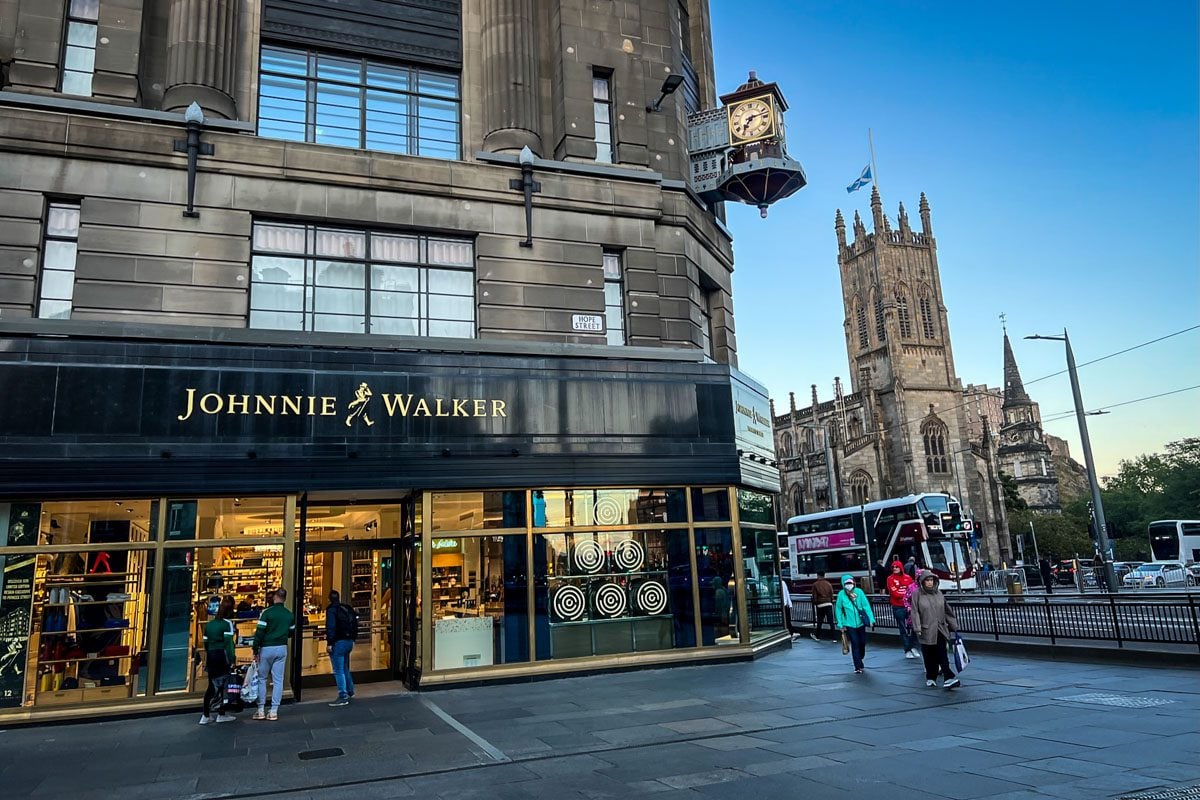 Scottish whisky, or simply Scotch, is a big deal in these parts. And if you're a fan, you'll certainly want to carve out some time to get your Scotch on!
Many pubs in Edinburgh – and all over Scotland, for that matter – offer whiskey tastings. Just ask!
Fun fact: In American English it is spelled whiskey (with an "e"). However, the British/Scottish spelling is whisky. So you'll find both spellings in this article!
Sometimes there's a set menu of different types of try. Other times, you can talk with the bartender and they can curate a tasting based on your preferences.
Enjoy a few drams of Scotch and see if you can find your favorite.
Good to know: A dram is the Scottish lingo for a swig or a shot of whiskey.
If you'd rather go to an establishment that has a more educational approach (rather than just bellying up to the bar at a pub), here are some places to check out:
The Scotch Whisky Experience Tour & Tasting
Known for the World's Largest Collection of Scotch Whisky, this tour is both educational and fun. You can select a couple of different tour options (each with a different number of tastings included).
Insider Tip: Booking at the link below is the same price as tickets at the door, but you can skip the line!
Johnnie Walker
If you're a fan of this label, plan to visit their spot on Princes Street for a whiskey-tasting experience.
The Scotch Malt Whisky Society
Staff at the Scotch Malt Whisky Society have a wealth of knowledge and they have some really good whiskey. Their tasting bar is open to non-members who want to experience Scotch in a laid back setting. No tours or tickets required.
Taste whiskey with a local
This "whisky and folklore" tour (through Airbnb Experiences) looks ahhhmazing. For one, it has nearly 2,000 5-star reviews. It's affordable. You get to hang out with a local. And it takes place in a cozy pub we passed by at least 10 times; each time saying to ourselves, "this place looks super cute – if only we weren't traveling with a baby!"
Want to tour a distillery?
If you're taking a road trip around Scotland, you can save your whiskey experience for later on your trip. There are plenty of distilleries to choose from, especially in the Highlands and the Isles, where you can learn about the production process.
20. Do a gin tasting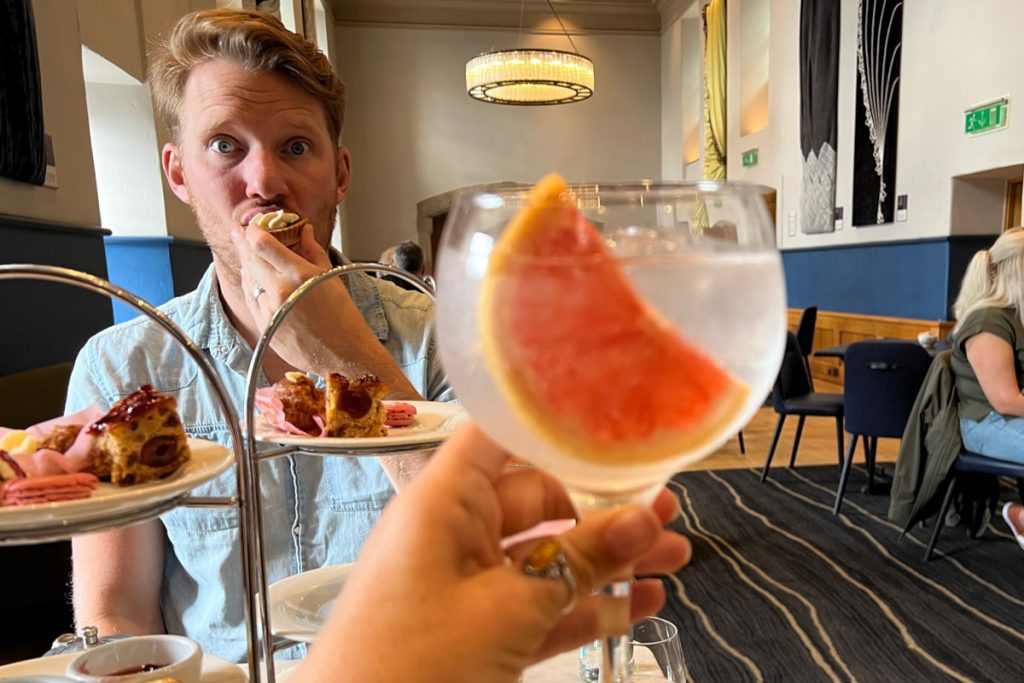 Raise your hand if you love a good G&T!
Heyyy! I know you can't see me right now, but I have a hand in the air, too!
Well my friend, Scotland is a hotspot for our favorite spirit, and it's the perfect place to do a wee tasting.
Many restaurants and bars throughout Scotland will have an extensive gin list, and they typically serve tonic in a bottle on the side so you can sip the spirit straight before blending to your desired taste.
But if you want a proper tasting experience, read on…
Tour a gin distillery
Summerhall Distillery has a long history producing Pickering Gin. It is the first gin exclusively distilled in Edinburgh – for more than 150 years. Their tour is said to be wonderful, and of course, includes a tasting.
Fun Fact: The current distillery was once part of a veterinary school.
The Edinburgh Gin Distillery is a perfect place to learn about the process of making this spirit, and to try some too, of course!
Enjoy gin cocktails
Heads & Tales is a bar specializing in gin cocktails, and not surprisingly, it is connected to the Edinburgh Gin Distillery. It feels like a hidden gem and the cocktails are truly top notch.
Juniper is a cocktail bar with more than just a cool name (our daughter's name is Juniper, so we're biased!). They have all spirits, but they have an especially large list of gins from across Scotland. Enjoy a couple of cocktails paired with food for a fun evening in Edinburgh.
Good to know: They also have whiskey flights here, so it's a good spot for parties that have both a gin and a whiskey fan.
21. Make your own magical cocktail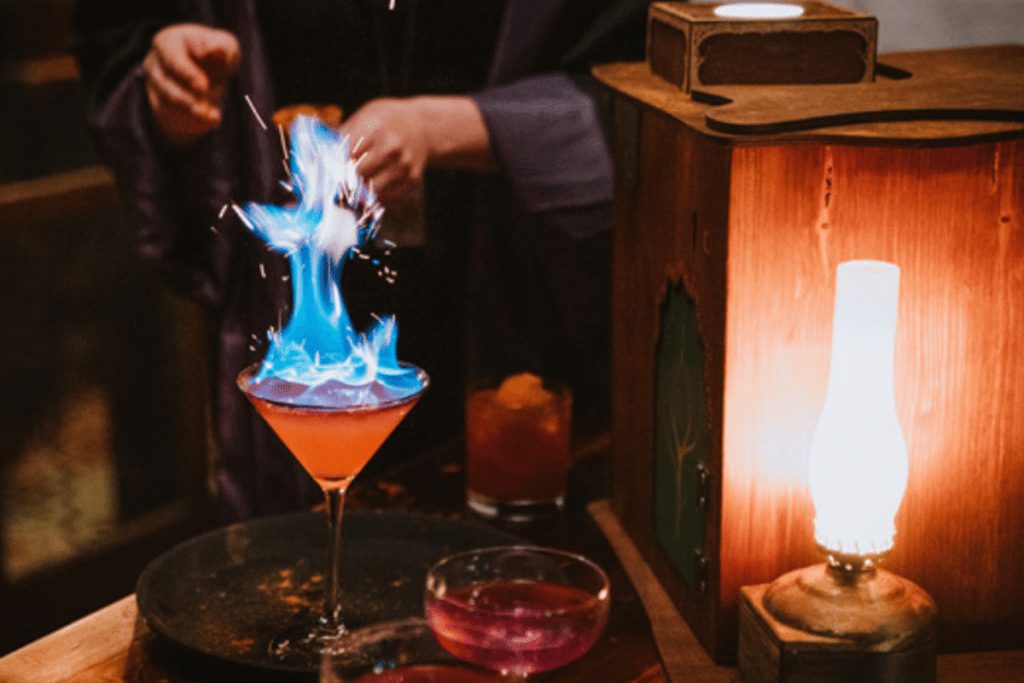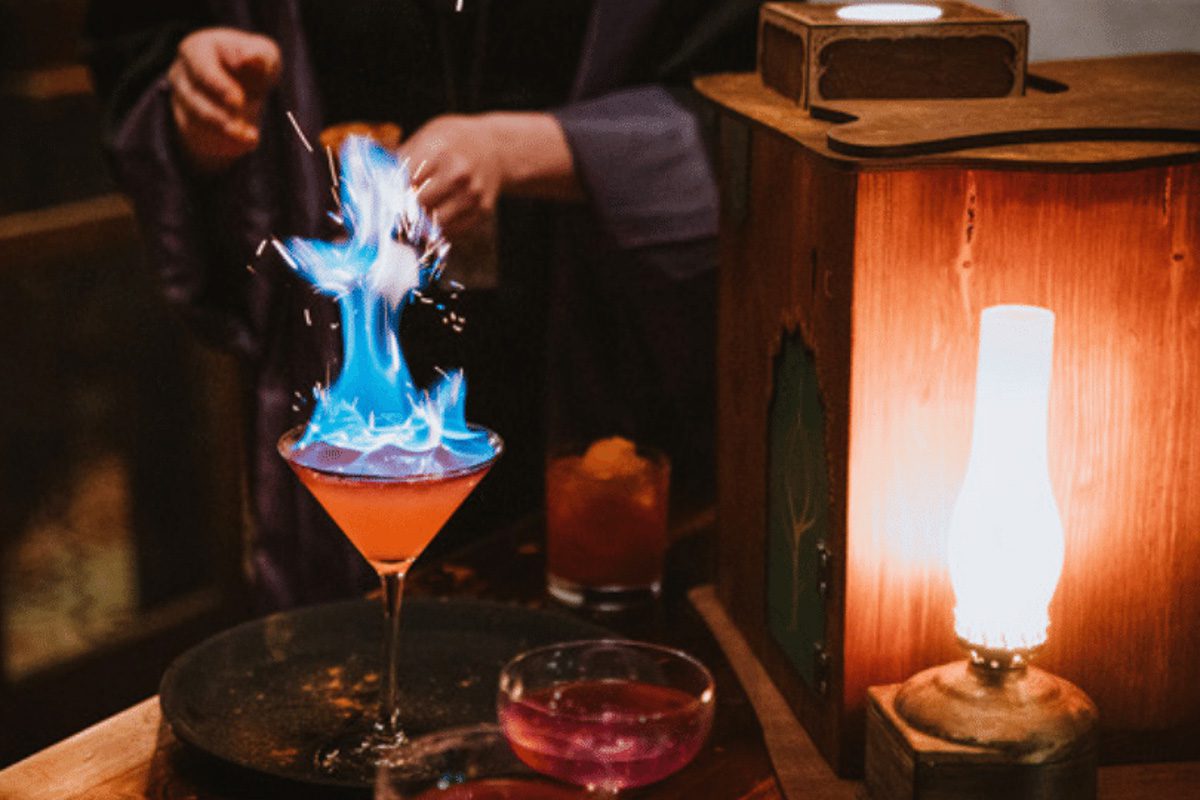 Fancy yourself a witch or wizard?
Make your dreams come true at a magic-themed cocktail bar where you can conjure up a potion that tastes as good as it looks!
At The Cauldron, you can book a potion making experience during which you'll be able to create two molecular cocktails from scratch.
Don your own wizard's cloak and grasp a magic wand in hand, and watch as your potions bubble and smoke and steam in front of your eyes.
Fire, dry ice and smoke, along with a technology-filled wand, all work together to make fantasy come to life, as The Cauldron's tagline proudly boasts.
If you want the magic without the work, you can simply book a table and order a cocktail from their whimsical menu, like the Bubbling Shot of Death or the Dragon's Breath.
Cocktails not your thing? The Cauldron has a magical afternoon tea experience that might be a little more up your alley! Plus, they have the option to make mocktails, which would be perfect if you're traveling with children.
22. Experience Edinburgh's lively nightlife scene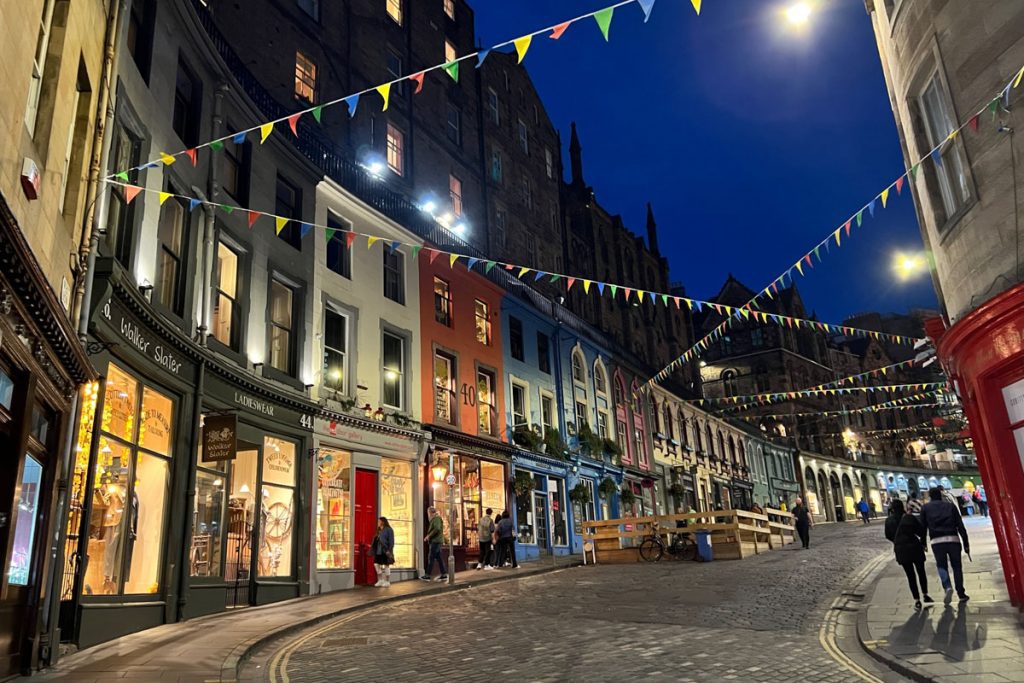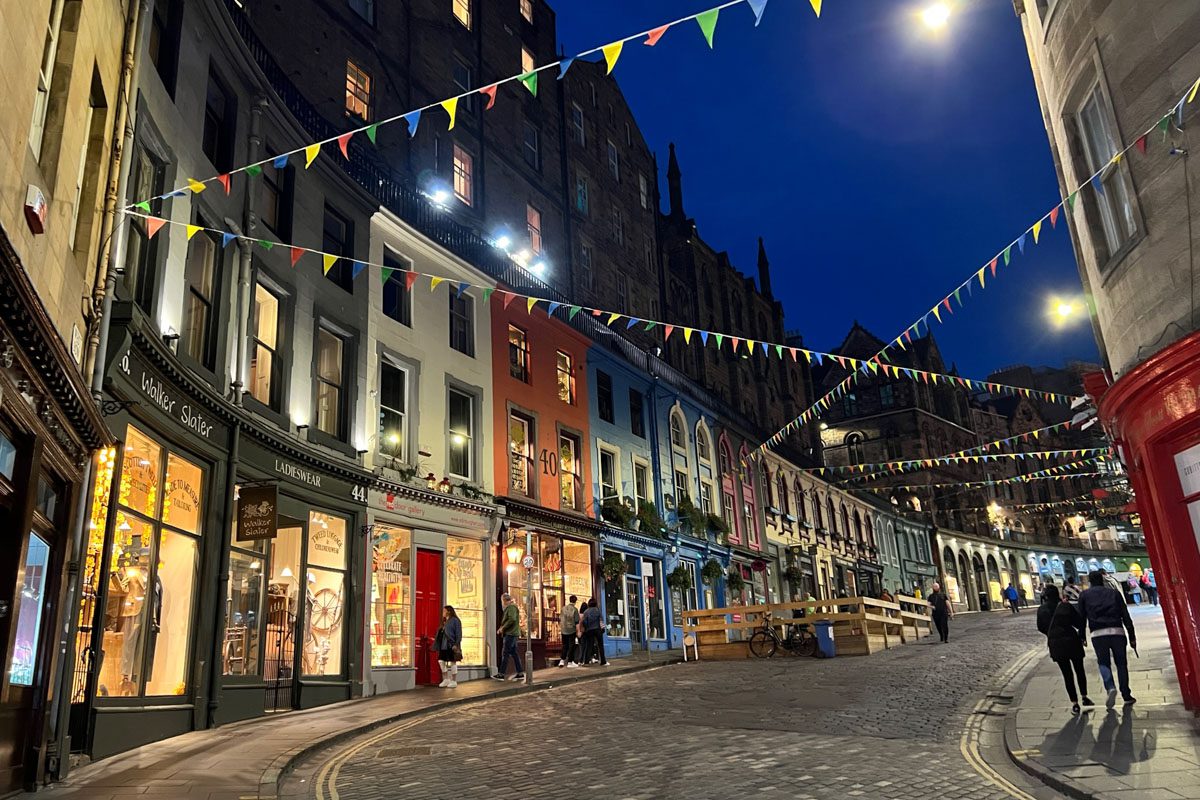 Edinburgh has a wide range of nightlife – from nightly live music to hidden speakeasies to DJ dance parties, the city really has it all.
Let's go over some of the best places to get a taste of Edinburgh's nightlife scene:
23. Walk through the Meadows with a hot chocolate in hand
This is one of the more laid back, yet still quintessential things to do in Edinburgh.
Step 1. Grab a hot chocolate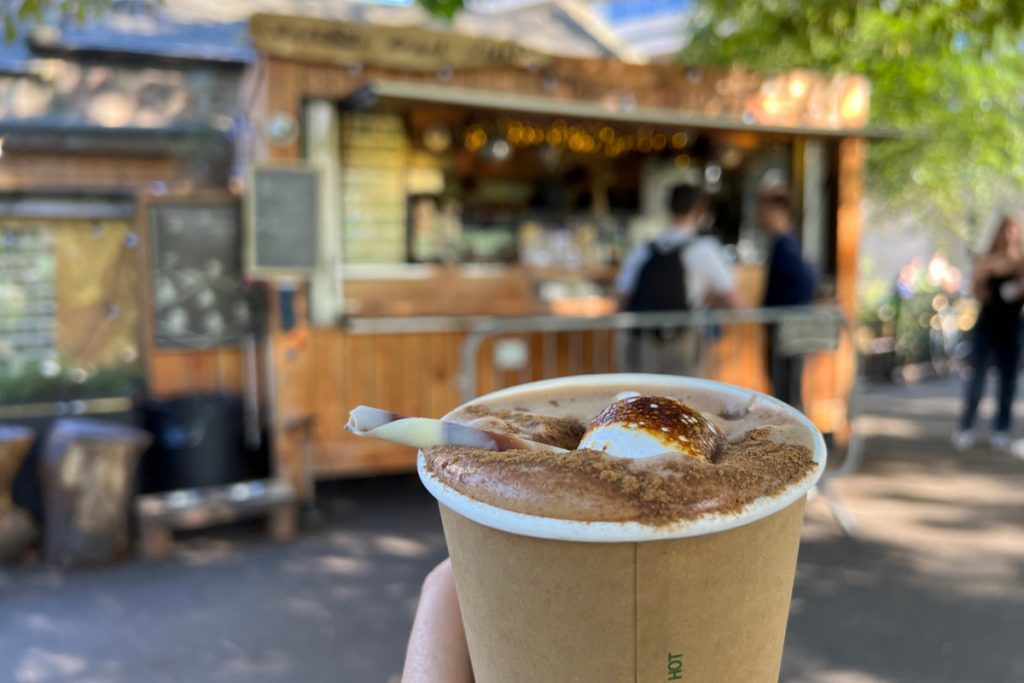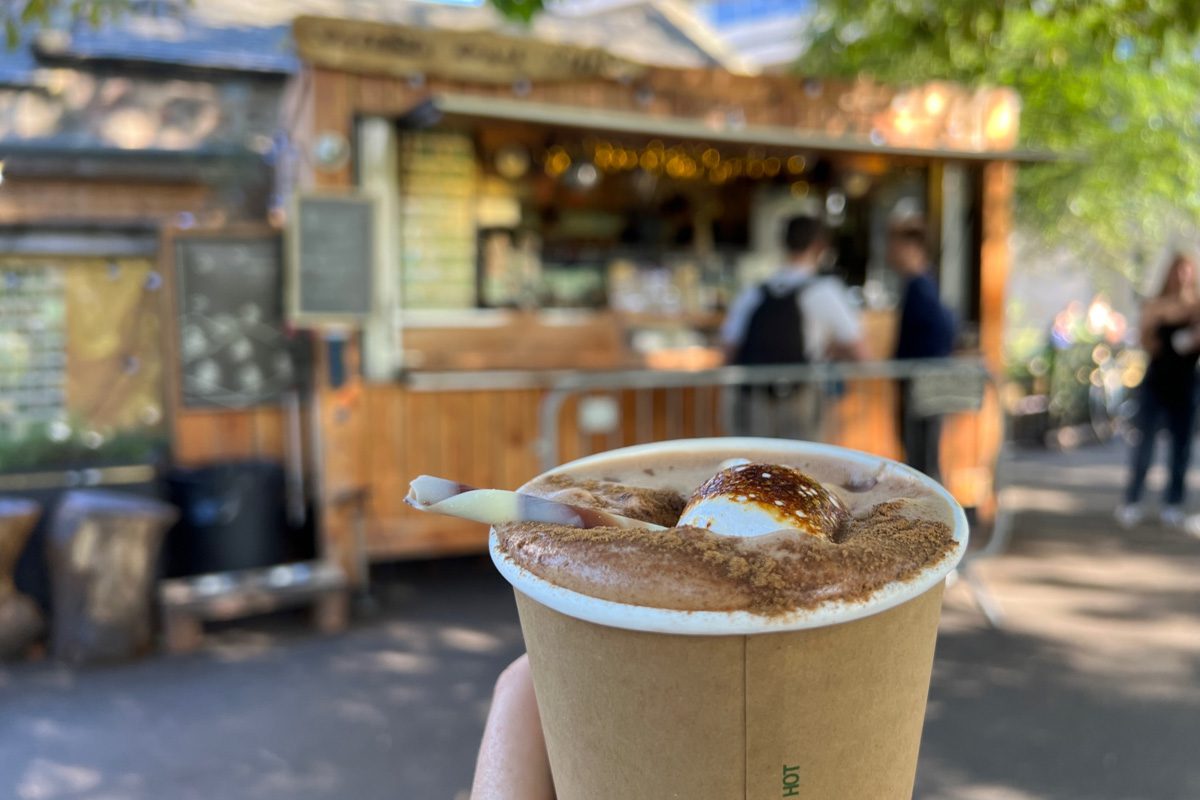 Brace yourself because I'm about to tell you where to get the best hot chocolate of your life.
Yes, your life.
Start your morning at a small stand called Uplands Roast, located at the north end of The Meadows. Being that it's located adjacent from the University of Edinburgh's library, you'll likely be standing in line amongst clusters of students waiting to get their caffeine (or sugar!) fix, but the line goes pretty quickly.
The stars on the menu are their Vietnamese coffee (their beans are even sourced from Vietnam), and their hot chocolate. I'm not usually someone to order hot chocolate, but I couldn't turn this one down.
Once the hot chocolate is made, it is topped with chocolate shavings and marshmallows, which are then heated with a torch to get the perfect amount of toasted.
Hot damn.
I have to say that this ranks in the top 3 hot chocolates of my life, matching up only to true drinking chocolate I've sipped in Italy and Argentina.
Insider Tips:
If you want a little caffeine kick, add a shot of espresso to your cocoa, like we did. Highly recommend the buzzy boost.
If you're hungry, there's a sausage roll stand right next to this booth, and it is delish!
Step 2. Walk through The Meadows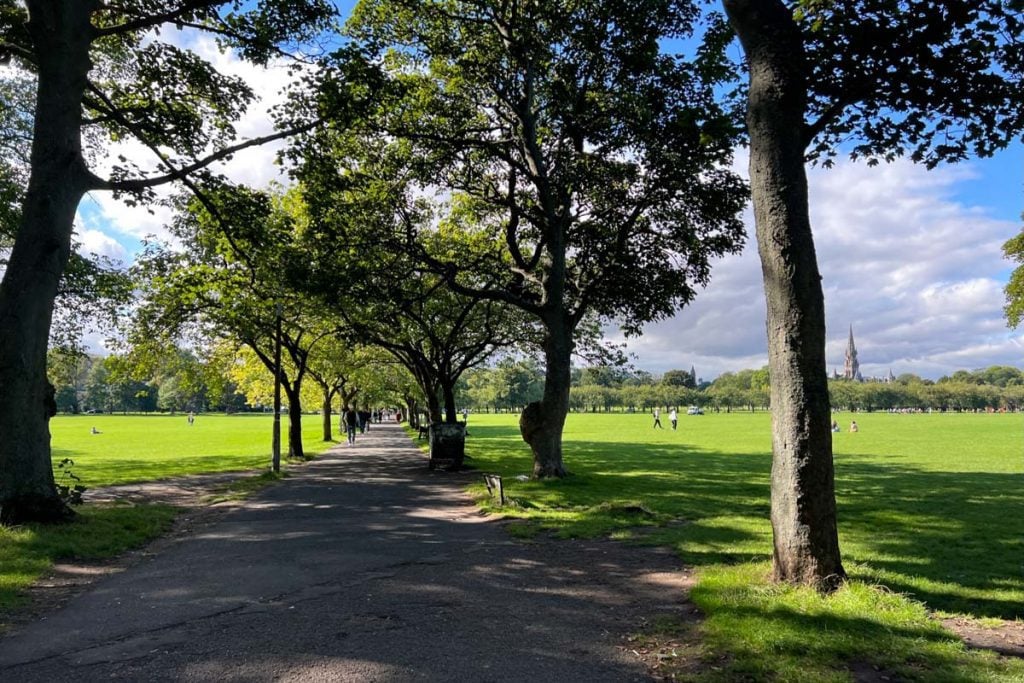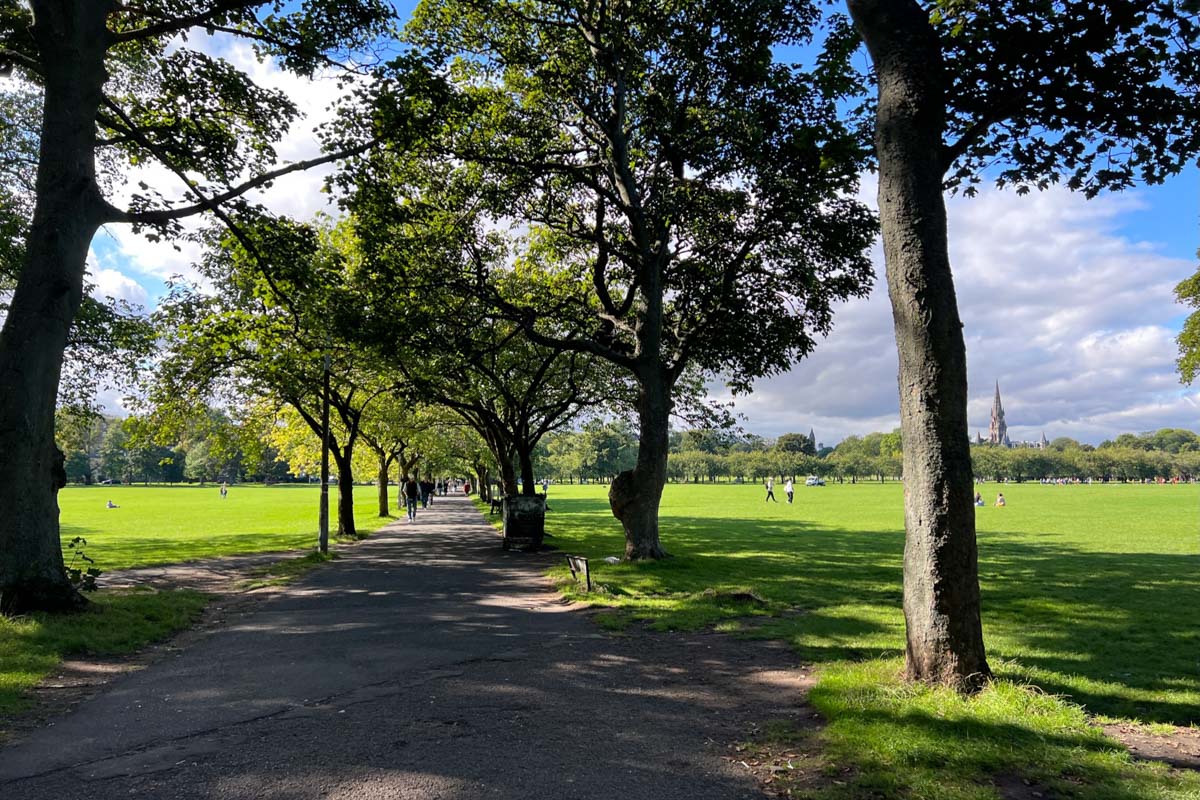 Now that you've successfully completed step 1 (aka you've got your hot chocolate in hand), wander through The Meadows. This wide grassy expanse is a popular hangout for University of Edinburgh students.
Walk past discussion groups and hacky sack circles (yes, they're back, folks!), and take a moment to imagine yourself as a student here…
Quick story: I was actually pretty close to enrolling in a masters program at the University of Edinburgh in sustainable tourism. So wandering about The Meadows amongst all the students really made me wonder what could have been. Le sigh…
24. Take a bike tour of Edinburgh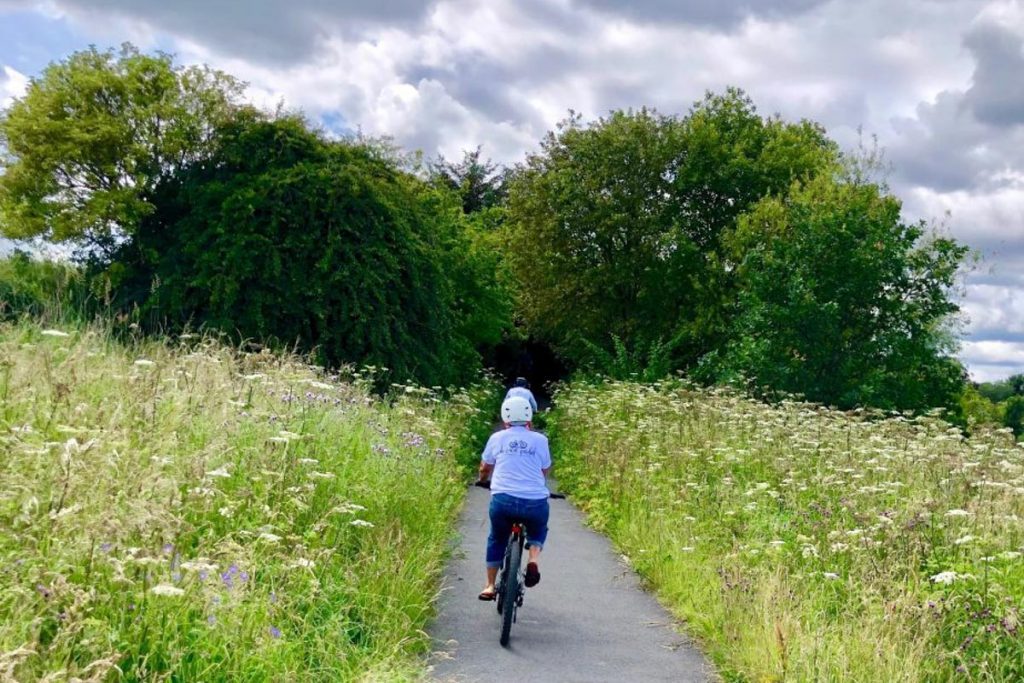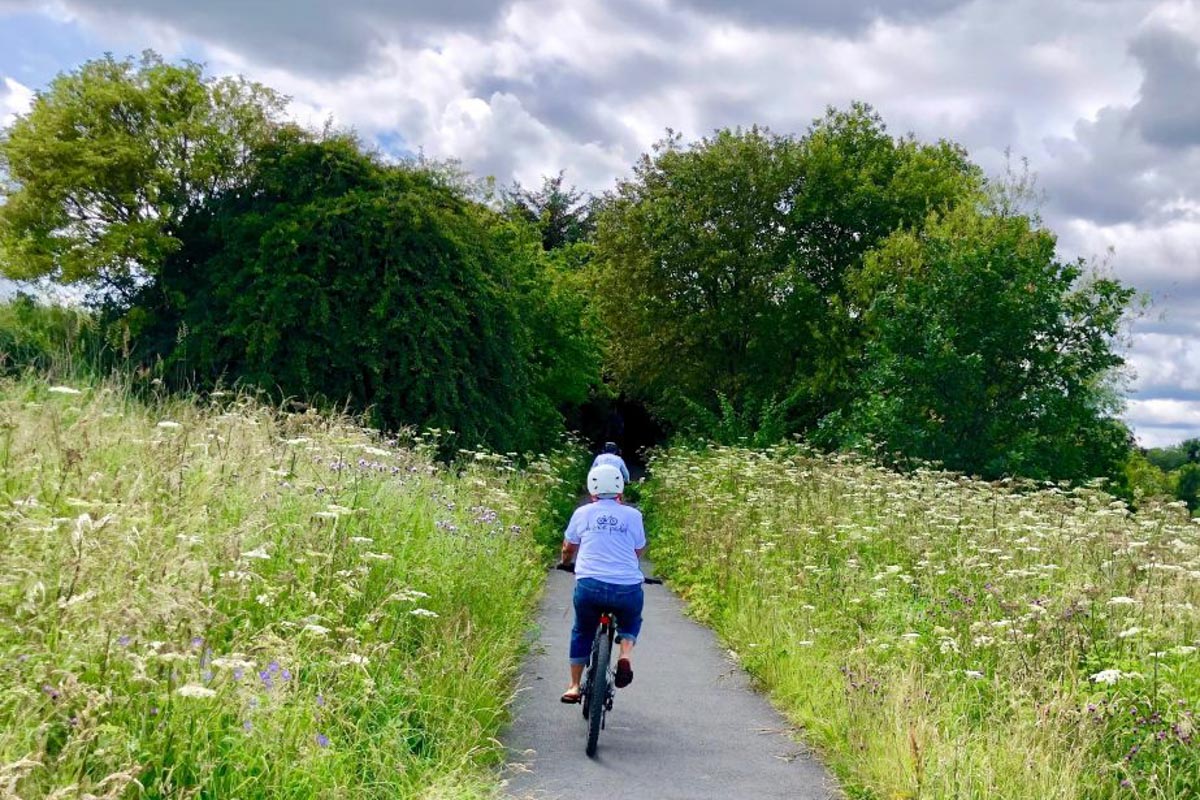 If you want to really pack in as much as possible during a short trip to Edinburgh, you may want to skip the walking tour and opt instead for a bike tour. This way, you can cover far more ground than you can on foot.
This bike tour, from A Wee Pedal, earns rave reviews, with guests saying,
"Bikes were excellent quality and well maintained. Leanne we very friendly and interested in our small group, happy to ride at our pace and make recommendations for nice local treats at a quaint cafe near the beach. The kids rated this as number one experience of the weeks holiday in Edinburgh, I kid you not! We will defo be back! Thanks Leanne for a great day."
The tour brings you from the oldest pub in Scotland (see #4) all the way to the coast at Portobello beach. You'll stop at many other top attractions in Edinburgh along the way, making it a perfect way to see a lot in a short amount of time.
25. Catch a film in the Scotsman Picturehouse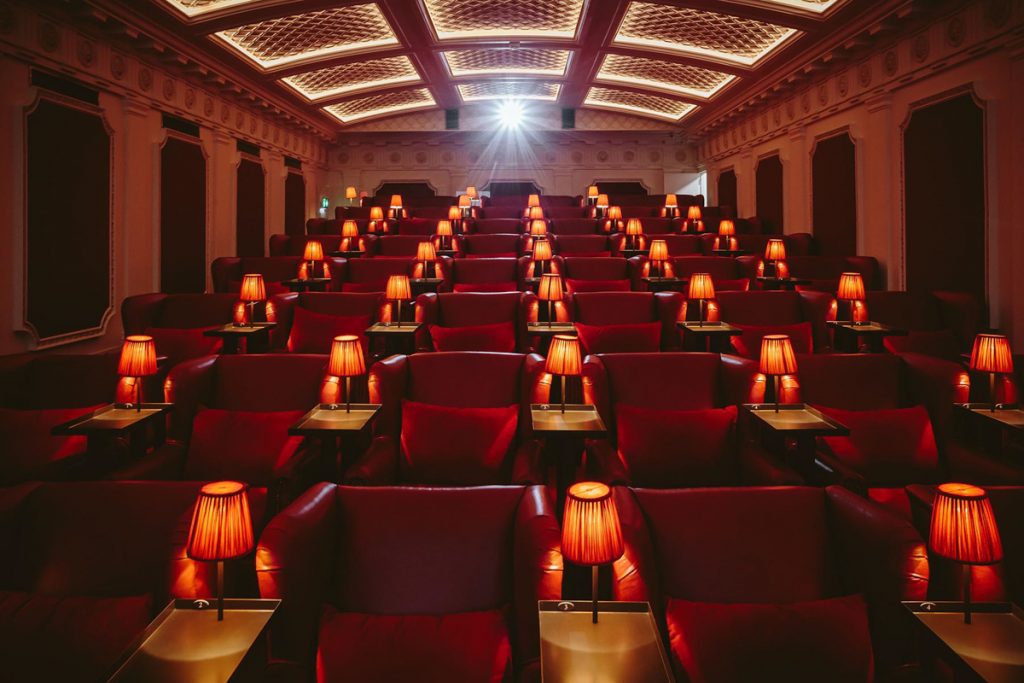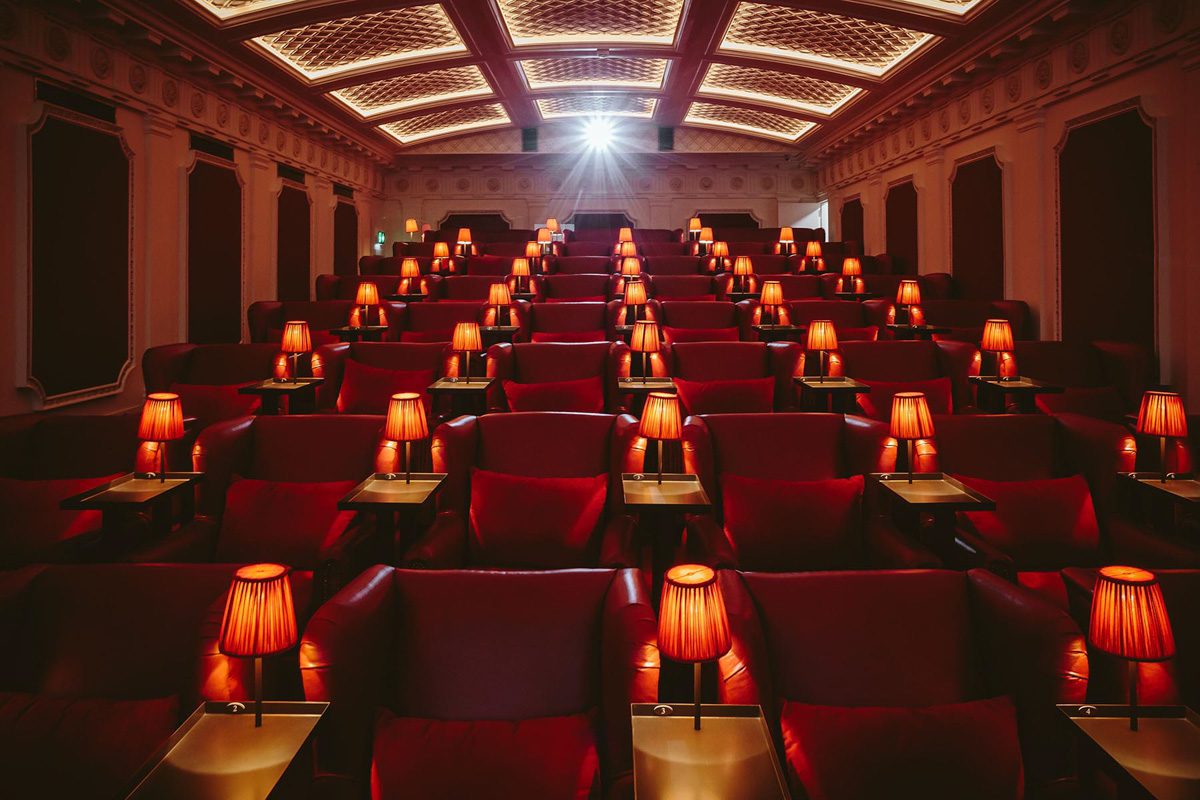 If you happen to be in Edinburgh on a rainy day – and let's be real, the chances of this happening are quite high – we've got a pretty cool idea for you…
See a movie at the Scotsman Picturehouse! Located inside the iconic Scotsman Hotel between Old Town and New Town, if you're looking for things to do in Edinburgh on a rainy day, this is a great option!
Now before you roll your eyes, this theater isn't like your typical cinema. With just 48 seats – or to be more specific, red leather arm chairs – this intimate venue is AMC's fancy step sister. Or maybe there is no relation at all because she bougie.
On either side of each seat is a dimly-lit lamp, and the room itself is handsomely appointed with crown molding and an intricate ceiling. Instead of sticky floors and questionable seats of a normal movie theater, the Scotsman Picturehouse oozes charm and opulence, making viewers feel as if they've been transported back to the time when going to the cinema was a luxe affair.
Oh, and you can enjoy the big screen with a cocktail in hand.
Like we said, not your typical movie theater experience.
The picturehouse has a diverse screening schedule. From classic films, like Breakfast at Tiffany's, to modern hits, independent productions, and cultural showcases such as ballets and opera, there's sure to be something for everyone.
Do it yourself
Search your travel dates and see what films are playing. You can make your reservation online (£1.50 booking fee) to ensure you have a seat. Remember there are just 48 seats available, so they do book up in advance.
Cost: Standard ticket is £16, and a sofa ticket is £32 (and includes two seats). There are also student discounts.
Good to know: Unlike typical movie theaters, the Scotsman Picturehouse doesn't show a seemingly endless array of trailers before the feature film begins. For this reason, it's important to actually arrive on time. Or 15 minutes early, as they recommend. We'd advise getting there even a bit earlier if possible so you can grab a drink in their adjoining bar so you can truly get the whole experience.
Unfortunately for those traveling with kiddos, this is an adults-only movie theater. I know, I know, we were bummed too.
26. Enjoy traditional Scottish folk music in a pub
There's truly no better way to spend a night in Edinburgh than with a pint and live music.
That's what the Scots would call "a good craic". Aka a good time.
So where do you go to catch live music? Just about any pub. Wander around near your hotel and pop into the coziest pub you see. Chances are they'll have traditional music late in the evening, and there's no doubt they'll have beer and whiskey.
Want some ideas of where to start?
The Waverly Bar: We walked past this place a bunch, as it was near our hotel and it looked like a really fun place to grab a pint.
Dirty Dick's Pub: Yikes, that name! But it does look like a good time!
Whistlebinkies: Down-to-earth atmosphere with nightly live music, cask ales and whiskey. (Monday is open mic night.)
27. Eat Indian food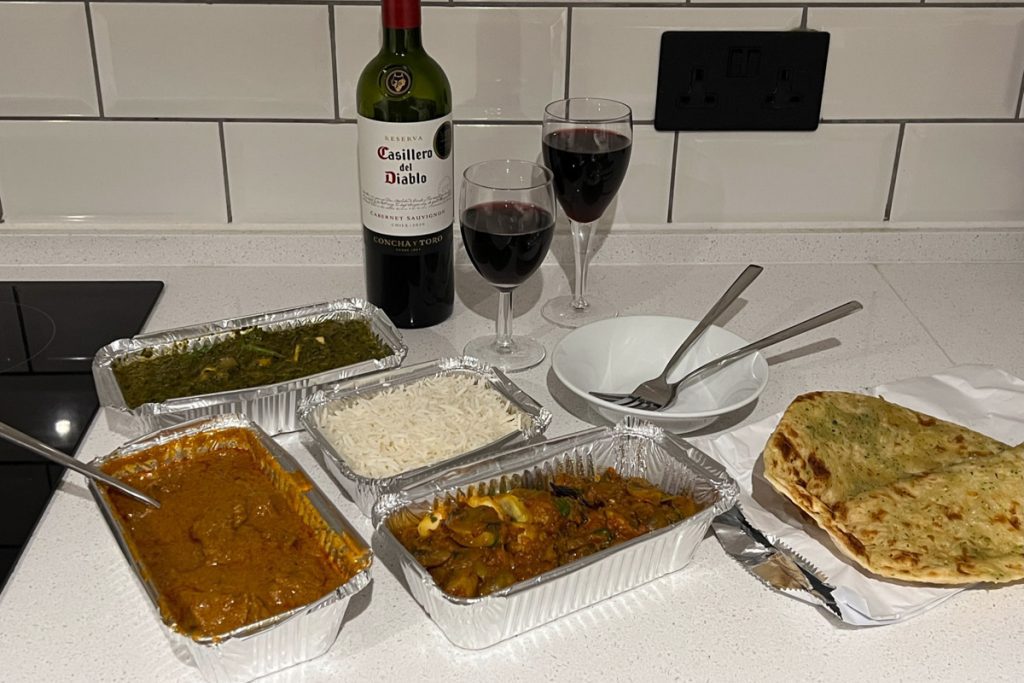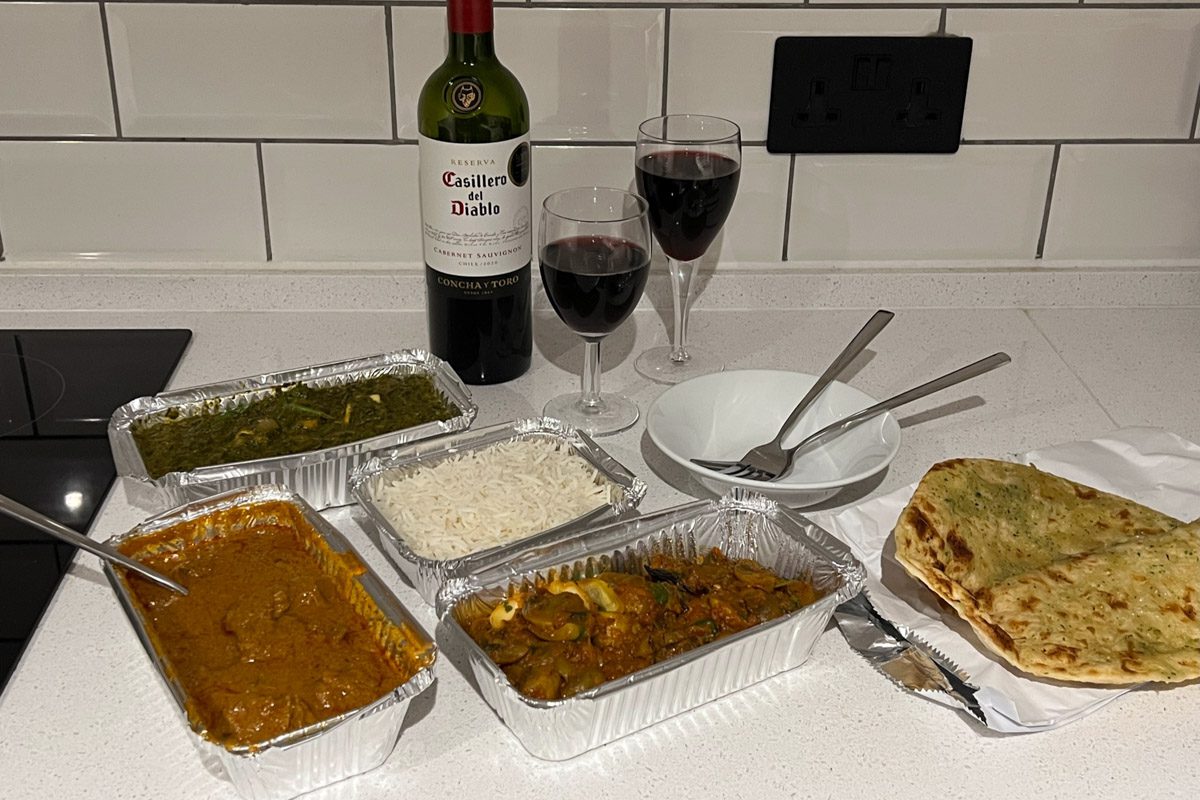 When in Scotland, do as the Scots do, right?
Well, then dining on Indian food should be part of your Edinburgh itinerary.
Indian is one of the favorite cuisines in Scotland (and in the UK in general). The country has a longstanding love affair with dishes from this former British colony. In fact, Indian is the most popular type of takeaway food in Scotland (it's true!).
While you'll find excellent Indian food all around the country, Edinburgh has its fair share of gems.
Dishoom
Often making the lists of the best restaurants in Edinburgh, Dishoom is an elevated dining experience featuring shareable dishes, a large vegan menu, and handcrafted cocktails.
Pakora Bar
Known for their haggis pokhara, which is a distinctly Scottish twist on an Indian favorite, Pakora Bar has a cozy atmosphere and reasonably priced food.
*Currently closed as they are moving locations
Mother India's Cafe
A buzzy restaurant serving Indian classics such as curries, samosas and lassis. We ordered takeout from Mother India's Cafe during our time in Edinburgh, and it was excellent.
28. Go vegan for a day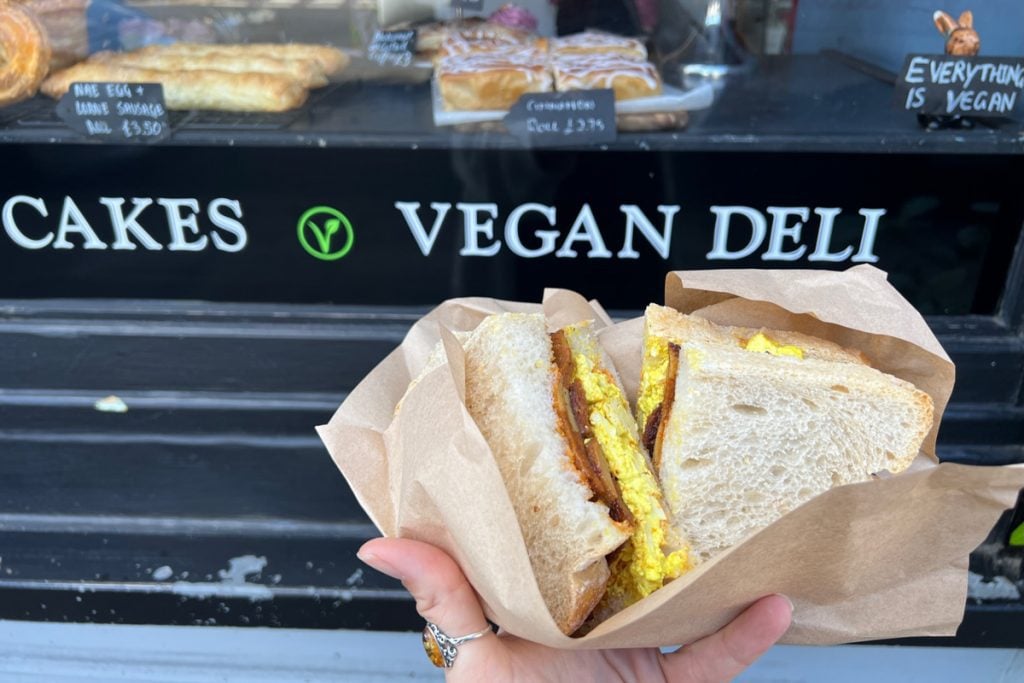 When you think of Scottish cuisine, haggis, fish 'n chips, and shepherd's pies all come to mind in all their carnivore glory. But we were surprised to find that amongst all the meat-centric menus in town, there is actually a burgeoning vegan scene.
Whether you're fully veg or you're just looking for some lighter fare to balance out all that haggis, you're sure to find what it is your vegetable-loving heart is searching for.
Oh, and while we're on the topic, there are many places around the city to try a vegan version of haggis (see #15 on this list)!
Good to know: In addition to restaurants that are totally vegetarian or vegan, many places around town have a vegan menu in addition to their regular offerings. So whether you're a vegetarian or a carnivore, you'll have no problem eating well in Edinburgh!
29. Graze on a charcuterie platter almost too beautiful to eat
30. Cozy up with a drink in these Secret Domes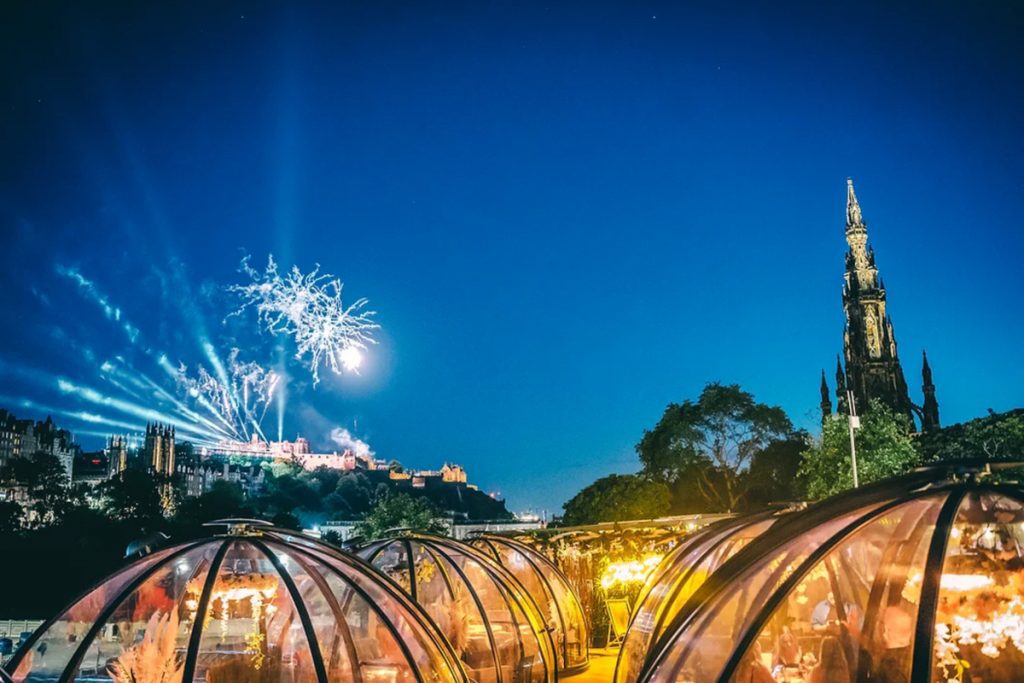 These secret domes look so freaking cool!
Perched on the rooftop of Cask Smugglers, these transparent domes provide guests with sweeping views atop the city, with the Edinburgh Castle front and center.
Sip an Old Fashioned or a Bramble (gin, lemon and black currant) and take in the views as you graze on a beautifully-curated charcuterie board.
Does this sound like the perfect evening to anyone else?!
I was stoked to sip a cocktail with a view of the city in a cozy little snow globe-thing (one of the only cool things to come out of the "Covid era"), but alas, they do not allow anyone under 18 in their globes.
Womp, womp. (But I get it.)
If you are traveling sans kids, do me a favor and order a gin and tonic here for me! Bonus points if you send me a pic!
Do it yourself
Be sure to make a reservation here, as the domes do fill up. Note that you will need to provide your credit card to hold your spot. If possible, try to time your visit around the sunset hour so you can enjoy Mother Nature's nightly show of colors.
You'll need to select whether you'll be enjoying only drinks (cocktails, wines and beer) or ordering from their small, but nice, food menu as well (think charcuterie boards, and small bites, like olives and bread). Check out the menu here.
Good to know: There is an hour and a half time limit, so other guests can enjoy the domes.
31. Discover the dark secrets of Mary King's Close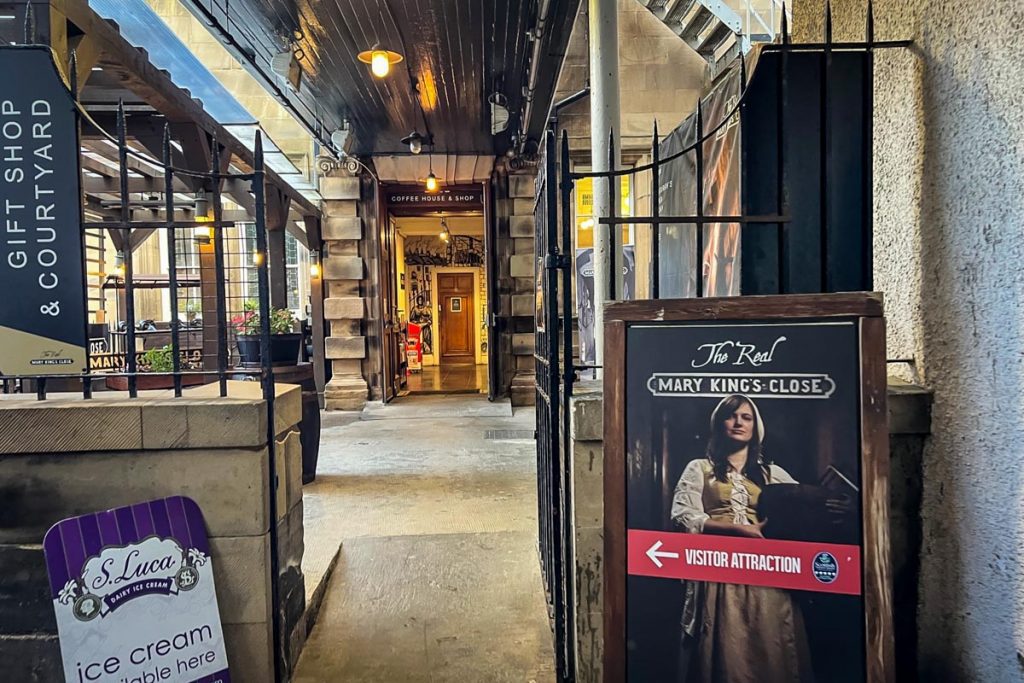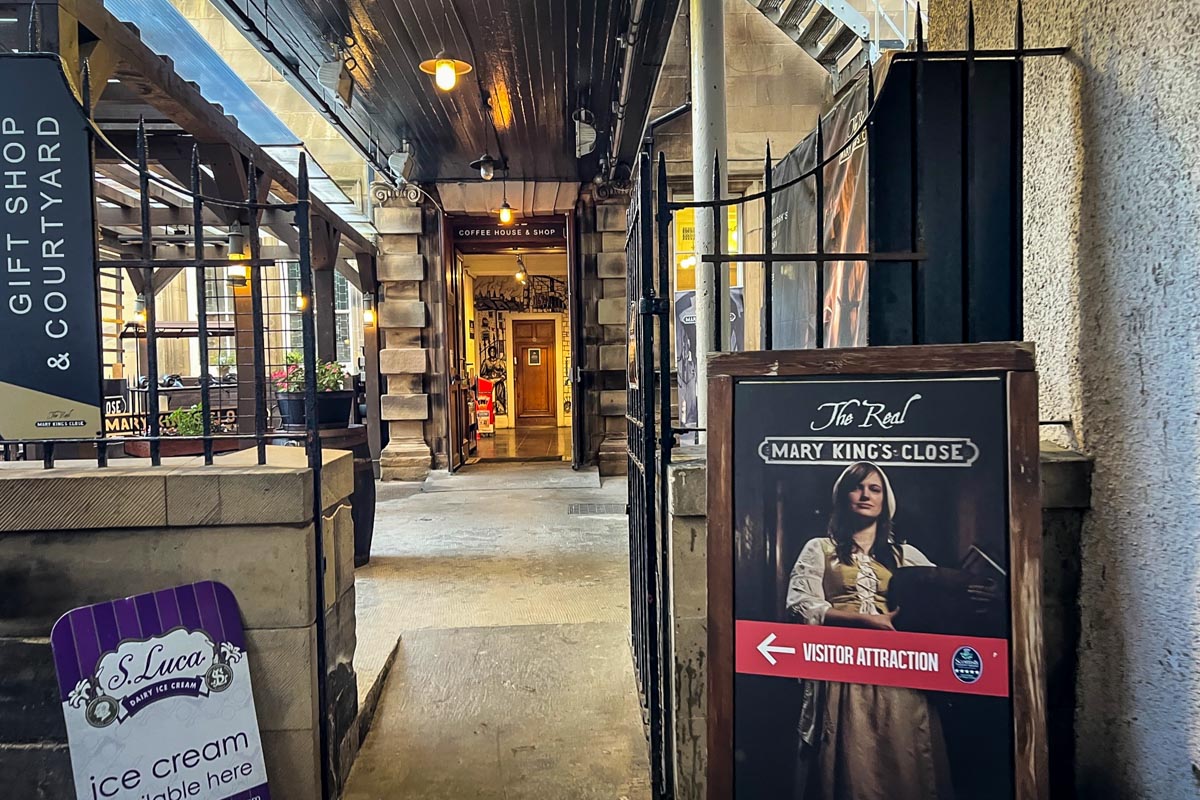 Discover Edinburgh's hidden history on this fully-guided tour of the preserved 17th century street beneath the Royal Mile, known as Mary King's Close. Step back in time and find out how the Close, which used to be a bustling trading street open to the skies, came to be underground.
Voted Scotland's Best Heritage Tourism Experience, you'll learn some of the intriguing stories of Edinburgh's past residents, from a deadly plague to famous royal visitors.
What you need to know
Duration: 1 hour
Price: $25.33 USD per person
Not suitable for children under 5 or those that suffer from claustrophobia, and wheelchair inaccessible
What guests are saying:
"Fantastic, and surprising. I've been on a few tours now and this one was NOT hokey like some of the others! […] As a history graduate, I was awed to see this part of Edinburgh's underground history, which can't be accessed on your own due to the need for preservation. To walk this hidden Close, to see these amazingly preserved areas and to hear the true history – not the myth we've all been told – was a privilege. Would definitely recommend." – Claire, New Zealand (September, 2022)
32. Walk to Cramond Island at low tide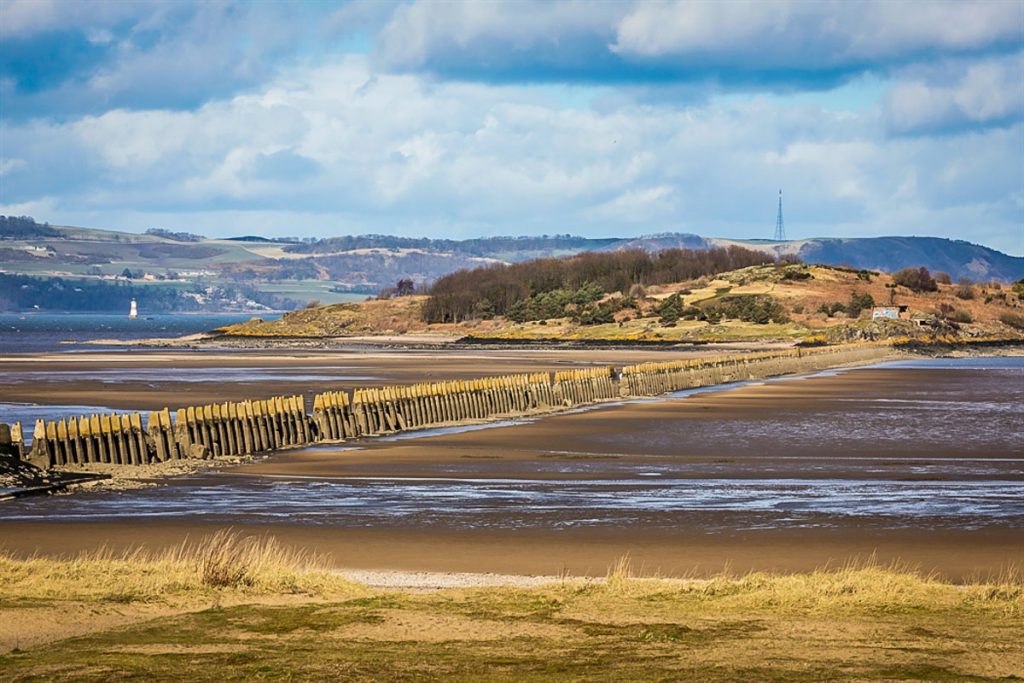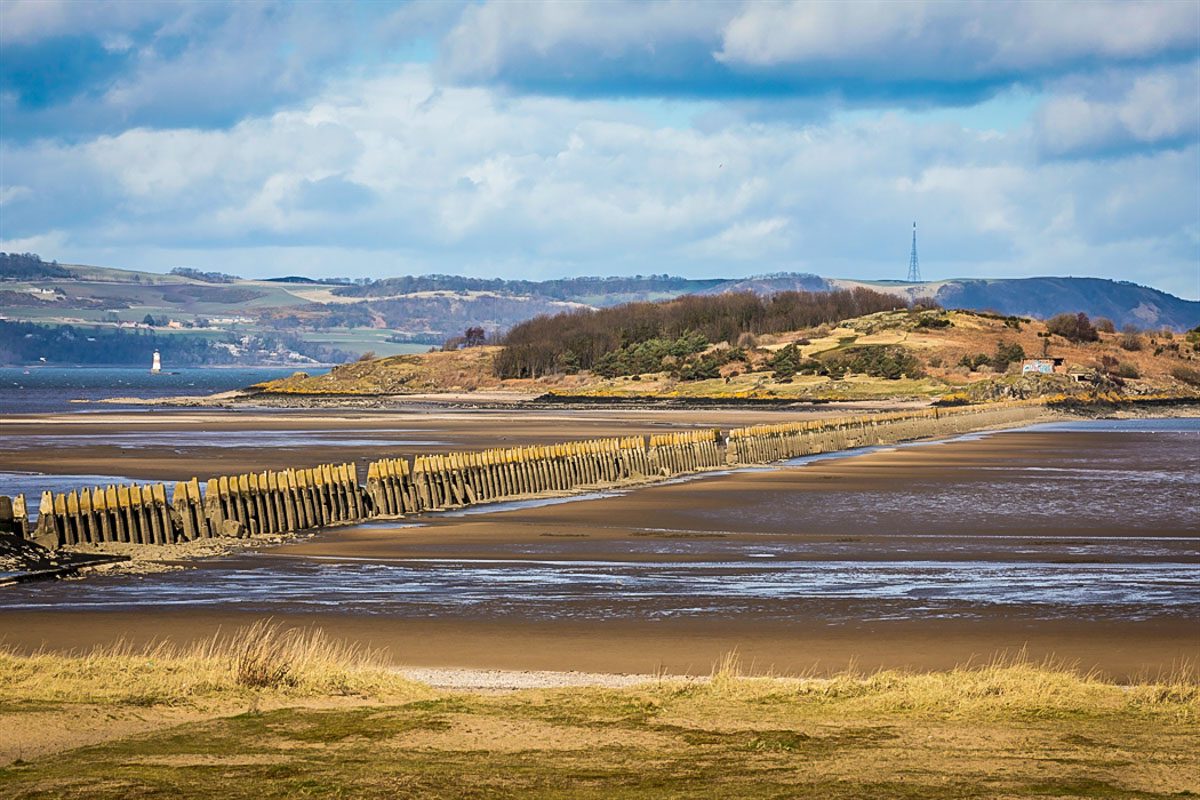 If you're looking for a free and unique thing to do in Edinburgh, exploring this tidal island will be right up your alley.
At low tide a paved walkway is revealed, leading adventurous explorers to this interesting island that holds more than one role in history.
From a Roman defense location, to an area for sheep to graze, to a farmstead to a strategic place in both World War I and II, Cramond Island has known many purposes.
Cramond Island Walk
The pathway to get to this island is roughly 1 mile (1.6 km) long, but if you plan to explore the island, it'll nearly double the distance one way.
Distance: roughly 3.7 miles (6km), round trip walk, including exploring the island itself
During high tide, several feet of seawater cover the walkway, rendering it uncrossable; so planning your timing accordingly is key.
Cone-shaped concrete structures line the walkway, and are the most photographable feature of this path. Fun Fact: These were installed during World War II as a submarine defense.
Do it yourself
To get to the island using public transport, you can take bus 41 from Princes Street toward Cramond. The bus stops just outside Cramond Kirk Hall (church), and from there it's just a short walk to the causeway.
True Story: We have a good friend who got stranded on the island when the tide came in and she had to call the Coast Guard! So learn from her and be sure you check the tides before you go.
Insider Tip: If you have more time to explore after your visit to Cramond Island, head south of the water toward Cramond Falls. Continue on River Almond Walkway for a tranquil path that few tourists ever see.
33. Explore Leith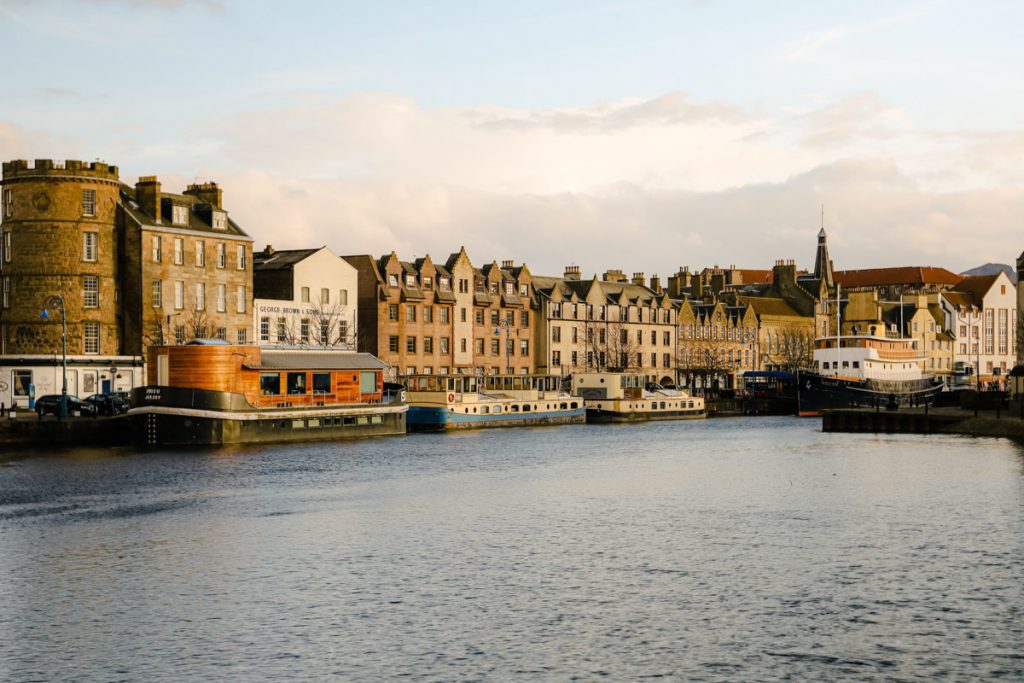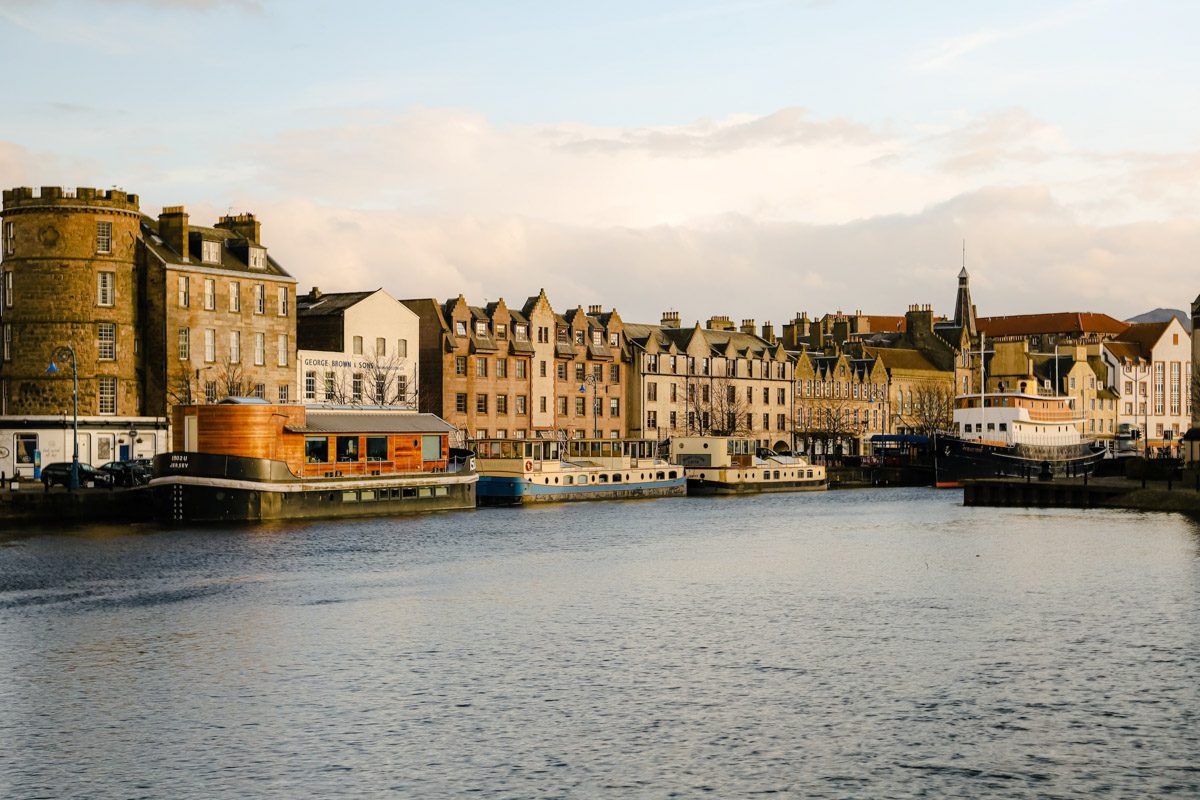 This up-and-coming city is a historic port on the north shore of Edinburgh known for its booming dining and art scene. The neighborhood has undergone some serious change in the last 10 years and is now described as one of the coolest 'hoods in Edinburgh.
Be sure to check out The Shore, a highlight of the neighborhood with an abundance of water-front restaurants, Leith Walk, which is the main shopping area, and the historic port on the Firth of Forth.
How to get there:
You can easily walk to this area via the Leith Walk, a mile-long stretch of road connecting to the east end of Princes Street in Old Town.
If you don't feel like walking, it's a short Uber ride away. The two bus lines that take you to Leith are 33 or 35. There is also a tram connecting the center of the town to Newhaven, via Leith Walk, that will be available in the near future.
34. Have a mini picnic at St. Bernard's Well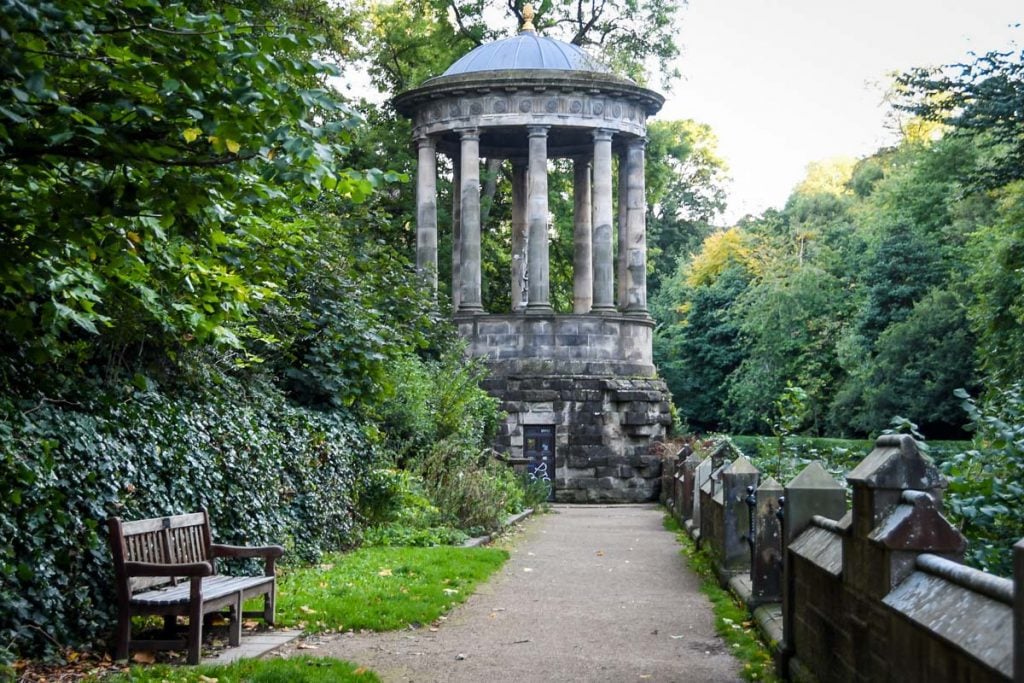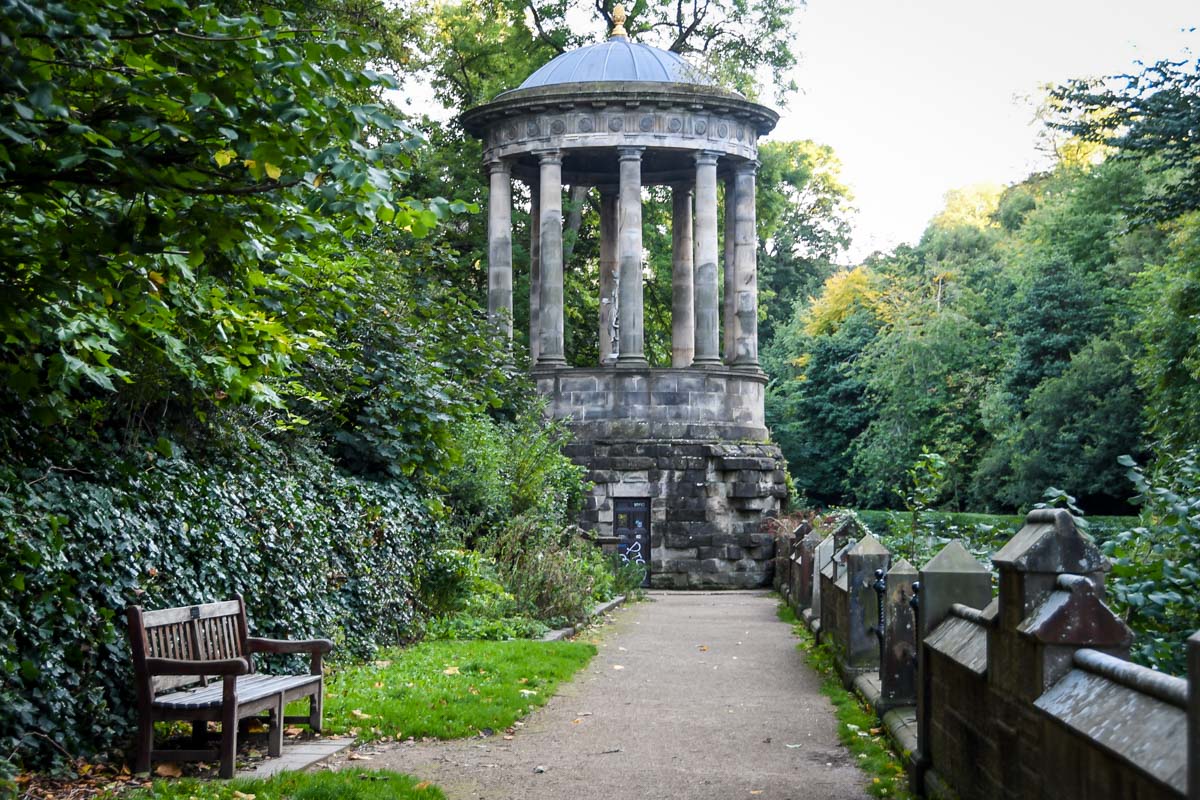 Along the Water of Leith, there is a path through lush foliage that leads to a small structure known as St. Bernard's Well. Inside the historic well is a statue of the Greek goddess of health, Hygeia, which is a nod to the spring waters that were rumored to have healing properties.
While the well is interesting to see, the main draw is that this portion of the river feels like a tranquil oasis from the city streets.
Take a seat on one of the many benches that dot the path. Take a few moments to rest your feet and find a few moments of zen. Enjoy a book or just sit and people-watch, as this is a popular running trail and place for locals to walk their dogs.
Make it a picnic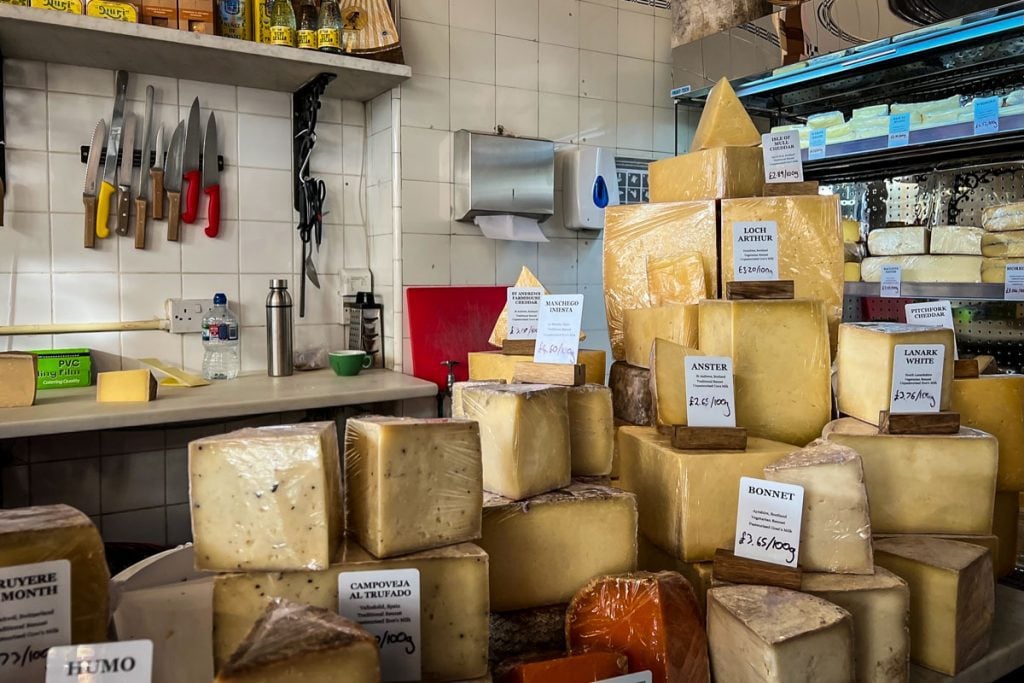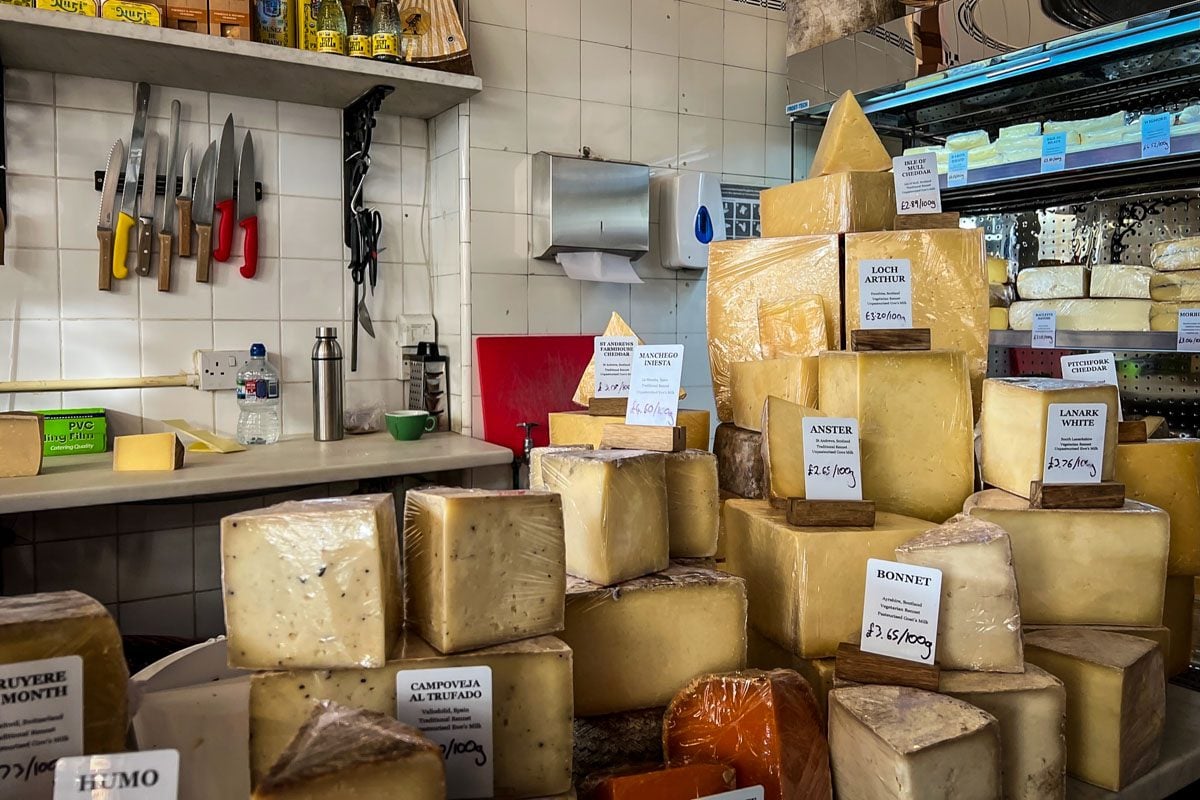 If you're a lover of cheese (hello, bestie!), we've got the perfect idea for you…
On your way to St. Bernard's Well, stop at this cheesemonger shop and sample a few local artisan cheeses. Choose your favorite and do as the Scots do by grabbing a package of oatcakes to pair with it. To really round it out, we'd recommend also picking up a chutney or marmalade (we're big fans of onion jam).
If you want something more, grab one (or two!) of their hand pies. We had the turmeric cauliflower pie and it was fantastic. I would go back again just for that! They also have Scotch eggs and a handful of other small bites that are perfect for carrying with you to enjoy near St. Bernard's Well.
You'll thank us later!
Do it yourself
Pair a visit to St. Bernard's Well with a stroll around Dean Village (see #5) for the perfect afternoon!
35. Walk through a mural-covered tunnel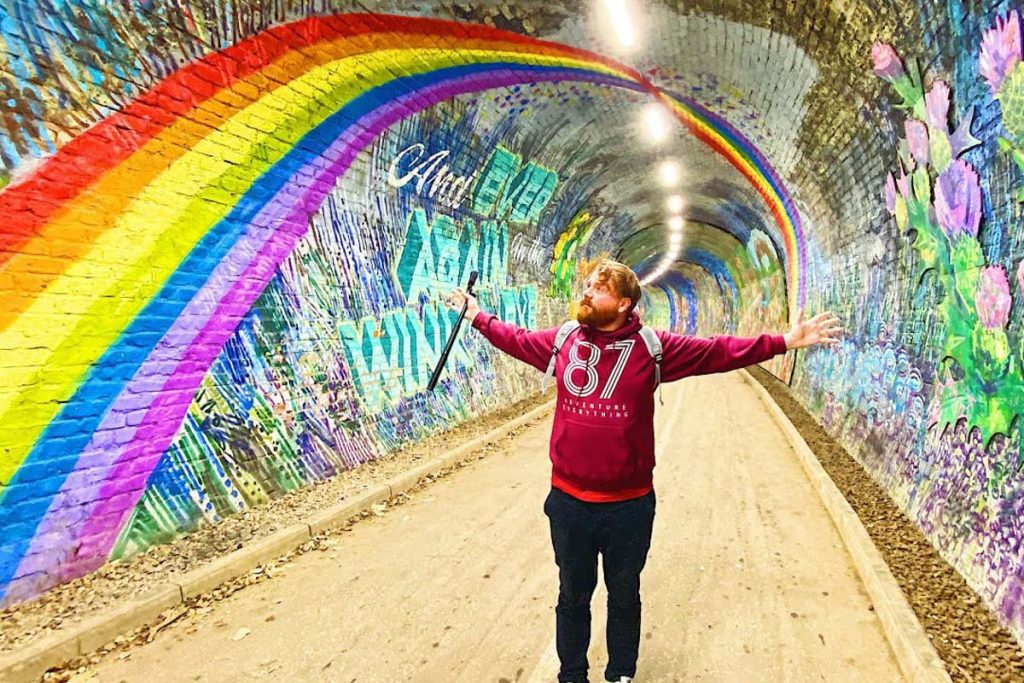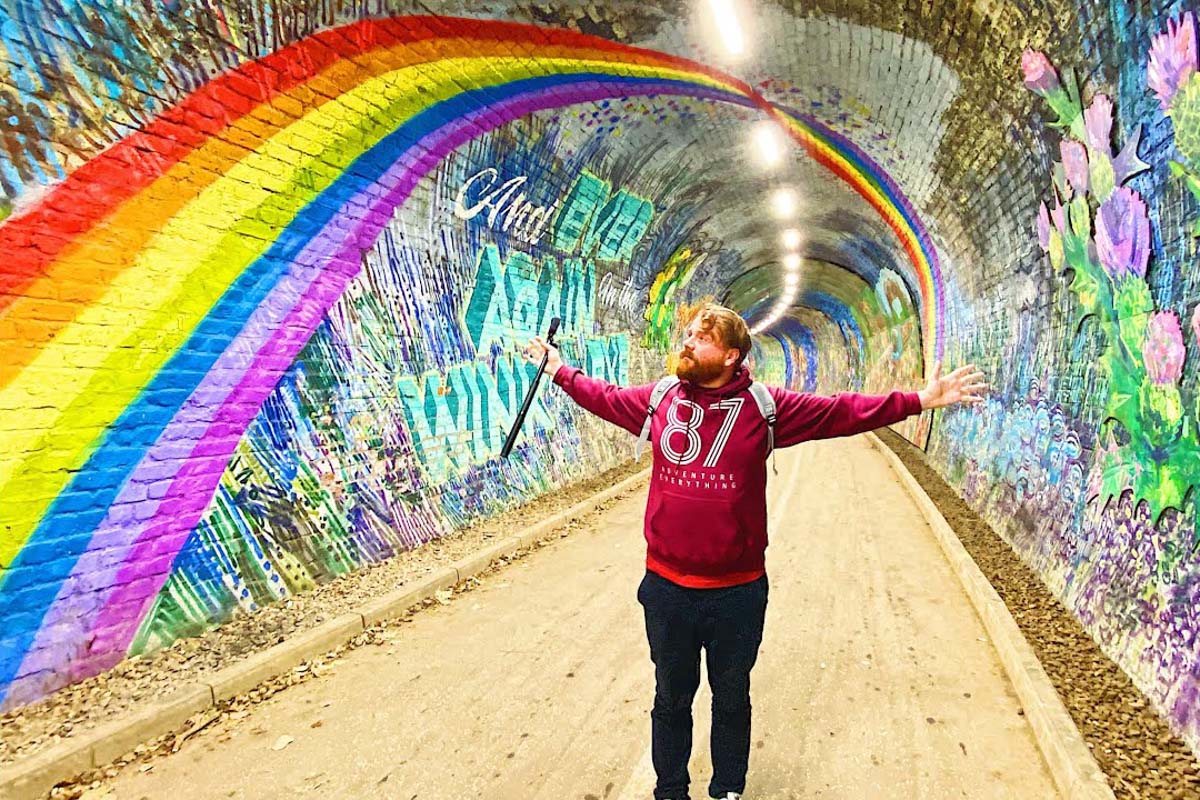 The Colinton Station & Tunnel is a bit of a ways from the city center, but for travelers who like to get well off the beaten path, walking through this mural-covered tunnel will be a highlight of your time in Edinburgh.
This tunnel is a popular place for locals to go running or walk their dogs, but not many tourists every see this piece of art.
Once a Victorian railway tunnel, the Colinton Mural Project began in 2016 as a way to bring new life into a scary, dark and dingy tunnel.
And what a transformation it was!
The tunnel is now well-lit and covered completely in colorful, uplifting artwork and draws people from all over the city.
How to get there: Take Bus 16 toward Colinton. From the final stop it is just a short walk to the entrance of the tunnel.
36. Laugh the night away at a Comedy show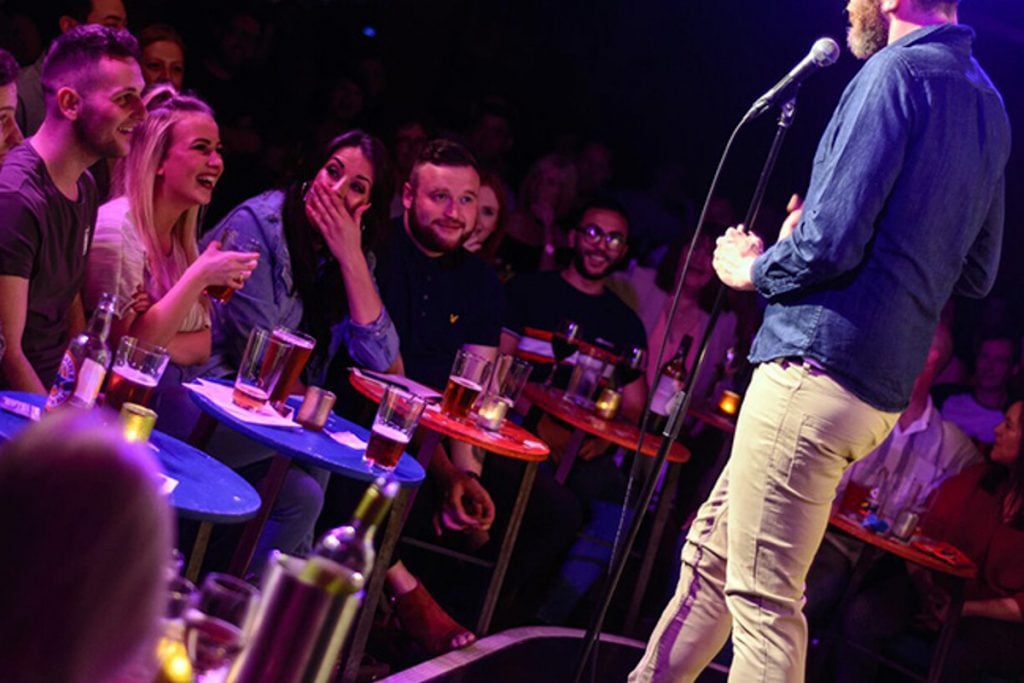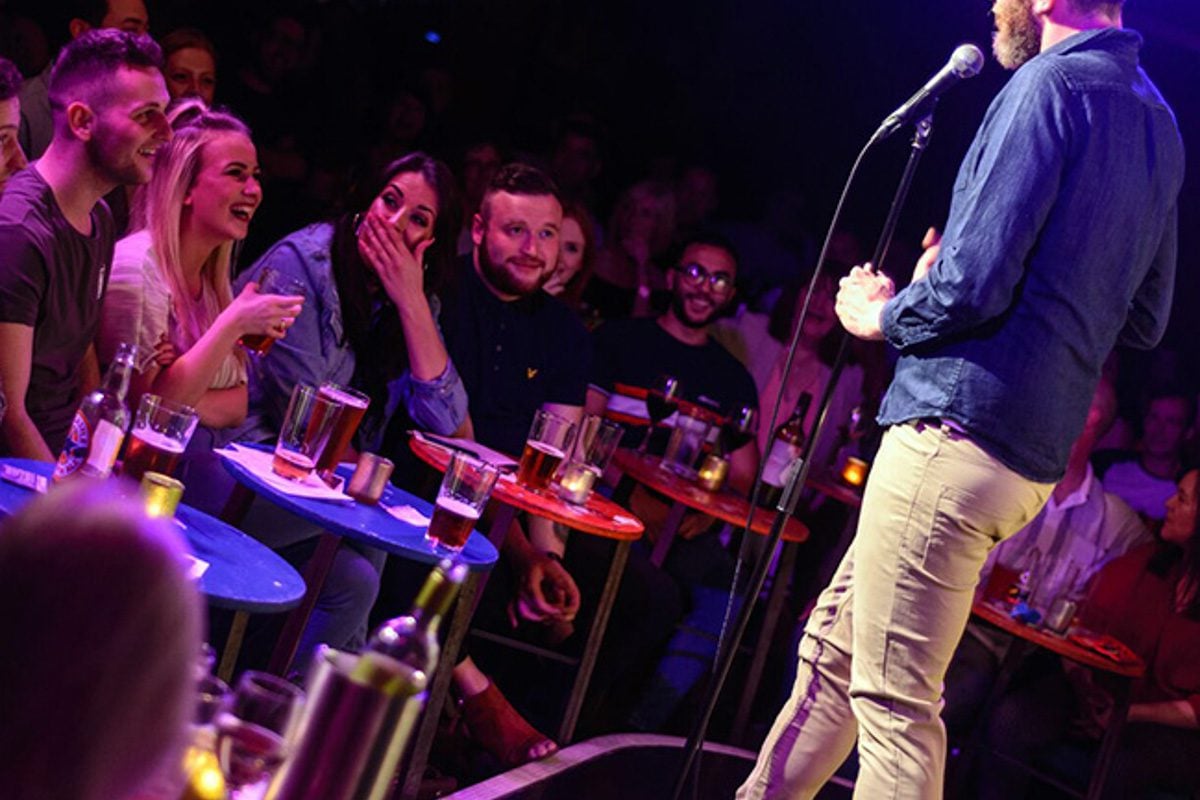 One thing we love checking out in big cities around the world is comedy clubs. It can be a really fun and unique way to spend an evening on the town amongst locals and other travelers.
And Edinburgh may just be one of the best places in the world to check out a comedy show because it is known for its legendary venues and unrivaled funny bone.
Here are two of the best-known venues in Edinburgh to see a comedy show:
The Stand
In some circles, The Stand is regarded as one of the top venues for comedy in the world, playing host to well-known comedians touring the world as well as local hopefuls that get up on stage during frequent open mic nights.
There are shoes nearly every night, so you should be able to catch one during your time in Edinburgh.
Tickets range depending on the type of show, from just £5 for shows featuring new comedians to £20+.
Check out what shows will be on during the time of your trip to Edinburgh and grab tickets here. (They do sell out in advance, so get your seats if you really want to see a show.)
Monkey Barrel
Monkey Barrel earns rave reviews, earning it the title of Edinburgh's top-rated comedy club. A couple of times a month (on Mondays), the Monkey Barrel hosts a "free for all" open mic night, where there are no tickets and you can come and go as you please.
They also host larger shows requiring tickets. Check out their lineup here to see if you're able to catch a show while you're in town. We'd recommend booking tickets in advance, as they do sell out.
37. Go museum hopping (for FREE!)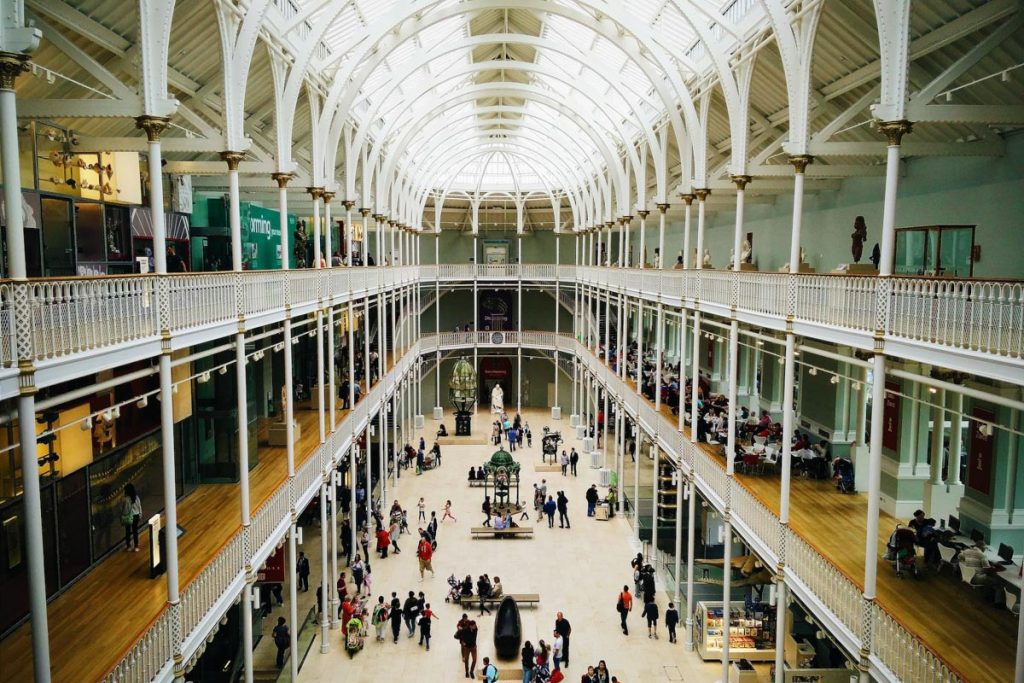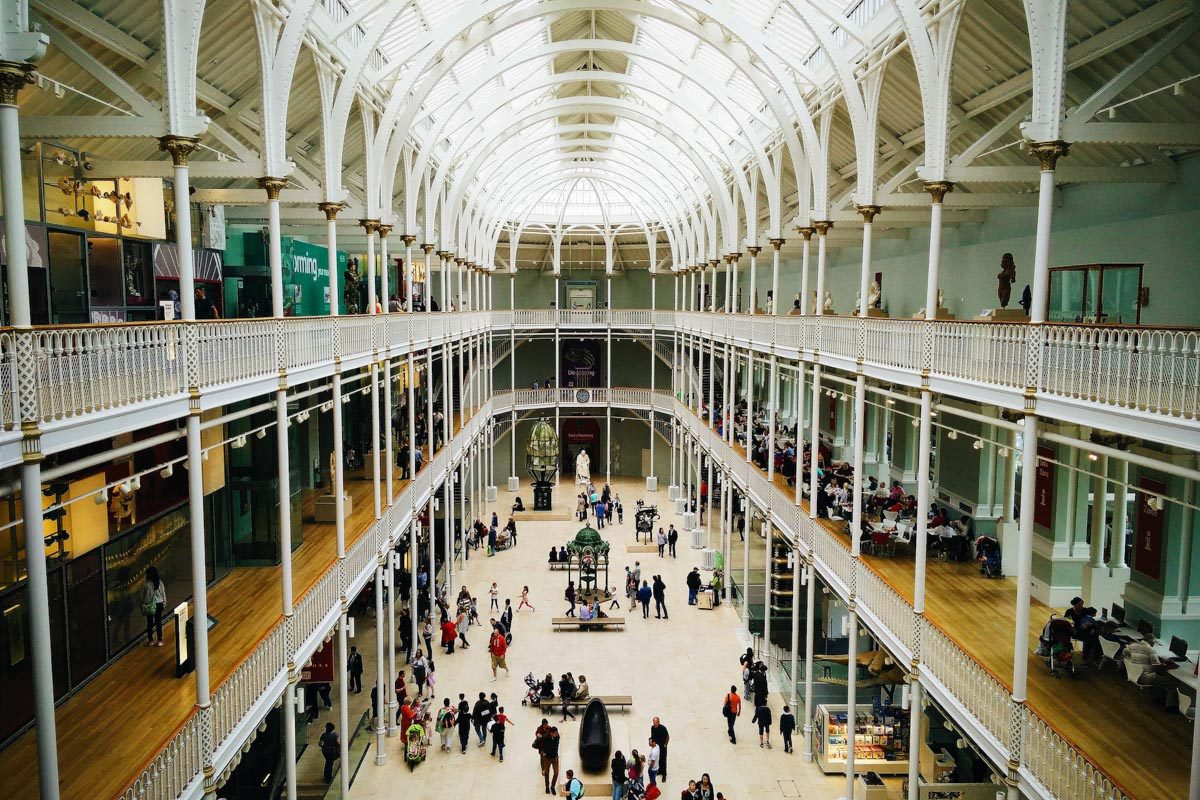 What do you think all of the museums below have in common…?
Would you believe me if I told you they are all totally FREE to visit?
They'll cost you nothing.
Zip. Nada.
And actually, that's not even the full list of free museums. Most in the country are free to visit. Get the full list here.
38. Attend one of Edinburgh's famous festivals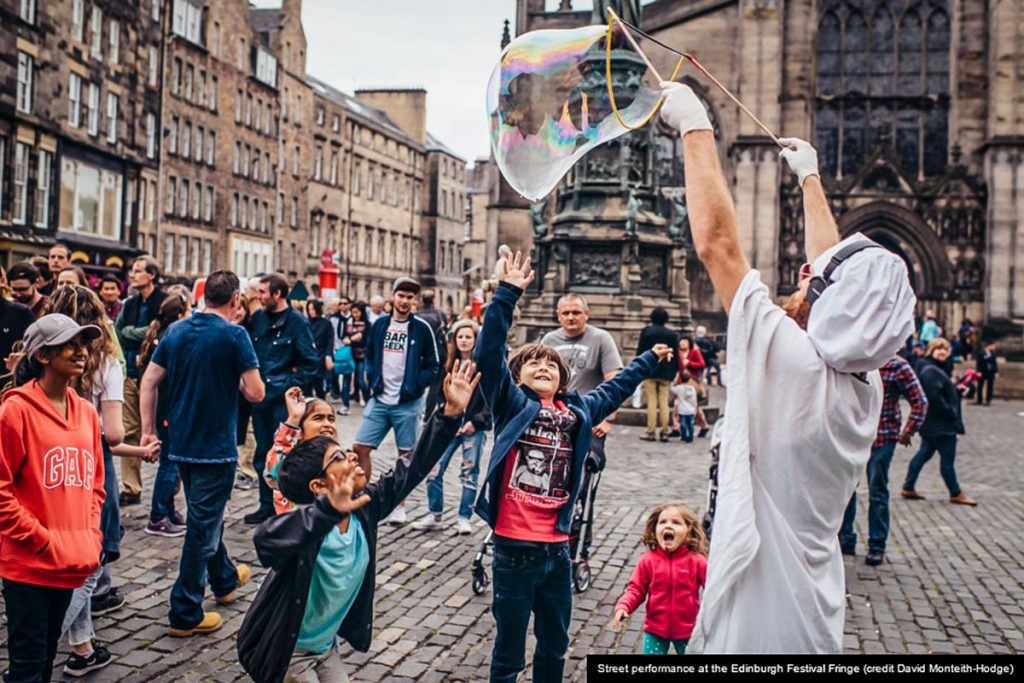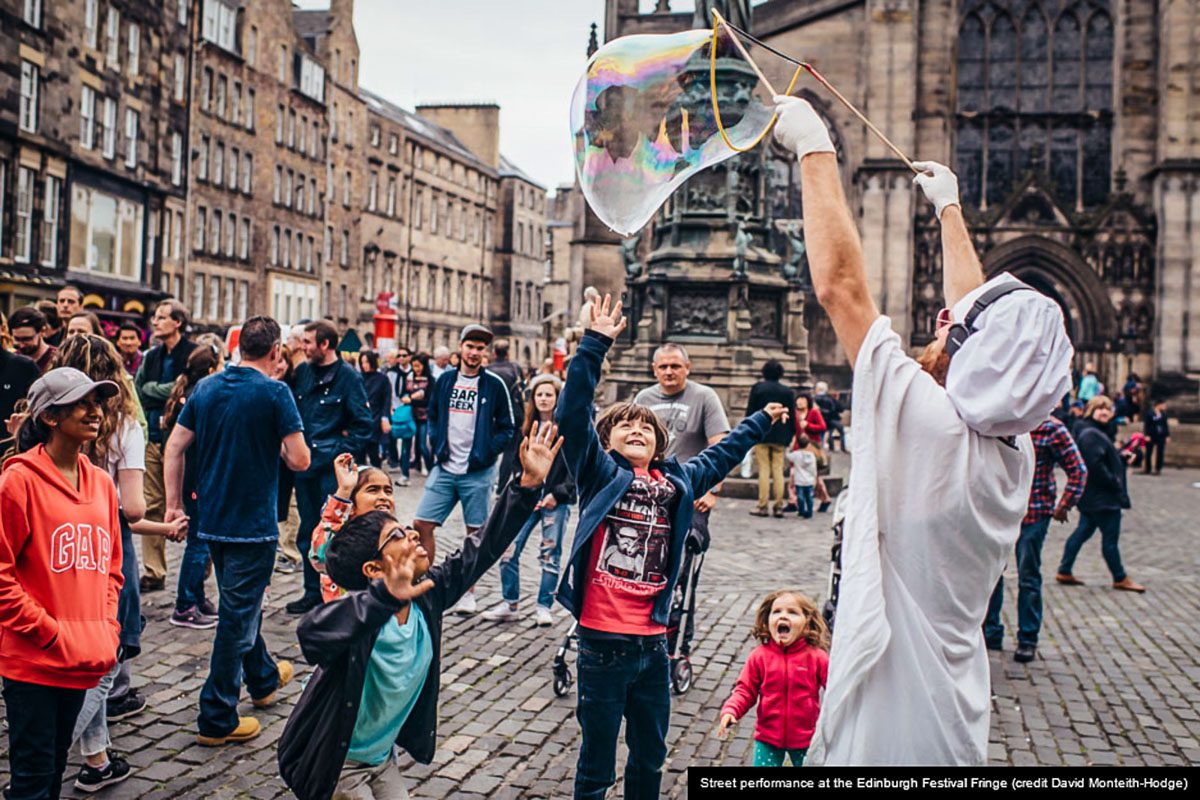 Edinburgh claims to be the "world's leading festival city", boasting unique and exciting festivals all year long.
But the king of them all – the crème de la crème – is the Fringe Festival, which takes place for nearly the entire month of August each year.
Fringe claims to be "the single greatest celebration of arts and culture on the planet", drawing performers and visitors from around the globe.
Since 1947, Fringe Festival has been a place for people to share their talents and love of theater, comedy, music, art and all types of performance.
One thing that makes this festival especially unique is that it is an open-access format, meaning anyone can be a performer.
During Fringe, hundreds of stages are set up throughout the city with thousands of performers – from big names to, well, anyone looking to share their passion.
We first heard about this world-renowned festival from a couple we met while hiking to Everest Base Camp. They went each year to share their own talents, and they sure piqued our interest! However, when we looked into visiting during Fringe Festival, we realized booking during this ultra popular time of the year had its own challenges (and cost!).
More on that below…
Something to consider about Fringe Festival
Depending on your travel style, you may want to plan your visit around this festival or avoid it at all costs. The population of Edinburgh nearly doubles during the month of August each year, meaning that it gets incredibly crowded and you'll be paying peak prices for just about everything.
We heard from more than one local that they hate the entire month of August because, and I quote: "the city feels like Disney World". But if the crowds don't deter you, you'll be able to experience a world-class festival in one of the world's coolest cities.
39. Eat at one of Edinburgh's Michelin Star restaurants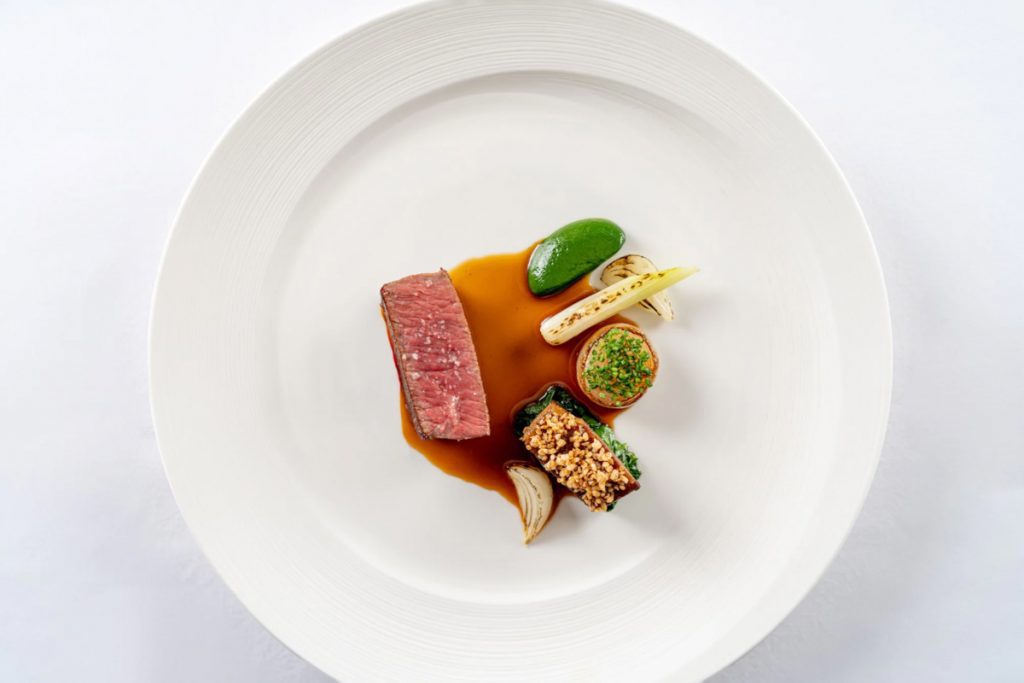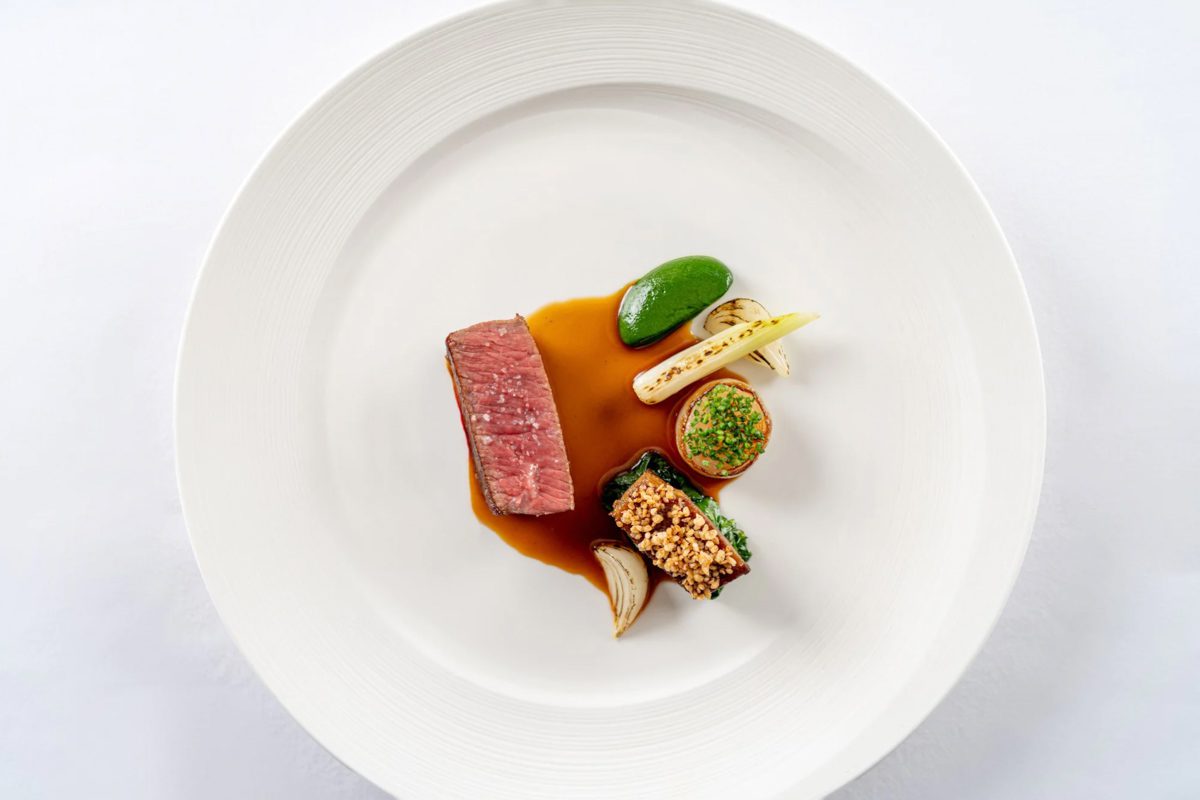 Renowned for its thriving food scene, it's no surprise that Edinburgh is home to multiple restaurants with the top accolades of Michelin Stars. In fact, the city has 4 in total!
Whether you're looking for elevated Scottish fare or something new and exciting, these restaurants have you covered.
40. Shop the Edinburgh Farmers Market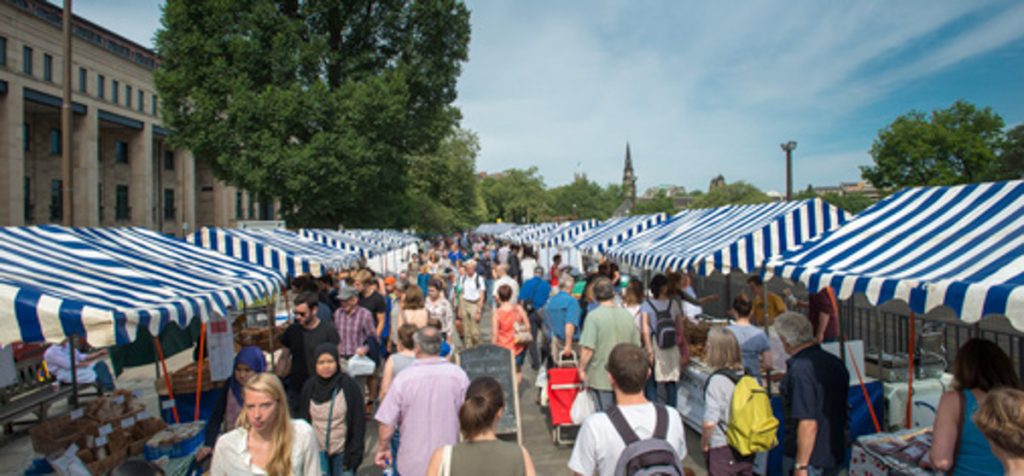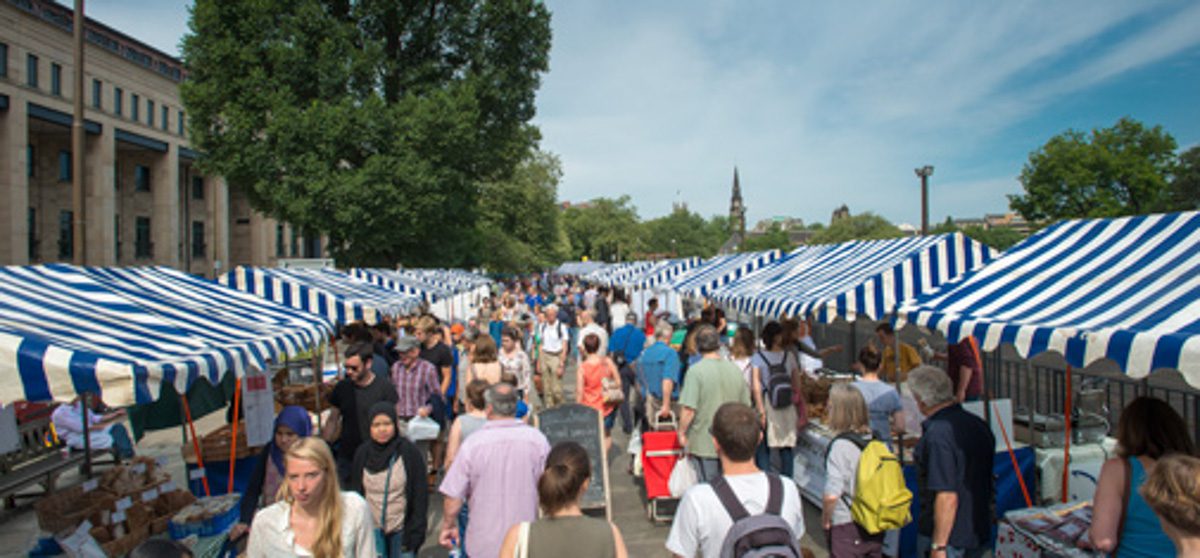 If you're visiting Edinburgh on a Saturday, why not pop into the Edinburgh Farmers Market. The lively outdoor market is a great place to find locally sourced produce, meats, cheeses, baked goods and even beer!
Make your way around the 35+ stalls as you nibble on samples and load up on goodies.
The market is open year-round, every Saturday from 9 a.m. to 2 p.m. on the Castle Terrace, right next to Edinburgh Castle.
---
Best time to visit Edinburgh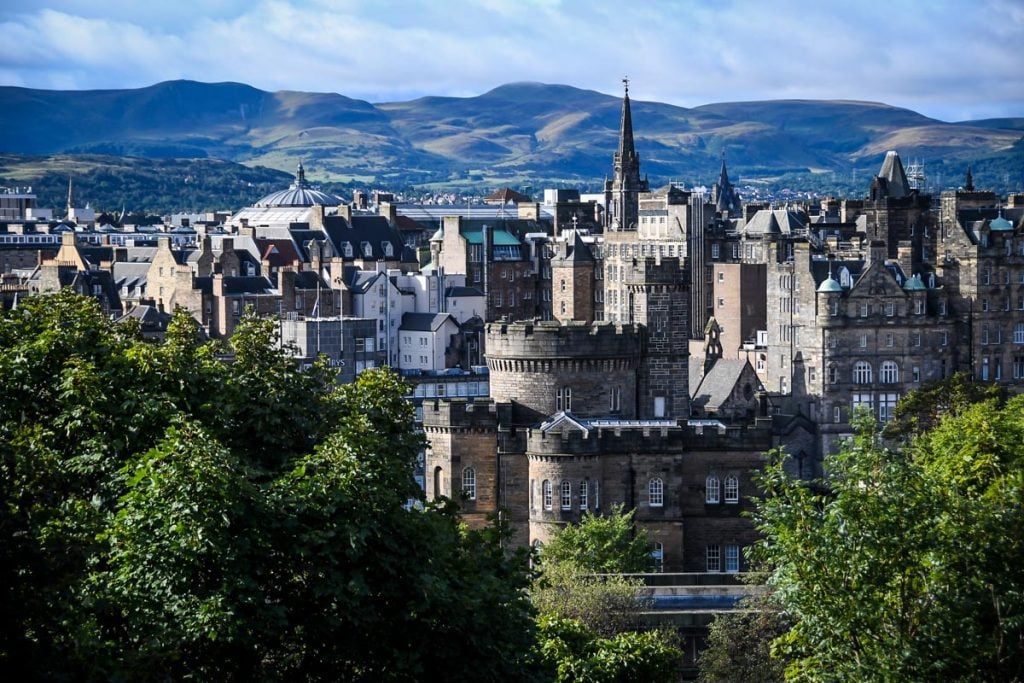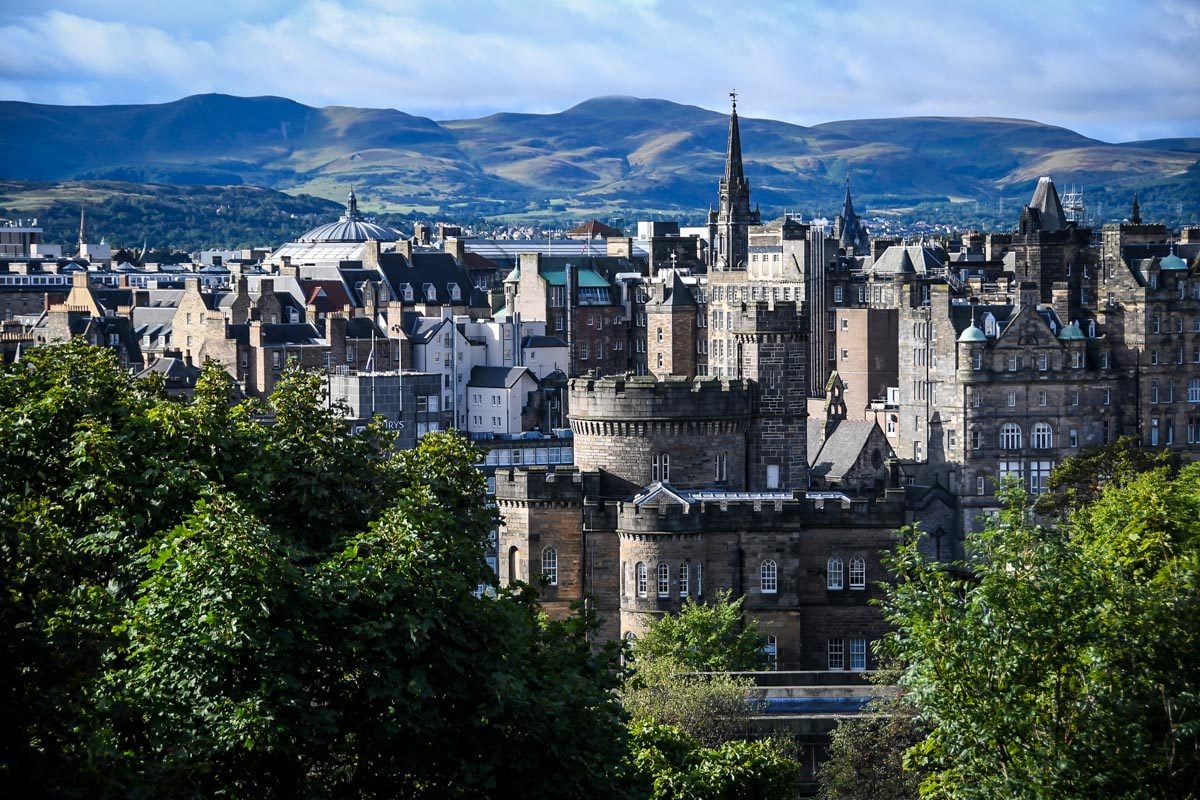 There really is no wrong time of year to plan a visit to Edinburgh. In terms of weather, it never really gets super hot or super cold, so most things to do in Edinburgh are available year-round.
It is important to note that summer is the rainiest season in Scotland (including Edinburgh), whereas spring and fall are the driest.
In our opinion, visiting Edinburgh in May or September would be best, so you have the best chance of warmer, drier weather and fewer crowds.
Summer in Edinburgh brings warmer temperatures and of course there's the famed Edinburgh Fringe Festival each August that draws a huge crowd (accommodation books up months in advance and prices will be sky-high!).
We'd advise you to avoid visiting Edinburgh during the month of August unless you're planning to attend The Fringe and can plan your trip well in advance.
Psst! For an in-depth guide on the seasonal weather patterns and other factors, check out our complete guide on the best time to visit Scotland.
Getting around Edinburgh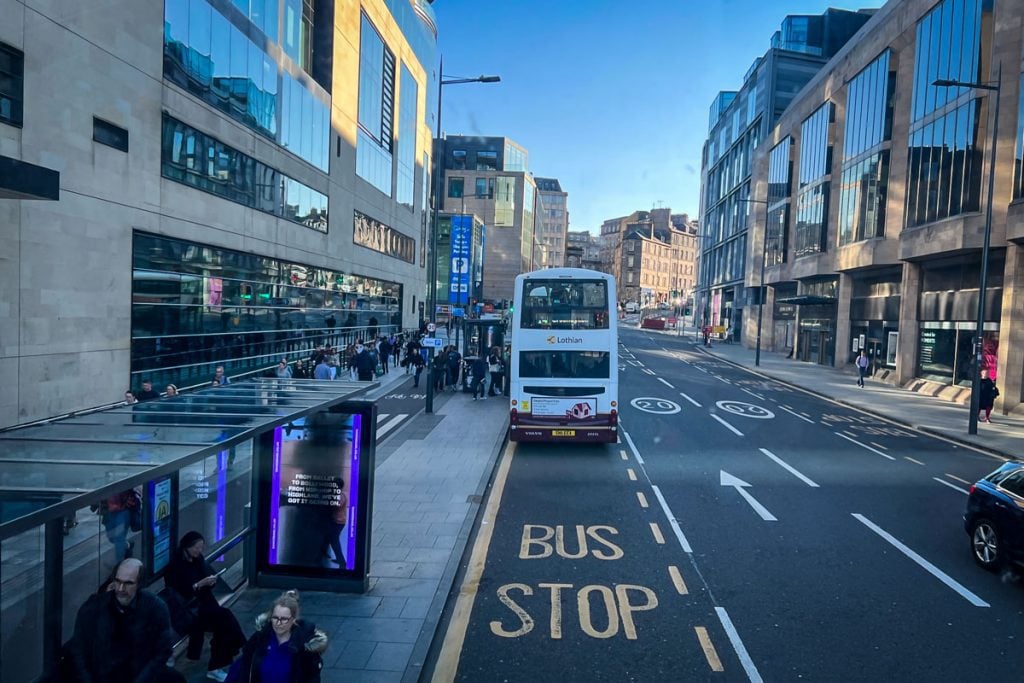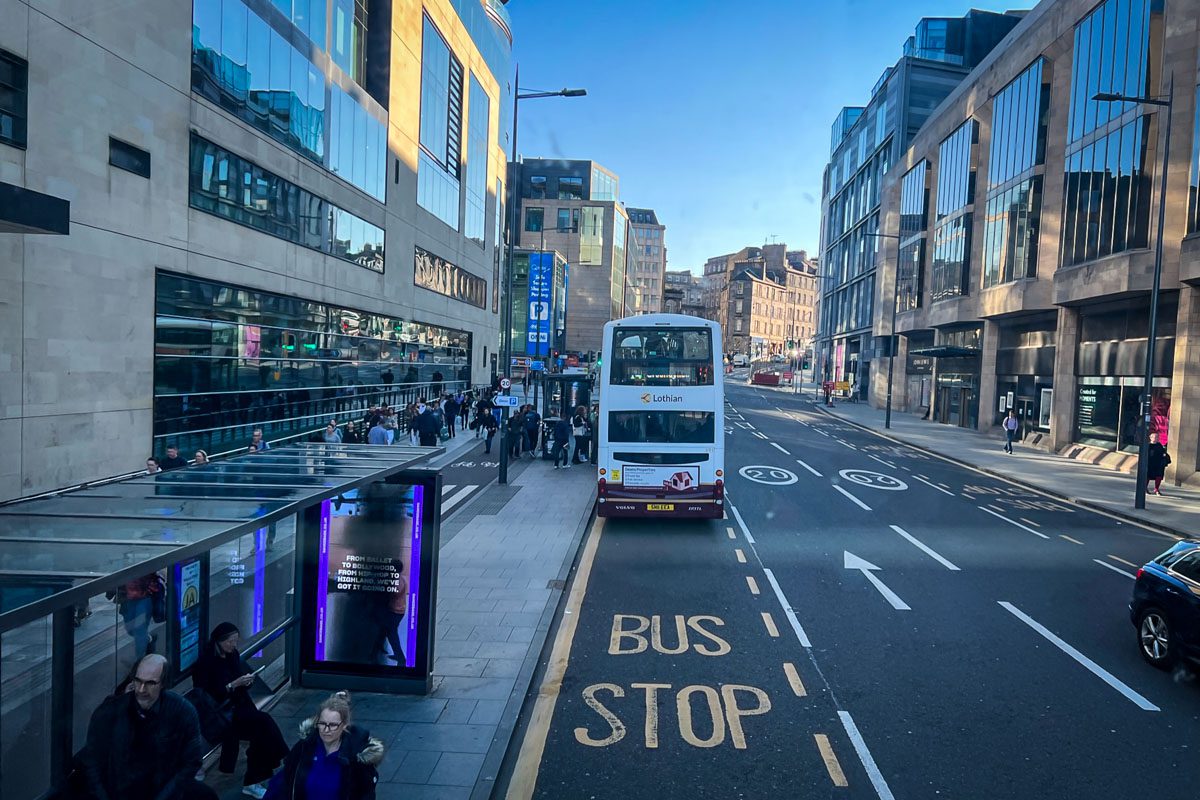 The very best way to get around Edinburgh is by walking!
Edinburgh's Old Town truly is very walkable (if you don't mind putting on 10,000+ steps in a day!).
That said, you'll likely want to venture outside this area at some point. Below are the best ways to get around.
Uber
From Old Town, getting an Uber isn't too difficult. That said, outside of this area, it can be a bit tricky, which we were not expecting.
Even at the airport, we were waiting to "get connected to a driver". It eventually worked, but we were a little worried.
When we were on the outskirts of town a couple of times, Uber just never connected us to a driver. The wheel kept spinning until we realized it just wasn't gonna happen and got our booties into a bus!
Bus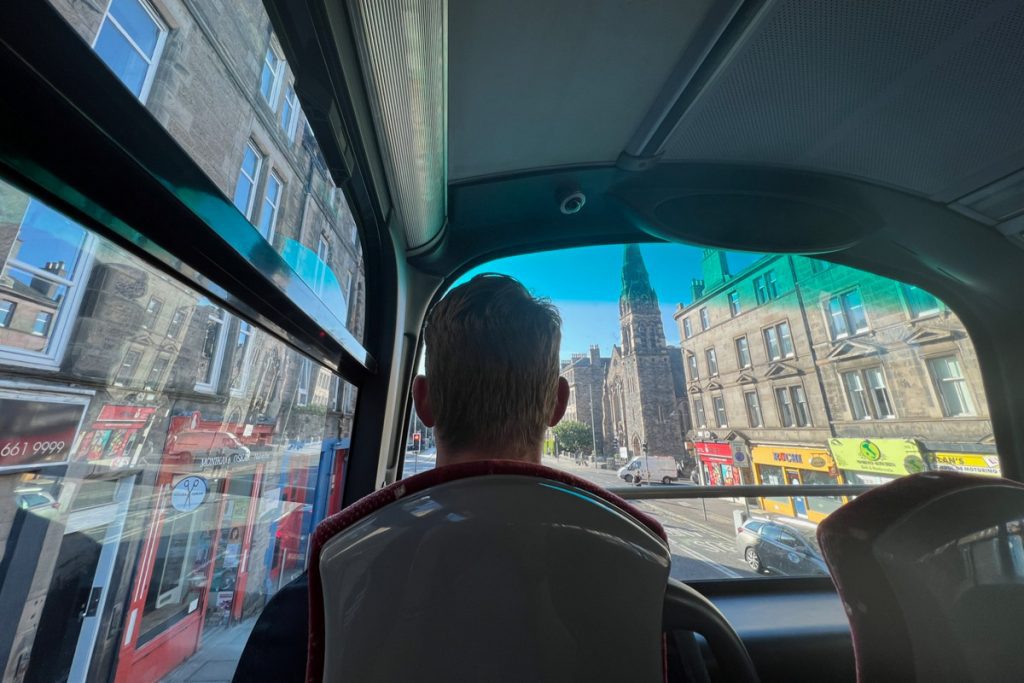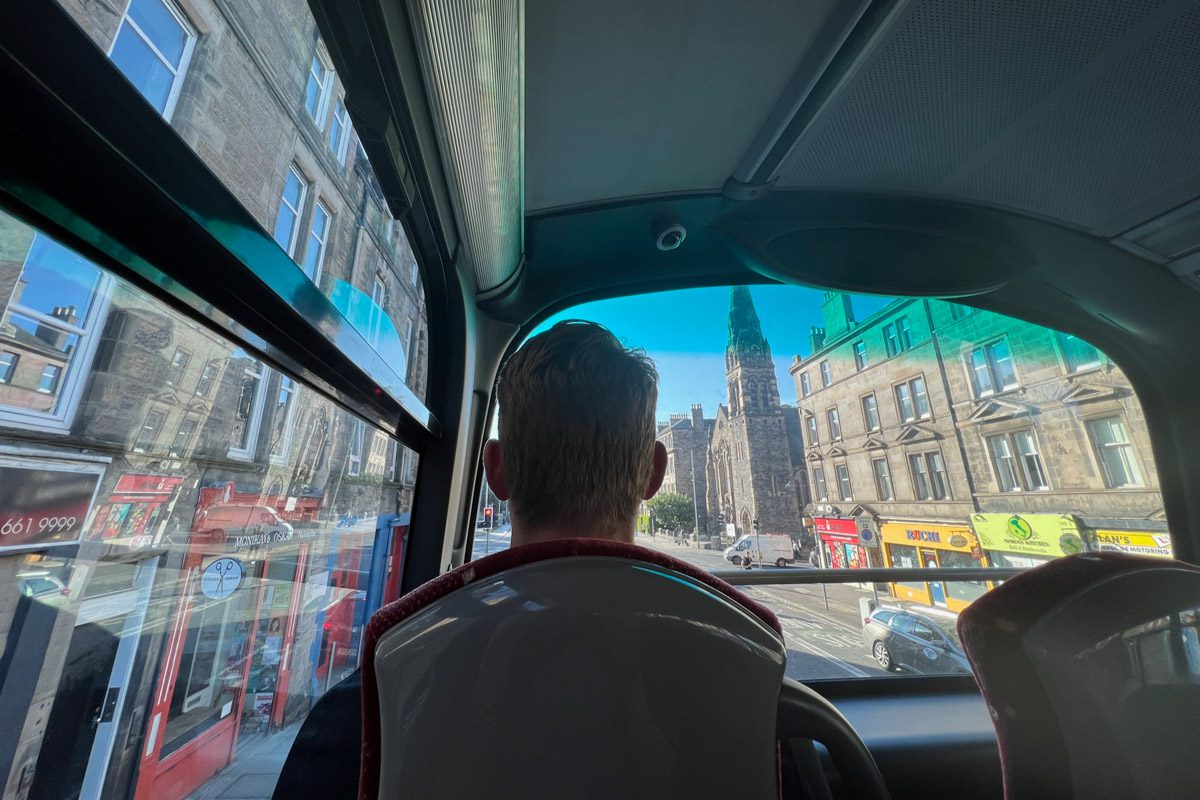 The bus system in Edinburgh is actually pretty good. You may have to do a bit of walking to get to and from the stops, but it's affordable, punctual and reliable.
Self-driving
If you're planning to rent a car in Scotland, we'd recommend waiting until after your time in Edinburgh. It wouldn't be very fun driving the city, and parking can be tricky to find (not to mention, expensive!). Our advice is to save your rental car for when you leave the city to go on an epic Scottish road trip!
From the airport to the city
Tram:
Taking the tram from the airport to Edinburgh city center is the easiest and most convenient way to arrive. Trams run every 7 minutes from the hours of 7 a.m. to 7 p.m. and every 15 minutes outside of those hours.
The airport tram stop is right outside the main terminal next to the plaza and Edinburgh sign.
Services run between the airport and York Place in the Edinburgh city center and make 15 stops along the way. A one-way adult ticket is just £6.50 and can be purchased at the ticket machines at every stop.
Bus:
The Airline 100 Bus also runs between Edinburgh Airport and the city center. Departures from the airport are every 30 minutes from 1:00 a.m. to 4:00 p.m., then every 10 minutes from 4:00 p.m. to 12:10 a.m. The journey is about 25 minutes (depending on traffic). A ticket costs £4.50 and can be paid to the driver as you board.
Uber:
Uber also works in Edinburgh, but is a much more expensive option. You can expect to pay around £17-24 for a one way ride to the city center.
Best places to eat in Edinburgh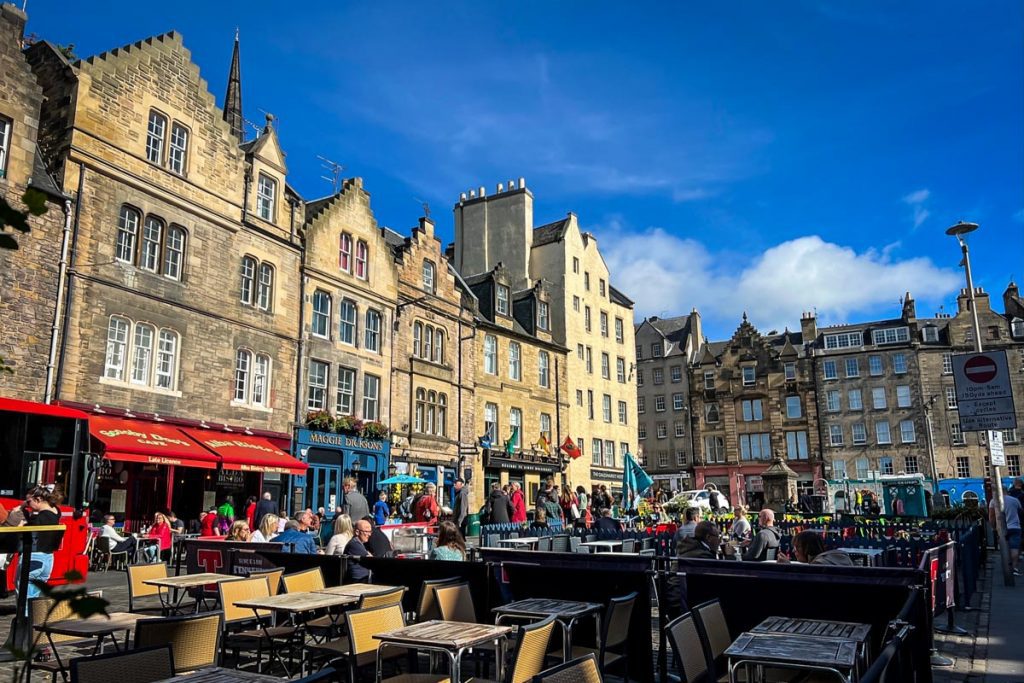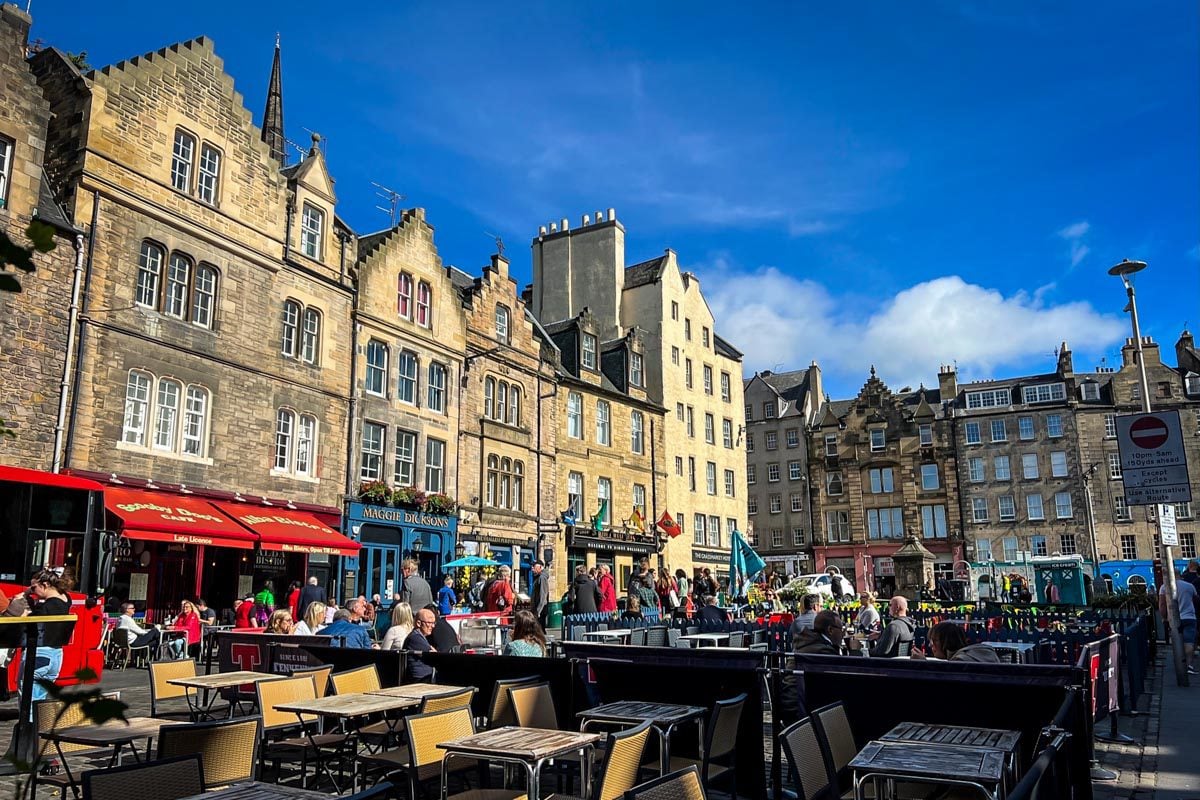 Edinburgh has a plethora of amazing restaurants – from cozy cafes to hole-in-the-wall pubs to fine dining, there's truly something for everyone.
Insider Tip: If you're walking around and you get hungry, open Google Maps and read reviews of the surrounding restaurants to choose a good one. This is what we always do when we're planning a trip.
You should have no problem finding fantastic places to eat in Edinburgh, but if you want a few key restaurant recommendations, here ya go! (FYI most of these places are in the Old Town area.)
Breakfast
The Edinburgh Larder: Cute cafe and adjoining coffee shop that serves excellent breakfast and brunch offerings as well as top-notch coffee. This was just next to our hotel (which we highly recommend!), and we loved grabbing breakfast here!
Rocksalt Cafe: Excellent coffee and baked items at reasonable prices.
Quick Eats
Scottish Pubs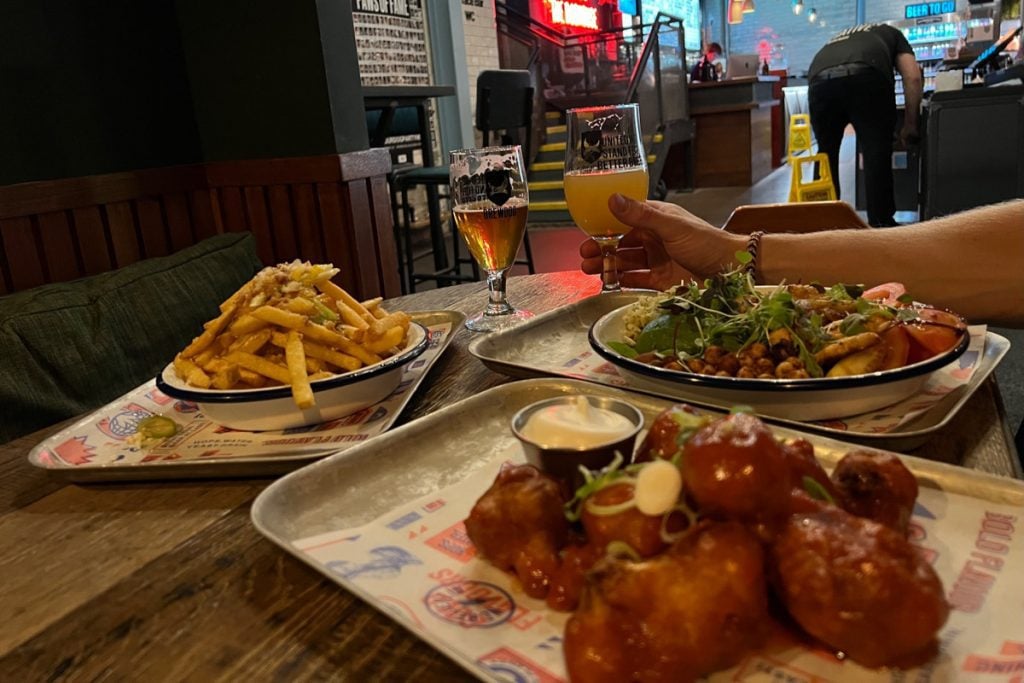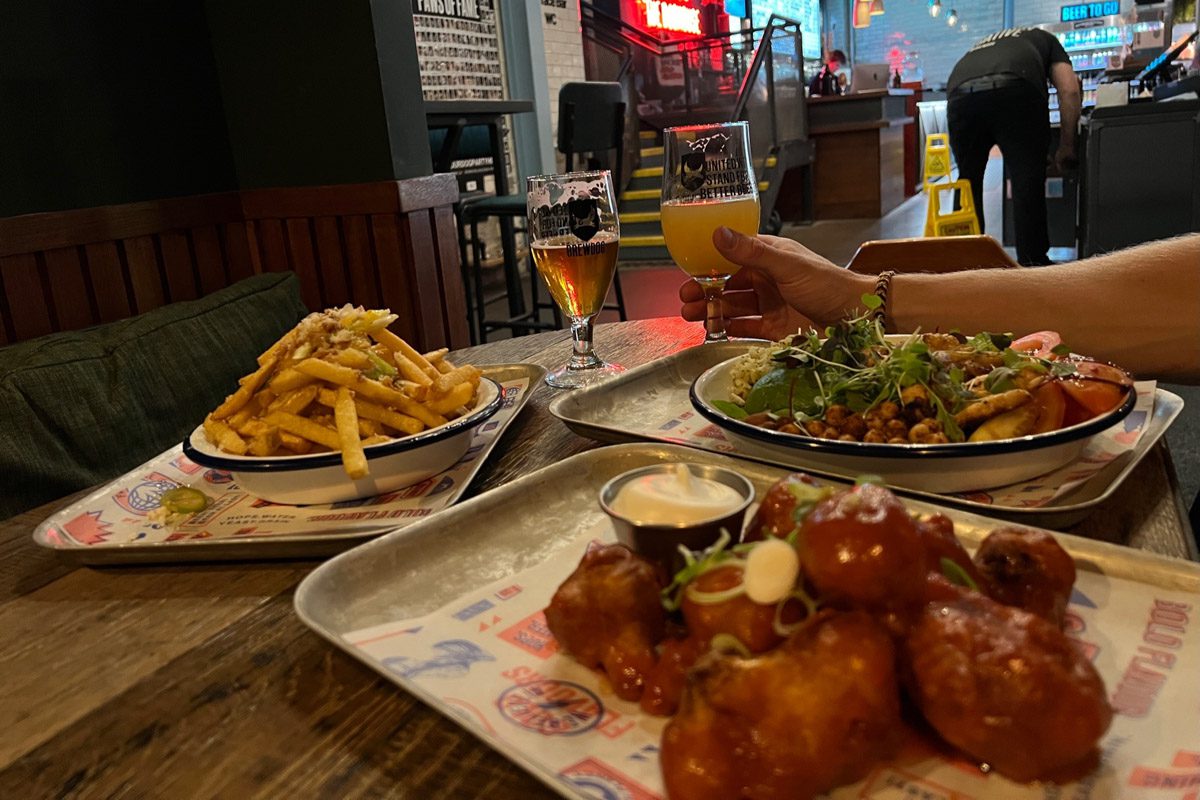 International
The Pakora Bar: Famed for their haggis pakoras, this Indian joint has a welcoming and eclectic atmosphere and serves classic Indian dishes.
Dishoom: Often making the lists of the best restaurants in Edinburgh, Dishoom is an elevated dining experience featuring shareable dishes, a large vegan menu, and handcrafted cocktails.
Fine Dining
Where to stay in Edinburgh
If you are visiting Edinburgh for the first time, we'd 100% recommend staying in Old Town (and we've got a top hotel rec for ya!).
Old Town is defined as the area between the Edinburgh Castle and Holyrood Palace, between which stretches the Royal Mile.
If you stay in this area, you'll be within walking distance to most of the major attractions in Edinburgh. If you stay outside of Old Town, you will need to rely on taxis and public transportation if you plan to see most of the top sights.
Budget recommendation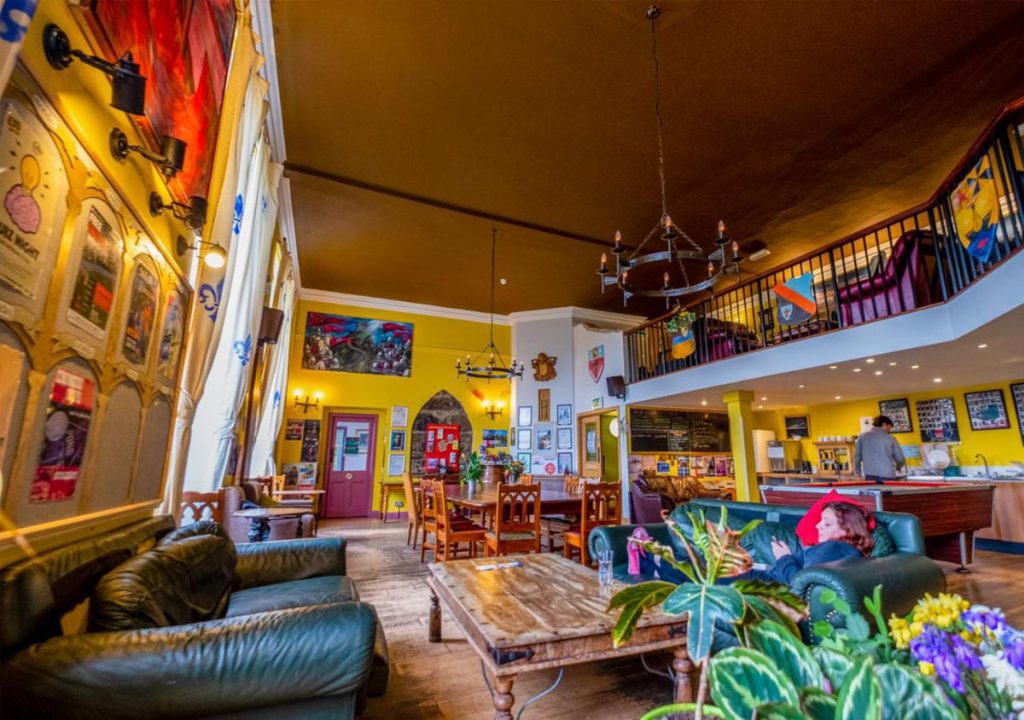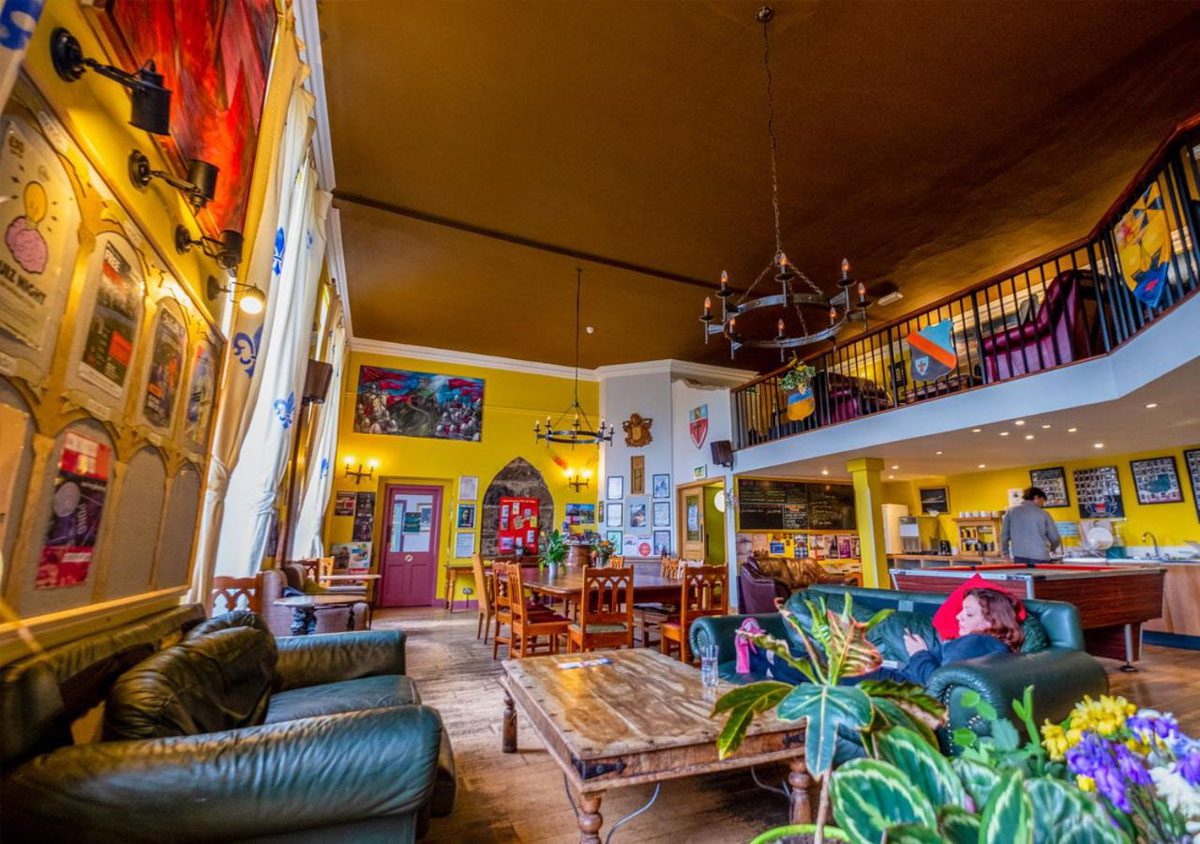 Castle Rock Hostel: Consistently rated the best hostel in Edinburgh, Castle Rock has a mix of accommodation offerings ranging in price, from private rooms to gender-separated dormitories. The central location is unbeatable and we love that the property is carbon neutral and encourages environment-friendly practices.
Mid-range budget / couples stays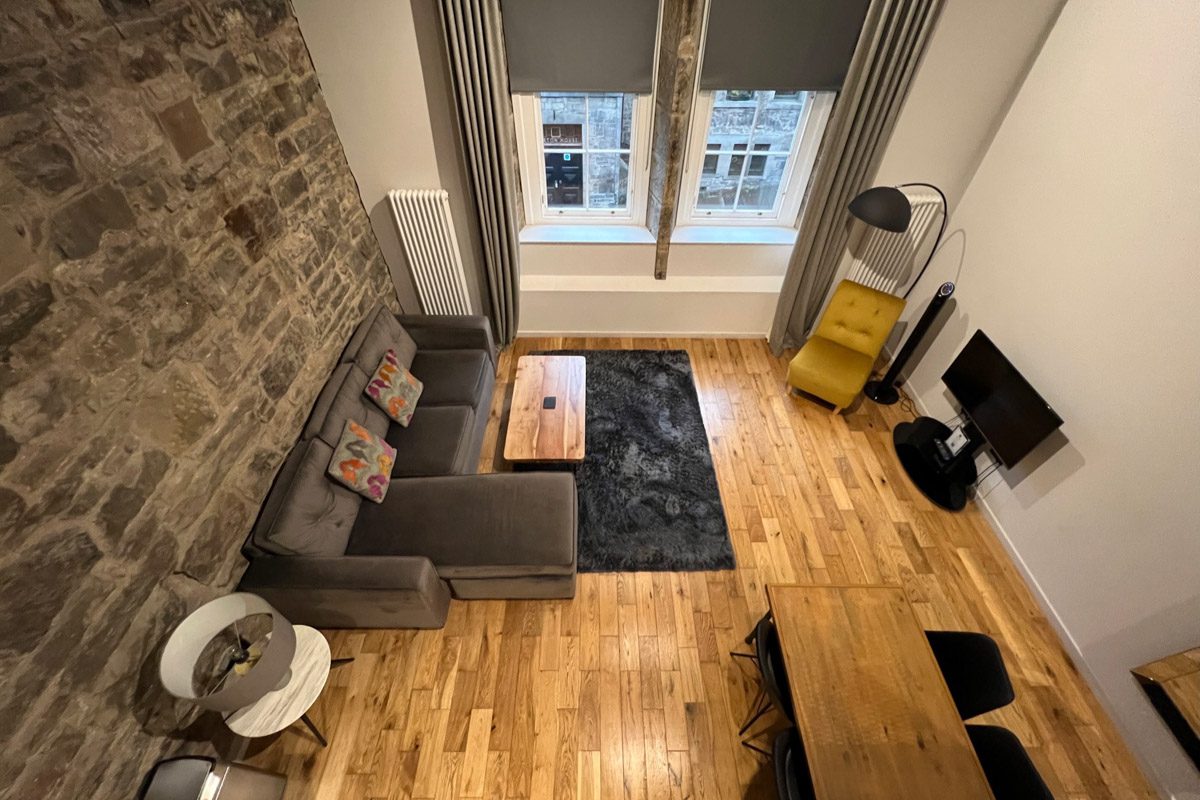 Linton Blackfriars Lofts: We stayed at Blackfriars Loft and couldn't recommend it highly enough. The location is absolutely perfect as a base for exploring the city, and the space is super comfortable. 10/10 from us!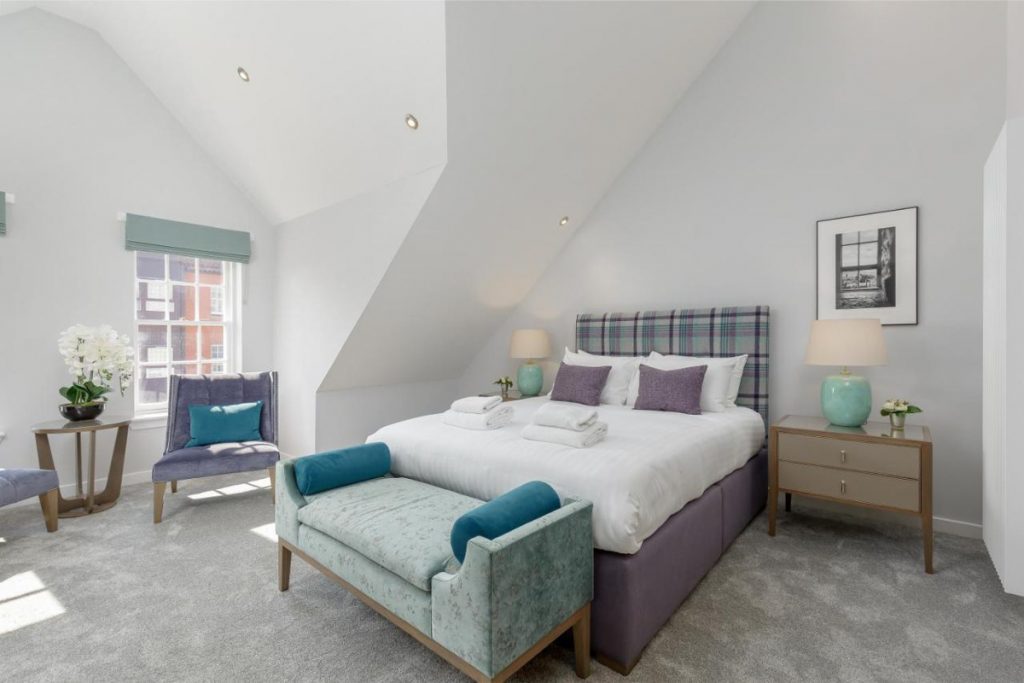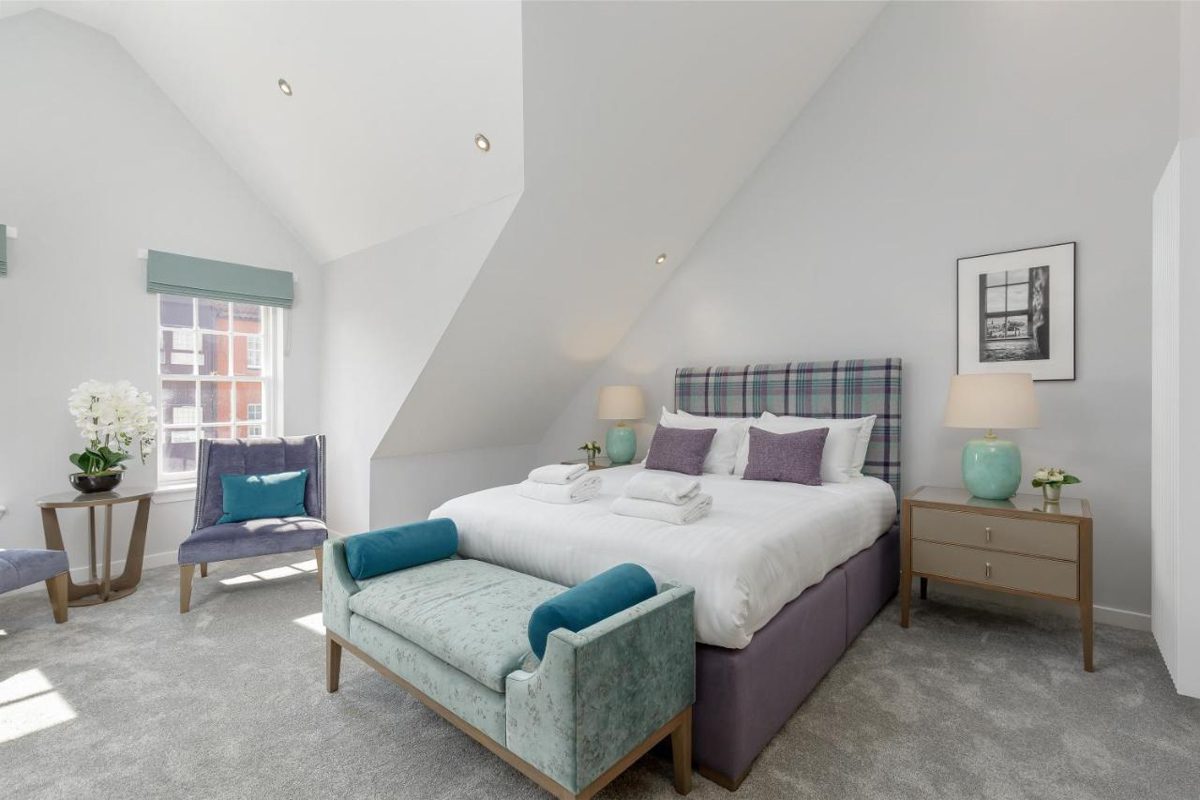 Destiny Scotland – Royal Mile Residence: With a prime location, right on the Royal Mile, these modern, serviced apartments offer a range of different accommodations from single to 3 room apartments.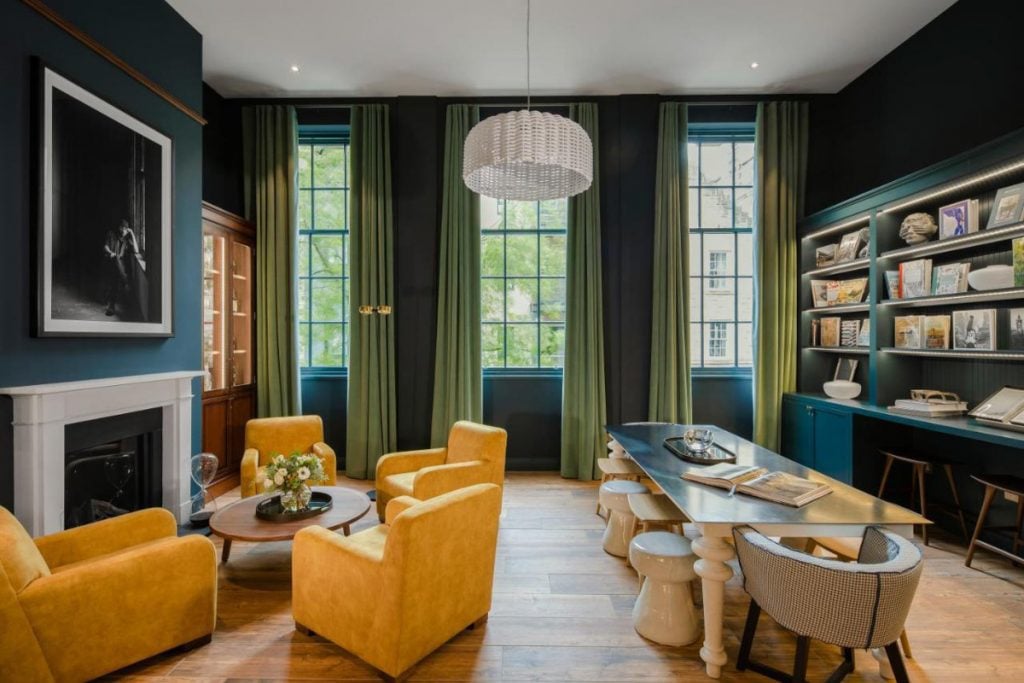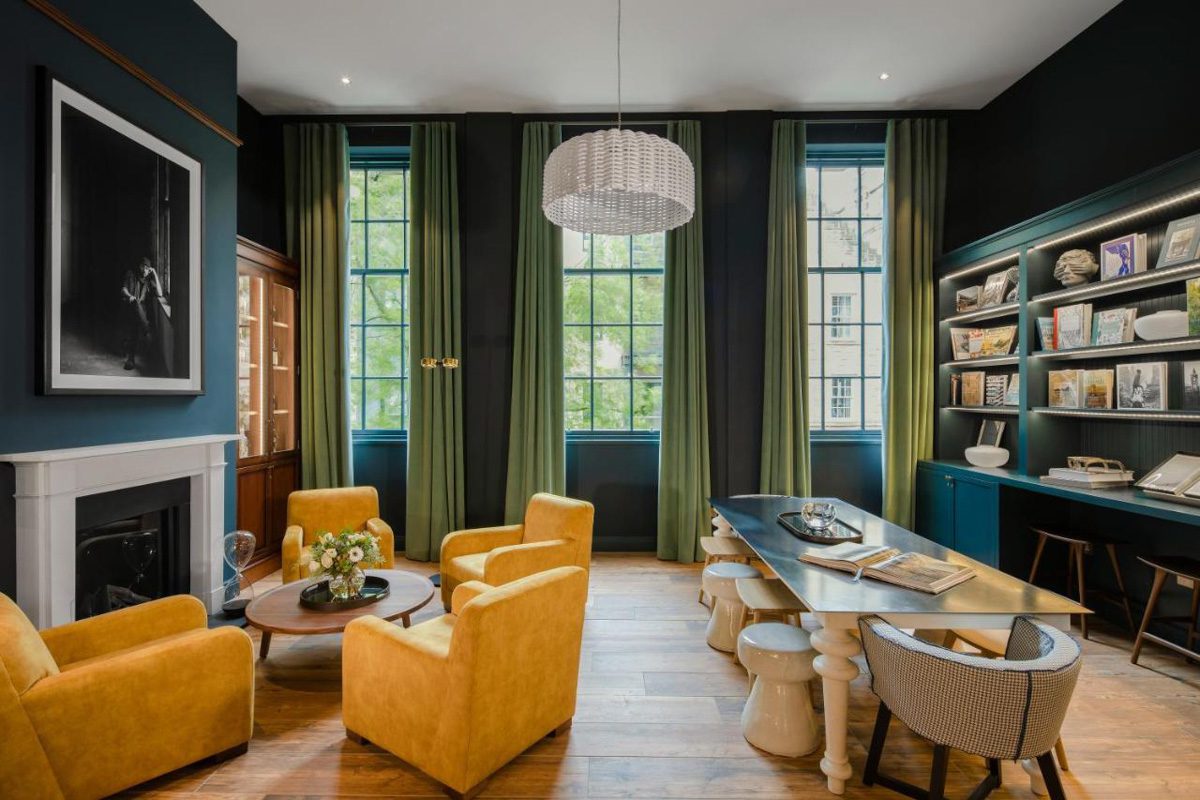 Cheval Old Town Chambers: These modern luxury apartments are in a super central location, just a 2 minute walk from the Waverley Train Station in Old Town. The beautifully decorated apartments are available in 1, 2, and 3 bedroom plans.
Psst! If hotel stays aren't your thing, we have a curated list of the best Edinburgh Airbnbs for you to browse!
Splurge stay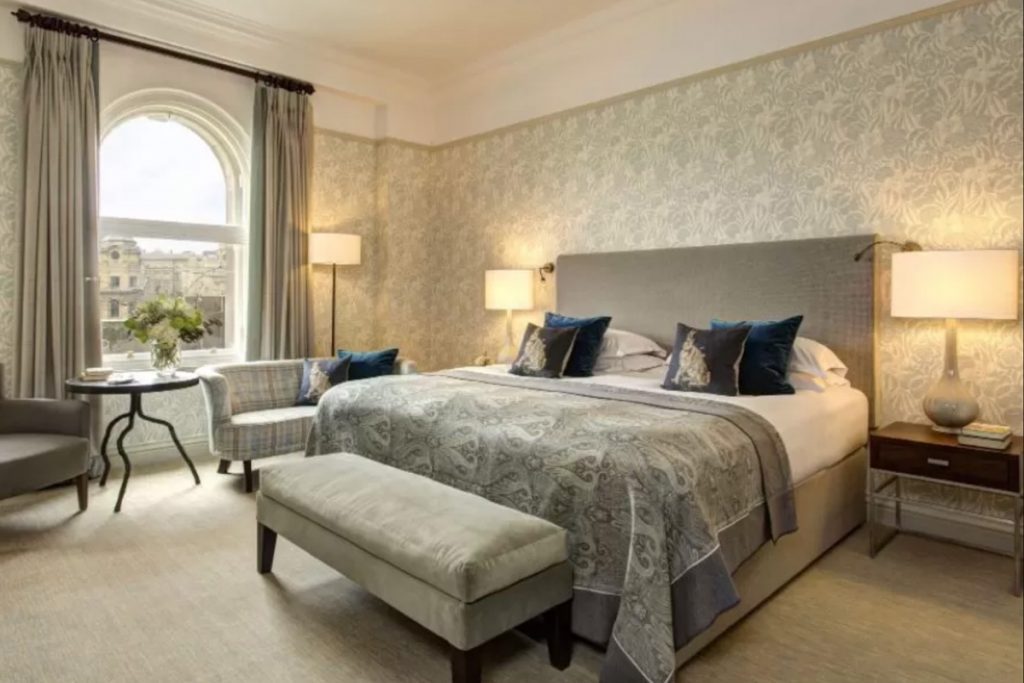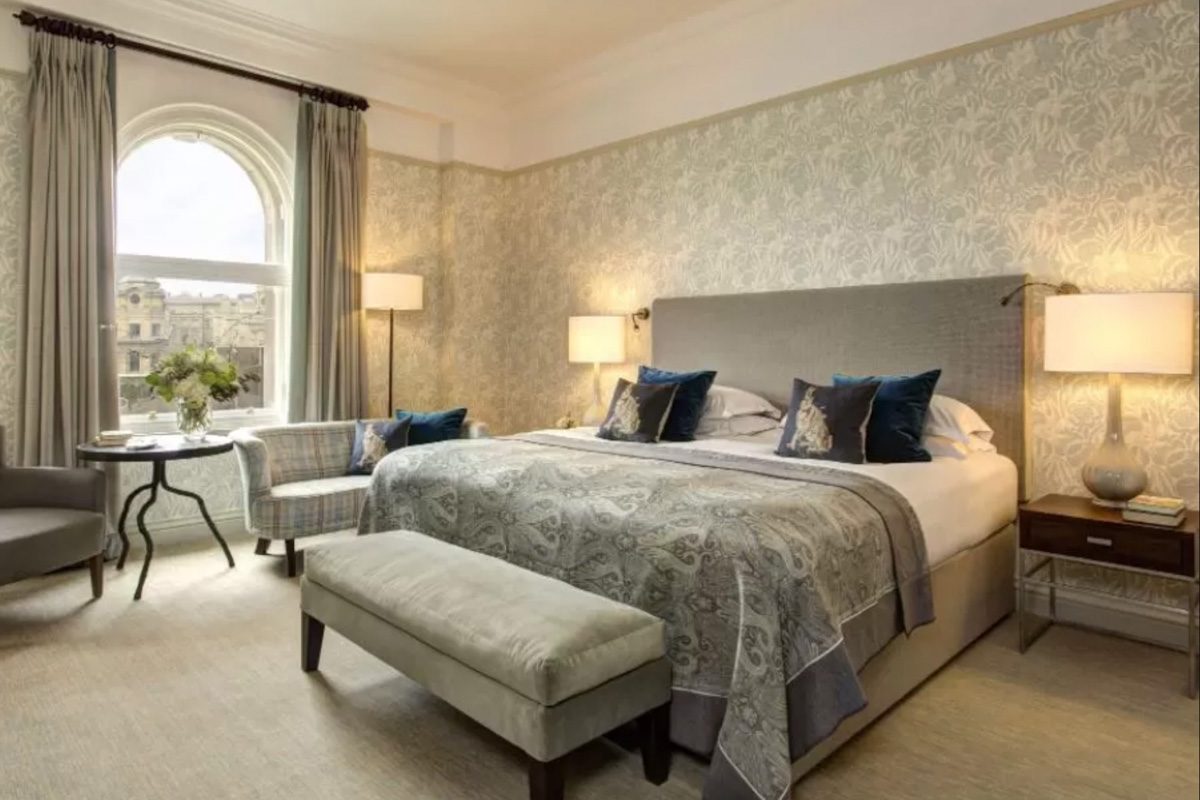 The Balmoral: As the number one luxury hotel in Edinburgh, The Balmoral is somewhat of an icon. Located on Princes Street, you'll have views of Edinburgh Castle and Old Town from nearly every room. The elegant hotel is home of the Michelin-starred Number One, an onsite spa and stocked whiskey bar.
What to pack for Edinburgh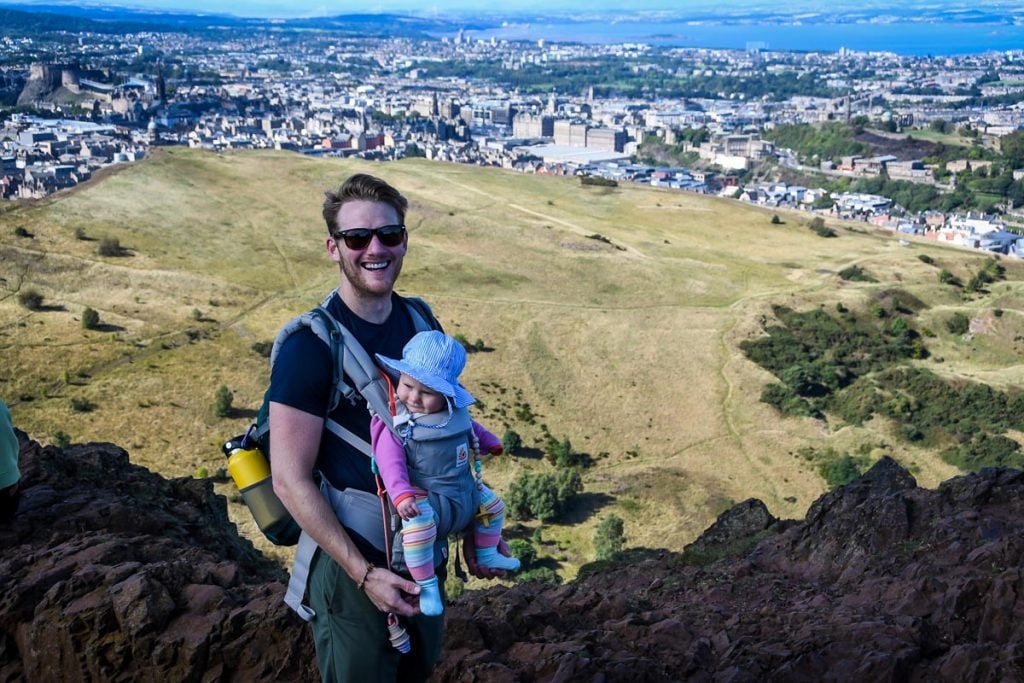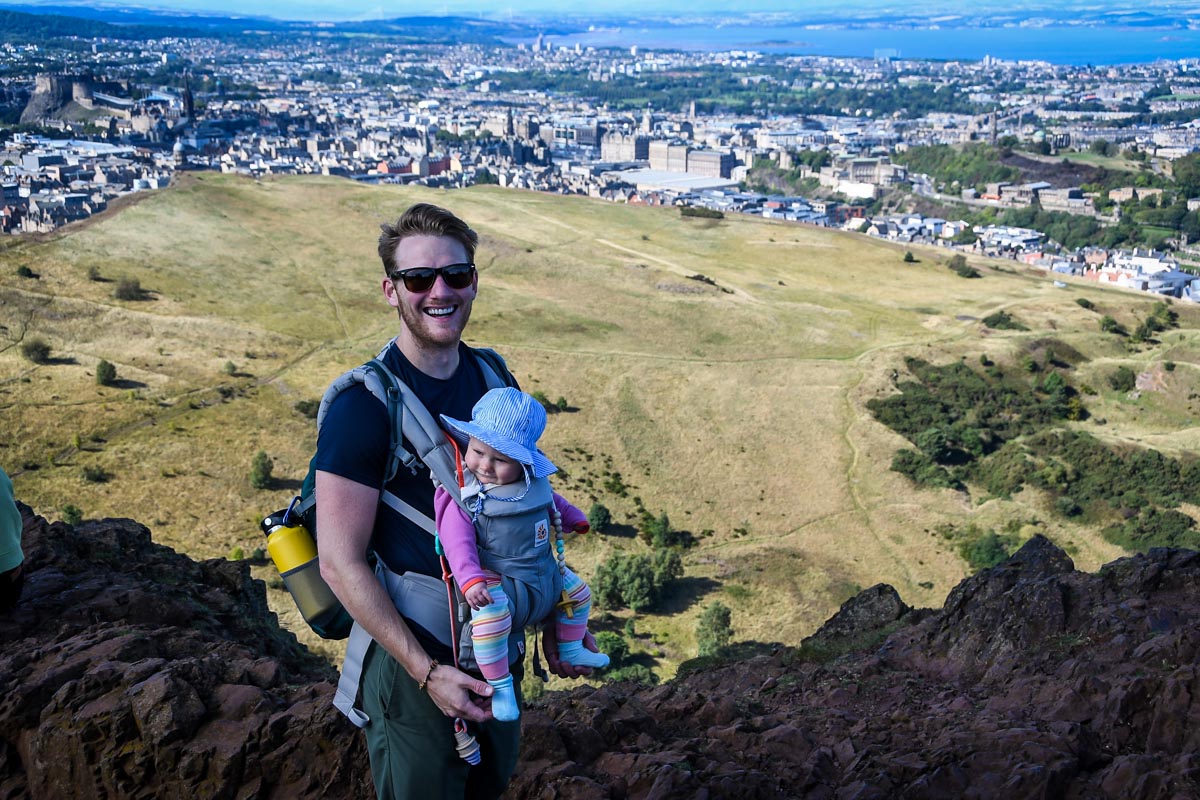 With variable weather conditions, excellent hiking opportunities, and plenty of city life, there are a few things you definitely don't want to forget when you're packing for your trip to Edinburgh.
Check out the exact items we recommend for traveling in Scotland.
Rain gear

rain jacket (make sure it's waterproof, not just water resistant)
dry bag: to keep your valuables from getting wet on a hike

Lots of layers
Comfortable walking shoes
A couple nicer outfits for eating out
Camera and lightweight tripod (optional)
Be sure to download our complete packing list for Scotland! It's packed with good suggestions and insider tips to help plan your Scotland trip. And it's completely FREE, so why not!?
Round up of the best things to do in Edinburgh
Here's a recap of all the best things to do in Edinburgh so you can see everything in one place.
Scottish food tour
Sheep Heid Inn
Victoria Street
Calton Hill
Free Walking Tour
Edinburgh Castle
Views of Edinburgh Castle
Palace of Holyroodhouse
Royal Mile
The Closes
Greyfriars Kirkyard
Haunted Edinburgh tour
DIY Harry Potter tour
Haggis with Neeps 'n Tatties
Ice cream
Scotch whisky tasting
Scottish gin
Magical cocktail making experience
Nightlife
The Meadows
Bike tour of Edinburgh
Scotsman Picturehouse
Scottish folk music
Indian food
Eat vegan
A Wee Taste charcuterie
Secret Domes
Mary King's Close
Cramond Island
Leith
St. Bernard's Well 
Colinton Station & Tunnel
Comedy show
Museums
Festivals
Michelin star dining
Edinburgh Farmers Market
---
Are you planning a trip to Scotland?
We have lots of resources on travel in Scotland and destinations throughout the country. Check out our Scotland Travel Homepage for everything you need to know, or read some of our favorite articles below.
Save this article on Pinterest for later!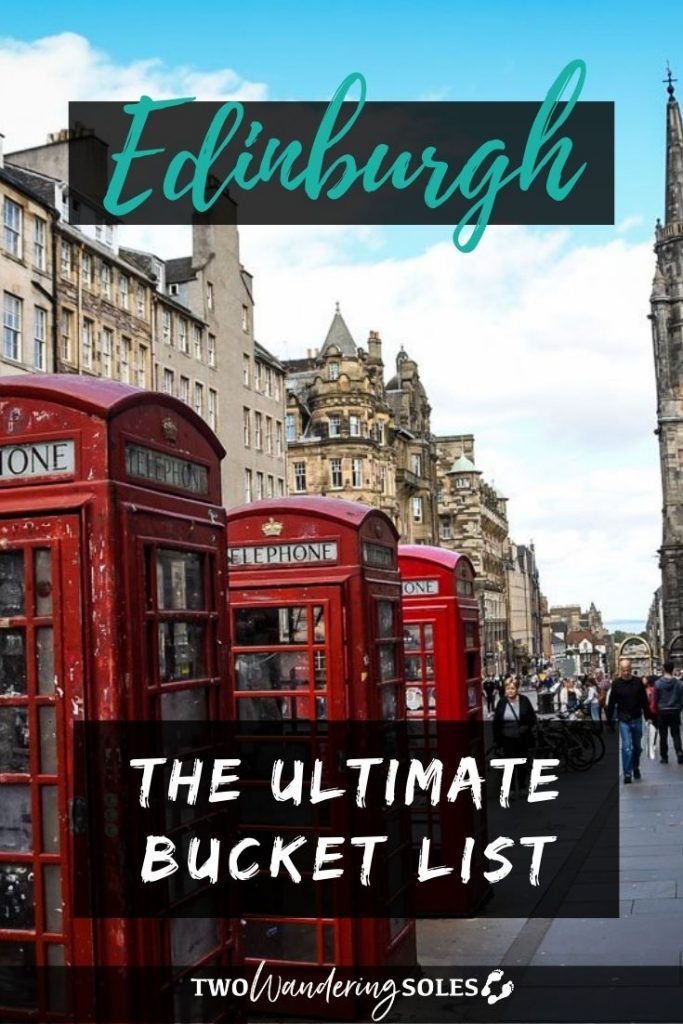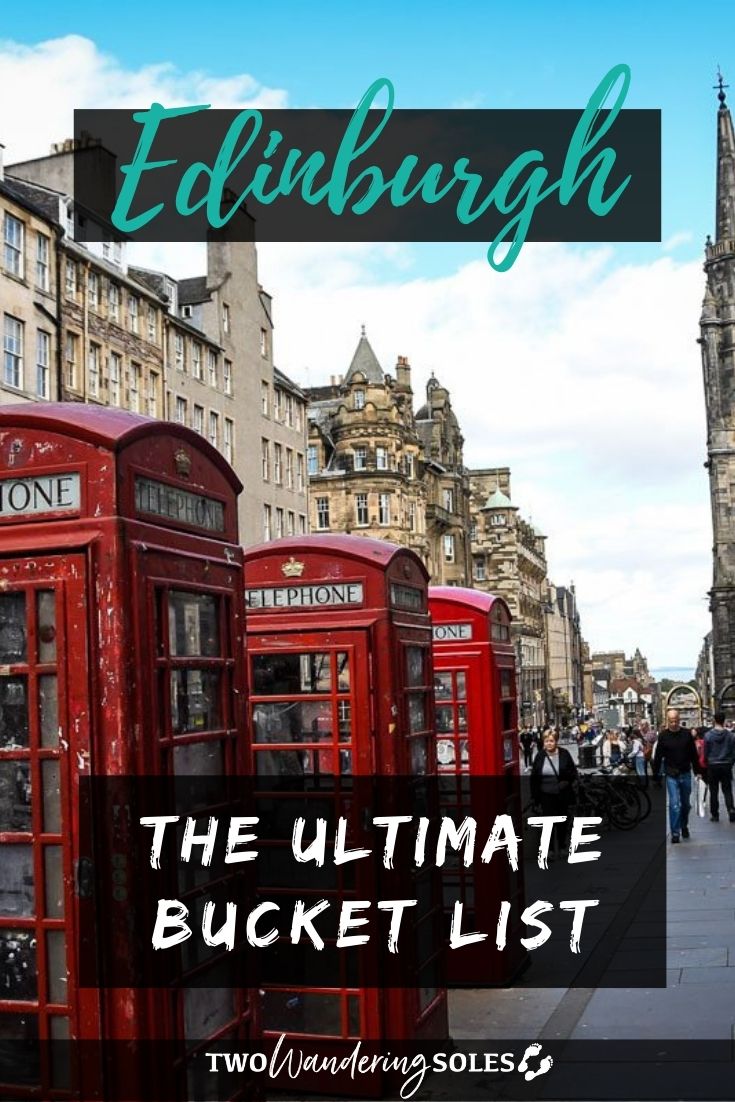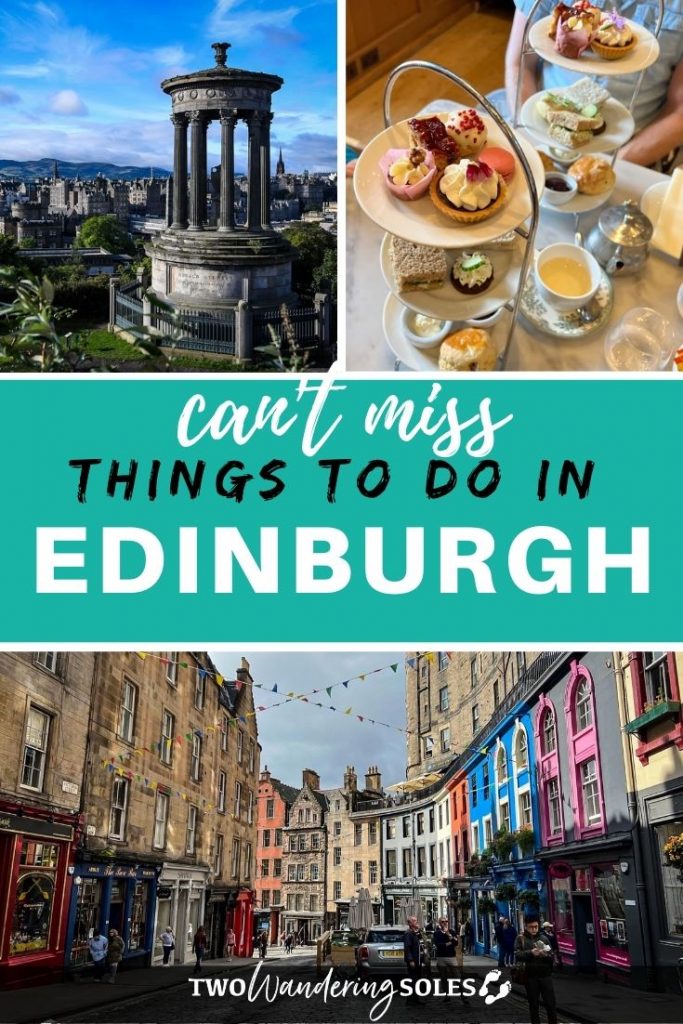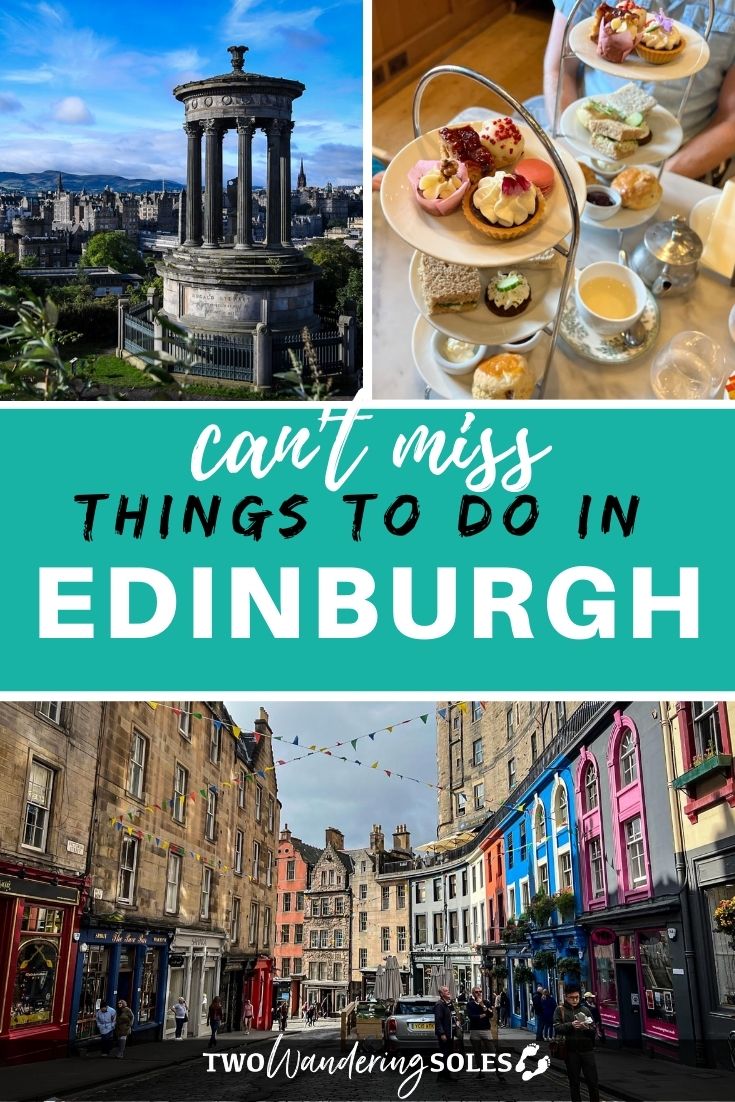 We want to hear from you!
Which of these fun things to do in Edinburgh has made its way to the top of your list? Are there any experiences you think we are missing? Leave your comment below and let us know!