Whatever your reason for visiting, there are so many things to do in Playa del Carmen and just outside the city to keep you busy and feed your adventurous spirit. We're going over our top picks, plus all the information you need for your trip to Mexico!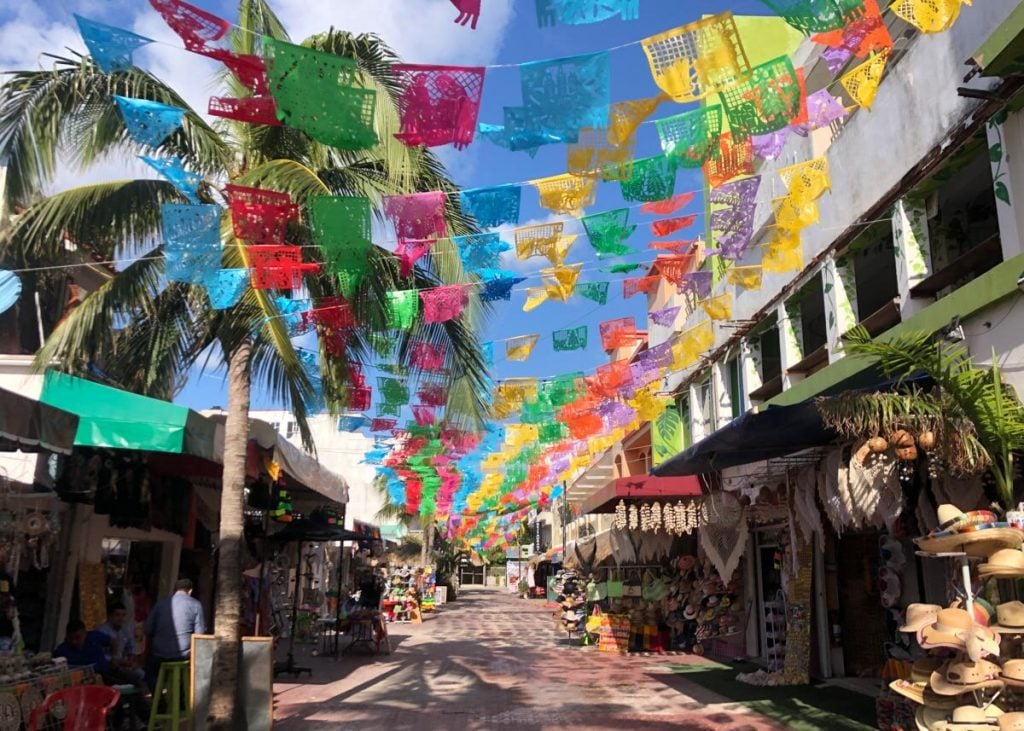 We're going to be totally honest with you and get right to the point: We didn't completely love Playa del Carmen. In fact, we'd probably say it is one of our least places we visited in Mexico.
That said we spent 3 entire months in Playa del Carmen and there are a lot of reasons why it makes a good hub.
First of all there are a lot of conveniences like pretty much any type of store you could want, a very lively restaurant scene, and a strong digital nomad community. But the best part of Playa, in our opinion, is it's a great jumping off point for exploring the rest of the Yucatán Peninsula, which is definitely worth checking out.
But if you're looking to experience the real Mexico, we wouldn't suggest this to be your only destination on a trip.
Now that we've gotten our honest opinions out of the way, let's go through all the things to do in Playa del Carmen, where to eat and other helpful tips for your stay.
Playa del Carmen Travel Guide
If you know exactly what you're looking for, click one of the links below to jump to that section. Otherwise, keep scrolling and you'll find everything you need to know about visiting Playa del Carmen.
---
Be sure to download our complete packing list for Mexico! It's packed with good suggestions and insider tips to help plan your Mexico vacation. And it's completely FREE, so why not!?
---
Best time to visit Playa del Carmen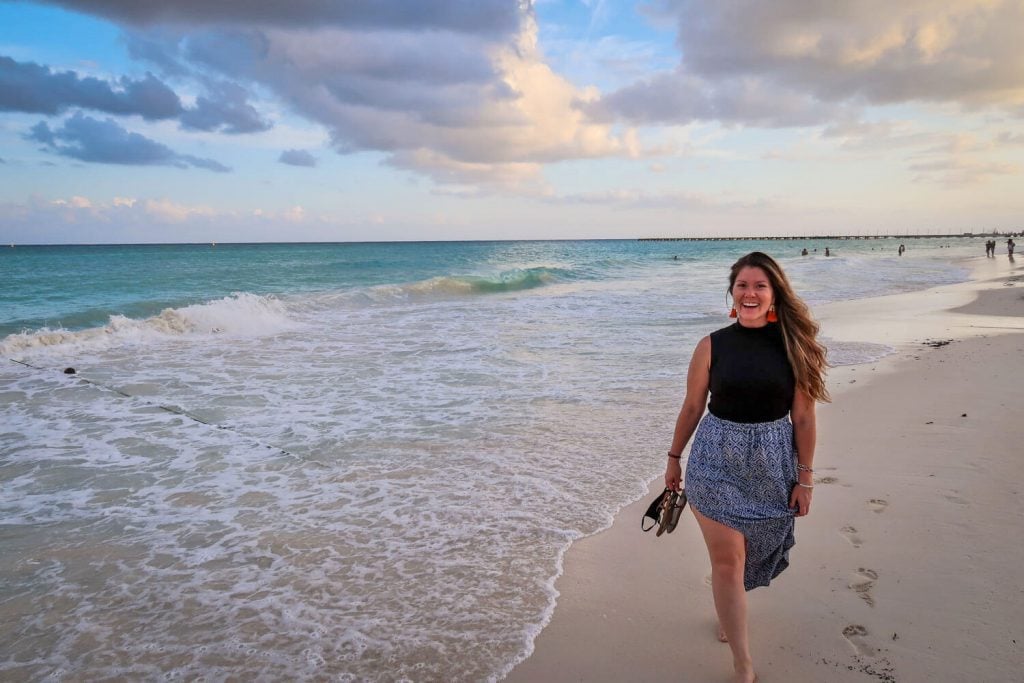 Peak tourism season in Playa del Carmen is over the Christmas and New Years holidays in December/January, and Spring Break time, particularly the week leading up to Easter (Semana Santa in Latin America). During these weeks you can expect the streets to be packed, tours to fill up quickly and accommodation prices to be at their all-time highest of the year.
The weather in Playa will be at its finest during the winter months—from about November through March you can enjoy mild daytime temperatures in the mid-70s and low 80s (F), and it tends to get cooler at night with less humidity than the hot summer months.
Temperatures begin to rise as early as April and by June/July the humidity is peaking and daytime temperatures can reach triple digits! Accommodation prices plummet during these months, and you can find decent places for a fraction of the peak-season costs.
Another major factor to keep in mind is hurricane season, which begins in June and lasts through October.
In our opinion, the best time to visit Playa would be during the months of November/December (pre-Christmas!) or February when the weather is at it's finest and there is a short lull in between holidays.
Getting to Playa del Carmen from the Cancun Airport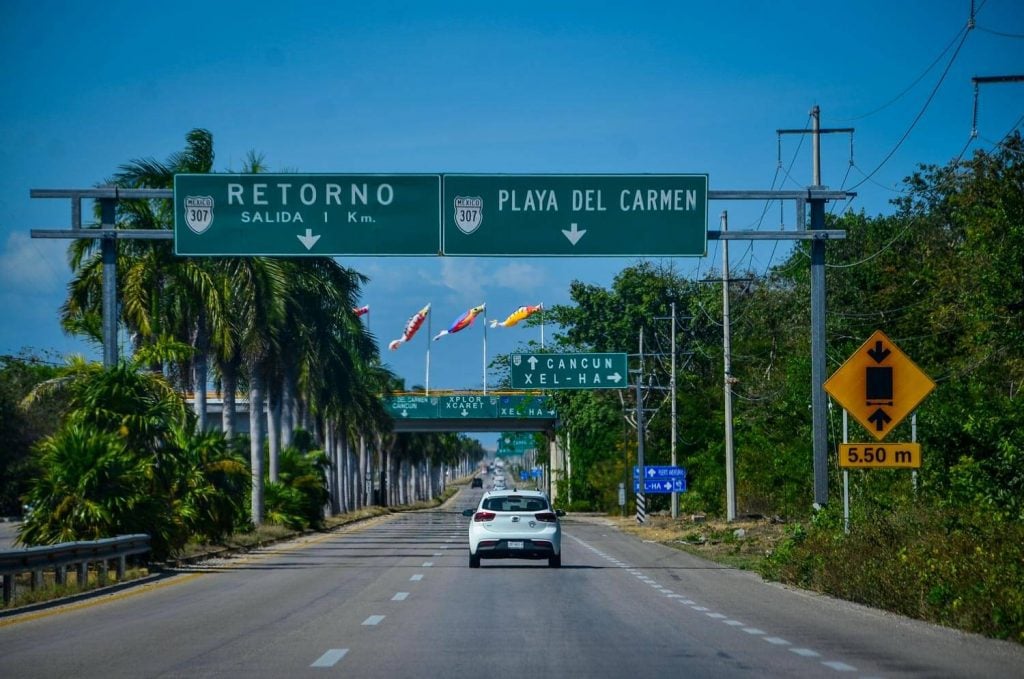 The cheapest way to get to Playa from Cancun is to take the ADO bus for around $7. Buses depart from the Cancun airport every half-hour or so and take about an hour to get to Playa. The buses are large comfortable tour buses with A/C and USB plugs at every seat. You can also take the same bus past Playa del Carmen to Tulum which will take about 2 hours in total.
If you decide to take a taxi from the airport, be warned that the prices are fixed and you will likely pay for your cab in the airport and receive a receipt to hand the taxi driver. The cost will be upwards of $70 USD to get to Playa.
A private shuttle will cost around 900-1200 pesos ($45 – $60 USD) which is less than an airport taxi, and will be able to accommodate a group.
We have a complete guide for traveling from Cancun to Playa del Carmen which outlines all of you options and exactly how to find and book each one.
---
Things to do in Playa del Carmen
Whatever your travel style, here are our top things to do in Playa del Carmen.
1. Take a dip in a cenote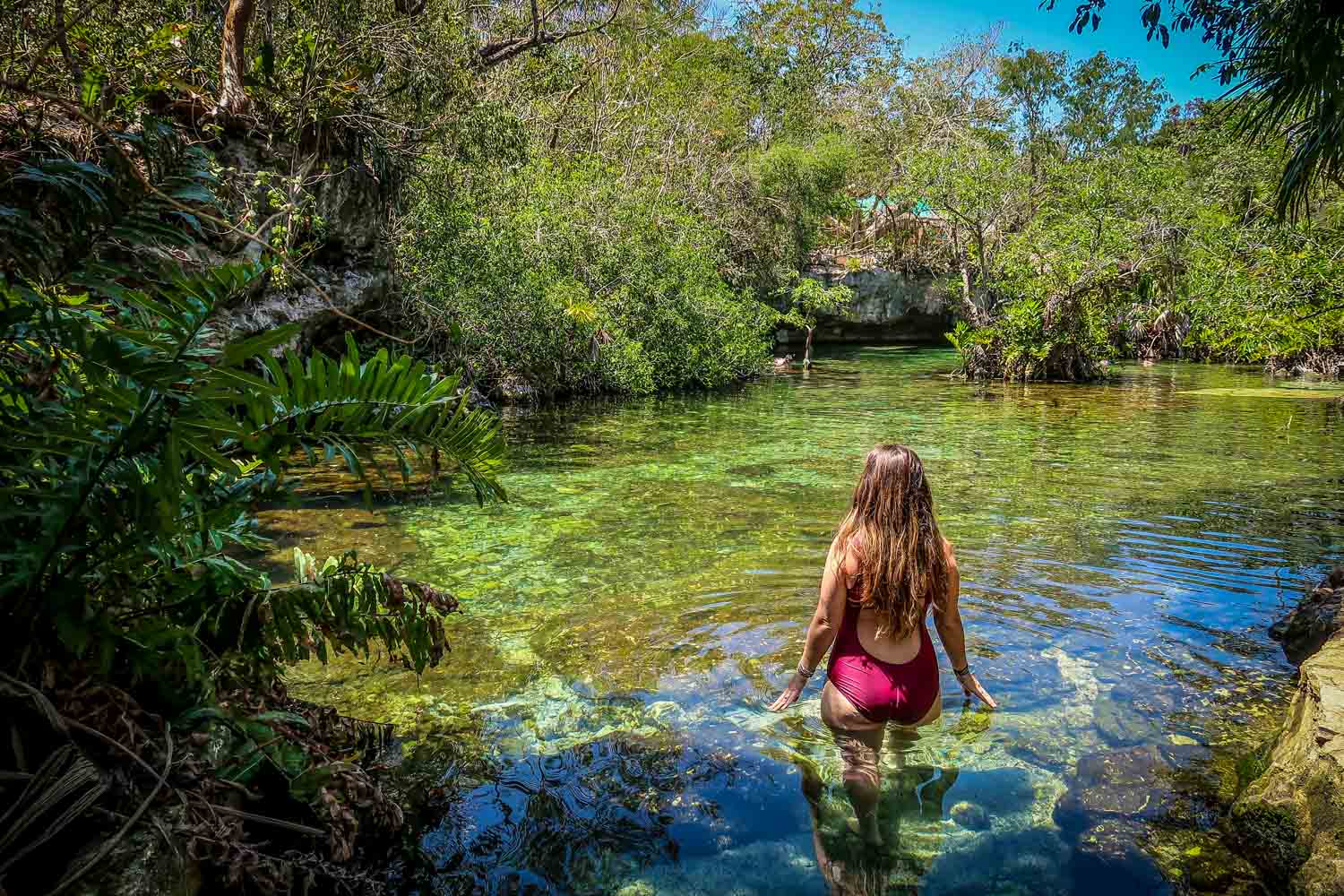 Cenotes are natural sinkholes in the limestone bedrock layer of the earth's surface, filled with freshwater and found all over Mexico's Yucatán Peninsula.
With crystal clear water, often taking on a deep blue or turquoise hue, and sometimes rocky cliffs that make perfect diving platforms, these magical places are often built up as tourist attractions.
Some cenotes will come with a large crowd, hefty entrance fee and mandatory life-jacket policy, while others remain seemingly untouched by humanity.
We put together an entire article that breaks down the details of all the best cenotes in Mexico by area so you can decide which ones to visit and what to expect. Because this natural phenomenon is so common here, you won't want to miss the chance to explore one (or more!) of these popular swimming holes.
Our top recommendation for first-time visitors would be making a trip to Cenote Azul, about 20 minutes south of Playa del Carmen.
2. Relax on the beach
Of course we cannot mention Playa del Carmen without mentioning the beach. While lounging on the beach in the sun isn't exactly our favorite pastime (we get too bored!), it's often the reason so many people flock to this part of the country for a getaway.
The first thing you'll notice if you check out the beach near Playa Centro is how short and crowded they can get. The best places to head to the beach are north of Playa Centro.
One entry point is just past Avenida CTM at about 51st, another at 66th and the other is at 88th. This is all the same stretch of coastline and you can walk the beach between all these entry points, and even further north if you want. (In Centro Playa the beaches are much shorter and not walkable for more than a short distance due to structures that jut out into the sea.)
To enter at 51st, take Av. CTM towards the ocean and a left when you reach the Elements condos. Walk past the gate to the Reef hotel, and at the far end of that lot, you'll see dumpsters, behind those is a public access footpath to the beach.
66th and 88th both have well marked roads that take you straight to the beach. You will also find volleyball nets along the shore in this area and can generally find a pick-up volleyball game happening daily around 5 p.m.
3. Go Scuba Diving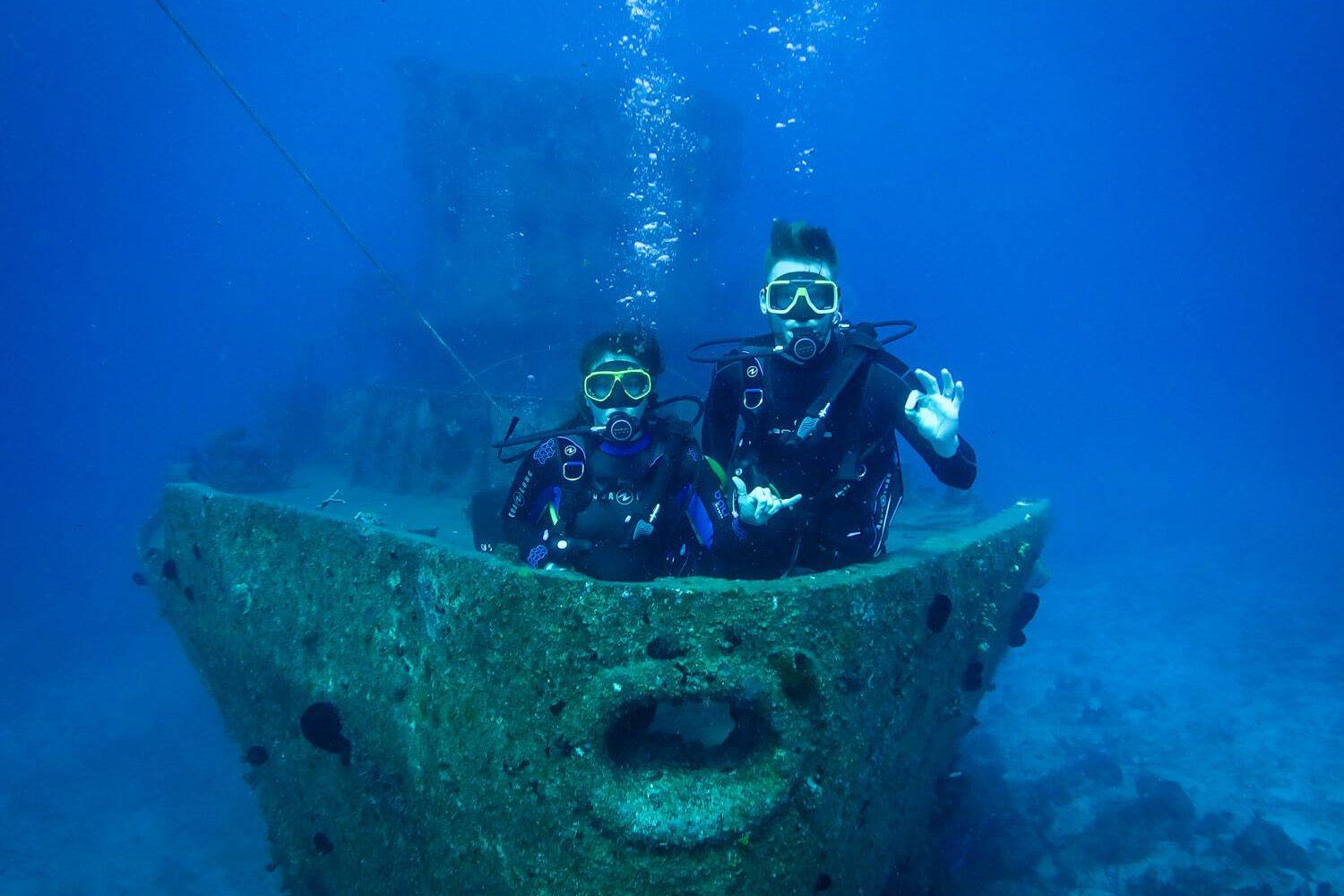 Playa del Carmen is uniquely situated near some of the best scuba diving in the world. For one, you have the cenotes, which offer unique and indescribable diving experiences that vary from one sinkhole to the next. Just look at the difference between our two cenote dives below!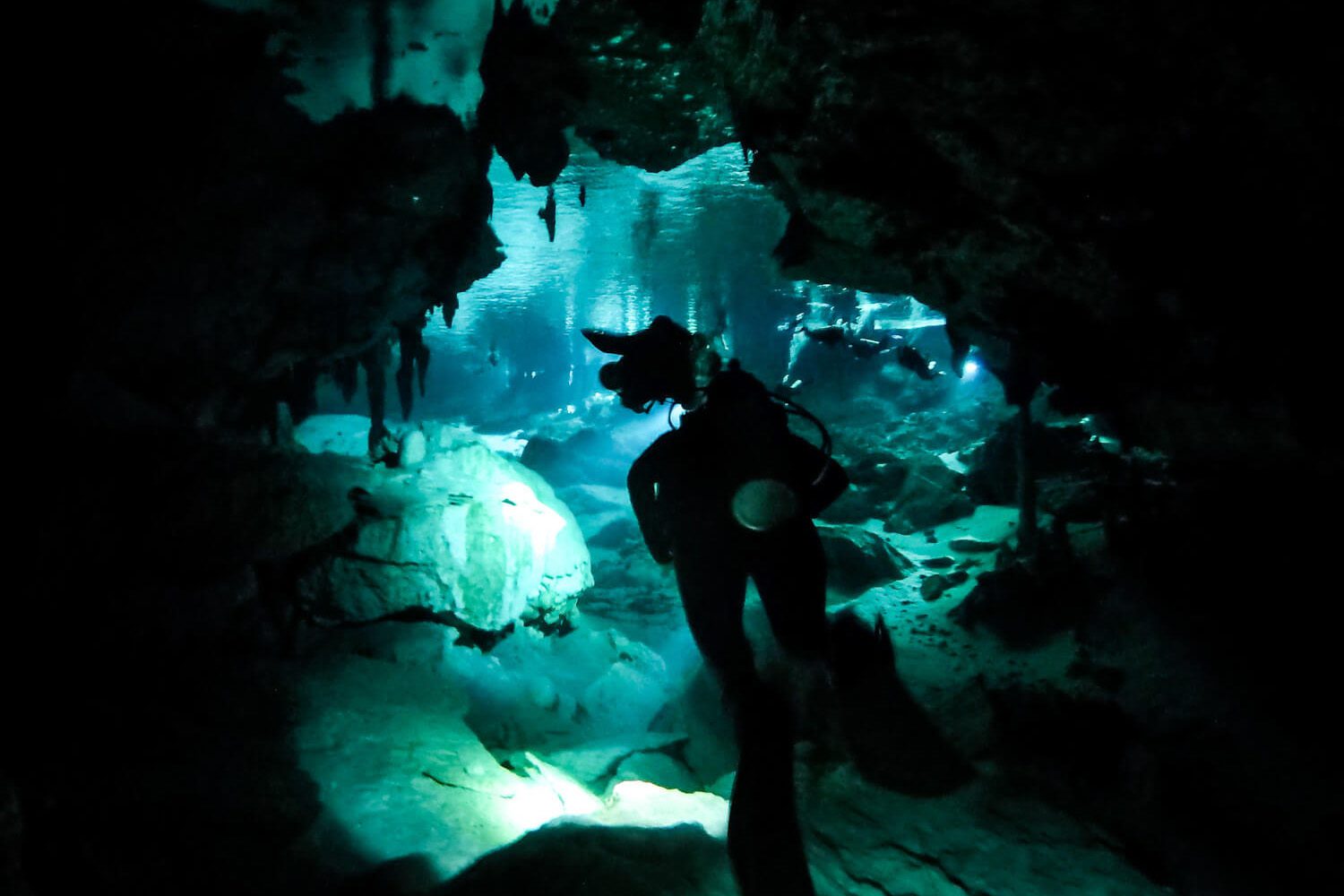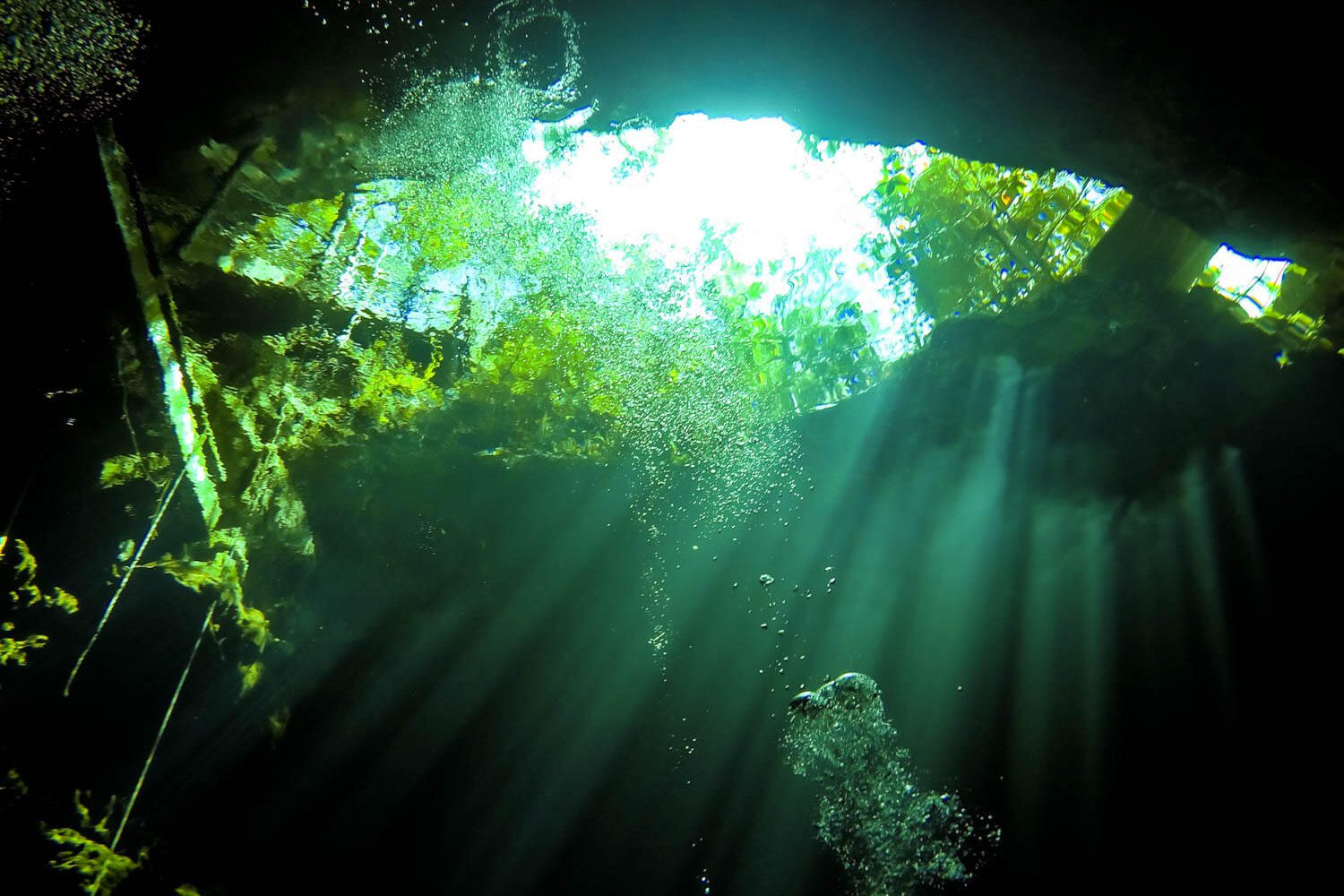 Another great reason is that you are within a day trip (see #20 on this list) from part of the Mesoamerican Reef which is the second largest reef system on earth after the Great Barrier Reef in Australia.
And if you're one of those divers chasing macro species such as sharks and rays, you won't be disappointed here. Just a short boat ride from Playa del Carmen, Shark Point is where you can safely dive with pregnant female bull sharks who gather there every year.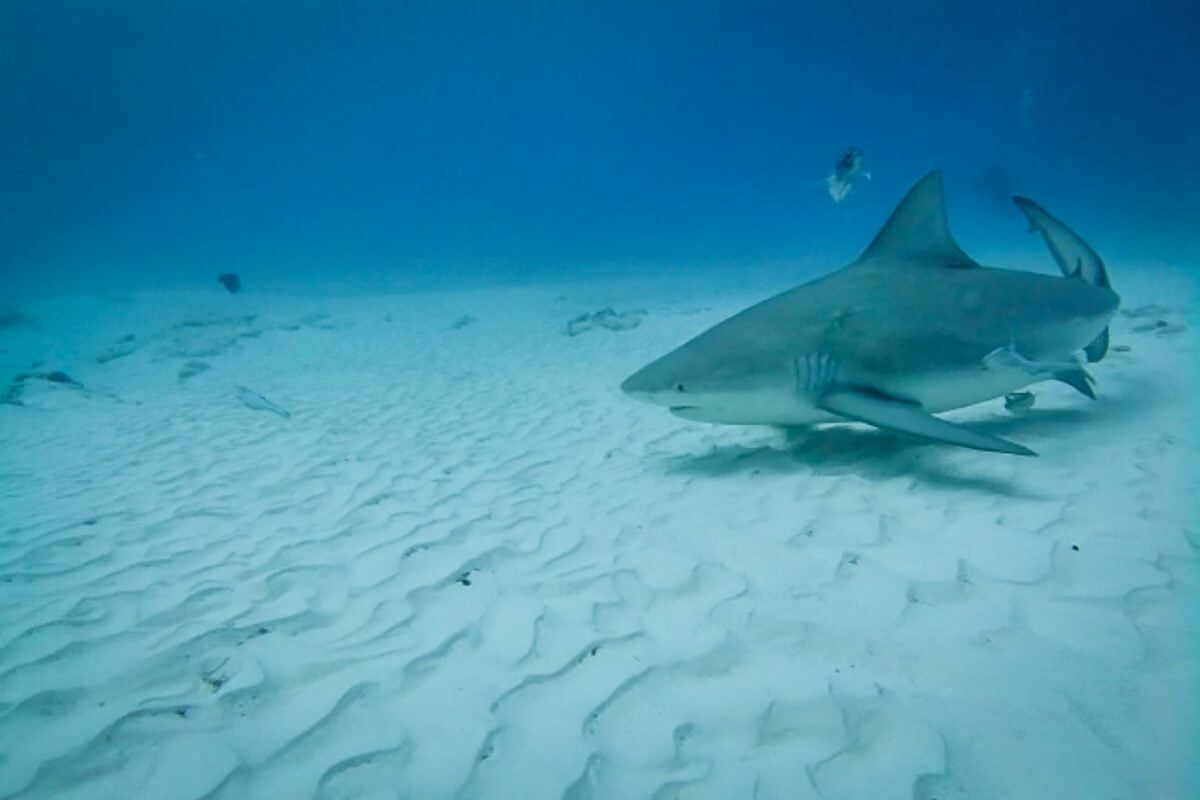 The season is from November through March, but each year is a bit different. The best chance to dive with the bull sharks is in the middle of the season in January, but that's also the busiest time of year.
If you are visiting Playa del Carmen in the summer months, you will likely catch whale shark season – the time of year when these gentle giants migrate through the warmer waters of the Caribbean Sea. The best time to dive with whale sharks is going to be from June through mid-September.
Here's a list of dive shops in the area we've heard good things about or had positive experiences with:
Scuba 10 in Playa
Good Vibes Diving in Playa
Dive Point Mexico in Playa
Scuba Tony's in Cozumel
Recommended cenote dives:
for your first time: Choc Mool and Kukulkan
for more experienced divers: Dos Ojos and El Pit
4. Test your skills at Freediving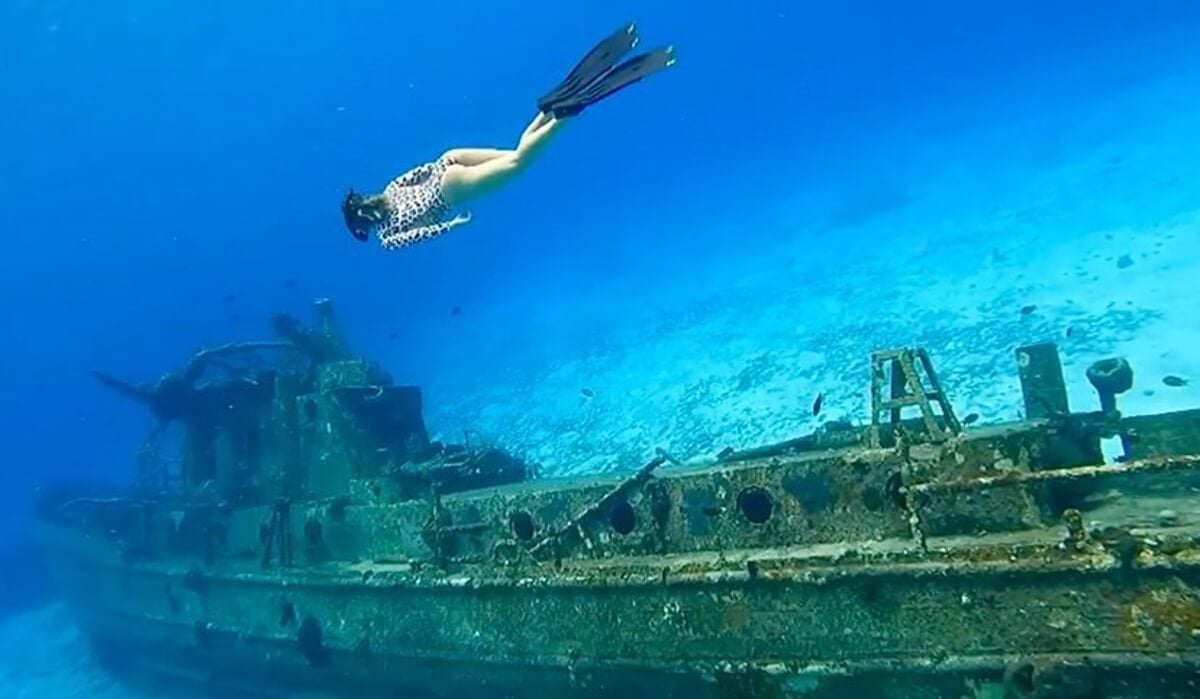 We didn't get a chance to try out free diving during our time in Playa del Carmen, but we speak from experience when we say, it's nothing like scuba diving. Unlike diving with an air tank, you have no bulky equipment and you feel a lot more free under water. We tried freediving in the Philippines and have been itching to do it again!
Instead of exploring your surroundings under water, the focus of freediving is more about quieting your mind and mastering your breath. It helps to think of it along the same lines as meditation.
Playa del Carmen is a great spot to try out freediving because of its proximity to all the cenotes. It's easier to sink in freshwater than in saltwater, which makes cenotes ideal sites for freedivers.
Whether you're a brand new to freediving or want to explore more of your personal limits under the water, you can sign up to try out your skills at many of the dive shops in Playa.
5. Get quizzicle at Tuesday Night Trivia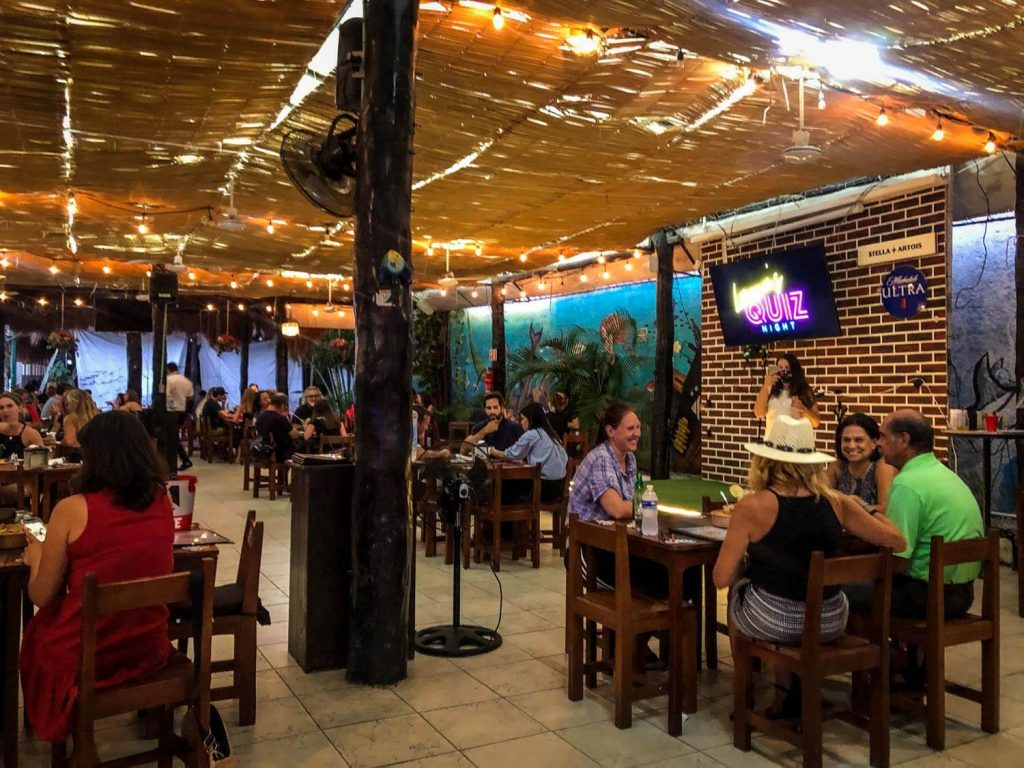 Laura's Quiz Night is one of the top rated things to do in Playa del Carmen on TripAdvisor, and for good reason. We frequented her Tuesday night event at Buzo's Restaurant-Bar to test our trivia knowledge and mingle with other English-speaking travelers, ex-pats and locals.
The quiz night happens every Tuesday night at 7 p.m. You can participate in a team of up to 6 people, but if you go with less, you can choose to either get paired up with others, or go it alone and see how you fare.
The trivia questions are all in English and written for an international audience. We weren't super impressed by the food at Buzo's so we'd recommend eating beforehand and just sharing guacamole or having a few drinks. You'll be asked to tip Laura for hosting the quiz as this is something she does without payment.
Hint: It's helpful to have some Brits on your team as Laura is British and there are sometimes references non-Brits may not understand.
6. Do a taco crawl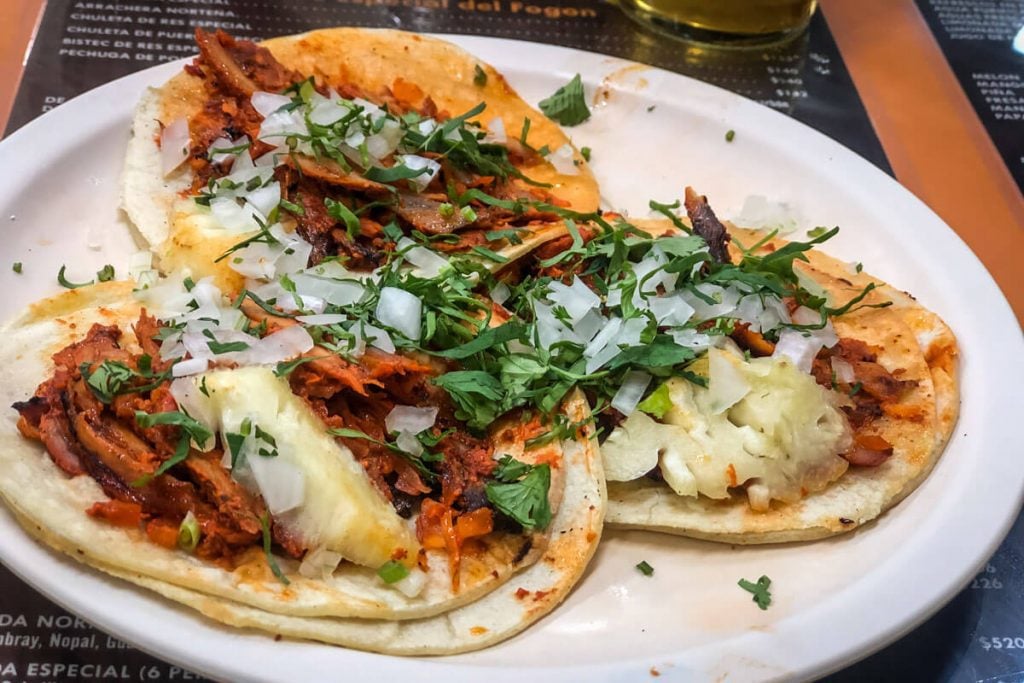 Playa del Carmen is a great place to do a self-guided taco crawl. There are tons of local taco joints all over the city serving up authentic Mexican favorites like al pastor, carnitas and barbacoa.
Here are some of the types of Mexican tacos you should try to find:
Al Pastor: This tacos consists of marinated pork cooked on a slow-turning vertical rotisserie and traditionally topped with pineapple, onion and cilantro.
Carnitas: The literal translation of this word means 'little meats' which is a cute name for what is basically the Mexican version of pulled-pork.
Barbacoa: Traditionally these tacos would be prepared with goat or sheep meat that is slow cooked over an open fire, but it's most commonly found with beef these days.
Birria: Similar to barbacoa tacos, but birra includes an extra step of letting the meat simmer in a spicy guajillo-chili broth.
Chorizo: Influenced by the Spaniands, Mexicano chorizo is typically made with seasoned minced pork and makes an excellent taco filling.
Suadero: Slow cooked beef marinated in citrus is what defines the suadero tacos, most commonly associated with street food in Mexico City.
If you're looking for the best tacos in Playa del Carmen, be sure to hit up the street carts. A good place to start is on Calle 14 Bis behind the Mega. Making your way down 30th Ave. you'll find plenty more local hot spots. Here are some of our favorites:
El Fogón: On the corner of 30th Ave and Calle 32. Best for al pastor tacos.
Birria Tacos Y Consome: On 30th Ave between Calle 38 & Calle 34.
Tacos de Barbacoa Charlie: On the opposite corner of 30th Ave and Calle 32 from Fagon.
El Huerto: On the corner of 30th Ave and Calle 28. They serve barbacoa on the weekends only.
Taquerias el Ñero: On Av. Benito Juarez and 45th Ave North. One of the only places you'll find suadero tacos amongst other interesting flavors.
If you don't want to do a self-guided taco crawl, you could try joining a food tour. We've been obsessed with taking cooking classes in countries all over the world and have also had some pretty neat food tour experiences in places like Mexico City and Bangkok. Just Google "food tours in Playa" to see if there are any that look good to you.
7. Post up at a rooftop pool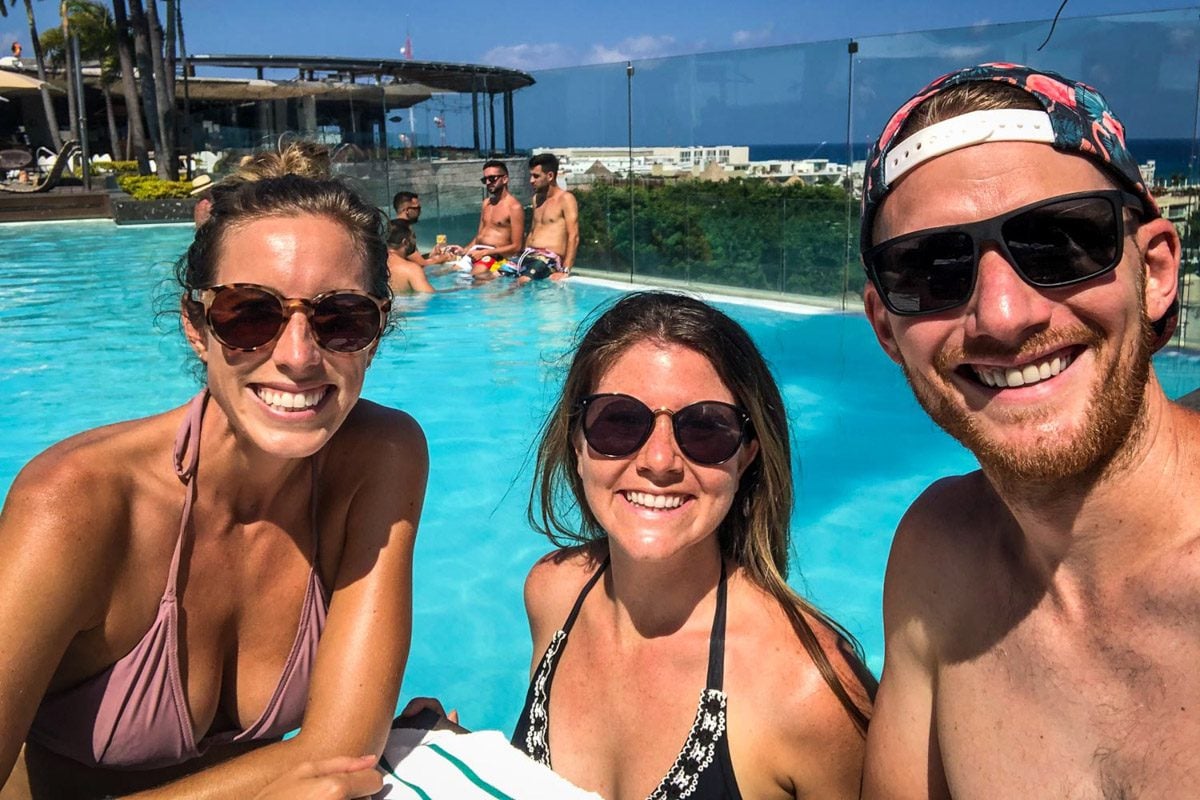 Playa del Carmen has a surplus of luxury rooftop pools. Because of the congestion of the buildings there, it's your best chance to get sun all day long. There are plenty of rooftop pools that have a beach club vibe and are open to the public for a fee. Here are a few of the best rooftop pools open to the public:
The Rooftop at the Thompson Hotel Playa: Located right about 5th Ave, this is an upscale spot with a party vibe.
The Fives Rooftop: Check out this place if you're looking for more relaxed spa-like vibes.
MVNGATA Beach Club & Rooftop: A bit of a drive outside of town, you'll find unspoiled beaches here and a rooftop with the best views.
Reef 28 Hotel: One of the largest rooftops in Playa, the 1st Ave. location is for adults only with trendy music and a relaxed vibe.
Be Playa Rooftop Pool & Lounge: This is a less popular spot where you're more likely to have the pool all to yourself.
8. Have dinner in a cave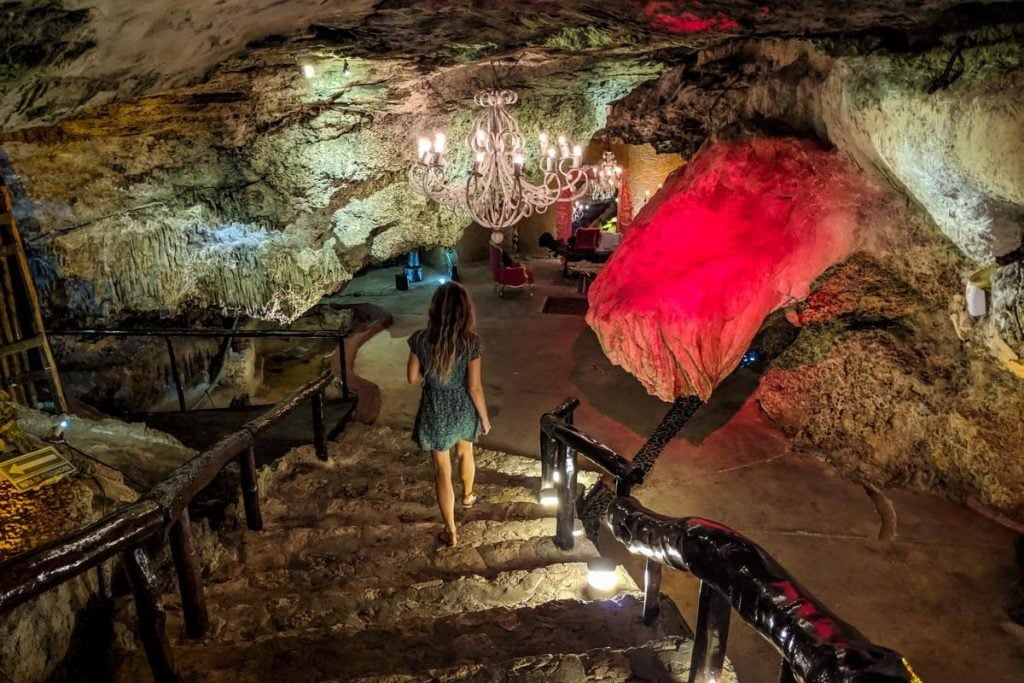 Whether you're celebrating a special occasion in Playa del Carmen, or you just want to commemorate your vacation, a reservation at Alux Restaurant is quite the experience. The entire place is located underground inside a 10,000 year old cavern.
If you're currently picturing a dark, wet space requiring headlamps and bats flying over your head, you couldn't be more wrong. This place is the peek of luxury and you will not see any creepy crawlers or feel claustrophobic here.
Instead, choose from a menu of "haute Mexican cuisine" with an international flare. Be sure to ask to see the wine cellar to hand pick your bottle and don't skip the bathrooms — even those are part of the experience!
9. Go Salsa dancing
If you've been itching to let your hair down and swing your hips to the latin vibe, Playa del Carmen has no shortage of Salsa dancing opportunities.
Every Monday, Thursday and Saturday the popular beach club Zenzi hosts live Salsa bands. If Cuban is more your style, La Bodeguita del Medio is located right in the center of Playa and has live salsa bands every night of the week.
If you'd like to try a lesson first, hit up Encubate.
They hold Salsa dancing classes for beginners and intermediate dancers Monday through Thursday evenings in the palapa at the Deportivo Mario Villanueva (the stadium off 10th Avenue between Calle 32 and 34). Check out their Facebook page for the schedule and cost of classes.
10. Start your morning with stand up paddle boarding
Test your balance on the calm waters of the Caribbean Sea while taking in the most beautiful early morning sunrise. Aloha Paddle Club is located on the beach off Calle 6 and offers daily small group sunrise paddle board tours.
The tours are open to all skill levels and instructors are available to help you get comfortable on your board if you are a newbie. You will spend more than an hour at sea, paddling towards the sunrise and getting a good core workout while you enjoy the views. Afterwards reward yourself with a fresh coconut at Fusion beach bar.
Tip: They also offer late morning and sunset sessions for those of you who are not morning people.
11. Watch live music on the beach
There are plenty of spots to catch live music in Playa del Carmen, whether you're walking down 5th Ave or seeking out venues for your specific genre (you'll find everything from Rock to Latin). If you want to feel the sand between your toes and listen to the waves crashing in between songs, head to Fusion Beach Bar where they have live music every night of the week. Check out their Facebook page for an up to date schedule of events.
Tip: Fusion doesn't take reservations and they are always packed. Get there well-before sunset to score a table or head down the beach towards Zenzi, another beach bar that offers live music most nights.
Looking for other nightlife in Playa?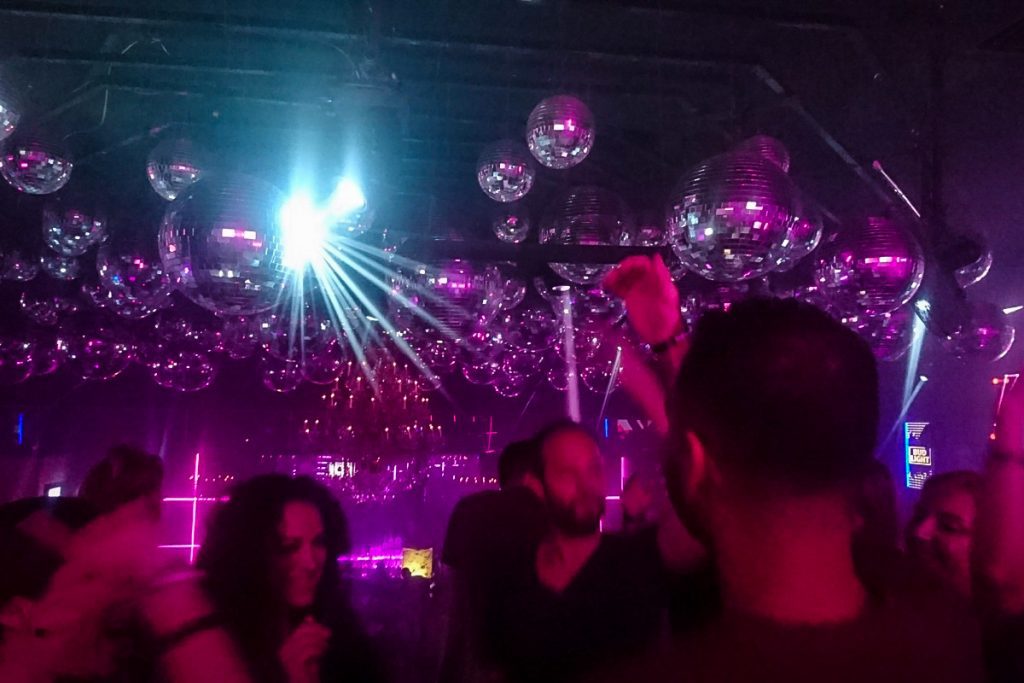 There is no shortage of nightlife in this lively vacation destination. Here are some recommendations.
Fusion: A beachside hookah bar with live music every night. Very popular during sunset, but also open late.
Zenzi: A casual beach bar with DJ and dance floor, hosts a live salsa band 3 nights a week
Fah Bar: Live rock music bar on 5th
Bar Loco: Popular and cheap bar with 20-peso beers and tequila shots, plus good people watching above 5th Ave
Clandestino: Popular nightclub and lounge – DJ plays Mexico's top 40 hits
Santino: Popular nightclub with multiple DJs and a good rooftop
Club Social Karaoke Bar: Super low key karaoke bar, great place to go with a group of friends
12. Catch a live show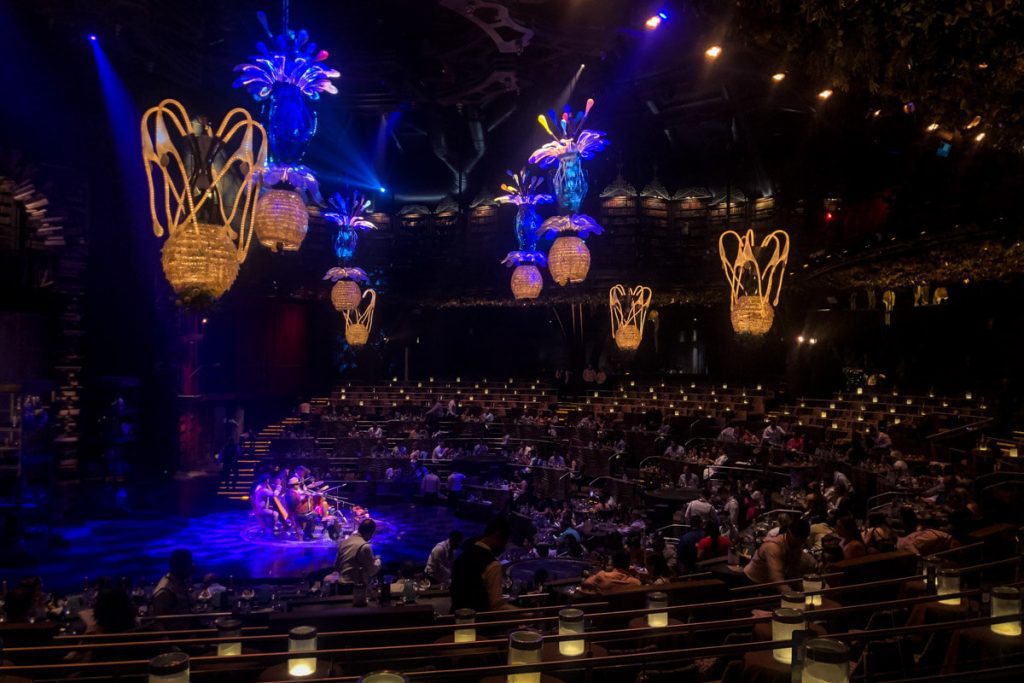 If you've done any research into shows in Playa del Carmen, you've likely heard of the famous Coco Bongo. Billing themselves as the best live show in Playa, you can't miss their colorful building exterior on 10th Ave, painted with characters ranging from Marilyn Monroe to Spiderman.
While the show is quite the popular experience with tourists, at $80 per ticket, it just wasn't worth the price in my opinion.
Sure it's all-you-can-drink and includes a meal, but with cheap alcohol, standing room only and service that doesn't start until after 9 pm, it wasn't quite the experience I was hoping to get for such a steep cost.
I found a much better experience at the Riviera Maya resident Cirque du Soleil performance of Joya. If you've ever had the chance to attend a Cirque performance, you know how over the top and exciting they can be. The level of talent demonstrated in this show was incredible.
At about $180 per person, you can get table seating which includes a delicious multi-course meal, Champagne and an extra hour of entertainment.
While this wasn't my favorite Cirque performance I've ever seen (I've seen a few in my day), and you have to factor the cost of a cab to the venue (about 400 pesos one way), I found it was a much more well-rounded experience and worth the cost for a splurge night out.
Tip: Stick around the Vidanta outdoor lounge for live music after the show while you wait for your transportation.
13. Take a Mexican cooking class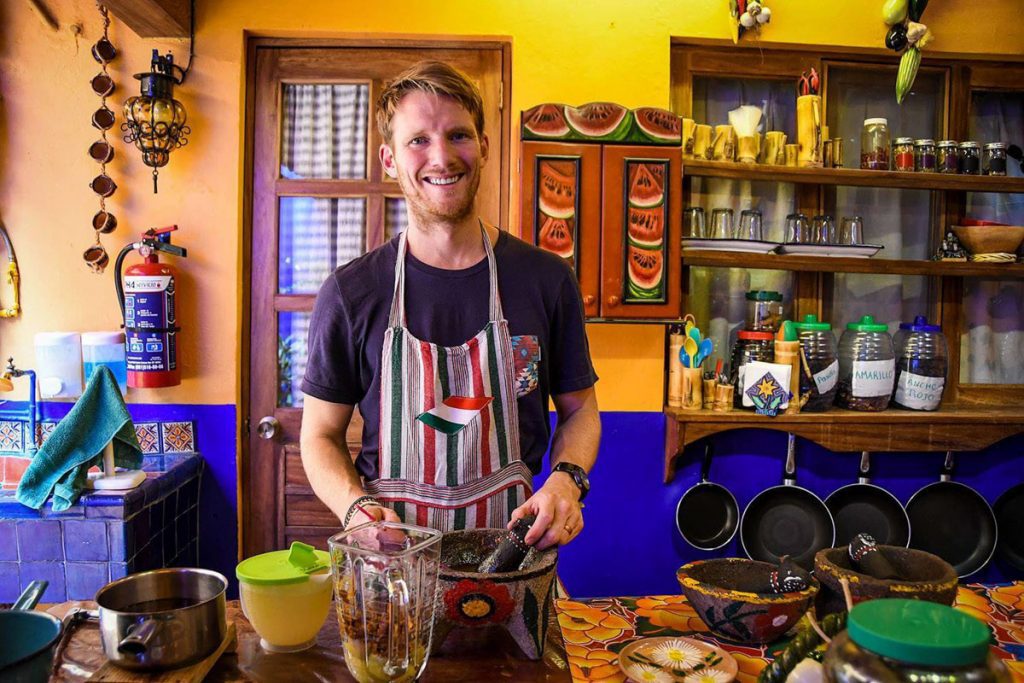 Mexican food is one of the most popular cuisines in the world and there's no better place to learn about it than from the source. If you've been following us for a while, you know we love taking cooking classes on our travels. It's a great way to learn about a culture, get to know a local, entertain yourself for a few hours, and of course — eat!
We had the opportunity to take a Mexican cooking class during our travels to Oaxaca, so didn't seek one out while in Playa. However, we saw a few on Airbnb Experiences that looked like they would make a fun experience.
14. Volunteer as a dog walker for the local animal shelter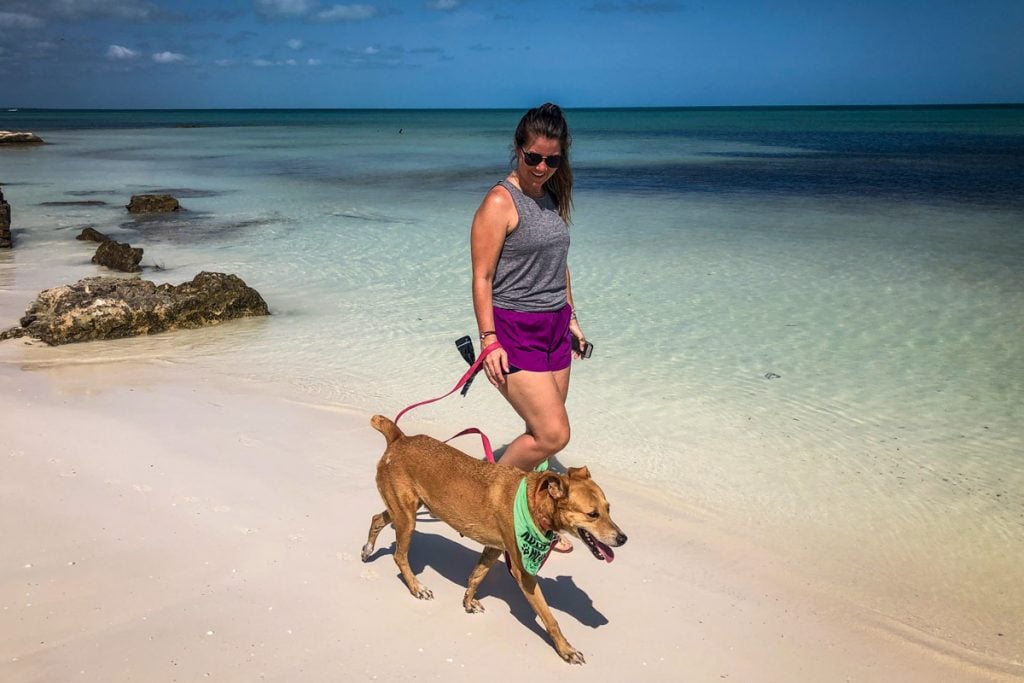 Who doesn't love cuddling with puppies?? If you are missing your furry friend back home, or maybe you just love dogs and want to do something impactful on your vacation, a great way to spend your morning is volunteering with Voluntarious Perrunos. This local organization works in partnership with CEBIAM, an animal welfare center in Playa. With time and dedication, they managed to get permission to enter the municipal shelter to walk the dogs there so they could improve their quality of life while in the cages.
Dog walking hours are Monday to Friday from 8:30 -11:30 a.m. and Saturdays from 9:30 a.m. to 12 p.m. Sign up to volunteer by reaching out on their Facebook page. They offer rides from various pick-ups in Centro to the shelter which is about a 20-minute drive out of town.
15. Shop the night market at the Municipal building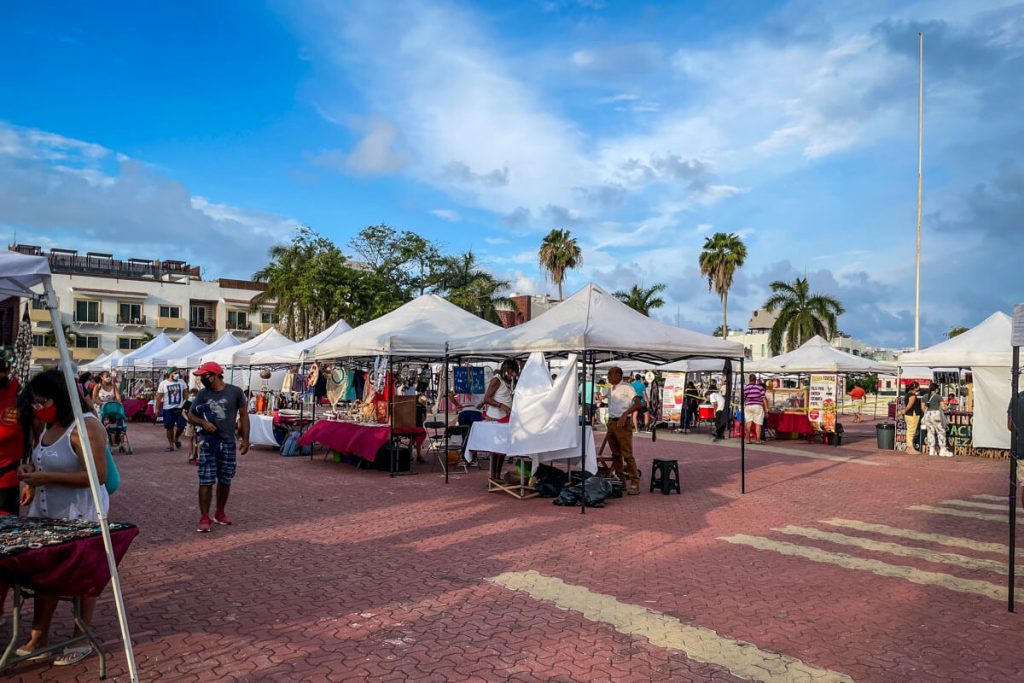 This artisan market pops up every weekend in front of the Municipal building on Friday, Saturday and Sunday evenings. A local favorite, you'll get a much more laid back experience here compared to shopping on 5th Ave.
The market consists of artisan goods like crafts and clothing, along with limited street food such as marquesitas, elote, and tamales.
16. Escape the heat and visit a museum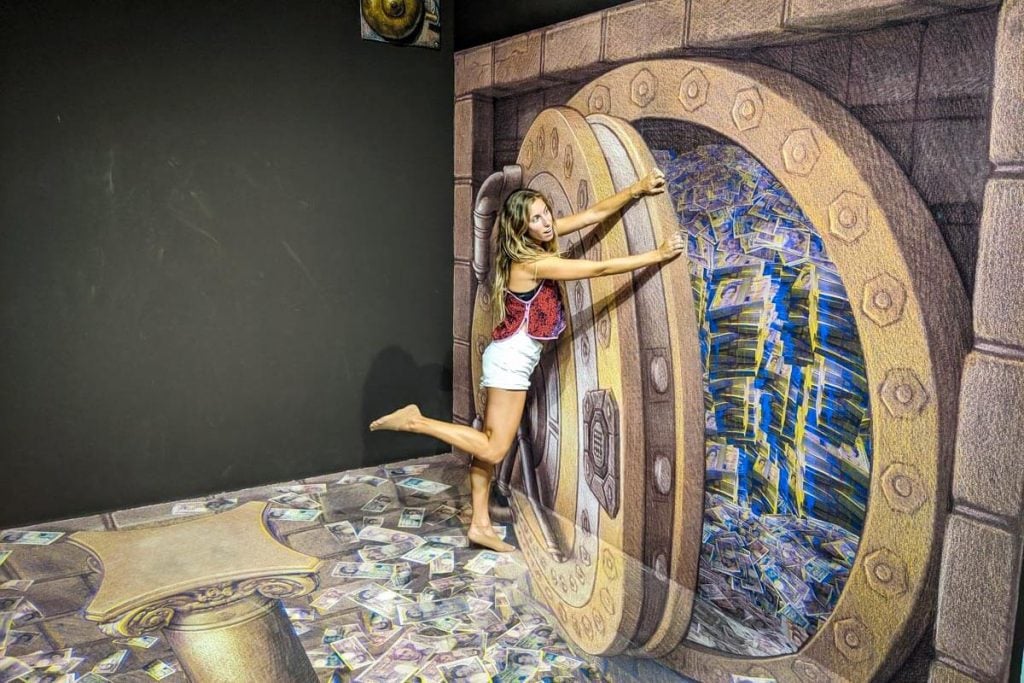 Playa del Carmen is home to a few notable museums that can be a great way to get out of the midday heat or avoid the rain.
The 3D Museum of Wonders is more of an experience than an actual museum. You'll get a personal guide and photographer who follows you throughout the museum showing you the best poses to get surreal 3D photographs from the 2D paintings there.
The Frida Kahlo Museum is another popular attraction. The official museum and former home of the iconic Mexican artist is in Mexico City.
However, the Playa del Carmen location was set up to honor her and the story behind her work with a chronological order of photos and diagrams on the walls. Displays are in both Spanish and English and there is a 15-minute video to introduce visitors to the works and life of Frida.
17. Explore the Sian Ka'an bio reserve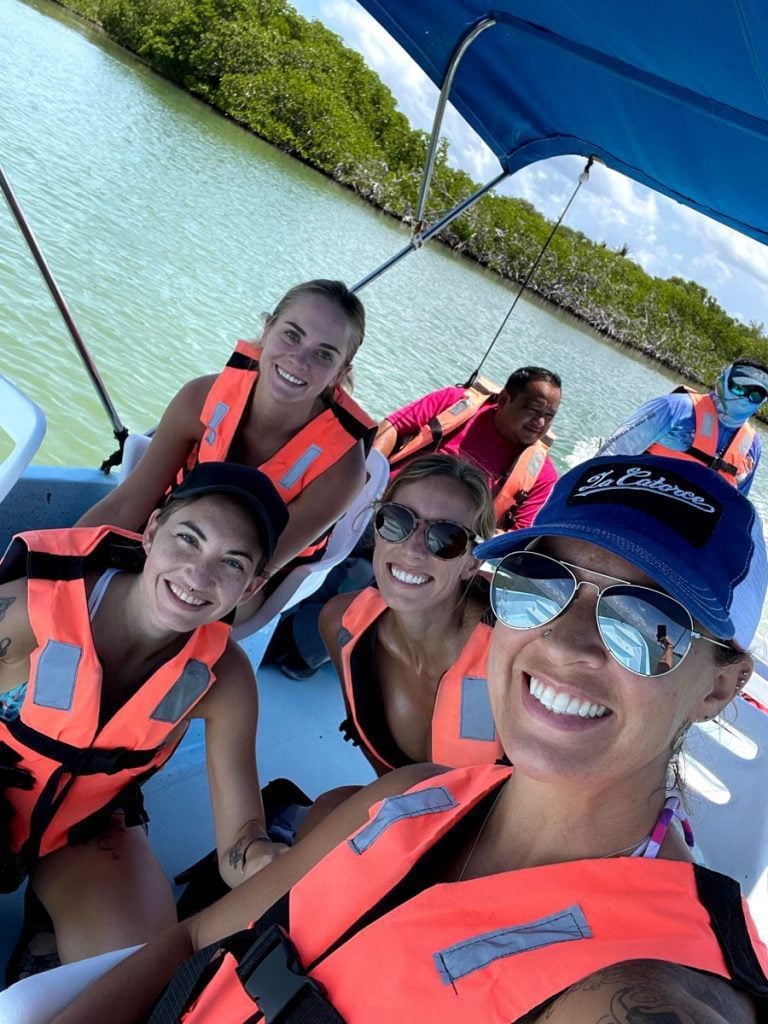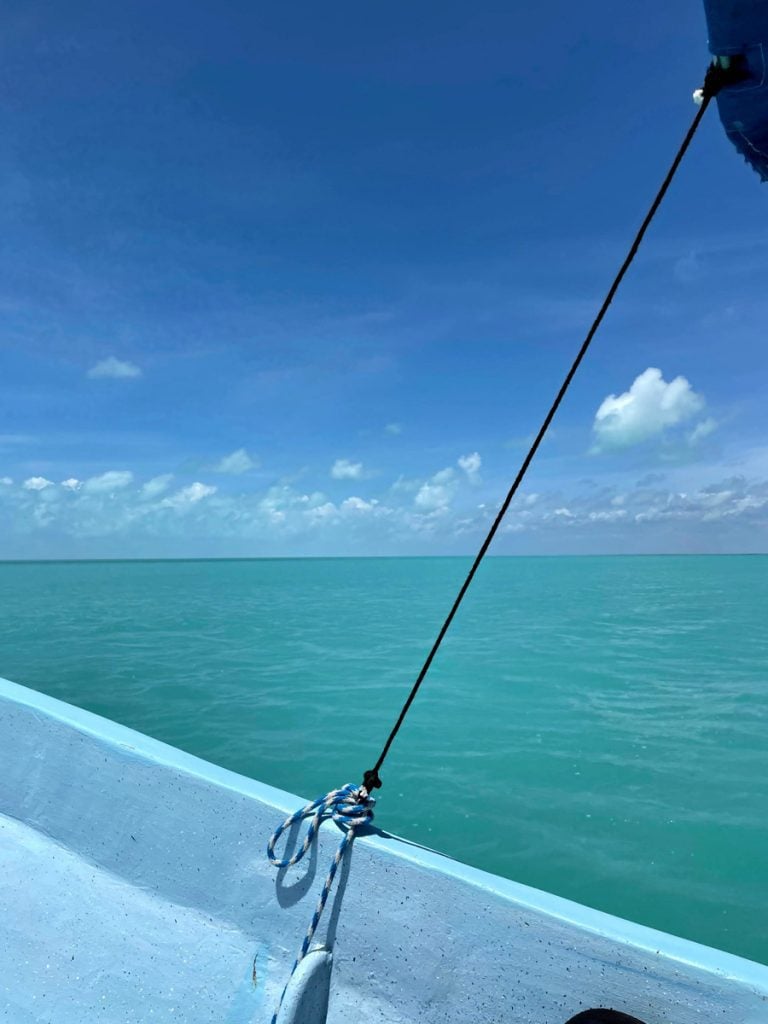 The Sian Ka'an Biosphere Reserve is teeming with wildlife, and makes for an unforgettable DIY day-trip from Playa del Carmen. The diverse jungle ecosystem reserve offers one of the most unique experiences in the region.
You don't know relaxation until you've floated effortlessly down clear blue channels surrounded by lush mangroves. Hire a boat to take you out into the lagoons of Sian Ka'an where you can bob along ancient waterways used by the Maya people.
There are two main areas of the massive reserve that are best for exploring: Muyil and Punta Allen. Each of these access points will provide entirely different experiences. Since they are over a 2 hour drive apart, it's a bit challenging to see both in one trip, so we recommend choosing the side you are most interested in.
We've written in detail all about how to visit the Sian Ka'an Biosphere Reserve without a tour.
18. Learn Spanish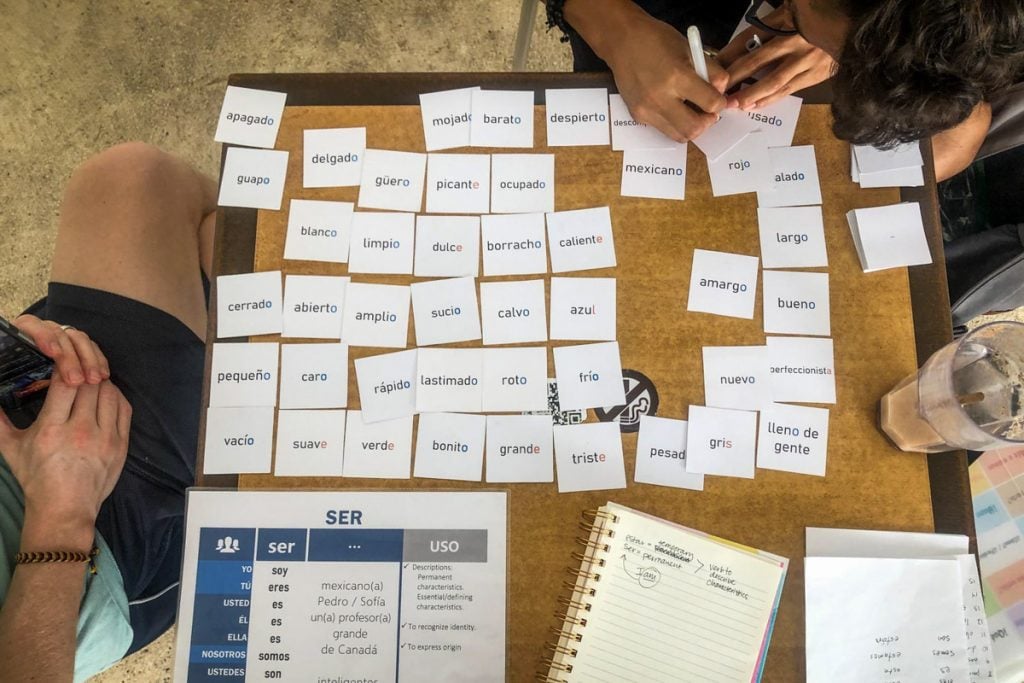 Traveling to Mexico is an excellent opportunity to learn Spanish. In fact, Mexico has the largest population of Spanish-speakers in the world. Whether you want to brush up on the basics you learned in school or are starting from scratch, there are plenty of opportunities for learning in Playa.
There are a few Spanish schools/courses out there, so you'll have to do your research to find out which one makes the most sense for you.
A few things to look for:
Make sure the language school you choose is owned and run by Mexicans so you know you are supporting locals.
Check out the schedule of learning. How many hours a day or days a week will you be in lessons?
Ask about their teaching methodology. Is it primarily classroom lectures? One on one tutoring? Or fully immersive in the local culture?
19. Grab happy hour at a beach club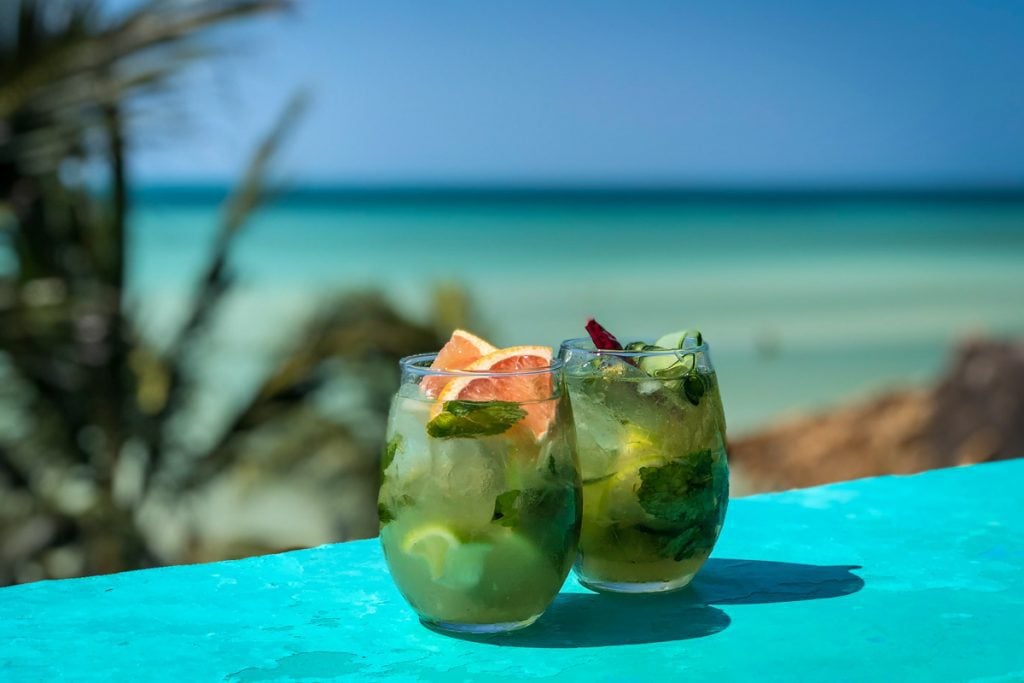 There's nothing that says vacation like kicking back on the beach with a fresh margarita in hand — tiny umbrella included! Playa has no shortage of beach clubs for those whose official vacation slogan is "It's 5 o'clock somewhere."
Some of our favorite places for a beachside cocktail:
Lido's Beach Club
Inti Beach Club
Fusion
Zenzi
20. Take the ferry to Cozumel for the day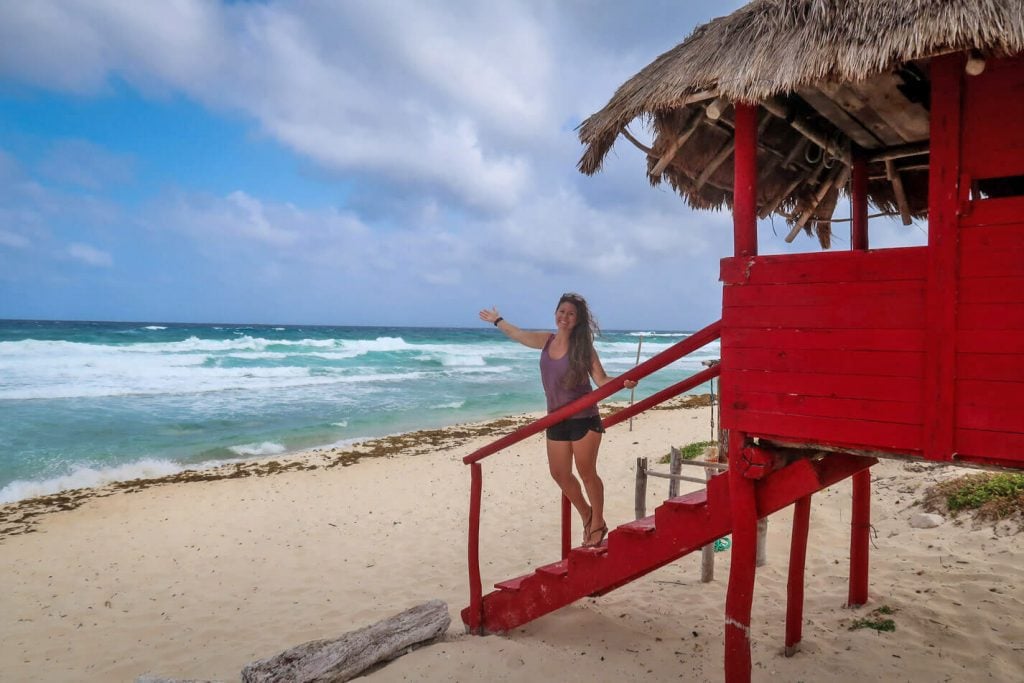 Cozumel is a large island located about 12 miles off the coast of Playa del Carmen. In fact, if you squint on a clear day you can make out the buildings on the horizon from Playa. The island is a much quieter and more tranquil destination than its mainland neighbors and tends to offer better beaches.
How to get to Cozumel from Playa del Carmen
There are two ferry companies that operate the route between Playa del Carmen and Cozumel: Winjet (orange) and Ultramar (yellow). Both companies are more or less the same, so you should purchase tickets based on the time that works for you.
You can purchase tickets for either company on the day of from the Ferry Pier in downtown Playa. The crossing takes about 40 minutes one way and tickets cost about $11 USD for adults and $9 USD for children.
Tip: For the sake of flexibility, it's best to purchase one-way tickets, in case you wind up needing to take the other company on your return trip.
The first ferry of the day usually leaves Playa around 8 a.m. and the last ferry of the night from Cozumel leaves around 9 p.m. Just because you have a ticket, does not guarantee you a ride. It's important to get to the pier and get in line plenty early (an hour or more in advance) to make sure you get a spot on the ferry or you'll be bumped to the next available boat (which could mean waiting for hours). I've learned this lesson the hard way on more than one occasion.
2021 Note: The ferries have been operating a slightly reduced service, running every 1-2 hours (instead of a more frequent schedule) and have been alternating service by company every other day. Always check with the ferry companies directly at the pier for the latest information.
Tip: Even on a beautiful clear day, the sea can be rough. Come prepared with seasickness medication if you think you might need it. 40 minutes can be a looooong ride when you're feeling queasy.
Once you've made it to Cozumel, you can walk from the ferry pier into town or down along the coast. We recommend renting a scooter or topless car to explore the island on your own. However, there are also taxis available to help you get around.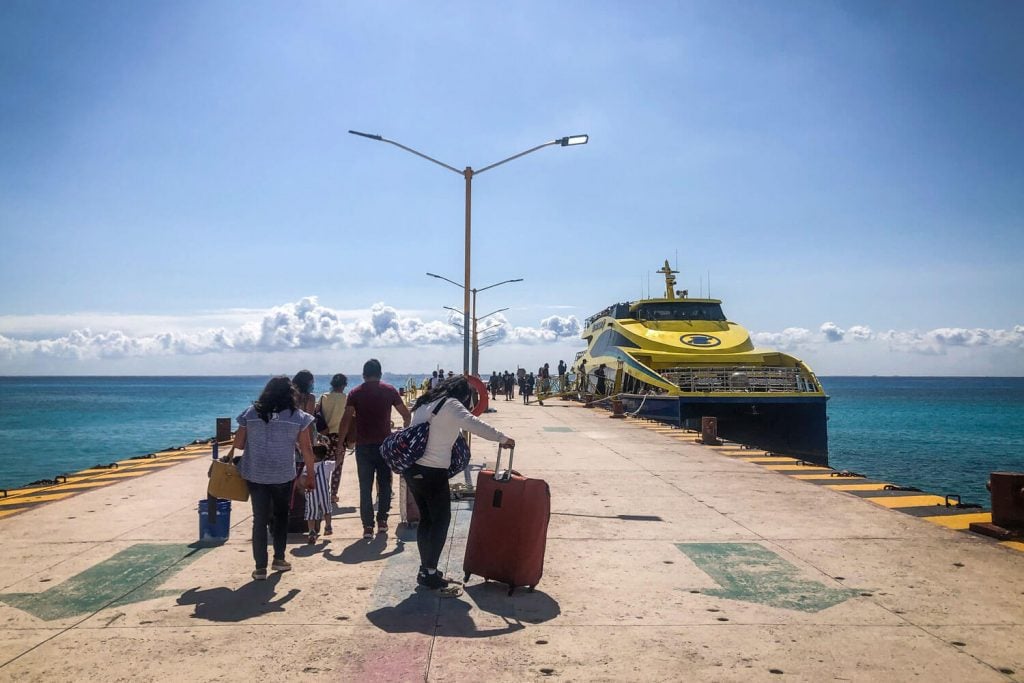 Things to do in Cozumel
Rent a scooter or topless car (not your typical convertible, these cars look like they've had the tops cut right off) to explore
Visit Punta Sur Eco Park for beaches, snorkeling, wildlife and a lighthouse
Go snorkeling at el Cielo sandbar aka "heaven", known as one of the best snorkeling spots in Cozumel and for its abundance of starfish
Taste handmade chocolate and learn about the traditional process from seed to chocolate bar at the Mayan Cacao Company
Visit the San Gervasio Mayan ruins
Go scuba diving on Cozumel's reefs (see #3 on this list)
Go deep with Atlantis submarines
Tour the family owned and operated Cozumel Pearl Farm
Try a new water sport such as SUP boarding, aqua biking, helmet diving or deep sea fishing
21. Visit Puerto Morelos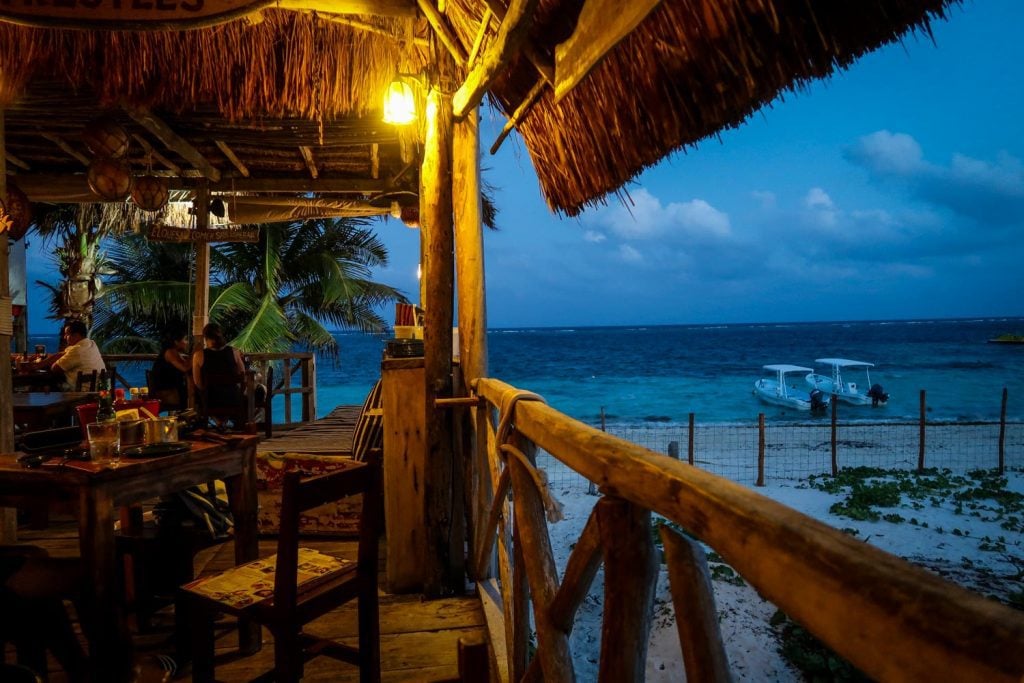 If you've never heard of Puerto Morelos, we're going to let you in on a little secret. This small fishing village in Mexico's Riviera Maya has not been overrun by tourism and retains much of its original charm.
Just 30 minutes north of Playa del Carmen, this sleepy seaside town is a paradise for those who want to stick their toes in the sand and enjoy a good book with a margarita in hand.
Don't be fooled by the relaxed Caribbean vibe, there is still plenty to keep you occupied here for a day or weekend trip.
Things to do in Puerto Morelos
Go snorkeling or diving with a Marine Biologist
Take a BBQ cooking class with a Chef's Table Featured Chef (Netflix)
Visit Mexico's most biodiverse botanical gardens, Jardín Botánico Dr. Alfredo Barrera Marín
Relax at a beach club
Check out the shops and restaurants in town
Eat plenty of fresh seafood
Where to Eat in Playa del Carmen
There are tons of restaurant options in Playa del Carmen, so much so that the choice can be overwhelming and you might be temped to pop into the first crowded patio you find. Our advice: stay off 5th Ave. when eating in Playa!
We rounded up the best restaurants in Playa del Carmen based on your food preferences to help you make the decisions easier.
Mexican Food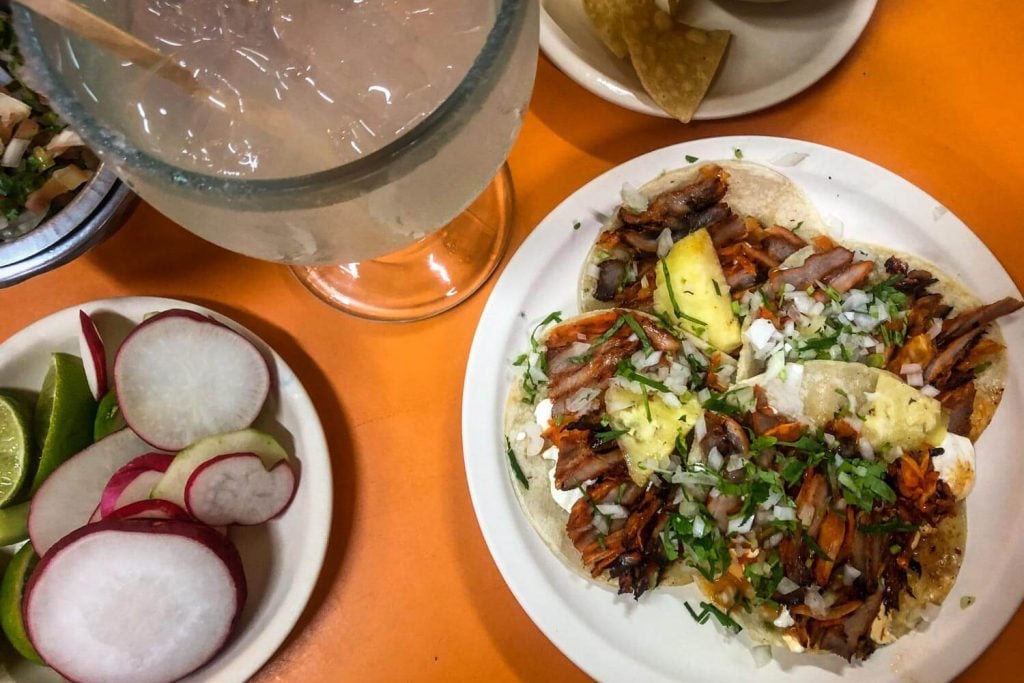 El Fogón: Everyone will tell you the best tacos in Playa del Carmen are at El Fogón and they are not wrong! These super cheap, authentic Mexican tacos are best devoured by the plate full. Order the Al Pastor with all the fixings (yes, that means pineapple on your taco!) and you will not be disappointed. They have more than one location around Playa too. I've always found the location on Av. Constituyentes to have a long line. The best location is on 30th & 32nd where the locals hang out and the servers are more attentive.
Birria Tacos y Consome: Right up there in the number one spot with Fogón is Birria for the best tacos in Playa. What Fagon does for al pastor, Birria does for… well Birria. If you're unfamiliar, Birria is a traditional Mexican dish originally made with goat meat (but can be made with beef, lamb, or veal too) and served as a stew or taco filling. Do not skip the consome (the stew) and be sure to get it with all the fixings!
La Bamba Jarocha: A local-favorite seafood restaurant that is delicious and budget-friendly.
Pollo Pirata: This unassuming fast-food joint on 30 Avenida Norte is serving up some of the best (and cheapest!) chicken I have ever tasted. You can purchase ¼, ½, or a whole chicken and each order comes with a side of rice, beans and salsa. Just don't let them rope you into a "combo deal," they charge almost as much for the beverage as they do for the chicken!
Dona Paula Restaurant: Walking into this blue house is like walking into your Abuela's kitchen. Instead of a menu, you choose from dishes set out on the counter, and everything comes with rice, beans and tortillas.
La Cueva del Chango: Popular spot for breakfast or brunch, known for having many options for chilaquiles.
Cantina Don PP: This unassuming local "dive" is serving up Mexican favorites that will have your mouth watering.
El Sangha Rito: Super affordable spot to grab a quick bite, serving up local specialties.
La Ceiba de la 30: The restaurant attached to the DAC produce market (a great place for grocery shopping!) serves up Mexican specialties with locally sourced ingredients.
International Cuisine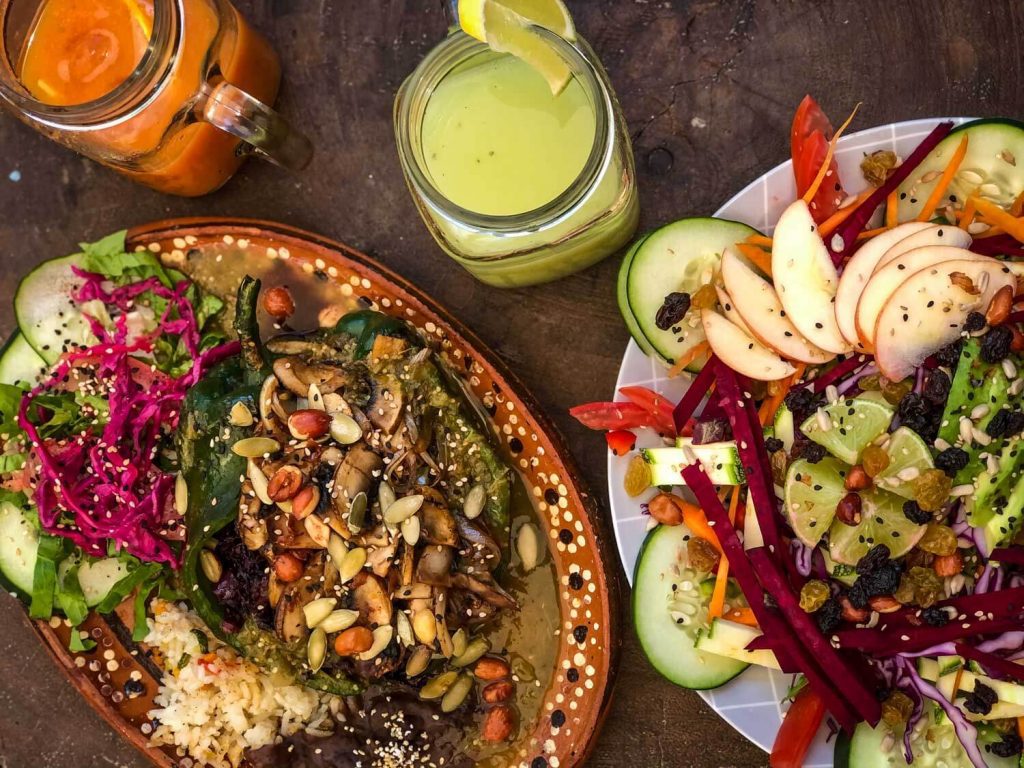 Rockas Jamaican Kitchen: Head to Rockas for an authentic Jamaican culinary experience. Get there early to order the Jamaican Jerk chicken or Jerk chicken stew before they run out (and they do run out during high season sometimes) and don't hold back on the sides – particularly the mac n' cheese!
Osteria de Roma: Another Italian-run restaurant serving up homemade Italian dishes like gnocchi and my personal favorite, cacio e pepe. Call ahead to put in special requests like vegetarian or gluten-free lasagne. And save room for a desert of Nutella balls! Another notable mention: The Zucchini pizza for 2!
Mu Burgerhouse: If you're craving a burger and fries, you'll want to head straight here. Personal favorite: La Garanja burger
The Lost Tiki: Asian/Mexican fusion cuisine from a cute little spot that fills up quickly, so be sure to make a reservation ahead of time.
Bajo Cafe: A great place for breakfast, lunch or dinner. The food here is cheap but delicious, and the atmosphere and service is wonderful. They are super accommodating to laptop workers and have tons of great breakfast options from Mexican favorites like Enfrijoladas to classic American bagels to smoothie bowls and avocado toasts that'll give Bali a run for its money. Closed on Sundays.
Trattoria del Centro: This Italian-owned spot in central Playa is serving up authentic Italian with handmade pasta and pizzas. Hands-down the best Italian food in Playa (tied with Osteria de Roma – very different menus though!) Personal favorites include the lamb ragu and the Neapolitan-style pizza.
Yum Yum: This is a yummy Indian/Thai fusion restaurant on the corner of 10th Ave. and Calle 6 that'll satisfy your cravings for food from the other side of the world.
Primo: Don't let the small space fool you, this restaurant packs a punch with their rustic style cooking and elevated dishes. Personal favorite: the lamb barbacoa
Milos Cocina Griega: A Greek-run restaurant serving up flavors of the Mediterranean.
Falafel Nessya: Hole-in-the-wall spot serving up delicious middle eastern cuisine.
Choux Choux Cafe: A french cafe serving delicious breakfast favorites like "el gringo" which is basically a breakfast sandwich meets avocado toast meets waffles.
Oh, La, La: Voted the best restaurant in Playa del Carmen on TripAdvisor, this coveted high-end spot only has 9 tables, so reservations are necessary!
Alux: This restaurant inside a cave is a fun experience for a date night. Part of the cave houses their extensive wine collection and you can browse and pick out your favorite bottle to drink with your meal.
Healthy Eating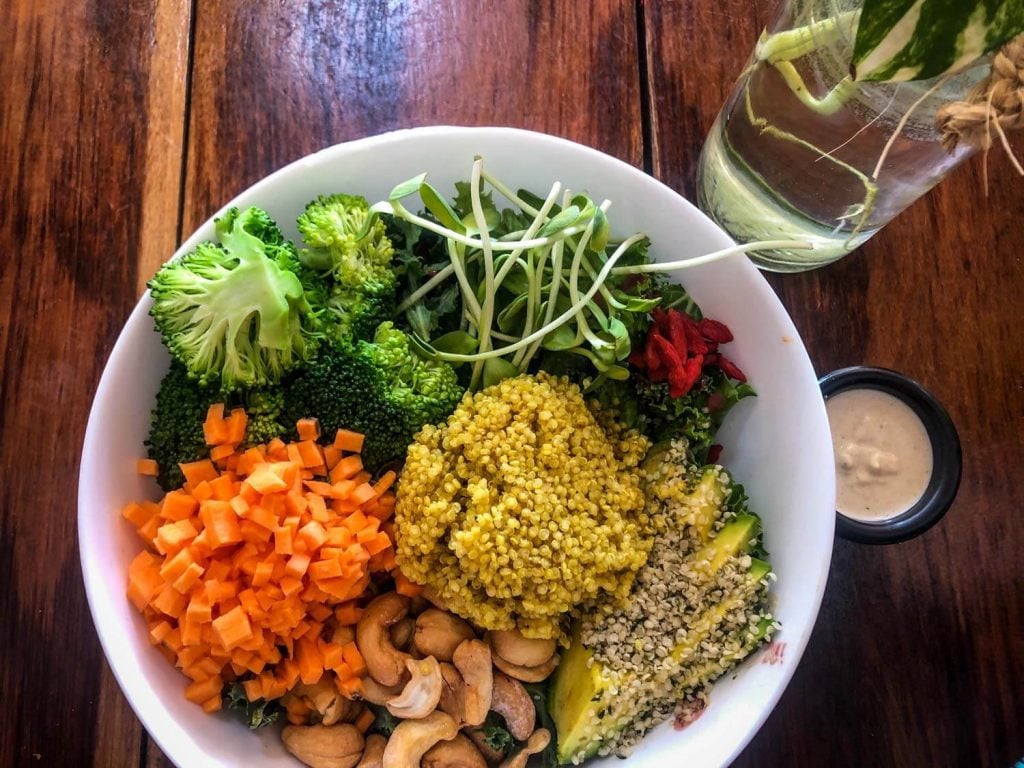 Food Delivery in Playa
Uber Eats
Rappi – This is the Uber Eats of Latin America and will have a lot more options than the Uber Eats app does for Playa. Plus, you can choose to pay in cash and not put in a credit card. The only downside is the entire app is in Spanish with no translation feature.
Where to Stay in Playa del Carmen
If you're coming to Playa del Carmen for a month or more to live and work as a digital nomad, you'll likely find Centro to be the most convenient location. Look for a place between Av. CTM and Av. Benito Juarez, and between the beach and Hwy 307. You'll probably want to avoid staying right on 5th if you can as the noise can easily become a negative factor there. Below are a few buildings worth looking into.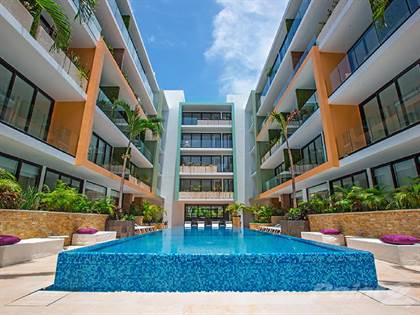 The City – This is a newer build in Playa del Carmen offering studio, one- and two-bedroom units. Amenities include multiple swimming pools (one on the rooftop!), an onsite bar/restaurant, fitness center, spa facilities and free wifi throughout the property.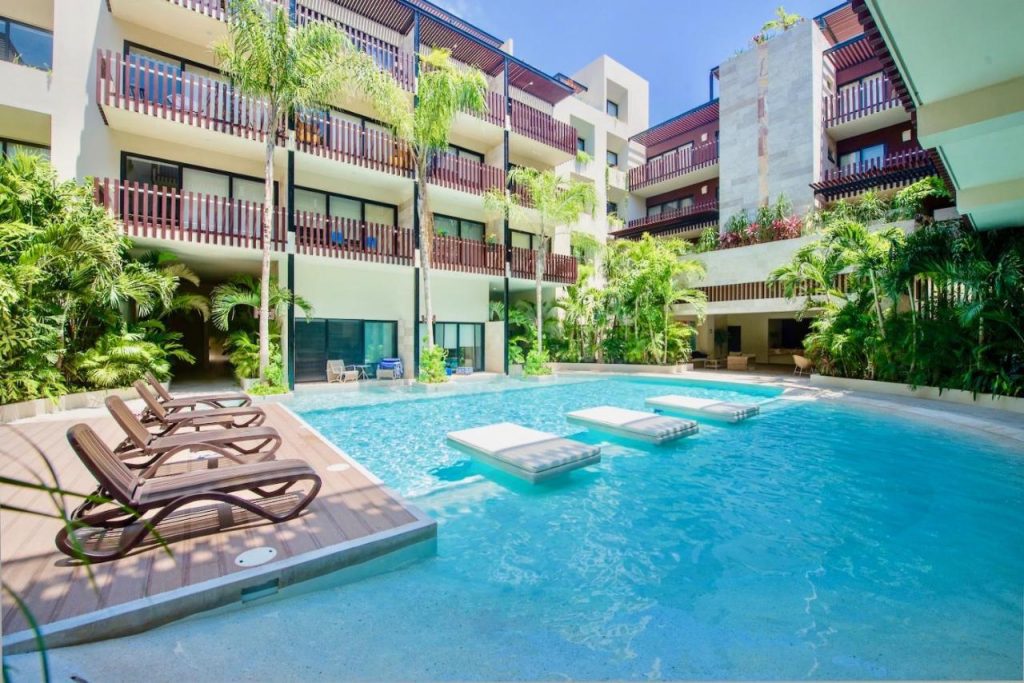 Palmares Condo Rentals – Offering one- and two-bedroom apartments with spacious living areas, these condos make great long term rentals. Amenities include a large swimming pool, fitness center and shared lounge. Wifi is included throughout the property.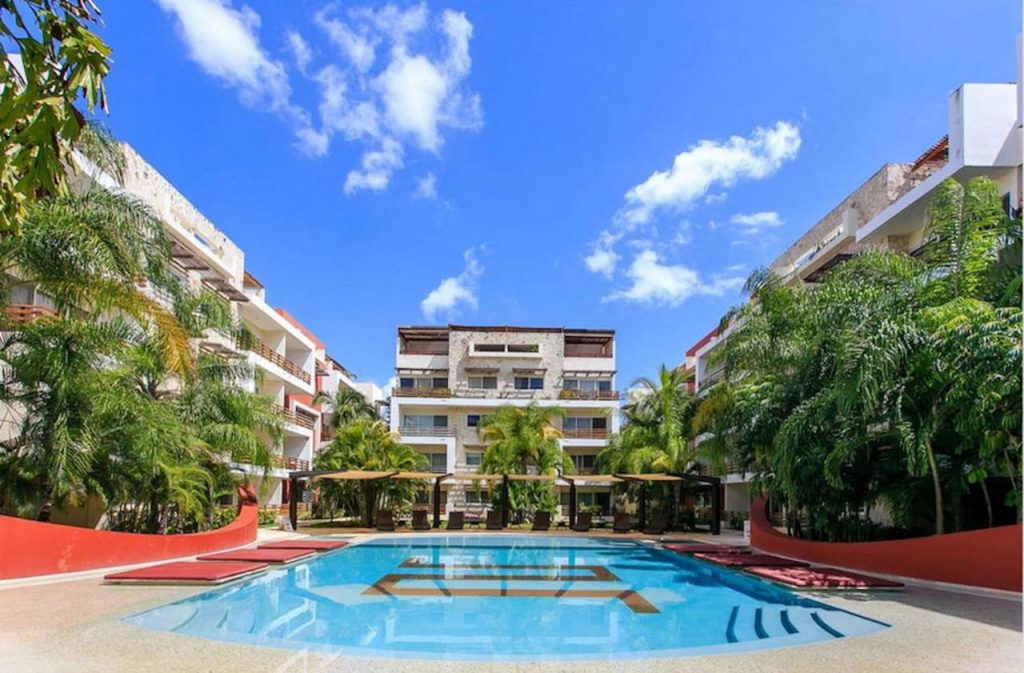 Sabbia Condos – Offering two- and three-bedroom apartments and conveniently located across the street from a sports arena. Amenities include a large swimming pool, fitness center and business lounge. Wifi is included throughout the property.
Short-Term Stays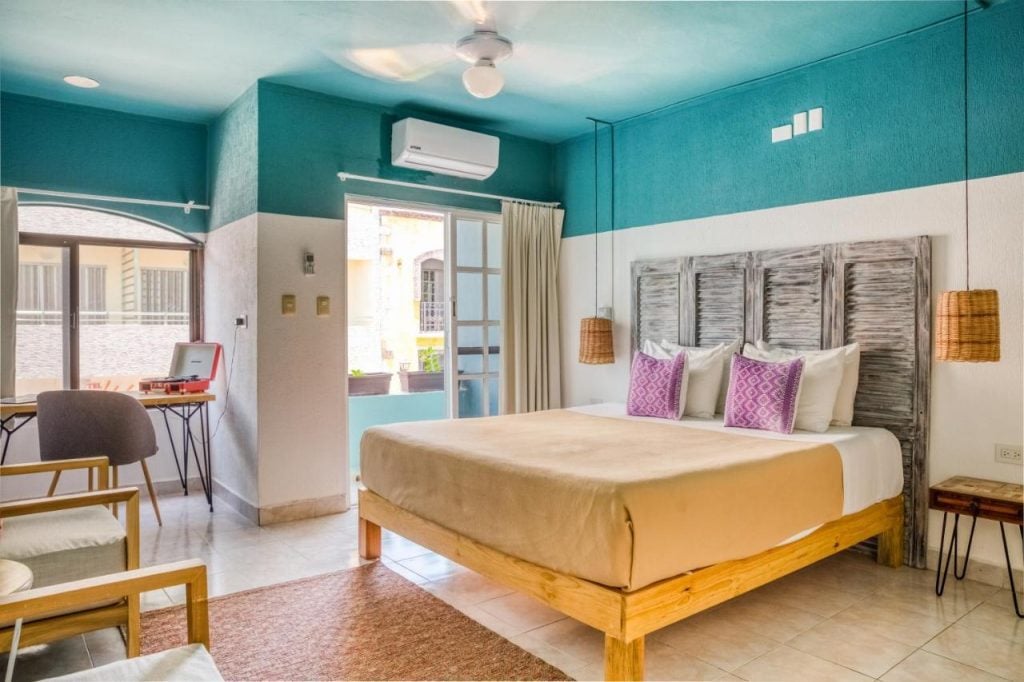 Selina Playa del Carmen – With large and small dorms as well as private and double rooms, Selina has a stay for every budget. Amenities include a pool, bar and shared lounge. The added bonus of high-speed internet and coworking makes this a great spot for digital nomads coming through Playa on a shorter stay.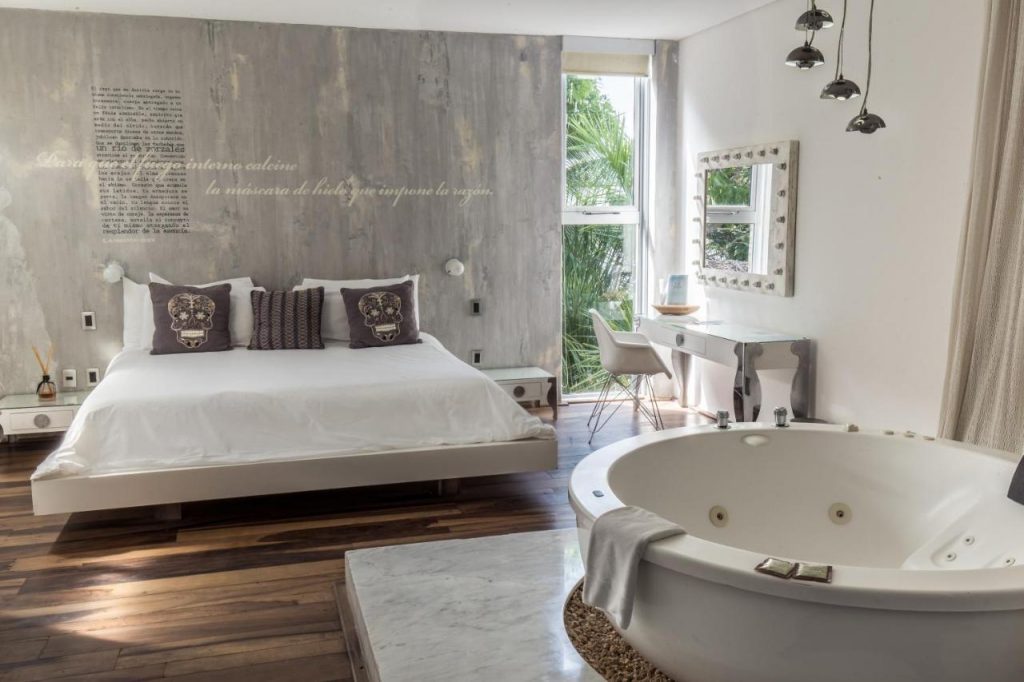 Be Playa – This luxurious boutique hotel is in a central location just a block off 5th Avenue. The rooftop pool and bar is the perfect place for a sunset happy hour, and it's within walking distance to many delicious restaurants, shops and the beach.
Transportation in Playa del Carmen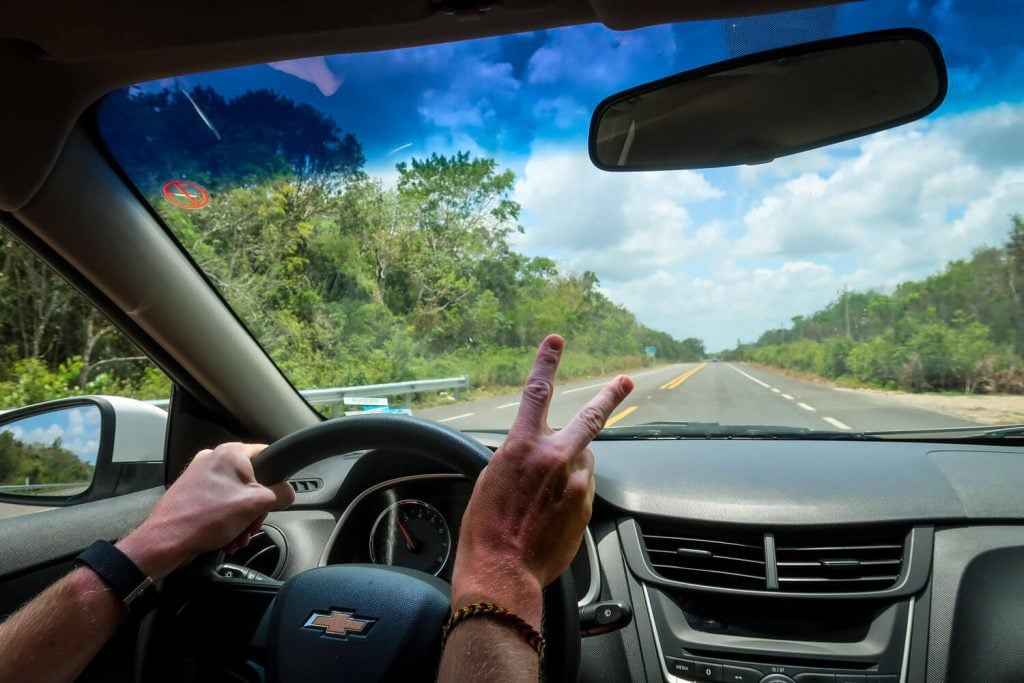 Walking: Getting around Playa del Carmen is pretty easy on foot, especially if you are staying in the Centro area. The city is flat and very walkable.
Rent a bicycle: There are also lots of bicycle rentals in the area and you can get them for daily, weekly or monthly rates. There is also a shared bike system called BiciPlaya that works pretty well.
Scooter rental: The concept of renting scooters is becoming more and more popular in Playa and you can find scooter rentals around the Centro area.
Taxi: Readily available and easy to hail from just about any major street, but taxi prices can be steep. Be sure to negotiate your price before getting in — most taxis don't use a meter. Uber is unfortunately not available in this area.
Colectivos: Mexico's version of a shared taxi bus. These run all over the country in short distances and are by far the most affordable method of transportation.If you are going a short distance, like from Playa del Carmen to Tulum for example, a colectivo is a great way to get there for a much more reasonable price than a taxi cab. You may have to make a few stops along the way though.
Renting a car: Another great option if you want the freedom to explore the area more. Renting a car in central America is safe and can be really cheap when you compare costs to average US prices. We use Discover Cars to search for the best deals on rental cars around the world.
Psst! We have an entire guide to getting a rental car in Mexico including where to find the best deals and tips for driving and safety.
Digital Nomads in Playa del Carmen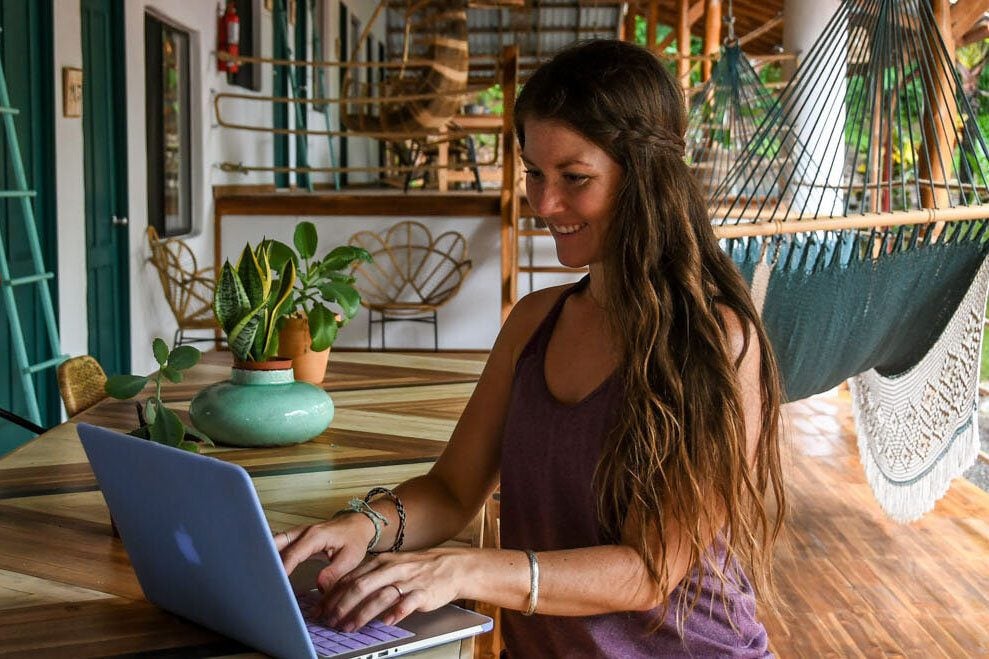 With so many people turning to the remote work lifestyle, Mexico has become a hub for digital nomads, snowbirds, and vacationers alike. Digital Nomads have been flocking to Playa del Carmen in droves and remote work programs are capitalizing on the limited visa restrictions by moving their communities to Playa.
Why Playa del Carmen?
Mexico has a lot of really interesting and unique places to visit full of culture, delicious food, and plenty of sunshine and beaches! In fact, we have lots of resources for some of Mexico's other hotspots such as Oaxaca and Mexico City.
However, if you're looking for a place to settle down for a longer stay (1+ months) with some of the comforts of home, Playa del Carmen might be a good option. It is becoming a more popular choice amongst remote workers looking for just that.
Before packing your bags, we're going to let you in on the pros and cons of Playa del Carmen. And we're getting real honest because in truth, we personally didn't love the city, and there's a lot we wish we would have known before deciding to spend 3 months there.
Just because we didn't love it doesn't mean you won't. Read through the pros and cons and see if it sounds like a place you'll enjoy:
Pros of PDC:
Somewhat inexpensive cost of living (definitely not as inexpensive as Southeast Asian hubs, but PDC is cheaper than many US cities)
High-speed Internet connection
A decent variety of cafes and places to work from. In truth, there are many other cities around the world that we believe have a much better selection of places for working, but PDC does okay in this area.

Note: We're kind of picky when it comes to what we consider a "good place to work". Typically, we look for places with comfortable seating, ample outlets, healthy food and beverage options, consistent WiFi, and most importantly — where working from a laptop is acceptable.

Sunshine and beaches

Good to know: the best beaches are a short walk outside of the city center

A variety of restaurants
Nightlife
PDC is a good hub for exploring the Yucatán Peninsula.
There is a growing community of ex-pats and digital nomads. Truthfully, we found it more difficult to meet people and network here than we did in other cities we've lived in, but we know others who would disagree.
Cons of PDC:
Depending on the time of year you're staying, PDC can get extremely hot and humid. It's also worth noting that this city is the most expensive place in Mexico in terms of electric costs. You will be expected to pay your apartment's electric bill in cash (yes, even if you're staying at an Airbnb), so be mindful about cranking that AC!
In our opinion, PDC is a kind of boring city. If you're not a huge fan of sitting at the pool, it may get old after a while. We wish we would have known this before moving for 3 months because we were pretty bored!
Mexican food in PDC is just okay. There are definitely some good local restaurants, but if you're a big fan of Mexican cuisine, the food is much better in other parts of the country.
Co-working Spaces & Wifi Cafes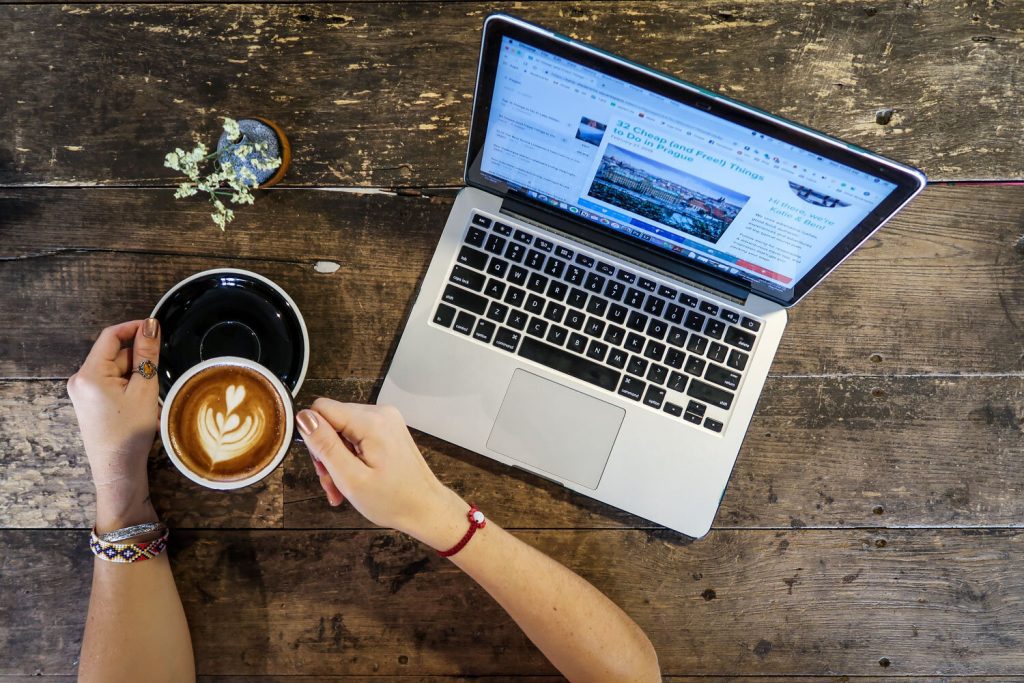 With the growing popularity of this destination for digital nomads, a few different options for co-working spaces have popped up in Playa del Carmen.
Bunker Coworking
Day Pass: 250 pesos
Weekly Rate: 1,099 pesos
Monthly Rate: 2,900 pesos
Internet Speed: 100+ Mbps
Access: 24/7 member access
A newcomer to the coworking community in Playa, Bunker is a cozy space just 2 blocks from the beach. They offer shared office, private office and virtual office spaces in a well-lit building with complimentary drinking water, coffee and tea. Other amenities include a meeting/conference room, private phone stalls, mail reception, secure lockers, a copy and print center and a kitchenette.
Nest Coworking
Day Pass: 200 pesos
Weekly Rate: 1000 pesos
Monthly Rate: 3000 pesos
Internet Speed: 15 Mbps
Access: 24/7
Nest is a small space nestled in between buildings on 10th Ave. There are upstairs and downstairs indoor co-working areas as well as a quiet outdoor courtyard with a picnic table. As far as decor goes, the space is pretty minimal – just a few long communal tables with plexiglass separators. Drinking water, coffee, tea and snacks are offered to guests. Other amenities include mail reception, secure lockers, a copy and print center and kitchen.
Selina Coworking
Day Pass: 200 pesos
Weekly Rate: 1000 pesos
Monthly Rate: 3000 pesos
Internet Speed: 10 Mbps
Access: 6 a.m. to 9 p.m. for non-guests
Selina is a well-known hostel chain across South and Central America that offers coworking and coliving options. Their Playa del Carmen coworking space is a comfortable natural-lit room with large communal tables, a few different seating areas, and single-stall private rooms for meetings. Drinking water, and coffee and tea are provided. Other amenities include air conditioning, daily yoga classes (at an additional cost), and an onsite pool and cafe bar.
Best Wifi Cafes to Work From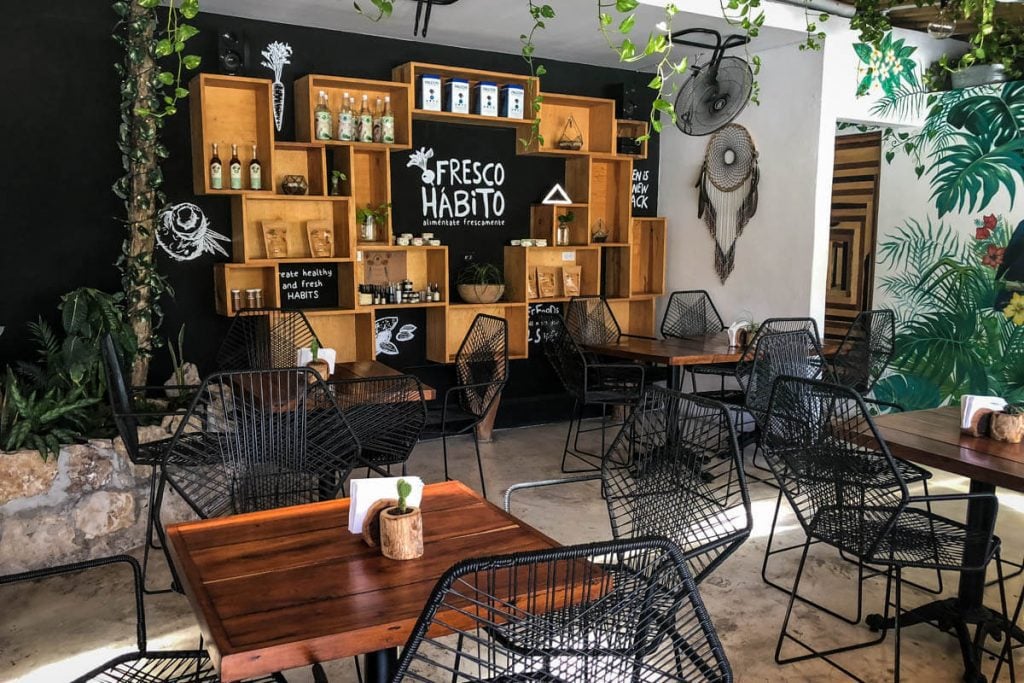 Grocery Shopping in Playa del Carmen
The DAC (located on 30th and Calle 20 Nte.) is the best produce market in Playa. They have great quality produce and a wide selection of other market staples (including a nice deli section), plus it's super affordable! You'll likely find produce here you won't find anywhere else.
Walmart and MEGA are the two major supermarkets in Playa and your best bet for grocery shopping similar to what you'd find in the US.
Soriana and Aki markets are also pretty large supermarkets, but will have less selection of international products.
Medical Care
Doctor: The best drop-in clinic is on 10th Ave between Calle 26 & 28. It'll cost you around 700 pesos for a consultation and you can come back as many times as you need to in 1 week for the same issue, with no further charges. The doctors there speak English.
Dentist: If you need a teeth cleaning, Coral Dental Center is great. It costs 850 pesos for a cleaning and you can make an appointment through their Whatsapp Number: +52 984-876-2839. They also do professional whitening for $200 USD (which includes a cleaning).
Gyms/Fitness
Evolve: Probably the most popular gym for expats in central Playa, they have day passes and weekly/monthly memberships.
Yoga Loft: Drop in for a single class (usually in both English & Spanish), or grab a package, or monthly membership.
Weekend Trips from Playa del Carmen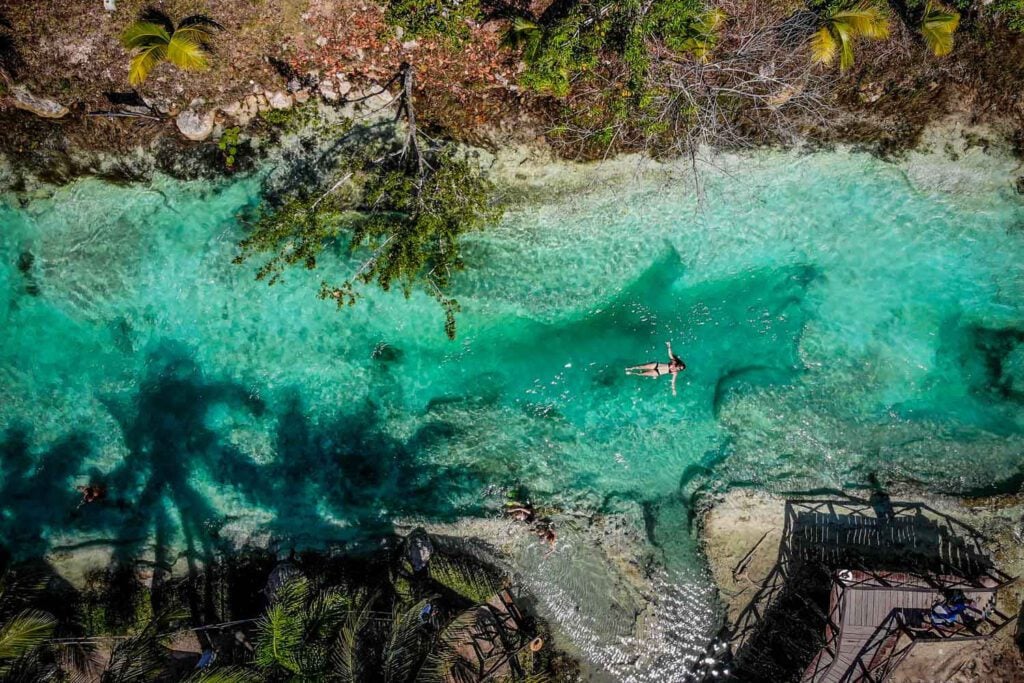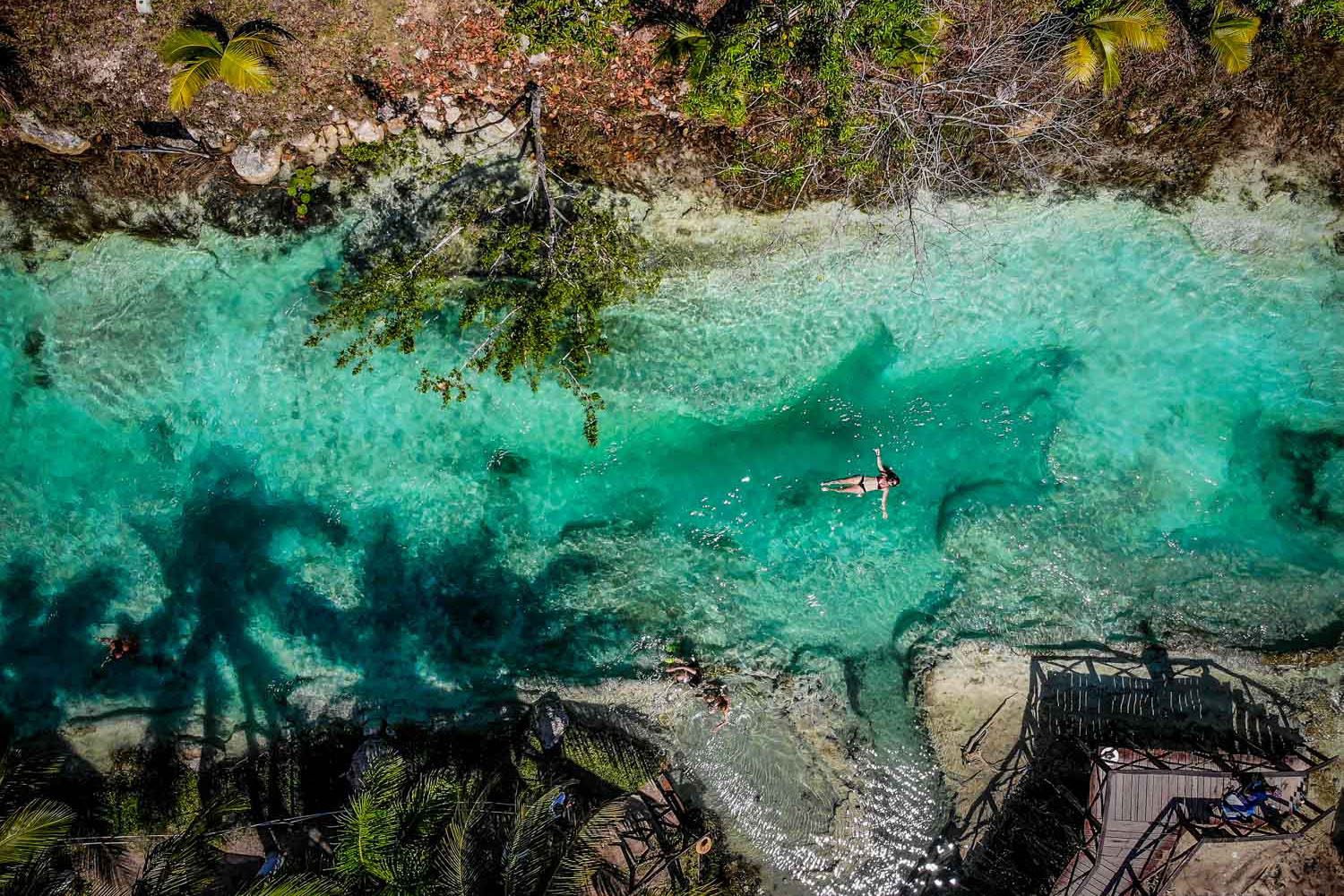 There are plenty of adventures to be had in the Yucatán Peninsula surrounding Playa del Carmen. If you are staying in the area for a longer period of time and want to get out and explore, here are a few of our top weekend trip ideas.
Chichén Itzá/ Mérida/Valladolid: You can hit all three of these major destinations in a 3-day weekend road trip. We'd suggest hitting up Chichén Itzá on your first day, spending 2 nights in Mérida, and stopping in Valladolid on your way back.
Bacalar: The famous Lagoon of Seven Colors is just a 3 hour drive south of Playa del Carmen in Bacalar.
Isla Holbox: Spend the weekend on the remote island in the north of the Yucatán where there are no cars and everyone moves at the pace of island life.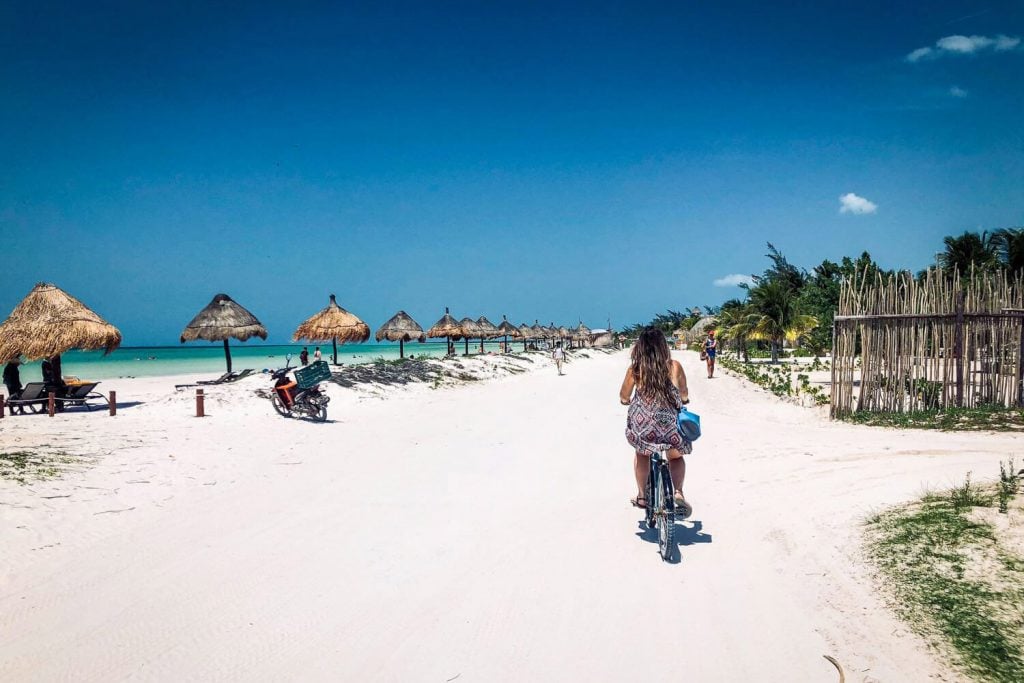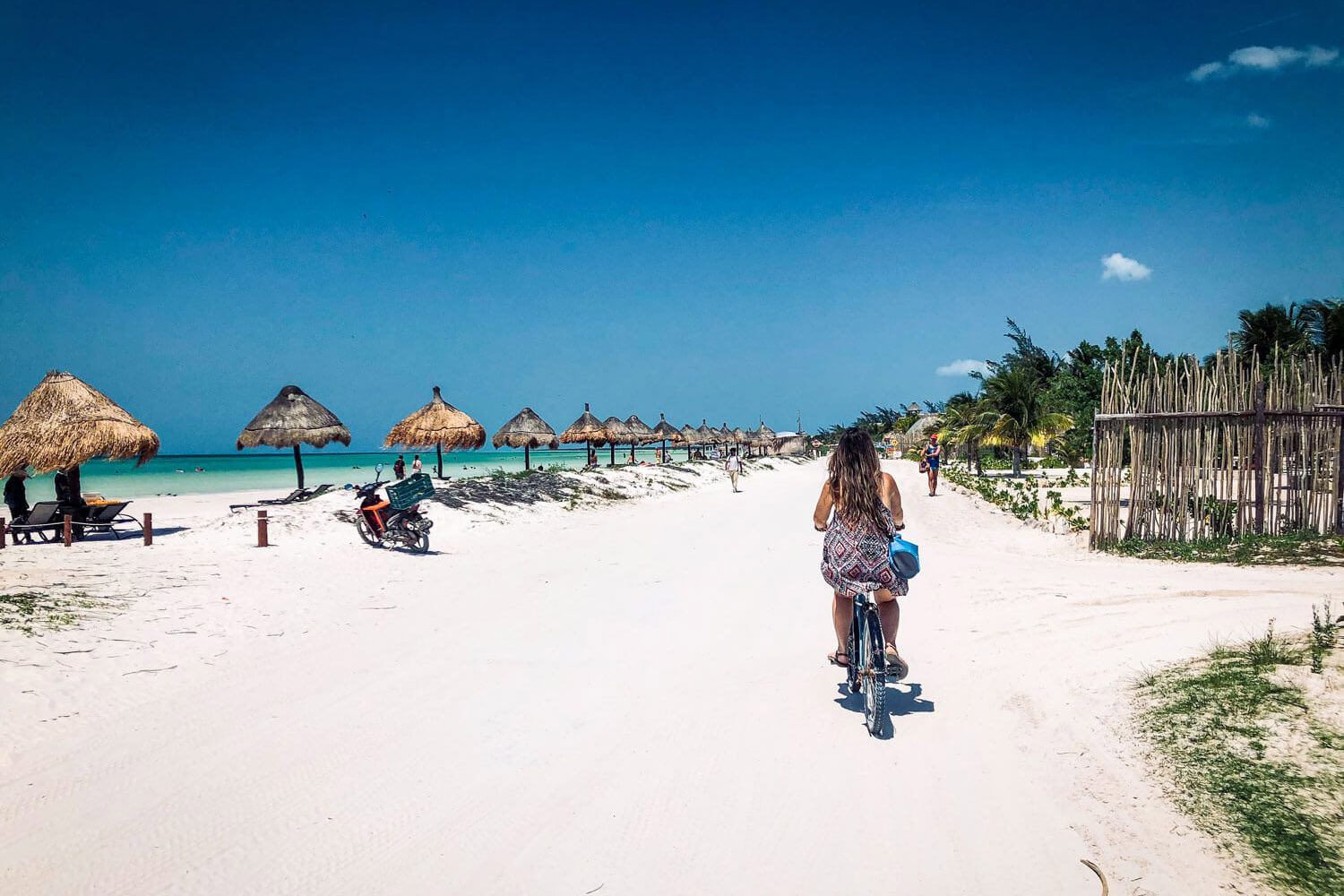 For more information on how to plan a weekend trip, check out our article all about the best things to do in the Yucatán Peninsula. You'll find details on all of the above and many more adventures you can do within a few hours driving from Playa del Carmen.
If you're looking for another kind of adventure and prepared for a short (and usually pretty cheap) flight from Cancun airport, we'd suggest 3 days in Mexico City or a long weekend in San Cristobal de las Cacas.
Are you planning a trip to Mexico?
We have lots more resources on travel in Mexico and destinations throughout the country. Check out our Ultimate Mexico Travel Guide for all the important travel information, or read some of our favorite articles below.
Save this article on Pinterest for later!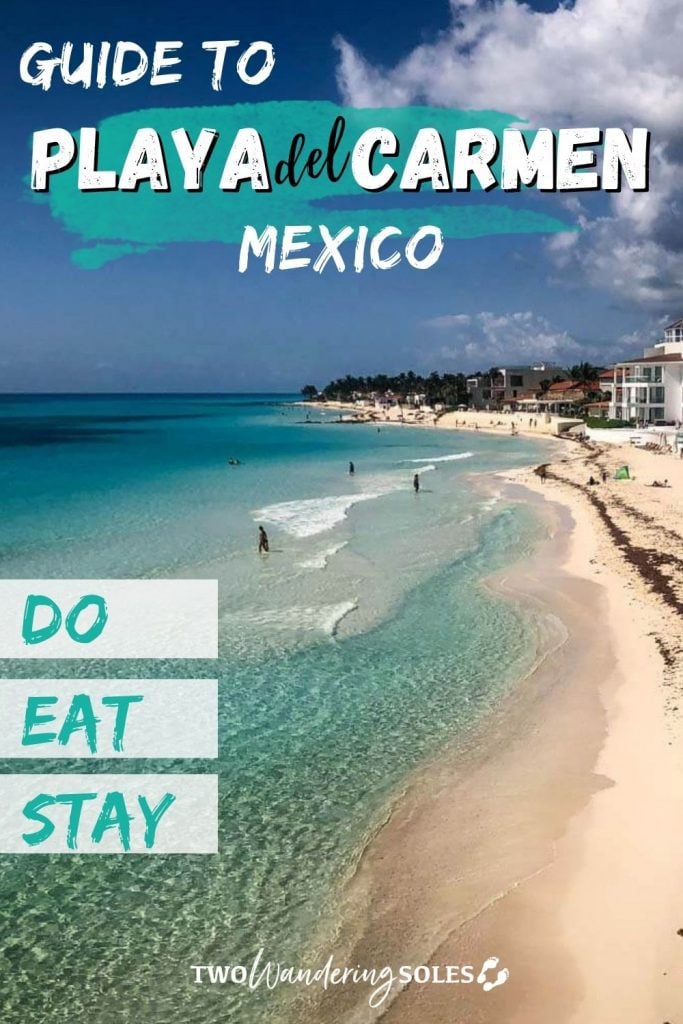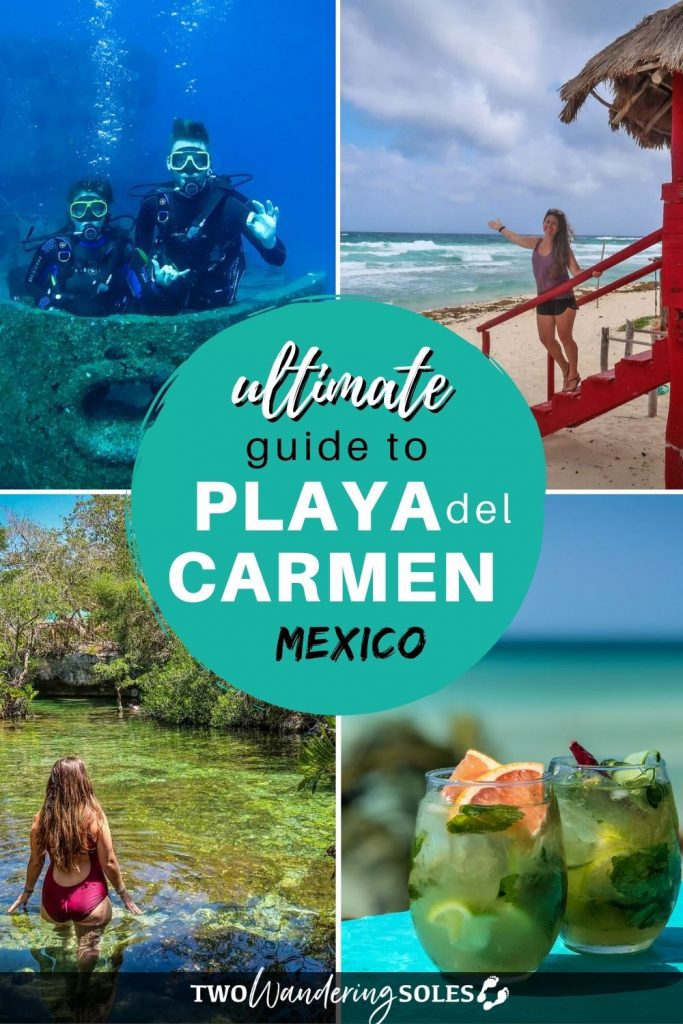 We want to hear from you!
Are you planning a trip to Playa del Carmen and still have questions? Drop us a note in the comment section below and we'll do our best to get you the answers you're looking for!