In this guide, we go over all the details of renting a car in Mexico—from the cost of insurance to money-saving tips—so you know exactly what to expect and only need to worry about having the best, stress-free experience on the road.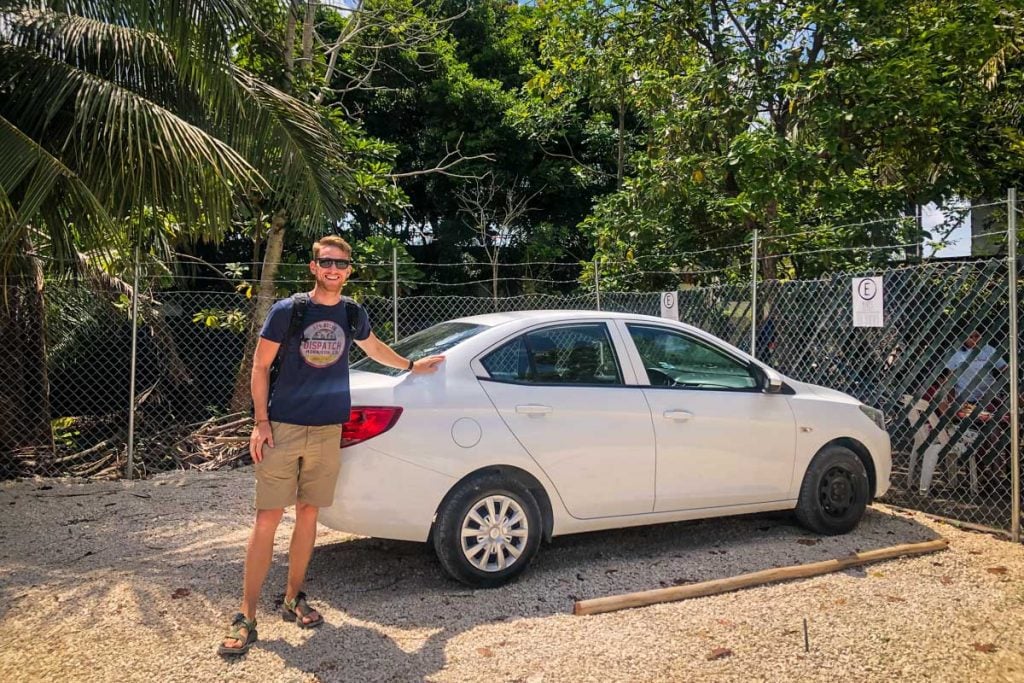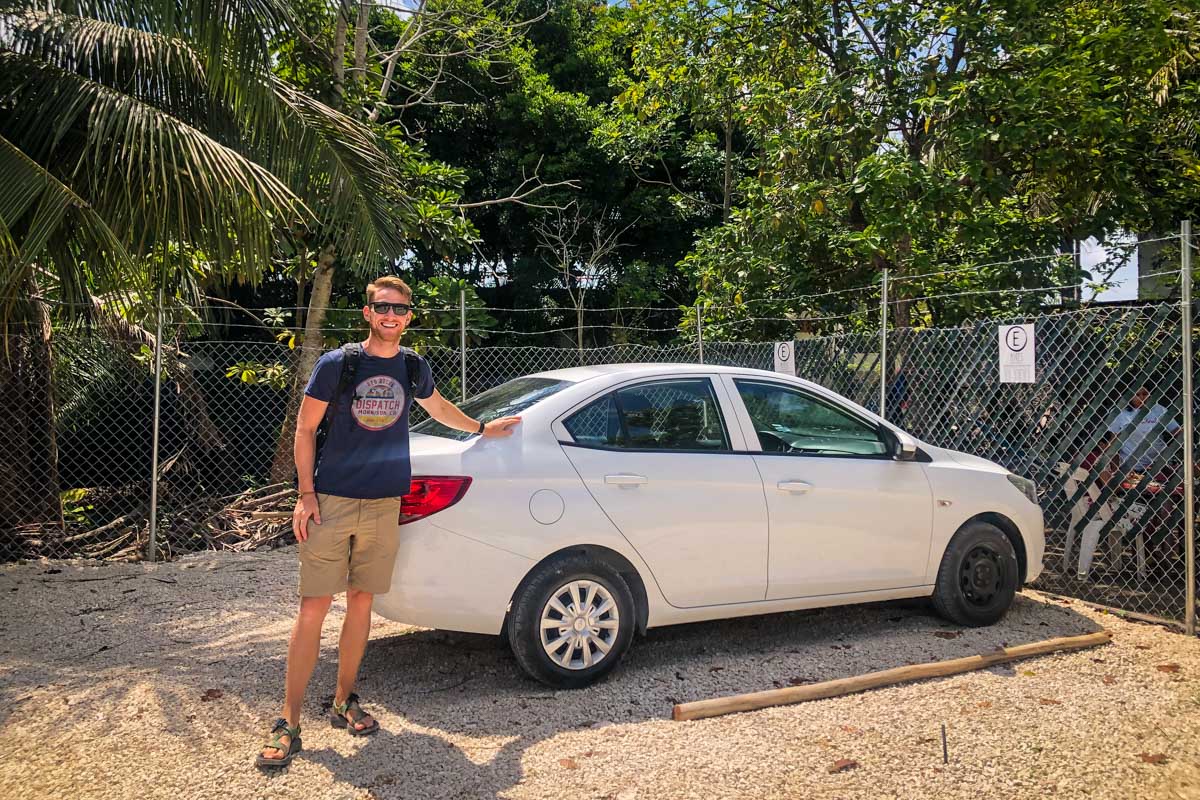 Mexico is a diverse country with lush rainforests, towering canyons, mountains, picturesque cenotes, and hundreds of miles of pristine white sand beaches. Because this country is so vast, renting a car is one of the best ways to discover some of the best places to visit in Mexico.
You can see a lot of popular spots in Mexico with public transport, but getting to specific destinations can get tricky and may require a lot of waiting around or taking routes that go out of the way. That's why we recommend picking up a car rental and heading out on a memorable road trip.
Ben and I have visited Mexico multiple times, but our most memorable experiences were when we packed up and headed out on an epic road trip to lesser-known destinations. We could not have done so without a trusty, not to mention reliable, rental car.
We have rented cars in Mexico too many times to remember!
Psst! Some of our favorite places to road trip in Mexico include the southern mountainous region of Chiapas and the diverse Yucatan Peninsula.
There are a handful of things we wish we would have known before getting a car rental in Mexico, so we've put together a complete guide with everything you need to know. This way you'll be much more prepared than we were!
We're breaking down the exact cost of a rental car in Mexico, answering some of your most frequently asked questions, plus sharing our top tips to save you money and headaches.
Article Contents
Be sure to download our complete packing list for Mexico! It's packed with good suggestions and insider tips to help plan your Mexico vacation. And it's completely FREE, so why not!?


---
Why rent a car in Mexico?
If you're on the fence about getting a rental car in Mexico, here's the top things to consider and the reasons we think renting a car is the best idea.
1. It's cheap
We expected renting a car in Mexico to be expensive, but as we found out, it is actually cheaper than renting a car in the United States. Read below to see exactly how much you can expect to pay for a rental car in Mexico.
2. You can see more hidden gems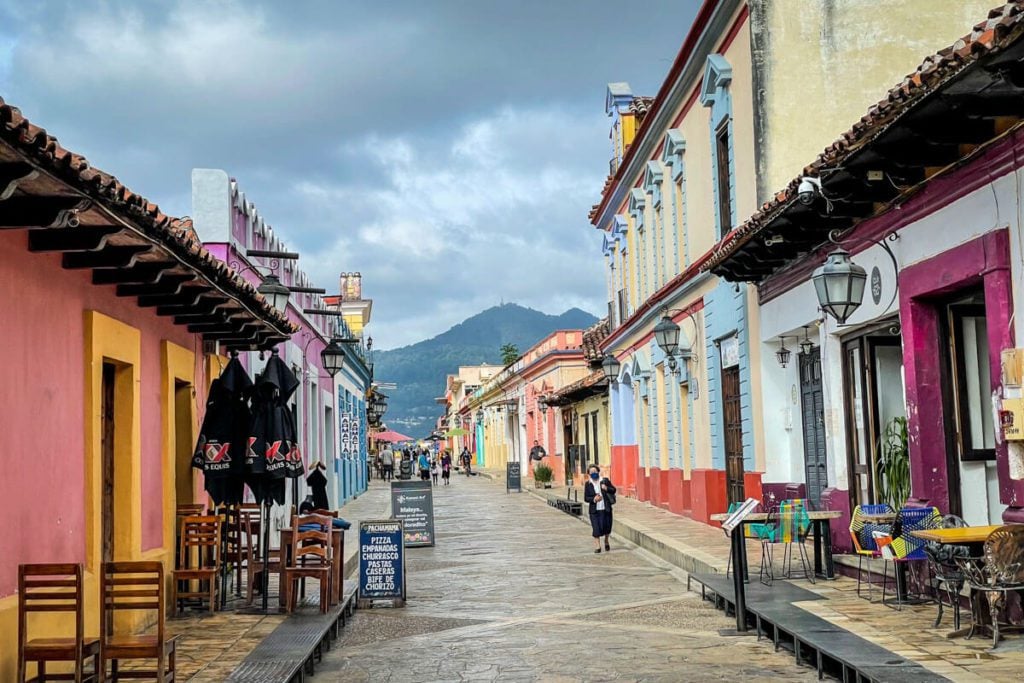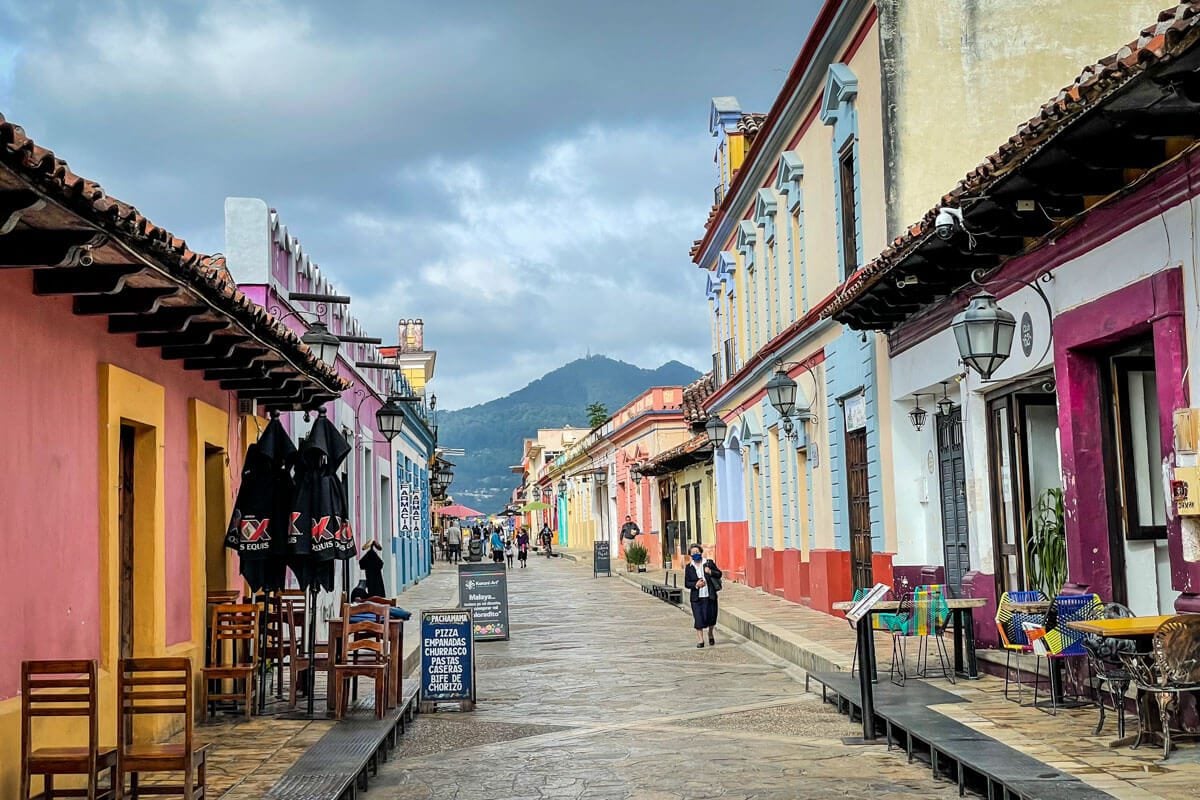 Mexico is a very touristy country, and the only way to escape the crowds is to venture off the typical tourist trail. Usually these places can be difficult to get to if you don't have your own vehicle.
As we mentioned already, some of the highlights of our time spent in Mexico include the times we've been able to get off the beaten path and discover parts of Mexico often missed by tourists. This includes staying in a treehouse in the Tulum jungle, exploring the Sian Ka'an Biosphere reserve (without a pricey tour!) and spending an entire day at El Chiflon waterfalls.
4. It's faster
Local buses and colectivos are cheap, but can be oh so slow! Colectivos especially stop just about every half-mile to pick up people on the side of the road, and a short journey can take exponentially longer than you might think.
The bus system in Mexico is great for getting from town to town, but you'll have to adhere to their schedule, which may not always match up with your own.
We found this to be the same in Costa Rica, that the public transportation was exhaustingly slow. That's why we opted to rent a car in Costa Rica and it was the best decision we made during that trip!
5. Driving in Mexico is easy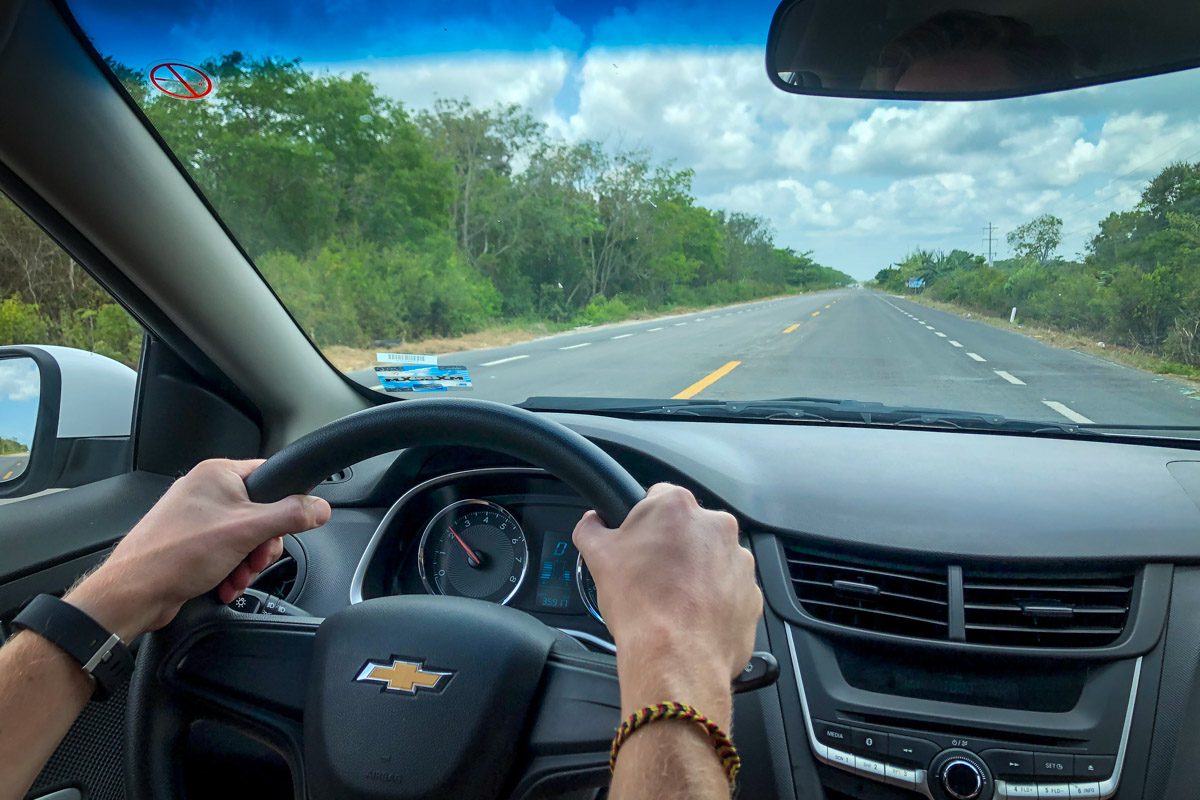 There are some countries where the insane traffic and crazy driving etiquette would scare us away from renting a car. (We're thinking of many major cities in Vietnam!) But most of Mexico is pretty laid back when it comes to driving, and the rules of the road are pretty much the same as you'd find elsewhere in North America and Europe.
Depending on where in Mexico you plan to drive, you likely won't encounter too much traffic or difficult situations (unless you're driving through Mexico City or another major city).
6. It's convenient
If you have your own vehicle, you don't need to look up bus times, or stick to someone else's schedule. You don't have to wake up early to catch that 6 a.m. bus or leave a destination before you are ready because it's the last ride home.
You can stop whenever you need to, whether it's to use the restroom or you get hungry. Turn on the AC or roll down your windows. It's up to you!
7. It's fun!
There's just something about road trips that are so much fun! Stock up on snacks, crank some tunes and sing aloud, or listen to a podcast with your travel buddy. No headphones needed!
8. Parking is easy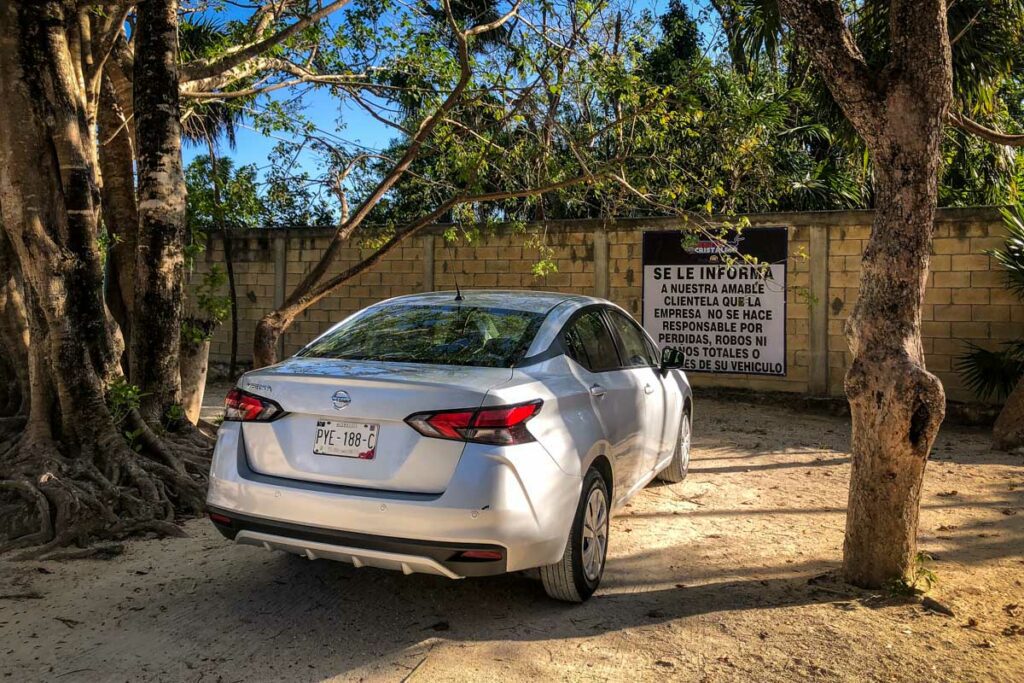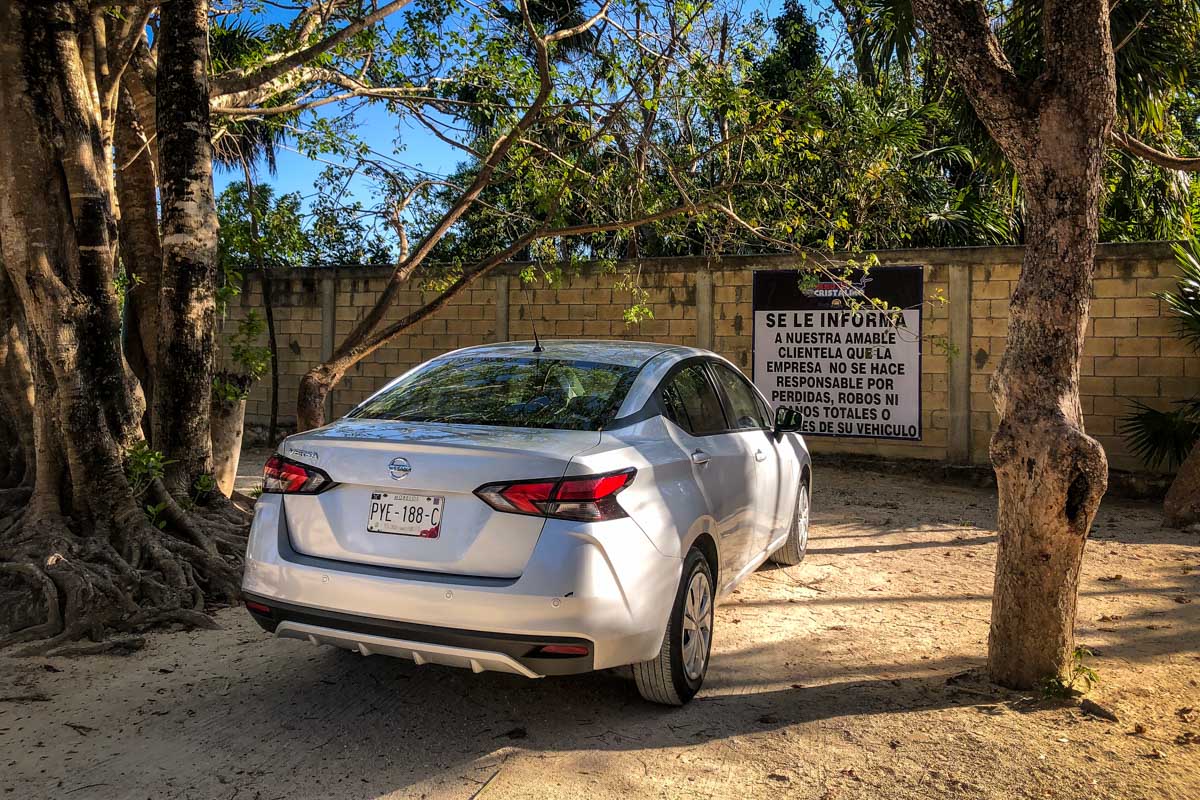 We've driven in a rental car all over Mexico's Yucatan Peninsula, and finding parking was never an issue. All our hotels and Airbnbs in Mexico were equipped with parking spots. Street parking in cities like Playa del Carmen and Tulum was easy enough to find and there was usually a parking attendant taking payment or a street kiosk to put a few coins in and print out a ticket.
9. Combat car sickness
If you're someone who suffers from the occasional motion sickness, getting crammed into a colectivo or shuttle bus with a crazy drive is not an ideal situation. I understand, believe me!
If you're like me, having your own vehicle will allow you the freedom to stop when you need to. Plus, sitting in the front seat (or driving) helps prevent car sickness a ton.
Pro Tip: Motion sickness wrist bands and ginger chews have helped me a lot!
Reasons not to rent a car in Mexico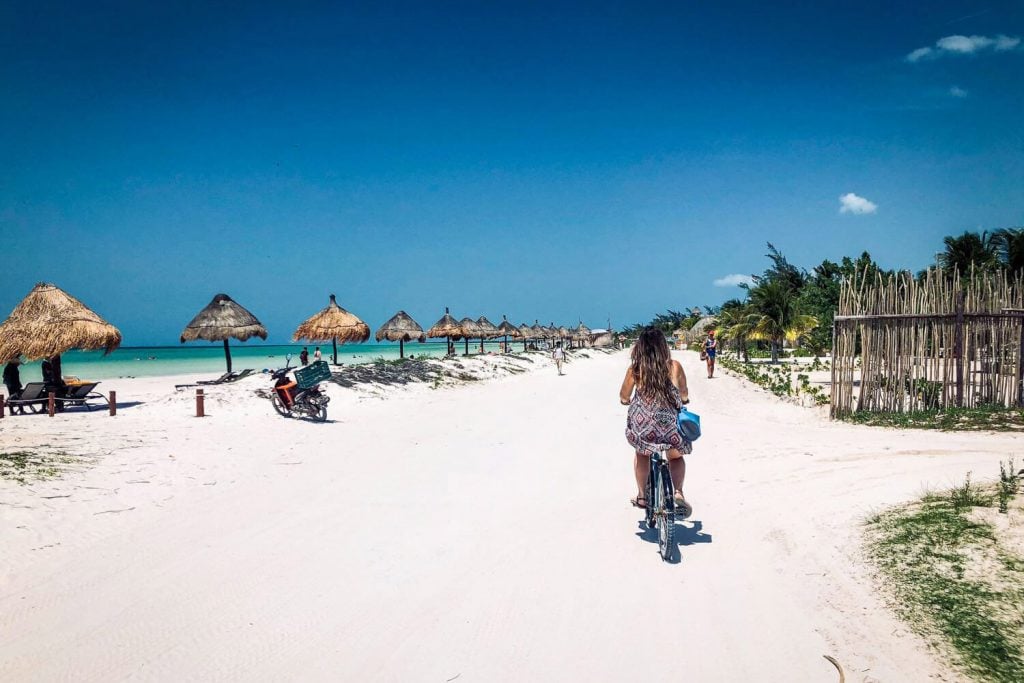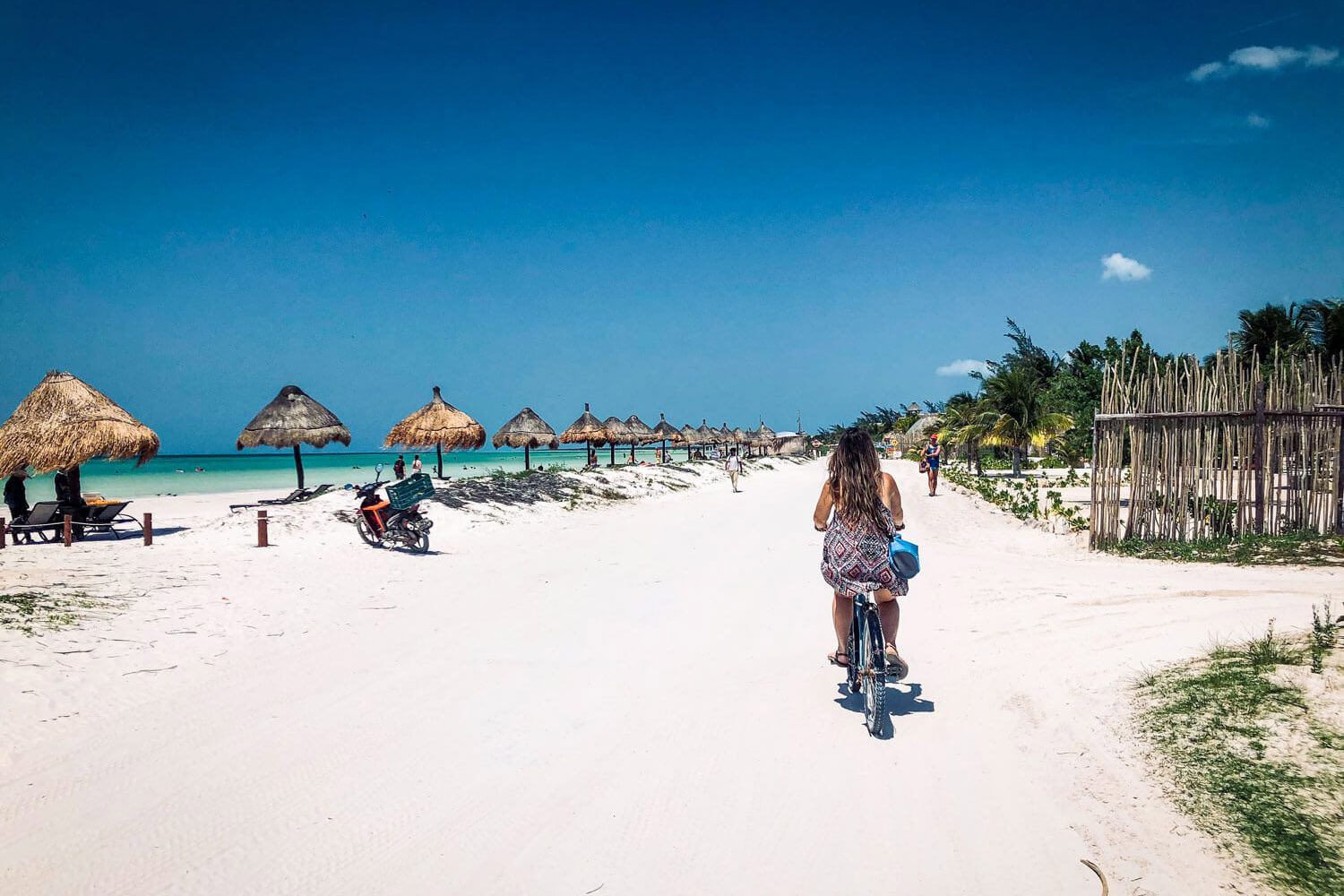 We've rented a car many times on our travels in Mexico, but we certainly don't think it's the best option for everyone. Here are some things to consider:
If you're planning to visit Mexico City, Guadalajara or one of the major metropolises, renting a car might not be your best option. We can tell you firsthand that Mexico City has excellent public transportation, including a metro system, city bus routes, and Uber (which is very affordable there).
If you're only going to a single destination in Mexico, it might not be necessary to rent a car. This is especially true if you don't plan to do much exploring outside of the place you're visiting. Most of our favorite places to visit in Mexico are pretty walkable towns. In this case, simply walking or relying on taxis or Uber would be a good option for you.
If you're nervous about driving in another country. Even though we felt driving in Mexico was quite easy compared to many other places in the world, it can still be a bit stressful driving in a foreign country. If this worries you, it might not be worth the stress of renting a car.
If you're traveling solo and/or you're on a tight budget. The cost of a rental car in Mexico is quite affordable, especially if you're splitting the expense between travel partners. However, if you're on your own and are on a budget, this might be an expense that is hard to justify since taking a bus or colectivo would be much cheaper.
How much does a car rental in Mexico cost?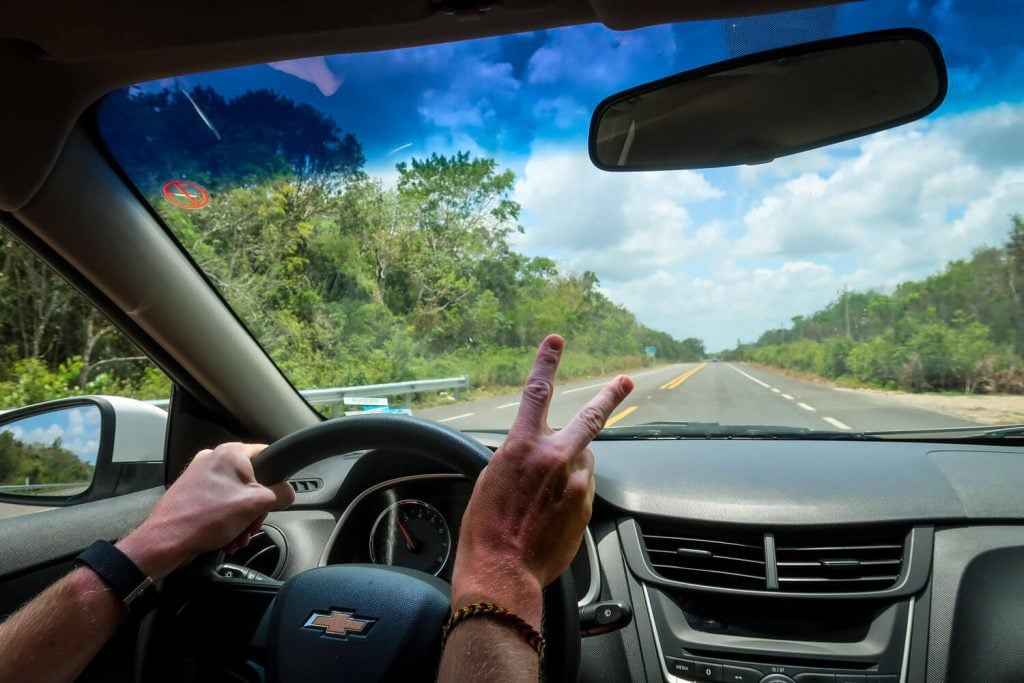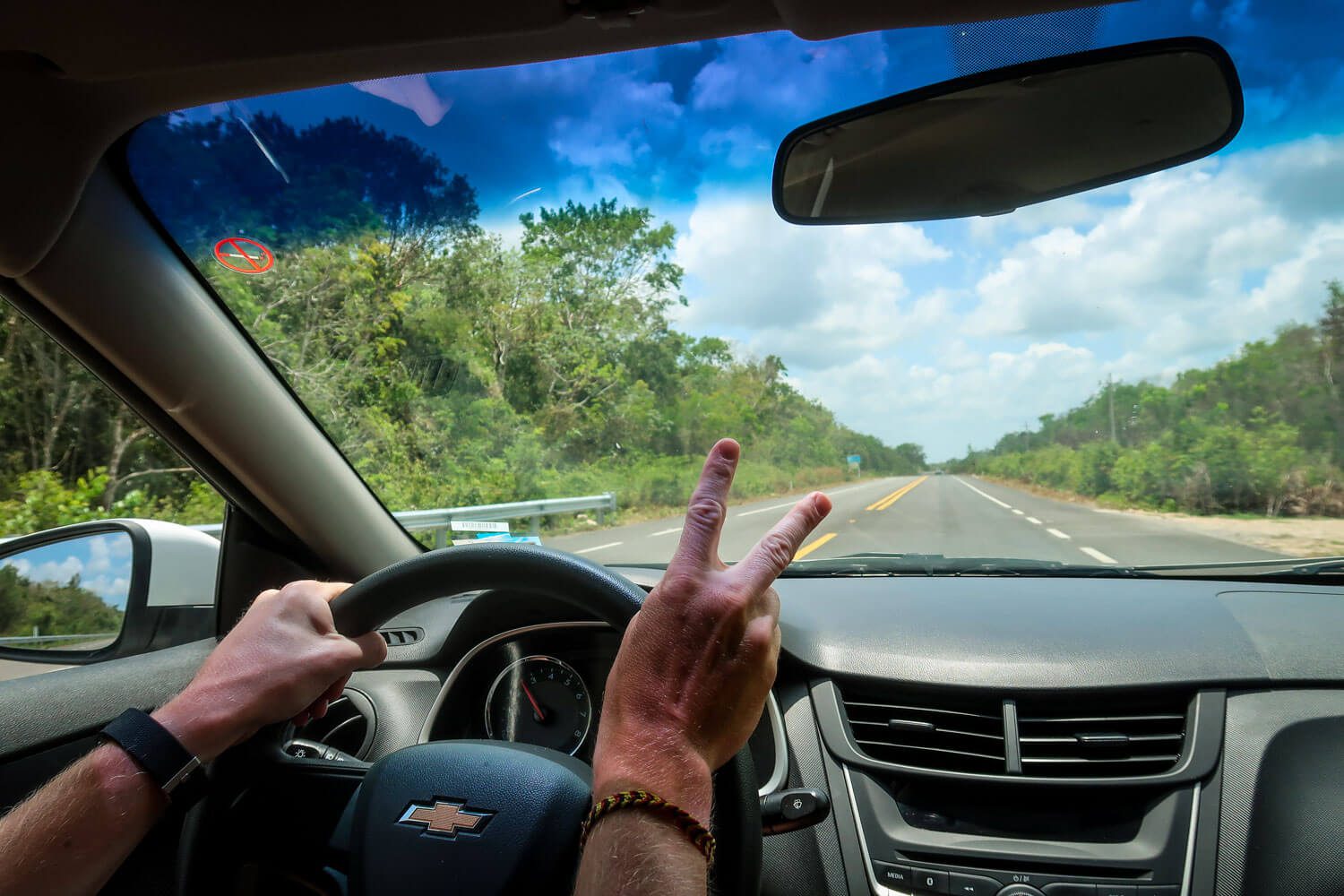 Car rental prices in Mexico vary from company to company, but you can expect to pay around $30-$40 USD/day for a basic car with full coverage insurance.
In addition to the car rental cost, be sure to add in the cost of gas, which is roughly 23 MXN per liter ($4.47 USD per gallon), but prices are always fluctuating.
And if you plan to drop off the car in a different location, you'll be charged a "one way fee" which varies depending on your drop-off location. The further away from the pick-up point, the larger the fee is the general rule of thumb for this, but it's always pretty expensive.
We like to use Discover Cars to search and compare prices from all the rental car options in the area, and find it generally saves us money in the long run.
When you start looking online, prices will seem A LOT cheaper than what we have estimated, but note the posted prices often don't include the cost of insurance coverage and additional fees, so ALWAYS read the fine print.
Search & Compare Rental Car Prices
Discover Cars: We personally use this aggregate site to compare rental car prices from all the big name companies and get the best price possible.
RentalCars.com: We've had good experiences finding rental cars with this site in the past.
Do I need rental car insurance in Mexico?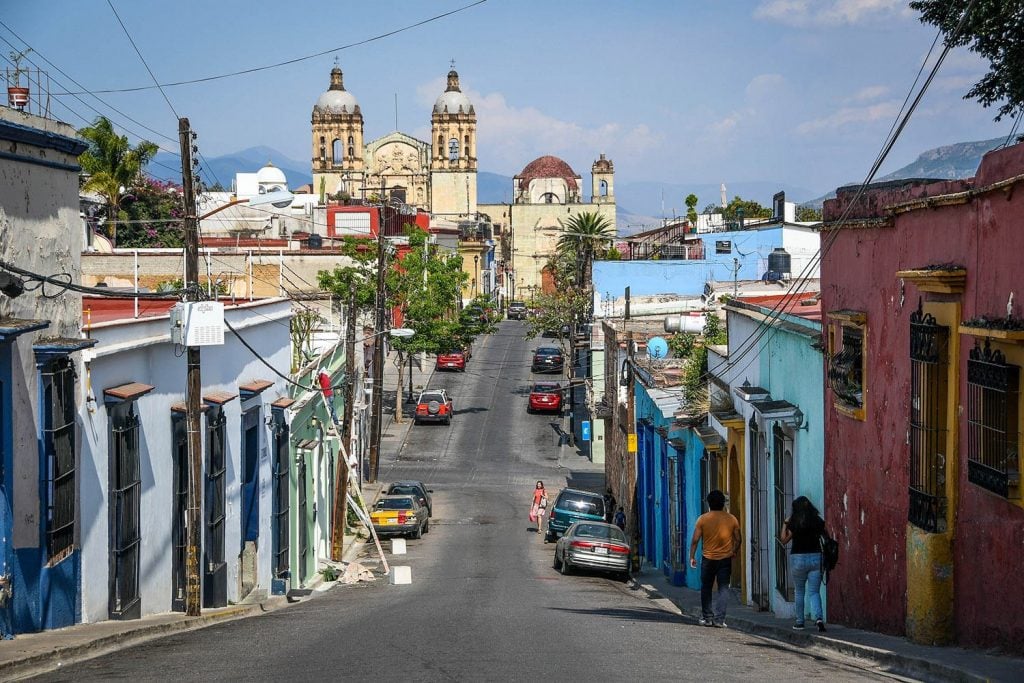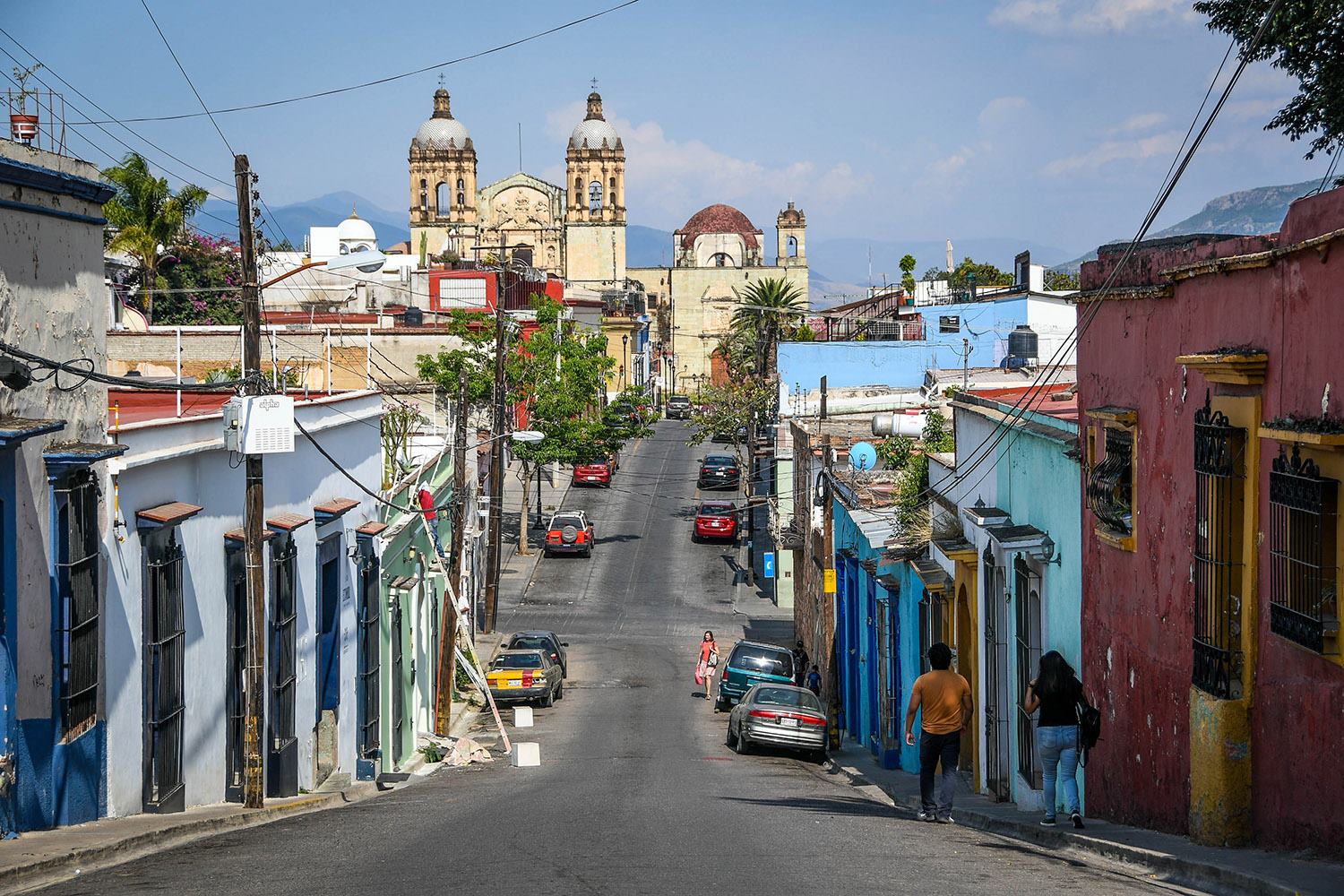 To have the most seamless and stress free car rental in Mexico, you MUST be informed, read the fine print in the policies and insurance agreements, and ask plenty of questions.
Note: In this section, we are sharing our experience and opinion about rental car insurance. We are not experts on insurance and this article is only meant as a reference to know what to look for. Please do a bit of research on your own, call your travel and credit card insurance so you can make an informed decision.
Yes, you should absolutely have insurance for your rental car in Mexico. You want to make sure you're covered in case anything happens so you don't have to pay hundreds, if not thousands, to fix damages to the car.
Plus, Personal Liability Insurance is required by Mexican Law, so most rental companies will not rent to you if you don't have proper car insurance.
A personal liability plan generally costs an additional $10-12/day on top of your rental cost with a $2,000+ deductible, whereas a full coverage insurance policy can run you about $20/day with zero deductible.
Keep in mind with full coverage, there still may be parts of the car that are not covered like tires, and minor damages to the car, which are generally up to the renter's discretion. If you're buying full coverage, make sure the ENTIRE car is covered and nothing is left off the table.
Good to know: You will likely need to place a hold on your credit card for a very large amount to reduce your liability insurance. And it must be on the same card you made the reservation with. Each rental company seems to charge something slightly different. Make sure you can do a hold for at least $2,000 on the credit card you make your reservation with.
Credit card coverage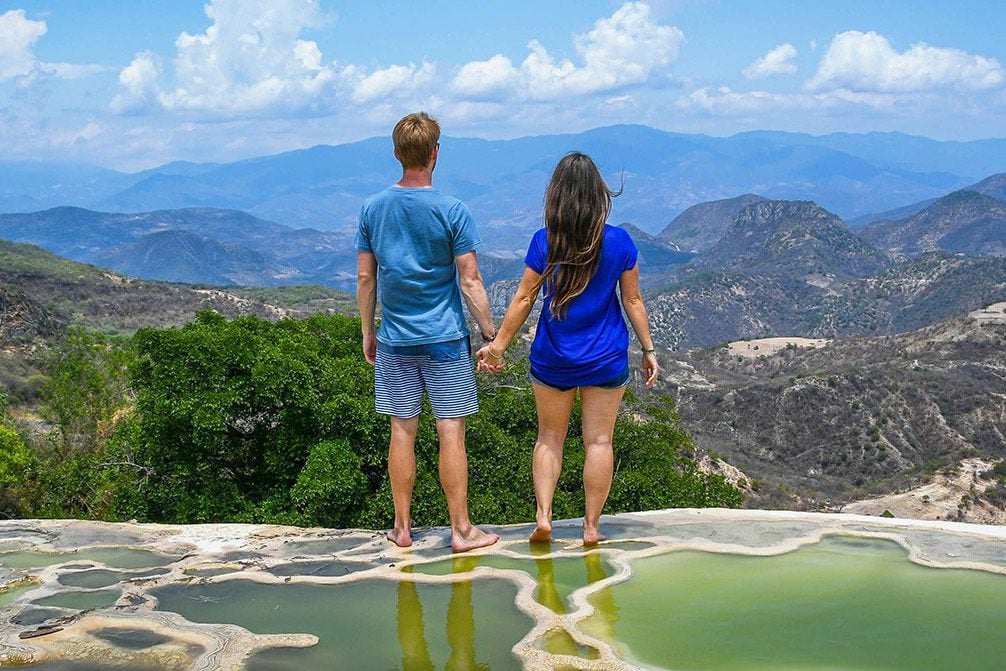 If you have a travel credit card, you may be covered and won't have to pay an additional fee for insurance, which is a HUGE plus! Check into your credit card's policy to be sure. (We have Chase Sapphire Preferred and Capital One Venture cards, and both have rental car insurance).
However some credit cards only offer a Collision Damage Waiver (CDW), which is not the same thing as personal liability, and you may still be required to purchase the basic level of car insurance. In some cases, even if you are covered, a company might not rent to you if you don't buy their basic insurance policy.
Be sure to check with your credit card company to see if they cover your car rental in Mexico. If they don't, you may need to only purchase 3rd party liability insurance in addition to a CDW, but always double check the terms of coverage with your provider.
Travel insurance coverage
If you have travel insurance, which we recommend always having when you travel, you may be covered for your rental car. Read the policies and fine print to ensure you have the proper coverage.
If you need more information, we've got a complete guide to choosing the best travel insurance policy that should answer all your questions.
How to provide proof of credit card and travel insurance policies
Rental companies are likely to give you pushback if you state you're covered with your credit card or travel insurance, they'll ask you to jump through a few hoops to provide ample proof of coverage. Otherwise, they will make you purchase a policy through their company.
You'll need to get a letter from your credit card company that states you have the proper coverage for your rental. This letter will need to be translated into Spanish. We also recommend printing out the policy guidelines of both.
FAQs about car rentals in Mexico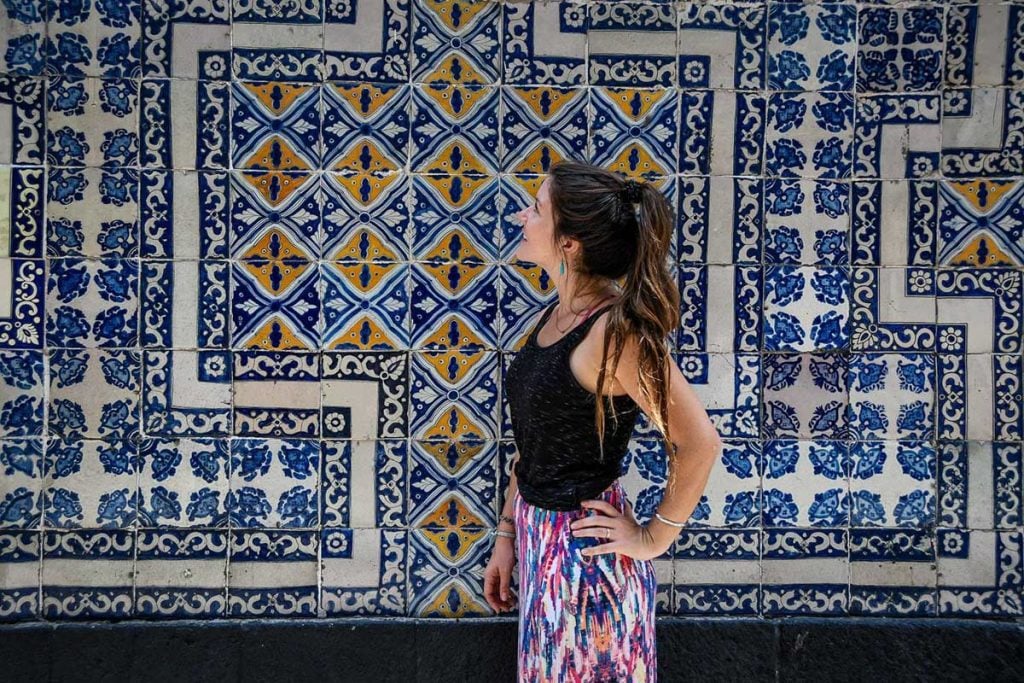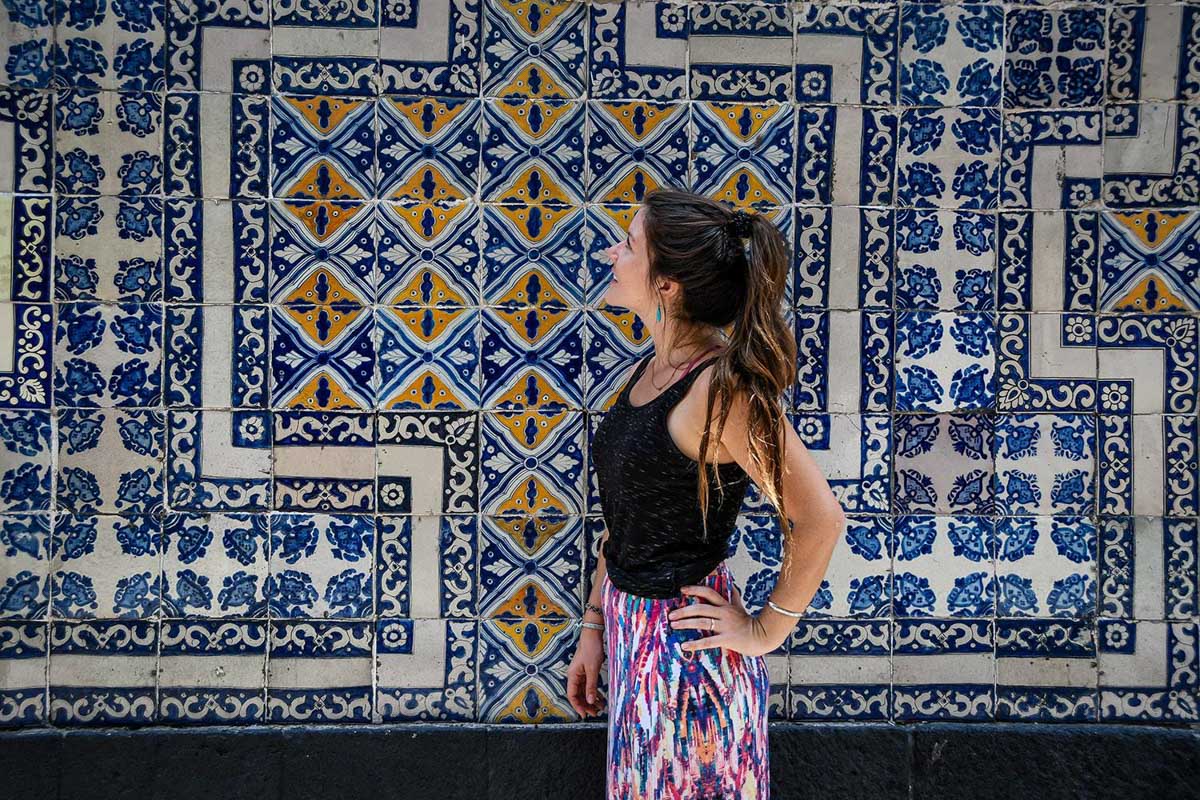 These are some of the most commonly asked questions about renting a car in Mexico.
Is it safe to rent a car in Mexico?
Renting a car in Mexico is safe, but it's important to do research on where you're going and the areas you're going to explore. Mexico is a very large and diverse country, so a lot of areas will vary in safety. Keep that in mind as you plan your trip.
Since you'll be driving in another country, it's also best practice to research what local customs and traffic laws are. This will help you avoid getting pulled over and keep you and others safe on the road.
Who can rent a car in Mexico?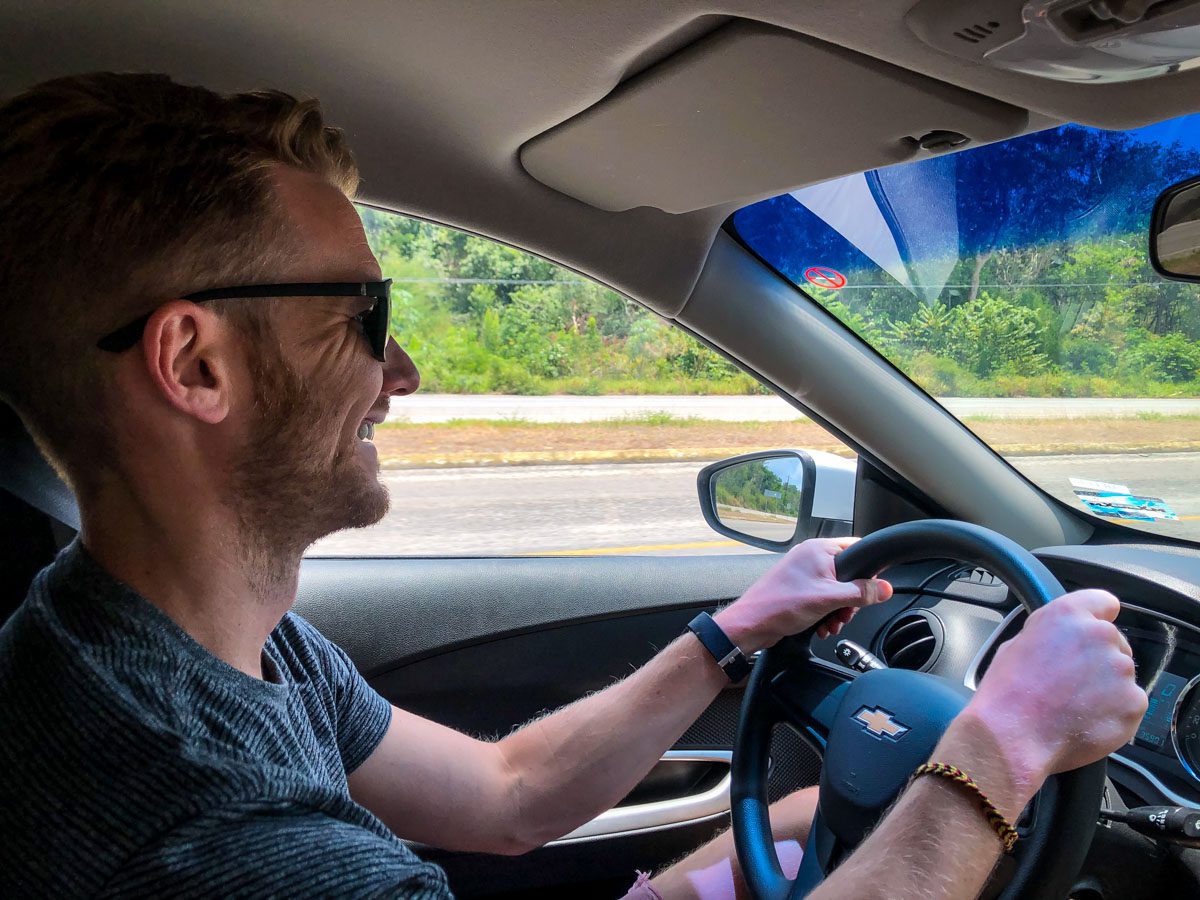 These are the main things you need to be able to rent a car in Mexico:
You must be 18 years or older. Similar to the United States, you must be at least 25 to rent a car without limitations or excess fees. If you're under 25, be sure to check your rental companies policies to see what they charge for young drivers. Usually it's around $10-$20/day.
Valid passport.
Driver's license from your home country. If you have a valid U.S. driver's license, or a license using the roman alphabet, you can easily rent a car in Mexico with your country's license.
$1000+ hold on your credit card. When you get a car rental in Mexico, most companies will place a hold on your account in case you damage the car on your trip. The amount varies depending on the rental company, but make sure you have a large enough credit limit.
Insurance that covers rental cars. Mexican Personal Liability Insurance is required by Mexican law.
What's the cheapest rental car company in Mexico?
Car rentals in Mexico are changing all the time, so there isn't one company that offers cheaper prices than another.
If you're traveling on a budget in Mexico, you may want to consider visiting in the low or shoulder season for cheaper car rental rates, but always compare prices and seasons to get the best deal.
One of our favorite ways to find the cheapest rental cars when we travel is by searching with Rentalcars.com because they compare all reputable dealers to find you the best price for your needs.
When looking at renting a car in Mexico, you want to make sure you find a reputable company to avoid getting scammed. Some "too good to be true" prices, like $5-$10/day, are often just that, TOO GOOD to be true.
Some "cheap" companies hide a lot of the taxes and fees when you book and then add $20-25/day in additional fees when you go to pay at the counter, causing you to get scammed.
We have fallen for this, and ended up paying a pretty penny in "extra fees" when things were all said and done.
Do I need an international driver's license to rent a car in Mexico?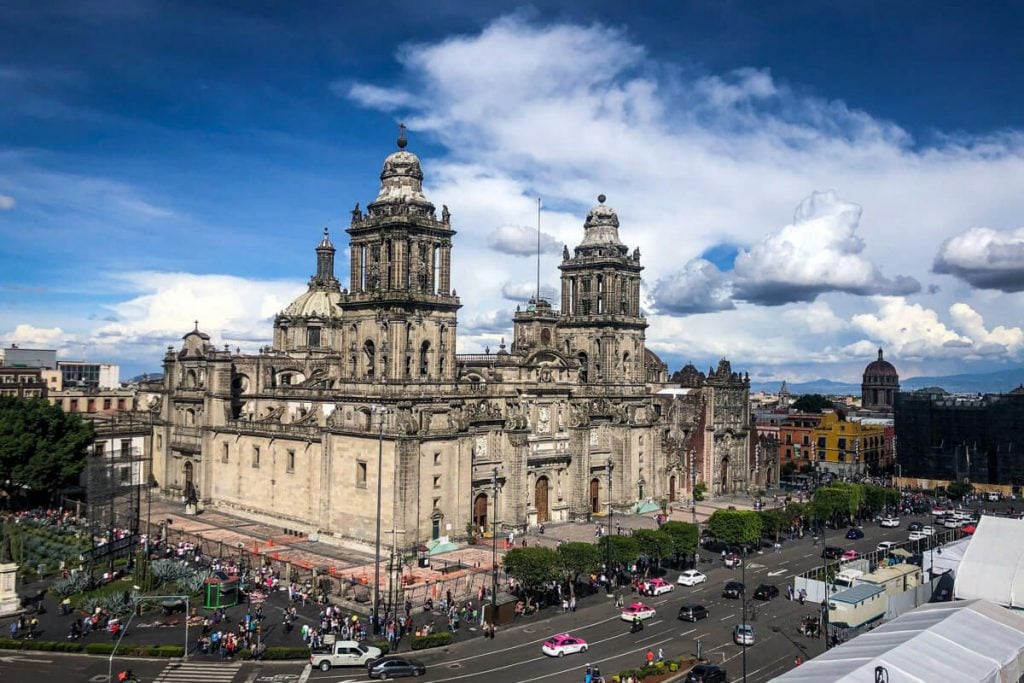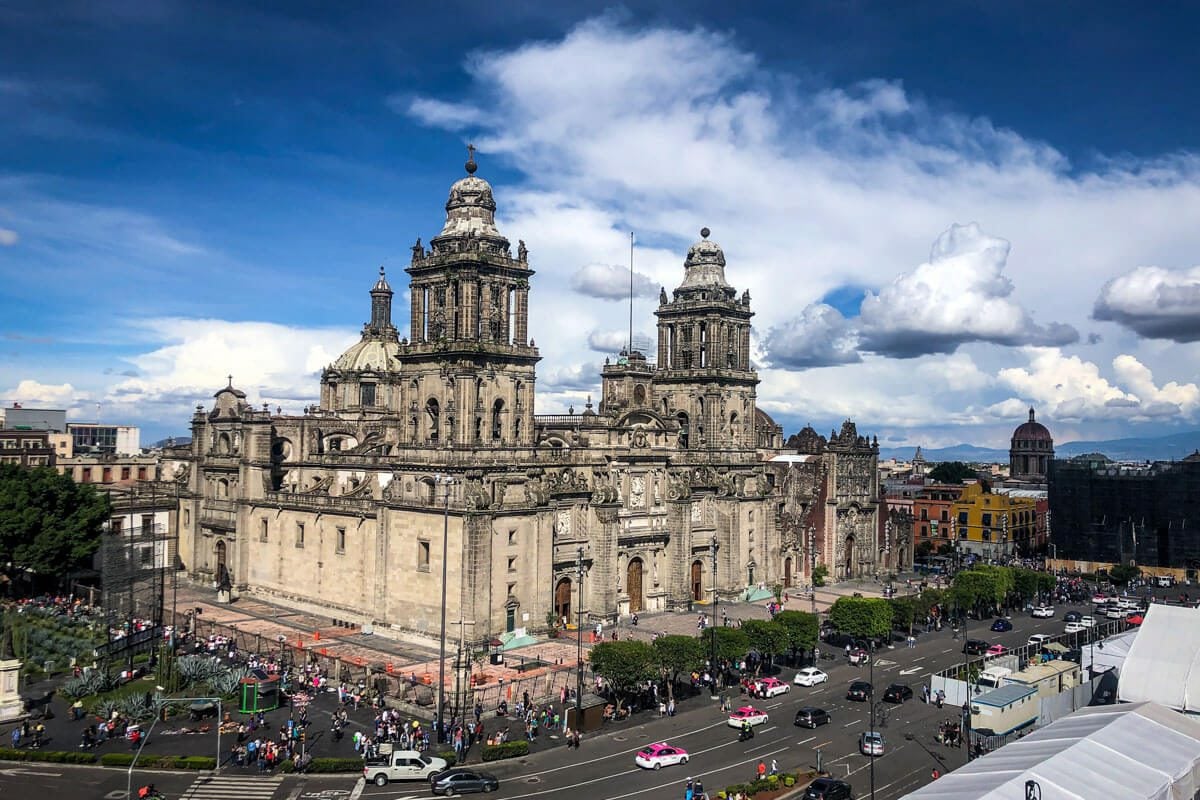 You likely won't need an international drivers license to rent a car in Mexico. Your normal driver's license will work just fine.
But keep in mind if you have a license that uses a character-based alphabet (like Korean, Japanese, and Chinese) you will be required to present an international license because it serves as a translation to your home country's license.
If road tripping is your primary way of getting around other countries when you travel, it's a good thing to have since some countries require it by law, such as Greece or Thailand.
International Driving Permits are good for one year and will have you covered even if your home country's license isn't accepted in the country you're traveling to.
An International Driving Permit (IDP) is easy to obtain online at https://e-ita.org/.
Tips for renting a car in Mexico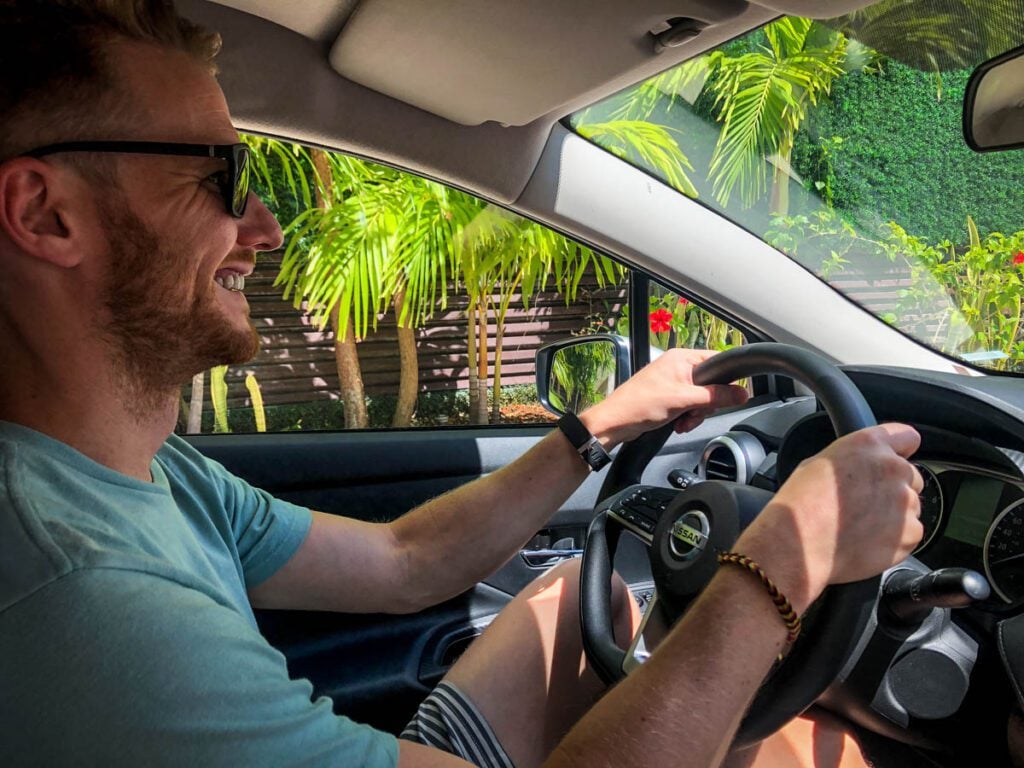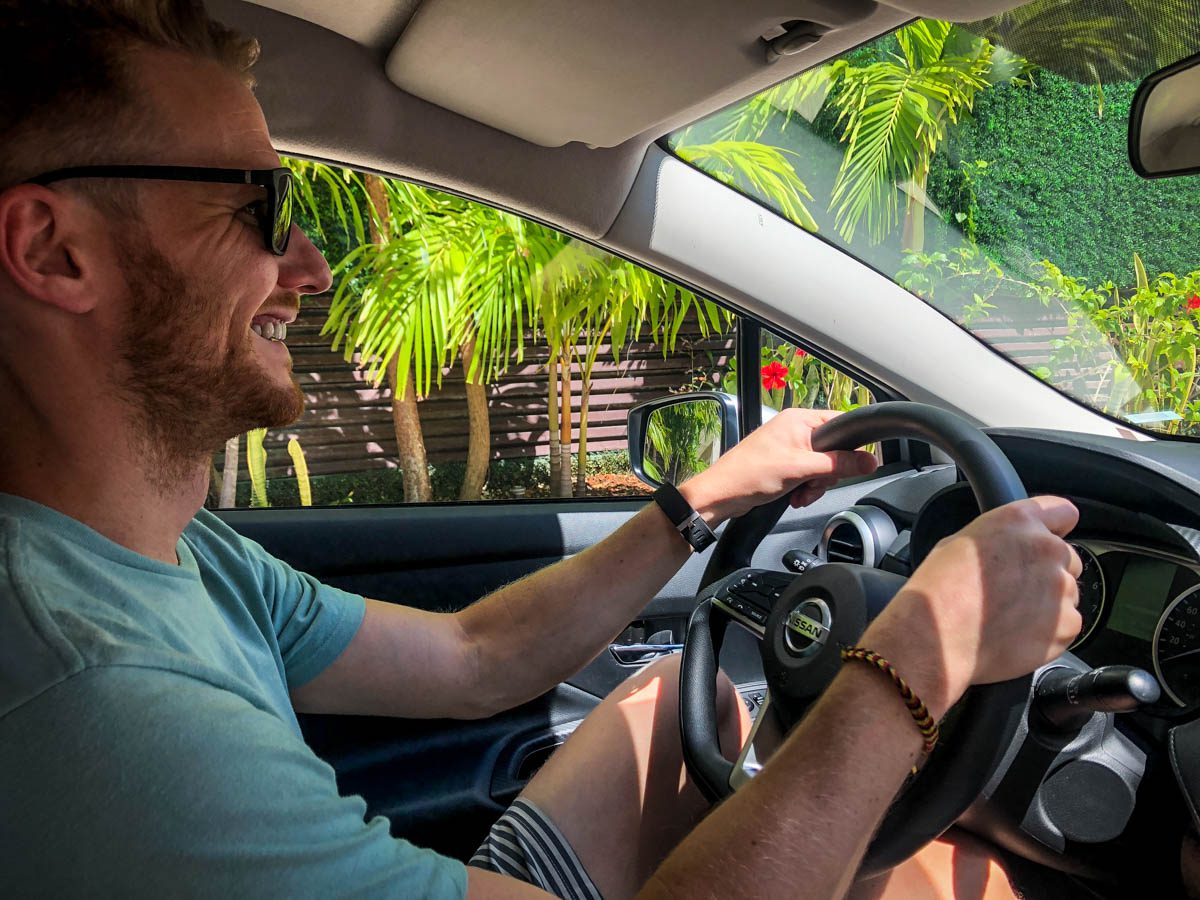 These tips are pretty universal whether you're renting a car in Mexico, Europe or the United States. We hope they are helpful to you as you plan your trip.
1. Take pictures of the outside of the car before driving
Get up close and personal. Take photos on your cell phone of any scrapes and dents, no matter how small. And don't forget any little cracks on the windshield. This way, none of these issues can be blamed on you.
We've never had to use these photos, but it's a good idea to have yourself covered just in case!
2. Rent your car online
Since the online booking platforms reserve several cars and pay the company whether or not someone actually rents them, they get a great rate and can pass the savings onto you. It is almost always cheaper to book online rather than walking into a store.
True story: We walked into one rental car shop in Playa del Carmen and were quoted nearly 3 times as much for the same vehicle as it was listed online! We promptly made a reservation on Rentalcars.com and snagged the better deal.
Plus, if you reserve your car online you won't need to worry whether there will be availability if you book it ahead of time! (Yes, they do fully book out – especially during peak tourist season.)
3. Look up reviews of the individual car rental company
Since Rentalcars.com shows many different car rental options, it's a good idea to look up the individual company and exact location on Google Maps. Read other reviews to know if it is a trustworthy company.
Unfortunately, there are some rental car companies that do sleazy things like hide the price of insurance until the last minute or try to nickel and dime you for things that shouldn't even be considered damage. We've found that Google Maps reviews are a pretty good way of judging rental companies.
4. Make sure you know exactly where the rental car office is located
We've had a few blunders in this area. Once, we rented a car in Mexico with a company that was supposedly located at a mall. We spent an hour and a half walking all around the mall, as there was no exact location on Google Maps.
Eventually, we found it located in a small building in a far corner of the parking lot, but it was not obvious at all.
Here is another story of how we got scammed by not knowing where the car rental location was:
We once reserved a car through a discount car rental company (Infinity) at the Cancun airport. Once we landed (at night) we realized there was no office for this company at the airport location. But instead, we had to call a number to get a shuttle to bring us to a satellite office.
We had a rental company staff member tell us it would be a $7,500 credit card hold if we waived the liability insurance. We were fine with this because we have the AmEx Platinum card that has no credit limit. But when they ran the card they said it was not approved and the transaction failed.
We got on the phone with the credit card company and they said we have no limits so there should be no problem.
They also said there had been no attempt to hold the money on the rental car company's end.
When we told the service agent this (that he basically faked a failed transaction), he got very angry and told us he didn't need to rent us a car anyway.
At this point, it was 10 p.m. and we had been brought to this satellite office in the middle of a warehouse district in Cancun somewhere. We were running out of other options.
The alternative (or should I say the scam) was we had to purchase a $200 liability policy from them on the spot and then we could get our keys. We were very frustrated because we knew what he was doing but we had to go along with it.
In the end, it was $50 for a 5-day rental, plus the $200 liability policy, for a total of $250 for 5 days. Which was around the same price as the car rental companies that were located at the airport.
The moral of the story, is don't book with Infinity car rentals and reserve a car from a company that has a booth at the Cancun airport.
We have always been happy with Avis, and we probably won't ever stray from them again.
5. The longer you rent, the less you pay per day
When we did a 1-day rental in Mexico, we paid nearly $65. But when we decided to rent for a week, it broke down to just $25 per day. Had we rented the car for longer, it would have been even cheaper.
6. Download offline navigation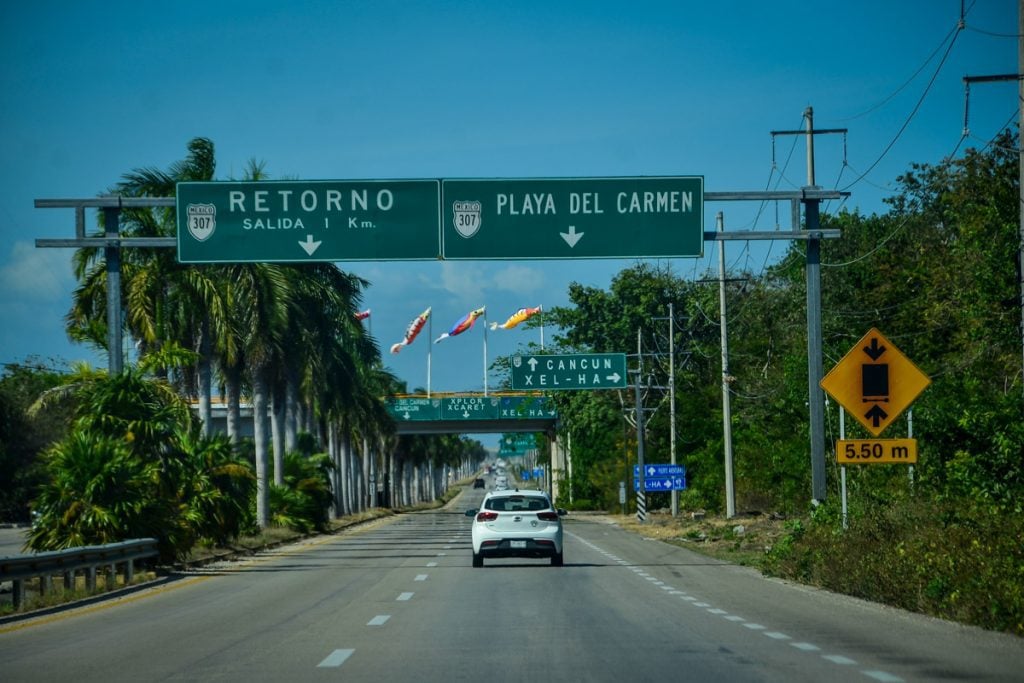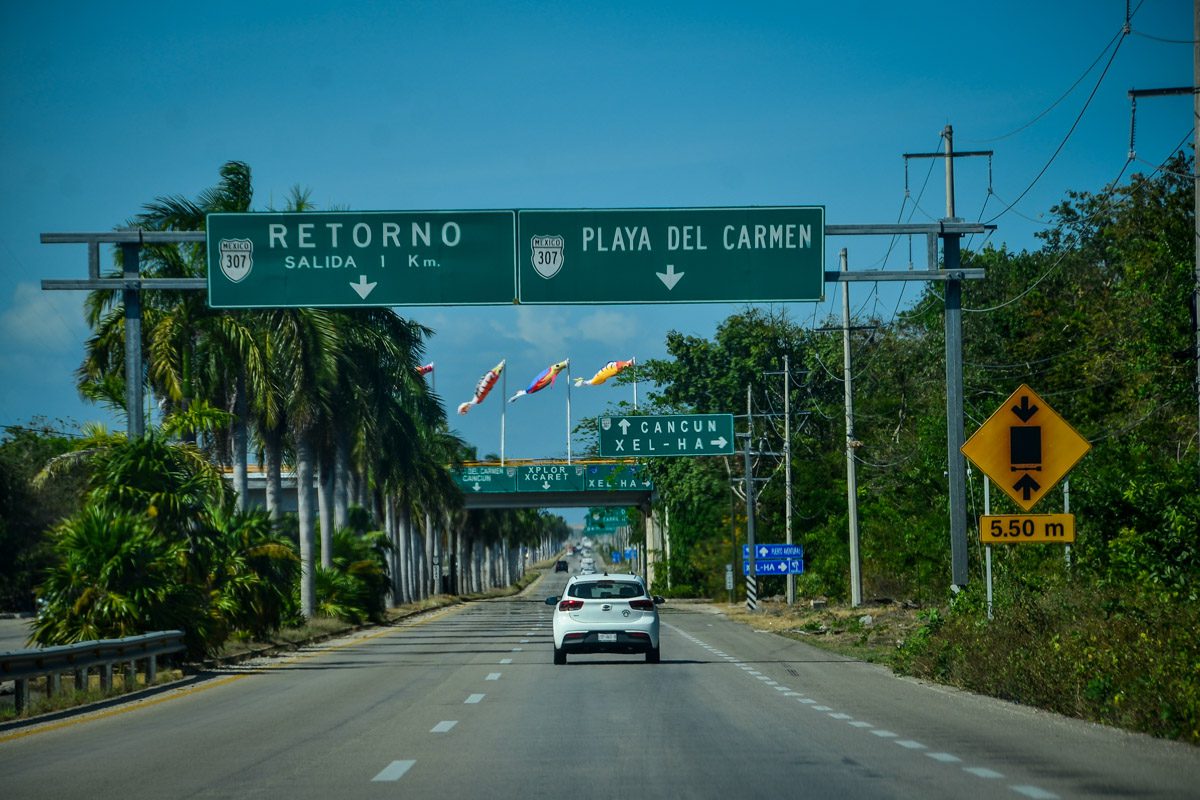 It's important to download the map before your trip so you have access to roads, restaurants, and attractions even if you don't have cell phone service.
For this, Google Maps is amazing! Not only can you pin all the points of interest along your route, but it will also show your current GPS location even when you're not within cell signal. To enable this feature, keep reading…
How do you Download Google Maps Offline?
It's super simple, just follow these steps:
Sign into Google Maps (it's connected with your Gmail account).
Search for "Costa Rica" in the search bar.
You'll see a white bar that pops up at the bottom of the screen. You may need to swipe right to find the "download" icon.
Make sure you're in Wifi, and click the "download" icon.
The map data from this region will now be on your phone, and can be accessed even when you have no cell signal! You'll even be able to see your current GPS location as long as you have it authorized. (Settings > Google Maps > Location > select "Always")
Maps.Me is another great map option, and we use it a lot to find hiking trails and things that aren't always marked on Google Maps. You might want to download both maps before your trip!
7. Get a local SIM card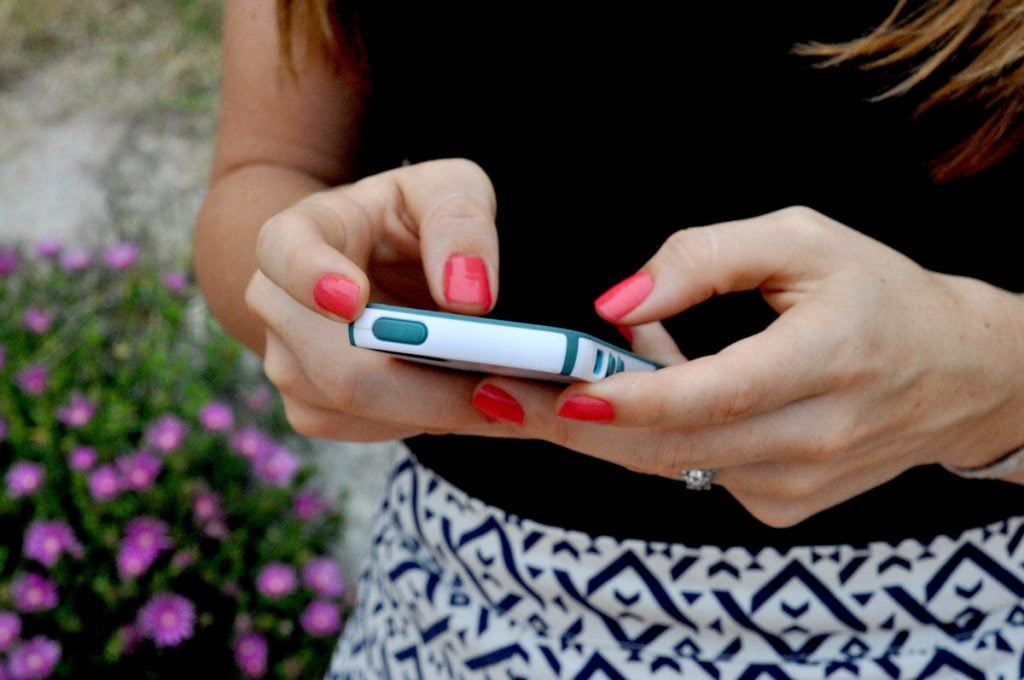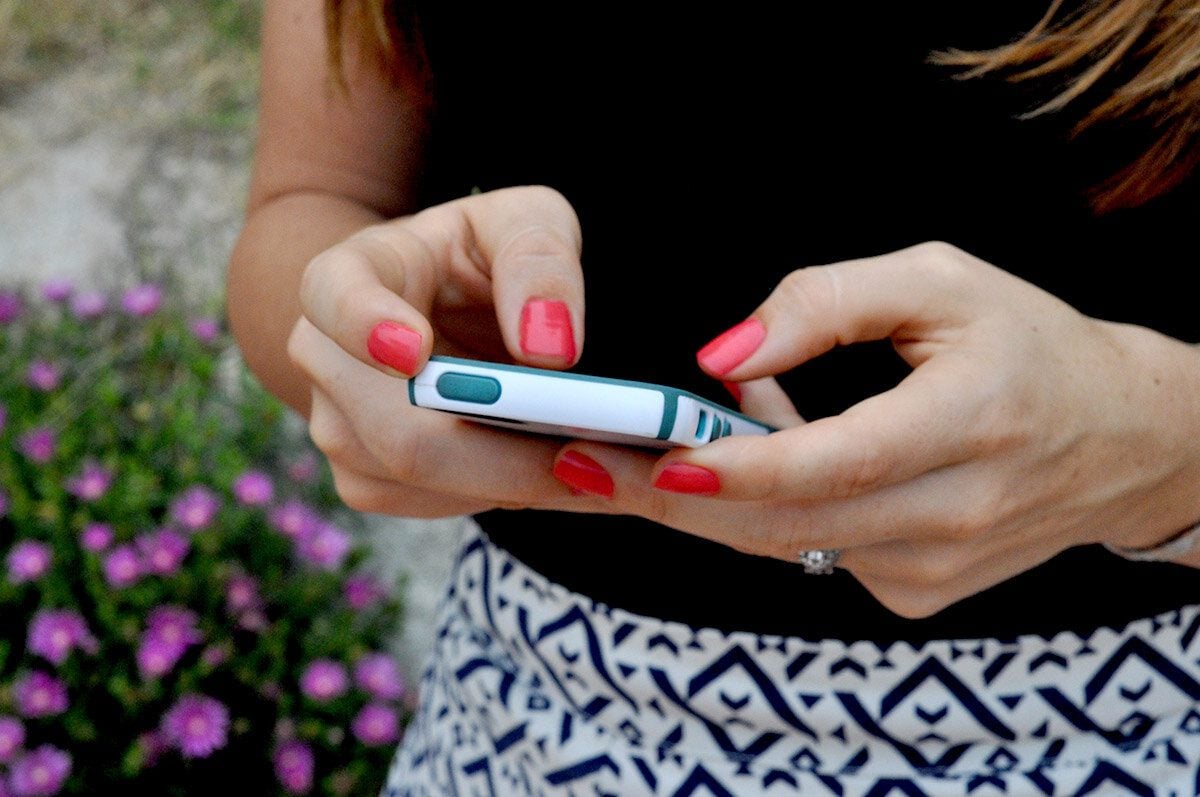 A SIM card is one of the best ways to stay connected while traveling, and it's very easy and very cheap to get one in Mexico. With a local SIM, you have access to the local cell towers, meaning you'll have service to look up directions and stay in communication while you're on the road (this is especially worth it in case of an emergency).
Before you leave for your trip, you want to make sure your cell phone is unlocked so the local SIM card will work with your phone. 'Unlocked' means any cell company's SIM card will work with your phone. Most phones come unlocked right out of the store, but if yours isn't, you can call your cell provider and do it over the phone.
There are two main options to get a local SIM card in Mexico:
a) Physical SIM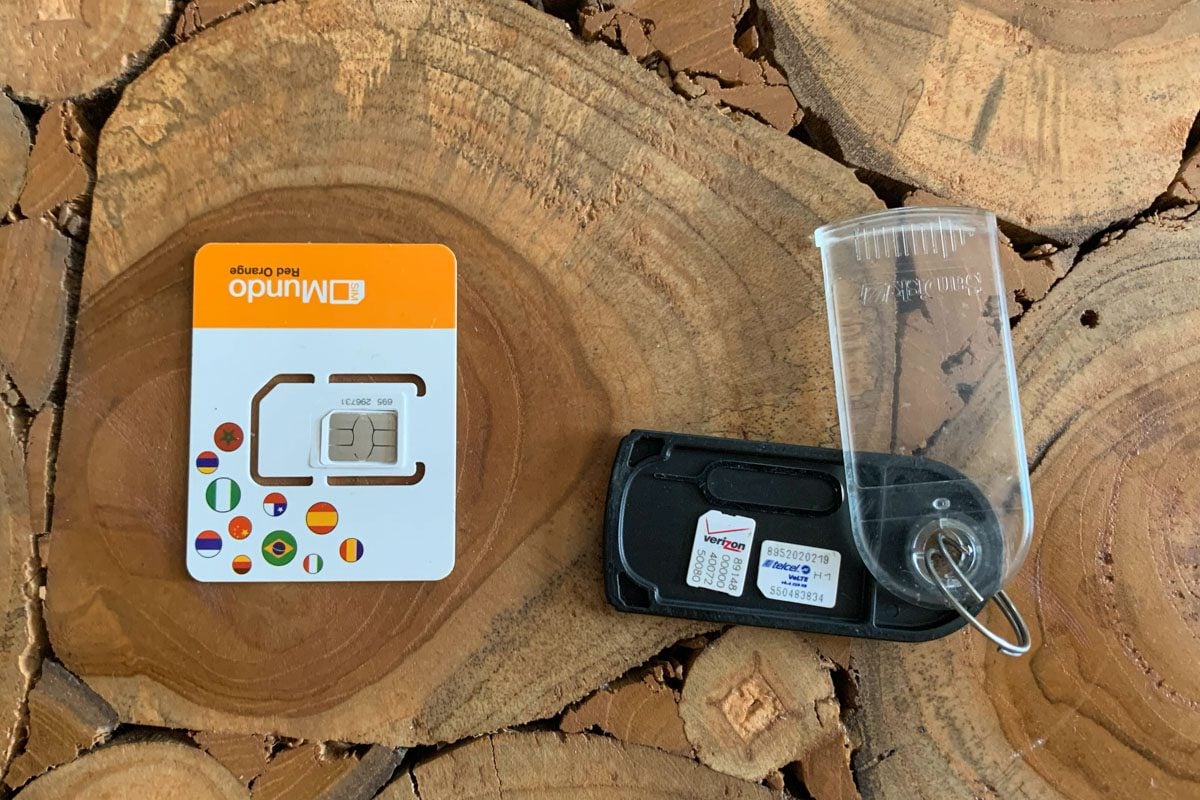 If you'd like to get a local SIM card to make local calls and texts. Your best option is TelCel.
TelCel is hands down the best and most common SIM provider in Mexico.
You can pick up a TelCel SIM card at any Oxxo convenience store (you'll find one on nearly every street corner in Mexico). Depending on which airport you fly into, they might be available there as well. However, know that they will charge a premium if you get a SIM card from the airport. (Note: Cancun airport does not have anywhere to purchase a local SIM card.)
Go to the counter at Oxxo to purchase your SIM. They don't have them out on display, so you'll need to talk to the clerk to get one set up. Let them know that you need a new TelCel SIM, or they might refer to it as a 'chip'.
A new SIM with activation is M$50 ($2.50 USD). While you're here, we recommend loading up more data onto the card since it doesn't come with much.
With a SIM, you'll have a new phone number that can be found on your receipt or on the back of the plastic card they gave you. Take a picture of this for easy access and make sure you put your home SIM in a safe place.
When and if you need to load more data, visit another Oxxo or you can pay as you go online at mitelcel.com.
We loved using TelCel on our trips because it has the best coverage and it's the easiest to use and reload when traveling around.
b) eSIM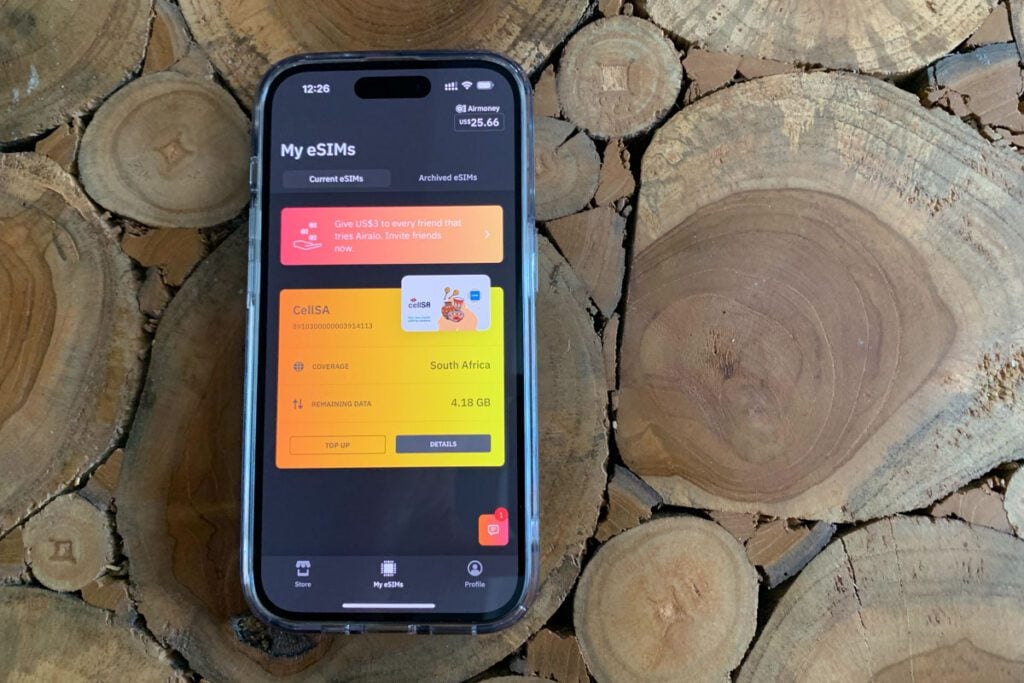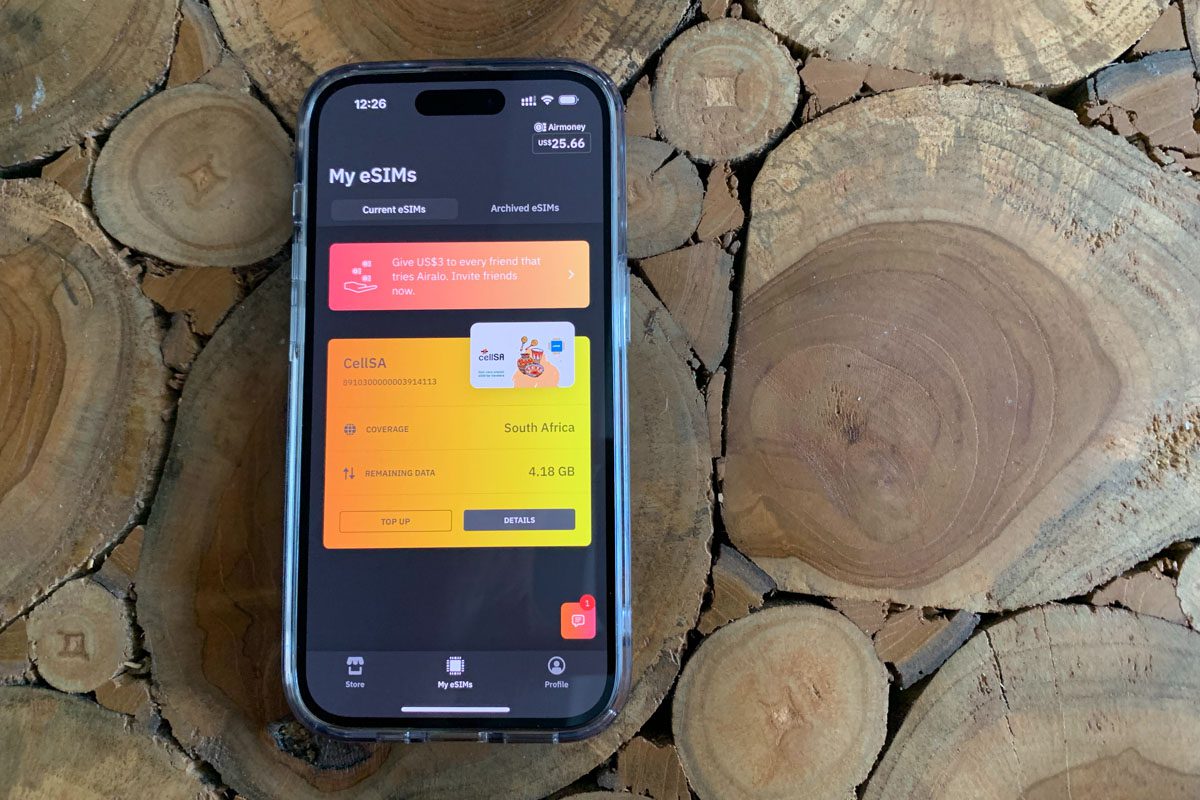 The easiest way to get a local SIM is with Airalo. This is an app you can use to purchase and set up an eSIM straight from your phone as long as you have Wifi access. (Note: Your phone will have to be compatible with eSIMs. Iphone models 11 and above are.)
In most destinations, this is our go-to method for getting connected, however, we wouldn't recommend this option as the most ideal in Mexico. The cost of getting an eSIM in Mexico is 3-5x that of buying a physical SIM card in person. Although it is convenient, the service isn't as strong as with TelCel.
Another thing to note about using Airlo is they provide data-only SIMs. So you won't be able to make calls or texts unless you are connected to wifi.
Psst! Will you be traveling in more than one country? Use our ultimate guide to getting an international SIM card, including helpful tips for using your phone abroad.
8. Make sure you have travel insurance
We never leave home without it, and neither should you!
Travel insurance is just as important as your passport and contrary to popular belief, it is NOT expensive. Take a look at our travel insurance comparison to learn why it's so important and find out which policy is best for your travels.
Don't fall for this scam
When filling your gas tank, we've encountered this scam twice. Simply look at Google Maps reviews for gas stations and you'll see lots of people encounter this scam.
When paying cash for gas, you will hand a bill to the attendant, and they will quickly swap it with a smaller denomination. For example, you'll hand them a 200 peso note and they will use slight of hand to swap it with a 20 peso bill and tell you that you need to give them more cash.
One time we were planning to pay by card to avoid this, but the attendant told us the machine's card reader was not working, so we had to pay cash and he tried this scam.
Our advice: If you are paying for gas in cash, count out the bills in front of them so they can't switch it. Also, count the change they give you. We've also had the attendant try to short us in change, but we counted it aloud back to him, so he gave us the missing money.
Other forms of transportation in Mexico
If you're still on the fence about getting a rental car in Mexico and want to know what your other options are. Here's how you can get around Mexico with public transportation.
By bus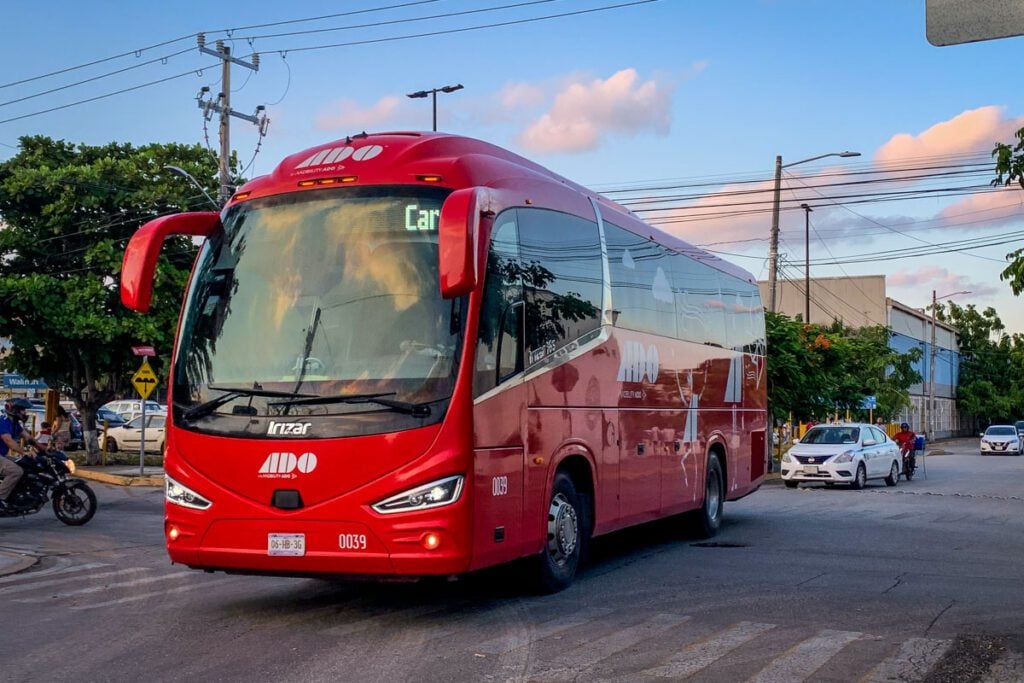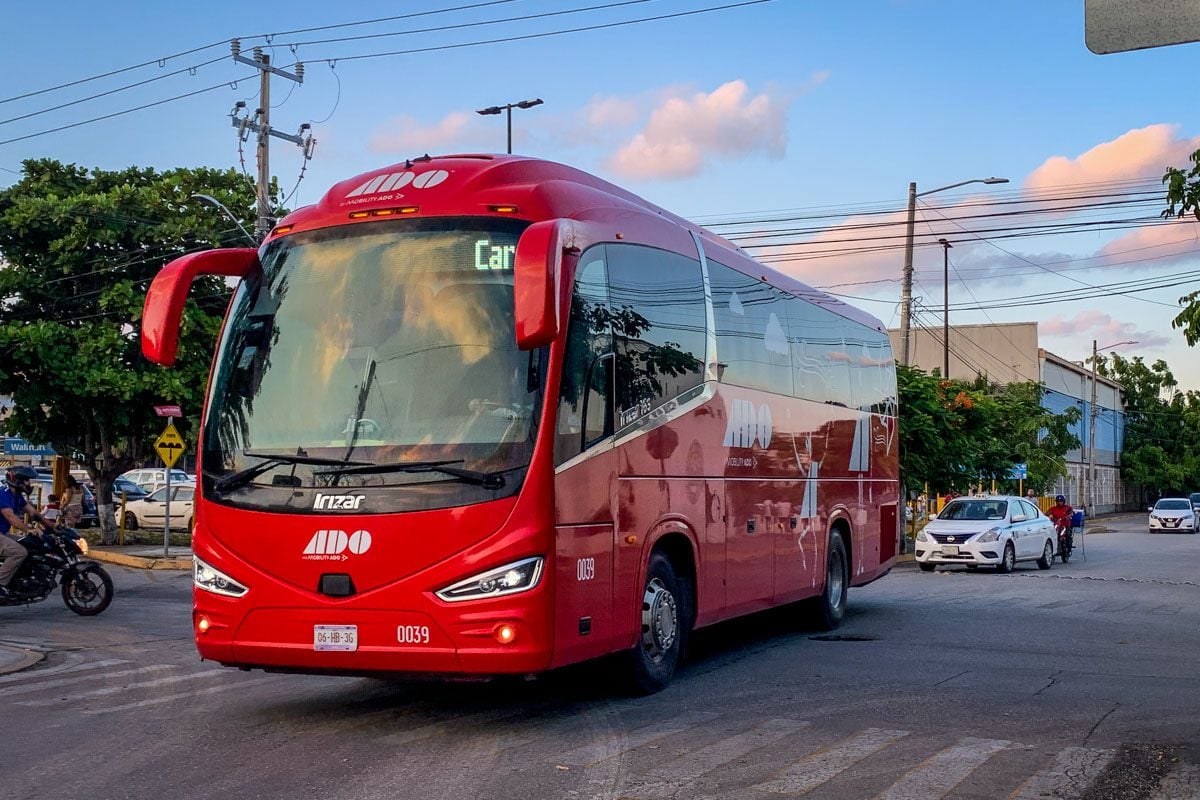 Another great option for traveling around Mexico is by bus. The ADO bus company connects all of the major cities and travel destinations south/east of Mexico City. Specifically, the Yucatan peninsula, southern Mexico, and Mexico's East Coast.
It's very affordable and actually quite comfortable with air conditioning and power outlets. The best part is you can purchase your tickets directly from the station on your day of travel.
While ADO services many of the larger cities and destinations in Mexico, there are plenty of second class bus terminals that run shorter routes between the smaller towns. The best way to find out more is to visit the bus terminal in your area to find out about routes and pricing. 
By Colectivo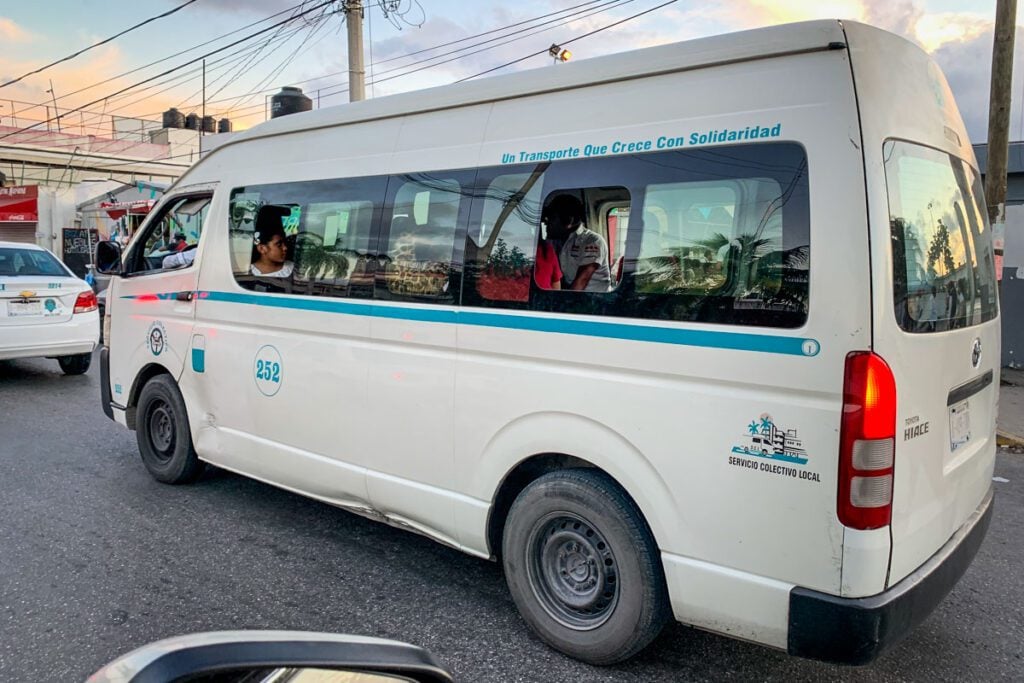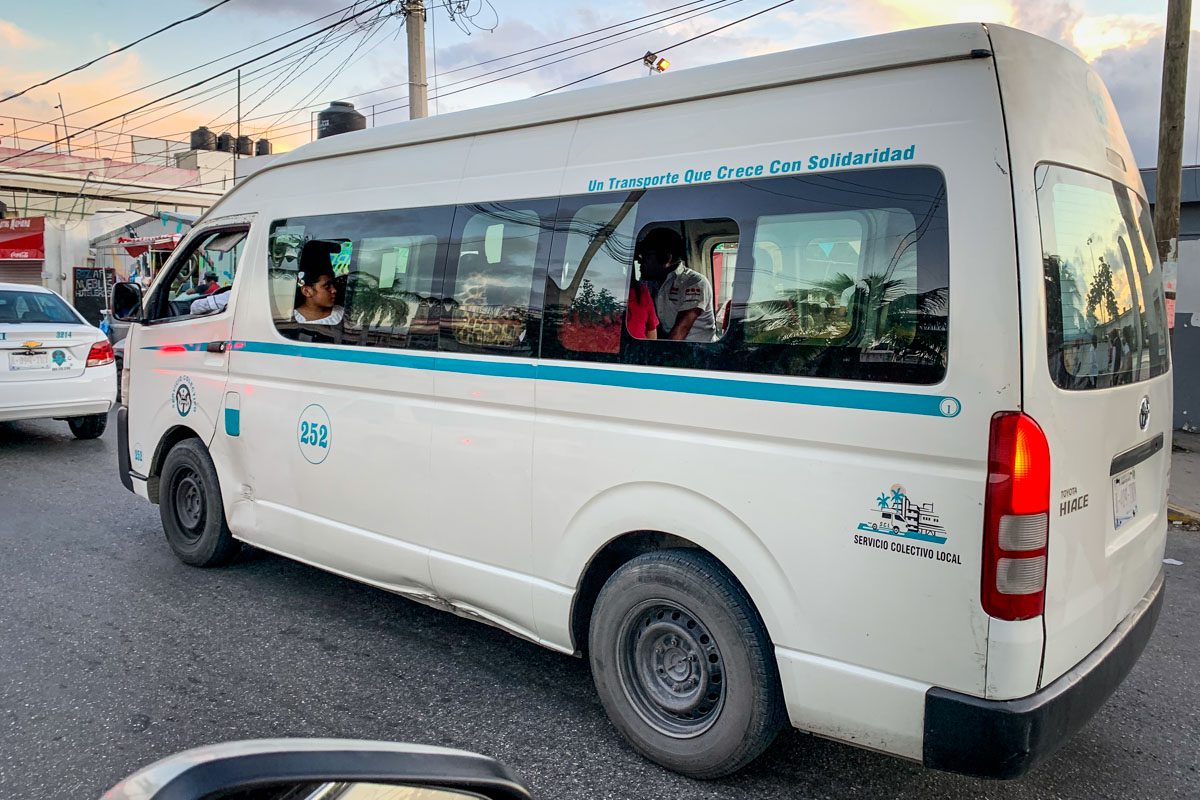 Colectivos are Mexico's version of a shared taxi bus. These run all over the country in short distances and are by far the most affordable method of public transportation in the country.
If you are going a short distance, like from Playa del Carmen to Tulum for example, a colectivo is a great way to get there for a much more reasonable price than a taxi cab. You may have to make a few stops along the way though, and it's certainly not the most efficient route.
By Taxi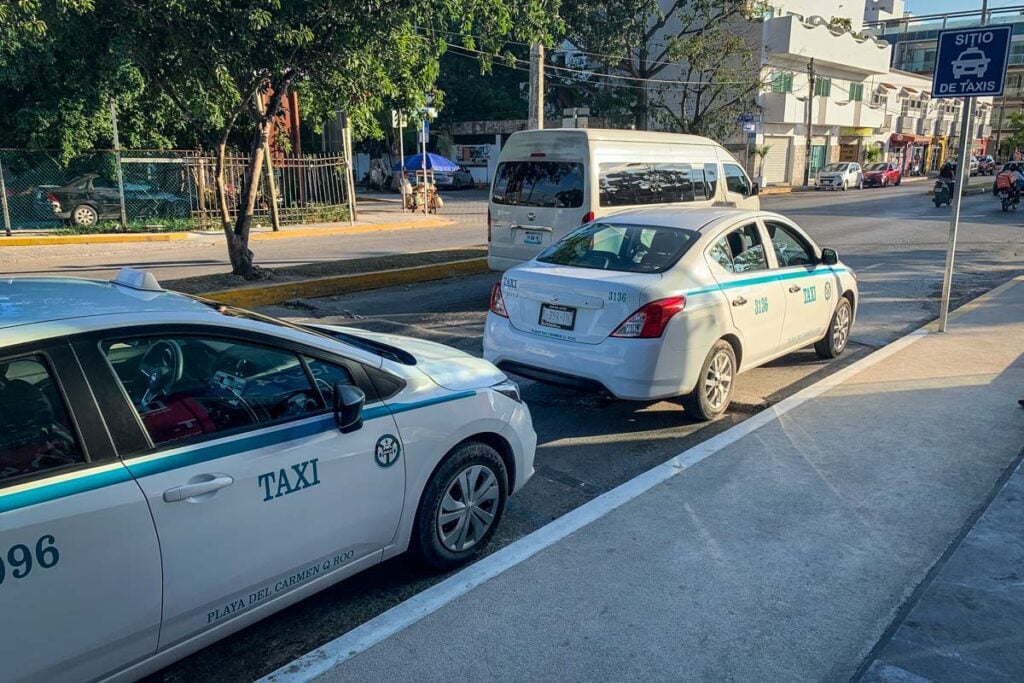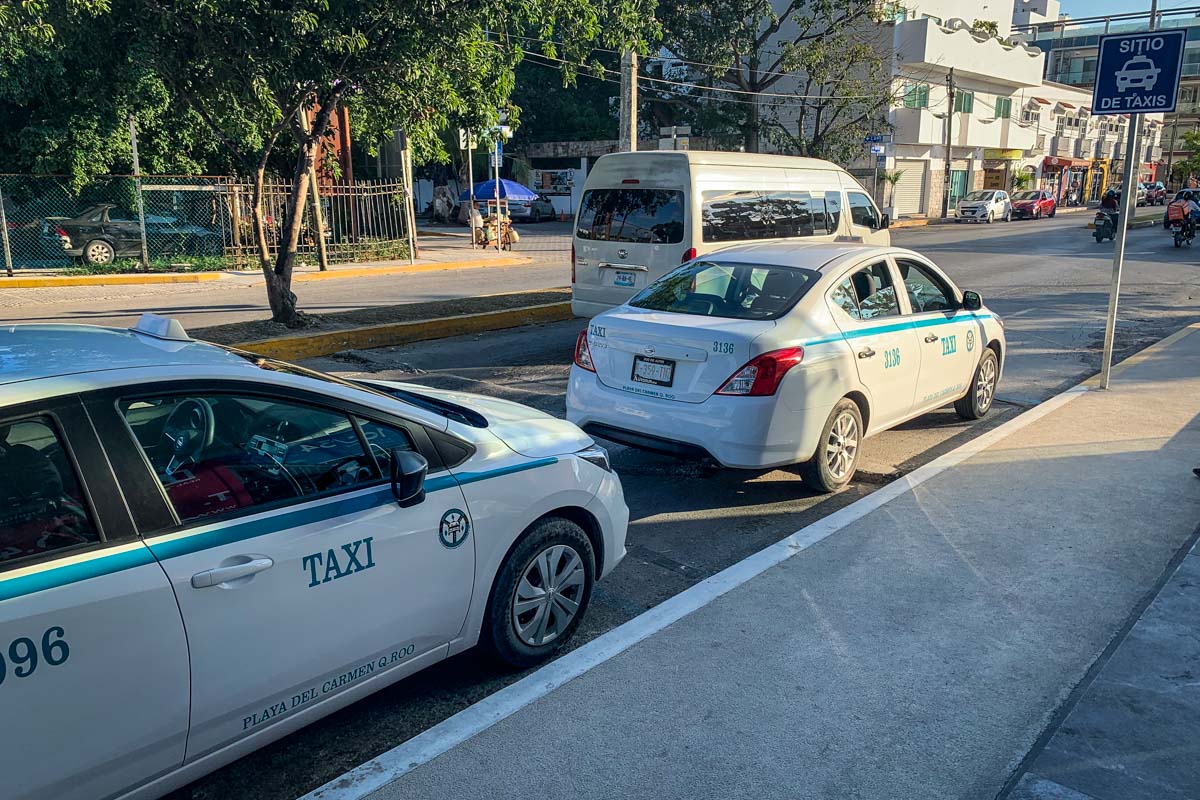 Taxis are always an option for transportation within cities/towns or between destinations that are nearby. The price of taxis, however, is high in Mexico. Often places have set-rates that are non-negotiable. And even without a set price, drivers are notorious for overcharging tourists and not turning on the meter.
Usually airport taxis have set rates that are much higher than the typical mileage rate. This is the case at the Cancun Airport, and you can expect to pay a pretty penny in an airport cab, even if you are just going a few minutes down the road to an "airport hotel" in Cancun.
Yep, I learned this the hard way. I booked an airbnb for a one night layover near the airport in Cancun that was just a 10 minute drive up the road….and paid $40 USD for the ride. The same ride back to the airport the following morning was about $13 in a regular cab.
That said, there is no arguing. The airport taxi rates are published at the airport and they will not budge. It's important to understand the rates in your area if you plan to rely on taxis.
Also, don't expect taxis in Mexico to accept credit card payments—most don't have this ability and only take cash.
By Rideshare
There are a number of rideshare apps that work in various destinations around Mexico. However, it's important to note that not every destination has this offering.
Uber operates in several cities in Mexico, including Guadalajara, Merida, Mexico City, Monterrey, Puebla, Puerto Vallarta, San Miguel de Allende and Tijuana (among others). It works just like in any other city and is usually quite affordable for getting around town.
Other rideshare apps that work in Mexico City include Beat, DiDi and Cabify.
By Bicycle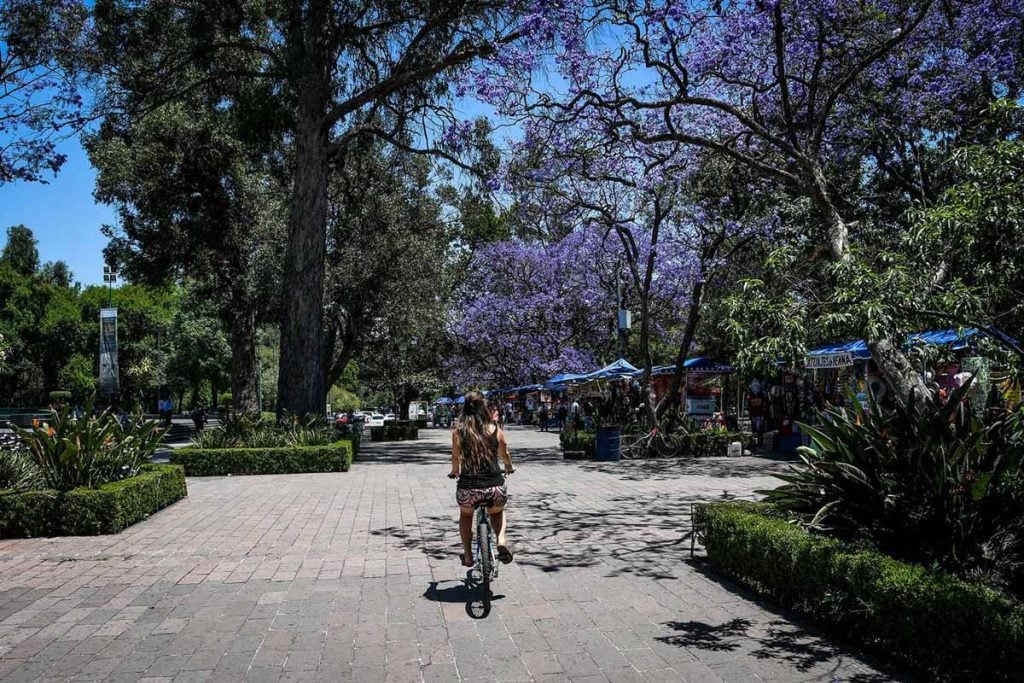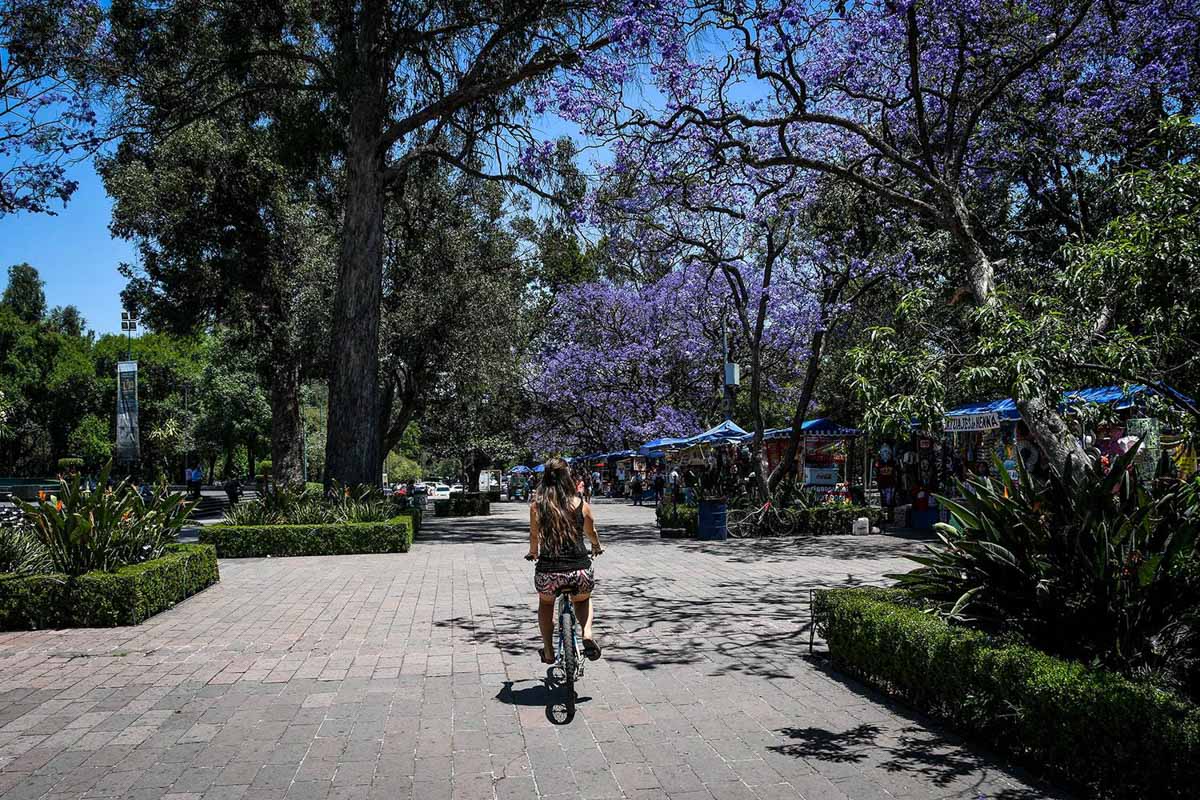 A lot of the major cities in Mexico, including some popular tourist destinations like Playa del Carmen have bike share programs available.
For example, Mexico City has Ecobici.
Sign up for Ecobici Bikes, the government-subsidized bike share program, and get a one-day membership for just $99 MXN. With the membership you can use any of the bikes in the bike-share program, and travel up to 45 minutes for free. You can take as many 45-minute rides as you want, but if you go over, you will be charged a little fee.
---
Are you planning a trip to Mexico?
We have lots more resources on travel in Mexico and destinations throughout the country. Check out our Ultimate Mexico Travel Guide for all the important travel information, or read some of our favorite articles below.
Save this article on Pinterest for later!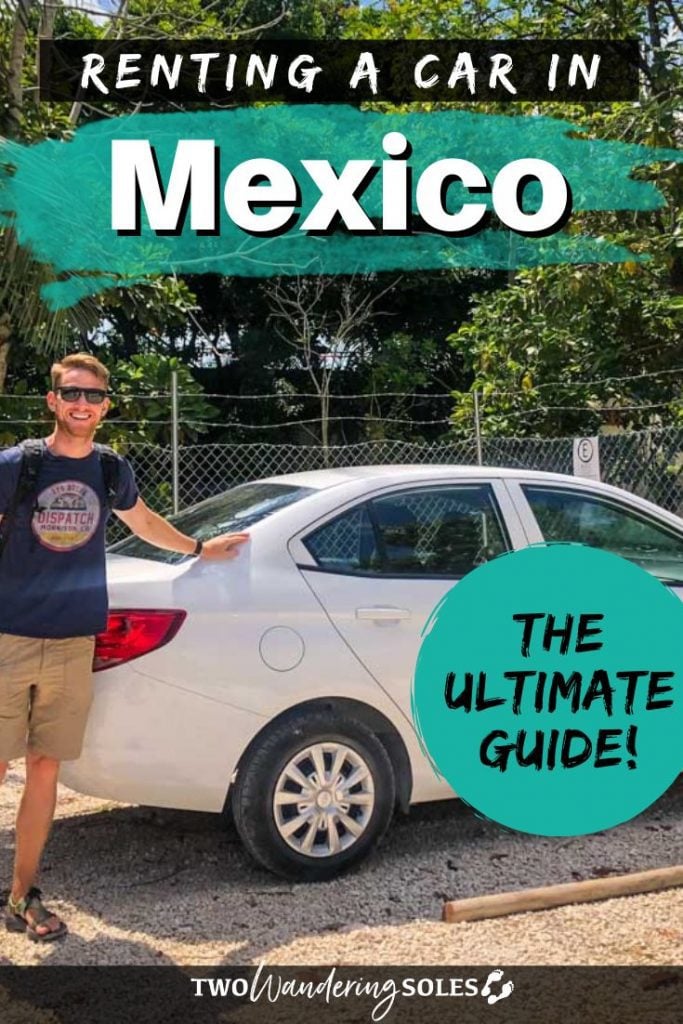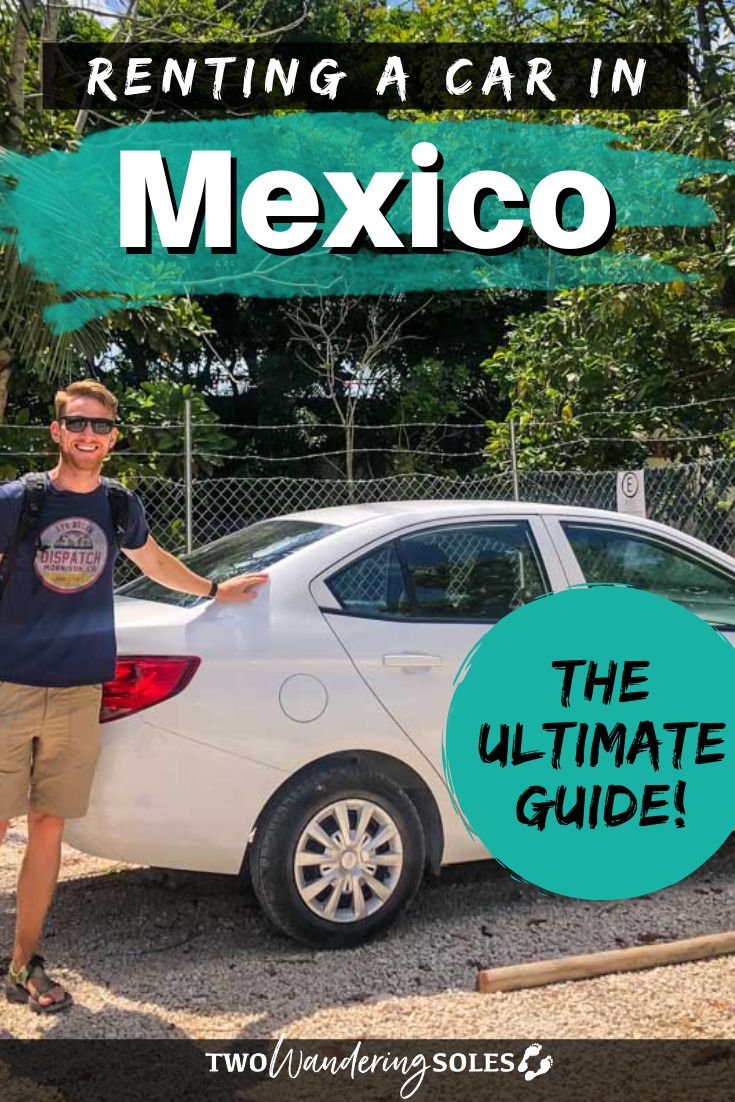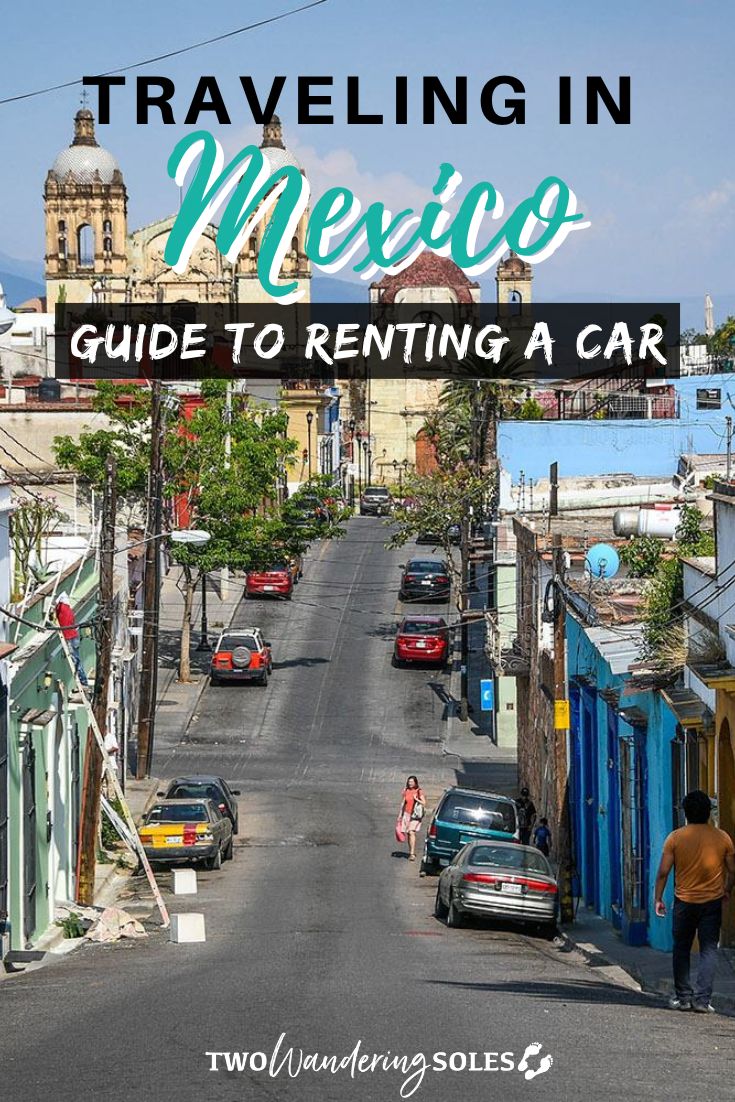 We want to hear from you!
Do you have any more questions about getting a rental car in Mexico? Comment below and we'll do our best to answer your question!