If you're planning a trip to Mexico City, we've got a perfect 3-day trip planned for you. This Mexico City itinerary is packed with information on where to eat, what major sights to see and off the beaten path ideas!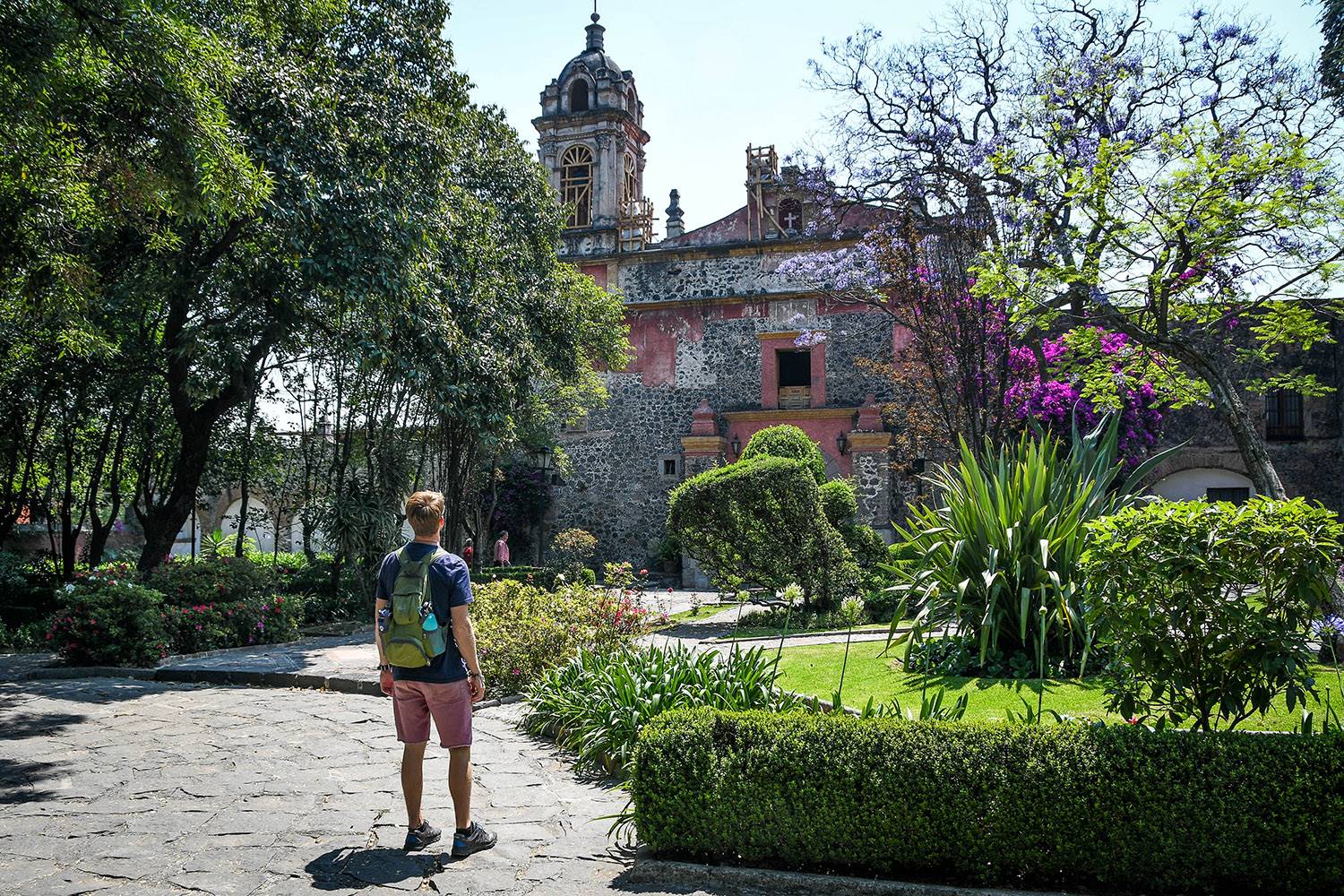 Updated October 2021
I'm going to start by saying that we never really had any interest in visiting Mexico City. "Polluted" and "dangerous" were the two words we had come to associate with the largest city in Mexico. But we could not be more wrong.
When we started planning our trip to Mexico and Central America, we kept hearing other travelers rave about Mexico City, and we finally started to listen. They told us of cute neighborhoods, friendly locals and some of the best food in the world.
We decided to give Mexico City (aka CDMX: Cuidad de Mexico) a shot, and we're so glad we did. We fell hard for this modern and beautiful metropolis and were overwhelmed by just how much there is to do.
We only had 3 full days to explore CDMX, and while we could have easily filled a whole week, a few days was a great introduction to Mexico City.
We've put together what we think is a perfect 3-day itinerary to Mexico City. We're sharing where to stay, what to eat, top sights to see, some local tips, and even additional things to do if you have more time.
From the top attractions to some off the beaten path adventures, we've got your short trip to Mexico City all planned for you! And if you have a longer trip planned for Mexico, we have our favorite activities in Mexico for you too.
---
Backpacking in Mexico Video
Watch our epic video of our 2 week trip in Mexico to get some inspiration and wanderlust.
---
3 Day Itinerary in Mexico City
Here is a glance at your perfect 3-day itinerary for Mexico City. Scroll down for all the details including how to get around, how much things cost, and what to eat (aka the most important info you'll need to know!).
Day 1: Coyoacan and San Angel
Day 2: Chapultepec Park and Food Tour
Day 3: Explore Downtown and Watch a Lucha Libre Match

More Information on Mexico City
How long should I spend in Mexico City?
You could easily spend a week in Mexico City and not get bored. But if you, like us, are on a tight schedule, 3-4 days is enough to get a feel for Mexico City and see some of its best parts. It's just a taste though. To really delve in, we think you'd need at least 5 days.
2021 Update:
As the pandemic continues to affect tourism around the world, many museums and sites in Mexico City are operating on a temporarily reduced schedule with limited capacity. By Mexican law, museums must close by 5 p.m. daily. Limited capacity means tickets may sell out so it's best to be prepared by purchasing tickets and double-checking hours online before your visit.
---
Day 1: Morning
San Angel Neighborhood
This picturesque neighborhood just southwest of Coyoacan was probably our favorite area in Mexico City. If you're in Coyoacan, make the short trip here, and you won't be disappointed.
Plaza San Jacinto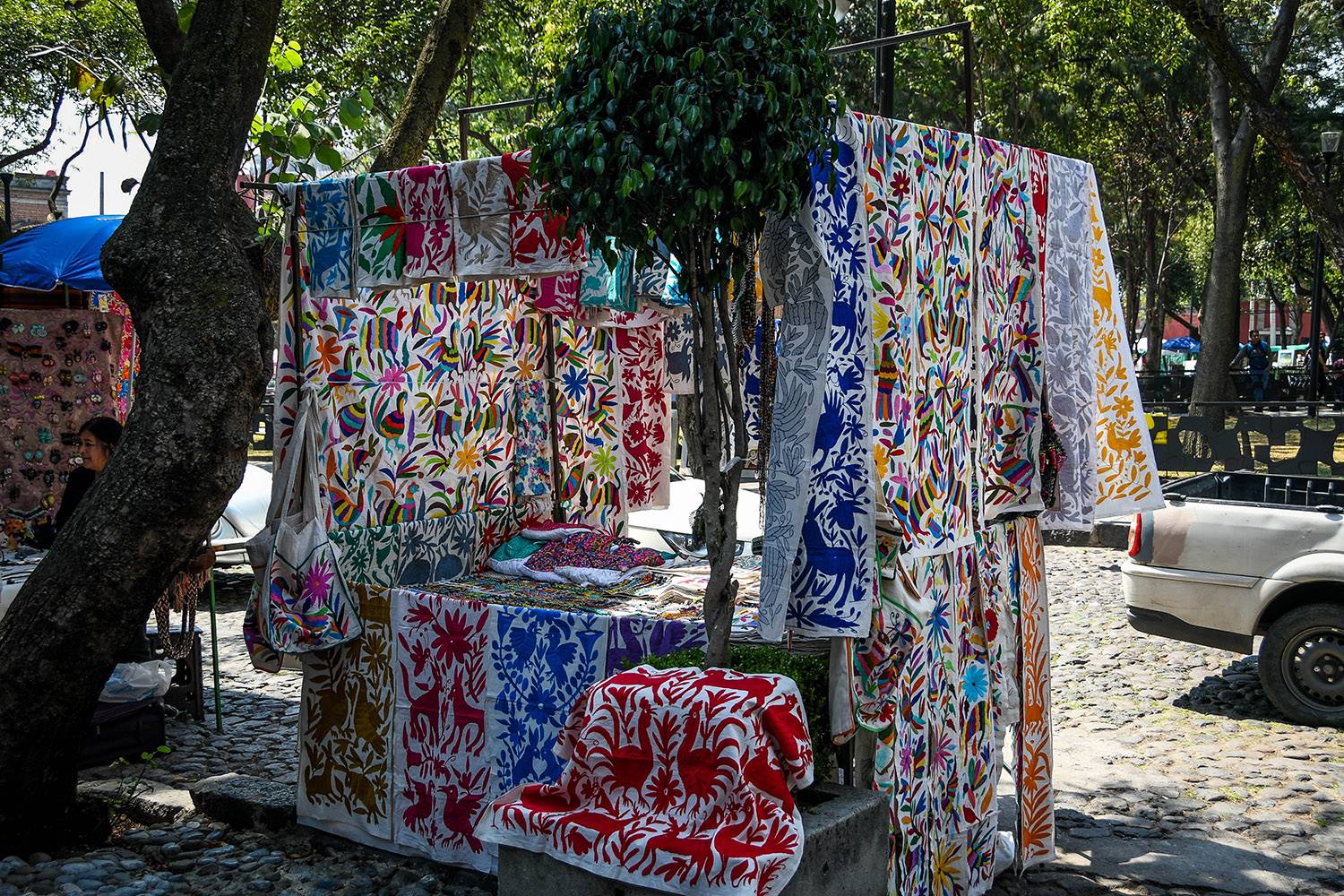 This park is filled with lots of green space and has a beautiful fountain in the middle. Around the edges there are cafes and restaurants for you to refuel while looking at the numerous museums in San Angel.
Saturday Bazaar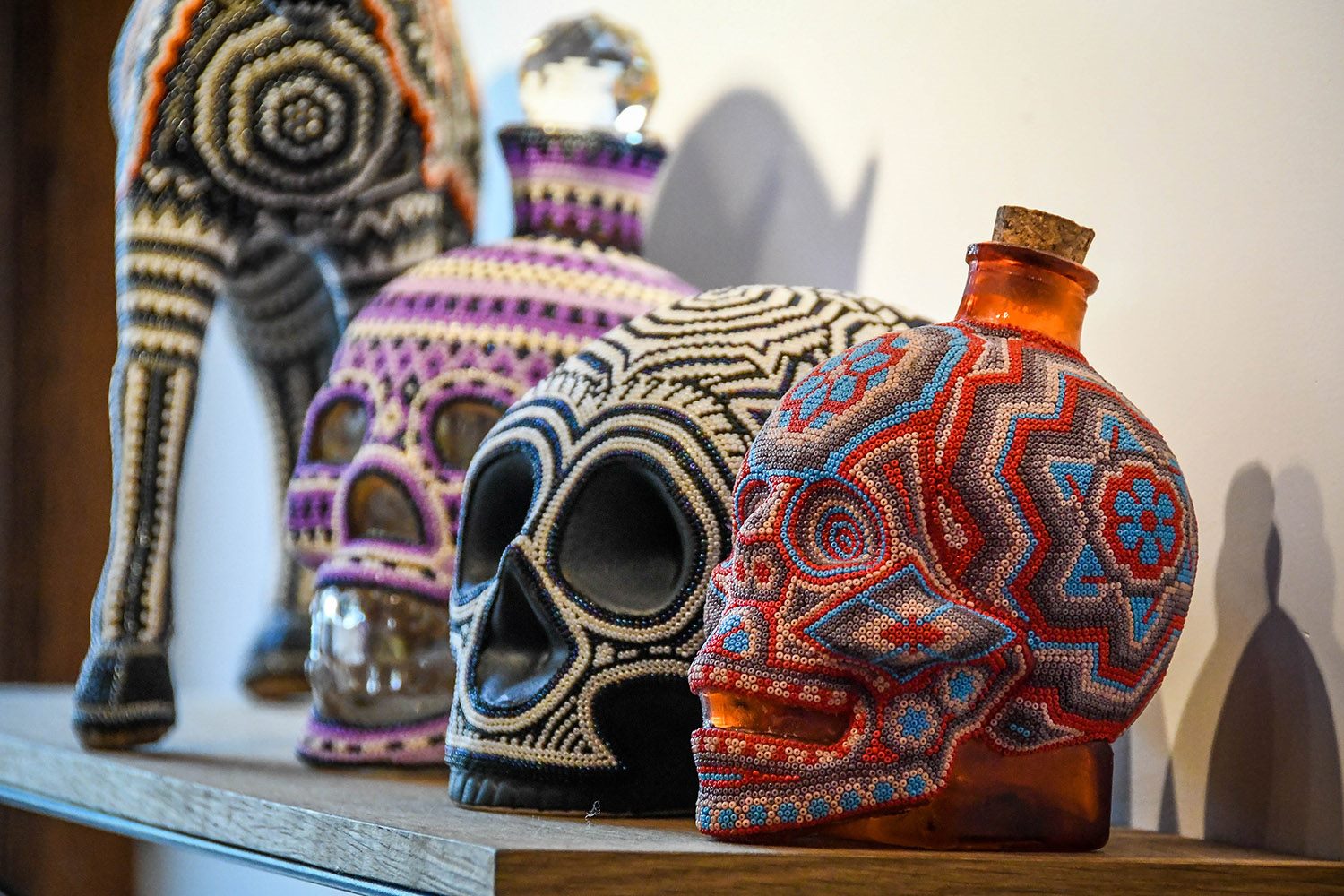 If you happen to be in Mexico City on a Saturday, consider checking out the market that takes place in the San Angel neighborhood once weekly.
You'll find streets and parks lined with artists and local vendors. Eventually, you'll make your way to a building known as the bazaar (northwest of the Plaza San Jacinto), and it's worth a gander inside. The goods for sale in the bazaar are much higher-end (with price tags to match) than what the vendors outside are selling.
House – Studio Muesum of Frida Kahlo and Diego Rivera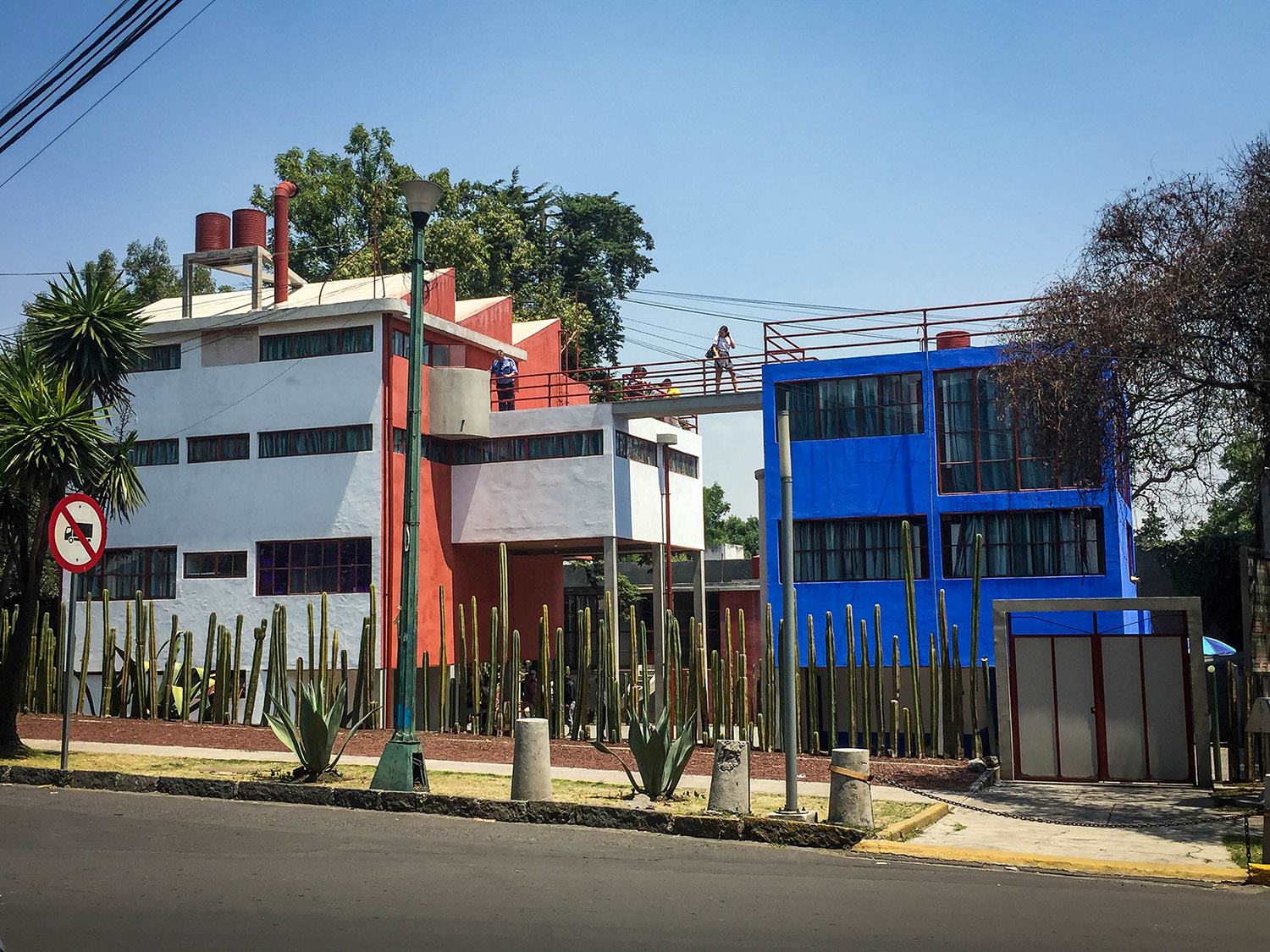 Situated on one of the major streets in a busier part of San Angel, you'll find the home that Frida Kahlo and Diego Rivera shared toward the end of their lives. Their notoriously tumultuous relationship meant they needed time apart, so there are actually two homes on the property – one for Frida and one for Diego – with a bridge adjoining them for times they felt like visiting.
Afternoon
Frida Kahlo Museum
Compared to other museums in Mexico City, the Frida Kahlo house is on the expensive side. But the $230+ MXN entrance fee (around $12 USD) hardly deters anyone from visiting.
La Casa Azul (the blue house in Spanish) is well worth a visit, even if you're not all that familiar with Mexico City's beloved Kahlo.
This museum is set in the house where Frida was born and died. She grew up in this home and later shared it with her famous husband, painter Diego Rivera. You'll see both various pieces of her artwork as well as her personal belongings.
Walk through her art studio, glimpse her beautiful kitchen, and see the bed where she slept and the garden in which she spent her afternoons dreaming or entertaining guests.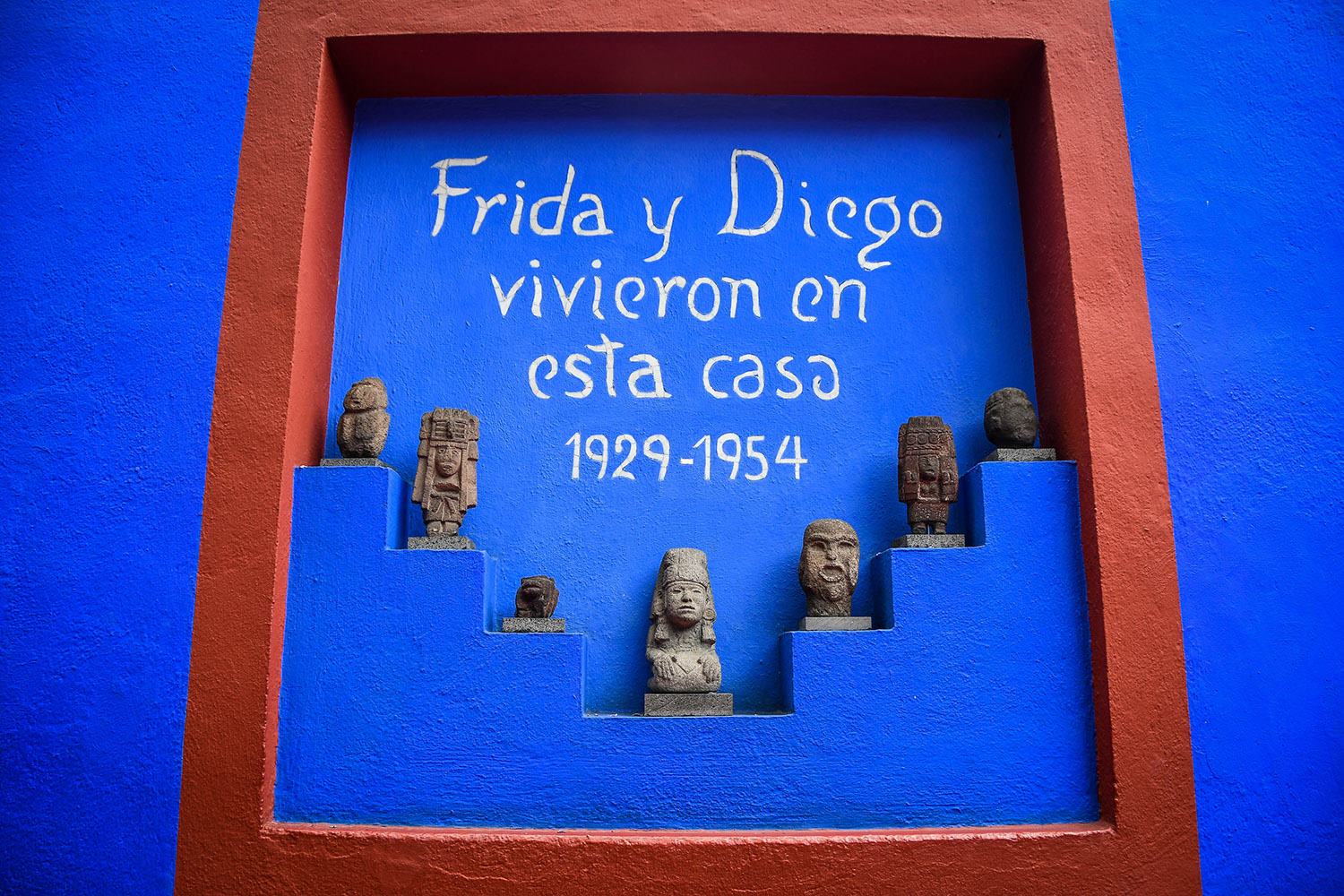 Top Tips for Frida Kahlo Museum!
Other important information
Entrance fee & Hours: $230 MXN (around $11 USD) on weekdays and $270 MXN (around $13 USD) on weekends. Open daily from 10 a.m. to 5 p.m. and closed on Mondays.
How much time do I need at the Frida Kahlo Museum: It is relatively small, but the audio tour takes about an hour and a half.
Explore the Coyoacan Neighborhood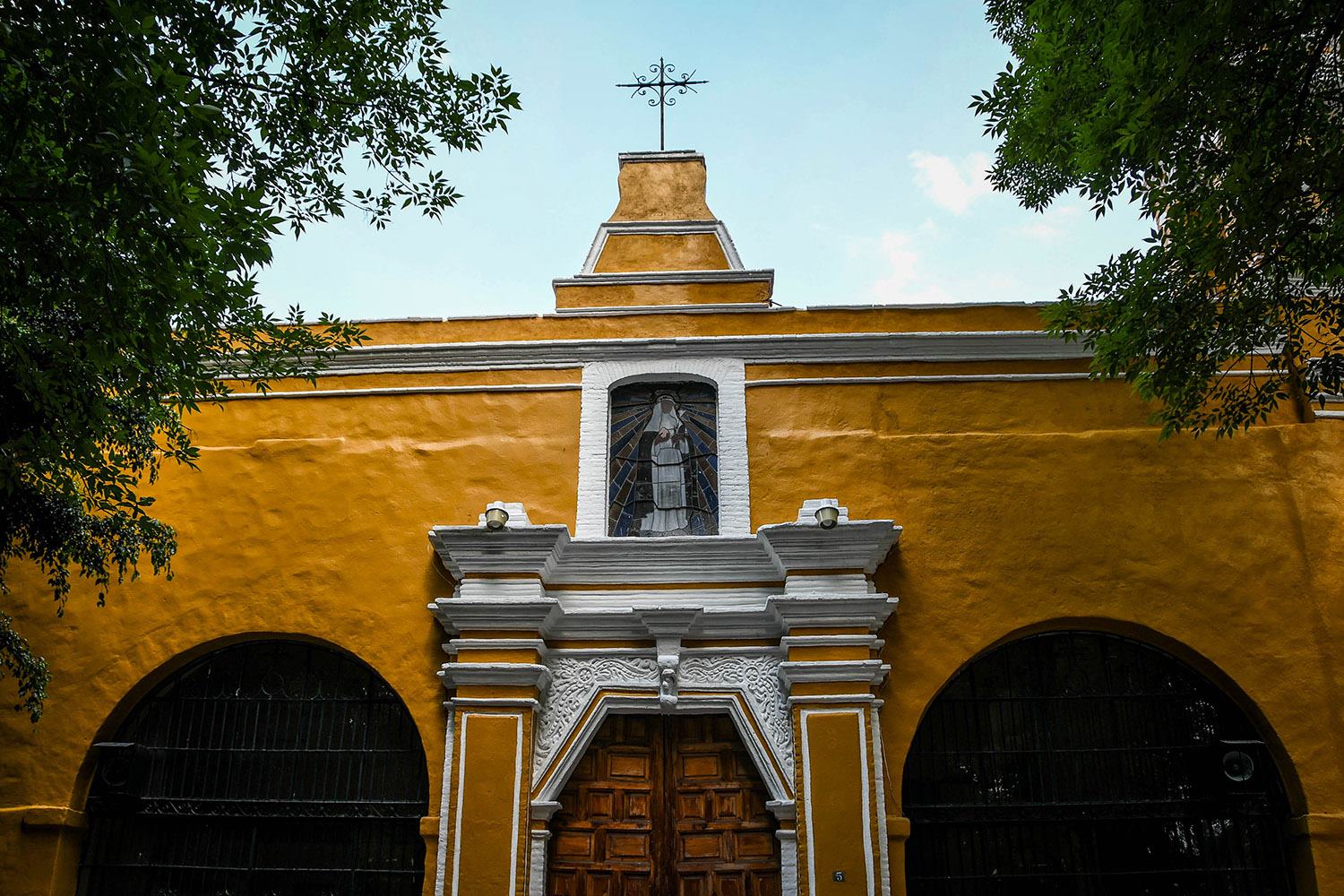 Imagine streets with colorful colonial style homes shaded by large trees. Cute cafes and boutiques are dotted amongst the homes of the well-to-do. You could easily spend a day getting lost in the tranquil streets of Coyoacan, but if you're short on time, visit this neighborhood with a guide and hear stories of its past.
Try the Coyoacan Free Walking Tour with Estacion Mexico. Our guide was wonderful and super informative. They meet every day at 11 a.m. and 3 p.m. at the ticket office of Viveros/ Derechos Humanos subway station (inside the station). Bring water and check the weather to see if you need an umbrella or not.
This 2.5-hour tour brought us through some beautiful streets and gave us insight on one of Mexico City's most inviting neighborhoods. Our guide was wonderful and the group of just 6 people was a great size to meander through colonial courtyards and through historic streets.
If you'd prefer to wander through Coyoacan on your own, here are some spots you should hit:
Coyoacan Highlights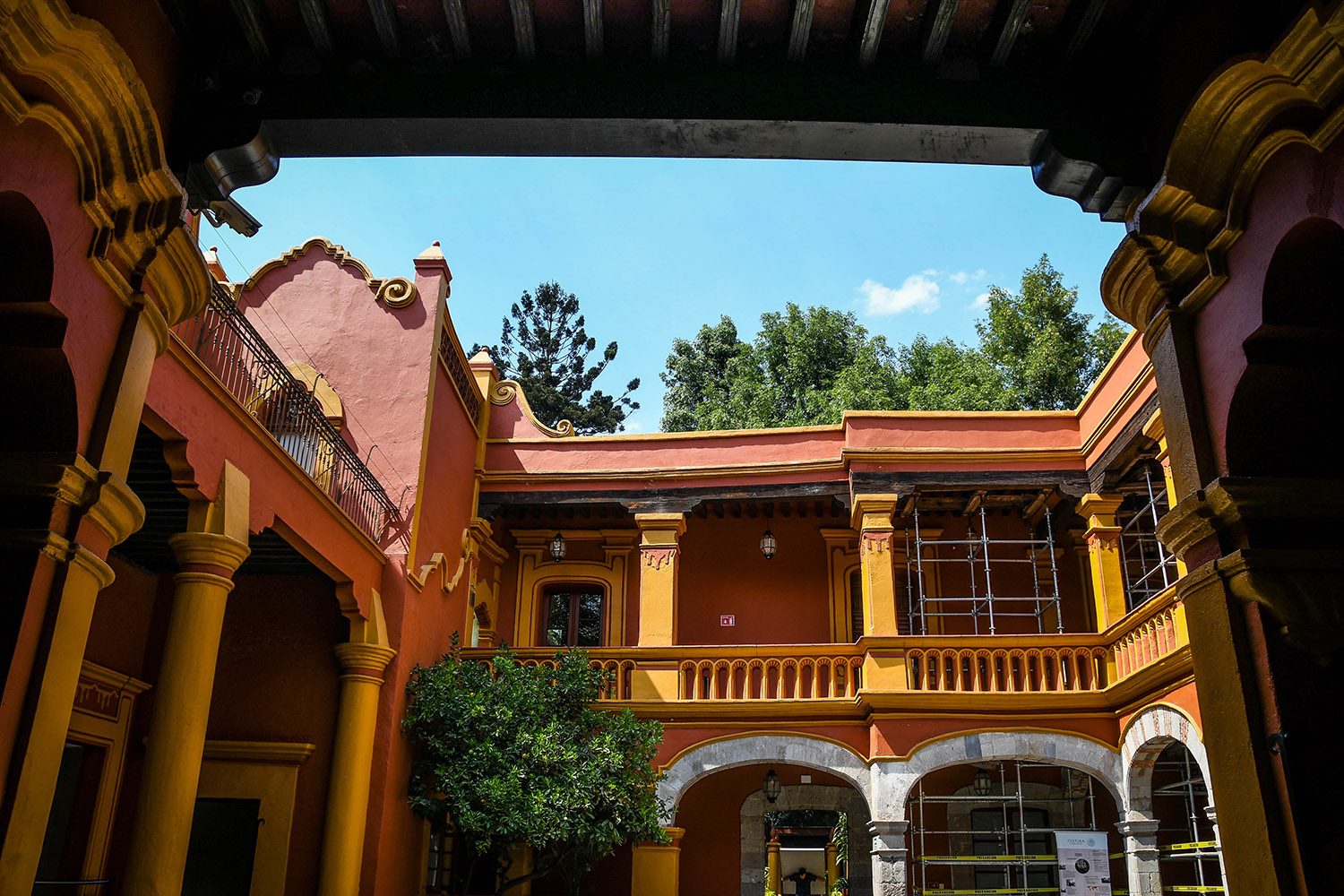 This "museum" is set in a courtyard of a colonial home and is known for its collection of famous people speaking, including Diego Rivera. There's no fee to get in, but when you enter, you simply need to sign your name, age, gender and country of residence.
You can listen to the recordings if you'd like, or you can enjoy the tranquil courtyard and free (yes, free!) coffee. You'll likely see university students studying and you may even be lucky enough to be there during one of their regular live music performances.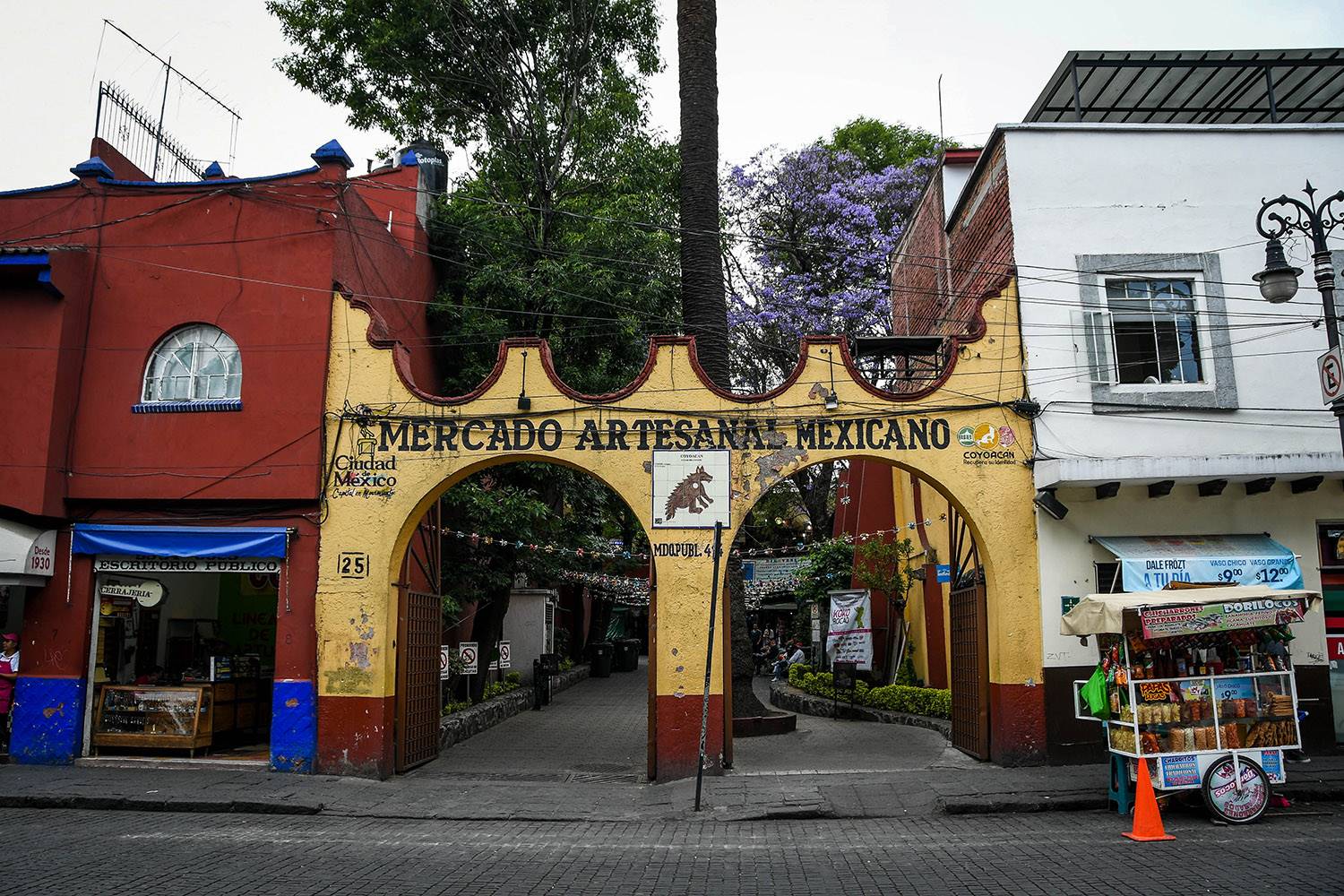 Mercado de Artesanal Mexicano (Artisian Market)
Enter through the yellow arches and you'll see lots of handicrafts and souvenirs for sale.
Parroquia San Juan Bautista
You can take a look inside the church if you'd like, but the main attraction of this area is the square in front of it. You'll find locals hanging out around the fountain with the neighborhoods' namesake coyotes and musicians performing in the open square.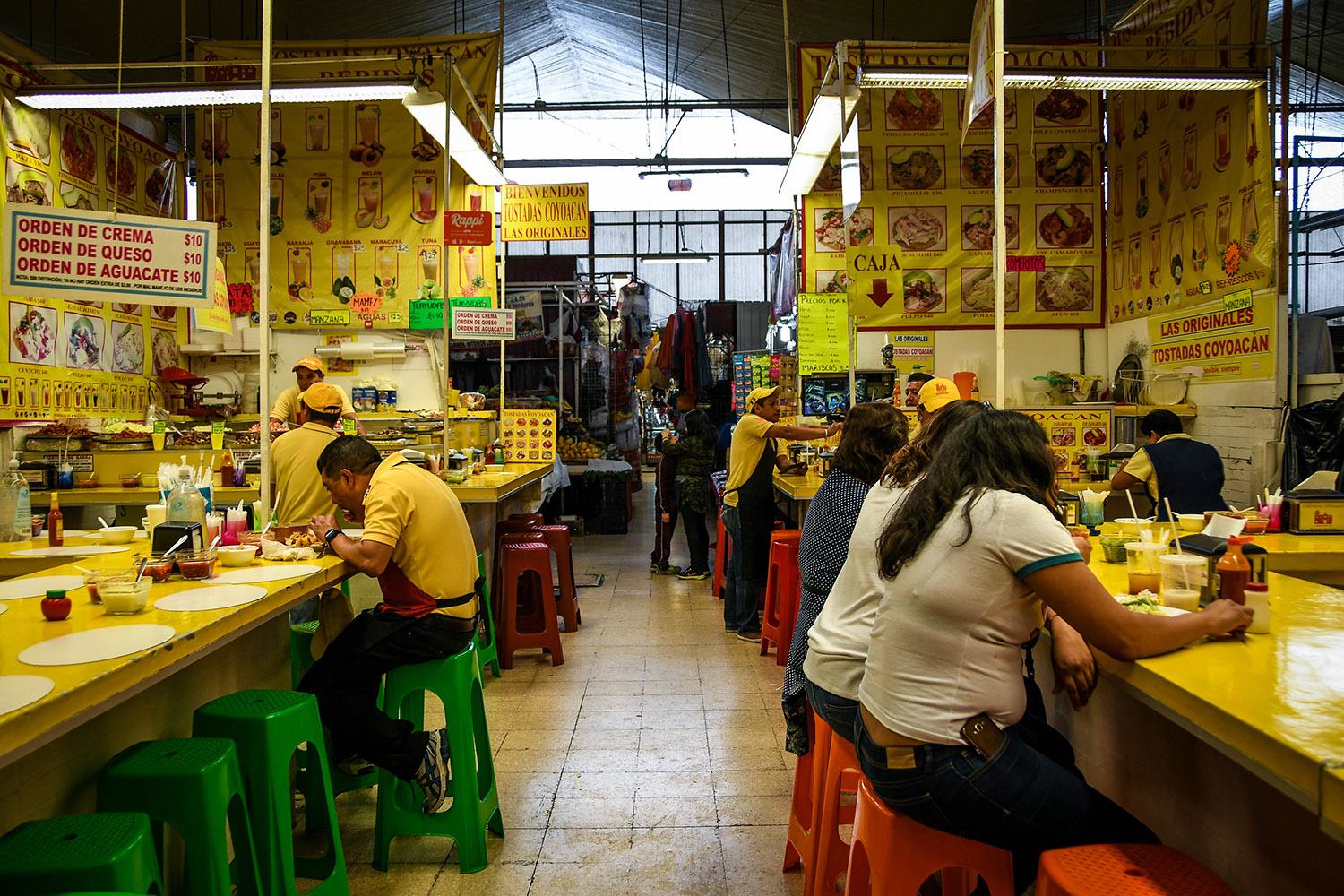 Coyoacan Market
On the outer perimeter of this market, you'll find fruits and vegetables for sale alongside clothing and children's toys. But if you venture inside, you'll see stands selling all sorts of food. Keep going until you are near the back of the market, and here you'll find the signature Coyacan tostadas.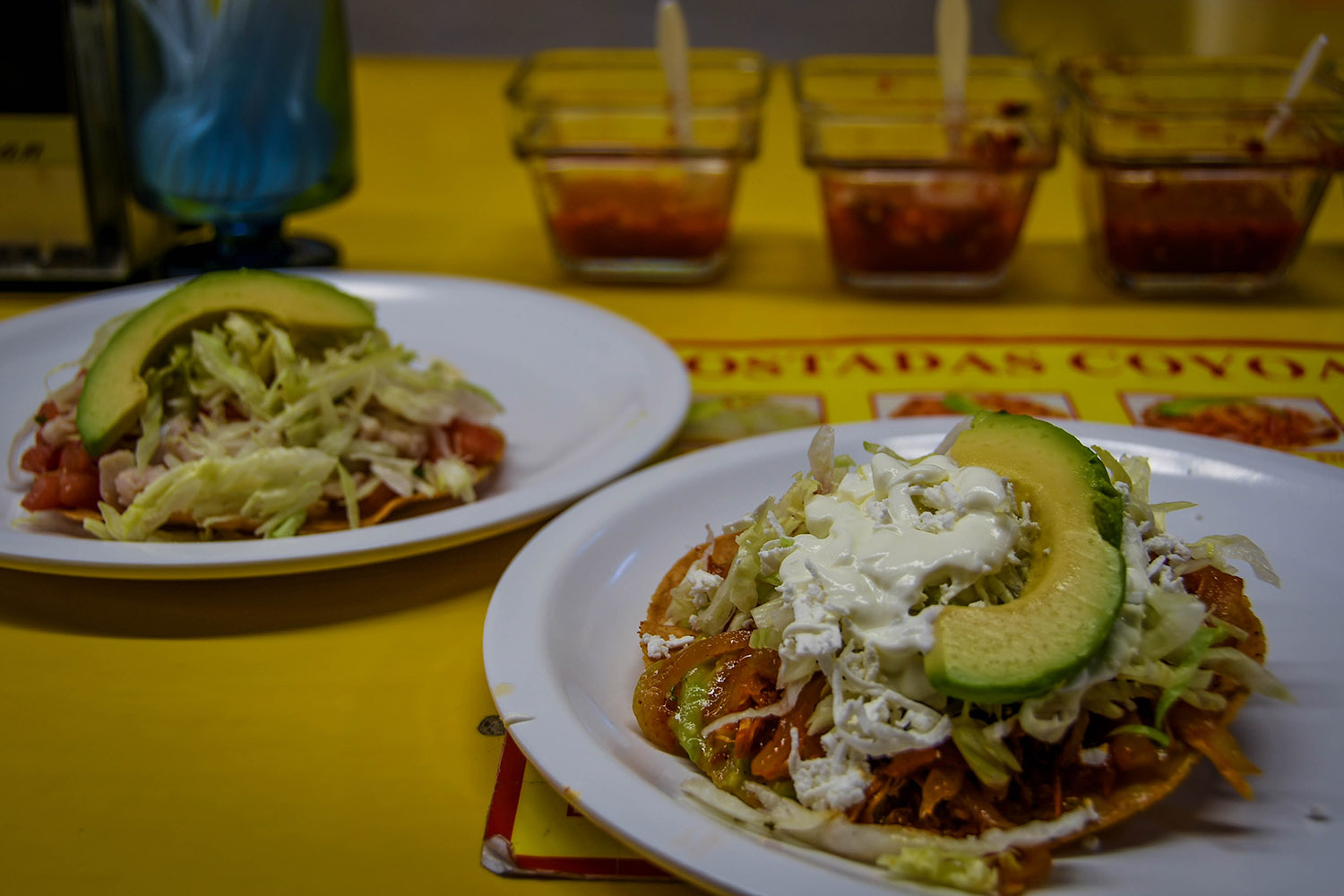 One of the most famous ones is the ceviche, which was great, and we also really enjoyed the chicken tinga. There are a handful of vegetarian options, too. Wash your tostada down with a fresh juice!
Cost: Tostadas range from 30 – 40 pesos, and the juices are around 25 pesos.
Local Food Market – Antojitos Mexicanos Market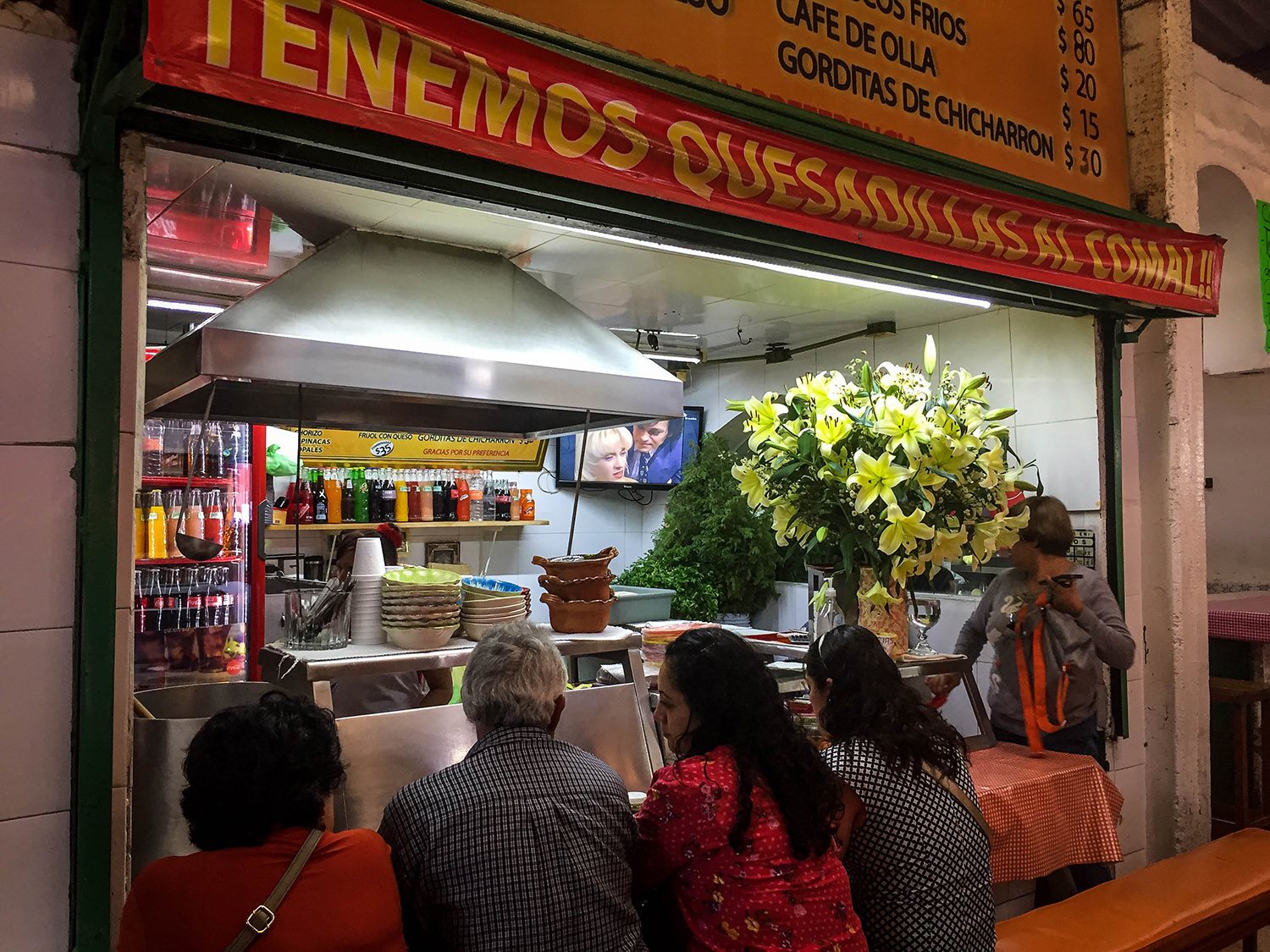 Just off of the main square, the Antojitos Mexicanos Market has an awesome selection of local Mexican foods. When we were there, we were the only foreigners.
Everything looked delicious, but if you're feeling adventurous and want to try sometime a little "different" head to the back left corner to the shop selling quesadillas. Order the huitlacoche. This quesadilla will be made right in front of you and is stuffed with huitlacoche, or corn fungus, a delicacy in Mexico.
The black filling is not as scary as it looks or sounds; it almost tastes and looks like a mixture of refried beans and corn. There are plenty of other options too, both vegetarian and meat based.
Cup of coffee: Head to Cafetzalli Coyoacán or Café El Jarocho for some of the best coffee in the neighborhood.
Churros: For a more unique churro experience, head to the popular Churros Jordan on the corner of Cuauhtemoc and Aguayo. These are the only churros around that are stuffed with the sauces (instead of dipping). You can get chocolate, caramel, condensed milk and other delicious flavors.
Tip: Know that in Mexico City, unless you order your quesadilla with cheese, it typically won't come inside unlike those in other parts of Mexico.
Evening
Dinner: Enjoy a meal at one of Mexico City's best restaurants. Whether you're craving authentic street food or a fancy meal, there's plenty to choose from!
Experience Mexico City's nightlife scene! Wander the streets of the Roma and Condesa neighborhoods and pop into any bar or restaurant that strikes your fancy. And if you wanna turn things up a notch and go clubbing, here's a guide to getting your groove on into the wee hours of the morning.
---
Day 2: Morning
Chapultapec Park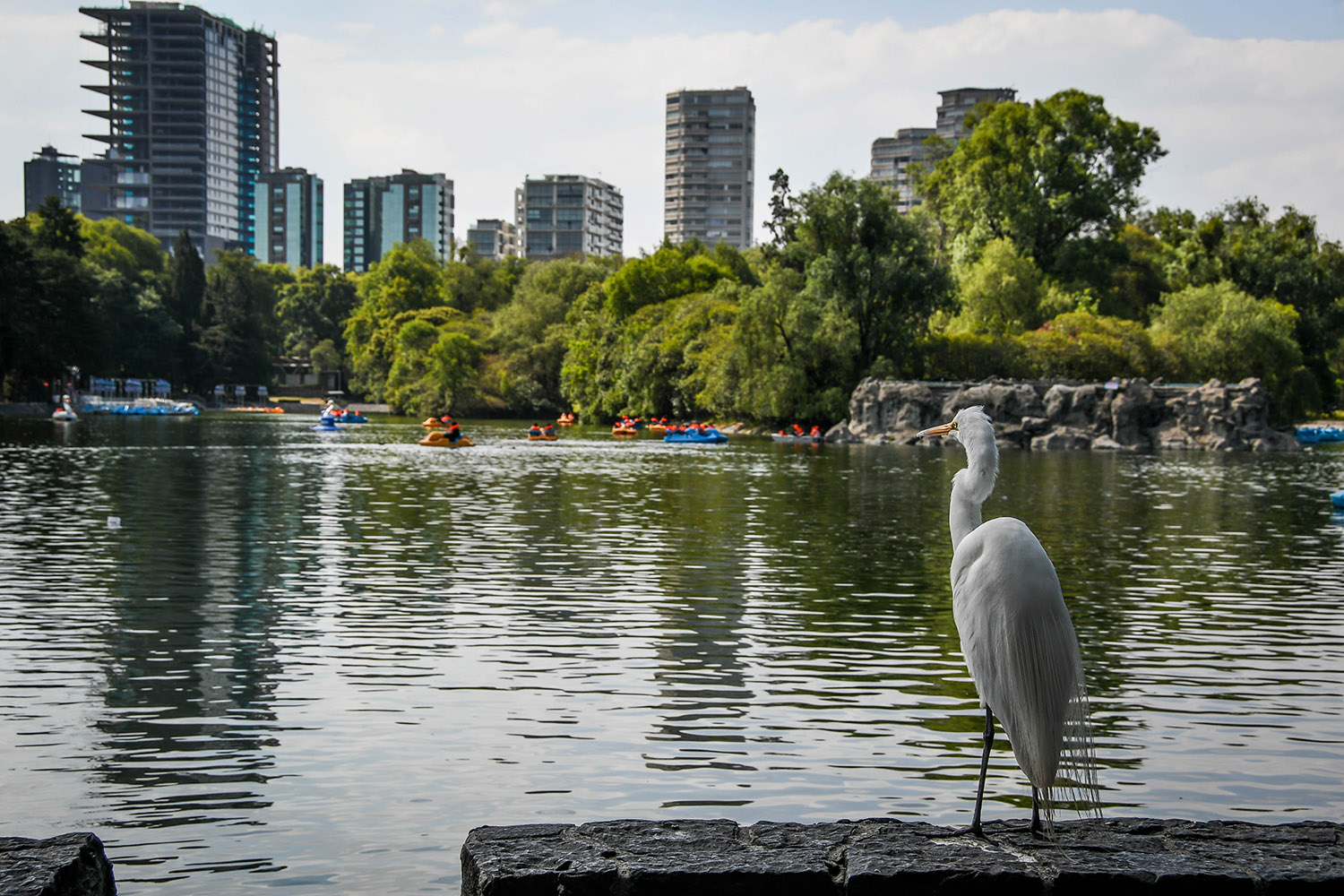 Before you head out for the day, be sure to stop by Panadería Rosetta for either a quick grab-and-go pastry or sit and relax with a café. This local hotspot get pretty busy throughout the day so get there early. They open at 7 a.m. Once you have your fill, head out to Chapultepec Park.
This gigantic park on the west side of town isn't perhaps the city's most picturesque, but it is one of the largest. With pathways for walking (or biking!) you can get a little exercise. You'll find plenty of stands selling snacks along the way and a small pond with paddle boats for rent, which is a great activity if you're traveling with kids in Mexico City.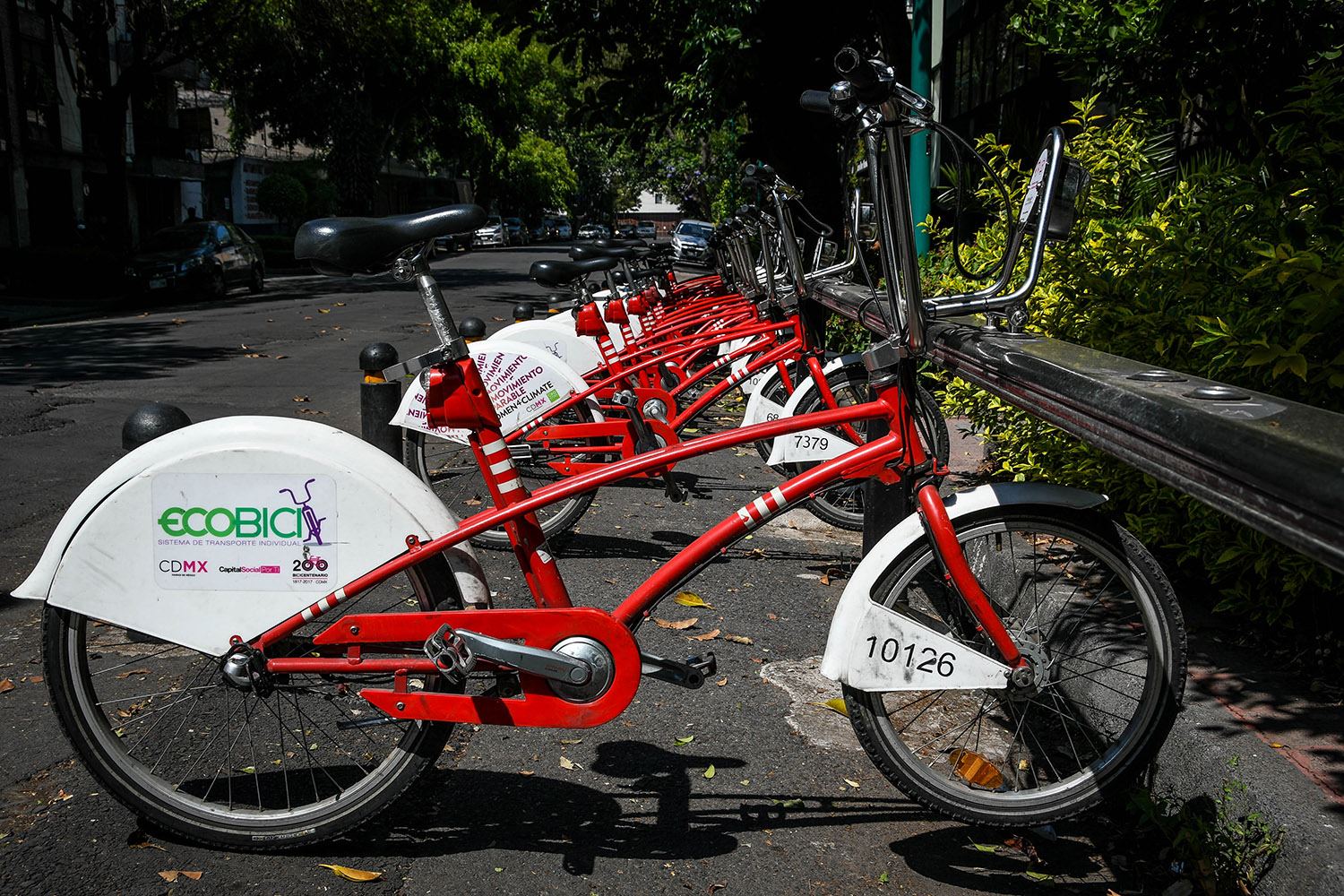 If you have a Mexican credit card you sign up for the Ecobici Bikes and rent get a one-day membership for just $99 pesos. With the membership you can use any of the bikes in the bike-share program, and travel up to 45 minutes for free. You can take as many 45-minute rides as you want, but if you go over, you will be charged a little fee.
If you're like us and your hotel has free bikes for rent, you can pedal away at your heart's desire. You can go and see the Official Residence of Los Pinos, or the Mexican President's House.
The main attraction of this park, however, is the castle that sits atop the park's highest hill.
Chapultepec Castle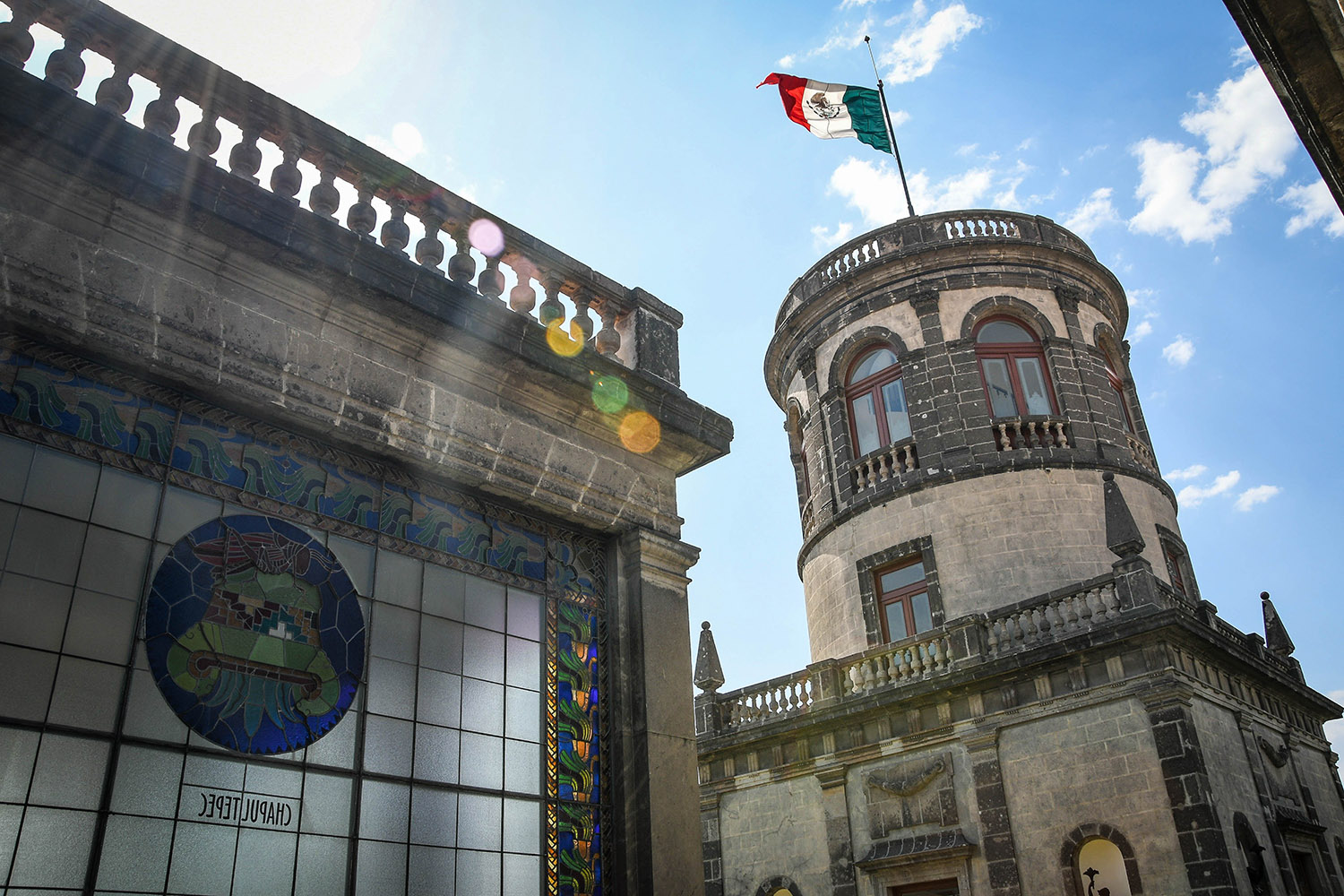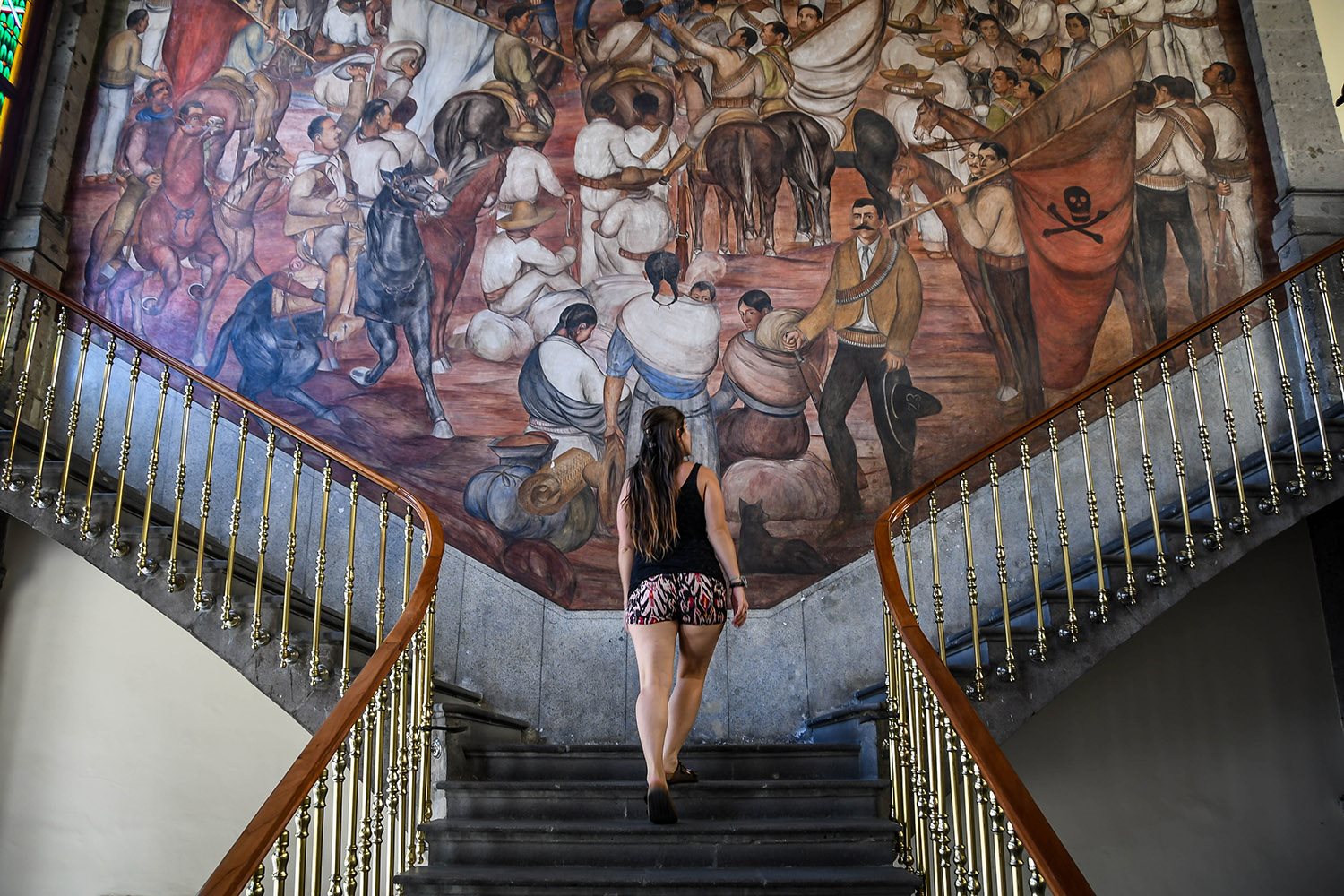 Perched high on a hill, visiting the Chapultepec Castle (Castillo de Chapultepec) is worthwhile if even just for the view of the city. Inside, you'll find rooms preserved as they were in the 18th century. It is quite impressive, especially the stairways and the rooftop garden.
Tickets can be purchased at the ticket window at the bottom of the hill to the castle. Be sure to allow at least 45 minutes to climb the hill, see the castle and walk back down. Add more time if you get the audio guide or want to snap some photos.
Entrance Fee & Hours: The typical entrance fee is 80 MXN. Open Tuesday – Saturday 10 a.m. to 5 p.m., closed Sunday & Monday.
Afternoon
National Museum of Anthropology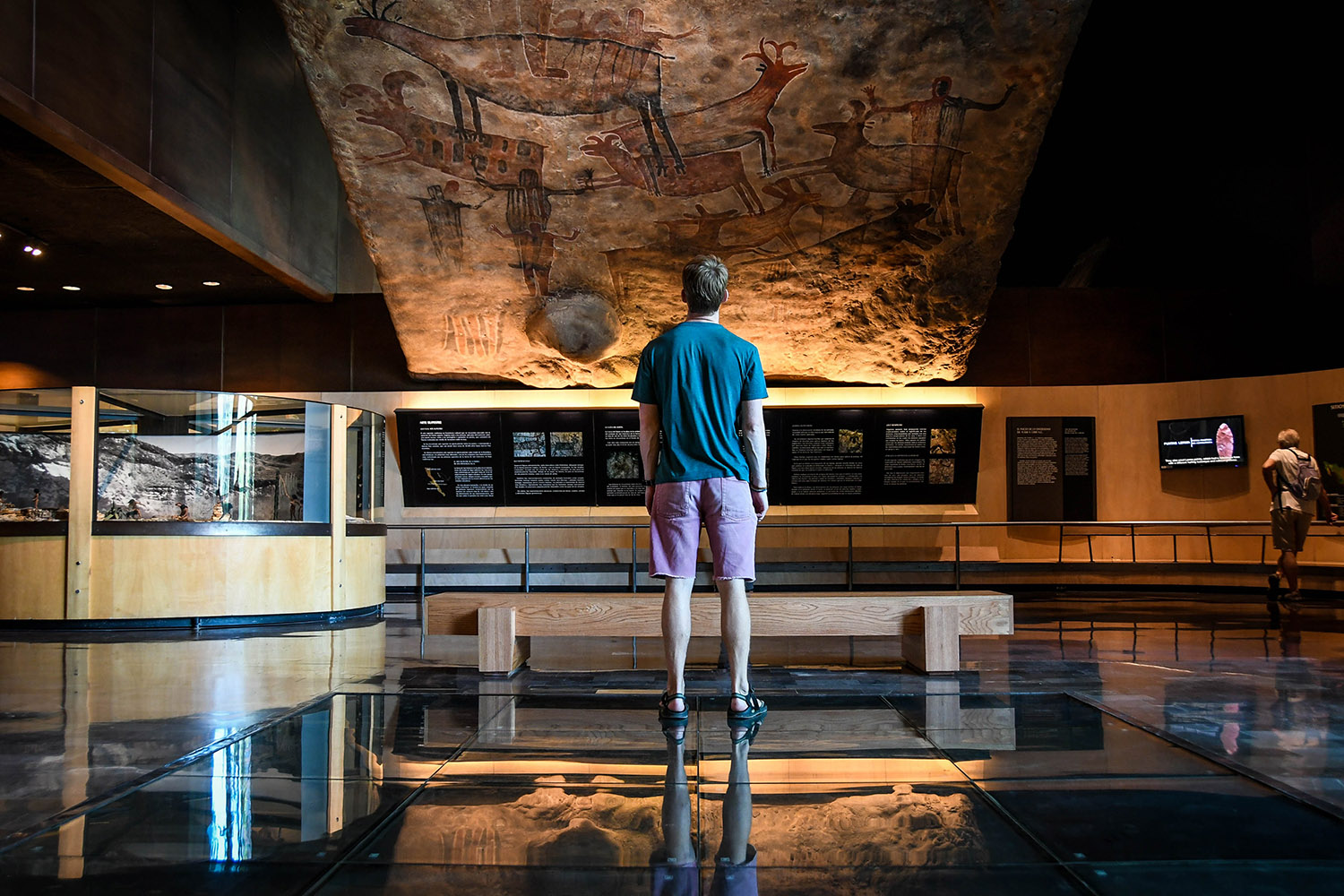 This is often touted as a "must see" while in Mexico City, this museum is a history buff's dream. You'll find prehispanic artifacts, dioramas and interactive displays that give you insights to how Mexico and its ancient people settled in the region. We thought the museum was interesting, but honestly felt it was a bit overwhelming.
Note: Be aware that while some of the signage has been translated into English, there is still a lot that is only in Spanish.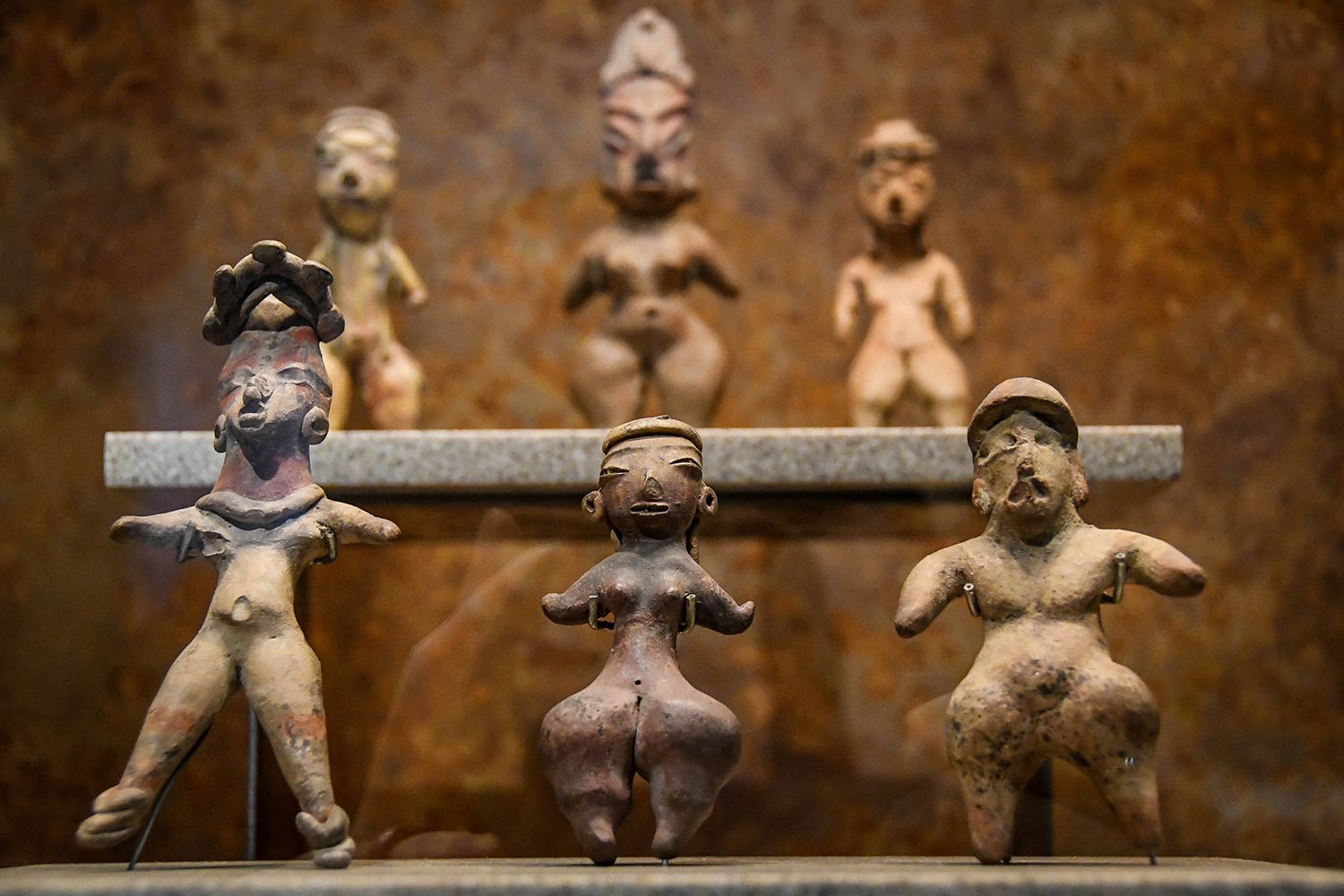 If you are touring the museum on your own, we recommend going into the #1 room and traveling counterclockwise. If you are pressed for time, make sure to see the #6 (Aztec) and #9 (Maya) rooms.
We joined a free English tour at 1:30 p.m. for an hour and the guide brought us through the Aztec Room where we saw the Stone of the Sun (more famously and falsely known as the Aztec Calendar). Most of the information we came away from the museum with was from this tour.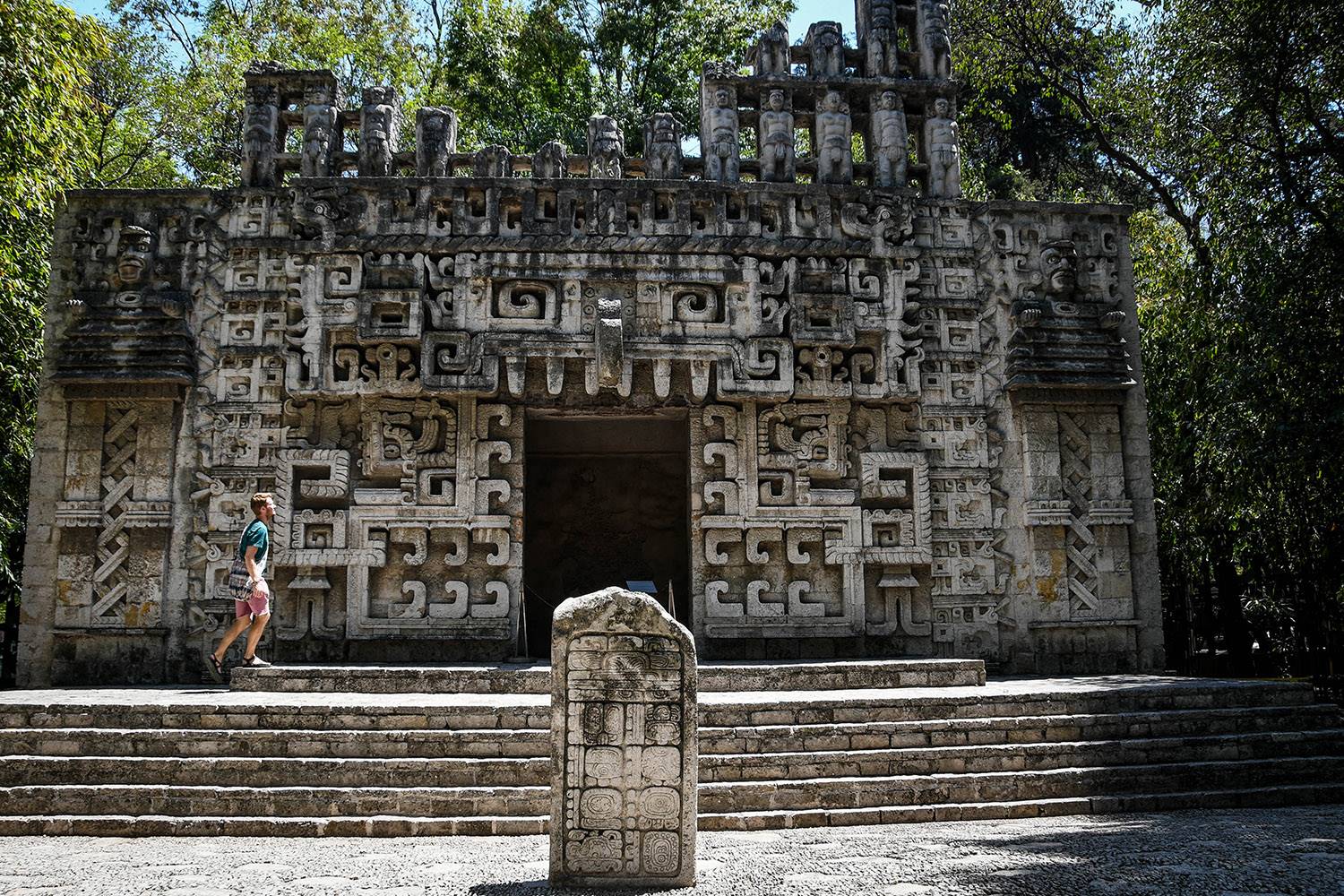 Entrance Fee & Hours: The typical 80 peso entrance fee is very reasonable. Open Tuesday – Saturday 10 a.m. to 5 p.m., closed Sunday & Monday.
Evening
Food Tour or DIY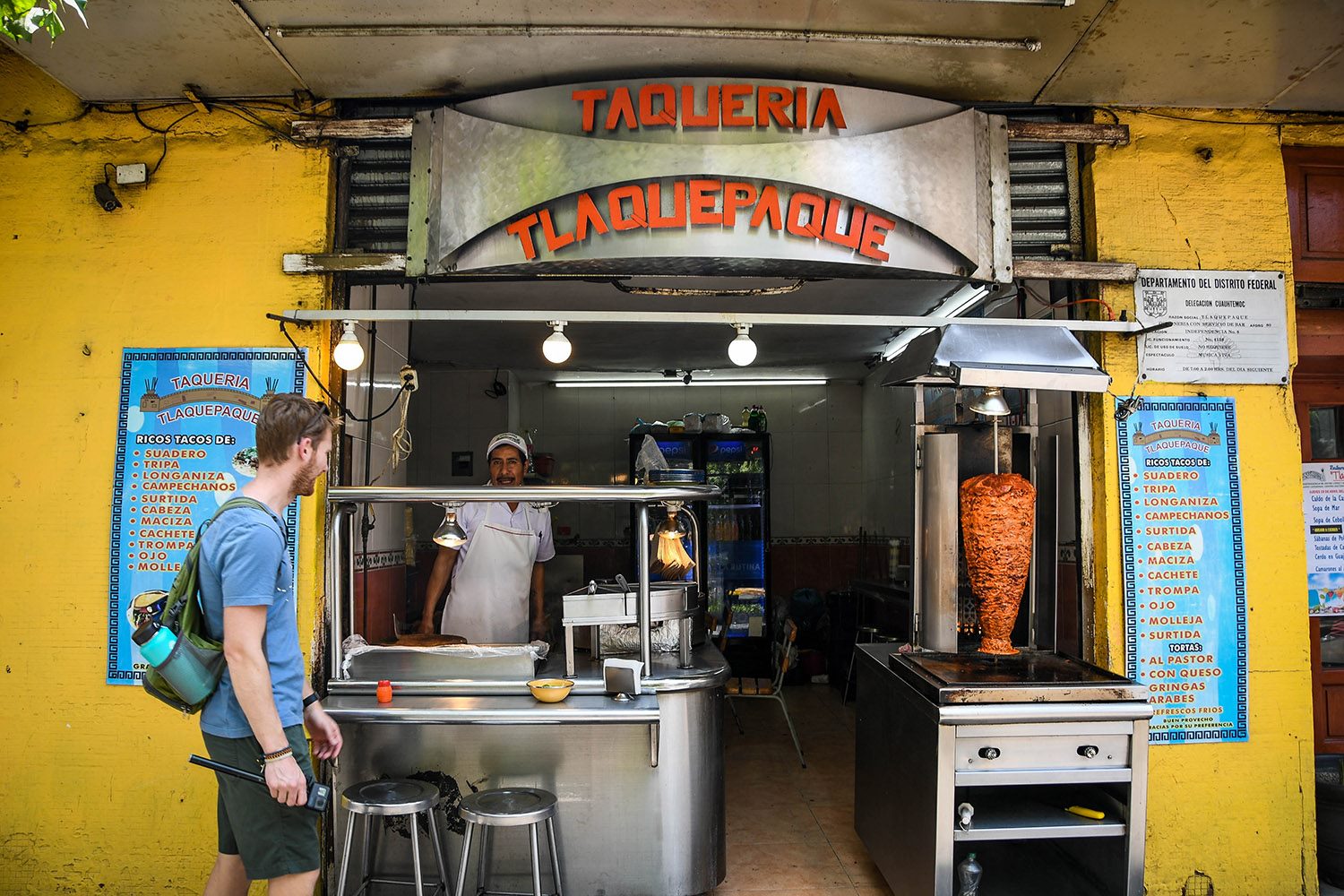 Mexico City is a foodie haven. There are plenty of cooking classes and food tours to choose from that'll give you great insight into Mexican cuisine. We had a great time with Mexican Food Tours and wrote about our experience traditional Mexican food tour in Mexico City.
If you're on a budget though, you might be turned off by the steep prices. Instead, you can opt to do your own DIY food tour.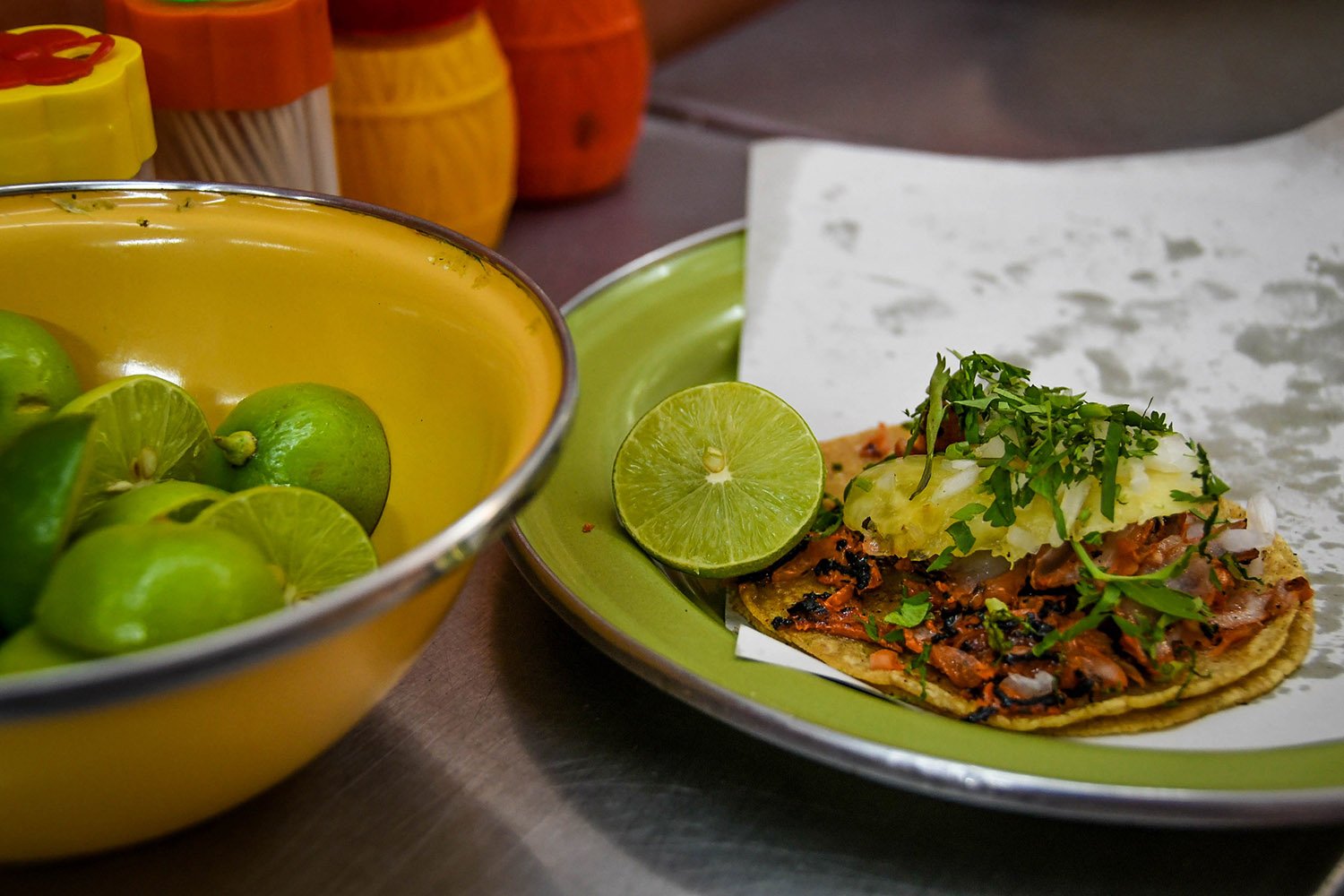 You'll find incredible food throughout the entire city, but we'd suggest choosing a neighborhood where you can eat just a little bit at a time. (This works best at small shops or stands instead of sit-down restaurants.)
Food to Try in Mexico City
Be sure to try tacos al pastor, tortas, quesadillas (different than what you might be used to!), flautas, tamales, pozole, churros, aguas fresca, horchata and anything else that makes your mouth water!
Read Next: The Ultimate Guide to Food in Mexico
---
Day 3: Morning
Downtown DIY tour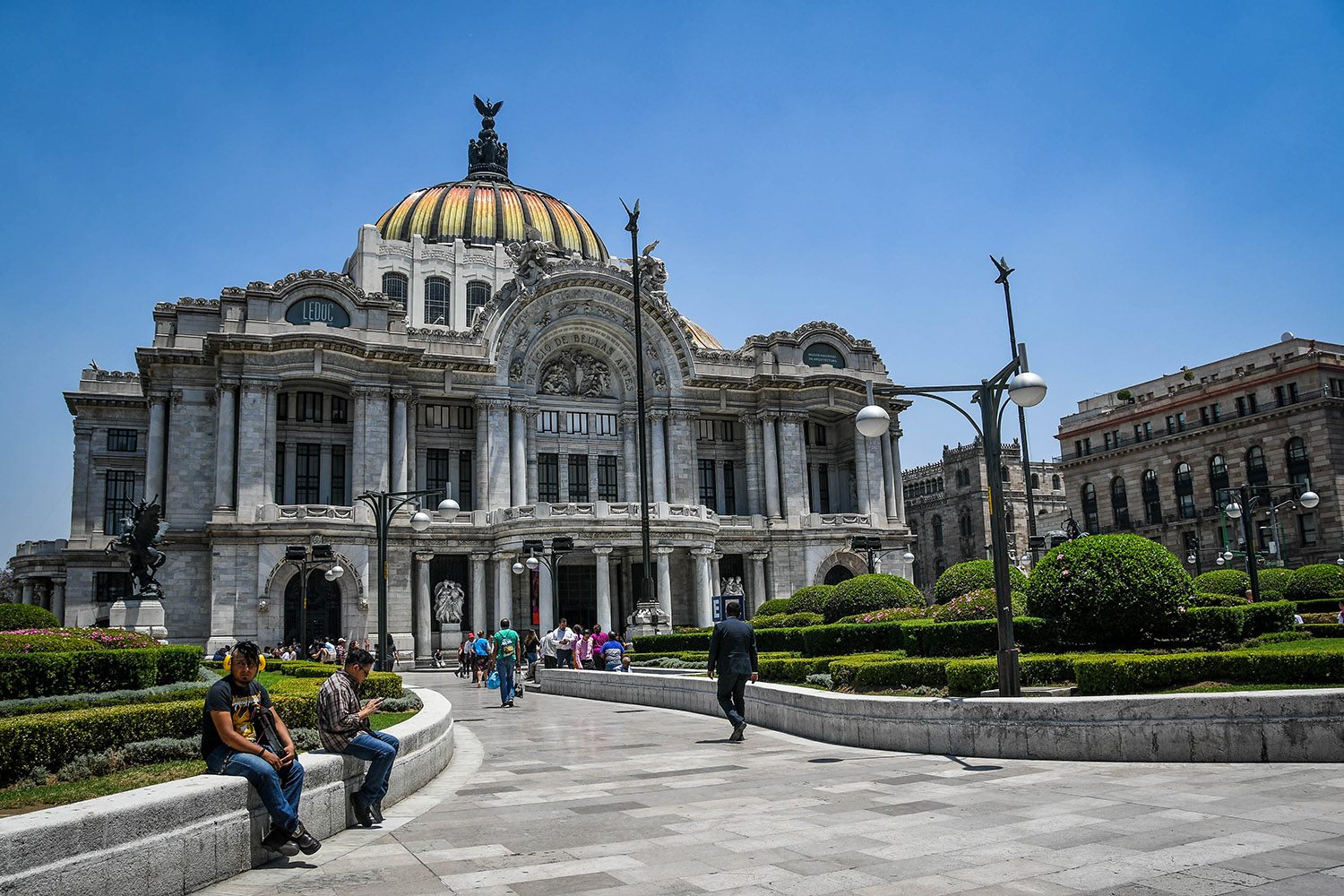 If you've been following our blog for a while, you know we love free walking tours. They allow you to see the most important places in a city, as well as some hidden gems you'd never discover on your own. You can also learn some of the stories that guidebooks don't tell you and meet fellow travelers.
We've taken just short of 30 free walking tours around the world, and have had fantastic experiences for the most part (including our tour of the Coyoacan neighborhood). Unfortunately, we can't say the same about the Free Walking Tour in downtown Mexico City.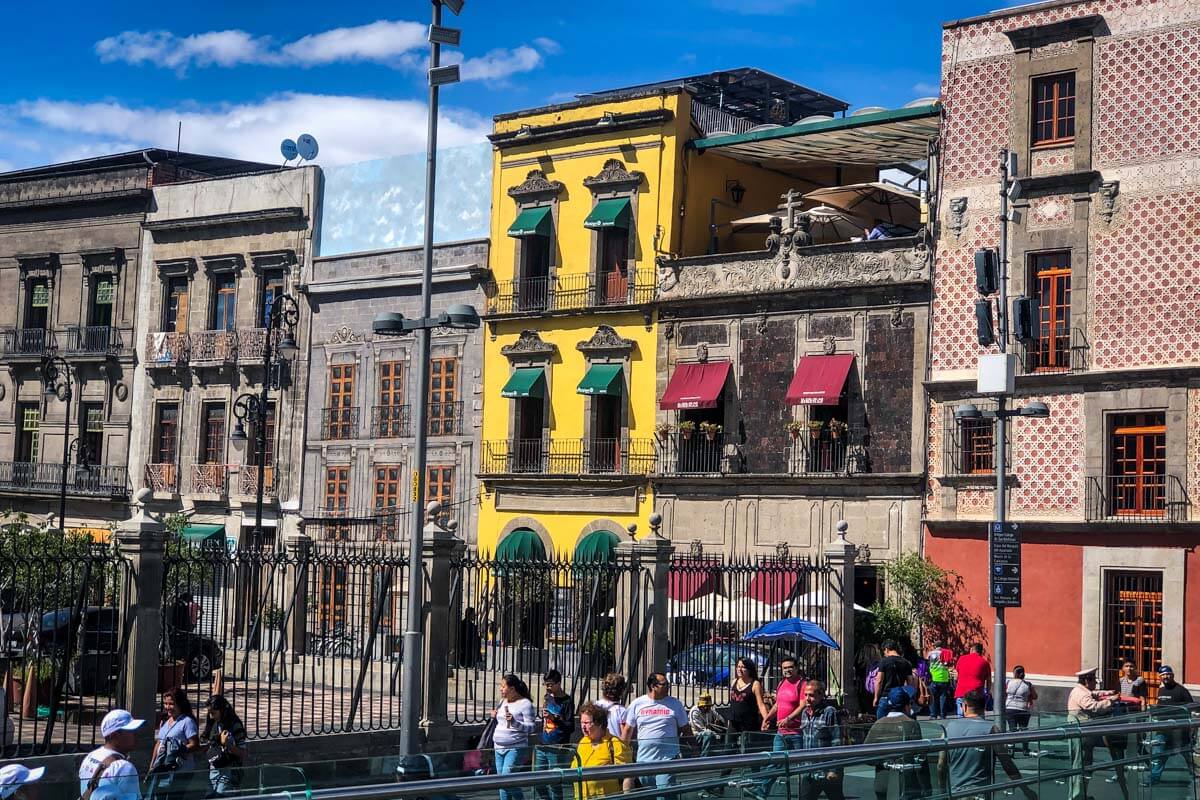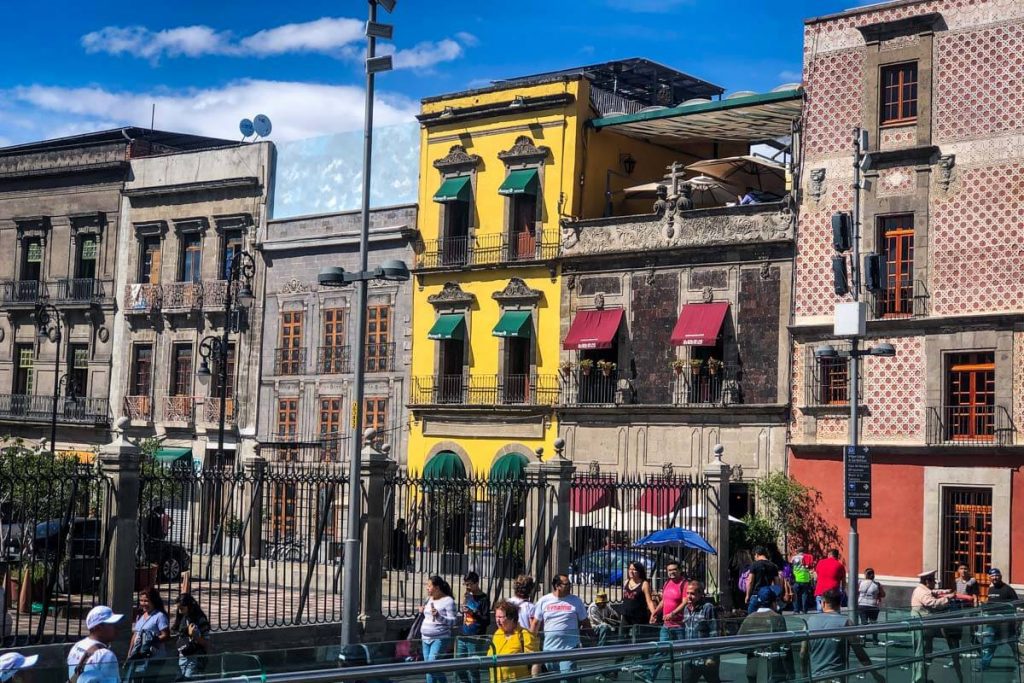 Our guide did a fine job, but the group of nearly 40 people was so big it was hard to maneuver through the streets. And paired with traffic and city noise, it was hard to hear much of what the guide was saying.
We didn't get much information from this tour that we couldn't find in guidebooks. Plus, the route would be super easy to navigate on your own, so we would advise doing a DIY tour of the downtown (Centro) part of Mexico City.
Highlights of Downtown (Centro) Mexico City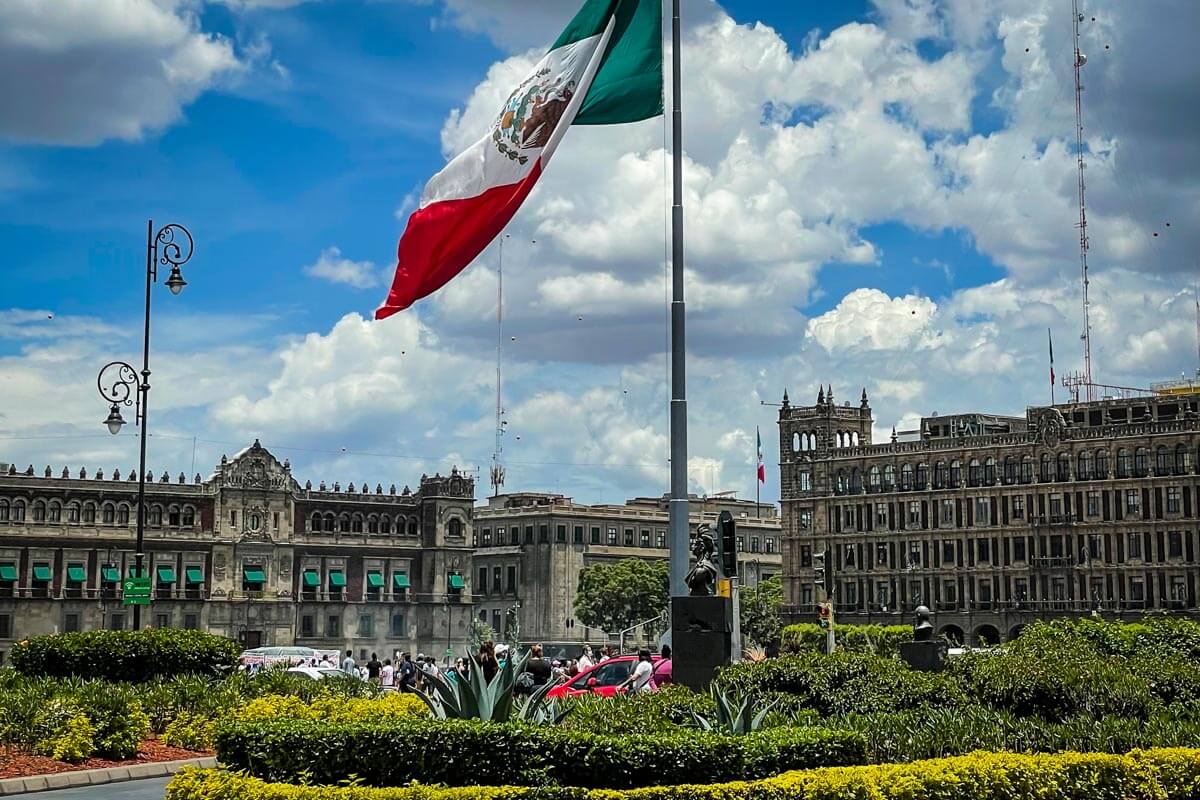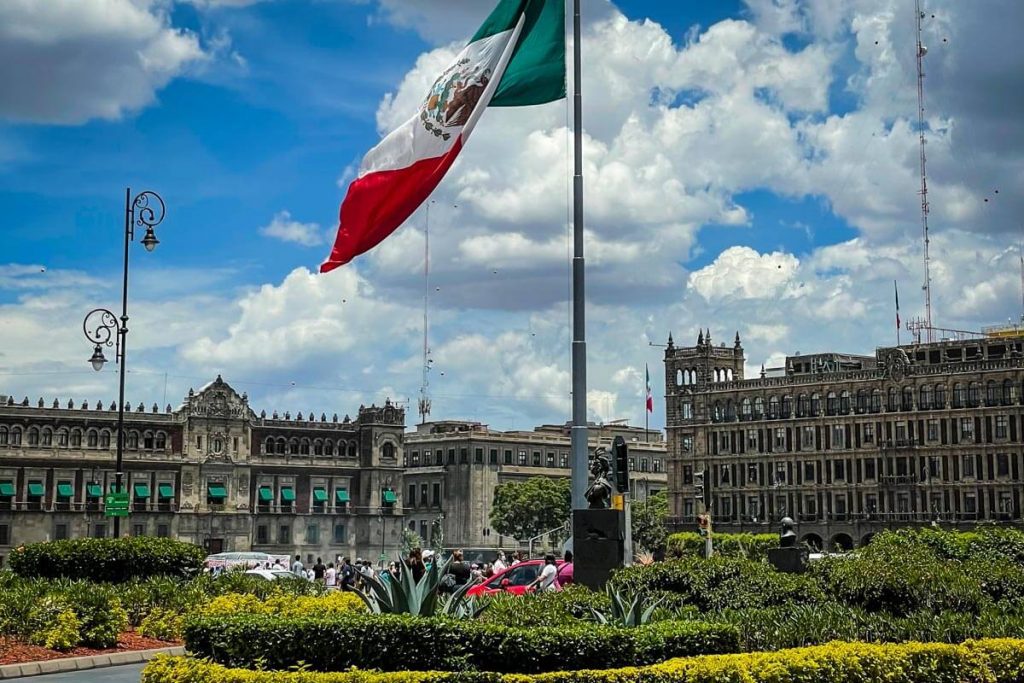 The Zocalo (Plaza de la Constitución)
Located in the heart of the historic city center, the Plaza de la Constitución (known as The Zocalo) is a good place to pass through on your DIY tour.
Centuries ago, before the arrival of the Spanish, the large square was the political and religious center of Tenochtitlan. Even today it remains a prominent cultural hub and hosts many large events including a gathering for Mexico's Independence Day celebrations on Sept 15.
Surrounding the Zolcalo is the Metropolitan Cathedral of Mexico City, the National Palace, the Historic City Hall and the Government Building. A larger-than-life-sized flag is erected in the center of the plaza, enhancing the national sentiment.
President's Office (National Palace)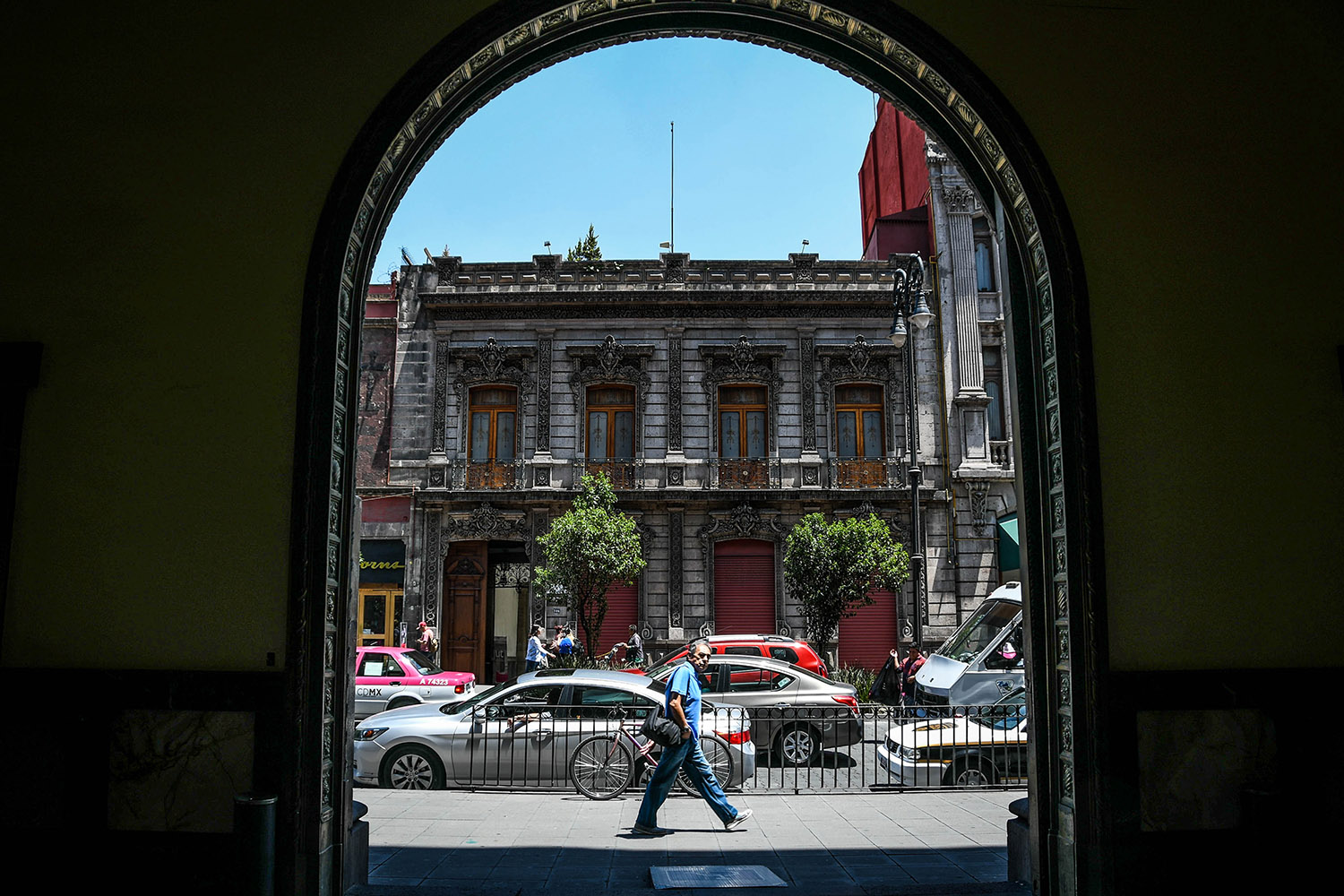 It's free to go inside and houses some of Diego Rivera's murals. Note: You must bring a photo ID (one per group) in order to enter. We didn't have anything other than our photocopied passports and a couple credit cards, both of which they would not take, so we were not allowed to go inside.
Metropolitan Cathedral of Mexico City (Catedral Metropolitana)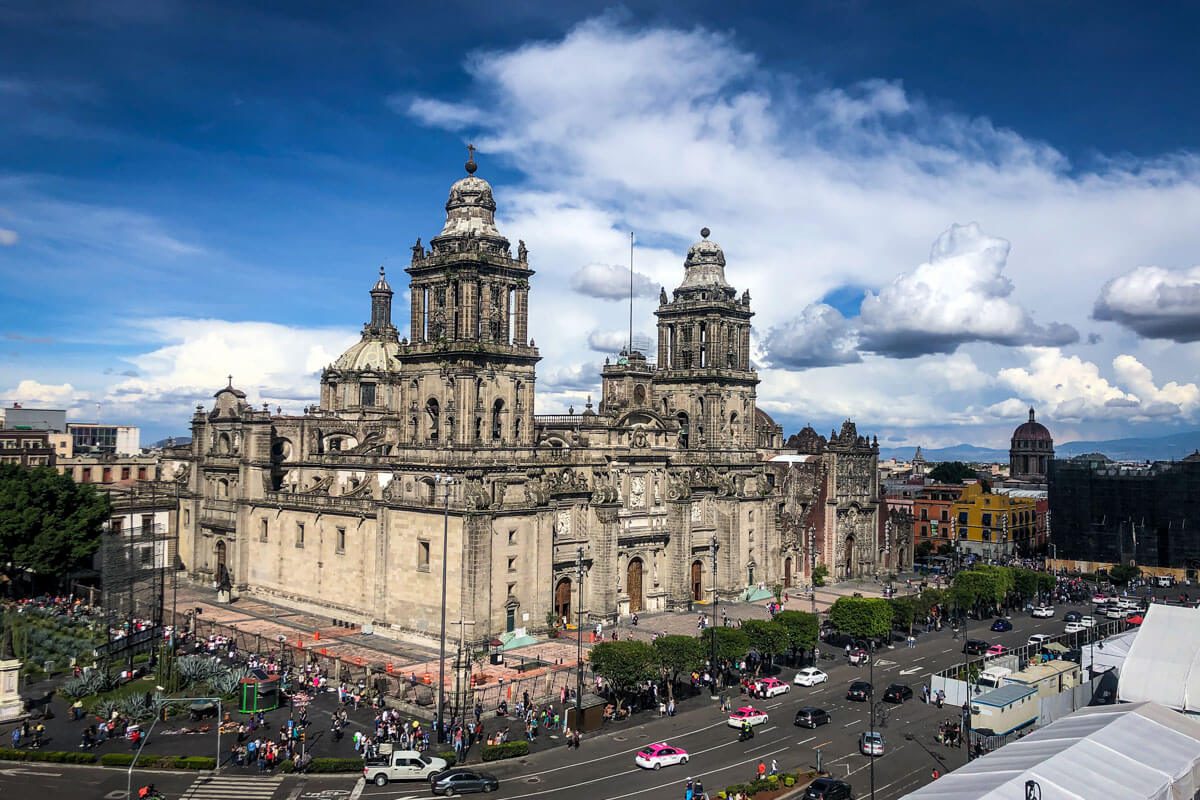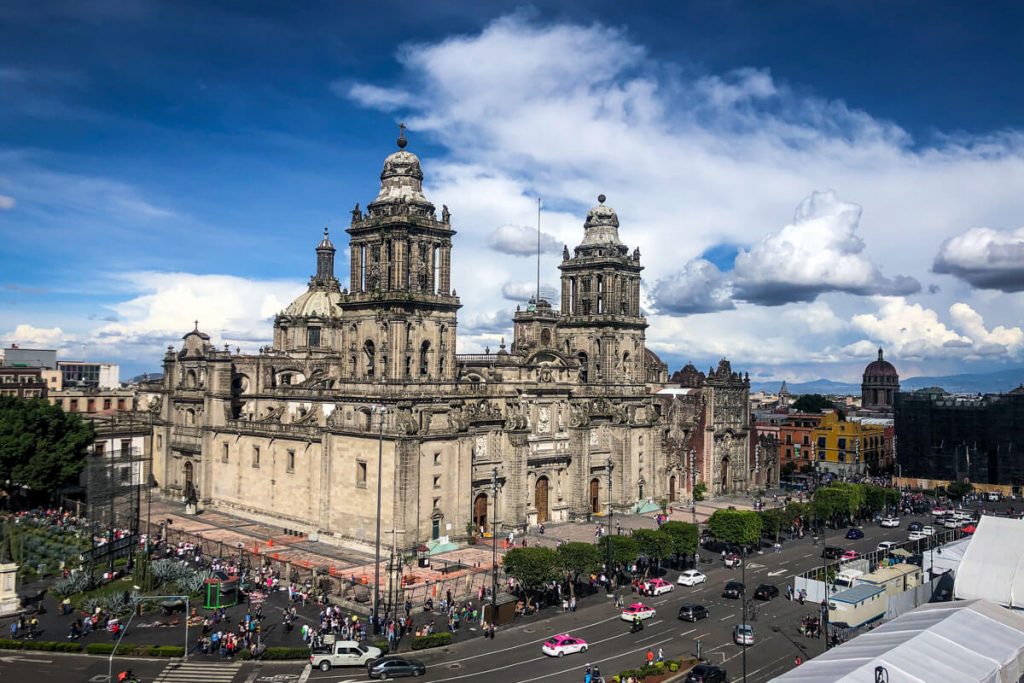 It'll be impossible to miss this ornate cathedral dominating the perimeter of the Zocalo. The Metropolitan Cathedral of Mexico City sits atop an ancient Aztec former precinct near the Templo Mayor.
The cathedral was built in sections over a span over nearly 250 years (from 1573 to 1813) integrating various architectural styles in its design such as Gothic, Baroque, Churrigueresque and Neoclassical styles.
Entrance to the cathedral is free and worth a peek inside to marvel at the architecture. Just be respectful of your surroundings and others in their place of worship.
The Fine Arts Palace (Palacio Bellas Artes)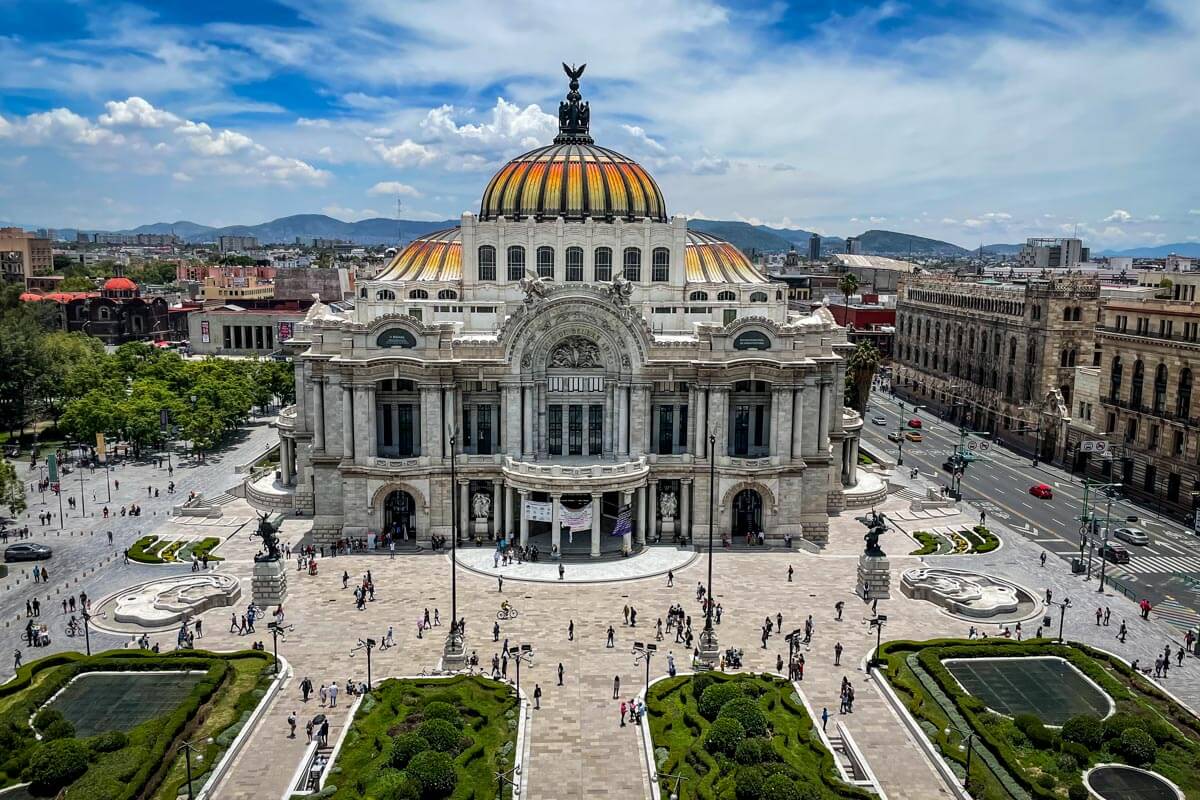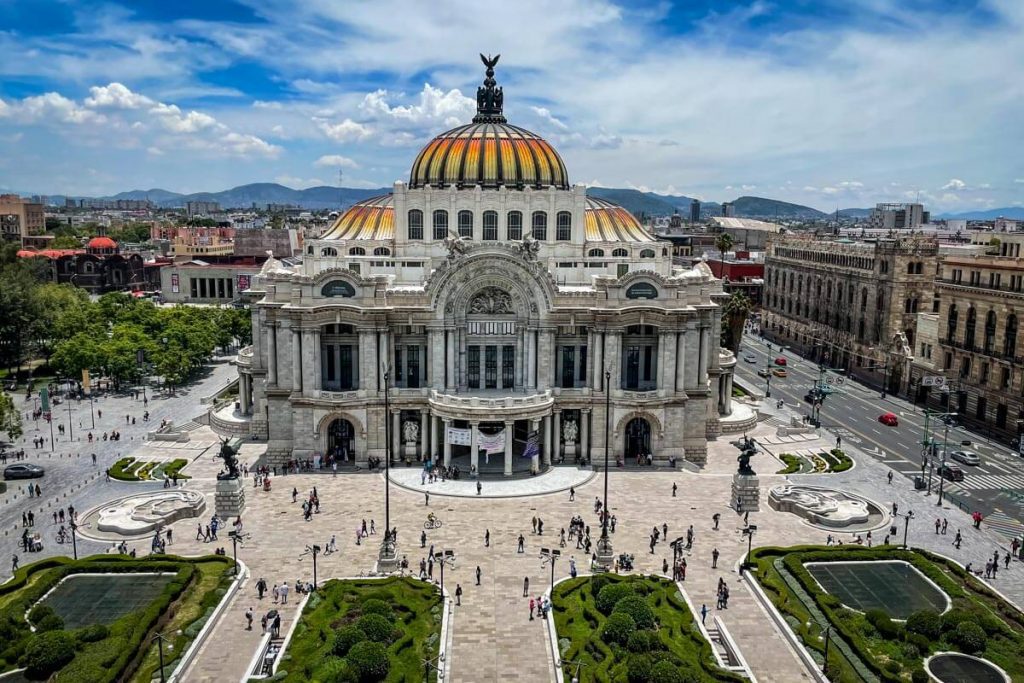 Arguably the most iconic building and a must-see in Mexico City is the Palacio Bellas Artes. Part museum, part performance hall. Inside, the museum houses murals painted by famous artists like Diego Rivera.
The building is an architectural spectacle worth a place on your tour of downtown CDMX, if only just for a glimpse.
Entrance Fee & Hours: The typical entrance fee to the museum is $70 MXN. Open daily from 11 a.m. to 5 p.m. and closed on Mondays.
Insider Tip: To get the best view of the outside of the Palacio Bellas Artes, head to the Sears building across the street (yes, there are still Sears department stores in Mexico). Make your way up to the rooftop coffee shop on the 8th floor, and don't forget your camera! You'll have to purchase a coffee or something from the cafe to sit and enjoy the view, but believe us, it's worth it!
Post Office (Palacio Postal)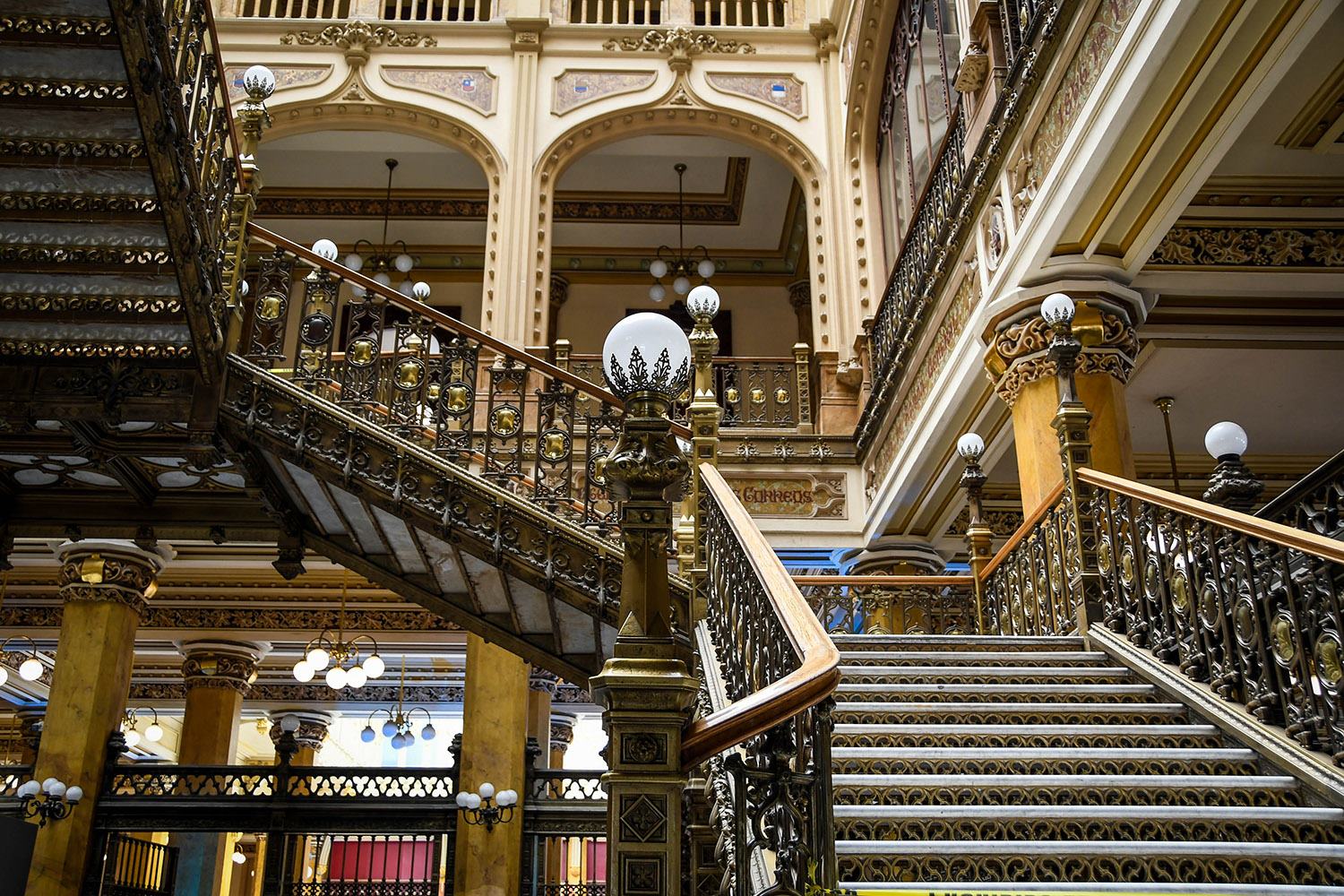 This building is beautiful with turn-of-the-century architecture. You can go in the entrance, look around a bit and take a photo.
House of Tiles (Casa de los Azulejos)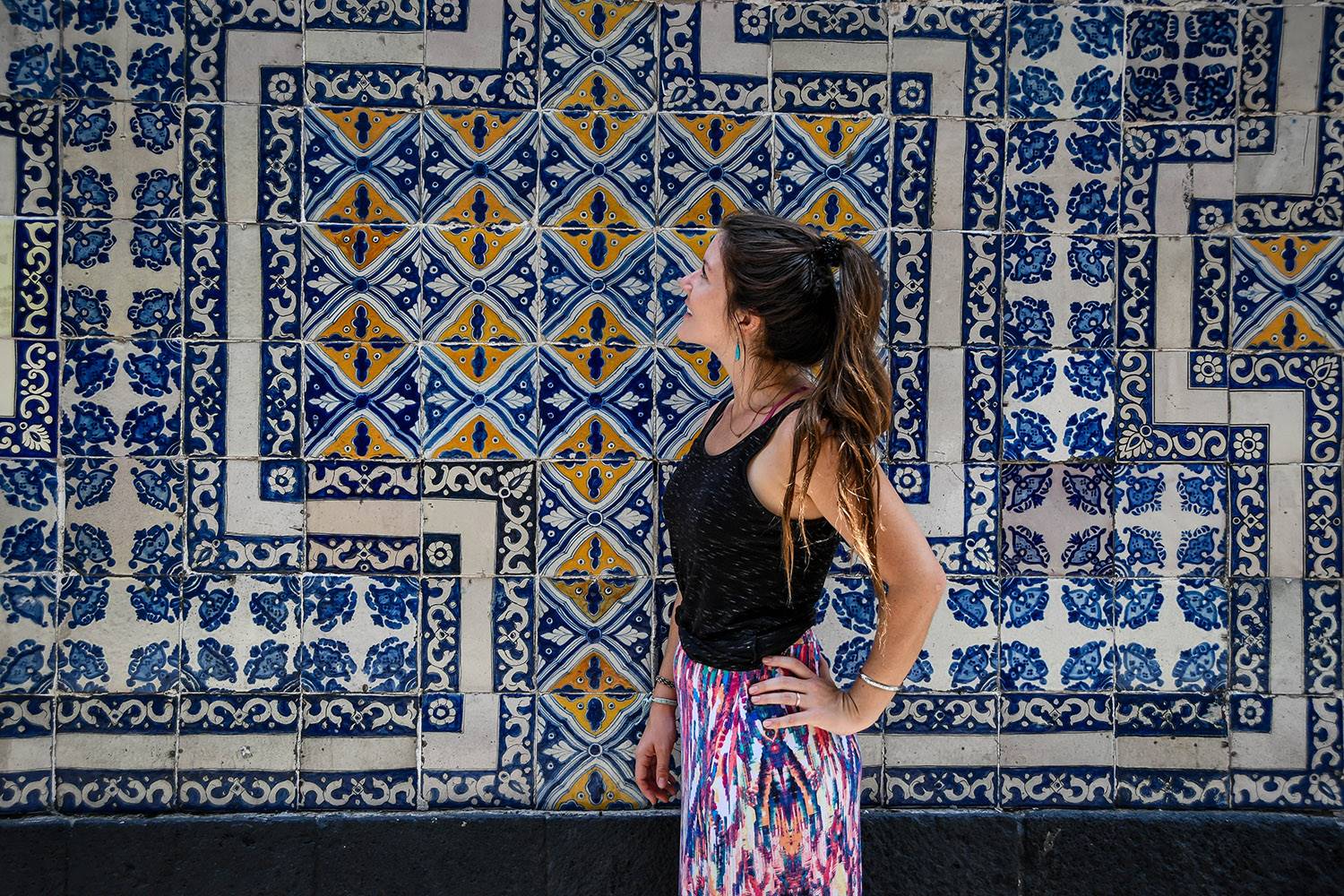 Just a few blocks from the post office, the building known as the "house of tiles" is a great spot to google at the beautiful blues or snap a few Insta pics.
Insider Tip: Lighting here is best before noon or in the late afternoon.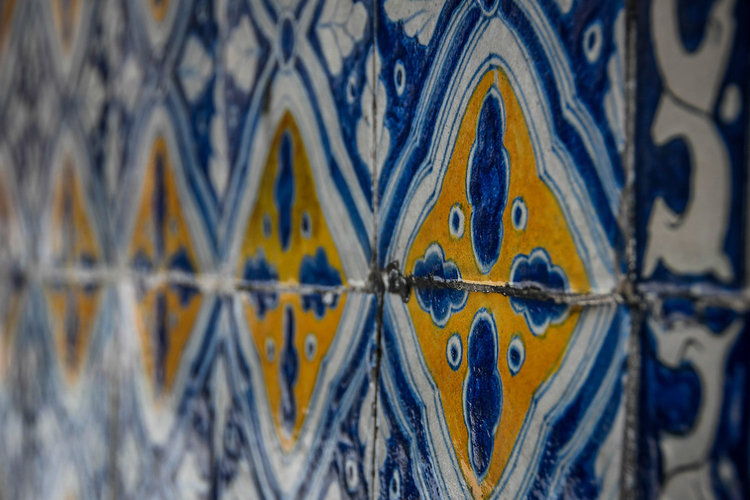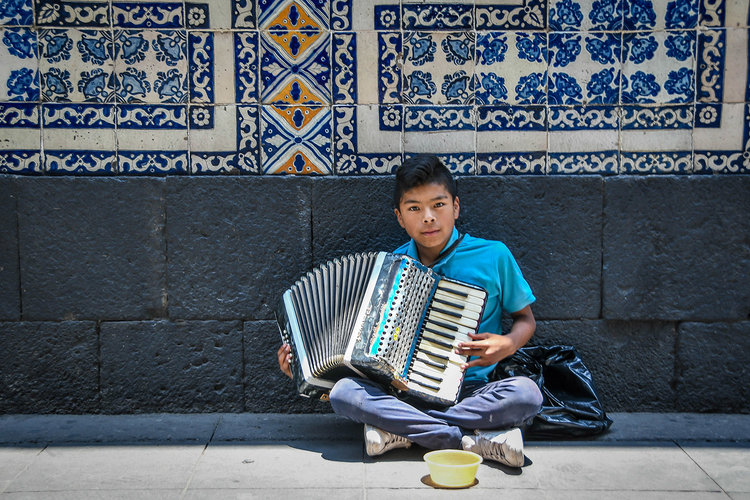 Try Churros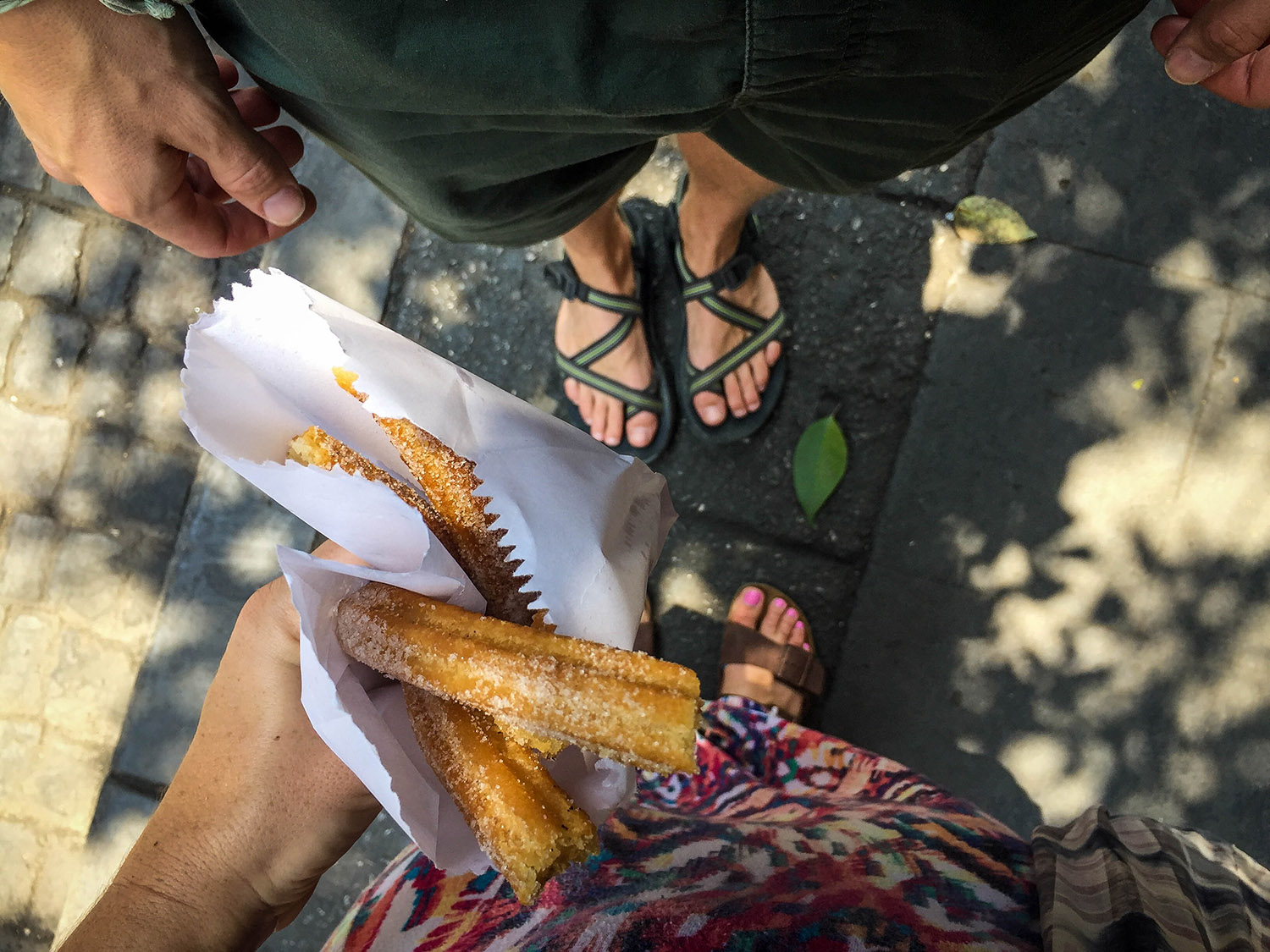 If you've got a sweet tooth, you won't want to miss out on tasting churros in Mexico City. One of the most famous places to try these cinnamon sugar magic sticks is at El Moro.
There are a couple locations in the city, but their original location in the historic district is a convenient stop while wandering around the center. They're open 24 hours a day and serve hot chocolate too, so you'll be sure to have your cravings satisfied no matter what time of the day (or night!) they strike!
Explore the Markets
Latin America has incredible markets that are well worth checking out. Mercado de San Juan is situated near the historic center, so a stop here won't be too far out of your way. This market is know for its selection of exotic meats, like crocodile and wild boar. Just wandering through and people watching is an experience.
Alternative Market: If you'd like more of a local experience, take the metro to the Merced Metro station to explore the Sonora Market. Sometimes called a "witch market", but we didn't find the nickname very fitting. Sure, you can find crystals, incense and herbs, but more of what you'll see is cheap plastic toys, shoes and food.
The appeal of this market isn't what is being sold, but instead the "local vibe" you'll get here as opposed to some of the busier markets. It's certainly not a tourist attraction, and is only really worthwhile to add to your itinerary if you enjoy people watching and local experiences.
Note: Beware that this market begins from the metro station and it can be quite a maze to get through!
Afternoon
Jardin Chapultepec: Beer Garden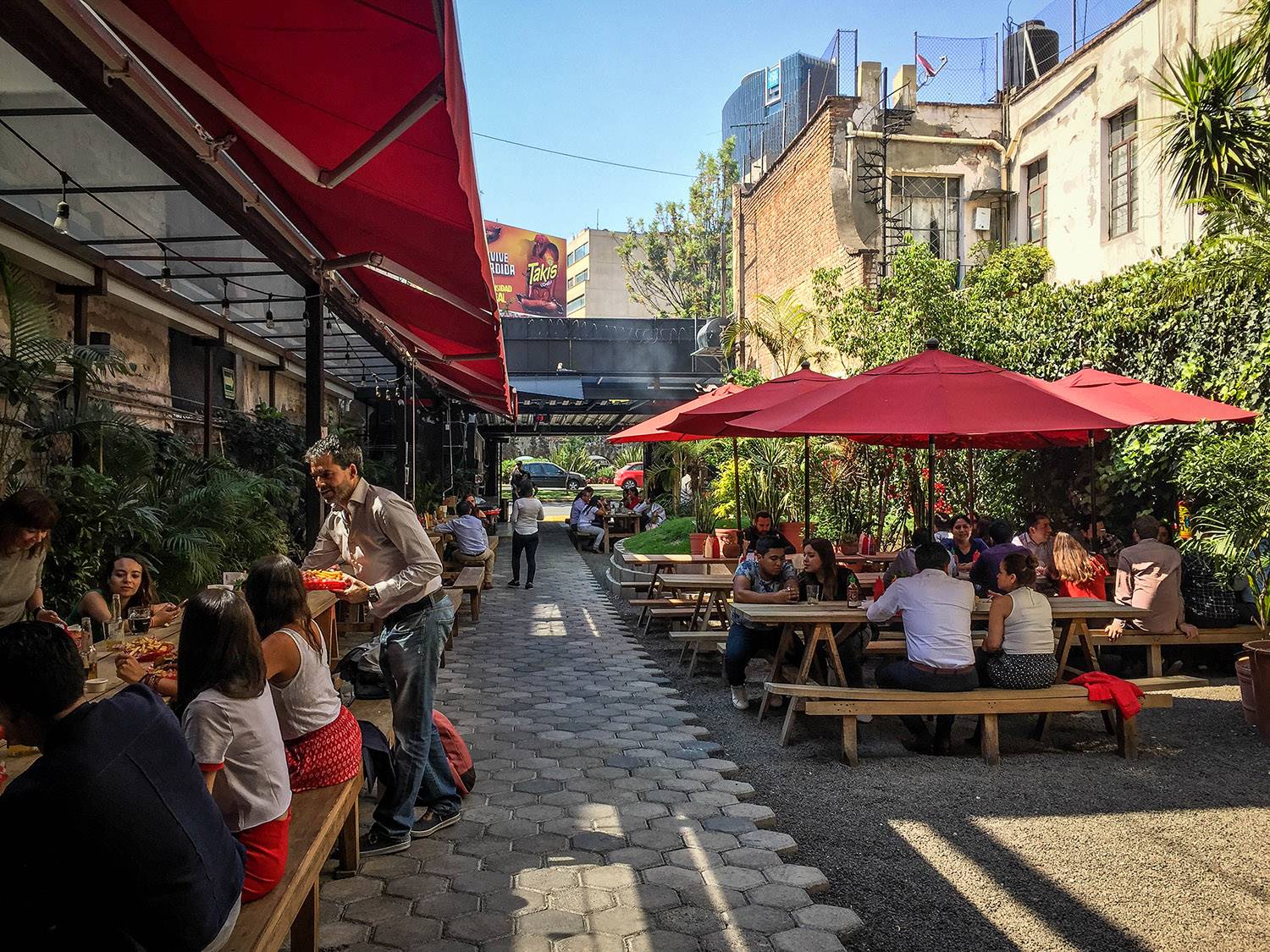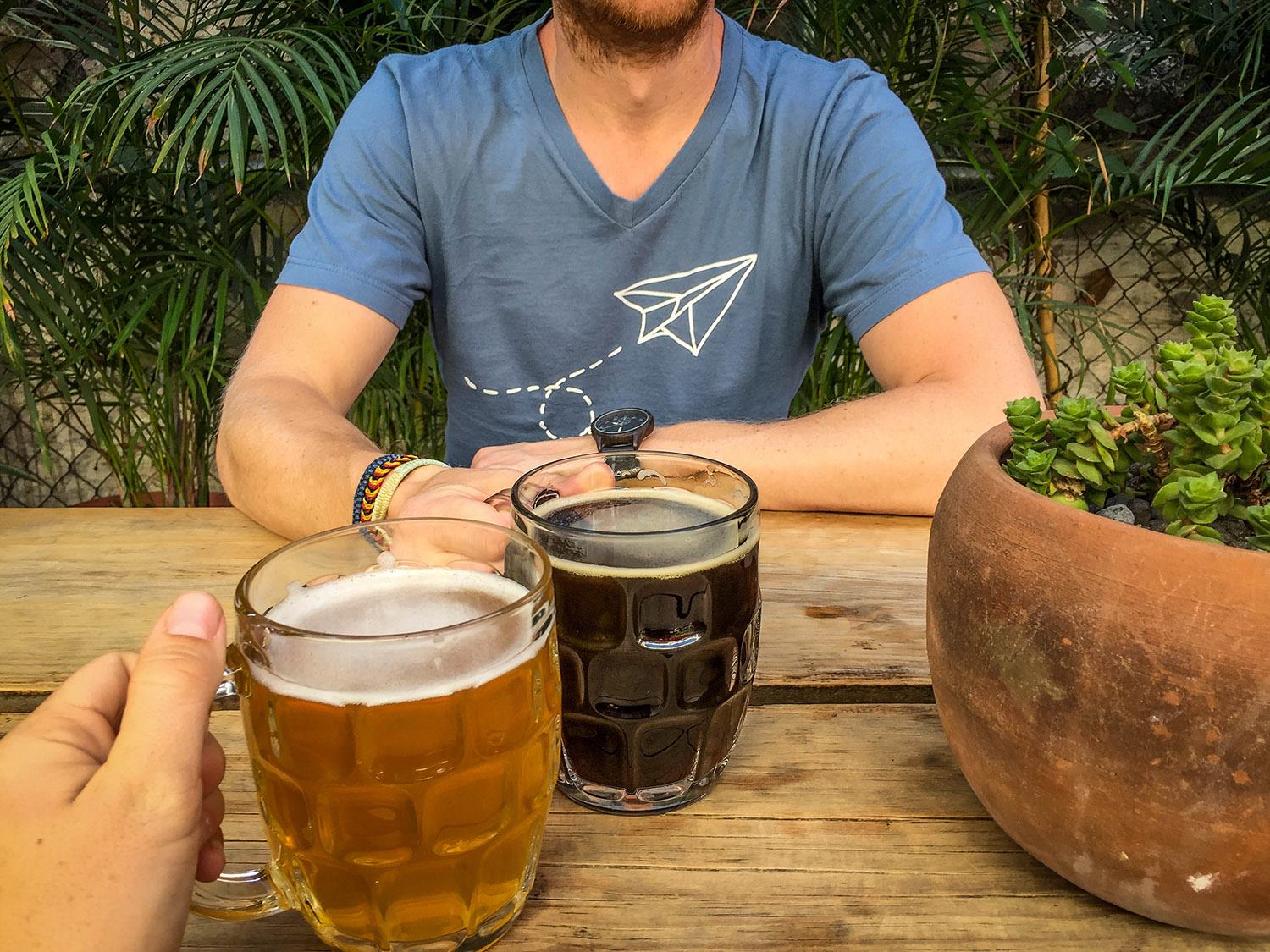 If you love craft beer as much as we do, you won't be able to resist this sunny beer garden that serves up some great brews at a reasonable price. The atmosphere here is fun, with young professionals gathering with friends after work.
The food also looked great here. We were drooling over the tacos the person next to us was eating (complete with a big slice of queso fresco and avocado), but when we went up to order some, they had run out!
Evening
La Pitahaya Vegana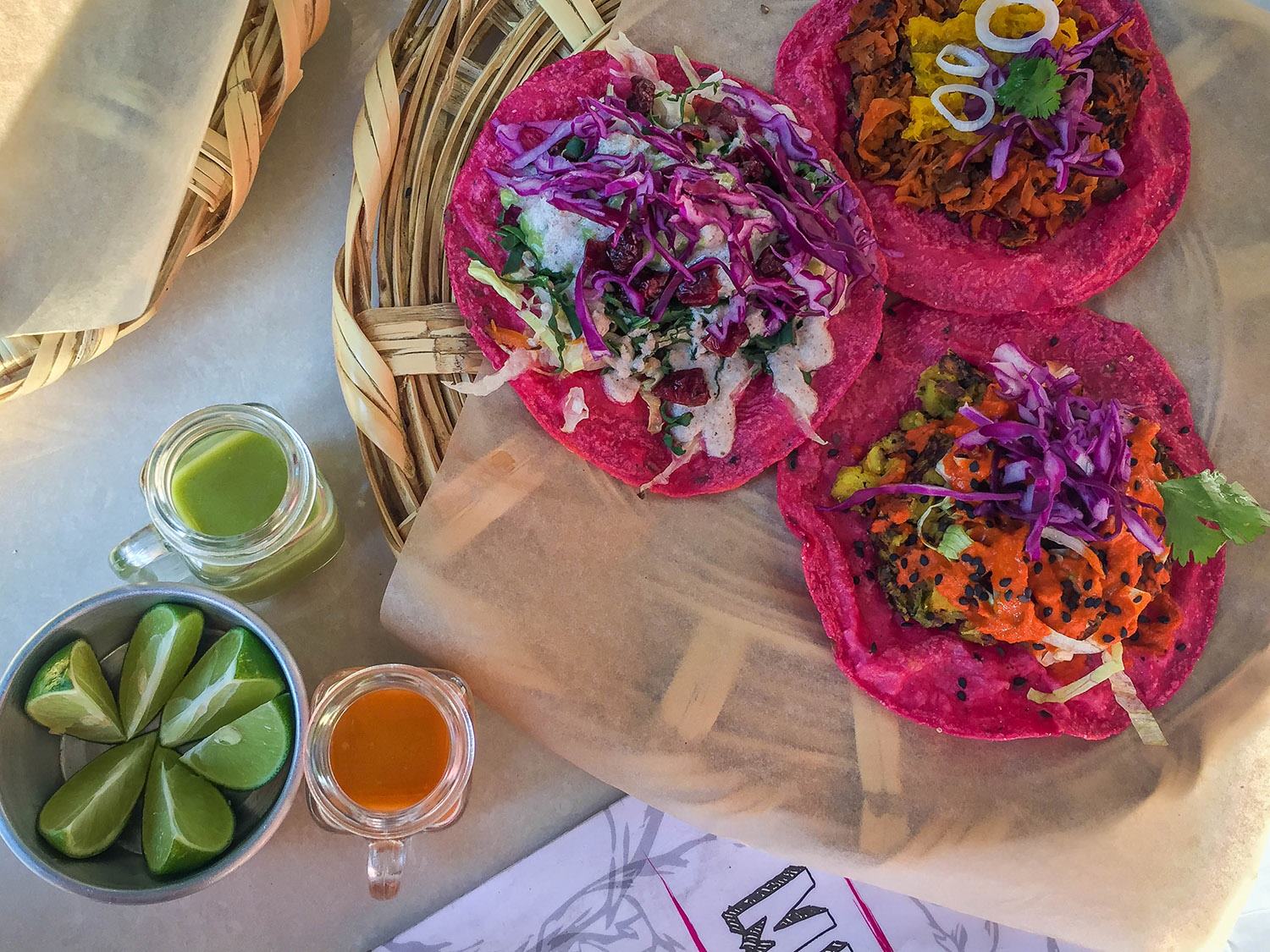 Whether you're a practicing vegan or you just like a good veggie meal every once in a while, La Pitahaya Vegana, is a great stop for a taco sampling.
Compared to the tacos you'll find on the street, these are relatively expensive at 120 pesos for three. But with creative combinations like cauliflower with coconut cream and pineapple or potato and coral tree flower curry made with love in a sustainably-run kitchen, we thought the equivalent of $4 USD was worthwhile. Plus, the woman running this place is super sweet.
Good to know: If you want a beer with your vegan taco, you'll need to arrive before 5pm since they stop serving alcohol at that time.
Mezcal Tasting at La Nacional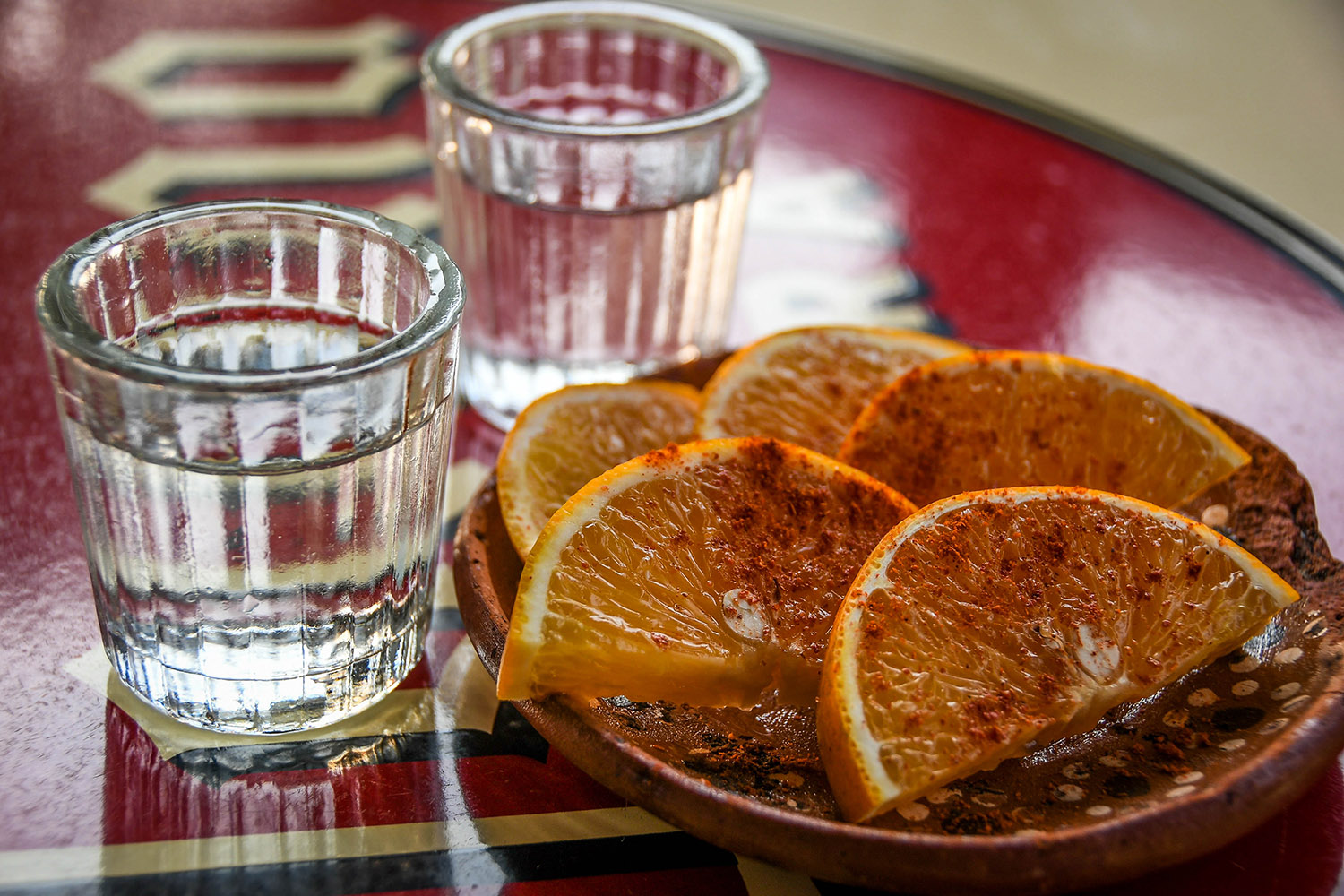 Literally right across the street from La Pitahaya Vegana is La Nacional, a well-known mezcal tasting bar. What's the difference between a mezcal bar and a regular bar, you might ask? We had the same question, and well, the photo above will give you a little hint!
With tons of different strains of mezcal to choose from, the people here really know their stuff. They'll serve you oranges sprinkled with worm-chili salt. To nibble on between sips, and slices of carrots and jicama to cleanse your palate. Hint: Sip first, then eat the orange.
Though not cheap (each 1.5-ounce serving costs between 80 and 200 pesos), it is kind of a fun way to try the difference in mezcal. If you're with a partner, try two different types and compare!
Watch a Lucha Libre Wrestling Match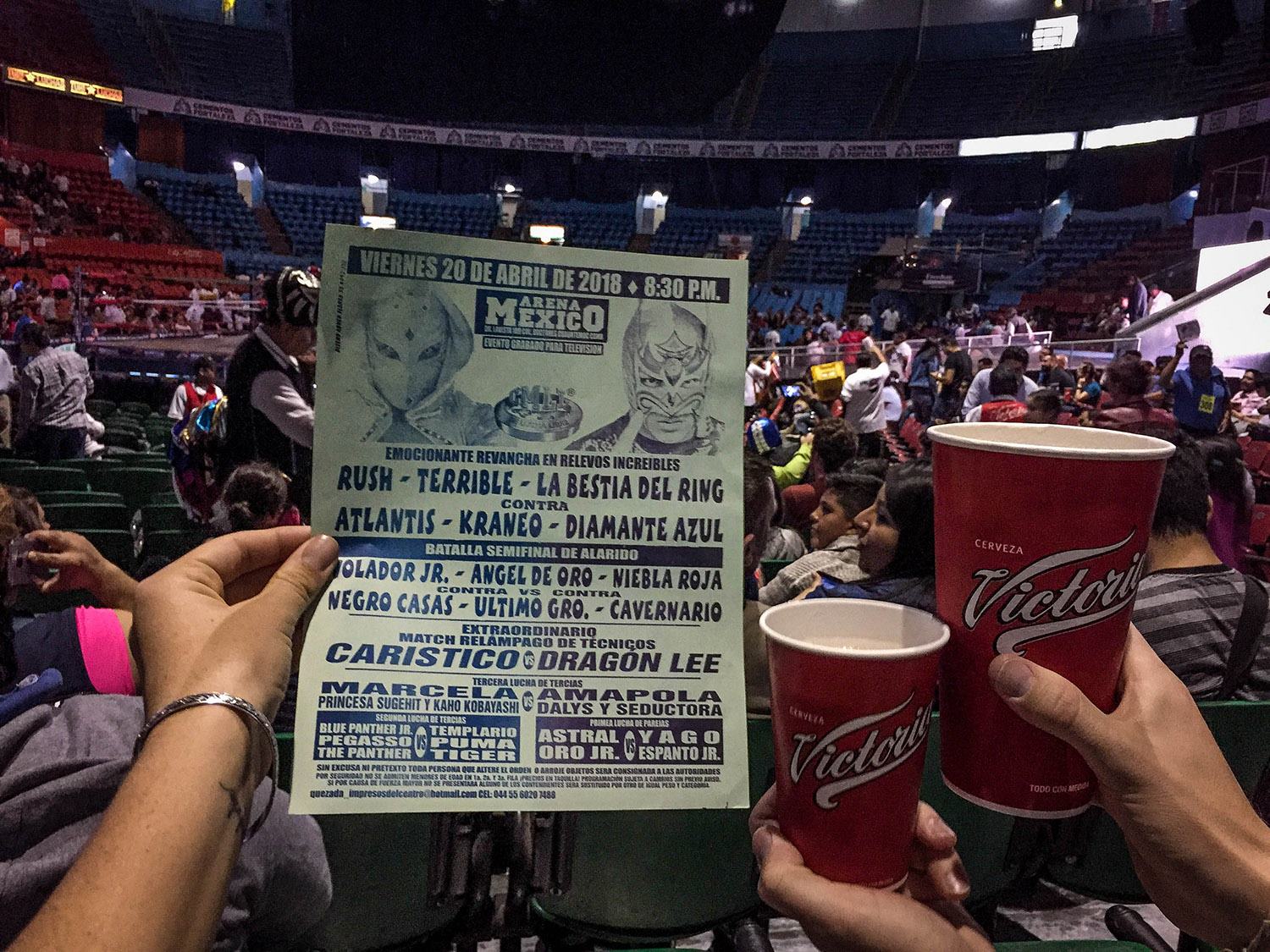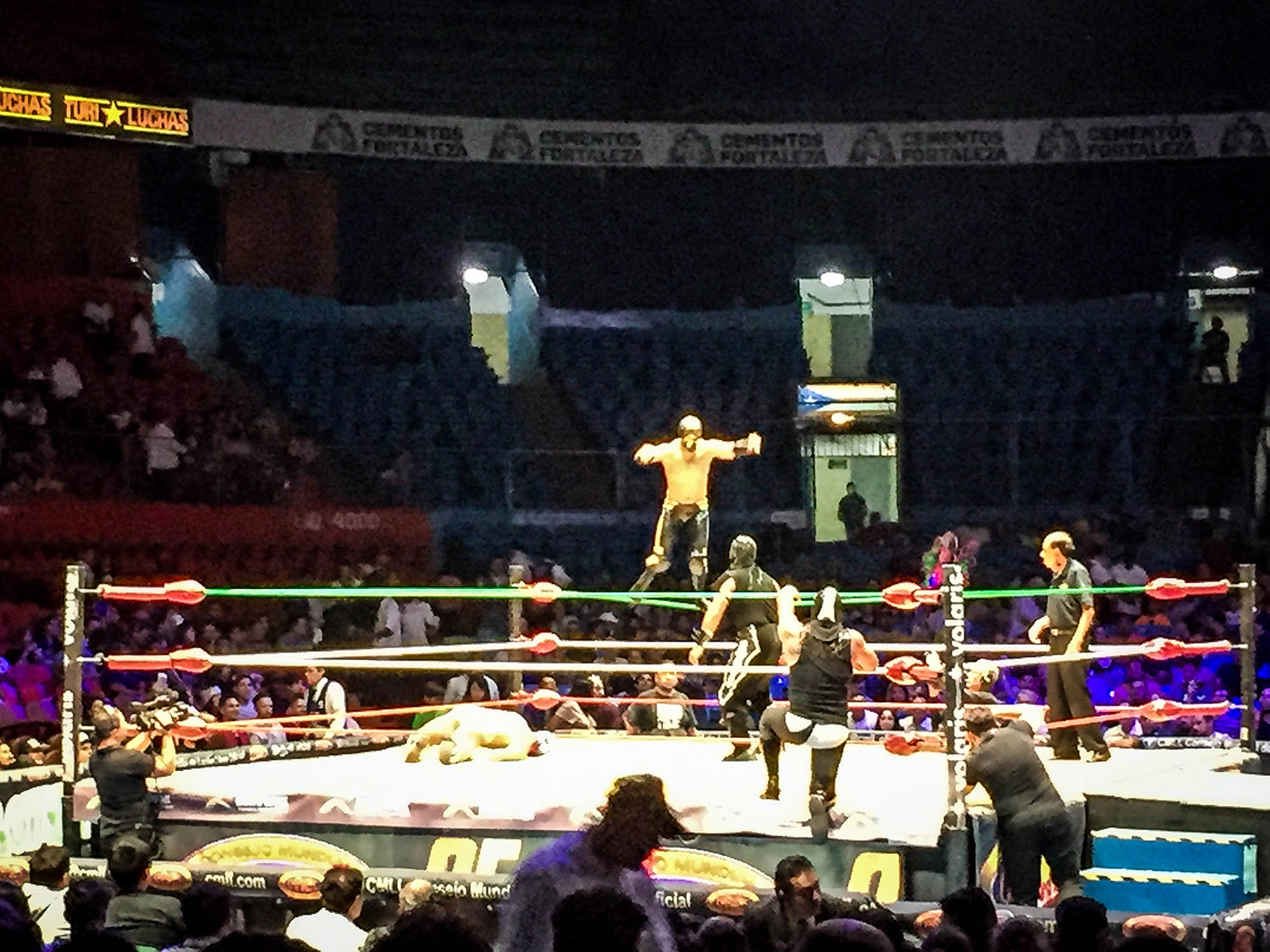 Before arriving in Mexico City, we'd heard that going to a Lucha Libre show was a fun experience, but we couldn't find much information about going to one of these Mexican Wrestling shows on your own.
It seemed as though most people writing about this experience went with a guided tour. And while that might be a good option if you're traveling solo and want a bit of camaraderie, it is totally doable (and safe!) to go on your own!
We loved our experience watching the Lucha Libre match. It was fun, crazy and full of bad acting and acrobatics.
And one of the best parts is it is super cheap (that is, if you go without a tour group!). At just around $10 per person, we thought it was a really fun way to spend the night without blowing all our pesos. We created a whole article on how to book and watch a Lucha Libre match on your own.
Related reading: More cheap things to do in Mexico City
Other things to do in Mexico City if you have more time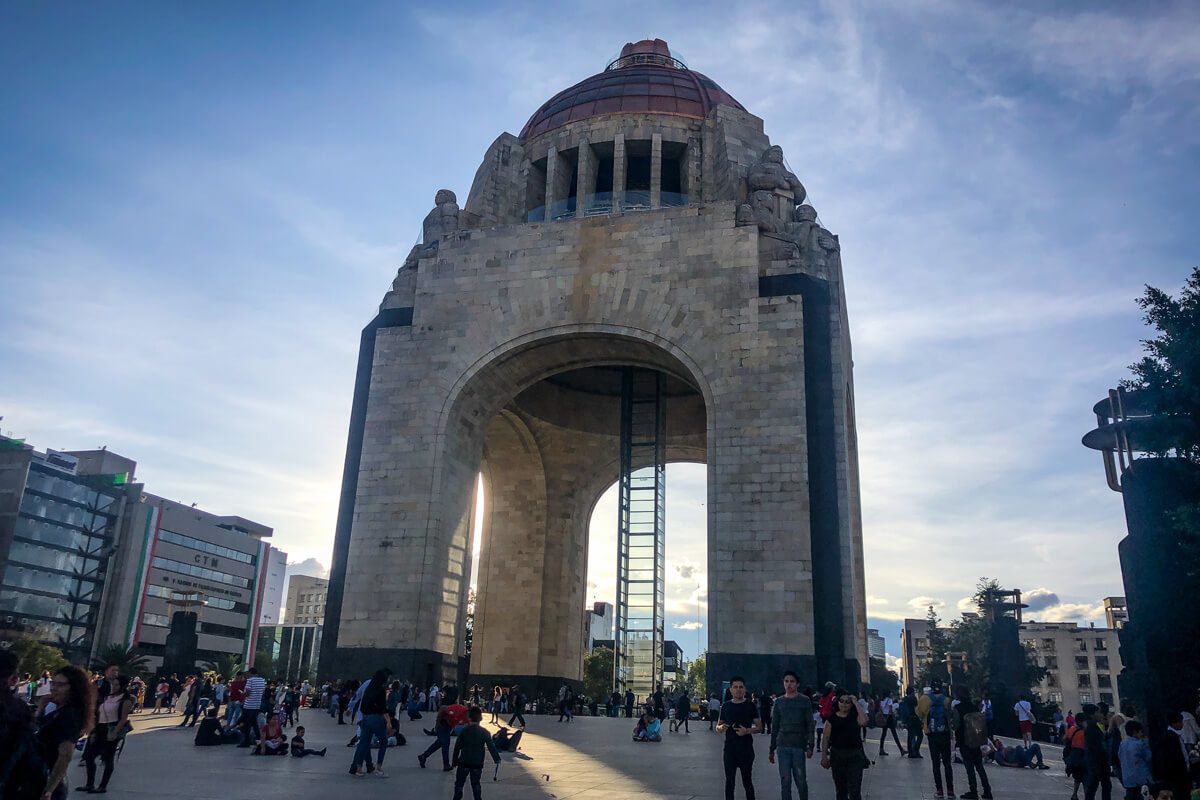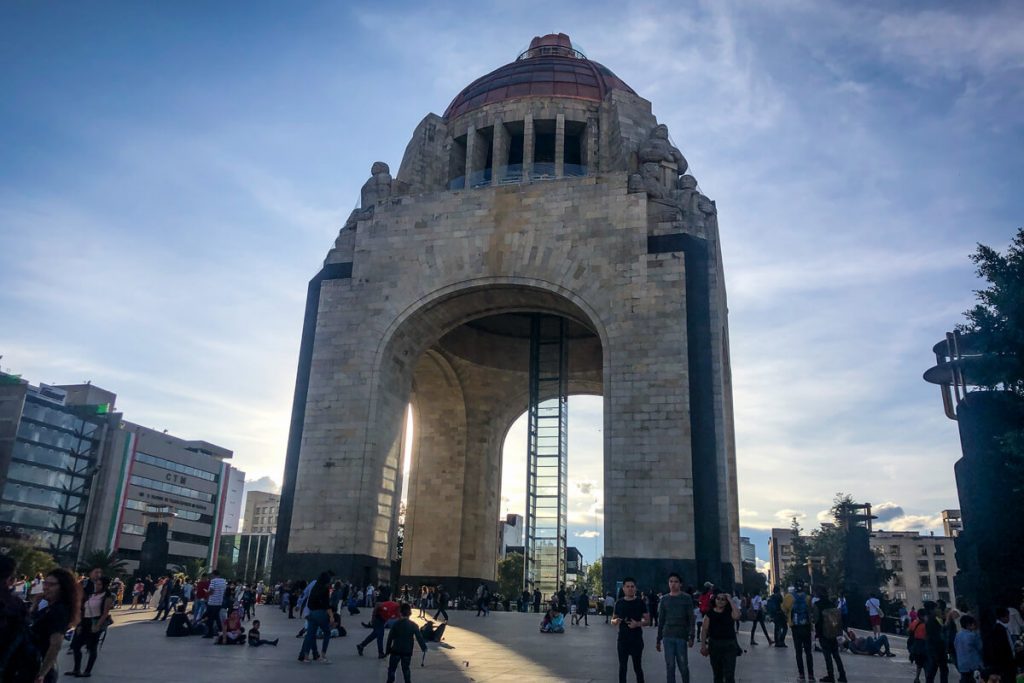 Monument to the Revolution (Monumento a la Revolución)
This landmark monument commemorating the Mexican Revolution is located in the Plaza de la Repúblics, just across la Reforma from the historic city center.
Before the Mexican Revolutionary War, the building was originally planned as a Federal Legislative Palace. Construction was halted during the war and left unfinished with only the dome in place. Five years later, the structure was converted into a monument considered to be the tallest triumphal arch in the world (at 220 ft high!).
Today it's part architectural feat, part gallery and part tomb.
Yes, you read that right. It's actually the final resting place, containing the tombs of some of Mexico's revolutionary heroes.
Visitors can take in the views from the observation deck or access the summit (at an extra fee) with a round terrace and panoramic views of the city. Then check out the National Museum of the Revolution, which is housed underneath the monument.
Vasconcelos Public Library (Biblioteca Vasconcelos)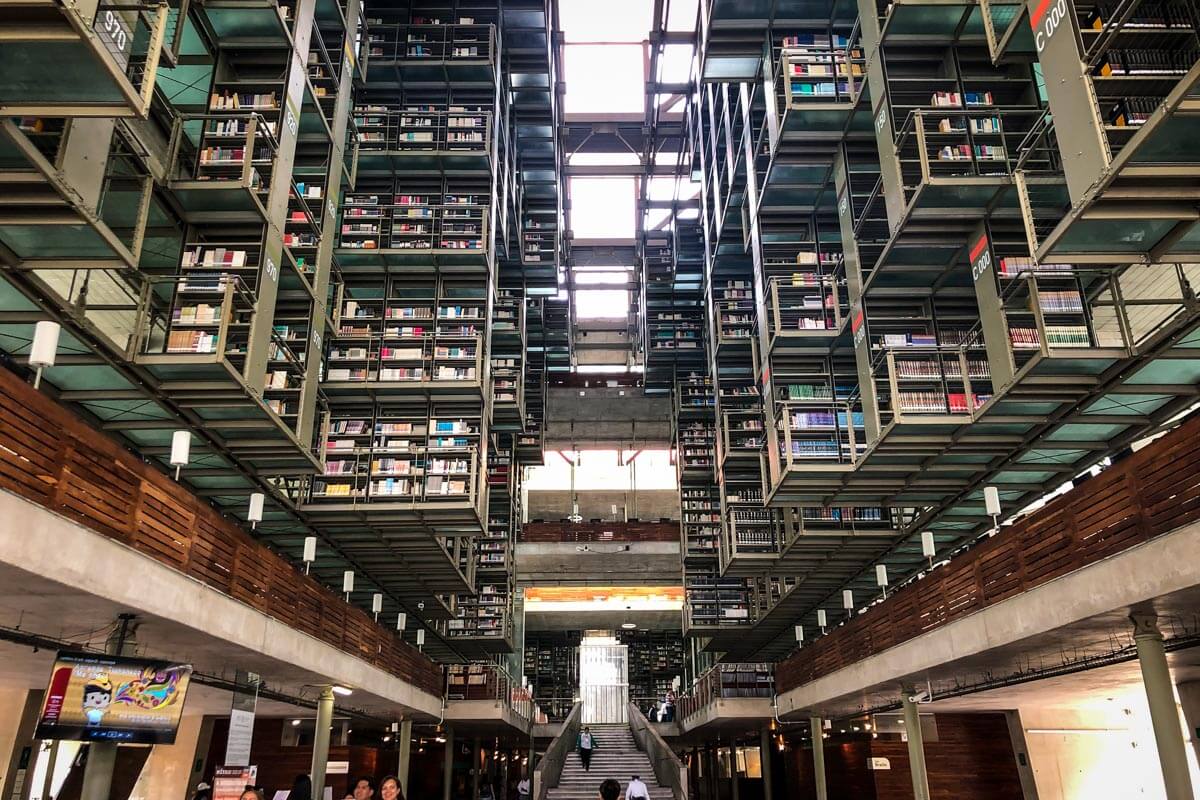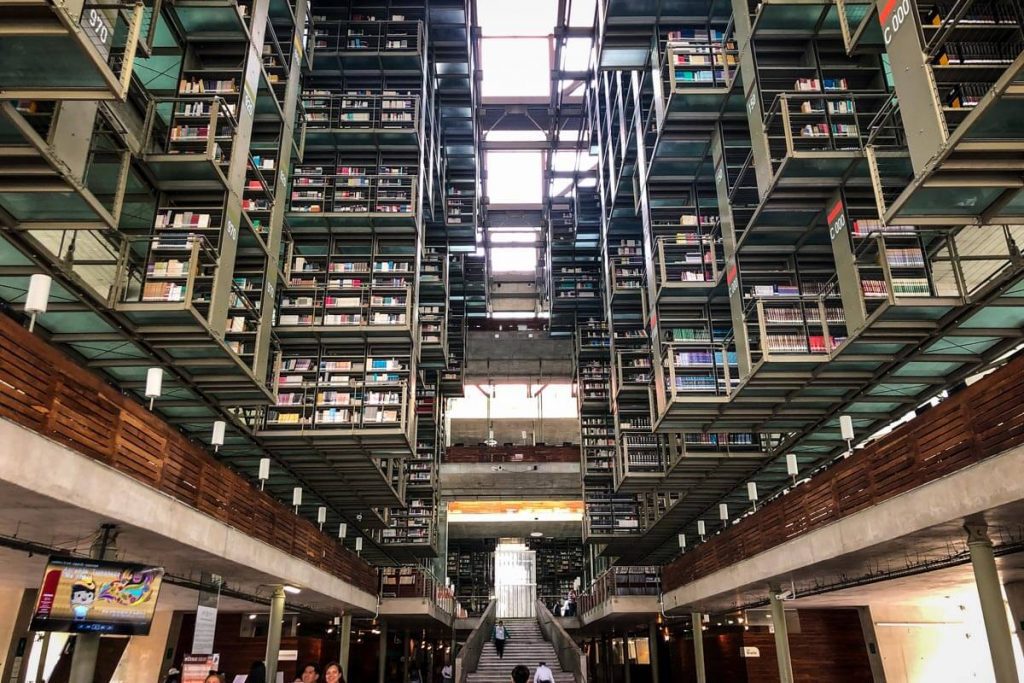 You may be thinking to yourself, now why on earth would I want to spend my time in Mexico City visiting a public library? I have plenty of those at home…
This isn't just any public library. Since its completion in 2006, the library has been called one of the most advanced constructions of the 21st century.
Dubbed the megalibrary by the media, the massive structure is spread out across over 400,000 square feet and features multiple stories of intentionally misaligned stacks and transparent walls giving it a geometric affect like none you've ever seen.
Spend a few minutes or a few hours wandering through this remarkable structure, snapping a few photos, or getting lost in a book.
How to get there: The library is located in an area of downtown Mexico City at the Buenavista Train Station where the metro train, subway and metrobus meet.
Other Mexico City Museums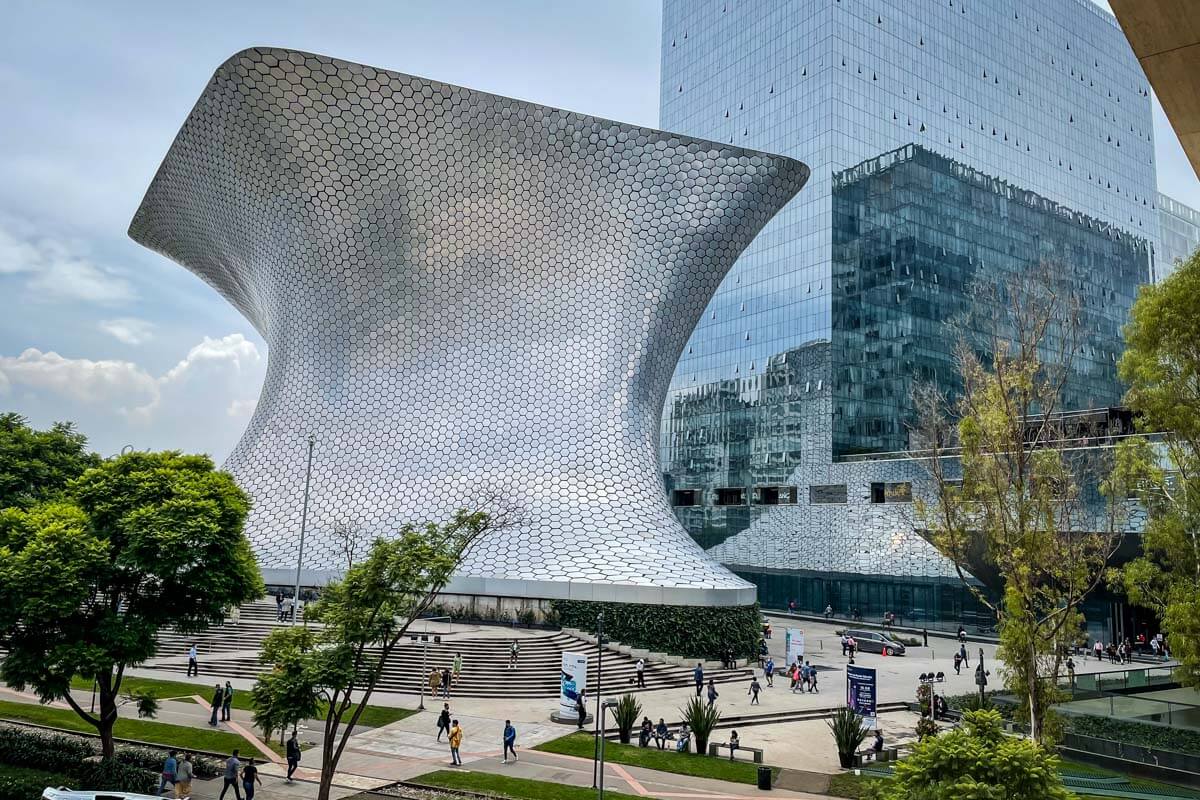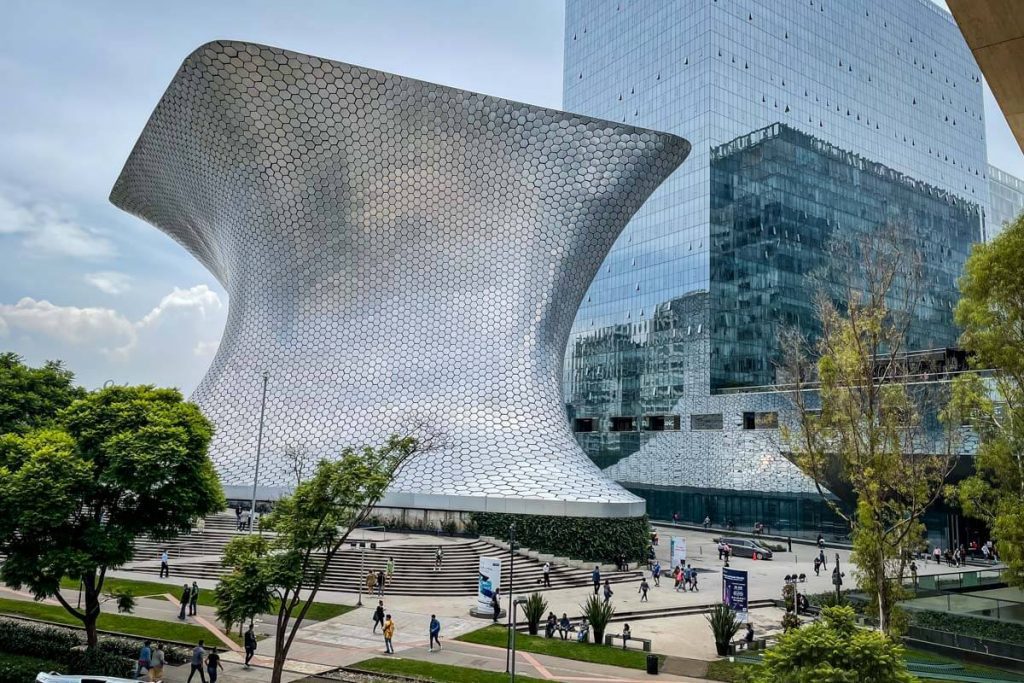 Rent a bicycle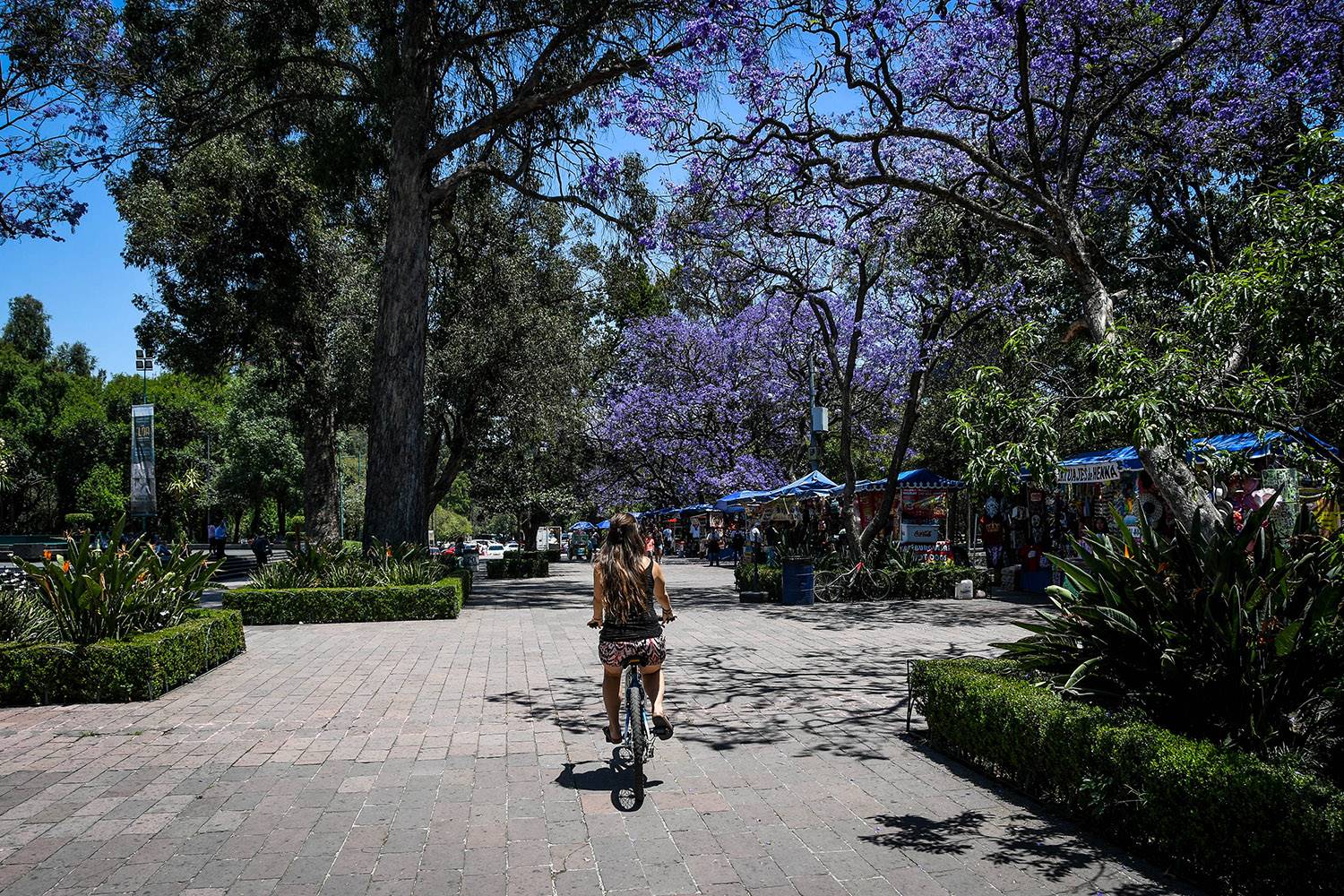 You may be surprised to find just how bike-friendly CDMX really is. You'll find affordable rental stations on just about every block in the city's center as well as dedicated bike lanes on the major roads. Getting around by bicycle is not only easy and affordable, it's one of the fun things to do in Mexico City.
If you happen to be here on a Sunday, join the crowds riding their bikes down the Paseo de la Reforma. This is typically one of the most congested streets in CDMX, but it is closed to all motorized vehicles every Sunday from 8 a.m. to 2 p.m.
This government-backed initiative is meant to encourage residents to get outside and lead a more active lifestyle. You'll see hundreds, if not thousands, of locals and tourists alike taking over the street on bikes, rollerblades, and on foot.
Seek out a mariachi performance in Plaza Garibaldi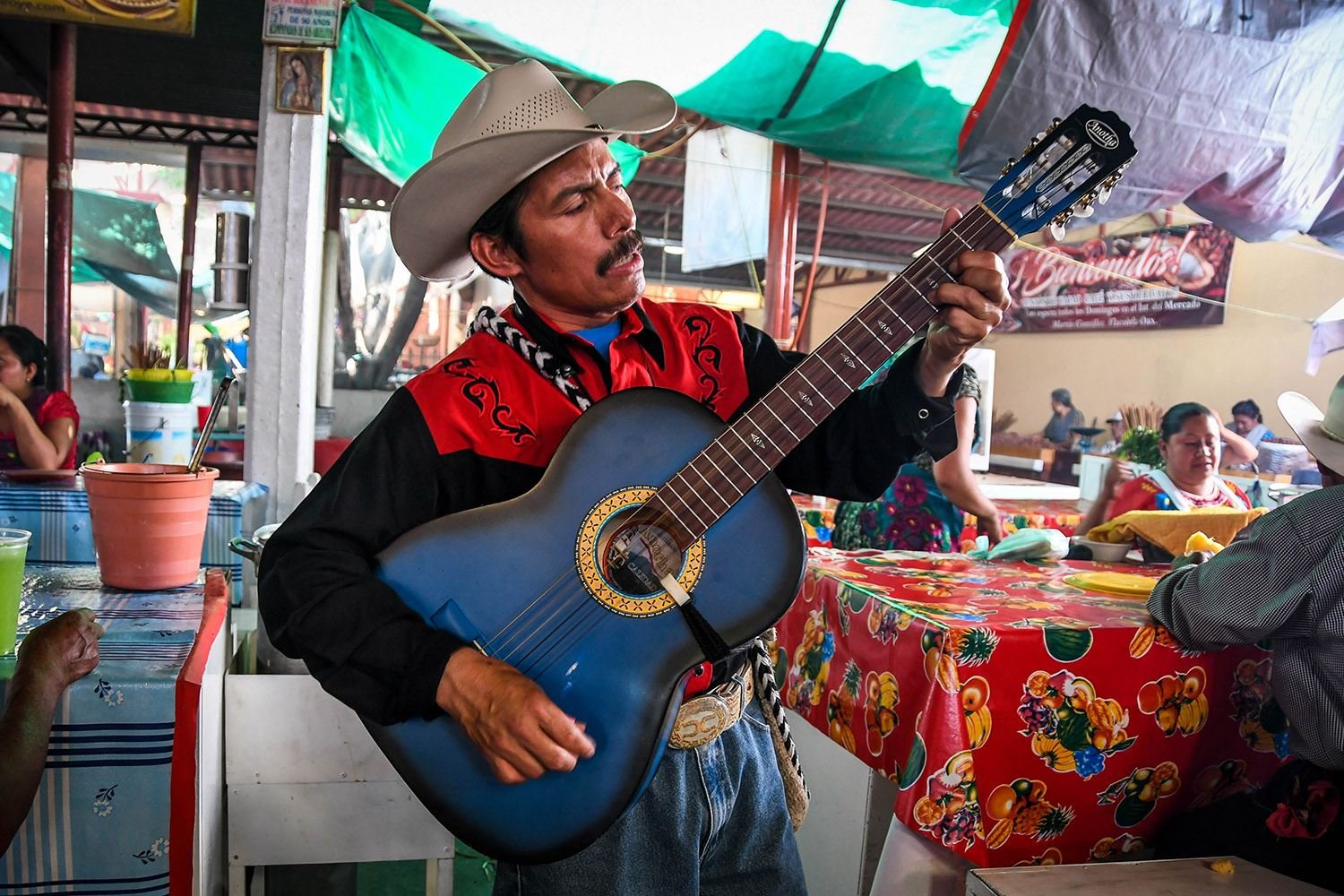 This style of music is ubiquitous in Mexican culture, and it's likely you'll hear the catchy melodies of stringed instruments and cheerful voices without searching hard. Make your way to Plaza Garibaldi, also known as Mariachi Square, to see a singing quartet in their signature suits.
Join a Mexican cooking class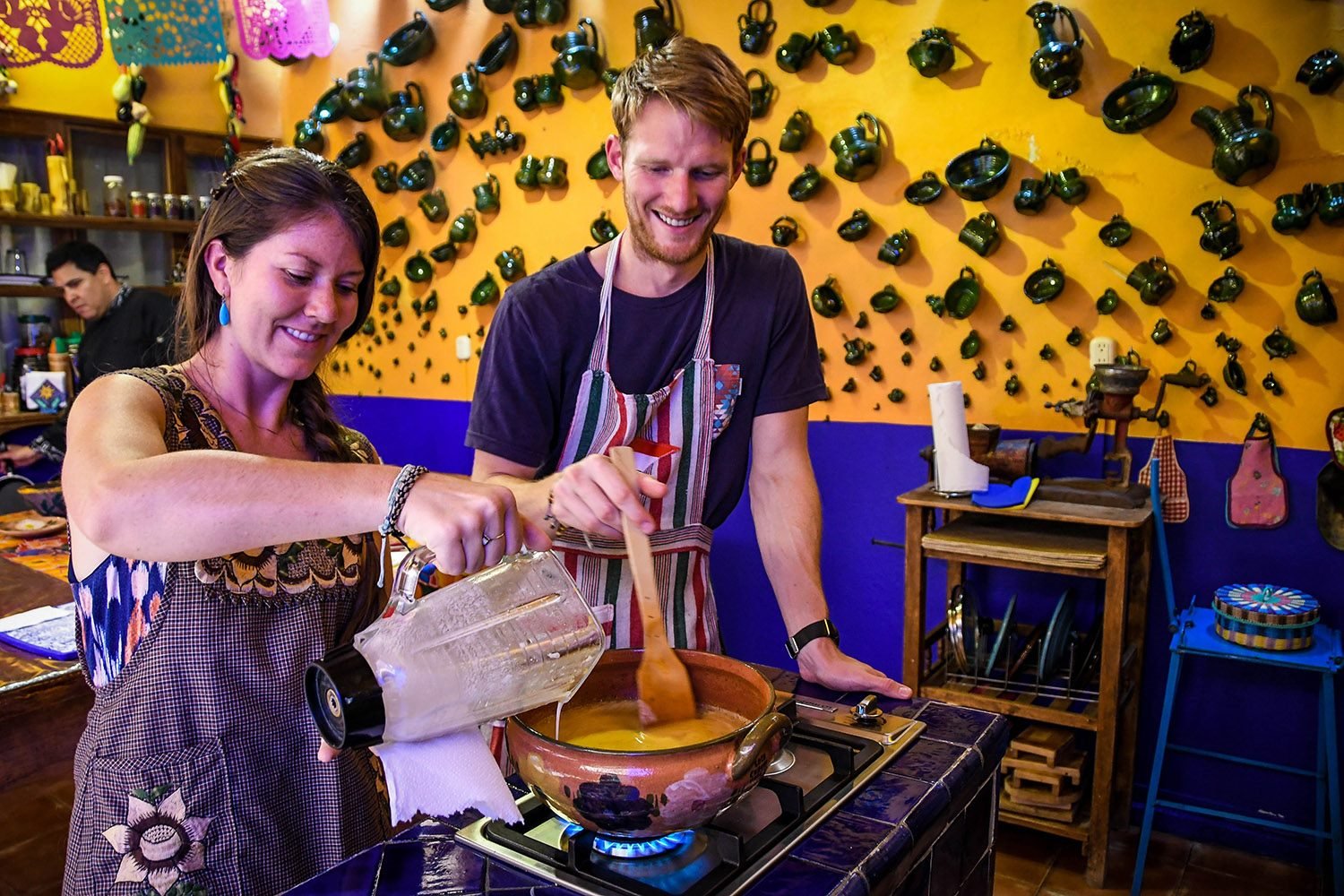 If you want to take your knowledge of Mexican cuisine to a whole new level, one of the best things to do in Mexico City (and one of our favorite things to do on all of our travels) is taking a cooking class.
Learn local secrets for making handmade tortillas, marinated meats and freshly prepared mole, passed down through generations.
Let your foodie heart delight as you enjoy the best meal of your time in Mexico, while learning skills you can take with you!
We firmly believe that cooking classes are one of the best (and tastiest!) ways to connect with a local and gain a deeper understanding of a country's culture.
Day Trips near Mexico City
If you have more than 3 days in Mexico City (or aren't interested in some of the activities listed above!) consider taking a short day trip just outside the city. We're describing two of the most popular choices.
Teotihuacán Ruins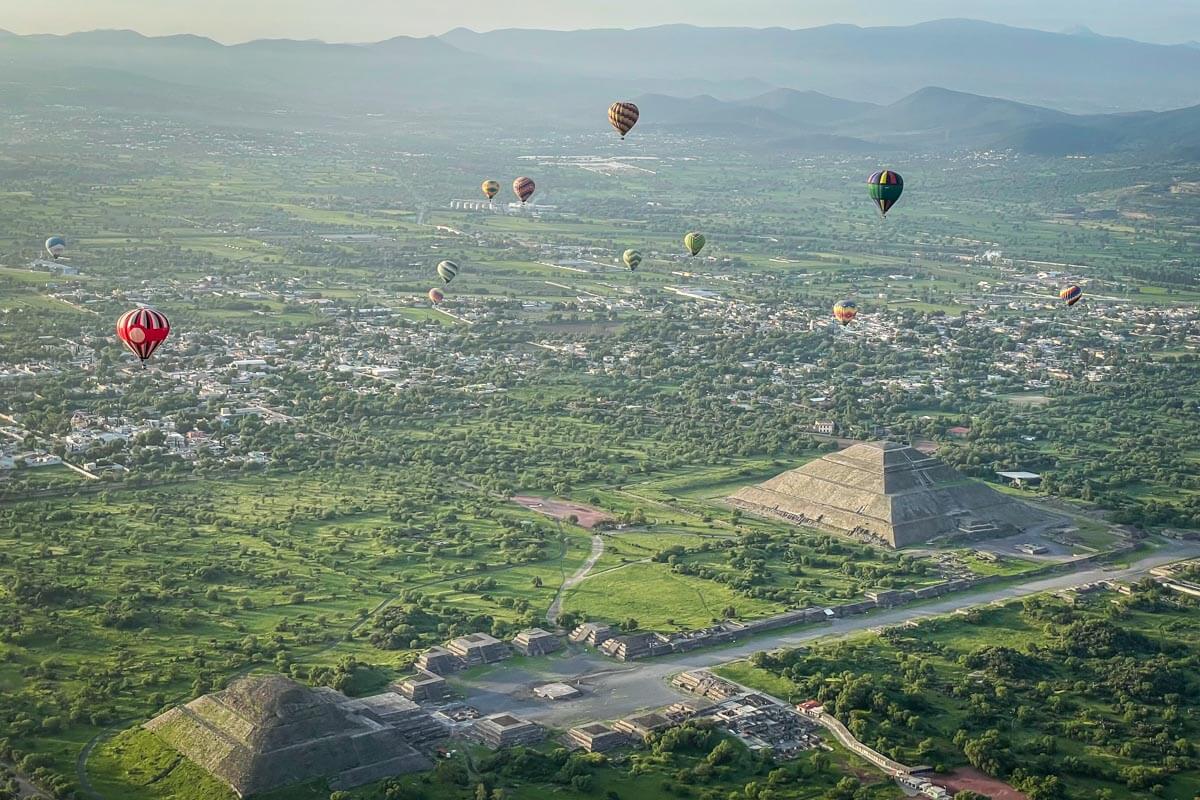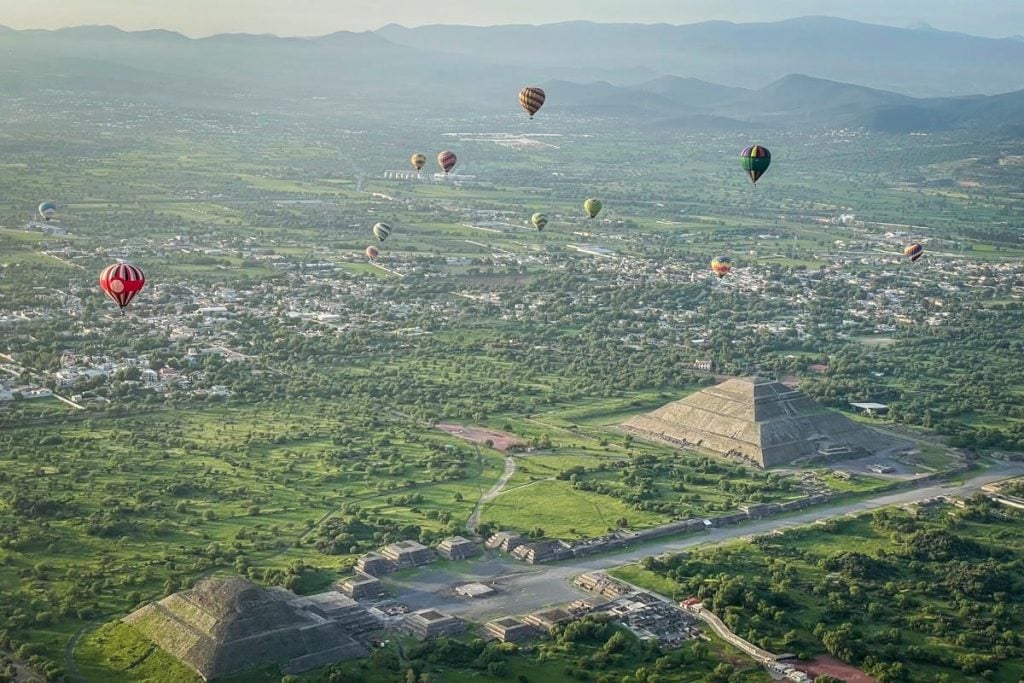 The ruins of Teotihuacán are all that's left of what was once a thriving Mesoamerican metropolis. This massive archaeological complex is about 25 miles, an hour and half drive northeast of Mexico City.
Pronounced "tay-oh-tee-wah-KAHN", the highlights here are the Pyramid of the Moon and the Pyramid of the Sun which you can climb up to get a view of the whole ruins.
There are many tours that run from Mexico City to Teotihuacán, but it is easily accessible by public transportation. The cost to enter the ruins is 70 pesos and you should plan at least 2-3 hours there.
While climbing the pyramids can be entertaining, the best way to see Teotihuacán is from the sky! A hot air balloon tour of the ruins at sunrise is one of the top things to do in Mexico City. You can find tours on Get Your Guide to include transportation to and from the city, plus breakfast, a 1 hour balloon flight and entrance to the park on foot afterwards.
Insider Tip: To avoid the crowds, try to arrive at the site as early as possible (the site opens at 9 a.m.). Don't forget to pack plenty of water and wear sun protection, as there isn't much shade at this archeological site.
Xochimilco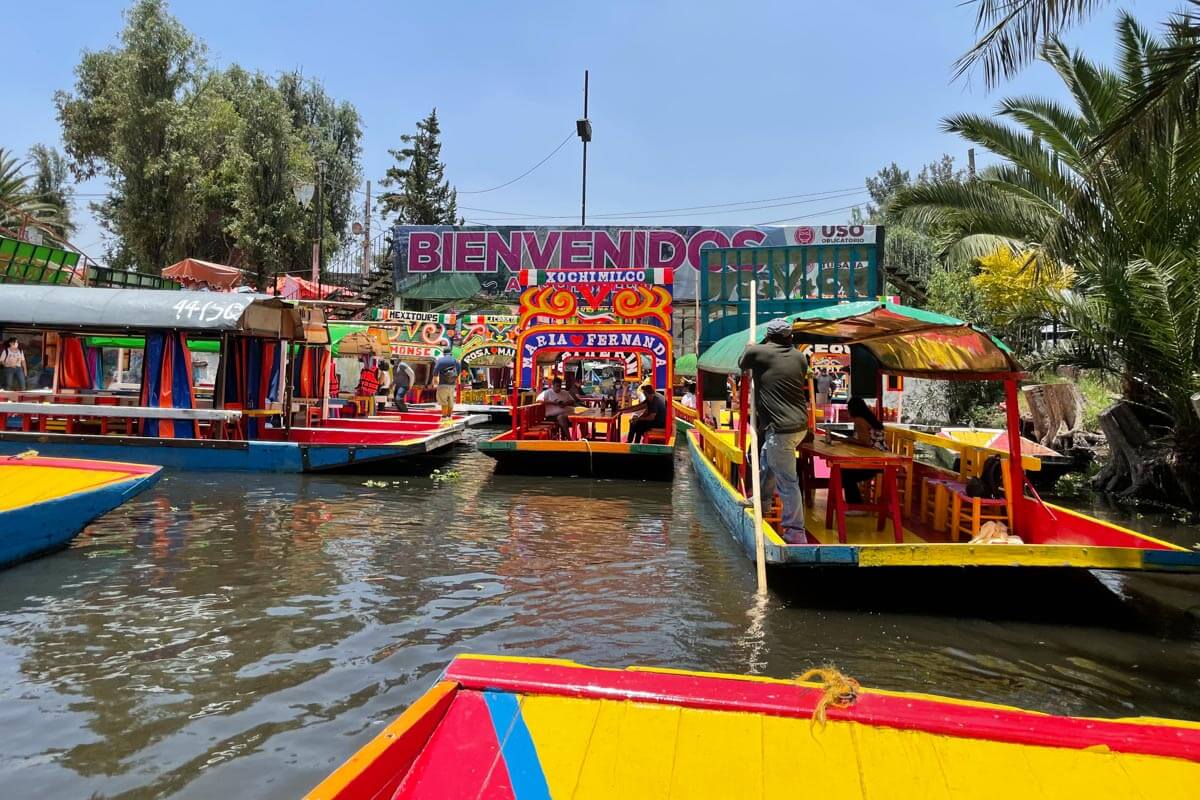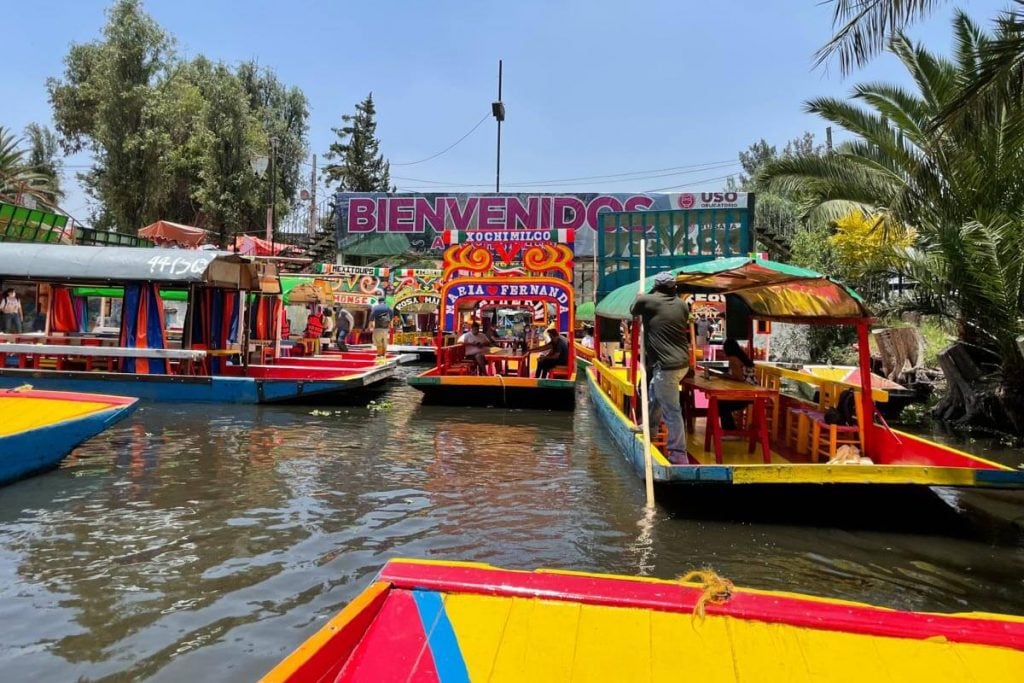 The colorful neighborhood of Xochimilco is an UNESCO World Heritage Site known for its canalways and floating gardens. As one of the most touristy things to do in Mexico City, it's also a popular place for locals to celebrate special occasions, like birthdays and quinceañeras.
Some love it and others hate it, but no matter where you stand, there's no arguing Xochimilco is unlike anything you've ever experienced.
It is a little ways outside of the city (about a 45 minute Uber-ride), but if you make it down to Xochimilco, you can spend about half your day floating down the canals in trajineras, the colorful, hand-painted traditional boats.
The waterways are filled with trajineras, which you can rent by the hour and ride through the canal way, past mariachi bands and food vendors. This activity is best enjoyed in large groups (the boats can carry up to 15 passengers!) but you can still get a private boat if you are only a few.
There are tours to this famous spot, but it's easy to visit Xochimilco on your own.
Bring your own alcohol and snacks or wait until you get there to fill up on local favorites. There will be boats selling all kinds of snacks and drinks along the canals, so come hungry!
Tip: Bring your own speaker to enjoy your favorite music (though you may be competing with other boats and mariachi bands passing by!)
---
Where to Stay in Mexico City
Featured Hotel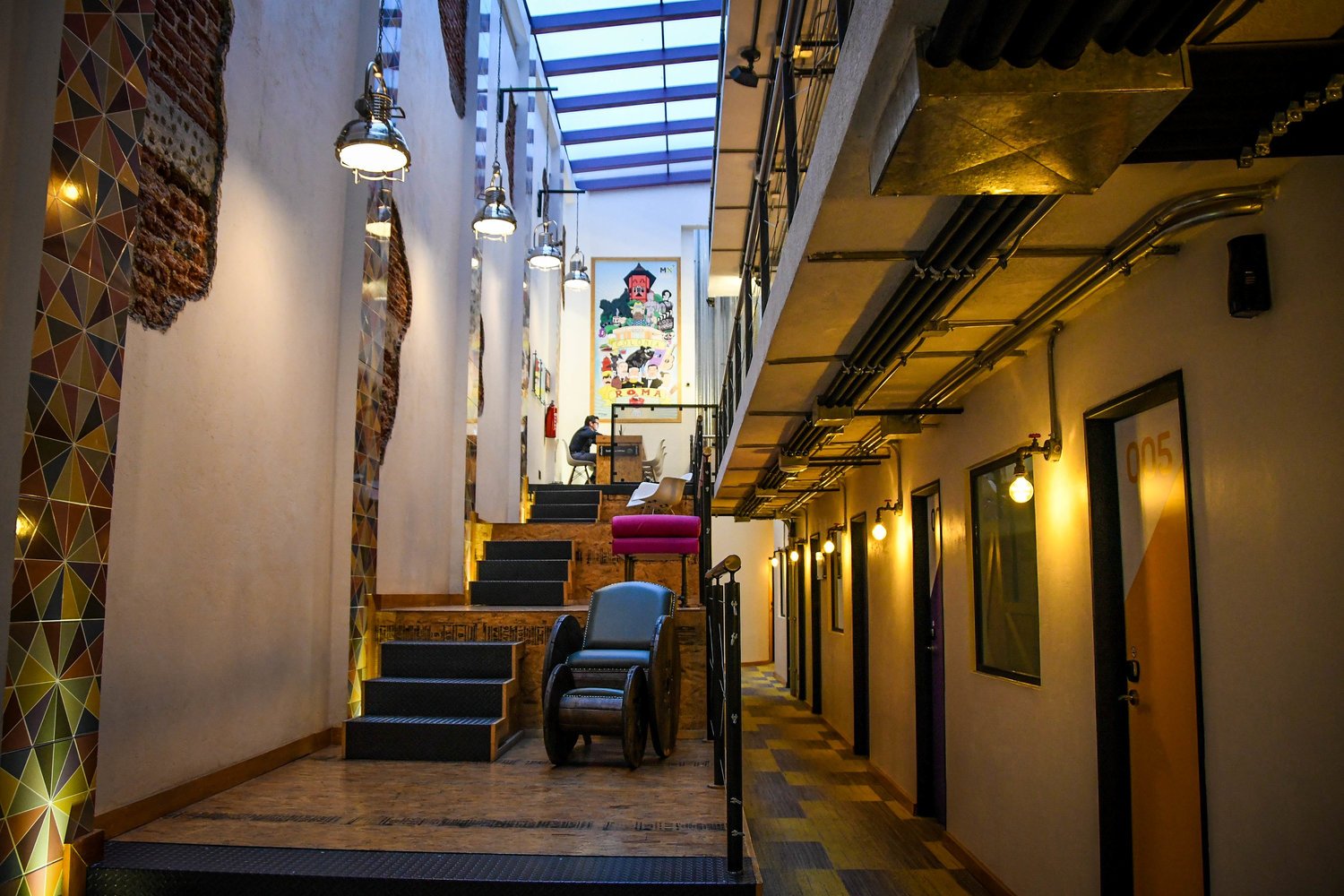 Hotel MX Roma – Located in the hip neighborhood of Roma Norte, this hotel is conveniently located and comes with amenities like free breakfast, complimentary bike rentals and a free espresso machine! They have a fitness center with a squash court available.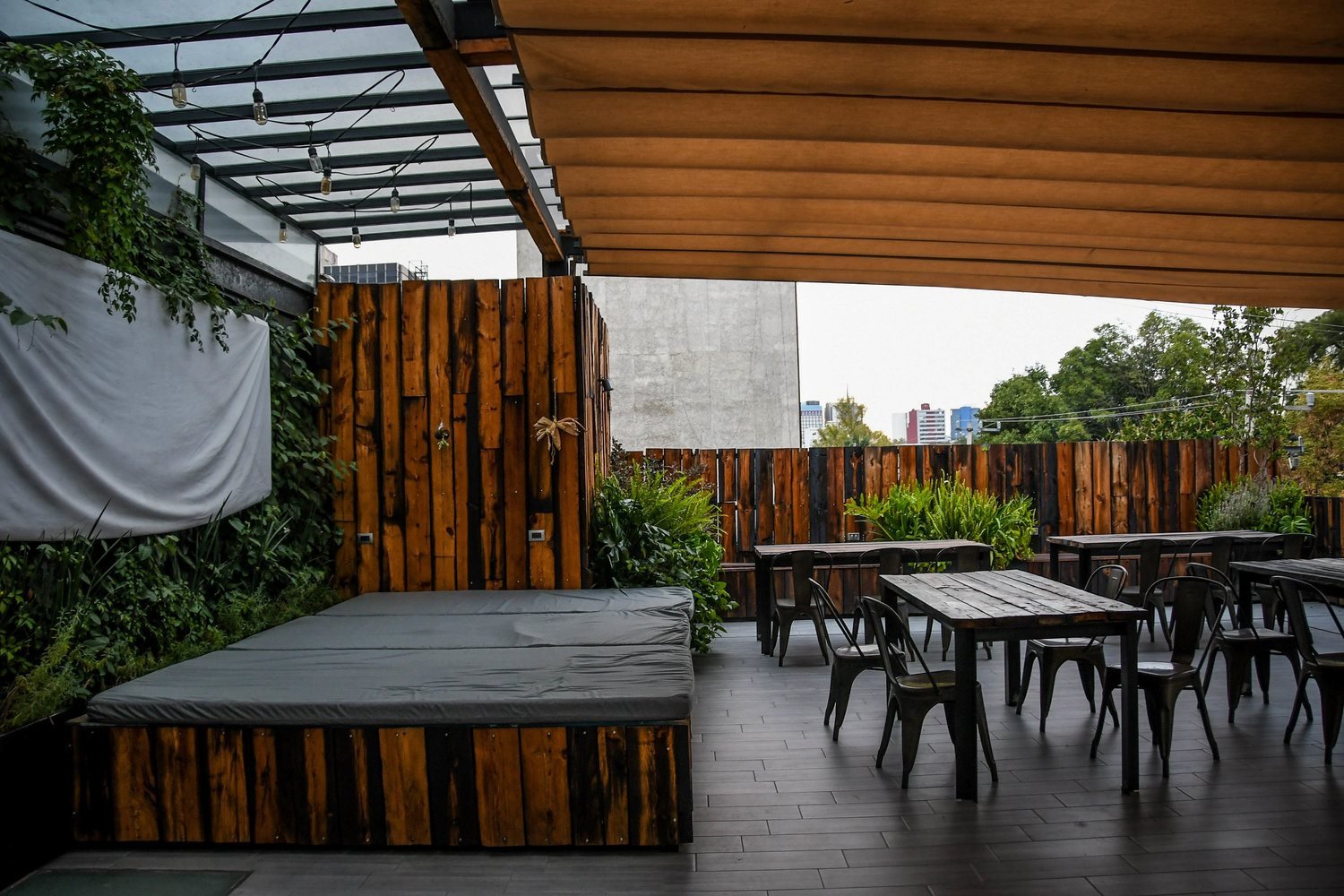 There is a business area with access to computers so you can get a little work done in between exploring the city. There is free parking and a rooftop terrace where you can watch the sunset.
Other Mexico City Hotels
Backpacker Budget: Suites DF Hostel – Smack in the middle of the city, this fun backpacker hostel has a great vibe and is a nice place to meet other travelers. They have private rooms as well as dorms and is steps away from a metro stop.
Helpful Tip: If you're backpacking through Mexico, check out this list of hostels in Mexico City.
Feelin' Fancy: Four Seasons Hotel Mexico City – It doesn't get much more fancy than this place. 5-stars, fitness center, outdoor pool, on-site spa and restaurant and is in a great location steps aways from Chapultepec Park.
Need more info on where to stay? We put together a detailed rundown of the best airbnbs in Mexico, including some stunners in Mexico City good for all budgets.
---
How to Use the Mexico City Metro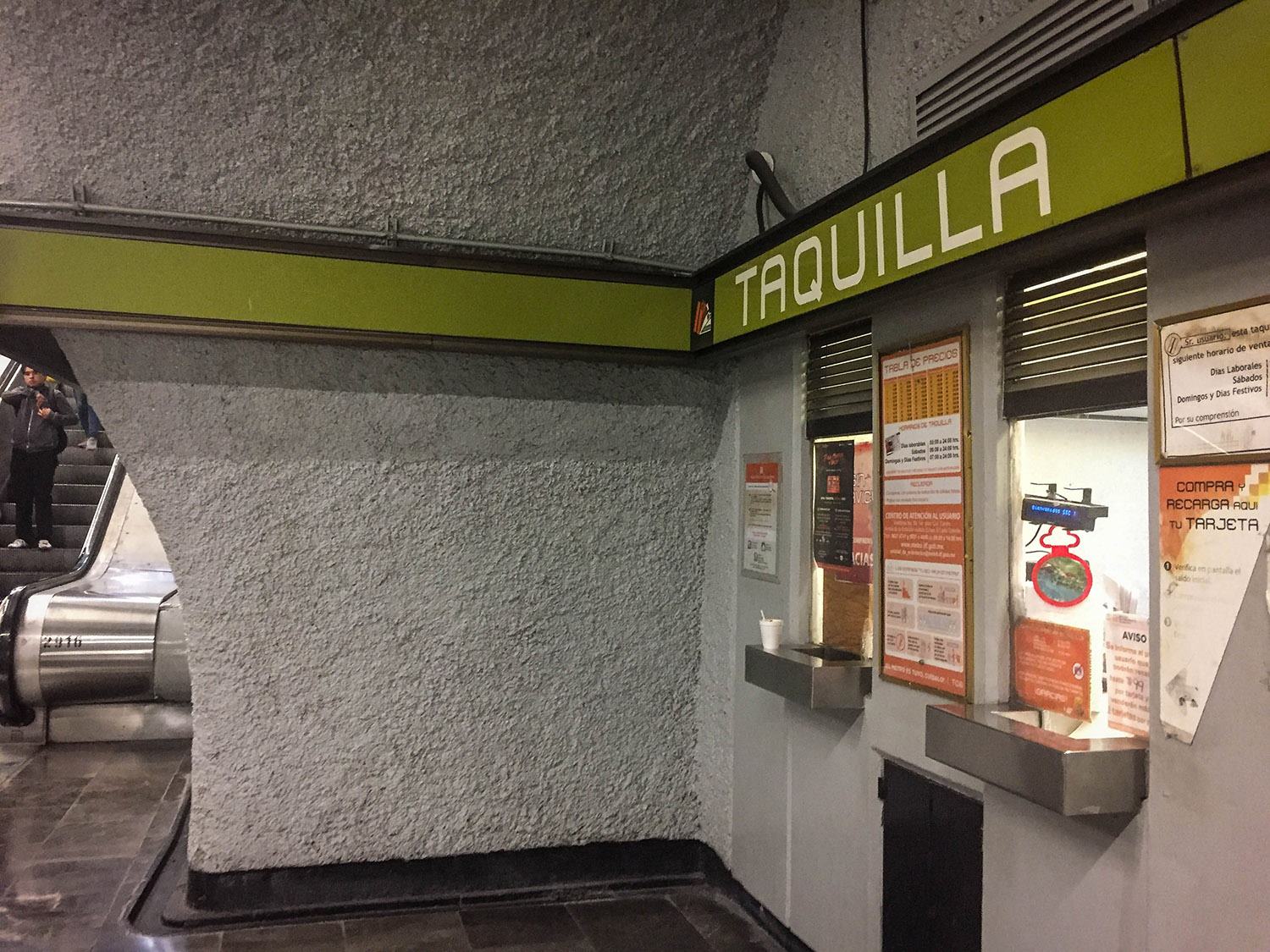 Mexico City is pretty spread out so the easiest and cheapest way to get around is by the metro. With 12 metro lines, you can basically get anywhere in the city you want. And the best part is metro tickets for any distance are only 5 pesos ($0.27 USD).
In each metro station there is a Taquilla (ticket office). Just say "un boleto" (one ticket) or "dos boletos" (two tickets) and pass the pesos to the person behind the counter.
Once you have a ticket, head to the turnstyle (make sure you know which direction you are going) and slip the ticket in the slot to the right of the turnstyle. It will beep and you can walk through. If you have any troubles there is always a guard standing near the turnstyles that can help you out.
To leave the metro, simply look for the signs that say "Salida" and walk throught the exit turnstyle (no ticket needed).
Sustainable Travel Tip: The water fountains in the metro stations are safe for drinking! Simply fill up your water bottle and satisfy your thirst while saving money and plastic!
---
How to get cell phone service in Mexico City
If you'll be in Mexico for a while, the cheapest way to get cell phone service is to get a SIM card in Mexico. Just make sure your phone is unlocked and is able to accept international SIMs (we learned the hard way when we moved to Thailand).
We've been told that you can get SIM cards at the popular convenience store, OXXO, but the one we went into did not have SIM cards, so we decided to go straight to the Telcel store and get it there. Our phone plan had 300 MB of data for one month and unlimited talk and text in Mexico and the US, and only cost $379 MXN ($21 USD).
If you run out of data, you can top off at OXXO or 7-Eleven. You can download the app Mi Telcel to check your data usage as well.
More Travel in Mexico
Have more time to explore what Mexico has to offer? Lucky you! There are so many other incredible parts of this beautiful country, like the foodie haven of Oaxaca and the charming town of San Cristobal de las Casas in Chiapas.
One of the easiest ways to get around Mexico is by driving a rental car. You get to explore on your own, it's safe, and crazy cheap. We got a rental car in Costa Rica for so cheap one day, we decided to keep the car for two weeks. We use RentalCars.com to search for the best deals on rental cars around the world.
With culture, food, natural beauty and friendly locals, backpacking in Mexico will be an experience that you won't soon forget!
---
Are you planning a trip to Mexico?
We have lots more resources on travel in Mexico and destinations throughout the country. Check out our Ultimate Mexico Travel Guide for all the important travel information, or read some of our favorite articles below.
Have you been to Mexico City?
What did you do when you visited? Got any other hot tips for the capital of Mexico? Let us know everything in the comments below!