If you're planning a trip to Mexico City, we've got a perfect 3-day trip planned for you. This Mexico City itinerary is packed with information on where to eat, what major sights to see and off the beaten path ideas!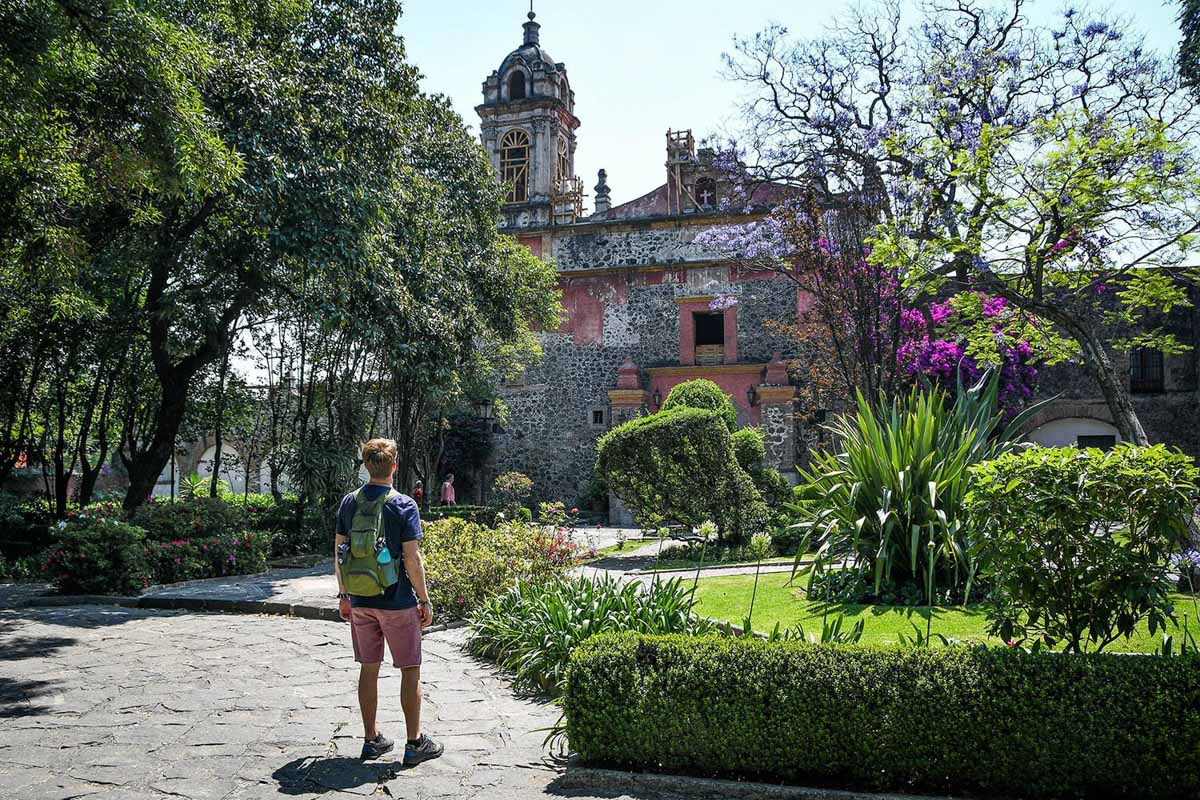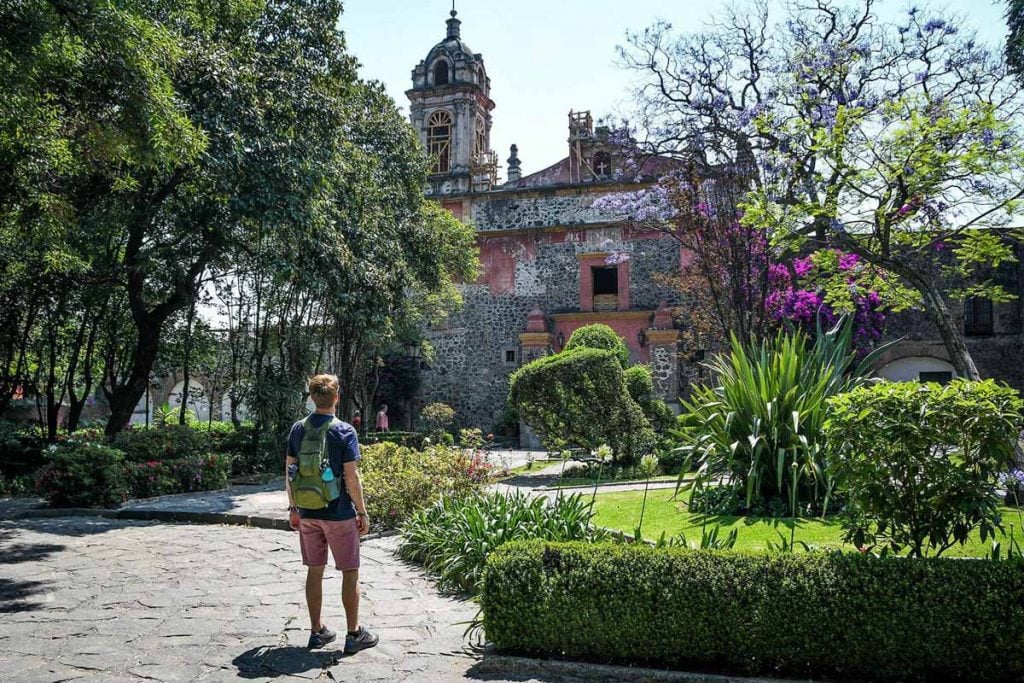 Have you ever underestimated a place only to find that it is so much better than you were expecting?
To be honest, Mexico was a country that we overlooked for a long time. We always thought of it as all-inclusive resorts in Cancun or Cozumel, surrounded by other Americans…(how incredibly naive of us!) And truthfully, we hadn't heard much about Mexico City other than it was dangerous and polluted.
Those people could not have been more wrong.
From the time we landed, Mexico City wowed us! There is so much green space, the metro system is cheap and effective, and the people are so friendly. Oh, and the food. THE. FOOD.
With so many things to do in Mexico City, we could have easily filled a whole week. However we only had 3 full days to explore, and we felt it was a great introduction to CDMX (short for Ciudad de México).
We've put together what we think is a perfect 3-day itinerary for Mexico City. We're sharing where to stay, what to eat, top sights to see, some local tips, and even additional things to do if you have more time.
From the top attractions to some off the beaten path adventures, we've got your short trip to Mexico City all planned for you! And if you have a longer trip planned for Mexico, we have plenty of ideas of things to do in Mexico for you too.
Backpacking in Mexico Video
Watch our epic video of our 2 week trip in Mexico to get some inspiration and wanderlust.
---
3 Day Itinerary in Mexico City
Here is a glance at your perfect 3-day itinerary for Mexico City. Scroll down for all the details including how to get around, how much things cost, and what to eat (aka the most important info you'll need to know!).
Day 1: Coyoacan and San Angel
Day 2: Chapultepec Park and Food Tour
Day 3: Explore Downtown and Watch a Lucha Libre Match

How long should I spend in Mexico City?
You could easily spend a week in Mexico City and not get bored. But if you, like us, are on a tight schedule, 3-4 days is enough to get a feel for Mexico City and see some of its best parts. It's just a taste though. To really delve in, we think you'd need at least 5 days.
Got more than 3 days? Consider these other things to do in Mexico City.
---
Day 1: Morning
San Angel Neighborhood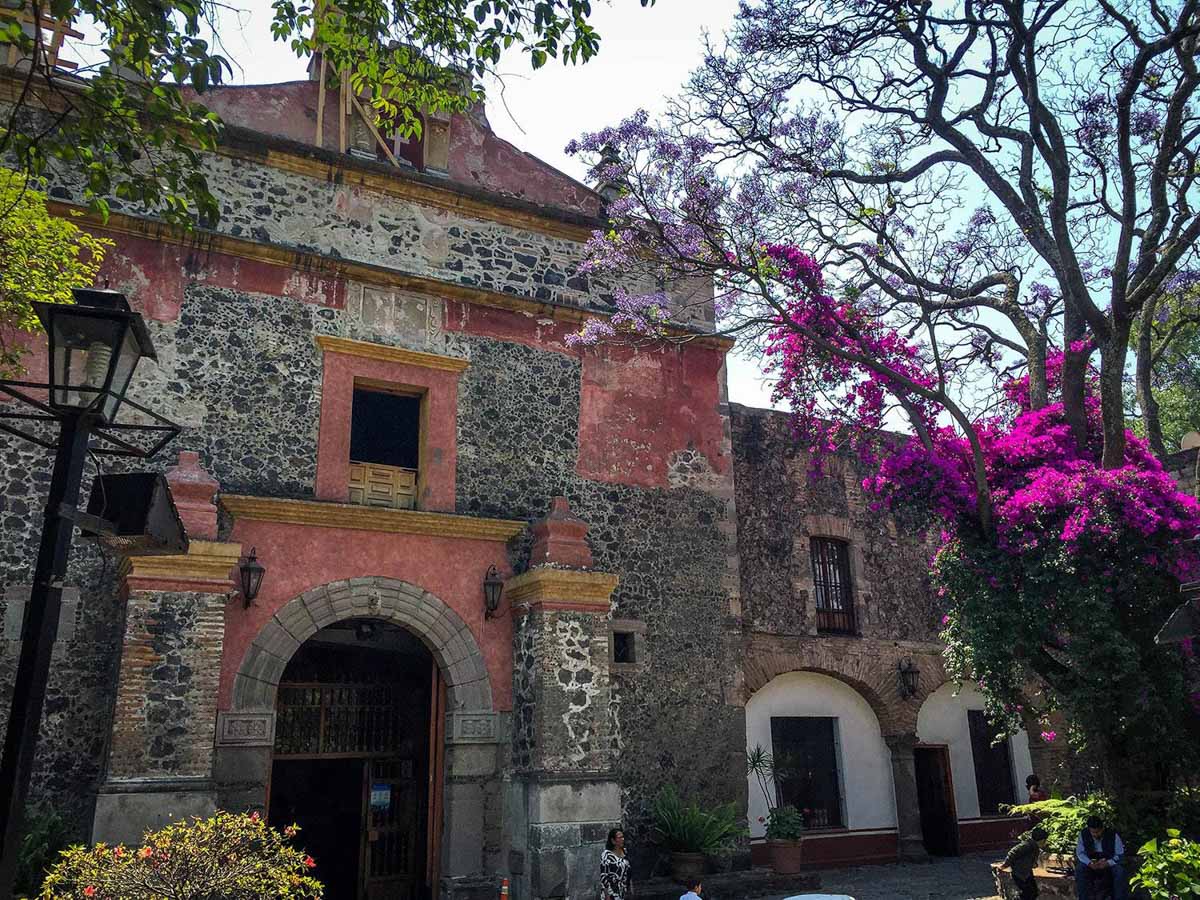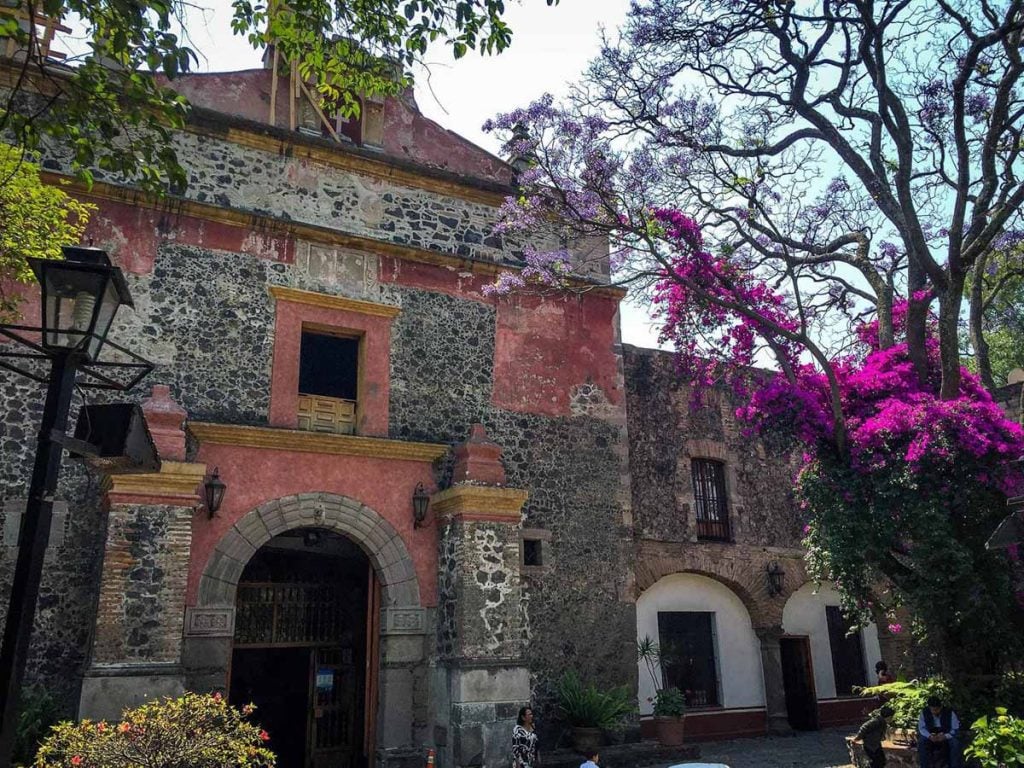 Situated just southwest of Coyoacan, this picturesque neighborhood was probably our favorite area in Mexico City. If you're in Coyoacan, it's worth making the short trip here to check out the vibes.
Here are some highlights:
Plaza San Jacinto: A park filled with lots of green space and a beautiful fountain, lined with cafes and restaurants.
Saturday Bazaar: If you happen to be visiting on a Saturday, you'll find streets and parks lined with artists and local vendors. Make your way to a building known as the bazaar (northwest of the Plaza San Jacinto), where you'll find higher-end goods (with price tags to match) than what the vendors outside are selling.
House – Studio Museum of Frida Kahlo and Diego Rivera: This is the home that Frida Kahlo and Diego Rivera shared toward the end of their lives. Their notoriously tumultuous relationship meant they needed time apart, so there are actually two homes on the property – one for Frida and one for Diego – with a bridge adjoining them for times they felt like visiting.
Afternoon
Frida Kahlo Museum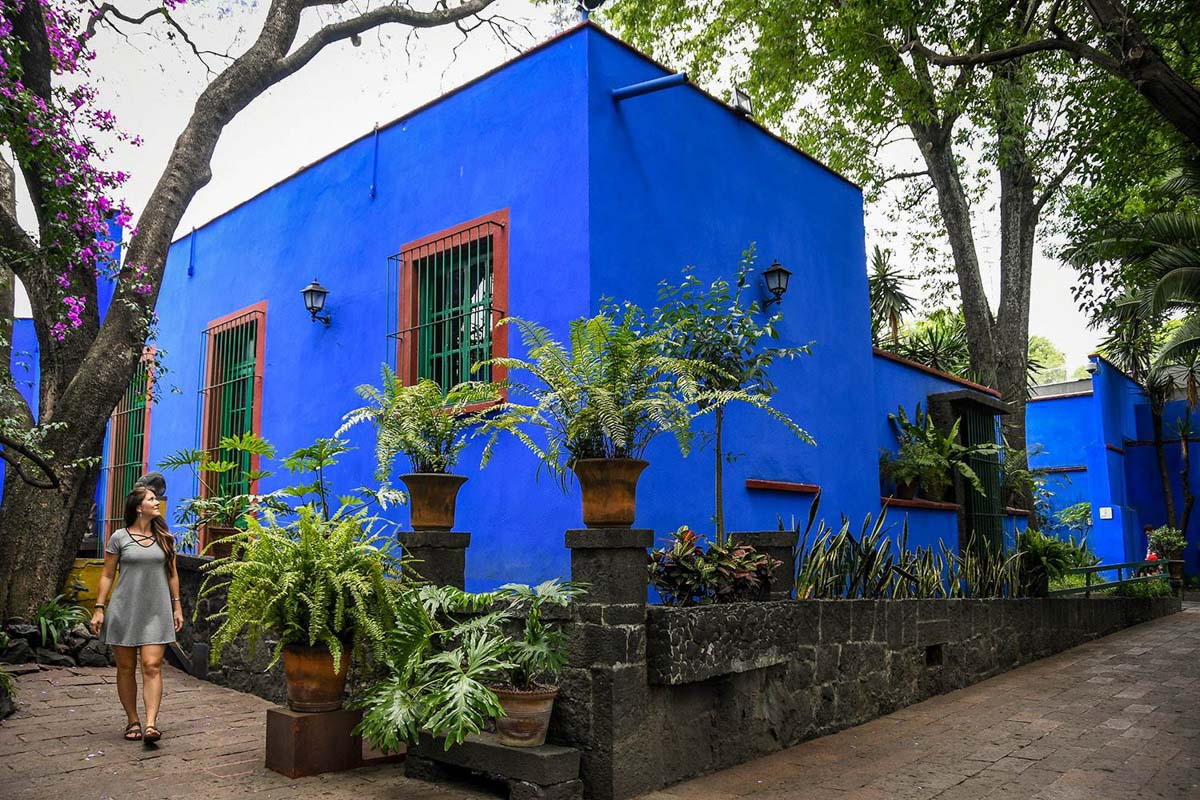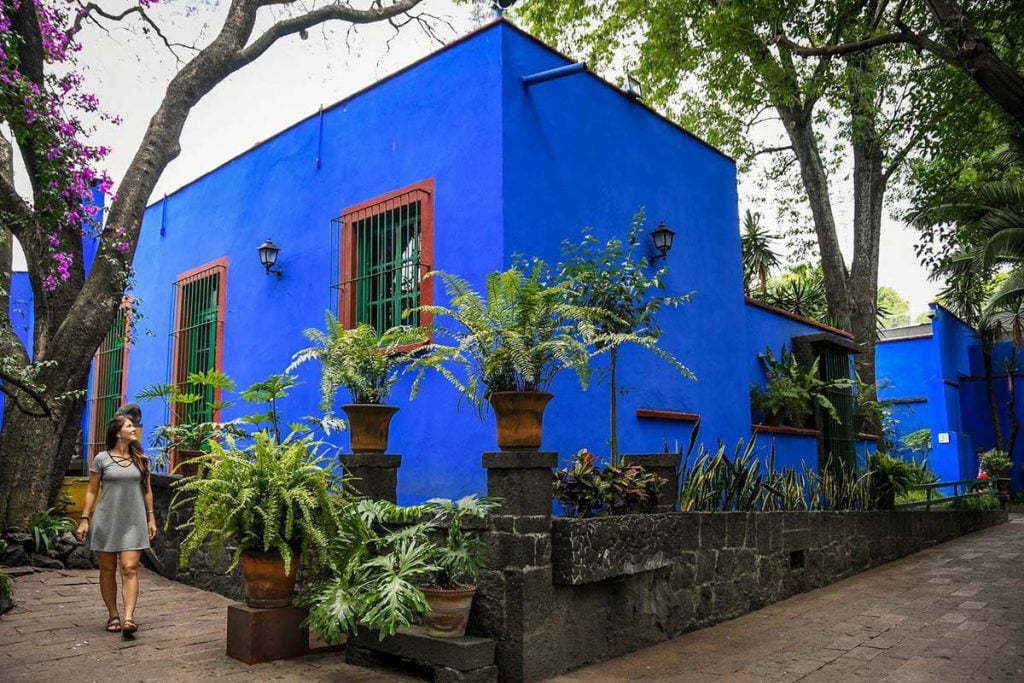 While considerably more expensive than the other Mexico City museums, the steep entrance fee at the Frida Kahlo Museum hardly deters visitors. La Casa Azul (the blue house in Spanish) is well worth a visit, even if you're not all that familiar with Mexico City's beloved artist.
This museum is set in the house where Frida was born and died. She grew up in this home and later shared it with her famous husband, painter Diego Rivera. You'll see both various pieces of her artwork as well as her personal belongings.
Walk through her art studio, glimpse her beautiful kitchen, and see the bed where she slept and the garden in which she spent her afternoons dreaming or entertaining guests. Remember, the museum is closed on Mondays so plan accordingly.
Entrance fee & Hours: $230 MXN (around $11 USD) on weekdays and $270 MXN (around $13 USD) on weekends. Open daily from 10 a.m. to 5 p.m. and closed on Mondays.
Explore the Coyoacan Neighborhood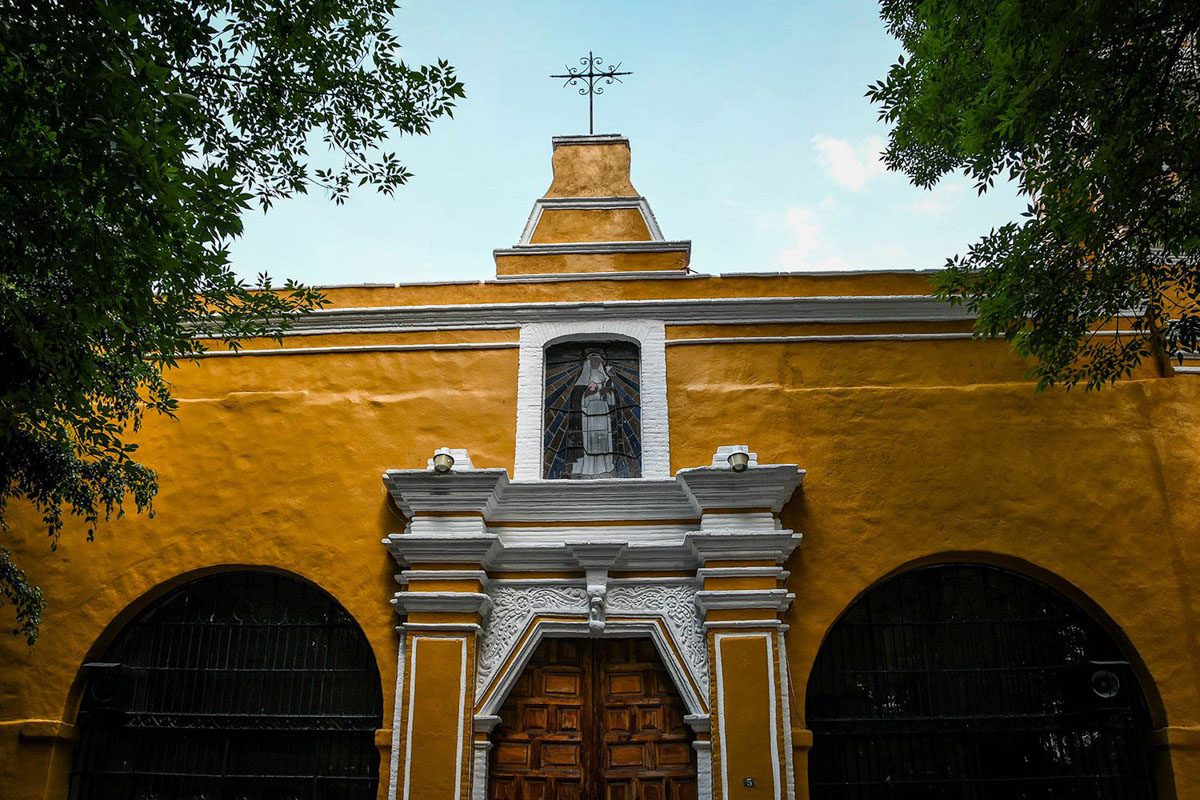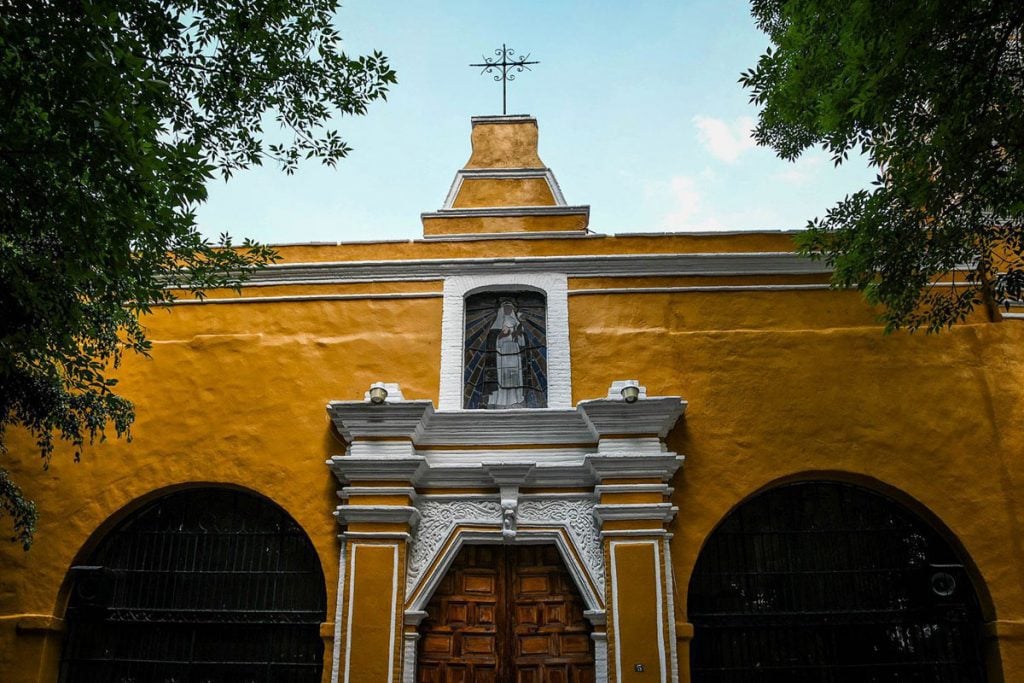 Imagine streets with colorful colonial style homes shaded by large trees. Cute cafes and boutiques are dotted amongst the homes of the well-to-do. You could easily spend a day getting lost in the tranquil streets of Coyoacan, but if you're short on time, visit this neighborhood with a guide and hear stories of its past.
Try the Coyoacan Free Walking Tour with Estacion Mexico. Our guide was wonderful and super informative. They meet every day at 11 a.m. and 3 p.m. at the ticket office of Viveros/ Derechos Humanos subway station (inside the station). Bring water and check the weather to see if you need an umbrella or not.
This 2.5-hour tour brought us through some beautiful streets and gave us insight on one of Mexico City's most inviting neighborhoods. Our guide was wonderful and the group of just 6 people was a great size to meander through colonial courtyards and through historic streets.
If you'd prefer to wander through Coyoacan on your own, here are some spots you should hit:
Coyoacan Highlights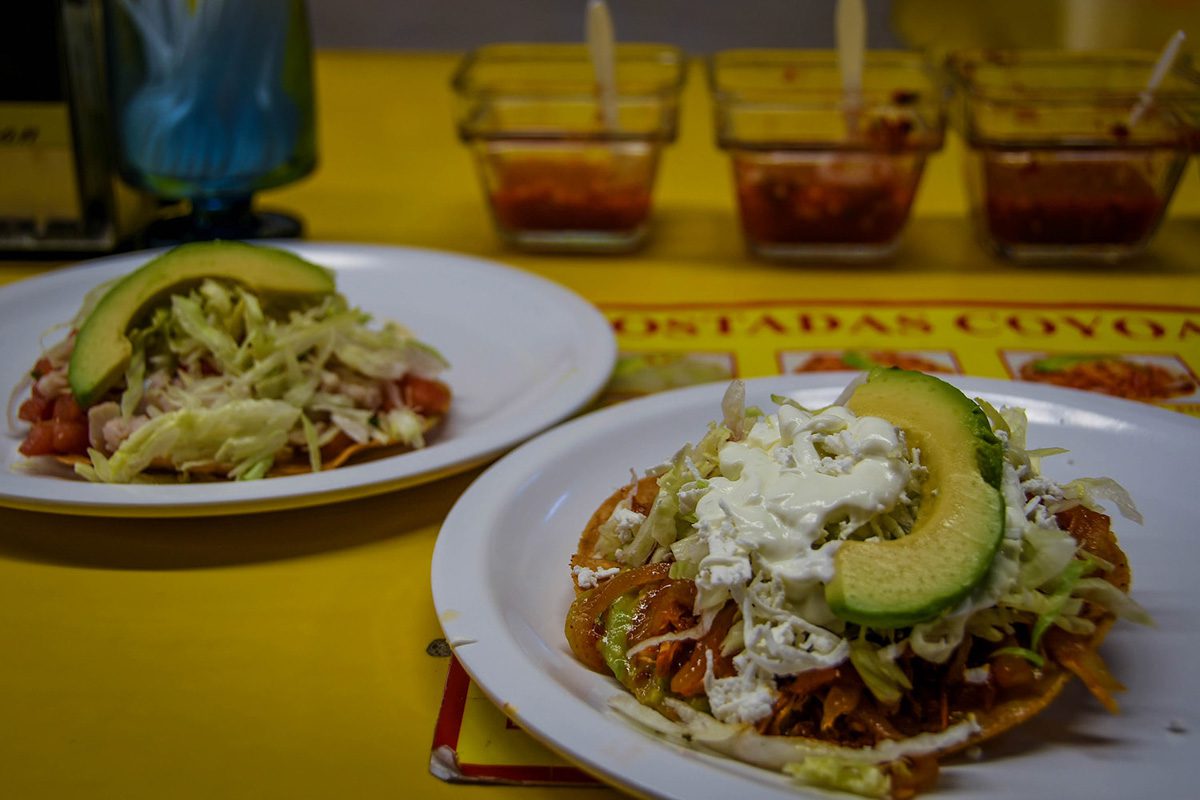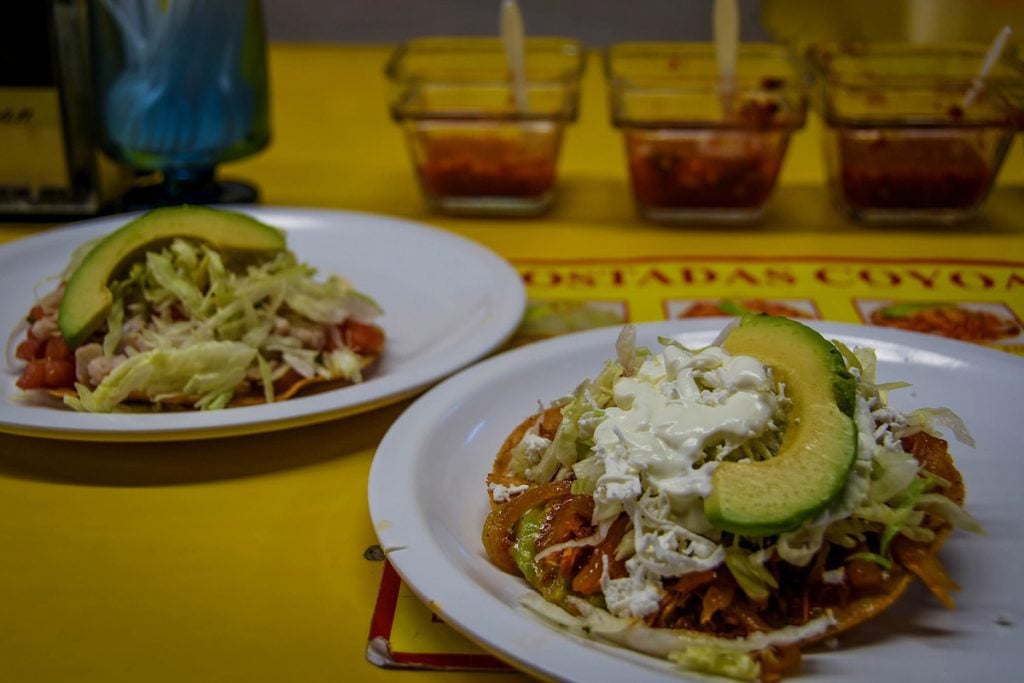 Evening
Dinner: Enjoy a meal at one of Mexico City's best restaurants. Whether you're craving authentic street food or a fancy meal, there's plenty to choose from!
Experience Mexico City's nightlife scene! Wander the streets of the Roma and Condesa neighborhoods and pop into any bar or restaurant that strikes your fancy. And if you wanna turn things up a notch and go clubbing, here's a guide to getting your groove on into the wee hours of the morning.
---
---
Day 2: Morning
Chapultepec Park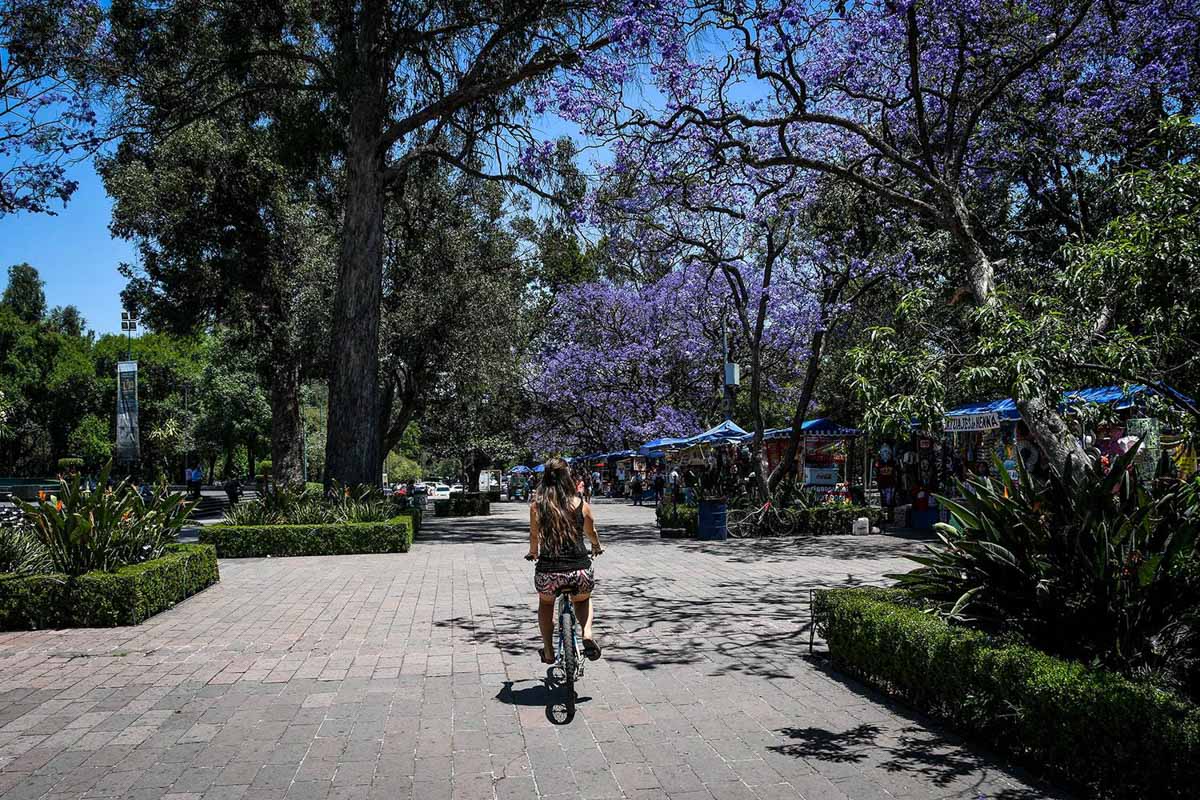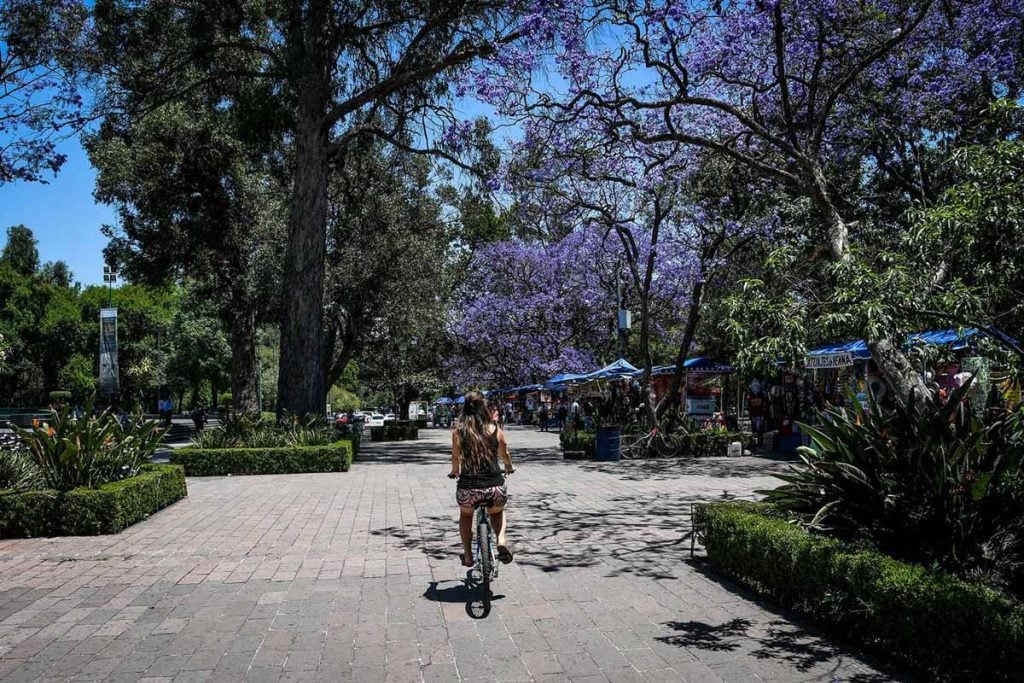 Before you head out for the day, be sure to stop by Panadería Rosetta for either a quick grab-and-go pastry or sit and relax with a café. This local hotspot gets pretty busy throughout the day so get there early. They open at 7 a.m. Once you have your fill, head out to Chapultepec Park.
This gigantic park on the west side of town isn't perhaps the city's most picturesque, but it is one of the largest. With pathways for walking (or biking!) you can get a little exercise. You'll find plenty of stands selling snacks along the way and a small pond with paddle boats for rent, which is a great activity if you're traveling with kids in Mexico City.
If you're like us and your hotel has free bikes for rent, you can pedal away at your heart's desire. Another great option for bike rentals is Ecobici Bikes, the government-subsidized bike share program, where you can get a single day membership for just 99 pesos (less than $5 USD).
You can go and see the Official Residence of Los Pinos, or the Mexican President's House. The main attraction of this park, however, is the castle that sits atop the park's highest hill.
Chapultepec Castle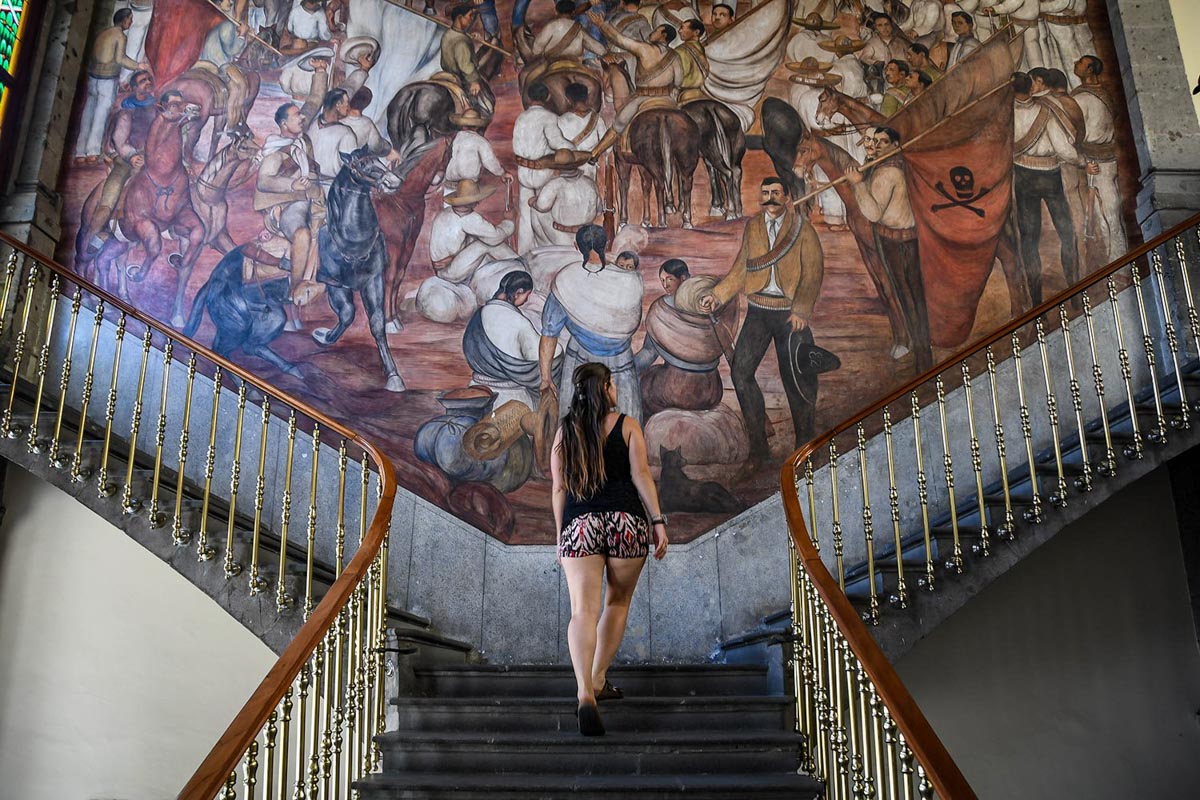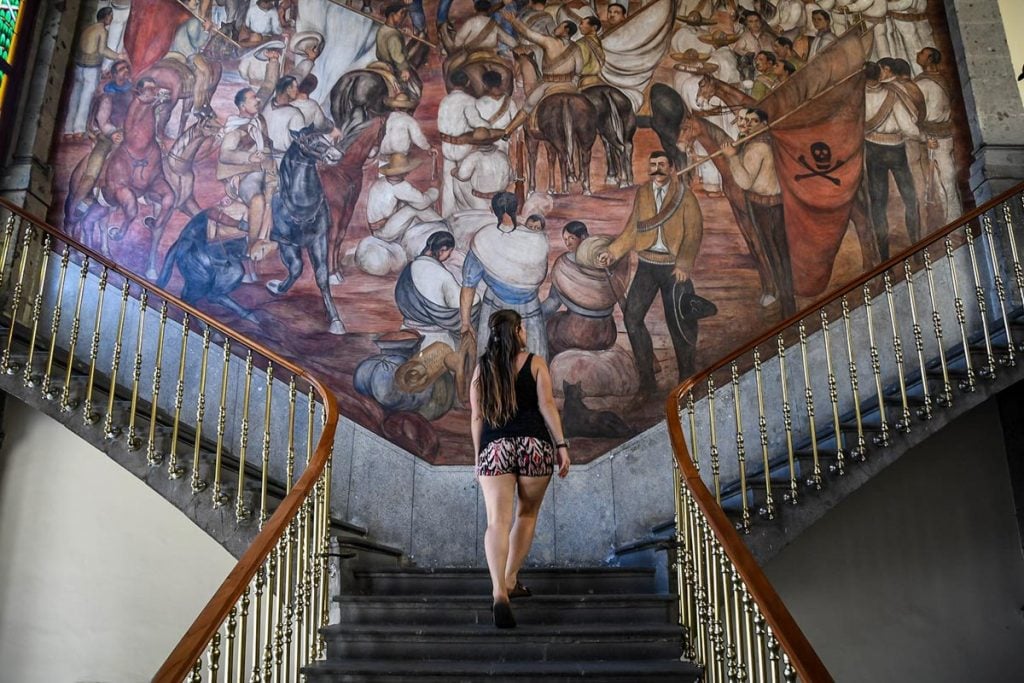 Perched high on a hill, visiting the Chapultepec Castle (Castillo de Chapultepec) is worthwhile if even just for the view of the city. Inside, you'll find rooms preserved as they were in the 18th century. It is quite impressive, especially the stairways and the rooftop garden.
Tickets can be purchased at the ticket window at the bottom of the hill to the castle. Be sure to allow at least 45 minutes to climb the hill, see the castle and walk back down. Add more time if you get the audio guide or want to snap some photos.
Entrance Fee & Hours: The typical entrance fee is 80 MXN. Open Tuesday – Saturday 10 a.m. to 5 p.m., closed Sunday & Monday.
Afternoon
National Museum of Anthropology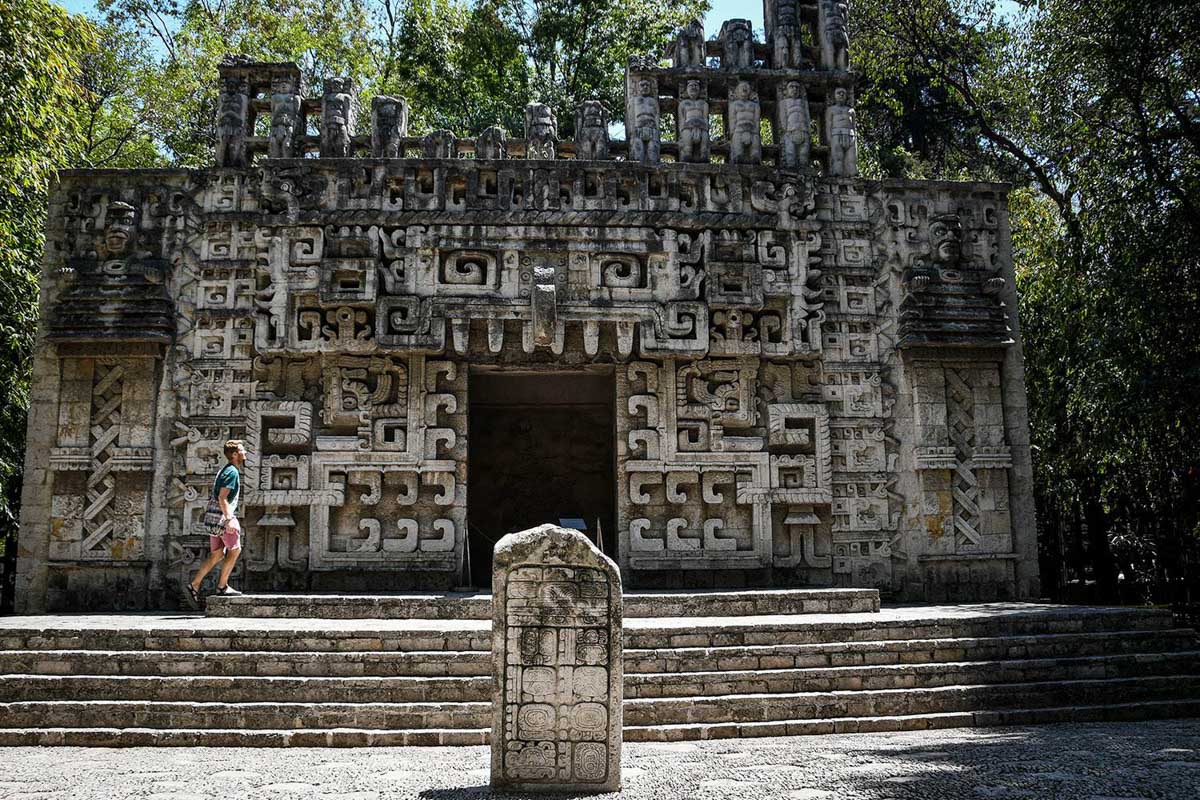 This is often touted as a "must see" while in Mexico City, this museum is a history buff's dream. You'll find prehispanic artifacts, dioramas and interactive displays that give you insights to how Mexico and its ancient people settled in the region. We thought the museum was interesting, but honestly felt it was a bit overwhelming.
Note: Be aware that while some of the signage has been translated into English, there is still a lot that is only in Spanish.
If you are touring the museum on your own, we recommend going into the #1 room and traveling counterclockwise. If you are pressed for time, make sure to see the #6 (Aztec) and #9 (Maya) rooms.
We joined a free English tour at 1:30 p.m. for an hour and the guide brought us through the Aztec Room where we saw the Stone of the Sun (more famously and falsely known as the Aztec Calendar). Most of the information we came away from the museum with was from this tour.
Entrance Fee & Hours: The typical 80 peso entrance fee is very reasonable. Open Tuesday – Saturday 10 a.m. to 5 p.m., closed Sunday & Monday.
Evening
Food Tour or DIY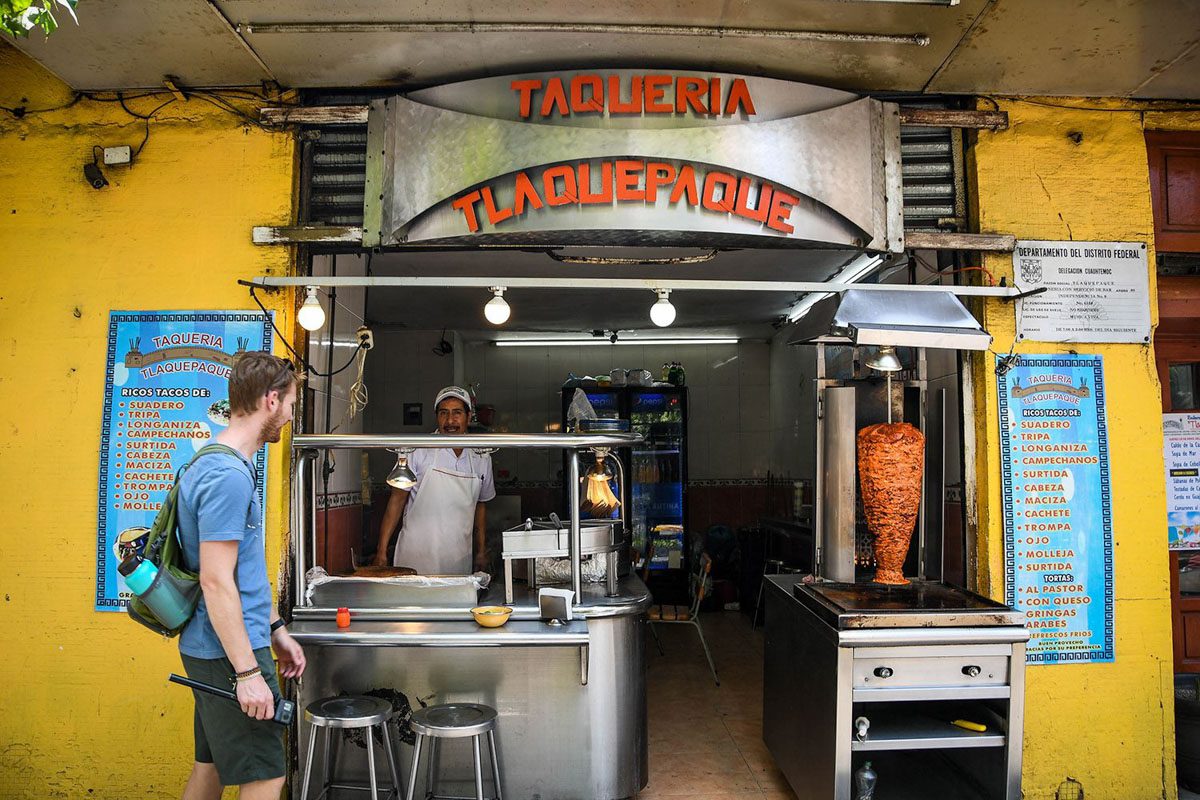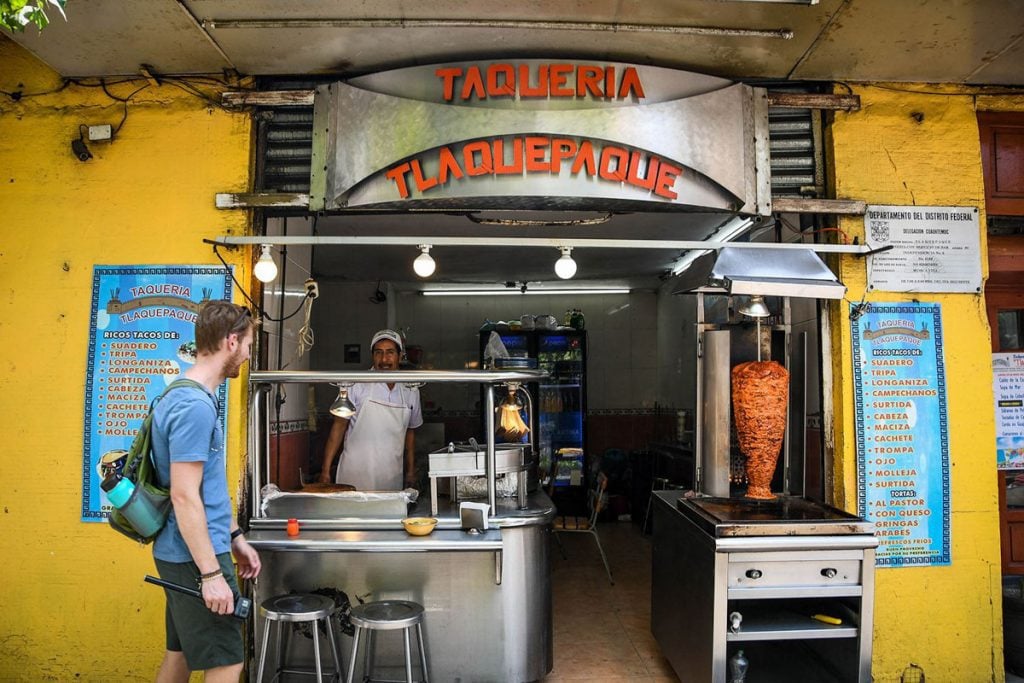 Mexico City is a foodie haven. There are plenty of cooking classes and food tours to choose from that'll give you great insight into Mexican cuisine. We had a great time with Mexican Food Tours and wrote about our experience on a traditional Mexican food tour in Mexico City.
If you're on a budget though, you might be turned off by the steep prices. Instead, you can opt to do your own DIY food tour. Check out our Ultimate Guide to Food in Mexico for some inspiration before you go!
---
Day 3: Morning
Downtown DIY tour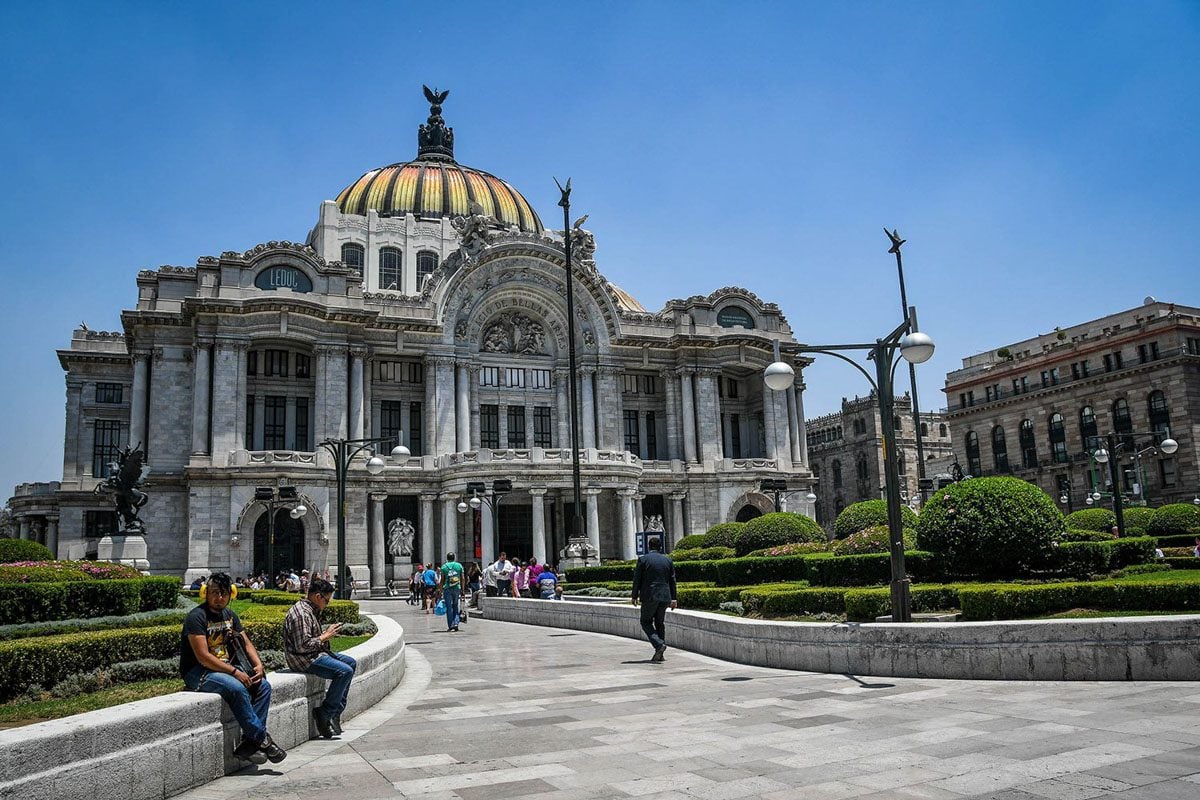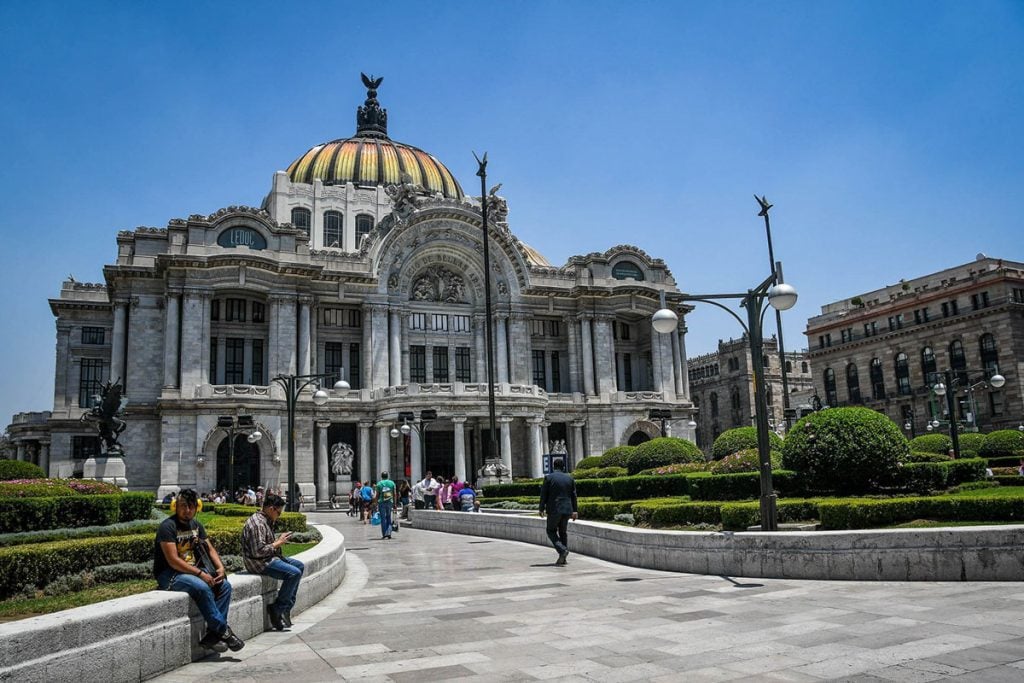 We've taken just short of 30 free walking tours around the world, and have had fantastic experiences for the most part (including our tour of the Coyoacan neighborhood). Unfortunately, we can't say the same about the Free Walking Tour in downtown Mexico City.
Our guide did a fine job, but the group of nearly 40 people was so big it was hard to maneuver through the streets. And paired with traffic and city noise, it was hard to hear much of what the guide was saying.
We didn't get much information from this tour that we couldn't find in guidebooks. Plus, the route would be super easy to navigate on your own, so we would advise doing a DIY tour of the downtown (Centro) part of Mexico City.
Highlights of Downtown (Centro) Mexico City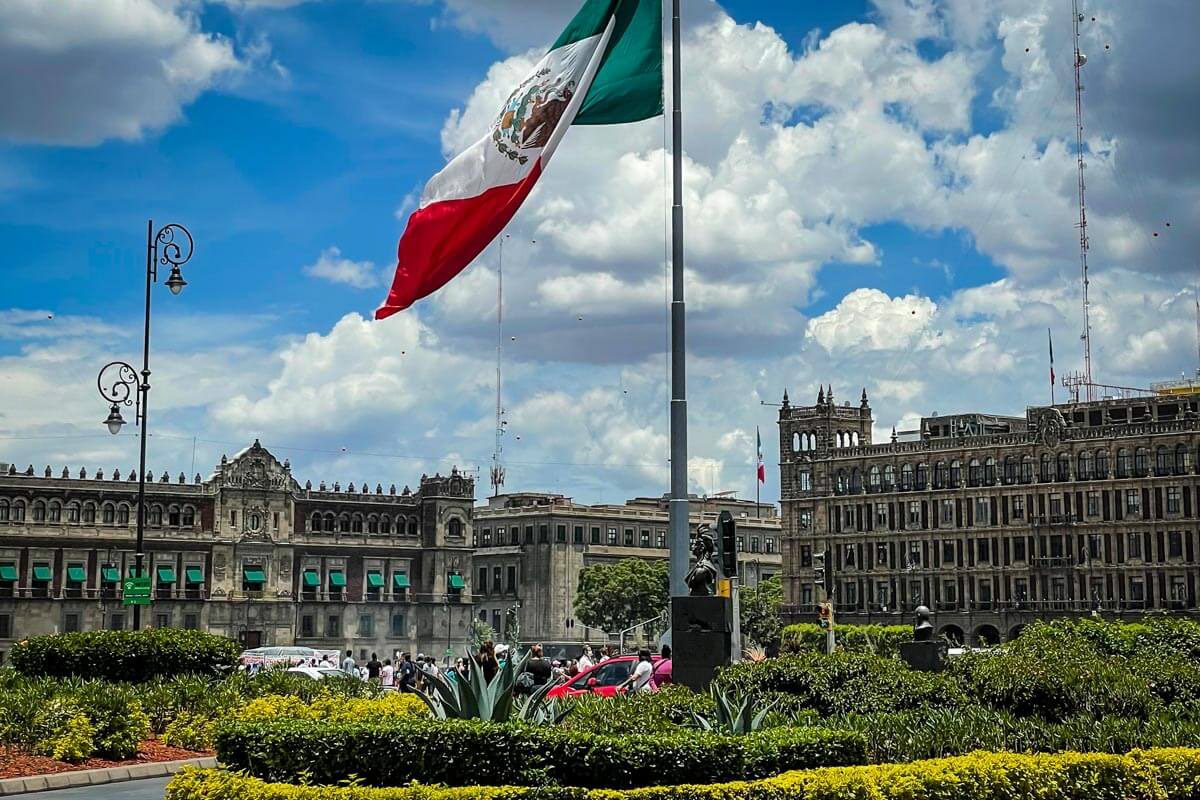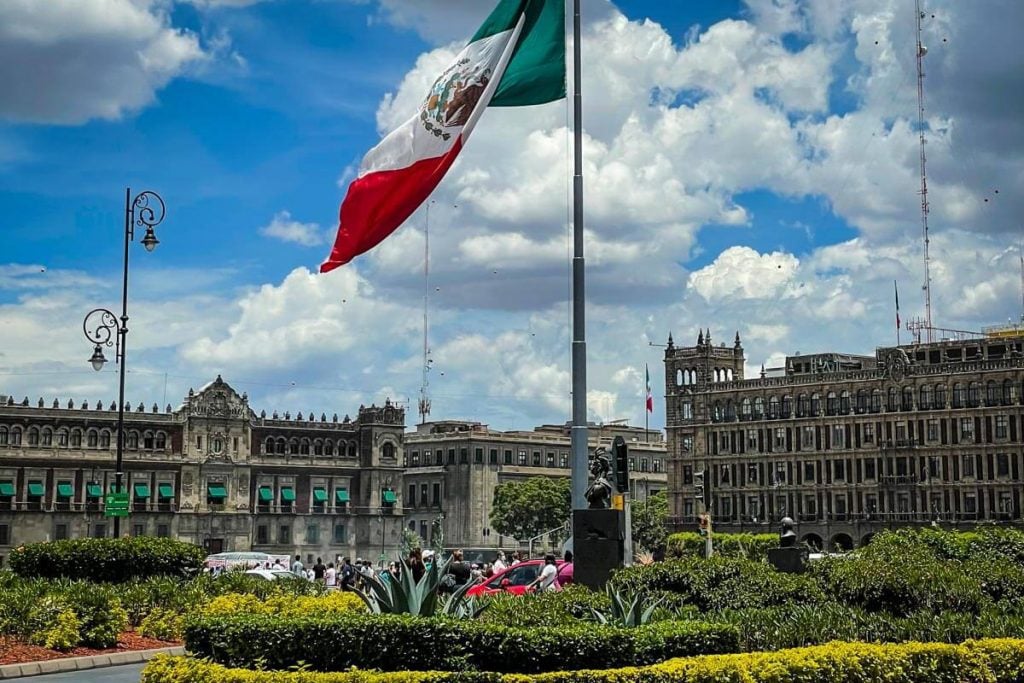 The Zocalo (Plaza de la Constitución): A large square that served as the political and religious center of Tenochtitlan (centuries ago, and before the arrival of the Spanish). Today the square is characterized by a larger-than-life-sized Mexican flag, surrounded by prominent and important buildings, and still serves as a cultural hub of the city hosting large events like Mexico's Independence Day celebration on Sept 15th.
President's Office (National Palace): Free to enter and houses some of Diego Rivera's murals.

Note: You must bring a photo ID (one per group) in order to enter.

Metropolitan Cathedral of Mexico City (Catedral Metropolitana): This impossible-to-miss ornate cathedral dominates the perimeter of the Zocalo. The cathedral was built in sections over a span over nearly 250 years (from 1573 to 1813) integrating various architectural styles in its design such as Gothic, Baroque, Churrigueresque and Neoclassical styles.

Note: Entrance to the cathedral is free and worth a peek inside to marvel at the architecture. Just be respectful of your surroundings and others in their place of worship.

The Fine Arts Palace (Palacio Bellas Artes): Part museum, part performance hall, this iconic architectural spectacle is worth a visit, if only just for a glimpse.

Insider Tip: To get the best view, head to the Sears department store across the street from the Palace, and make your way up to the rooftop coffee shop on the 8th floor.

Post Office (Palacio Postal): This building is beautiful with turn-of-the-century architecture and every surface covered in gold. You can go in the entrance, look around a bit and take a photo.
House of Tiles (Casa de los Azulejos): Just a few blocks from the post office, the building known as the "house of tiles" is a great spot to ogle at the beautiful blues or snap a few Insta pics.

Insider Tip: Lighting here is best before noon or in the late afternoon.

El Moro: One of the most famous places to try churros in Mexico City. Their original location in the historic district is a convenient stop while wandering around the center.
Explore the Markets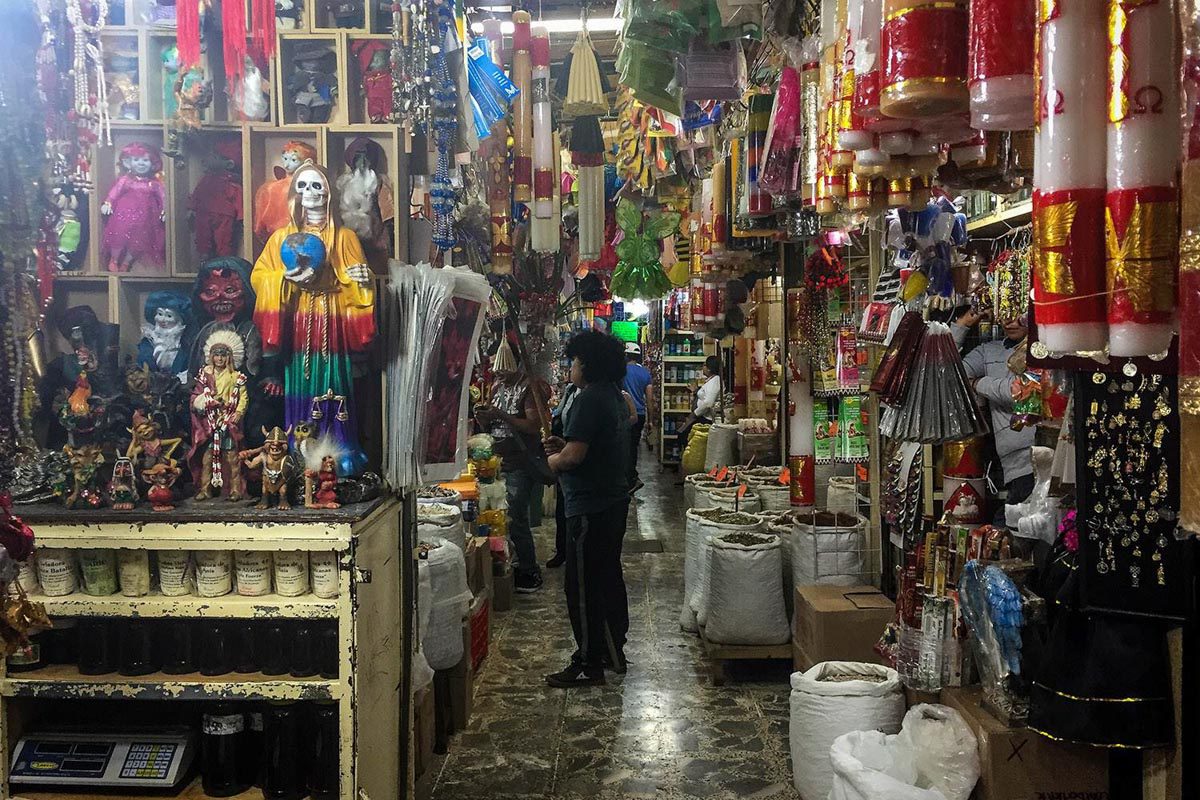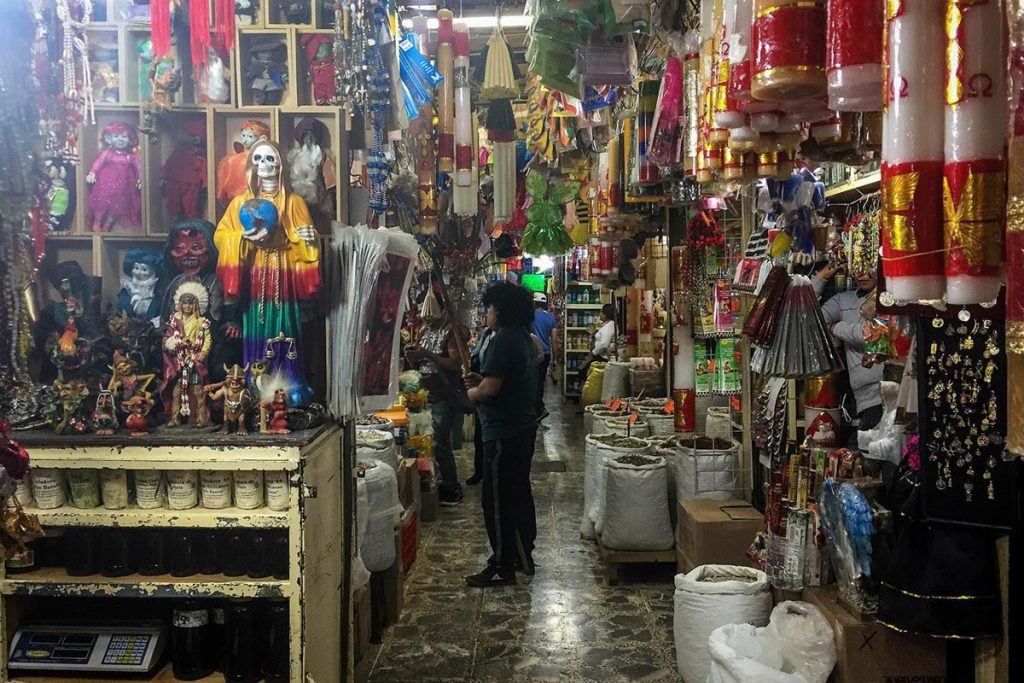 Latin America has incredible markets that are well worth checking out.
Mercado de San Juan is situated near the historic center, so a stop here won't be too far out of your way. This market is known for its selection of exotic meats, like crocodile and wild boar. Just wandering through and people watching is an experience.
Alternative Market: If you'd like more of a local experience, take the metro to the Merced Metro station to explore the Sonora Market. Sometimes called a "witch market", but we didn't find the nickname very fitting. Sure, you can find crystals, incense and herbs, but more of what you'll see is cheap plastic toys, shoes and food.
The appeal of this market isn't what is being sold, but instead the "local vibe" you'll get here as opposed to some of the busier markets. It's certainly not a tourist attraction, and is only really worthwhile to add to your itinerary if you enjoy people watching and local experiences.
Note: This market begins from the metro station and it can be quite a maze to get through!
Afternoon
Jardin Chapultepec: Beer Garden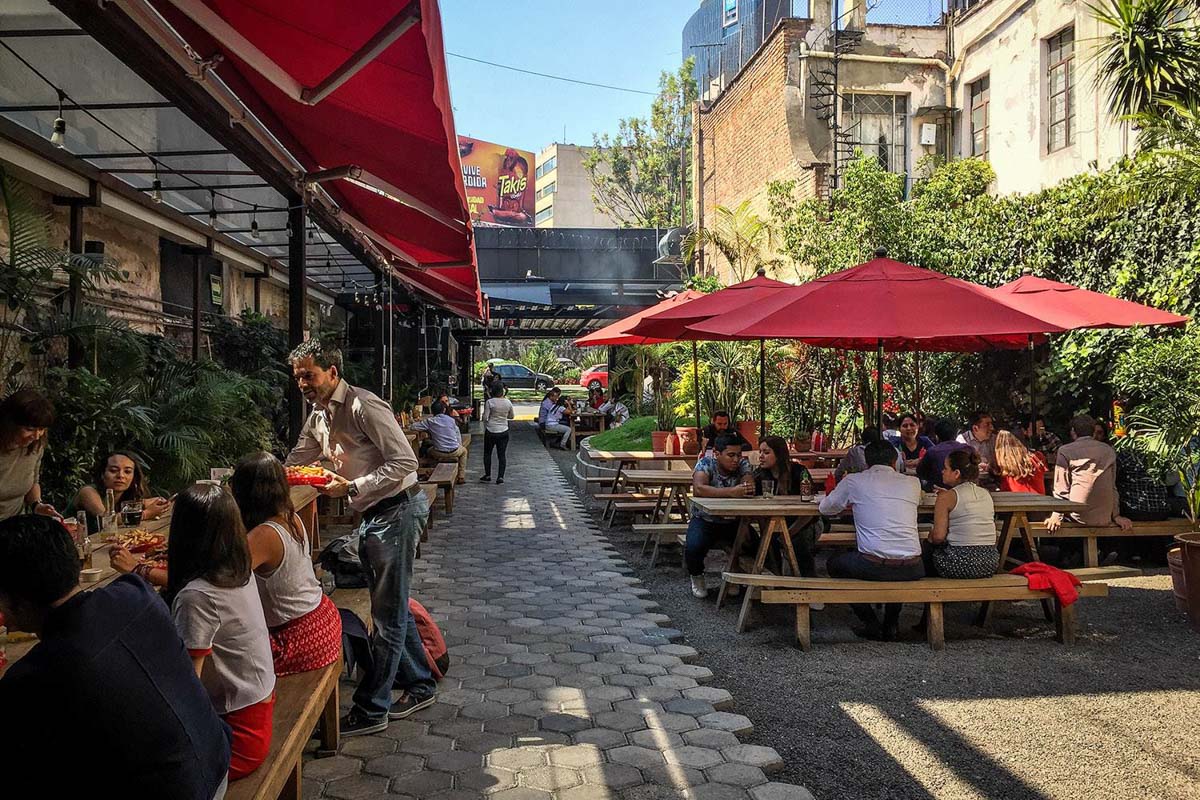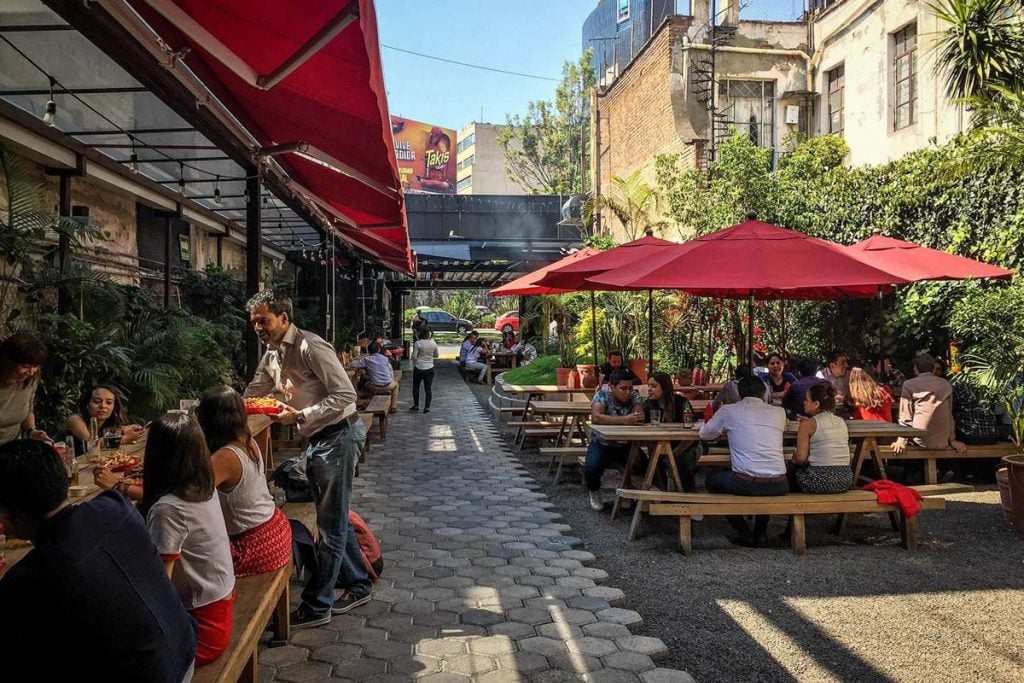 If you love craft beer as much as we do, you won't be able to resist this sunny beer garden that serves up some great brews at a reasonable price. The atmosphere here is fun, with young professionals gathering with friends after work.
The food also looked great here. We were drooling over the tacos the person next to us was eating (complete with a big slice of queso fresco and avocado), but when we went up to order some, they had run out!
Evening
La Pitahaya Vegana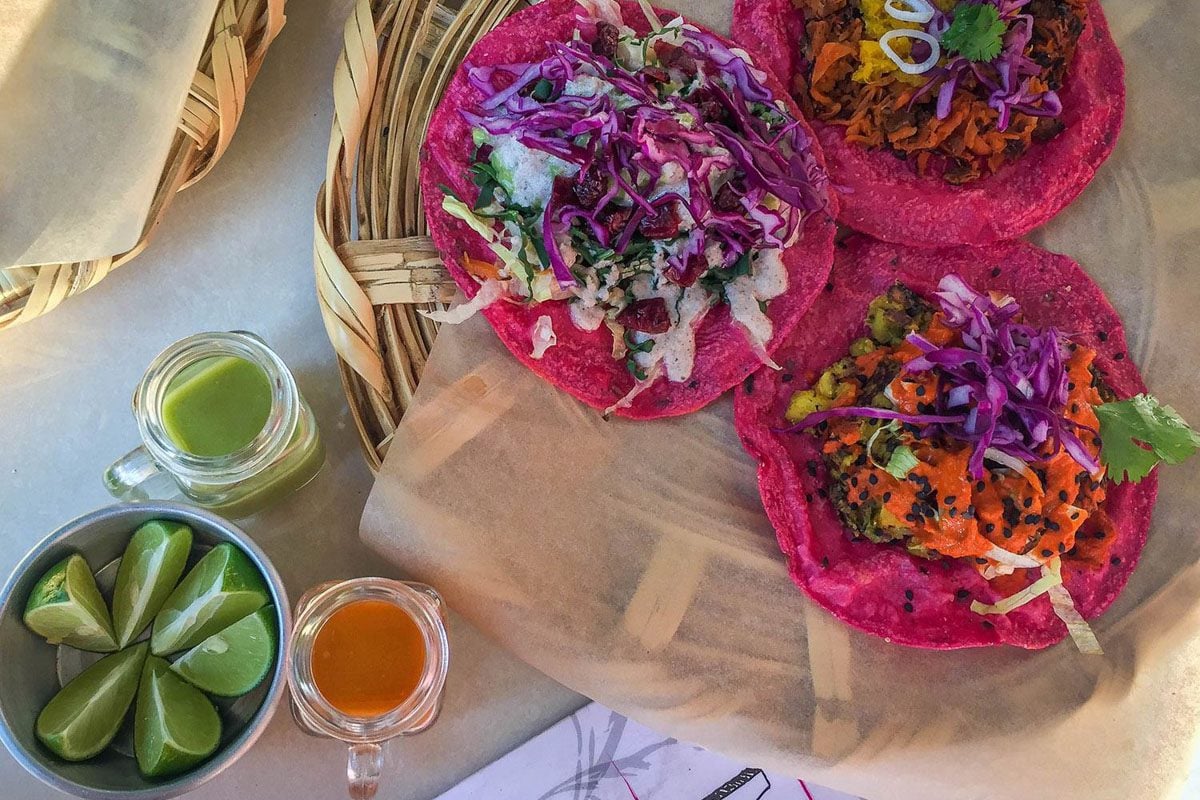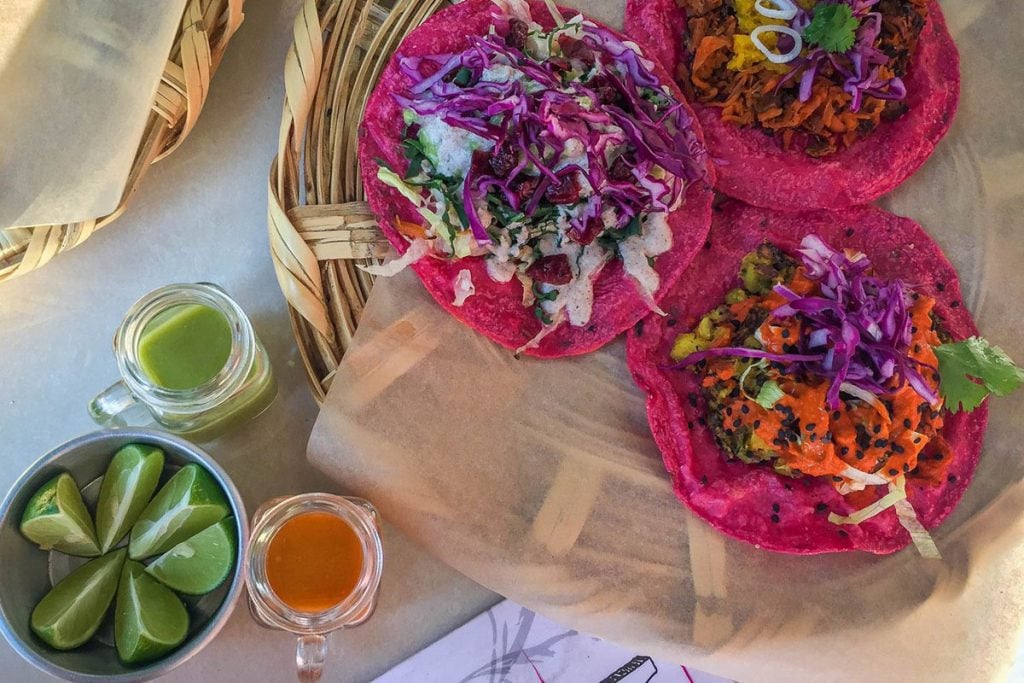 Whether you're a practicing vegan or you just like a good veggie meal every once in a while, La Pitahaya Vegana, is a great stop for a taco sampling.
Compared to the tacos you'll find on the street, these are relatively expensive at 120 pesos for three. But with creative combinations like cauliflower with coconut cream and pineapple or potato and coral tree flower curry made with love in a sustainably-run kitchen, we thought the equivalent of $4 USD was worthwhile. Plus, the woman running this place is super sweet.
Good to know: If you want a beer with your vegan taco, you'll need to arrive before 5pm since they stop serving alcohol at that time.
Mezcal Tasting at La Nacional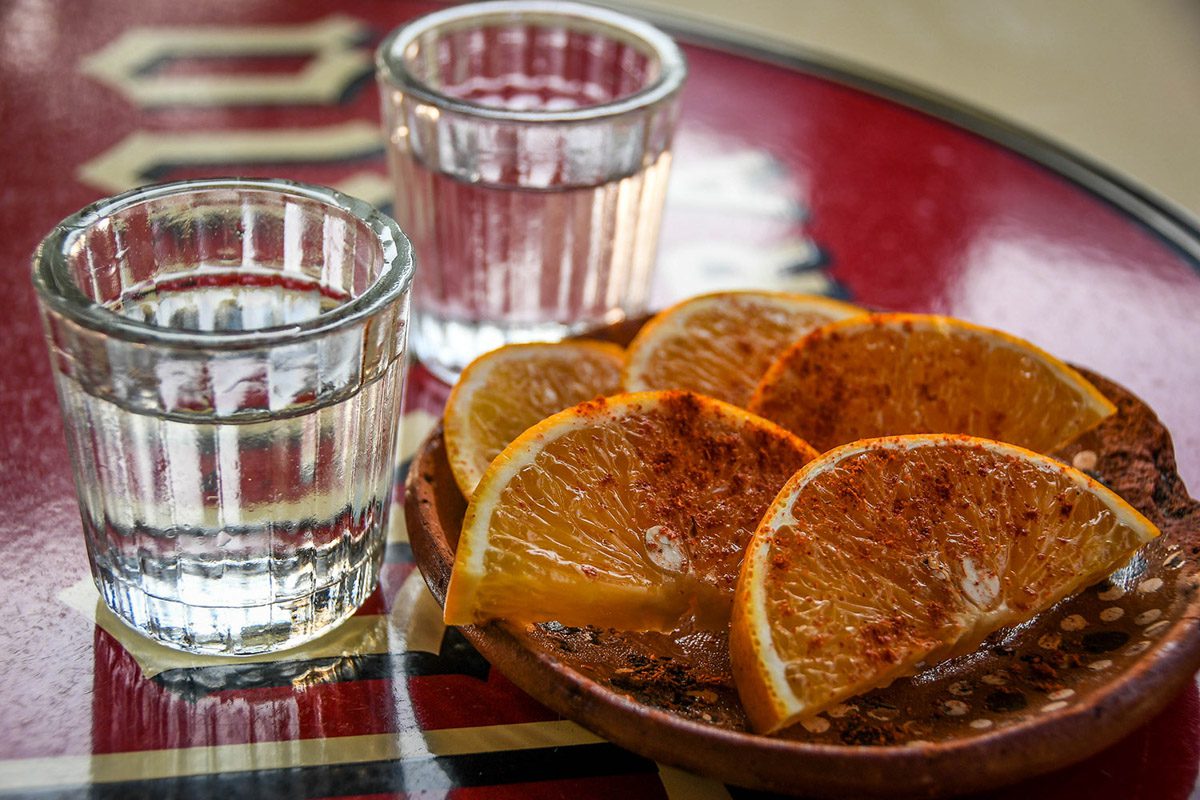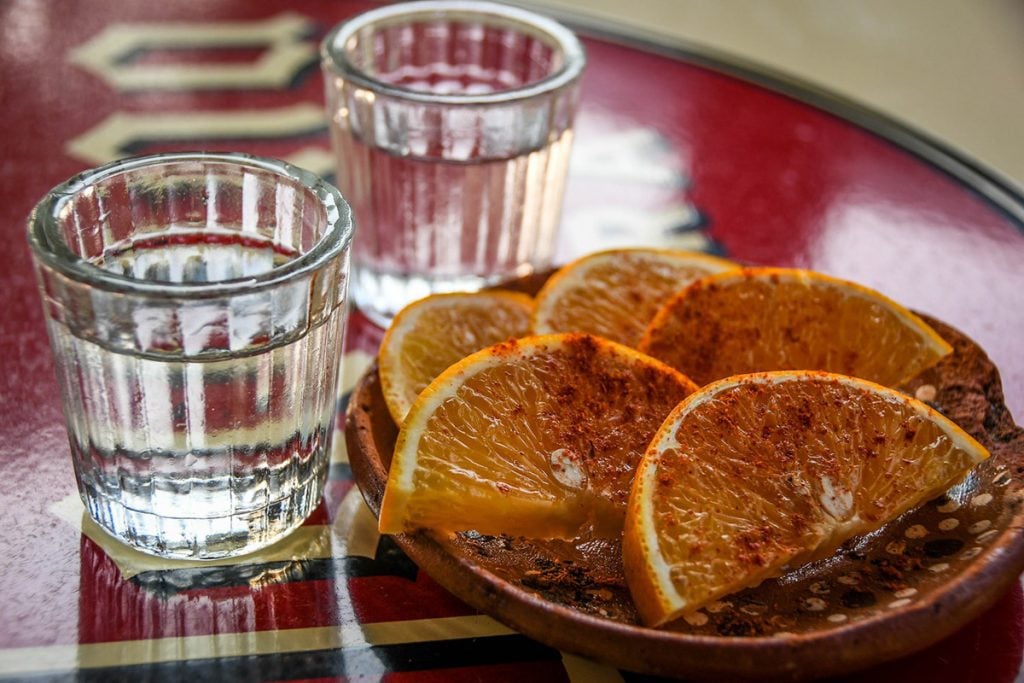 Literally right across the street from La Pitahaya Vegana is La Nacional, a well-known mezcal tasting bar. What's the difference between a mezcal bar and a regular bar, you might ask? We had the same question, and well, the photo above will give you a little hint!
With tons of different strains of mezcal to choose from, the people here really know their stuff. They'll serve you oranges sprinkled with worm-chili salt. To nibble on between sips, and slices of carrots and jicama to cleanse your palate. Hint: Sip first, then eat the orange.
Though not cheap (each 1.5-ounce serving costs between 80 and 200 pesos), it is kind of a fun way to try the difference in mezcal. If you're with a partner, try two different types and compare!
Watch a Lucha Libre Wrestling Match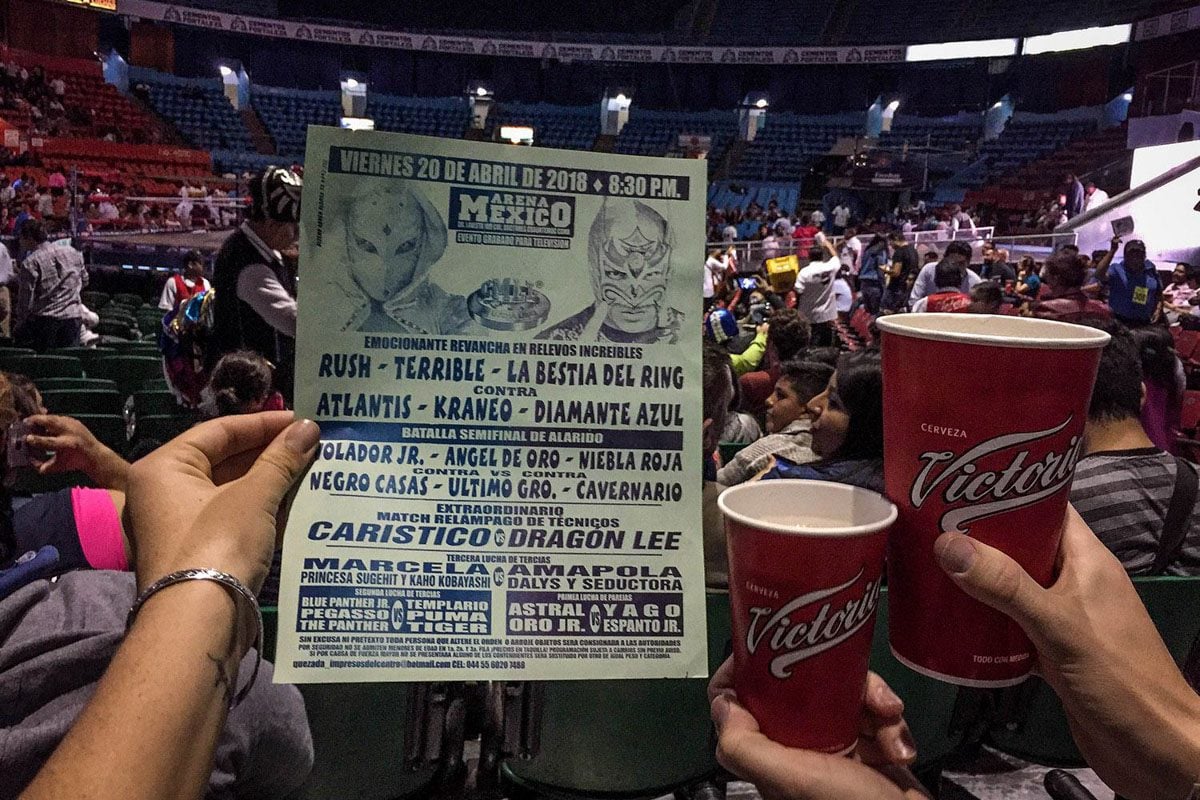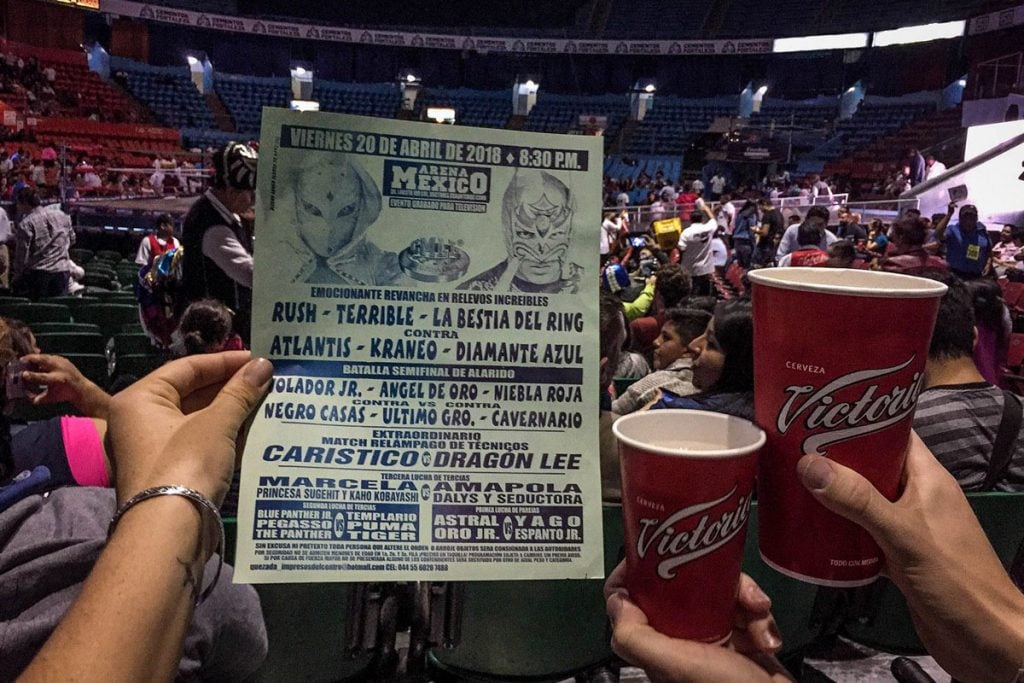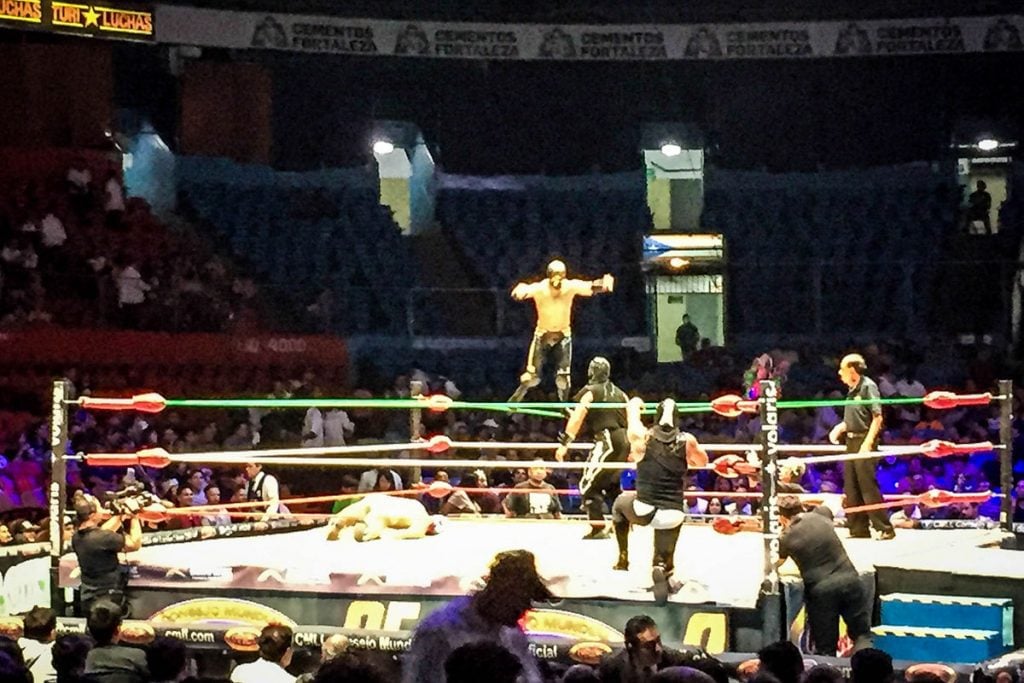 We loved our experience watching the Lucha Libre match. It was fun, crazy and full of bad acting and acrobatics.And one of the best parts is it is super cheap (that is, if you go without a tour group!). At just around $10 per person, we thought it was a really fun way to spend the night without blowing all our pesos. We created a whole article on how to book and watch a Lucha Libre match on your own.
---
Where to Stay in Mexico City
Featured Hotel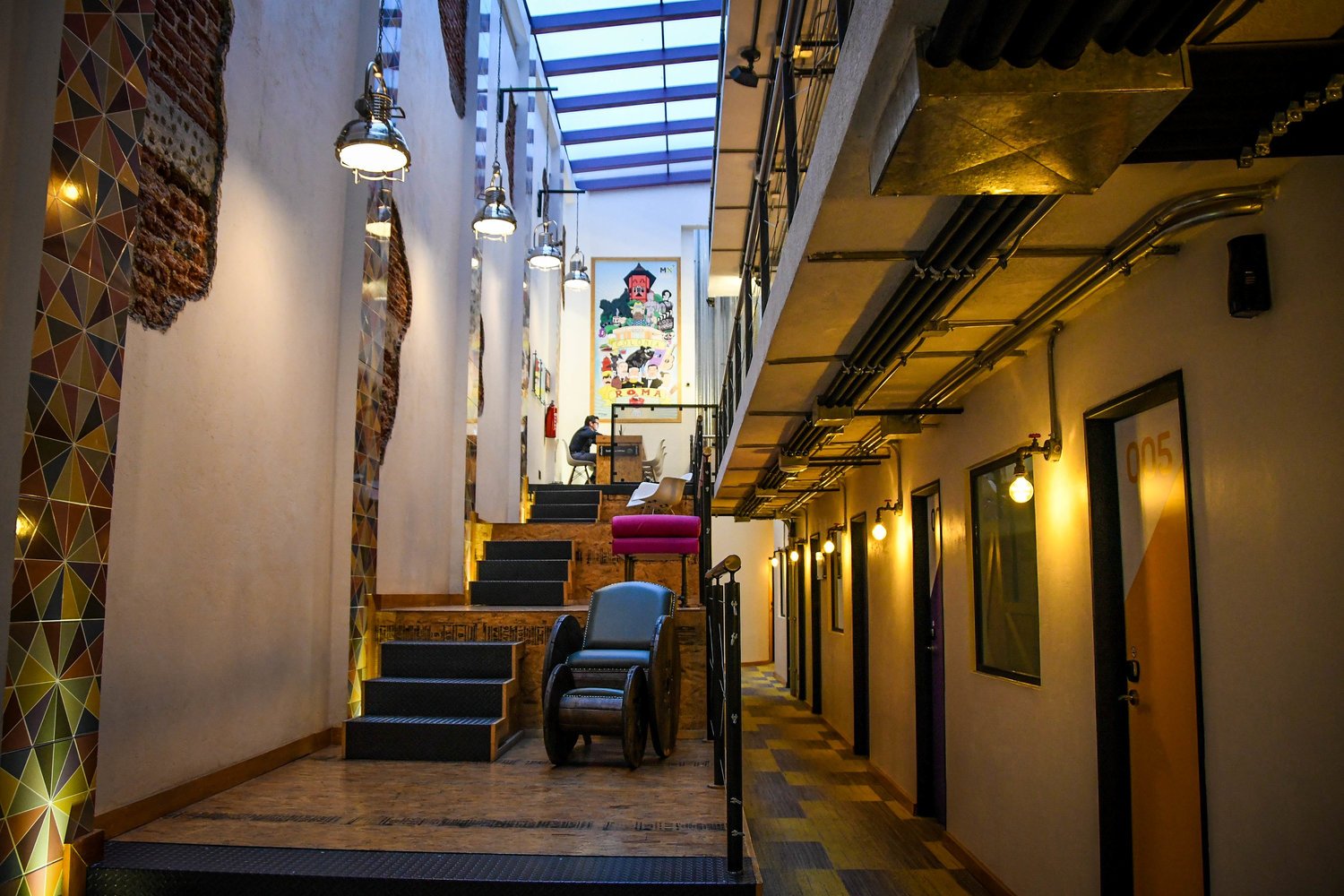 Hotel MX Roma – Located in the hip neighborhood of Roma Norte, this hotel is conveniently located and comes with amenities like free breakfast, complimentary bike rentals and a free espresso machine! They have a fitness center with a squash court available.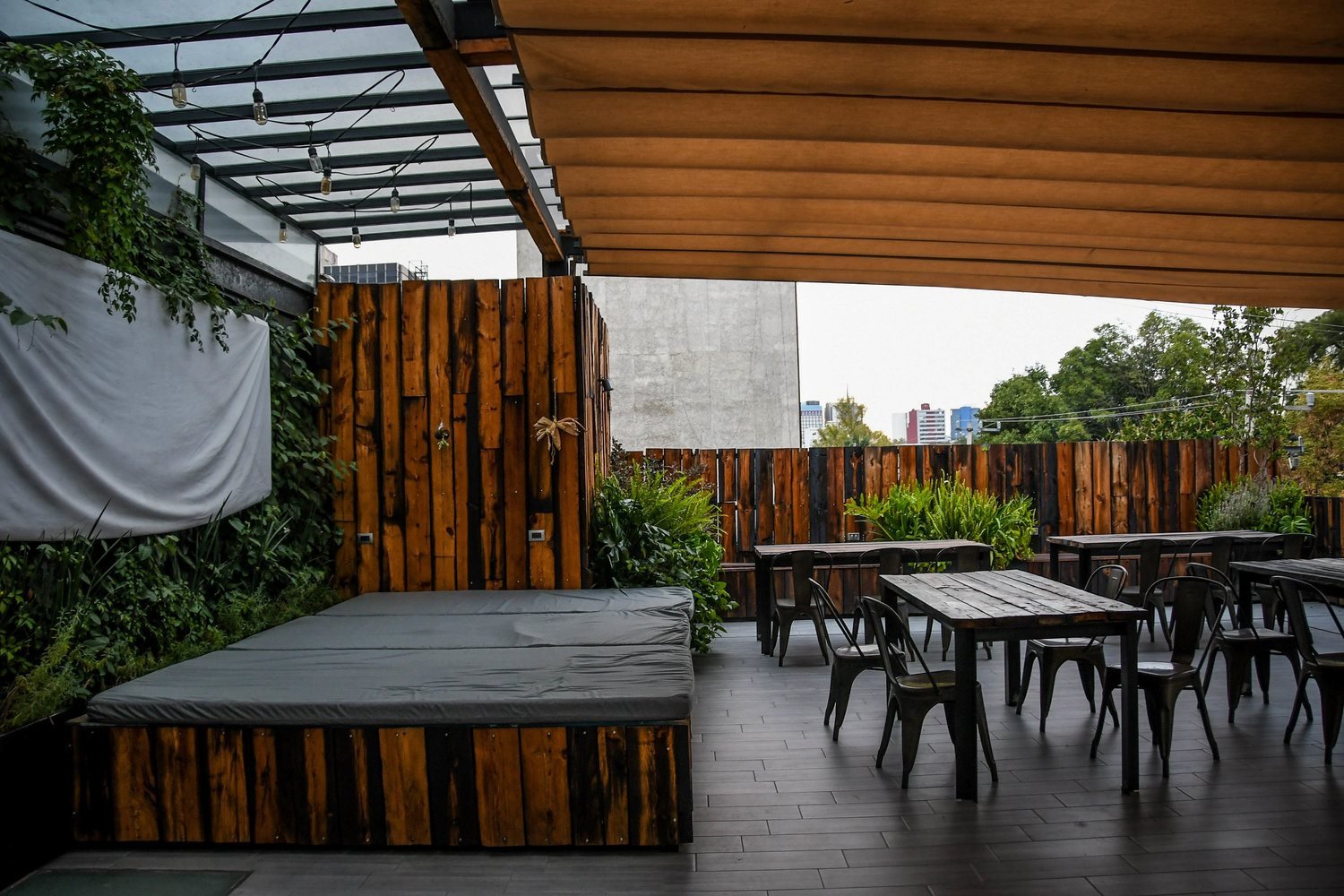 There is a business area with access to computers so you can get a little work done in between exploring the city. There is free parking and a rooftop terrace where you can watch the sunset.
Other Mexico City Hotels
Backpacker Budget: Suites DF Hostel – Smack in the middle of the city, this fun backpacker hostel has a great vibe and is a nice place to meet other travelers. They have private rooms as well as dorms and is steps away from a metro stop.
Helpful Tip: If you're backpacking through Mexico, check out this list of hostels in Mexico City.
Feelin' Fancy: Four Seasons Hotel Mexico City – It doesn't get much more fancy than this place. 5-stars, fitness center, outdoor pool, on-site spa and restaurant and is in a great location steps aways from Chapultepec Park.
Need more info on where to stay? We put together a detailed rundown of the best airbnbs in Mexico, including some stunners in Mexico City good for all budgets.
More Travel in Mexico
Have more time to explore what Mexico has to offer? Lucky you! There are so many other incredible parts of this beautiful country, like the foodie haven of Oaxaca and the charming town of San Cristobal de las Casas in Chiapas.
One of the easiest ways to get around Mexico is by driving a rental car. You get to explore on your own, it's safe, and crazy cheap. We got a rental car in Costa Rica for so cheap one day, we decided to keep the car for two weeks. We use RentalCars.com to search for the best deals on rental cars around the world.
With culture, food, natural beauty and friendly locals, backpacking in Mexico will be an experience that you won't soon forget!


---
Are you planning a trip to Mexico?
We have lots more resources on travel in Mexico and destinations throughout the country. Check out our Ultimate Mexico Travel Guide for all the important travel information, or read some of our favorite articles below.
Save this article on Pinterest for later!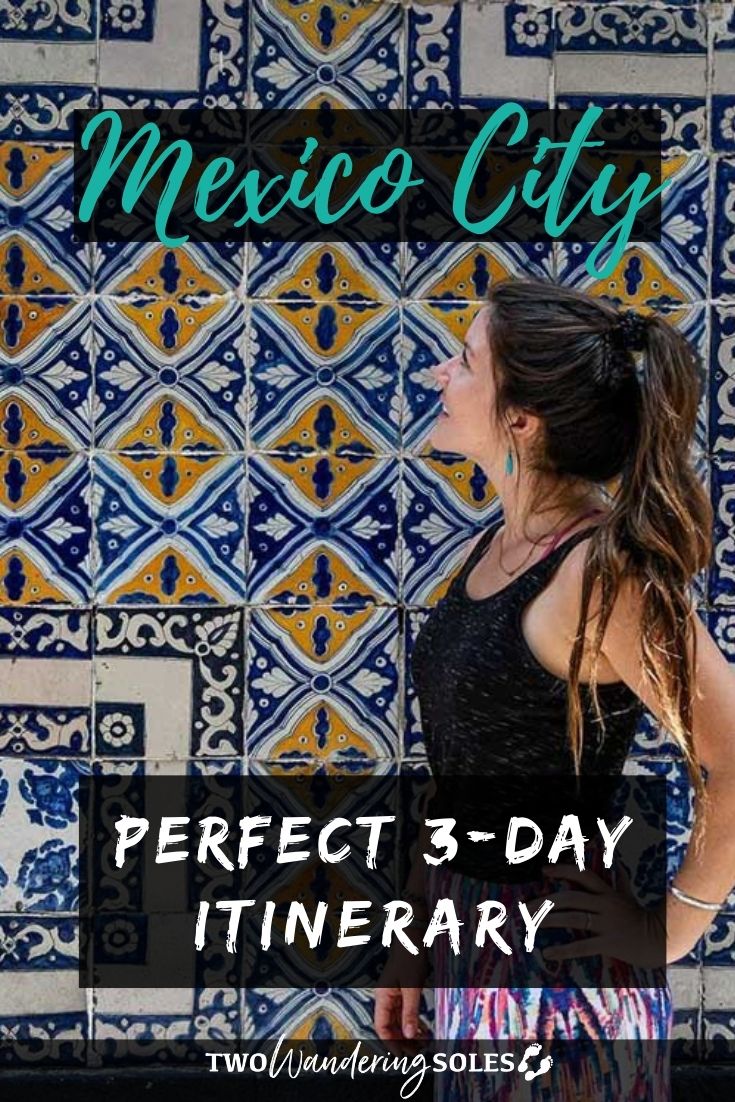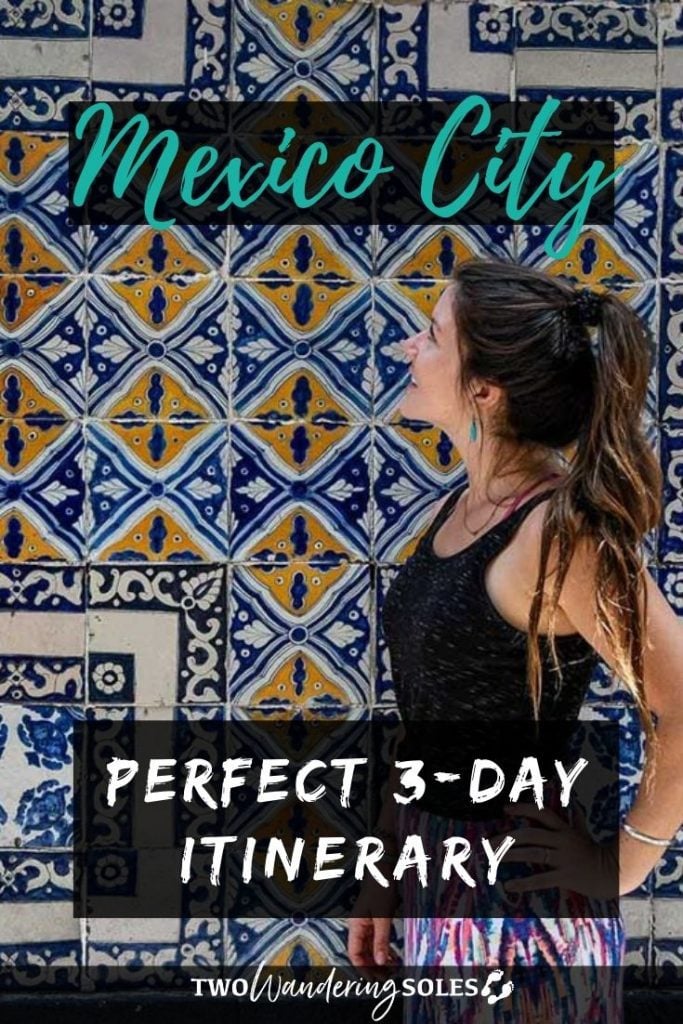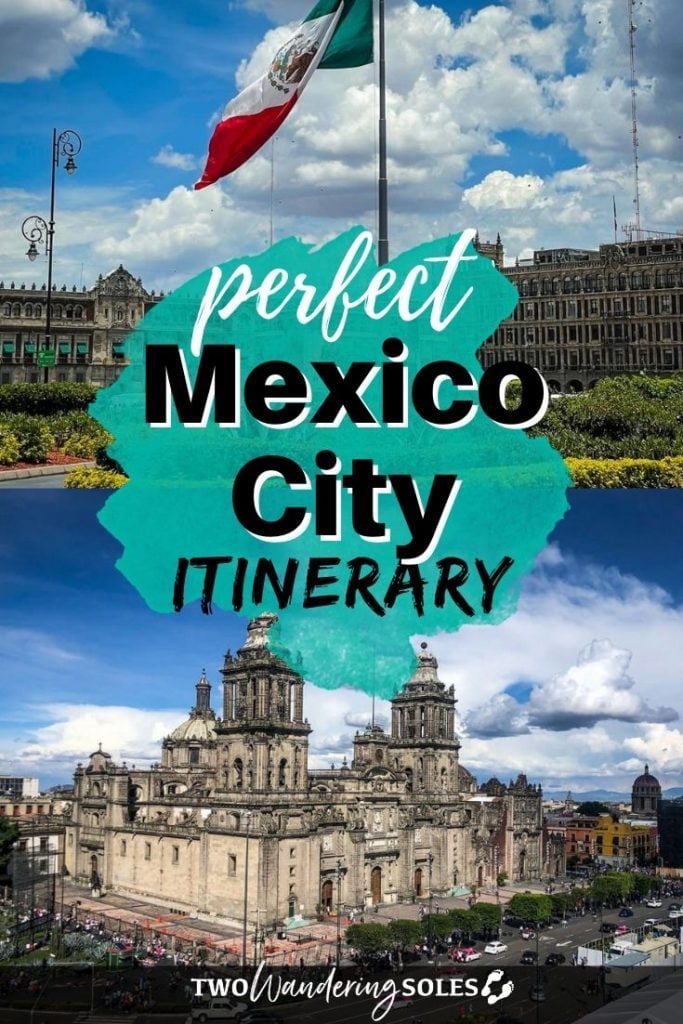 Have you been to Mexico City?
What did you do when you visited? Got any other hot tips for the capital of Mexico? Let us know everything in the comments below!